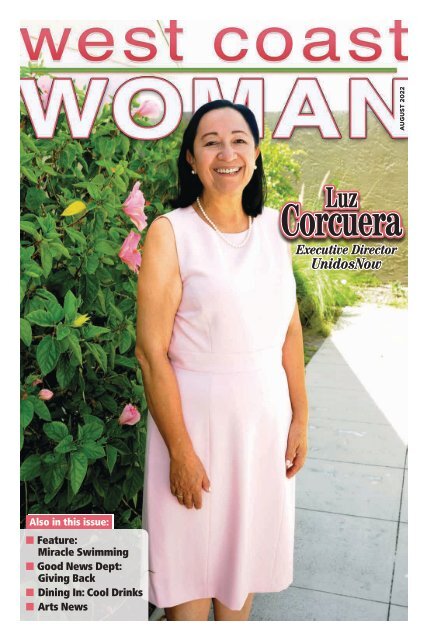 wcw AUGUST 2022
It may be back to school for students of all ages, but our August WCW offers the opportunity to learn a lot about our community. First there's Luz Corcuera who is the Executive Director of UnidosNow, a nonprofit that guides Hispanic/Latino youth to achieve success in higher education. There's lots of travel tips in our Travel News column. Plus, if you've ever been uneasy in the water, you can learn to conquer your fear with Miracle Swimming. It may be late into summer, but there's lots to do so enjoy this latest issue.
It may be back to school for students of all ages, but our August WCW offers the opportunity to learn a lot about our community. First there's Luz Corcuera who is the Executive Director of UnidosNow, a nonprofit that guides Hispanic/Latino youth to achieve success in higher education. There's lots of travel tips in our Travel News column. Plus, if you've ever been uneasy in the water, you can learn to conquer your fear with Miracle Swimming. It may be late into summer, but there's lots to do so enjoy this latest issue.
SHOW MORE
SHOW LESS
You also want an ePaper? Increase the reach of your titles
YUMPU automatically turns print PDFs into web optimized ePapers that Google loves.
AUGUST 2022

Luz

Corcuera

Executive Director

UnidosNow

Also in this issue:

■ Feature:

Miracle Swimming

■ Good News Dept:

Giving Back

■ Dining In: Cool Drinks

■ Arts News
---
941-306-1202 ArtistSeriesConcerts.org

Ever Onward Season 27

Season Highlights

MAGNIFICENT MARKOVS

October 2 • 4:00 pm • Sarasota Opera House

Violin phenom Alexander Markov unites with his

parents for classical favorites performed by the

"first family of violin." Alexander and his electric

gold violin are joined by Key Chorale and the

Booker High School VPA Choir for his original

composition, Caesar.

SYBARITE5

November 15 • 7:30 pm • Historic Asolo Theater

An extraordinary genre-crossing quintet of

classically trained musicians with Sarasota roots,

SYBARITE5 takes listeners on a musical journey

of staggering breadth and depth in a concert that

defies categorization.

DOUBLE FEATURE

Blake Pouliot & Simone Porter, violins

December 6 • 7:30 pm • Sarasota Opera House

Sparks fly when these two astounding young artists

come together for an evening of duo magic that

includes works by Strauss, Beethoven,

and Chausson.

THE 442s

December 13 • 7:30 pm • Historic Asolo Theater

Combining three members of the St. Louis

Symphony and two of the St. Louis region's finest

jazz musicians, The 442s is an acoustic ensemble

that breaks down barriers between jazz, classical,

folk, and pop. This concert features holiday

favorites and original compositions.

DOVER QUARTET

January 10 • 7:30 pm • Historic Asolo Theater

Named one of the greatest string quartets of the

last 100 years, the Grammy-nominated Dover

Quartet is one of the most in-demand chamber

ensembles in the world. Their program features

works by Beethoven and Mendelssohn.

QUARTET FOR THE END OF TIME

featuring the Grammy-nominated Lincoln Trio

and Bharat Chandra, clarinet

February 28 • 7:30 pm • Historic Asolo Theater

Olivier Messian's moving masterpiece, Quartet for

the End of Time, was composed in a German WWII

prisoner-of-war camp. Captured in the early days

of the the war, Messian wrote this mystical work for

fellow prisoners to perform.

MICHELLE CANN, piano

March 7 • 7:30 pm • Historic Asolo Theater

Winner of the 2022 Sphinx Medal of Excellence

recognizing extraordinary Black and Latinx

musicians, Michelle Cann's program includes

repertoire by Florence Price.

VIVALDI AND MENDELSSOHN

May 9 • 7:30 pm • Sarasota Opera House

Four superstar concertmasters from American

orchestras share the role of soloist in Vivaldi's

iconic Four Seasons, and all four will perform

Mendelssohn's String Octet together along with

four other artists.

Visit ArtistSeriesConcerts.org for our complete concert schedule.

This project is supported in part by the Community Foundation of Sarasota County; Department of State, Division of Cultural Affairs, the Florida Council of Arts and Culture and the State of Florida (Section 286.25 Florida Statutes);

The Exchange; Gulf Coast Community Foundation; National Endowment for the Arts; and Sarasota County Tourist Development Tax Revenues.

2 WEST COAST WOMAN AUGUST 2022
---
AUGUST 2022

contents

Editor and Publisher

Louise M. Bruderle

Email: westcoastwoman@comcast.net

Contributing Writer

Carol Darling

Contributing Photographer

Evelyn England

Art Director/Graphic Designer

Kimberly Carmell

Assistant to the Publisher

Mimi Gato

wiser you

Afraid of the water? Miracle Swimming

can help you conquer your fears and

concerns. Here's how.

p18

West Coast Woman is published

monthly (12 times annually) by

LMB Media, Inc., Louise Bruderle,

President. All contents of this

publication are copyrighted and

may not be reproduced. No part

may be reproduced without the

written permission of the publisher.

Unsolicited manuscripts, photographs

and artwork are welcome, but return

cannot be guaranteed.

HOW TO REACH US:

Email: westcoastwoman@comcast.net

Here are our columns:

n Out & About: includes

fundraisers, concerts, art exhibits,

lectures, dance, poetry, shows &

performances, theatre, film,

seasonal events and more.

n You're News: job announcements,

appointments and promotions,

board news, business news and

real estate news.

travel news

Covering lots of ground this month

such as Discover Sarasota Tours that

offer trolley and van tours of Sarasota.

Plus scalloping season is underway

at Plantation on Crystal River. Also, a

better way to get a passport faster,

hotel specials and travel tips.

p20

FOLLOW US AT:

Facebook: https://www.facebook.com/

WCWmedia

WCW

34

YEARS

WCW Mailing Address:

P.O. Box 819

Sarasota, FL 34230

email:

westcoastwoman@comcast.net

website:

www.westcoastwoman.com

dining in

We've got some cool and cooling

drinks for summer — some with

alcohol; some without.

p28

west coast

WOMAN

departments

4 editor's letter

7 Out & About: listings for things to do

9 healthier you: stop smoking tips

12 arts news

15 happening this month at

The Hermitage

16 west coast woman:

Luz Corcuera, CEO at UnidosNow

18 wiser you: overcome your fear

of the water

20 travel news

21 health feature: Craniosacral Therapy

24 you're news

26 ode to Lido Beach

28 dining in: keep cool with these

cooling cocktails and cocktails

30 good news department: generous

donations help many nonprofits

■ on the cover: Photo of West Coast Woman Luz Corcuera, Executive Director at UnidosNow at her office at the Glasser/ Schoenbaum Human Services Center, Sarasota.

■ Photo by Evelyn England.

AUGUST 2022 WEST COAST WOMAN 3
---
just some

thoughts

Louise Bruderle

Editor and Publisher

Michelle Wolforth

West Coast Woman Luz Corcuera

Luz Corcuera

Photo by Evelyn England

There's a delightful revelation in our profile of

Luz Corcuera, the CEO at UnidosNow, when you

hear her tell about how some of her programs

grow. First some background: UnidosNow's

mission is stated as "Empowering Latinos To

Achieve Their American Dream" and thus Luz

and her team work a lot with young people.

For many Hispanic/Latino families their children

are often the first in the family to attend

and graduate from college. Many of the young

people who go through UnidosNow indeed go

off to college, but also reach back and help the

next class of high school graduates as mentors

or volunteers. And all those young people in turn help acclimate their

families in many ways from language to technology.

UnidosNow's mission is to "elevate the quality of life of the growing

Hispanic/Latino community in the Manatee and Sarasota region

through education, integration and civic engagement" which is enough

to keep anyone busy and Luz is certainly that, but it's also so enjoyable

to hear how each generation helps the next in the tight-knit Hispanic/

Latino community.

I hope you enjoy reading about how UnidosNow has been empowering

families for the past ten years - and the woman who makes it

all happen. "When UnidosNow engages, be assured that Luz is gently

guiding for excellence. Her forthright integrity inspires what's possible

in every way," says Debra M Jacobs, President/CEO of the Patterson

Foundation.

Good News Dept.

We really enjoy publishing items like this and we keep getting more! We

need some good news, don't we?

• All Faiths Food Bank received over $83,000 in support of BackPack

and Summer Programs.

In support of the BackPack Program:

• $28,917 from the Heritage Oaks Golf and

Country Club FitWeek event

• $20,000 Isermann Family Foundation

• $5,000 from MLB Players Trust

• $5,000 from The Venice Golf and Country Club Foundation Grant Fund

In support of Summer Programs:

• $25,000 from the Virginia B. Toulmin Foundation

The BackPack Program provided nutritious snack bags to students

over the weekends and school breaks and Summer Programs that

provided access to food to families and children this summer. For more

information visit allfaithsfoodbank.org.

State Street Eating House + Cocktails recently participated in an

invitation-only Celebrity Chef Dinner culinary event, hosted at Pops

Sunset Grill in Nokomis. Sponsored by the James Beard

Foundation, the event featured some of the best chefs in

the country, including State Street's own executive chef,

Michelle Wolforth.

At the waterfront establishment, Wolforth and her colleagues

dazzled the 200+ ticketholders with courses that

showcased a survey of styles and cuisines. Notable James

Beard Foundation award winners at the event included

Martin Rios from New Mexico, a three-time finalist for

Best Chef in the Southwest; Rabii Saber of Four Seasons

Resort in Orlando, a 2019 semifinalist for his pastry work;

and Justin Aprahamian of Milwaukee, a frequent finalist for and onetime

winner of the national Best Chef award.

For State Street's offering, Chef Wolforth created a special agnolotti

pasta dish, a branch of the repertoire she's uses at State Street eating

House. For Wolforth, the opportunity to work side by side with such

distinguished colleagues gave her an opportunity to talk shop with esteemed

colleagues. "As chefs, we all kind of operate in our own bubbles

where we're concerned about our restaurant's sourcing, menu, personnel,

et cetera," says Wolforth, "so to get a chance to spend time with chefs

I admire on top of cooking for a cause is really fulfilling for me. In my

mind, this is what cooking is all about."

Proceeds benefited All Faith's Food Bank and the James Beard Foundation

Scholarship Program.

Transition Sarasota is a non-profit

organization and part of the greater

Transition US movement. They're

committed to developing "community-driven

solutions for our local

food system." They serve Sarasota,

Manatee Counties and surrounding

areas by gleaning crops from partner

farmers and growers, harvesting

produce that would have been laid

to waste, but instead feeds hungry

families.

They have donated an amazing

58,290 pounds of fresh produce

so far in 2022. That is enough to Transition Sarasota

provide over 155,000 six-ounce servings of fresh vegetables or fruit to

those in need. Gleaned blueberries, for example, were donated to All

Faiths Food Bank and a small amount was donated to a youth shelter in

Sarasota.

Joyce Norris is Transition Sarasota's Executive Director and we hope

to feature them when the weather turns agreeable and volunteers are out

there gleaning. For now, learn more at https://www.transitionsrq.org.

Coming up this Fall at WCW

• September - Florida Travel Issue

• October - Lifelong Learning Issue

• October - Women's Health Issue

Want more details? Email us at wcwnewspaper@aol.com and learn

about our great advertising offers.

Looking Ahead

The 17th Annual Sustainable Communities Workshop, "Advancing

Climate Solutions," will bring the community together to discuss

sustainability priorities on November 1. Expert speakers will provide

up-to-date information on several different sustainability topics including

carbon sequestration, regenerative agriculture, water quality,

equity, climate change, and more. Visit exhibitor booths to network with

businesses and community groups to help build a better future for our

community.

Residents, students,

and community

members from

all sectors and walks

of life will gather

in-person and online

to learn from and

network with knowledgeable

speakers,

panel discussions

and more. Topics to be discussed include climate change, carbon sequestration,

regenerative agriculture, water quality, social equity, youth

and sustainability and much more.

To learn more about speakers, agenda, and other event updates, visit:

scgov.net/SustainableCommunities.

Registration fee includes access to a full day workshop a New College

or virtually with expert speakers on relevant community sustainability

topics, exhibitor booths, and opportunities to network and connect with

others. Our interactive workshop provides many opportunities to engage

with others, meet with sponsors and exhibitors, network, and more.

Financial assistance is available.

Questions? Call 941-861-9874 or email sustainablesarasota@scgov.net.

• Date and time: November 1, 9 a.m.-4 p.m. –

• Location: Harry Sudakoff Conference Center, 5845 General Dougher

Place, Sarasota.

Louise Bruderle | Editor and Publisher |

westcoastwoman@comcast.net

We welcome your thoughts and comments on this column and on other columns and features in this issue.

You can reach us at westcoastwoman@comcast.net. We're on the web at www.WestCoastWoman.com.

4 WEST COAST WOMAN AUGUST 2022
---
941-373-6300

Sarasota Downtown

1727 2nd Street, Suite 1,

Sarasota

941-739-2400

Lakewood Ranch

8614 St. Rd 70E, Suite 102,

Bradenton

TimeSaverFitness.com

Offering a super-slow high intensity

strength training program twice a week,

20 minutes, amazing results!

Schedule your Complimentary

Introduction Session TODAY!

KEEP YOUR BODY FIT & STRONG

Eunice Okun

"93 Years Young and Feeling My Best"

"Within a few months of starting my two weekly twenty-minute

workouts, I could feel the difference. Each session gave me

a sense of true accomplishment. And, my trainers are always

encouraging, answering my questions and addressing areas of

concern. After three years at Time Saver Fitness, I've regained

strength, increased my coordination and am more toned than

I have been in years. And, now, at the age of 93, I'm enjoying a

healthy, active, independent lifestyle!"

— Eunice Okun

Enjoy Service

with Stellar Results

Cosmetic • Regenerative

& Restorative Gynecology

Painless In-Office Labiaplasty

BioTe® Hormone Pellet Therapy

O-Shot® & Ouchless PRP

Laser Vaginal Rejuvenation®

Clitoral Hood Reduction

Majoraplasty | Mons Lipo

ThermiVa® (non-surgical rejuvenation)

Effective treatments for:

Low Libido

Menopause Symptoms

Lichen Sclerosus

Urinary Incontinence

Personalized GYN Care

Our patients. Our reviews.

"Well cared for" | "Positive experience" | "Warm & friendly staff " | "Exceeded expectations"

"Really felt cared for" | "I can wear anything now" | "Listens closely" | "Expert in her field"

"No more discomfort" | "Restored to brand new"| "Thank you for giving me our love life back"

"I feel like I'm on my second honeymoon" | "Gifted, perfectionist, confidence"

"Results better than I even imagined" | "I am ready to start dating again"

"No longer self-conscious" | "Wonderful experience"

"Your work is a work of art" | "I enjoy sex more"

See Our Before & After Gallery at VisionaryCentreForWomen.com

Dr. Jennifer S. Hayes, DO, FACOOG

Board Certified in Gynecology | Specializing in Cosmetic Gynecology

25+ years vaginal surgery experience

Beverly Hills trademarked techniques

727.403.0573

MMunro@drjenniferhayes.com

AUGUST 2022 WEST COAST WOMAN 5
---
EMBRACE

THE NATURAL

YOU

(with a little help.)

Implant Removal — Breast Lift — Fat Grafting

Breast Augmentation

Tummy Tucks — Liposuction — Body Sculpting

Arm & Thigh Lifts — Coolsculpting

Sovereign Plastic Surgery

Alissa M. Shulman, M.D., F.A.C.S.

Board Certified Plastic Surgeon

1950 Arlington Street • Suite 112 • Sarasota

941- 366-LIPO (5476)

www.sovereignps.com

SAVE $2 W/CODE WCW

DAILY TROLLEY TOURS

ENTERTAINING • INFORMATIVE

Find Your New Best Friend!

Open Daily | 2542 17th St, Sarasota, FL 34234 | (941) 366-2404 | www.catdepot.org

SUMMER SIGHTSEEING TOURS

Be a Tourist in Your Own Town!

• City Sightseeing

• Circus Secrets

• Haunted Sarasota

• Murder Mystery Trolley:

Who Killed The Circus Queen?

• Psychic Sundays

Air-Conditioned Comfort!

"My girlfriends and I had such a fabulous time!" *****

Tickets $44.99 - $49.99

Nighttime Tours Include FREE Beer/Wine

BOOK ONLINE

DiscoverSarasotaTours.com

941-260-9818

Visit The Trolley Cottage & Gift Shop | 1826 4th Street, Sarasota | FREE Parking!

6 WEST COAST WOMAN AUGUST 2022
---
out &about

Special Events

Circus Arts Conservatory & The

Ringling: Summer Circus Spectacular

continues through August 13.

Some of the circus world's most exciting

acts are in the annual show - a

longtime partnership of the Circus

Arts Academy and The Ringling.

The lineup for the Summer Circus

Spectacular includes a wide range of

acts, including duo lyra, adagio, hand

balancing/contortion, rolla bolla,

and more. Show times are 11 a.m.

and 2 p.m. Tuesdays through Fridays,

and 2 p.m. and 5 p.m. on Saturdays.

Tickets are $18/adults, $12/children

12 and under.

To complete their circus experience,

Summer Circus Spectacular

patrons can enjoy access to the Circus

Museum on the day they attend

a show for just an additional $5. Go

to Ringling.org or call the Box Office

at 941-360-7399.

t

St. Armands Circle's Sunset Yoga

is is on the inner circle, and will

run through the end of September.

Yoga enthusiasts can relax, stretch,

and gaze at a sunset while enjoying

a nice workout. Attendees should

bring their own yoga mat and block.

https://www.ajc.org/westcoastflorida

The class will be led by Liana Sheintal

Bryant. Breathe: A Sunset Yoga

Series will be held on August 28 and

September 25 from 5 to 6 p.m. and

is free for the public. For directions,

more information, and to RSVP, visit

the Facebook event page, https://

www.facebook.com.

t

The St. Armands Circle Business

Improvement District has a Summer

Concert Series. Residents and

visitors are invited to enjoy this free

monthly series featuring various jazz

performers. Bring lawn chairs and

blankets for a family-friendly, jazzy

trio of shows featuring:

• JAC of All Trades -

Saturday, Aug. 13, 11 a.m. to 2 p.m.

• Big Band Concert –

Saturday, Sept. 17, 11 a.m. to 2 p.m.

For more information about the

Summer Concert Series, visit https://

starmandscircleassoc.com/

events-happenings/.

t

At The Bishop

t

On exhibit: Illumination: Seeing

Beyond the Shell. A shell can be

many things: a mollusk's protection

against a predator, a piece of jewelry,

a makeshift spoon—it can even be a

calcium supplement or an alternative

to limestone mining to help fight

climate change. But what happens

when you take a closer look?

With Illumination: Seeing Beyond

the Shell, The Bishop continues the

celebration of its 75th Anniversary

Year of Light with the photography

of Scott Odell who is not only a local

photographer, but also a member of

the Museum's Staff.

This exhibition of macro photography

literally takes a closer look at the

shells in The Bishop's permanent collection,

showing what happens when

you take an object and view it in a

completely different way.

These images are the fortuitous

result of the Museum's temporary

closure during the Covid-19 pandemic.

Odell originally began his work

with the idea of having an online

exhibition where visitors to The Bishop's

website could continue to view

items from the permanent collection

The Bishop Museum of Science

and Nature, 201 10th St. West,

Bradenton. www.BishopScience.org.

UF/IFAS Extension

Sarasota County

Lectures

August 9 and August 25 — Disaster

Preparedness (webinar)

What would you do if basic services

were cut off, like electricity or water,

or if you had to suddenly leave your

home? This class will offer tips and

ways to prepare for unexpected

disasters, such as hurricanes. Learn

how to assemble an emergency supply

kit and other ways to prepare for

emergencies. Register for this event

only at ufsarasotaext.eventbrite.com.

Instructor: Dr. Maria Portelos-Rometo,

UF/IFAS Extension

Sarasota County family and consumer

sciences agent. For questions

or further information, call

941-861-5000. Register: https://

www.eventbrite.com/e/disaster-preparedness-webinar-registration-320053738347.

• August 17 — Healthy Homes

(webinar)

Learn different ways to manage the indoor

environment quality of your home,

and how to manage pests and mold.

Register for this event only at ufsarasotaext.eventbrite.com.

Instructors: Dr. Maria Portelos-Rometo,

Family and Consumer

Sciences agent, UF/IFAS Extension

Sarasota County, Carol Wyatt-Evens,

Chemicals in the Environment agent,

UF/IFAS Extension Sarasota County.,

and Alia Garrett, Sustainability Outreach

Coordinator, UF/IFAS Extension

Sarasota County

For details or to register, call

941-861-5000 or at https://www.

eventbrite.com/e/188587689857/

• August 18— Be a Weather Watcher

with CoCoRaHS (webinar)

Learn how to join one of the most successful

weather monitoring teams in

the world. They'll walk you through

the registration process and tell you

what to expect as a volunteer weather

watcher. Sarasota County residents

may qualify for a free rain gauge after

registering to volunteer at cocorahs.org.

register for this event only

t

at ufsarasotaext.eventbrite.

• August 20 — Rain Barrel Workshop

If you want to purchase a rain barrel,

you will need to do so before the

class. Barrels will not be for sale the

day of the class. If you plan to purchase

after the class, contact reportpollution@scgov.net

to coordinate

your pickup.

During this class you will learn how

the use of rain barrels can conserve

water, save money by reducing the

use of potable water in landscapes

(lower utility bills), and reduce

stormwater runoff by storing and

diverting runoff from impervious

surfaces (like roofs). Practical tips on

the construction and installation of

rain barrels will be provided. Register

for this event only at ufsarasotaext.

eventbrite.com.

Rain barrels will be available for

pickup until 11:30 a.m. the day of the

workshop. If you would like to take

home a rain barrel(s), complete your

purchase by 12 p.m. August 19, by

clicking the green "tickets" button.

Only barrels purchased prior to that

date and time will be available for

pickup after the workshop.

Register: https://www.eventbrite.

com/e/rain-barrel-workshop-tickets-327515476607

• August 22 — Energy Upgrade

Workshop (webinar)

This 1-hour workshop is where you'll

learn energy-, water-, and cost-saving

strategies at home. Attendees will

receive a free Do-It-Yourself Energy

Saving Kit (one per household) that includes

ENERGY STAR LED light bulbs,

WaterSense faucet aerators, a smart

power strip, weatherization materials

and outlet insulating gaskets, and

other items so you can start saving.

Attendees will also learn our low

and no-cost tips, which combined

with kits can save up to $560 per

household per year on energy costs.

Advance registration required. Register

for this event only at ufsarasotaext.

eventbrite.com.

Register: https://www.eventbrite.

com/e/energy-upgrade-workshop-webinar-registration-318565777817

• September 6 — Shared Spaces:

Creating Your Edible Garden

Learn tips to create your very own

veggie garden. This webinar is ideal

for someone interested in learning site

considerations for creating a shared

space like a community garden or

school garden. Register for this event

only at ufsarasotaext.eventbrite.com.

There will be a brief time for questions,

too. Registration is recommended.

Educator: Mindy Hanak, Community

and School Garden Coordinator,

UF/IFAS Extension Sarasota County.

Learn more about community and

school gardens in Sarasota, http://

sfyl.ifas.ufl.edu/sarasota/gardening-and-landscaping/gardens/

Register: https://www.eventbrite.

com/e/266798981937/

• September 6— Wild Sarasota:

Hummingbirds of Florida (webinar)

Take a virtual walk on the wild side...

of Sarasota, with Dr. Katherine Clements,

ecology and natural resources

educator. Learn more about these tiny

but tantalizing birds which are a wonder

to behold. Register early at ufsarasotaext.eventbrite.com.

For questions or further information,

call 941-861-5000.

Sea Turtle Nesting

Season is Here

t

Sea Turtle

Nesting Season

is Here! Sea

turtle nesting

season takes

place through

Oct. 31 on

Southwest

Florida beaches.

Sarasota

County hosts

the highest

density of

loggerhead

nests in the

Gulf of Mexico.

Sea turtle nesting season takes

place through Oct. 31 on Southwest

Florida beaches. Mote Marine coordinates

with county, state and federal

efforts to conserve sea turtles — particularly

loggerheads, since Sarasota

County hosts the highest density of

loggerhead nests in the Gulf of Mexico.

Data show that nesting by loggerhead

turtles declined and then rebounded

in recent years, while green

turtle nesting — although very low in

numbers — has increased.

On nesting beaches, light from

waterfront properties can disorient

nesting female turtles and their

young, which emerge at night and

use dim natural light to find the sea.

Also, beach furniture, trash and other

obstacles can impede sea turtles and

their young. While Mote documents

turtle nests, the best thing you can do

to help is to refrain from using artificial

light while on the beach.

Here are some tips to keep beaches

turtle-friendly:

• DO stay away from sea turtle nests

marked with yellow stakes and tape,

and seabird nesting zones that are

bounded by ropes.

• DO remain quiet and observe from

a distance if you encounter a nesting

sea turtle or hatchlings.

• DO shield or turn off outdoor lights

that are visible on the beach from

May through October.

• DO close drapes after dark and

stack beach furniture at the dune line

or, ideally, remove it from the beach

• DO fill in holes that may entrap

hatchlings on their way to the water.

• DON'T approach nesting turtles

or hatchlings, make noise, or shine

lights at turtles.

• DON'T use flashlights, head lamps

or fishing lamps on the beach.

• DON'T encourage a turtle to move

while nesting or pick up hatchlings

that have emerged and are heading

for the water.

• DON'T use fireworks on the beach.

• DON'T walk dogs on any Sarasota

County beach other than Brohard

Paw Park in Venice. There, dogs must

be leashed or under voice control, according

to county ordinances.

Report stranded sea turtles and

marine mammals. Mote Marine

Laboratory's Stranding Investigations

Program responds 24 hours a

day seven days a week to reports of

sick, injured and dead marine mammals

and sea turtles for animals

in Sarasota and Manatee County

waters. Live animals are brought

back to Mote's Dolphin and Whale

Hospital or Sea Turtle Rehabilitation

Hospital for treatment and the deceased

animals undergo a detailed

post-mortem examination so that

we may learn more about the natural

history of these animals and evaluate

long-term trends in mortality.

Within Sarasota or Manatee County

waters, if you see a stranded or

dead dolphin, whale or sea turtle,

call Mote's Stranding Investigations

Program, a 24-hour response service,

at 888-345-2335.

If you see a stranded or dead manatee

anywhere in state waters or a

stranded or dead dolphin, whale or

sea turtle outside of Sarasota or Manatee

counties, call the FWC Wildlife

Alert hotline at 1-(888) 404-3922.

At Mote Marine

Mote Aquarium has an exhibit

from National Geographic.

SHARKS: On Assignment with

Brian Skerry

includes large-scale images that

highlight the work of National Geographic

Explorer and award-winning

photojournalist, Brian Skerry.

The exhibit runs through Aug. 7,

2022. The exhibition strives to raise

awareness about the status of sharks

around the world. Visitors can

dive into the ocean depths to swim

alongside tiger sharks, great whites,

oceanic whitetips and shortfin makos

while learning about each species'

habitat and threats they face.

Additionally, they'll get a glimpse

into National Geographic's ocean

conservation efforts.

National Geographic Explorer

and award-winning photojournalist

Skerry has spent more than

10,000 hours underwater exploring

the world's oceans with a camera

to show why sharks need to be protected

and appreciated as integral

species within the ecosystem. The

exhibition will include large-scale

images and videos—all highlighting

Skerry's passion, skill and life-long

commitment to conservation of the

world's oceans.

t

continued on page 8

AUGUST 2022 WEST COAST WOMAN 7
---
out and about continued

Elling Eide Center

Arboretum Tours

and Lectures

Join docent Norman Burr on a

90-minute trek through their historic

grounds. Walk through the arboretum

and learn about rare, interesting,

and exotic plants. Norman will discuss

the geologic history of Florida

and how plant life evolved. He will

also share the history of the inhabitants

of the Elling Eide Center from

pre-history to today.

Then, venture inside and see Elling

Eide's personal collection of Asian

art and artifacts. Arboretum Tours

are held every Tuesday/Thursday

of every week. Register at www.ellingoeide.org

for the Arboretum Tour

and their other events. Elling Eide

Center, 8000 South Tamiami Trail,

Sarasota. Admission: $5. Tour is 2

hours with 60 minutes of the tour is

outside and 30 minutes of the tour is

of the inside of the Eide Center.

t

Lots of Fun

Outdoor Events

The Palm Avenue First Friday

Walks in downtown Sarasota gives

art lovers a backdoor peek without

the hustle and bustle of the crowds

but with the cool breeze and moonlight

sky the evening brings. The

event is held the first Friday of every

month, running 6-9 p.m. The next

ones are on August 5. Info: https://

palmave.com/

t

Start your Saturday with a sunrise

stretch at The Sarasota Farmers

Market. They offer free, weekly

sunrise yoga to downtown Sarasota.

Participants meet at the Mermaid

Fountain in Paul Thorpe Park, near

the Intersection of Pineapple and

Lemon Avenues. Enjoy Artful Movement

with Bianca, a 45-minute guided

practice accompanied by a playlist

to match the intention.

Starting at 7 a.m., participants

will enjoy a gentle yoga flow suitable

for all ages and levels. The weekly

45-minute yoga practice will focus

on movements that foster inner and

outer balance.

For information, call 941-225-9256 or

visit sarasotafarmersmarket.org/yoga

t

Friday Fest is BACK! The Van

Wezel Friday Fest events are an outdoor

concert series that provides the

community with free events to September,

showcasing the best of local

bands from Sarasota and Bradenton.

Friday Fest brings together a wide

variety of talented artists along with

food trucks and drink stations on the

Van Wezel lawn along the beautiful

Sarasota Bayfront.

Our Friday Fest lineup includes:

• Big Night Out - August 12

• Jah Movement - September 16

Info: https://www.vanwezel.org/

boxoffice/friday-fest-2022/

t

Marie Selby

Botanical Gardens

Marie Selby Botanical Gardens

has Flora Imaginaria: The Flower

in Contemporary Photography

through September 25 at the Downtown

Sarasota campus.

The Flower in Contemporary Photography,

will feature a spectacular

bouquet of flower imagery drawn

t

from many

different

genres of

photography,

produced

over the past

three decades

(1990–

2020).

The photographs

in

the show will

highlight

the beauty

and diversity

of flowers,

which have

long been

appreciated

aesthetically

for their

colors and

forms, as

well as for

their decorative

potential

and symbolic

power.

More than

70 prints by some 50 photographers

from around the globe will be featured.

Their varied work will be displayed

both inside, in the Museum of

Botany & the Arts, and outside in the

Gardens, providing visitors a unique

encounter with art in the context of

nature. Many of the images to be seen

here have never previously been featured

in a major exhibition.

Information: www.selby.org.

Art Exhibits

t

The Van Wezel Friday Fest events are an outdoor concert series that provides the community

with free events to September, showcasing the best of local bands from Sarasota and

Bradenton. Friday Fest brings together a wide variety of talented artists along with food

trucks and drink stations on the Van Wezel lawn along the beautiful Sarasota Bayfront. Next

up: Big Night Out - August 12.

Sarasota Art Museum has

Katrina Coombs I M(O)ther Threads

of the Maternal Figure through

October 2, 2022. Katrina Coombs (b.

1986, Jamaica) has a passion for fiber

and an understanding of the sensitivity

of threads and fabric, which she

uses to bring forth unique designs

and sculptural forms. Coombs' works

are inspired and guided by a quest to

deepen the spiritual, emotional, and

psychological understanding of the

numerous conflicting roles that have

been attributed to women in contemporary

society.

State of the Art 2020: Constructs

runs through September 11, 2022.

State of the Art: Constructs is an exploration

into how contemporary art

– produced all across the country including

regions outside traditional art

centers – reflects the present moment.

■ Sarasota Art Museum is at the

Ringling College Museum Campus,

1001 South Tamiami Trail, Sarasota.

https://www.sarasotaartmuseum.

org/visit/

Art Uptown Gallery will be celebrating

its 42nd summer with "Summer

in the City," an exhibit of new art

by its 25 local artists. The mediums

included are paintings, photography,

sculpture, glass works, pottery and

jewelry. Meet some of the artists on

August 5 from 6-9 p.m. at the First

Friday public reception at the gallery

and Saturdays from 11 a.m. to 5 p.m.

The exhibit runs through August 19.

■ Art Uptown Gallery is located at

1367 Main Street, Sarasota. Call 941-

955-5409 or visit www.artuptown.com.

t

Art Ovation Hotel has an ongoing

series of art displays by six international

artists and organizations

that will run through September 6,

t

2022. The six new exhibits include

Tribute to Andrés Valerio; Ana

Albertina Delgado: The Human

Mysteries and the Indifference of

the Universe; Alexander Solotzew:

Life in Colors; Peter Jacob Christ:

Disappearing Signs of Life; and The

Rainer Hildebrandt Collection:

Original Painted Slabs from the

Berlin Wall, as well as The Florida

Watercolor Society (FWS)'s 2021-

2022 Traveling Exhibition.

Visitors are invited to enjoy the

works at their own leisure or can request

a guided tour for a deeper understanding

of the artists and their works.

■ Art Ovation Hotel is located at

1255 North Palm Avenue, Sarasota.

Club Meetings

Join Jewish Democrats for a Sip

and Schmooze event with guest, Tom

Edwards of the local School Board.

This is the 2nd fundraiser hosted by

the Sarasota County Democratic Party

Jewish Caucus. Join like-minded

friends for complimentary light bites

and soft drinks. Cash bar will be available.

It's 5-7 p.m. at Tamiami Tap, 711

S. Osprey Avenue, Sarasota. Cost is $36

for members, $40 for not yet members.

RSVP is a must at SrqJewishDems.org.

Contact for questions is mail@SrqJewishDems.org.

t

At The Ringling

On exhibit is "As long as there is

sun, as long as there is light." Selections

from the Bring Gift and The

Ringling Collection of Modern and

Contemporary Art. The exhibition

runs through Aug. 13, 2023, in the

museum's Searing Wing.

Highlights include minimalist

work by Anne Truitt and a monumental

work on canvas by Gene

Davis, both artists affiliated with

the Washington Color School, an art

movement during the 1950s to 1970s

in Washington D.C., made up of abstract

expressionist artists.

Additional work represent a generation

of prominent artists who work,

or have worked, in abstraction, including

Clement Meadmore, Jules

Olitski, Beverly Pepper, Rebecca

Salter, Kenneth Snelson, and Yuriko

Yamaguchi, among others. Also on

view are sculptures and paintings

t

by African

American

and Latin

American

artists

from The

Ringling

collection,

including

William Edmondson,

Eduardo

Mac Entyre,

Omar Rayo,

Baruj Salinas,

and

Joyce de

Guatemala.

The Ringling

has

Haitian-Canadian

artist

Rhodnie

Désir for

the world

premiere

of her first

gallery installation,

Rhodnie Désir: Conversations in

the Ringling's Monda Gallery. In

her multidimensional choreographic

career, dancer/choreographer Rhodnie

Désir created BOW'T TRAIL, a

choreographic-documentary journey

in which she has conducted research

throughout the Americas since 2015.

Her work included visits to countries

such as Martinique, Brazil, Haïti,

Canada, Mexico, and the United

States to immerse herself within the

African and afro descendant cultures

and rhythms generated from

the ingenuity of her ancestors since

the Slave Trade.

The Ringling also has Eleanor

Merritt: Remembrance, running

through Aug. 21. The exhibition celebrates

the life and artwork of Merritt

who was a volunteer at The Ringling

for many years as a docent and board

member. She also served as president

of the Venice Art Center and was

active in other arts organizations as

well. Eleanor died in 2019 leaving a

legacy of art and public service.

This exhibition is dedicated to her

spirit and creativity and represents a

small sample of a significant body of

work the artist created over her long career.

The exhibition highlights her creative

use of materials, movement between

figuration and abstraction, and

her commitment to women's rights.

Arriving in Sarasota in the 1980s,

Eleanor exhibited widely in Florida.

Her final exhibition in 2017 at the

Arts & Cultural Alliance celebrated

her 60 years of painting. In 2013, she

received national recognition with

an exhibition at the Houston Museum

of African American Culture.

And there's Ballroom Florida:

Deco & Desire in Japan's Jazz Age

on view to September 25. This exhibition

celebrates a recent gift of

six paintings from Mary and Robert

Levenson by Enomoto Chikatoshi

(1898–1973) and a photograph by

Hamaya Hiroshi (1915–1999) depicting

the women of the Florida and

its chic décor. The exhibition is augmented

with loans that elaborate on

themes that define this group of artworks:

Art Deco design, the exotic,

and elegant pleasures.

Metadata: Rethinking Photography

from the 21st Century is on

view until August 28. This exhibition

explores new paradigms for understanding

the ecology of the photographic

image. The term "metadata"

is used to describe the information

that travels with a digital image file

but is unseen within the image itself.

The Ringling also has "The world is

just so small, now: Works on paper

from The Ringling's Collection of

Modern and Contemporary Art" on

view through October 23.

The exhibition's title, The world is

just so small, now, is borrowed from

the first stanza of a poem by Brazilian

artist Abraão Batista. Bringing

together additional prints, watercolors,

and drawings by artists working

on paper, the exhibition highlights

the medium as fundamental to the

artists' practice.

Assembled from The Ringling's

collection of contemporary works

on paper, most of the pieces are on

display for the first time since their

recent acquisition through purchase

or donation. Shown along with these

are several rarely seen lithographs,

woodblocks, and a relief print on

glass acquired between the early

1960s and late 1990s.

This exhibition is located in the

Keith D. and Linda L. Monda Gallery

for Contemporary Art and features

the work of Abel Barroso, Abraão

Batista, Romare Bearden, Sandra

Cinto, Francesco Clemente, Elisabeth

Condon, Mary Beth Edelson,

Leon Hicks, Corita Kent, Hung

Liu, Jason Middlebrook, Ibrahim

Miranda, Duke Riley, John Scott,

David Alfaro Siqueiros, Cauleen

Smith, Linda Stein, Howie Tsui, and

William Villalongo.

The John and Mable Ringling

Museum of Art, 5401 Bay Shore Rd.,

Sarasota. Info: www.ringling.org.

Theatre

Florida Studio Theatre (FST) has

its Summer Cabaret Series.

Here's what's on:

• Smoke & Mirrors Begins August

3. Hamilton Orr will stop at nothing

to get what he wants. A top Hollywood

director, Hamilton comes up

with a deadly scheme to gain control

over a multi-million-dollar film. He

just needs to persuade the movie's

screenwriter, Clark, to get onboard.

And make sure that Barbara, his

wife, plays her part. When his plot

doesn't go as planned, Hamilton

comes face-to-face with the wily

local sheriff, Leroy.

• New York State of Mind: All the

Hits of Billy Joel With the Uptown

Boys. Begins August 9. With more

than 40 years of cumulative work

on some of Broadway's biggest hits,

The Uptown Boys use Billy Joel's rich

songbook as a way to share their stories

of life, love, and trying to make

it in New York City. Whether you're

a fan of Billy Joel's entire catalogue

or just a casual listener, The Uptown

Boys have something to satisfy

everyone. Featuring such hits as

"Only The Good Die Young," "For the

Longest Time," "Piano Man," and

many more you know and love.

FST Improv has:

• The More You Know – August 6 only

• We're Doomed — August 13, 20,

and 27 and,September 3, 17, and 24

• Thank You for Being a Friend

– September 10 only

Florida Studio Theatre, 1241 N.

Palm Avenue, Sarasota. (941) 366-

9000 | FloridaStudioTheatre.org

t

continued on page 10

8 WEST COAST WOMAN AUGUST 2022
---
healthier you

'COFFEE & CONFUCIUS'

An Introduction to Chinese History & Culture

This five-part series is designed for people who have little or no

background in Chinese history, language, and culture.

Come learn!

The Benefits of

Quitting Tobacco Use

Wednesdays in October and November of 2022

Oct 5, 12 & 26, Nov 2 & 9

9:30 - 10:00 am: Coffee & Pastries Served

10:00am - 11:00 am: Lecture Program

Dr. Matthew Wells

Director of Research

Cost of Lecture(s):

$30/per lecture or

$125 for all five lectures

To Sign Up, Vist:

www.ellingoeide.org

Q

uiting tobacco is the single

most important thing

you can do to improve

your health. 1 Despite what

you may think, it is never

too late to quit smoking! In fact, you can

experience several benefits of quitting

smoking within minutes of cessation

and can enjoy the benefits of quitting for

years to come. As soon as a person quits,

his or her body begins to heal:

• 20 minutes after quitting: heart rate

and blood pressure drop

• 12 hours after quitting: the carbon

monoxide level in blood drops to

normal

• 2 weeks to 3 months after quitting:

blood circulation improves and lung

function increases

• 1 to 9 months after quitting: coughing

and shortness of breath decrease.

Structures in the lungs begin to heal

and clean the lungs, reducing that person's

risk of infection. This is critical

in fighting illnesses that threaten lung

health, such as bronchitis

• 1 year after quitting: the risk of coronary

heart diseases is half that of

someone who smokes. Risk of heart attack

decreases significantly

• 5 years after quitting: risk of mouth,

throat, esophagus, and bladder cancer

is cut in half. Cervical cancer

risk is now that of a nonsmoker. Risk

of stroke falls to that of a non-smoker

after 2-5 years

• 10 years after quitting: risk of dying

from lung cancer is half that of a

smoker

• 15 years after quitting: risk of coronary

heart disease is the same as a

nonsmoker

Along with these great benefits, quitting

tobacco use also reduces the risk of diabetes

and improves the health of blood

vessels, the heart, and the lungs. 2

Kicking the tobacco habit offers some

other rewards that you'll notice right

away and some that will show up over

time. here are just a few other benefits

you may notice:

• Food tastes better

• Your sense of smell returns to

normal

• Your breath, hair, and clothes

smell better

• Your teeth and fingernails stop

yellowing

• Ordinary activities (i.e., climbing

stairs or light housework) leave

you less out of breath

• You can be in smoke-free

buildings without having to go

outside to smoke.

Quitting also helps stop the damaging

effects of tobacco on how you look,

including premature wrinkling of your

skin, gum disease, and tooth loss. 2

Help quitting tobacco is free! Gulfcoast

South Area Health Education

Center (GSAHEC), as part of the Group

Quit option of Tobacco Free Florida's

Quit Your Way program—offers free

group quit sessions to help someone

quit all forms of tobacco. These group

sessions held virtually and in-person,

provide information about the benefits

of quitting, managing stress and triggers,

and will assist you with developing your

own customized quit plan. Free nicotine

replacement therapy in the form of

patches, gum, or lozenges (if medically

appropriate and while supplies last) is provided

with the session. Attendees will

also receive a participant workbook, quit

kit materials, and follow up support from

a trained tobacco treatment specialist.

Contact us today at 866-534-7909 or

visit www.tobaccofreeflorida.com/

groupquitcalendar to schedule a

class or learn more about the program!

Reference:

1 Tools to Quit: Area Health Education Center

(AHEC) Cessation Program Participant Toolkit.

Area Health Education Centers. 2018.

2 https://www.cancer.org/healthy/stay-awayfrom-tobacco/benefits-of-quitting-smokingover-time.html#

QUIT TOBACCO

with GROUP QUIT

There's never been a more important time to quit.

Free expert-led sessions to help you quit all forms of tobacco.

2 . 6 LO G O LOCKUP S

1 .

2 .

Develop your

personalized

quit plan.

*(If medically 3 . appropriate for those 18 years of age or older)

CALL TODAY:

4 .

FREE nicotine

replacement patches,

gum, or lozenges. *

Learn more about all of Tobacco Free Florida's tools and services at

X

TFF.COM / FDOH LOCKUP

Virtual Group Sessions -OR- In-Person Group Sessions

Pre-registration is required.

The logo lockups were designed to contain both logos,

separated by a bar that is the same thickness as our

of our logo. We will maintain the clear space

established on page 6 between the bar and both logos.

Depending on the type of materials, we could use one

of the following lockups.

1. Full color Logo Lockup

More than

DOUBLES your

chances of success!

preferred, but it can ONLY be used in full color and

only against a white background. It cannot be placed

in a white box.

2. One-Color Logotype Lockup

The One-Color Logotype Lockup is the most commonly

used version. It can only be used against a white

background or as a Reverse White Logotype.

Sponsored by:

866-534-7909 AHEC

GULFCOAST SOUTH

AREA HEALTH

EDUCATION CENTER

3. Black and White Logotype Lockup

4. Reversed Logotype Lockup

The reversed logotype lockup can be used against a

black bacground or against the NEW TFF ADA BLUE

(HEX: #1074BB)

T F F

BRAND G U I D E

PAID ADVERTORIAL

AUGUST 2022 WEST COAST WOMAN 9
---
out and about continued

Venice Theatre has Godspell

running August 4-7. Book by John

Michael Tebelak; music and lyrics

by Stephen Schwartz. Based on "The

Gospel According to St. Matthew.

Directed by Kelly Duyn with music

direction by William Coleman and

choreography by Vanessa Russo.

Prepare ye for the timeless tale of

friendship, loyalty and love based on

Stephen Schwartz's first major musical

theatre offering. Venice Theatre

is at 140 Tampa Ave. W., Venice. Info:

https://venicetheatre.org/events/

t

At The Van Wezel

Jerry Seinfeld will return to the

Van Wezel on September 30. His

latest Emmy nominated Netflix projects

include "Jerry Before Seinfeld"

and "23 Hours to Kill" along with the

highly acclaimed web series, "Comedians

in Cars Getting Coffee."

This extraordinary archive was created

by Orlando-based photographer

Jimm Roberts who embarked on a 20-

year mission to interview these exceptional

individuals and document

them in their studios and working

environments.

Seinfeld has also starred in, written,

and produced movies ("Comedian,"

"Bee Movie"), directed and produced

a Broadway hit ("Colin Quinn Long

Story Short"), and wrote two best-selling

books ("Is this Anything?" and

"Seinlanguage") and a children's book

("Halloween"). Seinfeld recently announced

his upcoming film Unfrosted

and continues to perform both nationally

and internationally.

t

• With ten multi-platinum albums and

16 Top 30 hits, FOREIGNER is hailed

as one of the most popular rock acts in

the world. Their newest tour, FOREIN-

GER: THE GREATEST HITS, comes to

the Van Wezel on November 17.

They're responsible for some of

rock 'n' roll's most enduring anthems

including "Juke Box Hero," "Cold As

Ice," "Waiting For A Girl Like You,"

"Feels Like the First Time," and the

worldwide #1 hit, "I Want To Know

What Love Is."

FOREIGNER's lineup also includes

noted Dokken bassist Jeff Pilson,

Michael Bluestein on keyboards, guitarist

Bruce Watson, Chris Frazier

on drums, and guitarist Luis Carlos

Maldonado.

• Also at the Van Wezel, LEANNE

MORGAN's stand-up comedy routine

comes to the VW on Sarasota on

October 16. Morgan's comedy has

landed her at the Just For Laughs Festival

in Montreal and has brought

her development deals for her own

sitcom with ABC and Warner Brothers,

writer/producer Matt Williams

(Rosanne and Home Improvement),

TV Land and now with Sony Television.

Her fan base continues to grow

with her relatability as she discusses

everything from being a housewife,

sharing Jell-O recipes to having a

new grandbaby.

Tickets can be purchased at www.

VanWezel.org, by calling the box office

at 941-263-6799. Pre-show dining

is available through Mattison's at the

Van Wezel which is located inside the

theatre. Reservations can be made on

VanWezel.org or through the box office.

Farmer's Markets

The Sarasota Farmers Market

is open on Saturdays with normal

t

hours of 7 am-1 pm, rain

or shine. http://www.

sarasotafarmersmarket.

org/ (941) 225-9256

Venice Farmers Market

has more than 40 vendors

on Saturdays, many

based during the week in

Venice, Englewood and

other areas of Sarasota

County. Held at Venice

City Hall, 401 W. Venice

Avenue, Venice. Call (941)

445-9209 or visit https://

www.thevenicefarmersmarket.org/site/

t

The Newtown Farmer's

Market is open from

10 a.m. to 5 p.m. every

Friday and Saturday. The

market is located at Dr.

Martin Luther King Jr.

Park, at the corner of

Cocoanut Avenue and

Dr. Martin Luther King

Jr. Way.

t

The Farmers Market

at Lakewood Ranch is

now at Waterside Place.

Their Farmers Market currently

has about 60 vendors and went

this past summer from a seasonal

market to a year-round event.When

the market transfers to Waterside

Place, taking up space all along Lakefront

Boulevard and Kingfisher Lake,

more than 80 vendors will line the

street.The Farmers Market will stick

to a 10 a.m. to 2 p.m. time slot on Sundays.

t

At Benderson

The Ronald A. Balducci Playground

is open during regular park

hours (6 a.m.-8 p.m.), but hour-long

closures at 8 a.m., noon and 4 p.m.

allow crews to clean playground

equipment.

Only electric boat motors are authorized;

gas motors must be raised

to indicate they aren't in use. (This is

in accordance with Sarasota County

ordinances.)

Operating hours are 6 a.m.-8 p.m.

through Halloween, then 6 a.m.-6

p.m. through March 30, and variances

on closing time (such as for NBP's July

3 fireworks) are by permit. Follow the

park at NathanBendersonPark.org.

t

Art Around

the State

At The Baker Museum: True

Likeness. True Likeness presents

contemporary portraits from diverse

makers in a variety of media including

video, photography, painting,

collage, installation, sculpture,

printmaking and drawing. These

artists, some familiar, others more

on the fringe of the art world, hail

from all over the United States. Their

own identities, and those presented

through their works, provide a snapshot

of who we are as a country. Runs

through September 25.

t

Armands Circle's Sunset Yoga is on the inner circle, and will

run through the end of September. Yoga enthusiasts can relax,

stretch, and gaze at a sunset while enjoying a nice workout.

Attendees should bring their own yoga mat and block.

Also on exhibit: Recent Acquisitions:

2019 – Present. The Baker Museum's

permanent collection has grown

steadily over the past two decades

in both breadth and quality within

the museum's clearly defined scope,

which encompasses American, Latin

American and European art from

the 1880s to the present day. This exhibition

presents over 50 works that

have been added to the permanent

collection since 2019. Runs through

January 8.

The Baker Museum: https://

artisnaples.org/baker-museum.

Artis—Naples is at 5833 Pelican Bay

Blvd, Naples, FL. artisnaples.org

At the Boca Raton Museum of

Art: Art of the Hollywood Backdrop:

on exhibit through January

22, 2023. This exhibition of scenic

backdrops, made for the movies

between 1938 and 1968, is a celebration

of a popular art form that

had almost been forgotten; and it

is now time to acknowledge the

authorship of the painting of Mount

Rushmore, Ben-Hur's Rome, the Von

Trapp Family's Austrian Alps, and

Gene Kelly's Paris street scene.

The concept for Art of the Hollywood

Backdrop had its genesis with

the February 9, 2020, broadcast of a

CBS Sunday Morning program with

Jane Pauley. This program called attention

to the effort to preserve the

scenic backdrops that had laid rolled

up in the basement of MGM studios.

The exhibition celebrates Hollywood's

masters of illusion and

perspective, who have received

little recognition for their talent or

applause for their essential role in

making film magic.

t

• Bonnie Lautenberg: Art Meets

Hollywood is on exhibit through

August 21. Complementing Art of

the Hollywood Backdrop is an exhibition

of photographs by Bonnie

Lautenberg who pairs iconic artworks

with stills from Hollywood

movies released the same year

the artwork was made. She sometimes

chooses the artwork first and

searches for a connection to that

year's film, or reverses the process

to find an artwork that relates to

the movie. This exhibition runs

the gamut of film and art. The first

work is a pairing of a movie and

painting both made in 1928, Rene

Magritte's The Lovers and The Mysterious

Lady starring Greta Garbo.

The Golden Age of Hollywood is well

represented by such pairings as The

Philadelphia Story with

a Stuart Davis painting

once owned by Lautenberg's

father. Coinciding

with the downstairs

exhibition that includes

a backdrop created for

1952 film Singin' in the

Rain, Lautenberg's work

connects a work by Yayoi

Kusama with a still from

that movie.

Boca Raton Museum of

Art: Visit the Museum at

501 Plaza Real, Boca Raton,

Florida.

At The Dali: Running

through October 30,

2022, is 'the visit,' by

yamandú canosa. The

Visit presents the work

of Uruguayan-Spanish

artist Yamandú Canosa

(born 1954). Through

the exhibition, Canosa

creates a contemplative

dialogue between Surrealism

and contemporary

art. In the words of the

artist, "The exhibition is

intended as a visit that

contemporary art pays to the house of

Surrealism. One of the great legacies

of the surrealist movement is its aesthetic

complexity. This is confirmed

by its permanence in today's art. Surrealism

is about an attitude, not aesthetic

formulas: it is a way of looking

at and relating to experience".

The meditative installation explores

Salvador Dalí's environment

in Port Lligat, Spain, where Dalí

lived and worked throughout his

lifetime. The works relate the viewer

to the horizon, while alluding to the

Bay of Port Lligat: the beach, the Tramontana

wind, Dalí's house and the

island of Sa Farnera. Canosa's installation

also incorporates the Dibujos

ciegos (Blind Drawings), a series of

performative works on paper created

through a drawing process that elaborates

on surrealist practices.

The exhibit includes new and previous

notable works by the artist,

including paintings, drawings and

photographs, plus a small selection

of related Salvador Dalí works from

the Museum's renowned collection.

A portion of the Museum's Hough

Gallery will be transformed into a

dramatic installation designed by

the artist specifically for the Museum.

Info: https://thedali.org/exhibits/current/

t

t

The Artist Enclave of Historic

Kenwood in collaboration

with Creative Grape has "3 from

Kenwood" a photography exhibition

through August 31.

Creative Grape at 3100 3rd Avenue

North in Historic Kenwood teams

up with the Artist Enclave of Historic

Kenwood to present an exclusive

photography exhibition featuring

works by fine art photographers

Rich Pollin, Lisa Presnail, and Luci

Westphal. This exhibit features 36

works focused on the intersection of

street life, wildlife, and urban themes

in the heart of the neighborhood.

For information: https://www.

historickenwood.org https://creativegrape.com/

More about the photographers: In

2014, the St. Petersburg City Council

unanimously approved an Artist Enclave

Overlay District in the Historic

Kenwood Neighborhood. The special

distinction allows a limited amount

of commercial activity to take place.

Artists can create artwork, teach students

and sell their creations from

their own homes. These special accommodations

encourage a thriving

arts community. Only two of these

special artists' overlays exist in St.

Petersburg.

Coming Up:

On September 21, Forty Carrots

has its annual Speakers Event. Free

and open to the public, it's a virtual

educational event featuring experts

in the field of early childhood education

and child-rearing.

Presented by Community Foundation

of Sarasota County, this

20th anniversary presentation is

"THRIVERS: The Surprising Reasons

Why Some Kids Struggle and

Others Shine" featuring Dr. Michele

Borba. Our kids are the smartest on

record, but also the loneliest, most

stressed, risk averse, and depressed.

It's why we must rethink our parenting

so they can thrive in an anxious,

uncertain world. The good news is

that thrivers are made, not born.

In this thought-provoking session,

parents, caregivers and educators

will learn seven traits that science

says matter most in happiness and

success (even more than IQ and

grades) and help kids thrive both

now and later. This session will offer

hands-on tools to raise successful,

self-reliant, and less-pressured kids

who thrive in school and life. Register

now at https://fortycarrots.com/

special-events/speaker-event/

t

Wine Women & Shoes is back

November 17-19. Wine, Women features

an over-the-top signature luncheon

at the Ritz-Carlton including

fabulous wines, stunning stilettos,

shopping, and a not-to-be-missed

fashion show. Visit https://www.

winewomenandshoes.com/event/

fortycarrots/.

t

At the Elling Eide Center:

• September 10: John Balaban,

author and translator.

• September 26, 11 a.m.: Dr. Yanning

Wang, Associate Professor of

Chinese, Florida State University

t

Register for upcoming events on

Eventbrite.

Just for Girls' Annual Awards

Showcase Event returns on

November 4, 2022, at IMG Academy

Golf Club.

Join them as they celebrate Honorary

Girl (and JFG alum) Marianne

Barnebey, and give thanks to Gail

Hannah for her years of service as

President of the Manatee County

Girls Club Foundation, Inc.

Sponsorships for this event are

available. Call Samantha Daggett at

941-777-0707 x3204 or email Events@

myjfg.org.

t

Note ————————

Be sure to send season

schedules for 2022 to

westcoastwoman@comcast.net

t

10 WEST COAST WOMAN AUGUST 2022
---
Nutrients for your skin!

For Your Skin.

For Your Well-Being.

NEW Facials

Cold Compress Soothing Cucumber

Live + Be Well Probiotic + Pink Himalayan Salt

Gwen DeBergalis

Laser Technician, CLO/A, EO, LE

Specialist, 10 years experience

Dermatology of Coastal Sarasota

5310 Clark Rd., Suite 201, Sarasota

941.925.3627

DOCSofSarasota.com

open house

Tuesday, September 13, 2022

1 – 3pm

Selby Library • 1331 1st Street • Sarasota

Come and hear about

the many volunteer

opportunities at Federation

and our partner organizations!

RSVP at JFEDSRQ.org/openhouse

PARTNER ORGANIZATIONS:

Questions? Contact Jeremy Lisitza

at 941.343.2113 or JeremyL@jfedsrq.org

AUGUST 2022 WEST COAST WOMAN 11
---
arts news

Asolo Rep Holds

"Ribbon" Cutting

for Koski Center

Expansion

On June 23, Asolo Repertory Theatre officially

opened the first phase of its Koski

Center expansion with the cutting of a red

two-by-four "ribbon."

Asolo Rep leadership, campaign committee members and supporters "Cut the Ribbon," Asolo

Rep style! Campaign Committee member Larry Haspel, Campaign Co-chair Ann Charters,

State Representative Fiona McFarland, Producing Artistic Director Michael Donald Edwards,

Production and Operations Director Vic Meyrich, Managing Director Linda DiGabriele,

Board President Carole Crosby, Campaign Co-chair Margaret Wise, Campaign Committee

member Debbie Haspel, and Campaign Committee member Bob Baer. Photo by Cliff Roles

The festivities included remarks from

Producing Artistic Director Michael Donald

Edwards, Managing Director Linda DiGabriele,

Board President Carole Crosby,

Campaign Co-chairs Ann Charters and

Margaret Wise, and Production and Operations

Director Vic Meyrich. Broadway

performer Ann Morrison christened the Coville

Rehearsal Hall by treating attendees to

musical entertainment.

The opening completes the first phase

of Asolo Rep's Staging Our Future Capital/

Endowment Campaign, which includes

new spaces vital to the organization's

strategic plan for expanding educational

and community enrichment programs and

more. The new facility features a super

rehearsal hall, lobby, and large conference

room, among other spaces.

This phase will complete necessary renovations

to the existing Koski Center buildings,

providing additional rehearsal space,

classrooms, studios, physical therapy

facilities, artistic offices, and a dedicated

on-site suite for costume fitting, construction

and storage. The Koski Center is

located on Tallevast Road in Sarasota.

2

ArtCenter Manatee

receives two, million

dollar gifts to their

building campaign

Charlotte "Flo" Singer Johnson loved art.

She and her real estate investor husband,

Floyd C Johnson, were both artists. Flo was

a writer and painter known for her bold colors

and flowing shapes. She was a member

of the ArtCenter in the 1970s and 1980s,

taking classes and exhibiting her work.

Though Flo died in 2012, she returned to

ArtCenter Manatee in 2022 in the form

of a million dollar gift to the Center's new

building campaign through the Floyd C. and

Flo Singer Johnson Foundation, a private

foundation focused on enriching the human

experience through targeted funding of the

arts and the environment.

Also donating a million dollars to

ArtCenter Manatee's building campaign

is the Manatee Tourist Development

Council (TDC). Led by Executive Director

Elliott Falcione, the TDC is dedicated to

promoting this area, and all the many assets

in Manatee County, to both domestic

and international visitors.

"These gifts put us closer to our goal

and the reality of breaking ground this

year. We are extremely grateful for these

two gifts and for the commitment our

community has shown in supporting the

Center's building campaign," said Carla

Nierman, Executive Director of the Center.

For more information about the building

campaign or to take a tour of the current

Center, contact Carla Nierman, Executive

Director.

2

St. Pete Arts Alliance

brings the Trolley

Back for ARTWALK

After almost 2 ½ years, a pandemic and a

driver shortage, the St. Pete Arts Alliance

(SPAA) has contracted with Star Trolley

to reinstate trolley service for patrons of

St. Pete's Second Saturday ArtWalk. A

branded white trolley is now moving art

enthusiasts around to over 40 ArtWalk

venues from 5-9pm.

ArtWalk originated over 25 years ago

when gallery owners developed "Gallery

Walk" to drive business for the downtown

area by offering opportunities for the public

to meet artists and see them at work. Held

once a month, patrons easily strolled from

one gallery to the next. With the increasing

number of artists, studios, and creative

businesses, they saw the emergence of

five distinct arts districts that were not

within walking distance of each other.

A trolley service was added in 2012 to

facilitate the distances between venues

and prior to COVID, led to around

4,000 visits to studios and galleries every

month. Over 200 artists greeted their

guests in some 40 studios and galleries

with 20+ ArtWalk stops.

Join the Central Arts District, EDGE

Business District, Grand Central District,

Warehouse Arts District, Uptown Arts

District and downtown Waterfront District

every Second Saturday of the month.

UpcomingArtWalks are on August 13 and

September 10. Studios and galleries stay

ArtCenter Manatee building rendering

open late and

welcome visitors

from 5-9pm.

You can find

a listing, trolley

route and map of

participating galleries

and studios

one week prior

to each ArtWalk

at stpeteartsalliance.org/artwalk.

2

Hermitage Launches

New Sarasota "Cross

Arts Collaborative"

The Hermitage Artist Retreat has announced

the launch of the Sarasota Cross

Arts Collaborative, made possible with

support from the Koski Family Foundation.

This initiative is designed to give frequent

performers and company members

from leading Sarasota arts organizations

a chance to expand their artistic practice

from 'performer' to 'creator.'

Each year, the Hermitage will award

Cross Arts Collaborative residencies to artists

from two selected partner institutions.

This new program is designed to inspire

and encourage generative work created by

some of the best and brightest in the local

performing arts community.

Artists are invited by their respective

organizations to submit proposals for consideration;

finalists are then submitted to the

Hermitage for consideration, and recipients

are selected in consultation with past and

current members of the Hermitage's National

Curatorial Council. Recipients receive two

weeks of uninterrupted time at the Hermitage

Artist Retreat each summer to develop

a new generative project, and the work is

then shared with the Sarasota community in

a free public program the following fall.

In the inaugural season of the Hermitage

Cross Arts Collaborative, this honor has

been awarded to Tsebiyah Mishael Derry,

a frequent collaborator with Florida Studio

Theatre, and Derric

Gobourne, Jr, a performer

with deep roots

at Westcoast Black

Theatre Troupe.

The final selection of

artists was overseen

by Emily Mann, an

Emeritus member of

FST Performing

Artist Tsebiyah

Mishael Derry

WBTT Performing

Artist Derric

Gobourne

the Hermitage Curatorial

Council and the Tony

Award-winning longtime

Artistic Director of

the McCarter Theater

(Princeton, New

Jersey). A free public

program showcasing

the work Derry and Gobourne

is planned for

the fall of 2022; details

will be announced at a

later time.

While the Hermitage's

residency

program brings artists

from across the country and around the

world to create work on its beachfront

Manasota Key campus, the Hermitage also

seeks to enrich the growing arts scene in

Sarasota, as showcased by performing arts

institutions such as Florida Studio Theatre

and Westcoast Back Theatre Troupe.

"We want to offer this one-of-a-kind

opportunity to some of the leading artists in

Sarasota, by creating space for a talented

performer to focus on being a generative

artist,"said Hermitage Artistic Director and

CEO Andy Sandberg. "We know there are

actors, dancers, musicians, and performing

artists working amidst our circle of frequent

collaborators who have passion projects

waiting in the wings. This could be an

actor writing a play between production

contracts, a cellist composing a symphony

after rehearsals, a dancer yearning to expand

into the choreographer's space – or

someone looking to work across an entirely

new genre. This residency is designed for

an artist who is hungry to expand their

creative practice and explore a new 'hat'

within the arts and entertainment space."

The selected artist from Westcoast Black

Theatre Troupe, Derric Gobourne Jr., plans

to use the time to develop a new music

short film. Tsebiyah Mishael Derry, the

selected artist from Florida Studio Theatre

will use the time to create an experimental

theatrical work weaving together her own

poetry, songs, and more.

After their time in residence, the Hermitage

will collaborate with the selected partner

institutions to bring a public program to

the Sarasota community to highlight Derric

and Tsebiyah's work. Hermitage programs

like these are free and open to the public

with a $5/person registration fee. Due to

capacity limitations, registration for all

Hermitage programs is required at HermitageArtistRetreat.org.

For more information about the Hermitage

and upcoming programs, visit HermitageArtistRetreat.org.

2

Sarasota Ballet School

Presents

a New Rendition of

The Nutcracker

While it may be summer, The Sarasota

Ballet School has announced a brand-new

production of The Nutcracker for December

2022. The production will be performed

by The Sarasota Ballet Studio Company,

and students from The Sarasota Ballet

School, The Margaret Barbieri Conservatory,

and Dance – The Next Generation.

Backdropped by the historic Sarasota

Opera House and set to Tchaikovsky's

magical score, this production will feature

enchanting sets and an array of costumes

created by the internationally renowned

ballet designer Peter Farmer, whose creations

have transformed the stages of The

Royal Ballet, The Scottish Ballet, and The

Australian Ballet among many others.

The Nutcracker will be directed by Risa

Kaplowitz, faculty member of The Sarasota

Ballet's Margaret Barbieri Conservatory,

with additional choreography by Dierdre

Miles Burger, Christopher Hird, Lindsay

Fischer, and Addul Manzano.

The Nutcracker will be the first true fulllength

ballet in The Sarasota Ballet School's

repertoire. To purchase tickets, visit www.

sarasotaballet.org/events/nutcracker.

12 WEST COAST WOMAN AUGUST 2022
---
dining out

Sage's Summer menus and Michelin Guide comes to Florida

Sage Restaurant

launches seasonal

summer menu

Restaurant, a

culinary destination

offering worldly

cuisine and crafted cocktails in

downtown Sarasota, recently launched

their seasonal menu for summer, which

includes a number of new entrees,

appetizers and cocktails.

The culinary team, led by executive

chef Christopher Covelli, has continued

to honor the restaurant's mission of

offering a global culinary experience by

frequently introducing new menu items

that demonstrate French, Italian and

Asian influence.

"We are pleased to offer guests a diverse

menu using seasonal ingredients,"

said Covelli, co-owner of Sage Restaurant.

"Summers in Sarasota get very

humid, so we've created new dishes that

will satisfy diners with robust flavors

but won't leave them feeling heavy."

Some of the new seasonal entrees

include zucchini blossoms stuffed

with mirepoix, red onion, zucchini and

yellow squash over a curry honey yogurt;

pickled peach salad with Boursin

cheese, basil-ginger pistou, Fresno

chilis and mixed greens; pan seared

foie gras with blue corn and foie tamale

and a pipian rojo gelato; steamed hake

in a banana leaf with cilantro chutney,

roasted tomatoes and turmeric rice;

and grilled Spanish octopus with nuoc

mam and pickled watermelon over

Sage Restaurant,

Sarasota

News about restaurants…

crispy farro, among others.

The new seasonal cocktail list offers a

number of creative alcoholic beverages

crafted by Sage Restaurant bartenders,

including the Vitamin Bee, Mare Azul

and Monday Motivation, among others.

To view the entire seasonal menu, visit

SageSRQ.com/Menu.

Sage is open Tuesday through

Thursday from 5 to 10 p.m., and Friday

through Saturday from 5 to 11 p.m. To

make a reservation, visit SageSrq.com

or call 941-445-5660.

New Michelin

Florida Guide

"The launch of the MICHELIN

Guide in Florida is fantastic

news for our state," said Dana

Young, VISIT FLORIDA President and

CEO. "Our cuisine is a huge part of who

we are and what we offer to visitors."

The inaugural edition of the MI-

CHELIN Guide includes Miami and

Orlando with inspectors finding 14

One-MICHELIN-Star restaurants and

a Two-MICHELIN-Star restaurant.

"As you can see, Miami and Orlando

have very much to offer to international

food and wine enthusiasts," said Gwendal

Poullennec, International Director

of the MICHELIN Guides.

Two-MICHELIN Star Restaurant

(comments are by Michelin Inspectors)

L'Atelier de Joël Robuchon Miami,

led by Director of Culinary Operations

Alain Verzeroli, received two MICHE-

LIN Stars. Here's what the inspectors

had to say about it:

"The menu offers both tasting portions

and large plates; but go with the seasonal

prix fixe. The bread basket is a lovely

opener, arriving in advance of such

thrilling bites as a seared sea scallop with

toasted spices. The Design District setting

bears all the beloved hallmarks with its

counter and open kitchen."

One-MICHELIN-Star restaurants:

(comments are by Michelin Inspectors)

–––––––––––––––– MIAMI–––––––––––––––––

Ariete (Miami, Contemporary cuisine)

"Chef Michael Beltran's Coconut Grove

mainstay is immediately welcoming with

a menu that weaves together Cuban and

French influences to dazzling effect."

Boia De (Miami, Contemporary cuisine)

"A neon-pink exclamation mark that

glows above the front door is impossible

to miss. Surprising is certainly an apt

descriptor for Chefs Luciana Giangrandi

and Alex Meyer's distinctive and impressive

menu."

Cote Miami (Miami, Korean cuisine/

steakhouse)

"Owner Simon Kim and his team know

what they're doing in this highly stylized

Korean steakhouse, which almost feels

like a temple to beautifully marbled

and aged beef, much of it on display in a

nearby room."

The Den at Sushi Azabu Miami

(Miami Beach, Japanese cuisine/sushi)

"Tucked away in the Stanton

South Beach hotel through Sushi

Azabu's dining room and behind

a sliding door is this intimate

temple to sushi. Fish flown in a

few times a week is treated and

dressed minimally, often with

just a single brush of nikiri."

Elcielo Miami (Miami,

Colombian cuisine)

"The menu offers diners a taste of

traditional Colombian cuisine presented

in a modern and dramatic

manner. Colombian-born Chef

Juan Manuel Barrientos' culinary

artistry has garnered international

fame, with various locations,

including Washington, D.C."

Hiden (Miami, Japanese

cuisine)

"This spot is indeed hidden in the

thick of bustling Wynwood. Chef Shingo

Akikuni sticks to tradition, sourcing

most of his product from Japan — beautiful

slabs of tuna, sweet botan ebi and

generous portions of uni are highlights in

a tasting menu that never feels stuffy or

overly reverent."

Le Jardinier Miami (Miami, French

cuisine)

"Stylish from head to toe, this dining

room is a celebration of the seasons. The

menu is a study of vibrant tastes and

smart compositions that pack big flavor

minus the heaviness."

Los Félix (Miami, Mexican cuisine)

"This is cooking that sends guests on a

gustatory trip — at the hands of servers

who are armed with ample information

about the provenance of each ingredient.

Recent highlights have included hearty

pork cheek carnitas with myriad salsas

and snapper crudo topped with shavings

of jicama and avocado aïoli."

Stubborn Seed (Miami Beach,

Contemporary cuisine)

"Stubborn Seed is sexy and sleek with

its industrial chic décor and glass-fronted

display kitchen. Chef Jeremy Ford

brings the heat, and his ambitious and

brashly creative cooking is best enjoyed

by way of the tasting menu."

The Surf Club Restaurant (Surfside,

American cuisine)

"Located within the elegantly restored

landmark, now in league with the Four

Seasons, The Surf Club is a prime location

for Thomas Keller's first Florida

venture. Sauces are what this team does

best, starting with the scallop crudo with

buttermilk-basil dressing; followed by

the brilliantly reimagined Maine lobster

thermidor with sauce Américaine."

–––––– ORLANDO––––––

Capa (Orlando,

Steakhouse)

"At the Four Seasons Resort

Orlando at Walt Disney

World; this steakhouse also

flaunts a decidedly Spanish

accent. Kick things off with

ace tapas before indulging

Capa (Orlando,

Steakhouse)

in a main dish, like flame-kissed ribeye

with tamarind-ancho sauce."

Soseki (Orlando, Fusion/sushi)

"This tiny operation with Chef Mike Collantes

at the helm is an ideal illustration

of a contemporary meal expressed by

way of an omakase. A laser-like focus on

local Florida produce results in a menu

that changes monthly."

Kadence (Orlando, Japanese cuisine/

sushi)

"The omakase opens with hot dishes and

cool sashimi. This is food that's free-spirited,

yet manages to honor the classic

methods. Pacing is on point in sashimi

like hamachi and hirame. Nigiri, like

snapper with lemon and sea salt, will

have you yearning for more."

Knife & Spoon (Orlando, Steakhouse)

"This iteration from Chef John Tesar

inside the Ritz-Carlton Orlando, Grande

Lakes, is the picture of plush. Care and

skill are the hallmarks of this team, as

they turn out contemporary steakhouse

fare woven with seafood."

THE EXCEPTIONAL

––– ––– COCKTAILS AWARD–– ––––

Special Awards

The Guide announced two special

awards. Sommelier of the Year, presented

by Wine Access, was awarded to

Victoria James and her team at Cote

Miami. The Exceptional Cocktails

Award was awarded to Ruben Rolon

and his teams at L'Atelier de Joël Robuchon

Miami and Le Jardinier Miami.

The 2022 Miami and Orlando restaurant

selection will join the MICHELIN Guide

selection of hotels, which features unique

places to stay in Florida and around the

world. Visit the MICHELIN Guide website

at https://guide.michelin.com/en.

AUGUST 2022 WEST COAST WOMAN 13
---
Mediation Works

(No Attorney Required)

"I could not believe that two people could sit in a room

together and calmly and rationally come to an agreement

on everything that took attorneys years to do."

Marital Mediation

Thinking about divorce? Let's discuss what might happen if you divorce and what

could happen if you choose to stay together and improve your marriage.

Divorce Mediation

Understand your options so you can come to a mutually agreeable and fair

outcome for you and your family.

Eldercare Mediation

We work with adults and their caregivers to come up with solutions that will result

in the best possible outcome for all concerned.

Freya Robbins

Mediator &

Certified Divorce Financial Analyst®

941.366.0202

ZollingerMediation.com

3580 S. Tuttle Ave., Suite 110

Sarasota, FL 34239

14 WEST COAST WOMAN AUGUST 2022
---
happening this month

The Hermitage Artist Retreat

and Sarasota Opera present

"Music's Masterpieces"

A Film Screening and Discussion August 26

at The Sarasota Opera House

T

he Hermitage Artist Retreat has a

new program presented in partnership

with Sarasota Opera featuring

the work of Hermitage Fellow Hilan

Warshaw, a filmmaker and musician whose

work focuses on the lives and works of some

of music's most influential figures. The film

screening and discussion will take place on

Friday, August 26 at 6pm at the Sarasota

Opera House.

Hermitage Fellow Hilan Warshaw's films

explore the lives and minds of great composers,

delving into the often controversial

passions and experiences that informed

some of music's most influential masterpieces.

Blending documentary, narrative film

techniques, and his own musical background

as a violinist and conductor, Warshaw's internationally

broadcast films shine a new light

on musical and operatic creators including

Wagner, Schoenberg, Berg, Bach, and Mahler.

He is currently the video director of the

Atlanta Symphony Orchestra's on-demand

Classical Series. For this program on August

26, Warshaw shares excerpts from his films

and discusses the close relationship between

the art forms of cinema and music. (Complete

artist bio below.)

"We are excited to partner with Sarasota

Opera as we introduce Hilan Warshaw to

the many classical music appreciators in

our region," says Hermitage Artistic Director

and CEO Andy Sandberg. "We are proud to

support new musical voices and multidisciplinary

artists, and Hilan's extraordinary

talent as a filmmaker in the field of classical

music seemed like the perfect opportunity to

collaborate with our friends at the Opera as

he shares his gifts for cinematic and musical

storytelling with our community."

This event is one of many Hermitage programs

and collaborations planned throughout

the season, spanning Sarasota County

and the surrounding region — all free to the

community (with a $5/person registration

fee).The Hermitage is the only major arts organization

in the Gulf Coast region exclusively

committed to supporting the development

and creation of new work across all artistic

disciplines. Since the start of the pandemic,

the Hermitage has offered more than 100 live

outdoor artist programs, free and accessible

to the members of our community.

Venues have expanded beyond the Hermitage's

beautiful beachfront campus to include

outdoor locations throughout Sarasota

County and beyond, including Marie Selby

Botanical Gardens, Bay Park Sarasota, Booker

High School, Conservation Foundation of the

Gulf Coast, The Ringling Museum, Sarasota

Art Museum, Boca Grande, and more.

New and ongoing collaborations have

included Asolo Repertory Theatre, ASALH,

Embracing Our Differences, EnsembleNew

SRQ, Florida Studio Theatre, New College of

Florida, Art Center Sarasota, Sarasota Opera,

Urbanite Theater, Venice Theatre, Westcoast

Black Theatre Troupe, and more.

Unlike most Hermitage programs, this

event will be held indoors at the Sarasota

Opera House, 61 N. Pineapple Ave., Sarasota.

Capacity for this event may be limited to

accommodate safe social distancing, so early

reservations are recommended. Admission

is free with a $5 per person registration fee.

Registration is required at HermitageArtist-

Retreat.org.

Bio for Hilan Warshaw

Hermitage

Fellow Hilan

Warshaw is a

film director and

writer. His television

documentaries

include

Wagner's Jews

(PBS-WNET, and

others), Secret

Song, In the Key

of Bach (PBS-

GPB), Rachmaninoff

Revisited

(co-producer and

editor), Through

Hermitage Fellow Hilan Warshaw

the Darkness, and

Mahler in New York. Since September 2020,

he has been video director of the Atlanta

Symphony Orchestra's on-demand Classical

Series. His essays about music and film have

been published by Cambridge University Press,

McFarland Press, The Wagner Journal, and

Wagner Spectrum. He has taught film courses

at Western Carolina University and Barnard

College, and has been a panelist and lecturer

at Yale, Hofstra, BU, and NYU, among others.

In addition to his own films, other television

writing credits include A Workshop for

Peace (PBS-WNET), commissioned by the

United Nations. Additional editing credits

include Shadows in Paradise: Hitler's Exiles in

Hollywood, In the Key of G, and the miniseries

Great Conversations in Music, all broadcast on

PBS stations and internationally. He holds

a B.F.A. (Film and TV) and M.F.A. (Musical

Theater Writing) from NYU's Tisch School of

the Arts, and studied orchestral conducting

at Mannes College of Music and the Aspen

Music School. Visit OvertoneFilms.com

Also at The Hermitage:

"The Latest from Terry Guest" is on Friday

August 19, 6:30pm. Hermitage Fellow Terry

Guest, playwright of Urbanite Theatre's

recent acclaimed production of At The Wake

of a Dead Drag Queen, returns to Sarasota to

share his latest work. This funny, vital, and

raucous new work is a "Pageant on White

American Memory" and explores several of

our country's most consequential families

through a wickedly contemporary lense.

Join the Hermitage for a sneak peek at

a new play by the playwright whose work

has been described as "breathtaking" with

"indelible scenes" (Chicago Reader). Note:

The content of this play not be suitable for

children. Presented in partnership with

Marie Selby Botanical Gardens and Urbanite

Theatre. Registration is required at HermitageArtistRetreat.org.

($5/person registration

fee). Marie Selby Botanical Garden, 1534

Mound Street, Sarasota.

FREE LIVING WILL

WITH EVERY ESTATE PLAN

Simple Will ................................... $ 110

Revocable Living Trust:

Single ....................... $ 595

Married ................. $ 1,050

Power of Attorney ........................ $ 95

Health Care Surrogate .................. $ 85

No additional costs required other than filing fees if applicable.

www.gerlinglawgroup.com

Dana Laganella

Gerling, Esq.

Offices: Bradenton/

Lakewood Ranch

756-6600

The hiring of a lawyer is an important decision that should not be based solely upon advertisements. Before you decide,

ask us to send you free written information about our qualifications and experience.

Get West Coast Woman delivered FREE!

Subscribe

to our monthly

e-magazine

Read, click,

turn pages

— all at the

convenience

of your

laptop, smart

phone or

tablet.

Send your email addy to: westcoastwoman@comcast.net

DOES MORE

SARASOTA BRANCH

1075 S. Euclid Ave.

Sarasota, FL 34237

941-955-8194

PALMER RANCH BRANCH

8301 Potter Park Dr.

Sarasota, FL 34237

941-922-9622

AUGUST 2022 WEST COAST WOMAN 15
---
Luz

Corcuera

She's the

Executive

Director of

UnidosNow whose

mission is to "Elevate

the quality of life of

the growing Hispanic/

Latino community

in the Manatee and

Sarasota region

through education,

integration and civic

engagement."

Their results can

best be seen at

their recent Future

Leaders Academy

graduation where

100 per cent are

going off to college.

"Education is

critical," Luz states.

16 WEST COAST WOMAN AUGUST 2022
---
Luz is Spanish for "light."

And as executive director

of the forward-thinking

organization UnidosNow,

she lights the way for

Hispanic and Latino

youth desiring to get a

college education and achieve success in life.

But Luz would be too humble to consider

that compliment and would insist instead it's

a team effort at her nonprofit though there are

just four staffers including herself at Unidos-

Now which is located in the Glasser/Schoenbaum

Human Services Center in Sarasota.

From their website: "UnidosNow's mission is

to elevate the quality of life of the growing Hispanic/Latino

community in the Manatee and

Sarasota region through education, integration

and civic engagement." Since inception,

UnidosNow has served over 3,000 low-income

Hispanic/Latino students and their parents

through their elementary, middle, and high

school-based programs and parent leadership.

Simply put, Luz and her staff want to "empower

Latinos to achieve their American

Dream." The path to that American Dream is

education and that's what UnidosNow nurtures,

encourages and guides young people towards

while raising up their families who may

have never had a college graduate, let alone a

high school graduate in their family.

Education, Luz says, is one of the most

important things for a child to attain. It can

lead to "Integration into the fabric of the community…it

gives you a seat at the table." The

commonly use "melting pot" analogy she feels

isn't quite accurate. "Don't lose your identity;

add your identity," she explains, preferring the

analogy of a "fruit salad" with its many colorful

and unique ingredients.

Based on 2020 Census figures, the Hispanic

population in Sarasota County runs about

10% while in Manatee County it's closer to

17%. It's the fastest growing minority group

in the country. And Luz points out that those

official numbers undercount many who the

Census didn't reach. In the past 10 years

those numbers have grown by 370 percent.

"They come alone, then reunite with family,

while others have planted roots," she

explains. The majority, she notes, are not

Mexican workers. Instead, theirs is a diverse

group from Central America, South America,

Mexico and other places.

UnidosNow was founded in 2010 by Kelly

Kirschner and attorney CJ Czaia (both current

board members) who wanted to create opportunities

for the Hispanic and Latino communities

they felt were underrepresented in

the community. Kirschner was UnidosNow's

first Executive Director. He approached Luz to

be the next ED, but she declined due to other

commitments.

Prior to UnidosNow, Luz had leadership

roles with numerous organizations, including

Healthy Start Manatee and the Florida Department

of Health in Manatee County, where

she developed and oversaw diverse community-based

initiatives to empower underserved

and at-risk populations, while also building

community partnerships across sectors, according

to the UnidosNow website.

UnidosNow continued and had two more

executive directors until they approached Luz

again and she accepted and came on board in

2016. One of her goals was to have the organization

"go deeper, not broader" and include not

only elementary age and middle school children,

but also the families of all the children

and adults in the UnidosNow program making

it multi-generational. "Education is critical,"

Luz often states but so is involving the family.

Luz came onboard with those goals knowing

it was "the perfect organization to give back

to" since she herself had an excellent education.

Luz grew up in Peru with seven siblings.

Her parents were well-educated and stressed

higher education for their children. Luz emigrated

to Canada and practiced as a psychotherapist

for 16 years before moving to Florida

in 2000. She holds master's degrees in Pastoral

Ministry and Psychology.

Luz and her husband Luis have two daughters,

Mariella and Daniella. Mariella is an electrical

engineer working in Luxembourg who

went to Duke University on a full scholarship.

Her other daughter lives in Canada and has an

MBA and JD also from prestigious schools and

has talked to UnidosNow students about her

experiences in getting a scholarship and, how

as a minority, you have to prove yourself. Luz is

also a grandmother of two.

Can there be anyone better suited to run

UnidosNow than someone who knows firsthand

the cultural and social challenges of

integrating successfully into a new community?

Luz understands their struggles, but also

knows there is reward for hard work. A 501(c)

(3), UnidosNow has one fundraiser a year. The

rest comes through grants, foundation and

donations—also Luz's responsibilities.

One who knows Luz well is Susie Bowie, Executive

Director, Manatee Community Foundation.

"Luz Corcuera is trusted by many in

our community. Her knowledge and track record

of supporting and advocating for Hispanic

Latino students is exceptional. Luz's unique

ability to share information with people in a

way that helps them understand the truth in a

situation and how they can help have made a

difference beyond what we can ever quantify

in a grant report," she shares.

UnidosNow's results can perhaps best be

seen at their recent Future Leaders Academy

graduation where 100 per cent are going off

to college. Hector Tejeda, a Harvard-educated

businessman, ran UnidosNow for a while

and he created the Future Leaders Academy.

UnidosNow assisted college-prep Future

Leaders Academy students in accessing over

$8 million in post-secondary scholarships and

educational grants for the 2021-2022 class.

"With our Future Leaders Academy, we are

empowering our leaders of tomorrow to create

circles of opportunities for generations to come

through college preparation, leadership training,

and community service."

She explains that the UnidosNow goal is

"…to inspire young people…to visualize and

reach their full potential, leading our community

to be the best it can be for everyone."

Students have gone on to prestigious schools

like Harvard, Stanford, Duke, Princeton,

Cornell and Yale.

During the school year, 24-25 students

are coached and mentored, but the number

reaches close to 200 when parents and grandparents

are factored in. Parents, Luz says,

"are inspired by their children." They often go

with their children to visit campuses And the

kids, Luz notes, inspire their parents to pursue

other opportunities. Parents have the opportunity

to acquire English language skills,

understand how the U.S. education system

works, connect to community resources, and

become ambassadors in the community.

The impact of guiding a young person and

inspiring them to go to college or pursue their

dreams cannot be understated. They may go

to college, but they raise up their family as

well. "For first generation Latinos, this is a big

achievement. The kids become better versions

of themselves."

The important thing Luz explains is to

"dream big," adding, "It's important for them

to choose a place that's a good fit and for some

that may mean being closer to family."

"Dreams are dreams," she says with a

smile, and UnidosNow has found the "secret

sauce" she says of how to make that happen.

If you want to learn more, visit https://

www.unidosnow.org/. Luz is also available

for tours.

STORY:

IMAGES:

Louise Bruderle

Evelyn England

Revisit your

Investment

Philosophy

Let me guide you

through the process.

Call 941-914-1560

for an appointment.

Amanda E. Stiff, MBA Financial Advisor

AccessAdvisorsLLC.com 941 914-1560 Astiff@AccessAdvisorsLLC.com

1800 Second Street Suite 895 Sarasota, FL 34236 1305 Langhorne Road Lynchburg, VA 24503

Securities are offered through Level Four Financial, LLC a registered broker dealer and member of FINRA/SIPC. Advisory Services are offered

through Level Four Advisory Services, LLC, an SEC-registered investment advisor. Level Four Financial, LLC, Level Four Advisory Services,

LLC and Access Advisors, LLC are independent entities. Neither Level Four Financial, LLC, Level Four Advisory Services, LLC nor Access

Advisors, LLC offer tax or legal advice.

AUGUST 2022 WEST COAST WOMAN 17
---
wiser you

Avoiding the water?

Want to be at ease in the water?

Miracle Swimming makes it easy to eliminate

fear of the water

A

t a resort

on Siesta

Key, a

group of

individuals

— a man and two women

plus an instructor — are

gathered by the pool

going over notes and

reviewing their lessons.

They're from various

places in the U.S.—two

from the Atlanta area and

one from Sarasota—but

with a common goal:

learn to feel comfortable

in the water and thus

enjoy swimming, floating

or simply being in the

water. It's part bookish,

part hands-on, but always

at a deliberate, gentle

pace with no pressure, no

coaching and no laps of

any kind.

This is Miracle Swimming's

approach — a carefully

crafted (and tested)

system to teach people to

feel comfortable in the

water. It's held at resorts

versus at pools at

community centers or

places like the YMCA

to add to the relaxed

vibe that permeates

the learning at Miracle

Swimming.

"You have to be

comfortable," says

Melon Dash, the owner,

founder and veteran

teacher of Miracle

Swimming explains.

"Comfort is a big part

of the experience

from the water being a

comfortable temperature,

the depth being a

comfortable level and

most importantly the

comfort of being able

to be yourself as you

learn," she explains.

"And fun," Melon's

instructor Theresa

shouts from across the

pool where she is starting

the pool part of the

day's learning.

There's a strong mindfulness component

to Miracle Swimming that could be

summed up in, "Don't think too much,"

Smiling faces means another successful "graduation" on the Essentials class for these three students.

L-R Noah, instructor Theresa, Eni and Anne. Note the smiles as well as the fact they're in deep water.

Melon Dash is the creator of

Miracle Swimming. She's a

nationally ranked U.S. Masters

swimmer and holds a Master's

Degree in Education.

as Melon calls it. As

humans, we tend to

fear what we don't

know and fear can

sometimes lead to

panic. The three

soon-to-be-graduates

of this five-day program are anything

but fearful. They are relaxed, smiling

— almost elated — to experience the

Melon created a tether and PVC attachment for each student which ensures

that the student never drifts and thus keeps them feeling safe.

water for the enjoyable experience it can

be without any mental hindrances.

Most of us love the water — swimming,

diving, wading or just floating. But

some have a fear of the water that keeps

them from getting into the water past the

shallow end. It can be an intense fear;

for others it's an inconvenience when

on vacation or taking kids or grandkids

to the water or pool. Some simply have

little experience in the

water and thus are not

comfortable. And more

than a few would like a

way to overcome that

fear, but not necessarily

with swim lessons.

Melon, an experienced

college swimming

instructor, in 1983

created what she calls

"The 5 Circles Teaching

Method." She created it

because she saw her students

more concerned

with survival than mastering

strokes. With this

novel new approach

she also opened Miracle

Swimming School for

Adults. Since then thousands

have "triumphed"

by taking her classes according

to her website.

Melon is a nationally

ranked U.S. Masters

swimmer and holds a

Master's Degree in Education.

Speaking with

her you find yourself

talking more about

mindfulness which is

interesting because

that's how her program

works. You have

to be mindful of your

thinking, your fear,

your surroundings,

your breathing. Put

another way, you

learn to be in control

in the water by being

peaceful in the water.

Melon has offered

the program in places

like Dublin, Ireland,

and Cheltenham,

England, and closer

to home in West Palm

Beach in Florida, but

also Palm Springs and

Chicago. She has 65

licensed instructors

who also offer her program around the

country.

Melon now teaches the advanced

classes so Theresa is leading the beginner

class today that consists of two

women and one man (yes, it's co-ed).

Anne, a Sarasota resident, calls Miracle

Swimming's methodology "a gentle approach"

and indeed it is. Students spend

continued on next page

18 WEST COAST WOMAN AUGUST 2022
---
TRY A THERAPY

THAT WORKS!

wiser you continued

Immediate Relief Beginning

with the First Session:

Chronic Pain: Sciatic, Back, Neck and TMJ

as much time out of the pool as in. Eni,

who hails from North Carolina, appreciates

the individualized approach.

Every consideration is given to keeping

students relaxed and feeling safe. No

one is rushed if they're not ready. There

are no "musts" or "have to's" and no testing

and no competition. Ever refining her

teaching, Melon created a tether and PVC

attachment for each student. The tether

hooks the swimmer to a set of plastic anchors

that attach to the side of the pool.

This is to ensure that the student never

drifts and thus keeps them feeling safe.

A sense of safety is what's it's all

about and is the core of the thinking

behind Miracle Swimming. Thus no "get

in the pool and start kicking" or "you're

doing that all wrong" dialogue. Theresa

leads the entry level Essentials 1 class

and says, "When you're ready, try this

move" as she demonstrates how to briefly

turn your face into the water. They all

do it in their own way as much as they

want. After that, she asks them, "What

would you like to do next?"

One of the students, Noah, is from Atlanta

and admits she'd always be the one

to watch the kids whenever she was at a

pool. She's been around water, but wanted

a "sense of confidence." She likes

the class because it "speaks to the fears

adults have" and has already signed up

for the second stage of classes.

Eni, another student, admits he

"never had the opportunity to swim."

He'd go on vacations and dip his legs

in the water, but wanted to feel comfortable

in deep water. He'd see others

swim and admire how graceful they

were. He did his research thoroughly

before choosing Miracle Swimming. He

found many classes filled with kids and

thought, "This is not going to work." He

read about the program back in 2015

and when his wife took it, being that he

called "the guinea pig," and decided if

she liked it he'd take it. And he did.

For Anne, who, lives in Sarasota, she

signed up for Miracle Swimming to "feel

safe and enjoy the water without fear."

She had enjoyed water sports as a youth

and used to be comfortable in the water

and wanted to regain that sense of being

comfortable again.

The program is five consecutive days

and sometimes they're in the pool for an

hour or more after having instruction on

Melon

Dash,

creator of

Miracle

Swimming

land. The water is intentionally warm to

make it more relaxing and they do their

exercises in the shallow end of the pool.

A once-a-week typical swim class would

never have the same results.

In informal, poolside classes students

learn things like buoyancy and center of

gravity, and each has a workbook they

use every day before heading into the

pool. According to Melon, "Other programs

don't speak to the mental aspect

of swimming."

Watching them on this last day of the

five-day program, judging by the smiles,

it seems they have all enjoyed the

confidence they've gained and will take

with them.

Story: Louise Bruderle

About Miracle

Swimming

They offer a variety of classes from beginner

to more experienced, but most

start with Essentials 1 which is the entry

level class. Students learn to overcome

the fear of putting your face in, putting

your head under, sinking, running out

of air, and losing control. Students can

move on to move advanced classes if

they want to to address deep water, being

in the ocean and jumping off a boat.

The essentials do not include strokes.

Melon explains that, "Strokes are for

efficiency, not safety." She adds that the

Essential class "Teaches the essentials

of swimming, including how the water

works. It's not about motion. You spend

time in both shallow and—as you become

ready— deep water. The ability to

rest in shallow water paves the way for

movement that's natural and comfortable.

Confidence builds and you become

curious to try it in the deep. All that's

required is your full presence."

Coming up:

August 15-19

Location: Jamaica Royale,

5830 Midnight Pass Road, Sarasota

Schedule: Monday 9-noon and 3-6;

Tuesday 9-noon; Wednesday 9-noon

and 3-6; Thursday 9-noon and 3-6 and

Friday 8-11.

Offered again in Sarasota on

September 19-23, October 17-21 and

November 7-11.

Visit https://miracleswimming.com/.

Migraines, Foggy Brain and

Lack of Concentration

Sight and Eye Problems

Asthma, Bronchitis, COPD, Shallow Breathing

Digestive and Constipation Issues

Leaky gut and Autoimmune problems

Chronic Fatigue, Fibromyalgia and Depression

Concussions, Brain and Spinal Cord Health

Mobility and Energy Issues for Seniors

T. Grywinski specializes in difficult issues with great success

How Craniosacral Therapy Can Be Life Changing

"Doctors, physical therapists, massage therapists and chiros

gave me little relief. Terry relieved my pain, after all these years!

He has also helped four of my other friends. The man is an angel,

with a gift from God....thank you Terry!!"

"After 3 sessions, I had more range of motion and mobility in my

neck, shoulders and hips. I was getting to the point where walking

and moving was difficult. It feels like a weight has been lifted off my

shoulders, my voice is stronger and my energy is greatly increased.

I feel much calmer and more grounded!!"

"I no longer feel physically sick each morning. No gastroenterologist

or physician has ever properly diagnosed my mucus build up until

now. As well as bringing about healing in my gut, he released an

incredible amount of tension in my upper body."

"The question is where has he been all my life? Terry is a true healer

and if you are serious about being well, you are in luck.

He is effective and lovely."

advanced craniosacral therapy

Terrence B. Grywinski

B.A., B.Ed., LMT MA6049

25 Years of Experience

advcst.com

See full page explanation of Craniosacral Therapy and

how it can help you in another section of this issue

Downtown Sarasota • 941-321-8757

Google "Advanced Craniosacral Therapy Sarasota" for more info

AUGUST 2022 WEST COAST WOMAN 19
---
travel news

EDITOR'S PICK:

Discovery Tours SRQ

Discover Sarasota Tours offers

fun, entertaining, interactive,

and informative air-conditioned

trolley and van tours of interesting

places and stories that shaped

Sarasota's cultural past. They offer

many different daytime, nighttime,

or holiday trolley tours exploring the

history, culture, and unique aspects

of Sarasota.

During hot summer months,

morning tours run in "Dolly The

Trolley," their new 31-seat trolley,

and afternoon tours run in "Vanna

White," their 9-passenger high-top

van. Both vehicles are enclosed and

air-conditioned.

Tours run year-round, but during

the hottest months of the summer,

they don't run all tours every day,

Scoop Some Scallops this Summer

and "Cook Your Catch"

Scalloping season is underway at

Crystal River and Plantation on Crystal

River and they're offering guided

and non-guided scalloping deals. Guided

scalloping package rates start at $949 (see

website for details) for mid-week stays for

two guests and includes:

• Two-night stay in a garden or water view

deluxe room, patio room or golf villa

• Guided scalloping tour including mask,

snorkel and fins with one of the area

captains

• Souvenir bag with mesh scalloping bag,

scallop recipes and water

• Chef-prepared cook-your-catch from the

day's harvest (scallops or fish) for lunch or

dinner.

• Breakfast daily

Scalloping is like snorkeling, but with the

simple addition of a mesh bag for storing

the harvest. Most scallops can be found in

the shallow grass flats of the Gulf of Mexico

so check the calendar. If there is a

date not listed, email them at info@

discoversarasotatours.com.

Trolley and van embark

from Trolley Cottage, a 1930s bungalow

at 1826 4th Street, with free

on-site parking behind the Breakfast

House off Fruitville Road.

Tours Offered:

• Murder Mystery Trolley: Who

Killed The Circus Queen? On

August 13 and 27 and September

3, 10, 17 and 24, 7:30 - 9 p.m.

• Haunted Sarasota: August 19 and

September 2, 8-9:30 p.m.

• City Sightseeing Tour: August 27,

10 a.m. and 1p.m. and September

3, 1-2:30pm

https://www.discoversarasotatours.com/

that range anywhere from three to

six feet deep.

Only two to three inches in

length and located inside a fanshaped

shell, the scallops can be

easy to spot with their 30-40 bright

blue eyes. Once daily scallop limit

has been reached, they can be prepared

by the hotel for a cook-yourcatch

meal.

If guests choose not to book a

scalloping package, the can still

have their scallops cooked. The chef

at West 82° Bar & Grill will prepare

guests' shucked scallops during

lunch or dinner.

The eco-friendly Plantation on

Crystal River is surrounded by the

natural springs of King's Bay and

more than 25,000 surface acres of lakes

and rivers, as well as wildlife refuges and

state parks. On site, the Plantation features

a full-service family-oriented dive and

tour operation marina, 18-hole golf course,

9-hole executive course and an Aveda spa.

Guests can

swim with

manatees,

rent a pontoon

or Jon boat, relax

by the riverfront

pool,

enjoy a game

of croquet, or

hire a guided

fishing charter.

For more

information,

visit Planta-

tiononCrystal-

River.com.

Suggestions for September:

Art of Living Retreat Center –

Boone, NC

Art of Living Retreat Center is an Ayurvedic

wellness, yoga, meditation and getaway

that offers an immersive and transformational

wellness experience for travelers

through various retreat programs and

workshops, yoga and meditation classes,

outdoor activities in nature, Ayurvedic spa

treatments and cuisine, and more.

Situated at a height of 3,700 feet and

spread over 380 acres, Art of Living offers

a serene and rejuvenating wellness journey

surrounded by nature, where guests can

relax and renew.

Why September: With September being

National Yoga Awareness Month, wellness

travelers and yoga lovers can celebrate all

month long at Art of Living. Features open

spaces and outdoor activities, yoga and meditation

against scenic backdrops and expert

instructors, as well as a variety of different

retreats and guest speaker programs. www.

artoflivingretreatcenter.org

T

he first phase of the Delta

Sky Way at LAX is now

open to customers — nearly

18 months ahead of schedule.

And when LAX customers visit

the new Delta terminal, they'll

have more than just a streamlined

check-in experience and

new facilities to look forward to.

The new Delta Sky Club at LAX,

located on the departures level

NoMo SoHo - New York, NY

NoMo SoHo is a 26-story, 264-room hotel

set in the heart of SoHo. The neighborhood,

which is known for its fashion, design,

art and culture is the epicenter of creative

up-and-comers, in addition to housing

established brands, well-known artists and

cultural icons. Every room comes with 10-

foot, floor-to-ceiling windows that feature

panoramic views of the city skyline. The hotel

is also home to the famed NoMo Kitchen,

offering a rustic American menu with global

influences, and Nina's x Liquid Lab, a new

concept in nightlife.

Why September: New York Fashion

Week returns from September 8-12 at Angel

Orensanz, located just 15 minutes away

from NoMo SoHo. Visitors can get a first

glance at the latest outfits from leading fashion

designers. https://www.nomosoho.com/

Atlantis Paradise Island

Atlantis Paradise Island, the iconic

oceanside resort, offers a vacation for any

type of traveler, from luxury accommodations

in The Cove and Michelin star chefs

at NOBU and Olives to the family-friendly

Aquaventure waterpark with 11 swimming

pools and nine waterslides. The resort is

also home to the world's largest open-air

marine habitat, where over 50,000 marine

animals from 250 species make their home

in natural ocean-fed environments.

Why September: With cooling temperatures

and thinning crowds, the fall is an

ideal time to visit the Caribbean.

Yep, There's a Museum of Sex

A

prime choice in NYC for

besties looking for a beach

party with an unconventional

twist, the Museum of Sex

in NYC offers a vibe like no other.

The evening could start with a

group stroll through the permanent

collection spanning from a Picasso

to King Edward VII's favorite sex

chair, followed by a walk through

the Kaleidoscope tunnel and rides

on the bucking bronco.

Next comes an adventure in the

bouncy castle of breasts before enjoying a

forty-five-minute complimentary champagne

bottle service, while Rupaul reads you

everyone's sexual fortune. Tickets cost $65

and include a bride-to-be swag bag with a

veil and sash, a special VIP area in the museum's

Super Funland Bar, and 15% off all

retail store purchases. There's a minimum

of five people per party. Bookings are available

via the museum's website.

Delta Sky Club News

between T2 and T3, features premium

design and awe-inspiring

views and promises to offer an

unparalleled lounge experience

for customers with Club access.

Also at Delta, customers

can experience Seattle's new

450,000-square-foot International

Arrivals Facility at

Seattle-Tacoma International

Airport.

20 WEST COAST WOMAN AUGUST 2022
---
your healthier health you

Craniosacral Therapy Can Be Life Changing

CST treats the whole body physically, physiologically, mentally, emotionally and energetically

Clients come to me because they are in physical

pain such as neck, back, pain and TMJ as well as

for chronic headaches and migraines.

Pain and stress caused by

shortened Fascia

Fascia (strong connective tissue) encases all

our muscles, organs, brain and spinal cord.

Whenever fascia shortens any place in the

body, the entire network of fascia creates an

increased tension affecting the functioning

of our physical body as well as our organs,

our brain and spinal cord.

Our body is the history of every major

trauma we have experienced physically and

emotionally beginning with birth issues, falls,

head trauma, car accidents, childhood abuse

issues, death, divorce and other emotional

issues. Our body tries to minimize each trauma

by shortening fascia to isolate the energy

coming into the body from that trauma.

Shortened fascia results in pain, loss of mobility

and range of motion, organs becoming

less efficient and with parts of the brain and

spinal cord becoming stressed.

To keep the brain functioning, the body

transfers some of your functional work play

energy (7:00 AM-10:00 PM) to the brain resulting

in less energy to make it through each

day. As we age, the accumulation of all the

tightened fascia, from every major trauma

in life, begins to restrict every aspect of our

body's functions resulting in pain, loss of mobility,

mis-functioning organs, loss of energy,

as well as our brain losing some its sharpness.

How Craniosacral

Therapy Works

The Craniosacral Therapist creates a safe

place, with gentle holding techniques, that

engages your body's ability to self correct,

reorganize and heal itself with the release

of some of that tightened fascia during

each session. As the Craniosacral Therapist

engages your body, you will feel fascia releasing.

As the fascia releases, pain begins to

decrease, range of motion and mobility improve,

organs begin functioning better and

with less stress on the brain feels, it returns

the energy it borrowed at the time of each

trauma resulting in an immediate increase in

your energy levels. Rarely does anyone leave

from my first session not feeling better.

Short Leg Syndrome

Eighty-five percent of my clients have one

of their legs pulled up 1/2 to 1 by shortened

fascia. The tension from short leg syndrome

on the sacrum (5 fused vertebrae at bottom

of the spine) is transferred up the dural tube

that encases the spinal cord into the lower

and upper back, the neck, the cranium and

The physical stress in bodies caused by shortened

fascia (connective tissue) shuts down

energy flows to certain organs. Short leg syndrome

by ½ to 1 in (where one leg is pulled up

by shortened fascia) shuts down energy flow to

the spleen (an important part of your immune

system) and the small and large intestine. With

the release of that shortened fascia, energy returns

to these organs.

the brain. Headaches, migraines, TMJ and

neck problems can originate from the fascial

stress in the sacrum.

Releasing this sacral stress increases energy

in the bladder, sex organs, kidneys and

the chakras as well as releasing major stress

in the upper part of the body.

Cause of Shallow Breathing

A great majority of the clients who come to

me for various problems are also shallow

breathers. Fascial stress in the diaphragm

restricts the depth of breathing by restricting

energy flow to the lungs, the pericardium

and the heart. With the release of fascial diaphragm

restriction, the client immediately

starts breathing deeply and energy is restored

to the pericardium and the heart.

Shoulder blades that are cemented to the

body also restricts how much the rib cage can

open and thereby also restricting depth of

breath. Without proper breathing, your cells

do not get enough oxygen. Everyone, especially

people suffering from bronchitis, asthma

and COPD as well as shallow breathing can

benefit when the fascial stress is released.

Specialized Training

to work with Brain

Dysfunctions

Just as the body physically gets stressed from

physical and emotional trauma, the functioning

of the brain is also affected by fascial stress. For

our brains to remain healthy, we need dynamic

production of craniosacral fluid which performs

the important function of bringing nourishment

to all the cells in the brain and spinal

cord as well as cleansing all the metabolic

wastes given off by those same cells.

Once the craniosacral fluid cleanses these

metabolic wastes, efficient drainage of these

metabolic wastes into the lymph system is

absolutely necessary. Research has shown,

that at night, craniosacral fluid cleanses amyloid

plaques from the brain. If the drainage

is inefficient, then the brain is being bathed

in a toxic slurry. How does 15 or 20 years of

your brain being bathed in a toxic slurry

affect you: senile dementia, Parkinson's,

Alzheimer's and other brain dysfunctions?

A Craniosacral Therapist, who has received

training in working with the brain, can reverse

that stress on the brain that eventually can

result in those brain dysfunctions. As we all

know, the proper functioning of the body is

dependent on a healthy functioning brain.

Babies and Children can benefit

■ Our little boy Leo, four years of age, had a

difficult birth and at 7 months was put on antibiotics

for an ear infection and as a result developed

c-diff. His development came to a stop.

At 3 years, with the help of an OT, he started

to walk and talk. In spite of the improvements,

he was unable to answer questions and his

communication skills were very poor. Leo

had very poor muscle tone, a lot of stress in

his body and physical activities such walking,

jumping and climbing were difficult for him.

Beginning with the first session with Terry,

he began showing improvement and with each

following session. Everyone from his teachers

to his grandparents noticed an increase in his

■ "I was in awful pain and the

MRI showed 2 pinched nerves

and stenosis. I scheduled surgery.

My daughter suggested Craniosacral therapy.

After only 2 visits the pain was reduced to

advanced craniosacral about 80% and therapy I canceled the surgery. I went

for a 3rd visit and I am about 90% better."

■ "Simply Amazing! One visit was all it took for

Terry to relieve 85% of my year long, nagging

(sometimes severe) neck/shoulder tightness/

pain!! My breathing improved tremendously."

physical strength, as well as improvements in

comprehension, speech and communication

skills. For the first time, he started participating

in class lessons and interacting with his

classmates. Terry has made a huge impact on

getting Leo to a place a little boy should be at

age four. We cannot thank Terry enough.

■ Terry's treatment helped our 6 week old

baby boy from recent hospitalization into

the first series of healthy bowel movements

when seemingly nothing could help. Our son

was able to latch onto the breast and for the

first time completed his feeding. He was much

calmer after working with Terry.

■ "He was able to relieve tension that I have

been carrying around for 15 years or more.

I left his office table with more energy than I

have had in years."

■ "I began working with him because I was

dealing with anxieties, depression and lots of

emotional pain inside and out. You don't realized

how much stress can cause damage to

your body, mind and soul. I can say Terry was

a big help."

Terrence Grywinski

of Advanced

Craniosacral Therapy,

B.A., B.ED., LMT #MA 6049

Testimonials from Clients

SOURCE:

■ Terrence Grywinski of Advanced Craniosacral Therapy,

B.A., B.ED., LMT #MA 6049. Terry has specialized in Craniosacral

Therapy since 1994 when he began his training at the Upledger

Institute. Described by his teachers, clients and colleagues

as a "gifted healer", Terry's intuitive sense and healing energy

provides immediate and lasting relief from injury, pain, mobility

issues as well as dysfunctions of the body and the brain. Part

of Terry's ongoing education, he has completed 4 craniosacral

brain and peripheral nervous system classes which enables him

to work at a cellular

level and with brain

dysfunctions.

Call 941-321-8757

for more information,

Google Advanced

Craniosacral

Therapy.

■ "On a recent vacation to Siesta Key, I re-injured

my back. I found Terry online. I can say

with complete joy that was the best decision

I made in the history of my back pain. I have

sought many modalities and visit a CST regularly

and never have I had such a healing in

my entire body.

After 3 sessions, I made a 16-hour drive

home with no pain or discomfort in my entire

body. Unbelievable. My body has a sense of

moving freely and that is completely new. I'm

advanced craniosacral therapy

so grateful to Terry for his knowledge, for his

sensitivity to my needs and his kind generosity

in healing my body. I will see him when I return

next year."

■ "I am a snowbird who spends 7 months

in Sarasota. I have had back problems for 25

years. Terry's techniques have led to a great

deal of release and relief in areas that have

been problematic. I have been seeing him over

the years when my body says "it's time". Usually

after a few sessions, I can tell a huge difference."

PAID ADVERTORIAL

AUGUST 2022 WEST COAST WOMAN 21
---
travel news continued

Rush My Passport

AAA has teamed up

with RushMyPassport

to offer exclusive

rates to AAA members

on expediting services for

U.S. passports and global

travel visas. This new

service is available to all

AAA members nationwide

starting this summer.

Currently, the Department

of State (DOS) is processing passport

applications in 8-11 weeks for routine processing

and 5-7 weeks for expedited. While

these speeds are an improvement over the

last two years during the pandemic, they

could still present a challenge for many international

travelers. And according to the Department

of State, the DOS has processed

approximately 14 million fewer passports in

the last two years than they would normally

in non-pandemic times.

By teaming up with RushMyPassport, a

subsidiary of Expedited Travel LLC, AAA

Travel now provides turnkey passport and

travel visa concierge services to its members

nationwide. This allows members to simply

go online to the dedicated ordering website

to obtain their vital travel documents and

receive exclusive AAA discounts on expedited

services.

RushMyPassport

leverages its technology

to create personalized

application packets and

customized checklists to

ensure each application

is done correctly the

first time. Their online

application technology

walks users through the

entire process stepby-step,

making it easy to use and understand,

while eliminating the confusion and

common errors that often arise by doing it

yourself. Passport advisors are available via

phone, email, or chat to provide personalized

support when and where it is needed.

Other important benefits include full

tracking visibility to keep individuals up to

date on their application status. Plus, AAA

members can also select various add-on services,

including Passport Protection (lost/

stolen/damaged passports), Passports Cards

(wallet sized cards as a secondary ID), and

Rapid Covid-19 Antigen Test Kits.

This comprehensive service offering

combines personalized service, support,

fast processing and more for simplicity and

added peace of mind.

For more information, visit: AAA.com/

Passport.

Travel Tips from TSA

• Start with empty bags. Airline

passengers who pack for

travel with empty bags are

less likely to bring prohibited

items through a TSA checkpoint.

Check for prohibited

items by using the "What Can I

Bring?" page on TSA.gov.

• Know before you go. Plan to

arrive at the airport in plenty

of time to check in, check bags,

and complete security screening

in time to avoid stressful

sprints to the departure

gate. At the TSA checkpoint, have a valid

ID card readily available and follow the

liquids rule of 3.4 ounces or less, except

for hand sanitizer, which has a temporary

12-ounce limit in carry-on baggage.

• Contact TSA for help if there are

questions or concerns. Those who are

preparing to travel and may have special

circumstances, considerations or general

questions about airport screening can get

live assistance by tweeting questions and

comments to @AskTSA or via Facebook

Messenger, weekdays from 8 a.m. to 10

p.m.; weekends/holidays from 9 a.m. to

7 p.m. You can also call the TSA Contact

Center at 866-289-9673.

• Enroll now in TSA PreCheck to "Travel

with Ease." By enrolling in TSA PreCheck,

airline passengers can avoid removing

shoes, belts, liquids, food, laptops and light

jackets at the TSA checkpoint. Most new

enrollees receive their known traveler

number within five days, and membership

lasts for five years. Nationally in April, 94%

of TSA PreCheck passengers waited less

than 5 minutes at the checkpoint.

Hilton Summer Road Trip Hacks for

Stress‐Free Travel

With experts predicting

the biggest

summer travel season

ever, Hilton has some tips to

help travelers make the most

out of their stay, their budget

and their time.

• Tip No. 1: Consider a hotel

that includes a hot breakfast

Booking a hotel that includes

breakfast takes away the stress

of mornings. At Tru by Hilton,

guests will find a new offering –

an automatic, hands-free pancake maker that

magically turns batter into a golden-brown

pancake with the wave of a hand. This joins

Hampton by Hilton's make-your-own Belgian

waffle machine, a longtime guest favorite.

For families, the added convenience

of breakfast included allows guests the

flexibility to have their morning meal the

way they like it – whether heading down to

enjoy a quick bite while waiting their turn

to shower or grabbing a plate and bringing

it back up to their room. Plus, it satisfies

the need to go to a restaurant, eliminating

travel and wait times vs. dining out while

on the go.

• Tip No. 2: Bring your pet on the road

with you

According to a recent Hilton survey, 55% of

Americans who are pet owners are likely

to travel with their pet this summer. People

are spending more time with their pets

than ever before – and while taking a trip is

exciting, leaving behind the beloved family

pet is not.

Hilton has pet-friendly brands such

Canopy by Hilton, Embassy Suites by

Hilton, Hilton Garden Inn, Hampton by

Hilton, Tru by Hilton, Homewood Suites by

Hilton and Home2 Suites by Hilton across

the U.S. and Canada. Additionally, through

Hilton's partnership with Mars Petcare,

guests can access expert advice and tips

via online chat or phone, tailored to reduce

stress and make the travel experience more

seamless from planning through hotel stay.

• Tip No. 3: Book a suite or connecting

rooms to give your family some space to

spread out. After a day on the road, families

crave space and Hilton's brands such

as Embassy Suites by Hilton, Hampton Inn

& Suites by Hilton, Homewood Suites by

Hilton and Home2 Suites by Hilton – feature

guest rooms with separate living and

sleeping areas that allow the whole family

to spread out during their travels. This can

come especially handy for families – or pets

– traveling with varying bedtimes.

Plus, budget-savvy travelers know that

dining out for every meal adds up quickly,

especially with a large family or group.

Home-like accommodations feature

fully-equipped kitchens featuring full-size

refrigerators, cooktops, microwaves and

cookware that allow guests to make their

own meals on the road, saving time and

money.

For more information, visit stories.hilton.

com or hilton.com.

Food Festivals

• San Diego Bay Wine + Food Festival is a

week-long festival on the San Diego Bay. It

includes chefs, artisans, winemakers, and

talent from all around the country. The festival

is taking place from November 9 - 13,

2022. Location: Embarcadero Marina Park

North, 400 Kettner Boulevard, San Diego.

Featuring dozens of events, hundreds of

domestic and international wineries, the

celebration of craft beer and spirits, local

culinary legends and nationally recognized

celebrities, and a Grand Tasting Finale on

the stunning Embarcadero. https://www.

sandiegowineclassic.com/

2022's Best Summer Travel Destinations

With nearly 80% of American

travelers planning trips during

2022, the personal-finance website

WalletHub released its report on 2022's Best

Summer Travel Destinations.

WalletHub compared 100 metro areas

across 43 key indicators of budget- and

fun-friendliness. The data set ranges from

the cost of the cheapest flight to the number

of attractions to COVID-19 cases.

• The average flight to a popular summer

destination costs $356, lasts 3 hours and 34

minutes and has 0.3 connections.

• The Los Angeles metro area is the most

attractive destination on the West Coast and

the Washington, D.C. metro area is the most

attractive destination on the East Coast.

• Florida and Texas are home to the most top

summer destinations in the U.S., each with

at least two metro areas in the top 15. Oppositely,

New York and California have the largest

numbers of the most unpopular summer

destinations, each with two metro areas.

• The Wichita metro area has the lowest

nightly rate for a three-star hotel room,

$36, which is 4.6 times less expensive than in

Santa Rosa, the metro area with the highest

at $165.

To view the full report, visit: https://wallethub.com/edu/best-summer-travel-destinations/3792

• NYC Wine & Food Festival, hosted by

The Food Network takes place October

13 - 16, 2022. Just four days long and over

50,000 attendees, it is definitely an event

you don't want to miss. In the city where

dreams come true, chefs and wine experts

from all over the world make their

way here to show the world what they

have to offer.

There are private dining experiences,

wine tastings, live entertainment, and

more. It is one of the biggest food celebrations

America has to offer. Proceeds from

the event go to God's Love We Deliver and

Food Bank For New York City to help fight

against food poverty and food insecurity.

Celebrate With Us, https://nycwff.org/

22 WEST COAST WOMAN AUGUST 2022
---
10%

OF MY COMMISSION

GOES TO

JoshProvides Epilepsy Assistance Foundation, Inc. offers HELP & HOPE to children,

families, individuals and caregivers who are living with Epilepsy or other seizure

disorder.

Veronica Brandon Miller

Your Florida HomeTeam with Preferred Shore

941.807.7321

www.yourfloridahometeam.com

Our Mission

Our mission is to improve the lives of those living with and

affected by epilepsy or other seizure disorders.

Our Vision

JoshProvides, through our network of volunteers, donors,

partners, and other supporters, envisions a world where

epilepsy is eradicated. Until that time, success for

JoshProvides will be achieved when:

• The negative stigma associated with epilepsy has

been eliminated and those who suffer from seizures

are embraced by their communities.

• Treatment for those with epilepsy is readily available,

affordable, and effective.

• Transportation for those suffering from seizures is readily

available, safe, and affordable.

• There is a network of support and resources available

for those living with epilepsy and no one with a

seizure disorder feels alone or isolated.

• People are educated and trained and can respond

appropriately to help someone when they are

having a seizure.

For more information contact:

JoshProvides Epilepsy Assistance Foundation, Inc.

5428 Sundew Drive

Sarasota, FL 34238

Info@JoshProvides.org

(800) 706-2740

www.joshprovides.org

AUGUST 2022 WEST COAST WOMAN 23
---
you're news

Accolades

(L to R) Finance Director Kim Wilder, Clerk & Comptroller

Angel Colonneso, and Courts Director Lori Tolksdorf

standing with the 2022 Best Practices recognition of

excellence certificate in front of the Best Practices wall

of fame at the Historic Courthouse.

■ At the Florida Court Clerks and

Comptrollers (FCCC) summer conference,

the FCCC Best Practices

Committee awarded the Manatee

County Clerk of the Circuit Court

& Comptroller with a Recognition

of Excellence in each category of

the FCCC's Best Practices in Excellence

Program.

According to FCCC, the Program

was established last year as an

opportunity for Clerks to receive

Recognition of Excellence certificates

for completing assessments that

evaluate the acceptance of specific

best practices. Additionally, the purpose

of each Best Practice category

is to provide guidance to Clerks and

Comptrollers statewide and assist in

achieving consistency in interpretation

of the law and in practice.

This year, the categories expanded

from seven to 12. As a result, the

Clerk & Comptroller's office received

recognition in all 12 categories: Bail

Bonds, Compliance Services, Confidential

Judicial Records, Eviction,

Evidence Storage and Destruction,

Exploitation of Vulnerable Adult

Injunction, Guardianship Audits,

Marriage License, Public Records

Requests, Recording Fundamentals,

Requests to Redact Exempt Personal

Information and Service of Documents

by Clerks for Pro Se Litigants.

This recognition demonstrates

the Clerk & Comptroller's high

standards in the areas of courts,

public records, and recording. Outgoing

FCCC President and Manatee

County Clerk of the Circuit Court

& Comptroller Angel Colonneso

accepted the certificates on behalf of

the Clerk & Comptroller's office.

In addition to this recognition,

earlier this year, the Clerk &

Comptroller's Finance department

received the Triple Crown medallion

from the Government Finance

Officers Association (GFOA) for the

second year in a row for its excellence

in the areas of governmental

accounting and financial reporting.

For more information about the

Manatee County Clerk of the Circuit

Court & Comptroller, visit www.

ManateeClerk.com.

Appointments

■ The Van Wezel Foundation

announced that Julie Schwartz has

joined the Foundation as director of

development. Schwartz is responsible

for annual

giving operations

and fundraising

initiatives.

Schwartz comes

to the Foundation

with more than 20

years of experience

working at

renowned arts and

culture organizations.

Most

recently, Schwartz

worked at Carnegie

Hall in New

York as a senior

project manager,

responsible for the strategy and implementation

for the replacement of

the Hall's enterprise software system

which is used for artistic planning,

repertoire management and organizational

operations.

Prior to that position, Schwartz

was director of development services

for Carnegie Hall's advancement

programs. In addition, she has

held project manager positions at

the Metropolitan Museum of Art,

and senior development positions at

The Clark Art Institute and Boston

Symphony Orchestra.

■ The Renewal Point has added

Ann Angelastro, IV Infusion RN,

to its team. Ann obtained her RN

degree in 1990 and began working as

a Critical Care RN at the Open Heart

Intensive Care Unit at Geisinger

Medical Center in Danville, PA.

Over the next 7 years, she rotated

between other ICU specialties within

the hospital, including Trauma,

Pediatrics, and Emergency. In 1997

she moved to Sarasota where she

worked in the Open Heart ICU at

Sarasota Memorial. It was in 2010

that she found her passion as an IV

Infusion Nurse.

Since that time, she has worked

for several Home Health agencies,

specializing in IV Infusions and

Venipunctures. Additionally, she

has trained many other nurses in IV

Infusion over the years.

■ Bentley Goodrich Kison P.A. is

expanding its practice and has announced

that former Assistant State

Attorney Ashley Gaillard has joined

the firm. Gaillard will concentrate her

practice in commercial litigation.

Prior to

working in the

State Attorney's

Office (12th

Judicial Circuit

Sarasota, Bradenton)

Gaillard

worked as

legal analyst,

consultant and

associate in

Ashley Gaillard

a number of

international locations for the Mattin

Group, based in Brussels. She also

served as legal analyst for The Heartland

Initiative in Washington, D.C.

After earning a B.A. cum laude

and a M.A. in International Business

from the University of Florida,

she received her law degree from

Georgetown University and a Masters

of Law from Institut D'etudes

Politiques in Paris. She is active in

the Sarasota County Bar Association

and the Judge John M. Scheb American

Inn of Court.

Bentley Goodrich Kison is a

commercial litigation law firm serving

Southwest Florida. The firm is

known for its team of attorneys who

have extensive litigation and dispute

resolutions experience.

Board News

■ New College Foundation

recently named Alison Gardner as

its board chair. Gardner works with

Sage Wealth Advisors as a consultant

on investment

portfolios for

MassMutual

Metro New

York. Before

that, she was

a senior vice

president and

financial advisor

primarily

with Morgan

Alison Gardner

Stanley.

Gardner has served as a member of

the New College Foundation's board

of directors since 2018.

Gardner has spent more than 35

years in the investment industry and

as a finance analyst at Celanese Corporation,

after stints at both U.S. and

international publishing firms.

The New College Foundation

is the philanthropic organization

supporting New College of Florida.

Its board of directors include: Alison

Gardner, chair; Raymonda Burgman

'91, first vice chair; Dan Stults '77,

second vice chair; Larry Geimer,

treasurer; George Quarterman, secretary;

and Janene Amick, Beverly

Bartner, Esther Barazzone '64, John

Bean, Francine Blum, Susan Burns

'76, Margee Ensign '73, Lori Ferguson,

Karin Gustafson, Renee Hamad,

Glenn Hendrix '76, Sue Jacobson,

Christine Jennings, Adam Kendall,

Charlene Lenger '78, Charles Raeburn

'64, Sharon Landesman Ramey

'65, Mary Ruiz '73, Jack Schlegel,

Henry Smyth '76, Monica Van Buskirk,

and Nancy Winship.

For more information about the

New College Foundation, call 941-

487-4800.

■ Art Center Sarasota 's board of

directors, recently added photographer

Barbara Banks to its board.

Banks operates a commercial

photography

business in

downtown

Sarasota and is

commissioned

by clientele in

Florida and

across the U.S.

Her permanent

installation,

Barbara Banks "WORKER,"

was commissioned by the Sarasota

Art Museum and is a site-specific installation

of portrait photographs of

the individuals who lent their talents

to remake the historic Sarasota High

School building.

The imagery celebrates a class of

people who often remain invisible.

"Worker" seeks to make visible the

invisible, to put a face to the labor that

resulted in the museum. Banks is currently

represented by State of the Arts

Gallery, Sarasota. For more information,

visit www.barbarabanks.com.

Art Center Sarasota's board of

directors includes Carolyn Benedict-Drew,

Chair; Michael J.

Shelton, Vice Chair; Phil Baker,

Treasurer; Howard Davis, Secretary;

and Barbara Banks, Ramsey Frangie,

and Ned Norris.

Art Center Sarasota www.artsarasota.org

■ Forty Carrots Family Center welcomes

new Board of Trustee members

Valerie Dall'Acqua, Realtor,

Premier Sotheby's International

Realty and Joleen Searles, founding

partner of Searles & Gornitsky. They

will both serve three-year terms

supporting Forty Carrots' mission of

nurturing healthy child and family

development and preventing child

abuse, neglect, and other childhood

traumas.

Current officers include Board

Chair Susan Travers, nonprofit

fundraiser, volunteer coordinator

and event planner, Treasurer Ben

Jones, Managing Director with Mariner

Wealth Advisors; and Secretary

Tammie Sandoval-Badger, Principal,

Sabal Trust.

Other board of trustee members

remaining: Kevin Cooper, Dawn

Doughty, Jag Grewal, Jackie Griese,

Karimu Hill-Harvey, Chris Jarmul,

Eric Kaplan, Bob Lewandowski,

Jeff Reynolds, Alan Ross, Susan

Sakhai, Kevin Stencik, CEO Michelle

Kapreilian (ex-officio) and trustee

emeriti Kim Githler, Stanley Kane

(deceased), and Jeff Steinwachs.

■ Sarasota Memorial Healthcare

Foundation announced that Stacey

Corley will join the organization

as President on September 6, 2022.

Corley succeeds

Mason

Ayres who

announced in

May he will

be retiring

this fall.

Corley is

currently

serving as Vice

President for

Stacey Corley

Advancement

at Ringling College of Art and Design

where she has led multiple capital

campaigns and worked closely with

the College's President.

She originally joined the organization

in 2012 as a Senior Development

Officer, becoming Assistant

Vice President for Strategic Philanthropy

in 2014 before moving into

her current role.

Prior to joining Ringling College,

Corley served as Associate Director

for Development for Florida State

University Foundation/The John and

Mable Ringling Museum of Art. She

also worked 10 years for Bristol-Myers

Squibb in various roles including

Senior Hospital Business Manager.

In the community, she has held

leadership positions with multiple

local and national organizations

including Ringling College Library

Association, Association of Fundraising

Professionals, Junior League

of Sarasota and is a member of

Sarasota Women's Alliance.

Business News

■ Melissa "Mel" DeLuca Rivera,

and her husband and business

partner José Rivera, are professional

barbers at their locally owned and

operated Mel's Old City Barbershop

at 2116 Gulf Gate Drive in Sarasota.

They opened the shop more than a

year ago after a family vacation in

Siesta Key and determined the market

area was ready for a new, highly

specialized and customized service

barber shop.

Mel Rivera is a licensed cosmetologist

and barber, and José is a

licensed barber. They are trained in

all facets of men's hair care while

creating current and fresh designs

and fades and traditional men's haircuts

and shaves on the head, face,

and neck along with color styles. To

receive a Florida barber's license, the

Riveras each completed 1,200 school

hours and passed a highly specialized

accrediting exam.

With five years in business, the Rivera's

original shop in St. Augustine,

FL. is flourishing with several barbers

as Mel's Old City Barbershop at

1797 Old Moultrie Road.

The two Rivera owned and

operated barbershops each feature

1,000-square-feet of space with

private, customer service areas and

traditional barber chairs, sinks,

equipment, methods, and technologies

along with a specialization

in hot lather shaves and hot towel

treatments, chair massages, and a

complimentary coffee bar.

"We cater to all ages, so dads

and sons can come on in and

join us for an old-fashioned

barbershop experience, and more,"

said José Rivera. For information,

call 904.415.9700. Visit https://

melsoldcitybarbershop.com.

Send us your news!

Send to: westcoastwoman@

comcast.net. You will also

find more You're News on our

Facebook page West Coast

Woman. We also publish

this page on our website

(westcoastwoman.com) and in

our monthly e-blast.

Want to subscribe

to our e-blast?

Send us your email address.

Send to westcoastwoman@

comcast.net.

24 WEST COAST WOMAN AUGUST 2022
---
The suncoast's ONLY

BBQ restaurant with

CATERING in our DNA.

Lori Sax Photography

F

Olks stIll ask, "Do you cater?"

that's how I launched Nancy's

Bar-B-Q in 2004. today, we are

the number one independent BBQ

caterer across the suncoast.

Our menu showcases fresh smoked meats and fillet of salmon,

plus many vegetarian, gluten friendly and vegan choices to

accommodate all your guests.

From an intimate dinner for twelve to a church picnic for 700:

Our 18 years of experience assures your peace of mind and

a delicious and memorable occasion. In short, we are the

catering choice requiring no explanation.

YOU WIll RECEIVE MY PERsONal attENtION from initial

contact through pick up or delivery. It will be my pleasure

to talk with you! Call me at 941-955-3400, or email me at

NancysBarBQ@verizon.net.

nancy's

BAR-B-QTM

#1 Local Genuine BBQ since 2004

SM

Lakewood Ranch at Lorraine Corners

14475 SR 70 E at Lorraine Rd 34202

4 miles east of I-75 exit 217

941-999-2390

FULL BAR HAPPY HOUR 11AM-7PM MON-FRI

LIVE MUSIC FRI-SAT 6:30-9:30PM + 1st & 3rd SUNDAYS 3PM-7PM

OPEN 11AM 7 DAYS

CLOSE 9PM MON-THURS 10PM FRI-SAT 8PM SUN

LUNCH • DINNER • TAkE OUT • CURBSIDE PICk UP • CATERING

Go to NancysBarBQ.com for CATERING & DINING MENUS

Voted

BEST BBQ

10th

Consecutive

Year

AUGUST 2022 WEST COAST WOMAN 25
---
ode to

Lido Beach

Lido is my beach…not

literally, but sometimes

I do have it all to myself.

Like when a storm is

coming and the beach

would be empty. Cool air sweeps

down and black clouds threaten

from the east.

But that all meant I had a good

hour of solitude. Unless you count

the birds. Lots of birds. There's a

skimmer colony that gathers on

North Lido. They're distinctive

with their orange and black beaks

and trim tuxedoes. Or maybe for

their graceful swoop or skim of

the water as they find food.

Then there are the terns with their

inquisitive looks and bad "comb

overs" who move en masse if you

in turn (no pun intended) move

suddenly. I try to bother neither

flock and we co-exist in this brief

peaceful time of beach-sharing.

Less popular than its more storied

beach to the south, Lido Beach

has the classic white white sand,

but not the crowds. Smaller in

scale, it also has dunes and often

turtle-nesting spots.

And for a brief while, it's mine.

▲ Hard to get a bad image of Lido Beach. Its golden sunsets and wavy sea oats

welcome you across white sand to the gentle waves of the Gulf of Mexico.

▲ Storms clear the beach, but make for solitude — until the rain comes in.

▲ Birds chill

together

like these

big-beaked

skimmers who

don't mind

terns in their

space.

▲ It's a place for big sky which is rare in Sarasota, dunes and solitude -

all best found pre-storm or very early in the day.

▲

Terns stay in their flock, but move en masses as you approach,

yet somehow decide to walk with you.

STORY and PHOTOS:

Louise Bruderle

26 WEST COAST WOMAN AUGUST 2022
---
Renew Your

Health through

IV Therapy

at The Renewal Point

REASONS people participate in IV Therapy:

• Improve current state of heart and brain health

• Slow the effects of aging and disease processes

• Minimize the effects of colds or the flu

• Improve athletic performance

• Prepare for or recover from surgical procedures

• Remove toxic levels of heavy metals

and chemicals

• Better manage stress and its effects on health

• Greater absorption than the oral route

BENEFITS of IV Therapy at The Renewal Point:

• Baseline testing for optimal treatment protocols

• Highly experienced and attentive infusion staff

• Infusion room is designed for privacy and comfort

• Wi-Fi Connection in the infusion room

• Team approach ~ we enjoy working with patients'

other specialty providers

"At The Renewal Point, we believe you can spend the

rest of your life discovering new levels of vitality

and vigor – not simply trying to rescue what's left."

Dan Watts, MD, ND, MSMN

Board Certification:

American Board of Integrative Medicine

American College of Obstetrics and Gynecology

Post-doctoral Certification in Metabolic

Endocrinology

Post-doctoral Master's in Nutritional and

Metabolic Medicine

Fellowship: American Academy of Anti-Aging

Medicine: Anti-Aging, Regenerative, and

Functional Medicine

Fellowship: American College of Surgeons

Call today 941.926.4905

Lynne Streitmatter, APRN, MS, NP-C

Board Certified Advanced Registered Nurse Practitioner

Specialties Include:

Gynecology

Bio-identical Hormone Balancing

Weight Loss

IV Therapy

Family Medicine

Age Management | Men's Health | Gynecology | Bio-identical Hormone Balancing | Strength and Conditioning

Weight Loss | IV Therapy | Brain Health | Toxin Elimination | Digestive Health | Heart Health

4905 Clark Road, Sarasota, FL 34233 | 941.926.4905 | www.TheRenewalPoint.com

AUGUST 2022 WEST COAST WOMAN 27
---
dining in

Cool and cooling drinks for summer

> Cranberry Tequila Cocktail

In a pitcher over ice, combine the

cranberry juice, lime juice, tequilla,

and simple syrup.

Stir until cold and pour over ice in a

rocks glass.

Top with a splash of seltzer water and

garnish each with a lime wedge, a

mint sprig, and a few fresh cranberries.

To make the simple syrup: In a small

saucepan, combine equal parts honey

and water and mix well.

Add a few sprigs of rosemary.

Bring to a simmer over medium heat, stirring until honey is dissolved.

Remove from heat and let cool.

Prep time: 10 Minutes Yield: Serves 4 to 6.

On hot summer days, why not take

the two most traditionally cooling

ingredients, watermelon and cucumber,

and combine them with

mint and lime juice to make an ultra-refreshing

drink? The seltzer is

a perfect finish, but you can also add

a glug of vodka and call it a cocktail.

For a slushy treat, freeze the watermelon

chunks before blending.

Cranberry Tequila Cocktail O

In a blender, combine the watermelon, cucumber, water, sugar, lime juice, and mint

leaves. Blend on high until the mixture is very smooth and liquid. To serve, fill a cup

three-quarters full with the watermelon mixture, then top with a splash of seltzer.

Yield: 6 to 8 servings.

For a cooling, sweet-tart sipper with plenty of kick,

look no further than this Spiked Strawberry Lemonade,

bolstered by Trader Joe's Kentucky Bourbon

Straight Whiskey.

Some with alcohol; some without

2 cups cranberry juice

1 cup fresh lime juice

3/4 cup blanco tequila

¼ cup Honey-Rosemary Simple

Syrup, more to taste

Lime wedges, mint sprigs, and

fresh cranberries, for garnish

> Watermelon-Cucumber Cooler

Watermelon-Cucumber Cooler O

2 ¼ pounds peeled watermelon,

cut into large chunks

½ medium cucumber (6

ounces), peeled and cut into

large chunks

1 ½ cups water

¼ cup granulated sugar

Juice of 2 limes

2 tablespoons packed fresh

mint leaves

Seltzer

> Spiked Strawberry Lemonade

Spiked Strawberry Lemonade O

Fresh Mint

2 Strawberries, rinsed and

hulled

1 1/2 oz. Kentucky Bourbon

Straight Whiskey

3-4 oz. Strawberry

Lemonade

1 TJ's Lemon, sliced into

wedges

Muddle 2-3 mint leaves and

a strawberry in the bottom

of an old fashioned glass.

Fill glass with ice. Add bourbon,

3 ounces strawberry

lemonade and a squeeze

of a lemon wedge and stir.

Taste and add more lemonade

if desired. Garnish with a

strawberry and a fresh lemon

wedge and serve.

This boozy sangria recipe was made

for wiling away warm evenings on the

patio as summer winds down…

1/3 cup Cane Sugar

2 TJ's Yellow Peaches, pitted and

thinly sliced

1/2 pound Strawberries, hulled

and halved (quartered if

berries are very large)

1 bottle Petit Reserve Central

Coast Rosé

1/2 cup Pierre Duchene Napoleon

French Brandy VSOP

> Peach Rosé Sangria

Peach Rosé Sangria O

Gently combine peaches, strawberries, and sugar in a large pitcher. Let sit 10 minutes.

Add rosé and brandy to pitcher and stir. Cover and refrigerate 4 hours or overnight.

Serve over ice and garnish each glass with fruit from the pitcher.

> Smoky Jalapeño Hibiscus Cooler

Smoky Jalapeño Hibiscus Cooler O

This recipe is a great alternative to both sugary and alcoholic drinks.

Spice Glass Rim: (optional)

1/2 lime

1 tsp. sugar

1/4 tsp. cinnamon

1/4 tsp. smoked paprika

Cooler:

1/2 cup orange juice, unsweetened

1 small lime, juiced

1/4-1/2 small jalapeño, sliced

(depending on heat preference)

1/2 tsp. smoked paprika

1 12-ounce can hibiscus flavored

sparkling water, unsweetened*

1 large or 6 small ice cubes

Garnish: (optional)

• Orange, lime slices • Jalapeño slices

• Hibiscus flowers

Create a spice glass rim with two 12-ounce glasses by running lime halfway along edge

of each glass. Mix sugar, cinnamon and paprika together in small saucer. Press each glass

into spice mixture to coat rims. Allow to dry for a few minutes before adding liquid to

glasses. Or use plain glasses.

Place orange juice, lime juice, jalapeño and smoked paprika in blender. Process for 1-2

minutes until well blended.

Place ice cubes in each glass. Divide blended juice mixture between each glass.

Top each glass with half of hibiscus flavored sparkling water.

Garnish with orange, lime and jalapeño slices and hibiscus flowers, if desired.

*May substitute hibiscus flavored sparkling water with sparkling water flavor of your choice.

Makes 2 servings (1-1/4 cups each). Per serving: 40 calories

The spicy sweetness of ginger

pairs beautifully in a tart lemonade,

softened with red berries

that lend a pretty pink shade and

sweet flavor. With only a touch

of agave nectar, the berries offer

the bulk of the natural sweetness

to compliment lemons in this

thirst-quenching beverage, which

is as beautiful as it is delicious.

Serve it over ice in pitchers at parties,

for a picnic on a sunny day or

keep it in the fridge for a healthy

hydration option during the week.

> Ginger Pink Lemonade

2 1/2 cups water

1 inch piece fresh ginger, peeled

2 Tbsp. agave nectar*

Ginger Pink Lemonade O

3/4 cup sliced raspberries or

strawberries (fresh or frozen)

3/4 cup freshly squeezed lemon juice

(6 medium lemons)

Place water, ginger, agave nectar, berries and lemon juice in the container of a blender.

Process for a few seconds until smooth.

Transfer to a pitcher and store in the refrigerator until ready to serve. Serve over ice.

*May substitute honey or maple syrup.

Makes 4 servings (1 cup). Per serving: 50 calories

28 WEST COAST WOMAN AUGUST 2022
---
ARE YOU PLANNING TO

DOWNSIZE OR REDECORATE?

Designing Women Boutique is

happy to accept like-new home

furnishing and accessories on

consignment. We also offer

full concierge services for

estate sales. DWB turns your

consigned goods into grants

that support the arts and

human services organizations

in our community.

Since 2002, we have gifted more than $8 million to local non-profits.

Thank you for assisting us in helping others. Please call for more information.

Online Shopping: DesigningWomenSRQ.org

DESIGNING WOMEN BOUTIQUE

Upscale Resale & Estate Liquidation

Where Fashion Meets Philanthropy

1226 North Tamiami Trail, Sarasota

941.366.5293

A 501c3 Benefiting Local Arts

& Human Services Organizations

ADVERTISEMENT

Why you need dental insurance in retirement.

Many Americans are fortunate to have dental coverage for their entire working life, through employer-provided benefits. When those benefits end with retirement, paying dental bills

out-of-pocket can come as a shock, leading people to put off or even go without care.

Simply put — without dental insurance, there may be an important gap in your healthcare coverage.

When you're comparing plans...

Look for coverage that helps pay for major services.

Some plans may limit the number of procedures — or pay

for preventive care only.

Look for coverage with no deductibles. Some plans

may require you to pay hundreds out of pocket before

benefits are paid.

Shop for coverage with no annual maximum on cash

benefits. Some plans have annual maximums of $1,000.

Medicare doesn't pay for dental care. 1

That's right. As good as Medicare is, it was never meant to cover

everything. That means if you want protection, you need to

purchase individual insurance.

Early detection can prevent small problems

from becoming expensive ones.

The best way to prevent large dental bills is preventive care. The

American Dental Association recommends checkups twice a year.

Previous dental work can wear out.

Even if you've had quality dental work in the past, you shouldn't take

your dental health for granted. In fact, your odds of having a dental

problem only go up as you age. 2

Treatment is expensive — especially the services

people over 50 often need.

Consider these national average costs of treatment ... $217 for a

checkup ... $189 for a filling ... $1,219 for a crown. 3 Unexpected bills

like this can be a real burden, especially if you're on a fixed income.

1 "Medicare & You," Centers for Medicare & Medicaid Services, 2021. 2 "How might my oral and dental health change as I age?", www. usnews.com, 11/30/2018. 3 American Dental Association, Health Policy Institute, 2018 Survey of Dental Fees, Copyright 2018, American Dental Association.

DENTAL Insurance

from Physicians Mutual Insurance Company

Helps keep more money in your pocket!

Call for a FREE Information Kit!

1-833-967-0752

Dental50Plus.health/Wcw

Get Info Now

Go to any dentist you want

Helps pay for over 350 procedures

No deductible, no annual

maximum on cash benefits

"I don't worry"

"Now that I have your dental policy, I

don't worry about going to the dentist. I

love your plan — you pay what you say!"

Colleen W., MO

Includes the Participating (GA: Designated) Providers and Preventive Benefits Rider. Product not available in all states. Acceptance guaranteed for one insurance policy/certificate of this type. Contact us for complete details about this insurance solicitation.

This specific offer is not available in CO, LA, NY; call 1-800-969-4781 or respond for similar offer. Certificate C250A (ID: C250E; PA: C250Q); Insurance Policy P150 (GA: P150GA; NY: P150NY; OK: P150OK; TN: P150TN). Rider kinds B438, B439 (GA: B439B).

6247-0121

AUGUST 2022 WEST COAST WOMAN 29
---
good news department

Gulf Coast Community

Foundation's $ 3.3 million

in grant awards

Gulf Coast Community Foundation has

approved over $3.3 million in grant awards.

The funding included grants from legacy donors

who established funds which allow Gulf

Coast to fulfill their philanthropic goals and

support the causes most important to them

in perpetuity.

"Our Board has approved over $36 million

in grants to strong nonprofit organizations

this past fiscal year," noted Mark Pritchett,

president and CEO of Gulf Coast Community

Foundation. "This latest round of grants includes

many donor legacy funds which will

honor those individuals and the causes that

were important to them."

Some of these donor legacy fund grants approved

by the Gulf Coast Board were made to

support incredible community projects and

causes. These grants included:

Bay Park

• $150,000 to support Phase 2 of The Bay

Park. Supported by the unrestricted endowments

of donors who left their legacy with

Gulf Coast, this grant will include shoreline

restoration and enhancements inspired by

the Water Quality Playbook. Donor funds:

Frank and Elsie Bushroe Charitable Fund;

Gould Family Trust Foundation; Mildred

F. Currie Charitable Fund; Jarrett Family

Fund; Betty Jane Helle Endowment Fund;

and Carl A. Savickas Charitable Fund. This

highlights Gulf Coast Community Foundation's

continued support of The Bay Park in

over $1 million.

• $125,000 to Greater Sarasota Chamber

of Commerce CareerEdge. Supported

by the Gould Family Trust Foundation and

Gulf Coast Community Foundation's own

endowment, this grant will help to continue

the CareerEdge program. CareerEdge was

established in 2010 by Gulf Coast's workforce

and business innovation initiative, and

to date has raised over $14.5 million to support

education and workforce development

in the region.

• $50,000 to Education Foundation of

Sarasota County. Supported by the Gould

Family Trust Foundation and Gulf Coast

Community Foundation's own endowment,

this grant will help launch "Project Wayfinder,"

a curriculum aimed at supporting

students as they consider post-secondary

education.

"The most powerful form of philanthropy

is when a donor leaves a legacy gift that is

flexible and can be used to support a variety

of causes," shared Senior Vice President for

Philanthropy Kirstin Fulkerson. "This allows

Gulf Coast to deploy the funds in a way that

will have the greatest impact."

Learn more at GulfCoastCF.org.

Donors of Distinction

Grants $90,000 to

22 Nonprofits

Donors of Distinction (conceived by the

leadership of Designing Daughters) held

its 2021-2022 Grant Ceremony at Gold Coast

Eagle Distributing. Representatives from 22

local nonprofits were in attendance and received

grants ranging from $2,000 to $5,000.

Altogether, $90,000 was donated.

(L-R) Grant Co-Chair Britney Guertin, BOD Chair

Jane Thompson, Grant Co-Chair Angie Vara

Mothers Helping Mothers Received 5,000 -

Nominated by DD Member America Jones

"After two years, Donors of Distinction

was able to give back and donate grants, and

$90,000 of grants at that. It's an honor to have

led this organization from 2020 to 2022, and

we couldn't have done it without the support

of the community," said Megan Micale,

president of Donors of Distinction. "We were

joking that we need a tissue sponsor with all

the happy tears. It was just wonderful to be

together, award and recognize so many local

nonprofits and look toward the future."

A list of the nonprofits includes:

• Faces of

Accomplishment

• The Twig Cares

• BBBS of Sun Coast

Boys and Girls Club

of Sarasota and

DeSoto Counties

• Easterseals

• Meals on Wheels

• Project Pride

• Sertoma Kids

• Blaze of Hope

• Bridge A Life

• SMART Riders

• Satchel's Last Resort

• St. Jude's

• Tidewell Foundation

• Dancing with Clayton

• NAMI

• SPARCC

• Operation Warrior

• Sarasota Medical

Pregnancy Center

• Mothers Helping

Mothers

• The Mark Wandall

Foundation

Gulf Coast Community

Foundation helps Wellfield

Park get a renovation

Gulf Coast Community Foundation approved

a $60,000 grant from the Venice Endowment

Fund to support field renovations

at Wellfield Park in Venice. This partnership

between the City of Venice, Sarasota County

Government, and Gulf Coast Community

Foundation will allow for the restoration of

both Soccer Field #2 and the Letson Stadium

Football Field.

Venice City Council members supported

moving forward with this important project,

approving a $142,200 budget amendment to

appropriate funds for the City's portion of the

work. This amount includes Gulf Coast Community

Foundation's grant.

According to Mark Pritchett, president and

CEO of Gulf Coast Community Foundation,

"The redevelopment of the soccer and football

fields will allow generations of families

to enjoy the beautiful park safely for many

years to come."

In the partnership, the City will be responsible

for turf replacement and pest control

treatment. According to Assistant City Manager

James Clinch, "This partnership project will

benefit two major youth sports organizations

and hundreds of families in our community."

Letson

Stadium in

Wellfield Park

Sarasota County is responsible for sand,

soil, laser grading, and all labor and onsite

supervision and coordination of the projects.

Total project cost is $162,200. "This important

collaboration will support generations

to come and benefit kids in our community,"

said Sarasota County Parks, Recreation and

Natural Resources Director Nicole Rissler.

Learn more at GulfCoastCF.org.

Solutions to Avoid Red

Tide Expands Healthy

Ponds Collaborative into

Manatee County

Building on a successful program that helped

more than two dozen Sarasota County communities

bolster (and beautify) their stormwater

retention ponds, Solutions to Avoid

Red Tide (START) has secured a $100,000

grant from Charles & Margery Barancik

Foundation to expand a regional "Healthy

Pond Collaborative" (HPC) initiative into

Manatee County.

Fish killed

by Red Tide

The Manatee version will be a partnership

with START and the Manatee County Department

of Parks and Natural Resources that

will in combination with the Sarasota County

effort now cover all ponds flowing into the

Sarasota Bay Watershed. This is a major step

forward in the attempt to reduce the flow of

excess nutrients in stormwater into our waterways

that lower water clarity needed to

restore the health of our seagrass beds and

feed harmful algal blooms like red tide.

According to START, stormwater contributes

65% of the nitrogen into local waterways,

which feeds red tide and causes

other damage to water quality and wildlife.

You may call them lakes, but the more than

6,000 bodies of water in Sarasota County are

all manmade and only operate at 40% to 60%

efficiency in removing the excess nutrients

that contribute to water pollution.

This new collaboration will help more

neighborhoods upgrade their ponds and

cost-share the improvements. It also will

create and distribute a step-by-step pond

enhancement guide, host educational focus

groups, and do follow-up monitoring of pond

enhancements. A very successful pilot pond

program funded by a grant from philanthropists

Ed Chiles and Elizabeth Moore helped

enhance over a half-mile of pond shoreline in

Manatee County communities last year.

This unique effort and collaboration is helping

to establish state-wide and national models

that can be recreated in other communities.

There are more than 10,000 ponds in Sarasota

and Manatee counties. Of these, the majority

are classified as wet detention ponds.

These water bodies temporarily store water

before releasing it downstream by canals,

ditches, and pipes to federal- and state-regulated

waters. All the creeks and bayous that

drain into the bays of Sarasota and Manatee

counties have too much pollution to meet

water quality standards.

Three of the most common symptoms of

unbalanced ponds are: the loss of land associated

with pond erosion; frequent algal blooms;

and the loss of once abundant wildlife.

Over the past several decades, pond management

has often been reduced to monthly

chemical applications to kill undesirable

aquatic plants and algae living in and around

the ponds. The HPC utilizes better practices

to treat ponds and educate homeowners and

associations on how they can maintain their

ponds in the future.

These actions are activities inspired by

Gulf Coast Community Foundation's Community

Playbook for Healthy Waterways

(https://www.waterqualityplaybook.org)

For more information, visit www.barancikfoundation.org.

Sisterhood for Good

Awards Family Promise

of South Sarasota County

with $3,000 Grant

Family Promise of South Sarasota County

(FPSSC) has received a charitable $3,000

grant from the Sisterhood for Good toward

our Home Goods Pantry. The parent(s) of all

children FPSSC serves earn 200% or less of

the Federal Poverty Level.

Sisterhood for Good Grant 2022

Since the pandemic and rent inflation

crisis, local housing insecure families have

required a greater depth and broader scope

of services to achieve permanent housing.

FPSSC's primary goal is to provide local families

with at least one minor child who are in

a housing crisis with the means to achieve a

permanent address and lasting financial independence.

The typical family served consists

of a single parent and her 2 children.

The parents are our local 911 operators, grocery

clerks, preschool teachers, nail technicians,

and Certified Nurse Assistants.

Jennifer Fagenbaum, Executive Director

of Family Promise of South Sarasota County

stated, "Due to the rising cost of rentals

and lack of affordable housing, local families

often do not have the financial capacity

to purchase essential household items,

such as baby wipes and various such paper

goods, cleaning products, personal hygiene

products, laundry products, etc. FPSSC can

purchase these products from one of its partners,

Restore Global, for about 10 cents on

the dollar. As such, a grant in the amount of

$3,000 will provide a tremendous benefit to

the local Open Doors families that come to

FPSSC's Home Goods Pantry."

For more information, visit https://www.familypromisessc.org

and https://sfgflorida.org/.

30 WEST COAST WOMAN AUGUST 2022
---
Windows and Patio Doors!

BUY ONE, GET ONE

40 % OFF1

AND

$

0 Money Down

$

0 Interest

$ 0 Monthly Payments

for 12 months 1

Interest accrues from the date of purchase but is waived if paid in full within 12 months. Minimum purchase of 4.

4.7 OUT OF 5 BASED ON 95,000+ REVIEWS

" My overall experience was great. I love the window, and from sales to scheduling, the experience was very good. The installers are highly skilled

professionals and I would recommend Renewal by Andersen to all my contacts." – LYNN F. | RENEWAL BY ANDERSEN CUSTOMER

KEEP THE HEAT IN AND THE COLD AIR OUT!

Solving your window problems and having a comfortable home is easy and enjoyable

when you choose Renewal by Andersen. With this great offer, you save money on your

window project – and you'll also save on high energy bills for years to come!

Call by May 31

for your FREE consultation.

877-710-0048

49%

MORE EFFICIENT 2

Keep the

heat in and

the cold out.

1

DETAILS OF OFFER: Offer expires 5/31/2022. Not valid with other offers or prior purchases. Buy one (1) window or entry/patio door, get one (1) window or entry/patio door 40% off, and 12 months $0 money down, $0 monthly payments, 0% interest when you purchase four (4) or more windows or entry/patio doors between 1/1/2022 and 5/31/2022. 40% off windows and entry/patio doors are

less than or equal to lowest cost window or entry/patio door in the order. Subject to credit approval. Interest is billed during the promotional period, but all interest is waived if the purchase amount is paid before the expiration of the promotional period. Financing for GreenSky® consumer loan programs is provided by federally insured, federal and state chartered financial institutions without

regard to age, race, color, religion, national origin, gender, or familial status. Savings comparison based on purchase of a single unit at list price. Available at participating locations and offer applies throughout the service area. See your local Renewal by Andersen location for details. License number available upon request. Some Renewal by Andersen locations are independently owned and

operated. 2Values are based on comparison of Renewal by Andersen® double-hung window U-Factor to the U-Factor for clear dual-pane glass non-metal frame default values from the 2006, 2009, 2012, 2015, and 2018 International Energy Conservation Code "Glazed Fenestration" Default Tables. "Renewal by Andersen" and all other marks where denoted are trademarks of Andersen Corporation.

© 2022 Andersen Corporation. All rights reserved. RBA12848 *Using U.S. and imported parts.

THE CIRCUS ARTS CONSERVATORY & THE RINGLING

present

Incredible

Family Entertainment

The Ringling

5401 Bay Shore Rd

AT THE RINGLING

NOW – SAT AUG 13

TICKETS: ringling.org

941.360.7399

TUE – FRI 11 AM & 2 PM

SAT 2 PM & 5 PM

$

18

ADULT

$

12

CHILD

12 & UNDER

AUGUST 2022 WEST COAST WOMAN 31
---
Is independence in your own home your goal?

Choose a trusted, professional nursing team to ensure the years ahead and your health

care path align with your wishes.

Take Care provides all levels of care—from

skilled nursing to helping with groceries

and companionship—for clients in any

home setting. We remain dedicated to

helping you and your loved ones.

Take Care is locally nurse and familyowned

with 27 years of experience meeting

your health care needs, from one hour of

care as needed up to around-the-clock

support, 24 hours a day, 7 days a week.

Personalized care in your own home has

never been more important.

Our Registered Nurse New Services team

is ready for your call.

Erika Wise Borland, MA, Vice President

Susanne S. Wise, RN, MBA, CEO & Owner

Courtney Wise Snyder, MSG, CMC, President

Celebrating Years of Caring

www.TakeCareHomeHealth.com

(941) 927-2292

info@takecarehomehealth.com

Lic. # HHA 21657096 | 299991405

27

Community Voted Best Home Health since 2012

32 WEST COAST WOMAN AUGUST 2022