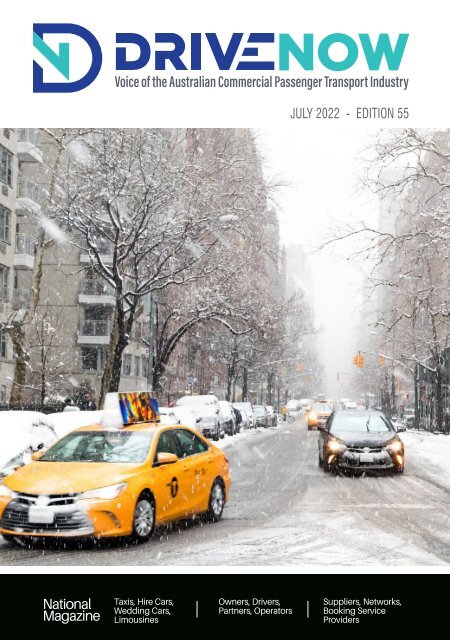 DRIVE NOW July 2022
Australia's only Magazine for the Commercial Passenger Transport Industry. News and views for Drivers, Owners and Operators of Taxi, Hire Car, Limousine, Ride Share, Booked Hire Vehicles, Rank and Hail Cars
Australia's only Magazine for the Commercial Passenger Transport Industry. News and views for Drivers, Owners and Operators of Taxi, Hire Car, Limousine, Ride Share, Booked Hire Vehicles, Rank and Hail Cars
SHOW MORE
SHOW LESS
Create successful ePaper yourself
Turn your PDF publications into a flip-book with our unique Google optimized e-Paper software.
JULY 2022 - EDITION 55

National

Magazine

Taxis, Hire Cars,

Wedding Cars,

Limousines

Owners, Drivers,

Partners, Operators

Suppliers, Networks,

Booking Service

Providers
---
drivenowmag drivenowmag

drivenowmagazine drivenowmagazine

Editor

Mrs Toni Peters

Production Team

Amy Peters, Antonella Kearns and

Isobel Sparrow.

Media Pack

with advertisement sizes and costs, is

available on our website.

Deadlines

Artwork bookings by 20th of the month prior

to publication date.

Articles, editorials and final artwork due

25th of the month prior to publication date.

Enquiries

PRINTED COPIES

READERSHIP OF

PRINTED COPIES

CIRCULATION —

DIGITAL & PRINTED

FREQUENCY

contact@drivenow-magazine.com.au

Mrs Toni Peters — 0400 137 866

www.drivenow-magazine.com.au

4,000

7,000

29,000

1st week of each month

Home delivery

subscription

$45 for your copy of DRIVE NOW to be

mailed to you for one year.

Payment options

Direct Deposit to:

Trade Promotions Pty Ltd

BSB 033065 ACCOUNT 312786

REF your name

THE AUDIENCE

DISTRIBUTION

Drivers, Owners, Operators,

Providers, Suppliers, Booking

Services of Taxis, Hire Cars,

Rideshare, Wedding Cars &

Limos.

All Australian States and

Territories. Industry Member

Associations (TAA, NSW TC,

SATC), Major Taxi Depots,

Industry Suppliers, Vehicle

Sanitisation Stations, DRIVE

NOW Website, Social Media &

Subscribers.

Publisher - Trade Promotions Pty Ltd, 28 Vannam Drive, Ashwood Vic 3147 - Phone 0400 137 866. DRIVE NOW TM is wholly owned by Trade Promotions Pty Ltd. ©

Trade Promotions Pty Ltd 2021. All rights reserved. Copyright of articles and photographs in DRIVE NOW TM remains with the individual contributors and may not be

reproduced without permission.

Views expressed in any article in DRIVE NOW magazine are those of the individual contributor and not necessarily those of the publisher. The publisher cannot accept

any responsibility for any opinions, information, errors or omissions in this publication. To the extent permitted by law, the publisher will not be liable for any damages

including special, exemplary, punitive or consequential damages (including but not limited to economic loss or loss of profit or revenue or loss of opportunity) or

indirect loss or damage of any kind arising from the contract, tort or otherwise, even if advised of the possibility of such loss of profits or damage. Advertisements

must comply with the relevant provisions of the Competition and Consumer Act 2010. Responsibility for compliance with the Act rests with the person, company or

advertising agency submitting the advertisement.

2 July 2022
---
28

14

ESC's draft

decision for

the maximum

fares

12

18

WHAT'S INSIDE

FEATURES

4 Unveiling Uber's Ugliness.

ACT

8 ACT is racing ahead on clean transport.

VICTORIA

10 The Uber reckoning.

12 Victoria's Regulator has a new name.

14

Victorian Metro Taxi Rank & Hail fare

review.

OVERSEAS

NSW 32 Uber's secret lobbying in UK.

16 Taxi registration is now online.

SOUTH AUSTRALIA

18

20 Increase in Rank & Hail fares.

21 Changes to the annual vehicle inspection.

22

33

Passenger Transport Act 1994 is under

review.

WEST AUSTRALIA

WAV modification grant expressions of

interest now open.

23 New cameras will catch you!

Taxi and PHV drivers should do advanced

driving test.

www.drivenow-magazine.com.au

July 2022

3
---
UNVEILING

UBER'S

UGLINESS

by Isobel Sparrow

Mark MacGann has taken ownership of being the one to have leaked more than 124,000

company files to the news agencies that are now painting Uber in a negative light. His

initiative was to shed light on some of the fundamental wrongs his former employer

committed in order to achieve the stance they now have in the transport industry.

But who is Mark MacGann, and how was he involved in Uber? He is the ex-chief lobbyist

for the company's Europe offices, where his job description entailed winning over

governments across Europe, the Middle East and Africa. But after quitting and reflecting

on his past work, he said enough was enough!

4 July 2022
---
He left the company after

claiming that Uber's culture

left him feeling "powerless to

question or change its ways" and

that if he contested, it would

"put his family's safety at risk"

(The Guardian). Ultimately,

leading to his decision to release

the company's secret files.

The information he has given

showcased, in intricate detail,

how Uber defied laws, deceived

police, exploited violence against

drivers, and furtively lobbied

countries to intrusively build

itself. Uber has even admitted

that it did these illegal acts,

masking their intensity by calling

them 'mistakes', but still asks for

our forgiveness.

One of the company's

ambassadors, Jill Hazelbaker,

called the public to judge what

Uber has achieved in the last five

years and what it can achieve in

the future - instead of focussing

on how the company broke the

law.

Here in Australia, the underhanded

way that Uber

represented itself and the lies

it told about the Australian taxi

industry, was not lesser than

what it did overseas. Actually it

was probably worse.

Further, more documents have

been released which show that

Uber sought to lobby Australian

governments, specifically the

industry regulator, in all States

and Territories, to legalise its

illegal operation in Victoria.

Guardian Australia reports that

www.drivenow-magazine.com.au

the documents reveal claims

made within the company that

it had struck a secret deal with

Victoria's taxi authority.

Emails show in early September

2014 that, Uber's policy head for

the Asia Pacific, Jordan Condo,

met with the chair of Victoria's

Taxi Services Commission,

Graeme Samuel – a former chair

of the Australian competition

regulator described by Uber staff

as "a staunch pro-competition

advocate".

"An agreement was reached

[with the TSC] that will create a

process to accredit uberX drivers

in the coming months with a plan

to license ridesharing in early

2015," Uber staff said in a weekly

email roundup of lobbying

activity around the globe.

However, Samuels told Guardian

Australia: "There was no secret

deal done with Uber or anyone

else associated with rideshare

services."

Guardian Australia also reports

that Uber hired lobbyist John

Richardson, a former senior

Labor staffer, to petition the

New South Wales government on

its In addition, claims emerged

it was working with the NSW

Labor opposition to write a bill

to legalise Uber in that State.

According to a 10 July 2014

email that Richardson sent to

a colleague, the former adviser

to the Hawke, Keating and Carr

governments was to "provide

public affairs support to Uber for

the state of New South Wales

July 2022

and advice regarding the rest of

Australia".

Uber knew and fully

understood that it was

launched illegally in

Australia, so it leaned on

governments to change

the law.

Yes, that's right! Uber, for lack of

other words, wanted a free pass

when it came to the law!

And yes, Uber had and still has

the money, power and means

to wiggle its way into many

countries. But where were our

laws or preventative measures to

stop this?

Where were those in our

governments worldwide, in our

countries, who could have and

should have, done their jobs?

Hiding under their desks, burying

their heads in the sand, because

a big loud entity was making a

noise, disrupting the taxi and

hire car industry, and they didn't

know what to do to curb them.

Lawyer Michael Donnelly, who

is leading the Maurice Blackburn

class action against Uber, told

Guardian Australia: "We allege

that the commencement of Uber

in Australia, operating illegally,

had a devastating effect on

the holders of taxi licences in

Victoria, Queensland, New South

Wales and Western Australia."

"Taxi licence holders were often

from working-class backgrounds

and had invested enormous sums

of money to acquire taxi licences

in a full and regulated market.

5
---
The practices of Uber that we

allege were illegal and caused

the value of those licences to be

severely impacted."

In a preliminary ruling in the

case, Associate Justice Patricia

Matthews found there were

reasonable grounds to suggest

that Uber was operating illegally

in Melbourne from 23 January

2014 and illegally in NSW,

Queensland and WA from 14 April

2014.

She said that "the attempts

made by the defendants [Uber]

to avoid enforcement were

an aspect of building scale,

garnering public support, and

growing the business (including

by attracting and retaining UberX

partners) until they had managed

to flip a city".

"I accept the plaintiffs'

submission that ridesharing

offences were being committed

systemically and on a large

scale," she said. "Even if at trial

it is found otherwise, there are

reasonable grounds for making

this finding as part of this

application."

The ruling has allowed taxi

licence operators to use

documents that Uber claimed

didn't have to be disclosed

because they contained legal

advice. But the judge found that

some of the documents could

be used in court because they

contained advice on how to

circumvent the law.

Guardian Australia reports that

"Uber's ultimate success in

Australia had a devastating effect

on holders of taxi licences, and

"presents a serious case study

of regulatory failure", according

to Michael Donnelly, a principal

lawyer at Maurice Blackburn.

"In the future, state government

regulators have to be far

more resistant to large private

companies entering the market

and seeking to bully them in the

way that Uber did."

But how can we do this when

Uber has our leaders in their

pockets. World-renowned

leaders from places like France,

USA, Britain, and Australia have

all fallen to the money and power

Uber can, and has provided.

When will it stop?

In conclusion, the ubiquity of

Uber today was achieved on a

premise of unfairness and, let

us not forget, illegal actions.

But unfortunately, government

officials, industry regulators, and

other authoritative bodies let us

down when they masked Uber's

behaviour. Still, maybe with

some urgency and fairy dust, we

can work together to help those

treated adversely.

This is not to say that all hope is

lost. It is not. We can still fight

back - and we must!

We Are

HIRING

Drivers | Forklift Operators | Parcel Sorters | Sub-contractor (Drivers)

Why work with us?

Family owned business (to us you're a person, not a number)

Safety focus (your safety is at the centre of everything we do)

Role specific training provided

Development opportunities

Register your interest

1300 100 BEX

Select Option 3

Scan

6 July 2022
---
I know what it is like to have

your struggles, experiences

and opinions ignored. That

is why I came to Parliament

to fight for our community,

accountability, and fairness.

ROD BARTON MP

COMMUNITY DRIVEN, FAIRNESS FOCUSED

www.drivenow-magazine.com.au

Phone: (03) 9850 8600

Email: rod.barton@parliament.vic.gov.au

www.rodbarton.com.au

July 2022

RodBartonMP

7
---
ACT News

Racing ahead

on clean

transport

FOSSIL FUEL PHASE-OUT

The ACT government's new zeroemission

vehicles (ZEVs) strategy

is a green light to carmakers and

charging station companies to

invest and will deliver Canberrans

cleaner, cheaper roads, according

to the Electric Vehicle Council.

Behyad Jafari, chief executive of

the EVC, said the ACT was leading

the nation in a smooth, affordable

transition to zero emissions.

"The ACT Government is making

the tough reform decisions now

to ease an inevitable transition

that's only a decade away," said

Mr Jafari.

"The Territory has shone a green

light to car makers and charging

manufacturers to come and invest

now."

The new plan to phase out light

internal combustion engines by

2035 is informed by an ambitious

target of 80-90% of new light

vehicle sales being ZEVs by 2030.

Andrew Stock, energy expert and

Climate Councillor, said, "Australia

has long been stuck in the slow

lane when it comes to electric

transport uptake, but the ACT's

game-changing policy to phase out

new fossil fuel-powered cars is a

welcome step forward."

"The ACT has set the bar for the

rest of the country in reducing

emissions from light passenger

vehicle fleets while also delivering

lower pollution levels and a

reduced reliance on expensive

petrol," said Mr Stock.

"By setting long-term targets

in line with climate science,

Canberrans will benefit from

cheaper electric vehicles that cost

8 July 2022
---
a fraction to run," Mr Jafari said.

"Nearly a majority (42%) of the

world's car market have incoming

bans on light combustion engines,

while 16 car makers are phasing

out petrol and diesel cars. Five

years ago, both those numbers

were zero. Can you imagine what

the world will look like five years

from now?"

The strategy also includes financial

incentives to remove the major

barrier to people taking up electric

vehicles.

"We need the federal government

to adopt fuel efficiency standards

in line with those in Europe, the

USA, and NZ. As a country coming

from behind, we now need them

urgently," Mr Jafari said.

"Taking action to price registration

by emissions sets a clear

expectation that lower and zero

emissions vehicles should be

better off compared to more

heavily polluting vehicles under

any future reform.

While fuel efficiency standards—

which limit the average amount

of CO2 that a manufacturer's fleet

can emit—have been adopted

across about 80 per cent of the

global light car market, they are

absent in Australia.

"Australia's poor track record

on fuel emissions and electric

transport have made us a dumping

ground for some of the world's

highest emitting vehicles," said Mr

Stock.

"All other Australian states and

territories should step up and

set similar targets to shift to

an electric transport system

that reduces emissions, and

can be powered by affordable,

homegrown renewable energy

rather than imported oil," added

Mr Stock.

www.drivenow-magazine.com.au

July 2022

9
---
VIC News

The Uber

RECKONING

In recent days we have had a number

of reports released by the Guardian

newspaper about a trove of 124,000

confidential documents leaked from Uber.

These consisted of emails, iMessages and

WhatsApp exchanges between the Silicon

Valley giant's most senior executives, as

well as memos, presentations, notebooks,

briefing papers and invoices. The data reveals

how Uber knowingly flouted the law, duped

police, exploited violence against drivers

and secretly lobbied governments across the

world.

I could not say it better than in the words

of Dalia Gebrial, an English political

commentator and journalist, who writes -

"What the Uber files confirm is that Uber's

rise is not some 'free market' success story.

It was a co-ordinated theft of our urban

economies, based on exploitation and

aggressive lobbying. Much of which was – in

the words of Uber execs – 'f***ing illegal'."

Rod Barton MLC

Leader, Transport Matters Party

The Uber files merely confirm what the

taxi and hire car industry suspected for a

very long time. In Australia, these claims

form the basis of an ongoing class action

lawsuit against the company represented by

Maurice Blackburn on behalf of licenced taxi

operators.

10 July 2022
---
VICTORIA news

That Uber was able to operate without

the required permits, and did so without

consequence while regulators were

asleep at the wheel caused the value of

those licences to be severely impacted.

It is clear Uber bulldozed its way

into cities around the world with

little regard for taxi regulations

while simultaneously lobbying

aggressively for those same laws

or regulations to be altered to

accommodate it.

For example, despite

Australian state laws

requiring taxis and hire

cars to obtain a licence

prior to operating, Uber

set up shop in Australia in

2012 without the required

permits.

Taxi licence holders were often

from working-class backgrounds

and had invested enormous sums

of money to acquire taxi licences in

a full and regulated market.

That Uber was able to operate

without the required permits and

did so without consequence while

regulators were asleep at the

wheel caused the value of those

licences to be severely impacted.

This led to devastating financial

consequences for the incumbent

industry, the legacy of which

continues today.

www.drivenow-magazine.com.au

If Uber and their business

approach is the poster boy

for the gig economy then

we are in serious trouble.

This situation presents a serious

case study of regulatory failure but

is not without remedy.

The whistleblower behind the leak,

Mark MacGann, Uber's former

chief lobbyist in Europe, the

Middle East and Africa, says he has

decided to speak out.

Mr MacGann believes Uber's senior

executives knowingly "sold people

a lie" about the economic benefits

to drivers of the company's gig

economy model.

'It is my duty to [now] speak

up and help governments and

parliamentarians right some

fundamental wrongs. Morally, I

had no choice in the matter.'

Hindsight is 20/20 vision.

The revelation in the Uber files

is a timely call for a serious and

considered evaluation of how the

local taxi and hire car industry was

allowed to unravel, the part Uber

July 2022

played in steering these outcomes

for their own benefit, and the way

regulators enabled this.

State governments and politicians

across the spectrum should

have been far more resistant to

bullying by a large private company

entering the market.

In many cases, the enthusiasm

of government to embrace the

vision they were sold has resulted

in the baby being thrown out with

the bath water at the expense of

law-abiding small business owners.

Decision makers were sold a lemon.

We cannot reverse the

past. But we can repair it.

As in the case of Mr MacGann, time

and reflection have brought this

matter to the fore.

Morally, there is no choice but

for Australian state governments

across the country to clear

their conscience and own their

contribution to the financial

destruction and decimation of

a once viable and prosperous

industry.

11
---
VICTORIA news

VICTORIA'S REGULATOR HAS A

New name with

Same faces

The Victorian Government has

merged two of its safety entities,

Commercial Passenger Vehicles

Victoria (CPVV) and Transport

Safety Victoria (TSV).

Effective 1 July 2022, this new entity

will be known as Safe Transport

Victoria (STV).

This is the fourth name for the

regulator in 10 years -

1. Victorian Taxi Directorate

(VTD) ->

2. Taxi Services Commission

(TSC) ->

3. Commercial Passenger

Vehicles Victoria (CPVV) ->

4. Safety Transport Victoria (STV).

Safe Transport Victoria has been

created to oversee the bus and

maritime industries, along with the

Multi Purpose Taxi Program.

It apparently will continue to

oversee commercial passenger

vehicle regulation, including driver

accreditation, vehicle registration,

medical assessments, and vehicle

inspections.

Tammy O'Connor has been named

CEO of Safe Transport Victoria

and will lead STV into a new era of

delivering support and direction to

operators, managers and users of

these critical services via one point

of contact.

Even though CPVV hasn't been

able to fulfil this role competently

over the past years, the Victorian

Government still decided to bring

the CPVV's current senior leadership

over to the new regulator and

additionally give them responsibility

for the bus and waterway systems.

Many of us hoped that this merger

would mean appointing a new team

of leaders passionate about fixing

the industry. But, alas, this is not

the case.

"The regulator was unable to

perform their duties correctly when

they only looked after commercial

passenger vehicles - how are they

going to be able to look after

additional areas added to their

portfolio?" said Rod Barton MP,

Leader of Transport Matters Party.

What will change? How will this

new entity make any difference

to how regulations are enforced

within the taxi, hire car and rideshare

industry?

"Notably absent from the

announcement was a vision for the

12 July 2022
---
VICTORIA news

future, strategic plan, or industry

priorities. I believe that the merger

appears to be nothing more than a

change of name, falling short of the

serious reform that is needed," said

Mr Barton.

"The regulator has long had a

fractured relationship with the

industry. This is after years of

policy that simultaneously fails to

regulate commercial operators

and drivers, while also crippling

them with unjustified and

unnecessary bureaucracy."

"We will not be taken for idiots.

There needs to be some serious

reform before the regulator can

mend its relationship with the

industry," added Mr Barton.

Over the years, there have been,

and still continue to be, numerous

issues that the CPVV could not

handle.

Firstly there is the lack of data

management. CPVV cannot

accurately determine who is active

in the industry - not the number of

drivers, operators or even vehicles.

Then there is the poor

management of the Multi Purpose

Taxi Program (MPTP), which

means there is a high probability

that regional areas will not have

any WATs for their disabled

population.

The recent report from the

Inquiry into the MPTP, even found

that the CPVV, 'demonstrate a

disdain for accountability which,

it would seem, takes priority over

its obligations to the safety of

vulnerable Victorians.'

Right now, the CPVV are in

VCAT fighting against a Privacy

Commissioner ruling to release

documents as part of an FOI

request, and CPVV continues to

stonewall this. Really! What are

they hiding?

The lack of regulatory

enforcement of rideshare safety

requirements has led to multiple

cases of sexual assaults. This, in

turn, fuels public opinion that

rideshare vehicles/drivers are not

as safe as they purport to be.

The Regulator's lack of control and

enforcement on illegal commercial

passenger vehicles, primarily

wedding car operators and

limousine operators, is a complete

farce.

So, where does our industry stand?

Are we eventually going to

have a level playing field

and less bureaucracy in

the Victorian taxi, hire car,

and ride-share industry?

Will there be better control and

fairness to all by the regulator?

Will there be better safety

measures implemented for all

facets of the industry?

There is an economic crisis in the

industry. There are 120,000 drivers

on Victorian roads fighting for a

smaller piece of the pie every day.

It is critical for the regulators to

understand that their decisions

affect not only drivers but also their

families.

by Susan White

Online Australian

Training

Courses

www.drvrtraining.com.au

Limousine, Taxi, Hire Car, Ride Share

Fatigue Management

23 Lessons | $49.00

Limousine, Taxi, Hire Car, Ride Share

COVID-19 Hygiene Awareness

for Transport Drivers

22 Lessons | $ FREE

www.drivenow-magazine.com.au

July 2022

13
---
VICTORIA news

VICTORIAN METRO TAXI

RANK & HAIL

Fare Review

The Essential Services

Commission (ESC) are reviewing

maximum fares for unbooked

taxi services that begin in

the metropolitan and urban

zones, which cover most of

metropolitan Melbourne,

Geelong, Ballarat, Bendigo,

Frankston, Dandenong, and the

Mornington Peninsula.

The ESC released their draft

decision on maximum fares for

unbooked taxis on 1 July 2022.

Their draft decision is to

increase the maximum

fares for unbooked taxi

trips that begin in the

Melbourne metropolitan

or urban and large

regional zones by 10.4 per

cent.

The proposed increase will apply

equally to the tariff components

(flagfall, distance rate and time

rate) for each tariff period.

This is the first fare increase

proposed since 2014 and reflects

recent increases in the costs

of providing unbooked taxi

services.

The new taxi cost index suggests

that the costs of operating

unbooked taxi services have

increased by 10.4 per cent since

the last fare review in 2020. The

main contributors to the 10.4 per

cent increase are:

• fuel costs at 6 per cent -

accounts for the change in

fuel costs

• driver labour at 4.3 per cent:

accounts for the use of the

Fair Work Commission's

annual wage review as a

cost inflator for driver labour

instead of the wage price

index (transport, postal and

warehousing).

The draft decision takes

into account the Victorian

government's recent

amendments to the Commercial

Passenger Vehicle Industry

Act 2017, which gave the

ESC discretion to consider

the Fair Work Commission's

annual wage review and the

commercial viability of operating

a taxi service when setting the

maximum fares.

The ESC proposes to include a

fare adjustment mechanism in

their price determination which,

if needed, would allow maximum

fares to automatically increase or

decrease between fare reviews

without requiring a price review.

The fare adjustment mechanism

will only account for any changes

in fuel prices and next year's

wage review by the Fair Work

Commission.

Taxi driver earnings depend on a

combination of:

• the demand for and supply

of commercial passenger

vehicle services

• the demand for and supply

of taxi drivers

• fares charged

• how revenue is shared

between taxi drivers and

operators, which is currently

at a minimum 55:45 ratio.

14 July 2022
---
HAVE YOUR

Comment on the ESC's draft

decision for the maximum fares

for unbooked taxi services.

Submissions should be made via

Engage Victoria by 5pm, Monday

1 August 2022.

Visit https://bit.ly/3PDduPJ for

more details.

Powered by LIMOMATE

Drivers/Owner Drivers Required

Are you sick of pushing a cab around or doing lots of short

fares for Uber with little reward? Are you tired of delivering

dozens of parcels a day? Do you want to do 5-6 jobs a day

in comfort and leave all the hassles behind?

Earn $1,500+/week - all expenses paid by the Company.

Owner drivers earn $3,000+/week.

Permanent driving positions now available in the

south-eastern suburbs.

We'd love to hear from you.

Call 9462 8222 and say G'day.

www.drivenow-magazine.com.au

July 2022

15
---
NEW SOUTH WALES news

NSW News

Taxi

Registration

NOW ON LINE

For the first time, almost 5,000

taxi operators across NSW will

be able to renew their vehicle

registration online via the Service

NSW website, saving them

from having to visit a Service

NSW Centre to complete the

transaction.

Minister for Customer Service

and Digital Government Victor

Dominello said the digitisation

of the taxi registration process

was the result of strong advocacy

of the NSW Taxi Council and

collaboration with Transport for

NSW and Service NSW.

"This is a small but significant win

for taxi operators, and I want to

thank the NSW Taxi Council for

their advocacy for this change

over several years," Mr Dominello

said.

"Previously, to renew a taxi

registration, operators were

required to visit a Service NSW

Centre during business hours

or call the Contact Centre to

complete the transaction," Mr

Dominello said.

"We have listened to industry

feedback, and as a result of this

change, taxi owners and operators

will now be able to renew their

registration in a way that is most

convenient to them."

"The online form has been

extensively user tested and only

takes a few minutes to complete."

Taxi operators are required to

complete their Compulsory Third

Party Insurance and eSafety

inspection report before renewing

their taxi registration online.

Customers can still attend a

Service Centre or call 13 77 88 to

renew their taxi registration if they

prefer.

16 July 2022
---
Help yourself stay well this Winter. To protect yourself,

you need a flu shot every year.

You may have heard that you'll get sick from the flu shot. Or you may think the flu is

just a worse version of the common cold. But in reality, the flu can be quite serious. By

getting vaccinated, you're making a choice to protect yourself and others from a bad case

of the flu. And the vaccine's safety has been tested for more than 50 years.

THE FLU SHOT CAN SAVE YOUR LIFE

Flu can be deadly.

It's true that the flu vaccine does not always

protect you from every strain of flu during

flu season, but it does protect you from the

most common. And because of that, getting

vaccinated every year significantly reduces your

risk of getting the flu.

FLU VACCINE HELPS TO:

• Reduce your chance of having to go to the

doctor or the emergency room with flurelated

illness

• Lessen the severity of your symptoms if

you do get the flu

• Keep you from spreading the flu to those

around you, like your family and friends

YOU CANNOT CATCH THE FLU

FROM THE FLU VACCINE

The flu shot is made from one flu virus protein

or an inactivated virus, and this vaccine cannot

cause you to get the flu.

When you get a flu vaccine, your body builds

up antibodies to fight against infection with the

virus.

Some people may experience side effects from

the flu vaccine. This includes soreness, redness

or swelling at the injection site, headache,

fever, nausea or tiredness. This is true of many

medications. Side effects from the flu vaccine

generally go away on their own within a day or

two.

www.drivenow-magazine.com.au

THE FLU IS NOT JUST

A 'BAD COLD'

Because the common cold and flu share similar

symptoms, many people think flu, is a more

severe form of cold. Cold and flu are both

respiratory illnesses, but they're caused by

different viruses.

You're more likely to experience a runny nose

and cough when you get a cold. Cold rarely

leads to complications, and symptoms usually

resolve within 1–2 weeks.

With flu, your symptoms can be more severe

and may include fever, chills, sore throat, cough,

body aches, headache, and fatigue. If not

treated, flu can lead to serious complications,

such as pneumonia, or even death.

July 2022

17
---
SOUTH AUSTRALIA

SA News

REVIEW

PASSENGER

TRANSPORT ACT 1994

The South Australian Government

is reviewing the point to point

transport industry regulation under

the Passenger Transport Act 1994.

Point to point transport is any

service in a vehicle with 12 seats

or less (including the driver) that

can take customers on the route

they choose, at the time that suits

them, for a fare. This includes

taxis, chauffeurs and ridesourcing

(rideshare).

The review will focus on improving

the regulatory standards of all

taxi and ridesource (rideshare)

operators to help ensure South

Australians can expect a safe,

clean and reliable ride, regardless

of what transport provider they

choose.

To help inform the review, the

Department for Infrastructure

and Transport is seeking feedback

about how point to point

passenger transport should be

regulated.

Your feedback will help shape the future of point to

point transport in South Australia.

They are wanting feedback from all facets of P2P

transport, including:

• Customer experiences travelling around

the community using taxi, chauffeur and/or

ridesourcing (rideshare) services.

• Driver, licence owner and operator experiences in

providing point to point transport services.

Fill out the Passenger Transport Act Review Survey to

help the government better understand your views

about point to point transport - https://yoursay.sa.gov.

au/passenger-transport-act-review.

The closing date for submissions is 1 August, 2022.

The survey will take approximately 20 minutes to

complete.

18 July 2022
---
Get a better deal

behind the wheel.

Drive with 13cabs and get

paid what you're worth.

Get the support of a great network

Build your own business

Get to work your own hours

www.drivenow-magazine.com.au

13cabs.com.au

July 2022

1800 546 687

19
---
WA News

INCREASE IN

Rank & Hail Fares

Maximum metered rank and

hail (taxi) fares will increase by

approximately 2% from Monday, 1

August 2022.

The increase aims to assist

On-Demand Booking Services

(OBDS) and drivers who provide

rank or hail services, to manage

increasing operating cost

pressures.

ODBSs are reminded that:

• they cannot increase their

metered rank or hail fares

before Monday, 1 August

2022; and

• the regulated fares are

maximums – ODBSs can

choose to apply all, some, or

none of the increase to their

fares.

This fare increase is an interim

measure while Department of

Transport (DoT) is progressing

its review of the regulation of

maximum taxi fares.

The initial consultation stage

conducted by KPMG has now

concluded and DoT is currently

considering the findings.

20 July 2022
---
WESTERN AUSTRALIA news

CHANGES TO THE

Annual vehicle

inspection

To assist operators in complying

with the annual vehicle inspection

requirement, the Department

of Transport (DoT) has made

improvements to the vehicle licence

renewal process.

A maximum licence expiry period

of 12 months applies to any vehicle

which is subject to an annual

inspection requirement, which

includes Passenger Transport

Vehicles.

This means that, regardless of which

renewal period/s you choose (3, 6

or 12 months), you will be unable to

renew your licence for a combined

licence period that is greater than

12 months without first passing an

annual inspection.

Holders of vehicle licences for

vehicles which are subject to annual

inspection requirements should

note the following:

• You will be unable to renew

your licence for any period that

would result in your annual

inspection being overdue.

• You will receive an annual

inspection reminder letter 42

days before your maximum

licence expiry date.

• Once you have completed a

successful annual inspection,

you will be sent a renewal

notice automatically.

• If your vehicle does not pass a

required inspection before the

expiry of the maximum licence

period (12 months) your vehicle

licence will expire, the vehicle

cannot be driven, can be

impounded, and your insurance

may be invalid.

PLEASE WEAR YOUR

MASK

Help stop the spread of viruses -

like the FLU, common COLD and

COVID-19.

Thank you!

www.drivenow-magazine.com.au

July 2022

21
---
WESTERN AUSTRALIA news

WAV MODIFICATION GRANT

Expressions of Interest

Expressions of interest are

now open for the Wheelchair

Accessible Vehicle Modification

Grant

To help increase accessible

transport options for people

with disability, each year,

Department of Transport (DoT)

provides grants of up to $20,000

to assist eligible operators with

the cost of purchasing and

installing a wheelchair hoist and

restraint systems in a wheelchair

accessible on-demand rank or

hail (taxi) vehicle.

Expressions of interest (EOIs)

are now being accepted from

authorised on-demand rank or

hail (taxi) passenger transport

drivers seeking a Rank or Hail

Wheelchair Accessible Vehicle

Modification Grant.

Expressions of interest close

5.00pm, Friday 2 September

2022.

There are a limited number of

grants – submitting an EOI does

not mean you will be successful

in receiving a grant.

Please note: If you're operating

primarily in the Perth and Peel

areas, you will need a current

association arrangement with

DoT's dedicated Multi-purpose

Taxi Dispatch Service (currently

Black & White Cabs, trading as

BWC MPT).

22 July 2022
---
WESTERN AUSTRALIA news

IF YOU SPEED, USE THE PHONE

OR DON'T WEAR A SEATBELT

New cameras will

catch you

Perth drivers who use their mobile phones and travel

without wearing seatbelts will be caught on camera in

a trial of new Australian-first technology.

For the next three months, six mobile point-to-point

road safety cameras will be placed in pairs around

Perth's metropolitan area and up to 200km out on

regional roads, detecting average and top speeds of

road users.

Road Safety Minister Paul Papalia said no fines would

be issued under the trial, but those caught acting

egregiously will have their details forwarded to police

for investigation.

"Say someone speeding well in excess of the speed

limit and doing something really dangerous. That

information obviously can be used by police to

investigate," he said.

Last year, 14 of more than 160 fatalities on the roads

had not been wearing a seatbelt.

Papalia said the trial would help inform where large

numbers of certain types of offences were occurring

and where to deploy more law enforcement.

Western Australians are fined $500 for touching or

using a phone plus three demerit points, but using it

as a streaming service while driving gets a $1,000 fine

and four demerit points.

Not wearing a seatbelt starts at $550.

There is no limit on the number of cars the cameras

can photograph at a time, with each car detected.

Images that do not detect offending behaviour will be

discarded.

www.drivenow-magazine.com.au

July 2022

23
---
QLD News

MAXIMUM

FARE

5.5% INCREASE

An increase to maximum taxi

fares of 5.5% took effect on 1 July

2022, following a review by the

Department of Transport and

Main Roads of maximum taxi

fares.

Maximum fares apply to all rank

and hail taxi services. In addition,

booked hire services are subject

to maximum fares only if the

service is for a member of

the Taxi Subsidy Scheme or

is provided in a Wheelchair

Accessible Taxi to a person using

a wheelchair.

Maximum fares do not apply for

all other personalised transport

services that are booked. Booked

hire services include booked taxi

services, limousine and ridebooking

services.

A fare estimate (in Australian

dollars) must be provided before

the journey commences, or the

fare is agreed to upfront.

All taximeters must comply with

the maximum fares notice and

must be configured in such a way

as to only reflect the approved

fare components.

New taxi fare stickers are being

distributed to taxi operators

throughout the state via TMR's

Passenger Transport Offices and

must be displayed in all taxis by

29 July 2022.

24 July 2022
---
e

ING

TRADE

DIRECTORY

ADVERTISE

HERE

We Are

HIRING

We Are

AND GET

YOUR

BUSINESS

NOTICED

HIRING

Drivers | Forklift Operators | Parcel Sorters | Sub-con

FOR FULL DETAILS VISIT

www.drivenow-magazine.com.au/2022-specials.html

Why work with us?

Family owned business (to us you're a person, not a number)

Safety focus (your safety is at the centre of everything we do)

ers | Forklift Operators Role specific | Parcel training Sorters | Sub-contractor provided (Drivers)

Drivers | Forklift Development Operators opportunities

| Parcel Sorters | Sub-contractor (Drivers)

with us?

owned business (to us you're a person, not a number)

focus (your Why safety work is at with the centre us? of everything we do)

Register your interest

ecific training provided Family owned business (to us you're a person, not a number)

Safety focus (your safety is at the centre of everything we do)

pment opportunities

Register your interest

Role specific training provided

1300 100 BEX

Development opportunities

Select Option 3 Scan

1300 100 BEX

Select Option 3 Scan

CAR

WASH

BEST

BURGERS

IN TOWN

Embassy

Cafe

547 Spencer Street

(Cnr Roden Street)

WEST MELBOURNE

FREE HOT DRINK

WITH EVERY AUTO CAR WASH

MELBOURNE AIRPORT UNIGAS

MELROSE DRIVE, TULLAMARINE

Hot drink available at Melrose Lounge - Taxi Holding Area

Collect voucher from Unigas Office

Regist

1300 10

Select Op

www.drivenow-magazine.com.au

July 2022

25
---
Live Payments

partner with

Visa to

launch

Tap to

Phone

product for SMEs

Live Payments, one of Australia's leading payment providers with over 11,000

merchants, have announced a new partnership with Visa to help Australian small

and micro businesses, and taxi operators, accept digital payments securely and

conveniently using Visa technology.

Brian McGrory from Visa and Reuven Barukh from Live Payments

26 July 2022
---
In a game-changer for small

businesses and a first for taxi

operators in Australia, Live

Payments will employ Visa's Tap to

Phone technology to transform a

merchant's smartphone[1] into a

point-of-sale device. Participating

merchants will be able to

accept fast, secure payments

from any contactless-enabled

Visa card, device or wearable,

which a customer simply taps

to pay against the merchant's

smartphone or tablet.

With no additional hardware or

device required, Tap to Phone is an

especially exciting option for small

and micro businesses that may not

have the resources for full point of

sale infrastructure.

Brian McGrory, Visa's head of

merchant sales and acquiring

for Australia, New Zealand and

South Pacific said, "This is opening

another door to the digital

economy for small businesses. By

making it easier to accept digital

payments anywhere, anytime, Tap

to Phone is creating new ways

for small and micro businesses

to reach customers, prevent lost

sales, and support cash flow."

Research shows consumer

appetite for the technology too.

Despite Tap to Phone being new

to the Australian market, a YouGov

study of over 1,000 consumers[2]

shows nearly half (45 per cent)

would already be likely to use the

payment option if available, citing

ease of use (50 per cent), time

savings (44 per cent), security (43

per cent) and eliminating the need

to carry cash (42 per cent) as the

most popular reasons.

In a further sign there is appetite

for Tap to Phone, two in three (66

per cent) Australians reported

being inconvenienced having

to find an ATM to withdraw

cash to pay businesses such as

tradespeople or cleaners who

can't accept card payments on the

spot.

McGrory added, "Given the rapid

adoption of digital payments and

the major role smartphones play

in our day-to-day lives, we expect

Tap to Phone will become an

increasingly popular way to pay

among Australian consumers."

Reuven Barukh, CEO at Live

Payments added: "This is an

exciting partnership for Live

Payments. Our integration of

Visa's Tap to Phone solution is a

first for taxi operators and will

revolutionise the way customers

and small businesses make and

receive payments.

Merchants across the board have

had to rapidly change how they

do business, and this new solution

will facilitate the type of seamless,

flexible and "no fuss" payment

processing that people are now

looking for."

Live Payments has also integrated

their Tap to Phone solution

with Cybersource, Visa's global

payment and fraud management

platform that provides businesses

with a one-stop solution for

managing payments.

Martin Meters - Oz Cab Store

Phone: 03 9335 1551 sales@martinmeters.com.au www.ozcabstore.com.au

• 1TB Memory

• 1080P External Color Camera

• 720P Internal Color Camera

(1080P Option)

• Led Camera Status

• Active GPS

• Audio, 4G & WiFi option

(Where permitted by state)

THSVIC1 HD TAXI CAMERA SYSTEM

VIC & NSW APPROVED OTHERS PENDING

Priced from:

$1500+GST

Standard Vic Spec.

www.drivenow-magazine.com.au

July 2022

27
---
There's yet

ANOTHER

Ride-Share App!

PASSENGERS

PITCH the FARE and

SELECT the DRIVER

There's a new ride-sharing app

in Melbourne, because we need

more Uber-adjacent services. But

this one is a little different, as it

lets you [the passenger] pick your

driver and suggest a fare.

It's called inDriver.

inDriver announced its Aussie

launch earlier this year with the

tagline of being a "revolutionary

ride-hailing service".

"Revolutionary" because it

"promotes justice in the market".

inDriver said it enables passengers

and drivers to set their own prices

by negotiating directly.

How this works is the passenger

makes a request for a ride (by

selecting pick-up and drop-off

locations), and then they suggest a

price they want to pay for the trip.

They can also add additional info,

such as a request for a child's car

seat or another stop.

Drivers nearby can either accept

the offered fare or make a

counteroffer.

The passenger is then presented

with offers from multiple drivers

and they choose the one they

28 July 2022
---
want. In addition to the pitched

fare, picking your driver can be

based on their rating (you can see

this ahead of time), the type of car

they drive (it's gonna be a Toyota

Camry, it always is) and how quick

they say they can arrive.

Like with other ride-share services

[and taxi services], passengers can

contact the driver before arrival

and see the car's approximate

arrival time and real-time

geolocation point on the map.

However, something we can get

behind is that inDriver does not

increase prices based on high

demand or weather. Many of us

know this as 'surge pricing'. And

to get drivers to sign up, inDriver is

waiving commission requirements

for the first six months. inDriver

isn't saying how much their cut

is but said it "assures drivers" its

"commission will be the lowest on

the market".

inDriver currently operates in

Brisbane and Melbourne.

by Asha Barbaschow | Gizmodo

ONLINE

Safe Driver Training

RACV has launched its new online

Safe Driver Training program,

ensuring participants have access

to RACV's high-quality driver

training program created by

RACV's own fleet and road safety

experts.

Whether new on the road or

experienced, the 'Safety Mindset'

approach helps drivers prepare,

plan ahead, and most importantly,

have good awareness to help

avoid incidents.

RACV Executive General Manager

Motoring and Mobility, Phil

Turnbull said RACV's new program

was an evolution of RACV's

existing classroom-based driver

safety sessions and in-vehicle

driver assessments and can help

make our roads and workplaces

safer.

"The online training covers every

aspect of driver training and

provides practical advice about

the vehicle, the road and driver

behaviours to keep drivers and

everyone else on the road safe,"

Mr Turnbull said.

"It assists participants evaluating

their unique situation and make

decisions about how to apply

their learnings to their work

environment and become a leader

for others in their workplace."

RACV's training aligns with the

Victorian Government's Road

Safety Strategy 2021 - 2030, which

focuses on increasing safety for

those using the road to get to

work or from work.

www.drivenow-magazine.com.au

July 2022

29
---
Driver JOBS

QUEENSLAND

COOLANGATTA/TWEED HEADS

Is it time to enjoy the great outdoors, beautiful weather

and laid-back lifestyle? Then the magnificent border

area of Tweed Heads / Coolangatta is the place for you.

Earn a few dollars while you are here by driving one

of our modern taxis. Plenty of shifts available. Phone

0439 769 259 now!

TOWNSVILLE 13CABS

Single car Owner /Operator looking for a motivated

driver who is flexible on shifts available and wants to

get on with the business of making money. New to

town or looking to become a Taxi Driver, no problem, as

in-depth training can be provided to help reach your full

earning potential. Contact Darren 0407 597 908 to learn

more about what's on offer.

BRISBANE CROWN CABS

All shifts available – 7 days per week. Please phone Tuna

Guclu on 0419 484 666.

BLACK & WHITE

All shifts available. Home changeover available all over

Brisbane. Set Pay or 50/50 Commission. Limited Set pay

cars available. Albion Cab Centre. Call Ronnie today on

0411 864 392.

\

WESTERN AUSTRALIA

PERTH BLACK & WHITE CABS

Day shifts (5-7 days). Call Georgina on (08) 9230 0400.

CROWN CABS

Drivers wanted full-time or part-time in Morley and Perth.

Contact Tuna Guclu on 0419 484 666.

TAKE THE DRIVER'S SEAT IN BROOME'S

BEST TAXI FLEET

Airfares included to Broome and accommodation

provided. Drive for an established Taxi business and enjoy

the fantastic lifestyle of Broome. APPLY NOW to drive with

us in Broome. Email: Res@broometaxis.com.au

NEW SOUTH WALES

BYRON BAY

Taxi Driver Positions Available. Day and night shifts

available every day of the week. Send us your email

address and we will forward an information pack. Email

- operations@byronbaytaxis.com

SOUTH TAMWORTH

Existing positions available for Taxi drivers. Day and

night shift available. Phone 0456 441 538.

SALAMANDER BAY

Nelson Bay Taxis are looking for additional driver to

assist in the transport of passengers on the Tomaree

Peninsula and beyond.

New drivers will need to have held a full NSW Driver

Licence for a minimum of two years, have a clear

Criminal History and hold or are willing to obtain an

ABN that is registered for GST. A WWCC would also be

beneficial.

Please contact Nelson Bay Taxis on (02) 4984 7766

during office hours to register your interest.

WILEY PARK

Taxi Driver Wanted for 13cabs Toyota Camry Hybrid.

Taxi has Full Comprehensive Insurance, leather seats,

rubber mats and weather shield. Very well maintained

taxis.

Change over in Punchbowl, Lakemba or Belmore. Day/

Night/Weekend or Weekly. Full Time, Part Time or Casual.

Immediate Start.

On-going opportunity. Reasonable pay in. (You must have

13cabs Authority card. If you don't have one, call 13CABS to

get one, please). Phone or SMS 0418 612 692.

NELSON BAY

Nelson Bay Taxis are looking to hire additional drivers

in preparation for COVID restrictions easing. Drivers are

required to assist in the transport of passengers around

the Tomaree Peninsula to medical appointments, shopping

trips and social engagements.

You must have held a full NSW driver's licence for at least

12 months and willing to get an ABN and be registered for

GST. Forward your resume to combinedlimos@gmail.com

or phone (02) 4984 6699.

30 July 2022
---
VICTORIA

SHEPPARTON

Lots of opportunities than Melbourne to operate

an INDEPENDENT taxi in Shepparton. No expensive

local network fees. Ralph 0473 189 190.

& DRIVERS

OWNERS, OPERATORS

ADVERTISE

HERE FREE

Send details (word limit=50) of your

DRIVER or JOB advertisement to

contact@drivenow-magazine.com.au

or sms 0400 137 866 and we will print

your advert here for 3 months.

SHEPPARTON

Shepparton Taxis Pty Ltd now has opportunities to

join our fleet as a taxi operator. A limited amount

of leases are available. If you are interested in

operating your own taxi, please contact (03) 5331

4367 or email stephen@shepptaxis.com.au.

ELSTERNWICK

Day shift or night shift MAXI taxi driver with

13cabs. Reliable and well maintained maxi taxi

with single private operator. Permanent bookings

available. Changeover in flexible locations. New

drivers welcome. Please call 0411 223 454

EAST DONCASTER

Driver wanted full time for Silver Top car. Please call

Harvey 0404 847 699.

EAST DONCASTER

Must be 25+ years old. At least 3 years experience.

East Doncaster changeover. Call or SMS Tony on

0413 393 594 or email tonysursock@gmail.com.

SOUTH AUSTRALIA

TRANMERE

Friday or Saturday Night Driver wanted. Immediate start. Call

0416 821 840.

DRIVER CAREERS

If you're thinking of a career as a taxi driver, come and join

Adelaide's largest taxi company. Great income potential

with all shifts available in all metro areas. Call ADELAIDE

INDEPENDENT TAXIS on (08) 8202 1200 to book your free

information session.

CANBERRA

OWN YOUR OWN BUSINESS - TAXI OPERATOR

Are you a taxi driver looking to become your own boss? If you are,

talk to us about leasing a taxi plate and working with Canberra's

biggest taxi fleet. We will help you through the process of

becoming an accredited taxi operator and starting your own

business. Contact fleet@aerialcg.com or call (02) 6126 1500.

FOR SALE

MACLEAY ISLAND TAXI SERVICE

Proven sound and enduring business operating for more than 30 years.

Independent of major taxi companies,

setting its own operation hours and

fare prices.

Bookings by mobile phone and fare

payments made by cash or EFTPOS.

Home-based business including:-

• 3 Hi Ace WAV Taxis including 1 x

NEW automatic Hi Ace with only

40,000kms.

• all necessary related equipment

and spare parts.

Detailed information and training is

available to genuine enquirers.

FOR MORE DETAILS

Ring 0468 428 873 or

Email daza9900@gmail.com

www.drivenow-magazine.com.au

July 2022

MACLEAY ISLAND

31
---
overseas news

Uber's 'secret' lobbying

meetings with ministers

after branding Boris Johnson 'a problem' to its

London expansion

should spark public inquiry

by Josiah Mortimer | MyLondon

Uber's executives should be hauled

before a public inquiry, the head

of London's black cabbies has

told MyLondon, following fresh

revelations into the scale of the

firm's efforts to fight tougher

regulations. It comes after the leak

of 124,000 files on the US giant,

including 83,000 internal emails

between 2013 and 2017 - which

show a concerted campaign to

urge Boris Johnson not to toughen

up regulations on the private hire

company while he was London

mayor.

On July 11, 2022 the Guardian

revealed a "remorseless" lobbying

campaign to stop Johnson bringing

in tougher regulation of Uber,

targeting then-chancellor George

Osborne as well as ex-PM David

Cameron who were close to the

London mayor.

The firm's leaked strategy

in 2014 stated: "The need is

for a more positive image

of Uber to be conveyed

to Boris, by people that

he trusts and respects,"

with targets including Tory

assembly members, No 10

aides and the regulator,

Transport for London (TfL) -

chaired by Johnson.

The firm hired high-profile lobbyists

as TfL launched a review of rules

regulating private hire companies

like Uber.

Mr Johnson was viewed as being

on the side of the black cabs, but

after a campaign by the company's

"friends in government", the

paper reported, Mr Johnson

was "deluged" by complaints

from Conservative allies about

his proposals. The Conservative

mayor's efforts to regulate Uber

32 July 2022
---
largely failed. While it is not clear if this was a direct

result of Uber lobbying, the firm celebrated victory

in 2016 when several proposals to regulate the firm

were dropped in TfL's review.

But Steve McNamara, General Secretary at the

Licensed Taxi Drivers Association - which represents

London black cabbies - said to MyLondon he believed

the watered-down review was a result of Uber's

lobbying. He claimed: "Within minutes of launching

a review [into Uber and other private hire firms]

at TfL, Johnson's deputy mayor for transport was

getting phone calls from Cameron's secretary,

basically saying 'what the hell is going on?'"

"Thousands of rides were taking place in London

in vehicles that weren't insured. Why has there

never been an inquiry into what went on? This is

the biggest scandal of the 21st century. Forget

partygate. This company was walking in and out of

No 10. That work paid off with Johnson," the taxi

drivers' leader said.

The leaked Uber files reveal that Uber

representatives met with at least six Conservative

ministers, including then-chancellor George

Osborne, which were not declared by the ministers,

between 2014 and 2016. Uber denies allegations the

meetings were secret. The firm has also claimed that

some of the lobbying tactics revealed in the leaked

messages no longer reflect the company.

However, Mr McNamara said: "They've got a

massive lobbying campaign - they're still doing it. Go

to any party conference, and events are sponsored

by them. But 'this time they're [lobbying] better or

nicer' they say…"

"Leopards don't change their spots - these

lot are very rich leopards who came in and

out of No 10 at will."

Last year Uber lost a major Supreme Court case that

meant their drivers now have to be classed as formal

'workers'. It entitles them to pay and minimum

hourly rates from the moment they log on - but

unions and cab firms have accused Uber of ignoring

the ruling.

Taxi and PHV drivers

should undergo

Advanced

Driving Test

by Perry Richardson | taxi-point.co.uk

UK - ALL taxi and private hire drivers (PHV) drivers

should have to undergo an Advanced Driving Test

(ADT) before being licensed says taxi representative

after new best practice guidance responses are

submitted.

The Government recently closed a 12-week consultation

to update vital Taxi and Private Hire Vehicle (PHV)

guidance supplied to local authorities to better cope

with new digital ways of working following the boom in

ride-hailing services.

The London Cab Drivers Club (LCDC) responded,

making several points around private hire vehicle (PHV)

recognition, tinted windows and passenger safety. One

of the recommendations included bringing back the

ADT to improve the standard of driving in London and

help the Mayor of London's 'Vision Zero' ambitions.

Vision Zero aims to eradicate deaths and serious

injuries from London's roads and make London a safer,

healthier and greener place.

Grant Davis, LCDC, said: "If TfL and the Mayor are really

serious about their "Net Zero" project in London then

TfL MUST bring in all these additional changes to their

licensing process."

The Mayor of London, Sadiq Khan, confirmed that the

ADT will be looked at only once the updated guidance

is published. Khan said: "The Department for Transport

is carrying out a consultation on updates to its taxi and

private hire best practice guidance. Once the updated

guidance has been published, Transport for London

(TfL) will give consideration to all the points within it,

including any guidance on advanced driving tests."

www.drivenow-magazine.com.au

July 2022

33
---
Only $ 35 for

50 words

Payment details are

listed on page 2

FOR SALE: Taxi Business - QLD

Macleay Island Taxi Service. Proven business operating 30+

years. Independent of major taxi companies, setting its own

hours and fares. Bookings by mobile phone and fare payments

are cash or EFTPOS. Home-based business incl:- 3 Hi Ace WAV

Taxis including 1 x NEW auto Hi Ace with only 40,000kms and

all related equipment and spare parts. For more information call

0468428873 or email daza9900@gmail.com.

Discount Taxi Equipment

Specialists

Everything you need for an Independent Taxi

• Rent or Buy - installments available for Approved

Customers

• Low Cost Taxi Cameras

• G5 Taximeters - protect your privacy and keep control of

your business

• Automated CPVV Booked Trip Reports

• Duress Alarm and Tracking

• EFTPOS and MPTP installations

• Roof Lights and Spot Lights

• Roof Racks

• 2 year warranty on all installations

• Decals and Tactile door numbers

• Professional Back-up Service

• More than 40 years experience fitting Taxis

Schmidt Electronic Laboratories Pty Ltd

907 Princes Highway, Springvale, Vic.

Ph: (03) 9546 6990 — Email: info@schmidt.com.au

Website: www.schmidt.com.au

Transport Security Cameras

Approved industry cameras

* Latest Technology MDVR, internal & external

* 1 Tb heavy duty Hard Drive

* Audio & video capable

* Warranty 100% on all parts & equipment

* Lowest installation fees

* Over 28 years experience in the Transport Industry

We will BEAT any Price

Book your next appointment on our website at

www.transportsecuritycameras.com.au or

phone/SMS: 0419484666.

FOR SALE: Taxi Business - VIC

Want a change of scenery? Want to work in a country town with

a wonderful community? Cohuna and Koondrook Taxi Service is

up For Sale. We have 2 taxi vehicles - 1 x FG XR6 (100,000 kms)

and 1 x FG XR6 (200,000 kms). We do everything including DVA

work and blood transfers from Cohuna Hospital to Swan Hill,

Echuca and Rochester. Interested? Call Chris or Sue on 0427

562 974 to find out more details.

FOR SALE: Taxi Business - VIC

Surfcoast Taxis. Working along our beautiful coast lines, Great

Ocean Road through to Colac, Bannockburn and Geelong. Great

growth areas with room to expand. We have 5 x10 seater Maxi

vans all with 2 wheelchairs access and 10 late model Hybrid

Camrys. Permanent work for all cars. Call Stan - 0429 672 888.

FOR SALE: Taxi Business - WA

Situated on the south coast of WA servicing two towns. Very

profitable business consists of 2 x 7-seat people movers and 3

sedans. Also associated are two further vehicles, an eight seat

people mover and a small SUV. In the process of converting to

computer dispatch and reporting. Contact Ian 0423 279 809.

CPV Centre www.cpvcentre.com.au

ONE STOP SHOP FOR ALL YOUR CPV REQUIREMENTS

• Latest Taxi Camera Technology - 1080 1TB HD

• RIDESHARE Mini Internal Cameras

• Taxi Domes - Stickers - Tactile / Braille Numbering

• Independent Taxi SET-UP • Car Window Tinting

• Cabcharge supply - installation - repairs

• 30 years Master Mechanic Equipment Installation

COMPETITIVE PRICES Call us on: 0434 423 423

LEASES WANTED - Brisbane

We are expanding in Brisbane. We will pay $100 to lease

assignments. Call into our office in Salisbury & ask for Tuna

Guclu or call 0419 484 666 to discuss price & terms.
---
Ask R U OK? No qualifications needed

R U OK?Day is 8 September 2022. It's our national day of action

when we remind Australians to start a meaningful conversation

whenever they spot the signs that someone they care about might be

struggling.

Our research has found four in ten Australians feel that asking

someone, 'are you OK?' is a conversation better had with an expert.

However, R U OK? want you to know you don't need to be an expert

to have an R U OK? conversation. The work of health professionals

is vital, and their value cannot be underestimated however we can all

play a role in supporting the people in our world.

Ask R U OK? No qualifications needed, because a conversation

could change a life.

R U OK?Day

resources

We've

launched

posters, social

media tiles,

activity sheets,

videos and

more - free

for you to

download and

share.

Advertisers'

Directory

AMS Ivanhoe Lawyers.................. 24

Border Express........................... 6, 25

DRVR Training................................ 13

Embassy Cafe................................ 25

Macleay Island Taxi Service........ 31

Martin Meters Oz Cabs Store...... 27

Melbourne Airport Car Wash....... 25

Melway...............................................9

13cabs............................................. 19

R U OK?............................................ 35

Rod Barton MP..................................7

Southern Cross Hire Cars............ 15

Transport Matters Party............... 36

www.drivenow-magazine.com.au

July 2022

35