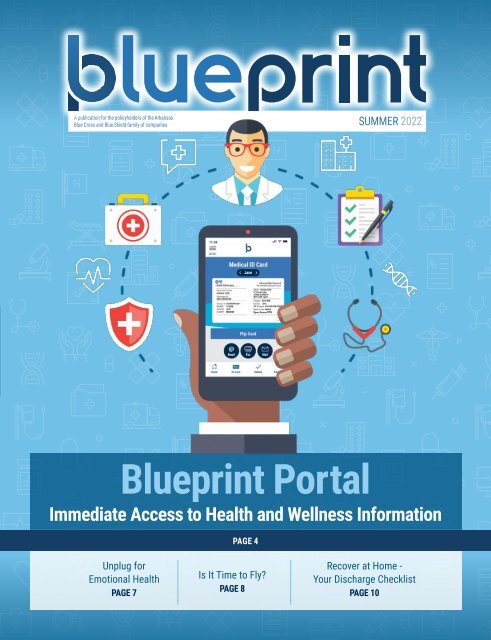 Create successful ePaper yourself
Turn your PDF publications into a flip-book with our unique Google optimized e-Paper software.
A publication for the policyholders of the Arkansas

Blue Cross and Blue Shield family of companies SUMMER 2022

Blueprint Portal

Immediate Access to Health and Wellness Information

PAGE 4

Unplug for

Emotional Health

PAGE 7

Is It Time to Fly?

PAGE 8

Recover at Home -

Your Discharge Checklist

PAGE 10
---
a

Word

with Curtis Barnett

Our President and Chief Executive Officer

Innovation in Healthcare:

A Reason to be Optimistic

As we emerge from the pandemic,

the stakes in healthcare have

never been higher. For people

suffering with physical health

issues like obesity and chronic

health conditions, undiagnosed

and untreated behavioral health

disorders and unmet social

needs or health disparities due

to geography, race, or ethnicity,

COVID-19 exposed those who

were already vulnerable and

often made them worse.

Healthcare is undergoing a

dramatic transformation. It is

reeling from workforces and

infrastructures that have been

battered over the past two years –

and the health of those we serve is

more fragile because of it.

We are in desperate need of new

and better approaches.

Arkansas Blue Cross and Blue

Shield is committed to advancing

a system that benefits individuals

and families who need affordable

coverage and patients who need

high-quality care. To accelerate our

progress toward these goals, we

have embraced innovation. New

consumer-focused tools, like the

new Blueprint Portal (featured on

pages 4 and 5 of this publication),

provide a more personalized and

convenient consumer experience

that, over time, will empower

better health.

"Arkansas Blue Cross and

Blue Shield is committed

to advancing a system

that benefits individuals

and families who need

affordable health coverage

and patients who need

high-quality care."

To successfully innovate, you

often need to develop and test

new ideas locally and then scale

them to a wider market. We

have dedicated space in our new

Northwest Arkansas Corporate

Center as a hub for innovations

designed to improve the

healthcare system. We call it the

"Blueprint Innovation Lab."

We expect it to serve as a

catalyst for building meaningful

connections between the people

doing the innovative work in

Arkansas and across the United

States and for inspiring and

igniting new ideas. It is a place

where customers, healthcare

professionals and community

leaders can collaborate to

improve healthcare. Together

we are looking at ways to use

technology, research, and

data analytics to solve health

problems; we are investing

in and piloting health-related

businesses; and we are building a

culture of innovation.

There's no question we are

living in a unique time. Our

better understanding of social

determinants of health, the

importance of behavioral health,

and the role genetics plays in our

overall health allows us to refocus

our efforts in the healthcare

system and bring in new clinical

techniques and new technologies.

And with almost everyone owning

a smart device these days, it all

needs to be easy to access

and understand.

The convergence of these

and other factors fills me with

optimism that our healthcare

future holds great promise.

A new and better approach is,

indeed, possible.

2 SUMMER 2022
---
Health Benefits of

Dental Xtra SM Confirmed

by Mayo Clinic

The results are in: Mayo Clinic

researchers found that Arkansas Blue

Cross and Blue Shield's Dental Xtra

program greatly improves the overall

health of those who live with diabetes

and coronary artery disease. Dental Xtra

provides additional dental services to

people with select chronic conditions that

are especially affected by oral health.

Among other findings, the Mayo Clinic

found that members enrolled in the

program experienced substantially lower

inpatient healthcare costs and achieved

better health outcomes when they

followed the program's preventive dental

care protocols. Individuals who missed

a year of program participation saw an

immediate increase in medical expenses.

As a medical and dental insurance

company, Arkansas Blue Cross is uniquely

positioned to deliver an integrated care

program like Dental Xtra. With heart

disease and diabetes increasing, the

importance of having dental coverage

that includes proactive, coordinated care

can't be overstated.

How to enroll:

You're automatically enrolled in Dental Xtra if you have medical

and dental plans with Arkansas Blue Cross and an eligible medical

condition. All you have to do is schedule a visit with a participating

dentist. If you're pregnant or have only an Arkansas Blue Cross

dental plan, you can easily self-enroll online. There's no extra cost!

Learn more at visit arkansasbluecross.com/dental-xtra.

SUMMER 2022 3
---
Blueprint Portal

is here!

Blueprint Portal provides members with easy access

to health and wellness information. Download our

new mobile app (available on the App Store and

Google Play) or sign in at blueprintportal.com.

9:41

MENU

Claim Breakdown

Caim breakdown for customer 12345

Service Date: 04/01/2022

$0.00

Provider Billed

Medicare Discount

Net Charged

Provider Adjustment

Other Health Plan Coverage

Your Plan Paid

$100.00

$0.00

$100.00

$0.00

$0.00

$100.00

Copay

$0.00

Deductible

$0.00

Coinsurance

$0.00

Excluded $0.00

TOTAL 1 of 5

$0.00

Home ID Card Claims Find Care

What's new?

Redesigned with quick access to the most important

parts of your health plan.

A new claims view enhanced with claim details and the

ability to filter by claim status, date or member on plan.

A clear breakdown of claims details, including your

financial responsibility. Now you don't have to wait for your

Explanation of Benefits to arrive to see what you owe.

Blueprint Portal features * :

Digital member ID cards

Claims and benefit information

Track your deductible and out-of-pocket totals

Access to your Personal Health Record

One-tap connection to customer service by phone or email

Access to pharmacy information with prescription

history and refill orders

Access to your Personal Health Record

Find doctors and estimate treatment and prescription

drug costs

4 SUMMER 2022

*Feature availability based on plan.
---
Arkansas Blue Cross and

Blue Shield Employer Group

RX Copay: $12/35/55/100%

11:38

MENU

11:44

Spending Details

MENU

In-network Out-of-network

Medical ID Card

Jane

PCP/PHONE#

JOHN A SMITH

(501) 555-1234

Copay: $20/$35

Coins: 20%

Open Access POS

How do I sign up if ...

... I'm brand new?

Go to blueprintportal.com

In-network deductible

$2,500.00

of $2,500.00

In-network out-of-pocket costs

$2,000.00

of $2,000.00

Flip Card

Email Fax Mail

Home ID Card Claims Find Care

Select "Register"

Home ID Card Claims Find Care

Follow the instructions.

All you need is your:

– Member ID number or the last four

digits of your Social Security number

... I have already registered?

If you registered for My Blueprint

(the previous online portal) you will

be able to sign in to Blueprint Portal

with the same username and password.

Go to arkbluecross.com/blueprintportal

to begin.

... I have the old My Blueprint Mobile app?

The My Blueprint Mobile app should update

to Blueprint Portal the next time your phone

has an automatic update. If not, you can

update to the new Blueprint Portal app on

the App Store or Google Play.

For more

information go to

arkbluecross.com/blueprintportal

SUMMER 2022 5
---
ARHOME Coverage

After COVID-19

During the COVID-19 pandemic, the federal government temporarily stopped certain

Medicaid requirements and conditions to help people keep their ARHOME health

coverage. These Public Health Emergency (PHE) provisions will likely end this year,

unless they are renewed.

Why it matters

When the PHE ends, the Arkansas Department of Human Services (DHS) will begin

reviewing members to be sure they qualify for ARHOME health coverage. If you have

ARHOME coverage, DHS will contact you with instructions. If you receive renewal

paperwork from DHS, you should complete it and send it to Arkansas Medicaid.

Renewal forms are also available online at access.arkansas.gov.

Take action

Arkansas Blue Cross and Blue Shield cannot update ARHOME members' contact

information with the DHS. You must update your email address, mailing address, and

telephone number directly with the DHS.

How to update your contact information with DHS:

1. Online at ar.gov/update

2. Call DHS at 1-844-872-2660

3. Visit a local DHS county office

If you lose your coverage

If you lose your ARHOME coverage, you will have 60 days to enroll in a Marketplace

policy. This Special Enrollment Period is allowed for people with the following certain

life events – losing other health coverage, changes in employment, marriage, having

a baby or a change in household status.

You will also be able to enroll in a health plan during the Open Enrollment Period

from November 1, 2022, to January 15, 2023.

For more help:

• Call your agent.

• Call Arkansas Blue Cross at 800-800-4298, Monday – Friday, 8 a.m. to 5 p.m.

• Visit an ArkansasBlue welcome center. Locations can be found at

arkbluecross.com/locations.

6 SUMMER 2022
---
UNPLUG

for

better emotional health

If the stress of life is beginning to wear on you, if you are feeling more and more anxious and just can't

seem to get out from under an emotional cloud, then it may be time to unplug. Modern technology

certainly is amazing and can be a very helpful tool. But there also can be some very real downsides to its

overuse. Your emotional health can really benefit from unplugging for a while and just getting more "real."

WAYS TO UNPLUG:

TOP BENEFITS TO UNPLUGGING:

Reduce social media and

internet use. Set time limits

and stick to them.

Turn off your social media and

email notifications. Without

the constant reminders you

won't be as tempted to keep

"checking your messages."

Do "real" things: paint, write,

hike, read, get to those home

improvement projects.

Change your environment.

Go somewhere new. Take

the selfie, but keep it just

for yourself.

Remember technology was

made for you – not you for it.

1.

2.

3.

4.

5.

6.

Social interaction: Spending time with friends

or loved ones can give you an emotional

boost. It can lighten your mood and give

you a sense of belonging and security.

Get outside more: The exercise and fresh

air that benefits your muscles also is

beneficial emotionally. Take a stroll and

see if your mood doesn't improve.

Less to compare yourself to: Let's face it,

everyone on social media is not as happy

as they seem. But when you bombard

yourself with social media images it can

make you feel like you are the only one

who has struggles in life. You are not.

Reduce anxiety: The internet and social

media are filled with bad news and

contentious arguments. Constant

exposure to them can create anxiety.

Increase focus: Social media use

conditions the brain to seek instant

gratification, which makes it harder and

harder for us to focus on sustained tasks.

Help with sleep: Exposure to the blue light

of computer and smartphone screens

along with the mental stimulation of media

content can make it more difficult to fall

asleep at bedtime.

SUMMER 2022 7
---
Ambulance

appropriateness

When it comes to medical transport, flying is seldom the best option

The helicopter is fueled and ready to transport a patient. Must be life or death, right?

And it's the fastest way for the patient to get the care they need, right?

Actually, more often than not, those assumptions are absolutely false.

The fact is that the overwhelming majority of air ambulance transports –

which are incredibly more expensive than ground ambulances – are:

Not emergencies –

and therefore not

medically necessary.

Not faster than

ground transport –

when you start the clock

from the time the transport

decision is made.

Not better

for the patient –

because they show no

appreciable difference

in medical outcomes.

But now Arkansas Blue Cross and Blue Shield members have a new ally that is working to

help ensure that their medical transports are medically appropriate, timely and cost-efficient.

Arkansas Blue Cross has engaged Alacura Medical Transportation to provide medical transport

network development and patient transport coordination services on behalf of its members.

8 SUMMER 2022
---
The legislative trigger

In the past, Arkansas Blue Cross did not have a

formal medical transport network, with its own

fee schedule, but recent federal legislation – the

Consolidated Appropriations Act of 2021 (CAA, the

federal legislation designed to protect the public

from large medical bills or the "no surprise billing

act") – has prompted the company to do so.

That's where Alacura comes in. Alacura's

expertise is in developing medical transport

networks and working daily with medical

professionals to quickly determine the most

medically appropriate and cost-efficient mode

of transport for each patient's individual

situation. Alacura is a nationally recognized

player in this field and is working to perform

medical transport-related services for a dozen

other Blue Cross Blue Shield affiliates and

another 11 major health plans throughout

the country.

The air ambulance impetus

Air ambulance, which is specifically called out in

the new federal law, is an area in which Alacura has

produced significant results – in part because

air transport (especially by helicopter) is very

expensive and often is inappropriately used for

nonemergency cases. Air ambulance is important

for true emergencies – particularly in rural areas

– but it is vastly overutilized for nonemergent

situations, thanks to two major myths:

MYTH 1:

Air ambulance

transport is always

faster than ground.

MYTH 2:

Faster transport

improves health

outcomes.

Multiple studies have demonstrated that the

vast majority of air transport is generally not

faster and does not produce better patient

outcomes than ground transport, except on

long trips. 1,2,3,4

A new process

Alacura is developing relationships with

medical transport decision-makers at

healthcare facilities – notifying them to

call Alacura when a transport is needed. In

addition, Alacura will proactively reach out to

inquire about potential air transports. Alacura

will not be intervening in the decisions of local

emergency responders who need to make

immediate decisions regarding transport of an

injured member at the scene of an accident or

medical emergency such as a heart attack.

Alacura will work in real time with healthcare

professionals directly involved in each case to

rapidly – often within seconds – agree upon and

arrange the most appropriate mode of transport.

Inappropriate air transports will be reassigned

to ground transport. Alacura estimates that this

step alone could potentially save an average of

$30,000 per transport.

Additionally, members will have more choices

on in-network options – which Alacura believes

will produce an average savings of $8,000 per

transport. The resulting savings are crucial, because

they greatly reduce the amount members potentially

might have to pay out of their own pockets for safe

transfer to another location or facility after a patient

has been stabilized during an emergency.

Medical transport and healthcare facilities may

contact Alacura to coordinate transportation

or for general information at 844.4ALACURA

(844.425.2287). Additional information can

also be found at alacura.com.

1

pubmed.ncbi.nlm.nih.gov/16917457/

2

pubmed.ncbi.nlm.nih.gov/12435928/

3

pubmed.ncbi.nlm.nih.gov/19672650/

4

pubmed.ncbi.nlm.nih.gov/9783622/

Alacura Medical Transportation is not affiliated with Arkansas Blue Cross and Blue

Shield or with the Blue Cross and Blue Shield Association and is an independent

company that provides medical transport network management and medical

transport coordination services for Arkansas Blue Cross and its members.

SUMMER 2022 9
---
Of course, you want

to recover at home!

A discharge checklist can stop

future hospital readmissions

after an injury or illness

Dream scenario: You leave the hospital after admission

for an illness or injury, and you return home energized

and operating at full capacity. Sounds good, but the

reality is most people are physically weaker and

need support. Add discharge instructions, follow-up

appointments, and medication refills, and it becomes

clear why many people are readmitted, often in less

than 30 days. Life after discharge from the hospital

can be overwhelming, but it doesn't have to be.

Use this handy checklist to continue your road to recovery at home.

Diagnosis

What is my

diagnosis?

Why did I have

to be treated

for it as an

inpatient?

What can I

do at home

to manage

my condition

and avoid

readmission?

Support

Who (a family

member or friend)

can be with me

when I discharge?

Can they listen

to the

discharge

instructions

with me?

Will they

know to ask

questions

I may forget

to ask?

Discharge

instructions

Do I have my

discharge

instructions?

Do I understand

my discharge

instructions?

Did I review the

instructions with a

medical professional

before I checked out?

What number do I call if

I have additional

questions when

I get home?

10 SUMMER 2022
---
Most people are physically weaker and need support after a hospital stay.

Add discharge instructions, follow-up appointments, and medication refills, and

it becomes clear why many people are readmitted, often in less than 30 days.

Follow-up

appointments

How many days

after my hospital

discharge should

I see my PCP or

specialist?

Should I call

to schedule

my follow-up

appointment,

or will the clinic

call me?

Medications

Did I receive

new medications

in the hospital?

What does the new

medication treat?

How might

it make me feel?

Will it interact with

medications I already take?

Have any of my preadmission

medications been

discontinued?

Medical

equipment

and supplies

Will I need a bedside

commode, walker,

wheelchair or

something else

at home?

Who can show

me the proper

way to use

equipment and

supplies?

Will my insurance

plan cover the

cost of any of

this equipment?

Need additional help? Arkansas Blue Cross and Blue Shield has nurse case managers

ready to support you. Call the number on the back of your member ID card to get connected!

SUMMER 2022 11
---
A holistic approach to managing diabetes works!

Success in some key areas can help

Learning you have type 2 diabetes can be frightening. But diabetes is treatable and manageable through healthy lifestyle

habits. Did you know that how you feel about living with diabetes impacts your treatment? 1 Try these steps to make your

diabetes journey manageable. If you have questions or concerns call us, we want to help.

A holistic approach to managing and treating diabetes works. People who experience success in the following areas can

have good outcomes.

01

02

DIGITAL PROGRAMS ARE AVAILABLE – Many Arkansas Blue

Cross and Blue Shield health plans include free or low-cost prediabetes

and diabetes programs for you. These programs provide free diabetes

supplies, personal coaching, health planning and more. It's all available

from your smartphone or tablet. Call the customer service number on

your member ID card if you want to explore a diabetes program.

MEDICAL NUTRITION THERAPY – How far in advance do you

plan your meals to avoid impulsive eating? How many vegetables

do you eat on most days? Are your meals packed with nutrientdense

foods or empty calories? Do you eat at about the same time

every day or randomly? How do your portion sizes support your

health and weight goals?

03

04

05

ROUTINE PHYSICAL ACTIVITY – Exercise helps with weight

loss, improves blood glucose levels, reduces cardiovascular risk

factors, and supports mood and mental clarity. What's your

favorite form of aerobic activity? How often and how long

do you exercise? What role does resistance training play in

your weekly fitness routine?

SCREENINGS HELP YOU KNOW YOUR RISKS – Diabetes

symptoms like blurred vision, fatigue, hunger and frequent urination

don't always appear right away. That's why screenings are so

important. A1C, kidney, and comprehensive eye exams are tools that

you and your healthcare provider can use to diagnose prediabetes

and diabetes. Know your risks sooner than later and schedule an

appointment with your provider.

PSYCHOSOCIAL CARE – Your behavior, emotions, and even

your environment influence how you feel about living with

diabetes. Does the idea of living with diabetes make you

anxious or overwhelmed? Overcoming negative feelings and

thoughts is key to successful treatment. Virtual Health lets

you speak with a board-certified doctor, psychiatrist or a

licensed therapist. Schedule an appointment or learn more

about Virtual Health at myvirtualhealth.com.

Millions of Americans live with diabetes. However, a holistic treatment approach that includes

healthy lifestyle habits and feeling hopeful about life can improve their outcome and yours!

Help is available.

You can do this!

12 SUMMER 2022

1

American Diabetes Association 2021 Standards of Medical Care in Diabetes
---
Get ahead of skin cancer

When you have an itch, you scratch it. Otherwise,

you probably think very little about the skin covering

you from head to toe. However, this perfectly normal

attitude could lead to severe consequences. Staying

out in front of skin cancer requires two simple actions

recommended by the Skin Cancer Foundation.

Perform a self-exam checking for

signs of cancer once a month.

See a dermatologist once a year.

ATTENTION

PREVENTION

All skin cancers do not look alike. So, when you perform

a self-exam, look for these possible warning signs:

A growth that increases in size and appears pearly, transparent,

tan, brown, black or multicolored.

A mole, birthmark or brown spot that increases in size, thickness,

changes color or texture, or is bigger than a pencil eraser.

A spot or sore that continues to itch, hurt, crust, scab or bleed.

An open sore that does not heal within three weeks.

Ideally, you want to stop skin cancer before it starts. The Skin Cancer

Foundation recommends these tips to keep your skin safe.

Seek the shade, especially between 10 a.m. and 4 p.m.

Don't get sunburned.

Avoid tanning and never use UV tanning beds.

Cover up with clothing, including a broad-brimmed hat and

UV-blocking sunglasses.

Use a broad-spectrum sunscreen with a sun protection factor

(SPF) of 15 or higher every day.

Use a water-resistant, broad-spectrum sunscreen with an SPF

of 30 or higher for extended outdoor activity.

Apply 1 ounce (2 tablespoons) of sunscreen to your entire body

30 minutes before going outside. Reapply every two hours or

after swimming or excessive sweating.

Keep newborns out of the sun. Use sunscreen on babies over

the age of six months.

SUMMER 2022 13
---
the

Arkansas Blue Cross

Days of

Summer

Fearless Fans

and Fireworks

Join Arkansas Blue Cross and Blue Shield

and the Arkansas Travelers at Dickey-

Stephens Park on Friday, July 22 for an

evening of baseball and fireworks. All

Arkansas Blue Cross members will receive

$3 off admission with a valid member

ID card and the first 2,000 guests will

receive a free themed baseball.

JULY

The game begins at 7:10 p.m.

Come cheer the Arkansas Travelers

as they take on the Frisco Rough Riders.

Be sure to stay after

the game for the

Fireworks show.

HEY TRAVELER

Don't forget to pack

international health insurance.

Member Appreciation

Night at the Museum

of Discovery

AUGUST

Plans to travel abroad? Not all

health insurance covers you when

you leave the U.S. Protect your

health and finances before your trip

with GeoBlue international health

insurance. We have short- and longterm

plans available. You don't need

to be an Arkansas Blue Cross member

to enroll. Learn more or enroll at

arkbluecross.com/travel.

Safe travels!

Arkansas Blue Cross and Blue Shield is hosting

a special Encanto-themed night at the Museum

of Discovery in downtown Little Rock on

Saturday, August 13 from 6 to 9 p.m. Come

and enjoy an evening of museum exploration,

register for prizes, take advantage of some

giveaways, and even sing and dance with

BlueAnn Ewe and the characters from the

Disney movie, Encanto.

The event is free to Arkansas Blue Cross

members with a valid member ID card.

Non-members may pick up free

tickets at any of the ArkansasBlue

welcome centers statewide

beginning in July.

14 SUMMER 2022
---
Arkansas Blue Cross and Blue Shield

Financial Information Privacy Notice

Arkansas Blue Cross and Blue Shield

and its affiliates (including HMO

Partners, Inc. d/b/a Health Advantage)

understand how important it is to

protect your private information.

Because of the nature of our business,

we often must collect highly personal

information. We are committed to

maintaining, securing and protecting

that information.

Customer Information

Arkansas Blue Cross and its affiliates

compile only the information

necessary to provide services that

you (our members) request and

to administer your business. We

collect nonpublic personal financial

information (any information that can

be tied back to a specific person and

is gathered by any source that is not

publicly available) from:

Applications for insurance

coverage. The application

includes information such

as name, address, personal

identifiers such as Social Security

number, and medical information

that you authorize us to collect.

Payment history and related

financial transactions. This

information is generated from the

purchase and use of your coverage.

Your membership status. This

information is related to your

standing as a member.

Sharing of Information

Arkansas Blue Cross and its affiliates

do not disclose, and do not wish to

reserve the right to disclose, nonpublic

personal information about you to our

affiliates or other parties except as

permitted or required by law. In some

instances, Arkansas Blue Cross and

its affiliates may provide personally

identifiable information about you

to affiliates or other third parties.

This information includes (but is not

limited to) your name, postal and email

addresses, telephone numbers and

related nonpublic financial information.

Such information may be shared with

our affiliates and/or third parties.

To service or process products

that you have requested

To provide information as

permitted and required by law

to accrediting agencies

To provide information to comply

with federal, state or local laws in

an administrative or judicial process

To provide information to a

business associate (including

one of our affiliated companies)

to provide services to our health

plans, sponsoring groups and you,

our members

How We Protect Your Information

Arkansas Blue Cross and its affiliates

use various security mechanisms to

protect your personal data including

electronic and physical measures

as well as company policies that

limit employee access to non-public

personal financial information.

Improper access to and/or use

of confidential information by an

Arkansas Blue Cross employee can

result in disciplinary action up to and

including termination of employment.

Disclosure of Privacy Notice

Arkansas Blue Cross and its affiliates

recognize and respect the privacy

concerns of potential, current and

former customers. Arkansas Blue

Cross and its affiliates are committed

to safeguarding this information.

This Financial Information Privacy

Notice is provided for informational

purposes and will be updated and

distributed as required by law. It

is also available on our website at

arkansasbluecross.com or from

our Customer Service call centers.

Our Customer Service call centers

are open from 8 a.m. to 4:30 p.m.,

Central time, Monday through Friday.

Arkansas Blue Cross

800-238-8379

Health Advantage

800-843-1329

Members of self-funded health plans

should call Customer Service using

the toll-free telephone number on

their member ID card.

SUMMER 2022

EDITOR

Chip Bayer

Editor@arkbluecross.com

DESIGNER

Ryan Kravitz

VICE PRESIDENT of

CORPORATE MARKETING

Alison Melson

CONTRIBUTORS

Jen Bridgeman

Kristy Follett

Kerri Nettles

Suzi Parker

Greg Russell

Werner Trieschmann

MEDICAL

REVIEWERS

Mark Jansen, M.D.,

vice president and

chief medical officer

Creshelle Nash,

M.D., MPH

medical director

for Health Equity

and Public Programs

SUMMER 2022 15
---
Race Day Rollbacks

Save money on your next race-day adventure

Arkansas Blue Cross is committed to

improving the health and wellness of our

members, friends and neighbors. We're also

committed to saving you money on healthy

living. Race Day Rollbacks is our exclusive

program to save you a percentage of your

race entry fee -- just by being our member.

Events

• July 30 – Melon Dash 5k, Cave City | 5k | Save 25% | Code: ARBCBSMD

• August 6 – Grandma's Color Run, Harrison | 5K | Save 10% | Code: ARBLUE

• Sept. 10 – Celebration in the Sky 5k, Harrison / 5k / Save 10% / Code: ARBLUE

• Sept. 10 – Tour de Tacos, Bentonville | 100 miles, 62 miles, 30 miles, 7 miles

Save $10 | Code: HYDRATE

• Sept. 17 – Teal Stampede, Fort Smith | 10k, 5k run and walk | Save $5

Code: Teal2022

00002.04.01-0722

Registration

is easy

1) Go to arkbluecross.com/race-day-rollbacks

2) Click on an event to get a discount code

3) Go to the event website, fill out the registration form and enter the

discount code at checkout

4) Start training for your event (with a little extra money in your pocket)

Good luck and see you out there! Terms and conditions may apply.