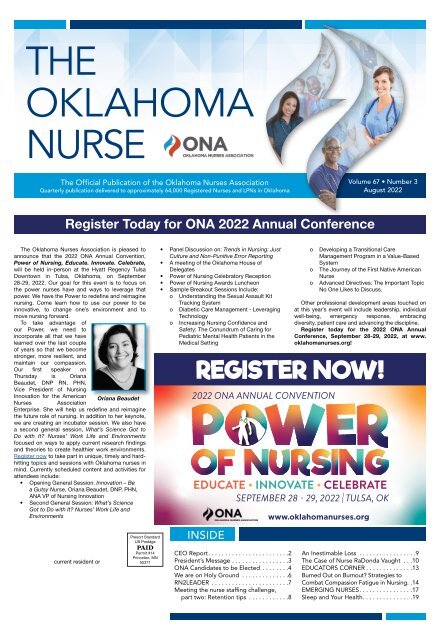 The Oklahoma Nurse - August 2022
You also want an ePaper? Increase the reach of your titles
YUMPU automatically turns print PDFs into web optimized ePapers that Google loves.
THE

OKLAHOMA

NURSE

The Official Publication of the Oklahoma Nurses Association

Quarterly publication delivered to approximately 64,000 Registered Nurses and LPNs in Oklahoma

Volume 67 • Number 3

August 2022

Register Today for ONA 2022 Annual Conference

The Oklahoma Nurses Association is pleased to

announce that the 2022 ONA Annual Convention,

Power of Nursing, Educate. Innovate. Celebrate,

will be held in-person at the Hyatt Regency Tulsa

Downtown in Tulsa, Oklahoma, on September

28-29, 2022. Our goal for this event is to focus on

the power nurses have and ways to leverage that

power. We have the Power to redefine and reimagine

nursing. Come learn how to use our power to be

innovative, to change one's environment and to

move nursing forward.

To take advantage of

our Power, we need to

incorporate all that we have

learned over the last couple

of years so that we become

stronger, more resilient, and

maintain our compassion.

Our first speaker on

Thursday is Oriana

Beaudet, DNP RN, PHN,

Vice President of Nursing

Innovation for the American

Oriana Beaudet

Nurses Association

Enterprise. She will help us redefine and reimagine

the future role of nursing. In addition to her keynote,

we are creating an incubator session. We also have

a second general session, What's Science Got to

Do with It? Nurses' Work Life and Environments

focused on ways to apply current research findings

and theories to create healthier work environments.

Register now to take part in unique, timely and hardhitting

topics and sessions with Oklahoma nurses in

mind. Currently scheduled content and activities for

attendees include:

• Opening General Session: Innovation – Be

a Gutsy Nurse, Oriana Beaudet, DNP, PHN,

ANA VP of Nursing Innovation

• Second General Session: What's Science

Got to Do with It? Nurses' Work Life and

Environments

• Panel Discussion on: Trends in Nursing: Just

Culture and Non-Punitive Error Reporting

• A meeting of the Oklahoma House of

Delegates

• Power of Nursing Celebratory Reception

• Power of Nursing Awards Luncheon

• Sample Breakout Sessions Include:

o Understanding the Sexual Assault Kit

Tracking System

o Diabetic Care Management - Leveraging

Technology

o Increasing Nursing Confidence and

Safety: The Conundrum of Caring for

Pediatric Mental Health Patients in the

Medical Setting

REGISTER NOW!

2022 ONA ANNUAL CONVENTION

EDUCATE • INNOVATE • CELEBRATE

o

o

o

Developing a Transitional Care

Management Program in a Value-Based

System

The Journey of the First Native American

Nurse

Advanced Directives: The Important Topic

No One Likes to Discuss.

Other professional development areas touched on

at this year's event will include leadership, individual

well-being, emergency response, embracing

diversity, patient care and advancing the discipline.

Register today for the 2022 ONA Annual

Conference, September 28-29, 2022, at www.

oklahomanurses.org!

SEPTEMBER 28 - 29, 2022 | TULSA, OK

www.oklahomanurses.org

current resident or

Presort Standard

US Postage

PAID

Permit #14

Princeton, MN

55371

INSIDE

CEO Report. ....................... 2

President's Message. ................ 3

ONA Candidates to be Elected ........ 4

We are on Holy Ground .............. 6

RN2LEADER ....................... 7

Meeting the nurse staffing challenge,

part two: Retention tips ............ 8

An Inestimable Loss ................. 9

The Case of Nurse RaDonda Vaught ... 10

EDUCATORS CORNER. ............. 13

Burned Out on Burnout? Strategies to

Combat Compassion Fatigue in Nursing.. 14

EMERGING NURSES. ............... 17

Sleep and Your Health. .............. 19
---
2

The Oklahoma Nurse August, September, October 2022

Oklahoma Nurses Association Regions and Regional Presidents

Region 1:

President: Lucas Richardson-

Walker

Region 2:

President: Emma Kientz

CEO REPORT

Jane Nelson, CAE

CEO, Oklahoma Nurses

Association

Region 3:

President: Mindy Thompson

Region 4:

Vacant

Last year nurses

were exhausted and

overwhelmed. This year

you are stressed and

frustrated according to

the ANF COVID-19 Two

Year Impact Assessment.

Add undervalued and Jane Nelson

overworked to that list.

However, in that impact assessment there are some

positive answers too, such as 31% are grateful,

23% hopeful, 21% supported and 9% empowered.

Burnout is high as is bullying and incivility all of

which provide challenges to our workplaces. Not

only do each of us need to deal with these issues

on an individual level, but employers are seeking

solutions as well. The survey also indicates that only

24% have sought mental health support and 36%

feel that you should be able to manage your mental

well-being yourself.

Both ONA and ANA are working to provide

resources to assist you as you continue to move

forward on a daily basis. Time away from work, and

spending time with family are all great solutions,

but we need to figure out something on a day-today

basis. On ONA's website we have just posted a

service called Emotional PPE that is free counseling,

and we are getting ready to launch a stress-release

course called Terra Firma. This Stress-Release

course has a cost to it but it also has 15 hours of

JOIN OUR TEAM AS A

Clinical Health Facility Surveyor (ll, lll, lV)

and make difference in the loves of Oklahomans.

May be eligible for

PAY INCENTIVES

TRAVEL OPPORTUNITIES

TUITION REIMBURSEMENTS

Region 5:

President: Nakeda Hall

Region 6:

President: Viki Saidleman

Contact information available at www.oklahomanurses.org

What is ONA Doing?

Find out more:

jobs.ok.gov

Filter by keyword using

"Surveyor"

Competitive Salary and

Benefits Package

We Have More Information For You!

Call: 405-426-8080

Email: PHSWorkforce@health.ok.gov

CE along with other resources. We hope that you

will also take advantage of the other resources that

ONA and ANA have to offer that can be found on

the ONA website, www.oklahomanurses.org under

Nurse Well-Being.

Take a Breath...it changes your brain chemistry!

Just about the time things feel like they are

getting back to normal…we hit a spike. Breathe

again. Hopefully with vaccines, boosters and

treatments such as Paxlovid those affected with

COVID will not have hospital stays, so, potentially

focus can shift back to ways to build a positive work

environment that includes tools such as shared

governance and a just culture. ONA wants to get

back to working on these issues so at the ONA

Convention, we will have a session prior to the ONA

House of Delegates on Trends in Nursing: Just

Culture and Non-Punitive Error Reporting. This will

include a panel of nurse leaders discussing how

Just Culture, Culture of Safety, Shared Governance,

and non-punitive error reporting are all part of where

nursing is headed. During the House of Delegates,

we will have a conversation around these same

issues that will provide feedback to leaders on

what is missing, what do we need to change to truly

accomplish Just Culture and what does ONA need

to do.

For this to work, we need your engagement.

Every ONA Member has an opportunity to

participate in the House of Delegates. As you

HIRING

NURSES!

APPLY HERE

CEO Report continued on page 7

10240 Broadway Ext.

Oklahoma City, OK 73114

or contact

Nathan, CNO

at

405-900-8766

today!

Oklahoma Nurses Association

Editor: brendan@teamngage.com

ONA 2021-2022 BOARD OF DIRECTORS:

President - Shelly Wells, PhD, MBA, APRN-CNS, ANEF

Vice President - Angela Martindale, PhD, RN

Secretary/Treasurer - Michele Bradshaw, MSN, RN

President-Elect - Angie Kamermayer, DNP, APRN-CNS, NEA-BC

Education Director - Vanessa Wright, PhD, MSN, RN

Emerging Nurse Director - Rachael Bachhofer Kleckner,

MSN, RN, CCRN-CMC-CSC

Membership Development Director - Amy Hutchens, PhD, RN, CNE

Political Activities Director - Cassy Abbott Eng, PhD, RN, LNC, CNE

Practice Director - LaTonya Mason-Wilson, DNP, MS, RN, NE-BC

Consultant to ONSA - Dean Prentice, Colonel, USAF (Ret),

DHA, MA, BSN, NE-BC

Region 1 President & Rep - Lucas Richardson-Walker, BSN, RN

Region 2 President - Emma Kientz, DNP, RN

Region 2 Rep & PE - April Loeffler, MSN, RN

Region 3 President - Mindy Thompson, DNP, APRN, FNP-D, CNE

Region 3 Representative - Julie Nevins, MS, RN

Region 4 Representative - Leslie Collins, DNP, MS, RN

Region 5 President & Rep - Nakeda Hall, DNP,APRN-CNP

Region 6 President & Rep - Viki Saidleman, MSN, RN

ONA STAFF:

Jane Nelson, CAE — CEO

Amber Feldpausch, CMP— Event Planner

Katie Searl, Publications Editor

Mariam Robinson, Membership Manager

Tiffany Wilkinson, Member Services Specialist

MAILING ADDRESS:

Oklahoma Nurses Association

6608 N Western, #627, Oklahoma City, OK 73116

405/840-3476

Subscriptions:

The subscription rate is $20 per year.

THE OKLAHOMA NURSE (0030-1787), is published

quarterly every February, May, August and November by

the Oklahoma Nurses Association (a constituent member

of the American Nurses Association) and Arthur L. Davis

Publishing Agency, Inc. All rights reserved by copyright.

Views expressed herein are not necessarily those of

Oklahoma Nurses Association.

INDEXED BY

International Nursing Index and Cumulative Index to Nursing

and Allied Health Literature.

Copies of articles from this publication are available from the UMI

Article Clearinghouse. Mail requests to: University Microfilms

International, 300 N. Zeeb Road, Ann Arbor, MI 48106.

ADVERTISING

For advertising rates and information, please contact Arthur

L. Davis Publishing Agency, Inc., PO Box 216, Cedar Falls,

Iowa 50613, (800) 626-4081, sales@aldpub.com. ONA and

the Arthur L. Davis Publishing Agency, Inc. reserve the right

to reject any advertisement. Responsibility for errors in

advertising is limited to corrections in the next issue or refund

of price of advertisement.

Acceptance of advertising does not imply endorsement or

approval by the Oklahoma Nurses Association of products

advertised, the advertisers, or the claims made. Rejection of an

advertisement does not imply a product offered for advertising

is without merit, or that the manufacturer lacks integrity, or that

this association disapproves of the product or its use. ONA and

the Arthur L. Davis Publishing Agency, Inc. shall not be held

liable for any consequences resulting from purchase or use of

an advertiser's product. Articles appearing in this publication

express the opinions of the authors; they do not necessarily

reflect views of the staff, board, or membership of ONA or those

of the national or local associations.

CONTACT THE ONA

Phone: 405.840.3476

E-mail: ona@oklahomanurses.org

Web site: www.oklahomanurses.org

Mail: 6608 N Western, #627, Oklahoma City, OK 73116

Questions about your nursing license?

Contact the Oklahoma Board of Nursing at 405.962.1800.

Want to advertise in The Oklahoma Nurse?

Contact Arthur L. Davis Publishing Agency, Inc.

at 800.626.4081 or email at sales@aldpub.com.

ONA CORE VALUES

ONA believes that organizations are value driven

and therefore has adopted the following core values:

• Diversity

• Safe Quality Care

• Ethical Care

• Health Parity

• Integrity and Accountability

• Practice Competence

• Professional Development

• Educational Advancement

ONA MISSION STATEMENT

The Mission of the Oklahoma Nurses Association is to empower

nurses to improve health care in all specialties and practice

settings by working as a community of professional nurses.

VISION

Creating opportunities through advocacy, education and

collaboration to become the leading voice for the nursing

profession in the State of Oklahoma.

BRAND PROMISE

Engaging Nurses to make a difference!
---
August, September, October 2022 The Oklahoma Nurse 3

PRESIDENT'S MESSAGE

Shelly Wells, PhD, MBA,

MS, APRN-CNS, ANEF

As the hot summer starts

to wind down, we start

to think about Fall – my

favorite season of the year!

Fall is when the weather

finally breaks, the leaves

on the trees turn those

gorgeous shades of yellow,

red, orange, and purple, Shelly Wells

the pumpkin spice aroma

and flavor take their places on store shelves, and

Oklahoma football season kicks into high gear. I

am reminded that with the changing of seasons

come new beginnings. Along with these seasonal

changes, come changes within our nursing

organization with the culmination of our officer

elections and the naming of the new ONA Board

Members at the Annual ONA Convention every

fall.

The past four years as your President

-Elect and President of the Oklahoma Nurses

Association have been amazing, challenging, and

frustrating all rolled into one! Who would have

ever predicted the shifting of priorities we would

see in nursing, health care, and policies because

of a pandemic? Issues surrounding public health,

safe staffing, workplace violence, and nurse wellbeing

have been at the forefront of my term in

office with the ONA Board.

This has been such an important time for

nurses to step forward to advocate for their

profession, patients, and communities. As the

most trusted profession in the United States,

every individual nurse must be actively influencing

health-related decisions and policies – not only

for their patients and families, but also for their

communities and our profession. As stated in

the Nurses' Bill of Rights, we must continue

to advocate for "safe work environments

that prioritize and protect nurses' well-being

and provide support, resources, and tools to

stay psychologically and physically whole"

in order for us to provide for others (https://

www.nursingworld.org/practice-policy/workenvironment/health-safety/bill-of-rights/).

We

accomplish this work through our effective

leadership.

Leadership does not require a title. In fact,

every nurse is a leader. Leadership is a privilege

that we must appreciate. Leadership can be

challenging, but when you think about it, leading

people can be one of the most fulfilling and

rewarding experiences anyone can have since

it affords the opportunity to change the lives of

people every day. It is important that every nurse

embraces their role as a leader to take the lead in

activities and decisions in our work environments,

communities, and policy making arenas. We must

be heard in order to do the right thing to move

forward. Attending the ONA convention: Power

of Nursing: Educate, Innovate, Celebrate is a

great way to recharge and learn about the many

opportunities for nurses to engage in leadership

activities. You can do this – lead by example and

ask others to join in!

I am optimistic about the future of nursing in

Oklahoma. With over 52,000 registered nurses in

the state, we collectively have the opportunity to

lead Oklahoma and the profession of nursing to a

place of excellence. We just have to "do it!" I look

forward to your contributions!

Thank you for placing your trust and confidence

in me to serve as your President these past 2

years. And thank you for your commitment to

nursing and those we serve every day.

JOIN OUR TEAM AS A

Public Health Nurse

and make a difference in the lives of Oklahomans.

May be eligible for the

NURSE CORPS LOAN

REPAYMENT PROGRAM

Find out more:

jobs.ok.gov

Filter by Agency g State

Department of Health

Competitive Salary and Benefits Package

Questions? Call: 405-426-8080

HumanResources@health.ok.gov

An opportunity

you may not

know exists!

Join the FBI in Oklahoma. We're hiring

skilled nurses to become Special Agents.

For more information, please contact

cslandolt@fbi.gov.

The best care starts with the best team.

NOW HIRING FOR RN POSITIONS THROUGHOUT

SAINT FRANCIS HEALTH SYSTEM!

As a rapidly growing, locally owned, not-for-profit organization, Saint Francis

is dedicated to the health and well-being of our patients and the entire

community. We believe the best care starts with the best team, so we offer

excellent benefits, competitive pay, career growth opportunities, a healthy

work-life balance and an outstanding work environment.

Learn more about available registered nurse positions and benefits,

visit saintfrancis.com/nursing or call 918-502-8300 option 1.

WHY NOW IS

A GREAT TIME TO

JOIN OUR TEAM:

Generous

sign-on bonus*

Full comprehensive

benefits package

Generous relocation

assistance*

Clinical ladder

program

Tuition

reimbursement

CE opportunities

On-site day care**

EOE Protected Veterans/Disability

*Some restrictions apply.

See recruiter for details.

**Only at select locations.
---
4

The Oklahoma Nurse August, September, October 2022

ONA Candidates to be Elected

This year ONA members will elect the following

positions, all for a two-year term:

• Nominating Committee Members

• Education Director

• Membership Development Director

• Secretary/Treasurer

• President -Elect (serves 2 years as P-E and 2

years as President)

All candidates are listed below as well as on the

ONA website. Voting will be conducted online and

ballots will be available August 15 – September 9.

ONA members will be emailed a username and

password. If you prefer a paper ballot, one will be

provided.

Election results will be announced at the

ONA House of Delegates, which will be held on

September 28, 2022.

President-Elect (2 yrs as PE and 2 yrs as

President) (Elect One)

Cassy Abbott Eng, PhD,

RN, CNE, LNC

Educational Background:

PhD Nursing Education

The University of Northern

CO Greeley, CO; MS

Nursing UNC BS Nursing

Marymount University; Legal

Nurse Consultant Duke

University; and Certified

Nurse educator National

League of Nursing

Activities: ONA Political Activities Dir; Current

Sigma Theta Tau President Zeta Delta at Large

(July 2020-2022); National Charity League; Faculty

Senate; and Strategic Planning Committee for

Health Sciences

Personal Statement: I firmly believe we, as

nurses, have the ethical obligation and professional

duty to advocate for the health and well-being

of every individual. We are charged to protect

human life and to ensure equality and justice for

all. As nurses, we advocate for our patients and

populations by becoming politically active and

lobbying for policies that can be implemented.

These policies can potentially change the landscape

of healthcare in our state. As nurses, we are charged

to move beyond the point of recognizing current

societal concerns and blaze the trail to promote

change through active engagement and undeniable

passion. We are the trusted voice for our patients

and the vehicle for advancement. Now more

than ever, we must advocate for all people while

embracing and supporting their unique differences.

Stagnation and complacency are not an option. We

must embrace a plan of action that is patient driven

not politically influenced. In addition, it is imperative

nurses fight to increase resources in aiding optimal

health and wellness of all citizens across our state.

While the nation is burdened by a fog of chaos, as

nurses we must cling to clarity and transparency.

A rural hospital that is strong in its community.

We are unique and one of a kind.

We have a total of 26 beds with an occupancy rate of nearly 75%

Once you join our team, you never want to leave!

Opportunities for RNs and LPNs.

New Graduates Welcome

Full-Time, Flex & Double Time Available

Competitive Pay with Benefits

For more information and to apply contact Human Resources:

Tammy White, HR Manager

twhite@lindsaymunicipalhospital.com

1305 W. Cherokee, Lindsay, Oklahoma

405-756-1404 phone • 405-756-1802 fax

lindsayhospital.com

EOE

Optimal outcomes for the patient and honorable

advancement of the profession must remain at

the helm as our primary goal. Commitment to

traveling the high road even if it's a lonely road at

times. Acknowledging a challenge is the FIRST

step. Fighting for the person and population that

face that challenge ... is the RIGHT step. In doing

so, we rightfully earn our title as the most trusted

profession.

Lucas Richardson-Walker,

BSN, RN

Educational Background:

Rose State College ADN

2002; and Oklahoma City

University BSN 2017

Activities: ONA, Region

1 President ANA, Member

Sigma Theta Tau, Member

Founder of the Facebook

Group "Nurses Helping

Nurses" Reconciling Ministries Co-Chair St

Stephens UMC Norman Youth Group Adult Sponsor

St Stephens UMC Norman Administration Council St

Stephens UMC

Personal Statement: My name is Lucas

Richardson-Walker BSN, RN. I am running for

President-Elect. I have been a member of ONA

for many years. I have served our profession on

the ONA Board and represented our great state

on the national stage as a Membership Assembly

Representative at the ANA Membership Assembly

in Washington D.C. I currently work as a Staff Nurse

in dialysis. As such, I have seen first-hand the

pain and stress that our profession has struggled

through during this trying pandemic. Too many

have reached that breaking point. We have people

leaving the profession at an alarming rate, in all

areas of nursing! Seeing the struggle and knowing

the power of the Professional Nurse is why I started

the Facebook group "Nurses Helping Nurses".

As President-Elect, I will continue and expand on

the current board's focus of helping our essential

profession through this hard time. I believe we

will come out the other end of this pandemic a

profession that is stronger and more resilient than

ever! I am proud to be an Oklahoma nurse and

member of ONA! I ask for your support to allow me

to help lead our profession to the next level - coming

out stronger and prepared for the challenging times

ahead.

Nathan Richmond, MSHA,

BSN, RN

Educational Background:

OSU, Tulsa- MSHA, 2019

OCU, OKC- BSN, 2016

Activities: Member of

ANA, ONA

Member of ACHE

Personal Statement:

Nurses represent the largest

workforce in the healthcare

sector to present date. Nurses are also considered

one of the most ethical professionals and most

trusted not only in healthcare but out of all careers.

Oklahoma also has some of the highest rates of

health disparities and health outcomes in the nation.

Oklahoma nurses are in a unique position to educate

and help communicate healthy living strategies and

the importance of over all health and well being to

the communities we serve. I believe we need to

increase the number of active members in ONA,

so that the largest and most trusted workforce in

healthcare is adequately represented and has a seat

at the table in local and state policy making and

reform.

Secretary/Treasurer

(2 yrs Term) (Elect One)

Michele Bradshaw, MSN,

RN

Educational Background:

Oklahoma City University,

Oklahoma City, OK-

Master's in Nursing

Administration (MSN)

2019 Oklahoma Wesleyan

University, Bartlesville, OK-

Bachelors Nursing Science

(BSN) 2005 Rose State

College, Midwest City, OK- Associate Degree in

Nursing Science (AAS) 1997 Metro Area Vocational

School, Oklahoma City, OK- Practical Nursing

Diploma- 1994

Activities: ANA, ONA, OONE, AACN, Sigma-

Theta Tau

Oklahoma Christian Nurse Advisory Board

Member Tri- City Youth and Family Services Board

Member Nursing Education and Nursing Practice

Advisory Committee

Personal Statement: Nurses have faced the

greatest adversity of our careers in the last two

years. We have shown innovation and resilience. I

believe it is important for all nurses to be informed,

and to have a strong voice on matters concerning

nursing practice. With the predicted nursing

shortage, I feel that we need to continue to seek

innovative ways to recruit students to choose

nursing as a career. We need to continue to

advocate for safety for nurses with matters such as

workplace violence and medical errors. It would be

my honor to advocate for you and with you.

Education Director

(2 yr Term) (Elect One)

Mindy Thompson, DNP,

APRN, FNP-C, CNE

Educational Background:

Post-Masters Certificate,

Family Nurse Practitioner:

2019 Maryville University

- St Louis, MO Doctor of

Nursing Practice: Nursing

Practice- Leadership and

Innovation, Healthcare

Nursing, 2017 University

of Missouri - Columbia - Columbia, MO Master

of Science: Nursing-Education Nursing, 2012

Northeastern State University School of Nursing -

Tahlequah, OK Bachelor of Science: Nursing, 2011

Northeastern State University School of Nursing -

Tahlequah, OK Associate: Applied Science Nursing,

1998 Amarillo College School of Nursing - Amarillo,

TX

Activities: Dr. Thompson has been an active

member of ONA for the past several years and over

the past year has been the president of ONA Region

3. She has served ONA Board of Directors by

participating on ad-hoc committees. Dr. Thompson

has served as an officer of other professional

organizations such as two different chapters of

Sigma Theta Tau-International.

Dr. Thompson serves as a volunteer provider for

Cura for the World providing primary care services

for the uninsured of Creek County.

Personal Statement: Advocacy is at the core of

nursing and the values we embody. In recent events

over the last couple of years from a global pandemic

to changes impacting women's health and rights,

advocacy is gaining even more importance. In

order to be an effective advocate, we must take

educated actions. Through maintaining current

medical knowledge, we are better equipped to

also protect the ethics we embody as a profession:

nonmaleficence, beneficence, autonomy, justice,

and privacy/confidentiality.
---
August, September, October 2022 The Oklahoma Nurse 5

Membership Development Director

(Elect One)

Amy Hutchens, Ph.D., RN

Educational Background:

Arizona State University,

Ph.D., December, 2017

Nursing and Health

Innovation The University

of Oklahoma M.S., May,

2010 Nursing Education

Health Sciences Center,

The University of Oklahoma,

B.S.N. May, 2003 Nursing

Health Sciences Center Oklahoma City Community

College A.D.N. December, 2001 Nursing

Activities: From 2017-2018 Amy served as

the director of education on the ONA Board of

Directors. Dr. Hutchens developed educational

initiatives put forth by the ONA. As an Oklahoma

Nurses Association delegate representing Region 1,

Amy supported the resolutions to define nurses as

coordinators of care, and evaluated ONA bylaws.

Dr. Hutchens also supported and advocated

for full practice authority for APRNs through the

Oklahoma Legislature. Amy served as Membership

development director for the 2021-2021 term, and

has presented multiple presentations across the

state educating nurses and students on the benefits

of ONA membership.

Personal Statement: The nursing shortage has

been and continues to be one of the most important

issues facing ONA. Education, increasing availability,

and resources for nursing students and faculty can

contribute to alleviating this issue. I have and will

continue to advocate for improved conditions at the

bedside to recruit and retain nurses.

Nominating Committee Representative

(Elect Three)

Monica Bowie, MSN, RN

Educational Background:

OSU-OKC, OKC, ADN,

1997 Southern Nazarene

University, Bethany, OK,

BSN, 2001 Oklahoma

Wesleyan University (OKWU),

Bartlesville, OK, MSN, 2020

OKWU, Bartlesville, OK, DNP

Student

Activities: ANA, ONA

Epidemiologist and Preventionists in Infection

Control (EPIC) Oncology Nursing Society (ONS)

Honor Society of Nursing, Sigma Theta Tau

International (STTI), Beta Delta Chapter National

League for Nursing (NLN) Association of Black

Nursing Faculty, Inc (ABNF)

Personal Statement: My views on nursing

and issues facing ONA are to ensure nurses can

practice their profession in a safe environment

and to ensure nurses are compensated for their

education and levels of expertise. I feel Advanced

Practice Registered Nurses (APRN) should be able

to practice to the full extent of their education as

independent practitioners. In addition, we should

play a more active role in preventive healthcare.

This includes patient education, increased access

to healthcare, and elimination of food deserts and

food insecurities. Finally, we should bring healthcare

to the communities. This is where APRNs would be

better utilized.

Debra Johnston, RN, BSN,

CEN, MBA

Educational Background:

ADN-Tarleton University

Stephenville, TX 1994 BSN-

OKWU 2012 MBA-OKWU

2014

Activities: ONA ANA ENA

Personal Statement: The

field of nursing is harder than

ever with COVID, resulting in many nurses moving to

another career field and staffing issues. I have been

in a leadership position for a few years and I want to

make more of a positive impact on nursing.

Nathan Richmond, MSHA, BSN, RN

– See Bio Above

Membership Assembly Representative

(Elect Three)

Cassy Abbott Eng, PhD,

RN, CNE, LNC

– See Bio Above

Denise Barnett, MSN, RN

Educational Background:

OKCCC ADN 1989 OKWU

MSN 2020

Activities:

ANA

membership assembly rep

ONA nominations committee

Personal Statement: I have a MSN in nursing

administration and am expected to graduate in Dec.

2022 with a MLS in Healthcare Law. My educational

background combined with more than three

decades of nursing experience puts me in a unique

position for successfully expressing the concerns of

our nurses to our legislators. It would be an honor to

continue to serve Oklahoma nurses in this capacity.

Thank you for supporting me as a representative for

you at our next ANA membership assembly.

Monica Bowie, MSN, RN

– See Bio Above

Debra Johnston, RN, BSN, CEN, MBA

– See Bio Above

Angie Kamermayer, DNP,

APRN-CNS, NEA-BC

Currently Serving as ONA

President – Elect (ONA

President 2022 – 2024)

Rosalind Sims, RN BSN

MBA PCCN

Educational Background:

Langston University -BSN

2000 University of Phoenix

MBA/HCM 2004

Activities: ANA and ONA

committees. Serving as

nominee committee member

Personal Statement:

As we continue to advance

into the 21st Century, the role of nurses continues

to be a vital component of the success of our

healthcare system. We are facing many challenges

today in healthcare and our nursing profession.

Some of the key challenges that we are facing are

staff shortages, workplace hazards/violence, pay/

salary compensation, working long hours and

personal healthcare. To tackle these challenges,

we need to have open dialogue discussions within

our profession, focusing on a strategic plan with

collaboration from our community leaders and

healthcare professionals. I am committed to face

these challenges as opportunities for our profession.

Rachel Risner, Ph.D., DNP,

APRN, C-FNP, CNE

Educational Background:

Oklahoma City University,

Oklahoma City, OK, Ph.D.

Nursing Education, 2016

Oklahoma City University,

Oklahoma City, OK, DNP,

2013 Frontier Nursing

University, Hyden, KY, MSN

FNP, 2010 Oklahoma City

University, Oklahoma City, OK, BSN 2007 Oklahoma

City Community College, Oklahoma City, OK, ASN,

2005

Activities: Nominating Committee

Association of Oklahoma Nurse Practitioner

Secretary National League for Nursing Nominations

committee member (2) Oklahoma Indigenous

Nurse Association President-elect Oklahoma

Nurses Association Nominations Committee

Chair NLN AARP representative for the American

Indian/Alaska Native workgroup NLN AARP

representative for the American Indian/Alaska

Native Curriculum committee member NLN AARP

representative for the American Indian/Alaska

Native Webinar committee member and presenter

NLN AARP representative for the American Indian/

Alaska Native Workshop Development committee

member presenter NLN AARP representative for

the American Indian/Alaska Native Diversifying the

Nursing Workforce: Mentoring for Student Retention

and NCLEX Success at American Indian/Alaska

Native-serving Institutions Toolkit contributor NLN

Taking Aim Series committee member NLN Taking

Aim Series Workshop Development Chair NLN

Taking Aim Series Webinar committee member

NLN Taking Aim Series Beyond Diversity and

Between Equity and Inclusion webinar co-presenter

NLN STEP into Leadership Coach NLN Strategic

Action Group Accreditation Commission for

Education in Nursing Peer Evaluator Accreditation

Commission for Education in Nursing Evaluation

Review Panel member American Academy of

Nurse Practitioners Item Writer American Institute

of Healthcare Quality teaching international nurses

the Certified Professional in Infection Control

course American Gulf International Consulting as an

International Healthcare Consultant The American

Association of Colleges of Nursing created the land

acknowledgment Frontier Nursing University created

the land acknowledgment American Leadership

Academy participant Oklahoma State Plan to

Decrease Prescription Drug Abuse committee

member and contributor

Personal Statement: My career has been

guided by a mission to build an innovative, robust,

and diverse nursing workforce that is responsive to

stakeholders' needs. My educational background,

leadership experience, and professional

experiences have prepared me for the position of

ANA Membership Assembly Representative. The

nursing profession is faced with a rapidly evolving

healthcare landscape that must be addressed with

innovation and bravery. Leaders in nursing must

meet national and global healthcare needs while

maintaining a commitment to the core nursing

principles of compassionate care, honesty, and

strong moral principles. It is our work as nurses to

continue building a strong diverse, inclusive, and

equitable nursing workforce.

Lucas Richardson-Walker, BSN, RN

– See Bio Above

Nathan Richmond, MSHA, BSN, RN

– See Bio Above
---
6

The Oklahoma Nurse August, September, October 2022

We are on Holy Ground

Catherine White, MA, RN, FCN-BC Faith

Community Nurse Coordinator Mental Health

Coach, First Responder

In the past several issues of THE OKLAHOMA

NURSE there have been several articles about selfcare,

wellness, holistic health care, faith-based

care along with articles instructing nurses how to

deal with stress – stress from academic pursuits,

stress from pandemic situations of short staffing,

insufficient or unavailable supplies, environmental

hazards (e.g., incivility and conflict in the workplace)

and the list goes on with topics about how to handle

life's difficulties. Authors did their best to write

articles with optimism and actions to minimize if

not eliminate the many problems nurses face in

providing care while maintaining ethical standards.

The articles were insightful but would lead the

reader to wonder if there might be an option yet to

be considered. The most recent article that made

me want to answer the author's question "Where

Do I Go From Here?" is in the May-July 2022 issue

of THE OKLAHOMA NURSE publication by Sharon

Broscious, page 22. There is an answer.

There is indeed an option that needs to be

shared. Traditional nursing care has been seen

as meeting the patient's physical, mental and

emotional, and to some extent spiritual needs. But

over the years more attention has been given to the

aspect of "spiritual care." In the 1980s two efforts

arose to address spiritual care from two different

perspectives: holistic vs wholistic. It is interesting to

note that these are different yet similar.

The similarities are in the two organizations being

founded. Holistic nursing as a clinical specialty

came into being January 17, 1981, in Houston,

Texas, when 33 nurses from eight states met to

share their stories and implement a vision using

a variety of healing and integrative therapies

from a humanistic worldview such as imagery,

visualization, relaxation, deep-breathing techniques,

stress management, aromatherapy, subtle energy

therapies (therapeutic touch) for patients in hospitals

and in private practice. The faith-based or wholistic

nursing, also an ANA clinical specialty, was

founded in Chicago, Illinois, in the mid-1980s (1984)

by a Lutheran Minister – Hospital Chaplain and

medical doctor, Rev. Dr. Granger Westberg. Both

organizations attempted to address the patient's

needs for care of the body, soul and spirit but Dr.

Westberg's efforts were to be based on the Judea-

Christian worldview.

Rev. Dr. Westberg made rounds daily at the

hospital where he served and concluded that while

the physical nursing care was excellent, there

seemed to be a lack of attention to caring for the

whole person spiritually. Intentionally using spiritual

and religious practices such as prayer, anointing,

religious and inspiring materials along with using

one's presence helped the patient (and family) to

know that healing as a desired healthcare outcome

is from a right relationship with one's Creator, God.

When people with diseases, disabilities, or mental

illness manifestations approached Jesus, He, by

word, touch, and presence, made them whole. He

imparted the Shalom, or supernatural peace, healing

and wholeness, that led to a healing only He could

give them. The "Higher Power" Dr. Westberg saw as

needed for health recovery was based on Biblical

principles. As he taught these concepts to nursing

staff at the hospital where he served, he helped

them learn ways to provide self-care spiritually along

with using skills to include in patient care providing

a benefit to both giver and to receiver. The hospital

administration was in full support of this education

and, as word spread to other nursing staff at other

hospitals in his community, he taught other medical

staffs how to provide what he called "wholistic care"

to enhance "traditional care." He reminded the staff

that one cannot give or use what one does not have

or that one has not learned, so he taught the staff

to use an in-filling of power to perform the tasks of

caring – for self-first and then for others.

Originally, the faith-based nursing organization

was called Parish Nursing because denominations

that are more formal in their ministries – Lutheran,

Catholic, Episcopalian – have geographic

boundaries called parishes for their congregations.

As this type of faith-based nursing ministry

expanded over the years, the name has been

changed to Faith Community Nursing in order to

include denominations of other groups. According

to the Parliament of the World Religions, over 50

world religions recognize the basic core values of

faith nursing, which include respect for life and the

promotion of charitable service to others (Kung &

Kuschel, 1993).

Originally, religious orders were known for caring

for the sick, poor, widows, orphans, prisoners and

other vulnerable populations as an expression

of God's love and power toward mankind. While

holistic principles and the inclusion of natural

therapies (oils, liniments, salves, ointments, teas,

plasters, poultices, compresses) were foundational

in the early practice of nursing, they were largely

abandoned by the mid to later part of the 1900s. In

the later part of the 1900s technology superseded

the human connection and the God-connection

and healthcare began to change from a "service

profession" to a "for-profit business." The caring and

healing connection that was fundamental to nursing

was subdued by an emerging culture that valued

efficiency and profit margins. Nursing early on had

been seen as a calling of God and servanthood, but

that view changed causing nurses to be frustrated

by their inability to provide what they considered

quality care and tend to the needs of the person as

a whole entity. It was out of this milieu that these two

organizations emerged, each with its own unique

perspective on how to restore that care.

There is another organization that works

collaboratively with the Faith Community Nurse

organization and that is Nurses Christian

Fellowship. This organization was founded in

Chicago, Illinois, in early 1935 when three nurses

met to pray at Children's Hospital about forming

an organization intent on meeting the spiritual

needs of nurses. Students in Chicago discovered

this group and returned to their home school

(diploma) and started a group like the one they had

encountered. NCF reaches out to nurses needing

their spiritual needs met while serving in various

roles: faculty, administrators of nursing programs

and departments of nursing in healthcare settings,

staff nurses, nursing students, for example. Both

organizations rely on the concept of wholeness that

occurs when a person has a personal relationship

with Jesus so that quality of nursing care is a reality

even in the midst of indescribable and unbearable

stress. Wholeness as a concept occurs in Matthew

9: 1-13 with Jesus meeting a man with palsy, then

in verse 22 with a woman who had a chronic

hemorrhagic condition for 12 years to whom Jesus

said, "Daughter, be of good comfort; your faith has

made you whole. And the woman was made whole

from that hour." (See also Mark 5:25-34). Other

scenarios of supernatural healings – a 40-year-old

crippled man – are recorded in the book of Acts 3:10

and Acts 4: 5-10. People with seizures, self-cutting

and mental illness, blind, deaf, dumb, dead, a

withered hand and – the list goes on – all were made

alive or well - whole - having had an encounter with

Jesus.

As a member of three organizations – Faith

Community Nurse ministry, Nurses Christian

Fellowship and the Mental Health Coach First

Responder ministry – I want to leave some passages

of scripture that may lead a nurse colleague with the

answer to Dr. Broscious question "Where Do I Go

From Here?" The answer is found in the manual for

life, i.e., the Holy Scriptures aka the Bible. Start your

day with Psalm 5: 3, 8- "My voice shall You hear in

the morning, O Lord; in the morning will I direct my

prayer unto You and will look up...Lead me, O Lord...

make Your way straight before my face." Add Psalm

143:8- "Cause me to hear Your lovingkindness in the

morning for in You do I trust; cause me to know the

way wherein I should walk for I lift up my soul unto

You."

How about Psalm 37: 23 – ''The steps of a

good man (person) are ordered of the Lord and

He delights in his way." Isaiah 30: 21- "And your

ears shall hear a word behind you saying, 'This is

the way, walk you in it, when you turn to the right

hand and when you turn to the left." Proverbs 3:

S, 6 - "Trust in the Lord with all your heart and do

not lean on your own under-standing. In all your

ways acknowledge Him and He shall direct your

paths." How about this one? 2 Chronicles 16:9a -

"The eyes of the Lord run to and fro throughout the

whole earth to show Himself mighty on behalf of

those whose hearts are perfect (loyal) to Him." No

one needs to be told that the times in which we live

today are perilous and troublesome, so one needs

Help From Above to live out one day. Our world is in

chaos and spiritual warfare abounds. We need tools

that are a match for such warfare and these tools

(weapons) come from the Lord. See Isaiah 40:29 -

"He gives power to the faint and to them that have

no might He increases strength...they that wait upon

the Lord shall renew their strength; they shall mount

up with wings as eagles; they shall run and not be

weary and they shall walk and not faint." Isaiah 41:

10, 13a, 14a - "Fear not (DO NOT BE AFRAID) for I

am with you; be not dismayed for I am your God. I

will strengthen you; I will help you; yes, I will uphold

you with the right hand of my righteousness...For I

the Lord, your God will hold your right hand saying

to you, 'Fear not; I will help you...Fear not...' ". See

Micah 7:7 - "I will look unto the Lord and I will wait

for the God of my salvation; my God will hear me...

when I fall, I shall arise; when I sit in darkness, the

Lord shall be a light unto me." Jeremiah 33:3 -" "Call

unto Me and I will answer you and show you great

and mighty things that you do not know."

In answer to Dr. Broscious' question "Where Do I

Go From Here?" - how about this answer: Matthew

11:28-30 - "Come unto Me all you who are weary

and heavy laden (burdened) and I will give you rest.

Take My yoke upon you and learn of Me and you

shall find rest unto your souls. For My yoke is easy

and My burden is light." Then when the workday or

shift is done, try this for encouragement. The 23rd

Psalm which can be a form of prayer. "The Lord

is my Shepherd. I shall not want (lack anything).

He makes me to lie down in green pastures; He

leads me beside still waters. He restores my soul;

He leads me in the paths of righteousness for His

name's sake. Yes, though I walk through the Valley

of the Shadow of Death, I will fear no evil (harm) for

You are with me and Your rod and Your staff they

comfort me. You prepare a table in the presence of

my enemies; You anoint my head with oil; my cup (of

water) runs over. Surely goodness and mercy shall

follow me all the days of my life and I shall dwell in

the house of the Lord (heaven) forever (eternally)."

Amen
---
August, September, October 2022 The Oklahoma Nurse 7

How Stress Affects the

Physical Body

Nicole Cerrini BSN, RN

We are often consumed with how stress can cause us to experience mood

changes, sleep pattern disruptions and overall anxiety. But what about the

physical symptoms that appear and become chronic? Gastrointestinal (GI)

distress, headaches, back pain, TMJ, hormonal imbalances and extreme

fatigue, just to name a few, can all be the result of stress.

So how do we know if our physical ailments are the result of stress, and how

do we treat it? Learning to listen to your body is the first step in understanding

if what you're experiencing is directly related to stress. Do you find that your

stomach gets upset when you have a lot going on, or you tend to lose your

appetite (or eat more) when you feel overwhelmed? These are both signs that

your body is battling an internal imbalance, not a stomach bug. We've been

conditioned to believe that all physical symptoms must be attributed to a true

medical condition, instead of looking at it from a holistic perspective.

There are circumstances where you may in fact have a medical condition and

may need specific treatment, but it should become a habit to analyze outside

factors that may be contributing to your symptoms. The dreaded culprit of

back pain is another good example. There are millions of people suffering from

back pain in our country, and a lot of times physicians are quick to recommend

invasive procedures or prescription medication to help alleviate their symptoms.

Chemical and physical reactions take place in your body when you are under

stress, causing an involuntary tightening of your muscles due to an increase

in cortisol and adrenaline levels. This can present as back pain in certain

individuals and may branch out to include other physical symptoms.

Becoming aware of physical symptoms that may be related to stress is the

first step in treating these ailments. Once you're able to reflect and listen to

your body, the next step is to make it a priority to listen to your needs! Holistic

therapies are often ignored as a primary means of treatment. Analyzing the

body through this perspective allows for a unique approach focusing on

physical, emotional and spiritual health resulting in a plan to align and balance

the body.

Specific therapies for treating physical symptoms caused by stress include

nutrition plans, mindset exercises, meditation, breathwork, hypnosis, reiki and

many other modalities. Nutrition is one of the most important variables in your

health, especially as it relates to stress and overall wellness. The term "food is

medicine" was coined for a reason; how you fuel your body can have a direct

impact on preventing and treating physical ailments.

Try to keep an open mind when it comes to your health, and consider

alternative therapies in your quest for relief of physical symptoms.

CEO Report continued from page 2

can see on the Call to the ONA House on the pages of this publication, every

Region has representatives that are based on the number of members in each

Region. We need nurses to volunteer and serve as Delegates to the House of

Delegates.

Breathe again…smile, another brain chemistry shift.

RN2LEADER

Joyful Noise

Dr. Dean L. Prentice, Colonel (Ret), USAF, NC, DHA, MA, BSN, NE-BC

Do you find joy in your job? I'm not asking if you like

your job, but if you find joy in the basic heart of your job.

When you started your professional life, I bet there was

a part of you that really desired or even felt that being

joyful, positive, or happy about going to work was what

you wanted. You worked hard to earn that license, were

proud of the accomplishment, and you were ready to

take on the world.

The positive outlook and desire to go to work is

essential for ultimate job satisfaction. It increases your

productivity, innovation, and performance at work.

How you get to that joy at work can take many paths Dr. Dean Prentice

which will require you to do some self-reflection on your

current job. Then you will have to do some work if where you are currently is not

where you want to be ultimately.

People feel once they become successful, they will be happy. I am not sure

that thought is entirely correct. Yes, becoming successful in your position does

bring a sense of pride, of accomplishment, of fulfilling a need to be valued. That

alone, I believe, is not going to guarantee joy at work.

First you set out to create a work environment where you like going to work.

This may include building a great team, defining the roles, looking for the right

people for the team, and setting a vision all of which will encourage positive

work environments. You also need to foster or create a work environment where

you know you will enjoy working. Dreading coming to work, or facing daily

challenges and not being able to improve them does not support your goal.

Choosing to work for the right organization is another aspect of finding joy

at work. The simple task of finding an organization whose mission, core values,

and culture agree with yours can seem impossible at times. Networking with

colleagues, talking with other professionals in the organization other than

nurses, looking at the strategic plan of the organization, and observing where

they invest their resources are great indicators of what the organization values.

If what you see is not what you want, then look for another organization.

Building strong interpersonal relationships helps build better feelings of joy at

work. When you start to build stronger relationships with peers, both in and out

of your profession, you have a sense of connectedness with the organization.

Likewise these relationships help during times of crisis or disagreements.

When challenges arise and you have an established positive relationship with

another colleague, it is easier to walk through the resolution process to solve

the problem. You are more confident in what you know and in the knowledge

that you and your colleague are on the same team.

Another great aspect about having a positive outlook on your job and finding

joy at work is that your attitude spreads. A joyful attitude can positively affect

your fellow workers and organization. You can be the change in your unit or

organization that it needs to take it to the next level of excellence. Imagine if you

and your fellow leaders looked forward to coming into work.

So what is your next step to create joy at work? Don't forget to take a

colleague along for this journey. Working on this habit together can really pay

dividends.

FIVE-STAR RATED

On another front, ONA has been advocating for nurses at the State Capitol.

Our work has focused on solutions to our nursing shortage by supporting

nursing education and other policy issues. Often Legislators have their own

solutions, and we work to educate them on better solutions. One of the ways

we are working to educate Legislators is to request an interim study focused

on the nursing shortage. We want to highlight the current data, nursing's

educational needs, and the skills and education necessary for registered

nurses as they deliver the highly skilled care required in todays' patient care

settings. This will take all of us to educate Legislators, both those running for

election or reelection and those without elections this cycle. I encourage you to

get involved…talk to those candidates knocking on your door, get involved in a

campaign by volunteering or just voting. Voting is the most important thing you

can do.

Breathe again…smile you're shifting your brain again

I hope to see you at the ONA Annual Convention, The Power of Nursing, at

the Hyatt Regency Tulsa Downtown in Tulsa, Oklahoma on September 28 - 29,

2022. Look for more details on the ONA Convention in this newspaper and on

the ONA website. ONA takes guidance from our members on where to focus

our efforts. To ensure you have a voice in providing direction you need to be

a member. We hope that you will become a member and get involved so that

collectively we can make a difference in Oklahoma.

Breathe again…you should be a different place then when you started!

LEADERSHIP OPPORTUNITIES

• RN, System Chief Nursing Officer

• RN, Quality Director

NURSING OPPORTUNITIES

Community Hospital South:

RN, FT*: ICU/Med Surg Days/Nights,

Circulator, Med-Surg Days/Nights, ER Weekend

PRIME Mid/Nights

RN, PRN: ER Days/Nights, Med-Surg Nights,

PACU, Pre-Admission Testing

ADDITIONAL OPPORTUNITIES

Paramedics, FT: Med-Surg

*Sign On Bonus

Community Hospital North:

RN, FT*: Circulator, Pre-Admission

Testing, PreOp/Phase II,

Med-Surg Days/Nights

RN, PRN: Med-Surg Days/Nights,

PACU, Circulators

$10,000 for FT Circulator • $10,000 for FT Med-Surg Nights

$10,000 for FT Emergency • $7,500 for FT Med-Surg Days

$5,000 for FT PACU • $3,000 for FT Pre-Admission Testing

$3,000 for FT PreOp/PhaseII • $2,000 for FT Paramedics

Learn about our benefits

Northwest Surgical Hospital:

RN, FT*: Med-Surg Days/Nights

PACU

RN, PRN: Med-Surg Days/Nights,

PACU, PreOP/Phase II

Come join our award winning team!

3 LOCATIONS IN OKLAHOMA CITY!

COMMUNITY HOSPITAL SOUTH

COMMUNITY HOSPITAL NORTH

NORTHWEST SURGICAL HOSPITAL

Community Hospital/Northwest Surgical Hospital complies

with Federal Civil Rights laws and doesn't discriminate on the

basis of race, color, age, disability or nationality. Community

Hospital and Northwest Surgical Hospital are facilities in which

physicians have an ownership or investment interest. The list

of physician owners is available upon request.

To apply, please visit www.communityhospitalokc.com or www.nwsurgicalokc.com.
---
8

The Oklahoma Nurse August, September, October 2022

Meeting the nurse staffing challenge, part two: Retention tips

By Georgia Reiner, MS, CPHRM,

Risk Specialist, NSO

As discussed in the first article in this two-part

series on nursing recruitment and retention, ensuring

appropriate nurse staffing levels is key to the financial

health of healthcare organizations like hospitals and

skilled nursing facilities. High-quality nursing care

helps to reduce the likelihood of patient safety events

and costly medical malpractice lawsuits related to

missed errors. This means it is critical for leaders to

engage in effective retention strategies.

The second of a two-part series, this article

addresses effective retention strategies that leaders

can utilize to help reduce turnover of nursing staff.

Retention

The 2021 National Health Care Retention and

RN Staffing Report notes that the average cost

of turnover for a hospital-based RN was $44,400

in 2020. This makes retention a key part of an

organization's staffing strategies. You need to

work closely with human resources staff to ensure

retention strategies are efficient, effective, and inline

with organizational strategies.

Conduct "stay" interviews. Stay interviews

help you identify employees who might be thinking

about leaving the organization and identify what

factors are most important for staying. You can

use the information to create an individual retention

plan and to inform your larger retention efforts for

the unit. Here are some examples of questions you

can use to help elicit useful information during stay

interviews:

• What do you look forward to each day when

you commute to work?

• What are you learning here, and what do you

want to learn?

• Why do you stay here?

• When is the last time you thought about

leaving and what prompted it?

• What can I do to make your job better for you?

Promote a healthy work environment. For

example, implement zero tolerance policies for

patient or visitor violence against nurses and

policies that discourage providers from bullying their

colleagues. Beyond policies, it is also important to

ensure lines of communication are open, so your

staff feel comfortable speaking with you when they

identify problem areas. Make rounds daily and listen

to staff closely. Ask them questions such as, "What

do you need to do your job more effectively?" If it's

something that you can take care of, do so and let

them know it's been done. If you can't address the

issue, explain why and, if appropriate, note that it

may be able to be addressed in the future.

Avoid sign-on bonuses. Sign-on bonuses

may help to ease staffing woes short term, but

don't ensure commitment, and can even lead to

resentment from current staff. Instead, focus on

improving nurses' pay scales or offering retention

bonuses to show appreciation for your nursing

staff's commitment to the organization.

Recognize employees. Recognition is an easy,

but often underutilized, retention tactic. Take every

opportunity to offer words of praise. To reinforce the

behavior, specify what specifically was done to earn

praise. Small rewards such as gift cards can also be

effective, but try to match them to the individual's

interest. For example, a nurse who drinks coffee

every day may enjoy a Starbucks card, but one who

loves to read might prefer a card from Barnes &

Noble.

Support career development. Explore nurses'

professional goals and how you can help meet

them during stay interviews and other ongoing

professional development conversations. It's a good

idea to keep a mental list of options such as serving

on committees, acting as a preceptor, and leading

project teams. Offer meaningful opportunities for

professional growth based on performance, rather

than solely based on tenure. Outline for your staff

the types of experiences or skills that are most

valuable for advancement and reinforce the value

of bedside nursing experience for nurses' long-term

career growth.

Consider a job embeddedness approach. Job

embeddedness (JE) focuses on why people stay in

their jobs as opposed to why they leave. A study

by Reitz and colleagues found it's a good predictor

of nurses' intent to stay. JE looks at ties related to

organizations and the community where they exist.

These ties are considered in three dimensions:

links (formal and informal connections people have

with their organizations or communities), fit (how

compatible people feel with their organizations

or communities), and sacrifice (material and

psychological losses people would experience by

leaving their organizations or communities). You can

leverage these dimensions to promote retention. For

example, to help promote JE with the organization:

• Links: Involve nurses in committees and

shared governance.

• Fit: Recruit nurses whose goals align with the

organization's goals.

• Sacrifice: Align vacation time and retirement

plans with the time of service.

A multifaceted approach

Nurse staffing challenges are unlikely to ease

anytime soon. Leaders will need to be creative and

take a multifaceted approach to recruitment and

retention. These efforts will help gain—and keep—

staff. Doing so helps reduce the costs of lawsuits

related to errors, but, most importantly, provides

optimal patient outcomes.

References

Advisory Board. Struggling to keep entry-level staff

engaged? Try a performance-based career

ladder. 2017. https://www.advisory.com/

blog/2017/02/pef-career-ladder

CNA & NSO. Nurse Professional Liability Exposure Claim

Report: 4th Edition: Minimizing Risk, Achieving

Excellence. 2020. https://www.nso.com/

Learning/Artifacts/Claim-Reports/Minimizing-

Risk-Achieving-Excellence

Malliaris AP, Phillips J, Bakerjian, D. Nursing and Patient

Safety. Agency for Healthcare Research and

Quality. 2021. https://psnet.ahrq.gov/primer/

nursing-and-patient-safety

NSI Nursing Solutions, Inc. 2021 National health care

retention and RN staffing report. 2021. https://

www.nsinursingsolutions.com/Documents/

Library/NSI_National_Health_Care_Retention_

Report.pdf

Reitz O, Anderson M, Hill PD. Job embeddedness and

nurse retention. Nurs Admin Q. 2010;34(3):190-

200.

Saver C. Retaining nurses in a post-pandemic era—Part 1.

OR Manager. 2021;37(9):12-15.

Sherman RO. The Nuts and Bolts of Nursing Leadership:

Your Toolkit for Success. Rose. O. Sherman;

2021.

Disclaimer: The information offered within this article

reflects general principles only and does not constitute

legal advice by Nurses Service Organization (NSO)

or establish appropriate or acceptable standards of

professional conduct. Readers should consult with an

attorney if they have specific concerns. Neither Affinity

Insurance Services, Inc. nor NSO assumes any liability

for how this information is applied in practice or for the

accuracy of this information.

This risk management information was provided

by Nurses Service Organization (NSO), the nation's

largest provider of nurses' professional liability

insurance coverage for over 550,000 nurses since

1976. The individual professional liability insurance

policy administered through NSO is underwritten by

American Casualty Company of Reading, Pennsylvania,

a CNA company. Reproduction without permission of the

publisher is prohibited. For questions, send an e-mail to

service@nso.com or call 1-800-247-1500. www.nso.com.
---
August, September, October 2022 The Oklahoma Nurse 9

An Inestimable Loss

Nancy J Vitali, MS, DCSc, Caritas Coach

Every arrival foretells a leave-taking: every birth a death. Yet each death and

departure come to us as a surprise, a sorrow never anticipated. Life is a long

series of farewells; only their circumstances should surprise us.

Jessamyn West

The Life I Really Lived

The pandemic has proved to be an unprecedented challenge for nurses,

with 52% of nurses considering a change in profession after two years of the

pandemic (American Nurses Foundation, 2022) and a surprising 30% reporting

poor emotional health across all age categories, with younger nurses having

a much higher rate of 46%. The comprehensive impact of the past two-plus

years on the profession of nursing is not measurable, with nurses reporting the

overwhelming demoralization of witnessing deaths of patients in which families

were not allowed to be present, doing their best to connect electronically and

to act as proxy for their dying patients' loved ones. This writer listened to the

experiences of Oklahoma nurses who described the moral injury resulting from

caring for several dying patients per shift on COVID units, day after day, during

the worst of the pandemic. These situations, combined with other stressors

that were endemic in health care delivery, such as staffing shortages and

inadequate equipment and supplies, multiply the distress to the level of trauma,

whose effects will be a real presence in some nurses' lives for years to come.

Not mentioned yet are the pressures their families shouldered, such as home

schooling and caring for their children, and the possibilities of contracting the

illness themselves.

Amid this climate of unprecedented distress, some of these nurses took their

own lives. Early this year, Michael O'Dell of Muskogee was one of those nurses.

He and several other nurses from Oklahoma had taken traveling contracts in

different states over the previous several years, had coincidentally met in the

workplace on the east coast, and had agreed to head to California. In California

during the pandemic, they became each other's support network, and even

roommates, as Michael moved in with friend Joshua Paredes, a Tulsa nursing

graduate. Friend Michael Walujo, also from Tulsa, worked in Southern California

at Cedars-Sinai Medical Center. They were in the habit of doing weekly mental

health "check-ins" with one another and other friends. They understood the

combined vulnerabilities of being travelers and away from home, being part of a

marginalized (LGBTQ+) community and working during the pandemic.

Michael's friends have shared that he was the life of their circle of friends,

planning group trips to music festivals and abroad between contracts. He

had been a precocious and inquisitive child, teaching himself the Swedish

language at the age of 11. As an adult, he travelled to Spain, Italy, and Portugal

to immerse himself in the languages and cultures of those countries. He also

traveled to Iceland with a nurse friend between contracts. When he wasn't at

work in his travel positions, he hiked and attended electronic music festivals

with friends, often as the orchestrator of the adventures for his companions. He

was engaged in and in love with life and with the richness, diversity, and beauty

of humanity. Michael was also recognized as an exceptionally caring nursing

professional and patient advocate. Despite all of these attributes, the truth is

that Michael also battled depression, and was experiencing the challenge

of connecting with needed mental health services in the Bay Area when the

tragedy of his death occurred.

While working in an ICU at Stanford University Hospital on January 18

of this year, Michael spoke to his supervisor, saying he needed to retrieve

something from his car, and that he would return momentarily. Michael did not

return. At their apartment in San Francisco, Joshua began to worry when he

didn't return from his shift at the expected time. A search began after his car

was found on the Dumbarton Bridge (the southernmost bridge over the San

Francisco Bay). Michael's body was pulled from the bay several days later.

Two months later, another nurse died by suicide/gunshot in the utility room of

a Kaiser-Permanente facility in nearby Santa Clara. These two deaths left Bay

Area nurses and health care personnel in shock and disbelief, and galvanized

Michael's friends to reach out to other nurses to organize a peer-support

organization for the purpose of preventing any further tragic events and loss of

life. Not unrelated to this tragedy was the walkout of over 5,000 nurses from

Stanford University Hospital and Lucille Packard Children's Hospital on April

25 over issues of better pay, more staffing, and more support for their mental

health (NPR, April 2022).

The organization founded by Paredes, Walujo and others is currently

seeking nurse volunteers. Its name is Don't Clock Out.org and can be located

at: www.dontclockout.org. Their mission is "to provide a research-based peer

support network for bedside nurses and nursing assistants; to share common

experiences and emotional reactions with others who have had similar

experiences, and to bridge the gap between bedside nursing caregivers and

mental health treatment." We who understand the nature of trauma and primary

and secondary post-traumatic stress know that the pressure on health care

workers has only begun. As the pandemic wanes, memories and experiential

flashbacks are returning to plague our colleagues. Nightmares are undoubtedly

a routine part of many nurses lives right now. Nurses are generous with advice

to those who are returning from war to avail themselves of mental health care

services that specialize in trauma treatment, and may benefit from that same

advice, for this pandemic is a war like no other that has been fought in health

care organizations across the world. Ever.

Peer support has been found to be advantageous as a community support

net for the mental health of those affected by the COVID-19 pandemic,

including health care workers. In a study by Suresh, Alam, and Karkossa (2021)

it was found that peer support during the current pandemic can be a safe

and beneficial resource, and that more research is needed. Individual peer

support… "has been shown to provide beneficial practical, emotional, and

social supports in a non-treatment based, normalizing relationship and lack

evidence regarding the necessary duration, quality, or intensity to maximize

its effectiveness." (92). Individual peer support has also been electronically

accessible during these times of isolation.

As nurses from Stanford have said by their collective bargaining actions, the

life of nursing depends on health care organizations investing in the profession's

well-being. This may include a well-researched approach that has had multiple

successful applications in the past 50 years: mindfulness-based stressed

reduction (Craigie, et al, 2016). In a recent address to the Fourth International

Integrative Nursing Symposium, Billy Rosa, PhD, MBE, NP-BC, FAANP, FAAN

stated that this responsibility is incumbent upon those organizations where

work assignments place nurses' health in dire risk. "Heroes work here!" signs

and pizzas and gift bags and admonishments to self-care are not the answer

to the problem of post-traumatic stress that in some health care workers is

complicated by pre-existing human problems, membership in marginalized

communities, and neurodiversity. These realities of human existence deserve to

be accepted and appropriately addressed in workers of all disciplines, without

judgment or recrimination. As ANA's Code of Ethics states in Provision 5: "The

nurse owes the same duties to self as to others; including the responsibility

to promote health and safety, preserve wholeness of character and integrity,

maintain competence, and continue personal and professional growth." (ANA,

2015). It follows that health care organizations ought not impede the nurses'

progress to those ends but should provide protection during vulnerable times

and encourage recovery, growth, and resiliency. Thoughtful and possibly costly

investment that is informed by research is needed to preserve what we know

that nursing is to humankind: a whole-human spiritual, emotional, and physical

healing force and brilliant light in our clinics, hospitals, higher education, and

communities. In the words of Dr. Jean Watson, American Academy of Nursing's

living legend, "We heal in community." (Watson, 2022).

References

American Nurses Association. (2015). Code of ethics with interpretive statements. Silver

Spring, MD.

American Nurses Foundation. (2022). Pulse on the nation's nurses survey series:

COVID-19 two-year impact assessment survey.

Craigie, M., Slatyer, S., Hegney, D. et al. A pilot evaluation of a mindful self-care and

resiliency (MCSR) intervention for nurses. Mindfulness 7, 764-774. (2016). DOI:

https://doi.org/10.1007/s12671-016-0516-x

Don't Clock Out. www.dontclockout.org

NPR. (March 31, 2022). A nurse's death raises the alarm about the profession's

mental health crisis. Retrieved from https://www.npr.org/sections/healthshots/2022/03/31/1088672446/a-nurses-death-raises-the-alarm-about-theprofessions-mental-health-crisis

NPR. (April 25, 2022). Thousands of nurses at Stanford Hospitals are striking

over wages and mental health. Retrieved from https://www.npr.

org/2022/04/25/1094689736/stanford-hospital-nurses-strike

Rosa, Billy. (April 27, 2022). Nurses and health equity. 4th International integrative

nursing symposium. Conference proceedings.

Serrano, J., Hassamal, S., Hassamai, S., Dong, F., Neeki, M. (June, 2021). Depression

and anxiety prevalence in nursing staff during the COVID-19 pandemic. Nursing

Management. Volume52, issue 6. P 24-32.

Suresh, R., Armaghan, A., and Karkossa, Z. (2021). Using peer support to strengthen

mental health during the COVID-19 pandemic: A review. Frontiers in Psychiatry:

Public mental health. July 12, 2021. https://doi.org/10.3389/fpsyt.2021.714181-

Watson, J. (2022). Caring Community Conference. Boulder, CO. May 22, 2022.
---
10

The Oklahoma Nurse August, September, October 2022

The Case of Nurse RaDonda Vaught – How Administering the

Wrong Medication Resulted in a Criminal Conviction

Nurses across the country have followed and

are now responding to the criminal prosecution and

conviction of a Tennessee nurse who mistakenly

injected a patient with a paralytic medication,

resulting in her death. There have been strong

reactions to the guilty verdicts handed down against

Ms. Vaught. Since not all material facts in this

case were covered by the media, a more thorough

discussion is provided below.

Timeline of Events –

12/26/2017 – Nurse Vaught mistakenly

administered vecuronium (brand name Norcuron)

instead of the prescribed Versed to a 75-year-old

patient, Charlene Murphey, prior to a PET scan. In

the PET scanning room, the patient arrested and

was placed on a ventilator.

12/27/2017 – The patient was declared brain

dead and removed from the ventilator.

12/27/2017 – Vanderbilt University Medical

Center ("Vanderbilt") reported the patient's death to

the county medical examiner. Vanderbilt's report did

not mention the medication error.

12/27/2017 – The medical examiner determined

the cause of death as "natural".

1/2018 – Vanderbilt did not report the patient's

death to state or federal officials, as required by

law. Ms. Vaught's employment at Vanderbilt was

terminated.

Early 2018 – Vanderbilt negotiated an out-ofcourt

confidential settlement with the patient's

family.

10/3/2018 – An anonymous tipster advised state

and federal officials of the medication error which

resulted in the patient's death.

10/23/2018 – The Tennessee Department of

Health which oversees health professional licensing

determined there was no violation by Ms. Vaught

and issued her a letter indicating "this matter did not

meet further action".

10/31/2018 – The Centers for Medicare

and Medicaid Services ("CMS") conducted an

unannounced inspection of Vanderbilt.

11/8/2018 – CMS confirmed the patient's death

was due to an accidental dose of vecuronium and

that Vanderbilt did not report the medication error to

the medical examiner and state officials.

11/16/2018 – In response to CMS's inspection

Vanderbilt developed a plan of correction. No other

action was taken against Vanderbilt or it's Medicare

provider status.

2/4/2019 – Ms. Vaught is arrested and criminally

charged with reckless homicide and impaired adult

abuse.

2/5/2019 – The CEO for Vanderbilt appeared

before the Tennessee Board of Licensing for

Health Care Facilities and admitted the death

of Ms. Murphey was not reported and admitted

the hospital's response was "too limited". The

Tennessee Board of Licensing for Health Care

Facilities took no action against Vanderbilt.

2/20/2019 – Ms. Vaught entered not guilty pleas

to the criminal charges brought against her.

8/20/2019 -- Law enforcement requested the

medical examiner re-examine the circumstances of

Ms. Murphey's death. The medical examiner now

with knowledge of the medication error, changed the

official manner of death to "accidental".

9/27/2019 – The Tennessee Health Department

overseeing the Board of Nursing re-opened Nurse

Vaught's licensing case.

3/22/2022 – Criminal trial of Ms. Vaught began

3/25/2022 – After a three-day trial and 4 hours of

deliberations the jury returns guilty verdicts against

Ms. Vaught.

5/13/2022 – Sentencing of Ms. Vaught is

scheduled to be held on May 13, 2022.

Facts – Nurse RaDonda Vaught became

employed by Vanderbilt in October 2015. On

December 26, 2017 she was working as a "help all

nurse" for the Neuro ICU, step down and the 6th

floor nursing units. 1 At that time Charlene Murphey,

a 75 year woman with a subdural hematoma was a

patient in the Neuro ICU. The patient was scheduled

to undergo a full body PET scan at 2:00 pm. It is

not clear when the patient arrived in radiology since

there was no documentation of her arrival time. She

was noted to be alert and oriented when she arrived

in radiology. Prior to undergoing the PET scan the

patient requested something to reduce her anxiety

as she suffered from claustrophobia.

The physician ordered 2 mg of Versed IV. 2 The

AcuDose report showed the order was entered

at 2:47 pm and verified by pharmacy at 2:49

pm. 3 The report also shows at 2:59 pm Nurse

Vaught removed 10 mg of vecuronium from the

AcuDose cabinet, using an override. 4 There was

no order for vecuronium for this patient. There

was no override verified by pharmacy and there

was no documentation by Nurse Vaught that she

administered vecuronium. 5 At some time after the

incident the family was told of a possible medication

error. 6

A physician's note at 3:45 pm on 12/26/2017 7

indicates a code was called in the PET scan area.

Upon the physician's arrival the patient was found

to be pulseless and unresponsive. The patient

was intubated and regained circulation after 2 – 3

attempts at chest compressions. The patient was

readmitted to the Neuro ICU.

The next day, on December 27, 2017, a

physician's note 8 (time not specified) stated "I

discussed the case with the neurology team and it

is felt that these changes in exam likely represent

progression towards but not complete brain

death…very low likelihood of neurological recovery,

we made the decision to pursue comfort care

measures".

Hospital's Actions after the Patient's Death

– The patient's death was reported to the county

medical examiner. The amended report from

the county medical examiner's office contains

conflicting statements 9 as to the cause of death.

The report indicates that the physician "will attest

to the death as natural causes of complications

of the intra-cerebral hemorrhage". The cause of

death is listed as "acute vecuronium intoxication",

contributing factors of death "intracerebral

hemorrhage" and the manner of death as

"accidental". The medical examiner originally

determined that the cause of death to be "natural"

then after more information was made available,

changed the cause of death to "acute vecuronium

intoxication".

Vanderbilt did not report the medication error to

either state or federal officials, as required by law.

It appears that the only actions taken by Vanderbilt

in January 2018 was to terminate Nurse Vaught's

employment and to negotiate an out-of-court

settlement with Ms. Murphey's family. The terms of

the settlement are confidential.

Anonymous Tip to State and Federal Health

Officials – On October 3, 2018 an anonymous

tipster advised state and federal health officials 10 of

the unreported medication error that resulted in the

patient's death. The tipster reported Nurse Vaugh

was orienting a new registered nurse when the

patient's nurse asked Nurse Vaught to give Versed

to the patient. The report goes on to state that Nurse

Vaught removed the incorrect drug, did not read

the label, and accidently administered vecuronium

instead of Versed.

Tennessee's Board of Nursing Initial

Determination -- The Tennessee Department

of Health ("Department") is responsible for the

licensing of healthcare professionals. After receiving

information from Vanderbilt the Department

conducted an investigation which was reviewed

by the Department's nursing consultant and staff

attorney. On October 23, 2018 the Department

closed its files and issued letters to Vanderbilt and

Nurse Vaught. 11

A letter from the director of investigations to

Vanderbilt stated in part, "the complaint received

about Nurse Vaught has been reviewed by

the nurse consultant and staff attorney for the

Department and forwarded for investigation. As

a result of the investigation and the review by

the nursing consultant and staff attorney their

determination was that the acts of the practitioner

did not constitute a violation of statutes and/or

rules governing the profession." 12 On the same day

Nurse Vaught was issued a similar letter indicating

a "review of the complaint by the Board's nursing

consultant and staff attorney a decision was made

that this matter did not merit further action". 13

Investigation by Centers for Medicare

and Medicaid Services and State Officials –

Interview of RaDonda Vaught -- Investigators

conducted a surprise inspection at Vanderbilt. As

part of this inspection investigators interviewed

Nurse Vaught by telephone. According to the

investigative report, Nurse Vaught stated, 14 "I was

in a patient care role. I was the help-all nurse. As

explained in the report a help-all nurse is a resource

nurse. 15 Nurse Vaught was also orienting a new

nurse.

The patient's primary care asked Nurse Vaught

to go to the Radiology PET scanning room and

administer Versed to the patient because she was

not able to tolerate the PET scan procedure. Nurse

Vaught searched for the Versed under the patient's

AcuDose profile which she could not find. She then

chose the override setting and searched for Versed.

At the time she indicated she was talking to the

orientee while she was searching for Versed and

typed in the first two letters of Versed which are

"VE" and chose the first medication on the list.

According to the investigative report 16 , Nurse

Vaught could not remember the reason she gave

for the override. The investigation also revealed

there was no scanner in the radiology unit. 17 When

Nurse Vaught discussed her medication error with

the unit manager she was instructed not to scan the

medication after the fact as the MAR would note it.

Nurse Vaught also admitted that she was distracted

by talking to the orientee about a swallow test they

were going to do. She also admitted it struck her

"as a little odd" that she had to reconstitute the

medication and should have called the pharmacy.

Nurse Vaught told the investigator 18 that she took

out the medication vial and looked at the back of

the vial for the directions on how to reconstitute it.

She admitted she did not re-check the medication's

name on the vial. Nurse Vaught went on to say she

grabbed a sticker from the patient's file, a handful of

flushes, alcohol swabs, and a blunt tip needle. She

placed the medication vial in a baggie and wrote

on the baggie, "PET scan, Versed 1-2 mg" and

went to the radiology department to administer the

medication to the patient. The medication was given

but there is no documentation as to when it was

administered.

Once in the radiology department Nurse Vaught

went to the patient, checked her identity and told

her she was there to help her relax. She then

proceeded to reconstitute the medication and

measured what she needed. 19 When asked how

much she gave the patient she indicated "I can't

remember. I am pretty sure I gave her 1 millimeter". 20

She put the left over medication in the baggie and

gave it to another nurse [not identified]. 21 When

asked her next actions Nurse Vaught indicated she

left the radiology unit and did not monitor the patient

after giving the medication. 22

Nurse Vaught went on to tell the investigator that

the family was standing outside in the hallway…"we

heard a rapid response call for PET scan. That

was a red flag since that patient was ours". 23 The

investigative report indicates the rapid response

team call occurred at 3:29 pm. Nurse Vaught went

back into the PET scan area and saw that the

patient was intubated and had regained a heartbeat.

She told the physician, "I had given Versed a few
---
August, September, October 2022 The Oklahoma Nurse 11

minutes ago." 24 The nurse who was present when

Nurse Vaught administered the medication showed

her the baggie and asked if this is what was given

to the patient, Nurse Vaught responded "yes". 25 The

other nurse in response said, "This isn't Versed. Its

vecuronium" 26 Other staff interviewed indicated the

patient was estimated to be alone in the room for

about 30 minutes once she was put in the scanning

room. 27

The investigation also revealed that in the days

after the incident Nurse Vaught spoke with her nurse

manager and risk management at Vanderbilt. 28

Nurse Vaught indicated immediately after the events

she spoke to several people in management and

also completed a Veritas report around 4:00 pm on

December 26th. 29

Interview of the Vanderbilt Pharmacist – The

pharmacist reported the following events: 30 On

December 26th a PET scan was ordered at 2:00

pm, the Versed was ordered at 2:47 pm, and the

vecuronium was removed from the AcuDose at 2:59

pm. The pharmacist confirmed that the letters "VE"

were entered in AcuDose which defaults to generic

medications. That is why Versed did not show up.

When vecuronium popped up a warning in the red

box was visible for an override stating that is should

be for STAT orders. The time of administration of the

vecuronium was not documented.

What the Baggie Contained – Nurse Vaught

told the investigator that she labeled and placed the

administration set up in a baggie bag before going

to the Radiology department. The baggie contained

the following: 31

• Clear zip lock baggie with an orange

biohazard label had "Versed 1 mg – 2 mg PET

1251 handwritten in pink colored marker on it.

• Inside the baggie was a vial with a few drops

of clear liquid remaining in the vial. The vial

was labeled as "Vecuronium Bromide 10

mg. 1mg/ml when reconstituted to 10 ml.

reconstitute with bacteriostatic water".

• The vial had a red top that said "WARNING:

PARALYZING AGENT".

• There was a 10 ml syringe labeled "Normal

Saline" with a capped needle attached, with

1.5 ml of a clear liquid remaining in it and

caped with a white cap with no needle.

• There was also a 2-inch alcohol prep pad in

the baggie.

Vanderbilt Issues a Correct Action Plan -

Following CMS's investigation, Vanderbilt issued

a corrective action plan in November 2018. The

corrective action plan included, among other

actions: 32

• Revising its medication administration policy;

• Updating the transportation of critical

care patient policy to require appropriate

staff to accompany, monitor, and support

patients' needs, and document the

handover of patients between nursing staff.

If a no handover can be accomplished the

transporting staff is to remain with the patient;

• Revising high alert medication policy;

• Establishing a work group to review paralyzing

agents; and

• Chief nursing officers conducting weekly

chart reviews (5 patient/unit) for a total of 3

months

Criminal Charges Filed Against RaDonda

Vaught -- On February 4, 2019 Nurse Vaught is

arrested on a criminal indictment for her role in

Ms. Murphey's death, and charged with reckless

homicide and abuse of an impaired adult. This is

the first time Ms. Vaught is publicly identified. On

February 20, 2019 Ms. Vaught enters not guilty pleas

to both charges.

Tennessee Board of Licensing Health Care

Facilities – On February 5, 2019 the CEO of

Vanderbilt appeared before the Tennessee Board

of Licensing for Health Care Facilities. The CEO

admitted the patient's death was not reported

to state regulators and admitted the hospital's

response was "too limited". Officials also confirmed

that they negotiated a confidential settlement

with the family. The Board of Licensing for Health

Care Facilities took no disciplinary action against

Vanderbilt.

The Licensing Board Reexamines Prior

Licensing Decision Involving RaDonda Vaught –

On September 27, 2019 the Tennessee Department

of Health re-opened its prior decision not to pursue

disciplinary action against Ms. Vaught's license.

She is charged with three violations, including

unprofessional conduct, abandoning or neglecting a

patient that required care, and failing to maintain an

accurate patient record. 33

The licensing violations brought against Nurse

Vaught included 34 :

• Failure to follow the five rights of medication

administration, right patient, right medication,

right dose, right route, and right time;

• After administrating the medication she failed

to monitor the patient; and

• Failed to document in the medical record that

she administered vecuronium

Licensing Hearing -- The licensing hearing

began on July 22, 2021. At the hearing Ms. Vaught

testified that the medication error was "completely

my fault" because she did not double check

the medicine she administered. 35 In addition to

admitting to her error, Ms. Vaught argues, through

her attorney, that there were flawed procedures at

Vanderbilt. 36 They argued that there was a problem

that prevented communication between Vanderbilt's

electronic health records, medication cabinets and

the hospital pharmacy. This flaw caused delays in

accessing medications and the hospital's short term

workaround was to override the safeguards on the

cabinets so they could remove drugs quickly.

Ms. Vaught testified that "overriding was

something we did as a part of our practice every

day. 37 You couldn't get a bag of fluids for a patient

without using an override function". Nurse Vaught

testified that she allowed herself to become

"complacent" and "distracted" while using the

medication cabinet and did not double-check

which drug she had withdrawn despite multiple

opportunities. On July 23, 2021 the Tennessee

Board of Nursing unanimously revokes Vaught's

nursing license.

Ms. Vaught testified that overrides were common

at Vanderbilt and that a 2017 upgrade to the

hospital's electronic health record system was

causing rampant delays at medication cabinets.

Because of that flaw Vanderbilt instructed nurses to

use overrides to circumvent delays and get medicine

as needed. A state investigator also told the board

of nursing to her knowledge that computer issues

caused problems with medication cabinets at

Vanderbilt in 2017.

Criminal Proceedings – As part of discovery

process prosecutors reveal that Ms. Vaught

made 10 separate errors when giving the wrong

medication to the patient, including overlooking

multiple warning signs. Court records state that

Vaught would have had to look directly at a warning

on the cap, saying "WARNING: PARALYZING

AGENT" before injecting the drug.

The State argued Ms. Vaught failed to scan

the medication against the patient's medical

identification bracelet. 38 She also pointed out

that vecuronium is a powder that needs to be

reconstituted unlike Versed which is already in liquid

form. 39

The prosecution's nursing expert testified that

Ms. Vaught failed to meet the standard of care by: 40

• Being distracted when administering the

medication;

• Not looking up the generic name for Versed;

• Failing to read the name of the drug, not

noticing a red warning on the top of the

vial, and not staying with the patient after

medication administration.

• Administering the medication when a patient

scanner was not available in the Radiology

unit;

• Not double checking the medication with a

colleague; and

• Not monitoring the patient even if she thought

she was giving Versed.

A lead investigator in the criminal trial

testified that Vanderbilt had a "heavy burden

of responsibility" for a grievous drug error…but

pursued penalties and criminal charges only against

the nurse and not the hospital itself. 41 Vanderbilt

received no punishment for the fatal drug error.

After three days of trial followed by four hours of

deliberations the jury rendered its verdict. The jury

was made up of six men and six women, with one

juror being a practicing registered nurse and another

a former respiratory therapist.

The Verdict – The jury found Ms. Vaught guilty of

criminal negligent homicide (a lesser charge under

reckless homicide) and gross neglect of an impaired

adult. She was acquitted of reckless homicide. The

neglect charge stemmed from the allegation that

Ms. Vaught did not properly monitor Ms. Murphey

after she was injected with the wrong drug.

Stay Tuned -- RaDonda Vaught, a convicted

felon, is scheduled to be sentenced on May 13,

2022.

Other Source Documents –

• Kelman, Brett; The RaDonda Vaught case

is confusing. This timeline will help. (msn.

com); Nashville Tennessean; March 22, 2022;

https://www.msn.com/en-us/news/crime/

the-radonda-vaught-case-is-confusing-thistimeline-will-help/ar-BB10EVFV

• Kelman, Brett; Ex-Vanderbilt nurse RaDonda

Vaught loses Nursing License for fatal

drug error; Nashville Tennessean; July 23,

2021; https://www.tennessean.com/story/

news/health/2021/07/23/ex-vanderbiltnurse-radonda-vaught-loses-license-fatalerror/8069185002/

• Timms, Mariah; Prosecutors, defense lay out

framework in homicide trial of ex-Vanderbilt

nurse RaDonda Vaught; March 22, 2022;

https://news.yahoo.com/prosecutorsdefense-lay-framework-homicide-193942097.

html?fr=sycsrp_catchall

• Kelman, Brett; In nurse's trial, witness says

hospital bears 'heavy' responsibility for

patient death; Kaiser Health News; March

24, 2022; https://health.wusf.usf.edu/nprhealth/2022-03-24/in-nurses-trial-witnesssays-hospital-bears-heavy-responsibility-forpatient-death

• Fruen, Lauren; Inside the trial of ex-nurse

RaDonda Vaught who 'killed a patient by

giving her the wrong drug; March 24, 2022;

https://www.thesun.co.uk/news/18055626/

nurse-radonda-vaught-trial-killed-patient/

The Case of Nurse RaDonda...continued on page 12
---
12

The Oklahoma Nurse August, September, October 2022

The Case of Nurse RaDonda...continued from page 11

• Sutton, Caroline, West, Emily, Davis, Chris;

Trial of RaDonda Vaught: Jury to deliberate

case starting Friday; March 25, 2022; https://

www.newschannel5.com/news/trial-ofradonda-vaught-former-vanderbilt-medicalcenter-nurse-continues-into-third-day

• Kelman, Brett; Nurse Convicted of Neglect

and Negligent Homicide for Fatal Drug Error;

Nashville Tennessean; March 25, 2022;

https://khn.org/news/article/radonda-vaughtnurse-drug-error-vanderbilt-guilty-verdict/

• Levine, Zachary, McClendon, Shannon;

Statement in Response to the Conviction of

Nurse RaDonda Vaught; American Nurses

Association, March 25, 2022; https://www.

nursingworld.org/news/news-releases/2022-

news-releases/statement-in-response-to-theconviction-of-nurse-radonda-vaught/

• Timms, Mariah; Former Vanderbilt nurse

RaDonda Vaught found guilty on 2 charges in

2017 death of patient; Nashville Tennessean;

March 25, 2022; https://www.yahoo.com/

now/former-vanderbilt-nurse-radondavaught-184322536.html

• Loller, Travis; Former nurse guilty of homicide

in medication error death; Associated Press;

March 25, 2022; https://kstp.com/associatedpress/ap-us-international/former-nurse-guiltyof-homicide-in-medication-error-death/

• Timms, Mariah; Ex-Nurse RaDonda Vaught

found guilty on two charges in death of

patient; Nashville Tennessean; March 29,

2022; https://currently.att.yahoo.com/att/exnurse-radonda-vaught-found-175845609.html

• Kelman, Brett, Norman, Hannah; Why

Nurses Are Raging and Quitting after the

RaDonda Vaught Verdict; Kaiser Health; April

5, 2022; https://health.wusf.usf.edu/nprhealth/2022-04-05/why-nurses-are-ragingand-quitting-after-the-radonda-vaught-verdict

Donna J. Craig, RN, JD is legal counsel to the

ANA-Michigan Chapter and the Michigan Council

of Nurse Practitioners. She practiced as a cardiac

care nurse for several years before a chance

opportunity to audit a graduate course in health

care law and ethics changed her career path. That

course propelled her to earn her law degree. After

law school Ms. Craig joined a medical malpractice

defense law firm before transitioning her focus

to health care corporate and administrative law

matters. For over 20 years she has maintained her

private health law practice, representing health

care providers and facilities in business, licensure

and compliance matters. For her expertise and

accomplishments, Detroit's dbusiness Magazine

awarded Ms. Craig its Top Lawyer in Health Care

Law award on three occasions. Ms. Craig has the

distinction and is proud of being a bar member of

the Supreme Court of the United States of America.

For more information about The Health Law Center,

go to www.healthlawcenterplc.com.

1 Anonymous Complaint, page 1 of 3 pages at: https://

www.documentcloud.org/documents/6542003-

CMS-Complaint-Intake.html

2 Corrective Action Plan by Vanderbilt, page 7 of 105

pages at: https://www.documentcloud.org/

documents/6535181-Vanderbilt-Corrective-Plan.

html.

3 Id.

4 Id.

5 Id.

6 Corrective Action Plan by Vanderbilt, page 33 of 105

pages at: https://www.documentcloud.org/

documents/6535181-Vanderbilt-Corrective-Plan.

html

7 Corrective Action Plan by Vanderbilt, page 8 of 105

pages at: https://www.documentcloud.org/

documents/6535181-Vanderbilt-Corrective-Plan.

html

8 Id.

9 Amended County Medical Examiner Investigator's

Report, at: https://www.documentcloud.org/

documents/6540657-Charlene-Murphey-ME-

Investigation.html

10 Report From the Anonymous Tipster at: https://www.

documentcloud.org/documents/6542003-CMS-

Complaint-Intake.html

11 Closing Letters From Tennessee Department of

Health at: https://www.documentcloud.org/

documents/6785898-RaDonda-Vaught-Letters.

html

12 Id.

13 Id.

14 Corrective Action Plan by Vanderbilt, page 9 of 105

pages at: https://www.documentcloud.org/

documents/6535181-Vanderbilt-Corrective-Plan.

html

15 Id.

16 Prosecutorial Discovery Documents, page 5 of 51

pages at: https://www.documentcloud.org/

documents/6785652-RaDonda-Vaught-DA-

Discovery.html

17 Prosecutorial Discovery Documents, page 6 of

51 at: https://www.documentcloud.org/

documents/6785652-RaDonda-Vaught-DA-

Discovery.html

18 Corrective Action Plan by Vanderbilt, page 9 of 105

pages at: https://www.documentcloud.org/

documents/6535181-Vanderbilt-Corrective-Plan.

html

19 Corrective Action Plan by Vanderbilt, page 10 of 105

pages at: https://www.documentcloud.org/

documents/6535181-Vanderbilt-Corrective-Plan.

html

20 Id.

21 Id.

22 Id.

23 Id.

24 Id.

25 Corrective Action Plan by Vanderbilt, page 11 of 105

pages at: https://www.documentcloud.org/

documents/6535181-Vanderbilt-Corrective-Plan.

html

26 Id.

27 Corrective Action Plan by Vanderbilt, page 12 of 105

pages at: https://www.documentcloud.org/

documents/6535181-Vanderbilt-Corrective-Plan.

html

28 Corrective Action Plan by Vanderbilt, page 11 of 105

pages at: https://www.documentcloud.org/

documents/6535181-Vanderbilt-Corrective-Plan.

html

29 Corrective Action Plan by Vanderbilt, page 25 of 105

pages at: https://www.documentcloud.org/

documents/6535181-Vanderbilt-Corrective-Plan.

html

30 Corrective Action Plan by Vanderbilt, page 33 of 105

pages at: https://www.documentcloud.org/

documents/6535181-Vanderbilt-Corrective-Plan.

html

31 Corrective Action Plan by Vanderbilt, page 35 of 105

pages at: https://www.documentcloud.org/

documents/6535181-Vanderbilt-Corrective-Plan.

html

32 Corrective Action Plan by Vanderbilt, pages 1 –

105 at: https://www.documentcloud.org/

documents/6535181-Vanderbilt-Corrective-Plan.

html

33 Licensing Charges Filed by the Board of Nursing

at:

https://www.documentcloud.org/

documents/6483588 -Vaught-RaDonda-

NOC-9-27-19.html

34 xxxiv Id.

35 Kelman, Brett; Ex-Vanderbilt nurse RaDonda

Vaught loses Nursing License for fatal drug

error; Nashville Tennessean; July 23, 2021;

https://www.tennessean.com/story/news/

health/2021/07/23/ex-vanderbilt-nurse-radondavaught-loses-license-fatal-error/8069185002/

36 Id.

37 Id.

38 Fruen, Lauren; Inside the trial of ex-nurse RaDonda

Vaught who 'killed a patient by giving her the

wrong drug; March 24, 2022; https://www.

thesun.co.uk/news/18055626/nurse-radondavaught-trial-killed-patient/

39 Id.

40 Sutton, Caroline, West, Emily, Davis, Chris; Trial

of RaDonda Vaught: Jury to deliberate case

starting Friday; March 25, 2022; https://www.

newschannel5.com/news/trial-of-radondavaught-former-vanderbilt-medical-center-nursecontinues-into-third-day

41 Kelman, Brett; In nurse's trial, witness says hospital

bears 'heavy' responsibility for patient death;

Kaiser Health News; March 24, 2022; https://

health.wusf.usf.edu/npr-health/2022-03-24/innurses-trial-witness-says-hospital-bears-heavyresponsibility-for-patient-death.
---
August, September, October 2022 The Oklahoma Nurse 13

Now for The Rest of the Story -

The Sentencing of

RaDonda Vaught

On May 13th RaDonda Vaught, a former ICU nurse at Vanderbilt University

Medical Center, was sentenced after being convicted of criminally negligent

homicide and gross neglect of an impaired adult. Ms. Vaught lost her nursing

license and was criminally prosecuted after she mistakenly administered the

wrong medication to 75-year-old patient Charlene Murphey, resulting in her

death. Ms. Vaught mistakenly gave Ms. Murphey vecuronium, a paralytic agent,

instead of the ordered Versed, a sedative. Since the Vaught case has been the

subject of discussion by nurses and nursing associations it is important that her

sentencing be reported now.

Hundreds of nurses from around the country were present in the courtroom,

along with an overflow crowd outside the courthouse where they listened

to the sentencing hearing over a public address system. Nurses came to

Tennessee and gathered in support of Ms. Vaught and wore "Nurse Strong",

#IAmRaDonda", and "Seeking Justice for Nurses and Patients in a BROKEN

system" T-shirts to show their support.

Before Judge Jennifer Smith handed down the sentence the prosecution and

defense made sentencing arguments to the Judge. Ms. Vaught and the relatives

of Charlene Murphey also addressed the court. The prosecution sought a

prison term of 3 – 6 years, which was less than the 8 years Ms. Vaught was

facing. Ms. Vaught's attorney argued that probation, not jail time, was called for.

Ms. Charlene Murphey's son spoke of the toll his mother's death has had on

the family. He and his wife also said Charlene Murphey was a forgiving person

and she wouldn't have wanted jail time for Ms. Vaught. They told the judge that

they personally "didn't want jail time, we just wanted to make sure she didn't

do this to anyone else". It is reported that Ms. Murphey's husband wanted the

maximum sentence possible.

When Ms. Vaught was given an opportunity to speak before being

sentenced, she spoke directly to the family. She told them "Saying I'm sorry

doesn't seem like enough but you deserve to hear that and know that I am very

sorry for what happened. When Ms. Murphey died, a part of me died with her."

Before announcing the sentence, Judge Smith addressed the family, telling

them, "My hope that changes in the practices and protocols in the medical

setting that have arisen since this event may at least be some positive aspect

that has arisen. I recognize however, that will never be enough to heal your

wounds."

In announcing the sentence Judge Smith acknowledged that the criminal

charges warranted three years of prison, but then went on to say RaDonda

Vaught wouldn't face jail time. Judge Smith sentenced Vaught to three years

supervised probation and then diverted that sentence which would allow her

record to be expunged after successfully completing the terms of her probation.

Prosecutors had argued against diversion, although they were not opposed to

probation. In weighing whether to grant Vaught judicial diversion, Judge Smith

cited Vaught's remorse, this being her first criminal offense, as well as her

honesty about her medication error.

Donna J. Craig, RN, JD is legal counsel to the ANA-Michigan Chapter and

the Michigan Council of Nurse Practitioners. She practiced as a cardiac

care nurse for several years before a chance opportunity to audit a graduate

course in health care law and ethics changed her career path. That course

propelled her to earn her law degree. After law school Ms. Craig joined a

medical malpractice defense law firm before transitioning her focus to health

care corporate and administrative law matters. For over 20 years she has

maintained her private health law practice, representing health care providers

and facilities in business, licensure and compliance matters. For her expertise

and accomplishments, Detroit's dbusiness Magazine awarded Ms. Craig its

Top Lawyer in Health Care Law award on three occasions. Ms. Craig has the

distinction and is proud of being a bar member of the Supreme Court of the

United States of America. For more information about The Health Law Center,

go to www.healthlawcenterplc.com.

EDUCATORS

CORNER

Aligning Aristotle and Knowles

Aristotle, known as a great public speaker and educator, once said (kind of)

that educators should know their audience. https://www.cnbc.com/2021/01/12/

aristotles-3-most-important-rules-for-being-more-persuasive-in-publicspeaking.html.

What does our latest student nurse population look like?

• 82% female and 18% male

• 68.5% white, 10.7% black, 10.5% Asian, 8.2% Hispanic/Latino, 0.8%

American Indian/Alaska Native

• Average age 44

• 67% stay less than one year at their first job

https://www.zippia.com/student-nurse-jobs/demographics/

Looking at the data, we realize that we have adult learners in a pedagogical

setting. Malcolm Knowles is the Father of the Andragogical/Adult Learning

Theory. Adapting what we teach could and frequently does look like:

• Students need to know why specific areas are being taught – we need to

emphasize the application.

• Instruction should be application oriented instead of memorized — we

need to provide learning activities that support areas studied.

• Encourage adult learning and responsibility – identify an understood

framework to demonstrate an area of learning when possible and allow

students to fail and reflect when possible.

• Understand the student population using a diverse architecture

of experiences, learning materials, and activities to reinforce new

information

https://www.instructionaldesign.org/theories/andragogy/

Other ideas? Send in your thoughts on how we can

help our students prepare for the future.

Marla Peixotto-Smith, MSN, PhD, RN, CNE, is an

Associate Professor & Coordinator of the RN2BSN

Program at Rogers State University. Marla invites

you to contribute to the "Educators Corner." Please

send your thoughts, experiences, or strategies to

marlasmith@rsu.edu.

Marla Peixotto-

Smith

Timms, Mariah, et al; RaDonda Vaught Sentenced to Three Years' Probation on a

Diverted Sentence, Could See Record Wiped; Nashville Tennessean; May

13, 2022; https://finance.yahoo.com/news/radonda-vaught-sentenced-threeyears-194115731.html?fr=sycsrp_catchall

Loller, Travis; Ex-Nurse Sentenced to Probation in Patient Medication Death; Associated

Press; May 13, 2022; https://apnews.com/article/health-homicide-tennesseenashville-1e196d4e4358a20141385494426cdbe7

Timms, Mariah, et al; RaDonda Vaught Sentenced to Three Years' Probation on a

Diverted Sentence, Could See Record Wiped; Nashville Tennessean; May

13, 2022; https://finance.yahoo.com/news/radonda-vaught-sentenced-threeyears-194115731.html?fr=sycsrp_catchall

RaDonda Vaught Receives Three Years' Probation on Diverted Sentence; USA Today,

May 13, 2022; https://www.usatoday.com/story/news/crime/2022/05/13/

radonda-vaught-vanderbilt-nurse-sentencing-live-updates/9717397002/

Former Nurse RaDonda Vaught, Whose Medical Error Killed a Patient, Sentenced

to Probation in Controversial Case; CBS News, May 13, 2022; https://www.

cbsnews.com/news/radonda-vaught-sentencing-nurse-whose-medical-errorkilled-a-patient-sentenced-to-probation-in-controversial-case/

Id.

PAM Health

Specialty Hospital

of Oklahoma City

1407 North Robinson Ave

Oklahoma City, OK 73103

www.PAMHealth.com/jobs
---
14

The Oklahoma Nurse August, September, October 2022

Burned Out on Burnout?

Strategies to Combat Compassion Fatigue in Nursing.

David Barron, DBA

Saint Leo University

For all the work and energy that nurses bring to

their jobs, it is their compassion that is recognized

internationally as one of the five professional values

all nurses must demonstrate (Durkin et al., 2018).

In healing professionals, compassion entails an

aptitude to comprehend the distress of another,

the familiarity of the sources and treatments of the

distress, and the desire to help lessen the suffering

(Godlaski, 2015). Researchers have described

compassion as caring for someone suffering, the

emotional feeling accompanying the care, and the

desire to reduce and alleviate suffering (Greenberg

& Turksma, 2015; Ledoux, 2015). However, there may

be a 'cost of caring' which could unfortunately lead

to compassion fatigue if not addressed early (Boyle,

2015).

In Stamm's (2010) professional quality of

life model compassion fatigue (Figure 1) stems

from interactions with patients that leave the

health professional preoccupied with the trauma

experienced by the patient and enhanced emotional

arousal or avoidance behaviors associated with

the patient (Ray et al., 2013). Compassion fatigue

has two parts. The first is burnout, which concerns

issues such as exhaustion, hostility, frustration,

anger, depression (Stamm, 2010), detachment,

isolation, irritability, failure, despair, cynicism, and

apathy (Circenis et al., 2013).

Figure 1

Diagram of Professional Quality of Life

The second part is secondary traumatic stress,

a negative feeling driven by fear and work-related

trauma (Stamm, 2010). Some traumas at work

can be direct (primary) trauma; therefore, workrelated

trauma can be a combination of primary

and secondary trauma (Stamm, 2010). Secondary

traumatic stress can be viewed as an occupational

hazard for persons who provide direct patient

care to traumatized victims (Circenis et al., 2013).

Witnessing traumatic experiences, such as providing

end-of-life care, working with less experienced

nursing staff, caring for young patients, and nursing

insufficiency may all contribute to secondary

traumatic stress (Partlak Gunusen et al., 2019).

Together, burnout and secondary traumatic stress

reflect the negative results of interactions with

patients. These aspects of the working life of nurses

have been topics of great interest in academic

bridget.bridger@rollinghillshospital.com

Ada, Oklahoma

literature, linking several personal and work-relevant

outcomes (Heritage et al., 2018).

According to Lombardo and Eyre (2011; Table

1), compassion fatigue symptoms can include

work-related physical and emotional symptoms.

However, it is important to note that generally

more than one symptom is demonstrated before a

nurse is identified as having compassion fatigue.

With increasing numbers of nurses suffering from

compassion fatigue, there is a negative impact

on the quality of patient care, increased attrition

of nurses, and enormous pressure placed on

remaining health care providers (Figley, 2002;

McMullen, 2007; Sprang et al., 2011). Compassion

fatigue that is unrecognized and untreated may

have serious detrimental effects on professional and

personal functioning of nurses (Benoit et al., 2007);

therefore, failure to provide support and assistance

to those with symptoms of compassion fatigue

can undermine an organization's provision of care,

especially if they lose talented nurses (Figley, 2002).

Table 1

Symptoms of Compassion Fatigue

Work-Related Emotional Physical

Avoidance

or dread of

working with

certain patients

Reduced ability

to feel empathy

toward patients

or families

Lack of

joyfulness

Frequent use of

sick days

Excessive use

of substances:

nicotine,

alcohol, illicit

drugs

Restlessness

Oversensitivity

Irritability

Anxiety

Mood swings

Depression

Anger and

resentment

Loss of

objectivity

Memory issues

Poor

concentration,

focus, and

judgment

Cardiac

symptoms:

chest pain/

pressure,

palpitations,

tachycardia

Sleep

disturbances:

inability

to sleep,

insomnia, too

much sleep

Digestive

problems:

diarrhea,

constipation,

upset stomach

Fatigue

Headaches

Muscle tension

On the positive side of the professional quality of

life model is compassion satisfaction. Compassion

satisfaction is about the pleasure you derive from

being able to do your work well. You may feel like it

is a pleasure to help others through your work. You

may feel positively about your colleagues or your

ability to contribute to the work setting or even the

greater good of society (Stamm, 2010). Compassion

satisfaction is considered a protective factor against

compassion fatigue (Ruiz-Fernandez et al., 2020).

It should come as no surprise that a balance

between compassion satisfaction and compassion

fatigue will ultimately determine the level of the

professional's quality of life. One such example

was uncovered with my recent dissertation which

included 202 registered nurses from seven South

Florida counties during the height of the COVID-19

pandemic, including the Delta virus outbreak in

the summer of 2021. The research uncovered

that one independent variable out of four showed

statistical significance when determining nursing

turnover intentions and this was burnout (p < .001),

meaning that there is an imbalance in this cohort's

professional quality of life (Barron, 2022). This is

consistent withother research. For example, The

National Academy of Sciences, Engineering, and

Medicine (2019) stated at least 50% of caretakers

across medical fields reported symptoms of

burnout, including emotional exhaustion, cynicism,

and a low sense of professional accomplishment.

Janeway (2020) stated that the prevalence of

burnout among registered nurses in the United

States ranged from 35-45%. Even in Oklahoma,

nurses from across the state marched at the

Capitol demanding better pay and a solution to

staffing shortages leading to burnout (Arata, 2022),

highlighting the need for immediate attention by

health care leaders.

Consequently, due to existing nursing shortages,

the aging of the nursing workforce, and the growing

COVID-19 effect, the International Council of Nurses

(2021) estimate that up to 13 million nurses will be

needed to fill the global nurse shortage gap in the

future. Since nurses are considered the most trusted

professionals among the general population, it is

imperative health care organizations advocate for

nurse well-being strategies to deliver optimal care

for the patients.

Strategies to Reduce Nursing Compassion

Fatigue

The Mayo Clinic (Shanafelt & Noseworthy, 2017)

developed nine evidence-based organizational

strategies that health system leaders could

use to assess strengths and challenges in their

organizations tohelp eliminate compassion fatigue,

particularly burnout:

• Acknowledge and assess the problem.

Staff respond to sincere discussions with

health system leaders and managers that

reflect a genuine commitment to solving the

problem of burnout and fostering well-being.

• Harness the power of effective leadership.

The impact of toxic leadership on worker

burnout and well-being is proven. Effective

leaders need to be developed and receive

evaluative feedback about their leadership

behaviors from those they lead. Health

boards need to "have the courage" to make

leadership changes when required.

• Develop and implement targeted

interventions. External compliance factors

can increase pressure on health system

leaders, managers, and practice leaders.

Expectations of increased productivity,

excessive documentation, and administrative

burden are drivers of burnout. Factors

requiring improvement must be identified

in each department. Targeted interventions

can then be developed and implemented

to ensure maximum local impact and

effectiveness.

• Cultivate community at work. Formal

and informal peer support is important to

physicians and nurses. However, structural

changes, such as loss of dedicated spaces

to share ideas with colleagues, have resulted

in the loss of relationships and connections

as well as eroded peer support and sense

of community. "The pause" is another

strategy practiced in emergency and

other clinical settings to honor the work of

caring for patients who die. It is a minute of

stillness when clinicians pause, listen to their

breathing, focus, and prepare to care for the

next patient with calmness and compassion

(Bartels, 2014). This strategy could be a

comforting balm for nurses caring for patients

dying of COVID-19.

• Greater work-life flexibility. Now more

than ever during the COVID-19 crisis, leaders

should collaborate with staff to identify ways

to acknowledge and reward effort (Rosen,

2015). Productivity-based compensation
---
August, September, October 2022 The Oklahoma Nurse 15

can encourage overwork, over-servicing

and increasing burnout risk. Greater worklife

flexibility (strategy seven) has been

considered a valued reward. Today, flexibility

is a necessity. Rewards and incentives convey

respect, appreciation, and encourage work to

fulfill organizational caring goals.

• Align values and strengthen culture. The

triple bottom line model evaluates alignment

between "what we say we do" (mission,

values), "what we do" (actions and culture),

and "what others say we do" (i.e., patients,

families, community stakeholders). The

question is whether the values and actions

are aligned to foster a healthy culture, staff

well-being, optimal practice environments,

and quality care delivery which requires

collaborative dialogue and deliberate action to

address any barriers undermining this goal.

• Promote flexibility and work-life

integration. The drivers of burnout can be

embedded in rigid and out-of-date policies.

It is wise to promote flexible, family-friendly

work environments that meet the needs of a

diverse workforce (Drury et al., 2014). Leaders

need to be sincere about understanding

what motivates their staff to do their best

work and support work-life integration.

Leaders need to promote flexibility so staff

can adapt their work hours to accommodate

personal obligations, and provide coverage for

vacation, studying, and important life or family

events.

• Provide resources to promote resilience

and self-care. Leaders can work with staff

to co-create essential resources to cope with

work-related stress, prevent burnout, and

promote well-being and self-care. Meditation

can improve emotion regulation and resilience

(Singer & Klimecki, 2014). Staff members

who are committed to self-care and worklife

integration are better prepared to care for

patients and fulfill the organization's mission.

• Facilitate and fund organizational science.

Leading health care organizations (i.e.,

Mayo Clinic) have the added responsibility

to contribute to organizational science to

generate robust scientific evidence to inform

national benchmarks and evidence-based

instruments that other organizations can

implement to reduce burnout and promote

staff well-being and engagement.

References

Arata, K. (2022, May 17). OKC medical facility battling

health care worker burnout with a 'culture of

care'. https://ktul.com/local/okc-metro-medicalfacility-battling-healthcare-worker-burnout-valirnursing-shortage-covid-19-pandemic-culture-ofcare-hospital

Barron, D. (2022). Professional Quality of Life and Fear of

COVID-19 Moderated By Perceived Job Market

Outlook: Predicting Registered Nurse Turnover

Intentions In South Florida During the COVID-19

Pandemic. [Doctoral dissertation, Saint Leo

University]. https://www.proquest.com/openview

/149726083d6a5f68f1a425627e5f2433/1

Bartels, J. B. (2014). The pause. Critical Care Nurse, 34(1),

74-75. doi:10.4037/ccn2014962

Benoit, L. G., Veach, P. M., & LeRoy, B. S. (2007). When

you care enough to do your very best: Genetic

counselor experiences of compassion fatigue.

Journal of Genetic Counseling, 6(3), 299-312.

doi:10.1007/s10897-006-9072-1

Boyle, D. (2015). Compassion fatigue: The cost of

caring. Nursing, 45(7), 48-51. doi:10.1097/01.

NURSE.0000461857.48809.a1

Circenis, K., Millere, I., & Deklava, L. (2013). Measuring the

professional quality of life among Latvian nurses.

Procedia-Social and Behavioral Sciences, 84,

1625-1629. doi:10.1016/j.sbspro.2013.07.003

Drury, V., Craigie, M., Francis, K., Aoun, S., & Hegney, D.

G. (2014). Compassion satisfaction, compassion

fatigue, anxiety, depression, and stress in

registered nurses in Australia: Phase 2 results.

Journal of Nursing Management, 22(4), 519-531.

doi:10.1111/jonm.12168

Durkin, M., Gurbutt, R., & Carson, J. (2018). Qualities,

teaching, and measurement of compassion in

nursing: A systematic review. Nurse Education

Today, 63, 50-58. doi:10.1016./j.nedt.2018.01.025

Figley, C. R. (2002). Treating compassion fatigue.

Routledge.

Godlaski, T. M. (2015). On compassion. Substance Use

and Misuse, 50, 942-947. doi:10.3109/10826084.

2015.1007694

Gonzalez, A. R. (2014). Approaches to approaching

the neighbor. Lectora, 20, 11-14.

doi:10.1344/105.000002148

Greenberg, M. T., & Turksma, C. (2015). Understanding

and watering the seeds of compassion.

Research in Human Development, 12, 280-287.

doi:10.1080/15427609.2015.1068060

Heritage, B., Rees, C. S., & Hegney, D. G. (2018).

The PROQOL-21: A revised version of the

Professional Quality of Life (PROQOL) scale

based on Rasch analysis. PLoS ONE, 13(2),

e0193478. doi:10.1371/journal.pone.0193478

International Council of Nurses. (2021). The global nursing

shortage and nurse retention. [Policy brief].

https://www.icn.ch/sites/default/files/inline-files/

ICN%20Policy%20Brief_Nurse%20Shortage%20

and%20Retention_0.pdf

Janeway, D. (2020). The role of psychiatry in treating

burnout among nurses during the COVID-19

pandemic. Journal of Radiology Nursing, 39(3),

176-178. doi:10.1016/j.jradnu.2020.06.004

Ledoux, D. G. (2015). Understanding compassion

fatigue: Understanding compassion. Journal

of Advanced Nursing, 71(9), 20141-2050.

doi:10.1111/jan.12686

Lombardo, B., & Eyre, C. (2011). Compassion fatigue: A

nurses' primer. Online of Issues in Nursing, 16(1),

18. doi:10.3912/OJIN.Vol16No01Man03

McMullen, L. (2007). Oncology nursing and compassion

fatigue: Caring until it hurts. Who is caring for the

caregiver? Oncology Nursing Forum, 34(2), 491-

492. web.a.ebscohost.com/abstract?direct=true

&profile=ehost&scope=site&authtype=crawler&jr

nl=0190535X&AN=28835250&h=HPOSBZva3W7

Jw

National Academy of Sciences, Engineering, and

Medicine. (2019). Taking actions against clinician

burnout: A systems approach to professional

well-being. The National Academies Press.

doi:10.17226/25521

Partlak Gunusen, N., Ustun, B., Sercekus, P., &

Buyukkaya, D. (2019). Secondary traumatic

stress experiences of nurses caring for cancer

patients. International Journal of Nursing

Practice, 25(e12717). doi:10.1111/ijn.12717

Ray, S. L., Wong, C., White, D., & Heaslip, K. (2013).

Compassion satisfaction, compassion fatigue,

work-life conditions, and burnout among frontline

mental health care professionals. Traumatology,

19(4), 255-267. doi:10.1177/1534765612471144

Rosen, J. (2015, May 30). Establishing a strong culture

of compassion improves quality of care,

bottom line. Modern Healthcare. https://www.

modernhealthcare.com/article/20150530/

magazine/305309976/establishing-a-strongculture-of-compassion-improves-quality-ofcare-bottom-line

Ruiz-Fernandez, M. D., Perez-Garcia, E., & Ortega-

Galan, A. M. (2020). Quality of life in nursing

professionals: Burnout, fatigue, and compassion

satisfaction. International Journal of

Environmental Research and Public Health, 17(4),

1253. doi:10.3390/ijerph17041253

Shanafelt, T. D., & Noseworthy, J. H. (2017). Executive

leadership and physician well-being: Nine

organizational strategies to promote engagement

and reduce burnout. Mayo Clinic Proceedings,

92(1), 129-146. doi:10.1016/j.mayocp.2016.10.004

Singer, T., & Klimecki, O. M. (2014). Empathy and

compassion. Current Biology, 24(18), R875-R878.

doi:10.1016/j.cub.2014.06.054

Sprang, G., Craig, C., & Clark, J. J. (2011). Secondary

traumatic stress and burnout in child welfare

workers: A comparative analysis of occupational

distress across professional groups. Child

Welfare, 90(6), 149-168. doi:10.1037/a0021730

Stamm, B. H. (2010). The Concise ProQOL Manual (2nd

ed.) Pocatello, ID: https://www.proqol.org

TAKE YOUR NURSING CAREER

TO THE NEXT LEVEL!

Find out how Kramer School of Nursing can

prepare you for each step of your nursing career.

LPN-BSN

• In as little as 12 months!

RN-BSN

• In person or 100% online

• No nursing exams, no prerequisites, competitive price

• Complete in two semesters

Master of Science in Nursing

• MSN Available 100% online

• Nursing Education and Nursing Leadership

• Post Master's Certificates: Education and Leadership

• Post Master's Certificates: FNP, AGACNP, and PMHNP

Doctoral Programs

• Doctor of Nursing Practice (BSN-DNP): FNP, AGACNP,

and PMHNP

• Doctor of Nursing Practice Completion (MSN-DNP):

Executive Leadership, Clinical, and Community-Based

Public Health

• PhD and BSN-PhD

Your Dream

Find

Job Now!

Nursing

okcu.edu/nursing

UNDERGRAD 405-208-5000 • admissions@okcu.edu

GRAD 405-208-5094 • gadmissions@okcu.edu
---
16

The Oklahoma Nurse August, September, October 2022

Courage in Everyday Nursing Practice

Carol Dobos PhD, RN-BC, NEA-BC

Reprinted with permission from Arizona Nurse, July 2021 issue

Courage is an important attribute in life and in your nursing practice. As Helen Keller

said,

"Security is mostly a superstition. It does not exist in nature nor do the children of

men as a whole experience it. Avoiding danger is no safer in the long run than outright

exposure. Life is either a daring adventure, or nothing."

Nursing is a noble profession that is not for the faint of heart. Opportunities to

choose courageous acts present themselves on a regular basis because risk is

everywhere. You can attempt to minimize the risks by playing it safe. However, there are

risks to yourself, your colleagues, your profession, and those you serve when you don't

take risks in showing up, speaking up, or practicing according to the highest standards

of evidence-based practice.

Choosing to practice courageously, consistent with your personal and professional

values, will cause some discomfort, bumps, and bruises to you and your career. It will

also bring professional and personal fulfillment, strengthen the profession, and improve

patient outcomes. You will know that you are making a difference in your daily practice

and throughout your nursing career.

One way to cultivate courageous behavior is through personal risk-taking (PRT),

but first you need to understand the nature of risk and its related concept, positive

deviance.

What is Risk?

Risk is defined as the possibility of losing something of value, which could be

physical, psychological, or economic. Common risks include falling out of favor with

others in authority, losing support, or damaging essential relationships. Any of these

events could lead to losing status or influence at work, or even losing one's position or

employment.

A related concept called "positive deviance" refers to an intentional act of breaking

the rules to serve the greater good. Positive deviance is intentional and honorable

behavior that departs or differs from an established norm. It contains elements of

innovation, creativity, adaptability, or a combination thereof; and it involves risk for the

nurse.

For most nurses, whether a particular action is right or wrong will often be judged

by others in charge of rules enforcement. The decision to engage in positive deviance,

however, lies entirely with the nurse.

Personal Risk-Taking

PRT is behavior that is consciously and freely chosen among available alternatives,

some of which are known to incur less risk than the chosen action. It is supported by

the strength and belief of personal convictions. Courageous action upholds principles.

Calculated inaction due to fear leaves one powerless, with values compromised.

Nurses promote courageous action by sharing courageous behavior, also called

hero stories. This can be done formally and informally, verbally and in writing, one on

one or in groups, during staff meetings, during change of shift report, or rounds. We

create a culture based on what we talk about, what we value, and what we support and

reward. Sometimes we stand alone, and sometimes we influence others to follow our

lead and take their own personal risks. In one study, risk taking was found to be one

of the key elements in attaining expert nursing practice, which supports effective and

quality-based healthcare outcomes. Risk taking also was found to enhance clinical and

professional development.

Rather than sitting on the sidelines and hurling judgment or advice at others (for

example, "Someone needs to do something about this."), we must dare to show up

and let ourselves be seen, which can result in change. (See Success story.)

Success story

When residents were not interacting appropriately with pediatric patients,

risking psychological harm, I discussed this with the chief and arranged

education. I advised our team that in identifying this issue, relationships

might become strained, but we had an obligation to our patients to address

this problem. I often used the mantra "I am doing the right thing for the right

reason" stating it over and over in my head to help me stay the course and

follow through with my convictions. As feared, the residents and even an

attending physician demonstrated passive aggressive behavior towards us.

The care of the children did improve, however, and we knew we had made the

right call.

We pay a price when we shut down and disengage, failing to take action. I have

heard nurses talk about "staying under the radar." In doing so they pay a dear price.

Their talents, wisdom, knowledge, and values are not being shared to positively

influence care and support the development of new nurse graduates and other

colleagues through courageous role modeling. Vulnerability occurs in sharing an

unpopular opinion, standing up for oneself or others such as a colleague who is

being bullied, being accountable, asking for help, trying something new, admitting

uncertainty, and asking for forgiveness. When courage and fear meet, it often feels
---
August, September, October 2022 The Oklahoma Nurse 17

awkward and scary; however, "being all in" is to be alive. To act in alignment with your

values is key to personal and professional happiness.

PRT and Promoting Patient Safety

Failing to take risks and practice courageously can lead to threats to patient safety.

Focusing on my obligation to "First do no harm," I made the decision not to deploy

a transport team until all the team members demonstrated competency. I was

transparent in discussing my concern and contingency plan to send another team with

my medical and administrative colleagues. I was told that this was a "career-limiting

move." I simply stated, "I have to be able to sleep at night."

In another organization, I disagreed with a plan to move critically ill patients multiple

times to accommodate unit renovation. I identified an alternative that required only one

move. Although my plan was successfully implemented, my action caused me to fall

out of favor with the administrator and eventually resulted in my having to move on

to another position. In both instances, I had to put my patients first because when I

became a member of the nursing profession, I made a promise to protect them.

Why We May Not Take Personal Risks

Understanding scarcity is key to understanding why nurses may not take justified

risks. The three components of scarcity are shame, comparison, and disengagement.

Shame is the fear of ridicule and belittling often used to control people and to keep

them in line. Shame-based cultures are very unhealthy for nurses and patients. The

killer of innovation is shame. In these cultures, covert or sometimes overt messages

are common, such as to dare not, you're not good enough, who do you think you

are, don't you dare get too big for your britches." Shame becomes fear, fear leads to

risk aversion, and risk aversion kills innovation and can lead to unsafe patient care.

Shame is the intensely painful feeling or experience of believing that we are flawed

and therefore unworthy of belonging. Shame makes us feel unworthy of connection.

Resilience to shame occurs when recognizing and speaking openly about shame,

practicing critical awareness, and reaching out to others.

Healthy competition can be beneficial, but constant overt or covert comparing and

ranking suffocates creativity and risk taking. If nurses are held to one narrow standard,

they may not question the relevance of a course of action to a specific situation and

embrace evidence- based practice.

Disengagement occurs when people are afraid to take risks and try new things.

Too often it is easier to stay quiet than to share stories, experiences, and ideas. It is

important to do what is right, not what is easy. The best way through a difficult situation

is to address the situation directly with honesty and integrity, sharing your story and

asking for what you need. An excellent resource for nurses is the book Crucial

Conversations. Often what we fear does not happen, but even if it does, we have

retained our self-respect and commitment to professional values.

Courageous Practice

I hope you choose to practice courageously, doing the right things for the right

reasons. As Theodore Roosevelt said,

"Far better it is to dare mighty things, to win glorious triumphs, even though

checkered by failure, than to take rank with those poor spirits who neither enjoy much

nor suffer much, because they live in the gray twilight that knows not victory nor

defeat."

Selected references

Dobos C. Defining risk from the perspective of nurses in clinical roles. J Adv Nur.

1992;17:1303-9.

Dobos C. Understanding personal risk taking among staff nurses: critical information

for nurse executives. J Nurs Adm. 1997;27(1):1-2.

Gary JC, Exploring the concept and use of positive deviance in nursing. Am J Nurs.

2013;113(8):26-34. Haag-Heitman B. The development of expert performance

in nursing. J Nurses Staff Dev. 2008;24(5):203-11.

Brown B. Daring Greatly: How the Courage to be Vulnerable Transforms the Way We

Live, Love, Parent, and Lead. Gotham Books; 2012.

Patterson K, Grenny J, McMillan R, et al. Crucial Conversations: Tools for Talking When

Stakes are High, 2nd ed. New York, NY: McGraw-Hill; 2011.

Carol Dobos lives in Phoenix Arizona and is the past-president of the Arizona

Association for Nursing Professional Development, a state affiliate of the

Association for Nursing Professional Development.

EMERGING

NURSES

Coming to a Coffee Shop

Near You

Rachael Kleckner, MSN, RN, CCRN-CNC-CSC

With a dynamical healthcare climate, it's no

surprise that the typical new graduate is evolving

alongside the profession. As your Emerging Nurse

Director, I have spent the past several months

talking with you to identify what this looks like in

order to best support you. One of the ways I chose

to reach out is through the creation of the Oklahoma

Emerging Nurses Facebook group, a page dedicated

to students and those with less than five years of

licensed experience.

Rachael Bachhofer

Through this page, many of you have identified Kleckner

that you are already seeking advanced practice roles due to burnout,

pay, scheduling, and lack of a work-life balance. With this in mind, I am

now determining how to best represent you and ensure those new to the

profession have a voice within our professional organization.

There will be networking events held later this year where you will have

the opportunity to share your practice experience and learn how we plan to

address your needs. Please request to join the above Facebook group so

that you know when and where to join us — several group members have

suggested that coffee may be the way to your heart and I couldn't agree

more!

To access electronic copies of

The Oklahoma Nurse, please visit

http://www.nursingALD.com/publications

The Oklahoma Nurses Association has many members whose outstanding contributions should be

recognized. We hope you will consider nominating a colleague, a coworker, or a friend for one of the

ONA awards categories below:

EXCELLENCE IN NURSING

NURSING RESEARCH AWARD

NURSING IMPACT ON PUBLIC POLICY AWARD

NIGHTINGALE AWARD OF EXCELLENCE

FRIEND OF NURSING AWARD

EXCELLENCE IN THE WORKPLACE ENVIRONMENT

The deadline for submission nominations is August 1, 2022.

NOMINATE SOMEONE TODAY AT:

surveymonkey.com/r/ONAAWARDS22
---
18

The Oklahoma Nurse August, September, October 2022

Getting Clear on Bullying Versus Incivility

Renee Thompson, DNP, RN, CSP

Reprinted with permission

from The Florida Nurse,

February 2022 issue

Numerous studies show the

prevalence and devastating

impact disruptive behaviors

have on nurse retention and

satisfaction, patient safety

and the financial health of an

organization. Today, more

than ever, the unpredictable, Dr. Renee Thompson

life-and-death nature of the

pandemic has created an environment that is ripe for an

increase in workplace bullying and incivility. Research at

the Healthy Workforce Institute shows an uptick in bad

behavior and nurses are experiencing greater workplace

incivility now more than ever before. Additional studies

show:

• 45.7% of nurses said they witnessed more

incivility than before the pandemic (El Ghaziri

et al., 2021).

• 14.3% of surgery patients had higher

complications with surgeons who had one

to three reports of unprofessional behaviors

compared to those surgeons who had no

reports of disruptive behaviors (Cooper et al.,

2019).

• 94% of individuals have worked with a toxic

person in the last five years; 51% of the

targets stated they are likely to quit as a result

(Kusy, 2017).

Developing successful, targeted interventions

to reduce bullying and incivility among nurses

will require that leaders develop awareness and

understanding of nurses' unique experiences with

disruptive behavior. One of the biggest areas of

confusion that makes it difficult to address and

eliminate bad behavior is a misunderstanding about

the differences between bullying and incivility.

An important first step to educating yourself and

your employees is to get clear on those differences.

This will help you raise awareness, set expectations,

and develop appropriate strategies to eliminate each

type of disruptive behavior. Bullying should be a

NEVER event, but not everything is bullying and when

we call everything bullying, we lessen our chances of

identifying and addressing true bullying behavior.

BULLYING

For a behavior to be considered bullying, it must

include three things:

A Target-This target can be a single person or

group of people. Group targets can include the

opposite shift, new nurses, or nurses who have a

particular ethnic background.

Harmful-The behavior must be harmful in some

way. This harm can be to the target or harmful to a

patient.

Repeated-The most important element of

bullying. The behavior can't be just a one-time

event, it must be repeated over time.

INCIVILITY

Incivility is different from bullying but tends to

be much more pervasive. While the behaviors can

be similar, they tend to be lower level. Incivility

shows up as your typical rude, unprofessional,

inconsiderate behaviors: eye-rolling, condescension,

favoritism, alienation, gossiping, mocking, cursing.

Make no mistake about it, incivility is a healthy

and professional workplace killer, and needs to be

addressed.

The Bottom Line

Bullying and incivility can destroy work

environments and impact patients in a negative way.

The key is to get very clear on the behavior – is it

bullying (target, harmful, repeated) or incivility (low

level, rude, and unprofessional). We are hemorrhaging

nurses due to bad behavior and it's time we get

educated on how to recognize and address bullying

and incivility so that we can cultivate a more

respectful and professional work culture.

References

Cooper, W., Spain, D., Guillamondegui, O., et

al. (2019, June). Association of Coworker Reports

About Unprofessional Behavior by Surgeons

with Surgical Complications in Their Patients.

JAMA Surgery, 154(9), 828–834. doi:10.1001/

jamasurg.2019.1738

El Ghaziri, M., Johnson, S., Purpora, C.,

Simons, S. and Taylor, R. (2021, July). Registered

Nurses' Experiences with Incivility During the

Early Phase of COVID-19 Pandemic: Results of a

Multi-State Survey. Workplace Health & Safety.

doi:10.1177/21650799211024867

Kusy, M. (2017). Why I don't work here anymore:

A leader's guide to offset the financial and emotional

cost of toxic employees. Boca Raton, FL: CRC Press

Bio:

As an international speaker and consultant, Dr.

Renee Thompson tackles the challenges facing

healthcare leaders today. With 30 years as a nurse,

Renee is an expert on creating healthy workforces

by eradicating bullying & incivility. She is in demand

as a keynote speaker and has authored several

books on bullying.

HOUSE OF DELEGATES

MEETING

Official Call to the Delegates To Attend a Meeting of the ONA House of Delegates

Hyatt Regency, Tulsa, Oklahoma | Wednesday, September 28, 2022, 3:00 - 5:00 pm

From— Michele Bradshaw, MSN, RN, ONA Secretary/Treasurer

This notice constitutes the official call to meeting of the Meeting of the ONA House of

Delegates. The House session will be held Wednesday, September 28, 2022. The House of

Delegates will convene at 3:00 p.m. adjourning at 5:00 p.m. Credentialing closes at 2:45

p.m. so that we may start promptly at 3:00 p.m.

Prior to the House we will have a session focused on issues facing nurses and nursing

practice related to the work of the association. For more details regarding the agenda

for the Annual Convention, please see the 2022 Convention schedule. The Agenda, 2021

Minutes, and Registration for the ONA Convention are posted on the ONA website,

oklahomanurses.org.

Members of the ONA House of Delegates have a crucial role in providing direction and

support for the work of the state organization. The House of Delegates also provides a

courtesy seat to all Past ONA Presidents and one registered nurse participant from each

organizational affiliate. These delegates come to the House to work towards the growth

and improvement of ONA and its constituencies. This requires a professional commitment

to the preservation and creative growth of the professional society at all levels of the

organization. Such a commitment will benefit the individual delegate, the Association

and the nursing profession. The representation for each Regional Nurses Association

established for the 2022 House is below.

Each delegate must study the issues thoroughly and is encouraged to participate in

Region sponsored meetings prior to the ONA Annual Convention and the Issue Forum

held prior to the House so that they may engage in open-minded debate, practice active

listening and use the extensive resources and collective knowledge made available

throughout these meetings to assist them in making informed decisions.

If you are interested in having an issue considered by the ONA House, please submit a

reference to be heard using the reference guidelines posted on the ONA website. Please

refer to the Policies and Procedures posted on the website for guidance.

Region #01....................................................43

Region #02...................................................34

Region #03...................................................35

Region #04...................................................22

Region #05...................................................20

Region #06...................................................21

ONA Board of Directors...........................16

ONA Affiliates...............................................6

Past ONA Presidents
---
August, September, October 2022 The Oklahoma Nurse 19

Sleep and Your Health

Cynthia Meyer, MSN, RN, CHSE

Debra Rose Wilson,

PhD, MSN, RN, IBCLC, AHN-BC, CHT

Reprinted with permission from Tennessee Nurse

May 2022 issue

To sleep, perchance to dream. – Shakespeare

One in three adults do not get the uninterrupted

sleep that is recommended, and inadequate

sleep has a direct effect on the functioning of the

immune system. Nurses and other health care

workers are part of the 18 to 20% of Americans

who work alternating shift schedules. Sleep is

essential, not only as restorative but because of its

role in the regulation of immune response. There

has been some interesting research in the last

20 years that explored the connections between

sleep, inflammation, and immune function. With

this information at hand, a nurse can improve selfcare

and appreciate the importance of teaching

sleep hygiene as part of holistic patient health care

system.

The sleep-wake cycle balances biological health,

mental well-being, and helps the immune system

adapt as needed. The sleep-wake is based on the

24-hour circadian clock that regulates complex

bodily functions, including the cardiovascular

system, inflammation, and immune response.

Cytokines are messenger proteins that can be

pro-inflammatory or anti-inflammatory, triggering

a response to infection or injury. People with

chronic inflammatory disease, sleep problems, and

depression have higher levels of circulating proinflammatory

cytokines.

While the body is awake, the immune system

is protecting the body against foreign pathogens.

Anti-inflammatory cytokines (IL-4, IL-10, IL-13,

and TGF-β) are active. Natural killer (NK) cells act

by stopping the growth of mutating cells such as

cancer, and increase production during the wakeful

state. These immune cells are very responsive to

stress and lower or discontinue production when

the sympathetic nervous system spills the stress

hormones. The longer you are stressed during

wakeful periods, the less opportunity NK cells have

to increase in numbers and the greater the chance

that rogue cells will continue to mutate. The body

can't do maintenance work on immune function

when the resources are being transferred to first aid

and alarm response systems when stressed. For

those who experience a great deal of stress, sleep

is even more important. Once asleep, the body is

put back into balance as CD4+ T cells and Th1 and

Th2 respond, and production is higher. Natural killer

cells, melatonin, and stress hormones can replenish

themselves.

Sleep Deprivation

Both short-term and long-term sleep

deprivation disrupts the 24-hour circadian clock

and immunological functions. Sleep deprivation

increases inflammation, so those with a pre-existing

inflammatory disease (such as RA, depression,

or bowel disease) need consistent sleep even

more than others. With increased inflammation

and decreased melatonin risk for CVD, breast

cancer, and other inflammatory diseases rise.

Thermoregulation, insulin levels, vaccine response,

and cognitive flexibility are impaired with inadequate

sleep. Those with sleep apnea are at higher risk for

diabetes, hypertension, coronary issues related

to the increased inflammation. For those who are

significantly stressed, quality sleep is difficult to

achieve. The sleep-wake cycle is disrupted when

pro-inflammatory cytokines and stress hormones

(e.g., cortisol, epinephrine, and norepinephrine) are

released.

Shift work

Current estimates are that about 20% or one-fifth

of the workforce currently participate in shift work.

Of those working in the healthcare sector, 52%

report short sleep duration. Studies also showed

that those working the night shift reported poorer

quality sleep and sleep deprivation. The general

recommendation is for individuals to get between

seven to nine hours of sleep, but shift workers get

less than six hours daily or one to four hours less

per week. Those working the night shift may not be

able to make up for lost sleep which is needed for

relaxation and physical restoration.

Shift work is essential for healthcare. Nurses

must work hours that may not be conducive to sleep

to provide round-the-clock care for patients. These

hours may cause a disruption in sleep. Circadian

rhythms are what regulate the sleep-wake cycle, and

these cycles rely on light to direct the cycle. Daylight

causes us to become more alert and awake, while

darkness leads to melatonin production, which

prepares the body for sleep. Shift work disrupts the

natural sleep-wake cycle, and research has shown

that over time the physical and mental health of

those who participate in shift work may be impacted

by the disruption in sleep.

Shift work has been shown to have a negative

impact on the psychological and social health of

the individuals working those hours. Shift work

sleep disorder (SWSD) occurs when work schedules

disrupt the natural circadian rhythms, and the

disruptions cause excessive sleepiness, fatigue, or

insomnia. Eventually, these symptoms may result

in distress or impairment in mental, physical, and

social functioning. Furthermore, sleep deprivation

can lead to increased stress which in turn can lead

to decreased job satisfaction for nurses. Studies

showed that health professionals who worked night

shifts had higher levels of psychological and mental

health problems than their day shift counterparts.

This included higher levels of depression, irritability,

stress, OCD, and mood disorders. Shift workers

also exhibited negative feelings, isolation, and

difficulty in relationships.

Sleep allows the body to heal itself, and it helps

boost immune function. Nurses who do shift

work are not exempt from the negative effects of

inadequate sleep. Obesity is more common in shift

workers, and there is an increased risk of metabolic

syndrome and diabetes. Shift work compromises

immune function and places individuals at an

increased risk for breast and colorectal cancer.

When compared to day shift workers, those doing

shift work have an increased risk of cardiovascular

disease. Continued alterations in the circadian

rhythms have also been linked to gastrointestinal

issues such as gastritis, indigestion, appetite

disorders, irregular bowel movements, constipation,

heartburn, and pain. Since nursing is predominantly

a female profession, it is worth noting the correlation

between shift work and reproductive issues such

as decreased fertility, altered menstrual cycles, and

other reproductive issues.

Tips

Shift work can have negative effects on health;

however, these crazy hours are necessary for the

nursing profession. There are things workers can do

to improve sleep and maintain adequate rest. The

following tips are included for surviving shift work:

• Maintain a consistent sleep schedule

o Keep the same sleep-wake cycle on days

off

o Sleep directly after a shift or adopt a splitnap

schedule

o Take a short nap prior to shift on workdays

but avoid naps longer than 30 minutes

• Maintain an ideal sleep environment

o Cool environment between 68-72 degrees

Fahrenheit

o Limit noise using white noise or earplugs

o Limit light using an eye mask or blackout

curtains

o Stay away from electronic devices such

as a computer screen or cell phone in the

two hours prior to sleep.

• Promote sleep

o Take a hot shower, go for a walk, or use

meditation for relaxation

o Limit strenuous exercise

o Limit caffeine, alcohol, nicotine three to

four hours before bed

o Maintain a healthy diet and avoid fatty,

spicy foods before bed

o If you tend to be cold, wear socks to bed

• Things to do at work

o Eat healthy

o Use caffeine in moderation and avoid 4 to

6 hours before sleep

o Take short, frequent breaks

o Keep the work environment well lit

o Schedule wisely with no more than three

consecutive 12-hour shifts and have 11

hours off to ensure adequate rest time

o Nap before driving home if needed

o Get out into the sunshine on your breaks

when possible

o Give yourself stress management breaks

where you rest, meditate, or practice

breath work.

Conclusion

Shift work is part of our profession, but changes

in sleep rhythms have a negative impact. Lack

of sleep in nurses not only increases the chance

of error but leads to health issues. This is a global

issue for nurses. Assess your own sleep. The

National Sleep Foundation (NSF; sleepfoundation.

org) has a Sleepiness Test that examines sleep

patterns over the past 2 weeks. There is the Epworth

Sleepiness Scale that assesses daytime sleepiness

and STOP BANG screening questions for sleep

apnea. If you aren't sure about your sleeping habits,

try a sleep diary. The NSF can guide you through

keeping a week of journaling with quality of sleep,

caffeine intake, bedroom environment, and sleep

hygiene. What are you going to do to improve your

quality of sleep?

References Available Upon Request

Cynthia Meyer, MSN, RN, CHSE – Cindy is

an Assistant Professor and the Simulation Lab

Coordinator at Austin Peay State University,

currently working on her PhD at East Tennessee

State University.

Debra Rose Wilson, PhD, MSN, RN, IBCLC,

AHN-BC, CHT – Dr. Wilson is a Health Psychologist

and a Professor of Nursing at Austin Peay State

University and was the 2017-18 American Holistic

Nurse of the year. She has been educating nurses

in Tennessee for over 20 years, and has a private

hypnosis practice in the Nashville area, and teaches

hypnosis to nurses and psychologists.