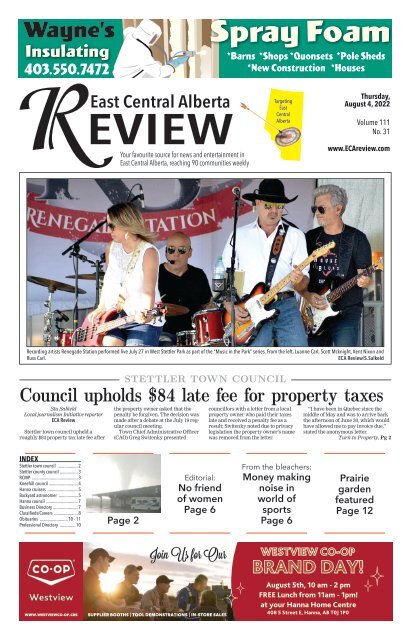 ECA Review 2022-08-04
ECA Review 2022-08-04
ECA Review 2022-08-04
SHOW MORE
SHOW LESS
You also want an ePaper? Increase the reach of your titles
YUMPU automatically turns print PDFs into web optimized ePapers that Google loves.
Wayne's

Insulating

403.550.7472

R

R

72 pt

East Central R Alberta

EVIEW

60 pt

R

48 pt

R

36 pt

Your favourite source for news and entertainment in

East Central Alberta, 30 pt reaching 90 communities weekly

R

Spray Foam

*Barns *Shops *Quonsets *Pole Sheds

*New Construction *Houses

Targeting

East

Central

Alberta

Thursday,

August 4, 2022

Volume 111

No. 31

www.ECAreview.com

R

24 pt

R

18 pt

Recording artists Renegade Station performed live July 27 in West Stettler Park as part of the "Music in the Park" series. From the left, Luanne Carl, Scott Mcknight, Kent Nixon and

Russ Carl.

ECA Review/S.Salkeld

STETTLER TOWN COUNCIL

Council upholds $84 late fee for property taxes

Stu Salkeld

Local journalism Initiative reporter

ECA Review

Stettler town council upheld a

the property owner asked that the

penalty be forgiven. The decision was

made after a debate at the July 19 regular

council meeting.

Town Chief Administrative Officer

councillors with a letter from a local

property owner who paid their taxes

late and received a penalty fee as a

result; Switenky noted due to privacy

legislation the property owner's name

"I have been in Quebec since the

middle of May and was to arrive back

the afternoon of June 30, which would

have allowed me to pay invoice due,"

stated the anonymous letter.

roughly $84 property tax late fee after (CAO) Greg Switenky presented was removed from the letter.

Turn to Property, Pg 2

INDEX

Stettler town council .................. 2

Stettler county council ................ 3

RCMP ......................................... 3

Kneehill council .......................... 4

Hanna cruisers ........................... 5

Backyard astronomer ................. 5

Hanna council ............................ 7

Business Directory ...................... 7

Classifieds/Careers ..................... 8

Obituaries ......................... 10 - 11

Professional Directory .............. 10

Page 2

Editorial:

No friend

of women

Page 6

From the bleachers:

Money making

noise in

world of

sports

Page 6

Prairie

garden

featured

Page 12

WWW.WESTVIEWCO-OP.CRS

Join Us for Our

SUPPLIER BOOTHS | TOOL DEMONSTRATIONS | IN-STORE SALES

WESTVIEW CO-OP

BRAND DAY!

August 5th, 10 am - 2 pm

FREE Lunch from 11am - 1pm!

at your Hanna Home Centre

408 5 Street E, Hanna, AB T0J 1P0
---
2 A ugust 4'22 HANNA/CORONATION/STETTLER, AB. ECA REVIEW

Stu Salkeld

Local Journalism initiative reporter

ECA Review

Stettler town council lowered a

major rental fee charged at the local ice

rink in hopes it will accommodate a

higher-tier hockey team's efforts to

appear in this community more often.

The decision was made at the July 19

regular meeting of council.

Brad Robbins, manager of

Recreation & Culture presented to

councillors a request to lower ice

rental rates for the Central Alberta

Selects (CAS), a higher-tier AA team,

to make it more economically feasible

A tornado touched down south of Coronation Sun. July 31 shortly after 5 p.m. but caused little damage as it went through pasture and

cropland.

ECA Review/Facebook

Cont'd from Pg 1

"At that time I was not aware of

actual due date, October, or June 30. I

had asked someone in your town office

in a phone call which at that time no

one could give me a certain date."

The property owner then went on to

explain their June 30 flight from

Montreal to Toronto was delayed with

no connecting flight to Calgary, "...I

was made to stand in line for close to

four hours and then told no flights

available to come home that day."

The property owner went on to

explain they finally got a flight to

Edmonton by 9 p.m. and with various

other trials and tribulations the property

owner finally arrived home in

Stettler at 10 p.m. July 1.

"I was only aware of the June 30

deadline the next day, July 2, when

opening my mail...which I even then

tried to call the town office in hopes

someone might take the call...don't

remember if I left a message or not.

"However I drove down to the town

office Monday morning...and asked if I

could be given a cancellation of the late

penalty charge due to my no fault of

mine circumstances (sic)."

The letter writer noted they didn't

want to pay their tax bill ahead of time.

The property owner noted their tax bill

STETTLER TOWN COUNCIL

Lower ice rental for higher-tier hockey team

for the team to play at the Stettler Rec

Centre (SRC).

"Stettler Minor Hockey Association

(SMHA) has indicated that they are in

favour of working with CAS to find

more ice time within Stettler for their

teams due to the volume of SMHA resident

players that are playing on CAS

teams," stated Robbins in his memo to

council.

Robbins stated that Lacombe is the

host community for the Selects, and

even though Stettler players are on the

team the Selects don't appear here that

often.

He suggested a reduced ice rental

rate to make it feasible for the team to

was $2,800 and the July 1 late penalty

of three per cent would add up to about

$84. Town staff notified the property

owner only town council has the

authority to waive penalty fees.

Switenky provided council with a

list of the methods the Town of Stettler

used to notify property owners of the

June 30, 2022 deadline, including newspaper

advertisements, a website notice,

radio spots, utility bill notices, community

screens located around Stettler

and numerous social media posts.

The CAO noted the Municipal

Government Act (MGA) gives council

authority to waive penalties, "equitably,"

which means those decisions

should apply to everyone.

Referring to the property owner

balking at paying their tax bill early,

Switenky stated the town offers a payment

plan so property owners don't

have to pay the entire bill at once.

Mayor Sean Nolls stated property

owners who wait until the deadline

day are taking a chance and noted the

town also offers an online e-service so

a property owner could pay their taxes

through that service essentially anywhere

they happen to be.

Coun. Wayne Smith stated he had no

sympathy for someone who waits until

the last day possible especially if

travel to Stettler.

"The Selects are a AA league hub

center as defined by Hockey Alberta

offering a competitive regional team at

the U18, U15 and U13 levels," stated

Robbins.

"Players from the SMHA are eligible

to try out/play for each of these teams

as a result of the Stettler Minor Hockey

Association being included within

their regional boundaries. The CAS

teams are administered under the

Lacombe Minor Hockey Association.

"CAS teams currently practice and

play games where ice is available

within the region. This has included

Lacombe, Blackfalds, Clive, Alix, Big

Property owners taking chance waiting

they're out of province as anything

could go wrong.

Coun. Kurt Baker sympathized with

the property owner and noted the

problem amounted to a matter of minutes

and the property owner came to

the town office at the first possible

opportunity.

Coun. Gord Lawlor stated he spoke

to the property owner in question and

understood how the problem occurred

but also noted the many notices town

staff put out about the tax deadline and

the many electronic options available

to pay taxes so Lawlor felt the penalty

should be upheld.

Coun. Scott Pfeiffer stated the penalty

is small and it has to be equitable

for all property owners.

Switenky pointed out about 10 property

owners paid their taxes late but

within five days, so the current decision

should apply to them too.

Coun. Smith stated if councillors forgave

the penalty in question those

other 10 property owners will complain

and rightfully so, adding that if

councillors waived the penalty they're

in essence waiving all 11 penalties in

total.

Councillors voted 5 to 1 to uphold the

penalty, Coun. Baker the lone

dissenter.

Valley, etc.

Periodically games are played in

Stettler but it is rare based on dates

required by the league that CAS teams

play in and conflicts with SMHA ice

availability overall."

Robbins explained ice rental rates

for a team like the selects would be

$160 per hour, rather than the subsidized

$80 per hour that minor hockey

gets.

He also noted it looks like the rec

centre will have some open ice time in

the 2022-23 season.

"The Parks and Leisure Services

department are currently working on

a new recommendation to Policy X-1(d)

which would take effect at the start of

the 2023-24 hockey season, but as a

result of the Stettler Lightning (men's

team) taking a second years leave of

absence the SRC does have some

excess ice that will be available for

rent as a result during the 2022-23

hockey season," stated Robbins.

"The Parks and Leisure Services

Department are proposing a rate of

$110 per hour plus tax. As result, a onehour

practice slot will cost CAS teams

$137.50 plus tax, which covers the cost

of one-15 minute flood.

A 2.5 hour game slot will cost CAS

teams $302.50 plus tax with the addition

of a 15 minute flood at the

conclusion of the booking.

"While there is never a guarantee

that a Town or County of Stettler resident

is successful in making a CAS

team, the rate we are proposing would

apply to all CAS teams regardless.

The Parks & Leisure Services

Department highlights the additional

economic impact to our community by

having these team's playing games

within our community.

Town Chief Administrative Officer

(CAO) Greg Switenky agreed, noting

the lower revenue at SRC would be

offset by the increased business which

AA tier hockey brings to town.

Councillors unanimously agreed by

resolution that the Town of Stettler

agree to rent ice to the Central Alberta

Selects administered and managed by

the Stettler Minor Hockey Association

at a rate of $110 per hour plus tax for

the 2022-2023 hockey season starting

Oct. 1.

WANTED

DEAD OR ALIVE

Canadian Prairie Pickers

are once again touring the area!

Paying Cash For Coin Collections,

Silver & Gold Coins,

Royal Can. Mint Sets.

Also Buying Gold Jewelry

$$ $

We purchase rolls, bags

or boxes of silver coins

PAYING HIGHEST PRICES

To arrange a free, discreet in-home visit

call Kellie at 1-778-257-9019

Bonded since 1967

$$ $

Us

on Count

AVAILABLE IN COLOUR AND IN BLACK & WHITE ON YOUR CD-ROM.

YOUR

NEWSPAPER'S

LOGO

YOUR

NEWSPAPER'S

LOGO

Can Farmers

& Ranchers

Count

on You

for Goods &

Services?

TOOLBOX, July-August 2005, Page 43

Reach them in our 'Count on Us' Special Section

in our August 18 issue (Deadline: Mon. Aug. 15)

Judy cell 403-740-2492

marketing@ECAreview.com

Yvonne 403-575-9474

digital@ECAreview.com

Sheree 587-990-4818

contact@ECAreview.com

AVAILABLE IN COLOUR AND IN BLACK & WHITE ON YOUR CD-ROM.

TOOLBOX, July-August 2005, Page 43
---
ECA REVIEW HANNA/CORONATION/STETTLER, AB August 4'22 3

STETTLER COUNTY COUNCIL

Stettler County council hears herbicide

sometimes not landing properly

Stu Salkeld

Local Journalism Initiative reporter

ECA Review

Stettler County's Agriculture

Services Board (ASB) heard concerns

that municipal weed spraying may

not be landing where it's supposed to

at all times. The discussion was held

at the July 26 regular ASB meeting.

Coun. Ernie Gendre asked that the

board, which is chaired by Coun. Les

Stulberg and is comprised of county

council, to discuss the issue of "herbicide

crop damage," and brought along

several photos of what looked like

heavy herbicide application in

Stettler County ditches.

One photo showed some herbicide

touching a canola crop and one photo

showed what appeared to be herbicide

touching a crop near a recently

pushed back fence line.

Gendre stated he'd heard concerns

from residents and he himself went

out to look at the spot where the fence

was pushed back and added the

farmer hayed that ditch himself every

year which took care of the weeds.

Gendre stated it appears the vegetation

was destroyed and he

wanted to know which weed species

were sprayed there.

Reeve Larry Clarke asked Gendre if

the councillor contacted the county's

agriculture services department to

look at the spots in question, and

Gendre answered yes he did.

Director of Agriculture Services

Quentin Beaumont confirmed he visited

several of the spots in question but

not the one that had the fence pushed

back.

Coun. Justin Stevens, looking at the

photos, stated he was concerned about

spots with fairly steep slopes that

appeared to have broad vegetation kill,

and how that would affect erosion.

Reeve Clark stated it looked like

pretty serious kill to him caused by a

chemical like Roundup.

Beaumont responded county staff

never spray glyphosate-containing

products like Roundup in a ditch.

When asked what would have been

sprayed there?" Beaumont answered,

"A heavy dose of something."

Beaumont stated that the spots he

inspected appeared to have burn spots

but saw some grass growing back in

certain areas and it appeared to him

the county may have oversprayed in

some spots but wasn't sure.

However, he said there were options

Hanna RCMP investigate

theft of credit card

Submitted

Hanna RCMP received a complaint

of a theft of a wallet from a personal

vehicle on 5 Avenue in Hanna on July

11. The theft had occurred sometime

between July 8 and 9, 2022.

The wallet contained a credit card

which was used to make purchases at

the Husky gas station in Hanna on

July 9 at 9 a.m. An adult female who

used the stolen credit card was

observed on surveillance pumping gas

into a black Ford F-150 truck, which

had been reported stolen out of Tyler,

Sask.

The Ford truck was subsequently

recovered in Kelowna, BC on July 16,

2022.

The female suspect and her male

counterpart have been linked to 23

police occurrences from July 6 to July

16, 2022, originating in Saskatchewan.

Hanna RCMP are looking to identify

the female in the video from the Hanna

Husky. If you have any information

regarding this female or her male

counterpart, please contact the Hanna

RCMP Detachment at 403-854-3393. If

you want to remain anonymous, you

can contact Crime Stoppers at 1-800-

222-8477 (TIPS), online at www.P3Tips.

com or by using the "P3 Tips" app

available through the Apple App or

Google Play Store.

Officer-involved shooting

At 10:14 p.m., the Stettler RCMP

detachment received a report of a disturbance

in the area of 58 Street and

50A Avenue. When officers arrived in

the area, they were flagged down by a

female who said she had been threatened

by a man with an axe.

Officers located the man in a nearby

alley and confronted him. During this

time, one officer discharged his conducted

energy weapon and another

discharged his firearm, striking the

man. Emergency Medical Services

arrived and provided the man with

RCMP

medical care. He was then transported

by STARS Air Ambulance to an

Edmonton-area hospital and released

the next day.

Two weapons were recovered from

the scene.

ASIRT's investigation will examine

the circumstances surrounding the

uses of force. No additional information

will be released.

ASIRT is asking anyone who may

have been in the area and may have

witnessed these events and/or may

have video to contact investigators at

403-592-4306.

Trafficking charges

Three Hills RCMP conducted a

traffic stop of a 2008 Chevrolet

Silverado on Hwy. 21 near the Village

of Huxley, Alta. on July 25, 2022 at

approximately 3:30 p.m.

Police learned the driver was

wanted on an outstanding arrest warrant

and arrested the driver and found

him in possession of a controlled substance.

His vehicle was then searched

and police located 28 grams of crystal

methamphetamine; 3.5 grams of fentanyl

and items consistent with drug

trafficking.

Chad Mccann (43) from Airdrie,

Alta. has been charged with possession

of drugs for the purpose of

trafficking.

Tired of working

at Home Alone?

Single Offices to Rent in downtown

Stettler Main Street: 4830 - 50 St.

Four available, with one larger board

room that could be made available.

Call 403-741-9355 or drop in.

Join our friendly co-renters

and gain visibility!

if the grass didn't come back. "If it

doesn't come back we'll re-seed it,"

said Beaumont.

Gendre stated he felt some of the

bare spots were caused by county staff

as landowners don't spray that way,

pointing out large bare spots near

power poles. The reeve disputed that

assessment, however, noting it could

be a farmer who tapped a power pole.

One photo showed a canola field

affect by spraying and Beaumont said,

"I'll tell you straight up it was us."

Board members then discussed the

Stettler County ASB's policy if

spraying herbicide "fence to fence,"

which may have caused a problem

where the fence was pushed back as

county staff wouldn't have known

where the property line was.

Coun. Paul McKay asked what

Stettler County can do about farmers

working in county ditches. Beaumont

answered a bylaw exists with some

fine options.

However, Chief Administrative

Officer (CAO) Yvette Cassidy pointed

out if farmers are haying county

ditches it actually saves the county

money on spraying and cutting work.

Cassidy suggested leaving it unless the

county needs drainage or road

widening.

Cassidy also stated the county has

lots of staff out and about who just

need to keep an eye out for farmers

haying county ditches and letting

them know it's fine unless drainage or

road widening are needed.

Coun. Stulberg stated he also didn't

see a problem with it unless farmers

are haying right up to the edge of the

road.

Reeve Clarke stated he could also see

a problem if the bank is worked off

which could affect the condition of the

road.

Cassidy suggested discussing these

issues at upcoming town hall

meetings.

Gendre added he wondered if the

county should be spraying fence to

fence, and felt no herbicide should

reach crops.

Councillors accepted the report as

information.

Missing owls

Coun. McKay asked what kind of

herbicide was used in an area within

his division, Donalda-Red Willow.

Beaumont responded no weed

spraying has been done north of Hwy.

12, but a county brush truck may have

been spraying in that area.

McKay stated some residents were

concerned that two Great Horned Owls

were nesting in an area where the

brush truck may have been spraying,

and the owls haven't been seen since.

Beaumont noted Stettler County

uses herbicides that can touch cattle

with no harm and most herbicides

nowadays are very environmentally

friendly. He confirmed the herbicide

used in the brush truck is called

Garlon XRT.

Beaumont stated he will look into

McKay's concerns and report back at a

future meeting.
---
4 August 4'22 HANNA/CORONATION/STETTLER, AB. ECA REVIEW

KNEEHILL COUNCIL

County looks to simplify

Torrington speed zone

Stu Salkeld

Local journalism initiative reporter

ECA Review

During the update of Kneehill

County's community peace officer

policy, councillors heeded a staff

request and will ask the provincial

government for authority to write

speeding tickets on a primary

highway in the Hamlet of Torrington.

The discussion took place at the July

9 regular meeting of council.

Councillors heard a presentation

from Manager of Protective Services

Debra Grosfield, who informed

council the municipality's peace

officer policy required updating to

match recent changes made by the

provincial government to the peace

officer manual which guides

Alberta's community peace officers

(CPOs).

Some changes made to reflect the

updated manual include emergency

medical calls being removed from the

Kneehill policy as the CPOs don't

respond to such calls anymore unless

requested by police or firefighters,

and a clarification of "on duty" to

explain that CPO authority exists

only when lawfully employed by

Kneehill County and on duty.

Complaints against CPOs was also

clarified to reflect body worn cameras

and that this process is taken

directly out of the provincial manual.

The complaint and discipline sections

were also clarified, stated

Grosfield, to explain the difference

between an enforcement officer and a

community peace officer. Complaint

processes are different for the two

staff members.

Grosfield also pointed out a jurisdictional

map included in the peace

officer policy, and asked councillors

to consider a recommendation that

Kneehill County apply to the provincial

government to get authority to

enforce traffic laws on the entire

length of the primary highway

passing through the hamlet.

Currently, it was noted, county

CPOs have authority over most but

not all of it.

She explained it's difficult for the

CPOs when they can only do a part of

the road and not all of it. Grosfield

added that she contacted the Olds

RCMP detachment commander to get

an opinion and they supported

Kneehill County's request to expand

CPO authority.

Coun. Carrie Fobes noted that spot

is inside her division boundaries and

supports the recommendation.

"Lots of people cross the highway

between there," said Fobes, pointing

to the highway in question.

Other changes to the peace officer

policy included a clarification on

medical first responders, Check Stop

support, known risk policy, monitoring

safety systems, body worn

cameras which Grosfield stated will

be added to an upcoming budget,

school resource officer, records management

and supervisory review.

During discussion Grosfield noted

the CPO's dispatch centre is the

Lacombe Police Service which

includes monitoring. A procedure is

in place if a CPO misses their regular

check-in.

Grosfield noted the provincial government

provided an enhanced

authority/additional options part of

the peace officer manual which

allows employers such as Kneehill

County to give community

peace officers more duties.

Some of the duties that

could be added include nonurgent

community calls,

Criminal Code warrants

and motor vehicle collision

investigations to name a

few; she went on to explain

these added responsibilities

would also require more

training.

Grosfield noted Kneehill

County won't include these

added responsibilities in its

peace officer policy; she further

explained she called

the Three Hills RCMP

detachment commander

and asked his opinion, to

which he answered that

even if the responsibilities

were given to CPO's, RCMP

officers in many cases

would still be involved in

the calls which results in

duplication.

Grosfield pointed out

training for the investigation

portion would require

three weeks in Edmonton

alone.

Councillors unanimously

approved the revised peace

officer policy, including an

amendment to request

authority to police the primary

highway in

Torrington in its entirety.

A punishing August 1 windstorm littered streets and yards

in Three Hills with thousands of broken branches and several

mature trees. The storm, part of an extensive summer

disturbance that severely hail-damaged nearly 100 vehicles on

Hwy. 2, extended eastward into south central Alberta.

ECA Review/D. Nadeau

check us out online www.ECAreview.com
---
ECA REVIEW HANNA/CORONATION/STETTLER, AB August 4'22 5

A 1948 International pickup driven by

'Stormy' getting ready for time trials at the

2022 Cruisers 1/8 Mile Bracket Race by the

Hanna Cruisers Car Club at the Hanna Airport

held on July 30, 2022.

#EXPLORESTETTLER

with with the

the the

Summer

Summer

Summer

Summer

BINGO CHALLENGE

Prize Prize draws draws will be will be made be made throughout

throughout

June, June, June, July July July and and August. August. The more

The more

BINGO BINGO BINGO combinations you complete,

you complete,

the

the the the more

more more chances

chances chances to

to WIN!!

WIN!!

to WIN!!

Scan

Scan

Scan Scan to to download

to download to download your

your

your BINGO

BINGO your BINGO card!

card!

card!

Use the Use BINGO the card BINGO car

Use the BINGO card

as guide as a of guide what tof what t

as a guide of what to to

see

see and

and see do

do

in

in

in

and the

the

do in the

area. area. Check Check area. items items Check

off

off offitems o

as as you explore as you explore and and

enter to to enter WIN!

to WIN!

Barry Pfahl and his 1969 Chevrolet Camaro

in the burnout box at the 2022 Cruisers 1/8

Mile Bracket Race.

Visit

Visit Visit www.destinationstettler.com

for

for for contest for contest contest details!

details!

details!

Dale Lohr getting ready for time trials with his

Chevrolet Nova at the 2022 Cruisers 1/8 Mile

Bracket Race.

Steve Armitage and his 1977 Ford Mustang

dubbed 'Mini Mouse' in the burnout box at

the 2022 Cruises 1/8 Mile Bracket Race.

ECA Review/D.Gonzalez

BACKYARD

ASTRONOMER

James Webb

Space

Telescope is

a successby Gary Boyle

It is often said, a picture is worth a

thousand words and the first images

from the James Webb Space Telescope

did not disappoint.

During the news conference on July

12, the world had a ringside seat to the

most remarkable images of the universe

ever taken. Over the hour, five

images left us wanting more. This is

only the tip of the cosmic iceberg.

The deep field image showed thousands

of galaxies including a few that

look stretched. This is not a flaw of the

telescope. It is the distortion caused by

gravity from a foreground large

galaxy.

Einstein predicted this warping or

the curvature of the fabric of spacetime,

much like someone standing on

a trampoline where the rubber mat is

distorted. The larger the object, the

bigger the distortion of light.

To show the power of James Webb,

the area of space where the deep field

image was taken was as small as a

grain of sand held at arm's length.

Turn to Too far, Pg 9

Want to

Looking to

We can

start a

grow your

help!

business?

business?

WE OFFER FREE SERVICES FOCUSED ON

MAKING SURE YOU ARE SUPPORTED!

Battle River Innovation Centres are offering FREE 1-on-1 PROGRAMS

to support you in reaching your goals.

Contact us today to see how we can help!

Forestburg:

587-844-2111

cwilkes@breoc.com

Castor:

587-854-3233

asimpson@breoc.com
---
6 August 4'22 HANNA/CORONATION/STETTLER, AB. ECA REVIEW

OPINION

The opinions expressed are not necessarily

the opinions of this newspaper.

EDITORIAL

No friend of women

R

R

R

R

R

Published by

Coronation

Review

Limited

Brenda Schimke

ECA Review

Danielle Smith, leadership candidate

for the UCP party, seems to be parroting

Jason Kenney's leadership

campaign strategy by focussing almost

exclusively on the male-dominated,

far-right, libertarian faction of

the party. But will fiscal conservatives,

socially-conscience conservatives,

urban conservatives and women conservatives

be there to support her

when a general election rolls around?

Smith shares Kenney's disdain for

public education. During her 770

CHQR radio

show on Mar. 7,

2018, she said,

"maybe every

independent

(private) school

needs to be

fully-funded and

we need to

phase out every

government run

public school."

Her lack of

empathy for the

homeless was on

full display in

October 2012,

when Smith

tweeted that

properly cooked

tainted meat (

with E.coli bacteria) could feed the

homeless.

She claims to be this great fiscal

conservative warrior, yet she doesn't

understand that providing affordable

housing for the homeless would save

three levels of governments billions of

dollars each year in health care, criminal

justice, social services and

emergency shelter costs.

Her self-righteous attitude that personal

health is a lifestyle choice lacks

empathy and understanding.

Obviously unaware that poor health

outcomes are most often related to poverty,

genetics and corporate greed that

relentlessly push unhealthy junk food.

So, it should not come as a surprise

that out of the mouth of Smith came

the hurtful comments that Stage 4

cancer victims were responsible for

their own predicament. That they had

complete control to stop cancer in its

tracks if only they had taken better

care of themselves.

Like all populous leaders every time

their truth is caught on tape and it is

unpalatable to the general public—out

comes the "I've been misunderstood"

line and a culprit is served up to take

the blame. Her most popular culprits

are mainstream media and Justin

Trudeau. Kenney's favourites as well.

Her conspiratorial comments on

July 15 accused Alberta Health

Subscriptions:

$52.50 in Canada; $98.70 in US;

$183.75 Overseas.

"

Like all populous

leaders every time their truth

is caught on tape and it is

unpalatable to the general

public — out comes the "I've

been misunderstood" line

and a culprit is served up to

take the blame.

Services (AHS) of deliberately sabotaging

the Kenney government during

the pandemic by falsely claiming the

system was near collapse to bully

MLAs into accepting vaccine mandates

and passports. In fact, without

enhanced health restrictions, AHS

was already preparing to ship patients

out of province for care, as had conservative

governments in Saskatchewan

and Manitoba.

The promotion of such mis-truths is

indeed a 'red flag' for any Albertan

who still wants a functioning public

health care system.

Janet Brown, a respected Alberta

pollster, found in

an April 2021 poll

that those who

scored Kenney

lowest were

women (59 per

cent); middle

income earners

who earn between

$60,000 and

$120,000 (59 per

cent) and residents

of Calgary and

Edmonton (56 per

cent). Brown's poll

showed an

alarming loss with

those groups that

Rachel Notley had

won to defeat the

Jim Prentice/

Danielle Smith ticket in 2015.

Danielle Smith's campaign is particularly

anti-woman. Undermining

public health care, public education

and seniors' care, and attacking the

new child care program affects women

more than men. Women are the ones

who pick up the pieces when the aforementioned

systems are starved by

government leaders who lack reason

and empathy.

It is also women who make up the

majority of the work force in health

care, education, senior's care and

childcare, and more often than not,

these women are the primary breadwinners

for their families.

She may wear a 'skirt', but Danielle

Smith is no friend of working women,

single-parent women, women who care

for aged parents, indigenous women,

immigrant women or grandmothers

raising grandchildren.

Smith is parroting Jason Kenney's

successful leadership campaign—

uncompromising, all-knowing and

"it's never my fault"—clearly forgetting

how poorly that strategy served

Kenney as premier.

If polls are correct, UCP members

seem ready for another go at this type

of leadership. The true test will be next

year's general election and whether

Albertans are ready for more of the

same.

- COPYRIGHT NOTICE -

All printed material, written, display advertising and photographs are the sole property of

The ECA Review. No reproduction of this material or layout including social media is permitted

without written consent of the Publisher. Call us for more info.

72 pt

East Central Alberta

EVIEW

60 pt

48 pt

36 pt

Website ECAreview.com

Office Hours Mon. - Fri. 9 am - 5 pm

R

30 pt

4921 - Victoria Avenue

Tel. (403) 578-4111

R

24 pt

Mail: Box 70, Coronation, AB Canada, T0C 1C0

"

LETTERS POLICY • Letters to the Editor are welcomed •

Must be signed and a phone number included so the writer's

identity can be verified. • ECA Review reserves the right to edit

letters for legal considerations, taste and brevity. Letters and

columns submitted are not necessarily the opinion of this

newspaper.

MEMBER OF:

Local Journalism Initiative is funded

by the Government of Canada.

FROM THE BLEACHERS

Money making noise

in world of sports

by Bruce Penton

If you have a child and

like money, groom him or

her to be a sports star.

Sports is where you'll find

the real loot.

Money has become the

talk of the sports world

lately, and here are a couple

of examples:

— Juan Soto, a baseball

player of considerable talent

for the Washington

Nationals, said thanks but

no thanks to a contract offer

of $440 million over 15 years.

C'mon, he's got a family to

feed. Soto thinks that was

an insulting offer, considering

it averages out to less

than $30 million per year

and some of his fellow major

leaguers, whose stats don't

measure up to Soto's, are

already making in excess of

$30 million.

Another mitigating

factor? Soto is only 23 and

two-plus years away from

free-agent eligibility, so he

has a couple of hundred

games to put up even more

impressive stats before some

team (probably the Yankees

or Dodgers) pushes his offer

to a cool $500 million for ….

oh, 12 seasons.

— The Saudi Arabian

money pit that has thrown a

wrench into the world of

professional golf is on the

verge of winning the battle

because players can't say no

to offers of life-changing

riches.

Could you turn down $90

million, as was reported to

have been offered Cameron

Smith, winner of the Open

Championship at St.

Andrew's in Scotland?

JOYCE WEBSTER

Publisher/Editor

publisher@ECAreview.com

YVONNE THULIEN

Marketing/Digital 403-575-9474

digital@ECAreview.com

Is there a chance Phil

Mickelson would have said

thanks, but no thanks to

$200 million showing up one

day in his chequing

account?

If you were Richard

Bland, Kevin Na, Pat Perez

or Taylor Gooch, would

guaranteed millions of dollars

for fewer 'working' days

be attractive enough to say

'sayonara' to the PGA Tour,

as Japanese star Hideki

Matsuyama is expected to

do one of these days?

The catch-phrase slogan

about money being the root

of all evil may have some

legitimacy, but money can

also be the root of a great

deal of happiness.

Just ask lottery winners,

or Michael Jordan, whose

net worth is $2.2 billion, or

soccer star Lionel Messi,

who pulled in $130 million

last year, $75 million for

playing soccer, and $55 million

from off-field income.

LeBron James made twice

as much ($80 million) off the

basketball court than he did

on it ($40 million) while

aging tennis star Roger

Federer pulled in only

$700,000 last year for his

tennis accomplishments, but

is keeping creditors at bay

thanks to $90 million in offcourse

income.

And then there's Tom

Brady. He's 44 years old, still

playing quarterback in the

toughest league in the world

and making $84 million in

on- and off-field income. And

his net worth of $250 million

ranks second in his family.

His wife Gisele Bundchen,

one of the world's highest

BRENDA SCHIMKE

Editorial Writer

JUDY WALGENBACH

Marketing 403-740-2492

marketing@ECAreview.com

STU SALKELD

LJI Reporter 403-741-2615

reporter@ECAreview.com

SHEREE BAILLIE

Marketing 587-990-4818

contact@ECAreview.com

paid supermodels,

has a net

worth of $400 million.

It's safe to

say Tom and

Gisele can afford

extra butter on

their popcorn

when they take in

a movie.

SLAP

Shots

• RJ Currie of

sportsdeke.com:

"According to Orange

News, a farmer

who built his

own submarine

tested it by diving

to the bottom of

a nearby lake. He

christened it the

Cincinnati Red."

• Super 70s

Sports, on Twitter,

recalling a line

from former Houston

Oilers coach

Bum Phillips, after

Earl Campbell

failed to complete

a one-mile run in

practice: "When

it's first and a

mile, I won't give

it to him.""• Greg

Cote of the Miami

Herald: "Steph

Curry will host The

ESPYs . . . poor guy

is finally getting

some attention!"

DANIEL GONZALEZ

Reporter 403-700-9460

news1@ECAreview.com

LISA MYERS-SORTLAND

Graphic Artist

R

18 pt
---
ECA REVIEW HANNA/CORONATION/STETTLER, AB August 4'22 7

HANNA COUNCIL

Outrage over Senior Amenity Zone project

Daniel Gonzalez

ECA Review

Outrage and frustration regarding

the project costs for the Senior

Amenity Zone project arose during the

July 7 Hanna council information

meeting.

The $492,000 plan consists of a

walking trail on Palliser Trail, sidewalk

replacements and bump-outs on

5th Avenue and widening pathways in

Hunter-king Hector Park.

The $369,000 from Prairies Can and

the Western Economic Development

(WED) through the Canada

Community Revitalization Fund would

fund part of the project which requires

Hanna to pay the rest.

Although applications for tender

started in June, the project failed to

garner the interest of contractors.

The project timeline and funding

concerned Chief Administrative

Officer (CAO) Kim Neill since the

funding deadline is March 31, 2023.

Neill mentioned that for a contractor,

design company 818 Studios Ltd. contacted

four contractors who expressed

interest in the project. One, in particular,

sent a tender for $1.7 million.

With the project being significantly

over budget, CAO Neill contacted WED

and Prairies Can to see if an extension

is possible.

Planning with 818 Studios to reduce

the scope of work to meet the funding

requirements was made on the condition

that the contractor Urban Life

Solutions agrees to the project.

Administration and Urban Life

Solutions will review the tender and

focus on priority areas with revised

quotes.

Coun. Sandra Murphee questioned

how 818 Studio Ltd. managed to have

the pricing significantly off target.

"If I did that as a business, I wouldn't

be in business," says Murphee.

"That's crazy. So either 818 should

give us a discount on what they gave

us, or we wasted our time on things we

can never afford because they told us it

was affordable."

Coun. Murphee expressed frustration

on the scaling back of the project

and the impact it would have had on

the community.

"This was exciting. We were going to

make the town look like we are

investing in our young people," says

Murphee.

CAO Neill responded that if certain

parts of the project could be salvaged,

with the town picking up some of the

cost, the project could be worthwhile.

Mayor Danny Povaschuk suggested

an option to save the funds for the

future rather than pursue this project.

A discussion regarding the listed

costs made council question the prices

provided on the tender.

Council will make the final decision

on the amenity zone project at the regular

council meeting in August.

Victim Services

Sgt. Robert Welsman of the Hanna

RCMP detachment appeared before

council to give an update regarding

activity and statistics.

Sgt. Welsman provided an update on

the new victim services program by

the RCMP, the Hanna Learning Centre

and the office of the Justice Solicitor

General.

The new program will shift to a

regional model that allows Alberta to

take responsibility for victim services

instead of having individual offices

funded through grants.

As preparation for the new model

will take time, an interim solution will

be in place for victim services.

"As the arrangement's set up, our

detachment still has a responsibility to

advise victims of crime of what their

rights are," says Sgt. Welsman.

The RCMP looks forward to the

victim services program as it will help

assist victims through the court

process.

Coun. Sandra Beaudoin asked if provincial

elections affect the program,

but Sgt. Welsman couldn't provide an

answer. He hopes that bureaucracy

will not interfere with the program.

Coun. Angie Warwick outlined that

politicians need to be accountable for

their actions if it influences the

outcome.

Crime statistics

Statistics for crime in Hanna and the

surrounding area showed no drastic

changes compared to the same quarter

of previous years.

According to Sgt. Welsman, property

crime and copper wire theft are still

common crimes, in addition to

domestic violence.

Education on fraud issues is also a

priority for the RCMP as it is a commonly

reported crime.

Coun. Beaudoin brought concerns of

a resident about suspected drug trafficking

in the community.

The resident is a single mother concerned

about her children becoming

clients for a possible dealer who cuts

through their property.

She also mentioned to Coun.

Beaudoin that the mother of the suspected

dealer provides sandwiches to

children in the community to garner

false trust.

Coun. Beaudoin outlined that this is

not the image Hanna should portray

and asked Sgt. Welsman if there is any

targeting for drug crimes in the town.

Sgt. Welsman outlined that drugs

are a prevalent problem in every community

but guarantees that the RCMP

is aware of individuals involved in the

drug trade and will continue to investigate

when possible.

Coun. Murphee noted a leap in

reports regarding mental health. Sgt.

Welsman stated that the number stems

from individuals with mental health

concerns who make reports with the

RCMP.

"I will say that we do deal with

mental health issues on a regular basis

at the detachment," says Sgt. Welsman.

"I don't think that's different anywhere

else, but we will certainly keep our eye

out for an increase."

He outlines that the RCMP works

hard to ensure to help those individuals

connect with the proper medical

professionals.

Hanna Learning Centre

Doray Veno, Executive Director of

the Hanna Learning Centre (HLC),

provided an activity update to council.

The HLC, a registered non-profit

serving the community since 1976, consists

of four departments; Learning

and Literacy, Career and Employment

Services, Connecting Community and

Business Services.

A recent program called 'come for

lunch, stay for conversation' was made

to address food security concerns in

Hanna.

Every Wednesday, HLC provides

pre-packaged meals in the lobby of the

Provincial Building. Since last March,

it has given 530 meals to the

community.

HLC freezes remaining meals for a

grab-and-go program offered once

every month to prevent food waste. On

occasion, individuals receive meals

outside of these days.

Meals are made off-site by Karen

Miller, a local caterer, where they are

brought in and served. Every meal

comes individually packaged and provides

proper nutrition.

Veno also mentioned an amalgamation

of the HLC and Hanna Volunteer

Association that started in 2021.

A new organization will launch

before the end of this year with new

branding but will continue to offer the

same services. Rather than operating

two organizations, it will unify them

both.

A challenge that Veno and the HLC

face is the uncertainty with the facility.

Policy from Alberta Infrastructure

will make users of their space pay full

cost recovery.

It will cost the HLC $60,000 per year.

Before the policy change, HLC used the

facility over the last 20 years at zero

cost.

Although grant funding for the

upcoming year is secured, the HLC

will look for a new facility to base its

operations.

Turn to Shacker, Pg 12

e

Business

Directory

Bill's Waterwell

Services Ltd.

Well Drilling

Pumps & Repairs

403-747-2120

drillerbill@xplornet.com

Big Country Construction

& Building Supplies

2018 Ltd.

• Custom New Homes • All Farm Buildings

• Renovations • Windows and Doors

• Overhead Doors & Service • Retail Sales

Quality Customer Care

403-854-3585

UNLIMITED

HIGH‐SPEED INTERNET

Now Serving:

Coronation, Veteran, Talbot, Brownfield,

Alliance, Fleet, Castor, Halkirk, Botha, &

Stettler areas. More to come!

Plans starting at $50/mo.

Packages from 7 to 50Mbps

403-578-4214

Toll Free 866.57.VITAL

53' Ground Load Services

Benson Van Hienen

403-741-5735

bvhtrucking@gmail.com

Scott Lourance

403-916-4600 Cell

403-742-2551 Home

53' Cattle Liner

53' Ground Load

Hay Trailer

CAN'T SEE OUT?

Option #1

Replace

the Foggy

Unit

Option #2

Replace

the

window

Financing Available

Anchor Glass

403-854-4414 • 1-800-463-3148

www.anchorglass.ab.ca

tim@anchorglass.ab.ca

McSteel

SALVAGE &

CLEAN-UP

LTD.

Wainwright, AB

We Buy

Scrap Metal

Call

780-842-8622

www.mcsteel.ca

• Specializing in Repairs to

ALL Makes & Models of RVs & Trailers

• Full selection of RV Parts & Accessories

• RV Storage

403 742 5667 generationsrv@gmail.com
---
8 A ugust 4'22 HANNA/CORONATION/STETTLER, AB. ECA REVIEW

Ph. 403-578-4111CLASSIFIEDS/CAREERSEmail: office@ECAreview.com

Classified Ad Rates

$13.85 + tax for 25

words or less + 20¢ a word

after 25 each week or 3

weeks for $38.55 + tax

(based on 25 words or less).

Reach 75,000 readers with

your classified. This

includes For Sale, For Rent,

Card of Thanks, Coming

Events, etc.

Payment Necessary

All Classified Ads are on a

Cash Only basis and must

be prepaid before running.

There will be a $5.00

service charge on every

classified not paid for prior

to publication.

We accept cash, cheque,

e-transfer, VISA or MC.

It is the responsibility of

the advertiser to check ad

the 1st week and call us if in

error. The Review is

responsible for their

mistakes the 1st week only.

Deadline For Ads

All classified ads must be

received by 5 pm on

Mondays preceding

publication. For Too Late To

Classifieds ad must be

received by 10 am Tuesday.

Ph. 578-4111. Mail to Box

70, Coronation, AB T0C

1C0.

REAL ESTATE

BEST HUNTING in

Saskatchewan right

by Sask. River.

Excellent fishing and

very high Deer population.

Thick pine &

poplar bluffs, close to

water coulee. Old

yard site with old

power and water.

Revenue on crop

and hayland. East of

Prince Albert.

$248,000. Call Doug

306-716-2671.

MISC.

HIP/KNEE

Replacement. Other

medical conditions

causing Trouble

Walking or Dressing?

The Disability Tax

Credit allows for

$3,000 yearly tax

credit and $30,000

lump sum refund.

Take advantage of

this offer. Apply

NOW; quickest

refund Nationwide:

Expert help. 1-844-

453-5372.

WANTED

NUMISMATIST

PURCHASING Coin

Collections &

Accumulations!

Royal Canadian

Mint, Canada &

World Collections

Wanted. Also buying

9999 bullion, old

money, jewelry, nuggets,

sterling, gold,

silver, coins, bars,

monster boxes +++

Estates Welcomed!

Todd 250 864 3521.

FEED AND SEED

ALBERTA FEED

Grain: Buying Oats,

Barley, Wheat,

Canola, Peas,

Screenings, Mixed

Grains. Dry, Wet,

Heated, or Spring

Thresh. Prompt

Payment. In House

Trucks, In House

Excreta Cleaning.

Vac Rental. 1-888-

483-8789.

check us out online

www.ECAreview.com

WE BUY Damaged

Grain - Heated,

Mixed, Tough, Light,

Bugs, Spring

Thrashed....Barley,

Wheat, Oats, Peas,

Flax, Canola. "On

Farm Pickup".

Westcan Feed &

Grain 1-877-250-

5252.

R.V.'S

1992 WESTWIND

Custom Coach 5th

Wheel, 25.5 ft. bunk

model. Sleeps 8,

A/C, 2-way fridge

with top freezer,

radio, hot water

tank, awning, stove

top & oven, shower

& tub, TV hookups,

everything in working

condition, good

tires & new spare.

No leaks. Asking

$3700. or best offer.

Call Neil 403-575-

0668.

HELP WANTED

CORONATION

Restaurant & Cafe

hiring waitresses/

waiters. Day & evening

shifts available.

Apply in person

with resume.

Ask for Dion.

LOOKING FOR a

new Library

Manager! Must be

computer proficient,

love books, have

amazing computer

skills and have a

love for the community

and programs

to help serve the

community needs.

Please submit

resume to:

Clivelibrary@prl.

ab.ca

AUCTIONS

ONLINE TIMED

Auction August

11-16/22. Police

Theft Recovery,

Guest Consignors.

Motorcycles,

Bicycles, Sporting

Goods, Tools &

Shop Equip., Gens.,

Weld./Cutting,

Collectables,

Saddles, Harness,

Equestrian,

Vending, Music, etc.

BILL MACKENZIE,

Versatile 125 4X4

Tractor, Ant. Farm

Implements, Buggy,

Cutter, Lawn

Mowers, Trailers,

Tools, Lumber, etc.

See www.montgomeryauctions.com;

403-885-5149.

WE'RE HIRING

Wind Technician & Site Lead

We're looking for a Wind Technician and a

Site Lead to join our team at the Bull Creek

Wind Facility in Chauvin, AB.

These positions will be accountable for the

safe and efficient operation and maintenance

of our Bull Creek Wind Facility. The Wind

Technician and the Site Lead will work with

our Site Supervisor to ensure targets are

achieved including safety, environmental,

production and annual budget.

If you have experience working with high,

medium and low voltage equipment, enjoy

the outdoors and working with renewable

energy, then please apply.

For more information, visit:

bluearthrenewables.com/careers

COMING EVENTS

ONGOING

MOVING Sale.

Everything must go

including window air

conditioners, Acorn

stair lift and more.

5109 - 49th St.

Castor, Ab. , every

day 9 am - 5 pm.

PERSONALS

I WOULD like a

lady for a companion

to live with me

and also help me

with other odds and

ends. Call Vern

Bodd 1-403-565-

3863.

Village of Heisler

Public Works Foreman

The Village of Heisler is currently accepting applications for the

permanent full-time position of Public Works Foreman

starting immediately.

• Operation of Village Utilities (water treatment/distribution and

sewage treatment/collection) • Road and sidewalk maintenance,

signage, snow removal, parks maintenance, and improvements

to infrastructure • Equipment and Village owned and operated

facility maintenance • Good communication skills • Other duties as

assigned by the CAO

Preference will be given to candidates who hold certificate in:

• Small Water and Waste Water System Certificate, or willingness to

obtain certification • Operation of Village Utilities (water treatment/

distribution and sewage treatment/collection) • Class 5 Driver's

License

Qualifications:

• Grade 12 or equivalency • Ability to multi-task • This job entails

working in inclement weather conditions, physical activity and

problem solving

• The successful applicant will be required to work a 40-hour work

week with overtime as required, and emergency call-out

Please submit your resume, outlining education, qualifications,

salary expectation and experience in confidence to:

Village of Heisler, Attn: Heidi Rohe, CAO

Box 60, Heisler AB, T0B 2A0; administration@villageofheisler.ca

or submit in person at 128 Main Street Phone 780-889-3774

This position will remain open until a suitable applicant is selected. The

Village of Heisler wishes to thank all applicants for applying, however,

only those selected for interviews will be contacted.

SERVICES

THE ACTIVATED

QUILL - when you

don't know how to

say it! Do you have

something important

to say but the words

won't come?

Perhaps an apology

is owed or forgiveness

is stuck in your

throat. Have you

drifted away from

someone you love?

Screwed things up?

Are unspoken

thoughts disrupting

your sleep? We offer

help to clarify personal

communication

in sensitive situ-

Board Members

NEEDED FOR

Mirror & District Museum

To remain an AB Registered Society,

the Mirror & District Museum

Assoc. IMMEDIATELY needs Board

Members and community support

to fill spaces left by members who

have moved away

A FULL board is required to make

museum decisions, plan events and

fulfill obligations under the AB

Societies Act

In addition to the Mirror Museum

Building and Exhibits, we are

responsible for the St. Monica's

historic 1895 Church, plus Mirror's

CN Caboose and Box Car

mmuseum@cciwireless.ca

(403) 391-6086 cell

ations. We are professional

writers

offering one-on-one

word smithing to

help you clear the air

and get your point

across. Visit us

online www.theactivequill.ca.

Contact

us by email at

TheActiveQ@gmail.

com or by text or

phone call to 877-

966-8766.

CRIMINAL

RECORD? Why suffer

employment/

licensing loss?

Travel/business

opportunities? Be

embarrassed? Think:

Criminal Pardon. US

entry waiver. Record

purge. File destruction.

Free consultation.

1-800-347-2540.

www.accesslegalmjf.

com.

With Sincere Thanks

On behalf of the Bill Cummings family, we would like

to thank everyone for the cards, flowers, and the kind

expressions of sympathy shown following Bill's passing.

Special thanks to Ken and Lee

Simpson for letting us have Bill's

service on the family homestead,

Len and Marie Carfantan for

providing and driving the team of

horses from the family farm to his

final resting place, John Gilchrist

for his assistance at the service, the

pallbearers for their support, and to

Shirley Powell, Arlene Gilchrist, the

Youngstown Community Luncheon Ladies for providing a

beautiful luncheon.

An extra special thanks you to Dr. Mdawe, and the staff at

Hanna LTC for caring and loving Bill.

Your support at this difficult time was very much

appreciated and a great comfort to all of the family.

The Family of Bill Cummings (1922~2022)

East Central Gas Co-op Ltd. is hiring!

Gas Utility Operator

Training will be provided, however,

priority will be given to those who hold a

Level II Gas Utility Operator certificate.

Please provide resume in person, by mail or e-mail.

EAST CENTRAL GAS CO-OP LTD.

Attn: Ashley

406 5th Street East

Box 190 Hanna AB T0J 1P0

manager@eastcentgascoop.ca 403-854-4411

Closing date: August 24th, 2022

PRIVATE

MORTGAGE

Lender. All real

estate types considered.

No credit

checks done. Deal

direct with lender

and get quick

approval. Toll free

1-866-405-1228;

www.firstandsecondmortgages.ca.

The Village of Irma

PUBLIC WORKS SUPERVISOR

FULL-TIME EMPLOYMENT

Situated in East Central Alberta, the growing Village of Irma appeals to all with its outstanding

location, family-orientated environment, excellent recreation facilities and numerous services.

Located 175 kilometers southeast of Edmonton and 30 kilometers northwest of Wainwright, the

Irma community members and visitors enjoy the 9-hole golf course, hockey arena and outdoor

rink, curling rink, ball diamonds, new K-12 school, and service clubs, all within the safety and

heart of the beautiful rolling parkland of the Battle River Country. Additional amenities are

offered a short distance away in the close community of Wainwright.

The Village of Irma is seeking a full-time Public Works Assistant with the following qualifications:

- Possess a Class 5 License with "Q" endorsement (or willingness to obtain "Q" endorsement)

- Necessary skills to operate equipment such as tractors, backhoes, graders etc.

- Ability to perform physical labor

- Mechanical aptitude is an asset

- Able to work 40 hours per week

- Possess a Level 1 or Small Water/Waste Water certificate (or in the process of obtaining)

- Successful candidate will be responsible for directing daily tasks to staff as required

(assistants and/or summer students)

The Village of Irma offers a competitive compensation and benefits package and continuous

learning opportunities in a community that enables a superior work-life balance. For more

information about the community, please visit our website at www.irma.ca and see if this

opportunity suits your lifestyle and career goals. Interested candidates are invited to submit

their application in confidence by 4:00 P.M. August 31, 2022 to:

Village of Irma "CONFIDENTIAL"

Box 419 Irma, Alberta T0B 2H0 Attention: Chief Administrative Officer

Phone: (780) 754-3665 E-mail: cao@irma.ca

We thank all applicants for interest expressed in this competition however only candidates who most

closely fit our needs will be contacted for interviews. Preference will be given to candidates that reside

in the Village of Irma, or are willing to relocate.
---
ECA REVIEW HANNA/CORONATION/STETTLER, AB August 4'22 9

County of Stettler No. 6

6602 - 44 Ave., Box 1270

Phone: 403-742-4441 Fax: 403-742-1277

www.stettlercounty.ca

Work With Us

Director of Operations

The County of Stettler has an exciting career opportunity for an experienced

professional who will bring inspiring, positive and organized leadership to the

position of Director of Operations.

Reporting to the Chief Administrative Officer, the Director of Operations is

responsible for managing general operations for departments at our Public

Works Facility including, Public Works, Maintenance, Facilities Management,

Agricultural Services, Equipment Maintenance and Mechanical Shop, Health

and Safety as well as managing Engineering functions including but not

limited to survey, roadway/infrastructure design, bridges, culverts/drainage,

approaches, signs, regulatory approvals, ground disturbance, development

plan reviews and gravel pit management.

This integral management position oversees the daily operations and

maintenance of our municipality. You will possess technical experience

and knowledge of government and municipal operations. You are a natural

problem-solver and pay particular attention to details. You have welldeveloped,

professional interpersonal skills and an ability to maintain

productive and effective relationships with the CAO, the management team,

elected officials, staff members and external contractors and agencies.

An ideal candidate would possess the following

minimum qualifications and skills:

* A degree in civil engineering is preferred, Membership or Eligibility for

membership with APEGA, MBA is an asset;

* Proven leadership, people management and coaching skills;

* Demonstrated knowledge in project management, analytical abilities,

negotiation, mediation and conflict resolution skills, PMP designation is an

asset;

* Strong public relations, effective oral and written communication skills and a

solid understanding of public works practices and culture

* Experience working with Provincial and Federal government agencies;

* Working knowledge of OHS legislation and safety practices;

* Well versed in procurement the production of tender and RFP documents;

* Considerable knowledge in the operation, maintenance and asset

management of municipal infrastructure;

* Exceptional leadership, fiscal stewardship and interpersonal skills;

* Ability to communicate clearly and effectively;

* Class 5 Motor Vehicle Operators License (drivers abstract will be required that

is satisfactory to the County)

A minimum of 8 years experience in a senior leadership role.

Equivalencies may be considered.

Responsibilities

* Directs and inspires operational supervisors to accomplish the goals and

priorities and follow the strategic direction provided by Council

* Prepares, administers and manages operating and capital budgets for

Operations

* Oversees and assists operational supervisors in planning and managing

ongoing work, activities and resources

* Assists in managing external public service contracts contractors, developers

and suppliers

* Regularly attends Council and Committee meetings as requested by the CAO

* Liaises with and fosters positive relations with regional partners and

municipal neighbors

* Understands legislative requirements and ensures public works, engineering,

health and safety, and agricultural services are meeting the requirements

outlined in such acts including but not limited to Occupational Health and

Safety Act, Regulation and Code and the Municipal Government Act

* Oversees safety programs ensuring proper policies and procedures are

updated and followed for the safety of all staff

* Incorporates asset management practices into the day-to-day operations of

the organization

* Provides technical advice and information to the CAO, Council and

Consultants

* Ensures a positive image is portrayed to the public indicating our

municipalities commitment to responsible public service

* Acts as the conduit between public works staff and administration in

communicating CAO requests maintaining paperwork, overseeing the

approval of timesheets, work orders and purchase orders

* Reports and updates CAO regularly on all activities

The County of Stettler offers a competitive salary and a generous employer

paid benefits package.

The successful applicant will be required to provide a criminal records check.

Please respond in confidence with a cover letter and resume as well as copies

of relevant education to: County of Stettler No. 6

Attention: CAO Cassidy

Box 1270 Stettler, AB T0C 2L0 Fax: 403.742.1277

Email: info@stettlercounty.ca

The competition will close once a suitable candidate has been found. The

County appreciates all applications, however only those selected for interview

will be contacted.

Agriculture and oil and gas manufacturing are the core of our economy with

tourism being a strong economic driver with popular attractions being our

close proximity to Buffalo Lake and the always popular Alberta Prairie Steam

Excursions. Population within our trading area is approximately 11,000

people. Stettler County offers a wide range of municipal services and quality

recreational opportunities that contribute to an exceptional rural lifestyle.

Too far for a

service mission

Cont'd from Pg 5

This cluster is located 4.6 billion lightyears

away. That is the amount of time

it took the light to reach us and when

the sun and planets were slowly being

created from the solar nebula.

Launched on Dec. 25, 2021, the

mighty Ariane 5 rocket delivered the

seven ton telescope into space where it

was deployed and gracefully continued

its journey. It travelled for another 30

days to its final position known as

Lagrange 2, a point in space some 1.5

million kilometres from earth or

about four times the earth-moon

distance.

Unlike the Hubble which was

launched in 1990 with a flawed mirror

Caring for you & your Smile!

Formerly Baird Caring Denture for you & Clinic your Smile!

Formerly Baird Denture Clinic

• Dentures • Implant Dentures

• Partials • Relines/Repairs

• Dentures • Implant Dentures

• Partials • Relines/Repairs

We offer out of office appointments to senior lodges

David Ho, DD

(owner/manager)

"Did you know, if you are

65 years or older you might

requiring a repair mission in 1993 out-

Over 10 Years experience

We offer out of office appointments be eligible to for senior up to lodges

fitting it with corrective lenses, James

Webb is too far for a service mission.

Who knows if there will be such a

Call now for your

FREE consultation!

David Ho, DD

mission down the road if needed, but

for now, there are no plans to ever visit (owner/manager)

the telescope.

The $10 billion project is a collaboration

between NASA, the European

Over 10 Years experience

Space Agency and the Canadian Space

Agency along with other companies. Call now for your

Canada's contribution is the Fine

Guidance Sensor (FGS) used to FREE point consultation!

the massive telescope as well as the

Near-Infrared Imager and Slitless

Spectrograph (NIRISS).

Thousands of people worldwide

worked on this project which began in

1996 when it was first called the Next

Generation Telescope.

In 2002 the name was changed to

James Webb Space Telescope who was

the NASA administrator from 1961 to

1968. These were the early days of

Mercury, Gemini and Apollo.

Do you

deserving

Do

business

Do know you know a a

Do you know Do you you know

a know a a

The Webb project suffered setbacks Do you Do know deserving or you deserving

citizen?

know a abusiness

business business

along the way such as a redesign deserving and business

deserving

or citizen?

or Nominate

business or citizen?

the COVID pandemic did not help

or or citizen?

matters.

or citizen?

or citizen? Nominate Nominate

them today!

When completed, the 18 gold-plated

them Do you today! know a

Nominate

Nominate them today!

six-sided honeycomb-style mirrors them deserving today! business

measure a total width of 6.5 metres

wide compared to Hubble's 2.4-metre

wide single mirror. This results in

more light-gathering power along with

its infrared capability to observe heat

signatures through clouds of interstellar

dust.

Another critical part of the telescope

is the sun shield measuring the size of

a tennis court.

Comprised of lightweight material

with special thermal properties, the

five layers will provide a shield from

the sun's heat and light as well as the

heat of its instruments allowing the

sensitive infrared to work without

interference. The

mirror will

operate at -223

degrees Celcius

and the rest of the

equipment close

to absolute zero

or -273 degrees

Celsius.

In the wise

words of Carl

Sagan, "somewhere,

something

incredible is

waiting to be

known,"

The James

Webb Space

Telescope has

opened a new

portal to discovery.

Will we

someday glimpse

the first stars and

infant galaxies

dating back 13.8

billion years?

Only time will

tell.

100% coverage on a

new set of dentures?"

"Did you know, if you are

65 years or older you migh

be eligible for up to

100% coverage on a

new set of dentures?"

OFFICE HOURS: MONDAY TO TO THURSDAY 9 - 9 A.M. A.M. TO TO 45 P.M.

FRIDAY - 9 A.M. - TO NOON 3 P.M.

403.742.2351 • 5021-50 - 50 St. St. Stettler

After hours available by appointment only

*After hours available by appointment only at 587.736.0128*

OFFICE HOURS: MONDAY TO THURSDAY - 9 A.M. TO 5 P.M

FRIDAY - 9 A.M. TO 3 P.M.

Octoer 20, 20, 2022 2022

403.742.2351 • 5021-50 St. Stettler

October October Octoer 20, 20, 20, 2022 20, 2022

*After hours available by appointment only at 587.736.0128*

CALLFOR CALLFOR NOMINATIONS

CALL Do you know FOR a NOMINATIONS Octoer 20, 2022

October 20, 2022

CALLFOR NOMINATIONS

CALL FOR NOMINATIONS

Octoer 20, 2022

Do you know a

them Self them nominations today!

deserving today! them

accepted. Self business nominations or today! citizen?

Self nominations accepted. accepted.

Nominations Nominations Self deadline: nominations or citizen? deadline: Nominations deadline:

Nominate

accepted.

September September 1, 2022 September 1, 2022

Nominations Nominate 1, 2022 deadline:

Self nominations

Self nominations

Self nominations accepted.

September accepted. them today!

Do Self you nominations 1, 2022

know Nomination a accepted.

forms and

Nominations Nominations Nomination deadline: forms them deadline: and forms today! and

Nominations deadline: award categories

September award deserving categories Nominations business deadline:

September 1, award 2022 Nomination 1, 2022

categories

forms

Self nominations

available and

accepted.

at

September available 1, 2022 available

or citizen? award September

at

Self nominations stettlerboardoftrade.com

categories accepted. 1, 2022

stettlerboardoftrade.com Nominations deadline:

Nomination stettlerboardoftrade.com

Nomination forms Nominations

Nominate

forms and available anddeadline:

September

at

1, 2022

Nomination forms stettlerboardoftrade.com

September and 1, 2022

award award categories

award categories them

Nomination

today!

forms and

available available Nomination 6606 Nomination

forms - 50 Avenue and

forms Stettler, and AB T0C 2L2

6606 - 50 Avenue award

403-742-3181

Stettler, award

categories

AB T0C categories

dmorris@stettlerboardoftrade.com

2L2

6606 stettlerboardoftrade.com

- 50 available Avenue Stettler, at award AB categories

403-742-3181 dmorris@stettlerboardoftrade.com

T0C 2L2

available at

stettlerboardoftrade.com

403-742-3181 Self dmorris@stettlerboardoftrade.com

available available at at

6606 nominations - 50 Avenue accepted.

Stettler, AB T0C 2L2

stettlerboardoftrade.com

Nominations 403-742-3181 deadline: dmorris@stettlerboardoftrade.com

September 1, 2022

6606 - 6606 50 Avenue - 50 Avenue Stettler, Stettler, AB T0C AB T0C 2L2 2L2

403-742-3181 403-742-3181 Nomination 6606 dmorris@stettlerboardoftrade.com

- 50 Avenue forms 6606 Stettler, - 50 andAvenue AB T0C Stettler, 2L2 AB T0C 2L2

6606 - 50 Avenue 403-742-3181 award Stettler, categories 403-742-3181 AB T0C 2L2dmorris@stettlerboardoftrade.com

403-742-3181 dmorris@stettlerboardoftrade.com

6606 available - 50 Avenue at Stettler, AB T0C 2L2

stettlerboardoftrade.com

CALLFOR NOMINATIONS

403-742-3181 dmorris@stettlerboardoftrade.com

6606 - 50 Avenue Stettler, AB T0C 2L2

403-742-3181 dmorris@stettlerboardoftrade.com

• Hearing Tests

• Medical Referrals

• Hearing Aid Fittings & Ongoing Support

• No Obligation Hearing Aid Trials

• Custom Ear Plugs

• All makes and models of Hearing Aids

• Batteries and Accessories

• Vendor for AADL, DVA

• Vendor for WCB AB and SK,Work Safe BC

• L.A.C.E – (Listening & Communication

Enhancement) training

413 Main Street Three Hills, Alberta

119 2nd Ave. West, Hanna, Alberta

(403) 443-2288

1 (888) 536-MAXX (6299)

hello@maximumhearing.ca

October 20, 2

CALL FOR NOMINATIO

Maxine Williams-Herbert,

Owner

Registered Hearing Aid Practitioner, BC HIS

HOURS:

THREE HILLS: M-W 9 am - 4:30 pm

HANNA: Th 9 am - 4:30 pm; F 9 am - 3 pm

www.maximumhearing.ca

Follow and like us on
---
10 A ugust 4'22 HANNA/CORONATION/STETTLER, AB. ECA REVIEW

OBITUARIES

Trucker with a passion for hunting, fishing

LAYE, Walter

1922 – 2022

Walter Laye passed away at

the Red Deer Regional Hospital

Centre with his family by his

side on Tues. April 12, 2022 at

the age of 99 years and four

months.

Walter was born on Nov. 26,

1922 on the farm at Walsh, Alta.

to Gotthilf and Brigetta Laye.

He attended Box Elder School.

While growing up, he worked

for Tom Hargrave and Ross

Haighe. Walter's favourite pastime

was hunting, including

hunting coyotes with hounds.

Walter moved with his family

to the Horseshoe District north

of Monitor, Alta. in the spring of

1944.

He helped at home for a while

and then went to work for

Johnson's Sawmill in the

Porcupine Hills near Fort

MacLeod, Alta.

He married Ruby May

Deacon on Oct. 31, 1947 at

Consort, Alta.

Walter started trucking in

1948 and competed in rodeos

until 1950 when he quit and

never went back.

He did general grain and

cattle hauling, then went into

hauling gravel which he continued

doing for 36

years.

The family moved

all over Alberta while

stock piling gravel and

paving highways.

Walter and Ruby

moved to Lacombe.

Alta. in 1972 and

Walter retired due to

poor health. Ruby

Laye

passed away in March

of 2000 but Walter continued

to live in his

own home with his best fur

buddy, "Penny".

He continued to enjoy his passion

of hunting and fishing for

as long as his health allowed.

Walter will be lovingly

remembered by his children,

Shirley (Jack) Nielsen, Linda

In business many years

Barbara Grace Costigan

(nee Schofield)

May 15, 1937 - July 28, 2022

In her own way, but with

medical assistance,

Barbara passed away

in Calgary, Thurs.

July 28, 2022.

Left to remember

her are her sisters:

Ann Schofield and

Adair Forsythe both

of Airdrie; her sisterin-law

Cathy McKay

of Carstairs; step son

great grandson Stephen

(Amanda) and great, great

grandson Oliver Teasdale of

Stettler; extended Schofield and

Costigan relatives and

some very good

friends.

Barbara was predeceased

by her husband

Frank in 1984, step son

Jim in 2021; parents

Bob and Lillian

Schofield; brothers

Keith Schofield and

Beverley Schofield; sisters

Arthur Costigan and

step daughter-in-law

Alana Costigan of

Costigan

Helen (Jim) Reid,

Sharon (Larry)

Nygaard.

Stettler; granddaughters Mary

Beth (Bruce) Cunningham of

Trochu and Margaret Ann

(Mike) Nishida of Beaumont;

Barbara owned Bestway

Travel in Stettler for many

years and following a move to

Victoria, she also was involved

Worked shoulder to shoulder

on farm for many years

Sandra Jean Bosma

1937 – 2022

Sandra Jean Bosma (Bateman) born

on May 9, 1937, in Stettler, Alta. to Fran

and Tom Bateman, the first of three

girls.

She attended school in Stettler and

was crowned Ice Carnival Queen in

1954. She worked at AGT as a telephone

operator after she finished school until

she married the love of her

life, Jack Bosma in 1956.

The Bateman's were

new to the area, one day

Jack rode by on his horse

and Sandra insisted to go

for a ride. She never got off

the horse.

Jack and Sandra were

married Dec. 1, 1956 and to

this union three kids were

added; Tammy 1959, Jim

1966, and Donnie 1969.

Bosma

They worked shoulder to shoulder,

24/7 on their farm for just over 65

years.

The family has expanded to include

five grandchildren, and four great

grandchildren.

Sandra leaves to mourn, her loving

husband Jack; daughter Tammy

(Trevor) Groves; son's Jim (Kelly)

Bosma and Donnie Bosma; grandchildren:

Blake (Laura) Groves, Jesse

(Jordanna) Bosma, Dallas Bosma,

Summer Bosma; step granddaughter

Ally LaRose; great grandchildren

Brycelynn and Finn Groves, Olivia

and Oakley Bosma; sister Sheila (Bob)

Kirk; sister-in-law Anna Forrest;

brother-in-law Dave Lovell; as well as

numerous nieces and nephews

and many dear friends.

She was predeceased by her

parents Tommy and Fran

Bateman; sister Dixie Lovell;

grandson Bryce Bosma and

daughter-in-law Amanda

Bosma.

A Celebration of Life will be

held at the Stettler Funeral

Home, Stettler, Alta. on Sat.

Aug. 6, 2022 at 2 p.m.

Memorial donations may be

made to Alberta Cancer Foundation.

Condolences may be sent to the

family, please visit www.stettlerfuneralhome.com.

Stettler Funeral Home &

Crematorium entrusted with the care

and funeral arrangements

403-742-3342.

in the travel industry for 20

years.

Failing health meant a move

to Airdrie in 2011 to be near

family.

Funeral services will be held

at Stettler United Church, Fri.

Aug. 5, 2022 at 2 p.m.

Memorial donations may be

made to Stettler United Church,

Box 1027, Stettler, Alta. T0C 2L0

or Airdrie Foundation, #944,

203-304 Main Street, Airdrie,

Alta. T4A 0H5

To send condolences to the

family, please visit www.stettlerfuneralhome.com

Stettler Funeral Home &

Crematorium were entrusted

with the care and arrangements.

For further information

please contact 403-742-3422.

Funeral Home

Dentist

Dr.McIver

Call Dallas Ellerby

Your Farm & Ranch Specialist

403.578.8105

Proud to be part of Central Alberta

Family Funeral Services Ltd.

www.coronationfuneralhome.ca

403-578-2928

corofuneralhome@telus.net

Lawyer

E. Roger Spady

Professional Corporation

Barrister & Solicitor

Coronation Mall Coronation, AB

403-578-3131

Office Hours: Tuesday to Friday 9 a.m. to 5 p.m.

In Coronation (Located in Coronation Mall)

MONDAYS 9 a.m. - 5 p.m.

Call Anytime for Appointments

403-578-3811

(Harold) Peterson, Randy (Judy)

Laye, and Debra Lynnette.

Also his grandchildren,

Lonnie (Kirstin), Jason

(Jennifer), Chad (Jolea), Natalie

(Laina), Duke (Lacinda), and

Tova (Jeff), and his great-grandchildren,

Sierra, Eric,

Amber, Ben, Marissa,

Aveya, Cayson, Reece,

Ryerson, Kiana,

Oliver, Everly, Keenan

and Eliza.

He will also be sadly

missed by his

brothers, Alex and

Bill Laye, his sister-inlaw,

Vay Dumouchel,

his special friends,

Ron Seely and Carl

Ganter; as well as

many, many nieces and

nephews.

Walter was predeceased by

his wife Ruby, his siblings,

Adelina, Edna (Rath), Annette

(Wiest), and Albert, his grandsons,

Joshua Laye and Shawn

Nielsen, and a great-granddaughter,

Eden Laye.

As per Walters request,

no service will be held.

Cremation entrusted to

Parkland Funeral Home

and Crematorium, Red

Deer, Alta.

If desired, memorial

donations in Walter's

honour may be made

directly to STARS, 1441

Aviation Park NE, Box 570,

LAND FOR SALE

CROP LAND

4500 acres - Chinook area

6000 acres - Cereal area

2400 acres - south of Hanna

GRASS LAND

16 quarters - south of Veteran

90 quarters - Youngstown area

117 quarters - south of

Youngstown

www.greaterpropertygroup.com

GREATER PROPERTY GROUP

1/4 section north of

Veteran - 90 acres

broke, home site,

16' x 76' mobile

home, 40' x 60'

shop & working

corrals. Owner

willing to subdivide

acreage out.

cancow@

xplornet.com

LEGACY DRILLING LTD.

Water Wells

Pasture Wells

Drilling and Servicing

Jeff Southworth

Phone: 403-854-0172 • Hanna, AB

Phone: 403-396-2254 • Delburne, AB

E-Mail: legacydrillingltd@outlook.com

Emergency 24/hr On Call

Professional Directory

Chery Southoff

Calgary, Alta. T2E 8M7or at

www.stars.ca.

Condolences, memories

and photos may be shared

and viewed at www.parklandfuneralhome.com.

Arrangements in care of

Parkland Funeral Home

and Crematorium, 6287 – 67

A Street (Taylor Drive), Red

Deer. 403.340.4040.

Optometrist

CORONATION VISION CLINIC

Dr. Ward ZoBell

Tues & Thurs 10 - 4

403-578-3221

HANNA VISION CENTRE

Eye Health, Glasses, Contacts

Dr. Dennis A. Heimdahl Dr. Ward ZoBell

Tues, Wed 9-4:30; Thurs, Fri 9-4

403-854-3003

Dentist

Our families serving yours!

Phone: 825-300-0049

Email: drballdental@gmail.com

Location: 4913 50 St, Killam AB, T0B 2L0

Mail: Box 389, Killam AB, T0B 2L0

space available

for under $30
---
ECA REVIEW HANNA/CORONATION/STETTLER, AB August 4'22 11

OBITUARY

Had a 'heart' for people with special needs

Elaine Cummings

1954~2022

Our hearts are broken as we

announce the passing of our beloved

wife, mom and grandma, Elaine

Cummings (nee Boyden) on Sun. July

24, 2022 at the young age of 67.

Elaine passed away peacefully and it

brings comfort knowing that she is no

longer suffering and that she is free

from all her pain.

Elaine was born on Oct. 10, 1954 to

Samuel (Bud) and Eva (Rose) Boyden,

in Camrose, Alta. It was a very busy

household in the Boyden family as

Elaine was blessed with six sisters:

Louise, Bev, Vivien, Kathy, Jeannie

and Joannie. A total of seven girls in

the house!

The best moments of

Elaine's childhood were

spending summers with

her grandparents, time

with her sisters and

playing and getting into

mischief with her best

friend and neighbour

Cherrie Rogacz.

Elaine loved going over

to Cherrie's house.

Cummings

Cherrie's mom Jean loved

Elaine like her own daughter. The

Rogacz family became a second family

to her.

During her growing up years Elaine

completed her Grade 7 Royal

Conservatory music in piano. Elaine's

gift of playing the piano brought her

family much enjoyment over the years.

The family moved numerous times

through the years as her father had a

career on the CN Railroad and his job

took the family all over Alberta, and

British Columbia. At the young age of

three, Elaine's mom passed away of a

sudden death.

Again, we are comforted knowing

that she has been reunited and in the

arms of her mom in heaven.

Elaine and her family resided in

Prince George, BC for many years and

after she left high school, she moved to

Red Deer to be near her cousins and

work at Michener Centre.

This is where mom developed a

heart for people with special needs and

she shared her love, gentle touch and

smile with those who maybe felt

unloved most of their lives.

It was in Red Deer where Elaine met

Len Cummings, and after a short

engagement they were married on

April 14, 1973. As a new married

couple, they resided in Hanna where

she worked in the kitchen at the Hanna

Hospital.

An exciting year for Elaine and

Lenny was in 1974. They purchased a

mobile trailer, moved the trailer on to

the Cummings family farm and in that

same year they were blessed with their

baby girl Laurie.

After a couple years living on the

family farm, Elaine and Len moved

their mobile trailer into Youngstown.

In 1977 they again were blessed and

proud to be parents of their only son,

Michael.

Elaine was mostly a stay-at-home

mom, always putting the needs of her

children first. She did work a little bit

out of the house at the local grocery

store (Gibbs Store). Elaine became

involved with Youngstown United

Church, and taught Sunday school.

In 1982, Elaine and Lenny purchased

their own farm just west of

Youngstown. After living in a small

mobile trailer and now living in a big

house with a big farmyard, Elaine and

Lenny now wished they had more

children.

In 1983 they were proud to be

become parents again to another precious

daughter Tara.

Elaine had many passions in life.

She loved her flowers and starting

flowers from seed. Elaine had a green

thumb. At one time I counted over 80

plants inside her house!

Elaine found comfort in playing the

piano, visiting with her close friends

and volunteering in the Youngstown

community, especially if squares,

cookies, or food were needed for a community

event.

She enjoyed knitting barbie clothes,

baby blankets and doll dresses.

Elaine's homemade soups, buns and

cinnamon buns were the best.

As an adult Elaine was determined

to go back to college. In her early fifties,

she enrolled into Red Deer College

and completed the two-year

Rehabilitation Program

(working with people with special

needs).

After graduating with honours

she travelled to Hawaii to celebrate

her achievements.

She was employed with the

Youngstown home and worked

with adults with disabilities.

Elaine's heart would shine when

she worked. She was genuine,

kind and loving to the residents

of the Youngstown Home.

Always a smile on her face, for the residents

and her co-workers.

Some other exciting highlights in

Elaine's life was travelling to Jamaica

in 2008 to watch Michael marry the

love of his life Charissa.

In 2012 Elaine and Laurie travelled

to Ukraine to volunteer in orphanages

and at a facility for adults with disabilities.

Elaine again was in her glory,

loving others.

Elaine referred to her trip to

Ukraine as a "vacation for her soul".

Len, Elaine and Brielle also took a

trip to Niagara Falls and she was able

to enjoy the beauty of the falls with her

family.

Her greatest passion was spending

as much time as she could loving her

grandchildren: Brenden, Sarah and

Brielle. She would do anything to go

watch them play their sports and

watch all their activities. Even with all

her poor health conditions, she was

still determined to go watch her grandchildren

and be their greatest fan.

In Elaine's last few years of life on

the farm she was gifted in being able to

raise her youngest granddaughter

Brielle. Elaine's new name became

"mama" to Brielle. Elaine poured her

love into Brielle. Spending every

moment she could in Brielle's life

teaching her to be kind, to have good

manners, to help others and to share

with others. Elaine spent hours

reading, singing and playing games

with Brielle.

Elaine's legacy and greatest gift was

love. She was kind to everyone she

encountered. Whether it was her

smile, gentle touch, hug or a little note

that she left to surprise someone,

telling them how much she cared

about them or reassuring someone

that everything will be okay and that

they are loved.

Elaine was selfless. She was always

busy taking care of everyone else, putting

other's needs first and she would

go without.

Life was not fair or easy for Elaine,

but she always remained positive and

always looked at the bright side of

things.

In 2019 Elaine was stolen from her

family. She was diagnosed with rapid

onset Alzheimer's. She moved to the

Hanna Long Term Care in 2021 and

was cared and loved by the staff there.

Alzheimer's may have robbed Elaine

from her life, but Alzheimer's could

not rob Elaine of who she truly was

inside. Elaine's gentle spirit, love and

her smile continued to shine.

Elaine is survived by her husband

Len of 49 years; children: Laurie (Rob)

Palmer, Michael (Charissa)

Cummings and Tara Cummings;

grandchildren: Brenden, Sarah, and

Brielle; sisters: Louise (Wilf) Sarrazin,

Vivien (Tony) Stewart, Kathy (Marcel)

Bazinet, Jeannie (Les) Severson,

Joannie Boyden and Cherrie (Brian)

Calvert.

Also aunts: Leah, Donna and Dot;

uncles, many nieces, nephews, cousins

and friends. She is also survived by

her sisters-in-law: Gail (Jim) Kozak,

Joan Rude, Judy

Cummings and

Wendy

Cummings.

She was predeceased

by her

parents Rose, and

Bud Boyden; inlaws:

Doris and

Bill Cummings;

sister Bev

Boyden; brothersin-law

Rob Rude,

and Gary

Mainhood; Uncle

Bernie (Harry)

ONLINE TIMED AUCTION

BIDDING OPENS: Thursday August 11, 2022 @ 9AM

BEGINS CLOSING: Tuesday August 16, 2022 @ 9AM

POLICE THEFT RECOVERY W/GUEST CONSIGNORS

26514 Twp Rd 400, Blackfalds, AB

VIEWING: AUG 11,12 & 15, 2022 10 AM–4 PM

REMOVAL: AUG 17–19, 2022 9 AM–5 PM

MOTORCYCLES & BICYCLES 2006 Honda VTX

1300 Motorcycle; Max Ebike, Foldable; Giant

Anthem Advanced Mountain Bike; Giant Roam

Mountain; StaryBoard Elec. Skateboard

SPORTING GOODS Rocky RM370 Crossbow,

Infinite Edge Compound Bow, Concept 2 Rowing

Machine, Riding Gear, Downhill Skis, Assorted

Gun Cases

TOOLS & EQUIPMENT DeWalt, Milwaukee,

Ridgid, Cordless Tools, Stihl Cut Off Saws, Drill

Presses, Mitre Saw, Chainsaws, Tool Boxes, Etc.

ASSORTED GENERATORS Energizer EZ3500SP

Generator (New In Box), Etc.

WELDING & CUTTING Decastar 135 Mig;

Century Pro Wire Feed; Lincoln Electric 180

Easy-Mig (New In Box); Miller Thunderbolt AC/

DC; L-Tec Migmaster 250 Mig; 2-Lincoln Port-a-

Torch Oxy-Acc Outfit (New In Box); Metal Cut Off

Saws, & More

SADDLES & EQUESTRIAN Horse Drawn Sulkie

Training Cart; Scheelze Saddle Co. English

Saddle; Falcon English Saddle; Western Pleasure

Saddle; Action Company Western Saddle;

Assorted Tack and Equestrian Items

MEMORABILIA & COLLECTABLES Hockey

Cards, Sport Cards, Signed Mike Modano Hockey

Stick, Collector Coins, Michael Kors Wrist

Watches, Diesel Wrist Watches, Michael Jordan

Shoes, Portable Speakers, Rings, Mounted

Swordfish, Etc.

VENDING, MUSIC, MISC, & ETC.

Bill MacKenzie & Darleen Miller-MacKenzie

3030 TWP RD 402, LACOMBE COUNTY, AB

VIEWING: AUG 11 & 13, 2022 10 AM – 4 PM

REMOVAL: AUG 17 – 19, 2022 9 AM – 5 PM

ANTIQUE FARM IMPLEMENTS Versatile 125

4WD Tractor w/ Cab, 9Ft Blade, Ford HD Ind. 391

Gas Eng., 18.4x38 Rubber, Etc.

HORSE DRAWN IMPLEMENTS Antique Horse

Drawn Doctors Buggy; Antique Horse Drawn

Cutter; Horse Drawn Rubber Tired Cart

LAWN MOWERS, TRAILERS, & FUEL TANK;

John Deere F911 Front Mount Lawn Mover w/

60" Deck; Craftsmen II LT 4000 Garden Tractor,

W/ 42" Belly Mount Mower; McLane Walk

Behind Brush Mower; Shop Built Utility Flat

Deck Trailer

Boyden; many special aunts and

uncles; and Jean and Joe Rogacz.

A Celebration of Life will be held on

Sat. Sept. 17, 2022, 1 p.m. at the

Youngstown Community Hall. Elaine

will be laid to rest with her mom at the

Elnora Cemetery, in Elnora, Alta.

If desired, donations in memory of

Elaine are gratefully accepted to

Alzheimer Society of Alberta, www.

alzheimer.ca, 10430 61 Ave NW #306,

Edmonton, Alta. T6H 2J3, or Diabetes

Canada, www.diabetes.ca.

East Central Gas Co-op Ltd.

ACCEPTING TENDERS for a

2016 Dodge Ram 2500 4x4

Tenders accepted until 4:00pm

on Friday, August 5th, 2022

Tenders accepted in office, by mail, or by e-mail.

EAST CENTRAL GAS CO-OP LTD.

406 5th Street East Box 190 Hanna AB T0J 1P0

manager@eastcentgascoop.ca 403-854-4411

ASSORTED ANTIQUES Beacon Lantern,

BS&M Beam Scale, Berry Pickers, Level,

Wood Planes, Shoulder Drills, Pails, Shovels,

Chief Brand Washboard, Buggy Wrenches,

Sharpening Wheel, Cross-Cut Saws, Bow

Saws, Windows, Etc.

ASSORTED TOOLS, EQUIP. & HARDWARE

ASSORTED LUMBER & STEEL, ETC

AUCTIONEERS NOTE: You don't want to miss this Auction! A great selection of merchandise delivered from

your local Police detachments. Our guest consignors consigned some great items for you to bid on.

PAYMENT: CASH/CREDIT CARD/BANK & E-TRANSFER

SUBJECT to ADDITIONS & DELETIONS, 15% INTERNET FEE

M ONTGOMER Y

AUCTION SERVICES LTD.

Lic #19517 403-885-5149

Blackfalds, Ab www.montgomeryauctions.com 1-800-371-6963
---
12 A ugust 4'22 HANNA/CORONATION/STETTLER, AB. ECA REVIEW

A crayon fence and M&M candy stepping stones in Tara Muhlbeier's garden was described as

"adorable" in the Flowery Prose post online feature of prairie gardens.

ECA Review/Submitted

Prairie garden featured

Sheryl Normandeau online at

Flowery Prose did a series of posts on

several Alberta gardeners about their

inspirations for gardening, the gardening

projects they are working on,

and about the challenges they face as

gardeners in this province and how

they are trying to overcome them.

Tara Muhlbeier was featured in her

July 22 post.

She gardens in east central Alberta

in the County of Paintearth.

"I moved to a farm that had little to

no yard work done. There was a trash

pile and a row of caraganas, a small

greenhouse hardly used. We had our

farm's 100th anniversary going up in

2015 and I did not want the yard to look

unloved."

"We cleaned out the trash pile and

put in rocks from our creek and perennial

plants."

Old ploughs from the brush pile

were put on display in the inner yard

and flower beds made out of old fence

slabs, water troughs and old ploughs.

"I try to use recycled materials as

much as possible and I have some old

wash basins, a large tractor tire, and

mineral tubs I use for flowers, watermelon

and pumpkins," she said.

Tara notes that the crayon fence,

cement pad, and M&M candy stepping

stones in her garden are slated for

replacement.

This year, I have added some more

lilies and plan on adding more rock

paths to the main flower garden.

Read a more in-depth story at Sheryl

@ Flowery Prose

Call Mike

780-385-4664

Bin Anchors

Don't Let The Winds Bother You!

T:9.45"

Shacker Crescent Alley

Cont'd from Pg 7

Sgt. Welsman gave suggestions for

the speeding concern presented by a

resident living near Shacker Crescent

alley to council.

Council first discussed the topic

during the June council information

meeting and the July regular

meeting.

Correspondence from Ashlee

Maetche asked council to implement

seasonal speed bumps to deter vehicles

from speeding in the alley during

the school year since children pass

through it to go to school.

Radar monitoring by Sgt. Welsman

did not show any consistent high rates

of speed from vehicles travelling

through the alley.

He also noted

that the detachment

did not

receive many

complaints

regarding speed

in the alley.

Sgt. Welman

suggested if a

complainant

knows who is

responsible for

RURAL

High Speed Internet

Affordable, Anywhere, Any Size

Internet Solutions

IN AND BLACK & WHITE ON YOUR CD-ROM.

AVAILABLE COLOUR IN

Monthly $

55

Fee starting

from

LOGO

NEWSPAPER'S

YOUR

Onsite & Online Tech Services remain available

AHS protocols in place for everyone's safety

speeding in the alley or can get the

license plate of speeding vehicles the

RCMP could approach the owners

directly to discuss their driving

behaviour with the possibility of

enforcement action.

In terms of infrastructure changes,

he leaves the decision of implementing

temporary speed bumps to council.

Coun. Fred Crowle agreed with the

suggestion by Sgt. Welman. Mayor

Povaschuk also agreed and mentioned

that it would add to the

workload of Public Works.

A device from the Special Areas

Board installed in the alley will monitor

the speeds of vehicles in the area.

Peace Officer Erikson will show the

results at the next meeting.

Bringing The Future To you

Toll Free

1-800-542-7028

105-2nd Ave West Hanna AB www.netago.ca

TOOLBOX, July-August 2005, Page 43

Quality

Personal service

Flexibility

Wireless

Fiber Optics

VoIP

We're aiming to reduce emissions from oil sands operations to

BY 2050

22082ms0

T:7"

By working with the government to achieve our goal of net zero

emissions, we can benefit our environment and our economy while

creating and protecting oil and gas jobs.

Learn more at pathwaysalliance.ca.