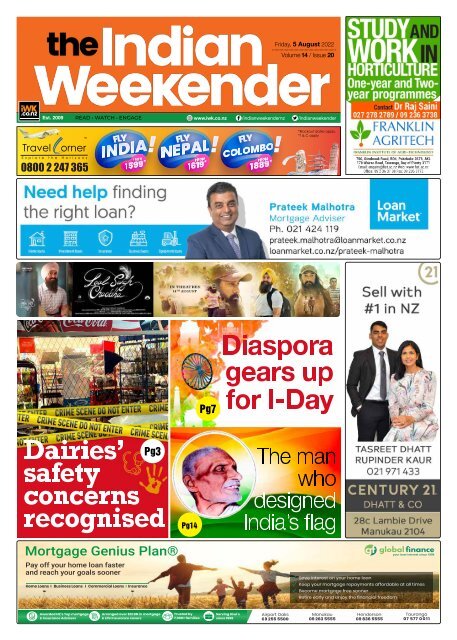 The Indian Weekender, 05 August 2022
You also want an ePaper? Increase the reach of your titles
YUMPU automatically turns print PDFs into web optimized ePapers that Google loves.
Friday, 5 August 2022

Volume 14 / Issue 20

www.iwk.co.nz /indianweekendernz /indianweekender

Pg7

Diaspora

gears up

for I-Day

Dairies' Pg3

safety

concerns

recognised

Pg14

The man

who

designed

India's flag
---
Make winter

a little better

WITH COMPREHENSIVE HEALTH COVER AND A FREE nib BETTER HEALTH BOX

Private health insurance helps protect you

and your family from the unexpected. It can

give you more control over who treats you

and when. Without it, private treatment could

be unaffordable or make a significant impact

on your hard-earned savings and lifestyle.

Our purpose is your better health, when you

sign up to any new nib policy through your

adviser, you'll receive a FREE nib better

health box worth over $100. So wrap up

and get covered this winter.

With the better health box, you'll receive a

curated mix of wellness products, first aid kit,

rapid antigen tests and even more to help you

get through this winter.

Working with:

not

Examples

CMYK & RGB – JPEG, PNG, EPS, PDF

SO TALK TO YOUR ADVISER TODAY FOR ALL THE DETAILS.

One box per policy, terms and conditions apply. Offer only for new applications submitted between 2 May

and 29 July 2022, with a policy commencement date no later than 14 August 2022.
---
Read online www.iwk.co.nz Friday, 5 August, 2022

NEW ZEALAND 3

Human Rights Commission backs dairy

store operators' concerns for safety

SANDEEP SINGH

Human

Rights

Commission is backing

the calls by dairy store

operators and other retailers

frustrated with the unabated

rise in ram raids and retail crime.

Recently, Sunny Kaushal,

Chairman of the Dairy and

Business Owners Group, met

with the Equal Employment

Opportunities Commissioner,

Saunoamaali'i Karanina Sumeo,

in Auckland on July 19, raising

concerns that the basic human

rights of their members and

small business operators were

being curtailed by the rising

"crime crisis."

Speaking with the Indian

Weekender, Kaushal said, "It

was an honour representing

about 5000 small businesses

in a face-to-face meeting with

the Human Rights Commission,

a range of issues were tabled

with the EEO Commissioner,

including Human Rights, wellbeing,

safety and future of

the small businesses in NZ who

are heavily owned by ethnic

migrant minorities.

"They remain highly

vulnerable as they have invested

all their savings and their lives

Sunny Kaushal, Chairman of the Dairy and Business Owners Group, met with the Equal

Employment Opportunities Commissioner, Saunoamaali'i Karanina Sumeo, in Auckland

on July 19

into their businesses.

"They are not super rich

as widely assumed, and their

human rights to operate [and

trade freely without any fear]

are being curtailed."

Accepting the memorandum

presented by Kaushal on behalf

of the Dairy and Business

group, the Equal Employment

Opportunities Commissioner,

Saunoamaali'i Karanina Sumeo,

supported the concerns

raised by staff and dairy store

operators about the continued

sense of fear amongst them

They remain

highly vulnerable

as they have

invested all their

savings and their

lives into their

businesses. They

are not super

rich as widely

assumed, and their

human rights to

operate [and trade

freely without any

fear] are being

curtailed."

because of rising ram raids and

retail crime.

"Our local dairies are

essential services, primarily

family-owned businesses; many

are owned by settled migrants

or their next generations.

Lots of our petrol stations

are also small businesses,

staffed by few workers also

deemed essential," the Equal

Employment Opportunities

Commissioner, Saunoamaali'i

Karanina Sumeo, said.

"Sunny Kaushal, Chairman of

the Dairy and Business Owners

Group, shared the many

struggles facing these whanau

and businesses.

"It's not right that these

workers and whānau are

constantly on edge in fear of

being attacked, some already

suffering from trauma – with

limited means and time to heal

and protect themselves.

"We all have fundamental

rights to be safe in our

workplace, live free from

violence and discrimination,

have equal protection under

the law, and have access to

justice," Sumeo said.
---
4

NEW ZEALAND

Friday, 5 August, 2022

Maori-Tamil partnership

a key priority

Read online www.iwk.co.nz

VENU MENON IN WELLINGTON

Ravindran (Raveen) Annamalai

is running for Council as an

independent candidate from the

Takapu Northern Ward in Wellington.

He has been involved with Multicultural

Wellington, and has established a

federation of Tamil associations to

promote the Tamil culture and language.

He prioritises the Māori-Tamil

partnership.

Annamalai spoke to Indian Weekender

about his vision and goals. Extracts :

Q. You started the Aotearoa New Zealand

Federation of Tamil Sanghams

two years ago. Tell me more about it.

A. The purpose of setting up the

Aotearoa New Zealand Federation of

Tamil Sanghams is to bring all the Tamil

associations in NZ together to promote

the Tamil language, culture and tradition.

Q. How do you propose to do that?

A. We have (Tamil) language schools

in Auckland, Wellington, Christchurch,

Taranaki, Dunedin, the list goes on.

We have eight members comprising

the Tamil associations from all

over New Zealand.

Through that collaboration we aim to

build a strong identity for the people of

the Tamil community in NZ, by promoting

the Tamil language, art and culture.

Our primary focus is to standardise the

Tamil language and to take it through to

the mainstream by working closely with

the Ministry of Education.

We aim to establish a curriculum

activity in the schools, so that there

can be a Private Owned Language (POL)

on a weekly basis that is managed and

supported by the individual associations

throughout the country.

Q. Engagement with Māori is a big

part of your agenda.

A. Māori-Tamil hui is one of the

projects that we have undertaken. We

had the first hui in Rotorua. Six more hui

are in the pipeline.

The next one is going to be in

Auckland, followed by Christchurch,

Waikato, Wellington and Dunedin. We

are working with Māori authorities and

are in discussions with many Māori

organisations.

The good news is that our first Te Reo

Māori language class is going to start in

Wellington, which will be championed by

our local Tamil sangam in Wellington,

and will be open to the general public.

We are collaborating with the Te Reo

Maori Language Commission.

It will be held at the Newlands

Community Centre. We are working on

the dates.

Q. You are running as an independent

candidate for Council from Takapu

northern ward. What motivated you?

A. This is the first time I'm running for

an election.

The motivation came from the

community which is supporting me to

take up the leadership role as a Councillor

and play a pivotal role for (the welfare

of) the people.

At the end of the day, it's people,

people and people, as the beautiful

Māori saying goes.

I'm not promising big things for the

northern ward, except to restore the

connection with the people, build a

harmonious relationship and execute all

the projects that are required for the

northern ward.

For example, better streaming

facilities, better dog parks and much

more. I will work very closely with the

community boards.

Q. What is the biggest failure of the

Wellington City Council, in your view?

The good news is that our first Te

Reo Māori language class is going

to start in Wellington, which will be

championed by our local Tamil sangam

in Wellington , and will be open to the

general public.

A. I don't want to look at the failures.

The failure is, of course, the great loss

of mana.

At the moment, there is no mana

at the Wellington City Council.

There is a lack of unity and a lack

of understanding between the

councillors, which is affecting

the governance and the decision

making. But I want to focus on

my strengths, rather than the

failures of others.

My intention is to carry out

the proposals and changes

that people want in the

northern ward.

I want to look at the (rising)

cost of living, the housing

crisis that Wellingtonians

are suffering, especially in

the northern ward area, as

well as health and safety

issues (we have ram

raids, car burglaries).

Q. What are your plans

to promote a more diverse

and multicultural Wellington?

A. I've been affiliated with the

Multicultural Council since my arrival in

this country 15 years ago. I've been the

vice-president as well as president of

the Multicultural Council.

During this nine-year period ,

I've done a lot of work in terms

of creating a strategic plan for

Multicultural New Zealand.

I was instrumental in launching

major multicultural festivals

and events in collaboration with

Wellington City Council.

Petrol prices fall below $3 in main

centres, and further drop expected

While costs at the

pump are looking

lower, drivers can

expect a further drop over

the next week, says a petrol

pricing expert.

Costs in the main centres

are well below $3, according to

price tracking app Gaspy.

Early on Thursday afternoon,

the app showed Waitomo on

Tinakori Road in Wellington

was charging $2.59 a litre;

Caltex on Newton Road in

Auckland was charging $2.65;

and in Christchurch, Waitomo

on Fitzgerald Avenue was

charging $2.47.

Automobile Association

principal policy adviser Terry

Collins said the price of crude

oil had dropped significantly

in the past few days, meaning

costs in New Zealand were likely

to fall further next week.

A barrel of crude oil has

dropped from $US110 to

AA says the drop in crude oil prices means petrol costs in New Zealand are likely to fall

further next week. (File image) Photo: RNZ / Dan Cook

$US96.78 in less than a week.

"It's come as a surprise on

the international market, and

it has been rapid over the last

couple of days," Collins said.

The decline came as a result

of demand falling short of

predictions in the US due to

recession fears, he said.

"Why it was unexpected is

because in the US and globally,

demand is starting to come

back a bit.

"The inventories in the US

went up, and with weakening

demand, prices went

down as a consequence."

Waitomo Group managing

director Jimmy Ormsby said

the drop was great news for

customers.

"If the global price of crude

is on it's way down, then

that's reflected within a

relatively short period of time

at the pump in New Zealand,"

Ormsby said.

If the global price

of crude is on it's

way down, then that's

reflected within a

relatively short period

of time at the pump in

New Zealand."

"I'd say if there's been a

consistent drop this week, then

you'd expect to see that at the

pump within the next week to

10 days."

However, Ormsby warned

global crude prices were still

fluctuating week-to-week.

Collins said an array of

factors could kick costs back

up, the most significant being

further sanctions from the

EU on Russia due to take

effect in December.

Supply also remains tight

and international demand

is predicted to increase

in coming months.

"We've still got China in the

lockdown as a consequence of

Covid, so when that demand

starts coming up, that could

have some consequences,"

Collins said.

"It's extremely volatile,

there's still a lot of things to be

sorted out in the long term."

The government's fuel excise

duty cut of 25 cents a litre

have been extended until the

end of January.
---
Read online www.iwk.co.nz Friday, 5 August, 2022

NEW ZEALAND 5

Meera Bai's immortal devotionals

at Gandhi Centre next Friday

The event will conclude with Mahaprasad and is free to attend

IWK BUREAU

The month of Shravan

(Savan) marks the

beginning of the festive

season with a series of festivals

across several months up to

Diwali, the festival of lights.

This year, to mark this

month that is observed with

devotional fervour by Hindus

all over the world, the Auckland

Indian Association and CIPA

(Centre for Indian Performing

Arts) is hosting an evening

of devotional music at the

Mahatma Gandhi Centre, New

North Road, on Friday 12

August from 7:30pm onwards.

Titled Meera Bhajans, the

event will feature timeless

devotional songs of legendary

poet-saint Meera Bai that

have been immortalised

by India's nightingale Lata

Mangeshkar, who passed away

earlier this year.

They have been set to

music by her gifted brother

Hridaynath Mangeshkar, who

is known for his uniquely rich,

complex compositions.

Mira Bai belonged to a strong

tradition of devotional poets in

medieval India who expressed

their love of God through

analogy of human relations like

a mother's love for her child, a

friend for a friend, or a woman

for her beloved.

The popularity and charm

of her lyrics lies in the

sweetness of emotions which

she expresses for her beloved

Lord Krishna. It is this that has

kept the hundreds of songs

that she sang popular across

the length and breadth of India

down the centuries.

One of Auckland's most gifted

singers, Kishori Telang, will sing

the bhajans in her wonderfully

mellifluous voice accompanied

by equally accomplished

musicians Dharmesh Parekh on

the keyboard, Akhilesh Madhur

on the tabla, Akshaiy Narayanan

on flute and Mrunal Niphadkar

on side rhythms.

Meera Bai's devotionals are

both in Rajasthani and Hindi

and the lyrics with translations

will be displayed on a backdrop

as the songs are presented, to

enhance the appreciation of

her beautiful words especially

by those unfamiliar with the

languages.

The event will conclude with

aarti performed by Devram Ji

Raval, priest of the Radhakrishna

Temple at the Mahatma Gandhi

Centre and mahaprasad for all

who attend.

It is fitting that Meera Bhajans

is being held just ahead of one

of the first major festivals in the

holy month of Shravan – Krishna

Janmashtami – that celebrates

the birth of Lord Krishna, which

falls on 18 August this year.

While the event is free to

attend, registration is necessary

for catering purposes. Please

register early.

The link to register is: https://

forms.gle/oSBW39T7etkAzk5L6

Meera Bhajans is organised

by CIPA in association with

Mohan Nadkarni Foundation

and is part of the Mohan

Nadkarni Centenary concert

series 2022-23.

Fun, music, celebrations galore at Auckland Marathi

Association's Jallosh event

SANDEEP SINGH

Auckland Marathi Association's

event Jallosh – literally meaning

celebrating with the community

- had fun, music and celebrations

galore, leaving the participants and the

organisers super enthusiastic over the

last weekend.

More than 300 Marathi people,

mostly the members of the Aucklandbased

Association, but some also

travelling from Hamilton and the Bay

of Plenty, came together on Saturday,

July 30, at the Diversity Centre

building, Papatoetoe, to enjoy a special

night adorned with various facets of

Marathi culture.

Soon after the official opening

ceremony, the attendees were allowed

to immerse in various fun activities,

including games and dancing to popular

Marathi music played out by a live DJ.

Expressing rejoice on the success of

the event, Neha Nalawade, President

of Auckland Marathi Association

(AMAI), said, "This was the first event

conducted by the new committee

of Auckland Marathi Association

and was a great success in bringing

together Maharashtrian people on one

platform to enjoy live DJ with Marathi

music, fun games and amazing food

catered for everyone."

Recently there was a change in

the executive leadership team of the

Association on June 11, with Nalawade

taking over as the new President and

Likhil Landge being elected as the new

Vice President.

Sharing more details about the new

executive committee and their upcoming

plans, Nalawade said, "Our tenure will

be for two years, and we plan to host

around five events every year, with

Jallosh being the first one and Ganapati

Mahotsava on September 17, and Diwali

festival on October 29, next in line."

"This year, we have a great mix

of youth and experience within our

executive committee, which will be

reflected in our array of events planned

for the remaining year.

"We will be organising AMAI cricket

league, Maharashtra day and some

sports events like badminton and carrom

later this year," Nalawade said.

"We strive to bring together all

Marathi people on a common platform

so as to not only allow them bonding

based on mutually shared language and

common heritage but also allow our kids

and youngsters, particularly those born

overseas, to remain connected with

their cultural roots," Nalawade said.
---
Read online www.iwk.co.nz Friday, 5 August, 2022

NEW ZEALAND 7

Indian Diaspora organisations

gear up to celebrate India I-Day

Amrit Mahotsav event to be the biggest ever

IWK BUREAU

The Indian Diaspora

organisations in Auckland

along with the High

Commission of India in New

Zealand have once again come

together this year to celebrate

India's 76th Independence Day.

Though India completes

75 years as an independent

sovereign nation, which has

been marked with yearlong

"Azaadi ka Amrit Mahotsav"

celebrations globally, August

15 this year is India's 76th

Independence Day.

The day is being celebrated

on 21 August at the Auckland

Indian Association's Mahatma

Gandhi Centre, New North Road,

and the Indian High Commission

and the leaders of the Diaspora

organisations representing

India's diverse communities

in New Zealand have jointly

extended an invitation to

join in the celebrations

wholeheartedly.

"I would humbly request

everyone to unite together,

thereby ensuring maximum

presence and collaboration for

this momentous occasion,"

Honorary Consul of India in

Auckland Bhav Dhillon said.

The diaspora organisations

have worked hard to put

together a cultural programme

that truly reflects India's great

unity in diversity. As continuing

celebrations of the Amrit

Mahotsav, an added bonus this

year will be a special Bhangra

troupe from India that will regale

audiences at the Mahatma

Gandhi Centre on the day. The

troupe has been organised by

the Indian Council for Cultural

Relations (ICCR), New Delhi.

As part of Azadi Ka Amrit

Mahotsav, students all over

the world including here in

New Zealand have been invited

to participate in Jigyasa: The

AKAM Quiz. Winning team

members are eligible for a

scholarship of Rs. 10 lakh each.

Numerous awards by the Govt

of India will also be given on the

day.

"We would like this year's

celebrations to be the biggest,"

says Bhartiya Samaj's Jeet

Suchdev. "It is heartening to see

so many diaspora organisations

Jeet Suchdev

It is heartening

to see so many

diaspora organisations

coming together to

celebrate our biggest

national day jointly."

coming together to celebrate

our biggest national day

jointly."

Though India is a nation of

great diversity with a multitude

of languages and cultures,

there was an underlying unity

that defines all things Indian

and it is important to reflect

that presenting a united front,

he said.

Jyoti Parashar

"For the past five years, all

diaspora organisations have

been coming together in

this spirit of unity to jointly

celebrate national day events

in Auckland. It projects the

Indian community as one united

whole and avoids confusion

among everyone, especially

the government and official

dignitaries, when in the past

there used to be multiple

celebrations."

Some diaspora leaders have

expressed disappointment

that this tendency to host

separate celebrations was

being attempted again.

"It gives the needlessly

undesirable impression that

the Indian community is

divided. Differences can be

resolved through free and frank

dialogue," one leader said.

Suchdev says, "While

it is important to project

India's diverse character

through multiple celebrations

by respective diaspora

organisations throughout the

year, it is more important to

celebrate national days like

Independence Day and Republic

Day to reflect the unity of India

as a nation."

Jyoti Parashar, Education

Chairperson of Bharatiya Mandir

said, "It is a proud occasion

for us all and attending the

historic event of 'Azadi Ka

Amrit Mahotsav' in big numbers

will be a great way for us to

demonstrate our unity and

solidarity.

"Taking part in the event

with friends and family will

be our best tribute to all who

sacrificed their lives for the

country's independence and

for us to enjoy this day today.

Let us pledge to spread the

word and make the event a

tremendous success."
---
8

NEW ZEALAND

Friday, 5 August, 2022

Read online www.iwk.co.nz

Kannada is the banyan tree of

the community

VENU MENON

The Wellington Kannada Katte,

by its very name, invokes the

rural custom followed in the

Indian state of Karnataka where local

community members meet under the

vast canopy of a banyan tree to bond

with one another.

For the tight-knit, roughly 200-strong

Kannadiga community, spread across

the greater Wellington region, the Katte

offers an opportunity for its members to

bond through their common language,

culture and the annual celebration to

mark the birth of Karnataka.

"The Katte provides a platform for

Kannadiga-speaking people to meet,

welcome new members, take part in

various events and celebrate festivals,"

said Pooja, a member of the core

committee of the Katte.

The Kannada-speaking community of

Wellington got together to form the

Katte in 2015 with around 30 members.

The membership has since swelled to

around 200.

The Katte essentially operates as a

WhatsApp group, organising events

in community centres every year to

celebrate Ugaadi (Kannadiga New Year),

Rajyotsava (marking the formation of

Karnataka State on November 1) and

Ganesha Chaturthi.

These social get-togethers are marked

by talent and fashion shows, cultural

programmes, games and ethnic cuisine

prepared in the community kitchen set

up for the occasion.

"We go on hikes and picnics. We

help and guide each other to find jobs,

housing etc," Pooja said.

In July, the Katte

participated in the allwomen

cultural event

hosted at the Indian

High Commission. The

Kannada community

was represented

by folk dances and

songs.

Essentially, the

Wellington Kannada

Katte, the sole

representative body

of the Kannada-speaking

community of Wellington, is an

online presence at the moment, though

plans are afoot to drop this model and

adopt the standard structure normally

followed by other migrant associations.

Pre-Covid, the Katte held weekly

classes in Lower Hutt to promote

the Kannadiga language and keep

migrant children in touch with their

cultural roots.

The "Makkaligagi Kannada" (Kannada

for kids) initiative launched by the

The Katte provides a

platform for Kannadigaspeaking

people to meet,

welcome new members,

take part in various events

and celebrate festivals,"

Katte engaged the class in song, dance,

folklore and story-telling .

The classes are yet to resume.

"We have a saying in Karnataka:

wherever you go, wherever you are,

at heart always remain a Kannadiga,"

Pooja said.
---
Read online www.iwk.co.nz Friday, 5 August, 2022

NEW ZEALAND 9

Hariyali Teej celebrated in style

by Christchurch women

MAHESH KUMAR

The Indian community in

Christchurch celebrated

the Indian festival of

Teej with a special event called

Hariyali Teej on 30 July at

Redwood Primary School.

It was a ladies-only event

with free entry.

Women traditionally celebrate

Hariyali Teej and other variations

of the Teej festival, to welcome

the monsoon season with

songs, dancing, and prayers. It

is also celebrated in memory of

the day Shiva formally accepted

Parvati as his wife, the day the

two were reunited. Parvati is

also known as Teej mata.

The event, conceived and

hosted by Shalini Gupta, had

more than 200 women braving

the rainy weather come and

enjoy stunning performances

put together by Christchurch

Indian women from diverse

backgrounds.

On being asked how she got

the idea of the event, Gupta

told us, "While a lot of big-ticket

events are organised regularly,

like Holi and Diwali, I felt a lot

of small Indian festivals also

need to be celebrated with the

involvement of the community

members.

"I am from UP, while my

husband is from Rajasthan.

Both of these Indian states

celebrate Teej at a big level.

"In Christchurch, I came

across various other women

community members who also

wanted to come together and

celebrate this festival with

music, dance, good food and

lots of fun.

"So in 2018, we decided to

host the event at a small scale

with the participation of around

20-30 members."

Local Community Board

Member Dr Sunita Gautam,

I always love to

participate in Indian

festivals as it gives

me an opportunity

to interact with the

community members

in a fun environment

and get their informal

feedback on the

local issues. I also

encourage ethnic

communities to vote

in the local elections

as it is a right and

responsibility."

community leader Archna

Tandon and Dr Geeta Singh

were special guests.

Dr Gautam told Indian

Weekender, "I always love to

participate in Indian festivals

as it gives me an opportunity

to interact with the community

members in a fun environment

and get their informal feedback

on the local issues.

"I also encourage ethnic

communities to vote in the

local elections as it is a

right and responsibility."

Tandon shared, "Every year

I look forward to this event

as Shalini and her team do a

brilliant job of organising this

beautiful fun-filled celebration.

This year I enjoyed all the

performances, and everyone

was looking lovely in their

traditional attires."

This year, with performers

ranging in age from 29 to

60, there were dance and

musical performances by more

than 10 groups.

There were many heartfelt

and entertaining performances

that were appreciated by the

audience. Several performers

were performing for the first

time on stage.

There are a lot of women

who feel comfortable and

at ease when performing

among women.

Gupta was helped by Jaskiran,

Bhavna Agarwal, Parmjeet Kaur,

Sushila Bisht, Harman Rana,

Silky Sharma, Akshita Shivde

and Isha Sidhu.

Gupta also expressed her

satisfaction to see little kids

participating in and appreciating

the lesser-known Indian culture

and festivals.

"It is a wonderful fun way

to expose our youth to

these festivals which are not

celebrated at a bigger scale."

The event was supported by

A2Z Accounting, Arise Financial

Services, Fanfare Event Hire

and Bombay Bazaar.

The event also celebrates

and provides encouragement

to women entrepreneurs by

hosting stalls where they can

showcase and sell their wares.

• IMMIGRATION LAW

• CRIMINAL LAW

• FAMILY LAW

• EMPLOYMENT LAW

• PROPERTY LAW

• WILLS & TRUSTS

Winner of

Indian Business

Award 2018

• Supreme Business of the year

•Excellence in marketing

• Best Young Entrepreneur

of the Year

• Businesswoman of the

year(Special award)

Winner of Indian

Business Awards 2017

• Best Employer of choice

• Best Medium-sized

Business

Winner of Indian

Business Awards 2016

• Best Businesswoman

of the year

* Terms & conditions apply

Raj and Ashima Singh

• 31, East Tamaki Road, Level–1 Papatoetoe, Auckland.Ph: +64 9 2799439 | 02102417161 | Fax: +64 9 2799419

• PO BOX 23445, Hunters Corner, Papatoetoe, Auckland. 2025 (Above Bank Of India) | www.legalassociates.co.nz

CONTACT US AT: RAJ:raj@legalassociates.co.nz / ASHIMA: ashima@legalassociates.co.nz

LEGAL CLINIC

FREE 2-hour legal consultation.

Saturday - 10 am to 12 pm
---
10

NEW ZEALAND

Visiting India is

on my bucket

list says Kiwi

sitar player

Friday, 5 August, 2022

Read online www.iwk.co.nz

MAHESH KUMAR

Continuing from our last

week's story featuring

Nelson Myers-Daly - a

young Kiwi musician who has

a spiritual connect with the

bamboo cross flute, this week

we speak to Liam, another

accomplished musician based

in Christchurch who has taken

up to play the sitar which is

mostly used in Hindustani

classical music.

The sitar is a plucked stringed

instrument originating from

the Indian subcontinent and

most believe was invented in

medieval India.

The sitar, which is commonly

used throughout the Indian

subcontinent, gained popularity

throughout the world thanks

to Ravi Shankar leading to the

instrument appearing on tracks

by bands such as the Beatles,

the Doors, the Rolling Stones

and others.

Here are excerpts from the

Indian Weekender's interview

with Liam:

When and how did you get

interested in playing sitar?

I have played the guitar most

Trust Saffron Finance for

expert Mortgage/ Insurance

advice backed by years

of experience

Mortgages:

• Home loans

• Commercial Property loans

• Business Loans

• Top up & Debt consolidation

• Re-Finance and Refixing

• Investment Property loans

• Restructuring of loan

• Construction & Renovation

of my life, but have always been

interested in other cultures,

especially their music.

Having been fascinated with

traditional stringed instruments

from around the world since

I was a teenager, I appreciate

the ease of access to music

from other countries now

that the internet allows for

greater awareness.

While scrolling through some

videos, I came across some

videos on sitar and thought

"I've got to try that! "

Many people might be

familiar with George Harrison's

experiments and collaboration

with the Sitar maestro

Ravi Shankar, which helped

popularise Indian classical music

Risk Insurances:

• Life & Trauma

• Key Person Cover

• Medical / Health

• TPD and Income Protection

• Mortgage Repayment cover

• New to Business &

• Business Continuity Cover

• Redundancy Cover

Contact for

free assessment

in the West.

My father, a big fan of The

Beatles, was very enthusiastic

about me wanting to learn the

sitar and he bought me one in

2017, from the Gandharva Loka

music store in Christchurch.

I am mostly selftaught

because,

unfortunately, there

were no sitar teachers

in Christchurch and

not many players

either. Luckily, thanks

to the Internet it is

not difficult to find

good resources online

to help learn and

practice. I believe

that a big part of

learning comes from

just listening and then

practicing.

And that's when I immediately

fell in love with the instrument.

Where did you learn

to play sitar?

I am mostly self-taught

because, unfortunately, there

were no sitar teachers in

Christchurch and not many

players either. Luckily, thanks

to the Internet it is not difficult

to find good resources online to

help learn and practice. I believe

that a big part of learning

comes from just listening and

then practicing.

My guitar experience also

gave me a head start in

learning sitar by just observing

and experimenting with the

instrument on my own.

There is, however, a limit

to learning by oneself and I

would love to find a proper

teacher one day as I still have

much to learn.

Where have you performed

till now?

I have been lucky enough

to perform sitar a lot over

the last few years, including

several performances with

local music duo Monk Party

(Nelson & Pragunya Myers-

Daly). Together we have put on

our concerts in Christchurch,

Timaru, Akaroa, and Wainui and

have been guest performers

at a few other multicultural

events. On some occasions,

I have also accompanied

Sikh friends in performing

kirtan at local Gurudwaras,

and this year I got to play at

Revathi Performing Arts' 2022

Sangeetham concert which was

a great experience.

I have also had the privilege

of being a part of some

concerts at the University of

Canterbury School of Music,

such as their 2021 Gala

Concert and the 2022 Golden

Ribbon Multicultural Youth

Music Festival in the James Hay

Theatre, Christchurch Town

Hall.

Have you visited India or have

any plans to visit?

Unfortunately, I have never

been to India yet, but it is

definitely on the bucket list! I

feel that visiting India would

be a great opportunity to

experience and soak up the

culture, spirituality, music, and

vibrant energy that the country

has to offer

Which Indian sitar player(s)

do you admire and follow?

Sitar legends such as Ravi

Shankar, Nikhil Banerjee and

Vilayat Khan were perhaps

unsurprisingly the first

sitar players I discovered,

but some of my more

contemporary favourites would

be Shahid Parvez Khan and

Anoushka Shankar.

Which other instruments do

you play?

Aside from guitar and sitar,

my main interest is in traditional

string instruments from around

the world, especially the Middle

East, so I play Persian setar,

Afghan rabab, Turkish saz,

Turkish/Arabic oud, Kazakh

dombra, Greek bouzouki, as well

as other similar instruments to

varying degrees of proficiency.

Some I am consistently

performing, such as sitar and

setar, whereas some are more

of a hobby.

What are your career plans?

Do you intend to pursue music

or are you already working

on something else?

I have been involved with

the Christchurch Iranian

community in founding Simurgh

Music School, a music school

aimed to teach traditional

instruments not just from

Iran but also the surrounding

regions of Afghanistan, the

Middle East and India, so I teach

sitar here too.

We view it not just as a

typical music school but also

as an important way to help

international communities

keep in touch with their

musical traditions and promote

their culture in New Zealand.

Between working with Simurgh

Music school teaching,

organising community

events, and performing with

various other music groups

and projects, I definitely am

keeping busy with music for

the time being.

Nimish Parikh

Registered Financial Adviser

M. 021 236 7070

nimish@saffronfinance.co.nz

18B Kirby Street, Glendene,

Auckland 0602

P O Box - 69263 , Glendene,

Auckland 0645

www.saffronfinance.co.nz
---
Read online www.iwk.co.nz Friday, 5 August, 2022

NEW ZEALAND 11

Dinesh Khadka

appointed Nepal's new

Hon Consul in Auckland

SANDEEP SINGH

Local businessman and

community leader

Dinesh Khadka has

been appointed as the

government of Nepal's

new Honorary Consul in

Auckland.

The appointment

has been confirmed

in the Letter of

Commission

issued by

N e p a l ' s

Ambassador

to Australia

and New

Zealand (based in

Canberra), Kailash Raj

Pokharel, on July 27.

"I have the pleasure to

attach herewith the Letter

of Commission appointing

you as the Honorary Consul

of Nepal to the region of

Auckland, Waikato, Northland

of New Zealand for four years

effective from June 28, 2022,"

says the letter issued by Kailash

Raj Pokharel.

On his new appointment Khadka

said, "It's a matter of great pride and

satisfaction. I look forward to giving my

everything in this role and advancing the

great people-to-people relations that we

have between our two countries – Nepal

and NZ."

"I

will be

working to

promote the overall

economic, social,

cultural and commercial

interests of Nepal, along

with assisting any

Nepalese nationals

Speaking more about

the mandate for his

role as Hon Consul of

Nepal, Khadka said,

"I will be working

to promote the

overall economic,

social, cultural

and commercial

interests of Nepal,

in NZ." along with assisting

any Nepalese nationals in

NZ."

The people of Nepal celebrate close

ties with NZ, fuelled by the legacy of

the bonhomie and camaraderie between

Sir Edmund Hillary and Sherpa Tenzing

Norgay – the two legendary first

conquerors of the mighty Mt Everest –

the highest mountain on planet earth

above seas level.

In recent years, bonhomie has grown

further with the increasing size of the

Nepali diaspora in NZ and celebrations

of key Nepali festivals in Aotearoa, New

Zealand, including the Nepal Festival.

Khadka has been playing a key role in

leading the vibrant Nepalese diaspora,

including holding positions of the

immediate past president of the NZ Nepal

Society and as the current President of

NZ Nepal Chamber of Commerce Inc.

Khadka is also well entrenched and

deeply connected with the wider

Kiwi-Indian diaspora in NZ and carries

forward the traditional Indo-Nepal

brotherhood in NZ.

"Our two communities share similar

cultural values, common sub-continental

vibes and have similar experiences as

ethnic migrant communities in NZ, and

I wish to work continuously to expand

that mutually shared bonhomie,"

Khadka said.
---
Editorial

Week in politics: Govt

struggles to surge ahead on

'crime crisis,' National fails

to impress on economy

The government this week continued to struggle to wrest the narrative on

rising crime, despite prioritising firearm prohibition orders to reduce gun

harm. National Party was less than impressive to hit on the government's

overall performance on economy.

This week witnessed some spirited attempts from both – the government and the

opposition – to seize the centre stage of the news cycle, yet both have abysmally

fallen short, despite clear opportunities to take a hit on the other.

Early in the week, Police Minister came out with a press release announcing that

the Firearms Prohibition Order Legislation Bill would be passed through all remaining

stages by the end of next week.

The bill aims to give the courts the power to impose an Order on gang members

wielding guns in public and indulging in serious gun-related violence.

The bill (on firearms prohibition order), according to the government's own

admission, is a significant step forward after being first considered under the

previous National government in 2014, when the idea failed to get traction in the

parliament. A Select Committee also recommended change in early 2017.

Other proposals in a Members Bill were rejected in 2018 and 2021 because they

were too narrow.

Yet, despite this seeming progress, the overall perception remained unchanged,

with the perception of a currently ongoing "crime crisis" in New Zealand continuing

to gain traction.

The number of audacious ram raids on dairy store operators across the country

and the accompanying stories of fear, sense of violation and frustration experienced

by hapless retailers did little to improve the government's image on law and order.

To be fair to the government, though, the government has acted with muchexalted

sense of decisiveness and clarity on law and order and rising crime in the last

month and a half, including changing the Minister of Police.

The new Police Minister Chris Hipkins, who is arguably one of the most efficient

and the go-to Minister in the cabinet, has demonstrated far more energy, urgency

and clarity of mind than his predecessors in the key portfolio.

Yet the law-and-order situation continues to remain the government's Achilles'

heel.

The opposition National Party was equally lacklustre in making a mark on this

week's politics.

The party leader Chris Luxon, coming out fresh from previous weeks of social

media gaffes and speaking with media ahead of the then anticipated Stats NZ

report on unemployment rates, did not have a clear and new vision about the future

direction of the NZ economy.

The line of attack on the government that it was running a constrained economy

and constrained immigration was responsible for huge staff shortages was stale,

without any vigour.

The Minister of Social Development and Employment, Caramel Sepuloni was quick

to claim that the record low level of unemployment (3.3 per cent for the June

quarter) was a result of "the Government's economic plan to support households

and businesses through the challenging global environment, resulting in more people

in work and wages rising."

In the absence of any believable counterargument from the opposition, the

government's claim of record low unemployment levels remains unchallenged.

The story of the seething pain of the hospitality and the tourism sector, struggling

for both – the visitors and travellers and the workers to support the sector –

remained unattended.

Even the much-awaited news of the complete border opening on midnight of July

31 failed to give any impetus to the struggling sectors as the numbers arriving on

the borders are expected to trickle down slowly rather than appearing in the form

of a deluge.

To give a perspective, on the first day of border opening (August 1), Immigration

New Zealand received 2863 visitor visa applications and 696 student visa

applications.

Indeed, this is nowhere near the pre-Covid numbers of incoming travellers, visitors

and workers coming into the New Zealand economy.

Since then, the government has brought in an "immigration reset" with the

ambitious aim of reducing the reliance on temporary migrants from overseas. It is

now the beginning of how that immigration reset will unfold and help the economy

grow as NZ reconnects with the rest of the world.

In all, this week in politics witnessed less than impressive performance from both

the government and the opposition.

QUOTE OF THE WEEK

Morning is an important time of day, because

how you spend your morning can often tell you

what kind of day you are going to have.

– Lemony Snicket

IN FOCUS : Picture of the week

Srinagar: National flags put up at the gate of Hurriyet

Conference office by Jammu and Kashmir Reconciliation

Front chairman Sandeep Mawa, at Rajbagh area of Srinagar

on Wednesday, Aug 03, 2022.

This week in New Zealand's history

7 August 1908

First train runs length of main trunk line

The first train to travel the length of the North Island main trunk line, the 'Parliament

Special' left Wellington on the evening of 7 August. On board were Prime Minister

Sir Joseph Ward and other members of Parliament heading to Auckland to greet the

American navy's 'Great White Fleet'.

8 August 1995

Shakti begins in New Zealand

On 8 August 1995 Farida Sultana and seven other women met to discuss the

establishment of a culturally specialist support service for Asian, Middle Eastern

and African women in New Zealand.

9 August 1908

US 'Great White Fleet' arrives in Auckland

Sixteen American battleships arrived in New Zealand with much pomp and

ceremony. A feature of the six-day 'fleet week' stopover was a civic reception

attended by most of the members of the New Zealand Parliament, who had travelled

north from Wellington aboard the 'Parliament Special' – the first train to traverse the

whole length of the still-unfinished main trunk railway line.

10 August 1840

British proclaim sovereignty as French head for Akaroa

HMS Britomart arrived at Akaroa, on Banks Peninsula, a week before a shipload of

French colonists landed there. The Britomart's captain raised the Union Jack to

confirm Britain's claim to sovereignty over the area.

11 August 1962

Picton ferry Aramoana enters service

Few ships have had as much impact on New Zealand history as the Aramoana, the

country's first roll-on roll-off ferry, which entered service between Wellington and

Picton in 1962.

Indian Weekender : Volume 14 Issue 20

Publisher: Kiwi Media Publishing Limited

Editor: Dev Nadkarni | dev@indianweekender.co.nz

Graphic Designer: Yashmin Chand | design@indianweekender.co.nz

Multimedia Specialist: Karan Bhasin | 022 0772 156 | karan@indianweekender.co.nz

Accounts and Admin.: 09-2173623 | accounts@indianweekender.co.nz

Auckland Reporter: Navdeep Kaur Marwah: | 021 952 246 | navdeep@indianweekender.co.nz

Waikato Reporter: Sandeep Singh | 021 952 245 | sandeep@indianweekender.co.nz

Wellington Reporter: Venu Menon | 021 538 356 | venu@indianweekender.co.nz

Christchurch Reporter: Mahesh Kumar | 021 952 218 | mahesh@indianweekender.co.nz

Views expressed in the publication are not necessarily of the publisher and the publisher

is not responsible for advertisers' claims as appearing in the publication

Views expressed in the articles are solely of the authors and do not in any way represent

the views of the team at the Indian Weekender

Kiwi Media Publishing Limited - 133A, Level 1, Onehunga Mall, Onehunga, Auckland.

Printed at Horton Media, Auckland

Copyright ® 2022. Kiwi Media Publishing Limited. All Rights Reserved.

Send your suggestions and feedback to editor@indianweekender.co.nz
---
Read online www.iwk.co.nz Friday, 5 August 2022

FIJI 13

Indian medical team

conducts heart surgeries

Around 18 children have undergone heart

surgeries at the Sri Sathya Sai Sanjeevani

Children's Hospital since Friday.

A 21-member team of surgeons and support

medical professionals are in Fiji from India to

operate on children suffering from congenital

heart disease.Hospital Director, Dr Krupali

Tappoo, says they intend to undertake around

25 to 30 surgeries in a span of one week.

"Many of these surgeries are open heart

surgeries where they actually do have to open

up the chest. They empty out the heart from all

the blood using a very special machine called the a six-month-old baby, whereas the oldest was a

heart-lung machine.

16-year-old.

They stop the heart and in those 20- 25 The team is from Sai Sanjeevani Hospitals

minutes they actually repair the lesion which India, brought in by Sai Prema Foundation Fiji

could be a hole in the heart."

as part of the Foundation's Gift of Life free

The youngest patient to be operated on was heart surgery project.

The United Nations

General Assembly's

declaration that

access to clean, healthy and

sustainable environment is a

universal human right is historic

and comes at a critical juncture.

This has been highlighted by

Waste Recyclers Fiji Limited

Director and Pacific Recycling

Foundation Founder Amitesh

Deo. The declaration calls

upon States, international

organizations, and business

enterprises to scale up efforts

to ensure a healthy environment

for all. Deo has welcomed the

comments by the UN Secretary-

General, António Guterres that

the resolution will help reduce

environmental injustices.

He has also thanked Prime

Minister Voreqe Bainimarama

for being a climate champion

He adds the onus is now on

every Fijian to take up the fight

and to become champions in

their individual settings.

Deo adds that the UN

declaration was far-reaching

and could also extend to people

involved in the waste recycling

business – from Community

Pillars for Recycling to council

workers who worked at dump

sites and landfills.

Port of Suva nominated for Oceania's Best Cruise Terminal 2022

The Port of Suva has been

nominated again by the World

Cruise Awards for the award of

Oceania's Best Cruise Terminal 2022.

The World Cruise Awards is the sister

event to the world travel Awards, which

was launched in 1994 to celebrate

excellence in global travel and tourism.

This is the 2nd year of the annual

World Cruise Awards.

The World Cruise Awards aims to

foster growth, innovations, and best

practice in the cruise sector on a global

scale. Its programme covers a full

spectrum of the global cruise sector.

Categories include Best Cruise Line,

Best Cruise Destination (Fiji has also

been nominated), Best Cruise Terminal,

Best Cruise Travel Agency, and Best

River Cruise Ship.

Nominees range from small companies

and start-ups to global brands.

The winner for each category is

determined by the number of votes

accumulated. Voting closes August 7,

2022. The Port of Suva is up against

Fijians challenged to bring

UN declaration into action

"Despite winning Oceania's

Best Cruise Terminal 2021,

Fiji Ports is delighted for

the Port of Suva to be

nominated again for this

category. This is a great

achievement for Fiji, the

Port of Suva and for FPCL

as the managing company

to continually be recognized

on a global scale.

the Ports of Auckland (New Zealand),

Port of Newcastle (New Zealand), and

Sydney Harbour (Australia).

"Despite winning Oceania's Best

Cruise Terminal 2021, Fiji Ports is

delighted for the Port of Suva to be

nominated again for this category. This

is a great achievement for Fiji, the Port

of Suva and for FPCL as the managing

company to continually be recognized

on a global scale.

This is an opportune time

especially with the first cruise vessels

finally coming back to Fiji after

two years in August."

Awards are based on a global voting

system and is open to industry and nonindustry

personnel and overseen by an

Executive panel.
---
14

INDIA

Friday, 5 August, 2022

Who is Pingali Venkayya, the

man who designed India's

national flag?

Pingali Venkayya, a freedom fighter and staunch

Gandhian, was the first to draw up a rudimentary

design of the national flag in 1921. Today, the Centre

is honouring him by releasing a postage stamp on his 146th

birth anniversary

A country is identified by its national flag, emblem and

anthem. Today, when you think of India, as it marks its

75th year of Independence, the Tricolour comes to mind

immediately.

But, who do we have to thank for when it comes to our

national flag? The man behind India's Tricolour is Pingali

Venkayya. On his 146th birth anniversary today, the Union

culture ministry is holding an event — Tiranga Utsav — to

celebrate the contributions of Venkayya. The event, being

attended by Home Minister Amit Shah, will also see the release

of a commemorative postal stamp in his honour.

Let's take a deep dive into Pingali Venkayya's life and

celebrate his many contributions to the nation.

Pingali Venkayya is credited with giving the national flag its basic framework.

Image Courtesy: @MinOfCultureGoI/Twitter

Pingali Venkayya's early life

On 2 August 1876, Pingali Venkayya was born into a Telegu

Brahmin family in Bhatlapenumarru, Madras Presidency, British

India (today's Machilipatnam in Andhra Pradesh).

After completing his high school studies in Madras, he

went to Cambridge University and became a polymath —

with interests in geology, agriculture, education and even in

languages. A young Venkayya was then sent to South Africa

to fight in the Second Boer War (1899-1902) war as a British

Indian Army soldier. It was in South Africa that he was struck

by the sense of nationhood the Union Jack inspired among

British soldiers.

As per legend, when the soldiers had to salute the Union

Jack (the British national flag), it stayed in his mind and it was

this incident that inspired him to design a national flag for

India. It was also during this stint with the British Army that

the 19-year-old met Mahatma Gandhi in Africa. He became

a staunch Gandhian and followed Gandhi's ideals and they

became close with an association that lasted over 50 years.

His love for languages is why he caught the attention of

people. In 1913, he delivered a full-length lecture in Japanese,

at a school in Bapatla, a town in Andhra Pradesh. He became

instantly famous as 'Japan Venkayya'.

He was also known as Patti Venkayya because of his

research into the Cambodia Cotton. Patti means 'cotton',

which was very important for Machilipatnam, a former port

city that became famous for its Kalamkari handloom weaves.

After returning to India, he dedicated himself to the creation

of a national flag for the country. In 1916, he even published

a booklet on flags of other nations, A National Flag for India,

offering nearly 30 designs of what could make the Indian flag.

A flag is adopted

From 1919 to 1921, Venkayya continuously kept pushing

for the idea of having a national flag of India during the

Congress sessions. Venkayya's design for the National Flag

was finally approved by Mahatama Gandhi in a Congress

meeting in Vijayawada in 1921.

This is what the national flag first looked like after Venkayya accepted Gandhi's

suggestions. The red and green represented the main religious communities of

India -- Hindus and Muslims, while the white stood for peace and the charkha

represented Swaraj. Image Courtesy: Wikimedia Commons

"Pingali Venkaiah who is working in Andhra National College

Machilipatnam, has published a book, describing the flags

of the countries and has designed many models for our

own National Flag. I appreciate his hard struggle during the

sessions of Indian National Congress for the approval of Indian

National Flag," Mahatama Gandhi had written in Young India.

The initial flag, called the Swaraj flag, consisted of two red

and green bands; the two bands represented the two major

religious communities — the Hindus and the Muslims. The flag

also had a charkha, which represented Swaraj.

On the advice of Mahatma Gandhi, Venkayya added a

white band. The white represented peace. Though the first

tricolour was not officially accepted by the All India Congress

Committee (AICC), it began to be hoisted on all Congress

occasions.

The redesign

The flag kept being used, but it was in 1931 that concerns

were raised about the religious aspect of the flag.

Keeping that in mind, a Flag Committee was set up and they

came up with a new idea, called Purna Swaraj.

They replaced the red with saffron and changed the order

of the colours, with saffron on top followed by white and

then green. The charkha was placed on the white band in the

middle. The colours stood for qualities and not communities;

the saffron for courage and sacrifice, white for truth and

peace, and green for faith and strength.

The charkha stood for the welfare of the masses. Post-

Independence, a national flag committee under President

Rajendra Prasad replaced the charkha with the Ashok Chakra.

File image of Urban Development Minister M Venkaiah Naidu garlanding the

statue of Pingali Venkayya at Pingali Venkayya AIR Station, in Vijayawada. PIB

Honouring Venkayya after his demise. Venkayya breathed his

last on 4 July 1963 in poverty.

It was only in 2009, that he was dug out of history and a

postage stamp was released in his honour.

In 2015, the then Urban Development Minister, M Venkaiah

Naidu had renamed AIR Vijaywada after Venkayya and unveiled

his statue on its premises.

Naidu had once said that Venkayya was the unsung hero of

our freedom struggle who made an immense contribution. He

devoted his entire life to the nation and worked relentlessly to

make India a free country.

Last year, his name was also proposed for the Bharat Ratna

by Andhra Pradesh chief minister, YS Jagan Mohan Reddy.

Read online www.iwk.co.nz

5G rollout: India

would become the

first country to deliver

indigenous 5G, says

Rajeev Chandrasekhar

Union MoS for Information

Technology

Rajeev

Chandrashekhar on Tuesday

said Prime Minister Narendra Modi has

increased the confidence in Digital India

and it is the reason India is now among

the leading countries and one of the first

to deliver indigenous 5G.

He further went on to say that India

will become the first country to deliver

indigenous 5G, which is a proud moment

for India and another important thing is

that India is going with the 5G network

in the 5G generation that is designed

and built in India.

"The equipment that we are using now

for 5G, has never been used before. 2G,

3G, and 4G network in the country was

always imported from outside. Today,

because of the leadership of the PM, we

are getting Rs 1.5 lakh crore from the

government," he added

Chandrashekhar said that it is an

important milestone for India that

the spectrum's latest generation 5G

network will be made available to the

citizens with the equipment designed

in India. "It is very important to have

5G rollout because what we have been

seeing since last week is the auction of

a 5G spectrum in the country. When the

situation in other countries is so bad in

this call, we are showing the whole world

how many spectrum options there are.

Another important milestone is that we

will implement 5G, the fifth generation

of wireless technology in India from Jio,

Airtel and other companies, and this will

give people a new internet service," he

further said.

India continues to

be fastest growing

economy in

assessment of global

agencies: Sitharaman

Emphasizing on the Centre's

measures to tide over the global

economic slowdown, Union

Finance Minister Nirmala Sitharaman

on Monday said India continues to be

the fastest growing economy in the

assessment of international agencies.

In her reply to the debate on price

rise at the Lok Sabha, Sitharaman

said, "Repeatedly in the assessment

of global agencies, India remains the

fastest growing economy. This House

irrespective of the party should feel

proud of the country and its people.

State governments have helped." "We

have never seen a pandemic of this kind.

All of us were trying to make sure that

people in our constituencies are given

extra help. I recognise that everybody

-MPs and state governments have played

their role. Otherwise, India would not be

where it is compared to the rest of the

world. So, I fully credit the people of

India for this. Even against adversity, we

are able to stand up and be recognised

as the fastest growing economy," she

stated.

Sitharaman said India has sufficient

forex reserves and economic

fundamentals are perfect. The Finance

Minister emphasized that due to the

measures taken by the government,

India is in a much better position than

most countries. She said prices of edible

oils have corrected sharply following

steps taken by the government.
---
Read online www.iwk.co.nz Friday, 5 August, 2022

WORLD 15

British PM candidate

Truss boosted by

former rival's backing

Foreign Secretary Liz

Truss's bid to become

Britain's next prime

minister got a major boost on

Monday when she received

the backing of a lawmaker she

narrowly defeated to make it to

the final two candidates vying

to replace Boris Johnson.

Junior trade minister

Penny Mordaunt was the last

contender to be eliminated

in a succession of ballots

by lawmakers in the ruling

Conservative Party, losing out

to Truss by just eight votes.

Party members will now

decide whether Truss, who is

favourite to succeed Johnson

according to opinion polls, or

former finance minister Rishi

Sunak should be the next

Conservative leader and prime

minister. "I came third in this

Tonga eruption

blasted enough

water to fill 58,000

Olympic pools

into the Earth's

atmosphere: NASA

One of the most powerful

volcanic eruptions on

the planet blasted such a

massive amount of water vapor

high into the atmosphere that

it's likely to temporarily warm

the Earth's surface, according

to detections from a NASA

satellite.

When the undersea Hunga

Tonga-Hunga Ha'apai volcano

erupted on January 15, 40

miles (65 kilometers) north

of Tonga's capital, it created

a tsunami as well as a sonic

boom that rippled around the

world - twice. The eruption

sent a tall plume of water vapor

into the stratosphere, which

is located between 8 and 33

miles (12 and 53 kilometers)

above the Earth's surface. It

was enough water to fill 58,000

Olympic-sized swimming pools,

according to detections from a

NASA satellite. The detection

was made by the Microwave

Limb Sounder instrument on

NASA's Aura satellite. The

satellite measures water vapor,

ozone and other atmospheric

gases. After the eruption

occurred, the scientists were

surprised by the water vapor

readings.

They estimate that the

eruption delivered 146

teragrams of water to the

stratosphere. One teragram

is the equivalent of a trillion

grams, and in this case, it

was equal to 10% of the

water already present in the

stratosphere.

British Foreign Secretary and

Conservative leadership candidate Liz

Truss during her visit to Twelve Oaks

Farm, on August 01, 2022 in Newton

Abbot, England.

contest and I owe it to all of

you to be a signpost, not a

weather vane, and so I've made

Rishi Sunak, trailing in the

race to become Britain's

next prime minister, has

vowed to slash the basic rate

of income tax by 20% by 2029

in a potentially make-or-break

throw of the dice by the former

finance minister.

Sunak, once seen as the

favourite to replace Boris

Johnson when he helped to

steer the economy through

the ravages of the COVID-19

pandemic, has struggled

against his rival, Foreign

Secretary Liz Truss, who has

pledged immediate tax cuts.

Sunak said he remained

focused on tackling inflation

my choice," Mordaunt told a

hustings event in southwest

England.

"I've seen enough to know

who the person that I'm going

to put my faith in is and that is

Liz Truss."

Mordaunt joins other senior

ministers who have backed

Truss in recent days, including

Defence Secretary Ben Wallace

and finance minister Nadhim

Zahawi. Sunak was initially seen

as the favourite to replace

Johnson when he helped to

steer the economy through

the ravages of the COVID-19

pandemic, but he has struggled

to make headway against Truss.

He said he would slash the

basic rate of income tax by

20% by 2029 in a potentially

make-or-break

of the dice.

throw

but once that was achieved

he would follow through on

an already-announced plan

to take 1 pence off income

'You can't switch off death,'

German crematorium boss

warns as energy crisis looms

Germans more often

than not choose to be

cremated when they die

– which would be a problem if

Russia turns off the gas.

As Western sanctions

heighten tensions between

Europe and Moscow, the whole

nation is on alert for a possible

cut-off of supply by Russian

state gas giant Gazprom.

Businesses, including

crematoriums, are developing

contingency plans to cope with

rising gas costs and the risk it is

unavailable at any price.

Svend-Joerk Sobolewski,

Germany's

cremation

consortium chairman, said in

the event of any rationing, the

sector should be prioritised

because, without gas, most

crematoriums cannot function.

"You cannot switch off

death," he said.

Of the roughly one million

people who die every year

in Germany, nearly three

quarters are cremated, figures

from Germany's undertakers'

association show.

Compared with other

tax in 2024, and then take a

further 3 pence off by the

end of the next parliament,

likely around 2029.

The two pledges would take

income tax from 20p to 16p.

Sunak said the plan would

mark the biggest income

tax cut since the time of

Margaret Thatcher.

"It is a radical vision but it

is also a realistic one," he said

in a statement on Sunday, a

day before Conservative Party

members are due to start

receiving their ballot papers to

vote for the party's new leader.

Britain's hunt for a new prime

minister was triggered on July

European countries, that is

a high percentage, Stephan

Neuser, the association's head

told Reuters.

It stemmed in part, he said,

from a tradition in the former

east Germany, where nearly all

burials were through cremation,

and it continued as families

that relocate and an ageing

population prefer urns to graves

that they would be unable to

visit and maintain.

Longer term, changing from

gas to electricity could be an

option, but Neuser said that

could not happen quickly.

In the immediate term, one

possibility would be to reduce

ovens' average temperature to

750 degrees Celsius (1,382°F)

from the current 850C, which

could save between 10% to

20% of gas, but he said the

measure needed a special

permit from states' authorities.

Crematoriums are also

switching off some ovens,

while keeping others running

constantly, so they don't cool

down and require more gas to

be reheated.

British PM candidate Sunak vows 20% income tax cut by 2029

BOOK ADS IN

NEWSPAPER

The most widely circulated WEEKLY

publication for Kiwi-Indians and the most

popular news platform with a strong

online, social media, and print. We deal

with all major advertising: Digital, Social

Media and Newspaper Print advertising.

PROPERTY

AUTOMOBILE

EDUCATION

Call us for a customised advertising

solution with Indian Weekender

021 952 216

Email sales@indianweekender.co.nz /

chirayu@indianweekender.co.nz

www.indianweekender.co.nz

IMMIGRATION

MORTGAGE

EVENTS

7 when Johnson was forced

to announce his resignation

following months of scandal.

Conservative lawmakers have

whittled a field of candidates

down to Truss and Sunak,

with an announcement of the

decision by party members due

on Sept. 5.

With inflation surging to

a 40-year high of 9.4% and

growth stalling, the economy

dominated early stages of

the contest, with Sunak

arguing that Truss's plan to

reverse a rise in social security

contributions and cancel a

planned rise in corporation tax

would stoke inflation further.
---
FEATURES

Friday, 5 August, 2022

16

The first tribal woman to become President of India, wore her

identity and heritage with pride donning a Santhali weave sari

How the choice of a handloom

white sari has made President

Droupadi into a style icon

Read online www.iwk.co.nz

The first tribal woman to become

a President of India, wore her

identity and heritage with pride

by wearing a Santhali weave sari

The swearing in of Droupadi Murmu as

the th15th President of India was a

historic moment in so many ways.

The first tribal leader to hold this

office, President Droupadi is also the

first President to be born after India's

Independence.

The President also noted that she was

holding office in the country's 75th year

of being an independent nation in her

opening address to the nation.

The 64-year-old also created a

landmark fashion moment at her

swearing in ceremony. At first glance

you may wonder why so much is being

written about this handloom white sari

worn with a plain white three-quarter

sleeve blouse.

It is all to do with the weaving

technique behind this textile.

The Santhali weave sari was not only

a nod to her tribal roots, it also was a

huge shout to the handloom heritage of

this country. Santhali is a native weave

form of East India, and in particular of

her own state of Odisha that is worn by

tribal people.

Says fashion designer Nachiket Barve,

and a recent receipt of the National

Award for Costume designer, "Our

country has such an incredible diversity

of cultures and communities; each with

their own special textiles and legacy. It

feels wonderful to see that the president

wore a piece of textile that expresses

her heritage and the uniqueness of her

It is the power of

our democracy that

a daughter born in a

poor house, a daughter

born in a remote tribal

area, can reach the

highest constitutional

post of India."

community.

"It has been widely reported the sari

was a gift from her brother's wife Sukri

Tudu who was one of four members of

Murmu's family who attended

the oath swearing

ceremony held in

New Delhi.

Says noted stylist

and slow fashion

advocate,

Ekta Rajani, "In

many ways, her

statement, her

demeanor, her

choice of sari is

all very reflective

and consistent with

her point of view that

people from tribal backgrounds

can break through certain

barriers. She represented her tribe

and all tribals on a global platform."

As the new president (who is only

the second woman to achieve this status)

said at the ceremony.

"It is the power of our democracy

that a daughter born in a poor house,

a daughter born in a remote tribal area,

can reach the highest constitutional

post of India."

Dignitaries, right from Mahatma Gandhi,

have turned to fashion to amplify

their political and cultural point of view.

While it is an age-old tradition, President

Murmu's sartorial choices have reminded

us how clothing is linked to cultural

identity. Explains celebrity stylist

Divyak De Souza, "Fashion is not as

trivial or as frivolous, as a lot of people

would like to believe.

"This particular type of sari is made

by weavers who are from the Adivasi

community of different states of East

India and she is an Adivasi woman."

The textile worn by her was an

updated version of this traditional

drape version as it had a red

stripe on the upper border and

a broad green stripe with triangular

spikes on the lower side,

and so also spoke about how

weaving traditions in the country live

and breathe and need to adapt with

time to survive.

Worn at times of celebrations,

traditional versions of this sari often

feature a three-bow design which is a

symbol of a woman's desire for freedom.

A country of many weaves, textiles

is the second largest employer in the

country, yet many of traditional textiles

are often ignored by fashion.

The highlighting of this particular

weave, acts as a reminder of this

beautiful heritage.

Gaurav Jai Gupta of Akaaro, a label

known for innovation in textiles says, "It

will also put the sari itself on the map,

especially the Santali Sari.

It is a tribal saree that I didn't know

much about. I just read up on it.

But that's what is the beauty, you

know, more and more people will

get familiar with it.

And I think the conversation about

the particular textile will increase; more

people will engage with it. And, you

know, in future, I hope that i t

develops into something wonderful and

strong, which I'm sure it already is."

Expect to see ripple effects of

this moment, as veteran fashion

designer David Abraham of Abraham

& Thakore says, "President Murmu's

choice of the three-shuttle handloom

sari with the pronounced temple motifs

is an important statement of cultural

identity. It also signals a respect for

the traditional hand skills for which

India is celebrated."

It has also ensured that fashion will

be keeping a watchful eye on President

Droupadi Murmu's sartorial choices.

As Sunil Sethi, president of the Fashion

Design Council of India says, "Her choice

has shown she is a woman of great taste,

and that understands how important

weaving traditions are to India. I feel

she will keep wearing such textiles and

bring attention to the handlooms of

our country."
---
Read online www.iwk.co.nz Friday, 5 August, 2022

FEATURES 17

INGREDIENTS:

FOR KULCHA:

• 4cups - flour (maida)

• 1/4tsp - salt

• 1tsp - sugar

• 1tsp - baking powder

• 1/2tsp - baking soda

• 2tbsp - oil

• 1cup - plain yoghurt (of room

temperature)

• 2cups - milk (of room temperature)

• Water as much required for kneading

FOR STUFFING:

• 5 - potatoes, large and boiled

• 2 - onions, medium and chopped

• 3tbsp - chopped coriander leaves

• 3-4 - green chillies, chopped

• 1tbsp - chaat masala powder

• 1tbsp - mango powder (amchoor

powder)

• 1tsp garam masala

• 1tsp - salt or according to taste

• 2tbsp - coriander seeds

• 2tbsp - cumin seeds

• 1tbsp - dry fenugreek leaves to

sprinkle

• 1tsp - red chilli powder to sprinkle

• Oil or ghee for basting

METHOD:

• Place flour in a large bowl, add salt,

sugar, baking powder and baking

soda, mix well with your hand.

• Add oil and rub it in the flour with

your fingers; add yoghurt and keep

rubbing it all together until small soft

crumbs are formed.

• Add milk to the crumbled flour and

knead; add water in tablespoons if

needed and knead it for about 4-5

minutes or until the mixture has

formed a smooth dough.

• Grease the bowl with oil or ghee;

apply oil all around the dough and

then place the dough in the greased

bowl.

• Cover the dough with a damp muslin

Amritsari aloo kulcha

Amritsari aloo kulcha is traditionally made in Indian tandoor.

Variations are done in making the kulcha because tandoor is

not available in every house; if you don't have tandoor it can

be made in the oven or on tawa. Kulcha's are made of stuffing

and are fluffy, soft from inside and crisp from the outside.

cloth or plastic wrap and leave it to

rest for at least 4 hours to ferment

(you will see that the dough has

doubled the size).

FOR STUFFING:

• Heat heavy base frypan over medium

flame.

• Dry roast coriander seeds and cumin

seeds separately until aromatic then

transfer them unto a plate.

• With the help of rolling pin crush the

seeds ( or coarse grind them ) and

set aside for later use.

• In a large mixing bowl, place boiled

potatoes with onions, coriander,

green chillies, chaat masala powder,

mango powder, garam masala

powder and salt.

• Add 1 tablespoon of each coriander

seeds and cumin seeds to the potato

mixture.

• Using a fork, mash and mix all the

ingredients together. Cover and keep

aside.

TO ASSEMBLE:

• Preheat tawa or heavy base flat pan

over medium flame.

• Divide the dough into equal size balls.

• Dust the clean counter or rolling

board with flour.

• Roll a dough ball between your hands

until its smooth and without cracks.

• Using the rolling pin, flatten the ball

into a round circle.

• Take 1 tablespoon of potato mixture

and spoon it into the centre of the

dough to form a pouch then press

the edges together tightly to close.

• Once sealed, press the dough ball

(filled with potato mixture) down

gently with the rolling pin or with

your hand, and again roll out into a

circle.

• Spread some ghee on one side of

the kulcha then sprinkle a pinch

of crushed coriander seeds, cumin

seeds and press them slightly with

your hand.

• Sprinkle a pinch of red chilli powder

and dry fenugreek leaves on top and

again slightly press them into kulcha.

• Then placing the seed side of the

kulcha on your palm; sprinkle water

on the other side of the kulcha.

• Place the water side kulcha onto the

hot tawa or pan.

• Left up the tawa and hold it upside

down on the flame; when you see

brown spots on the kulcha then place

the tawa back on the flame for the

kulcha to cook from the bottom.

• Then using a spoon spread 1

tablespoon of oil or ghee thoroughly

on the kulcha and flip it over (leave

it for a minute or depending on the

kulcha how much its cooked ).

• Cook until both the sides are goldenbrown

in colour.

• Repeat with the other dough balls,

making them into kulcha.

• Serve hot with the dollop of butter

on top.

• With tadka raita and chana masala on

the side. Makes - 12

TADKA RAITA

INGREDIENTS:

• 2cups - yoghurt

• 1cup - coriander leaves, chopped

• 1-2 - green chillies, chopped

• 1/2tsp - fresh cumin powder

• 1/2tsp - salt or according to taste

FOR TEMPERING:

• 1pinch - asafoetida

• 2tsp - mustard seeds

• 2tsp - cumin seeds

• 6 - curry leaves

• 2tbsp oil

METHOD:

• Place yoghurt into to a large serving

bowl.

• Slightly whisk yoghurt into smooth

(add little water if needed).

• Add chopped coriander, green

chillies, cumin powder and salt, mix

well with the fork.

FOR TEMPERING:

• Heat heavy base frypan over

medium flame.

• Add oil, when its hot; add asafoetida,

mustard seeds, cumin seeds and

curry leaves; allow it to sizzle for

few seconds until aromatic.

• Pour the tempering oil over the

yoghurt as the tadka (pour just

before serving).

• Serve with your favourite dish.

Chana Masala

INGREDIENTS:

• 1cup - whole chickpeas

• 3cups - water

• 2 - tea bags

• 1inch - cinnamon stick

• 2 - bay leaves

• 4 - green cardamom

• 1tsp - salt

• 1tbsp - oil

FOR TEMPERING:

• 2 - onions, medium size

• 1tsp - ginger paste

• 1tsp - garlic paste

• 1tsp - chana masala powder

• 1/2tsp - red chilli powder

• 1/2tsp - cumin powder

• 1/2tsp - coriander powder

• 1/2tsp garam masala powder

• 2 - tomatoes

• 2tbsp - oil

• Fresh chopped coriander for

garnishing

METHOD:

• Rinse chickpeas under running water

until the water runs clear then

transfer them into medium size bowl;

add 3 cups of water; cover and leave

it overnight or for at least 6 hours.

• Add chickpeas to a pressure cooker

along with its water.

• Add tea bags, cinnamon stick, bay

leaves, green cardamom, salt and oil.

• Pressure cook chickpeas on medium

flame for 3-4 whistles; remove the

led and check if the chickpeas are

done (you should be able to press the

chickpeas easily with your fingers if

they are done other wise cook them

for some more time).

• Discard tea bags and set chickpeas

along with its water, aside.

• Heat oil in a heavy base saucepan

over medium flame.

• Peel, wash and chop onions; add to

them to the oil and fry until brown

in colour.

• Add ginger paste, sauté, add garlic

paste and sauté for 2-3 minutes.

• Lower the flame and add chana

masala powder, red chilli powder,

cumin powder, coriander powder and

garam masala powder with a splash

of water, mix well.

• Add washed and chopped tomatoes

and sauté until oil separates.

• Add chickpeas along with its water

to the masala and mix well.

• Cover and let simmer for 4-5 minutes

on medium flame, stirring in between

(the gravy should be medium thick).

• Season with salt ( do remember that

salt has been added in the chickpeas

while boiling them).

• Remove chickpeas from the flame

and set aside.

• Garnish with fresh chopped coriander.

• Serve hot with kulcha and onion

salad.
---
18

ENTERTAINMENT

2 Stars / 5 (Average)

Director: Mohit Suri

Cast: Disha Patani, Tara

Sutaria, Arjun Kapoor, John

Abraham

Hindi (with English subtitles),

Release 29/7/22

Villain Found, Hero Missing

Good News: Director

Mohit Suri maintains his

unshakable reputation

as a hit-or-miss peddler of lurid

potboilers. Bad News: The same

as above.

Take away violence and lust

and Mr. Suri may lose ninety

per cent of the content of his

'rozi roti' (daily flatbread),

then scratching his head as to

what else there is in life besides

these two archetypal forces.

In his 'Malang' (2020), there

was another crime whodunit

with surprises lined up later.

Guess what - 'Ek Villain Returns'

is a rehash of the same theme –

the rushed, crammed storyline

may have surprises, but any

emotional wallop evaporates

in the face of hectic narration

with no space for real intensity

or developed characters.

Two pairs of young romantic

partners have their stories told

in such a scrambled timeline of

flashbacks ("three months ago",

"six months ago", "nine months

ago") that the confused viewer

will have difficulty remembering

what happened five minutes

ago. Aarvi (Tara Sutaria) and

Gautam (Arjun Kapoor) first

begin their back-'n'-forth in

a prickly round of wooing by

the latter. He's a spoilt rich kid

with a penchant for violence

and juvenile scandal, while she

aspires to be a popstar (Suri

has his private fun by slyly

presenting her at first as a

Sunny Leone look-alike which

she actually is, but Sutaria is a

good actor).

All hell erupts when a party of

youngsters is window-crashed

Kajol revisits her films as she celebrates

30 years in cinema; Ajay Devgn says

'you're just getting started'

Kajol, who made her debut in the Hindi

film industry with the 1992 film Bekhudi,

celebrated 30 years of her acting career

To mark the occasion, the actor revisited some

of the most popular roles of her career, as she

expressed gratitude for all the love she has

received. Actor-husband Ajay Devgn also gave

her a shoutout on social media to celebrate

the special occasion.

Kajol shared a montage video that featured

pictures from some of the most popular

movies of her career, including Bekhudi, Dilwale

Dulhaniya Le Jaayenge, Gupt, Pyaar Kiya To

Darna Kya, Pyaar To Hona Hi Tha, Kuch Kuch

Hota Hai, Kabhi Khushi Kabhie Gham, Fanaa, My

Name Is Khan, Helicopter Eela, Tanhaji, and her

last film Tribhanga.

She set the video to the tune of

Unstoppable by Sia, and captioned it,

"Someone asked me what am I feeling?

Couldn't really put it into words, except to

say that it is a feeling of deep gratitude for

all the love everyone has showered on me

so unconditionally! So cheers to 30 years

and counting..."

Action director Tinu Verma has

revealed that he once slapped

and kicked Kapil Sharma out

from the sets of the 2001 film Gadar

Ek Prem Katha. He also said that the

comedian-actor has mentioned about

the episode on his TV show.

Tinu was speaking with Mukesh

Khanna and explaining why he uses

abuses in normal language. Recalling

the time when he shot the opening

sequence of Gadar Ek Prem Katha, Tinu

told Mukesh Khanna, "Kapil Sharma has

talked about this on his show as well.

His father told him that if he wanted

to be an actor, he should visit the sets

where Gadar was being shot. I prefer to

operate the camera and was looking at

the frame when I saw one man running

in the other direction.

"I called him and asked why he did

that, and told him 'teri wajah se one

more hua shot, idhar hi jana. bhaag ke

jaa (It was retake because of you. Run

in this direction).' I then focused on him

by a marauding intruder who

savages all of them. Who

is this smiley-mask-wearing

murderous psychopath?

And then we have the saucily

named Rasika (Disha Patani)

and Bhairav (John Abraham).

Bhairav is a hunky, muscular,

silent bloke who falls for the

conniving, sociopathic Rasika. It

is a relationship forged in hell,

to be consummated on earth

and then to be returned to

where it came from.

Of all these four players, Aarvi

seems the only one who has a

realistic chance of surviving

further into mature adulthood.

Patani has the juiciest role of

all, and she dutifully skims the

surface, but the challenging role

Sonu Sood is back in

Mumbai, just to meet

the people who have

come to wish him on his

birthday. Caught up with

professional commitments,

he says people tell him they

sold off their mobile phones,

coolers and bicycles to make

it the city.

All this makes it a very

special day for me. I have

never met these people in

my entire life. I saved many

families, they come just to

thank me.

That keeps you smiling,

that you must have done

something right in your life.

I am glad God is guiding us,

there are miles to go but the

journey is still on," he quips.

Turning 49 today, on July

30, he says he prefers to be

around his loved ones, rather

than throw a party for the

Friday, 5 August, 2022

Read online www.iwk.co.nz

Movie Review: Ek Villain Returns

U PRASHANTH NAYAK

exposes her acting limitations.

Some of the movie's

characters would have vastly

benefitted from more complex

character shading, which

would have deepened audience

connection. Then, even if a

character is on a negative

spree, other aspects of their

personality create at least

a modicum of conflict in the

viewer's mind. No such niceties

are on display here.

What the film also lacks

desperately, is a sense of poise.

Suri has been consistently

praised for his slickness in

stitching scenes together, but

that valuable technical ability

counts for zilch when you

cannot cultivate and harvest

genuine emotional depth, and

when you consistently choose

racy stories that prize helterskelter

plot speeding and heylook-what-a-surprise

twists

above all else. Crisp editing and

maintaining the momentum

of a thriller is a perfectly fine

pursuit, but if those alone are

the merits, the film will be

erased from memory sooner

rather than later.

Now, as before, Suri has little

interest, and often lacks the

industry people.

"I don't throw those

parties, I am more of a

home-body. I am not a party

person, I feel a bit lost with

so many people around

there. A lot of people ask me

to throw one, especially on

birthdays, but I feel shy. It's

a different feeling. There are

two phases of life- one where

you are a kid and get really

excited about birthdays, lot

of attention around you. And

now, when I feel stressed,

since there are so many

people who want to meet me

and there's so much to do,"

he shares.

Sood doesn't miss taking

a potshot at the big fat

Bollywood parties though.

The actor, last seen in the

film Samrat Prithviraj, says,

"It's always nice there, there

are a lot of people around.

ability to let a scene simmer

in intensity – he would rather

finish it in a hurry and move

on to the next scene which is

also likely to be half-baked. If

his next film is titled "Wham

bam thank you ma'am", that

will be an adequate summation

of his oeuvre. Back in 2005, he

almost hit gold with 'Kalyug',

but he has struggled to mine

those fertile furnaces since.

Even the scenes of lust are

completely cowardly – who

are they trying to be coy for?

Is it the Indian Censor Board

which insists on belonging to

the era of the Battle of Plassey

(1757), or the populace which

has surged from 900 million to

1.38 billion in record time?

At the end, the promise of

another installment is offered.

Unsolicited financial tip for Suri

& Limited: Ask viewers to pay

in advance for the next film.

It will offer a valuable financial

hedge for the future, and if

the filmmaker is still managing

to find work, he must be doing

something right, isn't it?

For more movie reviews by

U Prashanth Nayak please

click: http://www.upnworld.

com//upn/movie_lists

Sonu Sood: I feel lost at Bollywood parties,

that's a different clan

but found him running in the opposite

direction once again." I ran towards him

aur kaan ke neeche diya (slapped him).

I then kicked him out of the film. It was

I don't know how many of

them are genuinely excited

for the one throwing though,

they are there for the sake of

it. Some are there genuinely,

some just want to be seen,

it's sad.

The day is all about your

family and the loved ones

around you, who you can

connect with. These big fat

parties, that's a different

clan, and with all due respect,

they enjoy, they should do

that. Maybe that's not my

cup of tea."

Kapil Sharma was slapped, kicked out of Gadar Ek Prem Katha sets

"I called him and asked why

he did that, and told him

'teri wajah se one more hua

shot, idhar hi jana. bhaag ke

jaa (It was retake because of

you. Run in this direction).'

I then focused on him but

found him running in the

opposite direction once

again."

the same Kapil Sharma."

The film featured Ameesha Patel,

Amrish Puri and Sunny Deol in lead roles.

Kapil had revealed on his show Kapil

Sharma Show, that he worked in Gadar

Ek Prem Katha. Sunny Deol was a guest

on the show when they recalled that

he worked in the film, but his part was

edited out due to his own actions.

Kapil had said, "When I saw an empty

space, I ran. He (Tinu) grabbed me and

gave me a sweet slur. I told him that

when you spoke action, I ran. They

chased me away; I ran into the crowd

again. The film released, and I took my

friends to the theatre to show me my

scene. My scene was cut."
---
Inviting nominations for

The Kiwi Indian Hall of Fame 2022

The guidelines, which need to be adhered to, for

nominations, are as follows:

1. The nominee needs to have an undisputable

2. Should be nominated by a person of repute. Further,

the nominee.

3. The nominator has to provide their full contact

details. No anonymous applications will

be accepted.

4.

business, sports, art, culture, or any other

profession).

5.

'The Indian Weekender Honours' recognises individuals who have built a road to

glory for themselves and left a path for the coming generations to tread on; who

have touched the lives of thousands and enriched the society with their being;

who have brought fame and respect to New Zealand and the Kiwi-Indian community.

The Indian Weekender invites nominations for such personalities from the

community for getting inducted into the Kiwi Indian Hall of Fame 2022.

We also invite nominations for Kiwi Indian Young Achiever of the Year

and Kiwi Indian Community Service Exellence Award 2022.

Nominate Online: visit www.halloffame.co.nz

Post your nominations: Fill this form and post it to the address given below.

Indian origin, from any part of the world, who has

settled here in New Zealand. To be of Indian origin,

at least one of the parents of the nominee have to

be Indian, by blood, thereby making the nominee

of Indian lineage.

6. The nominee must have either a Permanent

Residency (PR), or Citizenship of New Zealand to

be eligible for consideration.

7. The nominee should have no prior convictions.

8. For minors, under the age of 18, parental consent

will be required.

9. The successful candidate will be required to attend

the ceremony in person. In case a person is not able

to attend, due to any unforeseen circumstances, the

jury will use its discretion.

10.

cannot be challenged.

ENTRY FORM: Nomination form for The Indian Weekender Honour s 2022 | Pleas e fill and pos t it to the addres s below

Nominator Details

Nominee Details

About the Nominee

Name of the nominator

Name of the nominee

For how long have you known the nominee?

Professional details of the nominator

Age of nominee

Please state your reasons for nominating the above person. You may mention the

achievements of the nominee in his/her profession.

Gender M F

Address & Contact number of nominator

Address & Contact number of nominee

Category

Kiwi Indian Hall of Fame

Kiwi Indian Young Achiever of the year (16 to 35 years only)

Kiwi Indian Community Service Excellence Award

How according to you has the Nominee brought fame and respect to the Kiwi-Indian

community? (Add extra sheets to this form, if required)

Declaration by Nominator

the nominee for this application.

Yes

No

Nominee has accepted to appear in person

for the ceremony, if he/she gets chosen

for the nominated category for Kiwi Indian

Honours 2022.

Yes

No

I hereby declare that the above information is true to the best of my knowledge. I also

allow The Indian Weekender and the Jury to use the information provided for background

checks and to contact either me or the nominee for the purpose of getting any

more information.

Signed:

Date:

What to do next?

Please take a print out of this form, sign

and send / or email at:

Jury Panel, Kiwi Indian Honours 2019

Level1,133A Onehunga Mall,

Auckland 1061

(Add extra pages to this form if required.)

For details contact Indian Weekender on

09-217 3623 or go to:

www.indianweekender.co.nz

halloffame@indianweekender.co.nz
---
Award winning

Travel Agency

EXPLORE THE

WORLD

Cheap Flights Deals

We are Hiring!

Travel Sales

Consultants

JOIN OUR TEAM!

223 Great South Road, Papatoetoe Auckland 2025

Send your CV to: info@manntravel.co.nz

manntravelnz

www.manntravel.co.nz 09 973 1940