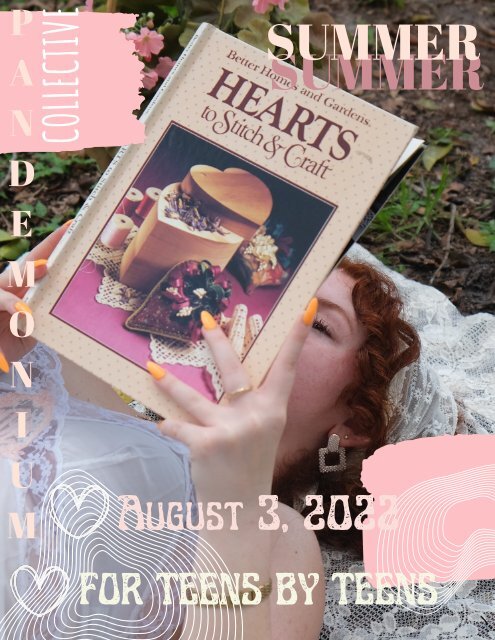 Pandemonium Collective 5
This is the fifth issue of Pandemonium Collective continued by our newest team members. We hope you enjoy it!
This is the fifth issue of Pandemonium Collective continued by our newest team members. We hope you enjoy it!
SHOW MORE
SHOW LESS
You also want an ePaper? Increase the reach of your titles
YUMPU automatically turns print PDFs into web optimized ePapers that Google loves.
P

A

N

D

E

M

O

N

I

U

M

COLLECTIVE

SUMMER

SUMMER

August 3, 2022

FOR TEENS BY TEENS
---
ISSUE 5
---
Pandemonium Collective is a magazine

that centers around the motto: For

Teens, By Teens. Our editors come from

High Schools in St Lucie County Florida,

but our magazine is for teens

everywhere. We focus on providing a

safe space for the community to become

informed on current events, and to tune

into some of their favorite topics. At

Pandemonium, we focus on finding unity

within the chaos of society. Our name is

also a fun play on words, as our

magazine was founded throughout the

Pandemic. Today, young voices are rarely

given a platform for their opinions and

concerns, we seek to fix this problem

and create a future that transcends

through creativity, individuality, and

unity.
---
TABLE OF CONTENTS

MEET THE TEAM

SHOP AT OUR DEPOP

BOOK DRIVE DONATIONS

ENVIRONMENTAL FRIENDLINESS

COMPOSTING

ST. LUCIE COUNTY PICNIC LOCATIONS

HOW-TO UPCYCLE

TAKING A STEP BACK

COLOR-CHANGING LEMONADE

STRAWBERRY LEMONADE

SUMMER SALSA CHIPS

THE BEST SUMMER
---
TABLE OF CONTENTS

SELF IDENTITY

DESTRESSING

EASY SNACKS

SUMMER DESTINATIONS

REVERSAL OF ROE VS WADE
---
M E E T T H E

T E A M !

WE ARE SO EXCITED TO BE ABLE TO CONTINUE THE

PANDEMONIUM COLLECTIVE FOR ANOTHER YEAR. WE HOPE TO

PASS IT DOWN TO ANOTHER GENERATION OF GIRLS WHO WILL

ENJOY DOING IT JUST AS MUCH AS US.

AMANDA

MESSINA

NALANIE

RUIZ

RANIA

KHAWAJA
---
DIANE

SERRATO

ROSY

RODRIGUEZ

SELENA

VILLABLANCA

MORGAN

COSGROVE
---
MORE OF THE TEAM

EDITOR-IN-CHIEF: AMANDA MESSINA

SOCIAL MEDIA MANAGER: AMANDA MESSINA

WEBSITE DESIGNER: NALANIE RUIZ

ACADEMIC EDITOR: ROSY RODRIGUEZ

ARTS EDITOR: NALANIE RUIZ

ENVIRONMENTAL EDITOR: ROSY RODRIGUEZ

GRAPHIC DESIGNER: TIFFANY VU

PHOTOSHOOT DIRECTOR: AMANDA MESSINA

PHOTOSHOOT DIRECTOR: RANIA KHAWAJA

LEAD PHOTOGRAPHER: AMANDA MESSINA

PHOTOGRAPHER: DIANE SERRATO

PHOTOGRAPHER: NICHOLE MESSINA

LEAD ART DIRECTOR: NALANIE RUIZ

ART DIRECTOR: AMANDA MESSINA

GRAMMATICAL EDITOR: SELENAA

VILLABLANCA

PRODUCTION MANAGER: TALIA BOCK

WARDROBE DIRECTOR: MORGAN COSGROVE

WARDROBE MANAGER: RANIA KHAWAJA

WARDROBE MANAGER: NALANIE RUIZ

WRITER: AMANDA MESSINA

WRITER: RANIA KHAWAJA

WRITER: SELENA VILLABLANCA

WRITER: ROSY RODRIGUEZ

WRITER: NALANIE RUIZ

WRITER: MADDIE PUMMER

WRITER: LARISSA HALLIGAN
---
SUPPORT US

BY SHOPPING FROM

OUR DEPOP!

@PandemoniumCollective

THE PANDEMONIUM COLLECTIVE

IS NOTORIOUS FOR FINDING

BEAUTIFUL TRENDY PIECES FOR

OUR PHOTOSHOOTS AND FOR

THIS SPECIFIC EDITION WE PLAN

ON USING THE MONEY WE RAISE

TO BUY BOOKS FOR OUR ANNUAL

BOOK DRIVE.
---
SUPPORT US

DONATE TO OUR BOOK

DRIVE!

WE HAVE MULTIPLE LOCATIONS

WHERE PANDEMONIUM

COLLECTIVE BOXES ARE LOCATED

BUT YOU CAN ALSO CONTACT

772-812-6636
---
P H O T O G R A P H E R : D I A N E

S E R R A T O

MODELS: RANIA KHAWAJA

ROSY RODRIGUEZ

L O C A T I O N : B O T A N I C A L

G A R D E N S
---
ENVIRONMENTAL FRIENDLINESS

By: Rosy Rodriguez

The Earth is our home, and it is important to keep our home clean. By

being environmentally

friendly, not only are we keeping our home clean but we are also

ensuring an improved future for

generations to come. It may seem simple, but even the smallest

actions can have damaging effects. With that being said, the smallest

actions can also have the largest impacts.

From water conservation to recycling to minimizing your carbon

footprint, becoming eco-friendly can

manifest itself in many ways; the hardest part is simply making the

initial switch.

Here are steps you can take to become more environmental friendly:

PROTECT SAVE THE THE

ENVIRONMENT
---
Educate yourself and others

While actions have the most direct impact, it is also important to understand how

everything is connected and how your actions affect the environment around you. There are

so many resources to learn from such as blogs (conserve-energy-future.com), environmental

science teachers, and even public events. One local event that is very well organized and

promotes water conservation is called Water Fest. It occurs every year in Memorial Park,

Stuart. There, schools and businesses from all over the area set up booths with activities and

educate others on the importance of water and what you can do to help the cause. It is an

extremely engaging way to bring awareness to certain environmental issues.

Properly Reuse, Reduce, and Recycle

It may seem easy to just throw away all your overflow trash into the green bins given to

us by the county but those are supposed to be used for recycling.

We are taught that you should only recycle paper, plastic, and glass;

however, it is a little more complicated than that. Luckily, on the recycling bins provided to

us by the county, there is a diagram that demonstrates items that can be recycled and items

that should be disposed of in another manner. It is extremely important to remember that

items

like pills, Styrofoam, and plastic bags cannot be recycled or thrown away because they are

toxic to the environment. Stores like Publix have bins located outside to properly dispose of

these items. Also, if looking to dispose of Styrofoam egg cartons, local farmers are another

resource that could reuse them.
---
Reducing Your Carbon Footprint

Arguably one of the most impactful steps towards becoming environmentally friendly, your

carbon footprint can be defined as the total amount of greenhouse gas emissions caused by

oneself. In simple terms, the bigger an individual's carbon footprint is, the more they

contribute to the increased rate of global warming. By lowering your carbon footprint, one can

actively decrease the rate at which global warming is occurring.

Ways to reduce your carbon footprint include:

- Unplugging items that aren't in use

- Turning off lights

- Using LED lightbulbs

- Taking the stairs

- Taking shorter showers

- Doing full loads of laundry

- Using public transportation and/or biking/walking
---
A step-by-step on

composting

B Y : A M A N D A M E S S I N A

Composting is an easy and effective way to get rid of your scraps while returning their

nutrients back to the Earth. I can't stress enough how important it is that we take care of

the planet and composting is a great way to be mindful of where your waste goes.

Composting isn't a necessarily complicated process but it does require regular effort and

attention. To start a compost pile you'll need a big plastic bin, a top isn't mandatory but if

you live in an area where animals are known to get into garbage bins and similar areas

then having a top with some holes in it should prevent them from getting into your compost

bin.

What not to put in a compost bin

As I mentioned earlier you don't want your compost bins to attract

unwanted attention from animals like raccoons, squirrels, and

predator birds. In order to keep a fresh compost bin, it's imperative

you avoid putting any sort of meat, dairy, human or pet waste, oily

food, and any coated/laminated paper

What should be put in a compost bin

Compost bins take two types of material, green and brown material or

also known as wet and dry material. The green material is what you'd

expect it to be, any cooking scraps or peels like banana peels, apple

cores, potato skins, etc. are all great examples. Dry material is what

keeps your compost from becoming too moist and watery; some good

examples include wood chips, newspaper, cardboard, or dead leaves from

your yard.
---
Regular Maintenance of a compost bin

A compost bin should first be started with a

medium layer of soil around 3 inches in height, and

an inch of green scarps followed by an inch of

dry scrap, and then add an inch of soil. You can

gradually repeat this every time you throw out

your scraps.

OutCome

After a few months, your soil will be filled with

an abundance of nutrients and can be used in

any sort of garden
---
BEST PICNIC LOCATIONS IN ST LUCIE

COUNTY

BOTANICAL GARDENS

THIS IS A ST LUCIE COUNTY CLASSIC! THE

BOTANICAL GARDENS HAPPENS TO BE ONE OF

OUR SCENERY LOCATIONS AND ON OF THE

MOST DELIGHTFUL PUBLIC PICNIC SCENERY

PORT SAINT LUCIE HAS TO OFFER.

OXBOW ECOCENTER

THIS ECO CENTER HAS PICNIC TABLES RIGHT

OFF THE MAIN TRAIL WITH AN ENJOYABLE

DISPLAY OF WOODEN FIGURES AND AN

EDUCATIONAL CENTER ABOUT THE SPECIES

FOUND IN THAT SPECIFIC ECOSYSTEM.

CLIFTON S. PERRY

BEACH

ALTHOUGH THIS IS RIGHT OUTSIDE OF ST LUCIE

COUNTY AND LOCATED IN MARTIN COUNTY,

PERRY BEACH HAS A GORGEOUS WALKWAY

FILLED WITH RED AND BLACK MANGROVES. AT

THE END OF THE THE WALKWAY LIES A DOCK

WITH BENCHES AND AN OPEN AREA SPACIOUS

ENOUGH FOR PICNIC BLANKETS AND FRIENDS!

BY: AMANDA MESSINA
---
P H O T O G R A P H E R :

A M A N D A M E S S I N A

MODEL: MORGAN COSGROVE

L O C A T I O N : B O T A N I C A L

G A R D E N S
---
TAKING A

STEP

BACK

I find that often,

BY: MADDIE

PRUMMER

we get so caught up in our lives

and busy schedules that

we forget to take a

step back.

For many of us, the summer

going into senior year is the

last time we have without

the burden of college, or

whatever path we choose,

weighing down on us. While

of course we cannot push

the thought of college

applications completely out

of our minds and still have

to work a job or are simply

just preoccupied, those

small amounts of time in

between are crucial.

My advice to you is, when those

moments do come, live in the

present and stop focusing solely

on the future.

As a generation, it seems that we put this

impossible and unforgiving stress on

ourselves, to be

our best, in hopes that someday we are

successful and that all this pressure has

actually paid off. Yet, it

is rare that we actually consider the cost at

which that success comes.

College is important. Making something out of

yourself is important. But above all, your

happiness is important. So, this summer, take a

step back and truly appreciate being a teenager.

Whether that's planning an extra beach trip or

reading the book that has been sitting on your

nightstand, it's worth it.
---
BY: Rosy

Rodriguez

How To: Upcycle

Upcycling is one of the many

ways one can begin to

reduce waste output and therefore

their carbon footprint. One may ask, what is upcycling?

Upcycling is the act of taking items that are no longer in use and refashioning

them into something that is more refreshing and can be used.

This process can be as simple as a coat of paint to something as complex as

breaking it apart.

However, it is important to note that this is not the same as recycling.

Recycling, on the other hand,

breaks down items so that their base materials can be used for

a different purpose.

Upcycling does not break down items to their

base materials.

It can be used to repurpose items on all levels such as clothes,

furniture, and even jewelry.

Here are some everyday items that one may consider trashing but can actually

be upcycled.

OLD JEANS

One of the most common items that are repurposed are old

jeans. Whether they have become too big, too distressed, or

are excessively stained, jeans are the easiest to upcycle

because they can be easily cut or sewn. Jeans that have

become ripped can easily be cut into cute summer shorts.

Jeans with holes can be patched up easily with cute fabrics.

And lastly, jeans that have become too big can easily be

fashioned with an elastic on the waist band to fit better.
---
M I LK / JU IC E

CONTAINERS & JARS

While not all milk and juice

come in attractive

containers, some brands use

containers that can be used

as vases. Those glass

containers can serve a

better purpose as house

furniture than as recycling.

Furthermore, mason jars can

make super cute cups and

are also super trendy.

OLD

TEASPOONS

While this one

may sound

slightly weird,

it can make the

cutest upcycle;

however, this

one may

require further

assistance

from a jeweler

or

metalworker.

DRIED

FLOWERS

Old spoons often

feature beautifully

decorated handles

than can be

repurposed as

rings. As

mentioned, this

does require more

skill than other

upcycles, but the

ending product is a

very beautiful and

unique piece of

jewelry.

Often when we are gifted

flowers, they quickly wilt

and we simply throw them

away. However, dried

flowers can make cute

decorations to accompany

your new milk jar vases.

When throwing away a

wilted bouquet, you can set

out the flowers to dry and in

a couple days, some of them

may still be visually

pleasing. These can be

placed in a vase, and you

don't even have to worry

about watering them.
---
O

L

D

S

H

I

R

T

S

The last

item I will be

mentioning is

old t-shirts.

These are

arguably the

most fun to

repurpose

because of how

creative one can

get and the many

things you could

do.

You could cut

the t-shirt to

make a crop top;

it can be dyed or

bleached; with a

vinyl printer,

one can add

designs; one can

even go so far as

to cut up the

shirt into strips

and use it as

yarn.

These are the most basic upcycles one can do. With more knowledge and ability

one can take almost anything and make into something beautiful. In summary, I

hope you learned something valuable about upcycling and how one's trash can

become a unique piece that one values even more. I believe that by creating a

piece yourself, even if it was just a coat of paint that was added, it makes the

piece more meaningful. Think twice before throwing something away and try

to see the beauty of it.
---
P H O T O G R A P H E R :

A M A N D A M E S S I N A

MODEL: NALANIE RUIZ

L O C A T I O N : B O T A N I C A L

G A R D E N S
---
Natural

Ingredient

COLOR CHANGING

serving size: 2

Ingredients:

1 Tablespoon dried

butterfly pea flowers

1.5 Teaspoon dried

lavender

2 Cups water

1 Lemon, juiced (about

3 tablespoons lemon

juice)

2.5 Tablespoons honey

or sweetener of choice

Lemonade

instructions

By: Nalanie Ruiz

1.

Steep the dried butterfly pea flowers

and dried lavender in 2 cups of hot

water for 10-15 minutes. (The longer

the better)

2. strain and let cool completely

3. Meanwhile , stir the lemon

juice and honey together.

4. Pour the lemon juice/honey mixture

into the strained, cooled purple tea.

Stir and the colors will magically

transform.
---
single-serve

summer

strawberry

lemonade

serving size: 1

BY: Amanda Messina

Serving size: 1

¼ cup of hot water

2 tablespoons of white

sugar

3 tablespoons of lemon

juice

¾ cup of cold water

¼ cup of ice

Lemon slices

2 strawberries

1- Mix together ¼ cup

of water with 2

tablespoons of white

sugar

2- Pour in your ¾ cup of

cold water and 2

tablespoons of lemon

juice

3- Puree your

strawberries in a

small bowl

4-Mix the strawberry

puree and lemonade so

it turns pink.

5-Add your ice and

lemon slices. Enjoy!
---
P H O T O G R A P H E R :

N I C H O L E M E S S I N A

MODEL: AMANDA MESSINA

L O C A T I O N :

S T A T E S V I L L E , N O R T H

C A R O L I N A
---
THE BEST SUMMER MOVIE/SERIES REVIEW

**WARNING CONTAINS SPOILERS**

This summer is almost coming to a close, and it's been a fun one. For all the book lovers out

there, there have been so many new summer books hitting the shelves, but there's one, in

particular, that's been catching everyone's eye. The series ``The Summer I Turned Pretty" by

Jenny Han has been all over my Tik Tok for you page, so I finally caved in and read it before the

tv adaptation came out. Let's just say I became OBSESSED.

THE SERIES IS THREE BOOKS FOLLOWING THE MAIN CHARACTER "ISABEL CONKLIN" ALSO KNOWN

AS "BELLY." SHE'S BEEN GOING TO HER MOM'S BEST FRIEND'S BEACH HOUSE IN COUSINS BEACH

EVERY SUMMER WITH HER MOM AND HER BROTHER SINCE SHE WAS A BABY. SUSANAH, HER MOM'S

BEST FRIEND, HAS TWO SONS, "CONRAD" AND "JEREMIAH." THE BOOKS FOLLOW A LOVE

TRIANGLE BETWEEN BELLY AND THE TWO SONS, PACKED WITH DRAMA, LIFE LESSONS, AND LOVE.
---
So, let's dive into the first book and how they did with the first season. The first book

really focused on how much she wanted to fit in with the three guys growing up, Conrad,

Jeremiah, and her brother Steven. I felt a strong connection with her character when she

would describe feelings of being "too young" to go anywhere, being the youngest, I could

definitely see myself in her. She's only 16 in this book, so some of the choices she makes

can definitely irk you a bit, but I think the author did such a great job at showing how

when we're that young, we can think the world is going to end over the smallest

situations. She's a little bit more tolerable in the show, and I'd say more headstrong,

especially when it came to Conrad.
---
The love triangle

Conrad was the first boy she ever loved. She goes deep into describing her feelings

and admiration for him throughout the book. He's older than her by two years, and

is broody, "hates everyone but her" type. The book really emphasizes how moody

Conrad is, but how he still has a big heart underneath, and the actor playing him

truly visualizes those emotions. There's unspoken tension between Belly and Conrad

in the book, knowing they both feel deeply for each other, but they never say it. The

actors in the show have such great chemistry, that it really brings the 'loving

someone since you were young' feeling alive. Belly has a really strong bond with

Susannah, the mother of the two brothers. Susannah is really the heart of the group,

and their love for her really draws all of them together. So when everyone finds out

later that she's dying of cancer, and the fact that Conrad secretly knew, it really hits

them hard. Jeremiah is the younger brother and is also head over heels for Belly.

Which later adds more tension to Conrad and his competitive relationship.

Ultimately, she has to choose between where her heart has always been, and where it's

starting to go. It was such a fun read and an even better watch. If you're looking

for that fresh romantic summer vibe, this is 100% the series to check out!

By: Selena Villablanca
---
P H O T O G R A P H E R :

A M A N D A M E S S I N A

MODEL: NICHOLE MESSINA

L O C A T I O N :

S T A T E S V I L L E , N O R T H

C A R O L I N A
---
SELF-IDENTITY

By: Larisa Halligan

W

e experience change in a multitude of

environments. Whether it's in your sport, school, or

a friend

group, it can be easy to lose sight in who you are.

Honestly, we get caught up in the influence of our

peer and the people we spend the most time with

and this can cause us to lose sight of our values.

Through the fear of not fitting in , seeking validation

from those we love, and even having a competitive

personality, it's important to reflect on what you

stand for.

Having those boundaries where you can accept

what people are saying, while standing with your own

personal views is so important. Instances where we

experience other's accomplishments or

opportunities such as a promotion, scholarship, or

gifts received, are moments when we should focus

on

being happy for that person rather than envious,

being aware of our own limitations and our own

accomplishments.

Being confident enough within yourself to be

happy with what you have and what

you've worked for is so crucial as big

changes and chapters in our life approach.

Being okay with the things we reside with,

whether it be music taste, hobbies, and style

is important to

hold onto even if it doesn't fit with the

micro trends in our day to day life. Realizing

that those things are

what make us unique and

embracing that is what helps us

not lose sight of who we are

even when we're

put into different environments

with different people. Through

this, we can fully become

comfortable

with our own identity and enjoy

the people we place ourselves

around , while accepting our

diversity.
---
Tips On De-Stressing

By: Maddie Prummer

Many of us can relate to allowing the tasks of the day to

overwhelm us and we end up

exhausted, stressed and unmotivated. At the end of the day,

or in the morning before school or

work commences, and we do find that moment to take a

step back, consider the following tips to

help start or end your day off on a better note!

1) Limit the socials: Just because your friend is posting on

2) Refamiliarize yourself with

books: Unfortunately, it seems

that in our generation

we have this negative connotation

associated with reading books.

Yet, it ensures

our brains are being positively

stimulated while also allowing us

to indulge in a

story that gives us a break from

reality. I have been granted the

opportunity to

work in a pre-kindergarten

classroom with 3- and 4-year

old's and seeing how

interested they get in each story

we read to them has been an eyeopening

experience. Hence why, I have

challenged myself to read more,

and I challenge

you to do the same.

her snapchat story that

she had the worst day at work and she desperately needs

to find a new job, does

not invalidate your struggles throughout the day. The

worst thing we can do for

ourselves, specifically our mental wellbeing, is to

compare our problems with

other people. Maybe someone else is struggling worse

than you are, But that

does not mean you are not struggling as well. Though it

might not seem like it,

Scrolling on TikTok or through an Instagram feed as

your only pastime can be

detrimental to your mental health. Try to limit your time

spent on these platforms

and take note of how your outlook has changed.

3) Journaling: Sometimes, we feel as if there is nobody to talk to about our problems

with or simply want to vent about our frustrations with the day. In the event we

don't want to or know how to share with someone, I suggest taking on journaling.

You can write about your day, using markers or stickers and even include some

doodles to further relax yourself and put your anxieties and worries into words.

This is a great way to de-stress and also reflect on yourself, by looking back at

your journal entries and tracking your growth.
---
P H O T O G R A P H E R :

A M A N D A M E S S I N A

MODEL: RANIA KHAWAJA

L O C A T I O N : B O T A N I C A L

G A R D E N S
---
EASY SNACKS

-turkey and cheese pinwheels

-carrots & ranch

-sugar coated frozen grapes

-chocolate covered pitted dates

-granola & yogurt

-cheddar & pretzels

-humus & pita chips

-hard boiled eggs

-mixed nuts w m&m's and popcorn

(diy check mix)

-rice cakes, peanut butter, bananas

-nutella & mini breadsticks to dip

-cucumber & tomato & lemon

-watermelon & tajin

-cottage cheese w blueberries & strawberries

stuffed bell peppers

Rania Khawaja
---
SUMMER

DESTINATIONS

BY: Nalanie Ruiz

My family and I have recently taken a leap of faith

when deciding that there is so much life has to

offer. I have discovered a strong passion for travel

and this summer i went on the trip of a lifetime.

Wyoming

Utah

Arizona
---
Arizona

Grand Canyon

The state of Arizona was

shockingly stunning. The

canyons towers of orange

richness.

The depths and height created a

field of beauty.

My family and I visited the

northern region of the grand

canyon.

Arizona is an amazing

destination to take a break from

the humid and beachy state of

florida. The dream like views

and delicious food all made the

trip worthwhile.
---
Utah

Arches National park

Zion National Park

Bonneville Salt Flats

Bryce Canyon National Park

Utah was the state I stayed at for the longest period

of time.

The arches, the canyons, and the Narrows were all

indescribably beautiful.

the narrows were freezing and yet felt warm with

the canyon's colorful and textured beauty.

the heat in Utah was unbearable, but thanks to the aid

of my chill pal i felt refreshed enough to enjoy the

shocking sights these Utah hikes have to offer.

the coffee was great with diverse flavors and

picturesque locations.
---
Wyoming

Grand Teton National Park

Yellowstone National Park

Wyoming had its beautiful wildlife and mountain valleys. the

long drives and long walks were all filled with memorable

sights.

the water flowing with the mountains howling all made the trip

worthwhile.

when traveling to the three grand peaks of grand Teton,

Yellowstone's hot springs and the geysers created an eventful

trip.

the wildlife so calmly displayed its natural beauty and geysers

erupting created a magnificent display of nature's power.
---
THE OVERTURNING OF ROE VS

WADE

Beginning stages

The Texas-originated court case began when Jane Roe a struggling

pregnant woman was denied access to have an abortion in her state. The

case eventually reached the federal level and was ultimately ruled by the

Supreme Court that abortion would be dealt with on a federal level as

opposed to the previous state-mandated method. This was done by Roes

lawyers arguing that women have a right to abortion under the protection

of "liberty" and "privacy" in the 14th Amendment. Effectively accepted by

the Supreme Court and ruled as a case precedent for years to come. The

issue lies however in the looseness of the terminology within their

argument. Technically the Due Process Clause doesn't explicitly state

Americans have a right to an abortion making it an easy target to be

argued against from a conservative standpoint. The legal terms of the case

were constantly targeted due to this however since the supreme court

ruled in favor of Roe states no longer had control over the legality of

abortion regulations. Over time conservative members of government

began attacking the ruling and "testing" how far they could go before the

federal government could strike them down, meaning states such as Texas

and Oklahoma would create state laws prohibiting abortions based upon

how far along the pregnant individual was. This continued for years until

eventually the case of Dobbs V. Jackson Women's Health Organization

reached the steps of the Supreme Court after many appeals. The case was

finally accepted now that the Supreme Court was outweighed in

conservative members following the presidency of Donald Trump who

appointed the new conservative individuals. Ultimately the Supreme Court

ruled Roe V. Wade as unconstitutional and ruled in favor of states having

the authority to regulate abortions. This will then establish case precedent

that the status of abortion is no longer a nationally protected issue and

now lays in the hands of state governments.
---
Societal impacts

Arguably, the most prevalent issue to arise from the overruling of Roe Vs.

Wade is the social injustice that unfolds as a result. The removal of federal

rights to women and lgbtqa+, regressing to states' decisions, enables

those individuals, particularly in "red states" who vote against abortion,

to receive the medical procedure regardless of risk to the mother's life and

even fining physicians and revoking their medical license to practice

medicine in some states.

At the same time, minority women and those in low-income communities,

struggle severely with the decision that mainly affects this demographic.

Many are unable to afford the now increased prices of the procedure, let

alone those that are now forced to travel to receive it.

Ultimately, the renouncing of Roe V Wade now obliges individuals into

parenthood which is a costly and precious experience to be cherished,

when chosen. As a result, LICs will increase in volume and the population

will skyrocket to supply the workforce, demoting low-class citizens to dirt

and raising the top 1% to infinite success without having to work,

exacerbating the overwhelming wealth gap.

R E P R O D U C T I V E

F R E E D O M
---
law

When the court case concluded in 1973, women's right to abortion were

protected under the constitution without interference from the state

government.

The overturning of this ruling strips citizens with uterus's of their

personal, patient autonomy, — a basic, fundamental principle of medicine

— forcing inadequate and unprepared individuals to be sent on the

journey of parenthood. Not only does this devalue the sacredness of

motherhood as previously mentioned, but this also reignites the debate

amongst two heated sides, on states' rights.

As witnessed in history, granting authority to individual states to dictate

their own regulations has led to radical and irrational decisions, such as

the legality of slavery.

Simultaneously, the implications of differing laws in different states,

illustrates the varying viewpoints presented within the nation, as a result

of rising sectionalism that divides the "United" States.
---
what this means for us

As a result of the repeal of Roe V. Wade the entirety of American

individuals sexual and reproductive rights have been stripped entirely.

No reproductive health issue will be protected from this point forward as

they can be deemed a "controversial" topic just as Roe V. Wade was. This

case will now place individuals with a uterus under intense financial and

physical stress, particularly for those who live in states with limits and

bans on abortion access. Even states that will continue to practice

abortion will see heavy increases in the costs to perform these procedures

only increasing the stress upon citizens seeking medical help. The newly

conservative wave of legal actions has already been witnessed in red

states, particularly in Texas. Conservative establishments in Texas are

already in support of limiting access to proper sexual education as well as

access to contraceptives, particularly birth control. This is proven as antichoice

members have been financially supporting Burwell V. Hobby Lobby

Stores Inc. which is fighting to deny their employee's access to insurance

coverage of contraceptives (birth control) based upon their religious

beliefs. In essence, Roe V. Wade's repeal has created a seismic change in

not only the social world but the legal world as well. Many sexual and

reproductive rights were based upon the establishment of the Roe V. Wade

case and now that it has been effectively removed those cases that were

supported by Roe are now nullified. This is not just an issue of abortion

rights but a fight for the rights of the American people to control their own

bodies and remain having their medical autonomy.

Rania khawaja

Morgan cosgrove
---
For reading Pandemonium

collective

We are elated to be entering

our senior year and being able

to provide this safe space to

communicate with teens that

reside in St. Lucie County. We

are hopeful that we can put

together a new team of

juniors so that we can

introduce this amazing concept

and magazine too.Thank you so

much for supporting us!