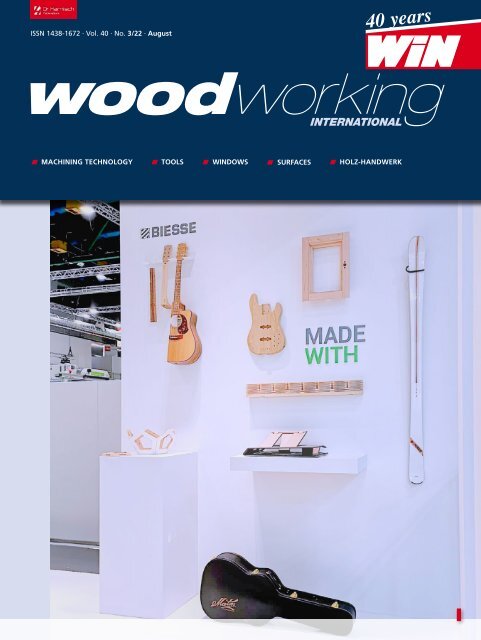 WIN woodworking INTERNATIONAL 2022/3
WiN – woodworking INTERNATIONAL is the international magazine for the woodworking industry. We report on all aspects of woodworking from board materials, wood treatment to machines, tools and technical know-how, from timber engineering supplies to the latest developments in technologies and markets. We address factory managers and production engineers directly, and thus ensure coverage of the decision makers within the industry. Circulation is worldwide with special emphasis on the most important growing markets. An increasing share are subscriptions and requested copies. Our online-section will further be expanded according to reader requests. WIN – woodworking INTERNATIONAL is published in English.
WiN – woodworking INTERNATIONAL is the international magazine for the woodworking industry.

We report on all aspects of woodworking from board materials, wood treatment to machines, tools and technical know-how, from timber engineering supplies to the latest developments in technologies and markets. We address factory managers and production engineers directly, and thus ensure coverage of the decision makers within the industry.

Circulation is worldwide with special emphasis on the most important growing markets. An increasing share are subscriptions and requested copies. Our online-section will further be expanded according to reader requests.

WIN – woodworking INTERNATIONAL is published in English.
SHOW MORE
SHOW LESS
You also want an ePaper? Increase the reach of your titles
YUMPU automatically turns print PDFs into web optimized ePapers that Google loves.
ISSN 1438-1672 · Vol. 40 · No. 3/22 · August

40 years

MACHINING TECHNOLOGY

TOOLS WINDOWS SURFACES HOLZ-HANDWERK
---
Looking for the latest topics from the woodworking industry?

You're at the right place!

Click here to register for our Newsletter

free of charge and subscribe to our

digital ePaper editions.

BE A

NER!

WiN - woodworking INTERNATIONAL

Advertising contact: win@harnisch.com

The magazine is published in a special format : 229 mm x 305 mm.

We report on all aspects of woodworking from board materials, wood

treatment to machines, tools and technical know-how, from timber engineering

supplies to the latest developments in technologies and markets.

Special features will be presented on design, surfaces, laminating

and furniture.
---
CONTENTS EDITORIAL

Eric Schäfer

Editor

Here it is again ...

... the long-lost feeling of a trade show visit.

The whirring sound of the machines, the

hissing of the hydraulics, the radiating heat, the

smell of the sawdust. That precious feeling of

running a new tool between your fingers and

being able to examine it haptically, of stroking

the palm of your hand over a machined surface

or having everything explained to you in detail

and with pride by employees whose joy in the

product development presented is evident.

We want to convey a little of this feeling,

which the editorial team felt while walking

through HOLZ-HANDWERK, to our readers

in this WiN issue. The trade fair once again offered

everything the public wanted to see. What

caught our eye in terms of innovations and developments

from all areas of woodworking can

be read in our special section, starting on page

24. These include the factory of the future, the

latest developments in extraction technology,

innovative tools, interesting approaches to automation,

software and artificial intelligence.

In addition, sustainability - not only at the

trade show - is a big topic these days. We present

the trend towards sustainability in this issue

in articles on surfaces, coatings and adhesives.

An example of sustainable construction is documented

by the Nautical Coordination Centre in

Amsterdam, which was built using responsible

timber construction methods and which we also

introduce to you in this WiN.

We also look ahead to the upcoming IWF

in Atlanta, where Hymmen will present its latest

innovations in industrial digital printing and

its other proven equipment technologies for the

wood-based materials industry. Among them is

Hymmen's brand new Industry Intelligence solution

smart2i.

Sincerely,

Eric Schäfer

No. 3 • August 2022

3
---
CONTENTS

EDITORIAL

HOLZ-HANDWERK

Here it is again ...

... the long-lost feeling of a trade show visit

COMPANIES

Sustainable cooperation 6

The world's largest drum dryer 6

Largest group-wide investment program 7

Vecoplan expands its global service bases 8

Timber plant reduces downtime 8

Optimize board quality with the use of artificial intelligence 9

TOOLS

Complete package for producing woodworking tools 10

SAFETY

New intelligent extinguishing module 11

SUSTAINABILITY

The all-rounder among single-shaft shredders 12

SURFACES

Adhesive Technologies to expand expertise in sustainable

timber construction 13

New and proven 14

Archroma introduces new eco-advanced wood protection

technology15

Intergenerational sustainability strategy 16

Successful summer edition 23

End-to-end digitization from sales to the finished product 24

Advanced solutions for CNC processing and drilling technology 25

Wood sanding machines which meet the highest demands 26

New vacuum lifter for the woodworking shop 26

The Salvamac proposal 27

Making the trades and retailers ready for the future 27

The factory of the future is already a reality 28

Höcker Polytechnik showed its latest developments

at HOLZ-HANDWERK 28

Numerous top innovations 29

The HSM New Edition and the MFA Impression 30

Premium-Class Unfilled PO Hot Melt Adhesive 30

Flexible use with high performance 31

Cutting with full speed through the panel 31

ARCHITECTURE

Port of Amsterdam selected responsible wood construction 32

GUIDE TO PRODUCTS AND MANUFACTURERS 34

DOORS / WINDOWS

New machining cell for producing windows and doors 17

Mixed wood/aluminium hidden sash windows 17

MACHINING TECHNOLOGY

Woodworking made izy 18

The latest generation machining center by CRENO 18

Over 40 systems in use 19

60 years of HOMAG edge banding machines 20

FAIRS

Cover Photo: HOLZ-HANDWERK/WiN

4 No. 3 • August 2022
---
40 years

Impressum

ISSN 1438-1672

WiN - woodworking INTERNATIONAL

Vol. 40/2022

Publishing Company: Dr. Harnisch Publications

Eschenstr. 25, 90441 Nuremberg

Germany

Phone: +49 - 911 - 2018 - 0

Fax: +49 - 911 - 2018 - 100

E-mail:

win@harnisch.com

www.woodworking-international.com

Owners:

Publisher:

Managing Editor:

Editor:

Media Service:

Dr. Claus-Jörg Harnisch

Benno Keller

Benno Keller

keller@harnisch.com

Marta Bletek-Gonzalez

gonzalez@harnisch.com

Eric Schäfer

eric.schaefer@harnisch.com

Germany, Austria, Switzerland

Dina Fettig

dina.fettig@harnisch.com

Martin Fettig

martin.fettig@harnisch.com

Western Europe

Gabriele Fahlbusch

fahlbusch@harnisch.com

USA/Canada

Bill Kaprelian

kaprep@harnisch.com

China, Hong Kong, Taiwan

Mike Hay

mchhay@ringier.com.hk

Taiwan

Sydney Lai

sydneylai@ringier.com.hk

WiN - woodworking INTERNATIONAL is published quarterly

in March, May, August and November.

Subscription information: Qualified readers, executives in the

woodworking business, are put on the mailing list free of charge.

Regular delivery by subscription only.

printed by

Schleunungdruck GmbH, Eltertstraße 27, 97828 Marktheidenfeld

Copyright © 2022 Dr. Harnisch Publications
---
COMPANIES

Sustainable cooperation

With its special expertise Siempelkamp once again convinced a leading supplier of sustainable insulation materials: The SOPREMA Group

ordered a second Siempelkamp plant for the production of its Pavatex wood-fibre insulation. The plant will be installed in Chavelot,

France, near the current site in Golbey. SOPREMA is one of the world's leading building products companies and has a strong focus on

expanding its sustainable product range and resource-saving production.

Pavatex site in Golbey/France (Image source: SOPREMA)

Under the Pavatex brand, SOPREMA offers

modern ecological insulation solutions based

on renewable raw materials. SOPREMA commissioned

the new Siempelkamp plant for its

new "Pavatex 3" production site. Here, the wa-

terproofing and insulation manufacturer invests

in a new production center for Pavatex wood-fibre

insulation boards in the field of sustainable

building materials.

SOPREMA decided on a scope of supply for

the new plant that is almost identical to that of

the first Siempelkamp plant in Golbey. This first

dry fibre production for Pavatex wood fibre insulation

boards had been ordered by SOPREMA

from Siempelkamp in 2012 and was started up

in April 2013.

The current production line, which operates

completely in the dry process, includes a

ContiTherm calibration press. After screening,

the wood chips are thermally and mechanically

defibreed and dried in the approx. 120 m long

flash dryer supplied by Siempelkamp's subsidiary

Büttner. Also included in the scope of supply

are the engineering and installation. The

Siempelkamp control system Prod-IQ.quality is

also part of the plant concept.

The special highlights of both Siempelkamp

plants for the production of Pavatex wood fibre

insulation include the flexibly applicable gluing

units. The fibres are glued only after drying. The

Pavatex products manufactured meet the strict

requirements of natureplus©, the quality label

for ecological, health, environmental and function-compatible

building products, and carry

numerous other environmental labels. This

corresponds with the corporate profile of the

SOPREMA Group, which continues to expand

its range of sustainable system solutions for the

construction industry.

The assembly start of the new plant is scheduled

for the last quarter of 2023. Its production

spectrum is designed for approx. 55,000 t of insulation

boards per year; added together, both

Siempelkamp plants in Golbey will then provide

an annual production volume of approx.

110,000 t of insulation boards.

www.siempelkamp.com

The world's largest drum dryer

Berneck S.A., the largest wood-based panel exporting company in Brazil, has commissioned DIEFFENBACHER to supply an 84 MW

energy system and the world's largest drum dryer for its medium-density particleboard (MDP) plant in Curitibanos, Santa Catarina.

Headquartered in Araucária in the Brazilian state of Paraná, Berneck S.A. specializes in MDP, MDF and HDF production.

One of the dryer's trunnion rings: Outer diameter 9.06 m, height

0.66 m, weight approx. 47 t

"With the new DIEFFENBACHER energy system

and drum dryer, we'll be ready to boost

our production capacity in Curitibanos from

1,200 m³ to 2,700 m³ of MDP per year," said

Industrial Director Daniel Berneck. The grate of

the huge 84 MW energy system will have a size

of 106 m² and the drum of the dryer will be 36 m

long and have a diameter of 7.8 m. The new

DIEFFENBACHER drum dryer will be the largest

in the world. At 155 % material moisture, it will

achieve a throughput of 43 tonnes per hour.

"Berneck has not only placed its trust in us

for this project, but it has also invited us to enter

into a long-term partnership," said Diego

Coelho de Oliveira, Area Sales Director Latin

America at DIEFFENBACHER. "We sincerely

thank our partners at Inserco for helping to

make this contract possible. Inserco Managing

Director Ralf Bergmann added, "This success

once again shows what DIEFFENBACHER and

Inserco can achieve together in Latin America."

"I can't wait to see our Curitibanos site

more than double its particleboard capacity,"

said Daniel Berneck. "I look forward to our collaboration

with DIEFFENBACHER and Inserco on

this project and others, as I believe this might be

the beginning of a new era for all three of us,"

he concluded.

www.dieffenbacher.de

6 No. 3 • August 2022
---
COMPANIES

Largest group-wide investment program

The WEINIG Group announced the launch of a comprehensive, large-scale investment

project of more than 120 million euros. The Tauberbischofsheim site alone, the headquarters

of the company with its 117-year track record of success, accounts for around

70 million euros of the total investment.

The supervisory board of the WEINIG Group

has approved a comprehensive, Group-wide

investment program that will fundamentally

reposition the Group and its headquarters

in Tauberbischofsheim. In total, more than 120

million euros will be invested over the next 5

years. For the Voitsberg site in Austria, the production

location of the subsidiary HOLZ-HER, 15

million euros have already been approved in advance

and will be invested in assembly, production

and logistics. The newly adopted program

focuses mainly on the solid wood division of the

mechanical engineering company.

With 117 years of history at its main site

in Tauberbischofsheim, the long-established

company has set up a completely new site concept

that will sustainably modernize production,

significantly optimize delivery capability

for customers and improve the working environment

for its employees. This will include a

new logistics center, a new manufacturing concept

and new production facilities, as well as

new exhibition and customer training rooms.

Around 70 million euros will be invested in the

infrastructure of the Tauberbischofsheim site

alone.

www.weinig.com

Now for tomorrow

Modern lacquer systems to achieve

a sustainable future

Leading the way and thinking about

tomorrow: Hesse Lignal is setting

a strong sign for climate protection

and occupational safety.

Hesse Lignal

inspiring you

• Solvent-free product range by 2030

• Commitment to a healthy working

environment

• Development of sustainable

product innovations

No. 3 • August 2022

Learn more about our

sustainability strategy

7
---
COMPANIES

Vecoplan expands its global service bases

Spain, Poland, the United Kingdom and Italy – Vecoplan is consistently expanding its service bases in Europe to be geographically

closer to its customers and provide them with even better services. Users benefit from faster spare parts supply, reliable on-site support

and a significantly higher availability of their plants and machines as a result. They also have a contact person who knows their

market intimately.

With its service centers, Vecoplan AG offers reliable on-site support

Customers always have a contact person who knows their

market inside out.

Besides Poland, Spain and the United

Kingdom, Italy now also has a Vecoplan service

base. Vecoplan has built up a large "installed

base" in that country. The company has

also opened an independent sales office with a

workshop in Ferrara to provide Italian customers

with even better services. There are currently

seven employees in Ferrara. "We look at the

markets very closely of course," says Pfeil, Head

of the Services division at Vecoplan AG. "Our

goal is to establish even more presence in the

locations where we have been successfully active

for many years. To achieve this, we look at

each country to specifically address that individual

market." France will soon be added to the list

of countries with expanded services. Vecoplan's

pan-European presence has simultaneously created

space for growth.

Italian customers also benefit from a consistent

supply of spare parts. Vecoplan intends

to expand this approach worldwide. "Due to

the current unstable supply chains, our goal is

to use this concept to increase the availability

of our machines and plants," explains Pfeil. The

Westerwald company also offers special service

agreements to respond to customers' needs.

These agreements enable customers to secure

response times, for example, or receive better

on-site support through inspection and maintenance

packages.

Vecoplan also offers a powerful digitalisation

concept with its Vecoplan Smart Center

(VSC). Via VSC.connect, customers receive a

modern communication interface between

Vecoplan and their plants. They can then access

services such as document management and remote

service. The integrated, intuitive VSC.control

operating panel serves as a communication

medium for the machine's control system and a

live link to the Vecoplan technicians.

www.vecoplan.com

Timber plant reduces downtime

Thanks to the adoption of NSK's linear guides with K1 lubrication units, a timber manufacturer

managed to reduce conveyor downtime by a factor of more than 12, prompting

annual cost savings of more than €77,000.

The British timber manufacturer supplies

wooden beams to the building industry. At one

production station, a conveyor system transports

the beams to a processing machine, performing

forward and backward motion with

rapid changes of direction. Due to the demands

of this operation the company had to

replace the conveyor's linear guides every two

weeks on average, a situation that was clearly

unacceptable.

A request arrived from the company's management

team asking NSK for recommendations

on how to extend the service life of the

linear guides. Analysis of failed units by NSK

experts revealed that they were not capable

of withstanding the high loads which occur at

each change of direction. In addition, the linear

guides sometimes jammed completely due

to the intrusion of wood particles.

NSK's recommendation was to adopt NSK

linear guides equipped with fully integrated K1

lubrication units. K1 units progressively release

lubrication oil (embedded in the pores of a polyolefin

resin) on to the raceway over a very long

time period.

Since the upgrade, the system has been

running for six months without a single failure.

The service life of the linear guides has thus increased

by a factor of more than 12, with a corresponding

reduction in related costs for material

and downtime. In total, NSK's cost benefit

analysis showed annual savings of around

€77,800.

The K1 lubrication unit is available for any

linear guide in NSK's range. As shown by this

example, linear guides equipped with the K1

are maintenance-free across a very long service

Linear guides with K1 lubrication units achieve long service

lives even in tough operating conditions, such as those in the

timber manufacturing industry.

life, even (and especially) under adverse operating

conditions.

Along with the retrofit of the conveyor system,

NSK provided comprehensive linear guide

training for the company's maintenance personnel.

Among the topics covered by the training

were: differences in materials; product selection

based on load capacity; and different types

of linear guides and their options. NSK also explained

the function of the K1 lubrication unit.

www.nsk.com

8 No. 3 • August 2022
---
COMPANIES

The digital and intuitive platform EVORIS from Dieffenbacher helps manufacturers produce smarter and more sustainably.

Optimize board quality with the use of artificial intelligence

Panel manufacturers have a new ally in their quest to achieve a specified board quality. It's called EVORIS, and the digital and intuitive

platform from Dieffenbacher is helping manufacturers produce smarter and more sustainably.

EVORIS apps that predict quality and detect

anomalies use artificial intelligence (AI) to help

manufacturers optimize board quality while simultaneously

lowering production costs, avoiding

rejects and reducing the use of wood, glue

and other expensive raw materials.

In the traditional approach for optimizing

board quality, usually once per shift, a sample

board is cut and sent to a laboratory for analysis.

Measuring quality parameters this way can take

from several hours to days, sometimes forcing

long delays in the control and production circuit.

The EVORIS Quality Prediction app uses artificial

intelligence to provide a continuous, realtime

prediction of board quality parameters during

production. Manufacturers view quality parameters

and laboratory measurements on the

EVORIS Dashboard. All relevant quality parameters

are displayed live and up to one month retrospectively.

Quality deviations prompt warnings,

which allow operators and technologists to

identify their causes and make corrections faster.

The AI-supported system learns and improves

itself independently as more lab data flows automatically

into the app. The result is increasingly

accurate quality predictions.

In the near future, a simulation of changed

production parameters will be able to produce

quality predictions without the need to change

production. Trained models will automatically

adapt to changing production conditions and

products. Manufacturers will be able to speed

up production and work with lower tolerances

by moving closer to quality limits.

In combination with the new AI-based

anomaly detection, deviations in the production

process can be detected even faster. This

avoids downtime and helps to achieve consistent

quality. Meanwhile, the anomaly detection

can be used for different processes at the same

time, which enables diagnoses that are more

accurate.

More EVORIS enhancements are on the way.

The Quality Prediction app will deploy AI algorithm

ensembles to analyze quality parameters

in parallel, improving prediction accuracy.

Operators will also be able to view the accuracy

of each potential production model.

Another app being developed will track

particle size. Particle size has an enormous impact

on board quality and can indicate machinery

defects or wear. The Particle Size app will

allow manufacturers to measure and analyze

particle size and distribution online. This information

will enhance the quality prediction AI

algorithm. Together, these innovations put the

possibility of a self-regulating plant closer to

reality than ever.

In the meantime, plant managers who take

full advantage of EVORIS today can be confident

they're on a trustworthy path to save resources,

reduce downtime, produce specified board qualities

and increase output rates.

www.dieffenbacher.de

No. 3 • August 2022

9
---
TOOLS

A new tooling system for woodworking blade profiles on FX machines

Complete package for producing woodworking tools

By Simon Richardson, Product Manager

ANCA is well known for offering standard

and special custom solutions for our customers.

When ANCA designs a custom solution,

we give our customers tailored and

diverse options with shorter set-up times.

In an increasingly challenging market,

companies grinding tools are always looking

at innovative products and diversifying

into different sectors using existing or

new machinery.

ANCA recently developed a new product

which provides more flexibility and capability

while enhancing the FX machine range. The

product is a tooling system used on FX5 and

FX7 machines which offers the ability to easily

interchange between woodworking profile

blades and cylindrical (shank) tools.

This means companies grinding woodworking

tools can grind blade profiles and then

quickly change to cylindrical shank tools, such

as compression routers. In addition, companies

focusing predominantly on engineering tools

can consider adding woodworking blade profiles

to their product portfolio.

This tooling system comes as a package.

The package includes a workholding adaptor

(blade chuck) to hold flat profile blades and a

blade gripper head fitted to the robot loader to

load woodworking blades or cylindrical tools

without any mechanical changes. This means

the robot head does not need to be changed. A

blade gripper is used to load and unload blades

and gripper fingers for loading cylindrical tools.

Optional pallets are available for both blades

and shank tools.

The blade chuck works with a pull stud

clamping mechanism. Switching between the

blade chuck and standard collet adaptor (for

cylindrical tools) is done in minutes. Automatic

loading and grinding of blade profiles with a

smallest size of 20 × 20 mm (0.78") and largest

size of 80 (3.14") x 30 mm (1.18") is possible.

This system is also retrofittable to existing FX5

and FX7 machines.

The blade chuck work holding has an adjustable

insertion depth between 8 (5/16")

and 28 mm (1.10"). The chuck can accommodate

blades on or between 0.5 (0.019") to

4 mm (0.15") thick using different size datum

blocks. When manual loading, the chuck can

hold blades up to 120 mm (4.72") long. Blades

with a bevelled edge can also be supported.

An air blast operates during the clamping and

unclamping cycles to ensure the chuck is free

of any contaminants. Digitizing of the top, side

and bottom of the blade along with notches or

datum features is possible. The chuck can also

rotate for blades with an undercut feature, so

the profile can be ground normal to the blade

surface.

In addition to the tooling system for blades,

ANCA has a dedicated software package for

grinding varied and multiple blade profiles. The

user-friendly software enables quick programming

and short set-up times. The user can easily

define the workholding, blank and profile or import

a DXF. The blades themselves are mounted

into tools used on different woodworking machinery

for cutting profiles into solid wood furniture

and components such as skirting boards

and architraves.

When grinding blade profiles, the depth of

the profile can be quite deep, and a lot of stock

needs to be removed. Slice Roughing is a method

of removing large amounts of stock from the

blade very aggressively, meaning shorter cycle

times. Slice Roughing repeatedly plunges the

roughing wheel downwards into the blade from

the top of the blank to the finish stock amount

specified by the user. When grinding blade profiles

with ANCA software, it's possible to control

the wheel pivot and relief angles along the profile

which is important for blade grinding. This

flexible tooling system combined with blade

software, offers a complete package for producing

woodworking tools.

www.anca.com

10 No. 3 • August 2022
---
SAFETY

New intelligent extinguishing module

The new smart GreCon IEM intelligent extinguishing module makes existing spark extinguishing systems by Fagus-GreCon even smarter

and more reliable. The sensors integrated into the intelligent extinguishing module improve the facilities' operating safety by integrated

early wear recognition.

Dynamic maintenance intervals must be

considered in the corresponding rules in order

to integrate more sustainable use of resources

from application of dynamic maintenance intervals

into the production process even better

than before. This is a subject that we will deal

with more intensely in future.

GreCon spark extinguishing systems are

growing more and more important in the context

of productivity increase

Automatic early wear recognition for

greater safety

Very small leaks are detected automatically

and reported to the control centre. The

facility's operator is proactively informed that

wear parts need to be replaced soon, enabling

them to plan the exchange systematically.

When temperatures approach freezing,

the integrated temperature supervision

will activate the heating cartridge to ensure

smooth operation of the facility even in outdoor

areas. The risk of unplanned downtimes

lowers and availability increases.

Maintenance based on wear data

Progress in the sensors also permits specification

of custom maintenance intervals

based on wear data. Such dynamic maintenance

intervals within the scope of predictive

maintenance not only extend maintenance

intervals but also increase the service

lives of the spare parts monitored in this fashion,

harmonising the two targets of "reducing

unintended downtimes" and "optimal use of

components" that are still often perceived as

conflicting with the use of high-performance

sensors.

Spark extinguishing systems by

Fagus-GreCon have been protecting industrial

production plants from dust fires and explosions

that may cause damage in the millions

within minutes and threaten existences for more

than four decades. Production companies from

a number of industries strive to protect themselves

against such risks and avoid production

outages with the help of Fagus-GreCon fire prevention

solutions.

Increasing connectivity of fire prevention

systems and production plants keep developing

new potentials to increase productivity.

Integration of spark extinguishing systems into

the setup of complex early warning systems permit,

among other things, indications of anomalies

in the production process early on to initiate

measures in time to help avoid production- or

safety-technical issues.

www.fagus-grecon.com

Your specialist for

extraction and briquetting systems

safe clean efficient

Dedusting

Conveying Filtering Briquetting

Varnishing Crushing Parts Control units

SPÄNEX GmbH

Luft-, Energie- und Umwelttechnik

Otto-Brenner-Straße 6

D-37170 Uslar

Phone: +49 (0) 5571 304-0

Fax: +49 (0) 5571 304-111

info@spaenex.de

www.spaenex.de

No. 3 • August 2022

11
---
SUSTAINABILITY

The all-rounder among single-shaft shredders

Vecoplan has revamped its proven, successful VAZ shredder

series with the latest industrial design benchmarks. In

addition to attractive technical features, the single-shaft

shredder also impresses with its modular design, which

makes users particularly flexible – the shredders can be

used universally for a wide range of materials, thanks to

their efficient and versatile rotor systems, screen variations

and drives. Operators benefit across the board by using the

VAZ modular system.

Large doors and a hydraulically lowerable screen allow good accessibility for maintenance work.

"Robust and sophisticated – you can rely

on our universal genius," enthuses Martina

Schmidt, Head of Recycling and Waste at

Vecoplan AG. The company is one of the leading

suppliers of machinery and equipment for

the processing of primary and secondary raw

materials for thermal and material recycling.

"The VAZ 1700, 2000 and 2500 versions can

tackle an extensive range of completely different

materials," she promises. That's why the

Vecoplan development team gave this shredder

series a modular basis – also the outstanding

feature of the new industrial design.

Customers have a wide range of machine

configuration options. They can adapt components

such as rotors, cutting tips, counter

knives, screens and drives to match the task

at hand. The right choices and the relevant

combinations are critical to the performance

and quality of the shredding process. "One indicator

is the throughput rate," says Martina

Schmidt. It ranges from 2,000 to 25,000 kg.

per hour.

U, V or W? The right rotor is ready for

action

Users can choose between various rotor

versions, depending on the materials to be

shredded. The aim is always to achieve maximum

cutting performance and high throughput.

The result is a homogeneous output quality

with very little fine dust and minimum grain

variance. "In this way, we effortlessly meet the

constant, high-quality output requirements demanded

by versatile applications and the best

possible value creation," explains Vecoplan

expert Schmidt. All our machine versions are

available for the different rotor lengths of

1,700, 2,000 and 2,500 millimeters.

"We always emphasise a small cutting gap

between the rotor and the counter knives," describes

Schmidt. This is ensured by the simple

external adjustment of both the first and (optionally)

the second counter knife.

Vecoplan has significantly enlarged the

material intake shredding chamber. "The user

can also feed in closed bales," says Schmidt.

The machine is also equipped with a frequency-controlled

ram, the speed of which can be

infinitely adjusted. High throughput is thus

guaranteed, even with challenging or very light

input materials. A hydraulically operated swivelling

screen with variable screen elements is

also available. The customer can adjust these

elements to the required output grain size.

Smooth handling

"We equipped the new machine with

large maintenance doors and a bottom flap,"

Schmidt reports. "This enables us to give service

personnel effortless access." For example,

all maintenance on the rotor knives, counter

knives and screen, such as changing, resetting

or adjusting work, can be carried out by the

personnel in a time- and cost-optimised manner

– and above all, in an ergonomically comfortable,

upright position. This is an unbeatable

symbiosis of established know-how and features

that will shape the future. The Vecoplan

developers have optimised the new VAZ in

such a way that maintenance times and costs

are minimised. However, the new generation

also includes proven features, and Vecoplan

has adopted automatic extraneous material

detection elements. Extraneous materials can

be removed quickly and conveniently at the hydraulic

bottom flap. Downtimes are drastically

reduced. The well-proven "Flipper" machine

breakage protection system in the VAZ machine

prevents damage when extraneous materials

are fed into the machine. The sensitive

overload control reacts to impacts caused by

these materials, protecting the shredder from

possible severe damage.

Powerful drive

The shredder is equipped with the HiTorc

drive, which has a high start-up power and

powerful torque. The patented system is

characterised by high energy efficiency. "Our

HiTorc is the Tesla among drives," says Martina

Schmidt. It has no mechanical components like

belts, gear wheels, flywheels or clutches, making

the shredder much more robust. A single

unscheduled plant stoppage caused by a broken

shaft, burnt overload clutch, or defective

gear is enough to justify using a HiTorc drive,

which significantly reduces maintenance work

and downtime. "We recommend this dynamic,

powerful start-up and high-torque series

of machines, especially to those customers

who require continuous operation."

The HiTorc drive is considerably more efficient

than systems with gears. The absence

of mechanical drive elements alone accounts

for about 15 %, making the synchronous motor

very efficient, especially in the partial load

range. It consumes only about 10 % of the energy

required by a comparable, asynchronous

motor when idling. Operating situations like

this often occur with inhomogeneous materials

and irregular input. The overall energy consumption

for the user is also reduced – because

the HiTorc is also very dynamic, it can

start up fast even under load, i.e., with a full

engine room.

Digitally advanced

The new shredder is equipped with the

Vecoplan Smart Center (VSC). This powerful

digitalisation concept offers a modern communication

interface between Vecoplan and

the customer with the VSC.connect system.

The user can access services such as document

management and remote service. The integrated,

intuitive VSC.control operating pan-

12 No. 3 • August 2022
---
SURFACES

el serves as a communication medium for the

machine's control system and a live link to the

Vecoplan technicians.

Vecoplan has designed the machine operation

to be user-oriented and equipped it

with valuable features, such as a dashboard

that provides the operator with an overview

of all the relevant values and current messages.

A message history also enables conclusions

to be drawn and ensures rapid troubleshooting,

while a data recorder notes all values.

Integrating a camera also enables images

to be transmitted from inside the machine –

for example, for rapid troubleshooting without

needing a Vecoplan service technician to

be on site.

www.vecoplan.com

Adhesive Technologies to expand expertise in sustainable

timber construction

Henkel Adhesive Technologies strengthens its capabilities for timber construction solutions

by investing in 3RT, Melbourne, Australia. Together with partners the company has

developed a robotic process to convert forest and plantation residue into high-quality

and unique hardwood products. With the investment Henkel aims to further expand

its Engineered Wood business and to drive the implementation of sustainable futureoriented

technologies.

The investment is made through Henkel

Tech Ventures. "As part of our venturing activities

we are looking for novel and scalable technologies

complementing our existing portfolio

in adhesives, sealants and functional coatings,"

explains Paolo Bavaj, Head of Corporate

Venturing at Henkel Adhesive Technologies.

"We believe that the combination of 3RT's capabilities

with Henkel's unique expertise offers

the potential to further expand the market for

engineered wood applications."

Henkel is a leading provider of engineered

wood solutions globally. Through its

Engineered Wood business, the company offers

high-impact structural adhesives under

the well-known Loctite brand that enable the

manufacturing of mass timber products for

wooden beams, trusses, walls and floors. Mass

timber is a high-performance building material

that replaces concrete and steel in many construction

applications as it is more sustainable,

renewable and shows a lower CO 2

footprint.

High-tech adhesives from Henkel are

crucial for the production of safe and sustainable

engineered wood, and thus contribute to

a significant reduction in the buildings' carbon

footprint. For more information, please visit:

Engineered Wood – Henkel Adhesives (henkeladhesives.com)

"In order to expand and promote the use

of wood as a material in construction and in

buildings, Henkel continuously looks for partners

with innovative technologies. 3RTs technology

allows a more sustainable and innovative

production of hardwood products that

have the potential for a wide range of structural

and decorative applications," says Christian

Fild, Global Head of the Engineered Wood business

at Henkel. Acknowledging Henkel's sustainability

ambition for 2030, this investment

plays an important role in enabling customers

to achieve their own sustainability targets.

Founded in 2014, 3RT has developed

a novel automated production process for

converting low-value wood fibre into hardwood

products. Based on a patented process,

3RT applies a water-based, formaldehydefree

"Nano-bonding agent" that biomimics

the structure of a natural tree. The technology

platform uses advanced robotics and

smart automation to create products of highquality

appearance and is 100 % natural and

recyclable.

"3RT is focused on continuous improvement

both in the fields of new material properties

and methods of production to help address

the significant environmental and supply

challenges relating to old growth forests.

In addition to our partnerships with Flinders

University and Bosch, this partnership with

Henkel will assist in turbocharging our technological

advancements and global expansion",

says Peter Torreele, Managing Director

of 3RT.

www.henkel.com

About 3RT

3RT are the next frontier in sustainable

timber technology, addressing

the significant environmental

and supply challenges

relating to old growth forests.

Headquartered in Melbourne

Victoria, its world-first Australian

technology converts low value

wood fibre into premium hardwoods

with the look, feel and

properties of 100-year- old trees.

The highly automated process

utilises plug-and-play Digital

Production Units to biomimic the

natural growing process of trees

in just 1 day. The resulting scientifically

engineered timber duplicates

mature hardwood so faithfully

that it is suitable for an endless

range of structural and decorative

applications.

No. 3 • August 2022

13
---
SURFACES

Expertise in digital printing at IWF 2022 in Atlanta

New and proven

At this year's International Woodworking Fair in Atlanta from August 23 – 26, 2022, Hymmen will present its latest innovations in

industrial digital printing and its other proven plant technologies for the wood-based materials industry: from liquid coating and

laminating lines to press technology, flanked by handling equipment, service and plant control. Brand new is the Industry Intelligence

solution smart2i from Hymmen.

Digitally printed decorative paper from the SATURN

"SATURN Digital Prining Line – a breakthrough

in manufacturing digital decor paper"

is the slogan with which Hymmen welcomes its

visitors to booth C1847. The expert for background

information on this new technology

is Sebastian Bazyk, Area Sales Manager at

Hymmen, who will also give a presentation on

the topic entitled "Digital printing of decor paper

– the whole value chain at your site" at the

Educational Conference on Tuesday, Aug. 23,

2022, from 11:30 a.m.-12:30 a.m.

As an alternative to digital printing with

water-based inks, wood-based panel manufacturers

can bring expertise for digital design of

their surfaces in-house with UV-drying technology:

whether digitally printed decor or digitally

printed structure – both are covered by the

JUPITER Digital Printing Lines from Hymmen,

which have won several innovation awards.

With the aid of film footage showing the digital

printing line in operation and product samples,

visitors to the trade show booth will be able to

see for themselves the benefits of the technology,

just as several American companies have already

done. Three of these digital printing systems

with Lacquer Embossing (DLE plus) technology

are currently being manufactured for

U.S. customers at Hymmen in Bielefeld.

Hymmen staff at the booth will also be happy

to answer questions about Hymmen's other

equipment technologies (liquid coating, presses

and laminating lines). Hymmen's double belt

presses can now even be called the "grandes

dames" of wood-based material technologies –

even after more than 40 years on the market,

they are still as much in demand as ever. This

is demonstrated by the 6 plants alone that

Hymmen currently has in its order book.

Hymmen's recently developed Industry

Intelligence solution "smart2i" (www.smart2i.

cloud), which can be integrated into both new

and existing machines or plants, offers special

added value for all plant types alike: After all,

an outstanding success factor of any technology

is ensuring the reproducible quality of the

surfaces produced. To ensure this desired quality

in the long term, Hymmen has developed a

cloud-based quality control system that enables

the manufacturer to monitor all production parameters

in real time, store them in the cloud,

analyze them at any time, and counteract deviations

in surface quality in a timely manner.

www.hymmen.com

Floors digitally printed and textured with Digital Lacquer Embossing

(DLE plus)

The SATURN Digital Printing Line from Hymmen

14 No. 3 • August 2022
---
SURFACES

Archroma introduces new eco-advanced wood protection

technology

Archroma, a global leader in specialty chemicals towards sustainable solutions, introduces a Siligen ® MIH liq, a new eco-advanced

wood protection technology developed together with the University of Goettingen, Germany.

Being a natural raw material, wood evolves

over time, and that's what makes it so unique

and beautiful. At the same time, it is a precious,

sustainable and carbon-storing resource that

should not be wasted. Wood is especially sensitive

to climate conditions, in particular moisture,

as well as fungi, termites and marine organisms.

Over time, these can alter the wood

strength, stability and durability. Most treatments

used to protect wood are based on biocides

and can contain potentially toxic substances

such as heavy metals.

Archroma and the University of Goettingen,

Germany therefore decided to explore a solution

to extend the life duration of outdoor wood materials,

but also their appearance.

The result: Siligen ® MIH liq, an eco-advanced

wood modification treatment to create

more stable and durable solid woods, veneers

and wood-based composites for applications

such as windows, facade claddings, outdoor

furniture, terrace decking, in-ground platforms,

parquet flooring and marine applications.

It is applied by impregnation and subsequent

drying. Siligen ® MIH liq impregnated

wood can be dried and the molecules fixated at

< 80 °C with an equipment already available at

most production facilities applying conventional

biocides. The energy consumption is thus similar

to most aqueous biocidal wood preservative

treatments.

Wood treated with Siligen ® MIH liq shows

excellent protection against decay fungi.

Treated wood displays improved weathering

performance and keeps its natural appearance

with less discolorations and change in feel.

Siligen ® MIH liq was introduced at the

Annual Conference of the International Research

Group on Wood Protection (IRG WP) IRG53 conference

in Slovenia taking place on 29 May to

2 June, 2022 in Bled, Slovenia.

Prof. Holger Militz, Head of the Department

of Wood Biology and Wood Products at the

University of Göttingen, Germany, adds: "Our

research has been focusing for many years on

the development of new wood protection systems.

With Siligen ® MIH we explored a system

where the wood is protected against fungi and

termites without the need of complicated treatment

technology. Existing vacuum and pressure

plants and normal wood dryers are sufficient to

use this new technology."

Miquel Vila, Global Head of New Markets

at Archroma, comments: "We are very excited

to collaborate with like-minded partners such

as the University of Goettingen. The new ecoadvanced

wood protection technology Siligen ®

MIH liq is a great illustration of "The Archroma

Way to a Sustainable World: Safe, efficient, enhanced,

it's our nature."

www.archroma.com

Outdoor weathering test of Siligen ® MIH liq treated and untreated wood.

C

M

Y

CM

MY

CY

CMY

K

(Illustration: University of Goettingen)

WIN_2019.pdf 24 15.02.2019 13:55:48

Less energy, more power!

Energy-efficient filtration plants

for the woodworking industry.

MultiStar filtration plant

Made by Höcker Polytechnik

▪ filtration

▪ dedusting

▪ briquetting

▪ recycling

▪ varnishing

Höcker Polytechnik GmbH

Borgloher Str. 1 ▪ 49176 Hilter a.T.W.

Germany ▪ Mail info@hpt.net

Fon +49 5409 405 0

www.hoecker-polytechnik.com

No. 3 • August 2022

15
---
SURFACES

Intergenerational sustainability strategy

Hesse Lignal is heralding a new era: the surface specialist from Hamm will be restructuring its product range, and by 2030 it will have

replaced all solvent-based products with sustainable alternatives. Moreover, Hesse Lignal will increasingly rely on regenerative raw

materials in the future.

"As a family-run company, we feel compelled

to assume responsibility for subsequent generations",

says Jens Hesse, a managing director of

coating and stain producer Hesse Lignal. "That's

why we want to take consistent action now, and

contribute to preserving an exemplary world for

our children and grandchildren." This is the motivation

for him joining forces with his co-managing

director Hans J. Hesse in deciding to develop

a new sustainability strategy. This envisages

replacing all solvent-based products with

sustainable alternatives by 2030.

Reducing VOC emissions and expanding

the proportion of sustainable raw

materials

This should make it possible, among other

things, to minimise the emission of volatile

organic compounds (VOCs). The VOCs contained

in many solvents can evaporate even at

low temperatures, and form ground-level ozone

on contact with UV rays. Volatile organic compounds

can also be washed out of the air by

precipitation. They then hit the earth and thus

cause soil pollution. VOCs from fossil sources

can moreover oxidize in the atmosphere

through contact with oxygen. This results in the

production of climate-damaging CO 2

. In addition,

indoor VOCs pollute the ambient air when

they evaporate. These compounds can then irritate

the respiratory tract of those present and

cause allergies.

The surface specialist from Hamm will also

increasingly offer products made from regenerative

resources, such as water or renewable

raw materials. Its product range already

includes products with a bio-renewable carbon

(BRC) content of up to 30 per cent, and

Hydro lacquers with a renewable proportion of

around 10 per cent. The proportion of sustainable

raw materials in its entire product portfolio

is to be expanded by 2030 to conserve

resources.

Meeting future market demands

"The switch to more climate-friendly products

is also important in meeting future market

demands", Jens Hesse is convinced.

"Environmental awareness in society is increasing,

and younger generations in particular are

attaching importance to climate-friendly production

methods, so sustainability is becoming

a decisive competitive factor for our industrial

and craft customers." Switching to more

sustainable products could furthermore protect

employees from coming into contact with substances

that are hazardous to health.

Production of nitrocellulose lacquers to

end in 2023

The research department at Hesse Lignal

is working on the development of modern lacquer

systems to enable the imposed goals to be

achieved. The company has set itself a tight 1

schedule in this respect: as early as by the end

of 2023 Hesse Lignal will withdraw all nitrocellulose

lacquers, solvent-based stains and solvent-based,

acid-hardening lacquers from its

product range. Hesse Lignal will therefore no

longer be offering such products from January

2024. By 2030, all other products with a high

VOC content will then be replaced by more climate-friendly

alternatives.

The company's equipment and technology

consultants are already assisting customers

to convert their machinery and processes, thus

enabling coating appliers to prepare for this in

good time.

"We are aware that this involves a major

step", says Jens Hesse. "But we're also convinced

that this measure is imperative if we

don't want to jeopardize the future of subsequent

generations."

www.hesse-lignal.de

16 No. 3 • August 2022
---
DOORS / WINDOWS

New machining cell for producing windows and doors

Nowadays, design and eco-sustainability are the two main trends defining wooden windows production. The design dictates windows'

finish quality and shape, while the eco-sustainability mainly involves the way as they are manufactured.

As concerns the execution of wooden windows,

the level of perceived finish quality is

steadily growing. Therefore, in order to optimise

production rates and flexibility, it is essential

paying significant attention to the machine

constructive features.

Being a technology partner of the world's

leading window and door manufacturers for

seventy years gives SCM the opportunity to continuously

listen to the customer's most detailed

requirements and allows to constantly come up

with advanced responses.

Based on these prerogatives, SCM designed

Windorflex, the new machining cell for the production

of windows and doors. According to the

"Spread your wings with Windorflex & futureproof

your windows production" campaign, the

machine is an innovative and high-tech solution

for producing window frames, regardless of the

type.

Windorflex has a fixed gantry structure

thÅat enables for high machining speeds whilst

ensuring the best accuracy. The configurability

of the machining units with 4 and 5-axis electrospindles,

allows performing all the necessary

operations for the production of complete

windows. The alternate use of the two routing

units reduces the cycle time: while one unit is

working, the other performs the tool change in

masked time.

The innovative automatic worktable is

equipped with dedicated clamps for the constant

holding of the work-pieces. It is possible

to process from 1 to 4 work-pieces in sequence.

The worktable modularity allows managing

three work-piece lengths: 3500, 4500,

6000 mm. The work-piece repositioning, from

the internal side machining to the external one,

is direct between the clamps, without needing

additional devices, to ensure excellent finish

quality.

Another advantage is the automatic workpieces

loading/unloading systems that enable

the machine to work autonomously, without

the continuous input of the operator. These systems

are available in two solutions: with loading/unloading

bench or with an anthropomorphous

robot that picks up the rough elements

and unloads the finished work-pieces on special

trolleys.

The exclusive Maestro active windoor software,

specifically developed for the control and

the programming of Windorflex, is capable of

meeting any demands related to windows and

doors production thanks also to Maestro connect,

the SCM IoT system.

www.scmgroup.com

Mixed wood/aluminium hidden sash windows

The DUAL MIXTE OC system is a range of

aluminium profiles allowing the realization

of mixed wood / aluminium hidden

sash windows. The frame profile conceals

the sash profile in order to makes modern

house facade and increase light inside.

The mixed concept offers great flexibility

both in the dimensions and shapes and in the

colors and finishes of the joinery. Adaptable to

all architectural solutions, it can be used both

in new construction or renovation.

Mixed windows combines wood and aluminum

to provide a solution with high added

value. This combination combines the qualities

of each material in terms of mechanical and

thermal resistance and durability, without ever

compromising on aesthetics.

Compliant with the NF P23 – 308 and NF

P23 – 309 standards and characterized by the

FCBA, the DUAL MIXTE OC system offers highlevel

thermal performance and resistance to

the test of time.

For more than 50 years, JOINT DUAL has

been designing, manufacturing and distributing

closing and sealing solutions. In 2010,

we launched our DUAL MIXTE concept by offering

a range of aluminum profiles, intended

for the realization of mixed wood-aluminum

windows as well as mixed windows certified

Passive House.

www.joint-dual.com

No. 3 • August 2022

17
---
MACHINING TECHNOLOGY

Woodworking made izy

By placing the interest of customers at the heart of their business, seven world leaders in woodworking machinery, Biesse, Bürkle,

HOMAG, IMA SCHELLING, SCM, Weber and WEINIG, have worked together as a team in defining a standardized interface to connect all

their woodworking machines, machine to machine, and machines to the customers' Manufacturing Execution Systems.

Consequently, no individual interfaces need

to be programmed and an overall control of the

production process is readily put in place. The

project has been named izy, inspired by universal

languages, and it has solved a communication

problem in an easy and streamlined way.

For the 7 companies, such a ground-breaking

decision to team up and put aside each individual's

competitive standpoint, was led by

providing a joint solution to their customers

and by vastly improving manufacturing processes.

"Woodworking made izy is a result of

great teamwork. The unified interface, offers

opportunities and certainly accelerates innovation

processes throughout our industry" (Daniel

Loddenkemper, HOMAG Senior Marketing

Manager and Member of the Woodworking

made izy Marketing Team).

So, instead of having to develop several individual

interfaces, which demand weeks of

technical expertise to create tailored software

and interface, customers can now benefit from

the collective effort of the 7 leaders who have

worked together over the past 3 years, providing

skills and know how, from technical, engineering

to marketing, interacting for the very

first time in an interconnected system for the

sheer beauty of offering a solution needed by

their customers.

Woodworking made izy is based on the Open

Platform Communication Unified Architecture

(OPC UA) standard, which is a series of specifications

developed by industry companies, endusers,

and software developers. These specifications

define the interface between Clients and

Servers, as well as Servers and Servers, including

access to real-time data, monitoring events,

access to historical data, and other applications.

Umati (Universal Machine Technology

Interface - umati.org) have cooperated in the

process, bringing together machine builders

and users and therefore creating a community

of industries by promoting universal standards

across many sectors, including – with this project

- that of woodworking.

www.izywoodworking.com

The latest generation machining center by CRENO

CRENO launches a new machining center for large glued laminated timber and CLT panels: CRENO Wood. The company has integrated

innovations from its expertise in aeronautics while maintaining the robustness and reliability of its traditional "wood" machines. The

result: increased productivity, a flexible tool, and a foot in industry 4.0.

Siemens One Numerical Control and new

5-axis head

CRENO Wood is controlled by the new

Siemens One CNC, which has been proven

and recognized in many industrial sectors,

but is not yet widely used in the wood industry.

This high-performance CNC control has

the advantage of being more open and scalable

than "in-house" solutions, and its latest

version includes a virtualization/simulation

component.

The new 5-axis head, ultra-rigid, compact

and precise, innovates with a 45° rotating axis.

It allows a significant increase in sawing capacity:

350 mm with a 900 mm diameter saw

only.

Time saving and dynamic control

Another innovation, patented by CRENO,

is the automatic positioning of the frame or

panel thanks to a series of intelligent sensors

that adapt the position of the gantry to match

with part position (validated by 3D simulation

of the real environment). This results in a preparation

before machining in masked time and

an optimization of the machine's utilization

rate (OEE).

CRENO Wood also ensures dynamic control

of cutting and drilling thanks to continuous

monitoring: self-adjustment of feed rate,

wear control, deep drilling with automatic

deburring.

Options dedicated to CLT panels

To increase the machining performance of

CLT panels, CRENO Wood can be equipped with

two dedicated options. The first one, unique on

the market, is an additional unit for longitudinal

trimming and rebating operations which are

thus performed in mirror image to the main machining

head (50 % productivity gain). The second

is an exclusive panel holding system (fixture)

with automatic configuration.

"All these features make CRENO Wood an

innovative, high-performance and flexible size

center," summarizes David Reynaud, CRENO's

general manager.

www.creno.com

18 No. 3 • August 2022
---
MACHINING TECHNOLOGY

Prod-IQ.quality convinces in the market

Over 40 systems in use

Not only is there great market demand for Siempelkamp's excellence in process control, with over 200 Prod-IQ ® systems sold, it also

receives excellent references. The Turkish wood-based panel producer Orma has ordered the 40th Prod-IQ.quality MES system and system

no. 41 will go to Pavatex, a Swiss manufacturer of insulation boards, and two more customers chose Prod-IQ.quality. Conclusion:

Excellence wins out!

With the Prod-IQ ® MES system,

Siempelkamp provides plant operators with

a digital system that draws valuable resources

from system data. More productivity, higher

plant speed, as well as a reduction of rejects

and preventive maintenance are just some of

the convincing advantages that Prod-IQ ® can

offer wood-based panel producers. "The highest

possible increase in efficiency and effectiveness

is one of the main concerns that Siempelkamp

customers wish to ensure for their systems.

With Prod-IQ ® process control, we have created

an intelligent system that combines the current

megatrends of digitalization and sustainable

production which are indispensable for system

operators who want to stand out as pioneers

in the market," says Gregor Bernardy, Head of

MES & Industrial IT at Siempelkamp Logistics &

Service GmbH.

Recently, the Turkish wood-based panel

producer Orma decided to order the 40th Prod-

IQ.quality MES system, which has meanwhile

been successfully commissioned at the Isparta

site in a particleboard plant. Pavatex is also integrating

the system into a new plant in France,

after an existing plant at the same location had

already been equipped with Prod-IQ.quality.

For Neslihan Demirel, Orma's General

Manager and owner, the investment in Prod-IQ.

quality aims to significantly optimize production

processes: "We chose Siempelkamp's Prod-IQ.

quality because it is an excellent tool for achieving

the highest level of operational excellence.

Our primary concern here is that the system be

intelligent and, at the same time, user-friendly."

Prod-IQ.quality: Using machine learning to

achieve higher productivity and maximum

efficiency

Prod-IQ.quality: Online quality control for internal bond and bending strength, density and other properties of the board

The principle behind Prod-IQ.quality is convincing:

As soon as the board leaves the press,

the software determines the product quality

based on current process settings. A trend diagram

visualizes the results. In addition, the software

calculates the minimum quality reserve

needed for ensuring compliance with the quality

criteria. Since the fluctuation range can be

clearly delimited, the plant's production runs

right at the optimal level. This increases productivity

while maintaining the same quality

and models production processes as efficiently

as possible, because additional safety reserves

are not required. Internal bond and bending

strength, density, thickness swelling and surface

soundness can all be precisely predicted online.

Designed according to the principle of machine

learning, Prod-IQ.quality uses every available

laboratory control to adapt the process model.

Prod-IQ.profile: Raw density profiles

With Prod-IQ.profile, Siempelkamp is going

a step further and expanding Prod-IQ.quality's

online quality control. This module predicts raw

density profiles online and allows simulations of

them to be made. Prod-IQ.profile is trained with

raw laboratory density profiles and uses an advanced

physical model for the prediction, which

is based on the Virtual Hot Press (VHP) model. It

simulates the raw density profile of the current

board using the recorded material values, e.g.

weight per unit of area and moisture, as well as

press settings such as pressures, temperatures

and speed. Plant operators achieve the desired

product quality faster, receive a reliable online

prediction, and get immediately available results.

Losses from changeovers can be reduced,

and the simulation enables the settings to be

checked before the operator ultimately changes

them. This system is currently being brought

to market readiness with five selected, globally

represented Siempelkamp pilot customers.

Further innovations are planned for 2022:

The web-based Prod-IQ ® dashboard platform is

currently being developed and is focused on being

able to easily compare a customer's complex

plant structures and multiple plants with

each other – from any location on any device,

with secure access. Global plant operators can

access all production sites via a single system

and can compare all plants at a glance via the

web-based platform. This dashboard is now

available.

www.siempelkamp.de

No. 3 • August 2022

19
---
MACHINING TECHNOLOGY

60 years of HOMAG edge banding machines

Part 2

The HOMAG Group is celebrating a birthday: 60 years ago, the company from Schopfloch in Germany launched the first throughfeed

edge banding machine using the hot-cold application process onto the market. The machine was an immediate hit. What followed

over the years was a constant series of innovations and further developments that have allowed HOMAG to regularly prove itself as a

pioneer and technology leader in edge banding right up to the present day.

Precision and performance in batch size 1: the EDGETEQ S- 800 series with WZ24 workpiece infeed system

Furniture as a driver of innovation

However, all of these edge banding technologies

were driven not only intrinsically – new

features in furniture design also regularly initiated

innovations. These included shaped parts,

with HOMAG developing soft-forming and postforming

machines for the production of such

parts in throughfeed operation – specifically,

the KL 70/KL 80 and VF 78/79 and VF 88/89. In

turn, such developments spurred on furniture

design. In addition to soft-forming and postforming

concepts, HOMAG has increasingly presented

interlinking, automation and handling

solutions, such as angular transfers or rotary

stations, to a furniture industry that was undergoing

change. "In the middle of the 1980s,

HOMAG also built the first door systems for attaching

edges to rebated doors," recalls Ernst

Esslinger, Director Systems Project Execution.

"In 1987, shaped part throughfeed machines

followed, meeting the demands of the furniture

industry to produce curved or shaped parts from

rectangular workpieces in one throughfeed. Up

until that point, this was possible only with

great effort and two to three process steps." The

fact that HOMAG always had a decisive influence

on the expansion of the postforming process

paid off once again in 1990: The further

development into the postforming direct process

now enabled the user to organize processes

easily, without having to profile, brush, glue,

overlay and press separately.

Throughfeed and stationary coating

The HOMAG Group has also repeatedly introduced

new technologies outside the scope of

pure edge processing. In 1982, this included the

completeLine process, which is used to coat unprocessed

chipboard on three and four sides in

one throughfeed. For this purpose, the "narrow

surface is compressed with a mass, which gives

the edges a higher quality and makes them

more resilient, even with large-pored panel material"

explains Ernst Esslinger. "In this context,

the FKF 200 flat laminating machine with reacTec

nozzle application was introduced in 2015

in the completeLine process. The machine can

be used to laminate the wide and narrow surface

with rolled material in one process step.

The narrow surface is then finished by a casing

line and a post-processing unit."

In 1989, with the increasing change in furniture

design and the increasing demand for

shaped parts, HOMAG decided to use CNC stationary

technology for processing these types of

parts. As a result, significant further developments

were presented and the possibilities for

use and processing were continuously expanded.

One milestone in particular was the integration

of edge banding and processing units,

for which the machine control unit had to meet

high demands for dynamic response and positioning

accuracy. "Today, stationary machines

can be used to perform almost any complete

processing," explains Frederik Meyer, Executive

Vice President, CNC Processing. "As the equivalent

of the throughfeed technology, they represent

an important, future-oriented pillar of the

group. Combined with feed and stacking equipment,

complete production cells that also enable

unmanned processing are produced."

Digitalization and its tools

Today, developments in the wood processing

and furniture industry are heavily influenced

by mega trends such as automation and digitalization.

This is particularly reflected in control

system technology and computer technology,

which are key technologies that determine

the expansion of the entire production as well

as individual processing methods. "Like almost

no other company, HOMAG recognized this at

an early stage and continuously presented solutions.

A uniform control system for all the

group's processes was therefore a strategic goal

from a very early point," emphasizes Matthias

20 No. 3 • August 2022
---
MACHINING TECHNOLOGY

In 2009, the laserTec process ushered in a new age in edge

application. Since then, it has often been used in combination,

for example with PUR technology

Volm. In 1985, for example, the company introduced

a new control system called Homatic,

which was followed by the development of a

production line control unit that allows workpieces

to be tracked across several machines

operating in a network. Since 2005, the successor,

the "powerControl" control system, which

is accompanied by the decentralization of the

control systems and switch cabinets, has dominated.

Finally, at Ligna 2013, HOMAG presented

powerTouch, a touch-screen operating concept

that combined design and function and offered

a high customer benefit in combination with the

powerControl control system. Since then, uniform

operating elements and software modules

have ensured that all HOMAG machines can be

operated in the same way. The next generation–

powerTouch2–followed in 2019.

In 2014, HOMAG launched another powerful

tool on the market with ServiceBoard. "With

this app, users can transfer service cases on the

machine to the ServiceCenter via video. An employee

then immediately provides information

such as instructions, films or diagrams, enabling

the error to be resolved quickly," explains

Achim Homeier. In addition, since 2016, machines

and production lines from HOMAG can

be put into operation virtually before delivery to

reduce project processing time. This is done in

real time using real software and control system

components. Since 2019, digital twins have also

enabled digital machine training for employees

and customers. Two years earlier, tapio, a cloudbased

platform with digital products and databased

services for the entire value chain of the

wood working industry, had already celebrated

its world premiere at Ligna. From that point on,

all new machines from the HOMAG Group were

ready to deliver data to the tapio cloud. The

current milestone in the software sector was

marked in 2022 by woodCommander 5 with

Edge Data Plugin on the EDGETEQ S- 500 edge

banding machines. This enables quick selection

of processing programs and edge materials as

well as reliable recording of production parameters

and the workpiece-oriented creation of

machine programs. In addition, it forms the direct

connection between the machine and the

"materialAssist" app, which manages the edging

material.

Significant contribution

One of the latest innovations from HOMAG is woodCommander

5 the new software generation. Since 2022, it has been used

additionally to establish direct connections to the edge band

management

In edge processing, as in all other technologies

in furniture construction and component

production, the range of services offered

by HOMAG today extends from individual machines

in the entry-level, medium or high-end

segment, through the engineering and installation

of complex production lines and systems,

to complete industry solutions, including consulting

and software, as well as system development

and implementation. With this closely

coordinated machine and service range, the

HOMAG Group offers its customers a comprehensive

product range with high customer benefits.

Dr. Sergej Schwarz: "Edge banding technologies

make a very significant contribution to

strengthening competitiveness in industry and

woodworking shops – as their impressive 60-

year history indicates."

www.homag.com

No. 3 • August 2022

21
---
FAIRS

"We constantly promote the wood and furniture industry"

The DREMA International Trade Fair of

Machines, Tools and Components for the Wood

and Furniture Industries is currently one of

the largest world exhibitions dedicated to the

woodworking industry. Its reputation comes

from the fact that it is listed as one of the 14

world exhibitions dedicated to the woodworking

industry, which are officially supported

by the EUMABOIS European Federation of

Woodworking Machinery Manufacturers.

The DREMA trade fair in Poznań from

13.- 16.09.2022 is a presentation of technologies

of tomorrow and solutions dedicated to

woodworking, furniture industries, sawmills

and wood energy. It is complemented by fabric

cutting and sewing machines, components

for furniture production and furniture accessories,

as well as adhesives and varnishes. A special

space is the Wood Promotion Pavilion - a

unique area where the potential of timber is

demonstrated. During the four days, the trade

fair offers a wealth of brand new products and

events on the most current issues in the wood

and furniture industry, as well as live demonstrations,

workshops and, also, factories operating

live.

On the second day of the DREMA trade fair,

the 7th edition of the Polish Furniture Congress

will be held, organized by the Polish Chamber

of Commerce of Furniture Manufacturers. The

Chamber will also prepare the 4th edition of the

Meeting of Women of the Furniture Industry.

On September 15, 2022, the EUROPEAN

B2B WOOD SUMMIT will be held. The summit

will feature presentations by owners and managers

from Poland, Lithuania, Ireland, Australia

and Sweden. The topics to be discussed during

the summit include the trends and challenges

of the supply chain, artificial intelligence, and

ERP and MRP for wood product inventory and

sales. The guests will learn about innovative solutions

and practices that are already in use in

other companies.

www.drema.pl

VietnamWood

NürnbergMesse expands its woodworking portfolio

(f.l.t.r.) SivaKumar Venugopal (NürnbergMesse India), Stefan Dittrich (NürnbergMesse),

Petra Wolf (NürnbergMesse), Judy Wang (Chan Chao International),

Dr. Bernhard Dirr (VDMA) // © NürnbergMesse

VietnamWood, South-East Asia's leading trade fair for the primary and secondary woodworking

and wood processing industry, is being sponsored and supported by NürnbergMesse with immediate

effect. The organizer, Chan Chao International Co., Ltd., and NürnbergMesse announced the agreement

at HOLZ-HANDWERK 2022 in Nuremberg and their first project together will be VietnamWood

2022. "We are grateful for the opportunity to work with NürnbergMesse, one of the world's leading

trade fair organizers with proven expertise in woodworking and wood processing," says Judy Wang,

Executive Director Overseas, Chan Chao International Co., Ltd. VietnamWood will thus slot into the

Woodworking Events product range at NürnbergMesse, with a portfolio now comprising five events

for woodworking requirements.

Vietnam is on the way to becoming the

leading country for furniture manufacture

in Asia. There is strong demand for the latest

manufacturing technologies and skills, and

VietnamWood is the sector's most important

procurement and technology platform. The exhibition

portfolio includes machines and processes

for wood processing and surface treatment,

tools, furniture accessories, raw materials

and disposal equipment.

Developing new markets together

"VietnamWood is the ideal complement

to our quartet of woodworking events: HOLZ-

HANDWERK in Germany, and INDIAWOOD,

DELHIWOOD and MUMBAIWOOD in India,"

says Stefan Dittrich, Director Exhibition

NürnbergMesse with responsibility for the

Woodworking Events product range which, in

addition to its own four events, also includes

the organization of German pavilions in Brazil,

Kenya, Ukraine – and Vietnam. At an international

level, NürnbergMesse is now expanding

its commitment further as part of a bilateral

sales and marketing partnership with Chan

Chao International Co., Ltd.

The Vietnamese market is growing

VietnamWood has been held in Ho Chi Minh

City since 2001 – at first annually, since 2007

biennially, demonstrating growth in all key parameters:

exhibitor numbers, exhibition area

and visitor numbers. The local wood and furniture

industry has enjoyed double-digit growth

for years, with high-level investment. Furniture

production has grown by 15 percent annually

since 2005. Vietnam is now one of the world's

leading exporters of wood furniture, and the

woodworking and wood processing sector is

of central importance to the Vietnamese economy.

Dr Bernhard Dirr, Managing Director of the

VDMA Woodworking Machinery Association

and co-organizer of HOLZ-HANDWERK, welcomes

the expansion of international activities

by NürnbergMesse: "The growth in the

Vietnamese market offers major potential

for solution providers from Europe. We are

pleased that the member companies in the

Woodworking Machinery Association are also

receiving the best advice and support from

NürnbergMesse when they take part in trade

fairs in the Vietnamese market."

Save the date!

The 14th edition of VietnamWood will take

place in Ho Chi Minh City from 18 to 21 October

2022. The series will then resume its normal

schedule in the autumn of 2023.

www.wood-working-events.com

22 No. 3 • August 2022
---
FAIRS

Together to create new business opportunities

33.BI-MU international biennial exhibition of machine tools, robotics and automation systems, additive manufacturing, digital and auxiliary technologies.

Plus Xylexpo, biennial exhibition of woodworking technology and components for the furniture industry. Along with Viscom Italia, Europe's leading

visual communication trade fair, all kick off concurrently on the second week of October 2022 at Rho-fieramilano expo centre. The fully integrated

BI-MU and Xylexpo events, start Wednesday, Oct. 12 until Saturday, Oct. 15.

Riccardo Gaslini, head of the organizing

secretariat of BI-MU, organized by EFIM, said,

"BI-MU and XYLEXPO have been working together

for two years now to offer both event

participants a comprehensive and rewarding

visiting experience. This is why we co-ordinated

the total permeability of the two Instrumental

Mechanics exhibitions."

"We are living in a period of great transformation

where it is necessary to be a bit more

daring and strive to make new choices," added

Dario Corbetta, director of Xylexpo. "The upcoming

exhibition highlights the will of the entire

wood and derivative technology protagonists

to experience a new way to come together,

seizing all the opportunities of a new age where

production processes are becoming increasingly

transversal and the search for solutions can

be extended into "neighbouring worlds." This

also applies to digital printing, currently an ever

increasing new trend in furniture and surface

finishings.

EUMABOIS at Xylexpo 2022

EUMABOIS, the European Federation grouping

13 National Associations of Woodworking

Machinery Manufacturer, will take part in the

2022 edition of Xylexpo.

"Technologies for the woodworking and furniture

industry experienced an extremely positive

year in 2021 and a great start in 2022," commented

Luigi De Vito, Vice President of Eumabois.

"This trend will be for sure also reflected in the

upcoming edition of Xylexpo." Jürgen Köppel,

President of Eumabois, is fully supporting De

Vito's message with his statement: "Xylexpo

2022 will be a great international showcase of

innovations where visitors can experience latest

trends and solutions in person, again."

The European Federation will be present

with a dedicated booth for being available to all

National Associations and visitors from all over

the world. For visitors, this will be an opportunity

to get in touch with Eumabois and to get the

latest economic updates relating to the woodworking

industry, as well as to get a preview

of the Eumabois "World Exhibitions Network

2023" trade fair calendar.

www.xylexpo.com

Successful summer edition

At the combined HOLZ-HANDWERK and

FENSTERBAU FRONTALE exhibition, the focus

was on meeting and networking face-to-face,

finding solutions and checking out products,

exploring training opportunities and discussing

the latest industry issues.

The trade fair pairing announced its return

with a 'summer edition' featuring 708 exhibitors

from 33 countries. Over four days, the

around 28,500 trade visitors from more than

100 countries found out all about the latest

trends in woodworking and wood processing

and in window, door and facade construction.

The exhibition in 13 halls was complemented by

an extensive supporting programme with topicspecific

shows, presentation forums and other

programme features.

"There was great excitement about this

face-to-face reunion in the run-up to the event,

and this was also reflected by the mood in

the halls," says Stefan Dittrich, Director HOLZ-

HANDWERK. "We heard a lot of people saying

how glad they were to finally be back at

a trade fair again. For the 20th anniversary

round of HOLZ-HANDWERK, 'discover, experience,

do' is once again an apt description for a

fair with such a hands-on atmosphere that can

only really be experienced live and on site." WiN

Woodworking INTERNATIONAL was on site and

will report in the upcoming issue.

In line with their usual schedule, HOLZ-

HANDWERK and FENSTERBAU FRONTALE will

be back from 19 to 22 March 2024 at Exhibition

Centre Nuremberg.

www.holz-handwerk.de

No. 3 • August 2022

23
---
Nuremberg, Germany

21–24.3.2018

European Trade Fair for Machine Technology,

Equipment and Supplies for the Woodworking Crafts

holz-handwerk.de

Information

End-to-end

NürnbergMesse GmbH

digitization from sales to the finished product

T +49 911 86 06-49 29

visitorservice@nuernbergmesse.de

Parallel to

For the further development of the furniture and interior design software iX 2021 SR2, which will be released in the summer, imos

promises not only the optimization of numerous functions with regard to ease of use and processing speed, but above all the stronger

integration of the end customer in the sales and planning process.

HH18_121x305_INT_WIN_woodworking_international_BES_GUT.indd 1 15.01.18 14:45

However, the main focus of the development

was on the room planning module iX NET

Plan3D. Here, a new technological approach

has drastically improved planning speed and

convenience. But that's not all: Numerous new

functions simplify and accelerate the selection,

configuration and positioning of furniture in

the virtual room. In future, pre-conceived design

proposals can be inserted into the planning

for a quick start. Interactive dimensioning

functions help the user to find his way around

the virtual room and to better estimate the

proportions.

imos iX 2021 mission statement

Furthermore, iX 2021 SR2 is flexible and

open. On the one hand, decentralized work is

possible in the home office or directly on the

construction site. On the other hand, various

online services such as the Digital Factory from

HOMAG can be integrated and thus the functionality

of the iX software can be expanded

quickly and easily without additional installation.

In addition, the Herford-based technology

supplier offers iX Scout, a digital assistant

that makes order, design and production details

available and visualized at any time in the workshop

or on the construction site.

Professional renderings for the end

customer – created quickly and easily

Renderings are an important sales tool. If

the end customer wants to place an order, a

convincing visualization can become the decisive

factor. Instead of a technical drawing, a

vivid room situation is required that conveys as

realistic an impression as possible. imos supports

planners and salespeople in this process.

Without any special technical knowledge, impressive

renderings can be created in a short

time with iX 2021 SR2. For this purpose, the

functional range of room planning in iX CAD

and iX PLAN has been extended: the familiar

render functions have been optimized in terms

of operation, output quality and computing

time, and numerous functions such as light and

camera settings have been added. The render

library now includes new materials and even

more deco objects. In addition, a special data

package with appealing HDRI images ensures

that the backgrounds - e.g. when looking out of

windows and glass doors - are true to reality in

the rendering. A completely new series of video

tutorials helps beginners to quickly achieve convincing

results.

In the future, a new online service will enable

design or planning details created in iX

CAD to be displayed quickly and unconventionally

on mobile devices. Customers or employees

do not need to install a special app or software

for this. Access is simply via an email link

and takes the recipient to a personal view in the

Internet browser. Here, the planning or design

can be viewed as an interactive 3D model, can

be rotated, zoomed in on or elements can be

shown or hidden.

Planning furniture online made easy

The online sales solution iX NET presents itself

in a new look and feel: The entire interface

appears structured and guides the user quickly

and safely through the individual planning and

configuration steps. The interactive graphical

3D representation of the furniture configuration

has been improved and thus appears much

more realistic.

Another new feature is that room planning

can be linked to the webshop of other providers

in future - in the same way as the iX NET

configurator.

Convincing detail functions for individual

interior design

iX CAD 2022 SR2 stands out with special

functions that particularly support the planning,

design and production of individual

furnishings.

In iX CAD, imos has completely revised the

design wizard for creating and modifying parametric

multiple components and made it much

easier to use. Advantages result in particular

for the design of dimensionally variable frame

and object doors as well as multi-part kitchen

fronts.

Integration of online services

A declared goal of imos AG is connecting iX

2021 SR2 with other systems to enable a continuous

data flow in the process and at the same

time expand the functionality of the entire solution.

This can involve the connection of ERP

systems and industry programs, or the integration

of industry-oriented online services, such

as those of the HOMAG Group's Digital Factory

- as a result, intelliDivide Cutting, intelliDivide

Nesting and the productionManager can now

be activated simply and easily via the tapio online

platform and used immediately.

www.imos3d.com

24 No. 3 • August 2022
---
Nuremberg, Germany

21–24.3.2018

European Trade Fair for Machine Technology,

Equipment and Supplies for the Woodworking Crafts

World premiere: The Raumwunder

Advanced solutions for CNC processing and drilling technology

holz-handwerk.de

Information

NürnbergMesse GmbH

T +49 911 86 06-49 29

visitorservice@nuernbergmesse.de

Parallel to

HOMAG showed at HOLZ-HANDWERK what modern workshops need: Efficient machines and digital solutions that enable both automated

furniture production and the manufacture of individual components. In addition to new products such as the DRILLTEQ V-310

vertical CNC machining center or the CENTATEQ N-210 nested-based CNC machine, which were shown live for the first time, there were

also used opportunities for product presentation afforded by digital technology.

HH18_121x305_INT_WIN_woodworking_international_BES_GUT.indd 1 15.01.18 14:45

The new DRILLTEQ V-310 vertical CNC processing

center, a space-saving masterpiece in

the field of cabinet processing, was presented to

the public for the first time at HOLZ-HANDWERK

2022 by HOMAG. Ergonomics and ease of use

were at the heart of the model's development.

The new machine is therefore characterized by

its wide range of functions in just a small space.

Look forward to a processing center that

will take new approaches to accessibility and

setup functionality. A selection of up to 45 drilling

spindles in a split head configuration and a

C axis with a unit interface offer extensive processing

options. The improved suction concept

and the vacuum-free fixing of the workpieces

save energy and costs at the same time.

The Raumwunder – The new DRILLTEQ V-310 vertical CNC processing center.

HOMAG Panel Dividing – new machines

and software solutions provide even

greater flexibility and efficiency

The smallest SAWTEQ B-130 panel dividing

saw will be equipped with a further, optional

clamp. This clamp will allow even more cutting

patterns to be processed using the proven

Power Concept Classic technology. This increases

the output significantly and allows production

peaks to be managed without problems.

Good to know: The optional clamp is also available

for the SAWTEQ B-200 series.

One of the highlights was the hybrid product

presentation of the virtual panel storage

system using the SAWTEQ B-300 panel dividing

saw. Thanks to iVP (Intelligent Virtual Planning),

HOMAG designed and displayed the STORETEQ

panel storage system 1:1 on a screen hanging

above the panel saw. iVP was also used to demonstrate

the digital twin of the DRILLTEQ V-310.

In both cases, visitors were able to experience

virtual three-dimensional copies of the product,

both on the touch display, on VR (Virtual Reality)

glasses or directly on their smartphones. They

could then make the comparison to the physical

machine a few meters away – a hybrid success

model that will be remembered.

Future-oriented solutions for carpenters/

joiners in all performance classes of edge

banding machines

HOMAG offers a wide range of edge banding

machines, from the entry-level models to industrial

production. Digitalization plays a central

role here.

The new EDGETEQ S- 300 scores with the

two-profile technology on the single-motor profile

trimming unit scores on all levels.

The equipment of the EDGETEQ S- 300,

model 1440 E, offers competitive advantages

for both woodworking shops and small- and

medium-sized businesses – especially in the

case of frequently changing edge thicknesses.

The two-profile technology – here with the

profiles R1 and R2 – on the single-motor profile

trimming unit is a world first: easy processing

thanks to the fast, precise change by touch

via the control system. Setup times and the machine

length are shortened, thereby increasing

cost efficiency.

SAWTEQ B-130 with further, optional clamp and Power Concept Classic for maximum flexibility and efficiency in cutting.

www.homag.com

No. 3 • August 2022

25
---
Nuremberg, Germany

21–24.3.2018

European Trade Fair for Machine Technology,

Equipment and Supplies for the Woodworking Crafts

holz-handwerk.de

Wood sanding machines which meet the highest demands

Information

NürnbergMesse GmbH

T +49 911 86 06-49 29

visitorservice@nuernbergmesse.de

Parallel to

Hans Weber Maschinenfabrik, headquartered in the German town of Kronach, was at HOLZ-HANDWERK trade fair again this year and

presented its grinding and sanding innovations on the occasion of its 100-year anniversary.

HH18_121x305_INT_WIN_woodworking_international_BES_GUT.indd 1 15.01.18 14:45

WEBER is celebrating its 100th anniversary

this year! Starting out by building a grinding

machine for slates in the 1920s and having

developed into one of the leading international

companies in the sector: it is impressive what

the WEBER company has achieved. Passion for

new technologies has been in this machine factory's

genes for the last 100 years. Each new

generation contributes its own, innovative ideas

to the company's history. The family firm has

now become firmly rooted in the market, offering

excellent, patented wood sanding and

metal grinding machine process technologies.

Regardless of whether their customers require

high-quality furniture, trade fair construction,

high-gloss surfaces for kitchens or entire walls

for timber buildings, WEBER applies its many

years of experience and know-how to address

the individual needs of its customers as early as

the development stage of its sanding machines.

Customers can thus rest assured that they will

always get the solution which perfectly matches

their requirements: wood sanding, veneer sanding,

lacquer sanding or in the panel industry.

Product relaunch: the new individual class

WEBER KSF-series

The new and innovative WEBER KSF series is

one of the novelties WEBER is presenting at the

Nuremberg. This series of machines is a relaunch

of the existing universal model for industrial use

and offers many new features to complement

the many advantages which have made the current

KSF a well-established name in the market.

Just like its predecessor, the Weber KSF can

be fitted out with up to eight sanding stations.

This machine series is ideal for fast and efficient

wood, veneer and lacquer sanding. All WEBER

sanding and brushing stations can be installed

in any random order. Examples are the cross belt

station and the wide-belt stations, such as the

contact drum, combination station and wide

belt with sanding pads, and of course also the

WEBER CBF sanding technology, X-Schliff and

the patented WEBER brush technology.

The WEBER KSF sanding lines work with direct

workpiece transfer integrated into lines or

as a stand-alone installation. The design and

construction of the new KSF series meets the

C-standards for the safety of machinery. This series

also features Self Learning Tracking (SLT).

After each change of the sanding belt, it automatically

returns to the centre oscillation position.

A "standing sanding belt" is optionally

available as well. The cross belt unit has been

optimised to ensure to ensure even better sanding

of the edges and more homogeneous belt

tension.

www.hansweber.de

New vacuum lifter for the woodworking shop

Whether for carpenters, furniture makers, wood traders or other representatives of the woodworking industry: with the "Wood" version

of its VacuMaster, Schmalz has designed a specialist for the lifting requirements of the woodworking industry.

With the VacuMaster Wood from J. Schmalz

GmbH, a single person ergonomically transports

boards via chain hoist and crane system

from the warehouse to saws and other tools, or

lifts and swivels them during manual processing.

The special suction plates of the vacuum

load carrier are kept narrow but absorb high

lateral forces. The holders give users the option

of rotating the contact surfaces by 90 degrees

and also adjusting the suction plate distances

as required. Should the application change

over time, the horizontal unit can be converted

to the 90 degree swivel version. The stable

steel traverse system is designed for loads

of up to 250 kilograms and is available in various

lengths - optionally also with crossbars. An

integrated dust filter protects the ejector from

contamination, which is particularly important

in dusty locations. This increases its service life

and thus saves costs. The user can reach the filter

to clean it via the side and front cover, which

can be removed without tools, and also has access

to all relevant parts for servicing.

The VacuMaster Wood works with compressed

air - at six bar - and can therefore be

used worldwide, regardless of voltage and frequency.

The high-flow ejector guarantees high

suction power. This is quiet and economical. As

soon as a safe vacuum level is reached, it goes

into energy-saving mode to save compressed

air. On airtight surfaces, the integrated vacuum

reservoir maintains the vacuum even in the

event of media, emergency or power failures in

order to safely unload the workpiece.

The load carrier is available in the Comfort

version. The basic body is slim and weight-saving

in terms of ergonomics. It also has a control

panel of the same name. With it, the user

not only switches the vacuum on and off, but

also controls the chain hoist and the pneumatic

With the flexible suction plate holders, users rotate the contact

surfaces by 90 degrees and adjust the suction plate distances

as required.

swivel cylinder. Schmalz offers compatible models

as well as the matching crane system. The

VacuMaster Wood will be officially available in

autumn.

www.schmalz.com

26 No. 3 • August 2022
---
Nuremberg, Germany

21–24.3.2018

European Trade Fair for Machine Technology,

Equipment and Supplies for the Woodworking Crafts

The Salvamac proposal

holz-handwerk.de

Information

NürnbergMesse GmbH

T +49 911 86 06-49 29

visitorservice@nuernbergmesse.de

Salvamac was present with substantial new elements at HOLZ-HANDWERK, in which not only Salvamac solutions and products were

exhibited, but the evolution of the network that the Italian-Polish group is defining were also be represented, thus creating - in fact - a

real pole of excellence engaged in the processing and transformation of solid wood.

Parallel to

HH18_121x305_INT_WIN_woodworking_international_BES_GUT.indd 1 15.01.18 14:45

"We have always had the certainty that the

future of the woodworking and furniture industry

must pass through partnerships and collaborations

between aware and structured companies,

which have customer satisfaction as an absolute

priority", comments Christian Salvador,

together with his partner, Ziemovit Dolkowski of

Salvamac Group. "Today, finding new business

methods is an imperative that no business can

neglect, inventing new solutions and methods

that arise from a "quality relationship" between

people, from encounters, from comparisons".

An innovative concept that was presented

in Nuremberg, which - alongside the solutions

signed by the three now-consolidated divisions

("Cross-cutting", "Air & Painting" and

"Salvamac Selection") - hosted several companies

with which the Italian-Polish reality has for

some time been carrying out common projects

in terms of advanced handling and automation

systems, technologies for energy recovery and

drying, heat treatment, and wood vaporization.

In the spotlight was the new version of the

"SalvaPush 2000" optimizing saw for the world

of door and window frames, equipped with devices

and aggregates designed for this particular

use. Two semi-automatic cross-cutting saws

also demonstrated how the installation of the

"Salvastop" electronic positioning device can

actually allow the user to have real entry level

numerically controlled cutting stations. It should

be noted that the "Salvastop" device has also

been completely re-designed: the new version

makes sharing data with company software and

devices or bar code readers extremely simple

and effective, as opposed to label printers.

Among the novelties is also the "Voyager"

dust extraction filter with high capacity filter

cartridges , equipped with touch screen control

thanks to which it is possible to manage its use

with an eye to energy saving.

www.salvamac.com

Making the trades and retailers ready for the future

How can we combine home and work life even better in the future? And how can we still

live comfortably in a small space? How can we give the customer furniture that's one

of a kind? And how can we boost our work efficiency even further? – Hettich gave the

industry practical answers to all this at HOLZ-HANDWERK.

"The products we develop and our digital

services always focus on the trades' needs.

Cabinet makers and carpenters want to excite

their customers with innovative, tailor made

furniture solutions. And we can give the trades

precisely the instruments and products that will

let them do this in a way that couldn't be more

easy, conclusive and cost effective in the future,"

explains Jan Hübschmann, Retail/Trades Sales

Manager for Central Europe at Hettich.

Impressive product solutions

At Hettich, you could once again discover

innovative solutions and new products for all

sorts of lifestyles and working situations, such

as the AvanTech YOU drawer platform that can

be configured in many different ways, the creative

Cadro frame system, the Actro 5D pull-out

system, the TopLine XL sliding door system being

used for making versatile spaces, the new

"Steelforce" range for height adjustable desks

as well as room sliding solutions from Kuhn, a

Hettich Group company.

AvanTech YOU: drawers just as you please

The versatile and adaptable AvanTech YOU

drawer system from Hettich takes the effort out

of customising design to meet any preference in

colour, format and material. The platform principle

means all components can be combined

in any chosen way. This gives the trades a vast

range of options for creating furniture with an

individual look and for designing exclusive interiors.

The drawers can be configured in three

colours and five heights with steel, aluminium

or wooden rear panels. DesignProfiles and

DesignCapes can be used to make all manner

of statements with a look of individuality. And

you can choose absolutely any material for the

drawer side profile inlays. All of these options

The new generation of Actro 5D runners provides smooth running performance

for wooden drawers and effective multisynchronisation for extra wide

front panels: Actro 5D can even be used with Push to open Silent for XXL

drawer formats. (Photo. Hettich)

can be used to respond quickly and confidently

to new design trends with AvanTech YOU and

tap into new customer segments.

www.hettich.com

No. 3 • August 2022

27
---
Nuremberg, Germany

21–24.3.2018

European Trade Fair for Machine Technology,

Equipment and Supplies for the Woodworking Crafts

holz-handwerk.de

The factory of the future is already a reality

Information

NürnbergMesse GmbH

T +49 911 86 06-49 29

visitorservice@nuernbergmesse.de

Parallel to

Biesse Group presented in Nuremberg its latest automation, digitisation and software solutions. Visitors were able to discover how

to create a connected, automated factory using the highly-integrated technologies and software solutions that offer fast, optimised

production without sacrificing customisation.

HH18_121x305_INT_WIN_woodworking_international_BES_GUT.indd 1 15.01.18 14:45

Technologies in action

Biesse presented three integrated automatic

cells, consisting of the Rover B Edge machining

centre with Synchro, Biesse's exclusive

loading/unloading solution that transforms the

Rover machining centre into an automatic cell;

the Selco WN2 panel saw, integrated with the

Winstore automatic storage solution and with

the Rover B FT machining centre, and the Brema

Eko 2.2 compact vertical boring machine with

ROS robot for loading and unloading operations.

The complete integration between technologies

and loading/unloading systems or automated

warehouses is designed to meet the

needs of customers who require easy-to-use

solutions, achieving the right combination in

terms of reliability and low investment. With

a particular focus on windows and doors and

decades of specialised expertise in this sector,

Biesse's stand also features the new Winline.

This multicentre is suitable for the independent

production of standard and special windows

and doors with the utmost simplicity and precision.

Completing the technological picture,

visitors could draw inspiration from the various

'Made With Biesse' finished products, examples

of creative ideas transformed into actual design

objects and important productions through

Biesse machines.

www.biesse.com

Höcker Polytechnik showed its latest developments

at HOLZ-HANDWERK

The performance of woodworking machines

is increasing continuously. Of course, this

also increases the demands on the important

peripheral equipment such as filter systems or

dedusters. Höcker Polytechnik GmbH has been

supporting the woodworking and furniture

industry with innovative disposal and suction

solutions for many years. Höcker has further

expanded its expertise in energy efficiency in

this sector.

Höcker showed how intelligent control technology,

combined with efficiently designed filter

systems, can radically reduce energy consumption

in workshop operations. At the heart of

this are the well-known MultiStar filter systems

or the compact dedusters from the Vacumobil

series.

Höcker displayed the newly developed

Vacumobil series with IE5 permanent magnet

motors and control technology specially adapted

to the new technology. This creates an energy

advantage of 25 % for air and electricity and

ensures a noticeable cost reduction in machine

dedusting. With current energy prices, the additional

cost of the Vacumobiles with IE5 efficiency

power pack can be recouped after just

one year.

The production of high-energy heating material

in-house is also becoming increasingly important.

With the BrikStar C briquetting press,

Höcker presses wood dust and chips into briquettes.

This not only opens up an extremely

cheap source of energy for woodworking companies

- they also provide CO 2

neutral heating.

With particularly small combined painting

and drying booths, Höcker gives the woodworking

trade the opportunity to paint with industrial

quality without compromising, even when

space is limited.

Dedusting at the very highest energy efficient level: Vacumobil

JP350 with IE5 efficiency power pack with jet/compressed air

pulse cleaning technology with integrated briquetting press.

www.hoecker-polytechnik.de

28 No. 3 • August 2022
---
Nuremberg, Germany

21–24.3.2018

European Trade Fair for Machine Technology,

Equipment and Supplies for the Woodworking Crafts

Numerous top innovations

Aigner Werkzeuge GmbH from Taufkirchen in Upper Austria presented its top innovations

in the field of cutting tools for wood and plastics processing at HOLZ-HANDWERK:

Grooving cutter Konstantin ® Mini FinishCut

C248&C249 with interchangeable DIA blades

The family of Konstantin ® Mini DIA grooving

cutters has been successfully extended by

the FinishCut model series C248 & C249. A superlative

DIA groove shank cutter type with outstanding

milling properties for machining almost

all common board material types!

A tear-free milling pattern, combined with

fast feed rates, enables FinishCut users to easily

machine materials such as multiplex, coated

and veneered particleboard, as well as MDF and

even furniture solid wood panels. Two cutter

types with different numbers of teeth are available

for different performance ranges.

Starting with the C248 for rather slower

to medium feed ranges and following with the

C249 which is an ideally suited grooving cutter

for CNC professionals with high performance requirements!

Konstantin ® Mini users can easily

change the cutting edges themselves in a DIY

process with a torque wrench. This eliminates

long waiting times for service work and cost-intensive

new purchases for replacement tools!

DIA grooving cutters C442 and C443 for use

on suction turbines for nesting machines

Of course, Aigner does not neglect the tool

program for the ever increasing number of nesting

machining centers in woodworking. Here,

with the C442 and the C443, two new DIA nesting

cutter types are available for different panel

thicknesses and power ranges. Cleverly solved,

these variants function excellently in conjunction

with common suction turbines and in this

combination ensure a good chip flow in the

direction of the extraction system. Specially

matched cutting geometries enable a high cutting

quality on the narrow surfaces and economical

milling in everyday production.

Face milling cutter Konstantin® C181 with

interchangeable DIA blades

In line with the theme of nesting, Aigner is

also presenting its new C181 milling cutter in

Konstantin ® design with DIA interchangeable

cutting edges. In the standard version, the milling

cutter is available in diameters of 80 and

120 mm with 25 mm h6 shank. Whether the

milling tool is equipped with three or six teeth is

easily decided by the user on site. The face milling

cutter can be converted for different feeds

or material types with the help of blind knives,

this always ensures the right operating conditions

and perfect milling quality!

PM-Shaped recessed grip router bit for CNC

C557 – 4

The successful recessed grip router bit series

has been expanded to include the C557 – 4. This

smart interchangeable-plate profile end mill allows

up to seven different handle profiles to be

milled on the CNC! With this tool, trendy handle

recesses can be milled into solid wood furniture

fronts in impressive milling quality. A very simple

exchange of the profile cutting edge allows

a quick changeover to different profiles.

Konstantin ® Mini Radius Profile Cutters

C560 – 1 and C560 – 2

A special coup has been achieved with the

new router types C560 – 1 and the C560 – 2. For

the first time, a DIA round profile cutter and a

DIA round profile grooving cutter equipped with

the Konstantin ® Mini interchangeable blade system

are available for Holzher edge banding machines.

Revolutionary; here the profile cutting

holz-handwerk.de

Information

NürnbergMesse GmbH

T +49 911 86 06-49 29

visitorservice@nuernbergmesse.de

Aigner Werkzeuge GmbH –

a company with simple beginnings

Parallel to

Aigner Werkzeuge has been the second largest

Austrian manufacturer of woodworking tools for

over 40 years. The success of the company is not

only in the development and production of high

quality cutting tools, but can also be seen in the

industry-relevant customer solutions that we can

offer for almost all company sizes. The focus lies

on the quality, longevity and sustainability of our

products.

HH18_121x305_INT_WIN_woodworking_international_BES_GUT.indd 1 15.01.18 14:45

In addition, Aigner does an excellent job in the

area of training; the company employs almost exclusively

self-trained, highly qualified specialists.

The distribution of our products is carried out in

the immediate vicinity by our own service staff

and Europe-wide or almost worldwide by now,

by specialized dealers who are looked after and

regularly trained by our experienced field service

team.

Aigner currently employs over 80 people in the region

of Upper Austria and is currently expanding

its production areas with a large new building. As

managing director, DI Josef Hochholzer is responsible

for the successful steering and strategic orientation

of the company. With a regulated succession

and very good capacity utilization, Aigner

looks very positively into the future, even in somewhat

more difficult times!

edges can be exchanged by the user with different

radii 1.0/1.3/2.0/2.5/3.0 mm and this with a

constant trailing edge! For the user, this means

in clear text, no new purchase of many different

radius cutter sets, but by simply changing

the profile cutting edges on site, any radii can

be created with the C560 – 1 and C560 – 2. If the

DIA radius profile cutters have to be changed at

the end of their service life, the machine does

not have to be readjusted a second time. The

two cutter types are used on the corner and longitudinal

milling units on edgebanders of various

sizes. Soon, standardized cutter types will

also be available for other common manufacturers.

Of course, this is already possible on

request!

www.aigner-werkzeuge.at

No. 3 • August 2022

29
---
Nuremberg, Germany

21–24.3.2018

European Trade Fair for Machine Technology,

Equipment and Supplies for the Woodworking Crafts

holz-handwerk.de

All-rounders for the trades

Information

NürnbergMesse GmbH

T +49 911 86 06-49 29

visitorservice@nuernbergmesse.de

Parallel to

The HSM New Edition and the MFA Impression

HH18_121x305_INT_WIN_woodworking_international_BES_GUT.indd 1 15.01.18 14:45

All good things come in threes. No less than three Heesemann machines were on display at HOLZ-HANDWERK. The compact HSM.3 New

Edition is a particularly interesting option for carpenters and craftsmen as is the all-round talent MFA Impression.

Customer requirements vary widely from

craftsman to craftsman and, ideally, they

all need a machine that is both flexible and

versatile.

The MFA Impression is the all-rounder for

high-end tradesmen. Equipped with a calibrating

roller, a longitudinal and cross unit along

The Heesemann DB-S disc brush unit ensures a particularly

even sanding pattern for a wide range of applications.

with the DB-S disc brush unit, it provides the

solution for every imaginable sanding job,

whether solid wood, veneer, lacquer or 3D

surfaces.

The revised HSM.3 New Edition is a compact

all-round machine for tradesmen with demanding

standards and little space. Equipped

with a calibration roller, a longitudinal unit together

with the DB-S, it is the ideal solution for

working with solid wood and coated surfaces.as

well as three-dimensional surfaces. The popular

HSM series is now also available with 4 units.

The display has been integrated into the front

of the machine to save space. In addition, the

brush element has been optimised and the design

revised.

The HSM.2 New Edition replaces the SWT

200 series from HOMAG and impresses with its

compact design. It is the ideal machine for veneer

and lacquer sanding as well as light calibration

work. The table extension ensures even

more comfortable operation.

Service is another focal area. With an expanded

service network together with innovative

remote options, Heesemann ensures fast

support – on site worldwide.

The DB-S disc brush unit delivers perfect

sanding without oscillation marks

The DB-S from Heesemann is especially

popular among tradesmen because of its flexibility

and versatility: the unit can effortlessly

process three-dimensional surfaces, such as

kitchen fronts with fillings or workpieces with

curved edges (such as doors, windows, and tabletops)

and also create structuring. Another

benefit which saves both time and money:

sharp workpiece edges are broken during the

same pass, eliminating the need for additional

manual. So it is no surprise that 9 out of 10

sanding machines delivered are equipped with

the DB-S unit.

Technology partnership between

Heesemann and HOMAG intensifies

HOMAG withdrew from the development

and manufacture of sanding machines in March

and has since relied on Heesemann's expertise

in the field of sanding.

www.heesemann.de

Premium-Class Unfilled PO Hot Melt Adhesive

Jowat presents a new premium-class unfilled PO hot melt adhesive

Jowat-Toptherm ® 237.50 is a new PO hot

melt adhesive which impresses in applications

with special requirements in terms of bonding

performance and high aesthetic standards such

as a zero joint appearance. A high heat resistance,

high bond strength coupled with optimized

application amounts, reduced stringing

and a wide range of adhesion make this adhesive

a solid alternative to PUR hot melt systems.

Jowat-Toptherm ® 237.50 is the newest PO

hot melt adhesive in its range with a completely

filler-free formulation. This increases yield and

facilitates colorless adhesive bondlines that are

barely visible, especially in applications with

dark decor materials and high-gloss surfaces.

As part of the Jowat Green Adhesives, this pro-

duct is also REACH-compliant and therefore

supports a comprehensive protection of employees

and the environment. At the same time,

it can prevent high costs for the training which

is mandatory for employees who are processing

adhesives containing isocyanate.

The unfilled PO hot melt adhesive can be

processed with automatic edgebanding machines

and can bond different edgebanding

materials such as ABS, PP, PET, PVC, melamine

or real wood veneer. Investment in new application

technology is generally not necessary

for a changeover to the new PO hot melt

adhesive.

www.jowat.de

30 No. 3 • August 2022
---
Nuremberg, Germany

21–24.3.2018

European Trade Fair for Machine Technology,

Equipment and Supplies for the Woodworking Crafts

One instead of two: new finger joint cutters for all pu glue types

holz-handwerk.de

Information

NürnbergMesse GmbH

T +49 911 86 06-49 29

visitorservice@nuernbergmesse.de

Flexible use with high performance

Parallel to

HH18_121x305_INT_WIN_woodworking_international_BES_GUT.indd 1 15.01.18 14:45

With a new finger geometry, LEUCO is adding an innovative cutter to its program that can be used with both fiber-containing and

fiberless PU glue. The cutter is ideal for companies that make joints with both PU glues, but also provides many advantages for all

other companies.

Due to the universal application possibilities,

the machine operator will no longer have

to change the cutter in the future, i.e. machine

downtimes will be reduced. On the other hand,

there is no longer any danger of mixing up the

previously different cutters, which reduces the

reject rate.

In addition, the optimized geometry increases

the stability of the fingers and significantly

minimizes edge splits, increasing the output

quality.

Great cost-effectiveness

Compared to traditional HS finger joint

cutters, the edge life of the new finger cutters

is up to 5 times as long. LEUCO achieves this

through the combination of the cutting material

Solid 34 and the LEUCO topcoat coating. The

high bending strength of the cutting material

reduces the risk of tooth breakage while maintaining

the same finger jointing quality compared

to standard designs.

This is true even at high feed rates thanks

to double the number of teeth compared

to the standard design. The benefits of the

LEUCO topcoat coating are retained in full after

resharpening.

The new version ZL 15/15 actually Z4

is available from stock. Other versions are

available on request. To achieve optimum

strength in finger joints, all influencing factors

such as material, glue, machine or tool

must be optimally matched. LEUCO tool experts

always advise finger jointing operations

after taking into account all influencing

variables.

One cutter instead of two as previously: The new finger geometry

is used for cutting joints for fiber-containing and fiberless PU

glue in knotty softwood. The new cutting material of the cutters

together with a coating as well provides up to 5 times the edge

life.

www.leuco.com

Cutting with full speed through the panel

In furniture production, perfect machining results and the highest possible feed rates are required for sizing individual panels. This

applies to the production of small batches as well as to batch size 1 production. For both process specifications, the required quality

and the time factor are decisive. Especially with changing support materials and coatings. Here, time-consuming reworking, excessive

tool wear and the associated loss of time turn every production into an economic challenge.

The solution for such cases is provided by

the circular sawblades of the RazorCut series

from Leitz: these circular sawblades are particularly

long-lasting and produce perfectly sawn

narrow edges and precise cutting edges in almost

any surface coatings – and do so consistently,

at high feed rates and with up to four

decibels less noise. So, no matter what materials

need to be cut – one cut of the RazorCut circular

sawblade is enough to glue on a melamine

edge, for example, or to process the workpiece

further. RazorCut circular sawblades mainly are

suitable for sawing individual panels or panel

stacks up to 60 millimetres.

This is made possible above all by the vibration-damping

design of the circular sawblade.

Laser ornaments and the irregular pitch of the

saw teeth generate significantly less vibration

during machining. In addition, high-quality cutting

materials are used, such as ultra-fine grain

carbide with a grain size of 0.2 to 0.5µm. They

produce the "razor-sharp edge" for the perfect

cut and are significantly more durable than conventional

carbide types.

RazorCut circular sawblades from Leitz are

also convincing in terms of sustainability. They

can be resharpened up to thirteen times and

with its worldwide tool service in manufacturer

quality, Leitz is a reliable partner – around the

globe with more than 120 company-owned service

stations.

www.leitz.org

Leitz RazorCut

No. 3 • August 2022

31
---
ARCHITECTURE

Port of Amsterdam selected responsible wood construction

The Nautical Coordination Centre in Amsterdam is a wooden building that reflects the sustainable and circular ambitions of the Port of

Amsterdam. The building is designed by WRK Architects and is in the western port area. The special feature is that the entire construction

– walls, floors and roofs – is built with Metsä Wood's engineered Kerto ® LVL wood product. The industrial appearance of Kerto LVL

products have remained fully visible.

The circular economy is a focus of the Port

of Amsterdam's strategy. The goal is to become

the most important economic and circular hub

in Europe. The Port of Amsterdam's ecosystem

brings together all kinds of companies, from

waste, raw materials and port logistics to different

kinds of demo plants and innovative circular

economy companies.

'This beautiful and natural building material

contributes to a pleasant working environment

and fits the Port of Amsterdam's ambition to

build sustainably. Those who step in the building

are really surprised. A practical open-space

working environment greets you when you enter

the building, which is ideal for a 24/7 company

like the Port of Amsterdam. The industrial

appearance of Kerto LVL products is fully visible,

and the large floor-toceiling windows offer

a view of the IJ river,' says Benjamin Robichon

of WRK Architects in explaining why they chose

LVL-based construction.

Construction method

All the floor, wall and roof elements were

prefabricated by the Belgian timber element

manufacturer Dupac and delivered to the building

site ready for assembly. Dupac specialises

in the structural bonding of wooden elements

and can therefore supply CE-marked Kerto-Ripa

Elements.

'Kerto LVL is a very material-efficient and

sustainable product. In addition to its ability to

store carbon, the high strength and slenderness

of Kerto LVL means you need less volume than

with many other wood materials. Using Kerto

LVL also makes our element production efficient

and easy,' explains Marc Cuyvers, Managing

Director at Dupac.

The chosen construction method was also

new for the contractor, Dozy BV. 'The craftsmen

at Dozy are familiar with all sorts of construction

methods, but they had never built an

entirely new construction with Metsa Wood's

high-quality Kerto LVL before. We are proud

that we were able to build such a high-profile

centre,' explains Luc Riemers, Project Manager

at Dozy Bouwt.

Kerto-Ripa

elements for floors and roofs

For the floor and roof construction, 350 and

230 mm high Kerto-Ripa elements were used. In

these prefabricated elements, the rib and top

and bottom panels work together with glued

joints.

Most floors have a span of approximately

7.5 m, and vibration was the main design driver

for the floors. A few floors are locally fitted

with an extra rib to absorb the line load of a

sliding wall. This could easily be integrated during

production.

32 No. 3 • August 2022
---
ARCHITECTURE

The largest floor elements (with a length

of 8.6 m) had a fire requirement of 30 minutes,

combined with a limited construction height.

To meet this criterion, thicker top and bottom

slabs of 67 mm were chosen. Interestingly, the

relatively thick slab helps spread the loads in a

transverse direction (especially variable point

loads). The number of ribs is therefore reduced,

simplifying production. Furthermore, the Kerto-

Ripa elements are so strong and rigid that it is

even possible to make holes for staircases.

Load-bearing walls

The load-bearing walls have a 25 mm external

Kerto LVL Q-panel, glued on Kerto LVL

S-beam posts of 45 × 200, and the top and

bottom chords are also made of a 45 × 200 mm

Kerto LVL Q-panel. The studs of this rib wall

element stand with a c/c of 600 mm, and

200 mm Rockwool insulation is fitted between

the studs. On the inside, in the finishing phase,

a 21 mm Kerto LVL Q-panel cladding was applied

to the wall, which remained completely

visible. The advantage of using bonded elements

at this location was that it increased the

wind stability. The thermal resistance of the

walls is 8.6 m 2 K/W.

Sustainability

The building materials used are demountable

and retain their value when reused. They

are therefore fully circular. The load-bearing

Kerto LVL structure was chosen because it provides

a warm and natural atmosphere in the interior.

The timber structure is placed on a concrete

foundation and locally reinforced by a

steel structure. This utilises the specific advantages

of each material separately.

Thanks to the construction in PEFCcertified

Kerto LVL, the building has obtained

an BREAAM Excellent certification, and a low

CO 2

footprint has been achieved. The total use

of Kerto LVL was 200 m 3 , and it stores carbon a

total of 159 tonnes of CO 2

eq according to Metsä

Wood's carbon storage calculator.

www.metsagroup.com

No. 3 • August 2022

33
---
GUIDE TO PRODUCTS AND MANUFACTURERS

Manufacturer Manufacturer Products

ELKOM-Elektroheizplatten-Technik GmbH

Oberbecksener Str. 80, 32547 Bad Oeynhausen

Germany

Tel: +49 5731 7782-0

Fax: +49 5731 7782-12

Email: elkom@elkom.de

www.elkom.de

Cooling plates

Fluid medium plates

Heating plates

Preheating station for solid surface and thermoplastics

Thermoforming station for solid surface and

thermoplastics

Vacuum plates

Vacuum tables

Fagus-GreCon Greten GmbH & Co. KG

Hannoversche Str. 58, 31061 Alfeld

Germany

Tel: +49 5181 79-0

Fax: +49 5181 79-229

Email: marketing@fagus-grecon.com

Automatic woodinspection machines, scanners

Density profile measurement

Fire protection for industrial risks

Measuring systems for the panel industry

Moisture meters, in-line type for boards or veneer

Spark extinguishing systems

www.fagus-grecon.com

Höcker Polytechnik GmbH

Borgloher Str. 1, 49176 Hilter a.T.W.

Germany

Tel: +49 5409 405-0

Fax: +49 5409 405-595

Email: info@hpt.net

Briquetting press

Cyclone separator

Dust extractor

Industrial fan

Paint booth

www.hoecker-polytechnik.com

HOLZ-HER GmbH

Plochinger Str. 65, 72666 Nürtingen

Germany

Tel: +49 7022 702-0

Fax: +49 7022 702-101

Email: kontakt@holzher.com

CNC machining centres

Edgebanding

Panel saws

www.holzher.de

Hymmen GmbH

Maschinen- und Anlagenbau

Theodor-Hymmen-Str. 3, 33613 Bielefeld

Germany

Tel: +49 521 5806 0

Fax: +49 521 5806 190

Email: info@hymmen.com

www.hymmen.com

Industrial digital printing lines

Lacquering and liquid coating machines

Laminating presses

Presses, multiopening

Presses, continuous

Printing machines, direct

Service

Leitz GmbH & Co. KG

Leitzstr. 2, 73447 Oberkochen

Germany

Tel: +49 7364 950-0

Fax: +49 7364 950-662

Email: leitz@leitz.org

Tools and tooling systems for the processing of wood,

wood-products, and plastics

www.leitz.org
---
GUIDE TO PRODUCTS AND MANUFACTURERS

Manufacturer Manufacturer Products

LEUCO Ledermann GmbH & Co. KG

Willi-Ledermann-Str. 1, 72160 Horb a. N.

Germany

Tel: +49 7451 93-0

Fax: +49 7541 93-270

Email: info@leuco.com

TC and DP tipped machine tools for processing wood,

wooden and composite panels, plastics and NF-materials,

tool management & service

www.leuco.com

NESTRO Lufttechnik GmbH

Paulus-Nettelnstroth-Platz, 07619 Schkölen

Germany

Tel: +49 36694 41-0

Fax: +49 36694 41-260

Email: info@nestro.de

www.nestro.com

Briquetting Presses

Cyclone Separators

Extraction and Filter Systems

Fans

Heating Systems

Paint Spray Walls

PAINTLINE Paint Mist Extraction Systems

Shredders

Reichenbacher Hamuel GmbH

Postfach 28, 96487 Dörfles-Esbach

Germany

Tel: +49 9561 599-0

Fax: +49 9561 599-199

Email: info@reichenbacher.de

CNC-Machining centres

CNC-Processing centres

CNC-Routers

Drilling systems

Milling machines

www.reichenbacher.de

SPÄNEX GmbH

Luft-, Energie- und Umwelttechnik

Otto-Brenner-Str. 6, 37170 Uslar

Germany

Tel.: +49 5571 304-0

Fax: +49 5571 304-111

Email: info@spaenex.de

www.spaenex.de

Briquetting presses

Dust extractors

Exhaust filter systems

Fans

Heat recovery systems

Spraying walls

WEIMA Maschinenbau GmbH

Bustadt 6-10, 74360 Ilsfeld

Germany

Tel: +49 7062 9570 0

Fax: +49 7062 9570 92

Email: info@weima.com

Single-shaft and four-shaft shredders

Granulators and hammermills

Briquetting presses

www.weima.com

Michael Weinig AG

Michael-Weinig-Str. 2-4, 97941Tauberbischofsheim

Germany

Tel: +49 9341 86-0

Fax: +49 9341 7080

Email: info@weinig.com

Planers and molders

www.weinig.com