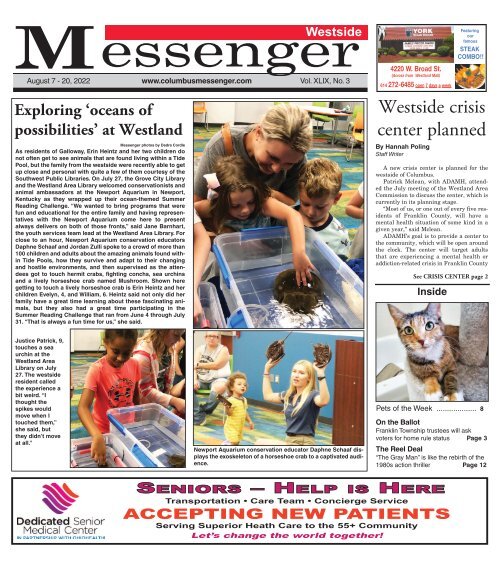 Westside Messenger - August 7th, 2022
You also want an ePaper? Increase the reach of your titles
YUMPU automatically turns print PDFs into web optimized ePapers that Google loves.
Messenger

Westside

August 7 - 20, 2022 www.columbusmessenger.com Vol. XLIX, No. 3

Exploring 'oceans of

possibilities' at Westland

Messenger photos by Dedra Cordle

As residents of Galloway, Erin Heintz and her two children do

not often get to see animals that are found living within a Tide

Pool, but the family from the westside were recently able to get

up close and personal with quite a few of them courtesy of the

Southwest Public Libraries. On July 27, the Grove City Library

and the Westland Area Library welcomed conservationists and

animal ambassadors at the Newport Aquarium in Newport,

Kentucky as they wrapped up their ocean-themed Summer

Reading Challenge. "We wanted to bring programs that were

fun and educational for the entire family and having representatives

with the Newport Aquarium come here to present

always delivers on both of those fronts," said Jane Barnhart,

the youth services team lead at the Westland Area Library. For

close to an hour, Newport Aquarium conservation educators

Daphne Schaaf and Jordan Zulli spoke to a crowd of more than

100 children and adults about the amazing animals found within

Tide Pools, how they survive and adapt to their changing

and hostile environments, and then supervised as the attendees

got to touch hermit crabs, fighting conchs, sea urchins

and a lively horseshoe crab named Mushroom. Shown here

getting to touch a lively horseshoe crab is Erin Heintz and her

children Evelyn, 4, and William, 6. Heintz said not only did her

family have a great time learning about these fascinating animals,

but they also had a great time participating in the

Summer Reading Challenge that ran from June 4 through July

31. "That is always a fun time for us," she said.

4220 W. Broad St.

(Across from Westland Mall)

614 272-6485 open 7 days a week

Inside

Featuring

our

famous

STEAK

COMBO!!

Westside crisis

center planned

By Hannah Poling

Staff Writer

A new crisis center is planned for the

westside of Columbus.

Patrick Mclean, with ADAMH, attended

the July meeting of the Westland Area

Commission to discuss the center, which is

currently in its planning stage.

"Most of us, or one out of every five residents

of Franklin County, will have a

mental health situation of some kind in a

given year," said Mclean.

ADAMH's goal is to provide a center to

the community, which will be open around

the clock. The center will target adults

that are experiencing a mental health or

addiction-related crisis in Franklin County

See CRISIS CENTER page 2

Justice Patrick, 9,

touches a sea

urchin at the

Westland Area

Library on July

27. The westside

resident called

the experience a

bit weird. "I

thought the

spikes would

move when I

touched them,"

she said, but

they didn't move

at all."

Newport Aquarium conservation educator Daphne Schaaf displays

the exoskeleton of a horseshoe crab to a captivated audience.

Pets of the Week ................... 8

On the Ballot

Franklin Township trustees will ask

voters for home rule status Page 3

The Reel Deal

"The Gray Man" is like the rebirth of the

1980s action thriller Page 12

SENIORS – HELP IS HERE

Transportation • Care Team • Concierge Service

ACCEPTING NEW PATIENTS

Serving Superior Heath Care to the 55+ Community

Let's change the world together!
---
PAGE 2 - WESTSIDE MESSENGER - August 7, 2022

Call today and receive a

FREE SHOWER PACKAGE

PLUS $1600 OFF

1-855-517-1892

With purchase of a new Safe Step Walk-In Tub. Not applicable with any previous

walk-in tub purchase. Offer available while supplies last. No cash value. Must present

offer at time of purchase. CSLB 1082165 NSCB 0082999 0083445

PROVIDING SERVICE SINCE '94

SERVICE & INSTALLATION

RESIDENTAL & COMMERCIAL

Don't let cold weather

disrupt your comfort,

schedule your Fall

furnace check-up now!

614-836-9119

SPECIAL OFFER

WWW.FRANKLINHEATING.COM

Musical instrument drive

As it transitions to a school for arts, the Central

Point Preparatory Academy will host a musical instrument

drive so each student will have an instrument.

Those interested are asked to drop off any gently used

musical instrument at 680 Harrisburg Pike in

Columbus through Aug. 30. The school needs flutes,

clarinets, saxophones, trumpets, trombones, drums,

and guitars. For more information, call 614-669-6305.

National Day Out

The South Central Hilltop Block Watch will host a

National day Out Neighborhood Festival from 1 to 3

p.m. Aug. 13 at Burroughs Park, 551 S. Richardson

Ave. in Columbus. The free safety event aims to

strengthen ties between police and the community.

There will also be a celebration on the reconstruction

at the park. For more information, contact Lisa Boggs

at lisaboggs693@sbcglobal.net.

Music on the Porch

The Westgate neighborhood will participate in the

worldwide event Play Music on the Porch Day. The

event will take place from 1 to 4 p.m. Aug. 27.

Residents are asked to share their musical skills with

neighbors, while others walk around and enjoy the

music. To sign up as a participant, contact Jen

Morrison at jennydomorrison@gmail.com.

West High School reunion

The West High School class of 1971 will host a

reunion from 6:30 to 11 p.m. Aug. 27 at the Heritage

CRISIS CENTER

Continued from page 1

regardless of residency or insurance.

The 72,000 square foot center will be located on

three acres of land on Harmon Avenue. They anticipate

that approximately 34,000 people would use the

center each year.

"All of the data we have states that the need for

mental health services is growing," said Mclean.

The center will include a 24/7 walk in, 23-hour

observation, and 16 inpatient beds with the anticipation

that most long-term stays will be somewhere

between three and seven days. The facility will also

include substance use disorder treatment services,

pharmacy services, medical services, family support

services, and community services.

ADAMH's goal is to stabilize individuals at this center,

get them out of crisis, and then connect them with

services outside of the facility for long-term care. This

project has the support from the federal and state governments,

as well as from philanthropic organizations

and hospital systems.

The project is set to break ground this year and they

anticipate that the crisis center will open in 2024.

In other news, Jacob Shields with Redwood Living,

Todd Foley with POD design, and Attorney Glen

Dugger attended the Westland Area Commission

meeting to discuss a zoning request for their upcoming

project Redwood Alton Darby in Galloway.

The new apartment neighborhood through Redwood

Living will be located on the east side of Alton Darby

Creek Road. The apartments will be built on land that

is currently vacant.

They plan to build 225 single story multi-family

units on the property. The apartments are anticipated

around the westside

www.columbusmessenger.com

Golf Club, 3525 Heritage Club Drive in Hilliard.

Reservations must be made in advance, no later than

Aug. 13. The cost is $55 per person. For more information,

visit the Facebook Page at West High Class of

1971 or email Danny McVay at

mcvaydlm1@gmail.com.

Running of the Ox

The West Jefferson Youth Athletic Association is

hosting the Running of The Ox on Sept. 5. Participants

can choose between a one-mile fun run/walk and a 5K

run/walk. Both events start and finish at West

Jefferson High School, 1 Roughrider Dr. The course is

flat, uses paved roads, and goes through Garrette Park

where the West Jefferson Community Association's Ox

Roast festival takes place.

The cost to enter either event is $30 for adults or

$20 for children. The price increases after Aug. 19. To

register, visit runsignup.com and search for West

Jefferson, Ohio.

Proceeds support the community of West Jefferson

and the work of the West Jefferson Youth Athletic

Association.

Breakfast at the Lodge

to benefit Special Olympics

The Westgate Masonic Lodge #623 is preparing

breakfasts once a month to benefit the Special

Olympics. The public is invited to have breakfast the

second Saturday of each month at 2925 West Broad St.

Adults eat for a donation of $6, children age 3 and

above pay $3. Serving is from 9 a.m. to noon.

to be compatible with the adjacent homes.

According to Dugger, "Typical Redwood tenets are

high quality. The low density neighborhood appeals to

older residents, empty nesters and young professionals."

The square footage is between 1,294 and 1,620

square feet depending on the apartment. The monthly

rent is between $1,875 and $2,275.

There are three existing wetlands on the property,

which have been integrated into the project design.

"We modified our design from what we had before to

preserve the wetlands," said Foley. "We created another

wetland feature so that this wetland stays wet."

Redwood plans to have a 70-foot retention pond.

The retention pond will have a 40-inch aluminum

fence, which will run the length of the pond for safety

measures. Redwood is also required to have a 25-foot

setback from the property line however, they are committing

to a 100-foot set back instead.

"Anything on our project will be engineered first

and foremost to maintain offsite drainage," said Foley.

The wetlands will function independently and all

roof drains, and gutters will take the water out where

it naturally wants to flow in a controlled released

method and storm sewers will be directing the water to

the retention pond. The water will be released at the

southeast corner of the property.

Redwood Living requested a council variance to

alter the R4 building requirements. R4 zoning requires

four unit buildings on the lot. Redwood however, wants

to do a combination of four-unit and eight-unit buildings

together on a lot. The council variance was

approved by the commission.
---
www.columbusmessenger.com

August 7, 2022 - WESTSIDE MESSENGER - PAGE 3

Trustees place home rule measure on November ballot

By Amanda Ensinger

Staff Writer

A local township is once again considering

becoming a limited home rule government.

At a special Franklin Township meeting,

the board of trustees discussed how

they could move forward with becoming

this type of government.

"The population of the unincorporated

area needs to be 15,000 before the board

can unanimously pass the resolution," said

Julie Donnan, an attorney for the township.

"It needs to go to the voters for adoption."

In 2016 and 2017, the township asked

residents to approve becoming a limited

By Amanda Ensinger

Staff Writer

At a recent meeting, the Prairie

Township trustees discussed an increase in

crime in the area.

Among the items discussed was an

increase in vandalism calls in the North

Village neighborhood. The calls range from

punctured vehicle tires to vehicle windows

being broken. Currently, no suspects have

been apprehended and no charges have

been filed.

home rule government. In 2016, voters

opposed this with 64 percent voting against

it. In 2017, voters again rejected the ballot

measure with 61 percent in opposition.

If the township would have become a

limited home rule government, it would

have given the board power to more quickly

enact rules already laid out by Franklin

County and the Ohio Revised Code. Policies

the board has said they would like to

enforce in the township that they currently

cannot because of their lack of authority

include creating a no-knock registry, ordinances

related to high weeds, and eliminating

junk cars on properties.

The trustee said that becoming a limited

home rule government would allow the

Several people have been issued citations

for illegally riding dirt bikes on the

township roadways. Franklin County

deputies also have been recovering stolen

vehicles, including recovering seven cars in

one month.

The sheriff's office is also investigating

four homicides that recently occurred in

the township. Two occurred on the west

side and the other two on the east side.

"I would like to ask residents to call the

sheriff's office if they see suspicious activity,"

said Deputy Corbin Wood. "It helps

Township Focus

township to crack down on nuisances in the

community, such as solicitors, overgrown

grass and high weeds, and a variety of

other laws that are currently are being violated

in the township.

It also would give the board the authority

to offer incentives to businesses to

encourage them to locate in the township.

"It would be an opportunity to do a few

good things for the township and enhance

our business situation," said Franklin

Township trustee Ralph Horn.

After an executive session, the board

voted unanimously to add it to the

November ballot.

While the board said it is up to the residents

to approve or reject this reject, they

did say in the meantime, they would continue

to look at things they can to do to

improve the township without a limited

home rule.

"This needs to be voted upon in an election

by the voters," said Franklin Township

trustee Jim Leezer. "However, there are

things the board can do without being

home rule to make changes."

The trustees also said they believe a limited

home rule government was previously

rejected due to misinformation.

"I think some people campaigning

against it was detrimental," Horn said. "I

also think there should have been more of

a commitment to get information out about

it."

Concerns about an increase in crime discussed in Prairie Township

with solving local crimes"

Prairie Township resident Cheryl

Cornelius asked about homeless camps and

the progress that has been made.

"Some businesses are giving permission

to help stop the loitering and panhandlers,"

Wood said. "Some provide handouts to the

homeless to get them some help and we

need to educate them as much as possible."

In other news, the fire department

asked the board to approve posting an

opening for full-time administrative assistant

position for the fire department.

McAninch also asked the board to adopt

a resolution allowing the township to spend

$50,000 for new ADA ramps, replacements

and sidewalk installation and repairs.

"The locations are the sidewalk paths

through Lincoln Village North to Prairie

Lincoln," he said. "The new sidewalk and

ADA ramps will connect gaps around the

Hilton and S. Murray Hill areas to West

Broad Street and will connect a gap of sidewalk

on the west side Oak Park between

Maple Park Way and Cedar Court."

MEDICARE QUESTIONS?

Learn more about your

medicare options that you

may qualify for.

Too busy enjoying summer to think about Medicare?

As a local neighborhood agent, help finding the right plan is

closer than you THINK! Call or Text today 614-460-0601

Call me Today $0 Consultation $0 Fee

Terri Curcio 614-460-0601

"Who do you call about Medicare when all the commercials are gone?

A Local Licensed Agent!"

I'm here all year long providing Medicare members with the plan options that fit their needs. Also, we could review if

you qualify for extra help on your prescription copays, along with insulin coverage. Reviewing the plan information over

the phone or in person, you need to be confident in your decision. Guiding you on the right path to Medicare.
---
PAGE 4 - WESTSIDE MESSENGER - August 7, 2022

Produce giveaway at YMCA

The Hilltop YMCA hosts a fresh produce

giveaway the third Wednesday of each

month from 4 to 6 p.m. at 2879 Valleyview

Drive in Columbus. For more information,

call the YMCA at 614-276-8224.

Free lunch at UHMC

The United Hilltop Methodist Church

will host a free community lunch every

Friday from 11 a.m. to 1 p.m. The church is

located at 99 S. Highland Ave.

Summer, Sunshine & Savings!

Certific

5 %

12 Mont

th CD

Minimum opening balance of $5,000

1.25

around the westside

cate of Dep

APY *

%

1

posit Sp

Special

1.75 %

HURRY!

Limited tim me offfer!

Free lunch at

CML Hilltop Branch

Columbus Metropolitan Library has

partnered with Children's Hunger Alliance

to provide students 18 and younger with

free lunches and snacks at 17 library locations

through Aug. 23. The lunch at the

Hilltop Branch will take place Monday

through Saturday from 12 to 12:30 p.m.

For more information, visit columbuslibrary.org.

Apply onlin ne at Heartland.Bank/SummerCDspecial

or in pe erson by visiting any of our 18 locations!

APY **

%

24 Month CD

Min imum opening balance of $500

*Annual Percentage Yield (APY). Minimum balance to open and maintain the advertised 12 month APY

of 1.25% is $5,000. APY is accurate as of May 12, 2022. Ma aximum

deposit is $250,000. Please see your local branch office for disclosur e information regarding terms and

conditions. Penalty may be imposed for early withdrawal. Rates

are subject to change at any time. No broke ers please. Limit ed time offer. Limited to one per household. Not valid with money currently on deposit at Heartlan d Bank.

Personal accounts only.

**Annual Percentage Yield (APY). Minimum balance to open and maintain the advertised 24 month APY of 1.75% is $500. APY is accurate as of May 12, 2022. Maximum

deposit is $250,000. Please see your local branch office for disclosur e information regarding terms and

conditions. Penalty may be imposed for early withdrawal. Rates

are subject to change at any time. No broke ers please. Limit ed time offer. Limited to one per household. Not valid with money currently on deposit at Heartlan d Bank.

Personal accounts only.

Hilltop History & Heritage

www.columbusmessenger.com

This photo from 1978 features young children at Teddy Bear Day at the Hilltop

Library, then located at 2955 West Broad St. The children are unidentified, but it

appears that they loved sharing their teddy bears at the library. This location was

named the Hilltop Branch of the Public Library of Columbus and Franklin County

(renamed the Columbus Metropolitan Library in 1989). The branch manager at this

location then was Barbara Clark. The Hilltop and Hilltonia branches were consolidated

into a 20,000 square foot facility at 511 South Hague Ave. in 1996 and expanded

to 32,500 square feet in 2020. If you have a photo to share, contact Stacy

Berndsen-Campbell at stacyberndsen12@gmail.com.

RDC Dance Center

3048 Southwest Blvd., Grove City | (614) 875-1044

OPEN HOUSE

Sunday, August 21st 3-5pm

Monday, August 22nd 5-7:30pm

We would like to meet and dance

with you this season!

Let's Dance!

Boys and Girls AGES 3 and up

TAP * JAZZ * BALLET

LYRICAL * TUMBLING

(For all ages)

COMBO CLASS (for ages 3-4)

OPENING DAY IS MONDAY, AUGUST 29th

(614) 875-1044

email > wendi@rdcdance.com website > www.rdcdance.com

(registration forms are on the site)
---
www.columbusmessenger.com August 7, 2022 - WESTSIDE MESSENGER - PAGE 5

Back - to - School

PAID ADVERTISING

Nicotine to help treat memory loss?

A study funded by the National Institutes of

Health is testing whether the nicotine patch can

improve memory and functioning in people who

have mild memory loss or Mild Cognitive

Impairment (MCI).

The MIND Study – or Memory Improvement

through Nicotine Dosing – is the largest and

longest running study of its kind. MIND is looking

for study volunteers who have mild memory

loss but are otherwise healthy, non-smokers over

the age of 55. According to the Alzheimer's

Association, approximately 12 to 15 percent of

people age 65 or older have mild memory loss or

MCI and are more likely to develop Alzheimer's

disease or other dementias. Currently, there is no

FDA approved medication indicated to treat this

condition; however, nicotine stimulates an area in

the brain known to be important for thinking and

memory, and scientists believe it could be an

effective treatment for adults with MCI.

"People often think nicotine is addictive and

harmful, because it is in tobacco products, but it's

safe when used in patch form," said Paul

Newhouse, MD, director of the Vanderbilt Center

for Cognitive Medicine and lead investigator for

the MIND Study. "Nicotine is an inexpensive,

readily available treatment that could have significant

benefits for people experiencing mild memory

impairment."

The MIND Study needs people to enroll in

sites across the United States. Researchers are

looking for healthy, non-smoking adults over the

age of 55 who are in the earliest stages of memory

loss to participate in the MIND Study.

"The MIND Study will provide valuable information

for researchers with regard to early memory

loss that is associated with normal aging and

early Alzheimer's disease, but we need volunteers

if we are going to succeed," said Dr. Douglas

Scharre, Director, Division of Cognitive

Neurology, Center for Cognitive and Memory

Disorders.

You, or a loved one, may be eligible to participate

if you have been diagnosed with MCI or if

you or your family members notice changes in

your memory:

•Are you, or a loved one, having difficulty

remembering recent events? Have you noticed

changes in your memory or your loved one's

memory?

•Is your memory as good as it was two years

ago? If you asked someone close to you about

your memory, what would they say?

Potential study volunteers can learn more by

visiting www.MINDStudy.org or by calling 1-

866-MIND-150.

PAID ADVERTISING

New Hilltop Early Learning Center

offers vital educational opportunities

A 2018 report from the Hilltop Early

Childhood Partnership showed that fewer children

residing in the Hilltop neighborhood were

enrolled in high-quality early learning programs

than anywhere else in the city.

Pre-kindergarten, designed for children ages

3-5, is not a requirement in the U.S. and as such

is often overlooked as a vital part of our children's

educational journeys.

However, research shows crucial brain development

happens in the first five years of life and

pre-kindergarten helps kids grow important skills

and develop a drive to learn. Beyond academics,

it's critical for developing empathy, self-regulation

of emotions, expression of feelings and more.

The Hilltop Early Learning Center, opening

this fall on Clarendon Avenue, offers area families

a new educational opportunity for their preschool

age children.

"We're giving Hilltop families an advantage,"

said Paula Neal, Hilltop Partnership Director.

"Hilltop Early Learning Center prepares your

children to achieve at an early age, putting them a

step ahead by the time they reach kindergarten."

The curriculum is built specifically for the

Hilltop community by working with many partners

to embrace the cultures and traditions of the

neighborhood. Plus, it's free to attend.

"All children deserve opportunity, nurturing,

and support," said Neal. "We're removing the

standard barriers to early learning to ensure

Hilltop's children get access to a space that prepares

them for success in kindergarten and in

life."

Those wishing to learn more can visit hilltopearlylearning.org

or attend a community listening

session at the Hilltop Library on July 27 at

5:30 p.m.

We are the BEST community newspaper!

Need advertising? Call 614-272-5422 today.
---
PAGE 6 - WESTSIDE MESSENGER - August 7, 2022

www.columbusmessenger.com

High School Football 2022

Briggs Bruins

7 p.m. Aug. 19..................... at Westland

7 p.m. Aug. 25...................... Whetstone

7 p.m. Sept. 1............. Franklin Heights

7 p.m. Sept. 9.................. Walnut Ridge

7 p.m. Sept. 16........ at Marion Franklin

7 p.m. Sept. 23..... Columbus Africentric

7 p.m. Sept. 30....... Eastmoor Academy

7 p.m. Oct. 7................ at Independence

7 p.m. Oct. 14............................... South

7 p.m. Oct. 21..................................West

Bishop Ready

7 p.m. Aug. 19................... Miami Valley

7 p.m. Aug. 2.... at Tuscarawas Catholic

7 p.m. Sept. 2............... Federal Hocking

7 p.m. Sept. 9... William Fisher Catholic

7 p.m. Sept. 16..... at Fairfield Christian

7 p.m. Sept. 23........... Bishop Rosecrans

7 p.m. Sept. 30......... Miller High School

7 p.m. Oct. 7..................... at Millersport

7 p.m. Oct. 14..................... Berne Union

7 p.m. Oct. 21..... Worthington Christian

Franklin Heights

7 p.m. Aug. 19....... Hamilton Township

7 p.m. Aug. 26............... Westland High

7 p.m. Sept. 1...... at Briggs High School

7 p.m. Sept. 9........ at Westerville North

7 p.m. Sept. 16.......... Canal Winchester

7 p.m. Sept. 23.................... Big Walnut

7 p.m. Sept. 30.............. at Dublin Scioto

7 p.m. Oct. 7. at Worthington Kilbourne

7 p.m. Oct. 14........... Westerville South

7 p.m. Oct. 21........... at Delaware Hayes

3374 Sullivant Ave.

Columbus, OH 43204

(614) 488­9951

www.shiffletautocare.com

Let us help you get there

and back safely!

SAVE!!

If your vehicle service totals:

$50.00 - $99.99

$100.00 - $199.99

$200.00 - $299.99

$300.00 - $399.99

$500 or MORE

The "Sliding Scale" Coupon

You will receive this disount:

$10.00

$20.00

$30.00

$40.00

$50.00

Must present coupon to get this order. Not to be used in conjunction w/any other coupon. Most

vehicles. No other discounts apply. Addl charges for shop supplies up to 7% or $39.73 maximum

may be added. All coupons exp. 10-31-22. Coupons not valid w/any other offers.

George Buttrick, Owner

WESTWAY

PAINT AND BODY SHOP

2888 Fisher Road, Columbus, Ohio 43204

614-274-9311 614-276-5833

Fax 614-276-1942

Good Luck to all Area Teams!

Messenger

Westside
---
www.columbusmessenger.com

August 7, 2022 - WESTSIDE MESSENGER - PAGE 7

High School Football 2022

Central Crossing

7 p.m. Aug. 19............ Marion Franklin

7 p.m. Aug. 26....... at Westerville North

7 p.m. Sept. 2......................... Westland

7 p.m. Sept. 9........................ Grove City

7 p.m. Sept. 16................... at Olentangy

7 p.m. Sept. 23.............. Lancaster High

7 p.m. Sept. 30. at Pickerington Central

7 p.m. Oct. 7.............................. Newark

7 p.m. Oct. 14.................. Reynoldsburg

7 p.m. Oct. 21................... at Groveport

West Cowboys

7 p.m. Aug. 18......... at Linden McKinley

7 p.m. Aug. 25............... Columbus East

7 p.m. Sept. 1........... at Centennial High

7 p.m. Sept. 9................... Independence

7 p.m. Sept. 16.......................... at South

7 p.m. Sept. 23.... at Eastmoor Academy

7 p.m. Sept. 30. at Columbus Africentric

7 p.m. Oct. 7..................... Walnut Ridge

7 p.m. Oct. 14........... at Marion Franklin

7 p.m. Oct. 21............................... Briggs

Westland Cougars

7 p.m. Aug. 19 ............................ Briggs

7 p.m. Aug. 26........ at Franklin Heights

7 p.m. Sept. 2.......... at Central Crossing

7 p.m. Sept. 9...... at Groveport Madison

7 p.m. Sept. 16.... Thomas Worthington

7 p.m. Sept. 23.......... Gahanna Lincoln

7 p.m. Sept. 30... at Pickerington North

7 p.m. Oct. 7................... at New Albany

7 p.m. Oct. 14......... Westerville Central

7 p.m. Oct. 21........... at Grove City High

Hours:

Mon.-Sat. 10 am - 9 pm

Sun. 12 Noon - 9 pm - Orient Only

TWO LOCATIONS TO SERVE YOU!

5266 West Broad St., Columbus, OH 43228

614-878-7353

9901 St. Rt. 62, Orient, OH 43146

614-877-9187

GOOD LUCK TO ALL AREA TEAMS

BUY A CONEY

GET ONE FREE

On behalf of the Board of Trustees,

we would like to wish our

area Football Teams

Good Luck This Season!

Shawn Maghie, President

Tim Maghie, Vice President

In Business Since 1928

EDGE and WBE Certified

JONES LUMBER & MILLWORK COMPANY

57 North Sylvan Ave. ∙ Columbus, OH 43204

Phone 614-274-1109

www.jones-lumber.com

FSC Certified

1275 Demorest Road ● Columbus, Ohio 43204

614-274-1444 ● Fax 614-274-6018 Rich Kautz

Please call us for your insurance needs!

Good Luck to All Area Teams!

Good Luck to all Area Teams!

ADAM C. MILLER

State Representative House District 17

77 South High St., 10th Floor, Columbus, OH 43215

Office: (614) 644-6005 Fax: (614) 719-6963

Rep17@ohiohouse.gov

Good Luck to all the Area Teams!

www.pathwayscu.com
---
PAGE 8 - WESTSIDE MESSENGER - August 7, 2022

Billie is a sweet 2-

year-old Siamese

mix who is eager to

find his forever

home. He is

neutered, microchipped,

up to date

on vaccines and negative

for FL/FIV. Billie

is up for adoption

through Colony Cats.

FYI: colonycats.org

Pets of the week

Stache got his name

because he has half

a mustache. This 1-

year-old is very

friendly and loves to

be with other cats.

He would love to be

adopted with Missy

since they came from

the same place. He

must go home with at

least one other cat because he doesn't like to

be alone. Will your home be Stache's furever

home? Adopt him through Friends for Life

Animal Haven.

FYI: fflah.org

These furry friends are available

for adoption at local

rescues and shelters

Missy is a very

sweet, but shy girl.

She loves to be held.

Missy will need time

to adjust to a furever

home. She would like

to be adopted with

her friend, Stache as

they came from the

same home. She will

need to be in a home

with at least one other cat because she doesn't

like to be alone. This girl likes to purr and is

up for adoption through Friends for Life.

FYI: fflah.org

Beana is a female pit

bull with a heart of

gold. She loves to go

for walks, and will

start spinning in circles

with excitement

whenever she sees

her leash. She will

run like the wind if

you let her, and then

will get tired and flop

down on the ground for some quality relaxation

time. She loves to be somewhere she

can keep an eye on you, like a couch or chair.

Adopt her through the Franklin County Dog

Shelter.

FYI: franklincountydogs.com

www.columbusmessenger.com

Air Show flies into Columbus

The Columbus Air Show Presented by

Scotts returns in 2023 with a three day

show from June 16, 17, and 18, 2023 at

Rickenbacker International Airport, 2241

John Circle Drive, Columbus.

This will be the first air show in

Columbus in more than 15 years. The last

show attracted more than 150,000 visitors,

according to air show officials.

According to air show officials, an extra

day was added to the show due to the

demand from the community. Ticket prices

for the Friday part of the show will be discounted

from the weekend dates.

Scotts Miracle-Gro Company has signed

on as the event's presenting sponsor.

Officials stated Scotts' partnership allowed

the show to expand.

The preliminary performer lineup for

the 2023 Columbus Air Show includes the

U.S. Navy Blue Angels, U.S. Marine Corps

C-130 "Fat Albert," The Ohio Air National

Guard KC-135, B-17 Flying Fortress

"Yankee Lady," B-25 Mitchell "Rosie's

Reply," C-47 Skytrain "Hairless Joe," world

aerobatic champion Rob Holland, and the

Smoke-n-Thunder Jet Car.

Also part of the show will be the Scotts

Aviation Showcase, which will feature a

number of "warbirds" vintage military aircraft

participating each day in formation

flying and on static display.

General public ticket sales begin in

early August. There will be a variety of

Photo courtesy of the Herb Gillen Air Shows

The U.S. Navy Blue Angels will perform in

Columbus for the first time in more than a

quarter century.

options including general admission and

several limited quantity premium seating

areas. Tickets will only be available online

at www.ColumbusAirShow.com.

Visit www.ColumbusAirShow.com for

information and follow the show on

Facebook, Twitter, and Instagram.

As a civil—military public airport,

Rickenbacker International Airport is also

home to the Ohio Air National Guard's

121st Air Refueling Wing, Ohio Army

National Guard's Army Aviation Support

Facility No. 2, the U.S Army, Navy and

Marine Corps Reserves, and the headquarters

for the Ohio Military Reserve.

Although the air show will be held on the

civilian side of the facility, it is anticipated

the local military units will be invited to

have a presence at the show.

CLASSIFIED ADS

Deadlines: Grove City, Canal Winchester & All editions, Mondays at Noon., • South, West & Madison editions, Tuesdays at 5 p.m.

All editions by phone, Mondays at Noon

CEMETERY LOTS

Sunset Angel Garden, one

lot - $2200, Sunset's price

$2700. 614-271-9848

INFORMATION

xCome & Get It!

GET READY

FOR

BACK TO SCHOOL!

Come See Me At

My New Location!

Call Marilyn Weaver

For An Appt.

For a New Haircut/Color

614-348-6670

Relax Wellness

3663 Broadway,

Grove City

ASSOCIATION ADS

Become a Published

Author. We want to Read

Your Book! Dorrance

Publishing - Trusted by

Authors Since 1920

Book manuscript submissions

currently being reviewed.

Comprehensive Services:

Consultation, Production,

Promotion and Distribution. Call

for Your Free Author's Guide 1-

866-482-1576 or visit

http://dorranceinfo.com/macnet

COME AND GET IT!

Need to Get Rid of Something Fast - Advertise It Here For FREE!

Deadlines are Mondays by 5 pm.

Call For Publication Schedule 614-272-5422

FREE Garden Straw for gardens or bedding. Call for appointment for pickup.

Circle S Farms, 9015 London-Groveport Road, Grove City, 43123

Grove City - 614-878-7980

.FREE - Metal from old camper frame, Need a truck to pickup..

CC - Obetz - 614-632-1013

FREE - Children's Wooden Play Set - Good Condition w/Sand Box under it, Step Ladder up

Slide to go down & a rope swing. Also separate Swing Set w/4 swings.

190 Inah Ave., Cols, 43228 near the Fire Dept.

West Columbus - 614-878-1930, ask for Linda

. Come and Get It! is a bi-weekly column that offers readers an opportunity to pass

along surplus building materials, furniture, electronic equipment, crafts, supplies,

appliances, plants or household goods to anybody who will come and get them - as

long as they're FREE. NO PETS! Just send us a brief note describing what you want to

get rid of, along with your name, address and phone number. Nonprofit organizations

are welcome to submit requests for donations of items.

Send information to The Columbus Messenger, Attention: Come and Get It, 3500

Sullivant Ave., Columbus, OH43204. Deadline is Tuesdays by 5 pm for following

Mondays publication. Messenger Newspapers is not responsible for any

complications that may occur. Please contact us when items are gone. 272-5422

Come & Get It!
---
www.columbusmessenger.com

August 7, 2022 - WESTSIDE MESSENGER - PAGE 9

CLASSIFIED ADS

Deadlines: Grove City, Canal Winchester & All editions, Mondays at Noon., • South, West & Madison editions, Tuesdays at 5 p.m.

All editions by phone, Mondays at Noon

xEmployment

WANTED

Host/Hostess • Back-Up Cooks

Grill • Servers • Dishwashers

You Can Work 29+ Hrs. Based on

Your Availability & Performance

Immediate Full/Part-time Openings

We Offer:

• Weekly Pay

• Paid Training

• No Tip Sharing

• Paid Vacation

• Employee Meal Discount

• Position/Salary Advancement Plan

• Discount Purchase Plan

Apply online at crackerbarrel.com/careers for

Hilliard Location 614-878-2027

ASSOCIATION ADS ASSOCIATION ADS ASSOCIATION ADS ASSOCIATION ADS ASSOCIATION ADS

Stroke & Cardiovascular

disease are leading

causes of death according

the American Heart

Association. Screenings

can provide peace of mind

or early detection! Call

Life Line Screening to

schedule your screening.

Special offer - 5

screenings for $149. 1-

866-518-8391

Replace your roof with the

best lookng and longest

lasting material -- Steel

from Erie Metal Roofs!

Three styles and multiple

colors available.

Guaranteed to last a

lifetime! Limited Time

Offer - $500 Discount +

Additional 10% off install

(for military, health

workers & 1st responders)

Call Erie Metal Roofs: 1-

855-338-4807

Aloe Care Health, medical

alert system. The most

advanced medical alert

product on the market.

Voice-activated! No wi-fi

needed! Special offer-call

and mention offer code

CARE20 to get $20 off

Mobile Companion. Call

today-1-877-728-4065

DISH Network. $59.99 for

190 channels! Blazing fast

internet. $19.99/mo. (where

available) Switch & get a

$100 Visa gift card. Free

voice remote. Free HD

DVR. Free streaming on all

devices. 1-866-979-4029

Looking for assisted living,

memory care, or

independent living? A

Place for Mom simplifies

the process of finding

senior living at no cost to

your family. Call 1-844-

428-0445 today!

Prepare for power

outages today with a

GENERAC home standby

generator. $0 Down + Low

Monthly Pmt. Request a

free Quote. Call before the

next power outage: 1-855-

948-6176

Aloe Care Health medical

alert system. The most

advanced medical alert

product on the market.

Voice-activated! No wi-fi

needed! Special offer

w/code CARE20 for $20

off Mobile Companion. 1-

855-341-5862

Internet &WIFI Starts at

$49 Call us Today to Get

Started. Find High-Speed

Internet with Fiber Optic

Technology No Credit

Check, No SSN Required.

Call us Today 866-396-

0515

Don't let the stairs limit

your mobility! Discover

the ideal solution for

anyone who struggles on

the stairs, is concerned

about a fall or wants to

regain access to their

entire home. Call

AmeriGlide today! 1-844-

317-5246

LONG DISTANCE MOVING:

Call Today for a FREE

QUOTE from America's Most

Trusted Interstate Movers.

Let us take the stress out of

moving! Call now to speak to

one of our Quality Relocation

Specialists: 877-541-6320

Wesley Financial Group,

LLC Timeshare Cancellation

Experts Over

$50,000,000 in timeshare

debt & fees cancelled in

2019. Get free

informational package &

learn how to get rid of

your timeshare! Free

consultations. Over 450

positive reviews. 888-965-

0363

Donate Your Car To

Veterans Today! Help and

Support our Veterans.

Fast - FREE pick up.

100% tax deductible. Call

1-800-245-0398

Safe Step. North

America's #1 Walk-in Tub.

Compreshensive lifetime

warranty.

Top-of-the-line

installation and service.

Now featuring our free

shower package & $1600

off - limited time!

Financing available. 1-

855-417-1306

Looking for assisted living,

memory care, or

independent living? A

Place for Mom simplifies

the process of finding

senior living at no cost to

your family. Call 1-833-

910-1576 today!

Directv Stream - Carries

the Most Local MLB

Games! CHOICE

Package, $89.99/mo for

12 months. Stream on 20

devices in your home at

once. HBOMax included

for 3 mos (w/CHOICE

Package or higher.) No

annual contract, no hidden

fees! Some restrictions

apply. Call IVS 1-866-629-

6086

HughesNet - Finally, superfast

internet no matter

where you live. 25 Mbps

just $59.99/mo! Unlimited

Data is Here. Stream

Video. Bundle TV &

Internet. Free Installation.

Call 866-499-0141

DENTAL INSURANCE

from Physicians Mutual

Insurance Company.

Coverage for 350 plus

procedures. Real dental

insurance - NOT just a

discount plan. Do not wait!

Call now! Get your FREE

Dental Information Kit with

all the details! 1-877-553-

1891

www.dental50plus.com/

macnet#6258

Safe Step. North

America's #1 Walk-in Tub.

Compreshensive lifetime

warranty. Top-of-the-line

installation and service.

Now featuring our FREE

shower package & $1600

off for a limited time!

Financing available. Call

Safe Step 1-833-356-1954

Discount air travel! Call

Flight Services for best

pricing on domestic &

international flights inside

& from the US. Serving

United, Delta, American &

Southwest &many more.

Free quote! Have travel

dates ready! 844-951-

2014

Eliminate gutter cleaning

forever! LeafFilter, the

most advanced debrisblocking

gutter protection.

Schedule a FREE LeafFilter

estimate today. 15% off

Entire Purchase. 10% Senior

& Military Discounts.

Call 1-855-791-1626

Vivint Smart Security.

Professionally installed.

One connected system for

total peace of mind. Free

professional installation!

Four free months of

monitoring! Call to

customize your system. 1-

833-841-0737

Put on your TVEars &

hear TV w/unmatched

clarity. TVEars Originaloriginally

$129.95 - now

w/this special offer only

$59.95 w/code MCB59! 1-

888-805-0840

WANTED!

MOTORCYCLES!

ANTIQUE AND CLASSIC.

Honda, Kawasaki, Suzuki,

Yamaha, Triumph, BSA

and other foreign models.

$$PAYING CA$H$$

717-577-8206

KRMiller1965@yahoo.com

Employment

HIRING WAREHOUSE

UP TO

$19/HR +

UP TO

$3K SIGN-ON

NO WEEKENDS • NO MANDATORY OT

OPEN INTERVIEWS

WEDNESDAY 10AM-1PM

1568 Georgesville Rd. Columbus, OH 43228

JOBS.MSCDIRECT.COM

Applicants must sucessfully pass a background check and drug screen.

Equal Opportunity Employer: Minority, female, veteran, individuals with disabilities, sexual orientation/gender identity.

ASSOCIATION ADS

The Generac PWRcell, a

solar plus battery storage

system. SAVE money,

reduce your reliance on

the grid, prepare for power

outages and power

your home. Full installation

services available. $0

Down Financing Option.

Request a FREE, no obligation,

quote today. Call

1-866-783-0292

BUYING CLASSIC CARS,

TRUCKS, SUVs

**American and Foreign**

Any Condition. Buying

entire car collections.

$$PAYING CA$H$$

Please call 717-577-8206

KRMiller1965@yahoo.com

Protect your home from

pests safely and

affordablly. Pest, rodent,

termite and mosquito

control. Call for a quote or

inspection today 844-394-

9278

"HELP WANTED"

SIGN

NOT WORKING?

TO ADVER

VERTISE

Call Kathy at

The Columbus Messenger

272-5422

For More Info
---
PAGE 10 - WESTSIDE MESSENGER - August 7, 2022

www.columbusmessenger.com

xFocus on Rentals

HILLTOP SENIOR VILLAGE

APARTMENTS

ONE & TWO BEDROOM APT. HOMES

Call or Visit Us Today! 1.614.276-3017

www.nationalchurchresidences.org

email: 0805@nationalchurchresidences.org

Affordable living for seniors ages 55+ & up

Mon. thru Fri. 9 am - 5 pm

Independent Senior Living

Spacious floor plans • Controlled access

24 Hr. Emergency Maintenance • Dishwasher

Emergency call system • Picnic area

Community/game room • Library

Meal program affiliate

Private party room • Elevator

Beauty Salon • On-Site Laundry

Air Conditioning • Cottage-Style Apartments

SETON WEST APARTMENTS

3999 CLIME ROAD, COLUMBUS, OH 43228

We are a Senior Housing Community...you must be 62 or better.

Rent is based on your income. We offer spacious 1 bedroom apartments

which include: utilities, refrigerator, range, central air, carpet, EMS monitor

pull cords & a limited access building entry system. Seton West is professionally

managed and has 24 hour emergency maintenance services.

Our residents enjoy: a community room for playing cards, potlucks, bingo

or visiting with neighbors. We have two laundry rooms & game room,

library, outdoor patios and an elevator for your convenience.

APPLICATIONS AVAILABLE IN OUR FRONT LOBBY OR CALL

614-274-8550 OR TTY-800-750-0750 FOR AN APPOINTMENT.

WEDGEWOOD

VILLAGE

1, 2 and 3 BR Apts.

Rent Based on Income.

Call 614-272-2800 or visit us

at 777 Wedgewood Dr.

TTY/TDD 711

EQUAL HOUSING OPPORTUNITIES

DO YOU NEED

TO RENT THAT

APAR

ARTMENT?

Call Kathy

At The

Messenger

To Advertise

Your

Apartment

Community

272-5422

Rentals

xPublic Notice

PRAIRIE TOWNSHIP

BOARD OF ZONING APPEALS

PUBLIC HEARING NOTIFICATION

August 9, 2022 at 7:00 P.M., at the

Prairie Township Hall, 23 Maple Dr.

Variance Application No. 675-VA-22 – Parcel No.

240-006328, 348 Lichen Lane, Galloway, Ohio 43119.

To grant a Variance from the provisions of Sections 930

Table 2 (Dimensional Requirements) and 935 (Architectural

Projections into Required Yards); to permit the

owner to construct a new front porch with less setbacks

and greater lot coverage than permitted by the Resolution

in the R-6 (medium density residential) District.

Variance Application No. 676-VA-22 – Parcel No.

240-001879, 6467 Alkire Road, Galloway, Ohio 43119.

To grant a Variance from the provisions of Sections 930

Table 2 (Dimensional Requirements) and 937 (Height

Limitation Exceptions); to permit the owner to construct

an accessory structure with less setbacks and with

greater height than permitted by the Resolution in the

Rural District.

Conditional Use Application No. 193-CU-22 – Parcel

No. 240-001879, 6467 Alkire Road, Galloway, Ohio

43119. To grant a Conditional Use according to the

provisions of Section 1535 (Conditional Uses in the

Floodway Fringe); to permit the owner to construct an

accessory structure in the Floodway Fringe.

Public Notice

ASSOCIATION ADS

Prepare for power outages

today with a GENERAC

home standby generator.

$0 Money Down + Low

Monthly Payment Options.

Request a FREEQuote--

Call now before the next

power outage. 1-855-465-

7624

!!OLD GUITARS WANT-

ED!! GIBSON, FENDER,

MARTIN, Etc. 1930's to

1980's. TOP DOLLAR

PAID. CALL TOLL FREE

1-866-433-8277

DISH TV $64.99 FOR 190

Channels + $14.95 High

Speed Internet. Free Installation,

Smart HD DVR

Included, Free Voice Remote.

Some restrictions

apply. Promo expires

1/21/23. 1-866-479-1516

Vivint Smart Security.

Professionally installed.

One connected system for

total peace of mind. FREE

professional installation!

Four FREE months of

monitoring! Call to

customize your system. 1-

855-870-2073

New authors wanted!

Page Publishing will help

self-publish your book.

Free author submission

kit! Limited offer! 866-

951-7214

DISH TV $64.99 for 190

Channels + $14.95 high

speed internet. FREE installation,

Smart HD DVR

included. Free Voice Remote.

Some Restrictions

apply. Promo Expires

1/21/23. 1-866-590-5561

SELL YOUR ANTIQUE

OR CLASSIC CAR.

Advertise with us. You

choose where you want

to advertise. 800-450-

6631 visit macnetonline.

com for details.

ASSOCIATION ADS

Update your home with

beautiful new blinds &

shades. Free in-home

estimates make it

convenient to shop from

home. Professional

installation. Top quality -

Made in the USA. Free

consultation: 877-212-

7578. Ask about our

specials!

The Generac PWRcell

solar plus battery storage

system. Save money,

reduce reliance on

grid, prepare for outages

& power your home. Full

installation services. $0

down financing option.

Request free no obligation

quote. Call 1-877-

539-0299

Want Faster & Affordable

Internet? Get internet

service today with

Earthlink. Best internet &

WiFi Plans. Call us Today

to Get Started. Ask

about our specials! 866-

396-0515

Looking for auto insurance?

Find great deals

on the right auto insurance

to suit your needs.

Call today for a free

quote! 866-924-2397

IMPORTANT

NOTICE

The following states: CA,

CT, FL, IA, IL, IN, KY,

LA, MD, ME, MI, MN,

NE, NC, NH, OH, OK,

SC, SD, TX, VT and WA

requires seller of certain

business opportunities to

register with each state

before selling. Call to

verify lawful registration

before you buy.

NEED IRS RELIEF

$10K-$125K+ Get Fresh

Start or Forgiveness.

Call 1-844-431-4716

Monday through Friday

7am-5pm PST

ASSOCIATION ADS

Attention Viagra users:

Generic 100 mg blue pills

or generic 20 mg yellow

pills. Get 45 plus 5 free

$99 + S/H. Call Today 1-

877-707-5518

Become a Published

Author. We want to Read

Your Book! Dorrance

Publishing Trusted Since

1920 Consultation,

Production, Promotion &

Distribution. Call for Free

Author's Guide 1-877-729-

4998 or visit

dorranceinfo.com/ads

Elminate gutter cleaning

forever! LeafFilter, the most

advanced debris-blocking

gutter protection. Schedule

Free LeafFilter Estimate

today. 15% off Entire

Purchase. 10% Senior &

Military Discounts. Call 1-

833-610-1936

VIAGRA and CIALIS

USERS! 50 Generic pills

SPECIAL $99.00. 100%

guaranteed. 24/7 CALL

NOW! 888-445-5928

Hablamos Espanol

BATH & SHOWER UP-

DATES in as little as

ONE DAY! Affordable

prices - No payments for

18 months! Lifetime warranty

& professional installs.

Senior & Military

Discounts available. Call

855-761-1725

Protect your home w/home

security monitored by

ADT. Starting at $27.99/

mo. Get free equipment

bundle including keypad,

motion sensor, wireless

door & windows sensors.

833-719-1073

Dental Insurance -

Physicians Mutual Insurance

Comopany. Covers 350

procedures/ Real insurance -

not a discount plan. Get your

free dental info kit! 1-855-

.526-1060 www/dental50

plus.com/ads #6258

ASSOCIATION ADS

READER

ADVISORY

The National Trade Association

we belong to has

purchased the following

classifieds. Determining

the value of their service

or product is advised by

this publication. In order

to avoid misunderstandings,

some advertisers do

not offer "employment"

but rather supply the

readers with manuals, directories

and other materials

designed to help

their clients establish mail

order selling and other

businesses at home. Under

NO circumstance

should you send any

money in advance or give

the client your checking,

license ID or credit card

numbers. Also beware of

ads that claim to guarantee

loans regardless of

credit and note that if a

credit repair company

does business only over

the phone it's illegal to request

any money before

delivering its service. All

funds are based in US

dollars. Toll Free numbers

may or may not

reach Canada. Please

check with the Better

Business Bureau 614-

486-6336 or the Ohio Attorney

General's Consumer

Protection Section

614-466-4986 for more

information on the company

you are seeking to

do business with.

AT&T Internet. Starting at

$40/month w/12-mo agmt.

1 TB of data/mo. Ask how

to bundle & SAVE! Geo &

svc restrictions apply. 1-

855-364-3948

Attention oxygen therapy

users! Inogen One G4 is

capable of full 24/7 oxygen

delivery. Only 2.8

pounds. Free info kit.

Call 877-929-9587

xAdult Care

advertise

YOUR ADULT

CARE SERVICES

Call Kathy

at The Messenger

For More Info

272-5422

Adult Care
---
www.colulmbusmessenger.com

xCraft Shows

August 7, 2022 - WESTSIDE MESSENGER - PAGE 11

xClassified Services

ADVER

VERTISE

Your Fall F

Craft Show

Bazaar or

Bake Sale!

In The Columbus Messenger!!

and reach over 20,000 homes

in the West & Southwest areas

Craft Shows

ASSOCIATION ADS

The bathroom of your

dreams for as little as

$149/month! BCI Bath &

Shower. Many options

available. Quality

materials & professional

installation. Senior &

Military Discounts

Available. Limited Time

Offer - FREE virtual inhome

consultation now

and SAVE 15%! Call

Today! 1-877-540-2780

READY TO BUY, SELL

OR RENT YOUR

VACATION HOME OR

HUNTING CAMP?

Advertise it here and in

neighboring publications.

We can help you. Contact

MACnet MEDIA @

800-450-6631 or visit our

site at MACnetOnline.

com

CHILD CARE

OFFERED

Depend. Quality Child care

in loving hm. Exp. Mom, n-

smkr, hot meals, sncks,

playroom, fncd yd. Reas.

rates. Laurie at 853-2472

HELP WANTED

Kings Kids Daycare in

Grove City is hiring fun,

loving teachers for PT&

FT shifts. Pleaes email

sarragc@outlook.com or

call 614-539-0349.

PT Helper Needed

for Lawn Care Service

3-4 Days a Week

Call 614-935-1466

PETS

AKC German Shepherd

Puppies ready to go

August 29. Will have 1st

shots and be dewormed.

Taking deposits. 765-617-

4199

German Shepherd

Puppies, AKC registered.

Call or text for info - $800

614-905-4796

Call Kathy

614-272-5422

WANT TO BUY

WE BUY JUNK CARS

Call anytime 614-774-6797

ANTIQUES

WANTED

Victrolas, Watches,

Clocks, Bookcases

Antiques, Furn.

Jeff 614-262-0676

or 614-783-2629

We Buy Cars & Trucks

$300-$3000.614-308-2626

We Buy Junk Cars &

Trucks. Highest Prices

Paid. 614-395-8775

MISCELLANEOUS

FOR SALE

Electric Wheelchair - If

interested, call 614-928-2352

2002 Chevy 350 HD

Dumptruck, asking $12,000

Heavy Duty kerosene

Heater, asking $200;

10ft concrete vibrator,

asking $150;

16 ft aluminum Walkboard,

asking $250;

DeWalt Power Washer,

asking $500

614-774-6237, 614-625-1784

MISC. FOR SALE

GE Microwave, like new,

works great - $150.00

614-465-7763

RENTALS

Eakin-1 Br Apt, crpt, appls.

No Pets 614-560-3050

1BR Apartment

1965 Vaughn St. w/d incl.

$525//mo, dep. req.

740-400-4077

2 BR HOMES

Bsmt. $1000/mo

614-530-8097

AIR CONDITIONING

AIR CONDITIONING

Complete System

Clean & Check

$49.95

Free Electronic Leak Testing

All Makes • All Models

46 Yrs. Exp. • Senior Discount

614-351-9025

BLACKTOP

AGM OHIO

ROOFING &

SEALCOATING

Free Estimates

Cell 614-599-0262

8/28 A

SANTIAGO'S

Sealcoating & Services LLC

Quality Materials Used

SUMMER IS HERE!

Driveway Seal & Repair!

Top Seal Cracks!

Residential & Commercial

Mulching, Edging & Clean-ups

"Ask for whatever you need."

BBB Accredited-Fully Insured

Call or text for Free Est.

614-649-1200

8/14

A/M

BLACKTOP SEALING

Driveways & Parking Lots

614-875-7588

INFORMATION

FOR ONLY

$74.00

You Can Reach

Over 42,000 Homes

In Our

West & Grove City

Areas

For Info Call

272-5422

CARPET CLEANING

CARPET CLEANING

Any 5 areas ONLY $75

Home Powerwash $99-$300

614-805-1084

Specializing in Pet Odors

INFORMATION

Look To The

Professionals

In Our

Service Directory

For

Quality

Service

That Is

OUT

OF

THIS

WORLD!

CONCRETE

Buckeye Cement

Contractors

Specializing In

Tearout & Replacing

Concrete of Any Type

Licensed • Bonded • Insured

40th Year in Business

614-539-5640

EDDIE MOORE

CONSTRUCTION

Quality Concrete Work

Lt. Hauling & Room Add.,

Block Work & Excavation

Stamp Patios,

Bsmt. Wall Restoration

36 Yrs Exp - Lic & Ins.

Free Ests. 614-871-3834

GALLION

CUSTOM CONCRETE LLC

Specializing in Custom Colors &

Custom Designs of Concrete.

Including Remove & Replace

44 yrs exp & Free Est.

Licensed & Insured

Reputation Built

On Quality

Ronnie

614-875-8364

See Us On Facebook

www.gallioncustom

concrete.com

ALL-CITY CUSTOM

CONCRETE

All Types Concrete Work

New or Tear Out-Replace

40 Yrs. Exp.

(614) 207-5430

Owner is On The Job!

AJ's Concrete,

Masonry

Good Work - Fair Prices

Block Foundations

Driveways • Sidewalks

Epoxy/Overlay Floors

Bonded-Ins. • Free Ests.

614-419-9932

www.hastingsnsons.com

Driveways & Extensions

Patio & Walkways,

Porches & Steps,

Garage/Basement Floors

Hot Tub/Shed Pads,

Stamped/colored concrete

Sealing of new &

existing concrete.

FREE ESTIMATES

Contact Adam

614-756-1754

hastingsandsons.

columbus@gmail.com

FENCING

EAZY FENCE

Chain Link - Wood

No Job Too Big or Small

All Repairs ~ Free Est.

Insured. 614-670-2292

10/11 W/SW

8/28 W/SW

8/28 A

GUTTERS

Bates & Sons

GUTTER CLEANING

5 ★ Google Reviews

614-586-3417

HAULING

DUMPSTER RENTAL

4 Days - $275 & Up

No Hazardous Materials

Tires - $10.00 each

Call 614-254-1131

DEAN'S HAULING

614-276-1958

HOME

IMPROVEMENTS

SLAGLE

HOME REMODELING

Baths, Kitchen,

Plumbing and Electrical.

All your Handyman needs

No Job too Big or Small

Over 30 Yrs. Exp. Lic.-Bond-Ins.

Jerry

614-332-3320

KLAUSMAN HOME

IMPROVEMENT

Siding-Windows-

Doors-Roofing-Soffit-

Fascia-Gutters-Trim

Earn FREE Seamless

Gutters with Siding Over

1000 Sq. Ft.

FREE Shutters with

Soffit & Trim

EPA Certified

Member of BBB

Financing Available

8/21

SW/W

Over 20 yrs exp. • Free Est.

Licensed-Bonded-Insured

Owner & Operator

James 614-419-7500

C&JHandyman

Services LLC

Minor Plumbing

& Electric

Install Hot Water Tanks,

Dishwashers & Disposals

Also Fencing &

Interior/Exterior Painting

Free Est. ~ 18 Yrs. Exp.

CDC/EPA Approved Guidelines

614-284-2100

SINCE 1973

Phil Bolon Contr.

Windows & Siding

Decks, Kitchens, Baths

Room Additions,

Flooring, Roofing

Bsmt Waterproofing

Deal With Small Non-Pressure Co.

47 Yrs. Exp. - Refs. Avail.

Lic.-Bond-Ins.

8/28

A/M

Free Est. - Financing Avail.

Member BBB Of Cent. OH

O.C.I.E.B. ID #24273

614-419-3977

or 614-863-9912

8/14 A

7/17 A

HOME

REMODELING

MultiCraft Const.

& Handyman Services

All Types Handyman Services:

Decks, Fences

Kitchen/Baths

Window/doors installed

Interior Painting

Drywall Repairs

All Types of Flooring

Call/Text 614-774-2923

multicraftconstruction@gmail.com

LANDSCAPING

ONYX

LANDSCAPING

614-407-5214

www.OnyxLandscapingllc.com

Full Service

Lawn Care

Start with Trust!!

A-1 QUALITY

TREE & LANDSCAPE

Family Owned

Serving Central Ohio

Since 2004

Bed & Yard Maint.

Weeding, Mulching, etc.

Hedge/Shrub Trimming

*Stump Removal

614-596-9504

Insured - Free Est.

LAWN CARE

Lawn Mowing-36 yrs exp.

Weekly cuts $25-up

Good ref. Free est. 10%

Sr. Disc. 614-738-9623

Christian's

Landscaping

Full Service Lawn Care

•Tree/Shrub Trimming

•Mulching •Tree Removal

8/28

•Powerwashing

w/gc

614-282-4443

The Lawn Barber

Cut, Trim, Blow away

Hedge Trimming, Edging

614-935-1466

LET US MAINTAIN

YOUR LAWN & GARDEN

FOR YOU

Summer, Spring,

Winter or Fall

WE DO IT ALL!!!!

Lawn Cuts, Edging,

Trees & Shrubs, Garden,

Mulching, Hauling,

Garden Pond &

Home Maint.

Free Ests. Low Rates

$20 & Up

Kevin - 614-905-3117

Classified Services

8/28A

8/14 W/GC/M

PEST

CONTROL

TERMITE &

PEST CONTROL

614-367-9000

TORCO®

TERMINATES

TERMITES

Locally Owned & Operated. Any Pest. Anytime.

$

50 00 OFF Service

Free Termite Inspection

PAINTING

Painter Over 30 Yrs. Exp.

Free Est. Reas. Rates

Daniel - 614-226-4221

A Job Well Done Again

A lic. General Contractor

Some Skilled Services

Incl: Painting • Stucco,

Repair•Carpentry•Exterior

Drainage & Home Maint.

Call Today! 614-235-1819

PLASTERING

Plaster & Stucco

NEW AND

REPAIR

Established 1917

Geo. F. Neff & Co.

614-274-5629

DRYW

YWALL &

PLASTER

8/28

A&M

REPAIR

Textured Ceilings

614-551-6963

Residential/Commercial

BIA

PLUMBING

All About Drains & Plumb.

Will snake any small drain

$145. 614-778-2584

MYERS

PLUMBING

Exp. Expert Plumbing

New Const. & Fast Repairs

Lic. - Permit Available

Water • Sewer • Gas

614-633-9694

CHRIS

Plumbing Services

"Plumbing & Drain Professional

That You Can Count On"

24 Hrs., 7 Days/Week

No Overtime Charges

20 Yrs. Exp. in Plumbing &

Drain Cleaning Field

Call For A Free Phone Estimate

$85.00 For Any Small Drain

614-622-4482

30% OFF with AD

POOL/SPA

MAINTENANCE

K&L Spa Cleaning

Hot Tub Cleaning and

Weekly Maintenance

Keith 614-316-9809

8/14 A&M

12/11 A/M

PEST

CONTROL

POWERWASHING

Bates & Sons

Soft Wash & Powerwash

5 ★ Google Reviews

614-586-3417

MRS. POWERWASH

Any house wash $149+tax

Single deck $69+tax

2 Tier deck $99+tax

Best Wash in Town

Over 45,000 washes

Ashley 614-771-3892

ROOFING

RETIRED

ROOFER

BBB "A+" Rating

All Types of Roof Repairs

• New Roof Installation

• Flashing

• Chimneys Rebuilt

• Flat Roof Specialist

• Roof Replacement

avail. upon request

All Work Guaranteed

614-352-7057

Free Estimates

SEWING MACHINE

REPAIR

REPAIR all makes 24 hr.

service. Clean, oil, adjust

in your home. $49.95 all

work gtd. 614-890-5296

TREE SERVICES

BURNS TREE SERVICE

Trimming, Removal &

Stump Grinding.

614-584-2164

Brewer & Sons Tree Service

• Tree Removal

• Tree Trimming 8/14

A&M

• Stump Grinding

• Bucket Truck Services

Best Prices • Same Day Service

614-878-2568

A-1 QUALITY

TREE & LANDSCAPE

Family Owned

Serving Central Ohio

Since 2004

614-596-9504

Insured - Free Est.

8/28 A&M

8/14 W/SW
---
PAGE 12 - WESTSIDE MESSENGER - August 7, 2022

In Entertainment

"e Gray Man" is a slick action thriller

Have you grown tired of the ultra-slick

and stylized action films of today? Do you

ever wish there would be more in the same

vein of those cheeky and cheesy highoctane

thrillers that were so abundant in

the past? Well, if you have in fact found

yourself wishing for just that, you might be

in luck as there is a new offering that could

be well-suited for your exquisite, albeit

extremely questionable, taste.

In Netflix's latest attempt at the action

movie blockbuster, "The Gray Man" hits

the ground running early with a slew of

cheeky puns, groan-inducing quips, and

intense scenes of action and mayhem.

Rarely does it let up throughout the course

of its two-plus hour run time although

sometimes you wish they would scale it

back just a smidge. Small and par-for-thecourse

annoyances do lay within — as do

some more serious issues with choppy transitional

editing in a plot that incorporates

an international cat-and-mouse game — but

this film is overall a delightfully stupid

throwback to the action classics of the

1980's and 1990's.

Instead of using an overly beefy star like

they would in the action films of yesteryear,

the heavy lifting in the heavily

action-packed film comes from Ryan

Gosling, who is known more as a svelte

beefcake rather than a meaty meatball.

While some in the audience may find his

lack of a physically intimidating body too

unbelievable for this role (I argue that slim

people can pack a punch and dodge the fists

of 100 foes just as easily as a well-muscled

person can) he performs it quite capably in

all aspects because he can, you know, act

and emote unlike some of his action-star

brethren.

In this film, he plays Sierra Six (an OK

name for an action hero though it is no

John Matrix), a member of a covert team

within the CIA that is made up of former

criminals, some more reformed than the

others. Recruited by program lead Donald

Fitzroy (Billy Bob Thornton), he is tasked

with carrying out off-the-books assassinations

throughout the world although the

toll weighs heavily on his mind, body and

soul.

Upon the retirement of his long-time

handler, Six believes he may have found a

way out of the killing business, but you

know how it goes with shadowy organizations:

Just when you think you've found a

way out, they pull you right back in. The

person doing the pulling this time is Denny

Carmichael (Rege-Jean Page), the

youngest director in the history of the CIA.

Six is tasked with eliminating a target but

it turns out that target is a fellow "Sierra,"

only of a different number.

After a brutal fight scene that is beautifully

styled and directed by Anthony and

Joe Russo, the soon-to-be felled quasi-agent

starts spilling a few secrets about the

newest head of the CIA. Six is unbelieving

of his claims at first, but a flash drive hidden

within a medallion shows his foe was

actually telling the truth.

Knowing his time on this planet is now

limited — or more limited, given his line of

work — he jets off around the world to try to

deliver this vital piece of jewelry to the safe

hands of his allies. Of course, this challenging

task is made even more arduous when

Six discovers that a sadistic former agent

turned mercenary named Lloyd Hansen

(Chris Evans) has put a $50 million bounty

on his head and called in just about every

wetwork team in the world to take him

down.

The story in "The Gray Man," which is

adapted from a series of spy novels from

Mark Greaney, comes across as a little convoluted

but what makes it engaging to

watch despite the deficiencies is the acting

strength of Gosling and the apparent great

www.columbusmessenger.com

The Reel Deal

Dedra Cordle

time the secondary actors are having, especially

Evans. With a sinister mustache that

is deemed a "Trash Stache" by Six, he

chews the scenery in a way that would

make every classic action movie villain

proud.

And that is really what makes this film

work, most of the time that is. "The Gray

Man" is not a dour film or one that takes

itself too seriously; it rolls out bad puns

and quips with frenzied frequency. While it

does employ the use of more high-grade

computer effects than its throwback predecessors

— it can come off as a little slick and

stylized — the spirit of those bygone flicks

are coursing throughout this movie. While

those films and this film may not be for

everyone, it should be appreciated and

watched by those of us who sadly and inexplicably

miss the cinematic action legends

of the past.

Grade: B-

Dedra Cordle is a Messenger staff writer

and columnist.