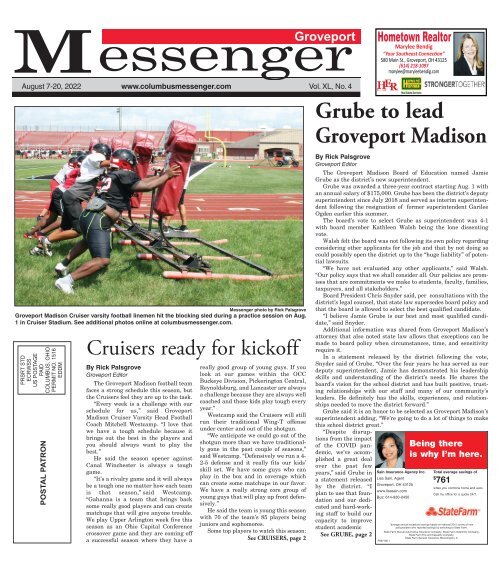 Groveport Messenger - August 7th, 2022
[YUMPU epaper_id=67129051 width=\"512\" height=\"384\"]
[YUMPU epaper_id=67129051 width=\"512\" height=\"384\"]
SHOW MORE
SHOW LESS
You also want an ePaper? Increase the reach of your titles
YUMPU automatically turns print PDFs into web optimized ePapers that Google loves.
Messenger

Groveport

August 7-20, 2022 www.columbusmessenger.com Vol. XL, No. 4

Messenger photo by Rick Palsgrove

Groveport Madison Cruiser varsity football linemen hit the blocking sled during a practice session on Aug.

1 in Cruiser Stadium. See additional photos online at columbusmessenger.com.

PRSRT STD

ECRWSS

US POSTAGE

PAID

COLUMBUS, OHIO

PERMIT NO. 1516

EDDM

POSTAL PATRON

Cruisers ready for kickoff

By Rick Palsgrove

Groveport Editor

The Groveport Madison football team

faces a strong schedule this season, but

the Cruisers feel they are up to the task.

"Every week is a challenge with our

schedule for us," said Groveport

Madison Cruiser Varsity Head Football

Coach Mitchell Westcamp. "I love that

we have a tough schedule because it

brings out the best in the players and

you should always want to play the

best."

He said the season opener against

Canal Winchester is always a tough

game.

"It's a rivalry game and it will always

be a tough one no matter how each team

is that season," said Westcamp.

"Gahanna is a team that brings back

some really good players and can create

matchups that will give anyone trouble.

We play Upper Arlington week five this

season as an Ohio Capital Conference

crossover game and they are coming off

a successful season where they have a

really good group of young guys. If you

look at our games within the OCC

Buckeye Division, Pickerington Central,

Reynoldsburg, and Lancaster are always

a challenge because they are always well

coached and those kids play tough every

year."

Westcamp said the Cruisers will still

run their traditional Wing-T offense

under center and out of the shotgun.

"We anticipate we could go out of the

shotgun more than we have traditionally

gone in the past couple of seasons,"

said Westcamp. "Defensively we run a 4-

2-5 defense and it really fits our kids'

skill set. We have some guys who can

play in the box and in coverage which

can create some matchups in our favor.

We have a really strong core group of

young guys that will play up front defensively."

He said the team is young this season

with 70 of the team's 85 players being

juniors and sophomores.

Some top players to watch this season:

See CRUISERS, page 2

Hometown Realtor

Marylee Bendig

580 Main St., Groveport, OH 43125

(614) 218-1097

marylee@maryleebendig.com

Grube to lead

Groveport Madison

By Rick Palsgrove

Groveport Editor

The Groveport Madison Board of Education named Jamie

Grube as the district's new superintendent.

Grube was awarded a three-year contract starting Aug. 1 with

an annual salary of $175,000. Grube has been the district's deputy

superintendent since July 2018 and served as interim superintendent

following the resignation of former superintendent Garilee

Ogden earlier this summer.

The board's vote to select Grube as superintendent was 4-1

with board member Kathleen Walsh being the lone dissenting

vote.

Walsh felt the board was not following its own policy regarding

considering other applicants for the job and that by not doing so

could possibly open the district up to the "huge liability" of potential

lawsuits.

"We have not evaluated any other applicants," said Walsh.

"Our policy says that we shall consider all. Our policies are promises

that are commitments we make to students, faculty, families,

taxpayers, and all stakeholders."

Board President Chris Snyder said, per consultations with the

district's legal counsel, that state law supersedes board policy and

that the board is allowed to select the best qualified candidate.

"I believe Jamie Grube is our best and most qualified candidate,"

said Snyder.

Additional information was shared from Groveport Madison's

attorney that also noted state law allows that exceptions can be

made to board policy when circumstances, time, and sensitivity

require it.

In a statement released by the district following the vote,

Snyder said of Grube, "Over the four years he has served as our

deputy superintendent, Jamie has demonstrated his leadership

skills and understanding of the district's needs. He shares the

board's vision for the school district and has built positive, trusting

relationships with our staff and many of our community's

leaders. He definitely has the skills, experiences, and relationships

needed to move the district forward."

Grube said it is an honor to be selected as Groveport Madison's

superintendent adding, "We're going to do a lot of things to make

this school district great."

"Despite disruptions

from the impact

of the COVID pandemic,

we've accomplished

a great deal

over the past few

years," said Grube in

a statement released

by the district. "I

plan to use that foundation

and our dedicated

and hard-working

staff to build our

capacity to improve

student academic

See GRUBE, page 2

Sain Insurance Agency Inc.

Lisa Sain, Agent

Groveport, OH 43125

www.lisasain.com

Bus: 614-830-0450

Being there

is why I'm here.

Total average savings of

$

761

when you combine home and auto.

Call my office for a quote 24/7.

*average annual household savings based on national 2015 survey of new

policyholders who reported savings by switching to State Farm.

State Farm Murual Automotive Insurance Company, State Farm Indemnity Company,

State Farm Fire and Casualty Company,

State Farm General Insurance, Bloomington, IL

P097136.1
---
PAGE 2 - GROVEPORT MESSENGER - August 7, 2022

AUTO HOME

Beplerinsurance.com

614.837.4379

staff@beplerinsurance.com

3246 Noe Bixby Rd., Columbus, Ohio 43232

Garden

Club

The Groveport

Garden Club meets

the first Tuesday

each month at

Groveport Zion

Lutheran Church,

6014 Groveport

Road. Call Marylee

Bendig at (614)

218-1097.

The Gilmore Group

Office: 614-834-HOME (4663)

Cell: 614-774-4416

www.GilmoreGroupHomes.com

GRUBE

Continued from page 1

achievement. We will also continue our efforts to

provide more social-emotional support for students

and staff and to continue to create an environment

where we honor respect and appreciation for one

another's contributions, perspectives, and uniqueness."

Grube was a teacher at Sentinel Career Center in

Tiffin and then taught at Franklin Heights High

School. He served as an assistant principal at Central

Crossing High School and Westland High School, principal

of Westland High School, director of personnel for

South-Western City Schools, and superintendent of

Buckeye Valley Local Schools. He was the executive

director of the Metropolitan Education Council and

chief operations officer of META Solutions.

Grube has a bachelor's degree in business education

from Bowling Green State University and a master's

degree in educational administration and supervision

from The Ohio State University. He has a superintendent's

professional license from the state.

Additionally, the board - by a 4-1 vote with Walsh

dissenting - named Paul Smathers to be the district's

deputy superintendent. Smathers received a three

CRUISERS

Continued from page 1

www.columbusmessenger.com

District to purchase bus fleet

By a 4-1 vote with board member Kathleen Walsh

dissenting, the board approved the purchase of 56

school buses from the existing bus fleet from

Petermann Transportation at a cost of $3.29 million to

be paid over a five year period.

"They are models 2015 or newer from Petermann

(from the fleet previously used in the district)," said

Groveport Madison Communications Director Jeff

Warner. "This was a provision in our contract with

Petermann that allowed us to purchase some or all of

the buses at a predetermined amount."

The district terminated its bus transportation contract

with Petermann on May 30. The district then contracted

with Community Bus Service to provide transportation

services.

year contract with an annual salary of $150,066.

Smathers was previously the principal of Groveport

Madison High School. A new high school principal has

not yet been named.

Call today and receive a

FREE SHOWER PACKAGE

PLUS $1600 OFF

SPECIAL OFFER

1-855-517-1892

With purchase of a new Safe Step Walk-In Tub. Not applicable with any previous

walk-in tub purchase. Offer available while supplies last. No cash value. Must present

offer at time of purchase. CSLB 1082165 NSCB 0082999 0083445

PROVIDING SERVICE SINCE '94

SERVICE & INSTALLATION

RESIDENTAL & COMMERCIAL

Don't let cold weather

disrupt your comfort,

schedule your Fall

furnace check-up now!

614-836-9119

WWW.FRANKLINHEATING.COM

Messenger photo by Rick Palsgrove

The punt team works to protect the punter while the punt return team strives to block the punt during a recent

Cruiser practice session.

•Mike Robinson, #21, senior RB/LB/SS - "Mike can

do it all and I believe he is one of the best players in

central Ohio this year," said Westcamp. "He is going to

be the focal point for us offensively. He is a violent runner

that possesses the speed to outrun a lot of guys at

this level. He was also second on the team in tackles

last season."

•Jalen Joyce, #53, sophomore OL/DL - "Jalen was

second team OCC last season as a sophomore," said

Westcamp. "He started at guard for us week two and

never looked back. He eventually became a two way

starter for us as a freshman. Jalen's maturity is

beyond what a freshman should be. He plays the game

fiercely and loves the physicality of the game."

•Jace Nincehelser, #2, junior SS/WR - "Jace led the

team in tackles last season and was first team OCC as

a sophomore," said Westcamp. "You won't find a kid

who works harder or in better shape than Jace. He

does an unbelievable job defensively for us."

•Cameron Spencer, #60, senior OL/DL - "Cameron

is a returning starter at right tackle for us and earned

second team OCC last year playing both sides of the

ball," said Westcamp.

But back to the Groveport Madison vs. Canal

Winchester rivalry game to open the season on Aug. 19

at Groveport Madison's Cruiser Stadium at 7 p.m.

"I love that we have the game week one," said

Westcamp. "Whoever hosts the game gets a really good

gate, it's great for the community and it's always nice

when you don't have to travel far to play a game. I've

said it before and I'll say it again, they don't like us

and we don't like them. I anticipate this being our most

physical game this season because I know both teams

will be prepared to get each other's best the entire

game. Past and current records mean nothing in

games like these, the only thing that matters is the

game that's being played at the moment. It will be an

energetic atmosphere that night because the energy

from both crowds and student sections will be contagious

for both teams."

See the 2022 Cruiser football schedule on page 6 of

this edition of the Groveport Messenger.
---
www.columbusmessenger.com

Use of fireworks still banned

By Rick Palsgrove

Groveport Editor

The use of personal fireworks remains

banned within Groveport city limits.

At Groveport City Council's July 25

meeting, a proposed city ordinance that

would match a new state law to allow the

use of personal fireworks on 15 designated

days during the year failed even though

only one council member voted against it.

The reason it failed was because four

votes are needed to pass legislation and the

vote on the ordinance was 3-1 with council

members Ed Dildine, Becky Hutson, and

Shawn Cleary voting for the legislation

and Jean Ann Hilbert opposing it. Council

members Scott Lockett and Jack Rupp

were not present at the meeting.

Per Groveport Law Director Kevin

Shannon, the three votes fell one short of

the four required by the city charter to

pass legislation, therefore the ordinance

was not approved.

Shannon said that, because the ordinance

failed, the city's existing law banning

the use of personal fireworks within

city limits remains in effect. However, he

added any council member can re-introduce

the defeated legislation again in the

future.

The new Ohio law, which went into

effect July 1, allows individuals to possess

consumer grade fireworks and to discharge

them on their own property or on another

person's property with permission on the

following days: New Year's Day; Chinese

New Year; Cinco de Mayo; Memorial Day

Officers to be honored

Three Groveport Police officers will be

honored for their heroism by the Benjamin

Franklin Chapter, Sons of the American

Revolution on Sept. 16.

Officer Ryan Ripson will receive the

"Heroism Medal" for his work in rescuing a

driver after she drove her vehicle into the

freezing waters of Blacklick Creek in

January 2021.

Lt. Josh Short and Officer Kevin Chavez

will receive the "SAR Life Saving Medal"

for saving a man trapped underwater

under a riding lawn mower after it plunged

weekend; Juneteenth; July 3, 4, and 5 and

the Fridays, Saturdays, and Sundays preceding

and following; Labor Day weekend;

Diwali; and New Year's Eve.

However, the state law permits local

governments to restrict the dates and

times when individuals may discharge consumer

grade fireworks or to impose a complete

ban on the use of consumer grade

fireworks.

Resident Rebecca Slisher spoke at council's

July 25 meeting and said she was in

favor of keeping the ban on the use of personal

fireworks in place in Groveport due

to safety concerns.

"We live in homes that are in tight, close

quarters in Groveport," said Slisher, who

said the use of personal fireworks could

lead to fires and injuries and that their

noise creates anxiety for war veterans and

adversely affects people's pets.

"Groveport is progressing and we should

be like other area cities that are progressing

that have also banned personal fireworks,"

said Slisher. "It's best to leave fireworks

displays to the professionals."

At past meetings, council members

Lockett and Dildine both expressed the

desire that Groveport follow the new state

law allowing the personal use of fireworks.

They stated the city could make changes if

problems arise.

Hilbert and Rupp favored banning the

use of personal fireworks. Both said they

were concerned about the potential

injuries brought on by the use of personal

fireworks.

into a retention pond in September 2021.

"We are fortunate to have such officers

on duty," said Jeff Myers of the Sons of the

American Revolution.

Added Groveport Police Chief Casey

Adams, "We are extremely proud of all

three officers."

GriefShare group

Groveport United Methodist Church,

512 Main St., sponsors a GriefShare group

commencing Sept. 1 at 7 p.m. Register

www.griefshare.org/groups/152882. Email

groveportgriefsharegroup@gmail.com for

information.

Website:Expert-hvac.com

Phone:614-946-8461

Experthvacllc@gmail.com

FREE ESTIMATES

on system installs

$100 Preventative Maintenance (tune up)

Expert service - affordable prices - Locally owned from Groveport

Mention this ad and get $20 off a $110 service call.

GRACE BIBLE CHURCH

424 Gender Rd., Canal Winchester

Telephone: 614-833-0700

SUNDAY SERVICES 9:30 & 11:00

Fall Women's Conference

Coming Oct. 21 & 22

Guest Speaker:

Amy Davidson of Mama Bear

Apologetics - Cost $25.00

http://app.onechurchsoftware.com/

gracebiblecw/events/4353

Messenger

South

August 7, 2022 - GROVEPORT MESSENGER - PAGE 3

Road closure on Hayes Road

2075 West Rushville Road NE, Lancaster, OH. 43130 - $549,888

YOUR OWN 7.32 ACRE PRIVATE PARADISE!

Soothing views and relaxing sounds of nature can be yours!

Lovely 4-bedroom, 3 full bath home with approximately 4,200 square feet

of living area and a 400-amp service panel. You will spend lots of time in

the 12' x 44' three-season room! The attached 3-car garage includes an

office, a full bath, and an additional 100-amp service panel.

Notice the beautiful Brazilian cherry floors in the entry, living room, dining

room, and kitchen. The living room offers a woodburning fireplace, recessed lighting, and built-in bookshelves.

The open kitchen provides an open eating area, a new refrigerator, and a dishwasher in 2022. The massive

master retreat has two walk-in closets, two vanities, a soaking tub, and a shower.

The full basement is partially finished with an office, recreational room, and 4th bedroom with an egress

window.

The outdoor space is INCREDIBLE! The stocked pond with a dock is 18' deep on one end and slopes to about

3' on the other. Tinkering in the 32' x 24' outbuilding with cement floor is always a favorite. The landscaping is

gorgeous, and the backyard has an invisible fence to keep your fur babies from getting lost!

GEOTHERMAL HEATING SYSTEM! A new boiler was installed in 2016. This home has a private septic, which

was pumped in July 2022. The water comes from the village of Rushville. The ductwork was cleaned August

1st, 2022. Fairfield Union Schools!

You owe it to yourself to see this breathtaking property!

740-687-4888

LetTeamHallHelpYou.com

Per the Franklin County Engineer's

office, Hayes Road between the intersection

of Pontius Road and Hayes Road and

7186 Braun Road will be closed for 60 days

starting July 25 for road widening and

resurfacing. Detour route: westbound drivers

on Hayes Road will follow Richardson

Road south to London-Lancaster Road,

west to Pontius Road, and north to Hayes

Road. Eastbound drivers will the follow the

same route in the opposite direction.

Please visit the

Groveport Church

of your choice.

List your Worship

Services here.

For info. call 614-272-5422

Be a Part of Our Local Worship Guide

Our Worship Guide is geared toward celebrating faith and helping readers

connect with religious resources in our community. Make sure these readers

know how you can help with a presence in this very special section distributed to

more than 19,000 households in the Groveport area.

Contact us today to secure your spot in our Worship Guide.

614.272.5422 • kathy@columbusmessenger.com
---
PAGE 4 - GROVEPORT MESSENGER - August 7, 2022

DestinationOutlets.com

800-213-9083

8000 Factory Shops Blvd.

Jeffersonville, OH 43128

DOWNLOAD OUR

MEMBERSHIP APP

As summer steams along toward its

midpoint, I start to look for my purple pal

in the countryside.

Specifically, while I am out riding my

bicycle on the paths of Three Creeks Metro

Park, my eye scans the meadows as I watch

for my annual, colorful friend to appear.

By mid-summer, June's wildflowers

have had their day in the sun and have

waned. The soft, lush bright green grasses

of spring have transformed into sturdy,

more coarse blades of faded green as the

sun ekes away their moisture. The plants

in the meadows are all taller as July rolls

by, but their height does not match the

glory of what is to come.

In years past, I would not expect to see

my friend in the fields until August, but in

recent times I have noticed it gracing the

meadows in late July.

I watch for it with each bike ride as July

begins to blend into August. Then, on July

26, I saw it, along with many of its purple

brethren, gracing one of the big meadows

of Three Creeks Metro Park. Ironweed -

big, bright, beautiful, and bold - its royal

purple blooms standing out amongst all the

green of the fields.

Ironweed is a tall wildflower that can

grow three to eight feet high. It's a naturally

occurring flower and gets its name from

its strong stem. It attracts butterflies,

bees, and other pollinators.

Ironweed is a seasonal marker for me

www.columbusmessenger.com

Watching for the signs of the seasons

Editor's Notebook

Rick

Palsgrove

along with lightning

bugs in June;

Resurrection Lilies

(which I inaccurately

call Day Lilies

because they shoot up from the ground so

fast) in July or August; Goldenrod in

September; pumpkins in October; and

Peonies in spring.

Another seasonal clock marker for me is

noticing how the angle of sunlight changes

bit by bit from month to month and the

amount of daylight changes as the solar

system spins around in its cosmic dance.

But the first sight of Ironweed remains

special for me. It is an example of beauty

and strength. Its bloom lasts a while giving

each successive bike ride a visual treat.

When its magnificent purple bloom

fades, I know that summer is slipping into

autumn. But as I continue to bike the

Three Creeks Bike path into the fall and

early winter, the Ironweed's spent tall

stem remains as a promise that it's glorious

bloom was once there and that it will

return again when the air is steamy, the

bugs are buzzing, and the sun is high in

the sky.

Rick Palsgrove is editor of the Groveport

Messenger.

614.574.4100 Grades K-4 614.574.0037 Grades 5-8

4485 S. Hamilton Rd., Groveport, Ohio 43125

Groveport Community School

Developing Character

and Enriching Minds

Now Enrolling K-8

Check out our Facebook Page or our website

www.imaginegroveport.com to see what we are all about.

• All Day Kindergarten

• Free Breakfast and Lunch

• Free Tuition

• Individualized and small group instruction with rigorous curriculum

• Dress Code

• 1:1 Technology will be offered for all students

• We also offer Gym, Spanish, Music, Technology, Art and Life Skills
---
www.columbusmessenger.com

Refinancing bonds saves taxpayers $1.7 million

Groveport Madison Schools Treasurer

Felicia Drummey, along with representatives

of Baird Financial Services, Inc., have

completed the refinancing of a portion of

Groveport Madison Schools' 2014 School

Facilities Construction and Improvement

Bonds.

The $9.2 million refinancing will save

taxpayers approximately $1.7 million in

gross debt service over the life of the issue

by reducing interest costs from 4.55 percent

to approximately 2.78 percent.

The concept is similar to refinancing

your home mortgage. Since the bonds are

repaid by a voted bond levy, initially

approved in May 2014, the $1.7 million in

interest savings over the remaining term of

the bonds will flow back to the taxpayers in

the form of a bond millage reduction. The

Franklin County Auditor will determine

the exact bond millage reduction, but as of

today, based on the current assessed valuation,

the mills.

Groveport Madison school

start and dismissal times

There is a change in the start and dismissal

times for Groveport Madison

Schools for the 2022-23 school year. To

allow for more time for teacher collaboration

and professional development opportunities,

school start and dismissal times

(bell schedules) have been modified slightly

for the upcoming school year. The times

are: high school 7:20 a.m. — 1:45 p.m.; middle

schools 8:15 a.m. — 2:45 p.m.; and elementary

schools 9:15 a.m. — 3:40 p.m.

"We've been working very hard to implement

strong financial controls and to manage

the resources we've been provided as

efficiently and effectively as possible," said

Drummey. "As an administration, we

always strive to be good stewards for the

taxpayers and save the community money.

We are constantly monitoring opportunities

such as this refunding and glad we

could achieve such strong savings."

Mike Burns, managing director of

Baird, the District's placement agent stated,

"During a time of unprecedented interest

rate increases, the district was able to

quickly act to lock in these savings. Some

legal constraints bound the timing of the

refunding, but the administration found a

creative solution to maximize the savings

by locking the rates in early. Had the district

waited until today to lock in the rates,

there would not have been any savings for

the taxpayers."

Groveport Madison

school open house schedule

Every Groveport Madison school hosts

an open house/welcome night before the

start of the school year. Open houses help

parents and students familiarize themselves

with their school and meet our

teachers and principals. Open houses are:

Groveport Madison High School — Aug. 9,

5—8 p.m.; Middle Schools — Aug. 10, 5:30—

7:30 p.m.; Elementary Schools — Aug. 11,

4—6 p.m.; and Kindergarten (all schools) —

Aug. 16, 4:30—6:30 p.m.

Our Pictorial Past by Rick Palsgrove

Photo courtesy of the Groveport Heritage Museum

Carryout and barber shop

Pictured here in this photo from 1962 is the building on Groveport's downtown

Main Street that was for many years the home of the B & J Carryout and Harden's

Barber Shop. The barbershop was located at right (note the barber pole) and the

carryout was to the left in this photo. On pleasant days it was common to see kids

drinking soda pops and munching snacks they bought at the carryout while sitting

on the front stoop ledge of the building. The building is now home to the McGann

Law Office.

August 7, 2022 - GROVEPORT MESSENGER - PAGE 5

ENR

ROLL NOW

FOR THE 2022-2023 SCHOOL YEAR

DON'T WAIT!

Register your child for school today using our online

system, Speedy yStart. Begin the process by visiting our

website at gocruisers.org/enrollment.aspx. .aspx. It's as easy

as 1, 2, 3.

SCHOOL STARTS ON AUG. 12

Don't wait until August to register

your child. Enrolling early helps to

ensure a smooth start to the school

year for your child – and you!

HAVE YOU RECENTLY MOVED?

Even if your chi ld is already enrolled

in Groveport M adison Schools, but you've

moved to anoth her address within the District,

you must log in to your FinalForms account, count, found at

gocruisers.org/FinalForms.aspx, to update your address

GROVEPORT MADISON SCHOOLS

Welcome Center

4400 Marketing Place, Suite B

Groveport, OH 43125

(614) 491-8288
---
PAGE 6 - GROVEPORT MESSENGER - August 7, 2022

www.columbusmessenger.com

Groveport Madison Cruisers 2022 Football

7 p.m. Aug. 19...............................Canal Winchester

7 p.m. Aug. 26.........................................at Gahanna

7 p.m. Sept. 2.......................Worthington Kilbourne

7 p.m. Sept. 9..............................................Westland

7 p.m. Sept. 16............................at Upper Arlington

7 p.m. Sept. 23....................................Reynoldsburg

7 p.m. Sept. 30......................................at Lancaster

7 p.m. Oct. 7............................Pickerington Central

7 p.m. Oct. 14............................................at Newark

7 p.m. Oct. 21................................Central Crossing

GO CRUISERS!

Marylee Bendig

"Your Southeast Connection"

580 Main St., Groveport, OH 43125

(614) 218-1097

marylee@maryleebendig.com

Good Luck Cruisers!!

From the

Mayor, City Council

and Staff

of The City of Groveport

601 Commerce Drive, Pickerington, Ohio 43147

614-837-0902

Monday-Friday 8am-5pm

Go Cruisers!

Football 2022

Messenger

Groveport

GOOD LUCK TO ALL TEAMS!

Lisa Sain, Agent

152 E. Main St., Groveport, OH 43125

www.lisasain.com

614-830-0450

GOOD LUCK

IN THE

2022 SEASON!

5075 S. Hamilton Rd., Groveport, OH 43125

614-836-1500

Go Cruisers!

From a former Groveport Alumni

DEBBIE CLONCH

614-324-4314 or Debbie.Clonch@CBRealty.com

Moving forward for 116 years.
---
www.columbusmessenger.com

August 7, 2022 - GROVEPORT MESSENGER - PAGE 7

Back - to - School

PAID ADVERTISING

Madison Christian School offers

classical Christian education

Madison Christian School (MCS) offers quality

Christian education with a classical approach

for preschool through 12th grade on a beautiful

64-acre campus in Groveport, Ohio. The campus

is growing with a new middle school building that

will be dedicated in August.

A commitment to biblical truth and a passion

for excellence permeate everything MCS does in

and around the classroom. Students enjoy outstanding

faith-based education, quality athletic

teams, fine arts offerings, and other exciting

extracurriculars in a safe community environment.

"While we were initially brought in by the

outstanding school rating and the religious teaching

provided, we have been incredibly impressed

by the care, instruction, and kindness of everyone

we have interacted with at MCS," said parents

Mikhail and Holly Y. "We truly feel like MCS

cares for our children's well-being, both spiritually

and academically."

Ready to learn more?

Parents can download a free Parent Info

Packet to learn all about MCS. Inside, parents will

discover detailed information about the school's

curriculum and values, what makes a Christian

education with a classical approach unique, and

detailed extracurricular and enrichment options.

Visit mcseaglesoh.org/info to download.

MCS offers Take a Tour Tuesdays on most

Tuesdays during the school year. Prospective preschool

through 12th grade students and families

are invited to come learn more about the school,

see the facilities, and meet some of the outstanding

students and staff. Visit mcseaglesoh.org/tour

to register.

For more information, please visit mcseaglesoh.org

or call 614-497-3456.

PAID ADVERTISING

Nicotine to help

treat memory loss?

A study funded by the National Institutes of

Health is testing whether the nicotine patch can

improve memory and functioning in people who

have mild memory loss or Mild Cognitive

Impairment (MCI).

The MIND Study – or Memory Improvement

through Nicotine Dosing – is the largest and

longest running study of its kind. MIND is looking

for study volunteers who have mild memory

loss but are otherwise healthy, non-smokers over

the age of 55.

According to the Alzheimer's Association,

approximately 12 to 15 percent of people age 65

or older have mild memory loss or MCI and are

more likely to develop Alzheimer's disease or

other dementias.

Currently, there is no FDA approved medication

indicated to treat this condition; however,

nicotine stimulates an area in the brain known to

be important for thinking and memory, and scientists

believe it could be an effective treatment for

adults with MCI.

"People often think nicotine is addictive and

harmful, because it is in tobacco products, but it's

safe when used in patch form," said Paul

Newhouse, MD, director of the Vanderbilt Center

for Cognitive Medicine and lead investigator for

the MIND Study. "Nicotine is an inexpensive,

readily available treatment that could have significant

benefits for people experiencing mild memory

impairment."

The MIND Study needs people to enroll in

sites across the United States. Researchers are

looking for healthy, non-smoking adults over the

age of 55 who are in the earliest stages of memory

loss to participate in the MIND Study.

"The MIND Study will provide valuable information

for researchers with regard to early memory

loss that is associated with normal aging and

early Alzheimer's disease, but we need volunteers

if we are going to succeed," said Dr. Douglas

Scharre, Director, Division of Cognitive

Neurology, Center for Cognitive and Memory

Disorders.

You, or a loved one, may be eligible to participate

if you have been diagnosed with MCI or if

you or your family members notice changes in

your memory:

•Are you, or a loved one, having difficulty

remembering recent events? Have you noticed

changes in your memory or your loved one's

memory?

•Is your memory as good as it was two years

ago? If you asked someone close to you about

your memory, what would they say?

Potential study volunteers can learn more by

visiting www.MINDStudy.org or by calling 1-

866-MIND-150.

We are the BEST community newspaper!

Need advertising? Call 614-272-5422 today.
---
PAGE 8 - GROVEPORT MESSENGER - August 7, 2022

www.columbusmessenger.com

MEDICARE QUESTIONS?

Learn more about your

medicare options that you

may qualify for.

Too busy enjoying summer to think about Medicare?

As a local neighborhood agent, help finding the right plan is

closer than you THINK! Call or Text today 614-460-0601

Call me Today $0 Consultation $0 Fee

Terri Curcio 614-460-0601

"Who do you call about Medicare when all the commercials are gone?

A Local Licensed Agent!"

I'm here all year long providing Medicare members with the plan options that fit their needs. Also, we could review if

you qualify for extra help on your prescription copays, along with insulin coverage. Reviewing the plan information over

the phone or in person, you need to be confident in your decision. Guiding you on the right path to Medicare.
---
www.columbusmessenger.com August 7, 2022 - GROVEPORT MESSENGER - PAGE 9

A look at city finances

By Rick Palsgrove

Groveport Editor

The city of Groveport is preparing for its financial future.

According to City Administrator B.J. King and City Finance

Director Jason Carr, the city's "Financial Forecast & Overview

thru December 31, 2024," provides revenue projections, expense

information, and fund balance data.

"We will use this report as a baseline for planning our 2023

budget and capital improvements," King said at Groveport City

Council's July 25 meeting.

Per the report, income tax revenues as of the end of 2022 are

projected to be $17.9 million, which is $267,025 less than received

in 2021. Income taxes are the city's largest and primary source of

revenue.

"The slight decrease is attributed to seasonality of the summer

months as well as a conservative approach to projecting revenues,"

said King.

The report states the city "must continue" to retain and seek

new businesses (which generate income tax revenue) to

Groveport. The report further notes, "Many programs offered by

the city are not self-supporting and rely on the general fund to

supplement operations."

The city's estimated income tax revenue in 2023 is $18.3 million

and in 2024 it is expected to be $18.6 million.

Water and sewer

The city's last water rate increase was a 3 percent hike in 2018-19.

According to King and Carr, since the hiring of the city's new

public services director, the operations relating to general and

preventative maintenance of the water and sewer systems has

changed. This resulted in increased costs for the water and sewer

funds "to address the current and future issues with our aged

water, sewer, and stormwater lines." They noted salaries and benefits

in this area have increased as employee responsibilities have

grown.

Per King and Carr, "However, utility rate increases have not

occurred in several years. For the 2023 budget, a strong consideration

will need to be made to increase utility rates to address the

increase in expected costs."

Items of note in the financial forecast

•Since 2012, the city has completed $27.6 million in capital

improvement projects.

•Expenditures are expected to begin increasing by 8 percent

based on inflation and increases in salaries and benefits in 2022.

•When the city-owned, newly built Rarey's Port and Wert's

Grove buildings are operational, the financial forecast notes a

"strain on the general fund to subsidize these buildings' operations,

combined with other city facilities, will draw down carryover

balances significantly." The forecast states that general fund

appropriations will "have to be prioritized to avoid significant

draw down of carryover fund balances."

•The recreation center and outdoor aquatic center are 25 years

old and will soon require improvements. The recreation center has

roof issues, the outdoor pool floor needs painted, and pool plumbing

needs addressed.

To see a full copy of the "Financial Forecast & Overview thru

December 31, 2024," contact the Groveport Municipal Building at

614-836-5301. The municipal building is located at 655 Blacklick St.

Concert at Zion Lutheran

The Reynoldsburg Community Band will perform an outdoor

(weather permitting) concert on the back lawn of Groveport Zion

Lutheran Church, 6014 Groveport Road, on Sept. 11 at 6:30 p.m.

The performance will include patriotic music and a tribute to 9/11.

Concert in the Park

Groveport's next free Concert in the Park will be Aug. 27 from

6-8 p.m. in Heritage Park, 551 Wirt Road. The Outlaw Uprising

will perform. Bring a picnic dinner, a blanket or lawn chair, and

invite your friends and family. Food Trucks available to purchase

food and non-alcoholic beverages from 5:30-8 p.m. For information

call 614-836-3333.

CLASSIFIED ADS

Deadlines: Grove City, Canal Winchester & All editions, Mondays at Noon., • South, West & Madison editions, Tuesdays at 5 p.m.

All editions by phone, Mondays at Noon

ASSOCIATION ADS

DISH Network. $59.99 for

190 channels! Blazing fast

internet. $19.99/mo. (where

available) Switch & get a

$100 Visa gift card. Free

voice remote. Free HD

DVR. Free streaming on all

devices. 1-866-979-4029

Replace your roof with the

best lookng and longest

lasting material -- Steel

from Erie Metal Roofs!

Three styles and multiple

colors available.

Guaranteed to last a

lifetime! Limited Time

Offer - $500 Discount +

Additional 10% off install

(for military, health

workers & 1st responders)

Call Erie Metal Roofs: 1-

855-338-4807

Looking for assisted living,

memory care, or

independent living? A

Place for Mom simplifies

the process of finding

senior living at no cost to

your family. Call 1-833-

910-1576 today!

Donate Your Car To

Veterans Today! Help and

Support our Veterans.

Fast - FREE pick up.

100% tax deductible. Call

1-800-245-0398

Update your home with

beautiful new blinds &

shades. Free in-home

estimates make it

convenient to shop from

home. Professional

nstallation. Top quality -

Made in the USA. Free

consultation: 877-212-

7578. Ask about our

specials!

!OLD GUITARS WANT-

ED!! GIBSON, FENDER,

MARTIN, Etc. 1930's to

1980's. TOP DOLLAR

PAID. CALL TOLL FREE

1-866-433-8277

DENTAL INSURANCE

from Physicians Mutual

Insurance Company.

Coverage for 350 plus

procedures. Real dental

insurance - NOT just a

discount plan. Do not wait!

Call now! Get your FREE

Dental Information Kit with

all the details! 1-877-553-

1891

www.dental50plus.com/

macnet#6258

HughesNet - Finally, superfast

internet no matter

where you live. 25 Mbps

just $59.99/mo! Unlimited

Data is Here. Stream

Video. Bundle TV &

Internet. Free Installation.

Call 866-499-0141

Safe Step. North

America's #1 Walk-in Tub.

Compreshensive lifetime

warranty. Top-of-the-line

installation and service.

Now featuring our free

shower package & $1600

off - limited time!

Financing available. 1-

855-417-1306

ASSOCIATION ADS

Stroke & Cardiovascular

disease are leading

causes of death according

the American Heart

Association. Screenings

can provide peace of mind

or early detection! Call

Life Line Screening to

schedule your screening.

Special offer - 5

screenings for $149. 1-

866-518-8391

Want Faster & Affordable

Internet? Get internet

service today with

Earthlink. Best internet &

WiFi Plans. Call us Today

to Get Started. Ask

about our specials! 866-

396-0515

Become a Published

Author. We want to Read

Your Book! Dorrance

Publishing-Trusted by

Authors Since 1920

Book manuscript submissions

currently being reviewed.

Comprehensive Services:

Consultation, Production,

Promotion and Distribution. Call

for Your Free Author's Guide 1-

866-482-1576 or visit

http://dorranceinfo.com/macnet

Vivint Smart Security.

Professionally installed.

One connected system for

total peace of mind. FREE

professional installation!

Four FREE months of

monitoring! Call to

customize your system. 1-

855-870-2073

Internet &WIFI Starts at

$49 Call us Today to Get

Started. Find High-Speed

Internet with Fiber Optic

Technology No Credit

Check, No SSN Required.

Call us Today 866-396-

0515

Paying top cash for men's

sportwatches! Rolex,

Breitling, Omega, Patek

Pillippe, Heuer, Daytona,

GMT, Submariner and

Speedmaster. Call 833-

603-3236

Aloe Care Health medical

alert system. The most

advanced medical alert

product on the market.

Voice-activated! No wi-fi

needed! Special offer

w/code CARE20 for $20

off Mobile Companion. 1-

855-341-5862

The bathroom of your

dreams for as little as

$149/month! BCI Bath &

Shower. Many options

available. Quality

materials & professional

installation. Senior &

Military Discounts

Available. Limited Time

Offer - FREE virtual inhome

consultation now

and SAVE 15%! Call

Today! 1-877-540-2780

xPublic Notice

614.986.9974

www.artcollegeprep.org

4401 Hilton Corporate Drive

Columbus, Ohio 43232

PUBLIC RELEASE

The Arts & College Preparatory Academy today announced its 2022-2023 program year policy Free and Reduced Meals for

students unable to pay the full price of meals or milk served under the National School Lunch and School Breakfast or After

School Care Snack. Each school office and the central office has a copy of the policy, which may be reviewed by any interested

party. The Federal Income Eligibility Guidelines will be used to determine eligibility. Children from families whose annual income

is at or below the federal guidelines are eligible for free and reduced-price meals.

Application forms are distributed to all homes in a letter to parents or guardians. To apply for free and reduced-price benefits,

households should complete an application and return it to the school. Additional copies are available at the principal's office

in each school. A complete application is required. Households which currently receive Special Nutrition Assistance Program

Benefits (SNAP, formally known as food stamps) or Ohio Works First (OWF) funds for a child must provide the child's name,

the SNAP or OWF case number and signature of an adult household member on the application. Households that do not

receive SNAP or OWF funds must provide the names of all household members, the last four digits of the Social Security

Number of the adult signing the application or state "none" if the adult does not have a Social Security Number, the amount

and source of income received by each household member (state the monthly income) and the signature of an adult household

member. If any of this information is missing, the school cannot process the application.

FREE HEALTH CARE: Families with children eligible for school meals may be eligible for free health care coverage through

Medicaid and/or Ohio's Healthy Start & Healthy Families programs. These programs include coverage for doctor visits, immunizations,

physicals, prescriptions, dental, vision, mental health, substance abuse and more. Please call 1-800-324-8680 for

more information or to request an application. Information can also be found on the web at

http://jfs.ohio.gov/ohp/consumers/familychild.stm. Anyone who has an Ohio Medicaid card is already receiving these services.

The information provided on the application is confidential and will only be used for the purpose to determine eligibility and may

be verified at any time during the school year by school or other program official. To discourage the possibility of misrepresentation,

the application forms contain a statement above the space for signature certifying that all information furnished is true

and correct. Applications are being made in connection with the receipt of federal funds. Schools or other officials may check

the information on the application at any time during the school year. Deliberate misrepresentation of information may subject

the applicant to prosecution under applicable state and federal laws. Households will be notified of the approval or denial of

benefits. Foster children are categorically eligible for free meal benefits regardless of the household's income. If a family has

foster children living with them and wishes to apply for such meals or milk for them, contact the school for more information.

Under the provision of the policy, the Child Nutrition Director will review applications and determine eligibility. If a parent or

guardian disagrees with the decision on the application or the result of verification, the decision may be discussed with the

determining official on an informal basis. If a formal appeal is desired, the household has the right to a fair hearing. A fair hearing

can be requested either orally or in writing from: Anthony Gatto 4401 Hilton Corporate Drive, Columbus OH 43232 (614) 986-

9974 The policy contains an outline of the hearing procedure.

Households may apply for benefits any time during the school year. If a household is not currently eligible and if the household

size increases or income decreases because of unemployment or other reasons, the family should contact the school to file a

new application. Such changes may make the children of the family eligible for free or reduced-price benefits if the family

income falls at or below the levels shown above.

Nondiscrimination Statement: In accordance with federal civil rights law and U.S. Department of Agriculture (USDA) civil rights

regulations and policies, this institution is prohibited from discriminating on the basis of race, color, national origin, sex (including

gender identity and sexual orientation), disability, age, or reprisal or retaliation for prior civil rights activity. Program information

may be made available in languages other than English. Persons with disabilities who require alternative means of communication

to obtain program information (e.g., Braille, large print, audiotape, American Sign Language), should contact the responsible

state or local agency that administers the program or USDA's TARGET Center at (202) 720-2600 (voice and TTY) or contact

USDA through the Federal Relay Service at (800) 877-8339.

To file a program discrimination complaint, a Complainant should complete a Form AD-3027, USDA Program Discrimination

Complaint Form which can be obtained online at: https://www.usda.gov/sites/default/files/documents/USDA-OASCR%20P-

Complaint-Form-0508-0002-508-11-28-17Fax2Mail.pdf, from any USDA office, by calling (866) 632-9992, or by writing a letter

addressed to USDA. The letter must contain the complainant's name, address, telephone number, and a written description of

the alleged discriminatory action in sufficient detail to inform the Assistant Secretary for Civil Rights (ASCR) about the nature

and date of an alleged civil rights violation. The completed AD-3027 form or letter must be submitted to USDA by mail:U.S.

Department of Agriculture, Office of the Assistant Secretary for Civil Rights, 1400 Independence Avenue, SW Washington, D.C.

20250-9410; or fax: (833) 256-1665 or (202) 690-7442; or email: program.intake@usda.gov

Public Notice
---
PAGE 10 - GROVEPORT MESSENGER - August 7, 2022

www.columbusmessenger.com

CLASSIFIED ADS

Deadlines: Grove City, Canal Winchester & All editions, Mondays at Noon., • South, West & Madison editions, Tuesdays at 5 p.m.

All editions by phone, Mondays at Noon

xEmployment

xAdult Care

The City of Groveport Police Department

is currently recruiting for

Police Officers and Lateral Entry Police Officers

NOTE: Testing with the National Testing Network must be completed

for individuals with less than 3 years of full-time experience. Testing

must be completed by the close date of, September 2, 2022.

Employment applications for this position will not be accepted prior

to taking the test. www.nationaltestingnetwork.com

The City of Groveport offers a competitive salary and very generous

benefit package.

Salary Step 1 = $32.55 to Step 5=$46.75 per hour.

Salary is based upon negotiations with the Mayor for the City of

Groveport for applicants with at least 5 years of fulltime experience.

To view the full job description for a Lateral Entry Police Officer candidates

and to apply, please go directly to our website listed below.

https://www.governmentjobs.com/careers/groveport

ASSOCIATION ADS

Wesley Financial Group,

LLC Timeshare Cancellation

Experts Over

$50,000,000 in timeshare

debt & fees cancelled in

2019. Get free

informational package &

learn how to get rid of

your timeshare! Free

consultations. Over 450

positive reviews. 888-965-

0363

Become a Published

Author. We want to Read

Your Book! Dorrance

Publishing Trusted Since

1920 Consultation,

Production, Promotion &

Distribution. Call for Free

Author's Guide 1-877-729-

4998 or visit

dorranceinfo.com/ads

WANTED!

MOTORCYCLES!

ANTIQUE AND CLASSIC.

Honda, Kawasaki, Suzuki,

Yamaha, Triumph, BSA

and other foreign models.

$$PAYING CA$H$$

717-577-8206

KRMiller1965@yahoo.com

ASSOCIATION ADS

Protect your home from

pests safely and

affordablly. Pest, rodent,

termite and mosquito

control. Call for a quote or

inspection today 844-394-

9278

Vivint Smart Security.

Professionally installed.

One connected system for

total peace of mind. Free

professional installation!

Four free months of

monitoring! Call to

customize your system. 1-

833-841-0737

Looking for assisted living,

memory care, or

independent living? A

Place for Mom simplifies

the process of finding

senior living at no cost to

your family. Call 1-844-

428-0445 today!

ASSOCIATION ADS

Aloe Care Health, medical

alert system. The most

advanced medical alert

product on the market.

Voice-activated! No wi-fi

needed! Special offer-call

and mention offer code

CARE20 to get $20 off

Mobile Companion. Call

today-1-877-728-4065

BUYING CLASSIC CARS,

TRUCKS, SUVs

**American and Foreign**

Any Condition. Buying

entire car collections.

$$PAYING CA$H$$

Please call 717-577-8206

KRMiller1965@yahoo.com

Directv Stream - Carries

the Most Local MLB

Games! CHOICE

Package, $89.99/mo for

12 months. Stream on 20

devices in your home at

once. HBOMax included

for 3 mos (w/CHOICE

Package or higher.) No

annual contract, no hidden

fees! Some restrictions

apply. Call IVS 1-866-629-

6086

ASSOCIATION ADS

READER

ADVISORY

The National Trade Association

we belong to has

purchased the following

classifieds. Determining

the value of their service

or product is advised by

this publication. In order

to avoid misunderstandings,

some advertisers do

not offer "employment"

but rather supply the

readers with manuals, directories

and other materials

designed to help

their clients establish mail

order selling and other

businesses at home. Under

NO circumstance

should you send any

money in advance or give

the client your checking,

license ID or credit card

numbers. Also beware of

ads that claim to guarantee

loans regardless of

credit and note that if a

credit repair company

does business only over

the phone it's illegal to request

any money before

delivering its service. All

funds are based in US

dollars. Toll Free numbers

may or may not

reach Canada. Please

check with the Better

Business Bureau 614-

486-6336 or the Ohio Attorney

General's Consumer

Protection Section

614-466-4986 for more

information on the company

you are seeking to

do business with.

Employment

ASSOCIATION ADS

Attention Viagra users:

Generic 100 mg blue pills

or generic 20 mg yellow

pills. Get 45 plus 5 free +

S/H. Call Today 1-877-

707-5518

Elminate gutter cleaning

forever! LeafFilter, the most

advanced debris-blockiing

gutter protection. Schedule

Free LeafFilter Estimate

today. 15% off Entire

Purchase. 10% Senior &

Military Discounts. Call 1-

833-610-1936

Looking for auto insurance?

Find great deals

on the right auto insurance

to suit your needs.

Call today for a free

quote! 866-924-2397

Eliminate gutter cleaning

forever! LeafFilter, the

most advanced debrisblocking

gutter protection.

Schedule a FREE LeafFilter

estimate today. 15% off

Entire Purchase. 10% Senior

& Military Discounts.

Call 1-855-791-1626

The Generac PWRcell

solar plus battery storage

system. Save money,

reduce reliance on

grid, prepare for outages

& power your home. Full

installation services. $0

down financing option.

Request free no obligation

quote. Call 1-877-

539-0299

ASSOCIATION ADS

Put on your TVEars &

hear TV w/unmatched

clarity. TVEars Originaloriginally

$129.95 - now

w/this special offer only

$59.95 w/code MCB59! 1-

888-805-0840

SELL YOUR ANTIQUE

OR CLASSIC CAR.

Advertise with us. You

choose where you want

to advertise. 800-450-

6631 visit macnetonline.

com for details.

Don't let the stairs limit

your mobility! Discover

the ideal solution for

anyone who struggles on

the stairs, is concerned

about a fall or wants to

regain access to their

entire home. Call

AmeriGlide today! 1-844-

317-5246

The Generac PWRcell, a

solar plus battery storage

system. SAVE money,

reduce your reliance on

the grid, prepare for power

outages and power

your home. Full installation

services available. $0

Down Financing Option.

Request a FREE, no obligation,

quote today. Call

1-866-783-0292

DISH TV $64.99 for 190

Channels + $14.95 high

speed internet. FREE installation,

Smart HD DVR

included. Free Voice Remote.

Some Restrictions

apply. Promo Expires

1/21/23. 1-866-590-5561

Adult Care

ASSOCIATION ADS

IMPORTANT

NOTICE

The following states: CA,

CT, FL, IA, IL, IN, KY,

LA, MD, ME, MI, MN,

NE, NC, NH, OH, OK,

SC, SD, TX, VT and WA

requires seller of certain

business opportunities to

register with each state

before selling. Call to

verify lawful registration

before you buy.

AT&T Internet. Starting at

$40/month w/12-mo agmt.

1 TB of data/mo. Ask how

to bundle & SAVE! Geo &

svc restrictions apply. 1-

855-364-3948

BATH & SHOWER UP-

DATES in as little as

ONE DAY! Affordable

prices - No payments for

18 months! Lifetime warranty

& professional installs.

Senior & Military

Discounts available. Call

855-761-1725

NEED IRS RELIEF

$10K-$125K+ Get Fresh

Start or Forgiveness.

Call 1-844-431-4716

Monday through Friday

7am-5pm PST

ASSOCIATION ADS

READY TO BUY, SELL

OR RENT YOUR

VACATION HOME OR

HUNTING CAMP?

Advertise it here and in

neighboring publications.

We can help you. Contact

MACnet MEDIA @

800-450-6631 or visit our

site at MACnetOnline.

com

Dental Insurance -

Physicians Mutual Insurance

Comopany. Covers 350

procedures/ Real insurance -

not a discount plan. Get your

free dental info kit! 1-855-

.526-1060 www/dental50

plus.com/ads #6258

Prepare for power outages

today with a GENERAC

home standby generator.

$0 Money Down + Low

Monthly Payment Options.

Request a FREEQuote--

Call now before the next

power outage. 1-855-465-

7624

DISH TV $64.99 FOR 190

Channels + $14.95 High

Speed Internet. Free Installation,

Smart HD DVR

Included, Free Voice Remote.

Some restrictions

apply. Promo expires

1/21/23. 1-866-479-1516

Protect your home w/home

security monitored by

ADT. Starting at $27.99/

mo. Get free equipment

bundle including keypad,

motion sensor, wireless

door & windows sensors.

833-719-1073
---
www.colulmbusmessenger.com

xCome & Get It!

COME AND GET IT!

Need to Get Rid of Something Fast - Advertise It Here For FREE!

Deadlines are Mondays by 5 pm.

Call For Publication Schedule 614-272-5422

FREE Garden Straw for gardens or bedding. Call for appointment for pickup.

Circle S Farms, 9015 London-Groveport Road, Grove City, 43123

Grove City - 614-878-7980

.FREE - Metal from old camper frame, Need a truck to pickup..

CC - Obetz - 614-632-1013

FREE - Children's Wooden Play Set - Good Condition w/Sand Box under it, Step Ladder up

Slide to go down & a rope swing. Also separate Swing Set w/4 swings.

190 Inah Ave., Cols, 43228 near the Fire Dept.

West Columbus - 614-878-1930, ask for Linda

. Come and Get It! is a bi-weekly column that offers readers an opportunity to pass

along surplus building materials, furniture, electronic equipment, crafts, supplies,

appliances, plants or household goods to anybody who will come and get them - as

long as they're FREE. NO PETS! Just send us a brief note describing what you want to

get rid of, along with your name, address and phone number. Nonprofit organizations

are welcome to submit requests for donations of items.

Send information to The Columbus Messenger, Attention: Come and Get It, 3500

Sullivant Ave., Columbus, OH43204. Deadline is Tuesdays by 5 pm for following

Mondays publication. Messenger Newspapers is not responsible for any

complications that may occur. Please contact us when items are gone. 272-5422

Come & Get It!

xFocus on Rentals

HAVE EMPTY

APARTMENTS?

RENT THEM BEFORE

SCHOOL STARTS!

Advertise It!

Call Kathy

The Columbus Messenger

614-272-5422

ASSOCIATION ADS

Safe Step. North

America's #1 Walk-in Tub.

Compreshensive lifetime

warranty. Top-of-the-line

installation and service.

Now featuring our free

shower package & $1600

off - limited time!

Financing available. 1-

833-356-1954

LONG DISTANCE MOVING:

Call Today for a FREE

QUOTE from America's Most

Trusted Interstate Movers.

Let us take the stress out of

moving! Call now to speak to

one of our Quality Relocation

Specialists: 877-541-6320

Attention oxygen therapy

users! Inogen One G4 is

capable of full 24/7 oxygen

delivery. Only 2.8

pounds. Free info kit.

Call 877-929-9587

Rentals

ASSOCIATION ADS

Discount air travel! Call

Flight Services for best

pricing on domestic &

international flights inside

& from the US. Serving

United, Delta, American &

Southwest &many more.

Free quote! Have travel

dates ready! 844-951-

2014

VIAGRA and CIALIS

USERS! 50 Generic pills

SPECIAL $99.00. 100%

guaranteed. 24/7 CALL

NOW! 888-445-5928

Hablamos Espanol

Prepare for power

outages today with a

GENERAC home standby

generator. $0 Down + Low

Monthly Pmt. Request a

free Quote. Call before the

next power outage: 1-855-

948-6176

ASSOCIATION ADS

Kings Kids Daycare in

Grove City is hiring fun,

loving teachers for PT&

FT shifts. Pleaes email

sarragc@outlook.com or

call 614-539-0349

PT Helper Needed

for Lawn Care Service

3-4 Days a Week

Call 614-935-1466

PETS

German Shepherd

Puppies, AKC registered.

Call or text for info - $800

614-905-4796

AKC German Shepherd

Puppies ready to go

August 29. Will have 1st

shots and be dewormed.

Taking deposits. 765-617-

4199

MISC.

FOR SALE

Electric Wheelchair - If

interested, call 614-928-2352

2002 Chevy 350 HD

Dumptruck, asking $12,000

Heavy Duty kerosene

Heater, asking $200;

10ft concrete vibrator,

asking $150;

16 ft aluminum Walkboard,

asking $250;

DeWalt Power Washer,

asking $500

614-774-6237, 614-625-1784

WANT TO BUY

We Buy Cars & Trucks

$300-$3000.614-308-2626

WE BUY JUNK CARS

Call anytime 614-774-6797

ANTIQUES

WANTED

Victrolas, Watches,

Clocks, Bookcases

Antiques, Furn.

Jeff 614-262-0676

or 614-783-2629

We Buy Junk Cars &

Trucks. Highest Prices

Paid. 614-395-8775

August 7, 2022 - GROVEPORT MESSENGER - PAGE 11

xClassified Services

AIR CONDITIONING

AIR CONDITIONING

Complete System

Clean & Check

$49.95

Free Electronic Leak Testing

All Makes • All Models

46 Yrs. Exp. • Senior Discount

614-351-9025

BLACKTOP

SANTIAGO'S

Sealcoating & Services LLC

Quality Materials Used

SUMMER IS HERE!

Driveway Seal & Repair!

Top Seal Cracks!

Residential & Commercial

Mulching, Edging & Clean-ups

"Ask for whatever you need."

BBB Accredited-Fully Insured

Call or text for Free Est.

614-649-1200

AGM OHIO

ROOFING &

SEALCOATING

Free Estimates

Cell 614-599-0262

CARPET SALES

CARPET

Gray Saxony

270 sq.ft. w/6 lb Pad

$398.00

Other Carpet AvailableA

Phone or text Ray

740-927-3504

Delivery & Inst. avail.

CLEANING

Looking for Mrs. Clean?

For excellent cleaning serv

at reas. rates w/great refs,

dependable. 10% Seniorr

Disc. Free Est. Also runs

Errands - Gwen 614-226-5229

INFORMATION

8/28 A

BLACKTOP SEALING

Driveways & Parking Lots

614-875-7588

8/14

A/M

CARPET CLEANING

CARPET CLEANING

Any 5 areas ONLY $75

Home Powerwash $99-$300

614-805-1084

Specializing in Pet Odors

8/28 e/se

CONCRETE

AJ's Concrete,

Masonry

Good Work - Fair Prices

Block Foundations

Driveways • Sidewalks

Epoxy/Overlay Floors

Bonded-Ins. • Free Ests.

614-419-9932

ALL-CITY CUSTOM

CONCRETE

All Types Concrete Work

New or Tear Out-Replace

40 Yrs. Exp.

(614) 207-5430

Owner is On The Job!

www.hastingsnsons.com

Driveways & Extensions

Patio & Walkways,

Porches & Steps,

Garage/Basement Floors

Hot Tub/Shed Pads,

Stamped/colored concrete

Sealing of new &

existing concrete.

FREE ESTIMATES

Contact Adam

614-756-1754

hastingsandsons.

columbus@gmail.com

EDDIE MOORE

CONSTRUCTION

Quality Concrete Work

Lt. Hauling & Room Add.,

Block Work & Excavation

Stamp Patios,

Bsmt. Wall Restoration

36 Yrs Exp - Lic & Ins.

Free Ests. 614-871-3834

INFORMATION

FOR ONLY

$74.00

You Can Reach

Over 41,000 Homes

In

Groveport & South/

Canal Winchester

For Info Call

272-5422

GUTTERS

Bates & Sons

GUTTER CLEANING

5 ★ Google Reviews

614-586-3417

INFORMATION

LOOK TO

THE PROFESSIONALS

IN OUR

SERVICE DIRECTORY

For Service

"That Is Out Of This World"

8/28 A

HOME

IMPROVEMENTS

SINCE 1973

Phil Bolon Contr.

Windows & Siding

Decks, Kitchens, Baths

Room Additions,

Flooring, Roofing

Bsmt Waterproofing

Deal With Small Non-Pressure Co.

47 Yrs. Exp. - Refs. Avail.

Lic.-Bond-Ins.

Free Est. - Financing Avail.

Member BBB Of Cent. OH

O.C.I.E.B. ID #24273

614-419-3977

or 614-863-9912

HOME

REMODELING

Classified Services

8/28

A/M

C&JHandyman

Services LLC

Minor Plumbing

& Electric

Install Hot Water Tanks,

Dishwashers & Disposals

Also Fencing &

Interior/Exterior Painting

Free Est. ~ 18 Yrs. Exp.

CDC/EPA Approved Guidelines

614-284-2100

KLAUSMAN HOME

IMPROVEMENT

Siding-Windows-

Doors-Roofing-Soffit-

Fascia-Gutters-Trim

Earn FREE Seamless

Gutters with Siding Over

1000 Sq. Ft.

FREE Shutters with

Soffit & Trim

EPA Certified

Member of BBB

Financing Available

Over 20 yrs exp. • Free Est.

Licensed-Bonded-Insured

Owner & Operator

James 614-419-7500

MultiCraft Const.

& Handyman Services

All Types Handyman Services:

Decks, Fences

Kitchen/Baths

Window/doors installed

Interior Painting

Drywall Repairs

All Types of Flooring

Call/Text 614-774-2923

multicraftconstruction@gmail.com

LANDSCAPING

A-1 QUALITY

TREE & LANDSCAPE

Family Owned

Serving Central Ohio

Since 2004

Bed & Yard Maint.

Weeding, Mulching, etc.

Hedge/Shrub Trimming

*Stump Removal

614-596-9504

Insured - Free Est.

7/17 A

8/14 A

8/28A

PEST

CONTROL

TERMITE &

PEST CONTROL

614-367-9000

TORCO®

TERMINATES

TERMITES

Locally Owned & Operated. Any Pest. Anytime.

$

50 00 OFF Service

Free Termite Inspection

LAWN CARE

The Lawn Barber

Cut, Trim, Blow away

Hedge Trimming, Edging

614-935-1466

LET US MAINTAIN

YOUR LAWN & GARDEN

FOR YOU

Summer, Spring,

Winter or Fall

WE DO IT ALL!!!!

Lawn Cuts, Edging,

Trees & Shrubs, Garden,

Mulching, Hauling,

Garden Pond &

Home Maint.

Free Ests. Low Rates

$20 & Up

Kevin - 614-905-3117

PAINTING

Painter Over 30 Yrs. Exp.

Free Est. Reas. Rates

Daniel - 614-226-4221

A Job Well Done Again

A lic. General Contractor

Some Skilled Services

Incl: Painting • Stucco,

Repair•Carpentry•Exterior

Drainage & Home Maint.

Call Today! 614-235-1819

PLUMBING

All About Drains & Plumb.

Will snake any small drain

$145. 614-778-2584

MYERS

PLUMBING

Exp. Expert Plumbing

New Const. & Fast Repairs

Lic. - Permit Available

Water • Sewer • Gas

614-633-9694

CHRIS

Plumbing Services

"Plumbing & Drain Professional

That You Can Count On"

24 Hrs., 7 Days/Week

No Overtime Charges

20 Yrs. Exp. in Plumbing &

Drain Cleaning Field

Call For A Free Phone Estimate

$85.00 For Any Small Drain

614-622-4482

30% OFF with AD

8/14 A&M

12/11 A/M

PEST

CONTROL

PLASTERING

DRYW

YWALL &

PLASTER

8/28

A&M

REPAIR

Textured Ceilings

614-551-6963

Residential/Commercial

BIA

POOL/SPA

MAINTENANCE

K&L Spa Cleaning

Hot Tub Cleaning and

Weekly Maintenance

Keith 614-316-9809

POWER WASHING

POWERWASHING

at Reasonable Rates

Gwen 614-226-5229

MRS. POWERWASH

Any house wash $149+tax

Single deck $69+tax

2 Tier deck $99+tax

Best Wash in Town

Over 45,000 washes

Ashley 614-771-3892

Bates & Sons

Soft Wash & Powerwash

5 ★ Google Reviews

614-586-3417

SEWING MACHINE

REPAIR

REPAIR all makes 24 hr.

service. Clean, oil, adjust

in your home. $49.95 all

work gtd. 614-890-5296

TREE SERVICES

BURNS TREE SERVICE

Trimming, Removal &

Stump Grinding.

614-584-2164

Brewer & Sons Tree Service

• Tree Removal

• Tree Trimming 8/14

A&M

• Stump Grinding

• Bucket Truck Services

Best Prices • Same Day Service

614-878-2568

A-1 QUALITY

TREE & LANDSCAPE

Family Owned

Serving Central Ohio

Since 2004

614-596-9504

Insured - Free Est.

8/28 A&M
---
PAGE 12 - GROVEPORT MESSENGER - August 7, 2022

Messenger

Groveport

BEST COMMUNITY NEWSPAPER in Groveport

Pick-Up At These

Locations:

Groveport Senior Village - 5124 Hendron

Madison Township Office - 4575 Madison Lane

Paddock Pub/Groveport Golf Ctr. - 1005 Richardson Rd.

Southeast Library - 3980 S. Hamilton Rd.

Asbury Methodist Church - 4760 Winchester Pike

Groveport Municipal Building - 655 Blacklick St.

Groveport Town Hall - 648 Main St.

Flyers PIzza/Groveport - 296 Main St.

Ace Hardware - 726 Main St.

Little Italy Pizza - 619 Main St.

Huntington Bank/Groveport - 556 Main St.

Groveport Recreation Center - 7370 Groveport Rd.

READ US ONLINE: www.columbusmessenger.com

www.columbusmessenger.com

Township raises rates for

Community Center use

By Linda Dillman

Staff Writer

On behalf of myself and my family, I

want to thank the mayor, Groveport City

Council, and the city administrator for

selecting me to be the grand marshal of the

2022 Groveport Fourth of July parade.

It was indeed an honor to represent our

good citizens in this capacity. My wife and

eastside

Messenger

(Distribution: 8,000)

Rick Palsgrove ...................................Groveport Editor

southeast@columbusmessenger.com

Published every other Sunday by

The Columbus Messenger Co.

3500 Sullivant Ave., Columbus, Ohio 43204-1887

(614) 272-5422

The Columbus Messenger Co. reserves the right to edit, reject or cancel

any advertisement or editorial copy at any time. The company is not

responsible for checking accuracy of items submitted for publication.

Errors in advertising copy must be called to the attention of the company

after first insertion and prior to a second insertion of the same advertising

copy.

letter

The cost to reserve space in the Madison

Township Community Center is going up

with non-residents absorbing more of the

cost to host gatherings or meetings inside

the facility.

On July 21, the Madison Township

trustees approved a new fee schedule effective

Jan. 1. The rates have remained

unchanged since 2010. The window to

make reservations for 2023 has not yet

been determined.

"We want it as low as possible for residents,"

said Trustee John Pritchard.

According to the revised fee schedule,

township residents and employees will pay

$25 for the first four hours and $10 for each

additional hour. Non-residents will be

charged $50 per hour, with a minimum of

two hours, and then $25 for each additional

hour.

The fee for resident-hosted funeral

repasses and dinners is $40. Non-profits,

school clubs and sports groups will only be

charged an annual $25 cleaning fee for

weekday (Monday through Thursday)

reservations. If a reservation is made for a

Friday, Saturday or Sunday for a non-profit,

school club or sports group, then the rate

is the same as the host's residency.

Non-profits, school clubs and sports

group were previously exempt from being

charged for center use. The annual fee now

assessed is intended to cover the cost of

increased sanitation standards and is only

applicable to weekday reservations.

Madison Township Administrator

Susan Brobst said, "We do not let any

organization tie up the room more than

once a month."

Pritchard felt rules need to be established

as to what purpose a resident or

group is eligible to utilize the community

center. Brobst said events like direct sales

parties are not allowed.

"I don't think it should be used for political

fundraisers," said Pritchard. "What if

we have a hate group (want to come in)?

Yes, there are legal implications, but

there's also decorum."

Madison Township Police news

Madison Township Police Chief Gary

York asked for authorization of an agreement

with Armor Express to purchase ballistic

helmets and tactical vests for the

police department.

"They would be issued out to each of our

officers," York said, noting that the ballistic

level of the helmet is resistant up to a

certain caliber firearm. "This is something

they'll carry in their cruisers. It's an essential

piece of equipment."

The tactical plate vests–which have the

same ballistic capability as the helmets–

would be for on-scene use and have a shelf

life of 15 years. The vests are adjustable

and customizable.

"It's a piece of equipment we hope we

never have to use, but we have to give them

(officers) the necessary tools to do their

jobs," said York, who hopes to partner in

training with outside agencies who would

respond to a tactical situation where the

ballistic vests and helmets would be needed.

The $27,168 contract provides 19 sets of

helmets and vests in a carry bag. The

trustees also accepted a $3,861 grant reimbursement

award from the attorney general's

office for the Ohio Law Enforcement

Body Armor Program Grant for ballistic

vests.

Parade grand marshal says thanks

I chose Groveport as our home 55 years ago

and have never regretted that choice.

I hope to thank the citizens of Groveport

again by being elected to city council in

2023.

John Hougland

Groveport

Keep tabs on the latest news in

Groveport & Madison Township

Look for Groveport Messenger on

Become a fan!

columbusmessenger.com