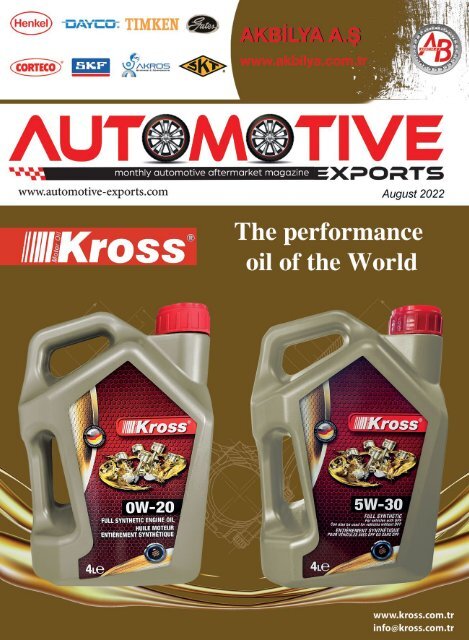 Automotive Exports August 2022
You also want an ePaper? Increase the reach of your titles
YUMPU automatically turns print PDFs into web optimized ePapers that Google loves.
1
---
Monthly automotive aftermarket magazine

GROUP CHAIRMAN

H. FERRUH ISIK

PUBLISHER:

İstmag Magazin Gazetecilik

İç ve Dış Ticaret Ltd. Şti.

Managing Editor (Responsible)

Mehmet Söztutan

mehmet.soztutan@img.com.tr

Editor

Ali Erdem

ali.erdem@img.com.tr

EDİToR

Mehmet Soztutan, Editor-in-Chief

mehmet.soztutan@img.com.tr

Advertising Managers

Adem Saçın

+90 505 577 36 42

adem.sacin@img.com.tr

Enes Karadayı

enes.karadayi@img.com.tr

International Marketing Coordinator

Ayca Sarioglu

ayca.sarioglu@img.com.tr

Editor

Yaren Kayıkçı

yaren.kayikci@img.com.tr

Yusuf Okçu

yusuf.okcu@img.com.tr

Finance Manager

Cuma Karaman

cuma.karaman@img.com.tr

Digital Assets Manager

Emre Yener

emre.yener@img.com.tr

Technical Manager

Tayfun Aydın

tayfun.aydin@img.com.tr

Design & Graphics

Sami aktaş

sami.aktas@img.com.tr

Accountant

Yusuf Demirkazık

yusuf.demirkazik@img.com.tr

Subsciption

İsmail Özçelik

ismail.ozcelik@img.com.tr

HEAD OFFICE:

İstmag Magazin Gazetecilik

İç ve Dış Ticaret Ltd. Şti.

Ihlas Media Center

Merkez Mah. 29 Ekim Caddesi No: 11B / 21

Yenibosna Bahcelievler, Istanbul / TURKEY

Tel: +90 212 454 22 22

www.img.com.tr sales@img.com.tr

KONYA:

Metin Demir

Hazım Uluşahin İş Merkezi C Blok

Kat: 6 No: 603-604-605 KONYA

Tel: (90.332)238 10 71 Fax: (90.332)238 01 74

PRINTED BY:

İHLAS GAZETECİLİK A.Ş.

Merkez Mahallesi 29 Ekim Caddesi İhlas Plaza

No:11 A/41 Yenibosna–Bahçelievler/ İSTANBUL

Tel: 0212 454 30 00

www.ihlasmatbaacilik.com

Dynamism prevails as usual

Competitiveness at the domestic level has been replaced with competitiveness on

a global scale. The Turkish automotive industry, which was originally founded for

import-substitution purposes and focused on the domestic market for a long period,

transformed itself into a production base for a number of global models.

In motor vehicles, a large number of EU legislation was adopted. Turkey has been

continuing efforts to introduce the relevant legal arrangements, and significant

progress has been achieved in this field.

The Turkish automotive industry is one of the four largest exporting and leading

investor industries of the Turkish economy. It is an economically strategic sector in

terms of its significant contribution to the national production and development,

direct and indirect employment and level of technology in Turkey. The automotive

parts industry is strong and competitive. It has developed in parallel with the

development of Turkey's automotive industry both in quality and production

volumes.

Following the shift of the focus on customers, markets, products and competition

from the local level to the global level, Turkish automotive manufacturers and

suppliers position themselves globally rather than locally.

This transformation in the sector urges automotive suppliers to improve their existing

structures in line with the demands of global auto manufacturers.

Turkish producers of parts and components have attained high standards reflected

by large export volumes to the Western countries.

The Turkish automotive parts and components industry has now developed to the

stage where it is at a level ready to take advantage of the globalization and structural

changes in the world automotive industry. A number of firms active in the industry

have been named the "co-designer" in the global vehicles manufactured in Turkey.

Our publications, by participating in major international fairs and exhibitions, remain

at the service of those businesses people seeking to increase their share in the

increasingly competitive foreign markets.

This month, we participate in MIMS Automobility Moscow and Autocomplex

Moscow. We are convinced that these events would be instrumental to increase

business opportunities in the automotive industry.

We wish lucrative trade for all participants.

automotiveexport

automotiveexports
---
Investments in

Turkey's rapid

charging stations

for EVs gain pace

As transitioning to electric vehicles gains

pace around the world and Turkey plans to

put its domestic electric car on the market

soon, investments regarding the necessary

infrastructure, namely charging stations,

are also on the rise.

Turan Şakacı, senior manager at the

Istanbul-based engineering firm Üçay

Group, said that the company aims to

increase the number of rapid electric

charging stations with an investment of $1

million (TL 13.56 million) initially this year.

"We have the technical infrastructure,

service support, product and opportunity

that will enable the establishment of

stations all over Turkey, starting with our

big cities," he said.

Şakacı stated that they have completed the

necessary preparations for the expansion

of electric charging stations throughout

the country, following the agreement they

signed with Eaton, a global manufacturer

of electricity and industrial power

management systems, in October.

Pointing out that with this agreement Üçay

Group has become the sole authority in

the sale and service of charging stations

for electric vehicles, Şakacı said that with

the unveiling of the country's first fully

electric and domestic vehicle, Togg, the

infrastructure of fast charging stations

came to the fore.

He noted that they have 56 branches and

hundreds of dealers in 81 provinces of

Turkey, adding that Turkey does not need

foreign resources for its electric charging

station investments.

"We see that foreign investors see the

electric vehicle potential in Turkey and are

preparing to invest in it. However, Turkey

uses its own resources to invest in the

country's electric charging stations," he

said. Electric vehicle giant Tesla included

Turkish city names on its website for Tesla

Supercharger stations with the phrase

"coming soon."

The cities currently include Istanbul, the

capital Ankara, southern Antalya, the

western cities of Aydın, Balıkesir and Izmir,

the northwestern cities of Bursa, Edirne

and Sakarya, and central Konya. Charging

stations will be installed at points that

everyone can easily access, such as main

roads or shopping malls.

Turkey's Automobile Joint Venture

Group, known as Togg, is the consortium

developing the country's indigenous car

and will launch its first mass-produced

vehicle, an all-electric SUV, by the end of

2022.

AUGUST 2022 8
---
SEB, one of the leading companies in the rubber

industry, continues its investments

Suat Zeinaldin, General Manager of SEB Group of Companies and

Emir Zeinaldin, Deputy General Manager of the Company

Suat Zainueldin, General Manager of SEB

Group of Companies, which meets the

demands of its customers in the Middle

East, Europe and African countries with a

product range of more than 10 thousand,

talks to Automotive Exports Magazine.

Can you tell us about your company's

story? What products do you have in

your product range?

Our first company was established in

Istanbul at the beginning of the 2000s, and

after that, our business life continues as a

group of companies with the investments

we made. We have been continuing our

activities in this sector for more than

20 years, and this adventure, which we

started with the import and export sectors,

continues with the production of rubber,

bellows, wedges, bushings and rubber

metal in our factory in Bursa as of 2015. In

2021, we provide support to our customers

thanks to our logistics company, which we

established with the decision we took after

the price policies that changed greatly with

the effect of the pandemic.

Our export company, with our product

range of more than 10000, has business

partnerships with more than 200

companies throughout Turkey, and we

mainly export products to the Middle East,

Europe and African countries according to

the demands of our customers.

In our factory, we closely follow and

benefit from today's technology in the

dynamic and competitive environment of

the sector, without sacrificing quality with

our product range of more than 10000.

Our company, which aims to increase

the product diversity and continuous

development every year with the

investments made, continues its customer

satisfaction-oriented works, which is our

most important mission, by applying

management and production techniques

appropriate to our age.

You are in a good position in your

industry, rubber production. What are

your export targets in your sector for

the coming years?

When we look at the number of companies

in the rubber market, it is a highly

competitive sector. Thanks to today's

technology, it is much easier to produce

than in the past. However, the challenge

is to create a high-quality, low-cost and

sustainable production plan. Although we

seem to be at the very beginning of the

road in terms of time compared to many

companies, we have come a long way in

a short time in the light of the right plan,

investment and strategies that we have

created with the vision, knowledge and

experience of our company's founder Dr.

Saad Zainueldin. Thanks to the network we

have established in every province of Turkey,

you can see the products we produce with

our own patented brands on the shelves of

our customers.

We want to strengthen our international

relations thanks to the fairs we have

attended and will attend, and to reach many

continents thanks to our competitive price

policy, investments and quality of products.

Which products do you export to?

Which regions do you have export

activities?

We mainly produce for FIAT, RENAULT,

PEUGEOT brand vehicles in our factory in

Bursa. The product group includes wedges,

bellows, bushings, rubber metal and

aluminum parts.

The region where we are strongest in the

Middle East countries is Egypt. In addition,

we export to Algeria, Morocco, Jordan and

Lebanon, as well as Germany-Portugal in

Europe, Nigeria, Ivory Coast, Ethiopia and

Comoros in the African continent.

Can you tell us about your fields of

activity? How do you work differently

from your competitors to increase

customer satisfaction?

As we mentioned before, we operate in

many fields. In the export sector, which is

our priority, we export 80% automotive

spare parts and the remaining 20% food,

machinery and raw materials. On the other

hand, we have slowed down our import

activities due to the high freight rates in

the last two years. For this reason, we also

operate in the field of logistics.

Customer satisfaction is a very important

issue for our company. As a result of our

statistical research, we deliver 99.8% of

our product shipments to our customers

on time, without sacrificing quality

and according to the given deadline.

Our number one priority is to keep our

product stocks as high as possible thanks

to the incoming demand and the correct

production plan, and to provide the best

service to our customers with on-time

shipments.

Do you have different goals in your

industry for the coming years? Do you

plan to invest in different areas of the

automotive industry?

In the coming years, we aim to follow

the technology closely and invest in

development and developing points. I can

say that the primary investment is moving

to a new production area. In this way, it is

among our plans to serve more customers

with a larger production pool. However, as

you know, we have to act cautiously due to

increasing costs and fluctuations in foreign

markets and economy.

AUGUST 2022 10
---
DORA offers

competitive

products for

the automotive

aftermarket

industry

Targeting to have a good place in the

Russian market, Dora serves in a variety

of industries. As a reliable supplier and a

professional business partner, Dora has an

interesting story behind their success. We

asked the details of their success story to

Mehmet Fatih Sakallı, the official of Dora.

Could you mention about the history

of DORA?

Before 2007, my partners and I were

working in different companies. With

the encouragement of our friends, we

bought a secondhand CNC lathe and

started to produce some small parts.

At the beginning, it was very difficult

for us to manage it. Accounting, taxes,

social insurance, purchasing etc. were all

unfamiliar for us. We only knew how to

produce it because of that we had to cope

with many problems. But at the same time

the demand was unexpectedly increasing.

In a couple of years, we bought second

and third machines. We moved to a bigger

place. To be honest, we did not expect that

much to the favor of us but we were always

honored by positive developments. After

that we decided to be selective on both

products and customers. Because it was

very uncontrolled growing and everything

could be upside down suddenly. Then

we specialized on some product groups.

Sustainability of both the products and

the customers became our priority as a

management principle. Afterwards our

field of activities still diversified but in

independent and more professional ways.

At present, as DORA CNC, DORA Industry,

DORA SP Automotive, DORA Construction

and TURKON we have been serving in

different fields.

What are the policies you have

determined to increase customer

satisfaction?

At the beginning we were not producing

only automotive parts. We produced

various mechanical parts or semi-products

to the companies serving in renewable

energy, agriculture and machinery sectors

as well. Most of our customers were local

companies that we know each other

before. Since they are also experienced

on production, their recommendations

were very helpful for us to improve the

product quality. That time, we realized

that the experiences of other producers

and the end users are very valuable for us

to improve ourselves. Because of that we

evaluate all the recommendations from our

customers, end users and our colleagues.

What products do you have in your

brand's product range?

As DORA SP, we produce water pumps,

water pump housings, release levers, oil

hand pumps and some more mechanical

parts for commercial vehicles.

DORA Industry produces hose crimping

machines with its own brand.

TURKON produces various parts in

renewable energy and automotive sector

for other manufacturers.

Can you tell us about your supply network

and distribution channels?

For last 2 years we have been exporting

our products with our own brand. Now

we are directly exporting to Arabian

countries, European countries and African

countries. But our products are being

exported to nearly all over the world by

other distributers with various brands. We

do not have any local dealers yet but in a

couple of years we will have to make some

dealership agreements.

Do you consider investing in different

areas of the automotive industry?

We planned to gather a team to study

on the electronical parts of the vehicles

including the software and afterwards to

invest on it. But the pandemic and the

following economic crisis all over the world

delayed our program. But it still in our

program. We are just waiting for the right

time.

What would you like to add and highlight

in the interview?

Russian market is very important for us

because the quality of the products like

water pump or housing is much more

important due to the weather conditions.

As soon as the Russian suppliers and end

users use our products and satisfied about

quality, we hope that we will establish long

term relations with Russian companies.

AUGUST 2022 14
---
Egypt, Turkey

economic

reconciliation to

benefit both sides:

Although bilateral relations between Turkey

and Egypt have not come to a complete

halt, they did deteriorate due to political

disagreements following the toppling of the

North African country's first democratically

elected president, Mohammed Morsi, in a

coup after only a year in office.

However, experts argue that a more

reconciliatory tone, which has been

adopted ahead of the Turkish finance

minister's visit to the country, could pave

the way for deeper economic relations at

a time when developing countries need

to cooperate to shield themselves from

financial crises.

Turkey's Treasury and Finance Minister

Nureddin Nebati will travel to Egypt next

month to attend a meeting of the Islamic

Development Bank (IsDB). The trip will

mark the first ministerial-level visit to Egypt

in nine years.

Ahmed Zikrallah, an economics professor

at Al-Azhar University in Cairo, highlighted

that bilateral visits between Egypt and

Turkey did not stop completely over the

past few years, recalling that Egyptian

Foreign Minister Sameh Shoukry

participated in the Organisation of Islamic

Cooperation (OIC) conference in Turkey,

which is similar to the upcoming visit of

Turkey's finance minister.

Although the trip is not within the

framework of bilateral ministerial visits, "it

should not be underestimated because it

is an important step in the normalization

of economic relations between Egypt and

Turkey," Zikrallah told.

Following the political turmoil in Egypt

after Morsi's ousting, Ankara maintained

that a democratically elected president

cannot be deposed by a military coup and

thus, voiced its criticism of now-President

Abdel-Fattah el-Sissi and his backers,

including the West and some of Ankara's

rivals in the Gulf region.

The Egyptian government, on the other

hand, urged Turkey not to intervene in an

issue that it considers its internal affairs.

The dispute led to a deadlock in bilateral

relations for many years.

After years of tensions, Turkey has been

working to mend its frayed ties with

regional powers, including Egypt, the

United Arab Emirates (UAE) and Saudi

Arabia.

Mustafa Abdulsalam, a Doha-based

economist, also believes the Turkish

finance minister's visit to Egypt is a very

positive indication of developments to

come, potentially opening the door to

reconciliation between the two countries.

"The other thing is that it will contribute

to the two countries' efforts to develop

economic and trade relations, especially in

the economic crisis that all countries of the

world suffer from," he told .

Abdulsalam said that emerging countries

such as Egypt and Turkey are currently

facing a crisis, "for example the fuel and

gas crisis, and the increase in food prices,

along with the high inflation that has been

sweeping the world."

The U.S. Federal Reserve (Fed) follows

a trend of increasing interest rates and

thus withdrawing funds and indirect

investments from emerging markets such

as Egypt and Turkey, he said, noting that

"here comes the importance of the Turkish

minister's visit to Cairo to discuss possible

cooperation between the two sides in the

economic field and to find new points of

convergence."

"The economic ties have been protected

from political problems that occurred

since 2013, and the two sides are keen

to develop trade and economic relations

and common interests away from political

differences," he said.

According to both Zikrallah and

Abdulsalam, bilateral trade has not been

affected by the political atmosphere and

has in fact surged, as proven by official

figures.

Turkey has become the number

one importer of Egyptian goods and

merchandise, especially petrochemicals,

Zikrallah said, according to the data

provided by his country. Meanwhile,

Turkish exports to Egypt exceeded $21

billion (TL 333.5 billion) in the period

covering between 2014 to 2021.

Egypt is a net importer of most of its needs,

whether it be agricultural products, food

or manufactured goods, Zikrallah said,

noting that Turkish products are now good

alternatives to Chinese ones since they

are high quality and can be transported

cost-effectively considering the significantly

increased shipping prices in Asia in the

post-pandemic period.

Cairo and Ankara signed a free trade

agreement (FTA) in 2005, which went into

effect in 2007 and remained in place. The

total volume of trade between the two

countries has nearly tripled between 2007

and 2020, showing that both countries

shielded their economic exchanges from

the political disputes.

"Egypt is very aware of this matter, in

addition to the fact that the Turkish

product is also very popular in Egypt,"

Zikrallah said.

There are also a large number of Turkish

textile companies operating in the Borg

el-Arab area in Alexandria and other areas,

he said, providing great job opportunities

for Egyptians, estimated at more than half

a million.

Abdulsalam also added that there is news

of Turkish companies' planning to increase

their investments in Egypt to $15 billion

and boost the volume of trade exchange to

$20 billion annually.

Egypt is keen to increase exports to Turkey

since exports are the largest source of

AUGUST 2022 16
---
foreign exchange in the country, he said, noting that the

annual revenue from exports exceeds $32 billion, which

is an important amount for the Egyptian budget.

On the other hand, he said Turkey wants to increase its

exports, too, since the country is a gateway to Arab and

African markets.

Cooperation in Eastern Mediterranean

According to Zikrallah, both Egypt and Turkey realize

the importance of one another's geostrategic weight,

therefore, there is a great effort to return to normalizing

relations, and "the economic door was the best option."

One of the most important areas for possible

cooperation is the Eastern Mediterranean, both Zikrallah

and Abdulsalem pointed out.

"The issue of Eastern Mediterranean gas remains the

most important for Egypt and Turkey," said Zikrallah,

adding, "I think that the two countries are striving well to

find common understandings."

"The rapprochement between the two countries

could provide a common starting point for the Turkish

endeavour to reduce the gas bill as a result of energy

production from the Eastern Mediterranean and the

Egyptian endeavour to be an energy center in the

region," he said.

Abdulsalam, similarly, said it is possible to cooperate in

establishing a joint pipeline so that Egypt exports gas to

Europe, noting that there will also be great cooperation

opportunities in the field of exploration in the Eastern

Mediterranean and border demarcation.

In November 2019, Turkey and Libya signed a maritime

delimitation deal that provided a legal framework to

prevent any fait accompli by regional states. Accordingly,

the attempts by the Greek government to appropriate

huge parts of Libya's continental shelf, when a political

crisis hit the North African country in 2011, were averted.

The agreement also confirmed that Turkey and Libya are

maritime neighbors. The delimitation starts from Fethiye-

Marmaris-Kaş on Turkey's southwestern coast and

extends to the Derna-Tobruk-Bordia coastline of Libya.

In response, Egypt and Greece signed an agreement in

August 2020, designating an exclusive economic zone

(EEZ) in the Eastern Mediterranean between the two

countries.

Abdulsalam further highlighted the importance of the

shipping line agreement that was signed in Ankara in

2012 and aimed at facilitating the transfer of exports

between the two countries and the use of Egyptian ports

to transport Turkish exports to Gulf Cooperation Council

(GCC) countries.

It achieved great success at the beginning, however, the

political differences between the two countries stopped

it, he said.

"I think that Turkey needs to restore this line, especially

after restoring its relationship with the Gulf countries.

Egypt also needs this agreement to increase its exports

because of its need for foreign exchange."

18
---
Ford JV starts

production of

all-electric

Transit model in

Turkey

Ford Otosan, a joint venture of the U.S.

automaker and Turkey's Koç Holding, has

begun mass production of its all-electric

Transit model via a 2-billion-euro ($2.2

billion) investment to increase capacity.

The first E-Transit, which the carmaker

says is Europe's strongest and Turkey's first

all-electric commercial vehicle, rolled off

the assembly line in a ceremony at Ford

Otosan's Gölcük plant in the northwestern

province of Kocaeli.

Ford Otosan thus became the first major

automotive company to produce an allelectric

vehicle in Turkey in large volume,

with the E-Transit model to be sold in

Europe and produced at the company's

Gölcük plant.

Ford Otosan will raise the factory's annual

vehicle capacity to 650,000 from 455,000

under the 2 billion euro investment

announced in 2020.

An assembly line will be established to

produce at least 130,000 batteries in the

factory.

"We are at the first stage of Ford Otosan's

2-billion-euro investment announced last

year and its 10-year vision," said Industry

and Technology Minister Mustafa Varank.

"Today, we are talking about a rapid

transformation in the automotive industry.

In 2030, 30% of the world's vehicles will be

electric and connected vehicles," he said at

the ceremony.

Varank also said Turkey is among the 14

manufacturers globally with its production

power in the automotive industry.

"Our country aspires to take the lion's

share of the electric vehicle market."

The carmaker said it is now shipping the

first production units of the E-Transit van

to customers across Europe from the Ford

Otosan factory.

Following strong early demand for

E-Transit from European businesses, Ford

Otosan said it is now moving to full mass

production.

Ford officials said more than 5,000 orders

had been received for the fully electric

vehicle, now being sold in Europe. Sales of

the vehicle in the domestic market will also

begin this year.

"Ford Otosan's Kocaeli plant is the heart

of Transit production in Europe, and this

celebration of E-Transit manufacturing

starts the electrified next chapter in our

already strong partnership," said Hans

Schep, general manager of Ford Pro

Europe.

Schep said this is the first step in

transforming the Kocaeli site, which he

said will see it become a major center for

electric commercial vehicle manufacturing

in Europe. Also addressing the ceremony,

Ali Koç, deputy chair of Koç Holding's board

of directors and Ford Otosan's chairperson,

said the production of Ford Europe's first

electric commercial model E-Transit in

Turkey by Turkish engineers and workers "is

the result of industrialization moves that

have been growing step by step since the

first years of the Republic of Turkey."

Koç said Ford Otosan's recent investments

have a common purpose, which is to

further increase the competitiveness of

Turkey on a global scale today and in the

future.

"In this direction, we plan to make our

automotive industry one of the most

important and indispensable players in the

global production network together with

our ever-developing subsidiary industry

ecosystem."

E-Transit is the all-electric version of the

world's best-selling cargo van and the new

vehicle spearheads Ford Pro's launch to

European customers with an integrated

offering of vehicles, software and

connected services.

For his part, Güven Özyurt, general

manager of Ford Otosan, said production of

E-Transit in their Kocaeli plant, where the

electricity is supplied with 100% renewable

energy, "is a source of pride for us and

another turning point in our increasing role

in Ford's electrification strategy."

"We believe that electrification of the

legendary Transit model is a major

development and an important step for

making Ford Otosan the production base of

Ford electrified commercial vehicles."

To meet the demand for future electrified

Ford models, Ford Otosan is investing 2

billion euros and expanding employment

by around 3,000 to increase vehicle

production capacity, including the nextgeneration

Transit Custom model.

Ford's move to an all-electric future

in Europe was also highlighted by the

recent announcement that Ford, Korean

battery maker SK On and Koç Holding have

signed a nonbinding memorandum of

understanding (MoU) for a new, industryleading

joint venture in Turkey.

Subject to a final agreement, the three

partners plan to produce one of the

largest electric vehicle battery facilities in

the wider European region. Production is

intended to start as early as mid-decade,

with an annual capacity likely to be around

30 gigawatt-hours to 45 gigawatt-hours.

AUGUST 2022 20
---
Demand

for vehicle

refrigerators is

increasing

Suphi Komut, the General Manager

of DEKO brand, which exports to

22 different countries in 4 different

continents, talked about the future

targets of the brand to Automotive

Exports magazine.

Suphi Komut, the General Manager of DEKO

Can you tell us about the

establishment story of the

DEKO brand?

Our company's aim is to manufacture new

value-added products that have never

been produced yet by developing new

production techniques and technologies.

We set out for this purpose. At first, we

started with consultancy and then we

progressed on mobile vehicle refrigerators.

Which products do you have in

your product range? What are your

activities in general?

In the mobile vehicle refrigerator segment;

we have products for Truck and Heavy

Vehicle, Minibus and VIP sector, Offroad

and Military vehicles, Vaccine and Medicine

Transport, Boat, Yacht, Caravan industries.

In addition, customer-specific OEM product

design and production are also carried out.

These products are exported to 22 different

countries in 4 different continents abroad.

Can you evaluate the demand for

vehicle refrigerators? What types of

vehicle owners make demands on you?

With the pandemic process, there has

been an increase in the sales of individual

products. The fact that people move away

from cities and turn to nature has led

to serious increases in the camping and

caravan sector. The sector continues to grow

rapidly. Both new companies producing

existing products and new products that

have never been produced until now have

been introduced to the market. Usually, we

have two different sales, areas for individual

own personal use and areas as part of his

professional life. A significant increase is

observed in both groups.

Do you have activities abroad? Are

you considering investing in different

areas within your sector? Will you

increase your investments on behalf

of the automotive sector in the

future?

We do not have any production-related

activities abroad. However, our customer

network covers the whole of Europe.

We are continuing our new product

development and patent studies on new

type refrigerators to be used for electric

vehicles without using any energy from the

vehicle (i.e. without shortening the vehicle

range).

In the automotive sector, we plan to reach

more widespread customers by developing

new technologies that will produce more

value-added products. Flexible Molding

Technique and Fast Ice Making Technology

are only available in the products produced

by our company in the world. Likewise, we

continue to work on new technologies that

we plan to do in the future.

What are the policies you have

determined to increase customer

satisfaction?

In order to increase our customers'

satisfaction, we have successful business

results in developing products that can

perform above their expectations. For

example, our Rapid Ice Making Technology

can make ice 3-4 times faster than a home

refrigerator.

AUGUST 2022 22
---
Stellantis halts production at Russia car plant

American-European automaker Stellantis

announced the suspension of production

at its factory in Russia, citing a lack of parts

and sanctions against Moscow over the

Ukraine war.

The group, which was formed in January

last year when Fiat-Chrysler and PSA

merged, had already announced in March

that it was halting imports and exports to

and from Russia.

Production for the local market at the

Kaluga factory southwest of Moscow

also slowed down, and the company had

warned that it would have to suspend work

due to shortages of components.

The factory was meant to produce Peugeot,

Citroen and Opel vans for the European

market. However, Russia's invasion of

Ukraine prompted it to transfer that

production to Hordain, in France, and

Luton, in England.

"Given the rapid daily increase in cross

sanctions and logistical difficulties,

Stellantis has suspended its manufacturing

operations in Kaluga to ensure full

compliance with all cross sanctions and to

protect its employees," the company said

in a statement. Most automakers have

suspended their production in Russia since

Moscow invaded Ukraine on Feb. 24.

Hundreds of foreign companies, ranging

from retailers to banks, have also halted

operations there since the war broke out.

AUGUST 2022 24
---
Automechanika Frankfurt restarts with high level

of international participation – new technologies

and innovations focal point of the industry event

The truly international fair remains to be the leading international industry platform for the entire automotive

aftermarket. This year's top exhibitor nations include companies from Germany, Italy and Turkey.

FRANKFURT – Over 2,600 exhibitors –

85 percent of which are from outside

Germany – will be bringing their latest

products and services to the upcoming

Automechanika Frankfurt. It is more

important than ever that the international

aftermarket sector can finally get together

again this year – not only due to the

transformation of the industry, but also to

the ongoing pandemic, the war in Ukraine,

the energy crisis, climate change, supply

chain problems, semiconductor shortages

and a lack of skilled personnel. New

technologies and concepts for tomorrow's

mobility will be displayed and discussed

at the leading international platform for

the automotive aftermarket, including in

the 'Innovation4Mobility' showcase and

captivating specialist presentations at the

Automechanika Academy. Other areas

of emphasis at this September's event

including training and networking.

Automechanika Frankfurt will once again

be opening its doors to international

trade visitors at the Frankfurt exhibition

grounds. Olaf Mußhoff, Director

Automechanika Frankfurt: "It has been

great to see the response of exhibitors,

now that they finally have an opportunity

to showcase their latest products and

services for an international industry

audience. We are expecting to welcome

over 2,600 exhibitors from 70 countries

here in Frankfurt. This offers yet more

proof that Automechanika remains the

leading international industry platform for

the entire automotive aftermarket. There's

simply no other event like it." This year's

top exhibitor nations include companies

from Germany, Italy and Turkey.

The trade fair is a neutral platform that

addresses the latest topics and trends,

including new drive technologies,

electromobility, connectivity,

sustainability, and the increasing

digitalization that is impacting every facet

of the aftermarket. Not only will trade

AUGUST 2022 26
---
visitors be able to find innovative solutions

for these fields at the trade fair, but they

will also have an opportunity to learn

more about them in presentations and

panel discussions.

Technologies, solutions and trends for

tomorrow's aftermarket

Automechanika Innovation Awards

When this year's Automechanika

Innovation Awards are presented on

13 September, they will do more than

offer an impressive demonstration of the

wealth of innovation in the aftersales

market – they will also reflect the trends

that are currently shaping the industry.

The 133 submissions from 99 exhibitors

cover an impressive range of applications,

ranging from paint-care products

produced from renewable resources and

rescue systems for vehicles with battery

fires to highly complex laser scanners

able to measure entire vehicles in a

matter of minutes. And the digitalization

trend is unbroken, with equipment, tools

and components being digitalized and

connected to workshops' IT systems.

Forward-looking topics like new mobility

and alternative drive systems are also

prominent in the submissions received.

Sustainability is another topic making

waves in the industry: after evaluating the

submissions, expert assessor Dr. Gerhard

Angerer selected five innovations as

finalists for the Green Award.

'Innovation4Mobility'

'Innovation4Mobility' is a special showcase

that features pioneering solutions for

connected vehicles and climate-neutral

mobility. It offers a captivating presentation

program in which experts from major

players like Audi, ADOBE, ABB Germany,

Bosch, BPW Bergische Achsen, Boston

Consulting Group, eBay, Google Cloud,

KEYOU, Fraunhofer ISE, INTIS, Schaeffler,

Solaris and the Toyota Mobility Foundation

deliver keynote talks on a variety of topics,

including connected cars and autonomous

driving, electromobility, hydrogen and

alternative fuels.

Future Mobility Workshop 4.0

What will the workshop of the future look

like? The Future Mobility Workshop 4.0

offers some fascinating insights, presenting

tomorrow's technologies, processes and

business models. Companies and visitors

from the automotive trade will find

valuable practical ideas and concepts here

for how they can make their everyday

business operations more efficient and

make sure that their business models are

ready for future requirements. The Future

Mobility Workshop 4.0 realistically mimics

the structures of a conventional workshop

with a practical depiction of the customer

AUGUST 2022 28
---
journey, allowing visitors to find out more

about innovative technologies and put

them to the test at ten selected stations.

Automechanika Supply Chain

Management Day

The OEMs are not the only ones in the

automotive industry who have to deliver

the greatest possible cost efficiency and

service quality while complying with

climate and environmental targets – the

automotive aftermarket is faced with

these very same challenges. This includes

not only internal expenditures for

transport and logistics, but also external

procurement and delivery transports. This

pressing topic will be explored in greater

detail at the very first Automechanika

Supply Chain Management Day, an

interactive event on 15 September (in

Hall 4's "Europa" hall) aimed at decisionmakers,

users and providers of innovative

solutions for the automotive industry's

logistics and supply chains. A series of

interesting presentations and workshops

are coupled with a networking area,

offering participants ample opportunities

to obtain information, make contacts and

find new business partners. Among the

highlights: two debates on "Global market

vs. local markets" and "Make or buy".

Networking and know-how transfer

This year's trade fair places a clear

emphasis on networking all trade fair

participants. Olaf Mußhoff explains:

"Following a long dry spell, the opportunity

to speak in person is extremely important

to our customers, and that is why we are

holding our first CEO Breakfast, an event

taking place on the first day of the trade

fair that features keynote talks from Mika

Häkkinen and Mark Gallagher. The two

Formula One professionals will be talking

about the fast-changing technologies,

lean and agile management, and team

spirit. The CEO Breakfast offers a unique

opportunity to meet top management

and association representatives from the

independent automotive parts sector in

person."

In addition, Automechanika features

networking lounges devoted to particular

themes in various exhibition halls. Each

lounge has a coffee bar, pop-up stands

and places to sit, providing participants

with an excellent chance to get together

and talk shop with other industry experts.

This year marks the first time that eBay, a

leading online marketplace for automotive

parts and accessories, is taking part in

Automechanika. It is sponsoring the

E-Commerce Lounge, where exhibitors and

visitors can come during the daily Happy

Hour – held every evening in both the east

and west sections of the exhibition grounds

– to enjoy a glass of wine or beer and make

new contacts in a relaxed atmosphere.

AUGUST

2022

30
---
Training and professional development

Trade visitors can look forward to a

wide-ranging program featuring new

technologies and experts discussing the

latest trends and developments. In the

Automechanika Academy, four separate

stages will be hosting a series of expert

talks, panel discussions and presentations

looking at the future in the areas of

'Innovation4Mobility', Future Mobility

Workshop 4.0, Body & Paint, Classic Cars,

Car Wash & Care, and Detailing. The

preliminary program, including further

information on individual topics and

speakers, is available online at www.

automechanika.com/programm.

Practical workshops with the 'car

doctors' from Autodoktoren

A total of eleven practical workshops in

German and English will be taking place

daily in the Galleria on the topic of accident

repair. The workshops, which are held

in collaboration with respected partners

and moderated by the 'car doctors' from

Autodoktoren, present the most important

steps in the process, including systematic

car damage assessments, damage cost

calculation, working on high-voltage

vehicles (professionally trained persons

(FUP)), bodywork, digitalisation, paintwork

and ADAS calibration. All the details on

the free three-hour workshops and how to

register are available on the Automechanika

website at www.automechanika.com/

programm.

Talents4AA

The new industry initiative 'Talents4AA',

which aims to attract talented newcomers

to the automotive aftermarket, is appearing

at Automechanika Frankfurt for the first

time. Visitors to its stand will find a wealth

of information on the wide-ranging job and

career opportunities that are on offer in the

automotive aftermarket. A young professional

and a senior manager will be available every

day of the trade fair to answer questions from

interested young trade visitors and gain new

members for the association, which has been

growing continuously since its establishment

this March.

Body & Paint Championships

"Mobility in transition" is the motto of

this year's Body & Paint Championships,

which will again be featured at the trade

fair. The event is sponsored by Axalta,

BASF Coatings/Glasurit and SATA and

features talented painters from around

the world. They will be presenting car

hoods that they have created with a

great deal of skill and passion to an

international panel of experts and the

trade fair audience.

The awards ceremony will take place on

16 September at 2:00 p.m. in Hall 11.

AUGUST 2022 32
---
Fisker Inc. adds global manufacturing executive

as company grows toward target of 1 million

vehicles annually in 2027

Alpay Uguz joins as Senior Vice President of Global Manufacturing. In collaboration with senior management,

Alpay Uguz will oversee strategy towards the goal of producing one million vehicles per year in 2027.

Fisker, Inc. (NYSE: FSR) ("Fisker") –

passionate developer of the world's

most sustainable electric vehicles and

advanced mobility solutions – names Alpay

Uguz as Senior Vice President of Global

Manufacturing, reporting to CEO Henrik

Fisker, effective immediately.

In his role at Fisker, Alpay will oversee

the company's global manufacturing as

Fisker grows towards its goal of producing

one million vehicles annually in 2027.

Alpay will focus on lean manufacturing

and innovative techniques to reduce parts

starting from the earliest development

phase.

"Alpay's wealth of hands-on, global

manufacturing experience will boost

Fisker's already ultra-fast development

process, creating greater efficiency

by incorporating the latest in new

manufacturing methods," CEO and

Chairman Henrik Fisker said. "Alpay

and his team will integrate advanced

manufacturing processes early in the

vehicle design and engineering phases. We

are developing a seamless approach from

design to production with faster assembly

times, ultimately providing high-quality

vehicles optimized for cost and service to

our customers."

"I'm excited to apply my knowledge of lean

manufacturing deployment, new product

launches, and appreciation for innovation

in Fisker's fast-paced environment, utilizing

my cross-cultural experience working in

China, Germany, the UK, and the US," Uguz

said. Before joining Fisker, Alpay worked at

BMW's production facility in Spartanburg,

South Carolina as the general manager of

the brand's SUVs.

AUGUST 2022 34
---
First Production-Ready

Rimac Nevera Takes to

the Streets

After five years of development and testing, three generations

of powertrain technology, 18 prototypes, 45 physical crash

tests and more than 1.6 million collective hours of research and

development, the very first full production version of the Rimac

Nevera has rolled off Rimac's new production line. Now, handbuilding

of the Nevera will now continue at a rate of up to 50 units

each year, delivered to customers all over the world.

Finished in a striking pearlescent shade of Callisto Green with

Painted Graphite Vertex wheels and Sand Alcantara interior, this

first car was showcased at last month's Goodwood Festival of

Speed in a series of full throttle sideways runs up the famous

Hillclimb. Known as car '#000', and finished with a numbered

plaque, it will remain in the possession of Bugatti Rimac as a

demonstrator and marketing car.

The first cars destined to be delivered to customers are already

being assembled, with each Nevera taking 5 weeks at the final

assembly line, while many of its parts and systems are being

made months prior at Rimac facilities. They will soon be delivered

worldwide through Rimac Automobili's global network of 25

official dealer partners, which stretches across the United States,

Europe, the Middle East and Asia.

The first year of Nevera production is already sold out, as eager

customers hope to experience the world's first all-electric

hypercar.

The Nevera was developed entirely from scratch, with most key

systems developed and made in-house by Rimac. To achieve the

extremely high-performance targets that the team has set for the

Nevera, all major components had to be custom developed. An

entirely new generation battery system, inverter, gearbox, motor,

control systems, infotainment and many more, were developed

specifically for the Nevera. Throughout the development process

the powertrain was redesigned three times, in a process lasting

AUGUST 2022 38
---
more than two years, with each iteration

pushing the envelope of performance

further than before.

Its peerless attention to detail and

dedication to perfection has already

secured Nevera the title of world's fastest

accelerating production car, alongside

being named the Best Hypercar by Robb

Report, Hypercar of the Year by GQ and

Best Electric Performance Car by Top Gear.

As well as its unrivaled performance, this

first production car showcases the variety

of customization options available to

Nevera customers. There are 36 different

pre-defined paint colors and the option

to go bespoke, a selection of in-housedesigned

liveries, three levels of exposed

carbon fiber – including a full bare carbon

body – and an enormous selection of

colorful leathers, Alcantara, contrasting

accents and metal finishes for the interior.

The promise is that each of the 150

Neveras completed will be totally unique.

In tandem with the development of the

car, Rimac has also been developing its

aftersales and customer care programmes.

Specialistic digital diagnostic tools have

been built from the ground-up to monitor

and update the cars throughout their

lifetime. Every dealer partner will be given

specific training and detailed service and

repair information, and a dedicated team

has been created: Rimac Service Team to

be able to travel worldwide to diagnose

potential problems. The target is that the

experience of owning a Nevera will be just

as extraordinary as driving it.

The development and homologation

process was an extraordinary journey

for the whole team. Starting with initial

experimental prototypes, leading on to

validation prototypes and then pre-series

cars, no fewer than 18 prototype examples

of Nevera were painstakingly tested

in every conceivable environment and

measurable aspect, from the freezing Arctic

Circle to a high humidity 48oC climatic

chamber. A rigorous four-year crash testing

program saw the destruction of nine cars

in 45 separate crash tests – all of which the

Nevera passed with flying colors to allow

customers to experience and own Rimac's

flagship model in all main markets.

Mate Rimac, CEO of the Rimac Group, said:

"At the beginning of the Nevera journey,

we ran thousands of virtual simulations

and experimented with countless designs

before eventually, the time came to create

the very first working prototypes. At this

time, around 300 people were working

in the company, and now as we enter

full production, our company has grown

five-fold to have over 1,500 colleagues and

construction is well underway for our new

100.000 m² Rimac Campus.

The Campus will eventually become

the site for Nevera production when

construction is complete, making it the

fourth place where Nevera cars will

have been assembled, following earlier

production sites for the prototype phases

and the current production facility in

Zagreb, Croatia. In tandem with developing

the car, Rimac has been rapidly expanding

as a business, always looking to find more

space.

The Nevera was developed with the

intention to become the cutting-edge

electric hypercar it is today, ready to

thrill drivers and passengers in a way

they have never experienced before. I'm

very much looking forward to customers

taking delivery of their brand-new, highly

customized cars and hearing their stories of

fun behind the wheel."

The Rimac Nevera unlocks the next

generation of automotive performance.

Its 1,914hp is produced by four electric

motors, which propels the hypercar from

0-60 mph in just 1.85 seconds, and to

100mph in 4.3 seconds. Proudly sporting

a name in honor of its homeland, a nevera

is an unexpected Mediterranean summer

storm off the coast of Croatia.

As such, the Nevera can transform from a

comfortable, adept grand tourer into a pinsharp

performance machine in the blink of

an eye.

AUGUST

2022

40
---
Car sales in

Europe lowest

since 1996

after 12-month

decline

across the first half of the year, while

Jaguar Land Group saw a lesser fall in June

at 13.2% but the steepest hit this year so

far at 34.7%.

Inflation, supply chain bottlenecks, rising

coronavirus cases in some countries and an

ongoing chip shortage are just a few of the

problems plaguing the auto industry in the

region, which has now registered

12 consecutive months of declines.

Major carmakers from BMW to Stellantis

have reported falling sales globally ahead

of their second quarter results later this

month.

All four of the major European Union

markets – Spain, Italy, Germany and France

– reported a decline in car registrations.

Europe registered the lowest number

of new passenger cars in the month of

June this year since 1996 at just over 1.06

million vehicles, with some carmakers

seeing sales drop by nearly 50%, data from

Europe's automobile association showed.

Volkswagen Group was the hardest-hit

major carmaker with nearly a quarter

less sales than last June. Across the first

half year, however, Stellantis has seen the

biggest drop so far at 21.1%.

Among smaller brands, Volvo's new

registrations fell 47.9% in June and 28.5%

AUGUST 2022 42
---
Turkey mulls

special

consumption

tax cut on EVs in

boost for Togg

Turkey is set to revise the special

consumption tax levied on electric vehicles,

reports said, in what could turn into a fresh

boost for the country's first domestically

produced vehicle that is set for launch later

this year.

For the cars of the same power but with

a ratable value above TL 700,000, the tax

is envisaged to be 40%. With the changes,

"we are trying to make prices of vehicles

produced in Turkey more affordable," said

ruling Justice and Development Party (AK

Party) Group Deputy Chairperson Mustafa

Elitaş.

The tax for vehicles with a power of over

160 kW and a ratable value below TL

750,000 will be set at 50%, while for those

with the same power but a higher ratable

value, it will be 60%.

Turkey raised the special consumption tax

level on solely electric motor vehicles from

between 3%-15% to 10%-60% in February

2021.

For vehicles with a power of up to 85 kW,

it had raised the tax to 10% from 3%, for

vehicles with a power of between 85-120

kW to 25% from 7% and for vehicles with a

power of over 120 kW to 60% from 15%.

Turkey's Automobile Joint Venture Group

(Togg), the consortium developing the

country's indigenous car, aims to produce

one million vehicles in five different

segments by 2030.

It looks to launch its first mass-produced

vehicle by the end of 2022.

President Recep Tayyip Erdoğan, in

December 2019, unveiled prototypes for

the SUV and a sedan, both fully electric and

C-segment models.

Togg said it would produce five different

models – an SUV, sedan, C-hatchback,

B-SUV and B-MPV – through 2030. Mass

production of the SUV will begin by the end

of this year, with the sedan to follow.

Construction of Togg's engineering, design

and production facilities began on July

18, 2020. Built on an area of 1.2 million

square meters (12.9 million square feet) in

the Gemlik district of northwestern Bursa

province, the facility is scheduled to be

complete in the coming months.

Togg has opted for advanced lithium-ion

battery technology company Farasis as its

business partner for the battery.

The homegrown car can reach 80% charge

in under 30 minutes with fast charging.

It will have a range of between 300

kilometers to 500 kilometers (186 miles to

310 miles).

AUGUST 2022 44
---
Europe's Largest

Electric Midibus

Fleet from

Karsan

Offering high technology mobility solutions

with the vision of being 'One Step Ahead

in the Future of Mobility', Karsan continues

to be one of the most important actors

in electric mobility in Europe. Taking firm

steps towards its objective of tripling

the electrical export figures it set at the

beginning of the year, Karsan delivered the

largest electric midibus fleet of Europe with

an event. Within the scope of the project,

Karsan sold a total of 89 e-ATAK buses to

6 different companies to operate on the

city and intercity public transport lines in

Luxembourg. Carrying out most of the sales

to Sales Lentz and Emile Weber, operators

leading the electric transformation of the

city, Karsan has completed the delivery of

76 vehicles with the event and also plans

to deliver the remaining vehicles by the

end of July. With the e-ATAK fleet that will

be put into service in Luxembourg in-mid

July, Karsan will have the largest electric

midibus fleet of Europe. Being one of the

leading companies in Turkey's automotive

industry, Karsan continues to offer high

technology mobility solutions to export

markets. Continuing its overseas expansion

in 2022, Karsan, the pioneer of electric

mobility, concluded the sale of Europe's

largest electric midibus fleet with its e-ATAK

model. Stepping up and entering this

year with a triple growth plan in exports

compared to the previous year, Karsan

completed the sales of 89 electric buses

to operate on the city and intercity public

transport lines in Luxembourg. Within

the scope of the project implemented via

HCI, of which Karsan has a 50% share and

manages the sales and service network of

the Karsan brand in France, Luxembourg,

Belgium and Switzerland, the e-ATAK buses

were delivered at the magnificent event

held. Karsan's entry into Luxembourg with

this project also succeeded in becoming

the largest electric bus export and the

largest electric bus delivery of Turkey

and Karsan at once. This way, Karsan

becomes one of the biggest shareholders

in the transformation of its bus fleet to

electric in Luxembourg, which accelerated

environmentalist actions to reduce carbon

emissions.

"Luxembourg and Karsan look at the future

exactly the same way"

Karsan's CEO Okan Baş said, ".Karsan's

perspectives coincide with a country

like Luxembourg, which has an

environmentalist approach, works to

reduce its carbon footprint and seeks

solutions to the global warming problem

of the world. I am very happy on behalf of

Karsan to be part of electric transformation

and to deliver such a large electric bus fleet

to Luxembourg, which has accelerated its

environmental activities to zero its carbon

emissions."

European market leader e-ATAK has

become not only Luxembourg, but also

Europe's largest electric midibus fleet!

According to market data (Chatrou, 2021),

Karsan e-Atak, which is the European

segment leader with a 30% share in the

electric midibus class between 8-15 tons

in 2021, is now conquering Luxembourg.

While a total of 161 electric buses over

8 tons were registered in Luxembourg

between 2012 and 2021, the Karsan e-ATAK

fleet of 89 that will provide services in the

country, will be not only the Luxembourg's,

but also Europe's largest electric midibus

fleet. While the Luxembourg market

expands in public transportation with

the sale of 89 Karsan e-ATAK, Karsan

seems to have a significant share in this

market. Karsan will continue to speed

up the electrification process of buses in

Luxembourg in the upcoming period.

"We will continue to grow with electric

vehicles in Europe"

Emphasizing that Karsan, which succeeded

in breaking new ground in electric

vehicle tenders in 2021, has carried out

important projects in growing markets

such as Germany, Italy, Spain, Bulgaria and

Lithuania, Karsan CEO Okan Baş said, "after

this delivery of 89 units, Karsan's largest

electric vehicle fleet will be in Luxembourg

after France and Romania. Karsan's electric

vehicles, which are available in 19 different

countries all over the world, continue to

spread further in countries such as France,

Romania, Luxembourg, Portugal, Italy,

Spain and Bulgaria. Our Karsan electric

vehicle fleet, which currently has over 350

units, continues to provide services on

the roads in Europe. This will be a year for

us to enter new export markets with our

electric models and achieve triple growth

in electric vehicles compared to 2021."

Karsan e-ATAK will also provide intercity

services in Luxembourg!

With its new comfortable passenger seats

with seatbelts developed specifically for

the market, Karsan e-ATAK will provide

services in intercity public transportation

lines as well as in urban transportation in

Luxembourg. Karsan e-ATAK, which takes

its power from proven BMW batteries with

a capacity of 220 kWh, is the leader of its

class with a range of 300 kilometers. With

its 8,3 meter length and 230 kW electric

motor power, e-ATAK can be charged in 5

hours alternating current charging units

and in 3 hours with fast charging units.

AUGUST 2022 46
---
Countries need to bolster their game to attract FDI

The President of the Investment Office of the Presidency of Turkey

Burak Dağlıoğlu called on countries to strengthen their efforts to

attract foreign direct investment (FDI) amid the rise of globalization

and technology.

In an op-ed piece penned for the World Economic Forum, Dağlıoğlu

said entrepreneurship has expanded thanks to more opportunities

and innovative projects, which have an impact on the national,

global and local economies.

"To attract FDI, countries need to get serious about their own

startup ecosystems and their own value propositions in order to sell

them to the world. That's why now investment promotion agencies

(IPAs) are more important than ever," Dağlıoğlu said, adding that

IPAs need to have a grasp of their local startup ecosystems and

keep up with their global counterparts.

He continued by highlighting that they can play an "intermediary

role in connecting startups and investors."

Dağlıoğlu also suggested that IPAs should cooperate with public

and private stakeholders to devise and maintain a suitable startup

ecosystem.

Academics and industry experts also need to collaborate to

produce a talent pool and work as a platform to put the ideas into

action, he said.

Referring to the example of Turkey, Dağlıoğlu said Turkish startups

were able to raise $2.3 billion in funding between 2011 and 2021.

"Early-stage investments averaging $100-$150 million per annum

skyrocketed to $1.6 billion in the year 2021, despite the COVID-19

pandemic. That growth momentum has continued into 2022 as

well, securing $1.2 billion in the first quarter," he outlined.

Dağlıoğlu noted that Turkey now has several unicorns and

decacorns thanks to the snowball effect of recycling capital into the

ecosystem.

EU approves Turkey's TurkAegean tourism trademark

The European Union recently approved Turkey's new tourism

campaign trademark, "TurkAegean," which was kicked off to

promote the country's shores on the Aegean Sea full of historical

and cultural venues.

Turkey submitted the request with the EU's intellectual property

office to trademark the term TurkAegean last December and the

approval was recently made public.

The nation's culture and tourism minister, Mehmet Nuri Ersoy,

commented on the campaign to the Financial Times, saying,

"Turkish Aegean is one of the most exquisite regions Turkey has

to offer."

"It boasts coastlines wrapped in clear blue water, numerous

historical sites dating back to the second century B.C. and idyllic

beaches to soak up the beaming sun," he said.

Having a coastline of over 2,800 kilometers (1,740 miles) on the

Aegean Sea, Turkey has much to offer to its visitors in the region,

including the ancient Troy and the port city of Ephesus.

Greece's top EU official, European Commission Vice President

Margaritis Schinas, meanwhile previously demanded the bloc's

decision be reviewed. In a letter to his counterpart, Thierry

Breton, Schinas said the EU body has failed to properly publicize

Ankara's request to use the term in the tourism campaign.

AUGUST 2022 50
---
Ultrafabrics X

Tata Passenger

Electric Mobility

Ultrafabrics adds a sensorial

touch to the AVINYA Concept

Ultrafabrics is delighted to unveil

its brand-new partnership with Tata

Passenger Electric Mobility (TPEM), the

electric vehicle (EV) subsidiary of global

automobile manufacturing company,

Tata Motors. The latest collections from

the animal-free, high-performance fabric

specialist have been selected for the

contemporary interior of TPEM's new EV,

the AVINYA Concept.

Inspired by the colours, crafts and

beauty of Tata Motors' Indian heritage,

the end result is a warm and inviting

interior. It features Ultrafabrics' Fusion

Shimmer (Copperhead) and Volar Bio

(Silverstone), offering the feeling of

space and tranquillity. Nicole Meier,

Director of Branding, Ultrafabrics,

comments, 'We're delighted to be

working with TPEM and being part of

this amazing project. EV is the future of

mobility and we couldn't be prouder of

what we achieved here with TPEM.'

She adds, 'The AVINYA Concept is the

epitome of modern luxury; a piece of

high-tech design that feels premium

while connecting with our senses

beautifully.'

According to TPEM, Ultrafabrics was a

natural choice – thanks to its overarching

materials innovation and inclusion of

renewable, bio ingredients specifically

in Volar Bio. The combination of Fusion

Shimmer and Volar Bio also provides a

truly sensorial experience, heightened by

its superb haptic qualities.

'The overall aesthetic of the AVINYA

Concept has been designed with "Global

India" and "Indian Locality" in mind –

combining warm terracotta with light

grey,' says Kyeong Shim, Head of Colour

Material Finish, Tata Motors.

'Using tactile materials, coupled

with incense, has also created an

environment that stimulates our senses

in a subtle and comforting way,' she

adds. 'For us, Ultrafabrics is the perfect

partner – not only because of its ongoing

mission to drive a more sustainable

future but also because of its product

innovation through the use of renewable

sources and responsible manufacturing.'

Based on TPEM's GEN 3 architecture, the

AVINYA Concept is a giant stride towards

the next generation of electric vehicles.

While it introduces a new typology of

mobility that liberates roominess and

comfort, it also comes packed with newage

technology, software and artificial

intelligence to deliver wellness and

tranquillity during transit.

The AVINYA Concept focuses on a

human-centric design and promises a

sensory journey of its own; from the

sky dome that enhances the overall

sense of space and natural light, to the

sustainable materials being used and the

finishing touch of an aroma diffuser.

Accessible to customers of fast-growing,

high-volume segments of today, the

AVINYA concept will be introduced to the

market by 2025.

AUGUST 2022 52
---
China's trade rebounds

on easing virus curbs but

outlook still fragile

China's trade growth rebounded in May,

official data showed , as factories restarted

and logistics snags eased after anticoronavirus

restrictions that shut down

Shanghai and other industrial centers

began to ease.

Exports grew at a double-digit pace,

shattering expectations in an encouraging

sign for the world's second-biggest

economy, while imports expanded for

the first time in three months. The data

provided welcome relief to Chinese

policymakers as they try to chart an

economic path out of the supply-side shock

that has rocked global trade and financial

markets in recent months.

Exports surged 16.9% over a year ago to

$308.3 billion in May, up from April's 3.7%

growth, a customs agency statement said.

Imports rose 4.1% to $229.5 billion, the

first gain in three months, driven by easing

logistics bottlenecks and imports of raw

materials and intermediate goods as

domestic production resumed.

Nonetheless, the outlook for China's

exports, closely watched by investors as a

gauge of world economic health, still points

to risks from a monthslong Ukraine war

and rising raw material costs. Those same

factors, along with rising interest rates in

the United States and Europe, have raised

concerns about a global recession.

"We believe this recovery can continue if

there are no further lockdowns," said Iris

Pang, Greater China chief economist at

ING, adding the rebound in both exports

and imports was mainly due to the port

recovery in Shanghai.

Zheng Houcheng, director of the Yingda

Securities Research Institute, said imports,

although beating forecasts, still reflected

sluggish domestic demand.

China's trade has been dampened this

year by weak export demand and curbs

imposed to fight outbreaks in Shanghai, the

site of the world's busiest port, and other

cities. Consumer demand for imports was

crushed by rules that confined millions of

families to their homes.

"If global demand continues to be as strong

as it has been since 2021, China's exports

should maintain an average annual growth

rate of 15%, at least through 3Q22," Pang

said.

Forecasters have cut estimates for China's

economic growth to as low as 2% this year

due to the Shanghai shutdown, well below

the ruling Communist Party's target of

5.5%. Some expect activity to shrink in the

quarter ending in June before a gradual

recovery begins.

Most factories, shops and other businesses

in Shanghai, Beijing and other cities have

been allowed to reopen but are expected

to need weeks or months to return to

normal activity levels.

Still, parts of Shanghai began imposing new

lockdown restrictions, with residents of

the sprawling Minhang district ordered to

stay home for two days in a bid to control

COVID-19 transmission risks.

Home to more than 2 million people,

Minhang will conduct nucleic acid tests

for all residents, and restrictions will be

lifted once the testing is completed, the

government said on its WeChat account.

"Exports showed considerable resilience in

May despite the impact of the protracted

lockdown in Shanghai," said Rajiv Biswas of

S&P Global Market Intelligence in a report.

"The outlook for the second half of 2022

AUGUST 2022 56
---
is for a stronger rebound in imports as

domestic demand recovers."

China's politically sensitive global trade

surplus widened by 82.3% over a year

earlier to $78.8 billion. That was among

the highest monthly trade gaps but below

December's record $94.4 billion. The

country reported a $51.12 billion surplus

in April.

China's "zero-COVID-19" strategy that

confined Shanghai's 25 million people to

their homes starting in late March helped

to keep case numbers low but disrupted

manufacturing and trade and crushed

consumer demand.

The Port of Shanghai says the number

of cargo containers handled each day

returned to 95% of normal by late May.

However, a backlog of tens of thousands of

containers is likely to cause delays that will

be felt around the world.

Import figures got a boost from higher

global prices for oil and other commodities

while the volume of foreign goods bought

grew less strongly.

Authorities responded to complaints

about the soaring cost of "zero-COVID" by

switching to a more targeted approach of

isolating buildings or neighborhoods with

cases instead of cities. But some areas

covered by restrictions that have closed

shops, factories and offices for weeks at a

time have millions of inhabitants.

China's economy grew by a weak 4.8%

over a year earlier in the quarter ending

in March. That was an improvement over

the 4% rate in the final three months of

2021, but the current quarter's economic

indicators in the current quarter are dismal.

Auto sales in April fell by almost half from

a year earlier. Retail spending was off by a

worse-than-forecast 11%.

The ruling party is trying to shore up

growth with tax refunds to entrepreneurs,

easier credit and spending on building

public works. The World Bank warned

that the "old playbook" policies might

delay efforts to encourage growth based

on consumption instead of debt-fueled

investment. High debts "store up further

risks down the line," the bank's chief China

economist, Ibrahim Chowdhury, said in

a statement. As Shanghai reopens, many

factories plan to split workforces into two

groups, with only one on the job at any

time, to limit disruptions if there are more

outbreaks and quarantines, according to

foreign business groups.

"It will be months at least, and possibly

years, before all the people who were

working get back to work," Carl B.

Weinberg of High-Frequency Economics

said in a report.

AUGUST

2022

58
---
What's next for

the euro after

slump against

dollar?

The euro's plunge against the dollar,

triggered by the Ukraine war and mounting

recession fears in Europe, has driven the

two currencies to parity for the first time in

two decades.

The European single currency sank to

$0.9952 – a level not seen since the end of

2002, the year it was officially introduced.

The tumble puts it on course for one of the

worst years in its history, especially if the

energy price shock triggered by the Ukraine

conflict tips the bloc into a prolonged

economic crisis.

But traders believe the euro could recover,

provided it clears several hurdles in the

coming months.

The first to get over is to avoid the risk of

a halt in Russian gas supplies to Europe,

which would cause electricity prices to soar

and force eurozone countries to limit some

industrial activity.

"If gas flows from Russia normalize, or at

least stop falling, following the end of the

Nord Stream 1 maintenance shutdown, this

should somewhat decrease market fears of

an imminent gas crisis in Europe," Esther

Reichelt, an analyst at Commerzbank, told

Agence France-Presse (AFP).

With Russian gas giant Gazprom having

warned it cannot guarantee that the

pipeline will function properly, European

countries fear that Moscow will use a

technical reason to permanently halt

deliveries and put pressure on them.

French President Emmanuel Macron even

said that Russia was using energy "as a

weapon of war."

If Nord Stream 1 "doesn't turn back on, the

euro falls as the economic shock waves will

be felt worldwide as the European energy

crisis could very well trigger a recession,"

warned Stephen Innes, an analyst at SPI

Asset Management.

"Recession would inevitably mean that

the market becomes even more concerned

about fragmentation risks in the eurozone,"

added Jane Foley, a foreign exchange

specialist at Rabobank.

Like other central banks, the European

Central Bank (ECB) is seeking to avoid stifling

the economy by raising rates too sharply.

But it also has to worry about a possible

fragmentation of the debt market, with

large differences in borrowing rates across

the eurozone.

The ECB has so far maintained an ultra-loose

monetary policy to support the economy,

while the U.S. Federal Reserve (Fed) has

instead raised rates and promises to

continue to do so to counter inflation.

It will announce its monetary policy decision

and has indicated that it would raise rates

for the first time in 11 years to combat

inflation running at a record high of 8.6%.

Currency weakness exacerbates the inflation

problem. Yet the ECB cannot risk aggressive

policy tightening for fear of sending

economic growth into reverse.

"If the ECB is aiming to give the euro a

boost, it will have to deliver a 50-bp hike in

July and/or signal that 75-bp moves are on

the cards for September," S&P analysts said

in a note.

"Speedier policy adjustments

now would help anchor inflation

expectations, reducing the risk of

needing a restrictive policy stance

further down the line," they added.

For economists at Berenberg, the euro's

fall is more attributable to the strength

of the dollar, which has "appreciated

strongly against a broad basket of

currencies since mid-2021."

The dollar has benefited from the Fed's

tightening of monetary policy as it tries

to limit inflation, which hit record highs

again in June.

"Markets are speculating that the Fed

may raise rates by 100bp instead of

75bp at its next meeting on 27 July,"

noted Berenberg.

"If so, this could strengthen the dollar

further."

UniCredit added: "Towards year-end,

prospects of declining inflation and

more-balanced messaging from central

banks as the cyclical peak of official

rates nears should support a return of

risk appetite and ease USD demand."

Should that happen, the euro could

move away from parity in the last few

months of 2022, they say.

AUGUST 2022 60
---
Bridge Of Weir publishes its life cycle analysis

The first automotive leather maker in the world to do so

Bridge of Weir Leather, expert supplier of

Fine Automotive Leather to the world's

most respected luxury car brands, becomes

the first automotive leather manufacturer

in the world to publish its independentlyverified

Life Cycle Analysis (LCA). Building

on more than two decades of responsible

leather production leadership, Bridge

of Weir has published its product's LCA

as part of the publication of parent

company Scottish Leather Group's 2022

Environmental Social and Governance

(ESG) report.

Detailing progress towards its goal of

zero impact leather manufacturing, the

company commits to achieving net-zero by

2025 – twenty years ahead of Scotland's

net-zero ambitions – and also delivering

zero waste to landfill by the same year,

further fortifying its sustainability pledges.

Bridge of Weir Leather's LCA, conducted

by independent consultants, enables

the business to measure the impact of

its activities, verify its supply chains and

identify opportunities to reduce its overall

impact.

This long-term commitment to responsible

and sustainable manufacturing has been

driven by a series of significant, multimillion-pound

investments implemented

over the last twenty years, with forwardthinking

initiatives such the patented

Thermal Energy Plant (TEP) and Water

Treatment & Recycling Plant (WTRP).

Bridge of Weir's carbon footprint has

been achieved without resorting to any

carbon offsetting at all, while all data

published is third-party accredited by

BSI and independently verified according

to ISO14016, Environmental Reporting

Standard. In addition, the company's

unique lowest carbon leather directly

supports its automotive customers and

their journey to net zero carbon emissions

across their entire supply chains.

Dr Warren Bowden, Head of Innovation

and Sustainability at Scottish Leather

Group, said: "As we continue to build on

our industry-leading position by becoming

the first automotive leather manufacturer

in the world to publish an independently

verified Life Cycle Analysis (LCA), we are

demonstrating that leather is a naturally

sustainable product and that it should be

produced in a responsible manner too. We

are fully committed to our long-term goals

of achieving net-zero carbon emissions

and zero waste to landfill by 2025. Our

LCA is a powerful 'carbon accounting'

tool for measuring how responsible our

consumption of raw materials and our

production of leather is, enabling a true

and fair comparison against the impact of

other products and materials. This rigorous

measurement fully supports the strategic

approach of the Scottish Leather Group and

provides Bridge of Weir's customers, the

world's most respected luxury automotive

brands, with independently verified

sustainability data."

Jamie Davidson, Sales Director, Scottish

Leather Group, concluded: "Bridge of

AUGUST 2022 62
---
Weir has been manufacturing the finest

sustainable leather for the automotive

industry for more than a century – and

innovation is at the heart of what the

business does. We are proud that our

journey to zero, measured by rigorous

analysis, leads the leather industry, and

supports our valued customers, the world's

leading premium and luxury car makers,

in achieving their own sustainability

targets and meeting the demands of their

consumers."

Long-term commitment Since 2003, Bridge

of Weir has pioneered and patented

circular manufacturing processes that

minimise waste to landfill and radically

reduce the carbon footprint, while its

multi-million-pound Thermal Energy

Plant [TEP] reclaims energy as steam and

uses a proportion of this heat to directly

power its tannery. All the raw hides used

in leather-making are a by-product of the

local beef and dairy industries, of which

over 98% are sourced locally within the

UK and Ireland. The raw hides used to

make Bridge of Weir leather are always

sourced from responsible suppliers with

100% traceability and without risk of

deforestation.

Bridge of Weir sources natural, clean,

local water from its own loch – its Water

Treatment & Recycling Plant (WTRP)

plant enables the recycling of up to 40%

of treated water back into use within

production – while its world-class tannery

uses 50% less water per hide than the

industry standard.

Future commitment to further reduce

emissions

Through its LCA, Bridge of Weir has

identified a series of opportunities to

further lower its impact in the future.

Dr Warren Bowden continued: "The

current LCA uses generic farming data, not

specific 'primary' data which is based on

UK farming – widely recognised as being

lower impact than the global data – so

there is a potential for Bridge of Weir's

LCA to be even lower once this is factored

in. Added to this, we are also working

on a series of innovations, including

biobased alternatives to existing tanning

agents and novel tannages which pioneer

new techniques. We are also developing

solutions to solve the challenge of endof-life

leather, through energy conversion,

or partnering with our customers, to

repurpose their leather into new products."

AUGUST

2022

64
---
Tesla hit by new

lawsuit alleging

racial abuse of

black workers

Fifteen black former or current employees

at Tesla filed a lawsuit against the electric

carmaker alleging they were subjected to

racial abuse and harassment at its factories.

The workers said they were subjected to

offensive racist comments and behavior by

colleagues, managers and human resources

employees on a regular basis, according to

the lawsuit filed in a California state court.

The harassment, which occurred mostly at

Tesla's Fremont, California factory, included

using the N-word and such terms as

"slavery" or "plantation" or making sexual

comments such as "likes booty," the lawsuit

said, adding that the automaker's "standard

operating procedures include blatant, open

and unmitigated race discrimination."

The filing described one plaintiff, Teri

Mitchell, as being regularly harassed by coworkers

and managers who used racial slurs

and made statements including, "It is rare

for blacks to work here. I don't know how

long you will be able to stay here."

Another plaintiff, Nathaniel Aziel Gonsalves,

described harassment by a supervisor.

The complaint described the supervisor as

saying that "Gonsalves 'wasn't like most

black people,' that he 'didn't act ghetto,'

and further called him a 'zebra' because he

was 'neither black nor white.'"

Some of the plaintiffs were assigned to the

most physically demanding posts in Tesla or

passed over for promotion, according to the

lawsuit.

It said that Montieco Justice, a production

associate at Tesla's Fremont factory, was

immediately demoted upon returning

to Tesla after taking an authorized leave

of absence as a result of contracting

COVID-19.

The automaker is facing at least 10 lawsuits

alleging widespread race discrimination

or sexual harassment, including one by a

California state civil rights agency.

Tesla in February responded to the

expected lawsuit by the California

state agency, the Department of Fair

Employment and Housing, saying it

opposes discrimination and investigates all

complaints.

"Tesla has always disciplined and

terminated employees who engage in

misconduct, including those who use racial

slurs or harass others in different ways. We

recently rolled out an additional training

program that reinforces Tesla's requirement

that all employees must treat each other

with respect and reminds employees

about the numerous ways they can report

concerns, including anonymously," it said in

a company blog.

A federal judge in California ordered a new

trial on the damages Tesla owes to a black

former factory worker who accused the

company of race discrimination, after he

turned down a $15 million award.

AUGUST 2022 68
---
Japan pushes to remove zero-emission

vehicle target from G7 statement

Japan is pushing to remove a target

for zero-emission vehicles from a G-7

communique, according to a proposed

draft, a move that would water down

language on climate change from the

leaders' summit in Germany.

The pressure from Tokyo, an influential

member of the Group of Seven rich

nations, comes as the Japanese auto

industry has faced scrutiny from green

investors who say it has been slow to

embrace zero-emission vehicles and

lobbied against regulations that would

encourage a quicker transition to the

technology. Reuters reported that Toyota

Motor Corp.'s head lobbied the Japanese

government to make clear it supported

hybrid vehicles as much as zero-emission

battery electrics. G-7 leaders are meeting

in the Bavarian Alps for a summit where

climate change figures on the agenda.

Japan has proposed removing a reference

to a "collective goal of at least 50% zeroemission

vehicles by 2030," according to a

draft of the communique.

In its place, it has proposed a less concrete

target of "significantly increasing the sale,

share and uptake of zero-emission lightduty

vehicles recognizing the range of

pathways that members are adopting to

approach these goals," according to the

draft.

A person familiar with the matter

confirmed that Japan had proposed the

changes, declining to be identified because

of the sensitivity of the issue. It was not

clear whether the proposed changes would

be in the final version of the communique,

which is due to be released at the end of

the summit.

Japan's foreign ministry said it was not

immediately able to comment.

Separately, Japan had pushed to remove

a goal for all new car and van sales in G-7

countries to be "zero-emission vehicles"

by 2035, in the G-7 climate ministers'

communique in late May, according to

sources familiar with the discussions and a

draft communique seen by Reuters.

Ultimately, the 2035 target was not

included in the final statement, which

pledged instead to achieve a "highly

decarbonized road sector by 2030" by

"significantly increasing" zero-emission

vehicle sales.

Both Japan's auto industry lobby and

leading automaker Toyota say automakers

should not be limited to specific

technologies and needed to keep a range

of options toward reaching a goal of carbon

neutrality by 2050.

Toyota, the world's biggest automaker

by sales, has said fossil fuels, not internal

combustion engines, are the problem. As

well as the hybrids it popularized more

than two decades ago with the Prius, it also

champions hydrogen technology, although

that has so far not caught on the way

battery-electric cars have.

Energy and climate think-tank

InfluenceMap has rated Toyota the worst

among major automakers for its lobbying

record on climate policy, which includes

public statements and interaction with

governments.

AUGUST 2022 70
---
Turkey can serve as 'green industrialization' model

Turkey can serve as a model for

other developing nations in "green

industrialization," while itself focusing

on efficiency and cooperation with other

countries, experts said.

"Turkey has a huge potential of hydro as

well as wind power compared to many

developing countries," said Fatma Gül Ünal,

senior economist at the U.N. Conference

on Trade and Development (UNCTAD).

The country has a "quite diversified"

economy, while its human resources and

state machinery are "working in a way

that may not exist in many developing

countries," Ünal told Anadolu Agency.

She was speaking on the sidelines of a

panel on green industrialization in Turkey,

jointly hosted by the UNCTAD and Istanbulbased

Kadir Has University.

It was the first in a planned series of events

under the UNCTAD project "Integrated

policy strategies and regional policy

coordination for resilient, green and

transformative development" also to be

held in Pakistan, Kazakhstan, and Malaysia.

"Turkey could be a model for the other

developing countries because it has the

majority of water resources in the Middle

East and North Africa," said Ünal, adding

that the country also has a significant

amount of arable land.

"When green comes to mind, the

agricultural sector provides for sustainable

development and food security issues

which is very current and contemporary

right now," she added.

Development "has to be greentransitioned,"

the U.N. economist said.

'Political will needed'

By diverting a mere 2.5% of their gross

domestic product (GDP) to green

investments, U.N. member countries

AUGUST 2022 72
---
could generate jobs for their people, Ünal

underlined.

"What is missing in this picture is political

will and integrated policies, sustainable

long-term policies," she remarked, adding

that UNCTAD's initiative would also

lead to regional talks on the exchange

of knowledge to show that green

industrialization is possible.

Robert Pollin, an economics professor

at the University of Massachusetts-

Amherst in the U.S., told Anadolu Agency

that Turkey should "invest in raising

efficiency standards and increasing public

transportation, getting cars off the road."

Investments in electric heating and cooling

is also "relatively inexpensive," he added.

To reduce carbon emissions, Pollin said,

Turkey should invest in renewable energy,

which would, in turn, reduce its imports in

that sector. He suggested that the country

should work to "substitute imported fossil

fuel to having domestic green energy."

To realize green industrialization, Pollin

told the panel that "mobilizing existing

institutions" would be key for more

effective policies.

Pointing to the World Bank and

International Monetary Fund, Pollin said

their efforts would also lead to policies

toward achieving sustainability goals.

Cooperation

Safdar Sohail, from Pakistan's National

Institute of Public Policy, said Turkey and

Pakistan could "help each other and learn

from each other in technology" with regard

to green industrialization.

At the regional level, Sohail said, regional

economic cooperation would be a better

platform for the two countries' work

towards their sustainability goals.

"Both countries are doing interesting things

in the greening of their economy, like the

collaboration between the two countries in

public transport facilities," he said, pointing

to the public subway line in Lahore, a

Pakistani city of over 11 million people,

which was built by a Turkish firm, as an

example.

He said the revival of the Istanbul-Tehran-

Islamabad railway was also a step in the

direction of economic integration.

Calling for south-south cooperation among

the developing nations, the Pakistani

expert urged countries to use "cleaner

technologies for production."

Amid "hyper globalization," he told the

panel, "development practice" is needed

much more at international levels before it

can be at regional levels.

AUGUST 2022 74
---
Metal industry

seeks FTAs with

Latin America

With a decline in commodity prices

hurting profits, companies operating

in the metal industry are looking at the

markets in Latin America, seeking free

trade agreements (FTA) with the countries

in this continent.

"That is correct. We have expensive goods

in inventories to sell but the prices are

on the decline, and this situation causes

losses in profits," said Çetin Tecdelioğlu,

head of the Istanbul Ferrous and Nonferrous

Metals Exporters' Association

(İDDMİB).

However, he noted demand from the

EU and other markets for local products

is strong. At a meeting at the Trade

Ministry, they convened their demand to

government officials for signing FTAs or

similar deals with Mexico and Brazil.

"The decline in prices may well continue

until the end of the year," Tecdelioğlu

added.

The local ferrous and non-ferrous metal

industry's export revenues target is $16

billion, and revenues from shipments

to foreign markets already exceeded $8

billion in the first half of 2022, he said,

noting that the current situation in the

global markets may offer opportunities to

Turkey. Tecdelioğlu recalled the meeting

at the Trade Ministry, when the "distant

countries strategy" for exports was

unveiled. "Under this strategy, we also

aim to increase our share from the global

market."

"The report on the new strategy provides

details on how exports could be increased

to the target countries. We are very

excited about the Latin America [market].

Particularly, Mexico and Brazil have a

large population, and their consumption

is strong. With FTAs, we can also capture a

larger share in Europe," he said.

Turkey is seeking to increase its exports

to the world's largest economies with

a specially tailored "distant countries

strategy."

The targeted 18 countries in different

continents, including the U.S., Canada,

Mexico, Brazil, China, Japan, India, South

Africa and Australia, account for more than

half of the global economy.

AUGUST 2022 78
---
Karsan Expands

Its Electric

Vehicle Network

In Romania!

Karsan, one of the leading companies in

the Turkish automotive industry, continues

to take important steps towards growth,

led by its "One Step Ahead in the Future

of Mobility" vision. Having previously

delivered its electric vehicles to many

cities in Romania and signed high volume

contracts, Karsan signed a new contract

to deliver its electric vehicles to the city of

Focsani, which follows in the footsteps of

the city of Deva. Under the agreement with

Focsani, 7 e-JEST and 9 e-ATAK deliveries

will be made. Having already a fleet of 76

electric vehicles in Romania, Karsan has

already received orders for 104 electric

vehicles to be delivered in 2022, with

the Focsani tender. When all deliveries

are completed this year, Karsan's electric

vehicle fleet in Romania will reach 180

units.

Okan Baş, Karsan CEO: "We intend to

position the Karsan brand among the top

five players in Europe with our electric

development vision, e-Volution. Along with

France, Romania is one of Karsan's most

important target countries in the electric

vehicle market. In that vein, it will be one of

those countries that will play a key role in

our double growth target that we have set

for this year."

The zero-emission, high-range electric

vehicles from Karsan, helping to shape

public transport in cities across many

countries with its range of commercial

vehicles, are achieving success one after

another. Driven by the goal of rounding

off 2022 with a doubling of turnover,

profitability, exports, employment and R&D

capacity, Karsan continues to accelerate

its efforts to export more of its vehicles to

Romania. Karsan is to deliver 7 e-JEST and 9

e-ATAK buses pursuant to a contract for the

sales of electric buses to the city of Focsani,

pushing forward with its growth strategy in

Romania.

Karsan, which recently signed an agreement

for delivery of 56 units of 18 meter-long

e-Ata buses with the municipalities of

Timișoara and Braşov, added a new one to

its list of awarded electric vehicle contracts,

in a tender for e-JEST and e-ATAK models

with its Romanian distributor Anadolu

Automobil Rom in the cities of Deva, Gura,

and Segarcea. Finally, Karsan, which won

the tender for 16 electric vehicles to be

delivered to the municipality of Focsani,

continues to write new success stories in

Romania. Karsan, having already received

orders for 104 electric vehicles in Romania

for delivery in 2022, plans to expand its

existing fleet of electric vehicles to 180

by the end of the year. Okan Baş, CEO of

Karsan, emphasized that they had achieved

significant growth with the agreements

signed in 2021 and the expansion of export

markets, and stated that Romania would

contribute to Karsan's growth targets in

2022, saying, "We entered 2022 with the

goal of doubling growth across all areas.

The most important component of our

growth target is, of course, exports. With

our electric development vision e-Volution,

we are positioning the Karsan brand among

the top 5 players in Europe. Along with

France, Romania is one of Karsan's most

important target countries in the electric

vehicle market. In that vein, it will be one

of those countries that will play a key role

in our double growth target that we have

set for this year. With the new contracts

for electric vehicles we have signed in

Romania, we are reaffirming our vision,

"One Step Ahead in the Future of Mobility".

A proven performer which comes with high

maneuverability and unmatched passenger

comfort, e-JEST is equipped with a BMW

electric motor capable of 170 HP power

and 290 Nm torque with optional 44 or 88

kWh batteries, also made by BMW. Offering

the best performance in the six-meter small

bus class with a range of up to 210 km,

e-JEST also boasts a regenerative braking

system which provides energy recovery by

enabling the batteries to self-recharge at a

rate of 25 percent. Decorated with a 10.1-

inch multimedia touchscreen, fully digital

dashboard, keyless ignition, and USB ports

as well as an optional WiFi compatible

infrastructure, e-JEST does not come short

in terms of comfort compared to passenger

cars thanks to its four-wheel independent

suspension system.

e-ATAK comes with dynamic front and rear

lines, and provides a striking look with its

LED daytime running lamps. The electric

motor at the heart of e-ATAK generates 230

kW engine power and 2.500 Nm torque,

providing users with a high performance

driving experience. Running on a total 220

kWh capacity with five 44-kWh batteries

developed by BMW, the 8-meter e-ATAK

boasts a unique 300 km range to outpace

its rivals. Moreover, the vehicle's batteries

can be charged in 5 hours with AC charging,

and in 3 hours with fast-charging units. A

regenerative braking system also recycles

power which enables the batteries to selfrecharge

up to 25%. The model comes with

two seating layout options, for a capacity of

52 passengers.

JULY 2022 80
---
Freight handled

at ports rose

nearly 7 pct in

first half

Total volume of freight handled atTurkey's

ports increased by 6.6 percent in the

first half of the year from a year ago to

273.5 million tons, Transport Minister Adil

Karaismailoğlu has said. In June alone, ports

handled 45.3 million tons of goods, marking

a 3.7 percent increase from the same month

of 2021, the minister said in a written

statement. Ports also handled 12.9 million

tons of good destined for foreign markets,

down 4.3 percent on an annual basis, while

the volume of imported goods rose by 9.6

percent to 19.96 million tons, according to

Karaismailoğlu.

"Consequently, foreign trade-related freight

handling at the ports increased in June by

3.7 percent from a year ago to 32.9 million

tons."

The U.S. was the top destination of export

goods with 1.63 million tons, followed by

Italy and Spain and cement was the largest

export item shipped from the Turkish ports

to foreign markets. In import freights, Russia

and oil topped the list.

The port in the northwestern province of

Kocaeli was the busiest as 6.98 million tons

of freight were handled there, followed

by the ports in Aliağa and Ceyhan, said

Karaismailoğlu.

The volume of containers handled at the

country's ports stood at 6.4 million TEU

(twenty-foot equivalent unit) in January-

June, up 2.7 percent from the same period

of last year, while the volume of transit

containers was down 16.2 percent to

158,177 TEU, the minister also said.

AUGUST 2022 82
---
Cummins Power

partnership with

Otokar reaches

a milestone

of 20,000 bus

engines supplied

16-year engine supply to the Sakarya

bus manufacturing facility in Türkiye

celebrated at the Cummins Darlington

Plant in the UK

Cummins and Otokar are celebrating a 16-

year long partnership which has seen the

delivery of more than 20,000 engines for

bus and coach applications. The occasion

was marked with the presentation of a

celebratory plaque to Otokar from the

Cummins team at its engine plant in

Darlington, UK.

Since the first installation in 2006,

Cummins diesel and natural gas engines

have been a mainstay in the majority

of Otokar's city and inter-city buses, as

well as tourism coaches operating across

Türkiye and worldwide. Approximately 90

percent of buses produced at its Sakarya

manufacturing facility feature Cummins

Euro VI F2.8, B4.5, B6.7 low-emission diesel

or L9N natural gas engines.

Cenk Yavuz, Türkiye Territory Manager at

Cummins commented "We are excited to

celebrate this key milestone with Otokar.

Since supplying our first engine, the Euro

IV ISB4.5 for the Sultan midi-bus in 2006,

we have worked in partnership to ensure

our products meet Otokar's needs for high

performance, reliability, simplicity and

easy maintenance. As Otokar's business

continues to expand, we look forward to

working with them on future projects."

Otokar has led the bus market in Türkiye

for the last 13 years with products ranging

from 6.6m – 21m length and capacity from

46 to 146 passengers. Cummins power

can be found in Otokar's low-emission

diesel and ultra-low emission natural

gas powered vehicles including the Kent,

Territo / SHD, Vectio / Doruk and Sultan /

Navigo ranges.

Otokar recently announced an extension

to its product line up with Centro, its new

6.6m mini-bus powered by a Cummins

F2.8, 107 kW (143 hp) Euro VI engine. The

Centro enables Otokar to compete in the

growing premium mini-bus market, as well

as reinforces Cummins' position as the

leading engine supplier to Türkiye's bus

fleets.

Kerem Erman, Assistant General Manager,

Commercial Vehicles, Otokar, commented

"The Turkish bus market grew 8 percent by

units last year and we increased our market

share substantially. One out of every two

buses sold in Türkiye was Otokar branded,

many of which were Cummins powered.

"A long-term partnership with our

suppliers, reliable aftersales support, spare

parts availability and warranty support

are very important for us. We have a great

relationship with Cummins - they are a

trusted partner to Otokar and their Euro

VI advanced diesel and natural gas engines

have been instrumental to our success."

Approximately 73 percent of Otokar's

2021 revenue was from export sales

and the company is a major driver of

automotive exports from Türkiye. Its public

transportation vehicles operate in more

than 50 countries, including key European

markets France, Italy, Germany, Spain

and more. Otokar has recently received

orders for high volumes of its Cummins

powered natural gas KENT C CNG city bus

from Ukraine, Romania and Azerbaijan for

delivery throughout 2022.

AUGUST 2022 84
---
Turkey big

growth boom

waiting to

happen

Turkey is a big growth boom waiting to

happen, said Robin Brooks, chief economist

at the Institute of International Finance

(IIF).

"Net exports, the difference between

exports and imports, have been a positive

growth driver for over a year, a sign just

how competitive Turkey's export sector

has become. All that's needed is macro

stability and Turkey will boom!," he wrote

on Twitter.

Turkey is one of the few emerging markets

where exports boom, only Turkey has

consistently positive contributions, he

added. "Better days are coming."

In another tweet, Brooks commented on

commodity prices, saying that "winners

versus losers in the global commodity

price shock. Biggest winners: Saudi Arabia,

Turkey, and Brazil. Biggest losers: Argentina,

Chile and Colombia. The list of losers is

deeply worrying. These are commodity

exporters that should be doing well."

Turkey's exports grew by 18.5 percent to

stand at $23.4 billion in June, according

to the preliminary data from the Trade

Ministry.

Imports amounted to $31.6 billion in the

month and the energy was the largest item

at $8.1 billion in overall imports, said Trade

Minister Mehmet Muş.

"Exports will remain the main driver of

economic growth," Muş said.

Excluding energy imports, the exports-toimports

coverage ratio was 93.4 percent

last month.

In the first half of the year, the country's

export revenues grew 20 percent on an

annual basis to hit $125.9 billion.

Turkey's economy grew by 7.3 percent

in the first quarter of 2022 compared to

January-March last year. The rate of growth

in the first months of this year, however,

eased from the 9.1 percent expansion

recorded in the final quarter of 2021. Last

year the Turkish economy grew 11 percent.

AUGUST 2022 88
---
Turkish builders

take on $4.6B

in H1 projects

abroad

Turkish construction companies undertook

projects worth nearly $4.63 billion in the

first half of 2022, data showed.

The companies took on some 132 projects

that had an average cost of over $35

million, Anadolu Agency (AA) said, citing

data compiled from Trade Ministry.

Since they took on their first contract

overseas in 1972, the builders have

undertaken more than 11,273 projects

in 131 countries. The total value of the

projects has reached more than $458.4

billion.

Over recent years, their businesses were

delivered a heavy blow by geopolitical

instability and uncertainties in multiple

markets.

The size of the 354 projects they took on

abroad in 2020 dropped to $15.9 billion,

mainly due to measures to curb the

coronavirus pandemic.

The figure rebounded to some $30 billion

last year, as many countries eased the

COVID-19 lockdowns.

Currently hit by sweeping sanctions over

its invasion of Ukraine, Russia has been

Turkish builders' top market, accounting

for 20.8% of all projects to date, whose size

has reached around $94.5 billion.

Turkmenistan and Iraq follow with 10.9%

and 6.9% share. Projects in the two

countries have a total size of nearly $50

billion and $31.7 billion, respectively.

Libya, Kazakhstan and Saudi Arabia are

among other markets where Turkish

builders have undertaken the most

projects.

AUGUST 2022 90
---
Turkey's BOTAŞ

gets $929M loan

from for LNG

purchases

Turkey's state energy importer has been

provided with a 925 million-euro ($929

million) loan from Deutsche Bank to

finance its future liquefied natural gas

(LNG) purchases in a bid to diversify its

import sources, the German lender said.

The three-year loan will allow Petroleum

Pipeline Corporation (BOTAŞ) to diversify its

spot LNG purchases from suppliers mainly

in Europe and the Middle East, Deutsche

Bank said in a statement.

Responsible for 95% of gas supplies

in Turkey, BOTAŞ will use the facility

to partially meet its LNG purchase

requirements from a list of pre-agreed

international natural gas suppliers in 10

countries.

These include the United States, Singapore,

France, Germany, Italy, Spain, Switzerland,

the United Kingdom, Algeria and Qatar.

The loan is guaranteed by Turkey's Treasury

and Finance Ministry and can be extended

in size in the future, the statement said.

The possibility of the financing was first

reported by Bloomberg in April.

The agreement marks BOTAŞ's first loan

deal for LNG purchases and is said it could

pave the way for similar agreements that

will allow it to diversify supplies currently

dominated by Russia and Iran.

Turkey imports almost all its energy needs,

leaving it vulnerable to price swings.

Surging energy prices after Russia's invasion

of Ukraine pushed costs higher, threatening

the government's economic plan aimed at

achieving a current account surplus.

The government has been subsidizing a

significant amount of utility bills in an effort

to soften the burden of soaring consumer

prices on households. It opted to keep

prices for households steady and hike

prices for gas sold to industrial facilities and

power plants for the most part of the first

half of the year.

Yet, BOTAŞ in June said it had raised prices

for households, as well as industry and

electricity production, with the price for

households raised by 30%.

BOTAŞ has bought billions of dollars from

the central bank to cover its purchases

this year. It was the largest recipient of

nearly $18 billion in currency sales to state

economic enterprises by the central bank

in the first half of this year.

"The deal constitutes an important step

in the ongoing development and focus of

Deutsche Bank's franchise in Turkey and

confirms the bank's continuous support

and commitment to the country," said

Orhan Özalp, CEO of Deutsche Bank A.Ş.

Turkey.

"Already a leader in financing a number

of Turkey's most significant infrastructure

projects, Deutsche Bank has had a longstanding

presence in the country and will

continue to support selective projects in

transport, infrastructure and energy in the

future," he noted.

AUGUST 2022 92
---
Kaya Plastik in

6 continents

with 44 years of

experience

Aydın Kaya, owner and manager of Kaya Plastik

Kaya Plastik, which started its activities

in 1979, serves in 6 continents with

its wide product portfolio. Aydın Kaya,

owner and manager of Kaya Plastik, who

states that they will increase their export

activities, talked about their future goals to

Automotive Exports Magazine.

Can you tell us about the

establishment story of Kaya Plastik?

The foundations of Kaya Plastik Automotive

company were established in 1979 by our

father Ibrahim Kaya. Our company has

been active in various products in a plastics

industry before the automotive industry

and then decided to continue in the

automotive industry. It has been operating

in the Automotive sector for a very long

time and has great experience. Our

company initially operated in Bayrampasa,

then moved to Günesli and Esenyurt

factories due to their growth processes.

We are currently operating in our Esenyurt

factory.

What products are in your brand's

product range?

Our product groups appeal to a wide range

of brands and models.

We contain tens of molds for more than

600 products in our production. Product

groups include signal lamps, reservoir

and water tanks of vehicles, especially

passenger cars, gear knobs, fog light

frames, glove box covers, reflectors, door

inner and outer opening handles, engine

top cover caps, window opening lever,

signal frames, lock buttons and mirrors.

There are many types of products such as

covers. We produce for multiple brands

and models with all product groups. While

there are products suitable for passenger

vehicles, some of our products are also

suitable for the Van and truck group.

Can you tell us about your activities

abroad? In which regions do you

continue your work?

Foreign activities, especially exports, are

of course very important for us as well

as for all companies. We can describe

our overseas activities into advertising

and promotion as well as sales activities.

We carry out activities for the countries

we have determined every year by

conducting target country studies. We

visit our customers with overseas visits,

and we have the opportunity to introduce

our products and meet new companies

through fairs.

We offer the products we produce with

our customers all over the world. All of

our products are available for sale in the

countries we target. We export to 24

countries and our goal is to increase this

figure both on a country basis and on a

product basis. Our biggest goal is to work

with long-term, regular and trouble-free

customers.

Which region do you export the most

to? Do you have a target export point?

What are the products you export?

All the products we manufacture are

suitable for export. Different products can

be sent to each region and each country.

A brand in one country may not be in

another. Therefore, the sale and use of

products differ from country to country.

Our export regions can vary in terms of

turnover, number and number of exports.

Europe, North and South America, North

African countries, Russia and surrounding

countries, and Australia are the regions

where our exports still continue.

In terms of the countries we target,

reaching and expanding to different

AUGUST 2022 94
---
countries and customers in the regions

where we do not sell is among our biggest

goals. Every country, every customer is

valuable and precious to us. I would like

to express it with an old proverb. The day

comes closes the week, the week comes

closes the month, the month comes closes

the year. The exact equivalent of the word

closure here is actually taking an order.

That's why we perceive and serve all of

our customers, big or small, as important,

valuable and whose demands must be met.

Are you considering investing in

different areas within your sector?

Will you increase your investments on

behalf of the automotive industry in

the future?

We try to build our professionalism and

experience where we focus. We know

that the experience gained is due to our

definition of products for a long time,

not knowing the production processes,

continuing our long-term customer

relations, and persistently achieving

our goals. Experience is not an easy

achievement, we have grown our company

to this point thanks to the opportunity

our father gave us on this path. We will

continue to use our focus and all our

experience in this field

It is not possible to stop investment in

the automotive sector. New models come

out every year. If you stop, you shrink.

Growth is in the nature of business. You

should always look ahead. It is necessary

to invest, achieve goals, act with the right

perspective and the right team.

We, as Kaya Plastik Automotive, make

investments in several areas every year.

We are trying to create this market

analysis, our export targets and the needs

of our domestic customers by performing

technical and software needs analysis.

We try to do all investment processes by

placing them in appropriate time frames.

We constantly carry out renovation work in

our company, and we plan and implement

production and sales with products that

meet the needs of our customers and

markets by adding new products every

year.

What are the policies you have

determined to increase customer

satisfaction?

Customer satisfaction is very important to

all of us. After all, we do the production for

them. The quality of our products is more

important than anything else. We do not

produce products that we are not satisfied

with in terms of quality and that we are

not happy with the quality. We have

created the Kaya Plastik brand with quality

production so far and we will not give up

on it. We never compromise our quality

criteria to compete and produce cheap

goods. Therefore, each product group

has separate tests and quality processes.

Requests from customers are definitely

answered and evaluated by us. Various

studies are carried out in our company

for our products, production processes,

employee satisfaction, and many similar

issues.

There are many documents that our

products and our company have.

We have ISO9001-2015, ISO 10002-2018,

ISO 140001-2015, ISO 45001-2018 and

many similar documents.

In addition, we have export certificate

for Russia and that geography, and many

other documents that facilitate export and

increase investment.

While we try to address our customers

and meet their needs, we work to evaluate

our employees as happy employees with

the same perspective. We are a company

with very little staff turnover. This gives us

the power to work more comfortably and

together as a team.

95 AUGUST 2022
---
Turkey's car brand Togg backs tech

ventures' global journey

Looking to guide startups on their global

journeys, Turkey's first domestically

produced car brand is taking its mobility

acceleration program to the international

arena.

Automobile Joint Venture Group (Togg), the

consortium developing Turkey's indigenous

car, has announced a cooperation with

the world's largest innovation platform to

launch its Mobility Acceleration Program.

The cooperation looks to support

international startups in many areas, from

mentoring to financial consultancy.

Plug and Play has 400 corporate partners

in the heart of the Silicon Valley as well

as in four continents, 20 countries and 39

offices.

Togg will also be a member of STARTUP

AUTOBAHN, an open innovation platform

supported by Plug and Play, and will take

an active role in the field of mobility

together with global players.

Addressing the STARTUP AUTOBAHN

Expo 2022 in Stuttgart, Germany, Togg

CEO Gürcan Karakaş said startups are an

important part of new technology solutions

in the mobility ecosystem.

"Companies relied heavily on their

own R&D (research and development)

units 5-10 years ago, but with start-ups,

technological innovation has reached an

unprecedented speed," Karakaş said.

"Startups that take bold steps with their

agile business models take fast action

and transform sectors. Startups also play

a critical role in shaping the mobility

ecosystem. The sector produces a window

of opportunity for new players to emerge,

while collaborations with new players

allow us to produce sustainable value," he

noted.

"The Mobility Acceleration Program we

are launching with Plug and Play is an

important step we have taken to support

startups, a very important element of the

ecosystem."

"We are the rare mobility ecosystem

application platform in Europe in a real

sense."

Karakaş said in June the company

participated in Vivatech, Europe's largest

technology and startup event, and

conveyed their startup approach.

"We also had the opportunity to engage

with startups with Mobility Park by Togg,

which was located in the center of the

event. As a company that is preparing for

global competition, we will continue to

be involved in all kinds of efforts that will

improve the mobility ecosystem not only in

our country but also internationally."

Plug and Play Turkey Director Lale

Gozübüyük said the innovation platform

"will be happy and proud" to share with

Togg an experience that encompasses not

only global automotive companies but

many other sectors, mainly mobility, as well

as the opportunities it has developed.

"Togg aims to be much more than a

car. Plug and Play, the world's largest

innovation platform, will be happy

and proud to share its experience and

opportunities that extend not only to

global automotive companies, but also to

many sectors, especially mobility, with Togg

on this long journey," Gozübüyük noted.

Cooperation with Türk Telekom

Plug and Play is known in Silicon Valley

as the acceleration program that most

successfully matches technology startups

with giant companies in the vertical

industry.

Making the best innovation-oriented

pairing of technology startups with

global giant companies in the heart of

Silicon Valley, Plug and Play collaborated

with Türk Telekom, one of Turkey's

leading information and communication

technologies companies, last year.

It mediated the transfer of initiatives from

Turkey to the center of technology. With

the latest cooperation, mobility initiatives

will also have a similar opportunity.

AUGUST 2022 98
---
Inflation top priority as

Turkey unveils new steps

to shore up economy

Turkey announced several new measures

to support the economy, with authorities

saying reining in inflation remained the top

priority, in addition to encouraging savings

and bolstering the Turkish lira.

The Treasury and Finance Ministry said

it will issue domestic bonds indexed

to the revenues of state enterprises to

encourage lira asset savings, the central

bank raised the required reserves ratio for

lira commercial cash loans, and the banking

watchdog tweaked a maturity limit for

consumer loans.

"The fight against inflation remains a top

priority. In this struggle the importance of

coordination between institutions is clear

and all our institutions are acting with

the understanding of a joint struggle," a

statement by the ministry said.

Treasury and Finance Ministry said it will

start assessing demand for the so-called

revenue-indexed bonds on June 15. The

new domestic debt instruments would

have a minimum yield guarantee in coupon

payments, it noted.

A statement earlier had stressed Turkey's

status as a free market economy.

"Unfortunately some circles take all

opportunities to question recklessly

Turkey's status as a free market economy

with a liberal foreign exchange regime," the

ministry said.

That statement came after credit rating

firm S&P Global said there was a rising

risk that Turkey could introduce additional

capital controls if the pressure on its

currency and financial markets continues to

intensify.

The Treasury and Finance Ministry stressed

prudent fiscal policy would continue in

the period ahead and that fiscal discipline

would never be compromised.

"Practices that will increase the use and

attractiveness of the Turkish lira will be

continued without compromising the free

market rules," it.

The lira has declined 23% this year in

addition to last year's 44% drop in value

after a series of central bank rate cuts.

Among other coordinated measures, the

Banking Regulation and Supervision Agency

(BDDK) said it decided to set a maximum

24-month maturity for consumer loans

between TL 50,000 and TL 100,000 and a

maximum 12-month maturity for consumer

loans over TL 100,000.

It also raised the minimum payment

requirements on credit cards in an attempt

to slow loan growth. It plans to ease

restrictions imposed on foreign investors'

access to the lira via the swap facility.

It said in a statement that, among other

steps, it will direct loans toward productive

areas such as investment and exports.

Also, the Capital Markets Board (SPK) said it

had reduced its fees in order to encourage

foreign funding for public offerings held

in Turkey and to encourage companies

to obtain funds by issuing capital market

instruments abroad. Lastly, the Central Bank

of the Republic of Turkey (CBRT) said banks

will maintain additional lira long-term fixedrate

securities for foreign currency deposits/

participation funds as a complementary

step to increasing the weight of lira fixedrate

securities in the collateral pool that

becomes effective on June 24.

"The aim of this regulation is to increase

the effectiveness of the monetary policy

within the scope of the liraization strategy,"

it said.

AUGUST 2022 100
---
It also said it was increasing the reserve

requirement ratio for lira-denominated

commercial cash loans to 20% from

10% earlier in order to support financial

stability.

Meanwhile, the Turkish government

is reportedly considering pushing a

supplementary budget through Parliament

before a recess next month in order to

cover possible summer payments and the

rising costs of a lira decline and soaring

inflation.

Two sources told that work on the extra

budget was being conducted, but no final

decision has been made on whether it will

be needed.

Fueled by soaring food and energy prices,

Turkey's annual inflation rate rose at a

lower-than-expected pace last month but

still jumped to a 24-year high of 73.5%.

The budget burden has grown due to

rising energy costs, public sector wage and

pension hikes, the lira drop and the related

rising cost of a deposit protection scheme

(KKM) launched late in 2021 to boost

lira deposits by protecting them against

depreciation.

"Electricity and gas costs in particular have

had an impact (so) it appears impossible to

stay within the budget this year," a senior

official said, requesting anonymity. "Making

an additional budget seems inevitable."

A Treasury source said a supplementary

budget was currently not on the agenda.

To ease the burden on households'

budgets, Ankara introduced fuel, electricity

and gas subsidies worth TL 200 billion in

2021. They were expected to cost TL 300

billion this year, but energy costs have risen

much more than anticipated.

The official said a few meetings have

been held but the size of a supplementary

budget was unclear, and state institutions

are determining their combined additional

budget needs.

"Work has started on issuing an additional

budget in this legislative period ... (and) a

final decision has not been made," another

source familiar with the subject said.

Data suggests the budget deficit was a

moderate 2.5% of gross domestic product

(GDP) in April-end, but the growing cost

burden indicates it will widen by year-end

towards 5%, which would bring Turkey

closer to the level of other developing

markets.

The government also considered a

supplementary budget at the end of 2021

but shelved the plan and met rising costs

with higher-than-expected revenues.

The government, since the end of

December, boosted wages and cut taxes to

support lower-income households, taking

advantage of strong public finances and

what was the lowest deficit among peers

until 2016.

The budget deficit-to-GDP ratio remained

low at around 1% from 2013 to 2016,

boosting Turkish investments. It then rose

to 1.5% in 2017 and reached 3.5% by 2020.

The KKM deposit protection scheme was

worth TL 904 billion. While the central bank

backs part of the scheme, the Treasury has

said its payments to depositors were TL

21.1 billion as of June 3.

The scheme sought to encourage locals

to convert their foreign currency savings

into lira under a deposit protection plan,

compensating depositors for any losses due

to lira depreciation.

AUGUST

2022

102