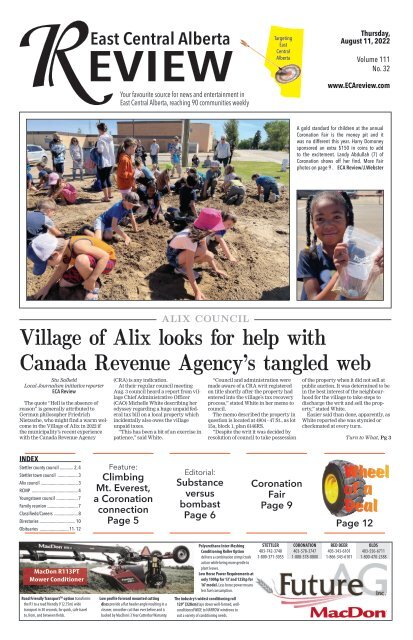 ECA Review 2022-08-11
ECA Review 2022-08-11
ECA Review 2022-08-11
SHOW MORE
SHOW LESS
Create successful ePaper yourself
Turn your PDF publications into a flip-book with our unique Google optimized e-Paper software.
R

R

72 pt

East Central R Alberta

EVIEW

60 pt

R

48 pt

R

36 pt

Your favourite source for news and entertainment in

East R

30 pt

Central Alberta, reaching 90 communities weekly

Targeting

East

Central

Alberta

Thursday,

August 11, 2022

Volume 111

No. 32

www.ECAreview.com

R

R

24 pt

18 pt

A gold standard for children at the annual

Coronation Fair is the money pit and it

was no different this year. Harry Domoney

sponsored an extra $150 in coins to add

to the excitement. Landy Abdullah (7) of

Coronation shows off her find. More Fair

photos on page 9 . ECA Review/J.Webster

ALIX COUNCIL

Village of Alix looks for help with

Canada Revenue Agency's tangled web

Stu Salkeld

Local Journalism initiative reporter

ECA Review

The quote "Hell is the absence of

reason" is generally attributed to

German philosopher Friedrich

Nietzsche, who might find a warm welcome

in the Village of Alix in 2022 if

the municipality's recent experience

with the Canada Revenue Agency

(CRA) is any indication.

At their regular council meeting

Aug. 3 council heard a report from village

Chief Administrative Officer

(CAO) Michelle White describing her

odyssey regarding a huge unpaid federal

tax bill on a local property which

incidentally also owes the village

unpaid taxes.

"This has been a bit of an exercise in

patience," said White.

"Council and administration were

made aware of a CRA writ registered

on title shortly after the property had

entered into the village's tax recovery

process," stated White in her memo to

council.

The memo described the property in

question is located at 4904 - 47 St., as lot

15a, block 1, plan 6146RS.

"Despite the writ it was decided by

resolution of council to take possession

of the property when it did not sell at

public auction. It was determined to be

in the best interest of the neighbourhood

for the village to take steps to

discharge the writ and sell the property,"

stated White.

Easier said than done, apparently, as

White reported she was stymied or

checkmated at every turn.

Turn to What, Pg 3

INDEX

Stettler county council ............ 2, 4

Stettler town council .................. 3

Alix council ................................. 3

RCMP ......................................... 4

Youngstown council ................... 7

Family reunion ........................... 7

Classifieds/Careers ..................... 8

Directories ................................ 10

Obituaries .......................... 11- 12

Feature:

Climbing

Mt. Everest,

a Coronation

connection

Page 5

Editorial:

Substance

versus

bombast

Page 6

Coronation

Fair

Page 9

Wheel

of a

Deal

Page 12

MacDon R113PT

Mower Conditioner

Polyurethane Inter-Meshing

Conditioning Roller Option

delivers a combination crimp/crush

action while being more gentle to

plant leaves.

Low Horse Power Requirements at

only 100hp for 13' and 125hp for

16' model. Less horse power means

less fuel consumption.

STETTLER

403-742-3740

1-800-371-3055

CORONATION

403-578-3747

1-888-578-0800

RED DEER

403-343-6101

1-866-343-6101

OLDS

403-556-6711

1-800-470-2388

Road Friendly Transport TM option transforms

the R1 to a road friendly 9' (2.75m) wide

transport in 30 seconds, for quick, safe travel

to, from, and between fields.

Low profile forward mounted cutting

discs provide a flat header angle resulting in a

cleaner, smoother cut than ever before and is

backed by MacDon's 3 Year Cutterbar Warranty.

The industry's widest conditioning roll

129" (328cm) lays down well-formed, wellconditioned

WIDE to NARROW windrows to

suit a variety of conditioning needs.
---
AVAILABLE IN COLOUR AND IN BLACK & WHITE ON YOUR CD-ROM.

AVAILABLE IN COLOUR AND IN BLACK & WHITE ON YOUR CD-ROM.

TOOLBOX, July-August 2005, Page 43

2 A ugust 11'22 HANNA/CORONATION/STETTLER, AB. ECA REVIEW

R

R

R

Regional Newspaper

Social Media

25%

Social Media

25%

Mobile

8%

AVAILABLE IN COLOUR AND IN BLACK & WHITE ON YOUR CD-ROM.

Us

on Count

AVAILABLE IN COLOUR AND IN BLACK & WHITE ON YOUR CD-ROM.

TOOLBOX, July-August 2005, Page 43

Can Farmers & Ranchers

Organic Search

YOUR

NEWSPAPER'S

LOGO

YOUR

NEWSPAPER'S

LOGO

TOOLBOX, July-August 2005, Page 43

LOGO

NEWSPAPER'S

YOUR

Count on you

for Goods & Services?

Reach them in our 'Count on Us' Special Section

in our August 18 issue (Deadline: Mon. Aug. 15)

YOUR

NEWSPAPER'S

LOGO

TOOLBOX, July-August 2005, Page 43

Judy cell 403-740-2492 Yvonne 403-575-9474 Sheree 587-990-4818

marketing@ECAreview.com digital@ECAreview.com contact@ECAreview.com

We encourage you to share your

ad through your social media

accounts and push your ad out

to even more potential clients.

Organic Search

Organic Search

Includes 'call to action' to

drive customers to you

Ad goes here

Fully searchable

All ad views are tracked

We're excited! All this additional exposure is included

in the price of your advertisement in the newspaper!

YOUR landing page on our website for a week and we track all the views.

In one glance your potential customers get your ad and business information;

they can see where you are on a map.

YOU get the convenience of potential clients emailing or calling you directly from

your ad as well as a link to your website or social media.

'SHARE' your ad to your FB & Twitter. See how easy it can be to

push your ad out to even more people.

Optimize your marketing efforts at no additional cost.

We are an independent locally-owned newspaper with staff covering news

and marketing reps anxious to work with you to

target your market online just by clicking on your ad.

Mobile

8%

72 pt

East Central R Alberta

60 pt

R

48 pt

EVIEW

36 pt

50% Results are selected 94% of the

time by online searchers. If you

50% Results are selected 94% of the

can't be easily found in organic

searches,

time by

you

online

can't

searchers.

make up for

If you

it

Shop Local

by can't buying be easily search found results. in organic

17%

searches, you can't make up for it

Yvonne 403-575-9474

Shop Local

by buying search results.

17%

digital@ECAreview.com

Organic Search

1-888-879-6085 www.ecareview.com

www.ECAreview.com

STETTLER COUNTY COUNCIL

Summer Village of White Sands tells Stettler

County below development limit by large margin

Stu Salkeld

Local journalism Initiative reporter

ECA Review

The Summer Village of White Sands

told Stettler County in a letter that it is

still far below the development limit of

505 units agreed to by the two

municipalities.

The letter was read at the Stettler

County Municipal Planning

Commission (MPC) regular meeting

July 26.

The MPC is comprised of members

of county council; chair James

Nibourg was absent with board

member Les Stulberg filling in as

chair.

At the June meeting commission

members previously read a referral for

a proposed subdivision

in the summer

village but councillors

requested more

information

because the supplied

map and the

details included different

legal

addresses along

with two other

concerns.

"At the June 22,

2022 MPC meeting

the commission

reviewed a subdivision

referral notice

from the Summer

Village of White

Sands regarding the

proposed creation of

three parcels for Lot

8 Block 7 Plan

022341," stated

Development

Officer Jacinta

Donovan in the

meeting memo.

The commission

needed clarification

as the legal description

on the letter

and the diagram

were not consistent;

Referral notice did

not describe the proposed

lot sizes; The

County was not

been made aware of

the total number of

dwelling units identified

within the

Summer Village of

White Sands to date.

A response from

the summer village's

Development

Officer Leann

Graham noted, "I

apologize for the

discrepancy, the

proposed subdivision

is for three

parcels out of Lot 31,

Block 7, Plan

1723375, the applicant

referred to the

previous legal

description (Lot 8,

Block 7, Plan

0223414) of that land

prior to a boundary

adjustment made in

2017.

The proposed parcels

are

approximately 39

meters wide and 55

meters deep and are

in accordance with

the outline plan that

was accepted by the

Summer Village of White Sands

Council in 1998.

Graham also referred to concerns

from the Stettler County MPC members

at the June meeting that the

commission wasn't aware of the

number of development units agreed

upon by Stettler County and the

Summer Village of White Sands in a

previous document, the Buffalo Lake

Intermunicipal Development Plan

(BLIDP).

Graham noted the summer village

remains quite far below the limit.

"Regarding the density numbers of

the BLIDP, as the governing municipality

we are required to follow the

BLIDP and ensure that we are compliant

with such," noted Graham in her

letter.

R

Targeting

East

Central

Alberta

30 pt

R

24 pt

East Central Alberta (ECA) Review

R

18 pt

The 505 number encompasses the

summer village at full build out

including the outline plan of the proposed

subdivision as well as the

Buffalo Lake Ranch Estates Area

Structure Plan.

The Summer Village has recently

performed an extensive audit of the

existing and proposed development

units, including 408 titled parcels

(excluding municipal reserve) – first

development unit, 11 approved second

dwellings (garage suite, guest house,

etc.) and 17 parcels with two RVs permitted

in 2021.

"We continue to monitor RV usage

by way of permitting and weekly

inspections, and further through the

recent Land Use Bylaw review we will

no longer permit second dwellings on a

Judy 403-740-2492

Organic Search

1-888-879-6085 www.ecareview.com

marketing@ECAreview.com

Organic Search

50% Results are selected 94% of the

time by online searchers. If you

Link to

Business Directory

Address

Phone number

Website

Location is

mapped

single parcel or allow new permits for

second RVs," added Graham.

At the June meeting commission

members voiced concern about the

number of suites in White Sands.

Stulberg noted the letter addressed

MPC concerns. "So they hit all the

points that were raised," said Stulberg.

He asked for clarification about the

statement, "17 parcels with two RVs

permitted in 2021" and whether any

were unpermitted.

Donovan responded there are 17 lots

that were grandfathered in under

White Sands' new bylaw. Stulberg

noted the summer village won't have

that option going forward.

The commission accepted the

referral as information.

East Central Alberta Review

Coronation, AB T0C 1B0

Phone: +1.403.578.4111

Phone: +1.403.575.0090

www.ECAreview.com

Tell the story about your business. This additional

exposure of your ad is included with your ad

purchase. We are pleased to be part of this

exciting new revolution in advertising and are

committed to expanding your total marketing

reach by expanding your online results.

Social Media

Social Media

Social Media improves organic search

visibility, improves audience reach,

Social Media improves organic search

brand awareness and influence.

Together,

visibility,

the result

improves

is an

audience

increase in

reach,

word-of-mouth brand awareness marketing. and influence.

Together, the result is an increase in

word-of-mouth marketing.

digital@ecareview.com

Sheree 587-990-4818

Social Media

digital@ecareview.com

contact@ECAreview.com

Social Media improves org

visibility, improves audienc
---
ECA REVIEW HANNA/CORONATION/STETTLER, AB August 11'22 3

STETTLER TOWN COUNCIL

Date set to sell properties for unpaid taxes

Stu Salkeld

Local Journalism initiative reporter

ECA Review

Stettler town council set the date and

reserve bid for two properties with

unpaid tax bills. The decisions were

made at the Aug. 2 council meeting.

Councillors read a report written by

staff member Rachel Morbeck

describing the plan to recover unpaid

property taxes through public auction.

The report was presented to councillors

by Assistant Chief Administrative

Officer (CAO) Steven Gerlitz.

The report stated that property

located at 6211 – 39 Ave. in Stettler, with

land assessed at $63,380, improvements

(structures) assessed at $172,210 and a

total assessed value of $235,590. and

property at 5304 – 50 Avenue in Stettler,

includes land assessed at $36,420,

improvements (structures) assessed at

$185,360 and a total assessed value of

$221,780.

Gerlitz explained to councillors that

assessed value is usually very close to

market value; the town is obligated to

set a reserve bid of market value for the

properties.

Morbeck explained in her report the

Municipal Government Act (MGA)

spells out the process the town must

follow to auction the two properties:

prepare tax arrears list and sent notification

to owners, council to set reserve

bid and sale conditions, advertise

public auction in the Alberta Gazette,

send copy of ad to registered property

owners and all parties having an

interest in the property, advertise

public auction and, lastly, hold public

auction.

Morbeck further explained the

council must set a reserve bid that is as

close as reasonably possible to the

market value of the parcel and any

conditions that apply to the sale, the

tax recovery process can be stopped by

payment of all tax arrears prior to the

sale, the town may apply for ownership

of the property if it is not sold at the

public auction and after the town takes

title to the property the property

owner can regain title to the property

if all taxes are paid before the town

sells the property.

Councillors unanimously approved

a resolution that the Town of Stettler

council set the 2022 tax public auction

date in November and approve using

the 2022 assessment values as the

reserve bids for all 2022 tax sale

properties.

ALIX COUNCIL

Council examines unpaid firefighting bills

Stu Salkeld

Local Journalism initiative reporter

ECA Review

Alix village council decided to essentially

write off two unpaid bills related

to fire department services as it

seemed unlikely they would ever be

paid. The decision was made at the

Aug. 3 regular meeting of council.

Village Chief Administrative officer

(CAO) Michelle White presented councillors

with a report on the first two

unpaid and effectively uncollectable

bills related to the new fire department

response policy which was approved

by council in 2021.

"The policy authorized the circumstances

and rates for billing when the

fire department is called out to do fire

suppression," stated White's memo to

council.

"Two of our first invoices issued

under this policy remain outstanding."

White explained the first unpaid bill,

What to do next

Cont'd from Pg 1

"The phone number listed on the

writ 'cannot be connected as dialed,'"

stated her memo. "Over the past six

weeks I have made many calls and

have been directed to many different

departments and am still no further

ahead.

"I was told to call the individual tax

line, public services real and the

Department of Finance," stated the

CAO. "I was able to leave a message

with the Department of Finance. They

called me back to tell me I had to email

my questions. After sending the email

they replied telling me to reach out to

(Alberta Finance) Minister (Jason)

Nixon's office.

"I understand my concerns were

forwarded from Nixon's office to

Municipal Affairs. A municipal

advisor tried her best to help me but

the CRA number she found did not

prove to be helpful.

White explained the village is

attempting to recover unpaid property

taxes owed to the municipality but the

CRA debt is many times the local one.

"Because of the dollar amount of the

CRA lien on the property (about

$87,000) and the value of the property,

if the CRA lien remains in place the

village will not be able to collect any

outstanding taxes or fees related to the

property. That amount is currently

$10,192.44. We are doing our best not to

incur any further costs to dispose of

the property since it is unlikely that

they will be recovered."

During discussion White said she

totalling $500, was charged to a rental

tenant who resided at 5115 46th Street

in Alix. The property owner and village

staff made several attempts to

recover the charges.

The individual responsible for the

fire no longer lives at the above

address.

The CAO stated the second invoice

totalled $850 and was related to a

vehicle fire.

"The individual charged does not

own property in Alix therefore we are

not able to collect the funds by transferring

them to a property tax

account," stated White.

White stated the two unpaid bills are

sitting on the village's books and while

they don't necessarily affect the village,

the bills do affect the fire

department because all of the funds

collected through the fire response

policy are transferred to the fire

department to cover their expenses.

The CAO explained the Municipal

was at a loss what to do next, noting no

response was ever received from

Nixon's office. The CAO added that

attempting to contact CRA personally

appeared to be a losing battle.

"There seems to be a constant

referral back to their online

services,'"said White.

The CAO admitted selling the property

with the lien likely won't be easy.

Coun. Ed Cole stated federal law

trumps municipal law so Alix is likely

behind the eight ball. Coun. Barb

Gilliat suggested calling Red Deer-

Lacombe MP Blaine Calkins for help.

Mayor Rob Fehr added calling

Calkins couldn't hurt, while it seemed

the provincial government wasn't

interested in helping. "The folks in

Edmonton, asleep at the wheel," said

Fehr.

Coun. Tim Besuijen asked if CRA

can seize the property. White

responded the village would be willing

to hand it over, especially if it means

the property will eventually get back

to generating taxes, but she's never

heard of CRA taking a property it has

a lien on.

In fact, White stated her investigation

revealed this situation is rather

uncommon.

Cole suggested talking to someone

in the big cities, perhaps Edmonton or

Red Deer, for advice.

Councillors accepted the report as

information and agreed the CAO

should contact MP Calkins' office to

see what help is available.

Government Act (MGA) allows

council to transfer the bills to a property

tax account, but neither of the two

people involved owns property in the

village.

White stated the landlord in the

second case was very good at trying to

collect the debt and did everything

that was reasonably possible.

White stated the MGA also gives

council the authority to waive a bill

through resolution.

Coun. Ed Cole stated he felt that the

property owner sounds like he'd been

good to the village and didn't want to

see him get stuck with the bill.

White stated when the policy was

adopted Alix took a public education

approach and tried to let the public

know which services would come with

a bill.

She said most bills under the policy

are paid, with these two the only

exceptions. She did note that village

staff are willing to work with people

who are having trouble paying a bill.

She added that she felt the policy

was achieving its goal otherwise.

Mayor Rob Fehr stated there didn't

seem to be many options for the

unpaid debts.

"I think you just waive it because

you're not going to collect it," said

Fehr.

Councillors unanimously approved

waiving fire department charges for

the two accounts in question.

Community Tailgate

Garage Sale

Saturday August 13

9:00 am - 5:00 pm

Co-op Gas Bar Castor HWY 12 & 36

Register by

Tuesday August 9, 2022

Call: Amanda 403.882.7907

Email: castorpetro@centralab.coop

cthomson@countypaintearth.ca

** NO TABLES WILL BE PROVIDED**
---
4 A ugust 11'22 HANNA/CORONATION/STETTLER, AB. ECA REVIEW

STETTLER COUNTY COUNCIL

Approval given to buildings on property line

Stu Salkeld

Local Journalism

initiative reporter

ECA Review

The Stettler County Municipal

Planning Commission (MPC) granted

a request from property owners who

wanted buildings on a property line

permitted.

The decision came at the July 26 regular

meeting of the MPC.

The MPC is comprised of members

of county council and is chaired by

Coun. James Nibourg, who was absent

from this meeting. Coun. Les Stulberg

chaired the meeting instead.

Development Officer Jacinta

Donovan presented board members

with an application from Stan and Pat

Brennan for a large setback variance

at their property located in the

Pheasantback Estates subdivision.

"The applicant is requesting a 46 per

cent variance to the side yard setback

for two existing ancillary buildings on

Lot 3 Block 1 Plan 9720133, within the

Pheasantback Estates subdivision,"

stated Donovan in her report to the

commission.

"A real property report for the subject

property was prepared on Aug. 16,

2019. The report indicated the two

ancillary buildings are not setback the

required three feet (0.91 meters) from

the side yard property boundary.

"A chain link fence and mature shelterbelt

defines the property boundaries

between the two adjoining lots."

According to the Real Estate Council

of Alberta a real property report is "...a

legal document an Alberta land surveyor

prepares. It's basically a high

level drawing of the property, the

boundaries, and the buildings and

structures on it, so buyers know

RCMP

Hanna detachment lays

charges related to property

crime investigations

Hanna RCMP attended a residence

in the Garden Plain area on July 27,

2022 and arrested a male and a female

who had outstanding warrants.

During the arrests, police located a

pickup truck on the property that had

been stolen two days earlier from the

Oyen area.

Chad Potter (37) of Garden Plain,

Alta., has been charged with possession

of property obtained by crime

under $5000 in relation to this incident.

He was taken before a justice of

the peace and was released on conditions.

He will be appearing in Hanna

Provincial court on Aug. 24, 2022.

On Aug. 1, 2022, in an unrelated

matter, Hanna RCMP conducted a

traffic stop following the report of a

suspicious vehicle in the Pollockville

area.

One of the occupants was found in

possession of a quantity of copper wire

which was a violation of her courtordered

conditions. Wanda Charlton

(52) of Garden Plain, Alta., has been

charged with failing to comply with

conditions of an undertaking in relation

to that traffic stop.

Charlton has also been

charged for breaching the

same order following an

incident on July 29, 2022 in

Red Deer where it is alleged

that she was in possession of

exactly what they're buying."

The property in question is zoned

country residence. The two buildings

were described at the meeting as being

330 square feet and 80 square feet in

size and photos of the buildings showed

them to be a garage and storage shed.

Donovan noted Stettler County's

land use bylaw gives the MPC

authority to grant a relaxation of the

setback with some requirements such

as ensuring that the relaxation doesn't

..."unduly interfere with the amenities

of the neighbourhood or materially

interfere with or affect the use, enjoyment

or value of adjacent parcels of

land."

Reeve Larry Clarke asked if the item

came to the MPC as a result of the real

property report or if neighbours had

complained.

Donovan confirmed the Brennan's

application came to the MPC as a

copper wire and having contact

with a male whom she is

to have no contact with.

Charlton was issued a court

date for Aug. 24, 2022, in

Hanna Provincial Court.

Call Mike

780-385-4664

Bin Anchors

Don't Let The Winds Bother You!

result of the issue revealed in the real

property report, not as a result of a

neighbour's complaint. In fact, it

appeared the Brennan's also owned

the neighbouring property.

Councillors unanimously approved

the request for 46 per cent variance.

Got Bales

to Haul.....

Give Ty

a Call

403-741-2840

check us out online

www.ECAreview.com

Thinking

of Selling

your Home

or Land?

Let OUR REACH

work for you!

The ECA Review reaches

over 27,000 homes

that equates to 60,000

readers in east central

Alberta.

PLUS online readers at

ECAreview.com

Contact us at

403-578-4111 or

office@ECAreview.com

Call Dallas Ellerby

Your Farm & Ranch Specialist

403.578.8105

LAND FOR SALE

CROP LAND

4500 acres - Chinook area

6000 acres - Cereal area

2400 acres - south of Hanna

GRASS LAND

16 quarters - south of Veteran

90 quarters - Youngstown area

117 quarters - south of

Youngstown

www.greaterpropertygroup.com

GREATER PROPERTY GROUP

1/4 section north of

Veteran - 90 acres

broke, home site,

16' x 76' mobile

home, 40' x 60'

shop & working

corrals. Owner

willing to subdivide

acreage out.

cancow@

xplornet.com
---
Garage

Community Wide

Community Wide

ECA REVIEW HANNA/CORONATION/STETTLER, AB August 11'22 5

Garage Garage Sale

FEATURE

Stettler, Alberta

Stettler, Alberta

Climbing Mount Everest, Community Wide

Sale

Sale

a Coronation connection Garage Community

Saturday, August 27

W

10:00am - 2:00pm (suggested time)

Garage

Saturday, Map and Sale Listing August can be found 27 at

by Brenda Brigley

www.stettlerboardoftrade.com

10:00am - 2:00pm (suggested time)

Krys Benyanmein reached the

Saturday, August 27Map and Sale Listing can be found at

summit of Mount Everest at 3 a.m on

www.stettlerboardoftrade.com

May 15, 2022.

10:00am - 2:00pm (suggested time)

After years of training and four

Map and Sale Listing can be found at

weeks on the climb, he spent 30 minutes

on the world's highest peak.

www.stettlerboardoftrade.comSaturday, August 27

10:00am

Sale

- 2:00pm (suggested time)

On July 30, at the Brigley family

Map and Listing can be found at

reunion, in Coronation, a crowd of

www.stettlerboardoftrade.com

approximately 180 family members followed

Krys's journey as he shared his

experience. His message was simple,

Sidewa

for anyone who wants to do something

visit loca

Sidewalk Sa

like this….reach for your dreams.

visit local Lemon retaile

Krys is proof that anything is possible.

Since Krys was quite young he has

Lemonade support S

Saturday, August 27

wanted to make the Everest climb. At

support

Sidewalk SalesSidewalk Sales Garage local ent

21 years of age he travelled to the town

10:00am - 2:00pm visit local (suggested retailers for sales visit local

time) and retailers specials Garage for sales various and Sale speciall

of Jiri, where the very first Mount

Lemonade Stands various local res

Everest climbers used to start and

Map and Sale Listing Lemonade can be Stands found support at local entrepreneurs

hiked for 21 days to get to base camp.

support local entrepreneurs

www.stettlerboardoftrade.comGarage Sales

The seed was planted and he knew

Garage Sales various local residents

he would one day reach the summit.

For More Information:

For More Information:

various local residents

He accredits his success to God and

his wife Paige, daughter of Scott and

403-742-3181

For More Information:

Linda (Brigley) McLean. Krys also

www.stettlerboardoftrade.com

had amazing support from his mother,

403-742-3181

who accompanied him to base camp,

For More Information:

www.stettlerboardoftrade.com

stayed with him for two nights, and

then helicoptered out before he began

403-742-3181

the trek to the summit.

www.stettlerboardoftrade.com

check us out online www.ECAreview.com

Family was captivated as Krys Krys Benyanmein at the summit of Mount

described this rare and rewarding Everest, Sun. May 15, 2022. Krys is Scott and

journey. Many years were spent

Linda (nee Brigley) McLean's son-in-law.

training and Krys told of climbs in the

S

ECA Review/Submitted

Andes of Bolivia, South America

v

which helped him prepare.

He underwent scientific measurements

L

of his lactic thresholds to assist

s

with training methods. Time was He would need to carry 15 - 30 lbs. up

spent in Cryotherapy (dry ice therapy), Mount Everest in a low temperature

G

where temperatures were down to – 67 and low oxygen altitude. Less than

degrees Celsius (-100 Fahrenheit), to 6500 climbers have reached the

v

learn to manage in extreme low temperatures.

highest peak and many do not survive

He completed weekly the climb, so intense training was vital

muscular endurance hikes with to Krys's success and survival.

weighted packs, up to 40 per cent of his

body weight.

Turn to Total, Pg 10

For More Information:

403-742-3181

www.stettlerboardoftrade.com

The photo illustrates the path climbers take to reach the summit at 29,028 feet.

ECA Review/Submitted
---
6 August 11'22 HANNA/CORONATION/STETTLER, AB. ECA REVIEW

OPINION

The opinions expressed are not necessarily

the opinions of this newspaper.

EDITORIAL

Substance

versus bombast

Brenda Schimke

ECA Review

Three female UCP leadership candidates,

Leela Aheer, Rajan Sawhney

and Rebecca Schulz, want the tone of

politics to change and seem more

willing to listen to Albertans and

experts than had their former

boss, Jason Kenney.

Sawhney has spoken out strongly for

a curriculum do-over. After listening

to parents and

teachers, she

"

accepts that her

government

made mistakes,

particularly in

not giving the

experts ample

opportunity to

air their opinions

and air their

expertise. The

ability to

acknowledge

mistakes and

listen to experts

are both important

leadership responsibly.

attributes.

Schulz, as minister

of children's

services, demonstrated that much can

be gained from the federal government

through negotiation rather than

grandstanding and court filings. She

skillfully negotiated $290 million in

childcare funding and got the feds to

agree that a portion of the money could

flow to private operators, which

advances the UCP's 'choice for parents'

agenda. In a democracy, good leaders

are skillful at negotiation and

compromise.

Aheer has shown she can work

across party lines, getting two bills

unanimously passed in the legislature

while deputy minister of the UCP

caucus. A private member's bill to

bring adoption into the 21st century

and amendments to the Protecting

Women and Girls Act. Collaboration

and empathy are important leadership

characteristics for elected officials and

public servants.

Aheer was turfed from cabinet when

she publicly chastised Premier Kenney

and his 'old boy's club' for sharing

whiskey and cigars on the Palace balcony

during COVID lockdown. Aheer

wasn't afraid to 'speak truth to power',

and as recently witnessed, is darn good

at going "head-to-head' with a mad

bull!

On the economic side, Sawhney,

former Minister of Community &

Social Services, is hardnose when it

comes to balancing the budget. In

November 2019, before Alberta's latest

windfall, she championed a policy to

de-index AISH (Assured Income for

the Severely Handicapped), senior's

benefits and income tax brackets,

which directly harmed the oldest,

poorest and most vulnerable.

Recently on CTV's Alberta

Primetime she reaffirmed her position

saying, "the decision was made

because we had to take a harder look at

our fiscal situation. Now that Alberta's

finances are improving, we could revisit

the concept

of de-indexing."

Leadership candidate

Schulz is

an ardent supporter

of Premier

Kenney's economic

policies

calling them

"very sound".

Although she has

not been forthcoming

on

whether that

includes his very

unpopular economic

policies on

coal mining in the

Rockies, unrelenting

push for a

provincial police

force and accelerated privatization of

health care.

Leela Aheer is the 'Peter Lougheed'

in the race. She acknowledges that this

may be our last oil boom. She wants to

manage the current windfall in a

responsible manner, and believes that

it presents an opportunity to invest

money into health care, education and

the Heritage Savings Trust Fund.

Unlike Schutz and Sawhney, Aheer

isn't a fiscal conservative, but is fiscally

traditional. Like Lougheed, she

believes in the importance of savings

to handle unexpected events, and

believes a healthy and educated population

are foundational pillars to

sustain and grow economic output and

wealth.

We can't just 'wish away' the federal

government and its constitutional

responsibilities. We can't just wish for

successive oil booms to keep the

budget balanced and taxes low. We

can't just wish the sick, the old and the

disabled away. We can't just wish away

unions and the environment. We live

in a real world, not a libertarian

utopia.

Alberta needs a premier who lives in

the 'real world', the 'Canadian world'

and who is willing to fight hard for

Albertans interests—legally , respectfully

and responsibly.

Anyone of these three women would

be a formidable opponent to challenge

Rachel Notley in next year's election.

Alberta needs a

premier who lives in the

'real world', the 'Canadian

world' and who is willing

to fight hard for Albertans

interests—legally,

respectfully and

"

FROM THE BLEACHERS

Canadian athletes

are world headliners

by Bruce Penton

Canadians athletes were

on top of the sports world

over the July 23-24 weekend.

First, in a race usually

dominated by Jamaica, the

United States or Great

Britain, the Canadian 4 x

100 relay team captured a

gold medal in the World

Athletic Championships in

Eugene, Ore.

The next day, on a golf

course at Evian-lesbains,

France, 400

kilometres from

Paris, Canada's

golfing sweetheart,

Brooke Henderson,

survived a rather

sloppy final round

by rolling in an

eight-foot birdie

putt on the final

Penton

hole to win the

Evian

Championship.

The tournament is one of

five majors on the Ladies

Professional Golfers'

Association (LPGA)

calendar.

The relay team, consisting

of Aaron Brown, Jerome

Blake, Brendon Rodney and

anchor man Andre De

Grasse, posted a time of

37.48 seconds to nip the

favoured U.S by seven onehundredths

of a second.

"It means everything,"

De Grasse told the CBC's

Devin Heroux. "We've been

talking about this for a few

years now … It feels good to

get it here . . . a lot of

Canadian fans here so it

almost feels like home soil."

The quartet's time was a

Canadian record, with De

Grasse's leg timed at a jetlike

8.79 seconds.

Meanwhile, the 24-yearold

Henderson kept

Canadian athletes in the

world sports headlines the

next day by winning her

second major title.

She started the day with a

two-stroke lead, lost it on the

front nine (thanks in part to

a four-putt), got back into a

tie with a pair of birdies on

the back nine and

then rolled in the

crucial winning

putt on 18.

She now has 12

LPGA titles to her

credit and vaulted

to No. 6 on the

world-ranking

list. Oh, she also

won a cool $1 million

for her

victory.

Henderson, of Smiths

Falls, Ont., had been tied

with Sandra Post and Mike

Weir for most major golf

titles won by Canadians

(one) and now sits atop that

list, with more almost certainly

to come.

"I stayed pretty patient, as

patient as I could under the

circumstances," Henderson

said in a post-round interview,

and reported by CBC.

"Going into the back nine,

the saying is that majors are

won on the back nine on

Sunday so I just tried to

keep that frame of mind and

knew I was still in it if I had

a solid back [nine]."

The relay team needed not

quite 40 seconds to accomplish

its feat, while

Henderson needed four days

and 72 holes to

reach her pinnacle.

But the

headlines — big

and bold — were

the same size.

SLAP

Shots

• RJ Currie of

sportsdeke.

com: "Golden

Knights star Jack

Eichel once said

the NHL should

ditch offsides —

just sit at the other

end 'and wait for

the puck.' In related

news, Pavel

Bure is considering

coming out of

retirement."

• Former Mets and

Phillies pitcher Tug

McGraw, on whether

he preferred

grass or AstroTurf:

" I don't know.

I never smoked

AstroTurf."

• Headline at

theonion.com:

"Trump Hosts

Saudi-Backed

'Jamal Khashoggi

Was No Saint' Golf

Tournament"

R

R

R

R

R

Published by

Coronation

Review

Limited

Subscriptions:

$52.50 in Canada; $98.70 in US;

$183.75 Overseas.

72 pt

East Central Alberta

EVIEW

60 pt

48 pt

36 pt

Website ECAreview.com

Office Hours Mon. - Fri. 9 am - 5 pm

R

30 pt

4921 - Victoria Avenue

Tel. (403) 578-4111

R

24 pt

Mail: Box 70, Coronation, AB Canada, T0C 1C0

LETTERS POLICY • Letters to the Editor are welcomed •

Must be signed and a phone number included so the writer's

identity can be verified. • ECA Review reserves the right to edit

letters for legal considerations, taste and brevity. Letters and

columns submitted are not necessarily the opinion of this

newspaper.

MEMBER OF:

Local Journalism Initiative is funded

by the Government of Canada.

JOYCE WEBSTER

Publisher/Editor

publisher@ECAreview.com

YVONNE THULIEN

Marketing/Digital 403-575-9474

digital@ECAreview.com

BRENDA SCHIMKE

Editorial Writer

JUDY WALGENBACH

Marketing 403-740-2492

marketing@ECAreview.com

STU SALKELD

LJI Reporter 403-741-2615

reporter@ECAreview.com

SHEREE BAILLIE

Marketing 587-990-4818

contact@ECAreview.com

DANIEL GONZALEZ

Reporter 403-700-9460

news1@ECAreview.com

LISA MYERS-SORTLAND

Graphic Artist

R

18 pt
---
ECA REVIEW HANNA/CORONATION/STETTLER, AB August 11'22 7

NOTICE TO CREDITORS AND CLAIMANTS

IN THE ESTATE OF ROBERT SHACKER, LATE

OF THE TOWN OF HANNA, IN THE PROVINCE

OF ALBERTA, WHO DIED ON THE 13 DAY OF

JANUARY, A. D., 2021.

If you have a claim against this Estate, you must file your

claim by September 12, 2022, with MESSRS. ROSS,

TODD & COMPANY, Barristers & Solicitors, P.O. Box

1330, 124-2 Avenue West, Hanna, Alberta, T0J 1P0.

If you do not file by the date above, the estate property

can lawfully be distributed without regard to any claim

you may have.

NOTICE TO CREDITORS AND CLAIMANTS

IN THE ESTATE OF ADA BENEDICT, LATE OF

THE TOWN OF HANNA, IN THE PROVINCE OF

ALBERTA, WHO DIED ON THE 11 DAY OF JUNE,

A. D., 2021.

If you have a claim against this Estate, you must file your

claim by September 19, 2022, with MESSRS. ROSS,

TODD & COMPANY, Barristers & Solicitors, P.O. Box

1330, 124-2 Avenue West, Hanna, Alberta, T0J 1P0.

If you do not file by the date above, the estate property

can lawfully be distributed without regard to any claim

you may have.

YOUNGSTOWN COUNCIL

Youngstown proposes a commercial kitchen in hall

Daniel Gonzalez

ECA Review

Youngstown Chief

Administrative Officer (CAO)

Emma Garlock discussed the

possibility of developing a commercial

kitchen in the village

hall at the Aug. 2, 2022 council

meeting.

The idea stems from a

meeting with Hanna administration,

Harvest Sky Economic

Development and the Special

Areas Board regarding the Coal

Community Transition

Funding (CCTF).

Harvest Sky Manager Mark

Nikota explained plans to use

the funding to cover the Hanna

Lions Hall kitchen into a commercial-grade

kitchen rented to

businesses or residents in

Hanna.

CAO Garlock inquired with

Nikota if this opportunity is

possible for Youngstown Hall,

where he confirmed it would be

possible.

Although Youngstown may

not be eligible for CCT funding,

CAO Garlock will inquire with

Nikota to see if the project is

eligible for funding before

moving forward.

Coun. Kenneth Johnson suggested

that if they upgrade the

hall, council should consider

larger-scale improvements like

showers and dressing rooms.

Coun. Debbie Laughlin and

CAO Garlock agreed with the

suggestion. Council also noted

that the hall needs maintenance

and repair.

Coun. Laughlin asked Village

Foreman Jimmy Mably if he

would be able to paint the hall

entrance and conduct minor

repairs on the walls.

Due to the Malbly's workload,

council decided that

Youngstown Hall is not a priority

and will proceed with

repairs in the future.

Council will await confirmation

of funding before moving

forward with the project.

Signage

Jennifer Koppe of 818 Studios

presented a virtual update

regarding the signage project

for Youngstown.

Council inquired with Koppe

to add signage for areas to help

Family reunion

celebrating 100 years

Submitted by Mary Newton

The George and Mary Storch family

held their 100th family reunion on July

3, 2022. About 112 relatives attended at

the Rumsey Hall for a potluck meal of

six full tables of food. What a feast!

There were 11 children born to this

family, seven girls and four boys.

There are two of the original family

living,Betty Jorsvick and Linda

Helmer and one sister-in-law, Mavis

Storch.

Each family was asked to bring a

family tree so we could count the

descendants. One family tree was

made into a beautiful quilt with each

name, birthdate, marriage or death on

each leaf.

We have

arrived at a

number–389

living descendants,

43 deaths

and 25 divorces

for a grand total

of 457.

The original

reunion was held

in a pasture for

many years

where lots of

games, horseshoes,

etc. were

played. Grandma

always made

homemade root

beer which she

bottled in all different

kinds of

bottles.

We kids loved

to drink out of a

beer bottle as well

as seeing all the

older aunties

drinking beer.

Our 1975 and

1976 reunions

were held at

Buffalo Lake then

we moved to the

Rumsey hall.

For quite a few

years they bought a piñata for the kids.

The family always liked to play cards

as well and this was the first year I

remember that the cards were not

played. Ti guess we were too busy visiting

with some we hadn't seen in a few

years.

Grandpa Storch's brother Willie

homesteaded in the Hanna area and

quite a few years some of their family

joined us as well.

There were lots of photo albums,

congratulatory messages from all government

levels as well as the layout of

the old farm house upstairs and down.

or death on each leaf.

tourists locate services and

businesses in the village.

Council inquired if it would

be possible to add signage for

local businesses. Koppe advised

that since these are private

businesses, Youngstown should

ask to see if they can help cover

costs if it exceeds funding.

Koppe advised council that

with supply chain issues due to

COVID, the cost of materials

may be higher than projected.

According to Koppe, the price

of cement is considerably

higher, so there will not be concrete

bases for signage to

protect from vehicles hitting

them.

Koppe also provided an

update from Alberta

Transportation regarding the

monument sign proposal. It is

approved but will require a

permit.

Koppe will post a tender to

find a contractor. She will also

reach out to interested parties

regarding the project.

Council is pleased with the

project however they are

awaiting the results of funding

from Western Economic

Diversification before

moving forward.

MAP report

Correspondence from the

office of the Assistant

Deputy Minister of

Municipal Affairs, Gary

Sandberg, thanked

Youngstown for completing

the Municipal

Accountability Program

Serving

the east

central

Alberta

region

VINYL FENCING COMPANY DISPERSAL

ONLINE TIMED AUCTION

Quik-Way Shelters & Vinyl Fencing Ltd.

#126 Poplar Street, Red Deer, Alberta

BIDDING OPENS: Thursday August 18, 2022 @ 9am

BEGINS CLOSING: Tuesday August 23, 2022 @ 9am

VIEWING: AUG 18, 20, & 22, 9am–4pm

REMOVAL: AUG 24-26, 9am–5pm

OFFICE TRAILER, DUMP & EQUIP. TRAILERS

Travelaire 24 Ft x 8.6 Ft Mobile Office Trailer w/

Furnace, Lights, Power, Office Furnace, Pintle

Hitch; 10/2018 Load Trail 7000Lb T/A Dump

Trailer; D-Line 8x16 Ft T/A Deck Trailer

TRUCK 2008 Ford F250 XL SD 4x4 Crew Cab, 5.4L

-V8, AT, Short Box, S/n 1FTSW21588EE04255

WALK-BEHIND SKID STEER

Ditch Witch 650 Ride on Tracked Skid Steer – 36

Inch Bucket -1580 Hrs., 2011 Ditch Winch Power

Auger Head w/6, 8, 10, & 12 Inch x 48 Inch Dirt

Auger Bits, 2-Sets of Forklift Extensions

(MAP) report.

In the email, it commended

the village for

moving forward with

addressing the items in a

timely manner.

It noted all non-compliant

items in the 2021 report were

completed to the satisfaction

of Minister Ric McIver.

Council accepted the correspondence

as information.

Jeff & Alison Southworth,

bringing 20 years of experience

• Water well drilling & servicing

• Well pump installation and servicing

• Pressure systems

• Backhoe services for water lines

• Water well Chlorination

• Ritchie waters • Pasture Wells

Emergency services • 24 hr on call

Legacy

Drilling Ltd

403-854-0172 • Hanna, AB

legacydrillingltd@outlook.com

403-396-2254 • Delburne, AB

VINYL FENCING INVENTORY & ACCESSORIES

Lexington Vinyl Fencing – White:

Pickets – Approx. 1500 Ft of Pickets, 1500 Feet

of Rails, 600+/- 9 Ft Routered Posts

Lexington Almond:

Pickets, Rails, Posts, Pickets – Approx. 700 Ft,

Rails – Approx. 800 Ft, Posts Approx. 250 –

9 Ft Posts

Chesterfield White, Almond & Grey:

Pickets, Posts, Rails

Also Selling Large quantity of other types of

fencing, & related accessories.

AUCTIONEERS NOTE: This a major downsizing of Quik-Way Fencing, Red Deer's leading

Vinyl fence supplier for many years. Fencing will still be available on an as per order basis.

Please take advantage of the auction pricing.

PAYMENT: CASH/CREDIT CARD/BANK & E-TRANSFER

SUBJECT to ADDITIONS & DELETIONS, 15% INTERNET FEE

M ONTGOMER Y

AUCTION SERVICES LTD.

Lic #19517 403-885-5149

Blackfalds, Ab www.montgomeryauctions.com 1-800-371-6963
---
8 A ugust 11'22 HANNA/CORONATION/STETTLER, AB. ECA REVIEW

Ph. 403-578-4111CLASSIFIEDS/CAREERSEmail: office@ECAreview.com

Classified Ad Rates

$13.85 + tax for 25

words or less + 20¢ a word

after 25 each week or 3

weeks for $38.55 + tax

(based on 25 words or less).

Reach 75,000 readers with

your classified. This

includes For Sale, For Rent,

Card of Thanks, Coming

Events, etc. Ph. 578-4111.

Mail to Box 70, Coronation,

AB T0C 1C0.

REAL ESTATE

FARMLAND And

Pasture Land by

Saskatchewan River.

160 acres. Best hunting

in Saskatchewan

with very high deer

population. Excellent

fishing. Thick pine &

poplar bluffs, close to

water coulee. Old

yard site with old

power and water.

Revenue on crop and

hayland. East of

Prince Albert.

$248,000. Call Doug

306-716-2671.

MISC.

INTEGRITY POST

FRAME Buidings

since 2008 Built With

Concrete Posts.

Barns, Shops, Riding

Arenas, Machine

Sheds and more,

sales@integritybuilt.

com 1-866-974-7678

www.integritybuilt.

com.

CARS & TRUCKS

1981 Corvette, 4

spd., brand new

black paint. Almost

totally redone.

$12,500.; very large

Master Mechanic

heavy duty tool set,

$12,500. Call Gary

587-435-4279.

R.V.'S

1992 WESTWIND

Custom Coach 5th

Wheel, 25.5 ft. bunk

model. Sleeps 8, A/C,

2-way fridge with top

freezer, radio, hot

water tank, awning,

stove top & oven,

shower & tub, TV

hookups, everything

in working condition,

good tires & new

spare. No leaks.

Asking $3700. or best

offer. Call Neil 403-

575-0668.

FEED AND SEED

PINTAIL WINTER

Wheat. Extremely

hardy. High yielding.

Awnless. Excellent

variety for Forage or

Feed Grain production.

Low inputs -

high Profits. Call 403-

556-2609 or text 403-

994-2609; mastinseeds.com.

ALBERTA FEED

Grain: Buying Oats,

Barley, Wheat,

Canola, Peas,

Screenings, Mixed

Grains. Dry, Wet,

Heated, or Spring

Thresh. Prompt

Payment. In House

Trucks, In House

Excreta Cleaning.

Vac Rental. 1-888-

483-8789.

WE BUY Damaged

Grain - Heated,

Mixed, Tough, Light,

Bugs, Spring

Thrashed....Barley,

Wheat, Oats, Peas,

Flax, Canola. "On

Farm Pickup".

Westcan Feed &

Grain 1-877-250-

5252.

C S

O

WANTED

WANTED: Old

advertising dealership

signs, gas

pumps, globes, pop

machines, light ups.

White Rose, Red

Indian, Buffalo,

North Star, Case

Eagles, etc.

Collector paying Top

Prices. 306-221-

5908.

NUMISMATIST

PURCHASING Coin

Collections &

Accumulations!

Royal Canadian

Mint, Canada &

World Collections

Wanted. Also buying

9999 bullion, old

money, jewelry, nuggets,

sterling, gold,

silver, coins, bars,

monster

boxes+++Estates

Welcomed! Todd

250-864-3521.

HELP WANTED

LOOKING FOR a

new Library

Manager! Must be

computer proficient,

love books, have

amazing computer

skills and have a

love for the community

and programs to

help serve the community

needs.

Please submit

resume to:

Clivelibrary@prl.

ab.ca

CORONATION

Restaurant & Cafe

hiring waitresses/

waiters. Day & evening

shifts available.

Apply in person with

resume. Ask for

Dion.

GRAPHIC

DESIGNER required

at busy newspaper/

print shop. Adobe

Suite, Quark XPress

experience are

assets. Please send

resume to: info@

claresholmlocalpress.ca.

ROCKY MOUNTAIN

Equipment is Now

Hiring: AG

Equipment Techs,

Heavy Equipment

Techs - Journeyman

& Apprentices,

Parts Techs. View

Open Roles &

Apply: www.rockymtn.com/careers.

Relocation and

Signing Bonus

Offered.

COMING EVENTS

FIREARMS

WANTED For

October 2022 Live

& Online Auction:

Rifles, Shotguns,

Handguns, Militaria.

Auction or

Purchase:

Collections, Estates,

Individual items.

Contact Paul,

Switzer's Auction:

Toll-Free 1-800-

694-2609, sales@

switzersauction.com

or www.switzersauction.com.

WE'RE HIRING

Wind Technician & Site Lead

We're looking for a Wind Technician and a

Site Lead to join our team at the Bull Creek

Wind Facility in Chauvin, AB.

These positions will be accountable for the

safe and efficient operation and maintenance

of our Bull Creek Wind Facility. The Wind

Technician and the Site Lead will work with

our Site Supervisor to ensure targets are

achieved including safety, environmental,

production and annual budget.

If you have experience working with high,

medium and low voltage equipment, enjoy

the outdoors and working with renewable

energy, then please apply.

For more information, visit:

bluearthrenewables.com/careers

Craigmyle Oilfield Services Ltd.

We are currently hiring for the following positions:

TICKETED PICKER OPERATOR

LABORER

Our office is located in a rural location near Craigmyle, Ab.

A valid drivers license is MANDATORY.

Overtime and weekends will be required when needed

Current First Aid and H2S would be an asset

We Offer Competitive Wages

Please send a resume to jrew@craigoil.ca ONLY

No phone calls

East Central Gas Co-op Ltd. is hiring!

Gas Utility Operator

Training will be provided, however,

priority will be given to those who hold a

Level II Gas Utility Operator certificate.

Please provide resume in person, by mail or e-mail.

Attn: Ashley

406 5th Street East

Box 190 Hanna AB T0J 1P0

manager@eastcentgascoop.ca 403-854-4411

Closing date: August 24th, 2022

AUCTIONS

ONLINE TIMED

Auction August

18-23/22. Vinyl

Fencing Company

Dispersal - Trailers,

Truck, Buildings,

Forklift, Ride-On

Skid Steer, Vinyl

Fencing Inv. & Accs.,

etc. See www.montgomeryauctions.

com; 403-885-5149.

HEALTH

HIP/KNEE

REPLACEMENT.

Other medical conditions

causing

Trouble Walking or

Dressing? The

Disability Tax Credit

allows for $3,000

yearly tax credit and

$30,000 lump sum

refund. Take advantage

of this offer.

Apply Now; quickest

refund Nationwide:

Expert help. 1-844-

453-5372.

EAST CENTRAL GAS CO-OP LTD.

PERSONALS

I WOULD like a lady

for a companion to

live with me and also

help me with other

odds and ends. Call

Vern Bodd 1-403-

565-3863.

SERVICES

CRIMINAL

RECORD? Why suffer

employment/

licensing loss?

Travel/business

opportunities? Be

embarrassed? Think:

Criminal Pardon. US

entry waiver. Record

purge. File destruction.

Free consultation.

1-800-347-

2540. www.accesslegalmjf.com.

PRIVATE

MORTGAGE

Lender. All real

estate types considered.

No credit

checks done. Deal

direct with lender

and get quick

approval. Toll free

1-866-405-1228;

www.firstandsecondmortgages.ca.

Employment Opportunity

Village of Elnora

PUBLIC WORKS

Lead I – Part Time

Closing Date:

August 26, 2022 at noon.

For more details visit

our website at villageofelnora.com

or call (403)773-3922

Village of Heisler

Public Works Foreman

The Village of Heisler is currently accepting applications for the

permanent full-time position of Public Works Foreman

starting immediately.

• Operation of Village Utilities (water treatment/distribution and

sewage treatment/collection) • Road and sidewalk maintenance,

signage, snow removal, parks maintenance, and improvements

to infrastructure • Equipment and Village owned and operated

facility maintenance • Good communication skills • Other duties as

assigned by the CAO

Preference will be given to candidates who hold certificate in:

• Small Water and Waste Water System Certificate, or willingness to

obtain certification • Operation of Village Utilities (water treatment/

distribution and sewage treatment/collection) • Class 5 Driver's

License

Qualifications:

• Grade 12 or equivalency • Ability to multi-task • This job entails

working in inclement weather conditions, physical activity and

problem solving

• The successful applicant will be required to work a 40-hour work

week with overtime as required, and emergency call-out

Please submit your resume, outlining education, qualifications,

salary expectation and experience in confidence to:

Village of Heisler, Attn: Heidi Rohe, CAO

Box 60, Heisler AB, T0B 2A0; administration@villageofheisler.ca

or submit in person at 128 Main Street Phone 780-889-3774

This position will remain open until a suitable applicant is selected. The

Village of Heisler wishes to thank all applicants for applying, however,

only those selected for interviews will be contacted.

Accepting applications for

Janitorial/

Maintenance

Personnel

Submit resume

with wage expectation to:

P.O. Box 219, Coronation, Ab. T0C

1C0 or drop off at the Town Office.

For further information contact:

Town of Coronation Housing Authority

Maxine 403-575-5217

East Central Alberta

Catholic Separate School Division

School Bus Driver

(Competition No. SS02-2122-TH)

East Central Alberta Catholic School Division invites applications for the

position of School Bus Driver for the Theresetta Catholic School in Castor,

Alberta.

This position is a fixed-term contract starting on August 30, 2022, until

August 31, 2023 and renewable upon agreement of the Division and school

bus driver. Interested applicants should submit a detailed resume, showing

their license class, training and experience with three references (please

include email addresses) including the name of your last supervisor to:

Competition No. SS02-2122-TH

East Central Alberta Catholic Schools

1018 – 1st Avenue

Wainwright, AB T9W 1G9

Email: reception@ecacs16.ab.ca

In applying for this position, it is understood that East Central Catholic

School Division has permission to contact references or any past or present

employers of the applicant. The applicant must be prepared to supply the

following documents: (1) recent Criminal Record Check; (2) recent Child

Welfare Intervention Check, (3) Driver's Abstract and (4) current driver's

license. The application form is found on our website www.ecacs.ca.

This competition will close when a suitable applicant is found. Applications

submitted prior to August 18, 2022 (Thursday at 4pm) are assured careful

consideration.
---
ECA REVIEW HANNA/CORONATION/STETTLER, AB August 11'22 9

Kashlyn Hilmer (4), daughter of Cody and

Cassie Hilmer shows off her skills of hanging

on during the sheep riding event Fri. Aug. 5

at the Coronation Bullarama.

Fair

Coronation

John Forrest looks

over the Fair entries

in the Forage

Section.

Photos by

J. Webster

Children enjoyed

the obstacle course

and bouncy tents at

the Coronation Fair.

Board Members

NEEDED FOR

Mirror & District Museum

To remain an AB Registered Society,

the Mirror & District Museum

Assoc. IMMEDIATELY needs Board

Members and community support

to fill spaces left by members who

have moved away

A FULL board is required to make

museum decisions, plan events and

fulfill obligations under the AB

Societies Act

In addition to the Mirror Museum

Building and Exhibits, we are

responsible for the St. Monica's

historic 1895 Church, plus Mirror's

CN Caboose and Box Car

mmuseum@cciwireless.ca

(403) 391-6086 cell

Funding

Available

Cauy Schmidt (19) of Coronation rides his first bull of the evening

called Canadian Miracle to a 82 pt. ride at the Coronation Bullarama

Fri. Aug. 5 followed up with a 86.5 score on his second bull in the

championship round, the only cowboy to make it to the eight seconds

to win the buckle. When asked what he was setting his sights on next,

Schmidt said, "Wherever the next bull riding is, I guess!"

Judy Redelback and granddaughter Zoey (3) look over the school entries at the Coronation

Fair bench exhibits.

Health Care Aide

Certificate

• Begin your new career as a Health Care Aide

in less than one year

• Program starts this September in Drumheller

LEARN MORE AT:

rdpolytech.ca/healthcareaide

403.342.3400

Music was provided during the day at the Fair by, from the right, Pat and Charlotte Gilmer

along with their son Jay and grandson Tyrell Simpson.

Offered in partnership with Campus Alberta Central
---
10 A ugust 11'22 HANNA/CORONATION/STETTLER, AB. ECA REVIEW

SLAP

Shots

• Pelicans forward

Larry Nance Jr.,

via Twitter, when

asked if he is the

most famous person

from Richfield,

Ohio's Revere

High School: "You

would think so …

but, I'm not sure

what I'd have to

do to pass Jeffery

Dahmer."

• Jerry Tarde of

Golf Digest, in a

fictitious interview

with the late Dan

Jenkins, on the

LIV golf tour: "I

hear Patrick Reed

got $80 million to

defect. The Saudis

paid him $20 million,

and the PGA

Tour put up the

other 60."

• Comedy writer

Alex Kaseberg: "At

the World Athletic

Championships

in Eugene, Ore.,

Mondo Duplantis

set a world record

in the pole vault

of 20 feet, four

inches. That is

higher than Snoop

Dog at one of his

album release

parties."

• Headline at

fark.com: "Mike

Trout diagnosed

with rare spinal

condition that's

been aggravated

by carrying the

Angels for the last

10 years or so."

Total of six days to climb Mount Everest

Cont'd from Pg 5

climb. The coldest day was and family until the final stretch to the message to his wife, whose birthday

The climb from base camp -30 Celsius. There were several

other climbers present, However, the first time he made the Krys also told of the 17 pounds of

summit.

was the next day.

to the summit is a 4-week

journey. The human body some going up while others climb to Camp I he took out his phone weight that he lost on his 4-week

needs to acclimatize to the were coming down. His and was greeted with pictures of his adventure. He also left all his climbing

high altitudes, so each phase hard work to prepare paid family at Easter. This was the hardest gear for his Sherpa, Dawa, to use in

of the climb requires a off when he was able to complete

the various legs of this It was also difficult coming down When asked what his next summit

moment for him.

future climbs.

return to base camp to allow

the body to rest, recuperate journey well ahead of other from the summit. Gravity is working will be Krys indicated it was 'a baby'.

and allow the creation of climbers in his group, with you so you are going faster than He and Paige had announced the

more red blood cells needed including four hours sooner you should. Others are coming up coming of their first child earlier at the

to carry oxygen at higher to the summit.

while you are going down, so at times reunion.

elevations.

By this point of Krys's you leave the ropes to allow others to It isn't often that someone can say

Krys had a member of the story the crowd at the go up. It was exhausting. Once you they have met and talked to a climber

local Nepal ethnic group Brigley Reunion was in awe have accomplished your goal your who has successfully reached the

aide him in his climb. These and had many questions for body says, 'I'm done'.

summit of Mount Everest, it was humbling

to hear Krys's story.

assistants are called him.

Did you leave anything behind? No,

Sherpas. Dawa was with How was the food? Not he didn't take anything to leave. When Krys and Paige Benyamein live in

Krys on ascents from Camp very good. After base camp at the summit where there were items San Diego, California where Krys is a

I upwards.

there were no perishable left by others 'part of me wished I had', lawyer by trade, actively working in

The first climb was from foods available. So much of but this is discouraged to preserve the his family's real estate business. Paige

base camp to Camp I, where his diet was canned Spam, environment.

is in her final two years of surgical

Krys spent two nights before tuna and potatoes.

He did have a Garmin, so was able to residency.

returning to base camp. Was there any wildlife to take summit pictures

and send a

The next stage was climbing see? A little higher than

past Camp I and II and stopping

at Camp III for a few of rabbit that he often would

Professional Directory

base camp there was a type

nights stay in rudimentary see. Beyond that there were

tents before returning to only birds.

Funeral Home

base camp.

Is there much litter?

Optometrist

Chery Southoff

The final journey that There used to be a lot of

would take him to the litter that had been left

CORONATION VISION CLINIC

summit took six days. It behind. Then people were

Dr. Ward ZoBell

Tues & Thurs 10 - 4

began with a 10-hour hike paid to bring litter down so

Proud to be part of Central Alberta

403-578-3221

from base to Camp II, where the mountain is much

Family Funeral Services Ltd.

HANNA VISION CENTRE

he spent two nights. Then cleaner now.

www.coronationfuneralhome.ca

Eye Health, Glasses, Contacts

off to Camp III for a onenight

rest and the addition bodies left near the top? Yes. 403-578-2928

Tues, Wed 9-4:30; Thurs, Fri 9-4

Is it true that there are

Dr. Dennis A. Heimdahl Dr. Ward ZoBell

corofuneralhome@telus.net

403-854-3003

of the supplementary Krys saw two bodies on his

oxygen tanks that would get climb. Those who do not

him to the top.

survive the final summit

Lawyer

Dentist

Krys left Camp III at 5 remain there, as the energy

a.m. and arrived at Camp IV needed to carry this weight E. Roger Spady

at 10 a.m. This is called the down the mountain is more Professional Corporation

death yours!

serving families zone and is where

Our than most climbers can

Barrister & Solicitor

Phone: 825-300-0049

many climbers go no further.

After a rest Krys Sherpas used to be paid to

Coronation Mall Coronation, AB

spare.

drballdental@gmail.com

Email:

Killam St, Location: T0B AB,

403-578-3131

2L0

50 4913

began the final leg to the recover those who died;

389, Box Mail: 2L0 T0B AB, Killam

summit at 7 p.m. Most of however, the government

this climb was in the dark intervened and banned this

Office Hours: Tuesday to Friday 9 a.m. to 5 p.m.

Dentist

He states that the most Did you ever have a

rewarding part of his experience

was obviously not the wanted to quit and go home?

space available

moment where you just

Dr.McIver

view but the process to get Those who climb Mount

In Coronation (Located in Coronation Mall)

there.

Everest now have wifi

MONDAYS 9 a.m. - 5 p.m. for under $30

Krys was fortunate to access up to Camp I. So,

have been blessed with perfect

weather during his ular contact with his wife

Krys was able to keep in reg-

Call Anytime for Appointments

403-578-3811

and Krys peaked the practise due to the numbers

summit at 3 a.m. (29,028 ft). of Sherpas who died trying.

le

0

Business

Directory

Bill's Waterwell

Services Ltd.

Well Drilling

Pumps & Repairs

403-747-2120

drillerbill@xplornet.com

Big Country Construction

& Building Supplies

2018 Ltd.

• Custom New Homes • All Farm Buildings

• Renovations • Windows and Doors

• Overhead Doors & Service • Retail Sales

Quality Customer Care

403-854-3585

UNLIMITED

HIGH‐SPEED INTERNET

Now Serving:

Coronation, Veteran, Talbot, Brownfield,

Alliance, Fleet, Castor, Halkirk, Botha, &

Stettler areas. More to come!

Plans starting at $50/mo.

Packages from 7 to 50Mbps

403-578-4214

Toll Free 866.57.VITAL

53' Ground Load Services

Benson Van Hienen

403-741-5735

bvhtrucking@gmail.com

Scott Lourance

403-916-4600 Cell

403-742-2551 Home

53' Cattle Liner

53' Ground Load

Hay Trailer

CAN'T SEE OUT?

Option #1

Replace

the Foggy

Unit

Option #2

Replace

the

window

Financing Available

Anchor Glass

403-854-4414 • 1-800-463-3148

www.anchorglass.ab.ca

tim@anchorglass.ab.ca

McSteel

SALVAGE &

CLEAN-UP

LTD.

Wainwright, AB

We Buy

Scrap Metal

Call

780-842-8622

www.mcsteel.ca

• Specializing in Repairs to

ALL Makes & Models of RVs & Trailers

• Full selection of RV Parts & Accessories

• RV Storage

403 742 5667 generationsrv@gmail.com
---
ECA REVIEW HANNA/CORONATION/STETTLER, AB August 11'22 11

OBITUARIES

Cared deeply for his community

Kenneth Dallas Schultz

August 22, 1935 –

July 30, 2022

Ken passed away in the

Hanna Hospital on July 30, 2022,

at 86 years of age with his loving

wife, Eleanor at his side.

Ken was a wonderful

husband, dad, papa,

brother, uncle, cousin,

friend and neighbour who

will be deeply missed by

all that had the opportunity

to share his life.

Ken was born in the

Hanna Hospital on Aug.

22, 1935 and lived his

entire life at Endiang,

Alta. He attended

Summerhill School

ending his formal education

in Grade 8, and he then

assisted his dad with the farm

and continued actively farming

until 2001.

Ken married the love of his

life, Eleanor Tucker on Nov. 24,

1956 and they have two daughters

– Val (1961) and Kris (1966).

They started their married life

south of Endiang on the Dick

Boehlke farm, which was

Eleanor's grandfather's homestead,

prior to building and

moving to their own home in

1964, which is still the family

home today.

Ken was very active in the

community starting from a

young age through until this

spring. He played with the

Endiang Men's Blue Jays hardball

team and in later years

helped to coach and manage.

As he grew older, floor curling

Schultz

became his passion and he organized

many local bonspiels and

travelled to various communities

to compete.

He held leadership roles on

the Paintearth Gas Co-op, SLW

Ag Society, Endiang History

Book Committee,

Endmoor Culture

& Recreation

Committee,

Boehlke Fish Pond

Committee,

Endiang Koolers

and Endiang

Cemetery Club. He

was involved with

the Endiang

Community Hall

over the years,

helping construct

the photo frames, hosting

annual Turkey Suppers, and

assisting with Homecoming

Celebrations in 1975 and 2000 as

well as the Centennial

Celebration in 2010.

The community recognized

all the volunteering and accomplishments

by presenting Ken

and Eleanor with the Stettler

Dodge Community Service

Award in 2018.

Ken cared deeply for his community

and wanted to have a

connection with all who lived in

it, and so he decided to host a

pancake breakfast at the farm

for all his family, friends and

neighbours.

The event was a success and

grew into a full weekend of

activities, frisbee golf, fireworks,

campfire sing alongs,

games and of course camping.

This July, the family hosted the

40th Annual Pancake Breakfast

& Campout and we were blessed

to have Ken join them for a few

hours on Sunday.

Ken lived an extraordinary

active and healthy life until this

past winter when his body

started to fail him and at the

end of May he entered the hospital

where he stayed until his

passing.

Ken leaves to mourn his wife

of 65 years, Eleanor; his daughters:

Val Schultz and Kris

(David) Mohl, his special

daughter Judy Crawford; his

grandchildren: Michele (Shane)

Toews, Kyle (Rachel) Mohl and

Jeff Crawford; his sister Jacky

(John) Chop; his sister-in-law

Mickey Tucker; and his

nephews - Greg Chop, and Dale

(Florence), Glen (Theresa) and

Lee (Christine) Tucker and

their families; as well as several

cousins and too many friends to

count.

He was predeceased by his

parents Jack and Florence

Schultz; his in-laws Ralph and

Tillie Tucker; his brother-inlaw

Clifton Tucker; and his

niece Rhonda Sedgewick.

A private family interment

took place at the Endiang

Cemetery prior to the

Celebration of Life on

Wednesday, Aug. 10th, 2022 at

the Endiang Hall.

In lieu of flowers donations

can be made to the Endiang

Cemetery, Box 321, Endiang,

Alta., T0J 1G0, Hanna Ladies

Auxiliary, Box 23, Hanna, Alta.

Busy homemaker, active volunteer

Joyce Elizabeth Strome

July 19, 1937 -

July 27, 2022

Joyce was born to parents

Victor and Ethel Ronald in

Castor, Alta.

Joyce was a mother

to eight lively children

and was an extremely

busy homemaker. On

top of that she was an

active volunteer in the

communities that she

lived.

She was a life time

member of the Royal

Purple, United

Church and the

Legion. She loved to

curl, play cards, sing in the

church choir and spent

many hours sewing and

quilting. The thing that

brought her the most joy

was spending time with her

children, grandchildren and

friends.

Joyce is survived and lovingly

remembered by her

family, Don (Thelma)-son

Jeffrey (Jennifer) and their

children Anna and

Elizabeth, daughter

Michelle (Des) and their

children Sarah, James and

Evelyn; Ken (Janice)-son

Scott (Kathy) and his sons

Liam and Landon and her

children Jared and Kayla,

son Russell (Kaysi) and their

sons William and Michael,

daughter Ashley (Cory) and

their son Kamden; Raymond

(Robin)-son Brock Bouchard

(Crystal) and their son

Ryder, daughter Jolene, sons

Peter and Nelson Auger,

daughters Kastleen, Kai-

Leigh (Ethan) their

daughter Mylanna Strome,

son Kaidn

Strome; Bernie

(Joyce); Kevin

(Monica)-

daughters

Symone,

Krystal (Chris)

and their children

Sienna,

Kiera, Ryker,

August,

Strome

Memphis and

Hudson,

Tiffany (Luke) and their

children Jack, Samara and

Gerrault; Gale (Chris)-son

Jason (Tara) sons

Trayce, Maxwell and

Jordan Cooman; Lori

(Robin)-daughter Samantha

(Tom) their sons Caleb and

Reese, son Codie.

Also her sisters and

brothers-in-law: Alma

Ronald of Waterloo, Ont.,

Hazel Annett of Fleet, Alta.,

Violet Clark of Surrey, BC,

Ernie (Arlene) of Castor,

Alta., Danny (Elda) of

Westlock, Beatrice (Vic)

Tschritter of Sherwood

Park, Alta. and Ruby (Dave)

Lopetinsky of Edmonton,

Alta.; nieces, nephews and

friends.

Joyce was predeceased by

her husband Walter, their

son Robert, grandson Bryn

Bouchard, all of her siblings and dear

friend Ted Lappe.

A celebration of Joyce's life was held

on Aug. 9, 2022 in the Knox United

Church, Castor, with Rev. Dr. Nancy L.

Steeves officiating. Joyce was laid to

rest beside her beloved husband

Walter and son Robert in the Castor

Cemetery.

Donations in memory of Joyce are

gratefully accepted to S.T.A.R.S., 570-

1441 Aviation Park NE, Calgary, Alta.

T2E 9Z9 or a charity of the donor's

choice. To send condolences to the

family, please visit www.parkviewfuneralchapels.com.

Parkview Funeral Chapels &

Crematorium were entrusted with the

care and funeral arrangements. For

further information, please contact

403-882-3141.

WANTED

DEAD OR ALIVE

Canadian Prairie Pickers

Paying Cash For Coin Collections,

Silver & Gold Coins,

Royal Can. Mint Sets.

Also Buying Gold Jewelry

$$ $

are once again touring the area!

We purchase rolls, bags

or boxes of silver coins

PAYING HIGHEST PRICES

To arrange a free, discreet in-home visit

call Kellie at 1-778-257-9019

Bonded since 1967

$$ $

T0J 1P0 or the charity of

your choosing.

Hanna Funeral Services

has been entrusted with the

care and arrangements; 403-

854-5956, www.

hannafuneral.ca.

Card of Thanks

The family wishes to

thank the Dr. Wendy Fortna

and all of the staff at the

Hanna Hospital for the

exceptional care provided to

Ken over the past few

months.

Forever in our

hearts and soul

It is with deep sorrow that

we announce the passing of

Dienne Jeryl Gertz (nee

Gilbertson) on July 22, 2022

at the age of 64.

Dienne was a loving

wife, mother, oma,

sister, tante, aunt and

friend to all who knew

her.

Left to cherish her

memory are her husband,

Roy; children,

Wyatt (Anno), Marya

(Leo); grandchildren,

Taylor, Brooklynn,

Ryder, Daxton, Petra,

Jensen, Waylen; Siblings,

Terry (Cathie), Dana (Ivan)

and Micki along with nieces,

In loving memory

Donna Josephine Penosky

(Rouse) was born in Stettler,

Alta. on Aug. 17, 1929 to parents

Nellie Marguerite

(Cowan) and Jacob

Alexander Rouse.

Donna passed

away on July 10,

2022 in Stettler at

the age of 92

years.

She will be forever

missed by

her loving family,

son Brett (Lorna)

Penosky; daughters

Sharlene

Penosky

(Cam)

Christianson; and Donnel

Elwood; numerous grandchildren,

great-grandchildren, nieces,

nephews, other family and

many dear friends and

neighbours.

Donna was predeceased

by her husband James

nephews and friends.

She was predeceased by

her parents, Ronald and

Alice; siblings, Darrel and

Darcy; and inlaws,

Helmut,

Waltraud and

Petra.

She will be

forever in our

hearts and

souls.

Funeral

arrangements

by Hainstock's

Gertz

Funeral Home

and

Crematorium, 9810 - 34 Ave.

NW, Edmonton, Alta. T6E

6L1.

Victor Penosky; sons

Michael James Penosky and

James Craig Penosky; sonin-law

Richard Elwood and

all of her siblings.

A private gathering

of family and

friends will be held.

Donations in

memory of Donna

are gratefully

accepted to the

Stettler Hospice

Society, P.O. Box

880, Stettler, Alta.

T0C 2L0;

Alzheimer Society,

#1, 5550-45 St. Red

Deer, Alta. T4N 1L1 or a

charity of the donor's choice.

To send condolences to the

family, please visit www.

stettlerfuneralhome.com.

Stettler Funeral Home &

Crematorium entrusted

with the care and arrangements,

403-742-3422.

Thank You

We would like to send our heartfelt gratitude to our

extended family, friends and neighbours for all of your love

and support during a very difficult time after the sudden

death of our sister and aunt, Kathleen Richardson Nelson

of Manning, Alberta. WANTED

Thank you for your visits, phone

calls, flowers, gifts DEAD of food, care OR of the ALIVE cemetery grounds,

help with the reception, cleaning of the hall and providing

bountiful food for the family supper. Thank you Hugh for

all o your guidance and support and Al for your words of

Canadian Prairie Pickers

comfort before, during are once and again after touring the service. the area! Thank you to

all who attended Kathleen's interment which took place at

Fairfield Cemetery, Paying Brownfield, Cash Ab. For If Coin we didn't Collections, get a chance

to thank you in person, please Silver know & Gold that Coins, your presence was

heartfelt and appreciated. Royal A special Can. thank Mint you Sets. to Chapel of

Memories funeral Home Also in Peace Buying River, Gold Ab. Jewelry for preparing

us for our journey to Coronation Funeral Home. A special

thank you to the staff We of purchase Coronation rolls, Funeral bags Home for

accepting and safely or transporting boxes of silver Kathleen coinsto her final

resting place.

PAYING HIGHEST PRICES

Sincerely Gordon Nelson and family,

To arrange a free, discreet Wayne Richardson in-home visitand family,

call Kellie Craig and at Heather 1-778-257-9019

Richardson and family.

$$ $

Bonded since 1967

$$ $
---
12 A ugust 11'22 HANNA/CORONATION/STETTLER, AB. ECA REVIEW

12 A ugust 11'22 HANNA/CORONATION/STETTLER, AB. WHEEL OF A DEAL ECA REVIEW

OBITUARY

10% OFF

$588.99 656.99

MILWAUKEE M18 FUEL

HAMMER DRILL IMPACT

DRIVER- COMBO

MIL 2997-22

10% OFF

Funeral services

set for Aug. 20

Donald G. Coulthard passed away at

Our Lady of the Rosary Hospital,

Castor, Alta. on July 20, 2022.

Don is survived by his loving family:

daughter Jennifer Coulthard of

Calgary, Alta.; son Terrence (Lyndsey)

Coulthard and their children Meghan,

Reid, Kade and Hudson of Stettler,

Alta.; sisters Gloria Hronek of

Delburne, Alta. and Karen (Barry)

Wimmer of Red Deer, Alta.; numerous

other family and a host of many

friends.

Funeral services will be held on Sat.

Aug. 20, 2022 at 2 p.m. in the Halkirk

Cemetery, Halkirk, Alta.

SLAP

Shots

• Dwight Perry of

the Seattle Times:

"The Arizona Cardinals

have removed

the controversial

'independent

study' clause from

QB Kyler Murray's

$230.5M contract.

But added one for

cleaning up his

room and being in

bed by 10."

• Scott Ostler of

the San Francisco

Chronicle, on

unvaccinated players:

"As they say

in baseball, we'll

shoot any random

stuff into our

bodies, as long as

it's not something

that will help stop

a worldwide killer

pandemic."

• Janice Hough

of leftcoastsportsbabe.com,

after

Golden State Warriors'

Andrew Wiggins

said he still

wishes he didn't

get vaccinated

against Covid-19:

"About a million

Americans would

offer a rebuttal if

they weren't like,

you know, dead."

• Vancouver comedy

writer Torben

Rolfsen, on Twitter,

on the Blue Jays'

28-5 romp at

Fenway: "Boston

T-ball Party."

• Headline at

TheBeaverton.

com: "Pope Francis

closes Commonwealth

Stadium

mass with 52-yard

Hail Mary."

Care to comment?

Email brucepenton2003@yahoo.

ca

Donations in memory of Don are

gratefully accepted to the Halkirk Elks

Club or to the Village of Halkirk.

Condolences may be left for the

family by visiting www.parkviewfuneralchapels.com.

Parkview Funeral Chapels &

Crematorium were entrusted with the

care and funeral arrangements. For

further information please call 403-

882-3141 or 403-578-3777.

Duane's Trucking Ltd.

USED HEAVY

TRUCK & TRAILER

PARTS

We have what you need,

even those hard to find items!

• all makes and models

• transmissions, motors, wheels,

tires and much more

• acres of inventory, 500 plus units to be

dismantled

• check our

used trucks,

gravel and

winch

equipment

for sale.

Call us now

Mon. - Fri., 8:30 am - 5:00 p.m.

(403) 784-2501

www.duanestrucking.ca

• Agriculture

• Automotive

• Industrial

• Safety

4706 Victoria Avenue, Coronation AB

403-578-4567

$61.99 69.19

NAPA PREMIUM SYNTHETIC OIL

NPL 0W20SY-5L/10W30SY-5L/ 5W20SY-

5L/5W30SY-5L

$10.19

14.69

SPRAY NINE

DISINFECTANT

CLEANER

DEGREASER

SNI C26822

30% OFF

30 % OFF

30% OFF

$29.99 42.99

WATSON BLACK NITRILE GLOVES

WTS 5555PF-L/X

25% OFF

$14.59 20.69

NAPA COOLANT 50/50

GM ORANGE

RCO 49604OGM

10% OFF

$212.99 237.69

RUST-OLEUM EPOXYSHIELD

GARAGE FLOOR COATING KIT -

GLOSS GREY

ROC N233005

30% % OFF

NAPA Auto Parts Stettler

4902 - 43rd Avenue

Stettler, AB

403-742-NAPA (6272)

Three Hills Auto Sport Ltd.

510 Main St.

Three Hills, AB

403-443-2400

$95.99 137.99

SPRAY NINE FLOOR

CLEANER

SNI C11525

$32.99

41.59

BALKAMP

TRAILER BALL

MOUNT

BTT 755-2608

20% OFF

$54.99 71.49

SCHUMACHER SOLAR

CHARGER

MBC SP-200

STARTING AT

20% OFF

20 % OFF

$49.49 62.99

BALKAMP TRAILER

HITCH LOCK

BTT 755-2135

$20.69

20% OFF

23.09

MALLORY DIP

STYLE WASH

BRUSH

MAL 5-2642

10% OFF

$79.99

SYLVANIA LED HEADLIGHTS

SYL FAM 14

NAPA Auto Parts Oyen

102 Main Street

Oyen, AB

403-664-3515

Acme Napa Auto Parts

128 Main St.

Acme, AB

403-546-2425