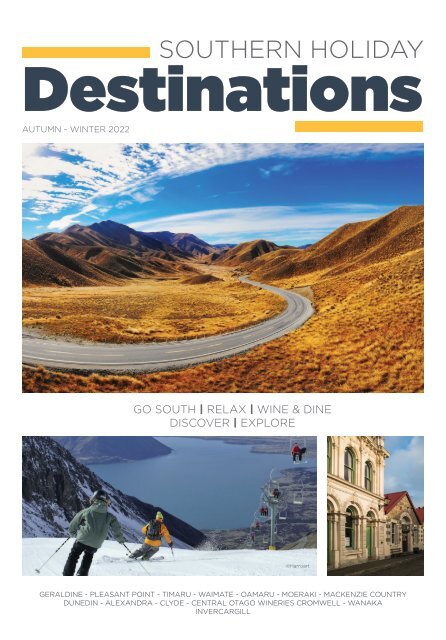 Southern Destinations:: April 07, 2022
You also want an ePaper? Increase the reach of your titles
YUMPU automatically turns print PDFs into web optimized ePapers that Google loves.
SOUTHERN HOLIDAY

Destinations

AUTUMN - WINTER 2022

GO SOUTH | RELAX | WINE & DINE

DISCOVER | EXPLORE

©Harroart

GERALDINE - PLEASANT POINT - TIMARU - WAIMATE - OAMARU - MOERAKI - MACKENZIE COUNTRY

DUNEDIN - ALEXANDRA - CLYDE - CENTRAL OTAGO WINERIES CROMWELL - WANAKA

INVERCARGILL
---
2

| GERALDINE

Treasures galore at the

Cottage Pantry

and Gallery

Have you ever been to a location

you just didn't want to leave and

found yourself whiling away the

hours? A place of beauty, selection

and trinkets and so many things to

look at, you could lose yourself and

forget all time.

The Cottage Pantry and Gallery

in Geraldine is such a place. They

are the consummate gift shop and

specialty store. There is a vast

selection of dried food ingredients

and pantry essentials available,

including an impressive range of

gluten free and organic products,

all packaged in paper window tin tie

bags.

In the attached heritage cottage,

pieces of art line the walls and

each room reveals an extensive gift

range. One of the rooms is home

to delicious handmade chocolates,

British sweets and Dutch Liquorice.

Need a greeting card? Look no

further, there's bound to be one that

fits the bill. Customers drive from

Enjoy kiwiana at the

Berry Barn Bakery

and Cafe

near and far to The Cottage Pantry

and like to share their feedback of

their experience.

Erica happily said, "just love the

shortbread mix! I have to place a

permanent order now."

Kathleen shared her thoughts, "this is

such an interesting shop and gallery.

Wonderful gifts for male and female,

wonderful art work."

And Christina wrote, "Amazing

awesome wee shop full of delightful

treasures as well as essential

ingredients."

Next time you're in Geraldine or

you want to get away from the

hustle and bustle of home, plan

a car ride to The Cottage Pantry,

24 Wilson Street, Geraldine. A

location well worth visiting during

your time exploring beautiful

Geraldine. Contact Pauline 03-693

9911 cottagepantry@xtra.co.nz or

Facebook – Cottagepantrygeraline

Open 7 days.

Experience the taste and

environment of Kiwiana at

the Berry Barn Bakery & Cafe.

Have fun looking at the new

mural reflecting the history of

NZ, showcasing many points

of interest, and highlighting

Kiwi culture.

Enjoy choosing between

indoor or outdoor seating. Be

captivated by the live beehive

on display. As you relish in the

environment, your tastebuds

will have a variety of foods to

choose from. Sandwiches,

pies, hot food, slices, and

sweet treats.

Select from proper Kiwi-sized

Tip Top scoop ice creams or

delicious items from their ice

cream bar including everyone's

favourite, old fashion

banana splits. They offer a

SOUTHERN HOLIDAY DESTINATIONS AUTUMN-WINTER 2022

Proudly supporting

New Zealand made

Situated in the picturesque village

of Geraldine, on the tourist route

between Christchurch, Mt Cook and

Queenstown; Louk Clothing offers a

unique opportunity to view and buy

genuine New Zealand-Made Clothing.

They are proud to stock well designed,

quality garments and to offer an

amazing selection of well-known NZ-

Made clothing brands that are known

and proven such as Earth Sea Sky,

Nobile Wilde, Hills Hats,Stone Hill,

Manawatu Knitting Mills.

They stock the largest range of Swazi

Apparel in the South Island.

With an excellent choice of ladies,

men's and children's garments and

accessories, made for lifestyle, fashion,

the outdoors and work. All made from a

range of ice blocks, too.

Recent changes to the

menu at the request of our

Kiwi market is an extended

breakfast menu. French toast,

waffles, and a bigger 'big'

breakfast are now available.

Gluten free bread is stocked

for use or purchase, just ask

at the counter.

When in Geraldine, stop by

the Berry Barn Bakery & Café

located at The Four Peaks

Plaza, 76 Talbot St. Open seven

days a week from 7am-

3pm. Ph: (03) 693-9900

Don't forget to place feedback

as that is how they

better serve their customers.

Thanks to everyone who

posted for the revised breakfast

menu. We listen!

variety of high quality fabrics including

Merino, possum, quality fleece, proven

technical fabrics and silks, garments

tested and proven for performance and

durability.

Their fantastic range of Hills Hats always

surprises and pleases customers.

Norsewear, NZSock Co, Lamington and

Sockspacfic help them to have one of

the largest variety of socks you would

see anywhere.

If it's excellent service you want along

with quality, style, and durability in

the garments you buy, then visit

them personally in Geraldine's most

recognised building, The Old Post

Office.

Open 7 days.

PUBLISHER

Star Media

A division of Allied Press Ltd

PO Box 1467 Christchurch 8140

ADVERTISING

Jenny Wright - Ph 03 364 7446

email: jenny@starmedia.kiwi

Frank Greenslade - Ph 03 364 7441

email: frank.greenslade@starmedia.kiwi

EDITORIAL Jenafor Rollins

DESIGN Denise Crawford

Fantastic selection of dry food ingredients for

your pantry, packaged in cute little brown bags

Come and experience a traditional

shopping experience of yesteryear...

• Gluten free & Organic

• Nuts, Seeds & Dried Fruit

• Pulses & Grains

• Flours & Bread Mixes

• Herbs & Spices

• Cake Mixes & Cake Decorating Supplies

Explore the rooms in the attached

Historic cottage. The sitting room is

home to handmade chocolates, British

sweets, Dutch Liquorice and Kiwi

favourites. Beautiful artworks painted

by local artists adorn the walls. A range

of quality giftware, including English

Bone China crockery.

The Cottage Pantry & Gallery

24 Wilson Street, Geraldine | 03 693 9911 | Open 7 Days

cottagepantry.co.nz | /geraldinecottagepantry

berry barn

bakery & cafe

open 7am - 3pm

76 Talbot Street, Geraldine

03 693 9900

Quality New Zealand Clothing

The Old Post Office

Geraldine

P 03 693 9070

louknzclothing@xtra.co.nz

Open 7 days

PROUDLY SUPPORTING NZ MADE
---
The Perfect

Lifestyle!

"It's all about location. Geraldine

has everything here for a wonderful,

active lifestyle; we're nestled in a

fabulous microclimate with easy

access to parks and river walks.

Geraldine township is a vibrant

community with art galleries,

boutique shopping and fantastic

eateries, with a never-ending

schedule of music festivals, fetes,

exhibitions and shows."

If you've reached the point of wanting

to simplify your life, McKenzie

Lifestyle Village should be on your

'must-see' list.

NOW OPEN - One bedroom

apartments. Offering independence

with discreet help on hand.

McKenzie Lifestyle Village also

welcomes subsidised care providers,

apartments are designed to provide

Rest Home and Hospital Level Care.

Making an apartment your ideal

forever home.

At the heart of the village is the

Leisure Centre - a central point for

entertainment and events, true resort

style facilities. Too often people tell us

they wish they'd made the decision

to move here sooner, just do it while

you're still independent and you can

enjoy everything that we have to

offer. Whether you're more inclined

to enjoy the company of others, or

prefer privacy and solitude - you'll

find your perfect lifestyle here.

Could Geraldine be your place to

call home? Call today for more

information on 0800 845 524 or

mlv.org.nz.
---
4

| GERALDINE

Grandpa's Toys - Toys & games

for generations of fun!

SOUTHERN HOLIDAY DESTINATIONS AUTUMN-WINTER 2022

Rural dog

accommodations

When passing through or stopping over in

Geraldine a must-stop shop is Grandpa's Toys. This

family-owned business is run by a mother and the

toy testers are her three sons.

Grandpa's Toys goal is to develop young minds

through creative play, and they have a wide

range of toys including, puzzles, science, and

discovery, train sets, wooden toys, building sets,

A warm welcome

at Geraldine

Motels

dolls, figurines and so much more to stimulate and

challenge young minds.

You can feel confident in your selection for the

child in your life as Grandpa's Toys has been

bringing joy to children for more than 22 years.

You can shop online at grandpastoys.co.nz and

have the toys delivered to your door or to the child

you are buying for.

Looking for a home away from home for your furry family

member? The Brookside Kennels in Geraldine offers clean

spacious accommodation for your dog with two supervised

runs per day around the paddocks, with or without the companionship

of other dogs.

Your furry family member will be fed twice a day with the dog

hotels food of choice or if your dog has a special diet or you

would like to provide their meals, either option will be accommodated.

Your furry friend will be looked after by experienced dog lovers

and if any medical concerns arise, the local vet is on call if

the need arises.

For just $20 per day, book your dog into Brookside Kennels

and enjoy some pet-owner's peace of mind for the holidays.

Located at 208 Woodbury Road, 2kms from Geraldine,

Brookside Kennels welcomes your enquiry ph 03 693 9929

Enjoy the unique country village atmosphere of Geraldine with their wide range of

cafés, galleries and shops. Stop over at the Geraldine Motels located on the south

side of the town centre. You will feel a warm hospitable welcome to this accommodation

which is clean, comfortable and self-contained all within 200 metres of

the town's restaurants, cafés, movie theatre and shopping area.

You will be warmly welcomed by owner operators, Joseph, Mayumi and Helley

who will help you get settled and make sure you're comfortable throughout your

stay. Enjoy the free WiFi for all guests and pets are welcome by prior arrangement.

Geraldine Motels is only a short walk to the bowling green, tennis courts, heated

swimming pool, parks, domain, museums, and bush and river walks. You have

your choice of two golf courses to play on which are within a 5 minute drive and

the large park-like garden behind the units borders the Waihi River, which is a

scenic place to relax. Situated 1.5 hours from the Christchurch airport and a 1.5 hour

drive to the ski fields, Geraldine is located in South Canterbury along the popular

Scenic Touring Routes. Phone: +64 3 693 8501 Email: info@geraldinemotels.co.nz

Geraldine

MOTELS

Toys & games for generations of fun!

Great range of wooden toys, puzzles,

games, doll's houses, art & crafts, cars,

trucks, tractors, trains and much more…

Online orders welcome – order at

home and pick up on the way

13 Talbot St | Phone 03 693 8511 | Email toys@grandpastoys.co.nz

Hours; Monday – Friday 9am – 4.30pm, Saturday 10am – 2pm

Follow us on Facebook and Instagram | Web www.grandpastoys.co.nz

We are looking forward to hosting you

• Short stroll to Village centre

• Spacious standard and superior

family and studio units

• All units are fully self contained

and serviced daily

• 3 Sky channels

• Off street undercover parking

97 Talbot Street, GERALDINE, SOUTH CANTERBURY, NZ

Phone: 03 693 8501 | Fax: 03 693 8801

Email: info@geraldinemotels.co.nz | www.geraldinemotels.co.nz

Your Hosts: Joseph, Mayumi and Helley Jones

RESERVATIONS 0800 400 404

We exercise all

dogs in fully

secure, fenced

paddocks

208 Woodbury Road • Geraldine

Ph: 03-693 9929 • Mob: 021 076 4534

Email kbarb@xtra.co.nz
---
SOUTHERN HOLIDAY DESTINATIONS AUTUMN-WINTER 2022 PLEASANT POINT | 5

Obsolete Motors and

Frocks & Shocks

Camping

at Pleasant Point

Enjoy the scenic and enjoyable campgrounds

in Pleasant Point, which is open

on a seasonal basis between mid-September

to mid-May. The campgrounds

offer:

• 7 cabins

• 26 powered sites

• Ablution block

• Showers

• Kitchen

• Laundry

• Tent sites

Don't forget to book your camping site

at the Pleasant Point Dairy 03 614 7515

or book online at the Timaru District

Council. www.timaru.govt.nz/community/facilities/motor-camps

Obsolete Iron Motors is a working garage

performing vehicle and motorcycle

services.

W.O.F's, repairs and a passion for classic,

custom restoration and fabrication

work.

This location is full of surprises and well

worth stopping by as they have an area

where they

showcase memorabilia, including the

twin engine Triumph land speed motorcycle

built by

Gilbert Bailey for his race on the Salt

Flats in Bonneville.

Next door is their adjacent business

Frocks and Shocks. Giftware, Jewellery,

a unique range

of clothing and memorabilia from year's

past line the space. Stop by and pick up

a coffee to

go as you browse for a hidden treasure.

All visitors are welcome, and Gilbert and

Sharon are happy to open up at off time,

just give

them a call. This is a novelty location

taking you back in time. Obsolete Iron

Motors and Frocks &

Shocks is a unique business, two for the

price of one and such a fun novelty, you

won't want to miss

it, so stop in for a visit and see the wonder.

03 614 7410 obsoleteironmotors@

gmail.com

Treasure

Trove

A

Trove Waiting for you

Pleasant Point

Camping Ground

Giftware, jewellery, clothing

and memorabilia.

Come

&Visit!

At Obsolete Iron Motors

Ph: 03 614 7410

87 Main Road, Pleasant Point

Obsolete Iron Motors can handle all

of your auto repair services including;

• Brake Service

• WOF

• Part Procurement

• Oil Change

• Cam & Timing

Belt Replacement

• Battery Health

Check

• Custom and Classic

Vehicle Repair

• Motorcycle

Servicing

ObsOlete IrOn MOtOrs

87 Main Road, Pleasant Point

(03) 614 7410 | www.obsoleteiron.com

Pleasant Point Domain, State Highway 8,

1km from Pleasant Point Township Centre

26 powered sites, 7 cabins, tent sites,

town supply water, kitchen, laundry,

showers, toilets and children's play area.

Booking enquiries please phone

(03) 614 7515

Open September – 31 May
---
6

| TIMARU

SOUTHERN HOLIDAY DESTINATIONS AUTUMN-WINTER 2022

Explore the heritage

of the region at The

South Canterbury

Museum

The South Canterbury Museum is the

place to explore the heritage of our

region – nature, history, and culture.

Located on Perth Street, downtown

Timaru, the Museum features a range

of exhibitions and public programmes.

Exhibitions feature aspects of local

geology and the natural world, stories

from local Mori heritage and the arrival

of European settlers and displays that

look at how the region has taken shape

and people's lives have changed over

the last 150 years. Visitors can get

close to hundreds of specimens and

artefacts drawn from the Museum's rich

collections, images, graphics, moving

images and touchscreens that help

visitors explore our heritage further.

The Museum also has a changing

exhibition programme with a wide

focus on nature, history, and cultural

topics. These include local as well as

travelling exhibitions, providing a variety

of experiences for locals and visitors

alike. A regular programme of activities

and events provides holiday activities,

public talks, and annual events such as

the outdoor Retro Rock at the Museum

concert. Visitors with historical interests

can visit the Museum's archival area

to delve deeper into aspects of local

heritage. The Museum's website

(museum.timaru.govt.nz) and Facebook

pages provide regular updates on

what is happening. Membership of the

Friends of the Museum provides regular

newsletter and updates on activities and

happenings.

Admission to the Museum is free with

koha/donations encouraged. To find out

more, visit the website, Facebook page

or contact the Museum directly on (03)

687 7212 or email museum@timdc.govt.

nz.

Best kids shop

in town

Kidstuff is a family owned and operated

baby and children's business which

has been around for over 20 years!

At Kidstuff they pride themselves on

providing a diverse range of quality,

affordable, and unique products with

personalised service from staff who are

knowledgeable and passionate.

Kidstuff has everything you need from

baby basics to extraordinary birthday

gifts and so much more! It's the sort of

store people walk into and say "wow".

Kidstuff is a true gem in Timaru and

a must-visit on your trip when your

passing through.

If you can't personally make it in then

follow them on Facebook and visit their

website which has 18,000 products to

choose from to make your shopping

simple and easy! www.kidstuff.net.nz

We are your

one stop shop for

everything babies & kids!

Perth Street, downtown Timaru

Ph (03) 687 7212

museum.timaru.govt.nz

www.facebook.com/SCMuseum

170 Stafford Street Timaru | 03 6885152
---
Waimate's Tame

Wallabies

WAIMATE |

Kingswood Motel

updating with Waimate

Waimate is growing leaps and bounds and next time you visit

the area plan to spend the night at the Kingswood Motel. Their

newly refurbished rooms are spacious, clean and comfortable.

The Kingswood Motel is in a prime location for the area and

guests are leaving rave reviews.

The motel offers newly renovated units. Six studios, 2 bedsits

and four 2-bedroom units. Clean, affordable and 5 min walk to

shop, cafes, fine dining, and pub grub. Feel comfortable in your

room with 50 channels of Sky to look through and free Wi-

Fi. Off-street parking and continental breakfast available on

request. 48 hour cancellation policy applies.

Spend the night in Waimate at Kingwood Motel, experience

adventure in the great outdoors such as cycling, hunting, and

tramping.

While visiting Waimate, you

must visit the town's famous

Tame Wallaby Park Sanctuary.

Gwen, the "Wallaby Lady" has

dedicated 45 years to hand

raising and caring for orphan

baby wallabies through to

adulthood, mostly brought to

her by hunters.

This requires much commitment

as they need constant

warmth and food.

Gwen loves them all as much

today as she did when she

got her first one all those

years ago. As visitors meander

among tame wallabies at their

own pace, hand feeding them

special pellets, they are fascinated

by the animal's gentle

nature, thus allowing you

hassle-free time to feel at one

with nature.

The park is located off the

north end of Highway 82

on Bathgates Road close to

Waimate. Watch out for the

Wallaby Park sign and don't

forget your camera!

Open daily from 20th September

to 10th June from 10am-

5pm. During the off season

June 11th to 19th September

the park is open by appointment,

weather dependant or

by chance! EFTPOS available

or cash accepted.

Phone 03 689 7197 or visit

www.waimate.org.nz/tamewallabies

Affordable Hands-on Adventure

HOP TO THE

WALLABY PARK

EnkleDooVery Korna Waimate

• WALK AMONGST • TOUCH • FEED

• PHOTOGRAPH • OUR FAMOUS WALLABIES

Group bookings essential please

Admire the cute tame Wallabies

• Sept 24th through to June 10th

• Open 7 days 10am-5pm

• During the off season, June 11th to Sept 19th,

will be open, weather-dependent, by appointment

or by chance, 10am to 4pm.

Located North End of State Highway 82

on Bathgates Road, Waimate

Your host: Gwen Dempster-Schouten 03 689 7197 | Email: jenny_dempster@hotmail.com

EFTPOS OR CASH FACILITIES

www.waimate.org.nz/tamewallabies

16 Timaru Road, Waimate

Ph. (03) 689 8022 or 027 694 5633 E. kingswoodmotels@gmail.com

www.kingswoodmotels.com
---
8 | WAIMATE

SOUTHERN HOLIDAY DESTINATIONS AUTUMN-WINTER 2022

Do the school holidays the Waimate way!

Hit the bike tracks, pat tame wallabies, explore

bush waterfalls, enjoy free fluffies and ice creams;

do the school holidays the Waimate Way!

The Waimate District ticks all the boxes as a great

place to take the family for a school holiday get away.

A handy drive from Christchurch (less than three

hours), means you have more time to enjoy your

holiday minus the are we there yet's? So pack the

bags, the car, the kids and come for a day trip, an

overnighter or week long escape! Here's just some

of the ways you can enjoy the school holidays in the

Waimate District.

The fun way

There are loads of fun things on offer to entertain the

family. Visit the famous EnkleDoovery Korna Wallaby

Park and Sanctuary where you can pat, photograph

and hand feed over 40 tame wallabies - a great

opportunity to get up close to these cute critters.

If you are an outdoorsy family, you will be impressed

with the awesome selection of world class walking

and biking tracks that cater for all ages and abilities.

The fabulous network of tracks around Waimate

township are suitable for prams, balance bikes and

ebikes. For the more adventurous, the mountain bike

tracks at the White Horse range from intermediate

through to expert and are a great place to burn off

some energy, plus the views are spectacular! The new

viewing platforms at the White Horse are the perfect

place to soak in the views from the Pacific Ocean to

the Southern Alp's.

And for the mum's and dad's there is a fabulous

selection of destination shops that are perfect for

some retail therapy. You will find everything from

hunting and fishing gear, jewellery and second hand

treasures to designer clothing and boutique gift and

homewares. The Waimate Art Society have recently

refurbished their gallery which is now open to the

public, so head along to view (or purchase) art works

by some of the many talented artists in the district.

The family way

The school holidays are the perfect opportunity to

reconnect as a family. The Waimate District has lots of

activities and attractions families can enjoy together,

plus accommodation to suit all budgets. The district

has an abundance of beautifully maintained parks and

reserves which make for the perfect picnic pozzie,

game of soccer or fish n chip tea.

For the golfing family, have a round of golf at

Waimate's picturesque 18 hole course, or for a round

of classic country golf, Maungati has a superb 9 hole

course.
---
SOUTHERN HOLIDAY DESTINATIONS AUTUMN-WINTER 2022 WAIMATE | 9

The district has become a foodie destination and has

a fabulous selection of eateries that cater for all tastes

and budgets. Plus most places offer an extensive kids

menu to cater for the fussiest of fussy eaters!

The free way

The great thing about the Waimate District is most

things on offer won't cost you a cent, which makes it

the perfect destination for budget conscious families.

Enjoy a game of disc golf at Victoria Park set amongst

the mature oak trees, and while you are there the kids

will love the wallaby enclosure and large bird aviary.

Take a trip to Maungati and explore our oldest art

galleries – the incredible collection of Maori rock

art found in the limestone outcrops are over 200

years old! See if you can spot the ancient images of

moa, fish or Te Manunui – the great bird. Walk the

Waihao River walkway and hunt for fossils along the

spectacular limestone rock formations which are over

200 million years old and rich in fossils from a time

gone by.

Spot kereru, tui and bell birds in the native bush, or

take a walk to a bush waterfall. Head to Knottingley

Park and Arboretum and enjoy the vibrant display of

autumn colours along the walking track as the trees

turn on their autumn glory (the leaves make great leaf

angels).

When heading out for a coffee or a meal look out for

the poster on the door of participating eateries who

have specials for the kids over the school holiday

period, and head in store to find out what you can

score for free for the kids (every cent counts when

away on holiday with the kids, right).

With so much on offer, and only a stone's throw

from Christchurch, check out waimate.org.nz/thewaimate-way

to start planning your school holidays

the Waimate Way, we'd love to see you!

A COLLECTIVE OF OLD AND NEW

Treasures

new • vintage • locally made

• Vintage and Retro

homeware and

furniture

• Showcasing local

talent

• Original and limited

edition artwork

• Houseplants

Pop in for something

different. We would

love to see you!

hOurS

Open Tues – Fri,

10am – 5pm.

Sat, 10am – 2pm

www.thequirkymagpie.co.nz

You can find us at 42 Queen Street,

Waimate opposite 'The Waimate.'

Quality, preloved clothing in a

range of sizes, new arrivals daily

\\

75 Queen Street, Waimate • Open Tues – Sat • @rewindshopnz

Discount convenience

Open store. Toys, until make-up, 9pm

health and beauty,

Christmas Eve!

cleaning products, gifts,

stationery and more!

Discount convenience store.

All Toys, at affordable make-up, health prices! and

beauty, cleaning products, gifts,

43 stationery Queen Street, and more! Waimate All at

valuevillagewaimate

affordable prices!

valuevilagewaimate.com

Amanda's

Fashion Boutique

29 Queen Street, Waimate

Phone: 03 689 8188

www.amandasfashionboutique.co.nz
---
Autumn in the Waitaki is a

magical time for a weekend

getaway. The days are

mild, yet still warm enough

to enjoy a glass of bubbly

outdoors and the honeyed

landscapes are striking to

behold. It's a land of long

winding roads, adventure,

heritage, and small towns

filled with local character.

The best way to see the

Waitaki at its most colorful

is to jump on your bike and

ride the Alps 2 Ocean Cycle

Trail. Drawing you in with

breath-taking landscapes,

the Trail embodies what a

cycling journey should be—

an adventure suitable for

everyone.

You're encouraged to take it

at your own pace. Bike the

Trail across 4-7 days or try

out a day excursion. Either

way, you'll be back.

Highlights include the

Autumn foliage at Sailors

Cutting, a popular boating

spot and camping ground,

the views across Benmore

Peninsula, and a gauntlet

of bronzed poplars hidden

behind Kurow vineyard. Don't

forget to pack a picnic for

Pumpkin Point. You'll carve

out some fond memories

there.

Panoramic views that once

existed under an ancient sea

now make up the Waitaki

Whitestone Aspiring Global

Geopark.

Geosites include the Moeraki

Boulders, Elephant Rocks,

the sheltered valley of

Anatini, the otherworldly

Clay Cliffs, the Valley of the

Whales, and many more.

Upon arrival in Ōamaru, you

must head to the Victorian

Precinct, home to the

best preserved Victorian

streetscape in all of New

Zealand. While away an

afternoon enjoying all there

is to offer here, a mix of old

and new, everything from

local art, rare books, corsets,

craft beer, and thriving café

culture.

Be sure to stay a night in

Ōamaru, and enjoy one

of the many fine dining

experiences available then

take in a wildlife experience

like no other—view the little

blue penguins coming home

to rest after a hard day

fishing at the Ōamaru Blue

Penguin Colony.
---
SOUTHERN HOLIDAY DESTINATIONS AUTUMN-WINTER 2022 OAMARU | 11

Books, books and more

books

Books can both inspire and instruct; they

can transport you to new worlds or take

you back to important moments in your

life. Books can offer a way of escaping

reality and inspire the imagination.

Established in 1995, Slightly Foxed

Secondhand Books has the reputation

for good quality books at reasonable

prices. The children's book area has

a playhouse under the stairs which

features illustrations from Alice in

Wonderland. The proprietor wears

traditional style clothing, and all

purchases are wrapped in brown paper

and tied with string.

Visitors travel far and wide to experience

the enchanting bookshop celebrating

its 25th year in the Historic Precinct of

Oamaru.

Kiwiana quality shines at

Presence on Harbour

Looking for Quality NZ Made and Designed

Gifts, Clothing & more? We have

pride in the items we find for you, your

family and friends. We are not your usual

Gift Shop! Come and explore.

A famous Victoria designer wrote these

words, and we believe it to be true -

"Have nothing in your house that you do

not know to be useful or believe to be

beautiful."

In store you'll find - Merino Possum Knitwear

by Koru & Nativeworld, New Zealand

Artwork by local artists and others

from around the country, plus ceramics,

crafts, Kiwiana and heaps more.....

Open 7 days, except Christmas Day,

Good Friday & ANZAC Day morning.

Established in 2013, this store keeps

evolving, we really love supporting the

talented and creative folk of NZ.

PRESENCE

ON HARBOUR

Not your usual Gift store

Star & Garter great home-style cooking

No trip to Oamaru would be complete

without a visit to the Star and Garter. An

historic restaurant, well known throughout

the area and beyond, the Star and Garter

specialises in good, honest, home-style

cooking. Roast meals, lamb shanks, fresh

blue cod, and much more. Their signature

dish, seafood chowder, is a firm favourite.

They also offer a wide range of gluten free

items, as well as dairy free, vegetarian, and

vegan. They are happy to customise any dish

to your requirements, and with a popular

children's menu, the kids will be happy

On tour with Cycle Ventures

Cycle Ventures is an Oamaru cycle

company offering quality cycling

services on the Alps 2 Ocean Cycle Trail.

Cycle Ventures sells and hires out

e-bikes, so take your pick from

any of their mountain bikes,

kids bikes or car or tow-bar

trailers. In need of biking

equipment? They have

you covered. Need a

repair? Cycle Ventures

provides your solution.

Their team have expert

knowledge of the

region which provides

the base for any of their

amazing tours as their

love for the great outdoors

shines through. Join one of

their pre-planned tours or their

team will design an adventure just for

you.

Which adventure are you interested

too! They also cater parties, weddings, and

events, as well as having accommodation.

Built in the 1860's, the Star and Garter has a

lovely charm of days gone by. Stop in and

enjoy good kiwi food and hospitality.

in? They offer riding trips from 2

hours to several days. Take a tour on

the Alps 2 Ocean Cycle Trail or their

day adventures are always a big hit.

Interested in rock climbing? They

can help here to.

Cycle Ventures provides

morning shuttles to

Duntroon so riders can

cycle back to Oamaru

on the last section

of the magnificent

Alps 2 Ocean Trail.

This includes a 54km

section with 45kms of off

road highlights including

riding through a tunnel,

over a bridge and through

limestone scenery.

Check out their tours at www.

cycleventures.co.nz or call them on 03

434 5010 / 021 894427

QUALITY BOOKS

BOUGHT & SOLD

OPEN 7 DAYS

1 Harbour street, Historic Precinct, oamaru

P: 027 349 0865

Open Daily except Good Friday &

ANZAC Day morning.

presenceonharbour presence_on_harbour

www.presenceonharbour.co.nz

NZ art, Quality

Kiwiana Gifts,

Merino Possum

& Merino

Clothing and

much more..

Friendly Staff, Delicious Food

in relaxed surroundings in Oamaru's

oldest established restaurant

From award winning

Seafood Chowder to

Roast Meals, fresh Blue

Cod, Victorian Liver

& Bacon, and more.

Dairy-free, vegetarian

& gluten-free options.

Private Back Room.

FOR THE ALPS 2 OCEAN RIDER:

TOURS. BIKE HIRE. CLEAN &

CHECK SERVICES. A2O MERCHANDISE.

BIKE REPAIR WORKSHOP • BIKE SALES

CLOTHING & ACCESSORIES • BIKE HIRE

WWW.CYCLEVENTURES.CO.NZ

The Alps 2 Ocean

Cycle Trail Experts

+64 21 894 427

INFO@CYCLEVENTURES.CO.NZ

Kahren Thompson

11 TYNE ST, (HISTORIC PRECINCT) OAMARU

PH 03-434 2155 EMAIL slightlyfoxed@actrix.co.nz

Oamaru's Oldest Restaurant

Call in and see Lisa and her staff for a welcome

and service that's second to none.

Open 7 days, 11am till late

9 Itchen Street, Oamaru | Phone (03) 434 5246
---
12 | OAMARU / MOERAKI

The Forrester Gallery and

Waitaki Museum welcomes you

When you visit Ōamaru make sure you

have time for the Forrester Gallery and

the Waitaki Museum and Archive.

The Forrester Gallery is housed in the

former Bank of New South Wales building.

Come and say hello to this stunning

whitestone building, one of the most

striking in Ōamaru. And one of the few

you can explore inside. Visit the Gallery

and wander around the main floor

to view the artwork while admiring the

beautiful ornate plaster ceilings. Make

sure you check out the original bank

vault too. A journey upstairs via the

original hanging staircase to see more

art and take in the wonderful views

along Thames Street and out to Ōamaru

Harbour.

In April we have three fantastic exhibitions

for you to enjoy: Maritza Boutique |

Ōamaru-London which focuses on local

artists making new pieces inspired by

vintage fashion, Earth Caught in Stone

where science and art come together

to explore our amazing geology and an

exhibition focused on renowned local

artist Mary Horn.

Waitaki Museum is housed in the former

Athenaeum building. Stage one of an

upgrade was opened in December

2020 and stage two is almost complete.

The Museum's new exhibitions tell local

natural and cultural stories that are

beautifully presented in state-of-the-art

displays perfect for everyone to explore.

If you have family history in the Waitaki

this is the place to find out more about

your ancestors. Just ask our friendly

archive staff.

Entry to both the Gallery and Museum

is free.

Find out more about our programmes,

hours and collections by visiting our

website https://culturewaitaki.org.nz/ .

Find us on Facebook, Twitter and Instagram.

SOUTHERN HOLIDAY DESTINATIONS AUTUMN-WINTER 2022

Brydone Wholefoods

experience the flavour

Brydone Wholefoods 6kms south of

Oamaru you will find Brydone Wholefoods

Store. Located in the old Totara

Hall, the family business combines a lifelong

love of the land and a passion

for wholesome healthy food.

Be tempted by seasonal

certified organic, spray

free and local produce,

fruit, fresh and dried and

nuts which are kept at

optimal temperature in

their large walk in chiller

for freshness.

The freezers and fridges

are crammed with local

and organic meats including

a wide range of dairy and

non-dairy. In addition to the store's

extensive grocery lines, they also stock

environmentally friendly household and

healthcare products, the NZ Bio Gro certified

Viola range and the well renowned

A piece of paradise

Weleda products including their baby

range. We also stock a range of Dr Hauschka

Skin Care.

You will find products that are gluten-free,

dairy-free and refined sugar-free,

as well as paleo and vegan

lines and Brydone's baristas

will tempt you with your

choice of Underground

Coffee as a takeaway.

Local residents and

visitors are warmly

welcomed by our staff

at Brydone Wholefoods

Store. As well as offering

a courier service for outof-town-folk,

customers can

shop online and/or order one of

our Fruit & Vege Boxes available from our

online shop. Brydone Wholefoods Store

is open Monday to Friday 9am-5:30pm.

Phone 03 4346744 or email brydonewholefoods@gmail.com

An art gallery for the Waitaki

Free Admission | Koha Welcome

Open Tuesday through Friday 10.00am to 4.00pm

Weekends & Public Holidays 1:30pm to 4.00pm

Closed Mondays (unless a public holiday), Good

Friday, Xmas, Boxing & New Year's Day

9 Thames Street, Ōamaru 03 433 0853

We are a department of the Waitaki District Council

gallery@waitaki.govt.nz

www.culturewaitaki.org.nz

Just 50m from the beach, Moeraki

Village Holiday Park enjoys an idyllic

setting close to the famous Moeraki

Boulders and colonies of penguins and

seals. Hosts Kristina and Robbie Mitchell

welcome visitors from all over the world

to their "piece of paradise" and provide a

variety of accommodation to cater for all

budgets.

As well as 6 self contained motels, 3

self contained tourist flats, 3 cabins and

30 tent/caravan or motor home sites,

visitors will also appreciate modern well

equipped communal kitchen and dining

facilities, clean shower blocks and guest

laundry, a TV lounge with Freeview TV,

internet and wireless access, barbeques

and children's play equipment.

Located on a curve of faultless beach,

BRYDONE

WHOLEFOODS STORE

ORgaNic & NaTuRaL FOOD SpEciaLiSTS

Open Monday to Friday 9.00am to 5.30pm

Shop online!

451 Alma-Maheno Road, State Highway 1,

Oamaru (6km South of Oamaru)

R.D. 19-D, Oamaru 9492.

Telephone/Fax 03-434-6744

Email brydonewholefoods@gmail.com

Like us on Facebook

6km south of

Oamaru on

State Highway 1

just past

Totara School

BRYDONE

WHOLEFOODS

STORE

there's ample opportunity for fishing and

boating, deep sea charter fishing, while

wonderful walks take you to Moeraki's

unique rock formations and wildlife

including New Zealand's rare Hoiho or

yellow-eyed penguin.

The area is also historically significant

and once boasted a Maori village and

pa in addition to the pretty Kotahitanga

Church and a lighthouse in continuous

use since its establishment in 1878.

Visitors to Moeraki can enjoy restaurant

meals at the Moeraki Tavern or the

award winning world class restaurant,

Fleur's Place. Wanting fish and chips?

The Fishwife is close by or enjoy a wide

selection of eateries only 20 minutes

down the road in Oamaru.

Moeraki Village

Holiday Park

• Moeraki Boulders

• Yellow-Eyed Penguin Colony

• Beautiful Views • Motel Units

• Tourist Flats • Cabins

• Caravan Sites • Tent Sites

114 Haven Street, Moeraki, North Otago

Phone/Fax 03 439-4759

moerakivillageholidaypark@xtra.co.nz
---
SOUTHERN HOLIDAY DESTINATIONS AUTUMN-WINTER 2022 LAKE TEKAPO / MACKENZIE | 13

Beauty from the sky

Lake Ohau Lodge –

experience the beauty

The Air Safaris Grand Traverse flight

seeing tour is regarded as one of

the region's top attractions. This

comprehensive tour of the Aoraki Mount

Cook and Westland World Heritage

Parks covers 200 km of New Zealand's

most memorable and spectacular

scenery.

Highlights include Aoraki Mount Cook,

Mount Tasman, Tasman and Murchison

Glaciers, Franz Josef, and Fox glaciers.

The flight also explores the dramatic

landscapes of the lower alpine regions

such as torquoise blue glacial lakes,

isolated glacial deposits, high country

sheep stations and massive braided

river systems.

Helicopter landing flights and Charter

options are also available.

Lake Tekapo Cottages

Air Safaris operate a fleet of specialized

flight seeing aircraft with guaranteed

window seats and wings above to

ensure optimum viewing below.

Your pilot will be your mc and provide

a fully personalized and informative

commentary as you fly over the scenes

outside the window.

Locally family owned and operated

since 1970, Air Safaris prides itself on

personal service and value for money.

Qualmark Endorsed Visitor Activity.

Locations at Lake Tekapo and Franz

Josef – airport & township.

Imagine… the up close and personal

experience of flying over the wonders in

your own backyard. Make your booking

today. www.airsafaris.co.nz 03 680 6880

As you drive the 25 km road through

golden farmland of the valley, much

is to be discovered round each bend.

When you take one last right hand

curve, the valley opens up to the

turquoise blue of the glacier fed lake

and a stunning view of the Glen Mary

Summit. Entering the picturesque oasis,

guests have many activities to choose

from at Lake Ohau Lodge. The ever

changing weather determines it all,

and on the calmest of days the guests

will experience a sense of peace and

tranquillity.

As you walk through the beech forest or

along the edge of the lake, the summit

of Aoraki/Mt. Cook peaks over the

ridgeline of the Dobson Valley. Being

the halfway point between Twizel and

Omarama on the Alps2Ocean cycle

trail, Lake Ohau is the perfect place to

refuel and stretch your legs. There are

three different hiking options tailoring

to all skill levels. For a quick 1 hour

return, the Ram Hill Lookout is for you.

If you are feeling a bit more daring take

the North Temple Track 5 hours return

through the beech forest and moss

covered river banks which will open up

into a dramatic waterfall filled cirque.

The energy and size of the mountain

surroundings will have you forgetting

about the city life you left behind.

The Lodge also offers a next level dining

experience. Encouraging communal

dining, Lake Ohau Lodge makes an

effort to seat guests with other travellers

who will add to the experience. There

are many stories of life long connections

being made over the 3 course meal.

They offer a truly delicious 3 course

set menu at night, the chef's choice

is sourced from such local product

as Aoraki salmon, Merino lamb, wild

Fiordland venison and using local

butchers and food providers wherever

possible. The lodge is also happy to

provide a packed lunch for your day out

explorations.

There are 4 standards of

accommodation, all ensuite, ranging

from basic, clean and comfortable to

their classically furnished best rooms

featuring local artists work, and either

ground floor or upstairs where the best

views of Aoraki can be enjoyed from

your balcony. The beautiful outdoors

is just outside your room at the Lake

Ohau Lodge. With so many activities to

choose from, you will spend your time

experiencing all that nature has to offer

outside and then journey inside when

you're ready for a wee rest.

Experience the natural beauty, peace

and tranquillity of Lake Ohau Lodge.

Lake Tekapo Cottages offers self contained

holiday accommodation in one of

the South Island's most scenic settings.

Nestled in a large garden amid mature

trees, a selection of charming cottages

of varying size, accommodate between

2 and 8 guests.

Well sited for both mountain views and

privacy, the cottages allow independent

visitors to enjoy a country-style stay with

modern comforts and village amenities

close by. Tekapo has become a yearround

destination with water sports, hot

springs, skating, ski fields, scenic flights

to Mt Cook and a World Heritage Night

Sky attraction at Mt John.

As well as their self contained cottages,

the company also manage a number

of well appointed holiday homes that

are also available for rent. For further

information and bookings visit www.

laketekapocottages.co.nz

LAKE TEKAPO COTTAGES

LAKE TEKAPO COTTAGES

Cottage and holiday home style accommodation

Spectacular mountain views | Excellent restaurants

Affordable accommodation rates | Free Wifi

Friendly, personal service for our guests

Central location close to shops and church

12 Sealy St, Lake Tekapo | Ph: (03) 680 6865

laketekapocottages@gmail.com

www.laketekapocottages.co.nz

Stay on your alps2ocean journey | Stunning views & 4 standards of accommodation

a dinner, bed and breakfast package is offered | or stop for coffee

or lunch and enjoy our salmon salad on the deck.

or you can base yourself at the Lodge and explore the area.

To make an enquiry or a booking email: reservations@ohau.co.nz

Phone: (03) 4389 885 www.ohau.co.nz
---
14 | DUNEDIN

Emerson's

brewery & taproom

"Over the past 25 years we have been

searching for the elusive Holy Ale, now

Emerson's has a new spiritual home to

pursue our quest."

Emerson's is all about sharing and

having fun, so get a group together

or join one of their 60 minute guided

tours through our brand new Brewery

and Taproom. The tour will take you

through a little bit of the history of how

Emerson's has been a pioneering force

in the development of craft brewing in

New Zealand. You will then be taken

into the brewery, learning about all

the aspects of the Emerson's Brewing

process, from milling the malt to

packaging the finished product.

There will be a chance to get your

hands a little dirty in the Emerson's

Workshop, our 1200L Pilot Brewery

incorporated into the middle of our

Taproom. The tour finishes with a

delightful sensory experience sampling

six of our most famous beers.

If you can't bear to tear yourself away,

stay on, sit down and enjoy a fantastic

meal in an atmosphere that won't be

easily forgotten. Before you leave

there is an opportunity to purchase an

Emerson's brew from one of 12 taps

located in our cellar door and take a

little bit of Emerson's with you.

Emerson's Brewery and Taproom is

located at 70 Anzac Ave, Dunedin or

visit www.emersons.co.nz

SOUTHERN HOLIDAY DESTINATIONS AUTUMN-WINTER 2022

World class stately home

Larnach castle has recently been the

main location for the Netflix rom com

'The Royal Treatment'

Larnach Castle is undoubtedly one of

New Zealand's finest historic homes and

in 2017 this property was endorsed by

Heritage New Zealand as a 'Landmark

Property'. Not only is this title a

testament to the wealth of its builder,

but to the current owners who have

restored and revitalised it for the benefit

of visitors from around the world.

William Larnach was a merchant, Baron

and politician when he built the castle

in 1871 for his wife Eliza. The finest

materials were imported to befit the

opulent grandeur he envisaged. The

3000 square foot ballroom is still used

for weddings and balls and the castle

boasts the only Georgian hanging

staircase in the Southern Hemisphere.

Part of the romance and intrigue of

the castle today is the tragic history of

its owner. Larnach shot himself after

a scandal involving his wife and the

building was subsequently used as a

mental hospital and later to billet troops.

Years of neglect finally came to an end

when the Barker family purchased it

in 1967 and painstakingly restored and

developed it to its present condition.

Currently the castle has a 'Kids go Free'

offer. During the school holidays and

in conduction with the New Zealand

Festival of Nature Larnach castle with

running a 'plant detectives' competition

Check out their excellent daily deals

during the autumn and winter seasons

for Larnach Lodge which offers guests

three styles of accommodation; Camp

Estate - positioned 500 metres from

the front gate of the Castle, offering

luxurious decor and total privacy;

Larnach Lodge, in the grounds of the

castle and has 12 bedrooms with private

facilities , while Castle Stable Stay is the

perfect choice for budget conscience

travellers.

All house guests may dine in the

restored dining room of the only

genuine castle in New Zealand.

Superbly located on the Otago

Peninsula, Larnach Castle captures the

romance and history of the past. Enjoy

the café, a game of Petanque' allow

time to explore the Gift shop

Email info@larnachcastle.co.nz

www.larnachcastle.co.nz

BrEWErY

TOUr

Larnach castle

Brewery tours and tastings daily from 10am.

Taproom & Restaurant 10am till late.

70 Anzac Ave | Ph 03 477 1812 | www.emersons.co.nz

Kids Go Free!

Valid for New Zealand School Holidays

Children must be accompanied by 1 paying adult

www.larnachcastle.co.nz (03) 476 1616
---
SOUTHERN HOLIDAY DESTINATIONS AUTUMN-WINTER 2022 DUNEDIN | 15

Royal Albatross Centre

Ever seen a giant albatross sharing your space?

Explored a hidden fort? Visit Otago Peninsula for

your only chance to see two unique award winning

attractions; the world's only mainland albatross

breeding colony and the world's only fully restored

1886 Armstrong Disappearing Gun. Both are iconic

Dunedin experiences at Pukekura/Taiaroa Head.

The Royal Albatross with its three metre wing span

is sure to amaze. Led by knowledgeable guides, a

tour from the Centre is the only way to get close-up

views of these magnificent birds in their world famous

breeding colony. Bookings advised.

Pukekura is home to a wide range of other bird and

marine life. Albatross, seals, cormorants and penguins

have all colonised the headland.

Monarch Cruises brings you close to nature

Everyone needs a break in these

uncertain times and getting out into

nature is good for you physically and

mentally.

When you come south for the holiday

and the Wild Dunedin Festival of Nature

– a cruise on MV Monarch is a great way

to get closer to the unique wildlife of our

southern ocean.

MV Monarch has been taking guests

along Otago Harbour and around Taiaroa

Head for more than 35 years, and her

friendly and knowledgeable crew are

always keen to share Dunedin's great

nature.

There are special trips offered during the

Wild Dunedin festival, or you can join one

This great day out supports the Otago Peninsula Trust,

a private charitable trust dedicated to conservation,

education and sustainable tourism. Visit all the Trust's

attractions including the Royal Albatross Centre,

Fletcher House and Glenfalloch Woodland Garden

and Restaurant.

For more information visit - www.albatross.org.nz

of Monarch Wildlife Cruises many options.

You can drive yourself to Weller's Rock for

the invigorating one hour wildlife cruise.

You can see Northern Royal Albatrosses

at their nests and maybe soaring past the

boat on their three metre wings. At sea

there are different albatross and other

seabirds. If you're lucky you might spot

dolphins, blue penguins, or a large NZ

sealion. On the rocks you'll see NZ fur

seals.

You can take half day tour options with

transport from Dunedin. They include a

visit to Penguin Place, the Royal Albatross

Centre, or Larnach Castle.

For further information go online at www.

wildlife.co.nz or call 0800 666 272.

SILVER

Otago Peninsula Tours

and Wildlife Cruises.

See albatross, fur seals,

penguins, dolphins, sea lions,

Larnach Castle and more!

ph: (03) 477 4276

25% Discount off standards for Winter '22 – with code RACW2022SD

3x NZ TOURISM AWARD WINNERS | KIWI OWNED & OPERATED
---
16 | DUNEDIN

SOUTHERN HOLIDAY DESTINATIONS AUTUMN-WINTER 2022

Photo credit: Kelvin Wright

Wild Dunedin -New Zealand Festival of Nature

When did you last visit Dunedin or have you ever?

Discover nature up close in Ōtepoti. You'll love our

penguins, sea lions, albatross, seals, takahē, kākā

and tuatara. Explore and walk along our magnificent

beaches, the Otago Peninsula, local wetlands and

forests - all just a stone's throw from our vibrant city

centre.

Wild Dunedin - New Zealand Festival of Nature is a

great opportunity for the whole family to get outdoors

and connect with nature and the seashore. You can

watch the creation of land art on a stunning beach,

explore rock pools, bird watch and enjoy seafood

dinners at local restaurants. Take the kids on a boat

trip to an island and search for treasure, or try indoor

climbing, surfing or paddle boarding with special

Wild Dunedin deals. Bring along your favourite soft

toy and learn about wildlife first aid with Dunedin's

Wildlife Hospital, watch nature films, and explore the

wonderful Otago Museum, Dunedin Art Museum and

Toitū Otago Settlers Museum. Join special guest Suzy

Orokonui Ecosanctuary - bringing back the birds

Cato for musical fun. A visit to the international Sea

Monsters Exhibition at Otago Museum is a must, with

interactive and fun sea monster activities.

Come join us for a week of celebrating nature's bounty

both indoors and out over the April school holidays.

Only in Dunedin, Aotearoa's wildlife capital. At New

Zealand's only Festival of Nature.

Programme Details : www.wilddunedin.nz Icons for

Facebook, Twitter and Instagram

Immerse yourself in nature at Orokonui

Ecosanctuary and experience the

forest as it was before humans arrived

in Aotearoa. Protected by a 9km long

predator-proof fence, the ecosanctuary

encompasses 307 hectares of unique

coastal Otago 'cloud forest' ecology and

is home to some of our rarest wildlife.

With pest removed, birds such as

Takahē, Kākā and Kiwi, and reptiles such

as the ancient Tuatara and and beautiful

Moko Kākāriki (Jewelled Gecko), can

thrive.

Wildlife

Cloud

Forest

Walks

Café

Relax and explore the many tracks

and trails that wind their way through

the forest, and hear the call of Tūī,

Korimako and Pīwakawaka as they dart

through the bush. If your keen to dig a

little deeper, join our knowledgeable

guides on a one or two-hour guided

tour and deepen your understanding

of Aotearoa's unique wildlife. Traveling

with young ones? We have you covered

- pick up one of the free nature-based

activity packs at reception, designed to

burn off energy and re-wild your child!

Located an easy 20-minute drive north

of Dunedin, Orokonui Ecosanctuary

is the perfect place to unwind and

reconnect with nature, with 100% of the

proceeds reinvested in this amazing

local biodiversity restoration project.
---
SOUTHERN HOLIDAY DESTINATIONS AUTUMN-WINTER 2022 ALEXANDRA / CROMWELL | 17

Save the date for Light Up Winter!

By Marion Low, Cromwell & Districts Promotion Group

Book your family winter holiday in Cromwell now to

join in the fun at Light Up Winter on Saturday, 9 July.

Light Up Winter is a celebration of our night sky and

gives everyone the opportunity to get together and

chase away the winter blues.

The main event starts at 4:30 pm with live music and

A warm Alexandra welcome

Alexandra Holiday Park offers, not only a safe

haven and warm welcome but an exceptional

discovery experience. Photo opportunities all year

round in our landscape – with hot dry summers,

beautiful leaf colourings in autumn, frosts in winter

and the burst of life including blossom in spring.

There is a varied selection of accommodation

to suit all budgets including: 20 self-contained

units sleeping 2 to 18 people, depending on the

unit; plus 2 and 4 berth standard cabins and 300

Campsites for camper vans, caravans and tents;

with the Complex catering for larger groups from

19 to 29.

Clean and comfortable facilities are

complemented by a TV room, internet access,

play area, laundry and even an ablution block

entertainment on the Big Fruit Reserve. At 6 pm,

all will gather on the lawn for the spectacular mass

lantern release. Visitors can look forward to a range

of live entertainment on and off stage. Kids can enjoy

a respite from the cold in the Craft Cave while their

parents hunt for treasures and treats in the vibrant

night market with craft stalls, food, and hot drinks

including mulled wine, and roaming street performers.

that's centrally heated in winter!

Located close to the Otago Rail Trail, Aquatic

Centre and golf course, Alexandra Holiday Park

is also an ideal base to enjoy fishing, walking,

mountain biking, 4WD off-roading, plus skating

and curling in winter, as well as the renowned

vineyards, wineries, cafes and restaurants of the

district.

Hour Place (Alexandra Holiday Park) being

approximately an hour drive to/from Wanaka,

Queenstown, Lake Hawea, Naseby, Ranfurly and

St Bathans makes it a great place to stay any time

of the year.

Ph 03 448 8297 or email info@ahp.nz or visit www.

ahp.nz

This year's event features an undercover ice skating

rink that will be open to the public from 8 to 14 July

– perfect to keep the kids entertained during the

holidays!

For more information on this year's Light Up Winter,

visit www.cromwell.org.nz or visit our Facebook page

(@CromwellCentralOtago), or follow us on Instagram

(@cromwell_nz).

ALEXANDRA

HOLIDAY PARK

44 Manuherikia Rd, Alexandra

Ph: (03) 448 8297

info@ahp.nz www.ahp.nz

Close to 4WD Tracks, Rail Trail, Aqua Centre, Golf Courses,

Bike & Walking Tracks, Wine Trails, Curling, Fantastic Fishing,

Approx 1 hour drive to Wanaka, Queenstown, Naseby, Ranfurly.

"Great for a getaway in sunny Central Otago"

10 JULY 2022

MASS LANTERN RELEASE ICE SKATING RINK

NIGHT MARKET WITH CRAFTS, FOOD, DRINKS

LIVE ENTERTAINMENT, COMPETITIONS & MORE...

www.cromwell.org.nz

4.30 - 8.30 PM

BIG FRUIT RESERVE

CROMWELL
---
18 | CROMWELL

Sequoia finewares

SOUTHERN HOLIDAY DESTINATIONS AUTUMN-WINTER 2022

Town and Country Club

Housed among the heritage buildings of

Old Cromwell Town, Sequoia Finewares

is a unique shopping experience. With

a beautiful outlook over Lake Dunstan,

the store is brimming with ideas a gift or

your home.

Sequoia goes to great lengths to inspire

client's with their carefully selected

unique range of homeware's for the

discerning & creative individual who

loves nostalgia & good design.

Browse your way into their popular

preloved designer room showcasing

labels such as - Trelise Cooper, Karen

Walker, Nom D & much, much more.

The Old Cromwell Town precinct

houses buildings that reflect the town's

gold mining and pioneering past, and

the jetty provides a convenient entry

point for visiting boats. Admission to

the precinct is free. Sequoia Finewares

is a treasure trove of quality décor and

exciting discoveries.

The Club is a purpose-built building

overlooking the Kawarau arm of Lake

Dunstan. We invite Club Members,

Affiliated Members, and members

Guests to enjoy our relaxed friendly

atmosphere surrounded by great

company, great facilities, and great

service.

Play pool or darts. Try your luck on one

of our 11 gaming machines. Share the

excitement of Sky TV sporting events

with friends or family. Enjoy the Central

Otago weather and outstanding lake

views from our deck.

Enjoy home cooked, light, main

meals and desserts at our Club Bistro,

excellent value for the money. Kids are

well catered for with their own menu

of all their favourites. Open Thursday to

Sunday from 5.30pm.

Kids will enjoy their own designated

environment which has large

blackboards and an outside playground.

Cromwell Town and Country Club

always welcomes members from

affiliated clubs throughout New Zealand.

Don't be a stranger next time you are

in Cromwell. Drop in and enjoy all the

benefits of the Cromwell Town and

Country Club, the place where Friends

meet.

Cromwell

Heritage Precinct

One of Central Otago's best kept

secrets, Cromwell Heritage Precinct

is tucked away on the shores of Lake

Dunstan, at the confluence of the

Kawarau and Clutha arms of the lake.

Evolving from an idea in the mideighties,

this heritage village has been

developed by volunteers over the years.

Some buildings have been re-built from

stone from the original buildings while

others are a faithful re-creation built to

modern building code. It is not only

a delightful and free visitor attraction

with historical displays and charming

buildings, but also a hub for artists and

craftspeople.

The schist stone cottages and shops

are tenanted by a quality-focused

arts collective, international-standard

printmaker, renowned goldsmith, a

colourful fibre artist and a plant expert

and maker of herbal creams and

perfumes. There are also unique gift

outlets, three great cafes as well as a

bike rental store.

The historic displays tell the story of

the incredible 1860s gold rush when

sparsely populated Central Otago was

suddenly inundated with thousands of

hopeful prospectors. Children love the

talking 'locals' who tell the yarns, lifesize

horses and secret alleyways, fairy

doors as well as the ducks, fishing wharf

and picnic areas.

Now the precinct is being discovered

by bike enthusiasts who are exploring

the recently opened trail through the

Cromwell Gorge. Every day over

summer hundreds of cyclists have

set off to ride through the beautiful

Bannockburn Inlet and down the true

right bank of the Cromwell Gorge.

On holiday

in Cromwell?

The Cromwell Town & Country Club welcomes you

to their relaxed club rooms with a million dollar

view over the Kawarau arm of Lake Dunstan.

Bistro Open Thursday to Sunday from 5.30pm.

All Day Friday Lunch Menu from 12pm.

Courtesy Coach available Thursday to Sunday

from 4.30pm. Phone 027 898 4965 for a pick up.

Open Monday to Friday from 12pm,

Saturday & Sunday from 11am.

Bistro open Thursday to Sunday from 5.30pm. All day Friday lunch menu from 12pm.

Members,

Courtesy Coach available Thursday to Sunday from 4.30pm.

Members Guests &

Phone 027 898 4965 for a pick up.

Affiliated members

all welcome.

Members, Members Guests & Affiliated members all welcome.

Open

Open

Monday

Monday

to

to

Friday

Friday

from

from

12pm

12pm

and

and

Saturday

Saturday &

Sunday

Sunday

from

from

11am.

11am.

32

32

Melmore

Melmore

Terrace

Terrace

Cromwell.

Cromwell.

03

03

445

445

1169

1169

32 Melmore Terrace, Cromwell. 03 445 1169

A treasure trove of:

Homeware | Gifts | Toys

Designer pre-loved clothes

• • •

Open every day 10am till 4pm

Cromwell Heritage Precinct

Ph. 03 445 1387

gailsequoiafinewares@gmail.com
---
SOUTHERN HOLIDAY DESTINATIONS AUTUMN-WINTER 2022 CROMWELL | 19

OCTA Gallery

A 'good old' bricks and mortar gallery,

celebrating ten successful years without

a website or social media presence.

Director, Chris de Jong, brings extensive

knowledge, enthusiasm and experience

in art and education into the gallery,

celebrating the work of artists he

regards himself fortunate to represent.

As part of the ever-changing display at

OCTA you will find prints and paintings

by artists such as Kathryn Madill,

Euan Macleod, Inge Doesburg, Peter

Cleverley and Gail de Jong. In addition,

on show, there is usually a range of

original prints by Ralph Hotere, Pat

Hanly, Marilynn Webb, Nigel Brown,

Michel Tuffery, Philip Beadle, Kelvin

Mann, Jo Ogier, Gregory O'Brien,

John Pule, Tony Fomison and other

noteworthy individuals.

Three-dimensional work includes

ceramics by Jim Cooper, Blue Black,

Suzanne Butson, Yannick Fourbet, and

John Stroomer's pots complete with

extraordinary crystalline glazes.

You will find a surprising range of

Modern European Art in the gallery with

limited edition lithographs by Picasso,

Braque, Chagall, Rouault, Matisse, Miro,

Tapies……, which were mostly printed

by the famed 'Freres Mourlot', in Paris,

during the early and mid-20th Century

As well as paintings, prints and ceramic

pieces there are a number of art books

and publications of historical interest

available for sale. OCTA Gallery and

Workshop is located at 71 Melmore

Terrace in Cromwell's Historic Precinct

and welcomes visitors daily from 10am-

4pm. www.cromwellheritageprecinct.

co.nz

Objects of Art: custom

creations

Hidden in the heart of Cromwell

Heritage Precinct, the workshop of Les

Riddell is a wonderland of handcrafted

jewellery, art objects and curios.

Aptly touting the name Objects of Art,

everything found in the gallery has a

one off, creative appeal. Whether it is

constructed from gold, silver bone or

stone, there is something for everyone.

Custom made work is only limited to

your imagination.

Many a customer has entered with the

trepidation of receiving a rustic root

canal. While much of the equipment is

related to that found in dental venues,

Les assures his visitors that though

he can offer a long slow root canal,

trying on an array of glittering rings

will be much more satisfying. After all,

the Murrell cottage once stood as the

simultaneous office of the local dental

clinic, watchmakers and mayoral seat,

all held by the talented Mr Murrell. After

120 years, Les has brought the cottages

use full circle, though he has yet to run

for mayor. A pretty clever fellow, we

wouldn't put it past him.

Stop in on your visit to the Heritage

Precinct. You will be inspired by the

jewellery on display and be able to view

it all in the making through the gallery

windows! PH: 03 445 3094

www.objects-of-art.co.nz

Hullabaloo Artspace – the Heart of Contemporary Art

A boutique gallery in the Cromwell

Heritage Precinct on the shores of Lake

Dunstan, Hullabaloo Artspace is well

worth a visit. An artist run Gallery, it has

been operating for close to twenty

years. The quality of work explains why

it has a high reputation for consistently

providing the public with an interesting

selection of contemporary original

art. Included in the mix of established

successful artists are painters,

printmakers, photographers, mixed

media and ceramicists.

You can find sculptures made from

cable ties, paintings of farm animals

with attitude, landscapes interpretive

of the region, classical or funky pottery,

serene black and white photographs,

collaged images made from tea

bag paper, paintings on aged metal,

portraits of local identities, and more

works displaying an exciting diversity of

materials and ideas.

As well there is always one of the

friendly artists on site to share their

knowledge with visitors.

Visit us online at www.hullabalooartists.

co.nz/all-art-work

Old Cromwell Town Art

Art Gallery & Workshop

Specialising in works on paper

OCTA Gallery, according to many of its visitors, is considered quite

unique in this part of the world. Operating from a historic building in

Cromwell's Heritage Precinct, Central Otago, it provides a living art

space, showcasing limited edition original prints and an eclectic mix

of art work created by renowned national and international artists.

During the last few years, OCTA Gallery has established a reputation

for the quality of its diverse, eclectic, and interesting works, as well

as the excellent service it provides.

Its directors, Gail and Chris de Jong look forward to your visit and

are keen to share their extensive knowledge and experience as

professional artists and educators.

Phone 027 231 7503 | Email octa@artlover.com

hullabaloo

art space

Contemporary

artists collective

showcasing a variety

of creative disciplines

Visit us at

Cromwell

Heritage Precinct

Central Otago

027 600 7106

www.hullabalooart.co.nz

info@hullabalooart.co.nz
---
20 | CROMWELL

Music throughout your home or office is common in

today's environment. As people are spending more

and more time in their homes, Gary Anderson has the

technology answers you need.

Do you want to make streaming Music, Games and TV

simple in your home or office environment?

The answer is simple – MusicCast. This wireless audio

streaming system is able to stream to multiple rooms

and provide stereo and surround sound.

MusicCast speaks, receivers, sound bars and Hi-

Fi components (including a turntable!) provide the

flexibility to create a personalized music, TV, or

SOUTHERN HOLIDAY DESTINATIONS AUTUMN-WINTER 2022

Gary Anderson in Cromwell - sound and vision experts

Wine with a story

gaming experience.

Whatever you want to build with MusicCast, Gary

Anderson has you covered. Speakers, receivers,

sound bars, turntables, amps… all designed to work

together for your unique wireless sound experience.

Experience sound in every room like a home theatre

with stereo sound and more bass by creating a

wireless multi-room audio systems with a 2 channel

setup.

Play to MusicCast devices through Wi-Fi, Bluetooth,

AirPlay 2, or Spotify Connect. With so many ways to

get to your content, the only thing not an option is a

quiet home.

The MusicCast controller App lets you customize your

music. Create favourites, link rooms, switch content

courses, adjust sound EQ and more. Geek out on a

plethora of settings.

Stop by Gary Andersons in Cromwell, located at 52

The Mall who are celebrating more than 20 years. You

can order online at www.garyanderson.co.nz or call

today 0800 4 stereo

(0800 378 373)

Anderson Park Motel

Award winning Wooing Tree is a

family owned vineyard in Cromwell,

specialising in Pinot Noir and the

famous Blondie. A beautiful cellar door

sits opposite the big fruit sculpture with

views of the Pisa Range and the Wooing

Tree, serving award winning wines in a

relaxed child friendly environment with

a children's play area, offering a grazing

menu, wine tastings and wine sales.

The Wooing Tree is a local landmark

that sits prominently in the middle of

the vineyard. The tree has long been

a popular place for locals to woo their

lovers, featuring in many couples love

stories.

Wooing Tree Vineyard

64 Shortcut Road, opposite the big fruit

sculpture, Cromwell

03 445 4142 – cellardoor@wooingtree.

co.nz – www.wooingtree.co.nz

11am – 5pm | 7 Days

Bookings Recommended

Relax and enjoy the peace, privacy and

comfort of their recently refurbished

rooms. Studios, one bedroom and

2 bedroom units are available to

accommodate the sole traveller to a

family.

Only 5 minutes from the shops and

town centre, you have access to

everywhere as you are centrally located.

Spacious lawns with outdoor seating

and barbeque facilities area available

for your gatherings. Enjoy nature as you

are surrounded by cherry and other fruit

trees.

All units are situated on the ground floor

and include kitchenettes, Sky TV and

WIFI. They have a children's playground

and are pet friendly (on application).

There is ample parking for each unit

plus additional parking for boats and

trailers.

Enjoy the quality and affordable

accommodation as you enjoy the heart

of Cromwell and Central Otago, a very

special area of New Zealand.

WINE TASTING - SALES

PLATTERS

Wine

with a story

Wooing Tree Vineyard

64 Shortcut Road, Cromwell

(opposite the big fruit sculpture)

Ph: 03 445 4142

cellardoor@wooingtree.co.nz

www.wooingtree.co.nz

ANDERSON

PARK MOTEL

--- Cromwell, New Zealand ---

An Ideal Base to Explore Central Otago From

9 Gair Avenue, Cromwell

0800 220 550 | 03 445 0321

andersonpark@xtra.co.nz

www.andersonparkmotel.co.nz

The top rated AV receiver

from Yamaha, the AVENTAGE,

is a dramatic and inspired

leap forward in audio/video

component design bringing studio

grade sound and sophisticated

video enhancements to your

home with unparalleled attention

to detail in design, engineering,

and fabrication.

Summer: 11am – 5pm

Winter: 11am – 4pm

7 Days

Summer and Winter menus

Your hosts: Rob & Jo

Free shipping on selected items*

available.

• BBQ Area • Spacious Grounds

Bookings Recommended. 0800 4 STEREO (0800 478 373)

• Playground • Free Wifi and SKY TV

52 The Mall, Cromwell | Phone (03) 445 1339

• Guest Laundry • Pet Friendly

order online at www.GaryAnderson.co.nz
---
SOUTHERN HOLIDAY DESTINATIONS AUTUMN-WINTER 2022 CROMWELL | 21

Rooms' refurbishment further adds to appeal

of Central Otago hotel

Harvest Hotel at The Gate Hospitality & Tourist

Centre, Cromwell's only hotel, has a long-established

reputation for iconic Central Otago views from all

of its 47 rooms. And with its natural wood cladding

and steep pitched roofline, not to mention spacious

grounds, Harvest Hotel has plenty of street appeal,

being alongside the Cromwell Golf Course.

Now the hotel has something more to offer. Almost all

rooms have recently been refreshed and refurbished

to a high standard. Bathrooms were transformed,

French doors opening onto a deck or patio were

double glazed and climate control added to give

guests control over the degree of cooling or heating

that suits them best.

The refurbishment of Harvest Hotel rooms is one of

the final steps in a multi-million dollar project that

transformed the hotel and its bar and café into The

Gate Hospitality & Tourist Centre.

What was the public bar is now the hunting lodge

themed Five Stags Bar and Restaurant and is proving

hugely popular with locals, guests and passing

travellers, as is the Forage Information Centre & Café.

In the gallery linking Five Stags and Forage is another

winning feature and that is the toilets which many rate

as the South Island's best.

CROMWELL'S HOSPITALITY AND VISITOR CENTRE

CNR HIGHWAY 8B & BARRY AVENUE, CROMWELL

EMAIL: info@thegate.nz NZ FREEPHONE: 0800 104 451 PHONE: + 64 3 445 1777 FAX: + 64 3 445 1776 WEB: www.thegate.nz
---
Reviews from

millions of Tripadvisor

travellers place this

attraction in the top

10% worldwide.

22

| CROMWELL / CLYDE

SOUTHERN HOLIDAY DESTINATIONS AUTUMN-WINTER 2022

Time to checkout Central Otago cycle trails with Bike It Now!

OPEN the door to the fantastic cycle trails of Central

Otago by visiting Bike It Now! in Clyde or The Mall

in Cromwell (From May 22 Wanaka at Three Parks).

They operate two independent bike shops, retailing

well-recognised Scott, Merida, Marin, and Specialized

brands along with a great range of accessories and

clothing, all combined with full workshops.

Bike It Now! offer everything for those on holiday in

Central; including bike hire from the Clyde Shop E

and Conventional, Cromwell Shop E only or Forage

Cafe (conventional only) in Cromwell, our very popular

"One Day Wonders" and a range of personalised

self-guided tour packages from two to nine days in

Art can heal the soul

duration. They also offer transfers on all these trails.

A choice of great trails to ride, including The original

Great Ride the Otago Central Rail Trail, Roxburgh

Gorge / Clutha Gold trails and very popular Lake

Dunstan Trail.

Electric bikes are presently taking the world by storm.

Fletch says E-Bikes are complementing traditional

bikes attracting many new people into cycling;

influencing the social side of it so cyclists of all levels

can now ride together. Great for people looking for a

bit of exercise or young families who want to explore

our cycle trails. Our E-Bike motto is "RIDE MORE, RIDE

FURTHER, ENJOY"

Our advice for 2022 / 2023 is please book early so as

not to be disappointed.

Bike It Now! provide its customers with the personal

touch "because it is all about you!"

Duncan, with Fletch and Lisa, are the ''hands-on''

owners of Bike It Now! You can guarantee meeting

them and the Bike It Now! team over the autumn

and the winter and they all will ensure all your cycling

needs are meet.

For further information call 0800 245-366, email info@

bikeitnow.co.nz or visit the website www.bikeitnow.

co.nz , checkout their facebook page bikeitnow or

instagram bikeitnowclydenz

When Melanie and Rex Eade opened their

contemporary gallery in Clyde five years ago,

their vision was for a casual and welcoming artistic

space. "We wanted people to experience a wide

range of work with styles that appealed to all

walks of life including paintings, glass, jewellery,

ceramics, photography, indoor and outdoor

sculpture, prints and cards," says Melanie. "Not

all of our talented artists are widely galleried, and

some are happy to show their work exclusively

here."

Eade Gallery has a wide reputation with national

and international clients providing much of the

repeat business.

Gretl Barzotto – REFLECTIONS –3rd April to 1st

May.

Gretl trained as an interior designer and has an

architectural drafting degree which has made her

acutely aware of how we inhabit spaces around

us. It is important to her to hand make some of the

materials used in her art. "I grind my own inks, use

pigments and make my own wax mediums. This

process connects me closer to my work and is

part of my unspoken authentic voice."

The last 12 months has been a busy time for Gretl

and her husband, Andrea, as they have made

the permanent move to Central Otago and are in

the process of building their art studio. "My focus

has been embracing this area we now call home

and observing and making new work reflecting

my emotional response to the landscape in an

abstract direction."

REFLECTIONS will be a collection of curated

works made during the last 12 months -

contemporary paintings, drawings, and small

sculptural works.

E A D E G A L L E R Y

Paintings

Jewellery

Photography

Ceramics

Glassware

Sculpture

Wood work

Reproduction posters,

prints & cards

Vouchers

Picture Framing

"Sensational Service"

Muzza_W23 Trip Advisor

"We had the Best Time"

GHILL2020

"Freedom machines

and all the thinking

done for you!"

roserandom Trip Advisor

• Top quality bike hire

including E-bike specialists

• Bike retail

• Bike tours

• Itinerary planning

• Transport; including door to door

from Queenstown

• Otago Central Rail Trail

• Roxburgh Gorge Trail

• Clutha Gold Trail

• Lake Dunstan Trail

• Half-day to multi-day rides

Tripadvisor

Travellers'

Choice

OPEN 7 DAYS FROM 10AM

Holloway Street, Clyde, Central Otago I Tel: 021 265 3358 / 027 286 0438 I melanie@eadegallery.co.nz, rex@eadegallery.co.nz

www.facebook.com/eadegallery I www.eadegallery.co.nz

Bike It Now!

Retail & Workshop, 2E The Mall, Cromwell | Bike Hire, The Gate, Cromwell

⬤⬤⬤⬤⬤

Tours, Hire, Retail and Workshop, 25 Holloway St, Historic Clyde

Facebook/bikeitnow | 0800 Bikenow (245366) | www.bikeitnow.co.nz
---
SOUTHERN HOLIDAY DESTINATIONS AUTUMN-WINTER 2022 CLYDE | 23

Highlighting Clyde's Heritage

The Central Otago town of Clyde, with its authentic

heritage precinct, is a charming combination of old

and new. With its captivating mix of boutique shops,

galleries, cinema, cafes and restaurants, it attracts an

ever-increasing number of visitors.

At its heart is the 150-year-old Olivers complex which

reflects the village's early beginnings. The 1860s

heritage listed collection of stone buildings house

Olivers Lodge & Stables boutique accommodation,

award-winning Olivers Restaurant & Bar, the Merchant

of Clyde Café & Deli, and the Victoria Store Brewery.

Olivers Lodge & Stables provides an exceptional

accommodation experience. Built in the 1870s and

1880s, the 11 en-suited rooms are centred around

a peaceful sun-drenched courtyard. The rooms are

beautifully appointed, and while history has been

recognised, they feel elegant and contemporary at the

same time.

Located across the road from Olivers, a newly

renovated 120-year-old building, named The Lord

Clyde, is the latest string to the picturesque town of

Clyde's bow. Nine light and graciously decorated ensuited

rooms are complemented by a spacious guest

lounge, breakfast room and sunny garden.

Guests at Olivers Lodge & Stables and The Lord

Clyde can choose to do a variety of things around the

area from wine tasting, cycling the numerous trails

including the new Lake Dunstan Cycle Trail, or just

enjoying the atmosphere of Clyde.

After a busy day exploring the area, guests are able

to enjoy a wine in the garden at their accommodation

and then dine within the historic walls of Olivers

Restaurant & Bar. It's not hard to conjure up a time

when weary miners once bought their gold to the

same building to be weighed, before spending their

cash on a tipple or two.

Set within one of Otago's most significant heritage

buildings, enjoy the fresh local flavours of award

winning Olivers Restaurant.

Taste craft beer brewed onsite or visit the Merchant of

Clyde café-bakery-deli for Hummingbird coffee and

delicious baked goods and our own range of preserves

and condiments.

Olivers Lodge and Stables provides luxurious heritage

accommodation in 11 en-suited rooms, within a

beautiful courtyard setting.

34 Sunderland Street, Clyde | P 03 449 2600

bookings@olivers.co.nz | www.olivers.co.nz

Showcasing

CLYDE'S HERITAGE

Sophisticated luxury accommodation

Restored 120-year-old stone building

with 9 en-suite rooms

Clyde, Central Otago | P 03 9767 909

www.thelordclyde.co.nz
---
Photos Credit: Chris

24 | WANAKA / SOUTHLAND

SOUTHERN HOLIDAY DESTINATIONS AUTUMN-WINTER 2022

You're due South

Are you a Foodie or more of an Explorer at heart?

Maybe you're a History Buff or enjoy being a Free

Spirit? Or maybe you want to don your Captain's hat

and rule the crystal-clear waters of Southland. Explore

every nook and cranny of authentic Southland through

one of our five self-drive road trips and be enthralled

by everything the region has to offer.

The Free Spirit

Experience a chilled-out holiday along the Southern

Scenic Route. This journey has been ranked one of the

top 10 drives in the world, with 600km of spectacular

coastline, wildlife and walking trails, it is an ideal drive

for those who want to explore everything Southland

has to offer.

The Captain

With a coastline that stretches 3,400 kilometres, the

deepest lakes and some of the best trout fishing rivers

HAVE YOU EVER GONE

CHASING WATERFALLS

OF WONDER?

in the world, Southland's waters are top-notch. Few

fishermen can resist Southland's lure, the clear rivers

teeming with trout. For something more active, a

guided kayaking trip can show you everything from

the tallest mountain peaks of Patea Doubtful Sound to

the crystal blue waters of Rakiura Stewart Island.

The Foodie

Foodies rejoice as you sample your way through

some of the world's best fare, all produced in the great

Southern region. Enjoy succulent seafood, including

world famous Bluff oysters, Stewart Island salmon and

blue cod or prime cuts of meat which are nearly always

found on the menu along with iconic Southland

Cheese Roll.

The History Buff

Wanaka Hotel

Wanaka's only Town Centre Hotel,

Wanaka Hotel occupies a prime site

with magnificent views of the lake and

foreshore. Welcoming locals and visitors

alike, this 3 Star hotel offers a range

of facilities including accommodation,

public bar, TAB, pokies, two restaurants

and café.

The café is open for breakfast, lunch

or coffee and cake, there is authentic

Mexican fare at Amigo's or you can treat

yourself to the Bullock Bar's Hearty Pub

History enthusiasts will be spoilt for choice in Southland

with a line-up of museums that harbour wonderous

treasures. But don't be fooled, this isn't just for

history fanatics, these are museums that are more like

art galleries with a wide palette of colour schemes,

engineering marvels and locals' stories.

The Explorer

Get ready to unleash your inner explorer. Delve deep

into the crevices of the Te Anau Glowworm Caves or

uncover semiprecious stones at Gemstone Beach in

Western Southland. Wander through rural towns full of

southern hospitality or drive by rugged coastlines with

an untouched quality that is magnetic.

Choose your Southland experience today, because

you're due South!

To find out more check out trails.southlandnz.com

Fare. Accommodation is comfortable

and affordable with double, twin and

triple rooms all with ensuite facilities.

The location is brilliant for lakeside

activities in summer and convenient for

getting to other attractions like Puzzling

World, Wanaka Museum. You are also

in the heart of the shopping precinct.

Renowned for its relaxed atmosphere,

Wanaka Hotel is the place to stay this

summer! Contact the Wanaka Hotel

directly for the best rates.

wanaka's only

town centre hotel

- enjoy spectacular lake and mountain views

Discover the epic vistas of Fiordland, the

unforgettable coastlines of the Catlins,

the almost otherworldliness of Stewart

Island and everything in between. From

foodies to explorers - whatever you're into,

Southland's got you sorted.

Visit youreduesouth.nz to choose

your Southland experience today!

Book direct for the best rates.

www.wanakahotel.co.nz