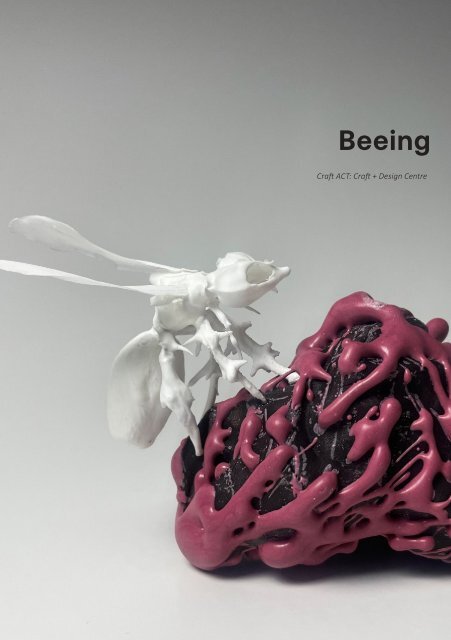 Create successful ePaper yourself
Turn your PDF publications into a flip-book with our unique Google optimized e-Paper software.
Beeing

Craft ACT: Craft + Design Centre
---
Craft ACT: Craft + Design Centre is supported by the

ACT Government, the Visual Arts and Craft Strategy –

an initiative of the Australian State and Territory

Governments, and the Australia Council for the Arts – the

Australian Government's arts funding and advisory body.

Craft ACT: Craft + Design Centre acknowledges

the Ngunnawal people as the traditional

custodians of the ACT and surrounding areas.

We honour and respect their ongoing cultural

and spiritual connections to this country and the

contribution they make to the life of this city and

this region. We aim to respect cultural heritage,

customs and beliefs of all Indigenous people.

Craft ACT: Craft + Design Centre

Tues–Fri 10am–5pm

Saturdays 12–4pm

Level 1, North Building, 180 London Circuit,

Canberra ACT Australia

+61 2 6262 9333

www.craftact.org.au

Cover image: Mahala Hill, Corrupted Growth 1, 2022. Photo: Courtesy of artist

Page 4-5: Dr Julie Bartholomew, Habitat, Artist in studio, 2022. Photo: Photo Courtesy

of artist
---
Beeing

Dr Julie Bartholomew + Mahala Hill

Craft ACT: Craft + Design Centre

7 July - 27 August 2022

3
---
4
---
5
---
Beeing

Exhibition statement

Dr. Julie Bartholomew | Mahala Hill

This exhibition features the work

of established craft-based artist Dr

Julie Bartholomew and early-career

contemporary ceramic artist Mahala Hill.

The title of this exhibition is aspirational

because it refers to the continuing survival

of bees, beeing pollinators and beeing in

existence. Populations of bees are on the

decline on a global scale. They are severely

impacted particularly in Australia since the

Black Summer fires. The loss of billions of

insects is little understood, and there are

consequences for humans because bees are

major pollinators and sustain biodiversity.

Beeing aims to bring greater visibility

to bees through the craft practices of

these artists. Both artists aim to utilise the

aesthetic power of craft practice to engage

audiences and encourage critical discourse

around the significance of bees and threats

to biodiversity.

Presented with support provided by an

Australia Council for the Arts grant.

Image: Mahala Hill, Corrupted Growth 111, 2022.

Photo: Courtesy of artist

page 8 & 9: Dr Julie Bartholomew, Detail of

Habitat 2 with bees, 2022

Page 10: Dr Julie Bartholomew, detail Habitat 1,

2022, earthenware, terra sigillata. Photo Greg

Piper

7
---
8
---
9
---
10
---
Beeing

Dr Julie Bartholomew and Mahala Hill

Artworks drawing on the natural world

are common across craft, design and

art but it is only relatively recently that

they convey such a sense of urgency, an

urgency mirrored daily in other spheres. In

this show, Julie Bartholomew and Mahala

Hill give voice to one particular area of

concern: the planet's bee population.

Her research process for this project has

been, as always, rigorous; previously

she has worked with scientists involved

in Antarctic geological investigation

and here she worked with beekeepers,

learning their craft, testing her ideas and

designs.

Bartholomew and Hill met in 2017 when

Bartholomew, then Head of Ceramics at

ANU School of Art and Design, supervised

Hill's Honours project. Since, their shared

interest in environmental issues has seen

their dialogue develop in ways profitable

for both.

Bartholomew presents two bodies of

work referencing the ovoid beehives

commonly found hanging from tree

branches or attached to other natural

(sometimes man-made) structures. One

group of works is primarily sculptural in

intent while the other can, with minor

additions, act as a functional habitat – a

beehive for a domestic setting. These

latter, in the spirit of ceramics from the

domestic realm, propose answers to

questions. How might a beehive serve

both bee and beekeeper? How might it

be both useful and aesthetically pleasing?

There are distinct echoes in her forms

of a European ceramic heritage with

the glaze, known - appropriately -

as 'Honey glaze', along with its red

earthenware clay understrata, familiar

from early English domestic ceramics.

Like all of Bartholomew's work, all is finely

considered and crafted, with materials

knowledge, construction skills and

attention to detail everywhere evident.

Mahala Hill's works are also the result

of a keen interest in how material and

process might communicate ideas. Her

works are at once beautiful and fearsome

and although they appear at first glance

to be alien from ceramic tradition, her

materials are clay and glaze, her methods

exaggerations or amplifications of usual

ceramic process. Rather than thin glaze

coatings, litres of glaze are fired in clay

forms then wrenched from the kiln at

high temperatures causing fault lines and

11
---
shattering as chemical forces suddenly

collide; these provide the base terrains.

Hill draws on research into bee types to

invent her insects (a wing borrowed here,

a leg there), all constructed in multiple

segments using organic matter dipped

in liquid clay. Then once dry, in a process

that brings to mind the smoking of bees

from the hive, the organic material is burnt

out, leaving the fragile bee parts to be

painstakingly assembled into one mutant

insect-form. Attached then to their solid

now-fired glaze terrain, each arresting

figurine-like work spells out an unsettling

vision.

Art intersects with the real world in

BEEING, by way of dialogue coupled

with theoretical and studio research.

Bartholomew's expressive sculptural forms

posit solutions, albeit on a small scale but

the impulse here is optimistic, constructive

at heart. Hill's work on the other hand

presents a dystopian vision, a warning of

sorts broadcast in mutant form and postapocalyptic

colour. The choice, the artists

seem to lay out, is ours.

Dr. Patsy Hely

July 2022

12

Image: : Julie Bartholomew, 2022, Honeycombing

7 & 9, photography Greg Piper

Page 14-15: Mahala Hill, Plastic Disease 4, 2022.

Photo: Supplied by artist
---
13
---
14
---
15
---
Mahala Hill

Biography

Mahala Hill is a contemporary ceramic artist

based in regional NSW, striving to push both

the limits and the pre-conceived notions of

her medium. Hill's practice is discursive in

nature, material exploration leads to ideas,

extends her conceptual intent and brings

to the foreground further questions or

conundrums for exploration. Recently Mahala

has been exploring curiosity, wonder, beauty,

death, the apocalypse and how by using

these motifs she can raise awareness of

pressing environmental issues.

Hill's practice has been centred around the

process of the 'burn out'. A 'burn out' is

the remnant shell-like form that emerges

from inside a layer of liquid clay after the

combustible organic plant material has

incinerated. The residual matter is a ghostly,

shell-like phantom form or 'burnt out' spectre,

simultaneously evoking traces of a life and

a loss. This process of directly creating a

brittle clay form from transformed organic

matter is a crucial element underpinning Hill's

exploration of what has happened and what

is currently happening to the environment.

Mahala has exhibited widely within Australia

in both group and solo settings. Her work is

held in several public collections including

City of Townsville Art Collection, Macquarie

Group Collection, The ACT Legislative

Assembly Art Collection and private

collections within Australia and Singapore. In

2020 Mahala was awarded City of Townsville

Art Collection Award and the Macquarie

Group Emerging Artist Prize.

Artist Statment:

Compromised environments, The new

normal.

Skeletal bees, triumphantly surmount the

contaminated geological forms/landscapes,

creating their new world order.

The bees embody the living dead, a ghostly

shell of their former selves. They are

constructed by the meaning of and process

behind the 'burn out'–the remnant form

after plant matter asphyxiated in clay and

incinerated. Hollow but uncomfortably

resilient, they simultaneously evoke traces of

life and loss.

The compromised environments have taken

on a life of their own, growing, adapting.

Illustrating the disfigurement of the natural

world and the increasing adversities that the

Australian bee populations face.

These sculptures challenge the

anthropocentric view, depicting 'the rest'

as the sole survivorsof our conceivable

environmental demise. Stressing the need for

action to prevent the continued loss of these

critical creatures.

Image: Mahala Hill, Hive 2, 2022

17
---
Dr Julie Bartholomew

Biography

Dr. Julie Bartholomew completed a PhD

in 2006, Master of Visual Arts in 1999 and

previously, a Bachelor in Visual Arts from the

University of Sydney. Julie has exhibited both

nationally and internationally in Japan, Taiwan,

China, Korea, USA and New Zealand. Julie was

winner of the International Gold Coast Ceramics

Award in 2006 and has been the recipient of

five Australia Council for the Arts Grants, plus

the Tokyo Studio Residency, the Australia-China

Council Red Gate Residency in Beijing and the

Asialink Taiwan Residency. Her work is in many

collections including the National Gallery of

Australia, the National Museum of Australia, the

Shepparton Art Museum, Victoria, the Shanghai

Arts and Crafts Museum, China, the WOCEK

International Ceramics Collection, Korea and

The Yingge Ceramics Museum, Taiwan.

Artist Statment:

The ceramics practice of Dr Julie Bartholomew

has been inspired by cultural issues and social

debates. Over her career, Julie has explored

communication technology, global branding

and female identity. Since 2010 her work has

responded to environmental concerns and

associated cross-disciplinary research with the

intention of creating conversations around

species extinction and our climate emergency.

Previous projects, such as Endangered, Rarely

Seen, and Subversive Botanica, investigated

the perilous existence of threatened Australian

birds and flora. Climate Scrolls: Antarctic Ice

Memory was a project that combined Julie's

practice with scientific research by responding

to the work of Australian scientists extracting

ice cores from Antarctica for climate research.

Beeing continues Julie's interest in species

extinction, in this case the decline of bee

populations, as well as a belief in the power of

art and exhibitions to transform debates about

environmental challenges.

Image: Dr Julie Bartholomew , detail Habitat 2

without bees, 2022. Photo:

19
---
List of works

1 Julie Bartholomew, Habitat

1, 2022 Earthenware clay, terra

sigillata surface

$1,500

5 Julie Bartholomew,

Honeycombing 7 & 9, $1200 each

2 Julie Bartholomew, Habitat

2, 2022, earthenware, terra

sigillata, H 55, W 25, D 42 cm,

photography Greg Piper, NFS

6 Julie Bartholomew, Habitat 2

without bees, 2022 Photomedia

$300

3 Julie Bartholomew, Prototype

for Habitat 2, 2022 Earthenware

clay, terra sigillata surface

$500

7 Julie Bartholomew, Habitat 2

with bees, 2022 Photomedia

$300

4 Julie Bartholomew, Prototype

for Habitat 3, 2022 Earthenware

clay, terra sigillata surface

$500

20
---
8 Julie Bartholomew,

Honeycombing 10, 2022

Earthenware clay, terra sigillata

surface and honey glaze

$1,500

12 Mahala Hill, Mutated Hive

II, 2022 Bone China, Glass, Glaze,

Porcelain

NFS

9 Julie Bartholomew,

Honeycombing 11, 2022

Earthenware clay, terra sigillata

surface and honey glaze

$1,500

13 Mahala Hill, Mutated Hive

III, 2022 Bone China, Glass, Glaze,

Porcelain

$910

10 Julie Bartholomew,

Honeycombing 12, 2022

Earthenware clay, terra sigillata

surface and honey glaze

$1,500

14 Mahala Hill, Plastic Disease I,

2022 Bone China, Glaze, Black Clay

$1,950

11 Mahala Hill, Mutated Hive,

2022 Bone China, Powder coated

metal $1050

21
---
List of works

15 Mahala Hill, Plastic Disease II,

2022 Bone China, Glaze, Black Clay

$1,850

19 Mahala Hill, Corrupted

Growth II, 2022 Bone China,

Glaze, Porcelain

$2,100

16 Mahala Hill, Plastic Disease III,

2022 Bone China, Glaze, Black Clay

$1,790

20 Mahala Hill, Corrupted

Growth III, 2022 Bone China,

Glaze, Black Clay

$2,200

17 Mahala Hill, Plastic Disease IV,

2022 Bone China, Glaze, Porcelain

$1,790

18 Mahala Hill, Corrupted Growth

I, 2022 Bone China, Glaze, Black

Clay

$1,450

22