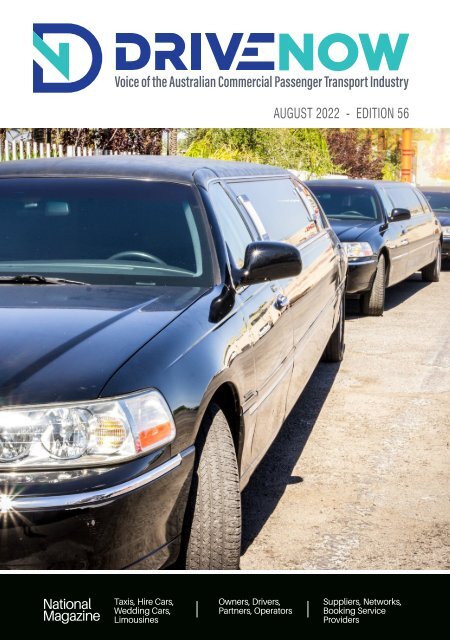 DRIVE NOW August 2022
Australia's only Magazine for the Commercial Passenger Transport Industry. News and views for Drivers, Owners and Operators of Taxi, Hire Car, Limousine, Ride Share, Booked Hire Vehicles, Rank and Hail Cars.
Australia's only Magazine for the Commercial Passenger Transport Industry. News and views for Drivers, Owners and Operators of Taxi, Hire Car, Limousine, Ride Share, Booked Hire Vehicles, Rank and Hail Cars.
SHOW MORE
SHOW LESS
Create successful ePaper yourself
Turn your PDF publications into a flip-book with our unique Google optimized e-Paper software.
AUGUST 2022 - EDITION 56

National

Magazine

Taxis, Hire Cars,

Wedding Cars,

Limousines

Owners, Drivers,

Partners, Operators

Suppliers, Networks,

Booking Service

Providers
---
FOR ALMOST TWO DECADES, TIAIB

HAVE BEEN PROVIDING INNOVATIVE,

LOW COST PROTECTION SOLUTIONS

FOR TAXI DRIVERS AND OPERATORS

AUSTRALIA WIDE.

Throughout Australia, TAXI OPERATORS rely on insurance arranged by

TIAIB to protect their assets while they're on the road.

Our clients benefit from:

Experienced

staff

Choice of

coverage

Variable

excesses

Choice of

repairers

Agreed value

for Basis of

Settlement

All of the benefits and more are available to members through our unique

approach to covering taxis – the TIAIB Discretionary Trust.

IT ALL ADDS UP TO THE TIAIB DIFFERENCE.

CALL OUR TEAM TODAY TO DISCUSS WHAT

WE CAN ADD TO YOUR BUSINESS.

p: 1800 333 041 e: taxis@marsh.com w: www.tiaib.com.au

This advertisement contains general information and does not take into account your individual objectives, financial situation or needs.

For full details of the terms, conditions and limitations of the covers, refer to the specific policy wordings and/or Product Disclosure

Statements available from Marsh Advantage Insurance on request.

Marsh Advantage Insurance Pty Ltd (ABN 31 081 358 303, AFSL 238369) ("MAI") arranges the general insurance (ie. not the

Discretionary Trust Arrangement) and is not the insurer.

The Discretionary Trust Arrangement is issued by the Trustee, JLT Group Services Pty Ltd (ABN 26 004 485 214, AFSL 417964) ("JGS").

Any advice or dealing in relation to the Discretionary Trust Arrangement is provided by JLT Risk Solutions Pty Ltd (ABN 69 009 098

864, AFSL 226 827) ("JLT"). JGS and JLT are businesses of Marsh McLennan (MMC). The cover provided by the Discretionary Trust

Arrangement is subject to the Trustee's discretion and/or the relevant policy terms, conditions and exclusions.© 2021 Marsh Advantage

Insurance Pty Ltd. All rights reserved. LCPA 21/113. S21-0888
---
2022

VICTORIAN

ELECTION

BECOME A

CANDIDATE

SHARE YOUR

PASSION WITH

TRANSPORT

MATTERS

PARTY

Because

Your Voice

Matters

Interested in politics?

Want to make a

difference?

Passionate about

community and fairness?

Election day

november 26

Email your expression of

interest to be a TMP

CANDIDATE to us TODAY!
---
drivenowmag drivenowmag

drivenowmagazine drivenowmagazine

Editor

Mrs Toni Peters

Production Team

Amy Peters, Antonella Kearns and

Isobel Sparrow.

Media Pack

with advertisement sizes and costs, is

available on our website.

Deadlines

Artwork bookings by 20th of the month prior

to publication date.

Articles, editorials and final artwork due

25th of the month prior to publication date.

Enquiries

PRINTED COPIES

READERSHIP OF

PRINTED COPIES

CIRCULATION —

DIGITAL & PRINTED

FREQUENCY

contact@drivenow-magazine.com.au

Mrs Toni Peters — 0400 137 866

www.drivenow-magazine.com.au

4,000

7,000

29,000

1st week of each month

Home delivery

subscription

$45 for your copy of DRIVE NOW to be

mailed to you for one year.

Payment options

Direct Deposit to:

Trade Promotions Pty Ltd

BSB 033065 ACCOUNT 312786

REF your name

THE AUDIENCE

DISTRIBUTION

Drivers, Owners, Operators,

Providers, Suppliers, Booking

Services of Taxis, Hire Cars,

Rideshare, Wedding Cars &

Limos.

All Australian States and

Territories. Industry Member

Associations (TAA, NSW TC,

SATC), Major Taxi Depots,

Industry Suppliers, Vehicle

Sanitisation Stations, DRIVE

NOW Website, Social Media &

Subscribers.

Publisher - Trade Promotions Pty Ltd, 28 Vannam Drive, Ashwood Vic 3147 - Phone 0400 137 866. DRIVE NOW TM is wholly owned by Trade Promotions Pty Ltd. ©

Trade Promotions Pty Ltd 2021. All rights reserved. Copyright of articles and photographs in DRIVE NOW TM remains with the individual contributors and may not be

reproduced without permission.

Views expressed in any article in DRIVE NOW magazine are those of the individual contributor and not necessarily those of the publisher. The publisher cannot accept

any responsibility for any opinions, information, errors or omissions in this publication. To the extent permitted by law, the publisher will not be liable for any damages

including special, exemplary, punitive or consequential damages (including but not limited to economic loss or loss of profit or revenue or loss of opportunity) or

indirect loss or damage of any kind arising from the contract, tort or otherwise, even if advised of the possibility of such loss of profits or damage. Advertisements

must comply with the relevant provisions of the Competition and Consumer Act 2010. Responsibility for compliance with the Act rests with the person, company or

advertising agency submitting the advertisement.

4 August 2022
---
24

9

Rideshare Driver Survey

We surveyed over 1,100 rideshare drivers about their experiences.

Here is what they told us.

27

1.

85% aren't satisfied with their earnings

2.

3.

On average drivers earn

$16/hr

RECEIVED

PHYSICAL

SEXUAL

37% THREATS 10% ASSAULTS 6% ASSAULTS

"In casual conversation

"I have been punched

"A passenger pinned me

a passenger made a joke

in the face, others

into my seat with his

WHAT'S about taking me to a

threatened they would

body INSIDE

weight while he

remote location to

find out where I live and

used a hand to sexually

rape me."

( after company fees and taxes but before costs

such as fuel, insurance etc)

We received 969 reports of harassment and/or assault

kill my family."

assault me."

13

of drivers who work full time hours earn

67% below the ABS average weekly wage ($1,586)

39

31%

say company

FEATURES

3 in 4

62% 6

18

drive rideshare because

they have debts to pay.

commissions are too high.

say Electric pay is not Vehicle enough to Nation. 25.5% Can Australia 37.5% support 37.0% EVs

save for super or leave.

with the current infrastructure?

Uber's caught again! But Judge says the agreed

penalty is too high.

24 Australia's Automated Vehicle Program update.

27 Class Action vs Uber update.

1/2 of drivers

work full time.

0-20 HOURS

21-40 HOURS

30 Industry statistics from around Australia.

VICTORIA

10 Uber is supplying misleading information.

40+ HOURS

Respondents drive for: Uber (97%), Ola (46%), Taxify (26%), DiDi (22%) and other (15%)

NEW SOUTH WALES

16

NSW Taxi Council continues to advocate

for fair and proper compensation.

SOUTH AUSTRALIA

20 Metropolitan taxis get CTP Rebate.

WEST AUSTRALIA

26 Are you using your taximeter?

OVERSEAS

39

39

40

'Some tip that.' Huge £103 tip handed to

delighted London taxi driver.

Second jobs and side hustles behind surge

in taxi driver numbers.

Taxi Operator closure has 'left a gap' in local

transportation services.

www.drivenow-magazine.com.au

August 2022

5
---
Bill Tsouvalas, Savvy Managing Director & Electric Vehicle loan expert, says,

"Australians are increasingly eager to get make their next new car purchase an EV. We can

see this reflected in the volume of car finance enquiries. There are a couple of sticking points

that are stopping electric cars from going gangbusters though. The first and most obvious

one is price: they're still too expensive for mass uptake. I reckon the price will have to drop

below 40 or $50k before we see wider mass adoption."

"The other big issue is charging time. People have gotten used to not having to wait for

anything. When we fill up our regular cars at the pump, it takes five minutes max, in and out.

Who is going to be willing to spend an hour charging their car on a long journey? What if

you get there and all the bays are full? I'm still not convinced this problem has been solved.

We are seeing inroads now, however, with the increase in 350kW ultra-rapid chargers and

cars coming out, that can take advantage of that. So, my prediction is that when prices drop

below $50k and charging times drop below 15 minutes; you can expect a real EV boom."

6 August 2022
---
Electric Vehicle Nation

Can Australia Support EVs with

the Current Infrastructure?

by Adrian Edlington | Savvy

Savvy has just completed a new

report on Australian national, state

and territory investments in EV

charging stations that explores the

issues of rollout, availability, and

maximum charging times for new

electric vehicles, based on Electric

Vehicle Council – March 2022 data.

The piece – Electric Vehicle Nation –

Can Australia Support EVs with the

Current Infrastructure? — examines

what present and future charging

infrastructure investments have

been made in their state or territory.

Historians have always noted

Australia's suffering from the

"tyranny of distance" both

internationally and internally. We are

remote as a continental island – a

country that's nearly 7.7 million km2

in size – and our major cities much

more distant than other developed

countries.

For example, the driving distance

between Melbourne and Sydney is

878km; the distance between the

capitals of New York State (Albany)

and adjacent New Jersey (Trenton)

is approximately 330km.

The fully electric Nissan Leaf would

be able to travel from Albany to

Trenton comfortably with a full

1.6% of all new vehicle registrations in 2021, one of the most

cited reasons that people are reluctant to take up electric

vehicles is a lack of charging infrastructure. Savvy looks into

the current state of EV charging infrastructure and what's

planned for the future.

• 700 new fast charging stations will be built around

Australia in the next five years

• Federal investment of $24.55 million through the first

round of Future Fuels Fund for 400 public fast charging

stations

• Federal Labor government proposes $39.3m additional

investment in providing charging stations every 150km

• 350kW Ultra-Rapid chargers provide a potential 400km

of range in 15 minutes

• New EVs with industry-leading 350kW maximum DC

fast-charge rate claim to gain 111km range in 5 minutes.

range of 385km. However, it would

need to stop at least twice to go

from Melbourne to Sydney.

With petrol stations abundant in

Australia, EV drivers may feel they

could be left in the lurch. But is it as

dire as public perceptions seem?

In this report, we use the Electric

Vehicle Council of Australia March

2022 data to answer questions

such as, how many public charging

stations are there in Australia? How

many are planned for the future?

Where are they now, and where

will they be located? We investigate

what's available for EV owners and

prospective owners.

www.drivenow-magazine.com.au

August 2022

7
---
The types of EV

charging stations

Electric vehicles – such as fully

electric or Plug-in Hybrid Electric

vehicles (HEV) – require electric

power from the grid to run

(although not fully for Hybrids,

which run on a mix of electric and

petrol.)

EVs require DC power – which is

either supplied at a charging station

direct or converted from AC to

DC by the car's internal converter.

DC charging is the fastest way to

charge an electric vehicle.

Typically, one kilowatt (kW) will

add one kilometre for every ten

minutes of charging.

AC public charging stations fall

into the range of about 7kW to

40kW and are usually referred to

as "destination charging" stations,

allowing cars to be recharged

overnight.

DC charging stations are much

quicker in comparison and

designed for immediate top-ups.

There are two types of DC public

charging stations – above 50kW

fast charging and below 50kw

regular charging.

At 50kW, a vehicle will add 50km

of range (on average) for every ten

minutes of charge.

The fastest available charging

stations in Australia are 350kW

"ultra-rapid" facilities, such as

those offered by providers like

Chargefox, for example. Chargefox

provides a theoretical 400km of

range in 15 minutes, though these

are few and far between. More

have been promised by state and

federal governments in the coming

years.

Even if every DC charging point

was capable of 350kW output, the

vehicles themselves are limited

by what they can accept. Until

recently, top-of-the-line EVs in

Australia with DC maximums of

110kW to 200kW were considered

high. However the latest vehicles,

such as Hyundai's Iconiq 5 and the

Kia EV6, have max per hour charge

speeds of 350kW.

8 August 2022
---
Fast charging

As of January 2022, there are 293

fast charging locations around

Australia. This represents an increase

of 85% since August 2020 (157).

Unsurprisingly, the distribution

of these stations matches the

population density of each

respective state.

Regular charging

As of January 2022, there are

1,580 regular charging stations

in Australia. This represents an

increase of 29% since August 2020

(1219.)

*Savvy has no affiliation with any

brands used as examples.

The EV community has pitched in to help fellow drivers by providing

a free cross-platform app called PlugShare. PlugShare allows users to

find charging stations in Australia and worldwide, map new ones and

share their EV activity with other enthusiasts.

The future of charging

State and federal governments are supporting the rollout of additional fast charging stations around

Australia. The Electric Vehicle Council, based on estimates of funding from state and federal governments,

says that 700 new fast charging locations will be added across Australia over the next five years. Each

location will have multiple charging points to accommodate many vehicles. Other state government

programs will increase the density of fast charging equipment currently in use, so more cars can take

advantage of charging at the same time.

FEDERAL

NSW

ACT

NT

QLD

SA

TAS

WA

VIC

The previous Coalition government pledged $24.55 million to co-funding 400 fast-chargers

across approximately 200 sites, mainly in metropolitan locations. The new Labor government

announced a pre-election policy of a $39.3 million investment in a national electric vehicle

charging network to establish charging stations every 150km on Australia's major transport route.

The amount will be matched by the NRMA.

Will commit $131m to co-fund 1,000 fast charging bays across 250 locations.

Will co-fund 20 new fast chargers.

Have committed funding to fast-charging, with details to come.

"Queensland Electric Superhighway" will see 18 new fast-charging sites added at a cost of $2.75m.

State Government has pledged $13.4m to add 28 new regional fast charging stations.

Has committed $600,000 to build additional fast charging stations.

$20 million pledged to fund fast charging stations across 45 sites in regional WA.

State Government has promised $6m to co-funding fast charging stations across 50 regional

Victorian locations.

www.drivenow-magazine.com.au

August 2022

9
---
VIC News

DRIVER EARNINGS ON

UBER WEBSITE AND IN

OTHER MEDIA IS

Misleading Information

Last month I wrote to the ACCC and consumer

affairs raising concern about an advertisement

Uber has regarding driver earnings. The

contents of that letter is reprinted here.

I write to draw your attention to information

being advertised on the Uber website for

estimates of driver earnings which I have

also heard reiterated on radio and TV

advertisements. This can be found here –

https://www.uber.com/au/en/drive/howmuch-drivers-make/

The calculator estimates earnings from

gross trip fares and suggests an average of

$1,335 per week for 40 hours of work being

the number of hours when driver-partners

were online in the app. While there might

be some legitimacy to the figure itself, it

is categorically misleading in the way it is

represented.

Rod Barton MLC

Leader, Transport Matters Party

Although it is disputable, there may be

potential to turnover $1,335 in fares for a 40-

10 August 2022
---
VICTORIA news

Uber's 'earnings estimator' is a

deliberate misnomer designed to dupe

people onto the hamster wheel that

is Uber and their burn and churn gig

economy model.

hour week ($33.38 p/h); however

this is a far cry from what a driver

might earn as informed by the

'earnings calculator'.

In the first instance, the gross fare

includes Uber's commission of

27.5% as well as GST payable by the

driver, who is required to remit

GST on every dollar earned. These

factors combined immediately

reduce the estimate by close to

40%.

Further to this, it is known that

Uber remove their commission

from the gross fare and drivers

are left to remit 10% GST on what

remains after the commission is

paid. As an example, a $90 fare

would incur 10% GST to a total

of $99; however, Uber removes

27.5% in commission from the

total ($27.23), leaving the driver to

remit to the ATO $9 in GST from

the $71.78 that remains. This is an

outrage.

There is a disclaimer on the website

which states – 'The estimate

provided does not include costs for

which you will be responsible, like

fuel, maintenance, and others.'

This is an understatement. If we

remove 40% for commissions

and GST from the $1,335 weekly

earnings estimator, we are left

with a mere $800 (or ~$20 p/h)

from which fuel, tolls, insurance,

maintenance, vehicle leasing,

income tax, BAS preparation/

accounting, mobile phone,

superannuation and leave

provisions all need to be paid.

Fuel alone in today's environment

would be at least $200 per week

after 40 hours of driving. This

leaves only $600 in earnings (or $15

p/h) not inclusive of the multitude

of other costs I have listed above.

Perish the thought if the driver

happens to lease a vehicle as well

through one of Uber's partners,

which currently costs between

$350-$400 per week.

I put to you that the 'earnings

estimator' is a deliberate misnomer

designed to dupe people onto the

hamster wheel that is Uber and

their burn and churn gig economy

model. This requires an immediate

investigation.

It is no secret that rideshare

drivers are some of the lowest

paid workers, often with a limited

understanding of the industry into

which they have entered and who

are naïve to the costs associated

with the business. This sort of false

and misleading advertising by Uber

does nothing to improve this for

anyone, promising the world but,

in fact, setting drivers up to chase

their tails as the next working poor.

It is irresponsible and deceptive

and must be stopped.

The Uber website provides all

sorts of information in the FAQ

section yet fails to list what the

other costs are which drivers might

be responsible for. Not least of

which is their commission. It is

impossible to find any information

on the Uber website for the exact

commission they charge. It should

be mandatory for them to at least

disclose their fees and charges

openly and honestly.

I would like to draw your attention

to two separate items in support

of this issue, demonstrating just

how far from the truth the Uber

earnings calculator sits.

One is a website from an

accounting firm, DriveTax, who

market themselves as Uber Tax

Accountants – Teaching rideshare

and food delivery drivers how to

manage their taxes.

https://www.drivetax.com.au/howmuch-will-i-actually-make-fromuber-driving/

www.drivenow-magazine.com.au

August 2022

11
---
VICTORIA news

The other is the result of a recent

survey conducted by the Transport

Workers Union TWU from 1,100

rideshare drivers about their

experience.

https://www.twu.com.au/

wp-content/uploads/2019/05/

Rideshare-Survey-Infographic-

FINAL.pdf

The accounting firm has produced

the above resource entitled –

'How Much Will I ACTUALLY Make

From Uber Driving?' based on

their knowledge of the industry

submitting returns on behalf of

many rideshare drivers.

Ultimately, their informed and

comprehensive calculations based

on real data and industry costs,

estimate earnings for an Uber

driver of $26 before income tax for

every $100 of gross fare turnover.

Put simply, the real earnings

of a driver who may or

may not turn over $1,335

gross per 40-hour week

as estimated by the Uber

calculator, would be closer

to $347 per week before tax

or $8.60 per hour.

Similarly, the survey conducted

by the TWU suggests that driver

earnings are closer to $16 p/h after

company fees and taxes (GST) but

before any other costs such as

fuel and insurance etc. Further, it

was recorded that 85% of survey

respondents are unsatisfied with

their earnings, 48% say there is a lack

of transparency on payments, 74%

feel that the company commissions

are excessive, and 62% consider

payments are insufficient to save for

superannuation or leave.

I would suggest that the

disappointment of drivers to learn

what their true earnings are is

directly linked to the expectation

created by Uber themselves in the

inflated earnings estimates they

provide on their website.

They [Uber] should be held to

account and forced to disclose fully

and comprehensively all expenses

a driver may be responsible for

and provide a realistic estimate of

earnings.

Limited offer to

Join the Oiii platform today

Our PLATFORM

is a COMPLETE TAXI SOLUTION

Approved Taxi Meter with auto-tariffs and tolls

Approved MPTP access with automated payments

Regulation Security Taxi Cameras

Dispatch with app bookings

Auto-navigation with up-to-date maps

Latest Verifone payment terminal

Access to OiiiPlus driver app

ONLY

$40

+ GST per week*

*Suits independent operators

who can choose to drive

under their signage.

For more information or to book a vehicle fit out... Call 03 8394 6812

12 August 2022
---
VICTORIA news

Rideshare Driver Survey

We surveyed over 1,100 rideshare drivers about their experiences.

Here is what they told us.

1.

85% aren't satisfied with their earnings

2.

On average drivers earn

( after company fees and taxes but before costs

such as fuel, insurance etc)

3.

$16/hr

of drivers who work full time hours earn

67% below the ABS average weekly wage ($1,586)

We received 969 reports of harassment and/or assault

RECEIVED

PHYSICAL

SEXUAL

37% THREATS 10% ASSAULTS 6% ASSAULTS

"In casual conversation

a passenger made a joke

about taking me to a

remote location to

rape me."

"I have been punched

in the face, others

threatened they would

find out where I live and

kill my family."

"A passenger pinned me

into my seat with his

body weight while he

used a hand to sexually

assault me."

31%

3 in 4

62%

drive rideshare because

they have debts to pay.

say company

commissions are too high.

say pay is not enough to

save for super or leave.

1/2 of drivers

work full time.

0-20 HOURS

25.5%

21-40 HOURS

37.5%

40+ HOURS

37.0%

Respondents drive for: Uber (97%), Ola (46%), Taxify (26%), DiDi (22%) and other (15%)

www.drivenow-magazine.com.au

August 2022

13
---
FAREWELL

FRANK HART

1933 - 2022

Long-time Martin Meters CEO and major Australian Taxi

Industry supporter passed away peacefully last month,

aged 89.

Frank managed Martin Meters back when they were

still producing mechanical meters in the 1960s and 70s

through to his retirement around 2010.

In 1966 TAXI TALK magazine was started by Trade

Promotions and Frank Hart was the very first

advertiser for his business Safety Screens (Aust).

Although the magazine re-branded in the last

decade to DRIVE NOW, it never changed owners

and it is still being produced and distributed to

those in the Taxi and Hire Car industry, and Frank

continued to support us.

His innovations resulted in more income for drivers

through better, more accurate, less expensive and much

more reliable taximeters. He was also a strong and

passionate advocate for driver safety and proper driver

remuneration.

Frank was a fierce Hawthorn supporter, and here he is

standing very proud holding the 2013 and 2014 Back to

Back Grand Final Cups.

Frank became great mates with our founder, Stan

White, and he stuck with us through thick and thin,

with no regrets. It was our honour to have known

Frank, to have worked with him and shared many a

joke too.

He was a stalwart of this industry and will be missed

by all who knew him. Farewell, my friend. Rest in

Peace. ~ Ed.

Martin Meters - Oz Cab Store

Phone: 03 9335 1551 sales@martinmeters.com.au www.ozcabstore.com.au

• 1TB Memory

• 1080P External Color Camera

• 720P Internal Color Camera

(1080P Option)

• Led Camera Status

• Active GPS

• Audio, 4G & WiFi option

(Where permitted by state)

THSVIC1 HD TAXI CAMERA SYSTEM

VIC & NSW APPROVED OTHERS PENDING

Priced from:

$1500+GST

Standard Vic Spec.

14 August 2022
---
SHOW

YOUR

SUPPORT

BECOME A

MEMBER

TODAY !

Rod Barton, Leader Transport Matters

Party has helped the Victorian Taxi

and Hire Car industry in so many ways

during the past few years.

only

$22

and it's tax

deductible

Because

Your Voice

Matters

Now it's time to show your support

and help Transport Matters Party gain

members and more momentum.

Visit transportmatters.org.au and sign up today.
---
NSW News

NSW TC CONTINUES

TO ADVOCATE FOR

Fair & Proper

Compensation

The Chairman, CEO and Deputy CEO of the NSW Taxi Council, together with the Vice President of TOSBA

(Taxi Owners Small Business Association of NSW) recently had a meeting with the NSW Premier and

Treasurer to highlight the NSW Taxi industry's concerns regarding fair and proper compensation for all Taxi

Licence owners in NSW.

Both the Premier and

Treasurer were receptive to

the concerns of the NSW Taxi

Industry. During the meeting,

a presentation was given by

NSW Taxi Council CEO, Martin

Rogers, on the significant

impacts that the regulatory

changes have had on the value

of Taxi Licences since the

reforms, and the need for fair

and proper compensation for

all Taxi Licence owners in NSW,

with no cap.

It was further

highlighted that over

60 MPs have signed

a pledge supporting

fair and proper

compensation.

L-R: Craig Richards – Vice-President, TOSBA; Geoff Ferris – Chairman, NSW Taxi Council;

Martin Rogers – CEO, NSW Taxi Council and Nick Abrahim – Deputy CEO, NSW Taxi Council

16 August 2022
---
NEW SOUTH WALES news

The Premier and Treasurer were also reminded of

the 2020 Upper House enquiry which concluded

that 80% of the loss of value in Taxi Licences was

a direct result of the NSW Government's handling

of rideshares' illegal entry, and that the report

subsequently recommended a buyback of ordinary

Taxi Licences.

The Treasurer committed to conducting further

analysis with Treasury, and the NSW Taxi Council

has expressed to the Treasurer the need for this

further work to be completed promptly, as the

NSW Taxi Industry needs this matter to be resolved.

Currently, the emphasis is being put

on reminding the NSW Government

that they set the rules, the NSW Taxi

industry followed the rules, and the NSW

Government profited from the rules.

Rideshare entered and decided not to follow the

rules, the NSW Government failed to enforce

the rules they set, so they changed them, at the

expense of thousands of Mums, Dads and small

business owners across NSW, who followed them.

Furthermore, Ben Fordham has also highlighted,

during his breakfast program on 2GB radio, the

need for fair and proper compensation for all NSW

Taxi Licence owners.

Ben Fordham has been talking about the issue,

listening to the concerns of NSW Taxi Licence

owners, and calling on the NSW Government to

respond to the NSW Taxi Industry's concerns.

We are grateful for Ben's continued push with the

fight for fair and proper compensation for NSW

Taxi Licence owners.

Ben Fordham also recently interviewed NSW

Transport Minister David Elliott, in which the

Transport Minister stated that "they are waiting

for the Treasury to sign off on the compensation

package for NSW Taxi Licence owners."

The NSW Taxi Council thanks the various

stakeholders of the NSW Taxi Industry and 2GB's

Ben Fordham, for their support towards the fight

in getting fair and proper compensation for all Taxi

Licence Owners in NSW.

We Are

HIRING

Drivers | Forklift Operators | Parcel Sorters | Sub-contractor (Drivers)

Why work with us?

Family owned business (to us you're a person, not a number)

Safety focus (your safety is at the centre of everything we do)

Role specific training provided

Development opportunities

Register your interest

1300 100 BEX

Select Option 3

Scan

www.drivenow-magazine.com.au

August 2022

17
---
JUST

ANOTHER

SCANDAL

Uber's Caught Again!

But Judge says the agreed

penalty is too high.

Uber has been caught misleading

the public with false and

deceptive message to customers

via their App.

The Australian Competition and

Consumer Commission (ACCC)

launched court proceedings

against Uber after the company

admitted to engaging in

misleading or deceptive conduct.

Between June 20, 2018, and

August 31, 2020, customers who

were using the Uber rideshare

service in Sydney were given an

inaccurate estimated fare range.

More than 130,000 trips were

taken in that time frame, with 89

per cent of customers charged a

lower fare than was estimated.

Counsel representing the

ACCC, Fiona Forsyth QC, said

18 August 2022
---
Powered by LIMOMATE

Drivers/Owner Drivers Required

Are you sick of pushing a cab around or doing lots of short

fares for Uber with little reward? Are you tired of delivering

dozens of parcels a day? Do you want to do 5-6 jobs a day

in comfort and leave all the hassles behind?

Earn $1,500+/week - all expenses paid by the Company.

Owner drivers earn $3,000+/week.

Permanent driving positions now available in the

south-eastern suburbs.

We'd love to hear from you.

Call 9462 8222 and say G'day.

while riders were not charged

more, the inaccurate estimates

prevented consumers from

making an informed decision.

Uber also admitted to providing

misleading cancellation messages

to Australian customers

between December 8, 2017, and

September 20, 2021.

Uber was found to have

published misleading information

on their app (A Current Affair).

The inaccurate message popped

up for 7.39 million trips, and

27,313 people chose to continue

with their ride instead of

cancelling.

Uber and the ACCC agreed on

a penalty of $26 million for

the offence, with an $8 million

fine for the inaccurate fares

and an $18 million fine for the

cancellation messages.

But Federal Court Justice Michael

O'Bryan said the agreed penalty

seemed excessive, with a $5

million fine more within range on

the current evidence.

"I feel quite handicapped," he

told the court.

"At the moment, I feel (the

agreed penalty) is outside any

range I would order."

A $26 million fine would send a

message to Uber and other large

corporations that they could not

mislead Australian customers,

Forsyth said.

"The penalty has to bite; it has to

have impact," she said.

"This is an agreed position (with

Uber). We say that with some

force."

O'Bryan said he would need

more evidence to show the

financial impact of the inaccurate

fares and misleading messages.

The case was adjourned so

the parties could gather more

material.

by AAP

www.drivenow-magazine.com.au

August 2022

19
---
SOUTH AUSTRALIA

SA News

SA METRO TAXIS GET

CTP Rebate

Eligible registered taxi owners will receive a

$3092.41 rebate for Compulsory Third Party (CTP)

insurance premiums paid between 1 July 2021 and

30 June 2022.

The rebate amount also takes into account

Lifetime Support Scheme Levy amounts paid. A

similar payment will be made to eligible registered

taxi owners to rebate CTP insurance premiums

paid for taxis registered between 1 July 2022 to 30

June 2023.

Who is eligible to receive the payment?

The registered owner of a taxi – i.e. the person

responsible for payment of registration fees will

receive the payment. The taxi owner is not taken

to be the plate/licence owner or taxi operator.

A rebate is only applicable to taxis with CTP

insurance premium class 5, metropolitan taxi. It

will not apply to those taxis with premium class 55,

non-metropolitan taxi.

Why does the rebate only apply to

metropolitan taxis?

Country taxis currently pay lower CTP insurance

premiums compared to the CTP premiums paid by

metropolitan taxis.

How will I receive the payment for CTP

paid in 2021-22?

Eligible registered taxi owners do not need to

apply or take any steps to receive their payment.

Rebates will be provided as a cheque, posted

to the postal address held on file for your client

record at the Department for Infrastructure and

Transport.

When will I receive the payment for the

2021-22 financial year?

Most eligible registered taxi owners should receive

their payments for the 2021-22 financial year

between 1 July and 30 September 2022.

What will happen for the 2022-23 financial

year?

For the 2022-23 financial year, the CTP rebate

will be paid to registered owners at the end of

each registration period. Depending on whether

registration is paid monthly, quarterly or annually,

payments will commence at the end of the third

quarter of 2022.

Why can't the rebate be applied when I

register my taxi?

Under the administrative arrangements of

the Motor Vehicles Act 1959, all CTP insurance

premiums must be paid at the same time as other

registration fees. There is no ability to apply the

rebate directly at the point of registration. This

means that you must pay your CTP premium first

to receive the rebate.

20 August 2022
---
I know what it is like to have

your struggles, experiences

and opinions ignored. That

is why I came to Parliament

to fight for our community,

accountability, and fairness.

ROD BARTON MP

COMMUNITY DRIVEN, FAIRNESS FOCUSED

www.drivenow-magazine.com.au

Phone: (03) 9850 8600

Email: rod.barton@parliament.vic.gov.au

www.rodbarton.com.au

August 2022

RodBartonMP

21
---
As a CPV driver, how can

I help passengers with

an assistance animal?

We understand you may not know how to ask a passenger about

their assistance animal, so here are some tips to help you...

I

Be polite and

speak to your

passenger, not

the animal.

Assistance animals

are allowed in

commercial

passenger vehicles,

even if they are not

clearly identified

2

Ask for more information

if you can't tell whether

the animal is an

assistance animal.

You can politely ask, "Is your

animal an assistance animal?"

or, "Can you please tell me

how the animal is trained to

help you?"

3

Politely tell the

passenger if you

are afraid of dogs.

You may say "I'm

sorry if I'm nervous

around your animal, I

am scared of dogs".

The passenger will

often face the dog

away from you to

make you feel more

comfortable.

4

Don't make eye

contact with

the dog.

Just like you,

dogs don't like

to be stared at.

5

Ask the passenger

if they would like

any assistance

before you help

them.

If they would, wait for

them to tell you how,

or gently hold their

arm to guide them

to the vehicle door.

Remember to walk

slowly.

7

Do not ask about a

person's disability.

It is rude to ask questions like:

"What is wrong with you?",

"What happened to you?",

"Why do you look that way?",

or "Why do you need that

animal?"

6

Please don't

touch, stare,

feed or make

noises at the

animal.

Assistance

animals should

not be distracted

from their job.
---
Assistance animals

help with many things!

Assistance animals help hundreds of

Victorians to live independent lives. They

assist their owners by giving them a greater

sense of freedom through helping

them with many things, such as...

Assistance animals help people to balance if they have

walking difficulties

Assistance animals help with opening and closing

doors, drawers and fridges

Assistance animals help with pushing pedestrian

crossing buttons

Assistance animals bark to alert their owners to danger

Assistance animals alert people to seizures (sometimes

before they occur) or other medical issues, such as low

blood sugar in a diabetic child

Assistance animals retrieve or pick up items like mobile

phones or keys

Assistance animals can help with a number of different

mental health issues such as anxiety and post

traumatic stress disorder (PTSD)

you make the

difference

Changing the way we move people with disability
---
On-road enforcement for automated vehicles

Have your say

On-road operation of automated vehicles will create unique challenges for enforcement. The NTC is

examining whether state and territory law enforcement officers have sufficient powers to interact with and

respond to the road safety risks of automated vehicles. In our discussion paper we also consider the

practical aspects of enforcement officers interacting with automated vehicles.

Providing on-road

directions to automated

vehicles

Enforcement officers

may need additional

powers to stop,

intervene and give

directions to an ADS.

Disabling an ADS

Enforcement officers may

need additional powers to

be able to disable an ADS

remotely and at the

roadside.

Public consultation - 11 July - 5 September 2022

Data needs and

enforcement access to

automated vehicles

Enforcement officers

will need to access data

to respond to

automated vehicle road

safety risks but may

need additional powers

to do so.

Interaction with the inservice

regulator, ADSEs

and registered owners

Enforcement officers

may need new powers

to disclose data and

information to other

entities for the

purpose of running

investigations and

reporting incidents.

Operational impacts on

enforcement roles,

responsibilities and

resources

States and territories

need to consider the

potential operational

impacts within their

jurisdictions to allow for

adequate training and

investment in

infrastructure.

How to participate

We want to hear your views on the questions in the discussion

paper, as well as any other views you have on the on-road

enforcement of automated vehicles.

To read the discussion paper and have your say, visit

www.ntc.gov.au/transport-reform/ntc-projects/road-enforcementautomated-vehicles

Next steps

Your input will help us develop policy positions for on-road

enforcement that are consistent across Australia.

This will support states and territories as they make

changes to policy and regulation.

The NTC will report to Ministers on recommendations that

will enable consistent national approaches.

24 August 2022
---
The National Transport Commission

(NTC) is developing a policy for the

on-road enforcement of automated

vehicles.

Automated vehicles – sometimes

known as autonomous vehicles

or "driverless cars" – offer the

possibility of fundamentally

changing transport and society by

improving road safety, mobility,

freight productivity and reducing

road congestion.

But current laws do not support

their use on public roads.

We need nationally-consistent

reforms that support innovation

and safety. This will allow

Australians to access the benefits

of this technology.

The NTC reform program focuses

on achieving national consistency.

Their goal is end-to-end regulation

to support the safe commercial

deployment and operation of

automated vehicles at all levels of

automation in Australia.

The NTC has completed a number

of reforms as part of the program

for end-to-end regulation to

support the safe commercial

deployment and operation of

automated vehicles in Australia,

including:

• Regulating government

access to C-ITS and automated

vehicle data to ensure privacy

challenges of government

access to C-ITS and automated

vehicle data are appropriately

addressed.

• Developing a safety assurance

system for automated

vehicles to support the safe,

commercial deployment

and operation of automated

vehicles at all levels of

automation.

• Changing driving laws to

support automated vehicles

to determine how automated

vehicles and automated

driving systems (ADS) should

be treated by the law.

Currently, the focus of the NTC

is on enforcement officers' onroad

interaction with automated

vehicles, including:

• safety intervening and

interacting with automated

vehicles

• identifying an automated

vehicle, its level of automation

and who is in control

• accessing data to respond

to road safety risks (such as

for crash investigation and

reporting)

• sharing data with relevant

parties, particularly the inservice

regulator.

The NTC has published a discussion

paper that looks at the current

powers of law enforcement officers

in the context of automated

vehicles. The paper examines

if enforcement officers have

sufficient powers to interact with

and respond to the road safety

risks of automated vehicles.

The paper also covers practical

aspects of interacting with

automated vehicles and suggests

options to address any gaps.

NTC's goal is to create consistent

policies across all states and

territories.

www.drivenow-magazine.com.au

August 2022

25
---
WA News

ARE YOU USING

Your Taximeter?

• the day and time of the

proposed journey;

• the amount agreed to

pay for the contract fare

(including any amount for

GST); and

• a statement declaring

that additional fees may be

payable (like parking fees,

cleaning fees, payment

surcharges and/or airport

fees).

If you're driving a taxi, you

must use your meter to start

and end a trip unless you have

arranged a contract fare.

A contract fee is the agreed

amount payable for the hire of a

taxi (or charter vehicle), which

must be agreed before the

journey starts between:

• the hirer and the driver; or

• the hirer and the driver's ondemand

booking service.

Contract fares must be recorded

in writing – this includes

electronic formats like SMS or

email.

Written confirmation of a

contract fare must include:

• enough detail to identify the

driver, the vehicle/s used,

the person who booked the

service, and at least one

passenger;

• the start and end locations

of the proposed journey;

Written confirmation of contract

fares is required to meet recordkeeping

obligations under the

Transport (Road Passenger

Services) Act 2018.

Remember – contract fares

cannot be arranged when:

• you're picking passengers

up from a rank; or

• a passenger hails you from

the street.

Drivers must use their meters for

all Rank and Hail work.

26 August 2022
---
In December 2020, Maurice Blackburn filed a class action

against Uber on behalf of participants in the Australian taxi,

hire-car, limousine and charter vehicle industry. They started

this class action in response to losses suffered by drivers,

licence owners, and operators when Uber entered the

Australian market.

Putting up barriers to justice seems to be part of the Uber

playbook, with the Maurice Blackburn-led class action

repeatedly encountering roadblocks put up by the Uber legal

team.

In early 2022, Uber produced documents, a large portion

of which were heavily redacted or entirely withheld due to

"legal professional privilege". Maurice Blackburn had to

challenge this approach, and the Victorian Supreme Court

found in the firm's favour. Uber recently appealed that

decision, and the case now awaits a judge's decision on

whether to force Uber to produce the documents.

In a further demonstration of Uber's approach to the case,

Maurice Blackburn also had to file a summons for additional

documents from Uber that the law firm says should have

already been produced – including information about Uber's

use of the Greyball software to deceive regulators and law

enforcement agencies.

Uber's approach to this important litigation shows how hard

defendants fight these claims and demonstrates how a class

action helps to level the playing field.

Maurice Blackburn is seeking damages for claimants in

respect of losses sustained as a result of Uber's alleged

conduct in the relevant loss periods (i.e. the period in which

Uber operated illegally) for

Victoria, New South Wales,

Queensland and Western

Australia.

IT'S NOT

TOO LATE TO

REGISTER

You can register for the Uber

class action if you were:

• A taxi driver, licence owner or

operator

• A hire car driver, licence owner or

operator

• A limousine car driver, licence owner

or operator

• A charter vehicle car driver, licence

owner or operator

• Licensed in Victoria between 1 April

2014 and 23 August 2017

• Licensed in New South Wales between

7 April 2014 and 18 December 2015

• Licensed in Queensland between 17

April 2014 and 9 June 2017

• Licensed in Western Australia

between 10 October 2014 and 4 July

2016

• You are able to prove loss.

It doesn't cost you anything to join this

class action. For more information, please

email Maurice Blackburn at Uber@

mauriceblackburn.com.au or phone 1800

291 047.

www.drivenow-magazine.com.au

August 2022

27
---
Get your copy

home delivered

for a whole

year!

Don't miss out on

the happenings in

the Australian taxi,

hire car and rideshare

industry.

ONLY

$45

for one year's

subscription

SEND PAYMENT TO

Direct Deposit to Trade Promotions:

BSB: 033065 ACC: 312786 REF: your name

PayID to Toni Peters:

0400 137 866 REF: your name

SEND YOUR MAILING DETAILS TO

email: contact@drivenow-magazine.com.au

sms: 0400 137 866

28 August 2022
---
AUGUST 2022 - EDITION 56

PICK UP YOUR OWN COPY

EVERY MONTH FROM THESE BUSINESSES

National

Magazine

VIC

Taxis, Hire Cars,

Wedding Cars,

Limousines

Ascot Vale

Westbourne

Motors

Ballarat

Ballarat Taxis,

Crown Cabs,

Transport Security

Cameras

Bendigo

Bendigo Taxis

Brunswick East

Platinum Taxis

Campbellfield

Taxi Hire Services

Clayton South

Schmidt Elec.

Labs

Clifton Hill

SilverComm

Coburg North

Silver North Taxi

Management

Collingwood

Silver Top Taxis

Doncaster

Rod Barton, MP

Fitzroy

Equity Transport

Group

Geelong North

Geelong Taxi

Network

Lara

Avalon Airport

Arrivals Terminal

Owners, Drivers,

Partners, Operators

Suppliers, Networks,

Booking Service

Providers

Mildura

Mildura Taxis,

Crown Cabs,

Transport Security

Cameras

Moorabbin

Eastmoor Taxis

North Melbourne

13cabs,

Alex Taxis,

Live Taxi

Oakleigh

13cabs

Port Melbourne

Oiii,

Netcabs

Reservoir

Exclusive Cab

Management

Shepparton

Shepparaton Taxis

Thomastown

13cabs,

Southern Cross

Chauffeurs

Tullamarine

Black & White

Cabs,

Crown Cabs,

Melrose Lounge

Cafe,

Taxi Hire Services,

Transport Security

Cameras

Vermont

Vermont Autogas

West Melbourne

Embassy Café

Wodonga

Wodonga Taxis

QLD

Albion

Delta Taxi Management,

Taxicomms

Archerfield

Transport Security Cameras,

SLYYK Premium Transport

Service

Brisbane Airport

Black & White Cabs

Kelvin Grove

KG Taxi Management

Marcoola

Suncoast Cabs

Maryborough

Black & White Cabs

Mermaid Waters

13cabs Gold Coast

Southport

Black & White Cabs

Salisbury

Occhi's Business Class Taxis,

Crown Cabs

Toowoomba

Black & White Cabs

Virginia

QLD Limo Action Group,

Transport Security Cameras

Wooloongabba

13cabs Brisbane

SA

Adelaide Airport

13cabs - Adelaide

Mile End

Adelaide Independent

Taxis

Wayville

Equity Transport

Kilburn

Suburban Taxis

Mile End South

Taxi Council of SA

WA

NSW

Alexandria

13cabs,

NSW Taxi Council

Arncliffe

Sanitisation

Station

Bankstown

Mikhael & Co

Mech Repairs

Cromer

Manly Warringah

Cabs

Granville

Premier Cabs

Dubbo

Dubbo Bus Lines

Kingsgrove

St George Cabs

Leumeah

Sanitisation

Station

Mascot

RSL Cabs,

GM Cabs

Victoria Park

Swan Taxis Pty Ltd

Belmont

Black & White Cabs

13cabs

Greenfields

Mandurah Taxis

Osborne Park

Nova Communications

Perth Airport

Perth Airport Taxi Rank

Wangara

Transport Security

Cameras

Mayfield West

13cabs

Newscastle

13cabs

North Parramatta

Sanitisation

Station

Padstow

Black & White

Cabs

Prestons

13cabs, Taxi Tech

Seven Hills

Sanitisation

Station

Tamworth

Sanitisation

Station

Wagga Wagga

Wagga Taxis

West Gosford

Central Coast

Taxis

Wolli Creek

Legion Cabs

Wollongong

lllawarra Taxis

ACT

Aerial Taxis

Canberra Cabs

Canberra Elite Taxis

TAS

131008 Hobart

Taxi Combined

Services

NT

13cabs Alice

Springs

Casuarina Blue Taxis

Darwin Radio Taxi
---
STATS

INDUSTRY STATISTICS

AROUND AUSTRALIA

These graphs are compiled from data supplied by each

Australian State's and Territory's Industry Regulator.

NSW

# of Metro & Non-Metro

LICENCE PLATES NSW Taxi Licences

as 7,000 at 30 June 2022

6,000

5,000

4,000

3,000

2,000

1,000

-

Taxi Licences Metro

Taxi Licences Non-Metro

Jun-20 5,336 1,419

Jun-21 4,822 1,457

May-22 5,189 1,445

Jun-22 5,851 1,758

VIC

# of Registered Commercial

Passenger VEHICLES

as at 31 May 2022

Victorian Total CP Vehicles

100,000

90,000

80,000

70,000

60,000

50,000

40,000

30,000

20,000

10,000

-

47,584

68,644

86,757

88,835

92,926

30-Jun-18 30-Jun-19 31-Jul-20 30-Jun-21 31-May-22

# of Passenger Transport (PT)

DRIVER LICENCES as at 30 June 2022

NSW Driver Licences

140,000

137,146

135,777

135,000

132,619

130,752

130,000

# of Registered CPV DRIVERS

as at 31 May 2022

140,000

120,000

100,000

80,000

VIC TOTAL CPV DRIVERS

83,538

102,116

112,936

115,363

118,156

117,112

125,000

123,975

60,000

120,000

40,000

115,000

Jun 20 Jul 21 Dec 21 May 22 June 22

20,000

-

01-Jul-18 01-Jul-19 01-Jul-20 30-Jun-21 31-Mar-22 31-May-22

30 August 2022
---
TAS

# of Registered Transport Services

VEHICLES

as at 30 June 2022

Tas vehicles

2,000

1,800

1,600

1,400

1,200

1,000

800

600

400

200

-

Taxis & Luxury Hire Cars Ride-sourcing

30-Jun-21 543 1,335

31-Mar-22 532 1,676

30-Jun-22 515 1,822

ACT

30-Jun-21 31-Mar-22 30-Jun-22

# of Registered PUBLIC VEHICLES

ACT VEHICLES

as at 30 June 2022

3,000

2,500

2,000

1,500

1,000

500

-

Hire Cars Taxis Rideshare

30-Jun-21 48 242 2,583

31-Mar-22 45 178 2,572

30-Jun-22 43 204 2,636

# of Registered PUBLIC VEHICLE

DRIVERS

ACT DRIVERS

as at 30 June 2022

6,000

5,000

4,000

3,000

2,000

1,000

-

30-Jun-21 31-Mar-22 30-Jun-22

Hire Car Drivers Taxi Drivers Rideshare Drivers

30-Jun-21 627 2,637 4,482

31-Mar-22 654 2,538 4,673

30-Jun-22 667 2,563 4,813

QLD

# of Registered Personalised

Transport LICENCES

as at 30 June 2022QLD Vehicles

20,000

18,000

16,000

14,000

12,000

10,000

8,000

6,000

4,000

2,000

-

NT

# CP VEHICLES nt as vehicles at 30 June 2022

800

700

600

500

400

300

200

100

-

nt drivers

# CP DRIVERS as at 30 June 2022

1,600

1,400

1,200

1,000

800

600

400

200

-

Limousine Taxi Service Booked Hire Service

30-Jun-20 499 3,253 17,459

30-Jun-21 491 3,250 16,215

30-Jun-22 475 3,248 14,489

Taxis

Taxi

Multiple

Purpose

Taxis

Private Hire

Cars

Private hire car

Rideshare

01-Jul-21 187 48 14 681

31-Mar-22 178 44 8 642

30-Jun-22 180 44 9 715

01-Jul-21 1,340 471 1,285

31-Mar-22 1202 414 1340

30-Jun-22 1162 404 1397

30-Jun-21 31-Mar-22 30-Jun-22

www.drivenow-magazine.com.au

August 2022

31
---
Singapore's ComfortDelGro

BEHIND ENEMY LINES

AT A2B by Anthony Macdonald, Sara Thompson and Kanika Sood | Street Talk

If you believe every dog has its

day, it could be worth taking

a fresh look at A2B in light of

moves by substantial investor

ComfortDelGro.

Singapore-listed ComfortDelGro,

which has a big Australian

transport business, last

week added Sydney-based

businessman Russell Balding as

the first ever overseas-based

director to get a seat around its

boardroom table.

ComfortDelGro said Balding

would bring "extensive

government, stakeholder,

community and customer

engagement experience having

held numerous directorships and

senior executive positions in a

number of major organisations".

Indeed, one of those

directorships was at A2B (then

called Cabcharge), where Balding

was chairman until 2016.

During his tenure, ComfortDelGro

and Cabcharge were co-investors

in a NSW buses joint venture,

running contracted bus routes

in Sydney and Newcastle,

before ComfortDelGro acquired

Cabcharge's 49 per cent stake in

2017.

While the joint venture's over,

ComfortDelGro has quietly sat on

its 7.5 per cent A2B equity stake,

watching the company's value

shrink as it all but disappeared

from most Australian fund

managers and stockbroking

teams' radars.

In hiring Balding to its board,
---
WA

18,000

16,000

14,000

12,000

10,000

8,000

6,000

4,000

2,000

0

STATS

CONTINUED FROM PREVIOUS PAGES

# of On-demand VEHICLES WA

as at 30 June 2022

On-demand rank or

hail

On-demand charter

31-Dec-20 2,295 16,302

30-Jun-21 2,252 15,592

30-Jun-22 2,122 14,219

SA

# of Registered Point to Point

VEHICLES

as at 30 June 2022SA - Vehicles

5,000

4,000

3,000

2,000

1,000

-

SPVs -

Weddings/Tours

Chauffeur

Vehicles

Taxis Rideshare

01-Sep-20 175 384 1,299 4,211

01-Jul-21 195 374 1,355 4,725

30-Jun-22 193 358 1,212 4,689

# of Registered Point to Point

DRIVERS

as at 30 June 2022SA - Drivers

6000

5000

4000

3000

2000

1000

0

Taxis Only

Rideshare, Country Taxi &

Chauffeur

01-Sep-20 4817 5553

01-Jul-21 4343 5234

30-Jun-22 2547 5236

ComfortDelGro said it wanted to

expand its Australian footprint,

which was already its biggest

exposure outside of Singapore.

The group, having cancelled

plans to spin off its Australian

buses on to the ASX via Credit

Suisse and UBS last year, appears

to be thinking about other

opportunities, to add to its

Aussie portfolio which includes

buses and even a Western

Australian taxi business, Swan

Taxis.

Which brings us back to A2B, a

company ComfortDelGro knows

extremely well and whose

market value has diminished to

$140 million.

Acquiring A2B could give it a truly

national presence in Australia,

along with greater scale and

ability to lead consolidation in

the taxi industry.

If they pounced in the near term,

they could get a company with

depressed earnings, still reeling

from the COVID-19 drop-off in

taxi volumes, and one that's still

trying to box its way out of a

corner.

And in bringing Balding into

the fold, they have a seasoned

dealmaker who could potentially

help make it all happen.

It looks to Street Talk like one to

watch. While there's no concrete

evidence that ComfortDelGro has

an A2B play on the cards, there

are a few dots that can easily be

joined.

www.drivenow-magazine.com.au

August 2022

33
---
Driver JOBS

CANBERRA

ACT CABS (CANBERRA TAXI SERVICE)

We are now hiring and training new taxi drivers in

Canberra. Day and Night shifts, full-time, part-time and

casual positions are available. North and South side taxis,

weekday and weekend shifts are available. Immediate

start is available for drivers who already have a valid ACT

Taxi driver licence (upon company induction).

If you don't already have a taxi driver's licence then to be

eligible, you need to have a full Australian Driver Licence

(it is the law), Working with Vulnerable People Check

(WWVP), and basic medical examination.

Benefits of the job are flexible work, easy to learn & fast

training, taxi's provided by employer. All expenses (fuel,

insurance, rego, wear and tear of vehicle, maintenance,

etc.) are covered by the employer once you start work.

Call (02) 6103 0882 or email info@actcabs.com.au.

NEW SOUTH WALES

LAKEMBA

Looking for a taxi driver to drive my 13cabs taxi. Weekly

lease. Please call on 0424 128 874 for further discussion.

KATOOMBA

Are you a people person? Do you enjoy driving? You will be

loading and unloading wheelchair clients. We also operate

as a maxi cab or a regular cab.

We do trips of walking groups to Jenolan cottages and

other destinations. Also, trips into Megalong Valley

wineries and wedding venues. Experience in the taxi

industry is an advantage but not necessary. Training and

uniform will be supplied. Day shifts available mid-August

and night shifts available now. Phone 0411 575 914.

ROCKDALE / KOGARAH AREA

Need a full-time 13cabs driver. Day shift and night shift

available. Please text me on 0414 984 832. Brand new taxi.

BYRON BAY

Taxi Driver Positions Available. Day and night shifts

available every day of the week. Send us your email

address and we will forward an information pack. Email -

operations@byronbaytaxis.com

SOUTH TAMWORTH

Existing positions available for Taxi drivers. Day and night

shift available. Phone 0456 441 538.

SALAMANDER BAY

Nelson Bay Taxis are looking for additional driver to assist

in the transport of passengers on the Tomaree Peninsula

and beyond. New drivers will need to have held a full

NSW Driver Licence for a minimum of two years, have a

clear Criminal History and hold or are willing to obtain an

ABN that is registered for GST. A WWCC would also be

beneficial. Please contact Nelson Bay Taxis on (02) 4984

7766 during office hours to register your interest.

BAIRNSDALE

VICTORIA

Want a lifestyle change? Then come, live and drive in a

beautiful part of Victoria, for what we believe is the most

progressive, forward thinking taxi company there is! Our

drivers get 60% of the meter. Our fleet is the most modern

fleet of taxis there are, including the very latest digital

in-car radio system. Interested, then call Steve, Bairnsdale

City Taxis, The Pride of East Gippsland, 0472 529 924.

FRANKSTON

Weekend taxi driver needed. Camry Hybrid, available to

drive Friday to Sunday. Call 0413 891 313.

GLENROY

13cabs and Silver Top taxi driver WANTED! Day and Night

shifts. Looking for full time drivers. Vehicle is TOYOTA

Camry. Please call Taylan on 0408 565 787.

HAMPTON PARK

Taxi available for Monday to Friday based in south east

Melbourne. LPG fuel. Very well maintained Toyota Camry.

Call 0434 159 601.

MORWELL

We are an independent taxi company in Morwell. Looking

for someone who is willing to work 10-12 hrs a day. We are

flexible on the days you want to work. Must be willing to

help our elderly customers and provide great customer

34 August 2022
---
OWNERS, OPERATORS

& DRIVERS

ADVERTISE

HERE FREE

Send details (word limit=50) of your

DRIVER or JOB advertisement to

contact@drivenow-magazine.com.au

or sms 0400 137 866 and we will print

your advert here for 3 months.

service. Want to earn a good amount of money while

having fun, then this taxi job is for you. Full training will be

provided to the successful applicant. Phone 0411 275 066.

SUNBURY AREA

45/55 a lot of work. Looking for full-time drivers only. Must

have taxi driver accreditation. Call 0404 020 333. Looking

for someone to start asap. Will teach new driver how to

use a system, if needed.

SHEPPARTON

Lots of opportunities than Melbourne to operate an

INDEPENDENT taxi in Shepparton. No expensive local

network fees. Ralph 0473 189 190.

SHEPPARTON

Shepparton Taxis Pty Ltd now has opportunities to join

our fleet as a taxi operator. A limited amount of leases

are available. If you are interested in operating your own

taxi, please contact (03) 5331 4367 or email stephen@

shepptaxis.com.au.

EAST DONCASTER

Must be 25+ years old. At least 3 years experience. East

Doncaster changeover. Call or SMS Tony on 0413 393 594

or email tonysursock@gmail.com.

QUEENSLAND

COOLANGATTA/TWEED HEADS

Is it time to enjoy the great outdoors, beautiful weather

and laid-back lifestyle? Then the magnificent border area

of Tweed Heads / Coolangatta is the place for you. Earn

a few dollars while you are here by driving one of our

modern taxis. Plenty of shifts available. Phone 0439 769

259 now!

TOWNSVILLE

Single car Owner/Operator looking for a motivated driver

who is flexible on shifts available and wants to get on with

the business of making money. New to town or looking

to become a Taxi Driver, no problem, as in-depth training

can be provided to help reach your full earning potential.

Contact Darren 0407 597 908 to learn more about what's

on offer.

BRISBANE

Crown Cabs are looking for drivers. All shifts available – 7

days per week. Please phone Tuna Guclu on 0419 484 666.

\

WESTERN AUSTRALIA

MORELY & PERTH

Drivers wanted full-time or part-time in Morley and Perth

or Crown Cabs. Contact Tuna Guclu on 0419 484 666.

BROOME

Take the Driver's Seat in Broome's best taxi fleet. Airfares

included to Broome and accommodation provided. Drive

for an established Taxi business and enjoy the fantastic

lifestyle of Broome. APPLY NOW to drive with us in

Broome. Email: Res@broometaxis.com.au

PERTH

Black & White Cabs are looking for drivers. Day shifts (5-7

days). Call Georgina on (08) 9230 0400.

SOUTH AUSTRALIA

TRANMERE

Friday or Saturday Night Driver wanted. Immediate start.

Call 0416 821 840.

DRIVER CAREERS

If you're thinking of a career as a taxi driver, come and join

Adelaide's largest taxi company. Great income potential

with all shifts available in all metro areas. Call ADELAIDE

INDEPENDENT TAXIS on (08) 8202 1200 to book your free

information session.

www.drivenow-magazine.com.au

August 2022

35
---
Toyota announces...

MORE PRODUCTION CUTS,

LONGER WAIT TIMES

Toyota will suspend production

at nine lines across six of its

Japanese plants during August,

slashing planned output for the

month by about 150,000 cars.

The company blames ongoing

COVID-related parts shortages in

its supply chain, and the everpresent

lack of semiconductors.

Toyota Motor Corp (TMC) still

says its global production volume

for August through October

is estimated to average about

850,000 units per month, and

its production forecast for the

Japanese (April to March) fiscal

year remains unchanged at

approximately 9.7 million cars.

But it's hard to see this happening,

since Toyota Motor Corp has

been slashing its production all

year – having posted more than 20

production bulletins and subsequent

amendments since January.

Multiple dealers are telling

customers to expect waits of

around 18-24 months on a newly

ordered Toyota RAV4 hybrid and

12-24 months on a Toyota Camry

hybrid – two cars in huge demand

on account of today's record fuel

prices.

The average suggested lead times

on the LandCruiser 300 Series are

likewise listed as 18-24 months

– we know the related Lexus LX

also has year-long waits as well –

while the LandCruiser 70 is listed

as subject to wait times of four

years, "or never".

For its part, Toyota Australia

acknowledges the long waits but

says there's not really a one-sizefits-all

timeframe, because each

dealership has different pipelines.

"Demand for new vehicles is

at unprecedented levels. In

Australia, to support the strong

36 August 2022
---
y Mike Costello | CarExpert

demand, Toyota Australia been

working closely with our global

production teams to secure as

many vehicles for our market as

possible," it said recently.

"Wait times vary depending

on the model, variant and

specification requirements of

each customer. The RAV4 Hybrid,

Camry Hybrid, LandCruiser 70 and

LandCruiser 300 are in particularly

high demand and currently have

longer wait times.

"Due to the evolving nature of

this situation, Toyota dealers

are best placed to continue to

provide updates to customers on

delivery timeframes for individual

orders."

Toyota Australia has removed

the customer web order tracking

feature from its website, instead

telling customers to contact

their "selling dealer" for arrival

updates.

"… Unprecedented demand for

our vehicles, combined with the

global automotive industry's

shortages of semiconductors

and other components due to

COVID supply chain challenges,

has unfortunately resulted in

extended customer wait times

for many vehicles," said TMCA

president and CEO Matthew

Callachor.

"Toyota apologises sincerely

for the inconvenience being

experienced by affected

customers, and thanks them for

their loyalty and patience."

"I want to assure them that we

and our global production teams

are doing everything in our power

to secure the maximum number

of vehicles for our market and as

quickly as possible."

www.drivenow-magazine.com.au

August 2022

37
---
OVERSEAS

News

38 August 2022
---
'SOME TIP THAT'

Huge £103 tip handed to delighted

London taxi driver

by Perry Richardson | taxi-point.co.uk

LONDON - A delighted and surprised

London cabbie was thrilled after

a passenger left a HUGE tip after

taking a black cab from Heathrow

Airport.

The taxi driver posted a copy of the

card payment receipt showing the

gratuity payment of over £100.

The passenger left a £103.20 tip, on

top of the £106.80 fare, after taking

a taxi from Heathrow Terminal 2 to

Greenwich.

The delighted taxi driver simply said:

"Some tip that. Wallop."

TIPPING IN TAXIS

Taxi customers use several ways

to work out a suitable tip in the

UK, although rounding up fares

or adding a percentage remain

the most common ways to tip taxi

drivers.

The exact amount a customer tips

may depend on how much loose

change they have available in their

pocket, the value of the fare or the

percentage they feel comfortable

paying. A tip value between 10-15% is

most common in the UK.

For others the amount depends on

the level of service provided above

and beyond what is expected. The

level of gratuity rewarded might be

higher if the driver helps with large

amounts of heavy luggage, provides

insightful information based on their

knowledge of the city or they get

their passengers to their destination

in time when faced with challenging

conditions or traffic.

Tipping is not a legal requirement,

but there is a long-standing

etiquette within industries that

provide a service. The decision

remains entirely with the passenger,

but gratefully received by the driver.

2ND JOBS & SIDE HUSTLES

behind surge in taxi driver numbers

UNITED KINGDOM - The pandemic

and now the cost-of-living crisis has

been tough on taxi drivers over the

last couple of years, as households

feel the pinch and rein in social

nights out.

However, the number of taxi drivers

is actually on the rise with a surge

in new drivers, likely as a result of

many families adding side hustles

and second jobs to help cope with

rising energy and grocery bills.

www.drivenow-magazine.com.au

Taxi data from one of the UK's

largest price comparison websites,

Quotezone.co.uk, found that the

number of taxi drivers is up 12%

from January to May 2022, when

compared to the same time period

in 2021, using a sample size of over

45,000 taxi insurance policies across

the UK.

The most common taxi driver is

still those that have held their taxi

badge for over 10 years, however

August 2022

new drivers that have held their taxi

badge for under 6 months, is up by a

staggering 390%.

Interestingly, Uber drivers make up

48% of all taxi drivers in the UK.

Greg Wilson, price comparison

expert and Founder of Quotezone.

co.uk, comments: "It's not

surprising that new taxi driver

numbers are soaring, the flexible

working hours and relative ease

39
---
OVERSEAS

News

of set up makes it the ideal side

hustle for those looking to fit more

working hours around their existing

job or family commitments, to help

combat rising household costs.

There was no movement amongst

the choice of taxis this year,

understandable given waiting lists

for new cars are, in some cases, now

over a year long.

Interestingly the UK-wide top

taxi choice is a hybrid vehicle, the

Toyota Prius – with no change to

the top five most popular makes

and models – revealed as the Toyota

Prius, Mercedes-Benz E220, Skoda

Octavia, Volkswagen Passat and the

Ford Mondeo, in that order.

Originally printed in MOTORING

TAXI OPERATOR CLOSURE

has 'left a gap' in local transportation services

by Winston Szeto

BRITISH COLUMBIA, CANADA -

Bulkley Valley Taxi was the only

cab company in Smithers, British

Columbia, Canada (B.C.), before it

closed in May 2022.

In May, Paddy Hirshfield and Patrick

Hibbitts said they would close

Bulkley Valley Taxi as the market

in Smithers — roughly halfway

between Prince George and Prince

Rupert, and home to a little over

5,300 people — isn't robust enough

for them to continue operating.

That has left residents and visitors

without taxis to and from the

local airport, about 5.4 kilometres

from downtown, a route that isn't

covered by B.C. Transit buses.

Daniela Bork, general manager

of Prestige Hudson Bay Lodge in

the downtown area, says she has

received cancellation requests from

corporate customers who had

booked business conferences for

the fall.

"[They] cancelled their entire events

due to the lack of transportation

being able to get to and from the

airport, but also transportation

within the town," Bork said, adding

that many of them have decided

to relocate their events to hotels in

Terrace, about 200 kilometres west

of Smithers.

According to Al McCreary, chair

of Tourism Smithers, travellers at

Smithers Regional Airport need to

book rental cars several weeks in

advance, as no taxis are available to

take them downtown.

He said Tourism Smithers has

written to the town council about

the lack of taxi services, and that

he is meeting with councillors and

local businesses to discuss solutions,

including expanding the communityrun

shuttle service that currently

serves seniors only.

The issue isn't new to Smithers

however, according to Mayor Gladys

Atrill.

She says the closure of Bulkley

Valley Taxi "has left a gap" in their

transportation services, but that the

town's market is too small for taxi

operators to sustain their business.

40 August 2022
---
e

ING

TRADE

DIRECTORY

ADVERTISE

HERE

We Are

HIRING

We Are

AND GET

YOUR

BUSINESS

NOTICED

HIRING

Drivers | Forklift Operators | Parcel Sorters | Sub-con

FOR FULL DETAILS VISIT

www.drivenow-magazine.com.au/2022-specials.html

Why work with us?

Family owned business (to us you're a person, not a number)

Safety focus (your safety is at the centre of everything we do)

ers | Forklift Operators Role specific | Parcel training Sorters | Sub-contractor provided (Drivers)

Drivers | Forklift Development Operators opportunities

| Parcel Sorters | Sub-contractor (Drivers)

with us?

owned business (to us you're a person, not a number)

focus (your Why safety work is at with the centre us? of everything we do)

Register your interest

ecific training provided Family owned business (to us you're a person, not a number)

Safety focus (your safety is at the centre of everything we do)

pment opportunities

Register your interest

Role specific training provided

1300 100 BEX

Development opportunities

Select Option 3 Scan

1300 100 BEX

Select Option 3 Scan

CAR

WASH

BEST

BURGERS

IN TOWN

Embassy

Cafe

547 Spencer Street

(Cnr Roden Street)

WEST MELBOURNE

FREE HOT DRINK

WITH EVERY AUTO CAR WASH

MELBOURNE AIRPORT UNIGAS

MELROSE DRIVE, TULLAMARINE

Hot drink available at Melrose Lounge - Taxi Holding Area

Collect voucher from Unigas Office

Regist

1300 10

Select Op

www.drivenow-magazine.com.au

August 2022

41
---
Only $ 35 for

50 words

Payment details are

listed on page 4

LEASES WANTED - Brisbane

We are expanding in Brisbane. We will pay $100 to lease

assignments. Call into our office in Salisbury & ask for Tuna

Guclu or call 0419 484 666 to discuss price & terms.

CPV Centre www.cpvcentre.com.au

ONE STOP SHOP FOR ALL YOUR CPV REQUIREMENTS

• Latest Taxi Camera Technology - 1080 1TB HD

• RIDESHARE Mini Internal Cameras

• Taxi Domes - Stickers - Tactile / Braille Numbering

• Independent Taxi SET-UP • Car Window Tinting

• Cabcharge supply - installation - repairs

• 30 years Master Mechanic Equipment Installation

COMPETITIVE PRICES Call us on: 0434 423 423

Transport Security CAMERAS

Approved industry cameras

* Latest Technology MDVR, internal & external

* 1 Tb heavy duty Hard Drive

* Audio & video capable

* Warranty 100% on all parts & equipment

* Lowest installation fees

* Over 28 years experience in the Transport Industry

We will BEAT any Price

Book your next appointment on our website at

www.transportsecuritycameras.com.au or

phone/SMS: 0419 484 666.

DISCOUNT TAXI EQUIPMENT

Specialists

Everything you need for an Independent Taxi

• Rent or Buy - installments available for Approved

Customers

• Low Cost Taxi Cameras

• G5 Taximeters - protect your privacy and keep control of

your business

• Automated CPVV Booked Trip Reports

• Duress Alarm and Tracking

• EFTPOS and MPTP installations

• Roof Lights and Spot Lights

• Roof Racks

• 2 year warranty on all installations

• Decals and Tactile door numbers

• Professional Back-up Service

• More than 40 years experience fitting Taxis

Schmidt Electronic Laboratories Pty Ltd

907 Princes Highway, Springvale, Vic.

Ph: (03) 9546 6990 — Email: info@schmidt.com.au

Website: www.schmidt.com.au

FOR SALE: Taxi Business - VIC

Want a change of scenery? Want to work in a country town with

a wonderful community? Cohuna and Koondrook Taxi Service is

up For Sale. We have 2 taxi vehicles - 1 x FG XR6 (100,000 kms)

and 1 x FG XR6 (200,000 kms). We do everything including DVA

work and blood transfers from Cohuna Hospital to Swan Hill,

Echuca and Rochester. Interested? Call Chris or Sue on 0427

562 974 to find out more details.

FOR SALE: Taxi Business - VIC

Surfcoast Taxis. Working along our beautiful coast lines, Great

Ocean Road through to Colac, Bannockburn and Geelong. Great

growth areas with room to expand. We have 5 x10 seater Maxi

vans all with 2 wheelchairs access and 10 late model Hybrid

Camrys. Permanent work for all cars. Call Stan - 0429 672 888.

FOR SALE: Taxi Business - QLD

Macleay Island Taxi Service. Proven business operating 30+

years. Independent of major taxi companies, setting its own

hours and fares. Bookings by mobile phone and fare payments

are cash or EFTPOS. Home-based business incl:- 3 Hi Ace WAV

Taxis including 1 x NEW auto Hi Ace with only 40,000kms and

all related equipment and spare parts. For more information call

0468 428 873 or email daza9900@gmail.com.

FOR SALE: Taxi Business - WA

Situated on the south coast of WA servicing two towns. Very

profitable business consists of 2 x 7-seat people movers and 3

sedans. Also associated are two further vehicles, an eight seat

people mover and a small SUV. In the process of converting to

computer dispatch and reporting. Contact Ian 0423 279 809.
---
Ask R U OK? No qualifications needed

R U OK?Day is 8 September 2022. It's our national day of action

when we remind Australians to start a meaningful conversation

whenever they spot the signs that someone they care about might be

struggling.

Our research has found four in ten Australians feel that asking

someone, 'are you OK?' is a conversation better had with an expert.

However, R U OK? want you to know you don't need to be an expert

to have an R U OK? conversation. The work of health professionals

is vital, and their value cannot be underestimated however we can all

play a role in supporting the people in our world.

Ask R U OK? No qualifications needed, because a conversation

could change a life.

R U OK?Day

resources

We've

launched

posters, social

media tiles,

activity sheets,

videos and

more - free

for you to

download and

share.

Advertisers'

Directory

AMS Ivanhoe Lawyers.................. 25

Border Express.........................17, 41

Embassy Cafe................................ 41

Martin Meters Oz Cab Store........ 14

Melbourne Airport Car Wash....... 41

Oiii..................................................... 12

13cabs............................................. 44

R U OK?............................................ 43

Rod Barton MP............................... 21

Safe Transport Victoria........... 22-23

Southern Cross Hire Cars............ 19

TIAIB....................................................2

Transport Matters Party........... 3, 15

www.drivenow-magazine.com.au

August 2022

43
---
Get a better deal

behind the wheel.

Drive with 13cabs and get

paid what you're worth.

Get the support of a great network

Build your own business

Get to work your own hours

13cabs.com.au

1800 546 687