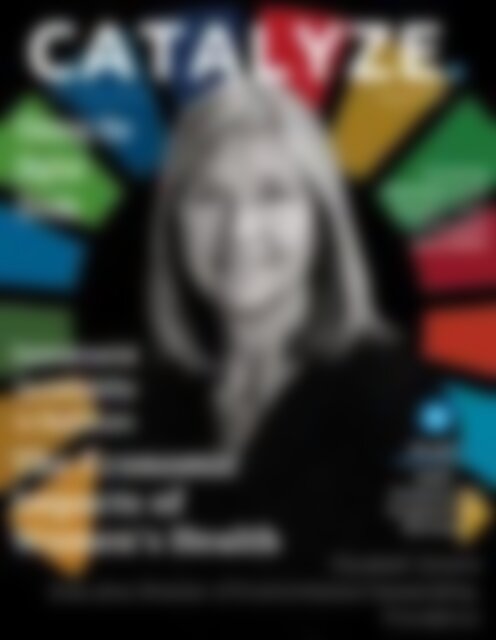 Catalyze August 2022
The August 2022 Edition of the Award Winning Catalyze Magazine by Ideagen Global is now available, join the millions of readers who are inspired by the exclusive interviews with global leaders and luminaries from the world's leading companies, NGOs and public sector organizations. Ideagen Global is "Presented Globally by Microsoft" - www.IdeagenGlobal.com
The August 2022 Edition of the Award Winning Catalyze Magazine by Ideagen Global is now available, join the millions of readers who are inspired by the exclusive interviews with global leaders and luminaries from the world's leading companies, NGOs and public sector organizations. Ideagen Global is "Presented Globally by Microsoft" - www.IdeagenGlobal.com

SHOW MORE
SHOW LESS
Create successful ePaper yourself
Turn your PDF publications into a flip-book with our unique Google optimized e-Paper software.
CATALYZE.

B Y I D E A G E N August 2022

Closing the

Digital

Divide

Featuring

Highlights from

Ideagen's June

Washington

Roundtable

Environmental

Sustainability

in Healthcare

The Economic

Impacts of

Women's Health

PLUS

AARP

Presents: The

Purpose Prize

Honorees

Elizabeth Schenk

Executive Director of Environmental Stewardship,

Providence
---
CATALYZE.

B Y I D E A G E N August 2022

Environmental

Sustainability

in Healthcare

The Economic

Impacts of

Women's Health

Featuring

Highlights from

Ideagen's June

Washington

Roundtable

Closing the

Digital

Divide

PLUS

AARP

Presents: The

Purpose Prize

Honorees

Carolee Lee

Founder & CEO, WHAM
---
CATALYZE.

B Y I D E A G E N August 2022

Closing the

Digital

Divide

Featuring

Highlights from

Ideagen's June

Washington

Roundtable

Environmental

Sustainability

in Healthcare

PLUS

AARP

Presents: The

Purpose Prize

Honorees

The

Economic

Impacts of

Women's

Health

Dr. Jean Accius

Senior Director of Global

Thought Leadership, AARP
---
CATALYZE.

B Y I D E A G E N August 2022

Environmental

Sustainability

in Healthcare

Featuring

Highlights from

Ideagen's June

Washington

Roundtable

Closing the

Digital Divide

The Economic

Impacts of

Women's Health

PLUS

AARP

Presents: The

Purpose Prize

Honorees

Jane Oates

President, WorkingNation
---
CATALYZE.

B Y I D E A G E N August 2022

Closing the

Digital

Divide

Featuring

Highlights from

Ideagen's June

Washington

Roundtable

Environmental

Sustainability

in Healthcare

The Economic

Impacts of

Women's Health

PLUS

AARP

Presents: The

Purpose Prize

Honorees

Grace Koh

Vice President & Head of Government Affairs

Nokia North America
---
CATALYZE.

B Y I D E A G E N August 2022

Closing the

Digital

Divide

Featuring

Highlights from

Ideagen's June

Washington

Roundtable

Environmental

Sustainability

in Healthcare

The Economic

Impacts of

Women's

Health

PLUS

AARP

Presents: The

Purpose Prize

Honorees

Amb. Patrick Theros (ret.)

Former U.S. Ambassador to Qatar
---
CATALYZE.

B Y I D E A G E N August 2022

Closing the

Digital Divide

Featuring

Highlights from

Ideagen's June

Washington

Roundtable

Closing the

Digital Divide

Environmental

Sustainability

in Healthcare

The Economic

Impacts of

Women's Health

Sheri Hashemi

Project Team Lead, Boeing

PLUS

AARP

Presents: The

Purpose Prize

Honorees
---
CATALYZE.

B Y I D E A G E N August 2022

Closing the

Digital

Divide

Featuring

Highlights

from

Ideagen's June

Washington

Roundtable

PLUS

Environmental

Sustainability

in Healthcare

AARP

Presents: The

Purpose Prize

Honorees

The Economic

Impacts of

Women's Health

Steven Tingus

National Disability Policy & Diversity & Inclusion Expert

Actor & Executive Producer
---
CATALYZE.

B Y I D E A G E N August 2022

Closing the

Digital

Divide

Featuring

Highlights from

Ideagen's June

Washington

Roundtable

PLUS

AARP

Presents: The

Purpose Prize

Honorees

Terri Winston

Founder & Executive Director, WAM

Environmental

Sustainability

in Healthcare

The Economic

Impacts of

Women's Health
---
THE ECONOMIC

IMPACTS OF

WOMEN'S

HEALTH

CAROLEE LEE - FOUNDER & CEO

WOMEN'S HEALTH ACCESS MATTER

WHAM was created because of a need that I realized existed that hadn't

been fulfilled. And it had to do with the fact that I had built a successful

international brand and women were at the heart of my company, both as

my customers and my employees. They were 85% of my workforce. And I

was an entrepreneur who started at my kitchen table and grew and built a

global brand and eventually successfully sold it. And so I can tell you from

firsthand experience that women's health is an issue that we can't afford to

ignore. And my role led me to think a lot about the economic impact of

women and to see that impact firsthand. And I also saw the ways that

health issues could impact women's finances and their careers and the

effect that illness could have on someone, on their family, on their business.

And it shows in our entire economy. Women are more than 50% of the U.S.

population and workforce and control over 60% of personal wealth. And

they're also responsible for over 85% of consumer spending in the U.S. -

more than $11 trillion - and make over 80% of healthcare decisions. Along

with women driving our economy, our data shows that companies where

women are well represented at the top outperform their peers. Yet women

are still vastly underrepresented in the C-Suite. For example, this year a

record 44 women are running fortune 500 businesses. It's certainly progress

where it's celebrating, but it still means that just 44 out of 500 companies,

or 8.8%, are women led .

CATALYZE MAGAZINE | 1
---
CATALYZE MAGAZINE | 2

THE ECONOMIC

IMPACTS OF

WOMEN'S

HEALTH

I saw what was happening in the landscape and in the scientific

community in particular and I asked, "What is more important than our

health?" So for example, the OCD's latest report showed that women are

underrepresented in research careers (and to its credit, the OCD now has an

office of sex and gender research). However, across OCD's 36 member

countries, women comprise only around 40% of all researchers and they

are considered to be less likely to be in leadership positions. So I launched

WHAM, a nonprofit nonpartisan organization to increase the awareness of

and accelerate funding for women's health research because women's

health is a societal and economic issue that none of us can afford to ignore.

And although women drive the economy and make the majority of

healthcare decisions across the globe, women are still an under studied

species and continue to be underrepresented in vital health research. How's

that possible? As a business leader, I tend to look at problems with

economics in mind, and I believe that change starts with data. And so it

became apparent to me that we lacked evidence. We lacked data about

the economic costs, benefits, and social impacts of lack of attention to sex

and gender and health research. And that the medical research gender gap

is a major obstacle to not only achieving equity in healthcare, but to

advancing the health and wellbeing of women around the world. As

women globally drive the economy, that gap is holding us all back, which is

why we're grateful that Ideagen is helping us bring this conversation to

light.
---
GETTING THE

JOB YOU

WANT

JANE OATES

PRESIDENT, WORKINGNATION

Everybody who is having a difficult time getting the job that they want is

somebody that we should concentrate on. But I think if I were to paint a

broad brush, I'd say the two extremes are the most stressed right now. For

those just entering the workforce, whether directly from high school, from a

two-year or four-year degree, or from a professional degree, it's a new world.

And they're having a very hard time getting started mainly because almost

every job listing that I see says three to five years experience. Well, if you did

your job as a student and studied hard and graduated you didn't have time

to have a full-time job while you were doing that. So where did you get that

work experience? Not everybody accepts the fact that you should get an

internship or it would be great to have some kind of work-based learning

experience. It just doesn't exist in every corner of the United States yet.

Maybe we'll correct that soon. And then when I say the book ends, older

workers are having a really hard time. And by older, I mean 50 and older.

Somebody who gets laid off at 50 and was in middle management is having

a really tough time finding a job that pays the same or has a similar job title.

They don't want to go back and start over again. They earned their position

with that old employer. And they want to find a position that's at least as

good in terms of both salary and status. So I think there's a little bit of

discrimination on both ends. When we have AI technology that sorts

resumes, they throw somebody out that could be a great, highly qualified

candidate because they don't have that three years work experience. And

quite frankly, with an older worker, they see that they've been around a long

time and they think, you know, that's not a good candidate because they're

going to come with preset views and maybe too high a salary demand.

CATALYZE MAGAZINE | 3
---
2022 Winners

Purpose Prize

Learn More

Bill Bracken

You live. You learn. You give back.

No one knows this better than people ages 50

and older, who have spent decades

accumulating a wealth of knowledge that only

life experience can bring. Armed with this

wisdom, they are a powerhouse of innovation

tackling some of the greatest societal

challenges of our time and inspiring others to

do the same.

The AARP® Purpose Prize® award supports

AARP's mission by honoring extraordinary

people ages 50 and older who tap into the

power of life experience to build a better

future for us all.

"AARP is honored to celebrate these

extraordinary older adults, who have

dedicated their lives to serving others in

creative and innovative ways," said AARP CEO

Jo Ann Jenkins. "During these trying times in

our country and globally, we are inspired to

see people use their life experiences to build a

better future for us all."

Ify Nwabuku

Raymond Jetson

Rita Zimmer

Alan Miller

CATALYZE MAGAZINE | 4
---
2022

Purpose

Prize

Fellow

Highlight

Terri Winston

Founder and Executive

Director,

Women's Audio Mission

Support Women's Audio Mission

Learn More

CATALYZE MAGAZINE | 5
---
S T A R T I N G A N N G O W I T H T E R R I

W I N S T O N O F W A M

Barb Quaintance:

If somebody came to you and said "I want to start my own

nonprofit, not necessarily about music or technology or

anything, but I want to start a nonprofit on something I

care about," what are three things you'd say you'd have to

know this to get started.

From: Terri Winston, Founder

and Executive Director,

Women's Audio Mission

Terri Winston:

I think the three things would be one: you should be an

expert in the thing that you're going to start the nonprofit

about. It's because you need someplace where you don't

need to learn things. Luckily I was an educator for a decade

and I was an audio engineer and a musician for 20 years

prior to that. So I didn't have to worry about that expertise

or convincing people that I had the expertise. I already had

that experience. So that would be one, make sure you're an

expert, at least functionally in the thing you're going to

work on. And I think two: what was a really helpful skill for

me to have was already having written grants and

proposals for my job as a professor, and then things like

knowing what a theory of change is, and being able, to

figure out what the theory of change is for your

organization. That's so simple. There are so many resources

on how to create a theory of change. The first thing it

would do is it would really help your language on what

exactly you are trying to change and then really crystallize

how you're going to do that. So I think that theory of

change piece, and then tie it to kind of like a business plana

strategic plan. Just learn what that looks like. Like what a

SWOT analysis is.

CATALYZE MAGAZINE | 6
---
CATALYZE MAGAZINE | 7

S T A R T I N G A N N G O

C O N T I N U E D . . .

I think the misconception is that nonprofits don't operate like businesses and that's just not true.

We actually do, we just take the profits and put them back into the organization. So all of those

business skills I think were really helpful to me. I was just, before this call, talking to somebody

who was like, "how do I write grants?" And so I did the same. I told them to look up a theory of

change and look up a basic business plan and just make sure they can do both of those things

for whatever it is you're trying to, to change and start there.

Barb Quaintance:

That's great, that's such a great summary because it indicates you have to have the credibility to

do the work. You can't just say, "I like music, so I'm going to do this," and you have to be

professional. Non-profit does not equal unprofessional. It has to be a professional operation.

How do you measure success in the program? Is it the number of people who come through? Or

something else?

Terri Winston:

That's another thing I should have added. Your question is something like metrics, like, what are

you going to measure? How you are going to measure success is incredibly important for us so

that we can make sure are we serving our communities. Are they happy with it? So we do it

from multiple directions. We obviously are quantitatively measuring success. Like how many

people did we serve this year, as opposed to last year? Are we serving particular communities?

Watch now
---
CATALYZE MAGAZINE | 8

S T A R T I N G A N N G O

C O N T I N U E D . . .

And then the other half of that quantitative is the qualitative analysis. So we do both internal

and external evaluations of our programs. This could look like surveys in the form of both pre

and post-program surveys. It could be one-on-one interviews with mentors and students to

assess their feelings about the program. Did they consider it a success for themselves? Were

they happy with the instruction they received or the support that they received? Same with all

of our programs, from our conferences to our courses for youth, we are definitely surveying and

always also retooling those surveys. Like, are we asking the right questions? Because we're trying

to get at quantitative, like, are people getting jobs after they're done with this, but also like, are

they happy? Did they feel like this was a great program for them? I think both sides are equally

important. But we do meet monthly and land make comparisons to last month and, how we

are going do by the end of the year?

Watch now
---
Health For A Better World

Dr. Rod

Hochman,

President of

Providence
---
HOLLYWOOD

LEGENDS &

BREAKING INTO

THE INDUSTRY

S T E P H E N T I N G U S

Cooper Henderson: What advice would you give someone trying to break into the

Hollywood circle? Be it in inclusion but also on the employment or even acting side, I know

it can be tremendously hard no matter who you are. And I want to take that a step further

and ask you not only what would you recommend of how they break into that, but also

what leadership qualities should someone like that possess?

Steven Tingus: That's a great question. When I started I was doing independent movies. I

always liked to act. I acted in junior high and high school. Then I went into a prior career,

but I would say to work on a crew -being associate producer, helping with wardrobe,

helping with the cameraman. Really learn the specifics of film making, because if you have

that foundation, you are so marketable. I think you've got to start at the bottom. If you

think you're going to come to Hollywood and be a star, then is Hollywood for you? It's a

job. Let's face it; It's a job. And it doesn't mean that you're going to do a lateral movement

from acting to producing. I'm a member of the TV academy because of my work, because

I've done everything already in my 12 years prior, but what I would do and what I hope

others will put in the forefront is to be a part of a project that tells a message, because the

more stories and positive and difficult messages that we get out there in TV and film, the

more people learn about others. So I would first do some independent work, get a talent

agent like I have, and then you're able put your resume out there for entry level jobs.

Because if you're applying to a studio that I'm very close to, like ABC, Disney, or others,

you've got to start at the bottom. And if you have it, they'll recognize it.

CATALYZE MAGAZINE | 10
---
The Impact of

Globalization on

Diplomacy

AMBASSADOR PATRICK THEROS (RET.)

FORMER U.S. AMBASSADOR TO QATAR

Daniel Kerns:

In your opinion , what do you think is one of the most important aspects to

consider when you're trying to interact with individuals that may be from

different areas of the world, but you're trying to form the same symbiotic

relationship together .

Amb. Patrick Theros:

You need to know what it is that affects the interests of the other country.

You need to know what affects the practical interests of the other country.

And you need to know what affects the, for lack of a better term, irrational

interests of another country. Just because war is far more dangerous and far

more destructive to the world as a whole doesn't unfortunately make us

think that everything is sort of automatic, make us think that it's

mechanical or just a well oiled machine working and that we can approach

every issue objectively rationally. We can calculate, we can feed all the

inputs into a computer and the computer will kick out how it is that we can

overcome these problems. What we have not yet figured out is how to deal

with what we think is irrational on the part of the other guy and what the

other guy thinks is irrational on our part. And you see this over and over

again: we have a disagreement with somebody and we tell him that this is

the way the world operates.

CATALYZE MAGAZINE | 11
---
CATALYZE MAGAZINE | 12

The Impact of Globalization on

Diplomacy Continued...

This is where the money is, so you're going to have to join it. And the other

guy sees this as an attack on his dignity. A good example in the United

States is that we never truly internalized the effect of globalization on

American industry. American factories were not being modernized because

it wasn't profitable to. It was more profitable to shift the production of

those factories to other countries or to cheaper parts of the country. There is

a cost to this. The cost is the 10,000 guys who work at the factory in

Youngstown, Ohio. They're out of a job. An economist will sit there and say,

well you can retrain them. They can move to places where there are jobs.

Nonsense. You can't retrain somebody who's been working the same job for

40 years. You can't ask somebody to move from Youngstown, Ohio to

Atlanta, Georgia, because the house that he owns in Youngstown, Ohio has

just lost all its value and he can't sell it for anything. These are intangibles

that you have to account for. I'm using globalization as this shrinking of the

world. And as for geography, I think in some ways, geography has not

become less important. Knowing geography is even more important

because now you're closer to everybody else. When you're fishing in your

waters, you're killing, you're affecting the fishing in the next country's

waters. When you're dumping, pollution into the Gulf Stream ends up in

Norway. I think our biggest problem right now is that education has not

caught up with the changes in the world and particularly human

education, not STEM, not science, not technology, not math, but the kind of

education that teaches you the history and teaches how to deal with other

countries. That has not caught up yet.
---
IDEAGEN GLOBAL IMPACT SUMMIT

Streaming September 8th on Ideagen TV

Ideagen Global "Presented Globally by Microsoft"

and in collaboration with ACS Athens and

ALLILON.net and supported by the American Hellenic

Institute is pleased to present the Ideagen Global

Impact Summit in Athens, Greece with this global

forum for audiences across the planet.

This summit highlights the importance of creating a

sustainable future from both a personal perspective

and a societal one through impactful leaders in your

community. Broadcasting on the Ideagen TV Network,

including Ideagen Radio and Catalyze Magazine.

In Collaboration with:

Presented Globally by

Microsoft

CATALYZE MAGAZINE | 13
---
THE IMPORTANCE OF

DIVERSITY IN STEM

S H E R I H A S H E M I

I am wholeheartedly behind and work towards

sustainable development goal five - empowering

women and girls. I was just looking up the

numbers, and I have a few friends in the research

program with me who are focusing on women as

well as diverse candidates. I think it's like 25-28% of

the STEM - science, technology, engineering, math

- community and occupations that are female. And

so that's such a small number if you think about

what ideas are held by individual people and

personalities and perspectives. So you're really just

getting a

limited perspective on how folks view those lenses, like how you look at a problem.

You're only getting 25% of your possible input. Maybe there are more solutions in

there. Getting candidates of diverse nature and of diverse backgrounds and

perspectives and education and experiences is a really great way of tackling some

of these problems because when you look at a problem for so long, it just inherently

becomes part of the problem. And you might just forget to tell somebody, so when

you get into a new experience with someone who's not necessarily familiar, you

share that perspective, and those elements that might get missed or assumed can

resurface and come back. So these problems fuel more sustainable sources as folks

are really pushing the envelope on commercial space flight and putting people into

lower earth orbit. I really believe that there's a subset of those solutions, and they're

in those folks' heads who were not necessarily being able to incorporate them. And

by going after that and through sustainable development goal five empowering

women and girls, you're going to end up helping elevate and increase that

perspective to solve those problems.

Watch now

CATALYZE MAGAZINE | 14
---
CATALYZE MAGAZINE | 15

ENVIRONMENTAL

SUSTAINABILITY

IN HEALTHCARE

Beth Schenk

Executive Director of Environmental

Stewardship

Providence

Our problem with fossil fuels is two-pronged, or at least the solutions are.

One is efficiency. We are committed to ringing out as much inefficiency as

we can. We have a bigger challenge with natural gas. So natural gas is

something most of our hospitals - all but one today - are built around for

our heating and cooling. HVAC is dependent on our boilers and natural gas.

We're not going to be able to just eliminate those overnight. And also, we're

dependent on that kind of reliable fuel for healthcare. We have to have

backup systems and redundancy. So natural gas is a challenge, but we still

hope we can decrease our natural gas use by 10 to 15% through what we

call deep energy retrofits. Those are looking at, through energy audits at

each site, what are the areas where we have the most opportunity for

improvement and working on those over time. We were fortunate to get

approved last year for the first time for a green revolving fund, which is an

internal funding mechanism such that dollars are set aside and, put toward

these energy efficiency steps. And then we capture through our scorecard

how much energy that actually saves and how much money that saves over

a seven-year period. And then we reinvest that in future energy efficiency.
---
ENVIRONMENTAL

SUSTAINABILITY IN

HEALTHCARE CONTINUED...

Now electricity is another side of the energy coin. And we feel like we have a lot

more opportunity there compared to natural gas. We're working on that from all

the ways that people are with some other more creative ways. LED lighting. We've

got to do that. We're behind the ball if we're not taking care of that. Our building

envelopes, of course, with our new construction, increased pump and fan

efficiency, just the basic nuts, and bolts of energy efficiency work setbacks so that

we can automaticallyturn off parts of our buildings when they're not in use.

Otherwise, they just run very high energy use 24/7. Let me give you another

example of some really good work, some of which has been around for 30 years on

some of our sites: groundwater cooling. There's one hospital that has had

groundwater cooling since 1992. It pumps water out of the ground from a very

cool aquifer (48 degrees) and uses that to run through our chiller and chills the

whole building all summer long. It saves all that electricity and is injected back

into the aquifer with no pollution added. It's a closed loop system. We're installing

more of those now because they have been so successful. It decreases our need for

electricity through a renewable source. But the other thing that's really important

for electricity is identifying renewable electricity. Like I said, for natural gas, we

don't have as many options, but for electricity, we certainly do. And we're doing

that too from - onsite to our green tariffs - with our utilities to power purchase

agreements and virtual power purchase agreements. And with that, we intend to

get to 100% renewable electricity by 2030.

CATALYZE MAGAZINE | 16
---
Global Leader Academy

P R E S E N T E D B Y I D E A G E N

I D

E A G

E N G

L O B A

L . C O M

P R E S E N T E D G L O B A L L Y B Y

M I C R O S O F T
---
CLOSING THE DIGITAL

DIVIDE

GRACE KOH

VICE PRESIDENT & HEAD OF GOVERMENT AFFAIRS

NOKIA NORTH AMERICA

Grace Koh: Technology is incredibly critical to sustainability in particular,

and also obviously to inclusivity and closing that digital divide. Let's talk

about it first from the Nokia standpoint. Nokia is completely committed to

the SDGs. They are committed not only to reducing their own carbon

footprint but also to producing equipment that will help other companies

reduce their carbon footprint. But then there's a third layer that goes on

further where the equipment that we help deploy 5G can actually also help

societies minimize our footprint by helping us allocate resources better and

direct our planning and resources into the right places. So that can help us

use less and target the people that need it the most, making sure that they

are getting the help that they need. So technology can help us reach our

SDGs in a significant way. Nokia is committed to being part of that.

George Sifakis: That's incredible. You mentioned 5G having this impact.

How does the obverse of this happen? How does technological inequality

impact communities and the overall achievement of these global goals?

How does that happen?

CATALYZE MAGAZINE | 18
---
CATALYZE MAGAZINE | 19

CLOSING THE DIGITAL

DIVIDE CONTINUED...

Grace Koh:

Think about the pandemic. That was

a lesson for all of us. I mean, if you

didn't have broadband, you weren't

able to go to work. You weren't able

to go to school. One of the worst

things I heard and saw during the

pandemic was unemployment offices

that were not online. You had people

standing outside in line at these

unemployment offices, masked or

whatever else, standing six feet apart,

spending the whole day because the

staff there was already overloaded

and unable able to provide the

services they needed. What if all of

GRACE KOH

VICE PRESIDENT & HEAD OF

GOVERMENT AFFAIRS

NOKIA NORTH AMERICA

this were put online and actually

done in a way where adoption was no

longer just skin deep but really

penetrated down to the very function

of the organization? That's where we

need to go.
---
CREATING RIPPLING

EFFECTS IN AN AGING

WORKFORCE

DR. JEAN ACCIUS

SENIOR VICE PRESIDENT OF GLOBAL THOUGHT LEADERSHIP

AARP

George Sifakis:

What are some of the most pressing issues that those individuals over 50 are facing

today?

Dr. Jean Accius:

First of all, thank you so much, George, for being a card-carrying member of AARP.

Hopefully, we are doing you a service and representing you well. You are an amazing

example of how aging, particularly in the U.S., looks good. And as I tell people all the

time, as you get older, there is wisdom, experience, and value that comes with that. So

embrace it. With respect to some of the major issues that I know and think we're all

grappling with, particularly in this current climate as it relates to the impact on people

over the age of 50 in the U.S., there are clearly huge economic implications. We're seeing

increases in terms of inflation and increases in terms of the cost of goods and services,

which disproportionately impact those that have a limited and fixed income. So really

thinking about the opportunities to ensure that people have the economic means to

match their life aspirations is something that we're doing very intentionally at AARP. The

Keep Reading at

other area that is of critical importance for people over the age of 50 -and frankly for

workers of all ages - is really thinking about the changing labor market and whether it's

IdeagenMember.com

the Great Resignation, the Great Reshuffle, the Great Reflection, the Great Reorientation;

whatever the Great is, what we do know is the fact that a lot has changed over the last

two plus years and counting, and we need to think about how we leverage the skills and

the insights and the wisdom of a multi-generational workforce. Many companies are

managing five generations at any point in time.

CATALYZE MAGAZINE | 20
---
CATALYZE MAGAZINE | 21

CREATING RIPPLING EFFECTS IN AN

AGING WORKFORCE CONTINUED...

Those companies who are able to leverage that age diversity are those companies that

are going to be more competitive in the marketplace. We also know that age

discrimination is rampant. We've seen that accelerate, particularly since the pandemic.

In fact, we've been doing a survey for many, many years, and nearly 75% of those

respondents indicated that they've seen or experienced age discrimination, particularly

in the workforce, which is one of the highest numbers since we've been actually

collecting this data. So whether it's the economic implications in terms of exactly what

we're seeing, which has a ripple effect in terms of the workforce and a lot of the shifts

that we're seeing in the workplace, and even in some cases, people returning back to the

labor market because of the cost of living has increased so significantly or the age

discrimination that exists, which is stifling economic growth for all of us, we have some

major issues to address in addition to the financial and the workplace issues that I just

mentioned. We also have to grapple with some of the inequities, and I'm going to refer to

inequities in a couple of ways. One is the fact that not only is the population aging, but

we also know that in many cases, people are living much longer. Now, what we also

know is that just because someone is living much longer, their ability to live those extra

years in good health has not kept pace. So in other words, we are seeing an increase in

life expectancy, but we're not seeing an increase in healthy longevity. So you have this

huge gap. So how we start to address those inequities within and across the globe is a

huge issue that we're going to have to grapple with.
---
QUANTUM

LEADERSHIP

PODCAST

SEPTEMBER 2022
---
I D E A G E N ' S P O W E R 1 0 L I S T

10 global leaders who are Changing the World in 2022

Mark Fitzgerald

KPMG

Barb Quaintance

AARP

Steve Israel

Michael Best

Strategies

Dr. Sidhant Gupta

Microsoft

Tomas Thyblad

Nasdaq

Microsoft

Ashley Haynes-Gaspar

Peggy Pelonis

ACS Athens

Jake Herway

Gallup

BJ Moore

Providence

Nick Larigakis

American Hellenic

Institute

CATALYZE MAGAZINE | 23
---
Editor's Note

Dear Ideagen Global Friends and Colleagues,

As we prepare for the September 8th release of the Ideagen Global

Impact Summit and 17 Days of Sustainability in October, Ideagen

Global continues to maximize our efforts with a relentless commitment

to convene the world's greatest minds from the world's leading

companies, NGOs, and the public sector to address the world's most

vexing issues. In 2022, Ideagen TV content will again reach over 100

Million People across the planet with our ubiquitous content

distribution, including inspiring interviews and custom programming to

create awareness and Global Partnerships to Achieve the Goals.

2022 is already an #EPIC year with high-impact hybrid/live events

across the planet, including Athens, Greece, New York, and many other

global destinations! Join the movement at IdeagenGlobal.com for all of

the latest updates.

Sincerely,

GEORGE SIFAKIS

GEORGE SIFAKIS

Editor-in-Chief & CEO

Ideagen

CATALYZE MAGAZINE | 24

COOPER HENDERSON

Lead Publication Editor

DANIEL KERNS

Co-Editor and Chief of Staff

WILL MARTIN

Co-Editor and Senior Fellow

Pictured Top to Bottom

Microsoft's Tilemachos Moraitis

ACS Athens's Peggy Pelonis

Amb. Angelos Pangratis (ret.)

Top Left: Ideagen's Global Impact Summit