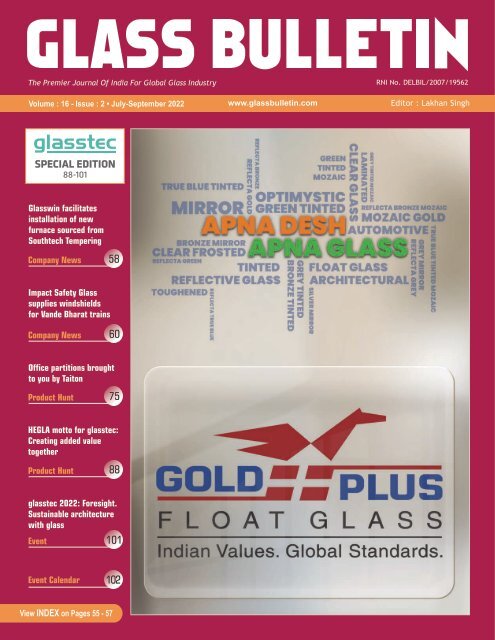 Edition 67 (July-September, 2022)
GLASS BULLETIN is a publishing company, managed by a highly experienced editorial and administrative staff. It has a dedicated and responsible team for providing quality journals and related services to its readers. The company publishes GLASS BULLETIN which is the fastest growing top-notch journal of India for the global glass industry. It is published quarterly and circulated among glass manufacturers, glass processors, glass-machinery & tool manufacturers, art glass processors, glass dealers, architects, builders, aluminium fabricators, interior decorators and the automobile industry across the globe. GLASS BULLETIN is the ideal platform, both in the print and digital media, for worldwide exposition of news, reports, products and exhibitions related to the glass industry. It is a one-stop solution for all queries and needs related to glass–machinery and technology, its innovation, product-procession and marketing in India. By its permanent columns, it enjoys the status of highest readership among all Indian glass journals. GLASS BULLETIN is the media partner for international glass exhibitions in Beijing, Shanghai and Guangzhou in China besides in other parts of the world, including Europe, India and the Middle East. GLASS BULLETIN e-magazine, the first glass-related e-magazine of India, is also available online and on mobile phone, free of cost at http://www.glassbulletin.com
GLASS BULLETIN is a publishing company, managed by a highly experienced editorial and administrative staff. It has a dedicated and responsible team for providing quality journals and related services to its readers. The company publishes GLASS BULLETIN which is the fastest growing top-notch journal of India for the global glass industry. It is published quarterly and circulated among glass manufacturers, glass processors, glass-machinery & tool manufacturers, art glass processors, glass dealers, architects, builders, aluminium fabricators, interior decorators and the automobile industry across the globe.

GLASS BULLETIN is the ideal platform, both in the print and digital media, for worldwide exposition of news, reports, products and exhibitions related to the glass industry. It is a one-stop solution for all queries and needs related to glass–machinery and technology, its innovation, product-procession and marketing in India. By its permanent columns, it enjoys the status of highest readership among all Indian glass journals.

GLASS BULLETIN is the media partner for international glass exhibitions in Beijing, Shanghai and Guangzhou in China besides in other parts of the world, including Europe, India and the Middle East.

GLASS BULLETIN e-magazine, the first glass-related e-magazine of India, is also available online and on mobile phone, free of cost at http://www.glassbulletin.com
SHOW MORE
SHOW LESS
Create successful ePaper yourself
Turn your PDF publications into a flip-book with our unique Google optimized e-Paper software.
06
---
07
---
INTELLIGENT UNIT OF

AUTOMATIC INSULATING GLASS PRODUCTION

Automatic Low-E

glass loading machine

Low-E glass film

removing machine

Automatic glass

loading machine

Washing machine

Flexible spacer applicator

Spacer attaching section

Press machine

Automatic cork

pad applicator

Insulating glass

sealing robot

Automatic glass

unloading machine

Automatic aluminum

spacer bending machine

Desiccant automatic

filling machine Automatic butyl

extruder

Two component

sealants extruder

Rotating table

Now HANJIANG is moving to industry 4.0, can be connected with MES/ERP system,

in order to do production sequentially and update production data to the system easily.

High stability with

continuous running

Collect raw material

consumption data

Warm edge spacer

function is available

Automatic adjust

pressure accurately

Data transmission & remote

communication system

Industrial cloud

Data master

DATA MASTER

Industrial Cloud

Data sharing

Optimize production schedule

Proactive machine maintenance

Improve production output effectively

BEIJING HANJIANG AUTOMATIC GLASS MACHINE EQUIPMENTS CO.,LTD

Add: No.7 Tengren Road, Niulanshan Industrial Zone, Shunyi District, Beijing, P.R.China

Tel: +86-10-89411982 Fax: +86-10-89411980 E-mail: Asia@hjglass.com.cn

Website: www.hjglass.com.cn

India office:

Sales-Ms. Ashley

Email: Asia@hjglass.com.cn

Cell/WhatsApp: +86 139 10174313

Service-Mr.Deepak Dubey

Email: hj.indiasales@gmail.com

hj.indiaservice@gmail.com

Cell/WhatsApp: +91 7007421673

WhatsApp WeChat Website

09
---
Reliable.

Efficient.

Fully equipped.

The Glaston COMFORT BOX offers high-quality,

gas-filled IG unit manufacturing of rectangular and

shaped formats.

This IG line offers numerous components as

standard, e.g.

• Air cushion conveyors

• Production of 3-sided stepped I.G. units

Get your IG manufacturing business on

the road to success — Download the

IG Manufacturing Line Guide here

www.glastory.net

Machinery, services and solutions designed with the future in mind for

the architectural, automotive, solar and appliance industries.

info@glaston.net | www.glaston.net | www.glastory.net | www.gpd.fi

11
---
12

25m/min
---
Glass processing is

not only machinery,

but always a solution!

All drilling solutions:

Double Heads Online Drilling Machine

Multiple spindles drilling machine with tool magazine

MAC super laser drilling & Cutting

Corner Grinding Machine

Online corner grinding machine for straight and round corner

Mac scanner for automatic reading QR Code of drawing

Integrating with double edging line freely

CNC Processing Center

Online / offline for different solution lines

Perfect cutting, drilling, milling, inner/outer shape grinding

and polishing

Integrated with MACsoft for any online processing

MAC machinery and MACsoft work together

for the whole line intelligent processing of

Architectural Glass,Appliance Glass,

Automotive Glass and Solar Glass.

CNC Drilling Machine Double / Triple Spindles CNC Processing Center Corner Grinding Machine

Tel: +86-757-25583203 Mob: +86-18942463709 18610067296

E-mail: export@macglastech.com / global@macglastech.com

Web: www.macglastech.com

WhatsApp

WhatsApp

13
---
Think Beyond.

Shape the future.

THE NEW

SMARTLY

DRIVEN TM

PLUS

ROLL

E V E N M O R E

R O B U S T,

S TA B L E A N D

R E L I A B L E O V E R T I M E

CONTACT

维 苏 威 赛 璐 珂 陶 瓷 ( 苏 州 ) 有 限 公 司

Vesuvius Zyarock Ceramics (Suzhou) Co., Ltd

中 国 江 苏 省 苏 州 市 苏 州 工 业 园 区 唯 文 路 12 号

No.12, Weiwen Road

SIP Suzhou 215122, Jiangsu, China

Tel: 86(0)512 6274-8927

Fax: 86(0)512 6274-8009

sherwin.feng@vesuvius.com

CONTACT:

www.glass.vesuvius.com

05/2022 · e

*VESUVIUS, the logo, SMARTLY DRIVEN and ZYAROCK are trademarks of the Vesuvius Group of companies are registered in certain countries, used under license. All rights reserved. No part of this publication may be reproduced, stored

in a retrieval system of any nature or transmitted in any form or by any means, including photocopying and recording, without the written permission of the copyright holder or as expressly permitted by law. Applications for permission

shall be made to the publisher at the address mentioned. Warning: The doing of an unauthorised act in relation to a copyright work may result in both a civil claim for damages and criminal prosecution. All statement, information and

data contained herein are published as a guide and although believed to be accurate and reliable (having regard to the manufacturer's practical experience) neither the manufacturer, licensor, seller nor publisher represents nor warrants,

expressly or impliedly: (1) their accuracy/reliability, (2) that the use of the product(s) will not infringe third party rights, (3) that no further safety measures are required to meet local legislation. The seller is not authorised to make

representations nor contract on behalf of the manufacturer/licensor. All sales by the manufacturer/seller are based on their respective conditions of sale available on request. © Vesuvius U S A Corporation and Vesuvius France S.A. 05/2022
---
Dry waste

Clean water

FILTRATION MACHINE FOR

LARGE VOLUMES OF WATER

R+D

Versatile

assembly

Closed

circuit

Automatic

process

Solid

waste

Environmental

responsability

Low

consumption

High

profitability

info@filtraglass.com

filtraglass.com

SEP. 20-23, 2022

HALL 15 / BOOTH 15B03

15
---
E IUS

INTERMAC.COM

QUALITY WITHOUT

COMPROMISES.

Genius CT-A TECH Glass cutting tables process

the sheets, maintaining high levels of cutting

precision over time and guaranteeing an excellent

return on investment in a short time.

Genius CT-A Tech

16
---
ARCHITECTURAL

GLASS FITTINGS

PVD ROSE GOLD

GLOSSY

PVD

GOLD GLOSSY

SATIN STAINLESS

STEEL

WOODEN

17
---
GLASS PROCESSING

AND PRE PROCESSING MACHINES

Glass Tempering Plant for Architecture Glass

Glass Lamination Plant with Autoclave

Glass Lamination Plant without Autoclave

EVA Lamination Machine Electric

Insulated Glass Line with Argon Gas

Spacer Bending Machine for Bendable Spacer

Spacer Cutting Machine for Non Bendable Spacer

Two Component Silicone Sealant Pump for I.G.U

Two Component Silicone Sealant Pump for Fabrication at Sites

Butyl Extruder Pump

Automatic Desiccant Filling Machine Rectangle & Arc Frame for

Railway Windows

Glass Straight Line Multi-Edging Polishing Machine with 0-45

Degree Adjustment

22 Spindle High Speed Double Edger Machine

Bevelling Machine Heavy Duty H.D Quality

Washing Machine Horizontal Complete Stainless Steel

FOR NEW MACHINES PURCHASE & INSTALLATION CONTACT US

INTERNATIONAL

B U S I N E S S L E A D E R S I N G L A S S , G L A S S P R O C E S S I N G ,

M AT E R I A L S & G L A S S P R O C E S S I N G M A C H I N E S

FROM THE HOUSE OF

LAKSHMI FLOAT GLASS LTD.

A-2/30-31, W.H.S, DDA Marble

Market Kriti Nagar

New Delhi-110015, INDIA

L-135, Midc, Taloja, Raigarh,

Maharashtra

MUMBAI-410208, INDIA

Aditya Gupta +91-99562-95454

www.lakshmifloat.com

E-mail : sales@blginternational.in

22
---
PVB SPECIALIST

THE PVB LEADING COMPANY OF INDIA

ARCHITECTURE PVB AVAILABLE SIZES

Thickness (mm)

Width (mm)

Roll/Length (mtr)

Colours

Packaging

0.38 / 0.76 / 0.89 / 1.14 / 1.52

1530 / 1540 / 1830 / 1840 / 2000 / 2140 / 2250 / 2400 / 2440 / 2500 / 2700 / 3000

100 / 150 / 250 / 400

Clear, Ultra Clear, French Green, Milky White, Frosted, Opaque & Colours

PVB with interleaved in vacumised foil in wooden box

AUTOMOTIVE PVB AVAILABLE SIZES

Thickness (mm)

Width (mm)

Roll/Length (mtr)

Colours

Packaging

0.55 / 0.38 / 0.76

700 / 740 / 800 / 880 / 900 / 1300 / 1360 / 1450 / 1530 / 1570 / 1750 / 2140 / 2250 / 2440

250 / 300 / 400

Clear, French Green, Green Shade Band on Clear PVB, Green Shade Band on Green PVB

PVB with interleaved in vacumised foil in wooden box

FOR FULL CONTAINER & PART LOAD DESPATCH PLEASE CONTACT US

INTERNATIONAL

B U S I N E S S L E A D E R S I N G L A S S , G L A S S P R O C E S S I N G ,

M AT E R I A L S & G L A S S P R O C E S S I N G M A C H I N E S

FROM THE HOUSE OF

LAKSHMI FLOAT GLASS LTD.

A-2/30-31, W.H.S, DDA Marble

Market Kriti Nagar

New Delhi-110015, INDIA

L-135, Midc, Taloja, Raigarh,

Maharashtra

MUMBAI-410208, INDIA

Aditya Gupta +91-99562-95454

www.lakshmifloat.com

E-mail : sales@blginternational.in

23
---
SILICONE SEALANT

AND STRUCTURAL SEALANT

IG SECONDARY SEALANT

FT-997

IG PRIMARY SEALANT

FT-301

FOR FULL CONTAINER & PART LOAD DESPATCH PLEASE CONTACT US

INTERNATIONAL

B U S I N E S S L E A D E R S I N G L A S S , G L A S S P R O C E S S I N G ,

M AT E R I A L S & G L A S S P R O C E S S I N G M A C H I N E S

FROM THE HOUSE OF

LAKSHMI FLOAT GLASS LTD.

A-2/30-31, W.H.S, DDA Marble

Market Kriti Nagar

New Delhi-110015, INDIA

L-135, Midc, Taloja, Raigarh,

Maharashtra

MUMBAI-410208, INDIA

Aditya Gupta +91-99562-95454

www.lakshmifloat.com

E-mail : sales@blginternational.in

24
---
EVA FILM FOR LAMINATED GLASS

USED IN INTERIOR & EXTERIOR BUILDINGS APPLICATIONS

EVA ROLLS

AVAILABLE SIZES

Thickness (mm)

Width (mm)

Roll/Length (mtr)

EVA Colours

Packing

0.25 / 0.38 / 0.76 / 1.52

1830 / 2000 / 2140 / 2250 / 2440 / 2500

50 / 100 / 150

Clear, Super Transparent, Milky White, Frosted, Dark Red, Dark Green, Olive Green,

Light Green, Yellow, Dark Blue, Mediterranean Blue, Light Blue, Orange, Euro Bronze,

Dark Brown, Black & Light Brown etc.

Vacumised & paper skin packing for minimum of 2 Yrs of shelf life

Brief

Above eva are designed for architectural projects

Owns strong impact resistance

High transparency

Durable weather resistance.

UV block rate function.

Low melt index, makes less overflowing at the edge.

Super transparent clear EVA processing temperature curve graph

INTERNATIONAL

B U S I N E S S L E A D E R S I N G L A S S , G L A S S P R O C E S S I N G ,

M AT E R I A L S & G L A S S P R O C E S S I N G M A C H I N E S

FROM THE HOUSE OF

LAKSHMI FLOAT GLASS LTD.

A-2/30-31, W.H.S, DDA Marble

Market Kriti Nagar

New Delhi-110015, INDIA

L-135, Midc, Taloja, Raigarh,

Maharashtra

MUMBAI-410208, INDIA

Aditya Gupta +91-99562-95454

www.lakshmifloat.com

E-mail : sales@blginternational.in

25
---
27
---
28
---
33
---
37
---
38

14
---
avontuffglass.com

WE ARE

GLASS APART!

SERVING GROWING DEMAND

FOR ARCHITECTURAL

GLASSES SINCE A DECADE.

"Avon Tuff Glass has accepted new

challenges and change & we have been

processing High Quality - High Performance

glass for the construction since 2012.

With over 10 years of experience in

architectural glass processing, we bring our

passion for customer, innovation and

dedication to quality.

Join us on the journey as we see the possibilities together:

• SAFETY GLASS

• ACOUSTIC GLASS

• ENERGY GLASS

• SECURITY GLASS

• DECORATIVE PAINTED GLASS

FACTORY & REGD. OFFICE :

S. No. 201-1, Devicha Pada, Sonale, Dist. Thane Bhiwandi - 421 302,

AVON TUFF

AVON TUFF GLASS PVT. LTD.

CREATING BETTER TOMORROW

Sales: +91 8879543317 • Tel: 02522- 282002 /282004

Business (WhatsApp): 8879543316 • E: sales@avontuffglass.com

40
---
Harmara Road, Industrial Area,

Madanganj, Kishangarh, Rajasthan

India / Pin no. 305801

91 73000 68444

sales@aardwolf.co.in

# 9/27, Ground Floor, 5th Main Road,

Ganesha Block, Sultanpalya,

R. T. Nagar Post, Bengaluru-560032

91 99017 24600

raghavendra@aardwolf.co.in
---
53
---
54
---
Company News

Glasswin facilitates

installation of new furnace

sourced from Southtech

Tempering

Glasswin Among Biggest Suppliers Of UPVC,

Aluminum & Glass Processing Machines From

Abroad

China-based Southtech Tempering, in association with

its new sales and service partner for India Glasswin

Engineering, has installed a new tempering furnace at

Rangate Glass LLP.

Glasswin, a legacy built over

20 years of experience in the

field of fenestration and glass

processing machinery sales and

service, is characterised by technology

leadership and pertinent solutions,

driving customer-centric products

with efficient and prompt service

support through its widespread

network in India.

Established in 2012, Glasswin is

one of the biggest suppliers in India

for UPVC, aluminum and glass

processing machines sourced from top

international brands from Europe and

Asia. It is constantly diversifying by

introducing new products to become a

total solutions provider to the industry.

Glasswin recently partnered

with South Glass Technology Co

Ltd of China to supply its furnace

in the Indian market. Southtech

Tempering is a leading company

that manufactures technologically

advanced glass tempering furnaces.

It has super-large-scale modern

production bases in Foshan,

Guangdong and Wuhu, Anhui.

While grasping growth

opportunities in emerging markets

at home and abroad, South Glass

(Southtech) vigorously enhances the

core competitiveness of enterprises in

key technology fields. Its products are

exported to more than 20 countries in

Europe, America and Southeast Asia,

including the United States, Germany,

and Russia, creating a consistent

and reliable product experience for

partners in different regions. The

company has nearly 100 patented

technologies with independent

intellectual property rights.

Following the tie-up, Glasswin

helped set up a new Southtech

tempering furnace at Rangate Glass

in Kolhapur, Maharashtra. Rangate is

one of the top manufactures in India

for door and window profiles.

It has its own production unit

with world-class machinery and

technology. Rangate Aluminum is

one of the leading brands in uPVC

and aluminum windows, door

and partition manufacturing. The

company has now decided to expand

in the field of glass tempering and

processing.

Southtech Glass Tempering furnace

specifications installed at Rangate

Glass

99

Maximum glass size – 4,200

mm x 2,440 mm

99

Minimum glass size – 300 mm

x 300 mm

99

Glass thickness – 4 to 19 mm

99

Top convection

The Southtech furnace is integrated

with a Vortech convection system,

making it a unique system. The air

blown out from the Vortech blower

and heated by the heat circulation

system and the waste heat in the

furnace directly brings to the glass

surface.

Combined with the "Exposed

Matrix Heating Design" with refined

diversion design, the production

time of 6mm double silver Low – e

glass can reach 280 – 300 s/ batch. A

perfect convection system with the

lowest power consumption and the

lowest maintenance cost.

Email: sachin@glasswin.in

Website: www.glasswin.in

58 Glass Bulletin | July - September, 2022
---
Company News

Ozone Group announces partnership

with 'Kubik'

Targets Deeper Penetration Into Interior & Glass Partitioning Systems

Kuboz Arc (P) Limited, which signifies the best of Kubik and Ozone, is the corporate entity

which will take this business forward.

Ozone Enterprise Group, a

leading player in architectural

hardware and security

solutions, has announced a

partnership with 'Kubik,' a market

leader for glass partition systems in

India.

"We aim to be the market leaders

for new age partitioning system for

various applications especially in

offices. Kubik has the product range,

technical expertise and manufacturing

ability to make this happen," said Alok

Aggarwal, Managing Director, Ozone.

Kuboz Arc (P) Limited is the

corporate entity which will take this

business forward. It has been created

to promote the business and brand of

'Kubik.'

"We are excited about the

new partnership with Ozone.

Brand presence, large product

portfolio, distribution and customer

relationships, regional warehouse will

be key strengths and differentiators for

Ozone. Kuboz signifies the best of both

– Kubik and Ozone. And from being a

market leader in India we will establish

ourselves internationally," said Jimesh

Shah, founder of Kubik and now the

managing director for Kuboz.

About Ozone Overseas

Founded in 1999, Ozone Overseas

is a leading architectural hardware

and security solutions company based

in India. Ozone is a market leader

in hardware used in residential and

commercial projects. The company is a

significant player in providing kitchen,

wardrobes, and furniture solutions.

It has recently ventured into IoTbased

digital locks and safes, a part of

Ozone's significant business.

With a global presence across 55

countries and four manufacturing

facilities in India, Ozone has a

portfolio of more than 5,000 products

strategically categorised under nine

product brands.

Mr. Alok Aggarwal,

MD - Ozone Group

Mr. Jimesh Shah,

Founder - Kubik

E-mail: customercare@ozone-india.com

Website: www.ozone-india.com,

www.kubik.in

Glass Bulletin | July - September, 2022 59
---
Company News

Impact Safety Glass

supplies windshields for

Vande Bharat trains

Company Aims To Become One-Stop Shop for

Automotive, Architectural, Train & Specialty Glass

Segments

Impact Safety is an IATF 16949: 2016 certified company.

It also has the privilege to print the 'ISI' mark on its

products, guaranteeing additional insurance benefits to its

customers.

A

company at the forefront of

glass processing in India,

Impact Safety Glass, armed

with its rich experience and expertise

in processing, has become the first in

the country to develop the nose cone

glass for the Vande Bharat Express

trains (Train 18) as per international

standards.

Earlier, this particular product had

to be imported, but now it is being

developed in India, a perfect example

of 'Aatmanirbhar Bharat' and 'Make

In India'. Impact Safety started the

delivery of the nose cone glass for

Vande Bharat semi-high speed trains

on June 27.

Impact Safety Glass has a huge

high-tech production facility in

Bengaluru equipped with a highly

experienced team of engineers, skilled

workers and machines imported

from Finland. The plant is capable

of making glasses with printing of

designs done in-house.

With the entry of global players

in the commercial vehicle segment

and consistent growth in demand

for passenger vehicles in the Indian

market, Impact Glass, under the

guidance of its technical director Mr

Vikram Dutt, is certainly well-poised

to take on the challenge.

The company's rich experience

and expertise in processing help it

to design, develop and manufacture

high-quality and innovative glass

solutions for a wide range of

applications.

The world is increasingly looking

towards modern hi-speed trains,

Metro railway, mono-rail and

locomotives as an eco-friendly mode

of transport. Impact Safety Glass is

working with the best international

train manufacturers and is completely

geared to serve the expansion of the

global market.

ALSTOM, ICF, DMRC, BEML and

Bombardier are among its prestigious

clientele. The company is also

supplying its products to all the rail

corporations, Metros (rolling stock),

and e-loco.

Impact Safety develops its glasses at

its R&D centre and tests those as per

the Railways International Standards.

The tests include projectile test,

impact resistance test, high stability,

humidity test, high temperature,

U-value test and acoustic test.

Impact Safety Glass has one of

the most technologically superior

processing units in India fully

equipped with world-class fully

automated technology and state-ofthe-art

machinery.

The company focuses on glass

60 Glass Bulletin | July - September, 2022
---
Impact Safety Glass• 2

processing and glazing solutions for

the architectural and automotive

industries. Approximately half of the

present production goes for Metro and

train purposes and one-third to the

automotive market.

Impact Safety Glass has continued

to invest in technology, people and

processes to cater to a wider market,

contemporary to world standards,

thereby pursuing its mission to be

a single-window solution provider

for everything in the automotive,

architectural and speciality glass

environment.

It has slowly emerged as a popular

supplier of glass for many leading

companies in the country's highly

competitive automotive market.

The company is working with

prominent manufacturers of metro

rail corporations, buses, trucks,

construction equipment and also

passenger vehicles, supplying quality

glass as per customer requirements.

Established in 1986, Impact Safety

Glass Works today is at the threshhold

of becoming a global leader in

glass processing. It has technical

tie-ups with global leaders and its

manufacturing processes are in

accordance to international standards.

Its products offer tighter specifications

for optics, shape and noise control

etc. The company works closely with

stylists and engineers in the very early

stages of new vehicle development.

Impact Safety Glass is capable of

making glasses of different standards

such as IS2553 Part 2, JASO, EN, NIJ,

UIC 651 to meet specific customer

requirements. Its quality control

lab, where the glasses are tested

for compliance to required quality

standards, has an R&D team.

The company is IATF 16949: 2016

certified, which is a benchmark for

any automotive glass supplier. It also

enjoys the privilege of printing 'ISI' on

its glass, to give additional insurance

benefits to customers. It holds the E

Mark certification, a premium quality

assurance mark, and is also accredited

by the United States Government

Department of Transport.

In the field of architectural glass,

Impact Safety Glass broadly classifies

its products into performance, safety

and aesthetics. The performance

category includes ProETM Tempering,

Reflective Silk Printed, Impact

Therm (Double Glazing), Noise

Reduction, UV Protection. Safety

includes Laminated Safety, Impact

Resistant, Mirror Safe, Burglary Proof,

Bullet Resistant, Bomb Resistant,

Fire Resistant, Tempered, Heat

Strengthened and Heat Soaked Glass.

The Aesthetics range has Silk Printed,

and Extra Clear Glass.

While the company masters glass

processing, it also focuses on glazing

solutions such as facades, canopies,

skylights, glass floors, glass staircases,

doors and windows with performance

and aesthetic looks. It also focuses

on cookware Glasses for gas and

induction stoves. This completes the

single-window solution promises the

company makes to its customers.

Apart from catering to the Indian

market, Impact Safety exports to the

UK, Dubai, Abu Dhabi, Sri Lanka,

Bangladesh and Mauritius. The ability

to supply full sets of high quality

glasses for a wide range of vehicles

makes Impact an interesting partner

for the OEM and ARG markets.

With passion for innovation and

technology and credentials of two

decades in developing world class

products to discerning customers

in aerospace, defence, railways

and industrial applications, Impact

Safety Glass has emerged as India's

most diversified and fastest growing

company in this field.

Email: Website: vikram@impactindia.com

www.impactglass.in

Email: Website: vikram@impactindia.com

www.impactglass.in

Glass Bulletin | July - September, 2022 61
---
Company News

Mr Joginder Singh,

Managing Director of Lentus Glass Pvt Ltd

Lentus Glass sets up new

unit in Gurugram

Company Has Procured Advanced Machinery,

Including Force Convection Tempering Plant

Ideally located to cater to Delhi-NCR, Rajasthan and

Haryana Lentus even uses its own vehicles to ensure

smooth, efficient and timely supply.

Lentus Glass Private Limited

has set up first glass processing

plant in the Farukhnagar area

of Haryana's Gurugram District.

The company aims at catering to the

processed glass needs of the Delhi-

NCR, Haryana, Rajasthan and Punjab.

Ms Pavani,

Director of Lentus Glass Pvt Ltd

Its expansion plans include setting up

new units in other parts of northern

and southern India.

The plant's location makes it ideal

to cater to the needs of developing

areas near Gurugram, Faridabad,

Ghaziabad, Noida, Rohtak, Jhajjar and

other parts of the National Capital

Region (NCR), Managing Director Mr

Joginder Singh said.

The plant has a well-planned layout

which includes systematic handling

of loading or unloading of material

besides their proper storage. It has a

state-of-the-art cutting line, grinding,

drilling, washing and tempering

machines, the positioning of which

was done by professionals to provide

ease of working to employees.

Glass handling is done with the

latest machines, and the plant

has a 5 MT crane for loading and

unloading materials. It has full power

back-up and there is even a reverse

osmosis (RO) system to meet the

water requirements of the unit. The

company uses its own vehicles to

ensure smooth, efficient and timely

supply of materials to customers.

Mr Singh stressed that it was

mandatory for all employees to follow

laid down procedures of the company

and to safety gear like helmets, gloves,

shoes and jackets etc on duty.

Ms Pavani, Director of Lentus Glass

Private Limited, dedicatedly works on

value-added products in the segment

of glass and focuses on developing the

same as full-fledged verticals for the

company. Mr Singh says that mantra

for the company is to create a niche

62 Glass Bulletin | July - September, 2022
---
Lentus Glass• 2

for themselves in the glass market.

Lentus has sourced a 'Force

Convection Tempering Plant' from

Faridabad-based Bhambra Glass

Concepts. Forced convection glass

tempering furnaces use a combination

of a high-temperature convection

blower and a convection chamber to

heat the glass in the furnace through

forced convection. It increases output

by 20 to 30 per cent and leads to more

energy saving compared to a radiation

furnace while also saving energy.

About the company

Lentus Glass Private Limited is a

group company of Hyderabad-based

PSV Mines & Minerals Pvt Ltd.,

which has been established under the

chairmanship of Mr Joginder Singh.

PSV Mines & Minerals Pvt Ltd owns

captive mines of silica sand/quartz

and has a state-of-the-art pulverizing

unit at Nalgonda, Telangana.

Silica sand is the base material for

manufacturing glass. The company

has an installed pulverizing capacity

of more than 10,000 MT per month

and supplies materials to reputed

glass manufacturers. Hence Lentus

Glass Private Limited is essentially a

forward integration unit of the group

for glass segment.

Email: lentus2020@gmail.com

Website: www.lentusglass.com

Glass Bulletin | July - September, 2022 63
---
Company News

Glass Madrid Berlanas

acquires LiSEC's latest

VSA system

A Fully Automatic Insulating Glass Line, It Is The

First Of Its Kind In Spain

LiSEC's VSA Super Spacer applicator saves many work

steps in production, leading to significant increase in

output in insulating glass processes.

Glass Madrid Berlanas, the

specialists in double and triple

glazing in the Spanish capital

Madrid, operate in a 27,000 m2 facility

equipped with the latest technology.

The latest system from LiSEC – the

fully automatic LiSEC insulating glass

line VSA, used for applying flexible

spacer bands to glass sheets – has

only recently gone into operation. The

Spanish glass processing company

is not only particularly proud of this

investment because of the machine's

functionalities, it is also the first of its

kind throughout Spain and once again

underlines the USP and quality of

Glass Madrid Berlanas' products.

There are a total of 70 employees

headed by the managing directors

Antonio Fernández, Antonio Gómez

64 Glass Bulletin | July - September, 2022
---
LiSEC• 2

and Natanael Fernández, who

manufacture a wide range of products

in the 11,000 m2 production halls

of Glass Madrid Berlanas, for use in

building and architectural projects:

Windows, exterior railings, façades,

exterior and structural glazing, but

also sheets of glass for skylights or

outdoor furniture are just some of the

products that are manufactured with

the wide range of machinery.

All in all, there are four glass

cutting lines, two intelligent glass

storage systems, two insulating glass

lines for double and triple insulated

glass, four glass bending furnaces and

many more machines that enable glass

components to be drilled, milled and

their edges to be processed quickly

and with high quality. The first fully

automatic system for applying flexible

spacer bands to glass sheets, the VSA

from LiSEC, has only recently begun

to support production.

The LiSEC VSA

Antonio Fernández, Managing Director

of Glass Madrid Berlanas, explains

his reasons behind choosing the VSA

from LiSEC and the advantages of the

machine in an interview:

Q: Mr Fernández, how did you first

find out about this LiSEC solution

in the field of insulating glass

production?

The LiSEC team provided us with

sound information about this machine

and the relevant salesperson, Enea

Dullori, took great care to ensure

that the solution we were looking

for also met our requirements. The

main problem was that the previous

machine lacked a fully automated

production process, which resulted

in lower output, higher costs and,

to some extent, poorer quality. The

VSA has provided us with a solution

that addresses precisely this issue.

We have also learned about various

marketing channels of LiSEC, such

as the product videos, in which the

machines are well explained with the

corresponding functionalities. This

was very helpful in getting relevant

information during the pandemic.

Q: How do the benefits of the

machine translate into production?

Most importantly, of course, we

can recognise the advantages that

automated processes bring with them.

We require fewer operators, save on

energy costs - in a nutshell: We are

more energy efficient and have perfect

quality that lives up to our standards.

This allows us to deliver more

sustainable, faster and higher quality

products to our customers. That is one

of the reasons why we are so proud

of this machine. The products we

produce have a unique USP for our

customer, as we use a high-quality

machine for production that is unique

in Spain!

Q: Are there any other benefits of the

VSA that were key for you?

Investing in a LiSEC VSA Super

Spacer applicator has helped us

Glass Bulletin | July - September, 2022 65
---
Company News

to significantly increase output in

insulating glass production. The

VSA saves us many work steps in

production, especially when it comes

to spacer frame production. The

work steps of frame bending, filling

with molecular sieve and applying

the butyl as well as setting the

frame by an operator are no longer

necessary when using the Super

Spacer applicator. These activities

are now performed by the machine

– at a continuous speed and quality.

Furthermore, we are just one of the

few suppliers in Spain that can offer

insulating glass with Super Spacer

flexible spacers, something that gives

us a competitive edge.

LiSEC promotes itself as being a

reliable, competent and innovative

partner – these characteristics are

very well reflected in the machine

and its functionality! Another aspect

is that it is possible to operate the

machine without any genuine

previous experience - something

that is a real added value when there

is a shortage of skilled workers. It

should be pointed out, however, that

we are also training our employees

on how to use this new machine in

order to achieve the best results and

performance from the machine as

quickly as possible.

Q: What are your objectives for the

next five years and how can LiSEC

support you in achieving them?

We want to double our turnover

in the next five years. This sounds

very ambitious, but automation in

glass processing provides us with

ample opportunities to achieve this

goal. One of the next projects with

LiSEC might be the KSD. The newly

used technology or rather the newly

developed LiTEC tool certainly makes

this machine a good starting point

for a new joint project, especially if

what is said about the speed of this

processing machine is true.

Fully automatic application of

flexible spacer bands

The LiSEC VSA-A is suitable for

the production of 2, 3 and multiple

insulating glass units. The system

unleashes its full potential with

air gaps of varying widths, since

the applicator head can guide two

different spacer widths in parallel and

apply them alternately. This ensures

interruption-free production with

short cycle times. The fourth corner

can be manually sealed with an

adhesive strip or automatically sealed

with the corner sealing machine

(SSV). The patented application

technology of the system guarantees

high-precision positioning as well as

low-friction and careful feeding of the

flexible spacers.

Edge trimming and sanding – with

LiTEC slider technology

The KSD-A from LiSEC is currently

the fastest vertical seaming and

grinding machine with peripheral

wheels for the processing of glass

edges, e.g. the seaming and grinding

of glass edges. This machine combines

massive processing flexibility with

stable and reliably high quality.

Thanks to decades of experience in

the processing of glass edges, and the

courage to explore new ways forward,

KSD-A is also a defining technological

marker for the future of glass edge

processing.

CREATING VISIONS, PROVIDING SOLUTIONS.

Email: claudia.guschlbauer@lisec.com

Website: www.lisec.com

66 Glass Bulletin | July - September, 2022
---
Company News

Olumpus Glasses' state-of-the-art

horizontal tempering furnace starts

production

Can Temper All Types Of Glass – Clear & Tinted Float, High-Performance

Reflective, Low-E – Of 3000x6000mm Size

One of the foremost and progressive processing companies of northern India, Olumpus

Glasses Pvt Ltd has been engaged in the production of high quality world-class tempered

glass since the last eight years.

The company based in Lucknow,

Uttar Pradesh, has recently

expanded its business.

Olumpus Glasses Director Mr

Vivek Gupta, a dynamic leader and

visionary, recently said the company's

recently imported jumbo-size flat

tempering furnace (10"x20") from

China-based LandGlass Technology

has started production in the last

week of June.

He said the automatic and

advanced furnace can temper all

types of glass – clear and tinted float

glass, high-performance reflective

glass, low-e glass – of 3,000*6,000 mm

size having a thickness of 4-19 mm as

per international standards.

This state-of-the-art tempering

furnace has an unmatched 'quality

monitoring system' to continuously

maintain the excellent quality of

the tempered glass it manufactures,

Gupta said.

The uniform heating and cooling

system and high-grade ceramic rollers

used in this furnace not only maintain

the flatness of the tempered glass, but

also add more shine to the reflective

glass coating, he added.

This force convection tempering

furnace not only produces world-class

excellent quality tempered glass, but

also has high production capacity, the

Olumpus Glasses director asserted.

Olumpus has witnessed

phenomenal business growth in its

eight years of glass processing. The

company imported its first tempering

furnace (8"x14") from China's Land

Glass in June 2014. Just nine months

later, it imported an insulating glass

line from world-renowned South

Korea-based 'EKANG'. This glass line

started producing insulated glass of

up to 2,440x3,660 mm from February

2015.

Thereafter, the company also

established a PVB laminating glass

line within a year to complete its

architectural range. This unit has

been in production since 2016 and

produces glass of 3,000mmx6,000 mm

size.

About the company

An ISO 9001:2015 certified company,

Olumpus Glasses Pvt Ltd works

with many prominent agencies,

supplying glass as per the customer

needs. The company has state-ofthe-art

infrastructure and high-tech

machinery, giving it a huge production

capacity. Olumpus has a Bureau of

Indian Standards (BIS) licence, which

enables it to print the ISI mark on its

glass.

Email: olumpusglasses@gmail.com

Website: www.olumpus.net

Glass Bulletin | July - September, 2022 67
---
Company News

Surbhi

Glass

MD Sunil

Shah

Felicitated

Himachal Pradesh CM Jai Ram Thakur with Surbhi Glass MD Sunil Shah

Himachal Pradesh Chief Minister

Jai Ram Thakur honoured

Surbhi Glass Private Limited

Managing Director Sunil Shah for his

contributions towards the glass and the

uPVC windows industries at an event

in Shimla on July 19.

Surbhi Glass Pvt Ltd operates a

state-of-the-art uPVC door and window

manufacturing plant under the brand

name of Surbhi Upvcwindoors Tech

which provides cost-effective and highquality

solutions.

Surbhi Glass is also known for its

top quality laminated glass, insulated

glass and toughened glass. The

company has come a long way under

the leadership and guidance of Mr

Shah. It has become a renowned name

in almost all verticals related to glass.

The company has been bestowed with

a number of awards for its exceptional

product portfolio.

Himachal Pradesh Industries Minister Bikram Singh with Sunil Shah

Email: upvc@surbhituff.com

Website: www.surbhituff.com

68 Glass Bulletin | July - September, 2022
---
Company News

Şişecam's second patterned glass line

investment in Mersin

Company Currently Operates 8 Flat Glass And 1 Patterned Glass Lines At

Four Locations In Turkey

Şişecam, the founder of the Turkish glass industry, remains committed to making

investments contributing to the growth, exports, and further development of the industry.

Şişecam, a world leader in the glass

and chemicals industry, provides

input to both architectural patterned

glass and energy glass sectors as the

only company producing patterned

glass in Turkey.

The global player currently

operating with eight flat glass and

one patterned glass lines at four

locations in Turkey, has announced

its investment of a patterned glass

furnace with a capacity of 600 tons per

day and energy glass processing lines

with a capacity of 20 million square

meters per year.

This new investment in Mersin/

Tarsus OIZ amounts to TL 3.4 billion

(EUR 185 million), including working

capital. With this latest investment,

Şişecam aims to be one of the main

suppliers in the renewable energy

investments globally.

Dr. Ahmet Kırman, Şişecam

Chairman and Executive Member of

the Board, emphasized that Şişecam,

DR. AHMET KIRMAN,

Şişecam Chairman and

Executive Member of the Board

the founder of the Turkish glass

industry, is committed to making

ongoing investments that create

sustainable value for all stakeholders

while supporting growth and exports of

industries to which it provides input.

"Şişecam continues to create value

for Turkey despite today's extraordinary

economic environment, as it has

throughout its 87-year history. We are

moving forward with new investments

in line with our strong global goals and

our focus on sustainable growth across

our core business areas. At the same

time, we are closely monitoring global

trends and exploring new investment

opportunities. Even though overall

energy costs are on the rise, declining

costs of electricity generation from

solar energy and growing awareness

of sustainability globally offer new

opportunities in the patterned glass

and energy glass markets.

"In line with our strategic priorities

of meeting glass demand in Turkey and

creating value its economy, Şişecam

decided to invest in a new patterned

glass furnace and processing lines

in Mersin. This new investment will

allow us to capitalize on emerging

opportunities in the rapidly growing

solar energy market globally. We believe

that this investment is perfectly aligned

with our sustainability targets," Kirman

said.

He pointed out that the climate

crisis and growing awareness of carbon

emissions among both consumers

and national governments have made

transition to renewable resources a

top priority in the energy industry, one

of the sectors with the highest carbon

emissions.

"The energy supply/demand

imbalance spiked natural gas,

electricity and fuel prices. This in

turn boosted demand for renewable

energy resources with its lower costs

compared to fossil fuels. As a result,

solar energy stands out as the most

viable solution for electricity generation

today. Energy glass market demand

in Turkey is forecasted to reach 23

million square meters in 2022, up

from 8 million square meters in 2018,

registering nearly threefold growth.

Our new investment will support us

to capitalize on this highly attractive

opportunity in energy glass market,"

Kirman further said.

Website: www.sisecam.com

Glass Bulletin | July - September, 2022 69
---
Company Report

coating system for surface finishing of

PVC profiles and a range of state-ofthe-art

automatic cutting and welding

systems ensure that the company can

produce up to 1,200 PVC and PVC/

aluminium windows every single day.

On a visit by one of LiSEC's

managing directors, CFO Oliver

Pichler, production manager for

insulating glass production, Beniamin

Buta, agreed to be interviewed to talk

about why the Madrugada Group opted

to establish its own insulating glass line

in 2019.

The head of production also offered

insight into future development of the

company and told us how solutions

from a single source from LiSEC are

helping to deliver not just top quality

but other benefits to aid the company's

success.

For Madrugada Group,

target is 'success through

quality'

Company Has Tied Up With One-Stop Solution

Provider LiSEC For Machinery & Software

For almost 20 years, the Madrugada Group has been

producing PVC and PVC/aluminium windows at its Palota

site in the western Romanian district of Bihor.

Q: The Madrugada Group has

undergone considerable growth

since 2003 and is now one of

Romania's top three and is already

exporting more than 30% of its

products to the EU. When and why

did you decide to start producing

insulating glass?

A: Founder and owner, Mr Sergiu

Turcu, started to consider producing

insulating glass for PVC windows

himself at the end of 2018, primarily

due to the significant growth the

company was experiencing, and thus

produce the complete end product

in house. Being independent of

the market and advancing quality

through investment in state-of-the-

The motto of the company's

founder and sole agent,

Sergiu Turcu, is 'to produce

outstanding quality for enthusiastic

customers', and has been the driving

force and secret to success of what has

become one of Romania's top three

window manufacturers.

The company employs more than

400 people in a two-shift pattern at its

vast 40,000 m2 production site, which

has the option to expand further. In

2020, turnover amounted to 44 million

Euros. A large warehouse for different

types of PVC profile, an automatic film

70 Glass Bulletin | July - September, 2022
---
LiSEC• 2

art production technologies were

fundamental motivations.

At the start of 2019, contact was

made with LiSEC which led to an

initial data analysis and capacity

design for future insulating glass

production. The aim was to design one

of the most state-of-the-art production

systems and to assist with planning

the production hall, for which LiSEC

utilised its comprehensive expertise

for turnkey solutions. With LiSEC's

leading knowledge, which we used

to both plan the production site and

learn about handling glass and the

production planning process, we

quickly moved from zero to starting

our own insulating glass production

line, without having any extensive

prior knowledge.

Q: How did the planning process and

scope look?

A: At the start of the planning process,

current data on our insulating glass

requirements and trends for future

development, as well as the level of

automation we were looking for, were

analysed so that our future production

could be mapped out. From the very

outset, it was obvious that we wanted

to implement highly automated, linked

insulating glass production in which

manual handling of the glass sheets

was kept to an absolute minimum.

We opted for a sorting buffer, which

we can expand as the need arises.

With this, we can ensure continuous

production and remain flexible at

the same time. During the planning

process, LiSEC also took into account

future expandability, which is now

proving to be another benefit of

having such an experienced partner

on our side for projects of this size.

Specifically, we opted for the following

solutions:

Systems and machinery

99

Glass storage with a FlyOver

loading system for particularly

high flexibility (PKL + SBH)

99

Linear cutting system and

automatic breakout system for

float glass (SprintCut)

99

Automatic laminated glass

cutting with particularly low

wastage (VSL-A)

99

Sorting and buffer system

with shuttle for minimal sheet

handling (ASM + SHL)

99

Glass edge machine with

diamond belt for optimal edge

quality (KSR + KSV)

99

Insulating glass line with

applicator for thermoplastic

spacers, gas filling press and

sealing machine for edge

sealing (TPA, AGP, VFL)

Software

99

ERP system for order

management (gps.order)

99

Production planning and

monitoring (gps.prod)

99

Machine status monitoring (lis.

assetcheck)

99

Delivery process planning and

support (lis.delivery)

Q: What were the main determining

factors when it came to opting for

an all-in-one solution from LiSEC,

and what are the benefits?

A: The key determining factor when

it comes to LiSEC was the ability to

procure machinery and software from

a single source. With highly automated

Glass Bulletin | July - September, 2022 71
---
Company Report

production, the information systems

and interfaces to systems are the key

to success. Whether order entry or

production planning, everything needs

to interact with the systems, and it

must be possible to query the status of

individual products in real time. Paired

with state-of-the-art technology and

the high system availability of LiSEC

products, it was undoubtedly the right

decision.

Q: How does future development of

the Madrugada Group look? What

are your goals?

A: Our aim is to continue working

with LiSEC to optimise the insulating

glass line one step at a time. To do

this, we will continue to analyse the

data together, to identify potential

for improvement in our organisation

and to optimise processes. We will

then expand production to include

an additional shift, thereby further

expanding our production capacity.

Additionally, we will start planning

and implementing a pre-stressing

system and start expanding the

cutting system and sorting buffer. At

the same time, we also plan to invest

in another insulating glass line for

thermoplastic spacers. We are in the

fortunate position that demand for our

high-quality products is growing, and

we intend to take advantage of this

opportunity in the future.

About LiSEC

LiSEC, headquartered in

Seitenstetten/Amstetten, is a globally

active group that has provided

individual and comprehensive

solutions in flat glass processing and

finishing for 60 years.

CREATING VISIONS, PROVIDING SOLUTIONS.

– Claudia GUSCHLBAUER

Email: claudia.guschlbauer@lisec.com

Website: www.lisec.com

72 Glass Bulletin | July - September, 2022
---
Event

Zion Exhibitions ready to bring

revolutionizing expo 'D-arc BUILD'

Global Platform For Architects, Designers And Creative Influencers To Foster

Relevant Discourse

A prodigious showcase of design innovations and a knowledge-sharing platform, D-arc

BUILD is scheduled to be held during September 22-25, 2022, at New Delhi's Pragati

Maidan.

D-arc BUILD is an ideal B2B

platform for representatives

from various sectors of

design, architecture, building and

construction-related industries

gathered under one roof to showcase

their potential by providing detailed

demonstrations of latest products,

services and technologies.

D-arc BUILD is a manoeuvre,

striving to create a platform for

architects, designers and creative

influencers, transnationally, to foster

discourse over diverse subjects

centred around architecture and

design.

In association with the Indian

Institute of Architect, Institute

of Indian Interior Designers,

Hospitality Purchasing Managers'

Forum, Construction Federation

of India, Indian Bath Fittings

Manufacturers Association, Ludhiana

Architects Association, Federation

Of Indian Plywood & Panel Industry,

Waterproofers Associations of India,

Morbi Ceramic Manufacturers

Association and with more than

3000+ architects and designers,

key international players, 50,000+

visitors including architects,

interior designers, builders and

developers, dealer and distributors,

manufacturing brands, chairpersons

of industry relevant associations,

hoteliers, façade consultants, lighting

consultants, MEP consultants and

more, D-arc BUILD is bound to be a

success.

D-arc BUILD Agenda

;;

On September 22, 2022,

Indian Institute of Architects

will hold its northern regional

conference, moderated

and conceptualized by IIA-

Northern Chapter. It will see

the presence of more than

1,500 architects from 24 state

chapters.

;;

On September 23, 2022,

Institute of Indian Interior

Designers will celebrate its

Golden Jubilee by holding a

national level conference,

curated and conceptualized by

IIID-Delhi Regional Chapter.

This will see the presence

of more than 1,500 interior

designers and architects from

34 regional chapters.

;;

On September 24, 2022,

Professor Charanjeet Shah,

Director of CG Smart Habitat

Foundation, will hold a

conference to discuss the

challenges and opportunities

of modern railways and the

contribution of professionals

like engineers, architects and

urban planners to the mission

of making a 'New India'.

;;

On September 25, 2022,

HPMF- Hospitality Purchasing

Managers' Forum, an

association of procurement

managers in hospitality, would

be holding a conference with

the presence of more than

250 members under the

theme "Reinvent X Rethink

– The future of Hospitality

Procurement".

With cumulative efforts towards

creating a benchmark in the building

and construction industry, Zion

Exhibitions initiated with Lap of

Luxury, a symposium created for oneon-one

interaction with renowned

principal architects, interior

designers, premium hoteliers and

sponsoring brands on May 7, 2022 at

Hyatt Regency, Chandigarh.

The second edition of Lap of

Luxury is scheduled for August 20,

2022 in Mumbai and would be graced

with the presence of 200+ architects

and designers with a keynote address

and a book launch by industry

stalwart Dikshu Kukreja of CP Kukreja

Architects.

Email: info@darcbuild.com

Website: www.darcbuild.com

Glass Bulletin | July - September, 2022 73
---
Event

Biesse India, along with IIID Bengaluru,

organises workshop on design concepts

Event Witnessed Participation Of More Than 150 Architects And Interior

Design Firms

Italian architect Giuseppe Morando and Jayanth Gopal – a team behind many awardwinning

projects across the globe – spoke on design concepts and aspirations.

IIID with its expansive reach proved

to be an ideal platform to promote

design concepts. We primarily wanted

to create awareness of the processes

available to give physical shape to

creative ideas in wood, glass, stone

and other materials."

Biesse India, a global wood, glass

and stone processing machine

manufacturer in Bengaluru,

along with IIID (Institute of Indian

Interior Designers) Bengaluru

organised a Master Series workshop

featuring Mr Giuseppe Morando,

an Italian architect known for his

successful global projects, and Mr

Jayanth Gopal, the man behind many

award-winning projects in the US,

Middle East and India.

The event was held on July 1,

2022 at Hotel Shangri-La which saw

participation from more than 150

architects and interior design firms in

Bengaluru.

Conceptualised as an impromptu

conversation between two architect

friends, the discussion began with

Guiseppe explaining the structure of

some of the projects he and his team

designed. They further elaborated on

key points by drawing commonalities

between universal design thoughts

across geography, culture and

aspirations.

Biesse India understands

that there is a lack of awareness

to differentiate the quality of

execution by manual methods vis a

vis modern technology, processes,

and software solutions available

and thus, partnered with Giuseppe

to conceptualise and produce a

masterpiece using their software and

machinery to demonstrate the abilities

of technologies in bringing to life

complex designs.

With IIID being a true

representative of interior designers

within the country and globally,

it served as the ideal platform to

emphasise design concepts.

Commenting on this collaboration

with IIID, Mr Sayeed Ahmed, CEO,

Biesse India, said, "We at Biesse

India identified the need to create an

ecosystem to create awareness about

the latest technology available and

About Biesse Group

Biesse Group is a multinational

leader in technology for processing

wood, glass, stone, plastic, and metal.

Biesse India is a direct subsidiary

of Biesse Group and also the only

production site of Biesse Group

outside Italy. Biesse Group designs,

manufactures, and distributes

machines, integrated systems,

and software for manufacturers of

furniture, door/window frames, and

components for the construction,

shipbuilding, and aerospace

industries.

–Santosh B Holeyachi

Email: santosh.bh@biesse.com

Website: www.biesse.com

74 Glass Bulletin | July - September, 2022
---
Product Hunt

Office partitions brought

to you by Taiton

Company Offers Quick & Easy Ways To Customise

Workspaces, Meet Expansion Needs Of

Businesses

Dividing an office using partitions ensures that workplaces

are segregated and are ideal for both small and large

offices or within departments.

Taiton Architectural Hardware

has the largest and the most

comprehensive product range

skilfully crafted to suit the modern

hi-tech needs of commercial and

residential establishments.

Office partitions is the need of the

hour! Taiton offers quick and easy way

to customize workspaces and meet the

expansion needs of businesses.

Dividing an office using partitions

ensures that workplaces are

segregated and are ideal for both

small and large offices or within

departments. Office partitions also

ensure employee and information

security as well as partitions offer a

sense of concentration in an entire

workplace. They separate employees

and minimize the distractions that

they are often subject to in the

workplace.

The office layout has a major

impact on employee efficiency. Studies

have revealed that better interiors can

bring up to 80 per cent improvement

in employee productivity. To realise

this objective, many businesses are

moving from conventional designs to

experimenting with contemporary

layouts that include modern office

partitions. The partitions include

space dividers to optimise available

spaces.

Taiton has an extensive inventory

uniquely suitable for offices, including

a range of slim profiles, telescopic

sliding partitions, synchronised biparting

sliding partitions that help

optimise space usage.

Using modern office partitions

ushers in a number of benefits and

will help you save costs and space.

While opting for office partitions,

make sure they are made from

sustainable and durable material.

Taiton is an environmentally

conscious company which uses

sustainable practices and materials to

manage its carbon footprints.

Email: customercare@taiton.in

Website: www.taiton.in

Glass Bulletin | July - September, 2022 75
---
Product Hunt

Work comfortably, reliably

& precisely with Glaston

COMFORT BOX

Perfect For Companies Searching For Inexpensive

Options To Expand Insulating Glass Production

Capacity

With COMFORT BOX insulating glass manufacturing line,

Glaston offers a high-quality IG line for the manufacturing

of gas-filled IG units of rectangular and shaped formats.

Working with the line is

comfortable, reliable,

and precise providing the

ideal entry solution for industrial

insulating glass production of gasfilled

IG units. At the same time, the

Glaston COMFORT BOX is a perfect

solution for companies searching for

an inexpensive opportunity to expand

their insulating glass production

capacity. Up to 800 gas-filled

insulating glass units can be produced

in rectangular or shaped formats on

the reliable line per shift.

The great advantage of the

Glaston COMFORT BOX is its

simple handling and uncomplicated

operator guidance. The base model

of the insulating glass line consists of

three elements: a glass plate washing

machine, an inspection station for

the visual monitoring of the glass

plates complete with subsequent

frame positioning, and an automatic

assembling, gas filling, and press

robot.

With its three separate brush-pair

drives, the washing machine ensures

great results on sheets up to 15

millimetres in thickness. Its external,

chainless brush and transport drive

promises additional convenience and

reassurance.

The high-contrast, well-lit

inspection area complete with

coloured signal lights provides a

quick and reliable inspection facility

for glass plates. The automatic

beam setting for vertical positioning

of the frame means the spacer

can be applied precisely, even by

inexperienced users.

76 Glass Bulletin | July - September, 2022
---
Glaston• 2

Precise assembly of the units with

gas filling

The core of the Glaston COMFORT

BOX is the insulating glass press

that assembles the insulating glass

units, fills them with inert gas, and

presses them precisely in one single

processing step. This works just as

well with non-stepped, rectangular

units as with shaped formats with

steps on up to three sides and works

with both double and triple insulating

glass units: the customer has the

choice – even when it comes to the

spacer material. The inert gas filling is

completed quickly, efficiently and at a

high level directly into the units, while

adjustable press plates ensure precise

and uniform insulating glass pressing.

The line is rounded off with a tilt

table to discharge the units ready

for the subsequent manual standard

sealing. It goes without saying that

the equipment for the manual

sealing – the rotating sealing table

and the manual sealing unit – are also

available from Glaston.

For those who do not wish to seal

manually, the line can be expanded

with a conveyor and an automatic

sealing robot. With the aid of the

sealing robot COMFORT'SEALER,

the customer can upgrade their

Glaston COMFORT BOX IG line from

an entry-level solution for industrial

glass production to an automated

production line.

The main advantage of the

COMFORT'SEALER is its precise

dosage function which determines

precisely the joint depth and then

subsequently applies the exact volume

of sealing material required. This level

of precision cannot be achieved when

sealing manually.

Glaston COMFORT BOX can

also be expanded with machines for

the production of spacers: a frame

bending robot SPACER'BENDER,

a desiccant filling station

SPACER'FILLER as well as a

SPACER'BUTYLEXTRUDER for the

double-sided coating of rectangular

and shaped frames with butyl

represent ideal additions to this IG

line.

Glaston COMFORT BOX technical

data at a glance:

• Output: up to 800 gas-filled

insulating glass units per shift

• Transport speed: 48 m/min

• Working height: 2.70 m

• Minimum glass format: 190 x

350 mm

• Maximum glass format: 2700 x

3500 mm

• Glass thickness: 3 – 15 mm

• Thickness of the insulating

glass units: 12 – 60 mm

• Spacer width: 6 – 24 mm

Insulating glass types:

• Double and triple units

• Rectangular and shaped

formats

• 1- up to 3-sided stepped units

Email: info@glaston.net

Website: www.glaston.net

Glass Bulletin | July - September, 2022 77
---
Product Hunt

Pujol 100 PVB+ & full automatic lines

Pujol-100 PVB+ System

Oven For Production Of Laminated Glass With PVB & EVA

Pujol, founded in 1911, is the only manufacturer in the world with its own production of

ovens and EVA.

Over the last two decades, Pujol

has served more than 2,000

installations and established

itself as a leader and fully specialized

company in the laminated glass

sector, fulfilling the objective of

offering an integral service consisting

of ovens, consumables, training and

technical assistance service, covering

what it believes are the needs of its

customers.

The Pujol-100 SYSTEM has been

developed and designed to allow glass

laminators to work basically on PVB

films without the need to install, and

keep on running additional costs,

of a climate control room, calandre

installations or accessories climate

BOX of humidity and temperature

control.

Thanks to the double vacuum

and high uniformity temperature

distribution system, Pujol is the

only company in the market which

can warranty a 100% of traceability

and repeatability of each working

process in autoclave free systems and

as additional performance without

the need of climate control system

for the PVB films during storage or

processing.

When using with EVA films, it

works as a high speed convection oven

to laminate glass by the Pujolevalam

Fast Curing System all integrated in

its automatic assembly line, for the

production of laminated glass. This

enables to reduce manufacturing

costs and increase the quality of the

laminated, allowing to catch up the

short times of curing in the FC series

Laminate oven from Pujol.

Due to its high production and

flexibility, it is possible to produce

as much as 1,000 sq m per day

and more in the bigger models and

modular configurations. Therefore, it

is possible to offer a quick response

to orders, improving service and

attention towards clients.

Highlights of Pujol 100 PVB+ System

1. Laminates any type of PVB and

EVA

2. Double vacuum based system,

first on the market

3. No need of climate control of

humidity & temperature in

storage &/or processing

4. No prepressing unit required

(so no calandre and no preheating

infrared tunnel

required)

5. No need or requirement of BIG

Compressor

6. No hazardous ambient or

risk of explosion like exist in

Autoclave

7. Costs Reduction due to energy

efficiency, of up to 70% per

unit produced, compared to

autoclave systems, due to

energy efficiency. As there is no

additional energy cost for

78 Glass Bulletin | July - September, 2022
---
K-BOND• 2

• Compressor

• Pre‐Pressing Lines (Heating

tunnel & Calandre)

• Cost of Climate Chamber &

Assembly Room

• Cost of Heating High Volume

and Inertia space of Autoclave.

8. Up to 40 mm. Glass thickness

processing in 1 piece or

Multi pieces independent

compositions, with trays full,

60mm on smaller glasses.

9. High temperature uniformity

process by using 96 Heating

Plates radiating over up &

down Surface of glass

10. Less space required, lines with

no calendaring are smaller

than in Autoclave systems

11. Parking station & double

platforms unit allows optimize

the process cycle times, while

half are processing in oven,

the other half are unloading

and loading for next batch,

reducing to 10 minutes process

of introduction & extraction

and restart LAM process in the

oven

12. Lamination costs don't depend

on production level, even if

production decreases, costs

stay constant

13. High volumes of production

with minimum personnel.

PROFITABILITY PUJOL 100+

Although the production increases

or decreases, the consumption of

the New Pujol100 System is always

constant, unlike the traditional

autoclave system.

The Pujol100 System is highly

profitable for productions up to 500 sq

m per day / 11,500 sq m per month.

As Pujol PVB 100+ fully replaces

the requirement of autoclave and

able to produce both EVA lamination

and PVB lamination including sentry,

bullet proof glass, curved glass in the

same furnace with almost quality

control with less man power and least

energy requirement.

Presently, Pujol in association with

K BOND are able to installed two

Pujol-100 PVB+ machine in eastern

and southern part of India and

these machines would be ready for

production before the year 2022.

Compared to conventional

autoclave systems, Pujol 100 PVB+

high speed oven uses convention and

radiation system for both EVA and

PVB laminations with fast cycle to get

high and flexible production in lower

costs. It has the following advantages

compared to autoclave systems.

• High productivity

• Flexibility

• Low personnel requirement

• No fixed running cost

• EVA & PVB can be laminated

at the same time

Considering the above advantages of

the Pujol-100 PVB+ machine, it is

advisable to look into the option to

have such a cutting edge technology

meeting with high quality precision

and high production capacity will

always add the value to your plant and

give high return to the organization.

About K BOND

Established in 1995, K Bond

specializes in manufacturing of glass

glue (UV adhesive), glass paints and

glass lamination machinery. The

company works towards introducing

new glass technologies, research and

development, technology training,

manufacturing, and selling raw

materials for glass.

Currently, K Bond is the sole

authorized distributor of M/s Pujol for

the sale of their EVALAM Films and

highly sophisticated EVA and PVB

lamination machines across India.

The Pujol -100 PVB+ system is being

promoted in India as one of the best

products meeting the requirements of

the Indian glass industry.

Email: info@kbond.in,

hipujol@hornospujol.com

Website: www.hornospujol.com

Glass Bulletin | July - September, 2022 79
---
Product Hunt

Futuristic and revolutionary honeycomb

'Alstone Alcomb' launched

Applications Range From Building Facades And Furniture To Vehicles And

Train Doors & Floors

Alstone Alcomb boasts of features like fire protection – A2 grade, high strength and

excellent rigidity, lightweight, impact and sound resistance, and is 100% recyclable.

Alstone, a leading manufacturer

of high-pressure laminate

(HPL) and fire rated composite

panels in India, launches a futuristic,

revolutionary material Honeycomb

"Alstone Alcomb".

Alstone Alcomb is unique because

of its core properties as well as

applications which makes it a one-ofa-kind

in its category. The promising

product has features like fire

protection – A2 grade, high strength

and excellent rigidity, lightweight,

impact and sound resistance, and is

100% recyclable.

Right from building facades,

ceilings/ flooring panels and furniture

to commercial/military vehicles and

doors and floors of trains, Alstone

Alcomb can be used in a wide range of

applications. The entire range can be

seen at www.alstoneindia.com.

ALCOMB is a robust yet lightweight

panel composed of two aluminium

alloy sheets facing each other and an

inner honeycomb core made from

aluminium foils – a true inspiration of

the natural hexagonal honeycomb.

Experience the difference with

the unique honeycomb structure

80 Glass Bulletin | July - September, 2022
---
Alstone• 2

a brand synonymous with innovation,

design and quality. Our latest

Alstone Alcomb is a futuristic and

revolutionary panel because of its

superior quality control procedures

that include rigorous testing under

the most stringent standards. It is

lighter than other materials due to its

unique honeycomb structure, which

also improves the rigidity and stability

of the buildings. With Alstone Alcomb,

we can build upon the trust that our

customers already repose in us by

extending a 15-year warranty on our

honeycomb panels."

About the company

Alstone is a leading manufacturer of

high-pressure laminate (hpl), firerated

composite panel, aluminium

honeycomb panels, and louvers in

India, established in the year 2004.

Its manufacturing unit is located near

Dehradun.

Alstone consistently delivers strong,

reliable, and versatile products for

every application. The company

has a pan India presence with 16

warehouse-cum-offices in Delhi,

Noida, Ahmedabad, Pune, Bengaluru,

Indore, Kochi, Kolkata, Lucknow,

Ranchi, Mumbai, Raipur, Jaipur,

Patna, Hyderabad and Bhubaneswar.

that makes the product lighter than

other materials and also improves

the rigidity and stability of its body.

Besides, these panels are eco-friendly

and are completely recyclable and

reusable.

Aluminium alloy, used for the

construction of these panels, is a noncombustible

material that works well

as a fire retardant and fire prevention

material. Also, it is highly nonradioactive

which means it does not

emit any harmful gases. These energyconserving

properties make these

panels a perfect choice for various

applications such as construction

and architecture, industrial, railways,

marine, automotive and aviation.

The structure of the honeycomb

panels is connected with each other

like I-beams. The skin sheet bears

the in-plane load like an I-beam

flange, function of the honeycomb

code is similar to the Web of I-beam

bearing shear stress, connecting and

supporting both skin sheets. This

results in high strength and excellent

rigidity.

Mr Sumit Gupta, Managing

Director of Alstone, said, "Alstone is

Email: lalit.midha@alstoneindia.com

Website: www.alstoneindia.com

Glass Bulletin | July - September, 2022 81
---
Product Hunt

Vesuvius Fused Silica – a dedicated

business unit within foundry division

Focused And Committed To Glass Industry With Expanding Materials &

Technologies

Vesuvius Fused Silica also delivers innovative ceramic solutions for other industries such

as metal heat treatment.

With more than 50 years'

experience, Vesuvius Fused

Silica delivers the precision

parts and reliable services to best

respond to customers' requirements.

As partners in performance, Vesuvius

Fused Silica provides innovative

technologies to optimise its customers'

processes.

It also provides the advantage of

local support by having teams of sales

and technical staff available around

the world.

Products & Applications in Key

Markets

Vesuvius Fused Silica products are

applied in various markets such

as glass manufacturing, glass heat

treatment, metal heat treatment

and others. The company's product

range offers the design, composition,

and dimensions to match your

applications.

The company utilizes analytical

experts to understand customer

needs, and its design and

manufacturing capabilities to suit

them. The company's pilot line

facilities new prototype manufacturing

and testing.

Many industrial processes are

characterized by high temperature

working conditions requiring the

use of heat-resistant ceramics

and refractory materials. Vesuvius

products can withstand temperatures

up to 1500°C, provide low thermal

expansion and conductivity, and

are made of high purity fused silica

material, well known under its

ZYAROCK® brand name.

Vesuvius Fused Silica provides parts

of any shape and size for conveying,

containing, and insulating. Its large

range of products are tailor-made

for high-end industries such as

architecture, automotive, aerospace,

energy, optical, residential appliances,

chemistry, and more.

Vesuvius Fused Silica for Glass

Applications

ZYAROCK® is the Vesuvius trusted

82 Glass Bulletin | July - September, 2022
---
Vesuvius• 2

brand of all fused silica technical

solutions developed for the glass and

the metal industry.

Glass Heat Treatment

99

Glass tempering: ZYAROCK®

glass tempering rollers with

SMARTLY DRIVEN® end cap

technology

99

Forming: ZYAROCK®

bending plates

Glass Manufacturing

99

Float glass: ZYAROCK®

shadow wall, ZYAROCK®

tweels and flat arches,

ZYAROCK® tin bath tiles and

skimmer, ZYAROCK® lehr and

lift out rollers.

99

Optical glass: ZYAROCK®

pots, ZYAROCK® Labtec

crucibles and lids

99

Hollow glass: ZYAROCK®

expendables

Vesuvius Fused Silica for Metallurgy

and other applications

99

Horizontal steel strip

heat treatment processes:

ZYAROCK® metallurgy rollers

99

Hot stamping: ZYAROCK®

HoSt rollers

99

Titanium annealing and

hot forming: ZYAROCK®

Vacuum Creep Flattening &

Super-Plastic Forming platens

99

Steel galvanization:

ZYAROCK® wire guides

Other applications

99

Calcination: CALCIN-

TECH FS trays

99

Grains: ZYA-Pure grains &

powders

99

Solar: ZYAROCK® rollers

for coaters with SMARTLY

DRIVEN® end cap technology,

ZYAROCK® and ZYAFOAM®

linings

99

Chemical: ZYAFOAM® linings

99

Aerospace: vacuum induction

melting one shot liner

Global Presence - Local Reach -

Proximity to Customers

With two manufacturing platforms in

Asia and Europe and sales offices on

every continent, Vesuvius FS provides

a global network of sales and technical

support. Local manufacturing in

facilities with quality management

ensures our customers receive the

best quality and service in the shortest

amount of time. Vesuvius consistently

provides customers dependable, local

services in any language at any time.

About the company

Vesuvius develops and manufactures

high-technology products and solutions

predominantly for supply to the steel

and foundry casting, and also glass

industries.

Think beyond. Shape the future.

Email: Guan-Thean.Lim@vesuvius.com

Website: www.glass.vesuvius.com

Glass Bulletin | July - September, 2022 83
---
Product Hunt

Elle glass shower sliding

system from Häfele

All Components Concealed, Only Clean Stainless

Steel Outline Visible From Outside

Like a shot of espresso, a good shower activates your

body and kick-starts your mind.

An early morning wake-up call, a

post work-out cleanse or a long

thought generating cascade – a

shower can mean different things at

different moments of the day based

on what you desire. A need for such

versatility is fulfilled by Häfele's

shower solutions range which helps

unlock the maximum potential of your

bathroom space.

Promising the highest level of

tranquillity and rejuvenation, Häfele

presents to you Elle Shower Sliding

Solution. The word 'Elle', equivalent

to beautiful in the Greek language is

befitting for this new shower sliding

system that delivers on aesthetical

design, combining beauty and

elegance. All the components of the

system are concealed behind the

track, and hence all you can see is the

clean Stainless-Steel outline of the

track, from the outside.

The Stainless Steel 304 material

used in the construction of the

different components of this system

provide sturdiness; while the

rollers made of Delrin featuring

high tensile strength, impact and

abrasion resistance grant your shower

enclosure efficiency and durability.

The impressive weight carrying

capacity of 80 kg and a track length

of 2500 mm proves sufficient to

accommodate a sizeable shower

area. To ease the installation process

tremendously, the top track comes

with a provision to install the fixed

glass panel directly onto it thus

negating the need for any separate

pre-installation preparation.

The timeless Stainless Steel

Polish finish of the system beautifully

complements a wide range of shower

accessories and fittings from Häfele's

Bath Fittings Range, providing you

the freedom to customise and create

harmonious visuals and designs in

your bathrooms.

About the company

Häfele India is a wholly owned

subsidiary of the Häfele Global

network and has been operating

in India since 2003. The ability of

the company to understand the

diverse Indian market has made it an

authority in the field of architectural

hardware, furniture and kitchen

fittings and accessories.

Email: customercare@hafeleindia.com

Website: www.hafeleindia.com

84 Glass Bulletin | July - September, 2022
---
ELLE 80 SHOWER SLIDING SOLUTION

Promising the highest level of

Tranquility & Rejuvenation!

SCAN HERE

TO VISIT WEBSITE

Customer Care Toll Free: 1800 266 6667 | Customer Care WhatsApp: +91 97691 11122

Email ID: customercare@hafeleindia.com | SMS: 'HAFELE' TO 56070
---
Product Hunt

The ProLam LSR from HEGLA is equipped with the laser diode heating system as standard and increases productivity by 20 percent or more, measured by pane throughput.

HEGLA motto for glasstec: Creating

added value together

glasstec Will Be Held In Düsseldorf, Germany, From September 20-23, 2022

"We've ordered over 32 lorries and hotel rooms are booked: HEGLA Group always

anticipates the best when the glasstec trade fair begins," says Managing Director

Bernhard Hötger.

"Alongside many machines

operating in real time, booth

A55 in hall 14 at glasstec will

have much to offer. 'Creating

added value together' is the motto

under which the HEGLA Group is

inviting accredited visitors to return

to its exhibition. We have focussed on

the here and now, and want to show

solutions that our customers can use

to create sustainable added value,"

Hötger highlighted.

Laser diode technology shortens

heating time and increases value

creation in LSG cutting

"In mechanical engineering, one

project that was close to our hearts

was to significantly improve cycle

time in LSG cutting," Hötger

explained. This resulted in the laser

diode heating system. The new

laser technology precisely focuses

on the film in the scoring contour

and reaches the transformation

temperature much faster than

conventional heating tubes can.

"Thanks to bundled heat

application, the productivity of the

entire cutting process improves by

20 percent, and considerably higher

pane throughput can be achieved,"

added Hötger. The surrounding pane

surface remains cold, which makes

subsequent cuts possible without

waiting. The technology also benefits

edge quality, as it systematically

prevents subsequent delamination.

For the first time, HEGLA are also

showing a vertical remnant system for

88 Glass Bulletin | July - September, 2022
---
HEGLA• 2

The standard becomes added value – thanks to processing with the Laserbird from HEGLA boraident, a standard pane can

be transformed into bird protection glass or an RF-transparent pane.

Microsoft," said Managing Director

Jan Schäpers from HEGLA-HANIC.

The new software basis now makes

it possible to enable many add-ons,

such as for financial bookkeeping or

controlling via the Microsoft platform.

On the other hand, a wide range

of programs can be integrated with

only minimal effort. As completely

redeveloped software, it is perfectly

adapted to all current systems.

The standard becomes added value

Be it bird protection glass,

antibacterial panes, heatable glass or

an RF-transparent IG unit: HEGLA

boraident from Halle/Saale want to

prove how easily a standard product

reducing glass waste.

Next-generation software

With Cut+, HEGLA-HANIC

introduced completely reprogrammed

software (HMI) for cutting table

organisation last year. At glasstec,

the company from Bochum will be

giving visitors insight into the next

generation of the ERP system that

can integrate all processes: from

digital order collection, storage and

individual machines to delivery at the

construction site.

"Standard OPC UA, digitalization

and an increasing level of automation

all motivated us to make our ERP

even more open with the Dynamics

365 development platform from

With various lasers and stored programs, the Laserbird can remove functional layers from glass, and add textures and

functions to panes such that a standard pane becomes an RF-transparent unit or antibacterial glass – on a pane by pane

basis and without any tooling time.

At glasstec, HEGLA-HANIC will introduce a new ERP system whose design is based on the Microsoft Dynamics 365 development

platform and enables numerous Microsoft add-ons. From digital order collection, storage and individual machines to delivery at

the construction site, all process can now be integrated.

can become a commodity with added

value. "With a range of samples,

we want to give the impression of

how flexibly glass can be finished

by removing or transforming the

functional layer, or via non-destructive

printing with our Laserbird,"

explained Dr Thomas Rainer, the

Head of Development at HEGLA

boraident.

In addition to the option of creating

functional glass without tooling time

or an additional service provider,

Thomas Rainer sees the "single piece"

option as a major advantage: "Via

the user-friendly GUI or connection

to the ERP, each individual pane

can be coated with various finishing

Glass Bulletin | July - September, 2022 89
---
Product Hunt

treatments without any waiting time."

Greater efficiency and automation

for tempering furnaces

"Tempered glass, as perfect as only

glass can be" is what HEGLA TaiFin

from Finland aspire to achieve. The

company is known for convection

technology and closely controllable

heating zones with qualities much

higher than the industry standard.

"We have one of the best tempering

furnaces on the market and at

glasstec, we now want to show what

is possible when strong partners work

together," said Teemu Kolka, Manager

of HEGLA TaiFin. The optimal

bedload is determined with bed

optimisation from HEGLA-HANIC.

For maximum automation, the glass

can be put together with automated

batch creation from HEGLA – no

operator required.

Through "de-batching", the

batch can be separated again.

Optional quality scanners monitor

quality and, in conjunction with the

intelligent optimisation of HEGLA

New Technology, they adjust the

furnace recipes if necessary. Thanks

to this holistic view, using such a

system increases total throughput

significantly and saves a great deal of

energy.

Cross-manufacturer information and

perfect maintenance with an app

The Shop-Floor app from HEGLA

New Technology meets the challenge

of increasing demand for information

and defined processes. Irrespective

of the manufacturer, machines and

systems can be integrated into the

maintenance area of the app and

documentation and spare parts lists,

for example, can be stored there.

An automatic ticket system alerts

users when maintenance is required

and saves the information when

maintenance work is completed.

Operations managers can also use

the app to assign work to employees,

putting work organisation on a

platform as well.

The Shop-Floor Assistant app

can be used as a tool for initiating

processes such as writing shipping

The HEGLA TaiFin CTF tempering furnace with full convection promises tempered glass as perfect as only glass can be.

documents or notifying breakages.

It also has a function for locationindependent

product tracking. The

QR code in the glass marking or

production label can be scanned and

read to access the default data.

"The Shop-Floor Assistant app from

HEGLA New Technology supplies

flexible options and information

anywhere, at any time," said Dr

Markus Schoisswohl, the Managing

Director of HEGLA New Technology.

"We look forward to glasstec and

meeting up with the global glass

industry," added Bernhardt Hötger.

"We live in dynamic times, and we

have not seen many of our customers

for a long time. We hope to have

ample opportunities for spontaneous

technical and personal conversations."

–Carsten Koch

Email: carsten.koch@hegla.de

Website: www.hegla.com

The HEGLA New Technology Shop-Floor app enables product tracking and data access anywhere and at any time. The app's

maintenance function has a ticket system and provides cross-manufacturer access to documentation and spare parts lists, for

example: functions which simplify maintenance and service.

90 Glass Bulletin | July - September, 2022
---
Product Hunt

Filtraglass prepares for glasstec 2022

glasstec Will Be Held In Düsseldorf, Germany From September 20-23, 2022

At glasstec 2022, Filtraglass will present XtremFlow, its new range of water filtering

systems for large volumes of water.

XtremFlow will be on exhibit at

the Filtraglass stand at glasstec

and will be available to be

experienced first-hand for all those

interested in the system.

The XtremFlow range, which

includes six different models, differs

from all its predecessors mainly

because it works with a new filtering

system: the filter press.

This new feature has made it

possible to multiply the number of

litres that a Filtraglass machine can

filter. However, this isn't the only

novelty XtremFlow offers.

All new models include a touch

screen on the control panel that

makes it possible to program

the machine, set it to operate in

automatic or manual mode, and more.

Other great new features include a

pH control meter, a turbidity control

system, and a complementary filter to

produce top-quality filtered water for

use in CNC spindles.

Filtraglass team will be on-site at

the fair to serve any company that is

looking for a solution to reduce their

tap water consumption and improve

their productivity while always

respecting the environment.

Email: info@filtraglass.com

Website: www.filtraglass.com

Glass Bulletin | July - September, 2022 91
---
Product Hunt

Complementary

technologies to meet glass

processing requirements

Bavelloni To Set Up Live Demos Of Its Glass

Processing Solutions And Expert Meets At

glasstec 2022

Bavelloni, a historic manufacturer of machinery and tools

for flat glass processing, is a brand with a long tradition

being on the market since 1946.

Bavelloni VDM 1636 CN drilling/milling machine

At glasstec 2022, Bavelloni,

manufacturer of machinery and

tools for flat glass processing and

Techni Waterjet (co-exhibitor), one

of the oldest and most experienced

waterjet makers in the world, will

welcome visitors to stand 16B60

and offer them the opportunity to

experience its complementary glass

processing solutions, live demos and

meet experts.

Visitors will witness the ease of

use, speed and precision of Bavelloni

VDM 1636 CN, a vertical drilling/

milling centre which has become

quite popular in just a few years. VDM

1636 CN features a single working

station fitted with one double drilling

head and rotating tool storage (8+8

position) capable of multiple tasks:

drilling, countersinking, milling and

notch griding.

Thanks to its features, it is the

ideal choice for producing doors

and for architectural applications. It

also comes with a functionality for

92 Glass Bulletin | July - September, 2022
---
Bavelloni• 2

machining parallelograms and offsquare

shapes which make it suitable

for staircase railings and balustrades.

The model on show will be provided

with drilling bit presetting and

redressing for enhanced automation.

Also on display will be the

company's Bavelloni VE 500 V10

mitering machine. This straightline

edger, specifically designed for

heavy glass sheets (up to 350 kg/m),

can grind flat edge with arrises and

chamfers with variable angles (0°-45°).

It features a robust structure, double

drive conveyor, wide touch-screen

control panel and separated inlet

arm motorization (Jumbo mode) to

load large panes while the machine is

working.

VE 500 V10 can be customized

with several options for different

requirements, such as: higher racks

and/or longer arms, HiWash washing

machine integrated in the outlet arm,

cerium polishing kit and different

connectivity possibilities including

teleservice, like the model on show.

Bavelloni equipment is Industry

4.0 ready therefore it can be easily

connected to and exchange useful

data with the customer's ERP system.

Visitors will also have the chance

to see a wide selection of Bavelloni

Bavelloni VE 500 V10 mitering machine

diamond and polishing tools and to

take advantage of the presence of the

company's specialists for advice and

consultation.

Techni Waterjet will be showcasing

Techni Waterjet i510 – G2, belonging

to the Intec-G2 ® Series, a range

of precise, easy-to-operate, safe

and highly reliable waterjet cutting

machines capable of cutting almost

any material to 200 mm (8") thick.

This machinery features an

innovative pumping technology,

Quantum TM Electric Servo Pump

(ESP), designed by Techni to combine

the advantages of traditional pumps

while avoiding their drawbacks.

Quantum TM ESP is the only waterjet

pump using just the power required

for any given pressure and flow rate.

The

benefits of

this new

technology

over

traditional

water jet

pumps

include:

up to 75%

less cooling

water

requirement, longest life of fittings

and tubing, easy maintenance, silent

operation and significantly reduced

footprint.

About the company

Bavelloni, a historic manufacturer

of machinery and tools for flat glass

processing, is a brand with a long

tradition being on the market since

1946. Its machinery range, entirely

made-in-Italy, includes NC machining

centers, technologies for cutting,

edging, drilling/milling, bevelling and

washing, available as stand-alone

solutions and in integrated lines.

In early 2022, Bavelloni partnered

with GMM Stone Machinery, creating

one of the world's largest industrial

groups in stone and glass processing

which includes three brands: GMM

(Stone), Bavelloni (Glass) and Techni

Waterjet (Fabrication Materials).

Bavelloni tools

– Bavelloni SpA

Email: info@bavelloni.com

Website: www.bavelloni.com

TECHNI Waterjet_Intec-G2 CNC Waterjet Series

Glass Bulletin | July - September, 2022 93
---
Technical Article

Stele

The stele with its coloured MorphoColor-PV modules in front of the main entrance to the Fraunhofer ISE serves to demonstrate

the aesthetic design potential of Building-Integrated Photovoltaics (BIPV) in façades and roofs. The colour coating MorphoColor

was developed and patented by Fraunhofer. The modules were produced with crystalline solar cells in a shingle format at the

Fraunhofer ISE.

Photo: Fraunhofer ISE / Photographer: Dirk Mahler

Building-integrated

photovoltaics: From

niche to mass

In Future, Power Could Predominantly Be

Generated By Wind Energy & Photovoltaics

BIPV have until now only been a niche feature in

architecture. It can potentially become a mass market.

The 2045 climate targets and

future independence from

fossil energy and fuel imports

mean sustainable power generation

via building-integrated photovoltaics

(BIPV) could potentially become a

mass market.

Current studies show that the

building surfaces available in

Germany by far exceed photovoltaic

demand in a regenerative energy

system and could produce an installed

PV output of up to 1,000 Gigawatt

peak (560 GWp roofs; 440 GWp

façades).

For successful energy transition

in Germany, depending on

circumstances, 150 to 300 Gigawatt

peak and/or areas of 750 to 1,500

square kilometres would suffice.

Offering the greatest potential here

are building skins that are in any case

largely modernised because the added

cost for photovoltaics is now dropping

94 Glass Bulletin | July - September, 2022
---
Glasstec• 2

Module

MorphoColor® PV module sized 100 x 100 cm

Photo: Fraunhofer ISE / Photographer: Thomas Kroyer

Farbpalette

Colour range of MorphoColor® layers.

Photo: Fraunhofer ISE / Photographer: Andreas Wessels

significantly and amortisation over

as few as 10 years is now becoming

realistic. For new buildings, costs

for BIPV can be lowered subject to

early planning since conventional

construction materials can be saved.

Germany is heading towards

climate neutrality by 2045. This target

might be achieved faster in the energy

sector since here the transformation

costs are lower than in other sectors

such as agriculture, for example.

Renewables are becoming the most

important source of energy for the

growing "power hungry" – also in

the changing heating and mobility

sectors.

In future, power could

predominantly be generated by wind

energy and photovoltaics also because

of the comparatively low generation

costs. According to models by the

Fraunhofer-Institute for Solar Energy

Systems ISE, total PV system output

needs to grow to approximately 200 to

300 GW.

At present, some 55 GW are

installed, mainly through systems

Glass Bulletin | July - September, 2022 95
---
Technical Article

Sputteranlage

Horizontal sputtering line with a coating surface of 1.5 x 4 metres.

Photo: Fraunhofer ISE

installed on roofs and open spaces. In

2020, the surface of installed BIPV

was still low at 65,800 square metres

(13 MWp with annual fluctuation

rates of approx. 5%) but massive

growth is expected because successful

energy transition requires a total of

400 to 500 GWp, and of these about

50 to 300 GWp in building skins. The

delta could be generated with the help

of PV systems in open spaces realised

in combination with agriculture,

erected on bodies of water, parking

lots, transport routes, in vehicles or on

renatured biotopes and peatlands.

By far the largest potential for

growth, however, is offered by building

skins. With their large usable surfaces

they would, subject to being fitted

with PV, make energy supply more

sustainable especially in cities because

solar building skins substantially

reduce CO2 emissions in the building

sector, avoid grid expansion costs and

add future-proof local value. Each

new building, each refurbishment

with BIPV would contribute to the

energy transition and generate

revenue for building operators at the

same time. In Germany, about 107

million square metres of façade and

63 million square metres of pitched

roofs are built every year. If these

surfaces were used, the output could

go up to 33 GWp. An interim target

has already been set for 2030 by the

Renewable Energies Act (EEG) – a

renewable energy share of 65% of

gross power consumption. To achieve

this target, a continuous annual PV

addition of 5 to 10 GWp is required

depending on developments in power

needs and wind power expansion.

Integration in digital construction

planning needed

An important building block for

developing the market is the

integration of BIPV products into the

planning of construction processes,

especially via such digital tools as BIM

(Building Information Modelling).

However, to ensure PV functions

are regularly integrated into building

products, simplifications in building

product laws and technical provisions

as well as incentives through fiscal

and regulatory instruments are

needed – which is where policymakers

must step in.

Additionally, many stakeholders

from society should send out clear

signals to politicians: when it comes

to electricity and heating, mobility

and consumption, consumers can

give preference to energy-efficient

products and renewable energies

thereby generating massive demand.

Investors are finding attractive

long-term investment options in the

energy transition. Decision-makers

should check which measures provide

sustainable returns and promote

green transformation.

Countries, cities and communities

should promote sustainable projects

and plan their own investment

accordingly. In the final analysis,

companies should be encouraged to

push for PV production in Germany

again, to avoid dependencies and

leave the "fossil" age behind where

every year 3-digit billion figures are

paid for oil and gas imports to cartels

and authoritarian regimes.

Raw materials for PV production

are available in Germany which

96 Glass Bulletin | July - September, 2022
---
Glasstec• 4

played a key role in developing solar

technologies before false political

decisions led to outsourcing of

relevant jobs to the Asian region.

Domestic PV production would

permit long-term supply security and

compliance with high ecological and

quality standards – a competitive

edge.

Another key aspect of expansion

would be to make the real costs of

different types of power generation

more transparent: photovoltaics

still has a reputation for being a

relatively expensive technology for

power generation – about EUR 300

per square metre as full system costs

for smaller to medium-sized roof-top

systems are realistic while integrated

systems are a little more expensive.

However, if a conventional façade

is replaced or a new solar façade

is planned, costs decrease. Larger

roof-top or outdoor systems are also

efficient without affecting external

costs – their full costs for power

generation are between 5-10 Euro

cents/kWh, comparable to the costs of

gas-fired power plants.

Taking a closer look, it also

becomes clear that cost comparisons

with fossil-fuel or nuclear-power

generation are currently somewhat

distorted – because their external

costs and the risks associated with

the damage they cause to the

environment, climate and health

have been largely left out of the

equation – which effectively means

conventional energy carriers enjoy

hidden subsidies. The marginal costs

by no means cover the neutralisation

of nuclear waste or greenhouse gas

emissions (CO2, NOX, SOX etc.), to

name but two – these "concealed"

costs are currently borne by the

BIPV_Institut

BIPV module in a Fraunhofer ISE building, Freiburg.

Photo: Fraunhofer ISE

public at large. Even more essential,

however, is focusing on the biggest

challenge of them all, CO2 neutrality:

PV-based power generation reduces

CO2 emissions substantially and

would be highly effective for the

reduction of the greenhouse effect.

Volatile power from renewable

energies needed

Power needs for heat generation

(buildings, industry), mobility and

as a primary material for chemical

processes will be subject to permanent

and long-term increases – this is

evident in the glass industry, for

example: BV Glas expects naturalgas

fired float glass furnaces to be

converted to electrical and hybrid

technologies with "green" hydrogen

by 2045. Otherwise, the international

agreements on CO2 neutrality would

not be achievable. Here, electrolytic

hydrogen production from renewable

power plays a pivotal role.

Likewise, e-mobility is increasing

our need for more electricity which

can be covered by renewable

power generation because it is

self-compensating due to different

seasonal, geographical and

technological factors. Weather

dependencies associated with wind

energy and photovoltaics can be

compensated for across European

national borders.

The rising degree of

decentralisation as well as the

coordination of volatile power

generation and controllable

consumption especially in Germany

presupposes strong digital expansion

and, ideally, a standardised

development across Europe.

Further incentives for using

BIPV are self-evident: modern

modules permit not only solar power

generation but also attractively

blend with the façade (important for

consumer acceptance), improve heat

insulation as well as protection against

wind and weather – also shade – when

integrated in glass façades.

At present, the first transparent

BIPV product designs are being

introduced to the market which

can aesthetically be combined with

solar-protection glazing or other

materials in the façade. Researchers

at the Fraunhofer ISE see great

opportunities for European companies

when it comes to mass-produced

and yet customisable BIPV modules

– offering sustainable added value

and allowing architects and façade

planners to find matching products for

any given project.

The Institute itself developed

"Morpho-Color©", modules equipped

with highly efficient colour coatings

(maximum 10% loss of efficiency

versus entirely transparent front

covers) with variable cell and module

formats and appealing design options.

These pave the way for solar building

envelopes, partly transparent with

visible silicon solar cells or opaque in

various colours.

Sources

• Study by B + L Marktdaten

GmbH commissioned by

Fraunhofer ISE, 03/2020

• "Potenziale der Integrierten

Photovoltaik in Deutschland"

(Potential for Integrated

Photovoltaics in Germany),

Harry Wirth, Jan-Bleicke

Eggers, Max Trommsdorff,

Holger Neuhaus, Martin

Heinrich, Stefan

• Decarbonisation in the float

glass industry

Email: me@marceverling.de,

KueppersB@messe-duesseldorf.de,

KraussD@messe-duesseldorf.de

Website: www.glasstec.de

Glass Bulletin | July - September, 2022 97
---
Technical Article

Refurbishment: Extension of a Residential Building, Paris, JAVA Architecture

Photo: Caroline Dethier

Facade engineering trends

Digitalisation Is Key To Transformation

Construction will have to change fundamentally over the

coming decades due to the requirements brought on

by climate change, dwindling resources and the energy

transition.

Glasstec discussed the major

trends in facade engineering

with Dipl.-Ing. Jochen Hölscher,

Managing Director of mediumsized

façade construction company

Hölscher, which has also not shied

away from developing custom solutions

for many decades now.

The buzzwords here are:

sustainability, standardisation for

serial and modular concepts, BIM

and material databases for efficient

2D and 3D planning, 3D printing

of components, smart building with

adaptive facades, and concepts for

buildings to serve as material banks.

The key to successful implementation

for all of these is digitalisation.

A look at the specifications of

all sectors involved in construction

speaks a clear language regarding

climate change, finite resources and

a changed geo-political situation: the

world is undergoing key technological

and structural change. And this does

not even stop at facade construction.

In view of these developments it

is apparent that digitalisation is an

important key to almost all major

future issues.

Jochen Hölscher, Managing Director

of facade construction company

Hölscher, is convinced: "Digitalisation

is the key, also when it comes to

successful BIM (Building Information

Modelling) applications. BIM data

is as important as ever for facade

construction because the technical

possibilities are developing fast and

the volume of data to be managed

for the planning process is growing.

When digitalised, processes – ranging

from the planning of a building and

its expected refurbishment cycles to

its "end of life" and the reintroduction

of its raw materials into technical

cycles – can all be mapped in a far

more comprehensive, efficient and

transparent way."

"This particularly applies to the

circular economy we all strive for

which already now forms an integral

part of the German government's

coalition treaty. It hopefully won't be

too long before this is also reflected in

corresponding legislation," Hölscher

said.

Some local authorities are now

98 Glass Bulletin | July - September, 2022
---
Glasstec• 2

Dipl.-Ing. Jochen Hölscher, Managing Director of SME

facade engineering company Hölscher.

Photo: Hölscher GmbH & Co. KG

already introducing the "Building

Circularity Passport" (see EPEA)

for new buildings. "BIM offers great

opportunities here but to make it work,

construction material manufacturers

have to create digital twins of their

products and ideally provide 2D

and 3D models of them," explains

Hölscher.

The importance of their digital

visibility becomes particularly evident

when looking at the current supply

bottlenecks for many materials and

products. Likewise, sustainable

modular and serial construction

require digitalisation as an enabler – in

future, access to material selection

procedures will be restricted to

those with digital ranges of certified

sustainable products suitable for the

circular economy.

Hölscher knows that digitalisation

will also bring many challenges:

"Data volumes are expected to grow

exponentially and data will be shortlived

and still poorly structured

– meaning it won't be very suited

to management and retrieval via

conventional SQL databases because

these quickly come up against their

limits with such complex data sets.

New and more modern database

systems are required instead that make

it possible to analyse the connected

information and detect and exploit

shared data points."

Pattern-recognition algorithms

simplify and accelerate even highly

complex data searches here. Databases

of this kind already exist for the big

social networks and web shops, for

example, to record user relations or

analyse potential shopping behaviour.

Buildings as material banks

Another trend also depends on the

success of digitization: buildings are to

become "material banks". The majority

of buildings constructed between

the 1950s and 1970s offer immense

quantities of recyclable building

materials at the end of their lifecycle:

concrete, bricks, steel, glass, wood,

gypsum, plastics, to name but a few.

The planned "extraction" of

these resources is an important step

towards climate neutrality because

only some 50% of the CO2 emissions

of new buildings are caused by

their operation, the other half is

so-called "grey energy" consumed

for the production and transport of

construction materials as well as for

demolishing and disposing of the

building.

This is why grey energy and

lifecycle costs are to form part of a

future digital material and building

passport. "Alongside the required

political framework, digitalisation is

also imperative here because it allows

architects to think of a building's

demolition already in its early planning

stages," adds Hölscher.

This will also be of key importance

for future investment decisions:

investors and lenders want to be able

to assess how the value and re-use

potential of a building will develop

over some decades. All registered raw

materials are quantifiable assets. A

significant rise in the use of recycled

construction materials has also

been advocated by the building and

environment association Institut

Bauen und Umwelt (IBU), for

example – so databases are needed

that make it possible to identify and

catalogue resources and this would

allow the BIM to create a digital twin

of each building.

"Just as important as the recycling

of raw materials reclaimed from

buildings during their demolition,

however, is redeveloping existing ones.

After all, the energetic refurbishment

of structurally intact old buildings

has a substantially smaller carbon

footprint than a new building in most

cases. Moreover, less new surface area

is sealed when sustainable, modular

storeys are added to existing buildings

to create new living space," explains

Hölscher.

Serial, modular construction

This insight leads to another future

trend: serial, modular construction.

Hölscher said, "This has been

under discussion for a long time

but unfortunately, the German

construction sector still treats each

new project as a prototype. What

we need instead is an increasing

standardisation of components as seen

in the automotive industry for many

decades now which has indeed proven

to work well."

If more standardised building

components such as windows or

facade elements, for example, were

available for different building types,

these could potentially be "re-used"

several times or at least be replaced

by energetically more advanced

models from time to time. Processes

would be quicker and more efficient.

Buildings could remain in use for

significantly longer. The main reason

why modular construction is only

picking up slowly and productivity

is not gaining ground – again – is

the lack of digitalisation. Hölscher is

convinced that without digitalisation

there is no standardisation, without

standardisation no serial production,

and without serial production no

sustainable module construction."

Furthermore, the realisation of

new concepts and sustainable ideas

is hampered by a far too high number

of widely varying building regulations

applied in different German states.

Cutting red tape and harmonising

building regulations without local

authorities adding their own extra

requirements is therefore one of the

biggest and most relevant challenges.

"There's no reason anymore why

building regulations in Munich

should differ from those in Berlin or

Barcelona," says Hölscher.

3D printing of components

Two years of pandemic, then the

war in Ukraine – this on-going

exceptional situation has paralysed

the construction sector. While skilled

Glass Bulletin | July - September, 2022 99
---
Technical Article

3D-Printing: Residential Building, Beckum

tradespeople have suffered from

order bottlenecks for years now, the

lack of skilled labour is now getting

even worse and construction prices

are rising due to disrupted supply

chains. This is why more and more

building contractors are now looking

to alternative methods for building

or manufacturing components. A

particularly attractive alternative

here is 3D printing since it is efficient

already from a batch size of one.

Hölscher is using this technology

already. "Buildings in concrete are

often fitted with a curtain-wall facade.

Here, the facade forms the outer skin

of the building that is fastened to the

shell using so-called facade couplings.

These serve the important task of

compensating for any tolerances in

the construction components to be

connected. Measuring and adjusting

facade construction in all three spatial

directions is currently done manually

which involves a great deal of work.

"These labour-intensive steps

substantially delay construction

progress and entail high costs. This

is why we looked to develop a process

chain for customising the production

of tolerance-compensating facade

fastening systems. A scan process

with a new evaluation step was

developed which allows the building

wall tolerances to be recorded. In

parallel to this planning, software was

developed that designs the geometries

as well as static characteristics of

the facade fasteners. These are then

Photo: Mense-Korte ingenieure+architekten

manufactured by 3D printing (additive

manufacturing/deposition welding),"

Hölscher added.

The new scanning and evaluation

process allows facade engineers

to measure the building skin to

millimetre precision and transfer

it into a 3D model. The developed

tolerance-compensating facade

coupling features a multi-bracket

structure and is suitable for various

facade systems (e.g. glass facades,

sheet metal cladding). Depending

on the facade system standard

connectors for facade panels can be

attached to the tips of the brackets

using connective technology. The

various lengths and orientation of

the brackets compensate for building

skin tolerances. Their use can cut

installation time by over 20% since

these couplings do not have to be

adjusted at the construction site

which is very labour intensive. Here,

however, existing legislation and

required approvals again stand in

the way of nationwide use. On top of

this, manufacturing capacities and/or

demand is not high enough to achieve

purchasing prices that are efficient for

standard applications.

BIPV in adaptive facades

Building-Integrated Photovoltaics

(BIPV) have unfortunately only been

an exception in German architecture.

To achieve climate goals and greater

independence, however, BIPV-based

power generation will probably become

a mass market. Hölscher stated, "If

architects incorporate BIPV in their

concepts as early as in the initial

planning phase, the building skin

would provide substantial potential

for sustainable energy supply. The

carbon footprint of such buildings

is reduced and the value chain

becomes sustainable. Each scheduled

refurbishment and each new building

would make a valuable contribution to

the energy transition while generating

revenue for building operators at

the same time – making them good

arguments for investors."

To him, adaptive facades seem to

be of particular interest. "The head of

a sunflower always turns to face the

sun over the course of the day. Moving

BIPV modules can do the same."

As part of a current project of ETH

Zürich researchers attached movable

thin-film solar cells to the House of

Natural Resources. To this end the

modules were installed on a rope mesh

installed in front of the building's

wooden facade – where they serve to

both generate power and make for

variable shading.

The solar cells can be controlled

manually or automatically follow the

sun to maximise energy gain. "The

development of such systems to

market maturity appears especially

attractive to me, as long as they stay

variable and planners can adjust the

design in terms of grid, shape and

colour. This flexibility would provide

the facade with an organic, lively

appearance that constantly changes

during the day. I'm sure we're in for

exciting developments here in the

years to come."

glasstec visitors will also be able

to follow exciting developments in

this field and other trends in the

wide-ranging Conference Programme

and the International Architecture

Congress at the trade fair.

– Brigitte Küppers

Email: KueppersB@messe-duesseldorf.de,

KraussD@messe-duesseldorf.de

Website: www.glasstec.de

100 Glass Bulletin | July - September, 2022
---
Event

glasstec 2022: Foresight.

Sustainable architecture

with glass

International Architecture Congress, A Session on

Architecture & Interior Design, Will Be Held on

Sep 22

The Congress is a cooperation project between glasstec,

Chamber of Architects North Rhine-Westphalia, Technical

University TU Dortmund and architecture trade journal

DETAIL.

In architecture, glass has

always been synonymous with

transparency, lightness and

versatility. It was and still is the

material for visionary designs of the

future and trendsetting buildings of

modern times. However, will glass also

stand the test of time posed by the

coming age of sustainability?

What contribution do glass facades

make for our independence from fossil

resources and to people's well-being

in an increasingly warmer climate?

What technical and design potential

does glass offer in architecture today?

Answers to these questions will

be provided by the International

Architecture Congress "Foresight.

Sustainable architecture with glass"

on 22 September during glasstec

in Düsseldorf. The Congress is a

cooperation project between glasstec,

the Chamber of Architects North

Rhine-Westphalia, the Technical

University TU Dortmund and the

architecture trade journal DETAIL.

Pioneering practical examples

The agenda features eight

representatives from renowned

architecture and engineering firms

that are pioneers in planning and

building with glass, presenting

their exciting topics. In his lecture,

Thomas Auer of Transsolar, Professor

of Climate-Adjusted Building at TU

Munich, will answer the question of

how façades can contribute to allround

sustainable architecture.

Michiel Riedijk of Neutelings

Riedijk Architects and Ingemar

Vollenweider of the architects' office

jessenvollenweider will present two

examples of building skins that are

not only energy-efficient but even

generate energy: the Gare Maritime

at the Tour & Taxis site in Brussels is

considered a showcase for climatedriven

refurbishment of buildings

in the Belgian capital and the newly

erected Environmental and Energy

Authority in Basel is the first office

building in the city that complies

with the Swiss Plus-Energy-Standard

'Minergie-A' thanks to its PV façade.

A similarly ground-breaking beacon

(almost) completely from glass was

erected by the Danish architects 3XN

with their office building 'cube berlin'

at Berlin central station. Details about

the new building and its twin-skin

façade will be provided by Torben

Østergaard of 3XN in his talk at the

Congress.

Bernard Plattner and Carla

Baumann from the Renzo Piano

Building Workshop have decades of

experience in building with glass.

Their lecture will cover projects

of the past 40 years to highlight

this company's very special way of

interpreting the expressiveness of this

material.

Two new glass buildings erected in

a completely different context will be

introduced by Štěpán Valouch from

Czech architects' office ov architekti

and David Serero of Serero Architects

from France. For the headquarters

of luminaire manufacturer, Lasvit ov

architekti designed an add-on building

with a scaled skin composed of

1,400 translucent, large-format glass

shingles, that cover both the roof and

façades. In contrast to this, the newly

built mediatheque in the French city

of Bayeux, presented by David Sereno

in his talk, appears transparent from

the outside and open on the inside.

The International Architecture

Congress is held as part of glasstec at

CCD Ost of Messe Düsseldorf. It is

recognised as 2 hours of continuous

education for the disciplines

Architecture and Interior Design by

the Chamber of Architects North

Rhine-Westphalia. Tickets are

available online via the Ticketshop

of Messe Düsseldorf: www.glasstec.

de/1130

– Brigitte Küppers

Email: KueppersB@messe-duesseldorf.de,

KraussD@messe-duesseldorf.de

Website: www.glasstec.de

Glass Bulletin | July - September, 2022 101
---
GLASSTECH ASIA 2022 &

FENESTRATION ASIA 2022

The Glass Hub of Southeast Asia

Powered by BAU & BAU China

Be part of the BAU Network!

26

-

28

OCTOBER

2022

MARINA BAY SANDS

CONVENTION CENTRE,

SINGAPORE

>200

Exhibitors

>3,000

Professional

Visitors

~5,000 sqm

Gross Exhibition

Area

Enlarged

Supporting

Program

New Networking

Platforms

Exhibitor Profile:

Glass Production & Manufacturing Technology

Processing & Finishing

Glass Products & Applications

Chemical Building Products

Windows & Doors System

Curtain Walls & Sun Shading

Architectural Glass Profiles

Hardware, Digital Products & IT

> and more....

(65) 9766 7360 adrian.tan@mmiasia.com.sg www.glasstechasia.com.sg

Organised By: MMI Asia Pte Ltd

In Partnership With:

Singapore Glass Association

Supported

By:

105
---
107
---
PULSAR Technologies

104, Ajanta, Plot No. 24, Sector 15, Vashi, Navi Mumbai-400703, INDIA

Handphone: +91 81699 40437 website: www.pulsartechno.com Email: s aIes@puIsartechno.com

JF – 3 Surface Stress Meter

The Instrument is applied for measuring surface

Stress of thermally toughened glass, heatstrengthened

lass and annealed glass on the tin side.

* Special edition can work on Borofloat Glass

Edge Stress Meter

Method : Senarmont Compensation

DHRWG – 01 Dual head Roller Wave Gauge

The gauge is designed for measuring roller wave and edge-life (edge

curl) in flat glass according to EN 1863 and EN 12150.

The length of the gauge base is 16" (406mm) with Composite structure of Aluminum

alloy and Delrin ( POM). The handhold curve of Aluminum alloy brings convenience

to operation and POM bottom gives protection to glass surface soft coating.

The main technical parameter of the instrument are as follows :

118
---
PULSAR TECHNOLOGIES leading suppliers of Testing, Sensing & Measuring Instruments for Quality

Control in GLASS PROCESSING INDUSTRY.

Argon Gas Analyzer-

Sparklike

Glass Surface Stress

Measurement Polarimeter

Fully Automated

Haze Meter Light &

Transmittance

UV-Radiation Chamber

Steel Ball

Abrasion Tester

Merlin Lazer Glass Analysis

Kit

Shot bag Humidity Chamber Edge Lift Roller Wave Gauge

PVB Moisture

Measurement

SHGC Window Energy

Meter with UV Full IR

Visible light transmittance

Low E Coating Detector Pneumatic Tyres Impactor Head Form

• Optical distortion online

measurement in flat glass

– online scanner for glass

inspection.

• Glass thickness

measurement – Glass

thickness, PVB thickness,

Air Gap etc. for flat glass,

architectural glass

including the IGU's and

automotive glass.

• Stress Measurement in

glass.

• Dropping Tower.

• Dropping Test Equipment

• Frag Glass Software

• Haze Meter, Deep freezer

• Shore – A Hardness

Tester

• Boiling Kettle

• Standard Projector

• Double Image Test Light

Source

• Baking Test Oven

• Radius Meter.

• Electronic Balance

• Dew point Tester TW-25,

UV Radiation Chamber,

Local Bow and RWG-D

• Proxy test

• Precision scalars

• Variable angle windshield

support

• The resistance furnace

• Moisture Penetration

tester EN-500B

• Sealant aging test meter

UVEC-1

• Spring Loaded Auto

Punch

• Electronic tensile strength

test machine.

PULSAR Technologies

Vashi, Navi Mumbai-400703, INDIA Handphone: +91 81699 40437 / 93235 26797 website: www.pulsartechno.com Email: saIes@puIsartechno.com

119
---
128
---
129
---
15

R
---
Your Biggest Glass Consumables Chain
---
glass technology

Combined Expertise

for Customized Solutions

Hope to see you at

20-23 September 2022

Düsseldorf, Germany

Hall 14 | Booth A55-E55

Developing the Value Chain with HEGLA Group

With machines and systems from HEGLA, you can achieve maximum precision, quality

and automation. Efficient and modern software solutions from HEGLA-HANIC optimize

your production control and planning. Innovations such as laser-assisted glass finishing

and gentle laser marking from HEGLA boraident further increase your added value. The

high-performance tempering furnace technology of HEGLA-Taifin offers you optimum

production results for maximum customer satisfaction.

Upgrading Glass Products Robust Software Solutions Advanced Tempering Furnaces

HEGLA • Industriestr. 21 • Beverungen, Germany • info@hegla.de

HEGLA Trading & Service GmbH • Chennai 600034, India • naresh.kumar@hegla.in