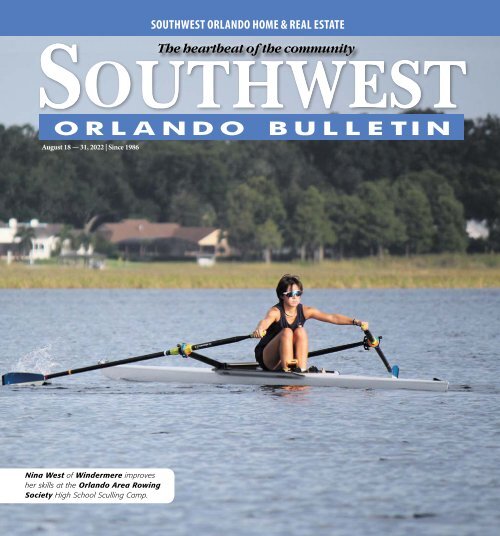 081822_SW_THE ARTS_DIGITAL EDITION
You also want an ePaper? Increase the reach of your titles
YUMPU automatically turns print PDFs into web optimized ePapers that Google loves.
SOUTHWEST ORLANDO HOME & REAL ESTATE

The heartbeat of the community

O

ORLANDO BULLETIN

August 18 — 31, 2022 | Since 1986

Nina West of Windermere improves

her skills at the Orlando Area Rowing

Society High School Sculling Camp.
---
When you want it SOLD

Darrell Nunnelley

BROKER

407-467-8069

SOLD

11129 Lake Butler Blvd

Windermere

Lake Butler Access

SOLD * Multiple Offers

1842 Down Lake Drive

Windermere

Lake Down Access

SOLD

10502 Moore Road

Windermere / Gotha

4 - Vacant Lots

For Sale * Downtown Orlando * New Construction

For Sale

1 of a Kind * Custom Lakefront

6 Beds * 6.5 Baths * Lake Olivia

501 Main Street – Windermere

Local Office

DarrellSells.com
---
www.SouthwestOrlandoBulletin.com x August 18 — 31, 2022 x 3
---
4 x August 18 — 31, 2022 x www.SouthwestOrlandoBulletin.com
---
TABLE OF CONTENTS

www.SouthwestOrlandoBulletin.com x August 18 — 31, 2022 x 5

HOW TO .......................................................................................... 6

Protect the Planet

NEWS & BUSINESS BRIEFS ................................................................ 8

THE ARTS ........................................................................................ 11

SOUTHWEST ORLANDO HOME & REAL ESTATE ................................ 13

Extend Your Living Space Outdoors

The Everlasting Appeal of Hardwood

Attract Buyers When Selling Your Home

SOUTHWEST SPORTS........................................................................17

COMMUNITY BULLETIN BOARD ....................................................... 20

SOUTHWEST SERVICE DIRECTORY ................................................... 21

PRESIDENT & PUBLISHER

Rick V. Martin

August 18, 2022

Volume XXXVI, No. 20

VICE PRESIDENT

Yvette Martin

MANAGING EDITOR

Lisa Sagers

lisa@kearneypublishing.com

ASSISTANT EDITOR

Lauren Salinero

lauren@kearneypublishing.com

P.O. Box 851

Windermere, FL 34786

407-351-1573

www.southwestorlandobulletin.com

The Southwest Orlando Bulletin is published semimonthly by

Cornerstone Publishing & Multi-Media LLC. No material may be reproduced

without written permission. Subscriptions are available in the U.S. and Puerto

Rico for $25.56 per year and in Canada for $31.80 per year. For foreign

surface mailing, add $20 per year.

Neither the publishers nor the advertisers are responsible or liable for

typographical errors, misinformation, misprints, etc., unintentionally contained

herein. All letters received become the property of Cornerstone Publishing &

Multi-Media LLC and may be reproduced and edited without consent.

©2022/Cornerstone Publishing & Multi-Media LLC

CIRCULATION

Robert Barlow

MARKETING CONSULTANTS

Madeline DeVito

407-351-1573, option 1

mdevito@kearneypublishing.com

Michelle Oakes

321-277-3467

michelle

@cornerstonepublishinggroup.com
---
6 x August 18 — 31, 2022 x www.SouthwestOrlandoBulletin.com

During a time of concern for the

environmental health of the world,

many people are more aware of

their personal impact on the planet

than ever before. Merriam-Webster

dictionary defines carbon footprint

as "the amount of greenhouse gases

and specifically carbon dioxide

emitted by something (such as a

person's activities or a product's

manufacture and transport) during

a given period." If you're interested

in reducing your carbon footprint,

below are some tips to get you

started:

Say no to single-use items. In recent

years, much awareness has

been brought to the forefront on

the impact something as small as a

plastic straw can have on the environment.

In fact, you may already

carry a reusable straw. Go even

further by replacing paper towels

with dish towels, which you can use

to clean up spills and messes, throw

in the wash, and use again. Instead

of single-use plastic water bottles,

purchase or install a water filter to

have access to clean water without

HOW

Protect the Planet

Various Lifestyle Changes Can Help the Environment

plastic consumption. In that same

vein, you can switch to refillable

and sustainable products. Many

household items can be bought

TO ...

by Lauren Salinero

Everybody

plays a

part in

protecting the

environmental

health of the

planet.

as refillables (hand soaps, beauty

products, etc.) or even made at

home from organic, nontoxic ingredients

(cleaning solutions, detergents).

You can also make a

concerted effort to purchase products

that use recycled materials or

minimal or plastic-free packaging.

While many people already recycle

as they throw things away,

think about recycling more than just

trash. You can donate unwanted or

unused items, shop at secondhand

stores for clothing, and repair torn

or worn-out clothes instead of buying

new. Don't choose short-lived

fashion trends, but opt for classic

pieces that will last for years and

never go out of style.

It isn't just what you put on your

body that has an impact on the environment,

it is also what you put in

your body. Eating in-season locally

sourced foods can do more than just

help the environment. Supporting

area farms and other businesses

boosts the local economy. Buying

locally also cuts down on food

transportation, which reduces gas

emissions caused by ground and air

transport. Eating foods that are currently

in season alleviates the need

for long-term storage and ensures

that what you're eating is fresh,

which also tastes better.

You can also change the way you

move around in the world. Try limiting

your use of a personal vehicle,

and consider walking or biking to

nearby stores, carpooling with others

when going to the same or a

nearby location, and using public

transportation when possible. This

will not only reduce emissions, but

has the added benefit of saving

money on gas.

Another way to save money is to

assess your energy usage at home.

Orlando has co-ops available for

those wanting to explore the option

of solar energy. You can also

change your lightbulbs to LED, shop

for Energy Star-certified appliances,

keep your home at a moderate temperature,

take shorter showers and

use cold water to wash laundry.

These small steps can add up to

making a big difference.

Whether you are starting small

or making big lifestyle changes, everything

you do to help sustain the

planet's health will help future generations.

ª

Nurse Practitioners:

Esther Pelissier, ARPN-BC

Irene Gan, PMHNP

Raykha Crag-Chaderton, PMHNP-BC

Rachael Pittala, ARPN-BC

Therapists:

Michael Kellogg, LMHC, ATR-BC

Randie Morillo, LCSW, ACSW

Amy Singleton, LMHC

Brooke Parker, LMHC

Cristal Daniel, LMHC

Rachael Pittala

Esther Pelissier
---
For many years I lived in my

parents' home caring for them until their

deaths. My mother, 90 years old, was

last to die. Months prior to her death

I invited my younger sister to move in

with us to help care for mom because

I was being assigned by my firm to its

North Dakota branch which removed me from Florida for over a year.

During my absence, my sister, without my knowing, took mom to an

attorney to prepare a last will naming her as sole executor and beneficiary

of all mom's assets other her home and its contents which she named me

as sole beneficiary. Subsequently, she assisted mom in securing a Reverse

Mortgage on her home whereby she received a lump sum of $250,000. She

deposited the money in a joint account in both my mom's and her names.

Following the funeral, the bank account was closed and I have not seen my

sister since. Meanwhile, I am left with a mortgage on the family home owing

$250,000. This has been the family home for more than 45 years with a

current value of $526,000.

Regardless of my sister's actions, I do not wish to give up on the family

home, but the mortgage company will not allow me to continue payments.

I have heard a lot of troubling things about Reverse Mortgages and am

worried I can lose the home. How do Reverse Mortgages work and what

must I do to force the company to provide me the balance owed?

No mortgage company is required to speak to anyone other than the

person who signs the mortgage. Understanding probate, most Reverse

Probating Reverse Mortgages

by: Kristen M. Jackson / Attorney

www.SouthwestOrlandoBulletin.com x August 18 — 31, 2022 x 7

Mortgage companies will continue a dialogue with family members

following someone's death. To guarantee dialog, you must file probate.

Once named as the executor in your mother's will, by filing probate, the

court will grant you the authority to take over the obligations of your

mother. Once appointed legally by the court, the mortgage company will

notify you of the amount owed on the loan. Unless you have the cash to

pay off the loan you will have to refinance the home with a Traditional

loan.

Reverse Mortgages are available to seniors 62 years of age or

older. Responsibility of paying off the loan is no different than paying off

any type of mortgage. The primary difference between a Traditional

Mortgage and a Reverse Mortgage is that a Traditional requires you to

pay back the loan monthly whereas with a Reverse, repayment generally

occurs within one year after you move out of the property or when you

die. In other words, when your mom died, the entire mortgage amount

became due and family members wishing to save the home have to pay

the entire amount of the outstanding mortgage. If they have insufficient

funds, but wish to keep the property, after it is retitled into another's

name through probate, they need to refinance the Reverse Mortgage

to pay it off. Be aware, however, it is best to act quickly because interest

accrues the entire time the loan remains outstanding so the balance keeps

rising during this time.

Upon the death of the last parent with a Reverse Mortgage, be sure

to consult with a Probate Attorney if you wish to keep their home.

Legal Areas of Practice

By our Team of

Attorneys

Administrative

Advance Directives

Bankruptcy

Business

Buy / Sell Contracts

Commercial

Contracts

Corporation

Criminal

Employment

Estate Planning

Family Law

Guardianship

Litigation

Last Wills

Medicaid

Powers Of Attorney

Pre-Nuptials

Probate

Real Estate

Special Needs

Title & Closings

Trusts

Trademark

Real Estate

Closings, Title Insurance, Sales & Purchases, Leases, Contract Review,

Contract Preparation

Estate Planning

Wills, Trusts, Probate, Living Wills, Powers of Attorney, Health Care Directives,

Pre-Need Guardians, Trust Administration, Pet (Animal) Trusts

Probate

With or without a Last Will, in order to obtain assets, pay debts and taxes

and distribute remaining assets to the heirs or beneficiaries, the deceased's

estate requires the assistance of an attorney to manage the court supervised

administration.

Corporation & Business Law

Contracts, Start-ups, Purchase or Sales, Corporations (Inc.), Limited Liability

Companies (LLC's), Trademarks, Copyrights, Franchise Agreements

(407)363-9020

www.JacksonLawPA.com

Offices: Orlando

Credit Cards Accepted

Kristen Jackson

Attorney At Law
---
8 x August 18 — 31, 2022 x www.SouthwestOrlandoBulletin.com

West Orange Political Alliance, Inc.

A non-parsan polical commiee, the

polical acon arm of the West

Orange Chamber of Commerce,

formed to represent the best interests

of West Orange County urges you to

vote Early, By Mail or on

Tuesday, August 23rd.

Our endorsed candidates

for the Elections:

Orange County

Jerry Demings – Mayor

Chrisne Moore – District 2

Mercedes Fonseca - District 4

Roberta Walton Johnson – District 6

Andrew Asher Bain - County Court Judge, Group 2

Elizabeth Starr - County Court Judge, Group 8

Amanda Sampaio Bova - County Court Judge, Group 9

Elizabeth Gibson - County Court Judge, Group 17

Orange County Public School Board

Teresa Jacobs - OCPS Board Chair

Angie Gallo – District 1

Maria Salamanca – District 2

Florida Ninth Judicial Circuit Court

John Beamer – Group 14

Vincent Chiu – Group 44

Florida House of Representatives

Doug Bankson (R) and Tiffany Hughes (D) District 39

Lavon Bracy Davis (D) – District 40

Travaris McCurdy (D) – District 41

Bruno Porglia (R) and Allie Braswell (D) – District 45

Florida Senate

Kamia Brown (D) – District 15

NEWS & BUSINESS BRIEFS

Q There's a new police chief

in town

OPD

Deputy

Chief Eric

Smith is

Orlando's

next police

chief.

Orlando Mayor Buddy Dyer

announced the appointment of

Eric Smith, a 27-year Orlando

Police Department veteran, as the

city's 40th police chief. Earlier this

year, OPD Chief Orlando Rolón

announced his upcoming retirement

after more than 29 years of

service to the citizens of Orlando.

A 33-year resident of Orlando,

Smith will oversee the day-to-day

operations of the department and

serve as chief counsel to the mayor

in matters of public safety. During

his tenure with OPD, Smith worked

in or supervised three of the four

department bureaus and 10 of

the department's 11 divisions. He

has been a deputy chief for eight

years.

Rolón's last day in the office is

Aug. 19, and his retirement will be

effective Nov. 1. After Rolón's last

office day, Smith will serve as acting

chief and assume the position

of chief of police Nov. 2.

compiled by Lauren Salinero

Q Donations matched through

end of month

Thanks to the continued generosity

of Dr. and Mrs. Don and Cindy

Diebel, donations to United Against

Poverty Orlando will be matched,

dollar for dollar, up to $25,000 through

Aug. 31, 2022. This is the fifth year in

a row the Diebels have matched gifts

to the nonprofit. UP Orlando's goal of

reaching $50,000 will support programs

that help break the cycle of poverty

for many who are struggling. To make

a donation, visit uporlando.org/donate.

Q Working to keep families

together

Children's Home Society of

Florida (CHS) is working to end the

need for foster care as most know it.

Throughout Orange, Osceola and

Seminole counties, CHS' early childhood

professionals work with families

to keep them safe, strong and together.

Its professional, compassionate

home visitors guide parents to help

their children realize their full potential

in the comfort of their own homes.

In 2021, the Seminole Healthy

Families program had a 100% success

rate in keeping children enrolled

in the program out of the child welfare

system, and it was also 100% successful

in keeping children who have left

the program out of the child welfare

system. Also, 100% of clients who

graduated from the program last year

Vote Yes for the OCPS One

Mill Ad Valorem Renewal

Find us on Facebook for the latest news and endorsements.

To learn more, visit hps://wochamber.com/west-orange-polical-alliance-wopa

Paid Polical Adversement by the West Orange Polical Alliance, Inc.

12184 W. Colonial Drive, Winter Garden, FL 34787

For informaon, call 407-656-1304.
---
gained self-sufficiency through employment

or educational attainment.

For more information about how to

get involved with CHS, visit chsfl.org.

www.SouthwestOrlandoBulletin.com x August 18 — 31, 2022 x 9

Q Solar co-op chooses installer

The Orange County 2022 Solar

Co-op selected All American

Solar to install solar panels for its

193-member group. Members selected

the company over 10 other

firms through a competitive bidding

process that included competitive

pricing, equipment offerings and system

warranties. The group is open

to new members through Aug. 31,

2022, and Orange County residents

interested in joining can sign up at

solarunitedneighbors.org/orange.

The solar co-op is free to join, and

joining is not a commitment to purchase

panels. All American Solar

will provide each member with an individualized

proposal based on the

group rate, which saves on the cost.

For more information, visit

solarunitedneighbors.org.

BUSINESS BRIEFS

Representatives of the Orlando

Repertory Theatre, in partnership

with UCF, announced the theater's

20th birthday season. The 2022-23

season opened with Dog Man: The

Musical, which is running through Oct.

2. It will be followed by Locomotion,

Sept. 12-Oct. 16; Click Clack Moo,

Oct. 7-9; The FunikiJam Show: Rock

or Treat Halloween Fair, Oct. 21-30;

True North: A Magical New Holiday

Musical, Nov. 14-Dec. 22; The

Lightning Thief, Jan. 14-15, 2023; Pip-

Squeak: An Anti-Bullying Magic Show,

Jan. 17-20, 2023; Luchadora, Jan. 30-

Feb. 26, 2023; a musical (to be announced

Oct. 3), March 6-April 30,

2023; and Make Way For Ducklings,

April 11-May 14, 2023. For Orlando

REP audition information, showtimes

and tickets, visit www.orlandorep.com.

West Orange Chamber of Commerce ambassadors celebrate the opening of Millennium MetroWest Apartments.

held a ribbon-cutting ceremony

for Millennium MetroWest

Apartments. WOCC builds partnerships,

strong businesses and commitment

to the community by serving

as the leading business advocate in

Central Florida, facilitating opportunity

to nearly 1,000 member businesses.

For more information about

WOCC, call 407-656-1304 or visit

wochamber.com.

Two decades ago, visionary and

founding donor Jim Pugh set out

to build one of the greatest performing

arts centers in the world.

Recently, he announced his retirement

as chairman of Dr. Phillips

Center for the Performing

Arts' board of directors, closing out

a 19-year tenure. With Pugh's official

status moving from chairman to

chair emeritus, long-standing member

and 28-year Orlando resident

Ed Timberlake was appointed

chairman for a two-year term. With

his first assignment, Timberlake appointed

accomplished businesswoman

Sibille Pritchard as vice

chair. For more information, visit

drphillipscenter.org.

Amit

Bansal,

M.D., MBA,

is chief quality

officer and

assistant vice

president at

Orlando

Health Dr.

P. Phillips

Hospital.

photo courtesy of WOCC

officer and assistant vice president,

Orlando Health. In his new role, Dr.

Bansal collaborates with leadership

and medical staff to support activities,

processes and policies resulting

in high-quality patient care driven

by systemwide clinical practices and

standards. For more information, visit

www.orlandohealth.com. ª

West Orange Chamber

of Commerce representatives

Amit Bansal, M.D., MBA,

joined Orlando Health Dr. P.

Phillips Hospital as chief quality
---
10 x August 18 — 31, 2022 x www.SouthwestOrlandoBulletin.com
---
www.SouthwestOrlandoBulletin.com x August 18 — 31, 2022 x 11

THE ARTS

Orlando boasts an eclectic variety

of cultural events, performance

troupes and arts centers. Theater

groups, museums and local attractions

offer something to suit everyone.

For those looking to learn for

themselves, there are numerous

music and dance schools, as well

as art and acting studios that can

teach students the skills they need

to become true artists. Southwest

Orlando Bulletin's 18th annual The

Arts segment offers an up-close

look at some of the area's most

popular groups and experienced

schools.

Central Florida

Community Arts

Central Florida Community

Arts exists to serve and build community

through the arts. The nonprofit's

staff believes that all forms of art

are for all people — from 6-weekold

babies to seniors experiencing

dementia. Home to

a community choir

of more than 300, a

symphony orchestra

of more than 160, a

bevy of children's programs,

and a groundbreaking

School of

Arts and Health,

CFCArts welcomes all

abilities, exceptionalities

and skill levels. For

more information, visit

cfcarts.com.

CONTINUED ON PAGE 12
---
12 x August 18 — 31, 2022 x www.SouthwestOrlandoBulletin.com

CONTINUED FROM PAGE 11

Dr. Phillips

Center for the

Performing Arts

American Orchestra Series, featuring

some of the nation's finest. Of

course, it also has top-tier comedians,

international superstars and

amazing regional artists. Then,

there's its AdventHealth School

of the Arts, where you'll find seriously

fun classes for all skill levels,

from musical theater to dance to

improv. There's plenty more to explore,

so check it all out online at

drphillipscenter.org.

will host numerous stage shows

this school year at the Cypress

Center for the Arts, located at 6189

Winter Garden Vineland Road in

Windermere. Students fulfill all

production-related responsibilities,

including acting, set design, lighting

and directing. This year's productions

include Curtains; Pride

& Prejudice; Frozen Kids; Mary

Join the Dr. Phillips Center

for the Performing Arts, located

at 445 S. Magnolia Ave.

in Orlando, for incredible live entertainment,

including its biggest

lineup ever in the AdventHealth

Broadway in 2022-23 Orlando

season — plus its new Great

Orlando REP

Celebrating its 20th birthday

season, Orlando REP creates

the highest quality performances,

camps, classes and educational

development for children, families

and teachers in Central Florida.

Its 2022-23 season includes

TheaterWorksUSA's Dog Man: The

Musical, Locomotion, True North: A

New Holiday Musical, Luchadora,

Make Way For Ducklings: The

Musical, and more! For information

about tickets and shows,

visit www.orlandorep.com; call

407-896-7365 or visit the theater

at beautiful Loch Haven Park, located

at 1001 E. Princeton St. in

Orlando.

Windermere

Preparatory

School

Windermere Preparatory

School's Department of Fine Arts

Poppins, Jr; and Seussical. For

more information, call Jason King at

407-905-7737. To purchase tickets

online, visit teachtix.com/wps two

weeks prior to the show you want to

attend. ª
---
Southwest Orlando Home & Real Estate x August 2022 x 1

SOUTHWEST ORLANDO

Home & Real Estate

Volume 3, Issue 6 — August 2022

Extend Your

Living Space

Outdoors

The Everlasting

Appeal of Hardwood

Attract Buyers

When Selling

Your Home

A Product A Product of the of the

Southwest Orlando Bulletin
---
2 x August 2022 x Southwest Orlando Home & Real Estate

Do dreams of lazy days soaking

up the sun have you looking for

ways to extend your living space outdoors?

You're not alone. According

to a recent Qualified Remodeler

magazine survey about the latest

outdoor living trends, creating the

ultimate backyard now has as much

priority with homeowners as kitchens,

bathrooms and other interior

remodeling projects. The appeal of

a backyard that can accommodate

different activities, from outdoor dining

to an afternoon snooze, makes

sense as many homeowners look to

their yards to provide more usable

living space.

If you're like surveyed respondents

and ready to maximize your property's

potential with an updated

backyard, the process may seem

daunting. Fortunately, a little inspiration

and a new pergola make it

easy to extend your living space outdoors.

Here are three simple ways

to incorporate a pergola into your

backyard layout and bring the ultimate

outdoor space from concept to

reality.

Extend Your

Living Space Outdoors

Frame an Open-Air Workspace

Between remote work, homework

sessions and impromptu art projects,

table space in the home may be a

commodity. Skip the daily scuffle for

space. Consider using a pergola to

Adding a

pergola to

your backyard

provides more

versatility to

any outdoor

space.

frame a flexible open-air workspace

that's separate from the house.

Pergolas typically sport uncovered

rafters for slight but noticeable shade

— much like sitting under a tree. This

can help reduce the sun's glare on

a computer screen while still allowing

natural light and a warm breeze

to flow through the workspace. You

can increase the amount of shade

these open-air structures cast by

draping outdoor curtains from the

rafters. Finish setting the scene for

heads-down concentration with

comfortable outdoor furniture, potted

plants and lighting accessories.

Don't forget to provide access to an

outlet to keep computers and phones

fully charged.

Cook Up a Designated

Zone for Dining Al Fresco

If your home's layout is limiting

the number of guests you can entertain,

consider bringing activities

that are traditionally done indoors

to the backyard. For example, a pergola

can help define a designated

zone for cooking and dining, complete

with a full-size outdoor kitchen

or bar. And, with the right building

materials, there's no need to worry

about what effects these types of activities

might have on your backyard

structure.

"Fortress pergolas are built with

sleek, structural steel components

that are dual-layer protected against

fire, which means that stray sparks

or hot coals from the barbecue

won't damage the structure," said

Katherine Haverkamp, a senior

product manager at Fortress Building

Products. "The steel components

also sidestep issues associated with

moisture absorption, one of the most

common reasons a standard wood

pergola will deteriorate. Because

they're incredibly durable, steel pergolas

make it possible for homeowners

to create a truly custom outdoor

room that's built to last."

Creating a

Relaxing Backyard Getaway

Designing spaces that promote

health and well-being are more

popular than ever, which makes

sense given the events of the past

few years. If it's difficult to find time

for yourself within the walls of your

home, use a pergola to create a

backyard getaway that invites rest.

Typically, freestanding pergolas

can be assembled across any type

of outdoor surface, so consider installing

one in a secluded corner of your

property for moments of meditation.

Because they can be configured in different

ways to accommodate your design

vision, there's no need to disturb

your garden or landscaping during

the install process. Create a peaceful

sanctuary next to a pool or water feature

to enjoy the sound of moving water

during an at-home yoga practice

— or a nap. Complete your restorative

backyard getaway with outdoor lighting

for ambience on a summer night.

Ready to Get Started?

If you're feeling inspired to extend

your living space outdoors to enjoy

the last lazy days of summer, take

note of the ways a pergola can improve

the usability of your home.

The freestanding structure can become

a designated space for headsdown

concentration, outdoor dining

and relaxation — take your pick.

Whatever its function, it will surely

add one-of-a-kind personality to

your home's outdoor living space.

(BPT) ª
---
Today's homeowners are more

invested than ever in keeping their

homes updated by elevating their

style and taking on projects ranging

from bringing in fresh and new

paint colors to serious bathroom and

kitchen renovations.

Alongside these home updates is

the trend of rethinking flooring and

returning to the foundational roots of

hardwood.

"Hardwood floors are one of

the best investments you can make

in your home," said Jen Meska,

director of merchandising for LL

Flooring. "Hardwood floors are a

timeless home décor choice that

brings warmth, luxury and comfort

underfoot and are made to last

generations."

Check out the following three

reasons why hardwood is an excellent

choice for your next home

renovation:

Where Classic Meets Style

With hundreds of years of history

to its name, the natural beauty of

hardwood never goes out of style. As

the floor covering of choice for countless

generations around the globe —

according to Wood Floor Business

magazine — hardwood became a

popular, reliable choice for flooring

in the U.S. during the late 1800s.

While many homes today feature

vinyl and carpet, which rose in popularity

in the 1950s, you'll still find

older homes with the original hardwood

flooring. However, they might

be hiding under a layer of dusty

wall-to-wall carpeting.

Investing in a hardwood floor also

adds value to your home. According

The Everlasting

Appeal of Hardwood

Popular for hundreds of years, the beauty of hardwood flooring is unmatched, and it's

available in a variety of options.

to realtor.com, installing hardwood

floors can boost the value of your

home by as much as 2.5%, and you

can possibly see a 70-80% return on

investment.

Lifelong Beauty

There are several reasons why

hardwood continues to be a popular

flooring choice. Beyond its natural

beauty and organic design, hardwood

floors are strong, versatile and

easy to clean.

Hardwood also enhances the aesthetic

appeal of your home and is

likely one of the first things someone

will notice when they step inside.

Not only does it make your home

Southwest Orlando Home & Real Estate x August 2022 x 3

feel effortlessly elegant and welcoming,

but it also adds natural warmth

to any space.

Another advantage is the wide

variety of hardwood floors, so you

can pick the color and design that

best suits your current style or set

the tone for any interior-decorating

renovations. LL Flooring's hardwood

collection includes several species in

different colors, finishes and plank

widths. The assortment includes oak,

maple, mahogany, Brazilian cherry,

hickory and more to suit any taste.

And, you can choose from solid

hardwood or engineered hardwood,

depending on your flooring needs.

Built to Last

With proper care, hardwood

floors can last a lifetime. Due to its

reliability and longevity, LL Flooring

confidently offers a 100-year transferable

warranty on its Bellawood

hardwood line, ensuring that your

flooring is covered for generations.

No matter what color and cut you

choose, hardwood floors are excellent

for home renovation. For more

information or to view a selection of

flooring options, visit llflooring.com.

(BPT) ª
---
4 x August 2022 x Southwest Orlando Home & Real Estate

Preparing your home for sale may

start with ideas for staging the house

or spackling and painting over nail

holes; however, it also requires a

considerable amount of planning

and organization. Before opening

your home to tours, either virtual or

in person, be aware of what buyers

might notice.

"Getting your home ready for sale

may seem like an overwhelming

task, but it's important to make your

home as attractive as possible," said

Bonnie Lee, vice president of property

claims at Mercury Insurance.

"Not only does it give a favorable

first impression, but it also shows that

the home was well-maintained and

cared for. Most buyers expect to tour

and eventually purchase a clean,

well-cared for home."

Walk through each room of your

home and take note of what needs

to be cleaned, repaired or replaced.

Eliminate Clutter

For many homeowners, the beginning

of the home-selling process is

the chance to clear out any unwanted

We see things

through your eyes.

Michael Wytiaz, CFP ®

Branch Leader

4848 S. Apopka Vineland Rd, Suite 204

Orlando, FL 32819

407-909-0485

Attract Buyers

When Selling Your Home

items. Take this time to throw away,

donate or sell items that are no longer

purposeful. Remember that potential

buyers are likely to open closet doors

and built-in cabinet drawers to determine

the amount of storage space

available, meaning you won't be

able to simply store unwanted items

Accountability is the Schwab way.

At Schwab, we hold ourselves accountable

for your satisfaction. It's why we offer a

Satisfaction Guarantee, which ensures

that if you're ever dissatisfied with us, we'll

refund your fee and work with you to make

things right. You won't find that kind of

promise everywhere, but you will find it here.

Get started at schwab.com/windermere

If you are not completely satisfied for any reason, at your request Charles Schwab & Co., Inc. ("Schwab"),

Charles Schwab Bank ("Schwab Bank"), or another Schwab affiliate, as applicable, will refund any eligible fee

related to your concern within the required time frames. Schwab reserves the right to change or terminate

the guarantee at any time. Go to schwab.com/satisfaction to learn what's included and how it works.

© 2021 Charles Schwab & Co., Inc. ("Schwab") Member SIPC.

All rights reserved. (1120-0JP6) SCH4761-28 (12/21)

When

selling

your home,

spackling and

painting over

nail holes is

only one of

many things

that should

be done to

prepare for

an open

house.

in a closet. Buyers want to visualize

themselves and their belongings within

the living space, so depersonalize

and remove any large visual distractions

such as large, distinct artwork

or family photos.

Bulkier items like furniture can

change the perceived size of a

room. Make sure buyers are able to

walk around living spaces without

bumping into furniture. If you don't

plan to take certain large items with

you, check if your local municipality

will pick them up.

Deep Clean Your Home

Before scheduling tours of your

home, do a deep clean, especially

in areas like the kitchen and bathrooms.

Homebuyers are savvy and

can detect when candles or air fresheners

are being used to mask unpleasant

scents of a home.

"A home that hasn't been cleaned

can be perceived as needing a lot of

work or has underlying serious problems

like water or structural damage,"

Lee said. "Keeping your home

clean will boost that ever-important

first impression and maximize the

selling cost."

Make Small Repairs

Wear and tear from everyday living

is normal. Fixing these small repairs

before listing your home might

be a slight inconvenience for you,

but leaving them as-is could be seen

as part of a larger, underlying issue

to a potential buyer. Thoroughly go

through each room of your home

and touch up any dings on the

baseboards and doors. Make minor

repairs like filling in and repainting

any holes left in the walls from

hanging items. Check for leaking

faucets and running toilets, and replace

any worn or damaged caulking

around sinks, showers, bathtubs

or windows.

Curb Appeal

Your home's exterior is the first

thing buyers see as they approach

the house. Trim all the trees and

shrubs outside of your property, especially

along walkways, for a wellmanicured

look. Inspect the trees

around your home to make sure they

aren't scraping shingles off your roof

or blocking gutters. Keep walkways

and driveways free of clutter such as

gardening tools or children's toys.

Replace or repair any damaged

screens or windows, and make sure

that your house numbers are visible.

"A well-maintained outdoor area

that has been properly cared for is

not only aesthetically pleasing but

can also be a reflection of how well

the home was cared for overall," Lee

said.

Get a Clue

A Comprehensive Loss Underwriting

Exchange report provides a detailed

history of any insurance claims

that may have been filed on the

house within the past seven years.

While this report is extremely useful

to buyers, it can be equally important

to sellers.

"Sellers whose homes have had

no insurance claims within the last

seven years can use a CLUE report

as a selling tool," Lee said. "It gives

potential buyers the assurance that

they are not buying a home with a

history of problems and increase a

seller's chance of selling their home

quickly."

Under the federal Fair Credit

Reporting Act, you can request a copy

of your CLUE report from LexisNexis

by calling 866-312-8076 or visiting

consumer.risk.lexisnexis.com.

(BPT) ª
---
Community and business leaders (l. to r.) Jim Kunau,

general manager of Island H2O; Winter Garden

resident Kyle Newell, owner and financial planner of

Newell Wealth Management; Winter Garden resident

Jake Cox, M.D., orthopedic surgeon at West Orange

Orthopaedics in Ocoee; and Winter Garden resident

Spencer Elliott, CEO of ViewStub, get wet at The

Florida chapter of ALS Association's CEO Soak.

The Florida chapter of The ALS

Association held its annual CEO

Soak at Island H2O Water Park in

Kissimmee. Seven local business and

community leaders got soaked while

raising funds and awareness for

ALS, and Orlando Health sponsored

the event.

The 2022 Florida Ride to Defeat

ALS will take place Oct. 16.

Participants can choose between

a 10-mile, 25-mile,

62-mile or virtual bike

ride.

For more information or

to register, visit www.als.

org/florida/events/2022-

florida-ride-defeat-als.

Caroline Davis of Dr.

Phillips was nominated

for the student-athlete of

the year award during the Emerson

College School of Communication

Student Awards, occurring annually

and celebrating the close of an extraordinary

academic year, as well

as recognizing student achievements

within the School of Communication.

Davis, who is majoring in communication

disorders, is a member of

the Class of 2024.

SOUTHWEST SPORTS

www.SouthwestOrlandoBulletin.com x August 18 — 31, 2022 x 17

compiled by Lauren Salinero

Kiwanis Club of Orlando,

one of Central Florida's most active

and involved community service organizations,

is raising money for

Dueling Dragons of Orlando.

This unique mentoring program

partners inner-city teens with

Orlando Police Department and

Orange County Sheriff's Office law

enforcement officers on year-round

dragon boat teams.

The fifth annual Korntoss

Tournament was recently held in

Edgewood in memory of OPD's Lt.

Debra Clayton. Clayton was a

Dr. Phillips High School alumna,

an active volunteer in the Dueling

Dragons program, and a beloved

mentor to the teens. She was killed

in the line of duty in January 2017.

Dueling Dragons has brought together

inner-city youth and local

law enforcement officers for more

CONTINUED ON PAGE 18

Dueling Dragons of Orlando law enforcement offices and teens take possession of the

boat that was donated by the Kiwanis Club of Orlando.

Rated a Best

Hospital.
---
18 x August 18 — 31, 2022 x www.SouthwestOrlandoBulletin.com

CONTINUED FROM PAGE 17

than 11 years. In June, the group

traveled to Philadelphia to compete

in the Independence Dragon Boat

Regatta. They also participated in

two Florida dragon boat festivals

this year with one more planned

this fall. The teams have earned an

impressive record at both state and

national events, usually bringing

home trophies. Each boat contains

10 teens and 10 law officers, and

they all must paddle in sync to move

the boat forward. Kiwanis has supported

the team for seven years, raising

more than $41,000 through the

annual Korntoss tournaments.

For more information or to help

support the organization through

donations, email Tom Porter at

thomasjparter@me.com.

The nonprofit, community-based

Ocoee Tennis Academy, where

director Jack "Catfish" Vinson

uses USNTA teaching skills, recently

Ocoee Tennis Academy players (front, l. to r.) Sam, Danielle, David, Tegan,

(middle, l. to r.) Brenda, Michelle, Madhu, Priya, Shreyas, Sathrik, Christopher,

Blaine, Latta, (back, l. to r.) Cory, Cameron, Sydney, Shravya, Siva, Jemy, Josiah,

Jeremiah, director and USNTA coach Jack "Catfish" Vinson, Quinn, Jen, Grady,

Evan, Dayandi, Tison, Jai and Reddy participate in the 30th annual tennis tournament

for all ages and skill levels. Not pictured: Victoria and Rebecca Liwang.

held its 30th annual tennis tournament

for all ages and skill levels.

The event was co-sponsored by

Pinch-A-Penny Pool, Patio & Spa;

Exum Chiropractic Clinic; Waters

Custom Builders LLC; and Dickey's

Barbecue Pit. Congrats to the overall

champions — Jemy Hidayat and

Victoria Liwang.

The Susan G. Komen More

Than Pink Walk held at Cranes

Roost Park in the heart of Uptown

Altamonte raised more than

$170,000. Nearly 1,000 individuals

attended the event, which was

held in-person after being virtual

for two years prior.

More than 500 Walgreens employees

participated in the walk,

representing 350 stores across

Central and Northern Florida. The

company, which was the top fundraiser,

raised more than $100,000

through in-store checkout fundraising

and special "Pink Days."

Walgreens has collaborated with

Susan G. Komen since 2019 and

is a national series sponsor, having

pledged millions to the cause

through 2024. The next More

Than Pink Walk will take place

March 11, 2023, again at Cranes

Roost Park.

For more information, visit www.

komen.org.

Orlando Magic's charitable

arm, the Orlando Magic Youth
---
Foundation (OMYF), held

its 31st annual OMYF Open

golf tournament, raising

nearly $150,000 to benefit

at-risk local children. With a

scramble format, the event

was held at Omni Orlando

Resort at ChampionsGate.

The annual day on the

links included specialized

food and drinks at each

hole, courtesy of the OMYF

Open's partners and cosponsors.

Golfers also had

an opportunity to win overall

prizes, longest-drive

competitions, closest-to-thepin

contests, and a hole-inone

opportunity to win a

one-year lease on a BMW

from Fields Auto Group.

Each year, the Magic

gives more than $2 million

to Central Florida by way

of event sponsorships, donated tickets,

autographed merchandise and

grants.

For more information, visit

orlandomagic.com.

The Dr. Phillips Little League 12U All-Star baseball

team wins the District 14 championship. The team is coached by

Dennis Pope.

St. Luke's United Methodist

Church's soccer registration is

open. The program is for

www.SouthwestOrlandoBulletin.com x August 18 — 31, 2022 x 19

prekin dergartners through

eighth graders of all skill levels.

The league begins Sept. 5

and ends Nov. 4, and practices

and games take place the

same night each week using

the I-9 format. The deadline

to register is Aug. 19, 2022.

Coaches are also needed.

For more information, email

sports@st.lukes.org. To register,

visit st.lukes.org/sports.

West Orange Chamber

of Commerce will hold

its first Tour De Chamber —

Corporate Bike Ride on

Sept. 29 from 5:30-8:30 p.m.

The fun, recreational 8.2-mile

route includes paved sidewalks

and a paved bike trail

through the neighborhoods of

Hamlin in Horizon West. This is

a good opportunity for team building

and for participants to disconnect,

get out of work mode, and be

active.

WOCC member rates are $30

per rider or $100 for a team of

four. Nonmember rates are $45

per rider or $175 for a team of four.

For more information or to register,

visit wochamber.com/event/tour-dechamber-corporate-bike-ride/.

Windermere High School's

football team is accepting donations

for its program. Funds will

aid in purchasing new uniforms,

equipment and other expenses. As

a group, the fundraising goal is

$25,000. To support the Wolverines

and donate, visit verticalraise.com/

fundraiser/windermere-high-schoolfootball-fundraiser.

Although we try to ensure that all information

presented above is the most current, correct and

dependable available, we do rely on others for

the source of our news. Therefore, the Southwest

Orlando Bulletin and Cornerstone Publishing &

Multi-Media LLC cannot be held responsible for the

validity of the information presented here, nor does

mentioning it constitute an endorsement. Sports information

is welcome and may be mailed to P.O.

Box 851, Windermere, FL 34786; or emailed to

Lauren@kearneypublishing.com. ª

CREATIVE AND

INDIVIDUALIZED

EDUCATION

• Challenging, individualized curriculum that maximizes learning capabilities through critical thinking, creative

problem-solving and hands-on education.

• Nurturing educators certified in child development, with more than 50 years of combined education experience.

• Fun, interactive learning environment with low student-to-teacher ratios and modern classrooms.

• Outstanding range of subjects including languages, art, music, science, public speaking and character development.

• Expansive indoor/outdoor play areas featuring a gym and playground equipment.

NOW ENROLLING!

East Orlando

2 Years - 2nd Grade:

(407) 431-0085

Winter Garden

12 Months - 5th Grade:

(407) 391-3780

Preschool | Elementary School | Camps | After School*

*Available at our Winter Garden location only
---
20 x August 18 — 31, 2022 x www.SouthwestOrlandoBulletin.com

n Charities/Fundraisers

Through Aug. 27 — Plant Sale For

Critters

Crazy Plants Nursery, 22919 County Road 44A,

Eustis, holds its I'm So "Hot" For Plants Sale to help

fund construction projects and cover costs of diets,

vetting, enrichment programs and more for Crazy

Critters Inc. The nonprofit licensed facility is important

because it serves as a Florida Wildlife Commission

Amnesty location for some species of exotic animals;

is a contracted partner with county animal control divisions;

and helps the national community by providing

non-domestic, non-releasable animals with a safe and

permanent home. One such animal is the red-eared

slider turtle, which is the most surrendered animal in

the pet trade. It is included in the list of the world's

100 most invasive species, and Florida requires redeared

slider owners to possess a free, personal pet

permit. Time: Tuesdays-Saturdays from 10 a.m.-2 p.m.

For more information, visit www.crazycrittersinc.com or

email crazycritters@crazycrittersinc.com.

Aug. 27 — Ukraine Ballet Benefit

Steinmetz Hall at Dr. Phillips Center for the Performing

Arts, 445 S. Magnolia Ave., Orlando, hosts a live

performance by the National Ballet of Ukraine. The

evening opens with a presentation of the Ukrainian

and American national anthems performed by the

Orlando Opera, followed by the main performance

that features excerpts from the greatest ballets while

highlighting Ukrainian culture. A silent auction also is

held in the lobby. Time: Doors open at 7 p.m., program

and performance begins at 7:30 p.m. Cost:

COMMUNITY BULLETIN BOARD

Ticket prices range from $100-$250, with all proceeds

benefiting charities providing humanitarian assistance

and emergency medical aid to Ukrainian citizens, refugees

and veteran services. For more information, visit

www.ukraineballetbenefit.com.

Sept. 2-5 — NKF Rich Salick Surf Fest

Westgate Cocoa Beach Pier, 401 Meade Ave., Cocoa

Beach, hosts the 37th annual NKF Rich Salick Surf Fest.

Contest directors highly encourage registering prior to

the event as divisions close if they are full by Sept. 2.

Proceeds support the National Kidney Foundation of

Florida. For more information or to register, call 407-

894-7325 or visit nkfsurf.com.

Sept. 17 — Boots, Bowties & Bling

Celebration Golf Club, 701 Golfpark Drive,

Celebration, hosts Boots, Bowties & Bling, including

a Southern-themed buffet with beer and wine, live

music, line dancing and a silent auction. Time: 6:30-

10:30 p.m. Cost: $120, with proceeds benefiting the

Celebration Foundation. For more information, visit

celebrationfoundation.org.

Sept. 24 — Sparkle & Shine 5K

Harbor Park at Lake Baldwin, 4990 New Broad St.,

Orlando, hosts the second annual Sparkle & Shine 5K,

including local runners who come together to walk/run

in support of children battling pediatric cancer. Register

compiled by Lisa Sagers

as an individual runner or join a team. Requested attire is

glitter and gold. Time: 6 a.m. for check-in, 8 a.m. for the

start of the race. Cost: $25 per runner through Aug. 31,

and donations from friends and family members are

encouraged. For more information or to register, visit

www.runwaytohope.org/upcomingevents.

Sept. 30 — CFCArts 12th Anniversary

Breakfast

The Alfond Inn, 300 E. New England Ave., Winter Park,

hosts the CFCArts 12th Anniversary Breakfast. Seating

is limited, and reservations are honored on a first-come,

first-served basis. Time: 7:30 a.m. for coffee and networking,

8-9:15 a.m. for breakfast and the program.

Attendees are requested to consider a $150 minimum

donation in support of CFCArts. For more information,

visit cfcarts.com.

n Classes/Programs

Through Sept. 5 — Enrollment For Fall

Classes

Dr. Phillips Center for the Performing Arts holds open

enrollment for adult and youth education fall classes.

Semester-long classes at the art center's AdventHealth

School of the Arts are available for students of all ages and

skill levels in a range of performing arts, including musical

theater, comedy, acting, dance, vocal performance and

more. Applications are also being accepted for auditions

to Dr. Phillips Center's annual youth production groups.

Enrollment for the majority of classes closes Sept. 5. For

more information, visit drphillipscenter.org.

n Events/Performances

Through Aug. 31 — At The Movies:

Winter Garden's Silver Screens Exhibit

The Art in Public Places Gallery at Winter Garden City

Hall, 300 W. Plant St., Winter Garden, hosts At the

Movies: Winter Garden's Silver Screens, an exhibit

that brings to life the unforgettable glamour of the

Golden Age of Winter Garden's movie theaters. Time:

Weekdays from 7:30 a.m.-5 p.m. For more information,

call 407-656-4111.

Aug. 28 — Battle Of The Bands

Promenade at Sunset Walk, 3251 Margaritaville Blvd.,

Kissimmee, hosts the Battle of the Bands, when 10 of

Central Florida's best unsigned bands compete for No.

1. Time: 11 a.m. Admission and parking are free. For

more information, visit sunsetwalk.com.

Aug. 31 — State Of West Orange

Luncheon

The Ocoee Lakeshore Event Center, 125 N. Lakeshore

Drive, Ocoee, hosts West Orange Chamber of

Commerce's State of West Orange Luncheon, including

an open conversation with elected officials regarding

the municipalities and the county and information
---
about the upcoming Orange County Transportation

Sales Tax Referendum. Registrations and cancellations

are required by Aug. 26. No shows are charged.

Time: 11:30-1:30 p.m. Cost: $46, WOCC members;

$56, nonmembers. One dollar from each ticket sale

is donated to the West Orange Foundation. For more

information or to purchase tickets, visit wochamber.com/

event/state-of-west-orange-luncheon.

n Miscellaneous

Aug. 25 & Sept. 22 — MetroWest Food

Truck Connections

MetroWest Golf Club, 2100 S. Hiawassee Road,

Orlando, hosts MetroWest Food Truck Connections,

including food, fun and music. Social-distancing guidelines

are observed. Time: fourth Thursday of every month

from 5:30-9 p.m. For more information, visit www.

metrowestcommunity.com.

Aug. 29 — Art Submission Deadline

The city of Orlando seeks local visual artists to display

their artwork during Hispanic Heritage Month in the

Terrace Gallery at Orlando City Hall from Sept. 16-Nov.

13. Artwork related to the Hispanic culture are recommended,

and the submission deadline is Aug. 29,

2022, at 11:59 p.m. Email entries to Keith Beasley

at charles.beasley@orlando.gov. Each entry must be

labeled with the artist's name, art title, year created,

measurements and medium. For other selection criteria,

email Luis Martinez, luis.martinez@orlando.gov.

Nov. 4 — Artist Application Deadline

The Albin Polasek Museum & Sculpture Gardens, 633

Osceola Ave., Winter Park, seeks artists for its annual

Winter Park Paint Out, a weeklong festival and juried

entry event that takes place April 23-29, 2023. All

artwork created during the week are available for

purchase with a portion of the proceeds going to the

museum. Interested artists must submit a completed

application, along with three plein air images (done

within the past two years), and agree to abide by the

event's terms and conditions. No studio work, please.

The entry deadline is Nov. 4, 2022. For more information,

call Emily Coughlan, 407-647-6294; or email

curator@polasek.org. To fill out an application, visit

winterparkpaintout.org.

n Networking/Clubs

Ongoing — Members Wanted

The West Orange Women seeks women of all

ages to join its group for fun, friendship and philanthropy.

Annual dues are $20. For more information,

call Mary Borgan, 407-929-3030; or visit

www.westorangewomen.com.

Aug. 23 & 30 — Virtual Toastmasters

Meetings

Windermere Toastmasters Club No. 4662754

holds Zoom meetings. Attendees learn to develop

their oral communication and leadership skills in

a supportive and positive learning environment.

Time: Tuesdays from 7-8:30 p.m. For more information

or to request online Zoom meeting details, visit

www.4662754.toastmastersclubs.org and click

"Contact Us."

Aug. 24 & 31 — Virtual Toastmasters

Meetings

The Turnpike Toastmasters Club holds Zoom meetings.

Time: Wednesdays from noon-1 p.m. For more

information or to register for a virtual meeting, visit

2362.toastmastersclubs.org and click "Contact Us" at

least one day before the event.

Aug. 25 — Virtual Toastmasters

Meetings

The Vista Toastmasters Club holds Zoom meetings.

Time: Thursdays from 7-8:30 p.m. For more information,

email vistatoastmasters.zoom@gmail.com or visit

www.vistatoastmasters.org.

Aug. 25, Sept. 8 & 22 — Thursday

Networking Group Meetings

West Orange Chamber of Commerce's Thursday

Networking Group meets at the Dr. P. Phillips YMCA

www.SouthwestOrlandoBulletin.com x August 18 — 31, 2022 x 21

Family Center, 7000 Dr. Phillips Blvd., Orlando. Time:

second and fourth Thursday of each month from 8:30-

9:30 a.m. For more information, email Jim Zeitschel,

jim.zeitschel@primelending.com.

Sept. 1 — Retired Educators Meeting

Church on the Drive, 1914 Edgewater Drive,

Orlando, hosts a meeting of the Orange County

Retired Educators Association, featuring guest speaker

Teriann Wright, an OCPS senior director in career

and technical education. Anyone who has worked in

education is invited to attend. Masks are optional,

and refreshments are provided. Time: 10 a.m. for

social time, 10:30 a.m. for the program. For more

information or to RSVP, call 407-843-6909 or visit

www.ocreafl.org.

n Volunteers Needed

Ongoing — Volunteers Needed

The Foster Grandparent Program seeks limited-income

volunteers 55-older to join in helping children in

schools all around Central Florida. For more information,

call 407-298-4180 or visit volunteersforcommu

nityimpact.org/wp-content/uploads/2020/01/FGP-

Info-Flyer-1-13-20.pdf.

Ongoing — Pet Foster Homes Needed

As part of its Pet Peace of Mind program, Cornerstone

Hospice seeks foster homes for pets left behind after their

owners pass away. For more information or to receive

an application to foster, email ppom@cshospice.org.

For more information about hospice volunteer opportunities,

call Sharon Smith, 404-290-1583; or email

ssmith@vcifl.org.

Ongoing — Volunteers/Docents Needed

Oakland Nature Preserve, 747 Machete Trail, Oakland,

seeks adults interested in learning about the history,

wildlife, plants and restoration efforts at ONP to volunteer

at the preserve to greet visitors, help answer

questions and lead a tour from time to time. Workdays

are Mondays and/or Saturdays. For more information,

email outreach@oaklandnaturepreserve.org or visit

www.oaklandnaturepreserve.org/guide. To register

online, visit oaklandnaturepreserve.org.

Ongoing — Volunteer Veterans Needed

Cornerstone Hospice seeks volunteers who are veterans

of America's armed forces to honor patients who

are veterans by visiting them in their homes, a facility

or a hospital. Cornerstone Hospice is a four-star

level member of the We Honor Veterans program, a

national initiative to provide veterans in hospice care

with specialized services. All volunteers must participate

in mandatory training that includes an overview

of what is hospice care and how volunteers play an

important role in caring for patients. For more information,

call Olivia Davidson, 407-206-5060; or email

odavidso@cshospice.org.

Ongoing — Volunteers Needed

The Mustard Seed of Central Florida, 12 Mustard Seed

Lane, Orlando, seeks volunteers who can help with

donation sorting, mattress recycling, warehouse maintenance,

administrative work, special events or general

maintenance. For more information, call 407-875-2040,

ext. 110; or email jessi@mustardseedfla.org.

Ongoing — Volunteers Needed

The town of Oakland seeks volunteers to assist in

various fun and fulfilling roles at The Healthy West

Orange Arts and Heritage Center. Applicants must

consent to a criminal background check. For more

information, call Pamela Stewart, 407-656-1117, ext.

2112; email arts&heritage@oaklandfl.gov; or visit

bit.ly/artsandheritagecenter.

Ongoing — Volunteers Needed

My Brother's Keeper seeks volunteers — especially adult

men (18-older) of color — who can serve as positive

role models and mentor boys and young men of color.

For more information, email Grace, gdearden@vcifl.

org, at Volunteers for Community Impact.

Contributions to Community Bulletin Board are

welcome. Please send information six weeks

before the event to P.O. Box 851, Windermere,

FL 34787; call 407-351-1573, option 5; or email

Lisa@kearneypublishing.com. ª

• 95 Chevy Corvette

• Very Good Condition

• Clean, many new parts

80,000 miles

FORCED TO SELL

DUE TO ILLNESS

FOR SALE

810-938-7548

Seniors Way, Inc.

Companion / Homemaker Services

407-340-4120

carmen@seniorswayinc.com

Locally Owned & Operated

License number 236778

Free in Home Consultation
---
22 x August 18 — 31, 2022 x www.SouthwestOrlandoBulletin.com

401 Main Street, Suite A, Windermere, FL

Windermere Center for

DENTISTRY

2023

We want to know your

Southwest Orlando favorites!

Emilia Godoy-Rapport, D.M.D.

Always Friendly & Gentle

Cosmetic and family dentistry

www.windermeresmiles.com

(407) 909-1097

• Best Family Restaurant

• Best Fine Dining Restaurant

• Best Fast Food/Casual

Restaurant

• Best Italian Restaurant

• Best Mexican Restaurant

• Best Sushi

• Best Pizza

• Best Steak

• Best Seafood

• Best Wine Shop/Bar/Happy Hour

• Best Pet Services

• Best Fitness Facility

• Best Day Spa

• Best Salon/Barber Shop

• Best Church

• Best Golf Course

• Best Entertainment Venue

• Best Wedding Venue

• Best Child's Birthday Venue

• Best Private School

• Best Real Estate Agent

• Best Insurance Agent

• Best Dentist

• Best Physician

• Best Veterinarian

To vote, visit www.southwestorlandobulletin.com.

The deadline is Oct. 28.

Winners will be announced in the Jan 5, 2023, issue.

Only one entry per Southwest resident allowed.

At least 50% of the online ballot must be completed.
---
PRESENTED BY:

&

SUNSETWALK.COM

OF THE

SUNDAY, AUGUST 28 TH

STARTING AT 11:00AM

TEN OF CENTRAL

FLORIDA'S BEST

UNSIGNED BANDS

COMPETING FOR #1

3251 Margaritaville Blvd., Kissimmee, FL 34747

FREE ADMISSION & PARKING

PRESENTED BY:

&

FRIDAY, SEPT. 2 ND

THRU

MONDAY, SEPT. 5 TH

FREE

ADMISSION

CONTINUOUS ENTERTAINMENT

BLUE STONE CIRCLE H LIVE HART H JASON LINK H THE BOOTS H STELLA BEAT

DJ SCOTTY B H THOMPSON BROWNE TRIO H STREET MARKET H CAR SHOW

3251 Margaritaville Blvd., Kissimmee, FL 34747 • SunsetWalk.com
---
P.O. Box 851

Windermere, FL 34786

Rated a Best Hospital.