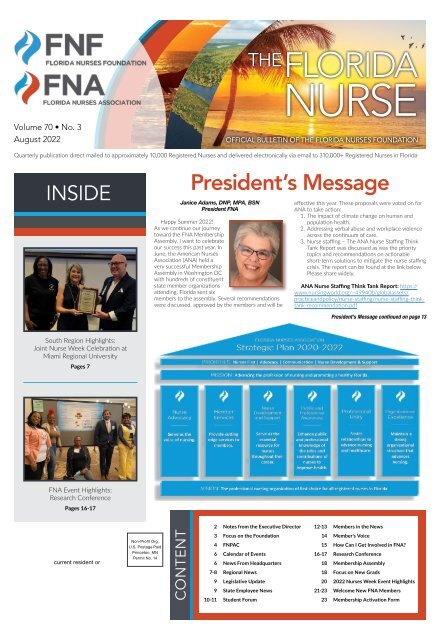 Florida Nurse - August 2022
Create successful ePaper yourself
Turn your PDF publications into a flip-book with our unique Google optimized e-Paper software.
THE

FLORIDA

NURSE

Volume 70 • No. 3

August 2022

OFFICIAL BULLETIN OF THE FLORIDA NURSES FOUNDATION

Quarterly publication direct mailed to approximately 10,000 Registered Nurses and delivered electronically via email to 310,000+ Registered Nurses in Florida

INSIDE

President's Message

Janice Adams, DNP, MPA, BSN

President FNA

Happy Summer 2022!

As we continue our journey

toward the FNA Membership

Assembly, I want to celebrate

our success this past year. In

June, the American Nurses

Association (ANA) held a

very successful Membership

Assembly in Washington DC

with hundreds of constituent

state member organizations

attending. Florida sent six

members to the assembly. Several recommendations

were discussed, approved by the members and will be

effective this year. These proposals were voted on for

ANA to take action:

1. The impact of climate change on human and

population health.

2. Addressing verbal abuse and workplace violence

across the continuum of care.

3. Nurse staffing – The ANA Nurse Staffing Think

Tank Report was discussed as was the priority

topics and recommendations on actionable

short-term solutions to mitigate the nurse staffing

crisis. The report can be found at the link below.

Please share widely.

ANA Nurse Staffing Think Tank Report: https://

www.nursingworld.org/~49940b/globalassets/

practiceandpolicy/nurse-staffing/nurse-staffing-thinktank-recommendation.pdf

President's Message continued on page 13

South Region Highlights:

Joint Nurse Week Celebration at

Miami Regional University

Pages 7

FNA Event Highlights:

Research Conference

Pages 16-17

2 Notes from the Executive Director

12-13 Members in the News

current resident or

Non-Profit Org.

U.S. Postage Paid

Princeton, MN

Permit No. 14

CONTENT

3 Focus on the Foundation

4 FNPAC

6 Calendar of Events

6 News From Headquarters

7-8 Regional News

9 Legislative Update

9 State Employee News

10-11 Student Forum

14 Member's Voice

15 How Can I Get Involved in FNA?

16-17 Research Conference

18 Membership Assembly

18 Focus on New Grads

20 2022 Nurses Week Event Highlights

21-23 Welcome New FNA Members

23 Membership Activation Form
---
Page 2 The Florida Nurse August 2022

Notes from the Executive Director

"I was TODAY years old when…."

T H E

FLORIDA

NURSE

Willa Fuller, BSN, RN

Executive Director, Florida Nurses Association

Have any of you social

media mavens seen this phrase

come across your feeds? It's

just another fun way of sharing

life experiences on social

media. It highlights moments

when someone either learns

something that is surprising

that they never knew, OR

when they discover something

they have thought to be true

their entire life is not accurate

Willa Fuller

at all. In my career, I call these

moments my nursing epiphanies and as a preceptor (a

role that I loved), I used these experiences to enhance

my practice and to teach my orientees. We come to

these moments in many different ways and we all have

these stories. I thought it might be fun to share some of

mine with you and maybe jog your memory about some

of yours.

I had been a very sheltered child with a helicopter

mom whose goal was to get us all through school with

good grades that would lead to scholarships. My mom

intervened and did many things FOR ME and I have a

theory that it kind of delayed my critical thinking abilities

for a time. I am not criticizing my awesome mom, just

stating what I think about my cerebral development. I

often had to see something or have it pointed out to me

to make the next logical leap. For example, I knew what

congestive heart failure was, I knew the symptoms, but

in my task-oriented brain, I could only be concerned

about hanging up all the IV's at change of shift even one

that was going 100cc an hour even though the patient

was rattling like a baby with croup! I had a grumpy nurse

who often followed me that complained bitterly about

everything I did wrong and nearly empty IV's were the

flavor of the week so that was my focus! I had a "cream

of the crop" preceptor who identified every teachable

moment and pulled me aside to make sure I captured

the impact and importance of the event. She connected

the dots with me. My epiphany for that moment?

What I was doing mattered. If I do the wrong thing, my

patients will be affected. I knew that of course, but this

moment put it directly in my view. What that did for

me was make me view every patient interaction as an

opportunity to gather information. We move so rapidly

to get things done, sometimes forgetting that every

action has an impact.

One of my first epiphanies in nursing was that I could

learn from other peoples' mistakes. I experienced several

devastating occurrences or heard about others that I

filed away into my nursing databank so that I would

integrate it into my practice as a matter of routine. One

morning I came into work to a patient that was bitterly

complaining of pain after a knee surgery. Apparently,

she had been asking for pain medicine all night and

she had received it but it was not relieving her pain.

The nurse, who was excellent, was very distressed, but

this was a physician that everyone was terrified to call.

So when he came in in the morning, he was informed

about her complaint. (There had been a call during the

night to get additional pain meds). When he unwrapped

her dressing, he found that the blood had hardened like

concrete and created great pressure behind her knee.

As a result, she had experienced a permanent foot

drop, due to peroneal nerve damage. What I learned

there was that fear cannot override your obligation to

your patients. What happened to that patient made me

fearless in my advocacy.

Another epiphany came when my preceptor and I

were taking care of a new quadriplegic patient who

was experiencing a crisis of unknown origin. We were

frantically checking everything and finally we flung back

the covers and started manipulating his Foley catheter.

She flushed it with saline and he felt immediate relief

as it began to empty and he felt immediate relief. We

identified it as autonomic dysreflexia after the fact and

shared the information with all of the staff to make sure

they were educated about it. That day, I learned that

nurses really do save lives on a daily basis. What's funny

is that I didn't think much about that until much later.

There were many incidents like this over the years

but the next memorable moment came when I was

shopping in the mall and a woman came up to me

and informed me that I had been her nurse. I have

shared this story before. One part of me knew I was

making a difference as a nurse, but I felt like I was

on sort of a treadmill just churning out patient care

"tasks." This patient who I did remember, said to me,

I would feel so comforted when I would hear your

voice in the morning, I would always hope you were

my nurse because when you were there, I was never

in pain. I remembered her because I felt like she

had more anxiety than actual pain and I gave her

some relaxation techniques I had learned at a pain

management conference. She utilized them all and as

a result, she asked less frequently for pain medication.

This was probably a couple of years in, but I think

that may have been the moment that I felt like a "real

nurse." Imposter syndrome is real, folks.

The next standout moment was a time I had to utilize

the chain of command to advocate for a patient that

I knew was in dire straits. The physician kept hanging

up on me and I had critical information to report. The

patient was on anticoagulants which had not been

responding and now all of sudden the patient had a

critical lab value and was experiencing excruciating pain.

On my assessment, it was clear the patient was bleeding

into his surgical site and was quite possibly experiencing

compartment syndrome. I called the partner, then the

medical doctor, then the medical director, and by the

change of shift, he was off to emergency surgery for

a vena-caval umbrella. In this moment, I realized that

nurses have power – power to navigate the system to

advocate for a patient. After that, I made sure I not only

recognized when and how to use it, I mentored others

to do the same.

I have to mention my former preceptor who since

that time became my friend. Diana Vaughan is no

longer with us. But she will always be with me. She

recognized my deficit in connecting the dots early on

and instead of giving up or being frustrated with me,

she coached me through our early situations, which

helped me to develop that skill not only in clinical

situations but in life situations. She was never bullying

or insulting, she was informative and supportive.

Recently, I was watching a "Live" on Tik-Tok where

a patient was sharing about his journey with a blood

dyscrasia. There was another nurse online watching

and he shared his lab results with her. Her response

stunned me. She told him that nurses didn't bother

with all those values, they only looked at hemoglobin

and hematocrit. "The rest was for the doctors." I have

seen similar postings on some of social media groups

dedicated to nursing. Fortunately, experienced nurses

chime in immediately and inform them how important

it is for nurses to have a full knowledge about the

total care related to that patient. But this was an

epiphany that after all this time there are still nurses

that do not understand the full breadth and depth of

their responsibility.

I focused on this topic right now because of the

status of nursing as it has evolved and continues to

evolve after the pandemic. It is more important than

ever for nurses to develop these skills and establish

themselves as experts in patient care. As scope of

practice is continually challenged, we need to make

sure knowledge, expertise and continuing education

is a focus for nurses at the bedside as it is critical that

we continue to promote high standards and safety. It is

also important to look at work conditions and practice

models to make sure nurses are supported in order to

provide optimal care. As we start to emerge from the

mental and emotional as well as the physical fatigue

exacted by the devastating pandemic, we must be

mindful of nursing's journey back, and our goal must

be to make things better than before. We cannot lose

the opportunity this crisis has provided to shed light

on the essential nature of our profession.

Owned and Published by,

Florida Nurses Association

1235 E. Concord Street,

Orlando, FL 32803-5403

P.O. Box 536985, Orlando, FL 32853-6985

Telephone: (407) 896-3261

FAX: (407) 896-9042

E-mail: info@floridanurse.org

Website: http://www.floridanurse.org

Office Hours: 8:30 a.m. to 4:30 p.m.,

Monday thru Friday

For advertising rates and information, please

contact Arthur L. Davis Publishing Agency, Inc., PO

Box 216, Cedar Falls, Iowa 50613, (800) 626-4081,

sales@aldpub.com. FNA and the Arthur L. Davis

Publishing Agency, Inc. reserve the right to reject any

advertisement. Responsibility for errors in advertising

is limited to corrections in the next issue or refund of

price of advertisement.

Acceptance of advertising does not imply

endorsement or approval by the Florida Nurses

Association of products advertised, the advertisers, or

the claims made. Rejection of an advertisement does

not imply a product offered for advertising is without

merit, or that the manufacturer lacks integrity, or

that this association disapproves of the product or its

use. FNA and the Arthur L. Davis Publishing Agency,

Inc. shall not be held liable for any consequences

resulting from purchase or use of an advertiser's

product. Articles appearing in this publication express

the opinions of the authors; they do not necessarily

reflect views of the staff, board, or membership of

FNA or those of the national or local associations.

Published quarterly, February, May, August and

November by FNA, a constituent member of the

American Nurses Association.

Editor – Kaitlin Scarbary, 1235 E. Concord St.,

Orlando, FL 32803-5403

Subscription available at $20.00 plus tax, per year.

Members of FNA receive the newspaper as a benefit of

membership.

COPIES of The Florida Nurse are available on

35mm microfilm, 106mm microfilm, article reprints

and issue copies through Bell & Howell, 300 North

Zeeb Road, Ann Arbor, Michigan 48106

Board of Directors

2021–2023

Officers

Janice Adams, DNP, MPA, BSN, President

Marie Etienne, DNP, APRN, FNP, PNP, PLNC,

President-Elect

Debbie Hogan, RN, BSN, MPH, Vice President

Valerie Halstead, PhD, APRN, FNP-BC, Secretary

Mavra Kear, PHD, APRN, BC, Treasurer

Region Directors

Jake Bush, MSN, RN, Northwest Region

Kellyann Curnayn, DNP, APRN-BC, North Central

Region

Susie Norman, MSN, Northeast Region

Marcos Gayol, EdD, MSN, MPH, RN, East Central Region

Meghan Moroney, BSN, RN, West Central Region

Cynthia Tagliaferri, RN, BSN, DNP Student, Southeast

Region

Camille Baldwin, EdD, MSN, RN, CNE, CHSE,

Southwest Region

Linda Washington-Brown, PHD, EJD, MSN, APRN-C,

FAANP, FAAN, South Region

Director of Recent Graduates

Danielle Weaver, BSN, RN, CEN

LERC Liaison

Marsha Martin, RN

FNA Office

Willa Fuller, BSN, RN, Executive Director

John Berry, Jr., Director of Labor Relations &

Government Affairs

Kaitlin Scarbary, Director of Member Programs,

Technology, and Marketing
---
August 2022 The Florida Nurse Page 3

Focus on the Foundation

Daleen Penoyer, President FNF

The Florida Nurses

Foundation sponsored

the Eighth Annual Nursing

Research and Evidence-Based

Practice Conference on July 16,

2022 at the Sheraton Orlando

North in Maitland, Florida. The

purpose of the event was to

promote the practice of nursing

research and disseminate

nursing research and evidencebased

practice projects being

conducted in various settings in Florida. This year, the

theme was "Nursing Art and Science: Bridge to Innovation."

Thirty-one peer reviewed posters were accepted for the

event and 85 nurses attended the program. The keynote

this year was presented by Susan V. White, PhD, RN,

CPHQ, FNAHQ, NEA-BC, Chief of Quality Management

and Stephanie Sinnett, MS, RD, LDN, Health Systems

Specialist (Innovation) at the Orlando VA Healthcare

System, Department of Veterans Affairs. The program was

another successful one, providing a forum for experienced

and potential/novice nurse researchers to share their

knowledge and experiences with the growing science

behind nursing practice.

The Foundation has over 30 scholarships available

for nursing students living in Florida who are enrolled in

a nationally accredited nursing program and have one

semester in their program to qualify. The Foundation

has given over $500,000 in scholarships and grants over

its nearly 40-year history. The scholarship application

was due June 1 and awards for the scholarships will be

awarded in September 2022. The Foundation also has

several Research Grants available including the new

Sandra Walsh fund. A second window of applications

for research grants will be opening in September.

The Foundation is supported through philanthropic

donations and we encourage FNA members to

contribute to support nurses entering practice and

conducting research. When renewing one's membership,

there is an opportunity to add donations. You can also

make a one-time donation or setup a recurring donation

at www.floridanurse.org/GiveBack. Members of the

Board of Foundation Trustees will be holding a raffle at

the FNA Membership Assembly in September to raise

funds for the Foundation.

Some of the existing Foundation Trustee positions

are becoming vacated, so the FNF is seeking to fill

several Trustee positions. To qualify, one must be

an FNA member in good standing. The role is an

opportunity to serve others through the work of grants

and scholarship awards. We welcome a new nurse

graduate to serve so that the Board gets perspectives

from early career nurses for its activities. To apply

for one of these positions, please download the

application at www.floridanurse.org/Foundation.

NOW HIRING

Psychiatric RNs & LPNs

Full-Time

Inpatient & Residential Programs

NURSING

OPPORTUNITIES IN

TALLAHASSEE, FL

RNs may qualify for the Nurse Corp

loan repayment.

Visit apalacheecenter.org or call

Stephanie at 850-523-3212 for

additional information.

To access electronic copies of

The Florida Nurse, please visit

Apalachee Center, Inc participates in E-Verify. Federal law requires Apalachee Center, Inc to verify the identity and employment eligibility of all persons

hired to work in the United States. Apalachee Center, Inc. is an at-will employer. An equal opportunity/affirmative action employer. Drug-free workplace.

www.nursingALD.com/

publications
---
Page 4 The Florida Nurse August 2022

FNPAC

Florida Nurses Political Action Committee Makes Its

Candidate Endorsements for Primary Election 2022

The Florida Nurses Political Action Committee (FNPAC) held Candidate Interviews

on Saturday, July 30, 2022 with the purpose of determining candidates' alignment with

FNA's top legislative priorities. The Trustees selected several candidates to endorse in the

upcoming primary election. Their selections are listed below.

Candidates were asked a series of questions to determine their alignment with the

FNA Legislative Agenda. The FNA Legislative Agenda is a multi-year plan highlighting the

top issues that FNA advocates for on behalf of nursing. Some issues that remain on our

legislative agenda include supporting the ability of RNs and APRNs to practice to the full

extent of their education, safe practice environments for nurses, and protection of the

rights, jobs, wages, and other benefits of state-employed healthcare professionals. The full

Legislative Agenda can be viewed at www.floridanurse.org/Advocacy.

The FNPAC exists to raise funds to support candidates that will work with us on issues

related to nursing, patients and healthcare. For the 2022 primary election, the FNPAC

has endorsed the following candidates:

2022 Primary Elections FNA PAC Endorsements

House

Michelle Salzman (R)

Griff Griffitts (R) District 6

Garrett Dennis (D) District 14

Bobby Payne (R)

Liz Cornell (R) District 25

David Smith (R)

Chase Tramont (R) District 30

Fred Hawkins (R)

Josie Tomkow (R)

Kevin Steele (R) District 55

Brad Yeager (R) District 56

District 1 (re-election)

District 19 (re-election)

District 28 (re-election)

District 42 (re-election)

District 39 (re-election)

The Florida Nurses Political Action Committee (FNPAC) is a powerful tool to

support grassroots efforts by members. Supporting candidates that we can build

relationships with and work with on nursing issues is key to our success. We need

YOUR support to continue making an impact on healthcare in the state. Even a

little helps a lot. You can even make small monthly donations to show your support.

Donate online at www.floridanurse.org/fnpac. We must make our presence known

through both our voice and our donations. Please consider donating to support our

legislative activities.

Five Reasons to give to the Florida Nurses Political Action Committee:

• FNPAC endorses candidates that have stated that they will support FNA issues.

• FNPAC vets candidates to determine their positions on nursing and healthcare

issues.

• Legislators and candidates actively seek the FNA endorsement through FNPAC.

• FNPAC has a record of success with endorsements over many years.

• Donations to FNPAC provide a way to contribute to the political advocacy for

FNA and for nurses and patients throughout the state.

One thing that nurses MUST understand is that it takes VOTERS to influence

legislation. As nurses who vote, you can make a difference in your future as

well as the care you deliver to your patients. Participation in the association and

donations to the PAC are a key element in this kind of advocacy. You can become

knowledgeable and have input into the agenda by being a member, by contacting

your legislator and becoming a resource and a conduit from the association to the

legislator. The FNA website has a page dedicated to political advocacy as a resource

to members, students and other interested nurses. You can access this at www.

floridanurse.org/Advocacy.

BECOME A TRUSTEE: We have openings for new trustees on our PAC this year.

Trustees help with fundraising activities, participate in candidate interviews, and

vote on which candidates to support. If you are interested in being involved, please

complete the application on our website at www.floridanurse.org/FNPAC.

For questions about FNPAC, donations or becoming a PAC trustee, email Iris

Lopez at info@floridanurse.org.

The FNPAC will hold Candidate Interviews for the General Election on Saturday,

September 10. RSVP to observe the interviews at www.floridanurse.org/events.

Kimberly Berfield (R) District 58

Patricia Hawkins-Williams (D)

Daryl Campbell (D)

District 92 (re-election)

District 94 (re-election)

Hillary Cassel (D) District 101

Marie Woodson (D)

James Mooney Jr (R)

District 105 (re-election)

District 120 (re-election)

Doug Broxson (R)

Jay Trumbull (R)

Senate

District 1 (re-election)

District 2 (re-election)

Tracie Davis (D) District 5

Kamia Brown (D) District 15

Jim Boyd (D)

District 20 (re-election)

Barbara Sharief (D) District 35

Veterans' Homes

RNs, LPNs, & CNAs needed at all locations

Lake City

Daytona Beach

Land O' Lakes

Pembroke Pines

Panama City

Port Charlotte

St. Augustine

Port St. Lucie

Orlando

The Robert H. Jenkins Jr. Veterans' Domiciliary Home

The Emory L. Bennett State Veterans' Nursing Home

The Baldomero Lopez State Veterans' Nursing Home

The Alexander "Sandy" Nininger State Veterans'

Nursing Home

The Clifford C. Sims State Veterans' Nursing Home

The Douglas T. Jacobson State Veterans' Nursing Home

The Clyde E. Lassen State Veterans' Nursing Home

The Ardie R. Copas State Veterans' Nursing Home

Alwyn C. Cashe State Veterans' Nursing Home

For employment opportunities at the homes, call the FDVA

Human Resources Office at (727) 518-3202, Ext. 5579 or visit the

People First website at https://jobs.myflorida.com/joblist.html
---
We're hiring nurses.

Select hospitals have been recognized by U.S. News and World Report for 2022-2023.

You care about your patients. We care about you. They say if you love your job, it's never work.

If you're a nurse, you love helping people, but it's still work. Demanding work. At Orlando Health

we want it to be rewarding work too. It's why we support our nurses with some of the best benefits

around—competitive pay, education programs to grow your career, loan repayment, and much

more. If you're a nurse, we're hiring. So join us and work with the best. You'll be in great company.

Apply today. Visit OrlandoHealth.com/Nursing

choose well.
---
Page 6 The Florida Nurse August 2022

News From Headquarters

Assistance for Kentucky

As you are probably aware Kentucky has experienced severe flooding. In the past, we

have donated to state nurses associations when they have a disaster like this. We have

also received donation checks from several states for the last two hurricanes as well as in

the past. To donate to Kentucky Nurses, visit their GoFundMe campaign at https://gofund.

me/627d2fc8 .

What are your strengths?

And on a fun note, the last board completed the Clifton Strengths Assessment

which helps people to determine their strengths and we shared it in a document so

that everyone else could see the strengths of their colleagues. Some of us found it

2022

Calendar of Events

Some meetings such as committee meetings and recurring regional

meetings are not included in the list below.

View the Full FNA Calendar at

www.floridanurse.org/events.

Infectious Disease Update: Monkey Pox

August 30 | 6:00-7:00pm ET • Zoom Webinar

West Central Region Meeting

September 1 | 6:00-7:00pm ET • Zoom Meeting

FNPAC Candidate Interviews

September 10 | 8:00am - 12:00pm ET • Zoom Meeting

2022 FNA Membership Assembly

September 22-24, 2022

Mission Inn Resort, Howey-in-the-Hills, FL

Southeast Region Leadership Meeting

October 12 | 6:30-7:30pm ET • Zoom Meeting

South Region Leadership Meeting

October 25 | 6:00-7:00pm ET • Zoom Meeting

East Central Region Meeting

October 26 | 6:00-7:00pm ET • Zoom Meeting

FNSA Convention

October 27-29, 2022

Hilton Daytona Beach Oceanfront Resort

Mental Health PPE Webinar

November 14 • Zoom

Southeast Region Legislative Meet & Greet

November 18 | 4:00-7:00pm ET

Location TBD

Health Policy Special Interest Group

Every Second Tuesday | 7:00-8:00pm EST • Zoom Meeting

Ethics Special Interest Group

Every Third Tuesday | 6:00-7:00pm EST • Zoom Meeting

Holistic Nursing Special Interest Group

Every Third Thursday | 5:00-6:00pm EST • Zoom Meeting

Interested in presenting for FNA?

Go to www.floridanurse.org/speak

Members of FNA/ANA will be given priority.

We welcome all nursing students and Registered Nurses regardless of membership status

to all of our events unless otherwise noted. For registration and more information about

FNA events, go to www.floridanurse.org/events.

frighteningly accurate. It was not only fun, it was really enlightening and it informed

our goal of moving forward based on our strengths rather than our challenges. You can

purchase Clifton Strengths 2.0 on Amazon should you want to explore your own strengths

as you move through your professional journey.

Florida Nurses Political Action Committee Candidate Interviews

PAC Interviews for the primary election are over and the endorsements have been

made. The Lobby Team has notified the candidates and are working on delivering

contributions. We did not endorse incumbents or candidates we were already certain

would win their races. PAC members as well as several members and colleagues attended

the virtual interviews. This event not only gives us the opportunity to meet candidates

but also to educate them about our issues. We will be holding another round of candidate

interviews for the General Election. Please watch your emails for that announcement.

Registration will be available on the FNA website under events as soon as the date is

set. We encourage you to educate yourself on your local candidates and you can share

your insights during this virtual meeting. Our lobbyists had already interviewed over 100

candidates before our event. Thank you to PAC trustees, Carole Amole, Chair; Megan

Moroney; Barbara Russell; Donna Sabatino, and Mary Lou Brunell for spending the time

with us on a Saturday to help strengthen our voice in Tallahassee.

Conversations with a Purpose: Violence Against Nurses

We have been concerned with escalating violence against nurses in various work

environments. Many of you have attended our Town Hall meetings related to the

devastating impact of the COVID-19 Pandemic on the Healthcare Professions. We have

titled these meetings Conversations with a Purpose to denote that we wish to move

beyond the conversation to actions on each of the issues that have been illuminated

by these discussions. Some future actions were discussed and the FNA Board will be

working on actualizing some of these strategies. Some participants also shared strategies

that seem to be having a positive impact in their work environments.

Research and Evidence Based Practice Conference

The Research Conference is behind us and again it was a great success. This was our

first face to face conference since the pandemic began and so it was a great "testing" of

the waters before our Membership Assembly in September. We would like to introduce

a fun promotion called Race of the Regions based on our dynamic conference logo to

determine which FNA Region will have the greatest representation. Stay tuned.

Are you a STAR?

It has been two years since we were able to recognize our STAR FNA recruiters at

the Membership Assembly. In order to make sure everyone is recognized we will be

including TWO YEARS of recruitment efforts by individual members. Those who attend

Membership Assembly will receive gold stars to wear on their badges to denote how

many members they have recruited. We already have some clear front runners. If you

recruited members and they included your name in their membership application then

you are a Star Recruiter. This is one more fun aspect of the conference. In addition to that

we will be handing out "years of membership" ribbons for your badges. These will denote

5-50 years of membership.

Florida Nurses Foundation

The Scholarship selection process is complete and we will be notifying recipients

in August. The Trustees have voted to have another call for Grants (there were no

applications) and for scholarships that did not receive any applicants this year. These

additional awards will be given based on the Foundation budget.

There is also currently a call for Foundation Trustees as there are several current and

upcoming vacancies. If you would like to know more about this opportunity email Willa

Fuller at wfuller@floridanurse.org

Pandemic and Disaster Task Force

Filming has begun on a video project by the Pandemic and Disaster Task Force which

will share the experiences of nurses from diverse areas of practice. We hope to use this

video to inform stakeholders, legislators and other policy holders. This task force is chaired

by Dr. Dierdre Krause.

Public Relations Project by the Board of Directors

This year the Board of Directors allocated "Innovation Funds" for special projects

of benefit to the profession. The board engaged Ron Sachs communication to help us

formulate messaging for a public relations campaign that will serve as a companion to the

video project to illuminate the impact of the pandemic and the critical needs within the

nursing profession. These projects will serve as tools in our Advocacy Toolbox as we move

forward to heal and repair nurses and patients. A survey was sent to licensees with some

pertinent questions.

JEDI Task Force

The DEI and Social Justice Task Force merged to form the Justice, Equity, Diversity

and Inclusivity Task Force (JEDI). They will be reporting on their work at the Membership

Assembly, including the results of the survey they deployed last year. They will discuss the

question, How Diverse is FNA? They will also share other plans of the Task Force and lead

a discussion group to help form future work in this important space.

Membership Assembly

We are happy to report that ANA President Ernest Grant will serve as our Keynote

Speaker for the 2022 Membership Assembly live and in person at the Mission Inn Resort

in Howey-in-the-Hills, FL. We have many excellent presentations planned and our Award

Selection process has been completed. The Awards Gala is always an uplifting and heartwarming

part of our conference as we recognize our "Nursing ICONs."
---
August 2022 The Florida Nurse Page 7

Regional News

Recently, we had a productive East Central

Leadership meeting, which was well attended and

appreciated. Many healthcare professionals are

currently receiving the second round of Covid booster

vaccinations so they may continue to provide for their

families and their places of employment. While we all

may be experiencing Covid fatigue, I appreciate the

nurses who have stayed the course, and are caring for

our communities and those providing nursing services

to patients.

As 2022 is concluding, I hope that we continue

to stand together and advance the needs of nursing

and healthcare in our communities and throughout

the State. Legislative sessions will take place soon,

and nurses must be heard. With the recent Supreme

Court's decision regarding Roe vs Wade, we can

provide input to influence those who make decisions

on behalf of the public. In order to make healthcare

safer and more equitable for all patients including

those who are underprivileged and underserved,

lawmakers at the municipal and state levels need to

hear from nurses.

If you have any networking or educational initiatives

suggestions for East Central Region, please reach out

to me at: fnaoffice@floridanurse.org.

which provided a relaxing and fun filled day. All nurses

were presented with a Praying Angel memorial vase in

memory of patients, friends, and loved ones lost during

the COVID 19 pandemic. Several awards were presented

to the Miami Regional University's President, Ophelia

Sanchez, Dean of Nursing, Dr. Guillermo Valdez, and

nursing faculty Dr. Elizabeth Levine, for their support of

the Florida Nurses Association Nurse Week Celebration.

There was lots of food and several raffles for gift baskets

and gift cards. Needless to say, the winners were very

pleased with their awards. Highlights of the event are

seen in the photos below.

The post-event evaluation showed that the

participating nurses valued this experience and would

participate again if offered next year. Thank you FNA

and all our supporting organizations for a successful

nurse week celebration. A special thanks goes out to:

Dr. Sharon Rogers, President Miami Chapter Black

Nurses Association, Joan Howard and Lornette Patrick,

President and President-elect, Jamaican Nurses

Association, Nargita Arora, President of the Indian

Nurses Association, Cleo Reynolds, Anti-Basileus Chi

Eta Phi Nursing Sorority, Dr. Armando Riera, President

Hispanic Nurses Association, Rose Valcin, President

Haitian American Nurses Association, Dr. Helen

Bhagwandin, and Dr. Marie Etienne.

Linda Washington-Brown, PhD, EJD, PNP,

ANP-C, FNP, FAANP, FAAN

American Nurses Association Minority Fellow Alum

South Region Director

Greetings everyone! I am working on an October

event, more information to come as available. Please

let me know if you are interested in being part of the

Northwest Region Leadership Council. You would be

instrumental in planning collaborative events in your local

area. If you would like to be part of our region's leadership

council, share any professional accomplishments, or have

any regional activity ideas/questions, please feel free to

contact me at fnaoffice@floridanurse.org. Thank you for

allowing me the opportunity to serve our region!

Dr. Jake Bush

Greetings SE Region members! Hot off the press

this summer….cool ideas for fun and fellowship as we

continue to strengthen our region. A big thanks to all

of you who are making this year a great success! And

to the rest….come join us! We need you!

Regional News continued on page 8

On Friday, May 6, 2022, Florida Nurses Association

(FNA) South Region, supported by the Black Nurses

Association, Chi Eta Phi Nursing Sorority, Haitian Nurses,

Hispanic Nurses Association, Indian Nurses Association,

and the Jamaican Nurses Association held its first Joint

Nurse Week Celebration at Miami Regional University

in Miami, Florida. The theme for Nurse Week was "We

Care About You." The event was well attended with over

65 nurses and nursing students, who participated via

Live stream and face-to-face programming. Our Keynote

Speakers were Michel Hirschberg, Paola Gutt, and Dr.

Binde Patel, who led the audience in the essentials

of meditation. The Nurse Week program also offered

Massage therapy, Aroma therapy, Yoga, and Zumba
---
Page 8 The Florida Nurse August 2022

Regional News

Regional News continued from page 7

Here's what's happening:

Monthly zoom meetings for planning events and

developing committees. Next SE Region Leadership

Zoom Meeting August 17th, Wednesday, 6:30-7:30

pm. See you there!

Road Trip!! You deserve a break today! FNA

Membership Assembly – Mission Inn Resort @ Howeyin-the-Hills,

Florida. September 22-24. Bonus CE

sessions, Keynote presentations, Awards reception

& dinner celebration, live region meetings and more.

New member registration discounts and Region

Rebates available for members. Checkout our FNA

website events for details and registration.

Save The Date - Happy Hour: Meet & Greet your

newly elected local Legislators. Mix it up with some

fun and fellowship this November 18 from 4-7pm.

Location to be determined by our (12 member and

growing) event planning committee. Openings still

available for those interested in joining the committee.

Legislative Outreach - This is an important

election year, and our voices must be heard! There is

power in numbers, and we are gathering to make a

difference! Be a small part of the big change. Email

for information on key legislative issues and how to get

started.

There are also opportunities for service on the

Legislative Committee for those interested.

Because of my commitment to advocacy and

legislative outreach, my Florida Atlantic University

Christine E. Lynn College of Nursing DNP Project,

entitled Out of the Shadows and Into the Light…

Illuminating a Bright Future for Nurses through Legislative

Advocacy is currently in development and will be rolling

out to all FNA members soon.

This Legislative Advocacy training is offered to

raise awareness about the necessary process for

implementing changes in the nursing profession,

to improve the nurse's enthusiasm for legislative

advocacy, and to increase nurse participation in

effecting the needed changes through legislative

channels.

Out of the Shadows and Into the Light…Illuminating

a Bright Future for Nurses through Legislative Advocacy

is a fun, informative and interactive virtual webinar

training consisting of four (4) sessions, offered to

FNA members once each week over a four (4) week

period, and lasting approximately 20-30 minutes each

(including time for questions and answers), and will be

evaluated by a select study group of participants for

quality improvement analysis. But ALL are welcome to

attend!

• Session 1: Wednesday August 24th at 6:30 pm

• Session 2: Wednesday August 31st at 6:30 pm

• Session 3: Wednesday September 7th at 6:30 pm

• Session 4: Wednesday September 14th at 6:30 pm

Stay tuned for updates and registration.

Again, a heartfelt thank you for all your support and

dedication. Great job SE Region!! Enjoy the rest of

your summer!

See you soon,

Cynthia Tagliaferri, RN, MSN, DNP Student

FNA Southeast Region Director

cynthia.fna@gmail.com

The Florida Nurses Association is the only

nursing organization representing ALL of nursing

regardless of nursing specialty or practice area.

We are a strong voice for the nurses of Florida

fueled by the strength and commitment of the

professional nurses who comprise our membership.

We encourage and support all nurses to become

engaged in our Grassroots program and the

legislative process to improve the health status

of our communities and the practice and working

environments of Florida nurses.

Public Affairs Consultant, PA is a governmental

consulting firm that represents FNA's collective

voice before the Florida Legislature. Jack Cory

(Founding Partner), Keyna Cory (President) and Erin

Ballas (Vice President) promote FNA's Legislative

and Regulatory Policy Platform to State Legislators

and State Agencies.

This year, FNA joined the Florida Chamber

Political Institute as our lobbyist interviewed

legislative candidates across the state. West Central

Region interviews were hosted in Tampa, June 7-8,

at the Florida Aquarium.

A second round of candidate interviews were

conducted by The Florida Nurses Political Action

Committee (FNPAC) Board of Trustees with

subsequent endorsements based on FNA's priority

legislative agenda.

FNA's year-round Grassroots advocacy offers

several opportunities for your voice to be heard

including delegation meetings with local legislators,

FNA's Health Policy Special Interest Group (HP-

SIG), FNPAC, and attending Advocacy Days at the

State Capitol during legislative session.

Every day, lawmakers make decisions affecting

nurses, ensure FNA is part of the healthcare

policy dialogue by voting on General Election Day,

November 8, 2022.

Your Vote, Your Voice!

FNA Lobbyist Team: Erin Ballas, Jack Cory, and

Keyna Cory of Public Affairs Consultants, PA

#3 Best Online FNP

Master's Program
---
August 2022 The Florida Nurse Page 9

Florida 2022 Election Season

Legislative Update

John Berry, Director of Labor Relations

& Governmental Affairs

The 2022 Florida Election Season is upon us. This year's

Primary Election is August 23, and the General Election

takes place on November 8. The deadline to register for the

Primary Election was July 25, and the last day to register for

the General Election is October 11. All statewide offices are

up for grabs as well as the Florida House of Representatives

and the Florida Senate.

As of May 31, 2022, here are the numbers for Voter

Registration in Florida:

Republican Democratic Minor Party No Party Affiliation Totals

5,135,749 4,959,838 255,510 3,865,575 14,216,672

There isn't a big difference in the number of registered Republicans and Democrats

in our state. There are few who belong to a Minor Party, but there are quite a number

of residents who don't have any party affiliation, making up just over a quarter of total

registered voters. Both major parties like to target those potential voters because

they could vote either way in a General Election.

Let's take a look at the results of the 2018 Governor's Race here in Florida:

Election Results:

Percent Candidate Party Votes Winner

49.6 Ron DeSantis Republican 4,076,186 X

49.2 Andrew Gillum Democratic 4,043,723

1.2 Other 100,585

100% Precincts Reporting

8,220,494 Total Votes

John Berry

What that means is that there were 5,996,178 registered voters who did not take the

time to perform their civic duty in 2018.

This is not an article about who you should vote for, this is a message about the

importance of getting out to vote. Every vote counts. Every vote can make a difference.

It can be discouraging when your candidate doesn't win. It can get tiresome being

bombarded with political ads this time of year. Elected officials and candidates will not

only talk about why they'll be the best one for the job, but a number of them can be

pretty nasty with each other in the press, and that can be a turn-off for a lot of voters.

Some people will look at a campaign and think that this person doesn't stand a chance, so

why bother. That's my point. You should bother, you should care.

There were just under 6,000,000 registered voters who could have made a difference

in the 2018 election. How do you know if you're not going to try? Whoever you're going

to vote for this year, that's your personal choice. Vote for the candidate that you feel can

make the greatest and most positive impact in not only the statewide races for the Florida

House and Senate, but your local races as well. Just don't waste the vote you have by not

voting at all. Whether you're voting by absentee ballot or in-person, just make sure that

you vote. Your vote can make a difference.

References:

dos.myflorida.com/election/for-votes/voter-registration/

politico.com/election-results/2018/florida/governor/

State Employee News

Public Health Prevention –

Vaccines Work!

Prevention of disease is the hallmark of public health service. As public health

providers and nurses, we realize the value of vaccines in providing immune protection for

both children and adults.

Data on prevention success is inspiring. According to the

Center for Disease Control, for children born between 1994

and 2018, vaccines will prevent 419 million illnesses- that's

more than the population of the United States currently! This

vaccine protection will help avoid 936,000 deaths and save

$1.9 trillion in societal costs. This is the power of prevention!

(www.cdc.gov/features/vfcprogram)

According to sources, including the American Association

of Critical-Care Nurses ( AACN), the COVID-19 Pandemic has

brought challenges to vaccine prevention programs, among

many others. It has interrupted immunization programs both

in the United States and around the world leading to delayed Debbie Hogan

immunizations for both children and adults. Without this

protection, children are at risk for up to fourteen different diseases including measles,

pertussis (whooping cough), and COVID itself! For more information on the current

vaccine schedules go to cdc.gov/vaccines/schedules/resource-library/syndicate.html.

As nurses, we need to support and advocate for the Immunization Agenda 2030 (

IA2030), adopted as part of the World Health Assembly. These efforts include preventing

disease, promoting equity and building (or rebuilding) strong immunization programs.

Efforts also include programs to promote vaccine confidence and trust in science, as well

as encouraging further vaccine research to develop and increase the supply of quality,

safe, effective and affordable vaccines.

Our patients and communities depend on us as nurses and public health providers

to serve as resources for disease prevention and health care. Please join our prevention

team!!!
---
Page 10 The Florida Nurse August 2022

Student Forum

The August edition of The Florida Nurse is our Annual Nursing Student Issue in which we feature articles, op-eds, and stories written by nursing

students or related to nursing student life. Some articles featured are experiential pieces that reflect the opinion of the author and are not an official

position of the Florida Nurses Association. If you would like to submit an article for consideration in next year's Nursing Student Issue,

please contact Kaitlin Scarbary, Editor at kscarbary@floridanurse.org.

Senior Practicum Nursing Student to Practicing Nurse

Trilla Mays, Ph.D., Ed.D., RN

Recently, I had the

opportunity to present my Ph.D.

research findings as a poster

presentation. It was interesting

to discover that some nursing

programs have stopped the

senior practicum experience,

some are considering stopping

that experience due to

difficulty finding preceptors in

the hospital, and some have

continued the practicum

Trilla Mays

experience. Adequate academic

and clinical preparation are essential for the transition

from student to registered nurse (RN) working in a practice

setting. The National Council of State Boards of Nursing

(NCSBN, 2020) recognized that newly graduated nurses

(NGNs) who are unable to transition to practice impacts

the quality of care, leading to the risk of medical errors

and diminished patient safety. NGNs have reported a lack

of competence and preparation for practice based on

academic preparation (Hatzenbuhler & Klein, 2019).

I interviewed RNs who had been practicing less than two

years and had a senior practicum or preceptor clinical their

last semester of nursing school. The results of that study

revealed that the learning environment resulted in some

unmet needs, particularly the nurse who had the practicum

only on Saturdays. However, it made her realize she could

work on a medical-surgical unit in the hospital. There were

more than sufficient positive learning experiences where

the preceptor served as a role model impacting the NGN's

transition to practice (Meleis, 2010). Role modeling by the

preceptor impacts transition to practice (Edward, et al.,

2017; Ford, et al., Gale, et al., 2016; Rooke, et al., 2022). All

participants reported valuable experiences, reinforcement of

skills learned in previous clinical courses, and the opportunity

to learn from the RN preceptors. They benefited from

working one on one with an RN in their last semester of

nursing school. Edward, et al., (2017) discovered that a

positive preceptor-nursing student relationship improves

clinical competence of new nurses entering practice.

Although, there was a limitation of three participants due

to COVID, the meaning of the data consistently supported

continuing a senior practicum experience. Academia and

practice partners should discuss the availability and even

expansion of practicum opportunities, training of preceptors,

and additional enhancements to the practicum experience.

Working together should improve not only the number of

nurses prepared to transition to practice; it should increase

the retention of new nurses.

Biography: Dr. Mays has a BSN, MSN, an Ed.D. in higher

education leadership and a Ph.D. in nursing. She has over 30

years of experience as an RN, a pediatric nurse practitioner, and

professor in higher education. Her current position is School of

Health Sciences Dean at Chipola College.

References

Edward, K.-L., Ousey, K., Playle, J., & Giandinoto, J.-A. (2017).

Are new nurses work ready - The impact of preceptorship. An

integrative systematic review. Journal of Professional

Nursing: Official Journal of the American Association of Colleges

of Nursing, 33(5), 326–333. https://doi.org/10.1016/j.

profnurs.2017.03.003

Ford, K., Courtney-Pratt, H., Marlow, A., Cooper, J., Williams, D., &

Mason, R. (2016). Quality clinical placements: The perspectives

of undergraduate nursing students and their supervising

nurses. Nurse Education Today, 37, 97–102. https://doi.

org/10.1016/J.NEDT.2015.11.013

Gale, J, Ooms, A., Sharpesl, K, & Marks-Maran, D. (2016) The

experiences of student nurses on placements with practice

nurses: A pilot study. Nurse Education in Practice, (16) 1, 225-

234. http://dx.doi.org/10.1016/j.nepr.2015.08.008

Hatzenbuhler, N. & Klein, J. (2019). Educational Preparation

for clinical practice: reflections of newly graduated RNs.

Nurse Educator, 44, 93-97. https://doi.org/10.1097/

NNE.0000000000000550

Meleis, A. I. (2010). Transitions theory. [electronic resource]: middlerange

and situation-specific theories in nursing research and

practice. Springer Pub.

NSCBN (2020). Transition to Practice. https://www.ncsbn.org/

transition-to-practice.htm

Rooke, S., Thevenard, G., Suthendran, S., Jung, S., Tolentino, N.,

Annandale, J. F., & Ward, K. (2022). What makes a great

preceptor? Nursing students have their say. Kai Tiaki Nursing

New Zealand, 49–58.
---
August 2022 The Florida Nurse Page 11

The BSN-Ph.D. Student:

Finding Your Place In the Profession

Student Forum

Walter Wills BSN, RN

As we recognize nursing

students this August, I took

a moment of reflection for

myself as I finish the first year

of my BSN to Ph.D. program.

I recently graduated with a

BSN in 2021 and worked at

the bedside throughout the

beginning of my graduate

training. However, the decision

to move immediately into my

graduate training came at a Walter Wills

great cost to understanding

where I fit in the nursing profession, and I hope this will

serve as a message to young students who may want to, but

doubt, their ability to pursue a similar path.

The decision to pursue a Ph.D. may never be an easy

one, whether the burden lies in giving up status in a

current position, sacrificing time with family or friends,

accepting substantial financial burden, or all of these things

combined. For me, it came at a cost of many of those

elements, but also a struggle in finding my identity within

the nursing profession. The decision to go back for a Ph.D.

the very next semester after graduating with a BSN may

be seen by many as premature, lacking in the volume of

clinical experience many other graduate prepared nurses

have. For a while, I believed this claim to be valid too.

When I look around my Ph.D. classroom, I see successful

CNO's, DNP's, and APRN's, all with storied careers already.

How could I measure up to them at my young age and

level of clinical experience? My supporters through my

undergraduate training also questioned why I would ever

want to return to school so quickly, asking me why I didn't

want to "use" my degree before going back. This too made

me question the validity of my decision. These ideas lead

me towards a case of severe "imposter syndrome," and a

loss of where I felt I fit within this profession.

However, through a journey of self-reflection and

peer support, I was able to find my place within this

profession, and I'd like to leave a message of clarity for

those questioning pursing this same path. Being a nursing

scientist is ultimately very different from the skills we learn

in our undergraduate training, bedside practice, or any other

academic program. I love designing new research studies,

getting to know the participants I recruit, running my own

statistics, and speaking on my results. An awareness of

these personal strengths allowed me to recognize that I can

best aid in improving the lives of our patients by focusing

on these skills and committing fully to being the best

scientist possible. In closing, no matter when you graduated

your undergraduate program, how long you have been at

the bedside, or how many credentials you have behind your

name, if you believe you will best improve patient lives in

the role of a Ph.D. Nurse, then I urge you to take a chance

on yourself and go get that degree.

Biography: Walter graduated from the University of South

Florida in 2021 and began practicing at Bayfront Health St.

Petersburg as Trauma Care RN prior to starting his graduate

training. Currently, he is an early-stage investigator, beginning

his 2nd year at USF's Ph.D. in Nursing Science program.
---
Page 12 The Florida Nurse August 2022

Members in the News

FNA Member Karen Baez-Wallis runs for county

commissioner seat in Miami-Dade County

Karen Baez-Wallis,

Registered Nurse and

member of the Florida

Nurses Association,

is running for county

commissioner in Miami-

Dade County. Karen's

top priorities are finding

innovative solutions to

traffic problems, creating

jobs and incentivizing

businesses to open

their doors, working with leaders on appropriate

infrastructure to protect homes and safe water, and

taking care of veterans by creating a VA office in

South Miami-Dade.

Karen obtained her bachelor's in health services

administration from FIU Biscayne Campus, a

registered nursing degree from Miami Dade College

and her master's in nursing from West Coast

University. Karen worked as a registered nurse at

John Hopkins and Ryder Trauma before advancing

to the service line director of nursing for emergency

and trauma services at Jackson South Medical

Center.

Karen has continuously given back to her

community including work with the United Way,

Women of Tomorrow, and the Children's Burn

Foundation. She considers her largest contribution to

her community as her service as a nurse for the last 26

years.

"I am dedicated to maintaining the substantial

relationships that I have established with Police and

Fire Departments to provide for the safety and security

of the community. This is to support my #1 priority

other than quality of life which is community safety.

Of which I have an intimate understanding having

seen firsthand while running the trauma center and

emergency department which serves as the catchment

facility for district 8. I will work to collaborate and

empower the community councils as they have the

pulse on the issues for the communities that they

serve."

To learn more about Karen's Campaign visit

Https://karenbaezwallis.com

Dr. Stone-Gale receives

multiple awards and

induction as a Fellow

Dr. Vicky Stone-Gale,

DNP, APRN, FNP-BC,

FAANP, FNAP was inducted

in March 2022, as a

Distinguished Fellow of

the National Academies of

Practice. She also received

the 2022 Outstanding

Policy Award from the

National Organization of

Nurse Practitioner Faculty

(NONPF) in April at their

yearly conference in Minneapolis, Minnesota, and the

2022 AANP Advocate State Award of Excellence from

the American Association of Nurse Practitioners at the

national AANP conference during the Salute to the

States Award Ceremony June 24th in Orlando, Florida.

This prestigious award is given annually to a dedicated

advocate in each state who has made a significant

contribution toward increasing the awareness and

recognition of nurse practitioners.

Dr. Stone-Gale is an Associate Professor in the FNP

program at Frontier Nursing University and practices

as an Autonomous APRN in Primary Care in Plantation.

She is the current President of the South Florida

Council of Advanced Practice Nurses, First VP of

Legislation for the Florida Nurse Practitioner Network,

and is Chair for the North Probable Cause Panel for

the Florida Board of Nursing.
---
August 2022 The Florida Nurse Page 13

Members in the News

Association of Nurses in AIDS Care Conference comes to Tampa

Nov. 17-19 led by FNA Member Donna Sabatino, RN, ACRN

ANAC's annual national conference will be held in Tampa

this year, bringing together nurses, researchers, educators,

policy experts, healthcare innovators, community members

and nursing students from across the country and the

globe. This is the conference's 35th year and Florida Nurses

Association member Donna Sabatino, RN, ACRN leads

the planning as the ANAC2022 conference chair. Donna

also serves in a consultant role at ANAC, supporting the

organizations national and global health policy and advocacy

work. Additionally, she is Director of State Policy & Advocacy

for The AIDS Institute in Florida.

Dr. Sharon Rogers Elected

President of Miami BNA

Florida Nurses Association (FNA) South Region

congratulates Dr. Sharon Rogers as the newly elected

President of the Black Nurses Association, Miami Chapter

(Miami BNA). Dr. Rogers has been active with FNA for many

years and participated in several of their initiatives; Tallahassee

Advocacy Days, FNA Health Policy Special Interest Group

(SIG), South Region Leadership Council and various Taskforce

initiatives. Her experience and background are with the

Jackson Health System (JHS) for 26 years in the neonatal

intensive care unit (NICU) and pediatric intensive care unit

(PICU), and as Associate Director of Patient Care Services,

Women's Center at Jackson South Community Hospital.

Dr. Rogers has served on the Nomination Committee for FNA from 2017-2019. She

was the recipient of both FNA "Nurse Educator" Award in 2017 and the "Promoting

Environmental for Excellence in Nursing Practice" Award in 2019. She has also

completed the 'Board Service Initiative' (BSI) with the Florida Center for Nursing (FCN).

As BNA Health Policy Chair, she has consistently participated in FNA "Advocacy Days"

coordinating legislative appointments with State Legislators in Tallahassee. She is a

sustained supporter of FNA South Region and continues to be actively engaged with their

platform.

Submitted by

Dr. Linda Washington-Brown,

FNA, South Region Director

Donna has been in the HIV fight for 30 years, holding several positions including a

bedside RN in a dedicated HIV/AIDS unit in Ft. Lauderdale in the early 90s, an HIV clinic

nurse and manager, director of operations for a Disease Management Program and an

industry partner. She truly believes that "nurses have always been respected advocates

and are at the intersection between social justice, health policy and the needs of our

patients." Donna has served on the national ANAC Board of Directors, chaired the

ANAC Policy & Advocacy Committee and is the recipient of the 2021 Helen Miramontes

Award, presented by ANAC and Until There's a Cure Foundation to an individual whose

work influences policy to improve the lives of vulnerable persons. Her extensive policy

background makes her the perfect fit to chair this year's conference, which will have a

strong focus on health equity and policy.

The ANAC2022 conference theme is Equity, Compassion & Science - Keys to Ending

the Epidemic. Sessions will amplify the messages of inclusion, equity, and compassion,

which are nursing values necessary to end the HIV epidemic and address health equity.

Attendees will learn about the latest developments and advancements in HIV care

through abstract-driven sessions from highly acclaimed speakers. There will be skillsbuilding

opportunities and networking to advance nursing roles in advocacy and education

that draw attention to the intersections of human rights and health disparities and HIV.

You're invited to join other nurses to celebrate the amazing work being done in support

of LGBTQ+ individuals and people with or at risk of HIV in Florida and around the world.

Attendees are eligible for up to 18 hours of nursing continual professional development

credit hours (formerly known as CNE), which are included in the registration fee!

We can't wait to see you at ANAC2022 Nov. 17-19 in Tampa,

Florida (pre-conference activities on Nov. 16). Check out the

agenda and stay tuned for more details. Visit our website for

registration information and a welcome message from Tampa

Mayor Jane Castor.

The Association of Nurses in AIDS Care (ANAC) is the leading

nursing organization responding to HIV/AIDS. Since its founding in

1987, ANAC has been meeting the needs of nurses and other healthcare professionals in HIV/

AIDS care, education, research, prevention, and policy.

President's Message continued from page 1

The ANA Membership Assembly was highly successful. We also elected Dr. Edward

Briggs of St. Petersburg, FL to the ANA Board of Directors! Dr. Briggs is a longtime

member and past president of FNA who has been a strong voice for nurses over his

career. We proudly stood with ANA President Dr. Ernest Grant and Dr. Barbara Nichols.

Pictured left to right: Mavra Kear (Treasurer-FNA),

Janice Adams (President-FNA), Ernest Grant

(President-ANA), Barbara Nichols (Past President-

ANA), Marie O. Etienne (President-Elect-FNA),

Ed Briggs (Newly elected board member-

ANA), George Peraza-Smith (Representative &

Immediate Past President-FNA)

The nursing crisis in

Florida is evident in all

venues where care is

delivered. A recent

report from the Florida

Hospital Association

(FHA) indicates a

projected shortage of

approximately 59,000

nurses by 2035. We

have much work to do

relating to recruitment

and retention, improving

National Council

Licensing Examination

(NCLEX) pass rates in

Florida, and improving

workplace concerns.

FNA has several

opportunities available

for you to speak to

these concerns. To join this important work please visit the FNA website at

www.floridanurse.org.

This is a priority concern for Florida nurses. The Quality & Unity in Nursing

Council (QUIN) has been working to address the Florida nurse needs for the

future. The QUIN Council and the Nursing Action Coalition of Florida (NACFL)

will be presenting our white paper on recommended resolutions during the FNA

Membership Assembly. The Board of Directors and I look forward to hearing from

you and having you join us at the Membership Assembly in September.
---
Page 14 The Florida Nurse August 2022

Member's Voice

Todd's Paralysis: Know the Signs

Ashley Davis

Ashley Davis

Ashley is currently

working as a rapid

response team nurse.

Ashley's nursing career

began in 2014. Ashley's

primary background is in

emergency nursing. She

is currently enrolled at

the University of South

Alabama to become

a dual certified FNP/

AGACNP. She lives with her husband and two

daughters in Pensacola, Florida.

"Todd's paralysis is a neurological condition

experienced by individuals with epilepsy, in which

a seizure is followed by a brief period of temporary

paralysis. The paralysis may be partial or complete but

usually occurs on just one side of the body" (National

Institute of Neurological Disorders and Stroke, 2022).

The importance of being aware of Todd's Paralysis

is that the signs and symptoms of this disorder are

very similar to those of a stroke (National Institute of

Neurological Disorders and Stroke, 2022). Observable

signs can include flattened nasolabial fold, upper and/

or lower extremity weakness, and more.

Todd's Paralysis occurs after a patient has

experienced an epileptic seizure. The symptoms

can last between thirty minutes and up to thirty-six

hours, with an average time of symptoms lasting

approximately fifteen hours (National Institute of

Neurological Disorders and Stroke, 2022). Mastriana

et al. (2022) report that the current understanding

regarding the cause of Todd's Paralysis signs and

symptoms is when a patient experiences a seizure

there is exhaustion and/or hypo-perfusion of the area

of the brain that controls the area of the body that

becomes paralyzed for a period. As that portion of the

brain recovers from the epileptic state, the symptoms

diminish and eventually go away.

If it is suspected that your patient is experiencing

Todd's Paralysis, it is imperative to notify the patient's

attending physician and/or neurology team, and

to complete a thorough neurological assessment.

The patient may require a CT scan of the brain,

antiepileptic medications, as well as other diagnostics

and/or treatments.

References

Mastriana, J., Pay, J. L., De Jesus, O., & Taylor, R. S. (2022, May

9). Todd paresis. StatPearls. Retrieved June 21, 2022, from

https://www.ncbi.nlm.nih.gov/books/NBK532238/

National Institute of Neurological Disorders and Stroke. (2022,

April 25). Todd's paralysis. NIH. Retrieved June 21, 2022,

from https://www.ninds.nih.gov/health-information/

disorders/todds-paralysis#:~:text=Publications-

,Definition,one%20side%20of%20the%20body.

Currently hiring faculty in Florida for all

specialty areas.

We change the life of one to care for the

lives of many

Student Success, Institutional Excellence, Relationships, Stewardship

Galen College is currently hiring expert educators and committed

professionals in all areas of expertise whose guidance and experience

contribute to the success of thousands of students entering the

nursing field every year.

Must have MSN, DNP or PhD degree

St. Petersburg, Gainesville,

Pembroke Pines, Sarasota

galencollege.edu/careers

Voting as Nursing

Advocacy

Charlotte D. Barry PhD &

Savina O. Schoenhofer PhD

Contact info:

cbarry@health.fau.edu

savibus@gmail.com

"ANA believes that advocacy is a pillar of nursing.

Nurses instinctively advocate for their patients, in their

workplaces, and in their communities; but legislative and

political advocacy is no less important to advancing the

profession and patient care."

Advocacy (nursingworld.org)

The most basic practice of advocacy is also the most

basic practice of citizenship – voting. In the US, voting

is the mechanism for political expression in a way

that matters most. However, research has found that

nurses and other healthcare professionals have a lower

likelihood of voting than members of professions such

as teaching, engineering and the law. (https://www.

ncbi.nlm.nih.gov/pmc/articles/PMC7822395/).

We need to do better in order to live up to our

commitment to advocacy for ourselves, for our

patients and for the healthcare system in general.

What are some practical ways to help us improve the

record of voting? Allow us to suggest one avenue that

is readily accessible – the League of Women Voters.

It needs to be said up front that the League of

Women Voters is not just for women – it's for all

persons, men and women, of all political persuasions,

all demographic groups. The League's motto is

"Empowering Voters – Defending Democracy." The

Florida League of Women Voters (Home - League of

Women Voters of Florida (lwvfl.org)) has much to offer,

whether or not you are a member. They have well

researched position papers on various relevant issues,

they sponsor local and statewide in-person and online

Voter Forum opportunities prior to every election, they

provide information about the how-to's and when-to's

of voter registration and voting in-person, online and

by mail.

One of the most valuable services available through

the League of Women Voters is the website called

Vote 411 (https://www.vote411.org/). At Vote 411,

you can find out when and where to register and vote

and get information about candidates for office - just

go to https://vote.411.org and put in your address

for valuable details that will help you plan your voting

experience.

As part of the League of Women Voters'

commitment to Empowering Voters, the League

engages in extensive Get Out The Vote (GOTV) efforts.

Some examples of these efforts include posting signs

with registration deadlines and voting dates, writing

postcards to voters to remind/encourage them to vote,

and offering rides to the polls on election day.

So, if you would like to help raise the percentages

of nurse involvement in empowering voters, please

consider joining your local League of Women Voters.

Use Vote411.org to check out candidates and find your

polling place. Share the resource of Vote411.org with

your colleagues, your patients, your family and friends.

That's a wonderful way to honor your commitment to

advocacy as a pillar of nursing!

References

Solnick, R. E., Choi, H., & Kocher, K. E. (2022). Voting behavior of

physicians and healthcare professionals. J Gen Intern Med,

36, pp. 1169-1171.

https://www.ncbi.nlm.nih.gov/pmc/articles/PMC7822395/

The League of Women Voters of Florida. (2022). https://lwvfl.org/

Vote 411. (2022). https://www.vote411.org/
---
August 2022 The Florida Nurse Page 15

How can I get involved in FNA?

This is a question we hear often from both new and seasoned members of

FNA. Sometimes, they are new, have settled in their job and are ready to add

professional involvement to their "resume" of activities. Often, they are older

members who have always intended to become more involved and decided this

was the time. Others have retired and have more time to dedicate to advocacy

efforts. No matter what the situation we feel we have SOMETHING that

members can sink their teeth into.

Governance Level

FNA has opportunities for the FNA Board of Directors, the Florida

Nurses Foundation Board of Trustees and the Florida Nurses Political Action

Committee. These are "executive" and board level positions that provided

leadership to important entities of the association. The work includes quarterly

meetings which are currently mostly virtual and perhaps some quick meeting

in-between to take care of emergent business. The FNA Board determines the

directions and actions of the association and steers it toward the mission while

overseeing the financial status and managing the strategic plan. The Foundation

oversees the philanthropy arm of the association by overseeing the Grants and

Scholarship Program and creating fundraising opportunities to grow the funds.

Like the FNA Board they also provide governance and fiscal oversight. The FN-

PAC board oversees the process for endorsement of political candidates and

promotes fundraising and donations to the PAC. They also meet multiple times

a year but most frequently during elections.

Standing Committees

Like most organizations, FNA has standing committees that are a part of

the governance structure. The Bylaws Committee oversees the governing

document of the association and review them regularly to ensure that they are

serving the organization in a way that supports the mission and complies with

best practice. This committee is great for individuals who love organization,

structure, and order.

The Reference Committee promotes, writes and receives Reference

Proposals from members or Structural units with our position statement of

importance that the association might make. These are brought before the

Membership Assembly and discussed and voted on. If they are adopted, they

become a position of the association. This committee would be great for a

member who understands and is passionate about an issue and who is adept at

editing and evaluating content.

The Membership Committee works on initiatives and strategies to promote

and preserve membership in the professional association. This committee

would be great for a creative member who is excited about the association and

wants to inspire and motivate others to join. Creativity is a great attribute for a

member of this committee.

Task Forces

Task Forces are time-limited groups formed for a specific purpose. Currently,

the Pandemic and Disaster Task Force and the JEDI Task Force are active groups

within FNA. We are also in the process of starting a Workforce Violence Task

Force to look at the ongoing problem of violence against nurses.

External organizations

Other organizations and entities sometimes seek out FNA for nursing

representatives. Currently, Debbie Hogan has served on the Child Abuse Death

Review Committee (CADR) and Patty Geddie serves on the Cancer Control

Advisory Board or CCRAB, in a position specifically designated for FNA. There

is also a position on the Florida Center for Nursing Board that is an FNA specific

slot. We have representation on the Quality and Unity in Nursing (QUIN)

Council and we have many members on the Florida Action Coalition. We have

representatives on the Florida Coalition of Advanced Practice Nurses as well,

which is a group we help to form. Bill Pruitt and Valerie Morrison represent FNA

on the Nurses on Boards Coalition (NOBC) where we disseminate information

about board opportunities for our members.

Other opportunities

Do you have expertise in a topic? Present a webinar or CE for us.

Serve as a reviewer! We have reviewers for grants, scholarships, research

projects, awards, abstracts for poster sessions and speakers for conferences.

Serving as a reviewer is a short-term contribution that has great value to the

association.

This is an overview of some great engagement opportunities in the Florida

Nurses Association. Don't be afraid to dip your toe in the water and any level

that feels comfortable to you. We look forward to working with you!

Ad Hoc Committees

The Finance Committee is a committee of the Board of Directors (and other

appointed members) who oversee the association finances and report to the

Board (at each official meeting) and the Membership Assembly. They create

a proposed budget which is then approved by the Board of Directors and is

then utilized to make sure the association is fiscally solvent. This committee is

appointed by the president.

Awards Committee

The Awards Committee is also appointed by the President. They score

the awards each year and make the selections for the FNA Peer Recognition

Awards. The awards have been created by leadership over the years and

also have been amended or completely changed by various committees.

Nominations are sought from the membership and the committee receives

those nominations.

Special Interest Groups (SIGs)

Special Interest Groups are created by the members upon request. They

must have 10 interested members to form a SIG and each SIG defines it goals

and purposes. Currently we have the Health Policy SIG, The Nursing Ethics

SIG, the Research SIG, the Recent Graduate SIG, and the Holistic Nurses SIG.

Several SIGs have been closed over the years due to lack of activity which is

the beauty of a group formed by members. They determine if it is viable and

valuable. The SIGs have also met virtually since their inception but have the

option for in-person events. At one time the Recent Graduate SIG did several

meetups in the state via our Meetup.com account.

American Nurses Association Opportunities

FNA members may also become involved at the national level, including

running for office, serving on committees, running for ANA delegate in our

elections and attending the ANA Membership Assembly.

We have had several ANA board members, including Dr. Edward Briggs

who was very recently elected. We also have several members serving on

committees at the current time.
---
Page 16 The Florida Nurse August 2022

FNA Event Highlights

Research Conference 2022 Recap

The 8th Annual FNA Nursing Research and Evidence-Based Practice

Conference was held on Saturday, July 16, 2022 at the Sheraton Orlando North

in Maitland, FL. This year's keynote address was "Nursing Art and Science: Bridge

to Innovation" presented by Susan V. White, PhD, RN, CPHQ, FNAHQ, NEA-BC

and Stephanie Sinnett, MS, RD, LDN of the Orlando VA Healthcare System. Dr.

White and Ms. Sinnett kicked off the conference with an exciting and engaging

presentation that inspired attendees to consider the ways in which innovation

is born within the nursing workplace. The session included a mock "Shark Tank"

pitch with participation from Sue Fowler, PhD, RN, CRRN, FCNS who pitched

an innovative idea to the "sharks" in the audience. Some takeaways from the

presentation included know the problem you're working on, don't be afraid to fail,

use iterations and pivots when needed, and be sure to have a great pitch to help

garner support for your innovation.

The keynote presentation was followed by several podium presentations from

nurse researchers. Each podium presentation was unique, creative, and met a

need/answered a question related to nurse's impact on health care issues and/

or professional nursing issues. Both qualitative and quantitative studies were

presented. The presenters provided the participants with opportunities to hear

about the research and evidence-based process in action. While each presenter

had a different "journey" to their research, the common goal of research and

evidence being the guiding force of practice and the profession of nursing was

most evident.

Trecia D. Jones, MSN, RN, CNL, PCCN of the University of Central Florida

presented her work with veterans and vitamin B12 deficiency monitoring. Her

project entitled, "A Quality Improvement Project to Increase Vitamin B12

Monitoring in Veterans Who Have Diabetes and Take Metformin" demonstrated

that education intervention to increase awareness of ADA guidelines on

B12 deficiencies in patients taking metformin had a positive correlation with

monitoring B12 levels.

Anita M. Stephen PhD, RN, CNL of the University of Florida College of Nursing

shared her research involving students' acceptance of technological systems

in nursing education entitled, "Nursing Students' Acceptance of an Online
---
August 2022 The Florida Nurse Page 17

FNA Event Highlights

Computer-based Simulation System Utilizing

the Technology Acceptance Model." The study

showed that external factors influence the students'

acceptance of these models and that clear, concise

instructions, and instructor support are key for

success.

Walter Wills BSN, RN, a PhD student at the

University of South Florida presented his study on

patients with COPD and the link between quality

of life and cardiovascular disease. The research,

"Cardiovascular Disease as A Moderator of GOLD

Stage and Quality of Life in COPD Patients"

suggested a relationship between lower degrees of

airflow limitation and worsened quality of life when

presenting with comorbid CVD and identified the

need to develop innovative interventions to promote

symptom management and self-care.

Rounding out the podium presentations was a look

inside the lives of former victims of sex trafficking.

Elizabeth H. Sassatelli, PhD, RN, CNE and Katherine

Justus, RN presented "Out of the "Life" But Still

Out of Sight: The Long-Term Health Effects of Sex

Trafficking on Women in Florida." The presentation

used survivor testimonies on experiences in the

health care system to emphasize the importance of

trauma informed care when providing health care

services to individuals with a history of sex trafficking.

The conference boasted two lively poster sessions

with thirty-one posters from a diverse range of topics.

The poster presentations were diverse in area

of focus as well as research method. Poster

presentations included both qualitative and

quantitative research and evidence-based projects,

and were from both state and national sites. There

were completed studies and studies in progress

presented. There were studies from clinical, academic,

and community environments. Each presenter had

time for participants to view their posters and ask

questions. It was a great opportunity to see the types

of work being done by the diverse Florida nurse.

Start thinking now for next year's Research

and Evidence-Based Conference to be held in

July 2023. The call for abstracts usually goes out

in March. For those who are new(er) to writing

abstracts, FNA provides an abstract writing

webinar given in both April and May, to assist and

encourage everyone to submit. More details will be

announced soon!

Thank you to everyone involved in making this

conference a roaring success including our speakers,

poster presenters, podium presenters, and members

of the planning committee.

WE ARE

HIRING!

Join us and enjoy great benefits, and a rewarding career!

PEMHS's team of dedicated mental health

professionals is looking for Registered Nurses!

Must be a Registered Nurse with Florida licensure.

To apply, send your resume and cover letter to

Jahenein Nagel, jnagel@pemhs.org or apply online

https://pemhs.org/careers/

NOW HIRING NURSES

Boley Centers' Inc. is Hiring

LPN or RN

WWW.BOLEYCENTERS.ORG

Shifts in real time.

Nursa provides you a safe and secure place to store

your credentials, and find available per-diem work close

to home or across the country in real-time. Find PRN shifts

on your schedule for RNs, LPNs, & CNAs with great pay &

flexibility so you can nurse on YOUR terms.

Changing the Future of Healthcare

Staffing One Shift at a Time

Shift into Nursa. Visit go.nursa.com/nursingald.
---
Page 18 The Florida Nurse August 2022

Focus on

Recent Grads

Several years ago, the

FNA Membership Assembly

voted to add a Director of

Recent Graduates to the

Board of Directors. The

goal of this position was to

create activities to engage

the young professionals

and to make sure the

organization was addressing

the needs of newly

graduated nurses. Recent Danielle Weaver

graduates were defined as

nurses in practice for five years or less. We recently

sent out a call for new graduates meeting this

criterion to form a group to serve as an advisory

board to develop activities and programs for recent

graduates. We also created a group on Meetup.com

for new graduates to network in different parts of

the state.

We are working on a section of the FNA website

dedicated to new graduates. We need our members

who are in the workforce to help us develop

this resource. Danielle Weaver is the current

Director, Recent Graduates. She recently initiated a

networking series called Coffee with a Nurse. The

first one was held on August 10 and was a great

conversation with Danielle who is an ER Nurse. We

will continue this series with various other nursing

roles.

We are also open to other suggestions from our

members who have graduated recently. Support,

mentorship and networking are some of the

activities past novice nurses have asked for. If you

are interested in new graduate activities please

email Iris Lopez at info@floridanurse.org and we

will add you to the Recent Grad Special Interest

Group and the Advisory Board.

EMPOWERING NURSES

LEADING CHANG--.E ►.-:

SEPTEMBER 22-24, 2022

MISSION INN RESORT, HOWEY·IN·THE·HILLS

Diversity Workshop

KEYNOTE

Dr. Ernest J. Grant

President, American

Nurses Association

Leading Change: Diversity, Equity and

Inclusion Survey Results and Actions

presented by Leaders of the FNA JEDI Task Force

Susan B. Fowler, PhD, RN, CRRN, FCNS

Marie Etienne, DNP, APRN, FNP, PNP, PLNC

Karen Kuperberg, RN

Charlie P. Buscemi, PhD, APRN (he/him)

Visit the Membership Assembly

homepage for more details

floridanurse.org/MA2022

FNA Event Highlights

Join us in Howey-in-the-Hills!

» 12 + Breakout Sessions

» 8 Contact Hours for Nurses

» Discounted registration and

rebates available for FNA Members

Thursday, September 22

» Two hours of BONUS breakout sessions!

» Networking Happy Hour

Friday, September 22

» Keynote Presentation by ANA President

» Dr. Ernest J. Grant

» Work session with the Justice, Equity, Diversity,

and Inclusion (JEDI) Task Force

» Dynamic presentations from FNA Members

» Poster presentations from Florida Nurse

Researchers

» Networking opportunities and Region

meetings

» Icon Awards Reception and Dinner

Saturday, September 23

» Advocacy Breakfast featuring Workplace

Rights presentation

» Update on the Nursing Workforce from the

Florida Center for Nursing

» FNA Annual Business Meeting

» Foundation Luncheon honoring current and

past scholarship and grant recipients

Continuing Education: This activity has been submitted to the Ohio Nurses

Association for approval to award contact hours. The Ohio Nurses Association

is accredited as an approver of nursing continuing professional development

by the American Nurses Credentialing Center's Commission on Accreditation.

(OBN-001-91)
---
Page 20 The Florida Nurse August 2022

2022 Nurses Week Event Highlights

FNA Southeast Region holds First Annual Nurse Appreciation

Self-Care Event

The FNA Southeast Region held its First Annual

Nurse Appreciation Event on May 12th from 3pm

– 9pm at the Florida Atlantic University Boca Raton

campus in Palm Beach County. The self-care themed

event was a tremendous success!

Participants were able to indulge in self-care

services such as acupuncture, massage, foot therapy,

microdermabrasion hand therapy, guided imagery

meditation, reiki, and catered food and beverages.

Hourly gift give-ways and keynote speakers kept

the event interactive and informative. A featured

silent auction item raised $2,000 and offered one

of our nurses a lovely vacation home for an entire

week on beautiful Lake Lure, North Carolina during

this upcoming Thanksgiving holiday. Thanks to the

generosity of sponsors throughout the community,

nurses were able to attend the event for free.

The event was led by an amazing volunteer team

of FNA members: Angela Bonaby, Altavia Evans,

Deirdre Krause, Mara Raggi, Delilah Rivera, Maritess

Quinto, and Yamiley Theodore, whose dedication,

perseverance, and focus created a magnificent

event for all nurses to enjoy! The team also received

outstanding administrative support from Sydney

Goldberg and the FNA staff.

The Southeast Region team plans to make this an

annual event during Nurses Week. We hope to see you

there next year!

The Student Nurses Association of Arizona

College of Nursing – Fort Lauderdale Campus

Reprinted Article with Corrections from May 2022 TFN

have thousands

We

nursing jobs!

of

Find your dream job now.

The Student Nurses Association of Arizona College of

Nursing – Fort Lauderdale Campus (SNAAZC - FL) was

officially created in February 2022. I am honored to serve

as the Founding President alongside these great Founding

Board Members: Casey Norton, President-Elect; Nathalie

Canterbury, Vice President; Camasha Douglas, Treasurer;

Dhana Clarke, Secretary; Gabriela Belchior, Program

Coordinator; and Jada Williams, Historian.

I want to thank our Faculty Advisor – Professor Kaydene

Bailey-Green, RN, MSNED, and Dr. Marie O. Etienne, DNP,

APRN, FNP, PNP, PLNC, President-Elect of the Florida

Nurses Association for helping us create the chapter at

the Fort Lauderdale Campus. Additionally, I would like to

thank Dr. Shawn Higgins, PhD, RN, CHC, Dean of Nursing

and Mr. James Jones, Executive Director of Academic

Operations for their support to SNAAZC-FL.

Melissa Georges, President, SNAAZC-FL
---
August 2022 The Florida Nurse Page 21

Welcome New FNA Members

Northwest

Marty Adkins

Murriah Allen

Sefphra Arias

Janay Barnes

Tavaris Brooks

Brittany Cox

Nancy Derby

Brett Floyd

Sabrina Francois

Hellena Goff

Judy Grant

Eva Grumbir

Kristian Hill

Sarah Holloway

Lindsay Jusino

Talisman Lundy-Lleshi

Andrea Malone

Meredith Midalm

Kristen Miner

Kirk Jones Molitas

Andrea Page

Sherman Platt

Anges Rivers

Michelle Scheetz

Alexandra Scofield

Claryssa Taylor

Paige Ward

Cynthia West

John Wetzel

Dawn Wilkosz

North Central

Katelyn Alli

Patrick Asselin

Carl Baquie

Amanda Batson

Marites Bautista

Lorena Becerra

Tara Belcher

Kristina Bell

Ermite Caris Barlatier

Hunter Cash

Chivon Charles-Hadley

Leigh Cooper

Rebekah Costello

Ellen Daly

Nandini Dataram

Savannah Downes

Joanne Dumerand-Andre

Nikalina Dundas

Uma Durairaj

Rhianna Fagan

Maruja Gamad

Maria Garcia

Ahsia Gray

Lonnie Gunn

Jane Hoesterey

Sarah Hula

Rochelle Johns

Rubi Johnson

Elizabeth Jones

Christie Kennedy

Matthew Kirkland

Pamela Kulniszewski

Tiffany LeGault

Elizabeth Leon Corcoba

Toni Lindsey

Richard McGlew

Peri Miarecki-Lepoer

Barbara Minor

Orlando Miranda

Sadid Momen

Kelley Morgan

Vivien Murphy

Kerri Norton

Deborah OHearn

Jacqueline Pintos

Jane Prouty

Olive Quintana

Meagan Reeves Bible

Catlin Riggenbach

Modesta Rivera

Rachelle Sansing

Marika Sauter

Aron Schacht

Annie Smelt

Valree Smilek

Christopher Thomas

Jaime Thomas

Boris Towns

Lani White

Deana Yates

Northeast

Alysia Adams

Rebecca Alter

Vilma Avila

Lisa Barcaro

Brielle Barnhill

Whitney Bates

Pamela Bicknell

Timika Bracken

Amelia Brown

Renee Cave

Diego Cerquera

Timothy Chaffey

Taylor Colgate

Linda Connelly

Donna Cothren

Dawn Dust

Roxanne Finch

Jakweita Fisher

Erica Flamm

Jacsely Flores Rodriguez

Summer Flynn

Dawn Forrest

Michelle Glanert-Kempf

Jessica Godbey

Collette Grafton

Bianka Irizarry

Carla Joseph

Leslie Kerce

Lori Kirk

Paulin Laroque

Christina Latone

Emma Lawrenz

Mathew Lenner

Gigi Love

Hillary Luke-Tindley

Tina Masters

Fuchcia McClendon

Terri Minwer

Audrey Mulvaney

Daniel O'Lena

Mayelin Palmero Capote

Caryn Parkhurst

April Poe

Emerald Quiroz

Sonia Reisdorf

Karen Roop

Amonae Russell

Maya Saikali

Erin Sekelsky

Savannah Shaw

Meredith Simmons

Ava Smith

Jennifer St. Clair

Karyn Taylor

Allison Chenel Trevellini

Frank Tudela Ruiz

Denielle Waschek

Edith West

Gina Williams

Tequila Williamson

Cherise Wilson

Denise Wright

East Central

Vanetta Anderson

Christie Anton

Cheryl Asbell

Sean Austin

Laura Bailey

James Bean

Molly Bennett

Kristina Birkner

Jazmin Blanco

Deborah Bradshaw

Monique Bressler

Hannah Broche

ShellyAnn Brooks

Victoria Brown

Susan Castello

Mary Chereskin

Sherrie Childs

Patricia Clayton-

LeVasseur

McKenzie Cleland

Helene Cohn

Dione Coney

Janelle Cooney

Tracy Coughlan

Valerie Cruz

Christina Daly

Demi Davis

Christian Jolou Dela Cruz

Cynthia Devine

Susan Diaz

Taylor Donald

Keegan Doud

Diana Duran

Alero Ekata

Marjorie Essenberg

Leisha Fee

Debra Fisette

Lesley Fore

Marjorie Gedeon

Brittany Gillenwater

Jacqueline Giralt

Angela Glover

Roimer Gomez

Michelle Gosnell

Myra Greene

Saijem Guzman

Homeyra Hafizi

Jamie Harrison

Dawna Hazelwood

Jacqueline Helmy

Michelle Hernandez

Pamela Homer

Tammy Horvath

Ha Hua

Karla Huckabee

Andrea Hughes

Lauren Hunter

Bertha Ibarra

Priscila Isackson de Melo

Lindsey Jackson

Marckenson Janvier

Elizabeth Jarvis

Erika Jubitana

Dorothy Grace King

Jennifer Konowitz

Antholeth Leckie

Mary Lindquist

Sandee Lyons

Olga Marquez

Erin McClellan

Sandra McFarland

Victoria Melhado Daley

Angela Mellen

Jacquelyn Merrill

Jennifer Miller

Heather Mirch

Christina Mohanani

Shay Mulvany

Daisy Naiju

Amanda Nash

George Ngo

Cantave Obas

Miriam Olaciregui

Georgina Orozco

Shire Padao

Anuradha Pal

Nadine Parkinson

Hetal Patel

Krishna Patel

Yannorkis Perez Napoles

Aimee Phillips

Beena Pirmal

Deepa Ramalingam

Manuel Manny Ramos

Katia Robelo

Donna Robinson

Tammie Rodgers

Yuleidy Rodriguez

Clint Joseph Romero

Miranda Saint-Louis

Juliana Sanches Frois

Rosalea Sanderson

Mariah Sartain

Andrea Schuermann

Edita Sehic

Cristina Maria Shaw

Mariettes Sienes

Lucy Simas

Michaela Slover

Kathleen Spellman

Rebecca Staubs

Margaret Steuart

Nemie Thelot

Zachary Thuring

Caryn Toledo

Kacie Turner

Valarie Urquhart

Angelica Vander Zalm

Diana Vasilenko

Widillia Verges

Kameelah Vose

Kimberly Warren

Charmaine Watson

Sharon Weyer

Alinda Williams

Shelby Wood

Cynthia Woolery

Donna Wrobel

Mona Young

Wendy Young

West Central

Erika Adipietro

Vicky Alfonso

Ruth Altamirano

Ruby Arroyo

Katy Aschenbrenner

Cherilyn Ashlock

Samuel Battle

Sunnie Beardsley

Rebecca Beattie

Catherine Belden

Jecklaine Borrero

Welcome New FNA Members continued on page 22
---
Page 22 The Florida Nurse August 2022

Welcome New FNA Members

Welcome New FNA Members continued from page 21

Jennifer Bouzid

Alexandra Boyd

Jennifer Calloway

Marie Campbell

Katherine Cancel

Hilda Canon

Janice Caril

Jose Carlos Cavalcanti

Philomene Charles-

Doristin

Maximilian Cheung

Luz Cobian

Molly Cook

Yvelle Corrielus

Vivien Cruz

Olivia Daigle

Ericka Daniels

Jennifer De Gaspard

Lindsey DeBruler

Panagiota Demetriou

Anna Marie Di Santi

Allyson Duffy

Karissa Dyar-Short

Jennifer Fahringer

Rachael Feathers

Sarah Filosi

Marie Free

Jacqueline Gilbert

Kim Hagans

Allison Hargrave

Tiffany Harris

Julia Havelin

Nicole Hawthorne

Mary Healy

Cindy Heden

Stephanie Henry

Amanda Hunt-McCart

Va Imath

Julie Jefferis

Katia Jimeno-Londono

Kristin Johnson

Chanae Jones

Tina Jones

Stela Karkatselos

Larisa Khailo

Justin Kindrick

Tracy LaCourse

Alfa Lafleur

Maria Laufer

Tiffany Lemelle

Terrie Lewis

Erika Mammoser

Mollie McClenthan

Sarah Menendez

Jeanne Minnear

Sonia Mitchell

Kaylyn Munroe

Paige Nelson

Angely Olavarria

Rodriguez

Lazaro Oliva Torres

Alexandria Olivo

Corinne Paige

Ysulin Parrado

Victoria Parray

Julie Pham

Rowdy Phillips

Rachel Pierce

Heidi Pillion

Vikki Pinkos

Yanay Pino Osuna

Jennifer McComis

Pintavalle

Emily Podoll

Danielle Porter

Jonathan Ralph

Gesline Rodne

Karen Roig

Brandi Sagers

Bobbie Schaffer

Kristen Sciarra

Valeria Seidl

Jamison Shaw

Fallon Shelton

Kristen Sheppard

Erica Simplice

Sandra Smith

Marcia Spencer

Natalie Stangl

Kellie Steiner Dawson

Barbara Suarez

DeWayne Tudor

Regina Turner

Annie Tyrell

Susan Urrutia

Lori Urvakis

John Vrabel

Stephanie Walker

Dawn Warren

John Webb

Breanna Wells

Jonathon Wilder

Southeast

Jessica Abernathy-

Lenowitz

Diana Aguirre

Aneilla Alcin

Felix Alfred

Amber-Shaye Anderson

Susan Apostol

Denise Arce

Lourdes Arias

Karen Baez-Wallis

Valeria Bass

Angela Bilotti

Helyna K Bissell

Aubrie Bond

Rose Boscaino

Leslie Brannon

Raniquia Brown

Megan Buncie

Giselle Cancino

Gilda Capapas

Laura Carr

Isis Cendan

Lilla Chin

Stacy Cirrito

Makaylan Clark

Jabbar Clarke

Sabrina Clarke

Jennifer Conner

Lidis Corcho

LaToy Cotton

Megan Cox

Taryn Dadesky

Lashawn Delancy

Blanca Diez Plasencia

Georgia Dixon

Lisa Dobison

Brittany Dupre

Marie Ellis

Laurie Felix-Nicolas

Elaine Fredrickson

Brittanie Gebara

Karinna Gershater

Katrin Gorman

Kelly Grogan

Juan Guanzon

Regla Gutierrez

Sherese Harrison

Angela Hazellief

Delaney Holdt

Elizabeth Hutchinson

Eugene Jacobs

Peyton Janssen

Matilda Jarocki

Taina Jean-Pierre

Jessica Joseph

Katherine Justus

Natalya Keable

Summer Kellogg

Rice Kleya

Nagamani Kota

Alphena Lawrence

Melinda Longlet

Corlina M. Johnson

Phoebe Magana

Ashley Markant

James Marra

Fernanda Martinez

Ahkira McPherson

Paul Mensah

Megan Merritt

Damika Mervilus

Maximilian Mihel

Megan Milbourne

Michaelia Mitchell

Bryanna Murray

Christine Murray

Yanet Musa

Kathleen Navarrete

Nickesha Nelson

Jessie Oliver

Julia Palermo

Tasha Patterson

Kimika Peterkin

Amber Pfeiffer

Terri Pinder

Luisa Plata

Debra Price

Rachel Rairden

Julie Ann Richards-Henry

Priscillia Rinaldy

Maria Rodriguez

Luis Romero

Nicole Rosembert

Allison Rosenberg

Michelle Royal

Shayna Rubio

Andrea Sabdull

Ruth Saint Hurbain

Kimberly Salmon

Kayla Sanderson

Tyler Schaefer

Dneil Schmall

Juan Segura

Kristine Smith

Tracey Soper

Christopher Soto

Cathi Stephens

Sivan Stulberger

Christia Swearingen

Bente Torvund
---
August 2022 The Florida Nurse Page 23

Welcome New FNA Members

Kerri Ann Uter Bryson

Jyna Valcimond

Daylin Walker

Vicki Wilcoxson

Moraima Yanes

Nicole Young

Dominique Zubrod

Southwest

Jose Amador Mejias

Anna Axley

Juliette Capriles

Caroline Clay

Stefanie Crofton

Christina Dale

Beth DiModica

Melissa Neal Dossett

Mary Anne Enns

Sindy Fox

Angela Gosselin

Cori Hendry

Benjamin Hoffman

Jeanne Hopple

Kristine Howell

Kimberly Jaklitch

Lindsay Jakovac

Bridget Jessop

Laverne Jones

Jessica Lehman

Ronita Loy

Nichole Lynch

Jocelyn Martinez

Salina McLellan

Alysa Memoli

Brynn Mona

Megan Murr

Anisa Musollari

Holly Page

Dawn Papp

Nickisha Parker-Jacobs

Charlene Perno

Wendy Reyes

Thomas Sokol

Jennifer Strahan

Kristine Strumpfler

Renee Stults

Ramon Suarez Carmona

Leslie Taylor

Vivian Thomas

Diancy Torres Garcia

Jennifer Vavrinchik

Jaime Verastegui

South

Karen Abreu Cabrera

Yasmany Acosta

Aria Alberti

Arianna Alvarez

Rosario Alvarez

Patricia Anyamele

Brianna Aponte

Elizabeth Atkinson

Beatriz Bacallao Ravelo

Raquel Baron

Jennifer Barreto-Frie

Kristina Baxter

Lourdes Bazan

Karleen Bien-Aime

Elizabeth Blake

Valerie Borelly

Jan Brodnax

Kerry Cabrera

Gabrielle Caccavale

Lorenzo Calzadilla

Peggy Campbell

Tania Carballo

Alba Carrillo

Carolyn Carter

Giovanni Casines

Stephania Charles

Dorothy Chatelier-Orelus

Shelli Chernesky

Francisco Coronado

Diana Cowan

Andrew Davies

Ceci de Socarraz-Novoa

Arlet Del Toro Gamez

Alexis Delgado

Jeanette Deniz

Astride Desario

Annie Devandara

Margret Diston

Samara Donaldson

Jacobus Duncan

Lyz Eidam

June Ellis

Mimi Farride

Sara Feigenbaum

Maria Francia

Madelina Friedman

Geraldinne Fuentes

Melissa Fundora

Angira Gakhaeva

Robin Gale

Stefanny Gamboa

Valenzuela

Anissa Garces

Mayelin Garcia

Michelle Garcia

Grace Garlobo Rodriguez

Jaimie Geyer

Viviana Giraldo

Sherildan Glynn

Keith Gonzalez

Marilyn Gonzalez

Victor Gonzalez

Hunter Gordon

Lissa Green

Jean Guerrier

Denise Guerrier-Watson

Rhonda Harris

Tajae Harris Townsend

Wendelle Henry

Christopher Hill

Astride Honore

Yvette Howell

Anamaria Hoyos

Brianna Huebner

Lidianis Izquierdo

Marsha Jackson

Sara Jaffe

Ashley Johnson

Robert Jones

Patricia Joseph

Joyce Judovich

Elaine Juliano

Brittany Kava

Anita Komninakis

Margaret Lancaster

Diana Lankenau

Alexandra Laroche

Macrina Lisbey

Luz Lopez

Janelle Lovell

Amber Lubie

Alexis Luria

Nadine Marcellus

Eddy Marcial

Blondel Martin

Aquiles Martinez

Hernandez

Michelle Mendez

Grethel Mercado

Lourdine Mervilus

Luisa Mesa

Lisette Metauten

Yanisleidy Mondeja

Marcia Moodie

Paola Moreaux

Crystal Motay

Morgan Nestingen

Stephanie Ortega

Damian Otano

Helen Del Palacios

Roseline Paraisy

Jennifer Parker

Francisco Paula

Katia Pena

Yelena Perez

Natalie Perotte

Vera Perrett

Amber Petras

Tanya Pintado

Rachel Pittell

Silvio Planas Gonzalez

Blondine Poliard

Glenda Polycarpe

Ruth Pouchie

Javier Quinonez Meza

Anna Rachman

Francesse Raphael-Larose

Sara Reilly

Rosa Rivera

Soraya Roa

Jennifer Rodriguez

Adriana Roque

Maria Rosero

Marta Ross

Yvrose Saintil

Gertrude Saint-Louis

Marc Tito Sangalang

Amal Sarsour

Susan Schiffman

Jackson Sejour

Dionna Shelton

Muhammad Siddiqui

Jessica Sloan

Joan Soria

Gisselle Spina

Rebekah Stage

Cierra Summers

Bonita Talsma

Nassima Taylor

Sarahjane Ternier

Stacy Thalassites

Barbara Torres

Karen Toussaint

Gabriella Tyrrell

Maria Urban

Martha Valdes

Natasha Wilson

Manuel Yee

Other

Iris Bracken

Yadira Garcia

Tiffany Hammond

Hillary Lloyd

Esther Louis

Melissa Lovemore Wright

Rosalee Serju

Theresa Taylor
---
NURSES MAKE THE

WORLD A BETTER

PLACE.

At NSU, you'll learn how to

deliver patient-centered care

from experienced practitioners

who bring case studies to life.

NSU prepares you to become a

confident, capable, and caring

nursing professional.

Advance your nursing career and get the NSU Edge at nursing.nova.edu. Contact us at

nsu_ nursing@nova.edu or (954) 262-1975.

NSU

Florida