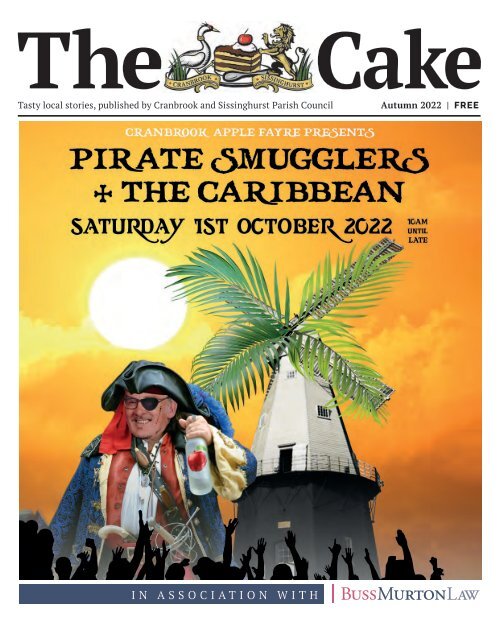 Autumn 2022
A slice of Cranbrook and Sissinghurst life
A slice of Cranbrook and Sissinghurst life
SHOW MORE
SHOW LESS
You also want an ePaper? Increase the reach of your titles
YUMPU automatically turns print PDFs into web optimized ePapers that Google loves.
Tasty local stories, published by Cranbrook and Sissinghurst Parish Council

Autumn 2022 | FREE

IN ASSOCIATION WITH
---
Care Workers

FULL TIME & PART TIME CARE WORKERS

REQUIRED IN TENTERDEN, CRANBROOK, STAPLEHURST

AND MOST OF THE SURROUNDING VILLAGES

Could be your main income, or just a few hours to supplement your Furlough Pay

(subject to your contract with employer)

We have Mornings, Lunchtimes, Teatimes, Evenings and Weekend

calls available. Also some Domestic Calls & Sleep-Ins to cover.

NVQ Trained Worker

Travel Time - Now paid at £8.91 per hour

Mileage - 15p per mile

Hourly Rate - £10.00 p.h Mon - Fri and £11.00 p.h at W/E

Holiday Pay - 5.6 weeks paid seperately

Non NVQ

£8.91 per hour

15p per mile

£9.50 & £10.50

Same

Any experience is beneficial such as raising children, looking after elderly

parents/grand children. But, FULL TRAINING will be provided to all applicants

Why not contact us to discuss more about the

work and what hours you are looking for?

Call Natalie or Chloe 01580 762244

These positions are exempt from the rehabilitation of offenders act
---
Published by Cranbrook and

Sissinghurst Parish Council

SUB EDITOR

Trisha Fermor

ADVERTISING SALES

David Hobden - 01892 677741

davidh@spacemarketing.co.uk

ADMIN SUPPORT

Graham Holmes - gpholmes@hotmail.co.uk

PRODUCED BY

Tally Rix - Coffee Shop Media Ltd - 01580 848555

tally@coffeeshopmedia.com

PUBLISHED BY

Cranbrook and Sissinghurst Parish Council

01580 713112

www.cranbrookandsissinghurstpc.co.uk

Whilst every effort is made to

ensure accuracy, the Cranbrook

and Sissinghurst Parish Council,

editor and authors cannot be held

responsible for published errors.

The views or opinions expressed

do not necessarily reflect views of the Cranbrook

and Sissinghurst Parish Council. Inclusion of any

advertising material does not constitute a guarantee or

endorsement of any products or services or claims made.

SOMETHING FOR THE CAKE?

We love to hear from you. Please send all ideas for

contributions to The Cake to

clerk@cranbrookandsissinghurstpc.co.uk by

1st November 2022

welcome

The euphoria of the women's football and the

Commonwealth Games have been uplifting during the

summer, but the chilly undercurrents of a forthcoming

difficult winter are all around us.

These will have effects on our community, as we will all

be impacted by high fuel prices, increasing inflation and

the ability to keep warm and fed.

This issue of Cake asks for your views on several subjects, particularly what support may

be needed and how the parish council can enable projects to help the most vulnerable.

It is not all bad news, as in times of stress, helping other people can be rewarding and

give a reason to get up. The alternative is sitting at home worrying, which can make

matters worse as you can begin to feel helpless.

This issue of Cake offers opportunities to search out groups to offer your free time and

energy to meet more people across our parish. From Age Concern coffee mornings, the

new Men's Shed, various Wellbeing in the Weald activities, singing groups and choirs, U3A,

junior football club, Rugby (Sports) Club, the potential Community Kitchen, charity shops,

the churches to name a few. There are so many outlets for your energy, ideas and time that

will reward you for volunteering. You can widen your circle of friends and gain the warmth

of friendship and share solutions to the problems we will face.

As President Kennedy (almost) said: "Ask not what your community can do for you; ask

what you can do for your community."

We can weather the coming storm by banding together and talking to one another, rather

than just thinking of ourselves.

Sorry this is a bit gloomy, but as chairman of the parish council I think we should try to

find solutions before the storm breaks, and this is an appeal for your help to strengthen our

community cohesion, which has been eroded over the past hedonistic years.

Cllr. Kim Fletcher, chairman

Cranbrook & Sissinghurst

Parish Council

Thank you to Trisha Fermor, our past editor, who

has decided to stay on the Cake team as sub editor.

We are still on the lookout for her replacement!

Community Kitchen –

Questionnaire

Cranbrook & Sissinghurst Parish Council is

exploring how we can come together as a

community this coming winter to help with

the cost of living crisis.

A number of community groups are getting

together to look at how to soften the blows

of the forthcoming winter. One idea is a

Community Kitchen, with coffee in the

morning, soup and roll at lunch and an

afternoon warm meal for young children, all in

the warm Vestry Hall.

This idea is flexible depending on what local

parishioners think they would like.

As a result the following questionnaire has

been developed, for people who might need

it, and for people who would like to rally round

and help in some way.

Please let us know your thoughts and

willingness to help.

What would most help you and your friends

and neighbours?

A warm lunch of soup and a roll in a

warm place once a week

A warm meal for children at 4pm

once a week

A coffee morning in warm surroundings

Knowing how to access a food bank

How to keep warm cheaply at home

Where to go for debt advice.

Any other suggestions?

Can you volunteer or help deliver any of

these services?

Please return this completed

questionnaire to: Cranbrook & Sissinghurst

Parish Council, The Old Fire Station, Stone

Street, Cranbrook, Kent TN17 3HF

Want to discuss further?

Please email chairman@CSPC.org.uk

✃

The Cake • Autumn 2022 3
---
In Pictures

Rewilding in the Ball Field, Cranbrook, which

helped the parish achieve a gold medal award

from South and South East in Bloom (see page 9).

Photography by Clare Saxby

How Wild?

How 'wild' would

you like to see the

parish council let

the churchyard and

cemeteries get? Turn

to page 40 for more on

the options and how to

register your preference.

Inside this issue

REGULARS

5 Directory

6 Letters

9 Local News

15 Event News

19 Local Comment – MP Helen

Grant, Hon. Mayor Linda Page,

parish warden Ivor Hatcher

30 Kids' Corner – can you find

all the plaques?!

32 Kitchen & Garden

35 Badger's Plot

38 Legal – saving on stamp

duty

40 Parish Council Update –

how wild should we go?

FEATURES

22 St Dunstan's Story – our

remarkable saint and why he

needs our help

25 Firefighters – it's not just

men's work in Cranbrook

26 Local History – the history of

the Cranbrook Soup Society

27 Museum Matters – "do you

like our flush brackets?"

29 Group Singing –

opportunities in Cranbrook

37 Books – reading for health

benefits

43 The Cake Chats with…

Kim Fletcher, chairman,

Cranbrook & Sissinghurst

Parish Council

4 The Cake • Autumn 2022
---
directory

A list of useful contacts in

Cranbrook and Sissinghurst

Cranbrook and Sissinghurst

Parish Council

The Old Fire Station, Stone Street,

Cranbrook, KENT TN17 3HF

Clerk – Mrs. L. Ham

Deputy Clerk – Mrs. L. Thirkell

Deputy Clerk - Mrs. C. Bezuidenhout

01580 713112 / clerk@

cranbrookandsissinghurstpc.co.uk

BOROUGH & COUNTY

COUNCILS

Tunbridge Wells Borough Council

01892 526121

www.tunbridgewells.gov.uk

Kent County Council

03000 41 41 41 / www.kent.gov.uk

USEFUL NUMBERS

UTILITIES

Electricity: 0800 727282 (24 hrs)

Gas: 0800 111 999

Water: South East Water (drinking

water) 0800 0283399, Southern

Water (waste water) 0800 820999 (24

hrs), Emergency leak 0800 0283399,

Floodline 0845 9881188 (24 hrs)

CRIME

Non-Emergency Police: 101

Crime Stoppers: 0800 555111

KCC Community Warden: Adam

Osborn - 07813 695741

PCSO: Simon Fuller -

simon.fuller@kent.police.uk

Neighbourhood Watch Area

Co-ordinator: 01622 604395

In an emergency i.e. if life is in danger

or a crime is in progress call 999. To

request non urgent police assistance,

to report crime or to make enquiry

call 101. Non urgent correspondence

and crime can be reported via the Live

Chat icon at www.kent.police.uk

ROOMS & HALLS TO HIRE

St George's Institute, Sissinghurst:

Ursula O'Connor 01580 713938

The Parish Room, Sissinghurst: Sue

Crowe 01580 712567

ts.crowe74@gmail.com

The Vestry Hall, Council Chamber and

Addison VC Room, Cranbrook:

01580 713112 (10am-12pm weekdays).

A full list of over 30 venues for hire in the

parish is available from the parish office

USEFUL CONTACTS

CHURCHES

Congregational Church,

Cranbrook: 01580 388070

St. Dunstan's, Cranbrook:

01580 715861

St. Theodore's RC, Cranbrook:

01580 713364

Strict Baptist Church, Cranbrook:

01580 713212

Trinity Church, Sissinghurst:

01580 852275

Vine Church, Cranbrook: 01580 712620

SCHOOLS AND PRE SCHOOLS

Belle Vue School, Cranbrook:

01580 854641

Colliers Green CE Primary:

01580 211335

Cranbrook CE Primary: 01580 713249

Cranbrook Children's Centre:

03000 41 10 35

Cranbrook School: 01580 711800

Dulwich Preparatory School:

01580 712179

High Weald Academy: 01580 712754

Rainbow Pre School, Cranbrook:

01580 715570

Sissinghurst CE Primary: 01580 713895

Woodpeckers Pre School, Cranbrook:

01580 720195

DOCTORS

Old School Surgery, Cranbrook:

01580 712476

Orchard End Surgery, Cranbrook:

01580 713622

The Crane Surgery, Cranbrook

01580 712260

DEFIBRILLATORS

Cramp Club, Cranbrook

Cranbrook Fire Station

Cricket Club, Sissinghurst

Parish Council office

Sissinghurst Castle Garden

St. George's Institute, Sissinghurst

Tennis Club, Sissinghurst

The George Hotel, Cranbrook

The Milkhouse, Sissinghurst

POET'S CORNER

Thank you to parish warden Ivor Hatcher

for this poem

Our Windmill

Tall above the town you stand,

sails anew you look so grand

Folk have been waiting,

their love so deep,

until the day you are complete.

Your arms outstretch, the wind to fetch,

with nature's power, to make some flour.

In our affections you will always be,

part of Cranbrook's history.

Ivor Hatcher, Cranbrook

DIRECTORY

PHOTOS BY AF

The Cake • Autumn 2022 5
---
letters

www.bussmurton.co.uk | T: 01580 712 215

St Dunstan's – Could we

Really Lose it?

Previous editions of The Cake have contained some very

alarming facts about the future of St Dunstan's Church.

Readers have been warned about the very real prospect of

closure unless regular, sustainable funding is secured in order

to provide a vicar and ongoing maintenance of the building.

As far as I am aware, pleas from the church warden are

struggling to reach the sort of targets necessary. Whilst the

parish council could not, in itself, be the financial saviour,

it has the ability and means to bring the vital strands of our

community together and help find an ongoing solution. Sadly,

the distraction of the High Weald Academy closure seems to

have prevented any meaningful debate taking place among

our civic leaders but it's not too late to act.

Our community is sleepwalking towards a situation that

could ultimately see the closure of one our most important

assets. John Barleycorn

PHOTO BY AF

6 The Cake • Autumn 2022
---
We have been providing expert and

trusted legal advice to individuals and

businesses for generations.

STAR SHOP

Congratulations to TN17 Food &

Wine in Sissinghurst, this issue's

Star Shop. We love your excellent

stock of local produce, amazing

selection of wine and friendly team

– plus your opening hours!

Thank you Trisha

Having read of your retirement as editor of The Cake, I would like

to take this opportunity to thank you so much for the enthusiasm

and interest that you have shown in my entries to the magazine.

With particular reference to the tribute to my father George

Nicholls, which led to the exhibition at the museum in his

memory.

Having received such support from all concerned, myself and

my husband have become volunteer stewards at the museum. An

activity that we both thoroughly enjoy and see as a way to thank

everyone.

We wish you every happiness in your retirement.

Rosemary Swan

Please send

your letters to:

clerk@cranbrookandsissinghurstpc.co.uk

or by post to The Cake, Cranbrook and Sissinghurst

Parish Council, The Old Fire Station, Stone Street,

Cranbrook, TN17 3HF.

Please note, letters may be published

in a shortened form at the discretion

of the editor.

New Luxury Beauty Salon

Brows • Lashes • Nails • Pedicures • Waxing

15 High Street, Cranbrook

01580 388384

www.foundrycranbrook.com

The Cake • Autumn 2022 7
---
PROUD TO BE SERVING THE

COMMUNITY SINCE 1852

Your fully independent, family owned, Funeral

Directors serving the local community with

compassion and the highest standards of

service and professionalism.

With our 24-hour emergency service, we are only

a telephone call away.

At the earliest stage possible, you will speak directly

with one of our experienced Funeral Directors, who

will be there to help, support and guide you through

the whole of the funeral process.

Bank Street, Cranbrook,

Kent TN17 3EF.

01580 713636

enquiries@jperigoeandson.com

Dixter Road, Northiam,

East Sussex TN31 6LB.

01797 260316

www.jperigoeandson.com

J. Perigoe & Son is a Trading Division of West & Coe Limited,

602 Rainham Road South, Dagenham, Essex RM10 8YP.

8 The Cake • Autumn 2022
---
News

"Little and Often and as

Many People as Possible"

This is the mantra for a campaign which

could save St Dunstan's Church from

becoming a crumbling ruin.

The "Cathedral of the Weald"

receives no money from central or local

government and, contrary to what some

people believe, nothing from the Church

of England. The running costs average

£300 a day – a staggering £109,500 a year

and rising.

Lay reader, David Gillies, told The Cake

about the Parish Giving Scheme which

could be a lifeline for the church's future.

He said: "The motto for our campaign

is little and often and as many people as

possible. We realise that many people do

not use the church for worship but would

nevertheless agree that the building

is a community asset used by schools,

musicians and local groups of all kinds.

"We ask them to contribute just a small

amount, maybe £3 a month and do so

regularly…"

The charity can reclaim for St Dunstan's,

at no charge, the Gift Aid on the donated

money. There is a direct debit form which

has to be completed by regular donors.

These can be obtained from a church

volunteer in the High Street or by applying

directly to Mr Gillies. The forms will also

be available in the church.

One-off gifts are also very much

appreciated. To give £5 text 'stdunstans5'

to 70085, £10 'stdunstans10' to 70085, and

£20 'stdunstans20' to 70085. Mr Gillies'

email address is dgillies@btinternet.com

TF

Cranbrook Apple Fayre

NEWS

This year the Cranbrook Apple Fayre organisers

will be inviting the good people of Cranbrook

and outlying areas to join in and celebrate

the deep connection Cranbrook has with

Smuggling, Pirating and

the Caribbean. Did you

know that Bluebeard used

to drink in the Duke of

York when Dino's Mum

ran it? Did you know

that Bob Marley wrote

"No Woman on Cry"

sitting on the Maidstone

bus in Cranbrook High

Street. Did you know

that Vegetare supplied

all of Carmen Miranda's

headdress fruit? Neither did we.

Come and join the celebrations on the 1st

of October as the winter sun blazes down on

Cranbrook Town. Dance to the calypso rhumba

beat and try the Apple cider rum cocktails with

Caribbean bar-BQ delights from Chef Max and

his lobster flippin hombres.

Put the rain of Rome behind you and get

your straw hat or tri-corn out and come to the

party. Cranbrook Apple Fayre on Saturday 2022

October 1st. Stuart Cleary

The Ball Field – Our Own Special "Village Green"

Most of you will be aware of

Cranbrook in Bloom and the

amazing work done by the small

but dedicated team of volunteers

who enhance life in the town.

Every year, it enters South and

South East in Bloom in a quest

for the judges' gold award. For

2021, however, CiB decided took

a break and persuaded the parish

council to enter the Ball Field

in the small parks' category.

Fortunately, we were given very

good guidance, particularly with

regard to producing a portfolio

to assist the judges.

This also encouraged us to

look more closely at the Ball

Field, its history, how we use

it now and in the future and

how important it is to so many

people.

The history of the field is

fascinating with a reference to a

twice-yearly market dating as far

back as the early 17th century. A

very early painting of "Foot-Ball"

by Thomas Webster, one of the

Cranbrook Colony artists, owned

at one time by the Football

Association, is said to show a

game being played on the field.

The day of judging was

particularly fraught as it was

our first time, but we need not

have worried. We had two very

friendly judges, who gave very

useful guidance on possible

improvements to how we

manage the area. Not only that,

they awarded us a gold medal!

This year, having acted on

some of their guidance, we

again entered the field. Judging

was delayed from 28 June, due

to Covid, but took place on 4

Welcoming the judge

July. The lone judge was very

complimentary, and especially

enthusiastic about the rocking

horse in the play area.

The field remains the nearest

thing Cranbrook has to a village

green and continues to be used

by a broad cross-section of the

community for a wide range

of activities. During lockdown,

it became a popular outdoor

Rewilded area

in the Ball Field

meeting space by Wellbeing

in the Weald, as well as other

groups.

We will not know how we

did until 13 September but, on

behalf of the parish council, I

would like to thank Cranbrook

in Bloom and all the volunteers

who help make the Ball Field

look its best.

Cllr. Garry Pethurst.

The Cake • Autumn 2022 9
---
NEWS

Town's

Film Club

Calls "Cut"

On 30 June, at the formal

handover of its remaining

funds by Cranbrook Film

Society to Cranbrook School,

37 years of the town's awardwinning

club came to an end

with a mixture of celebration

and regret.

Regret that – in relation

to why the society could no

longer continue – things have

moved on in the world of

film production, distribution

and subscription viewing,

speeded up by the impact of

the pandemic. But celebration

too, as the school's head, Will

Chuter, described his surprise

and delight at the society's

offer of a significant financial

legacy, recognising how

passion for film can be a real

centre for culture in the town.

Present at the handover

were Angela Dunmore, Ruth

Saunders and Shirley Wiggs,

the last chair, treasurer

and secretary of the society

respectively. John and Dinah

Badcock who were at its

founding in 1985 following

the closing of the Regal

Cinema. John's longstanding

contribution to the society

and his enthusiasm for

and knowledge of film, are

well known to successive

committee members and

audiences, so it was a special

pleasure to have him there.

His short history of the

society, written for the

13th anniversary, described

how it moved from "those

bottom-moulding seats in

the lecture theatre and the

clatter of the 35mm projector"

to a flourishing, ambitious

enterprise with membership

in the hundreds, even winning

the Best Film Society award in

2005.

The subsequent decades

have seen ever-widening

cinematic horizons with

more films screened,

unforgettable interviews with

film practitioners, minifestivals

of classics and other

adventures including a live

piano accompaniment to a

silent film. Past members will

look back fondly to those cold,

dark Wednesday nights, made

memorable by a film bringing

light, colour or something

darker to the big screen. They

provoked thought, laughter,

tears or the occasional loud

banging of a seat or two as

an audience member left in

protest!

The society's intentions

are that its legacy should

encourage young people to

take an interest in cinema

and film making. There will

be support for film studies,

recalling the society's Golden

Windmill Award for the best

short film made by local

students. The school will also

be starting a film club for

students. Of wider benefit to

the town, will be a Queen's

Hall-based Cranbrook Film

Festival to be held some time

in 2023. Shirley Wiggs

CUP CAKES

• MORE CHARGING POINTS?

The parish council is

investigating adding more

electric charging points in the

town following the rise in sales

of electric vehicles. A plea has

gone out for motorists not to

park their non-electric vehicles

in the Jockey Lane parking

spaces where chargers are

currently available. The council

was the first in Kent to install

them.

• STOLEN NUMBER PLATES

The parish council is warning

people to be on the look-out for

car number plate thieves. There

has been a surge in Cranbrook

and Sissinghurst and drivers are

advised to consider specialised

security screws which cannot be

undone with normal tools. They

could also use theft-resistant

number plates which break

apart if someone tries to remove

them.

• SAFER STREETS UPDATE

The Police and Crime

Commissioner Matthew Scott

has secured £1.4million in

additional funds to make

areas in Kent safer for women.

The money comes from the

Home Office and work will

involve colleagues from local

community safety partnerships,

including the police, councils

and charitable groups.

Hearing Aid Batteries

and a Cuppa!

Batteries for NHS hearing aids are now supplied free of charge at

Cranbrook & District Age Concern's coffee morning every Tuesday in

the Vestry Hall. In addition to supplying batteries, CaDAC is currently

training volunteers so they will be able to offer maintenance for NHS

supplied hearing aids at the coffee mornings by the end of the year.

All are welcome to join Cranbrook and District Age Concern for a

cuppa and a chat in the Vestry Hall every Tuesday between

10.15 and 11.45am. Julie Simpson

10 The Cake • Autumn 2022
---
Community and

Medical Centre Update

Since I last reported to you, good progress

has been made. The consultant surveyors

undertaking the full topographical survey

have completed their boreholes and the

required soil analysis. The report has

been received and we were

encouraged to see there

were no significant

problems with the

ground conditions.

This enables us to

have some certainty

about the type of

foundations that will

be necessary for our

building and so predict

the cost – until now, a

large unknown and a cost

risk.

We have updated our business

case with this information so we could

reduce the original cost estimate for the

foundations and also taken into account

the latest economic trends of inflation

and fluctuating interest rates.

The NHS Clinical Commissioning

Group (CCG) and local doctors have

supplied their agreed specification for the

medical centre, which has also been fed

in. We ran this revised business plan past

the Community and Medical Centre Board

members (who include representatives of

CSPC, TWBC and KCC) and who agreed

it is viable and gave their continued

support.

Our project manager prepared a

procurement plan which was also

discussed by the board. This works out

how we get best value and reduce any

risks. The experience that some of the

board members have had with recent

similar projects elsewhere in Kent

proved invaluable for our

plans.

We have updated

parish councillors as

it's been some time

since we started the

project. We invite

the public to attend

the September

full parish council

meeting on 8

September at 7.30pm

in the Council Chamber

when we discuss the

business case and procurement

plan. Visitors are encouraged to ask

questions.

In the meantime, we will update our

timeline to include when we can engage

the professional team, the start of

construction and, most importantly, when

the centre will open.

It's good to be able to report progress

with this exciting project and there is still

time for more ideas and suggestions of

what you would like in your community

centre. So do please let us know.

You can contact the parish clerks who

will be happy to pass on any comments on

clerk@cranbrookandsissinghurstpc.co.uk

or telephone them on 01580 713112.

Cllr. Colin Gilbert

NEWS

PROMOTING BEES

Primary school children at the windmill with

the judge for this year's South and South East in

Bloom competition held in June. The children

were promoting the importance of bees in our

lives, a project run by Linda Page, our honorary

mayor and chair of Cranbrook in Bloom.

Development News

The Brick Kiln Farm development of 180 homes

has begun as the access road has been started.

The phase 2 of the Berkeley development at

Turnden is still under review by the Housing

minister following an appeal.

The Cake • Autumn 2022 11
---
NEWS

"Outstanding" Belle Vue

School Praised for its

Community Work

The school in Jockey Lane, Cranbrook,

received the accolade "in all areas" from

Ofsted which carried out the inspection in

April this year.

Supporting up to 60 pupils aged 11 to

19-years-old, it provides education for

those with special educational needs and

recognises that some need additional

therapeutic and social support in order

to achieve their educational goals and

to thrive. Its ethos – to improve the life

chances of children.

The report stated: "This is a happy place

where pupils flourish... staff have energy

and are enthusiastic about their work.

Consequently, pupils demonstrate a strong

sense of belonging and respond positively

to the high demands made on them... The

model is unique but effective, ensuring that

the school provides an outstanding quality

of education for pupils in a safe and happy

environment."

While the report said positivity came from

many sources, including parents, staff and

professionals from outside the school, most

importantly, the "evidence of this positivity

comes from the pupils themselves".

The executive head teacher, Mary

McKeeman, said: "We have now been open

just over a year and this is a fantastic result.

It is not only a reflection of the hard work

and dedication of pupils and staff but is a

reflection of the wider community.

"Our school thrives within the community

and our pupils have involved themselves…

for example with refurbishing the

vandalised [public] toilet block, delivering

food parcels, helping tend the allotment and

are looking forward to doing more.

"I am grateful for all the support which

has been offered to our pupils, particularly

from the parish council and their touching

comments that the school is a shining light

within the community." Andy Mack

Help Show Kindness

to Asylum Children –

Volunteer

Kent Kindness is a small charity which offers lessons in English

language and customs to unaccompanied asylum seeking

children (UASC). They are all boys aged 16 or 17 who are held

in two reception centres in Kent, one near Cranbrook and the

other in Ashford. These boys stay in the centres until the Home

Office arranges their transfer into the community, which can be

anywhere in the UK. This can take a week or a few weeks.

These boys are just like the teenage boys we know here in our

community – fun, intelligent, mostly keen to learn but not very

good at getting up in the morning!

Kent Kindness is looking for more

volunteers to help us with these

classes which take place between

10am and 12 noon each weekday

morning. The one stipulation,

set by KCC, is that all our

volunteers have to be 25+.

If you think you might be

interested please email me on

contact@kentkindness.org.uk.

Jo Taylor

12 The Cake • Autumn 2022
---
OPEN DAY

PROSPECTIVE PARENTS

OPEN DAY

Wednesday 12 th October 2022

Wednesday 12 th October 2022

Cranbrook Primary School

Tours at 9.30am and 1.30pm

Call 01580 713249 to book your place

Cranbrook Primary School
---
Independently run and family owned, the

Golden Boot is a proud specialist in fitting first

shoes for little feet.

Our team of fully trained and highly experienced

fitters have been helping children explore the world

in comfort and confidence for over 250 years.

Our dedicated first shoe department has a great

range of shoes. With a smooth and enjoyable

fitting process and a beautiful gift pack to take

away with you, we will ensure that this special

moment is remembered forever.
---
EVENT NEWS

Events

COMING UP…

Classic Car Hedonism!

The classic car world has flourished

during the past 25 years with prices

increasing along with a growing

industry sector to support the parts

and services required to maintain or

refurbish our cherished vehicles.

With a stable marketplace, we are lucky to

see more classics now being refurbished and

providing a good, affordable entry level that

obviously rises into the £millions.

In the '80s, the prices crashed due to an

over-inflated speculative market, but the

Goodwood effect has been the main stabiliser.

It has encouraged an ever-increasing number

of events to show your car whilst meeting

likeminded individuals to paw visually over an

ever-increasing array of vehicles.

In and around Cranbrook and Sissinghurst,

we are fortunate to view many spectacular

classic cars heading out for a spin or on their

way to an event, but where are these meetings?

The Hub Classic Car Meeting is held every

second Sunday at Lower Ladysden Farm,

Winchet Hill, Goudhurst. It runs from 10am-

1pm (April to September). Attracting more than

200 cars, the attendees offer a fantastic mix

of vintage, veteran and classic cars with some

modern rarities thrown in. There is no need

to book but carry a donation with you for the

charity collection.

We also have our very own Cranbrook on the

Green Event which was held at the end of July.

Headcorn Aerodrome hosts classic car meets

with a £3 entry fee. Visitors can also enjoy

airborne activities including Spitfires flying in

and out, wing walking, parachute jumping and a

WWII museum. There are four car meetings per

year, the final one for 2022 on 25 September.

The last event there attracted 1,000 cars.

Hopefully, I will see some of you at these

events in the future... happy motoring!

Laurence Burton

Cranbrook in Bloom Garden Safari Harvests £1,900

This was our 16th Annual Garden Safari. The weather on Sunday 19 June was a little inclement in the

morning but by lunch time the sun came out and it turned into a glorious afternoon. The event raised

£1,900.

We had 13 gardens open, including four new ones that surprised people with hidden gems behind

businesses in Stone Street as well as wildlife gardens.

Horsley Place opened its garden and invited us to do the homemade cakes and teas which are always

welcomed and proved a great success. The plant sale as usual was very popular. The museum and the

windmill also joined in the event. We are looking for some new gardens for June 2023 and if anyone is

interested please let us know. Linda Page

• MEET THE AUTHOR

EVENT IN CRANBROOK

There's a treat in store

for reading enthusiasts in

September with a visit by bestselling

author, Gill Hornby,

to talk about her new novel

Godmersham Park.

Organised by the Cranbrook

Literature Festival, the

event will take place on 22

September at 7.30pm in the

Vestry Hall.

The book, set in 1804 in

Godmersham, near Canterbury,

has been picked by The Times

as one of the best books of

2022. It tells the story of Anne

Sharpe, a governess who

became close to Jane Austen

and her family. The novel

combines a moving portrait

of sisterly devotion along

with comic depiction of the

provincial life so brilliantly

evoked in Jane Austen's own

novels. For more information

and tickets see

www.cranbrookliterature

festival.com

Cranbrook

Apple Fayre

presents 'Pirate Smugglers

and the Caribbean',

Saturday 1 October.

The Cake • Autumn 2022 15
---
Sun Shines on

Sissinghurst

Flower Show

Held in June, as usual, the summer

show entries were lower than the other

shows, particularly in floral arrangement

and cookery classes. In spite of the

hot weather during the preceding

week, there were some excellent

roses, although perennials, pansies

and other summer flowers were fewer.

Growing conditions earlier this year had

disrupted sowing and planting due to

extreme cold.

In contrast, the children entered

lovely and well-arranged vases of garden

flowers which would have done well in

the adult classes. The primary school

artwork covered a range of subjects on

hot air balloons and sea side and the

standard of handwriting drew praise

from the judge. Their posters advertising

a flower show had some interesting ideas

as well. We are very grateful to the staff

for their support as the children add so

much to the shows.

The Learning Tree children's entries of

colourful flower paintings showed great

imagination with lots of new varieties!

The show was well-attended during

the afternoon with everyone enjoying

homemade cakes and tea. The raffle

and trading table were popular and the

children enjoyed the sideshows.

IN PICTURES

THE TROPHY WINNERS WERE:

• The Oswald Beale Challenge for

most points in flower classes: Jan

Ashley

• Greengrow Rose Bowl for best rose

exhibit: Carol Somers

• Nancy Congreve Bud Vase for best

rose in the show: Penny Durie

• Mary Tremenheere Trophy for best

handicraft: Jerome Davies

• Beryl Link Cup for best exhibit of

herbs: Mitzi Newsom

• Jack Moss Award for most points

in vegetable and fruit classes: Jan

Ashley and Lynne Bancroft

• Junior Challenge for best artwork in

school key stage 2: Jasmine K

• Jubilee Trophy for best artwork in

school key stage 1: Ruby R.

• Handwriting Shield for best

handwriting in key stage 2: Riley B

• Walker Shield for best handwriting

in key stage 1: Audrey D

• Special Award for best exhibit in the

Open Classes: Meg C

• Denis Hemsted Learning Tree

Shield: James O. Mitzi Newsom

Cranbrook on

the Green | 31 July

EVENT NEWS

PHOTOGRAPHY BY TRISHA FERMOR AND AF

The Cake • Autumn 2022 17
---
We are currently looking for

the following staff to

support our existing team:

NIGHT CARE ASSISTANTS

Full or part-time - £11.50 per hour

HEAD OF HOUSEKEEPING

HOUSE KEEPING

ASSISTANT

Hours and rates to be discussed for

Housekeeping positions.

Please contact Nikki (Manager)

on 01580 852335 OR email

admin@larchmere.co.uk

LARCHMERE HOUSE NURSING

HOME, FRITTENDEN,

KENT, TN17 2EN

18 The Cake • Autumn 2022
---
MP'S COMMENT

Helen Grant MP

Parliament has been a tempestuous place these past few weeks, but

we will soon have a change of leadership and our country can then

move onward, and upward.

Now we know the

names of the two

candidates who

are vying to be

our next Prime

Minister, party members can

vote to choose either Rishi or

Liz to pick up the keys to No 10

in September. I must say how

heartened I was with the diverse

list of eight candidates, each of

whom obtained the support of 20

MPs to make it to the first ballot

paper. Four men, four women,

and half from ethnically diverse

backgrounds.

Whilst there have already

been some unnecessary and

disparaging remarks made

between the candidate's teams, I

very much hope the contest does

not descend into a toxic clamor

over the summer. I would also

hope that the eventual winner

will embrace the talent amongst

the other candidates by bringing

them into his or her new cabinet,

in contrast with the Johnson

government which was largely

made up of his own supporters.

An unfortunate by-product

of leadership contests is the

damaging and divisive fall-out

created by the rhetoric between

contenders. Our country needs

a united governing party to see

us through the challenges we

are facing and so, whoever is

the victor, I will rally behind

them, and I sincerely hope my

colleagues will do likewise.

Here in the constituency

my team and I continue to

manage a busy in-tray, helping

people with their many issues

and challenges. The cost-ofliving

crisis fueled by the war

in Ukraine, lack of components

for manufacturing businesses

created by the Covid lockdown,

and problems with passport

renewals are three repeating

themes.

Helping Ukrainian families

relocate to Kent in pursuit of

sanctuary also continues to

keep us busy, but I am pleased

to report that we are having a

lot of success. I must applaud all

of the local families who have

opened their homes to refugees

in the past three months; my

office alone has helped settle 23

families so far.

I hope you have an enjoyable

summer and look forward to

seeing you around and about in

Maidstone and The Weald.

SPONSORED FEATURE

NEW DOMINO'S STORE OPENING IN CRANBROOK MEANS FREE PIZZA AND JOBS ARE UP FOR GRABS!

The nation's favourite pizza franchise, Domino's, are opening a

new store in Cranbrook during September! They are offering a

tasty menu of freshly handmade pizza as well as employment

opportunities to the local community.

To celebrate the opening of this local community store, the franchise

will be giving away free personal pizzas to the first 100 customers on

opening day. There will be plenty of great value deals on offer, which can

soon be found online at www.dominos.co.uk.

There will be a variety of employment opportunities for people living in

Cranbrook and the surrounding area. Specifically, managers in training,

customer service representatives, pizza makers and delivery drivers who

will have strong customer service skills, integrity, honesty and reliability,

as well as being pepperoni passionate for freshly made pizza!

At induction, as well as throughout their career, Domino's offers its

colleagues full training, ranging from dough management to food

hygiene; pizza making through to road safety for all delivery drivers.

They recruit based on ability and, as many team members go on to

management positions within two years, this recruitment drive is a

fantastic opportunity for people living in the local community.

If you are interested in a position at the store, please

email jobs@m-laguna.com for further information.

The new store will be located at 33 High Street, Cranbrook,

TN17 3EE. You can also find them on Facebook, search for

Domino's Pizza Cranbrook.

The Cake • Autumn 2022 19
---
LOCAL COMMENT

Hon. Mayor

Linda Page

Woe betides anyone who, in October,

asks "where was our summer?"

What a glorious few months we have been

treated to, but we must now conserve and

treat with respect our water supply. The

gardens in May and June were looking lush,

but what a difference in July. There were

brown lawns and earlier than usual dying plants.

However, there have been bees and pollinators feeding on

the amazing plants including the sunflowers and wildflowers

planted by so many of you. It has been a great success

and provided the

information I wanted

to identify the streets

and houses that have

helped build up our Bee

Corridor. Look out for

the local map showing

the results.

I am pleased to

say that Jean Beeken

raised £735 for MNDA

with her wonderful

cake stall and a

further £425 each for

MNDA and Sam West

Foundation from the

donations received

for seeds. Many

thanks to everyone

who kindly donated

to these causes.

Every event and

fundraiser in our parish is so well supported by local

residents and visitors, making them a pleasure to organise.

The enjoyment and fun of these days is evident on faces and

when you hear statements such as "Next time can we…"

just confirms the involvement and connection between the

supporters and the organisers, all of which is appreciated by so

many.

I am not surprised that these events are so well supported, as

we do have a great community in Cranbrook and Sissinghurst

and it makes me happy to see so many families and

generations enjoying the opportunities available to them all.

The parish has so much to offer, we have hidden open

spaces, plenty of picnic space and sporty space. We can make

our own outdoor fun or join the many clubs on offer.

All the best to you all.

ROGER FERMOR

Parish Warden,

Ivor Hatcher

What has changed in our little

town since I was a child? I

would say the most obvious

thing is the cars. There are

more of them and they are far

bigger than the original ones. Some family cars are

now as big as an old truck.

Cars have changed the town a lot. We have big car parks where

grass used to grow. The roads are wider, narrowing the verges and

the road network dominates the town.

Now motorists are under threat because of rising fuel prices and

the move to encourage motorists to drive electric vehicles. There

are electric charging points in Jockey Lane car park and their use

is now commonplace. Some people have home charging points. It

will be interesting to see how things develop in another 20 years.

Will there be a majority of electric vehicles, or will people go back

to walking again? I personally can't see that happening, because

life has become faster, and folk don't seem to have the time to walk

anywhere today. For some, walking is an alien activity.

For others, walking, an activity that was the normal everyday way

to get from A to B has become a new pastime. The footpaths that

linked the villages and were the public highways are now places to

explore with groups of people who join together to follow the tracks

while enjoying our beautiful countryside and having some muchneeded

exercise. Folk have gone from walking out of necessity to

walking for leisure.

There are great concerns over greenhouse gases and the

environment, pollution caused by cars and other machinery all

of which are being addressed. There has to be a balance between

what we actually need and caring for the environment. So, should

you drive two miles into the town or walk half a mile through the

network of paths to the shops or school? Should you leave earlier

for school and enjoy a pleasant walk or leave at the last minute and

get frustrated because there is nowhere to park? Should you write a

shopping list and avoid unnecessary trips to the shops, thus saving

fuel, congestion and frustration?

20 The Cake • Autumn 2022
---
High Street, Cranbrook,

Kent, TN173RB

Telephone: 01580 715008

reception@hammondoptical.co.uk

hammondoptical.co.uk

LOOK & FEEL YOUR BEST

Beauty and well-being is our passion, and our passion shows on every client

that walks out of our doors. Through ongoing education and continued

training, our beauticians and aestheticians stay up to date on the latest

treatments and techniques to bring you the very best.

Permanent make up

*Including 6 week top up

Hairstroke, powder &

combination brows - £300

Eyeliner - £250

Injectables

Dermal filler 1ml - £160 for treating

the nasolabial, marionette lines or lips

Anti-wrinkle injections - £165 for 1

area £50 for each additional area

Aqualyx fat dissolving - £125-£200

Profhilo skin boosters - £250

Meso skin needling facial - £55

Brows & lashes

Lash lift - £35

Lash tint - £13

Lash extensions - £50-£80

Brow lamination, wax & tint - £33

Accredited lash training courses -

from £399

Nails

Acrylic nail extensions - £40

Acrylic nail extension infill - £25

Gel manicure - £25

Luxury pedicure - £35

Nail art - £5

Holistic wellness

Holistic massage, reiki, hot stone &

Indian head massage - from £55

B

ISABELLE SZUMNIAK

Carriers Road, Cranbrook, TN17 3JX | 01580 438003

V Isabelleszumniak@hotmail.co.uk | www.issyszumniak.co.uk

The Cake • Summer 2022 21
---
LOCAL HISTORY

PHOTO BY AF

Help St Dunstan's

Before it's Too Late

Ann Historian on what makes St Dunstan famous and why he needs your help!

Before we start, just so you know,

during the 900s – before Mr

Dunstan chose to branch into

sainthood – he was a pretty good

blacksmith and friend of the King

Athelstan.

He went around fixing silverware, studying

and learning the harp. One story recalls

him playing the harp in his forge. The Devil

walked in looking for a blacksmith. Our local

saint nailed a horseshoe onto the Devil's foot

instead of through his cloven hoof. He was

in agony and Dunstan only agreed to take it

off after "His Hornedness" promised never to

step into a house with a horseshoe over the

door… ring any bells? (He's also the patron

saint of bell ringing).

From the beginning, Cranbrook always had

a church. It would probably have started as

a simple wooden shed before the invasion of

William the Conquer. It was added to over

the years by the town's wealthy weaving

families, with its 74ft tower completed in

1425. It was then a Catholic church, changing

to Protestantism during Henry VIII's

reformations.

So what is St Dunstan's story today? Some

good things are getting left behind and

fighting for life. Two examples are Wimpey's

and the Church. In the 50s and 60s there were

more than 1,000 Wimpey burger café's in the

UK, just 60 exist now. Their slow demise was

caused by competition, erosion of customers

and market forces. They are still great, and

I defy anyone not to enjoy a bendy burger

and knickerbocker glory, but McDonalds and

all the other fast food chains squeezed them

out, just like the tomato-shaped ketchup

dispensers on every table, sadly missed.

Luckily, the Church of England isn't in

the burger business, but it has shrunk from

owning 2,000,000 acres of land to 111,628,

some in Cranbrook and Sissinghurst. St

Dunstan's is suffering a lack of money. It can't

raise the money it needs to survive and thrive.

It is in desperate need of funds and support,

and people to put that into practice.

So what is the problem? Humans – or a lack

of them. As Wimpey needed more bums on

seats, The Church needs more parishioners

on pews. This article isn't a call to embrace

religion, more a report of the current state of

play with the biggest tourist attraction in our

great town.

22 The Cake • Autumn 2022
---
LOCAL HISTORY

It is a stunning church, with interesting

curiosities; the statue of Old Father

Time on the tower; the clock and bells,

forged in Cranbrook and the prototype

for Big Ben; the font added to offer full

submersion baptisms. There are also

stained glass windows, famed for their

historical and beautiful detail. All these

idiosyncrasies make our church a VERY

special gem.

Churchwarden, David Riddick, 80,

will retire in the spring and needs to

find a replacement to train up and

we must also support our next vicar. Our

church needs fundraising just to keep up

with repairs. We need experts in marketing,

branding, fundraising, accountancy and

banking, land management, construction

and everything else related to running a

stately building of outstanding interest.

It needs clever minds. Whether you are a

Christian, Moslem, Arsenal supporter or a

former member of Mossad, our blacksmith

Saint needs your help.

If we don't address the problem now, it will

escalate. Our church could soon look like the

Providence Chapel, collapsing, shrouded in

scaffolding. Can you bring your skills to save

our unique "cathedral?"

STAPLEHURST COMMUNITY CHIROPRACTIC

The Cake • Autumn 2022 23
---
From

£895

for a fully

fitted electric

garage door.

Garolla garage doors are expertly

made to measure in our own UK

factories, they're strong and solidly

built. The electric Garolla door rolls up

vertically, taking up only 8 inches inside

your garage, maximising valuable space.

Our expert local installers will fit your

new door and they'll take away the

old one too, so there's no mess.

Give us a call today and

we'll come and measure up

completely FREE of charge.

Gotta get a Garolla.

WHAT'S INCLUDED WITH EVERY DOOR:

• EXPERT MEASURING & FITTING

• 2 REMOTE CONTROLS

• ACOUSTIC & THERMAL INSULATION

• FREE DISPOSAL OF YOUR OLD DOOR

• AVAILABLE IN 21 COLOURS

CALL US TODAY ON:

01892 640 176

MOBILE:

07537 149 128

*Off er valid for openings up to 2.4m wide & including 2 remote controls, 55mm white slats, internal manual override.
---
FEATURE

Not Just

Firemen in

Cranbrook!

Fifty years ago, women were finally allowed

to join fire brigades across the UK and in

2022 the Cranbrook crew can boast two

ladies, one fully-fledged and the other

close behind

The first to join was

Alice Rye, 26, who

spoke to The Cake

just moments after

returning from a

three-fire shout in Goudhurst.

Fully trained she, along with her

fellow firefighters, is a volunteer

member of both Cranbrook and

Marden brigades, proud to be

serving both.

Asked why she signed up,

Alice, from Marden, reluctantly

replied: "I just applied," adding

quickly: "What they do is really

great, helping the community. I

have always admired them and

it is a brilliant career."

Fellow member, mum of

two Eloise Johnson, 26, is no

stranger to the High Street

station – her father was a

firefighter too. She proudly

said: "I spent all my childhood

here." Referring to the station

which is both a work place and

somewhere the crew can relax

after a call.

Living in Cranbrook and

working at the Co-op, she is half

way through her fire training.

The mum of two previously

worked in the NHS and is

pursuing her new career while

happily juggling child care with

her sister.

New-comer Max Smith, 20,

a former Bethany School pupil

and the stepson of Cranbrook

entrepreneur Emma Smith, has

just signed up. He is continuing

to work at Benenden Hospital

as an IT technician. He wanted

to join the Royal Signals, as

many of his family have military

backgrounds, but was prevented

because of asthma. He is

currently completing the gold

part of the Duke of Edinburgh

Award scheme. When The Cake

visited, he was training at the

top of the giant tower in the

station forecourt.

Currently working, seven

days a week because "I need the

money!" he is looking forward

to joining the Cranbrook fire

service full-time. Trisha Fermor

VOLUNTEER!

If you are interested in

joining as a volunteer

firefighter, visit www.kent.

fire-uk.org/our-volunteers

The Cake • Autumn 2022 25
---
LOCAL HISTORY

SOUP FOR THE POOR

An extract from The Cranbrook Journal Number 10 1998 by Geoff Apps

Cranbrook Soup

Society was formed

in 1821, with the

object of supplying

the poor with food

during the winter months. In

the 19th century local editions

of Moore's 'Almanack', it is

listed as one of the town's

four charitable institutions,

together with the Clothing

Society, the Coal Society, and

the untitled 'society for the

relief of married women in

child-bed'.

The soup kitchen ran on

voluntary annual subscriptions

from the better off. These

varied from a few shillings to

Lord Cornwallis's £25 and the

annual total was usually £100

or slightly above in the 19th

century records. However,

donations might also be

vegetables – the vicar's wife,

Mrs Barrow, gave one and a

half bushels of carrots in 1844

and the Reverend Mr Davies,

master of the grammar school,

two bushels of onions in 1845.

The soup might include

beef, together with barley or

oatmeal, and any available

vegetables. Each year's

'Almanack' recorded the

number of gallons distributed,

generally between 2,000 and

4,500 per year.

The site of the original

kitchen is not known, but the

society's 1844 annual report

states that a new one was to

be built – "In consequence

of the smallness of the boiler

and the great unfitness of the

present soup-house for making

The only known picture of the

1845 Soup Kitchen building

"The soup might include beef, together with barley or oatmeal, and any

available vegetables. Each year's 'Almanack' recorded the number of

gallons distributed, generally between 2,000 and 4,500 per year"

the soup, it has been deemed

expedient to apply the balance

in hand, with any donations

that may be obtained, to the

erection of a new soup-house

and to the exchange of the

present boiler for a boiler of

adequate size".

By 1845, the new kitchen was

built. Cash donations of £30-

5s-6d had been added to the

society's balance of £13-2s-9d,

while Mr Levett donated 500

bricks and Mr Dean supplied

the plans and estimate free.

The construction cost of about

£43, included £13-2s-0d for a

new iron boiler holding 279

imperial gallons.

The kitchen was at the top

of Carriers Road, opposite the

entrance to today's museum.

The society survived until the

1930s. To obtain the soup, the

poor had to prove their poverty,

and receive a ticket. We know

that Miss Wood, daughter of

a doctor living where Lloyds

Bank is now, was responsible

for issuing tickets during the

1914-1918 war.

When the society finally

closed, the kitchen continued

to be used as a fish and chip

shop, with a tin shed built

on the side, until the 1960s. I

remember Mr Jack Ticehurst,

who once had the shop, telling

me that during hop-picking

the queue would stretch down

to the bakers at the end of the

road.

I don't know how the soup

tasted, but Mr Ticehurst's fish

and chips were great.

26 The Cake • Autumn 2022
---
MUSEUM MATTERS

Little Known

Bench Marks

In this edition, we thank Geoff Piper for writing this

interesting piece on a little known subject

Do you like your

local flush

bracket? Do you

know what a flush

bracket is? Have

you ever seen it?

The answer to the last

question is almost certainly

"yes", many times, but you have

never realised what it was.

A flush bracket is a "bench

mark" put in place by Ordnance

Survey. Our Cranbrook one is

in Waterloo Road on the stone

wall in front of Queen's Hall

Theatre. Information tells us

that it is at a height of 247.594

feet above sea level! The

position of the flush bracket is

(at present) described as being

on the south wing of the police

station, although it hasn't

been there for more than 40

years. The remaining part of

the wall is used as a support for

the walkway/steps in front of

Queen's Hall.

These bench marks were

designed to support a

horizontal table so that by

using spirit levels, other heights

could be determined. Many of

the older bench marks were

simply carved into stone or

brickwork.

There are several other flush

brackets in our area: Wilsley

Pound, Mill Lane on The

Common, Four Wents on the

Goudhurst Road, Glassenbury,

Tubslake and Benenden.

The Cranbrook, Benenden,

Four Wents and Glassenbury

flush brackets have "S"

before their numbers which

means that they were placed

in the 1920s. The other four

mentioned are newer, about

1969.

For details about the

bench marks go to the

database bench-marks.org.

uk then go to "maps" and select

188 for our area.

WWI PHOTOGRAPHY

ON DISPLAY

Don't forget – on the day of

the Remembrance Sunday

parade in Cranbrook, there

will be a display in the

Vestry Hall of the collection of

WWI photographs from the

museum's archives. Hundreds

of images, taken by official war

photographers across Europe,

have been conserved and will

be on view in Cranbrook for

the first time.

Caring for you at home

Well established, family run business,

providing care for people living in the Weald

of Kent. Our tailored service allows you to live

at home with independence and dignity.

Call Karen Irving at our Tenterden office to

arrange a no obligation visit.

01580 762202

www.carecompany.care

SPONJEM UK Limited

Capital Allowances Consultants

Helping people in the area save money upon

their commercial buildings such as offices,

shops, restaurants, hotels and holiday let cottages

For Information contact Paul Jempson on

Tel: 0800 954 5081 Mob: 07957 822110

Email: mail@sponjem.co.uk

The Cake • Autumn 2022 27
---
Call Cranbrook

01580 715 904

Call Ashford

01233 660 851

MR NOAH'S

NURSERY SCHOOL CIC

https://mrnoahs.org

Your Country Lifestyle

Department Store!

Formerly known as Hartley Dyke Farm Shop

Our departments are:

Equine • Small Holder • Pets & Wild Birds

Garden • Gifts and Cards • Fuel

Clothing including:

Joules, Seasalt, White Stuff, Toggi, Jack Wolfskin, Hoggs,

Thought, Jack Murphy, Hunter Outdoor and more...

We have plenty of free parking, and we offer a free local

delivery for orders over £50 (£2.50 charge for under £50)

Fresh Fruit & Vegetables • Flowers • Plants

•Shrubs • Hot & Cold Foods • Drinks

• Groceries & Delicatessen

Charity Farm, Swattenden Lane, Cranbrook, TN173PS

Tel: 01580 712546

www.cranbrookfarmshop.co.uk

Open 8.30-5.30 weekdays, 9-5 Satudays and 10-4 Sundays

Swattenden Lane Cranbrook, TN17 3PS

01580 713189 | info@charityfarmcountrystore.co.uk

www.charityfarmcountrystore.co.uk

28 The Cake • Autumn 2022
---
FEATURE

Group Singing in

Cranbrook

A wealth of choices on your

doorstep writes Ian Fletcher

The joy to be gained from

participating in communal singing

should not be underestimated.

Singing is fun, sociable, satisfying,

rewarding and healthy. Cranbrook is

blessed with four choirs all offering a safe and

enjoyable place to sing, whatever your level of

expertise, experience, enthusiasm and musical

taste.

All choirs will welcome you for a free two

week "taster" to help you establish which is the

most appropriate for you. Give one of them a

try – you could even find yourself singing four

days a week!

The Compass Choir, formed in 2019, is a

true community choir, encouraging singers

of all levels. This informal group performs an

eclectic range of mainly modern material, in

unison or three-part harmony, and participates

at many open air events in Cranbrook. It is

not necessary to be able to read music. The

ebullient choirmaster, "Ginger" Millington,

ensures rehearsals are fun and friendly and he is

very ably accompanied by versatile pianist and

teacher Frances Yonge.

Tempo was founded as Tido in 2007,

changing its name to Tempo in 2016. Members

sing a wide genre of four-part harmony material

through pop, folk, songs from musicals and jazz

standards. They usually perform one concert

a year for family and friends in the summer.

Not everyone reads music and all singers

and potential singers are welcome to attend

Saturday morning rehearsals. Michael Withers

directs with aplomb, accompanied by Kerne

Clemence.

Cranbrook Choral Society has been

going for more than 50 years. It concentrates

largely on classical choral material. Handel's

Messiah and Faure's Requiem have been sung

recently, and in November they will perform

Dvorak's Stabat Mater with a full orchestra and

professional soloists. The society's summer and

Christmas concerts have a much more relaxed

and varied theme. A basic understanding of

musical notation is helpful and the choir's

music director, Jeffery Gray – accompanied by

Frances Yonge – draw very fine performances

"Not everyone reads music and

all singers and potential singers

are welcome to attend Saturday

morning rehearsals. Michael

Withers directs with aplomb,

accompanied by Kerne Clemence"

from this four-part choir.

A fourth choir is The Wealden Consort

which has, since its inception in 1979, grown

to be a friendly and enthusiastic group of

about 25 mixed voices, who make music of a

high standard and perform concerts at charity

fund-raising events throughout Kent, Sussex

and further a-field. Under the baton of its

musical director, Cornelis Taekema, the consort

has expanded its repertoire, to include early

church music through to spirituals, folksongs

and modern works, both sacred and secular. It

is the only local group that auditions potential

members.

LOCAL GROUPS

• Compass Choir:

compasschoir.org

Rehearse: Wednesday, 5.30pm

– 7.00pm Vestry Hall, suggested

£5.00 donation

• Tempo: temposingers.org

Rehearse: Saturday, 9.30am –

11.00am St Dunstan's Church,

£7.00 a week; or £20per month

• Cranbrook Choral Society:

cranbrookchoral.org.uk

Rehearse: Tuesday, 7.30pm -

9.15pm Vestry Hall, £95 annual

subscription

• Wealden Consort:

wealdenconsort.org.uk

Rehearse: Wednesday,

7.45pm - 9.30pm Marlborough

House School, £120 annual

subscription.

The Cake • Autumn 2022 29
---
Kids' Corner

Cranbrook Plaque Hunt

Thank you Alan Ford for photographing them all!

Can you

find all these

plaques? Tick

them off as

you go!

30 The Cake • Autumn 2022
---
OPEN

MORNING

FRIDAY 30TH

SEPTEMBER

ENJOYING TODAY, EDUCATING FOR TOMORROW

NURSERY, PRE-PREP & PREP | BOYS & GIRLS 2.5 - 13 YEARS | DAY & FLEXI BOARDING

MARLBOROUGH HOUSE

S C H O O L

The school goes far beyond academic

results and prides itself on the

development of the whole child.

THE GOOD SCHOOLS GUIDE 2021

Year 7 Entry Scholarship

Applications invited in October 2022

Visit marlboroughhouseschool.co.uk

/MarlboroughHouseSchool

/marlboroughhouse.school
---
HOME & GARDEN

IN THE

GARDEN

I doubt if anyone can remember a summer quite

like this one, not just for us but also our plants

Catalpa bignoninoides

(Indian Bean Tree)

Even 1979's stifling

summer pails into

insignificance after

the record-busting

temperature of 40.3

C was recorded in Lincolnshire

this June. Our own weather

station recorded 37.4C on

several occasions.

As I write in early July,

autumn has come very early

with trees dropping their leaves

and blackberries ripening.

And temperatures will only

get worse. My beloved cottage

garden, on beautiful loam,

has suffered from heat and

lack of water, despite carefully

watering. Proof that tap water is

no substitute for rain.

I am now taking a serious look

at what path to take with next

year's planting. We have mainly

perennials with lots of annuals

thrown in for the pollinators

– unfortunately not reaching

Gingko biloba

(Maidenhair tree)

anywhere near the height and

flowering they should have.

Drought tolerant plants are

the way to go but before we all

rush off to fill our cars, think

again. OK, the summers will be

hot, but winters will be warmer

and wetter, not a good thing

if we are going to grow plants

which thrive well in desert

conditions. In the Weald, famed

for its heavy clay, (wonderful

for roses!) water is a significant

factor on plants' survival due

to waterlogging. Frost is still a

threat too.

I'm sticking to planting

smaller, drought tolerant

trees. We do have two

glorious Catalpa

bignoninoides

(aka Indian

Bean Tree).

We should

have planted

its smaller

Koelreutaria

paniculata

sister, C.

speciosa,

which does

better in

drought

situations,

but so far, so

good.

Regarding

British trees, I

love Crataegus crusgalli,

the Cockspur Thorn or

its close cousin C. persimilis

"Prunifolia", both May trees,

the last having an RHS AGM

(award for garden merit).

Getting a bit taller but a must

have is Koelreutaria paniculata,

with lovely yellow flowers. I saw

hundreds of these growing in

Dresden streets, brought home

some seeds (easy to germinate)

and now have a lovely tree.

Crataegus crus-galli

(Cockspur Thorn)

Gingko biloba (Maidenhair

tree) is another favourite

with fan shaped leaves. One

of the world's oldest trees,

originating from China, it now

grows over most of Europe. For

lovers of conifers, one of the

best is Juniperus scopularum

"Skyrocket" whose spectacular

narrow form is a welcome

addition to any garden.

As with all planting,

preparation is vital. Dig a good

sized hole, making sure the

base is not hard and flattened.

Plant the tree to the same

height as it was in the pot, put

in a stake, fill with good quality

compost, well-rotted manure

and control release fertiliser,

firm. Water well and remember

to water if there is little or no

rain. Penny Royal

32 The Cake • Autumn 2022
---
HOME & GARDEN

Let's Cook

Bean & Red

Pepper Salad

It is interesting to see how many

people are switching to healthier

meals, myself included. While I am

still happy to eat chicken or fish,

the occasional dip into something

100 per cent vegetarian has been a

revelation. I stumbled across this

recipe while scanning the shelves

in a second hand book shop! It is

really tasty, healthy, makes a quick

and easy supper and it won't cost

the earth.

INGREDIENTS

Serves 2

2 small red peppers, halved and

deseeded

1 tsp olive oil

2 tbsps extra-virgin olive oil

1 tbsp white wine vinegar

Zest of a lemon, grated

1 x 410g tin of cannellini beans,

drained and rinsed

Half a clove of garlic grated

A small shallot, very finely chopped

2 tbps flat leaf parsley, roughly

chopped

20g unsalted pistachio nuts, roughly

chopped

Seasoning

WHAT TO DO

1 Preheat the oven to 190C/170C fan/

gas mark 5.

2 Put the peppers into a roasting tin,

drizzle with olive oil, season and roast

for 25 mins until completely tender.

Allow to cool and cut into thin strips.

3 Put the extra virgin olive oil, vinegar,

garlic and lemon zest into a bowl,

Season and whisk together. Add the

beans, shallot, parsley and peppers and

mix well. Serve in bowls with a good

green side salad.

Bon appetite!

Emma Fraser

The Cake • Autumn 2022 33
---
LETTINGS AND SALES PROPERTY EXPERTS

Local specialists with a network of London & Regional Offices

FOR YOUR FREE MARKET APPRAISAL CALL US TODAY

Lettings 01580 720400 ∙ Sales 01580 720000

cranbrook@jackson-stops.co.uk

www.jackson-stops.co.uk

Treat your oven to a

professional deep clean

Ask about my 7 day

fast track service.

Fee hob clean for

new customers.

Call Ed on 07921 867 166

**£5 off for senior citizens**

Specialist oven cleaning, at an affordable price Web: ed.ovenrescue.co.uk

34 The Cake • Autumn 2022
---
BADGER'S PLOT

JOBS ON THE PLOT

Essentially, a time to do some tidying

up. For example, make sure that

brassicas such as Brussels sprouts are

now staked against the possibility of

strong winds knocking them over. While

you are about it, remove all yellowing

leaves from the plants and on the

ground. Once the bean and pea harvests

are finished, clear away the support

poles and pea sticks.

Autumn Musings

During the summer months

gardeners had more than usual

to complain about when it

came to the weather. Certainly

in this area, rainfall was at an

absolute minimum, interspersed with two of

the hottest days on record.

EARLY AUTUMN

Sowing in the greenhouse or outside:

Final sowings of salads, mizuna, rocket or

mustards.

Planting/sowing outside: The milder

climate of the south east might provide

an opportunity for a late direct sowing of

French beans.

Composting: When areas are no longer

required and not needed for second

cropping, compost may be spread evenly to

a depth of about 4 inches. This can be left

to stand during the coming months whilst

worms can go about their business of taking

the matter down into the soil. If you are not

yet a convert to "no dig", now is the time to

start digging if you have a heavy soil as it

will expose the clods to winter weathering.

At this time, well rotted manure or organic

matter can be included.

Harvesting: There should still be plenty of

beans, tomatoes, courgettes and cucumbers

to harvest. If not yet completed, lift the

remaining onions for storage.

MID/LATE AUTUMN

Sowing/planting outside: Garlic cloves

can be planted out in prepared beds in early

October together with spring cabbages.

Sowing in the greenhouse: Towards the

end of October, broad beans can be sown

in preparation for planting out early in the

New Year.

Preparing beds: Because many vegetable

plants will now be finished for the year, beds

can be cleared and any stems chopped into

6 inch sections and composted. Weeding is

still a vital activity and a word of caution

about throwing grasses and chickweed on

the compost heap. Many will still contain

seed heads, so remove and destroy all traces

to avoid recycling them onto beds next year.

Harvesting: Although most of the summer

vegetables have now finished,

harvesting of parsnips, leeks,

sprouts, cabbages and

squashes will be starting.

Lift and store squashes if

there is any risk of frost.

Top tip: After you have

lifted the remains of

tomatoes and cucumbers from

the greenhouse, the soil around the base of

the plants is likely to be dried out, so a good

drenching is to be recommended if you are

planning to grow some winter salads.

SOFT FRUIT PLANNING

A number of readers have

asked whether this

column can offer

advice on the subject

of soft fruit in the

kitchen garden or

allotment. Firstly, it's

all a matter of choice as

to what you want to grow, but we'll

stick to favourites like blackberries,

strawberries, raspberries, blackcurrants,

redcurrants, gooseberries and

blueberries. Secondly, you will need a

site that gets plenty of sun avoiding

anywhere that is mostly in the shade.

When buying your plants, always

use a reputable garden centre or well

established seed merchant who offers

fruit stock.

Now is a good time to start planning

your soft fruit area and, in the case

of blackcurrants, summer fruiting

raspberries and blueberries, planting

can take place from mid Autumn and at

any time the soil still retains a degree of

warmth. Bare root blackberries can be

planted during November and December

when the plant is in a dormant state.

The same criteria applies to redcurrants.

As far as strawberries are concerned,

you should wait until March or April

before planting out. Blueberries need

careful consideration; they require a soil

with a pH of between 4.0 and 5.0. You

can buy soil testing kits for this. Always

use ericaceous compost when preparing

the ground for your young bush.

With all soft fruit allow plenty of

room between plants to ensure that

once fruiting starts, they get the

maximum benefit from sunlight. Badger

The Cake • Autumn 2022 35
---
Whatever you want

to store...

...for whatever reason – business, house sale and

purchase not coinciding, travelling, house building

work, paperwork overload or just "de-cluttering" to

sell your house more quickly –

we offer a friendly and

flexible service in

Cranbrook.

With competitive

rates, secure storage

all on one level and

hassle free 24/7 access,

contact us now!

01580 713231

www.barn-store.co.uk

Holly's Funerals

Modern, Beautiful and Bespoke

Funeral Choices

We provide a highly flexible & personal

service to help you create exactly the right

funeral for you and your family

Please call for a friendly, informal chat or

to make an appointment

01580 389184

www.hollysfunerals.co.uk

Hartley Dyke, Cranbrook

Helen Grant

MP for Maidstone

and the Weald

I am here to help you in

any way that I can. If there

is an issue of concern to

you, where you believe

I can assist, or if you

would like to arrange a

meeting with me, please

email me at helen.grant.

mp@parliament.uk or

telephone 020 7219 7107.

helengrant.org

@HelenGrantMPntMP

HelenGrantMP

Produced by

Helen Grant MP,

House of Commons,

London SW1A 0AA

36 The Cake • Autumn 2022
---
LITERATURE

Reading for

relaxation

We welcome new contributor Christine Newman to The Cake.

A well-known literary figure in Cranbrook, she is a founder

member of the town's literature festival

In my job as a school

librarian, I work hard to

promote reading to the

students and encourage

them to try new genres and

authors. They are always amazed

to hear that there are actual

health benefits to be gained

from reading too as it makes you

smarter and more relaxed.

BRAIN STIMULATION

When you read every day, you

stimulate your mental activity.

One study has shown that

benefits of reading slows down

disorders such as Alzheimer's and

Dementia. Reading exercises the

brain and keeps it active.

Every part of our body needs

exercise to stay healthy and the

same goes for our brain. Reading

gives it regular exercise and

keeps it healthy and sound and

improves our memory.

STRESS REDUCTION

Everyone has worries and stresses

that niggle in your mind and will

keep bothering you unless you

do something to distract them.

Reading gives you the mental

space to escape your worries and

stress can seem to slip away when

you're caught up in a great story.

VOCABULARY EXPANSION

Reading any type of book can

improve your vocabulary to an

impressive extent.

FOCUS AND CONCENTRATION

Technology is great, but it can

"Every part of our

body needs exercise

to stay healthy and

the same goes for

our brain"

make us lazy and unable to

concentrate. Reading for just

30 minutes a day and engaging

in a story can help us focus and

concentrate.

In our parish of Cranbrook

and Sissinghurst, we are blessed

with so many sources of cheap

and available reading material

– even if we don't have a book

shop! There's the local library,

the community library in the

phone box at Baker's Cross, and

an excellent selection of quality

second-hand reading material

in our charity shops, Hospice in

the Weald and Oxfam. Reading

HEN HOUSE

POULTRY

Quality Point of Lay Chickens

Excellent choice available, fully

vaccinated, laying lovely fresh

eggs in a variety of shell colours

doesn't have to be an expensive

pastime, so check out what's on

offer locally. Read and relax your

way through the summer and

beyond!

Country living at its best!

www.henhousepoultry.co.uk

01622 843649 (Sutton Valence)

The Cake • Autumn 2022 37
---
LEGAL ADVICE

Ask our

Friendly

Experts

Saving on stamp duty

QIs there a way to reduce

the Stamp Duty when

I'm buying a house?

ASince October 2021,

buying residential property

at a price over £125,000

attracts a payment of Stamp Duty

Land Transaction Tax to HMRC.

Given that this tax starts at a

rate of 2% of the purchase price

over the £125,000 level, with

increasing percentages becoming

payable the higher the purchase

price – the biggest being 12%

for any portion of the purchase

price over a £1.5 million, this is

a substantial additional cost for

most home buyers.

It is obviously therefore in

buyers' interests to reduce this

large payment if possible. One

such way to reduce this Stamp

Duty Land Transaction Tax

payment would be for a buyer

to claim Multiple Dwellings

Relief should the property being

purchased qualify. In order

to qualify, the property being

purchased must include more

than one residential dwelling.

In relation to Stamp Duty and

following various case law,

the definition of "dwelling" is

generally and widely accepted

as being a building or part of a

building which is capable of being

a separate unit, which includes

the facilities to accommodate

all of a person's basic living

needs, so that a person can live

in that unit exclusively without

the need to go to an alternative

building to, for example, have a

shower or eat a meal. These basic

facilities are therefore to include

a bedroom or an area for sleeping

which can also include a living

area, as well as a bathroom and

kitchen facilities. In addition,

the further dwelling or annexe

should have its own independent

and lockable access, water supply,

boiler, heating system, fuse box

and other utility supplies.

Under Schedule 6B of the

Finance Act 2003, the law also

states that "a building or part of

a building counts as a dwelling

if… "it is in the process of being

constructed or adapted for such".

This would therefore mean that

the Multiple Dwelling Relief

can also be claimed even where

the additional building is in the

middle of being built or is not

already established and in use

as a separate dwelling so long

as it will eventually be able to

be used as such a separate and

independent home.

QBut how much Stamp

Duty Land Transaction

Tax will claiming this

relief actually save a buyer?

AIn order to work this out,

rather than calculating

the amount of Stamp Duty

Land Transaction Tax payable

on the whole of the purchase

price, the purchase price is

firstly divided by the number of

dwellings on site, i.e. halved if

there are two separate dwellings

being purchased. The amount of

Stamp Duty Land Transaction

38 The Cake • Autumn 2022
---
LEGAL ADVICE

"The amount of

Stamp Duty Land

Transaction Tax

is then calculated

separately on the

price apportioned to

each dwelling and

then that amount of

tax is multiplied by

the number

of dwellings"

Tax is then calculated separately

on the price apportioned to each

dwelling and then that amount of

tax is multiplied by the number

of dwellings.

For example, if the total

purchase price is £900,000 and

there are two dwellings included

in the purchase, Stamp Duty Land

Transaction Tax will be calculated

on £450,000 for each dwelling.

As there is no Stamp Duty

payable on the first £125,000,

the remaining £325,000 will be

chargeable at 2%, i.e. £6,500

for each property. That figure is

then multiplied by the number

of dwellings to make a total

Stamp Duty Land Transaction

Tax liability payable of £6,500 x 2

equalling a final figure of £13,000.

If you then compare this to the

figure that would be payable for

Stamp Duty Land Transaction Tax

without the Multiple Dwellings

Relief on a purchase price of

£900,000, which will make the

total tax payable of £35,000, you

will see that this will make a huge

saving of £22,000!

When applying for this type

of relief, there is also a test

applied to ensure that there is

always still a minimum amount

of Stamp Duty Land Transaction

Tax payable to HMRC. This test

provides that if the calculated

amount of Stamp Duty payable

using this relief does not

exceed an amount of 1% of the

total purchase price – in this

case being £9,000 – then this

minimum 1% figure will be

payable by Stamp Duty payment

rather than the figure that has

been calculated as detailed above.

As your conveyancer will in all

likelihood have not been able to

make a physical site inspection

of the property, they will instead

have to be reliant upon the Title

information documentation

received from the seller's

solicitor, which won't necessarily

show whether there are any

additional separate dwellings. So,

if you are buying a property that

may have an additional dwelling,

do let your conveyancer know

to ensure that they claim the

Multiple Dwellings Relief for you

when they complete your Stamp

Duty Land Transaction Return

Form. And make yourself this

substantial saving!

PIA UNWIN

Licensed

Conveyancer

To ask me

any further

questions

surrounding

the sale or

purchase of

a property please feel free to

contact me.

T: 01892 502 398 or

E: punwin@bussmurton.co.uk

and quote 'Cake Magazine'

Clermont House, High Street,

Cranbrook, TN17 3DN

01580 712 215 or info@

bussmurton.co.uk

www.bussmurton.co.uk

The Cake • Autumn 2022 39
---
Update

How Wild?

Could you help restore nature in our churchyards and

cemeteries? asks Cllr. Kevin Rampling

This summer's

heatwave has

brought into sharp

focus the reality

of climate change.

Today, nature in

the UK is in serious trouble.

More than half our species are

in decline, with 15% threatened

with extinction. Our native

woodlands now cover only 2.5%

of our land.

We have upset the balance of

nature. But it is our life support

system; the air we breathe, the

water we drink, the food we eat,

the energy that sustains us. We

can't live without it. All plant

and animal species play a role.

When they disappear, we disturb

the natural processes. Our life

support system starts to stutter

and fail.

There is now much talk about

rewilding to provide food for

the pollinators and increase

biodiversity. We need to do our

bit and use our green spaces to

best effect. Working together,

using every bit of land we can

(even our back gardens), can

make a difference.

The question the parish

council wants to raise with

you is what would you like to

see happen in St Dunstan's

churchyard and Golford and

Sissinghurst Cemeteries?

Rewilded areas of the Ball Field

Some options:

1. Status Quo: we keep mowing

as we do now

2. No Mow May: We could

experiment with this. It gives

UK pollinators – and the birds

and animals who eat them – a

much-needed boost

3. Rewilding: We could allow

areas to go wild, and begin

to restore the abundance

of wildlife and its missing

species. Rewilding has the

minimum of interference and

CLARE SAXBY

what grows, grows!

4. Wildflower Meadow: We

could move towards a type of

wildflower meadow by letting

areas go wild, but managing

the more invasive opportunist

plants and introducing

wildflowers. An army of local

volunteers would help to keep

the maintenance costs down.

It is over to you. I would be

delighted, if enough people

were interested, to set up a

working group to decide how to

take this forward. But initially,

please let the parish council

know:

• Which of the 4 options

suggested above, you would

prefer?

• If option 2-4, how much of

the space should be allowed

to go wild and how do we

treat the areas around the

graves?

• Whether you would be

prepared to be a local

volunteer to help a more

managed wildflower approach

• Whether you would be

prepared to be on a working

group to take the ideas

forward.

I would also be very pleased if

you would like to contact me

personally at

kevin.rampling@cspc.org.uk

40 The Cake • Autumn 2022
---
More Playground Equipment – Views Please!

The Environmental

Management Committee is

responsible for the repair,

maintenance and wellbeing of

the amenity sites the parish

council looks after. These

include car parks, allotments

and open spaces (Ball Field,

Crane Valley and Jubilee Field).

In the case of the open

spaces, we are responsible for

the provision and maintenance

of the play equipment. We have

put a new roundabout and mini

slide in the Sissinghurst Jubilee

Field, as they have proved so

popular on the Ball Field with

younger children.

All play equipment is checked

annually by the Royal Society

for the Prevention of Accidents

(RoSPA). For the last two

years, the report highlighted

the fact that the large piece of

equipment on the Ball Field was

in need of replacement.

The new large piece of

apparatus caused some

controversy, as some people

thought it too dangerous for

younger children to use, and

that there was no consultation

sought. This equipment is

designed for ages 'over

5', and is proving very

popular with that

age group.

We have taken

notice however,

and are looking to

provide some more

pieces for younger

e.g. a slide and some

balancing toadstools.

The toadstools are 0.4m, and

the slide 2.5m tall. Currently

we do not have the funds

for these, but should have

them next year (23/24). If you

have any comments on our

New play

equipment in

Jubilee Field,

Sissinghurst

proposals, please send them to

me via the parish office, or you

are welcome to come to any

Environmental Management

meeting we have to put your

views forward.

It would be even better that

any interested people join

the council; there will be an

election next year, and new

councillors are always welcome.

Alan Kings

Are you an older person

needing help with your

laptop, phone or tablet?

Professional, experienced and patient; I offer 1-1

support, helping seniors gain the skills necessary

to connect with the outside world.

01580

438011

colin@seniorsurf.co.uk

www.seniorsurf.co.uk

seniorsurfintheuk

Covering Kent & East Sussex

The Cake • Autumn 2022 41
---
THE CAKE CHATS WITH…

Kim Fletcher

Trisha Fermor talks to chairman of the Cranbrook and Sissinghurst Parish Council, Kim Fletcher

It is difficult to know which

topic to choose when

chatting to our chairman

of the parish council!

Before concentrating

on important parish matters,

he spoke of his career which

took him to many places

including China, Switzerland

and France. His work included

being the international business

development director for soft

drinks giant Britvic to working

for a Swiss company producing

some of the world's more

expensive and famous brands

of perfume (interestingly

naming the French perfume I

was wearing in a second!). As

well as his globetrotting, he

has been an estate manager in

Goudhurst.

Now, 69 and retired, he looked

back on moving to Cranbrook in

1968 with his brother Ian, where

his parents ran the Kennel

Holt Hotel. He was educated at

Hurstpierpoint College and read

microbiology and biochemistry

at the University of Kent.

After his world travels, he

returned to Cranbrook with

his wife Fiona, who became

the Cranbrook School nurse.

They have two children and five

grandchildren. In his spare time

he keeps bees, makes honey and

enjoys gardening.

Most of his time is taken up

with parish council business.

He joined in 2003, taking on the

role of chairman three years

ago when Bridget Veitch stood

down.

Why did he join in the

first place? "I moved back to

Cranbrook and felt I had some

skills that might be of use to

the council to make the town a

better place."

Amongst his many

achievements, he is proud of

having got a £240,000 grant to

enable the council to convert

the former fire station into

the parish office, instigating

the first electric car charging

systems in Kent in the Jockey

Lane car park, and seeing the

Vestry Hall become a Covid

testing centre. He is still

fighting against the closure of

the High Weald Academy "which

has left a 320 square mile hole

in the Weald with no school".

He is an ardent supporter

of the community centre-

GP surgery plan which is

proceeding slowly. An admirer

of Cranbrook in Bloom, he

initiated the planting of a

spinney on the Ball Field which

again impressed the judges at

this year's South and South East

in Bloom contest.

On the down side he sees

"impending doom" this autumn

with the current rise in inflation

and how it will impinge on the

less better off and is urging

people to help people in need.

He added: "I would like to

see more community cohesion.

I have a Protestant work ethic

in wanting to make things

better. You get a huge kick when

you see things change and get

better."

"I would like to see more community cohesion. I have a Protestant

work ethic in wanting to make things better. You get a huge kick

when you see things change and get better."

42 The Cake • Autumn 2022
---
An extra pair of hands

when you need them!

• Bookkeeping

• Credit control

• Data entry

• Back office support

• Training course

organisation

• Newsletters

...and more

Can you relate to one or

more of these statements?

"I want to spend time building my business - not doing paperwork"

"I want to take control of my accounts rather than have them

controlling me"

"I need help in the office but don't have the equipment

or space for someone else"

"I could do with an extra pair of hands but can't justify the cost

or commitment of employing staff"

"I need to improve my brand, online presence and market

my services, but I don't have the time "

If the answer is Yes, we think it's time you

called Pink Giraffes Limited!

if the service you are looking for isn't here please call us

T. 01580 848190 E. enquiries@pinkgiraffes.co.uk

www.pinkgiraffes.co.uk
---
YOUR NeEw

LOCAL store!

33 High street, cranbrook, TN17 3EE

due to open in september!

opening dealS!

ANY SIZE PIZZA BUY ONE GET ONE

* OR

*

FREE!

£7.99*WHEN YOU COLLECT

ORDER ONLINE AT WWW.DOMINOS.CO.UK

WE ARE RECRUITING!

WWW.DOMINOSRECRUITMENT.CO.UK

T&Cs apply. Deal is collection only. Deals are available for a limited time only and are subject to change.