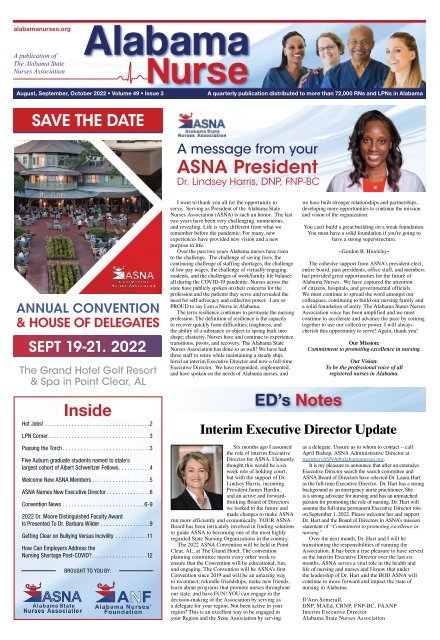 Alabama Nurse - August 2022
You also want an ePaper? Increase the reach of your titles
YUMPU automatically turns print PDFs into web optimized ePapers that Google loves.
alabamanurses.org

A publication of

The Alabama State

Nurses Association

August, September, October 2022 • Volume 49 • Issue 3

A quarterly publication distributed to more than 72,000 RNs and LPNs in Alabama

SAVE THE DATE

A message from your

ASNA President

Dr. Lindsey Harris, DNP, FNP-BC

ANNUAL CONVENTION

& HOUSE OF DELEGATES

SEPT 19-21. 2022

The Grand Hotel Golf Resort

& Spa in Point Clear, AL

Inside

Hot Jobs! .................................... 2

LPN Corner. .................................. 3

Passing the Torch. ............................. 3

Five Auburn graduate students named to state's

largest cohort of Albert Schweitzer Fellows........... 4

Welcome New ASNA Members. ................... 5

ASNA Names New Executive Director. .............. 6

Convention News. ........................... 6-9

2022 Dr. Moore Distinguished Faculty Award

Is Presented To Dr. Barbara Wilder................. 9

Getting Clear on Bullying Versus Incivility ........... 11

How Can Employers Address the

Nursing Shortage Post-COVID?. .................. 12

BROUGHT TO YOU BY:

I want to thank you all for the opportunity to

serve. Serving as President of the Alabama State

Nurses Association (ASNA) is such an honor. The last

two years have been very challenging, momentous,

and revealing. Life is very different from what we

remember before the pandemic. For many, new

experiences have provided new vision and a new

purpose in life.

Over the past two years Alabama nurses have risen

to the challenge. The challenge of saving lives, the

continuing challenge of staffing shortages, the challenge

of low pay wages, the challenge of virtually engaging

students, and the challenges of work/family life balance

all during the COVID-19 pandemic. Nurses across the

state have publicly spoken on their concerns for the

profession and the patients they serve and revealed the

need for self-advocacy and collective power. I am so

PROUD to say I am a Nurse in Alabama.

The term resilience continues to permeate the nursing

profession. The definition of resilience is the capacity

to recover quickly from difficulties; toughness, and

the ability of a substance or object to spring back into

shape; elasticity. Nurses have and continue to experience

transitions, pivots, and recovery. The Alabama State

Nurses Association has done so as well! We have had

three staff to retire while maintaining a steady ship,

hired an interim Executive Director and now a full-time

Executive Director. We have responded, implemented,

and have spoken on the needs of Alabama nurses; and

Six months ago I assumed

the role of interim Executive

Director for ASNA. I honestly

thought this would be a six

week role of holding court,

but with the support of Dr.

Lindsey Harris, incoming

President James Hardin,

and an active and forwardthinking

Board of Directors

we looked to the future and

made changes to make ASNA

run more efficiently and economically. YOUR ASNA

Board has been intricately involved in finding solutions

to guide ASNA to becoming one of the most highly

regarded State Nursing Organizations in the country.

The 2022 ASNA Convention will be held in Point

Clear, AL, at The Grand Hotel. The convention

planning committee meets every other week to

ensure that the Convention will be educational, fun,

and engaging. The Convention will be ASNA's first

Convention since 2019 and will be an amazing way

to reconnect, rekindle friendships, make new friends,

learn about programs that promote nurses throughout

our state, and have FUN! YOU can engage in the

decision-making of the Association by serving as

a delegate for your region. Not been active in your

region? This is an excellent way to be engaged in

your Region and the State Association by serving

ED's Notes

we have built stronger relationships and partnerships,

developing more opportunities to continue the mission

and vision of the organization.

You can't build a great building on a weak foundation.

You must have a solid foundation if you're going to

have a strong superstructure.

~Gordon B. Hinckley~

The cohesive support from ASNA's president-elect,

entire board, past presidents, office staff, and members

has provided great opportunities for the future of

Alabama Nurses. We have captured the attention

of citizens, hospitals, and governmental officials.

We must continue to spread the word amongst our

colleagues, continuing to build our nursing family and

a solid foundation of unity. The Alabama States Nurses

Association voice has been amplified and we must

continue to accelerate and advance the pace by coming

together to use our collective power. I will always

cherish this opportunity to serve! Again, thank you!

Our Mission:

Commitment to promoting excellence in nursing.

Our Vision:

To be the professional voice of all

registered nurses in Alabama.

Interim Executive Director Update

as a delegate. Unsure as to whom to contact – call

April Bishop, ASNA Administrative Director at

membersASNA@alabamanurses.org.

It is my pleasure to announce that after an extensive

Executive Director search the search committee and

ASNA Board of Directors have selected Dr. Laura Hart

as the full-time Executive Director. Dr. Hart has a strong

background as an emergency nurse practitioner. She

is a strong advocate for nursing and has an unmatched

passion for promoting the role of nursing. Dr. Hart will

assume the full-time permanent Executive Director role

on September 1, 2022. Please welcome her and support

Dr. Hart and the Board of Directors in ASNA's mission

statement of "Commitment to promoting excellence in

nursing."

Over the next month, Dr. Hart and I will be

transitioning the responsibilities of running the

Association. It has been a true pleasure to have served

as the interim Executive Director over the last six

months. ASNA serves a vital role in the health and

life of nursing and nurses and I know that under

the leadership of Dr. Hart and the BOD ASNA will

continue to move forward and impact the state of

nursing in Alabama.

D'Ann Somerall,

DNP, MAEd, CRNP, FNP-BC, FAANP

Interim Executive Director

Alabama State Nurses Association
---
Page 2 • Alabama Nurse August, September, October 2022

HOT JOBS!

The Alabama State Nurses Association is proud

to announce a fresh UNIQUE opportunity for job

seekers and employers. Our new Career Center, HOT

JOBS marries two services that have great benefits

for job seekers and employers. The HOT JOBS site,

alabamanurses.org/hotjobs, helps the prospective employee

(nurse) enhance their chances in the application / interview

process with FREE consultation from ASNA's professional

career coach, Bridget Stevens. Bridget has over 25 years

experience as a recruiter in the medical field and is widely

respected by major employers in the state. You can ask for

her help at the email provided below.

Employers will love using HOT JOBS to prioritize

high demand positions in their posts. Bridget can help

employers get set up on HOT JOBS and refer qualified

candidates with no recruiting fee! If you are a job seeker

or HR staff, give Bridget a call or email and find out how

ASNA's HOT JOBS can help you.

ASNA Board of Directors

President Lindsey Harris, DNP, FNP-BC

President-elect James Hardin, MSc, BSN, RN, NE-BC

Vice President Jennifer Humphries, DNP, CRNP, NNP-BC

Secretary Lisa Gurley, PhD, RN, CNE, COAT

Treasurer Frankie Wallis, DNP, FNP, NEA-BC, COI

District 1 Kindra Swauger, BSN, RN, CRC

District 2 Abby Horton, EdD, RN, CHC, CLC

District 3 Adrienne Curry, DNP, RN

District 4 Brenda Woodmansee, DNP, RN

District 5 Katilya Ware, PhD, RN

Commission on Professional Issues: Jo Ann Otts, DNP,

RN, NEA-BC

Parlimentarian: Philip Cohn, RN

Recent Grad Liaison: Kristina Gentle,

BSN, RN

ASNA Staff

Interim Executive Director, D'Ann Somerall, DNP,

MA Ed, CRNP, FNP-BC, FAANP

Programs & Structural Unit Coordinator,

April Bishop, MPA, BS, ASIT

UPDATE MY INFORMATION:

https://form.jotform.com/50155902976965

Updated Author Submission

Guidelines for Alabama Nurse

Manuscript Format – Submit in APA style as double

spaced word document using 12 –point font. Include article's

title and author(s) name, credentials, organization/employer,

contact information and current email address. Authors must

address any potential conflict of interest, whether financial or

other, and identify any applicable commercial affiliation.

Photographs – Photographs of high resolution (300 dpi

preferred) may be submitted digitally as a separate file in

.jpg or .tiff format. Photos taken for ASNA related purposes

may be used in ASNA publications/social media unless other

requested by the subject. Supply a caption or photo credit for

each photo. All material submitted become the property of

ASNA.

Advertising – Product, program, promotional, or service

announcements are considered advertisement, please contact

our publisher, Arthur L. Davis Publishing Agency, Inc. at

sales@ALDpub.com or phone 800-626-4081.

Our Mission

ASNA is committed to promoting excellence in nursing.

Our Vision

ASNA is the professional voice of all

registered nurses in Alabama.

Our Values

• Modeling professional nursing practices to other

nurses

• Adhering to the Code of Ethics for Nurses

• Becoming more recognizably influential as an

association

• Unifying nurses

• Advocating for nurses

• Promoting cultural diversity

• Promoting health parity

• Advancing professional competence

• Promoting the ethical care and the human dignity of

every person

• Maintaining integrity in all nursing careers

Advertising

For advertising rates and information, please contact Arthur

L. Davis Publishing Agency, Inc., PO Box 216, Cedar Falls,

Iowa 50613, (800) 626-4081, sales@aldpub.com. ASNA and

the Arthur L. Davis Publishing Agency, Inc. reserve the

right to reject any advertisement. Responsibility for errors in

advertising is limited to corrections in the next issue or refund

of price of advertisement.

Acceptance of advertising does not imply endorsement

or approval by the Alabama State Nurses Association

of products advertised, the advertisers, or the claims

made. Rejection of an advertisement does not imply a

product offered for advertising is without merit, or that

the manufacturer lacks integrity, or that this association

disapproves of the product or its use. ASNA and the Arthur

L. Davis Publishing Agency, Inc. shall not be held liable

for any consequences resulting from purchase or use of an

advertiser's product. Articles appearing in this publication

express the opinions of the authors; they do not necessarily

reflect views of the staff, board, or membership of ASNA or

those of the national or local associations.

The Alabama Nurse is published quarterly every February,

May, August and November for the Alabama State Nurses

Association, 360 North Hull Street, Montgomery, AL 36104

© Copyright by the Alabama State Nurses Association.

Alabama State Nurses Association is a constituent

member of the American Nurses Association.
---
August, September, October 2022 Alabama Nurse • Page 3

LPN Corner

Communication

Perspectives On

Clients With Dementia

Gregory Howard

LPN

Working as a Healthcare

Worker without compassion and

patience is unacceptable. For

people with dementia, they need,

must, have care with a deep

understanding of their disease

process. Dementia is loss of

memory, inability to perform

daily tasks and the deterioration of

communication skills, etc. Although medication is the main

treatment for this condition, the physical treatment by the

Healthcare Worker is an important part of their care.

I believe these actions are a must:

1. Speak softly

2. Try to redirect inappropriate behavior

3. Delegate familiar tasks to the individual

4. Try music or a TV program the person will enjoy

5. Go for a walk in a controlled environment

6. Offer tasks associated with past work or pleasure

activities

Passing the Torch

James Hardin, MSc, BSN, RN, NE-BC

President-Elect, ASNA

After nearly 30 years of practicing as a nurse, it

is easy for me to forget the excitement and anxiety

of being a new nurse. Dr. Jennifer Humphries and

I were honored to pin our daughters this spring

as they graduated from nursing school. Jennifer's

daughter, Alisha Isbell, graduated from the University

of Alabama Capstone School of Nursing, while my

daughter, Hunter Hardin, graduated from Marian

University's School of Nursing in Nashville. Alisha

is working in the Emergency Department at DCH

Regional Hospital and Hunter is working in the

Operating Room at Vanderbilt University Hospital.

Going through the process with my daughter brought

back memories of both the relief of completing a

grueling nursing program and the anxiety of taking

on the responsibilities of a challenging career. I know

Jennifer and I both worry about the stressors and

risks our daughters will face in this ever-changing

healthcare environment. As we both pass the torch,

we hope to continue to advocate for nurses for

generations to come.

Also remember this could be you, and how would you

like to be treated?

Just remember compassion and patience.

Dr. Jennifer Humphries, Vice-President ASNA

and daughter Alisha Isbell

James Hardin, President-Elect ASNA and

daughter Hunter Hardin
---
Page 4 • Alabama Nurse August, September, October 2022

Five Auburn graduate students named to state's largest cohort

of Albert Schweitzer Fellows

Amy Weaver | Auburn Advancement

Five Auburn University graduate students are part of

the 2022-23 class of Albert Schweitzer Fellows, the largest

cohort to date for the Albert Schweitzer Fellowship of

Alabama.

The class of 20 students, representing fields of

medicine, pharmacy, nursing, nutrition science, public

health, dentistry and counseling at Auburn and the

University of Alabama at Birmingham, will spend 13

months immersed in community public health projects.

Their projects will improve the health and social

well-being of their populations of choice throughout the

state while simultaneously strengthening their leadership

skills. In doing so, they will continue the legacy of the

fellowship's namesake, the famed physician-humanitarian

Dr. Albert Schweitzer.

Auburn's fellows are Chelsea Gayre, College of

Nursing; Chigozie "Joi" Chinakwe, Micah Grey and

German "Andres" Tovar, Harrison College of Pharmacy;

and Jou-Chun "Renee" Pan, College of Education.

"We share in the Albert Schweitzer Fellowship of

Alabama's commitment to meeting the current and future

needs of underserved communities through the training of

the next generation of medical professionals," said Hollie

C. Cost, assistant vice president for University Outreach

and Public Service at Auburn. "We are particularly excited

about the unique opportunity this provides our graduate

students to develop and implement field-based projects that

positively impact these Alabama populations, perpetuating

AU Outreach's commitment to equity."

Growing up in the small, rural community of

Carrollton, Ohio, Gayre developed an interest in rural

communities and health care access. Her fellowship

project involves implementing telehealth services within

primary care offices.

"The goal is to identify disparities in care, identify best

practices and implement those for the purpose of testing

feasibility of long-term success within the community

health centers," she said. "We hope to close gaps in

social determinants of health for those residing in rural

communities who are unable to travel for specialty care.

I will work with the telehealth platform Vital Engine

LLC. and partners at the University of Alabama at

Birmingham."

Gayre currently holds a part-time registered nurse

position in the cardiac catheterization lab at Wellstar

Health System in Georgia. She received an associate

degree and a bachelor's degree in nursing from Kent

State University in Ohio before coming to Auburn for her

master's degree in nursing.

Pan, a first-year master's student in the clinical

rehabilitation counseling program, has a passion for

working with youth and emerging adults with disabilities

to help them improve their quality of life and support

their willingness to break the stigma against disabilities in

society.

Her project involves working with young adults with

disabilities, including their caregivers, at the BraveHeart

Center for Place and Purpose in Auburn to address their

special needs by using assistive technology to improve

their quality of life. In addition to enhancing youths'

time management, medication management, nutritional

awareness and social interaction skills, this health and

wellness project aims to support each student in achievin

their specific goals for the next chapter of their lives by

using a holistic and person-centered approach.

Pan says the ultimate goal will not only encourage

a higher level of independence as they transition into a

working environment or continue their education, but also

provide a channel for the participants to establish selfadvocacy,

self-determination and empowerment skills.

Chinakwe and Grey, members of the pharmacy Class

of 2025, are partners in their project, "Junior Healthcare

Leaders of Alabama," which focuses on providing health

literacy and health equity to underserved communities in

Macon County, Alabama.

"Being able to give back to Alabama's underserved

communities like those that reflect Macon County,

Marengo County and Dallas County has been a passion

of mine since attending Tuskegee University," said

Chinakwe. "Being able to carry Dr. Schweitzer's legacy,

teachings and generosity to areas of Alabama where I have

not only witnessed but experienced those hardships is so

fulfilling."

To address this issue, Chinakwe and Grey will provide

an after-school course to teach students how to manage

disease states, prevent negative health outcomes and

prepare them for health events that commonly impact

Alabamians on a day-to-day basis.

ADVANCED FORENSIC NURSING CARE EDUCATION FOR

SEXUAL ASSAULT NURSE EXAMINER (ANE/SANE)

ANE/SANE EDUCATION

The purpose of the ANE/SANE funding is to increase the number of

Registered Nurses (RNs), Advanced Practice Registered Nurses (APRNs)

and Forensic Nurses trained and certified as sexual assault nurse examiners

(SANEs) in communities on a local, state or regional level.

USA offers two online didactic

pathways to SANE education:

1. Community and

2. Academic (sub-specialty) Advanced Forensic Nursing.

Simulated patient clinical skills training, certification preparation,

continuing education and networking opportunities are available.

Contact us: www.southalabama.edu/con/SANE or (251) 517-5171

southsanes@southalabama.edu

"This publication is supported by the Health Resources and Services Administration (HRSA) of the U.S. Department of Health and Human Services

(HHS) as part of an award totaling approximately $1.1 million with zero percentage financed with nongovernmental sources. The contents are those

of the author(s) and do not necessarily represent the official views of, nor an endorsement, by HRSA, HHS or the U.S. Government."

"This fellowship will equip me with the tools

needed to successfully plan and run a community

service project, geared toward improving health

disparities, as well as health literacy in these

counties," said Grey.

For Tovar, a member of the pharmacy Class of

2024, his project, "Substance Use Disorder and its

Impact on Adolescent Brain Development," involves

addressing how adolescence is characterized by

numerous neurologic changes and increased hormonal

production, both impacting behaviors.

Though trends of alcohol, tobacco and marijuana

use among adolescents are decreasing nationwide,

Tovar notes that trends in Alabama are higher than

national averages, making it vital to educate teenagers

and prevent the development of substance abuse

disorder.

"I found that, by empowering our youth's agency

through knowledge and connection, it will enable

them to make better choices with the ultimate goal

of improving lives and improving society," he said.

"I feel inspired by the example of past and current

fellows and hope that I can add to success of the

Albert Schweitzer Fellowship as they have done."

Schweitzer Fellows work closely under the

guidance of community site partners and academic

mentors throughout the project period. Gayre is

mentored by nursing Professor Linda Gibson-Young.

Pan is mentored by Jinhee Park, assistant professor

and Clinical Rehabilitation Counseling Program

coordinator.

Chinakwe and Grey are mentored by Lawanda Gray,

coordinator of school health services with Macon

County Public Schools, and Pamela Stamm, associate

professor in the Harrison College of Pharmacy's

Department of Pharmacy Practice. Tovar is mentored

by Lindsey Hohmann, assistant professor in the

Department of Pharmacy Practice.

"The selection of new fellows each year is always a

highlight, but this year held special significance due

to the over 40 percent growth in the size of our 2022-

23 cohort," said Kristin Boggs, executive director

of the Albert Schweitzer Fellowship of Alabama.

"As vulnerable populations in our communities face

significant obstacles to health and improved quality of

life, it is encouraging to see more students rise to the

challenge of tackling these issues head-on.

"We are excited to come alongside these students,

along with our academic and community-site partners,

to channel their ideals and grow their commitment

to using their knowledge to affect change for underresourced

communities."

Upon completion of their fellowship year, the 20

Alabama Schweitzer Fellows and approximately 200

other 2022-23 Schweitzer Fellows from across the

United States will become Schweitzer Fellows for

Life, joining an active network of Schweitzer alumni

continuing their commitment to improving the public

health of underserved communities throughout their

careers.

Neal Reid, Matt Crouch and Latha Bhavnani

contributed to this story.

https://ocm.auburn.edu/newsroom/news_articles/

2022/06/301341-albert-schweitzer-fellows.php
---
August, September, October 2022 Alabama Nurse • Page 5

Membership Corner

Welcome New ASNA Members

(April 16 – July 15, 2022)

DISTRICT 1:

Alison Baker

Stacey Barnett

Robert Barricks

Mollie Brackett

Gloria Daniels

Erica Hall

Cori Johnson

Morgan Jordan

Barbie Kingsolver

Deeann Kizziah

Preston Miller

Liza Moss

Roxanne Navarro

Mackenzie Shrock

Ashley Smith

Jessi Tidwell

Shelley Torres

Mary Utsey

DISTRICT 2:

Janice Barnes

Kandice Bryson

Kacie Duncan

Amanda Forister

Shannon Hall

Vicki Hannah

Jasmine Hardy

Alva Johnson

Jennifer Josey

Aleshea Nicholson

Sherjohn Solis

Brooklyn Weems

DISTRICT 3:

Jessica Begue

Ethan Broadhead

Angela Bumpers

Cathy Byers

Amy Causey

Leslie Cox

Amanda Davis

Mardell Davis

Kate Fuah

Angela Glassford

Faith Gosa

Karen Michelle Isbell Hansen

Ina Helton

Pamela Henley

Lynda LaRue

Tiffany McCurdy

Angela Medici

Joseph Mitchell

David Mobley

Mercy Mugo

Maria Orrego Salas

Dannelle Paz

Fara Poe

Sameera Rajpari

Whitney Rucker

Amanda Sanford

Cecelia Sims

Briania Smith

Daphne Smith

Paula Sullivan

Emmalee Tidwell

Kimberly Turner

Lorene Waller

Tamela Washington

Donna Wiggins

Rachel Willoughby

Brian Wingate

DISTRICT 4:

Abiodun Ajayi

Jessie Black

Kelli Boots

Tracy Bucher

Jacobie Cheeseboro

Stacy Clements

Tara Coody

Toinetta Coolie

Hannah Crespo

Tamara Dabney

Susi Greene

Whitley Harper

Donna Holmes

Holly Horne

Marissa Jenkins

Melanie Love

Kenyada Marshall

Sheri Salas

Erin Sheppard

Kimberly Shoemaker

Amanda Yarbrough

DISTRICT 5:

Jeremy Allen

Kathleen Beesley

Sharon Blondheim

Dadreion Calhoun

Ariel Chavis

Kerrie Cox

Amy Dempsey

Jessica Gentry

Michelle Gilbert

Ida Graham

Kasey Holley

Crystal Hopkins

Molly Mims

Krystal Niel

Valarie O'Bannon

Ashley Pippin

Katrina Scruggs

Nikeysa Smith

Gary Walker

ASNA/ANA membership only $15 a month! Join your colleagues at alabamanurses.org!
---
Page 6 • Alabama Nurse August, September, October 2022

ASNA Names New

Executive Director

The Alabama State Nurses

Association (ASNA) Board of Directors

and Search Committee have named Dr.

Laura Hart as the next Executive Director

(ED) for the Alabama State Nurses

Association. Dr. Hart officially assumes

the ED role on September 1, 2022,

succeeding Dr. D'Ann Somerall who has

served as the interim ED since February

1, 2022. Dr. Hart has been a long-time

member of ASNA and has played an

active role in advancing the mission of

ASNA over the years.

Dr. Hart brings a wealth of clinical

experience to the ED role which will

serve all Alabama nurses well in knowing

firsthand the issues and struggles of

nurses. Dr. Hart is currently an Emergency Nurse Practitioner at Riverview

Regional Medical Center. She recently developed and owns a family practice

clinic in Rainbow City, Alabama.

Dr. Hart's involvement in ASNA includes serving on the Legislative

Committee since 2020. She has a vast knowledge of the components that are

required for Certified Registered Nurse Practitioners to gain full practice

authority (FPA). Dr. Hart's Doctor of Nursing Practice scholarly project

explored FPA legislation and what is needed for AL NPs to gain FPA. Dr. Hart

earned her DNP in 2020 from the University of Alabama at Huntsville.

Dr. Hart is excited about the opportunities that are ahead for ASNA and

nurses in Alabama. She recently stated, "I am passionate about improving the

role of the nurse in Alabama. I have worked my entire professional career for

an opportunity like serving as the ED of ASNA. I look forward to working

with the BOD and nurses throughout Alabama."

Please feel free to contact Dr. Hart beginning September 1, 2022 at

EDASNA@alabamanurses.org.

Convention News

Conference Theme:

Nurses: Up for the Challenge

ASNA 2022 Annual In-Person Convention

September 19–21, 2022

The Grand Hotel | Point Clear, Alabama
---
August, September, October 2022 Alabama Nurse • Page 7

Convention News

Guideline for Writing Resolutions

A Resolution reflects the priorities of any organization. The Alabama State Nurses

Association (ASNA) incorporates our Resolutions into the organization's Strategic Plan

for the following year. Shorter is better in writing a Resolution.

The title of a Resolution should reflect the intent of the document. Structurally, it begins with

"Whereas" statements. This will provide reasons and basic facts supporting the resolution of

the issue. The statements should lead the reader to your conclusion (resolved). They should be

factual rather than speculative and include references and/or statistical information to provide

support for the document. Structurally the statements need to be brief, specify the issue, reflect

urgency of the problem, effect of the issue, and indicate a call to action.

The Resolution concludes with a "Resolved" statement identifying a specific proposal

or course of action. This statement should be both actionable and measurable. Each

Resolution should be a single sentence in length and make sense when read alone as this

is a request for adoption of policy by ASNA.

Structure is as follows:

Whereas

Whereas

Whereas

Resolved,

Resolved,

Resolved,

The text of first preamble clause;

… text of the next to last preamble; and

… text of the last preamble clause; now, therefore, be it

The text of the action to be taken;

… text of next to last action to be taken; and

… text of last action to be taken.

Duties of Elected Officers

THE PRESIDENT-ELECT SHALL:

1. assume the duties of the president in his/her absence.

2. serve as a delegate to ANA House of Delegates.

3. serve as a liaison to the districts.

THE TREASURER SHALL:

1. be responsible for monitoring the fiscal affairs of the association and shall

provide reports and interpretation of ASNA's fiscal condition to the House of

Delegates, the Board, and the membership.

2. serve as chairperson of the Committee on Finance.

COMMITTEE ON NOMINATIONS, CHAIR APPOINTED BY BOARD, SHALL:

1. submit the proposed slate of nominees to the Board for approval.

2. develop and implement criteria for solicitation and selection of nominees.

THE COMMISSION ON PROFESSIONAL ISSUES SHALL:

1. develop policy alternatives essential to the purpose of the association and

submit recommendations to the Board.

2. provide for dissemination of information.

Nominations And Election Of Officers

Alabama State Nurses Association's (ASNA) nomination and election of

Officers shall be conducted in accordance with the current issue of Robert's Rules

of Order during the official meeting of the ASNA House of Delegates (HOD).

NOMINATIONS

A. Nominations Committee

a. Nominations from the Nominations Committee shall be accomplished

according to ASNA Bylaws.

B. Nominations from the floor of the HOD shall be accomplished according to

the current issue of Robert's Rules of Order.

ELECTION OF OFFICERS

A. Elections will be online/electronic.

B. A link will be sent to delegates following the close of the House of Delegates.

Positions for 2022 - 2024 Elections

President-Elect/Delegate

Treasurer

Commission on Professional Issues (4 positions)

Nominating Committee (3 positions, one each from Districts 1, 2 & 3)

Kierra Montgomery

kierra.montgomery@adph.state.al.us
---
Page 8 • Alabama Nurse August, September, October 2022

ASNA Delegate Responsibilities

Being a Delegate to a state convention can be an exciting experience but one has inherent

responsibility. As you know, the House of Delegates (HOD) is the governing and official

voting body of the Alabama State Nurses Association (ASNA). The House meets annually

per the ASNA by-laws. Members of the HOD play a crucial role in providing direction

and support of the work of the Alabama State Nurses Association. Delegates are elected

to the HOD to work for the betterment of ASNA and the nursing profession. Each delegate

is expected to study the issues thoroughly, attend each session of the HOD (including the

Open Forums), and engage in active listening and debate. Also, delegates are encouraged to

use the extensive resources and collective knowledge available at each meeting to provide

direction and support for the work of the organization. Such a commitment benefits the

individual delegate, the association, and the nursing profession.

If a delegate is unable to attend the 2022 ASNA House of Delegates, his/her district nurses

association should be notified at once. When alternate delegates are substituted for delegates,

it is the responsibility of the District President to notify ASNA of the change immediately.

Important information for ASNA Delegate Registration

Delegates are encouraged to register for convention in advance to expedite the

on-site credentialing process. Full registration includes all convention functions, meals

and events. Please note the cutoff date for the hotel discount is August 18, 2022. ASNA

has blocked a certain amount of rooms for this convention.

Convention News

To ensure eligibility for the credentialing process, delegates are required to present

their one picture ID at the Delegate Registration desk. Membership will be verified

on site at the time of registration. Each delegate will be issued a name badge, a delegate

ribbon, and informational materials upon proof of identification. The name badge

and delegate ribbon must be worn in order to be admitted to the floor of the House of

Delegates.

Please call the ASNA office at 1-800-270-2762 or 334-262-8321 if you have questions

or concerns.

Procedure for Registration of a Delegate

1. The most current membership roster available from ANA will be available either in

online or printed version.

2. The duties of the ASNA Delegates Credentials Committee (DCC) include all

phases of delegate registration. ASNA Staff will be on hand to assist and answer

questions.

3. All delegates must provide a current membership card and 1 (one) photo ID.

a. If the delegate's name and membership card match the current roster, a member

of the DCC will proceed to register the delegate.

b. If the delegate's name and membership number do not match the current roster,

the DCC will check the Master Delegate List (the original information supplied

by the district president). If the name appears on this list, the procedure for

registering an alternate delegate as a delegate will be followed.

4. Each delegate will be provided a name badge identifying them as a delegate.

5. The delegate is to be instructed to retain the House of Delegates name badge. This

name badge and some form of photo ID must be available during all sessions of

the House of Delegates, should the presiding officer call for a check of delegate

credentials.

6. The delegate's name will be marked on the control listing to develop a running

tally of those delegates who have completed delegate registration.

To access electronic copies of Alabama Nurse, please visit

http://www.NursingALD.com/publications
---
August, September, October 2022 Alabama Nurse • Page 9

Convention News

THANK YOU TO OUR CONVENTION SPONSORS

2022 Dr. Moore

Distinguished Faculty

Award Is Presented

To Dr. Barbara Wilder

The Dr. Jemelene Chastain Moore Distinguished

Faculty Award was established by Dr. Moore's son Hugh,

daughter-in-law Ann, and grandson David to honor Dr.

Moore, the first instructor hired by Dean Mary Woody in

the new school of nursing in 1979.

The award, presented annually, serves to recognize

a faculty member who has demonstrated exemplary

accomplishment in teaching, research, outreach, and/

or service. This is the fourth year that the College of

Nursing has presented this award. Dean Newschwander

invited Hugh Moore, who was at the pinning ceremony

on May 6, to present the award to Dr. Barbara Wilder.

https://lnkd.in/gP53hB26
---
Page 10 • Alabama Nurse August, September, October 2022

The Secret of How to Get Rich and Retire Comfortably

Hint: If you are over 50 don't bother reading

Mark Miehle

There is line from an old TV commercial about Fram®

oil filter. The line goes like this: Pay Me Now, Or Pay Me

Later. The implication is that you can pay only a couple

of dollars for the oil filter now, or a whole lot of money to

repair the engine later. Saving for retirement is a lot like

protecting your car. If you start saving a little early, you

won't be forced to save a lot later or worse not be able to

retire.

Albert Einstein called compound interest the 8th

wonder of the world. When we talk with older nurses about

retirement, almost without exception every one tells us they

wish they had started earlier. The reason for their wish

is simple: time. They have learned that time allows money to grow. Properly

invested in a taxed deferred account your money will double every 10 years at a

7.2% return (1) . Here are three examples of how time, compound interest and a tax

deferment can work for you.

Make only one $5,000 contribution into a retirement program at the age of 25

earning 7.2%. By the time you were 65, that $5,000 would have grown to $80,000!

($160,000 if you wait until age 75) Instead if you wait until the age 55 to start

saving you would have to make ten $5,000 contributions, one every year until you

age 65 (1) . Which would you rather do?

- One payment of $5,000 and let time make up the other $75,000 or

- Ten payments of $ 5,000 for a total of $50,000 to earn $30,000?

Don't have $5,000 to contribute in one year? Here is another example:

- Make 9 payments of $2,000 a year starting when are age 30 for a total

contribution of $18,000. The $18,000 will be worth $ 148,859 by age 65

(assuming 7.2% return(1) ).

- Or wait until age 39 and start making payments of $ 2,000 a year, every year

until you are 65 for a total contribution of $52,000. The $52,000 will be

worth $ 146,968 by assuming 7.2% return(1)). Which would your rather do?

Don't have $ 2,000 a year? How about $100 a month?

- If you save $100 a month starting at the age of 20, by the time you are 65 you

will have a nest egg of $908,734(1)!

- Or wait until you are 55 to start and you will have only $20,146(1). (see chart)

Which amount would your rather have?

We have all heard the adage that time is money. Use time to your advantage! So

when is the best time to start saving for retirement? The correct answer is when

you first start working. But since there is no time machine, the best time is now, no

matter how old you are. Don't put off saving until a rainy day. Make plans now.

If you would like a free savings calculator that will show you how big your nest egg can be

or want to learn how to set a plan, contact me at mrmiehle@firstfidelitygroupllc.com.

(1) The examples shown are hypothetical illustrations only and are not indicative of any

particular investment or investment performance. It does not reflect the fees and

expenses that might be associated with any particular investment, which would reduce the

performance shown in this hypothetical illustration if they were included. In addition, rates

of return will vary over time, particularly for long-term investments.

Copyright © 2022 First Fidelity Group LLC
---
August, September, October 2022 Alabama Nurse • Page 11

Getting Clear on Bullying Versus Incivility

Renee Thompson, DNP, RN, CSP

Reprinted with permission from

Florida Nurse,

February 2022 issue

Numerous studies show the

prevalence and devastating

impact disruptive behaviors

have on nurse retention and

satisfaction, patient safety

and the financial health of

an organization. Today, more

than ever, the unpredictable, life-and-death nature of

the pandemic has created an environment that is ripe

for an increase in workplace bullying and incivility.

Research at the Healthy Workforce Institute shows an

uptick in bad behavior and nurses are experiencing

greater workplace incivility now more than ever before.

Additional studies show:

• 45.7% of nurses said they witnessed more

incivility than before the pandemic (El Ghaziri et

al., 2021).

• 14.3% of surgery patients had higher

complications with surgeons who had one to three

reports of unprofessional behaviors compared to

those surgeons who had no reports of disruptive

behaviors (Cooper et al., 2019).

• 94% of individuals have worked with a toxic person

in the last five years; 51% of the targets stated they

are likely to quit as a result (Kusy, 2017).

Developing successful, targeted interventions to

reduce bullying and incivility among nurses will require

that leaders develop awareness and understanding of

nurses' unique experiences with disruptive behavior.

One of the biggest areas of confusion that makes it

difficult to address and eliminate bad behavior is a

misunderstanding about the differences between bullying

and incivility.

An important first step to educating yourself and your

employees is to get clear on those differences. This will

help you raise awareness, set expectations, and develop

appropriate strategies to eliminate each type of disruptive

behavior. Bullying should be a NEVER event, but not

everything is bullying and when we call everything

bullying, we lessen our chances of identifying and

addressing true bullying behavior.

BULLYING

For a behavior to be considered bullying, it must

include three things:

A Target-This target can be a single person or group of

people. Group targets can include the opposite shift, new

nurses, or nurses who have a particular ethnic background.

Harmful-The behavior must be harmful in some way.

This harm can be to the target or harmful to a patient.

Repeated - The most important element of bullying.

The behavior can't be just a one-time event, it must be

repeated over time.

INCIVILITY

Incivility is different from bullying but tends to be

much more pervasive. While the behaviors can be similar,

they tend to be lower level. Incivility shows up as your

typical rude, unprofessional, inconsiderate behaviors: eyerolling,

condescension, favoritism, alienation, gossiping,

mocking, cursing. Make no mistake about it, incivility is a

healthy and professional workplace killer, and needs to be

addressed.

The Bottom Line

Bullying and incivility can destroy work

environments and impact patients in a negative way.

The key is to get very clear on the behavior – is it

bullying (target, harmful, repeated) or incivility (low

level, rude, and unprofessional). We are hemorrhaging

nurses due to bad behavior and it's time we get

educated on how to recognize and address bullying and

incivility so that we can cultivate a more respectful and

professional work culture.

References

Cooper, W., Spain, D., Guillamondegui, O., et al. (2019, June).

Association of Coworker Reports About Unprofessional

Behavior by Surgeons with Surgical Complications

in Their Patients. JAMA Surgery, 154(9), 828–834.

doi:10.1001/jamasurg.2019.1738

El Ghaziri, M., Johnson, S., Purpora, C., Simons, S. and

Taylor, R. (2021, July). Registered Nurses' Experiences

with Incivility During the Early Phase of COVID-19

Pandemic: Results of a Multi-State Survey. Workplace

Health & Safety. doi:10.1177/21650799211024867

Kusy, M. (2017). Why I don't work here anymore: A leader's

guide to offset the financial and emotional cost of toxic

employees. Boca Raton, FL: CRC Press

Bio:

As an international speaker and consultant, Dr. Renee

Thompson tackles the challenges facing healthcare leaders

today. With 30 years as a nurse, Renee is an expert on

creating healthy workforces by eradicating bullying &

incivility. She is in demand as a keynote speaker and has

authored several books on bullying.

Your Dream

Find

Job Now!

Nursing

NOW HIRING

Value Based Care

RNs and LPNs

• Day Hours

• Competitive Pay

• Hybrid Schedules

Apply at

completehealth.com/patients/careers/
---
Page 12 • Alabama Nurse August, September, October 2022

How Can Employers Address the Nursing Shortage Post-COVID?

Annice Deweese

As people live longer and require more healthcare

services in old age, the demand for nurses is rising.

And even before COVID-19, we faced a rising nursing

shortage due to other factors, such as high turnover,

too-few nursing educators, and a lack of family

care benefits. Now that more nurses are leaving the

profession due to burnout and stress, we need some kind

of intervention.

Employers need solutions to the nursing shortage.

But, as with many things in life, quick fixes are not

enough, and the solution is more complicated.

Let's explore some realistic nursing shortage

solutions to help organizations fight the shortage and its

inevitable impact on healthcare professionals, patients,

and the entire profession.

Nursing Shortage Solutions for Employers

Here are some things employers can do to start

changing things.

According to a policy brief from the International

Council of Nurses (ICN), over 70 percent of National

Nursing Associations (NNAs) say their countries are

working to increase their number of nursing students.

However, that still leaves three to four years between

new nurses as students complete school. At the same

time, other pressing matters related to the shortage

remain.

While governments will need to address some areas,

employers are responsible for making changes in others.

Prioritize Support for Current and Future Nurses

As employers wait for nurses in training, they should

put their efforts into retaining current nurses,

recruiting new nurses intelligently, and encouraging

former nurses to return. That means developing smart

recruiting and retention strategies through:

• Improved working conditions

• Better pay and benefits (including family care

benefits)

• Protecting nurses' safety on the job

• Providing adequate psychological support to address

trauma, burnout, and other mental health issues

• Addressing the gender gap in nursing to ensure

fair pay

This all means fostering a healthy work environment

for everyone. Maybe that includes setting up a wellness

area for hospital staff to relax, sleep, and eat during

breaks. Other ways to support team members and create

a space workplace include:

• Fitness memberships

• Healthy snacks

• Virtual counseling

• Wellness workshops

• Leadership development

• Childcare assistance

• Regular "mental health days"

Organizations should ask themselves what nurses

genuinely want and need to have the nurse stick around.

Widespread answers are a healthy work environment,

reasonable workloads, more work-life balance,

recognition for a job well done, and promotion and

continuing education perks.

Consider what you can offer employees to make you

a more desirable and supportive place to work.

Offer Education and Career Development

Opportunities

Healthcare organizations can help boost hiring

numbers by making it easier for nurses to complete their

education and pursue career goals. For example:

• Tuition reimbursement

• Integrated education programs

• Housing assistance

• Flexible schedules that work around class times

• Childcare assistance

• On-site leadership development programs

• Internal career paths

• Certification training

These workplace benefits can help employers attract,

recruit, and retain nursing staff by supporting them

with their long-term goals.

Lean on Data and Digital Marketing

Make sure your recruiting and marketing methods

are data-driven and target your ideal candidates.

Find out what nurses in your area want most from an

employer, and tap into those areas in your policies,

workplace environment, and recruiting and marketing

efforts.

https://www.alabamamediagroup.com/2022/07/01/howcan-employers-address-the-nursing-shortage-post-covid/