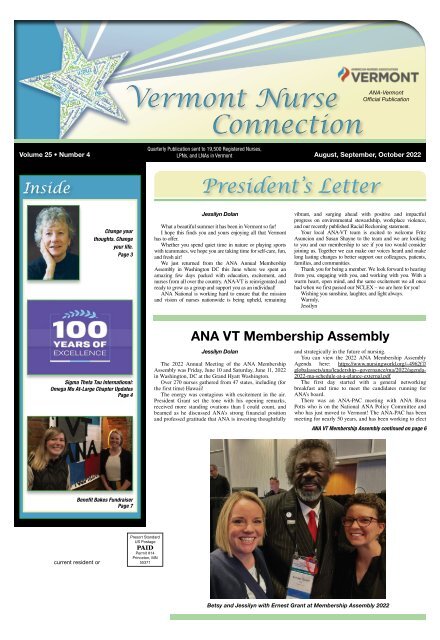 Vermont Nurse Connection - August 2022
You also want an ePaper? Increase the reach of your titles
YUMPU automatically turns print PDFs into web optimized ePapers that Google loves.
Vermont Nurse

Connection

ANA-Vermont

Official Publication

Quarterly Publication sent to 19,500 Registered Nurses,

Volume 25 • Number 4 LPNs, and LNAs in Vermont

August, September, October 2022

Inside

Change your

thoughts. Change

your life.

Page 3

Jessilyn Dolan

What a beautiful summer it has been in Vermont so far!

I hope this finds you and yours enjoying all that Vermont

has to offer.

Whether you spend quiet time in nature or playing sports

with teammates, we hope you are taking time for self-care, fun,

and fresh air!

We just returned from the ANA Annual Membership

Assembly in Washington DC this June where we spent an

amazing few days packed with education, excitement, and

nurses from all over the country. ANA-VT is reinvigorated and

ready to grow as a group and support you as an individual!

ANA National is working hard to ensure that the mission

and vision of nurses nationwide is being upheld, remaining

vibrant, and surging ahead with positive and impactful

progress on environmental stewardship, workplace violence,

and our recently published Racial Reckoning statement.

Your local ANA-VT team is excited to welcome Fritz

Asuncion and Susan Shayne to the team and we are looking

to you and our membership to see if you too would consider

joining us. Together we can make our voices heard and make

long lasting changes to better support our colleagues, patients,

families, and communities.

Thank you for being a member. We look forward to hearing

from you, engaging with you, and working with you. With a

warm heart, open mind, and the same excitement we all once

had when we first passed our NCLEX – we are here for you!

Wishing you sunshine, laughter, and light always.

Warmly,

Jessilyn

Sigma Theta Tau International:

Omega Mu At-Large Chapter Updates

Page 4

ANA VT Membership Assembly

Jessilyn Dolan

The 2022 Annual Meeting of the ANA Membership

Assembly was Friday, June 10 and Saturday, June 11, 2022

in Washington, DC at the Grand Hyatt Washington.

Over 270 nurses gathered from 47 states, including (for

the first time) Hawaii!

The energy was contagious with excitement in the air.

President Grant set the tone with his opening remarks,

received more standing ovations than I could count, and

beamed as he discussed ANA's strong financial position

and professed gratitude that ANA is investing thoughtfully

and strategically in the future of nursing.

You can view the 2022 ANA Membership Assembly

Agenda here: https://www.nursingworld.org/~4962f7/

globalassets/ana/leadership--governance/ma/2022/agenda-

2022-ma-schedule-at-a-glance-external.pdf

The first day started with a general networking

breakfast and time to meet the candidates running for

ANA's board.

There was an ANA-PAC meeting with ANA Rosa

Potts who is on the National ANA Policy Committee and

who has just moved to Vermont! The ANA-PAC has been

meeting for nearly 50 years, and has been working to elect

ANA VT Membership Assembly continued on page 6

Benefit Bakes Fundraiser

Page 7

current resident or

Presort Standard

US Postage

PAID

Permit #14

Princeton, MN

55371

Betsy and Jessilyn with Ernest Grant at Membership Assembly 2022
---
Page 2 • Vermont Nurse Connection August, September, October 2022

A Message from the Executive Director

Amy Martone, MBA, BSN, RN, NPD-BC

It has been a very exciting three months for the

ANA-Vermont! We welcomed two new Directors to

our Board, participated in a fundraiser with Benefit

Bakes, and sent two Vermont nurse representatives to

the ANA Membership Assembly in Washington, D.C.!

These successes have provided us with great energy and

momentum forward. I am excited to see what we can

achieve together in the next three months.

The ANA-Vermont Board is working together to

finalize a strategic plan that will be used to guide our

initiatives in the coming year. Earlier this month, the

Board met for an in-person strategic planning session in

Burlington. It was a wonderful day filled with inspiration

and collaboration! Our strategic plan will be finalized in

the near future and shared with you.

One item in our strategic plan is to engage with the

members we represent by listening to their personal

If you wish to submit a "Letter to the Editor," please

address it to:

Cynthia Peterson

VermontNurseConnection@gmail.com

Please remember to include contact information,

as letter authors may need to be contacted by the

editors of the VNC for clarification. NOTE: Letters to

the Editor reflect the opinions of the letter authors

and should not be assumed to reflect the opinions

of the ANA-Vermont.

Cynthia Peterson, MSN, RN, Editor

experiences, innovative ideas, and professional concerns.

In doing this, the ANA-Vermont understands the

prevalence of workplace violence in our practice settings,

and the immediate need for action to advocate to protect

nurses. The ANA-Vermont hosted a series of virtual

Nursing Forums that connected Vermont nurses with

States Attorneys from across the state for facilitated

dialogue. Thank you to all that participated in this series

as developing a relationship with key stakeholders was the

first step in our advocacy and action.

Lastly, we are excited for you to read this newsletter

because we have been working to increase the content

contributed by Vermont nurses. I hope that you will

find the articles exciting and engaging as we focus on

highlighting the achievements and accomplishments of

nurses in our state and sharing a local nursing perspective

on special interests. If you are interested in writing an

article, I would encourage you to reach out to our editor

Cynthia Peterson at VermontNurseConnection@gmail.

com, or me at ExecutiveDirectorANAVT@gmail.com.

Deadlines for the

Vermont Nurse Connection

Are you interested in contributing an article to an

upcoming issue of the Vermont Nurse Connection? If so,

here is a list of submission deadlines for the next 2 issues:

Vol. 26 #1 – October 10, 2022

Vol. 26 #2 – January 11, 2023

Articles may be sent to the editor of the Vermont

Nurse Connection at:

Cynthia Peterson

VermontNurseConnection@gmail.com

Official publication of ANA-Vermont, a constituent member

of the American Nurses Association. Published quarterly every

January, April, July and October. Library subscription price is $20

per year. ISSN# 1529-4609.

Editorial Offices

ANA-Vermont, 4 Carmichael Street, Suite 111, #215, Essex, VT

05452, PH: (802) 651-8886, E-mail: VermontNurseConnection@

gmail.com

Editor: Cynthia Peterson

Advertising

For advertising rates and information, please contact Arthur

L. Davis Publishing Agency, Inc., PO Box 216, Cedar Falls, Iowa

50613, (800) 626-4081, sales@aldpub.com. ANA-Vermont and the

Arthur L. Davis Publishing Agency, Inc. reserve the right to reject any

advertisement. Responsibility for errors in advertising is limited to

corrections in the next issue or refund of price of advertisement.

Acceptance of advertising does not imply endorsement or

approval by ANA-Vermont of products advertised, the advertisers,

or the claims made. Rejection of an advertisement does not imply

a product offered for advertising is without merit, or that the

manufacturer lacks integrity, or that this association disapproves

of the product or its use. ANA-Vermont and the Arthur L. Davis

Publishing Agency, Inc. shall not be held liable for any consequences

resulting from purchase or use of an advertiser's product. Articles

appearing in this publication express the opinions of the authors; they

do not necessarily reflect views of the staff, board, or membership of

ANA-Vermont or those of the national or local associations.

Content

ANA-Vermont welcomes unsolicited manuscripts and

suggestions for articles. Manuscripts can be up to:

• 750 words for a press release

• 1500 words for a feature article

Manuscripts should be typed double-spaced and spell-checked

with only one space after a period and can be submitted:

1) As paper hard copy

2) As a Word Perfect or MS Word document file saved to a

CD-Rom or zip disk

3) Or e-mailed as a Word Perfect or MS Word document file to

VermontNurseConnection@gmail.com.

No faxes will be accepted. Authors' names should be placed after

title with credentials and affiliation. Please send a photograph of

yourself if you are submitting a feature article.

All articles submitted to and/or published in Vermont Nurse

Connection become the sole property of ANA-Vermont and may not

be reprinted without permission.

All accepted manuscripts may undergo editorial revision to conform

to the standards of the newsletter or to improve clarity.

The Vermont Nurse Connection is not a peer review publication.

Articles appearing in this publication express the opinions of the

authors; they do not necessarily reflect views of the staff, board,

or membership of ANA-Vermont or those of the national or local

association.

Copyright Policy Criteria for Articles

The policy of the ANA-Vermont Editorial Board is to retain

copyright privileges and control of articles published in the Vermont

Nurse Connection unless the articles have been previously published

or the author retains copyright.

ANA-Vermont Officers and Board of Directors

President ...................................Jessilyn Dolan

Vice President ............................. Dionne Heyliger

Secretary ...............................Samantha Gambero

Treasurer ......................................Amy Swarr

Director ....................................Michelle Wade

Director .....................................Susan Shayne

Director ....................................Fritz Asuncion

Delegate Membership Assembly .................Betsy Hassan

Alternative Delegate ........................Cynthia Peterson

ANA-Vermont Foundation Board

President ....................................Carol Hodges

Vice President ..............................Christina Olcott

Treasurer ......................................Amy Swarr

Secretary ..................................Christina Olcott

Trustee .....................................Jessilyn Dolan

Trustee ...................................Meredith Roberts

Trustee .....................................Michelle Wade

Trustee ........................................... Vacant

Trustee ........................................... Vacant

VNC Editor

Cynthia Peterson

Committee Chairpersons

Bylaws ........................................Amy Swarr

Finance ........................................Amy Swarr

Government Affairs ..........................Jessilyn Dolan

Membership & Publicity ...................Amy Visser-Lynch

Nominations & Elections ......................Michelle Wade

Programs ......................................... Vacant

Congressional Coordinator for Welch .........Meredith Roberts

Senate Coordinator for Sanders ..............Meredith Roberts

Senate Coordinator for Leahy ...............Meredith Roberts
---
August, September, October 2022 Vermont Nurse Connection • Page 3

Change your thoughts. Change your life.

"Every great dream begins

with a dreamer. Always

remember, you have within you

the strength, the patience, and

the passion to reach for the

stars to change the world."

~ Harriet Tubman

Early on in my career I was

recruited into a position as the

HIV Clinical Nurse Manager

for an inner-city health center.

One day the director of the

center walked into my office,

sat down and said, "Do you

know some people are like

Priscilla Smith-

Trudeau

trucks stuck in mud?" I sat there flummoxed and tonguetied

waiting for her to continue so that I wouldn't have

to answer the question. She did continue to vent how the

staff in general didn't like change. After she left, I began

to ponder if I was a person who didn't like change. Could

I be or become one of those people? Throughout my

career I have encountered situations where I was asked to

change something or adapt to the changes. When I felt like

resisting the changes being made, I found myself asking

"am I like a truck stuck in mud?"

"Progress is impossible without change, and those who

cannot change their minds cannot change anything."

~ George Bernard Shaw

As nurses, we have come to understand that the concept

of change is an inevitable part of life and that the way we

practice today is increasingly dynamic. Realizing that

nothing lasts forever is one of the keys to lasting happiness

and peace. The other important factor is knowing what

parts of our lives we can change and what parts we cannot.

We discover in the course of our lives that reality refuses

to bow to our commands. We are forced to let go when we

want to hold on, and to hold on when we want so much to

let go. There are unexpected twists, unwanted endings, and

challenges of every puzzling kind. As nurses we know and

understand that we must change our skills, behaviors, and

ways of working with one another if we are to continue

playing a valuable and meaningful role in our profession.

As scary and difficult as it may be, change forces us to

look at our lives and ourselves, with fresh eyes. Do I need

to change? Do I need to change jobs? What am I looking

for in a job? Am I searching for a job or the work I was

born to do? What is my purpose in healthcare? Do I stay

where I am or do I move on? Robert Quinn, a renowned

expert on deep change suggests that deep change is the

path to self-understanding and the key to revitalization

of an individual. By finding our own moral core and

beginning to see ourselves and our organizations in

new and more productive ways, he explains, we can

transform ourselves from victims to powerful agents of

change. He goes on to say, "We need to look within for

at least two reasons. The first has to do with purpose:

Making fundamental choices about who we are. The

second involves revisiting our fundamental choices and

continuously realigning our behavior accordingly. By

honoring and acting in alignment with our ideals, we grow

within and increase what Gandhi called soul-force. The

clearer we are about ourselves, the greater is our capacity

for change." i Dr. Mary-Frances Winters suggests in her

book, Only Wet Babies Like Change, that we must first

take a walk with ourselves. This journey of self-reflection

and introspection involves asking the tough questions.

Have I found my authentic self? How do I respond to

change? What do I have to learn, unlearn, and relearn to

find fulfillment in my job? ii Change is the operative word

for successful and resilient nurses. If you can identify the

sources of your resistance to this dynamic atmosphere, you

can work to minimize the negative attitudes and results of

changes you are going through. Equally important, you

can make change your friend, not your enemy. Gandhi was

correct when he said, "You must be the change you wish to

see in the world."

"If you don't like something change it. If you can't change

it, change your attitude." ~ Maya Angelou

Changes often hurt when they first emerge, but resisting

them goes against the way the world works. Developing

an appetite for the unknown might initially feel like a

reckless act. But being with change is not haphazard. It's

an intentional practice that takes courage. It invites us to

stand up and explore our lives with vigor, knowing we

will never experience this moment again. As corny as

it sounds, everything really is only here for now. It's all

ephemeral. When we realize this, we can open our eyes

to what's in front of us and be present to what is coming

and going. You don't have to want what's coming. But

you can always smile knowing that, whatever it is, it too

shall pass. iii You'll never change your life until you have

stepped out of your comfort zone. It's only after you've

stepped out of your comfort zone that you begin to change,

grow, and transform. Real change can be difficult at the

beginning. Without the familiar to rely upon, you may not

be in as much control as you had once been. When things

are not going your way, you may start doubting yourself. iv

Honoring the unease and discomfort that goes along with

change is important, but taking the initiative to move past

these emotions and master the art of change allows you to

feel like you have agency and power in your life. You don't

need to be fearful or "just go along for the ride." In fact,

each and every change you encounter is a new opportunity

for you to be a significant player in shaping the newfound

world you now inhabit. v

"The only way to make sense out of change is to plunge

into it, move with it and join the dance."

~ Alan Watts English Writer

It's undeniable that change is integral to our personal

development. You may think of yourself as someone who

doesn't like change, but it's important to always remember

that change is inevitable. Many huge career changes will

not stop and ask your permission first. They will happen

with or without your consent. However, there are still

some changes that you can take control of, so it's better to

embrace the course of change and make it your own along

the way. Choice, not chance, determines destiny. We have

all said at one time or another, I need to change, but can

I? Will I? Do I dare? What will become of my treasured

past, the familiar sameness of my life? In the end as nurses

we know that we will change because we want to achieve

our maximal potential. We want to leave our signature,

though invisible, on others' lives so that when our career

ends, others will begin. That is a nursing legacy of positive

change.

The ANA-Vermont website has been updated:

ANA-Vermont.org. We will continue to update and

expand the website.

Do you want to stay updated on the latest ANA-Vermont has to offer?

Learn of webinars offered by the ANA?

How you can earn CEU hours?

'Like Us' on Facebook. Find us at

https://www.facebook.com/VTNurses

REASONS WHY

CHANGE IS GOOD

1. IT ALLOWS US TO MOVE FORWARD.

2. IT CAN MAKE US BREAK A

ROUTINE.

3. IT CAN ALLOW US TO THINK OUT OF

THE BOX.

4. IT CAN GIVE US HOPE FOR THE

FUTURE.

5. IT CAN HELP US TO BECOME MORE

FLEXIBLE.

6. IT CAN MAKE US STRONGER

EMOTIONALLY.

7. IT CAN BRING NEW INNOVATIONS

TO LIFE.

8. IT CAN REFRESH OUR ATTITUDE

TOWARDS LIFE.

ADAPTED FROM: HTTPS://WWW.

MINIMALISMMADESIMPLE.COM/HOME/

CHANGE-IS-GOOD/

"The greatest discovery of all time is that a person can

change his future by merely changing his attitude."

~ Oprah Winfrey

Priscilla Smith-Trudeau, MSM, RN, BSN, CCM,

CRRN, HNB-BC is board certified in holistic nursing

and board certified in rehabilitation nursing. She has

been a nurse for forty-five years and understands the

interconnectedness of body, mind and spirit. She brings

a comprehensive holistic and integrative approach to her

practice for providing whole person care.

i Quinn, R. E. (1996). Deep change: Discovering the leader

within. Jossey-Bass, San Francisco, CA

ii Winters, M.F., (2002). Only Wet Babies Like Change.

Winters Group, Inc., St. Paul, MN

iii Smookler, E., (2017). Why change is your greatest ally.

Retrieved April 22, 2022 from: https://www.mindful.org/

change-greatest-ally/

iv Bennett, R., (2021). The Light in the Heart. Published by

author

v Koffler, T. (2017). The art of easing into change. Retrieved

May 4, 2022 from: https://www.mindful.org/art-easingchange/

South Burlington School District

Seeking School Nurses, Nurse Assistant, and

Substitute Nurses for the 2022-2023 School Year

RN: Full, part-time and on-call positions available. Provides health services and maintains

records. A BSN from an accredited program, current RN license, and must hold/eligible for an

Educator's license in school nursing. Experience with school-aged population is preferred.

LPN/Health Assistant: Under the direction of the School Nurse, provides health

services and maintains records. Current Licensed Practical Nurse (LPN), Registered

Nurse (RN), or EMT certified. Experience with adolescent aged students is preferred.

Please apply through SchoolSpring.com, Keyword: South Burlington

School District or contact Elissa Galvez, HR Employment Specialist

at 802/652-7247 or egalvez@sbschools.net.

Questions regarding our social media and website?

E-Mail: vtnurse@ana-vermont.org

SFC Theodore P. Provost

AMEDD Specialty Branch Manager

theodore.p.provost.mil@mail.mil

802-338-3405
---
Page 4 • Vermont Nurse Connection August, September, October 2022

Sigma Theta Tau International:

Omega Mu At-Large Chapter

Updates

By Susan Shayne, BSN, RN, CPPS

Sigma Theta Tau International is celebrating 100 years of excellence on October

5th this year. Chapters across the world will partner to showcase and celebrate the

achievements of our organization. Vermont's Omega Mu At-Large Chapter has many

reasons to celebrate including successfully launching a chapter on Oct 6, 2019 and

immediately being thrown into the pandemic. The lessons learned and challenges we

faced have made us a stronger and more cohesive chapter with members from across the

state and numerous practice settings. Stay tuned for more information on how we will be

celebrating this year.

Vermont Technical College and Norwich faculty banded together to bring Sigma and

its membership benefits to their nursing students and nurse leaders. Starting out as the

Greater Vermont Nursing Honor Society and working with Sigma leadership we were

able to grow our honor society to 50 student and nurse leader members and worked

to meet the rigorous standards to become our own STTI chapter. We were thrilled to

become chartered in 2019 as the Omega Mu At-Large Chapter. Recently, we extended

membership to Castleton University nursing students in order to support more nurses

across the state in joining and benefitting from Sigma membership. Sigma Theta Tau

International Nursing Honor society welcomes baccalaureate and graduate nursing

students by invitation, or nurse leader members by application. You can apply online

today at: https://join.sigmanursing.org or you can view our chapter website here: http://

omegamu.sigmanursing.org/.

One of our goals as a chapter is to increase the number of nurse leaders and this year

have happily extended membership to six new nurse leaders. We are proud to announce

that we currently have 147 members, 38 members living outside of Vermont, and one

member is a Virginia Henderson Fellow. You can learn more about becoming a Virginia

Henderson Fellow here: https://www.sigmanursing.org/docs/default-source/Foundation-/

vhf-brochure---low-res-updated.pdf?sfvrsn=2.

We encourage nurse leaders who promote healthy communities through education,

research, and volunteer projects that transform healthcare locally and ultimately globally

to apply online today to join us at https://join.sigmanursing.org by selecting "I am a nurse

leader" on the webpage.

Leaders increase diversity in an organization and can act as mentors assisting

colleagues in promoting evidence-based practice and research and encouraging bravery

to implement change (Wei & Horton-Deutch, 2022). Leader mentoring is important

work and supports new nurses as they embark on their journey in a very changeable

environment. In mentoring, leaders are able to educate, model, and encourage nurses to

collaborate, publish, engage in research, and develop relationships that support policy

and practice. In doing this work and sharing information, news, and activities between

Sigma chapters and our American Nurses Association we strengthen all of our work.

Sigma Theta Tau International provides a structured onboarding process that creates

a succession plan to promote learning from each other; this includes an orientation to

offices held and can encourage members to develop skills by participating in task forces

and committees. Members also have access to many free or discounted continuing
---
August, September, October 2022 Vermont Nurse Connection • Page 5

nursing education credits. Our new nurses have access to

"Surviving Your First Years as a Nurse" and free online

journal access that provides free contact hours.

At the Spring Induction meeting, we hosted Dr. Sandra

C. Garmon Bibb, DNSc, RN, FAAN Sigma Presidentelect,

who passionately discussed this year's Sigma's

missions and goals to twenty-four inductees. This set the

stage for the installation of new board Omega Mu at-Large

members 2022-2023:

• Paulette Thabault, President

• Susan Shayne, Vice President

• Karen McKenny, Treasurer

• Mary Hill, Secretary

• Carolyn Stannard-Carlo, Faculty Counselor -

Vermont Technical College

• Corey Bennett, Faculty Counselor - Norwich University

• Virginia Kittell, Awards Committee, Char

• Linda Havey, Governance Committee, Chair

• Julie Jones, Membership Involvement Committee,

Chair

• Leadership Succession Committee Members: Jason

Kirchick and Lisa Fox

• Governance Committee Members: Jess Sherman and

Ann Laramee

The Strategic planning committee of the board also met

to review specific goals to fulfill the mission and vision

of Omega Mu at-Large for the next three, five, and ten

years. Ideas included: community service, scholarship and

research, programming, chapter benefits, communications,

leadership development, financial, recruitment, and

networking. The Omega Mu at-Large Membership will

be surveyed soon to help direct the work they would like

our chapter to undertake and how to get involved. We will

narrow down our goals based on member feedback and

how we can meet the needs as chapter leaders.

In early 2022, the board sent a survey to members to

find out what our members were looking for in terms of

programming. This review netted some of the following

results: 54.5% of respondents attended an event last year,

86.6 % wanted professional growth and development, and

50% enjoyed the in-person networking we missed over the

last few years. We will use this information and more as a

planning guide moving forward.

Decision Making Regarding Surgical Attire Guidance

Adherence-Beyond New England" by Carole "Gert" Mayes,

Ph.D., RN, NPD-BC, CNOR. Dates will be provided soon

for their 2023 presentations to the membership.

Sigma Theta Tau and the Vermont American Nurses

Association are hand in hand in supporting nurses across

the state and having an impact on the health of all of our

populations. Nurses continue to be on the front line, in the

board room, at the decision-making table, in the legislature, the

classroom, hospital, public health department, senior housing,

the list goes on and on. We are brave, bold, and know how to

pull together to gather and share our expertise, our evidenced

based practice, and to support each other as we move through

these challenging times in healthcare and in our profession.

Reference:

Wei, H., & Horton-Deutsch, S. (2022). Visionary leadership in

healthcare: Excellence in practice, policy and ethics. Sigma

Theta Tau International.

Susan Shayne, BSN, RN, CPPS has extensive experience

in supporting nursing students and faculty in advocating

for innovative clinical experiences and professional

development. She holds a breadth of healthcare experience

to include specialized pain management and regulatory

compliance. Additionally, she hold specialty certification

as a Certified Professional in Patient Safety. Susan is a

Director on the ANA-Vermont Board of Directors and is the

Sigma Theta Tau Omega Mu Chapter Vice President.

The Medical Reserve

Corps of SW Vermont

Thank you to all the volunteer nurses

and clinicians who joined our Unit

during COVID19 and helped Vermont be

the national leader in State vaccinations.

Come join our Unit and be ready for the next emergency or

pandemic! Great training, teamwork and opportunities to

help Vermonters.

Sign-up Today!

VT Health RMS (vermont.gov) | 802-447-6401

In the meantime, here are a few Omega Mu Save the

Dates:

• Walk to End Alzheimer's at the Shelburne Museum

September 18th: https://act.alz.org/site/TR/

Walk2022/VT-Vermont?pg=entry&fr_id=15950

• Breast Cancer Making Strides in South Burlington

on October 9th: https://bit.ly/TeamJulieStrides

• Breast Cancer Making Strides in Castleton on

October 16th: https://secure.acsevents.org/site/

STR?fr_id=102813&pg=personal&px=58057998

We are also planning on our fall induction to name

a few upcoming events. Please look for upcoming

communications regarding these events on our Facebook

page https://www.facebook.com/groups/2120701528180899/,

newsletter, and email communication.

The Omega Mu at-Large Chapter also awarded two

research grants this year for research conducted by our

members: "Changing Minds, Changing Lives for Vermont

Nurses" by Cynthia Peterson, MSN, RN, and an honorable

mention for "Exploring Intraoperative Team Members'

• Inpatient Medical Surgical Unit

• Charge RN- Emergency Room

• Primary Care

• Operating Room

• Maternal/Child Health

• PACU

• ER RN

Voices of Vermont Nurses

premiered at VSNA Convention 2000 and

is available from the ANA-Vermont Office at:

ANA - Vermont

4 Carmichael Street, Suite 111, #215

Essex, VT 05452

Price: $20 each book

(plus $3.95 for postage and handling)

Make check or money order payable to:

VERMONT STATE NURSES FOUNDATION

Name: _____________________________________

Address: ___________________________________

City: _______________________________________

State: __________________ Zip: _______________
---
Page 6 • Vermont Nurse Connection August, September, October 2022

ANA VT Membership Assembly continued from page 1

and re-elect nurse champions to public office. It's critically

important - now more than ever - to make sure nurses have

a seat at the table.

At one point during opening comments, immediately

after a new nurse professed how nervous she was to speak

out, I joyfully reminded the entire room to "Speak up,

even if your voice shakes," and thanked the new nurse,

everyone in the room, and ANA for their service and

advocacy.

Together, we highlighted and celebrated the work

that ANA has been doing with a hearing on our recently

released ANA Racial Reckoning Statement which you can

view here: https://www.nursingworld.org/practice-policy/

workforce/racism-in-nursing/RacialReckoningStatement/

After a report by the Nominations and Elections

Committee, President Grant again entertained and

educated us all with his elegant and elevating words.

Detailed, concise reports by several ANA Subsidiaries

and Constituent Associations helped us understand our

partnerships and colleagues in the American Academy

of Nursing, American Nursing Credentialing Center,

American Nurses Foundation, and National Student

Nurses Association.

Reports from the ANA Chief Nursing Officer, ANA

Treasurer, and ANA Vice President finished the morning

leaving everyone ready for more, excited for the future of

nursing, and reveling in all that ANA has accomplished.

After lunch, we participated in several dialogue

forums: Impact of Climate Change on Health, Advancing

Solutions to Address Verbal Abuse and Workplace

Violence Across the Continuum of Care, and Nurse

Staffing. These forums were ripe with discussion and

debate as nurses from all across the country shared their

thoughts, concerns, and aspirations.

Vermont's representatives urged the ANA to be

mindful of "zero tolerance" language in Advancing

Solutions to Address Verbal Abuse and Workplace

Violence Across the Continuum of Care in regards to

certain patient populations - such as children living with

Autism, or adults living with Dementia.

Voting delegates and board representatives of each

state voted in support of all forums.

That evening, we had another Candidate Forum

to meet and greet those running for ANA, which was

followed by Regional Meetings and an ANA-PAC

Reception.

Day two started off with your President and delegate

proudly representing you and Vermont nurses, and voting

to choose our new officials!

The APRN Task Force met to work on "Enterprise:

Tools to Dismantle APRN Practice Barriers."

It wouldn't be a nursing conference without discussing

the impact and implications of COVID-19. We also heard

a warm and heartfelt greeting from the International

Council of Nursing (ICN) President with a message to all

nurses about how important "influence" is and continues

to be, as well as highlighting Nurses For Peace and the

efforts to support Ukraine.

Our own ANA CEO spoke about ANA and nurses as

having emerged from the COVID-19 pandemic stronger

and more determined to achieve our vision and strategic

plan, citing three E's: Elevate, Engage, and Evolve.

The second morning wrapped up with a Recognition

of Outgoing Members on the ANA Board of Directors,

a Nightingale Tribute, and announcements by ANA Vice

President.

At lunchtime, participants had the option to

participate in one of several meetings: Amplifying the

Voice of the Nurse, Addressing the US Opioid Crisis,

The Role of State Nursing Leaders as Instrumental

Stakeholders Feedback Opportunity, Revision of the

Nursing Administration, or Scope and Standards of

Practice

The second day concluded with a Report of the ANA

Professional Policy Committee and Head Teller. Newly

elected officials were also recognized and honored.

Nurses were also given the opportunity to share both

new business and issues they would like to engage in

including reproductive freedom, gun rights, and inclusive

language for LGBTQIA+ individuals.

Closing remarks by the ANA President again left

everyone teary-eyed, laughing, and enlightened. A roomshaking

karaoke to "We Are Family" infused the room

with energy and offered a powerful conclusion to an

amazing and exciting two days!

Join Our Team &

Make a Difference!

All people share a powerful need for the basic necessities of a

good life and a place that understands that good health starts

with a caring touch and a kind word. For over 50 years, the

Community Health Centers of Burlington (CHCB) has provided

access to high quality health care regardless of financial status or

life circumstance. We strive to improve the health of all within the

communities we serve in an environment that conveys respect,

offers support, and encourages people to be actively involved in

their own health care.

Vermont Nurses at Membership Assembly

CHCB is an innovative Federally Qualified Health Center with

sites throughout Chittenden County and southern Grand

Isle County. We are an Equal Opportunity Employer and are

especially interested in candidates who can contribute to the

diversity and excellence of the organization.

CHCB is growing and so is our

nursing team!

We have opportunities for

Registered Nurses, Nurse Educators,

Clinical Nurse Supervisors,

and more!

Come join our mission-minded,

collaborative, and creative team!

Apply now on our Career Center at

CHCB.ORG/CAREERS
---
August, September, October 2022 Vermont Nurse Connection • Page 7

Celebrating Vermont's Nurses

– Islane Louis, MSN, PMH-BC

By Betsy Hassan, DNP, RN, NEA-BC, CPPS

On May 13th, 2022 Islane Louis, MSN, PMH-BC was recognized by the Nurses with

Global Impact, Inc. at their 6th Annual Nurses with Global Impact International Nurses

Day event for her work spanning 15 years of nursing.

Islane began her international nursing work in 2007 while living in Haiti. She was

practicing close to a nearby village that had no access to pediatric care. She became

aware of Dr. Karen Schneider, Assistant Professor from Johns Hopkins University School

of Medicine who participated in Mercy Medical Missions, Inc. in Haiti. This connection

and mentorship with Dr. Schneider propelled Islane's efforts in developing mobile

pediatric clinics, implementing pediatric home visits, providing financial resources for

medical interventions, and providing much needed care to the children of Haiti.

Over her 15 years in this work Islane has had an incredible impact on patients,

families and healthcare teams in Haiti. While she now lives in Vermont, she continues

her connection to Haiti through supporting a nursing school there and hopes to plan to

bring nursing students to Haiti as part of an international clinical experience as she is

also Clinical Nursing Faculty for the University of Vermont College of Nursing.

In asking Islane what she is most proud of she states, "Honestly, everything I do is

what I am supposed to be doing. I never feel like I'm doing anything extraordinary. I am

most proud of being able to make a difference, even it's just providing hope to someone

who is hopeless. I am privileged to be a part of their journey." Islane's humbleness is a

testament to her benevolent character and aligns with nursing's greatest work – caring for

those most in need.

Vermont is fortunate that Islane chose this as her home and her place of nursing

practice. Our patients, families, nursing students, and communities benefit from her

experience, expertise, and dedication to advancing nursing practice. Congratulations

Islane – so well deserved!

Benefit Bakes Fundraiser

On Tuesday, May 17th the ANA-Vermont partnered with American Flatbread in

Burlington for a Benefit Bake night! The Benefit Bake proceeds provide aid in funding

the ANA-Vermont Annual Nursing Conference later this fall. Through the generosity of

our community, the ANA-Vermont will continue to provide professional development

and continuing education opportunities for Vermont Nurses. Thank you for everyone that

came out on May 17th and supported the ANA-Vermont!

Pictured here Cynthia Peterson, MSN, RN, CCRN, ANA-Vermont Vermont

Nurse Connection Editor and Betsy Hassan, DNP, RN, NEA-BC, CPPS,

ANA-Vermont Board of Directors

Your next opportunity is at the Vermont

Veterans' Home!

We invite you to become part of our health-care

team where we focus on resident-centered care

fulfilling America's promise to care for our country's

Veterans, their Spouses, and Gold Star Parents.

Together we strive to create an environment that

provides our residents with the dignity and respect

that they so rightfully deserve.

Pictured here is Islane Louis, MSN, RN, PMH-BC on May 13th, 2022 at the

Nurses with Global Impact, Inc. International Nurses Day event in

New Jersey!

Nursing Employment Opportunities

Licensed Nursing Assistant –

Job Posting ID #32202

Licensed Practical Nurse –

Job Posting ID #32242

Registered Nurse I – Job Posting ID #32264

Registered Nurse II – Job Posting ID #32302

Nurse Supervisor –

Job Posting IDs #34301, 32262, 32263

For more information on the above openings or other

opportunities, contact Joyce.Santacross@vermont.gov.

Vermont Veterans' Home website:

https://vvh.vermont.gov

State of Vermont careers website:

https://humanresources.vermont.gov/careers

The State of Vermont offers an excellent total compensation package. To apply, you must use the online job application at https://careers.

vermont.gov. For questions related to your application, please contact the Department of Human Resources Recruitment Services at

(800) 640-1657 (voice) or (800) 253-0191 (TTY/Relay Service). The State of Vermont is an Equal Opportunity Employer.
---
Page 8 • Vermont Nurse Connection August, September, October 2022

US Supreme Court's Decision

to Overturn Roe vs. Wade:

Is a Serious Setback for

Reproductive Health and

Human Rights

SILVER SPRING, MD – The American Nurses Association (ANA) is dismayed by

the 6-3 ruling of the U.S. Supreme Court in Dobbs v, Jackson Women's Health which has

overturned the longstanding and significant precedent of Roe v. Wade. The Dobbs ruling

removes the right of all women to access high-quality health care and make personal

decisions about their sexual and reproductive health care. In doing so, it potentially

paves the way for laws that will fundamentally come between patients and health care

professionals, including nurses, who must be guided by ethical obligations to their

patients and the profession.

"ANA is deeply disappointed in the decision to upend Roe v. Wade, which we view

as a legal protection of basic reproductive health rights and human rights," said ANA

Enterprise CEO Loressa Cole, DNP, MBA, RN, FAAN, NEA-BC.

Nurses have an ethical obligation to safeguard the right to privacy for individuals,

families, and communities, allowing for decision making that is based on full

information without coercion. As the largest group of health care professionals, nurses

have for decades assisted their patients with weighing the benefits, burdens, and available

options, including the choice of no treatment, when discussing sexual health issues and

pregnancy. ANA firmly believes that no nurse should be subject to punitive or judicial

processes for upholding their ethical obligations to their patients and profession.

In March 2022, ANA affirmed that abortion is a reproductive health alternative

that nurses can discuss when counseling patients. Nurses have a duty to respect the

decisions of their patients, including those decisions that are related to sexual health

and pregnancy. Respect for patient decisions does not mean that the nurse must agree or

support the decision. Nurses can exercise their right to refuse to participate in sexual and

reproductive health care based on ethical grounds, as long as patient safety is assured and

care by others has been arranged.

"No matter their philosophical differences or belief systems, all nurses must strive

to remain consummate health care professionals and display empathy and respect

to all," said Cole. "This is a complicated issue and deeply personal for all, including

nurses. Nurses, leaders, all health care professionals, and the public must engage on this

issue with empathy and respect."

ANA will continue to advocate for reproductive justice and sexual health that supports

a patient's decision and rights in a just society.

###

The American Nurses Association (ANA) is the premier organization representing

the interests of the nation's 4.3 million registered nurses. ANA advances the profession

by fostering high standards of nursing practice, promoting a safe and ethical work

environment, bolstering the health and wellness of nurses, and advocating on health care

issues that affect nurses and the public. ANA is at the forefront of improving the quality

of health care for all. For more information, visit www.nursingworld.org.

have thousands

We

nursing jobs!

of

Find your dream job now.

Springfield is nestled in the Connecticut River Valley, a short drive

to lakes, mountains and the ocean. Whether your preference is

hiking or skiing; biking or walking; sunbathing or sailing – or doing

nothing at all – you don't have far to go to find it in Springfield.

Find Your New Career!

Now hiring Registered Nurses in the

Emergency Department, Inpatient Care

Unit, and Windham Center.

If you are looking for new career

opportunities, working with a team that is

changing healthcare in new and exciting

ways, visit springfieldhospital.org/careers

or scan the QR code to apply today.
---
August, September, October 2022 Vermont Nurse Connection • Page 9

Celebrating ONL's 2022 Award

Recipients

The Organization of Nurse Leaders has been recognizing the many contributions

and achievements of nurse leaders since 1982. This year, four Vermont nurses

received awards. Please join us in congratulating the following nurse leaders on their

achievements:

ANA-Vermont - Representing

Vermont Nurses: Vermont

Commission on Women

By Betsy Hassan, DNP, RN, NEA-BC, CPPS

• Carol Conroy, DNP, RN, FAAN received the 2022 Mary B. Conceison Award

which recognizes the outstanding contributions of a nursing service administrator.

Dr. Conroy is a longtime ONL member and recently served as ONL President.

Congratulations to Carol on this well-deserved award!

• Susan Boyer, DNP, MEd, RN, NPD-BC, FAAN received the 2022 Pamela Leigh

Vecchiarino award which recognizes nurse leaders who are patient-focused change

agents committed to improving outcomes. Dr. Boyer was selected to receive this

award based on her leadership, entrepreneurial approach, and scope of impact in

her practice. Congratulations, Dr. Boyer!

• Betsy Hassan, DNP, RN, NEA-BC, CPPS received one of the 2022 Sharon A.

Smith Scholarship Awards this year. Betsy was selected as a recipient of this award

that honors the legacy left by Sharon A. Smith to support nurse leader development

and continued educational journeys. Betsy is currently pursuing a Master of Legal

Studies at Seton Hall University School of Law. Congratulations, Betsy, on this

scholarship award!

• Cynthia Peterson, MSN, RN, CCRN received one of the 2022 Sharon A. Smith

Scholarship Awards this year. Cynthia was selected as a recipient of this award

that honors the legacy left by Sharon A. Smith to support nurse leader development

and continued educational journeys. Cynthia is currently pursuing her PhD in

nursing at the University of Massachusetts Amherst and a graduate certificate in

Healthcare Administration from Champlain College. Congratulations, Cynthia, on

this scholarship award!

The Vermont Commission on Women (VCW) was founded in 1964 by Governor

Philip Hoff. Nearly 60 years later, the Vermont Commission on Women is governed

by 16 Commissioners appointed by the Governor, Speaker of the House, or the Senate

Committee on Committees, and has an Advisory Council of 27 representatives of

organizations serving women and girls in Vermont. 1 The Vermont Commission

on Women purpose is "to advance rights and opportunities for women and girls in

Vermont." In supporting this purpose the VCW:

• "conducts research and study of issues affecting the status of women in Vermont;

• advises and consults with the executive and legislative branches of State

government on policies affecting the status of women in Vermont;

• educates and informs business, education, State and local governments, and the

general public about the nature and scope of sex discrimination and other matters

affecting the status of women in Vermont;

• serves as a liaison and clearinghouse between government, private interest groups,

and the general public concerned with services for women." 1

The ANA-Vermont serves as a member of the Advisory Council to the Vermont

Commission on Women. In this role the ANA-Vermont Advisor participates in

meaningful dialogue on a monthly basis and adds the unique perspective of the nursing

paradigm. Meetings occur monthly from September to June. If you'd like to learn more

visit the website at https://women.vermont.gov/who_we_are.

Betsy Hassan, DNP, RN, NEA-BC, CPPS is a board certified nurse leader and

holds a doctorate of nursing practice from the MGH Institute of Health Professions.

She represents Vermont Nurses perspectives as an Advisory Council member to the

Vermont Commission on Women. Her professional areas of expertise include workforce

development, professional development, shared decision making, and leadership.

1 About Us | Commission on Women (vermont.gov)
---
Page 10 • Vermont Nurse Connection August, September, October 2022

Marilyn Rinker Memorial

Scholarship

Marilyn Rinker Leadership Scholarship Application

Application – 2023 deadline: March 25, 2023

Name: ______________________________________________________________

Address: _____________________________________________________________

Telephone #: _____________________ Email Address: _______________________

Vt RN Lic #______________________ VONL member since __________________

School of Nursing: _____________________________________________________

Currently in which year? 1 2 3 4 year of graduation (if applicable) ________________

Graduate school ________________________ 1st yr __________ 2nd year__________

expected date of graduation_______________

If employed in nursing, current employer ___________________________________

Currently receiving Financial Aid, Grants, Scholarships? Yes ________ No ________

If yes please list the sources_______________________________________________

Please attach to this form:

1. Résumé

2. Most recent transcript of grades demonstrating a cumulative average of 3.0 (B)

3. A brief essay (500 words or less) describing nursing leadership experience and

aspirations, community service experience, commitment to serve in Vermont,

and financial need

4. At least two (2) letters of recommendation (at least one academic and one work

related)

5. Evidence of acceptance in an accredited program leading to an advanced degree

in nursing if not yet matriculated.

I understand that if I receive an Advanced Degree Nurse Leaders

Scholarship, I commit to practice nursing in Vermont for a minimum period

of two years following graduation.

Student signature: _______________________________ Date: __________________

Return application (with attached materials) before March 25, 2023 to:

Martha Buck, VAHHS/VONL

148 Main Street, Montpelier, VT 05602

(802)223-3461/ext. 111 Martha@vahhs.org

The Marilyn Rinker Memorial Scholarship Award was established by the Vermont

Organization of Nurse Leaders in 2009 to honor Marilyn's lifelong commitment and

dedication to professional nursing practice, nursing education and leadership. Marilyn

held many leadership positions during the course of her career such as Nursing

Director for Medicine and Cardiology at Fletcher Allen Health Care (University of

Vermont Medical Center); Oncology Clinical Coordinator at the Vermont Regional

Cancer Center; Clinical Research Nurse and Educator in Vermont and Rhode Island;

and, BSN Nursing Program Director at Norwich University. Marilyn also served as

the Executive Director of the Vermont State Nurses' Association and President of the

Vermont Organization of Nurse Leaders.

This award provides scholarship support in the amount of $1000 for a qualified

registered nurse to participate in an approved course of study leading to an advanced

degree with an emphasis in nursing leadership.

Application Criteria for the Marilyn Rinker Memorial Award

1. Current member of ONL

2. Registered nurse or advanced practice registered nurse currently licensed in the

state of VT*

3. Demonstrated commitment to nursing leadership as evidenced by participation

in professional seminars, organizations, work accomplishments, project,

recommendations of peers

4. Currently enrolled or accepted in an accredited program that will lead to an

advanced degree in nursing

5. Willingness to commit to completing the program as indicated by realistic

timeframe.

6. GPA of 3.0 or the equivalent

7. Two (2) supportive professional recommendations

8. A double-spaced, short essay (500 words or less) of the reasons this nominee

should receive the award according to the criteria listed above

9. Nominee's current Curriculum Vitae

Nominations must be submitted by March 25, 2023. Annual scholarship award

announcement will be made at the member reception and awards gala at the ONL

Annual Meeting.

*Vermont RNs will receive first priority. Applicants from other states will be

considered if there are no applicants from Vermont or the scholarship criteria are not

met by applicants from Vermont.

https://survey.zohopublic.com/zs/6AbihO

Do you consider yourself a patient champion?! Do you want to create a caring

community, where patients seeking mental health find hope, compassion, and

excellent clinical care? Collaborative Solutions Corporation/Second Spring

Intensive Residential Programs is seeking energetic Registered Nurses, like you,

who are ready to be part of a holistic, collaborative, multidisciplinary team that

is devoted to delivering high-quality residential care to Vermonters with chronic

and persistent mental health diagnoses.

Apply directly to join our team:

brattlebororetreat.org/careers

Start on a Career Path with a Purpose

Inspired by the courage of our patients, the Brattleboro Retreat is dedicated to children, adolescents

and adults in their pursuit of recovery from mental illness, psychological trauma and addiction. We

are committed to excellence in treatment, advocacy, education, research and community service.

In addition to our beautiful campus, nurses enjoy:

• 12 hour shifts

• Competitive pay $34.51- $52.93/hr depending on experience

• Peace of mind working in a safe, low-risk environment for COVID-19

• Extensive clinical orientation

• Collaborative work environment

• Ongoing in-house clinical education

• Training in Six Core Strategies, an evidenced-based framework to reduce

conflict in the inpatient behavioral health setting

• Robust benefits

• Generous signing bonus

Students encouraged to apply! Talk to our RN Recruiter:

Grace Albert-Gardner, BSN, RN: galbertgardner@brattlebororetreat.org

We are looking for Vermont RNs with great clinical skills and an even greater

desire to provide compassion and hope to people who have frequently

experienced many difficulties in their lives. We welcome applications from

seasoned professionals and new graduates alike!

A general description for this position is:

• Provide primary and psychiatric nursing care to patients with both chronic

and acute conditions; assess patients for signs and symptoms of mental

illness and their response to treatment

• Participate in daily primary-care in interdisciplinary treatment team

population management planning; review and analyze clinical data to

evaluate the effectiveness of the treatment plans

• Perform disease prevention and infection prevention/control activities

• Perform delegation to unlicensed staff

This position is not for LPN's, LNA's, or Traveling Nurses.

Please check out our website to learn more:

https://www.collaborativesolutionsvt.org/
---
August, September, October 2022 Vermont Nurse Connection • Page 11

ANA-VT

Membership Application

Nursing continues to be the most trusted

profession as indicated in annual surveys. This

attests to the collective contributions nurses make

as they care for patients, families and communities.

Efforts of individual nurses however deserve special

recognition by colleagues, employers, patients,

families and friends. There are many reasons

to Honor a Nurse such as: to thank a mentor, to

acknowledge excellent care given by a nurse to a

patient, to celebrate a milestone such as a birthday

or retirement, or to recognize a promotion. Just

think for a moment, you will know a nurse to honor.

Celebration: The honored nurses and the persons

nominating them will be recognized at the ANA-

Vermont Convention in 2022. The honored nurses

each will receive a certificate identifying the person

recognizing her/him as well as the reason for the

honor. Submit nominations by: September 1, 2022.

All contributions are tax deductible to the full

extent allowed by law. ANA-Vermont Foundation

is a 501(c)3 organization. Nominations this year are

online.

Please go here to nominate someone:

https://www.nursingworld.org/foundation/

donate/honor-a-nurse/

NOW ENROLLING FOR FALL 2023

HELEN.PAPEIKA@CASTLETON.EDU

IS YOUR NURSING

ORGANIZATION PLANNING

AN EDUCATION PROGRAM?

CONSIDER APPLYING FOR

CONTACT HOUR APPROVAL

FOR MORE INFORMATION

CALL THE ANA-Vermont OFFICE @

(802) 651-8886

The Northeast Multi-State Division, (NE-MSD) is accredited as an

approver of continuing education in nursing by the American Nurses'

Credentialing Center's Commission on Accreditation.
---
Page 12 • Vermont Nurse Connection August, September, October 2022

Where Do I Go From Here?

Sharon Broscious, PhD, RN

Program Director South University RN-BSN

Online Program

Reprinted with permission from Virginia Nurses Today,

August 2021 issue

As the COVID-19 pandemic winds down, you may be

asking yourself questions about your professional future.

What's my next career step? What does my professional

future hold for me? The stress of the COVID-19 pandemic

may have created these nagging questions for you, and

you might be unsure what steps you should take to

answer them. The physical, emotional, psychological, and

financial impact of the pandemic on nurses has been well

documented. A plethora of publications in professional

journals and on websites as well as newspaper and television

reports have discussed the impact of the COVID-19

pandemic on nurses. Terms such as burnout, compassion

fatigue, moral injury, PTSD, and healthcare worker

exhaustion are used to describe the physical and mental

effects of COVID-19 on healthcare providers (Chan, 2021;

ICN, 2021). In an interview on NPR, the phrase "crushing

stress" of the COVID-19 pandemic was used (Fortier, 2020).

Not only did the nursing workload change – increased

number of patients per assignment, increased number of

shifts, increased length of workday due to insufficient

staff – but also other factors compounded the stress on

staff. Lack of equipment such as PPE, the unknowns about

the disease itself with policies changing almost daily,

and perceived lack of support from leadership have also

contributed to the COVID effect (ICN, 2021) on nurses.

Some facilities attempted to prepare and support staff for

the pandemic surges, to varying levels of successful impact.

While providing meals to nurses who could not take time

for a meal break was helpful, as the pandemic persisted,

nurses needed more support from their leadership teams.

The recent COVID-19 report released by the

International Council of Nurses (ICN) (2021) describes the

exacerbation of burnout and exhaustion of nurses during

2020. National nursing associations reported approximately

80% of their members identified as feeling stressed. In a

survey of healthcare workers conducted by Mental Health

America (Lagasse, 2020), 93% indicated feeling stressed,

and 76% reported feeling burned out with 55% questioning

their career focus. Similar results were found in a survey

from Brexi (2020) with 84% of responding healthcare

workers identifying some burnout and 18% reporting total

burnout. In addition, almost half had considered quitting

their job, retiring, or changing their career focus. The top

five stressors that respondents identified, in order, were

"fear of getting COVID-19, long hours/shifts, general state

of the world, fear of spreading COVID-19, and family

responsibilities/issues" (Berxi, 2020, para 2). Additional

stressors identified by Shun (2021) include physical,

emotional and moral distress related to ethical issues

faced by nurses such as dealing with patient deaths, scarce

resources, and forced changes in practice.

The 2021 Frontline Nurse Mental Health and Well Being

Survey (Trusted Health, 2021) revealed for nurses under

age 40, 22% indicated they were less committed to nursing.

Ninety-five percent of the nurses responding indicated

their physical and mental health were not a priority in their

workplace or the support received from leadership was

inadequate. Finally, 66% of respondents indicated they

were experiencing depression and a decline in their physical

health. A poll by the Washington Post-Kaiser Family

Foundation (2021) indicated 62% of healthcare workers felt

mentally stressed from the pandemic with their greatest

fears of them getting infected, infecting their families, or

other patients. Another challenge identified was working

while wearing PPE (Kirzinger et al., 2021).

Prior to the pandemic, Shah, et al. (2021) reported

burnout was the third leading cause of nurses leaving their

jobs. However, the pandemic intensified levels of stress

and burnout. From the perspective of Maslow's hierarchy,

Virkstis (2021) described the need for leadership to focus

on basic needs of staff, not high level self-actualization.

The basic needs were identified as: a safe working

environment, clear mission, time to reflect on what was

happening, and time to connect with peers.

Considering the factors identified here, it is no surprise

that you may be asking what is the next step for you in

handling stress, burnout, and career questions.

Step 1 – Do I stay where I am?

You may be asking the following: Do I leave my job as

other nurses have? Do I want to, or can I continue working

where I am? Do I just need some time off?

The first step to take is self-reflection or self-evaluation. If

you are unsure about a change, pause and take some time to

think about it. Consider staying where you are to determine

how your workday has changed after COVID-19 and

whether factors such as workload, staffing, and equipment,

for example, have improved. Remember wherever you go,

everyone will be rebuilding after the pandemic and trying to

return to a previous level of normalcy, or an improved level

based on lessons learned from the pandemic.

Before making a decision, reflect on your job prior to

the pandemic. Was this job a good fit for you? Were you

happy with your job? Answers to these questions can

guide you to remain in your current job to see if those

same positive feelings come back after the pandemic. The

area you work in may not be exactly the same as it was,

but it could be even better. Other reasons leading you to

consider a change may include the work environment,

the leadership of your current unit, or lack of potential

for growth in your current position. This introspective

evaluation provides time to think about other opportunities

or make plans for change if that is your final decision.

Step 2 – Do I change my career path?

There are numerous websites that provide steps to take

when changing your specialty or your role, but the first

step should be:

1. Identify your passion. What makes you happy? Selfreflection

and serious thought can help provide this

answer.

Additional steps to consider include:

2. Complete a SWOT analysis. Guidelines for completing

a SWOT analysis can be found on the internet.

• Identify your strengths: skills, experiences,

education, support from peers/family.

• Identify weaknesses: communication skills,

leadership skills, skills needed for a new path.

• Identify opportunities: What specialty areas might

be of interest? Do you want to be in a hospital
---
August, September, October 2022 Vermont Nurse Connection • Page 13

or in the community? Do you want to move to

administration or education and have less direct

patient contact? What works for your family?

The Johnson & Johnson Campaign for Nursing's

Future, provides information about 96 nursing

specialties; this might be a good place to start

looking for new opportunities as it may present some

potential employment ideas you had not previously

considered. A list of more than 100 nursing

organizations is available at https://nurse.org/orgs.

shtml In addition, the Illinois Nursing Workforce

Center web page includes a list of professional

nursing organizations (http://nursing.illinois.gov/

nursingspeciality.asp).

• Identify threats. What barriers exist that might

keep you from making this change – family

responsibilities, work hours desired, access to a

new role in your geographic area, skills or specific

educational background needed. A threat such as

educational level may turn into an opportunity to

return to school.

3. What are your goals in five or ten years?

4. When you have decided on a new role – develop an

action plan or timeline to establish your transition

to the new role. What steps do you need to take to

make this change?

5. Refresh your resume. While you may consider that a

move from pediatrics to geriatrics would not provide

you with appropriate skills, there are many skills

you have that are transferable – your assessment

skills for example, understanding lab results,

providing care to someone who may be unable to

describe how they feel, or organization skills.

6. Network. Talk to someone who currently works in

the specialty you are considering. If the specialty

has a professional organization, peruse their website,

attend a local meeting, or read their journals and

social media networks to help you connect with

nurses in the specialty you are considering.

7. Draw on your support system and mentors to

overcome any barriers/challenges that may be

keeping you from making a change.

8. Resources on the VNA/ANA websites provide

information about available jobs, resume writing,

and interviewing. Scheduling a live meeting with a

career coach is also available.

9. After you have made a specialty change, give

yourself a chance to get acclimated to the new path

you have chosen.

10. Consider staying on good terms with your current

employer. A reference will be needed when applying

for a new position. Staying on good terms may also

be beneficial if the new specialty or organization

change does not work out.

Step 3 – Do I leave nursing and change my profession?

Your reflection may lead you to leaving the nursing

profession. Many of the steps in this process are the same

or similar to the steps above in changing your career path.

1. Begin again with self-reflection/evaluation. What

makes you feel fulfilled? What would you like to do?

What are your interests?

2. Identify areas of interest. There are a number of free

aptitude tests available on the internet that can guide

you in identifying a new career or attend a career

fair. New careers could be with pharmaceutical

companies, insurance companies, the government, or

in education for example.

3. Complete a SWOT analysis

4. What are your goals?

5. Identify the skills/education needed for the new career

6. Develop action plan

7. Network

8. Career counseling – obtain a career coach, see the

VNA/ANA websites

9. Connect with your support system

10. Keep your license current, you may decide at some

point in time you want to return to nursing.

The COVID-19 pandemic has likely changed you

personally and professionally, has certainly changed

healthcare, and has without a doubt changed the world.

What you do to fulfill your life is a priority, so take time

to carefully consider what you want to do and where you

want to be.

As Steve Jobs (2005) said, "Your work is going to

fill a large part of your life, and the only way to be truly

satisfied is to do what you believe is great work. And the

only way to do great work is to love what you do. If you

haven't found it yet, keep looking. Don't settle. As with all

matters of the heart, you'll know when you find it."

References

Berxi. (December 8, 2020). State of healthcare workers in

2020. Business Wire. https://www.businesswire.com/news/

home/20201208005303/en/

Chan, G.K., Bitton, J.R., Allgeyer, R.L., Elliott, D., Hudson,

L.R., Moulton Burwell, P. (May 31, 2021) The impact of

COVID-19 on the nursing workforce: A national overview

OJIN: The Online Journal of Issues in Nursing 26 (2),

Manuscript 2. DOI:10.3912/OJIN.Vol26No02Man02

Fortier, J. (December 16, 2020). ICU Workers are quitting due

to crushing stress from COVID-19 surge. (Radio broadcast)

Morning Edition – NPR.

International Council of Nurses. (January 13, 2021). The

COVID-19 Effect: World's nurses facing mass trauma, an

immediate danger to the profession and future of our health

systems.

ICN, https://www.icn.ch/news/covid-19-effect-worlds-nursesfacing-mass-trauma-immediate-danger-profession-andfuture-our

Jobs, S. (June 12, 2005), Stanford Commencement Address.

https://news.stanford.edu/2005/06/14/jobs-061505/

Kirzinger, A, Kearney, A, Hamel, L., & Brodie M. (April 6,

2021). KFF/The Washington Post Frontline Health Care

Workers Survey. https://www.kff.org/report-section/

kff-the-washington-post-frontline-health-care-workers-

survey-toll-of-the-pandemic/?utm_campaign=KFF-2021-

polling-surveys&utm_medium=email&_hsmi=2&_

hsenc=p2ANqtz--iaCcoAuZ0CZUTZn7HHpdxV5L9Fup

s2XQo2KMt8EYKKP_J3ppmXnSGWTPlbCKV22LE_

QkSI0MO__BEFpHKrtaZ9CXF8w&utm_content=2&utm_

source=hs_email

Lagasse, J. ed (December 8, 2020) Healthcare workers

experiencing burnout, stress due to COVID-19

pandemic. Healthcare Finance News https://www.

healthcarefinancenews.com/news/healthcare-workersexperiencing-burnout-stress-due-covid-19-pandemic

Shun, S.C. (2021). COVID-19 Pandemic: The challenge to

the professional identity or nurses and nursing education.

The Journal of Nursing Research 29(2), e138. doi: 10.1097/

JNR.0000000000000431

Shah, M.K., Gandrakota, N., Cimiotti, J.P., Ghose, N., Moore,

M., & Ali, M. (2021). Prevalence of and factors associated

with nurse burnout in the US. JAMA Network Open 4(2),

e2036469 doi:10.1001/jamanetworkopen.2020.36469

Trusted Health. (2021). 2021 Frontline Nurse Mental Health &

Well- Being Survey https://www.trustedhealth.com/notahero

Virkstis, K. (March 11, 2021). Nurse burnout didn't start with

Covid-19. (And it won't end with Covid-19, either.). Advisory

Board https://www.advisory.com/daily-briefing/2021/03/11/

nurse-burnout
---
Page 14 • Vermont Nurse Connection August, September, October 2022

Challenges in the Nursing Workforce, Graduate Nursing

Education, and Future of Nursing

Georgianna Thomas, D.Ed., MSN, RN

Somi Nagaraj, DNP, MSN, RN, CSSGB, CONTL

Reprinted with permission from Illinois The Nursing Voice

September 2021 issue

The healthcare sector is an intricate, albeit

fundamental, part of ancient and modern societies. It

comprises a long list of agents, from the individual seeking

healthcare services to the medical staff and nurses, all

operating within a legal framework involving providers,

consumers, insurance companies, government, medical

schools, nursing schools, and regulatory institutions

(Amorim Lopes et al., 2015).

The healthcare market is always composed of both

suppliers of health services and patients demanding their

services. On the one side is the workforce of physicians,

nurses, and remaining clinical staff educated according

to standards and criteria, ready to assist those in need.

On the other side stand the forces that drive the demand

for medical services, strongly related to demographic,

socioeconomic, and epidemiological factors. Analyzing

these two market forces is a critical step in assessing

whether the available health care human resources are

enough in quantity and skills to meet the current and

future demand in due time and may lay solid foundations

for further research, considering perhaps changes to the

existing health policy framework (Amorim Lopes et al.,

2015).

A high degree and extent of uncertainty affect supply

and demand: asymmetric information between physicians,

nurses, and patients, restrictions on competition, an aging

workforce in all areas, strong government interference,

and supply-induced demand are some of the most glaring

differences that can be pinpointed. These may be relevant

when assessing the impact of any policy involving

Healthcare Human Resource [HHR] planning (Amorim

Lopes et al., 2015).

Supply

Supplying human capital with the appropriate expertise

to enable workers to perform and satisfy the demand for

health care is no simple task. The time and effort required

to equip HHR, especially physicians and advanced nurse

practitioners, exceeds most other professions. In some

particular healthcare professions, the set of necessary

skills to qualify for medical practice is acquired through

extensive academic learning, which involves enrollment in

long courses that may take up decades to complete due to

a strict licensing process. The analysis of the medical and

nurse education process is relevant but may be insufficient,

as several other factors may affect the efficiency and

effectiveness of the care services delivered (Amorim

Lopes et al., 2015).

Despite the limitations, some measures to overcome

imbalances in the quantity (number) of physicians and

nurses have already been identified in the health policy

literature (Chopra et al., 2008), namely the following:

increasing the number of domestic- and foreign-trained

medical graduates or increasing the number of medical

and nursing schools and classroom sizes; increasing the

enrollment limits; reducing the requirements for entry

to medical and nursing schools; raising the wages of the

medical and nursing staff, as well as the perspectives for

their future career path; or reducing the costs of attending

medical and nursing school, which may encourage

potential students to enroll. These proposals are shortterm

measures to alleviate the immediate stress put on

the healthcare system triggered by an undersupply of

personnel and may not be suitable for tackling long-term

imbalances due to huge shortages or surpluses of medical

and nursing staff (Amorim Lopes et al., 2015).

Demand

Demand for health care is a derived demand

(Grossman, 1972), which means that people do not seek

health care services as a final good for consumption but

as an intermediate service allowing them to be healthy

and to improve their stock of health capital (well-being).

They want to improve their health, and to do so; they seek

healthcare services (Amorim Lopes et al., 2015).

The concept of needs in health care is not consensual

in the health literature, with a semantic confusion arising

from its use in health economics (Hall & Mejia, 2009).

While the economic or effective demand translates the

actual, observed demand, usually measured in terms

of service utilization ratios such as bed occupancy

rates, number of inpatients, the needs component tries

to fully encompass the epidemiological conditions that

characterize a given population, measured through

morbidity and mortality rates or by the opinion of a

panel of experts, and how that may translate into a given

quantity of required healthcare services. Therefore, we see

that the classical concept of economic demand may not

reflect the biological needs of the population, as it may

leave out the necessities of the population regardless of

their ability to pay (Amorim Lopes et al., 2015).

An integrated approach uses a dynamic, systemlevel

perspective covering key drivers of supply and

demand that includes manpower planning and workforce

development is critical to overcoming such challenges

(Stordeur et al., 2010). The importance of paying attention

to needs is also continuously stressed, as changes

in the health patterns of the populations take place

(Tomblin et al., 2009). The impact of microeconomic

and organizational changes in productivity and the

skill mix, of the evolution of demand for healthcare

services, and also of the evolution of health diseases

and its potential impact on the health system. The given

quantity of workers may provide more or less healthcare

services depending on their productivity and skill mix,

influencing the conversion from headcounts to full-time

equivalents (FTEs). Such conversion is critical to properly

assess the healthcare workforce, as a significant number

of physicians and nurses work part-time only. For this

reason, FTE is a more accurate measure as it normalizes

headcounts. On the demand side, economic (effective)

demand can be initially measured by analyzing utilization

indicators. How this demand will evolve in the future

will then be subject to typical economic factors such as

demography and the growth of the income/GDP (Amorim

Lopes et al., 2015).

In parallel, potential needs can be assessed by

incorporating the incidence and prevalence of diseases

and then mapping a given disease to an estimate of FTE

requirements. Whether future supply forecasts should

tackle all of the estimated needs is a decision left to the

consideration of the policymaker, as the analysis does not

incorporate financial constraints. Despite the abundance

of approaches and techniques to determine supply and

need for professionals, none of the methodologies has

ultimately proved to be superior (Ricketts, 2011).

Recent studies testing current forecasting models show

that there is still plenty of room for improvement given

the gap between projected and actual results (Greuningen

et al., 2013). It becomes even clearer that workforce

planning should be accurate and performed in due time,

given the attritions and the delays in enacting policies

in the healthcare sector. Adapting medical and nursing

schools, altering legislation, and changing roles is an effort

that may take years to bring forth. Therefore, planning

has to target a long enough time horizon to be useful and

applicable and has to be done pre-emptively (Amorim

Lopes et al., 2015).

Accurate HHR planning requires an approach that is

both integrated and flexible, featuring supply and demand

(potential and effective) and incorporating less tangible

factors, such as skill mix and productivity (Amorim Lopes

et. al., 2015).

Academia

Looking at the area of academia, there are many issues

at hand that present challenges for nursing education at the

doctoral level. Having enough faculty to provide quality

education to those interested in pursuing a doctoral degree

in nursing relies on competent individuals. Presently there

are two types of doctoral degrees one can earn, both are

terminal degrees, and both allow nurses to continue

to practice in the clinical field. The Doctor of Nursing

Practice (DNP) has a clinical focus that allows the nurse

to possess expert knowledge to influence healthcare

outcomes across direct patient care, advocating for

healthcare policy implementation, and collaborating with

organizational leadership (Leveck, 2020, Chism 2010).

The Doctor of Philosophy (PhD) focuses on research in

advancing the nursing profession and change the quality

of patient care and outcomes in the field. PhD nurses

also teach and mentor nurses at the college and university

level, growing the next cohorts of professional nurses.

There is a difference between these two degrees in their

primary foci and length of education (registerednursing.

com). However, the DNP degree has become the more

sought-after degree, and individuals who have earned it

are considered equal at many institutions in academia in

relation to tenure attainment and administrative positions.

It was more common to see the individual with a PhD in

the academic setting. However, individuals seeking this

degree are decreasing in number, and some individuals are

having difficulty completing their dissertation. This adds

to the faculty shortage we continue to experience in the

profession. There is a distinction between the two degrees

and needs to be recognized and valued in advancing new

nurses, however, the DNP graduate is more prepared for

the clinical arena.

According to Drs. Di Fang and Karen Kesten, one-third

of the current nursing faculty workforce in all levels of

education are expected to retire by 2025 (ANA Fact Sheet,

2020). This will certainly have an effect on the numbers of

students who will be accepted when they apply for nursing

education overall.

Continuous changes in the nursing and medical fields

have been rapidly evolving because of technology and

studies such as the genome project. Graduate student

feedback to courses and discussions with clinical affiliates

to the college/university are two ways that information can

be ascertained in relation to curricular issues for content.

Accreditation standard revisions and the recently adopted

Essentials with emphasis on outcomes and competencies

in learning have also added to many of the changes

schools are making to revise overall curriculums (AACN,

2021). Learning theories are used to expose students to

various learning experiences. Online teaching, simulation,

inter-professional learning, case studies, and other

teaching formats take much time to prepare and grade and

may not all be familiar for present faculty to fulfill.

Interdisciplinary education (IPE) among the various

healthcare providers is expected to be utilized in schools.

This type of education provides shared experiences that

allow for better understanding, improved engagement, and

clearer insight into cooperation in the work environment

and quality patient care. This activity in schools with

major medical affiliations has an edge in providing

this type of learning while many smaller colleges and

universities struggle to gain this opportunity. Many IPE

opportunities that do exist are noted through simulationenhanced

activity (Fawaz, 2018). Although simulation

is helpful, real-time situations may affect the learner

differently when exposed.

Technology has become more influential in our lives,

especially after the past year and a half of pandemic

experiences. However, online education is not a new

concept in education. Use of learning platforms, Zoom

meetings, Wiki's, Google docs, social media, Electronic

Health Records, and so on have not been mastered by

all in education, faculty, or student. Many students like

the idea behind online learning in that they can study at

their own pace often or at a time that is most convenient

for them. This strategy for education allows for flexibility

to view course material in both an asynchronous and, at

times, synchronous format. Faculty find this learning

takes more time in their schedule for preparation and

grading than when classes met traditionally. Class size

is not always capped. Lack of support staff with course

development and difficulty managing technological

changes have been identified as barriers to distance

education (Iwasiw et al., 2020). This becomes frustrating

to both teacher and student in that the partnership that

develops in learning is not fully developed.

Future of Nursing

The Future of Nursing 2020-2030: Charting a Path to

Achieve Health Equity, study sponsored by Robert Wood

Johnson Foundation identified, that a nation cannot thrive

fully until everyone can live their healthiest possible life,

and helping people live their healthiest life is and has

always been the essential role of nurses. The ultimate

goal is to achieve health equity in the United States built

on strengthened nursing capacity and expertise (National

Academies of Sciences, Engineering, and Medicine, 2021).

The committee developed a framework identifying

the key areas for strengthening the nursing profession

to meet the challenges of the decade ahead. These areas

include the nursing workforce, leadership, nursing

education, nurse well-being, and emergency preparedness

and response, as well as responsibilities of nursing with

respect to structural and individual determinants of health

(National Academies of Sciences, Engineering, and

Medicine, 2021).

In 1998 the Pew Health Professions Commission, a

group of healthcare leaders charged with assisting health

policymakers and educators teaching health professionals

to meet the changing needs of healthcare systems,

completed a report listing competencies healthcare

providers of the future would need. The competencies are

listed in the Fourth Report of the Pew Health Professions

Commission (O'Neal & Pew Health Professions

Commission, 1998).

The book To Err Is Human: Building a Safer Health

System (Kohn, Corrigan, & Donaldson, 1999) brought

national attention to the issue of patient safety by
---
August, September, October 2022 Vermont Nurse Connection • Page 15

discussing the number of people who die each year from

medical errors. This, in turn, sharpened the focus of

patient safety in nursing education (Scheckel, 2008).

Despite the practice setting in which students learn

nursing care, it will include using various technologies and

knowledge of informatics to assist with patient care. These

technologies can include but are not limited to medical

devices patients will use to provide self-care, as well as

information retrieval, clinical information management,

and documentation technologies (Scheckel, 2008).

Students' use of these devices has important implications

for improving their clinical judgment (Newman & Howse,

2007). Nurses are also being exposed to the use of variety

of clinical management systems, like patient surveillance

systems many of which have implications for ensuring

quality and safety.

A significant movement that accompanied the

curriculum revolution involved using pedagogies to

ensure students could think critically in clinical practice.

Traditionally, students who learned the nursing process

were thought to be learning critical thinking. During the

past few decades, the nursing process has been challenged

as the best approach to developing students' critical

thinking (Scheckel, 2008). However, current research

in nursing education suggests that students also need

to engage in thinking processes that promote reflective

thinking, where they build practical knowledge, embodied

thinking, where they learn the importance of intuition

and pluralistic thinking, where they consider a clinical

situation using many perspectives (Scheckel & Ironside,

2006).

Innovations

As nurses assume increasing responsibility for

patient care in primary care settings, the combination

of increased clinical and systems knowledge, as well as

the capability to apply and evaluate evidence to practice

innovations, can only have a positive impact. The presence

of DNP-prepared APRNs in primary care will expand

educational opportunities. In the short term, the DNPprepared

APRNs can mentor the MSN-prepared APRNs

within the system. Equally important is the opportunity

for enhanced preceptor education for nursing students in

primary care (Dunbar-Jacob et al., 2013).

Indeed, the preparation of the DNP will influence the

perception of health care systems regarding the added

value of DNP education. If graduates of such programs

bring an increased depth of knowledge and skill to the

clinical arena, the DNP will likely flourish. If graduates

bring little more than what is offered by master's-level

education, the DNP will not be an attractive addition to

the clinical arena. Thus, the quality of the preparation

of the DNP will influence the adoption of the DNP

practitioner and administrator by health care systems

(Dunbar-Jacob et al., 2013).

Conclusion

Challenges in building DNP programs include the

identification of qualified faculty for each specialty,

qualified capstone advisors, and qualified clinical

preceptors. A further challenge is the simultaneous

education of master's cohorts and DNP cohorts. The

challenges by requiring faculty to obtain a doctoral degree,

developing critical academic–service partnerships in

mentoring students for practicum and capstone projects,

and discontinuing MSN advanced practice specialty

programs while focusing on the BSN-to-DNP and MSNto-DNP

programs. High-quality DNP academics and

DNP clinicians are crucial to help meet these challenges.

Each educational program must assess its challenges

and strategies for addressing those challenges. How we

proceed will determine the impact of our programs on the

future of the health care system (Dunbar-Jacob, Nativio, &

Khalil, 2013).

In academia, both the PhD and DNP prepared nurses

can work together to ensure quality education for our

nursing students. Both need an educational foundation to

be learned to be successful educators. The distinction of

the PhD concentrating on teaching theory and research

to assist nursing to maintain its scientific foundation and

the DNP concentrating on the clinical skills and acting as

preceptor/clinical educator at any level of nursing appear

to be the ideal partnership to develop. Both nurses can

assist academia and the clinical arena in staying current

and developing innovative care measures to provide

quality care to clients. When looking at the definitions

noted at the beginning of this work, this collaboration in

teaching nurses fits what was noted.