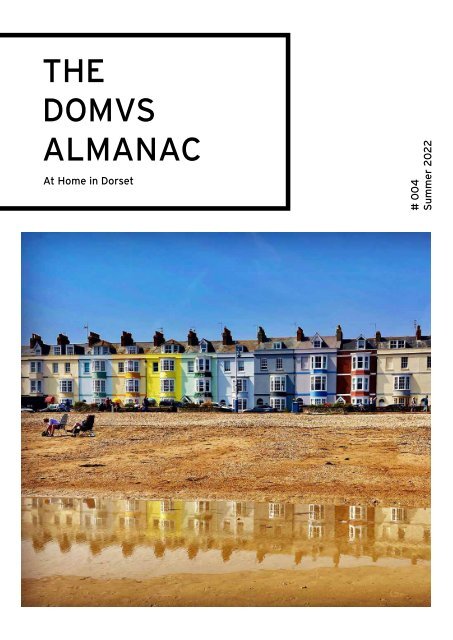 The DOMVS Almanac issue #4_Summer 2022
THE DOMVS ALMANAC At Home in Dorset
THE DOMVS ALMANAC
At Home in Dorset
SHOW MORE
SHOW LESS
Create successful ePaper yourself
Turn your PDF publications into a flip-book with our unique Google optimized e-Paper software.
THE

DOMVS

ALMANAC

At Home in Dorset

# 004

Summer 2022
---
Welcome to The DOMVS Almanac

ALMANAC noun [ C ] (also almanack) a handbook, typically seasonal, that includes

information for the year such as important days, weather, traditions, tips and nature.

We are proud to present issue four of The DOMVS

Almanac, which brings to you our highlights of living

in Dorset. With each new season, we will share with

you the hidden gems of our beautiful county, from our

favourite countryside walks and the best places to go for

the freshest seafood, to one-of-a-kind shops that aren't

to be missed and inspiring local creatives. Read on to

find out how to make the very best of your home, your

garden and your mind, body and soul.

From the purveyors of the most scrumptiously tasty

treats, to the most talented designers, decorators,

and stylists, we've partnered with independent Dorset

businesses who are incredibly passionate about where

we're from and what we do, and we're all here to help

you feel at home in Dorset.

To discover more about the beautiful Dorset home

pictured here, read on...
---
Five bedrooms | Three entertaining spaces | Grasslands and woodland | Circa 5.7 acres | Offers over £1,300,000

East Stoke, Dorset | Contact Polly Greenway: 01929 555300

Enchanting location, complete privacy

In association with

In association with

3

domvs.co.uk
---
Five bedrooms | Four entertaining spaces | Secondary accommodation | Rural views | Offers over £950,000

Corfe Castle, Dorset | Contact Alison Owens: 01929 555300

Historic village, work from home

In association with

In association with

domvs.co.uk

4
---
Michael Blyth - Photographer

Our Partners

Our partners (above) comprise some of the best

producers Dorset has to offer, all independent businesses

founded and located in Dorset, brought together to

promote not only each other, but the glorious lifestyle and

products our unique county has to offer.

We are always looking for exciting and innovative

new partners, so if you fit the bill and would like to be

involved, please get in touch.

Director

Polly Greenway

Almanac Online

Liam Smith

liam.smith@domvs.co.uk

Almanac Editorial & Design

Charlie Ryan

charlie.ryan@domvs.co.uk

On the Cover (and above)

'Beach Reflections' by Lynne Fisher

domvs.co.uk/almanac

5
---
Jurassic Coast

Farm Shop

Inside this Season

3, 17 & 29. Dream homes from DOMVS

7. Michael Blyth captures your priceless memories

11. Murder and mystery at Shire Hall

13. Relax your senses with Purbeck Candles

15. TLC for all the family from NEST

19. Cruising with EBIKE Cafe @ Deheers

23. Introducing: Galiani Glass Art

28. Raise a glass with Dorset Ginger Co.

31. Introducing: Rachelle's

35. Skin saviour Sarah Dale

37. A tasty treat from Chococo

39. What's on at Sculpture by the Lakes

21. Supporting local charity Weldmar Hospicecare

6
---
931
---
Photographic

Memories

Introducing Michael Blyth, Photographer

Do you have a photographic memory? It's a thought at

the back of many parents' minds, echoed by the song

'Turn Around', first sung many years ago by Harry

Belafonte. It goes like this:

"Turn around and you're two,

Turn around and you're four,

Turn around and you're a young girl going out of the

door."

Familiar? Perhaps not the song, but the thought?

Children grow inexorably, physically and mentally.

How many times have you suddenly noticed how much

they've changed? Each change is precious; crawling,

toddler, and beyond, moving from child to teenager.

Teenage is studded with markers not to be ignored (not

all of life is a grunt). That journey to adulthood can be

tumultuous indeed, but interspersed with memories

worth recording. All my girls are now in their twenties,

and those changes keep still keep happening.

It's the failure to invest into memories that is so

regrettable; facets of growing-up not recorded, no

family or individual photos, always the one behind the

camera missing from the picture. And, believe it or not,

they will want images of you, wrinkly or not – you're

still mum or dad. I've yet to meet a family who have

regretted spending out on family photos. They may seem

expensive at the time, but if they've "captured" the

person, they become like solid gold.

To my totally biased mind there is only one option when

it comes to style for photographic memories. Family

pictures, on the wall or in an album, need to be relaxed

and natural, portraying character and emotion, capturing

the soul. Family on a walk, the beach, out on their boat,

around the house and garden, I've even done family

holidays away from home – because sometimes it takes

until week two for work-stressed parents to fully wind

down. Wherever you relax, I can go.

8
---
In a recent photoshoot I've done for a family, the largest

picture - and it's big - is of the husband and wife walking

together, but where are the children? They're strung

out in front as they race up the hill; as natural as it gets,

taken from the back. It's not art, but it's life memorised.

The way I work at a photoshoot aims to offer a multitude

of images. This same client also has big, emotive images

of each individual family member, and groups, all in

bespoke frames; fabulous memories of a fabulous day.

In the family of another client, one of the sons - in his

late teens - was not one iota interested in complying

with parental wishes, and certainly not interested in

changing into "approved" clothing. Nonetheless, we had

a great photo session. We left the "rents" and went out

to where his life was focussed – a couple of old tractors

and an equally old Land Rover. We had a great fun and

got some great pics.

Some of you reading this article may be somewhere in

the process of moving house, thinking family photos will

have to wait, but this is actually a really special time to

record, that turning point, a new chapter. To see more

of my work and for further information, please visit

michaelblyth.co.uk or email admin@michaelblyth.co.uk

9
---
Mystery at the Courthouse

Agatha Christie comes to Shire Hall

An award-winning museum in the heart of Dorset, Shire

Hall Historic Courthouse Museum brings over 200 years

of justice and injustice to life. An interactive 'living'

museum, it uses real-life stories and iPad guides to let

visitors walk in the footsteps of those whose lives were

changed or even ended by their experiences there.

Shire Hall's impressive courtroom is best known as the

setting for the trial of the Tolpuddle Martyrs, who were

sentenced to transportation to Australia in 1824. The

backlash that followed their harsh punishment, which

saw thousands marching through the streets of London

calling for justice, would lead to the formation of the

modern-day Trade Union movement.

Shire Hall opened to the public in May 2018, following

extensive restoration work to the building, which dates

back to the 18th Century. The museum's aim is to help

everyone explore the history of law and order, as well as

past and present efforts to achieve justice for all people.

Since April (until 2nd September 2022), the museum

has been host to an incredible exhibition on one of the

country's favourite crime writers, Agatha Christie.

From Hercule Poirot to Miss Marple, Agatha Christie's

characters and stories have captivated readers and

audiences for over 100 years. This exhibition gives

visitors further insight into Christie's writing and

personal life, from the inspiration behind her work to the

infamous story of her disappearance.

Abbie King, Director of Shire Hall Museum, said:

"Everyone at Shire Hall Museum has been excited to

host this incredible Agatha Christie exhibition. Along

with creating some of the country's most memorable

works of literature, Agatha Christie lived an interesting

life. This exhibition takes a closer look at both the

mysteries she wrote and those relating to her own life.

This is a must see for any Agatha Christie fan!"

Drawn from a private collection, the exhibition features

books, objects, artwork and other items relating to the

life and works of Agatha Christie. Entry to Shire Hall

Museum's Agatha Christie event is included with Shire

Hall Museum tickets.

Inspired by the exhibition, Shire Hall has also hosted

a series of Agatha Christie themed events. In May and

July, the museum hosted 'Drinks in the Clink: Cocktails

and Crime', a unique evening of Agatha Christie inspired

cocktails from DarkBear, and in July, Shire Hall hosted

an unforgettable Murder Mystery evening, which

included a complimentary cocktail and two course meal.

For more information about the Agatha Christie

exhibition and the museum's upcoming events, head to

the Shire Hall website: shirehalldorset.org

As a registered charity, Shire Hall Historic Courthouse

Museum is increasingly reliant on the support of

individuals, charitable trusts and companies. The income

generated from ticket sales, the museum café and shop,

private hire, commercial activity and grants from public

funding sources help Shire Hall greatly and is invaluable

in supporting the museum's on-going mission.

11
---
12
---
Beautiful Spaces

Phaedra Radestock introduces her

newest collection from Purbeck Candles

Creating beautiful spaces within our home usually begins

by choosing the perfect colour pallet, before placing

our furnishings and softening with fabrics, cushions,

and lighting, but to finish any room we must satisfy our

most primitive of senses, our sense of smell. Studies

have shown that we remember 35% of what we smell

compared to only 5% of what we see, yet this is often

the last thing we think about when designing our homes.

We apply our favourite scent before we leave for an

evening out, so why don't we ensure our homes are softly

scented with the finest fragrance?

Here at Purbeck Candles we have developed a range of

dreamy scents for the home and called them 'Beautiful

Spaces'; four blends to elevate any room. Choose from

'Living Space', rich with a hint of spice and a top note

of citrus, or 'Cosy Space', designed to wrap you in a

cashmere blanket and rock you to sleep. If you love a

spa feeling try 'Pamper Space', or my favourite 'Serene

Space', rich and inviting with a floral heart and zingy

citrus top. Each blend is created using pure essential oils;

we've done the hard work so that you can simply sit back

and enjoy.

Phaedra x

And enjoy a 10% discount on your first order from

purbeck-candles.co.uk using the voucher code:

DOMVS.BEAUTIFULSPACES

13
---
Try a Little Tenderness

Soar through your family's early years with the help of Lucy Gregory of NEST

NEST is a private Early Years Consultancy Service

offering bespoke support to families with children aged

0-5 years. NEST works closely with you and your family

in a nurturing and non-judgmental way, to support you in

your child's early years. NEST is proud to have a strong

ethos ensuring that every family receives a service

which is confidential, informative, and exclusively

tailored to each individual family and their needs.

NEST was founded in

2018 by Lucy, a qualified

Norland Nanny and

Maternity Practitioner

who has ten years of

experience, and has

worked with families

and their children, both

privately and in the

community through

the NHS. This enabled

Lucy to gain a wealth

of knowledge and

experiences, and she

passionately believes

that no two journeys are the same, which is why she felt

a bespoke service should be made available.

NEST can provide support in any of the following areas

(please note we are not a medical service; if you have

any medical concerns about your child, please contact

their GP or Health Visitor):

• Transition from milk to solid food (weaning)

• Toilet training

• Behaviour

• Family life adjustments (new sibling/moving house etc)

• Infant Feeding (bottle-feeding and breastfeeding)

• Sleep

• Separation anxiety

• School readiness

• Preparing hospital bag

• Setting up nursery and equipment

For more information, visit n-est.co.uk or get in touch via

email or social media:

E. nestchildren.enquiries@gmail.com

facebook.com/NESTchildren

instagram.com/nest.children

15
---
Four bedrooms | Four reception spaces | Period features | Off-street parking | Grade II listed | Offers over £725,000

Milborne St Andrew, Dorset | Contact Greg Carter: 01305 757300

Period character, private location

In association with

17

domvs.co.uk
---
Penthouse with lift | Four bedrooms | South-facing balcony | Double garage | Share of freehold | Offers over £765,000

Poundbury, Dorset | Contact Polly Greenway: 01305 757300

Penthouse living, exceptional views

In association with

domvs.co.uk

18
---
The EBIKE Cafe on Custom House Quay is Weymouth's

hippest and healthiest hangout, overlooking the town's

historic working harbour. You can sit and watch the

world float by while you enjoy a coffee or something

healthy and nutritious from the food menu. If it rains,

they have plenty of seating inside too.

Along with being the hippest new destination in

Weymouth, it is also home of the in-demand E-bike

from the iconic, market-leading Californian brand

'Specialized'; the Specialized Turbo Como SL.

The Specialized Turbo Como Super Light (pictured right)

is a sophisticated design that's ready to go whenever

you are — day and night, rain or shine — with batterypowered

integrated lights, fenders, and plenty of storage

capability, including the option of a front-mounted

basket.

Let's Ride

Your dream bike awaits at EBIKE CAFE @ Deheers

You'll love the low-maintenance, easy ownership that

comes with Specialized's first Internal Gear Hub and Belt

Drive E-bike. This system protects your bike's working

gears from the weather and road grime, extends their

life up to four times that of a derailleur/chain drive, and

eliminates chain grease completely. And you can shift

gears anytime, yes, even when stopped — take that,

traffic lights.

The 320Wh battery is securely hidden in the downtube,

making it almost indistinguishable from a regular bike

at first glance. On days when you want to do more,

however, attach the optional Range Extender to go up

to 120 miles before needing a recharge. That gives you a

lot of range for the days exploring the quiet back roads

of the coast and countryside around Dorset.

You'll find yourself making up errands just so you can

ride it again.

If you'd like to find out more about Specialized E-bikes

and the Specialized Turbo Como SL, give Josephine

and Peter a call on 01305 786839. They'll give you the

lowdown on the range, the Turbo Como SL and answer

all your eBike questions, like:

• Do I still have to pedal?

• How far will they go?

• How long does a charge last?

• How light are they?

• How much do they cost to run?

• And any more questions you have

They'll even join you for a test ride if you like.

Whatever model, colour or size you're after, Josephine

and Peter will be able to call one down from the

Specialized warehouse, if they don't have one in stock,

ready for you to pick up in a matter of days.

EBIKE CAFE @ Deheers is open seven days a week, from

9am to 4pm, on the ground floor of Deheers, 9A Custom

House Quay, Weymouth, DT4 8BG. Find out more at

ebikecafe.co.uk

19
---
24
---
Local Heroes

Weldmar Hospicecare; caring for Dorset

Did you know that if you or a loved one is diagnosed

with a life limiting illness, Weldmar Hospicecare is there

for you? They've been looking after patients and their

loved ones in Dorset for more than 25 years and rated

Outstanding by the Care Quality Commission.

Nobody likes to think about end-of-life or the prospect

of needing hospice care, but as an independent local

charity, Weldmar needs the support of the communities

they serve to ensure they can continue to provide their

services to everyone who needs them.

Weldmar Community Nurses are based across Dorset,

experienced in the complex symptoms and problems

that life-limiting illness and treatment can bring. They

visit people at home, in nursing homes, community

hospitals, and work closely with consultants and other

specialist areas in Weldmar.

Emma Randall, WCN

for Sherborne, says, "I

am passionate about

providing high quality

end of life care and

ensuring the care and

support patients and

families receive is holistic,

individualised and offers

comfort at a time when

they need it most."

During the last few weeks of life, Weldmar at Home,

launched last year, provides care and comfort for longer

spells during the day or night. They not only enable

patients to stay at home in familiar surroundings, but

support family members through those last stages of an

advanced illness.

Sometimes, managing symptoms requires more

sustained specialist input, and Weldmar's Inpatient

Unit in Dorchester has beds where people can stay

overnight. Situated in lovely on-site surroundings, a

team of doctors, nurses and therapists are on hand 24

hours a day to provide tailored care, ensuring comfort

and dignity. Family members can also stay; there is a

kitchen and lounge, and the Orangery Restaurant open

throughout the day.

In Weymouth, Dorchester, Bridport, and Blandford every

week, Day Services provides a social and interactive

day out for patients based at home, including lunch,

activities, games and crafts. Day Services also allows

relatives a short break from their caring responsibilities.

Physiotherapists and occupational therapists are on

hand to ensure patients can maintain independence

and quality of life for as long as possible, and there

are complementary therapies to support physical and

emotional wellbeing.

A Family Support Services team comprises bereavement

counsellors (including one specifically for children and

young people), specialist social workers, and volunteers

who provide spiritual care.

One common misconception about Weldmar Hospicecare

is that they only care for patients with cancer. In fact,

it's any life-limiting illness such as heart disease, and

later in 2022 they're expanding their neurology nursing

services, which already include working with patients

with Motor Neurone Disease.

How can you help?

Weldmar Hospicecare needs to raise £18,000 every

day to keep all these services going. Shopping at their

chain of charity shops, playing their lottery, getting

sponsored for a challenge, or simply setting up a regular,

affordable donation all makes a huge difference. Find

out more about how you can support their work at

weldmarhospicecare.org

21
---
22
---
Making a Splash

Galiani Glass bring art into the kitchen

There's a lot to be said that the kitchen is the most

important room in any house. It is often the centre of a

family's everyday living. The energy for the day begins in

the kitchen, it is the hub for the preparation of food and

often a nucleus for socialising and everyday family life.

The kitchen binds the home and family together and, for

that reason, has become a real focus for interior design.

Our surroundings positively affect the way we feel, our

mood and our outlook. It's well known that sunshine,

nature, and art have positive effects on our spirit. Our

home nurtures not only our family, but also our senses

and our relationships too. It's with that in mind that

Galiani Glass utilise their design skills and craftsmanship

to bring art into the kitchen in a special way. They meet

the challenges of interior design, function, and the

essence of family space with their Glass Art creations.

Galiani Glass Studio is hidden away in an historic military

site just outside Poole, where Gail Boothman and Ian

Godfrey work diligently to create beautiful impactful

Glass Art for the home. One area in which they are

renowned is creating colourful, contemporary glass

splashbacks that add impact and style to a room in

which you often spend a lot of time, but which doesn't

always incorporate too much in the way of colour or art.

The splashbacks they create look gorgeous, but are also

practical in terms of cleaning. It is art in the kitchen, art

that is not only functional, but has a high aesthetic value.

This is where glass artists Gail and Ian come in, as

they talk about the steps involved in commissioning

personalised art in the kitchen. They say, "We love

meeting potential clients and discussing their design

ideas and colour choices. We believe in working

in partnership with our clients to get the best

understanding of what they are visualising, adding in our

experience and knowledge to deliver the results they are

looking for. Initially, clients love to come and visit the

studio. It is a great opportunity to meet us and see how

and where we work, and to be able to look more closely

at glass colours and types of glass. It is so important

to build a good relationship and to inspire the client

with ideas and confidence, as well as to answer any

questions. It's also the perfect time to mull over colour

swatches, samples, and pictures of the area, and discuss

sizes and styles over a fresh cup of coffee or tea.

Once the exploring of design, colours and processes

is done, it is always good to consolidate all those

discussions and concepts into a quote and outline to

confirm colours, sizes, installation, and costs, along with

a timeline to bring the project towards reality. Once

everything has been finalised, which may also include

23
---
The main section

(left) of this kitchen

was created in an

exciting contemporary

design incorporating

interchanging lines

and colours that blend

in with the kitchen's

colour scheme. After

testing a sample for the

area, it was decided to

compliment the main

panel with additional

splashbacks that carried

the design around

the kitchen, creating

a link between glass

and kitchen design.

The splashback design

continued through the

kitchen and extended

around the room, so the

glass could be seen from

everywhere.

a sample of the design, we can then begin work on

their piece of 'Kitchen Art'. It's great to keep the client

updated as we move along, sending photos or inviting

them to the studio as the design comes to the point of

firing. The project is always exciting, both for the client

and for us, and the moment of completion is always a

thrilling experience.

After all the polishing and finishing touches have been

made, it is all organisation and planning for delivery,

installation, or shipping. Once the Kitchen Art is

installed, we get such an emotionally positive response.

We feel so privileged to create these pieces for our

clients, but the emotional element always catches us by

surprise."

The transformation of the kitchen with art is an

incredible experience. Working with Gail and Ian and

their processes is an inclusive experience. It brings

together designer and client to create Glass Art that

is impactful, transformative and which creates a

living space that is warm, nurturing and energising

for everyone in the home. To find out more about

Gail and Ian and their work, visit galiani.co.uk or find

them on Instagram at @iangodfreyglassart and @

gailboothmanglassart and on Facebook at facebook.

com/Galiani.co.uk

Gail and Ian contemplate colours for a splashback design considering

the way glass works together, the processes that may be involved and

how the colours will work within the location. Getting to know what the

client is searching for is all part of the enjoyment of a commission and

achieving a successful installation.

24
---
"We got inspiration for our

splashback after visiting Ian and

Gail's studio. They were friendly,

helpful and willing to share their

knowledge to ensure we got the

product we wanted and will love

for a long, long time."

Right: This Art Deco inspired splashback was inspired by another Deco

glass creation by Ian. The 2.3-metre splashback was drawn out to the

brief and a range of colours were selected to match the kitchen and

living space. The splashback includes over 500 pieces intricately cut

and fired before the final installation.

29
---
"The entire experience from

beginning to end has been

exceptional. First meeting Ian

at the workshop and being able

to see the amazing artwork you

both create, and Ian sharing his

creative ideas, which enabled us

to make the right choice."

Left: This pink Arazzo commission project included over 6.5 metres of

splashback, where a lot of work went into exploring colours that would

harmonise with the kitchen design. Reviews of the glass on location

and sample tests led to this amazing glass surround that perfectly

tailored the surrounding interior décor and fittings.

26
---
This Galiani Arazzo

design is created with

personalised glass sheets

incorporating a range

of colours chosen to

complement the colour

scheme of the bespoke

kitchen built for this home.

The design requires pattern

matching and incorporates

multiple firings to achieve

the stunning finish.

Above: This colourful Spring Garden design brings nature from the

garden into the kitchen every day. The design brings together a range

of processes and disciplines, with the splashback going in and out of

the kiln a number of times before the final installation.

Above: This Flow design gives a natural and organic feel to the kitchen.

The range of colours are allowed to flow within the kiln to give this

wonderful, natural, and relaxing feel to the glass.

27
---
Full range of flavours available at...

www.dorsetginger.ltd

20 30
---
Four bedrooms | Two bathrooms | Garden and balcony | Off-street parking | Offers over £620,000

Weymouth, Dorset | Contact Mark Baker: 01305 835300

High-spec living, riverside location

In association with

29

domvs.co.uk
---
Brand new home | 2,500 sq ft of accommodation | Four bedrooms | Sea views | Double garage | £850,000

Weymouth, Dorset | Contact Mark Baker: 01305 835300

Contemporary lifestyle, outstanding location

In association with

domvs.co.uk

30
---
31
---
The Icing

on the Cake

Rachelle's Rachel Hill tells the story of

how beautiful bespoke cakes became her

sweet salvation

I'm Rachel and I'm super new to Dorset, having lived

here for just a few months. For years I longed to relocate

from South London to the countryside, and now I'm

finally here. It's been an epic journey.

Despite having been born,

coincidentally, in Poole here

in Dorset, I grew up in rural

Wales, and that's where

I hold all my childhood

memories. As a child I

climbed trees, poked about

in rivers and ran through

the wheat fields that

surrounded our cottage. In

the large cottage garden we

had an old caravan, which

my brothers and I used as a

den, and my Dad grew all his

own veg.

Later, at university, I studied Theatre Set Design and

Costume, and came away with a First Class Honours

degree. I then moved to London to find my fame and

fortune. For over a decade, I worked in the film and

television industry as a designer, working on films,

commercials, and pop videos. It was a fabulous job that

left me with many stories to tell, until the credit crunch

of 2007 put a stop to the easy flowing freelance work. I

nearly lost my mother that year too, and my relationship

broke down. In a nutshell, 2007 was a terrible year for

me.

In my experience though, there are good things that

come from bad, and it was at this point that I turned

my hand to cake making to try and make an income.

I'm entirely self-taught, but my background in design

seemed to help; making big wedding cakes covered in

hand-crafted sugar flowers came naturally to me. My

business started to flourish, I won the odd award, and I

fell in love with cake making.

In 2014 I gave birth to my son, and at this point life

took a rapid turn. I have always been on my own with

my little boy, and when you have a child, you start to

look at the world in a different way. The things I thought

were important no longer were, and I fell out of love with

my London life. I wanted the same life for him as I had

enjoyed growing up, so I started my mission to move.

32
---
Unfortunately, I decided to do this just a few weeks

before Covid hit. The pandemic really knocked my

business. I went from being a top London wedding

cake designer to pushing a few cupcakes onto people's

doorsteps as and when I could to make a bit of money.

All my wedding jobs cancelled, and work was very sparce

for a year and a half. It was tough. In January 2021, I

hit an all-time low. I was still stuck in London, finding

a house to buy was impossible, and I had no work. I

decided to use my time to teach myself a new skill, and

it was then that I learnt the art of buttercream flower

piping. I actually had time to learn, which is a rare thing

as a single parent. I totally fell in love with the art and,

because it had pulled me out of a slightly depressive

hole, I quickly decided to teach others via online classes

and private tutorials. It's like edible therapy; it's calming,

rewarding to learn, and you get to eat your creations!

I've brought all these skills with me to beautiful Dorset,

where I hope to carve out a more relaxed way of life,

baking beautiful wedding cakes and teaching my craft

to willing students. It's taken almost three years to

get here, but my son and I are finally loving our Dorset

life together. We have just re-homed a gang of rescue

chickens too, so there are now fresh eggs on tap for all

my baking. And they really are just cupcakes made to

look like flowers. People are always amazed by them and

often don't believe they are cupcakes. It's a real joy.

If you'd like to know more, order a cake, cupcake

bouquet or come along for a class, please do send me a

message.

www.rachelles.co.uk

@rachellesbespokecakes

33
---
Natural Radiance

Grow your glow with Dorset's skincare specialists, Sarah Dale Aesthetics

Here at Sarah Dale Aesthetics, we are as busy as

ever and happy to be providing all our clients with

their favourite treatments. For those of you who don't

know us, we are a medical aesthetic clinic located

in Poundbury, in a stunning and peaceful part of the

Butter Market. We are the area's leading skin and laser

experts, providing an unrivalled service in Dorchester

and across Dorset. We specialise in advanced aesthetic

alternatives to anti-ageing injectables and surgery. We

believe in transitioning through the ageing process with

dignity and taking the best possible care of your skin by

offering an alternative to invasive procedures. Regularly

recommended by GPs and dermatologists, we take on a

variety of clients with all different types of needs.

Sarah Dale is a registered nurse who built her business

on a strong foundation of expert training and complete

care. Clinical lead Tanya Lambert-Culling and her

team of aesthetic clinicians use their 17 years of

combined experience and specialist knowledge of

four different laser platforms to provide you with the

following treatments: full-body laser hair removal;

red vein and pigmentation reduction; scar reduction;

skin rejuvenation for sun damage repair; reduction of

fine lines and wrinkles; LED phototherapy; fractional

skin resurfacing; body sculpting; and radiofrequency

alternatives to surgical facelifts. We work to the highest

standards of professional excellence, and, thanks to

our extensive research, we only offer the safest and

most effective treatments. We pride ourselves on our

treatments' sustainability and adaptability with regards

to budget and lifestyle. All our clinicians offer

complimentary consultations during which they can talk

you through options and answer any questions you have.

The past year has been one of expansion for the

clinic. We are now a team of four clinicians, which has

allowed us to offer increased availability in the face of

growing demand. We run double clinics from Monday to

Saturday, and we plan to expand our late-night opening

hours to two evenings rather than one. Tanya, our

clinical lead for over nine years, recently completed her

foundation degree in Medical Grade Lasering as well as

her advanced training with a specialist doctor, and the

results she achieves in the clinic always reflect this.

Milly, who has been with us for many years, continues

to perform excellently and her experience on the laser

platforms has led to her being booked up often weeks in

advance – so don't wait to book in if you are looking to

see her over the next few months. Alex and Lucy, who

joined the clinical team at the beginning of the year,

have been building up their client base and are now both

running very successful and in-demand clinics. Their

training and mentoring, led by Tanya, has been going

superbly and we plan to expand the range of treatments

they offer in the near future.

We find that many clients wonder what they should

do with their skin over the summer months. We tend

to always recommend consistency and maintenance.

Consistency with regards to your products, and

maintenance with regards to treatments. Which

products? Most importantly, sunscreen. Sun exposure

causes 80% of premature ageing as well as putting

35
---
you at risk of skin cancer. After extensive research,

we decided to stock Heliocare as our main sunscreen

range and advise to apply every single day. With

regards to other skincare, our clinicians are always

happy to provide you with a tailored routine to address

your specific skin concerns. The Medik8 range is a

client-favourite and is a superb option for someone

looking for ethical, efficient, and affordable products.

Which treatments do we recommend over the summer

months? We believe in optimising skincare in accordance

with the seasons. Summer is the perfect time to be

thinking about the structure of the skin rather than the

surface. Radiofrequency is an excellent option for skin

tightening and lifting. We offer radiofrequency in the

form of Lipofirm and Venus Freeze treatments, both

science-backed and collagen-building options to get that

summer boost. Dermalux LED phototherapy is another

wonderful possibility if you are looking for a relaxing

treatment that will give you a radiant glow and help to

fight off redness and pigmentation among many other

skin issues.

As always, you are welcome to pop in for a chat and our

team are always happy to do anything they can to help.

Feel free to look at our social media for skincare advice,

treatment videos and client testimonials. We look

forward to seeing you soon.

sarahdaleaesthetics.com

facebook.com/sarahdaleaesthetics

E. info@sarahdaleaesthetics.com

T. 01305 269220

25 36
---
Sweetness & Light

Balsamic Berry Chocolate Mousse from Chococo Co-Founder Claire Burnet

Serves: six

Preparation time: 15 minutes + setting time

Equipment:

• 6 x ramekins or small coffee cups

Ingredients:

• 150g dark chocolate, 60-70% cocoa solids

• 75g unsalted butter, soft

• 2 egg yolks, at room temperature

• 1 tablespoon aged balsamic vinegar

• 3 egg whites, at room temperature

• 2 tbsp golden caster sugar

• 75g fresh strawberries

• 75g fresh raspberries

• 1 tsp icing sugar

• Icing sugar for dusting

1. Wash and dry the fruits, then set six of each aside for

decoration. With a fork, gently mash the rest together

with the icing sugar for a touch of sweetness.

2. Place a dollop of fruit in the bottom of each of the dishes.

3. Melt the chocolate very gently in a bowl sitting over a

pan of barely simmering water - don't let the bowl touch

the water.

4. Immediately as the chocolate has melted, take the

bowl off the pan, add the butter and stir in to melt. Then

stir in the egg yolks and, finally, the balsamic vinegar.

5. In a separate clean bowl, whisk the egg whites to soft

peaks, add the caster sugar and whisk again.

6. Gently fold the egg whites into the chocolate mixture.

A light touch is what is needed here, as if you beat

this too much you will lose the air in the whisked egg

whites. Ensure you pick up all the chocolate mixture

at the bottom of the bowl as you fold the two mixtures

together.

7. Carefully put the mousse into each cup with a small

spoon (to ensure you don't drop any around the sides of

the dishes), on top of the fruit.

8. Put the mousses in the fridge to set until required.

9. Take the mousses out of the fridge and allow to return

to room temperature before serving, decorated with the

reserved fruit on top (or to the side if you prefer) and a

light dusting of sieved icing sugar.

For more tantalising Chococo recipes visit chococo.co.uk

37
---
Art, Music, Festivals & Fire Cooking

Exploring the ecclectic timetable at Sculpture by the Lakes

Sculpture by the Lakes, a multi-award-winning sculpture

park in Dorset regarded by those in the know as a jewel

in the county's crown, has a jam-packed programme

of events, with plenty to delight arts, nature and food

lovers.

This stunning 26-acre haven of gardens, art and lakes

was founded by celebrated sculptor Simon Gudgeon

with his wife Monique, and is home to more than 30

of Simon's stunning, large-scale sculptures, as well as

hosting a packed line-up of arts, music and dining events

throughout the year.

Spring saw the return of FORM, a nationally significant

sculpture show with 200 new pieces by some 30 top

sculptors. At the end of May, The Dorset Garden Festival

featured the all-new Fire & Food Festival, a celebration

of outdoor living and dining. The event also saw the

launch of a new riverside outdoor kitchen, which is set to

host a series of 'Fire and Feast' evenings throughout the

summer.

June saw the launch of Sculpture by the Lakes: LIVE, a

series of mini-festivals, with music, entertainment and

food to be enjoyed in a stunning riverside spot at the

32
---
31
---
heart of the sculpture park. And from June 29th to July

3rd came the return of the hugely successful and multiaward-winning

Dorset Arts Festival, when more than 60

artists, crafters, and makers will be demonstrating their

incredible skills and techniques live.

The beauty and tranquillity of the sculpture park

will once again provide the setting for Wellbeing by

the Lakes, a five-day festival from September 7th to

September 11th, with a curated blend of expert talks, art,

live performance, meditation, movement sessions, and

healing therapies.

As well as that incredible line up, the sculpture park

is open to visitors five days a week – Wednesday to

Sunday. Not only can you soak up the beauty and

tranquillity of sculpture gardens, but explore Gallery by

the Lakes; discover unique food and craft treasures in

the Artisans' Bazaar and the Artisans' Pantry; and stop

for a fantastic lunch or simply some delicious homemade

cake in Café by the Lakes, where the seasonal menu

makes use of produce fresh from the sculpture park's

own kitchen garden. There is so much to discover. To find

out more about events at Sculpture by the Lakes, visit

sculpturebythelakes.co.uk

41
---
32
---
Award-winning 'Passive House' | Four bedrooms | Two reception spaces | Double garage | Offers over £750,000

Sixpenny Handley, Dorset | Contact Tim Grainger: 01258 442500

Green living, village location

In association with

domvs.co.uk