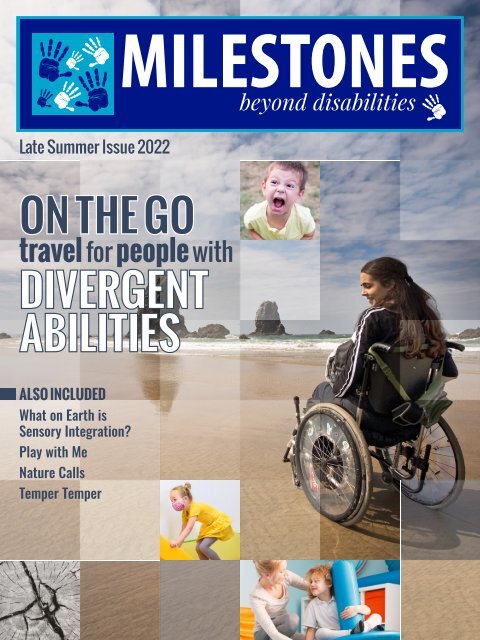 Milestones Magazine Late Summer 2022
Helping Individuals with Disabilities & their Families Achieve & Celebrate Events & Milestones in their Lives
Helping Individuals with Disabilities & their Families Achieve & Celebrate Events & Milestones in their Lives
SHOW MORE
SHOW LESS
You also want an ePaper? Increase the reach of your titles
YUMPU automatically turns print PDFs into web optimized ePapers that Google loves.
eyond disabilities

Late Summer Issue 2022

ON THE GO

travel for people with

DIVERGENT

ABILITIES

ALSO INCLUDED

What on Earth is

Sensory Integration?

Play with Me

Nature Calls

Temper Temper
---
ON THE COVER 15

ON THE GO

travel for people with

03 What on Earth is

Sensory Integration?

DIVERGENT

ABILITIES

07 Picture Perfect

09 Get the Words Out

11 Play with Me

13 Nature Calls

Publisher

Susie Redfern is the parent of a young

adult on the Autism Spectrum.

17 Special Needs Alliance

She developed Milestones Magazine

to help individuals with disabilities

and their families achieve and celebrate

19 Life in the Green Zone

21 Temper Temper

events and milestones in their lives.

info@milestonesmagazine.net

MilestonesMagazine.net

LATE SUMMER 2022

1
---
What on Earth is

SENSORY

INTEGRATION?

As the parent of two children with autism, the term "sensory integration" is

not new to me. My older son, never experienced the social and/or cognitive

challenges that seriously impacted his ability to navigate his world independently,

so was never diagnosed with autism. However, his sensory issues came out often.

As a preschooler, he would climb up playground activities very cautiously. He had

difficulties with handwriting. Those are the two biggest issues I remember about

him during his early school years.

Having heard that term frequently during my children's school years doesn't

necessarily mean that I know what the term means. To provide the how, what,

why, and wherefore about Sensory Integration, I am pleased to introduce Lillian

Chen-Byerley, MS, OTR/L, C/NDT, RCTC, an Occupational Therapist with

Senseable Kids.

"Although sensory integration dysfunction (DSI) has been around since

1954 when A. Jean Ayres Ph.D. pioneered and researched this topic, few

have truly understood the depth of which her theory encompassed. Present-day

neuroscience continues to expand and support the neurobiological meaning

which I hope to summarize here. Thus, the term sensory integration is based on

the work of Dr. Ayres to describe the theory and the intervention; whereas, a new

nosology is used to describe the diagnostic category of this disorder known as

sensory processing disorder (SPD).

Dr. Ayres sought out initially to identify how poor processing of sensory

stimuli affected the child, resulting in atypical motor, social/emotional, and

functional patterns of behavior. These behaviors were hypothesized to interfere

with end product competencies in speech/language, attention, and motor.

3
---
Definition:

Widely recognized as A. Jean Ayres' definition of sensory integration.

"-

changing pattern.

A Jean Ayres, 1989

Sensory integration is the neurological process that

organizes sensations from one's body and from the

environment and makes it possible to use the body to

make adaptive responses within the environment. To do

this, the brain must register, select, interpret, compare,

and associate sensory information in a flexible, constantly

Simply said, sensory integration is the relatedness of one to others, one to

their environment, and one's ability to adjust oneself to function within the

environment with oneself, others, and objects within it.

Sensory Systems:

Ayres' theory and intervention are based on categorizing seven neurosensory

systems and the relationship of each with one another. Alfred Tomatis, MD,

also developed his framework similarly identifying the same basic systems as

Ayres. Current neuroscience research continues to verify and confirm these

sensory systems as:

4
---
Vestibular:

Known to be one of the first sensory organs completed in utero, this system provides us with

information to help detect and process our sense of movement, the pull of earth's gravity, and

position in space. "A well-modulated vestibular activity is very important for maintaining a

calm, alert state. The vestibular system also helps keep the level of arousal of the nervous

system balanced. An under-active vestibular system contributes to hyperactivity and

distractibility because of its modulating influence." A. Jean Ayres Ineffective processing of

this system may lead to sensory-based motor disorder or sensory modulation disorder.

Tactile:

As it sounds, this system is responsible for our sense of touch. The tactile system addresses

the surface area of our body including the skin, hair, hands, feet, and oral motor cavity.

Ineffective processing of this system leads to sensory discrimination disorder or sensory

modulation disorder.

Proprioception:

This system allows one to process information and gain information from our internal sense

which comes from our joints and muscles. One could say this system is a necessary foundation

for muscle memory. Generally, problems in the area are associated with tactile and/or

vestibular issues which lead to sensory modulation and sensory-based motor disorder.

Auditory:

This system serves as the sensory integrator of two basic systems within the ear (vestibular and

cochlear) and is responsible for 90% of our brain's processing, Sixty percent of the stimuli to

the brain originate from the bones, joints, and muscles through the vestibular system, while

the remaining forty percent is from the sound processed through the cochlea. Since the brain

needs stimuli to be nourished, the stimuli and significance of it from the ear is the perception

of different sound wave frequencies.

5
---
Visual:

This system is now known to be reflective of auditory processing and therefore, it is the ability

to perceive and make sense of spatial orientation and direction (vertical vs. horizontal), color,

shape, assess the intensity of light, process form, etc.

Olfactory & Gustatory:

This system is responsible for our sense of smells, odors, and tastes, and measures the

intensity of them. Often we find that individuals who seek excessive salt, sweetness, or hot

spice are under-reactive, while people who tolerate only very bland or have a limited

repertoire of foods are overly reactive. Likewise, some demonstrate difficulty with smells

which may result in nausea or emesis.

Dr. Ayres further established four categories in the 1960s to classify and refine specific

sensory manifestations as seen by sensory modulation dysfunction (SMD), developmental

dyspraxia, bilateral integration dysfunction, and generalized dysfunction (a combination

of all areas). The SPD

global umbrella

identifies three primary

diagnostic categories

as sensory modulation

disorder, sensory

discrimination disorder,

and sensory-based

motor disorder.

Sensory modulation

dysfunction (SMD) is

the ability one has to take in sensory sensations be it auditory, visual, gustatory, olfactory, or

tactile stimuli, by interpreting what it is and filtering what is important while ignoring what is

not by inhibiting that sensation. Often, as seen in the Today Show video, children with SMD

are unable to process information to cause them to have ineffective sensory modulators.

Examples that are often reported may be being unable to tolerate smells from the lunch room,

intolerance for noise such as that of other children or fireworks/vacuum cleaners, being

unable to move without fear or feeling nauseous, clothes that are intolerable, craving

bumping and crashing into things/people. Or, perhaps the opposite is observed where the

child does not seem cuddly or recognize when they are hurt, does not seem to hear auditory

information, or will not sit still. Often one may hear this being described as being

over-reactive or under-reactive." M

6
---
"I combined my two passions in life:

special needs children and photography."

Most families, over the years, fill photo albums with pictures of their children.

Some also go through the ritual of formal photography sessions, from time to

time. Outcomes of these sessions can be unpredictable for any family,

and sometimes even more so for children who have special

needs (sensory, cognitive, physical, etc.).

Many photographers don't have much experience

with these circumstances, but some specialize

with these families. One such business is

PhotoFab in Deerfield IL.

I am pleased to introduce Photo Fab's

owner, Fabiana (a special education

teacher and therapist before turning

to photography) to tell us how a bit

(generally) about how she shapes photo

sessions for families with challenges to

make them picture perfect.

_____________________________________

Picture Perfect

"I'd love to have our family photos taken but

my child won't look at the camera and follow

directions"

"He/she is always chewing on a shirt, looking at the

IPad, spinning…"

"It's painful to see other neurotypical kids's beautiful graduation photos,

knowing that my child is not able to have them…"

"We once had a professional photo shoot and

the photographer kept getting frustrated

because my child wouldn't cooperate…"

Sounds familiar? Yes, I've heard it all a

million times during my 30 plus years of

working as a Special Education teacher

and therapist.

7
---
There is a gap and a need for photographers that are

familiar with the particular needs of this community,

someone who not only has the expertise in taking beautiful

images but also understands what's in front of them,

someone who won't ask for what's impossible but

instead make magic with what's available.

This is exactly why I decided to combine my two passions

in life: special needs children and photography.

I became certified by "Special Needs Photographers of

America" and started Photofab Photography, specializing

in these wonderful children and their families.

My sessions are child-led; by that I mean that I

customize the session to each particular child

and his/ her specific needs.

Prior to the session I conduct a lengthy

interview with the parents in order to get

as much information as possible. I want to

know what the condition is, physical

limitations, preferred items and activities,

places, songs, snacks, etc. Is the child

happiest while in front of a screen? organizing

toys? dancing? swimming? jumping? Most

importantly I also want to know what are absolute

dislikes that will cause the child to lose interest and

cooperation or become over stimulated. I like to

provide parents with a social book for non-verbal

kids so they can read and prepare for the

photoshoot, this seems to help with anxiety

and answer any questions they may have.

During the sessions I usually bring with me a

number of props and tricks to make them fun

and memorable.

My work can be seen on my website at:

photofabphotography.com and my Facebook

page at: Facebook.com/Photofabart

I can be reached by phone at: 757-589-0306. M

8
---
Language can be a complicated matter.

People often can say the wrong thing;

the expression "that came out wrong"

is probably said daily by someone in the

world. Words matter.

Thank you for taking the time

to read this article. There are so

many ways that we communicate.

Some are easily understood and

others, not so much! But one thing

is for sure, whatever mode you

For some folks, however, they have

difficulty saying anything, for a variety

are using, a speech-language

pathologist (speech therapist) is

COMMUNICATION

What's Your Mode?

of reasons. Their difficulties fall within

the scope of speech-language

pathologists (commonly referred to

as speech therapists).

available to help you or your

child be understood. There are

many modes of communication.

Do you know what mode you

use? Children and adults

I am pleased to introduce Lisa Morris,

Speech-Language Pathologist

and Clinical Director of Pediatric

Interactions, to tell us a little about

what situations they find among

patients at their clinic and how they

communicate verbally by

speaking much of the time.

We even use non-verbal

communication such as facial

expressions, body language,

and gestures.

help these children get the word(s) out.

Here is her article, in its entirety.

9
---
Some verbal communicators come to us for help with the

sound production, speech fluency, or voicing concerns due

to hearing loss or a medical diagnoses. But there are many

communicators who don't communicate verbally at all.

That is where we (Speech-Language Pathologists) come

in. It is our job to find the mode of communication that

works best for each child (or adult). This can be through

pictures, picture exchange, picture sequencing,

augmentative and alternative communication (AAC)

such as a communication application on a computer or

We demonstrate the expectations and model everything

we want them to be doing (verbal, non-verbal, picture use,

AAC, gestures, signs). As they start to develop skills such

as increasing their vocabulary, we begin modeling words in

combination, introducing new vocabulary, and establishing

compliance with instructions. All these skills lead to more

independent communication. We begin using exclamatory

phrases, animal and environmental sounds, and facial

expressions to add more of an impact to what we

are saying.

iPad, signing, and even use of objects for self-expression.

Beyond Toddlers: Functional communication and

Over the past 30 years, it has been my pleasure to help

many families with a variety of

communication complexities.

Our little 0-3-year olds, they

independence is where we are leading our children. We

begin teaching communication skills

as they relate to play activities,

events, community outings, and

Lisa Morris

Speech-Language

Pathologist and

Clinical Director of

Pediatric Interactions

communicate too! They cry different

cries and they use non-verbal

communication. When something

interferes with this communicative process, we jump in.

We support the families in learning how to identify those

signs of communication and move toward developing

functional patterns of communication.

other social interactions. It is

important that we allow our children

to communicate beyond our own

little circle in the family and help them to communicate

with extended family, friends, and community members.

Using their own mode of communication, we help by

working with children in those special environments that

help bridge the gap between single person communication

Babbling to your babies, imitating their babbling, playing

and group communication skills.

peek-a-boo and a host of other activities help engage your

infant in communication.

If you have communication questions, reach out to a

speech-language pathologist near you. They are speaking

Toddlers: As our kids move through a variety of

your child's language! M

developmental stages, we are looking for that curiosity,

exploring, taking things apart, and/or asking "what's this?"

So what do we do when these things aren't happening?

10
---
Play

with

Me

The Basics of Play Therapy

One of the mainstays of early childhood education is the saying

"Children Learn Through Play". That is true. But not only can they

learn through play, they can also heal through play. Play therapy

has grown up around that fact.

The requirements to become a

Registered Play Therapist:

- Independently licensed in your state of

practice as a LPC*, LCSW** or LMFT***

- Completed at least 150 Continuing

I have pulled information from the website of Wilson's Garden

of Hope, where Shatisha M. Wilson, LPC, CPC-S, RPT-S, a

registered play therapist-supervisor, serves as Executive

Education hours in Play Therapy training.

- Completed at least 35 hours of clinical

supervision with a Registered Play

Director. This will give a quick overview of what a Registered

Play Therapist does and the qualifications for that position,

Therapy Supervisor.

M

paraphrasing the website's page.

*Licensed Professional Counselor

**Licensed Clinical Social Worker

Wilson's Garden of Hope, LLC Play Therapy & Counseling Center

***Licensed Marital & Family Therapist

uses play therapy, which according to research, helps making

children feel comfortable and safe enough to express their

concerns and helps them handle most social, emotional, and

behavioral problems.

Wilson's Garden of Hope has an in-house Registered Play

Therapy Supervisor and 2 additional clinicians pursuing their

certification in play.

11
---
12
---
Many activities present difficulties for children (and adults) with

sensory or physical challenges. But perhaps none more than using

public outdoor areas such as playgrounds and nature areas. Schools,

park districts, and other entities across the country have addressed

these concerns. One such organization is the Four Rivers

Environmental Education Center in Channahon IL.

The district offers a wide variety of

educational and recreational programs

including virtual programs that are

presented online via Zoom webinars.

All programs are listed on the Event

Calendar at ReconnectWithNature.org.

Four Rivers Environmental Education Center is part of the Forest

Preserve District of Will County. It was named a Certified Autism

Center in 2020 and now features an All-Persons Trail.

For more information, please contact

the public information officer:

Cindy Cain

815-722-5370

The trail has five interactive, multisensory display panels, and

ccain@fpdwc.org M

visually or cognitively impaired visitors can use handheld audio units

to provide trail narration. Participants can stop for an activity at each

interpretive panel. The All-Persons Trail includes tactile paving, which

lets visually impaired visitors know when to stop for an interpretive

panel, and tactile signs for guests who learn best by touch.

Four Rivers also will be offering Sensory Sunday programs on

Sept. 4 and Oct. 30 for those with sensory processing needs. The

building will only be open to registered participants at this time.

Call 815-722-9470 to register.

In addition to Four Rivers, the Forest Preserve owns Isle a la

Cache Museum in Romeoville, Plum Creek Nature Center in

Crete Township, and the recently purchased Hidden Oaks Nature

Center in Bolingbrook.

13
---
M

14
---
ON THE GO

travel for people with

DIVERGENT

ABILITIES

For people with physical, cognitive, sensory, or other conditions (and the rest of

us, for that matter), life can be challenging and travel even more so. There are a

number of travel agencies that focus on people with divergent abilities.

One such company is Wheel the World. I came upon their booth at Ability Expo

in Schaumburg. I am pleased to share their article about accessible travel.

Wheel the World

Makes Accessible Travel

Worry-Free

15
---
There's nothing worse than arriving at a

hotel after a long travel day and being told the

accessible room you booked is no longer

available. Or have you ever been in a situation

where you've booked an accessible room only to

As a result, Wheel the World was born and

assists travelers with booking accessible

vacations to over 140 destinations worldwide.

"We have a clear belief and purpose to make

the world accessible," says Alvaro.

learn that it doesn't meet your accessibility needs?

These issues are way too common and are an

example of some of the challenges travelers face.

Through Wheel the World's website, users can

create custom accessibility profiles allowing

Wheel the World to recommend listings that

Wheel the World's mission is to make the world

more accessible. They strive to make travel

worry-free by providing travelers with reliable

accessibility information, comprehensive

planning, and personalized support before and

during their trips. Founded by Alvaro Silberstein

and his lifelong friend Camilo Navarro, Wheel

the World was inspired by a 2016 trip to Torres

del Paine National Park in Chile. This journey

felt impossible after a car accident left Silberstein

paralyzed from the waist down. Organizing an

accessible trip to Torres del Paine was no easy

are compatible with their travel aspirations

and personal accessibility needs. Using the

Accessibility Mapping System (AMS) volunteer

"mappers" crowdsource real-time information

on more than 200 data points including

wheelchair accessibility, transportation logistics,

bed height, room width, braille signage

availability, adaptive equipment requirements,

and more. Travelers can also view detailed

photos of places to stay showcasing the

property's accessibility. There is no fee for

travelers to access this information.

feat. After lots of extended research, contacting

multiple tour operators, and researching a

special wheelchair, the duo realized it was

possible. An accessible wheelchair called a Jolette

(used for difficult terrain) could be used to

navigate the park.

The company's travel experts also work

directly with customers to plan and customize

their travel experiences in addition to aiding

with securing accessible transportation during

their vacation.

After meticulous planning, the trek occurred,

and the experience went viral. Alvaro and

Camilo soon received numerous requests from

travelers around the world to assist with booking

accessible trips.

In addition to providing places to stay,

Wheel the World offers a variety of accessible

things to do, multi-day trips, and group tours.

No travelers are excluded, as the company

caters to travelers of all ages and abilities.

Mark Zuckerberg, Founder of Meta even shared

To plan your next accessible vacation, head to

the story during a global meeting.

www.wheeltheworld.com

M

16
---
Special

Needs Alliance

R

R

R

Maximize &

Preserve

Benefits

Protect

Assets

Assure

Families who have a child with challenges, be they

physical, cognitive, sensory, social/emotional, or

some other kind, are often in search of resources to

address whatever issues their child is having. One

of the biggest needs for families who have a child

with more complicated and involved issues is to get

their financial and legal affairs in order to help and

provide for their child's long-term (especially after

they're no longer a resource for their child in

person). Not every lawyer and financial planner

have the knowledge, training, and skills to help

such families. How do these families find the

resources they need?

Lifelong Care

17
---
One resource to address this is the Special Needs Alliance. I am

pleased to introduce Carole Cukell Neff, "One of only two New

Orleans members of the national Special Needs Alliance, a

blue-ribbon organization of professionals who service the legal

needs of people with disabilities", to tell you more about this

organization and how it helps families find special needs"

lawyers and financial planners. Ms. Neff has added

the following:

and drafting the Trust, securing and

maintaining the public benefits for a

personal injury/medical malpractice victim,

securing governmental approval of Special

Needs Trusts, and resolving third-party and

government claims and liens against

settlement proceeds. SNA attorney

services can include estate planning for

family members, including the drafting

Special Needs Alliance (SNA) is made up of attorneys who

understand the difficulties faced by individuals and their

families with regard to Disability and Public Benefits Law. The

of Wills and Trusts tailored for special

needs, as well as representation in the

Probate Court.

SNA was born out of a collective belief that individuals with

special needs have a right to representation that considers the

added dimension of their quality of life. The SNA works to

protect the financial future of these individuals and their

families. The SNA's mission is to assist clients in locating

experienced disability and public benefits attorneys in their

area and to assist other professionals and settlement companies

and personal injury and medical malpractice matters involving

clients with special needs.

As attorneys in the fields of Disability and

Public Benefits Law, SNA members help

to enhance your child's quality of life by

employing resources and legal expertise

to assist with the maintenance of public

benefits for your child and to the

development of effective estate plans

that protect your assets."

The SNA understands that disability and public benefits laws

provide opportunities for abuse and mismanagement that may

threaten the financial futures of individuals with special needs.

These could include the loss of Supplemental Security Income

(SSI), Section 8 Housing, and Medicaid. SNA member attorneys

work to protect these assets and strive to ensure that all

Editor's Note:

The Special Needs Alliance maintains a

website, www.specialneedsalliance.org,

at which families can get the additional

information and search for a special needs

lawyer in their state. M

potential benefits remain available. This representation can

include determining the advisability of a Special Needs Trust

18
---
Life in the

Green Zone

Are You Ready to Experience Greater Well-being?

As the parent of a now-28-year-old on the autism

spectrum, I am well aware, especially in recent years,

of the obstacles placed in his path; including from

vocational rehab services, who focus on providing

ways we can achieve a place of emotional, mental, and spiritual

well-being, which we now call the "Green Zone." I realized that

without a positive mental and emotional outlook, it was difficult,

if not impossible, to move forward to create the life we desired.

employment/training services only to individuals

who do not need lifetime support and supervision in

the workplace due to their disability. They are not

equipped for folks with mental health issues and/or

the neurologic/sensory issues related to autism and

similar conditions.

In 2010, I started a Non-Profit called Neuroshifts to help young

adults in the autism and neuro-diverse communities achieve the

desired employment outcomes. I found that teaching these young

adults job-ready skills was essential. However, equally if not more

critical to their success was providing information and teaching

them the tools and techniques related to emotional awareness and

I am pleased to introduce Vicky Westra, a fellow

management and how to achieve a positive mental outlook.

parent of a child diagnosed with autism, to give us a

quick overview of her non-profit, called Neuroshifts.

Today, Neuroshifts works with families to help them shift from the

Red Zone to the Green Zone. We offer workshops, courses, a

Are You Ready to Experience

Greater Well-being?

membership program, group coaching programs, and social and

meet-up groups designed to greater well-being for ourselves and

our families. "We are building a community network of families

Today, many individuals and families in the Autism

and Neurodiverse community live in the "Red Zone"

passionate about creating the future they desire and paving the

way for others."

on our emotional guidance scale. In the Red Zone,

we experience stress and anxiety caused by many

things, including our negative thoughts and beliefs

about our child's diagnosis, our fear about the future,

and our often-limited opportunities for our child in

If you are ready to live in the Green Zone, we invite you to join

us by going to www.neuro-shifts.org or calling us at (813)251-2787.

We'd love to learn about you and your family and provide the

resources you need to live a Green Zone Life.

meaningful educational opportunities, employment,

and independence.

Vicky Westra

Neuroshifts Founder

As the mother of a child diagnosed with autism at

the age of 4, I know the Red Zone and these

challenges very well. However, I recognized that

staying in the "Red Zone" would not help me or our

daughter achieve the fulfilling and positive future we

Editor's Note: Milestones Magazine has partnered with Neuroshifts

in an affiliate arrangement. Income received from this will go to the

expenses of publishing the magazine and maintaining the website.

For more details, please email Susie Redfern, Milestones Magazine

desired. My path called me to extensively research

19

publisher, at milestonesmag1@gmail.com or call 630-499-5810.

M
---
MILESTONES MAGAZINE

Affiliates with

Neuroshifts

Neuroshifts

"Neuroshifts' mission is to guide those in

the Autism and Neurodiverse Community who

are currently feeling stuck or living in a place

of stress and anxiety into a place of mental

well-being." Courses, coaching, support, and

member community conferences are offered.

Beginning on Sept 8th, 2022, they will be offering

Launchpad and Lift Off live courses. These courses

are meant for young adults (ages 18 - 29) "who are

ready to achieve their goals and dreams, including

employment, creating healthy relationships, and

moving towards independence".

Neuroshifts' Memberships are Affordable!

Neuroshifts:

- Lift Off 8 Sessions

- Launchpad 4 Sessions

- Neuroshifts Coaching/Courses/Social Groups

- Neuroshifts FIGZ Memberships

Milestones Magazine is offering its own Resource Lists as part of the affiliation!

For more information: info@milestonesmagazine.com

Milestones Magazine is pleased to announce our affiliate relationship with Neuroshifts.

Income from this affiliate partnership will go to the expenses of our free online magazine

and website, www.milestonesmagazine.net.
---
Temper

Temper

Temper

Temper

Just about everyone has trouble keeping their cool from time to

time. Very young children, who are just learning social skills such as

sharing, are developmentally more vulnerable to squabbles and fits

of temper. Pile sensory or neurological conditions such as autism onto

this, and parents and other caregivers can have a very difficult time

indeed (not to mention the children themselves).

Therapists can provide assistance to children and families dealing

with emotional regulation issues. One such therapist is Catherine

Schully, MS, LPC, RPT, a registered play therapist who also has

created a course for parents called Parenting W Play.

I am pleased to welcome Catherine, to tell you a little about play

therapy in general, and her course in particular, and how both help

children, with and without divergent abilities, and their families.

"Hi, my name is Cat and I am a Licensed Professional Counselor and

Registered Play Therapist from Louisiana. I have been working with

children and families for well over 6 years and have found a missing

ingredient in childhood behavioral health.

That Missing Ingredient is YOU!

As a child therapist, I have learned that parents are the best people

to serve as their child's therapeutic agent! I mean think about it, in

therapy, a child has to build trust and rapport with the clinician

before change can really take place. This is not something you can

force! In my experience, that trust can take 6 months to 1 year to build.

I am as patient as can be and have no problem taking that time with

kids in therapy, but I also understand the frustration parents experience

being stuck at home still dealing with the behavioral problems day

in and day out.

21
---
This is why I created my program, Parenting W Play!

I know that parents already have that trust and innate bond with

their children so it just makes sense that they could produce faster

and more long-lasting changes in their child's ability to regulate

emotions, follow limits, and so much more. I also know that children

communicate and process their words the most effectively using play

because that is their most natural language.

My program is for parents of children between 5 and 10 years old and

consists of 3 courses: Tantrum Tamer, Confident Emotion Regulator,

and Motivated Power Struggle Master.

Tantrum Tamer is an introductory 4-week course where you will

learn skills in emotion coaching and reflective responding that will

help you learn effective strategies for bringing the temperature down

during a temper tantrum as opposed to adding fuel to the fire. By

honing these skills, you may even be able to stop a tantrum in its

tracks before it escalates.

Upon completion of Tantrum Tamer, you will be able to move on to

Confident Emotion Regulator, which is a 6-week course that builds

off of the skills learned in Tantrum Tamer. In this course, you will

fully grasp the importance of serving as the key regulator of your

child's emotions and how you play a role in helping them learn

how to regulate their emotions on their own.

The final course is Motivated Power Struggle Master, which is

another 6-week course that offers education in appropriate limit

setting that promotes putting your child in the driver's seat of their

consequences and keeps you from having to be the "bad guy."

Each course includes using play as a tool to connect with your child

and support their behavioral health development. After all, if you are

not playing with your child, you are not communicating with them!

In the end, you will feel like a totally in-control parent!

For more information, please visit my website: parentingwplay.com" M

22
---
MILESTONES

Helping Individuals with Disabilities & their Families

Achieve & Celebrate Events & Milestones in their Lives

MILESTONES Magazine - Sponsorship for an Event Guide

The Event Guide will include information about the event and highlight all the speakers.

Sponsors will be highlighted on socia media and in the Event Guide. A sponsor can sign up for

a full, half, or quarter page; outlined below. Each sponsor will also be included in the program

schedule and receive (as per resource list order form) one or more resource lists, with a license

to freely distribute (sales prohibited) to clients, colleagues, friends, and family.

Our Next Events in September: (Click the name of the event to register.)

Off to College

Virtual Event:

Speaker:

The Event Includes:

September 1, 11:00 AM - 12:00 PM Central Standard Time (CST)

Cindy Fisher

Creator of the Smart Steps App, will have a discussion format about

college adaptations for students with divergent abilities.

Protecting Your Child - Special Needs Trust

Virtual Event:

Speaker:

The Event Includes:

September 8, 12:00 PM - 1:00 PM Central Standard Time (CST)

Deidre Braverman

The founder of Braverman Law Group is hosting a discussion for parents

who have a child with special needs; financial planning is perhaps even more

crucial than it is for other children.

Resources for Inclusive Child Care

Virtual Event:

The Event Includes:

September 10, 11:00 AM - 11:30 AM Central Standard Time (CST)

Showcasing strategies and resources to develop and enhance inclusive infants,

toddlers, preschool, and school-age programs for children with divergent

abilities and their peers.

Clothing Solutions for People with Divergent Abilities

Virtual Event:

Speakers:

The Event Includes:

September 20, 1:00 PM - 1:30 PM Central Standard Time (CST)

Keisha Greaves and Heidi McKenzie

The founders of clothing companies are leading a discussion about clothing

created for people with physical, sensory, coordination, or other challenges.

Currently, we have 1,000+ invitees on our list for these Events!

Sponsorship Opportunities

Please email Susie Redfern at info@milestonesmagazine.net

if you are interested in Sponsoring an Event Guide.

COVER PAGE

Event and Speakers will be Highlighted

FULL PAGE

Your Bio, Picture, Logo and Contact Information

Check out our website:

milestonesmagazine.net

HALF and QUARTER PAGES

Your Bio, Picture, and Contact Information