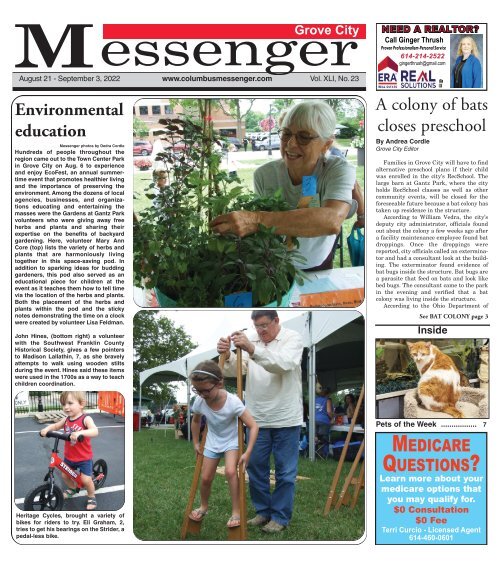 Grove City Messenger - August 21st, 2022
Create successful ePaper yourself
Turn your PDF publications into a flip-book with our unique Google optimized e-Paper software.
Messenger

Grove City

August 21 - September 3, 2022 www.columbusmessenger.com Vol. XLI, No. 23

NEED A REALTOR?

Call REALTOR? Ginger Thrush

Proven Professionalism-Personal Service

Call Ginger Thrush

614-214-2522

614-214-2522

gingerthrush@gmail.com

Environmental

education

Messenger photos by Dedra Cordle

Hundreds of people throughout the

region came out to the Town Center Park

in Grove City on Aug. 6 to experience

and enjoy EcoFest, an annual summertime

event that promotes healthier living

and the importance of preserving the

environment. Among the dozens of local

agencies, businesses, and organizations

educating and entertaining the

masses were the Gardens at Gantz Park

volunteers who were giving away free

herbs and plants and sharing their

expertise on the benefits of backyard

gardening. Here, volunteer Mary Ann

Core (top) lists the variety of herbs and

plants that are harmoniously living

together in this space-saving pod. In

addition to sparking ideas for budding

gardeners, this pod also served as an

educational piece for children at the

event as it teaches them how to tell time

via the location of the herbs and plants.

Both the placement of the herbs and

plants within the pod and the sticky

notes demonstrating the time on a clock

were created by volunteer Lisa Feldman.

John Hines, (bottom right) a volunteer

with the Southwest Franklin County

Historical Society, gives a few pointers

to Madison Lallathin, 7, as she bravely

attempts to walk using wooden stilts

during the event. Hines said these items

were used in the 1700s as a way to teach

children coordination.

A colony of bats

closes preschool

By Andrea Cordle

Grove City Editor

Families in Grove City will have to find

alternative preschool plans if their child

was enrolled in the city's RecSchool. The

large barn at Gantz Park, where the city

holds RecSchool classes as well as other

community events, will be closed for the

foreseeable future because a bat colony has

taken up residence in the structure.

According to William Vedra, the city's

deputy city administrator, officials found

out about the colony a few weeks ago after

a facility maintenance employee found bat

droppings. Once the droppings were

reported, city officials called an exterminator

and had a consultant look at the building.

The exterminator found evidence of

bat bugs inside the structure. Bat bugs are

a parasite that feed on bats and look like

bed bugs. The consultant came to the park

in the evening and verified that a bat

colony was living inside the structure.

According to the Ohio Department of

See BAT COLONY page 3

Inside

Heritage Cycles, brought a variety of

bikes for riders to try. Eli Graham, 2,

tries to get his bearings on the Strider, a

pedal-less bike.

Pets of the Week ................. 7

MEDICARE

QUESTIONS?

Learn more about your

medicare options that

you may qualify for.

$0 Consultation

$0 Fee

Terri Curcio - Licensed Agent

614-460-0601
---
PAGE 2 - GROVE CITY MESSENGER - August 21, 2022

By Dedra Cordle

Staff Writer

The village of Urbancrest is making moves to get

patrons back into the Vaughn E. Hairston Southwest

Community Center.

Call today and receive a

FREE SHOWER PACKAGE

PLUS $1600 OFF

1-855-517-1892

With purchase of a new Safe Step Walk-In Tub. Not applicable with any previous

walk-in tub purchase. Offer available while supplies last. No cash value. Must present

offer at time of purchase. CSLB 1082165 NSCB 0082999 0083445

At its regular meeting on Aug. 9, village council unanimously

approved a number of legislative items that would

allow popular recreational programs to be established

within the facility.

The first item that was approved by the council was a

resolution for the village to be able to enter into a one-year

agreement with Mrs. Nikee Swimming Stars LLC

to oversee the aquatics programming.

Website:Expert-hvac.com

Phone:614-946-8461

Experthvacllc@gmail.com

FREE ESTIMATES

on system installs

$100 Preventative Maintenance (tune up)

Expert service - affordable prices - Locally owned from Groveport

Mention this ad and get $20 off a $110 service call.

Recently founded by long-time instructors Ben

Fox and Nikee Swanson, the organization aims to

provide a variety of services that will extend far

beyond the length of the pool.

"We don't just want to be a place where people

come to swim," said Fox. "Obviously, we want people

to come out and swim, but we also want to be

able to teach the community skills that they can

take with them and apply to their lives outside of

the building."

According to Fox, he and his partner intend to

establish training courses for those who wish to

learn cardiopulmonary resuscitation and basic first

aid, while also establishing courses for those looking

to be certified babysitters or lifeguards.

"Learning CPR is an incredibly important skill

to have," said Fox, who partners with the American

Red Cross to provide training programs across the

region. "Not only do we want all of the staff who

work in this facility to know how to do CPR and

basic first aid, we also want to open this to all of the

members and possibly even non-members who just

want to have that knowledge."

Fox said because they are still creating the

aquatics programming for the community center,

they do not have official dates for when the courses

will take place. However, he added everyone

should keep it in the back of their minds that they

will be offered in the village soon.

In addition to those skill-based courses, the staff

with Mrs. Nikee Swimming Stars will also offer

traditional swim lessons for all age groups, and

they will also provide private lessons for people

with special needs.

Fox said his specialty is teaching children and

adults with physical disabilities and/or autism

their way around the pool — he also served as a special

needs educator with the Columbus City

Schools for many years - and he wants to continue

to offer adaptive programming at this community

center as well.

"A swimming pool should be a place where

everyone can have fun, where everyone feels like

they belong," he said. "We don't want to make anyone

feel left out and we will take steps to make

sure no one feels as if they do not belong."

Although the organization

will run the aquatics

programming, they will

have to share aquatic space

with the Central Crossing

High School swim team

prior to and during their

regular season. Fox said he

does not foresee too much

conflict with scheduled programming.

"We may have to work

around each other, but I

think we can find a solution

that benefits us all."

Mrs. Nikee Swimming

Stars also intends to host

water aerobic classes, synchronized

swimming

www.columbusmessenger.com

Village works on plan for programming at community center

SPECIAL OFFER

lessons, and scuba diving courses, if desired.

"Much of our programming will be based on what the

community wants," he said. "If they want something different,

we will try to find a way to accommodate their interests."

Fox said they are looking to start aquatics programming

at the beginning of September, pending contract

approval by the village law director.

"We can't wait to get in there and get this community

back into the pool," he said.

The second item that was approved by the council was

a motion allowing the village to enter into a one-year

agreement with Tivity Health to oversee the Silver

Sneakers program within the facility.

Silver Sneakers is the nation's leading exercise program

designed exclusively for seniors and those with physical

disabilities. In addition to offering a variety of physical

activity programs, including therapeutic aquatics programming,

it also has an element of socially-oriented programming

for added mental wellness.

Councilwoman Deborah Larkins-Jackson said when the

Silver Sneakers program was managed by the YMCA of

Central Ohio at the facility years ago, they had the highest

volume of members in the region.

"We always had a big number of participants in Silver

Sneakers at the center," she said during the meeting.

Mayor Joseph Barnes Sr. said he believes that volume

could be even higher if the phone calls he has recently been

fielding are an indication of interest.

"I have seniors calling from Grove City, Harrisburg, the

west side, down south, and in Canal Winchester and

Lockbourne asking when we're getting this program back,"

he said.

With the motion that was passed, officials are hopeful

the program will be back at the start of September.

"I don't want to make any guarantees because there are

still a lot of moving parts going," said Barnes, "but I do

know we are on our way to bringing recreational programming

back to the community center."

Another piece that is still being worked out are the community

center hours and the membership fees. However,

as of press time, the plan is for the facility to be open starting

next month from Monday through Friday from 7 a.m.

to 11 a.m. and 3 p.m. to 7 p.m.; and on Saturday from 9

a.m. to 1 p.m. During the weekday, senior citizens would

be able to access the facility during the morning, while

afternoon times would be made available for after-school

recreation. Non-students would also be able to access the

facility during the 5 p.m. to 7 p.m. hours.

Barnes said they are still working on programming for

non-seniors and non-students — ideally between 11 a.m.

and 3 p.m. — but plans have not been finalized yet. Fox said

he would like for the aquatics facility to be open from 12

p.m. to 7 p.m. but added it could be opened earlier if they

are able to hire someone to oversee morning aquatic activities.

The fee schedule is slated to be $25 for all seniors and

young adults who reside in the village; $30 for young

adults who do not reside in the village; $15 for non-resident

youth; and $10 for youth who live in the village. Fox

said he would like to explore the option of day-passes for

non-members to access the pool but added that decision

will be up to the village and the center's advisory committee.

There could also be additional fees for members to

access the pool, but officials say that is "an evolving piece"

that has yet to be determined.

Questions regarding aquatics programming can be sent

to Ben Fox at Fox.512@osu.edu.

Questions regarding all other recreational programming

can be sent to the village administration at urbancrest@sbcglobal.net

or by calling 614-875-1279. The village

is currently working on setting up a phone number, email

address and website for the community center.
---
www.columbusmessenger.com

BAT COLONY

Continued from page 1

Natural Resources (ODNR), a colony can

include hundreds of bats.

"We can't have kids in that building,"

said Vedra.

The city has hired a company that will

remove the roof from the structure, as well

as some siding as they think the bats may

also be in the walls.

"We are now allowed to promote their

relocation," said Vedra.

According to ODNR, all species of bat in

the state are protected and cannot be

intentionally harmed. To protect flightless

bat pups, it is against the law to perform

an exclusion between May 16 and July 31

if there are 15 or more bats inside of a

structure. Exclusion devices, like attached

netting, allow the bats to safely exit but it

keeps them from getting back inside.

Vedra said once the bats have been

cleared from the building, city leaders will

be able to go inside and assess the damage.

"The damage could be extensive," said

Vedra.

According to the deputy city administrator,

they will likely have to remove the dry

wall and complete major repairs before

reopening to the public.

"We don't have a good picture right now,

but we could have to restore the building,"

said Vedra.

The roof will be removed in the coming

days.

"We won't know the full cost or the

extent of the damage for a while," said

Vedra.

ODNR states that bats are insectivores,

meaning they eat insects. They are usually

able to exist near human habitats without

people knowing. They should be removed

from homes and structures where there is

human activity due to potential health concerns

for humans.

City officials hope the bats will leave the

barn and find a home in the trees or wooded

areas.

RecSchool, based in Gantz Park, uses

nature-based activities to encourage learning

in children ages 3-4. It is operated by

the Grove City Parks and Recreation

Department and runs from September

through May.

According to Vedra, RecSchool can

accommodate approximately 110 children.

His own grandson was enrolled in the program.

"It's disappointing," said Vedra referring

to the closing of the preschool. "We are

working to come up with alternatives."

He said those alternatives take time

and could involve relicensing.

The city has already notified the families

that were enrolled in RecSchool of the

closure and provided a list of 13 other

preschools in the area.

On July 29, 2022, Grove City Police

were dispatched to the 3100 block of

Summer Glen Drive on a report of

Identity Fraud. The caller stated that

a credit report said that she had two

credit cards in her name through Bank

of America and US bank. She stated

she never signed up for either card. The

incident remains under investigation.

In other police news:

On July 29, 2022, A Grove City police

officer conducted a traffic stop. The license

plate and the driver's license

came back expired. The officer administered

a field sobriety test after identifying

a smell of alcohol. Marijuana

was located on the driver and the

driver refused a breath test. The driver

and his vehicle were released to a sober

party after being given multiple summons.

On August 4, 2022, Grove City Police

were dispatched to the 4000 block of

Haughn Road on a report of assault.

Upon arrival the caller stated that his

dogs were barking at his neighbor who

was at his fence. The caller asked him

to go inside but the neighbor proceeded

August 21, 2022 - GROVE CITY MESSENGER - PAGE 3

Grove City Police News

to spray him in the eyes with pepper

spray, after threatening to spray his

dogs. The caller filed a misdemeanor

assault charge. The suspect was later

arrested.

On August 4, 2022, A Grove City police

officer was flagged down in the 1600

block of Stringtown Road. The woman

stated that she witnessed a female in

all red push a cart of un-bagged items

out of the business. Officers located the

female at her car with the merchandise.

Loss prevention reviewed the security

footage from the business and

identified two occupants of the vehicle

leaving the store with the stolen merchandise

worth over $700. The merchandise

was returned and both

suspects were issued summons for

theft.

On August 8, 2022, Grove City Police

were dispatched to an apartment in the

3400 block of Kirk Street on a report of

theft. The caller stated that his vehicle

had been broken into overnight. His

handgun, two loaded magazines, and

ammunition were stolen. The incident

remains under investigation.

Looking for a small,

friendly church experience? Try

First Presbyterian Church

of Grove City

4227 Broadway, Grove City

Worship Service 10:00 a.m.

In-Person and live Facebook

www.fpcgc.org

Free Community Brown Bag Lunch Drive-through

Saturday, August 27th, 11:00 am- 1:00 pm

Please visit the

Southwest Church

of your choice.

List your Worship

Services here.

For info. call 614-272-5422

Be a Part of Our Local Worship Guide

Our Worship Guide is geared toward celebrating faith and helping reader connect with religious

resources in our community. Make sure these readers know how you can help with a presence in

this very special section distributed to more than 22,000 households in the Southwest area.

Contact us today to secure your spot in our Worship Guide.

614.272.5422 • kathy@columbusmessenger.com
---
PAGE 4 - GROVE CITY MESSENGER - August 21, 2022

www.columbusmessenger.com

Grove City honors Purple Heart recipients

Messenger photos by Dedra Cordle

The city of Grove City held its annual observance of National Purple Heart Day from

Aug. 5 to Aug. 9 at the Purple Heart Memorial Walk in Henceroth Park. Throughout

those five days, dozens of residents and non-residents alike walked the path of heroes

as they remembered the men and women who were wounded or killed in combat while

serving in the United States Armed Forces. On Friday morning, the city held a special

ceremony to pay homage to the families of the fallen and to honor the area's living

recipients of the Purple Heart Medal. Among those wounded veterans who received

recognition at the event were Bernie Ryznar, John Flinn, Mikel Rhodes, Bill Purdy, John

Kruetzkamp, and Eldon Erlembach (pictured from left to right in the second row) and

Korean War veteran John Kelly (seated in front). Mayor Richard "Ike" Stage and the ceremony's

attendees thanked them for their service and sacrifice.

Brent Casey, the grandson of the late Medal of Honor and Purple Heart recipient

Hershel "Woody" Williams, stands before the tree that was planted in his grandfather's

honor alongside Mayor Stage, shown holding Williams' medal. Williams was considered

a friend of the city and was instrumental in the creation of the city's Gold Star

Family Memorial Monument. The World War II veteran and United States Marine Corps

Reserve warrant officer died on June 29, 2022. More photos can be found at columbusmessenger.com.
---
www.columbusmessenger.com

Township seeks funding for road work

By Dedra Cordle

Staff Writer

The Ohio Public Works Commission

recently announced it would be accepting

funding requests for road and infrastructure

improvements through two of its most

popular programs — the state capital

improvement program and the local transportation

improvement program. Among

the hundreds of municipalities throughout

the state who will be vying for funds

include Jackson Township.

At its meeting in early August, the

board of trustees gave its approval for the

administrator to request funding through

the local transportation improvement project

to repair two of its most well-traveled,

and well-worn, roads.

According to Township Administrator

Shane Farnsworth, the township will go

after "any available funds" to resurface

Brown Road and Dyer Road and also make

alignment adjustments to its intersection.

He said he feels relatively confident that

this funding request will be approved by

the commission in some capacity.

"We have been working with the

Franklin County Engineer's Office on this

application and we both feel this is a really

good project based upon the traffic counts,

based upon the area it serves, based upon

the types of vehicles it serves, and the

types of land uses (along the road)," said

Farnsworth. "It is a really good opportunity

for us to go after and hopefully be really

competitive in this grant application."

One of the primary issues with Brown

and Dyer Roads is its condition, which was

described by Farnsworth as in a constant

need for repair.

"Our road crew continues to go out there

and do a lot of repairs every month just to

maintain a level of safety for our residents

and for the people that are using that

area," he said.

Exacerbating the condition of the roads

is the fact that they are used as cutthroughs

when traffic has built up along

the surrounding thoroughfares, explained

Farnsworth.

"If you have gone down that area —

whenever anything is happening to Frank

Road, Jackson Pike, or to Gantz Road or

Home Road — Dyer Road and Brown Road

get hit a lot (and have to bear that traffic

load)," he said.

He mentioned that those roads were not

built with so much traffic in mind but

acknowledged the volume along those roadways

will likely remain high due to the

area it serves and the way the area is being

built up.

"We still have to make sure these roads

are as safe as possible for whoever lives in

that area and for whoever travels on it," he

said.

Pick-Up &

Delivery

See TOWNSHIP page 6

C.M.T

MOWER REPAIRS

Authorized Dealers for BOBCAT Mowers

6446 HARRISBURG PIKE, ORIENT, OH 43146

614-875-5830

www.cmtmowerrepairs.com

"We have the lowest price in town!"

GENERAL MAINTENANCE SERVICES

Push Mowers $49.95

Riding Tractors $169.95 • Zero Turn Mowers $169.95

Parts are additional on all units

PICK-UP & DELIVERY AVAILABLE

CHECK OUT THESE GREAT DEALS!!

• ZT 2000-42... $ 4,800.00

• ZT 2000-48... $ 4,900.00

• ZT 2000-52... $ 5,100.00

• ZT 3000-61... $ 7,000.00

• ZT 3500-52... $ 8,150.00

ZT 3500-61......... $ 8,450.00

ZT 6000-61....... $ 10,500.00

ZT 7000-72....... $ 13,500.00

0% Interest

Financing up to

48 months (if qualified)

*Prices may vary due to changing times.

August 21, 2022 - GROVE CITY MESSENGER - PAGE 5

RDC Dance Center

3048 Southwest Blvd., Grove City | (614) 875-1044

OPEN HOUSE

Sunday, August 21st 3-5pm

Monday, August 22nd 5-7:30pm

We would like to meet and dance

with you this season!

Let's Dance!

Boys and Girls AGES 3 and up

TAP * JAZZ * BALLET

LYRICAL * TUMBLING

(For all ages)

COMBO CLASS (for ages 3-4)

OPENING DAY IS MONDAY, AUGUST 29th

(614) 875-1044

email > wendi@rdcdance.com website > www.rdcdance.com

(registration forms are on the site)
---
PAGE 6 - GROVE CITY MESSENGER - August 21, 2022

DestinationOutlets.com

800-213-9083

8000 Factory Shops Blvd.

Jeffersonville, OH 43128

DOWNLOAD OUR

MEMBERSHIP APP

Youth volleyball in Grove City

Get "set" for fun this fall. Register for

indoor youth volleyball with Grove City

Parks and Recreation through Aug. 31.

Participants in grades 3-12 build teamwork

skills while learning the fundamentals

of volleyball. Register online throughout

August at

Recreation.GroveCityOhio.gov, by phone

at 614-277-3050 or in person 8 a.m. to 5

p.m., Monday through Friday, at the

Kingston Center, 3226 Kingston Ave. Each

player is registered as an individual and

drafted to a team during the coaches' meeting.

Leagues are available in four age divisions:

junior (grades 3-4), intermediate

TOWNSHIP

Continued from page 5

news and notes

Township officials said they will work

with the local municipalities who share

jurisdiction of the roads to make sure this

resurfacing and realignment application is

as "attractive" as possible to the commission.

"Collaboration is always an attractive

feature on these applications, and it would

be in the best interest of all of us to have

this project funded," said Farnsworth, noting

that they are working with the city of

www.columbusmessenger.com

(grades 5-6), middle (grades 7-8) and senior

(grades 9-12). Girls and boys compete

together. Practice starts the third week of

September for the junior division, early

October for all others. The eight-match

season begins Oct. 17. The cost is $60 per

player, $65 for non-residents, and includes

a team shirt. Registration forms must be

completed by a parent or legal guardian.

Volunteer coaches are needed; submit

an application to the Parks and Recreation

office. Coaches' application forms are available

online.

For more information, visit

GroveCityOhio.gov or call the Grove City

Parks and Recreation Department at 614-

277-3050.

Columbus and Franklin Township, the latter

to a lesser degree, on this application.

The application is due Sept. 2. It will be

reviewed and scored by the Mid-Ohio

Regional Planning Commission. It will

then go before the district's public works

integrating committee, which recommends

project awards for OPWC approval.

Farnsworth said he expects to hear

whether the township has received full or

partial funding this winter.

MEDICARE QUESTIONS?

Learn more about your

medicare options that you

may qualify for.

Too busy enjoying summer to think about Medicare?

As a local neighborhood agent, help finding the right plan is

closer than you THINK! Call or Text today 614-460-0601

Call me Today $0 Consultation $0 Fee

Terri Curcio 614-460-0601

"Who do you call about Medicare when all the commercials are gone?

A Local Licensed Agent!"

I'm here all year long providing Medicare members with the plan options that fit their needs. Also, we could review if

you qualify for extra help on your prescription copays, along with insulin coverage. Reviewing the plan information over

the phone or in person, you need to be confident in your decision. Guiding you on the right path to Medicare.
---
www.columbusmessenger.com

Pets of the week

These furry friends are available

for adoption at local rescues and

shelters

August 21, 2022 - GROVE CITY MESSENGER - PAGE 7

Nakita and her brother

came into rescue

after their human

mom passed away.

They spent much

time mourning her

loss. Nakita is still

very shy, but making

progress in her foster

home. She would do

best in a quiet home with someone patient

enough to earn her trust, but in due time she'll

be your best friend. Contact Colony Cats if

you'd like to meet Nakita.

FYI: colonycats.org

Asher was surrendered

to rescue after

his family experienced

some medical

issues and couldn't

care for him. He is at

the Colony Cats

adoption center looking

for a family. Asher

does have some

health issues. He is very susceptible to upper

respiratory infections and has a chronic runny

nose. He also needs a consistent diet to help

with skin issues. This guy is so friendly and

affectionate though that you won't care about

those things.

FYI: colonycats.org

Ivy Rose is a shy girl

who is looking for

someone with a quiet

home and the

patience to give her

the time she needs to

adjust. Ivy is not a lap

cat but can be affectionate

and likes to be

near you. She gets

along with other cats and could be good with

older children who would understand her shyness.

Ivy Rose needs a home of her very own

to flourish in, to love a family to her full potential.

Adopt her from Friends for Life Animal

Haven.

FYI: fflah.org

Wilson is such a

cutie. He loves getting

attention and is in

search of someone

who will give him all

the love and belly

rubs he deserves. He

would do best as your

only furry friend and

must meet everyone

living in his forever home prior to adoption.

Come meet this handsome man today at the

county shelter.

FYI: franklincountydogs.com

Now in Grove

City

At Zangmeiste er Cancer Center we coll laborate with our

colleagues in radiation therapy, surgery, genetics, pathology

and

clinical researc ch to ensure each patien nt has a comprehensive

,

multidisciplinar ry plan of care. Support from our pharmacists,

social workers , nurse navigators, dietiti ians and financial

counselors min nimize the impact of cancer cer on daily life.

A DIVISION OF

AMERICAN ONCOLOGY PAR TNERS, P.A.

We del liver the most adv vanced and innova ative treatments fo ocused on each patient for

the best possible expe erience — becaus e each patient' 's cancer journey is unique.

5500 North Meado ows Dr., Suite 230, Grove City, OH 43123 | ZangCenter.

com
---
PAGE 8 - GROVE CITY MESSENGER - August 21, 2022

Grove City

Messenger

We are the

BEST COMMUNITY NEWSPAPER

in Grove City

Pick-Up At

These Locations:

Village Municipal Building

3492 1st Ave. Urbancrest

Sheetz Gas Station - Broadway & Centerpoint

Turkey Hill - Broadway & Centerpoint

Speedway Gas Stateion - Boardway & I-270

Shell Gas Station - Broadway & I-270

United Dairy Farmers - Broadway & Southwest

CVS Pharmacy - Broadway & Southwest

Speedway Gas Station - Broadway & Southwest

Grove City Library - 3959 Broadway

Planks on Broadway - Broadway & Park St.

Mobile Gas Station - Broadway & Paul St.

Ernies Carry-Out - Broadway & Paul St.

BP Gas Station - Stringtown & Hoover

Krogers - Stringtown & Hoover

Walgreen's - Stringtown & McDowell

CVS Pharmacy - Stringtown & McDowell

Drug Mart - Stringtown & McDowell

Speedway Gas Station - Stringtown & I-71

Dollar General - 3065 Broadway

Southwest Community Center

4500 1st Ave. Urbancrest

Kroger - Hoover & Route 665

Meijer - 665 & Hoover

Circle K - 665 & I-71

CVS Pharmacy - 665 & Hoover

Dollar General - 665 & Hoover

READ US ONLINE: www.columbusmessenger.com

www.columbusmessenger.com

In Entertainment

Sink your teeth into "Day Shift"

While the mining of stories in the well-worn book on

vampiric lore has never truly gone out of style within

the entertainment industry, there has been a shift in

recent years to make these creatures of darkness more

humorous, and thus more palatable, to the masses.

However, there comes a time when the fan of the vampire

wishes to see something that is edgier than these

undead lightweights, but still wants the offering to

maintain an overall sense of dangerous and mischievous

fun.

Enter "Day Shift," a new Netflix original that

attempts to bring back a more serious type of vampire,

but not one that is so serious that it makes you dream

of closing a lid on your still breathing body just to

escape the banality (see, or rather don't see, "30 Days

of Night"). In this film, the majority of the vampires

rarely speak; instead, they use their rapidly contorting

bodies to inflict harm, horror, and a healthy dose of

humor on the audience and on those who dare try to

kill them in this bizarrely entertaining new universe.

Leading the charge on those who dare try to kill

them is Bud Jablonski (Jamie Foxx), a hard-working

guy who just wants to provide a better life for his 8-

year-old daughter Paige (Zion Broadnax). On his

resume — one he freely admits should be updated and

sent out to more reputable businesses — he is a longserving

and committed cleaner of swimming pools in

the San Fernando Valley but it turns out this is just a

front to hide his primary source of income: hunting

and killing the vampires who reside in his beloved city.

In this world, killing vampires is a business — slayers

earn cash by selling the fangs of the vamps they

slaughter. And although Bud tends to kill a lot of

them, his wallet and his savings are not displaying his

financial rewards. This lack is due to the revoking of

his membership in the international vampire hunting

union and the low-ball figures he gets from black market

dealers.

Upon finding out that his ex-wife plans to relocate

to Florida with their daughter in order to save money,

Bud knows that the only thing that he can do to keep

them in California is to try to get his union job back

and kill a bunch of vampires in the process — but by the

book this time. Although Bud figures the latter will not

pose an issue, he soon discovers that there are human

and not-so-human complications at play on his mission

The Columbus Air Show Presented by Scotts

returns in 2023 with a three day show from June 16,

17, and 18, 2023 at Rickenbacker International

Airport, 2241 John Circle Drive, Columbus.

This will be the first air show in Columbus in more

than 15 years. The last show attracted more than

150,000 visitors, according to air show officials.

According to air show officials, an extra day was

added to the show due to the demand from the community.

Ticket prices for the Friday part of the show will

be discounted from the weekend dates.

The preliminary performer lineup for the 2023

Columbus Air Show includes the U.S. Navy Blue

Angels, U.S. Marine Corps C-130 "Fat Albert," The

Ohio Air National Guard KC-135, B-17 Flying Fortress

"Yankee Lady," B-25 Mitchell "Rosie's Reply," C-47

Skytrain "Hairless Joe," world aerobatic champion Rob

Holland, and the Smoke-n-Thunder Jet Car.

Also part of the show will be the Scotts Aviation

Showcase, which will feature a number of "warbirds"

to earn money for fangs. The

human complication comes in

the form of Seth (Dave Franco),

a quasi-babysitter from the

union who is meant to oversee

his work and write down all of

the code violations, and the notso-human

complication comes

in the form of Audrey San Fernando (Karla Souza), a

feared vampiress who is not at all impressed with

Bud's slaughtering of her kin and the bloody mess he

leaves behind in his wake.

Although it is hard to find originality within the

vampire genre — the undead creatures of the night

have been around for more than a century and there

have been just as many interpretations in books, film

and television shows throughout — this film feels familiar

yet creatively fresh, and that is due in large part to

the smart script by Tyler Tice and Shay Hatten that is

so well-played by Foxx and Franco.

I have to admit that I wasn't really feeling this

movie until the 30 minute mark when Bud and Seth

meet for the first time. While impressed with the fight

choreography that takes place prior to this event, the

human action was lagging until these two started

butting heads and jockeying to see who could chew the

most scenery. Though this film likely could have stood

on its own with this clever script, it is these two who

really made it so effortlessly entertaining.

While this film doesn't always stick the landing or

pull off plot beats the way it wants to, "Day Shift" is a

terrific combination of humor, ferocity, and fun. And

although it won't be for every fan of the vampire, I

think it will be a good time for those looking to sink

their teeth into a fresh action horror that packs a bit of

a punch.

Grade: C+

The Reel Deal

Dedra Cordle

Dedra Cordle is a Messenger staff writer and

columnist.

Extra day added to Columbus Air Show

vintage military aircraft participating each day in formation

flying and on static display.

General public ticket sales begin in early August.

There will be a variety of options including general

admission and several limited quantity premium seating

areas. Tickets will only be available online at

www.ColumbusAirShow.com.

Visit www.ColumbusAirShow.com for information

and follow the show on Facebook, Twitter, and

Instagram.

As a civil—military public airport, Rickenbacker

International Airport is also home to the Ohio Air

National Guard's 121st Air Refueling Wing, Ohio

Army National Guard's Army Aviation Support

Facility No. 2, the U.S Army, Navy and Marine Corps

Reserves, and the headquarters for the Ohio Military

Reserve. Although the air show will be held on the

civilian side of the facility, it is anticipated the local

military units will be invited to have a presence at the

show.
---
www.columbusmessenger.com

August 21, 2022 - GROVE CITY MESSENGER - PAGE 9

CLASSIFIED ADS

Deadlines: Grove City, Canal Winchester & All editions, Mondays at Noon., • South, West & Madison editions, Tuesdays at 5 p.m.

All editions by phone, Mondays at Noon

xPreschool/Daycare

xCraft Shows

xCome & Get It!

Get A Head Start

on Fall Enrollment!

ADVERTISE Your

Preschool/Daycare

in the Messenger

Call KATHY at

The Columbus Messenger

614-272-5422

ADVER

VERTISE

Your Fall F

Craft Show

Bazaar, , or Bake Sale!

In The Columbus Messenger!!

Call Kathy

614-272-5422

COME AND GET IT!

Need to Get Rid of Something Fast - Advertise It Here For FREE!

Deadlines are Mondays by 5 pm.

Call For Publication Schedule 614-272-5422

FREE Garden Straw for gardens or bedding. Call for appointment for pickup.

Circle S Farms, 9015 London-Groveport Road, Grove City, 43123

Grove City - 614-878-7980

FREE - Metal from old camper frame, Need a truck to pickup..

CC - Obetz - 614-632-1013

FREE - Antique Metal Twin Bed, 1900's, Good Condition.

MS - Grove City - 614-875-5316

FREE - Children's Wooden Play Set - Good Condition w/Sand Box under it, Step Ladder up

Slide to go down & a rope swing. Also separate Swing Set w/4 swings.

190 Inah Ave., Cols, 43228 near the Fire Dept.

West Columbus - 614-878-1930, ask for Linda

. Come and Get It! is a bi-weekly column that offers readers an opportunity to pass along

Preschool/Daycare Craft Shows surplus building materials, furniture, electronic equipment, crafts, supplies, appliances,

plants or household goods to anybody who will come and get them - as long as they're

FREE. NO PETS! Just send us a brief note describing what you want to get rid of, along

INFORMATION

GO BACK TO SCHOOL

WITH A

NEW HAIRSTYLE!

Come See Me At

My New Location!

Call Marilyn Weaver

For An Appt.

For a New Haircut/Color

614-348-6670

Relax Wellness

3663 Broadway,

Grove City

ASSOCIATION ADS

Donate Your Car To

Veterans Today! Help and

Support our Veterans.

Fast - FREE pick up.

100% tax deductible. Call

1-800-245-0398

Stroke & Cardiovascular

disease are leading

causes of death according

the American Heart

Association. Screenings

can provide peace of mind

or early detection! Call

Life Line Screening to

schedule your screening.

Special offer - 5

screenings for $149. 1-

866-518-8391

Directv Stream - Carries

the Most Local MLB

Games! CHOICE

Package, $89.99/mo for

12 months. Stream on 20

devices in your home at

once. HBOMax included

for 3 mos (w/CHOICE

Package or higher.) No

annual contract, no hidden

fees! Some restrictions

apply. Call IVS 1-866-629-

6086

ASSOCIATION ADS

Looking for assisted living,

memory care, or

independent living? A

Place for Mom simplifies

the process of finding

senior living at no cost to

your family. Call 1-844-

428-0445 today!

Wesley Financial Group,

LLC Timeshare Cancellation

Experts Over

$50,000,000 in timeshare

debt & fees cancelled in

2019. Get free

informational package &

learn how to get rid of

your timeshare! Free

consultations. Over 450

positive reviews. 888-965-

0363

LONG DISTANCE MOVING:

Call Today for a FREE

QUOTE from America's Most

Trusted Interstate Movers.

Let us take the stress out of

moving! Call now to speak to

one of our Quality Relocation

Specialists: 877-541-6320

Put on your TVEars &

hear TV w/unmatched

clarity. TVEars Originaloriginally

$129.95 - now

w/this special offer only

$59.95 w/code MCB59! 1-

888-805-0840

Vivint Smart Security.

Professionally installed.

One connected system for

total peace of mind. FREE

professional installation!

Four FREE months of

monitoring! Call to

customize your system. 1-

855-870-2073

ASSOCIATION ADS

DENTAL INSURANCE

from Physicians Mutual

Insurance Company.

Coverage for 350 plus

procedures. Real dental

insurance - NOT just a

discount plan. Do not wait!

Call now! Get your FREE

Dental Information Kit with

all the details! 1-877-553-

1891

www.dental50plus.com/

macnet#6258

Don't let the stairs limit

your mobility! Discover

the ideal solution for

anyone who struggles on

the stairs, is concerned

about a fall or wants to

regain access to their

entire home. Call

AmeriGlide today! 1-844-

317-5246

Update your home with

beautiful new blinds &

shades. Free in-home

estimates make it

convenient to shop from

home. Professional

installation. Top quality -

Made in the USA. Free

consultation: 877-212-

7578. Ask about our

specials!

Looking for assisted living,

memory care, or

independent living? A

Place for Mom simplifies

the process of finding

senior living at no cost to

your family. Call 1-833-

910-1576 today!

Safe Step. North

America's #1 Walk-in Tub.

Compreshensive lifetime

warranty. Top-of-the-line

installation and service.

Now featuring our FREE

shower package & $1600

off for a limited time!

Financing available. Call

Safe Step 1-833-356-1954

ASSOCIATION ADS

HughesNet - Finally, superfast

internet no matter

where you live. 25 Mbps

just $59.99/mo! Unlimited

Data is Here. Stream

Video. Bundle TV &

Internet. Free Installation.

Call 866-499-0141

Safe Step. North

America's #1 Walk-in Tub.

Compreshensive lifetime

warranty. Top-of-the-line

installation and service.

Now featuring our FREE

shower package & $1600

off for a limited time!

Financing available. Call

Safe Step 1-855-417-1306

BUYING CLASSIC CARS,

TRUCKS, SUVs

**American and Foreign**

Any Condition. Buying

entire car collections.

$$PAYING CA$H$$

Please call 717-577-8206

KRMiller1965@yahoo.com

WANTED!

MOTORCYCLES!

ANTIQUE AND CLASSIC.

Honda, Kawasaki, Suzuki,

Yamaha, Triumph, BSA

and other foreign models.

$$PAYING CA$H$$

717-577-8206

KRMiller1965@yahoo.com

Internet &WIFI Starts at

$49 Call us Today to Get

Started. Find High-Speed

Internet with Fiber Optic

Technology No Credit

Check, No SSN Required.

Call us Today 866-396-

0515

Aloe Care Health medical

alert system. The most

advanced medical alert

product on the market.

Voice-activated! No wi-fi

needed! Special offer

w/code CARE20 for $20

off Mobile Companion. 1-

855-341-5862

ASSOCIATION ADS

Replace your roof with the

best lookng and longest

lasting material -- Steel

from Erie Metal Roofs!

Three styles and multiple

colors available.

Guaranteed to last a

lifetime! Limited Time

Offer - $500 Discount +

Additional 10% off install

(for military, health

workers & 1st responders)

Call Erie Metal Roofs: 1-

855-338-4807

Protect your home from

pests safely and

affordablly. Pest, rodent,

termite and mosquito

control. Call for a quote or

inspection today 844-394-

9278

DIAGNOSED WITH

LUNG CANCER? You

may quliafy for a

substantial cash award -

even with smoking history.

NO obligation! We've

recovered millions. Let us

help!! Call 24/7, 1-888-

650-9135

Discount air travel! Call

Flight Services for best

pricing on domestic &

international flights inside

& from the US. Serving

United, Delta, American &

Southwest &many more.

Free quote! Have travel

dates ready! 844-951-

2014

with your name, address and phone number. Nonprofit organizations are welcome to

submit requests for donations of items.

Send information to The Columbus Messenger, Attention: Come and Get It, 3500

Sullivant Ave., Columbus, OH43204. Deadline is Tuesdays by 5 pm for following

Mondays publication. Messenger Newspapers is not responsible for any complications

that may occur. Please contact us when items are gone. 272-5422

Come & Get it!

CLASSIFIED TIPS

REFRIGERATOR/FREEZER:

General Electric, 19 cu.ft., 3 years

old, auto icemaker & defrost. Like

new condition. $400 or best offer!

Moving, must sell fast. Call Saturday

between 8am and 11pm. 000-0000.

How to

Write an Ad

that Sells

1. Use a KEYWORD.This immediately tells the reader exactly what

it is you have to sell.

2. Make your description CLEAR and FACTUAL. State the year,

make, model, color, size, and tell what condition the item is. Also

state the special features.

3. State the PRICE. Successful Classified advertisers have learned

that the price in an ad helps increase the chances for results.

4. If there's a genuine sense of URGENCY, say so. The words

"We're Moving" or "Must Sell Fast" suggests that readers respond

immediately.

5. Include your PHONE NUMBER. Classifieds get results fast and

often generate immediate sales. If you cannot be available to answer

the phone at all times, be sure to specify calling times such as

"AFTER 6 PM" or "BEFORE 11 AM."

If you need assistance, ask one of our

friendly AD-VISORS to help you word your ad!

THE MESSENGER 272-5422
---
PAGE 10 - GROVE CITY MESSENGER - August 21, 2022

www.columbusmessenger.com

xEmployment

"HELP WANTED"

SIGN

NOT WORKING?

TO ADVER

VERTISE

Call Kathy at

The Columbus Messenger

272-5422

For More Info

OPEN HOUSE

FULL-TIME PICKING & PACKING

WEDNESDAY, AUGUST 24 th – 11AM-6PM

UP TO

$19/HR +

UP TO

JOBS.MSCDIRECT.COM

Applicants must sucessfully pass a background check and drug screen.

Equal Opportunity Employer: Minority, female, veteran, individuals with disabilities, sexual orientation/gender identity.

xInstruction

Instruction

$3K SIGN-ON

NO WEEKENDS • NO MANDATORY OT

1568 Georgesville Rd. Columbus, OH 43228

Fall is

Just Around the Corner!

Increase Your

Enrollment

ADVERTISE

Call Kathy

for Special Rates

272-5422

GOOD LUCK TO

ALL THE AREA TEAMS!

Central Crossing Comets

Grove City High School

Grove City Christian Eagles

ASSOCIATION ADS

Vivint Smart Security.

Professionally installed.

One connected system for

total peace of mind. Free

professional installation!

Four free months of

monitoring! Call to

customize your system. 1-

833-841-0737

Paying top cash for men's

sportwatches! Rolex,

Breitling, Omega, Patek

Pillippe, Heuer, Daytona,

GMT, Submariner and

Speedmaster. Call 833-

603-3236

The bathroom of your

dreams for as little as

$149/month! BCI Bath &

Shower. Many options

available. Quality

materials & professional

installation. Senior &

Military Discounts

Available. Limited Time

Offer - FREE virtual inhome

consultation now

and SAVE 15%! Call

Today! 1-877-540-2780

ASSOCIATION ADS

AT&T Internet. Starting at

$40/month w/12-mo agmt.

1 TB of data/mo. Ask how

to bundle & SAVE! Geo &

svc restrictions apply. 1-

855-364-3948

Become a Published

Author. We want to Read

Your Book! Dorrance

Publishing Trusted Since

1920 Consultation,

Production, Promotion &

Distribution. Call for Free

Author's Guide 1-877-729-

4998 or visit

dorranceinfo.com/ads

Become a Published

Author. We want to Read

Your Book! Dorrance

Publishing - Trusted by

Authors Since 1920

Book manuscript submissions

currently being reviewed.

Comprehensive Services:

Consultation, Production,

Promotion and Distribution. Call

for Your Free Author's Guide 1-

866-482-1576 or visit

http://dorranceinfo.com/macnet

DISH TV $64.99 for 190

Channels + $14.95 high

speed internet. FREE installation,

Smart HD DVR

included. Free Voice Remote.

Some Restrictions

apply. Promo Expires

1/21/23. 1-866-590-5561

Thinking about installing

a new shower? American

Standard makes it

easy. FREE design consulation.

Enjoy your

shower again! Call 1-

833-769-0995 today to

see how you can save

$1,000 on installation, or

visit www.newshowerdeal.com/mac

The Generac PWRcell, a

solar plus battery storage

system. SAVE money,

reduce your reliance on

the grid, prepare for power

outages and power

your home. Full installation

services available. $0

Down Financing Option.

Request a FREE, no obligation,

quote today. Call

1-866-783-0292

ASSOCIATION ADS

Aloe Care Health, medical

alert system. The most

advanced medical alert

product on the market.

Voice-activated! No wi-fi

needed! Special offer-call

and mention offer code

CARE20 to get $20 off

Mobile Companion. Call

today-1-877-728-4065

Want Faster & Affordable

Internet? Get internet

service today with

Earthlink. Best internet &

WiFi Plans. Call us Today

to Get Started. Ask

about our specials! 866-

396-0515

Dental Insurance -

Physicians Mutual Insurance

Comopany. Covers 350

procedures/ Real insurance -

not a discount plan. Get your

free dental info kit! 1-855-

.526-1060 www/dental50

plus.com/ads #6258

Eliminate gutter cleaning

forever! LeafFilter, the

most advanced debrisblocking

gutter protection.

Schedule a FREE LeafFilter

estimate today. 15% off

Entire Purchase. 10% Senior

& Military Discounts.

Call 1-855-791-1626

DISH TV $64.99 FOR 190

Channels + $14.95 High

Speed Internet. Free Installation,

Smart HD DVR

Included, Free Voice Remote.

Some restrictions

apply. Promo expires

1/21/23. 1-866-479-1516

BATH & SHOWER UP-

DATES in as little as

ONE DAY! Affordable

prices - No payments for

18 months! Lifetime warranty

& professional installs.

Senior & Military

Discounts available. Call

855-761-1725

Employment

ASSOCIATION ADS

Attention Viagra users:

Generic 100 mg blue pills

or generic 20 mg yellow

pills. Get 45 plus 5 free

$99 + S/H. Call Today 1-

877-707-5518

SELL YOUR ANTIQUE

OR CLASSIC CAR.

Advertise with us. You

choose where you want

to advertise. 800-450-

6631 visit macnetonline.

com for details.

Prepare for power

outages today with a

GENERAC home standby

generator. $0 Down + Low

Monthly Pmt. Request a

free Quote. Call before the

next power outage: 1-855-

948-6176

Looking for auto insurance?

Find great deals

on the right auto insurance

to suit your needs.

Call today for a free

quote! 866-924-2397

READY TO BUY, SELL

OR RENT YOUR

VACATION HOME OR

HUNTING CAMP?

Advertise it here and in

neighboring publications.

We can help you. Contact

MACnet MEDIA @

800-450-6631 or visit our

site at MACnetOnline.

com

VIAGRA and CIALIS

USERS! 50 Generic pills

SPECIAL $99.00. 100%

guaranteed. 24/7 CALL

NOW! 888-445-5928

Hablamos Espanol

The Generac PWRcell

solar plus battery storage

system. Save money,

reduce reliance on

grid, prepare for outages

& power your home. Full

installation services. $0

down financing option.

Request free no obligation

quote. Call 1-877-

539-0299

ASSOCIATION ADS

Attention oxygen therapy

users! Inogen One G4 is

capable of full 24/7 oxygen

delivery. Only 2.8

pounds. Free info kit.

Call 877-929-9587

READER

ADVISORY

The National Trade Association

we belong to has

purchased the following

classifieds. Determining

the value of their service

or product is advised by

this publication. In order

to avoid misunderstandings,

some advertisers do

not offer "employment"

but rather supply the

readers with manuals, directories

and other materials

designed to help

their clients establish mail

order selling and other

businesses at home. Under

NO circumstance

should you send any

money in advance or give

the client your checking,

license ID or credit card

numbers. Also beware of

ads that claim to guarantee

loans regardless of

credit and note that if a

credit repair company

does business only over

the phone it's illegal to request

any money before

delivering its service. All

funds are based in US

dollars. Toll Free numbers

may or may not

reach Canada. Please

check with the Better

Business Bureau 614-

486-6336 or the Ohio Attorney

General's Consumer

Protection Section

614-466-4986 for more

information on the company

you are seeking to

do business with.

ASSOCIATION ADS

IMPORTANT

NOTICE

The following states: CA,

CT, FL, IA, IL, IN, KY,

LA, MD, ME, MI, MN,

NE, NC, NH, OH, OK,

SC, SD, TX, VT and WA

requires seller of certain

business opportunities to

register with each state

before selling. Call to

verify lawful registration

before you buy.

Elminate gutter cleaning

forever! LeafFilter, the most

advanced debris-blocking

gutter protection. Schedule

Free LeafFilter Estimate

today. 15% off Entire

Purchase. 10% Senior &

Military Discounts. Call 1-

833-610-1936

NEED IRS RELIEF

$10K-$125K+ Get Fresh

Start or Forgiveness.

Call 1-844-431-4716

Monday through Friday

7am-5pm PST

Protect your home w/home

security monitored by

ADT. Starting at $27.99/

mo. Get free equipment

bundle including keypad,

motion sensor, wireless

door & windows sensors.

833-719-1073

Prepare for power outages

today with a GENERAC

home standby generator.

$0 Money Down + Low

Monthly Payment Options.

Request a FREEQuote--

Call now before the next

power outage. 1-855-465-

7624

CHILD CARE

OFFERED

Depend. Quality Child care

in loving hm. Exp. Mom, n-

smkr, hot meals, sncks,

playroom, fncd yd. Reas.

rates. Laurie at 853-2472
---
www.colulmbusmessenger.com

xFocus on Rentals

August 21, 2022 - GROVE CITY MESSENGER - PAGE 11

xClassified Services

HILLTOP SENIOR VILLAGE

APARTMENTS

ONE & TWO BEDROOM APT. HOMES

Call or Visit Us Today! 1.614.276-3017

www.nationalchurchresidences.org

email: 0805@nationalchurchresidences.org

Affordable living for seniors ages 55+ & up

Mon. thru Fri. 9 am - 5 pm

Independent Senior Living

Spacious floor plans • Controlled access

24 Hr. Emergency Maintenance • Dishwasher

Emergency call system • Picnic area

Community/game room • Library

Meal program affiliate

Private party room • Elevator

Beauty Salon • On-Site Laundry

Air Conditioning • Cottage-Style Apartments

WEDGEWOOD

VILLAGE

1, 2 and 3 BR Apts.

Rent Based on Income.

Call 614-272-2800 or visit us

at 777 Wedgewood Dr.

TTY/TDD 711

EQUAL HOUSING OPPORTUNITIES

HELP WANTED

Kings Kids Daycare

in Grove City is hiring Fun,

Loving Teachers for PT &

FT shifts. Please email

sarragc@outlook.com or

call 614-539-0349

PT Cleaner Needed. 2-4

evenings a week. $25-$40

per night, 2-4 hrs per shift,

Must be mature ,

dependable & Love pets.

Cash paid daily. Retirees

welcome. 614-875-6263

DATED SALES

Glenwood UM Church

Fall Festival

2833 Valleyview Dr.

Sat., October 8th, 9a-3p

Looking for Vendors or

Crafters to rent space

inside. Outside spaces are

for Yard Sale items. If

interested, call Pat at

614-465-2938

GARAGE SALE

Sept. 2 & 3, 8am-?

5603 Paul Talbott Cir

Grove City

DOWNSIZING - Hshld,

holiday decor, some furn.

Something for Everyone!

Rentals

PETS

German Shepherd

Puppies, AKC registered.

Call or text for info - $800

614-405-4796

AKC German Shepherd

Puppies ready to go

August 29. Will have 1st

shots and be dewormed.

Taking deposits. 765-617-

4199

WANT TO BUY

We Buy Junk Cars &

Trucks. Highest Prices

Paid. 614-395-8775

ANTIQUES

WANTED

Victrolas, Watches,

Clocks, Bookcases

Antiques, Furn.

Jeff 614-262-0676

or 614-783-2629

WE BUY JUNK CARS

Call anytime 614-774-6797

MISCELLANEOUS

FOR SALE

Kenmore Outdoor Grill 4

burner, only 2 work, 65"

long-$100; Craftman Lawn

Mower, ex cond, works-

$80. Will text photos at

your request. 614-779-

2742, ask for Mrs. Dixon

Electric Wheelchair - If

interested, call 614-928-2352

AIR CONDITIONING

AIR CONDITIONING

Complete System

Clean & Check

$49.95

BLACKTOP

AGM OHIO

ROOFING &

SEALCOATING

Free Estimates

Cell 614-599-0262

CONCRETE

8/28 A

Free Electronic Leak Testing

All Makes • All Models

46 Yrs. Exp. • Senior Discount

614-351-9025

CITY WIDE

ASPHALT &

CONCRETE

Blacktop & Concrete

Licensed/Bonded

Quality Work

Competitive Prices

9/11

W/gc

Since 1981

Call Craig Lantz

Local Resident

614-374-6217

citywideasphaltand

construction@gmail.com

BBB A+ Accredited Contractor

SANTIAGO'S

Sealcoating & Services LLC

Quality Materials Used

FALL IS COMING!

Driveway Seal & Repair!

Top Seal Cracks!

Residential & Commercial

Mulching, Edging & Clean-ups

"Ask for whatever you need."

BBB Accredited-Fully Insured

Call or text for Free Est.

614-649-1200

9/11

A/M

BLACKTOP SEALING

Driveways & Parking Lots

614-875-7588

CARPET CLEANING

CARPET CLEANING

Any 5 areas ONLY $75

Home Powerwash $99-$300

614-805-1084

Specializing in Pet Odors

Buckeye Cement

Contractors

Specializing In

Tearout & Replacing

Concrete of Any Type

Licensed • Bonded • Insured

40th Year in Business

614-539-5640

www.hastingsnsons.com

Driveways & Extensions

Patio & Walkways,

Porches & Steps,

Garage/Basement Floors

Hot Tub/Shed Pads,

Stamped/colored concrete

Sealing of new &

existing concrete.

FREE ESTIMATES

Contact Adam

614-756-1754

hastingsandsons.

columbus@gmail.com

10/11 W/SW

CONCRETE

GALLION

CUSTOM CONCRETE LLC

Specializing in Custom Colors &

Custom Designs of Concrete.

Including Remove & Replace

44 yrs exp & Free Est.

Licensed & Insured

Reputation Built

On Quality

Ronnie

614-875-8364

See Us On Facebook

www.gallioncustom

concrete.com

EDDIE MOORE

CONSTRUCTION

Quality Concrete Work

Lt. Hauling & Room Add.,

Block Work & Excavation

Stamp Patios,

Bsmt. Wall Restoration

35 Yrs Exp - Lic & Ins.

Free Ests. 614-871-3834

CITY WIDE

CONCRETE &

ASPHALT

Blacktop & Concrete

Licensed/Bonded

Quality Work

Competitive Prices

9/11

W/gc

Since 1981

Call Craig Lantz

Local Resident

614-374-6217

citywideasphaltand

construction@gmail.com

BBB A+ Accredited Contractor

AJ's Concrete,

Masonry

Good Work - Fair Prices

Block Foundations

Driveways • Sidewalks

Epoxy/Overlay Floors

Bonded-Ins. • Free Ests.

614-419-9932

ALL-CITY CUSTOM

CONCRETE

All Types Concrete Work

New or Tear Out-Replace

40 Yrs. Exp.

(614) 207-5430

Owner is On The Job!

R&L

CONCRETE

&MASONRY

* Stone * Brick * Block

Masonry Repairs

614-917-8227

FENCING

EAZY FENCE

Chain Link - Wood

No Job Too Big or Small

All Repairs ~ Free Est.

Insured. 614-670-2292

GUTTERS

Bates & Sons

GUTTER CLEANING

5 ★ Google Reviews

614-586-3417

8/28 W/SW

8/28 A

9/11 A

HAULING

DEAN'S HAULING

614-276-1958

DUMPSTER RENTAL

4 Days - $275 & Up

No Hazardous Materials

Tires - $10.00 each

Call 614-254-1131

HOME

IMPROVEMENTS

KLAUSMAN HOME

IMPROVEMENT

Siding-Windows-

Doors-Roofing-Soffit-

Fascia-Gutters-Trim

Earn FREE Seamless

Gutters with Siding Over

1000 Sq. Ft.

FREE Shutters with

Soffit & Trim

EPA Certified

Member of BBB

Financing Available

Over 20 yrs exp. • Free Est.

Licensed-Bonded-Insured

Owner & Operator

James 614-419-7500

SLAGLE

HOME REMODELING

Baths, Kitchen,

Plumbing and Electrical.

All your Handyman needs

No Job too Big or Small

Over 30 Yrs. Exp. Lic.-Bond-Ins.

Jerry

614-332-3320

HOME

REMODELING

Handyman Remodeling

Over 35 yrs exp.

Larry 614-376-7006

9/11 A

8/21

SW/W

C&JHandyman

Services LLC

Minor Plumbing & Electric

Install Hot Water Tanks,

Dishwashers & Disposals

All Interior Remodels

Also Fencing &

Interior/Exterior Painting

Free Est. ~ 18 Yrs. Exp.

CDC/EPA Approved Guidelines

614-284-2100

SINCE 1973

Phil Bolon Contr.

Windows & Siding

Decks, Kitchens, Baths

Room Additions,

Flooring, Roofing

Bsmt Waterproofing

Deal With Small Non-Pressure Co.

47 Yrs. Exp. - Refs. Avail.

Lic.-Bond-Ins.

8/28

A/M

Free Est. - Financing Avail.

Member BBB Of Cent. OH

O.C.I.E.B. ID #24273

614-419-3977

or 614-863-9912

7/17 A

HOME

REMODELING

MultiCraft Const.

& Handyman Services

All Types Handyman Services:

Decks, Fences

Kitchen/Baths

Window/doors installed

Interior Painting

Drywall Repairs

All Types of Flooring

Call/Text 614-774-2923

multicraftconstruction@gmail.com

Charlies Handyman

Service

Over 40 yrs. exp.

Hot Water Tanks

Door Locks

Kitchen Remodels

Roofmg * Siding

Bathrooms and more!

614-319-6010

blantoncharles894@gmail.com

LANDSCAPING

A-1 QUALITY

TREE & LANDSCAPE

Family Owned

Serving Central Ohio

Since 2004

Bed & Yard Maint.

Weeding, Mulching, etc.

Hedge/Shrub Trimming

*Stump Removal

614-596-9504

Insured - Free Est.

ONYX

LANDSCAPING

614-407-5214

www.OnyxLandscapingllc.com

Full Service

Lawn Care

Start with Trust!!

LAWN CARE

MANNY'S LANDSCAPE

Free Estimates

,Mulching, Trees Removed,

Patios, Powerwashing, etc.

Call 614-378-1237

Christian's

Landscaping

Full Service Lawn Care

•Tree/Shrub Trimming

•Mulching •Tree Removal

8/28

•Powerwashing

w/gc

614-282-4443

The Lawn Barber

Cut, Trim, Blow away

Hedge Trimming, Edging

614-935-1466

LET US MAINTAIN

YOUR LAWN & GARDEN

FOR YOU

Summer, Spring,

Winter or Fall

WE DO IT ALL!!!!

Lawn Cuts, Edging,

Trees & Shrubs, Garden,

Mulching, Hauling,

Garden Pond &

Home Maint.

Free Ests. Low Rates

$20 & Up

Kevin - 614-905-3117

Classified Services

8/28A

9/11 W/GC/M

PEST

CONTROL

TERMITE &

PEST CONTROL

614-367-9000

TORCO®

TERMINATES

TERMITES

Locally Owned & Operated. Any Pest. Anytime.

$

50 00 OFF Service

Free Termite Inspection

MASONRY

R&L

MASONRY

&CONCRETE

* Stone * Brick * Block

Masonry Repairs

614-917-8227

PAINTING

Painter Over 30 Yrs. Exp.

Free Est. Reas. Rates

Daniel - 614-226-4221

A Job Well Done Again

A lic. General Contractor

Some Skilled Services

Incl: Painting • Stucco,

Repair•Carpentry•Exterior

Drainage & Home Maint.

Call Today! 614-235-1819

PLASTERING

DRYW

YWALL &

PLASTER

8/28

A&M

REPAIR

Textured Ceilings

614-551-6963

Residential/Commercial

BIA

PLUMBING

All About Drains & Plumb.

Will snake any small drain

$145. 614-778-2584

CHRIS'

PLUMBING

"Plumbing & Drain Professional

That You Can Count On"

24 Hrs., 7 Days/Week

No Overtime Charges

24 Yrs. Exp. in Plumbing &

Drain Cleaning Field

Call For A Free Phone Estimate

$100.00 For Any Small Drain

614-622-4482

30% OFF with AD

POOL/SPA

MAINTENANCE

K&L Spa Cleaning

Hot Tub Cleaning and

Weekly Maintenance

Keith 614-316-9809

9/11 A

9/11 A

PEST

CONTROL

POWERWASHING

Bates & Sons

Soft Wash & Powerwash

5 ★ Google Reviews

614-586-3417

MRS. POWERWASH

Any house wash $149+tax

Single deck $69+tax

2 Tier deck $99+tax

Best Wash in Town

Over 45,000 washes

Ashley 614-771-3892

ROOFING

RETIRED

ROOFER

BBB "A+" Rating

All Types of Roof Repairs

• New Roof Installation

• Flashing

• Chimneys Rebuilt

• Flat Roof Specialist

• Roof Replacement

avail. upon request

All Work Guaranteed

614-352-7057

Free Estimates

SEWING MACHINE

REPAIR

REPAIR all makes 24 hr.

service. Clean, oil, adjust

in your home. $49.95 all

work gtd. 614-890-5296

TREE SERVICES

BURNS TREE SERVICE

Trimming, Removal &

Stump Grinding.

614-584-2164

Warren Brewer Tree Service

• Tree Removal

• Tree Trimming 9/11

A&M

• Stump Grinding

• Bucket Truck Services

Best Prices • Same Day Service

614-878-2568

A-1 QUALITY

TREE & LANDSCAPE

Family Owned

Serving Central Ohio

Since 2004

614-596-9504

Insured - Free Est.

8/28 A&M

9/11 W/SW
---
PAGE 12 - GROVE CITY MESSENGER - August 21, 2022

www.columbusmessenger.com

50% OFF ON ALL IN STOCK

JOHN HARDY, ALEX AND ANI

MERCHANDISE

JEWELRY CLEANING