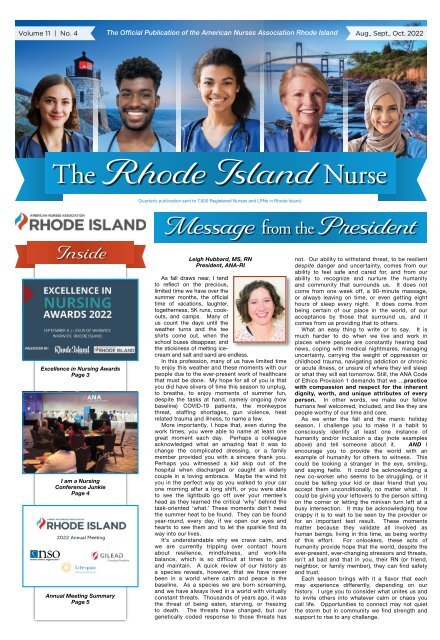 Rhode Island Nurse August 2022
You also want an ePaper? Increase the reach of your titles
YUMPU automatically turns print PDFs into web optimized ePapers that Google loves.
Volume 11 | No. 4

The Official Publication of the American Nurses Association Rhode Island

Aug., Sept., Oct. 2022

The Rhode Island Nurse

Quarterly publication sent to 7,000 Registered Nurses and LPNs in Rhode Island

Message from the President

Inside

Excellence in Nursing Awards

Page 3

I am a Nursing

Conference Junkie

Page 4

Annual Meeting Summary

Page 5

Leigh Hubbard, MS, RN

President, ANA-RI

As fall draws near, I tend

to reflect on the precious,

limited time we have over the

summer months, the official

time of vacations, laughter,

togetherness, 5K runs, cookouts,

and camps. Many of

us count the days until the

weather turns and the tee

shirts come out, when the

school buses disappear, and

the stickiness of melting icecream

and salt and sand are endless.

In this profession, many of us have limited time

to enjoy this weather and these moments with our

people due to the ever-present work of healthcare

that must be done. My hope for all of you is that

you did have slivers of time this season to unplug,

to breathe, to enjoy moments of summer fun,

despite the tasks at hand, namely ongoing (now

baseline) COVID-19 patients, the monkeypox

threat, staffing shortages, gun violence, heat

related trauma and illness, to name a few.

More importantly, I hope that, even during the

work times, you were able to name at least one

great moment each day. Perhaps a colleague

acknowledged what an amazing feat it was to

change the complicated dressing, or a family

member provided you with a sincere thank you.

Perhaps you witnessed a kid skip out of the

hospital when discharged or caught an elderly

couple in a loving embrace. Maybe the wind hit

you in the perfect way as you walked to your car

one morning after a long shift, or you were able

to see the lightbulb go off over your mentee's

head as they learned the critical 'why' behind the

task-oriented 'what.' These moments don't need

the summer heat to be found. They can be found

year-round, every day, if we open our eyes and

hearts to see them and to let the sparkle find its

way into our lives.

It's understandable why we crave calm, and

we are currently tripping over contact hours

about resilience, mindfulness, and work-life

balance, which is so difficult at times to gain

and maintain. A quick review of our history as

a species reveals, however, that we have never

been in a world where calm and peace is the

baseline. As a species we are born screaming,

and we have always lived in a world with virtually

constant threats. Thousands of years ago, it was

the threat of being eaten, starving, or freezing

to death. The threats have changed, but our

genetically coded response to those threats has

not. Our ability to withstand threat, to be resilient

despite danger and uncertainty, comes from our

ability to feel safe and cared for, and from our

ability to recognize and nurture the humanity

and community that surrounds us. It does not

come from one week off, a 90-minute massage,

or always leaving on time, or even getting eight

hours of sleep every night. It does come from

being certain of our place in the world, of our

acceptance by those that surround us, and it

comes from us providing that to others.

What an easy thing to write or to say. It is

much harder to do when we live and work in

places where people are constantly hearing bad

news, coping with medical nightmares, managing

uncertainty, carrying the weight of oppression or

childhood trauma, navigating addiction or chronic

or acute illness, or unsure of where they will sleep

or what they will eat tomorrow. Still, the ANA Code

of Ethics Provision 1 demands that we …practice

with compassion and respect for the inherent

dignity, worth, and unique attributes of every

person. In other words, we make our fellow

humans feel welcomed, included, and like they are

people worthy of our time and care.

As we enter the fall and the manic holiday

season, I challenge you to make it a habit to

consciously identify at least one instance of

humanity and/or inclusion a day (note examples

above) and tell someone about it. AND I

encourage you to provide the world with an

example of humanity for others to witness. This

could be looking a stranger in the eye, smiling,

and saying hello. It could be acknowledging a

new co-worker who seems to be struggling, or it

could be telling your kid or dear friend that you

accept them unconditionally, no matter what. It

could be giving your leftovers to the person sitting

on the corner or letting the minivan turn left at a

busy intersection. It may be acknowledging how

crappy it is to wait to be seen by the provider or

for an important test result. These moments

matter because they validate all involved as

human beings, living in this time, as being worthy

of this effort. For onlookers, these acts of

humanity provide hope that the world, despite the

ever-present, ever-changing stressors and threats,

isn't all bad and that in you, their RN (or friend,

neighbor, or family member), they can find safety

and trust.

Each season brings with it a flavor that each

may experience differently, depending on our

history. I urge you to consider what unites us and

to invite others into whatever calm or chaos you

call life. Opportunities to connect may not quiet

the storm but in community we find strength and

support to rise to any challenge.
---
Page 2 • Rhode Island Nurse August, September, October 2022

Welcome Back

It is with pleasure that RISNA (ANA-RI) renews their relationship with ALD Publishing

to present you with our first quarterly digital newsletter. The newsletter will be

published quarterly and will update you on local and national issues that are of

concern to nurses and the nursing profession.

Please let us know what would be of interest to you in upcoming editions.

Email your suggestions and articles of interest to dpolicastro@risna.org.

The Rhode

Island Nurse

The American Nurses Association - Rhode Island

(ANA-RI), a constituent member of the American

Nurses Association (ANA), is the authority on

matters concerning the profession of nursing and

nursing practice in the State of Rhode Island.

Updates from the Executive Director

Executive Director

Donna Policastro, RNP, ED

Donna M. Policastro, RN

Executive Director

After over two years of

isolation and multiple "ZOOM"

meetings; it now seems that

we have returned to some

kind of normalcy. However, we

must still remain vigilant.

So, what has RISNA

(ANA-RI) been up to for

the last two years. Many

members volunteered at

COVID immunization clinics,

volunteered at RIDOH and

staffed our hospitals Covid units and ER's. Many

nurses took a pause and reprioritized their career

goals and left the profession entirely.

The 2020/21 licensing cycle in RI revealed that

5500 registered nurses did not renew their license.

What will the future look like for nursing care as we

figure out how to replace the nurses that we have lost.

On a positive note, two new baccalaureate

programs have applied to the Board of Nursing

for approval. Providence College will welcome 50

students as will Johnson & Wales University in 2023.

RISNA"s board has been engaged in increasing

networking and education activities for our

members and to attract new members. Please visit

our website at www.risna.org for updates on events.

The board of directors election will occur in late

Fall. Please consider running for a board seat. This

year, we will elect a President, Treasurer, Secretary

and two Directors.

The Legislative session will begin in January 2023.

A Legislative Commission to study the benefits of reentering

the Nurse License Compact will commence in

October 2022. RISNA has a "seat" on the commission

and will provide an update in our next edition.

Until then, enjoy the end of your summer.

Respectfully submitted:

Donna M. Policastro, RN

Executive Director

President

Leigh Hubbard, MS, RN, ONC

Vice-President

Donna McDonald, RN, BSN

Treasurer

Annette Fonteneau, MSN, APRN,

DCNP

Secretary

Julie Ann Greenhalgh

Board of Directors

Joanne Borademos, RN

Jacqueline Insana, MSN, RN,

PMH-BC, NPD-BC

Ara Millette

Sylvia Weber, MSN, RN

Publisher

Rhode Island Nurse is published quarterly every

February, May, August and November by Arthur

L. Davis Publishing Agency, Inc.

For advertising rates and information, please

contact Arthur L. Davis Publishing Agency,

Inc., PO Box 216, Cedar Falls, Iowa 50613,

(800) 626-4081, sales@aldpub.com. ANA-RI

and the Arthur L. Davis Publishing Agency, Inc.

reserve the right to reject any advertisement.

Responsibility for errors in advertising is limited

to corrections in the next issue or refund of price

of advertisement.

Acceptance of advertising does not imply

endorsement or approval by the ANA-RI of

products advertised, the advertisers, or the

claims made. Rejection of an advertisement

does not imply a product offered for advertising

is without merit, or that the manufacturer lacks

integrity, or that this association disapproves of

the product or its use. ANA-RI and the Arthur

L. Davis Publishing Agency, Inc. shall not be

held liable for any consequences resulting from

purchase or use of an advertiser's product.

Articles appearing in this publication express the

opinions of the authors; they do not necessarily

reflect views of the staff, board, or membership

of ANA-RI or those of the national or local

associations.

American Nurses Association - Rhode Island

1800D Mineral Spring Avenue, PO Box 299

North Providence, Rhode Island 02904

Tel: 401-331-5644 • Fax: 401-331-5646
---
August, September, October 2022 Rhode Island Nurse • Page 3

RISNA News

Sylvia Weber, RN, MSN, PCNS

Since early childhood I

was always sensitive to my

surroundings and would be

the one who would intervene

when peers would be

aggressive or cruel towards

any living being. This, and

my mothers favorite saying,

"it's a great life if you don't

weaken," was the foundation

for the path I followed and

committed to.

A defining experience occurred when I was six

years old when relatives from Europe, who were

survivors of the Holocaust, came to the United

States and stayed with family until they were able

to create a life here. After I went to bed I would

pretend I was sleeping. I stayed awake because I

wanted to hear them share their experiences. It was

this experience that led me to make a commitment

that as long as I lived I would so something every

day to make this a better world for all, no matter

how small or large it was, a smile, a greeting, a chat,

support, etc. As I followed this path I learned about

many principles/concepts. One is the concept of

innocence, the ability to approach each situation

with "new eyes" while taking into account lessons

previously learned. I also learned that in Western

thought we tend to believe in a beginning and

an end instead of eternity which allows us to be

near sighted rather than look at our impact on all

generations, all of life, present and future.

When the time came for me to explore the

career path I wanted to follow, these and other

experiences, led me to look at professions that

brought compassion, healing and knowledge into

the world to help others. I was drawn to nursing as it

is based on these principles/concepts.

During my career I continued to have

experiences that broadened and expanded my

knowledge of the underlying principles/concepts

that enhanced my life and work. As Dolores

Krieger, RN, PhD said, "think deeply and care

deeply." This occurred at Pumpkin Hollow Retreat

Center in New York State. It was also there that I

learned a wonderful metaphor that's an underlying

principle for me, that of the brook: The brook is

always changing and its path is not always smooth.

It comes to rocks and other obstacles to eventually

find a way around or over the obstacle, and it

keeps on flowing.

Equally true is the principle of consciousness.

As James O'Dea stated in an Institute of Noetic

Science publication in the winter of 2008-2009,

"consciousness can be limited and divisive or can

lead to a new humanity, the capacity to heal, to

forgive, to deepen the bonds of friendship and love

and become an integrated whole/oneness."

My experiences as a nurse also expanded my

view of spirituality. There are many ways people

express their spirituality, organized religion being

one. It includes our relationship with and within the

universe. It's also our sense of purpose, direction

and why we believe we are here. It's our feelings

of connectedness with our selves, with others,

with all of life. When we have a clear sense of our

spiritual path, our sense of purpose, and are true

to it, our possibilities are limitless. We understand

that when one door closes, another opens. We

understand that opportunities are not better or

worse, they are different. We understand that we

are more comfortable with the concept of surrender

as not giving up but rather of turning it over from

the physical plane to the spiritual plane while

still doing what's in our control on the physical

plane. We understand that surrender is letting go

of our attachment to the outcome. It is true that

we may not get what we want and we understand

that we are starting a process of change and of

transformation. The process of our experiences are

as important as the outcome.

As a result, to me, nursing is more than a

profession, it is who we are and how we live and

walk in this world.

have thousands

We

nursing jobs!

of

Find your dream job now.
---
Page 4 • Rhode Island Nurse August, September, October 2022

I am a Nursing Conference Junkie

Leigh Hubbard, MS, RN

President, ANA-RI

I remember my Nursing

Research course in my

Bachelor's program at

UMass Dartmouth. It

was a mandatory course

within the curriculum, but

I remember thinking, this

is silly – I want to care for

people, not do research!

I tucked the info from

that course into a corner

of my brain and got to

work. For the first few years I busied myself with

getting into the practice of nursing, refining my

assessment skills, trying not to do harm, learning

how to be a good colleague, and teaching

those coming on after me. As I became more

comfortable with the basics, I felt a tug toward

improving the systems and workplaces that I

was a part of. I remember thinking, what would

happen if we changed this a bit, or refined this

process, or asked nurses about this scenario?

There was a desire to learn what other similar

institutions were doing – how were they handling

staffing deficits and medication errors? How

were they coping with the unexpected death of

a patient? How were other institutions reducing

post-surgical complications or admission rates?

I began using my institution's library (Because

back then there was an actual place where

nursing journals were sitting on shelves) and

looking for information. It was in the front and

back of those journals I discovered invitations

to attend conferences. Then I remembered my

research class.

I attended my first conference in Boston in

2008. It was an adolescent health conference,

with a track in sexual health, which was the

area of nursing I was practicing at that time. I

paid a few hundred dollars, requested the time

off of work, and took the train from Providence

to Boston. I heard incredible speakers and met

incredible people. I learned of alternative ways to

ask questions in a way that carried less judgment

and would help put my youthful patients at

ease. I learned about assessment tools I hadn't

seen before, and I learned of up-and-coming

technology and medications that were going to

be emerging in the near future. It was an injection

East Bay Community Action Program (EBCAP) is seeking experienced

Registered Nurses, Nurse Practitioners, and Physician Assistants

to join our agency at various locations. All positions are offering sign-on

bonuses of up to $2,500 for select positions!

We are seeking highly professional and motivated individuals who enjoy

working with clients in a community health setting. Come join our expanding

dynamic multidisciplinary team and provide comprehensive patient care

using a care team model. To learn more about career opportunities,

visit www.ebcap.org/careers or email careers@ebcap.org.

For Full Time Employees Working 30 – 40 hours per week, EBCAP provides

a comprehensive compensation and benefits package that includes heavily

subsidized medical and dental insurance plans (BCBSRI), supplemental

vision insurance, voluntary medical and dependent care flexible spending

accounts, up to 3% company matching 403(b) retirement plan, employer-paid

life insurance & long term disability, generous paid time off that includes

vacation/holidays/personal days/sick time, mileage reimbursement, tuition

reimbursement, opportunities for center-paid training/CEUs, employee

assistance programs, and more!

EBCAP is an equal opportunity/affirmative action employer committed to providing a diverse work environment.

of professionalism, innovation, and inspiration.

As my nursing career evolved, I sought

out conferences and ways to physically

connect with others instead of just reading

a paper and doing a continuing education

quiz. When I met my mentor, the Director of

one of my programs, they shared this tidbit:

"Submit abstracts. You have things that you

are doing that other institutions should know

about. And don't submit alone – always include

a colleague. We never do anything alone in

nursing." I thought, no… everyone knows this

stuff. Everyone is doing this. What I'm doing

isn't special. And also, Writing an abstract is

hard! What if it gets rejected? Ultimately, she

encouraged me to submit a 250 word abstract

about our program's successful perioperative

transfusion reduction initiative. I logged onto

the website, followed the instructions, wrote

our story, found a few trusted colleagues to

edit and then incorporated their feedback. I hit

the 'submit' button and waited two months. I

remember receiving the email informing me that

our abstract was accepted! I was so excited and

also validated in the work we were doing for our

patients – now we would be able to share with

others and potentially positively impact care on a

larger scale!

My institution offered a professional

development benefit, so had I attended, the

conference would have been paid for but the

hotel and flight would have been on me, and I

would have had to take PTO to attend. Because

I had an accepted abstract, however, my

institution was willing to pay for the conference,

hotel, and flight. I was sold. With this

conference I not only got a dose of innovation

and inspiration but I also had the financial

support of my institution. I was tasked with

being an ambassador for our organization and

presenting this great information, but I wasn't

left to do this on my own. I received help

organizing my presentation, working on timing,

and considering and preparing for questions

the audience may ask. The conference itself

was thrilling, as was presenting to a group of

supportive peers.

I now submit abstracts regularly. Some don't

get accepted and some do. Some are related to

outcomes and data, and others are related to

nursing collaboration with other disciplines, or

how to manage angry patients, or care for people

who use drugs. More recently I worked with a

systems designer and researcher and submitted

an abstract to the Design Research Society

International conference. It was an entirely

different experience attending a conference

as one of the only healthcare professionals in a

huge room with creatives and designers, many of

whom were designing tech, systems, and policy

for healthcare. I met people who worked for

the United Nations, aiming to reduce antibiotic

resistance in rural India in females with urinary

symptoms, people designing adaptive equipment

Founded in 1971, CODAC is RI's oldest and largest non-profit, outpatient provider of

treatment for Opioid Use Disorder. With 7 community-based locations, as well as 3

correctional facilities, CODAC is well-positioned to deliver services wherever they are

needed across the state.

CODAC is Hiring for Medication Nurses (LPNs)

We are looking for dedicated nurses who are looking to make a difference in a patient's

life. Our medication nurses are responsible for dosing patients who are struggling with

opioid addiction, as well as providing support and guidance as they journey to recovery.

We offer a competitive salary, comprehensive benefits and a generous time off package.

Hours are 5am to 2pm, Monday -Friday, and occasional weekends. Flexibility to float

between sites is required. Applicants must have a valid RI Nursing license and be fully

vaccinated against Covid-19.

Check us out at: www.codacinc.org

Interested candidates can contact Jessica Perry at 401-461-5056 or

jperry@codacinc.org

for people who had suffered a stroke, people

designing for wellness and aiming to end stigma

surrounding mental health disorders through a

redesign of algorithms associated with stock

imagery. Fascinating!

I have never been to a conference that I

felt wasn't worth going to, and the network

of people that I have met have come in handy

long after the closing keynote speaker. From

those relationships, I have hosted nurses from

other hospitals who want to see what we are

doing, and I have visited hospitals and spoken

with nurses who have extended the offer. I've

emailed simple questions and received examples

of policies that I've used when developing new

programs or researching alternative ways of

doing. I've connected my colleagues with my

connections and fostered interstate institutional

collaborations. This, to me, is how great ideas

are spread, when we remove the silo and have

opportunities to connect and learn outside of our

usual four walls.

If you say to yourself, "I don't have time,

and I don't have anything to add….," it's likely

not true, but that's okay – just attend. Attend a

regional conference and use that professional

development stipend which is a benefit likely

offered by your employer. Or think about the

things you do, the workarounds or the gaps in

care or practice that you have solved. Talk with

your manager or nurse educator about what it

would take to measure the effects of an action

or to write up the improvement. You may think,

"I don't know what conference to attend…"

If you subscribe to a journal, seek out their

annual conference or check the ANA website

for upcoming conferences. Google it! Specialty

organizations usually have, at minimum, annual

offerings, but many have local or regional miniconferences

that may be available.

If you think, "I can't take the time off…" when

planned for (and many of these are scheduled

up to a year in advance), it's easier to request

the time, and if you let your manager know how

your attendance will improve your practice or the

practice on your unit, then they are likely to work

to support you if possible.

If you are scared to go alone, know that nurses

are pretty good at talking to people and making

others feel welcomed. By getting slightly outside

of your comfort zone, by stretching, you will

grow. Through this personal growth, learning,

and networking, we find common ground,

solutions to problems, and return to our daily

work professionally revitalized. **

Have you been to a conference you found

particularly exciting/valuable?

We would love to hear from you ! Use THIS

LINK and in the Subject: "Conference Junkie"

Happy Conferencing!

Leigh Hubbard's nursing work includes

Managing a LGBTQ and sexual health clinic,

surgical services, program development

and management, regulatory readiness, and

ambulatory care and management. She has

worked in surgical intensive care, neurosurgery,

oncology, and women's health. She finds great

joy in smoothing transitions within healthcare

through process improvement and helping to

guide RNs and other healthcare staff members

through unsure, challenging circumstances.

She feels that "professional growth spurts"

abound when a person or team innovate and find

connection.

Leigh Hubbard is also the President of the

American Nurses Association in Rhode Island

and the Strategic Design Fellow at RISD Center

for Complexity. She is a founding member of

Mainstay RI, a small think tank dedicated to

opioid overdose care redesign. She is an active

member of Grace Episcopal Church in Downtown

Providence, where she sings soprano in the choir

with her two children.
---
August, September, October 2022 Rhode Island Nurse • Page 5

ANA-RI Annual Meeting Summary
---
Page 6 • Rhode Island Nurse August, September, October 2022

GOVERNANCE Column

Inspiring Words from RISNA Governance Chair,

Joanne Borodemos, RN

Nursing Politics 101: Public Opinion is On Our Side

Current Professional Nursing Issues are more

complex than just "staffing ratios" and we need

local Legislative and policy solutions immediately to

correct them. Our role as a patient advocate and our

ethical code demand that public policy formulation

is part of our work. Nurses must produce and lobby

for these laws and policies as the role of nursing has

been compromised in every setting and our patients

need us. No knight in shining armor is coming to

save us from the evil profiteers.

"Health Care Delivery systems are held together,

and enabled to function by the nurses"

– Lewis Thomas

"America's Nurses are the beating heart of our

medical system " – Barack Obama

"Nurses are ranked the most trusted profession 20

years in a row" – Gallup poll

Once upon a time, nurses simply went wherever

we were needed without interference – the

battlefield, the homes, the schools, the factories.

The hospitals were staffed exclusively by nurses and

physicians. We were highly regarded, respected and

appreciated. The need for nursing care, comfort and

support, teaching, and patient advocacy has not

waivered. Our social contract with our patients and

communities still stands!!

What has changed, is that somehow the

corporate world we live in now has had the

audacity to move nurses to the "cost side" of

the equation and corporate CEOs and insurance

companies have an incentive to cut back on nursing

services everywhere to save money for them, even

though there would be no revenues for hospitals

at all without us. At the same time they hold us

hostage to corporate priorities based on surveys

and consumerism and more aggravation. They

constantly interfere with our responsibilities, but we

do our job in spite of them. We know this cannot go

on.

Nurses, for example, once served an important

role in physician offices. The nurse triaged patient

phone calls and concerns. The nurse was a second

pair of eyes and ears, did the much needed patient

teaching, provided support and comfort to the

patient and families, made follow-up phone calls

to check on the patient, provided referral to other

services when needed, and as always watched

and advocated for the patients. Everyone working

in the physician office now is there for billing

purposes. They will schedule you the "first available"

appointment in two months or send you to the ER to

sit and wait for seven hours or three days…

Healthcare has become chaotic, fragmented,

inadequate and increasingly unsafe, and people

are dying because of these unchecked changes

imposed on nurses and healthcare. It is a miracle

that some survive this obstacle course.

No longer protected or empowered by Common

Law and tradition, we require legislation now to

codify and protect the role of nurses in healthcare.

The law must guarantee our independence,

authority, autonomy and self-direction as a

profession. We must be able to practice at our full

potential.

Our political voice in our state must become

louder. We must increase our solidarity and our

visibility or nothing will change. RISNA represents

all nurses in our state. Unions cannot address all the

complexities of our profession, and not all nurses

belong to a union. We are in the process of writing

critical legislation for the next session of the general

assembly.

We also have our own RISNA Political Action

Committee for local politics. Let's fire it up! The PAC

can donate to local political candidates who support

nurses. We can also use the PAC as our collective

voice to issue opinions and speak out publicly,

endorse candidates and support causes that nurses

believe in, or oppose those we strongly do not

support. We can have a powerful voice because the

people trust us and need us to take care of them.

Public opinion is behind us.

Ideally we encourage membership to ANA-RI, if

you cannot do that, please at least join our RISNA

PAC. A donation of 10 dollars or more to the PAC

will also connect you to the RISNA PAC newsletter

which will focus on state candidates, issues and

legislation pertaining to Nursing and Healthcare

in our state. We will also update you on our critical

upcoming legislative projects regarding nurse

practice through this newsletter.

I would love to speak to any RI Nurses who have

ideas, questions or would like to be more involved.

Please email JoanneBorodmos@gmail.com so we

can connect. Nursing is a team sport!

Please consider joining your professional association

and donating to our PAC; just go to www.risna.org!

2022 ANA Membership Assembly

Thundermist Health Center is a federally qualified

community health center in Rhode Island. The health center

serves three communities with locations in Woonsocket,

West Warwick, and South County. Thundermist has been

improving the health of patients and communities for more

than 50 years.

We are accepting applications for the following

nursing positions:

• Nurse Manager

• Registered Nurse

• Nurse Care Manager

Learn more about these positions at https://us62e2.

dayforcehcm.com/CandidatePortal/en-US/THUNDERMIST

Thundermist is dedicated to the goal of building and maintaining a

diverse and inclusive workforce committed to caring for patients in a

manner that is respectful of cultural difference.

Donna McDonald, Vice President of ANA-RI

with Senator Jack Reed (D)
---
August, September, October 2022 Rhode Island Nurse • Page 7

Opening

This is a journey.

Throughout our history, the American Nurses

Association (ANA) has sought to lead nursing

into the future. Through acts of omission, when

we failed to act, and commission, when ANA's

actions negatively impacted nurses of color, we

have caused harm and perpetuated systemic

racism. This statement serves as a starting

point for a journey during which we seek to

acknowledge past actions that continue to impact

the profession today and as a starting point of a

new journey toward the future.

ANA begins this journey in conjunction with the

efforts undertaken by the National Commission

to Address Racism in Nursing (the Commission).

This statement focuses on ANA's own actions,

while the Commission seeks to address racism

in nursing within the broader profession.

We recognize that as a leader, ANA holds

accountabilities at both the organizational and the

broader professional level. Through both efforts,

we are striving for a more inclusive, diverse, and

equitable professional organization and a nursing

profession that meets the needs of all people.

Our intention with this statement is to publicly

identify and acknowledge our past actions

while addressing the harms that continue today.

The section on ANA Reckoning is not meant

to be a complete listing of all ANA actions that

have caused harm. Historical exclusions of

and transgressions against Black nurses will

be discussed in this document. This harm has

undoubtedly extended to all nurses of color. In

addition, there is much debate about labels and

terms to identify racialized minorities. We have

chosen to use the term "nurses of color" to reflect

all nurses representing race and ethnic groups. It

is our intention to be fully inclusive in the use of

this language.

In the end, it is our actions that will truly reflect

the sincerity of this apology and serve as the

underpinning for forgiveness. For it is forgiveness

that we seek — forgiveness from nurses of color,

the nursing profession and the communities that

have been harmed by our actions. We fervently

hope that this statement, its subsequent work

and the efforts of the Commission will contribute

to healing — individual healing for nurses,

reconciliation with the ethnic-minority nurse

associations and healing of the profession.

ANA wants this statement to reflect genuine

reconciliation and acknowledgment and hopes

that it is a step toward forgiveness. Ultimately, we

seek to contribute to the healing of nursing.

ANA Reckoning

There is much that can be said about ANA's

history and failure to include and represent

the views and needs of nurses of color. The

examples below are not to be considered as a

complete reckoning of ANA's past, but they are

representative of times and actions when ANA

failed.

To begin, we must acknowledge that from

1916 until 1964, ANA purposefully, systemically

and systematically excluded Black nurses.

ANA's predecessor organization, the Nurses'

Associated Alumnae of the United States and

Canada, was open to alumnae associations of

schools of nursing, including Black hospitals and

nurse training schools (Hine, 1989). The Nurses'

Associated Alumnae became the American

Nurses Association, and in 1916, the membership

rules shifted away from an alumnae-based

membership to that of a state- and districtbased

membership. This resulted in Black nurses

being denied membership in some state nurses

associations. Despite significant advocacy and

pressure from the National Association of Colored

Graduate Nurses (NACGN), this discrimination

persisted. In 1946, the ANA House of Delegates

voted to adopt a statement that urged the

"removal, as rapidly as possible, of barriers that

prevent the full employment and professional

development of nurses belonging to minority

racial groups" (Carnegie, 1991, p. 76). And in

1948, the ANA House of Delegates established

ANA's Racial Reckoning Statement

an "Individual Membership Category" that was

open to all nurses who were not accepted through

a state or district association. However, it was

not until 1964 that a final district in Louisiana

dropped its discriminatory rule for membership

(Carnegie, 1991). This timeline reflects the failure

of ANA leaders to aggressively pursue changes

in its discriminatory membership rules and allow

for full membership regardless of race. While

membership within ANA was hard fought by

NACGN, the full inclusion of Black nurses within

ANA leadership and decision-making remains

unrealized and elusive for all nurses of color.

One representative incident from 1939 involved

Estelle Massey Riddle Osborne, president of

NACGN from 1934-1939. In 1939, President

Osborne was invited by ANA President Julia C.

Stimson to meet with ANA's Advisory Council

to discuss the status of Black nurses in the

profession. The site of the meeting was the St.

Charles Hotel in New Orleans, where Black guests

were required to use the service entrance and

freight elevator. President Osborne called on

ANA and President Stimson to adamantly protest

this discrimination. Instead of protesting the

discriminatory policy, President Stimson offered

to enter the hotel with President Osborne through

the service entrance. In the end, President

Osborne decided against attending and ANA

failed to step into a space of advocacy and

support (Hine, 1989).

President Osborne was the first Black nurse to

earn a master's degree in the U.S. and became the

first Black nurse elected to the ANA board in 1948.

However, after her four- year term, there were no

Black nurses elected to the board again until 1970

(Carnegie, 1991). This lack of representation on the

policy level for 22 years concerned many Black

nurses, and when it was brought up at ANA's 1972

convention, it was communicated that the only

obligation of ANA from the dissolution of NACGN

was the awarding of the Mary Mahoney Award.

In 1965, ANA approved a position paper on

nursing education that recommended the minimum

preparation for "beginning professional nursing

practice should be a baccalaureate degree" (ANA,

1976). The stated rationale for this change was

the increasing complexity of nursing activities and

patient care. One result of ANA taking this position

was the disenfranchisement of institutions and

schools of nursing that were available to students

of color and the exclusion of nurses who graduated

from those programs. ANA sought to advance

the educational level of nurses without ensuring

that all nurses would have the same access to

the education necessary to achieve the desired

educational level for entry into the profession.

There continues to be a need to examine how

this policy advances nursing today and to

examine strategies for ensuring that educational

opportunities are equally available to all students,

especially students of color.

In 1970, Dr. Lauranne Sams organized a meeting

with 200 Black nurses for the primary purpose of

organizing a Black nurse association. The group

reported the following concerns (Carnegie, 1991):

1. Concern over the absence of Black nurses in

leadership positions at ANA.

2. Limited opportunities for Black nurses to

support and shape ANA policies.

3. Persistent tokenism.

4. Limited recognition of Black nurses'

contributions to the profession.

5. Lack of significant increases in the number of

Black registered nurses.

6. No recognition of achievement with awards

(other than the Mary Mahoney Award).

7. Limited appointments of Black nurses to

committees and commissions.

In 1973, in her first address to the newly

created National Black Nurses Association

(NBNA), Dr. Sams considered the question of why

a Black Nurses Association was needed:

"No, I am speaking about all the past deficits

and discriminatory practice which have

continuously disgraced and limited the full

potential, the development, the selfhood,

and the self determination of Black folk. I am

speaking about today, Here and Now."

In telling the history of the formation of the

NBNA, the article From Invisibility to Blackness:

The Story of the National Black Nurses'

Association by Gloria R. Smith notes that there

was a desire on the part of the Nurses' Associated

Alumnae of the United States and Canada and

ANA for Black nurses to be members, but these

professional associations granted them few

privileges "other than paying dues" (1975, p. 225).

Although by 1964 there were no tangible rules

preventing membership for nurses of color, it

was evident that exclusionary practices and a

failure to represent all nurses remained. Similar

to the concerns raised by Black nurses, in 1974,

led by Dr. Ildaura Murillo- Rhode, a group of 12

Hispanic nurses who were also members of ANA

came together to consider establishing a Hispanic

Nurses Caucus within ANA because "ANA was not

being responsive to the needs of Hispanic nurses"

(National Association of Hispanic Nurses, 2022).

Ultimately, this core group and their organizing

efforts led to the establishment of the National

Association of Hispanic Nurses (NAHN). Today,

"NAHN members advocate, educate, volunteer,

seek partnerships, and conduct programming

in the Latino community to improve outcomes,

elevate literacy, heighten education, and influence

policy. We also work collaboratively with others

to improve health equity and to create a future in

which everyone regardless of race or ethnicity has

opportunities to be healthy."

ANA recognizes that issues of racism persist

today and continue to harm nurses of color.

Findings from the Commission's 2021 national

survey on racism in nursing (n = 5,600) noted

that racist acts are principally perpetrated by

colleagues and those in positions of power. Over

half of nurses surveyed (63%) said they had

personally experienced an act of racism in the

workplace with the transgressors being either

a peer (66%) or a manager or supervisor (60%).

Fifty-six percent of respondents also noted that

racism in the workplace has negatively impacted

their professional well-being. During listening

sessions with nurses of color convened by

ANA and the Commission, persistent themes of

stereotyping, prejudice, discrimination, exclusion,

oppression, tokenism, inequity, and insistence

on conformity and assimilation were found

(National Commission, 2021). The impact of these

experiences is demoralization, exhaustion, spirit

murder (murder of the soul), invisible workload,

silence, invisibility and self-doubt.

"The power in nursing is primarily held by middleage

to old-age white women who have just

recently begun to consider racism in nursing care.

There are racist principles that have been carried

down through history and never challenged."

(Anonymous Quote, National Commission to

Address Racism in Nursing, 2021)

Seeking Forgiveness

As leaders of ANA, we apologize for the

named and the unaccounted-for harms. Our past

actions have caused irreparable physiological,

psychological and socioeconomic harm, not only

to nurses of color but to all patients, families and

communities that depend on ANA as the national

leader of the nursing profession. We failed to live

up to the professional values established through

the Code of Ethics for Nurses (ANA, 2015) and

our social contract that guides the relationship

between the nursing profession and society

and their reciprocal expectations (ANA, 2010).

In addition, as ANA sought to "professionalize"

nursing, we failed to support a robust education

approach that included the appropriate

preparation to care for ALL our patients,

especially patients of color.

More specifically, we apologize to all nurses

of color. Not only is the profession richer for your

Racial Reckoning Statement continued on page 8
---
Page 8 • Rhode Island Nurse August, September, October 2022

Racial Reckoning Statement continued from page 7

having persisted, but the people you cared for

and continue to care for today have been better

served. ANA failed to uphold your work and

support you as you advanced in nursing and

worked to improve the profession. Having failed

you, ANA also failed in supporting and caring

for communities of color and other marginalized

people.

We apologize to the ethnic-minority nurse

associations that have ably represented the

needs of their nurses and communities. Early

in the profession's history, there was a stated

desire for one association to meet the needs of all

nurses. ANA only represented the needs of some

nurses and some patients. Nurse leaders of color

stepped into the breach. ANA's failure to lead

resulted in a fragmentation of the profession that

contributed to a fragmentation in nursing care for

minoritized communities.

Moving Forward

As important as it is to reconcile ANA's history,

our path points toward the future and actions

that should be taken as a means of holding ANA

accountable, continuing reconciliation to repair

the breach and becoming a restored association.

Each of the actions below will lead to additional

actions and efforts as ANA continues the journey.

Therefore, the ANA Board of Directors will:

• Continue to reckon with and apologize for

past harms that are made known to ANA.

• Engage in direct reconciliation with each of

the ethnic-minority nurse associations.

• Develop and implement a diversity, equity

and inclusion impact analysis that is

considered in all policies and positions of the

association.

• Initiate an oral history project dedicated to

amplifying the contributions by nurses of

color to ANA and the nursing professions.

Therefore, the American Nurses Association

will:

• Continue to serve as a partner in and

support the National Commission to

Address Racism in Nursing as it strives

to create antiracist practices and

environments.

• Advocate for and follow established

guidance on the reporting of race and

ethnicity in professional journals and

publications.

• Advocate for appropriate representation and

inclusion in textbooks and other educational

material.

• Actively engage in a program of diversity,

equity and inclusion within the association.

• Provide transparency into the race and

ethnic makeup of the ANA Board of

Directors, leadership and staff.

• Deliberately work to build diversity within

ANA's volunteer and governance structure.

Conclusion

We, as ANA, are on a journey — a journey of

reckoning and reconciliation, forgiveness, and

healing. This journey will take some time, but it

is one that ANA is fully committed to. We invite

others to join us as ANA seeks to strengthen

who we are as a professional association and

the broader nursing profession through inclusion,

diversity and equity as we strive for antiracist

nursing practices and environments.

"As nurses we need to unlearn much of what

we thought we knew about racism — and get

comfortable being uncomfortable about our

profession and our own way of being — need

to see nursing through a new lens and be

open to what we might see versus stating that

racism does not exist."

(Anonymous Quote, National Commission to

Address Racism in Nursing, 2021)

References

American Nurses Association. (2015). Code of ethics

for nurses with interpretive statements. American

Nurses Association.

American Nurses Association. (2010). Nursing's social

policy statement: The essence of the profession.

American Nurses Association.

American Nurses Association. (1976). One strong

voice: The story of the American Nurses

Association. American Nurses Association.

Carnegie, M.E. (1991). The path we tread: Blacks in

nursing, 1854-1990. National League for Nursing

Press.

Hine, D.C. (1989). Black women in white: Racial

conflict and cooperation in the nursing

profession 1890–1950. Indiana University Press.

National Association of Hispanic Nurses. (2021).

History. https://www.nahnnet.org/history.

National Commission to Address Racism in Nursing.

(2021). Defining Racism. final-defining-racismjune-2021.pdf

(nursingworld.org).

National Commission to Address Racism in Nursing.

(2021). Summary Report: Listening Sessions

on Racism in Nursing. final-racism-in-nursinglistening-session-report-june-2021.pdf

(nursingworld.org).

National Commission to Address Racism in Nursing.

(2022). Survey Shows Substantial Racism in

Nursing. (nursingworld.org).

Sams, L. (1973, September). Presidential Address.

National Black Nurses Association. Cleveland;

Ohio.

Smith, G.R. (1975). From invisibility to blackness: The

story of the National Black Nurses Association.

Nursing Outlook, 23(4), 225-229.
---
August, September, October 2022 Rhode Island Nurse • Page 9