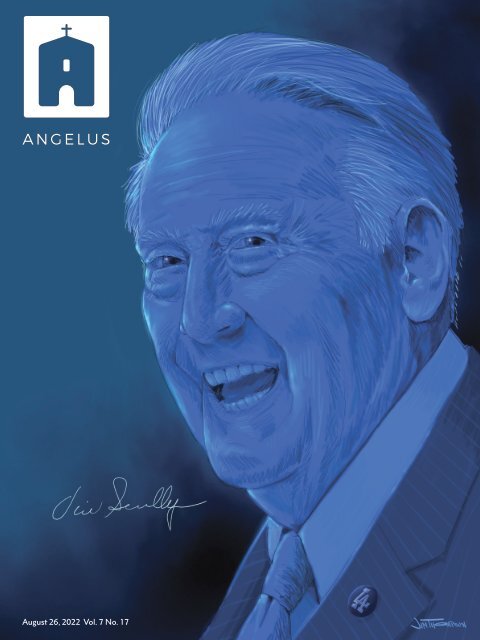 Angelus News | August 26, 2022 | Vol. 7 No. 17
The legendary voice of Vin Scully, who passed away on Aug. 2, sustained Dodgers fans for more than six decades, beginning in Brooklyn and then Los Angeles. But as Angelenos mourn his passing, his fellow Catholics can take comfort in knowing that that same voice spoke to God — and often. Beginning on Page 10, Tom Hoffarth has a deeply reported tribute to Vin's "greatest inheritance," a faith that accompanied him along his remarkable rise to fame and through both triumph and tragedy.
The legendary voice of Vin Scully, who passed away on Aug. 2, sustained Dodgers fans for more than six decades, beginning in Brooklyn and then Los Angeles. But as Angelenos mourn his passing, his fellow Catholics can take comfort in knowing that that same voice spoke to God — and often. Beginning on Page 10, Tom Hoffarth has a deeply reported tribute to Vin's "greatest inheritance," a faith that accompanied him along his remarkable rise to fame and through both triumph and tragedy.
SHOW MORE
SHOW LESS
You also want an ePaper? Increase the reach of your titles
YUMPU automatically turns print PDFs into web optimized ePapers that Google loves.
ANGELUS

August 26, 2022 Vol. 7 No. 17
---
August 26, 2022

Vol. 7 • No. 17

3424 Wilshire Blvd.,

Los Angeles, CA 90010-2241

(213) 637-7360 • FAX (213) 637-6360

Published by the Roman Catholic Archdiocese

of Los Angeles by The Tidings

(a corporation), established 1895.

ANGELUS

Publisher

ARCHBISHOP JOSÉ H. GOMEZ

Vice Chancellor for Communications

DAVID SCOTT

Editor-in-Chief

PABLO KAY

pkay@angelusnews.com

Multimedia Editor

TAMARA LONG-GARCÍA

Production Artist

DIANNE ROHKOHL

Photo Editor

VICTOR ALEMÁN

Managing Editor

RICHARD G. BEEMER

Assistant Editor

HANNAH SWENSON

Advertising Manager

JIM GARCIA

jagarcia@angelusnews.com

ANGELUS is published biweekly by The

Tidings (a corporation), established 1895.

Periodicals postage paid at Los Angeles,

California. One-year subscriptions (26

issues), $30.00; single copies, $3.00

© 2021 ANGELUS (2473-2699). No part of this

publication may be reproduced without the written

permission of the publisher. Events and products

advertised in ANGELUS do not carry the implicit

endorsement of The Tidings Corporation or the

Archdiocese of Los Angeles.

POSTMASTER: Send address changes to:

ANGELUS, PO Box 306, Congers, NY 10920-0306.

For Subscription and Delivery information, please

call (844) 245-6630 (Mon - Fri, 7 am-4 pm PT).

FOLLOW US

facebook.com/AngelusNews

info@angelusnews.com

Angelus News

@AngelusNews

@AngelusNews

angelusnews.com

lacatholics.org

Sign up for our free, daily e-newsletter

Always Forward - newsletter.angelusnews.com

ON THE COVER

JIM THOMPSON

The legendary voice of Vin Scully, who passed away on Aug. 2,

sustained Dodgers fans for more than six decades, beginning

in Brooklyn and then Los Angeles. But as Angelenos mourn his

passing, his fellow Catholics can take comfort in knowing that

that same voice spoke to God — and often. Beginning on Page

10, Tom Hoffarth has a deeply reported tribute to Vin's "greatest

inheritance," a faith that accompanied him along his remarkable

rise to fame and through both triumph and tragedy.

THIS PAGE

VICTOR ALEMÁN

A woman places roses inside Incarnation

Church in Glendale before a special Aug. 6

"celebration of life" memorial Mass for Office

of Ethnic Ministry members and their families

who passed away during the pandemic,

shootings, war, and those who died in their

own countries. The Mass was celebrated by

Auxiliary Bishop Alex Aclan.
---
CONTENTS

Pope Watch............................................... 2

Archbishop Gomez................................. 3

World, Nation, and Local News...... 4-6

In Other Words........................................ 7

Father Rolheiser....................................... 8

Scott Hahn.............................................. 32

Events Calendar..................................... 33

18

20

22

24

26

28

30

The story of St. Bernadette's providential 'last stop' in LA

John Allen: History repeats itself in new flare-up over 'Humanae Vitae'

Why a new book about secrets needs to go to confession

The founder of the Claretians is getting a day (or two) at the movies

Robert Brennan on Vin Scully: One LA Irish Catholic salutes another

Echoes of salvation history in cave rescue drama 'Thirteen Lives'

Heather King on a generation trapped in their screens

August 26, 2022 • ANGELUS • 1
---
POPE WATCH

The apprenticeship of life

The following is adapted from Pope

Francis' reflection on old age given

during his weekly General Audience address

in the Paul VI Hall at the Vatican

on Aug. 8.

Old age is the fitting time for the

moving and joyful witness of

expectation. The elderly man

and woman are waiting, waiting for

an encounter. In old age the works of

faith, which bring us and others closer

to the kingdom of God, are by now

beyond the power of the energy, words,

and impulses of youth and maturity.

But precisely in this way they make

the promise of the true destination of

life even more transpar-ent. And what

is the true destination of life? A place

at the table with God, in the world of

God.

An old age that is consumed in the

dejection of missed opportunities

brings despondency to oneself and

to others. Instead, old age lived with

gentleness, lived with respect for real

life, definitively dissolves the miscon-ception

of a Church that adapts to

the worldly condition, thinking that by

so doing it can definitively govern its

perfection and fulfillment. When we

free ourselves from this presumption,

the time of aging that God grants us is

already in itself one of those "greater"

works Jesus speaks of.

Our life is not made to be wrapped

up in itself, in an imaginary earthly

perfection. It is destined to go beyond,

through the passage of death — because

death is a passage. Indeed, our

stable place, our destination is not

here, it is beside the Lord, where he

dwells forever.

Here, on earth, the process of our

"novitiate" begins. We are apprentices

of life, who — amid a thousand

dif-ficulties — learn to appreciate

God's gift, honoring the responsibility

of sharing it and making it bear fruit for

everyone. The time of life on earth is

the grace of this passage. The conceit

of stopping time — of wanting eternal

youth, unlimited well-being, absolute

power — is not only impossible, it is

delusional.

Our existence on earth is the time of

the initiation of life. It is life, but one

that leads you toward a fuller life, the

initiation of the fuller one;

a life which finds fulfillment only in

God. We are imperfect from the very

beginning, and we remain imperfect

up to the end.

In the fulfillment of God's promise,

the relationship is inverted. The space

of God, which Jesus prepares for us

with the utmost care, is superior to the

time of our mortal life. Hence, old age

brings closer the hope of this ful-fillment

… [old age] is credible when it

invites us to rejoice in the passing of

time. It is not a threat, it is a promise.

Old age, lived in the expectation of

the Lord, can become the fulfilled

"apologia" of faith, which gives

grounds, for everyone, for our hope

for all (cf. 1 Peter 3:15). Because old

age renders Jesus' promise transparent,

projecting toward the Holy City of

which the Book of Revelation speaks

(chapters 21-22). Old age is the phase

in life most suited to spreading the

joyful news that life is the initiation to a

final fulfillment.

Papal Prayer Intentions for August: We pray for small- and

medium-sized businesses; in the midst of economic and

social crisis, may they find ways to continue operating, and

serving their communities.

2 • ANGELUS • August 26, 2022
---
NEW WORLD OF FAITH

ARCHBISHOP JOSÉ H. GOMEZ

Jesus, who is here

(On Aug. 13, some 3,000 people

gathered at the Cathedral of Our Lady

of the Angels for a daylong Eucharistic

Congress. The following is adapted

from Archbishop Gomez's remarks and

homily. We will have full coverage of the

congress in our next issue of Angelus.)

One of our newest saints is St.

Charles de Foucauld. He has

one of the great conversion

stories in the 20th century, like the

prodigal son.

The turning point in his life was going

to Nazareth to live and pray as a hermit

and to imitate the "hidden life" of

Jesus.

In one letter he wrote: "I am in the

house of Nazareth with Mary and

Joseph, like a younger brother sitting

opposite my elder brother Jesus, who

is here night and day in the Sacred

Host."

I love that passage. There is such a

beautiful intimacy, such a beautiful

sense of friendship in those words.

The point is this: Jesus wants to have

that same beautiful and intimate personal

relationship with each and every

one of us in the holy Eucharist.

Since the beginning, God has wanted

to be in communion with the men and

women he created.

He spoke to Adam and Eve in the

first garden, in the cool of the evening.

He spoke to Moses in the burning

bush, and led his people out of Egypt,

going before them as a pillar of fire. He

spoke to the prophets, and through the

prophets. And finally he has spoken to

us, in his word made flesh.

You and I are a part of this great mystery,

this beautiful history of salvation.

The Letter to Hebrews tells us: "We

are surrounded by so great a cloud of

witnesses."

This is true. If we could lift the veil,

we would realize that we are in the

company of angels and saints, that they

are everywhere, all around us; if we

had ears to hear, we would hear the

songs of heaven.

The truth is that as we walk the paths

of our ordinary daily lives, we go in

the presence of the living God, and

in the presence of this great cloud of

witnesses.

The Eucharist opens our eyes to see

this reality, it gives us our worldview as

Catholics.

At the altar in every Mass, heaven and

earth meet! Heaven is opened and the

earth is lifted up, as we offer the gifts of

creation to our Creator.

At that moment in every Mass, you

and I are also offering our own hearts,

our own lives. We are praying with the

angels, singing their song with them:

"Holy, Holy, Holy, Lord God of hosts!"

This is the ordinary miracle that we

experience in every Mass. Our Creator

comes to meet us, he comes to feed us

with the bread of life, to nourish us on

our pilgrimage through this world.

We should be living every day with

eucharistic wonder.

In giving us the Eucharist, Jesus gives

us a vision for seeing the world and our

place in it. And in giving us the Eucharist,

Jesus gives our lives a mission.

Every celebration of the Eucharist

ends with a commission: Go forth, the

Mass is ended! Go and announce the

Gospel! Go, and glorify God by your

life!

What begins within the church walls

is meant to continue outside those

walls. The gift that we receive at the

holy table, we are called to share with

our neighbors.

Jesus promised that he would be truly

present in the bread and wine of the

Eucharist. But he also promised that

he would be present in the flesh and

blood of our neighbors, especially the

poor and the suffering. "As you did it to

one of the least of these my brethren,

What begins within the church walls is meant

to continue outside those walls. The gift that

we receive at the holy table, we are called to

share with our neighbors.

you did it to me," he told us.

The vision that Jesus gives us in

the Eucharist calls us to serve our

neighbors as we would him.

Jesus used to say to his disciples,

"Come and see!" Let's make that same

invitation to people:

Come again, and see the miracle of

the Mass! Come again, and see how

much Jesus loves you!

Jesus is here now, with us, as truly

present as when he was walking with

his apostles in Galilee.

Let us give our lives to him, as he

gave his life for us. And as he changes

bread and wine into his body and

blood, let us allow him to change our

hearts, to make us a new creation in

the fire of his love!

May holy Mary, in whose womb Our

Lord took flesh, awaken in all of us —

a new wonder at the mystery of his love

in the holy Eucharist.

August 26, 2022 • ANGELUS • 3
---
WORLD

■ Nicaraguan government tightens grip on the Church

Bishop Rolando José Álvarez of Matagalpa in a

screenshot from a video at his residence in Matagalpa as

riot police block the door. | YOUTUBE

■ Drought and war lead to African hunger

The Nicaraguan government placed a

bishop under house arrest and is effectively

criminalizing public expressions

of Catholic faith.

Police in riot gear were filmed preventing

Bishop Rolando José Álvarez of

Matagalpa — together with six priests

and six laypeople — from leaving his

residence earlier this month. The

government accuses Bishop Alvarez

of "organizing violent groups," but the

move is largely seen as related to the

closure of a Catholic radio network the

bishop had overseen. It was shut down

People fleeing their homes due to drought wait in line at a camp near Dolow, Somalia, in April. | CNS/MIRIAM

DONOHOE, TRÓCAIRE

A food emergency in Africa is worsening due to climate change and Russia's

invasion of Ukraine.

"The different countries in the Horn of Africa have a combined population of

more than 160 million people, and 45% of this population will be affected by

food insecurity," Aloysius John, secretary general for Caritas Internationalis, told

Crux.

Forty-four percent of the wheat imported to the continent came from Russia or

Ukraine between 2018 to 2020, but the war and embargoes have curtailed food

transportation. John noted that "Africa has been the dumping site for the surplus

of the large-scale industrial production of food in the north."

"It has not only destroyed the local food supply chain, but it has also destroyed

local traditional farming, which needs immediate and quick attention," he told

Crux.

In Somalia, 1 million people have been displaced due to the drought.

"Famine is now haunting the entire country," Norwegian Refugee Council

Somalia director Mohamed Abdi told Vatican News. "We are seeing more and

more families forced to leave everything because there is literally no water or

food in their villages."

Aug. 1 for its criticism of Nicaraguan

President Daniel Ortega and his wife,

Vice President Rosario Murillo.

The government also forced the

Archdiocese of Managua to cancel

a planned Marian procession in the

capital city one day before it was set to

take place on Aug. 13

"We want to tell you, brothers and

sisters, that our hearts are full of love,

and we're at peace," Bishop Álvarez

said in a video on Aug. 11. "Our hearts

are full of forgiveness. That's why we're

at peace."

■ India: A cardinal fights

to clear his name

Cardinal Oswald Gracias, archbishop

of Bombay, had to rebut accusations

that he assisted a bishop accused

of secretly fathering a child.

Cardinal Gracias, a member of the

pope's council of cardinals, has denied

arranging a fake paternity test for

Bishop Kannikass William Antony of

Mysore, India.

A 2020 telephone conversation

recording released by far-right news

website Church Militant purports to

show that the cardinal was telling the

bishop that he will arrange for the paternity

test to be conducted at a Catholic

hospital "so we can control the

media, control the doctors, control the

publicity given to the whole thing."

Cardinal Gracias acknowledged the

telephone call, but says it had been

"mischievously edited" to suggest

collusion for a cover-up. He later

released an unedited version of the

recording in which he pressed Bishop

Antony to get the paternity test at a

Catholic hospital.

In an Aug. 7 video, Cardinal Gracias

said that "at no time did I suggest that

we can control the outcome of the

test" and that he suggested a Catholic

hospital to give the test more "credibility."

The Vatican is currently investigating

Bishop Antony for possible financial

misconduct and abuse cover-up in his

diocese.

4 • ANGELUS • August 26, 2022
---
NATION

A border scene in the capital — Migrants who arrived on a bus from Arizona step into the parish hall at St.

Peter's Church on Capitol Hill in Washington, D.C., on Aug. 5. The local church, partnering with SAMU First Response,

began offering hospitality in late July to migrants arriving on buses sent to Washington by the governors

of Texas and Arizona. | CNS/ANDREW BIRAJ, CATHOLIC STANDARD

■ Kansas fails to 'Value Them Both'

Kansas voters chose not to pass a pro-life amendment to the state's constitution in a

59-41 Aug. 2 vote following the overturning of Roe v. Wade.

The failed "Value Them Both" amendment would have reversed a state supreme

court ruling that its constitution protects a right to abortion, allowing state lawmakers

to regulate or restrict the practice.

Abortions in the state could increase by more than 1,000%, according to the Guttmacher

Institute, as neighboring states restrict or ban the practice.

"The pro-life movement's call to politics and policy did not end with the Dobbs

decision," Mallory Carroll, spokeswoman for SBA Pro-Life America, said in an Aug.

2 statement. "Rather, because of that victory we must work exponentially harder to

achieve and maintain protections for unborn children and their mothers."

■ A radical proposal to

slow our kids' social

media problem

Amid rising concern over social media

use among teenagers, a new survey

from the Pew Research Center says it

has doubled in less than a decade.

Almost half of U.S. teens reported

being on social media "almost

constantly," up from only 24% who

reported the same in a 2015 Pew

study. YouTube is the most popular

platform, with 95% of 13- to 17-yearolds

using the service, followed by

TikTok and Instagram.

Since a 2021 Wall Street Journal report

that Instagram's parent-company,

Meta, knew that their product could

be harmful for its young users, some

are calling for an age limit for social

networks.

"If Instagram and TikTok were brickand-mortar

spaces in your neighborhood,

you probably would never let

even your teenager go to them alone,"

wrote Yuval Levin in an Aug. 5 New

York Times op-ed titled "It Was a Mistake

to Let Kids Onto Social Media

Sites. Here's What to Do Now."

"[B]y providing for effective age verification

and meaningful penalties for

the platforms," he continued, "Congress

could offer parents a powerful

tool to push back against the pressure

to use social media."

■ Vatican tags Catholic influencers for synod help

Philadelphia Archbishop Nelson J. Pérez joins young people during a synodal listening

session at La Salle University in April. The Vatican's new outreach aims to hear from

people "who may not have been included in diocesan listening sessions," according to

radio host Jimmy Akin. | CNS/SARAH WEBB, CATHOLICPHILLY.COM

If Jimmy Akin has asked you to submit a report to the

Vatican's upcoming Synod on Synodality, you shouldn't be

surprised.

The U.S-based Catholic apologist and host of Catholic

Answers Live was one of the Catholic "influencers" the

Vatican has tasked to engage Catholics who did not attend

synodal listening sessions.

"Someone at the Vatican clearly understood that they

would not be getting the views of people who don't go to

Mass from the diocesan surveys," Akin told Catholic News

Agency. "They want to hear from people of goodwill who

are willing to engage with the Church in some form, even

if some do not presently practice the Faith."

Akin has shared a survey developed by the Vatican on his

show and social media. Similar efforts were employed in

Spain and France, and survey responses were closed on

Aug. 15.

August 26, 2022 • ANGELUS • 5
---
LOCAL

■ What's goating

on at the cemetery?

Holy Cross Cemetery in Culver

City deployed a strange-looking

team of landscapers on its grounds

this summer.

For a few days, the cemetery

imported some 250 goats and sheep

— reportedly last used in Malibu —

to help "clear bushes and naturally

invasive plants," the Culver City

News reported on Aug. 4.

Use of the animals for such purposes

is not uncommon in California,

since by grazing on brush they help

clear fire lines.

Adrian Marquez Alarcon, director

of Media Relations at the Archdiocese

of Los Angeles, said the use

of the animals to clear the hillsides

of overgrowth was "being done as a

natural alternative."

"The mix of sheep and goats is

used because they eat different

things and together they are very

effective at keeping the growth of

brush and grasses at the proper

level," she said.

■ Making Catholic leaders out of middle-schoolers

More than 225

middle-schoolers from

41 Catholic schools

around the archdiocese

participated in

a special leadership

program organized

by The Association

of Catholic Student

Councils (TACSC)

this summer.

The association's

Summer Leadership

Conferences

were held at Loyola

Marymount University,

where students

TACSC student staff snapped a selfie with Archbishop José H. Gomez after Mass

at LMU on June 26. | TACSC

took part in activities aimed at developing "moral leaders to positively impact

our world" and forming "real world strategic planners, effective communicators,

lifelong mentors and servant leaders."

Archbishop José H. Gomez celebrated Mass for students and their families at the

close of the first session. TACSC is celebrating its 40th anniversary on Oct. 21.

"Students learn who they can become from our incredible college and high

school staff and where they will go, being on a college campus," said TACSC executive

director Heidi Johnson. "It is a life-changing experience for our delegates."

TACSC has served more than 2,500 students this year, including through its

high school Core Leadership Team Program and Student Leadership Days.

Starting the school year strong — Seminarians of the Archdiocese of Los Angeles

pray during Mass at this year's Annual Seminarian Gathering at the Cathedral

of Our Lady of the Angels on Aug. 12. Archbishop José H. Gomez celebrated

Mass with the young men from St. John's Seminary in Camarillo at St. Vibiana

Chapel before sharing lunch with them. | VICTOR ALEMÁN

■ All-star lineup of LA Catholics

to receive papal honors

Nineteen LA Catholics will be honored at a special vespers

prayer service on Sunday, Aug. 28, at the Cathedral of

Our Lady of the Angels at 3:30 p.m.

Archbishop José H. Gomez will confer papal honors of

Pro Ecclesia et Pontifice and Benemerenti on 15 lay men

and women and four religious sisters in the Archdiocese of

Los Angeles, in recognition for their service to the Church,

family, and community.

The honorees receiving Pro Ecclesia et Pontifice awards

are Sister Angela Hallahan, CHF, and Sylvia Mendivil

Salazar.

The late Richard Grant and his wife, Maria Grant, are

among those to be honored with Benemerenti awards.

The others are: Ana Marie Aguilera, Judy Lynn Fernandes,

Sister Mary Elizabeth Galt, BVM, Suzanne Healy, Patricia

Louise Hendricks-Whisnant, Robert Martinez, Donna

May McKennon, Robert Auguste McKennon, Margaret

Oberon, Sister Maryanne O'Neill, CSC, Sister Edith

Prendergast, RSC, Juanita Rios, Kathleen Sue Tonsich,

William "Bill" George Williams, and Jerry Cornelis Van

Wingerden.

Y

6 • ANGELUS • August 26, 2022
---
V

IN OTHER WORDS...

Letters to the Editor

Can solutions-based journalism save Catholic media?

I appreciated Greg Erlandson's column "Is Catholic journalism yesterday's

news?" in the Aug, 12 issue.

I wrote full time for a diocesan Catholic paper from 1988 to 2006, and have

freelanced (including for Angelus) for other publications since. For one, I believe

Church leadership underestimated how much of a negative impact the abuse

scandals had on the Church's image. How many people want to trust their youngsters

to an institution that ignored their abuse? There are now literally millions of

people who will never take the Church's pronouncements on ANY issue seriously

because of what happened.

I also think the Church wasted ample opportunities to build bridges with

progressives over too many issues. The fact that certain Catholic hospitals, for

example, have stymied labor organizing has done a tremendous damage to the

Church, and I have repeatedly found people are shocked to know Catholicism

actually preaches that workers have a right to organize to collectively bargain. St.

Pope John Paul II was positively radical compared to even a lot of liberal Catholics

on this issue, but you'd never know it by reading how some people perceive

his pontificate.

I agree that a solutions-based journalism is the way to go. When I was writing full

time, I'd try to outline a problem, say the plight of migrant workers, note what the

Church's official teaching was, and then outline how church folks were practically

addressing it. This approach seemed to garner the most positive response from

readers and also let "conservative" and "liberal" Catholics know they had more in

common than they realized.

— Rob Cullivan, Portland, Oregon

Correction from the editor

The news brief in the July 29 issue "Indian Catholics call for saint's return to

history books," incorrectly referred to India's government as "communist." Though

the ruling parliamentary alliance for the state of Kerala, where the story occurred,

is communist in ideology, India's political system is democratic.

Y

Continue the conversation! To submit a letter to the editor, visit AngelusNews.com/Letters-To-The-Editor

and use our online form or send an email to editorial@angelusnews.com. Please limit to 300 words. Letters

may be edited for style, brevity, and clarity.

The saint of Lourdes

takes Los Angeles

St. Bernadette's relics made a stop in Los Angeles

from July 31 to Aug. 3 at the end of a monthslong

U.S. tour. Hundreds of LA Catholics came out to local

parishes and the Cathedral of Our Lady of the Angels

to venerate the French saint. | VICTOR ALEMÁN

View more photos

from this gallery at

AngelusNews.com/photos-videos

Do you have photos or a story from your parish that you'd

like to share? Please send to editorial @angelusnews.com.

"There's not a problem

in the world that three

Hail Marys can't fix."

~ Walter Pearce, co-host of the podcast "Wet Brain,"

in a controversial Aug. 9 New York Times essay

"New York's Hottest Club is the Catholic Church."

"Children's compliance

with the masking policy

should not be a prerequisite

to obtain in-person

education."

~ John W. Ayers, Ph.D., a computational

epidemiologist, in a July 29 op-ed in the San Diego

Union-Tribune on why local school masking

mandates won't work.

"We had the love of

our grandparents, but

it's not the same as that

of your mother."

~ Gabriela Rivas, a 29-year-old mother whose

mother left her in the care of grandparents when

she left El Salvador for the U.S. 16 years ago.

"Mother Nature has no

obligation to wait for us."

~ Michael Anderson, California's state climatologist,

in an Aug. 12 New York Times article "The Coming

California Megastorm" describing a climate changeinduced,

catastrophic rainstorm expected to hit the

state sometime this century.

"Alan was basically

put to death."

— Gary Nichols, brother of Alan Nichols, who

applied for euthanasia during a bout of depression,

against his family's wishes, and was killed under

Canada's permissive euthanasia laws, in an Aug.

11 AP article, " 'Disturbing': Experts troubled by

Canada's euthanasia laws."

August 26, 2022 • ANGELUS • 7
---
IN EXILE

FATHER RONALD ROLHEISER, OMI

Oblate of Mary Immaculate Father

Ronald Rolheiser is a spiritual

writer; ronaldrolheiser.com.

Making a recessive journey

In a particularly poignant passage

in her poem, "The Leaf and the

Cloud," Mary Oliver pictures

herself standing at the gravesite of her

mother and father, reflecting on their

lives. They were far from perfect and

she doesn't sugarcoat their faults. She

openly names her mother's heaviness

of soul and her father's immature

faith. She knows that many of her own

struggles have roots there.

However, she isn't visiting their

graves to lay blame on them. She's

there to kiss them an honest goodbye,

at peace finally with both their

less-than-perfect lives and their

influence on her. She thanks them

for everything, the good and the bad,

wishes them well in the deep earth,

and then says, "But I will not give

them the kiss of complicity. I will not

give them the responsibility for my

life."

All of us might do well to make this

kind of recessive journey in terms of

revisiting our early religious training.

An interesting gravesite. Unfortunately,

many of us don't ever tarry there

long enough to truly sort out what

blessed us and what wounded us when

some very fallible human agents introduced

God to us. Today it is common

(almost fashionable) for people to look

back only negatively on their early religious

training. Indeed many speak of

being "in recovery" from it and often

blame every kind of unhappiness and

neurosis in their lives on their early

religious training.

No doubt, some of this is valid, early

religious training does leave a permanent

mark on us. However, we owe

it to ourselves, our parents, our early

teachers, and to honesty to sort out

the positives and negatives of our early

religious background and, like Mary

Oliver, make peace with it, even if we

cannot give it the kiss of complicity.

What's my own story? For me, awakening

to consciousness and awakening

to God and Church were inextricably

linked. The Roman Catholicism of

the time was the air I breathed as a

child and this was Roman Catholicism

prior to Vatican II, a Catholicism

replete with both positives and

negatives.

The spirituality of my childhood was

one of absolute truths, of non-negotiable

rules, of strong demands, of tribalism,

and of narrow inclusivity. We,

and we alone were the one true faith.

Moreover, all of this was underwritten

by a God who kept a scrupulous watch

on your every action, didn't easily give

you permission to make a mistake,

held the sixth commandment above

all others, used shame as a weapon,

and was frowning a lot of the time.

But, that was far from all of it. There

was a whole other side. The family,

community, and church that christened

me had communal bonds that

most communities today can only

envy. You truly were part of a body, a

family, and a community that incarnated

a sense of transcendence that

made faith something natural, and

community part of your very identity.

You knew you were a child of God

and you knew too that you were a

moral creature with real responsibilities

to others and to God. You knew

your eternal significance, your essential

dignity, and the moral responsibility

that came with that and you

couldn't exempt yourself from it.

What all of this did was ground you

existentially in a very fundamental,

non-negotiable human, moral, and

religious truth, namely, that your life

was not simply your own to do with

whatever you wished. You knew in a

way that you could not ignore, except

by way of infidelity, that you were

constitutively social, interdependent,

ecclesial, and that God put you on

this earth not just to make a good life

for yourself. You had a vocation, a

certain duty to serve, and God, family,

community, and Church could ask

you to give your life over. Today, I see

this particular brand on my soul as

one of the most precious of all gifts

that I received from the spirituality

of my childhood. Whatever demons

came along with that were worth it.

Besides, demons can be cast out and

most of those buried inside the catechesis

of my childhood have slowly

been exorcized through the years.

What did it? Lots of things: years

of studying and teaching theology,

reading good literature, having good

spiritual directors, seeing a robust and

joyous health in women and men of

faith, persevering in my own dogged

(and far-from-perfect) attempt to be

faithful to prayer, the Eucharist, and

church community through seven

decades, and, not least, the grace of

God.

Today I look back on my early

religious training in a way wherein the

negatives are eclipsed by the positives.

I am thankful for it all, even its initial

rigidity, timidity, tribalism, fearfulness,

and false fears of God, because

something inside all of that grounded

me and taught me what is ultimately

important. Indeed, rigidity, timidity,

tribalism, and excess caution aren't a

bad place to start from because after

they loosen their grip, you are free for

the rest of your life. No small gift!

8 • ANGELUS • August 26, 2022
---
Vin's greatest

inheritance

Vin Scully at the Los Angeles Dodgers Opening Day in 1999.

| © JON SOOHOO/LOS ANGELES DODGERS 1999

The legendary

broadcaster's heroic

faith helped him see

life — and death —

through God's eyes.

BY TOM HOFFARTH

Taking turns offering memories

and sharing stories, Vin Scully's

children gathered at the altar

at the end of the funeral Mass for

the legendary Los Angeles Dodgers

broadcaster on Monday, Aug. 8, at St.

Jude the Apostle Church in Westlake

Village.

Scully's daughter, Erin, said she had

searched his office to find something

that would comfort her. She came

across a famous prayer written by St.

Cardinal John Henry Newman.

"God has created me to do Him

some definite service," read the first

line. Another: "Therefore, I will trust

Him. ... If I am in sorrow, my sorrow

may serve Him. … He may make me

feel desolate, make my spirits sink,

hide my future from me. Still, He

knows what He is about."

For Father Jim Stehly, pastor of

St. Jude, the prayer was a "perfect"

glimpse of his most famous parishioner's

interior life.

"This wasn't just a celebration of life,

or Vin's life, but really a celebration

of that life he's being ushered into its

fullness right now," he told Angelus.

"To me, that was the real sense of

Vin's vocation as he was living his

Christian life in this most public way."

Father Steve Davoren, who presided

the Mass and burial service, said that

10 • ANGELUS • August 26, 2022
---
"in the context of everything, it was

all so beautiful that showed how Vin

was a man of deep abiding faith in our

Lord Jesus and had a tremendous love

of his family."

The faces of Dodgers history —

Sandy Koufax, Kirk Gibson, Clayton

Kershaw, Jaime Jarrin, Steve Garvey,

Dave Roberts — were among those in

the pews at St. Jude's that day. After

hearing the readings picked by Vin's

family (Proverbs 3:1–18, Psalm 23,

1 Thessalonians 4:13–18; Matthew

5:13–16) as well as a version of "The

Prayer" song made famous by Josh

Groban, the 600 people in attendance

may have felt more uplifted than

sorrowful that he had lived 94 years

until his Aug. 2 passing at his Hidden

Hills home.

"No matter how many famous people

may have been there in attendance,

it was still about the ordinary

person that Vin was, and the extraordinary

friend he was to all," said Father

Davoren.

Vin is survived by five children —

Kevin, Todd, Erin, Kelly, and Catherine

— as well as 21 grandchildren

and six great-grandchildren. He was

preceded in death by his first wife,

Joan, and his second wife, Sandi, as

well as his oldest son, Michael.

Far from the lights of Dodger

Stadium, church seemed to be

Vin's other natural habitat.

Father Stehly said it "was a lovely

thing to discover 11 years ago that Vin

Scully is exactly the guy we want to

think he is." But he was also impressed

at how Vin "wasn't shy about

putting voice to his faith."

Yet for someone who made a career

talking, his actions also found surprising

ways to speak to LA baseball fans.

In a 2016 cover story for Sports Illustrated,

writer Tom Verducci wrote that

the "benevolence of Vin was rooted in

his [Catholic] faith. He emphasized

'the most essential thing' he learned

from his Faith and the Church was

'the importance of continual commu-

The Scully family at Dodger Stadium. Pictured From

left to right: Todd, Erin, Catherine, Vin and Sandra

Scully, Kelly, and Kevin. | © JON SOOHOO/LOS

ANGELES DODGERS

nication with God.' "

Born in the Bronx, New York, on

Nov. 29, 1927, Vincent Edward

Scully grew up in uptown Manhattan

attending the Church of the Incarnation.

He was taught by the Jesuits at

Fordham Prep School, spent two years

in the Navy, and later graduated from

Fordham University in 1949.

At age 8, he recalled the time his

class wrote

Flowers and candles are

displayed at a memorial

honoring Vin Scully at

Dodger Stadium in Los

Angeles on Aug. 3.

| SHUTTERSTOCK

compositions for

teacher Sister

Virginia Maria

about their

career plans.

"All the boys

wanted to be

policemen, firemen,

doctors, the

girls were about

nursing or ballet dancers or becoming

mothers, but I wrote about being a

radio sports announcer," he said. "It

wasn't what Sister Virginia expected

to read about. There was no TV and

just a few things on the radio, maybe

a Saturday afternoon football game

between Ohio State and Notre Dame.

So when I said what I wanted to be,

that was way out in left field. When

I eventually got that job with the

August 26, 2022 • ANGELUS • 11
---
Dodgers, in December of 1950, when

I was 23, it really was the fulfillment

of a dream just 15 years later. That's

rather remarkable in itself. I have a

great deal to be thankful for."

Through his involvement in the

Catholic Youth Organization (CYO),

Scully would get tickets to games at

the Polo Grounds to see his favorite

team, the New York Giants.

Starting with the Brooklyn Dodgers

and hired by the legendary Branch

Rickey, as well as bonding with

generations of the O'Malley family

as it assumed team ownership, Vin

rejoiced in calling the franchise's oneand-only

championship in 1955. He

took a leap of faith in leaving behind

his home base to follow the franchise

to Los Angeles in 1958.

In bringing the game to Southern

California through the advent of the

transistor radio, Vin's voice captioned

six Dodgers World Series runs. He

The cover of the October 18, 2019, issue of Angelus featuring a special interview with

Vin by Tom Hoffarth. "You know, this isn't the only stop on the train," he said at the

time. "There's one big one we're still waiting for."

also lent his voice to coverage of golf

and NFL football during his 67 years

with the Dodgers, which ended with

his retirement in 2016.

"I've always admired Vin's faith and

he often gave credit to the nuns from

Ireland who taught him and influenced

his life starting in grammar

school," Peter O'Malley, the Dodgers

team owner from 1979 to 1998, told

Angelus. "He appreciated his faith

and didn't take it for granted. "

On mornings before Sunday home

games, Vin found a home attending

Mass at the

stadium, a Major

League Baseball

tradition at ballparks

around the

U.S. organized by

Catholic Athletes

for Christ

(CAC). Vin and

Sandi would join

longtime friend

and Dodgers'

traveling secretary

Billy DeLury

at a makeshift

chapel inside the

bowels of Dodger

Stadium. When

DeLury died at

81 in 2015, Vin

draped DeLury's

blue Dodgers

jacket over an

empty chair next

to him.

Since Vin's

death, the Scully

family has suggested

donations

be made in his

honor to CAC,

which worked

with Immaculate

Heart Radio to

record a two-CD set of Vin praying

the rosary.

CAC ministry coordinator Kevin

O'Malley said Vin typified "the best

of what we are hoping to bring out

with our pro athletes — the virtue of

humility, offering time, talents, and

"Death is a constant companion in our religion.

You live with it easily; it is not a morbid thought.

That has given me the perspective that whatever

I have can disappear in 30 seconds."

treasure, and preaching without reading

the Gospel."

"It's interesting: I had always wanted

to be a baseball play-by-play man,"

O'Malley told Angelus. "The first half

of my life, I wanted to be Vin Scully,

the broadcaster. But as I learned more

and worked with him, I really wanted

to be more like Vin Scully, the man,

the Catholic, the gentleman, the

husband and father."

As an added treat for those in attendance,

Vin would often lector at those

ballpark Masses. Former Dodgers outfielder

Andre Ethier said his favorite

memory from his 12 years with the

Dodgers remains listening to Scully

proclaiming the word of God.

"There was something probably not

many got a chance to hear — Vin

reading from the Bible, in his typical

voice and presentation," Ethier told a

SportsNet L.A. tribute to Vin. "It kind

of would always perk me up when you

hear Vin say something out of context

from what we were used to hearing."

Father Stehly said Vin often arrived

very early before Mass to allow for

enough silent prayer time before

anyone would be around to recognize

him.

At one point, Vin decided he might

need to be more proactive in asking

writers to avoid including where he

attended Mass.

"There will be autograph seekers

standing out on the church steps as

I am going in, and I will try to be

polite," Vin once said. "I would often

tell them, 'I'm going into church

right now. If you want to come and

12 • ANGELUS • August 26, 2022
---
join me, I'll be happy to sign the ball

afterward.' It became almost a way to

evangelize, right?"

Father Davoren recalled the time

when, after a national appearance on

"Jimmy Kimmel Live!" in October

2016, Vin mentioned he would be

speaking at a career day event at St.

Mel School in Woodland Hills, the

Catholic elementary school where his

daughter Erin enrolled her children.

On the Wednesday after Vin's passing,

a 97-year-old parishioner at St.

Mel approached Father Davoren and

wanted him to know she and Vin were

"good friends."

"The thing is, she has never met

him," said Father Davoren. "She said

that after her husband of 65 years

passed away, she was feeling lonely

and one day her phone rang. It was

Vin. Someone had connected them.

For a half-hour they spoke. It was just

what Vin did — like Christ did —

making us all feel like we matter."

The passing of family members

and close friends is when Vin

leaned into his Catholic faith

the most.

Vin was only 4 when the father he

was named after, Vincent Aloysius

Scully, died of pneumonia. His

mother, Bridget, who lived to be 97,

remarried English merchant sailor

Allan Reeve, whom Vin embraced as

his dad.

Vin remembered a time when his

mother took him back to her native

Ireland to mourn her husband's loss.

In 1932, he recalled attending the

International Eucharistic Congress

at Dublin's Phoenix Park with some

200,000 people for a Mass.

In January 1972, Vin said he heard

his dog barking at 3:30 a.m. and

turned in bed to check on his wife,

Joan. She had died at age 35. The

mother of his three children had been

taking medications prescribed for a

severe cold and bronchitis. They had

been married almost 16 years, wed

in February of 1958, right after the

Dodgers moved to LA.

Michael Scully, the oldest of those

three, died in 1994 at age 33 in a

helicopter crash in the San Fernando

Valley while inspecting pipelines after

an earthquake.

In January 2021, Vin's second wife,

Sandi, died at 76 from complications

brought upon by the neuromuscular

One of Vin's last public statements was a video

message delivered to the Catholic Charities of Los

Angeles' annual gala in October 2021. Vin paid tribute

to Dodgers player Justin Turner and to the Order of

Malta for receiving the Sister Peg Dolan Spirit of Giving

Award at the event. | CATHOLIC CHARITIES LA

disease ALS (better known as Lou

Gehrig's Disease) after a long struggle.

Vin had called her "a true saint if

there ever was one. … Her faith is

extremely important and I think that's

a major reason she's held up."

Sandi, who was part of the Calvary

Community Church of Conejo Valley

in Westlake Village, had brought two

of her children into the Scully marriage

in 1973. During their 48 years of

marriage, they had their last daughter,

Catherine, together. Sandi died just

days before the passing of Vin's longtime

friend and fellow Dodgers icon

Tommy Lasorda.

"Being Irish, being Catholic, from

the first day I can remember, I was

told about death," Vin said in a 1986

interview with The Sporting News.

"Death is a constant companion in

our religion. You live with it easily;

it is not a morbid thought. That has

August 26, 2022 • ANGELUS • 13
---
Vin's 'definite service'

The prayer read at Vin Scully's funeral Mass by St. John

Henry Newman is from the English cardinal's "Meditations

on Christian Doctrine" (1848). Here is the full text

of the prayer.

God has created me to do Him some definite service;

He has committed some work to me

which He has not committed to another.

I have my mission — I never may know it in this life,

but I shall be told it in the next.

Somehow I am necessary for His purposes…

I have a part in this great work;

I am a link in a chain, a bond of connection

between persons.

He has not created me for naught. I shall do good,

I shall do His work;

I shall be an angel of peace, a preacher of truth

in my own place, while not intending it,

if I do but keep His commandments

and serve Him in my calling.

Therefore I will trust Him.

Whatever, wherever I am,

I can never be thrown away.

If I am in sickness, my sickness may serve Him;

In perplexity, my perplexity may serve Him;

If I am in sorrow, my sorrow may serve Him.

My sickness, or perplexity, or sorrow may be

necessary causes of some great end,

which is quite beyond us.

He does nothing in vain; He may prolong my life,

He may shorten it;

He knows what He is about.

He may take away my friends,

He may throw me among strangers,

He may make me feel desolate,

make my spirits sink, hide the future from me —

still He knows what He is about.…

Let me be Thy blind instrument. I ask not to see —

I ask not to know—I ask simply to be used.

given me the perspective that whatever

I have can disappear in 30 seconds.

And being out on the road as much as

I am, I realize I am killing the most

precious thing that I have — time.

You never know how much of it you

have left."

That wisdom spoke for itself when

Vin had to interrupt a televised

Dodgers-Expos game in Montreal

to announce the passing of former

Dodgers great and fellow broadcaster

Don Drysdale.

"Never have I been asked to make an

announcement that hurts me as much

as this one," Vin said. "And I say to

you as best I can with a broken heart."

In later interviews, Vin seemed to

sense a greater need to speak from

experience about his faith.

"The worst thing you can do in times

of trial is to stop praying," he told the

National Catholic Register in 2013.

"The tough moments are when you

need God the most. There are so

many good things about the Church,

but that might be the most essential

thing I've learned from it: The importance

of continual communication

with God. That's what all the kneelers,

candles, incense, stained-glass

windows, holy water, and other things

are about: directing our minds and

hearts to God."

Vin received just about every

award possible over the years

for his talent as a professional

wordsmith, including a spot in the

broadcasters' wing of the Baseball

Hall of Fame in Cooperstown, New

York, that was intended as a lifetime

achievement award. That was in 1982

— and he would go on to call games

for 34 more years.

Vin was grateful to live long enough

to see the induction of one of his favorite

Dodgers and Catholic cohorts,

Gil Hodges, into the Baseball Hall of

Fame this July. Through CAC, Vin

participated in a documentary, "Soul

of a Champion: The Gil Hodges Story,"

an open letter to voters asking for

support of Hodges' cause based on his

character and Catholic faith.

His professional career is dotted

with milestones he witnessed and

described: Don Larsen's perfect game

for the New York Yankees against

14 • ANGELUS • August 26, 2022
---
Vin's "spectacular rise" as a baseball announcer

following his Catholic education

by the Jesuits at Fordham was noted in this

1950 newspaper clipping, years before his

move from Brooklyn to LA in 1958.

the Dodgers in 1955, Henry Aaron's

record-breaking 715th home run in

Atlanta against the Dodgers in 1974,

and Kirk Gibson's 1988 World Series

Game 1 walk-off home run that lifted

the Dodgers to a championship,

where, as Vin said, "in a year that has

been so improbable, the impossible

has happened."

A star on the Hollywood Walk of

Fame also came in 1982, and in 2016

a Presidential Medal of Freedom from

President Barack Obama. His microphone

was retired and put among

the Dodger Stadium's list of retired

numbers. The Dodger Stadium street

address and press box have both been

renamed in his honor.

But Vin's Catholic accolades were

probably a better reflection of the

legacy Vin hoped to leave behind.

In 2009, he was one of the Archdiocese

of Los Angeles' Cardinal's Awards

recipients. One of the archdiocesan

representatives assisting him and his

family that night was Ellen Loretta,

the mother of then-Dodgers second

baseman Mark Loretta, a graduate of

St. Francis High School in La Cañada

Flintridge.

A member of the Knights of Columbus,

Vin was also recognized by

Catholic Charities of Los Angeles for

his commitment to the community

— outreach that included work for

Children's Hospital of Los Angeles.

In 2000, Vin returned to his alma

mater for a commencement address

and received an honorary doctorate

degree. Fordham often called him

"the patron saint" of the campus radio

station, WFUV, which launched

when he was there in 1947.

Vin asked the graduates to follow the

Ten Commandments and "build a

better moral climate," in his first visit

to the campus in the 50 years since

he'd graduated. "Don't let the winds

blow your dreams away or steal you of

your faith in God."

In June of 2016, the summer leading

up to his retirement from the Dodgers,

Vin was recognized with the Gabriel

Award by the Catholic Academy

of Communication Professionals for

his accomplishments as well as being

a person of faith.

Unable to attend their ceremony in

St. Louis, Vin recorded a five-minute

video acceptance speech. It gave him

an opportunity to recall the time in

1956 when he was with a group that

got to meet Pope Pius XII in Rome.

As he explained it, he was on the

way back from a trip to Japan with the

Dodgers for some exhibition games

when Vin decided to join pitcher

Ralph Branca and his wife, Ann, and

divert through Europe for an audience

with the pope. Ann's father, James,

part owner of the Brooklyn Dodgers,

was a member of the Order of Malta

and arranged it.

Vin relayed how he tried to stay calm

as "my knees were trembling," trying

to keep a promise to his mother to

remember every detail — including

describing the pope as "somewhat

gaunt, with black olive eyes, wearing

glasses."

After the pope greeted the Branca

couple, he turned to Vin and asked,

"Are you with them?" Scully said,

"Yes."

The pope then walked over to the

next guests.

"How would you like to tell that to

your mother?" Vin asked.

But Vin took that line to heart as

only he could do.

"As I've gotten older I realized that

those couple of words 'Are you with

them?' really sums up why I'm here,"

he said. "Oh yes. 'Are you with them'

for the thousands of baseball games

that I saw, the hundreds and hundreds

of home runs to end exciting games,

the no-hitters — I was with them.

"The more I think about it now I

realize not all of us can be heroes," he

continued. "Certainly for me, a hero

goes by and I'm standing on the curb

applauding, as I was with them.

"I remember: To whom much is given,

a great deal is required. And I pray

that I will be able to fill the definition

of what was required before I leave

this mortal coil.

"And one last thought, if you don't

mind," he told his audience. "Could

I have a picture of all the great priests

and nuns [from the organization]. I'd

like to have that so when I am finally

called upon Judgment Day, I will go

up and I will hold that picture and I

will say, 'I'm with them.' God bless

and good night."

Tom Hoffarth is an award-winning

journalist based in Los Angeles.

August 26, 2022 • ANGELUS • 15
---
A lifeline from Lourdes

Members of the Ladies Auxiliary Division of the Knights of Peter

Claver process into St. Bernadette Church in Baldwin Hills

during the welcome Mass for the relics on Monday, Aug. 1.

The last stop of

a US tour of St.

Bernadette's relics

brought a muchneeded

'spark' to her

namesake parish in

Baldwin Hills.

BY PABLO KAY /

PHOTOGRAPHY BY

VICTOR ALEMÁN

After years of steadily declining

attendance and a pandemic

that kept even its most faithful

parishioners away for months, St.

Bernadette Church in Baldwin Hills

was in need of a jumpstart.

And it just got one, courtesy of some

rare relics of its patron saint.

For three days at the start of August,

relics belonging to St. Bernadette

Soubirous visited Los Angeles, the

final stop of a four-month U.S. tour

that passed through 28 dioceses. The

ornate golden reliquary containing a

fragment of the 19th-century French

saint's ribs spent the most time at her

namesake parish in LA, which also

happens to be celebrating its 75th

anniversary this year.

"This happened not accidentally, but

just at the right time," said Deacon

Jim Carper, parish life director at St.

Bernadette.

Among those who made the pilgrimage

to St. Bernadette was Archbishop

José H. Gomez, who celebrated a

special evening Mass there on Aug.

1. More than 300 people turned out,

including members of the Order of

Malta, which helped organize the U.S

tour, as well as Catholics from around

the archdiocese. There were also veterans

of past pilgrimages to Lourdes

— where the Virgin Mary is said to

have appeared to St. Bernadette in a

rock cave in 1859 — who took the op-

16 • ANGELUS • August 26, 2022
---
portunity to reconnect with the saint.

For longtime parishioners, the relic

pilgrimage was a moving spiritual moment.

In the words of Deacon Carper,

the parish "has had a rough time over

the years, with a variety of different

issues."

Deacon Carper's role comes with

most of the responsibilities of a pastor.

As a deacon, he can baptize children,

officiate weddings, and lead Communion

services.

For confessions and

Mass, he counts on

the help of a network

of retired priests.

Just as the community

has changed, so

has St. Bernadette.

Over the last few

decades, many of

the older families of

Creole and African

American descent

who helped build

the parish have

retired, moved, or

passed away. Home

prices have soared,

making it harder for

young families to

move into the area.

When COVID-19

struck, St. Bernadette

was forced for

months to resort to

livestreaming the

Sunday Mass. The

church was only

able to reopen its

doors for indoor,

in-person services

in the summer of

2021. The parish

maintains a thriving food kitchen for

the homeless, a prison ministry that

connects children with their incarcerated

parents, and hosts a program that

offers free vision care and glasses for

families in need.

But the process of filling the pews on

Sundays again has been slow.

"Our parish is an old parish,"

explained Barbara Evans, who has

belonged to St. Bernadette with her

husband, Amos, since 1976. "Most of

our parishioners are 'mature,' and so

a lot of them haven't come back yet

from the pandemic."

For the Evans', the Mass with Archbishop

Gomez was an opportunity

to seek St. Bernadette's intercession

for their health as well as to pray for

fellow parishioners who are seriously

ill or homebound.

Others traveled from further away to

venerate the relics.

Nelson and Teri Taylan came from

St. Finbar in Burbank. For them the

Mass brought back vivid memories of

their 2013 pilgrimage to Lourdes with

their daughter Trinity and son Noah,

who suffers from Duchenne muscular

dystrophy, a debilitating genetic

disease that has confined him to a

wheelchair.

Visiting Lourdes, Nelson recalled,

"was like heaven on earth."

"Our whole faith changed," Teri

agreed. "Internally, we're so much

better off today than we were before."

The Taylans traveled to Baldwin

Hills with their children out of gratitude,

and to invoke St. Bernadette's

intercession for the conversion of

hearts, including one seriously ill

relative who has stopped practicing

the Faith.

Every year, millions of pilgrims like

the Taylans visit the site in southwestern

France where the Virgin Mary

is said to have visited St. Bernadette.

The waters of Lourdes, drawn from

a spring discovered by St. Bernadette

near the grotto, are known for their

healing properties. St. Bernadette,

who became a

religious sister and

eventually died from

tuberculosis at 35,

always emphasized

the importance of

prayer and faith.

"The water will

have no virtue

without faith," she

was known to say.

She was canonized

in 1933.

But for a few midsummer

nights, the

sense of healing that

pilgrims experience

in Lourdes was in

the air at St. Bernadette.

For 31-year-old

Amber Montgomery,

who grew up going

to St. Bernadette,

the Mass with the

relics inspired a

"renewed sense of

hope" that parishioners

will soon be

returning to church,

especially her fellow

millennials.

Parish life director

Deacon Jim Carper

presents an image

of St. Bernadette

blessed by Archbishop

Gomez at

the Aug. 1 Mass

to St. Bernadette

parishioners.

"I went to Catholic

school my whole

life and most people

my age don't go to

church," she told

Angelus. "None of

my friends go to

church. So I was

just really praying

[to St. Bernadette]

for people to turn

back to the Lord."

Accompanying the relics was Bishop

Jean-Marc Micas, the newly ordained

head of the Diocese of Tarbes-

Lourdes. He flew from France for the

August 26, 2022 • ANGELUS • 17
---
last leg of the U.S. tour, which also

included stops at the Cathedral of

Our Lady of the Angels and St. John

Baptiste de la Salle in Granada Hills.

He took part in a candlelight vigil

outside St. Bernadette on July 31, and

concelebrated the Mass with Archbishop

Gomez at St. Bernadette, and

presided another evening Mass at the

cathedral on Aug. 2, where hundreds

waited in line to pray with the relics

throughout the day.

For Bishop Micas, the message of

Lourdes is one of divine mercy. He

said that inspired the motto he adopted

for his ordination as a bishop just

more than two months ago: "God's

mercy will extend from age to age."

"Lourdes is a very, very important

place of grace, where any kind of

sinner can come and receive the sign

of God's mercy," Bishop Micas told

Angelus.

"Either people can come to Lourdes

to get this sign of God's mercy, or it

can reach people wherever they are,

which is what this tour is about," he

added.

Bishop Micas said the relics' American

journey was an overwhelming

success, having reached more than

200,000 people around the country.

Several U.S. dioceses, he said, have

already inquired about hosting the

relics the next time around.

But for Deacon Carper, numbers

don't tell the whole story. St. Bernadette's

trademark charism of "the little

way," he believes, is a call to do things

differently.

"You hear this constantly from her:

'I'm not a big deal, I just do what God

puts in front of me,' " said Deacon

Carper. "That's so important for us as

parishioners, is that what we accomplish,

we accomplish by following the

little way."

Archbishop Gomez struck a similar

theme in his homily at St. Bernadette,

noting the saint's humility.

"She spoke from her heart in simple

language, just telling people what she

saw, and what she heard," said Archbishop

Gomez. "She talked of the

power of God's love in her life."

Bernadette's

witness, he told

worshippers,

is "a beautiful

reminder of the

mission that we

all have, in our

families, in the

places where

we work, in our

communities, in

our schools."

Faithful participated

in a candlelight

procession and vigil to

welcome the relic of

St. Bernadette on July

31. At left are Deacon

Carper and Bishop

Jean-Marc Micas

of Tarbes-Lourdes,

France.

At their church, parishioners hope

their patroness' visit has opened a new

chapter. Several noted the influx of

new residents in the area, together

with the appearance of new faces at

Sunday Mass.

"It's great

Hundreds of Catholics

because [the

from around Southern

parish] is much

California venerated the

more diverse

relics of St. Bernadette

than it was

at the Cathedral of Our

before, and that's

Lady of the Angels on

a good thing,"

Aug. 2. The relics also

said parishioner

visited St. John Baptiste

Evans.

de la Salle in Granada

Her husband,

Hills during the threeday

stay in LA.

Amos, hopes that

the relics have

brought a "spark"

to the parish.

"We'll start anew," said Amos. "So

we're looking forward to a rebirth of

the church, if you will."

Pablo Kay is the editor-in-chief

of Angelus.

18 • ANGELUS • August 26, 2022
---
A good friend

Farewell to Richard Grant, an

unassuming 'driving force' behind

Catholic education — and so

much more — in LA

BY PABLO KAY

Richard Grant, longtime Daniel Murphy Foundation

president and renowned figure in Catholic philanthropy

in LA and nationally, died Aug. 10 after a long

illness. He was 82.

Known for his unassuming character and kindness, Grant

served the Daniel Murphy Foundation in several key leadership

capacities for 50 years until his retirement in 2020.

Under his direction as president, the foundation increasingly

turned its attention toward supporting Catholic education in

Los Angeles, with a special focus on inner-city schools.

"Through his work in leading the Dan Murphy Foundation

and other philanthropic organizations, he devoted his life to

ameliorate the suffering of the poor, sick, and vulnerable in

the most humble of manners," said David Fuhrman, who

succeeded Grant as president of the foundation in 2020.

Following his retirement, Archbishop José H. Gomez told

Angelus that "for decades now, Richard has been the driving

force behind so much of what is good and hopeful and beautiful

in the Archdiocese of Los Angeles."

On Aug. 2, just a week before his death, Archbishop

Gomez joined local members of the Order of Malta in a

prayer service at the Cathedral of Our Lady of the Angels

organized to pay tribute to Richard and his wife, Maria.

The service included veneration of the relics of St. Bernadette,

recognizing Richard's deep devotion to Our Lady of

Lourdes, who appeared to the saint in 1858.

In a video message delivered at the service, the archbishop

Friends of Richard Grant, including members of the Order of Malta, held a special

prayer service with St. Bernadette's relics at the Cathedral of Our Lady of the Angels on

Aug. 2, one week before Grant's death. The service was livestreamed so that Richard

and Maria could participate. | SCOTT VICK

Richard Grant during an interview at his home in late 2021. | VICTOR ALEMÁN

expressed his gratitude for the couple's "kindness and love

for all these years."

"I am grateful every day, more than you can know, for your

wisdom and guidance. And most of all, for your friendship,"

he added.

Although the Grants were unable to attend the service, it

was livestreamed so they could participate from home. Maria

said the relic's visit and the prayer service were touching

to Richard, who had made 15 pilgrimages to the shrine of

Our Lady of Lourdes in France during his lifetime.

The Daniel Murphy Foundation was founded in 1957 by

Daniel and Bernadine Donohue. Grant's father was the

foundation's first treasurer, and when Bernardine died in

1968, Grant came on as a board member. He eventually

succeeded his father as treasurer before becoming executive

director and, in 2008, president.

Fuhrman noted Grant was the last of the foundation's employees

and trustees with direct family ties to Daniel Murphy

and Bernardine.

In his final interview with Angelus, Grant described his

father as "my best teacher."

"He looked at things, saw what there was to do and then

would say, 'Let's do it.' He was a wonderful example to pitch

in and do things. That was always part of my life growing

up."

Furhman told Angelus that Grant will be remembered,

among other things, for shaping the foundation's mission

and building "a sustainable enterprise devoted to a vibrant

Catholic community in the Archdiocese of LA."

"People who observe Richard and who have experienced

his powerful combination of grace and modesty often proclaim

that he is a 'modern day saint,' " he said.

Pablo Kay is the editor-in-chief of Angelus.

August 26, 2022 • ANGELUS • 19
---
PHOTO

ILLUSTRATION

IMAGES VIA CNS,

VATICAN MEDIA,

TWITTER

Settling some Twitter trouble

A Vatican academy's strange foray into a debate about Church

teaching on contraception is a new act in an old story.

BY JOHN L. ALLEN JR.

ROME — Never let it be said

that Father Charles Curran, the

now 88-year-old doyen of liberal

American Catholic theologians, was

ever late to a party.

In April 1967, more than a year

before St. Pope Paul VI's encyclical

"Humanae Vitae" ("Of Human Life")

would be published reaffirming the

Church's traditional ban on birth

control, Father Curran was fired by

the Catholic University of America,

among other things for his liberal

views on contraception. Faculty and

students went on strike in protest, and

Father Curran quickly was reinstated.

He would go on to be fired again in

1986, under St. Pope John Paul II,

and that time it stuck. Father Curran

relocated to Southern Methodist University,

where he retired from full-time

teaching in 2014.

In many ways, the uprising at

Catholic University was a harbinger

of things to come when "Humanae

Vitae" finally came out. Not only

were individual theologians such as

20 • ANGELUS • August 26, 2022
---
Father Curran critical, but, perhaps

for the first time in Church history,

whole bishops' conferences openly

questioned the authoritativeness of a

papal teaching. In Austria, Germany,

Switzerland, Holland, and Canada,

bishops' conferences publicly suggested

that Catholics in good conscience

could draw different conclusions.

That history comes to mind this

week in light of a dust-up involving

the Vatican's Pontifical Academy for

Life, once the unquestioned stronghold

of the Church's most robust

pro-life and anti-contraception forces

during the Pope John Paul and Pope

Benedict XVI years, but now under

new management in the Pope Francis

era.

Last month, the academy published

a collection of papers from a conference

it held last year in which some

theologians argued that there's a

difference between universal moral

norms, such as the birth control ban,

and the pastoral application of those

norms in concrete personal circumstances.

The volume brought a fusillade of

criticism from conservative-oriented

news platforms and on social media,

from people objecting that a Vatican

department would publish material

that appears to call into question

official Church teaching.

Whether ill-advised or not, the

academy has chosen to enter the

fray, actively dispatching tweets and

other social media posts in response.

On Aug. 6, one such tweet cited a

1968 press conference to present

"Humanae Vitae" in which a moral

theologian in Rome said it wasn't an

exercise of papal infallibility, with the

suggestion being that it's therefore

subject to change.

Naturally, that tweet inspired a

new and even more acerbic cycle of

outrage. Before we all get too carried

away, however, there are at least three

points worth recalling.

First of all, a pontifical academy has

no authority to proclaim definitive

Church teaching, let alone a mere

tweet from that academy. Neither, for

that matter, does a moral theologian

who was randomly tapped to speak

at a press conference 54 years ago,

nor do the operators of conservative

media sites or individuals on Twitter,

who often seem to compete with one

another to see who comes off as more

"Catholic" than the rest.

In the Catholic system, defining

official Church teaching pertains to

the pope and the bishops in communion

with him, and no one else. To

get overly upset about anybody else's

views, therefore, is often a bit disproportionate.

Second, the Father Curran background

is a reminder that ever since

"Humanae Vitae" appeared, there's

been an active controversy over exactly

what level of authority it enjoys.

In general, conservatives — such as

theologians Father John Ford, SJ, and

Germain Grisez, in their celebrated

"Theological Studies" essay in 1978

— argue that "Humanae Vitae" is de

facto infallible. They point out that

just because it hasn't been formally

declared as such doesn't mean it isn't.

Historically, such formal declarations

have been reserved to matters of faith,

not morals, and anyway, no pope ever

declared prohibitions against lying,

cheating, and stealing infallible either,

but that doesn't mean it's anything

goes.

Liberals — such as Father Francis

Sullivan, SJ, in his equally celebrated

1983 response to Father Ford and

Grisez — insist that "Humanae Vitae"

does not meet the test for infallibility,

in part because no specific

moral norm can be taught infallibly.

Moreover, liberals often say, if either

Pope John Paul or Pope Benedict had

thought the birth control ban was

infallible, they could have said so, but

neither ever did.

In other words, this week's fracas

with the Pontifical Academy for Life is

simply another twist in a long-running

story, and probably not among the

most important ones at that.

Third, for popes and bishops to

effectively discharge what tradition

calls the "munus docendi," meaning

"the duty to teach," they need to

be informed by a robust and open

theological debate, and that can't be

rushed.

If anyone's scandalized that it's been

54 years since "Humanae Vitae" and

we're still fussing over it, it's worth

recalling that the earliest references

to the dogma of the Immaculate Conception

date to the second century,

yet it wasn't formally proclaimed until

1854, and that came only after Pope

Pius IX had written to all the bishops

of the world five years before to ask

their opinion.

If 16 centuries can pass before settling

such a core matter in a way that's

beyond all question, maybe a bit of

patience is in order now.

As a final thought, while a robust

theological debate certainly is a

service to the Church's magisterium,

one might profitably ask whether

Twitter, or social media in general, is

the right venue for it. Granted, it may

be unrealistic to expect outfits and

individuals whose income depends

on keeping people angry to exercise

much restraint, especially in the use of

technologies whose very purpose often

seems to be to provoke mass hysteria.

Perhaps, however, more could be

expected from the adults in the room,

including the pontifical academies of

the world.

John L. Allen Jr. is the editor of Crux.

August 26, 2022 • ANGELUS • 21
---
More than feelings

A new pop psychology book focuses on the emotional toll of

the secrets we keep. But what about the spiritual toll?

BY MSGR. RICHARD ANTALL

PHOTO ILLUSTRATION BY MIKE CRUPI VIA CNS

A

review in the Wall Street Journal

earlier this summer led me to a

pop psychology book titled "The

Secret Life of Secrets: How Our Inner

Worlds Shape Well-Being, Relationships,

and Who We Are" (Crown, $28)

by Michael Slepian.

As someone whose profession involves

dealing with people's secrets, I had expected

a more philosophical approach

than what the author provided.

Slepian comes at the topic with both

personal and professional interest. He

teaches at the prestigious Columbia

Business School in New York, but

perhaps more critically, he learned as

an adult that he was the product of an

artificial insemination by an anonymous

donor.

Despite the topic's potential for

tackling such an important topic, this

book is quintessentially feel-good pop

psychology — Slepian is only worried

about how concealing secrets produces

negative emotions. Not once did he

mention the word "conscience."

One of his asides — that secrets can

cause "shame, isolation, and uncertainty"

— touched on something I am

particularly interested in as a priest.

"When we keep a wrongdoing secret,"

he mused at one point, "we escape

our justly deserved punishment, and

22 • ANGELUS • August 26, 2022
---
therefore miss out on an opportunity to

restore our sense of moral worth. Outside

of something like a Catholic confessional,

how could you hold yourself

accountable for a secret wrongdoing?"

His conclusion is that these very real

bad consequences of secrets are about

the feelings of the secret keeper more

than questions of right and wrong. His

emphasis on shame seems to cloud the

distinction between shame and guilt.

Confession of guilt is about ownership:

I did this wrong, so I go to God about

it.

Shame is about the opinions of others,

and distracts a person from remembering

his or her worth given by our

Creator. I never tire of telling people,

"God made you for better things." That

idea is the source of self-respect, which

is more important than self-esteem.

Despite his reference to the confessional,

the book's treatment of secrets is

godless. The author gives an example

of a young unwed mother who

inadvertently suffocated her baby with

a pillow while trying to stop his crying.

Fifty-two years later, she confessed

to her responsibility and said she felt

"guilty" all her life, but there is no

mention of God in the story. She just

wanted to "correct the record" — not

ask forgiveness, just accept punishment.

Our psychologist, like many guilty

parties, is more interested in breaking

down people's experience of isolation

than helping them to live more upright

lives. He does not want to be rigid

about morality.

Reading a psychological study of

secrets made me recall a masterful

story by Alice Munroe, the Canadian

Nobel Laureate in Literature. At the

beginning of the narrative, an old

friend asks a woman to get her a priest.

The friend is in the hospital and the

woman, although she is not herself

Catholic, calls various parishes to find

a priest in haste. Then we are shown

why the friend is desperate for a priest

to attend her.

We are taken back to the time when

the two women are teenagers. At a

summer camp, they are bothered by

a girl with disabilities who seems to

hang on them and whom they mock

mercilessly.

This girl comes up to them where

they are swimming, and what begins

as a prank ends in a drowning. No one

ever found out that the two friends

were responsible. Now the woman was

dying, and her friend figures out why

she wants to see the priest. The secret

had to be confessed.

I won't reveal any more spoilers, but

the story has significance at a time

"A sacramental confession is not a search for a

confidante, but a way out of a spiritual cul de sac."

when many people have forgotten

about the sacrament of penance. Our

belief in the forgiveness of sins is connected

with the crucial confession of

them. Since I work with many people

fighting addictions, I still hear a good

many people confess their sins and

failures — more in my office than in

the confessional.

Many people in Alcoholics Anonymous

repeat the proverb, "You are as

sick as your secrets." I think Slepian

could learn something from hearing

someone's "Fifth Step," when an

alcoholic tells God and another person

about the failures and resentments

of a lifetime. It is not just the therapy

of "getting things off your chest." It is

about a change of direction in life and

a handing over of one's will to God.

"The Secret Life of Secrets" says

confessing your secrets is good for your

emotional life. But more importantly,

I would say, it is necessary for your

spiritual life. As Catholics, we believe

that confession is primarily good for

the soul.

I say to my penitents/counselees, "The

devil doesn't like daylight." When you

put your weakness, your temptations,

and your sins in the daylight, the

demons skip away like cockroaches in

a spotlight. Being completely honest

about our sins and secrets is absolutely

necessary.

A good book would describe how

confession of sins not only avoids the

problem of whom to confide in but

also is the source of healing. A sacramental

confession is not a search for a

confidante, but a way out of a spiritual

cul de sac.

Confession is not the same as therapy,

although sometimes it's compared to

it. Woody Allen has a character say in

a movie something about being in therapy

for 12 years without results and,

"I'm giving it another year and then

I'm going to Lourdes." Self-knowledge

is important but cannot be a substitute

for a remedy — the action of God's

grace.

The confessional is not about the secret

life of secrets but about life — true

spiritual life — after secrets.

Msgr. Richard Antall is pastor of Holy

Name Church in Cleveland, Ohio, and

the author of several books. His latest

novel is "The X-mas Files" (Atmosphere

Press, $17.99).

AMAZON

August 26, 2022 • ANGELUS • 23
---
Restoring a saint

BOSCO FILMS

The makers of 'Slaves & Kings' see their new biopic on the

founder of the Claretians as an alternative kind of hero movie.

BY EVAN HOLGUIN

Like many hagiographies, "Slaves

& Kings" is a story told through a

series of foils.

The film, which is set for a two-day

U.S. theatrical release on Aug. 22 and

23, tells the life of St. Anthony Mary

Claret, who founded the Missionary

Sons of the Immaculate Heart (better

known as the Claretians) and was the

confessor to Queen Isabella II of Spain.

At times, it's a life that can almost

appear cliché.

As a young man, he is shown having

pious devotions to the Virgin Mary, a

stark contrast from his business partner's

gambling vice. As a young priest,

he is seen rejecting Mass stipends

while one of his fledgling followers

rejects the Claretians, upset at such an

act of poverty. As he moves up in the

Church hierarchy, he rejects his fellow

bishops' attempts to steer his office for

political or material gain.

Then, as the title suggests, there is the

contrast between living among slaves

or members of the royalty. St. Claret's

life, we see, suggests the former is

preferable to the later.

But St. Claret's story is much more

complicated than these simple series of

contrasts, and "Slaves & Kings" seeks

a deeper look into the life of a saint

whose legacy was, in the words of the

filmmakers, "adulterated" after his

death. The result is a serious reflection

on how we should view Christian

success.

"During the production process, we

were thinking about the superhero

movie," said director Pablo Moreno,

originally from Salamanca, Spain,

near where much of the film was shot.

"Why do people consume so many superhero

movies? Because people need

'references,' they need figures of hope,

people who fight for justice."

A significant portion of the film is set

in Cuba, where St. Claret served as a

missionary archbishop — and where

he is at his most heroic. The film depicts

his stand for truth and justice, and

against the American way of slavery

that permeated the island against the

laws of Spain.

But "Slaves & Kings" is far from the

latest installment of a cinematic universe.

Whereas we expect superheroes

to reach the credits in total victory, St.

Claret seems to leave Cuba a failure,

run out by the slavers and a status quo

that rejects the gospel of freedom and

equality.

But throughout the film, a practical

optimism is demonstrated by the

numerous conversions effected at the

hands of St. Claret. Optimistic because

it demonstrates the efficacy of Christ's

message and mercy, and practical

because it depicts the worldly reality

that not all who hear the Gospel will

take it to heart.

St. Claret did not convert the island of

Cuba. And only 60 years following his

death, his native country was thrown

into a civil war marked by the kind of

anti-clericalism that St. Claret suffered

from.

Instead, we see St. Claret as he wel-

24 • ANGELUS • August 26, 2022
---
comes a Black slave into the Church;

as he leads a wealthy woman to recognize

the human dignity; and even as

he guides Queen Isabella through sin,

scandal, and excommunication. He

grows congregations and forms priests.

And though not all are brought to

communion by St. Claret's actions, all

are given the opportunity to repent.

These were not trivial successes.

No, St. Claret did not cause systemic

change or a social revolution. Rather,

these are the successes of a missionary

who doesn't consider himself a messiah,

but rather a voice in the wilderness

at best.

may have never been known. When

the archbishop followed Queen Isabella

into exile, he left a vacuum in Spain

for his enemies to spread disinformation.

His biographies were altered to

include stories of infidelity to priestly

celibacy, and his prolific writings were

edited to be filled with errors and political

radicalism.

For decades, this disinformation campaign

succeeded through repetition

in the streets and by intellectual elites

— including Azorín himself, who only

began to right the record after coming

across original copies of St. Claret's life

and writings.

founder Lucia González-Barandiarán,

has resulted in approximately 1,000

theaters around the country to screen

"Slaves & Kings" this month. It will

screen in English on Monday, Aug. 22,

and in Spanish on Tuesday, Aug. 23.

González-Barandiarán says both

films aim to accomplish what she calls

the "Three Es": elevate, educate, and

entertain.

"After a while, you may not remember

everything that was said in the movie,"

she said. "But you remember the sensation

it caused in you. That's what keeps

the movie alive in you. That's the kind

of cinema we want to bring."

BOSCO FILMS

"Slaves & Kings" is a hero movie for

Christians, one that reminds us to find

joy in every soul even when the powers

of this world seem to conspire against

us. St. Claret saw his role as that of a

missionary, not a politician, and while

his ministry involved providing for the

material needs of the poor, the persecuted,

and the enslaved, his primary

role is the salvation of souls.

Interestingly, much of the film is

based on the work of Azorín, the pseudonym

of a 20th-century novelist and

intellectual.

Without Azorín, St. Claret's true story

"We found his narrative, and found

it very interesting," Moreno said. "He

discovered a lot of things."

Now, the Spanish production company

behind "Slaves & Kings," Bosco

Films, hopes it will be part of a cultural

revival of a Catholic film industry. In

April, Bosco organized a one-day release

of "Alive," a documentary about

the Eucharist that screened in some

750 theaters around the U.S. on April

25. It was the seventh-most watched in

the U.S. that day, no small feat for an

upstart team of Catholic filmmakers.

That success, according to Bosco

"We want to keep telling these kinds

of stories, and we ask for help," she

added. "So we need small drops, small

ambassadors to go see this movie."

For screening times and more information

about "Slaves & Kings," visit

fathomevents.com/events/slaves-kings.

Evan Holguin is a writer originally

from Santa Clarita now living in Connecticut.

Editor-in-Chief Pablo Kay also contributed

to this article.

August 26, 2022 • ANGELUS • 25
---
AD REM

ROBERT BRENNAN

A hero who didn't let us down

Left to right: J.P. Kaser, Kevin Brennan, Vin Scully, Amy Brennan, Bishop Joseph V. Brennan, at a Dodgers game in 2016.

| COURTESY OF ROBERT BRENNAN

We are never to meet our

heroes, for to do so opens a

window to disappointment.

With so many public figures having

different faces when cameras and

microphones are turned off, it is a rare

thing indeed when someone of note

and distinction is who he appeared to

be.

That was Vin Scully.

When the Dodgers came to LA in

the 1950s, Irish Catholic bubbles still

dotted the American landscape from

sea to shining sea. They were reminders

of the recent past when the words

"Irish" and "Catholic" were mostly

pejoratives. Like most immigrants, the

Irish at first stuck together. It was bad

because it gave the Irish an inflated

sense of themselves. It was good

because it tied us to the democracy

of the dead and a faith that went back

before the Emerald Isle was a gleam in

a Druid's eye.

The Dodgers' move west created

some instant Irish Catholic role

models. The team was owned by the

O'Malley family and their young

announcer was a redheaded Irish guy

from New York. That was all our dad

needed to know. We were all going to

be Dodgers fans.

Our dad clung to famous Irish and

Catholic celebrities and sports figures

as symbols of hope with a dash of

triumphalism. But so many times those

very public figures disappointed him,

when their public personas would be

punctured one way or another, and he

would learn that their faith, integrity,

or commitment to their families were

not as advertised.

Our dad never had that kind of

moment with Vin, who remained in

his Catholic Hall of Fame for baseball

heroes, alongside Gil Hodges and

Stan Musial. They were all men who

never missed Mass, took care of their

families, and, if they did not wear their

faith on their sleeve, they certainly had

it tattooed on their hearts.

Hodges and Musial were before my

time, but Vin was the bridge for me

and my dad that went beyond baseball,

veering into a bond about what

it means to be a good Catholic man.

Vin represented all the best Catholic

virtues, according to my dad: He had

integrity, empathy, and a wit, quick as

it was, that never cut like a knife, but

blanketed its objects with joy.

Though I never met Vin in person,

I am Vin-adjacent enough to have

been close to some of those virtues.

About eight years ago, I was planning a

media event for a major nonprofit that

required me to find someone of high

standards to honor. Lots of names were

bandied about when it dawned on me

that Vin was the perfect honoree. I

mentioned it to no one because I did

not know Vin, knew of no reasonable

way to contact him, and I did not want

to overpromise and underdeliver.

I found two possible addresses and

wrote letters to each of them, inviting

Mr. Scully to our event. I realized it

was a total long shot with little hope of

success.

I know exactly where I was when my

cellphone rang several weeks later. It

was another holiday planning meeting.

I did not recognize the number, and

my usual modus operandi for unknown

numbers was to let it go to voicemail.

For a reason I cannot explain, I answered.

On the other line was the most

recognizable voice of my childhood

asking if this was "Mr. Brennan."

I immediately regressed to that

26 • ANGELUS • August 26, 2022
---
Robert Brennan writes from Los Angeles, where

he has worked in the entertainment industry,

Catholic journalism, and the nonprofit sector.

10-year-old boy, lying awake on a war

surplus bunk bed on a hot summer

night, listening on a small transistor

radio to Vin Scully.

He had indeed gotten my invitation

and was calling to personally decline.

He took great pains letting me down

easy, telling me he always supported

the organization I was representing

but was not comfortable being singled

out as anything special. It was pure

Vin Scully, and the best "bad news"

phone call I will ever receive. I sent an

unsolicited letter to him asking him to

do my organization a big favor. At best

I expected a form letter from his secretary.

He gave me his time, his concern,

and ended the conversation with a

"God bless" I knew he meant.

Six years ago was Vin's last season

as the Dodgers' announcer. My then

auxiliary bishop of Los Angeles brother

had been invited to throw out the first

pitch at a Dodgers game. I suggested

on a whim that he should go up to the

press box along with my young adult

son and daughter and see if they could

say hello to Vin.

They got into the press box (being a

bishop is good for some things). Vin

was gracious, welcoming, and called

them each by name after introductions.

This was the year everyone and

their brother (bishop or not) was trying

to get in a last farewell. He treated

these interlopers like they were long

lost friends and the smiles on their

faces took days to dissipate.

Vin posed for tens of thousands of

photographs like the one he took with

my family. You could probably get tens

of thousands of responses from other

strangers who would still be marveling

at feeling the grace he emanated.

Years ago, I was listening to a Dodgers'

game when Vin informed us of a

player who was on the injured reserve

list. I have long forgotten who the

player was, but I have never forgotten

how Vin relayed the information.

The player's injury status was listed as

"day to day," which Vin tagged with a

perfectly timed quip, "But then, aren't

we all."

To a man who seemed to live every

day of his life like that, I can only say

"Requiescat in pace."

August 26, 2022 • ANGELUS • 27
---
NOW PLAYING THIRTEEN LIVES

SENT BY A SAVIOR

Amazon's new true-story thriller evokes

memories of a more divine rescue mission.

A scene from Amazon's

"Thirteen Lives." | IMDB

BY STEFANO REBEGGIANI

The story, if any of us remember

it, goes like this: On June 23,

2018, 13 boys in Northern

Thailand bicycled to a nearby cave

system before a sudden monsoon-induced

flood blocked their way out.

The 12 soccer players, ages 11 to 16,

and their coach were trapped on a

ledge several miles deep inside the

labyrinth of flooded tunnels.

It took 10 days just to locate the

boys, and several more to rescue them

through a concerted effort involving

more than 10,000 volunteers from all

over the world.

Of course, such an uplifting story

was always destined for Hollywood.

This month, "Thirteen Lives" was

released on Amazon Prime Video.

Directed by Ron Howard, the result is

a film that succeeds largely because of

what it doesn't do.

For example: Disaster movies based

on real events often overplay their

hand when it comes to conveying

pathos. Instead, Howard opts for a

narrative that is fast, sober, almost

documentary-like: "I wanted to be as

journalistic about the story as I possibly

could be," said Howard ahead of

the film's Aug. 5 release.

"Thirteen Lives" doesn't spend time

giving background on the kids or their

families. There is minimal information

about the rescuers, and the

film's characters don't develop much.

Drama is kept to a minimum: There

is no dwelling on the anguish of the

trapped kids or their parents. There

are no long emotional speeches, no

sentimental side plots. The story's

emotional climax, the reunion of the

28 • ANGELUS • August 26, 2022
---
children with their parents, is dealt

with in 15 seconds.

This makes for extremely effective

storytelling. A lesser artist would have

played up and lingered on the story's

emotional turning points. In "Thirteen

Lives," things just happen and

they happen more quickly than one

would expect.

The film's creators made another

important creative decision: to not

idealize the story's heroes.

"There is a certain 'non-heroic-ness'

to the rescuers," said actor Paul Gleeson,

who plays rescuer Jason Mallinson.

"If you met Harry or John or

Rick on the street, you likely wouldn't

say, 'Oh, those guys saved children

from an underwater cave.' "

Viggo Mortensen plays Rick Stanton,

the gruff, no-nonsense British cave

diver who first finds the kids and later

comes up with the bold plan that

saves them. Rick is not a hero by vocation:

he is a man, with a specific set of

skills, who responds to a call.

They are creative decisions that

make the story beautiful, and even

greater than its subject matter. A story

is "true" not because it is a faithful

account of something that really

happened, but because its artistic

coherence turns it into a distillate of

great truths.

That belief was shared by the great

Catholic writer J.R.R. Tolkien, who

wrote to his friend W.H. Auden in

1955 that "if one makes a good choice

in what is 'good narrative' … at a

given point, it will also be found to be

the case that the event described will

be the most 'significant.' "

Paradoxically, Tolkien also believed

the more factual and accurate a welltold

story is, the more it lends itself to

becoming a symbol, or an allegory.

What is the allegory of "Thirteen

Lives"? For me, it is that of the only,

ever recurring true story: the story of

God's intervention in history through

his Son and through his Church.

Many of us will have felt like the kids

portrayed in "Thirteen Lives" at least

once in our lives. Like Dante at the

beginning of "The Divine Comedy,"

we have also wandered into a dark

place. We found ourselves trapped on

a narrow ledge, suffocating and unable

to get back to light, joy, meaning.

The oxygen level drops a little every

day, and the water level rises.

Yet when all hope seems lost, a

rescuer arrives. A savior descends into

the cave to save us, motivated only

by love. As the governor says of the

volunteers who collaborated in the

rescue in the film, "You asked nothing

in return. You did all this for one

reason, for love of the boys."

It's the kind of rescue operation one

can experience in the Church, which,

like the rescuers in the movie, is composed

of men and women who look

nothing like heroes. The reluctant

savior, the grumpy, ordinary messenger

whom an invisible hand put in

charge of descending into the depth to

save us: is not this a perfect image of

the Church?

"Thirteen Lives" reminded me of

the time I found myself at the bottom

of such an existential cave. It was the

winter of 2005, and I still perfectly

remember the face of the unassuming

hero who came to look for me, the

man who emerged out of the water,

the one whom God tasked with the

salvific mission of Christ. He was a

real human being, and he dragged me

along a narrow tunnel, a path marked

by a red line, a way that led me back

to life and to love.

This is how I experienced the

Church; it is this experience that

made me a Christian. I lived it again

as I watched "Thirteen Lives."

Stefano Rebeggiani is an associate

professor of classics at the University

of Southern California.

August 26, 2022 • ANGELUS • 29
---
DESIRE LINES

HEATHER KING

Fight the (screen) power

SHUTTERSTOCK

Alex Lee Moyer's 2020 documentary

"TFW No GF" — shorthand

for "That feel when no

girlfriend" — profiles several disaffected

young men desperately searching

to connect on the dark corners of the

internet.

Though the film has its share of crude

language, and a couple of violent

images, its real subject is the souls of

a generation of males who have been

nursed, weaned, and raised in cyberspace.

What happens to young men when

there are no role models, no authority

figures, and no meaningful,

flesh-and-blood human contact? And

when at their fingertips they have a

dopamine-hit-producing alternate

reality that rewards the outrageous, the

violent, the unhinged?

Two years after its release, the subject

is as relevant as ever.

4Chan, an internet subculture where,

as one user puts it, "there are basically

no rules," is one favorite hangout.

As Sean, an angelic-looking youth

from Thornton, Colorado, observes:

"Twelve-year-olds probably shouldn't

be exposed to a steady onslaught of

porn and gore."

"The internet is like a river;" he adds.

"It just does what it wants with you."

Kyle, from El Paso, Texas, has had

three friends commit suicide in the

last couple of years. "I really have …

nobody any more," he realizes.

A pasty-skinned fellow named

Egg White sucks on a cigarette and

explains, "You're trying to be someone

and you've already lost, you've already

failed."

These are young men with no point,

no purpose, no outlet for their testosterone,

their procreative urge, their desire

to prove themselves, belong, and do

good in the world.

Viddy from Kent, Washington, sports

a ski cap, a badge on his jacket reading

"Don't Talk to Me" and a license plate

bracketed by the slogans "I Want to

Die" and "I Hate Myself."

He and his buddy Charels more or

less raised each other ("our parents are

30 • ANGELUS • August 26, 2022
---
Heather King is an award-winning

author, speaker, and workshop leader.

alcoholics," Viddy explains) and own

several guns, including assault weapons.

When Charels posted a selfie with

two AK-47s and expressed a crude

desire to do violence to women (he

was only kidding, he maintained), the

cops came and confiscated the pair's

weapons for a year.

Twitter and 4Chan trollers think,

"Okay, what do people hate most?"

Viddy offers. "And then they just become

that, because it gets the reaction

every time. Then some of them forget

that they're playing the character. Next

thing you know, they end up at a place

like Charlottesville."

"Obviously there are people that are

so disenfranchised, so alienated, so

demonized in whatever way, that they

feel like their only choice is to lash out

in whatever way they can."

"I'm not excusing that or anything,"

he continues, "but, what [gun massacres]

happens for no reason? Do

people, like, really think that?"

Alex Lee Moyer (left) during the making of "TFW No GF." | IMDB

For all their solipsism, these young

men are not self-pitying so much as

they're bewildered: by the state of the

world, the culture, and the fact that as

young males they're unseen, unwanted,

unremarked upon. As Sean points

out, "People get angry if you say you

have your own trials and tribulations as

a guy."

Interestingly, their (supposedly ironic)

response is a kind of reverse machismo:

like St. Paul, they boast of their weakness.

None of them refer to themselves

as "incels" (a portmanteau of "involuntary

celibate"), a group comprising

another dark, rage-fueled corner of the

internet.

But that they're so willing to mention

their inability to attract and keep

a woman, to draw attention to their

station in life, and even to define themselves

by it shows the depths of their

longing and emptiness.

Viddy: "I don't want to blame my parents

but it's really hard for a kid to have

interests and not, like, have anybody

be a caretaker sort of figure that will

express interest in what you're into. It's

the elephant in the room, right? The

failings of the broader educational system

and just general authority figures

in people's lives, specifically children's

lives."

We human beings need someone

to see us, just as Jesus "saw" Philip

under the fig tree. That used to be the

province of a unit called the family.

Moyer — who's female — has seen

these young men, and for that alone,

she deserves kudos.

Last month she launched another

film, "Alex's War," a profile of Infowars

fabulist Alex Jones. As with "TFW No

GF," she presents the subject with no

commentary, inviting viewers to judge

for themselves.

Predictably, she's been skewered by

the woke left. And though to my mind

Jones is way less compelling a subject

than the 4Chan guys, the mere attempt

to portray figures who are so neatly

stereotyped and deeply reviled by the

mainstream media deserves kudos as

well.

For all its darkness, the film ends on

a note of hope. People are away from

their screens. Kyle's walking along

a reservoir. Charels and Viddy are

hanging out beneath a bridge. Sean is

employed, has taken up powerlifting,

and sits gazing out at the ocean.

"It's a full-time job to fight the effects

of modernity," he observes.

Amen. You want to say to these guys:

Take everything you have learned

about supporting your brothers, about

sharing your pain, your irony, your

jokes, your loneliness and alienation,

and pent-up energy, and bring that out

to the world.

Because the world needs you — now

more than ever.

Or as someone else put it, "Lift up

your heads; your redemption is at

hand."

August 26, 2022 • ANGELUS • 31
---
LETTER AND SPIRIT

SCOTT HAHN

Scott Hahn is founder of the

St. Paul Center for Biblical

Theology; stpaulcenter.com.

Verse-case scenario

Second in a series on the Book of Psalms.

What is the "Psalter"? What is a psalm? These

words appear odd to readers of English, and

they would appear just as strange to the ancient

Hebrews who wrote the psalms. Both "psalm" and "Psalter"

are English renderings of the words applied to the poems

in the Greek translation of the Old Testament. Psalterion is

Greek for a stringed instrument, a sort of harp; a psalmos is

a song sung to the accompaniment of strings.

The Israelites, however, called these lyrics "Tehillim," or

praises. The earliest Hebrew witnesses to the Psalter call it

"Sefer Tehillim," the "Book of Praises."

It's clear from the texts themselves that the psalms were

meant to be sung or chanted in a formal, cultic setting.

Some include instructions "For the choirmaster"; and

some specify the musical instruments to be used in accompaniment.

Many of the psalms were integral to the liturgical

worship of the Jerusalem Temple. Indeed, the "Psalter"

has often been called the "Hymnal of the Second Temple,"

for it was during the period of the Second Temple that the

book probably reached its final form.

The First Temple, built by Solomon, the son of David, in

the 10th century B.C., had been destroyed by the Babylonian

invaders in 587 B.C. (see 2 Kings: 24–25). In 539

B.C., however, a decree of King Cyrus of Persia permitted

the people of Judea to return to the land and rebuild the

Temple. This structure, much diminished from Solomon's

original, was called the Second Temple; it would be renovated

and expanded on a grand scale during the reign of

the Herods (first century B.C. and first century A.D.). Thus

the period of the Second Temple stretched from 515 B.C.

until the utter destruction of Jerusalem by the Romans in

A.D. 70.

The Temple was the natural habitat of most of the psalms.

The rabbis record in the "Mishnah"

"Psalm 24, Initial A," author

unknown, 12th century.

| WIKIMEDIA COMMONS

that each day the Levites sang

certain appointed psalms: Psalm 24

on Sunday; 48 on Monday; 82 on

Tuesday; 94 on Wednesday; 81 on

Thursday; 93 on Friday; and 92 on

Saturday, the Sabbath. Other psalms

accompanied the liturgies and sacrifices that renewed the

covenant God had made with Israel, with Moses, and with

the house of David. Some scholars hold that as many as

half of the psalms were integral to the Temple liturgies.

Others were associated with the liturgies of the synagogue,

where they were probably read rather than sung. Still others

found their place in the liturgies of the home, such as

the Passover Seder meal, which culminated in the recitation

of the Hallel Psalms (112-117 and 135).

So we see that the "Psalter" was integral to Israel's religion,

as religion was integral to Israel's life. The psalms

suffused the experience of God's Chosen People from day

to day. They defined the significant events of a lifetime,

and they gave significance to otherwise minor events in

the most ordinary days. Lines remained in memory, arose

spontaneously as prayer, and sanctified time.

32 • ANGELUS • August 26, 2022
---
■ SATURDAY, AUGUST 20

Trevor Thomson Benefit Concert. Holy Name of Mary

Church, 724 E. Bonita Ave., San Dimas. Suggested donation:

$20. Proceeds will benefit the Sacred Hearts Secular

Branch, Inc. For more information, email sacredheartssb@

ymail.com, call Stephany at 909-260-2033 or Terri at 909-

459-9487.

St. Barnabas Parish Rummage Sale. 3955 Orange Ave.,

Long Beach, 8 a.m.-3 p.m. Hosted by Knights of Columbus

#3449. Books, clothing, appliances, etc., no large items.

Drop off items at the rear parking lot basketball courts.

For more information, call James Teahan at 562-221-3296

or visit stbarnabaslb.org.

■ SUNDAY, AUGUST 21

International Thomas Merton Society Chapter Meeting.

Holy Spirit Retreat Center, 4316 Lanai Rd., Encino, 2-4 p.m.

Hosted by Sister Chris Machado, SSS. For more information,

visit hsrcenter.com or call 818-784-4515.

■ MONDAY, AUGUST 22

Opus Angelorum/Mission on the Angel. Sacred Heart

Chapel, 381 W. Center St., Covina, 6 p.m.-8:30 p.m. Event

runs Aug. 22-24, and includes rosary, conferences, confessions,

and Mass. On Wednesday, participants will have the

opportunity to apply for consecration to one's guardian

angel next year. For more information, contact Trish at

877-526-2151.

■ THURSDAY, AUGUST 25

Virtual Centering Prayer. Zoom, 10 a.m.-12 p.m. with

Sister Linda Snow, CSJ, Marilyn Nobori and the Contemplative

Outreach Team, or 7-8 p.m. with Pippa Currey,

CSD. Meets every Thursday. For more information, visit

hsrcenter.com or call 818-815-4480.

■ FRIDAY, AUGUST 26

The Art and Soul of Journaling. Holy Spirit Retreat Center,

4316 Lanai Road, Encino. Weekend retreat with Ella Weiss,

MFT, runs Friday, Aug. 26 at 5:30 p.m. through Sunday,

Aug. 28 at 1 p.m. For more information, visit hsrcenter.com

or call 818-784-4515.

Prayer, Protest, and Power. Holy Spirit Retreat Center,

4316 Lanai Road, Encino. Weekend retreat on "The Spirituality

of St. Julie Billiart" with Father Stephen Coffey, OSB,

Cam, runs Friday, Aug. 26 at 5:30 p.m. through Sunday,

Aug. 28 at 1 p.m. For more information, visit hsrcenter.com

or call 818-784-4515.

■ SATURDAY, AUGUST 27

One Mother, Many Peoples: Mass and Procession in

honor of Our Lady of the Angels. Cathedral of Our Lady

of the Angels, 555 W. Temple St., Los Angeles, 2:30 p.m.

entrance procession, 3 p.m. Mass with Archbishop José H.

Gomez, 4 pm. Marian procession. For more information,

visit forwardinmission.com/cultures.

■ WEDNESDAY, SEPTEMBER 7

"What Catholics Believe" weekly series. St. Dorothy

Church, 241 S. Valley Center Ave., Glendora, 7-8:30 p.m.

Series runs Wednesdays through April 26, 2023. Deepen

your understanding of the Catholic faith through dynamic

DVD presentations by Bishop Robert Barron, Dr. Edward

Sri, Dr. Brant Pitre, and Dr. Michael Barber. Free event, no

reservations required. Call 626-335-2811 or visit the Adult

Faith Development ministry page at www.stdorothy.org for

more information.

Good Grief 6-week Bereavement Support Group. St.

Bede the Venerable Church. 215 Foothill Blvd., La Canada

Flintridge, 6:30-8 p.m. Free support group begins Sept. 7

and runs for 6 weeks. For more information, call

818-949-4300.

■ FRIDAY, SEPTEMBER 9

Beginning Experience of Los Angeles Weekend for

Separated, Divorced, and Widowed Catholics. Holy

Spirit Retreat Center, 4316 Lanai Rd., Encino. Retreat runs

Sept. 9-11 and will help participants move from the darkness

of grief to the light of a new beginning. Cost: $325/

single room, $275/shared room. $75 deposit required

in advance. For more information, call Maria (English or

Spanish) at 909-592-0009 or Brenda at 818-352-5265.

■ SATURDAY, SEPTEMBER 10

Closing Mass for Forward in Mission Jubilee Year.

Mission San Gabriel, 428 S. Mission Dr., San Gabriel, 10

a.m. Archbishop Gomez will celebrate a special Mass of

Thanksgiving in the Mission Church (reserved seating).

Mass will be livestreamed. Visit forwardinmission.com.

Autumn Silent Saturday Centering Prayer. Holy Spirit

Retreat Center, 4316 Lanai Rd., Encino, 9 a.m.-12 p.m.

With Marilyn Nobori and the Contemplative Outreach

Team. For more information, visit hsrcenter.com or call

818-784-4515.

■ TUESDAY, SEPTEMBER 13

Memorial Mass. San Fernando Mission, 15151 San

Fernando Mission Blvd., Mission Hills, 11 a.m. Mass is

virtual and not open to the public. Livestream available at

CatholicCM.org or Facebook.com/lacatholics.

Women at the Well. Holy Spirit Retreat Center, 4316

Lanai Rd., Encino, 10 a.m.-12 p.m. With Sister Chris

Machado, SSS. For more information, visit hsrcenter.com

or call 818-784-4515.

■ THURSDAY, SEPTEMBER 15

Children's Bureau: Foster Care Zoom Orientation.Children's

Bureau is now offering two virtual ways for individuals

and couples to learn how to help children in foster care

while reunifying with birth families or how to provide legal

permanency by adoption, 4-5 p.m. A live Zoom orientation

will be hosted by a Children's Bureau team member and

a foster parent. For those who want to learn at their own

pace about becoming a foster and/or fost-adopt parent, an

online orientation presentation is available. To RSVP for

the live orientation or to request the online orientation,

email rfrecruitment@all4kids.org.

■ SUNDAY, SEPTEMBER 18

Day in Recognition of All Immigrants Procession and

Mass. Cathedral of Our Lady of the Angels, 555 W.

Temple St., Los Angeles, 3 p.m. Archbishop José H. Gomez

will celebrate a special Mass at 3:30 p.m., which will be in

person and livestreamed via Facebook.com/lacatholics

and lacatholics.org/immigration.

International Thomas Merton Society Chapter Meeting.

Holy Spirit Retreat Center, 4316 Lanai Rd., Encino, 2-4

p.m. Hosted by Sister Chris Machado, SSS. For more information,

visit hsrcenter.com or call 818-784-4515.

■ TUESDAY, SEPTEMBER 20

Los Angeles Catholic Prayer Breakfast. Cathedral of

Our Lady of the Angels, 555 W. Temple St., Los Angeles,

6:30-9 a.m.

Items for the calendar of events are due four weeks prior to the date of the event. They may be emailed to calendar@angelusnews.com.

All calendar items must include the name, date, time, address of the event, and a phone number for additional information.

August 26, 2022 • ANGELUS • 33