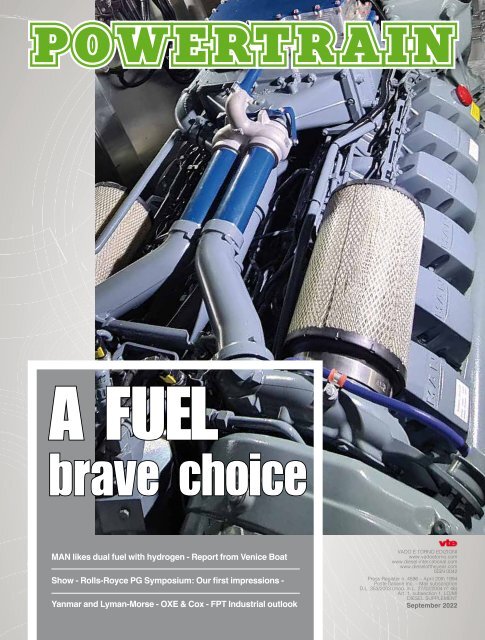 Powertrain | Diesel International 2022-09
EMISSIONS CUMMINS: How to reduce consumption POWER GENERATION ROLLS-ROYCE POWER SYSTEMS: Symposium, where to experience the future EXHIBITIONS VENICE BOAT SHOW: Electric, hydrogen, diesel, LPG INTERVIEWS FPT INDUSTRIAL: Growing fast in the US and China ENGINES MAN ENGINES: Dual fuel hydrogen-engines (and V12X 2200hp) OFF-SHORE: OXE and Cox "run" diesel SCANIA: An orange mermaid at the Genoa Boat Show WÄRTSILÄ: Sustainable Technology Hub VOLVO PENTA: IMO Tier III D13 for work boats BOATS FISH-EYE: Yanmar to power Lyman-Morse Hood 35LM GERRISBOATS: A disruptive hull for electric tenders ALTERNATIVE FUELS CHEVRON: Global Centre for Maritime Decarbonisation THINK PINK UNIVERSITY OF COVENTRY: Lorena Moreira is a brilliant young engineer COLUMNS Editorial; Newsroom; Automotive; Techno
EMISSIONS
CUMMINS: How to reduce consumption
POWER GENERATION
ROLLS-ROYCE POWER SYSTEMS: Symposium, where to experience the future
EXHIBITIONS
VENICE BOAT SHOW: Electric, hydrogen, diesel, LPG
INTERVIEWS
FPT INDUSTRIAL: Growing fast in the US and China
ENGINES
MAN ENGINES: Dual fuel hydrogen-engines (and V12X 2200hp)
OFF-SHORE: OXE and Cox "run" diesel
SCANIA: An orange mermaid at the Genoa Boat Show
WÄRTSILÄ: Sustainable Technology Hub
VOLVO PENTA: IMO Tier III D13 for work boats
BOATS
FISH-EYE: Yanmar to power Lyman-Morse Hood 35LM
GERRISBOATS: A disruptive hull for electric tenders
ALTERNATIVE FUELS
CHEVRON: Global Centre for Maritime Decarbonisation
THINK PINK
UNIVERSITY OF COVENTRY: Lorena Moreira is a brilliant young engineer
COLUMNS
Editorial; Newsroom; Automotive; Techno
SHOW MORE
SHOW LESS
Create successful ePaper yourself
Turn your PDF publications into a flip-book with our unique Google optimized e-Paper software.
POWERTRAIN

A FUEL

brave choice

MAN likes dual fuel with hydrogen - Report from Venice Boat

Show - Rolls-Royce PG Symposium: Our first impressions -

Yanmar and Lyman-Morse - OXE & Cox - FPT Industrial outlook

VADO E TORNO EDIZIONI

www.vadoetorno.com

www.diesel-international.com

www.dieseloftheyear.com

ISSN 0042

Press Register n. 4596 – April 20th 1994

Poste Italiane Inc. – Mail subscription

D.L. 353/2003 (mod. in L. 27/02/2004 n° 46)

Art. 1, subsection 1, LO/MI

DIESEL SUPPLEMENT

September 2022
---
HISTORY

+

S E R V I C E

+

S U P P O R T

+

TECHNOLOGY

+

D I S T R I B U T O R S

POWERTRAIN diesel-international.com

SEPTEMBER 2022

GENERIC

ICE

H2 HYDROGEN

kWe ELECTRIC

GAS

EMISSIONS

10. CUMMINS

How to reduce consumption

POWER GENERATION

12. ROLLS-ROYCE POWER SYSTEMS

Symposium, where to experience the future

EXHIBITIONS

16. VENICE BOAT SHOW

Electric, hydrogen, diesel, LPG

INTERVIEWS

20. FPT INDUSTRIAL

Growing fast in the US and China

CONTENTS

12

FIND DIESEL INTERNATIONAL ON:

ENGINES

22. MAN ENGINES

Dual fuel hydrogen-engines (and V12X 2200hp)

26. OFF-SHORE

OXE and Cox "run" diesel

28 SCANIA

An orange mermaid at the Genoa Boat Show

30. WÄRTSILÄ

Sustainable Technology Hub

32. VOLVO PENTA

IMO Tier III D13 for work boats

BOATS

34. FISH-EYE

Yanmar to power Lyman-Morse Hood 35LM

CONNECTION.

IT'S WHERE THE REAL POWER LIVES.

22

34

38. GERRISBOATS

A disruptive hull for electric tenders

ALTERNATIVE FUELS

40. CHEVRON

Global Centre for Maritime Decarbonisation

THINK PINK

48. UNIVERSITY OF COVENTRY

Lorena Moreira is a brilliant young engineer

There's an unbreakable bond between John Deere products and

the people who choose them. It gives you the power to take your

equipment where it needs to go, with premium John Deere quality

standing behind you. And the power to work confidently knowing a

global network of more than 9,000 John Deere dealers are ready to

offer service and support whenever you need it. That's the unique

connection you get with John Deere power.

JohnDeere.com/Connection

COLUMNS

4. Editorial 6. Newsroom 8. Automotive 42. Techno

According to IRENA

"Hydrogen will cover 12 percent of global energy

demand and will cut 10 percent of CO 2

emissions

by 2050"

3
---
EDITORIAL

by Fabio Butturi

HYDROGEN SEEN BY IRENA

Hydrogen, object of desire, for some a mirage,

for others an obsession. In this issue we report

on Rolls-Royce PG applications and MAN

Engines' dual fuel system for workboats.

Here are some passages from the report by

IRENA, International Renewable Energy Agency.

According to IRENA's World Energy Transitions Outlook

"hydrogen will cover 12 percent of global energy

demand and will be cutting 10 percent of CO 2

emissions

by 2050. Yet, hydrogen can only be a viable climate

solution if the power needed to produce it comes in

addition to the electrification of the energy system,

placing an even greater uptake of renewable power at

the heart of the transition. If costs come down, green

hydrogen below USD 1 per kilogram (kg) would be

available to meet ten times the world's energy demand

in 2050. The new reports see half of the hydrogen in

2050 being traded through largely existing, repurposed

gas pipelines drastically reducing the costs of transport.

With costs of around USD 0.10/kg per 1,000 kilometres

(km) in 2050, it would be the most cost-effective option

for less than 3000 km distances. By contrast, transportation

through new pipelines would cost twice as much. This is

still less than shipping it in the form of green ammonia

4

over 3,000-5,000 km, the other half of global hydrogen

trade. Ammonia shipping will become the dominant

form of intercontinental hydrogen trade, according to

the analysis. This future pipeline-enabled trade would

be concentrated in two regional markets namely Europe

with the vast majority of 85 percent of the hydrogen

trade and Latin America with 15 percent. Europe's main

trading partners would be North Africa and the Middle

East while Australia could mainly supply Asia.

New trade markets would lead to different roles for

energy players. Some of the largest potential exporters

of hydrogen by pipeline in 2050 are Chile, North Africa

and Spain, representing almost three-quarters of the

pipeline trade market. Major consumers like China

and USA are able to produce most of their hydrogen

domestically. Africa, Australia and North America,

account for three-quarters of the global exports. On the

importing side, Japan, South Korea and the EU are

expected to satisfy a large share of their hydrogen

demand through imports. As hydrogen becomes an

increasingly internationally traded commodity, the

hydrogen sector will attract growing sums of international

investment. Satisfying the global hydrogen demand

requires an investment of almost USD 4 trillion by 2050."

INTERNATIONAL AGRICULTURAL

AND GARDENING MACHINERY

EXHIBITION

Contact: 00159 Roma - Italy - Via Venafro, 5 - Tel. (+39) 06.432.981 - eima@federunacoma.it

THE BROADEST CHOICE

OF PARTS, SPARES

AND ACCESSORIES

FOR AGRICULTURAL

MACHINERY

The strength of the Bologna

event is the specialized

exhibition of components for

agricultural and gardening

vehicles and equipment,

an exhibition that for years

has established itself as the

most important in the world

in this sector.

COMPONENTS SHOW

GLOBAL EXPERIENCE

BOLOGNA 9 -13 NOVEMBER 2022

Organized by

In collaboration with

www.eima.it
---
NEWSROOM

#CUMMINS #DUPLOMATIC #DAIKIN

CUMMINS CEO

DAIKIN TO ACQUIRE DUPLOMATIC MOTION SOLUTIONS

JENNIFER

RUMSEY

On June 30 th , 2022 Daikin Industries has

obtained all shares of Duplomatic Motion

Solutions and it has completed its acquisition.

Through this transaction, Daikin will have an

extensive product lineup, robust engineering

capabilities for hydraulic systems and a strong

business foundation in Europe. Together with

Daikin hybrid system technologies, the aim

is to offer to the market high tech solutions

to reduce environmental load. Backed by 70

years of technology innovation and industry

expertise, Duplomatic is known for its advanced

engineering and a world-class operation with its

multiple brands and worldwide manufacturing

facilities. Following the transaction Roberto

Maddalon, in Duplomatic since 1996, will

continue to lead as CEO the business going

forward. He said: "The integration with Daikin

will enable to accelerate the development and

the deployment of new technologies and this

will enhance our product portfolio and offer

of sustainable solutions to our customers."

Yuya Kimura, newly assigned Vice President

of Duplomatic from Daikin Industries, said:

"We have closely tracked Duplomatic's

outstanding growth over the past several years.

Daikin fully admires Duplomatic's committed

and passionate team members, and strongly

believes that this integration should further

accelerate the growth by delivering new values

and experiences to both our existing business

partners and potential customers worldwide."

"I am grateful to Tom

for his support over

the years. My technical

background, business

experience and focus

on people, purpose, and

impact have prepared

me for this moment."

Jennifer Rumsey is going to

take the role of President and

CEO of Cummins starting 1 st

August 2022. Currently she

hold the position of President and

Chief Operating Officer (COO).

She'll replace Tom Linebarger, who

will continue to serve as Chairman

of the Board and Executive Chairman.

Jennifer Rumsey will be the

seventh CEO and first woman to lead

the company since it was founded

in 1919. Linebarger, as mentioned

above, will continue to serve as

Chairman of the Board of Directors

and in an Executive Chairman role,

working directly with Rumsey on

specific initiatives that position the

6

company for continued success, including

completing the pending acquisition

of Meritor.

Since taking on the role of COO in

March 2021, Jennifer Rumsey has

overseen Cummins' global operations.

In February 2022, she was

elected to the Cummins Board of

Directors, and she will maintain her

seat on the board.

The new Cummins' CEO Jennifer

Rumsey began her Cummins career

working in Research and Technology,

primarily focused on advancing

technology to reduce criteria pollutants

from diesel engines. Since

then, she has held numerous positions

of increasing responsibility

and impact, including bringing new

platforms and technologies to the

market, driving improvements in

product quality, and developing the

capability of global teams, the group

says. She has also been deeply engaged

with some of the company's

most important original equipment

manufacturer (OEM) partners. The

leadership roles Rumsey has held

include President of Components,

where she oversaw a global portfo-

lio of business units that delivered

profitable growth while ensuring

power solutions met performance

and emissions goals, and Chief

Technical Officer, where she led

strategic investments in key technologies

and applications to transition

to lower carbon emissions products,

laying the foundation years ago for

the company's New Power Business

and Destination Zero strategy.

Prior to Cummins, Rumsey worked

for a fuel cell technology company.

Jennifer Rumsey is a member of

the Society of Women Engineers,

Society of Automotive Engineers,

the Purdue Engineering Advisory

Council and Women in Trucking Association.

She holds a Bachelor of

Science in Mechanical Engineering

from Purdue University and a Master

of Science in Mechanical Engineering

from Massachusetts Institute

of Technology. Throughout her

career, she has been an advocate for

diversity, equity and inclusion and

women in STEM fields. She lives in

Columbus with her husband and has

two college age daughters who are

both pursuing engineering degrees.

Motorcycle cylinders

honing machine

from Ø35 to Ø120 mm

HONITECH

Two or three spindles honing

machine far roughing, finishing

and plateau

Honitech S.r.l.

Tel: +39 02 6152662

Video links on honitech.net
---
AUTOMOTIVE

#INTERNALCOMBUSTIONENGINES #DECARBONIZATION #EUROPEANUNION

"FIT FOR 55" BY EU

FIT

0R

UNFIT?

"Fit for 55" refers to the EU's target of reducing net

greenhouse gas emissions by at least 55% by 2030 .

On the 8 th of June, the plenary

session of the European Parliament

in Strasbourg approved

the "Fit for 55" plan. Besieged

by cross-party alliances involving even

the sovereignists of the ID group where

Marine Le Pen and the German AFD sit,

the "Fit for 55" initiative was rejected on

practically every point: from the carbon

tax to green ETS credits. While the entire

"Fit for 55" was returned to the European

Parliament's Environment Commission,

a jolt of unanimity amongst the Members

of the European Parliament led to

the approval of a ban, entering into force

in 2035, on the sale of cars and light vehicles

(up to 3.5 tonnes of total mass)

whose engines emit greenhouse gases

(CO 2

). The only ones to be pardoned are

those manufacturers of series of vehicles

that make less than a thousand units/year.

A defeat first and foremost for ACEA,

the Association of European Automobile

Manufacturers, which has survived

months of capillary lobbying to mitigate

the impact of "Fit for 55" on the European

automotive world. It is no coincidence

that, within a short time, Stellantis' CEO

Carlos Tavares announced the exit of the

Franco-Italian-American group from the

association led in recent times first by

Sergio Marchionne and then by Philippe

Varin, CEO of PSA Peugeot Citroën.

In a very British style, far from Mar-

European Parliament

approved "Fit for 55"

plan. After 2035, no

ICE will be produced

anymore

chionne's invectives, Tavares clarified:

"The environmental challenges ahead of

us, together with a rapidly changing economic

environment, require an efficient,

global and inclusive all-round approach

involving all those who wish to contribute

to the construction of a sustainable

mobility. Access to clean, safe and affordable

mobility for citizens around the

world is at stake." The fact that Tavares,

together with another "big" like Akio

Toyoda, has little faith in the feasibility

of an "all-electric" future is nothing new.

And someone, again on a global level,

points out how the harmony between

the first (Toyota) and fifth (Stellantis)

world car manufacturers with regards to

the future of sustainable mobility puts

the Franco-German axis created by the

Renault-Nissan and Volkswagen groups

(number three and two respectively) in a

difficult position, since they count on the

economic incentives promised by the

governments of Paris and Berlin; neutral

on this issue is Hyundai-Kia (number

four), drawing its strength from the experience

accumulated in China. Tavares'

"free hands" choice has a motivation

that highlights his skills as a pragmatic

manager. If the Greens are celebrating

the "Stop in 2035", the chaos staged

in Strasbourg on the 8 th of June and –

above all – the implosion on "Fit for 55"

of the majority, that has so far supported

the Commission in the European Parliament,

represents a golden opportunity

for Stellantis' CEO in view of the second

half of the game, the opening of which

is scheduled for the 28th of June, with

the EU Council of Environment (we

are writing a few days before this date,

editor's note). The hypothesis is that the

meshes of the EU project will widen,

lowering the expected reduction in CO 2

emissions from 100 to 90 percent, an objective

that is not impossible for internal

combustion engines already in the Euro7

version. However, in the EU buildings,

many politicians and officials seem to

ignore two key facts. The first one is that

only 12 percent of CO 2

emissions in the

whole EU comes from cars. No one, in

fact, has contradicted the well-known

study according to which, on an annual

basis, the cruise ships anchored with

their generators running at the harbour

of Barcelona pollute as much as the entire

European car fleet. In terms of global

impact on the planet, then, the 2021

registration figures show that the 16.8

million new vehicles in the European

area represent only 20 percent of the

world figure, which sees Asia in the lead

with 42.6 million vehicles, where China

stands out with its 26.2 million cars.

Eliminating EU emissions, therefore,

risks to be more of an exercise in style

rather than an advantage for the environment.

Without forgetting the problem of

raw materials, as Andrea Boitani, Professor

in Transport Economics at the Catholic

University of Milan, pointed out:

"The Chinese have been quicker, and as

for rare earth elements, especially lithium

(essential for batteries), they have

already signed exclusive and advantageous

agreements with the governments

of their producer countries, mostly in Africa."

If it is true that "failure is simply

the opportunity to begin again, but this

time more intelligently", as Henry Ford

loved repeating, perhaps the Strasbourg

disaster could be a new beginning for the

European automotive industry.

8

9
---
EMISSIONS

#CUMMINS #PERFOMANCESERIES #CONSUMPTION #STAGEV

CUMMINS

SEVEN

GOOD

TIPS

FROM UK TO SOUTH KOREA

Cummins has announced that its Darlington Engine Plant's 1.5

millionth Mid-Range engine has made it across the globe to South

Korea and been installed into a Hyundai excavator. In January,

Cummins revealed that it had manufactured its 1.5 millionth Mid-

Range engine, a B5.9, at its Darlington factory in the north-east

of England. Since then, the team at Darlington has been tracking

the progress of its now "famous" engine and have estimated that

it travelled over 5,400 miles from Darlington to machine plant

at Ulsan City, South Korea. The 5.9-litre engine has been fitted

into a 22-ton HX220S Hyundai excavator, providing the power for

thousands of hours of heavy workload. This is not the end of the

1.5 millionth engine's journey as the excavator is destined for a

customer in Guatemala at the end of May. Cummins' Darlington

factory produced 66,000 engines in 2021, and employs around

1,500 people working in engine assembly, exhaust aftertreatment

manufacture, technical operations, and business support functions.

It manufactures engines spanning a range of 3.8 to 9-litre

displacement (75 to 430 hp), powering a wide range truck, bus,

construction, agriculture, material handling, marine and power

generation applications around the world.

Steve Nendick, Cummins: "Despite what many in the industry

have heard, stop-start systems don't compromise engine life

as they are tailored specifically to the duty cycles of the machine

and operation, and have optimised components."

lored specifically to the duty cycles of

the machine and operation, and have

optimised components. The system

also automatically limits the number

of stop-starts per hour, unlike a car.

So, if the machines have timed idle

shut-off or stop-start capability, this

should be switched on. Cummins offers

stop-start on its Performance Series

engines and in real-world trials

we've seen it deliver fuel savings of

10% compared to standard engines.

Can the work be done in Eco mode?

Although many operators dismiss Eco

mode (or downright hate it) the mode

will automatically reduce engine

speed and save fuel. Don't ignore it.

Switch it on. Many newer machines

come with monitoring facilities as

standard. By analysing their data, operators

can find operational efficiention.

Idling wastes fuel, regardless

of how efficient the engine is. Yet despite

this, it's often a common practice

(we've all seen operators eating their

lunch in an idling machine). By simply

killing the engine when it's not in

use, operators can save fuel, as well

as reduce emissions and prolong the

life of their machine by cutting unnecessary

wear on components. Despite

what many in the industry have

heard, stop-start systems don't compromise

engine life as they are tai-

Cummins tells us

the seven top tips

for reducing fuel

consumption

Emission nearly rhymes with

consumption. A need, that of

reducing the environmental impact

of the diesel engine, which

goes hand in hand with the dramatic

increase in the cost of oil. Brent

is stable at USD 113, and refuelling

costs at gas stations are now out of

control, stably above EUR 2 per litre

in several European countries (Monday

27 June). The recipe has the usual

ingredients (combustion chamber

pressure, injection, efficiency, ATS

etc.), what changes is the skill of the

cook. In this case it is Steve Nendick,

Marketing Communications Director

for Global Off-Highway at Cummins,

who tells us about the alchemy of Columbus.

"We're delighted to share our seven

top tips for reducing fuel consump-

cies by understanding how equipment

is being used, such as excessive idling

or aggressive use of the throttle".

Predictive maintenance is another lever

to keep the engine in top shape.

It not only benefits TCO as an overall

figure, avoiding downtime, but also

the smoothness of clutches and the

prevention of the effects of oil residues

and clogged nozzles, to give two

examples.

"Monitoring also helps to detect potential

service problems in advance

and reduce repair costs and downtime.

Cummins Guidanz supports this

capability on electronically connected

engines, for example. Understanding

and following recommended maintenance

schedules is critical to ensure

that equipment gives optimum performance.

Poorly maintained machines

will use more fuel for the same amount

of work as a well maintained one.

Preventive maintenance also saves

major repairs in the long term, maximising

the productivity and life of the

engine. Continuing with the theme of

things that are often ignored… Follow

the OEM's recommendations to ensure

that correct fluids (such engine,

hydraulic and axle oil) are used and

kept at the required levels. Additional

checks on the cleanliness of radiators,

radiator screens and air filters, as well

as having the correct tyre air for the

intended job, are also important to deliver

optimal fuel efficiency. Consider

updating your plant and equipment. As

always there is a balance to be struck

between capital and operational expenditure,

but the high cost of fuel may

just tip the scales towards the former

for some operators with older, less efficient

equipment. By purchasing new,

or newer, machines, operators can

reap the benefit of diesel engine technologies

that have been pushed higher

up their evolutionary ladder, getting

increasingly fuel efficient, reliable

and cleaner. For example, Cummins'

latest Performance Series engines use

less fuel than their previous generation,

providing a substantial fuel cost

saving over the life of the engine and

the machine. Finally, it's worth investing

time, money, and effort in training

staff for the equipment they operate.

Poorly trained staff will be more likely

to mishandle the machine, increasing

fuel consumption. As monitoring

capability develops, the data gathered

will be able to help improve operator

training".

10

11
---
POWER GENERATION

#ROLLSROYCEPOWERSYSTEMS #FRIEDRICHSHAFEN #ELECTROLYZERS

ROLLS-ROYCE PG SYMPOSIUM

JOURNEY

TO NET

ZERO

BERGHOF SOLAR PARK IN TENGEN

The new Berghof solar park in Tengen, southern

Germany, opened on Friday 3 June 2022. The plant has

an output of 3.7 megawatts and will generate around

four million kilowatt hours of CO 2

-free electricity per

year for Rolls-Royce Power Systems, saving 1,300

tons of CO 2

a year compared with electricity available

through the German grid network. The new solar park

takes Rolls-Royce another step closer to its goal of

achieving net zero greenhouse gas emissions from its

operations and facilities as Power Systems has signed

a power purchase agreement with the operators for

an initial period of ten years. "With our Net Zero at

Power Systems program, we are pursuing strict climate

protection targets," explained Otto Preiss, Rolls-Royce

Power Systems Chief Technology Officer and COO.

"With ambitious interim targets for 2030, we aim to

be completely climate neutral by 2050 across all global

sites and areas from production to supply chains to our

product portfolio, i.e. in all three recognized categories

Scope 1, 2 and 3."

The word "symposium" comes

from the ancient Greek (fifth

century BC) and means "conference".

The first three letters

translate as "with". So, what did

the PG Symposium at Rolls-Royce

Power Systems get us "with"? At the

Friedrichshafen Trade Fairs we understood

some mtu key points. We

summarize here: "Our intention is

not to sell components, but become

a solution provider for power systems".

And, "actually are not the

companies who decide what the future

looks, we're offering options. We

have to handle all the technologies.

Everything is possible..." Finally,

"we're not stopping any investment

on diesel technology, because we are

also convinced that this technology

is part of the future. According to

our forecast for 2030, the 2/3 of our

revenues will be generated by our

power systems based on diesel engine

technology: 1/3 will still based

on fossil fuels, 1/3 on sustainable fuels

and 1/3 with new technologies."

Rolls-Royce Power Systems is ready

Rolls-Royce Power

Systems' PG

Symposium 2022 was

held in Friedrichshafen

under the banner of

technological flexibility

and being agnostic to

differentiate the ways

towards Net Zero

to meet market demands, which will

be driven by policy makers and technology

upgrades still in the incubation

phase. This is demonstrated by

the recent acquisition of the 54%

majority stake in electrolysis stack

specialist Hoeller Electrolyzer. Otto

Preiss, COO and Chief Technology

Officer, said: "By developing our

own mtu electrolyzers and by taking

a majority stake in Hoeller Electrolyzers,

we are methodically growing

our hydrogen portfolio and securing

access to this fascinating technology,

which is not a pipe dream but has

great market potential." In hydrogen

electrolysis, water is subjected to DC

electrical current, producing hydrogen

at the negative pole and oxygen

at the positive pole. In this way, it is

possible to produce carbon neutral

hydrogen by using electricity from

renewable sources such as solar or

wind. The electrochemical reaction

takes place in a cell between plateshaped

electrodes separated by membranes.

Hundreds of cells located one

above the other and pressed together

form a "stack", the heart of an electrolyzer.

Development work on the

first mtu electrolyzer using a stack

from Hoeller Electrolyzer is already

underway. In 2023, it will go into

operation at the Validation Center in

Friedrichshafen to demonstrate how

an electrolyzer fits into the overall

architecture of a microgrid. An initial

customer project is already planned

for 2024.

We talked about mtu fuel cell systems

with Mario Scala, Validation

Engineer mtu fuel cell. "Our goal,"

Scala said, "is the integration of

modules into the container, to supply

energy to the data centres from the

integration of individual modules.

What we are displaying here at the

microgrid centre are four modules

supplied by Cellcentric capable of

delivering 65 kilowatts each. Our

intention is to add more, more powerful

modules to deliver even 1 MW

prime power containers. The module

was developed for the automotive

industry and is used here for testing

purposes. On the test bench we have

a development that comes from industry,

and produces 110 kW each.

By 2023, the development will take

them to 150 kW. Our demonstration

project involves the delivery of three

containers to the port of Duisburg, a

collaboration that includes a testing

phase at the customer and delivery of

the first ones by the summer of 2023,

to be followed by a joint development

stage." And now we report on

some exchanges we had with Tobias

Ostermaier, President of Stationary

Power Solutions. "Take a look at

our product lineup from three years

ago," he started "when gas and diesel

engines dominated. Today, we

have electrolyzers, a larger portfolio

of energy solutions, dynamic gas

solutions, and an investment in automation.

In short, we have everything

we need to establish ourselves as a

solution provider." Because this is

the goal, which we have anticipated:

to become a supplier of complete,

integrated systems, capable of supporting

technological development

in an "agnostic"way, as Ostermaier

12

13
---
POWER GENERATION

#ROLLSROYCEPOWERSYSTEMS #FUELCELL #HYDROGEN #DATACENTERS

DATA CENTERS TOWARDS NET ZERO

According to the results of a study by the Borderstep Institute,

the energy consumption of data centers in the EU alone was 76.8

TWh in 2018. The estimates show a 28% increase to 98.52 TWh

by 2030. On the way to climate neutrality, this electricity must

also be generated green. What role do diesel generators play

in this? And the fuel cell? Energy expert Tobias Bertler (Senior

Manager Direct Sales & Business Development APAC) and Ryan

Murphy (Sales Lead for Data Center Solutions in North America),

from Rolls-Royce Power Systems provide an outlook.

How concerned about sustainability are data center operators

when it comes to back up power?

Tobias Bertler: Data center operators are very interested in

sustainable backup power solutions. This is partly because the

entire data center market is dominated by the large technology

companies, which are very much in the public eye and feel a

social responsibility to reduce their carbon footprint. This has

also moved data center emergency power systems into the

fore. Although they have only a few operating hours, gigantic

capacities with a very high available power are being built for

these mission-critical data centers.

himself points out. For example in

a microgrid? We asked Jan Henker

for more details, Senior Expert Automations

& Controls Sustainable

Solutions. "When it comes to the

optimization of the overall system,

we do have a magnetic optimization

algorithm and that is basically using

different forecast approaches, exactly

for the GPS coordinates, for instance

how much sun and how much

wind will that be in. We're going to

mathematical optimization, carefully,

continuously, to understand what

is the best energy mix etc."

What's happening in 2030 or in

2035?

Ostermaier: For that, there are two

lenses. Right now, no one can truly

know it. We're thinking about the

technology of today. Just think of

is now investing in a smart grid, this

is still significant.

Why "killing" diesel engines for

stand-by gensets in hospitals and

data centres?

We're not killing diesel engines, and

European Union overnight thought

about that. Actually, what they did

most recently was to acknowledge

that sustainable fuels must play a

crucial part in the energy transition.

This sends a very critical message to

the entire sector. This is a big decision

because there will be an infrastructure

built around sustainable

fuels, and it's a big possibility to use

current technology with sustainable

fuels. ICE and sustainable fuels will

be a part of the solution, as well as

the efforts of our industry.

Hydrogen internal combustion enhow

much CO 2

would be saved if all

of our current engines were converted

to HVO. We're talking about more

than 100,000 engines in the field.

What applications for hydrogen in

power generation?

Hydrogen will play a major role.

The availability of hydrogen and the

extent to which it will be accessible

are the main issues. Infrastructure

and accessibility... There isn't much

hydrogen accessible right now, but

there might be in the next few years.

Our side also offers the possibility

of utilizing current gas systems.

Our systems are presently capable of

burning 10% hydrogen, and we will

soon have the option to use 25% hydrogen.

As a third alternative, we can

retrofit current gas systems to run

100% hydrogen. And even if a client

gines vs fuel cells? Who's the winner?

In the century of fossil fuels, diesel

dominated every application. I firmly

believe that there won't be another

dominant technology in the future.

ICEs will make more sense in some

situations, whereas fuel cells will

make sense in other situations. Our

energy portfolio needs to be diversified

in a variety of ways. We need to

manage every technology.

What if Rolls-Royce became the single

supplier of the smart grid, including

solar panels? "We already have

a microgrid in place at our facility

in Friedrichshafen (see box on page

13) and we will install another smart

grid at each of our facilities throughout

the world, including our manufacturing

in Aiken, in the US."

Is there still a big demand for diesel gensets from data center

operators?

Tobias Bertler: Definitely. Today every mission-critical data center

has backup power systems built into it that typically run on diesel

fuel. Rolls-Royce Power Systems delivered over the course of

the years approximately a total capacity of 5 GWe emergency

power units into the global data center business. This was also

demonstrated in our diesel emergency power systems business.

We have also further expanded our range of power supply

systems for mission-critical applications with the acquisition of

Kinolt as a leading company for dynamic UPS systems. Diesel

gensets currently offer the highest safety and most coherent

technical characteristics for mission-critical energy systems.

What can you say about the North American data center market?

Ryan Murphy: The North American data center market continues

to grow exponentially, over 35% CAGR, and is expected to exceed

$90 billion USD by 2027. This growth is led by the dominance of

hyperscale data center customers through both their own construction

and record lease deals with colocation providers. There

has been a lot of consolidation in the market as the players seem

to get larger and more sophisticated. These customers are not

only demanding higher quality and reliability in their products, but

also greener solutions moving forward such as HVO fuel, exhaust

aftertreatment, battery energy storage, and hydrogen.

14

15
---
MARINE

#FPTINDUSTRIAL #BIMOTOR #VENICEBOATSHOW #LABIENNALE

VENICE BOAT SHOW

NEED

OF

THE FPT Industrial F1 engine is an integral feature

of the installation at the Italian Pavilion of the Venice

Biennale of Contemporary Art. The entire pavilion

is given over to an artwork by artist Gian Maria

Tosatti with an environmental installation, curated

by Eugenio Viola, called "History of Night and

Destiny of Comets", which explores the relationship

between man and nature and encourages reflection

on the current state of humanity and its future

prospects, explicitly referring to the United Nations

2030 Agenda for Sustainable Development.

Below, Carlo Moroni, Head of FPT Industrial

Brand Communication, and Gian Maria Tosatti

in front of the engine in the Italian Pavilion at the

59 th International Art Exhibition.

SILENCE

Bimotor has recently acquired

FPT Industrial's dealership for

Australia as well, through its

subsidiary Bepower Solutions.

The operational headquarters will be

in Melbourne. FPT is in fact moving

from a Eurocentric position to a more

global vision of the marine market, although

Europe still remains central. At

Bimotor's stand, Carmine Bagnoli told

us about the displayed engines: "Our

engines power more than a hundred

steamboats in the Laguna. The Cursor

9 is one of the most present on these

applications. We have adopted a novel

supercharger for this power size,

which allows high torque values to be

achieved at very low revs. It is of the

conventional fixed-geometry type, but

has so far been used on smaller engines.

Let's now move on to the 4-litre

common rail, 125 kW at 2,800 rpm,

which is interesting for commercial

applications due to its compact packaging

and its power and torque density.

It is ideal for waste collection services.

Finally, the N67, a very versatile

Stage V homologated unit, without after-treatment,

which meets the needs of

northern European users (Benelux and

Scandinavian countries). In a way, I

The amazing scenario

of the ancient Arsenal

hosted the Venice Boat

Show. We talked with

FPT Industrial and

Bimotor, Geminiani, AS

Labruna and Autogas

would call this a hybrid configuration,

since it can also be used as a generator

for a variable-speed electric machine,

thus functioning as a range extender."

Fabrizio Polito talks about their customer

service. "The services revolve

around three fundamental pillars: reliability,

both with original FPT spare

parts and technical support; 'protection',

with customised contractual

coverage; and digital evolution. As

for the uptime, our commitment starts

with MyFPTApp, which establishes an

initial connection with the end customer.

The natural evolution of this

tool is its integration with a dongle,

via Bluetooth, which can be mounted

on the engine's diagnostic port and allows

for additional functionalities, for

example real-time performance data

and display of errors in the ECU. The

extended warranty packages can be

combined for up to five years of engine

life and can be configured according to

the number of hours, years of use and

perimeter of coverage."

Also displayed at Geminiani's stand

was the Kangaroo, the Giugiaro's electric

hyper-SUV. Andrea Tirone, Geminiani's

Sales Manager, explained:

"Customers who get in contact with us

at the exhibition often come to see us

at our headquarters; seven out of ten

requests concern the electric alternative.

The power pack has also become

electric, with Giugiaro's contribution.

We can supply everything, even the

connectors, the "famous" plug&play

system. A nice advantage for the ship

owner: the power pack has a definite

cost and does not need anything else."

Massimo Geminiani then intervenes:

"We have drawn up an agreement with

Giugiaro for the electric car range,

from 25 to 400 kilowatts, which integrates

a crucial element such as the

power pack, and we have signed a contract

to equip six taxis in Qatar, used

by real estate agencies to show flats

overlooking the Gulf."

How is the collaboration with Caterpillar

proceeding?

"Caterpillar is one of the few that has

managed to keep its word, even in

this troubled period of absolute supply

shortage, by sending us what we

requested on time. Caterpillar is our

supplier in the range between 19 and

200 kilowatts, i.e. from C.1 to C.7.

Also, with their contribution we are

able to implement the philosophy that

inspires us in the electrification field,

with a variable-speed generator that

charges the battery thus providing current

to the system."

With the electrification process comes

a tendency to outsource expertise to

specialists.

"An approach that is justified by the

need to have the right skills and profiles

to create software, exclusively

dedicated to that particular type

of project. We are willing to set up a

customizable power pack, a challenge

that is only possible if you have the inhouse

staff to design the software. The

system has to enable the management

of throttle, accelerator, loads, sensors

and the machine itself. In this context

there is more and more room for system

engineers. Companies like ours

know the OEMs and their needs, power

absorption, load, operating modes

and potential of the electrics."

16

17
---
MARINE

#GEMINIANI #ASLABRUNA #AUTOGAS

Massimo Labruna is also a regular

exhibitor of the Venice Arsenal, and

we talked about hydrogen with him:

closest to the AS Labruna's stand was

a demo. "We have come up with a concept,

in every sense of the word, that

is scalable to larger vessels, where the

criticality comes from the power of

the fuel cells, with a bar raised to 300

kilowatts, which is still a respectable

power. This is how we plan to solve the

long-standing problem of the autonomy

of full-electric boats. The vessel

is equipped with two electric motors,

a buffer battery pack and hydrogen

fuel cells that recharge the batteries.

Summarising and detailing the architecture,

there are two outboard motors

of 6 kilowatts each, while the battery

pack delivers just 5 kilowatts. So, with

an installed power of 12 kilowatts, the

tute for generators in serial hybrids. In

our hydrogen journey, we had started

with methanol fuel cells, obtained by

CO 2

abatement. That project is still

up and running, albeit on very small

sizes. Here in Venice, we are showing

another approach, since in this case

we started off with a completely electric

boat. Today we can boast an absolutely

complete electric range, with

electric outboards and inboards, electric

pods, hybrid kits on both high and

low-powered diesels, serial and parallel

hybrids, fuel cells, hydrogen and

methanol. The general principle that

inspires us is the maximum reduction

of the battery pack, also because if you

don't have a power source on board

you have to recharge it at the dock.

This problem is solved if there is a renewable

source on board; without divcapacity

of the battery pack is 5 kilowatt-hours.

The two-kilowatt fuel cells

can run for about 10 hours, thanks

to the on-board hydrogen cylinders,

which on the anchor model contain

30 litres. Essentially, I have stored 20

kilowatt-hours of energy, in addition to

5 kWh obtained from buffer batteries,

which gives us a significant autonomy,

bypassing the most difficult limitation

of all-electric power supplies. In order

to increase the autonomy, it would be

necessary to increase the battery packs,

thus increasing weight and costs, since

the boat runs at reduced speed and

does consume more to achieve the

same performance. There is a threshold

limit that cannot be exceeded.

In this system, the fuel cells function

as range extenders, thus enabling a

greater autonomy, acting as a substi-

ing into waters, this is an issue concerning

any application, even cars.

In order to store energy, the battery

needs a long recharge time, unlike the

hydrogen cylinder or methanol tank".

Also at the AS Lavruna stand was

CMD's BlueHybrid system, equipped

with a hybrid control unit, which controls

both the endothermic engine and

the electric motor and communicates

with the GPS signal, so that it automatically

converts the navigation to

the electric mode.

In 2021 Autogas, acquired by Ecomotive

Solutions, broke the threshold of

3,000 bifuel petrol/LPG conversions

on vessels. At the time, they told us of

a detail that is also suitable for lagoons

and bays at these latitudes (Venice,

Scardovari, Marano, Grado), namely

the "particular and specific use in

large fishing farms, where, for moving

between breeding basins, the use

of vessels with LPG-powered engines

contributes to maintaining clean waters

for a more valuable and higher

quality catch." So, the gazebo of Autogas,

owned by Ecomotive Solutions,

could not be missing. They confirm

us that they are there to incentivise the

retrofitting system of outboard/inboard

petrol-powered vessels that have been

fully converted to LPG. The kits, which

are definitely inexpensive, comply with

the regulations drawn up by the Ministry

of Transports, and are available

both with fixed on-board cylinders and

with transportable cylinders, which are

specially constructed following the automotive

logic, to facilitate refuelling.

Generally, a transportable cylinder cannot

be refuelled at the station because it

has no level and "overflow" indicator,

i.e. it does not stop at 80 percent of its

capacity. This one, on the contrary, has

the same automatic system as a car so,

once it gets to 80 percent, it stops refuelling.

Plus, there is a quick coupling,

clearly designed for boats compatible

with this storage, which is 30 litres.

They tell us of "a 75-litre version that

allows for 8/9 hours of autonomy with

a 60-horsepower outboard engine. The

Venetians are showing interest in this

system. In terms of costs, such conversion

would be around 2,500 euros. We

just did a quick calculation with the

owner of a boat with inboard engine

equipped with two 200-horsepower engines.

By putting 200 litres of LPG on

board, it would cost him around 5,000

euros. And on a boat that consumes 60

litres/hour of petrol..."

18

19
---
INTERVIEW

#FPTINDUSTRIAL #RECREATIONAL #COMMERCIAL #USA #CHINA

FPT INDUSTRIAL

USA

AND

CHINA

EMBRACING A RED HORIZON...

FPT Industrial's Red Horizon, a marine integrated electronic

control and monitoring system, was named Gold Winner

of the 2021 edition of the New York Product Design Awards.

Red Horizon was awarded in the Watercraft Category for

successfully consolidating technology, performance, power

and design in a beautiful zero-emission powerboat concept.

Launched in 2019 at the Cannes Yachting Festival, Red

Horizon is FPT Industrial's integration of the most advanced

marine technologies in engine, monitoring and control

systems. Developed in partnership with two leading global

companies – ZF, a technology supplier of next-generation

mobility systems, and Navico (Simrad), a manufacturer

of marine electronics – Red Horizon guarantees full

navigation control and safety, optimal driving comfort,

and easy handling and harboring. The winning entry was

presented together with the Marine Configuration of the

Cursor X, FPT Industrial's 4.0 Modular Engine Concept for

a sustainable future. The Red Horizon project is presented

within a unique environment, whose design is inspired by

the automotive world, luxury cars and villas, and vintage

Italian boats, resulting in a comfortable bridge with a touch

of minimalism, where customers can feel at home.

FPT Industrial to conquer the seven

seas. This could be the title

of the interview with Gugliemo

Tummarello, Marine Market

Segment Director. "The development

strategy for marine technology has a

watchword, globalisation, in a dual

meaning: both in terms of product

and in terms of purely geographical

expression," is the circumstantial confirmation

that comes from Tummarello's

first statements. "FPT Industrial

initially focused on the European

area, by far the most dynamic, the one

with the highest volumes. Having over

time acquired a significant market

share in the Old Continent, we have

been forced to look at other scenarios,

which for us are still emerging. A renewed

focus on product development,

to adapt the products currently sold in

Europe to overseas markets, was the

necessary step for moving forward.

We have increased the availability of

EPA compliant ratings, with the necessary

adaptations at the data set level

of our engines, to be compliant with

both pleasure and commercial, which

have different regulations. Having

a much more extensive line-up now,

compared to five years ago, we have

built a tailor-made approach for the

FPT Industrial's marine

applications are

spreading on a global

scale, as witnessed

by the trend in China

and the United States

dealer. This partnership has been in

place for quite some time and has

been waiting for a set of products in

line with the needs of US shipyards

and final users. With a very competitive

portfolio, in a market where innovation

is not only welcome but also

rewarded, if users are supported by

an efficient after sales service. Once

these conditions are met, the Americans

go in search of performance,

sometimes understood as peak power,

sometimes as TCO. In both cases

we stand up to any challenge, whether

it is the power curve for pleasure

boats or low fuel consumption and

torque rise for commercial ones. In

recent years, the American market

has played a key role in growth. As

is often the case, confronted with a

new market, new demands and the

challenges of a different audience,

we have gathered and capitalised on

the feedback from our stakeholders,

which has allowed us to improve the

product globally (American dealers

are MSHS, Stauffer Diesel and Madsen

Power, editor's note)."

It is not only the US that is driving

Fpt's boom in the marine industry.

Exactly, we have also followed a similar

path in China. Until three years

ago we had no products to position

within the applications that required

CCS emission certification and China

GB15097, which allows navigation

in restricted areas on rivers.

Having corrected the segment of the

range that was most attractive to Chinese

audience, we were able to sell

spot on some projects and become

more noticeable overall in that context.

So when we bade for a tender

that seemed very important to us, we

won it with the N67 570 engine, after

having supplied the engine for a prototype

boat that was the best among

those that participated in that tender.

Eminent, our only Chinese dealer, has

been working with us for decades and

also covers other applications. Specifically,

our 6.7-litre will power some

Ribs, 7.5-metre inflatable boat. The

Chinese market is very particular, as

are its users, because of what we call

the "competitive scenario", due to a

huge barrier to entry for local manufacturers.

We only go for certain profiles,

where the technological content

is appreciated and the mission is important.

Keel cooling applications are

still at an emerging stage and can be

appreciated in China's large rivers,

which can show very muddy bottoms.

NEF and Cursor?

The NEF range is the one that typically

drives sales, on average over

70 percent. In the last period, the C9

range, suitably revised and corrected,

is achieving excellent results and together

with the N67 is the best-selling

range in the US, where if you added

up the Cursor and NEF it would result

in a fifty-fifty split, we are growing

significantly compared to the very

good 2021, equally on recreational

and commercial. The only difficulty

that could be on the horizon is the

shortage of boat-side components,

both electronics and precision mechanics,

which could slow down the

industry during 2023.

20

21
---
H2 - FOCUS

#MANENGINES #DUALFUEL #WORKBOAT #V12X

MAN ENGINES

DUAL

FUEL WITH

MAN Engines V12X: 2200HP

Following on from its most powerful 12-cylinder engine yet,

with 2000 HP, the MAN V12X boasts 30-litre displacement and

2200 HP (1618 kW) at 2300 rpm. In this range, Caterpillar had

accelerated, catching up with mtu (Rolls-Royce Power Systems)

and MAN Engines itself. The ring is always that of Cannes, and now

it's time again for the Lion's roar. "The MAN V12X marks the start

of the neXt generation of yacht engines. We are acknowledging

this milestone in engine technology with the new name V12X and

giving the distinctive engine cover an X design. The redesign of the

MAN V12X is accompanied by extra displacement for shipyards.

As always, we have retained the excellent power-to-weight ratio

that MAN engines are known for," explains Werner Kübler, Head of

Engineering MAN Engines.

HYDROGEN

Werner Kübler, Head of Development at MAN Engines, "What's special about

our technology is that we use a conventional diesel engine, which doesn't need

to be optimised for hydrogen."

Hydrogen follows paths that

are sometimes mysterious,

sometimes linked to the echo

of marketing. MAN Engines

has decided to follow a concerted

path, that of applying dual fuel to a

work boat. "What's special about our

technology is that we use a conventional

diesel engine, which doesn't

need to be optimised for hydrogen,"

says Werner Kübler, Head of Development

at MAN Engines. A V12 marine

engine is thus used in which hydrogen

is introduced into the charge

air via an adapter and is added to the

combustion cycle. The combustion

process is thereby started according

to the diesel principle, which requires

the injection of approximately 5% of

diesel fuel. The diesel fuel common

rail injection parameters have been

optimised here for dual fuel operation.

"MAN Engines has long-standing

experience in the development of fuel-saving

and reliable diesel engines,

including for work boats. Building on

this experience, we were also able to

achieve the best consumption values

in dual fuel operation, and ensure

the same operating behaviour as

MAN Engines

conceived a retrofit

of V12 marine diesel

engine, 749 kW output.

It's the first dual fuel

hydrogen engine in

use on a work boat

displayed by diesel operation at full

load. At the same time, we also reduce

CO 2

tailpipe emissions through

the use of hydrogen by an average

of approx. 50%, and even up to 80%

as a peak value," adds Kübler. This

is recent news, dated 10 May 2022,

and stems from MAN Engines' collaboration

with Windcat Workboats.

These comprise two twelve-cylinder

diesel engines of type MAN D2862

LE448, each with an output of 749

kW (1019 hp) at 2100 rpm. The engines

are IMO Tier III-certified and

equipped with a Selective Catalytic

Reduction exhaust gas aftertreatment

system. Both V12 engines have been

prepared for dual fuel operation by

MAN Engines, and supplemented

with a hydrogen injection system by

development partner CMB.Tech. The

low-emission engine is used on the

world's first hydrogen-powered crew

transfer vessel (CTV), the "Hydrocat

48" from Windcat Workboats. "By

starting with dual fuel combustion

engines, we can make hydrogen technology

operational in the industry

and kick-start further development

of the technology, regulation, supply

chain etc.," says Willem van der Wel,

Managing Director of Windcat Workboats.

The D2862, with a cylinder capacity

of 2 litres, is one of the engines that

have written the history of mechanics,

not only in Augsburg but also

in onroad vehicles, stationary power

generation and yacht applications.

MAN Engines offers its customers

and partners solutions like the "MAN

Smart Hybrid Experience" hybrid

system or engines for gas/electric

drives, to contribute to CO 2

reduction

and sustainable shipping. Now that

the MAN D2862 LE448 dual fuel

engines for work boats are ready for

series production, a further milestone

has been reached to that effect.

And here ends the official presentation.

We went a step further and asked

MAN Engines for a little more information

about a promising application.

A technology, that of hydrogen,

which sees Europe, Germany in the

lead, and the United States moving

ahead at a rapid pace, and which

could be the answer to the almost total

hegemony of the Chinese industry

in the world of battery electrics.

Can you explain what the adapter

is and how it works? What does 5%

diesel mean: there is a tank that

delivers 5% of the injection in the

form of diesel and the rest is hydrogen?

Can you explain the injection

and combustion process?

The operating behavior, fuel consumption

and all other characteristics

of the MAN D2862 LE448 Dual

Fuel engine in diesel mode correspond

exactly to the MAN D2862

LE428 with the same performance

(749 kW/1019 hp at 2100 rpm). In

a form of pre-treatment, a precisely

measured quantity of hydrogen is

added to the charge air. This mixture

of hydrogen and air is then ignited

with the injected diesel fuel in the

combustion chamber of the cylinders.

Depending on the engine's operating

point, only a very small amount of

diesel fuel is needed. On the engine

22

23
---
H2 - FOCUS

#WINDCAT #SCR # D2862 #HVO

Credits: Windcat Workboats

RENEWABLE FUELS

MAN Engines has approved all marine engines from the current

product range for use with renewable diesel fuel in line with the

standard EN15940 in Europe and the US-American specification

ASTM D975 of the American Society for Testing and Materials. This

will allow customers to replace conventional petroleum-based

diesel fuel with "green" or renewable diesel fuel, obtained from

waste and residues of animal and plant origin, cellulosic biomass

such as crop residues, but also hydrotreated vegetable oils (HVO).

Specifically approved for renewable diesel fuel are the MAN

D2862, D2868 and D2676 series with 12, 8 and 6 cylinders, which

are used in yachts and sport fishing boats as well as work boats.

This includes the full MAN marine engine performance range

from 200 to 2,000 HP (147 to 1,471 kW). They are operated in line

with the emission guidelines issued by EPA, IMO and EU. "With

the approval of marine engines for renewable diesel fuel, MAN

Engines is making an important contribution to sustainability,

both in recreational and professional sailing," stated Claus Benzler,

Head of Marine MAN Engines. In addition, the combustion of

renewable diesel fuel releases approximately 30% fewer particles

and approximately 10% less nitrogen oxide (NOx). "Renewable

diesel fuel ensures cleaner combustion with fewer emissions.

Despite this, there are neither reductions in performance nor

disadvantages with regard to service and maintenance intervals,"

explained Werner Kübler, Head of Engineering MAN Engines.

test bench, very good values of down

to 5% diesel were achieved, but these

increase in real operation. The diesel

injection parameters are optimized in

dual fuel mode to achieve the lowest

emissions and the best consumption

values. Therefore, in dual fuel mode,

considerably less CO 2

is released in

the exhaust gases in circumstances

where operating behavior and

full load characteristics remain unchanged.

In the event of problems

in the hydrogen circuit or a depleted

hydrogen supply, a switch back to

diesel can be made at any time. This

guarantees uninterrupted operation

with normal reliability. Onboard of

the Hydrocat 48 vessel there are three

H2 stillages modularized from CMB.

Tech. Each has a quantity of 69 kg of

hydrogen. Further, there are two die-

sel tanks with 2,900 litres diesel each

(optional 1,900 litres).

Is the engine otherwise the same:

connecting rods, pistons, common

rail and so on?

MAN V12-2000, YACHT APPLICATION

Beside the interfaces to the hydrogen

system (mechanical as well as electrical),

there are no changes to the

engine. The most important modifications

for optimized operation in dual

fuel mode are on the software-side.

Brand

MAN

Model V12-2000

I. D.

B x S mm - S/B 128 x 157 - 1,23

N. cil. - dm 3 12 - 24,24

Maximum power kW - rpm 1470 - 2.300

Mep at max power bar 32,3

Piston speed m/s 12

Maximum torque Nm - rpm 6.497 - 1.200

Mep at max torque bar 34,4

% power at max torque (kW) 34,2

Torque at max power Nm 6.096

% power at max torque (kW) 55,6 (817)

Work range rpm 1.100

What is the efficiency of D28 when

running on hydrogen?

The efficiency is we reduce CO 2

tailpipe

emissions through the use of

hydrogen by an average of approx.

50%, and even up to 80% as a peak

value. Compared to a pure hydrogen

engine, our dual fuel engine ensures

the operation of the ship even in the

case that hydrogen is not available

on the ship or at the refueling infrastructure.

In terms of effective efficiency,

it can be stated that the delta

diesel to hydrogen in the main driving

range is usually
---
OFFSHORE

#CIMCOMARINE #RAMAMARINE #ICCB #PHILIPPINES

OFFSHORE

#LAKECONSTANCE #SHAPEUK

#CATERPILLAR #NEWMONT #MINING #ELECTRIFICATION

OXE MARINE

CATCHING

NEW

FANS

From the gearbox, a poly-chain carbon

fiber belt transfers the power directly to

the propeller shaft, eliminating the need

for a conventional bevel gear system.

COX MARINE

AS A COUPLE

ON THE

LAKE

The Lake Constance approval for CXO300 twin

installations is an exception to the standard rule

allowing only a single gasoline outboard up to 100hp.

gines, powered by the "best seller"

OXE150. This engine delivers 150

hp and 380 Nm (280 ft-lb) . With the

high torque gear ratio on the primary

system, the OXE150 delivers up

to 607 Nm (447 ft-lb) of torque on

the propeller shaft. OXE knew from

the start that the commercial marine

market needed something that combined

the endurance and low fuel use

of an inboard stern drive solution

with the flexibility and replaceability

of an outboard.

In US Shamrock Marine repowered

vessel with a twin OXE300 installa-

OXE Marine is

growing worldwide: the

applications are mainly

workboats and tender,

such as the one for

Abramovic's new yacht

O

XE's sales network is also

expanding, thanks to the success

met by the range consisting

of the 150, 175, 200

and 300 horsepower, and the 10,000-

hour warranty. For example in Italy,

where dealer Rama Marine unveiled

its partnership with the Studioplast

shipyard at the Venice Boat Show.

The 7.6-metre taxi, powered by an

Oxe 150, will have to contend with

navigating in a delicate urban ecosystem

such as the Venice Lagoon.

A Rigid Hull Inflatable Boat by Avila

Ribs powered by OXE is expected

at the Genoa Boat Show. Also at

the Boat Show in 2021, Imar Boat,

which builds 5.5- to 6.5-metre dinghies,

showed a 6.9-metre with an

OXE200, the livery customised in

the Swedish engine manufacturer's

colours, anthracite and yellow.

The big shot, however, came from

the Philippines, where OXE Marine

installed 62 outboard diesel ention

for crew boats along the Mississippi

River. It is the company's first

time using diesel outboards.

And now we move to Ireland, where

the 12m landing craft "Ros Aine"

was commissioned by Irish Commercial

Charter Boats (ICCB). The boat

is powered by a twin installation of

OXE200, supplied by OXE Marine's

UK distributor Proteum, and serves

ICCB's expanding operational requirements

in the growing offshore

energy, transportation and aquaculture

sectors. Ros Aine can carry up

to 4.9 tons and has already accumulated

125 hours of operation. Owner

of ICCB, Eoin Grimes, commented:

"We have carried out the first contract

charter with 'Ros Aine' accumulating

125 hours. The potential

for the OXE in Ireland is huge within

the commercial and aquaculture industry,

we are happy to have adopted

the OXE early on and are already

seeing the benefits".

tion available on the lake and demonstrates

that the ground-breaking 300hp

CXO300 is a clean-burning engine

designed to meet evolving emissions

regulations across the world. The new

Lake Constance approval for CXO300

twin installations is a rare exception to

the standard rule allowing only a single

gasoline outboard up to 100hp to

operate on the protected water. Peter

Nauwerck, Managing Director at Diesel

Power AB, said: "We are extremely

pleased to announce the new CXO300

certification for twin installations, enabling

Diesel Power to offer a new

and unique eco-friendly outboard

propulsion solution to our customers

New management

for Cox Marine. Lake

Constance approval

for CXO300 twin

installation

W

e are in the UK, where Cox

Marine has just appointed

a new Chief Commercial

Officer, Head of Industrial

Strategy, Chief Engineer and a new

Head of Marketing and Communications.

In the meanwhile, good news

from South Germany. CXO300 diesel

outboard engine has surpassed the

stringent BSO-II Bodensee emission

standard for twin installations operating

on Lake Constance. Strict emissions

standards for the lake, reaching

beyond the general levels applicable for

the EU, required the 300hp CXO300

to prove an emission index no greater

than 58. To gain the twin installation

BSO-II certificate, the CXO300 registered

an emission index of 54.34, calculated

using four parameters of CO,

NOx, HC and PN. Achieved in collaboration

with Swedish and German

distributor Diesel Power AB, the landmark

certification introduces the most

powerful, high torque outboard soluusing

Lake Constance. It represents a

notable exception to the lake's standard

rule – providing boaters with a

more powerful system, which quadruples

the outboard torque to bring

heavier boats on plane."

Hugh Hudleston, Head of Sales at Cox

Powertrain, said: "After achieving the

BSO-II standard for single installs in

2021 in the first stage of the submission,

we are delighted the more stringent

twin install has been reviewed

and approved by the relevant authorities.

The Lake Constance certification

proves the CXO300 is safe to operate

in the world's most protected lakes

and regions."

At the end of 2021, Cox joined Shape

UK. As part of this project, Cox will

be working with the University of

Brighton to convert one of the company's

CXO300 diesel outboard engines

to operate as a dual fuel hydrogen engine

and to demonstrate the engine operating

in the port environment.

26

27
---
MARINE RECREATIONAL #SCANIA #YACHTS ®

SCANIA

GRIFFIN

LIKES

YACHTS

R

ise torque and specific curves as

performing as they are elastic; a

widely established and trained

service network; willingness

and technological skills to tackle alternative

fuels and electrification challenges.

This could be the profile of the

marine solutions provider for the next

decade, and it certainly fits the Scania

identikit. And here comes the news:

Scania is opening up to recreational

boating and will be exhibiting with its

own stand at the Genoa Boat Show.

Scania Power Solutions provides a

complete range for both propulsion

and auxiliaries, starting with heavy-duty

applications, called "H24 service",

and ranging up to the highest power

for recreational applications (700-

1,200 hp). The engines are the in-line

6-cylinder, the D13 (700-900hp), and

the V8 (1,100 and 1,150 are the RCD2

type-approved ratings, therefore necessary

in Europe, while the 1,200

and 1,300 horsepower ratings are for

28

non-European markets). The 9-litre is

only available for H24 and intermittent

work applications. Starting with these

uses, the Scania range covers 220 hp to

750 hp, which are declined as follows:

the 9-litre covers from 220 to 350 hp,

the 13, on the other hand, from 400 to

550 hp, and the 16 from 550 to 750 hp.

For intermittent applications the range

is 300 to 900 hp, spread over the three

families, with the 9-litre up to 400 hp,

the 13 to 700 and the V8 to 900. Military

applications are divided according

to hours of use and load factor, and do

Scania Power

Solutions enters the

yachting scene. We will

preview it at the Genoa

Boat Show with the

DC13, the DC16 and

the electric package

not include the 9-litre.

"In addition to the range, the factor

that prompted us to introduce ourselves,

as with our other areas of expertise,

are the related services. For

recreational, as for commercial boating,

we guarantee the availability of

Scania Assistance, with service management

via call centre, which takes

care of diverting the call to the nearest

service centre. We have seen a substantial

reduction in intervention times.

Since 2019 on all our applications we

provide the C300, a board originally

installed on the trucks, which allows

remote diagnostics. Remote diagnostics

allows more people to be involved,

anywhere in our service network. We

are in the process of training our network

on the specificities of the recreational

sector. We can therefore supply

a complete product, including inverters

(ZF and Twin Disc)," so said the

staff who strongly wanted Scania at the

Genoa Boat Show 2022.

It's all smooth sailing.

With our bio-methane engine.

Our NGV-FP087 is the first-of-its-kind, 8.7L marine engine

powered by CNG/LNG. Thanks to this solution, we cut emissions

of CO 2

and local pollutants, as well as acoustic impact, making

urban nautical logistics more sustainable.

On road, on land, by sea, across the river…

Wherever a green and reliable solution is needed,

NGV Powertrain is your partner of choice.

Contact us to discover

how we can repower

your fleet!

www.ngvpowertrain.com

®
---
H2

#WARTSILA #SUSTAINABILITY #FINLAND #USA

WÄRTSILÄ

SUSTAINABLE

TECHNOLOGY

HUB

HYDROGEN FUEL TESTING IN MICHIGAN

For a company with an international scope like Wärtsilä, the

perimeter of sustainability cannot be reduced to the European

headquarters. Wärtsilä, in collaboration with WEC Energy Group,

(WEC), the Electric Power Research Institute (EPRI) and Burns

& McDonnell (B&McD), have been contracted to carry out hydrogen

fuel testing at the A.J. Mihm power plant in Michigan,

USA. The project supports WEC's ambition to reduce the CO2

emissions from its electric generating fleet by 60% by the end of

2025, and by 80% by the end of 2030 from 2005 levels, and to

be net carbon neutral by 2050. This will be one of the first cases

where hydrogen is tested for use to reduce the carbon footprint

of an existing gas-fueled power plant delivered by Wärtsilä. The

55 MW plant currently operates with three Wärtsilä 50SG engines

running on natural gas. The parties will aim for testing fuel

blends of up to 25 vol.% hydrogen mixed with natural gas, thus

demonstrating the capability of the plant to reduce greenhouse

gas emissions. The Wärtsilä engines can operate with this level of

hydrogen blended with gas with little to no modification needed.

Though Wärtsilä engines can be operated on even higher hydrogen-blend

levels, these tests will be restricted to the limit of 25

vol% hydrogen for natural gas systems, according to the international

equipment standard IEC/EN 60079-20-1.

In addition to the A.J. Mihm power plant, Wärtsilä has also supplied

WEC Energy Group with seven Wärtsilä 50SG gas engines

for the F. D. Kuester power plant in Michigan.

In Vaasa, a city in the south-west

of Finland, there is the University

of Applied Sciences. In front

of Vaasa is the island of Vaskiluoto,

where there is the Wärtsilä's

Sustainable Technology Hub. Wärtsilä

has invested 83 million euros in

modern testing and production technology

for STH.

The total investment in the Sustainable

Technology Hub is over 200 million

euros, consisting of office and

production buildings, logistics and

infrastructure. Wärtsilä Corporation

has opened on June 1 st its new technology

centre, the Sustainable Technology

Hub. The new centre will

contribute to efforts to advance the

global decarbonisation of marine and

energy by fostering innovation, collaboration,

and the development of

green technologies using sustainable

fuels and digital technologies. The

inauguration event was held on that

day and attended by invited guests,

notably Finland's Minister of Economic

Affairs, Mika Lintilä.

"The speed at which the marine and

energy industries are moving to meet

decarbonisation goals is accelerating.

The Sustainable Technology

Wärtsilä has

recently opened

ths Sustainability

Technology Hub in

Finland. An hydrogen

concept is expected to

be available in 2025

Hub (STH), a world-leading centre

for research, innovation, engineering

and manufacturing, marks the

start of a new era for Wärtsilä. By

taking advantage of innovative technologies

that already exist today,

we can speed up the development of

future-proof engines capable of running

on sustainable fuels. We can

now demonstrate that a carbon neutral

future is achievable," says Håkan

Agnevall, President and CEO of

Wärtsilä Corporation.

The technology group already has

engines operating on carbon neutral

fuels. This year the company released

its Wärtsilä 32 Methanol engine to

the market (for an offshore wind installation

vessel built for Dutch contracting

company Van Oord at Yantai

CIMC Raffles shipyard in China),

and within 2023 an ammonia concept

will be ready. A hydrogen concept is

expected to be available in 2025.

"As we all know, Wärtsilä is a global

leader in innovative technologies

and lifecycle solutions for the marine

and energy markets. Now Wärtsilä

is making history by having made

a significant investment in Finland,

and particularly in the Vaasa region,

where the company has been a driving

force for a long time", said Finland's

Minister of Economic Affairs,

Mika Lintilä, in his opening speech.

The construction of the new centre

was announced in 2018 with a total

investment of around 250 M€. It features

a modern fuel laboratory, flexible

technology and engine testing

facilities, as well as a state-of-the-art

production system with a high level

of automation. The centre employs

1500 people under one roof, providing

operational efficiency as well as a

reduced carbon footprint in logistics.

The centre has advanced energy recovery

systems that enable self-sufficiency

for heat energy. With the

expansion of sustainable fuels, the

STH is a cornerstone for achieving

the company's 2030 target for carbon

neutrality in its own operations.

Innovation and the development of

service solutions will be an important

part of the Hub's output. A new,

modern Wärtsilä Land & Sea Academy

training centre, Customer Expertise

Centres for remote operational

support, predictive maintenance

solutions, and the development of

new digital innovations play a central

role in supporting customers to

optimise their operations throughout

the life cycle of their assets, and

to accelerate their decarbonisation

journey.

The centre acts also as a global ecosystem

of collaboration by inviting

customers, partner companies and

academia to incubate, test and validate

ideas. One major collaboration

showcase is the Wasaline ferry "Aurora

Botnia". Wärtsilä and Wasaline

have closely cooperated to establish

this vessel as one of the world's most

energy efficient and environmentally

sustainable passenger ferries. The

collaboration continues with the

vessel used as a floating testbed for

Wärtsilä's future innovations. It is

equipped with Wärtsilä's most technologically

advanced solutions and

services.

30

31
---
MARINE COMMERCIAL

#VOLVOPENTA #IPS #SECONDLIFE #BATTERY

VOLVO PENTA

IPS AND

D13

IMO III

CONNECTED ENERGY

The second life of batteries is one of the crucial issues to

overcome the resistance of the "electro-scepticals". Volvo

Energy invested 50 million SEK (around €4,68 million, on 17 th

June 2022) for 10 percent in the UK-based second-life battery

energy storage specialist Connected Energy. Volvo Energy

is one of five new investors including Caterpillar Venture

Capital Inc., the Hinduja Group, Mercuria, OurCrowd to join

existing investors of Connected Energy: Engie New Ventures,

Macquarie, and the Low Carbon Innovation Fund.

"There is a great deal of untapped potential in the second-life

use of batteries. This forward-leaning investment

aims to facilitate the scaling-up of second-life battery energy

storage systems and further secure circular business

opportunities for the forthcoming ramp-up in Volvo Group's

second-life battery returns," says Joachim Rosenberg, President

Volvo Energy. He continues: "Together with Connected

Energy, we will minimize the environmental impact of the

batteries that has powered Volvo Group vehicles. By repurposing

the batteries, we obtain the full value from them –

from a climate, environment and business perspective."

Matthew Lumsden, CEO Connected Energy: "Our collaboration

will enable us to optimize the potential for battery reusage and

ensure that the resources in the batteries are used effectively."

tical or horizontal position, thanks to

the brand-new seamlessly rotating outlet,

which adds to the versatility of this

complete solution. An announcement

that does not stand alone, finding a significant

application that obliterates the

efficiency of the IPS system in terms of

IMO tier III Volvo Penta

range expands with

new D13 solutions for

IPS-1200, IPS-1350,

D13-900, and D13-

1000. Ambulance boat

"Rosesol" is powered

by twin D13-1000

IMO Tier III

The IPS was the Trojan horse that

enabled Volvo Penta to penetrate

the yacht market above 80 feet

and strengthen its leadership below.

The latest new arrival, however,

involves commercial applications. Volvo

Penta has expanded its marine IMO

Tier III range with new D13 solutions.

This latest launch expands the range

of marine commercial Volvo Penta

D13 IMO III solutions for IPS-1200,

IPS-1350, D13-900, and D13-1000.

The Volvo Penta D13 IMO III package

upgrade boasts a power output of

up to 735 kW for inboard and auxiliary

applications and is approved for E3

and C1 cycles. The reduction in NOx

and hydrocarbon (HC) will decrease

from currently permitted levels of 5.6

g/kWh down to 2.0 g/kWh. The SCR

system can be installed in either a verconsumption,

and therefore impact on

the marine ecosystem. Volvo Penta and

Norwegian shipyard Måløy Verft have

just delivered the first installation of

the new Volvo Penta D13-1000 IMO

III package: the new Norwegian ambulance

boat "Rosesol" is a 23-meter

high-speed fiberglass catamaran with

an 8-meter beam, powered by twin

Volvo Penta D13-1000 IMO III. "Rosesol"

is capable of speeds of more than

30 knots. This vessel was launched in

May 2022 and now services an area

on the country's west coast spanning

some 100 nautical miles and more than

200 islands.

"In this region it's necessary to have

an ambulance boat because it's not

possible to go to the hospital by car,"

said Kjell Augestad-Mjåtvedt, Captain

of the "Rosesol". "This vessel's

impressive speed and fuel efficiency

are important because of the distances

we cover – time is critical for many

patients". Captain Augestad-Mjåtvedt

also states that "the most important

performance for an ambulance vessel

like this is to be able to maintain high

speed in tough conditions. We now have

the capability of 30-plus knots, not only

on flat seas but also in gales and rough

water." Kristian Lundebrekke, CEO of

the shipyard Måløy Verft, said: "What

is special about this ambulance vessel

starts with the high demands set by

the Norwegian government. We need

to meet tough sea conditions, we need

to be operative every day of the year

– reliable – and we need to be environmentally

friendly. Volvo Penta delivers

a complete package for what we need.

The complete engines include the SCR

unit, which makes for an easy install,

it is all easy to use and understand,

and they deliver low weight and stable

power output. These are all important

factors for us."

Based on extensively tested Volvo

Group technology, the solution has

already proved itself in tough marine

conditions, having undergone extensive

testing at sea. The system is built

to handle high sulfur fuel (up to 1000

ppm) and cope with high back pressure

while maintaining engine efficiency

and drivability.

"Our primary focus remains on innovating

tomorrow's premium sustainable

marine propulsion solutions, plus

we are equally responsible for advancing

today's best practice," says Johan

Inden, president of the Volvo Penta

Marine business. "So, in parallel to de-

veloping future hybrid and alternative

fuel solutions, the new D13 IMO III

solutions demonstrate our commitment

to continually improving the efficiency

and performance of every Volvo Penta

product."

"We have gained a lot of experience

during the years of designing after-treatment

systems within the Volvo

Group and for our industrial and

Marine Commercial offerings," says

Björn Rönnvall, Product Manager,

Volvo Penta. "This has enabled us to

finetune the solution – extending its

lifespan, maintaining, and even bettering,

its fuel consumption – and delivering

all this in a compact, flexible

package. Ultimately, we want to make

this transition as simple as possible for

our customers – supporting them and

the ocean environment we all love."

32

33
---
FISH-EYE

#VESSEL #LYMANMORSE #YANMAR

LYMAN-MORSE 35 LM SERIES

POWERED

BY

YANMAR

Lyman-Morse "Shadow", the

first vessel in the new Hood 35

LM series, features twin Yanmar

6LY440s coupled to a pair of

Hamilton Waterjet HJX29s.

Credit: Lyman-Morse.

Yanmar Marine International has

joined forces with Maine-based

boatbuilder Lyman-Morse and

waterjet specialist HamiltonJet

(New Zealand) to achieve an advanced

propulsion solution for the first vessel in

the new Hood 35 LM series.

Launched in June, Hull #1 "Shadow"

features twin Yanmar 6LY440s coupled

to a pair of Hamilton Waterjet HJX29s,

enabling the cutting-edge hardtop express

to reach speeds of more than 40

knots. This is the first pleasure vessel

in the USA to be equipped with these

brand new jets.

Lyman-Morse's cold-molded pocket-yacht

is more efficient and more

powerful, with military grade controls.

"Shadow" is also the first pleasure vessel

to be equipped for autonomous running

with the state-of-the-art Sea Machines

system.

Supplied through Yanmar distributor

Mack Boring & Parts (headquartered

in New Jersey), the Yanmar 6LY440

marine diesel engines were selected for

the new integrated system powering

the boat due to their performance, fuel

efficiency, reliability, and smooth and

quiet operation.

The 3300 rpm, 440 hp (324 kW)

6LY-series engines are purpose-built

for marine applications and ideal for

jet and shaft drives, with high torque

output for class-leading acceleration

and responsive performance. With a

small footprint, low height and narrow

width, the 6-cylinder Yanmar

common rail models are also an attractive

installation for new craft with

Racewinning Yanmar

6LY440, now at its

fourth generation,

is a compact 5.8-litre

in-line six-cylinder

engine, ideal not just

for new-builds, but

for refits too

limited engine-room space.

Kevin Carlan, President, Yanmar Marine

International Americas Division,

said: "YMI is proud to be involved with

this landmark launch. The engines at

the heart of this new advanced vessel

combine with the Hamilton jets to

deliver the best solution in terms of

speed, power, and also less vibration

and noise. As a smooth and robust in-

34 34 35 35
---
FISH-EYE

#HAMILTON #FORTLAUDERDALE #DIESELENGINES

YANMAR 6LY440

HAMILTON WATERJET HJX29

Yanmar's fourth-generation 6LY marine diesel series builds on the virtues of its

classic six-cylinder forerunners, advancing efficiency and lowering emissions.

The beating heart of the engine remains the international powerboat

racewinning compact 5.8-litre in-line six-cylinder engine (bore: 106 mm,

stroke: 110 mm) that over three decades has cemented its popularity with

boat designers, builders and owners who laud its performance, fuel efficiency,

reliability and smooth and quiet operation. This latest incarnation has taken the

engine into a new era of mechanical and digital sophistication. The fuel injection

and aspiration systems have completely re-engineered – all functions now being

managed by state-of-the-art electronic precision. The single injectors have been

replaced with a high-pressure common-rail fuel system to deliver exceptionally

finely atomised fuel to the cylinders for better power-to-weight performance,

fuel economy and smooth running. There's also a new 24-valve cylinder

head which, with a redesigned inlet and exhaust manifold, optimises engine

breathing. All this makes the 6LY one of the most efficient, refined and easyto-live-with

marine diesel engines in the 400-500 mhp power segment on the

market today: in particular, the 6LY440 engine offers a power of 324 kW at 3300

rpm. It's ideal not just for new-builds, but for refits too. Sharing the compact

footprint of its predecessors, it fits perfectly into engine rooms housing earlier

6LY models and other similar engines. The 6LY400/440 connects easily with

existing mechanical controls. For the ultimate in easy and precise boat control,

Yanmar offers the VC10 "fly-by-wire" vessel control system to give precision

gear changing and throttle adjustment with perfect "feel". And with the joystick

control option as part of a fully-integrated engine and controls package, docking

is also really easy. Single- and dual-lever control heads have push-buttons for

function selection. Operations are precisely monitored on 3.5-inch robust

IP66-rated display screens with IP66 waterproof rating and with full diagnostic

capabilities plus UV-protection, anti-dazzle coating and anti-fogging ventilation.

For maximum operational security, two parallel CANbus networks separate

engine and monitoring functions. Yanmar's J1939 control bus is dedicated to the

engine and drive control system while GPS, chart plotter and monitoring displays

are handled by NMEA2000 data bus so that, in the unlikely event of J1939

failure, the system automatically switches to a pull-out back-up panel.

line engine, the 4 th generation Yanmar

6LY-series is the ideal choice for this application,

producing impressively clean

and powerful performance. The outstanding

launch of the new Hood 35 LM

was due to the hard work of the Yanmar

personnel in partnership with the teams

at Mack Boring, Hamilton and Lyman-

Morse. We look forward to seeing the

6LY-Hamilton waterjet solution on more

pleasure boats in the years ahead."

Backed by years of diesel innovation

and the delivery of application-driven

solutions for the recreational marine

sector, Yanmar's engines are firmly established

as the global standard in sailboat

and small craft propulsion.

Encompassing advanced construction

technology, high-level craftsmanship,

and superior performance, "Shadow"

is equipped with some of the most

HamiltonJet launched the HJX29 in 2020 as the first model

in its new HJX waterjet series. Ben Reed, Managing Director

at HamiltonJet, says: "HJX jets will deliver 4-6% more thrust

at higher speeds than the previous HJ Series waterjets.

Despite their compact dimensions, the HJX range will be

capable of achieving speeds over 50 knots, when matched

with suitable engines and hull design. Compared to the

HJ series, HJX also achieves 15-20% more bollard pull and

greater sway thrust than the previous HJ series. HJX is

a great example of our continuing drive to design waterjets

that deliver the ultimate combination of high speed

efficiency with low speed capability." Through a compact

inboard footprint, narrow jet spacing, low profile design

and fully integrated hydraulics and controls, the HJX series

uses space efficiently and this makes it ideal for vessels

up to 15m long (vessel dependant), particularly military

patrol, aquaculture, search and rescue and recreational

boats. HJX is compatible with a wide range of engines from

global manufacturers and is offered with a variety of control

options, including AVX – HamiltonJet's next generation,

future-ready control option – as well as blueArrow and

mechanical-hydraulic controls.

advanced marine technology available.

The first hull offers the traditional

aesthetics and comfort of a wood hull

combined with classic Maine lines.

The Hood 35 LM follows the recent successful

collaboration between Lyman-

Morse and C.W. Hood Design, also

located in Maine, on the Hood 57 LM.

Shadow's tech-savvy owner sought

to outfit the vessel with the latest marine

technology. She is one of the first

dayboat-sized vessels to utilize Raymarine's

new Digital Switching System,

YachtSense. The Raymarine vessel

control system offers digital switching,

which replaces traditional mechanical

switches and circuit breakers with

digitally controlled power distribution

modules, significantly reducing the size

and length of cabling required to distribute

power throughout the boat.

"Shadow" is also the first pleasure vessel

to be equipped for autonomous running

with the state-of-the-art Sea Machines

Left. Lyman-Morse LM46

performance cruiser

series is also powered

by Yanmar.

system. Lyman-Morse is working closely

with the owner and Sea Machines to

have this boat confidently guiding herself

and her passengers in the near future.

Lyman-Morse has been busy with several

other projects in addition to the Hood

35 LM. They recently launched Hull #2

of the LM46 performance cruiser series

(also powered by Yanmar 4JH80 or

4JH110) which competed in this year's

Newport to Bermuda Race.

Lastly, this summer Lyman-Morse

tested the Navier 27, a carbon 27' all

electric, high performance, foiling powerboat

which will offer a range of 75

nautical miles while comfortably flying

over waves up to 4' in height and introduces

intelligent autonomy that goes far

beyond autopilot. The Navier 27 will be

on display at the Fort Lauderdale International

Boat Show next October.

36 37
---
BOATS

#ALTERNATIVES #TENDERS #TAXIS

GERRISBOATS

SILENT

ELECTRIC

HULL

GerrisBoats' tender was created for a specific

application: navigation in restricted waters for

public or private service.

G

errisBoats is increasingly

convinced that the time for

electrification has also arrived

at sea: their tender has

even been "embraced" by one the

biggest mega-yacht manufacturer.

Massimo Verme, CEO and owner

of GerrisBoats, helps us understand

the genesis of this project. "Existing

hulls are not suitable to adaptation

to electric propulsion. We therefore

started from scratch, starting from

a blank sheet of paper, believing in

the following guidelines: first of all,

speed, overcoming the limits of traditional

fairings without 'flying' in high-speed

channels, and accessibility,

in order to get the boat accessible by

disabled people or people with reduced

mobility. So, low wave formation

and modularity and scalability criteria,

to contain manufacturing costs.

The stability, comfort and safety of

the passengers on board, and finally,

low resistance, to reduce friction

and, consequently, fuel consumption

or, in this case, battery autonomy.

Yes, because the hull is characterised

by two dominant features: the

hull and the power supply, promising

up to 45 per ent reduction in battery

absorption. Vulkan is the partner

for the electric section and actively

contributes to the sponsorship to build

the first demonstrator. The electric

motorbike has four batteries, 48

volts, with a 10 kilowatt motor, while

the tender doubles up, with eight

batteries, at 200 volts, although the

motor delivers 50 kW, to guarantee

GerrisBoats' tender/

taxi and limos reduce

waves and then

increase allowable

speed and run electric

or on hydrogen

an hour sailing at the top speed of 16

knots. They patented this particular

hydrofoil with submerged torpedo

(Hyswas). To decrease its high draft,

the Gerris hull has a retractable torpedo

and movable side hulls that reduce

draft when the boat is stationary,

adjust the height of the platform

as well as stabilizing the roll and the

pitch when boarding and keep at the

surface of the water when flying".

Electric drive, however, is not a dogma.

Among the options envisaged as

an alternative to the battery pack are

fuel cells or, for the internal combustion

engine, the LNG version. In

each case, propulsion is contained

within the torpedo, to combine space

recovery and safety on board. Applications

include not only tenders, but

also taxis and the "limo" version, up

to 7 metres. The most ambitious version

in the pipeline, 22 metres long,

is a suitable vessel for lake and lagoon

transportation.

38
---
H2 - SHIPPING

CHEVRON JOINED GCMD

ALSO

WITH

AMMONIA

#CHEVRON #GCMD #AMMONIA #SINGAPORE

POWER TO

MAXIMIZE

PRODUCTIVITY

Offering more power with less complexity and less weight.

This engine delivers the productivity you need to keep your

equipment running. Proven in a wide range of industrial

applications, its power increases to 326 hp / 243 kW

enabling replacement of engines with higher

displacement with no impact on productivity.

Professor Lynn Loo, CEO of GCMD: "BP, Boston

Consulting Group, Chevron and the International

Chamber of Shipping will bring complementary

perspectives that are critical to decarbonising the sector."

Decarbonisation in the maritime

industry is increasingly taking

the shape and pressure of hydrogen

and the smell of ammonia.

This they know well at the Global

Centre for Maritime Decarbonisation

(GCMD) which was formed on 1 August

2021 with funding from the Maritime

and Port Authority of Singapore

(MPA). Chevron recently announced

an agreement to join the GCMD.

Chevron's involvement aims to help

support GCMD's efforts to develop

potentially scalable lower carbon technologies

– including those that enable

the use of ammonia as a maritime fuel

– and the commercial means to enable

their adoption.

"Shipping is a hard-to-abate sector

and to reach the International Maritime

Organization's climate goals,

collaboration across the value chain is

required," said Lynn Loo, CEO of the

Global Centre for Maritime Decarbonisation.

"We look forward to working

with Chevron and capitalizing on its

experience as a fuel producer, supplier

and end user to operationalize pilots,

which we believe will ultimately

shorten the time to deployment and

adoption of decarbonization solutions.

This partnership will enable both organizations

to work closely on the fuels

of the future as well as carbon capture

technologies, both of which are critical

enablers expected to help the sector

meet its net zero ambitions." Mark

Ross, President of Chevron Shipping

Company: "Lowering the carbon intensity

of shipping requires fundamental

changes across the entire maritime

value chain," and "This is a truly com-

Chevron announced

an agreement to

join the Global

Centre for Maritime

Decarbonisation

plex task that requires industry-wide

collaboration, innovation, and welldesigned

policy. GCMD brings together

knowledge and expertise to help

meet this challenge." In 2021, Chevron

launched Chevron New Energies

(CNE) to accelerate lower carbon businesses

in hydrogen; carbon capture,

utilization and storage; offsets; and

emerging energy opportunities, as well

as support Chevron's continued focus

on renewable fuels and products. As

part of its strategy, CNE is focused on

customers in sectors of the economy

with harder to abate emissions.

"Chevron is leveraging our capabilities,

assets, and customer relationships

to identify opportunities to lower

emissions of our own operations,

while also identifying ways that essential

sectors of the economy, such

as the maritime industry, can achieve

their lower carbon goals," said Austin

Knight, Vice President of Hydrogen

for Chevron New Energies.

40

©2022 Cummins Inc.
---
COMPONENTS

#THRUSTERS #SAIMMARINE

Perkins ® 5006

Maximum reliability

for maximum uptime

QS SEAMASTER

Perkins ® 5012

Optimised

for low oil consumption

RISING

Perkins ® 5008

UP

High power density

in a smaller footprint

Consistent power

in extreme conditions

QS Seamaster from SAIM Marine

implemented product portfolio.

I

f anyone had wondered whether

there was room in the thruster

business, the answer comes from

QS Seamaster, and it is a positive

one. Two years after the launch of the

brand and product range, which took

place at the only show held in the

Mediterranean, the Genoa Boat Show,

in 2020, QS thrusters are ready for

their consecration in the international

limelight. Indeed, we find them at both

the Genoa and Cannes boat shows, as

well as at the Hamburg SMM. We interviewed

the CEO of SAIM Marine,

Marco Donà, and he announced the

launch of three new models.

"We are introducing three new models,"

said Donà, "in the 610 millimetres

(24 inches), both in hydraulic and

three-phase AC versions. The threephase

motor can be either 1,200 or

1,400 Kgf (75 and 90kW), while the

hydraulic version develops 1400Kgf

(90kW), getting us up to mega-yacht

size and into workboating. We also

present a retractable propeller,

300Kgf strength and 300mm diameter,

in DC version". A range completion

that continues in the direction

of what we've seen at the METS in

Amsterdam. The new QS Seamaster

range includes five types of thrusters:

electric DC, three-phase AC, brushless

DC-AC, hydraulic, with tunnel

or retractable installation, on/off and

proportional option for the complete

range. All versions are built with

high-strength components that ensure

maximum performance and efficiency

of each motor. The bronze gearleg

is designed with a hydrodynamic

SAIM Marine has

added three new

versions to its QS

Seamaster thruster

line-up

profile capable of minimizing turbulence,

maximizing efficiency and reducing

noise. The propellers, made of

composite material or NiBrAl alloy,

with 4 and 5 blades, are designed to

guarantee superior performance and

efficiency by each motor. A control

system equipped with a microprocessor

intervenes preventively in case of

overheating, without suddenly stopping

the use of the thruster, to ensure

its use anyway. The aluminum anodic

protection of the unit is easily replaceable,

while the flexible coupling

with an exclusive design protects it

from mechanical shocks. The development

of the distribution network is

going on. Atlantis Marine Power, UK

dealer, exhibited at Seawork in Southampton.

Stella Marine is the dealer

for Australia and New Zealand where,

says Marco Donà, "we are playing

very well as, for example, jumping to

the other side of the world, even in the

Turkish boat market".

The next generation of

electric power

is here

The new Perkins ® 5000 Series is a full authority electronic range developed to

deliver optimised electric power to meet the demands of prime and standby

applications. From data centres to hospitals to remote work sites, the 5000

Series has been tested and proven to meet immediate and consistent electric

power needs. With a power output up to 2500 KVA and performance that is

future proofed for global emission standards, the 5000 Series delivers the

total package in electric power generation.

www.perkins.com/5000seriesengines

42
---
kWe - TECHNO

#VETUS

VETUS NAVIDURIN

LLOYD'S

REGISTER

APPROVAL

Vetus-Maxwell unveiled its electric propulsion

solution at Sanctuary Cove International

Boat Show, Australia, 19 th to 22 nd May

C

M

Y

CM

MY

treme heat and pressure, and superior

tensile and flexural strength.

Arthur Roeling, Director R&D and

Service, Vetus, said: "We are delighted

to confirm the Lloyd's Register

Certificate for Navidurin – an endorsement

of great significance for

our customers and partners in both

the recreational and commercial

sectors. Offering outstanding durability,

resistance and longevity, our

proven, cost-effective special blend

is incorporated within the development

of many Vetus products due to

its unique properties and its ability

to withstand any challenge in commercial

and military applications."

Roeling adds: "This recognition from

Vetus Navidurin blend

receives Lloyd's

Register approval

V

etus does not only mean yellow

engines for marine applications.

For example, does

the word "Navidurin" mean

anything to you? This proprietary

polymer blend has been awarded

Lloyd's Register Certification. The

Type Approval from maritime industry

specialist Lloyd's Register (LR)

demonstrates that Vetus's high-performance,

specially blended composite

meets the required international

quality standards in compliance with

LR Rules. Incorporated in multiple

Vetus products around the engine,

Navidurin is optimized for use in

marine systems and offers critical

benefits compared to conventional

polymers for applications spanning

the recreational, commercial, and

military sectors. The exclusive Vetus

blend features a combination of

additives to deliver a unique set of

properties, including exceptional

durability, a higher resistance to exthe

industry specialists in marine

classification proves that Navidurin

stands out in the market and provides

additional confidence for our suppliers.

As global innovators for complete

marine product systems, Vetus

continues to focus on supporting our

customers globally. Official approval

indicating that our products surpass

the international rules and standards

ensures the Vetus brand can be trusted

worldwide."

Navidurin is used in a range of Vetus

products, including, but not limited

to, exhaust systems, waterlocks and

water strainers, for both recreational

and commercial vessels. Ideal for use

in products for thermal applications

and for precision-engineered products,

the blend has a heat deflection

temperature of 250 °C, high resistance

to elongation and delivers good

finishing qualities. It is also lightweight,

corrosion free, galvanically

isolated and heat-ageing stabilized.

CY

CMY

K

44
---
TECHNO

#YANMAR #SCR #EDN #HONITECH #ISOTTAFRASCHINI

EDN IMPROVES THE POWER DENSITY

YANMAR, SCR AND

CONNECTIVY

Y

anmar has always distinguished

itself for its meticu-

used to connect it to a smartphone, panel can store system operating data

by YPT has a USB port that can be Furthermore, the SCR system control

lous care in particulate filter allowing onboard information to be in the cloud by connecting a smartphone

to the system via a USB port

regeneration for NRMM. It stored in the cloud through a dedicated

certainly could not change its approach

for marine after-treatment

applications. The Japanese company

has started offering its proprietary

selective catalytic reduction exhaust

gas purification system with connected

functionality and a dedicated management

app from mid-May. According

to the Osaka engine manufacturer,

ships at sea generally do not have a

well-developed IT environment, and

reducing the time spent on onboard

management can be a challenge. Yanmar

Power Technology is working to

improve onboard efficiency by developing

a system that provides connectivity

using smartphones. The control

panel of the SCR system developed

application. The app also makes it

possible to check performance diagnosis

results and maintenance timing

notifications even in shipboard environments

without Internet access.

Yanmar is promoting the implementation

of this system to reduce the

time crews need to spend on ship

management through the use of ICT

and by proposing appropriate maintenance

based on the actual usage conditions,

towards safe navigation of

the seas. In response to the demand

for compliance with emission regulations,

this SCR system control panel

provides engine and SCR system

management in one package to comply

with NOx emission regulations.

on the control panel, enabling centralized

management of performance

diagnosis data. When a smartphone

with the dedicated "Yanmar shipsweb

smart-link application" installed is

connected to the system, it will link

to operating data, including engine

data. Then, when the system is online,

it will connect to the "Yanmar

shipsweb" cloud service provided by

Yanmar Engineering Co. Even in an

offline environment, the application

can access stored performance diagnosis

data and periodic maintenance

notifications can be received, allowing

parts and maintenance to be arranged

in advance, supporting stable

operation planning.

E

DN, a MTA Group company,

presents the new on-board

battery charger (OBC) and

power converters for electric

and hybrid vehicles, exhibited at

the Electric & Hybrid Marine

Expo Europe in Amsterdam:

the BHP19 onboard

battery chargers

for the US market and

BHP22 for the European

market. These

two devices are distinguished

by a conversion

technology that improves power

density and specific power, and

by their bi-directionality that allows

energy to flow in two directions:

to and from the battery. This

feature allows them to be used in

applications such as V2L (vessel to

load) where the OBC is used as an

inverter to power AC loads inside

the vessel.

Compared to EDN's previous products,

BHP19 and BHP22 are also

30% and 25% lighter in weight and

volume, respectively, and power

density has been increased by 35%.

BHP19 and BHP22 are characterised

by galvanic isolation that ensures

a clear separation of the medium

from the grid, guaranteeing

maximum operational safety.

ISOTTA FRASCHINI MOTORI 12V170G

HONITECH AND THE ENGINE CYLINDER RECONDITIONING

It is common for marine engines to require works on roundness,

cylindricity and cylinder cross-sections. Conceived, designed and

patented by Honitech to easily recondition engine cylinders directly

on site, the HOB device (Honing On Board) is easily transportable; it

is positioned directly on the cylinder to be honed, it is managed by

dedicated software whose machining parameters, preset according

to the desired result, appear on the computer connected to it; the

honing data obtained can be printed. It processes cylinders from 63 to

120 millimiters. HOB's distinguishing features are light weight (only 18

kilos), portability (supplied in a wheeled case), precision (equipped with

dedicated software and printer).

A year has gone by since the presentation of the Isotta Fraschini Motori 16V170G and the Fincantieri Group

engine specialist is ready to market the 12-cylinder version. In spite of the difficult economic situation, in fact,

the first unit is assembled and is actively being endurance tested, which will shortly be completed.

A re-launch plan for the company, member of Fincantieri Group, that was born in synergy with the Apulia

Region (in Italy), which led to new hirings (32 engineers and technicians) and the creation of the new

Innovation and Development Centre in which the design of a new range of engines is actively underway.

46

47
---
THINK PINK

LORENA CAIRES MOREIRA

#COVENTRYUNIVERSITY #WOMEN #PROFESSIONAL

Tour

2022

FIVE TIPS

FOR

WOMEN

Organized by

The engineering community is

massively tilted toward men.

The women's contribution is

not adequately appreciated and

highlighted. In the spirit of bridging

this gender gap and shedding light on

the presence of women in the field of

propulsion systems, driveline and product,

process and research engineering,

we are launching this new column.

The input comes from the University

of Coventry (UK), which on the occasion

of International Women in Engineering

Day (June 23) released five

tips for women who want to succeed in

engineering. The protagonist is Lorena

Caires Moreira. It is from her "voice"

that we share her journey as a researcher

within a British university.

Lorena has been working with engineering

and technology for a decade

48

better, stronger and more sustainable

world." Now Lorena has shared her top

tips to help others follow in her footsteps

and be a catalyst for change:

Be fearless. It might be a plus that I

grew up around two older brothers

and joined a futsal club, a very male

dominated sport at the time, when I

was only seven years old, hence, I'm

comfortable being in any environment

despite the gender ratio. Nevertheless,

no woman should be afraid of building

a career in engineering due to the ratio

of men to women, use it as an extra encouragement

to be a trailblazer and create

change for the future. Always speak

with confidence, clarity and certainty.

Have fun. There has never been a better

time to join a career path in engineering

for women, given the technology advancements

and the need for new innoand

is a research fellow in Coventry

University's Institute for Advanced

Manufacturing and Engineering

(AME). She said: "The engineering and

technology sectors need people who

can think systemically, crossing disciplinary

boundaries, and capable of assessing

the impacts of decision-making

for highly complex environments and

with considering multiple dimensions

– business, process, people and planet.

Women have played a major role in

engineering and leadership and more

of us are needed to help achieving a

We want to enhance

the role of women in

the powertrain and

engineering business

SPT 2022

November

Bio-Methane & for Hydrogen tractors

The The right right way way for for decarbonization and and a a springboard

to accelerate to accelerate the transition the transition to hydrogen? to hydrogen?

Biomethane On the evolutionary is an available chain of technology, biomass, biomethane

immediately is overtaking accessible biogas. This asset is undoubtedly for decarbonisation. due

But to the what acceleration if it were also of the the bio-LNG environment prospects in which in

hydrogen the trucking can sector. assert Meanwhile, itself as a carrier, agriculture applied is to

an pursuing engine? the What idea is of the a circular state of economy. the art of What internal if it

combustion were both a engine transition converted technology to hydrogen? and a driver of

hydrogen?

Powertrain

Vado e Torno Edizioni srl

Via Brembo 27, 20139 Milano (Italy)

Phone: +39 02 55230950

info@diesel-international.com
---
THINK PINK #ENGINEERING #GENDERGAP

POWERTRAIN

SUPPLEMENT

Engines and components for OEM

Culture, technology, purposes

and market of diesel engines

Established in 1986

Editor in chief

Fabio Butturi

Editorial staff

Stefano Agnellini, Ornella Cavalli,

Fabrizio Dalle Nogare

Cristina Scuteri, Roberto Sommariva

Contributors

Carolina Gambino,

Maria Grazia Gargioni,

Erika Pasquini

Layout & graphics

Marco Zanusso (manager)

Editorial management

Fabio Zammaretti

Printing

Industrie Grafiche RGM srl,

Rozzano (MI)

Milano City Court Authorization

n. 860 – December 18th 1987 National

Press Register n. 4596 – April 20th 1994

Poste Italiane Inc. – Mail subscription

D.L. 353/2003 (mod. in L. 27/02/2004 n°

46) Art. 1, subsection 1, LO/MI

Dr Lorena Caires Moreira, research fellow in Coventry University's Institute for

Advanced Manufacturing and Engineering: "Don't allow individual differences

(such as gender) to stop you from feeling equal and part of your team. "

vative thinking. I have a lot of fun working

in engineering and technology and

that's partly because the environment

allows me to fully explore my potential

for both technical and soft skills. The

fact that engineering remains a male

dominant sector poses extra challenges

that require me to stretch my comfort

zone in all directions and I really appreciate

evolving and learning everyday.

Make kindness your superpower.

Empathy and kindness are skills that

can be used to show respect and appreciation

towards your colleagues. Emotional

intelligence can be an undervalued

skill and it can mean different

things depending on the circumstances

but the world is changing and social

sustainability and workforce wellbeing

are increasingly becoming key indicators

within engineering approaches.

50

Collaborative communication. Be

curious about people at work in a professional

way. Whether using email,

virtual calls or face to face, make good

use of a friendly, objective and professional

communication.

Know that you belong. We are seeing

various initiatives towards more equal,

diverse and inclusive (EDI) workplaces

and working patterns being introduced

that focus on addressing the gender

gaps in engineering and technology.

At Coventry University, we have an

EDI committee that has been steering

several initiatives. My advice is to join

societies and networks when you are

studying at university and beyond. If

you don't have a network at your organisation

– set one up and be a catalyst

for change.

So, think pink, in the both meanings...

VADO E TORNO

EDIZIONI

MANAGEMENT

ADMINISTRATION

via Brembo 27 - 20139 Milan.

Tel. +39 02 55230950

Website

www.diesel-international.com

ADVERTISING

Management

via Brembo 27

20139 Milan

tel. +39 02 55230950

e-mail: pubblicita@vadoetornoedizioni.it

Head of Sales

Luca Brusegani

Sales agents

Roberto Menchinelli (Rome)

Maurizio Candia

Angelo De Luca

Emanuele Tramaglino

DIESEL Annual subscription

Italy 35 euro, International 55 euro

Air Mail Annual subscription

65 euro

Back issues

7 euro

Payments

Current account 50292200

Vado e Torno Edizioni srl,

via Brembo 27, 20139 Milan.

e-mail: abbonamenti@vadoetorno.com

E-Mail

INFO@DIESEL-INTERNATIONAL.COM

Copyright 2022 Vado e Torno Edizioni

Notice to subscribers

Vado e Torno Edizioni srl, within the framework of its

commitment to transparency and in compliance with the

new European Regulation on the protection of personal

data, known as GDPR 2016/679, in force from 25

May 2018, has updated the policy regarding personal

data processing and has adapted the methods of data

management in accordance with the new requirements.

We invite you to take a look at the new policy, which

you can consult (www.vadoetorno.com). It provides

clearer and more specific information on the processing

of your personal data and your rights in this regard.

If you no longer wish to be contacted from Vado e

Torno Edizioni srl click write an email to:

privacy@vadoetorno.com.

Copyright 2022 Vado e Torno Edizioni

The power to bring you here.
---
HISTORY

+

S E R V I C E

+

S U P P O R T

+

TECHNOLOGY

+

D I S T R I B U T O R S

CONNECTION.

IT'S WHERE THE REAL POWER LIVES.

IT'S WHERE THE REAL POWER LIVES.

There's an unbreakable bond between John Deere products and

the people who choose them. It gives you the power to take your

equipment where it needs to go, with premium John Deere quality

standing behind you. And the power to work confidently knowing a

global network of more than 9,000 John Deere dealers are ready to

offer service and support whenever you need it. That's the unique

connection you get with John Deere power.

JohnDeere.com/Connection