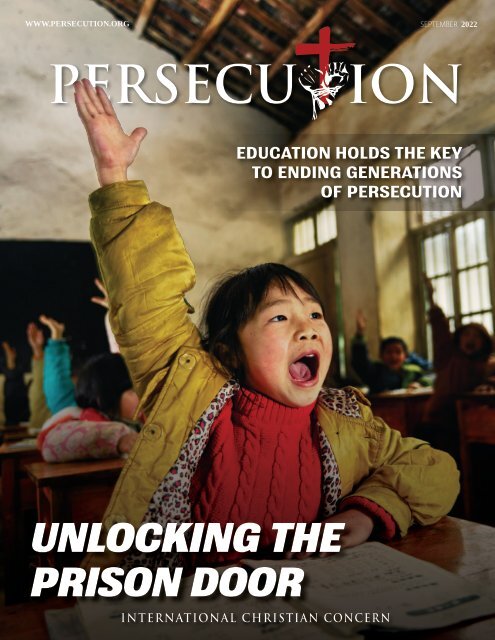 September 2022 Persecution Magazine
Create successful ePaper yourself
Turn your PDF publications into a flip-book with our unique Google optimized e-Paper software.
WWW.PERSECUTION.ORG

SEPTEMBER 2022

PERSECU ION

EDUCATION HOLDS THE KEY

TO ENDING GENERATIONS

PERSECU

OF PERSECUTION

PERSECU ION

PERSECU ION.ORG

INTERNATIONAL CHRISTIAN CONCERN

UNLOCKING THE

PRISON DOOR

PERSECU ION.ORG

INTERNATIONAL CHRISTIAN CONCERN

PERSECU ION.ORG

INTERNATIONAL CHRISTIAN CONCERN
---
UNLOCKING THE PRISON DOOR: EDUCATION HOLDS

THE KEY TO ENDING GENERATIONS OF PERSECUTION

IN THIS ISSUE

4 | Your Dollars at Work

Learn how your gifts are providing comfort, relief, Bibles,

education, and vocational training for the persecuted.

8 | West Watch

A glimpse at issues involving Christianity in the West.

10 | The Antidote of Persecution

Education unlocks the prison door for persecuted Christian

children.

14 | Transforming a Generation

Restoration and revival can come after all hope seems lost.

18 | Exiled with a Second Chance

After relentless violence, child refugees find new hope thanks

to ICC.

22 | A Lone Voice Calling in the Nigerian Desert

Benue State Governor tells the truth about Christian

persecution.

24 | Raising the Education Bar

ICC's Hope House in Egypt gives kids a better chance at

success.

26 | Front Lines of Ministry

Take a deep dive into the lives of pastors and preachers on

the front lines of persecution.

28 | Hope for the Present

Find hope and victory in the messages of the persecuted.

30 | You Can Help Today

Learn about practical ways you can get involved to advocate

for the persecuted.

18

2 PERSECU ION.ORG

SEPTEMBER 2022

INTERNATIONAL CHRISTIAN CONCERN
---
SCHOOLYARDS OF DENIAL

As I drive to work, I often see young kids grouped in clumps at intersections

as they excitedly wait for the school bus, their proud mothers or fathers with

steaming mugs of coffee nearby.

The kids of all shapes and sizes carry their colorful backpacks and lunches.

They have all the fuel and support they need to carry them through a day of

learning and fun activities. Not just on this day, but for a lifetime.

I wish the same scenario were true in other parts of the world, in the corners

where we delve, where assaults on followers of Christ occur daily. Where

children cannot attend school because of their faith or circumstances.

Where instead of dissecting earth worms or learning about the Roman

coliseums, they traipse through stinky trash heaps to find salvageable items

to sell. Where families lack access to capital, better-paying jobs, and strong

schools due to persecution.

As I reflect on my family and our three children, I am so grateful for their

educational opportunities. Yet, like most in the West, my heart aches for the

little ones who face a lifetime prison of persecution without education or

job training.

At International Christian Concern (ICC) we understand that we cannot save

every child. Evil, in so many forms, crushes families from all sides. It will be

this way until Jesus returns to his creation and makes things right.

Until then, we put education and job training at the forefront of our projects.

We can give families needed financial relief in the short term. But the long

climb out of the hole for many of these kids, and out of the clutches of

persecution, is the knowledge of things and tools of trades.

So, at ICC we are doubling down to expand our Hope House, a comprehensive

approach in the Middle East that gives kids valuable resources and schooling

to lay the foundation for a better life. And as they get older, to transition to

Generation Transformation that continues to break the cycle of poverty and

persecution through a college education and job training.

"THE FEAR OF

THE LORD IS THE

BEGINNING OF

KNOWLEDGE, BUT

FOOLS DESPISE

WISDOM AND

INSTRUCTION."

You are on this journey with us. Every child, teen, and college-age youngster

who we help together creates a ripple in this life and the one to come.

I cannot thank you enough for your support.

JEFF KING

President: International Christian Concern

Author: The Last Words of the Martyrs and Islam Uncensored

PROVERBS 1:7

PERSECU ION.ORG

INTERNATIONAL CHRISTIAN CONCERN

3
---
YOUR DOLLARS AT WORK

THREE FORMER MUSLIM LEADERS HUNTED

DOWN FOR THEIR CONVERSION

It's a rare, but eternally-rewarding

occurrence when a prominent Muslim

leader, known as an imam, leaves

behind his years of training in the faith for

Christ. That was the case for not one, but

three, local imams in Uganda.

Tamir, Salomon, and Michael recently

converted to Christianity—and are now

being hunted down by their former

communities.

The Muslim community found out about

Tamir's conversion when he was baptized.

He was chased away with his family of

four and his house was destroyed. A local

pastor is currently taking care of Tamir

and his family until they can find a more

secure, and permanent place to live.

Salomon and his family of five are in

hiding after he left his teaching position

in a local mosque when he gave his life

to Christ. Salomon came across a verse in

the Quran that states that Muhammad is

dead, and those who follow him are also

dead. He compared it with John 14:6, that

says Christ is the way, the truth, and the

life. He trusted Christ for his salvation and

was baptized the same day. Currently, his

Muslim friends and family are hunting

him down to kill him for converting to

Christianity.

Michael, another local imam, and his wife

were baptized together after converting

to Christianity. When the Muslim leaders

who had been training him realized his

conversion, they began to threaten his

family. He is also currently being hunted

down by the Muslim elders who invested

in him during his training, and risks being

killed if they find him.

Though these three new converts see the

life and salvation found in Christ, they still

face earthly death daily. ICC worked with

them to provide emergency food supplies

for their families. Please join us in praying

for the safety of the three ex-imams and

their families as they look for a secure

place to live and means of earning a

livelihood.

4 PERSECU ION.ORG

SEPTEMBER 2022

INTERNATIONAL CHRISTIAN CONCERN
---
BRUTALLY BEATEN BY HER FAMILY

BECAUSE SHE TURNED TO CHRIST

Sophia grew up in a Muslim household

until last year when she trusted in

Christ.

While her newfound faith in Jesus brought

eternal rewards, she faced immense

persecution within her family.

Sophia and three other siblings were

living with her brother who was

supporting her. When he found out about

Sophia's conversion, he abandoned all of

them saying he "couldn't stay with non-

Muslims." Because Sophia was jobless,

she was forced to move back home with

her parents.

She quickly discovered, however, that her

brother had already warned them about

her conversion to Christianity.

Her father was upset that she converted

and held her hostage for two weeks,

peppering her with questions, wanting to

see proof. Sophia did not say her Muslim

prayers, and her father found a Bible in

her belongings.

"I was brutally beaten, and he chased me

out of the house claiming that I was going

to spoil my little siblings," said Sophia,

who had to flee again, this time to a

friend's house.

"Currently, I struggle to get what to eat

and personal needs as a woman," she

told ICC staff. "My only prayer is to have a

simple milk dairy shop."

ICC helped make her prayers a reality by

providing her with items to open a dairy

shop including a deep freezer and other

supplies, and covering four months of her

rent.

Sophia was overcome with gratitude,

praising the Lord for his faithfulness.

"Thank you Jesus for I've been yearning

for financial independence and also

hiding from the community hunting me,"

she said. "This shop will also enable me

to help my siblings!"

"Thank you Jesus for I've

been yearning for financial

independence while hiding

away from the community

hunting me!"

ICC SMUGGLES

BIBLES TO

CONVERTS

For Muslim-background believers

(MBBs) in one country (censored for

strict security purposes), possession

of the Bible is banned. No one can

own a copy of the Bible—no writing

notes in the margins, no highlighting

verses, or embossed customized

covers and cases. The Word of God is

considered contraband.

For MBBs, possession of the Bible

or other Christian materials invites

persecution. Bibles are banned from

being imported, and MBBs who

have access to electronic versions

of Scripture must be very careful to

avoid getting caught, or they will

be punished. The Bible is so heavily

monitored in this country that it

is difficult for God's people to gain

access to his Word.

ICC is working with more than 100

house church leaders to equip them

with copies of the Bible to get into

the hands of MBBs and those who are

seeking the word of God but have not

yet converted. Our goal is to get 2,000

copies of the Bible into believers'

hands to grow in their walk with

Christ.

Please pray that God would make it

possible for the Bibles to arrive safely

to the country, so our courageous

partners can smuggle the books

without authority interference.

To learn more about how you can support these initiatives, visit www.persecution.org or give us a call at 800-422-5441.

PERSECU ION.ORG

INTERNATIONAL CHRISTIAN CONCERN

5
---
YOUR DOLLARS AT WORK

ONGOING INITIATIVES

RESCUING CHRISTIAN

CONVERTS IN THE MIDDLE EAST

Muslims who convert to Christianity stand to lose everything. That's why

in June, ICC raised our voices to rally for those who have lost their families,

communities, and loved ones because of their conversion. Sara is one of

those. She grew up in a Muslim family in the Middle East. Struggling to make

ends meet because of the discrimination she faced for her conversion, one

of her sons died suddenly due to an epileptic seizure. Under these horrible

circumstances, Sara found solace at a local church. ICC helped contribute

funds to pay for her rent and other living expenses. ICC continues to work with

Sara to create a safe and more stable future.

WRITING LETTERS TO

PRISONERS

Last month, ICC launched our second round of letters to prisoners campaign,

with seven new prisoners of faith. Professor Solomon Tarfa was sentenced to

two years of prison in Nigeria after being falsely accused. He is believed to be

targeted for running a Christian orphanage in the Muslim-dominated north. To

download your digital packet with more profiles like Solomon's, please visit

www.persecution.org/letters.

BRINGING THE GOSPEL WHERE

TWO KINGDOMS COLLIDE

One of the most important things we can do is push the gospel out in the

most dangerous places on earth. As we speak, we are training 200 church

planters to go out in India this year. We are also getting ready to train an

additional 100-200 more! If you would like to join our efforts to spread the

gospel, please visit www.persecution.org/gospel.

6 PERSECU ION.ORG

SEPTEMBER 2022

INTERNATIONAL CHRISTIAN CONCERN
---
TRAGEDY STRIKES TWICE

It's an everyday challenge for Khaled and his Christian family

to live in the Middle East. Persecution is rampant.

The family has also faced daily struggles.

Khaled has lost all his possessions—twice. He used to own a

furniture store in his Middle Eastern country, but due to the

ongoing war in the region, everything he, his wife, and three

children owned was destroyed.

Once Khaled's family relocated, a missile landed on their new

building on Good Friday. By a miracle from God, his family came

out safely despite the death of many of his neighbors. Khaled

was in a coma for three days following the attack.

"On Good Friday, the suffering of the Lord and the crucifixion

occurred. That happened to us. We suffered and lost everything.

But after three days, Christ rose, and so you will raise us up with

Christ so that we can return to life with hope," said Khaled.

In an instant, once again, everything he owned was destroyed.

In the past, Khaled owned his house, a warehouse, managed

workers, and had a workshop. But now, he is only able to work

for a friend to pay his rent. Khaled is more than 60 years old, but

he has not given up and relies on God for everything, he said

when ICC visited him.

ICC worked with Khaled to pay the rent on his house for a year

and to secure the other needs of his family to help him reestablish

what he's lost in the war. After that, ICC will help him

get set up with his own workshop again. "With your help for

me and my family, you are helping me to recover our wounds,"

Khaled said.

His wife added, "My husband's smile has returned after many

years, and it is all thanks to God and to you."

To learn more about how you can support these initiatives, visit www.persecution.org or give us a call at 800-422-5441.

PERSECU ION.ORG

INTERNATIONAL CHRISTIAN CONCERN

7
---
WEST WATCH

ISSUES INVOLVING CHRISTIANITY IN THE WEST

OFFICIALS: KEEP VIOLENT CHAPLAIN

TERRORIST AWAY FROM CHILDREN

Minister in England Sues Private School That Fired Him for Christian Values

By Mike Anderson

When we ran into Rev. Dr. Bernard Randall in Washington,

D.C. this summer, he was a respectable, unassuming,

caring member of the clergy.

According to British authorities, however, Randall is an

extremist, a terrorist who leads people into violence; and

someone who should stay away from children.

Randall's situation is a barometer of rising persecution issues in

the West, albeit not the brutal suffering kind our brothers and

sisters face in radical Muslim communities. But a growing chorus

of criticism from progressive elites directed toward Christians.

The latter, like Randall, who hold a Christian worldview and

biblical understanding of things like marriage and the sanctity

of life.

As the chaplain of a private K-12 Christian school in England,

Randall was grateful to share the love of Christ with students

and their families. To disciple, counsel, and love them as an

ordained minister of the Church of England.

Everything was going swimmingly until the Christian chaplain

shared his thoughts from the pulpit.

School leaders introduced a controversial and all-encompassing

LGBTQ curriculum. It was heavy-handed, with no room for

discussion or interpretation. Randall wanted to talk with school

officials about the elements that contradicted Scripture before

the materials were used. Parents and staff also raised concerns.

Things deteriorated when Randall gave a sermon in the school's

chapel and acknowledged that people, including Christians,

held different opinions about homosexuality and same-sex

marriage. That they should make up their minds about the

subject and not just accept what they were being told. But it

was important to "respect the people you disagree with. Loving

your neighbors as yourself doesn't mean you have to agree.

ABOVE: ICC President Jeff King (right) meets Bernard Randall at the

International Religious Freedom Summit, held in Washington, D.C. in

June 2022.

8 PERSECU ION.ORG

SEPTEMBER 2022

INTERNATIONAL CHRISTIAN CONCERN
---
But it does mean respect the sincerity of people you're having a

discussion with."

Pretty innocuous. A tame, diplomatic sermon. So, he thought.

Randall was brought in and interrogated by administrators and

asked why he was going against the school's position on their

LGBTQ curriculum.

"The following day I was suspended and sent home, and I was

disciplined and fired for gross misconduct,"

said Randall at the International Religious

Freedom Summit, where he met with

International Christian Concern (ICC) President

Jeff King and others. "This is the chaplain doing

his job as a school chaplain. In the process of

disciplinary action, they also reported me to

child protective services as a risk to children."

Shockingly, he was also reported to police

under the Britain's anti-terrorism bureau for

being an extremist who leads people into

violence.

"Presumably, they didn't hear the sermon where I said no attacks

or personal abuse," noted Randall.

School trustees eventually returned Randall to his position, but

with conditions that he submit sermons for approval in advance,

not say or do anything controversial, support 'all beliefs' on topics

such as gender identity and homosexuality, and more. He had to

"I am a Christian

minister of a Christian

school suing the school

for anti-Christian

discrimination."

support all beliefs but not the ones clearly spelled out in Scripture

that were near and dear to him.

In his country that values religious freedom and tolerance, Chaplain

Randall was free to express his Christian beliefs on any subject if he

kept them private. Tolerance is a cherished hallmark in the West

– unless it pertains to Christian thought. In some circles, even a

private Christian school, Christianity is not welcome in the public

square.

When the school closed because of COVID-19,

officials told Randall they could no longer

afford a chaplain. He was dismissed a second

time.

"So, as a consequence, I am a Christian

minister of a Christian school suing the school

for anti-Christian discrimination," Randall

said with a laugh. "So, they are being sued for

discrimination, harassment, unfair dismissal."

The case goes to court in September, and ICC

will monitor it closely along with others like it.

"As an ordained minister my job is to speak out and so many

people don't go public with these stories," he said. "But I have to.

When I was ordained, I promised to speak out. So I am, and that's'

what I am doing for all those other people who are persecuted in

sometimes very little ways. It all adds up to such a big picture …

there's a bigger picture, a bigger struggle going on."

PERSECU ION.ORG

INTERNATIONAL CHRISTIAN CONCERN 9
---
THE

ANTIDOTE OF

PERSECUTION

PERSECU ION.ORG

INTERNATIONAL CHRISTIAN CONCERN

PERSECU ION.ORG

INTERNATIONAL CHRISTIAN CONCERN

10 PERSECU ION.ORG

SEPTEMBER 2022

INTERNATIONAL CHRISTIAN CONCERN
---
Education unlocks the prison

door for persecuted Christian

children.

By Mike Anderson

A

third grader attended church with his family one morning,

and left an orphan, alone in a land hostile to Christianity.

This is Smith Sabir's story, one of hundreds of stories from

the churchgoers at All Saints Church in Pakistan. His parents were

among those killed in the All Saints Church terrorist attack in Pakistan

on Sept. 22, 2013.

Sabir's chance for survival and long-term success was bleak. No one

was there to encourage him, disciple him, and support his dreams.

Fortunately, donors stepped forward and International Christian

Concern (ICC) supported Sabir and chronicled his inspirational story

over the past decade.

In an interview, Sabir shared his gratitude, "Often, I keep thinking

about God's strange plans. He took my parents to heaven, but He

gave me ICC to take care of me, stand with me, to strengthen me,

and to build my future. I have learned a lot from ICC on how to love

others and engaged in charity work. I would love to follow in ICC's

footsteps."

For Sabir and children like him, persecution can remain a lifelong

struggle without such intervention.

Stepping In

Governments in places like India put systems in place to keep Christian

families ostracized and removed from economic opportunities

and adequate schools. Christians who publicly profess their faith in

Jesus are prevented from participating in government services re-

PERSECU ION.ORG

INTERNATIONAL CHRISTIAN CONCERN

11
---
"Often, I keep thinking about God's

strange plans. He took my parents

to heaven, but He gave me ICC to

take care of me." - Smith Sabir

served for even the lowest class in society—the untouchables, or Dalits.

In Egypt, schools are so bad that many Christian families pull their kids

out at an early age. They do menial work, such as picking up garbage,

because that is a better alternative than public schools.

In Nigeria, more than one million Christians are displaced because of

violence in Benue State and living as in-country refugees. For the many

children removed from schools, hope fades in the rubble.

While ICC provides immediate assistance to families, including food,

shelter, medical expenses, and small business support, education remains

the best long-term antidote for oppression.

Hope For a Better Future

Nelson Mandela famously said, "Education is the most powerful weapon

which you can use to change the world."

ICC has launched two successful education programs: Hope House

and Generation Transformation. For security concerns, ICC does not

divulge their specific locations.

Hope House equips Christian children in the Middle East to break out

of this generational cycle of persecution. Through one-to-one sponsorships,

kids receive better schooling, medical care, nutrition, and other

benefits. ICC is also in the beginning stages of expanding Hope House

to other regions, like Africa.

As students advance into their teens and college years, they transition

to Generation Transformation where they receive vocational training,

college scholarships, and grants to start small businesses.

"The task of the modern educator is not to cut down jungles, but to

irrigate deserts," C.S. Lewis said. ICC's mission is to bring the wellspring

of education to the persecuted.

12 PERSECU ION.ORG

SEPTEMBER 2022

INTERNATIONAL CHRISTIAN CONCERN
---
PERSECU ION.ORG

INTERNATIONAL CHRISTIAN CONCERN

13
---
TRANSFORMING A

GENERATION

Restoration and revival can come after all hope seems lost.

By Hannah Campbell

Survivors of gruesome terrorist attacks have a long

journey ahead of them after the dust settles from the

bombs and loved ones are laid to rest. For the All Saints

Church bombing in Pakistan that claimed the lives of 127 and

injured 250 churchgoers one Sunday morning in September

2013, many children were left to navigate the world as an orphan.

International Christian Concern (ICC) set up a schooling program

to make sure that these children's future wasn't taken

from them, even if their loved ones were.

Now, almost 10 years later, our staff has walked with these children

as they have grown up, discovered their passions, and developed

big dreams.

Some of these children who we met are ready to head to college

and other vocational trainings.

The roots of persecution are a prison of desperate poverty and

a lack of political power stemming from generational educational

deficits, job discrimination, and lack of access to capital.

Education and vocational training have the power to break cycles

of persecution.

ICC's Generation Transformation was birthed out of the desire

to attack the root cause of persecution.

We select one community and infuse it with blessings, by

funding and aiding the entrepreneurs, taking the best and the

brightest persecuted Christian children and giving them a top

notch education in private schools, and supporting vocational

training to turn them into carpenters, plumbers, and electricians.

The following testimonies speak to the incredible talent and

faith of these young Christians whose lives would look much

different without education.

We hope you are moved by their resilience, grit, and love of

Christ.

PERSECU ION.ORG

INTERNATIONAL CHRISTIAN CONCERN

14 PERSECU ION.ORG

SEPTEMBER 2022

INTERNATIONAL CHRISTIAN CONCERN
---
PERSECU ION.ORG

INTERNATIONAL CHRISTIAN CONCERN

15
---
SHAYAN

Grade: 9

"I lost my papa and mama when the [All Saints] Church

was attacked in September 2013. I had no idea what

happened on that day as I was just about four years

old. I have gone through very difficult times. Every

moment I miss my parents. However, I am thankful to

my guardians and ICC for supporting and taking care

of me."

Shayan has been a beneficiary of ICC's Schooling

Project since April 2014, set up to support orphans

and victims of the All Saints terrorist attack. English

and Math are his favorite subjects.

"In the future, I want to be a doctor. A part of my

professional career will be dedicated for the uplift of

the needy and deserving people," Shayan told ICC. "If

ICC wasn't there to support me, I would have never

gone to school because I lost my parents, and my

relatives were financially not so good."

SEHAR Grade: 6

Sehar prominently proclaims her Christianity and is

proud of her faith. She sets great examples among her

Muslim classmates with her excellent performance.

She lost her mother in the All Saints Church bombing.

"I did not spend much time with my mother, but I

have heard she was a great woman and very strong

in her faith," Sehar told ICC. "I am the only child of my

parents; therefore, I have the advantage of being loved

so much. However, I face a lot of challenges. I miss my

mother at every step of life. May her soul rest in Jesus."

Sehar is a lover of art and music and wants to become

a doctor. She believes that God will open doors for

her to make her dreams come true and Christian

community proud.

PERSECU ION.ORG

INTERNATIONAL CHRISTIAN CONCERN

16 PERSECU ION.ORG

SEPTEMBER 2022

INTERNATIONAL CHRISTIAN CONCERN
---
TANIA

Grade: 9

Tania is a brilliant student and often gets performance

awards. She loves reading, English, mathematics, and

the study of biology in school.

Her father died in the bombing of All Saints Church.

"I miss my father a lot on special occasions and on

Father's Day. I want to be as genius and a humble

person as my father was."

ICC has been supporting Tania's education since

April 2014. She wants to study to become a lawyer so

she can become a voice for the oppressed Christian

community.

"ICC has done a lot in shaping my life and bringing me

up as an educated Christian girl. I appreciate and am

highly grateful to ICC, Tania added.

MEHAK Grade: 6

Mehak is a shining star. She regularly receives awards

and certificates for her excellent performances in art,

public speaking, handwriting, and painting.

"I love reading and speaking English. It's my favorite

subject," Mehak told ICC. "I want to become the best

teacher of English literature in the town. I believe

Christians can only develop their lifestyle if they

concentrate on the studies.

"From my childhood I have seen ICC team continuously

visiting us at our home," Mehak told ICC. "We have

experienced a very painful time with our mother after

the church was attacked. My mother did a lot for us.

We are happy ICC has continued to do a great job for

us."

PERSECU ION.ORG

INTERNATIONAL CHRISTIAN CONCERN

17
---
EXILED WITH A

SECOND CHANCE

18 PERSECU ION.ORG

SEPTEMBER 2022

INTERNATIONAL CHRISTIAN CONCERN
---
After relentless violence, child refugees

find new hope thanks to ICC.

Story and Photos by Kate Piselli

The breadbasket of Nigeria is starving. Christians in Benue State

have suffered gruesome attacks by the Fulani militants, a radical

Muslim militia group, forcing approximately 1.5 million people from

their ancestral lands into internally displaced persons (IDP) camps in the

last five years.

Having previously been farmers, years in the camps with no land or

opportunity have forced them into lives of obscurity. School-aged children

wander the streets, begging for food. It's common for women to go into

town to trade their bodies for a meal to bring home.

Crime runs rampant, especially in the Makurdi North-Bank IDP Camp.

The camp has a population of about 10,500—around 2,000 of those are

children.

"Currently, the rate of education is very low, considering that when the

children wake up in the morning, they are looking for work, food to eat,

water to drink, to find firewood...all sorts of things," said Amos, an ICC

volunteer who regularly visits the IDP camp.

PERSECU ION.ORG

INTERNATIONAL CHRISTIAN CONCERN

19
---
In February 2022, ICC began providing eight volunteers with

a small stipend to travel to the camp three times a week. We

provided basic school supplies such as whiteboards, markers,

books, lesson materials, as well as funds to supplement classes

with food and drink.

"Children who have never been to school have been given

the chance to be educated, which has given them a sense of

belonging," said Amos.

ICC also set up a lunch program to help feed the children.

"Hungry children whose parents can't afford proper meals can

now eat good food every week," said Amos.

To steward the Christian population that has lost their home

churches, ICC conducts a Bible club every week. The goal is to

educate the children and remind them of Christ's love for them

despite their dire circumstances.

"Older women who were not opportune to be educated have

been given a second chance as four have become dedicated

pupils," said Amos.

ICC will continue to work with volunteers and Christians on

the ground to implement education programs to equip these

children to have brighter futures.

20 PERSECU ION.ORG

SEPTEMBER 2022

INTERNATIONAL CHRISTIAN CONCERN
---
PERSECU ION.ORG

INTERNATIONAL CHRISTIAN CONCERN

Photos by Kate Piselli

21
---
A LONE VOICE

CALLING IN THE

NIGERIAN DESERT

Benue State Governor Tells the Truth About Christian Persecution

By Mike Anderson

There have been several assassination

attempts on Samuel Ortom's life,

including one in March 2021 that

involved 15 men with AK-47 rifles as he

visited a farm.

Yet as governor of Benue State in Nigeria,

Ortom is an undeterred, courageous man on

a mission.

The 61-year-old leader shouts from the

rooftops about persecution in his country,

and the complicity and evil of President

Muhammadu Buhari's administration. And

the failures of previous administrations to

stop atrocities against believers.

Ortom shared his thoughts on a recent

visit to International Christian Concern's

headquarters in Washington, D.C., where he

met with ICC President Jeff King and staff.

His trip also included a rigorous agenda and

meetings with leaders on Capitol Hill and the

U.S. Department of State.

His goal? To counter the Nigerian

government's narrative, parroted by the

media, that the lawlessness and killings

of tens of thousands of Christians is just

a tribal conflict between radical Fulani

Muslim herders and Christian farmers. That

it is fueled by geopolitical forces, climate

change, and petty land disputes. And that

the government is doing all it can to protect

religious freedom and everyone's lives.

The reality? There has been no meaningful

action by the Nigerian government over the

past 20 years to stop the killings of Christians.

While there are concomitant forces and

reasons for the genocide of Christians in

Nigeria, Ortom said those in power are aiding

and abetting in the radical Islamization of

his country. And of the 36 governors, he is

one of only a few willing to publicly criticize

Buhari's abysmal response to the killings

and displacement of Christians.

Despite attempts on his life—his security

detail protected him from the farm attack—

Ortom said he has nothing to lose or fear.

He will openly tell the truth to whoever

will listen about the perils of Christians in

his region and the tactics of radical Fulani

militants—and other terrorist groups such

as Boko Haram—who are on a mission to

transform and impoverish the land.

Of the approximately seven million people

in Benue State, most are Christians, with 1.5

million living as in-country refugee camps.

Many are children without schooling or

necessities.

Benue State is considered the nation's fruit

basket, blessed with verdant fields and

the prodigious Niger and Benue rivers. The

fervent land, farmed by mostly Christians,

also attracts the Fulani herders who need

water and grain for their cattle.

Ortom said the deeper ongoing problem is

not the herder-farmer land skirmishes, but

the Islamization and colonization of Nigeria

by jihadists who aim to rid the country of

Christians and establish their permanent

caliphate.

22 PERSECU ION.ORG

SEPTEMBER 2022

INTERNATIONAL CHRISTIAN CONCERN
---
Photos: Gov. Ortom (center, with ICC President Jeff King) was joined by Abrahams Kwahngu, Principal Special Assistant on Special Duties for the

Office of the Executive Governor, Benue State Government; Rev. Peters Ichull, Senior Special Assistant to the Governor on Diaspora Affairs; and Stephen

Enada, President and Co-Founder of International Committee on Nigeria (ICON).

Some Fulani herders falsely claim that

their cattle are rustled by locals. Radical

Muslim militias then descend on the farming

communities where they murder and rape

Christians, and displace entire populations

through fear and intimidation. The radical

Fulani then moves in after a massive land

grab before eyeing the next vulnerable

community.

"That is the strategy," said Ortom "[The

Fulani militants] kill, they destroy houses,

they destroy churches, they destroy

hospitals and clinics. And they do away with

the indigenous people who are living in these

communities. They make you miserable, and

that is their stock in trade."

Tragically, the Buhari regime allowed only

the Fulani to carry AK-47 weapons, noted

Ortom. It is illegal for everyone else, including

Christians who need protection, making

it a one-sided fight. Yet the government

claims the Fulani need weapons to protect

themselves from the 'ghost' cattle rustlers.

To make things worse, radical Muslims

hold positions of power in the government,

military, and security apparatus. Many

believe that if the Nigerian government or

international communities do not step in to

protect Christians, it could lead to civil war.

"People are afraid to go

to church and even make

pronouncement that

they are Christians."

"They intimidate. And even when they shoot

you with their AK-47 or AK-49, and you are

dead, they still dismember your body just to

bring fear into those who are living so that

they don't confront them again and accept

the agenda of occupation and Islamization.

And so, people are afraid to go to church and

even make pronouncement that they are

Christians," Ortom said.

As news of Ortom's visit to Washington made

the news cycles back home, government

officials responded that the Middle Belt

situation was complicated and Muslims were

persecuted, too.

Ortom will continue his solo campaign, a

lone voice calling in the Nigerian desert, to

tell the world about the atrocities and the

motives and people fueling the conflict.

"I appreciate this opportunity to say the

other side of the story and to try to change

the narrative that is going on, especially

within the international community," said

Ortom.

Note: ICC named Nigeria the most dangerous

country for Christians in its 2021 Persecutor of

the Year report. And the Fulani militants were

named the most dangerous 'entity' this year.

PERSECU ION.ORG

INTERNATIONAL CHRISTIAN CONCERN

23
---
RAISING THE

EDUCATION BAR

ICC'S HOPE HOUSE IN EGYPT GIVES KIDS

A BETTER CHANCE AT SUCCESS.

More than 325 Egyptian children

attend ICC's education center, Hope

House. In a country where Christians

are viewed as second-class citizens,

Hope House seeks to break the cycle of

generational persecution by providing

access to quality education and upward

mobility.

Hope House is the innovative alternative to

public schooling, where Christian children

are largely sidelined and receive poor

teaching.

Mariam, who teaches at one of the centers,

shared, "There is a vast difference between

them. In public schools, it's just a routine.

But at the center, we work with the kids as if

they are our kids. Here it is a service. As much

as I can, I focus on each kid separately, and I

care so much about the kids."

Classes at Hope House are one third the

size of public school classes, allowing

the students' teachers to provide more

personalized schooling.

The child sponsorship program provides

incentives to children and their families

to keep the children enrolled in school.

Especially during the summer months,

poorer Christian boys are pulled from school

to work in the fields, earning less than $2

USD per day. Girls are typically tasked with

24 PERSECU ION.ORG

SEPTEMBER 2022

INTERNATIONAL CHRISTIAN CONCERN
---
helping at home or learning homemaking

skills.

Sponsored children receive intentional

discipleship in conjunction with each center's

partner church. They and their families also

receive monthly food packages to offset

any income deficit due to children focusing

on their education over work. Children

participate in routine medical testing

and medication as needed, entertaining

cultural field trips, and receive special gifts

throughout the year, such as new clothing.

As a result of the sponsorship program's

benefits, parents are taking note of the

importance of their child's education.

Lena, who teaches science at one of the

centers said, "Only two weeks after the start

of the program, the parents were supporting

their kids to join the classes. And they

consider this service is essential for their

kids. The kids want to learn more and more."

Mariam shared about the improvements she

has seen in her students since they began, "I

had a kid in my class who did not know how

to hold a pen or write. He has now improved

so much. Honestly this center is perfectly

affecting our village, as the most neglected

thing for kids here is the education."

ICC prayerfully opened another center this

summer, trusting that the children in this

new village would receive sponsorship and

the educational encouragement needed

to help them move beyond second class

citizenship.

Please join us in praying for the growth of the

new center, the local partner church, and the

development of the local Christian children

and their families.

Partner with ICC

Only 40% of the eligible children in Hope House are sponsored. ICC extends an invite to faithful donors who are looking to make a difference

in the lives of these Egyptian children. If you'd like to make a difference, go to: www.persecution.org/initiatives/hope-house/ or email

ICC@persecution.org.

PERSECU ION.ORG

INTERNATIONAL CHRISTIAN CONCERN

25
---
FRONT LINES OF MINISTRY

PERSECUTED

FOR A

DECADE,

A CHURCH

PERSISTS.

26 PERSECU ION.ORG

SEPTEMBER 2022

INTERNATIONAL CHRISTIAN CONCERN
---
While seven church leaders await trial, the

brother of one of the imprisoned pleads for

your prayers.

A

member of the demolished

Golden Lampstand Church

in Shanxi province asks for

prayers for the imprisoned leaders

of his house church, especially his

sister.

Though the megachurch was

demolished in 2018, members continue

to gather for worship services.

Last August, nine Christian church

leaders were arrested. Although two

were released on bail, the remaining

seven leaders are currently awaiting

their trial. They are being charged with

carrying out fraud in the church.

One of the imprisoned leader's

brother, Mr. Yang, explains that the

church offerings collected from church

members are used to support and keep

the church ministry going, a practice in

line with Christian tradition, and by no

means a scam.

According to Mr. Yang, his sister does

not receive proper meals in prison.

Her family cannot visit her, and she is

denied treatment for her diabetes—a

fatal condition if not treated properly.

In response to such tragic

circumstances, he asks for prayers for

his sister.

According to Bitter Winter, Golden

Lampstand Church belongs to a

network of house churches with more

than 50,000 members called Sola Fide,

Latin for "by faith only." These churches

refuse to affiliate with the Chinese

Communist Party (CCP)-regulated

"Protestant church denomination."

In 2009, pastors and other members

of the Golden Lampstand Church were

arrested and received prison sentences

from the CCP. In 2018, the $2.6 million

USD church building was blown up

with dynamite by the CCP. The local

authorities were eyeing the property

for its commercial value.

Since then, the church congregation

has continued to meet outdoors or in

private homes and is facing ongoing

persecution.

Ever since the CCP announced new

religious regulations and increased

control over churches in 2020, China

has seen an uptick in crackdowns on

Christian leaders and places of worship

that refuse to join the state-approved

church.

ICC has continued to monitor and report

on the persecution Golden Lampshade

Church has faced throughout the

years. In China, ICC actively supports

the underground church in China and

the families of pastors arrested by the

government.

Photo from the demolition of the Golden

Lampstand Church in 2018.

PERSECU ION.ORG

INTERNATIONAL CHRISTIAN CONCERN

27
---
HOPE FOR THE PRESENT

God's Calling for Your Life

By Jeff King, ICC President

have a question for you: What is your calling? How does

I being asked that question make you feel?

It makes a lot of us feel like second-class citizens because

many of us don't have a clear calling. We listen to people

who have a very direct, specific calling from the Lord, and we

think, "I don't have that. I'm kind of doing life without a very

clear compass direction."

I think that question can create a lot of shame.

Let's look at the life of a woman who had an evident calling:

Amy Carmichael. She had a very clear calling to India. So

clear that she basically ripped up the script of her life, and

she decided her life would be spent on behalf of the lost of

India.

She never had kids. She never married. She felt, "That is my

calling, and that is what I'm going to do with my life."

So, Amy goes to India. She starts sharing the gospel. And

while she's doing that, she begins to understand the culture.

Amy looks at the temples. There are prostitutes in some of

the temples—just like in the Bible. People pay "alms" and

they are using these girls. The temple has captured them,

and uses them as sex slaves.

Amy's heart breaks over this, and she begins to rescue these

girls. She takes them out of their circumstances and creates

a shelter for them.

As you can imagine, this creates a lot of trouble for her

because she is really messing with society. On one hand, she's

messing with the religion of people. On the other hand, this

is big business. If you run this temple, there's money coming

to you, right? So, Amy's actions created a lot of blowback. At

one point, she was charged with crimes and was facing seven

years in prison, but the charges were dropped. Nothing ever

happened.

Amy, throughout her life, endured a lot of physical pain as

well. She suffered from neurological pain and at one point

she broke her leg and her ankle so severely that it left her

bedridden for the last 20 years of her life.

But she didn't stop. She kept sharing the gospel. She was

helped by others, wrecking the temple prostitution business

and rescuing the girls. And during this time in which her life

was seemingly destroyed, she wrote 37 books—all from her

bed.

Amy's calling to India was obvious and very dramatic. Pull

back and think about her work. Her work was to share the

gospel and to rescue the oppressed. And that can be done

anywhere! That can be done in Los Angeles, Washington,

D.C., Columbus, Ohio, Peoria, Illinois. It doesn't matter.

Location isn't the issue.

Her example is to be faithful in ministry wherever you are, to

live a life of devotion to God and letting Him work through

you. It doesn't matter if you're in secular work or ministry

work. At the core of our spiritual calling is this: to put

everything on the altar and to give him a greater portion of

our heart.

And we have to do that again and again.

While we're doing that, we can look at Amy's life and see that

it's not just the life of any missionary. It's really the life of all

of us. There's going to be lots of pain. There's going to be lots

of hardship and struggle.

But we press on. We don't let those things stop us, but always

keep in mind that it's not what we do, it's how much of what

we do that we give to Him.

Only conduct yourselves in a manner worthy of the gospel

of Christ…standing firm in one spirit, with one mind striving

together for the faith of the gospel (Philippians 1:27).

Application

Find a gospel-based ministry in your area that serves the

oppressed and ask them how you can help with your time.

Questions

1. Have you sensed any kind of calling in your life? If not,

ask the Father to show you what it is.

2. How much of your life have you given to the Lord? What

part of it are you holding back from Him?

3. Who is somebody you know with a very distinct calling

from God? How did they respond to it at first?

This was an excerpt from Jeff King's upcoming devotional book focused

on spiritual lessons from the persecuted. For information about preorders,

please contact moreinfo@persecution.org.

28

PERSECU ION.ORG

SEPTEMBER 2022

INTERNATIONAL CHRISTIAN CONCERN
---
SEPTEMBER

WEEKLY

PRAYERS

Take one week this month to pray for the

persecuted.

SUNDAY

Pray for access to education for

persecuted Christians around the

world.

MONDAY

Pray for the teachers and educators

as they prepare and equip the next

generation.

TUESDAY

Pray for the children in Generation

Transformation as they further their

studies in school and job trainings.

WEDNESDAY

Pray for the women, children, and

families in the IDP camp in Nigeria.

THURSDAY

Pray for global leaders to wake up

and recognize the ongoing Christian

genocide in Nigeria.

FRIDAY

Pray for the teachers and students

in Hope House as they break

generations of persecution in the

Middle East.

SATURDAY

Pray for the health of Mr. Yang's

imprisoned sister as she is denied

treatment for her diabetes.

To download ICC's monthly prayer

calendar, visit:

www.persecution.org/

take-action/prayer-calendar.

PERSECU ION.ORG

INTERNATIONAL CHRISTIAN CONCERN

29
---
YOU CAN HELP TODAY!

ISLAM INSULTED HIS DISABLED SON;

CHRISTIANITY WELCOMED HIM

Abbud was wholly devoted to Islam and had

led his family in this way for many years. But

Abbud's commitment to his religion was shaken

by the birth of one of his sons, Habib.

Habib was born with a mental disability, and because

of this disability, Abbud and his family were stigmatized

by their Muslim community. They blamed Abbud for his

son's condition, saying that God had given him to Abbud

as punishment because of his sin. Abbud and his wife

were tortured with questions as to why God allowed their

son to be born with a disability.

One day, as these troubles plagued the family, Abbud

was walking through a local market and stumbled upon

a Bible. Abbud decided to buy it, and he testifies that God

led him to John 9.

Abbud read the story of Jesus' encounter with a blind

man. Jesus' disciples had asked, "Rabbi, who sinned,

this man or his parents, that he was born blind?" In the

passage, Jesus answered them, "It is not that this man

sinned, or his parents, but that the works of God might be

displayed in him."

This passage changed Abbud's life, and the lives of

30 PERSECU ION.ORG

SEPTEMBER 2022

INTERNATIONAL CHRISTIAN CONCERN
---
MORE TO EXPLORE

everyone in his family. He and his wife's confusion and

despair over their son's condition had found an answer

through these words of Jesus. They converted to

Christianity soon after.

Their conversion, however, came with consequences.

Muslim-background believers (MBBs) face harsh

persecution in the Middle East. For Abbud, his wife, and

his children, this persecution came most dangerously

from their own extended family.

In one incident, the extended family kidnapped Abbud's

wife and physically abused her. Fortunately, his wife was

eventually able to return—scarred, but alive. The threats

being made against them, however, escalated and

became increasingly dangerous. For their own safety,

they desperately needed to flee, but their financial

circumstances made fleeing to another city nearly

impossible.

Seeing their need, ICC began a project to discretely

relocate Abbud and his family to a safer location. The

project faced a number of complex challenges, but ICC

was able to successfully resituate Abbud and his family

in a safe place, away from the family members who had

threatened them.

The relocation was only possible because of our call to

help support MBBs in June. This month, we are calling

our supporters to help us share and spread the gospel

in the world's most dangerous regions. To learn more

about how you can help, please visit:

www.persecution.org/gospel.

@persecuted

@persecutionnews

@internationalchristianconcern

International Christian Concern

SEND DONATIONS:

ICC

PO BOX 8056

SILVER SPRING, MD 20907

OR ONLINE AT

WWW.PERSECUTION.ORG

OR BY PHONE

800-ICC-5441

GIVING VIA WILL

Provide now for a future gift to ICC by including

a bequest provision in your will or revocable

trust. If you would like more information on

giving to ICC in this way, please give us a call at

1-800-ICC-5441.

PERSECU ION.ORG

INTERNATIONAL CHRISTIAN CONCERN

SEPTEMBER STAFF

2022

President Jeff King

PERSECU Editor Mike ION.ORG

Anderson

INTERNATIONAL Designer CHRISTIAN Hannah Campbell

CONCERN

Copy Editor Olivia Miller

PERSECU ION.ORG

INTERNATIONAL CHRISTIAN CONCERN

MEMBER

PERSECU ION.ORG

INTERNATIONAL CHRISTIAN CONCERN

OUR MISSION: Since 1996, ICC has served the global persecuted church through a threepronged

approach of advocacy, awareness, and assistance. ICC exists to bandage the wounds

of persecuted Christians and to build the church in the toughest parts of the world.

DONATIONS: International Christian Concern (ICC) is a nonprofit 501(c)(3) (all donations taxdeductible).

ICC makes every effort to honor donor wishes in regards to their gifts. Occasionally,

a situation will arise where a project is no longer viable. ICC will redirect those donated funds to

one of our other funds that is most similar to the donor's original wishes.

© Copyright 2022 ICC, Washington, D.C., USA. All rights reserved. Permission to reproduce all or

part of this publication is granted provided attribution is given to ICC as the source.

31
---
PERSECU ION.ORG

INTERNATIONAL CHRISTIAN CONCERN

PERSECU ION.ORG

INTERNATIONAL CHRISTIAN CONCERN

PERSECU ION.ORG

INTERNATIONAL CHRISTIAN CONCERN