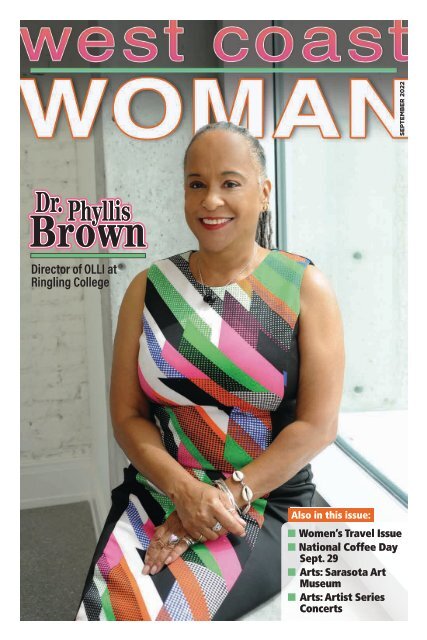 wcw SEPTEMBER 2022
September is our Women's Travel issue and it's packed with great information including a feature on discounts at Florida hotels and resorts just for residents. OLLI at Ringling College is back to business and the arts of another year of exciting lectures and talks. They also have a new Director, Dr. Phyllis Brown. Sept. 29 is national coffee day and we have some great new ways to make a brew. Plus returning columns: Good News Dept., Arts News, Dining In (recipes), our calendars and our You're News column
September is our Women's Travel issue and it's packed with great information including a feature on discounts at Florida hotels and resorts just for residents. OLLI at Ringling College is back to business and the arts of another year of exciting lectures and talks. They also have a new Director, Dr. Phyllis Brown. Sept. 29 is national coffee day and we have some great new ways to make a brew. Plus returning columns: Good News Dept., Arts News, Dining In (recipes), our calendars and our You're News column
SHOW MORE
SHOW LESS
Create successful ePaper yourself
Turn your PDF publications into a flip-book with our unique Google optimized e-Paper software.
SEPTEMBER 2022

Dr.

Phyllis

Brown

Director of OLLI at

Ringling College

Also in this issue:

■ Women's Travel Issue

■ National Coffee Day

Sept. 29

■ Arts: Sarasota Art

Museum

■ Arts: Artist Series

Concerts
---
941-306-1202

ArtistSeriesConcerts.org

Ever Onward Season 27

TRY A THERAPY

THAT WORKS!

Season

Opener!

Immediate Relief Beginning

with the First Session:

Chronic Pain: Sciatic, Back, Neck and TMJ

MAGNIFICENT MARKOVS

with Key Chorale and Booker High School VPA Choir

October 2, 4 pm • Sarasota Opera House

Violin phenom Alexander Markov unites with his gifted parents Albert

and Marina and the "first family of violin" presents classical favorites.

Alexander and his electric gold violin are then joined by choral artists

for his original composition, Caesar, for electric violin, organ,

choir, percussion, rhythm section, and orchestral musicians.

Migraines, Foggy Brain and

Lack of Concentration

Sight and Eye Problems

Asthma, Bronchitis, COPD, Shallow Breathing

Digestive and Constipation Issues

Leaky gut and Autoimmune problems

Chronic Fatigue, Fibromyalgia and Depression

Concussions, Brain and Spinal Cord Health

ANTHONY TRIONFO, flute | ALBERT CANO SMIT, piano

October 27 • 11 am performance followed by lunch

Sarasota Yacht Club

Praised as "a musician of prodigious talent and scintillating personality,"

Anthony Trionfo made his debut at Kennedy Center in 2018.

Albert Cano Smit, his frequent collaborator, won First Prize

at the 2017 Walter W. Naumburg Piano Competition

This project is supported in part by the Community Foundation of Sarasota County; Department of State, Division of Cultural Affairs,

the Florida Council of Arts and Culture and the State of Florida (Section 286.25 Florida Statutes); The Exchange; Gulf Coast Community Foundation;

National Endowment for the Arts; and Sarasota County Tourist Development Tax Revenues.

Organic FacialS

Bamboo exfoliators

Soothing oils

For Your Skin.

For Your Well-Being.

Mobility and Energy Issues for Seniors

T. Grywinski specializes in difficult issues with great success

How Craniosacral Therapy Can Be Life Changing

"Doctors, physical therapists, massage therapists and chiros

gave me little relief. Terry relieved my pain, after all these years!

He has also helped four of my other friends. The man is an angel,

with a gift from God....thank you Terry!!"

"After 3 sessions, I had more range of motion and mobility in my

neck, shoulders and hips. I was getting to the point where walking

and moving was difficult. It feels like a weight has been lifted off my

shoulders, my voice is stronger and my energy is greatly increased.

I feel much calmer and more grounded!!"

"I no longer feel physically sick each morning. No gastroenterologist

or physician has ever properly diagnosed my mucus build up until

now. As well as bringing about healing in my gut, he released an

incredible amount of tension in my upper body."

"The question is where has he been all my life? Terry is a true healer

and if you are serious about being well, you are in luck.

He is effective and lovely."

Facial Special $ 99

cooling cucumber

Probiotic + Pink Himalayan Salt

advanced craniosacral therapy

Terrence B. Grywinski

B.A., B.Ed., LMT MA6049

25 Years of Experience

advcst.com

Gwen DeBergalis

Laser Technician, CLO/A, EO, LE

Specialist, 10 years experience

Dermatology of Coastal Sarasota

5310 Clark Rd., Suite 201, Sarasota

941.925.3627

DOCSofSarasota.com

See full page explanation of Craniosacral Therapy and

how it can help you in another section of this issue

Downtown Sarasota • 941-321-8757

Google "Advanced Craniosacral Therapy Sarasota" for more info

2 WEST COAST WOMAN SEPTEMBER 2022
---
SEPTEMBER 2022

contents

Editor and Publisher

Louise M. Bruderle

Email: westcoastwoman@comcast.net

Contributing Writer

Carol Darling

Contributing Photographer

Evelyn England

Art Director/Graphic Designer

Kimberly Carmell

Assistant to the Publisher

Mimi Gato

West Coast Woman is published

monthly (12 times annually) by

LMB Media, Inc., Louise Bruderle,

President. All contents of this

publication are copyrighted and

may not be reproduced. No part

may be reproduced without the

written permission of the publisher.

Unsolicited manuscripts, photographs

and artwork are welcome, but return

cannot be guaranteed.

focus on the arts

Are we talking season? Yep! Artist Series

Concerts has 25 concerts during its 27th

season, "Ever Onward." Their season starts

October 2 and runs through May 14, 2023 and

offers a diverse range of musical experiences

featuring emerging and established classical,

jazz, pops, and chamber artists.

p13

HOW TO REACH US:

Email: westcoastwoman@comcast.net

Here are our columns:

n Out & About: includes

fundraisers, concerts, art exhibits,

lectures, dance, poetry, shows &

performances, theatre, film,

seasonal events and more.

n You're News: job announcements,

appointments and promotions,

board news, business news and

real estate news.

September is a great time to travel. Florida residents

get special discounts at a variety of hotels and

resorts across the state. Want to stay closer to

home? Check out our feature on resort passes

at local hotels. And how about going somewhere

different in Florida? We have suggestions on lesserknown

places. Plus safety tips and lots more.

p18-21

FOLLOW US AT:

Facebook: https://www.facebook.com/

WCWmedia

WCW

34

YEARS

WCW Mailing Address:

P.O. Box 819

Sarasota, FL 34230

email:

westcoastwoman@comcast.net

website:

www.westcoastwoman.com

happening this month

Did you know…National Coffee

Day is on September 29? A

great day to raise a mug and

toast the juice of the bean.

p22

west coast

WOMAN

departments

4 editor's letter

7 Out & About: listings for things to do

9 healthier you: tips to stop smoking

13 focus on the arts: Artist Series

Concerts' upcoming season

14 focus on the arts: Sarasota Art

Museum

15 health feature: Craniosacral Therapy

16 west coast woman:

Dr. Phyllis Brown, Director of OLLI

at Ringling College

women's travel issue

18 feature: all about resort passes

19 feature: Lesser known Florida

attractions

20 feature: Deals for Florida residents

at hotels and resorts

22 happening this month: National

Coffee Day

24 you're news

26 arts news

28 dining in: Keep it light, a bit sweet

and easy to prepare

30 good news depart.

■ on the cover: Photo of West Coast Woman Dr. Phyllis Brown, Director of OLLI at Ringling College at the Sarasota Art Museum, part of Ringling College.

■ Photo by Evelyn England

SEPTEMBER 2022 WEST COAST WOMAN 3
---
just some

thoughts

Louise Bruderle

Editor and Publisher

West Coast Woman Dr. Phyllis Brown

Dr. Phyllis Brown

Photo by Evelyn England

In October, we'll have our first Lifelong

Learning issue of this season and how perfect

to have Dr. Phyllis Brown, Director of the

Osher Lifelong Learning Institute (OLLI) at

Ringling College, as this month's profile.

Dr. Brown has more than 30 years of

experience in higher education and has lived

in our area for the past 20 years. We spoke

at the Sarasota Art Museum that houses not

only the Museum's art exhibits, but also OLLI

and Ringling's Continuing Studies, Studio +

Digital Arts program.

I had the opportunity to meet with

her and learn about her background and

her vision for OLLI, but you can also meet her at their September 8 Fall

Preview. While there, you'll learn about the upcoming semester which

starts on September 28.

OLLI will be showcasing some of their lectures on September 8: The

Eight Dimensions of Wellness, Democracy and the Electoral College,

New Yorker Magazine Conversations, Women of the American Songbook,

Living Green and Helping the Environment, The American Indian

Wars, Improv Brain Games, The Class of 1865 and Walking Tours of

Sarasota Art. Talk about eclectic!

RSVP: by September 5 by emailing olli@ringling.edu or by calling

941-309-5111.

Mental Health Fitness

How many push-ups can you do in two hours? Challenge your friends to

a friendly competition, or push yourself to beat your personal record – all

while having fun and raising money and awareness for mental health.

JFCS of the Suncoast is hosting the Push-Up

Challenge and Fundraiser for Mental Health

on Sept. 24. The event, which is a fundraiser,

health fair and push-up challenge, will be

held at the Sarasota Classic Car Museum from

9 a.m. to 12:30 p.m.

It's really about the participation, not

competition," JFCS chief development officer

Ron Katz Katz said. "We want people to feel

good about what they personally accomplish,

and feel good about helping to raise money

for a great cause." All ages and skill levels are

welcome; participants can do traditional pushups, wall pushups, knee

pushups or other modified forms.

Throughout the morning, participants can also loosen up with guidance

from a yoga instructor, receive chair massages, and learn about the

connection between physical and mental health from local experts.

"Regular exercise of any kind is key to helping improve mood and

mental health for people of all ages and abilities," said Claudia Baeza,

owner of Pineapple Studios + Cycling Downtown SRQ, who is participating

in the challenge. "Exercise works its magic in several ways. It

supports brain health and helps create new nerve cells. It strengthens

memory and learning. And it improves emotional regulation when adversity

hits while enhancing confidence and self-esteem."

While registration is free, participants are encouraged to raise a minimum

of $200 ($100 for students), which earns a free yoga mat. Everyone will

receive a free event T-shirt and lunch. Friends and family who attend to

support participants also will receive free admission to the car museum.

The JFCS has a goal of raising $60,000 for its counseling services

through Push for Mental Health. Donations will help provide access to

counseling for those who have mental health needs, regardless of age or

circumstance. For more information about the JFCS, visit JFCS-Cares.

org or call 941-366-2224.

Any Excuse to Post a

Cat Photo Dept.

Love cats? Then sign up for Catify Ceramics, a

ceramics painting event supporting Cat Depot in

Sarasota. The event will be held on September 22

from 5-7pm in Cat Depot's Community Center.

An instructor from The Artful Giraffe will be

leading the class. You will get to choose from

several ceramic styles to paint. The sign up fee supports the kitties that

they care for. Sign up at https://bit.ly/3zX4lw8.

Women's Travel issue

If you're a Florida resident, you're in luck,

travel-wise. There are lots of discounts this

time of year at many resorts and hotels in

Florida - just show proof of residency and

get a discount or lots of nice add-ons. That's

part of the content in this month's Women's

Travel issue. You'll also find an article on

the resort pass as well as lesser known travel

destinations in Florida. Plus, there are lots

of travel tips to help make things go smoother.

Support Boys & Girls Clubs

of Manatee

Join in for the Play for a Purpose

Cornhole Tournament hosted

by MVP Sports and Social Club

and Motorworks Brewing on

September 17. All proceeds will

support the purchase of volleyball

equipment for Boys & Girls

Clubs of Manatee County. Come

out for a day of friendly competition and help support their volleyball

program. Motorworks Brewing is located at 1014 9th St. W., Bradenton.

Check-in starts at 11 a.m.; tournament begins at noon. There are three

divisions: beginner, intermediate and expert. There will be a 50/50 raffle,

music, door prizes and more. Food and beverages available for purchase.

Age 21 and over. $25/team; $15/individual. Register at https://4agc.com/

commerce_pages.

Annual UF/IFAS Extension

Plant Sale Oct. 8

The 16th Annual Master

Gardener Volunteer Plant

Sale and EdFest is set for 8:30

a.m. to 1:30 p.m. on October

8, at the UF/IFAS Extension

Sarasota County office and

grounds, Twin Lakes Park,

6700 Clark Road, Sarasota.

Admission is free, with

plant purchases available by

cash or check. Proceeds benefit

the Sarasota County Master

Gardener Volunteer program.

Choose from among hundreds of shrubs, trees, palms, annuals, herbs

and other plant varieties identified as "Florida-friendly" by the University

of Florida, and get gardening and landscaping advice from Extension-trained

Master Gardener Volunteers.

EdFest booths and demonstrations will highlight the programs and

services offered through Extension.Info: https://sfyl.ifas.ufl.edu/sarasota/

Coming up at WCW

• October - Lifelong Learning Issue

• October - Women's Health Issue

Want more details? Email us at wcwnewspaper@aol.com and learn

about our great advertising offers.

Louise Bruderle | Editor and Publisher |

westcoastwoman@comcast.net

We welcome your thoughts and comments on this column and on other columns and features in this issue.

You can reach us at westcoastwoman@comcast.net. We're on the web at www.WestCoastWoman.com.

4 WEST COAST WOMAN SEPTEMBER 2022
---
Is independence in your own home your goal?

Choose a trusted, professional nursing team to ensure the years ahead and your health

care path align with your wishes.

Take Care provides all levels of care—from

skilled nursing to helping with groceries

and companionship—for clients in any

home setting. We remain dedicated to

helping you and your loved ones.

Take Care is locally nurse and familyowned

with 27 years of experience meeting

your health care needs, from one hour of

care as needed up to around-the-clock

support, 24 hours a day, 7 days a week.

Personalized care in your own home has

never been more important.

Our Registered Nurse New Services team

is ready for your call.

Erika Wise Borland, MA, Vice President

Susanne S. Wise, RN, MBA, CEO & Owner

Courtney Wise Snyder, MSG, CMC, President

Celebrating Years of Caring

www.TakeCareHomeHealth.com

(941) 927-2292

info@takecarehomehealth.com

Lic. # HHA 21657096 | 299991405

27

Community Voted Best Home Health since 2012

SEPTEMBER 2022 WEST COAST WOMAN 5
---
EMBRACE

THE NATURAL

YOU

(with a little help.)

Implant Removal — Breast Lift — Fat Grafting

Breast Augmentation

Tummy Tucks — Liposuction — Body Sculpting

Arm & Thigh Lifts — Coolsculpting

Sovereign Plastic Surgery

Alissa M. Shulman, M.D., F.A.C.S.

Board Certified Plastic Surgeon

1950 Arlington Street • Suite 112 • Sarasota

941- 366-LIPO (5476)

www.sovereignps.com

SAVE $2 W/CODE WCW

DAILY TROLLEY TOURS

ENTERTAINING • INFORMATIVE

FALL SIGHTSEEING TOURS

Explore Sarasota in Air-Conditioned Comfort

• Amish Experience

• Art Crawl

• Circus Secrets

• City Tour

• Haunted Sarasota

• Leading Ladies

• Murder Mystery

Who Killed The Circus Queen?

• Psychic Sundays

• Public Art

CHRISTMAS CAROL TROLLEY

Nightly Dec. 10-30 7:30PM

Tickets $44.99 - $49.99

Nighttime Tours Include FREE Beer/Wine

BOOK ONLINE

DiscoverSarasotaTours.com

941-260-9818

Visit The Trolley Cottage & Gift Shop | 1826 4th Street, Sarasota | FREE Parking!

Find Your New Best Friend!

Open Daily | 2542 17th St, Sarasota, FL 34234 | (941) 366-2404 | www.catdepot.org

6 WEST COAST WOMAN SEPTEMBER 2022
---
out &about

Artist Series

Concerts of

Sarasota

Artist Series Concerts of Sarasota

will present 25 concerts during

its 27th season, Ever Onward.

The season runs from October 2

through May 14, 2023 and offers

a diverse range of musical experiences

featuring emerging and established

classical, jazz, pops, and chamber

artists presented at nine venues

throughout Sarasota County.

The season opens October 2 with

a concert in the Virtuoso Violins

Series presented at Sarasota Opera

House. The Magnificent Markovs

features Alexander, Albert, and

Marina Markov, the "first family of

the violin." The concert features Alexander

Markov playing his original

composition, Caesar, on his gold

electric violin, accompanied by Key

Chorale and Booker High School VPA

Choir. He will also be joined by his renowned

violinist parents to perform

classical favorites.

The Lunch & Listen Series moves to

the Sarasota Yacht Club this season.

This series spotlights gifted young artists

in concert at 11 a.m. followed by

lunch at 12:15 p.m. Prize winners Anthony

Trionfo, flute and Albert Cano

Smit, piano, present the first concert

in this series on October 27.

For more information, visit Artist

SeriesConcerts.org or call 941-306-1202.

t

Special Events

The 17th Annual Sustainable

Communities Workshop presented

by UF/IFAS will take place both virtually

and in person on November

1. The theme of "Advancing Climate

Solutions," will bring the community

together to discuss sustainability priorities.

Expert speakers will provide

up-to-date information on several different

sustainability topics including

carbon sequestration, regenerative

agriculture, water quality, equity, climate

change, and more. Visit exhibitor

booths to network with businesses

and community groups.

To learn more about speakers,

agenda, and other event updates,

visit: scgov.net/SustainableCommunities.

Registration fee includes access

to a full day workshop a New College

or virtually. Questions? Call 941-861-

9874 or email sustainablesarasota@

scgov.net. Held on November 1, 9

a.m.-4 p.m. at Harry Sudakoff Conference

Center, Sarasota.

t

All Faiths Food Bank is hosting its

third annual Autumn Harvest Dinner

on September 30 at 6.30 p.m. in

the organization's warehouse (8171

Blaikie Ct., Sarasota). The long-table

dinner is part of the Autumn Harvest

campaign, which raises funds for

produce programs that provide fresh

fruits and vegetables to neighbors

struggling with hunger. Catered dinner

by Michael's on East.

Tickets: https://allfaithsfoodbank.

org/autumn-harvest/.

t

St. Armands Circle's Sunset Yoga

is is on the inner circle, and will

run through the end of September.

Yoga enthusiasts can relax, stretch,

and gaze at a sunset while enjoying

a nice workout. Attendees should

bring their own yoga mat and block.

https://www.ajc.org/westcoastflorida

t

The class will be led by Liana Sheintal

Bryant will be held on September

25 from 5-6 p.m. and is free for the

public. For more information, and

to RSVP, visit the Facebook event

page, https://www.facebook.com.

The St. Armands Circle Business

Improvement District has a Summer

Concert Series. Residents and visitors

are invited to enjoy this free monthly

series featuring various jazz performers.

Bring lawn chairs and blankets

for a family-friendly, jazzy trio of

shows featuring Big Band Concert on

September 17, 11 a.m. to 2 p.m.

For information, visit https://starmandscircleassoc.com/events-happenings/

t

On September 21, Forty Carrots

has its annual speakers event. Free

and open to the public, it's a virtual

educational event featuring experts

in the field of early childhood education

and child-rearing.

Presented by Community Foundation

of Sarasota County, this 20th

anniversary presentation is "THRIV-

ERS: The Surprising Reasons Why

Some Kids Struggle and Others

Shine" featuring Dr. Michele Borba.

In this session, parents, caregivers

and educators will learn seven traits

that science says matter most in happiness

and success (even more than

IQ and grades) and help kids thrive

both now and later. This session will

offer hands-on tools to raise successful,

self-reliant, and less-pressured

kids who thrive in school and life.

Register now at https://fortycarrots.

com/special-events/speaker-event/.

t

On September 17, 1-4 p.m., the

Sarasota Opera Food and Wine Festival

(formerly Taste of Downtown) will

take place at Sarasota Opera House

after a two-year break. Local restaurants

will gather to serve tasty bites,

wine, and other treats as a benefit for

Sarasota Youth Opera.

Throughout the event, there will be

performances from the Youth Opera

chorus and Sarasota Opera artists,

as well as raffles and other activities.

Tickets are $75, and can be purchased

at www.sarasotaopera.org/

foodandwinefest or at (941) 328-1300.

t

t

All Faiths Food Bank is hosting its third annual Autumn Harvest Dinner on September 30 in the organization's warehouse

(8171 Blaikie Ct., Sarasota). Tickets: https://allfaithsfoodbank.org/autumn-harvest/.

How many push-ups can you do

in two hours? Put your friends up

to a friendly competition, or challenge

yourself to beat your personal

record – all while having fun and

raising money for mental health.

Join JFCS on September 24 at their

first Push for Mental Health. The event,

which is both a fundraiser and health

fair, will be held at the Sarasota Classic

Car Museum (your push-up participation

includes free admission to the

museum). Donations will help provide

access to counseling to those in our

community who have mental health

needs, regardless of age or circumstance.

All levels of fitness are welcome.

For business sponsorship information,

call (941) 366-2224, ext. 142.

Enjoy live music, art and atmosphere

in the Museum of Art Courtyard

during Ringling Underground

8-11 p.m. This event features an

eclectic mix of local and regional live

music. Check out up-and-coming

artists displaying their work in the

Museum of Art Courtyard. October

6: Ringling 6ft Underground;

November 3: Foodways.

Tickets available 30 days prior to

each event. https://www.ringling.

org/events/ringling-underground-0.

t

t

Tickets for the 28th annual

Brunch on the Bay, the benefit

event for the University of South

Florida Sarasota-Manatee campus

on November 6, are now on sale.

Brunch on the Bay has raised over

$6.5 million, including a record

setting $450,000 in 2021, and aided

more than 2,000 students.

The campus needs to expand,

and plans are underway. The

Sarasota-Manatee campus along

U.S. 41 near the Manatee-Sarasota

county line has outgrown the

130,000-square-foot Crosley Academic

Center, its home since 2006.

In addition to scholarships, this

year's Brunch on the Bay will support

a next level of initiatives – including

construction of a planned Nursing/

STEM building – that will create new

academic and research opportunities

for students and faculty and grow the

invaluable partnership between the

Sarasota-Manatee campus and the

larger community.

The $61.7 million, 75,000-squarefoot

Nursing/STEM building, currently

in the planning and design

stages, will double the size of the

campus's nursing program; increase

new majors in the health disciplines

and other programs; and fill the need

on campus for teaching and clinical

labs and research facilities.

Visit sarasotamanatee.usf.edu/

brunch for tickets.

HD at the Sarasota

Opera House

HD at Sarasota Opera House:

• September 11, 1:30 p.m. Rigoletto—This

video recording of Verdi's

masterpiece celebrates 171 years

since its premiere in 1851. Director

Oliver Mears brings this timeless

tragedy into the modern world in

this Royal Opera House production,

conducted by Sir Antonio

Pappano. Cast includes Carlos Álvarez,

Liparit Avetisyan, Lisette Oropesa,

Brindley Sherratt, and Ramona

Zaharia.

• September 25, 1:30 p.m. Der Rosenkavalier

— Elisabeth Schwarzkopf

stars in her signature role as the

Marschallin in this Salzburg Festival

production of Richard Strauss'

great work. Also starring Sena Jurinac,

Anneliese Rothenberger,

Otto Edelmann. The Vienna Philharmonic

Orchestra is conducted by

Herbert von Karajan.

Classic Movies at the Opera

House (Fridays at 7:30 p.m.):

• September 23, 7:30 p.m.—Harvey.

This 1950 comedy-drama, directed

by Henry Koster, stars James Stewart

and Josephine Hull. The story is

about a man whose best friend is

a pooka named Harvey, a 6 ft. 3 ½

inch tall white invisible rabbit, and

the ensuing debacle when the

man's sister tries to have him committed

to a sanatorium.

Information and tickets can be

found at SarasotaOpera.org or by

calling (941) 328-1300.

t

Bookstore1Sarasota

has this event

September 20, 11 a.m.-12 p.m.

Banned Book Club presents "The

Handmaid's Tale" by Margaret

Atwood. From The Banned Book Club

led by Bryn Durgin. This month's

t

selection is "The Handmaid's Tale" by

Margaret Atwood.Held at their new

store location at 117 S. Pineapple Ave,

but you can choose to join via Zoom

instead. The only cost: The price of

the book ($16), which includes your

copy of The Handmaid's Tale to be

picked up anytime before the event.

The Handmaid's Tale won the 1985

Governor General's Literary Award

for English-language fiction and was

shortlisted for the 1986 Booker Prize,

yet is among the most challenged publications

in American history.

This dystopian novel explores

themes of women in subjugation and

the various means by which they gain

agency. It has been adapted into a television

series, which began airing on

Hulu in 2017 and the book has never

gone out of print since its first publication

in 1985.

Bookstore1Sarasota, 117 S. Pineapple

Ave., Sarasota. https://www.sarasotabooks.com/.

At The Bishop

On exhibit: Did you know that

different imaging technologies can

reveal hidden and intricate details

about natural phenomena and cultural

artifacts? The exhibition Picturing

Science: Museum Scientists and

Imaging Technologies will show you

more. This new limited-time exhibition

in The Bishop's Gallery 1 features

more than 20 sets of large-format

prints and showcases work by scientists

at the American Museum of Natural

History as well as items from The

Bishop's own collections.

The images featured were created in

pursuit of scientific knowledge — but

the work also resulted in visually arresting

art. The exhibition will allow

you to explore how imaging technologies

— including infrared photography,

scanning electron microscopy,

and computed tomography (CT) —

make it possible to examine and analyze

a range of specimens and phenomena

at levels of detail previously

unimaginable, advancing science and

providing new insights into the visual

splendor of the universe.

The Bishop Museum of Science

and Nature, 201 10th St. West,

Bradenton. www.BishopScience.org.

t

UF/IFAS Extension

Sarasota County

Lectures

September 6 — Shared Spaces:

Creating Your Edible Garden

Learn tips to create your very own

veggie garden. This webinar is ideal

for someone interested in learning site

considerations for creating a shared

space like a community garden or

school garden. Register for this event

only at ufsarasotaext.eventbrite.com.

Learn tips to create your very own

veggie garden. This webinar is ideal

for someone interested in learning site

considerations for creating a shared

space like a community garden or

school garden. Register for this event

only at ufsarasotaext.eventbrite.com.

There will be a brief time for questions,

too. Registration recommended.

Educator: Mindy Hanak, Community

and School Garden Coordinator, UF/

IFAS Extension Sarasota County.

• September 6— Wild Sarasota:

Hummingbirds of Florida (webinar).

Take a virtual walk on the wild side...

of Sarasota, with Dr. Katherine Clements,

ecology and natural resources

continued on page 8

t

SEPTEMBER 2022 WEST COAST WOMAN 7
---
out and about continued

educator. Learn more about these tiny

but tantalizing birds which are a wonder

to behold. Register early at ufsarasotaext.eventbrite.com.

• September 22 — Bay-Friendly Fertilizing

(webinar). Learn about our

Bay-Friendly Fertilizing Tool, which

will help you calculate your fertilizer

needs for your turf. Fertilizer can be

important for maintaining a healthy

lawn, but too much is bad for the bay.

You'll learn about a new tool to help

you calculate the amount of fertilizer

you should apply throughout the year

and the best time to apply fertilizer

outside of the blackout period. Register

for this event only at ufsarasotaext.

eventbrite.com

• October 6 — Healthy Homes (webinar).

A healthy home leads to a

healthier you. Learn how you can

improve the health of your home.A

healthy home leads to a healthier you.

This class will explore the different

elements that make up the indoor environment

quality of your home and

how they can affect your health, happiness,

and well-being. You will learn

different ways to manage the indoor

environment quality of your home,

and how to manage pests and mold.

Register early for this event at ufsarasotaext.eventbrite.com.

Instructors: Dr. Maria Portelos-Rometo,

Family and Consumer

Sciences agent, UF/IFAS Extension

Sarasota County, Carol Wyatt-Evens,

Chemicals in the Environment agent,

UF/IFAS Extension Sarasota County.,

and Alia Garrett, Sustainability Outreach

Coordinator, UF/IFAS Extension

Sarasota County.

For questions or further information,

call 941-861-5000.

Elling Eide Center

Arboretum Tours

and Lectures

At the Elling Eide Center:

• September 10: John Balaban, author

and translator.

• September 26: Dr. Yanning Wang,

Associate Professor of Chinese,

Florida State University

Register for upcoming events on

Eventbrite.

Also at the Center, join docent

Norman Burr on a 90-minute trek

through their historic grounds. Walk

through the arboretum and learn

about rare, interesting, and exotic

plants. Norman will discuss the geologic

history of Florida and how plant

life evolved. He will also share the

history of the inhabitants of the Elling

Eide Center from pre-history to today.

Then, venture inside and see Elling

Eide's personal collection of Asian art

and artifacts. Arboretum Tours are held

every Tuesday/Thursday of every week.

Register at www.ellingoeide.org for the

Arboretum Tour and their other events.

Elling Eide Center, 8000 South Tamiami

Trail, Sarasota. Admission: $5. Tour

is 2 hours with 60 minutes of the tour is

outside and 30 minutes of the tour is of

the inside of the Eide Center.

t

Lots of Fun

Outdoor Events

The Palm Avenue First Friday

Walks in downtown Sarasota gives

art lovers a backdoor peek without

the hustle and bustle of the crowds

but with the cool breeze and moonlight

sky the evening brings. The

event is held the first Friday of every

t

month, running 6-9

p.m. The next ones

are on September 2

and October 7. Info:

https://palmave.com/

Start your Saturday

with a sunrise stretch

at The Sarasota Farmers

Market. They offer

free, weekly sunrise

yoga to downtown

Sarasota. Participants

meet at the Mermaid

Fountain in Paul

Thorpe Park, near

the Intersection of

Pineapple and Lemon

Avenues. Enjoy Artful

Movement with Bianca,

a 45-minute guided

practice accompanied

by a playlist to

match the intention.

Starting at 7 a.m.,

participants will enjoy

a gentle yoga flow

suitable for all ages

and levels. The weekly

45-minute yoga

practice will focus

on movements that

foster inner and outer

balance.

For information, call 941-225-9256 or

visit sarasotafarmersmarket.org/yoga

t

The Van Wezel Friday Fest events

are an outdoor concert series that

provides the community with free

events to September, showcasing the

best of local bands from Sarasota and

Bradenton. Friday Fest brings together

a wide variety of talented artists

along with food trucks and drink

stations on the Van Wezel lawn along

the beautiful Sarasota Bayfront.

Next up: Jah Movement on September

16.

Info: https://www.vanwezel.org/

boxoffice/friday-fest-2022/

t

Marie Selby

Botanical Gardens

Marie Selby Botanical Gardens

has Flora Imaginaria: The Flower

in Contemporary Photography

through September 25 at the Downtown

Sarasota campus.

The Flower in Contemporary Photography

will feature a bouquet of flower

imagery drawn from many different

genres of photography produced over

the past three decades (1990–2020).

The photographs in the show will

highlight the beauty and diversity of

flowers, which have long been appreciated

aesthetically for their colors

and forms, as well as for their decorative

potential and symbolic power.

More than 70 prints by some 50 photographers

from around the globe

will be featured. Their varied work

will be displayed both inside, in the

Museum of Botany & the Arts, and

outside in the Gardens, providing

visitors a unique encounter with art

in the context of nature. Many of the

images have never previously been

featured in a major exhibition.

Information: www.selby.org.

t

At The Ringling

t

Florida Studio Theatre has The Jersey Tenors - Part II. The group is

an opera/rock by the legendary music of artists like Buddy Holly, Elvis,

Jerry Lee Lewis, and more. Runs to September 11.

Ballroom Florida: Deco & Desire

in Japan's Jazz Age is on view to September

25. This exhibition celebrates

a recent gift of six paintings from

Mary and Robert Levenson by Enomoto

Chikatoshi (1898–1973) and a photograph

by Hamaya Hiroshi (1915–

1999) depicting the women of the

Florida and its chic décor. The exhibition

is augmented with loans that

elaborate on themes that define this

group of artworks: Art Deco design,

the exotic, and elegant pleasures.

The Ringling also has "The world is

just so small, now: Works on paper

from The Ringling's Collection of

Modern and Contemporary Art" on

view through October 23.

The exhibition's title, The world is

just so small, now, is borrowed from

the first stanza of a poem by Brazilian

artist Abraão Batista. Bringing together

additional prints, watercolors, and

drawings by artists working on paper,

the exhibition highlights the medium

as fundamental to the artists' practice.

Assembled from The Ringling's

collection of contemporary works on

paper, most of the pieces are on display

for the first time since their recent

acquisition through purchase or donation.

Shown along with these are several

rarely seen lithographs, woodblocks,

and a relief print on glass acquired between

the early 1960s and late 1990s.

This exhibition is located in the

Keith D. and Linda L. Monda Gallery

for Contemporary Art and features the

work of Abel Barroso, Abraão Batista,

Romare Bearden, Sandra Cinto,

Francesco Clemente, Elisabeth Condon,

Mary Beth Edelson, Leon Hicks,

Corita Kent, Hung Liu, Jason Middlebrook,

Ibrahim Miranda, Duke Riley,

John Scott, David Alfaro Siqueiros,

Cauleen Smith, Linda Stein, Howie

Tsui, and William Villalongo.

The John and Mable Ringling

Museum of Art, 5401 Bay Shore Rd.,

Sarasota. Info: www.ringling.org.

Theatre

Discover Sarasota Tours has

their Murder Mystery and Haunted

Sarasota theatrical shows on their

trolley.

• Running every Friday at 8

p.m.: Haunted Sarasota, Mummies,

Murder & Mayhem. Explore Sarasota's

spooky side on this interactive

tour of haunted buildings, unsolved

crimes, and ghostly tales with ghost

hostess, Mary Whittaker and several

t

mystery spirits. $49.99

(includes free beer/

wine). 12 and over.

• Running every Saturday

night: Murder

Mystery Trolley:

Who Killed The

Circus Queen? Fun

interactive musical

where you are part of

the show. Solve the

mystery of Dahlia

the queen of the high

wire while you drive

to various circus spots

made famous in Circus

City USA. $49.99

(includes free beer/

wine). 12 and over.

They're located at

1826 4th Street. Book

online: DiscoverSarasotaTours.com

or call

941-260-9818.

Florida Studio

Theatre has its Summer

Cabaret Series.

Here's what's on:

• The Jersey Tenors

- Part II, a new show

created and conceived

by Brian Noonan, who co-founded

The Jersey Tenors about fifteen years

ago. The group is an opera/rock by

the legendary music of artists like

Buddy Holly, Elvis, Jerry Lee Lewis,

and more, this Inspired new revue

reignites Rock & Roll classics with

sizzle, showmanship, and style. The

four-piece band brings the best of

the '50s and '60s to Sarasota with

such hits as "It's So Easy," "Rave On,"

"Johnny B. Goode," and more. Runs

to September 11.

• Smoke & Mirrors begins August 3.

Hamilton Orr will stop at nothing to

get what he wants. A top Hollywood

director, Hamilton comes up with a

deadly scheme to gain control over a

multi-million-dollar film.

• New York State of Mind: All the

Hits of Billy Joel With the Uptown

Boys. Begins August 9. With more

than 40 years of cumulative work

on some of Broadway's biggest hits,

The Uptown Boys use Billy Joel's rich

songbook as a way to share their

stories of life, love, and trying to

make it in New York City. Whether

you're a fan of Billy Joel's entire catalogue

or just a casual listener, The

Uptown Boys have something to

satisfy everyone. Featuring such hits

as "Only The Good Die Young," "For

the Longest Time," "Piano Man,"

and many more you know and love.

FST Improv has:

• We're Doomed — September 3, 17,

and 24

• Thank You for Being a Friend

– September 10 only

Florida Studio Theatre, 1241 N.

Palm Avenue, Sarasota. (941) 366-

9000. Visit FloridaStudioTheatre.org

t

t

Venice Theatre has God's Country

running Sept. 9-25. A riveting,

highly theatrical docudrama

about those dedicated to revolution

against the U.S. government and

the expulsion from "God's Country"

of non-Aryans. Three narrative

spines are skillfully interwoven in

this thought-provoking, unsettling,

and challenging fare that examines

America's dark soul, and asks,

"What can/should we do about it?"

• From Sept. 16- Oct. 2 they'll have

The Revolutionists. Four bodacious

women lose their heads (literally)

in this irreverent, women-centered

tragicomedy set during the French

Revolution. This witty, thought-provoking,

raucously funny adventure

was inventively conceived by one of

today's most-produced American

playwrights.

•Oct. 7 - 16 will be Arabian Nights.

Through a mixture of song, dance,

puppetry, and illusion, these magical

folk stories of the Islamic Golden

Age deliver a message of acceptance,

freedom and forgiveness.

Venice Theatre is at 140 Tampa

Ave. W., Venice. Info: https://venice

theatre.org/events/

The Players Centra has Side by

Side by Sondheim, Sept. 8-18. This

revue celebrates the wit and genius of

musical theatre's most influential artist,

who searched for what it means to

be alive. Get ready to laugh, cry and

fall in love with lyrics that are heartbreakingly

true and music that captures

the soaring emotions of a new

generation with Side by Side by Sondheim.

Simple and unpretentious,

this Tony Award-winning musical is

a perfect introduction to the work of

this contemporary master and a must

for diehard fans. https://www.theplayers.org/shows/.

t

RENT is at Manatee Performing

Arts Center September 14-October

2 in the 80-seat Studio Theatre.

Jonathan Larson's iconic Pulitzer

Prize-winning musical that shaped

a generation of audiences and taught

us all to measure our life in love.

Set in the East Village of New York

City, Rent is about falling in love,

finding your voice and living for

today. Rent has become a pop cultural

phenomenon with songs that rock

and a story that resonates with audiences

of all ages. https://www.manateeperformingartscenter.com

t

Key Chorale

Coming up is Equinox: A Celtic

Celebration on September 24. Tenor

Brad Diamond joins Foley's All-Star

Irish Band and Key Chorale performing

jigs, reels, folk songs, and choral

music inspired by the Emerald Isle.

• Magnificent Markovs – Artist Series

Concerts Collaboration, is on

October 2. Featuring the gold electric

violin of violinist and composer Alexander

Markov, with choir, piano,

strings and rhythm section.

t

At The Van Wezel

Comedy legends Rita Rudner

and Robert Klein are on the Van

Wezel stage on February 22, 2023.

A house-filling favorite in Las Vegas

since she opened as one of the hottest

tickets in town in June 2000, Rita

Rudner is known for her epigrammatic

one-liners. Over the course of

a multi-year run she sold almost two

million tickets, grossed over a hundred

million dollars and became the

longest-running solo female comedy

show in the history of Las Vegas.

Robert Klein received a Tony Award

nomination for Best Actor and won

a Los Angeles Drama Critics Circle

Award for his performance in the hit

Neil Simon musical, They're Playing

Our Song. In 1993, Klein won an Obie

and the Outer Critics Circle Award for

t

continued on page 10

8 WEST COAST WOMAN SEPTEMBER 2022
---
healthier you

The Harms of

Tobacco Use

E

ach year, in the United

States alone, there

are 480,000 deaths due

to tobacco-related illness.

This is only the tip

of the iceberg when it comes to the

impact of tobacco use in our country.

For each death caused by tobacco,

there are at least 5 people living

with a serious tobacco related illness.

Tobacco use is the number one

preventable cause of death and

leads to disease and disability.

Tobacco can lead to many different

cancers and chronic health issues

throughout the body. In fact, tobacco

harms nearly every organ

system of the body, from the top

of the head all the way down to the

tip of the toes. Some of these cancer

and chronic conditions include:

• Asthma

• Buerger's Disease

• Lung Cancer

• Oral Cancer

• Popcorn Lung

• Pneumonia

• Emphysema

• Chronic Obstructive

Pulmonary Disease (COPD)

• Diabetes

• Gum (Periodontal) Disease

• Heart Disease

• Stroke

• Reduced fertility

• Vision Loss and Blindness

• Osteoporosis

• Poor Wound Healing

• Secondhand Smoke

• Higher Risk for COVID-19

• And More

The good news is that it is never

too late to quit using tobacco. Quitting

tobacco reduces the risk of tobacco-related

diseases in the future,

slows the progression of existing tobacco-related

disease, and improves

life expectancy by an average of 10

years. When a tobacco user quits, the

body starts to get healthier almost

immediately.

Help with quitting tobacco is free!

Gulfcoast South Area Health Education

Center (GSAHEC), as part of

the Tobacco Free Florida AHEC Cessation

Program—offers free tobacco

cessation sessions that are available

to help someone quit all forms of

tobacco. These group cessation sessions,

held virtually and in-person,

provide information about the effects

of tobacco use, the benefits of

quitting, and will assist you with developing

your own customized quit

plan. Free nicotine replacement

therapy in the form of patches, gum

or lozenges (if medically appropriate

and while supplies last) are provided

with the session. Attendees will also

receive a participant workbook, quit

kit materials, and follow up support

from a trained tobacco treatment

specialist.

Contact us today at 866-534-7909

or visit www.tobaccofreeflorida.

com/groupquitcalendar

to

schedule a class or learn more about

the program!

Reference:

Tools to Quit: Area Health Education Center (AHEC)

Cessation Program Participant Toolkit. Area Health

Education Centers. 2018.

PAID ADVERTORIAL

SEPTEMBER 2022 WEST COAST WOMAN 9
---
out and about continued

Outstanding Performance by an Actor

in Wendy Wasserstein's, The Sisters

Rosensweig.

He has dine nine one-man shows

for HBO and received his first Emmy

nomination for Outstanding Music

and Lyrics in 2001 for Robert

Klein: Child in His 50's.

Tickets: www.VanWezel.org. Preshow

dining is available through Mattison's

at the Van Wezel which is located

inside the theatre. Reservations can

be made on VanWezel.org or through

the box office.

Farmer's Markets

The Sarasota Farmers Market is

open on Saturdays, 7 am-1 pm, rain

or shine. www.sarasotafarmersmarket.org/

(941) 225-9256

t

Venice Farmers Market has more

than 40 vendors on Saturdays, many

based during the week in Venice,

Englewood and other areas of Sarasota

County. Held at Venice City Hall, 401

W. Venice Avenue, Venice. Call (941)

445-9209 or visit https://www.thevenicefarmersmarket.org/site/

t

The Newtown Farmer's Market is

open from 10 a.m. to 5 p.m. every Friday

and Saturday. The market is located

at Dr. Martin Luther King Jr. Park,

at the corner of Cocoanut Avenue and

Dr. Martin Luther King Jr. Way.

t

The Farmers Market at Lakewood

Ranch is now at Waterside Place.

Their Farmers Market currently has

about 60 vendors and went this past

summer from a seasonal market to a

year-round event.When the market

transfers to Waterside Place, taking up

space all along Lakefront Boulevard

and Kingfisher Lake, more than 80

vendors will line the street. The Farmers

Market will stick to a 10 a.m. to 2

p.m. time slot on Sundays.

t

Art Around

the State

At The Baker Museum: True

Likeness. True Likeness presents

contemporary portraits from diverse

makers in a variety of media including

video, photography, painting,

collage, installation, sculpture,

printmaking and drawing. These

artists, some familiar, others more

on the fringe of the art world, hail

from all over the United States. Their

own identities, and those presented

through their works, provide a snapshot

of who we are as a country. Runs

through September 25.

Also on exhibit: Recent Acquisitions:

2019 – Present. The Baker Museum's

permanent collection has grown

steadily over the past two decades

in both breadth and quality within

the museum's clearly defined scope,

which encompasses American, Latin

American and European art from

the 1880s to the present day. This exhibition

presents over 50 works that

have been added to the permanent

collection since 2019. Runs through

January 8.

t

The Baker Museum: https://

artisnaples.org/baker-museum.

Artis—Naples is at 5833 Pelican Bay

Blvd, Naples, FL. artisnaples.org

At the Boca Raton Museum of Art:

Art of the Hollywood Backdrop: on

exhibit through January 22, 2023.

This exhibition of scenic backdrops,

made for the movies between 1938 and

t

1968, is a celebration of

a popular art form that

had almost been forgotten;

and it is now time to

acknowledge the authorship

of the painting of

Mount Rushmore, Ben-

Hur's Rome, the Von

Trapp Family's Austrian

Alps, and Gene Kelly's

Paris street scene.

The concept for Art of

the Hollywood Backdrop

had its genesis

with the February 9,

2020, broadcast of a CBS

Sunday Morning program

with Jane Pauley.

This program called

attention to the effort

to preserve the scenic

backdrops that had laid

rolled up in the basement

of MGM studios.

The exhibition celebrates

Hollywood's

masters of illusion and

perspective, who have

received little recognition

for their talent or

applause for their essential

role in making film

magic.

Boca Raton Museum of Art: Visit the

Museum at 501 Plaza Real, Boca Raton,

Florida.

At The Dali: Running through

October 30, 2022, is 'the visit,' by

yamandú canosa. The Visit presents

the work of Uruguayan-Spanish artist

Yamandú Canosa (born 1954).

Through the exhibition, Canosa

creates a contemplative dialogue

between Surrealism and contemporary

art. In the words of the artist,

"The exhibition is intended as a visit

that contemporary art pays to the

house of Surrealism. One of the great

legacies of the surrealist movement is

its aesthetic complexity. This is confirmed

by its permanence in today's

art. Surrealism is about an attitude,

not aesthetic formulas: it is a way of

looking at and relating to experience".

The meditative installation explores

Salvador Dalí's environment

in Port Lligat, Spain, where Dalí

lived and worked throughout his

lifetime. The works relate the viewer

to the horizon, while alluding to the

Bay of Port Lligat: the beach, the Tramontana

wind, Dalí's house and the

island of Sa Farnera. Canosa's installation

also incorporates the Dibujos

ciegos (Blind Drawings), a series of

performative works on paper created

through a drawing process that elaborates

on surrealist practices.

The exhibit includes new and previous

notable works by the artist,

including paintings, drawings and

photographs, plus a small selection

of related Salvador Dalí works from

the Museum's renowned collection.

A portion of the Museum's Hough

Gallery will be transformed into a dramatic

installation designed by the artist

specifically for the Museum. Info:

https://thedali.org/exhibits/current/

t

Sixteen Tampa Bay region artists

will set up their workbench and studios

at Florida CraftArt for the Artists'

Workbench exhibition. They

will demonstrate how they create

fine craft from 11 a.m. to 4 p.m. Each

week visitors can watch artists working

and their work will be on display

and for sale in the gallery.

t

Tampa Bay Tyler Jones is one of the artists who will set up their

workbench and studios for the Florida CraftArt for the Artists'

Workbench exhibition. Watch him throw clay on the wheel on

September 23.

Mark your calendar for artists

demonstrations:

• September 6-10: Joyce Curvin

(Sculpture)

• September 13-17: Shelly Reale (Ceramic

Sculpture)

• September 20, 21: Richard Avery

(Ceramics on wheel)

• September 22: Sue Shapiro (Ceramics,

handbuilt)

• September 23: Tyler Jones (Ceramics

on wheel)

• September 24: Kimberli Cummings

(Ceramics)

• September 27-30: Michael Baker

(Glass)

• October 1: Matthew Szidik (Glass)

• October 4-8: Laurie Landry (Mosaic)

• October 11-15: Eric Folsom (Metal)

• October 15, 4 p.m. Meet the all the

artists at the closing reception.

Artists' Workbench will be on

exhibit with artists demonstrating

their techniques through October

15. Florida CraftArt is located at 501

Central Avenue in St. Petersburg.

For more information, visit www.

FloridaCraftArt.org.

Tampa Museum of Art has

Dawoud Bey & Carrie Mae Weems:

In Dialogue through October 23,

2022. Dawoud Bey & Carrie Mae

Weems: In Dialogue brings together a

focused selection of work from a period

of over forty years by two of today's

most important and influential photo-based

artists.

Dawoud Bey and Carrie Mae

Weems, both born in 1953, came

of age during a period of dramatic

change in the American social landscape.

Since meeting at the Studio

Museum in Harlem in 1977, the

two artists have been intellectual

colleagues and companions. Over

the following five decades, Bey and

Weems have explored and addressed

similar themes: race, class, representation,

and systems of power, creating

work that is grounded in specific African

American events and realities

while simultaneously speaking to

universal human conditions.

This exhibition, for the first time,

brings their work together to shed light

on their unique trajectories and modes

t

of presentation, and their

shared consciousness

and principles.

Sea Turtle

Nesting

Season is

Here

Sea turtle nesting

season takes place

through Oct. 31 on

Southwest Florida

beaches. Mote Marine

coordinates with county,

state and federal efforts

to conserve sea turtles —

particularly loggerheads,

since Sarasota County

hosts the highest density

of loggerhead nests in

the Gulf of Mexico.

Data show that nesting

by loggerhead turtles declined

and then rebounded

in recent years, while

green turtle nesting — although

very low in numbers

— has increased.

On nesting beaches,

light from waterfront

properties can disorient

nesting female turtles and their

young, which emerge at night and

use dim natural light to find the sea.

Also, beach furniture, trash and other

obstacles can impede sea turtles and

their young. While Mote documents

turtle nests, the best thing you can do

to help is to refrain from using artificial

light while on the beach.

t

Here are some tips to keep beaches

turtle-friendly:

• DO stay away from sea turtle nests

marked with yellow stakes and tape,

and seabird nesting zones that are

bounded by ropes.

• DO remain quiet and observe from

a distance if you encounter a nesting

sea turtle or hatchlings.

• DO shield or turn off outdoor lights

that are visible on the beach from

May through October.

• DO close drapes after dark and

stack beach furniture at the dune line

or, ideally, remove it from the beach

• DO fill in holes that may entrap

hatchlings on their way to the water.

• DON'T approach nesting turtles

or hatchlings, make noise, or shine

lights at turtles.

• DON'T use flashlights, head lamps

or fishing lamps on the beach.

• DON'T encourage a turtle to move

while nesting or pick up hatchlings

that have emerged and are heading

for the water.

• DON'T use fireworks on the beach.

• DON'T walk dogs on any Sarasota

County beach other than Brohard

Paw Park in Venice. There, dogs must

be leashed or under voice control, according

to county ordinances.

Report stranded sea turtles and

marine mammals. Mote Marine

Laboratory's Stranding Investigations

Program responds 24 hours a

day seven days a week to reports of

sick, injured and dead marine mammals

and sea turtles for animals

in Sarasota and Manatee County

waters. Live animals are brought

back to Mote's Dolphin and Whale

Hospital or Sea Turtle Rehabilitation

Hospital for treatment and the deceased

animals undergo a detailed

post-mortem examination so that

we may learn more about the natural

history of these animals and evaluate

long-term trends in mortality.

Within Sarasota or Manatee County

waters, if you see a stranded or

dead dolphin, whale or sea turtle,

call Mote's Stranding Investigations

Program, a 24-hour response service,

at 888-345-2335.

If you see a stranded or dead manatee

anywhere in state waters or a

stranded or dead dolphin, whale or

sea turtle outside of Sarasota or Manatee

counties, call the FWC Wildlife

Alert hotline at 1-(888) 404-3922.

Coming Up:

Atomic Holiday Bazaar, Sarasota's

original indie-craft show,

returns to Robarts Arena on November

26-27. Celebrating 15 years of

creative commerce supporting local

artists and crafters who specialize in

off the beaten path gift items for the

holiday shopping. https://atomicholidaybazaar.com/

t

Wine Women & Shoes is back

November 17-19. Wine, Women features

an over-the-top signature luncheon

at the Ritz-Carlton including

fabulous wines, stunning stilettos,

shopping, and a not-to-be-missed

fashion show. Visit https://www.

winewomenandshoes.com/event/

fortycarrots/

t

Just for Girls' Annual Awards

Showcase Event returns on November

4, 2022, at IMG Academy Golf

Club. Join them as they celebrate

Honorary Girl (and JFG alum) Marianne

Barnebey, and give thanks to

Gail Hannah for her years of service

as President of the Manatee County

Girls Club Foundation, Inc.

Sponsorships for this event are

available. Call Samantha Daggett at

941-777-0707 x3204 or email Events@

myjfg.org.

t

The 12th Annual Tour de North

Port "It's the Green Pumpkin!" is on

October 23. Registration is now open

for this fun, organized, on-road scenic

bicycle ride with routes of 15, 35, or

65 miles that travel through some of

North Port's most beautiful, natural

settings featuring the Florida pine

flatwoods and the parks that border

the Myakkahatchee Creek with each

route having its own color-coded road

markings. The Tour de North Port is

not a race.

Breakfast, catered lunch, homemade

desserts and pies, fully stocked

rest stops with homemade snacks,

full mobile Support And Gear (SAG).

Pre-registration online by Oct. 21 is

$50; day-of, $55.

Doors open at 7a.m. for check-in and

breakfast, with group starts beginning

at 8a.m. from Imagine School, 2757

Sycamore St., North Port. Register

online at www.peoplefortrees.com.

t

New College of Florida will celebrate

the 43rd anniversary of its

annual Clambake, hosted by the New

College Foundation, on November 3, at

6 p.m. The event will take place on the

New College bayfront beside College

Hall, 351 College Drive in Sarasota.

All ticket proceeds benefit student

scholarships. Event chairs are Erin

Christy, Doug Christy, and Charlene

Heiser Wolff. Tickets start at $275.

For more information, call 941-487-

4800 or email foundation@ncf.edu.

Enjoy New England fare catered by

Michaels On East.

t

10 WEST COAST WOMAN SEPTEMBER 2022
---
SAVE $2 W/CODE WCW

DAILY TROLLEY TOURS

ENTERTAINING • INFORMATIVE

Mobil

BO

WitchyPOO

Witchy

with

& the Pumpkin

POO & the Pumpkin

NEW TOUR

For Kids!

*****

WHAT A HOOT!

Children $19.99

Adults $24.99

Weekends

October 14-30

6:30-7:15PM

Prizes for Best

Costumes!

A Magical Musical Halloween Adventure!

Apple Cider & Cookies Served On Porch Before You Board

*****

FABULOUS

MYSTERY GUESTS!

Haunted

S A R A S O T A

Mummies, Murder & Mayhem!

*****

SPOOKTACULARLY

FUN!!!

2023

MOMentum

ISRAEL TRIP*

Applications

OPENING SOON!

Tap into yourself, your people and your homeland.

Join us for a weeklong trip of a lifetime!

July 2023**

Criteria: Mothers raising Jewish children under 18 years old living at home.

* This trip is highly subsidized!

It's FREE to apply. Spaces are limited.

** Dates to be announced.

For more information contact Trudi Krames

941.706.0037 or tkrames@jfedsrq.org

TO LEARN ABOUT MOMENTUM:

momentumunlimited.org

Hop Onboard For An Historical Ghost Tour Of

Sarasota's Most Haunted Buildings, Unsolved

Murders & Mystery Guests! Perfect for Groups!

PRIZES FOR BEST COSTUMES ON EACH TOUR!

8 PM Nightly • October 14-31st

$49.99 (+tax/handling fee)

Includes Complimentary Beer/Wine

BOOK ONLINE

DiscoverSarasotaTours.com

941-260-9818

Visit The Trolley Cottage & Gift Shop | 1826 4th Street | FREE Parking!

SEPTEMBER 2022 WEST COAST WOMAN 11
---
Mediation Works

(No Attorney Required)

"I could not believe that two people could sit in a room

together and calmly and rationally come to an agreement

on everything that took attorneys years to do."

Marital Mediation

Thinking about divorce? Let's discuss what might happen if you divorce and what

could happen if you choose to stay together and improve your marriage.

Divorce Mediation

Understand your options so you can come to a mutually agreeable and fair

outcome for you and your family.

Eldercare Mediation

We work with adults and their caregivers to come up with solutions that will result

in the best possible outcome for all concerned.

Freya Robbins

Mediator &

Certified Divorce Financial Analyst®

941.366.0202

ZollingerMediation.com

3580 S. Tuttle Ave., Suite 110

Sarasota, FL 34239

12 WEST COAST WOMAN SEPTEMBER 2022
---
focus on the arts

TICKETS ON SALE NOW FOR

Artist Series Concerts of Sarasota's

2022-2023 Season, "Ever Onward"

Artist Series Concerts

will present 25 concerts

during its 27th season,

"Ever Onward." The

season – sponsored

by Ernie Kretzmer – runs from

October 2, 2022 through May 14,

2023 and offers a diverse range

of musical experiences featuring

emerging and established

classical, jazz, pops, and chamber

artists.

Marcy Miller, executive director

of Artist Series Concerts, stated,

"We're thrilled to present the

first season planned by Daniel

Jordan, our new director of artist

programs. This schedule highlights

our mission of presenting

acknowledged stars of the next

generation." She continued, "Our

various series allow patrons to easily

choose their favorite genres or

venues, whether they purchase a

subscription or single tickets. We

have experiences to meet everyone's

musical preferences."

The season opens October 2

with a concert in the Virtuoso Violins

Series presented at Sarasota

Opera House. The Magnificent

Markovs – Alexander, Albert,

and Marina Markov – are

known as the "first family

of the violin." The three

will perform classical

favorites together. Then

Alexander will play his

original composition,

Caesar, on his gold electric

violin, accompanied by

Key Chorale and Booker High

School VPA Choir. Young violinists

Blake Pouliot and Simone Porter

take the stage as Double Feature

on December 6, with pianist

Hsin-I-Huang. Vivaldi and

Mendelssohn on May 9 brings

together young concertmasters

from four American orchestras

for Vivaldi's Four Seasons and

Mendelssohn's String Octet.

The Lunch & Listen Series

moves to the Sarasota Yacht Club

this season, but still spotlights

gifted young artists in concert at

11:00 a.m. followed by lunch at

12:15 p.m. Prize winners Anthony

Trionfo, flute and Albert Cano

Smit, piano, present the first

concert in this series on October

27, followed by Vision Duo (Ariel

Horowitz, violin and Britton-René

Collins, marimba), on December

15. Young Concert Artists' classical

accordionist Hanzhi Wang, praised

for her captivating stage presence,

plays February 9. The March

23 concert features Sarasota Orchestra's

principal second violin

Samantha Bennett; and Canadian

cello sensation Cameron

Crozeman with Meagan Milatz, piano,

close this series on April 27 in

a program inspired by composers'

vacation trips.

The Lighter Fare Series offers

classic jazz and musical theater

favorites outdoors at Marie Selby

Botanical Gardens Downtown

Campus and indoors at Plantation

Golf & Country Club in Venice.

Bass to Bass: John Miller

and Michael Ross on

November 9 offers

Young Concert

Artists' classical

accordionist

Hanzhi Wang

jazz standards plus a little rhythm

and blues. Danielle Talamantes,

soprano and her husband Kerry

Wilkerson, bass-baritone, perform

classics from the Great American

Songbook on January 18. Sarasota's

own Broadway star Maria

Wirries (Dear Evan Hansen) presents

a homecoming concert on

February 23. Guitarist JIJI, who

performs April 20, was selected

by the Washington Post as "one of

the 21 composers/performers who

sound like tomorrow."

Sarasota's 18th century theater

serves as the backdrop for the

Tuesdays at the Historic Asolo

Theater series. SYBARITE5,

a genre-crossing quintet with

Sarasota roots, performs November

15. The 442s, comprised of

three members of the St. Louis

Symphony and two of that region's

finest jazz musicians, take the

stage December 13. Grammy-

Sarasota

Orchestra's

principal

second

violin

Samantha

Bennett

nominated Dover Quartet – one

of the most in-demand chamber

ensembles in the world – performs

on January 10. Lincoln Trio,

joined by clarinetist Bharat Chandra,

presents Olivier Messiaen's

moving Quartet for the End of Time

on February 28. The piece was

composed in a World War II German

prisoner-of-war camp for fellow

prisoners to perform. Pianist

Michelle Cann, the 2022 Sphinx

Medal of Excellence winner, plays

on March 7.

The Soirée Series returns to

the music room of the Fischer/

Weisenborne residence with

award-winning tenor John Kaneklides,

November 20 and 21; Santa

Fe Opera's concertmaster Steven

Moeckel, January 29 and 30; and

Sarasota native Daniel Solowey,

clarinet, March 5 and 6. These

intimate performances give the

audience the opportunity to get

up-close-and-personal with the

musicians.

Artist Series Concerts is collaborating

with The Sarasota Ballet

on two programs. The first, from

October 21-23, pairs chamber

music with a triple bill of world

premieres by Sarasota Ballet choreographers.

The second, on May

2, showcases young dancers of The

Sarasota Ballet Studio Company

and Margaret Barbieri Conservatory.

Tickets are available at sarasotaballet.org.

Concerts that are not part of a

series include pianist Lin Ye with

principal string musicians from

the Sarasota Orchestra on March

26. Cheryl Losey Feder and her cellist

husband Abraham Feder perform

on April 9. Brothers Paul and

Steven Laraia present Viola Royale

on May 14. Paul is part of the

Grammy Award-winning Catalyst

String Quartet and Steven is with

the Boston Symphony Orchestra.

For tickets and more

information, visit

ArtistSeriesConcerts.org

or call (941) 306-1202.

PAID ADVERTORIAL

SEPTEMBER 2022 WEST COAST WOMAN 13
---
focus on the arts

What's on at Sarasota Art Museum

Katrina Coombs

Three Exhibits: Coombs, Biggs and Ladds (2)

S

ARASOTA ART MUSEUM has

Katrina Coombs I M(O)ther

Threads of the Maternal Figure

through October 2, 2022.

Katrina Coombs (b. 1986, Jamaica)

has a passion for fiber and an understanding of the sensitivity

of threads and

fabric, which she uses

to bring forth unique

designs and sculptural

forms. Coombs' works

are inspired and guided

by a quest to deepen

the spiritual, emotional,

and psychological

understanding of the

numerous conflicting

roles that have been

attributed to women in

contemporary society.

Sarasota Art Museum kicks off its fall exhibitions

with Steven and William Ladd: Lead With a Laugh,

on view Sept. 4, 2022 – Feb. 5, 2023. The exhibition will

feature new, never-before-seen works and a history

of Scrollathon, the community engagement program

founded by Steven and William that transforms participants'

original works of art into public Collaborative

Masterworks. A new masterwork made in collaboration

with 20 regional community partners during the

Sarasota Scrollathon will open to the public Oct. 16,

2022, kicking off the National Scrollathon.

archival, handbound books, and to sprawling floor pieces

that invite visitors to take a closer look. While the artworks

vary in scale, color, and subject matter, they are

united through the artists' dedication to collaboration and

personal narrative. Whether it is stories from their childhood

or more recent adventures, the artworks are created

by Steven and William Ladd through conversation and

shared memories of these experiences.

Also coming up is Journeys to Places Known and

Unknown: Moving Images by Janet Biggs and peter

campus, the first exhibition at the Museum dedicated

to video and digital media. On view Oct. 2 – Jan 15,

2023, Journeys to Places Known and Unknown is the first

collaborative show for Janet Biggs and peter campus.

Journeys to Places Known and Unknown looks at the

contrasting ways two artists of different generations

use moving images to explore intersections of science,

philosophy, and spirituality. Janet Biggs (b. 1959) is a

research-based, interdisciplinary artist known for her

immersive work in video, film, and performance. peter

campus (b. 1937) is an influential artist in the canons of

new media and video art. Beginning in the 1970s, peter

campus pioneered the nascent medium of video and moving

images as a way to make art.

Steven & William Ladd

Steven & William Ladd

Steven and William Ladd are brothers who have been

making art together for over two decades. They began

their artistic careers as accessory designers. They

transform beads, textiles, and trinkets through cutting,

weaving, sewing, and scrolling into highly ornamented,

detailed sculptures. Steven and William Ladd: Lead With

a Laugh narrates various episodes of the Ladds' collective

career – those of past, present, and future – with anecdotes

of the memories and recent encounters that characterize

their work.

Steven and William Ladd: Lead With a Laugh at

Sarasota Art Museum will present nearly 500 artworks,

objects, and ephemera, including a range of works from

never-before-seen beaded landscapes and drawings, to

Journeys to Places Known and Unknown includes

multi- and single-channel projections as well as video

installations on flatscreen monitors. Individual galleries

house the different works, giving each video space for

contemplation while also creating a dynamic dialogue

that stretches across the second floor of the Museum.

The show highlights the strengths of both artists: Biggs

presents expansive, hauntingly beautiful tributes to

humanity's perseverance in intense situations; campus,

meanwhile, offers quiet moments of meditation with his

painstakingly constructed, painterly videographs.

Janet Biggs &

peter campus

Sarasota Art Museum

is at the

Ringling College Museum Campus, 1001 South Tamiami Trail, Sarasota.

https://www.sarasotaartmuseum.org/visit/

14 WEST COAST WOMAN SEPTEMBER 2022
---
your healthier health you

Craniosacral Therapy Can Be Life Changing

CST treats the whole body physically, physiologically, mentally, emotionally and energetically

Clients come to me because they are in physical

pain such as neck, back, pain and TMJ as well as

for chronic headaches and migraines.

Pain and stress caused by

shortened Fascia

Fascia (strong connective tissue) encases all

our muscles, organs, brain and spinal cord.

Whenever fascia shortens any place in the

body, the entire network of fascia creates an

increased tension affecting the functioning

of our physical body as well as our organs,

our brain and spinal cord.

Our body is the history of every major

trauma we have experienced physically and

emotionally beginning with birth issues, falls,

head trauma, car accidents, childhood abuse

issues, death, divorce and other emotional

issues. Our body tries to minimize each trauma

by shortening fascia to isolate the energy

coming into the body from that trauma.

Shortened fascia results in pain, loss of mobility

and range of motion, organs becoming

less efficient and with parts of the brain and

spinal cord becoming stressed.

To keep the brain functioning, the body

transfers some of your functional work play

energy (7:00 AM-10:00 PM) to the brain resulting

in less energy to make it through each

day. As we age, the accumulation of all the

tightened fascia, from every major trauma

in life, begins to restrict every aspect of our

body's functions resulting in pain, loss of mobility,

mis-functioning organs, loss of energy,

as well as our brain losing some its sharpness.

How Craniosacral

Therapy Works

The Craniosacral Therapist creates a safe

place, with gentle holding techniques, that

engages your body's ability to self correct,

reorganize and heal itself with the release

of some of that tightened fascia during

each session. As the Craniosacral Therapist

engages your body, you will feel fascia releasing.

As the fascia releases, pain begins to

decrease, range of motion and mobility improve,

organs begin functioning better and

with less stress on the brain feels, it returns

the energy it borrowed at the time of each

trauma resulting in an immediate increase in

your energy levels. Rarely does anyone leave

from my first session not feeling better.

Short Leg Syndrome

Eighty-five percent of my clients have one

of their legs pulled up 1/2 to 1 by shortened

fascia. The tension from short leg syndrome

on the sacrum (5 fused vertebrae at bottom

of the spine) is transferred up the dural tube

that encases the spinal cord into the lower

and upper back, the neck, the cranium and

The physical stress in bodies caused by shortened

fascia (connective tissue) shuts down

energy flows to certain organs. Short leg syndrome

by ½ to 1 in (where one leg is pulled up

by shortened fascia) shuts down energy flow to

the spleen (an important part of your immune

system) and the small and large intestine. With

the release of that shortened fascia, energy returns

to these organs.

the brain. Headaches, migraines, TMJ and

neck problems can originate from the fascial

stress in the sacrum.

Releasing this sacral stress increases energy

in the bladder, sex organs, kidneys and

the chakras as well as releasing major stress

in the upper part of the body.

Cause of Shallow Breathing

A great majority of the clients who come to

me for various problems are also shallow

breathers. Fascial stress in the diaphragm

restricts the depth of breathing by restricting

energy flow to the lungs, the pericardium

and the heart. With the release of fascial diaphragm

restriction, the client immediately

starts breathing deeply and energy is restored

to the pericardium and the heart.

Shoulder blades that are cemented to the

body also restricts how much the rib cage can

open and thereby also restricting depth of

breath. Without proper breathing, your cells

do not get enough oxygen. Everyone, especially

people suffering from bronchitis, asthma

and COPD as well as shallow breathing can

benefit when the fascial stress is released.

Specialized Training

to work with Brain

Dysfunctions

Just as the body physically gets stressed from

physical and emotional trauma, the functioning

of the brain is also affected by fascial stress. For

our brains to remain healthy, we need dynamic

production of craniosacral fluid which performs

the important function of bringing nourishment

to all the cells in the brain and spinal

cord as well as cleansing all the metabolic

wastes given off by those same cells.

Once the craniosacral fluid cleanses these

metabolic wastes, efficient drainage of these

metabolic wastes into the lymph system is

absolutely necessary. Research has shown,

that at night, craniosacral fluid cleanses amyloid

plaques from the brain. If the drainage

is inefficient, then the brain is being bathed

in a toxic slurry. How does 15 or 20 years of

your brain being bathed in a toxic slurry

affect you: senile dementia, Parkinson's,

Alzheimer's and other brain dysfunctions?

A Craniosacral Therapist, who has received

training in working with the brain, can reverse

that stress on the brain that eventually can

result in those brain dysfunctions. As we all

know, the proper functioning of the body is

dependent on a healthy functioning brain.

Babies and Children can benefit

■ Our little boy Leo, four years of age, had a

difficult birth and at 7 months was put on antibiotics

for an ear infection and as a result developed

c-diff. His development came to a stop.

At 3 years, with the help of an OT, he started

to walk and talk. In spite of the improvements,

he was unable to answer questions and his

communication skills were very poor. Leo

had very poor muscle tone, a lot of stress in

his body and physical activities such walking,

jumping and climbing were difficult for him.

Beginning with the first session with Terry,

he began showing improvement and with each

following session. Everyone from his teachers

to his grandparents noticed an increase in his

■ "I was in awful pain and the

MRI showed 2 pinched nerves

and stenosis. I scheduled surgery.

My daughter suggested Craniosacral therapy.

After only 2 visits the pain was reduced to

advanced craniosacral about 80% and therapy I canceled the surgery. I went

for a 3rd visit and I am about 90% better."

■ "Simply Amazing! One visit was all it took for

Terry to relieve 85% of my year long, nagging

(sometimes severe) neck/shoulder tightness/

pain!! My breathing improved tremendously."

physical strength, as well as improvements in

comprehension, speech and communication

skills. For the first time, he started participating

in class lessons and interacting with his

classmates. Terry has made a huge impact on

getting Leo to a place a little boy should be at

age four. We cannot thank Terry enough.

■ Terry's treatment helped our 6 week old

baby boy from recent hospitalization into

the first series of healthy bowel movements

when seemingly nothing could help. Our son

was able to latch onto the breast and for the

first time completed his feeding. He was much

calmer after working with Terry.

■ "He was able to relieve tension that I have

been carrying around for 15 years or more.

I left his office table with more energy than I

have had in years."

■ "I began working with him because I was

dealing with anxieties, depression and lots of

emotional pain inside and out. You don't realized

how much stress can cause damage to

your body, mind and soul. I can say Terry was

a big help."

Terrence Grywinski

of Advanced

Craniosacral Therapy,

B.A., B.ED., LMT #MA 6049

Testimonials from Clients

SOURCE:

■ Terrence Grywinski of Advanced Craniosacral Therapy,

B.A., B.ED., LMT #MA 6049. Terry has specialized in Craniosacral

Therapy since 1994 when he began his training at the Upledger

Institute. Described by his teachers, clients and colleagues

as a "gifted healer", Terry's intuitive sense and healing energy

provides immediate and lasting relief from injury, pain, mobility

issues as well as dysfunctions of the body and the brain. Part

of Terry's ongoing education, he has completed 4 craniosacral

brain and peripheral nervous system classes which enables him

to work at a cellular

level and with brain

dysfunctions.

Call 941-321-8757

for more information,

Google Advanced

Craniosacral

Therapy.

■ "On a recent vacation to Siesta Key, I re-injured

my back. I found Terry online. I can say

with complete joy that was the best decision

I made in the history of my back pain. I have

sought many modalities and visit a CST regularly

and never have I had such a healing in

my entire body.

After 3 sessions, I made a 16-hour drive

home with no pain or discomfort in my entire

body. Unbelievable. My body has a sense of

moving freely and that is completely new. I'm

advanced craniosacral therapy

so grateful to Terry for his knowledge, for his

sensitivity to my needs and his kind generosity

in healing my body. I will see him when I return

next year."

■ "I am a snowbird who spends 7 months

in Sarasota. I have had back problems for 25

years. Terry's techniques have led to a great

deal of release and relief in areas that have

been problematic. I have been seeing him over

the years when my body says "it's time". Usually

after a few sessions, I can tell a huge difference."

PAID ADVERTORIAL

SEPTEMBER 2022 WEST COAST WOMAN 15
---
Dr.

Phyllis

Brown

She's the Director

of (OLLI) at

Ringling College

and housed at the

Sarasota Art Museum.

Dr. Brown hails from

Rhode Island and

has spent a good

bit of her career in

the New England

area, but has been

in Sarasota for

the past 20

years and

at OLLI

since

March.

16 WEST COAST WOMAN SEPTEMBER 2022
---
It's a quiet and very warm

August day and, like so many

places in Sarasota, work and

life in general are at a slower

pace. But looks can be

deceiving. Just six weeks

away in late September, OLLI

will be buzzing with people who have come

for its lectures and workshops.

In case you need a refresher, OLLI is an

acronym that stands for Osher Lifelong

Learning Institute and is housed at the

Sarasota Art Museum. According to their

website, OLLI offers "finance, history, science,

current events, languages, and more

without the pressure of credits or grades."

And a little background on the name

Osher. Since 2001 philanthropist Bernard

Osher has made grants from the Bernard

Osher Foundation to launch OLLI programs

at 120 universities and colleges

throughout the United States—including

Sarasota which is unique because it is in

an art museum, not a college. That being

said, OLLI is a division of Ringling College

of Art and Design.

New and returning students will find

they have a new director, Dr. Phyllis Brown,

when sessions start on September 28. Dr.

Brown hails from Rhode Island and has

spent a good bit of her career in the New England

area, but she has been in Sarasota for

the past 20 years and at OLLI since March

of this year.

She has degrees and extensive experience

in higher education most recently as

associate dean/campus director for the

School of Professional and Continuing

Studies at Springfield College in Tampa.

Dr. Brown also led undergraduate studies

at Goddard College in Plainfield, Vermont,

and Port Townsend in Washington. Prior to

Goddard, she served as assistant professor

of education, School of Education at Lesley

University in Cambridge, Massachusetts.

Dr. Brown graduated from the University

of Rhode Island with a Bachelor of Arts

degree in history; earned a Master in Management

of Human Services from Brandeis

University, Waltham, Massachusetts; and

has a Doctorate in Education from the University

of Massachusetts, Amherst.

She's been involved locally with the

Manatee Literacy Council, Friends of the

North Sarasota Library, and State College of

Florida and Florida Heritage House, showing

her keen interest in history and community

as well as education.

Since beginning her new position, for example,

she knows the building that houses

OLLI was Sarasota High School (SHS) and

was once segregated. It took ten years after

Brown v. Board of Education, she notes, for

the school to desegregate. She's met many

African-American natives and transplants

in the area who have given her the fuller

history of Sarasota. Fredd Atkins, first

African-American mayor of Sarasota and

longtime city commissioner, shared with

her his experience of being bused to SHS in

the late 60s.

Lovette W. Harper, a retired New York

State educator and fellow Sarasota transplant

who for decades has been active in

supporting African-American heritage here

and elsewhere, introduced Dr. Brown to a

variety of people. Having these first-hand

accounts, Dr. Brown notes, "Helped with

the adjustment" to this community.

While the current calendar year is mostly

set, and she always believes in collaboration,

not a top down management style, Dr.

Brown says she would indeed like to have

future lectures that discuss the history of

Sarasota's Black community which, sadly,

few people know.

We talk about choosing courses, topics

and presenters and she emphasizes again

that it's a collaborative effort. "There's a

curriculum committee," she explains, that

also includes "members and instructors."

She adds OLLI is "going with what's popular"

this year, thus the ubiquitous, but always

sold out iPhone classes, but generally,

OLLI follows a "liberal arts curriculum and

that will stay the same."

"People love the history, arts appreciation

and literature classes, and the walking

tours are super popular." A quick scan of

the listings in the catalog shows things like

"Afghanistan and Southeast Asian Politics"

alongside "Basics of Crypto and Digital

Currency" alongside "Quiet the Mind, Relieve

Stress, Find Peace with Meditation"

alongside "Democracy and the Electoral

College." And OLLI doesn't shy away from

hot button topics as seen in its "The Constitution

– Gun Control, Abortion, and Right to

Life Issues" class.

Dr. Brown feels strongly in the value of

lifelong learning (LL) experiences."It [LL]

adds to the quality of life as people age. It

keeps people engaged in their community….people

grow and develop." And, lifelong

learning students engage for the "joy of

learning" and OLLI students "desire and

seek knowledge; they want to engage with

diverse views." The average age of OLLI students

is mid-70s and most are newly retired.

Collaboration again comes into our conversation

when talking about OLLI being

located on the same campus as the Sarasota

Art Museum (SAM). SAM's Executive Director,

Virginia Shearer, also sees the value

of collaboration between the two entities.

OLLI offers art appreciation classes for

example, but you can also take art classes

(with Continuing Studies, another part of

the SAM campus) and of course, experience

artists and their work on display —making

it a true community space. "Our goal is

more cross-fertilization," Dr. Brown adds,

"OLLI members can become art museum

members" and vice versa, of course with

"opportunity there for growth."

Dr. Brown heard about the OLLI position

through professional job sites, but admits

she's always "loved Ringling College."

When she saw the position she recalls, "I

was ecstatic to work in lifelong learning and

be close to my home." Her advisory council

is "so passionate and motivated" and admits

she's "caught the OLLI fever."

"We will grow in our diversity with instructors

and offerings…everyone will see

OLLI as a space for them…let's bring them

all together — a double rainbow, that's how

I envision OLLI being one day."

Her office is on the ground floor and

she'll be out in the hallway saying hello

when OLLI is in session but adds, "My door

is open…stop in and say hello." And if you

have an idea, she adds, "I'd like to hear it."

STORY: Louise Bruderle

IMAGES: Evelyn England

OLLI Open House

You can meet Dr. Brown at OLLI's Fall

Preview on September 8, 1-3:30 p.m. on

the Ringling College Museum Campus.

They'll be showcasing some of their upcoming

programs. RSVP by September 5

by emailing olli@ringling.edu or by calling

941-309-5111. The fall term begins on

September 28. For more information, visit

https://olliringlingcollege.org/about-us/

welcome-to-the-academy/

Ask your Financial Advisor for

Inheritance Tips

QUIT TOBACCO

with GROUP QUIT

There's never been a more important time to quit.

Free expert-led sessions to help you quit all forms of tobacco.

2 . 6 LO G O LOCKUP S

1 .

2 .

Develop your

personalized

quit plan.

Learn about giving money

to children, the challenges

and opportunities

Call Amanda 941-914-1560

for an appointment and

get started today.

Amanda E. Stiff, MBA Financial Advisor

AccessAdvisorsLLC.com 941 914-1560 Astiff@AccessAdvisorsLLC.com

1800 Second Street Suite 895 Sarasota, FL 34236 1305 Langhorne Road Lynchburg, VA 24503

Securities are offered through Level Four Financial, LLC a registered broker dealer and member of FINRA/SIPC. Advisory Services are offered

through Level Four Advisory Services, LLC, an SEC-registered investment advisor. Level Four Financial, LLC, Level Four Advisory Services,

LLC and Access Advisors, LLC are independent entities. Neither Level Four Financial, LLC, Level Four Advisory Services, LLC nor Access

Advisors, LLC offer tax or legal advice.

*(If medically 3 . appropriate for those 18 years of age or older)

CALL TODAY:

4 .

FREE nicotine

replacement patches,

gum, or lozenges. *

Learn more about all of Tobacco Free Florida's tools and services at

X

TFF.COM / FDOH LOCKUP

Virtual Group Sessions -OR- In-Person Group Sessions

Pre-registration is required.

Sarasota's Original Theatre

93rd

The logo lockups were designed to contain both logos

separated by a bar that is the same thickness as our

of our logo. We will maintain the clear space

established on page 6 between the bar and both logos

Depending on the type of materials, we could use one

of the following lockups.

1. Full color Logo Lockup

More than

DOUBLES your

chances of success!

preferred, but it can ONLY be used in full color and

only against a white background. It cannot be placed

in a white box.

2. One-Color Logotype Lockup

The One-Color Logotype Lockup is the most commonl

used version. It can only be used against a white

background or as a Reverse White Logotype.

Sponsored by:

866-534-7909 AHEC

GULFCOAST SOUTH

AREA HEALTH

EDUCATION CENTER

3. Black and White Logotype Lockup

4. Reversed Logotype Lockup

The reversed logotype lockup can be used against a

black bacground or against the NEW TFF ADA BLUE

(HEX: #1074BB)

T F F

BRAND G U I D E

SEPTEMBER 2022 WEST COAST WOMAN 17
---
Resort Passes or Daycation - whatever you call it -

IT'S HOT

Get pool, spa, and amenity access at hotels and resorts for as little as $ 25 per day

M

ost of us know that only

registered overnight

guests are allowed to

enjoy hotel amenities

like pool and gym

access, spa time, office facilities and

resort perks like ordering food and

cocktails to your private cabana. But

that has all changed.

A company called Resort Pass offers

a way to experience and book daycations

at hotels here on the west coast

of Florida, in all of Florida and across

the US for that matter.

It's as easy as booking a hotel stay on

a traditional travel site, but this allows

you the freedom to experience a

variety of properties without having to

book a room. They partner with hotels

to offer Day Passes, Spa Passes, and

Cabanas, for guests that don't have a

hotel room booked, but would still like

to enjoy the pool and amenities.

ResortPass prices and availability

vary per date, so select the date you

wish to visit the hotel to see these

details. Here's how it works:

Find the hotel you'd like to visit

on ResortPass

After selecting a date from the

calendar to see pricing, select the

number of guests

Purchase your ResortPass

Select number of people, an available

day in the calendar, and book

Receive booking confirmation

with details and instructions

Bring valid photo ID to hotel and

check-in at the front desk.

Note that bookings are non-refundable

and non-transferable after the

cancellation window has closed. If

you don't show up, the fee will be the

total price of the reservation.

Read instructions carefully not all

hotels have the same offerings, hours,

features, etc., and some have different

cancellation policies and parking costs.

As you'll see, some hotels offer lots

more options including a monthly pass.

Area Resorts and Hotels

offering day stays/resort passes

The Sarasota Modern

A boutique hotel in downtown

Sarasota, they have a pool deck complete

with an outdoor swimming pool

and hot tub. If you're feeling adventurous,

go for a dip in the cold plunge

pool or enjoy poolside food and drink

service. A ping pong table and deck

games are nearby, in case you're in

the mood for some friendly competition.

They offer lots of options.

DAY PASS starts at $25; Cabana $125

Day Pass includes:

Outdoor swimming pool

Cold plunge pool

Hot tub

Poolside food and drink service

Fitness center

Ping Pong table and deck games

Complimentary wifi

Valet parking available for $10

Rosemary Cabana includes:

Day Passes for up to 6 people (all

amenities included in the Day Pass)

Shaded cabana with premium

comfort couch seating for 5 hours

Complimentary ice water and soft

drinks

Ringling Cabana Package includes:

All amenities in the Rosemary

Cabana

Shaded cabana with premium

comfort couch seating for 5 hours

from 11am - 5pm

Complimentary bottle of wine or

Prosecco

Work Pass includes:

Guest room from 9am - 5pm with

work desk and chair, flatscreen TV,

coffee maker, mini-fridge and full

bath

Highspeed wifi

Grab and go food and beverage

available 24 hours

Outdoor pool

Valet parking available for $10

Fitness Pass includes:

Fitness center

Two Pelaton bikes, ellipticals, and

treadmills

Free weights

Valet parking available for $10

The Fitness Pass only includes access

to the Fitness Center. For pool

access, book a Day Pass

Individual Monthly Membership

includes:

$125 monthly membership for 1

guest and a plus 1 with pool access

Sunday through Saturday.

Outdoor swimming pool

Cold plunge pool

Hot tub

Poolside food and drink service

Fitness center

Ping Pong table and deck games

10% discount on food and beverage

Complimentary wifi

Valet parking available for $10

Family Monthly Membership

includes:

$150 monthly membership for

family of up to 2 adults and 2

children with pool access Sunday

through Saturday.

Outdoor swimming pool

Cold plunge pool

Hot tub

Poolside food and drink service

Fitness center

Ping Pong table and deck games

15% discount on food and beverage

Complimentary wifi

Valet parking available for $10

Address: 1290 Boulevard of the Arts,

Sarasota

Hyatt Regency Sarasota

Enjoy a free-form outdoor pool overlooking

the private marina at Hyatt

Regency Sarasota, featuring lounge

seating, a sundeck, waterfall, and a

whirlpool spa. Offers a poolside bar

and lounge the Hurricane Hut that

offers tropical cocktails, appetizers,

and more delivered to you by the

pool. Enjoy the scenery with a kayak

or paddleboard rental.

DAY PASS starting at $30

Day Pass includes:

Outdoor heated pool

Hot tub

Food and drinks available for purchase

from Hurricane Hut

Towel service

Watercraft rentals such as kayaks

and paddle boards

Complimentary wifi

Self-parking for $10 and valet parking

for $20

Address: 1000 Boulevard of the Arts

Sarasota

Art Ovation Hotel

This hip hotel is dedicated to the arts.

Make your way up to the rooftop and

you'll find an outdoor heated pool, cabanas,

poolside food and drink service.

DAY PASS starting at $35

Day Pass includes:

Outdoor heated pool

Poolside food and drink service

available for purchase from the

Rooftop Pool Bar

Complimentary wifi

Complimentary self-parking with

validation

Address: 1255 N Palm Ave., Sarasota

Compass Hotel Anna Maria

Sound by Margaritaville

Find your personal slice of paradise

at the Compass Hotel Anna Maria

Sound by Margaritaville, a boutique

hotel situated at the gateway to Anna

Maria. Take a dip in the marina-front

pool, or swing the day away at a hammock

beneath the palm trees. Head

to Compass Bar & Chill for craft cocktails,

signature Margaritaville frozen

drinks and delicious light bites.

DAY PASS starting at $20; Cabana

$120

Day Pass includes:

Outdoor pool

Poolside food and drink service

from Compass Bar & Chill

Food and drinks available from

Floridays Woodfire Grill & Bar

(dine-in only)

Outdoor games

Bike rentals available

Complimentary wifi

Complimentary self-parking

Cabana includes:

Day Passes for up to 4 people (all

amenities included in the Day Pass)

Private shaded cabana with chaise

lounge seating, table, and chairs

Address: 12324 Manatee Ave.,

Bradenton

Waterline Villas & Marina

Waterline Villas & Marina is part of

the Autograph Collection offering a

laidback, beach town vibe of Anna

Maria Island. Take in island and bay

views from the resort-style swimming

pool with oversized sun deck extending

into the marina.

DAY PASS starting at $20

Day Pass includes:

Reserved pool chair

Heated outdoor pool

Kids games such as ping-pong,

jenga, and chess

Dining available at The Chateau

Anna Maria

Complimentary bottled water

Complimentary wifi

Complimentary self-parking

Address: 5325 Marina Dr., Holmes

Beach

For now, ResortPass is available

in most US cities and is beginning

to expand internationally. To see a

listing of Florida properties offering

day passes via Resort Pass, visit: www.

resortpass.com/hotel-

18 WEST COAST WOMAN SEPTEMBER 2022
---
Offbeat Attractions Across Florida

10 experiences for travelers who think they know everything about Florida

Martin County: Hobe Sound

Lake Country: Showcase of Citrus

Jefferson County: Victorian Haunted History Tour

Miami: Vizcaya Museum & Gardens

Florida is the top

destination for

American travelers,

but there's more to the

state than its beaches

and major attractions according to

VISITFLORIDA. Theme parks and

watersports are always popular, but

many travelers want to experience

something they never imagined.

Statewide, offbeat experiences and

rarely-visited attractions await those

who are willing to dig deeper into what

Florida has to offer. These 10 contenders

may not have made all the top ten lists

previously, but they are some of the best

kept secrets in Florida.

Martin County: Hobe Sound

embodies the definition of small beach

town charm in Martin County. Consider

staying at the nearby Jupiter Waterfront

Inn for a dose of "Old Florida"charisma.

Imagine a wine tasting experience

at Case del Vino, followed by an

afternoon of exploring the quaint

downtown shops. Hobe Sound is also

home to Jonathan Dickinson State

Park, Southeast Florida's largest state

park, where visitors can go horseback

riding, kayaking, fishing, hiking, cycling,

camping and more.

Jefferson County: Ghost

stories aren't just for October. In "The

South's Most Haunted Small Town,"

Monticello is home to a Victorian

Haunted History Tour. Visitors will

wander the streets, including the old jail,

to hear about the ghostly apparitions

that haunt this corner of Florida.

Pensacola: While Pensacola

is hardly off anyone's radar, nearby

Perdido Key often goes unnoticed.

Home to the iconic Flora-Bama and

picturesque hikes, this area is a

favorite for locals and a must-see for

savvy visitors. One of the best ways

to enjoy a sunrise or sunset over the

Gulf of Mexico is one

of the picturesque

hikes leading to Perdido

Key. The trail winds

over the salt marshes,

maritime forest, sand

dunes and breathtaking

views over the Gulf.

Vero Beach: Families

and adults alike will be enticed

by the many famous shipwrecks

off the coast of Vero

Beach, where they're transported

back centuries, with

submerged remains still there.

Treasure hunters salvaged

millions of dollars in gold

coins and valuable artifacts,

much of which is on view at local

museums. On Sea Grape Trail Beach,

a wreck is so close to shore that after

storms you may find treasures washed

up on the beach. One wreck sunk with

70 pounds of emeralds on board, with

only three pounds recovered to-date.

For a closer look, scuba divers, snorkelers

and paddle boarders can easily

reach these wrecks.

Florida Sports Coast: It's

not easy to say its name, but Zephyrhills,

home to "Skydive City," is certainly an

offbeat trip for any visitors to Florida.

Professional skydivers from all over

the world regularly visit the area due to

its ideal jump conditions and specialty

aircrafts, marking it as a premier drop

zone. First-time jumpers can enjoy these

supreme conditions and learn why the

area earned the title "Skydive City."

Clay County: For visitors

passing through, Clay County boasts

the centerpiece of Green Cove

Springs' Spring Park, located along the

banks of the St. Johns River. While it

may appear that the park's pool is just

another pool, that couldn't be farther

from the truth. At 135,000-gallons, it is

Vero Beach: Famous Shipwrecks

spring-fed with the spring water flowing

into the west side of the municipal

swimming pool, and then flows out the

east side forming a stream eventually

emptying into the St. Johns River. The

water comes from below at a rate of

1,346 gallons per minute, at a constant

temperature of 77 degrees, making it

a popular spot for locals and visitors

during the summer months.

Jacksonville: Jacksonville's

reef system provides a unique

experience for divers looking to

sample the Sunshine State's unspoiled

waters. With 22 miles of beaches and

the most shoreline of any Florida city,

Jacksonville is home to more than 100

artificial reefs with hundreds of colorful

species of marine life off the Atlantic

Coast shore. Boats, planes and culverts

have been placed, or in some cases

found, along the continental shelf to

form Jacksonville's reef system. These

sunken objects placed in the waters

provide food and shelter to marine

life and in turn, have created beautiful

spots for divers.

Lake Country: With 1,000

lakes and communities filled with

historic charm, there's plenty to keep

visitors entertained. The Citrus Label

Tour stops at attractions like Showcase

of Citrus, Citrus Tower and the Howey

Mansion. Travelers learn how the gilded

age citrus growing industry impacted

these towns. A guided kayak trip heads

down the Dora Canal while a seaplane

ride offers a view of the lakes from

above. It even boasts the oldest hotel in

Florida: the Lakeside Inn.

Miami: Though Miami is full of

well-known attractions, not everyone

visits Vizcaya Museum and Gardens,

a National Historic Landmark. Built

between 1914 and 1922, as the winter

home of farming manufacturer James

Deering, Vizcaya is one of the most

intact remaining examples from this era

in the United States, when the nation's

most successful entrepreneur-built

estates were inspired by the stately

homes of Europe.

St. Augustine: Florida is

covered in history, but none quite

like Fort Matanzas in St. Augustine.

The offbeat fortress dates back to the

18th century, and is constructed of local

materials including rock-like materials

created by seashells. It's a little bit of

history that whole families can enjoy

exploring together.

Happy exploring! To learn

more go to visitflorida.org.

SEPTEMBER 2022 WEST COAST WOMAN 19
---
How savvy CIA officers travel safely

Here are some "secrets" they have shared

A

s you can

imagine, CIA

officers travel

to some of the

most dynamic

and dangerous

places on earth— from global

capitals to remote outposts to

active conflict zones. After all,

CIA's informal motto is, "We

accomplish what others cannot

accomplish and go where others

cannot go."

Their officers follow many safe

travel best practices that anyone

can use. Here are some "secrets"

they have shared.

OBJECTIVE ONE:

GETTING THERE

TIP: Make a copy of your

passport. While traveling

abroad, your passport might be

your ticket home during a bad

situation. If the front desk of your

hotel asks to hold on to your

passport, see if they'll accept that

copy. While you're at it, write

down some important phone

numbers—emergency contacts,

your country's local embassy,

etc.—just in case.

TIP: Register with your embassy.

Think of it as establishing

communications with your

home base.

Registering with

your country's

embassy ahead

of your foreign

travel enables

embassy staff

to contact you

in the event of

an emergency

or unfolding

crisis. If

you're a U.S.

citizen, you

can sign up

with the State

Department's

Smart Traveler

Enrollment

Program (STEP).

TIP: Learn some local lingo.

You don't need to go full incognito,

but if you have time, try to

pick up key words and phrases in

the language of your destination.

We think that "hello," "goodbye,"

"yes/no," "help," and "police" are

just a few of the essentials. These

phrases might come in handy if

you find yourself in a tight spot.

And feel free to use the CIA

World Factbook to do some allaround

research on your international

destination—it's publicly

available and a great resource.

Our World Factbook team even

created special travel briefings

for several countries, which you

can find here: World Factbook

Travel Facts.

TIP: Scout out local transportation.

Upon arrival, ask an

airport official or travelers' aide

how much it should cost to catch

a public shuttle or taxi to your

hotel. If you choose a taxi, be

sure to negotiate the price before

loading your baggage and getting

inside. Only use taxis from the

official queue that are clearly

marked and have a functioning

meter and the driver's ID displayed

inside.

OBJECTIVE TWO:

SETTLING IN

TIP: Know your escape

route. That cliché about

knowing the fastest way out of a

room? We might have invented

it. When you get to your hotel,

take a moment to familiarize

yourself with emergency evacuation

plans. How many doors are

between yours and the nearest

stairwell? Could you find it in

the dark? In a smoky haze?

TIP: Use the elevator (unless

it's an emergency). Using the

stairs is great for exercise, but

crimes frequently occur in isolated

stairwells. If you can, try to

stick to the elevator.

TIP: Look for a middle

floor. Being on the ground floor

can leave you more vulnerable

to break-ins, but many countries'

emergency response personnel

aren't equipped to reach higher

than a few floors off the ground.

Consider requesting a room

somewhere in between.

TIP: Lock it up. The automatic

locks on hotel room doors can

often be forced open, and the

chains can often be cut. Use

the deadbolt. Do you know

what else can help keep a door

closed? A door stop. Consider

investing in a traveler's portable

door lock or alarm to help further

secure your hotel room. Yes,

it's our job to be paranoid, and

we're professionals at it.

TIP: Beware of unsolicited

knocks. A knock at your hotel

door? Don't open it unless you

know or can verify who's on the

other side. Special delivery, turndown

service, or room service

that you didn't request? Call the

front desk to confirm. The same

goes for unexpected maintenance

or housekeeping.

OBJECTIVE:

STEPPING OUT

AND ABOUT

TIP: Taking a car? Lock the

doors. Whether you're renting

your own wheels or taking a taxi,

lock the doors as soon as you

get in. Best practice is to keep

the windows rolled up, as well.

Carjackers often prey on simple

mistakes like an open door—

don't let them.

TIP: Stay alert. Our officers

are trained to be highly attuned

to their surroundings, constantly

maintaining situational awareness.

It's a habit that'll pay you

dividends, too. If you use all

five senses to pay attention to

what's happening around you,

you'll not only spot telltale signs

if something is amiss, you'll also

soak up your destination's unique

atmosphere.

TIP: Be mindful when drinking

adult beverages. Spies

might swill martinis in the movies,

but alcohol impairs alertness

and judgement. Similar to the tip

above, you'll want to be alert and

maintain situational awareness,

especially in an unfamiliar country.

Some countries also have

local customs and restrictions on

alcohol consumption, so be sure

you know what those are and

follow them closely before you

decide to imbibe.

TIP: Walk the walk. Your demeanor

on the street can sometimes

be the best deterrent to

criminals. Don't look like an easy

target. Take it from us, you don't

want to attract attention by looking

meek, lost, or distracted. For

example, don't stand on a busy

street corner poring over a map

or your smart phone. Instead,

channel quiet confidence. At the

same time, you don't want to be

too flashy, showing off extravagant

items or wealth. Leave at

home the fancy jewelry, watches,

electronics, and other items that

might make you an especially

appealing target to thieves.

TIP: Plan your route and

reroute as necessary. Whether

you're traveling by car, public

transit, or foot, prepare in

advance. Do your day's activities

take you through a dangerous

part of town? Take a different

route. Adjust your plans and

routes as necessary to avoid

walking alone at night and stick

to well-lit areas that aren't too

isolated, if possible.

TIP: Trust your instincts. We

know from experience that when

something doesn't feel right, it

often isn't. Someone standing too

close to you, following you across

multiple locations, loitering

outside your room—if a situation

raises your suspicions, remove

yourself from it or seek help.

TIP: Commotion? Don't check

it out. The fastest way to get out

of a crisis is to avoid trouble in

the first place. If you hear a disturbance

unfolding when you're

out and about, steer clear and

leave the intelligence gathering to

us. The commotion could be an

escalating danger or a distraction

designed to help someone pickpocket

you. Your mission is to get

home safe. Don't take unnecessary

risks.

20 WEST COAST WOMAN SEPTEMBER 2022
---
Travel deals in Florida

for RESIDENTS

I

f you are in

need of a

vacay and

don't want

to travel far

AND you'd

like some great offers,

we have them

here. Many hotels

and resorts in Florida

offer summer deals

for residents. Some

are available until

September 30; others

October 31, so best to

book these fast. Be sure

to check their websites

for dates, resort fee information,

parking fees,

etc. Many require proof

of residency and many

have blackout dates.

AC Hotel

WEST COAST

OF FLORIDA

AC Hotel

Clearwater Beach

The just-opened (June 14) AC

Hotel Clearwater Beach ha a

special "Try Our New Hotel"

offer that includes a twonight

stay at up to 20% off

standard rates, which start at

just $249 per night. The 144-

room AC Hotel Clearwater is

situated between a stretch

of Florida's sandy-white

shoreline and picturesque Intracoastal

waterway. AC-Hotels.

Marriott.com.

Luminary Hotel & Co.

Fort Myers

Available for stays through Sept.

30, guests visiting the AAA Four

Diamond Luminary Hotel & Co.

can take advantage of the Summer

Getaway package and receive 15%

off accommodations and complimentary

valet parking for one

car. To view this offer and more,

visit LuminaryHotel.com/offers.

Soaring 12 stories above downtown

Fort Myers, the 243-room

boutique hotel has several restaurants,

a rooftop lounge, a diner and

more. The pool on the fourth floor

features an event deck overlooking

the Caloosahatchee River.

Fenway Hotel

Dunedin

Originally opened in 1927, Fenway

Hotel is an icon of the jazz age,

playing host to notable explorers,

artists, politicians, musicians

and living legends in its time as

an operating hotel. Their special

Summer Getaway offer includes

a 10% discount on two-night stays

with complimentary valet parking

for visits through Sept. 11. Book

directly at FenwayHotel.com/summer-getaway-in-dunedin.

(Promo

Fenway Hotel

Plantation on Crystal River

Discovery Cove

Code: MAJ).

The boutique hotel features 83

guest rooms a resort-style pool,

signature HEW Parlor & Chophouse,

and Hi-Fi Rooftop Bar.

TradeWinds Island

Resorts

St. Pete Beach

TradeWinds Island Resorts has

a Florida/Georgia resident offer

through Dec. 26, 2022. Treat yourself

to a well-deserved staycation

on a top-ranked US beach, with

15% off room rates. You'll feel

like you're a million miles away,

yet TradeWinds is conveniently

located on St. Pete Beach, just

10 minutes off I-275 in the Tampa

Bay Area.

15% OFF already discounted

rates on rooms and villas with

beach views, balconies and more.

Offer valid at RumFish Beach

Resort, Sunday - Thursday night

stays only.

To check rates, select nights

between now and Dec. 26, 2022

with promo code: FLREZ22. Go

to JustLetGo.com.

Plantation on Crystal

River

Crystal River

For a limited time, guests can

receive 15% off a mid-week

stay (through September 30) by

booking directly at ChoiceHotel.

com (Promo Code: SUMMR).

The eco-friendly Plantation is

surrounded by the natural springs

of King's Bay and more than

25,000 surface acres of lakes and

rivers, as well as wildlife refuges

and state parks. The Plantation

features a full-service family-oriented

dive and tour operation

marina, 18-hole golf course, Aveda

Luminary Hotel & Co.

TradeWinds Island Resorts

Epicurean Hotel

Margaritaville Beach House

spa, dining and accommodations.

Guests can choose to have their

fresh caught scallops prepared at

West 82° Bar & Grill for just $16.95

per person. PlantationOnCrystal-

River.com or 800-632-6262.

Epicurean Hotel

Tampa

The food-focused Epicurean

Hotel is inviting Florida residents

with a special offer of up to 30%

off* room rates, along with two

complimentary glasses of house

wine or beer. Rates start at just

$216 per night and the offer is

valid through Dec. 31, 2022. Enjoy

a craft cocktail at EDGE Rooftop

Cocktail Lounge, dinner at the

hotel's Élevage SoHo Kitchen

& Bar, a sweet treat from Chill

Bros. scoop shop, or pay a visit to

the award-winning Bern's Steak

House, right across the street.

Offers Evangeline

full-service spa

and classes in the

culinary classroom

known as the

Epicurean Theatre.

For reservations,

call (855) U-AWAK-

EN (829-2536) or

visit Epicurean

Hotel.com.

*Proof of Florida

residency required

at check in. Tax is

additional. Blackout

dates may apply.

ORLANDO

Discovery Cove

Orlando

Florida Resident Discovery

Cove Package

- enjoy year-long 20%

savings on your Discovery

Cove admission.

Select from a Signature

Dolphin Swim or Day Resort

Package. Length of stay

admission to SeaWorld and

Aquatica. Choice of hotel

accommodations including

one free night. Reserved

Show Seating at SeaWorld.

Visit discoverycove.com.

Wyndham Grand

Orlando Resort

Bonnet Creek

Orlando

Take advantage of your Sunshine

or Peach State residency

with up to 20% off of their best

available rate. You must have a

valid Florida or Georgia ID to

receive this exclusive discount.

Stay on a Friday and Saturday

night, you'll get 50% off your

Sunday night. Located just five

miles from Walt Disney World

Resort with complimentary

shuttle service. The resort is

a massive playground, with five

pools, two rivers, eight hot tubs,

18-hole putt-putt, jogging trails,

fitness center, and nearby championship

golf. Call (407) 390-2300

www.Wyndham Grand Orlando

Resort Bonnet Creek.

THE FLORIDA KEYS

Margaritaville

Beach House

MargaritavilleBeach-

HouseKeyWest.com

Stay three or more nights and

enjoy up to 25% off your stay and

a $100 Tin Cup Chalice Bar & Chill

dining credit.

Calm, comfortable, and awaiting

your arrival for stays through September

30, 2022. Offer is subject

to availability; blackout dates and

other restrictions may apply. Minimum

3-night stay required.

SEPTEMBER 2022 WEST COAST WOMAN 21
---
happening this month

NATI NAL C FFEE DAY

Evidence

shows that

the first

coffee was

enjoyed

in 15th century Yemen,

where monks from

the Sufi monasteries

in Mokha first roasted

beans and brewed

coffee. Traders then

brought the seed to

Ethiopia, so that they

could cultivate and farm

coffee beans.

Coffee made its way

to Europe by way of

Lavender Chai Latte

Venice in 1615, where

it was deemed to be 'Satan' drink' due INGREDIENTS

to its bitter taste, but eventually, the 1-1/2 cups water

drink got the approval of the Pope 1-2 Tbsp. dried lavender flowers

himself, and the first coffee house 1 chai tea bag

opened in Venice in 1645.

1 Tbsp. agave nectar

The drink became popular in America

in 1773 when Americans revolted 1 cup unsweetened, plain soymilk

1 cup brewed strong coffee

against the British tea tax and replaced

tea with coffee as their pre-

DIRECTIONS

Per serving: 40 calories

ferred drink. James Folger was one Pour water into small pot and bring to

of the first people to successfully sell a boil.

coffee in the 19th century. The drink Add lavender flowers and chai tea bag

also traveled across to Canada where and set aside for about 15 minutes to

the first business to call itself a coffee steep.

house opened in Toronto in 1801. Pour liquid through strainer, squeezing

In the 1960s people became interested

in the concept of specialty and chai tea bag, and return liquid to

remaining liquid from lavender flowers

coffee and Starbucks was founded in pot. Discard lavender and tea bag.

1971. As the interest in good coffee Add agave nectar, coffee, and soymilk

grows, so do different ways of brewing and reheat, stirring well, just until

it and the appearance of independent mixture is hot. Do not boil.

coffee shops, where coffee connoisseurs

can try the latest flavors and

Pour into 4 coffee cups.

roasts from around the world. Professional

coffee tasters are called Adjust the amount of lavender you use

NOTES

cuppers, and according to them the based on your taste preference.

perfect cup of coffee depends on its Pure maple syrup may be substituted

body, acidity, aroma, and flavor. This is for agave nectar.

all determined by the bean, the roast, Reduced-fat dairy or milk alternative of

and the brew of the coffee.

choice may be substituted for soymilk.

Here are some unique takes on the

beloved bean:

Lavender

Chai Latte

Lavender is not only fragrant and

pretty—it is edible. Lavender can

offer a floral, herbal taste and aroma

to many recipes, such as this delicately

spiced beverage. Filled with chai

tea, coffee, soymilk, dried lavender

flowers and just a touch of agave, you

can enjoy this relaxing beverage as a

much healthier option over many coffee

shop latte drinks, which are often

laden with sugar and high-fat additions

that are high in calories.

is on September 29

Try Something different

Power Mocha

Smoothie

Power Mocha Smoothie

Start your day with more than just a

cup of coffee. This delicious mocha

smoothie features coffee, nutritious

bananas, energy-rich nut butters and

anti-inflammatory turmeric. Coffee contains

a variety of phytochemicals, many

of which have antioxidant properties.

INGREDIENTS

1 vanilla bean

1 frozen banana

1 cup brewed coffee, chilled

2 Tbsp. hulled hemp seeds

1 Tbsp. unsweetened cocoa powder

1 Tbsp. nut butter (e.g. peanut butter,

almond butter, cashew butter)

1 tsp. fresh turmeric root, minced

Pinch of black pepper

Per serving: 340 calories

DIRECTIONS

Combine all ingredients in a high- power

blender or food processor and blend

until smooth. Drink immediately.

NOTES

Brew coffee according to instructions,

then let chill in refrigerator overnight.

One teaspoon of pure vanilla extract

can be used in place of the whole vanilla

bean. The fresh turmeric root can

be replaced with 1/2 teaspoon of powdered

turmeric.

Dalgona

Coffee

A recent food trend that

has taken the TikTok, Instagram,

and YouTube by

storm is dalgona coffee.

This is a newish trend

as the phrase "Dalgona

Coffee" was non-existent

on Google until January

26, 2020, when there was

a tiny blip of interest.

But the trend has received

millions of views

since then. TikTok alone

recorded about 141.4

million views for the

hashtag dalgona coffee,

and the numbers

are in millions on

other platforms such as

Twitter, Facebook, You-

Tube, and Instagram.

But what is dalgona

coffee if you're

not into TikTok? Dalgona

coffee is a twotoned

coffee that contains

coffee froth on top

of iced milk. It's named

after a South Korean

candy, dalgona (candy

made with melted sugar

and baking soda) sometimes

called ppopgi,

because the coffee froth

resembles the foam that is formed

while preparing the dalgona when its

ingredients are mixed together.

Some say the dalgona coffee trend

originated in South Korea after a

South Korean actor shared the picture

of the coffee that reminded him of the

dalgona honeycomb.

Others say dalgona coffee is not a

brand new innovation, instead it is the

same as the Indian "phenti hui coffee"

or "beaten coffee." The only difference

between the dalgona coffee and

Indian "phenti hui coffee" is in the

preparation. In making dalgona coffee,

iced milk is used, and the coffee froth is

poured on the top of the milk compared

to the Indian version which is prepared

using the hot milk, and the froth is

placed at the bottom of the glass. Does

it matter?

The goal is to create a light,

whipped coffee that's somewhat similar

to a dense whipped cream. The

mixture is served over milk, sometimes

with ice. To add to the presentation

and enhance the flavor a bit, some

sprinkle the top with cocoa, coffee

powder, or crumbled cookies. Dalgona

coffee is typically served with a straw

to stir the whipped coffee concoction

into the milk.

INGREDIENTS

Instant coffee, white sugar, water, and

milk

Dalgona Coffee

DIRECTIONS

First make the coffee froth that will

go on the top of iced milk. To prepare

the froth, mix two tablespoons

of instant coffee, two tablespoons of

white sugar, and two tablespoons of

hot water. After making a mix of all

the ingredients, whip the mixture vigorously

until it turns foamy, and the

froth is ready.

Pour iced milk in a cup or glass and

pour the coffee froth on top of

the milk.

22 WEST COAST WOMAN SEPTEMBER 2022
---
941-373-6300

Sarasota Downtown

1727 2nd Street, Suite 1,

Sarasota

941-739-2400

Lakewood Ranch

8614 St. Rd 70E, Suite 102,

Bradenton

TimeSaverFitness.com

Offering a super-slow high intensity

strength training program twice a week,

20 minutes, amazing results!

Schedule your Complimentary

Introduction Session TODAY!

KEEP YOUR BODY FIT & STRONG

Eunice Okun

"93 Years Young and Feeling My Best"

"Within a few months of starting my two weekly twenty-minute

workouts, I could feel the difference. Each session gave me

a sense of true accomplishment. And, my trainers are always

encouraging, answering my questions and addressing areas of

concern. After three years at Time Saver Fitness, I've regained

strength, increased my coordination and am more toned than

I have been in years. And, now, at the age of 93, I'm enjoying a

healthy, active, independent lifestyle!"

— Eunice Okun

Enjoy Service

with Stellar Results

Cosmetic • Regenerative

& Restorative Gynecology

Painless In-Office Labiaplasty

BioTe® Hormone Pellet Therapy

O-Shot® & Ouchless PRP

Laser Vaginal Rejuvenation®

Clitoral Hood Reduction

Majoraplasty | Mons Lipo

ThermiVa® (non-surgical rejuvenation)

Effective treatments for:

Low Libido

Menopause Symptoms

Lichen Sclerosus

Urinary Incontinence

Personalized GYN Care

Our patients. Our reviews.

"Well cared for" | "Positive experience" | "Warm & friendly staff " | "Exceeded expectations"

"Really felt cared for" | "I can wear anything now" | "Listens closely" | "Expert in her field"

"No more discomfort" | "Restored to brand new"| "Thank you for giving me our love life back"

"I feel like I'm on my second honeymoon" | "Gifted, perfectionist, confidence"

"Results better than I even imagined" | "I am ready to start dating again"

"No longer self-conscious" | "Wonderful experience"

"Your work is a work of art" | "I enjoy sex more"

See Our Before & After Gallery at VisionaryCentreForWomen.com

Dr. Jennifer S. Hayes, DO, FACOOG

Board Certified in Gynecology | Specializing in Cosmetic Gynecology

25+ years vaginal surgery experience

Beverly Hills trademarked techniques

727.403.0573

MMunro@drjenniferhayes.com

SEPTEMBER 2022 WEST COAST WOMAN 23
---
you're news

Accolades

■ More Too Life, Inc. honored Dr.

Kameron Partridge Hodgens, Gulf

Coast Community Foundation's

Director of Community Leadership,

with the

Community

Hero

Award at

their Inspire

Change Anniversary

fundraiser in

June.

For over

Dr. Kameron Partridge

Hodgens 18 years,

More Too Life, Inc. has been dedicated

to fighting human exploitation

and providing victim services

and programs to children, families,

and the community. As the former

CEO of The Glasser/Schoenbaum

Human Services Center, Hodgens

has been a loyal supporter of the

More Too Life mission and vision.

Dr. Hodgens has also been an outstanding

leader and advocate for

the work of nonprofits throughout

the community.

More Too Life's approach is

to provide opportunities to turn

"victims to survivors, survivors to

thrivers, and thrivers into champions."

In the fight to attack human

trafficking, they provide care to its

victims and those on the fringe by

addressing root causes.

Appointments

■ Halfacre Construction Company,

a Lakewood Ranch-based

commercial construction company,

recently welcomed Tammi Dodson

as its marketing

and

proposal

manager.

Dodson

brings over

30 years of

experience

in marketing,

graphic design,

media

Tammi Dodson

relations and event planning to the

commercial construction company.

In her new role, she will be tasked

with managing the requests for the

proposal and qualification process,

overseeing marketing initiatives,

event planning, communication

efforts, collateral creation and file

management, among other duties.

Most recently, Dodson served

as the marketing specialist for Advanced

Orthopedic Center in Port

Charlotte. During her time there,

her tasks included managing the

website, growing the organization's

social media presence, overseeing

commercial and educational video

production, coordinating physicians'

speaking engagements and

business development.

■ Neal Communities, a homebuilder

based in Lakewood Ranch,

has promoted 14 employees over

the last several months.

The promotions include two

vice presidents: Ivory Matthews

promoted

from director

of community

and

governmental

affairs to vice

president of

community

and governmental

affairs,

Ivory Matthews and Carlos

Puente promoted from vice president

of sales to vice president of

sales and marketing.

In addition, the following

employees were promoted: Pam

Curran from bank financing

manager to director of finance, Rob

Kozlowski from senior financial

analyst to business insights and

analytics manager, Janet Ladwig

from director of design to director

of community design and

product development, Mathew

Lavish from project manager to

director of construction, Heidi

Lustig from staff accountant III to

senior accountant, Jodi McConnell

from assistant controller to

controller, Marjory McGloin from

job coordinator to purchasing

supervisor, Kristin Mullins from

senior accountant to accounting

manager, Ben Renner from area

construction manager to director

of construction, Kameren

Saffold from assistant construction

manager to construction manager,

Michael Thomas from purchasing

agent to estimator and Rob Woods

from project manager to area

construction manager.

For more information, visit https://

www.nealcommunities.com/

■ Elisabeth Owen has

joined ArtisTree Landscape

Maintenance & Design as its newest

designer to serve the company's

growing client roster. A Florida

Certified Horticulture Professional,

Owen will create plans for new

builds and renovations. Her 20-plus

years in the green industry includes

design, managerial and sales experience

for residential and commercial

clients. Owen graduated cum

laude from the University of Florida

with a Master of Science degree in

environmental horticulture.

■ Forza Wealth Management, an

SEC-registered investment advisor,

has added Kimberly Evener as its

new Director

of Client

Services.

Evener will be

responsible

for all aspects

of client services

including

strategic

direction,

Kimberly Evener,

coordination,

Director of Client

Services for Forza and operations.

Wealth Management

Prior to joining Forza, Evener

worked for six years at Caldwell

Trust Company, most recently as

an Assistant Vice President and

Trust Officer. Before that, she spent

12 years at Northern Trust Company,

advancing to the roles of Officer

and Account Manager. Learn more

at forzawealth.com.

Board News

■ Pulitzer Prize-winning playwright

and Hermitage alumnus

Doug Wright, Sondra

Biller, Stephanie Jones, and Liz

Richardson have joined the

Hermitage Board of Trustees.

Robyn Citrin

will continue

in her

second year

as President of

the Hermitage

Board,

with David

Greenserving

as Vice President,

Steve

Sondra Biller

Adler as

Treasurer, Ellen

Berman as

Secretary,

and Carole

Crosby as

Chair of Governance.

Doug

Wright is a

Stephanie Jones Pulitzer Prize

and Tony

Award-winning

playwright.

He is

a Hermitage

alumnus and

served as a

juror for the

inaugural Hermitage

Major

Liz Richardson

Theater Award

in 2021. His plays and musicals

include I Am My Own Wife (Tony

Award, Pulitzer Prize in Drama),

Quills (subsequently adapted

by Wright as a screenplay), Grey

Gardens, The Little Mermaid, War

Paint, and Hands on a Hardbody,

among others.Stephanie Jones,

having worked in corporate

recruiting for over 20 years, is currently

the Director of Experienced

Talent Acquisition for Kroll, a global

professional services firm.

Sondra Biller has worked at the

UNC Medical Center in Chapel Hill,

where she held positions as a nurse

educator clinician and nurse manager

for a new acute rehabilitation

unit. Upon moving to Chicago, she

worked in health care marketing for

assisted living and rehabilitation facilities.

Sondra served as Co-Chair

of the 2022 Hermitage Greenfield

Prize Dinner.

Liz Richardson began her career

in the healthcare industry, starting

as a clinical speech pathologist and

then moving into management as

a program evaluation director, followed

by establishing a healthcare

quality management consulting

practice. Richardson was President

of the Board of the Newton Schools

Foundation for multiple years and

served as a volunteer and board

member for "Understanding Our

Differences," an award-winning

national disability awareness and

acceptance program.

The Hermitage's board officers

for the 2022-2023 season are:

Robyn Citrin, President; David

Green, Vice President; Steve Adler,

Treasurer; and Ellen Berman, Secretary.

The full Hermitage Board

of Trustees includes Sondra Biller,

Christine Boone, Maryann Casey,

Carole Crosby, Marletta Darnall,

Leslie Edwards, Stephanie Jones,

Tina Shao Napoli, Michael Pender,

Charlotte Perret, Liz Richardson,

Edward M. Swan, Jr., Nelda

Thompson, Mary Lou Winnick,

Doug Wright, and Andy Sandberg,

Hermitage Artistic Director and

CEO (ex-officio).

■ Child welfare agency Safe

Children Coalition has announced

its 2022-2023 board of directors.

Michael Rahn is the new chair

of the board. New directors are

Jamara Clark and Lee Lipton;

they join continuing directors Ken

Alexander, Tony Gamelin, David

Fairy, Brian Goodrich and Ann

Marie Jones.

Rahn is the SWFL Regional

Production Manager for South-

State Bank, with nearly 30 years

as a mortgage broker in Sarasota/

Manatee. He has served in multiple

capacities with the Home Builders

Association of Manatee-Sarasota as

well as served as the vice chair of

the Florida Home Builders Association.

He was elected to the Florida

Housing Hall of Fame in 2017 and

sits on the National Association of

Home Builders board. He currently

serves on the Manatee County

Planning Committee. This will be

his third year on the board and his

first as chair.

Clark is currently the principal

at Rowlett Middle Academy in

Bradenton and has over 15 years

of experience as an educator in

Manatee County. He has first-hand

knowledge of how life events can

directly impact a student's ability to

learn and grow, both academically

and socially.

Lipton spent nearly 30 years in

the healthcare industry, working

for national organizations in both

the home health and physician

management fields. Recently, he

left the healthcare industry to focus

on opening his own business

and supporting local activities

and causes.

The core functions provided

by Safe Children Coalition (SCC)

include child welfare case management,

foster care, adoption,

independent living, prevention,

diversion, quality management,

and support services. Last year,

SCC served nearly 1,700 children in

foster and out of home care as well

as nearly 6,000 children in its diversion

and prevention services. For

more information, visit sccfl.org

■ Hearing Charities of America

(HCOA) has announced the appointment

of Carol Pandis, to the

board of directors for a three-year

term starting this past July 1.

Pandis, a hearing aid specialist

for Hear Again America-Sarasota,

has seen firsthand how hearing

loss negatively impacts loved

ones. Growing up with a father

with hearing loss and meeting

her husband, who has singlesided

deafness, she felt becoming

a hearing care professional was

the perfect way to help improve

lives. Carol received her Bachelor

of Science from Elmira College

and has over 30 years of extensive

knowledge in the medical field.

Send us your news!

Send to: westcoastwoman@

comcast.net. You will also

find more You're News on our

Facebook page West Coast

Woman. We also publish

this page on our website

(westcoastwoman.com) and in

our monthly e-blast.

Want to subscribe

to our e-blast?

Send us your email address.

Send to westcoastwoman@

comcast.net.

24 WEST COAST WOMAN SEPTEMBER 2022
---
The suncoast's ONLY

BBQ restaurant with

CATERING in our DNA.

Lori Sax Photography

F

Olks stIll ask, "Do you cater?"

that's how I launched Nancy's

Bar-B-Q in 2004. today, we are

the number one independent BBQ

caterer across the suncoast.

Our menu showcases fresh smoked meats and fillet of salmon,

plus many vegetarian, gluten friendly and vegan choices to

accommodate all your guests.

From an intimate dinner for twelve to a church picnic for 700:

Our 18 years of experience assures your peace of mind and

a delicious and memorable occasion. In short, we are the

catering choice requiring no explanation.

YOU WIll RECEIVE MY PERsONal attENtION from initial

contact through pick up or delivery. It will be my pleasure

to talk with you! Call me at 941-955-3400, or email me at

NancysBarBQ@verizon.net.

nancy's

BAR-B-QTM

#1 Local Genuine BBQ since 2004

SM

Lakewood Ranch at Lorraine Corners

14475 SR 70 E at Lorraine Rd 34202

4 miles east of I-75 exit 217

941-999-2390

FULL BAR HAPPY HOUR 11AM-7PM MON-FRI

LIVE MUSIC FRI-SAT 6:30-9:30PM + 1st & 3rd SUNDAYS 3PM-7PM

OPEN 11AM 7 DAYS

CLOSE 9PM MON-THURS 10PM FRI-SAT 8PM SUN

LUNCH • DINNER • TAkE OUT • CURBSIDE PICk UP • CATERING

Go to NancysBarBQ.com for CATERING & DINING MENUS

Voted

BEST BBQ

10th

Consecutive

Year

SEPTEMBER 2022 WEST COAST WOMAN 25
---
arts news

Another Mural added

to The Rosemary

District

Another mural has been added to the

Rosemary District - this one of baseball

icon John "Buck" O'Neil, who is now

being immortalized in a 40-foot rendering

at 1468 Boulevard of the Arts. O'Neil was

posthumously inducted into the National

Baseball Hall of Fame in July while at the

same time, the mural was unveiled.

The mural is a part of the Rosemary Art

+ Design District's (RADD) Walter Gilbert

Mural Initiative, dedicated to highlighting

the stories and people from the district's

not-so-distant past name of Overtown,

Sarasota's first Black neighborhood.

O'Neil lived in Overtown and moved to

Newtown, an area north of the Rosemary

District. In his early life, O'Neil worked the

celery fields in Sarasota while his father

ran a pool hall in Newtown.

O'Neil played for the Negro American

League's Memphis Red Sox in 1937 and

made his professional debut in 1938 as

the Kansas City Monarchs' first baseman.

He went on to manage the Kansas

City Monarchs from 1948 through 1955,

and became baseball's first Black coach

when he was added to the Chicago Cubs'

coaching staff in 1962. O'Neill died in

2006, at the age of 94.

2

Lots of Plays

Submitted

One hundred plays were received from all

over the United States 15 days after the

call for plays by Theatre Odysey. Michael

Bille, President of Theatre Odyssey's Board

of Directors, said, "We're setting a new

record annually with how quickly plays

are received following our announcement

requesting them. We're encouraged that

playwrights throughout the country are

carefully following our announcements."

Greg Burdick's play about a widow receiving

an unexpected delivery was judged

Best Play at the 17th Annual Ten-Minute

Play Festival: Sign Here For

All That Remains

Best Play at the 17th Annual Ten-Minute

Play Festival. Sign Here For All That Remains

was directed by Alan Brasington and

featured performances by Sue Bachman

and Glenn Schudel. Greg, from Lakeland,

FL, won the Verna Safran Prize ($500).

Connie Schindewolf's Ancestry was

determined as the runner-up play. Leona

Collesano directed Kathi Faulkner and

Glenn Schudel in this story of an ancestry

test shared in a unique way. Connie, who

is from Bradenton, received $300.

The One-Act Play Festival runs October

6-9 at the Jane B. Cook Theatre,

FSU/Asolo Center for the Performing

Arts. Tickets available in September.

www.theatreodyssey.org/tickets/.

2

Embracing Our

Differences has a New

Exhibition Director

Embracing Our Differences recently

named Sheila D. McKoy as its exhibition

director. As an employee of the New

Jersey Transit system for nearly 30 years,

McKoy, a public art and creative placemaking

expert and consultant, coordinated

more than 150 public arts projects at

transit facilities throughout the transportation

system.

During her

tenure there,

she managed

the selection

of artists from

around the

nation and

oversaw contract

negotiations

with

contractors

and artists

alike. In her

new role,

Sheila D. McKoy

McKoy will

oversee the

planning, staging and management of Embracing

Our Differences' annual exhibit.

"This is a new position for EOD," says

Sarah Wertheimer, executive director. "As

our exhibitions and programs grew, we

realized we needed someone who was

dedicated to this initiative alone. Sheila is

the perfect fit for this job. She's spent years

working in this field and was a member of

our art selection committee for three years,

serving as chair of the committee last year."

McKoy participates regularly in panel

discussions on public art at events

and venues around the nation, including

Audible, Pratt Institute, New Jersey State

Council on the Arts, creative place-making

conferences, and at museums and galleries.

She is a board member of the Arts

and Cultural Alliance of Sarasota County.

For more information about Embracing

Our Differences, visit www.embracingourdifferences.org.

2

New Director at FSU/

Asolo Conservatory

for Actor Training

Andrei Malaev-Babel has been selected

as director of the FSU/Asolo Conservatory

for Actor Training. Malaev-Babel, an

expert on Russian theater and acting techniques

and an award-winning director and

scholar who served as head of acting at

the Conservatory for more than a decade,

succeeds Greg Leaming, who retired.

Malaev-Babel began his tenure in July.

Malaev-Babel continues a distinguished

international career, having co-founded

and served as artistic director for both the

Stanislavsky Theater Studio in Washington,

D.C., and the Moscow Chamber Forms

Theatre in Russia.

Malaev-Babel has authored numerous

books and articles and received awards,

including the

20th International

Green

Wave Book

Fair Grand

Prize in 2016

in Ukraine.

In the same

year, he was

awarded the

International

Moscow Jewish

Film Festival's

Grand

Jury Prize

Andrei Malaev-Babel

for the film

documentary

"Finding Babel," for which he served as

co-writer and principal actor. In 2020, he

received a Fulbright Award from the Bureau

of Educational and Cultural Affairs of the

U.S. Department of State, hosted by The

Polish National Film, Television and Theatre

School in Lodz.

Academically, Malaev-Babel is best

known internationally for his work related

to 20th century Russian theatre practitioner

Nikolai Demidov, having translated many

of his works into English and specializing in

teaching Demidov's School of Acting.

For information about the FSU/Asolo

Conservatory for Actor training, visit asolorep.org/conservatory.

2

Selby Gardens to

Celebrate Louis

Comfort Tiffany

In 2023 Marie Selby Botanical Gardens

will present Tiffany: The Pursuit of Beauty

in Nature as the 2023 installment of its

Jean & Alfred

Goldstein Exhibition

Series.

Opening February

12, 2023,

the exhibition

will showcase

the creativity

and innovation

of the American

artist

and designer

Louis Comfort

Tiffany.

Louis Comfort

Tiffany

(1848-1933)

was one of the

most influential

American

artists and

designers of

the late 19th

and early 20th

centuries. He

founded Tiffany Studios and served as the

first design director of Tiffany & Co., the

renowned jewelry and

silver firm established by

his father, Charles Lewis

Tiffany. Tiffany was

closely associated with

Art Nouveau, an international

style of art and

design characterized by

organic line and natural

form. He began his

career as a painter, but

later turned his attention

to decorative arts, particularly stained

glass, for which he became best known.

Tiffany: The Pursuit of Beauty in Nature

will be the first exhibition of its type to be

presented in a botanical garden, an especially

appropriate setting in which to highlight

the connection between Tiffany's work and

the natural world. Tiffany's stained-glass

windows and lamps will inspire horticultural

displays in Selby Gardens' Tropical Conservatory

and throughout the grounds of the

Downtown Sarasota campus.

Accompanying the horticultural displays

will be examples of Tiffany's work, in various

media, on view in the Museum of Botany &

the Arts. Lent from a private collection, this

group of lamps, vases, and other objects

will be used to tell the story of Tiffany and

his firm, which revolutionized glassmaking

and elevated the status of American decorative

arts at home and abroad.

Tiffany: The Pursuit of Beauty in

Nature will be on view at Selby Gardens'

Downtown Sarasota campus from

February 12 through June 25, 2023. For

more information visit www.selby.org.

2

Even More Creative

Liberties

Creative Liberties has announced that

Even More Creative Liberties…Studios,

Gallery, Classroom and Community

Space will be opening at 925 Lime Avenue

in Sarasota later this fall.

They will have artist studio spaces

available for rent, classroom space, rental

display walls and more. They're existing

location is at 901-B Apricot Avenue.

Interested in learning more about studio

space rental? Go to their website for an

application at www.creativeliberties.net.

You can also email them at info@creativeliberties.net.

2

AGAMI is seeking

displaying artists

The Artists Guild of Anna Maria Island

has openings in its gallery at 5414 Marina

Drive, Holmes Beach, for new artists to

display their work in the renovated space.

All media are welcome. Send inquiries to

Anne Abgott at annecabgott@gmail.com.

For more information, visit www.amiartistsguildgallery.com/

or call 941-778-6694

The Artists' Guild of Anna Maria Island,

an all-volunteer, 501(c)3 non profit organization,

was formed in 1989 to promote

and support creative processes by bringing

together artists to share experiences,

expertise and work together to develop

and promote the artistic community.

2

26 WEST COAST WOMAN SEPTEMBER 2022
---
healthier you

Brain Washed

in Your Sleep

Boston University study reveals the first ever

images of cerebrospinal fluid washing in and out

of the brain during sleep

It is absolutely necessary that you

get an adequate amount of restful

sleep. But… According to the American

Sleep Association, insomnia is the most

common sleep disorder. About 30 percent of

American adults report short-term problems

and 10 percent experience chronic trouble

falling or staying asleep.

Of course, it is intuitive that we need

sleep. All of us have felt the devastating

effect of just one restless night. Only now

we have the scientific reason why it is so

important.

Why we need to sleep

Research from Boston University suggests

that tonight, while you sleep, something

amazing will happen within your brain.

Your neurons will become quiet. A few seconds

later, blood will flow out of your head.

Then, a watery liquid called cerebrospinal

fluid (CSF) will flow in, washing through

your brain in rhythmic, pulsing waves.

According to this 2019 study, sponsored

by the NIH and the Martinos Center for Biomedical

Imaging, during the awake hours,

our brains are very active.

At an average weight of 6 pounds, the

brain is the most bioactive organ in our bodies,

utilizing over 10% of our total energy

consumption! But, with all this activity, the

brain builds up nasty free radicals and toxic

proteins which "gum up the works", stealing

our brain power and adding to an

increase in fatigue, irritability and risk of

Alzheimer's…..That is, unless we sleep.

Amazingly, MRI and EEG studies reveal

that during – and only during – sleep, the

brain actually shrinks, allowing the increase

in CSF flow and slow wave activity to flush

these toxic, memory impairing proteins out

of the brain. Without sleep, these dangerous

toxins build up and up, eventually killing

healthy brain tissue.

What Helps You Sleep

Sleep Hygiene– Sleep in complete

1. dark. White noise or no noise. No

TV (and it's better not to have one in the

bedroom). Avoid caffeine, too much alcohol

and eating too late. If possible, go to bed

around the same time each night. Avoid

drinking a lot of fluids within 2 hours of

bedtime. Correct any nutrient imbalances,

such as Magnesium and Calcium, prior to

turning in. Try 'night-time' teas, such as

chamomile or valerian.

Natural, Bio-Identical Hormone

2. Balance– Life struggles, aging, and

everyday stress can cause our hormones

to go out of balance, interfering with our

ability to get restful sleep. The rebalance of

natural progesterone is most critical (synthetic

versions are inflammatory), followed

by Bio-Identical estrogen, melatonin, and

cortisol (the stressor hormone).

Neurotransmitter Balance– Gaba

3. and Serotonin (the neurotransmitters

of sleep), may be balanced by several natural

means, thus avoiding the need for using

sleep formulas containing potentially addictive

drugs. Natural balance of these neurotransmitters

often requires the help of a

professional trained in Integrative Medicine.

Breathing Exercises– Our busy and

4. fast-paced society, filled with homework,

long work days, financial strains, parenting

burnout, or other emotionally

exhausting situations, can make it difficult

to unwind, calm down, and get restful sleep.

When it's hard to sleep, focusing on your

breath may help.

—————————————————

About The Renewal Point

With over 30 years of experience and

numerous board certifications and credentials,

Dr. Watts, MD, ND, MSNM is an in

Bio-Identical Hormone and Neurotransmitter

Balancing. As brain and body hormone

balancing is both an art and science, it

requires expertise in individualized therapy

and ongoing dosing changes, based not

only on a patient's diagnostic lab values

but also their symptoms.

Due to the sensitive nature of hormone

balancing, it is imperative that you work in

partnership with an experienced provider

and program.

To learn more, we

encourage you to visit

our website at TheRenewalPoint.com

and/

or call 941-926-4905.

References: Please

visit our website for

the list of references.

Dr. Dan Watts

MD, ND, MSMN

The Renewal Point FOUNDER/

DIRECTOR

4905 Clark Road, Sarasota

Phone: 941-926-4905

www.TheRenewalPoint.com

ARE YOU PLANNING TO

DOWNSIZE OR REDECORATE?

Designing Women Boutique is

happy to accept like-new home

furnishing and accessories on

consignment. We also offer

full concierge services for

estate sales. DWB turns your

consigned goods into grants

that support the arts and

human services organizations

in our community.

Since 2002, we have gifted more than $8 million to local non-profits.

Thank you for assisting us in helping others. Please call for more information.

Online Shopping: DesigningWomenSRQ.org

DESIGNING WOMEN BOUTIQUE

Upscale Resale & Estate Liquidation

Where Fashion Meets Philanthropy

1226 North Tamiami Trail, Sarasota

941.366.5293

A 501c3 Benefiting Local Arts

& Human Services Organizations

PAID ADVERTORIAL

SEPTEMBER 2022 WEST COAST WOMAN 27
---
dining in

It's a blend of summer

bounty, very

fresh and lightening,

and has a little

bit of acid to it and

a little bit of heat.

It starts everything

off with the right

tone, gets the palate

excited and

makes you want to

eat more.

½ head celery,

roughly

chopped

1 cucumber

1 Thai chili,

seeds removed

1 cup parsley leaves

1 quart spinach

½ cup mint leaves

1 cup Greek yogurt

1 ½ ounces Sherry vinegar

Keep it light, a bit sweet and easy to prepare

F Green Gazpacho

Green Gazpacho T

1 ½ teaspoons salt

1 tablespoon sugar

20 ounces water

¼ cup olive oil

½ cup toasted slivered almonds

(optional)

Place everything, except the almonds, into a blender (or use an immersion blender).

Blend until smooth.

F Strawberry, Cucumber & Pearl Couscous Salad

Strawberry, Cucumber & Pearl Couscous Salad T

Crunchy walnuts, crisp

cucumbers and fresh

strawberries combine

with pearl couscous,

mint and a honey balsamic

vinaigrette for a

tasty summer side or

main dish. Crunchy

balsamic glazed walnuts

finish this salad.

Okay, it does call for

turning on the oven,

but only for about 15

minutes - time enough

to make a Margarita.

SALAD:

1 tablespoon olive oil

1 cup pearl couscous

1 1/4 cups vegetable broth or water

1 cup sliced strawberries

1 cup thinly sliced English cucumbers

1/4 cup loosely packed mint leaves,

chopped

Kosher or sea salt and pepper

BALSAMIC WALNUTS:

1 teaspoon butter

1/4 cup sugar

When it's still too hot to cook

1 tablespoon balsamic vinegar

1/4 teaspoon kosher or sea salt

1 cup walnut halves and pieces

DRESSING:

3 tablespoons balsamic vinegar

2 tablespoons olive oil

1 tablespoon minced shallot

2 teaspoons honey

2 teaspoons Dijon mustard

1/2 teaspoon kosher or sea salt

To prepare couscous, heat oil in a medium saucepan over medium heat. Add couscous

and stir to coat with oil. Cook for about 3 minutes or until lightly toasted, stirring

frequently. Add broth or water and bring to a boil. Reduce heat and simmer, covered,

for 10 minutes. Remove from heat and fluff with a fork. Let cool.

To prepare walnuts, while couscous is cooking, preheat oven to 350°F and line a small

baking sheet with parchment paper. Melt butter in a small skillet over medium heat.

Add sugar, balsamic vinegar and salt. Cook for 2 to 3 minutes or until sugar is dissolved,

stirring frequently. Add walnuts and stir to coat completely with mixture. Transfer to

baking sheet and cook for 10 to 12 minutes, stirring once halfway through cooking.

Remove from oven and let cool, stirring occasionally. When completely cool, break into

small bite-size pieces.

Whisk together all dressing ingredients in a large bowl. Add cooked couscous,

strawberries, cucumber and mint to bowl. Toss well to coat all ingredients with dressing.

Cover and refrigerate for at least 1 hour for flavors to blend. (May be prepared up to 8

hours in advance.) Stir in walnuts just before serving.

F Pasta Salad with Cotton Candy Grapes,

Baby Spinach and Feta T

Cotton Candy grapes are a

beautiful bright green color,

juicy and naturally sweet (yes,

they taste like cotton candy),

and they contain antioxidants,

including health-promoting

resveratrol. Grapes bring interest

to appetizer and snack

boards and they are the star

in this sweet and savory pasta

salad made with whole-wheat

orzo, Cotton Candy grapes, red

bell peppers and baby spinach.

For the VINAIGRETTE:

1/4 cup extra-virgin

olive oil

2 Tbsp. lemon juice

2 tsp. Dijon mustard

1 tsp. champagne vinegar (or any

other white vinegar)

1 small garlic clove, minced

1 tsp. honey or maple syrup

Kosher salt, to taste

Freshly ground black pepper, to taste

For the PASTA SALAD:

8 oz. whole-wheat orzo pasta

1 1/2 cups green grapes, halved

1 small red bell pepper, cut into

¾-inch dice (about 1 cup)

1 cup packed baby spinach, roughly

chopped

1/2 cup mint leaves, roughly chopped

1/3 cup diced red onion (cut into 1/4

inch dice)

1/3 cup pitted Kalamata olives, cut in

half

1/3 cup crumbled feta cheese

2 Tbsp. roasted pumpkin seeds or

sunflower seeds

Place olive oil, lemon juice, mustard, vinegar, garlic and honey in small container with

a tight-fitting lid and shake until well combined. Season with salt and pepper, to taste.

Set aside.

Meanwhile, cook pasta according to package directions. Drain in colander when done,

and rinse under cold water to cool.

Place pasta in large bowl. Stir in grapes, bell pepper, spinach, mint, onion, olives, feta

and pumpkin seeds until well combined.

Add half the vinaigrette and stir well until all ingredients are well coated. Season with

additional salt and pepper, to taste. Add remaining vinaigrette, if needed. (If making

ahead and storing for several hours or overnight in refrigerator, stir in remaining

vinaigrette before serving, if needed.)

In this recipe,

use a quality

olive oil like

Olio Terre di

Siena PDO for

its fruity aroma

with a strong

hints of spice.

F Citron, Cherry and Quinoa salad

1/2 cup of

quinoa

1 citron

2 cucumbers

10 cherries,

seedless

1 bunch of

coriander

1 bunch of mint

1 lime

1 hot pepper

1 shallot

Citron, Cherry and Quinoa salad T

1 Tbsp. of cumin

3 Tbsp. of yogurt

Olive oil to taste

salt

pepper

Boil the quinoa in salt water. Cut cherries into small pieces. Cut the outer part of the

cucumber in stripes and add to the cherries.

Blend the interior part of the cucumber with olive oil, salt, pepper, yogurt and lime juice.

Once the quinoa is cooked, salute in a pan with the shallot and hot pepper. Add cumin.

Grind the citrus with the mint and coriander and arrange the ingredients in a salad.

28 WEST COAST WOMAN SEPTEMBER 2022
---
FREE LIVING WILL

WITH EVERY ESTATE PLAN

Simple Will ................................... $ 110

Revocable Living Trust:

Single ....................... $ 595

Married ................. $ 1,050

Power of Attorney ........................ $ 95

Health Care Surrogate .................. $ 85

No additional costs required other than filing fees if applicable.

www.gerlinglawgroup.com

Dana Laganella

Gerling, Esq.

Offices: Bradenton/

Lakewood Ranch

756-6600

The hiring of a lawyer is an important decision that should not be based solely upon advertisements. Before you decide,

ask us to send you free written information about our qualifications and experience.

• Group Exercise

• Indoor Pools

• Fitness Floor

• Personal Training

• Spa & Steam Room

• Child Watch

...and more!

NO CONTRACTS. NO HIDDEN FEES.

SARASOTA BRANCH

1075 S. Euclid Ave.

Sarasota, FL 34237

941-955-8194

CORESRQ, INC. IS A 501(C)(3)

NONPROFIT ORGANIZATION.

The mission of CoreSRQ is to

inspire a healthier community

through innovative wellness and

education programs for people

of all ages and backgrounds.

PALMER RANCH BRANCH

8301 Potter Park Dr.

Sarasota, FL 34238

941-922-9622

10%

OF MY COMMISSION

GOES TO

JoshProvides Epilepsy Assistance Foundation, Inc. offers HELP & HOPE to children,

families, individuals and caregivers who are living with Epilepsy or other seizure

disorder.

Veronica Brandon Miller

Your Florida HomeTeam with Preferred Shore

941.807.7321

www.yourfloridahometeam.com

SEPTEMBER 2022 WEST COAST WOMAN 29
---
good news department

Gulf Coast Community

Foundation continues to

invest in WBTT

Westcoast Black Theatre Troupe has received

an Arts Appreciation Grant of

$40,000 from Gulf Coast Community

Foundation. The grant will support WBTT's

operations as well as the costs associated with

its 2022-2023 season, which includes "Guys

and Dolls," "Flyin' West," "Dreamgirls," "Big

Sexy: The Fats Waller Revue" and the holiday

show, "Black Nativity."

WBTT leaders (from l-r) Nate Jacobs, Julie Leach,

Debra Flynt-Garrett and Jim Weaver

Photo by Sorcha Augustine

This is the sixth Arts Appreciation grant

WBTT has received from Gulf Coast, totaling

$175,000 since the first award in 2018. Gulf

Coast's Arts Appreciation Grants offer unrestricted

funding to cornerstone arts organizations

– in recognition of their contributions to

our region's economy and quality of life – to

further their missions. For more about WBTT,

visit westcoastblacktheatre.org.

Bishop-Parker Grant

Provides Funding for

Children in Foster Care

The Florida Center for Early Childhood

received a $50,000 grant from the Bishop

Parker Foundation for its Early Childhood

Court, or ECC, program.

The grant funded the purchase of a transit

vehicle to take families to and from their

required appointments, and helped provide

additional mental health therapy and parenting

classes.

Providing transportation to families offers

a safe and more efficient way for them

to travel. With reliable transportation and

reduced maintenance costs, the ECC model

can be even more effective.

"Many of the families do not have reliable

vehicles to attend visitations, medical

appointments, meetings and court proceedings,"

said Dr. Kristie Skoglund, CEO of The

Florida Center.

For more information, visit https://www.

thefloridacenter.org/what-we-do/early-childhood-court/

Community Day School

Receives Community

Impact Grant

A Community Day School preschool student

with books in the Janis Kaplan Multicultural

Media Center

Hershorin Schiff Community Day School

(CDS) has received an $8,000 Community

Impact Grant from the Community Foundation

of Sarasota County. The grant will

help fund books and technology for its Janis

Kaplan Multicultural Media Center.

Dan Ceaser, Community Day's head of

school, explains that, when CDS secured a

permanent campus in Sarasota one year ago,

installing a state-of-the-art multicultural media

center directed by a qualified media specialist

was top on its wish list.

"This generous grant allows us to expand

the materials and resources needed to reflect

a 21st-century school multimedia center—

one which offers faculty and students the

opportunity to explore a diversity of experiences,

voices, and perspectives from around

the world," says Ceaser.

To learn more about Community Day

School, visit communityday.org.

Planned Parenthood

Awarded Grant

The Community Foundation of Sarasota

County has provided a $59,461 grant to

Planned Parenthood of Southwest and

Central Florida (PPSWCF). Financial

stresses are impacting the ability of people

in Sarasota County to access vital sexual and

reproductive health services.

The funds are now available to help uninsured

and underinsured people in Sarasota

County area access birth control, emergency

contraception; acute care (STI/HIV testing

and treatment of infections); and transgender

care. Because of the Community Foundation

of Sarasota County's support, the

financial burden is taken off patients, allowing

them to access the care they need at our

health center and via telehealth.

"Your zip code and income level should

not determine your ability to access basic

health care," said Stephanie Fraim, President

and CEO of PPSWCF. "When people have access

to high-quality, non-judgmental health

care and accurate information about sexual

health they experience healthier outcomes,

leading to healthier communities overall."

Funding for this grant provided in part

by the Charlotte Jones Fund and the Evelyn

Hanig Osterweil Fund II from the Community

Foundation of Sarasota County.

Kiwanis Club of Sarasota

Celebrates 100th Anniversary

Granting to Local Nonprofits

In honor of its 100th anniversary, the Sarasota

Kiwanis Club and its Foundation gave

$100,000 in grants to 28 local nonprofit

organizations for 2022.

"Our Club is dedicated every year to giving

needed funds through our grants process,

as it is part of our mission to support nonprofits

in our local community," said Marla

Doss, president of the Sarasota Kiwanis Club

Foundation. "This year, as it is our 100th year

as a Club, we committed to giving a total of

$100,000 in grants."

A total of 28 nonprofit organizations were

gifted checks this year, they are: All Friends

Network, Big Brothers/Big Sisters , Boys &

Girls Clubs, Child Protection Center, Children

First, Children's Cancer Center, Early

Learning Coalition, Easterseals Southwest

Florida, Embracing Our Differences, Foundation

for Dreams, Girls, Inc., Heart Gallery

of Sarasota, Manasota BUDs, Manasota

Solve Maternity Homes, The Mark Wandall

Foundation, Mayors' Feed the Hungry, Meals

on Wheels Sarasota, Operation Eco Vets,

Pines of Sarasota, The Players Centre for

Performing Arts, Pregnancy Solutions, Safe

Children Coalition, Sarasota School of Innovative

Studies, Selah Freedom, Senior

Friendship Centers, Sertoma Kids, SPARCC,

and SRQ Medical Pregnancy Center.

Children First

Children First has received a $30,000

grant from the Jerome & Mildred Paddock

Foundation to help fund a new classroom

that will bring eight infants and toddlers

off the waiting list.

Along with other funders, the grant will

allow the renovation of a previously existing

space, where the agency already has two

classrooms that serve sixteen infants and

toddlers in partnership with First Presbyterian

Church.

As the exclusive provider of Head Start

and Early Head Start services, Children First

serves hundreds of children and their families

living at or below the Federal Poverty

Level ($23,030 for a family of 3) across 15

locations each year.

"With costs of childcare rising at such a

rapid rate, coupled with the overall inflation

we are experiencing around the nation, our

community's most vulnerable families are

under extreme duress. Our waitlist of those

in need of our services can reach up to 180

children, so every slot that we are able to

open is crucial," says CEO Philip Tavill. For

more information, visit childrenfirst.net.

Embracing Our Differences

Receives Arts

Appreciation Grant

Sarah Wertheimer, the executive director of

Embracing Our Differences, announced

that the organization has received a $50,000

Arts Appreciation grant from the Helen

Hamilton Fund at the Gulf Coast Community

Foundation. The grant will fund

various aspects of the organization's yearround

educational initiatives.

"Our ongoing arts education programs

represent the most important aspect of our

efforts – reaching and impacting the lives of

thousands of students and teachers locally

and around the world," says Wertheimer.

Since 2004, more than 529,000 students have

participated, including 52,274 students and

1,808 teachers during the 2021-2022 school

year alone.

EOD partners with local educators and

arts organizations to create a variety of educational

programs, including free school

field trips to EOD's annual outdoor exhibit

and two reading day programs for pre-k

through third grade students in Sarasota and

Manatee counties. Programs created for high

school students include docent training as

part of the Coexistence Club experience and

the Unity Day program, a full-day workshop

that promotes empathy and respect through

team building activities.

Next year's Bayfront Park exhibit runs

January 18-March 12, 2023. The exhibit will

be displayed at Butler Park in North Port,

March 22-April 19, 2023; and at State College

of Florida, Manatee-Sarasota, April 26-May

29, 2023. For information, visit www.embracingourdifferences.org.

Gulf Coast Community

Foundation Funds Programs

for the Workforce

CareerEdge, the workforce development

initiative of the Sarasota Chamber of

Commerce, will continue its workforce efforts

thanks to a $125,000 grant from Gulf

Coast Community Foundation.

This grant award extends the 11-year-long

partnership between CareerEdge and Gulf

Coast, who was a founding investor in CareerEdge

and continues to play an integral role

in the region's workforce development.

CareerEdge will use the grant funds for

on-the-job training, internships, and salary

subsidies for local employers. They will also

be used for CareerEdge's Fast-Track training

programs.

Fast-Track training is a way for employers

to quickly fill in-demand job openings while

offering rapid credentialing and certifications

critical within the industry.

Gulf Coast Community Foundation's cumulative

support for CareerEdge now exceeds

$1.5 million going back to when the

initiative was launched in 2009.

"With the one-two punch from inflation,

and a protracted pandemic, workforce readiness

and economic diversification are greater

priorities for our region now, more than

ever—and therefore for Gulf Coast Community

Foundation," said Jon Thaxton, Gulf

Coast's senior vice president for community

investment and co-chair of the CareerEdge

Funders Committee.

For information about CareerEdge, visit

www.careeredgefunders.org. For information

on the Sarasota Chamber of Commerce,

visit www.sarasotachamber.com.

30 WEST COAST WOMAN SEPTEMBER 2022
---
Windows and Patio Doors!

40 % OFF1

Interest accrues from the date of purchase but is waived if paid in full within 12 months. Minimum purchase of 4.

Interest accrues from the date of purchase but is waived if paid in full within 12 months. Minimum purchase of 4.

1

$ 0 Monthly Payments

for 12 months 1

BUY ONE, GET ONE

AND

$ 0 Money Down

$ 0 Interest

4.7 OUT OF 5 BASED ON 95,000+ REVIEWS

" My overall experience was great. I love the window, and from sales to scheduling, the

experience was very good. The installers are highly skilled professionals and I would recommend

Renewal by Andersen to all my contacts." – LYNN F. | RENEWAL BY ANDERSEN CUSTOMER

Call by November 30

for your FREE consultation.

877-710-0048

1

DETAILS OF OFFER: Offer expires 11/30/2022. Not valid with other offers or prior purchases. Buy one (1) window or entry/patio door, get one (1) window or entry/patio door 40% off, and 12 months $0 money down, $0 monthly payments, 0% interest when you purchase four (4) or more windows or entry/patio doors

between 7/1/2022 and 11/30/2022. 40% off windows and entry/patio doors are less than or equal to lowest cost window or entry/patio door in the order. Subject to credit approval. Interest is billed during the promotional period, but all interest is waived if the purchase amount is paid before the expiration of the

promotional period. Financing for GreenSky® consumer loan programs is provided by federally insured, federal and state chartered financial institutions without regard to age, race, color, religion, national origin, gender, or familial status. Savings comparison based on purchase of a single unit at list price. Available at

participating locations and offer applies throughout the service area. See your local Renewal by Andersen location for details. License number available upon request. Some Renewal by Andersen locations are independently owned and operated. 2Values are based on comparison of Renewal by Andersen® double-hung

window U-Factor to the U-Factor for clear dual-pane glass non-metal frame default values from the 2006, 2009, 2012, 2015, and 2018 International Energy Conservation Code "Glazed Fenestration" Default Tables. "Renewal by Andersen" and all other marks where denoted are trademarks of Andersen Corporation.

© 2022 Andersen Corporation. All rights reserved. RBA12848 *Using U.S. and imported parts.

DENTAL

INSURANCE

Get the dental care you deserve.

If you've put off dental care, it's easy to get back on track. Call

Physicians Mutual Insurance Company now for inexpensive

dental insurance. Get help paying for the dental care you need.

Don't wait.

Get West Coast Woman delivered FREE!

Subscribe

to our monthly

e-magazine

Read, click,

turn pages

— all at the

convenience

of your

laptop, smart

phone or

tablet.

Helps cover

over 350

procedures

Preventive

care benefits

right away

Go to any

dentist, but save

more with one in

our network

No deductible,

no annual

maximum

Send your email addy to: westcoastwoman@comcast.net

Getting back to the dentist couldn't be easier!

CALL TODAY

1-855-637-6404

Dental50Plus.com/westcoast

Get your

FREE

Information Kit

Product not available in all states. Includes the Participating (in GA: Designated) Providers and Preventive Benefits Rider. Acceptance guaranteed for one

insurance policy/certificate of this type. Contact us for complete details about this insurance solicitation. This specific offer is not available in CO, NY; call

1-800-969-4781 or respond for similar offer. Certificate C250A (ID: C250E; PA: C250Q); Insurance Policy P150 (GA: P150GA; NY: P150NY; OK: P150OK; TN: P150TN).

Rider kinds: B438, B439 (GA: B439B).

6208-0721

SEPTEMBER 2022 WEST COAST WOMAN 31
---
Expert Bio-identical

Hormone Balancing

With over 30 years of experience and numerous board certifications

and credentials, Dan Watts, MD, ND, MSNM is an expert in the

Science and Art of Bio-identical Hormone Balancing.

Hormones are an essential

component of almost every cell

and every major function of

our body. Balance is critical

and, when achieved, can bring

about remarkable improvements

in many aspects of life. Due

to the sensitive nature of

hormone balancing, it is

imperative that you work in

partnership with an experienced

provider and program.

Why people join our Bio-identical Hormone Balancing Program…

• Restoring mental and physical balance • Reducing anxiety and depression

• Weight loss and management

• Improving sleep, energy and focus

• Gaining control over emotions

• Boosting intimacy and sexuality

Call today 941.926.4905

Dan Watts, MD, ND, MSMN

Board Certification:

American Board of Integrative Medicine

American College of Obstetrics and Gynecology

Post-doctoral Certification in Metabolic

Endocrinology

Post-doctoral Master's in Nutritional and

Metabolic Medicine

Fellowship: American Academy of Anti-Aging

Medicine: Anti-Aging, Regenerative, and

Functional Medicine

Fellowship: American College of Surgeons

Lynne Streitmatter, APRN, MS, NP-C

Board Certified Advanced Registered Nurse Practitioner

Specialties Include:

Gynecology

Bio-identical Hormone Balancing

Weight Loss

IV Therapy

Family Medicine

Age Management | Men's Health | Gynecology | Bio-identical Hormone Balancing

Strength and Conditioning | Weight Loss | IV Therapy | Brain Health

Toxin Elimination | Digestive Health | Heart Health

4905 Clark Road, Sarasota, FL 34233

941.926.4905 | www.TheRenewalPoint.com

32 WEST COAST WOMAN SEPTEMBER 2022