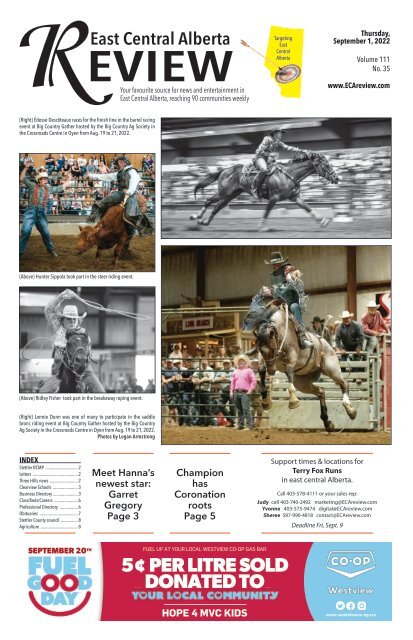 ECA Review - 2022-09-01
ECA Review - 2022-09-01
ECA Review - 2022-09-01
SHOW MORE
SHOW LESS
You also want an ePaper? Increase the reach of your titles
YUMPU automatically turns print PDFs into web optimized ePapers that Google loves.
R

R

72 pt

East Central R Alberta

EVIEW

60 pt

R

48 pt

Your

R

36 pt

favourite source for news and entertainment in

East Central Alberta, reaching 90 communities weekly

R

30 pt

Targeting

East

Central

Alberta

Thursday,

September 1, 2022

Volume 111

No. 35

www.ECAreview.com

(Right) Édesse Descôteaux races for the finish line in the barrel racing

event at Big Country Gather hosted by the Big Country Ag Society in

the Crossroads Centre in Oyen from Aug. 19 to 21, 2022.

R

R

24 pt

18 pt

(Above) Hunter Sippola took part in the steer riding event.

(Above) Ridley Fisher took part in the breakaway roping event.

(Right) Lonnie Dunn was one of many to participate in the saddle

bronc riding event at Big Country Gather hosted by the Big Country

Ag Society in the Crossroads Centre in Oyen from Aug. 19 to 21, 2022.

Photos by Logan Armstrong

INDEX

Stettler RCMP ............................. 2

Letters ........................................ 2

Three Hills news ......................... 2

Clearview Schools ...................... 3

Business Directory ...................... 3

Classifieds/Careers ..................... 6

Professional Directory ................ 6

Obituaries .................................. 7

Stettler County council ............... 8

Agriculture ................................. 8

Meet Hanna's

newest star:

Garret

Gregory

Page 3

Champion

has

Coronation

roots

Page 5

Support times & locations for

Terry Fox Runs

in east central Alberta.

Call 403-578-4111 or your sales rep:

Judy cell 403-740-2492 marketing@ECAreview.com

Yvonne 403-575-9474 digital@ECAreview.com

Sheree 587-990-4818 contact@ECAreview.com

Deadline Fri, Sept. 9

SEPTEMBER 20 TH

FUEL UP AT YOUR LOCAL WESTVIEW CO-OP GAS BAR

5¢ PER LITRE SOLD

DONATED TO

HOPE 4 MVC KIDS

www.westviewco-op.crs
---
2 S eptember 1'22 HANNA/CORONATION/STETTLER, AB. ECA REVIEW

Stettler RCMP arrest suspect second time

Stu Salkeld

Local Journalism Initiative reporter

ECA Review

Stettler RCMP have arrested a suspect

for the second time in 10 days for

similar charges.

According to an Aug. 26 press

release 70-year-old Larry Watson was

arrested for charges similar to those

Invest in the people

Our government has no qualms

about investing billions of dollars in

the huge corporations or other countries,

but they don't ever seem to want

to invest in our own people.

The people are the backbone of the

country, not the corporations.

The health professions are short

thousands of nurses and doctors, but I

don't hear of the government coming

forward to invest any money to help

these people to get into training. This

would be a great place to invest some

money.

Education of any kind has become so

expensive that unless you have very

rich parents, it's almost prohibitive for

lower income people.

Even the more ordinary jobs require

expensive training to get into.

For example, truck driver training

is $15 to $20 thousand to get a Class 1

R

R

R

R

R

Published by

Coronation

Review

Limited

Subscriptions:

$52.50 in Canada; $98.70 in US;

$183.75 Overseas.

MAIL BAG

drivers licence.

Oilfield workers are required to get

five or six different tickets to get to

work in that field and it all takes time

and money to obtain.

I think from the looks of our cities,

some people just give up and go on welfare

and buy a tent and set up in a park

and rely on Food Banks.

We probably have a full generation

of good potential doctors and nurses

that have slipped away because the

Government didn't see the need to

"invest in the people."

Many other professions face the

same problems and I would like to

remind the Government that bandaids

work on small nicks and cuts but when

you have a gaping wound, you need a

much bigger bandage!

Robert Blagen

Youngstown, Alta.

Don't know where to turn

Dear Editor,

Industrial noise pollution affects

some more than others. Suffering from

a mental health disorder can greatly

enhance the affects of industrial noise

on an individual that suffers from

PTSD.

Benchmark Commodities in Bashaw

is operating a business that emits

sound levels above and beyond reasonable

decibel limits. The location of the

operation is in between residential

areas in the town along the railway

tracks.

With numerous complaints from residents

to the Town of Bashaw, to no

avail, as the Town does not have a

bylaw on decibel level. This means, no

enforcement.

The noise maker is a vibration

implement attached to the front of a

skid-steer. This machine is used to

knock loose debris left in the bottom of

the train car.

An operator pulls the skid-steer up

to the train car, situates the vibration

implement on the bottom chute of the

train car and then proceeds to start

tampering on the metal chute. The

duration ranges from 30 seconds up to

over a minute at a time. The noise

emitted is extremely loud.

This goes on, intermittently/consistently

through the day, sometimes for

over eight hours. It has been going on

for months now.

My mental health is suffering

immensely. I decided to call the company

and reveal my mental health

disorder so they understand how this

Watson was arrested for in Stettler less

than two weeks prior.

"On Aug. 22, 2022 at about 9:30 p.m.,

a Stettler RCMP member observed (a

suspect) exit a local business and enter

a motor vehicle as the driver," stated

the press release from Stettler RCMP

detachment commander S/Sgt/ Bruce

Holliday.

"The Stettler RCMP member was

has affected me. They say, we'll see

what we can do.

It did get better for about a week.

Then it got way worse.

I called again and this time the

owner seemed flippant and was rude to

me? I asked, is there no solution for

this extreme noise? You are affecting

my mental well being to the point

where I cannot sleep, function or have

peace in my own home. I cannot even

go outdoors when this is going on.

He answered saying, if you can

figure out a better way then go ahead?

I am beyond words at this point. He

is the owner and he doesn't care. A

capitalistic business owner with no

concern for the residents that surround

their operations.

I don't know where to turn, I am held

captive in a sea of anxiety due to this

company.

Joanne Melanson

Bashaw, Alta.

'Atta boy'!

Dear Editor.

Regarding the poem by Lee Hudson

titled 'The real inconvenient truth', pg.

2 Aug. 25, 2022 issue I would say, "Atta

boy"!

Yes, we all believe in global

warming, the evidence is there and it's

hard to deny that but the reason for

global warming is found in Isaiah 30,

verse 26.

Clayton Richardson,

Paintearth Lodge, Castor, Alta.

72 pt

East Central Alberta

EVIEW

60 pt

48 pt

36 pt

Website ECAreview.com

Office Hours Mon. - Fri. 9 am - 5 pm

R

30 pt

4921 - Victoria Avenue

Tel. (403) 578-4111

R

24 pt

Mail: Box 70, Coronation, AB Canada, T0C 1C0

LETTERS POLICY • Letters to the Editor are welcomed •

Must be signed and a phone number included so the writer's

identity can be verified. • ECA Review reserves the right to edit

letters for legal considerations, taste and brevity. Letters and

columns submitted are not necessarily the opinion of this

newspaper.

MEMBER OF:

aware that (a suspect) was unauthorized

to operate a motor vehicle as his

licence was suspended. The Stettler

member activated his emergency

equipment to initiate a traffic stop."

RCMP allege Watson was the driver

and did not stop but rather accelerated

the SUV he was driving, fleeing at a

high rate of speed.

"As Stettler members continued to

investigate and located the vehicle that

(the suspect) had been operating, further

investigation led to locating (the

suspect) at a Big Valley residence,

where he was taken into custody

without incident," added Holliday.

"Larry Brian Watson was charged

with operation of a motor vehicle

while unauthorized, flight from a

peace officer, fail to comply with a

release order condition and dangerous

operation of a motor vehicle.

"Following a judicial interim release

hearing, Watson was remanded into

custody and transported to the

remand centre to appear in Stettler

provincial court on Sept. 8, 2022 for

Municipalities vote

down ad bylaw

Submitted

The St. Albert Gazette won a victory

for transparency in local government

this week.

Their city council voted Monday

against a bylaw that would have

enabled the city to select the method it

uses to publish legal advertisements.

Many of the province's municipalities

have enacted such bylaws since

the Municipal Government Act was

amended in 2017, allowing councils to

create their own ad bylaws. Councils

have argued that posting these notices

on their websites saves money and gets

the notices out on a timelier basis.

Great West Media CEO Duff

Jamison addressed council during the

public hearing, presenting survey data

Local Journalism Initiative is funded

by the Government of Canada.

JOYCE WEBSTER

Publisher/Editor

publisher@ECAreview.com

YVONNE THULIEN

Marketing/Digital 403-575-9474

digital@ECAreview.com

this as well as his previous matters in

Stettler.

"The Stettler RCMP will continue to

focus efforts to bring these individuals

before the courts in response to their

criminal activities and the resulting

negative influences that can affect our

communities," added Holliday.

Watson was arrested Aug. 12 in

Stettler and charged with six offences

including possessing a substance suspected

of being methamphetamine,

operating a motor vehicle while unauthorized,

operating an uninsured

motor vehicle, operating an unregistered

motor vehicle, open liquor in a

motor vehicle and cannabis marijuana

in a motor vehicle within reach of the

driver.

Readers may recognize Watson's

name from a previous high-profile

arrest in the region, that being in connection

with a Feb. 21, 2016 police raid

on a meth lab north of Stettler located

on Sec. Hwy. #601. Watson was

charged along with three other men.

In the year following World War I, Anna Douglas was born in Hanna Alta. and Dorothy

Queck in Iowa, U.S.. While that in itself is not remarkable, it is noteworthy that Anna and

Dorothy are still around and living in Three Hills. Their 103 years stretched for many miles

(Anna—China, Philippines, then Prairie College staff; Dorothy—Iowa and then Prairie staff).

The August 17 photo marks no one's birthday or anniversary, just two survivors, as they call

themselves, who have enjoyed each other's company in Three Hills for many years. Anna

lives in her home with son Trevor and wife Norma. Weather permitting, Dorothy takes daily

walks from the Golden Hills Lodge and was seen recently getting on an alpaca farm tour

bus without assistance. Anna is four months older than Dorothy. ECA Review/D. Nadeau

the City of St. Albert commissioned

that showed residents preferred

receiving notices and information

from the city in their local newspaper.

Rosalynn Thompson, a St. Albert resident,

said she is one of the 67 per cent

of St. Albertans that prefers to get

their information in the paper.

"I didn't come here today to talk on

behalf of my business," Jamison said.

"I came here today to talk on behalf of

the residents of St. Albert who rely

on The Gazette to keep them informed

of the goings on in their city."

St. Albert joins other local governments

such as Olds and the County of

Mountanview, who have chosen to

keep advertising in their local

newspapers.

BRENDA SCHIMKE

Editorial Writer

JUDY WALGENBACH

Marketing 403-740-2492

marketing@ECAreview.com

STU SALKELD

LJI Reporter 403-741-2615

reporter@ECAreview.com

SHEREE BAILLIE

Marketing 587-990-4818

contact@ECAreview.com

DANIEL GONZALEZ

Reporter 403-700-9460

news1@ECAreview.com

LISA MYERS-SORTLAND

Graphic Artist

R

18 pt
---
ECA REVIEW HANNA/CORONATION/STETTLER, AB September 1'22 3

Meet Hanna's newest star: Garret Gregory

Daniel Gonzalez

ECA Review

Although 36-year-old Garret

Gregory from Hanna, Alta.

works for the Western Financial

Group, he is becoming a rising

music sensation garnering

thousands of fans from his

music.

Gregory has been making

music since he was 14 years old.

He started his first band in high

school with a few friends called

Rattle Cloud.

"We started playing rock

music because we listened to a

ton of rock back in the day,"

says Gregory. "It was Creed,

Nickelback, Default, Daughtery,

we were doing a ton of that

music."

After performing and garnering

interest in Hanna,

Gregory and his band landed

gigs in Edmonton and Red Deer.

Although he enjoyed making

rock music, he realized that

rock music in Alberta was not

very big. He believed the province

is very rural, country and

farming based, so he made

music to reflect that.

"We ended up playing some

country music and the results of

that show were big time. Our

fanbase grew tenfold."

As Gregory grew up, he drew

Turn to Organizational, Pg 4

Business Directory

L. Strom

Custom Corral Cleaning

and Manure Spreading

• available for stock piling

• equipped for big/small jobs: low sheds, confined areas

General Contracting

• Track skid steer with high flow; available for all types

of services including mulching, landscaping etc.

403 574 2222 / 741 9974

Bill's Waterwell

Services Ltd.

Well Drilling

Pumps & Repairs

403-747-2120

drillerbill@xplornet.com

Big Country Construction

& Building Supplies

2018 Ltd.

• Custom New Homes • All Farm Buildings

• Renovations • Windows and Doors

• Overhead Doors & Service • Retail Sales

Quality Customer Care

403-854-3585

inspiration from his older

brother, a performer in a local

band called Cadence.

"One day I was at one of their

UNLIMITED

HIGH‐SPEED INTERNET

Now Serving:

Coronation, Veteran, Talbot, Brownfield,

Alliance, Fleet, Castor, Halkirk, Botha, &

Stettler areas. More to come!

Plans starting at $50/mo.

Packages from 7 to 50Mbps

403-578-4214

Toll Free 866.57.VITAL

53' Ground Load Services

Benson Van Hienen

403-741-5735

bvhtrucking@gmail.com

shows and I went;

'man, I really want to

do this'," said

Gregory.

It laid the groundwork

for his music

career and inspired

him to start making

covers of popular

songs before moving

on to write his own

music.

"I kind of wanted

to do my own stuff

here, so I was like;

'what the heck's a

15-year-old kid going

to write about'," says

Gregory. "So I just

wrote about girls and

basic stuff that was

just very, very vague

and didn't have very

much meaning

behind it."

Gregory listened

and learned as much

as possible to help

build his music

writing skills.

Although he is a

performer, he has a

regular job working

with Western

Financial Group dealing with

insurance for residents in

Hanna.

He enjoys the balance from

New leadership appointed

Daniel Gonzalez

ECA Review

Scott Leys was appointed the

new Superintendent of the

Clearview Public School Board

at the Aug. 24 board meeting.

He said his first priority is

building new relationships and

understanding Clearview. The

Superintendent has met with

two new principals and other

Garret Gregory performing at the Flats Fest Music

Festival held in Canal Flats, BC. on Aug. 20, 2022.

Photo by Braden Spenc

CLEARVIEW SCHOOL BOARD

leaders to Clearview to ensure

their welcome.

He has met with other superintendents

from central Alberta

and the Alberta Education Field

Manager. Superintendent Leys

expressed his excitement for a

new year ahead.

Additionally, Deputy

Superintendent Daram Van

Oyers announced that

Clearview is ready to launch the

new curriculum.

According to the board highlights

of the meeting,

confidence comes from work

completed last year to gain an

understanding of the curriculum

and an implementation

plan this year that includes regular

professional development

for teachers.

Ask us about available

discounts.

Scott Lourance

403-916-4600 Cell

403-742-2551 Home

53' Cattle Liner

53' Ground Load

Hay Trailer

CAN'T SEE OUT?

Option #1

Replace

the Foggy

Unit

Option #2

Replace

the

window

Financing Available

Anchor Glass

the opposing jobs as they

give him regular cool

downs between his daily

and performer life.

In discussing his first

single, Leavin' You, Gregory

notes the popularity of the

song exceeded his

expectations.

"I did not really expect

much out of it," said

Gregory. "[...] I didn't know

how it was going to compare

with everything else out

there, so I was setting

myself up so I wouldn't be

disappointed."

Although his goal was to

get his music out, people

started to contact

him about his

work. With thousands

of listeners

online, Gregory

never anticipated

the success of his

first song.

"It's pretty

shocking and

humbling

hearing that

they're enjoying

the song," said

Gregory.

Gregory and

his music have

brought him to

different venues

in front of thousands

of people.

From his

403-854-4414 • 1-800-463-3148

www.anchorglass.ab.ca

tim@anchorglass.ab.ca

earliest performance to

being on stage at Nashville

North, the Canadian

National Exhibition and

even the Calgary Stampede,

it has all been a long,

arduous journey he will

never forget.

Gregory has plans to

release three new singles

with an album planned for

December. He will continue

to make music and has no

plans of stopping anytime

soon.

"I can't wait to put out

more music for people to

listen to," stated Gregory.

Coronation & District Support Services

11

Rummage

TH ANNUAL

S•A•L•E

Saturday, September 10 th

10am – 3pm @ Coronation Curling Rink

If you would like more

information, to volunteer and/

or to donate items,

please call Diane

@ 403-578-2727.

All proceeds from the sale

will go back to community

events and organizations.

Thanks to our sponsor:

Waste Connections of Canada

Gail J

is cutting hair at

Scissors Palace

Thurs. & Fri. 9 to 3

Senior Prices

Walk-ins Welcome

4814-49 st. Stettler

403.742.5166

space available

for under $30

McSteel

SALVAGE &

CLEAN-UP

LTD.

Wainwright, AB

We Buy

Scrap Metal

Call

780-842-8622

www.mcsteel.ca

• Specializing in Repairs to

ALL Makes & Models of RVs & Trailers

• Full selection of RV Parts & Accessories

• RV Storage

403 742 5667 generationsrv@gmail.com
---
4 S eptember 1'22 HANNA/CORONATION/STETTLER, AB. ECA REVIEW

Organizational meeting

Cont'd from Pg 3

The board has acclaimed Guy Neitz

as Chair and re-elected Kim Smyth as

Vice-Chair.

Trustees decided not to increase

honorariums or other compensations.

The board reviewed community

memberships and it will include

Shauna-lee Thomas and Greg Hayden

as Clearview's designates to the

Alberta Rural Caucus, Erika Grice as

the designate to the Alberta School

Boards' Association, Shauna-lee

Thomas, John Schofer and Becky

Scott as members of the Audit

Committee and Guy Neitz, Becky

Scott and Shauna-lee Thomas as

members of the Communications and

Engagement Committee.

Additional designations are Erika

Grice, Greg Hayden and John Schofer

as members of the Compensation

Committee and Guy Neitz, Becky

Scott and Shauna-lee Thomas as

members of the Policy Committee.

It also listed Erika Grice, Greg

Hayden and Guy Neitz as members of

the Shared Use Recreational Fields

Committee as well as the Joint Use

Planning Committee, Erika Grice and

Becky Scott as members of the

Teacher-Board Liaison Committee

and Erika Grice

as representative

to the Teachers'

Employer

Bargaining

Association.

Caring for you & your Smile!

Formerly Baird Caring Denture for you & Clinic your Smile!

Funding

From March

2022 to June 2022,

Clearview has

received $104,000

to help offset the

rising fuel costs

for transporting

students to and

from school.

The board

advocated provincially

for the

government to

take action

during the 2021 to

2022 school year

and is pleased

they responded.

Trustees

Formerly Baird Denture Clinic

• Dentures • Implant Dentures

• Partials • Relines/Repairs

• Dentures • Implant Dentures

• Partials • Relines/Repairs

We offer out of office appointments to senior lodges

David Ho, DD

(owner/manager)

"Did you know, if you are

65 years or older you might

Over 10 Years experience

learned in July We offer out of office appointments be eligible to for senior up to lodges

that Clearview

will receive

$50,000 in

funding for dual

credit

programming.

It will be for

students with

Call now for your

FREE consultation!

David Ho, DD

100% coverage on a

new set of dentures?"

OFFICE HOURS: MONDAY TO TO THURSDAY 9 - 9 A.M. A.M. TO TO 45 P.M.

FRIDAY - 9 A.M. - TO NOON 3 P.M.

403.742.2351 • 5021-50 - 50 St. St. Stettler

After hours available by appointment only

(owner/manager)

Over 10 Years experience

*After hours available by appointment only at 587.736.0128*

Call now for your

FREE consultation!

"Did you know, if you are

65 years or older you might

be eligible for up to

100% coverage on a

new set of dentures?"

OFFICE HOURS: MONDAY TO THURSDAY - 9 A.M. TO 5 P.M.

FRIDAY - 9 A.M. TO 3 P.M.

403.742.2351 • 5021-50 St. Stettler

• Hearing Tests

• Medical Referrals

• Hearing Aid Fittings & Ongoing Support

• No Obligation Hearing Aid Trials

• Custom Ear Plugs

• All makes and models of Hearing Aids

• Batteries and Accessories

• Vendor for AADL, DVA

• Vendor for WCB AB and SK,Work Safe BC

• L.A.C.E – (Listening & Communication

Enhancement) training

*After hours available by appointment only at 587.736.0128*

413 Main Street Three Hills, Alberta

119 2nd Ave. West, Hanna, Alberta

(403) 443-2288

1 (888) 536-MAXX (6299)

hello@maximumhearing.ca

agriculture-related and trade or

apprenticeship programming through

Olds College.

The province will also provide $10

million in new funding support to

Alberta students in Grades two to four

who need to get back on track since

the pandemic.

Clearview plans to apply for

funding based on assessments of student

needs completed in September

2022.

Portable connection

Although the board has previously

received funding from the province to

add a portable to Gus Wetter School,

they did not provide funding for a connection

between the portable and the

school.

Clearview asked the province for

permission to use funds given to

Clearview for Capital Maintenance

and Renewal to create a connection.

Alberta Education Minister,

Adriana LaGrange, approved the

request over summer.

The anticipated cost of the connection

will be between $160,000 and

$200,000.

Maxine Williams-Herbert,

Owner

Registered Hearing Aid Practitioner, BC HIS

HOURS:

THREE HILLS: M-W 9 am - 4:30 pm

HANNA: Th 9 am - 4:30 pm; F 9 am - 3 pm

www.maximumhearing.ca

Follow and like us on

September -30, 2022

September 1 -30, 2022

Events Workshops

• What's Cooking: Homemade

Perogies or Nalysnyky

• Pencil Drawing

• Wheat Weaving Workshop

• Learn the Art of Pysanky

• Who Are You? - Genealogy Workshop

• Explore Clay with Jasper

• Paint Night: Sunflowers

Brought to you in

Workshops

What's Cooking: Homemade Perogies or partnership Nalysnyky with:

What's

Pencil Drawing

Cooking: Homemade Perogies or Nalysnyky

Pencil

Wheat

Drawing

Weaving Workshop

Wheat

Learn the

Weaving

Art of

Workshop

Pysanky

Learn

Who Are

the

You?-

Art of

Genealogy

Pysanky

Workshop

Who

Explore

Are

Clay

You?-

with

Genealogy

Jasper

Workshop Events

Explore

Paint Night:

Clay

Sunflowers

with Jasper

Ukraine Artifacts Events and Displays

Paint Night: Sunflowers

Ukraine

Cultural

Artifacts

Food Tour

and Displays

Brought to you in

Cultural

Party On!

Food

Art Exhibit

Tour

partnership with:

Crafting Demos

Brought to you in

Party On! Art Exhibit

Battle of the Borscht

partnership with:

Crafting by calling Demos 403-742-3181.

Battle

Historic

of

Ghost

the Borscht

Walk

Historic

Reclaiming

Ghost

Your

Walk

Family Medicines

Reclaiming

Fall Fair Market

Your

and

Family

Bench

Medicines

Shows

Fall

Documentary can

Fair Market

Double be completed

and Bench

Feature at

Shows

Documentary

Weekly Farmers www.stettlerculturedays.com

Double

Market

Feature

or

Weekly Farmers by calling Market 403-742-3181.

Workshops

• Ukraine Artifacts and Displays

• Cultural Food Tour

• Party On! Art Exhibit

• Crafting Demos

• Battle of the Borscht

• Historic Ghost Walk

• Reclaiming Your Family Medicines

• Fall Fair Market and Bench Shows

by calling 403-742-3181.

• Documentary Double Feature

by calling 403-742-3181.

• Weekly Farmers For full Market details visit

For full details visit

For full details visit

Registration is required and limited spots are available for some events and

workshops. Registration form can be completed at www.stettlerculturedays.com or

Registration is required and limited spots are available for some events and

workshops. Registration form can be completed at www.stettlerculturedays.com or

www.stettlerculturedays.com

www.stettlerculturedays.com

www.stettlerculturedays.com

Building Better

Businesses Certificate

• Exciting new learning opportunity for rural

Central Alberta Women

• Develop or refresh your business skills so you can

enter or re-enter the workforce in your community

• No cost – completely funded by the Women's

Economic Recovery Grant

• Offered in collaboration with Campus Alberta Central

FOR MORE INFORMATION

rdpolytech.ca/buildingbetterbusinesses

403.724.6700

September 1

Workshops

What's Cooking: Homemade Perogie

Pencil Drawing

Wheat Weaving Workshop

Learn the Art of Pysanky

Who Are You?- Genealogy Workshop

Explore Clay with Jasper

Paint Night: Sunflowers

Registration is required and limited

spots are available for some events

and workshops. For Registration full details form visit

Uk

Cu

Pa

Cr

Ba

Hi

Re

Fa

Do

We

Registration is required and limited spots are available for some e

workshops. Registration form can be completed at www.stettlerc

www.stettlercultureday
---
ECA REVIEW HANNA/CORONATION/STETTLER, AB September 1'22 5

Champion has

Coronation roots

Parents for Fun in Flagstaff Society who run the Family Resource Centre which includes an

indoor playground in the Killam Agriplex, held their 13th annual Movie in the Park on Aug. 23,

hosted by the Forestburg community. The movie location changes every year. Any community

within Flagstaff can apply to host and a local 50/50 partner will be chosen. All they have to do

is provide an activity. The Flagstaff Food Bank and donation drive raised $377.50 and 125.77

pounds of food and approximately $9,000 was made for the Family Resource Centre.

ECA Review/S.Erickson

Daniel Gonzalez

ECA Review

Paige Zinger (14), daughter of Danny

and Heidi Zinger of Red Deer is a

national champion in the female U16

high jump finals after jumping 1.64

metres.

Zinger also captured a second silver

medal in the female U16 4x100m relay.

The National Youth Legion Track

and Field Championships were held in

Sherbrooke, Que. from Aug. 5 - 7.

Grandparents are Claud

and Diane Zinger of

Coronation.

Zinger recalls the first

time she was introduced to

track and field three years

ago.

"First it started at school.

Like we did track and field in

gym class with a meet at the

end of the year," says Zinger.

Shortly after garnering

interest in the sport, she

learned about different clubs

in Red Deer through her parents.

Zinger joined the Red

Deer Titans Club for two outdoor

seasons.

In preparation for the competition,

Zinger trained three

times a week which involved different

drills and strength training.

Although this was her first time

competing nationally, Zinger was not

anxious about the competition and

gave her all.

"I was quite

excited to go to one

of those meets for

nationals," says

Zinger. "I was a

little nervous, but I

was mainly excited

to go to another

province to compete

at that level."

Zinger

"When we

started warm-ups,

my nerves started

to kick in a little more. A lot of the girls

were a lot taller than me because I was

one of the shortest ones."

She notes that this is the best she

has done compared to meets before the

competition.

"I don't think I really realized how

big of an accomplishment it was until

after the event, but I was happy with

my performance," says Zinger.

Although Zinger is proud of her

accomplishments, she thanks the

people supporting her through her

Fri. & Sat., Sept. 9 & 10

Friday, September 9

Beer Gardens open 3 pm

Sheep Riding 5 pm

Rodeo Performance 7 pm

Dance to follow under the Tent

Free Camping on rodeo grounds; Food Trucks

endeavours.

"My family and coach really helped

me through it all. And my teammates

and all of them."

Zinger has no plans to stop competing.

She plans to participate in

more national-level competitions in

the future.

Although she acknowledges the bar

for competition gets raised with new

divisions, she hopes to continue to "get

better every time."

Paige Zinger (14) takes home gold from the National

Youth Track & Field held in Sherbrooke, Que. Aug 5 - 7.

Want to

start a

business?

Saturday, September 10

Rodeo slack 9 am

Beer Gardens open 10 am

Parade 2 pm (theme: Proud to be Canadian)

Sheep Riding 5 pm

Coronation Royal Performing Arts

Coronation Community Centre

Ennis Sisters

Sassy but sweet sibling trio from Newfoundland

Friday, November 4, 2022

Jenn Beaupré with Lewis Frere

Canadian Idol alumnus, think Bette Midler meets Norah Jones

Saturday, November 26, 2022

Ryan Lindsay

Raised just to the north of us, strong country roots

Saturday, January 14, 2023

Ken Lavigne

Thoroughly enjoy his stunningly trained vocal instruments

Friday, February 3, 2023

Maddie Storvold followed by

The Misery Mountain Boys

A Double Header: Maddie is a self proclaimed lovechild

of a folksinger & comedian. The boys combine wit,

humour, nostalgia and playfulness.

Saturday, March 11, 2023

Looking to

grow your

business?

CORONATION PRO RODEO

Rodeo Performance 7 pm

Wild Cow Milking

Dance to LIVE Music,

Lyndsay Butler in Beer Gardens

Admission: Adults $20; Students $10; 12 & Under Free

Tickets: L&C Bookkeeping

403-578-3838 cororoyal@gmailcom

e-transfer, cash or cheque

Supper 6:00 pm

Performance 7:30 pm

All performances are

$35/adult; $20/student

Meal Tickets $25/ person

Ticket package 5 performances

for $125 (savings of $75)

Coronation Royal

Performing Arts will be

GIVING AWAY

1 set of season seat tickets and

1 set of season meals October 1

to a couple of lucky purchasers of

2022-23 season seat packages

We can

help!

WE OFFER FREE SERVICES FOCUSED ON

MAKING SURE YOU ARE SUPPORTED!

Battle River Innovation Centres are offering FREE 1-on-1 PROGRAMS

to support you in reaching your goals.

Contact us today to see how we can help!

Forestburg:

587-844-2111

cwilkes@breoc.com

Castor:

587-854-3233

asimpson@breoc.com
---
6 S eptember 1'22 HANNA/CORONATION/STETTLER, AB. ECA REVIEW

Ph. 403-578-4111CLASSIFIEDS/CAREERSEmail: office@ECAreview.com

Classified Ad Rates

$13.85 + tax for 25

words or less + 20¢ a word

after 25 each week or 3

weeks for $38.55 + tax

(based on 25 words or less).

Reach 75,000 readers with

your classified. This

includes For Sale, For Rent,

Card of Thanks, Coming

Events, etc.

Payment Necessary

All Classified Ads are on a

Cash Only basis and must

be prepaid before running.

There will be a $5.00

service charge on every

classified not paid for prior

to publication.

We accept cash, cheque,

e-transfer, VISA or MC.

It is the responsibility of

the advertiser to check ad

the 1st week and call us if in

error. The Review is

responsible for their

mistakes the 1st week only.

Deadline For Ads

All classified ads must be

received by 5 pm on

Mondays preceding

publication. For Too Late To

Classifieds ad must be

received by 10 am Tuesday.

Ph. 578-4111. Mail to Box

70, Coronation, AB T0C

1C0.

REAL ESTATE

The Affordable

Business Partner:

Affordable & confidential

rural Alberta

family business selling

coaching, marketing

and business

selling solutions.

How can we help

you?

P:403.708.0903.

www.theaffordablebusinesspartner.com

COTTAGE for sale

at Buffalo Lake.

Open House Sat.

Sept. 3rd, noon - 3

p.m. www.buffalolakecottage.com

FARMLAND AND

Pasture Land by

Saskatchewan River.

160 acres. Best

hunting in

Saskatchewan.

Excellent fishing.

Thick pine & poplar

bluffs, by water coulee.

Old yard site

with power and

water. Revenue

Potential. East of

Prince Albert, SK.

$248,000. Call Doug

306-716-2671.

MISCELLANEOUS

MASTER

MECHANIC heavy

duty tool set;

$12,500. Call Gary

587-435-4279.

WIRELESS

DRIVEWAY alarms,

one mile range,

motion censor triggers

receiver in house &

alerts you of intruders.

Pick up in Hanna or

Calgary or we ship

free. $249 + tax. Farm

& Acreage Security

403-616-6610.

CARS & TRUCKS

1981 CORVETTE, 4

spd., brand new black

paint. Almost totally

redone. $12,500. Call

Gary 587-435-4279.

"RURAL VEHICLE

Reclamation" A bunch

of old guys looking for

old vehicles. Cash

Paid on the spot for

cars/trucks before

1980. Txt with details/

pictures 780-907-

2276. All vehicles

considered.

GET YOUR

MESSAGE SEEN

ACROSS Alberta. The

Blanket Classifieds or

Value Ads reach over

600,000 Alberta readers

weekly. Two

options starting at

$269 or $995 to get

your message out!

Business changes,

hiring, items for sale,

cancellations, tenders,

etc. People are

increasingly staying

home and rely on

their local newspapers

for information. KEEP

people in the loop

with our 90 Weekly

Community

Newspapers. Call

THIS NEWSPAPER

at 403-578-4111 now

or email classifieds@

awna.com for details.

1-800-282-6903, 780-

434-8746 X225. www.

awna.com.

Castor Value Drug Mart

is looking for a

Full-Time Clerk/

Cashier

to start immediately.

Position is 5 days a week including

every other Saturday. Duties include

greeting customers, managing sales

transactions, restocking shelves and

maintaining store cleanliness.

Please apply in person with resume

CASTOR

Lawyer

E. Roger Spady

Professional Corporation

Barrister & Solicitor

Coronation Mall Coronation, AB

403-578-3131

Office Hours: Tuesday to Friday 9 a.m. to 5 p.m.

Dentist

Dr.McIver

In Coronation (Located in Coronation Mall)

MONDAYS 9 a.m. - 5 p.m.

Call Anytime for Appointments

403-578-3811

FEED AND SEED

PINTAIL WINTER

Wheat. Extremely

hardy. High yielding.

Awnless. Excellent

variety for Forage or

Feed Grain production.

Low inputs -

high Profits. Call

403-556-2609 or text

403-994-2609; mastinseeds.com.

ALBERTA FEED

Grain: Buying Oats,

Barley, Wheat,

Canola, Peas,

Screenings, Mixed

Grains. Dry, Wet,

Heated, or Spring

Thresh. Prompt

Payment. In House

Trucks, In House

Excreta Cleaning.

Vac Rental. 1-888-

483-8789.

WE BUY DAMAGED

Grain - Heated,

Mixed, Tough, Light,

Bugs, Spring

Thrashed....Barley,

Wheat, Oats, Peas,

Flax, Canola. "On

Farm Pickup".

Westcan Feed &

Grain 1-877-250-

5252.

WANTED

GOLD, SILVER &

Platinum Buyers purchasing

all gold &

silver bullion, jewelry,

coins, nuggets,

dust, scrap, pre-

1968 coins, bulk silver,

sterling +++

Numismatist purchasing

entire coin

collections & accumulations,

Royal

Canadian Mint coins,

world collections, old

$$$. +++ 250-864-

3521.

5106 - 50th Ave.

CASTOR, AB

ph. 403.882.3055

HELP WANTED

ROCKY MOUNTAIN

Equipment is Now

Hiring: AG

Equipment Techs,

Heavy Equipment

Techs - Journeyman

& Apprentices, Parts

Techs. View Open

Roles & Apply: www.

rockymtn.com/

careers. Relocation

and Signing Bonus

Offered.

AUCTIONS

CLASSIC FORD

Trucks, Tools, &

Household On-Line

Timed Auction for

Dan Engeland,

Rimbey, AB, Sept.

8-13, 2022. (8)

Collector Ford

Trucks, 1984 Buick

Park Ave, 1991

Toyota 4Runner,

Tools & Shop

Equipment, Lawn &

Garden, Household,

Mounted Elk, etc.

See www.montgomeryauctions.com;

1-800-371-6963.

COMING EVENTS

BINGO! Thurs. Sept.

8 at the Halkirk Hall,

Halkirk, Alta. Play

starts at 7:30 p.m.

Professional Directory

Optometrist

CORONATION VISION CLINIC

Dr. Ward ZoBell

Tues & Thurs 10 - 4

403-578-3221

HANNA VISION CENTRE

Eye Health, Glasses, Contacts

Dr. Dennis A. Heimdahl Dr. Ward ZoBell

Tues, Wed 9-4:30; Thurs, Fri 9-4

403-854-3003

Dentist

Our families serving yours!

Phone: 825-300-0049

Email: drballdental@gmail.com

Location: 4913 50 St, Killam AB, T0B 2L0

Mail: Box 389, Killam AB, T0B 2L0

EDMONTON COIN

Show! Saturday &

Sunday Sept. 10 &

11/22. NEW

LOCATION - Central

Lions Centre, 11113

- 113 Street NW.

Coins, Currency,

Gold, Medals &

Watches. Free

appraisals & Kids

Auctions. Admission

$5, under 16 Free.

HEALTH

HIP/KNEE

Replacement. Other

medical conditions

causing Trouble

Walking or

Dressing? The

Disability Tax Credit

allows for $3,000

yearly tax credit and

$30,000 lump sum

refund. Take advantage

of this offer.

Apply NOW; quickest

refund

Nationwide: Expert

help. 1-844-453-

5372.

SERVICES

I WOULD like a lady

for companionship to

live with me and also

help me with odds

and ends. Call Vern

Dodd 1-403-565-

3863.

check us out online

www.ECAreview.com

Is Hiring!

We are looking to fill the

following Full-Time Positions in

our Sedgewick, AB. shop/office:

• Journeyman Parts

Technician

• Journeyman Mechanics

• Yard Labourer

Visit www.abpipeliners.com

to apply or send your resume to

hr@abpipeliners.com

CRIMINAL RECORD?

Why suffer employment/licensing

loss?

Travel/business opportunities?

Be embarrassed?

Think:

Criminal Pardon. US

entry waiver. Record

purge. File destruction.

Free consultation.

1-800-347-2540.

www.accesslegalmjf.

com.

Seeking a

FACILITY TECHNICIAN

ASHCOR Technologies Ltd. is a subsidiary of

ATCO and the largest independent marketed of

fly ash in Western Canada. ASHCOR is building a

dynamic team to operate its newly constructed

reclaimed ash management facility at Battle

River, Alberta and is seeking a Facility Technician

responsible for assisting with facility operations

and maintenance.

They will ensure both short and long term safe,

reliable and cost-effective operation of all

equipment in the plant. They will be required

to work rotating 12 hour shifts in a four-crew

rotation.

To learn more about this opportunity, please visit:

www.atco.com/careers

TOWN OF CORONATION

Tender for Audit Services

for Fiscal Years 2023 - 2025

The Council of the Town of Coronation calls for tenders to provide Audit Services for

the Town for a three-year contract term. With the fiscal year ending December 31,

2022. You are invited to submit a quote for the provision of audit services to the Town

as per the following:

1. Pre-Audit Services required for each year's services

2. Annual examination and testing of accounting records of the Town of Coronation

3. Preparation of Audited Financial Statements

4. Preparation of Annual Financial Information Return

5. Preparation of Auditor's report and Statement of Opinion

6. Consultation services for specific accounting concerns may be required from time to

time.

We would be pleased to discuss the particulars of the accounting systems used within

the Town Office for you to provide the Town with an estimated cost for the provision of

the above-listed services.

Please submit your sealed quote marked

tender for Audit Services

by 12:00 noon Friday, October 07, 2022.

PRIVATE

MORTGAGE

Lender. All real

estate types considered.

No credit

checks done. Deal

direct with lender

and get quick

approval. Toll free

1-866-405-1228

www.firstandsecondmortgages.ca

2022 Provost Medical Centre

SNOW CLEARING

The M.D. of Provost No. 52 is currently accepting

proposals for the provision of snow and ice

removal services at the Provost Medical Centre

during the Winter 2022 season.

Full copies of the RFP may be obtained at

the MD Administration Office at 4504 – 53rd

Avenue, Provost, Alberta or on the M.D's website

at www.mdprovost.ca. Additional detail may

be obtained by contacting Tyler Lawrason,

Administrator at 753-2434 or by e-mail at

tlawrason@mdprovost.ca.

Hard copy proposals will

be accepted at the

MD Administration

Office until 12:00 p.m. on

September 20, 2022.

SUPPORT

times & locations for

Terry Fox Runs

in east central Alberta.

Call your sales rep:

Judy cell 403-740-2492

Yvonne 403-575-9474

Sheree 587-990-4818

deadline Fri, Sept. 9

Quinton Hazel Wintfley,

CAO, Town of Coronation
---
ECA REVIEW HANNA/CORONATION/STETTLER, AB September 1'22 7

OBITUARIES

Worked 30 years with husband at Paintearth Creamery

Beth Marie Peverell (nee Milligan)

Feb. 9, 1942 - Aug. 18, 2022

It is with sadness that we share the

news Beth passed away peacefully

from a stroke at the U of A Hospital ER

with her twin sister at her side.

She will be loved and remembered

by her son Darrin (Margie) Peverell

and his daughter Jenna; daughter

Sandra (Johann) Freerksen, and their

children Steven Freerksen, Jacob

(Ripley) Freerksen and their daughter

Jayda Josephine, Joe Freerksen,

Maisie (Clayton) Klatt, and Austin

Freerksen; twin sister Betty Mackey

and sister-in-law Jean Peverell, as well

as eight nieces and two nephews and

their families.

Beth was pre-deceased by her

beloved husband of 62 years Brian, in

January of 2022; her parents John and

Haessel, Walter Werner

April 10, 1941 - Aug. 22, 2022

It is with sadness and joy that the

family of Walter Haessel announces

his passing on Aug. 22, 2022 at 81 years,

after enduring Alzheimer's disease for

the past several years.

He leaves behind his wife of 58 years

Ann; their two sons Dale and Roger

Haessel, both of Calgary; his

sister, Annabelle Wimmer

(Herb), their son Brian, all of

Hanna; Walter's sister-in-law

Georgia Smith (Joe) and their

sons Sean and Douglas, all of

New Jersey.

Walter was born in Hanna,

Alta. in 1941 to Hedwig and

Rudolf Haessel. He graduated

from the University of

Alberta with a Bachelor of Haessel

Science in Agriculture (1964)

and a Master of Science in

Economics (1966). He then completed a

Ph.D. in Economics (1970) at Iowa State

University.

He started his career teaching economics

and conducting research at the

University of Western Ontario, and

later taught agricultural economics at

Pennsylvania State University.

From 1971 to 1974, Walter and family

lived in Ghana where Walter worked

for the Canadian International

Development Agency. After returning

to Canada, he taught at the University

of Western Ontario before becoming a

Christina Milligan, and two sisters,

Carol and Judy.

Beth grew up in Cochrane, Alta. and

married her childhood sweetheart

Brian in 1959. They lived in

Cochrane for the first 13 years

together, enjoying life with their

two young children and surrounded

by extended family and

friends.

In 1972 the family moved to

Castor where Beth worked alongside

Brian in the Paintearth

Creamery for the next 30 years.

After retiring in 2001, Beth

enjoyed fishing for rainbow trout,

and camping with Brian in the

lakes and rivers of southeastern

Alberta.

She loved to bake and there wasn't a

birthday or special event in the family

Celebration of life held

Gertrude Frances "Gerty"

Berresford

June 25, 1948 ~ Aug. 15, 2022

Gerty passed away peacefully on

Aug. 15, 2022 at the age of 74 years.

Gerty is survived by her loving

family: sons, S. John and Philip

(Kathy); grandchildren:

Cameron,

Shelby, Rochelle

and Matthew; greatgranddaughter

Hope; sister Jean

Alford; brother

Chester (June)

Alford; nieces,

nephews, other

Berresford

family and many

dear friends.

Gerty was predeceased

by her husband Allan in 2016.

A celebration of Gerty's life was held

on Fri. Aug. 26, 2022 at the Big Valley

Cemetery, Big Valley, Alta. with

Reverend David Holmes officiating.

A Come and Go Social followed at

the Big Valley Drop In Centre with the

Big Valley Community Ladies Club

serving a beautiful lunch.

Donations in memory of Gerty may

be made to the Wounded Warriors or a

charity of your choice c/o Stettler

Funeral Home & Crematorium, Box

1780, Stettler, Alta. T0C 2L0, who were

entrusted with the care and

arrangements.

To send or view condolences to the

family, please visit www.stettlerfuneralhome.com

.

Peverell

without her wonderful cakes, pies and

cookies.

She enjoyed playing crib and other

card games with Brian over the years

of their retirement.

Beth was delighted to

welcome her first greatgrandchild,

Jayda

Josephine in March this

year.

After moving to

Paintearth Lodge in

Castor in December 2021,

Beth loved to participate

in the many social activities

that were offered. She

was very happy there

surrounded by many friends and

acquaintances.

The family would like to thank the

wonderful staff at the Lodge for their

Haessel was a true humanitarian

Senior Economist for the Bank of

Montreal in Montreal.

In 1982, Walter returned to Alberta

and worked for the Canadian Research

Institute (CERI). After acquiring the

CERI Consulting business in 1989, he

consulted to the oil and gas industry

until retiring in 2009.

In 1991, Walter joined the Downtown

Rotary Club, where he served

on many committees, with

his main involvement being

the World Community

Service Committee (2005

- 2019).

He served as Club

Secretary and Chair of

District 5360 as well as

serving on many other committees.

He earned many

Paul Harris Fellow awards,

A Service Above Self Award,

a Citation for Meritorious

Service Award for Rotary

International, Alberta Centennial

Medal in recognition of outstanding

service to the people and province of

Alberta by Premier Ralph Klein.

However, in May 2021, he received

the most prestigious Rotary international

award available. He was

presented with an honorary lifetime

membership in his Club in 2021.

Walter was a proud Rotarian.

His service on several boards

included: Sustainable Cambodia,

Street Teams where he was an

WANTED

DEAD OR ALIVE

Canadian Prairie Pickers

Paying Cash For Coin Collections,

Silver & Gold Coins,

Royal Can. Mint Sets.

Also Buying Gold Jewelry

$$ $

are once again touring the area!

We purchase rolls, bags

or boxes of silver coins

PAYING HIGHEST PRICES

To arrange a free, discreet in-home visit

call Kellie at 1-778-257-9019

Bonded since 1967

$$ $

Honorary Board member, Friends of

the Calgary Research and

Development Authority, and the

Wildland Park Development

Committee. He chaired the Board of

Calgary Rotary Challenger Park and

has been an Ambassador there for several

years.

Walter was a true humanitarian and

was always concerned and worked for

the well-being of his family, Rotary,

Cambodia and the less fortunate

around the world. He now deserves a

rest. Congratulations on a life well

lived.

A celebration of Walter's life will be

held on Sun. Sept. 11, 2022, from 1 - 4

p.m. with tributes at 2 p.m. at the Silver

Springs Golf and Country Club, 1600

Varsity Estates Dive NW, Calgary,

Alta. 403-286-1456.

Walter requested that instead of

flowers, donations could be made to

the Rotary Club of Calgary Downtown,

World Community Service.

Pierson's Funeral Service Ltd. 4121 -

17 Ave. SE, Calgary, Alta. T2A 0T1;

403-235-3602.

care and compassion during her time

there.

They also appreciated the dedication

and care Beth received from Dr.

Hanton and the staff at the Castor

Hospital over the past years.

A Family and Friends Celebration of

Life will be held for Beth and Brian

Peverell in September.

Condolences to the Peverell family

may be done by visiting www.

parkviewfuneralchapels.com.

In lieu of flowers, donations can be

made to the Heart and Stroke

Foundation of Alberta, 119- 14 St. NW

#100, Calgary, Alta. T2N 1Z6

Parkview Funeral Chapels &

Crematorium of Castor and

Coronation were entrusted with the

care and funeral arrangements. For

further information please call

403-882-3141.

Thank you

With deepest appreciation the

family of Ken Schultz wish to thank

all who attended the Celebration of

Life; Les Stulberg for presiding; Karyn

Tateson for words, music and songs;

the Endiang Community ladies for

preparing and serving the lunch; to

all who sent cards, flowers, donated

to charities in Ken's memory, visited,

phoned, messaged, brought food to our

homes and stand beside us as we go

forward.

Thank you to Dr. Wendy Fortna and

the Hanna Hospital nursing staff for

their compassionate care given to Ken

and Eleanor.

Thank you to Laurie Palmer and

Hanna Funeral Services for their

supreme guidance and care.

God bless you all. Eleanor Schultz

Val Schultz, Judy & Jeff Crawford

Kris & David Mohl

Michele & Shane Toews

Kyle & Rachel Mohl

Classic Ford Trucks, Tools, Taxidermy, Household

ONLINE TIMED AUCTION

Dan Egeland & Pat Chapman Dispersal

SALE SITE: 420075 Range Road #22, Rimbey, ALBERTA

BEGINNING: Sept 8, 2022 @ 9AM

CLOSING STARTING: Sept 13, 2022 @ 9AM

VEHICLES

1979 F150 Ranger Lariat p/u Truck, 2WD, Reg. Cab, 8Ft Box, 83,000 miles, AT,

1978 Ford F250 Ranger p/u truck, 2WD, Super Cab, 460 Gas Eng., 8Ft Box, AT,

1961 Ford F100 Uni-Body p/u truck, 2WD, Reg. Cab, 8Ft Box, ST,

1977 Ford F150 Ranger p/u Truck, 2WD, AT, Reg. Cab 8Ft Box,

1975 Ford F250 Custom p/u Truck, 4WD, Reg. Cab, 8Ft Box,

1979 Ford F150 Custom p/u Truck, 2WD, AT, Reg. Cab, 8Ft Box,

1979 Ford F150 Custom WANTED

p/u Truck, 2WD, Reg. Cab, 8Ft Box

1960's Era Mercury 100 DEAD p/u Truck, 2WD, OR Reg. ALIVE

Cab, 8Ft Box

1984 Buick Park Avenue Electra Coupe, 2005 Chevrolet Equinox SUV, 2002 Ford Escape XLT SUV,

1991 Toyota 4Runner SR5 SUV

Canadian Prairie Pickers

Also Selling Mounted are Elk, once Tools, again Shop touring Equipment, the area! Assorted Lumber, Feed Bunk, Livestock Panel

w/Framed Gate, Lawn & Garden, Household & Misc.

Paying Cash For Coin Collections,

AUCTIONEERS NOTE: This is your chance Silver to & purchase Gold Coins, a rare classic Ford or Mercury truck! Dan and Pat are

selling their acreage and need to liquidate Royal Can. their assets. Mint Sets. 15% BUYERS FEE W/ $1,000 CAP/LOT

VIEWING: Sept 8, 10. & 12 10 Also AM-4 PM Buying Gold Jewelry REMOVAL: Sept 14, 15 & 16 9AM - 5PM

$$ $

M ONTGOMER Y

PAYING AUCTION HIGHEST SERVICES PRICES LTD.

We purchase rolls, bags

or boxes of silver coins

Lic #19517 To arrange a free, discreet in-home visit

403-885-5149

Blackfalds, Ab call www.montgomeryauctions.com Kellie at 1-778-257-9019

1-800-371-6963

Bonded since 1967

$$ $
---
8 S eptember 1'22 HANNA/CORONATION/STETTLER, AB. ECA REVIEW

STETTLER COUNTY COUNCIL

ForallyourWELDINGneedsincluding:

• Portable or in Shop Welding • Oilfield

• Machine Shop • Pressure Pipe Fabrication

• Agricultural • Bolt & Metal Supplies

• ANDNOW Hydraulic Hose Fabrication

cell (780) 753-0929 • shop (780) 753-4749

4444-50th Ave. Provost, AB

24 hour service • East of old Provost Arena

Call Mike

780-385-4664

Bin Anchors

Don't Let The Winds Bother You!

Call Dallas Ellerby

Your Farm & Ranch Specialist

403.578.8105

LAND FOR SALE

CROP LAND

4500 acres - Chinook area

6000 acres - Cereal area

2400 acres - south of Hanna

GRASS LAND

16 quarters - south of Veteran

90 quarters - Youngstown area

117 quarters - south of

Youngstown

www.greaterpropertygroup.com

GREATER PROPERTY GROUP

1/4 section north of

Veteran - 90 acres

broke, home site,

16' x 76' mobile

home, 40' x 60'

shop & working

corrals. Owner

willing to subdivide

acreage out.

cancow@

xplornet.com

AGRICULTURE

County wants trees out of ditches

Stu Salkeld

Local Journalism initiative reporter

ECA Review

Stettler County's Agriculture

Services Board (ASB) debated how

best to approach the issue of trees

growing in ditches and right-of-ways,

but board members agreed they want

those trees removed.

The issue of trees growing in ditches

and right-of-ways was added to the

ASB's regular Aug. 24 agenda as a

board request for information and as a

follow-up from a previous regular

council meeting. The ASB is comprised

of members of county council.

Board member Ernie Gendre noted

concerns were brought to him from

residents about how Stettler County

sprays problematic trees in ditches

and right-of-ways.

Gendre stated he was concerned

about the issue because trees located

in the wrong place should be considered

weeds.

Board member James Nibourg

stated clearing trees costs money and

the method Stettler County already

uses is affordable, which includes

spraying and some brushing or

clearing. Nibourg added he felt no tree

should ever be located in a Stettler

County ditch or right-of-way.

Board member Dave Grover agreed

with Nibourg, pointing out Stettler

County has brushing equipment and

that if residents want trees they should

be located on private property, not the

right-of-way.

Board member Justin Stevens noted

he felt simply spraying trees was not

getting at the root of the problem and

clearing was the

answer.

Nibourg

responded only so

much brushing

can be done per

year but perhaps

Stettler County's

budget needs

more money for

brushing.

Director of

Agriculture

Services Quentin

Beaumont

responded to a

photograph displayed

at the

meeting which

showed a high

wall of trees in a

Stettler County

ditch, the front

row of which had

been sprayed

with herbicide.

Beaumont

stated that

strategy buys

time and keeps

the young growth

from the edges of

the road and he

has found it wiser

to spray first then

clear the dead

material.

Beaumont asked

that board members

to clarify

their desires.

The board

unanimously

passed a resolution

that the staff

go back to handling

ditch trees

as previously

instructed and

budgeted for.

Beaumont

responded his

department will

go back to ensure trees previously

sprayed are under

control.

It was noted several times

during discussion that trees

growing in ditches can

affect county roads and

impede producers from

hauling equipment.

Weed inspections

During Beaumont's regular

report, board members

heard weed inspections and

issues are ongoing. He

stated in his report to the

board that weed inspections

on lease lands, the Red Deer

River banks and residential

subdivisions are ongoing,

while his department is

completing seven outstanding

weed notices.

Chair Les

Stulberg asked if

those seven

notices signified

a large number to

which Beaumont

responded yes,

seven is a bit high

for this time of

year.

He stated that

the vast majority

of property

owners address

weed concerns

but some people

take a bit longer

to comply than

others.

Stulberg asked

about the water level on the

Red Deer River. Beaumont

responded it's above average

for this time of year but the

flow is dropping a bit.

Board members discussed

a photo included in

Beaumont's report that

showed common tansy, a

noxious weed, growing in

numbers on the banks of the

Red Deer River. Beaumont

stated that the provincial

government provides $5,000

per year for that which usually

covers costs because the

main expenses are tied to

labour and travel.

Board members accepted

Beaumont's report for

information.

Closing Out Sale

15 % Storewide

off *Consort location & in stock merchandise only

off

With Deepest regrets the

Heartland Auto & Industrial Supply store will be

closing the location in Consort on Sept 16th

due to lack of staffing and lodging availability

Automotive * Industrial * Heavy Duty * Agriculture * Hydraulics

Stettler, AB 403-742-8889 Consort AB 403-577-3900

www.heartlandauto.ca

UPCOMING 2022 FALL SALES

Fall Run ls Here!

Regular sales every Friday at 9:00 AM,

followed by Feeder sales at 11:00 AM all through September

PRE-BOOK CALF SALES

PRE-BOOK CALF SALES

Every Monday & Wednesday at

10:00 AM Starting

October 12 th to November 9 th

LAST CHANCE

PRE BOOK CALF SALE

December 12 th at 10:00 AM

HARDGRASS

Black & Red Angus

Bull & Female Sale

November 28 th

1:00 PM

LEGACY DRILLING LTD.

RURAL

High Speed Internet

Affordable, Anywhere, Any Size

Internet Solutions

Monthly $

55

Fee starting

from

Onsite & Online Tech Services remain available

AHS protocols in place for everyone's safety

Bringing The Future To you

Toll Free

1-800-542-7028

105-2nd Ave West Hanna AB www.netago.ca

BULL SALES

GEMSTONE CATTLE

Hereford& Angus

Bull & Female Sale

December 7 th

1:00 PM

Water Wells

Pasture Wells

Drilling and Servicing

Jeff Southworth

Phone: 403-854-0172 • Hanna, AB

Phone: 403-396-2254 • Delburne, AB

E-Mail: legacydrillingltd@outlook.com

Emergency 24/hr On Call

BRED SALES

BRED COW & HEIFER SALES

Every Saturday at 12:00 PM

Starting

November 12 th to December 17 th

BSSA SPECIAL

BRED COW & HEIFER SALE

December 12 th at 12:00 PM

66 RANCH

9 th Annual

Bull & Bred Female Sale

December 14 th

1:00 PM

403-362-5521

Lachie McKinnon- Manager 403-362-1825

Erik Christensen- Asst. Manager 403-363-9942

Sam Mckinnon- Field Rep 403-793-1731

bowslope.com

Quality

Personal service

Flexibility

Wireless

Fiber Optics

VoIP