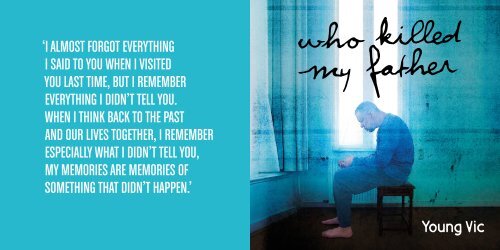 Who Killed My Father digital programme
Returning home to the small, conservative town in the north of France where he grew up as a gay teenager, a son finds his dying father virtually unrecognisable from years of alcoholism, social deprivation and grueling manual labour. He starts to wonder: who's responsible? This UK premiere is adapted and directed by the award-winning Ivo van Hove from the anger-soaked, internationally acclaimed book by Édouard Louis. Who Killed My Father is a furious indictment of the political elite, and a son's declaration of love. This is a rare opportunity to see Hans Kesting perform the production in English. ★★★★ 'Merciless and moving portrait' de Volkskrant ★★★★ 'Intense and beautifully played by Kesting' Telegraaf
Returning home to the small, conservative town in the north of France where he grew up as a gay teenager, a son finds his dying father virtually unrecognisable from years of alcoholism, social deprivation and grueling manual labour. He starts to wonder: who's responsible?

This UK premiere is adapted and directed by the award-winning Ivo van Hove from the anger-soaked, internationally acclaimed book by Édouard Louis.

Who Killed My Father is a furious indictment of the political elite, and a son's declaration of love. This is a rare opportunity to see Hans Kesting perform the production in English.

★★★★ 'Merciless and moving portrait' de Volkskrant
★★★★ 'Intense and beautifully played by Kesting' Telegraaf
SHOW MORE
SHOW LESS
Create successful ePaper yourself
Turn your PDF publications into a flip-book with our unique Google optimized e-Paper software.
'I ALMOST FORGOT EVERYTHING

I SAID TO YOU WHEN I VISITED

YOU LAST TIME, BUT I REMEMBER

EVERYTHING I DIDN'T TELL YOU.

WHEN I THINK BACK TO THE PAST

AND OUR LIVES TOGETHER, I REMEMBER

ESPECIALLY WHAT I DIDN'T TELL YOU,

MY MEMORIES ARE MEMORIES OF

SOMETHING THAT DIDN'T HAPPEN.'
---
AN INTERNATIONAAL THEATER AMSTERDAM PRODUCTION IN ASSOCIATION WITH YOUNG VIC

CREATIVE TEAM

FOR INTERNATIONAAL THEATER AMSTERDAM

FOR THE YOUNG VIC

ADAPTED BY IVO VAN HOVE

FROM THE BOOK BY ÉDOUARD LOUIS

CAST

Hans Kesting

After the book by

Édouard Louis

Translation, adaptation and direction

Ivo van Hove

Scenography and lighting

Jan Versweyveld

Costumes

An D'Huys

Music

George Dhauw

Co-producer

deSingel Antwerp

Private Producers

Jeroen van Ingen & Jaap Kooijman,

Bertil van Kaam

Assistant Director

Olivier Diepenhorst

Assistant Scenography

Bart van Merode

Voice and Dialect Coach

Anne-Marie Speed

Production Manager

Kiki Meijerhoven

Stage Manager

Kevin Cuyvers

Stage Manager

Daan van Oene

Light Technician

Dennis van Scheppingen

Sound Technician

Emile Bleeker

Head of Technical Staff

Reyer Meeter

Costume Department

Farida Bouhbouh,

Wim van Vliet (head)

Photography

Jan Versweyveld

Photo-editing

Dim Balsem

Publicity

Iris Istha

Production Manager

Craig Tye

Stage Manager

Catriona McHugh

Deputy Stage Manager

Louise Charity

Captioner

Chloe Forestier-Walker

Lighting Programmer

Sam Ohlsson

Lighting Operator

Luke Jackson

Sound System Design

Kyle MacPherson

Sound Operator

Franny Lagemann

Stage Crew

Ryan Underwood

Production Carpenter

Harvey Barker

Stage and Proscenium built by

Centre Line Fabrications

Communications Equipment supplied by

Creative Technologies

Special thanks to: Sea Containers London, Bella Rodrigues and Despina Tsatsas.

Who Killed My Father is generously supported by the Embassy of the Kingdom of the Netherlands.

Cover image: Art direction by Emilie Chen. Photography by Rosaline Shahnavaz.

Programme: Design by Eureka!. Edited by Florence Bell.

2 3
---
ENCOUNTERING IVO

by Rebecca Frecknall

It's February 2015 and I am standing among an applauding

crowd with tears streaming down my face. I am on my feet

without realising it, having immediately risen from my seat

as the lights went out before the applause erupted. I have

just watched Ivo van Hove's production of A View From

The Bridge at the Young Vic. It is my first encounter with

the work of the Belgian theatre director, and it will not

be my last. Fast-forward to December 2021. I am sitting

in the lounge of the Corinthia Hotel with the man himself.

He is in London to watch a production of my own over the

road at the Playhouse Theatre and I am suddenly struck

by what a huge effect that first piece of his had on me. It

is our first meeting, the beginning of a conversation about

working together, and he is not what I had imagined. The

precision, confidence, and masculinity inherent in his work

would perhaps suggest an auteur of similar qualities. But

van Hove is cheeky, playful, unassuming with kind eyes,

and I am suddenly nervous at the thought of him watching

my work.

Since the Artistic Director of Internationaal Theater

Amsterdam arrived on the British theatre scene, the impact

his work has had on my generation of theatre practitioners

in undeniable. Van Hove always attracts audiences eager

to see his next offering, as well critical mutterings around

his 'European' theatre aesthetic colliding with a British

theatre tradition.

4

It seems to me that descriptions such as 'sparse' and

'stripped-back', which I now sometimes hear with regards

to my own work, first began to crop up in articles around

the work of Ivo van Hove. Indeed, I remember exiting

that performance of A View From The Bridge all those

years ago trying to articulate what it was the director had

done that I had found so radical. The best I could come up

with: 'It's as though he has taken the play and wrung it out

like a wet towel; leaving its essence on the bare stage.'

Having now seen multiple examples of the director's

work, I'm not sure I have a better description of how

he approaches texts, but it is interesting to consider the

regular use of phrases such as 'stripped-back' in relation

to his productions and to dig further into what viewers are

attempting to express by using such descriptions.

For me, van Hove's work was the first I'd seen, outside of the

dance world, where I felt every element had truly earned its

place on stage. Nothing was for decoration; all choices were

anchored to what he felt was the central 'idea' of the play.

This was a revelation to me, demanding a new level of rigour

in my own work. What do we as directors take as law when

reading a script? The stage directions? The setting? Who

speaks the text? Who enters the space and when do they exit?

The literal nature of that space? The production at the Young

Vic demonstrated something I thought I knew but had perhaps

never seen executed so well – the play is excipient to its idea.

Meaning, all elements inherent in the text are merely vessels

for the delivery to an audience of the artist's central idea.

Anything that does not aid this communication is not necessary

and can be taken away in production. This to me is the process

behind the resulting 'stripped-back' aesthetic. This aesthetic,

often present in van Hove's work, allows simple bold gestures

to reveal the true core of a work. Indeed, when I recall van

Hove's productions, each contains one strong image that

immediately flashes to mind – the lifting of the chair in A View

From The Bridge, the tarring and feathering in The Damned,

the ensemble tug-of-war at the end of 'Tonight' in West Side

Story, the flowers stapled to the walls in Hedda Gabler.

There is something essential in this artist's work in the

truest sense. His ongoing collaborations with his theatre

company seem to all have one thing in common: a desire

to distil the absolute essence of the source material and to

deliver it to an audience in the most vital and visceral way.

Indeed, his ability to get right to the heart of a piece (and an

actor) is perhaps in part due to the longevity of his artistic

relationships. Repeat collaborations and continued inquiries

result in richer creative relationships and an artistic

shorthand which demands greater risk-taking. Indeed, to

me, one of the most inspiring elements of this director's

approach lies in the vastness and ambition of his body of

work. Whilst his pieces divide opinion, with many describing

a kind of love-hate relationship to watching his work, this is

an artist who will always attract returning audiences seeking

a repeat of the emotional gut-punch they received from

whichever piece initially got them hooked.

Rebecca Frecknall is an Olivier Award-winning director, who has directed

in the UK and internationally, and is Associate Director at the Almeida.

5
---
THE CAST

THE COMPANY

HANS KESTING

Hans Kesting was born in 1960 and has been performing

with Internationaal Theater Amsterdam (ITA) since 1987.

This season his appearances with the company include the

premieres of My Heavenly Favourite (directed by Ivo van

Hove), Blood Wedding (directed by Wim Vandekeybus); and

the revivals of Who Killed My Father, Judas (directed by

Robert Icke), Kings of War, A Little Life and Age of Rage

(all directed by Ivo van Hove). His previous appearances

with ITA include Angels in America and Kings of War,

for both of which he won the Louis d'Or for Best Actor in

a Leading Role; and Who Killed My Father, The Norman

Conquests and Roman Tragedies, for each of which he was

nominated for the Louis d'Or. His films include Robert

Altman's Vincent and Theo (1989), Character (which won

the Academy Award for Best Foreign Film in 1998), Ivo van

Hove's Amsterdam (2009) and Jude Law's Do Not Disturb

(2018). He is the current holder of the prestigious Albert

van Dalsum Ring, which he received in 2015, and he was

appointed Knight in the Order of the Dutch Lion in 2020.

ÉDOUARD LOUIS

Édouard Louis is the author of The

End of Eddy, History of Violence and

Who Killed My Father, and the editor

of a book on the social scientist Pierre

Bourdieu. His work has been translated

into thirty languages, making him one

of the most celebrated writers of his

generation worldwide.

IVO VAN HOVE

TRANSLATION, ADAPTATION

AND DIRECTION

Ivo van Hove was born in 1958

and began his directing career in

1981. He was the artistic director

of AKT, Akt-Vertikaal and De Tijd

before becoming Director of Het

Zuidelijk Toneel in 1990; from 1998

to 2004 he was Artistic Director

of the Holland Festival. In 2001 he

became Director of Internationaal

Theater Amsterdam (formerly

Toneelgroep Amsterdam), with which

he directed in 2021 Battles and

Metamorphoses of a Woman and, this

year, The Damned. His international

theatre credits include More Stately

Mansions and India Song at the 1998

and 1999 Edinburgh International

Festivals respectively; More Stately

Mansions and Hedda Gabler off-

Broadway, for both of which he won

the Obie Award; A View from the

Bridge at the Young Vic, in the West

End and on Broadway, for which he

won Olivier, Tony and Drama Desk

Awards; Network for the National

Theatre of Great Britain and on

Broadway; The Crucible and West

Side Story on Broadway; and The

Glass Menagerie at L'Odéon, Paris.

His opera credits include

productions for De Vlaamse Opera,

at La Monnaie (Brussels) and the

Komische Oper Berlin, and in Madrid

and Amsterdam, and his screen

credits include Amsterdam and

Home Front. In 2004 he became

a Chevalier dans l'Ordre des Arts

et des Lettres. He was appointed

Commander of the Order of the

Crown in 2016, and in 2018 he

received the Stanislavsky Award.

This season (22/23) he will be

directing at ITA My Heavenly

Favourite, based on the novel by

Marieke Lucas Rijneveld.

JAN VERSWEYVELD

SCENOGRAPHY AND LIGHTING

Jan Versweyveld trained at the Sint-

Lucas Institute, Brussels, and the

Royal Academy, Antwerp. In the 1980s

he and Ivo van Hove were founders

of the theatre groups Akt/ Vertikaal

and Toneelproducties De Tijd. In 1990

he became the regular set designer

for the Zuidelijk Toneelgroep, and in

2001 he became Head of Scenography

for Toneelgroep Amsterdam

(Internationaal Theater Amsterdam

(ITA)). His recent collaborations with

van Hove include Age of Rage for

ITA and at the Barbican (London),

Network at the National Theatre and

on Broadway, West Side Story on

Broadway, The Glass Menagerie at

the Odéon, Paris, and Aufsteig und

Fall der Stadt Mahagonny at the Aixen-Provence

Festival. Other theatre

credits include Hedda Gabler at the

National Theatre, London; A View

From the Bridge at the Young Vic,

London, and in the West End; and

All About Eve and The Human Voice

in the West End. His opera credits

include The Diary of One Who

Disappeared for the Royal Opera;

Salome, The Makropulos Affair

and Iolanta in Amsterdam; Fidelio,

Don Giovanni and Boris Godunov

for the Opéra National de Paris; La

clemenza di Tito and Idomeneo at

La Monnaie, Brussels; Mazeppa at

the Komische Oper Berlin; Macbeth

in Lyon; and Boris Godunov and

Brokeback Mountain in Madrid.

In 2016 he received the Knight

of Illumination Award.

AN D'HUYS

COSTUMES

De Moi is a multi-disciplinary

artist, An D'Huys studied fashion

at the Royal Academy of Fine Arts,

Antwerp, and for over 12 years

was a member of the design team

for the Belgian fashion label Ann

Demeulemeester. Her credits include

The Glass Menagerie at the Odéon,

Paris; West Side Story on Broadway;

All About Eve in the West End;

Network at the National Theatre,

London, and on Broadway; Hedda

Gabler at the National Theatre;

Obsession at the Barbican, London,

and in Paris and Luxembourg;

Lazarus in the West End and at New

York Theatre Workshop; Medea

at the Burgtheater, Vienna; The

Damned at the Comédie-Française,

Paris; Flight 49, Battles and

metamorphoses of a woman, Age

of Rage (also at the Barbican)

Husbands and Wives, The Things that

Pass, Othello, Opening Night, Medea,

The Fountainhead, Antigone and

Kings of War for Internationaal

Theater Amsterdam; A View from

the Bridge at the Young Vic, London,

in West End and on Broadway; The

Misanthrope at the Schaubühne,

Berlin; The Diary of One Who

Disappeared for the Royal Opera;

Quartet, Bitches Brew and Cassandra

for Rosas; Die Walküre, Siegfried

and Götterdämmerung in Antwerp;

Salome and Der Schatzgräber

in Amsterdam; and Don Giovanni,

Così fan tutte and Boris Godunov

for the Opéra National de Paris.

Her film credits include Jaco van

Dormael's Toto le héros and Patrice

Toye's Rosie.

GEORGE DHAUW

MUSIC

George Dhauw (1994) is an Antwerp

based music producer and sound

designer. In 2017 he graduated at

the Academy of theatre and dance

in Amsterdam as a sound designer.

During his study and beyond he

worked in various theaters in the

Netherlands, Germany, France,

Belgium and London. In 2018

George Released his debut album

All we need is an interpretation,

which is available on all online music

platforms. George Dhauw previously

made the sound design for Freud at

ITA. He also made the sound design

for La Ménagerie de verre at the

Odéon —Théâtre de l'Europe (Paris),

also directed by van Hove with

Isabelle Huppert in the leading role.

6 7
---
WHO KILLED MY FATHER

SYNOPSIS

In his autobiographical novel Qui a tué mon père (Who

Killed my Father), Édouard Louis returns from Paris after

a long absence to the village in the north of France where

he grew up. He sees his father who he barely recognizes:

a wreck, sick and prematurely aged because of alcoholism

and social deprivation, the hard work in heavy industry, and

an industrial accident. For Louis, it occasions reflection

on his own youth and the life of his father, a violent and

insensitive macho.

As a young homosexual, Louis is ostracized by his own

family and surrounding circles. But what circumstances

made his father who he is? And who is responsible? Louis

points the finger at the elite for whom politics is primarily

a matter of 'aesthetics': they engage in 'politics' that

has little or no real influence on their lives. The lower

classes, however, suffer under the cutbacks in spending on

unemployment benefits enacted by numerous government

officials. The lament about his father's life grows into a

fierce indictment where no one is spared. At the same time

it is a declaration of love to his father.

8 Photography by Jan Versweyveld 9
---
THE YOUNG VIC

THE YOUNG VIC COMPANY

OUR SHOWS

We produce new plays, classics, musicals, adaptations

of books, short films, digital projects and game

changing forms of theatre. We tour and co-produce

within the UK and internationally.

OUR ARTISTS

We foster emerging talent and collaborate with some

of the world's finest directors, performers and

creatives, creating productions that say much about

the world we live in.

OUR AUDIENCES

We attract large audiences from many different

backgrounds and forge deep connections in our

neighbourhood, where we provide extensive free

activities. For many years, the Young Vic has been

synonymous with inclusivity, accessibility and creativity.

We keep our prices low and give 10% of our tickets

to young people, schools and neighbours irrespective

of box office demand.

GET MORE FROM THE YOUNG VIC ONLINE

Sign up to receive email updates at youngvic.org/e-newsletter

@youngvictheatre

@youngvictheatre

/youngvictheatre

/youngviclondon

OUR PARTNERS NEAR AT HAND

Each year we engage with over 15,000 local people –

individuals and groups of all kinds including schools and

colleges – by exploring theatre on and off stage. From

time to time we invite our neighbours to appear on our

stage alongside professionals.

OUR PARTNERS FURTHER AWAY

By co-producing with leading theatre, opera, dance, film

and TV companies from London and around the world,

we create shows neither partner could achieve alone.

'The most exciting theatre in Europe' Cush Jumbo

'A theatre with a global outlook and an

extraordinary record of nurturing talent'

Financial Times

'The Young Vic is where theatre

magic happens' Time Out

'Cool, creative, edgy Young Vic' iNews

'London's most essential theatre' The Guardian

'Young Vic is London's most lovable theatre.

The building welcomes; the programming dares.

It offers danger in a safe place.' The Observer

The Young Vic is a company limited by guarantee, registered

in England No. 1188209. VAT registration No. 236 673 348

Artistic Director

Kwame Kwei-Armah

Executive Director

Lucy Davies

Associate Artistic

Director

Sue Emmas

Genesis Fellow /

Associate Director

Jennifer Tang

Head of Artistic

Development

Teunkie van der Sluijs

Literary and

Dramaturgy Associate

Olivia Poglio-Nwabali

Head of Producing

Nisha Modhwadia

Associate Producer

Holly Aston

Producer

(maternity leave)

Robyn Keynes

Producer

(maternity cover)

Christabel Holmes

Assistant Producer

Lucy Steward

Executive Assistant

Amy Cranston

Production Assistant

Maciek Zdobylak

Channel 4 playwright

Lulu Raczka

Young Vic Artistic

Associates

Glenn Davis

Alfred Enoch

Anna Fleischle

Marcus Gardley

Kate Hewitt

Afua Hirsch

Kirsty Housley

Alex Basco Koch

Doña Kroll

Gregory Maqoma

Prema Mehta

Duncan McLean

Chinonyerem Odimba

Wendell Pierce

Caitriona Shoobridge

Charles Randolph-

Wright

Charlotte Sutton

XANA

Associate Companies

Belarus Free Theatre

Crying In The

Wilderness

Productions

Regional Theatre

Young Director

Scheme

The What If

Experiment

Development

Deputy Executive

Director

Alex Tonetta

Head of Corporate

Partnerships & Events

Elisha Owen

Institutional

Partnerships Manager

Bernadette Witham

Development

Operations Manager

Lewis Hammond

Finance

Interim Finance

Director

Karl Askew

Interim Finance

Manager

Chi Chigbu

Finance Officer

Janine Carter

Financial Planning and

Analysis Assistant

Fahim Uddin

Marketing &

Audiences

Director of Marketing

and Audiences

Beatrice Burrows

Head of Press and

Communications

Su-Ann Chow-

Seegoolam

Marketing Manager

Steph Cullen

Ticketing Manager

Zoe Fitzpatrick

Social Media and

Digital Content

Manager

Florence Bell

Press Officer

Karl-Lydie Jean-

Baptiste

Operations

Operations Director

Rathi Kumar

Head of Systems and

Technology

Fi Joseph

Digital Systems Analyst

Damilola Senbanjo

Company Administrator

Isobel Ford

Head of Theatre

Operations

Bryan Lewis

Facilities Manager

Samuel Hailey-Watts

Interim FOH Manager

Ryan Melish

Duty Managers

Lauren Holden

Maryam Shofowora

Max Puplett

Sebastian Houillon

Ushers

Aisha Edwards

Albert Graver

Andre Da Silva-

Jenkins

Anna-May Wood

Ayisha Mi

Becky Stockley

Benjamin Clarke

Cassiopeia Berkeley-

Agyepong

Charlie Cuscito

Charlotte Micalef

Chenta Mariqueo

Daniella Connor

Debbie Burningham

Dynzell Muguti

Eboni Dixon

Ellis Jupiter

Francesca De Sica

Grace Kayibanda

Gracjana Rejmer-

Canovas

Grainne Pearson-

Cockrill

Hana Jennings

Isaac Vincent

Jess James

Jida Akil

Joanna Selcott

Josh Hitchman-

Pinnock

Joyce Clark

Julie Patten

Kitti Wells

Lethaniel Stacey-

Coombe

Linden Sloan

Luke Garner-Greene

Lynn Knight

Malika Sandover

Matheus Vianna

Maurice Chung

Max Pawley

Melina Barnett

Michael Asiamah

Millie Whittam

Molly-Rose Curran

Newton James

Thomas

Oliver Byng

Owen Haslegrave

Paula Shaw

Rosemarie Akwafo

Sahana Rackal

Sharitah Boulton

Simone Bell

Starr Ballard

Susan Harrold

Tanjiana Bryan-Hesse

Taz Munyaneza

Thea Sandall

Tia Wingate

Tom Sparkes

Urielle Klein-

Mekongo

Production

Technical Director

Craig Tye

Production Manager

Sarah Barton

Company Manager

Kate Jones

Head of Sound

Kyle MacPherson

Head of Stage

Rhodri Sion Evans

Head of Costume

Sarah Hamza

Interim Head of

Lighting

Faye Hetherington

Production Manager

(Studios)

James Dawson

Deputy Head of Sound

Jet Sharp

Deputy Head of

Costume

Aimee Russam

Interim Deputy Head

of Lighting

Lauren Woodhead

Workshop Carpenter

Rachel MacLoughlin

Lighting Technician

Luke Jackson

Stage Technician

Emma Horne

Production

Administrator

Mengfei Liu

Taking Part

Director of Taking Part

Shereen Jasmin

Phillips

Neighbourhood Theatre

Producer

Alisha Artry

Participation Producer

Lorna McGinty

Learning Producer

Melanie Anouf

Taking Part

Outreach Officer

Lanikai Krishnadasan

Torrens

Taking Part

Administrator

Vicky Olusanya

Taking Part & Creators

Program Young

Associate

Jordi Carter

Welcome Team

Edward Jones

Eimear Griffin

Eleanor Kumar

Joel Oladapo

Johanna Keane

Julie Patten

Kathy Bolt

Lethaniel Stacey-

Coombe

Max Puplett

Sofia Sousa

Tia Wingate

10

11
---
YOUNG VIC – COMING SOON

MANDELA

28 NOV – 4 FEB 2023

A revolutionary new musical and world premiere that

tells the story of Mandela the man and Mandela the

movement. Developed in proud partnership with Nandi

Mandela, Luvuyo Madasa and the Mandela family.

YV UNPACKED: I WONDER IF...

TOURING 10 – 21 OCT

THE YOUNG VIC 24 – 29 OCT

Fusing dance, music and dialogue to explore the human

relationship in its many forms, I Wonder If... is a dazzling

new play directed by Daniel Bailey and devised by the

company.

JOURNEYS THE PODCAST

25 JUL – 25 DEC

A six-part podcast series celebrating local heroes in

Lambeth and Southwark and uncovering stories from

the Young Vic community.

THE TWENTY THRIVE EXHIBITION:

CELEBRATING 25 YEARS OF CREATING, EXPLORING

AND TAKING PART IN OUR COMMUNITY

14 – 21 OCT

An immersive and interactive exhibition that celebrates

the last 25 years of the Young Vic's outreach and

engagement work. A Young Vic Taking Part project.

YOUNGVIC.ORG 020 7922 2922 @YoungVicTheatre

12

13
---
ACCESS AND INCLUSION PERFORMANCES

TAKING PART AT THE YOUNG VIC

AUDIO DESCRIBED

PERFORMANCES

Who Killed

My Father

Wed 14 & Thu 15

Sep, 7.30pm

Mandela

Mon 19 Dec 2022,

Tue 10 & Tue 24

Jan 2023, 7.30pm

BSL

PERFORMANCES

Who Killed My

Father:

Wed 21 Sep, 7.30pm

Mandela

Tue 13 Dec 2022 &

Thu 12 Jan 2023,

7.30pm

CAPTIONED

PERFORMANCES

Who Killed

My Father

Thu 22 Sep, 7.30pm

Mandela

Thu 15 Dec 2022 &

Thu 5 Jan 2023,

7.30pm

RELAXED

PERFORMANCES

Mandela

Wed 4 Jan 2023,

7.30pm

SOCIALLY

DISTANCED

PERFORMANCES

Who Killed

My Father

Sat 17 Sep, 2:30pm

Mandela

Wed 21 Dec, 7:30pm

Images by Henri T, Aaron Imuere, Jay Jay Revlon

Taking Part is our creative engagement department that works with young people,

adults, schools, and our local community for 25 years. We engage with over 15,000

people a year, providing free tickets to all our shows and free creative and artistic

opportunities to our participants.

If you would like to book an induction loop, require someone to look after your

assistance dog during a performance, or have any other access requirements,

please let us know in advance so we can make your visit as enjoyable as possible.

For more information call: 020 7922 2922

Textphone 18001 020 7922 2922

Our three strands, Learning, Participation,

and Neighbourhood Theatre, create work

that is the beating heart of the organisation.

This year is our 25th anniversary – we're

celebrating 25 years of Taking Part work

for, with and by the local community of

Lambeth and Southwark, with a series of

events called Taking Part 25.

This included Of The Cut, a Taking Part

production from Young Vic and TEA films,

written by Yasmin Joseph and the Company,

directed by Philip J Morris. Thirty members

of the cast from all three strands of Taking

Part, aged between 16 and 86 worked

together on a show. Blending film, theatre,

audio and imagery, Of The Cut used magical

realism to imagine what the next 25 years

could look like on and around The Cut.

Upcoming events include The Twenty

Thrive Exhibition, an immersive, interactive

exhibition combining archive material,

photography, and storytelling to explore

the role the Young Vic has played in its

community over the past 25 years, and

YV Unpacked: I Wonder If, a dazzling

new play touring to community venues

in Lambeth and Southwark.

We think of the Young Vic as 'the home

you didn't know you had' – come in and

join us. To find out more about our projects

and how you can get involved, please

visit youngvic.org/taking-part or follow

@YVTakingPart on Twitter.

14

15
---
2022 SEASON SUPPORTERS

THE YOUNG VIC BOARD

Board of Trustees

Development Board

Public Support

Season Support

Hotel Partner

Varun Chandra

Nicky Dunn OBE

Glenn Earle (Chair)

Robert Easton

Farah Ramzan Golant CBE

Kobna Holdbrook-Smith MBE

Ali Hossaini

Kwame Kwei-Armah OBE

Ebele Okobi

Abigail Sewell

Fiona Shaw

Sita Thomas

Steve Tompkins MBE

Anna Williams

Beatrice Bondy

Rachel Conlan (Co-Chair)

Gerard Crichlow

Glenn Earle

Sophie Hale

Will Meldrum

Ebele Okobi (Co-Chair)

Barbara Reeves

Sarah Thorpe Scott

We gratefully acknowledge the following Young Vic

Trustees who recently retired from board service:

The Black Heart Foundation provides leadership support for the Young Vic's 2022-2023 season.

Additional generous support is provided by the Genesis Foundation and IHS Markit.

Sean Egan

David Fletcher

Rory Kinnear

Rita Skinner

We gratefully acknowledge Ian Burford and Alec Cannell for generously supporting the Young Vic's mission.

16 17
---
YOUNG VIC SUPPORTERS

£10,000 – £19,999

Young Vic supporters realise our mission of creating extraordinary theatre, sharing

the joy of creativity with our community and investing in the artists of tomorrow.

They make everything we do possible, and we are deeply grateful to them all.

For their recent support we thank:

£100,000+

£20,000 – £49,999

Anonymous

Lionel Barber &

Victoria Greenwood

Sandra Cavlov

Ian & Caroline Cormack

Lin & Ken Craig

Manfred & Lydia Gorvy

Jack & Linda Keenan

Adam Kenwright

Kidron Hall Charitable Trust

Tracey, Eloise & Max Mayerson

Richenthal Foundation

Jon & NoraLee Sedmak

Dasha Shenkman

United St Saviour's Charity

Dominic Wallington

The Harold Hyam

Wingate Foundation

Arts Council England

The Black Heart Foundation

Bloomberg*

Ian Burford & Alec Cannell

Culture Recovery Fund, DCMS

Glenn Earle

Esmée Fairbairn Foundation

Garfield Weston Foundation

Genesis Foundation

IHS Markit

Patrick & Sholpan McKenna

£50,000 – £99,999

The Charlotte Aitken Trust

Backstage Trust

Bank of America*

Jo Braun

Robert Easton & Elza Blankenburgs

Sea Containers London

Southwark Council

Anonymous (1)

Sarah & Tim Bunting

Cockayne – Grants for the Arts

The London Community Foundation

Calouste Gulbenkian Foundation

Lord Mervyn Davies

H&M Foundation

Sophie Hale & Roland Rudd

Paul Hamlyn Foundation

Patrick Handley

Jerwood Arts

Lambeth Council

Sarah & Dominic Murphy

Karl-Johan Persson

Clive & Sally Sherling

Rita & Paul Skinner

*Young Vic Corporate Member

Listing current as of 1 August 2022.

£1,000 – £9,999

Anonymous (8)

The 29th of May 1961

Charitable Trust

AKA*

Andor Charitable Trust

Jennifer Bailey

Jack Bamberger

Chris & Frances Bates

Lady Primrose Bell

Sarah Billinghurst Solomon

Adrian & Lisa Binks

Tony & Gisela Bloom

Beatrice Bondy

The Charlotte Bonham-Carter

Charitable Trust

Simon & Sally Borrows

The Boshier-Hinton Foundation

The Martin Bowley Charitable Trust

Katie Bradford

CJ & LM Braithwaite

Dr Neil & Sarah Brener

Sylvie & Leon Bressler

Clive & Helena Butler

Monkey Chambers

Chapman Charitable Trust

Cleopatra Trust

The John S Cohen Foundation

Rachel Conlan

James & Victoria Corcoran

Noël Coward Foundation

Miel de Botton

Roger & Alison De Haan

Scott M Delman

Annabel Duncan-Smith

Robyn Durie

Marielle Ednalino & Ken Lamb

Jennifer & Jeff Eldredge

ELEVATE Careers,

Lambeth Council

Sir Vernon & Lady Ellis

Don Ellwood & Sandra Johnigan

David Fein & Liz Oestreich

Finsbury Glover Hering*

Emily Fletcher

Adam & Victoria Freudenheim

Gillian Frumkin

The Golden Bottle Trust

The Golsoncott Foundation

Alan & Ros Haigh

Sarah Hall

Katherine Hallgarten

Frances Hellman & Warren Breslau

Suzy Hester

Madeleine Hodgkin

Jacob Holt

Nik Holttum & Helen Brannigan

Mike & Caroline Howes

The Hoxton Southwark

Peter Hughes

Tom & Caron Ilube

Melanie Johnson

Vanessa Johnson-Burgess

John & Gerry Kinder

Carol Lake

Ben Langworthy

Victoria Leggett

Clive Lewis

The Lowy Mitchell Foundation

Frances Lynn

John Lyon's Charity

Jill & Justin Manson

Memery Crystal*

Barbara Minto

Embassy of the Kingdom

of the Netherlands

Carole Neuhaus

Newcomen Collett Foundation

Ebele Okobi

Rob & Lesley O'Rahilly

Bernadette O'Sullivan

Simon & Midge Palley

Sarig Peker

The Austin & Hope Pilkington Trust

Pi Capital*

Richard Radcliffe Charitable Trust

Heather & Julia Randall

The Red Hill Trust

Barbara Reeves

The Rix-Thompson-Rothenberg

Foundation

Corinne Rooney

Sue Roy

The Royal Victoria Hall Foundation

Sir Paul & Lady Ruddock

Carol Sellars

Dr Bhagat Sharma

Jenny Sheridan

Justin Shinebourne

& Laurence Chaussinand

Florian Simm

Deborah E Mali Smith

Demola Soremekun

Embassy of Spain

The John Thaw Foundation

TowerBrook Foundation*

Nick Tsatsas

U+I Group Plc

Bill Updegraff & Aliza Bartfield

Valentino England Ltd. *

Katleen van Roost

Walcot Foundation

Rob & Gillian Wallace

Edgar & Judith Wallner

Alice Whitaker

Bill & Anda Winters

Chavah Yentl

Jill Hackel Zarzycki

Julia Zilberman & Maxim Seltzer

and all our members and supporters,

whose generosity strengthens and

sustains our work.

*Young Vic Corporate Member

Listing current as of

1 August 2022.

18

19
---
INTERNATIONAAL

THEATER

AMSTERDAM

Internationaal Theater Amsterdam (ITA) was

formed in 2018 with the merger of Amsterdam

Stadsschouwburg and Toneelgroep Amsterdam

to create the largest theatre company in the

Netherlands. Toneelgroep Amsterdam was founded

in 1987, itself a merger between two companies:

the Publiekstheater and Toneelgroep Centrum.

Under its Artistic Director, Gerardjan Rijnders,

the company placed avant-garde theatre on the

Netherlands' principal stage, the Stadsschouwburg

in Amsterdam. Led by Ivo van Hove since 2001,

the company fields a core ensemble of 22 actors.

ITA produces 600 theatre and dance performances

every year, presented nationally and internationally,

alongside social programmes for a wide range

of audiences.

For more information about Internationaal Theater

Amsterdam please check ITA.nl

20

Photography by Jan Versweyveld

Artistic Director Kwame Kwei-Armah: "With Best Seat in Your House, we've taken a bold step

into the future of the theatre-streaming experience. We've put choice at the heart of every element,

giving audiences the space to engage with our streamed work in an entirely new way."

WHAT IS BEST SEAT IN YOUR

HOUSE?

Designed with flexibility in mind, our

innovative next step in live theatre

streaming is designed to place you at the

heart of the action, with each show feeling

like a brand new experience.

We give you two streaming options:

Director's Chair or Director's Cut.

Director's Chair

By taking the Director's Chair, YOU take

control of your view of the show, as you

cut between any of the cameras placed

around the theatre at any time throughout

the live performance. The choice is yours.

Whatever your preference, your view will

be complemented by a high-quality audio

mix of the show.

Director's Cut

Alternatively, you can choose our

Director's Cut option. Sit back as we

deliver a more traditional live edit of the

show from the theatre to your screen,

created with the show's director and

mixed by our production team.

WHAT DEVICES CAN I WATCH

THIS ON?

Stream on a phone, tablet, laptop, or even

cast to your television. However, for the

best experience, we recommend using

a laptop.

WHAT ARE YOUR ACCESS

PROVISIONS?

Captions, audio description and British

Sign Language will be available for

every performance.

WANT TO KNOW MORE?

Visit youngvic.org/bestseatinyourhouse

Best Seat in Your House is made in

collaboration with YV Artistic Associate

Duncan McLean.

Best Seat in Your House: Mandela will

be broadcast on Thu 19, Fri 20, Sat 21

and Mon 23 Jan 2023, 7.30pm, Sat 21 Jan

2023, 2pm.

The development of Best Seat in Your House

was made possible with public support from the

UK Government's Culture Recovery Fund.

Additional generous support was provided by the

Genesis Foundation's Genesis Kickstart Fund.

21
---
the power to

imagine, illuminate and inspire

After an extended intermission, we are thrilled

to join you at the Young Vic once again.

As a major partner of cultural organizations,

Bank of America believes in the power of the arts.

What would you like the power to do?

Learn more at bankofamerica.com/Arts

© 2021 Bank of America Corporation.

MAP3727647

23