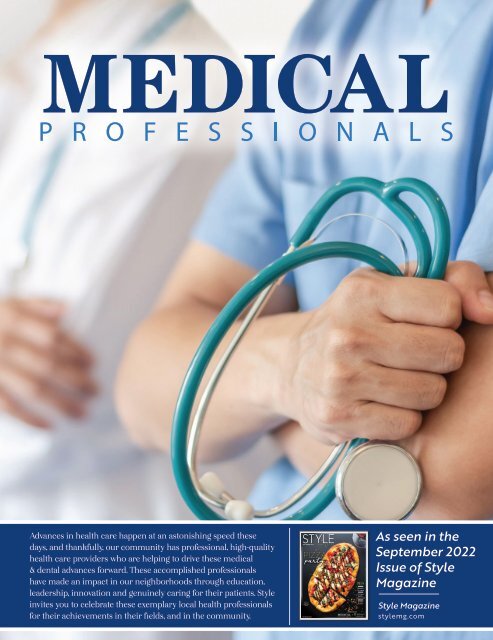 Medical Professionals Stand Alone - September 2022
Advances in health care happen at an astonishing speed these days, and thankfully, our community has professional, high-quality health care providers who are helping to drive these medical & dental advances forward. These accomplished professionals have made an impact in our neighborhoods through education, leadership, innovation and genuinely caring for their patients. Style invites you to celebrate these exemplary local health professionals for their achievements in their fields, and in the community.
Advances in health care happen at an astonishing speed these days, and thankfully, our community has professional, high-quality health care providers who are helping to drive these medical & dental advances forward. These accomplished professionals have made an impact in our neighborhoods through education, leadership, innovation and genuinely caring for their patients. Style invites you to celebrate these exemplary local health professionals for their achievements in their fields, and in the community.
SHOW MORE
SHOW LESS
You also want an ePaper? Increase the reach of your titles
YUMPU automatically turns print PDFs into web optimized ePapers that Google loves.
SEPTEMBER 2022

STYLEMG.COM

M A G A Z I N E

FOR YOUR HEALTH

Advances in health care happen at an astonishing speed these

days, and thankfully, our community has professional, high-quality

health care providers who are helping to drive these medical

& dental advances forward. These accomplished professionals

have made an impact in our neighborhoods through education,

leadership, innovation and genuinely caring for their patients. Style

invites you to celebrate these exemplary local health professionals

for their achievements in their fields, and in the community.

STYLE MAGAZINE

SEPTEMBER 2022 FOOD | HOME | COMMUNITY | EVENTS | ARTS | LIFE

STYLEMG.COM

PIZZA

party

Margherita

Flatbread

@ Wise Villa

Winery

...AND ALSO

MEDICAL +

P R O F E S S I O N A L S

PLUS

Noodle

Nirvana

Fitness

Myths,

Debunked

Stellar

Cellar

As seen in the

September 2022

Issue of Style

Magazine

Style Magazine

stylemg.com
---
SPECIAL SECTION

DR. SUE PET HOSPICE

916-224-5543 // Folsom

www.drsuepethospice.com

PET EUTHANASIA, PET HOSPICE

MEDICAL

P R O F E S S I O N A L S

Advances in health care happen at an

astonishing speed these days, and thankfully,

our community has professional, highquality

health care providers who are helping

to drive these medical & dental advances

forward. These accomplished professionals

have made an impact in our neighborhoods

through education, leadership, innovation

and genuinely caring for their patients. Style

invites you to celebrate these exemplary local

health professionals for their achievements in

their fields, and in the community.

Dr. Sue Pet Hospice

is founded in

the belief that

our pets are a

special part of the family. I

provide in-home end-of-life

services for pets. It is my goal

to provide the most peaceful

process possible for your pet

and family in the comfort and

privacy of your home. I bring

modeling clay to make a paw

print to leave as a memory.

It is my honor to help

transport your pet wrapped in

a dignity blanket to a trusted

family-owned crematory,

Caring Pet Crematory. We

grieve for our pets, and

everyone grieves in their own

way!

If you are in need of grief

resources, please check out the

resources on my website. Take

care

DENISE BOGARD, M.D.,

FAARFM, ABAARM

BOGARD HEALTH - WELL AGING MED

ANTI-AGING MEDICINE PRACTICE

508 Gibson Dr., Ste 290 // Roseville

916-781-4300

bogardhealth.com

Dr. Bogard has a long history in the health

field. From an RN to a nurse anesthetist

to an anesthesiologist, she spent almost

40 years in the operating room. She was

exposed to critical care, trauma, obstetrics, lots of on

call hours and sleepless nights. As she entered her 50's

she found her own health starting to decline and sought

out a healthy aging physician. After experiencing the

benefits she sought out the fellowship of regenerative

and healthy aging through the American Academy of

Anti-Aging Medicine.

She opened an office in 2014 and continues to grow

and expand her knowledge into this evolving field of

medicine. Rather than prescribing medications and

bandaging diseases she looks for the "root causes" and

integrates each system in the body together. She also

looks at environmental, genetic and lifestyle factors

which result in "dis-ease". Her continued and expanding

practice utilizes bioidentical hormone replacement,

thyroid and adrenal optimization, GI healing, testing for

heavy metals and IV nutrition and chelation, advanced

lipid testing, and advanced blood sugar testing.

40 stylemg.com | SEPTEMBER 2022 | /stylemediagroup /stylemediagroup /stylemediagroup /stylemags
---
SPECIAL SECTION

ARNOLD ALMONTE, D.O.

ALMONTE CENTER FOR FACIAL COSMETIC SURGERY

SURGICAL AND NON-SURGICAL

FACIAL COSMETIC PROCEDURES

1420 Blue Oaks Blvd., Suite 100 // Roseville

916-771-2062 // www.DrAlmonte.com

Dr. Arnold Almonte is a Board Certified Plastic Surgeon

whose practice is dedicated to cosmetic surgery of the

face. It is his goal to provide the highest quality in

patient care, with a strong emphasis on patient safety.

He is a gifted and compassionate surgeon, as well as a true artist.

What sets him apart is that he is one of the only plastic surgeons

who performs facial surgery completely under local anesthesia.

This significantly reduces the risk of cosmetic surgery, while still

keeping you very comfortable.

The Almonte Center offers a wide variety of facial cosmetic

procedures including the A-Lift (Dr. Almonte's signature lower

face and neck lift), Eyelid Surgery, Brow Lifts, Fat Transfers

and Renuvion Neck Tightening. The most popular non-surgical

treatments include Botox and Filler to the Cheeks, Under Eyes, and

Lips.

Dr. Almonte is a member of the following prestigious

organizations: the American Osteopathic Association, the American

College of Osteopathic Surgeons, the American Academy of Cosmetic

Surgery, the Osteopathic Physicians and Surgeons of California, and

the Greater Sacramento Osteopathic Medical Association. His business

affiliations include the Placer Business Network, the Better Business

Bureau, and the Roseville Chamber of Commerce. He has achieved

Top Doctor status on www.realself.com, the World's #1 site for

Cosmetic Surgery reviews.

In his spare time Dr. Almonte enjoys spending time with his

wife and three daughters. His interests include running, hiking,

traveling, cooking, playing the piano, and watching professional

sports. His favorite team is the 49ers.

SEPTEMBER 2022 | stylemg.com 41
---
SPECIAL SECTION

KENNETH M. TOFT, M.D.

TOFT FACIAL PLASTIC SURGERY

SURGICAL AND NON-SURGICAL FACIAL

COSMETIC PROCEDURES

959 Reserve Dr. // Roseville // 916-782-8638

www.toftfacialsurgery.com

Dr. Kenneth M. Toft is a highly respected

authority in facial plastic surgery. He trained

at Stanford University, and then followed as

a Clinical Instructor in Facial Plastic and

Reconstructive Surgery at UCLA. Dr. Toft has a reputation

for using the most modern surgical techniques that give

patients natural appearing results with a quick recovery. He

minimizes the signs of surgery so his patients look refreshed,

youthful and balanced. Dr. Toft and staff are approachable,

caring and strong patient advocates.

Dr. Toft also offers a variety of non-surgical procedures

including Botox, Juvederm, Restylane, Radiesse, Dysport,

and Photofacials. New additions to the office include

Fractional Laser Treatments and the latest medical

esthetician services on the market. These services include

Image Chemical Peels, Dermasweep treatments and

customized corrective facials. If you are considering any

facial plastic procedure, make an appointment with the

facial plastic surgeon with a reputation for excellence, Dr.

Kenneth M. Toft.

MARINA MILSTEIN, DDS, MSC

MARINA MILSTEIN ORTHODONTICS

FAMILY ORTHODONTICS

7095 Douglas Blvd. Ste. #A // Granite Bay

916-677-1216 // mmorthodontics.com

Dr. Marina Milstein recently opened her orthodontic

practice in Granite Bay. With more than 20 years of

experience, she is committed to providing exceptional

clinical care and unparalleled customer service. She is

involved in many multi-disciplinary cases and is continuing to build

strong relationships with many dentists and specialists in the area.

After receiving her dental degree from Loma Linda University in

1999, she practiced general dentistry for three years. She did her

Orthodontic residency at the University of Manitoba where she

received her Master's degree in 2005.

Marina Milstein Orthodontics offers a Complimentary Orthodontic

Exam to all new patients. Dr. Milstein prides herself on delivering

excellent clinical results. By carefully examining each patient at every

appointment, she is able to make appropriate decisions to achieve a

timely completion of the case.

MMO team cares deeply about the families they serve. Whether

your preference is Invisalign or traditional braces, they promise to

go to great lengths to make sure you are provided with outstanding

service and experienced care. The office offers the most advanced

orthodontic imaging and management software, which allows you a

more comfortable and straightforward process from start to finish.

Call MMO today to book your appointment so they can help you on

your way to achieving the confidence you have always wanted.

42 stylemg.com | SEPTEMBER 2022 | /stylemediagroup /stylemediagroup /stylemediagroup /stylemags
---
SPECIAL SECTION

DR. GREGORY G. OLSEN

FOLSOM ORAL SURGERY AND IMPLANT CENTER

ORAL AND MAXILLOFACIAL SURGERY

2370 E. Bidwell St., Ste. 130 // Folsom

916-983-6637 // www.folsomdentalimplants.com

Dr. Gregory G. Olsen practices a full scope of oral and

maxillofacial surgery including dental implants, bone

grafting and wisdom tooth removal while providing

exceptional patient care in a friendly atmosphere.

Dr. Olsen graduated with honors from the University of the Pacific

Arthur A. Dugoni School of Dentistry, San Francisco and completed

his specialty training residency in the field of oral and maxillofacial

surgery at John H. Stroger, Jr. Hospital in Chicago. He is a Board

Certified Oral and Maxillofacial Surgeon, Board Certified Dental

Anesthesiologist, and Fellow of the International Congress of

Implantology. He holds memberships with numerous prestigious

dental organizations including the California Dental Association,

Sacramento District Dental Society and the American Association

of Oral and Maxillofacial Surgeons. Dr. Olsen and his wife, a dental

hygienist, are dedicated to serving those in need – both locally and

internationally.

The team at Folsom Oral Surgery And Implant Center's first priority

is the safety and comfort of every patient. Dr. Gregory G. Olsen

works constantly to keep up-to-date with the latest advancements

in dental care. He uses the latest techniques and remains deeply

committed to developing new and better ways to protect your teeth

and gums.

When not taking care of his patients or volunteering his time, Dr.

Olsen enjoys spending time with his wife, family and friends along

with fly-fishing, cycling and hiking.

Take a moment to learn more about the exciting new services we

offer our patients. Please call our office at 916-983-6637.

SEPTEMBER 2022 | stylemg.com 43
---
SPECIAL SECTION

SHAILA GARG, MD, MRCP

ROSEVILLE CARDIOLOGY

CARDIOLOGY

Two Medical Plaza Drive, Suite 175 // Roseville

916-782-2146 // 916-742-1376

rosevillecardiology.com

Dr. Garg is a board-certified cardiologist with more than

15 years of experience in clinical cardiology. She believes

in educating patients and their families about their illness

and making them partners in their care by providing

various management options. She understands the importance of

being there for her patients and treating them like she would treat her

own family. She treats full spectrum of heart diseases including

coronary artery disease, valvular heart disease, heart rhythm

disorders, heart failure and preventive cardiology.

Dr. Garg lives in Granite Bay with her husband and daughter. She

enjoys beautiful Northern California with her family by biking and

hiking. Her other passions are tennis, traveling, cooking and reading

books.

Dr. Garg is part of Roseville Cardiology, the premier and largest

independent cardiovascular medical group serving South Placer

County and surrounding communities for 40 years.

Roseville Cardiology has established the cardiovascular program at

Sutter Roseville Medical Center and is the only cardiovascular

medical group credentialed to take care of patients in the hospital.

Their practice provides comprehensive cardiovascular care and a full

range of state or the art testing with offices in Roseville, Lincoln and

Auburn.

ALLURE SKIN & LASER

SKIN REJUVENATION

4080 Cavitt Stallman Rd., Ste. 100 // Granite Bay

916-771-0715 // www.vagaro.com/allureskinandlaser

Kehli McCaskill

Amanda Splinter

We recognize the significance of good skincare and

are dedicated to providing high-quality care in a

pleasant, clean, and professional environment. In

addition, we provide dermatological services, as

well as the most advanced medical cosmetic procedures and facial

rejuvenation treatments.

Kehli McCaskill PA-C, has extensive experience and passion

for treating skin disorders such as skin cancer, eczema, fungal

infections, psoriasis, and inflammatory conditions such as acne. In

addition, our PAs and RNs are trained in cosmetic procedures such

as Botox/Dysport/Xeomin, dermal fillers, and laser procedures.

They will gladly evaluate your aesthetic concerns and develop a

treatment plan that best meets your goals and desires.

Botox/Dysport/Xeomin, dermal fillers/Sculptra, Microneedling

with Radiofrequency (Morpheus8), IPL photo facials, chemical

peels, microdermabrasion, laser hair removal, tattoo removal,

and an acne program are all available at our office with minimal

downtime. Skilled, licensed professionals carry out all procedures.

Whether we're addressing your skin cancer concerns or informing

you about the most recent cosmetic procedures, our top priority at

Allure Skin and Laser is to ensure that your experience with us is

second to none.

Your skin deserves the best, and we appreciate your decision to

entrust us with keeping it healthy and beautiful for years to come.

44 stylemg.com | SEPTEMBER 2022 | /stylemediagroup /stylemediagroup /stylemediagroup /stylemags
---
SPECIAL SECTION

OKSANA

BOYECHKO,

DMD

BOYECHKO DENTAL

IMPLANTS, COSMETIC, RESTORATIVE

3420 Coach Lane, Suite 6 // Cameron Park

530-672-1616 // www.boyechkodental.com

Dentistry is Dr. Boyechko's passion.

This passion drives her to change

people's lives by improving their

smiles. Her passion began in Soviet

Ukraine as a dental student. She was not able

to graduate from Soviet dental school due to

her Christian beliefs. Not one to give up, she

pursued her dream after she arrived in the

United States as a refugee.

With only self-taught English, she worked as

a dental technician, graduated from Portland

State University with Bachelor of Arts and

received her DMD diploma from Oregon

Health Science University School of Dentistry.

In addition to practicing dentistry in her

private offices in Oregon and California,

she was also teaching in OHSU and UCLA

dental schools. This allowed her to share

her knowledge, experience, and passion with

dental students.

Dr. Boyechko now enjoys her thriving practice

in Cameron Park. Her patients often travel to

see her due to having trust and confidence in

her expertise.

In her practice, she utilizes the most advanced

dental technology such as Computer Assisted

Design (CAD) and Computer Assisted

Manufacturing (CAM) for crowns, bridges,

and dentures. Digital X-rays and CBCT

(Cone-beam Computer Tomography) assist

her in placing and restoring implants. She also

offers strengthening teeth with Invisalign and

SureSmile.

Uniquely, she fabricates crowns and bridges

in her in-house lab, which allows for greater

precision, quality control and delivering them

on the same day.

Dr. Boyechko's passion is fueled with every

smile that is created by her and her team.

She believes "Your smile is a door to your

soul and if you love your smile, you can truly

achieve anything."

SEPTEMBER 2022 | stylemg.com 45
---
SPECIAL SECTION

MELODEE ROHLFF, RN BSN

VIP CONCIERGE CARE

POST SURGERY CARE SPECIALIST

650-465-4079 // vipconciergecare.com

My name is Melodee Rohlff. I founded a unique

model of care, VIP Concierge Care. I saw the

need with early discharges after surgeries. The

fear, anxiety and uncertainty is a stressor and

in turn slows healing which causes undesired outcomes:

infections, postop bleeding and prolonged healing. We

take that on for you and your family allowing a healing

environment in the comfort of your own space with

knowledgeable caregivers.

Not everyone wants to have family or friends assisting them.

I am an ER Critical Care RN BSN with public health care

certifications and have worked from Stanford University to

Santa Clara Valley Trauma Center from the OR to the ER.

I care for clients in their homes, Airbnbs, or hotels following

surgery. While I do focus on plastic surgery, I also provide

aftercare for all procedures such as maternity, orthopedic,

and cardiac. Patients are discharged quicker than in the past

and are often left with unanswered questions. Let us be your

advocate after surgery or by telehealth for simple questions.

Mobile IV Hydration coming soon

If you need care for you or family, call for a consultation. With

our VIP experience and care you can apply your energy into

healing!

MOTLMD

AN INTEGRATIVE NEUROPSYCHIATRY GROUP

4359 Town Center Blvd., Bldg 207, Suite 217

El Dorado Hills // 916-836-0036 // MotlMD.com

MotlMD-a revolutionary mind-body approach to

mental health, not your typical mental health

treatment. Cutting edge clinic and personalized

approach beyond the conventional medical model.

Is MotlMD right for you? Tried multiple medications and not

improved? Frustrated with your treatment and wondering if

a more integrative approach would help? Suspect symptoms

are being complicated by a hormonal imbalance, nutrient

deficiency or other unknown condition? Interested in exploring

alternative treatment options with the support of experienced

professionals?

If you answered yes to any or all of these questions then you are

in the right place. We would love to show you how we can help.

Approaches: We learn about your history, lifestyle, symptoms

and preferences. Understanding your health and treatment

goals matter. Outcomes improve and occur, with in-depth

testing via comprehensive lab work, genetic testing, noninvasive

brain scanning and interviews to accurately obtain

diagnostic information from a variety of scientific systems.

Healing Plans: Based on test results, we partner with you to

create a healing plan designed to meet you where you are

and restore your mind and body to health. We offer on going

support, monitor your progress making adjustments as needed.

John Motl, MD and Mare Brooks-Motl, LMFT, CMHIMP

46 stylemg.com | SEPTEMBER 2022 | /stylemediagroup /stylemediagroup /stylemediagroup /stylemags
---
SPECIAL SECTION

NUANCE COSMETIC

SURGERY

DR. KEN SUMIDA

COSMETIC SURGERY AND SKIN FITNESS

1641 Creekside Dr., Ste. 100 // Folsom

916-984-4242 // nuancecs.com

Dr. Ken Sumida and the staff at Nuance

Cosmetic Surgery aim to improve your

natural appearance and reverse some

signs of aging. Nuance offers surgical

and non-surgical procedures, including face lifts,

eyelid lifts, breast enhancements and tummy tucks,

Dysport, restylane, and chemical peels. If you're

not sure if cosmetic surgery is for you, Dr. Sumida

offers complimentary cosmetic consultations

allowing patients to explore the various methods

of looking younger. Dr. Sumida encourages first

time patients to seek out a number of plastic

surgeons so they can find the one where they feel

most comfortable. Dr. Sumida guarantees personal

attention to all of his patients. "From the time you

pick up the phone to schedule an appointment, you

will be treated like a precious patient," he says. "We

try to schedule our patients with ample time for

their consultations. We want to answer all of their

questions so that they do not feel rushed." Give Dr.

Sumida and Nuance a call today!

REVOLUTIONS NATUROPATHIC

HORMONE BALANCING, SPORTS MEDICINE,

CUSTOMIZED TREATMENT PLANS

254 Gibson Drive // Roseville

916-351-9355 // info@revolutionsdocs.com

Would you like a doctor who has time to address

all of your questions? Who combines modern

medicine with more natural, science-based

approaches? Who can run the latest in advanced

lab testing to maximize your potential and increase your chances

for prevention of serious illness? Our team of naturopathic

doctors has helped thousands of people since 2009. While our

doctors use many of the same physical exams and laboratory tests

as medical doctors our intention is to take care of the whole

person, treating the cause of disease, not just the symptoms.

Voted best alternative medicine 12 years in a row.

• Prolotherapy/PRP

• Hormone Balancing

• Injection and IV Therapies

• Autoimmune Disorders

• Anti-Aging Medicine

• Allergies & Food Sensitivities

• Ozone Therapy

SEPTEMBER 2022 | stylemg.com 47
---
SPECIAL SECTION

GRANITE BAY DENTAL SPA

COSMETIC, GENERAL & NEUROMUSCULAR DENTISTRY

Baban Mahal, D.D.S.

5280 Douglas Blvd., Ste. 100 // Granite Bay

916-800-5001 // BabanMahalDDS.com

Dr. Mahal specializes in Cosmetic, General and

Neuromuscular dentistry and offers a wide variety

of dental services including general dentistry,

implants, same day crowns, Veneers, full face

orthodontics, sleep apnea appliances, and so much more.

Dr. Mahal is a fellow at the prestigious LVI Institute for

Neuromuscular dentistry which is an area that focuses on

not only the teeth, but on the nerves, muscles and joints as

they relate to the jaw. Neuromuscular dentistry concentrates

on the achievement of an optimal bite and jaw alignment,

which can help alleviate facial and neck pain, headaches,

migraines and TMJ pain. Dr. Mahal can provide immediate

relief with Botox injections and night guards, however longterm

relief and more permanent treatment requires Phase

1 Treatment with an orthotic appliance to be worn day and

night to keep the jaw in a neuromuscular or relaxed position

and to aid in remodeling the TMJ. This optimal and

relaxed position is built by Dr. Mahal utilizing a TENS unit

and EMG's. Most patients will feel 90% relief within first

few days to first few weeks of using a LVI orthotic.

Growth or remodeling appliances (ARA) and full-face

orthodontics is 2nd phase where premaxilla is remodeled forward

and teeth can be straightened without extractions or surgery.

This not only improves facial profile but also airway and TMJ

problems. Dr. Mahal also does full mouth reconstruction to keep

the jaw in neuromuscular position, for a beautiful smile.

Dr. Mahal is accepting new patients. Call to schedule a

consultation.

DIGNITY MEDICAL AESTHETICS

NON-INVASIVE ANTI-AGING TREATMENTS

1200 Suncast Lane, Suite 5 // El Dorado Hills

916-939-3889 // info@dignitymed.com // dignitymed.com

We're celebrating our

16th year of Excellence!

This year marks the 16th anniversary of El Dorado

Hills' favorite medical practice for treatments to slow

the appearance of aging on the face, neck and body.

Dignity Medical Aesthetics (DMA) was established

in 2006 by Missey McCallum, RN, and Sherellen Gerhart,

MD. Dignity Medical Aesthetics has been the premier medical

aesthetic practice in El Dorado Hills since 2006. They offer

services such as laser and IPL treatments for permanent

hair reduction, removing brown spots and redness, as well

as treating lines, scars and laxity to help provide younger,

smoother looking skin. They offer non-invasive treatments

for lifting the neck or brow and skin tightening. They have

options for Body Contouring, Radio Frequency Microneedling

and Vaginal Rejuvenation. Plus Platelet Rich Plasma (PRP)

injections are offered to naturally help with hair loss and skin

rejuvenation. They are national leaders in injections of Botox

and fillers for relaxing lines, adding volume, and for lifting

facial areas to lessen the appearance of sagginess and jowls.

Also they are now offering QWO injections for cellulite. All

new patients receive a complimentary 45 minute consultation

to carefully review their medical history followed by a general

overview of treatment options that can best meet their personal

needs for enhancing their appearance.

By looking at their website (www.dignitymed.com),

you can see examples of most of their treatments and

services. CALL (916) 939-3889 TO SCHEDULE YOUR

COMPLIMENTARY CONSULTATION AT DIGNITY

MEDICAL AESTHETICS.

48 stylemg.com | SEPTEMBER 2022 | /stylemediagroup /stylemediagroup /stylemediagroup /stylemags
---
SPECIAL SECTION

ARTUR HENKE, M.D.

PLACER DERMATOLOGY

COMPLETE DERMATOLOGY CARE AND SKIN CARE CENTER

9285 Sierra College Blvd. // Roseville

916-784-3376 (DERM)

placerdermatology.com

Dr. Artur Henke, a board certified dermatologist,

has extensive experience in medical, surgical,

and cosmetic dermatology. He trained at UC

Davis Medical Center, where he was Chief

Resident. Dr. Henke has been a Northern California

resident for 35 years. In 2008, he realized his dream of

building Placer Dermatology & Skin Care Center, a state

of the art dermatology practice in Roseville, California.

Dr. Henke volunteers as Assistant Clinical Professor at UC

Davis, and is an active member of several medical societies,

including the American Academy of Dermatology.

Dr. Henke specializes in the recognition and management

of all types of skin cancer including melanoma, as well as,

pre-cancers, benign skin growths, acne, skin infections,

and skin diseases such as eczema and psoriasis. Dr. Henke

performs surgery on all areas of the body and offers

cosmetic procedures such as Botox. By addressing your skin

condition in a timely and expert manner, Dr. Henke can

alleviate many symptoms and prevent complications. Dr.

Henke looks forward to providing you with his expert care

while addressing your entire family's dermatologic needs in

a comfortable and friendly environment.

Dr. Henke and his wife, along with their two children

are active members of the community and enjoy living in

the area. Thank you for voting Dr. Henke as one of the

Best Dermatologists for nine years in a row and as a Best

Medical Practice for five years in a row!

HOYBJERG FAMILY ORTHODONTICS

FAMILY ORTHODONTICS

1253 Pleasant Grove Blvd., Ste 190 // Roseville // 916-771-4884

1417 Serrano Pkwy., Ste 102 // El Dorado Hills // 916-573-3388

4363 Golden Center Drive // Placerville // 530-626-3000

hfamilybraces.com

At Hoybjerg Family Orthodontics, we pride

ourselves on being a family oriented and

family friendly office. Dr. Christian Hoybjerg

wants his patients to feel like "part of the

family." He wants their experience to be enjoyable, fun

and positive.The staff are wonderful and friendly- as they

all love what they do. Some have been with the practice

for twenty years! Dr. Hoybjerg and his staff are dedicated

to helping each patient achieve the smile of their dreams.

The favorite part of Dr. Hoybjerg's job is watching the

confidence grow in each patient. A new smile can say a

thousand words!

Dr. Hoybjerg attended Loma Linda University Dental

School and he continued on two more years in a

residency for Orthodontics where he received his Master's

of Oralfacial Orthodontics.

Dr. Hoybjerg grew up in the area and has always loved

the outdoors and sports. He spends all of his free time

with his five children and wife, as they experience all that

the Sacramento valley has to offer.

We invite you to come and see what sets Hoybjerg Family

Orthodontics apart. Set up your FREE consultation

today and join our family!

SEPTEMBER 2022 | stylemg.com 49
---
SPECIAL SECTION

We are doctors

Anna and Masoud Rashidi at

Innovative Compounding Pharmacy.

Need Covid test for work or Travel?

Offering PCR and Antigen Covid test with

results in less than 2 hours!

We offer:

• Low Dose Naltrexone (LDN) for chronic

pain, Autoimmune disease and cancer.

• a wide variety of high-quallity

pharmaceutical-grade vitamins and

supplements

• both sterile and non-sterile customized

medications for the whole family, including

your pet

• compounding for pain management,

hormone therapy for both men and women,

pediatric applications and many other

specialties

We pride ourselves on honoring our customers,

and our continued commitment is to provide

you with the personal, prompt and professional

service you deserve.

WE LOOK FORWARD TO SERVING

ALL YOUR MEDICINAL NEEDS!

Serving the community since 2007, we're proud to have been

voted Best Independent Pharmacy for 13 consecutive years.

I NNOVATIVE

COMPOUNDING PHARMACY

820 Wales Dr., Ste. 3, Folsom | 916-984-9222 | www.icpfolsom.com

PAMELA CONNOR,

FUNCTIONAL NUTRITIONIST

CONNOR WELLNESS CLINIC

1891 E. Roseville Pkwy., #170 // Roseville

916-404-0886 // www.connorwellnessclinic.com

staff@connorwellnessclinic.com

NUTRITION, FUNCTIONAL MEDICINE, FUNCTIONAL LAB

TESTING, LIFE COACHING, ACUPUNCTURE, MASSAGE

We offer a

functional

medicine and

an integrative

approach to healing and the

factors influencing health.

Our philosophy is science and

nutritional based focusing

on the root causes of health

imbalances. A wide variety

of diagnostic and lab testing

are available for conditions

such as gut issues,

autoimmune disorders,

hormone balancing, weight

loss, genetic testing. See

our website for our services

and testing. We specialize

in supporting gut health,

autoimmune conditions,

weight loss, hormones,

and more.

ASSOCIATES IN WOMEN'S HEALTH CARE

OBSTETRICS AND GYNECOLOGY

5 Medical Plaza, Suite 250 // Roseville

916-782-2229 // aiwhc.com

Welcome our new Physician! Andrea Garland,

MD. She has been practicing in the Sacramento

area for many years and excited to be joining

our community. Associates in Women's Health

Care has been a leading provider of women's Obstetrics and

Gynecological care for over 40 years. You will find we provide

a comfortable and caring environment. We are dedicated to

serving women of all ages with advanced care options at all

stages of life, including routine exams, obstetric care, menopause,

urogynecology, infertility treatment as well as diagnostic services

including ultrasound. We have expanded our practice to include

Aesthetics through Life Studios Medical Group, offering our own

skin care line and a wide variety of non-invasive treatments such

as Mona Lisa Touch, Scuplsure, and Icon Laser. We welcome new

patients and accept most major medical insurance plans.

50 stylemg.com | SEPTEMBER 2022 | /stylemediagroup /stylemediagroup /stylemediagroup /stylemags
---
SPECIAL SECTION

ROHINI RATTU, DDS

DIMPLES PEDIATRIC DENTAL

BOARD CERTIFIED PEDIATRIC DENTIST

1665 Creekside Drive Suite 103 // Folsom

916-260-5127 // dimplespd.com

Dr. Rohini Rattu received her DDS from

Columbia University and completed her

Postgraduate Pediatric Dental training at Boston

University. She is a Board Certified Diplomate

and a proud member of the ADA, CDA, American Academy

of Pediatric Dentists, California Society of Pediatric Dentists

and Sacramento District Dental Society. It is with these

memberships that Dr. Rohini is able to remain on the cutting

edge of new technologies and philosophies within the realm

of Pediatric Dentistry.

Dr. Rohini is the sole practitioner at her practice, Dimples

Pediatric Dental, in Folsom.

At Dimples Pediatric Dental, we strive to make the dentist

office a fun place to be where kids can feel comfortable and

relaxed. Our goal is to provide our patients with excellent

oral health care throughout their infant, child and adolescent

years. When they "graduate" from our office, they will take

with them the tools and confidence to enjoy optimal oral

health throughout their lives.

Dimples Pediatric Dental would love to be your children's

dental home!

SCOTT B. HEARTH, M.D.

GRANITE BAY DERMATOLOGY

AND LASER CENTER

GENERAL AND COSMETIC DERMATOLOGY

1535 Eureka Rd. // Roseville

916-773-3376 // granitebaydermatology.com

Dr. Hearth is a board certified

dermatologist and cosmetic

dermatologist who is trained to

treat all conditions of the skin. Dr.

Hearth is an expert in cosmetic dermatology

and laser surgery, having the distinction of

completing a fellowship in these fields at UC

San Francisco Medical Center. He has also

been on clinical faculty in the Departments

of Dermatology at Vanderbilt University and

UCSF Medical Centers. As a result, Dr.

Hearth has the unique training and expertise to

superbly care for all of your skin's needs.

Dr. Hearth opened Granite Bay Dermatology

and Laser Center in Granite Bay, CA in 2003 and

relocated to a new state-of-the-art facility in 2014

at 1535 Eureka Road in Roseville. At Granite

Bay Dermatology and Laser Center, we have

the expertise and the latest technologies and

treatments to make you look your best!

SEPTEMBER 2022 | stylemg.com 51
---
SPECIAL SECTION

PROACTIVE ACUPUNCTURE

151 N. Sunrise, Ste. 1308 // Roseville

916-755-4930 // roseville@proactiveacupunture.org

2401 Capitol Ave., Ste. 100 // Sacramento

916-444-6047 // midtown@proactiveacupunture.org

www.proactiveacupuncture.com

REMEDY RX PHARMACY

1420 East Roseville Parkway, Suite 130 // Roseville

916-740-1600 // myremedyrx.com

PHARMACY AND COMPOUNDING

Acupuncture can provide pain relief, strengthen the

immune system and prevent illness, relieve stress,

tension and anxiety, can benefit women's health and

infertility, and has been effectively, naturally, and

safely treating a wide variety of health concerns for thousands!

In business since 2006, ProActive Acupuncture: Center for Asian

healing Arts specializes in acupuncture and traditional Chinese

medicine.

We are available 7 days week 8am to 8pm and accept all medical

insurances, workers compensation, and auto injuries.

Compounding allows us to create custom medications

specifically for you and your needs! For example, we can

flavor the medications for you and/or your pet! We have

a variety of flavors – peppermint, cherry, beef, tuna, and

chicken! Other custom examples include dye-free, preservative-free,

alcohol-free, and/or sugar-free forms of medications. We compound

medications for hormone replacement therapy, dermatology,

veterinary and more! We make creams, ointments, suppositories, oils,

pet treats, capsules, and so much more!

To learn more about our compounding services, please contact us today

at 916-740-1600 to speak to one of our pharmacists for more details!

ALY JOHNSTON, FNP-BC

WELL BY AM

916-633-2030 // www.wellbyamllc.com

/@alyjohnston and @wellbyam

MOBILE CONCIERGE PRIMARY CARE AND IV THERAPY

Aly Johnston, FNP-BC

is a Family Nurse

Practitioner who offers

Mobile Concierge

Primary Care and IV therapy

visits in the comfort of your own

home.

Accepting new patients! Same or

next day appointments available!

Also offering Medical Weight

Management visits and telehealth.

Not feeling well or just need an

annual exam? We do it all! Sports

physicals, labs, and referrals for

injuries.

Whether you're sick or only need

some routine maintenance, we're

here for you!

We treat even the smallest

members of the family! From

infancy to 18, we're here

for examination, diagnosis,

treatment, and ongoing wellness

for your children.

AMAR PAWAR, D.D.S.

1568 Creekside Dr., Ste. 202 // Folsom

916-235-6212 // www.folsomfamilydental.com

GENERAL AND COSMETIC DENTAL SERVICES

Dr. Pawar is a graduate of the prestigious Columbia

University School of Dental and Oral Surgery, NY.

Trained to be an expert dentist, Dr. Pawar continues

to educate and maintain his knowledge to the ever so

changing needs and treatment modalities of the dental community.

Dr. Pawar has been practicing dentistry here in Folsom for more than

16 years, with the vision of bringing high ethical and moral standards

to his practice without pressure on his patients. He lives by this vision

daily and cherishes the opportunity to continue bringing you the

smile you've always wanted. Give his office a call and experience for

yourself!

52 stylemg.com | SEPTEMBER 2022 | /stylemediagroup /stylemediagroup /stylemediagroup /stylemags
---
COMMUNITY

ServiceDAY

Volunteer! Saturday, September 17

REGISTER AT: www.folsomcommunityservice.org

Join us for the 9 th annual Community Service Day, Folsom's largest day of volunteerism.

This major citywide event mobilizes thousands of volunteers of all ages to complete projects

throughout Folsom that make a positive, lasting impact in the community.

Community Service Day is organized by the City of Folsom, local businesses, and nonprofit organizations.

Sponsorship support provided by:

Club of Folsom
---
STYLEMG.COM

STAY UP TO DATE ON ALL OF

THE LOCAL GOINGS-ON!

Pick up the new issue of STYLE Magazine and follow us online.

STYLE MAGAZINE

SEPTEMBER 2022

M A G A Z I N E

SEPTEMBER 2022 FOOD | HOME | COMMUNITY | EVENTS | ARTS | LIFE

STYLEMG.COM

PIZZA

party

Margherita

Flatbread

@ Wise Villa

Winery

PLUS

Noodle

Nirvana

Fitness

Myths,

Debunked

Stellar

Cellar

...AND ALSO

MEDICAL +

P R O F E S S I O N A L S

FOR YOUR HEALTH

M A G A Z I N E

/stylemediagroup /stylemediagroup /stylemediagroup /stylemags