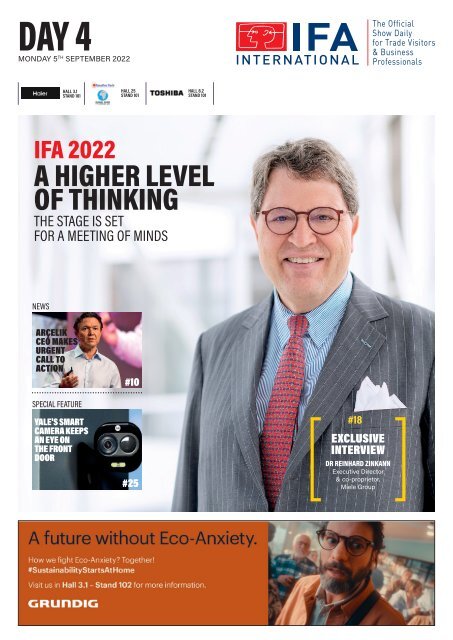 You also want an ePaper? Increase the reach of your titles
YUMPU automatically turns print PDFs into web optimized ePapers that Google loves.
DAY 4

MONDAY 5 TH SEPTEMBER 2022

HALL 3.1

STAND 101

HALL 25

STAND 101

HALL 8.2

STAND 101

IFA 2022

A HIGHER LEVEL

OF THINKING

THE STAGE IS SET

FOR A MEETING OF MINDS

NEWS

ARÇELIK

CEO MAKES

URGENT

CALL TO

ACTION

SPECIAL FEATURE

YALE'S SMART

CAMERA KEEPS

AN EYE ON

THE FRONT

DOOR

#10

#25

#18

EXCLUSIVE

INTERVIEW

DR REINHARD ZINKANN

Executive Director

& co-proprietor,

Miele Group
---
Morning

Briefing

By David Ruetz,

Senior Vice President, IFA 2022

For those of you who are just arriving,

welcome to IFA 2022, and for those

who are returning, I hope you had

a good IFA weekend. It has been a

pleasure to see so many visitors on

the trade show floor over the past

three days and witness first hand

product innovation in the worlds

of consumer electronics and home

appliances.

IFA in

full swing

Under the motto "The next level of

thinking", the IFA+ Summit will be

starting today at 9:30am. It will bring

together proponents and skeptics

on the topic of de/globalisation,

with numerous outstanding guest

speakers and panel discussion

members from politics, industry and

science. Among the most prominent

figures will be Professor Dr. Yanis

Varoufakis, economist and former

Greek finance minister, the German

philosopher Peter Sloterdijk, Jürgen

Trittin, member of the German

Bundestag and former minister of the

environment, and Professor Marcel

Fratzscher, Ph.D., president of DIW

Berlin.

IFA NEXT will continue to welcome

start-ups, associations and other

experts from industry and science

to the stage, starting at 11am with a

presentation by Christoph Burkhardt,

CEO and Advisor at OneLife titled

"Save lives and protect the planet –

impact innovation in action". There

will be plenty of other hard-hitting

discussions taking place throughout

the day, including an overview of

fighting the plastic problem featuring

Christian Rühlmann, CEO of Precycle.

There will also be start-up pitches

and the announcement of the winner

of the day at 5:10pm.

One of the best ways to explore the

latest innovations and technologies

is simply to walk through our

exhibition halls which have been

conveniently divided into nine areas

including Household Appliances,

Home & Entertainment, Audio,

Communications, Imaging, IFA NEXT,

Fitness & Digital Health, Computing

& Gaming and last but certainly not

least, Global Markets - open since

yesterday in Hall 9. With an average

of 20+ countries participating at

IFA Global Markets, it has become

Europe's largest B2B sourcing

marketplace, where our trade visitors

of all backgrounds can develop

new relationships and meet with

established partners.

Our visitors are also invited to take

part in the International Conference

of Consumer Technology in Berlin

("ICCE-Berlin"), a conference which

invites researchers and engineers

from industry, research centres, and

academia to exchange information

and results of recent work on

systems, circuits, technologies,

processes, and applications. There

will be a panel discussion taking

place at 2pm on technology trends

2022 - transforming the now.

Also, if you have some down time,

why not make your way over to

the Sommergarten? There, IFA's

extensive entertainment offering

will be in full swing, with the Markus

Ehrlich Jazz Trio and IFA Oktoberfest

2022 taking place between 11am and

7pm.

IFA International is a CLEVERDIS Publication

439 Route de la Seds, 13127 Vitrolles, France

• Tel: + 33 442 77 46 00 • SAS capitalised at €155,750 • VAT FR 95413604471

• RCS Salon de Provence 413 604 471 • info@cleverdis.com • www.cleverdis.com

During IFA: Hall 6.3/201 - news.ifa-berlin.com

President & Publisher: Jean-François Pieri • Senior Project Managers: Bettina Badon •

Account Managers: Benjamin Klene, Philipp Schiberna, Veronika Verzhak • Event Manager: Zineb Elhabiri

• Head of Editorial Team: Emiliana Van Der Eng • Senior Editor: Thomas Campbell • Editors: Luc Citrinot, Neil Cole,

Francesca Seden, Laura Sharman, Reuben Tasker • Art Director: Hélène Beunat

• Design & Page Setting, Webmaster: Guillaume Vinrich • Photographer: Stéphane Lelarge.

With the participation of: Sara Hirache

>>> To contact them: first name.last name@cleverdis.com • Cover: © Miele Group

Printing: Möller Druck und Verlag GmbH, Ahrensfelde OT Blumberg, Germany

© CLEVERDIS 2022 - Registration of Copyright August 2022. Information presented in this publication is purely indicative in order to

illustrate subjects contained therein. No guarantee can be given as to the accuracy of data or content at time of printing and thus

the latter should not be used for professional or commercial ends. While all efforts have been made as to accuracy and pertinence

of content and data contained in this publication, CLEVERDIS may in no case be held responsible for the consequences, whatever

their nature may be, that may result from the interpretation of this data or content, or any eventual errors therein. Any reproduction

of the content of this publication, even partial, by any means whatsoever, is strictly prohibited without the prior autorisation of the

publisher. Any copy, whether by photography, photography film, magnetic tape, disc or other means constitutes a forgery, liable to

punishment under French law according to the legislation of 11 th March 1957 covering copyright. All brands cited in this publication are

registered trade marks and/or belong to companies which are their respective proprietors. The publishers and editorial staff decline

all responsibility as to opinions formulated in this publication by those interviewed or cited therein. Their opinions are entirely their

own, and are included with the understanding that they contain, to our knowledge, no malicious intent. The inclusion of all texts,

photographs and other documents supplied by those included in this publication imply the acceptance by their authors of their free

publication therein. Documents and photographs will not be returned. It should be understood that this publication contains forwardlooking

statements that involve risks, uncertainties and assumptions. All statements other than statements of historical fact are

statements that could be deemed forward-looking statements. Risks, uncertainties and assumptions include assumptions relating to

the timing of the recorded date. If any of these risks or uncertainties materialises or any of these assumptions proves incorrect, actual

results could differ materially from the expectations outlined in these statements. Cleverdis assumes no obligation and does not

intend to update these forward-looking statements during the period of publication. Photo Credits and Copyright: All Rights Reserved.

IFA INTERNATIONAL • MONDAY 5 TH SEPTEMBER 2022 3
---
Last year the Kaiser brand celebrated its 25 th anniversary, and for all these

years the guiding principle for us has been to offer our customers only the best

quality, the most advanced technology and the most organic design.

We have the right appliance for every taste -

whether you're a fan of modern design and

futuristic chic or timeless classic and retro style,

you'll find something to suit all tastes: from

ultra-stylish induction hobs to spacious sideby-side

refrigerators and ovens with all kinds

of modes to microwaves with a huge variety of

functions and powerful cooker hoods. All our

appliances are easy to use and clean and they

cover every need for everyday household tasks,

which will undoubtedly only give you a pleasant

experience.

Meet us

Hall 5.1 / Stand 104a
---
I NEWS I

Taiwan Excellence

pavilion is bursting

with awardwinning

inventions

IFA attendees were invited to sip bubble tea and be inspired

by speakers at the Taiwan Excellence press conference in

Berlin on Friday.

Opening the event, Taiwan's

representative in Germany Professor

Jhy-Wey Shieh said: "After two years

impacted by Covid, we are here again.

People from all over the world are

making this one trip together and we are

thrilled to be here too." Spelling the name

Taiwan letter by letter, he added, "this

means travelling around - it's wonderful

and necessary."

Introducing the talent in the room, Prof

Shieh said: "For the Taiwanese people,

being born into a country isolated by

ocean, it is especially important to get in

contact with the world outside and that

is one of the reasons why so many really,

really wonderful Taiwanese Excellence

presenters are here and they want to

share things with you. It is really amazing

- our companies, our people - how

creative and innovative they can be."

MEET THE INNOVATORS

ON STAGE

• IPEVO presented the TOTEM NX-

120A camera system for online teaching

that combines the functions of a

document camera and a webcam. Users

can quickly and easily choose between

portrait and demonstration mode thanks

to its two built-in lenses.

• ACERPURE demonstrated how the

AcerPure Pro P2 ensures good air

circulation in rooms of up to 45sqm. The

built-in 4-in-1 HEPA filter also filters 99%

of all bacteria, 99.97% of fine dust and

allergens from indoor air.

• IBLE showcased the Arivida E1, an

air purifier which can be worn like a

necklace with built-in headphones.

The device reduces allergens, pollen,

bacteria and viruses like Covid-19.

PAPERSHOOT invites you to try its

Jadeite Cabbage digital camera showing

that Taiwan can do things differently.

The company focuses on essential

functions and ease of use putting the

magic back into spontaneous, everyday

photography•

Hall 25 / Stand 102

6 IFA INTERNATIONAL • MONDAY 5 TH SEPTEMBER 2022

news.ifa-berlin.com
---
I NEWS I

ADVERTORIAL

Five top sourcing trends in

consumer electronics

Alibaba.com reveals the latest digital tools and trends designed

to help SMEs enhance their competitiveness at IFA 2022

The world-leading B2B sourcing platform is back at this year's

IFA to share some exciting insights.

In times of economic challenges and

supply chain disruption, Alibaba.

com aims to bring the most seamless

digital sourcing experience to German

business buyers to boost their

competitiveness. At IFA 2022, the

company has revealed five sourcing

trends in consumer electronics:

1. FROM STAY-AT-HOME TO

THE GREAT OUTDOORS

Alibaba.com has seen a surge in outdoor

product sales as life begins to return

to normal. Among the most popular

items are outdoor speakers, waterproof

earphones and sports and recreation

products including portable projectors.

2. THE RISE OF IMMERSIVE

GAMING

Demand is rapidly increasing for gaming

accessories that enable immersive

experiences amid surging interest in the

metaverse. VR gaming consoles, AR/VR

headsets, and AR glasses are just a few

of the many tech products witnessing

significant growth on Alibaba.com.

3. SMARTER HOMES WITH

THE INTERNET OF THINGS

(IOT)

With the support of IoT technologies,

the smart home category continues to

boom with products becoming smarter,

easier to use, and more secure. Some

key features popular on Alibaba.com

include wireless charging products,

portable designs, as well as intelligent

control systems.

4. IMPROVED WELLBEING

As consumers look to technology to

promote healthier living, improved wellbeing

is set to be a huge B2B growth

category over the coming years. Health

monitoring smartwatches and bracelets

that include heart rate and blood oxygen

indicators remain particularly popular

on Alibaba.com.

5. SUSTAINABLE AND

GREEN ELECTRONICS

Sustainability has joined the traditional

market drivers of safety, performance,

and price as the key considerations

among buyers in the consumer

electronics industry. Therefore, Alibaba.

com continues to attract competitive

suppliers specialised in recycled

products and refurbished components.

TO DEFY SUPPLY

CHAIN DISRUPTION,

"SUPER SEPTEMBER"

OFFERS ACCESS TO

UP TO TEN MILLION

READY-TO-SHIP

PRODUCTS WITH

GUARANTEED ON-

TIME DELIVERY.

To help SMEs defy supply chain

disruptions, four million consumer

electronics products on Alibaba.com are

covered with on-time Delivery Guarantee

for German business buyers. The B2B

sourcing platform also offers Trade

Assurance which protects online orders

paid through the platform, to make firsttime

buyers worry less. Besides that,

Alibaba.com has also launched Super

September, its largest B2B sales event

of the year, brought to German SMEs to

help digitise their supply chain and stay

competitive.

SUPER SEPTEMBER

Alibaba's largest B2B sales event of the

year is here, geared towards helping

buyers access the best prices. The

annual event is brought to German

SMEs to help digitise their supply chain

and stay competitive. It also allows

them to accomplish global sourcing

from anywhere with peace of mind.

To defy supply chain disruption, Super

September offers access to up to ten

million ready-to-ship products with

guaranteed on-time delivery. To bring

down costs, it offers three million

products at their lowest price in the

last 90 days. To help discover trending

products and capable suppliers,

it enables search for products by

uploading a picture. It also offers access

to 30,000 manufacturers offering highlycustomisable

products powered by a

specific "search for suppliers" tab

Hall 22 / Stand 108

IFA INTERNATIONAL • MONDAY 5 TH SEPTEMBER 2022 7
---
I NEWS I

Huawei committed to Europe with

focus on health and fitness

The world's best selfie camera, 'knuckle knock' touchpads and a new Strava

partnership are among Huawei's trailblazing highlights at IFA 2022

The brand's commitment to innovation and technology leadership

was said to be "burning as bright as ever" as its president for

Western Europe William Tian took to the IFA Berlin stage for

Saturday's keynote speech.

An eager audience heard how the tech giant currently ranks

second in the world for R&D investments - behind Google's parent

company Alphabet - with a large amount allocated to Huawei

Health.

"Fitness and health is one of Huawei's

most focused categories right now,"

Mr Tian said. "We have been putting a

lot of resources into this area. This has

led us to global number two sales of

the world which means more than 100

million units of shipment last year and

we have more than 350 million active

users of Huawei Health."

He continued: "How have we achieved

such success for the past few years?

Because, we put a lot of R&D into it.

One example - more than 80 research

institutes globally are now working

with Huawei to deliver this personal

technology. Another example: Huawei

last year built a health and fitness lab at

our headquarters to pioneer this latest

technology. What are they doing right

now? They are exploring new frontiers."

Giving a sneak peak into the

laboratory's current research projects,

Mr Tian said Huawei is investigating

the possibility of measuring blood

sugar levels and monitoring health at

high altitude with its wearable devices.

The latest superstar product to emerge

from its efforts is the Watch D - a

classic sports watch that measures

steps, has 78 workouts and can even

measure blood pressure accurately.

This is thanks to its mini pump and

airbag technology which work hand in

hand with a sensor and AI.

Other areas of innovation fall into the

smartphone category, with Mr Tian

introducing the nova 10 series with

"the world's best front camera phone"

boasting 60 megapixels.

The company's new partnership

with Strava was also announced at

IFA 2022, meaning the GPS cycling

and running app will be integrated

with Huawei's wearable devices.

Furthermore, the MateBook X Pro was

unveiled with its interesting 'knuckle

knock' touchpad which enables users

to take screenshots by knocking twice

on its surface.

Mr Tian concluded by underlining

Huawei's continued commitment and

investments in Europe. "We are still

innovating, we are still bringing many

new technologies and products to

millions of loyal customers," he added

Hall 6.2a / Stand 101

Huawei President for western Europe William Tian being interviewed by Ben

Wood, chief analyst of CCS Insight, at a keynote speech at IFA 2022 on Saturday

8 IFA INTERNATIONAL • MONDAY 5 TH SEPTEMBER 2022

news.ifa-berlin.com
---
I NEWS I

Honor embraces connected future, unveiling

three new products and "Magic" OS

Three new devices, a new operating system and forward-thinking innovations

in virtual and augmented reality were featured in Honor's hybrid showcase

Honor CEO George Zhao and Tony Ran, president of

Honor Europe, unveiled three new devices, and shared the

company's vision for a new era of connectivity during his

Keynote speech at IFA Berlin on Friday.

Mr. Zhao offered an exclusive

preview of Honor's upcoming smart

collaboration operating system,

MagicOS 7.0. The OS embraces open

standards, allowing users to enjoy

cross-platform and cross-device

experiences. MagicOS 7.0 is based

on Android, PC and IoT (internet of

things) operating systems. Devices

that run on different OS can therefore

connect to Magic at a system level.

"MagicOS 7.0 is the perfect showcase

of our commitment to openness and

collaboration," explained the CEO.

He continued by saying: "It is

designed to work with all kinds of

different devices across all uses and

scenarios. Open platforms make

it possible for us to develop these

connected experiences."

In an informative demonstration,

Mr. Zhao showcased the unique

functionality of the company's

operating system.

He described the system saying:

"Imagine working on a presentation

on your PC, you can use your mouse

to drag photos on your smartphone

and add them directly to the slides

on your PC… the video in your laptop

can also be transferred to your tablet

with simple drag and drop. You

can drag your smartphone's emails

across the screens through the PC

and add those to your tablet."

The thinking behind this unique OS

was spelt out in black and white: no

boundary between devices. "It's really

cool," was the CEO's verdict

GOOD THINGS COME

IN THREES

Taking the stage (in-person) after

Mr. Zhao's virtual keynote was Tony

Ran, president of Honor Europe. Mr.

Ran was proud to unveil three new

devices.

First up was the Honor 70, the latest

addition to the company's high-end N

Series smartphone line-up, described

as Mr. Ran as "still the most popular

series in the Honor portfolio."

The phone features two circular

camera modules that host a triple

camera system. An IMX800 sensor

has a 54 megapixel resolution, with

hardware that guarantees "stunning,

high-definition images".

The next device that was unveiled

was the Magicbook 14, dubbed

by Honor as a "mobile productivity

powerhouse." The device features

OS Turbo, with upgrades in battery

life and a reported 20.8% increase

in power efficiency when compared

to the previous model. Powered

by a 12th Gen Intel Core 12500H

processor, and featuring a 75W

battery, the MagicBook 14 promises

to be a connected crowd-pleaser

upon release.

Lastly, in the new Honor lineup

was the Honor Pad 8, featuring

an immersive 12-inch 2K FullView

display with a screen-to-body ratio

of 87%. "It really offers the best-inclass

display, especially for media

and entertainment," noted Honor's

president of Europe. At just 520

grams, it is a lightweight device

that features eight stereo speakers,

offering what Mr. Ran described as

"an immersive audio experience

The gateway of

the future: Honor's

investment in virtual

and augmented reality

Later in the presentation, Ran

showcased the company's new

expansions into the world of virtual

and augmented reality, especially as a

means to enrich cultural heritage.

"Now, I know we are here in Berlin,

but let's take a moment to turn our

attention to Hamburg," Mr. Ran said.

As part of the company's partnership

with the game development company

Arloopa, Honor asked artists Yunuene

and Timo Helgert to reimagine

Hamburg's iconic Wasserschloss

building located in Speicherstadt, a

UNESCO World Heritage Site. Users

can use the Arloopa app to view the

virtual experience.

"Technology can be used to connect

the physical and digital worlds

together, opening a new way to

understand our world," Mr. Ran

explained.

Honor also announced a Spatial Audio

solution which allows headphones to

produce 3D sound effects, "creat[ing]

the sense of immersion required

for next-generation AR and VR

experiences".

IFA INTERNATIONAL • MONDAY 5 TH SEPTEMBER 2022 9
---
I NEWS I

Arçelik CEO makes urgent call to action

"You won't like what you're going to hear," were the opening words of Arçelik

CEO, Hakan Bulgurlu, during his keynote address at IFA Berlin on Friday.

ARÇELIK'S

ROLE IN

INNOVATING

SUSTAINABLE

SOLUTIONS

The Arçelik CEO discussed

how his company is acting

sustainably and combatting

climate change, being

carbon neutral in Scope 1

and 2 emissions. Over the

past 10 years, the company

has reduced washing

machines' consumption

of energy [threefold], of

water by 20%, along with

sustainable updates to

dishwashers too. Next is

a commitment to reduce

Scope 3 emissions in the

near future.

Hakan Bulgurlu

CEO, Arçelik

For those appliances, water

usage has been reduced

to 6.9 litres. Furthermore,

half the water used in the

previous wash is saved, and

used for the next. "If you

multiply this by millions of

appliances, this makes a

real, massive difference", Mr.

Bulgurlu says.

"Basically we've attacked,

and made this a priority for

us," he continued. "We have

created the most efficient

appliances." Mr. Bulgurlu

also noted that the net zero

target for carbon emissions

by 2050 only continues to

drive innovate solutions.

Beko's SaveWater line was

cited as a key example of

innovation, saving a total

of up to 7.8 litres of water

with every cycle. "Every

cycle saves a little, and

saves a lot," was a standout

statement regarding the line

of appliances

Mr Bulgurlu called for

immediate action to combat

climate change in his keynote

presentation, saying "I don't

believe in a world where

people can get richer and the

planet poorer."

The Arçelik CEO started by delivering

a long list of cold hard facts about the

climate emergency: Europe's worst

drought in centuries, the Rhine at its

lowest level in generations and the Arctic

warming four times faster than the rest of

the world.

He noted that demand for appliances is

growing by the day, with 3.6 billion cooling

devices (air conditioners, refrigerators,

freezers) in the world. By 2050, that

number could be as much as 14 billion.

"We cannot cope with the energy demand

of 3.6 billion cooling appliances today, how

are we going to cope with 14 billion in the

future unless we change completely…?".

Mr. Bulgurlu has achieved great success

as CEO of Arçelik. The company's brands

Beko and Grundig, just reported their

most successful year in history in 2021. He

recently became the president of APPLiA

- Home Appliance Europe, a Brusselsbased

trade association that provides a

voice for the home appliance industry.

But it was not company milestones, or

individual success, that was the focus of

Mr. Bulgurlu's keynote speech, but the

ever-severe climate emergency. "The

hottest topic of the planet is the heating

planet", he said.

WE HAVE TO

GET TO A NET

ZERO FUTURE...

In 2019, before the global pandemic, Mr.

Bulgurlu climbed Mount Everest to help

raise awareness for climate change.

The world's tallest mountain is in fact

a metaphor for the emergency itself.

"Tackling climate change is one hell of a

mountain to climb," he said of his journey.

"But as my experience has taught me, even

the tallest peak is possible to overcome."

How does Mr. Bulgurlu propose we

address the climate emergency? "We

have to get to a net zero future, we have

to limit global warming to 1.5C by the end

of the century […] nothing else matters",

he says.

Energy efficiency was also mentioned

as a key method to help combat climate

change. "The cleanest fuel in the world

is the energy we don't use," was Mr.

Bulgurlu's simple statement.

He also pointed to wider solutions through

policy-making. "There's a very painful

tension between our energy consumption

goals and our environmental goals," he

said. "The only solution here is a carbon

tax, pricing that carbon into every

product that's made if we continue to

use fossil fuels." The CEO also called for

regulation of water efficiency, and strict

standards for manufacturers to produce

the most energy efficient devices possible.

Furthermore, the president of APPLiA is

actively working with global governmental

bodies to define standards on a global

level

10 IFA INTERNATIONAL • MONDAY 5 TH SEPTEMBER 2022

news.ifa-berlin.com
---
I NEWS I

Autonomous driving requires

cars to learn autonomously

SHIFT Mobility recognises the obstacles to

driverless cars

HALL 27

Self-learning AI-eye-view

of the road using the

helm.ai technique

Since its 2018 debut at IFA Berlin (then called

SHIFT Automotive) SHIFT Mobility continues

to demonstrate, explore, explain and debate the

future of automotive and mobility technologies.

Now that electric vehicles (EVs) are an accepted

and essential presence on our roads, the next

junction for automotive and tech is autonomous

vehicles: when will cars no longer require

human drivers? This topic dominated the two

day convention.

AI is active in most modern

cars and there are several

examples of autonomous

(driverless) vehicles already

operating, for example robotaxis

in designated zones in

China and US. Speaking at the

conference on Friday, Manuel

Yoon, VP of strategy at Israeli

software company Autobrains

asserted: "The automotive

industry has invested $200bn

into autonomous vehicle

technology. But even Tesla

- the most advanced - are

not quite there yet". Yoon

suggested that the traditional

approach to building the

AI and dataset required for

safe autonomous driving,

where the car "learns" the

parameters of the road, is

not sufficient. "Manuallylabelled

data - supervised

learning, humans assigning

attributes frame-by-frame

to captured filmed data - is

time consuming, expensive

and prone to errors," he said.

"But if you build software that

allows the AI to mimic the

way humans learn, it removes

the need for the human

component." Autobrains

has a system: self-learning

AI, applying signatures to

obstacles/objects on the road,

and creating perception fields

- imitating how the human

brain works. "Driving is

intuitive. We can mimic this by

creating 'force fields' around

objects, assigning them likely

behaviours based on previous

learning," Yoon added.

The need to adopt

unsupervised learning was

a common theme. Toby

Wessels, chief development

officer of Silicon Valley startup

helm.ai, said "Historically,

using the traditional method

of supervised learning has

been a challenge.

It can cost a company $5bn

and they try to start at L4

[fully autonomous] which is

like turning up at the Olympics

having never trained for the

sport. To achieve autonomy

you need three things - the

tech, the data and money.

Some big companies are not

willing to pay - it's too complex

and expensive. We work with

OEMs: we license the product

to them, with arbitrary input

data to teach a system using

existing video, and inform AI's

neural nets.

At this rate, we should have

autonomous driving vehicles

by mid-decade, maybe sooner

for inner-city driving and

fixed repeatable routes - like

warehouse to supermarket"

GREATER AUTONOMY

LEADS TO GREATER SUSTAINABILITY

On the topic dominating IFA 2022 - sustainability - the

advantages of autonomous driving are manifold. Tobias

Wessels, chief development officer, helm.ai, told the SHIFT

Mobility conference on Friday: "With no human in the

car, there is no need for cooling or heating systems, so

the vehicle weight is reduced and less energy consumed.

Driving at slower speeds, there is less wind resistance.

Often one vehicle can operate for 24 hours, eliminating the

need for two vehicles sharing the burden if driven manually.

Just these factors can represent a 40% energy saving even

over an EV," Wessels said

IFA INTERNATIONAL • MONDAY 5 TH SEPTEMBER 2022 11
---
I NEWS I

ADVERTORIAL

Laifen: one of the fastest

growing hair dryer brands

Over a million units sold globally in one year

The company's high-speed hair

dryers, with an air speed of 22m/s,

are able to dry hair in the blink

of an eye, while avoiding any

damage from overheating thanks

to its active temperature control.

Additionally, the hair dryers' 200

million/m3 negative ion generator

keeps hair smooth and frizz free.

All of these innovative features

have been housed in a modern

and stylish system, which makes

very little noise - only 59dB, and

is very easy to transport, weighing

just 407 grams.

The high-speed hair dryer's

sensor will automatically adjust its

temperature 100 times per second,

for an optimal drying experience

without overheating. It uses the

company's patented 110,000 rpm

three phase high-speed brushless

motor, as well as the smart digital

air nozzle temperature control.

This innovative motor improves

performance by around 20%

compared to traditional motors. It

was developed to enhance many

easily-ignored technical details,

the company says. The dryer's

motor blades have been made

with aviation grade aluminum,

5-axle CNC carving craft, offering

processing precision at 0.001 mm.

But it's not all about efficiency and

speed. Laifen has also designed its

high speed hair dryer to stand the

test of time, with a lifespan of up to

1,000 hours. Counting 10 minutes

use a day, the device could last for

up to 16 years.

Visitors can see Laifen's latest

high speed dryers in action at their

stand 106, Hall 8.1

Hall 8.1 / Stand 106

12 IFA INTERNATIONAL • MONDAY 5 TH SEPTEMBER 2022

news.ifa-berlin.com
---
I NEWS I

Schneider Electric aims for

progress and sustainability for all

In the fifth and final keynote of IFA 2022, Schneider Electric -

global leader in industrial automation and energy management

- offered an insightful hybrid presentation. Gwenaelle Avice-

Huet, chief strategy and sustainability officer, and Bidisha

Nagaraj, VP of global marketing, appeared digitally and inperson

respectively.

Bidisha Nagaraj asked Gwenaelle

Avice-Huet three questions. The

first centred on Schneider Electric's

sustainable practices. Ms Avice-

Huet pointed to integrated software,

hardware solutions and services

embedded all together. The chief

strategy and sustainability officer also

stressed the company's commitment

to a net zero future, halving the carbon

emissions of suppliers being one goal.

"When do you believe we are on

the right track towards net zero?"

was the second question put to Ms

Avice-Huet. "For me net zero is not a

matter of destination, it's a journey to

combat global warming," was the reply,

describing how the company intends

to accelerate the electrification and

digitisation of transport, industries at

large and buildings, focusing on new

buildings while not forgetting retrofit

and renovation opportunities. The

smart home in particular was identified

as a key solution for combatting

the CO2 emissions emitted by the

residential sector.

"It's the home of the future we're

innovating for, with smart home energy

management at its heart. We want to

give everyone access to a sustainable

future and continue to decarbonise our

planet," said Ms Avice-Huet.

Finally, Ms Nagaraj asked her colleague

about what "home" means to her.

"Home for me is where my family lives,

where your family lives," said Ms Avice-

Huet. "It should be a place where you

can feel safe and comfortable in, and

that includes energy too"

Hall 5.2 / Stand 123

IFA Keynote Schneider

Electric Bidisha Nagaraj,

Vice President Global

Marketing Schneider

Electric

IFA INTERNATIONAL • MONDAY 5 TH SEPTEMBER 2022 13
---
IFA INTERNATIONAL • MONDAY 5 TH SEPTEMBER 2022 15
---
I TRADE TALK I

Société Française

de Garantie (SFG)

takes on repairs

for major brands

Repair and not replace:

outlining the strategy

of Wertgarantie

Patrick Döring is the chairman of the board of

directors at Wertgarantie. With over 3,000 retail

partners in Germany, the specialist insurance

company arrives at IFA 2022 to meet old friends and

make new ones too.

What brings you, and

Wertgarantie, to IFA this year?

We are here as a strong partner

of all our associates in the retail

business. We have a longstanding

collaboration with

electronic cooperative Euronics,

and have more than 3,000 retail

partners in Germany.

You are seeing your family, in

a way…

Exactly.

HERE AT

IFA, IT'S EASY

TO MEET A

LOT OF OUR

PARTNERS,

BUT ALSO TO

IDENTIFY

NEW ONES

good risk-taker for this external

warranty business. If the risktaker

is the parent company, it's

easier to create smart and good

products for our retail partners in

this sector.

Back to IFA. How important is

this event for the industry?

It's very important. Insurers like

us need to see what the industry

is producing and selling to the

people. Business is all humandriven,

what we are doing here is

relationship management. Here

at IFA, it's easy to meet a lot of

our partners, but also to identify

new ones, discussing with them

which business opportunities

there are in the future

Frédéric Brizard, General Manager of

Société Française de Garantie (SFG),

the French subsidiary of Wertgarantie,

explains the company's decision to

internalise reparations earlier this

year.

Mr Brizard explains: "The goal is to develop a B2B

strategy in close partnership with Wertgarantie

across the entire value chain, from the client,

product and the distribution for the French, Belgian

and Luxembourg markets. In the short term, we

are aiming to sell more than a million policies

on the French market and position ourselves as

one of the main providers. In addition, we are

looking to develop innovative insurance policies to

compliment the sale of finished products from our

partner brands, manufacturers and distributors.

How would you explain your

company's strategy?

In the last few years, we have

been investing a lot to repair

and not replace. What we see

here especially is the increasing

importance of high quality

products, more expensive, but

repairable home appliances

and white goods. I believe for

a lot of people, a day without a

dishwasher is nearly as painful

as a day without a mobile phone.

Tell us about how Wertgarantie

is supporting its French

subsidiary, SFG.

The acquisition of Société

Française de Garantie in 2014 was

a strategic investment to jump

into the French and the Belgian

markets. As a strong national

insurance brand, we believe that

it's good if companies like SFG,

which sell external warranty to

their partners, have access to a

With the creation of SFG Services and hiring of

150 technicians who specialise in repairing white

and brown goods, we have been able to manage

the entire value chain since december 2021. Today,

we are a designer of warranties, a customer

relationship manager, and an approved repairer

for the biggest brands. Since the beginning, our

strategy at SFG has been to repair all household

products. But with the support of Wertgarantie,

we will further strengthen our reparability strategy

and reinforce our position as a major player in the

field of repair and service solution offered to the

consumer via SFG Services

IFA INTERNATIONAL • MONDAY 5 TH SEPTEMBER 2022 17
---
I EXCLUSIVE INTERVIEW I

Dr Reinhard Zinkann

Executive Director and co-proprietor,

Miele Group

"All the more

important

to discuss

deglobalisation"

Miele Group's executive director and

co-proprietor Dr Reinhard Zinkann

is speaking at today's IFA+ Summit

alongside the economist and former

Greek finance minister Professor Dr

Yanis Varoufakis and the German

philosopher Peter Sloterdijk

Under the motto the 'next

level of thinking' he will

join numerous outstanding

guest speakers and panel

discussion members from

politics, industry and science

at this year's IFA+ Summit

to explore the topic of

deglobalisation.

Ahead of the highly anticipated event,

Dr Zinkann shared some of his views

on the topic with the IFA International

daily.

At this year's IFA+ Summit, the main

topic is deglobalisation. How is this

reshaping the consumer electronics

and home appliances industry?

The global industry has long benefitted

greatly from globalised production,

supply and sales structures. In recent

years, however, we have also seen very

clearly the risks that go hand in hand

with this. On balance, I do not believe

that globalisation will come to an end,

but I do believe that the strong focus

on costs that has underpinned it to

date will tend to diminish in the future.

At the same time, protection against

18 IFA INTERNATIONAL • MONDAY 5 TH SEPTEMBER 2022

news.ifa-berlin.com
---
I EXCLUSIVE INTERVIEW I

5 september 2022

Start - End Slot Title Who?

IN THE FACE OF DISRUPTION De/Globalization

The Universal Remedy?

Start - End Slot Title Who?

09:30 a.m. - 09:40 a.m. Opening Geraldine de Bastion (Host)

Daniel Anibal Bröckerhoff (Host)

09:40 a.m. - 10:15 a.m. IN THE FACE OF DISRUPTION Peter Sloterdijk - Philosopher

De/Globalization – The Universal Remedy?

10:15 a.m. - 10:30 a.m. DEGLOBALIZATION - CHANCE OR RISK? Prof Dr Ronny Alexander Fürst

Tensions between Economy, Sustainability AKAD University

& Political Interests

10:30 a.m. - 10:45 a.m. THE WAY BACK HOME? Dr Sara Warneke

International Consumer Study on

gfu Consumer & Home Electronics

Globalization in Consumer & Home Electronics Dr Martin Schulte - Oliver Wyman

10:45 a.m. - 11:30 a.m. IS THERE A RIGHT OR WRONG? Dr Mauricio Vargas - Greenpeace

Pro & Con Voices on De/Globalization

Kristina Bonitz - diffferent, Strategy

Consulting

Melanie Vogelbach - DIHK

Prof Marcel Fratzscher, Ph.D. - DIW Berlin

11:30 a.m. - 12:00 p.m. Coffee Break

12:00 p.m. - 12:25 p.m. DEEP DIVE SUPPLY CHAINS Prof Dr Lisandra Flach - ifo Institute

Thoughts on Reshoring

12:25 p.m. - 12:45 p.m. DEEP DIVE SUSTAINABILITY Jule Bosch - Innovation Expert & Founder

Will Deglobalization Save the Environment?

12:45 p.m. - 1:15 p.m. CONCLUSION: We Need a Globalization 4.0 Jürgen Trittin - Member of the German

New Ideas for a Connected World

Parliament, Bündnis 90 / Die Grünen

1:15 p.m. - 2:00 p.m. Lunch Break

2:00 p.m. - 2:30 p.m. CASE STUDY 1: MIELE Dr Reinhard Zinkann - Miele

Foresight & Response to Current Challenges

2:30 p.m. - 3:00 p.m. CASE STUDY 2: SEVERIN Joyce Gesing - SEVERIN

Resiliency and Transformation

in the Face of Deglobalization

3:00 p.m. - 4:30 p.m. ACTION PLAN diffferent

A Hands-On Exercise on How to Deal

Strategy Consulting

with Deglobalization in your Day-to-Day Business

4:30 p.m. - 5:20 p.m. LET'S FACE IT! Prof Dr Yanis Varoufakis - Economist,

A Call to Action on Globalization 4.0

Former Minister of Finance Greece

5:20 p.m. - 5:30 p.m. WRAP-UP Geraldine de Bastion (Host)

Daniel Anibal Bröckerhoff (Host)

geopolitical risks is likely to gain in

importance; keyword: friend-shoring.

What are the risks of deglobalisation?

The unbundling of global supply

chains is by nature a very lengthy,

laborious and costly process with an

often uncertain outcome. In addition,

there are of course limits, for example

with regard to the availability of raw

materials.

EVERY NEW

BEGINNING ALSO

BRINGS

OPPORTUNITIES,

ESPECIALLY IF

SHORTER

DISTANCES CAN

REDUCE

COMPLEXITY,

LOGISTICS

COSTS AND CO 2

.

What is Miele as a German

manufacturer doing to tackle these

challenges?

Prudent industrial companies review

not only their own production network,

but also their supplier network, and

in many cases right down to the raw

materials. At Miele, we do this with

great care and a sense of proportion,

especially with regard to ensuring

availability and quality, distances,

infrastructure, logistics and, of course,

costs.

So will deglobalisation bring some

opportunities?

Every new beginning also brings

opportunities, especially if shorter

distances can reduce complexity,

logistics costs and CO2. This also

offers opportunities for production in

high-wage countries like Germany.

How important is it for industry

leaders to work together and discuss

these topics at IFA 2022?

This is very welcome, if only because

the topic is also being widely

discussed in public - and the basic

idea does not sound unreasonable

when viewed superficially. This makes

it all the more important to discuss

deglobalization in all its facets and

with the necessary depth. The IFA+

Summit with its different perspectives

makes a valuable contribution to this

IFA+ SUMMIT: WHAT KIND

OF GLOBAL TRADE IS GOOD

FOR OUR ECONOMIES AND

DEMOCRACY?

Under the motto the next level of

thinking, numerous outstanding

guest speakers and panel discussion

members from politics, industry and

science will gather at this year's the

IFA+ Summit, starting at 9.30am today,

to explore the topic of deglobalisation.

Among the most prominent figures will

be Prof. Dr. Yanis Varoufakis (economist

and former Greek finance minister),

the German philosopher Peter

Sloterdijk, Jürgen Trittin, member

of the German Bundestag and

former minister of the environment,

and Prof Marcel Fratzscher,

Ph.D., president of DIW Berlin.

After the first lectures Dr Sara Warneke,

managing director of gfu Consumer

& Home Electronics GmbH, and Dr

Martin Schulte, Global Sector leader

at the consultancy Oliver Wyman, will

present a joint international study that

examines the outlook for consumers

under the impact of globalisation.

A panel discussion will then

debate the 'pros and cons of

globalisation'. Taking part will be Prof

Marcel Fratzscher Ph.D., Melanie

Vogelbach (International Economic

Policy and Foreign Trade Law at

DIHK), Kristina Bonitz (CEO, diffferent),

and Dr Mauricio Vargas (economist

and financial expert, Greenpeace).

Also speaking will be Prof Dr Lisandra

Flach, director of the ifo Center for

International Economics, Prof Dr

Ronny Alexander Fürst, chancellor

of the private AKAD University

in Stuttgart, and Jule Bosch,

Innovation Expert and Founder.

In the afternoon, visitors to the IFA+

Summit will be able to attend a brief

workshop by the strategy agency

diffferent, where they can talk over

scenarios and possible action and

solution strategies

IFA INTERNATIONAL • MONDAY 5 TH SEPTEMBER 2022 19
---
I SPECIAL FEATURE I HOME & ENTERTAINEMENT I

A buyer's guide to Smart Home

among the EU7 countries

Smart Home automation and major appliances

continue to grow, according to GfK research

The market penetration of smart

products is rising steadily, although

smart portfolios overall are not yet

mass market in most countries and

categories. Smart products play

directly into three of the overarching

themes that are driving consumer

purchase decisions in the long-term:

performance, simplification and

premiumisation.

From January to June this year, sales

of smart products recorded $13.6

billion (USD) for the seven major

European markets. This is actually

7.2% lower than the same period in

2021, or 3.7% lower if we exclude

smart TVs. Home entertainment and

office is still the biggest category in

terms of share, accounting for 58.2%

of the overall smart market value,

mainly due to smart TVs.

However, the home automation

and major domestic appliances

categories saw the best year-todate

growth in the first six months

of 2022, standing at plus 9.9% and

plus 2.1% respectively. Smart small

domestic appliances and health

categories witnessed a decline of

5.8% compared to the high baselines

of the previous year.

Among the EU7 countries, Germany

and UK are the biggest markets for

Smart Home demand. Smart Home

categories grew by 3.3% in Germany

and recorded a minuscule decline

in UK, far below the average. Within

the smart portfolio, smart voice

control capabilities in the home

entertainment and major domestic

categories are growing faster than

the average market. Within the small

domestic appliances and health and

home automation categories, appbased

control capabilities are the

core for growth.

Having a tangible benefit and

communicating it widely is

crucial to increase the adoption

of smart portfolios, the research

demonstrates. In some categories

to which the above applies, the

share of smart products is already

significantly high, for example: robot

vacuum cleaners or TVs. In certain

other categories, mass adoption is

yet to be achieved

Source: GfK Market Intelligence: Sales Tracking, EU7

coverage, USD Value & growth 2022 vs 2021,

GfK Market Intelligence Smart Home TCG Report Countries:

DE, IT, GB, ES, NL, BE, FR

TCG Conference Deck Q2 2022 – Global Strategic Insights

From January to June this year, sales of

smart products recorded $13.6 billion

(USD) for the seven major European

markets

Share of home entertainment and office of

the overall smart market value

Interested in more insights, powered by gfknewron? Click here

Home automation year-to-date growth in

the first six months of 2022

20 IFA INTERNATIONAL • MONDAY 5 TH SEPTEMBER 2022

news.ifa-berlin.com
---
I AUDIO / HOME LIFESTYLE I SPECIAL FEATURE I

ADVERTORIAL

TAURUS MYCOOK NEXT,

the future of kitchen robot

machines

PurrSong makes

connected devices for a

happy, healthy cat

Every aspect of a cat's life can be

lovingly monitored and improved with

the range of products being presented

by PurrSong at IFA 2022. The self-titled

"most sophisticated cat IoT company"

PurrSong's connected devices even

have a healthcare benefit via the app

and new service AI.Doolittle. Smart

litter boxes, including the self-cleaning

LavvieBot S and the air-purifying

LavvieBox, innovative water dispenser

LavvieWater, and a smartwatch-collar

called LavvieTAG provide a complete,

connected petcare solution

Hall 4.2 / Stand 402

KEY SELLING POINTS

Litter boxes engineered to minimise

germs and odours

Fully IoT-integrated appliance range

Cat health monitored and controlled

via PurrSong app

Taurus, the Spanish leading company

in home appliances, is presenting its

latest IoT generation kitchen machine,

Mycook NEXT.

Designed and manufactured in

Barcelona, it comes with cutting-edge

technology, Wi-fi connection, 10" digital

touch screen, patented induction

cooking system, free access to Club

Mycook international community

and its growing online recipe book,

shopping list and voice connection to

Alexa and Google Assistant. Mycook

Next aims to be the future of cooking

Hall 6.1 / Stand 110

KEY SELLING POINTS

New design 10" touch screen, the

largest of the market

Upgraded interface Mycook APP for

a greater user experience

More than 30 cooking functions for a

easier cooking

ADVERTORIAL

TOZO

X1 sound

unit is the ideal combination

of a 12mm bass mid-range

dynamic speaker and a

balanced armature driver.

The tweeter uses a customized multiway

armature unit made by Knowles

Electronics, a leading American acoustic

component company founded in 1946.

Additionally, Knowles Sound Solutions is

a leading global manufacturer of moving

coil speakers and receivers for cell

phones and other consumer electronics.

TOZO X1 sound

unit reaches

golden

frequency

Thanks to the exclusive OrigX sound

technology developed by TOZO's

acoustic experts, TOZO X1 device

achieves the golden frequency response

curve in line with the characteristics of

the human ear canal with an original

lossless sound effect

Hall 9 / Stand 600

KEY SELLING POINTS

12mm diameter dynamic speaker with

polymer composite film materials.

Dynamic drivers and balanced

armature drivers with crossover

support

LDAC HD audio-decoding technology

authorised by Sony

Duomondi celebrates

sound and light with

Spero launch

The Art of Sound. This is what

Duomondi invites visitors to

experience at Stand 226,

Hall 1.2, IFA 2022.

Combining the best

of Italian design

with precision

engineering, the

company brings a

new dimension to

music with speakers

that emit lighting

effects for a multi-sensory

experience. The new Spero range

combines art, lighting and

technology to produce

stunning, high quality

audio solutions. Available

in three iterations – the flagship Spero

24, the portable Spero 16, and the

compact Spero 10 – these Bluetooth

loudspeakers are intended to

enhance any space both

aurally and visually

KEY SELLING

POINTS

True wireless stereo

pairing

Innovative lighting

effects with

different modes for

different moods

Available for both

Android and IOS

Hall 1.2 / Stand 226

IFA INTERNATIONAL • MONDAY 5 TH SEPTEMBER 2022 21
---
I SPECIAL FEATURE I HOME & ENTERTAINMENT I

ADVERTORIAL

The Reseller Park,

where SmartHomes and

Green Tech meet

Visitors can explore the latest green green tech and smart

home innovations at The Reseller Park in Hall 25

The bustling Reseller Park has brought together a wide range of

companies showcasing their latest innovations and solutions.

Here the benefits of smarter living are on

full display, with products ranging from

solar powered balcony power generators

to video surveillance cameras. In many

cases, an intelligent SmartHome system

is also a green tech solution, because

it generally leads to a CO2 reduction

of between 15 and 30%, explains Jan

Nintemann, Head of Global Affairs TT-

Messe.

One of the biggest smart home

exhibitors in The Reseller Park is KNX

(system integrators), the worldwide

standard for home and building control,

which combines the products of 520

companies. They are showing IFA

visitors the KNX Energy Management

System and the KNX Secure, which

effectively protects against cyber attacks.

The world's oldest (for 28 years) and

largest SmartHome and SmartBuilding

standard is marketed in 180 countries

by over 500 manufacturers - and has its

official IFA presence in the Reseller Park.

Visitors interested in experiencing the

functionality of KNX first hand can also

visit their E-House in Hall 20.

Another champion in the "SmartHome

Connectivity Area" is the German

network specialist Mediola, which is

offering a homogenous solution for

virtually any SmartHome configuration.

Consumers can use the company's Neo

App to build their own application and

control centre. The company is aiming to

help digitalise the home and accompany

commercial technology providers

through this transition.

Optimising how energy drives machines

is a central issue for SmartHome

technologies, explains Mr Nintemann.

This is because combining networks into

a smart home system helps optimise

all of the processes within the home,

from automatically switching lights off

to monitoring water consumption and

temperature.

When you have the right SmartHome

systems working to help reduce

energy consumption, you can reduce

CO2 emissions even further, adds

Mr Nintemann. A wide range of other

manufacturers have set up shop in

the Reseller Park, from solar storage

units and robots to modern kitchen

appliances.

In this regard, The Reseller Park brings

together all pieces of the smart home

puzzle so visitors can get a 360 degree

view of an energy efficient smart home

Hall 25

EPB'S PORTABLE

POWER STATIONS

ARE ON DISPLAY

AT THE RESELLER

PARK

The PEP-S1000 portable

power station can provide

AC output 1000W and

1166Wh battery capacity.

The portable power

stations are usually used

for camping, RV travelling

and home emergency using.

With a built-in inverter and

different kinds of output

ports, the portable stations

are convenient to use

anytime and anywhere. They

have also been equipped

with BMS system and are

therefore very safe.

The company has

committed itself to being a

total power solution partner

by providing research and

development as well as

manufacturing services

of portable power sation,

rechargeable battery packs

and power banks adapters

since 2012

KEY SELLING

POINTS

AC output 1000W

Battery capacity 1166.4Wh

Lithium-NMC battery,

built-in inverter

24 IFA INTERNATIONAL • MONDAY 5 TH SEPTEMBER 2022

news.ifa-berlin.com
---
I HOME & ENTERTAINMENT I SPECIAL FEATURE I

ADVERTORIAL

ADVERTORIAL

Nubert 3.1 Soundbar: built to

replace your stereo system

Smartlock from Verisure

guards the front door

The Verisure Smartlock conveniently

grants access to houses via an app even

when its residents are absent. It is also

possible to lock and unlock the front

door hands-free, or with the external

keypad, while standing in front of it.

Both are integrated into Verisure's smart

alarm system and both occupants and

specialists in the VdS-certified alarm

centre can check what is happening

at the door. Even if it is impossible to

open the door in person during a health

emergency, specialists can allow access

remotely for the emergency services

KEY SELLING POINTS

More convenience and

protection

Connected 24/7 to the alarm

centre

Immediate access for

emergency services

With the nuPro XS-8500 RC, German

audio manufacturer Nubert presents

a mighty soundbar. The 120cm wide

cabinet is braced for the best sound,

and can support TVs of up to 100kg.

The model can replace both stereos

and home theatre systems: the 3.1

soundbar plays back Dolby or DTS as a

suitable down-mix signal out of the box.

Even without an external subwoofer,

two 204mm woofer drivers ensure a

thrilling and precise bass at 32 Hertz.

For an even more authentic cinema

feeling, the soundbar can be connected

wirelessly to up to eight surrounding

speakers

Hall 1.2 / Stand 235

KEY SELLING POINTS

Playback of 3D audio formats Dolby

Atmos and DTS:X

Up to eight surround speakers and

ceiling speakers can be connected

wirelessly with X-Connect Surround

Can replace a complete stereo/home

theatre system

Hall 5.2a / Stand 108

Faster storage solutions

from HP

HP personal storage is showcasing

its latest SSD and DRAM consumer

storage lineup at IFA 2022. A HP SSD

can improve overall system operating

performance, offering impressive read

and write speeds, improved boot times,

faster application loads and longer

battery life.

On show is the new generation FX900

Pro M.2 SSD, and other award-winning

products including HP V10 DDR4

memory modules, and portable storage

devices such as the HP P700

Hall 25 / Stand 101

KEY SELLING POINTS

FX900 Pro achieves up to 7400

MB/s read speed

Independent DRAM cache and

ultra-low data delay: ideal for

gamers, professionals, and video

makers

High-performance 8-channel

Gen 4x4 controller and advanced

NVMe 1.4 protocol

Yale's smart camera

keeps an eye on

the front door

Yale continues to unlock new ways

to keep the home secure. Among

its products showing at IFA

Berlin is the Front Door Wi-Fi

Camera - Light & Siren. This

weatherproof, wall-mounted

smart camera uses both

motion and sound detection

to alert users to any presence.

The Yale View app then allows

real-time conversation with the

visitor, giving instructions on where

to leave a delivery, for example. It

can also trigger a siren as a deterrent for

intruders

Hall 5.2 / Stand 116

KEY SELLING POINTS

10m night vision

Built-in adjustable security light, 160

lumens

In-app video playback in full 1080p

HD resolution

IFA INTERNATIONAL • MONDAY 5 TH SEPTEMBER 2022 25
---
I REGIONAL SPOTLIGHT I CHINA

ADVERTORIAL

EZVIZ announces big

plans for future smart

homes

Dreame strengthens brand

presence in Europe with

vacuum-mopping robot

that "does the housework

for you"

The innovative technology company

is showcasing its innovative home

appliances at its booth in Hall 7.1a

Global smart home security brand

EZVIZ has revealed its theme

"Reliably Simple, Incredibly Smart"

for IFA 2022. Building an immersive

and fun smart home experience

centre at booth 119 in Hall 5.2, the

company is showcasing a brand

new range of products. This includes

upgraded smart home cameras with

new energy efficient and AI-powered

features. Aiming to transform people's

imagination of future smart living

into real solid products and systems,

the company are providing on-site

opportunities for visitors to get their

hands on its latest technologies.

Product launches include home

sensors, smart cleaning appliances

and network devices

Hall 5.2 / Stand 119

Dreame Technology is presenting its

new product highlights for floor care at

IFA 2022. The new L10s Ultra mopping

robot is the focus of the company's IFA

showcase this year. The robot vacuum

cleaner "does the housework for you",

making it the perfect solution for

consumers who dream of having more

time in their lives.

With its 5,300 Pascal suction, the L10s

Ultra delivers extremely high power,

meaning it can easily handle dirt and

dust. With the help of its bristle-free

rubber brush, the vacuum-mopping

robot keeps carpets clean without

leaving any residue. Even hair doesn't

stand a chance. The cleaning station

then empties the robot's dust container

automatically and fills the robot's water

tank with a cleaning solution mixture so it

can mop the floor. When the job is done,

the L10s Ultra automatically returns to

its station, where the two mop pads are

cleaned and dried.

Dreame is currently listed in Germany

with Mediamarkt, Otto, Cyberport

and the specialist retailer cooperation

Euronics (IFA Sommergarten, A30),

among others. In the first six months

of 2022, the company recorded a great

increase of growth in sales compared

with 2021. And Dreame is expecting to

grow even further.

Being at IFA 2022, the leading trade

fair for consumer electronics and home

appliances, will build Dreame's profile

both in Germany and across Europe,

the company says. The innovative

technology firm, founded in 2017, now

sells its products across more than

100 countries and regions. Its main

focus is spread across four product

categories: robotic vacuums and mops,

bagless stick vacuums, wet and dry

vacuums, and high-speed hair dryers.

Hall 7.1a / Stand 105

KEY SELLING POINTS

Easily tackles dirt and dust

Saves time by "doing the housework

for you"

Empties and refills itself via a specially

designed cleaning station

Command the sky

with Dragonfish

aircrafts from Autel

Robotics

Available in three models (Lite,

Standard and Pro), the Dragonfish

series of vertical take-off and

landing (VTOL) aircrafts are

modular, waterproof and smart too.

Manufactured by Autel Robotics, the

Dragonfish models can be quickly

assembled in just three minutes, with

a range of dependable features such

as 67Mph top speed, 158 minutes

of flight time, and a 4K camera with

50X optical zoom. The aircrafts also

support AI tracking capabilities, and

have an interchangeable camera

setup

Hall 3.2 / Stand 110

KEY SELLING POINTS

158 minutes maximum flight time

4K camera with 50X optimal zoom

Three minutes quick assembly

26 IFA INTERNATIONAL • MONDAY 5 TH SEPTEMBER 2022

news.ifa-berlin.com
---
Bubbles without

bottles: Carbon8

launches cutting-edge

sparkling water maker

The ingenious one-touch machine

pours sparkling water straight into

your glass, eliminating the use of

unnecessary PET bottles.

Carbon8's flagship product, the

Carbon8 Infinity Spring, is making

its official international debut at IFA

2022 as the first one-touch sparkling

water maker for the home. The

company is taking part in the IFA

NEXT Showcase, a hub for the latest

forward-thinking technologies and

innovative start-ups.

The brand prides itself as the most

convenient, efficient, safe and

sustainable at-home countertop

sparkling water system on sale. CEO

and founder Andreas Hansen said:

"Unlike other sparkling water makers

on the market, Carbon8 does not

require in-bottle carbonation. Simply

place your glass under the spout,

press the dispenser button to fill the

glass and release when you're ready

to drink."

Conceptualised and created out of

a love for both sparkling water and

the environment, Carbon8 provides

a sustainable at-home water

carbonation product that does not

require PET bottles or complicated

steps to add fizz. The innovative click

and sip design even allows children

to make their own carbonated drink.

Its slim appearance minimises the

amount of counter space needed,

while an ambient light at its spout

is convenient for use during dark

evenings and nights, doing away

with the need to turn on room lights.

Suitable for everyday use, it can be

placed in the kitchen, in a media room

or outdoors for easy access while

entertaining.

The Carbon8 Infinity Spring is

currently available in three colours:

silver, black and white. A UV light

automatically sanitises the water and

keeps the dispenser clean

Hall 20 / Stand 105

KEY SELLING POINTS

First countertop carbonator

to both make and dispense

sparkling water

Eco-friendly design

eradicates the need for

PET bottles

Easy to use click-andsip

technology

OneLife X

Sustainable design

and cleaner air

Based in Monchengladbach and San

Francisco, health tech startup OneLife

tasked a team of engineers, air quality

experts and design pioneers with a

mission to "innovate products to make

the world a healthier place." IFA NEXT

2022 is seeing the result, with the launch

of the OneLife X - a stylish new air

purifier which prioritises sustainability,

efficiency and design standards.

Claiming to be the "first sustainable

design air purifier with reusable filter

from Germany" the OnelIfe X is made

entirely of renewable bamboo and

recycled plastic. It filters viruses,

bacteria, dust, pollen and the smallest

particles from room air, with the aim of

putting an end to indoor air pollution

which has been a serious health

concern for years, exacerbated by the

recent pandemic-driven focus on stayat-home

living. The company claims that

the device's plasma field and precision

laser sensors "captures and effectively

eliminate 99.99% of all airborne particles

and viruses, particles as small as 0.01

microns - which is ten times smaller

than the coronavirus."

The OneLifeX air purifier runs in near

silence and consumes less power than

an LED lamp, while its discreet stylish

design helps it assimilate into the

living space. Its innovative filter can be

rinsed and washed by hand or in the

dishwasher, meaning it will never need

replacing. The appliance can work

autonomously, enabled manually or by

voice command, while the OneLife app

can also monitor pollution levels - both

indoors and outside.

Purified air has been found to increase

concentration and productivity, reduce

stress, alleviate asthma and allergies,

and can promote more restful sleep;

this last point is particularly relevant

considering the quiet running of the

OneLife X

Hall 20 / Stand 320

To learn more, don't miss out on the talk

by OneLife's CEO Christoph Burkhardt

at the IFA Innnovation engine this

morning:

Save lives and protect the

planet – impact innovation

in action

Christoph Burkhardt,

CEO and Advisor at OneLife

Date: Today: 11:00 - 11:15

Location: IFA NEXT Innovation

Engine (Hall 20)

IFA INTERNATIONAL • MONDAY 5 TH SEPTEMBER 2022 27
---
polypoly

helps people

take back

control of

data

Pininfarina premieres design

concept at IFA 2022

Synonymous with elegance and aspirational sportscars for nearly a century, Italian

design house Pininfarina has arrived at IFA Berlin to showcase its role in two new

innovative products. With over 1,200 vehicles and 600 design projects under its

belt, the company continues to disrupt the sector.

Despite having no flashy eyecatching

appliance on display in

the IFA innovation hub, polypoly

perhaps embodies the IFA NEXT

spirit more than most.

The Berlin-based start-up claims to be

"revolutionising the way data is handled" by

creating an international co-operative of

individuals and businesses, which can bypass

traditional data centres. Offering its customers

the chance to retake control of their own

private data is the starting point of this concept,

but it goes much further than that. Having

developed the technological infrastructure to

connect a Europe-wide collective of citizens,

polypoly aims to challenge the power of data

monolopists: instead of being the unwilling and

unrewarded raw materials for unsustainable

and unwieldy corporate data factories, users

can harness their own existing resources via

a virtual supercomputer which exists only in

their private connected smartphones. Not only

does this potentially remove the huge CO2

emissions burden of traditional data server

centres, but citizens can also generate their own

digital income by renting out otherwise unused

computer power at their disposal.

The ecological, economical and social

advantages are augmented by the polyVerse's

commitment to affecting legislative and tax

implications of democratising data storage. "A

data economy that's fair, transparent and green"

is the message

Hall 20 / Stand 110

Making its world debut is Akom - a concept coffee

machine for the home, promising a "sustainable system

concept that embraces production, packaging, daily

usage, servicing and end-of-life recycling."

An eye-catching home gardening experience, La

Grangette has the ambitious goal of becoming a world

leader in home farming seed pods, and resembles a

refrigerator/greenhouse hybrid.

Both are examples of how Pininfarina uses partnerships

to leverage exploratory research for product design,

employing a set of virtual, physical and digital

French motorcycle equipment

company TALI Connected has brought

a new concept in smart helmets for

motorcyclists to IFA Berlin.

The iT-C Smart Helmet has an integrated lighting system

that is connected to the bike - helping with visibility and

safety, synchronising brake and turn signals, as well as

an extra eye-level headlight. The LED lighting can also

be customised with various colour options to reflect the

rider's personality. The functional high-performance

design, carbon-fibre shell and breathable foam interior

encloses a multi-channel intercom system, which can

be linked to a smartphone for calls, voice commands,

music and data-sharing to social media - all aided by

the TALI Connected app. This connectivity allows the

rider to communicate with the bike itself, navigate with

GPS, gyroscope and speedomoter, and in the event of

an incident, the app will send out an emergency alert.

The visor is photochromatic - adjusting automatically to

prototyping capabilities. "These two projects are a

tribute to our core values and beliefs to create delight,

meaning and impact through people-centred design,

systemic design, technology as a design component,

delightful interactions and sheer essential beauty, a

distinctive trait of Pininfarina designs, " says Xavier

Blanc Baudriller, senior vice president of product design,

Pininfarina

Hall 20 / Stand 100

TALI Connected's new smart lid

lights up the way for bikers

different lighting conditions, and there is an automatic

noise-reduction feature, to ensure handsfree operation

can be enjoyed safely. Between trips, the helmet itself

sits on a practical and user-friendly charging base. TALI

Connected's mission is to support the rider and the

wider motorcycle community, with the goal of making

the roads safer for all users

Hall 20 / Stand 207

28 IFA INTERNATIONAL • MONDAY 5 TH SEPTEMBER 2022

news.ifa-berlin.com
---
ADVERTORIAL

STAND OF THE DAY

VinFast

HALL 10.2 / STAND 106

"Connecting customers with a smart life"

1

2

3

4

Jean-Christophe

MERCIER

Deputy CEO, VinFast Europe

WE ARE A

FRIENDLY AND

CUSTOMER

CENTRIC BRAND,

INNOVATING TO

DELIVER HIGH

QUALITY PRODUCTS

AND ACCELERATE

THE SHIFT TO

ELECTRIC VEHICLES.

IN THE NEXT 5 TO10

YEARS, OUR AIM IS

TO BECOME ONE

OF THE LEADING

SMART EV GLOBAL

MANUFACTURERS.

AND WE ARE

STARTING TODAY IN

GERMANY.

1 VINFAST

Visitors can learn about the Vietnamese

electric vehicle manufacturer, established

in 2017, which is looking to accelerate the

shift to electric mobility. The company

is already building electric cars, electric

scooters and electric buses in its stateof-the-art,

90% automated facility in

Vietnam.

2 A THREE PILLAR

APPROACH

Its efforts to accelerate the transition to electric

vehicles have been focused on three pillars.

The first is developing high quality products

with the support of partners such as Pininfarina

(design), Bosch and ZF (technology). The

second, offering reasonable pricing through the

company's innovative battery lease program,

to make EVs more accessible. And finally,

providing excellent customer service with

for example a 10 years / 200,000 km vehicle

warranty.

3 VINFAST STORES

OPEN EUROPE

The company operates a Direct-to-

Consumer scheme and has launched

its own VinFast Stores in 3 markets in

Europe, including France, the Netherlands

and Germany. In Germany VinFast

announced 25 Stores with the first cities

to open being München, Köln, Frankfurt,

Oberhausen, Hamburg and of course

Berlin. They are offering a full EV SUV

line-up covering all segments, starting

with the 2 cars that are being introduced

at IFA Berlin.

4 VINFAST AT IFA

The company is aiming to turn the car

into a platform which connects customers

with a "smart life". They are introducing a

new experience for customers with Smart

services, Advanced Driver Assistant

Systems (ADAS) and a unique virtual

assistant in partnership with Cerence.

IFA INTERNATIONAL • MONDAY 5 TH SEPTEMBER 2022 29
---
WHERE

TO GO IN

BERLIN

© Thomas Keller

BAR

Bar Amélie

Bar culture at the highest level. Bar

Amélie is the perfect speakeasy with its

exquisite cocktails, relaxed atmosphere

and contemporary design. From concrete

walls to stylish indoor decking, you

can sit practically anywhere; on the

terrace, by the decking or at the bar

which is presented in the middle of the

room. Its long wooden counter offers

space for up to 20 people while the

tastefully furnished bar has 40 seats. Bar

Amélie's menu features wine, beer and

cocktails including classics and modern

alternatives such as the Franc Richie with

red wine syrup and absinthe. Each drink

also has a matched selection of glasses

and garnishes. The venue is also perfectly

placed within an ambient neighbourhood,

between Alexanderplatz and Berlin

Central Station, surrounded by restaurants

and nightlife.

Opening hours,

6:00pm to 1:00am

Bar Amélie

Auguststraße 2

10117 Berlin

RESTAURANT

Alay by Hasir

With traditional Turkish specialities, elegant steakhouses, homemade

burgers and fine Mediterranean cuisine, Alay by Hasir is a well established

name of more than 40 years with 15 restaurants. The atmosphere is

reminiscent of Istanbul and combines Turkish "mezze" with exclusive

nightlife. Its creators have put a modern twist on the authentic mezze menu,

serving it like tapas for shared enjoyment. With its casual, elegant ambience

and its live entertainment, Alay promises to be the latest trend in Berlin.

Opening hours, from Monday to Sunday,

12:00am to 11:30pm

Alay by Hasir,

Oranienburger Str. 4

10178 Berlin

RESTAURANT

Sky Kitchen

This Michelin-starred restaurant is true to Berlin -

unpretentious and contemporary in style. Located

on the 12th floor of Vienna House Andel's Berlin, the

restaurant has seemingly endless views over the

whole city. Furnished with unique flea market finds

and shiny velvet benches on an unpolished concrete

floor with high quality copper features, the venue

feels exclusive in its design. The menu is described as

"a crossover of fine dining and the typical Berlin flair".

Dishes are made with an exciting blend of ingredients

such as Bavarian shrimp and Husum crab with miso

and plum. While more conventional favourites include

Swabian Hallish pork belly with white onion, flamed

celery and Roscoff onion.

Opening hours

Tuesday to Saturday 5:00pm to 11:00pm

Skykitchen

Landsberger Allee 106

10369, Berlin

NIGHT LIFE

Klunkerkranich

German for "wattled crane", the sprawling Klunkerkranich is loved by Berliners and

tourists alike. The venue has been a Berlin institution since it was founded in 2013 and

might be one of the most unusual rooftop locations in the world. Arriving is part of the

fun with visitors taking the lift to the top floor of a shopping centre and walking through

a multistory car park to find the entrance. The club, garden and beach bar features

casual food and concerts plus a cocktail bar and DJ booth.Watch the sun setting over

the rooftops as the city lights up beneath the terrace. There is also an extremely varied

programme on offer at the astonishingly green roof, including poetry clams, cinema and

markets in almost daily rotation.

Opening hours: 16:00pm to 01:00am or 02:00am

Klunkerkranich

Karl-Marx-Straße 66

12043 Berlin
---
HALL 1.1 - STAND 107

HALL 1.1 - STAND 102 HALL 1.1 - STAND 101

HALL 1.1 - STAND 103
---
HALL 3.1 - STAND 102 HALL 4.1 - STAND 212

HALL 4.1 - STAND 203

HALL 4.1 - STAND 213

HALL 3.1 - STAND 101 HALL 4.1 - STAND 204

IFA INTERNATIONAL • HALL PLAN 2022
---
HALL 4.1 - STAND 208

HALL 5.1 - STAND 108

HALL 4.1 - STAND 208

HALL 21 - STAND 101

HALL 8.2 - STAND 101

Hall 25 Stand 102

HALL 5.2 - STAND 116

HALL 2.2 - STAND 304 HALL 4.2 - STAND 306

HALL 6.2 - STAND 109

HALL 7.1a - STAND 116

HALL 9 - STAND 600

HALL 20 - STAND 310

HALL 3.2 - STAND 210

HALL 1.2 - STAND 235