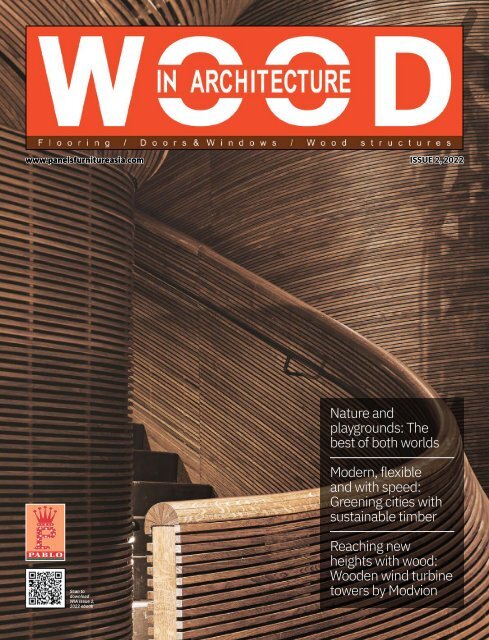 Wood In Architecture Issue 2, 2022
First published in 2017, Wood in Architecture (WIA) is a bi-annual trade magazine devoted to the international timber construction sector. The newest addition to the Panels & Furniture Group of wood magazines, WIA features in-depth insights to the latest industry news, incredible projects and leading trade events. WIA is an advocate for timber as a material of choice for today's built environment, and is the perfect source of inspiration for architects, builders, engineers and interior designers across the globe.
First published in 2017, Wood in Architecture (WIA) is a bi-annual trade magazine devoted to the international timber construction sector. The newest addition to the Panels & Furniture Group of wood magazines, WIA features in-depth insights to the latest industry news, incredible projects and leading trade events. WIA is an advocate for timber as a material of choice for today's built environment, and is the perfect source of inspiration for architects, builders, engineers and interior designers across the globe.
SHOW MORE
SHOW LESS
You also want an ePaper? Increase the reach of your titles
YUMPU automatically turns print PDFs into web optimized ePapers that Google loves.
www.panelsfurnitureasia.com

ISSUE 2, 2022

Nature and

playgrounds: The

best of both worlds

Modern, flexible

and with speed:

Greening cities with

sustainable timber

Scan to

download

WIA Issue 2,

2022 ebook

Reaching new

heights with wood:

Wooden wind turbine

towers by Modvion
---
CONTENTS

26

14

06

31

2 WOOD IN ARCHITECTURE • ISSUE 2 – 2022
---
CONTENTS

04 Editor's Note

06 News

THE BIG PICTURE

14 Nature and playgrounds: The

best of both worlds

MARKET REPORT

26 Window and door frames market

to gain traction from commercial

application

SUSTAINABILITY

28 Modern, flexible and with speed:

Greening cities with sustainable

timber

MATERIALS AND

TECHNOLOGY

31 Timber constructions reach new

heights

34 Addressing quality and

processing problems for coated

wooden doors and windows

ENGINEERED WOOD

36 Recycled CLT: An affordable and

environmentally friendly building

solution

38 Reaching new heights with

wood: Wooden wind turbine

towers by Modvion

DESIGN

40 "Inspired by everyday lives":

The Innovus decorative

collection

42 Bringing quality hospitality

to Indonesia

44 The Royal Park Canvas

Sapporo Odori Park

STRUCTURAL

ELEMENTS

46 Balliol College Master's Field

sports pavilion

48 Coca-Cola Stage at the

Alliance Theatre

FLOORING

51 Embracing the sustainability

trend

54 Nature and innovation

transform laminate flooring

FIT-OUTS

56 Yuntai Ice Chrysanthemum

display shelves

SHOW REVIEW

59 BIFA Wood Vietnam 2022

63 Events Calendar

64 Index of Advertisers

44

56

38

WOOD IN ARCHITECTURE • ISSUE 2 – 2022 3
---
EDITOR'S NOTE

The rising

prominence

of wood

We are living in the best of times, the worst

of times for the wood and woodworking

industry. Amid rising costs of raw materials,

labour shortages, and other challenges,

we are also witnessing the renaissance of

wood in many countries and industries, and

technological breakthroughs in wood usage.

Many industries are beginning to prize

wood, especially engineered wood, for its

advantageous ecological footprint on top of

its durability and strength. One such industry

is the aerospace industry that has built a

satellite with plywood, and another is the

energy sector. Developer and manufacturer

Modvion has recognised laminated veneer

lumber (LVL) for its strength and thinness,

and used it to build wooden wind turbines

that can reach 150m tall (p.38).

Additionally, architecture and design

firm ecoLogicStudio has designed a biointelligent

wooden playground, AirBubble,

that uses micro-algae to purify the air within

the playground, so children can play in an

enclosed space of clean air (p.15). This

project demonstrates how wooden structures

can also integrate multiple technologies

for the better good — be it ecologically

or for users' wellbeing. AirBubble is also

part of a bigger column that showcases

wooden playgrounds in all their structural

innovativeness and beauty, and how wood

can elevate the social and motor skills youths

get to develop in a playground (p.14).

For all the talk about wood and its ecological

friendliness, we must not forget that we

can do better — waste wood can be better

used and recycled for a newer lease of life.

Upholding this is Recycled CLT, an initiative

that repurposes cut-offs from mass timber

elements into reusable cross-laminated

timber (CLT) panels (p.36). In this way, mass

timber buildings can be more environmentally

friendly and at the same time affordable.

There is no denying that wood is becoming a

more popular material. But as we celebrate

that, we cannot lose sight of how we must

use it sustainably at the end of the day.

Whether it is the sourcing process (p.28), the

manufacturing aspects for various elements

of a building, such as flooring (p.51), or the

design process (p.44), we should always

be conscious of the forests' wellbeing too.

After all, is not the end goal of using wood to

contribute to a healthier environment?

EDITOR | YAP SHI QUAN

WOOD IN ARCHITECTURE

PABLO SINGAPORE

Publisher

William Pang • williampang@pabloasia.com

Editor

Yap Shi Quan • shiquan@pabloasia.com

Business Development Manager

Pang YanJun • yanjun@pabloasia.com

Graphic Designer

Goh Meng Yong • mengyong@pabloasia.com

Circulation Manager

Shu Ai Ling • circulation@pabloasia.com

PABLO BEIJING

General Manager

Ellen Gao • pablobeijing@163.com

PABLO SHANGHAI

Editor

Kresly Shen • pabloshanghai@163.net

HEAD OFFICE

PABLO PUBLISHING & EXHIBITION PTE LTD

3 Ang Mo Kio Street 62, #01-23, Link@AMK,

Singapore 569139

Tel : +65 6266 5512

Email: info@pabloasia.com

www.panelsfurnitureasia.com

Company Registration No: 200001473N

Singapore MICA (P) No: 109/12/2021

REGIONAL OFFICES (CHINA)

PABLO BEIJING

Tel : +86 10 6509 7728

Email : pablobeijing@163.com

PABLO SHANGHAI

Tel : +86 21 5238 9737 / 36

Email : pabloshanghai@163.net

let's connect!

@wood.ia

All rights reserved. Views of writers do not necessarily reflect the views

of the Publisher. No part of this publication may be reproduced in any

form or by any means, without prior permission in writing from the Publisher

and copyright owner. Whilst every care is taken to ensure accuracy

of the information in this publication, the Publisher accepts no liability for

damages caused by misinterpretation of information, expressed or implied,

within the pages of the magazine. All advertisements are accepted on the

understanding that the Advertiser is authorised to publish the contents of

the advertisements, and in this respect, the Advertiser shall indemnify the

Publisher against all claims or suits for libel, violation of right of privacy and

copyright infringements. Panels & Furniture Asia is a controlled-circulation

magazine with two issues a year. It is mailed free-of-charge to readers who

meet a set of criteria. Paid subscription is available to those who do not

fit our terms of control. Please refer to subscription form provided in the

publication for more details.

Printed by Times Printers Pte Ltd

Scan to subscribe

to WIA's enewsletter

4 WOOD IN ARCHITECTURE • ISSUE 2 – 2022
---
NEWS

A SEAT AT THE TABLE:

AHEC AWARD ON SUSTAINABLE DESIGN

The American Hardwood Export Council

(AHEC) has announced four winners

of the award, A Seat at the Table,

launched in January 2022 with Riva

1920. The award aims to bring a new

generation of designers committed to

sustainable design, that is more attentive

to environmental impact and the entire

product lifecycle into the limelight.

According to AHEC, the four awarded

designers experimented with the aesthetic

and functional characteristics of three

high-performing but under-utilised species

of American hardwood: American cherry,

red oak and maple.

First, there is Alter Ego by Ilenia Viscardi,

a solid table. The designer opted for

American maple as its light colour with

golden hues enhances the sculptural

appearance of the design.

Libra by Federico Degioanni was developed

in American red oak with an eye to highlight

the strong connection with nature. Lightness,

elegance of line and dynamism are the

keywords of Libra, which presents itself

as a useful and versatile table for many

environments.

Navalia by Matteo Benedetti is made 'via di

levare', which means blocks of wood are carved

and refined until the final shape is achieved.

The table is crafted with American red oak.

And lastly, Morso by Alessandro Gazzardi,

inspired by traditional carpentry, is a table with

simple workmanship, which can be assembled

completely by hand, without the use of tools.

The table is made with American cherry.

David Venables, director of AHEC Europe,

commented: "This project challenges the

assumption that the best-known wood varieties

are always the only 'right' woods to use and

showcases three underused and beautiful woods

that make up 40% of the American hardwood

forests."

Maurizio Riva, CEO of Riva 1920, added: "As

the iconic piece for this project, we chose the

table, whose volumes allow the three varieties

of wood to be displayed in all the beauty of their

textures. One of the factors that emerged during

the pandemic is in fact the tendency of the design

ecosystem to focus on a restricted range of woods.

"It is important that designers and architects

also start to embrace new types of wood so that

the whole sector converges towards a more

sustainable management of resources, and to

accompany the public's taste in this direction."

Riva 1920 is an Italian company that has been

producing design furniture in solid wood with

low environmental impact for more than 100

years. WIA

Images: Petr Krejci

1 2

3

4

1 Alter Ego by Ilenia

Viscardi

2 Libra by Federico

Degioanni

3 Navalia by Matteo

Benedetti

4 Morso by Alessandro

Gazzardi

6 WOOD IN ARCHITECTURE • ISSUE 2 – 2022
---
NEWS

SCHATTDECOR AND FINE

DECOR RELEASE NEW

COLLECTION OF SUSTAINABLE

FURNITURE SURFACES

Schattdecor has launched alongside

with Fine Decor their first joint Fineflex

collection after the two companies'

merger in autumn 2021. The Fineflex

collection offers a larger selection

of environmentally friendly furniture

surfaces, produced at the heart of the

German furniture and kitchen industry

at Fine Decor in Ölde, Germany.

According to Schattdecor, the new

collection includes 14 solid colours,

and is made using a sustainable

manufacturing process. With it,

recycled polyethylene terephthalate

(PET) can be reprocessed to cultivate

environmentally friendly furniture

surfaces.

The new collection will soon be

supplemented with printed PET

furniture surfaces with decor designs

supplied by Schattdecor, supplemented

by a feel for trends and the market into

this endeavour.

Since June 2022, customers have been

able to discover this package live at Fine

Decor in the showroom in Bielefeld,

Germany, where both companies

opened their first joint showroom.

Segments of the new Fineflex collection,

as well as the new Schattdecor Decor

Selection "Global Essentials", will be on

display.

The managements of both companies

believe that it is time to break new ground

for the future and to work on products

that are beautiful and sustainable. WIA

WOOD IN ARCHITECTURE • ISSUE 2 – 2022 7
---
NEWS

3D VIEWER &

AR FEATURE:

COOHOM'S 3D

VISUALISATION

FUNCTION

Coohom's 3D Viewer & AR feature aims to

optimise product presentation to achieve

higher sales goals. With its 3D visualisation

capability, it has four different business

solutions prepared for manufacturers and

retailers in areas of furniture, kitchen and bath,

office space, home appliance, finishing and

accessories fields, and more.

solution. It has 3D Model Exhibit, Group Model

Configurator, Parametric Editor, and Panoramic

E-shop in its pocket, and it allows the audience

to review the product with 360° perception in

detail.

without limitations, either expanding up or

narrowing down, in single model or group

models exhibitions. The newest function, the

Panoramic E-shop, gives user's customers an

experience of virtual shopping.

The augmented reality (AR) feature preempts

the trend that most end consumers

now shop online for all kinds of goods. The AR

gives customers the immersive experience in

real time, which aims to heighten customer

satisfaction and purchasing rate, but also

lowers the material costs and return rate.

"Many people wonder about what is 3D Viewer,

and how AR has anything to do with it," said

Cook Liao, head of Coohom. "The 3D Viewer &

AR feature of Coohom is not just a 3D design

product, it is an all-in-one product exhibit

"You could switch the textures, materials,

styles, and edit the dimensions in real time.

And after all that has been done, the AR will

automatically bring your product to life and

show your customers how amazing it is. What's

more convenient? Now we also have Shopify

App Plugin and Open API Integration in this

excellent 3D visualisation feature."

According to Coohom, the 3D Viewer &

AR renders products with 3D cloud-based

technologies. The parametric editor enables

users to alter the product dimensions

To be more integrated and interactive

for global clients, the 3D Viewer & AR of

Coohom is now available to be employed on

Shopify, and Coohom has an open application

programme interface (API) integration

programme for users who want to embed

the 3D visualisation feature in their own

platforms.

The 3D Viewer & AR reportedly helps

businesses grow over "70% in yearly revenue",

and "85% of product conversions and

exposures". WIA

INDONESIA CALLS ON EU TO PROMOTE FORESTRY

PRODUCTS CERTIFIED BY SVLK

The Association of Indonesian Forest

Concession Holders (APHI) has called on the EU

to jointly promote the Legality and Sustainability

Verification System (SVLK) to further

strengthen Indonesia's efforts to improve forest

governance in support of climate change action.

The SVLK is a certification system in Indonesia

that verifies wood products sourced from

Indonesia are produced from legally harvested

wood.

Indroyono Soesilo, chairman of APHI, said

that Indonesia and the EU have had a

Voluntary Partnership Agreement (VPA)

for Forest Law Enforcement, Governance

and Trade (VPA/FLEGT) since 2013. He

commented that under the agreement, the EU

has an obligation to promote FLEGT licenses in

accordance with Article 13 of the VPA/FLEGT.

Article 13 states that "the [EU] shall promote a

favourable position in the [EU] market for

the timber products covered by this

Agreement", including "a more favourable

perception of FLEGT-licensed products on the

[EU] market".

Indroyono said during a meeting with the

EU Ambassador to Indonesia at the APHI

office that Article 13 must be implemented to

support FLEGT licensing. Despite being one of

the main markets, exports of Indonesian wood

products to the EU are still relatively small and

that Indonesia needs support to expand its

market share.

In response, the ambassador explained that

EU consumers' awareness of green products

that are environmentally friendly is getting

stronger. Therefore, fulfilling the elements

of legality and sustainability is important.

Regarding Article 13, the ambassador said this

could be one of the points of discussion at the

high-level meeting of the EU and Indonesia

later in the year. WIA

Source: ITTO

8 WOOD IN ARCHITECTURE • ISSUE 2 – 2022
---
NEWS

BINDERHOLZ

AND SWIETELSKY

FORM WOOD

CONSTRUCTION

COLLABORATION

To address the increasing demand for

affordable housing, while committing to

sustainable construction, binderholz and

Swietelsky have entered a collaboration to

come up with solutions.

activities in other areas of timber and hybrid

construction will remain unaffected and will

continue to be offered under the SWIEtimber

brand as well as by Swietelsky subsidiaries."

At the moment, the company intends to

concentrate on the Austrian market. However,

an expansion of the offer across borders is

within reach. WIA

Rendered 3D image of a b_solution building project

(Image: binderholz)

Swietelsky is a construction company based

in central and eastern Europe. It will provide

binderholz advice on the construction projects,

and offer the entire project from a single source

and enable both consortium and general

contractor contracts. In this way, industrial

production ensures sustainable timber

construction at competitive prices, even in

multi-storey residential buildings.

• 2~3 moveable saw blades

(will be launched in August 2022!)

• Laser scan feeding system equipped,

cutting 5~6 boards per minute

binderholz has brought an individually plannable

system building solution made of industrially

prefabricated solid wood components for

multi-storey residential construction, called

b_solution, onto the market.

According to binderholz, every b_solution

building project is converted into a 3D model

including system details and equipment

information. Production of the b_solution

system components takes place directly from

this digital twin on the automated production

line at the binderholz site in Hallein, Austria.

The realisation of b_solution projects also

requires conventional construction services like

foundations, garage floors, outdoor facilities,

access or interior finishing services. This is

where Swietelsky comes in with its range of

services as a full-service construction provider,

not least as a financially strong and reliable

general contractor.

Karl Weidlinger, CEO of Swietelsky,

commented: "By cooperating with binderholz,

we are improving our performance, especially

when it comes to standardised and largevolume

residential construction. Our own

WOOD IN ARCHITECTURE • ISSUE 2 – 2022 9
---
NEWS

AURECON INTRODUCES ROBOTIC

TECHNOLOGY INTO MASS TIMBER

CONSTRUCTION

Aurecon has introduced robotics technology

into constructing Murdoch University's

Building 360, which is set to become what

is reportedly western Australia's largest

mass engineered timber (MET) building upon

completion.

Conceptualised by Aurecon and in

collaboration with the Murdoch University

and University of Technology Sydney (UTS),

the robots have been designed by UTS

researchers to deliver cumbersome screw

fixings — a task that causes fatigue and injury

in workers given its repetitive and labourintensive

nature.

Building 360 will be a demonstration of

Murdoch's commitment to sustainability,

aiming for a 6 Star Green Star rating once

completed, a sustainability rating system by

Green Building Council Australia.

Tim Spies, managing director of built

environment Australia, Aurecon, said

the pilot robotics project with Murdoch

University and UTS showed that by

thinking more innovatively, the timber

industry could lead the way in improving

project outcomes across the broader

construction industry.

"The long-term objective is to prove that

the modular nature of timber construction

will benefit from the automation of some

on-site construction activity, helping to

increase productivity, reduce cost, improve

workers' OH&S, and advance innovation in

the construction industry," said Spies.

Andrew Deeks, vice-chancellor professor

of Murdoch University, commented that

Building 360 would transform the student

and staff experience through offering

new, digitally enabled teaching and learning

spaces in an environmentally friendly

design.

"MET is a completely renewable resource

and a more sustainable construction material

than conventional steel or concrete, which

is a huge contributor of greenhouse gas

emissions globally. The building will also

have a large array of photovoltaic cells to

supply its power needs," Deeks said.

"Working with our design, engineering and

advisory partner Aurecon, we set out to

determine where technology would add

value to the construction process — an

opportunity to modernise an industry that,

by and large, is yet to take a significant leap

in innovation."

According to Aurecon, there are around

200,000-300,000 screw fixings on the

Building 360 construction site, and

the robots have been trialled installing

approximately 50-100 fixings as part of the

proof of concept. WIA

STORA ENSO ENTERS PARTNERSHIP TO

CREATE WOOD-BASED BATTERIES

Stora Enso and Northvolt, a European supplier

of sustainable battery cells and systems,

will partner to develop sustainable batteries

using lignin-based hard carbon produced with

renewable wood from the Nordic forests.

Northvolt will be partnering with Stora Enso

(Image: Northvolt)

The partnership also aims to develop the

world's first industrialised battery featuring

anode sourced entirely from European raw

materials, lowering both the carbon footprint

and the cost.

"The joint battery development with Northvolt

marks a step on our journey to serve the fastgrowing

battery market with renewable anode

materials made from trees," said Johanna

Hagelberg, executive vice-president for

biomaterials at Stora Enso. "Our lignin-based

hard carbon, Lignode by Stora Enso, will secure

the strategic European supply of anode raw

material, serving the sustainable battery needs

for applications from mobility to stationary

energy storage."

Both companies will bring key components,

competence, and specialties to the battery

partnership. Stora Enso will provide its ligninbased

anode material Lignode, originating

from sustainably managed forests, while

Northvolt will drive cell design, production

process development and scale-up of the

technology.

"With this partnership, we are exploring

a new source of sustainable raw material

and expanding the European battery

value chain, while also developing a less

expensive battery chemistry. It is an exciting

demonstration of how our pursuit of a

sustainable battery industry goes hand-inhand

with creating a positive impact both on

society and cost," said Emma Nehrenheim,

chief environmental officer at Northvolt.

Lignin is a plant-derived polymer found in

the cell walls of dry-land plants. Trees are

composed of 20-30% of lignin, where it acts

as a natural binder. Stora Enso reportedly

produces 50,000 tonnes of lignin annually at

their site in Finland. WIA

10 WOOD IN ARCHITECTURE • ISSUE 2 – 2022
---
NEWS

LUOGO: AN OPEN-AIR

WOODEN COLLECTIVE SPACE

FOR ITALIAN COMMUNITY

The Orizzontale collective,

a Rome-based collective of

architects, has designed a

wooden perimeter structure in

the centre of Lugo, Ravenna, Italy,

as a public space which allows

citizens to gather and meet, play,

and hold events and activities

such as concerts, performances,

or talks.

Designed for Edilpiu, an Italian

designer and provider of

customised solutions for doors

and windows, the structure is

called "LuOgo – Building the

common space".

"multifaceted space, an intimate

yet public area, a permeable

enclosure, an open-air room, a

thin membrane that embraces a

portion of public space, giving it

new functions".

The creation process took the form

of a workshop open to inhabitants,

students and young professionals,

lasting less than a week. Simple

and functional modules, which

make the construction site

accessible to all, have been

combined to define a unitary but

heterogeneous architecture, where

different uses can coexist.

wooden perimeter structure is

equipped with LED lighting and

screened by shading sheets

and metal nets covered by

climbing plants, to constitute

a rhythm in the visual score

and an impalpable protection

filter between the interior and

exterior.

The flexibility of the modular

system allows reportedly

"infinite configurations", leaving

room for unexpected outcomes

that arise from the interaction

between people.

The aim of LuOgo is to bring

the community back into the

collective spaces of small urban

centre. Margherita Manfra,

one of the founders of the

Orizzontale collective, explained:

"The main square of Lugo is a

monumental space, in which the

layering of history has created

a solid and lasting image. At the

same time, this large, orderly

and measurable space is

crossed daily by discontinuous

and unpredictable flows.

"In this dialectic between the

defined urban context and

the incessant transformation

dictated by the human factor,

ephemeral architecture, which

is by definition transitory, finds a

new topicality and new forms of

expression." WIA

Images: Gianluca Gasperoni

According to Orizzontale

collective, LuOgo is a

Enriched with terraces, swings,

slides and deckchairs, the

PEFC/01-00-01

PEFC/01-00-01

Your assurance of

Your assurance of

responsibly Your assurance sourced of timber

responsibly sourced timber

responsibly sourced timber

1

2

1 The wooden

perimeter

structure is

equipped

with LED

lighting and

screened

by shading

sheets and

metal nets

covered by

climbing

plants

2 In nomadic

architecture,

the circle

is the most

immediate

form through

which a place

is identified,

as both a

founding

act and an

ephemeral

gesture

Photo: BAM/Trevor Palin

Photo: BAM/Trevor Palin

Constructing Constructing the Future with

Sustainable the

Timber the Future with

Sustainable Timber

Photo: BAM/Trevor Palin

PEFC/01-00-01

Discover more at:

Discover www.pefc.org

Discover more more at: at:

www.pefc.org

Ask your suppliers for PEFC-certified

Ask

wood Ask your your products

suppliers for for PEFC-certified

wood wood products

Choose PEFC

Choose PEFC

Choose Caring for our PEFC forests

Caring globally and locally

Caring for for our our forests forests

globally globally and and locally locally

PEFC/01-00-01

PEFC/01-00-01

PEFC INFOGRAPHIC AD MAY 2020 (B).indd 1 31/07/2020 11:03

PEFC INFOGRAPHIC PEFC INFOGRAPHIC AD MAY 2020 AD (B).indd MAY 20201 (B).indd 1 31/07/2020 31/07/202011:03

11:03

PEFC – Programme for the Endorsement of Forest Certification

PEFC – Programme for the Endorsement of Forest Certification

PEFC – Programme for the Endorsement of Forest Certification

WOOD IN ARCHITECTURE • ISSUE 2 – 2022 11
---
NEWS

HENKEL INVESTS IN HARDWOOD

TECHNOLOGY START-UP 3RT

Henkel Adhesives Technologies has announced

an investment in 3RT to strengthen its

capabilities for timber construction solutions.

Founded in 2014, 3RT has developed an

automated production process for converting

low-value wood fibre into hardwood products.

The company applies a water-based,

formaldehyde-free "nano-bonding agent" that

bio-mimics the structure of a natural tree. The

technology platform uses advanced robotics

and smart automation to create products of

high-quality appearance and is reportedly

100% natural and recyclable.

Together with 3RT, Henkel has developed

a robotic process to convert forest and

plantation residue into hardwood products.

With the investment, Henkel aims to further

expand its engineered wood business and

to drive the implementation of sustainable

technologies.

"As part of our venturing activities we are

looking for novel and scalable technologies

complementing our existing portfolio in

adhesives, sealants and functional coatings,"

explained Paolo Bavaj, head of corporate

venturing at Henkel Adhesive Technologies.

"We believe that the combination of 3RT's

capabilities with Henkel's unique expertise

offers the potential to further expand the

market for engineered wood applications."

Through its engineered wood business,

the company offers high-impact structural

adhesives under the Loctite brand that enable

the manufacturing of mass timber products

for wooden beams, trusses, walls and floors.

Adhesives from Henkel can contribute to a

reduction in the building's carbon footprint.

"3RT is focused on continuous improvement

both in the fields of new material properties

and methods of production to help address

Henkel has developed with 3RT a robotic process to

convert forest and plantation residue into hardwood

products (Image: Henkel)

the significant environmental and supply

challenges relating to old growth forests. In

addition to our partnerships with Flinders

University and Bosch, this partnership with

Henkel will assist in turbocharging our

technological advancements and global

expansion," concluded Peter Torreele,

managing director of 3RT. WIA

The building will be made largely with locally

sourced wood, built to reflect alpine buildings and

on the long-standing tradition of wood buildings

in Switzerland. Timber will be used within the

interior as well as for the floors and ceilings.

The main structure of the terminal will be formed

with V-shaped timber columns, and there will

be a linear skylight that will let daylight into the

building.

V-shaped timber columns of the terminal

ZURICH AIRPORT TO ADD TIMBER

TERMINAL AND CONTROL TOWER

Zurich Airport has revealed the design of its

new Dock A facility, which consists of a mass

timber terminal and control tower, designed by

Danish architecture firm Bjarke Ingels Group

(BIG) and US firm HOK.

The construction is planned to begin in 2030

and open in 2032, and will include an air-side

retail, lounges, offices, a new air traffic control

tower and an extension of the immigration

hall.

Bjarke Ingels, founder of BIG, commented: "As

airports grow and evolve and as international

guidelines and safety requirements change,

airports tend to become more and more complex:

Frankensteins of interconnected elements,

patches and extensions.

"For the new main terminal of Zurich Airport, we

have attempted to answer this complex challenge

with the simplest possible response: a mass

timber space frame that is structural design,

spatial experience, architectural finish, and

organisational principle in one." WIA

12 WOOD IN ARCHITECTURE • ISSUE 2 – 2022
---
NEWS

SWISS KRONO LAUNCHES NEW

SOUNDPROOFING WALL AND CEILING

WOODEN MODULES

Acoustic insulation plays an important role

Swiss Krono, a manufacturer of wood-based

materials, has expanded its acoustically

insulting wall and ceiling modules with the

Magnumboard OSB.

According to Swiss Krono, Magnumboard

OSB is a solid timber product which can be

used to create prefabricated construction

modules characterised by good ecological

footprints and optimal thermal insulation

values.

Walls, ceilings and roof elements with high

dimensional stability can be fashioned in

sizes all the way up to 18m by 2.8m. They

can then be used to make airtight building

constructions with minimal joints.

in blocks of flats. Varying noise levels can

occur both within and between individual

units, for example as a result of children

playing, practising of musical instruments, or

barking dogs. This makes it more important

to install good-quality insulation.

This timber construction system scores

points not only with calculable fire

protection, but also with good acoustic

insulation, and also applies to "naked"

boards without additional finishing. To

ensure that they also prevent sound

transmission between adjacent terraced

houses, Swiss Krono also requested ift

Rosenheim to test corresponding party wall

constructions.

As such, the Magnumboard OSB achieves

ideal acoustic insulation levels with, among

other things, its high bulk density of 640kg/m³.

The wall and ceiling modules are designed to

ensure optimal noise attenuation.

For example, an appropriately designed

module with 175mm-thick Magnumboard OSB

has an airborne sound reduction coefficient

of 73dB and a transmitted impact sound

coefficient of 43dB.

With the Swiss Krono Planning tool, users can

also identify components that comply with the

building regulations of the German state in

which the user is building.

The requirements can be filtered in various

ways depending on the fire and sound

protection requirements in each case, allowing

planners and architects to find the ideal

solutions for their projects. WIA

WOOD IN ARCHITECTURE • ISSUE 2 – 2022 13
---
BIG PICTURE

Nature and

playgrounds:

The best of both worlds

Playgrounds are arguably important to a child's formative years.

There, we get to socialise, play, and explore our social and motor skills

during our youth. How will wood elevate the experience? In these

six wooden playground projects, children get to interact with nature,

challenge themselves through wooden structures, enjoy higher

air quality with bio-intelligent systems, and more.

14 WOOD IN ARCHITECTURE • ISSUE 2 – 2022
---
BIG PICTURE

1 2

Combining the natural with bio-intelligence

PROJECT: AirBubble

LOCATION: Warsaw, Poland

ARCHITECTURAL FIRM: ecoLogicStudio

CLIENT: Otrivin Breathe Clean

ACADEMIC PARTNERS: Synthetic Landscape Lab IOUD

Innsbruck University, Urban Morphogenesis Lab BPRO

The Bartlett UCL

STRUCTURAL ENGINEER: YIP London

BIOLOGICAL MEDIUM: Jongerius ecoduna

WOOD STRUCTURE: ArchWood

ETFE MEMBRANE: Temme

PHOTOGRAPHY: Maja Wirkus

London-based architecture firm ecoLogicStudio has designed

AirBubble for Otrivin Breathe Clean. The project brings to life

the world's "first" biotechnological playground to integrate

air-purifying micro-algae, as claimed by ecoLogicStudio.

AirBubble creates a purified microclimate for children to play

in a bubble of clean air at the centre of Warsaw, Poland. The

project is located within the public green space outside of

the Copernicus Science Centre. The playground integrates

the PhotoSynthetica technology for the integration of

photosynthesis in the built environment. PhotoSynthetica is a

venture of ecoLogicStudio, which aims to decarbonise cities

and integrate nature into them, among other goals.

According to the World Health Organization (WHO), air

pollution is the biggest global health threat. Warsaw was

selected as the first activation for this project as it is one of

the most polluted cities in Europe.

AirBubble incorporates a cylindrical timber structure wrapped

in an ethylene tetrafluoroethylene (ETFE) membrane

protecting 52 glass algae reactors. This creates an urban algae

greenhouse. The space is equipped with ropes, foot pumps

and bouncy spheres, and can function as both playground

and outdoor classroom. The white bubbling noise of the algae

gardening system masks the surrounding urban noise to

provide a calming atmosphere in which to play and interact.

1 The inverted

conical roof

membrane

further

stimulates the

air recirculation

and natural

ventilation

2 AirBubble is

a cylindrical

timber structure

wrapped in an

ETFE membrane

protecting 52

glass algae

reactors

WOOD IN ARCHITECTURE • ISSUE 2– 2022 15
---
BIG PICTURE

The filtering process is enhanced by the architectural

morphology of the playground structure. The ETFE

membrane controls the microclimate inside AirBubble.

The inverted conical roof membrane further stimulates

the air recirculation and natural ventilation, which in

turn keeps the play area clean.

The AirBubble monitoring system integrates urban

air pollution sensors and is connected to a data

processing platform that compares measurements in

real time and of highlighting the Air Quality Index for

six core pollutants: fine particulate PM2.5 and PM10,

ground level ozone, nitrogen dioxide, sulphur dioxide

and carbon monoxide. ecoLogicStudio reported that

AirBubble is capable of absorbing 97% of the nitrogen

and 75% of the particulate matter in the air.

3

Early data collected in May 2021 shows concentrations

of PM2.5 within the playground have fallen well within

the recommended WHO limits. The peak reduction

rate was 83%. This figure has been calculated by

comparing readings from a pollution sensor located

outside AirBubble with real-time data feeds from a

monitoring device placed inside. The monitoring phase

will continue throughout the summer and into autumn

to verify these achievements over a longer period of

time, under different climatic conditions and patterns

of use.

"There is untapped value in bringing the bio-intelligence

of natural systems into cities, turning buildings into

living machines that produce energy, store CO2 and

clean the air. To achieve this, we need to think about the

living world as a part of the current digital revolution:

nature becomes part of a new bio-smart infrastructure,"

said Marco Poletto, co-founder of ecoLogicStudio.

Furthermore, the purifying process is powered by solar

energy and children's playfulness. Kids can interact by

jumping on four water foot pumps positioned on the

ground while balancing on the bouncy bubbles and the

internal rope system.

4

3 AirBubble at

night

4 The air purifying

process is

powered by kids

jumping in the

playground

5 The glass algae

reactors

"This playground needs two sources of power: solar

energy and kids' instinctive drive to explore and to

play. These constitute the inexhaustible and renewable

fuels of the AirBubble that can be obtained effortlessly.

The AirBubble is the trigger of a process that can only

grow and multiply its beneficial effects towards future

generations. It's all in our hands — we are responsible

for our health and climate," concluded Claudia

Pasquero, co-founder of ecoLogicStudio.

5

16 WOOD IN ARCHITECTURE • ISSUE 2 – 2022
---
BIG PICTURE

Creating

new movement

and play rules

PROJECT: Korogaru Park

LOCATION: Sapporo, Hokkaido, Japan

ARCHITECTURAL FIRMS: YCAM InterLab,

Jun Igarashi Architects

PHOTOGRAPHY: Jun Igarashi Architects

1

Korogaru Park, which was announced at the

Yamaguchi Center for Arts and Media (YCAM)

in 2012, uses "media" such as microphones

and LED lighting in an irregular and undulating

wooden space. At the Sapporo International

Art Festival (SIAF) 2014, the Korogaru Park

appeared as the first outdoor version in the

garden of the Sapporo City Museum located

to the west of Odori Park, and it was an

installation that inspired the creation of new

movement and play rules.

Jun Igarashi Architects was in charge of the

design supervision, and they decided to make

it a park that uses wood from Hokkaido to

correspond to the environment while being in

the centre of the city. First, the team drove the

logs into the ground within a 910 grid. Then

they cut the head of the log. A thin steel flat

bar was placed on the head of the pillar under

the force of gravity. The wood deck material

was fixed to the naturally curved flat bar. As

a result, a swelling floor was created, and the

floor became soft and swaying.

2

During the session, the workshop "Children's

Playground Meeting" was held multiple times

to discuss the play and functions to be added,

and the ideas were reflected in Korogaru

Park during the period. In an ever-changing

environment of sunlight and wind, children

have the opportunity to connect to them while

facing nature, themselves, and the media.

1 Korogaru Park

playground

2 The playground used

wood from Hokkaido

3 The swelling floor

3

WOOD IN ARCHITECTURE • ISSUE 2– 2022 17
---
BIG PICTURE

1

Creating new

plays amid steps

2

PROJECT: EZ Kindergarten and Nursery

LOCATION: Fukui, Japan

DESIGN TEAM: Hibinosekkei,

Youji no Shiro, Kids Design Labo

SITE AREA: 1,980.67m 2

BUILDING AREA: 1,015.59m 2

PHOTOGRAPHY: Toshinari Soga/Bauhaus

18 WOOD IN ARCHITECTURE • ISSUE 2 – 2022
---
BIG PICTURE

4

3 5

The EZ Kindergarten and Nursery

is surrounded by Mount Asuwa, a

mountain known as the symbol of the

town in Fukui, Japan, by local people.

If children can walk around the

mountain, they can touch and feel

closer to nature itself, and create plays

within nature. As such, by installing

various actions where children can

take in Mount Asuwa within the

playing equipment, the design team,

comprising Hibinosekkei, Youji no

Shiro, and Kid Design Labo improved

the normal nursery environment.

For instance, there is a climbing net

equipment that allows jumping and

swinging. A wooden ball pool under

the stairs allows children to roll around

and pick and throw the balls. A secret

playing base with slope is intended for

sliding, climbing and hiding. These are

how various actions can be done and

children can create new plays.

Additionally, stairs are typically closed

off with fences in the kindergarten

to prevent children from going down

and up freely. But in EZ Kindergarten

and Nursery, the stairs is placed

at the centre of the place so that

children of different ages can meet

and communicate with each other.

As such, even stairs and steps can

become a fun playing space for them

as they play in the mountain.

With a natural playing space like

Mount Asuwa, children can create

interesting plays by themselves. This

is how the environment can allow

children to challenge, find and explore

themselves and around the place.

1 The environment

can allow children

to challenge,

find and explore

themselves and

around the place

2 Even stairs can

encourage forms

of play

3 Children interacting

with each other

4 Large windows

for the children to

enjoy the fresh air

and sunshine

5 A playing base

with slope

WOOD IN ARCHITECTURE • ISSUE 2– 2022 19
---
BIG PICTURE

1 The architecture

team designed the

school room to

resemble a large

set of stairs

2 Ventilation comes

in from the south,

passing through the

forest-like interior

pillars

3 The goal of Hakusui

Nursery School was

to create a space

that was not only

fun for the children,

but also blends into

the surrounding

nature

4 A small pond at the

southern end

Inseparable from

the environment

PROJECT: Hakusui Nursery School

LOCATION: Chiba, Japan

ARCHITECTURAL FIRM: Yamazaki

Kentaro Design Workshop

CLIENT: Seiyu-Kai

STRUCTURAL DESIGN: Ryuji Tabata,

Takayuki Tabata/ASD

FACILITY DESIGN: Hiroyuki Yamada/

Yamada machinery office

PHOTOGRAPHY: Yamazaki Kentaro

Design Workshop

1

The Hakusui Nursery School in

Sakura, Chiba, Japan was planned to

accommodate 60 pupils. Seiyu-Kai, a

local social welfare firm specialised in

elderly care facilities, approached the

Yamazaki Kentaro Design Workshop for

this nursery project.

The overarching concept for this plan

started with an idea: "a nursery school

is a large house". Surrounded by

mountains and the forest, the southern

area of the site rests on a gentle slope.

Putting this topography to use, the

architecture team designed the school

room to resemble a large set of stairs.

20 WOOD IN ARCHITECTURE • ISSUE 2 – 2022
---
BIG PICTURE

3

2

4

One feature of this "large house" is

that children of different ages can

interact in the wide, one-room space

— for example, a three-year-old child

in the same room as a five-year-old.

Additionally, should a three-year-old

child be sleeping while a five-year-old

child plays nearby, these differences

in rhythm reinforce the domestic

qualities of the house.

Keeping in line with Seiyu-kai's

26-year philosophy, the architects

made it a priority to minimise the

number of blind spots within the

room to keep safety measures as

unintrusive as possible. Utilising large

sliding window frames along the

northern and southern faces, along

with the space created by the slope,

ventilation is created as a breeze

draws in from the south and passes

through the forest-like interior pillars,

making its way upwards before

blowing out across the terrace on the

northern side.

A small pond at the southern end

which gathers rainwater as well as

water from sprinklers installed on

the southward-slanted roof also

contributes to the airflow, as the

water is absorbed into the wind.

This was part of a plan to create a

space that was inseparable from the

environment that surrounds it. The

architects believe that in pursuing the

original concept of a "nursery school

as a large house", they achieved

something not unlike the houses in the

farming communities that surround it.

Their goal was to create a space that

was not only fun for the children,

but also blends into the surrounding

nature, fostering an experience

that was greater than the sum of its

elements.

WOOD IN ARCHITECTURE • ISSUE 2– 2022 21
---
BIG PICTURE

Inspiring

comfort and

exploration

PROJECT: Children's Playspace

LOCATION: New York, US

ARCHITECTURAL FIRM: Architensions

PHOTOGRAPHY: Cameron Blaylock

Children's Playspace is an 875sqft indoor

playground located in Brooklyn, New

York, US. Created by New York Citybased

architectural and design studio

Architensions, the space hinges on a

series of plywood structures that abstract

elements of nature, recalling movement

through woodland forts, dappled light

streaming through trees, and the glow of

the sun reflecting off snow.

The playground was commissioned by

a Brooklyn-based wellness specialist in

yoga and childcare who desired an indoor

environment for creative, collective play

for a small group of children. Architensions

looked to the natural world and precedents

in playground design to create the

framework for the space. These included

Isamu Noguchi's Contoured Playground, an

environment encouraging free-form play,

and Aldo van Eyck's series of Amsterdam

playscapes, where forms inspired different

types of interaction and activity.

Architensions' design process was rooted

in the relationship between children's

experience and aesthetics, as explained

by Alessandro Orsini, co-principal of

Architensions: "As designers, we had to

challenge ourselves and ask a number of

questions. How can the built environment

relate to children's imagination, cognitive

development, and aesthetic appeal? Is it

possible to merge aesthetics and function

for a space that appeals to children?"

The organising principle became

experiential architecture, or a series of

structures each producing different sensory

effects that inspire both comfort and

exploration in children.

1 2

22 WOOD IN ARCHITECTURE • ISSUE 2 – 2022
---
BIG PICTURE

"The indoor architecture became an

internalised landscape of events aimed

at simulating the change of season or the

effect of the light through snow," said Nick

Roseboro, co-principal of Architensions.

"This environment allows them to

assume different body postures, to create

boundaries, and to manipulate and reinvent

their surroundings."

Materials were likewise chosen with

children, play, and safety in mind.

Throughout the space, plywood is sanded

and clear stained, and all paint is nonvolatile

organic compound (VOC) natural

stain.

Three primary structures are arranged in the

environment, each with a distinct geometry

and colour scheme. A semi-circular tunnel,

recalling Noguchi's Contoured Playground,

manipulates the topography by rising from

the ground through a series of shallow steps.

Geometric cut-outs line the 19-feet-long

plywood passage. Outlined in frames painted

sun yellow, eggplant purple, and Kelly green,

the cut-outs act like windows into the larger

room, simultaneously revealing the tunnel's

elevation while letting in light. A semitranslucent

orange roof further enhances the

interior's glow.

Next to a large window offering natural light,

a cylindrical, green environment measuring

10-feet-wide by 8-feet-tall makes reference

to a tree house, where children can climb a

set of steps to observe the space through

green fabric mesh that simulates the effect

of leaves. On the left side of the space, an

enclosed form covered in semi-translucent

washi paper hangs from the ceiling, which

reaches nearly 12-feet. Its white, conelike

shape alludes to an igloo; from within,

children experience a light condition

resembling the effect of scintillating snow.

"The goal is to iconise the forms to make

them recognisable and welcoming for the

children," explained Orsini. "And, at the

same time, to create inspiring spaces where

they will always feel in control of their

environments."

Walls of the room are covered on two sides

with fabric with a liquid metal effect, alluding

to water or sky, while another wall features a

fresco of painted trees. As a finishing touch,

the designers suspended four cloud-like

forms made from foam slats painted bright

white above the three primary structures,

while the floor is clad in a soft, tan rubber

recalling a forest floor coated in fallen pine

needles.

3

1 Looking up at the foamy clouds

2 A cylindrical, green environment makes reference to a

tree house

3 The semi-circular tunnel

4 Foam slats painted bright white

4

WOOD IN ARCHITECTURE • ISSUE 2– 2022 23
---
BIG PICTURE

Back to the

natural world

PROJECT: The Evans Tree House

LOCATION: Arkansas, US

ARCHITECTURAL FIRM:

modus studio

CIVIL ENGINEER:

Ecological Design Group

STRUCTURAL ENGINEER:

Engineering Consultants

PHOTOGRAPHY: Timothy Hursley

Nestled in an Ouachita Mountain

hillside along Lake Hamilton at Garvan

Woodland Gardens in Hot Springs,

Arkansas, US, the Evans Children's

Adventure Garden welcomed a new tree

house to the grounds in 2018. This tree

house is reportedly the first of three

planned for the garden that will provide

an interactive educational experience

for visiting children as part of a plan to

bring children back into the woods.

1

The tree house uses a rich visual

and tactile environment to stimulate

the mind and body and strengthen

connections back to the natural world,

while attempting to accommodate

users' needs. According to modus

studio, the architectural firm behind

the project, from design to fabrication,

24 WOOD IN ARCHITECTURE • ISSUE 2 – 2022
---
BIG PICTURE

2

they were able to merge their

childhood-earned knowledge of the

natural world with their think, make,

do philosophy. Because of their own

mostly rural upbringing, it is easy to

take for granted the strong connection

to the creeks, forests, insects, and

animals of Arkansas. However, many

children in the modern world are

unfortunately disconnected from this

type of play.

The underlying theme of dendrology,

the study of trees and wooded plants,

drives both the form and programme of

the structure. The 113 fins comprising

the thermalised Arkansas-sourced

southern yellow pine screen create

a semi-transparent form shrouding

multiple levels of spaces for children

and adults alike that refocus attention

to the natural wonders of the forest

canopy.

The form, play of shadow and light and

sound, exploration of material, and

adventure that the Evans Tree House

provides become a magical experience

within the Ouachita Forest, bending

among native pines and oaks. WIA

1 Dendrology drives

the form of the

structure

2 A rich visual

and tactile

environment to

stimulate the

mind and body,

to strengthen

connections back

to the natural

world

3 The structure

used 113 fins

comprising

thermalised

Arkansassourced

southern

yellow pine

screen

4 The natural

wonders of the

forest canopy

3

4

WOOD IN ARCHITECTURE • ISSUE 2– 2022 25
---
MARKET REPORT

Wood-clad frames are reportedly known to offer low

maintenance and optimum insulation value

Window and door

frames market

to gain traction

from commercial

application By Pooja Sharma

The window and door frames market is

set to grow from its current market value

of more than US$107.7 billion to over

$158bn, as reported in the latest study

by Global Market Insights.

Over the forthcoming years, the demand

for window and door frames is expected

to reach an ambit in revenue and sales,

owing to their rising prominence for

offering hinging and closing, levelling

and support, and locking and protection

benefits. While doors are important in

terms of access, safety and privacy,

windows are needed to ensure light and

ventilation as well as to add aesthetics

to buildings.

26 WOOD IN ARCHITECTURE • ISSUE 2 – 2022
---
MARKET REPORT

properties, seasoned teakwood

frames are favoured. The US is

home to over 5.5 million commercial

buildings. This expanding number

of commercial establishments will

positively influence the demand for

frames in the near future.

This has only multiplied the

requirement for frames as they

seal around and offer support to

the entire system. In addition to

forging an aesthetic sense, frames

play a part in augmenting the overall

energy efficiency and performance of

windows and glazed doors.

To drive the transformation of the

window and door frames industry

space, several manufacturers and

suppliers are placing targeted efforts

on leading marketing initiatives

as well as product differentiation

and launches. For instance, in

September 2021, the residual

assets of Atis Group, a manufacturer

of doors, windows and energyefficient

products, were bought

by Fenplast Windows and Doors,

another manufacturer of doors and

windows, to ensure its own increased

production capacity to cater to the

growing residential and multi-family

markets.

as insulators and are known to offer

low maintenance and optimum

insulation value.

The rising preference for wooden

homes, most notably in Japan,

European and American regions will

act as a prominent boost for these

frames. It has been estimated that

over 90%, or 814,000, of new homes

in the US in 2019 were wood-framed.

GROWING PENETRATION

IN COMMERCIAL

APPLICATIONS

The window and door frame industry

will gain proceeds in the commercial

sector to facilitate the proper fixity and

hinge action of shutters in a bid to offer

sturdiness and safety when opening

the door. On account of their versatile

However, of late, aluminum door

and window frames are witnessing

profound usage in high-class

buildings and commercial and

offices, to impart an architectural

view for enhancing the aesthetics

and facilitating smooth working.

These frames not only provide

beautiful looks and less

maintenance costs, but also do not

require any painting obligations and

are free from termite attacks and

rusting problems.

To summarise, different window and

door frames are used for different

purposes while catering to the

growing residential and commercial

requirements. They offer benefits

like good insulation properties,

better strength and durability,

consequently adding to the longevity

of the doors and windows. In

comparison to interior frames,

exterior and interior ones exhibit

additional properties to face varying

weather elements. WIA

WOOD AS CHIEF MATERIAL

To impart architectural beauty to

buildings and facilitate ease of

maintenance, wood is preferred

for the construction of door and

window frames. The availability of

the material has stirred its adoption

to meet the rising requirements of

the building, while taking note of the

availability of the project budget. In

fact, wood-clad frames are employed

Wood is preferred

for the construction

of door and window

frames

WOOD IN ARCHITECTURE • ISSUE 2 – 2022 27
---
SUSTAINABILITY

Modern, flexible

and with speed:

Greening cities

with sustainable

timber

One of the most exciting developments

across the construction landscape is

the growth and increased use of mass

timber. Mass timber products, such as

cross-laminated timber (CLT), laminated

veneer lumber (LVL) and glue-laminated

timber (glulam), are a popular and

efficient way to build tall, large and

small buildings, while bringing a striking

architectural dimension to modern

building designs.

Quick to erect and construction costefficient

mass timber products are

renewable building materials as they

are roughly 25% faster to construct than

concrete buildings, and require 90%

less construction traffic 1 . Since mass

timber panels are prefabricated and

then assembled on site, buildings made

from mass timber have shorter project

timelines, and are safer and has less

noisy construction sites.

In an interview with Built by Nature,

Pablo van der Lugt 2 , an author and

board member of Built By Nature, was

asked how he would define the present

state of affairs around the adoption of

mass wood in construction: "We are in

a unique moment in time which sets

the stage for a potential major shift

towards mass timber construction — the

climate crisis, housing deficit, and latest

advancements in mass timber building

construction system based on increased

digitalisation and robotic manufacturing

have set the right preconditions for a

mass timber building revolution."

The Monicahof 3

One example of how fast and

sustainable construction with certified

wood is possible is the Monicahof in the

centre of Utrecht in the Netherlands

that was completed in four months. The

12m-high complex has four storeys,

consists of mainly Programme for the

Endorsement of Forest Certification

(PEFC)-certified wood, and offers

space for two workplaces and six

small apartments, each with an area of

approximately 50m 2 .

28 WOOD IN ARCHITECTURE • ISSUE 2 – 2022
---
SUSTAINABILITY

1

The residential and work complex in

Utrecht was designed by Design agency

Ramin Visch 4 . Seventy cubic metres

of wood were used in the complex. In

total, more than 43,000kg of CO2 were

stored in that wood, while the use of

other traditional building materials such

as concrete and steel actually causes

CO2 emissions. If sustainably sourced,

wood can be endlessly renewable. The

use of PEFC-certified wood as a building

material is particularly sustainable

because the PEFC label ensures that

what is harvested also grows back.

WOOD: BUILDING WITH

SPEED

The speed in which a wooden building

can be realised makes this construction

method ideally suited to contribute

in the short term to a solution for the

current shortage in the housing market.

Parts of the complex at Monicahof

were already assembled in the factory,

which meant that processing time in the

construction site could be limited — an

advantage, especially when construction

has to take place in the city.

THE WOODEN CONSTRUCTION

The load-bearing capacity of the

Monicahof construction is mainly due

to the use of LVL from Metsä Wood, a

provider of engineered wood products

2

that is PEFC chain-of-custody certified.

This PEFC-certified beam material from

the Finnish forests is 2.5 times stronger

than normal wooden beams and

available in beams up to 25m in length.

With the use of the wooden beams

and panels, all electrical installations

could be concealed in the hollow walls.

Furthermore, all of the wood material is

removable and reusable.

Another example of building with

timber at a fast speed is the Macquarie

University Incubator 5 . The Incubator

provides a space for students

to research and develop ideas.

Sustainability, flexibility, and a short

construction time were priorities in the

project development. One hundred

and five cubic metres of PEFC-certified

glulam, supplied by binderholz, a

producer of solid and engineered

wood solutions, and 2,500m² of solid

wood panels were processed during a

construction period of a few months.

Sustainability was a priority in the

construction process and the selection

of materials. While a cantilevered roof,

double-glazing, and operable wall

panels help to maintain a pleasant

room temperature all year round,

photovoltaic cells on the roof generate

renewable energy.

1 The Macquarie

University

Incubator

2 One hundred

and five cubic

metres of PEFCcertified

glulam

were used in the

construction of

the Incubator

WOOD IN ARCHITECTURE • ISSUE 2 – 2022 29
---
SUSTAINABILITY

Wood was selected as the main

building material because of its ideal

processing, and can be produced,

dismantled, and moved quickly. The

certified engineered timber used in

the building includes Victorian iron

ash, spruce glulam, and Accoya, and

demonstrates high levels of carbon

capture.

The building comprises two large

pavilions, providing an open function

room whose size and function can be

adapted to various requirements, fully

glazed and acoustically separated

meeting rooms, lockers, service rooms,

and an open community office.

The Incubator was created to meet

the diverse and changing needs of its

present and future users. Designed

to be fully reusable, the building

consists of a prefabricated, modular

timber structure, which allows fast

construction and assembly and the

potential for future disassembly and

relocation.

Accuracy was essential to ensure

that the building components were

fully coordinated before transport

and installation. This way, it was

possible to implement the project

within the desired timeframe and given

budget. The building delighted the

jury of the Australian Timber Design

Awards, where it won several prizes in

different categories, and the juries of

architecture awards around the world.

The project was also one of the finalists

of the 2018 Best Use of Certified

Timber Prize, supported by the PEFC.

DESIGN WITH A DIFFERENCE

Timber is the link between building

and nature. The variety and species

of timber available are enormous with

a variety of colours, grain patterns

and wood character to choose from.

The potential and scope for timber

application is as wide as one's

imagination. Timber also enables fast

construction, is healthy for people living

and working in the building, and allows

for creative designs.

With the rising usage of mass timber

in buildings, there is a need to

ensure that the timber is sustainably

sourced, ensuring the forest is

well-managed and will be around

for generations to come, and that

the people living in and around the

forests are protected. WIA

References:

1 Think Wood. 4 things to know about mass

timber.

2 Built by Nature. Built by Nature announces

Pablo van der Lugt as latest Board addition.

3 Studio Ramin Visch. Appartementen

Monicahof.

4 PEFC Netherlands. Fast and sustainable

construction: With certified wood it is possible.

5 PEFC. Macquarie University Incubator:

Innovative working space combines

sustainability and flexibility.

The certified

engineered timber

used in the building

includes Victorian

iron ash, spruce

glulam, and Accoya

30 WOOD IN ARCHITECTURE • ISSUE 2 – 2022
---
MATERIALS AND TECHNOLOGY

Timber

constructions

reach new

heights

High-rise buildings are increasingly

made from solid wood or wood

materials rather than steel, concrete

and glass. As part of this trend, the

construction industry is putting itself,

its processes and the materials it uses

to the test. This time, however, the aim

is not just to build higher, faster, further,

but rather to place greater emphasis

on sustainability — a development that

supplier of industrial adhesives Jowat

supports, with adhesives used to hold

the individual building components

together and form them into a whole.

Germany's tallest wooden building

constructed using the technique of

adhesives can be found in the city

of Heilbronn: the SKAIO building

features several commercial spaces

and residential units reaching a total of

34m in height. But this record is set to

be broken as soon as construction of the

Roots building in Hamburg is complete,

as this will extend to a height of 65m to

make it almost twice as high as SKAIO.

Nevertheless, it still is not enough to

challenge the highest plyscraper — as

wooden high-rises are known — to date

at the time of printing in September

2022, which is the Ascent building in

Wisconsin, US, standing at 86.6m tall.

Efforts are underway worldwide to

trump this record and redefine the

limits of what is possible. Japanese

timber construction materials company

Sumitomo Forestry is pushing the

boundary furthest by its 350th

anniversary in 2041: By the time this

occasion comes around, the W350

plyscraper with a height of 350m is set

to be completed in Tokyo, Japan. It is

an ambitious undertaking given that the

challenges inherent in the construction

of high-rise buildings are exacerbated

by the relatively new timber

construction method in this sector.

The higher a structure is, the more

susceptible it is to damage from

external influences such as wind or

earthquakes. This means it must offer

sufficient stability on one hand, but

WOOD IN ARCHITECTURE • ISSUE 2 – 2022 31
---
MATERIALS AND TECHNOLOGY

1 2

1 The Mjøstår-net

2 The SKAIO

3 Like the

game Jenga,

adhesives hold

the individual

building

mass timber

components

together and

form them into

a whole

4 Using adhesives

to glue mass

timber elements

together

also a certain flexibility on the other in

a bid to withstand both forces in equal

measure. It is not only the material

itself that matters, but also what holds

it together. As demanding as this task

may be, it is worth mastering given

the sustainability effects that can be

achieved with this construction method.

SUSTAINABLE TIMBER

CONSTRUCTION

Toni Rüegg, managing director of Jowat

Swiss, sees ecological potential in

load-bearing glue-laminated timber

(glulam): "As things stand today, there

are still a number of materials that can

be substituted with wood, particularly

when it comes to building construction."

He is also convinced that "timber

construction is the most appropriate

alternative against the backdrop of

the ongoing climate debate". After

all, conventional construction with

concrete is anything but efficient by

today's standards when it comes to

resources: the raw material sand, which

is needed for the production of the

materials, is increasingly running out.

Furthermore, the production of these

building materials releases large

amounts of the greenhouse gas CO2,

thereby contributing to the ongoing

issue of climate change. Trees, on

the other hand, bind CO2 during their

growth, which remains in the wood

as long as it does not rot or burn. One

cubic metre of timber used contains

around one tonne of CO2, which

contributes to saving on greenhouse

gases. The finished building also offers

advantages in terms of energy, since

wood has a positive influence on the

humidity in the room, thus contributing to

a healthy indoor climate.

Apartments and offices in these woodbased

buildings are therefore in high

demand. Rüegg asserted: "It is clear

from the growth rates of the global

cross-laminated timber (CLT) industry

that sustainable construction really is

what everyone wants right now. At Jowat

Swiss, we have long been committed

to the further development and

optimisation of load-bearing glued timber

construction and are proud to be actively

involved in its growth going forward."

EXPERIENCE AND

INNOVATIVE SPIRIT

The one-component polyurethane

adhesives (PUR) from Jowat, for

32 WOOD IN ARCHITECTURE • ISSUE 2 – 2022
---
MATERIALS AND TECHNOLOGY

3 4

example, contributes to expanding

the structural possibilities of timber

construction. With the Jowapur 681.10-

681.60 product series, the formulations

are each tailored to different

requirements of load-bearing timber

construction, allowing them to be used

in different processes, from lamination

to finger jointing of engineered timber.

It is not only the easy handling of

the ready-to-use adhesives that is

crucial either; the optimised waiting or

pressing time ratio of up to 1:1 affords

an increase in production capacity

with the associated time savings,

thereby meeting the increasing

demand for timber elements in the

construction industry. The adhesives

also demonstrate their advantages in

free-form constructions, where it is

crucial for adhesive joints to be stable

under high tension.

As for the rheological product

properties, these are also ideal with the

uniform wetting of the substrates to

be bonded. When exposed to moisture

from air and the timber, the adhesive

cures reliably and is allowed to develop

its adhesive power. The Jowapur

681.10-681.60 series is certified to EN

15425:2017 and approved for European

load-bearing glued timber construction.

This means that solid structural timber,

glulam and CLT can all be manufactured

for building construction.

THE SMALL BUT SUBTLE

DIFFERENCE

The products are also mixed with

fibres that fulfil several functions

with regards to bonding loadbearing

components. In this way,

they contribute to a homogeneous

adhesive joint by reducing foaming

— not only does this minimise

soiling of the equipment, but also

contributes to a stronger adhesive

strength of the end product.

Particularly in finger jointing,

the fibres contained prevent the

glued finger joints from slipping

apart in the production process to

achieve a stabler end product. The

Jowapur 681.10-681.60 product

family is also reportedly free from

formaldehyde and solvents, and is

emission-free and odourless when

cured. WIA

The article was first published by Jowat

and is reproduced with permission.

WOOD IN ARCHITECTURE • ISSUE 2 – 2022 33
---
MATERIALS AND TECHNOLOGY

Addressing quality

and processing

problems for

coated wooden

doors and windows

Qvesarum, a design manufacturer of

windows, doors, orangeries, bathroom

fittings, interior and exterior furniture,

and other carpentry of interior building

details and furnishings, aims to improve

their product quality as well as to

use healthier and environmentally

friendly waterborne coatings. Coating

approximately 100 windows, 50 doors,

four orangeries, and 20-30 bathroom

or furniture items per month with their

former solvent-borne coating system,

they experienced moisture ingress into

the wood, especially at the end-grain,

resulting in cracks and flaking in the

paint, poor adhesion, as well as the

inconsistency of colours.

Headquartered in Löberöd, Skåne,

Sweden, Qvesarum produces in

Indonesia and exports them to the

Scandinavian region. The company

1

believes in craftsmanship and

professionalism; all products are

constructed with sustainability in mind,

and the company only uses materials

that are healthy for both houses

and people. At the request of their

Swedish office, the Teknos South East

Asia team contacted Qvesarum Asia

in Jepara, Centra Java, Indonesia to

offer its solutions and services to help

Qvesarum overcome product quality

and performance issues.

STRONGER, BETTER FOR THE

ENVIRONMENT

With Qvesarum keen on moving away

from solvent-borne systems, the

Teknos waterborne portfolio of exterior

industrial coatings was the optimal fit.

Teknos has now been supplying exterior

products to Qvesarum since 2020,

ranging from AQUAPRIMER 2907 wood

preservative, ANTISTAIN AQUA 2901

primer and tannin blocker, AQUATOP

2600 as the topcoat and TEKNOSEAL

4000 end-grain sealer.

Yanuar Yogaswara Maryono,

exterior coating expert and business

development manager for Indonesia,

Teknos, explained the recommended

system: "The customer coats pine, teak

and mahogany destined for the cool,

wet climate of northern Europe, so our

solution had to include a preservative to

protect against wood discolouring fungi

and meet European wood durability

standard EN599-1. This is followed by

a primer that prevents tannin bleed

and finished with a topcoat that is easy

to process and weather-resistant, that

provides reliable protection against

ultraviolet (UV) radiation, tinted in the

RAL or NCS colour shade according to

their customer's demand, and gloss

grades from 15-60 are also possible."

Teknos also offers ready tinted

colours made from its production

site and supplies the colours readyto-use

to Qvesarum Indonesia for

direct application, without the hassle

34 WOOD IN ARCHITECTURE • ISSUE 2 – 2022
---
MATERIALS AND TECHNOLOGY

of mixing and matching the colours

themselves. The colour pigment used

in Teknos exterior products is also

designed for exterior use, thus allowing

the final product to perform with good

weather resistance and light fastness.

2

"Qvesarum and Teknos share similar

values where sustainability is integrated

into our strategy, business model

and our everyday work. I am glad

that our Teknos waterborne solutions

and products can help Qvesarum in

achieving their values to customers of

offering long-term quality for a more

sustainable world, together we make

the world last longer," said Wanda

Smith, managing director of Teknos

Malaysia.

In general, compared to other

waterborne exterior products on

the market, Teknos products' drying

process and time are reportedly

suitable for South East Asia's weather

conditions and tropical climate. Also,

the surface drying is faster, allowing

sanding to take place before applying

the next layer, thus achieving a faster

processing time. Each of these layers

takes 2-4 hours to dry depending on

conditions, according to Teknos, leading

to improved lead times at Qvesarum

Indonesia. After brushing or spraying

the first layer, the remaining coats are

sprayed, resulting in a smooth and even

finish. Furthermore, with Teknos offices

in both Scandinavia and South East

Asia, the product is available locally, so

any small touch-ups to transit damage

can be rectified in Scandinavia with the

same product that matches the original

paintwork applied in Asia.

"Not only has productivity improved

but the finish is now highly durable.

Switching to waterborne coating

solutions is a better choice for the

health and safety of our employees

and customers. It has reduced our

impact on the environment which along

with our other initiatives, such as, only

3

working with FSC-assured wood, make

us a more sustainable business. With

Teknos's expertise, we are developing

our portfolio of waterborne coated

products including wooden gates and

interior wood for bathrooms too,"

concluded Emil Linderberg, CEO of

Qvesarum. WIA

1 Teknos offers ready tinted colours

2 Teknos's products are reportedly usable

for various climates, including northern

Europe's cool and wet climate, and South

East Asia's tropical climate

3 Qvesarum faces moisture ingress into the

wood with their past solvent-borne coating

system

WOOD IN ARCHITECTURE • ISSUE 2 – 2022 35
---
ENGINEERED WOOD

Recycled CLT:

An affordable and

environmentally

friendly building

solution

Cut-offs from mass timber construction often

end up becoming chip value, but Recycled CLT

(ReCLT) sees higher value in these cut-offs and

repurposes them into reusable cross-laminated

timber panels. Peteris Vasuks, author of ReCLT,

product and technology development, shares how

the initiative aims to make environmentally friendly

building solutions more affordable.

By Yap Shi Quan

What exactly is Recycled CLT

(ReCLT) , and how did this

initiative come about?

Peteris Vasuks: Most people

involved in developing the ReCLT

technology have a rather extensive

experience in the development of

woodworking technology and the

production and construction of

wood-associated building products.

By working with glue-laminated

timber (glulam) and cross-laminated

timber (CLT) production more and

more, it became clear to us that

people working with prefabricated

wood products need a deep and

integrated understanding of the

whole process, from forest to

design, production and on-site

assembly.

We encourage smart design: To

design buildings with as minimum

waste as possible. In an ideal world,

we would design buildings with

almost no waste. However, in most

cases the type of design would

potentially cause problems at the

building site and make the process

less effective. CLT buildings are

therefore still designed in a way

where we get cut-offs from window

and door openings, geometrical

cuttings, and component layout

optimisation. Since we cannot really

avoid waste, we wanted to create a

technology that would help not to

downgrade the "leftovers" to chip

value. We are also thinking about

the future: What will happen to the

dismantled CLT? Is chipping the only

way to reuse the material?

ReCLT panels

ReCLT offers a solution to these

issues by keeping the material as

close as possible to the initially

intended use, whether it is

production cut-offs recycled into

structurally usable material, or CLT

from dismantled high-rise buildings

recycled and reused for low-rise

construction applications.

36 WOOD IN ARCHITECTURE • ISSUE 2 – 2022
---
ENGINEERED WOOD

How is the belief of "ecology is not possible

without economy" embodied in ReCLT?

Vasuks: This was formulated by one of the

authors of ReCLT 14-15 years ago: "Ecology

and economy are not possible one without

the other. Ecology is not possible without

economy; ecological solutions need to be

affordable for them to be widely applicable

and have a noticeable impact on the

environment. Economy is not viable on a long

run with having a 'reasonably' ecological

approach."

CLT, when compared to other traditional building

materials, is still more expensive to build with,

or depending on many factors it can also be

the other way round. Smart use of materials

makes CLT more cost efficient in production,

and thus more affordable for end users. It is

thus easier to switch from conventional building

concepts to environmentally friendly solutions.

Additionally, Nordic CLT, the company behind

ReCLT, not only reprocesses all of its cut-offs

from structurally usable materials but also buys

them in from other CLT producers. This leaves a

positive effect on the production costs of cut-off

supplier.

From the collection to the manufacturing

aspects, how environmentally friendly is the

recycling process?

Vasuks: In most cases, the cut-offs would be

chipped and used for energy. In other words,

they are reprocessed into lower-added value

product. ReCLT offers an alternative approach to

avoid downgrading the value of the product. The

timber that CLT elements are produced from has

been harvested, transported, sawn, dried, finger

jointed, planed and glued. CLT cut-offs basically

has the same quality product as the element

itself. The only difference or fault compared to

standard CLT is the lack of universally usable, or

effectively CNC machinable dimensions. ReCLT

helps to solve this.

Since the cut-offs processes are comparably

large, the energy consumption per 1m 3 is low.

From 1m 3 of CLT cut-offs, we get approximately

0.8m 3 of recycled CLT, depending on the cut-off

size. So, 80% of the cut-offs go back into the

long CO2 cycle instead of being chipped and

burned.

Cabins built partially with ReCLT panels

How are the cut-offs manufactured back into

reusable CLT panels, and can you rate the

durability and strength of the recycled CLT

panels?

Vasuks: Production of recycled CLT consists

of multiple formatting, profiling and gluing

processes carried out in several cycles

depending on the incoming cut-off size and

desirable panel size. Most of the cut-offs we

reprocess come from doors and windows.

There can be as many as 15-16, in average 6-8,

cut-offs used to produce one 5m x 3m panel.

In the process of the technology development,

tests were carried out. The results from the

bending strength testing were approximately

70-80% of the original bending strength of a

CLT panel.

ReCLT received the "first order" to design a

CLT, glulam and recycled CLT hybrid building.

Can you share more that project and other

projects that ReCLT will be embarking on?

Vasuks: Unfortunately, that project has been

postponed due to an overall rise in building

costs. Most probably we will get back to

it sometime in 2023. It was planned as a

220m 2 barn-type, one-family house with the

load-bearing part built with glulam beams

and 100mm of recycled CLT for the self-loadbearing

external walls with insulation and

timber-cladded ventilated façade. The partition

walls will be built with 100mm recycled CLT,

and the slabs with ordinary 140mm CLT.

Some smaller residential projects like

country house attachments have been

built using 100% recycled CLT, or with it

as a combination. Currently, there are a

couple of projects in Riga, the capital of

Latvia, in discussion where most probably

recycled CLT made from cut-offs generated

to produce CLT for the same building will

be used. Recycled CLT is also used widely

for cabin productions, specifically with

NordCabin, a producer of cabins based in

Latvia.

Lastly, is there anything you would like to

add about ReCLT?

Vasuks: Wise use of timber, prefabrication

and modularity are keys to a sustainable

future. Here are two ways to push

environmentally friendly building solutions

that have been industrialised to wide

markets, especially to make impact in

a short term: One would be to tax less

environmentally friendly solutions, the other

would be to make environmentally friendly

solutions more affordable to a wider public.

We encourage the second one. We have only

made couple of first steps. The endorsement

we get from all over the world gives us the

energy to carry on and believe we are on the

right way. We already have plans to broaden

the application possibilities of recycled CLT,

and to improve technical properties and

visual appearance of the products. WIA

WOOD IN ARCHITECTURE • ISSUE 2– 2022 37
---
ENGINEERED WOOD

Reaching

new heights

with wood:

Wooden

wind turbine

towers by

1

Modvion

By Yap Shi Quan

Wood has gained mainstream appeal as mass

timber in the construction industry in recent

years, but unexpectedly, the material has

also become a viable alternative to traditional

materials like steel and concrete in other

industries. For one, plywood is used to make

what is reportedly the first wooden satellite

called WISA Woodsat, launched in 2021.

And now, wind turbine towers are also being

constructed using engineered wood, specifically

laminated veneer lumber (LVL).

The company behind this turbine tower

innovation is Modvion, founded by David

Olivegren and co-founded by Otto Lundman and

Joakim Örneblad. According to Lundman, who

is also the CEO of Modvion, Olivegren had first

seen wooden wind power towers in Germany.

But equipped with experience in building boats

and working with architecture, he had a better

idea on how to construct better wooden towers

— hence Modvion.

The very first project the company had

embarked on was a 30m-tall prototype tower

on the island of Björkö, Sweden, just outside

of Gothenburg. "That tower made people

believe in our vision and made the idea real,"

said Lundman. "It also attracted the attention

of one of the world's largest wind turbine

manufacturers, namely Vestas, who have since

become shareholders of Modvion. Björkö will

always be important for us."

Modvion has come a long way since then.

Currently, they are building their first commercial

building, which will be ready in 2023. The

turbine tower will be 100m tall, reaching a total

height of 150m when including the turbine and

the blades. Lundman elaborated: "This will be

the first tower from our new production line,

which will then proceed to build an even taller

tower to support a larger turbine of around 6mW,

which is where we will sell larger volumes. That

tower will be for turbines around 250m tall."

Besides projects, Modvion recently teamed up

with Stora Enso, one of the biggest industry

players, especially in mass timber and

sustainability solutions. Lundman commented

that both companies have signed a letter

of intent and they are currently exploring

possibilities. What exactly both partners will

bring to the table, however, is still unclear as

details are still "being finalised".

THE STRENGTH OF WOOD

Traditionally most structures in the world,

especially tall structures, are built with steel

and concrete, since both materials are robust

and durable, and can withstand damages

from the climate. In contrast, wood is seen as

weaker, susceptible to climate changes.

But wood technology has caught up, with

engineered wood able to rival steel in terms

of strength and durability. Modvion's wind

turbine towers are built with LVL, which is

38 WOOD IN ARCHITECTURE • ISSUE 2 – 2022
---
ENGINEERED WOOD

2 3

1 The Björkö

project

2 Test modules

of the wooden

turbine tower

3 Laminating the

wood modules

4 The modules are

built with LVL for

its thinness and

strength

5 The factory

site, producing

modules to be

shipped off

4

5

stronger than steel proportionate to its weight.

Lundman explained that this is an advantage,

especially when the construction industry is

demanding taller and taller buildings.

He added: "Building with wood also makes

it easier to build in lightweight modules,

transportable on public roads without permits

or road reconstructions. This makes it easier

to build taller towers at a lower cost. Taller

towers reach stronger winds, leading to a more

cost-efficient energy production."

One of the biggest advantages of using wood

is its environmental friendliness. The tower

component releases the most CO2 emissions

during manufacturing, as traditionally it

uses emission-intensive materials like steel

and concrete. Conversely, wood is a readily

available and renewable resource, and when

used, can reduce the CO2 emissions for the

tower by 90% while also storing CO2 that has

been taken up by trees during their growth. In

total, using a Modvion wooden wind turbine

tower can reduce the emissions for the whole

turbine by 25%.

This would be an incentive to drive up demand

for Modvion towers: "If we can get into series

production fast enough, the demand is there.

Energy companies have big targets to meet

when it comes to reducing emissions and

reaching net-zero energy production by 2050.

Vattenfall for example has set a target to reduce

their supply chain emissions by 50% by 2030."

Besides LVL, there are other forms of mass

timber, such as cross-laminated timber (CLT)

and glue-laminated timber (glulam) being the

more popular ones. Besides them, there are

emerging forms such as nail-laminated timber

(NLT) and dowel laminated timber (DLT).

Different kinds of mass timber have different

benefits, but specifically for Modvion's wooden

wind turbine towers, LVL won over the others

with its strength and thinness.

Lundman explained: "We use LVL as its

thinner layers make it stronger than, for

example, CLT or glulam. Wood comes with

many imperfections, and by having thinner

layers these imperfections are thinner in

comparison to the total thickness in other

types of engineered wood. That means we can

calculate higher strength in LVL. In addition,

we can design the layup in LVL according to our

needs, which is important for our product."

The challenge of using wood, as already

mentioned by Lundman, is that it is a natural

material with imperfections and weaknesses

that steel, for instance, does not have.

Calculating the strength of an LVL panel would

have been hard to do just a few years ago, but

now the team is able to do these calculations

in every laptop. WIA

WOOD IN ARCHITECTURE • ISSUE 2– 2022 39
---
DESIGN

"Inspired by

everyday lives":

The Innovus

decorative

collection

Innovus is a collection of decorative

products designed by producer of

wood-based panels and design

solutions Sonae Arauco, with new

global trends of architecture and

interior design in mind, and inspired by

everyday lives, the places people live,

work in, and visit.

With over 200 decors and 17 different

finishes — reportedly allowing more

than 260 combinations — the collection

comes in three main categories: Woods,

unicolours and fantasies. The range is

suitable for melamine, high pressure

laminates (HPL) and compacts (HPL-C),

thin and painted medium-density

fibreboard (MDF) panels, through-dyed

and formaldehyde-free decorative

Coloured MDF, and Essence, with

synchronised finish.

10TH ANNIVERSARY

EXPANSION

Launched in 2012, the Innovus

collection celebrated its 10th

anniversary in 2022, highlighting the

new finishes, three of which are woodinspired:

The first is Spirit which, when combined

with decorative environments, transmits

an essence of wood, resulting in a

quality product. According to Sonae

Arauco, Spirit has been designed

based on the features of Italian walnut,

and can be used to evoke a sense

of elegance and stylishness for wall

panelling and furniture.

Second, Fusion has a wood texture that

provides a warm and natural touch to

recreate the appearance of manually

worked wood — without compromising

the soft-sanded feel of real wood. It

is created from the combination of a

soft slate and wood-pore structures

to obtain a tactile and visual surface,

and can be used in various kinds of

structure, allowing the creation of

warm and inspirational environments.

Third is Flow, which has crossed pores

that create subtle waves, together with

its matte look and tactile smoothness

that afford the surface a natural

and spontaneous appearance. This

finish was designed to add value to

decorative environments, and can

be combined with a variety of wood

structures and colours.

The fourth finish is Stucco, which

has a touch of cement and ceramics,

drawing inspiration from industrial and

urban environments. Its tactile surface

and variety of gloss levels lend it

a natural appearance, and can be

combined with solid colours and

some hybrid structures.

Lastly, there is Cosmos, inspired

by sand-blasted stone and real

concrete walls, in a balance for a

deep structured surface. It can be

combined with decorative stone,

cement and oxides to create a

natural product.

According to Sonae Arauco,

Cosmos and Flow are "exclusively

developed" as a clear answer to a

more authentic and natural textured

product that they could not find in

the market. Developed from scratch,

the final structures were achieved

by combining structures of natural

materials — stones and cements for

Cosmos and natural pieces of wood

for Flow — with surface treatment

techniques, and finally all the

technical work to obtain the desired

effect.

Sonae Arauco also updated the

range with new decor on the theme

of natural materials. New wood

decors include: Endless Oak Natural

which represents a classical and

40 WOOD IN ARCHITECTURE • ISSUE 2 – 2022
---
DESIGN

elegant oak decor, with natural

elements and a neutral colour;

Endless Oak Black which is a darker

variant of Endless Oak Natural, and

both decors can be contrasted or

matched with stones or metallic

decors for a more masculine look;

and Sonoma Oak Grey Green, a

planked oak decor with a saw-cut

effect ideal for furniture, shop fittings

and hotel projects.

HYGIENIC AND GREEN

Beyond aesthetic properties, the

Innovus collection also takes into

consideration hygiene factors.

According to Sonae Arauco, the

Innovus panels are certified for

contact with food by the ISEGA

Institute, a certification and testing

organisation based in Germany, with

the Certificate of Compliance - 50509

U 19. This means the panels can

be safely used in the production

of domestic or commercial

furniture and for use as counters or

worktops, provided all other hygiene

requirements are complied with.

Generally, all Innovus products with

melamine surfaces have ideal hygiene

properties with the compactness of

the surface and its ease of cleaning.

Due to an almost completely closed

surface, it is challenging for dirt

particles to adhere to the panels

unless there are structural pores,

cracks, or sharp-edged or pocketshaped

depressions.

The panels also have antibacterial

properties, certified by tests

carried out by international

standard ISO 22196:2011 in

the external laboratories of the

Hohenstein Institute (Germany) for

melamine faced chipboard (MFC)

and the Universidade Católica

Portuguesa's Higher Institute of

Biotechnology (Portugal) for HPL.

The panels' melamine surfaces offer

unfavourable conditions for the

reproduction of bacteria.

Furthermore, Innovus panels

are fire-retardant and moistureresistant,

while presenting low

formaldehyde emission levels.

In particular, the Innovus MFC

combines aesthetic components,

technical performance and

environmental sustainability, and

this won Sonae Arauco the Green

Product Award 2022 in the Interior &

Lifestyle category.

João Berger, CMO and CSO at Sonae

Arauco, commented about the

award: "It is with great pride and

a sense of a job well done that we

accept the Green Product Award,

which means increased market

recognition of the way our main

collection addresses the challenge of

climate change." WIA

COSMOS

FLOW

FUSION

SPIRIT

STUCCO

WOOD IN ARCHITECTURE • ISSUE 2 – 2022 41
---
DESIGN

Bringing quality

hospitality

to Indonesia

Muhammad Abdurrohim's Baluran National

Park Safari Lodge, which uses American

oaks, was awarded the best design for

interior space by a young professional at

the recent design camp organised by the

American Hardwood Export Council (AHEC).

Young interior designer Muhammad

Abdurrohim is seeking to push the

boundaries of hospitality in Indonesia

through good design. He had been

working as an interior designer for

Hotel Indigo in Bandung, Indonesia

for a year when he signed up for

the design camp organised by the

American Hardwood Export Council

(AHEC) and the Indonesia Society of

Interior Designers (HDII). Hotel Indigo

is the IHG Hotels and Resorts' upscale

lifestyle boutique hotel offering.

He was mentored by Adi Surya, from

whom he said he learnt a lot: "My

mentor taught me how to create a

good space, from inspiration for the

aesthetic, to solving problems in the

design."

In line with his hospitality background,

Muhammad designed a safari lodge for

the Bularan National Park. His design

42 WOOD IN ARCHITECTURE • ISSUE 2 – 2022
---
DESIGN

was conceived to inject the luxury

African safari lodge experience to the

Bularan National Park in Indonesia

where exquisite views and abundance

of flora and fauna can be enhanced

further with equally good lodging.

1

His building design is inspired by the

shape of the firefly, and comprises four

bedrooms as well as common areas

for dining and other leisure activities.

His design includes American red oak

for the ceiling structures and American

white oak for the exterior, with both

American oak species bringing different

dimensions to the space. He intends

to use American red oak veneer on

supporting steel structures to create

a warmth and luxury that the timber

brings to spaces.

2

In his line of work, Muhammad has

previously incorporated timber, which

he believes appeals to Indonesian

consumers. However, some of the

timbers he used in the past have been

less flexible in usage than American

species, causing him to be limited in

design. He has also felt in the past with

many timber species that he lacked the

depth of knowledge to ascertain their

strength and durability.

The design camp gave Muhammad the

opportunity to learn about American

red and white oak, timbers that can be

used for structures. He said: "American

red oak was a new discovery for me. It

adds to the premium feel of the safari

lodge. The material is easier to shape

and can support the creation of new

premium local Indonesian design."

Muhammad's immediate task at

hand is to finish his work on Hotel

Indigo Bandung. Looking further

ahead, he concluded: "I want to be

an Indonesian designer who focuses

on exploring local Indonesian wisdom

and recreating these into modern

designs imbued with the spirit of local

cultures." WIA

1 American red

oak for ceiling

structures

2 American red

and white oak

bring different

dimensions to

the space

3 Muhammad

believes that

American red

oak is "easier

to shape and

can support the

creation of new

premium local

Indonesian

design"

3

WOOD IN ARCHITECTURE • ISSUE 2 – 2022 43
---
DESIGN

The Royal Park Canvas

Sapporo Odori Park

ARCHITECTURAL TEAM:

Mitsubishi Jisho Design

LOCATION: Sapporo,

Hokkaido, Japan

STRUCTURAL ENGINEERS:

Mitsubishi Jisho Design

PRINCIPAL USE: Hotel, restaurant

PHOTOGRAPHY: Kawasumi/

Kobayashi Kenji Photograph Office

This design for this hybrid timber

high-rise hotel, the Royal Park Canvas

Sapporo Odori Park, aims to maximise

the use of local materials. With a

concept of "experience Hokkaido",

the hotel features materials made and

grown in the prefecture in everything

from the building itself to the hotel's

management, construction materials

and food.

Four principles guided the project:

First, use timber harvested in Hokkaido

so that mature plantation forests can

continue a sustainable cycle of use

and regeneration. Second, reduce

construction waste and CO2 emissions

to a minimum and take other measures

to protect the environment. Third,

stimulate local industry by using

locally grown timber and working with

local businesses. And lastly, beyond

providing hotel accommodations,

contribute to the community by

creating a place that is open to the

public and promotes culture.

Japan has strict building standards

related to earthquake and fire safety,

particularly for high-rise buildings.

44 WOOD IN ARCHITECTURE • ISSUE 2 – 2022
---
DESIGN

1

2

3

4

In recent years, however, new

standards have been added allowing

the construction of timber high-rises,

provided certain conditions are met.

Timber and hybrid timber high-rise

architecture requires advanced

technology. The present building is

hybrid, utilising a reinforced concrete

frame from the basement through

eighth storey, with cross-laminated

timber (CLT) used for part of the

eighth-storey flooring, and a wood

frame on the ninth through eleventh

storeys and rooftop structure.

Aiming to also incorporate wood as an

interior or exterior finish, and reduce

waste from concrete formwork, the

architecture team, Mitsubishi Jisho

Design, developed a stay-in-place

board formwork with attached steel

reinforcing rods for use in guestrooms

on the concrete storeys. In the façade,

heat-treated wooden louvres and

carbonised cork wall covering create

an exterior intended to change

colour over time. Altogether, more

than 1,200m 3 of lumber was used

in the building, over 80% of which

is Sakhalin fir, Japanese larch,

Japanese flowering ash, and other

types of wood produced in Hokkaido.

The use of wood reduced CO2

emissions during construction

by approximately 1,383 tonnes

compared to the amount that would

have been emitted if the entire

building was made of reinforced

concrete. The team took other

measures to make the building

more sustainable as well, such as

using lumber remnants from the

production of exterior louvres and

CLT in the interior finishing. To

achieve their goal of incorporating as

many local materials as possible, they

not only used Hokkaido lumber but

also manufactured other items in the

prefecture. This stimulated the local

industry and was a good opportunity to

introduce the latest technology to local

companies and foster their ability to

develop new products.

In addition, because people visit

the hotel from all over Japan and

the world, involving local artists and

manufacturers is an effective way of

promoting local culture and revitalising

the community. Currently, the secondfloor

lounge and the rooftop are open

to the public and events are held

regularly. As university students visit

to view the architecture, neighbours

stop by to ask advice on new projects

using wood, and with more people

connecting to the hotel, it is gradually

becoming a community hub.WIA

1 The exterior

louvers made

from Hokkaido

wood

2 In this hallway

on a guestroom

floor, the core

of the building

is designed to

resemble a tree

trunk

3 The stairs in the

entryway atrium

are made from

Hokkaido wood

4 Guest room

furniture made

using remnants

from the

building's CLT

structure

WOOD IN ARCHITECTURE • ISSUE 2 – 2022 45
---
STRUCTURAL ELEMENTS

Latticed timber work

Balliol College

Master's Field

sports pavilion

LOCATION: Oxford, UK

ARCHITECTS:

Niall McLaughlin Architects

CLIENT: Balliol College

GLULAM STRUCTURE: Xylotek

ENGINEER: Smith and Wallwork

COMPLETION YEAR: 2021

PHOTOGRAPHY: Nick Kane

The sports pavilion is part of

the multi-phased Master's Field

development for Balliol College, a

constituent college that is part of the

University of Oxford in Oxford, UK. The

overall masterplan comprises eight

student accommodation buildings, a

professorial flat and the sports pavilion.

46 WOOD IN ARCHITECTURE • ISSUE 2 – 2022
---
STRUCTURAL ELEMENTS

The new sports pavilion is centrally

located in the site and overlooks

the Master's Field cricket pitch. The

pavilion houses a full-sized squash

court, changing facilities and a multipurpose

hall for hosting cricket teas and

recreational gatherings.

1

According to Niall McLaughlin

Architects, the architects behind the

pavilion, the pavilion's timber structure

— made from sweet chestnut wood —

frames panoramic views out across the

cricket pitch through sliding windows

that lead onto an elevated covered

terrace. Ten layers of the frames are

stacked on top of each other, each layer

cantilevering further into the space,

creating a coffer. Inside, the hall enjoys

a stacked timber lattice ceiling with

integrated clerestorey and perimeter

lighting to provide optimal user-control

to host a range of functions.

2

"We carried out the installation planning

and design directly from the 3D model,

making it into our sequencing model,"

said Oscar Emanuel, managing director

of Xylotek, the company who is also

responsible for detailing the interfaces

between the timber structure and

waterproof enclosure. "On this project

the programming was quite critical. We

planned the hand-powered installation

meticulously."

The roof structure expresses itself from

outside as a lantern, popping up in

the centre of the building. The lantern

is fully glazed, allowing for rays of

sunshine to enter through the stacked

glulam. In the evening, the dense

timber lattice will be highlighted by a

subtle glow, originating from LED strips,

that are recessed at the top of the

glulam joists. WIA

3

1 The sports pavilion at the Balliol College

Master's Field

2 Panoramic views across the cricket pitch

3 Ten layers of sweet chestnut wood glulam

stacked on top of one another

WOOD IN ARCHITECTURE • ISSUE 2 – 2022 47
---
STRUCTURAL ELEMENTS

Coca-Cola

Stage at the

Alliance Theatre

LOCATION: Atlanta, Georgia, US

SIZE: 70,000sqft

ARCHITECTS: Trahan Architects

CLIENTS: Alliance Theatre

1

Steam-bent timber slats, with the

wood sourced from fallen trees

48 WOOD IN ARCHITECTURE • ISSUE 2 – 2022
---
STRUCTURAL ELEMENTS

The Alliance Theatre, founded in 1968,

is a regional theatre located within

the Woodruff Arts Center campus in

Atlanta, Georgia, US. The initial phase of

work focused on the chamber, its lobby,

and artistic support facilities which

were gutted to the original concrete

enclosing walls. The transformation

pulled the 650-seat chamber 10 feet

closer to stage. The planning of the

chamber optimised site lines, utilised

ramping in lieu of lifts, and integrated

stairs to provide access to all levels.

Each surface was tuned acoustically

to deliver a world-class theatre to its

patrons.

The design team felt a responsibility

to remove the separation between

balcony and orchestra, thus challenging

historic notions of segregation and

discrimination. All seating zones can

be accessed from every entrance

within the chamber: a unifying planning

feature of the Alliance Theatre

Transformation.

Susan Booth, artistic director of Alliance

Theatre, commented: "My thought

was, let's dream big… And one thing

we identified was a world-class theatre

that welcomed everyone, that removed

visible and invisible barriers. We had

the courage of our aspirations. And

the question became: How do we get

there?"

Trahan Architects assembled a team

to implement handcrafted steam

bending techniques and artistry on an

architectural scale. From concept to

construction, the project demonstrates

innovation through collaboration

between artist, architect, and fabricator.

COLLABORATION WITH

SCULPTOR

During the design phase with the

Alliance Theatre Transformation,

Trahan embarked on an artistic

collaboration with sculptor Matthias

Pliessnig. This process elevated the

shaping and tectonics of the chamber

and lobby. The steam bending

process of the timber slats perfected

by Pliessnig allowed the architect

to combine the digital modelling

required by the acoustician, with

the craftsmanship and beauty of

the design vision. This collaborative

process produced acoustically tuned

forms that amplified the artistry

performed on the stage.

The final material system is a marriage

of contemporary digital technology

and time-tested handcraft. The 1:1

WOOD IN ARCHITECTURE • ISSUE 2 – 2022 49
---
STRUCTURAL ELEMENTS

1 2

6

mock up series produced by Pliessnig

helped the design team test formal

gestures within the theatre at the

scale of furniture, conducting the

finish testing for the steam-bent

millwork at 1:1 scale. The Trahan team

furthermore developed a workflow

between the 3D model and the physical

samples in order to iterate the colour

and quality of the finish. They chose

an indicative location within one of the

complex terrace shapes to explore the

effects produced in the real world.

ADVANCED FABRICATION

The fabrication work flow merged

handcrafted steam bending with

augmented reality construction

techniques such as 3D laser

projection and photo laser scanning.

The architects developed scripting

techniques to provide layouts of over

10,000 linear feet of oak millwork

slat centre lines to the fabricator. The

construction plans called for more than

200 customised panels representing

nine design types, each type formulated

to meet strict acoustic requirements.

Wheelchair seating is located at each

seating level including the centre of

the lower orchestra. The perimeter

ramp establishes a communal

path. As a result, the Trahan team

exceeded the American with

Disabilities Act (ADA) seating by

25%. The infrastructure presents all

patrons with an equitable route to

their seat, offers optimal site lines,

ensures acoustic clarity for all, and

the fluid millwork provides a noble

experience.

The walls and ceiling of the chamber

and lobby are lined in solid stock

wood. Each half-inch by half-inch

riftsawn oak strand is sourced from

fallen trees. Over time, the wood will

patina by use and human touch. It

is finished in hand-rubbed dye and

fireproof finishing.

Mike Schleifer, managing director

of the Alliance Theatre, concluded:

"The Alliance Theatre is incredibly

proud to have a theatre space that,

through the exceptional quality of

the design, matches and enhances

the artistry we put on stage. The

new space that Trahan Architects

designed is welcoming, intimate,

and visually stunning." WIA

1 The collaborative process produced acoustically tuned forms that

amplified the artistry performed on stage

2 The walls and ceiling of the chamber are lined in solid stock wood

3 Trahan Architects worked with sculptor Matthias Pliessnig to

elevate the shaping and tectonics of the chamber

3

50 WOOD IN ARCHITECTURE • ISSUE 2 – 2022
---
FLOORING

Embracing the

sustainability trend

With a history of caring for the environment,

Danish solid wood flooring manufacturer Junckers

aims to be a driving force in the campaign to use

more sustainable flooring.

solid wood floor for a project can

mean that one small part of the puzzle

is taken care of.

Known for its environmental

credentials, wood is a material

that scores in all criteria. Wood is

often touted as "the world's most

environmentally friendly material",

a renewable resource that does not

produce waste or pollution. This is

because wood acts as a carbon sink,

removing harmful GHG from the

atmosphere. What is more, wood

continues to store the CO2 it absorbed

during its growing period when it

is felled and turned into a product

such as flooring, which means its

environmental benefits last for a long

time. In short, growing more trees will

reduce the amount of carbon in our

atmosphere, reducing GHG, helping

to slow global warming while at the

same time providing oxygen. Wood is

the only building material that has the

natural ability to remove CO2 from the

atmosphere and store it.

A floor made from solid hardwood is

strong and durable. There are minimal

layers of inferior quality and no

harmful chemical substances which

can adversely affect the air quality

in a room. With a lifespan of 60-plus

years, the longevity and lifecycle costs

of a good quality solid wood floor

Junckers's solid

wood floors are

tailored for sports

floors

With a focus on working towards a netzero

carbon future in the construction

industry and beyond, it has never been

more important to choose wisely and

carefully. The United Nations (UN)

Intergovernmental Panel on Climate

Change and the Paris Agreement aim

to cut greenhouse gas (GHG) emissions

by 45% by 2030. The construction

industry is responding by tightening

specifications in their quest towards

more environmentally friendly ways of

building, and architects and designers

around the world have pledged to

design more sustainably.

After making the pledge, the challenge

starts in earnest. Achieving net-zero

carbon may mean new ways of working,

finding alternatives to previously

trusted options, or justifying the

specification process for every part of

a project. Every material needs to meet

crucial criteria: Is it sustainable? Is it

reusable? Is it recyclable? How long will

it last? How is it produced? How can it

care better for the environment? What

may seem overwhelming at first can

more easily be tackled when broken

down into smaller parts, and one such

component is flooring. Specifying a

are second to none. This means less

waste management and ultimately,

lower demands on natural resources.

The hard-wearing properties of a

solid wood floor were of primary

importance to Suhwon Architects of

South Korea when it came to selecting

flooring for the Kunpo Culture and

Art Centre in Gyungee province 1 .

The choice fell on Junckers's solid

Beech Sylvaket, a floor with a warm

appearance and acoustic properties

inherent in the wood. The new

performance stage and seating area

now have a durable, natural floor.

WOOD IN ARCHITECTURE • ISSUE 2 – 2022 51
---
FLOORING

1

1 Junckers used its

Black Oak for the

Lotte Academy

2 Junckers used its

Beech Sylvaket

for the Kunpo

Culture and Art

Centre

3 FSC-certified

products can

help developers

and designers

achieve net-zero

construction

Hardwood is a natural, biodegradable,

and recyclable material and it is

non-hazardous when disposed. Most

other flooring types will not last as

long, which puts greater pressure on

landfill. For example, a solid wood

floor has a lifespan four times that of a

synthetic or engineered floor, meaning

the total amount of energy used for

solid wood floors is further reduced as

one solid wood floor is manufactured

for every four engineered or synthetic

floors. Many floor finishes will have

to be stripped out and disposed after

10 years or less. At roughly the same

interval, a solid hardwood floor can

be sanded and sealed for a new lease

of life. A structural floor, usually with

a thickness of 20mm or more, can be

sanded between eight and 10 times,

which means a lifespan of 60 years can

be exceeded.

More and more buildings are certified

according to schemes such as BREEAM,

Leadership in Energy and Environmental

Design (LEED) and German Sustainable

Building Council (DNGB), where each

product specified for a project is

measured in terms of its sustainability

credentials. The Lotte Academy in

Osan, South Korea 2 designed by

A+U Architects was built adhering

to environmental criteria, including

specifying products with environmental

credentials. Junckers's solid Black

Oak, a floor in a rich, dark colour which

can be sanded and re-finished without

loss of colour and performance, takes

centre stage in the new building's

presentation space. The building has

recently achieved an LEED certification

level of Gold.

Increasingly, there are ways for

architects and designers to ensure they

select responsibly sourced wood and

products with minimal impact on the

environment. A manufacturer who can

offer responsibly sourced wood with

Forest Stewardship Council (FSC) and

the Programme for the Endorsement of

Forest Certification (PEFC) accreditation

along with an environmental product

declaration (EPD) will aid architects

and developers in achieving net-zero

carbon buildings. An EPD assesses the

manufacturing and material sourcing

activities of a company and presents

data in relation to the company's

environmental impact, resource use,

waste categories, output flow, and

recycling capabilities. The EPD, which

represents a measure of the product's

embodied carbon, contributes towards

BREEAM, LEED and DGNB assessments

by providing the specifier with data

pertinent to achieving sustainability

accreditation for a building.

Another way to compare different

flooring products is to use assessment

tools developed by manufacturers.

To help customers feel confident in

their choice of flooring, Junckers has

developed the Carbon Calculator 3 to

compare the global warming potential

(GWP) and embodied carbon levels

52 WOOD IN ARCHITECTURE • ISSUE 2 – 2022
---
FLOORING

2 3

of several commonly specified floor

types. According to Junckers, it is

easy to use and requires no previous

knowledge of GWP and CO2e (carbon

dioxide equivalent). Start by adding

the required floor area, click calculate

to compare several flooring options,

and the results will show how some

flooring products increase the amount

of CO2 in the atmosphere, whereas

others reduce it. Products that

reduce CO2 are referred to as carbon

negative, such as wood.

There is no question that we need to

take drastic actions to achieve the

targets set by the UN and the Paris

Agreement. Reducing the annual

level of CO2 emissions is a matter of

urgency which will require changes

to collective as well as individual

consumption habits. The more we

commit to making crucial changes,

the sooner we will be able to achieve

our goal of halting the climate

emergency.

TIMBER SPORTS FLOOR

Choosing a solid hardwood Junckers

sports or dance floor will give

an optimal performance. Shockabsorbing

qualities, ball bounce,

resilience and friction are key factors

which determine the performance.

The key factors are measured by

the European standard EN 14904,

which sets the rules of sports floor

performance. The standard relates

to both safety and sports technical

properties, and sets demands in two

classes: the standard performance

class A3 and the higher performance

class A4. Junckers's sports floor

solutions are tested according to the

specified requirements and achieve

performances for both A3 and A4

classes. The choice of the sports

floor system depends on the desired

performance. Other factors that affect

the choice of floor system are the

required construction heights and

solutions for both even and uneven

sub-floors.

Junckers sports floor comprises solid

hardwood boards manufactured from

two rows of staves with a thickness of

22mm. The beech staves then undergo

a press drying process which increases

the strength and stability of the wood.

The tongue and groove on all sides of

the board for optimum strength thus

ensure quick and easy installation.

Junckers sports timber are also prefinished:

Boards are surface treated

with several coats of hard-wearing

polyurethane lacquer under optimum

conditions at the factory, which means

the only thing needed after installation

is the line marking paint. Once dry, the

floor is ready for use. WIA

References:

1 Junckers. Kunpo Cultural Center.

2 Junckers. Lotte Osan Academy.

3 Junckers. The Junckers Carbon Calculator.

Images: Junckers

WOOD IN ARCHITECTURE • ISSUE 2 – 2022 53
---
FLOORING

Nature and innovation

transform laminate flooring

Over the past two years of the ebbs and

flows of the pandemic, consumption

patterns and market trends have followed

the same fluctuations. Consumers now

strive for stability and authenticity in interior

design: nature continues to be a source of

inspiration, inviting itself into customers'

homes through an array of bright, warm

colours and surfaces that imitate the

aesthetics of wood. In vogue are light

beiges, greyish tones, warm browns, and

sand shades that are coupled with textures

inspired by timber and stone. These visual

choices signify a deeper shift in consumer

choices, marked by the rising interest in

environmentally friendly solutions that

provide comfort.

NO SPACE FOR THE SHALLOW

The topic of healthy living is becoming

increasingly important. References to nature

in the design and wood-based materials used

to produce floorings are therefore a way for

consumers to get back to basics and create

a protective cocoon against external stress

and changing situations. This new approach

is encapsulated by the idea of "deliberate

restraint", where there is an effort on the

customers' part to move away from maximalist

and flashy interiors, opting for a minimalist

approach instead.

Interiors have been influenced by the

"Japandi" design that combines Scandinavian

functionality with Japanese rustic minimalism

to create a feeling of purity, sobriety, and

pragmatism, leaving little room for what is

superfluous. The focus is now on simplicity and

natural elements to offer customers the safest

and cosiest space possible. These elements

enhance comfort, yet design is not everything.

Nowadays, customers expect flooring to meet

additional requirements, such as quality,

performance and safety.

SUSTAINABILITY AT THE

FOREFRONT

Evolving environmental challenges and the

ongoing pandemic have created growing

concerns for more sustainability and new

models of production and consumption. Being

eco-friendly is not enough anymore. The

54 WOOD IN ARCHITECTURE • ISSUE 2 – 2022
---
FLOORING

pandemic prompted consumers to reflect on

the state of the globalised world order and on

the fragility of supply chains. Customers want

long-lasting flooring that is natural to the eye,

sustainable for the planet and with a strong

lifecycle. The demand for high-quality and

environmentally friendly products has now

become a mainstay for customer choices. This

includes eco-conscious production as well as

sustainable processes and certified materials

that ensure healthy living and high indoor air

quality.

1

It is also a matter of concern for European

policy makers. The New European Bauhaus

Initiative launched by the European

Commission aims to push for a better quality of

life, starting from sustainable, circular and less

carbon-intensive buildings. As a sustainably

produced and procured wood-based building

material, laminate flooring will help to meet

these goals for the benefit of all consumers in

Europe and beyond.

MEETING SUSTAINABILITY

EXPECTATIONS

The members of the European Producers

of Laminate Flooring (EPLF), an association

of laminate flooring producers in Europe

and their suppliers, also make the effort

to improve the eco-consciousness and

sustainability of their production. They do so

by sourcing local wood to reduce the impact of

transport and of CO2 emissions in the supply

chain. These efforts bring producers one step

closer to achieving carbon-neutrality by 2050,

all while preserving the planet and resources,

and supporting local economic growth.

Laminate has positive values for primary

energy consumption and global warming

potential. It also performs well when it comes

to indoor air quality assessment.

To meet the goals of the circular economy,

producers are thinking holistically about

the lifecycle assessment of laminate

products. The EPLF believes that the

production of laminate flooring can meet high

environmental standards. Modern production

facilities are subject to strict emissions and

environmental standards, with many facilities

having their own energy and heating cycles.

GREEN ACROSS THE LIFECYCLE

However, to make a product truly sustainable,

ecological production is just the first step

— one must also consider longevity of the

product and potential for green disposal. While

the construction sector tends to be considered

resource-intensive, laminate is made of up

to 80% natural products, mostly consisting

of wood, one of the most sustainable and

renewable raw materials on the planet. It is

also ecologically produced without the addition

of pesticides, organic chlorine, or compounds

of hazardous heavy metals, making it easier to

dispose. Laminate flooring is therefore light on

resources and recyclable.

Furthermore, the wood used to make laminate

floors comes mainly from domestic and

sustainably managed forests, thus minimising

timber exports. Finally, the production process

uses logs but also thinning material from

forests and wood waste from the sawmill

industry, thus lessening the environmental

impact even further. It can therefore be

said that laminate flooring offers a lifecycle

advantage, while also building a circular

economy.

ECO SOLUTIONS MAKE LAMINATE

MORE VERSATILE

On top of being easy to recycle, laminate

also has a low carbon footprint, contributing

to society's current decarbonisation

strategy. Indeed, laminate stores about

8.6kg of carbon in 1m². Nowadays, an

average living room of 20m² stores as much

carbon as a fossil-powered car generates

over a 1,500km journey at 5l per 100km,

according to the Bavarian State Office for the

Environment.

2

To make the product last as long as

possible, producers are also investing

in new research to develop advanced

technological solutions, such as waterresistant

qualities. These types of floorings

offer moisture resistance, robustness, and

therefore ideal durability. It also means

that laminate floors are no longer simply

relegated to the bedroom or living room

— they can now also be used in kitchens,

bathrooms as well as entrance areas and

hallways. EPLF members see this expansion

as an opportunity to meet the needs of

consumers across the globe. WIA

1 According to EPLF,

laminate performs

well when it comes

to indoor air quality

assessment

2 Laminate flooring

can now be used in

bathrooms

WOOD IN ARCHITECTURE • ISSUE 2 – 2022 55
---
FIT-OUTS

Yuntai Ice

Chrysanthemum

display shelves

PROJECT INFORMATION

DEVELOPER: Government of Huanfeng

Town, Xiuwu County, Henan Province

CLIENT: Jiaozuo Yuntai Agricultural

Technology

DESIGN FIRM: LUO studio

CONSTRUCTION FIRM: Jiaozuo Yuanbo

Architectural Engineering

LOCATION: Henan, China

PHOTOGRAPHY: Jin Weiqi

TOTAL EXHIBITION AREA: 602 square

metres

MAIN DISPLAY SHELF SIZE: 12m

(length), 14.1m (width), 5.3m (height)

MATERIALS: Thin pine panels, iron sheets

COMPLETION DATE: 30 Nov 2021

SUPPORTING RURAL INDUSTRIES

REVITALISATION

The year 2021 marked an opening of a new

chapter for China's Rural Revitalisation

Initiative. As industries take the lead in rural

revitalisation, quality agricultural products and

better ways of displaying them are essential.

This is quite true for Houyanmen Village in

Huanfeng Town, Xiuwu County, China. The

Yuntai Ice Chrysanthemum Industry Park in the

village needed an exhibition space to display

its ice chrysanthemum products, which is a

species of medicinal chrysanthemum, and the

operator thought that what the products display

needed was just a place with a moderate size.

Therefore, they commissioned a steel structure

manufacturer to construct a space with portal

steel frames at a fast speed, for serving product

display and live-streaming selling activities.

Such portal steel frames replicated the

structures of other plants in the industry park.

The operator thought that the space was ready

for use once furniture pieces were set in.

The exhibition is a crucial step for advertising

and marketing. The industrial park's current

selling channels mainly include tour groups,

56 WOOD IN ARCHITECTURE • ISSUE 2 – 2022
---
FIT-OUTS

franchisees and live-streaming

marketing. No matter in which way, a

characteristic space for showcasing

products is indispensable. A space

integrating exhibition function with the

product features can provide people

with a more tangible experience,

communicate products more effectively,

stimulate consumption and promote the

development of the industry.

LIGHTWEIGHT AND COMMON

MATERIALS AND TECHNIQUES

Capital for industries in rural regions

is precious as various factors can

affect production and marketing, and

further cause income losses. Since the

outbreak of COVID-19, sales of local

ice chrysanthemum products from tour

groups have been interrupted, and the

ice chrysanthemum plantation zone

in the village suffered a production

decrease because of floods in 2021.

Taking every aspect into account, LUO

studio tried to create a display setting

in the existing space at a minimum cost,

which was the key design principle. To

this end, affordable and conveniently

available materials, as well as simple

techniques which did not require special

equipment or experienced craftsmen,

easily accessible to local villagers were

applied.

After analysing, LUO studio chose a

type of thin wooden panels featuring a

high lumber recovery rate as the main

construction materials. Manufactured by

a local timber factory, the panels have a

sectional dimension of 60mm x 10mm,

and can be relocated and assembled

by hand. By bending the thin timber

panels properly and then making them

connected to the nodes by making use of

the existing portal steel frames, a natural

and vernacular spatial atmosphere was

generated.

TIMBER ELEMENTS AS

FURNISHINGS

The bending of thin panels accrues

stress that enhances structural stability.

1

Each wooden panel element with a

different curvature is an arched stress

unit. The arched units anchor each

other, with the bottom ends reaching

the display stands. Therefore, the

physical structure of these elements

is also the form of force transmission.

It is a structural element and also

a functional component of display

furniture. The modulus of display

shelves fits into the varied sizes of

agricultural products, and the structural

components function as display shelves

as well. The timber elements are

extended and suspended under the

portal steel frames, producing a natural

atmosphere in the existing space.

DRAWING DEVIATIONS

RECTIFIED ON-SITE

Before the design drawings were

completed, continuous bending tests

had been performed on single thin

timber panels, and in this way, the

design team obtained relevant technical

parameters regarding curvature.

However, during the construction

process, due to many superimpositions

of the bar elements, varied curvature

from different sections of the display

system, and uneven scab distribution of

different batches of timber materials,

there were deviations between the

design drawings and actual execution.

2

1 Staff displaying products

2 South display shelf

WOOD IN ARCHITECTURE • ISSUE 2 – 2022 57
---
FIT-OUTS

To proceed with the construction more

effectively and ensure the maximum use

of common materials, the design team

decided to take the drawings as a reference

for controlling the shape and the way of

organising structures and meanwhile asked

workers to carry out repeated on-site tests

to obtain the final and the most appropriate

curvature of each section of the whole

wooden system. Then, the results were

reviewed and incorporated into the design

drawings, as a basis for deducing and

modifying other material components and

connecting nodes.

3

FROM INDUSTRIAL STEEL

STRUCTURES TO HANDMADE

WOOD-WOVEN SHELVES

The existing industrial-style steel-structure

space was cool and mechanical, which is

contrary to the ideas of ecology, greenness

and naturalness that the agricultural products

are intended to convey. Taking into account

this fact, thin wooden panels were selected

to construct the display setting and were

presented in a way of simulating rural hand

weaving craft or agricultural tools. The woodwoven

display shelves reveal a handmade

feeling and a diversity differentiated from

industrial manufacturing and convey the

warmth of each piece of ice chrysanthemum,

which is picked, sorted, dried and baked by

villagers manually.

4

3 Lateral view of shelves

4 South passage and windows

On one hand, architecture for supporting

rural industries has something in common

with industrial buildings, as both need to

consider the efficiency of the production

process. On the other, it is different from

industrial buildings as it needs to take into

account the countryside context. Through

conceiving the exhibition space of Yuntai

Ice Chrysanthemum Industrial Park, LUO

studio intended to work out a type of rural

industry exhibition space that features low

budget, common green building materials and

construction techniques that are mastered by

villagers, hence revealing a sense of nature,

ecology, and vernacular feeling. This project

is a new beginning of aesthetic creation for

industries-supporting buildings in Houyanmen

Village, Xiuwu County, China. WIA

58 WOOD IN ARCHITECTURE • ISSUE 2 – 2022
---
SHOW REVIEW

A successful comeback

amid challenging times

Two years of hiatus did not

dampen the response BIFA

Wood Vietnam 2022 received:

The second edition of the wood

and woodworking exhibition

attracted almost 5,000 visitors

over four days, an achievement

in light of current challenges of

persisting quarantine measures,

manpower shortage, and rising

costs of raw materials.

With approximately US$5.6 million

worth of woodworking machinery

transacted from 8-11 Aug 2022, the

international wood and woodworking

trade exhibition held at Binh Duong,

Vietnam was a successful show that

featured innovations and solutions

that manufacturers and factory owners

sought to boost their production

quality and productivity. This included

automated machines, labour-saving

solutions, digital offerings such as

computer numerical control (CNC) and

computer-aided manufacturing (CAD)

software systems, and more.

BIFA Wood Vietnam 2022 welcomed

a diverse exhibitor base. Machinery

and furniture manufacturers and

digital solutions providers hailed from

Germany, China, Taiwan, Malaysia and

Vietnam, and timber suppliers from

the US, France, Sweden, Thailand,

Australia and New Zealand.

This is a feat when taking into account

the newly reopened borders, with

hesitation to travel abroad still fresh

in everybody's minds. But Binh Duong

province remains a prime location

to conduct wood and woodworking

business and discussions. Timber

suppliers such as J. Lalanne and Penn-

Sylvan Hardwoods, who are returning

exhibitors from the previous edition,

are pleased by the number of visitors

interested in timber sourced from

France or the US.

The Forest Region Småland of Sweden,

a representative body of Swedish

timber suppliers from the region of

Småland, has also reportedly received

about 20 professional contacts per day.

The exhibiting booth consists of

four timber suppliers from Sweden,

including Södra, an international

forest owner association.

Their representative voice, Wang Zhi,

expressed the booth's delight about the

exhibition: "For us it has been fantastic…

The only important thing for me [as a

representative for these four companies]

is that our participating companies are

satisfied with the trip, that they get their

contacts, they increase their knowledge.

And that has been shown as a fact."

THE CENTRE OF VIETNAM'S

INDUSTRIAL HUB

As one of the countries whose wood and

wood product exports performed in the

Peter Liu,

international sales

director of Nanxing

Machinery, signing

an order contract

WOOD IN ARCHITECTURE • ISSUE 2 – 2022 59
---
SHOW REVIEW

1

2

3

1 Forest Region

Småland of Sweden

receiving a hearty

crowd

2 Eddie Liu, vicepresident

of

Technik Associates,

demonstrating

the machinery's

capabilities

3 Hall B of WTC Binh

Duong New City Expo

4 Around 5,000

visitors patronised

the exhibition

5 Joe Chang, CEO of

Kuang Yung and

chairman of Taiwan

Woodworking

Machinery Associate,

entertaining

enquiries

global top five recently, Vietnam's timber

industry is a powerhouse that furniture and

panel manufacturers can no longer look away

from.

In particular, Binh Duong province is one

of the fastest growing economies in the

country. Nguyen Van Danh, Vice-Chairman

of the Provincial People's Committee of

Binh Duong, elaborated: "In recent years,

Binh Duong is considered one of the leading

provinces of economic development,

construction planning, and urban areas

development, concentrating on industrial

areas and clusters in terms of FDI attraction.

"Within the first six months of 2022, the

southern province of Binh Duong attracted

domestic investment capital of 33.8 billion

Vietnamese dong, and lured US$2.52 billion

worth of FDI. With a new development

strategy of Binh Duong Innovation Zone,

Binh Duong not only promotes attracting

FDI, but also develops balanced economic

growth and prioritises infrastructure

investment."

4

The trade exhibition, held at WTC Binh

Duong New City Expo, is also close to various

woodworking factories in Binh Duong, and

this makes it easier for manufacturers to visit

and test out the machineries themselves

with wood panel samples they brought

along. As William Pang, publisher of Panels

& Furniture Group of Wood Magazines

60 WOOD IN ARCHITECTURE • ISSUE 2 – 2022
---
SHOW REVIEW

machines produce cabinet doors, and Nanxing

showcasing their CNC machining centres.

4

and co-organiser of the exhibition, said:

"The interesting thing about this show is

that it's held at the heart of the furniture

cluster, where furniture factory bosses and

managers can visit the show within a few

minutes."

TIMELY SOLUTIONS IN

DIFFICULT TIMES

Against the backdrop of challenges such

as supply chain disruptions, increasing

costs of shipment and containers, labour

shortage and COVID-19, the trade exhibition

5

offers solutions that aim to mitigate these

circumstances and optimise manufacturing

processes.

Manufacturers are seeking ways to reduce

manpower labour while also improving yield

for their production. Automation and smart

technology are ideal solutions, aiming to cut

manpower down to two or even one operator

on the machine, thus saving operational costs.

Companies such as Nanxing Machinery and

Truong Hung offered exactly that, with Truong

Hung demonstrating how their automated

Digital solutions for furniture manufacturing

and design are also in demand now to

streamline and simplify production,

especially for high-capacity machines that

need smart technology. Cabinet Vision South

East Asia demonstrated how their digital

solutions, CABINET VISION and ALPHACAM,

can help manufacturers, particularly in

Vietnam, digitise panel and solid timber

furniture manufacturing and handle complex

designs.

Although the number of exhibitors fell —

hampered by strict quarantine measures

in some countries — as compared to the

previous edition of the exhibition, the number

of visitors increased to almost 5,000. It is a

clear sign that in spite of challenging times,

woodworking manufacturers and factories are

still seeking ways to boost their production,

and BIFA Wood Vietnam 2022 has provided

what they needed.

"Many of our exhibitors said they received

the right customers for their machineries,

and which is why they have very good sales in

these difficult times," concluded Pang. WIA

FROM THE GROUND

"This exhibition is

the first professional

exhibition after the

epidemic, but the

overall feeling is

good, and the results

are getting more and

more positive [each

day]. At present,

2-3 customers are

interested in buying

our machines, for

about 6-7 equipment

pieces."

Peter Liu,

International Sales

Director, Nanxing

Machinery

"I think the

organisers have

done a very good

job of featuring the

machines and and

have built a strong

foundation. So, I

believe the future

exhibitions will be

just as smooth, able

to attract a strong

exhibitor and visitor

base… Many of our

orders are under

negotiation."

Joe Chang,

CEO, Kuang Yung

WOOD IN ARCHITECTURE • ISSUE 2 – 2022 61
---
SHOW REVIEW

FROM THE GROUND

"The exhibition experience has been very

positive. The exhibition space is new and has a

really good feel to it. We found the responses

to our booth been really good, with good

attendance… We have quite big enquiries to

follow up."

Graham Matthews, International Business

Development, Cabinet Vision South East Asia

"The exhibition has been better than

expected, a little bit better than you would

expect for this market. Very diverse crowd."

Jay Reese, Sales Manager, Penn-Sylvan

Hardwoods

"The exhibition is very good. Although the

overall market environment is not ideal,

everyone is very interested in the equipment

we have brought this time because they are

the latest. Therefore, there is a large number

of visitors to our booth, and we transacted

about US$400,000-500,000 [worth of

machinery for the first 2-3 days]."

Xie Zhong Quan, Truong Hung

"The exhibition is good and met our

expectations. The visitor crowd is also good.

For the industry, a lot of choices for machinery

and other wood-based related products but

I think we need more wood-based suppliers

especially sawntimber from Vietnam and

Malaysia as well for the next edition."

Malaysian Timber Council

"For us it has been fantastic… The only

important thing for me [as a representative for

these four companies] is that our participating

companies are satisfied with the trip, that

they get their contacts, they increase their

knowledge."

Wang Zhi, Business Coordinator and Project

Manager, Region Kalmar län

"We received a lot of curious and interested

visitors, and we also sold several sets of

equipment [that altogether are worth] about

US$100,000."

Janny Duong, Thuong Nguyen

62 WOOD IN ARCHITECTURE • ISSUE 2 – 2022
---
EVENTS CALENDAR

2022 2023

SEPTEMBER

50th CIFF Shanghai 2022

05 – 08

Shanghai, China

Bex Asia

06 – 08

Singapore

South China International Industry Fair

14 – 16

Shenzhen, China

FIND Design Fair Asia

22 – 24

Singapore

Design Shanghai

13 – 15

Shanghai, China

OCTOBER

NOVEMBER

China Yiwu International Forest

Products Fair

01 – 04

Zhejiang, China

FEBRUARY

The Big 5 Saudi

18 – 21

Riyadh, Saudi Arabia

MegaBuild Indonesia

23 – 26

Jakarta, Indonesia

Architecture + Construction Materials

28 – 3 March

Tokyo, Japan

MARCH

Delhi Wood

02 – 05

Delhi, India

Dubai Woodshow

07 – 09

Dubai, United Arab Emirates

International Mass Timber Conference

27 – 29

Oregon, US

Interzum Guangzhou

28 – 31

Guangzhou, China

EVENTS

CALENDAR

DECEMBER

China Architecture Design Expo

08 – 11

Shanghai, China

FENESTRATION BAU China

08 – 11

Shanghai, China

Cairo Woodshow 2022

15 – 18

Cairo, Egypt

Salone del Mobile

18 – 23

Milan, Italy

APRIL

MAY

INDEX Dubai

23 – 25

Dubai, United Arab Emirates

WOOD IN ARCHITECTURE • ISSUE 2 – 2022 63
---
ADVERTISERS' INDEX

ADVERTISERS' INDEX

Advertiser

Page

Advertiser

Page

American Hardwood Export Council

OBC

PEFC International 11

American Lumber 13

Softwood Export Council

IFC

Baillie Lumber 7

Technik Associates, Inc

IBC

Kuang Yung Machinery Co.,Ltd 9

Wood In Architecture's House Ad 5, 64

Panels & Furniture Asia's House Ad 1

Scan to download

WIA Issue 2, 2022 ebook

FOLLOW

US NOW!

@wood.ia

WIA-HPHorizontal-Socialmedia-2021.indd 1

64 WOOD IN ARCHITECTURE • ISSUE 2 – 2022

23/8/22 2:31 PM
---
MASTER PIECES FROM TAIWAN

MASTER PIECES FROM TAIWAN

FOR BOTH SOLIDWOOD & PANEL INDUSTRIES

FOR BOTH SOLIDWOOD & PANEL INDUSTRIES

SBM-1300-H6

SBM-1300-H6

Double Sided Cutting

Double Boring and Sided Milling

Cutting

Boring Machine

and Milling

Machine

Designed For Solid Wood Furniture / Door / Flooring Production,

Designed Kitchen Cabinet, For Solid and Wood Functiona Furniture For / High Door Precision / Flooring Sizing, Production,

Boring, Milling .

Kitchen Cabinet, and Functiona For High Precision Sizing, Boring, Milling .

APPROVED/

APPROVED/

L-CLASS

L-CLASS

DET-4000-L6

DET-4000-L6

Double End Tenoner

Double End Tenoner

CLT 6,000 mm

CLT Special machine for CLT material such as flooring, ceiling and wall panel 6,000 mm

Special max. working machine width for up CLT to 6,000 material mm such or more. as flooring, ceiling and wall panel

max. working width up to 6,000 mm or more.

SD-700A

SD-700A

Auto. Edge Banding Machine

Auto. Edge Banding Machine

PVC (softforming) 0.4-1.2 mm

PVC For PVC melamine and veneer edge banding (softforming) job. Edging thickness: 0.4-1.2 0.4-1.2 mmmm.

For PVC melamine and veneer edge banding (softforming) job. Edging thickness: 0.4-1.2 mm.