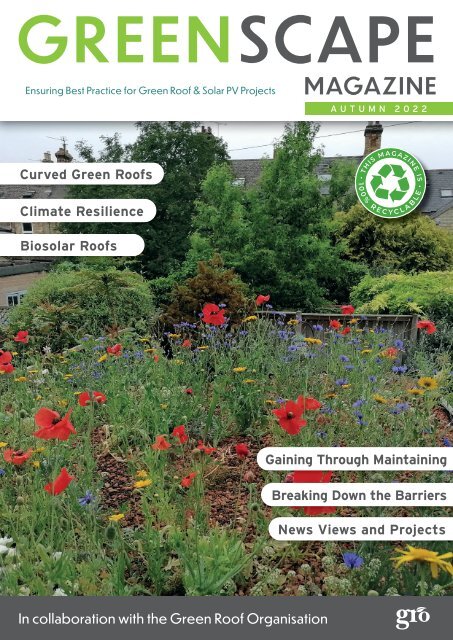 You also want an ePaper? Increase the reach of your titles
YUMPU automatically turns print PDFs into web optimized ePapers that Google loves.
GREENSCAPE

Ensuring Best Practice for Green Roof & Solar PV Projects MAGAZINE

AUTUMN 2022

Curved Green Roofs

Climate Resilience

Fire Biosolar Performance Roofs

Gaining Through Maintaining

Breaking Down the Barriers

News Views and Projects

In collaboration with the Green Roof Organisation
---
GREENSCAPE

IN THIS ISSUE...

Matt Downs

Editorial Director

mattdowns@media-now.co.uk

07963 330774

www.greenscapemag.co.uk

The changeable weather and extremes in temperature that the built environment

is having to deal with have been clear for all to see in recent months. After a

period of hot, dry days with record highs reported, hose pipe bans enforced and

red warnings the norm, as I write this, we're experiencing an extreme rainfall event in

the south east, the type of which cities and towns throughout the UK are having to deal

with more frequently.

As regular readers of Greenscape are aware, green roofs can play a crucial role in

managing extreme, changeable weather events in urban areas; cooling buildings by

absorbing and reflecting heat, and reducing the severity of water runoff in extreme

rainfall events. But as we know, for a green roof to perform properly it needs to be

designed and installed correctly, plus be maintained to ensure it can function throughout

its lifespan. This is a point touched on by Dr Tom Young in his latest Academic Corner

article where he discusses drought tolerance for a changing climate. Tom focuses on

substrate depth and type, plant selection and touches on irrigation when designing

green roofs to be more resilient to the changing climate (p12).

Maintenance is the focus for Julian Thurbin, MD of Wallbarn, in his article on page 18. As

Julian points out, the crucial role of maintenance "is especially important to understand

with the record breaking temperatures and super low rainfall experienced this summer."

Elsewhere in this issue, the team at GRO dispel the myth that living roofs on slopes and

curves are sure to fail (p16); we take a look at Boughton's work at the roof gardens on

Battersea Power Station (p20); plus we hear about SolarNature, a new biosolar roof

solution from SIG Design & Technology and Eco Green Roofs (p22). So read on for all

this and much more!

CONTRIBUTORS TO THIS ISSUE...

Front cover: Image courtesy of Dr Tom Young. Image shows

Tom's garden office green roof in spring. Read Tom's latest

column on page 12.

GREENSCAPE

www.greenscapemag.co.uk

Advertising:

Publishing Director: Andy Dunn

DD: 01892 732 047

Mob: 07963 330777

Email: andydunn@media-now.co.uk

Commercial Manager: Jake Roxborough

DD: 01892 732 047

Mob: 07956 133314

Email: jakeroxborough@media-now.co.uk

Brought to you by the publishers of Total Contractor, the content

of Greenscape magazine (and website) does not necessarily

reflect the views of the editor or publishers and are the views of

its contributors and advertisers. The digital edition may include

hyperlinks to third-party content, advertising, or websites,

provided for the sake of convenience and interest. The publishers

accept no legal responsibility for loss arising from information in

this publication and do not endorse any advertising or products

available from external sources. No part of this publication may

be reproduced or stored in a retrieval system without the written

consent of the publishers. All rights reserved.

Registered office:

1 Forstal Road, Aylesford,

Kent, ME20 7AU

This magazine and its packaging can

be recycled.

Supported by:

p 12

Academic Corner

Dr Tom

Young of The

Environmental

Partnership talks

climate resilience.

p 18

Maintaining green

roofs

Julian Thurbin

of Wallbarn on

the crucial role of

maintenance.

p 24

Solar PV selection

Stuart Nicholson

of Marley looks

at the key solar

PV selection

considerations.

Dr Tom explains the multiple ways in

which green roofs can be designed to

increase their resilience to a changing

climate, and the key considerations to

ensure they perform.

P 12

Julian discusses why maintenance is

always important, but even more so with

the record-breaking temperatures and

super low rainfall green roofs have had to

endure this summer.

P 18

With the rise in popularity of solar PV

on UK roofs, Stuart looks at the drivers

for uptake and the key considerations

to make when choosing a system and

ensuring a successful installation.

P 24

www.greenscapemag.co.uk • GREENSCAPE AUTUMN 2022 3
---
Contents

NEWS

6 Looking to the future: Living wall

specialist Biotecture is celebrating

a significant anniversary but has

one eye on the future with a focus

on embedding "technology into

biology"

8 Strong roots: Green-tech's Tree

Irrigator bags have played a key

role in a prestigious Kensington roof

terrace project

GREEN ROOFS

18 Gaining through maintaining:

Wallbarn's Julian Thurbin outlines

best practice to ensure your green

roof performs as it should

20 Powered up: We take a look at

Boughton's involvement on the garden

project at Battersea Power Station

21 Truly sustainable: Sarah Peake of

Sika UK asks if your green roof is as

sustainable as you think

22 Twin powers: Ross Finnie of SIG

D&T discusses the benefits of

biosolar roofs

4 GREENSCAPE AUTUMN 2022 • www.greenscapemag.co.uk
---
GREENSCAPE

SOLAR PV

24 Solar gains: Marley's Stuart

Nicholson looks at the current

drivers for solar PV and outlines the

key considerations when choosing a

system

28 Commercial benefits: Aisling

Sands of Kingspan Insulated Panels

looks at the opportunity for solar

PV solutions on large private nondomestic

buildings

REGULARS

10 Ensuring green growth: The

experts at GRO look at the

challenges around raising the profile

of green roofs, and Chris Bridgman

discusses one project that has

helped showcase the benefits to a

wider audience

12 Growth forecast: In his latest

Academic Corner article, Dr Tom

Young talks extreme weather and

outlines how to ensure green roofs

can remain resilient

16 An upward curve: Our latest

Mythbuster column dispels the

myth that living roofs on slopes and

curves will always fail

www.greenscapemag.co.uk • GREENSCAPE AUTUMN 2022 5
---
News

GREENSCAPE

GREEN-TECH SPECIFIER

SPONSORS ILI AWARDS

Green-tech has announced that it has

signed up as headline sponsor of the

Irish Landscape Institute (ILI) Awards

in October under its specification

brand Green-tech Specifier.

The ILI is the Professional Body

representing Qualified Landscape

Architects, Landscape Managers

and Landscape Planners in Ireland.

It is the National Representative

Body for Ireland in the International

Federation of Landscape Architects.

In addition to being headline sponsor,

Green-tech Specifier is sponsoring

two categories – Linear Landscapes

within the hardworks category, and

the Peoples Awards.

Green-tech Specifier is the

specification arm of leading

landscape supplies company

Green-tech. The company says

its Specifier team has a wealth

of knowledge covering a broad

spectrum including urban greening,

woodland management, urban tree

planting, ecology, conservation,

and biodiversity, and the team

is accustomed to working with

architects and designers on large

scale projects that encompass all

these disciplines.

Kate Humes, Marketing Director at

Green-tech Specifier, commented:

"We have been supporting the

UK Landscape Institute for many

years now and sponsor their

annual awards. We are seeing

more enquiries and supplying an

increasing number of projects

in Ireland, so we are delighted

to lend our support to the Irish

landscaping sector and sponsor the

Irish Landscape Institute awards.

The industry is thriving and it's an

exciting time for us to be involved."

Find out more about the awards:

www.irishlandscapeinstitute.com/

events/ili-awards-2022

LIVING WALL SPECIALIST CELEBRATES 15TH ANNIVERSARY AND

HAS A STRONG FOCUS ON INNOVATION FOR THE FUTURE

Biotecture, a pioneering company in

the living wall sector, is celebrating its

15th year anniversary but says it has

an eye on the future.

The business, based near Chichester,

was established in 2007 by Richard

Sabin and Mark Laurence with the aim

of transforming urban environments

and reconnecting people with nature.

Richard and Mark developed a

revolutionary hydroponic living wall

system, which they say helped to

change the perception of living walls

from a novelty landscaping feature into

a widely recognised cladding material.

Biotectures says its modular system

remains the most flexible, resilient,

and low water use of any fully

comprehensive living wall system,

and it can be seen across London

and the UK on projects such as 20

Fenchurch Street (The Walkie-Talkie)

and Wimbledon's No.1 Court.

Biotecture says it is passionate

about spreading the urban greening

message and recently developed

a stackable, modular, freestanding

living wall system that can be easily

retrofitted without affecting the

building structure. The product

draws on over a decade of living

wall experience and was a finalist

of the RHS Chelsea Sustainable

Product of the Year 2021. The

system has recently been used

to transform areas across the

Canary Wharf estate as part of a

wider urban greening masterplan,

and the product is now available

to consumers, retailers, and

landscapers via Growing Revolution.

As a trailblazing company Biotecture

continues to look to the future, and

the team are working on integrating

technology into living walls to

help inform building users when

maintenance is required and quantify

the benefits they will receive.

Richard Sabin, MD at Biotecture,

explained: "The first 15 years of our

development have been focussed

on greening up urban spaces and

reconnecting people with nature. Living

walls have so many benefits for people

and the planet like reducing stress,

improving air quality, and increasing

biodiversity. Looking ahead over the next

15 years, we want to embed 'technology

into biology' to quantify that data, and

show people how the living walls are

positively impacting their environment.

We see this as another powerful

way of demonstrating a return on

investment from living walls."

www.biotecture.uk.com

6 GREENSCAPE AUTUMN 2022 • www.greenscapemag.co.uk
---
Proud to be

a member of

the GRO Code

The sky's the limit

With a Green Roof System from Green-tech

1

2

3

4

5

1. Choice of soft and hard landscaping

materials available, including:

• Sedum Matting

• gtSedum Cassettes

• John Chambers Wildflower Matting

• John Chambers Green Roof

Wildflower Mix

• Turf

• Planters

2. Intensive or Extensive Green-tree

Roof Garden Substrate

3. Drainage Board System, including:

• Filter Membrane

• Drainage Layer

• Rootbarrier

4. Waterproofing Layer

5. Roof Structure

This diagram of a typical green roof construction is for illustrative purposes only to demonstrate the range

and types of products available for a green roof installation.

Green-tech is a leading supplier

of landscaping and green roof

materials. Our products have been

used in many high profile and

award-winning green roof projects

throughout the UK.

We can provide everything you

need for a successful installation,

including technical advice, project

specifications, CAD drawings and

of course, a full range of Green

Roof products.

For more information, book a

free Green Roof System CPD

presentation, to be delivered

online or in your office.

T: 01423 332100

www.green-tech.co.uk

sales@green-tech.co.uk

@greentechltd

@greentechuk

green-tech-ltd
---
News

SOLAREDGE HELPS SEGRO

MEET ITS TARGETS

A SEGRO-owned 43,000ft 2

warehouse in West London is now

100% carbon neutral following

the installation of a SolarEdge DCoptimised

rooftop solar system.

The 447-module optimised array

produces 161MWh of solar energy

each year – enough to offset 100%

of the building's regulated energy

use. Should a future tenant require

additional power, 30% of

the roof space is still

available and more

solar modules

can be added to

meet their energy

requirements.

The SolarEdge system was installed

as part of a major refurbishment

of SEGRO's Premier Park Unit E

warehouse, at Park Royal. Hollis, the

real estate consultancy chosen to

design and implement the project,

first reduced the building's energy

use through the implementation of

energy-efficiency technologies, and

then offset it with solar energy.

It selected SolarEdge because of

its Power Optimizer technology

that increases energy production

by overcoming mismatch issues

such as soiling, shading and uneven

ageing that can significantly limit

energy production in traditional

string inverter systems. Another

priority for SEGRO was the ability to

monitor the system's performance

in real time via the SolarEdge

monitoring platform. Lastly and

importantly, SEGRO demanded the

advanced, built-in safety features

delivered by SolarEdge's arc fault

detection and interruption, and the

renowned SafeDC that reduces

voltage to touch-safe levels when

needed – both paramount features

for such a facility.

www.solaredge.com

GREEN-TECH PROVIDES NEW IRRIGATION BAGS FOR PRESTIGIOUS

KENSINGTON ROOF TERRACES PROJECT

127 Kensington High Street

was formerly the site of the

original, highly regarded Pontings

department store. The store was

demolished in the 1970s and

replaced with two separate office

blocks. To provide much improved

mixed-use space, these structures

were part removed leaving 30%

remaining, and added to with

extended areas and an additional

two floors, as well as three levels of

outdoor terracing.

The £53M project will provide

primarily commercial space, with

retail space on the ground floor and

basement, as well as a new arcade

entrance to Kensington High Street

Underground station. It has an

environmental BREEAM rating target

of excellent.

The western side has been realigned

to recreate the original street line of

Wrights Lane, and the upper levels

have been set back to create three

terraces offering much needed

outdoor amenity space.

Green-tech's involvement:

Green-tech was contacted by

Elite Landscapes Ltd, with whom

the company has a long working

relationship going back over 15 years,

to quote for the tree planting in

soft beds on the terraces, including

anchoring systems, underground

root ball irrigation, and for the larger

trees, slow-release Tree Irrigator

bags.

Green-tech launched the Tree

Irrigator bag in 2020 in response to

requests for a surface-fed but slowrelease

irrigation system. When using

direct irrigation, either from above

or using perforated rings around the

rootball, Green-tech says there is

always the risk of significant water

wastage, whereby a lot of the water

The slow release Tree Irrigator bags were launched

by Green-tech in 2020 in response to requests for a

surface-fed but slow-release irrigation system.

soaks straight down to the subsoil

when delivered in one go, bypassing

the root system that needs it.

Made from green PVC mesh cloth,

with a permeable membrane in the

base, the Tree Irrigator bag can hold

up to 60 litres in a single bag (95

when doubled up), which it slowly

releases over a period of 5-9 hours

depending on the conditions. Greentech

says it is very easy to fit postplanting,

and simply wraps around

the tree trunk and is zipped up, then

filled via a filler opening at the neck.

On open terraces where the beds are

exposed to the effects of high winds,

the company says the Tree Irrigator

bags also help by keeping the soil

surface around the rootball covered,

which prevents drying out.

Mark Browne, Green-tech's Key

Account Manager, commented: "We

have worked with Elite for many

years, and it is always nice to help out

on such prestigious projects.

"The Tree Irrigators are a fantastic

addition to our irrigation offering, and

they will help the newly planted trees

establish quickly and make keeping

them well-watered an easy task."

www.green-tech.co.uk

8 GREENSCAPE AUTUMN 2022 • www.greenscapemag.co.uk
---
GREENSCAPE

LANTRA'S NEW E-LEARNING COURSE PROVIDES A

GREATER UNDERSTANDING OF GREEN ROOFS

Have you ever wished that you had a better understanding of green

roofs? Perhaps you are an architect needing more details so that

you can bring Biodiversity Net Gain into your projects? Or maybe

you are a roofer who'd like to extend your services to installing

green roofs? Whatever your interest, Lantra says its new e-learning

course will help you to de-mystify green roofing and develop your

understanding of the engineering, technology and ecology involved

in this fascinating industry. For a less than two hours of your time,

and a very modest fee, you'll be able to discover:

• The background behind the modern green roof industry.

• Green roof benefits and the many ways that they contribute to

society.

• Different types of green roofs and how to decide which is most

appropriate for your project.

• Structural considerations when designing and specifying green

roofs.

• How to install a green roof – the processes used as well as health

and safety considerations.

• The importance of ongoing green roof maintenance.

The course, entitled "An Introduction To Green Roofing" is aimed at

architects, garden designers, roofing contractors, trainee green roof

installers, planners, and indeed developers and homeowners who

want to upgrade their property by fitting a living roof.

Lantra says there are no prerequisites to joining and the carefully

considered course content is presented in easily digestible chunks of

information.

At the end of the course, Lantra says you will have a good

understanding of the green roof industry and feel more confident in

developing your skills through more in-depth and practical training.

Discover more, and sign up via the Lantra website at:

www.lantra.co.uk/course/introduction-green-roofs-e-learning

NEW RANGE OF ROOF INTEGRATED SOLAR PANELS

LAUNCHED BY GOODWE

GoodWe has launched a new range of building integrated

photovoltaic (BIPV) solar panels into the UK market.

The company says the new range of panels are designed to

seamlessly integrate with the existing architecture and aesthetics of

a building and are available in three variations designed for specific

applications.

The Sunshine series is an easy-to-install 92W panel offering 170W per

sq. metre making it ideal for residential homes, hotels, community,

and public buildings. Aesthetically, the Sunshine series is compatible

with traditional roofing tiles replicating their visual appeal, colour and

shape to enable the panel to seamlessly integrate within the roofing

structure.

The Sunshine series has a toughened double-glazed structure

that is self-cleaning with a Class A fire rating and able to withstand

hurricane force winds. It is also equipped with heat ventilation and

heat dissipation structure, along with dense drainage technology.

The Polaris series is a lightweight 3000W panel with a modular

design made for quick and easy installation that can be used in

various applications, including carports and flat-to-sloping roof

conversions. The reinforced double glass has excellent impact

resistance and can generate 184W per sq. metre. Like the Sunshine

series it is capable of withstanding hurricane force winds.

The Starlux zero carbon

sunroom panels can be used

on conservatory and sunroom

structures to achieve a

balance between health,

comfort and energy savings

with the panels providing both

shade for the sunroom and

energy generating capability.

The Starlux is a modular

ultra-slim design using a 50mm frame that can be removed and

redeployed on alternative structures.

The new BIPV range forms part of GoodWe's EcoSmart Home

solution that uses three key components – BIPV panels, battery

technology with EV charger and Smart Energy Management System

– to build an intelligent power ecosystem designed to deliver all the

electricity requirements for a household.

Eugene Lucarelli, Strategic Marketing Manager at GoodWe UK,

explained: "The BIPV range of panels enables GoodWe to offer

a complete solar PV solution – panels, inverter, battery and

smart management – from one supplier. For the homeowner,

building owner and installer, there is the peace of mind that all the

components are designed to work seamlessly together creating a

total EcoSmart Home solution."

www.en.goodwe.com/pv-building-solutions

www.greenscapemag.co.uk • GREENSCAPE AUTUMN 2022 9
---
GREEN ROOFS

OVERCOMING THE BARRIERS

TO GREEN ROOFING

The experts at GRO look at the challenges around raising the

profile of green roofs, and green roof expert Chris Bridgman

discusses the importance of initiatives such as the Milton

Keynes YMCA project when it comes to presenting the

benefits of green roofs to those outside of the industry…

I'm sure that every Greenscape

reader will be familiar with the

benefits of green roofing, stormwater

management, Biodiversity Net Gain, and

temperature regulation. But what about

the wider community – those who

don't read Greenscape or all of those

carefully researched white papers? How

can we persuade them of the need to

invest in the architecture that could

help to heal our ailing planet?

Following a successful community

initiative in collaboration with the YMCA

in Milton Keynes, GRO member Chris

Bridgman of Bridgman and Bridgman is

urging architects, planners, developers

and community leaders to get up close

and personal with green roofing by

visiting one of the many living roofs

that the UK has to offer.

We, all of us, have an inbuilt

predisposition to be cautious about

anything new or unfamiliar. It probably

harks back to a time when there

could have been a sabre toothed tiger

hiding behind every bush. And so it's

understandable if architects find it

difficult to persuade a client to invest

in green roofing or if planners are

unsure how communities might accept

'different looking' buildings.

Chris feels that removing the barriers to

green roofing is all about education and

engagement. By encouraging architects,

planners, community leaders and

local residents to visit and learn about

green roofing, we can create a desire

to build and nurture more living roofs.

From garden sheds to public buildings

to warehousing – every roof

should have the potential to

support life on earth.

Case Study, Milton Keynes YMCA

The YMCA Building in Milton Keynes

recently invited community members to

visit their green roof to engage with, and

learn about its construction and purpose.

Visitors had the opportunity to learn

about the history of green roofing,

the benefits of green roofing and how

green roofs are constructed. And,

according to Chris Bridgman, the

response was incredible. "There were

lots of questions, lots of 'oooh's' and

'aaaah's' and people were coming up

with their own suggestions for similar

projects," explained Chris. He continued:

"We were lucky enough to be visited

by one MP who went away suitably

enthused and armed with information

that could potentially influence future

government policy."

Chris believes this kind of event may

well be the key to overcoming barriers

to green roofing such as the cost of

installation, worries about fire hazards,

unfamiliar aesthetics.

Green roofs to visit

The challenge with seeing green roofs in

action is that many of them are above our

line of sight. Flat roofs on tall buildings

can only really be viewed from above and

in many cases even the people living or

working within the building may not know

that there's a valuable environmental

resource right above their heads.

Chris Bridgman (above, left)

welcomes visitors to the

YMCA roof in Milton Keynes,

including Ed Miliband,

Shadow Secretary of State for

Climate Change and Net Zero

(inset, 2nd from right).

In an ideal world, every Greenscape

reader would have the opportunity to

visit a living roof, walk on it, touch it,

learn how it was created and see how it

is benefiting biodiversity. At GRO we're

hoping to organise several such visits in

the future. But in the meantime, these

are some of the wonderful living roofs

that you really should see for yourself:

Leeds Skelton Lake Motorway

Service Station; Birmingham Central

Library's Discovery Terrace and

Secret Garden; The Sky Garden at

20 Fenchurch Street in London;

Gloucester Services Farmshop and

Kitchen; Milton Keynes Bus Stops.

Green roof training opportunities

If you'd like to learn more about green

roofing, The Living Roofs Academy and

Irrigation Engineers Ltd. have teamed

up with Wildflower Turf Ltd. to offer face

to face training this autumn. Training

dates are Wednesday 23rd November

and Thursday 24th November and

places are limited, so don't leave it too

late to book!

Visit www.wildflowerturf.co.uk/events/

green-roof-training-day to find out

more.

Contact

GRO

www.greenrooforganisation.org

Tweet: @RoofGro

10 GREENSCAPE AUTUMN 2022 • www.greenscapemag.co.uk
---
SAVVY SHOPPER

THIS AWARD IS PRESENTED TO THE:

Laura Crombie

Brand Director

Real Homes

M-Tray®: modular, instant green roofs

EASY ON EASY OFF

The great outdoors

WALLBARN M-TRAY

M-Tray

installed by

YMCA

students on

the awardwinning

Green Roof

Project,

Milton

Keynes.

www.wallbarn.com 0208 916 2222

has your green roof been physically

FIRE TESTED?

M-Tray® has to B ROOF (t4)

British grown - quick delivery - easy installation - all-year vegetation
---
ACADEMIC CORNER

DROUGHT TOLERANCE FOR A CHANGING

CLIMATE – PART 1

By Dr Tom Young, Blue-Green Infrastructure Associate at TEP.

The extreme weather experienced

by the whole of Europe over

the last few months has thrown

the issue of the climate resilience

of our cities into sharp focus. Key to

this discussion is the use of green

infrastructure to help mitigate the

effects of extreme weather – chiefly

heatwaves and extended periods of

low rainfall. A key tool in helping urban

areas respond to the climate crisis are

green roofs. But what if the

green roofs we install today

cannot cope with future

climate extremes?

For green roofs to provide green roof

services (Box 1, right), unsurprisingly they

need to be alive. A lot of these services

are provided directly by the vegetation.

In the words of John Cleese, if a green

roof 'ceases to exist', service provision

will also cease to exist. In this article I will

explain the multiple ways in which green

roofs can be designed to increase their

resilience to a changing climate.

Substrate depth

Depth is king on green

roofs. Deeper substrate

leads to a greater

resilience to drought and the hot

temperatures which often accompany this.

Green roofs are at their most vulnerable

in the first six months of establishment.

Increasing substrate depth from 4

cm to 7 cm increased the vegetation

ground cover of 12 x sedum species

grown in a Midwestern US climate by

98% after 65 days and 173% after 135

days (Getter & Rowe 2008). Increasing

substrate depth to 10 cm increased

cover by 169% after 65 days and 237%

after 135 days. Increased ground cover

and healthy vegetation is much more

likely to survive extreme conditions

Main pic: Mediterranean-style open

planting observed on Greek green roof

(image credit Tom Young, TEP).

Inset: Dr Tom Young, Blue-Green

Infrastructure Associate at TEP.

12 GREENSCAPE AUTUMN 2022 • www.greenscapemag.co.uk
---
through improved root systems, and

cooling from vegetation coverage (see

plant selection section). During extreme

droughts on warm season turfgrass

grown in Greece, increasing substrate

from 7.5 cm to 15 cm allowed turf to

stay healthier approximately six days

longer, and therefore more likely to

survive and recover from a drought

(Ntoulas et al. 2011).

Altering substrate depth across the

same green roof can also have positive

benefits, by allowing a greater variety of

plants to exist (Heim & Lundholm 2014).

Generally, a greater diversity of plants

is better during drought conditions,

as there is a greater chance of some

species surviving, and therefore

allowing the roof to recover.

Substrate type

A green roof substrate can be modified

to increase drought survival of plants.

This can be in two main ways:

1. Use substrate to prevent excessive

growth before droughts. Plants grown

in substrates with low levels of organic

matter (Nagase & Dunnett 2011) and

lower water holding capacity (Young et al.

2014), have less top-heavy shoot growth

(Young et al. 2014, Graceson et al. 2013).

This improves root to shoot ratio to be

more in favour of roots, meaning the

plant is much more set up for a drought

when it hits, with less shoot material to

have to look after (Bates et al. 2015).

Clearly a balance is needed; make the

substrate too harsh and nothing will

establish in the first place.

2. Add amendments into substrate

to increase water holding capacity to

increase water availability during dry

periods. These substrate amendments

can include biochar (Cao et al. 2014),

hydrogels (Young et al. 2015, Olszewski

et al. 2014), use of smaller particles

(Young et al. 2014) and increased levels

of organic material (Ampin et al. 2010).

The above two points do contradict one

Box 2: amendments for substrate:

• Biochar – This usually refers to

a charcoal like material made from

the incomplete combustion of wood.

This can be graded and milled into

different sizes and shapes. Due to its

inert nature, it can be used to act as

a medium-term carbon store within

a growing media. Its highly porous

structure means that it can significantly

increase water holding capacity of

a roof, whilst also reducing dry bulk

density. This can also lead to a greater

retention of nutrients and pollution on

a roof. Issues include wide range of

potential types, some of which are more

effective than others, it is unclear what

another and highlights the tough role

green roof substrate designers face.

They must ensure that the substrate

does not promote excessive growth but

can still provide a suitable habitat for

plants to thrive over time, with minimal

maintenance.

Plant selection

Plant selection is critical on a green

roof. Green roof plants are generally

picked for their stress tolerant and

hardy nature. Exact species selection

should always be location and roof

specific, there is no one-size-fits-all

for a truly long-term sustainable roof.

Box 1:

Green roofs provide many helpful services to urban areas:

• Cooling of air through loss of water from plants and reflection of heat.

• Cooling building by absorbing and reflecting heat, reducing air conditioning use

• Help reduce water runoff severity from extreme rainfall events

• Reduce airborne pollution and noise

• Provide additional habit areas

• Increase mental wellbeing and productivity of users and viewers

optimum incorporation rate is and there

may be a perceived potential fire risk if

incorporated at high rates.

• Hydrogel – these materials can absorb

up to 40 x times their own weight in water,

literally expanding as they absorb it. The

material is most commonly known for its

vital absorbent properties in nappies. There

is some debate as to how available to plants

water in the hydrogels are, but a number of

studies have shown that drought tolerance

can be increased by their presence.

Issues include practicalities of mixing into

substrate, visual appearance of hydrogels

on substrate surface, breakdown of

hydrogels over time, and carbon footprint

of material.

A great deal of work has been done

in Mediterranean countries assessing

suitability of very stress tolerant

plants (Van Mechelen et al. 2014). As

the UK's climate changes, this type of

more open, rocky roof with patches of

vegetation may become more common,

as the maintenance of 100% vegetation

coverage may not always be realistic in

a future UK climate.

However, it is also important to

remember that the plant community

present on Day 1 of a green roof will

almost certainly change over time.

Continued on page 14 >>>

www.greenscapemag.co.uk • GREENSCAPE AUTUMN 2022 13
---
ACADEMIC CORNER

>>> Continued from page 13

Species will come and go, and this should

be accepted. Species can come through

natural seeding – birds, windblown and

some from human additions. Some

species may even die off and return in

later years from a seed bank built up

on the roof. Generally, species diversity

will decline over time on a green roof.

A 5-year UK study starting with 15

different plant species showed that

although all 15 were still present at the

end of the trial, four species dominated

and expanded their coverage, whilst

the others had much lower coverage

by the end of the trial (Dunnett et al.

2008). A fantastic 30-year study

in Germany showed that

different plant communities

evolved on different roofs

and in different areas of

the same roof (Kohler

2006, Thuring & Dunnett

2014). For example,

different communities

evolved on roofs with different

aspects, and also the community

at the top of pitched roof was different

to the one towards the base, due to the

drier conditions at the top of the slope.

Therefore, initial diversity and

establishment is key to get a roof going

in the first place, but spontaneous

colonisation of new species should be

encouraged if the vegetation is to adapt

and cope with future climate changes.

An element of pragmatism is also

needed, sometimes some events will

cause mortality, but as long as the roof

as a complete system still functions, is

this acceptable?

Species selection within this initial

establishment mix can also be used

to improve initial survival of plants.

For example, a lot of work has looked

at the effect of stress tolerant plants

like sedum and mosses in acting as

companion plants to improve local

climate conditions. Moss species have

been shown in some situations to

reduce substrate temperatures which

Top: Shallow substrate layer of 20 mm leading to rapid decline of green roof

(credit – Lee Evans, Organic Roofs); Above right: The Sill Discovery Centre

green roof – a good example of use of substrate and vegetation which mimic

the surrounding area; Above left: Tom Young's shed office in August after a

two month drought. It's an example of sometimes having to accept a degree

of mortality on a roof. Plants will return once it rains due to the design and very

limited watering in key areas; Left: Tom Young's shed office green roof in spring.

led to increased grass survival (Heim

et al. 2014). Whilst companion planting

of sedum was shown to increase

soil moisture and health of some

neighbouring plants (Matsuoka et al

2019). This is in part due to sedum's

ability to rapidly change the way it

photosynthesises during dry spells to

reduce water consumption. The green

coverage of the plant then helps to

prevent any evaporation losses from

the substrate.

Irrigation

I will explore this topic in more detail

in a separate article in the next edition

of Greenscape. However, there are

some key points regarding the use of

irrigation on green roofs;

• Irrigation should be avoided on

extensive green roofs where possible.

• Use of potable water should be

avoided if possible. Grey water, or

rainwater should be investigated first.

• Irrigation systems may be needed

more frequently in the future due to

extreme weather events. However,

water use should be carefully monitored

and controlled. Irrigation systems on a

blanket timer should be avoided.

• Excessive irrigation can cause

luxurious plant growth which can lead to

monocultures and plant forms which are

not able to cope with stressful conditions.

• Combining drainage systems with

irrigation is a good sustainable way of

harvesting excess drainage water for

later use.

• Subsurface irrigation, and or drip

irrigation is a much more efficient

method of irrigation compared to

overhead sprinklers.

Contact

Dr Tom Young

E: tomyoung@tep.uk.com

Tweet: @DrGreenRoof

14 GREENSCAPE AUTUMN 2022 • www.greenscapemag.co.uk
---
GUARANTEE

CREST NELSKAMP

PLANUM CONCRETE AND G10 CLAY

PV INTEGRATED SOLAR SYSTEMS

A quick & easy to fit system that works seamlessly with the Crest *Planum concrete

and G10 clay roof tiles offering a state of the art solution on the completed roof.

The Integrated solar panel roof tiles are both a

roof covering and electricity generating solution.

> Beautiful aesthetics

> No more 'Ugly' Solar Panels!

> Engineered to fit quickly and easily

> Modules interlock with Planum & G10 roof tiles

> Easy to connect MC4, simply plug and play

> Performance guarantee:

10 years 90% of rated performance

25 years 80% of rated performance

'ECO'

FRIENDLY

PRODUCT

QUICK

AND EASY

INSTALLATION

WITH 2-3

SCREWS.

Crest *Planum PV Solar

Tile Panel, with black

frame - black cells and

black backsheet

*As per European trademark Nr.7287956, filed on 2nd October 2008, the Trademark

PLANUM belongs to La Escandella. It is Dachziegelwerke Nelskamp as authorised

licensee of the owner allowed to use the mark PLANUM for its concrete product.

For more information on our roofing tiles and PV

integrated solar system contact the Crest team.

TECHNICAL

S U P P O R T

30

Y E A R

01430 432667 info@crest-bst.co.uk www.crest-bst.co.uk

ROOFING TILES
---
MYTHBUSTERS

MYTH: LIVING ROOFS ON SLOPES AND

CURVES ARE SURE TO FAIL

Truth: Nothing is impossible; greening curved and sloping roofs simply needs a different approach.

The experts at GRO explain more, with comment from Anthony Barnett of ABG Geosynthetics.

It's a common

misconception that

attempts to green

sloping or curved roofs

will result in either

expensive maintenance

regimes or an ugly

dead roof that has no

resemblance whatsoever

to the architect's

vision. However, careful

collaboration with

experienced designers

and installers can,

and does, result in

attractive, ecofriendly

roofing

solutions.

These roofs

tend to be

more visible

from ground

level than flat

green roofs.

Therefore, as well as

the environmental benefits

they provide, they also have the

potential to create a positive impression

of the organisations associated with

them.

Surely if we can create vertical gardens

with a wow factor, then we can do the

same with living roofs? So what are

the challenges of creating a curved or

sloping living roof, and how can they be

overcome?

Typically, we're looking at a different

set of challenges to those encountered

with a flat living roof. Whereas a

flat roof needs plenty of attention

to drainage so as not to become

saturated, a sloping roof tends to

Above and left: The undulating green roof at Leeds

Skelton motorway services. Credit: ABG Geosynthetics.

shed water a little too quickly

for the good of the plants.

Thus, designing and specifying

living roofs for slopes and curves

requires a different mindset.

Key points to address include:

• Preventing the growing medium

slumping down and/or being washed

off the roof.

• Retaining enough moisture to sustain

plants – particularly at the top of the

slope.

• A higher risk of substrate erosion due

to wind scour.

• Greater exposure of plants to windy

conditions.

• Specifying suitable plant species.

• Irrigation.

• Access for maintenance crews.

Anthony Barnett of ABG

Geosynthetics explained

how his organisation has

successfully overcome

all of these issues on

a number of sloping

roof projects. Two

prime examples of this

include the new Alder

Hey hospital and the

award-winning Leeds

Skelton Lake motorway

services amenity

building roof, which

features on the cover

of the 2021 GRO Code

of Best Practice.

Retaining the

growing medium and

managing moisture

retention

Anthony advised: "The primary

challenge of installing green roofs onto

steeper slopes comes from retaining

the growing media without shear forces

causing it to slide or slump under its

own weight once deposited onto the

roof. To prevent this scenario, a roof

design that specifies a combination of

reinforcing geogrids and geocellular

retaining systems is required, as

pioneered by ABG Geosynthetics.

"The geogrid layer adds friction

and provides additional interlock

between the roof surface and the

upper green roof layers. The geocell

soil containment layer is anchored

to the geogrid and is typically a 100-

300mm deep panel that is expanded

into position to create a retention web

across the roof.

"The geocellular pockets retain the soil

16 GREENSCAPE AUTUMN 2022 • www.greenscapemag.co.uk
---
and help to maintain optimum moisture

levels, with drainage holes included

to prevent the growing media from

becoming overly saturated during spells

of wet weather.

"The reinforcement and containment

layers are typically installed onto

a drainage reservoir board with a

cuspated core providing a store of

water for plants during periods of dry

weather, with holes in-between the

cuspates for drainage. The drainage

board includes a geotextile filter bonded

to the top of the cuspates to prevent

soil intrusion.

"Additional roof access measures

including specialist harness equipment

will be required to install the

geosynthetic layers safely and correctly

onto sloping sections and suitable edge

protection, and fall arrest systems are

required as with all roofing work and

projects involving working at height."

Suitable plants for sloping green

roofs

In our summer 2021 edition of

Greenscape Magazine (available to

view online), Maggie Fennell from

Boningale dispelled the myth that

green roof plants must be either

sedums or wildflowers. In fact, there

are a wide variety of plant species

that will thrive on a green roof, IF

the green roof design has taken into

account substrate depth, availability

of moisture, aspect and local weather

conditions.

On a sloping roof there are always likely

to be pressures from strong winds

which can damage vegetation and

dry out the substrate. And of course,

depending on the aspect, there may

well be significant differences between

the temperature on the roof and the

temperature of the ground below; so

plant choices need to reflect those

conditions.

Anyone who has ever climbed a

mountain – or even a large hill – will

probably have spotted that the type of

vegetation changes with the elevation

and the pitch. If we look to Mother

Nature, we can gain some clues as

to which plants will enjoy living on a

sloping green roof.

Sedums are well adapted to living in

dry conditions with thin, well drained

growing medium. In fact the word

'sedum' is believed to come from

the latin 'sedeo' which means to

sit. These plants appear to sit on a

seemingly inhospitable surface. They

are relatively low growing and unlikely

to be affected by wind rock, and their

leaves are too small to be shredded in

blustery conditions. Thus, a mixture

of sedum plants is ideal for a sloping

green roof.

There is absolutely no reason why the

plant palette should be uniform across

the entire roof. Maximise Biodiversity

Net Gain by creating a range of wildlife

habitats.

Above: Residential green roof; Left: Alder

Hey Hospital. Credit: ABG Geosynthetics.

Celebrating successful sloping

green roofs

Green roofs are poised to play an

enormous part in our fight against

climate change, so it's crucial that we

find a way to overcome any and all

barriers to their construction. Innovative

technologies, just like the ones pioneered

by ABG Geosynthetics, overcome the

physical challenges of installing living

roofs onto slopes and curves. In doing

so, green roofing becomes more visible

to the public, awareness is raised and

demand increases.

Just like living walls, when highly visible

green roofs are constructed, planning

committees, architects and organisations

are perceived as being proactively ecofriendly.

After all, well designed and built

green roofs are not greenwashing or

playing lip service to the fight against

climate change. They are tangible

evidence that an organisation is working

to reduce the urban heat island effect

and create Biodiversity Net Gain. What's

not to like?

Contact

GRO

www.greenrooforganisation.org

Tweet: @RoofGro

www.greenscapemag.co.uk • GREENSCAPE AUTUMN 2022 17
---
WEATHER & MAINTENANCE

UNDERSTANDING AND

MAINTAINING GREEN ROOFS

By Julian Thurbin, Wallbarn Director.

Green roofs are low maintenance

but not no maintenance – and

this is especially important to

understand with the record-breaking

temperatures and super low rainfall

experienced this summer.

The vast majority of living roofs

comprise sedum plants, which

are hardy and tolerate extreme

conditions, from very high to very low

temperatures – there are green

roofs of 75 years+ thriving in

a wide variety of climactic

conditions around the

world. The plants are

adept at surviving

on limited moisture

thanks to their

metabolism which

allows them to absorb

the majority of their

CO 2 requirement at night.

They can therefore remain

'closed' during the day, making

them more efficient at conserving

water.

Sedum leaves will naturally change

colour throughout the year, often taking

on a russet hue during drought, strong

wind and frost. This is normal and they

will revert to their green colour over

time. However, should the stems and

leaves start to shrivel, appear more

red/brown than anticipated, brown

patches appear or the green roof starts

receding then action must be taken

to irrigate and water levels must be

checked for several weeks until the

sedum has recovered.

Wildflower installations are growing

in popularity thanks to their more

unstructured and 'natural' look.

However they can be more vulnerable

Above: Wallbarn's M-Tray modular green roof system (wildflower variant) with

a discreet irrigation system installed on a school project. Left: a commercial

install using M-Tray.

to drought and the

drying of stems,

and leaves will be

seen through hot,

dry periods. Irrigation

can be applied but it

may not be a requisite as

the 'stressed' plants will flower

and seed to propagate themselves and

often recover with the onset of rain.

Irrigating

However, recent weather conditions

will have pushed some green roofs to

their limit and it may now be necessary

to irrigate in order to maintain healthy,

strong plants. Our advice is to water

in the current conditions. We are

finding that an increasing number of

customers are opting to install irrigation

systems with their green roofs to

ensure that plants flourish year-round.

It's a wise decision given the shift to

drier summers. These watering systems

deliver peace of mind and can be linked

with rainwater capture and storage

solutions to minimise demand on

resources. Even better still if greywater

from homes and offices can be stored

for watering purposes.

Feeding & weeding

Green roofs are living structures and as

such need attention throughout their

lifespan. Many clients and end-users

appreciate that maintenance is integral

to the success of a living roof project but

not all do and we, as an industry, must be

honest about the aftercare required.

Feeding is crucial to maintaining

healthy plant growth. We recommend

the application of a slow release

fertiliser (50g/m 2 ) in spring, together

with checking the irrigation system (if

applicable) and replacing timer batteries.

Any weeds should be pulled by hand (this

removes invasive plants that not only

spoil the look of the green roof but can

also crowd out the sedum or wildflowers

over time), debris cleared from drainage

outlets, vegetation inspected and areas of

poor growth monitored.

Come the autumn, the roof should

again be fertilised and weeded,

drainage outlets checked and dead

18 GREENSCAPE AUTUMN 2022 • www.greenscapemag.co.uk
---
This image: Irrigation system

on a Wallbarn project.

Below: Feeding and weeding

is essential throughout the

lifespan of green roofs.

stalks removed. And remember, if

you are maintaining a wildflower roof,

wildflowers are weeds and weeds are

wildflowers, so care must be taken not

to pull out healthy, desired plants.

We also recommend that customers

consider a care and maintenance

contract with expert landscape

contractors to keep the green roof in

optimum condition. These contracts are

very low cost when compared to the

installation of the green roof.

Flash flooding

It's an anomaly of the British weather

that we can be discussing drought

and flash floods at the same time,

but the recent sudden and prolonged

downpours have again highlighted

the important part that green roofs

can play in rainwater attenuation and

stormwater management. According

to the Living Roofs organisation, 75%

of rain falling on extensive green roofs

(such as Wallbarn's M-Tray modular

system) can be retained in the short

term and as much as 20% retained

for up to two months, with the roof

'typically' intercepting the first 5mm

and more of rainfall.

This can significantly

reduce peak runoff

rates, allowing

drainage systems to

better cope and, with

enough green roofs in an area,

potentially prevent flooding and sewage

discharge into water courses/the sea.

Maintenance brief

Although sedum is a hardy species, it

pays to look after it. And, because it is

living, it will change over the seasons,

really coming into its own in the spring

and summer. Follow these simple steps

to get the most out of your green roof:

1: At the end of summer the flowering

will start to die off. Clear the dead stalks

and flowering away to ensure that

matter doesn't block sun to the healthy

sedum, which will create bald patches.

Also weed out obvious grass brought in

by the wind and birds. With this done,

scatter fertiliser (a 900g bag is enough

for 20 to 30m2) and water in.

2: In early spring, weed any obvious

grass and clear dead matter such as

leaves. Fertilise again.

3: Watering – sedum

will typically last six

weeks without rain but

it's not the ideal. As a

general rule, if we haven't had

rain in a two week period give your

green roof a water.

4: If you live in an area with lots of

trees you are going to get more leaves

and matter on your green roof. Try to

get on your roof four times a year to

clear this away.

5: Bald patches – if you forget to carry

out maintenance or you notice bald

patches, you can simply take some

sedum from a strong growing area

and push into the patches. Water in

and they will normally take root in 3-4

weeks.

Contact

Wallbarn

www.wallbarn.com

Tweet: @wallbarn

Tel: 020 8916 2222

www.greenscapemag.co.uk • GREENSCAPE AUTUMN 2022 19
---
GREEN ROOFS SUBSTRATES

BOUGHTON DELIVERS KEY

ELEMENTS FOR BATTERSEA

POWER STATION GARDEN

Situated in the heart of London sits the iconic 39-acre, Grade

II* listed Battersea Power Station, which has been subject to

an incredible £9billion redevelopment project – one of the

biggest schemes of this type anywhere in Europe. One brand

that is proud to have played a part within this ground-breaking

project is Boughton, the supplier of green roof substrates for

the Power Station's 'Garden of the Elements' project.

Positioned between the four

chimney's that have become

synonymous with the Battersea

development are three unique gardens

that together make up the 'Garden of

Elements', designed by Andy Sturgeon

and brought to life by six-times

BALI Grand award-winners, Willerby

Landscapes. Each garden is inspired by

fire, water or air, harking back to the

Power Station's previous life. It is within

these gardens, including the notable

main podium garden 'Boiler House

Square', that Boughton's IN1 Intensive

Green Roof Substrate come into its own.

These garden spaces, full of cloud-like

planting schemes, are set within vast

dishes of shallow water, and feature

raised beds and tall grasses with

vegetation designed to offer yearround

interest with a mix of evergreens,

Mediterranean and more exotic species.

Boughton's IN1 substrate was selected

to support this scheme thanks to its

ability to support larger plants and

to be installed at depths from 100 –

500cm, thanks to its sandy texture.

Additionally, Boughton's IN1 substrate

offers significant moisture retention

qualities, making it the perfect choice

when so many plants are vying for

attention within this three-hectare site.

IN1 from Boughton continues to meet

and exceed all GRO guidelines.

Supplied in both bulk bags and 25L

bags, the Boughton team went above

and beyond to tackle the logistical

challenges that delivering to a central

location can present. Representative of

one of the biggest projects Boughton

has ever been involved in, it was vital

that the team got it right. Simon

Hedley, Boughton Managing Director,

explained: "Being able to contribute

to the development of the Battersea

Power Station and play a small part in

the history of this London landmark

has been an honour and one that we

are proud to share with our customers

and the wider community. We have no

doubt that our green roof substrate

will help the planting at 'Boiler House

Square' to thrive both now and long

into the future, making this incredible

garden space a truly iconic part of

London's green roof story."

Talking during the construction of

the horticulturally rich roof garden,

Willerby Landscapes said: "Boughton

were a pleasure to work with, being

able to safely deliver the material to site

despite the many logistical challenges

that this prestigious, central London

project posed. They supplied us with top

quality substrates specifically approved

by Tim O'Hare, as well as a service

that's hard to beat."

Boughton's Green Roof Substrates

are specifically designed to suit any

domestic or commercial project.

Images show the stunning project at

Battersea Power Station which Boughton

was involved with.

Contact Boughton

Tel: 01536 510 515

email: sales@boughton.co.uk

www.boughton.co.uk

20 GREENSCAPE AUTUMN 2022 • www.greenscapemag.co.uk
---
IS YOUR GREEN ROOF AS

SUSTAINABLE AS YOU THINK?

Sarah Peake, Sustainability Manager at Sika UK, encourages

specifiers to be mindful of the entire roof build-up when trying

to achieve a totally sustainable system.

Green roofs are an innovative

sustainable solution for

forward-thinking building

owners, architects and specifiers,

but even their exceptional

sustainability credentials can be

improved upon. When looking for

the most environmentally-friendly

roofing system possible, you should

be asking yourself the question:

is your green roof system as

eco-friendly as it could be?

With companies striving

to meet Net Zero

targets and reduce

carbon emissions, every

aspect of a business –

including the buildings and

facilities it operates within – are

being analysed from top to bottom

in terms of sustainability and carbon

output. The expectations we have of

sustainable roofing systems are high,

as building owners look to reduce

their environmental impact and move

towards a greener, eco-friendly future.

A green roof is a natural solution to an

urban problem of heat islands, flooding

and carbon emissions; at this stage, the

benefits and sustainability credentials

of green roofs are well documented

and widely known. The entire roof

build-up, however, has not received

the same scrutiny. When we think of

green roofs, it's the uppermost layer

of vegetation that comes to mind. But

there is a whole system lying beneath

that comprises the entire roof, from

structural support and insulation to the

waterproofing membrane.

If these components are not as

Left: Sarah Peake, Sika UK's Sustainability

Manager.

environmentally friendly as

the vegetative layer, is it truly

a sustainable roofing system?

Green roofs require a waterproofing

membrane that acts as a dual-barrier,

protecting the building against both

water and root damage. This roofing

membrane is an essential component of

the roof build-up, and a green roof would

not be viable without it. It seems clear,

then, that to achieve a truly sustainable

roof build-up, specifiers and architects

need to ensure that this roofing

membrane, which is integral for all green

roofs, is as environmentally friendly as

the system that sits above it.

Various technologies can be utilised

in cohesion with a green roof, but

it's a single ply membrane, Sarnafil

Advanced Technology, that offers a total

sustainability package when used in

conjunction with a green roof system. Our

team at Sika developed this technology

with sustainability in mind, and it is the

first and only single ply roofing membrane

in the UK to meet the strict criteria of a

Cradle to Cradle Silver Certification – going

beyond standard best practice in the

UK construction industry.

A Cradle to Cradle Certification is

an asset for specifiers, architects

and building owners, as it offers

assurances from a third-party

organisation that a product is

sustainable. Sustainability can

appear difficult to measure,

but Cradle to Cradle provides a

quantifiable method of analysis.

The evaluation process works by

stringent testing in five separate

categories: Material Health, Material

Reutilisation, Renewable Energy Use,

Water Stewardship, and Social Fairness.

Only products that excel in all five

will be awarded a Cradle to Cradle

Certification, establishing an incredibly

high bar for manufacturers.

By combining two sustainable

technologies into a single total roofing

package, you will be one step closer

to reaching sustainability targets

and aligning with United Nations

Sustainability Goals, while also building

a roofing system that is reliable in

practical terms, lasting for decades. Most

importantly, you can be confident that

the roofing system you have installed

has unmatched sustainability credentials,

and become part of a growing

movement to prioritise environmental

wellbeing in the construction industry.

Contact

Sika UK

Tel: 01707 394444

www.sika.co.uk/roofing

www.greenscapemag.co.uk • GREENSCAPE AUTUMN 2022 21
---
BIOSOLAR ROOFS:

THE BENEFITS AND KEY CONSIDERATIONS

Biosolar roofing combines the advantages of a green roof with those of a solar roof of

photovoltaic panels. Ross Finnie, Sales Director at SIG Design & Technology (SIG D&T), explains

the benefits of this system and how to approach its design and specification.

Which roof to choose? A

photovoltaic (PV) roof to

generate electrical power

from the sun to help reduce a building's

carbon emissions? Or a green roof

to increase the amount of vegetation

on a plot and provide a habitat for

insects with enhanced biodiversity while

helping attenuate rainwater run-off?

Now, thanks to a partnership between

SIG Design and Technology (SIG D&T)

and Eco Green Roof (EGR), it is possible

for homes and commercial buildings to

have both in a single biosolar solution.

Until now, the problem with roofmounted

conventional photovoltaic

systems is that they are not usually

compatible with a green roof solution,

primarily because the PV panels are

mounted close to the roof surface.

Without access to sunlight and

rainwater the vegetation beneath the

panel struggles to survive.

SolarNature solution

The SolarNature roofing system solves

this problem by supporting the front

edge of the photovoltaic panel at a

height of around 300mm above the

roof substrate. Lifting the panel clear of

the roof enables vegetation beneath to

thrive, maximising the vegetated area.

Raising the panels also helps ensure

they are mounted at the optimum

angle to achieve maximum output (for

a south facing roof in the UK this is

generally between 30 and 45 degrees

from horizontal, although the precise

angle will depend on the latitude of the

installation). Lifting the panels clear of

the vegetation also helps reduce the

risk of accidental damage to the PVs

during green roof maintenance.

An additional benefit of this solution

is that the roof's vegetation combined

with the evaporation of the rainwater

held within the green roof system

helps to reduce the temperature at the

roof's surface, which in turn reduces

the ambient temperature close to the

PV panels, further improving their

electrical output.

The system simplifies installation

by enabling the photovoltaic panels

to be supported by the green roof

build-up. This eliminates the need to

penetrate the waterproof membrane

by incorporating the steel mounting

system into the green roof reservoir

board at the base of the green roof

build-up.

The reservoir board provides water

storage and keeps the soil moist. The

board is manufactured with a deep

recessed profile to retain moisture

and ensure its presence even in a PV

panel's rain shadow. Excess rainwater

is directed to the roof perimeter where

gullies and outlets enable the surfeit to

drain away.

Ballast for the PV mounting system is

provided by the growing substrate. Wind

mapping is used to ensure sufficient

substrate is specified to prevent winduplift.

This is particularly important

at the roof's perimeter and corners

where the wind vortex is generally at its

strongest.

For the specifier, a major benefit of

SolarNature is that it is a complete

roofing system providing a single point

of responsibility for the waterproof

layer, the green roof build-up and the

integrated photovoltaic installation.

Optimum design

Early engagement with SIG D&T is

recommended to develop the optimum

design for the SolarNature roof. For

example, if there is a peak kilowatt

output requirement for the photovoltaic

system, this will dictate the total area

of PV panels required and impact the

number, size, and installation angle of

the system. The panels will also need to

dovetail with the space needed between

the rows of panels to allow maintenance

access and ensure sunlight penetration.

The area and location of PV panels will

22 GREENSCAPE AUTUMN 2022 • www.greenscapemag.co.uk
---
also affect the location and amount of

ballast required to hold the panels in

place.

In addition, the biosolar roof design will

need to be co-ordinated with services

on the roof including: soil and vent

pipes, lift overrun shafts, HVAC plant,

pipe and cable runs, rooflights and

access hatches, maintenance access

routes and even maintenance cradle

tracks and turntables.

Working with the PV provider, SIG D&T

and EGR will produce a roof layout

showing the PV panel sizes, orientations

and the recommended spacing to allow

the green roof to thrive. SIG D&T will

use this layout to run a wind mapping

analysis to establish the minimum

ballast requirements for the module

bases.

Ballast weights are calculated based on

the dry weight of the growing medium,

to ensure adequate loading in dry

conditions. However, it is the figure for

the increased weight of the growing

medium and reservoir when saturated

with rainwater that SIG D&T and EGR

issue to the design team to enable them

to develop the appropriate supporting

structure.

Skilled installers

SolarNature can only be installed

by EGR or by an SIG D&T Accredited

Contractor (DATAC).

Once installed, SIG D&T has a rolling

warranty that lasts for the life of the

roof, providing the system is properly

maintained. Maintenance would

involve biannual inspections/services,

which can involve cutting back any

vegetation shading the PV panels,

topping up soil levels, adding nutrients

and checking that the system is

performing correctly.

Contact

SIG Design & Technology

www.sigdandt.co.uk

Tel: 01509 505 714

Tweet: @SIGDesignTech

We'll bring your

roof to life!

GREENING

ROOFTOPS

ANY SIZE

ANY SYSTEM

ANYWHERE!

www.gardensinthesky.co.uk
---
SOLAR PV RESIDENTIAL

THE KEY STEPS TO A SUCCESSFUL

SOLAR PV INSTALLATION

By Stuart Nicholson, Roof Systems Director at Marley.

The rise in the popularity of solar

PV solutions on UK roofscapes is

underway, fuelled by a number of

factors that are set to drive installation

take-up and consumer acceptance.

The changes to Part L of the Building

Regulations that came into effect

in June 2022 will incentivise the

construction of more energy efficient

homes and ensure they produce 31%

lower carbon emissions. Indeed, experts

predict this move could lead to a fivefold

increase in the number of new

homes being specified with solar PV

going forward.

Aside from the

obvious sustainability

advantages brought

by harnessing the

power generation

of the sun to create

a clean energy source,

investing in the installation

of solar PV can provide financial

benefits also. Ahead of further price

increases this winter, it is estimated that

a 4kW solar PV system could generate

electricity up to the value of £1,575

Left: Stuart Nicholson, Marley.

Below and opposite: Marley

SolarTile.

(based on a cost of 45p p/

unit)*, offering homeowners

significant savings on

energy bills. With the energy

price cap rises forcing many

to reassess their energy needs

and consumption, the ability to

mitigate energy price shock through onroof

energy generation will appeal to an

increasing number of households.

For specifiers intrigued about the

24 GREENSCAPE AUTUMN 2022 • www.greenscapemag.co.uk
---
sustainability and financial benefits

on offer from solar PV solutions,

it is important to select the right

solar solution and assess the key

considerations to ensure a successful

solar PV installation project.

1On-roof or integrated: When it

comes to solar PV, there are three

options: a traditional on-roof panel,

or two different types of integrated PV

system (one with a separate tray and

one with an integrated tray).

Many people associate solar panels

with the original on-roof systems, which

consist of a set of panels attached to

the rafters by a mount, sitting over the

top of the roof tiles. These can stand out

too much, so modern, integrated solar

PV systems have been developed which

blend in seamlessly with roofscapes.

These roof integrated panels are

designed to be incorporated into

the roof surface, acting as an MCS

012 approved building material, and

effectively replacing a section of tiles.

They fit in with the existing roof tiles to

become part of the design.

There is a belief that on-roof systems

generate more electricity. However, the

difference is small and is outweighed

by some of the other disadvantages

of an on-roof system, particularly

because they can look quite bulky.

Other disadvantages include the way

they are attached, which can lead to

water ingress and nullify the roof tile

manufacturer warranty; the extra

weight, which can lead to unnecessary

strain on the roof structure; walking on

a completed roof to install them could

lead to hairline cracks in the tiles and

birds' fondness for nesting in the panels

can also cause issues.

Modern roof panels are sleeker than in

the past, but they hold no comparison

to the aesthetic of roof integrated

PV. As both tiles and solar PV are

installed together it means there is no

modification to the roof tiles, securing

the warranty. The integrated Marley

SolarTile system is compatible with all

our clay and concrete tiles, so can be

easily incorporated into any roof design.

2Choosing an integrated PV

system – with or without a tray?

Most integrated solar PV systems

require a separate carrier system for

the panel to sit into. These tend to be

in the form of separate polypropylene

trays. The main disadvantage of this

system is that it requires additional

timbers to fix to, as well as counter

battens. Fire retardant trays are

available but often come at a higher

cost.

Continued on page 26 >>>

www.greenscapemag.co.uk • GREENSCAPE AUTUMN 2022 25
---
SOLAR PV RESIDENTIAL

>>> Continued from page 25

The other option is a solar PV with

integrated tray system. These systems

sit directly onto the battens and, in some

cases, are fixed to the rafters and the

battens. This means wind resistance

is significantly higher due to the

direct fixings. As the aluminium tray is

integrated into the panel, fire ratings are

also often higher than the plastic tray

systems.

Although initial purchase price can be

higher, when the prices are inclusive of

extra timber and labour, alongside the

extra cost for the fire-retardant

tray, the integrated

system can be more

cost effective.

Images show the

integrated Marley

SolarTile system.

3Monocrystalline v

polycrystalline: Both

monocrystalline and

polycrystalline solar panels serve the

same function in the overall solar PV

system: they capture energy from the

sun and turn it into electricity. They are

also both made from silicon, which is

used for solar panels because it is an

abundant, very durable element. Many

solar panel manufacturers produce both

monocrystalline and polycrystalline

panels. Monocrystalline solar panels

are generally thought of as a

premium solar product.

The main advantages

of monocrystalline

panels are higher

efficiencies

and sleeker

aesthetics.

4Size of solar array: The size of

solar array specified will depend

on several factors, including

available roof space and household

electricity usage. A well-sized solar

PV solar energy system can cover

a significant portion of a home or

building's annual electricity usage.

References: *https://www.theguardian.

com/money/2022/aug/20/solar-panelshow-to-fix-your-energy-bills-while-thesun-shines

Contact Marley

www.marley.co.uk/solar

Tweet: @MarleyLtd

26 GREENSCAPE AUTUMN 2022 • www.greenscapemag.co.uk
---
Technical support

Roofing experts on-hand to offer help and advice

Assured standards

Meets all British Standards and regulations

High-quality components

Tested for maximum performance, meaning no call backs

Estimates & fixing specs on demand

We'll help you create them on site and on the go

Comprehensive roof solution

Easy installation with tried and tested compatible components

Need a complete

roof system?

We've got you covered.

With all elements brought together from a single

source, you can be confident that everything

will work together perfectly – and that high

performance is all backed up with a 15-year

system guarantee. Find your peace of mind.

marley.co.uk/roofsystem
---
SOLAR PV COMMERCIAL BUILDINGS

RETROFITTING ROOFS

TO MEET CARBON TARGETS

By Aisling Sands, Technical Director – UK and Ireland at

Kingspan Insulated Panels.

We are on a challenging journey

in the UK to deliver 'netzero'

by 2050, and there is

a very specific sector that can make

a significant, achievable contribution

towards that goal. In its consultation

on introducing a Performance Based

Framework last year, the government

highlighted the fact that private nondomestic

buildings above 1000m 2

in England and Wales represent

around 7% of the existing stock but

use approximately 53% of the total

energy used in this sector. Reducing

the energy consumption of these

buildings and introducing renewable

technologies to meet the remaining

energy needs as far as possible is a

crucial step in cutting carbon emissions,

and a 30% cut in energy consumption

by 2030 over 2015 levels has been

proposed in the consultation as a

target.

What are the solutions?

Large commercial roofs offer a

massive opportunity to 'insulate and

generate'. Often built originally with

single skin steel or asbestos roofs, the

heat loss or gain through this element

can be huge, leading to increased

heating or cooling demand. They also

present large areas of dead space

which can readily be used to house

a solar array, provided the existing

structure is suitable to support the

added weight.

In the spring issue of Greenscape, we

explored how insulated panel systems

combined with photovoltaics can help

to meet the latest requirements of

the recently updated Part L for new

buildings, but this solution is equally

effective for the refurbishment market.

Because the insulated core performs

so well, the panels themselves are

relatively light, often negating the need

for any additional secondary steelwork

on existing structures and thereby

keeping the embodied carbon of the

project to a minimum.

For retrofit projects, insulated panel

systems also enable rapid construction

or over cladding, keeping any down

time of operations or disruption of the

business to a minimum.

Continued on page 30 >>>

The Quadcore PowerPanel Pitched roof panel.

28 GREENSCAPE AUTUMN 2022 • www.greenscapemag.co.uk
---
THE GRO GREEN ROOF CODE 1

Green Roof Code of Best Practice

incorporating Blue Roofs and

BioSolar Applications

Anniversary Edition 2021

Photo: ABG Limited

THE GREEN ROOF ORGANISATION

THE G

ROO

Green Roof

incorporatin

BioSolar Ap

Anniversary

Photo ©ABG Ltd

The Green Roof Organisation (GRO) represents companies, organisations and

people involved in, or interested in, nature-based roof solutions that help our

towns and cities mitigate and adapt to the effects of climate change whilst

making them nicer, healthier places to live.

GRO members positively contribute to the delivery of living green and blue roofs

that support nature, provide amenity, attenuate rainwater and generate solar

energy, helping ensure no roof goes unused.

Whether you are active in ecology, design, specification, installation or the

maintenance of green and blue roofs, join GRO and help make where we

live and work greener.

Further information:

E: membership@greenrooforganisation.org

COMING

SOON

THE GRO GREEN

ROOF CODE

W: www.greenrooforganisation.org :

GRO CODE

@ROOFGRO

@WGRD2021
---
SOLAR PV COMMERCIAL BUILDINGS

>>> Continued from page 28

Case study – Kingspan Insulated

Panels manufacturing facility,

Kingscourt

Kingspan Insulated Panels has recently

upgraded its original manufacturing

facility in Kingscourt, Ireland, becoming

the first building in the world to

benefit from the innovative Quadcore

PowerPanel Pitched roof panel.

The original building dates back

to 1974; in 1986 it was extended to

accommodate a fully continuous panel

manufacturing line and has been in

production ever since. At this point in

the building's life, any asbestos sections

were removed from the roof and the

new, expanded roof was constructed

using 40 mm Kingspan PIR panels

that were produced on the continuous

line below. Today, at their peak, the

building's manufacturing processes

consume approximately 500 kW of

power.

The project was carried out over two

planned maintenance shutdowns. In

Phase one, 7,800m 2 of panels were

removed and the building reclad in

just 10 days. During Phase two, the

remaining 2,350m 2 was removed, and

the recladding completed in 3 days. The

entire operation took less than a 3 week

period.

Over 5,000m 2 of the original PIR cored

insulated roof panels were reused and

the rest recycled, with zero waste being

sent to landfill. This greatly reduced the

carbon footprint of the project.

The installation of over 10,000m 2

of QuadCore PowerPanel Pitched

roof panels provides the capacity

to generate up to 528,000 kWh per

year – covering 29.6% of the building's

electrical energy needs. This amount of

renewable energy generated would be

enough to power 90 homes in a year.

QuadCore insulation has a declared

thermal conductivity of 0.018 W/m.K

compared to 0.023 W/m.K for PIR – the

lower the thermal conductivity the

more effective the insulation is. The

insulation thickness was also upgraded

from 40 mm to 76 mm. This aspect of

the refurbishment is responsible for

saving an estimated 39,600 kWh of gas

used for heating per year. For reference,

this is equivalent to about 8 tonnes of

carbon dioxide.

The replacement of the original

yellowing GRP rooflights with Kingspan's

polycarbonate Day-Lite Trapezoidal

Rooflights (DLTR) doubled the Lux

levels on the factory floor, and the

full use of all daylight hours saves an

estimated 100,000kWh/year.

PowerPanel is 74% lighter than

traditional add on photovoltaic systems,

making the product particularly well

suited to refurbishment projects.

This meant that the Kingscourt

refurbishment did not require any

structural changes and the product

was suitable for fixing directly to the

existing roof structure without the need

for additional secondary steelwork.

This helped to keep both costs and the

carbon footprint to a minimum during

the refurbishment process.

Drivers for change

The Performance Based Framework

and other regulatory drivers that are in

the pipeline, such as tighter Minimum

Energy Efficiency Standards (MEES) for

privately rented commercial buildings,

are pushing the refurbishment

agenda. But there is also a compelling

business case to upgrade existing

buildings without waiting to be forced

by regulation. Lighter, more thermally

efficient buildings that can generate

energy on site are more valuable

assets, more attractive to tenants, can

command higher rents and support

workers to feel happier and be more

productive at work. They also improve

levels of energy security and help to

keep energy costs low – something we

can all appreciate the value of in the

current economic climate.

Contact Kingspan

Insulated Panels

www.kingspanpanels.co.uk

Tweet: @KingspanIP_UK

Above: Images show Kingscourt manufacturing facility before (left), during (middle) and after refurbishment (right).

30 GREENSCAPE AUTUMN 2022 • www.greenscapemag.co.uk
---
WATERSHED

MOMENT.

Meeting Carbon Net Zero and

the wider challenges of climate

change needs innovation, vision

and a fundamental change to

urban development.

A breakthrough in water

management will help

unlock the solution - Green

Urbanisation.

Green Urbanisation

• Utilises surface water to introduce and sustain urban green assets

• Promotes biodiversity and ecological regeneration

• Reduces potable water demand and energy consumption

• Delivers multi-functional environmental, health and wellbeing benefits

• Enhances resilience to flooding, drought and population expansion

Unlock the future at polypipe.com/watershed

Civils & Green Urbanisation