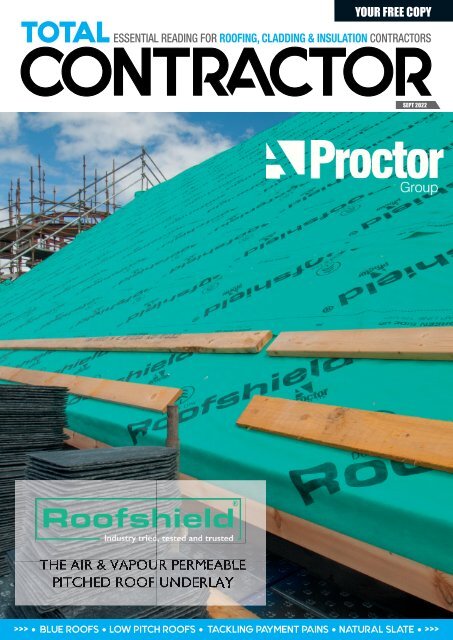 You also want an ePaper? Increase the reach of your titles
YUMPU automatically turns print PDFs into web optimized ePapers that Google loves.
SEPT 2022

>>> • BLUE ROOFS • LOW PITCH ROOFS • TACKLING PAYMENT PAINS • NATURAL SLATE • >>>
---
FALL

PREVENTION

& PROTECTION

WWW.FALLARREST.COM

FULL PPE

Service Provider

HARD HATS

FOOT PROTECTION

EYE PROTECTION

MED KITS

WORK CLOTHES

TWO WAY RADIO

COMMUNICATION KITS

Fall Arrest is a website designed to provide information appertaining to fall protection and

prevention. The site will aid clients, architects, surveyors alike with information and provide

solutions that we can offer. These offerings include full design under CDM. Fall Arrest

partners with leading and trusted suppliers & manufacturers within the industry.

We can assist you in the design, supply, installation &

recertification of fall protection equipment as well as

the supply of highly engineered personal fall protective

equipment through our partners www.harnesses.co.uk.

info@fallarrest.com • www.fallarrest.com
---
Editor's Comment

MATT DOWNS

EDITORIAL DIRECTOR

MATTDOWNS@MEDIA-NOW.CO.UK

07963 330774

As we approach the final quarter of another tricky year for the roofing

and wider construction industry, it's fair to say that 'resilient' might be a

good word to describe the owners of roofing businesses and their teams,

who have had to navigate the many challenges the past few years have

thrown at them.

Whilst contractors have had to balance extended lead times and material

shortages with volatility in terms of pricing when planning and delivering

projects, this is on top of the perennial problems such as recruiting skilled

workers and managing cashflow as costs soar and customers refuse to pay.

With this in mind, Alison Rowley, a Senior Associate in the disputes team at

law firm Taylors Solicitors, explains the options available to roofers and the

next steps to take when an end customer or employer under a construction

contract refuses to pay on completion of work. As Alison explains: "It is an

unfortunate reality that some customers will refuse to pay based on false

allegations of bad workmanship or due to a misunderstanding or lack of

knowledge." You can read Alison's advice on what to do in this scenario, and

her handy tips on how to prevent the issue arising on page 16.

Elsewhere in this issue, we talk all things natural slate with Ahmed El Helw of

SSQ (p20); John Mercer turns his attention to hipped roofs in our latest Roof

Shapes article (p22); James Ford of Permavent looks at the challenges around

low pitch roofing (p28); George King explains how a local focus and

empowering Branch Managers is benefiting SIG Roofing customers (p32); and

the experts at QI talk Blue Roofs in their latest column (p55).

So read on for all this and much more!

Matt

Front cover courtesy of the A. Proctor Group. Read about the

benefits of Roofshield, the manufacturer's high-performing roofing

underlay on page 30.

FOLLOW US @TOTCONTRACTORUK

SIGN UP FOR YOUR E-NEWSLETTER AT

WWW.TOTAL-CONTRACTOR.CO.UK

Advertising:

Publishing Director: Andy Dunn

DD: 01892 732 047

Mob: 07963 330777

Email: andydunn@media-now.co.uk

Registered office: 1 Forstal Road, Aylesford, Kent, ME20 7AU

Commercial Manager: Jake Roxborough

DD: 01892 732 047

Mob: 07956 133314

Email: jakeroxborough@media-now.co.uk

The content of Total Contractor magazine (and website) does not necessarily reflect the views of the editor or publishers and are

the views of its contributors and advertisers. The digital edition may include hyperlinks to third-party content, advertising, or

websites, provided for the sake of convenience and interest. The publishers accept no legal responsibility for loss arising from

information in this publication and do not endorse any advertising or products available from external sources. No part of this

publication may be reproduced or stored in a retrieval system without the written consent of the publishers. All rights reserved.

Supported by:

20
---
Contents

3 KEY FEATURES

46

16 ASK THE SOLICITOR...

This month Alison Rowley, a Senior Associate in

the disputes team at Taylors Solicitors, explains

the options available and the steps to take

when customers refuse to pay

20 TOTAL TALK: SSQ

We catch-up with Ahmed El Helw, MD of

natural slate specialist SSQ, to discuss his

career in the sector, supply chain challenges,

the importance of trust and why he's optimistic

for the future...

58 STEPPING UP TO SAFETY

In the second instalment of his safety focus,

Trevor Rabson of Werner provides his ladder

facts and outlines best practice when it comes

to using a ladder safely

22

FURTHER READING

12 TAKING TRAINING TO YOU

Ross Finnie of SIG Design and Technology explains how

customised on-location product training makes life easier

28

26 STEP BY STEP: SOLAR PV

As demand continues to grow for solar PV, Dan Redfern

explains how easy it is to install Marley SolarTile

28 THE LOWDOWN

Permavent's James Ford explains why 'the Devil's in the

Detail' when it comes to low pitch roofing projects

32 SUPPLY TALK

George King reflects on the reorganisation of the SIG

Roofing business and how a local focus benefits customers

34 GREEN ROOF SUCCESS

Carl Bailey of Firestone Building Products explains how

roofers can ensure they create a green roof that lasts

46 TAPERED TALK

Morgan Woolf of Kingspan Insulation discusses the

many benefits of tapered insulation

4 TC SEPTEMBER 2022
---
REGULARS

14 NFRC ROOFING TALK

Mark Spragg discusses his role as Regional

Manager for South West England and Wales

22 PERFECTLY PITCHED

This month Roofing Consultant John Mercer turns

his attention to hipped roofs

50 KNAUF INSULATION

TECH TALK

As energy prices continue to climb, Bradley Hirst

explains how you can help customers insulate

their homes for winter

55 QI BY QI

The experts at Quantum Insulation talk Blue

Roofs, explaining what they are, why demand is

growing, and what they mean for your insulation

choice

INDUSTRY NEWS

06 SURVEY SAYS...

Klober's recent survey shows that product

availability remains the top challenge for roofers

10 NEW FACES ON BOARD AT NARM

NARM has welcomed three new Directors to its board

providing a "major boost" for the rooflight Association

SECTIONS:

TOTAL

ROOFING

20

TOTAL

CLADDING

42

TOTAL

INSULATION

46

Pauline Manley, Marketing

Director at Klober, comments

on the company's latest

sector survey findings

06

VEHICLES, TOOLS

& WORKWEAR

58

SEPTEMBER 2022 TC 5
---
Industry News

More news, updates and interviews at www.total-contractor.co.uk

CHALLENGES FOR

SMALL BUILDERS

SURVEY SAYS PRODUCT AVAILABILITY IS

STILL THE MAIN ISSUE FOR ROOFING

Responding to the latest figures from the

Office for National Statistics which show a

fall in construction activity of 1.4% in

June, the Federation of Master Builders

has stated this is a growing concern for

small builders given the wider fall of 6.1%

for private new housing and the continuing

fall of 0.2% for repair, maintenance and

improvement (RMI) work.

Brian Berry (pictured) Chief Executive of the

Federation of Master Builders (FMB) said:

"Costs are up across the

board for both builders

and consumers alike

which is affecting

business confidence.

With 98% of FMB

members experiencing material

cost increases, builders are inevitably having

to pass on these costs to consumers. The

result is that householders are starting to hold

back with many households increasingly

concerned about rising energy prices and the

threat of a recession later in the year."

Berry concluded: "With the Government at a

standstill, we won't see any ambitious

announcements to help support the sector

until September when the new Prime Minister

will be announced.

"In the meantime, the Conservative

leadership candidates need to be explaining

what they intend to do to help the

construction sector boost economic growth.

Cutting the rate of VAT from 20% to 5% or

below on all repair, maintenance and

improvement work would be a welcome start

to help boost building work all across the

country, and help people insulate their homes

ahead of further rising energy bills."

www.fmb.org.uk

Availability and lack of stock remains the

number one issue for roofing installers in the

UK, according to the latest third-party

research commissioned by roofing

components company, Klober.

Klober says two hundred roofing installers were

surveyed about their profession, buying

behaviours and the key challenges they are facing

in the industry, with almost a third stating

availability was their biggest issue.

The survey shows recruitment and lack of skilled

labour was a close second, with 22% stating this

as their main challenge. Klober points out this has

similarly been coined the number one issue by

some construction bodies, whilst the number of

workers in UK construction in Q1 2022 was said

to be 263,000 lower than in the same quarter of

2019, according to the Office for National

Statistics (ONS).

In terms of behaviours, Klober's survey

highlighted roofing contractors showed signs of

returning to pre-Covid purchasing habits with an

11% increase in face-to-face purchasing from

Klober's 2021 research – jumping from 78% to

89% respectively.

Klober says when deciding on which roofing

products to use, the majority of roofers mainly rely

on their own experience. However, the

manufacturer says this has decreased from 82%

to 68% since 2021, whereas there has been an

increase in contractors wanting to seek support

from suppliers such as Klober or merchant staff –

rising from 68% to 74%. Klober also points out

there has been an 11% increase in roofers looking

to a supplier's or merchant's website – from 29%

to 40% respectively.

Klober also conducted a similar exercise with

merchants for the first time, alongside contractors

and installers. Of 194 merchant staff surveyed,

71% put availability as the main issue.

Above: Pauline Manley, Marketing Director at Klober.

Klober says it is taking action to respond to these

challenges, with particular focus being placed on

availability. As well as recently expanding storage

in its distribution centre, the manufacturer says it

has always prioritised retaining as much control

over its product as possible to protect its

customers.

Pauline Manley, Marketing Director at Klober,

commented: "Although it's a challenging time for

industry, and this research clearly highlights this,

we are proud to be part of the BMI Group which

enables us to retain more control over our end-toend

supply chain. Having a considerable number

of manufacturing plants throughout Europe means

we can be versatile in our manufacturing

arrangements, at the same time as ensuring

effective and consistent product supply."

Key findings from Klober's survey:

• Availability is the roofing industry's number one

issue.

• The labour and skills shortage is the second

biggest issue.

• Roofers are returning to face-to-face

purchasing.

• More contractors are looking to merchants for

support when selecting products.

www.klober.co.uk

More on challenges for roofers – survey claims

roofers are the most likely trade to have turned

down work due to material shortages – page 8.

6 TC SEPTEMBER 2022
---
For work you'll take your hat off to

If a job's worth doing, it's worth doing well.

Get the latest guidance on fixing and tooling to help you maintain your high standards.

So you can take pride in a job well done.

W: fixfast.com l T: +44 1732 882387 l E: sales@fixfast.com
---
Industry News

MATERIAL STRAINS

New research has revealed the stark

impact that the materials shortage has had

on workers in the sector.

The study, conducted by IronmongeryDirect, a

leading UK supplier of specialist ironmongery,

found that more than three-quarters (78%) of

tradespeople have struggled to source the

materials they've needed in the last year.

As a result, the survey says almost half

(46%) have had to delay or turn down work,

and nearly a fifth (19%) have been forced to

let customers down after committing to jobs.

More news, updates and interviews at www.total-contractor.co.uk

ROOFSHIELD CRUCIAL TO HISTORIC PROJECT

A prominent historic building in

Paisley town centre which had fallen

into disrepair is in the process of

being restored with the help of

Renfrewshire Council's Townscape

Heritage Conservation Area

Regeneration Scheme

The scheme aims to improve the built

environment in Paisley town centre and

is funded by National Lottery Heritage

Fund, Historic Environment Scotland

and Renfrewshire Council.

When asked which specific materials they've

found difficult to find, the most common

replies were paint (21%), timber (19%) and

steel (17%).

Unfortunately, the survey found that more

than one in five (22%) respondents said that

they can't see the shortage easing anytime

soon, and that they believe problems will

continue into 2023. Likewise, roofers are said

to be the most likely workers to have had to

turn down work (60%) as a result of the

issue.

Dominick Sandford, Managing Director at

IronmongeryDirect, said: "The materials

shortage continues to be one of the industry's

main challenges, with workers across all

trades finding it hard to source what they

need to meet the demand for their services.

"The impact is felt in many ways –

financially, as many have had to refuse work

as a result, but also personally, as our recent

Mental Health in the Trades report found that

the shortage is one of the main causes of

stress for tradespeople in 2022.

"In recent weeks, there have been signs of the

situation easing slightly, so hopefully things

will continue to improve as the year goes on."

www.ironmongerydirect.co.uk

The property dates back to 1840 and is

a grade B-listed stone-faced terraced

building at 3 County Place, with a

slated roof and situated in a prominent

location opposite Paisley Gilmour Street

train station. The 3-storey structure

comprises three shops on the ground floor, with

two upper floors left derelict for over 20 years.

The restoration project, led by Paisley architect

John Martin, consists of converting the upper

floors into four dwellings (two 2-bedroom and two

3-bedroom) and external repairs, including new

windows, stonework, and roof works.

As part of the roof works, protection for the roof will

include a new roofing membrane, new leadwork

and the re-use of the original slates. All existing

slates to the front elevation will be kept and used to

maintain the appearance of the surrounding

buildings with CUPA H3 slate fitted to the rear. All

existing sarking to the roof will be replaced.

In selecting a suitable membrane, Architect John

Martin explained: "I chose Roofshield for the roof

underlay because it is both air and vapour

permeable and requires no additional ventilation

to the roof. Roofshield is my preferred roofing

membrane. It is strong and robust and meets all

of the key criteria."

The incorporation of the A. Proctor Group's

Roofshield into a project can lead to savings in

both labour and material costs due to no

additional VCL being required. The highperformance

air permeability of Roofshield means

that the roof space will have similar air changes to

that of a roof using traditional eaves/ridge

ventilation.

The roof structures of historic buildings can be

complex, and the sensitive nature of these

projects demands careful consideration of

moisture management and condensation control.

Many vapour permeable underlays use an airtight

VP film layer to achieve their performance.

However, Roofshield's patented SMS (Spunbond

Meltblown Spunbond) structure allows high levels

of airflow, in addition to the transport of moisture

vapour, making the formation of condensation in

the roof space virtually impossible. It has an

extremely high degree of vapour permeability and

air permeability, so it will still perform in

conditions in which airtight alternatives will not.

The high performance of Roofshield, backed by

two BBA Certificates, has been successfully used

in preserving and protecting the fabric of a wide

range of historic and listed buildings for 25 years.

www.proctorgroup.com

8 TC SEPTEMBER 2022
---
Handrails:- EasyGuard

free-standing Guardrails

*CurveyGuard – an aesthetically pleasing curved rail.

*EasyGuard – raked or straight legs dependant on

application. *FoldGuard – folding handrail.

Trip hazard reduction – long thin base-plates with

Counterweights used on un-secured ends only. Placed at 2m

centres maximum to enable use for leading edge protection.

Galvanised or powder coated finish. Protective mats 5mm

bonded to the base plates.

Standards – Exceeds Class A EN13374- Class A; For

leading edge protection HSE/SR 15, September 1988.

Nationwide delivery or contract installation. – Free material

quantifying service – info@safetyworksandsolutions.co.uk

Ladders:- Easy Fit

Compliant to both BS/EN 5395 and 14122 –

To comply with the standards for

permanent ladders all mild steel then hot

dipped galvanised to BS/EN 1461.

All typical ladders bespoke – email

info@safetyworksandsolutions.co.uk for a

survey check sheet.

Easy Fit, all ladder components are Easy

to assembly; in manageable parts Easy to

handle and install.

Rest Platforms and ladders with special

fixing requirements; solutions provided by

Safetyworks in house.

(All components for British Standard

compliant ladders require steel components

with timber and aluminium recommended

for temporary use only)

HANDRAILS

-

LIFELINES

-

WALKWAYS

-

FALL GUARDS

-

FLEXIDECK

-

DEMARKATION

-

LADDERS

-

STEELWORK

-

Tel: 01487 841400

www.safetyworksandsolutions.co.uk
---
Industry News

More news, updates and interviews at www.total-contractor.co.uk

NARM BOARD

STRENGTHENED

NARM, the National Association of

Rooflight Manufacturers, has appointed

three new Directors to its board.

Sioned Roberts, Marketing Director at

Whitesales; Jon Shooter, Group Managing

Director at Glazing Vision; and Conor Logan,

Technical Director at Kingspan Light + Air,

bring immense and diverse experience to

NARM, whose membership encompasses

manufacturers and suppliers of all types of

rooflight.

NARM Chairman Ian Weakford said: "These

board appointments are a major boost to

NARM's resources and knowledge base.

Sioned, Jon and Conor will each play an

important role in helping us to fulfil our

purpose: to support best practice in all

aspects of rooflighting, from design and

specification, to installation and

maintenance. I and my fellow Directors are

delighted to welcome them to the board and

we look forward to working closely together."

He continued: "The construction industry

currently faces many challenges, with

legislative changes, supply chain issues and

the need to urgently address climate change.

Trade associations like NARM can help to

deliver positive change by developing

effective responses to these challenges."

www.narm.org.uk

BDA APPROVAL FOR EUROFORM'S WEATHERCLAD

Euroform's shiplap cladding, WeatherClad, has

achieved BDA Agrément certification following

rigorous assessment for safety and fitness for

purpose, including fire performance.

A low maintenance, wood-effect cladding system

designed for external application to existing and

new domestic and non-domestic buildings,

WeatherClad has a natural timber look with

random embossed grain. It is an autoclaved

reinforced cement siding board.

WeatherClad now carries third party

BDA Agrément certification

from KIWA, a certification

recognised by architects,

specifiers, engineers and

Building Control

personnel.

Certification confirms the

product's suitability and fitness for

purpose in terms of structural performance and

durability. It also covers behaviour in relation to fire

– it has European Classification A2-s1,d0, in

accordance with BS EN 13501-1.

Commenting on the news, John Taylor, Euroform's

Technical Director, said: "Confirmation of BDA

Agrément certification after thorough testing will

give customers that extra layer of confidence in

WeatherClad. Along with its good looks, excellent

performance, ease to work, speed of fix and ready

availability in the customer's preferred quantities,

this certification makes WeatherClad a great

option."

Euroform says there is no minimum

order for WeatherClad and it can be

purchased from Euroform in split pallets,

helping customers to avoid waste.

The company says WeatherClad is available in 21

standard colours plus RAL colours upon request.

Euroform says it has many colours in stock and

others are available within a two to three week

delivery period, plus it also offers a comprehensive

range of colour matched profiles and trims.

Euroform points out the supporting framework for

WeatherClad, most commonly timber battens, must

have adequate durability for the intended use and

comply with applicable national building codes.

www.euroform.co.uk

Images: WeatherClad is available in 21

standard colours plus RAL colours upon

request.

VIVALDA GROUP PROVIDES STAFF WITH £1,000 COST OF LIVING AWARD

Vivalda Group, the UK's largest independent

distributor of safety-assured cladding, says it is

matching the likes of Taylor Wimpey,

housebuilder Barratt, and Rolls Royce by

giving each of its employees £1,000 to

help them manage rising living costs.

Operating 12 business units across the UK and

Ireland, Vivalda Group employs 150 people who will

each receive the financial support in four monthly

payments of £250, which commenced in August.

Peter Johnson (pictured) said: "My staff are

dedicated and hard-working, with a growing

number giving over twenty years' loyal

service; the idea of even one of this superb

team fretting over higher utility bills does not sit

comfortably with me when something can be done

to help. Vivalda is already one of the London Stock

Exchange's 'Companies to Inspire Britain' and I

want us to live up to that reputation with action and

not just words. Vivalda Group prides itself in doing

the right thing – by its customers, its suppliers,

and the colleagues who've made it the market's

number one."

www.vivalda.co.uk

10 TC SEPTEMBER 2022
---
oof

lantern

10%

NEW TRADE

CUSTOMER

DISCOUNT

QUOTE CODE:

TCK01

glazed in

seconds

faster

to fit

Supply & install the multi-award-winning aluminium Korniche Roof Lantern.

Fitted in minutes, glazed in seconds. The strongest lantern in class, available

up to 3x2.5m in four glass panels and a maximum size of 6x4m

Delivering the best products, with the best

service, at the best price

Contact Made for Trade for a Kwikquote today

madefortrade.co | sales@madefortrade.co | 01642 610799

*Discount applies to all trade customers and applied to the first, single item purchase only of the Korniche Roof Lantern
---
Product Training

TRAINING YOUR WAY

Contractor product training has traditionally meant a full day learning in a

manufacturer classroom, but there's a new methodology emerging. Ross Finnie, Sales

Director for SIG Design and Technology, explains how customised on-location training

could be an option, with comment from Jamie McNeill from Manuka Roofing...

When we talk to contractors, training is a

topic which is often at the top of their

agenda. However, much like any

building solution, there isn't a 'one size fits all

approach'. What works for one might not work for

others and we all have our own ways we learn

best. This type of feedback is what led us to

adopt a more customer-first approach to training.

We've always offered and supported

our contractors and customers with

any product or system training,

particularly in the case of some

products where this is mandatory

prior to purchasing.

Typically, it would involve two and a half

days of learning in a classroom

environment either at the

manufacturer or at one of our

training centres around the UK.

These are run as workshops and allow

contractors to get hands-on with the

products and hear from the experts

direct.

While ideal for some, we heard from

our fair share of trainees that the

classroom environment isn't for them

and it's a day off site which they would

have preferred to avoid. From wanting to reduce

their travelling through to preferring a more

personal touch, it became clear another approach

was needed.

The consensus was to move the classroom

outside and bring it to the contractors on location.

This would involve sending one of our Area

Technicians, plus any manufacturer supporting

staff, to a contractor's site to provide the training

"The training featured

a mixture of theorybased

learning and

practical, hands-on

experiences which

benefited the

contractors"

in a realistic and relevant

environment for them.

"A seamless start"

Jamie McNeill from Manuka Roofing is

one contractor who took up the offer from

SIG D&T, in partnership with IKO, for

training at their offices: "Nigel Fields,

the Area Technician, arrived on site

and began to set up in our own

training room. All the materials were

delivered the day before so there was

no delay with product, and training rigs were

set up in advance so it was seamless

from the very start."

"It felt more

personal to us"

The training featured a mixture of theory based

learning and practical, hands-on experiences

which benefited the contractors. "Because it was

just our team and it was on site, it felt more

personal to us. Importantly, the team were

comfortable being able to ask questions easily

throughout. With it being a smaller group, it was

more one-on-one, and the team took away more

from the experience."

By conducting the training on location, the

savings on time and money were immediate, but

it also meant other staff members would be able

to join in. "We've got our own Quality Assurance

Manager who conducts site visits who was able

to join in on the course. It adds to our Quality

Assurance credentials, having a fully trained

installation and assurance team. In turn this

means clients and manufacturers can be more

confident in our work, especially when it comes to

complex detailing."

For Jamie and the team, they found this

approach for training far easier and more

rewarding. Recognising that not everyone learns

at the same pace meant that the smaller training

sessions gave the proper time for each

contractor to make sure they understood what

was required.

For contractors looking to provide a level of

assurance and peace of mind for both their

clients and their own teams, product training is

an ideal solution. By providing the option for

either on-location or classroom training,

contractors are able to select the type of

environment best suited to them.

When it comes to learning, there isn't a right or

wrong way, but what is clear is manufacturers

provide training which suits the contractor and

removes any barriers for uptake. We believe in a

customer-first approach, by listening to what our

customers want, we've provided a solution which

benefits them and ensures training meets their

requirements.

Further info on system or product training:

www.sigdandt.co.uk

@SIGDesignTech

12 TC SEPTEMBER 2022
---
Technical support

Roofing experts on-hand to offer help and advice

Assured standards

Meets all British Standards and regulations

High-quality components

Tested for maximum performance, meaning no call backs

Estimates & fixing specs on demand

We'll help you create them on site and on the go

Comprehensive roof solution

Easy installation with tried and tested compatible components

Need a complete

roof system?

We've got you covered.

With all elements brought together from a single

source, you can be confident that everything

will work together perfectly – and that high

performance is all backed up with a 15-year

system guarantee. Find your peace of mind.

marley.co.uk/roofsystem
---
NFRC Roofing Talk

THE ROLE OF AN NFRC REGIONAL

MANAGER

Mark Spragg, Regional Manager for South West England and Wales, sheds light on

what is takes to deliver a great service to local Members and their clients.

For the past fourteen years I have had the

privilege of being the Regional Manager of

NFRC's (National Federation of Roofing

Contractors) South West England and Wales

Region. During this time I have seen NFRC and

the Region develop and evolve. Though changes

have taken place, as indeed there should be in

any dynamic organization, there remain some

constants that are the essentials of the role,

which I will outline below.

It isn't my intention to go into minute detail about

the routine administrative tasks that the job

requires. For one thing, there isn't the time or

space in this article to do that! Suffice to say that

without the incredible support provided by the

staff at NFRC HQ, this part of the job would be

immensely difficult, and nigh on impossible.

However, these tasks are critical both for the

smooth running of the Region and the wellbeing

of our members.

Firstly, I want to touch on the role of the Regional

Committee and its relationship with the Regional

Manager. I have been very fortunate in that the

committee I inherited, and the one that I now

work with, have been nothing but supportive and

committed to the Region. The members of the

committee give up their time in order to assist the

Manager in delivering a service to both NFRC

Members and their customers. The composition

of the committee is key. They need to be a diverse

group both in their roofing skills and in their

geographical spread. This assists the Manager in

remaining in touch with all the local variations

taking place within the Region. In addition, the

committee provide technical support, not only at

regional level, but as part of the national

technical committees. Without their willingness to

support the Regional Manager in almost every

"The Regional

Manager is at

the end of a

phone or

email, ready to

respond when

the Trade

Member needs

assistance"

aspect of the job it would be a very difficult task

indeed.

Before leaving the subject of the committee I

want to mention the Regional Chair. In essence

the person in this position acts as the Regional

Manager's boss! Communication is not always

daily but it is very regular as it is the Chair that

the Manager asks more of. It is not an

overwhelming job but it is one that is fairly

demanding. I have been fortunate in that all of my

Regional Chairs have, despite being very busy

themselves, always made time for NFRC.

Point of contact

The Regional Manager is the point of contact for

members of the public. There are occasions that

this can be rewarding such as directing potential

customers to the 'Find a contractor' facility on

the website. It is not unknown for customers to

contact the Regional Manager and thank them!

The Regional Manager can also manage liaison

between the contractor and client on the odd

occasion that something goes wrong – this can

be rewarding too, providing a service that is at

the heart of the role, promoting the role of NFRC

to the wider public as upholders of high

standards in the industry.

Left: Mark Spragg, NFRC Regional Manager

for South West England and Wales.

Finally, I want to consider the

Member. The Regional

Manager has a primary

responsibility to the Trade

Member from the time the

applicant company applies to join

and throughout their membership tenure.

The Regional Manager organizes the initial

inspections of the company as well as the

periodic ones, to ensure they maintain and

continue to maintain the highest professional

standards.

Regional events are again the responsibility of the

Manager. They exist for the benefit of the regional

Trade Member and our Supplier Members who all

have representatives at regional level. In fact, you

will find some of these individuals sitting on

many a regional committee providing invaluable

support in every way.

Above all though, the role of the Regional

Manager is to provide support to their Trade

Members. Everything that I have mentioned in

this article is really designed to support the

Regional Manager in this task. The Regional

Manager is at the end of a phone or email, ready

to respond when the Trade Member needs

assistance and to help them get the most out of

their NFRC membership.

The Regional Manager role is varied, busy and

can be challenging, but supporting the members

provides an opportunity to be of help and make a

difference each and every day.

Contact NFRC

www.nfrc.co.uk

@TheNFRC

14 TC SEPTEMBER 2022
---
We care about

your safety,

not just your

business...

PREMIUM GOLD BATTEN:

• Fully graded roof batten

• Compliant to British Standards

BS 5534:2014 + A2:2018

• Chain of custody

• Third party accreditations

PRODUCED AND DESIGNED

WITH SAFETY ON SITE

IN MIND

SRTTA0822 V1 | © SR Timber 2022. All rights reserved.

01623 446 800 | www.sr-timber.co.uk
---
Ask the Solicitor

PAYMENT PAINS: WHAT TO DO WHEN

CUSTOMERS REFUSE TO PAY

In our latest column from the experts at law firm Taylors Solicitors, Alison Rowley, a

Senior Associate in the disputes team, looks at the challenges around poor payment

practices and explains the steps to take when end customers and clients hold back

payment – an all too common occurrence in construction which can have a

devastating impact on businesses...

QI have recently completed a partial

renovation job for a customer. It all

seemed to be going well, but now they

are refusing to pay – what are the options

available to me and next steps I should take?

AFor someone whose father worked in the

building trade, I know this issue all too

well. What is the point in working hard and

completing a job if you don't get paid?

As you have not said whether the job was for an

end customer or for an employer under a

construction contract, I will deal with both

scenarios. Furthermore, I will add some handy

tips to help you try and prevent this issue arising

in the future.

Working directly for the homeowner:

The first thing is to work out why you are not

being paid. Is it because your customer has cash

problems? Or is it because they are unhappy with

the job, or another reason?

Politely approaching your customer can often get

to the bottom of this and allow you to make

informed decisions. It is a good idea to keep a

paper trail of communications, so sending an

email may be best initially. Failing that, a more

direct approach by telephone or even a meeting

may help.

If your customer has cash issues, then you may

be able to agree a payment plan or, if you prefer

to be paid in full quickly, serve a formal statutory

demand. This process can help push payments

through because the customer risks bankruptcy if

Alison Rowley is a Senior Associate in the

disputes team at commercial law firm Taylors

Solicitors. She has more than 15 years'

experience on a range of legal issues, including

handling contractual and supply chain disputes

and recovering monies owed. For further

information, contact Alison via

alison.rowley@taylors.co.uk.

"It is an unfortunate reality that some customers

will refuse to pay based on false allegations of

bad workmanship or due to a misunderstanding

or lack of knowledge"

they do not comply with the demand.

If your customer says they are unhappy with the

work, you can ask to inspect it to see whether

there is a genuine issue, a misunderstanding or

an attempted excuse not to pay. Your customer

should only withhold a reasonable sum even if

there is an issue, so getting to the bottom of this

could see you reach an agreement for part

payment at least, while other steps are taken to

resolve any outstanding issues.

If, having looked at the work, you do not agree

there is a problem, then you can look to start a

court process. It is an unfortunate reality that

some customers will refuse to pay based on false

allegations of bad workmanship or due to a

misunderstanding or lack of knowledge.

The court process starts by following the Pre-

Action Protocol for Debt Claims. This can be

viewed at www.justice.gov.uk. It may initially

look daunting but, in reality, it sets out what steps

you should take before issuing proceedings. It is

aimed at settling claims or narrowing the issues

before proceedings are issued.

At first, you must write a letter to your customer

16 TC SEPTEMBER 2022
---
setting out the information listed in the Protocol.

Your customer has 30 days to reply. If your

customer requests documents, then provide

copies. If they require time to pay, then try and

reach agreement. If they seek debt advice, then

you must allow at least 30 days from being told

this before you issue a claim.

If matters do not resolve using the Protocol, then

you can make a claim at court either online or on

paper. The easiest way is online at

www.moneyclaim.gov.uk. There is a helpful user

guide to follow. You register with the service and

issue a claim by completing an online claim form

and paying the appropriate fee.

The court sends this to your customer, who must

respond within a set timeframe. If they fail to

respond you can ask the court to enter judgement

immediately, otherwise they can admit the claim,

admit part or defend it. If they admit part, then

you can decide whether to accept or reject this

offer. Ultimately, if settlement cannot be agreed,

your claim will be listed for a hearing where a

judge will decide whether money is owed and the

amount.

It is sensible to get some legal advice if going

down the court route, although claims valued at

less than £10,000 are dealt with through the

small claims court where solicitors' costs are

generally not recoverable, so this may determine

whether you take advice.

Tips to avoid non-payment by a direct

customer:

Before undertaking any work, it is best to have a

written agreement which sets out clearly the

works to be done, by when, the cost (split into

labour and materials) and when payment is

expected.

Try to agree advance payments for materials, and

staged payments for the works, to guide you on

whether there is likely to be an issue over

payment that can be addressed sooner.

Before, during and after the works, consider taking

photographs to evidence what has been done.

Check your customer is

happy as you go along by

asking them whether

they would like

anything checking or

refining.

Raise invoices in a

timely way to prevent

excuses due to delay.

"It is best to have

a written agreement

which sets out clearly

the works to be done,

by when, the cost (split

into labour and

materials) and when

payment is expected"

Working as a sub-contractor:

If your work was done for an employer under a

construction contract, then how you are paid and

what steps you can take to receive payment are

very different from above.

Firstly, you are likely to have a written contract

which should comply with legislation known as

the Construction Act ('Act'), failing which the

Act's terms will be implied. There are numerous

standard form contracts such as JCT, NEC and

FIDIC, containing terms in compliance with the

Act. The Act broadly gives contractual rights to

payment and access to a process called statutory

adjudication to resolve issues quickly.

You are free to agree on the amount of the

payments and the intervals when they become

due, but the Act sets out a payment mechanism

aimed to ensure cash flow in the industry.

Payments are due through the issue of payment

notices stating the amount considered to be due

and the basis of calculation. A payment notice

must be given no later than five days after the

payment is due by your employer, or any other

party specified in your contract, failing which you

can serve a notice.

If your employer intends

to pay less than the

amount in your notice,

it must issue a pay

less notice before the

agreed time in your

contract, or in absence

seven days before the final

payment date. Payment must be

made for the sum stated in the last

valid served notice on the final payment date. If

not, you can refer the matter to the Adjudicator

who will give a binding decision in 28 days which

can be enforced through the courts using an

expedited procedure if necessary.

Tips to avoid non-payment by an

employer:

In construction contracts notices are crucial, so if

you mainly work this way, it's worth familiarising

yourself with the payment procedures and

following them correctly.

More involved contracts may have a contracts

administrator who, while appointed by the

employer, has a degree of impartiality and may be

able to smooth over payment issues before they

become critical.

Overall, knowing your customer is essential to

help you put preventative measures in place.

There are options available to you, so do

consider getting some legal advice as often you'll

find that pursuing the correct strategy will

resolve your payment difficulties quicker and

more cheaply.

Have you got a legal or business query you'd

like the team at Taylors to address? Email:

mattdowns@media-now.co.uk and we'll ask

the experts to provide clarity in a future column.

Contact Taylors Solicitors

01254 297900

www.taylors.co.uk

@taylorslawfirm

SEPTEMBER 2022 TC 17
---
i-folding

door

15%

INTRODUCTORY

DISCOUNT *

QUOTE DISCOUNT

CODE

TCK02

Delivering the best products,

with the best service, at the best price

Contact Made for Trade for a KwikQuote today

madefortrade.co | sales@madefortrade.co | 01642 610799

*Discount applies to all trade customers and applied to the first, single item purchase only of the Korniche Bi-folding Door | *Korniche Bi-folding door price is based on 7-7-0 configuration 5100 x 2000

stock colour, delivered. Unglazed. Price is correct at point of publishing. Delivery restrictions apply. Product specification and prices may be subject to change without prior notice.

*PAS24 as standard requires laminated glass installation
---
SAVE HOURS ON SITE

with the only clip-bead that delivers glazing

and de-glazing in seconds. The Korniche

Bi-Folding Door has more to offer..

As standard!

Competitive glass supply

Trickle vents positioned in outer frame (No frame

extenders required for PART F compliance)

PAS24 security as standard*

Korniche matching hardware, including brushed

stainless steel

EASY GLIDE

EVERY TIME

Precision

engineered

articulated axle

with fully bearinged

rollers

Enhanced thermal

performance

FREE nationwide

delivery

10 YEAR warranty

GLAZED IN

SECONDS

UNGLAZED, EXC VAT

Including FREE delivery

BEADED IN

SECONDS
---
Total Talk: SSQ

"THE CLUE IS IN THE NAME – PEOPLE

LOVE NATURAL MATERIALS"

Total Contractor puts the questions to Ahmed El Helw, Managing Director of SSQ,

discussing the importance of trust in business, why people love natural materials, and

why, despite the challenges of the last few years, he feels there are reasons to be

optimistic for those in roofing and the wider construction industry...

TC: Tell us a bit about SSQ, the history of

the company, and the types of projects

your customers get involved with.

A.EH: SSQ, or Spanish Slate Quarries as it was

then, started life in 1980.

Looking back now, it was an incredibly bold, some

would say naïve, step to take. I had no real

knowledge of slate – I'd been working for the

Qatari Foreign Office, which obviously had

nothing to do with building products whatsoever.

But after befriending a Spanish teacher, I

ended up going with him to a mining

exhibition in Ponferrada, effectively

the capital of Spanish slate

quarrying.

There, I saw Spanish slate being

hand-split for the first time. I was

transfixed and that's what set me on the

path to becoming a supplier of it.

It was one of those moments where if I'd turned a

different corner, my life would've ended up going

in a completely different direction.

Today, we supply hundreds of pallets of our

world-class Del Carmen natural slate and

Riverstone phyllite to a huge array of different

projects and properties around the world – from

renovations of historic Listed buildings to cuttingedge

new builds.

TC: You recently celebrated the 30-year

partnership between yourselves and

supplier Del Carmen. What do you feel

has been the secret to this relationship,

Left: Ahmed El Helw, Managing Director at SSQ; Above: Bodmin Jail project which used Riverstone slate.

and how has it navigated

the ups and downs of

what must have been some

real highs, as well as

turbulent times for construction over

the three decades?

A.EH: That's easy – trust. I think that's the

secret to lasting relationships in business.

In all the years we've worked together, Del

Carmen's owners and I have never signed a

formal contract. We respect and trust each other

to an extent that we've just never needed one.

As you say, we've been through plenty of ups and

downs in that time, but that relationship has

never wavered.

It's a friendship, and like all good friendships, you

support each other through good times and bad.

"There are always

reasons for optimism"

Our relationship with Del Carmen has also

allowed us to build excellent partnerships with

customers who've remained loyal to us for

decades in Bethesda in the US, Melbourne in

Australia and many others throughout the UK –

something we're especially proud of without a

written agreement.

TC: How have contractors' expectations

and requirements changed over the

years?

A.EH: Fundamentally, I don't think they have

changed. People want what they always wanted

– a quality product that's been extensively

tested, has a proven track record of excellence

around the world, and is available with decent

20 TC SEPTEMBER 2022
---
lead times at a price they can accept.

Within that, there's some variation – some

people put more emphasis on cost, others on

quality. There's obviously a lot more focus on

accreditations and environmental factors than

there used to be, too. But generally, I think what

people are looking for is the same.

TC: Despite the talk around sustainability

and improving build quality on projects,

would you say price is the main driver for

projects? If so, how do we change that

mentality? Is it possible to move away

from a 'race to the bottom' mentality?

A.EH: If the price was always the main driver, SSQ

would have gone out of business decades ago – in

fact, it may never have even got off the ground.

We offer a range of products suitable for different

price points, but fundamentally, natural slate is a

premium material. It's always going to be more

expensive than synthetic alternatives.

There have always been people in our industry

with a race to the bottom mentality, and I suspect

there always will be. There are also those who

appreciate quality and the huge investment that

goes in to supplying world-class natural

materials.

TC: What is it about natural slate that has

enabled it to stay so current despite it

being such an ancient material, and

equally as relevant on modern buildings

and projects as heritage builds?

A.EH: I think the clue is in the name – people

love natural materials. They feel an almost

emotional connection to it. I've never seen

anyone have that sort of reaction to something

man-made.

From a more practical standpoint, natural slate is

still one of the best materials on the market when

it comes to performance. It offers excellent

weather resistance and longevity, and that keeps

it in constant demand.

In the years ahead, I think its naturalness will

Clockwise from top left: 30th anniversary trip; The Broadmeadow project which used SSQ's Riverstone slate; Del carmen slate.

"Some put more

emphasis on cost,

others on quality"

become even more of an asset. It's vastly more

sustainable to extract slate with electric tools

than it is to run the enormous kilns required to

make ceramic and porcelain tiles.

Combined with our investment in carbon

offsetting, it makes SSQ one of the most ecofriendly

businesses of its kind.

TC: Are there reasons to be hopeful

looking ahead for the sector? Any chance

of some much-needed tranquillity within

the market?! Something that I'm sure all

in the supply chain would welcome!

A.EH: There are always reasons for optimism, but

I don't think we'll see change come very quickly.

We've been through an incredible series of events

over the last three years, and the impact has

been huge.

But it's like we saw with COVID – when crises

strike, the initial disruption is huge, but society

eventually finds ways to adapt, and over time

things very gradually return to normal.

At the time of writing, we're already starting to

see fuel prices come down slightly.

None of us know what lies around the corner. The

Bank of England is now predicting a long but mild

recession. But I suspect over the next six months

we'll see the situation as regards supply chain

disruption and price rises gradually improve.

TC: What's next for SSQ? How do you see

the company developing over the next

decade or so?

A.EH: In the coming years, our focus will be

where it's always been – on bringing world-class

natural slate and phyllite material to discerning

customers all around the world.

We'll continue to champion the many benefits of

natural materials, and their exceptional

performance when it comes to roofing, flooring

and cladding.

I'd also like us to help lead the way in tackling the

sector's ongoing skills shortage, by taking part in

the development of a proper slating school, which

will ensure our material is laid down as it deserves.

Looking any further ahead, that's not for me to

say – that'll be down to the next generation to

decide.

Contact SSQ

www.ssqgroup.com

Email: info@ssq.co.uk

020 8038 2675

SEPTEMBER 2022 TC 21
---
Perfectly Pitched

ROOF SHAPES PART TWO:

HIPPED ROOFS

Throughout this series of articles exclusively for Total Contractor magazine, Technical

Pitched Roofing Consultant John Mercer is focusing on some of the common – and

some not so common – roof shapes. This month, he takes a closer look at the key

considerations when it comes to hipped roofs.

Ahip is an external junction formed where

two roof faces set at different plan angles

meet. The most common example is where

two roof faces set at 90 degrees on plan meet,

such as the corner of a building, though they can

occur at different plan angles, for example, a

hexagonal (120 degree on plan) or an octagonal

(135 degree on plan) tower.

A common arrangement is where the hip ends of

a roof are set at the same pitch as the main roof

planes, though this is not always the case.

Sometimes the hip ends are set at a different

pitch to the main roof planes.

Hips can add architectural interest to a roof,

particularly when using tiles such as large

format flat interlocking tiles, though

they restrict the number of solar

panels that can be installed.

General setting out

Unlike a gabled roof, when

using single lap tiles there are

no restrictions in setting out

across the roof, as tiles in every

course must be cut at the hip. Although it

would be ideal to set out to avoid small cut

pieces at the hips, this is just not practical.

Generally, the steeper the roof pitch, the less

acute the cut angle is, reducing the number of

very small cut pieces. Of course, the tiling should

still be set out by firstly establishing the average

cover width of the tiles and then striking vertical

chalk lines to maintain vertical lines in the tiling.

When using double lapped plain tiles it is

Left: John Mercer; Above: Bonnet hip using plain tiles – image credit: Tudor Roof Tiles.

"Hips can add architectural interest to

a roof, particularly when using tiles

such as large format flat interlocking

tiles, though they restrict the number of

solar panels that can be installed"

generally necessary to use tile-and-half tiles

at, or close to, the hip to maintain the minimum

side lap, which is 55mm for standard size plain

tiles. When using bonnet, or arris hip tiles,

depending on the roof pitch and shape of the hip

tiles, standard width tiles can be set next to the

hip tiles, with cut tile-and-half tiles used further

across the tile course to maintain the bond.

Where unequal roof pitches meet at a hip and

continuity in the tiling courses needs to be

maintained at both sides of the hip, tile battens

on the lesser pitch should be set out first, at the

maximum tile gauge. Battens on the steeper pitch

can then be fixed to line up with the first battens.

This will result in a shorter gauge on the steeper

roof slope, which is not a problem for variable

gauged single lapped tiles and double lapped

plain tiles, but may not be possible for some fixed

gauged clay tiles.

Continued on page 24

22 TC SEPTEMBER 2022
---
SL ALUMINIUM

Whatever the project

we have a rainwater system to suit

your plans and your budget

SL ALUMINIUM

XL ALUMINIUM

GRP

CAST IRON

XL ALUMINIUM

COPPER

Traditional and modern gutters,

pipes and hoppers come in a

comprehensive range of aesthetic

styles, materials and colours to

suit all buildings and budgets.

For more information please

call 0113 279 5854 or email

info@rainguard.co.uk

w w w . r a i n g u a r d . c o . u k

Squareline

ALUMINIUM FASCIA & SOFFITS
---
Perfectly Pitched

Above: Single lap tiles with hips. Visit www.total-contractor.co.uk to read John's first column in his latest series which focuses on gable-to-gable roofs.

Continued from page 22

When setting out from eaves to ridge, set the first

course battens so that the eaves tiles project over

the edge of the fascia or tilt fillet by 50mm, with

effective drainage into the gutter. At the ridge, set

the battens so that the ridge tiles will overlap the

top course tiles by at least 75mm.

Tile courses between the eaves and ridge should

be set out evenly to provide the minimum tile

headlap. This should not be a problem for double

lapped plain tiles and variable gauge tiles. For

fixed gauge clay tiles, the battens must be set out

at the recommended gauge, with a cut course of

tiles at eaves or ridge, if necessary.

Tile, ridge, and hip fixings

All tiles in eaves and ridge courses should be twice

fixed. Depending upon the tile type and the

calculated fixing specification, fixings could either

be two nails – if the tiles have two nail holes – or a

head nail and a tail clip. At the hips, the adjacent

tiles, including cut tile pieces, should be twice fixed.

For single lapped tiles, the manufacturer can supply

proprietary fixings to secure the cut pieces. For

small cut pieces, a suitable roofing adhesive can be

used as one of the fixings to bond them to the

adjacent tile. Consult the tile manufacturer for its

recommendations on securing small cut tile pieces.

A calculated fixing specification from the tile

manufacturer will detail how tiles in the Local and

General roof areas should be fixed.

All ridge and hip tiles must be mechanically fixed.

This can be achieved using a dry fix ridge and hip

system, which will not only secure the ridge and

hip tiles, but will also provide high level roof

space ventilation. If ridge and hip tiles are to be

mortar bedded, each ridge and hip tile will need

to be mechanically fixed in addition to the mortar

using nails, screws, or clips.

Roof space ventilation

For a cold roof, i.e. one where the insulation is

laid horizontally over the ceiling joists, the need to

ventilate and the level of ventilation required will

depend on a) the ceiling type, b) the underlay

type, and c) the roof covering. For a new dwelling,

with a well-sealed ceiling constructed in

accordance with BS 9250, using a low resistance

vapour permeable underlay, low-level ventilation

can be provided by over fascia or soffit vents with

openings of 10,000 square mm per metre.

Where high level ventilation, e.g. at the ridge, is

required, a dry ridge system can be used.

However, this should be supplemented using tile

vents installed at high level in the hip end roof

slopes, to provide the equivalent of a 5mm air

gap equal to the length of the building.

For a warm roof, i.e. one where the insulation is

laid between, above, or under the rafters, if the

building has a well-sealed ceiling and a low

resistance vapour permeable underlay, then it is

not necessary to ventilate a space between the

insulation and underlay.

Where counterbattens are required, for example if

the ceiling is not well sealed or if close fitting

slates are used, provision must be made at the

hips to allow air to crossflow from one rafter void

to the next and be vented at high level. The

alternative is to use an air permeable underlay

which does not require extra ventilation. Advice

should be sought from the underlay manufacturer.

Next month: John will deal with mansard roofs

and consider how best to install tiles and slates

and ventilate the roof space.

Contact John Mercer

www.johnmercerconsultant.co.uk

Johnmercer 3

24 TC SEPTEMBER 2022
---
GREAT RANGE

GREAT PRICES

Shop online now at roofgiant.com

or call us on 01858 455055

FREE DELIVERY

ON ALL VELUX

ORDERS OVER

EX VAT

£400

WE WON'T

BE BEATEN

ON PRICE

ROOF GIANT

REWARDS

ARE HERE!

Get 5% Off Your

6th Order Across

All Products!

EARN

REWARDS

WHEN YOU

ORDER WITH

US

SELECTED

SUPERFOIL

INSULATION

10%

OFF

10%

OFF

SEPTEMBER SPECIAL

OFFERS

SELECTED

HAMBLESIDE

DANELAW

FREE DELIVERY

ON ALL DEKS

PRODUCTS*

5%

OFF

KARNAK

MEMBRANE

REPAIR

*On orders over £60 ex VAT

Find even more special offers online at roofgiant.com

Roof Giant T&C's apply
---
Step by Step Guide

SIMPLE SOLAR INSTALLATION

With the demand for cleaner, renewable energy sources such as solar continuing to rise,

roofing contractors who want to make the most of this opportunity should look no

further than Marley SolarTile, a truly integrated roof system that delivers on aesthetics

as well as performance. Dan Redfern, Marketing Manager at Marley, explains how easy

it is to install Marley SolarTile.

Marley SolarTile has been designed to ensure ease of installation, with easy-to-follow colourcoded

packaging meaning that contractors looking to include solar as part of their roofing

package are perfectly positioned to make the most of the growing solar opportunities. In this

article, I'll talk through the benefits of Marley SolarTile and explains how the ease of installation makes

contractors' lives easier.

Prepare and test:

Preparation and testing is key, so follow your

normal process for preparing the roof ready for

tiles. Our roofing kits come with brackets suitable

for tile battens of 25 mm thickness. Electrically

test each solar panel prior to installation. We

recommend that cables be passed though roofing

membrane laps for connection inside the building

or connected to adjacent panels in the batten

space. Next, follow our simple step-by-step

installation process.

Installing the first panel:

Step 1: Open the yellow box and start with the

bottom left panel. Brackets rotate into the lower

slot on the panel frame. Fix the batten brackets to

the left side with two 25mm screws each. Fix

bottom rafter brackets to each rafter the panel

crosses with two 50mm screws each.

Step 2: Fit the sill flashing then the lower side

flashing to the panel, pushing into the rubber

gasket seal. Secure the edge of the side flashing

using fixing tabs and nails.

"The final electrical connection and sign off must

be completed by an MCS certified installer"

"Easy-to-follow colourcoded

packaging

[means] that

contractors are

perfectly positioned to

make the most of the

growing solar

opportunities"

Step 3: Open the green box and fix the combibrackets

to each rafter panel with four 50mm

screws each. Push the joining strip into the

gasket on the top face of the lower solar panel.

Installing panel 2:

Step 4: Slide the upper solar panel down the roof

to engage with the combi-bracket and the joining

strip. Align the panels on the right corner and

rotate the left corner downwards to ensure a

smooth connection.

Fix the left side of the panel with batten brackets

and 25mm screws. Push in the upper side

flashing and fix the outside edge with the side

fixing tabs. Fold the protruding end of the joining

strip down over the side flashing.

Installing panel 3:

Step 5: Slide the first panel of the next column

sideways to engage with the combi-batten

brackets. Secure the new solar panel to each

rafter with rafter brackets and two 50mm screws

each.

Push the sill flashing into the gasket at the

bottom of the solar panel. Slide the lower gutter

26 TC SEPTEMBER 2022
---
etween the two solar panels from the top and

fold the tab at the bottom behind the sill flashing.

Step 6: Nail the top fixing strip into a batten.

Align the bottom corner of the lower gutter covers

with the bottom edge of the solar panel and push

the gutter covers into the gasket. Fold down the

remaining tabs.

Step 7: Open the orange box and fix three combibatten

brackets to the right-hand side of the top

panel. Open the blue box and fit the upper gutter

between the solar panels. Push the joining strip

into the gasket in the top edge of the panel below.

Installing panel 4:

Step 8: Slide the new panel into position and fix

with rafter brackets at the bottom and batten

brackets to the right-hand side. Push the lower

side flashing into the gasket on the right-hand

side of the panel. Fit the side fixing tabs and fold

over the tab on the sill flashing.

Fit the upper gutter between the

solar panels and the nail

gutter fixing strip to a

batten. Push the upper

gutter cover into the

panel gasket. Fold the

end of the joining strip

into the gutter.

Installing top

flashing:

Step 9: For each rafter it

crosses, fix a rafter bracket to the top of

the top left panel and secure with two 50mm

screws each. Push the top flashing into the panel

gasket and feed the two straps under the foam

and secure the straps to a batten above.

Final touches:

Step 10: Remove the paper strip on the underside

of the sill flashing and press down onto the tiles.

Ensure that the bitumen strip is well bonded to

the tiles. Two courses of tiles

should be fitted around the

perimeter of the solar

panels. The final

electrical connection

and sign off must be

completed by an MCS

certified installer.

Marley SolarTile can be

installed in either columns

or rows and the number of

panels will depend on the roof size

and energy requirements. Visit

www.marley.co.uk/solarinstall to view our

online configurator or to download a more

detailed installation guide.

Further advice and info on Marley SolarTile:

www.marley.co.uk/solar

01283 722222

@MarleyLtd

For further r

inform

ation

or a hire quotation call

01858 412 100

Email: sales@cookerhire.com

www.cookerhire.com
---
Low Pitch Roofing

LONG-TERM SOLUTIONS RATHER

THAN SHORT-TERM FIXES

James Ford, Technical Sales Manager at Permavent, says 'the Devil's in the Detail'

when it comes to low pitch roofing projects, and in this article he explains how to avoid

the pitfalls when installing at a low pitch…

The concept of low-pitched roofing is

often challenging for contractors,

with many associating roof failure as

the result of unsuitable roof coverings

being installed on incorrect rafter pitches.

Our industry has diversified in recent years

however, with many new systems and

products now available to ensure the

designed roof and clients' expectations are

achievable. A design such as a lean-to

extension, with a roof pitch hampered by a

first-floor window, can now be competently

waterproofed while maintaining the

appropriate aesthetics of the building as a

whole.

There are various pitfalls when installing at

low pitch and at Permavent Ltd we

always say, 'The Devil's in the

Detail.'

"The lesson

learned here

is to not

invite water

into the building

fabric – keep it above

the main roof covering"

Restrictions and failed remedies

Acknowledging that the pitch or perhaps exposure is

inappropriate for the roof tile or slate, designers and

installers in the past have made attempts to drain

the water away by other means. 'Double-felting' the

roofing underlay, bituminous sheeting and even flatroof

coverings below roof tiles and slates, were

thought to provide a complete waterproof barrier.

However, not only do these options often hamper

Left: James Ford is Technical Sales Manager at

Permavent. Above: Permavent offers a range of

solutions and can provide guidance for low pitch

roofing projects.

good roofing ventilation, persistent water

ingress and subsequent condensation will erode

roofing battens, fixings and supporting structures.

These are simply short-term fixes and not long-term

solutions. The lesson learned here is to not invite

water into the building fabric – keep it above the

main roof covering.

Downpipes

A solid and well installed roof is as only as good

as a solid design. It is important to avoid

constructions where water is discharged via a

downpipe directly onto lower elevations.

Particularly with low-pitched roofs, the tile or

slate can be compromised by discharging

Rafters

potentially high volumes of water in a

direct point load via a downpipe or shoe. It

is good practice to allow roof elevations to

drain independently, or in some scenarios

downpipes may need to be redirected.

Rooflights

It is always important to check a rooflight's

minimum installed pitch and performance at

low-level. For example, many 'off-the-shelf'

flashing kit units will provide a minimum

pitch of between 15 – 20 degrees, but

compatibility with roof tiles or slates should

be double checked. Below 15 degrees a

specialist window or 'change of elevation'

flashing may need to be selected, subject to

the manufacturer's recommendations.

"It is also important

to check with the

roofing manufacturer

their guidance on

rafter length"

It is also important to check with the roofing

manufacturer their guidance on rafter length.

Typically, wind-driven rain tests conducted

independently will work to a maximum rafter

length, dictated by the testing rig. If, for example,

a manufacturer declares a maximum rafter length

of 4m at, let's say, a 15 degree pitch, it is

important to seek further guidance from them if

the rafters exceed this.

Eaves

It is common to experience roof failure at the eaves

28 TC SEPTEMBER 2022
---
course, particularly when a traditional doublelapped

tile is installed. On occasion, plain tiles or

slates are installed in conjunction with a bellcast or

sprocket detail, with a change of angle to

accommodate the roof covering. It is crucial that

this change of angle is addressed when selecting

the roof covering and its minimum installed pitch.

Counter battens

The roofing underlay is a vital secondary barrier

against moisture both during and postinstallation,

however, all too often there is a lack

of drape provided between rafters when installed

unsupported. Counter battens are advantageous

at low-pitch and when the underlay is pulled tight,

we acknowledge there is a safe passage for water

to discharge if required from the membrane. The

additional ventilation path created via the vertical

counter batten can also help mitigate the chance

of interstitial condensation and improve thermal

build-ups below the roof covering.

"The roofing underlay is a vital secondary barrier

against moisture both during and postinstallation,

however, all too often there is a lack

of drape provided between rafters when installed

unsupported"

Roofing ancillaries

Roofing ancillaries, such as 'universal tile

ventilators', are very common for extraction

purposes, as low-pitch roof coverings are often

installed above kitchens, utility rooms or

bathrooms. They are classified as 'universal' due

to their compatibility with most roof tiles, however

most are not universally pitched – with many

providing a minimum pitch of 17.5 degrees. As

some roof tile coverings can operate as low as 10

degrees, it is important to check the performance

with the manufacturer.

At Permavent we are the inventors of the Easy

Roof System, which improves the performance of

traditional roofing slate and plain tiles at low pitch

and areas of high exposure. For further

information please visit www.permavent.co.uk

or get in contact with our team, who are

experienced in tackling low pitch and ventilation

solutions for your next project.

About the author: James Ford is a Technical

Sales Manager for Permavent Ltd and has been

providing technical and sales support in the

roofing industry for 14 years. James is also a

member of the Institute of Roofing.

Contact Permavent

www.permavent.co.uk

01305 766 703

MEET

DANELAW'S

VERG FAMILY

Our innovative range of tile verge units remove the need for mortar

and allow for a secure application to the roof. They are all tested for

wind uplift resistance and comply with the BS 8612 Standard for dry

Our unique, patented design suitable for single and double

cambered concrete and clay plain tiles at batten gauges 88mm to 104mm.

intermediate gauge single-lap interlocking tile types.

Designed for all single lap interlocking plain tile types

between 170mm and 200mm batten gauges.

IDV Our original interlocking dry verge which suits most single lap

interlocking concrete tiles between 260 and 355mm batten gauges.

TIDV Suits all large format thin leading edge concrete tile types

between 260mm and 355mm batten gauges.

call us: 01327 701 910

email: sales@hambleside-danelaw.co.uk

www.hambleside-danelaw.co.uk

For interlocking roof

verges, only the Slate

Grey contains up to

100% recycled PPC

45+ YEARS OF ROOFING INNOVATION
---
Cover Story: A. Proctor Group

ROOFSHIELD, THE CONTRACTOR'S

ROOFING UNDERLAY

As Building Regulations continue to come

under increasing scrutiny, contractors are

increasingly turning to the reliability of

tried and tested high-performing British roofing

underlays such as Roofshield.

The A. Proctor Group developed Roofshield 26

years ago in response to problems caused by the

requirements of the UK's demand for coldpitched

roof construction and the drive towards

ever-increasing thermal performance

requirements. Roofshield is designed to ensure

contractors are guaranteed the highest quality,

providing a pitched roof underlay, which is both

air and vapour permeable.

Under guidelines issued by the NHBC,

independently certified air and vapour permeable

underlays can be used without additional ridge

ventilation in cold roofs. The use of Roofshield

will lead to savings in labour and material costs

due to no VCL being required, and its highperformance

air permeability means that the roof

space has similar air changes to that of a roof

using traditional eaves/ridge ventilation.

Since 1996, the A. Proctor Group has played a

crucial role in pitched roof design, helping

develop practical air and moisture movement

strategies to ensure roofs are energy efficient and

condensation-free.

The primary sources of moisture that roofs must

control are:

1: moisture from internal sources, water vapour

and condensation, and 2: moisture from external

sources, rain and snow.

Protection from external moisture is assumed to

be handled by the external weatherproofing, but

roofing underlay membranes can provide

temporary weather protection until the outer

covering is completed. In addition, underlays

continue to support roof systems throughout the

building's life, providing wind uplift resistance

and protection against wind-driven moisture

penetrating the structure.

30 TC SEPTEMBER 2022
---
BS 5250 gives detailed guidance on different

combinations of roofs and underlay types (HR vs

LR) to ensure each roof system can respond to

moisture challenges within acceptable limits. A

roof that cannot adequately deal with moisture is

susceptible to adverse effects, including mould

growth and long-term structural damage.

A critical first factor is the air permeability of the

external roof covering. If it is considered airimpermeable,

such as in the case of metal

sheeting, some degree of ventilation will be

required. On the other hand, natural slates and

tiles are usually considered sufficiently air

permeable.

The traditional pitched Cold Roof (ventilated) is

used as the historic standard against which

modern alternatives are evaluated in

condensation risk and timber moisture contents.

However, given the various categories and

differing guidance for ventilation and the lack of

precise specification advice for more complex

roof types and shapes, a more straightforward

option is to omit the ventilation and rely on the

vapour permeability of the underlay to remove

moisture.

Cold Roof (Non-Ventilated) - Where airtight LR

underlays are specified, BS 5250 does not

address situations where ventilation is reduced

below the levels given in L5.5. However, it may be

permissible if the underlay is covered by

appropriate third-party certification. Using an airpermeable

low resistance (APLR) underlay such

as Roofshield in this roof type requires no

additional ventilation. APLR underlays allow

vapour to escape by diffusion and provide a

degree of airflow to boost moisture vapour

transfer. APLR membranes can generally be used

in all circumstances without ventilation,

regardless of the size and shape of the roof. In

addition, they don't require a well-sealed ceiling

and may not require a VCL, making this type of

underlay a good choice for refurbishments where

the precise ceiling specification may be unknown.

The lack of a sizeable cold void in warms roofs

makes controlling moisture simpler, provided the

"Contractors can rest

assured of the reliable

performance of a great

British roofing

underlay in Roofshield"

correct specifications are followed. Warm roofs

with impermeable HR underlays will always

require ventilation below the underlay and a VCL

at ceiling level. Using an LR underlay can simplify

moisture control and may allow the ventilation to

be removed, provided the internal layers are

convection tight. If this can't be guaranteed or the

outer covering is not air permeable, ventilation

will be needed.

Where insulation follows the roof's pitch from the

eaves to the ridge, the lack of roof voids means

less benefit to using an air-permeable underlay. A

pure warm roof design lends itself to maximising

energy efficiency and prioritising low air leakage

rates. If we extend this principle to the rest of the

building, the airtight warm roof construction could

be integrated into the wall assembly with an

external air barrier membrane such as Wraptite.

Whatever the roofing type, in meeting the

increasing demands of Building Regulations

contractors can rest assured of the reliable

performance of a great British roofing underlay in

Roofshield. The high performance of Roofshield

backed by two BBA Certificates means it is a

critical element in preserving and protecting the

fabric of residential and commercial buildings.

Contact A. Proctor Group

01250 872 261

www.proctorgroup.com

@proctorgroup

SEPTEMBER 2022 TC 31
---
Trade Counters

EMPOWERING THE MANAGERS

George King, Divisional Managing Director of SIG Roofing, reflects on the reorganisation of

the SIG Roofing business, the success of a local focus and how this benefits customers.

It's not a secret that SIG Roofing has had its

ups and downs over the last decade, but the

business is now proving that what a national

business really needs to succeed is local

knowledge and empowerment.

be repeated. While demand for housebuilding

remains high, we are very aware that our smaller

local contractors are very reliant on RMI projects

and will support those customers as much as we

can.

Fundamental to this model is an

understanding that if you employ good

people then you need to give them the

power to make their own decisions. In our

case, this means the branch managers.

On paper it may make sense to organise

everything centrally, using economies of scale and

centralised logistics, but on the ground what our

customers want is personal service geared to their

own local needs. If the business is to succeed,

then it needs to put the customer first and centre.

With this in mind, SIG set about redesigning its

branch business. We now operate our branches

more like franchises with the branch manager in

charge, making decisions on what stock to hold,

local promotions and local customer support.

With that authority comes responsibility too, and

it's the branch managers who answer to the

customers if a delivery is late or incomplete, and

they are also directly responsible for the financial

success of their branch. This level of autonomy is

not for everyone, but I believe that you only grow a

business with ambitious people – and ambitious

people thrive when given the right opportunities.

Vehicles and logistics

We reorganised our vehicles too. Logistics had

been centralised, using a "hub and spoke" system

which could leave one vehicle to handle the

deliveries for several branches. Now the vehicles

are back in the individual businesses, looking

after the local customers with local deliveries and

answerable to the local branch manager.

This level of independence gives our branch

Left: George King, SIG Roofing.

"The risks

associated with

global supply chains

and just-in-time

purchasing have been

well and truly exposed"

managers control and allows them to use their

unique understanding of the local business

environment to drive their decisions. Working

closely with local contractors provides invaluable

insight into local opportunities and challenges,

therefore enabling the managers to design the

infrastructure to meet our customer needs.

This kind of local insight is certainly going to be

necessary over the next few months as the

economic outlook appears increasingly challenging.

It's the managers who will make the decisions on

credit facilities for local contractors, using their

understanding of the businesses within their area

and their judgement on risk management.

Market forecast

As summer moves into winter, I am anticipating a

slowdown in the RMI market in particular. Gloomy

headlines and grim economic forecasts are

perfect for encouraging homeowners to put off

their extension or renovation projects.

We can certainly see the first signs of RMI work

slowing down, but it was probably inevitable that

the unprecedented boom of 2021 was unlikely to

Stock availability

As a business our major issue so far this year

has remained the availability of stock. This has

been where the back-up of such a large

organisation is valuable for our branches. SIG

made a strategic decision to invest in building

stocks so we have been able to provide the best

availability across multiple product ranges.

We can cushion the impact of product shortages

in the short term, but I wonder if the longer term

will need to see a real shift in sourcing policy. The

risks associated with global supply chains and

just-in-time purchasing have been well and truly

exposed and I wonder if this is an opportunity for

the UK to invest again in its own manufacturing

expertise? If so, then our local branches will be

the first to build close relationships with new or

expanding manufacturing operations.

It's easy to get gloomy listening to a constant

stream of dismal news and dire predictions, but

when you are immersed, as I am, in a dynamic

and vibrant business it's difficult to stay that way

for long.

Our redesigned operation has made huge strides

forward and with local businesses able to react

fast to local conditions, SIG Roofing is well set to

withstand the autumn headwinds and continue to

provide an unrivalled local service to its local

customers.

Contact SIG Roofing

01480 466 777

www.sigroofing.co.uk

@SIGRoofing

32 TC SEPTEMBER 2022
---
0333 016 04275

more at

Greener Ideas.

Greener Future.

Rainwater System Solutions

Kytun

GutterClad

northwestaluminium.com
---
Green Roof Projects

5 STEPS TO INSTALLATION SUCCESS

Carl Bailey, Regional Technical Manager for Firestone Building Products (soon to be

Elevate), explains how contractors can create a green roof that lasts.

As the focus on environmental sustainability

increases, so does the demand for green

roofs. Homeowners, building owners and

developers are beginning to recognise the value a

green roof can bring to the environment as well

as people and their wider communities. The

benefits are vast, including providing natural

insulation, enhancing biodiversity, reducing air

pollution, improving stormwater management, and

mitigating the 'urban heat island effect' by returning

moisture to the environment through evaporation.

There are two main types of green roofs:

extensive and intensive. An extensive green roof

uses sedum vegetation and is most common on

flat roofs as it is lightweight and low

maintenance. An intensive green roof is more

complex, including trees and shrubs requiring

irrigation, fertilisation and more maintenance.

To be successful, a green roof installation must

combine an effective design, quality

waterproofing, and suitable maintenance. So,

here is our guide on the key steps to follow and

key considerations:

1Engage early in the design process: The

climate, local building regulations and

building type are just some of the factors

that will affect the design of a green roof,

including the types of plants and growing

substrate. Understanding these elements from

the outset is crucial as they will impact the

choice of roof build-up, as well as future

maintenance.

2Choose an appropriate waterproofing

system: There are different waterproofing

systems suitable for a green roof and

selecting the right one is essential. The

membrane must be resistant to root penetration

and strong enough to be trafficked when

maintenance is required.

The RubberGard EPDM and UltraPly

TPO membranes, for example, have

successfully passed the EN 13948 –

resistance to root penetration test –

and the FLL root penetration resistant

test from the German Landscape

Research, Development and

Construction Society.

An EPDM single-ply membrane which is 1.5mm

thick and fully adhered to the substrate provides

a robust and highly effective solution. The use of

wider panel sizes will limit the number of seams,

reducing the risk of any water ingress.

Studies have shown that EPDM membranes can

last for more than 50 years. Their flexibility can

accommodate expansions or contractions due to

temperature changes and they don't contain any

chemicals that can affect the membrane's

characteristics over time.

EPDM is an inert material, with no harmful

chemicals released into the atmosphere during

its long service life. It is recognized as safe for

rainwater harvesting from roofs for use in nonpotable,

domestic use such as running washing

machines or flushing toilets.

Rooftop vegetation also offers additional

protection for an EPDM membrane, further

extending its service life.

3Adhere to best practice installation

advice: Only install an EPDM single ply

roofing system if you are trained and

authorised to do so by the manufacturer.

A typical installation would involve laying the

structural deck to falls to achieve a minimum

finished slope as per local requirements and

encouraging efficient roof drainage.

The deck is primed before placing a vapour control

Above: Carl Bailey.

layer on top, which will restrict

moisture vapour from within the

building from rising up into the

insulation layer where it could cause

damage.

An insulation board with a high

compression strength will be required

with an appropriate thickness to achieve the

required roof U-value. This will be adhered to the

vapour control layer prior to fully adhering the

EPDM single ply roofing membrane with a

bonding adhesive.

An extensive green roof system, including a

protection mat, will then be installed over the

EPDM membrane.

4Advise on maintenance: There is no such

thing as a zero maintenance green roof.

There will be watering guidelines to follow

after the installation and an annual soil test

should be performed in the spring along with the

use of slow-release fertilisers. It is also vital to

control weeds as weed killer is not permitted on a

green roof.

As part of the maintenance plan, a postinstallation

inspection should be carried out

annually for the first two years.

5Partner with a specialist: Whether you

are installing an extensive or intensive

green roof, it is important to partner with a

specialist provider of roofing waterproofing

systems from the earliest opportunity. Their

knowledge and technical advice will help to

ensure the green roof meets the required

specification and is built to last.

Contact Holcim Elevate

www.holcimelevate.com

34 TC SEPTEMBER 2022
---
Ev

ery

v

ent

you'll l ever nee

ed

Klober has th

e largest range

of

tile

vents on th e mark et to su

uit all

ventilation requirements and roo

of types.

SCAN THE

CODE to find the righ ht tile v ent for your

roof with ou ur compatibility guid de at klober.co.uk
---
Project Focus: Sustainability

ECODORP: A STUDY IN CIRCULARITY

Allen Coldrake, from Carlisle Construction Materials, discusses the Ecodorp project, a

sustainable community in the Netherlands where Hertalan EPDM membrane, installed

using induction technology, has been specified as part of a cradle-to-cradle approach to

circular sustainability.

The Ecodorp development in Boekel, southern

Holland, is a neighbourhood of 30 climateadaptive

and climate-positive rental homes,

along with six informal care homes, a community

centre, a knowledge and education centre, a

workshop, and offices, located in three

circular buildings, constructed from

renewable timber.

The project chimes with the

environmental aims of Carlisle

Construction Materials and was an ideal

development in which to use the company's

Hertalan Induction System. This combination of

EPDM – considered by many to be the greenest

roofing membrane technology – and the

mechanically fixed induction installation method,

which enables the membrane to be removed for

re-use or recycling at the end of its service life,

aligns with the development's focus on circularity.

Specification

Designed by Van Laarhoven Architects and built

by ecological contractor Eco+Bouw, Ecodorp is

an ERDF, Dutch government and regional

government-funded project with circular

sustainability at the heart of its design strategy.

The project also benefits from a Dutch

Government initiative that allows developers and

building owners to claim back up to 12% of

material and installation costs if the products can

be returned to the manufacturer for recycling or

repurposing at the end of their service life.

Carlisle has made this commitment to taking back

the Hertalan EPDM membrane used in the Ecodorp

project. Hertalan is BBA certified and has an

anticipated service life of 50+ years, so it will be

some time before the principle is tested! However,

this longevity is an integral part of the

Above and left: The Hertalan Induction system was used on the Ecodorp project in the Netherlands.

development's environmental goals.

When the membrane does reach the end

of its service life, the same induction process

used to fix the Hertalan EPDM to the roof can be

used to cleanly lift it from the substrate, with no

residue from primers or adhesives. Only 'clean'

EPDM membranes can be fixed and detached in

this way. Once the membrane is returned to

Carlisle, it can be reprocessed to its component

compounds for re-use.

Installation

The roof build-up on each building comprises

recyclable PIR insulation board on the timber roof

substrate, followed by the Hertalan EPDM

membrane. The 2mm thick membrane requires no

primer or adhesive for mechanical fixing using the

Hertalan Induction system, and Carlisle's team

worked with the delivery partners to provide a

technical specification, which included wind uplift

calculations, layout of the membrane to optimise

the use of materials, and positioning of the fixing

plates, most of which were used to fix both the

EPDM membrane and the insulation with a single

plate. The layout for the fixing plates was

specified as a grid on a technical drawing as part

of the technical specification. The plates used to

install the EPDM roofing membrane with the

Hertalan Induction system have a special coating,

which becomes tacky when the plate is heated by

magnetic radiation and solidifies again when it

cools, achieving a secure bond. If the membrane

needs to be removed, the same induction process

can be used to release the plates and remove the

membrane. This allows installation with neither

adhesives nor penetrations.

All the metal plate fasteners were installed on each

building prior to installation of the EPDM

membrane, which was pulled across the roof

making it watertight quickly. The bonding process

was equally fast, utilizing the lightweight Hertalan

Induction device. In a single pass of each fixing

plate, the equipment heats the plate, which adheres

to the underside of the EPDM. A magnet then cools

and applies pressure to the point of adhesion,

enabling a fast and secure bond in seconds.

Because the induction equipment heats the plate

using magnetic radiation, no hot works were

required.

Achieving circularity

As we look to a future of finite resources, the

ability to reclaim materials with a cradle-to-cradle

approach to circularity will be vital, so learning

from projects and government initiatives in other

markets is a useful way of considering how the

green agenda can be accelerated in the UK.

Contact Carlisle Construction Materials

www.ccm-europe.com/gb/

36 TC SEPTEMBER 2022
---
STAY SAFE

with GRP rooflights from Filon

Safety is at the front and centre of our product policy:

Our technical expertise has contributed directly to UK rooflight non-fragility classification

over decades, with Filon personnel playing key safety roles in influential trade associations

including NARM (National Association of Rooflight Manufacturers) and ACR (Advisory

Committee for Roofsafety).

Our unique, patented Fixsafe system is the only solution that allows profiled rooflights to be

safely installed from within the building envelope, without the need to access fragile roof areas.

We offer a range of fire grades to provide compliance with Building Regulations.

Our Supasafe triple reinforced rooflights provide high impact resistance, spanning and

load-bearing capabilities.

We're the UK's longest established manufacturer of profiled rooflights by continuous process,

with a successful track record of excellence in design, product performance and customer

support. As you'd expect, we're also currently employing Covid-secure working practices

throughout our operations.

Filon: truly a 'safe pair of hands' for specifiers.

Telephone 01543 687300 Email: sales@filon.co.uk

www.filon.co.uk
---
Roofing Updates

BESPOKE ROOFLIGHT IS KEY TO LIBRARY REFURB

The new roof at Minehead's refurbished and

extended library showcased Whitesales'

ability to design, supply and install truly

bespoke rooflight solutions.

Somerset County Council wanted the library

extension to be flooded with light to make it a

bright and welcoming space but didn't want to end

up with a glazed roof which looked like a

greenhouse. The design they proposed was for a

contemporary, inverted pitch ridge light with a

bespoke gutter detail to the centre. However, the

original specification from a different supplier

couldn't meet some of the key aesthetic criteria

they wanted, prompting the main contractor Harris

Bros & Collard to turn to Whitesales for help.

Based at the company's headquarters in

Cranleigh, Surrey, the Whitesales design team

scoped the complex project using a bespoke 10

degree em.glaze dual pitch gable ended lantern

light. The framework and glazing bars were all in

polyester powder coated aluminium and the

double-glazed sealed units featured non-fragile

toughened glass on the outside and low E

laminated glass on the inside.

The Whitesales design ensured that the layout of

the glazing bars in the rooflight corresponded

precisely with the glulam beam structure inside

to give a consistent look and included vertical

sides with electric opening vents to provide

adequate ventilation. The team also advised on

the loadings required for safe installation of the

lighting suspended from the roof.

The 7676mm x 7676mm rooflight is finished in

Yellow Grey (RAL7034), a standard Whitesales

colour, and matches with the triple glazed

aluminium windows installed at the library

entrance.

For Harris Bros & Collard, Whitesales' technical

knowledge and experience and fast and clear

communication throughout the design stages

gave them the reassurance they needed to award

such a major, high-profile project to a company

they had only previously placed small orders with.

Brian Neale, Contracts Manager, explained: "We

always had confidence in the quality of the

Whitesales product offering but what impressed

us just as much was a real understanding of the

design intent from the outside and the

responsiveness to queries throughout."

Karl Granfield, Whitesales' Senior Contracts

Manager, added: "A 30 degree slope is standard

on our rooflights, but as we've shown here, we

can go as low as 10 degrees in our custom-made

options and span up to 6m."

www.whitesales.co.uk

PERMAVENT LAUNCHES ENVIROTECT RANGE

Dorset-based construction products manufacturer Permavent Limited has announced the launch of

Envirotect; its brand new walling membrane range.

The company says the range consists of the most technologically advanced, vapour permeable air and vapour

control layers (AVCL), a floor cassette membrane (FZT) and high tack sealing tapes. All of which have been

designed by Permavent.

Envirotect vapour permeable membranes, AVCL layers and high tack sealing tapes are available with a high

purity aluminium reflective outer surface. This technology has been tested and certified to have a substantial

improvement on the thermal performance of the building when facing a cavity of >20mm. The range is

suitable for use in all types of construction methods in both domestic and commercial projects.

Above: Permavent has launched Envirotect, its

new range of membranes for walls.

Permavent points out that the recent and significant changes to building regulations Approved Document Part L call for new and existing construction

projects to achieve higher performance targets and generate up to 31% less CO ²

emissions. With this in mind, by adopting a fabric first approach, the

manufacturer says Envirotect greatly exceeds the requirements of this updated guidance and the Envirotect range has been tested, certified and

futureproofed for any further changes to building control guidance.

Permavent Category Director Craig Fyall commented: "We're thrilled to be launching Envirotect after several months of research and development to

arrive at this point. Envirotect has been created to address the long overdue need for walling membranes to play a greater part in increasing the thermal

efficiency of dwellings, and in turn, reducing our carbon footprint. It provides contractors and specifiers with a modern, technologically advanced solution

in a market which requires more manufacturers to invest in innovation." www.permavent.co.uk

38 TC SEPTEMBER 2022
---
125 years of building smart

around the world.

Today's smart, sustainable building solutions from Ubbink

are built on a unique heritage.

Be part of smart. Scan here to see our video.

PITCHED & FLAT

ROOF VENTS &

TERMINALS

NON-LEAD

FLASHING

SOLUTIONS

MVHR UNITS

DUCTWORK

SYSTEMS

ROOFLINE

PRODUCTS

Ubbink UK Ltd • 01604 433000 • info@ubbink.co.uk • www.ubbink.co.uk
---
Roofing Updates

For further info on all these updates and more, visit www.total-contractor.co.uk

AN INTRO TO EXTRUDED ALUMINIUM GUTTERING

Aluminium may arguably be the ultimate

sustainable building material in terms of its

infinite recycling capabilities. This has led

it to the point of being one of the most

popular materials for guttering recently

across the UK and Ireland. However, if

aluminium does not meet a whole host of

other performance criteria, it isn't going to

be specified. But as North West Aluminium

explains, it's just as well that it does!

Aluminium is generally used as a cheaper and

lighter alternative to cast iron, particularly on

heritage projects. This is because it is 65%

lighter than cast iron which also makes it easier

to transport and install. Extruded aluminium is

now increasingly being used in place of PVC and

other plastics, for a whole host of reasons. So,

why choose Extruded Aluminium Guttering?

Weather resistant: One of the most stand out

benefits to extruded aluminium guttering is its

weather resistance, even in today's era of climate

change and increasingly severe meteorological

extremes. While other guttering materials may

crack, warp, or distort in extremely hot or cold

weather, extruded aluminium is thermally

resistant. This is why it is more often used as a

building material in warm countries and

environments. It can even be re-shaped.

Aluminium guttering is also robust and rustproof,

with an expected – and often warrantied –

service life of more than 45 years with little or no

maintenance. In addition, its colour will not fade,

being available in a range of architectural-grade

polyester powder coated colours, with more

vibrant shades than plastic. The PPC process in

state-of-the-art factories also means that

extruded aluminium guttering can be colour

matched precisely to the property it is protecting.

Aesthetic variety: Extruded aluminium guttering

can be fabricated in a wide variety of aesthetic

shapes to suit both traditional and contemporary

structures. Such contemporary structures

include the traditional ogee, (which is

manufactured to BS 8530, the original design

standard for cast iron), to the more

contemporary half-round. This is as well as

complementing a residential or commercial

building with its colour.

Consideration needs to be given here into not just

the FORM of aluminium guttering but its

FUNCTION – its flow rate. The extruded halfround

aesthetic is typically more slimline, so

best suited to relatively small roof areas, while

the ogee and secret fix box aluminium gutter

system are both capable of carrying large

volumes of rainwater.

Extruded aluminium guttering systems from

North West Aluminium: While it can

sometimes prove difficult to distinguish

extruded aluminium guttering between other

types, a quick cleaning out of the leaves and

dirt will reveal that as well as the environment,

today's focus on life-cycle costs and risk

management means the time has never been

better to specify this marvellous material.

www.northwestaluminium.com

BRIGGSAMASCO PROVIDES ROOF SOLUTION!

BriggsAmasco carried out a complex, multiple roof installation to put a watertight seal on a 'landmark' teaching

building.

The project involved waterproofing a 2,000m² area spanning nine roofs at Kingston University in Surrey. A mix of green,

single ply and hot-melt finishes covered the new building. With facilities including a learning resources centre, courtyard

and cafés, it's hoped the new 'Town House' building will transform the students' learning experience. Having been

selected as the project's waterproofing specialists by main contractor Willmott Dixon, BriggsAmasco worked alongside

award-winning and Stirling Prize-nominated design team, Graton Architects. The multiplex flat-roof installation began in March 2018. It involved

BriggsAmasco applying a range of waterproofing systems across differing heights and levels. These included an IKO hot-melt waterproofing membrane

within a system comprising XPS rigid foam insulation, as well as paving and ballast finishes to the main roof areas. A built-up, reinforced felt

waterproofing solution with tapered insulation was also installed to a green roof in order to conform with a height restriction. Additionally, IKO

Armourplan PSG single-ply waterproofing, along with PIR insulation, was affixed to colonnade areas of the roof. www.briggsamasco.co.uk

40 TC SEPTEMBER 2022
---
01_GS0421 1

Updated GRO Code

GREENSCAPE

In collaboration with the

Green Roof Organisation.

MAGAZINE

If you supply green roofing products to

the green roof market, Greenscape is the

magazine for you!

GREENSCAPE

Ensuring Best Practice for Green Roof & Solar PV Projects

MAGAZINE

SPRING 2021

Get your marketing message in front of over

5,000 professionals who specify/purchase

green roofing products

Green Roof Myths

Green Talk Q&A

For advertising opportunities contact

Andy Dunn 07963 330777

Jake Roxborough 07956 133314

#WGRD2021: Get involved!

News, views and projects

In collaboration with the Green Roof Organisation

From the publishers of
---
Skills Comment

SECURING SKILLS FOR THE FUTURE

OF THE CONSTRUCTION INDUSTRY

With the skills shortage in construction still an increasing concern, David Wigglesworth,

Managing Director of SFS UK, says everybody must play their part to attract and train new

talent. Below, he explores some of the ways manufacturers can help.

It's no secret that a growing skills shortage is

a threat to our whole industry – and the

pressure is on to bridge the gap.

Rewind six years, when the 2016 Farmer Review

highlighted the scale of the issue, predicting that

there would be up to a 25% decline in the

available construction workforce within a decade.

Now fast forward to the present. During summer

2021, the Construction Skills Network provided

more concrete numbers – we need 217,000 new

workers by 2025, just to meet demand. While

this includes infrastructure projects, a significant

number will be involved in the construction of

commercial or residential buildings.

This is an issue that isn't going away and

immediate action is needed. Change won't happen

overnight… not least because the current

situation has been building for several decades.

Understanding the skills gap

Put simply, we have an ageing workforce and

there are dwindling numbers of young people

entering the construction industry. As the current

workforce nears retirement, new blood is

essential to replace those who leave.

The current crisis has resulted because there

hasn't been that steady drip-feed of replacement

over the past few decades. The last big boom in

construction recruitment was during the 1980s –

forty years ago. These are the workers now

approaching retirement.

Since then, a combination of under-investment in

training at a Governmental level and the ease of

procuring cheaper foreign labour meant it's been

more effective – at least in the short-term – to

"This is about the long

haul, about being ready

for whatever the future

may bring"

poach rather than train.

However, the combined forces of the pandemic

and Brexit have potentially made the situation

worse. If fewer EU nationals want to make the

trip to these shores – because it's harder to

move here post-Brexit, because of the decline in

the value of the pound against the Euro, or

because of fears surrounding COVID-19 – then

employees must be homegrown.

Unfortunately, little has been done to make

construction seem like an attractive career

choice for Millennials and Generation Z,

especially next to the proliferation of new

opportunities fuelled by digital technology. There

is the perception – not unfounded – that

construction lags behind other industries in

digital transformation, further discouraging the

digital natives amongst potential new entrants.

It's also worth noting the lack of diversity within

a construction industry where white males make

up a massive majority. Women account for

around 12% of construction employees, the

same percentage as those from black, Asian and

minority ethnic (BAME) backgrounds. There are

thousands of potential new entrants who might

be put off joining an industry that they feel

doesn't represent them.

Practical action

It's going to be a big challenge, but it's vital that

the construction industry, collectively, rises to it.

The future of construction depends on it – and,

by extension, the future development of

buildings, from homes to hospitals, offices to

factories. Or, more bluntly, all of our futures.

42 TC SEPTEMBER 2022
---
So what can we do? It's a question that SFS has

been considering for many years, reflecting on the

findings of the Farmer Report and taking practical

steps to change the conversation around

construction skills.

New talent

The first thing is to build connections with the

next generation. That's why we have successful

partnerships with both Leeds Beckett University

and The University of Leeds.

For students, these partnerships allow them to

make a clear link between their classroom

teaching and the practical, commercial

application of this learning – for example, in the

development and manufacture of building

products. For SFS, it means we can explore new

ideas and product development, via a series of

research placements and projects.

Professional development

From the newly qualified to the older employees

looking to upskill, CPDs present a surefire way of

sharing knowledge and instilling best practices.

Our range of RIBA-approved CPD modules,

designed for architects and specifiers, covers a

wide range of topics, including:

• Airtightness and thermal efficiency

• Fixing warm and flat roofs

• Roof safety systems

• Rainscreen cladding

• Hinge technology: design, function and

compliance

Each course can be taken at SFS, or delivered at

an organisation's premises, to help employees

learn, grow and evolve.

A space to learn

Having the right environment for learning is

essential to skills development. We have invested

in two unique spaces in Leeds and Welwyn

Garden City, supplemented by virtual learning, for

this purpose.

"It's about securing

skills for the future –

which in turn will help

secure futures"

Collectively known as the SFS Academy, this space

is a hub designed to facilitate knowledge exchange

between active industry practitioners, those in

training and education, and national bodies and

affiliations. This learning spans techniques, tools,

products and wider industry concerns such as

sustainability, performance and safety.

Academy events bring together experts from SFS,

our higher education partners and industry

practitioners to help nurture the next generation

of architects, engineers and installers.

The experience of the pandemic has shown that

face-to-face learning is not always practical.

Having a space online where people can access

knowledge is critical, which is why we launched

the SFS Knowledge Hub, full of insight, case

studies and other resources.

Aim for variety

Everybody's needs are different – and so are how

we learn. In our experience, there's no point in

trying to force everyone down the same path

when it comes to skills.

That's why our initiatives provide a mix of

different styles of learning, delivered how, when

and where it will be most effective.

• In-depth training – Covering topics from

sustainability and performance to fixing

techniques and tools, we offer breadth as well as

depth. Encompassing specification-led CPDs,

through to technical seminars, there's a course

for every level and specialism.

• Practical demonstrations – Whether it's a

new innovation or helping you understand the

potential benefits of a particular fixing or hinge

technology, we're here with hands-on, practical

demonstrations to get your team up and running,

learning by doing.

• Site support and toolbox talks – When you

can't get to the classroom, we bring it to you, with

our team joining you on-site to deliver technical

support, advice and guidance, and toolbox talks

that quickly and effectively improve your people's

skills and capabilities.

What does the future hold?

The task at hand is clear. To attract, nurture and

retain skilled workers. To create a sustainable

pipeline of capable, expert professionals

committed to rewarding careers in construction.

Achieving this requires a strong strategic vision,

but also a practical approach that is motivational,

inspiring and clear. It cannot be done in isolation.

With so much at stake, it's vital that different

specialists collaborate, each contributing their

knowledge and training.

This becomes even more apparent when we

consider the changing nature of the world, and

the opportunities to be gained through digital

transformation. What new skills will be required

in construction in five years, or ten years? How

can we best help people to become qualified in

these skills? And what job roles will they lead to?

This is about the long haul, about being ready for

whatever the future may bring. This will require

comprehensive training and development support

for existing as well as new employees, so we can

upskill and uplift professionals at every level and

every step of the way from design to construction.

And this needs to be delivered in an agile, multiplatform

manner that combines the best of online

and offline learning, mixing theory with

commercial practice.

The pay-off will be a collective rise in the level of

proficiency and expertise within UK construction.

It's about securing skills for the future – which in

turn will help secure futures.

Contact SFS

https://uk.sfs.com

@SFSGroupUK

SEPTEMBER 2022 TC 43
---
Insurance Backed Guarantees

HOW TO BUILD CUSTOMER

CONFIDENCE

Cedral, one of the largest players in the UK roofing and cladding market, created a stir

earlier this year by launching an Insurance Backed Guarantee (IBG) scheme specifically

aimed at contractors and installers. Total Contractor recently spoke to Lisa Grosse,

Cedral's Marketing Manager, to find out more.

Q: Can you tell us more about

IBGs and why you've decided to

launch this initiative in the UK?

A: In a nutshell, IBGs are all about

providing customers – in this case

homeowners – with the extra confidence

they need to employ skilled contractors to

install cladding or roofing. For a relatively

small additional cost on the

job, we think this

guarantee gives

potential buyers an

extra nudge to make

the decision to buy

through a Cedral Select

installer – which is good news for us, the contractor

and most importantly, the end customer!

Q: What prompted Cedral to take this step

to launch its new Cedral Select

programme, backed up by the IBG scheme?

A: One of the unexpected by-products of the

recent lockdowns was the significant increase in

home improvement activity over the last couple of

years. While B&Q's sales rose by 13 per cent to

£4.2bn over the last year, Screwfix's revenue

jumped by 14 per cent to £2.3bn on the back of

68 new store openings. Sales of cladding and roof

slates to homeowners, who were eager to

upgrade their homes, saw a similar boost. And

this new focus on the domestic market has

revealed the huge potential opportunity for high

quality roofing and cladding products in the UK.

Over the last 18 months or so, we have been

working hard behind the scenes, talking to

installers and homeowners to better understand

Left: Lisa Grosse, Marketing Manager at Cedral. Above: Cedral façade

being fitted by an approved installer.

"Introducing IBGs into

the mix is a real gamechanger

when you

consider the

significant benefit it

brings to the installer's

/ roofer's credibility"

how we can unlock that demand. The answer

came in the form of our new Cedral Select

professional installer scheme and the innovative

use of IBGs.

Our research showed that while customers loved

the low-maintenance, high quality aesthetic that

Cedral products brought to their homes, one of

the biggest barriers identified in the sales process

was confidence in the quality of workmanship

and the value of trade guarantees. Homeowners

unused to dealing with contractors are

understandably cautious when it comes to

engaging a firm of builders to install a new roof or

cladding. Given the significant cost of such work,

without personal recommendation they

are unlikely to feel comfortable to

undertake significant improvements on

their property.

Understandably, increasingly savvy

customers are aware that guarantees are

only as good – and effective – as the

business providing them, and if the

installer goes bust, retires or simply

closes, there's nowhere for the

homeowner to go should they require

redress once the job is done.

Q: So, what exactly are IBGs? And how do

they work?

A: In simple terms, IBGs are like 'copper

bottomed' insurance schemes, as they provide an

extra layer of insurance on top of the installers'

and manufacturers' guarantees that are already

in place.

This extra layer of guarantee provides huge

confidence to the end-customer as it

demonstrates a serious commitment from the

brand (i.e. Cedral) to ensure that the installation

and service element of the experience lives up to

the tangible product promise. In the case of

Cedral, our approved Select installers provide a

10-year service guarantee which reflects our

decade-long product guarantee. Together, this

makes an incredibly complete package for the

end customer.

This market-leading level of service is unique in

the market and we believe will act as a catalyst

to access pent-up demand within the UK

domestic marketplace.

44 TC SEPTEMBER 2022
---
Q: This sounds interesting for installers

keen to access the domestic roofing and

cladding market – how do they gain

approval to join Cedral Select?

A: To become part of this initiative, installers

need to attend Cedral technical training and

demonstrate a good level of skill – as well as a

genuine commitment to customer care. A central

element of the Cedral Select promise includes the

IBG, which is a small investment from installers,

that makes a huge statement to the customer.

We don't stipulate which IBG provider our

contractors go with, but we do provide a list of

approved, quality insurance firms to provide this

cover. In our view, introducing IBGs into the mix is a

real game-changer when you consider the

significant benefit it brings to the installer's /

roofer's credibility. Crucially, it's this boost in trust

levels that will help installers and roofers to engage

with homeowners and secure new projects.

Q: Can you give us an idea of the cost of

these IBGs?

A: For the relatively modest cost of IBGs, we think

the benefits are significant. For an average

cladding or roofing project worth up to £30,000,

the IBG premium is under £80; I think you'll

agree, a reasonable fee that can be easily

absorbed into the customer quote.

Our brand is all about quality and customer

service – so we think that like-minded installers

will see the sense in this strategy, which enables

us both to offer customers peace of mind and

assurance for 10 years. Granted, IBGs are not for

every contractor. But for those who want to

differentiate themselves through world-class

service levels – and a strong association with a

trusted brand such as Cedral – this could be the

'Midas Touch' they're looking for.

Q: How has the initiative gone down with

installers?

A: While it's still relatively early days, we've been

delighted by the interest shown by both roofing

and cladding installers who really see the benefit

of IBGs in differentiating them in a crowded

domestic market. We've now got national

coverage for the Cedral Select scheme, which is

fully backed up by this extra layer of guarantee.

While we have not had enough data through the

system yet to make a formal judgement, so far

anecdotal feedback suggests that the quality end

of the trade immediately 'get it' and can see this

as a great USP to give homeowners that extra

confidence to choose a Cedral Select installer.

Q: How do installers find out more?

A: To find out more about Cedral Select or the role

of IBGs in roofing and cladding, please contact

Cedral on admin.uk@cedral.select.

Contact Cedral

www.cedral.world/en-gb

@CedralUK
---
Tapered Insulation

TACKLING WINTER WEATHER & BILLS!

By Morgan Woolf, Technical Product Technician (South), Kingspan Insulation.

September is always a busy month for

roofers with owners looking to get their

properties ready to face the winter

weather. This year is looking especially hectic

with many trying to upgrade their building

insulation before bills go through the roof in

October. Poorly insulated flat roofs can account

for a lot of the heat loss from buildings and one

way to address this, whilst also ensuring effective

drainage, is by fitting tapered insulation. In my

role as a product technician at Kingspan, I've

been getting a lot of questions about these

systems, so here I'll explain why tapered

insulation systems might be needed,

and what benefits they can provide.

Drainage

Despite their name, flat roofs will

almost always have a pitch of up to 10

degrees. This is to ensure that rain, sleet and

snow are all effectively channelled away. Without

this, the water will inevitably start to pond on the

surface, potentially leading to issues such as

alkaline formation and mould growth. The weight

of any water can also cause the surface to bow

over time, worsening the ponding and potentially

reducing the lifespan of the roof. If there are

obvious signs of ponding on a roof, it is important

to take action to reinstate the fall, ensuring the

structure achieves a fall of at least 1:80.

Insulation

As you've probably noticed, there's been a lot of

change in the energy efficiency requirements

within the Building Regulations this year. England

introduced updates to Part L to the Building

Regulations (which governs energy usage) back in

June, with Wales due to introduce updates for

domestic properties on 22nd November 2022 and

new requirements for all properties in Scotland

coming into force from 1st December 2022.

These include limiting or improved U-values which

Above: Tapered roofing systems combine

insulation and a fall in a single, lightweight

system which is suitable for both new and

existing flat roofs. Left: Kingspan offer a

dedicated tapered design service to ensure the

required drainage and thermal performance can

be met with the slimmest system thickness.

contractors will typically need to meet, or improve

upon, when replacing or refurbishing an existing

flat roof. In all cases, the refurbishment work

needs to be appropriate for the particular project,

with consideration given to issues such as the

condition and construction of the building and any

ventilation or existing insulation within the space

below. All three countries provide some flexibility

in their target U-values to allow for this, however,

the values in the table above provide a good

starting point on most projects (see table above).

Why tapered?

Traditional methods used to create a fall include

fitting timber firrings (angled timber battens)

beneath a plywood deck, or laying screed to a fall

on a concrete deck. However, as the thermal

performance requirements for flat roofs have

increased, a growing number of contractors are

switching to tapered insulation systems which

provide insulation and a fall in a single system.

Tapered insulation systems typically include three

types of rigid insulation boards: tapered, hip and

valley and flat packer (which sit below the other

types of board). As the insulation boards

themselves are used to create the fall, the overall

system thickness can be slimmer than with the

alternative approaches, particularly where PIR

boards are used. They're also much lighter than

screed solutions with no time lost waiting for

them to dry. In fact, if the existing roof surface is

in good condition, the tapered roofing can be

fitted directly above it.

To support installation of our tapered systems,

Kingspan Insulation offers a dedicated tapered

design service. Using your roof layouts, our

designers can quickly develop a system layout

which will provide effective drainage and meet your

target area-weighted U-value with the slimmest

possible construction. They'll also handle the

condensation risk analysis and supply clear plans,

meaning you can get it installed in no time.

On-site support

If you're thinking about fitting a tapered system

for the first time and want some support, or

simply need some advice on best practice, myself

and the other Kingspan Product Technicians are

here to help. We can visit most sites and give you

hands-on advice on the different tapered

insulation products and how to handle, cut and fit

them ready for the final waterproofing layer. We

also offer a remote product advice service.

To contact the team, email:

technicaladviseservice@kingspaninsulation.co.uk

Contact Kingspan Insulation

www.kingspaninsulation.co.uk

@KingspanIns_UK

46 TC SEPTEMBER 2022
---
The Complete

Supply Chain

MCRMA members provide the

complete supply chain for

sustainable metal-clad building

solutions in the industrial and

commercial sectors.

Our members encompass

• Systems manufacturers

• Component manufacturers

• Systems installers

• Stockholders

• Independent roofing and

cladding inspectors

• Industry support services

providers

Visit www.mcrma.co.uk

to find out more about the MCRMA and its members.

The 'MCRMA The Building Envelope Authority' is a registered Collective Trademark of the Metal Cladding and Roofing Manufacturers Association Limited.
---
Knauf Insulation Tech Talk

Which applications are best for

retrofitting insulation?

It's possible to retrofit most applications. Loft

insulation at ceiling level is a quick win

because of the easy access. Installing Knauf

Insulation's Loft Roll 40 to a depth of

250mm will meet the minimum

standards, but for maximum

performance, install it at a depth of

400mm (if you use Loft Roll 44,

you'll need 450mm to achieve the

same performance).

HELP YOUR CUSTOMERS

GET READY FOR WINTER

As energy prices hit record highs, homeowners will be looking for ways to reduce their

energy bills whilst enjoying a warm cosy home. So, this month Bradley Hirst, Technical

Services Manager at Knauf Insulation, explains how you can help customers insulate

their homes for winter.

Suspended timber floors are also relatively

simple projects but are often overlooked.

If there's a crawl space, mineral wool

insulation for this application – such

as OmniFit Slab 35 – can be fitted

from below, minimising disruption. If

not, the floorboards will need to be

removed.

It's also possible to improve the energy efficiency

of other roof types such as pitched roofs at rafter

level or flat roofs. These are larger projects that

will require additional work such as reboarding

and replastering.

Cavity walls can also be retrofitted with blown-in

mineral wool insulation such as Supafil, but this

must be done by specialist approved installers.

Are retrofitting projects affected by

changes to Part L?

Yes. Under the changes to Approved Document L,

the 'limiting U-values' (minimum thermal

performance standards) for every building

element have been significantly reduced. So

Main pic: For maximum performance, install Knauf Insulation Loft Roll 40 at a depth of 400mm Left: Bradley

Hirst, Technical Services Manager at Knauf Insulation. Inset above: Knauf Insulation Loft Rolls 40 and 44.

check the required thermal

performance for the application,

according to the 2021 regulations,

before you start.

For advice on the right mineral wool insulation

solution to meet this performance, speak to your

local builders' merchant or your chosen

manufacturer's technical support team.

How do you get the best performance?

Always use the right product for the application

and choose products made from materials that

ensure a good fit. No matter how good your

insulation product is, the smallest air gaps will

reduce performance. But this can be harder to

achieve with some insulation materials, such as

rigid boards, because they are inflexible so don't

adapt to imperfections in the substrate.

In comparison, glass and rock mineral wool

insulation are easier to install correctly because

they adapt to imperfections, knit together and

friction fit to the building elements.

What other factors should be considered?

When choosing insulation materials, always

consider fire safety and acoustic performance

too. Glass and rock mineral wool products are

non-combustible, so the insulation will not

contribute to the development or spread of a fire

should it occur.

For many applications, noise reduction will also

be a factor. For example, installing mineral wool

insulation with sound absorbent properties into a

flat roof will reduce environmental noise and the

Contact Knauf Insulation

www.knaufinsulation.co.uk

@KnaufUK

50 TC SEPTEMBER 2022
---
A2

Insulating

where there

is no space?

Vacuum Insulation Panel

fully encapsulated in

PIR protective case

Ultimate

insulation value

λ 0.008 W/mk

Impossible

Fully encapsulated Vacuum Insulation Panel, providing ultra-high

thermal performance in flat roof and terrace applications.

Say goodbye to issues when installing effective insulation on flat roofs

and terraces where space is tight and where height constraints exist.

With a thermal performance of the core of lambda (λ) 0.006 – the best

performance in the market – Deck-VQ VIP panels allow you to

achieve a U-value of 0.18 W/m²K with just 60mm thick board.

It's time to think thin.

λ 0.006 W/mK

VIP core

www.recticelinsulation.co.uk
---
New Part L Guide

A GUIDE TO THE NEW THERMAL

PERFORMANCE REQUIREMENTS

James Francis, Product Manager at ROCKWOOL, outlines how the company's new guide to

Approved Document L can help contractors navigate new thermal performance regulations.

There's no escaping the issue of energy

efficiency. The rising energy price cap has

dominated the news agenda over recent

months and is now front of mind for many across

the country. With energy bills mounting, the desire

to improve the thermal effectiveness of homes –

from renovations to new-builds – is an issue that

contractors need to remain mindful of.

Alongside this growing awareness of achieving

energy efficiency, the Government is also taking

steps to ensure that thermal performance is a key

consideration for both new and existing buildings by

introducing new improved energy metrics.

In June 2022, the government introduced Approved

Document L (England) 2021. The changes to Approved

Document L (ADL) form part of the Government's

commitment towards meeting its target of delivering

Zero Carbon Ready Homes by 2025.

The improved energy performance metrics within

ADL have been developed to ensure that all new

homes produce 31% less CO ²

emissions than those

outlined in the previous ADL rules. This means that

the construction of new dwellings must comply with

these increased energy performance standards.

To help contractors navigate and respond to these

new regulations, ROCKWOOL has released a

straightforward overview of the legislation – the

ROCKWOOL Guide to Approved Document L 2021.

The interactive guide aims to help users get to grips

with what has changed, making it easy for

contractors to design, choose and install insulation

solutions that meet and exceed the new thermal

performance requirements.

With ADL spelling significant changes to thermal

regulations for both new and existing buildings, the

ROCKWOOL Guide to Approved Document L 2021

unpacks the updates to Volume 1: dwellings and

Volume 2: buildings other than dwellings, plus gives

users U-value requirements with a handy side-byside

comparison against the 2013 edition.

The Guide also suggests possible substrate

constructions using ROCKWOOL stone wool

insulation and, to support users with real-world

specifications, explores how to use ROCKWOOL

products alongside other commonly specified

materials to help realise the updated demands.

"ROCKWOOL knows that

the changes to ADL are

critical in the UK's

journey to achieving net

zero carbon emissions

by 2050, yet recognises

that many contractors

are busier than ever"

Non-combustible stone wool insulation remains a

proven product choice when it comes to meeting

ADL requirements. That's because tiny pockets of

air trapped within the physical structure of

ROCKWOOL stone wool insulation make it

effective at achieving thermal performance. Stone

wool can also deliver many other benefits,

including:

Sustainability: Stone wool is manufactured from

naturally occurring volcanic rock. This is

abundant in supply because it's continually

replenished by the earth's crust. It can also be

recycled indefinitely.

Natural fire protection: Being made from

volcanic rock makes stone wool naturally noncombustible

and enables some stone wool

insulation products to achieve a European Reaction

to Fire Classification of A1 – the highest possible

rating. In fact, stone wool insulation is capable of

withstanding temperatures in excess of 1000ºC,

giving extra reassurance.

Noise reducing: Stone wool insulation has added

benefits in terms of absorbing sound as it reduces

sound vibrations. The dense, non-directional fibre

orientation and its open porous structure trap sound

waves and reduce sound energy.

Durability: Once installed, stone wool insulation

is built to last and does not degrade over time. It

is also non-hygroscopic, meaning it does not

attract water and is vapour permeable. For extra

peace of mind, stone wool insulation provides no

food source for vermin and does not encourage

growth of mould, fungi or bacteria.

ROCKWOOL knows that the changes to ADL are

critical in the UK's journey to achieving net zero

carbon emissions by 2050, yet recognises that

many contractors are busier than ever. Its guide to

ADL summarises the need-to-know information and

supports with practical tools and construction

approaches that can be used as a basis for

projects.

The ROCKWOOL Guide to Approved Document L

2021 is available at https://rockwool.link/ADL

Contact ROCKWOOL

www.rockwool.com/uk/

@ROCKWOOLUK

52 TC SEPTEMBER 2022
---
Ask A. Proctor Group

ACOUSTICS, FLOORS AND THE BEST

SOLUTIONS...

In this series, the A. Proctor Group looks at some commonly held myths surrounding the

contracting world concerning thermal and acoustic insulation, condensation control and

fire protection. In this article, the experts discuss whether a concrete floor is the only way

to achieve a good separation floor…

When seeking to manage the impact of

sound within buildings effectively, a

misconception is that you can't achieve

good acoustics with a lightweight floor, leading to

the preconceived belief that a concrete floor is the

best way to address the acoustic challenge.

There are two types of sounds to be considered in

addressing the challenge of achieving the best

acoustic solutions in building design: airborne

sound and impact sound.

Airborne sound is generated by the source

vibrating the air to create sound waves. When

these waves strike the walls, roof, or floors, they

are converted into vibrations in the structure,

which transfers the sound around the building.

This sound is then re-emitted by other surfaces in

the same way as a speaker generates sounds.

Airborne sound can originate from outside the

building and within, and typically travels

throughout the structure. Building regulations

require most building elements to have some

degree of airborne sound resistance built in.

Impact sound occurs when mechanical impacts

directly cause vibrations in the structure rather

than via an external sound wave. These

vibrations pass throughout the structure before

being re-emitted in other areas, like airborne

sound. Unlike airborne sound, however, the

regulations regarding impact sound are typically

only concerned with sound transmission between

the separating floors of a building.

The heavyweight challenge

When considering acoustics, the mass of a wall

or floor is a significant factor. The heavier the

element is, the harder it is for incoming

soundwaves to induce any vibrations. This

reflects a greater proportion of the incident sound

waves, resulting in less sound being transferred

into the structure.

In most cases, it is correct to say that heavy

elements such as brick walls or concrete floor

slabs are better able to restrict the passage of

sound than lighter timber frame structures.

However, it is not always practical or

economically viable to use high mass

constructions. This is particularly true in

refurbishment projects where increasing the

mass is often impossible.

Lightweight flooring systems can often provide

the most effective solution in modern building

design and refurbishment. Timber floors have

also become more popular for their sustainability

benefits over traditional concrete. The speed of

installing a lightweight floor without the additional

need for wet trades and associated drying out

period can be another critical factor.

Solutions for managing the sound transmission

and acoustics of a lightweight flooring system will

consider the aspects of isolation and absorbency

at the design stage.

Isolation

An effective way to prevent sound transmission

through structures is by physically isolating one

side from the other. This can be achieved by

using entirely separate structural elements, such

as independent floor and ceiling joists or resilient

mountings for floor and ceiling surfaces. The aim

is to break the pathway for sound to travel

through the structure from one side to the other.

With independent structures, there is an actual

discontinuity in the pathway, leading to the best

acoustic performance. However, this approach

results in very thick wall or floor elements, so it is

not always practical.

Resilient layers are usually a cheaper, thinner,

and lighter weight solution. They can be applied

as floor deck or batten systems, ceiling mounting

bars, or both. These work similarly to car

suspension by damping the vibrations and

reducing the energy from the sound waves by

allowing a degree of movement. These systems

must be matched to the expected loadings on

floors, as heavy weights can damage the resilient

layer and reduce effectiveness.

Absorbency

Absorbent acoustic materials are important in

reducing the echoes within cavities in a wall or

floor construction. The desired effect is breaking

up the sound waves in these spaces. As a result,

it reduces the overall energy transfer by converting

the energy in the sound waves into heat due to

friction between adjacent fibres. Fibrous materials

such as mineral or polyester quilts are usually

used for this purpose, most commonly in timber or

54 TC SEPTEMBER 2022
---
(QUITE INTERESTING)

INSULATION FACTS

By QI (Quantum Insulation Ltd)

Image shows Profloor

Dynamic batten.

steel-framed structures. If voids are present, partially filling them with an

absorbent material will generally help reduce the sound transfer.

Acoustic floor systems

Batten systems such as Profloor Dynamic battens are popular in new build

timber frame floors and are the top-performing floating floor system. The

extra depth introduced between the battens simplifies service runs within

the floor and provides additional void space in which additional fibre layers

can be added to boost sound absorbency. The downside to batten systems

is that they tend to be deeper, so it may not be practical to apply them to

all floors when tying into adjacent floor levels is an issue.

Deck systems are much shallower and can boost the impact sound

performance of a floor. However, they offer little scope to improve

airborne performance. For that reason, they tend to be used on concrete

floors where the base floor mass does most of the work dealing with

airborne noise transfer. Deck systems are also ideal for refurbishment

projects where floor to ceiling height may limit the scope for using a

batten system. Systems like the Profloor Microdeck at only 17mm can

improve impact performance noticeably while having minimal impact on

floor levels, services and internal trim and skirting.

Levelling systems allow a floor to be raised and levelled while introducing

a level of acoustic performance. This is useful in existing buildings where

the floor may be substantially out of level or in a new build where prestressed

slabs may be used, which have an inbuilt camber that must be

corrected to give a smooth level finished floor. Using a dry system, rather

than a screed, allows for a quicker installation period.

The A. Proctor group supplies a comprehensive portfolio of batten

systems, overlay deck systems and levelling systems to cover a range of

project requirements and floor types.

Contact A. Proctor Group

www.proctorgroup.com

@proctorgroup

SEPTEMBER 2022 TC 55
---
Insulation Updates

For further info on all these updates and more, visit www.total-contractor.co.uk

NEW ROCKWOOL LAUNCH

ROCKWOOL has launched NyRock Rainscreen

032 and Frame Slab 032, the first in a series

of products that use NyRock technology, a

patented production process that delivers the

lowest lambda stone wool insulation available

in the UK.

NyRock Rainscreen 032 is specifically developed

for ventilated cladding systems and sealed

structures such as curtain walling. It combines a

low thermal conductivity of 0.032 W/mK and a

non-combustible Euroclass A1 rating, along with

independently tested acoustic performance and the

potential for thinner wall constructions.

Manufactured using patented technology, NyRock

Rainscreen 032 has a more efficient fibre structure

than traditional stone wool products, resulting in

improved thermal properties. This fibre structure

also helps to lessen the transfer of airborne noise,

with NyRock Rainscreen 032 achieving a sound

reduction index of up to Rw 60 dB when assessed

as part of a typical system in independent in-situ

laboratory testing.

Created for straightforward installation as well as

ongoing performance, the product can be easily

fitted around brackets and other challenging

details, with slabs designed to 'knit together' when

tightly butted providing a continuous insulating

layer that reduces thermal bridging.

For optimum thermal performance in framed

structures, NyRock Rainscreen Slab 032 should be

combined with NyRock Frame Slab 032, a further

new addition to the NyRock range, that is purpose

designed for fitting between the studwork of

external timber or light gauge steel frame walls.

Combined, NyRock Rainscreen 032 and Frame Slab

032 enable U-values to be met with a thinner wall

construction versus standard stone wool solutions.

Paul Barrett, Head of Product Management at

ROCKWOOL explained: "When working to a U-value

of 0.18 W/m²K, specifiers can typically save around

15mm on the wall thickness compared to

traditional stone wool products. Applying that

saving over a 22m x 22m building of nine storeys,

for example, it can yield an extra 99 square feet of

usable or profitable floor space.

"The balance between building performance,

sustainability and commerciality is a constant

challenge for specifiers and building owners. Our

NyRock range has been created understanding

those pressures, hence delivers lower lambda for

thinner walls, while also providing the additional

benefits of stone wool including non-combustibility."

Like its rainscreen counterpart, ROCKWOOL says

NyRock Frame Slab 032 can withstand

temperatures in excess of 1000°C, achieving the

highest Euroclass A1 non-combustible reaction to

fire classification.

As well as suited to ventilated façade systems,

NyRock Frame Slab 032 can be used in a variety of

external timber or steel frame applications,

including with a brick outer and with or without a

service void. NyRock Frame Slab 032 is available in

570mm widths for timber or 600mm for steel

ensuring quick, easy friction fitting into frame walls.

Its strong dimensional stability when fitted under

compression also accommodates building

movement, without slumping and sagging, or a loss

in thermal performance.

All ROCKWOOL stone wool insulation comprising

NyRock technology provides water resistance plus

can be recycled indefinitely. Stone wool insulation

is manufactured from naturally occurring volcanic

rock that is abundant in supply as it is continually

replenished by the earth's crust.

www.rockwool.com/uk/nyrock

APPRENTICE BOOST AT TICA!

The Thermal Insulation Contractors Association (TICA) is on track to train a record number of apprentices this year.

The Association says it would normally expect to enrol between 60 and 80 a year but the 2022 figure already stands at around

130. Demand from employers for skilled apprentices is said to be fuelled by an ongoing boom in construction projects, Above: Marion Marsland with some

combined with a post-Brexit exodus of EU workers. The sector has traditionally relied on recruiting self-employed contractors, of the apprentices undergoing

training at TICA.

many of whom hailed from eastern Europe, as a cost-effective and flexible way of bridging the skills gap. Due to the increased

demand from within the sector, TICA says it launched an additional January intake for its Thermal Insulation Apprenticeships, which attracted 31 people, and is

on track to recruit more than 100 apprentices to the September intake at its National Training Centre in Darlington. Marion Marsland, chief executive of TICA,

said: "There is currently a dearth in independent insulation contractors due to a combination of Brexit and the pandemic – which has created a general shortage

of qualified thermal insulation engineers. The industry has always trained apprentices, but never on a sufficient scale and there has been a self-fulfilling reliance

on agency contractors working a day rate. Many companies in the UK now recognise the benefits of retaining the skills and knowledge by employing people

directly. Recent events do seem to be changing the industry's mindset away from the self-employed model." www.tica-acad.co.uk

56 TC SEPTEMBER 2022
---
Safety Articleat Height

IN THE KNOW...

Werner, a leading manufacturer and distributor of ladders and access equipment, is

championing health and safety training with the launch of its new campaign 'Stepping

up to Ladder Safety'. In this mini-series, Trevor Rabson, Werner's Training Manager, will

look at why training is so important when it comes to working at height safely, what

contractors need to consider, and how best practice can make all the difference between

safe working and potential injuries.

In his second instalment, Trevor discusses the importance of knowing how to use a

ladder safely and how to follow best practice, starting with some crucial #ladderfacts:

#ladderfacts

• Ladders and stepladders are not banned under

health and safety law.

• A risk assessment should be undertaken to

assess whether a ladder is the right piece of

equipment for a job.

• Ladders should not be used for jobs that will

take longer than 30 minutes.

• Short duration should NOT be the deciding

factor in establishing whether use of a ladder is

acceptable – risk should be.

• Ladders should only be used in situations

where they can be used safely, e.g. where the

ladder will be level and stable, and can be

secured – where it is reasonably practicable to do

so.

"Experience only

counts if it is based on

using a ladder safely

and correctly"

The guidance calls for a sensible, proportionate

approach to managing risk, and ladders can be a

sensible and practical option for low-risk, shortduration

tasks. They can be used for work at

height when a risk assessment has shown that

using equipment that offers a higher level of fall

protection is not justified.

Images: Werner has launched its Stepping up to Ladder Safety campaign and an Inspecting Your Ladder guide.

Once this has been decided, there are simple and working under the supervision of a competent

sensible precautions you should adhere to to stay person.

safe when using ladders in the workplace.

But what is competence? Competence can be

shown via a combination of training, practical and

Know how to use a ladder safely

theoretical knowledge and experience. However,

According to the Health and Safety Executive

experience only counts if it is based on using a

(HSE), to use a ladder you must be competent

ladder safely and correctly.

or, if you are being trained, you should be

58 TC SEPTEMBER 2022
---
"A 'pre-use' check

should always be

carried out before any

job to spot any obvious

visual defects"

Best practice guide

Before using a ladder, users should have access

to instructions from the manufacturer in case

they need to be referred to.

A 'pre-use' check should always be carried out

before any job to spot any obvious visual defects

to make sure the ladder is safe to use. This check

should be carried out:

• By the person using the ladder.

• At the beginning of the working day.

• After something has changed, e.g. a ladder has

been dropped or moved from a dirty area to a

clean area.

What to look out for when carrying out a

safety check:

IF APPLICABLE, CHECK THE STEPLADDER

PLATFORM: When it comes to stepladders with

platforms, it is important to ensure that the

platform is in a suitable, safe working condition

and locks securely to the rear bar when open.

Make sure all fittings are present and

undamaged and that there is no bending,

folding or twisting on the upper surface of the

platform.

STILES: The stiles should be checked to ensure

there is no bending, longitudinal twisting or

bowing. Make sure the ladder is generally rigid.

The front to rear frame attachment or hinging

should be secure and all rivets and fixings should

be present.

RUNGS/TREADS: Make sure none are missing,

loose bent, excessively worn, corroded or damaged.

It is also important to check that all fixings are

secure. If there is any significant denting, the

strength of the tread may be compromised, and the

ladder should be replaced immediately.

FEET: It is important that the feet tips are all

present and secure. The feet should not be

warped in any way and the anti-slip ground

contact surfaces should be undamaged and free

and clear of debris and dirt.

BRACES AND CROSS TUBES: Whilst some wear

and tear is acceptable, anything that shows signs

of pronounced or excessive bending, bowing or

creasing will need to be addressed immediately.

Additionally, there should be no twisting

of the braces or cross tubes.

LOCKING MECHANISMS: If they are

bent or the fixings are worn or damaged

the ladder could collapse. Make sure

you engage any locking bars.

If any of the above defects are detected

during a pre-use check then

equipment should NOT be used

and the user must tell the

person in charge of the work.

Right: Werner's

telescopic soft close

extension ladder.

"Signs of pronounced

or excessive bending,

bowing or creasing will

need to be addressed

immediately"

Stepping up to Safety

For more information on how to inspect ladders

correctly, download Werner's Inspecting Your

Ladder Guide, part of its Stepping up to Safety

campaign, to help professionals stay safe when

working at height.

Working at height injuries and fatalities can be

reduced with the drive for change from industry

manufacturers and associations to lead the way in

safety when working at height, leaving employers

and employees feeling confident and safe at work.

Contact Werner UK

www.wernerco.com/uk

www.wernerco.com/uk/ladder-safety

@WernerLadderUK

SEPTEMBER 2022 TC 59
---
Ear Article Protection

EFFECTIVE PROTECTION AGAINST

HEARING LOSS

The experts at Hellberg Safety, part of the Hultafors Group UK, discuss the key

considerations regarding ear protection on site, and as they point out, the options vary

and it's required at lower levels of noise exposure than you might think...

Noise is a major and continual problem

both for our health and the environment.

Noise pollution is with us all day, every

day and, while more recent legislation has been

enacted to regulate its effect on our environment,

Health and Safety at Work regulations have been

in place for some years to ensure safety and

wellbeing in the workplace.

Noise-induced hearing loss is one of the most

commonly reported physical diseases in the world

– particularly in the workplace. It's an

accumulated disease that increases at every time

of over-exposure to noise, and the bad news is

that hearing loss could be permanent.

The good news is that it is easy to avoid! But it's

crucial that employers and employees understand

when and how protection from noise hazards can

be provided and implemented.

By law, employers have to assess and identify

measures to eliminate or reduce risks from

exposure to noise so that the hearing faculties of

employees can be protected. In low-risk

environments preventative actions can be

relatively simple and inexpensive.

Where risks are high however, they have to be

assessed and managed using control actions that

include the provision of appropriate hearing

protection equipment as well as information,

training and health surveillance for employees.

Above and below: common noise sources and the three

protection levels.

Employers are required to provide employees with

properly maintained hearing protectors, ensure

they use them properly and establish hearing

protection zones where the use of hearing

protection is compulsory.

At Hellberg Safety, we recommend always

reducing noise levels to a maximum of 75 dB

simply because maintaining dB levels can be

affected by a number of external factors.

If you are unsure of what the local noise level is,

a useful rule of thumb is that if you need to raise

your voice to be heard when you're about three

feet or so from someone else, the ambient noise

level around you could be a risk to health.

Whatever a manufacturer's product specification

or protection level may be, the attenuation of

noise provided by a pair of hearing protectors can

decrease due to insufficient fitting, misuse and

poor maintenance. Long hair, beards and glasses

can affect the fit of the protector. Hence, the

greater the effective noise abatement, the more

your hearing is protected.

It is important to remember though, that too

much attenuation can be dangerous too, for

example if it stops you from hearing warning

signals. That's why it is really important to

choose the correct hearing protection based on

your needs and assessed risk levels.

Assess risk and protection together

Risk assessments for noise hazards can be

obtained through a professional service – and

they are important in ensuring proper health and

safety responsibility – but it is a relatively

straightforward process to identify the level of a

Continued on page 62

60 TC SEPTEMBER 2022
---
OUR PRODUCT

RANGE IS ABOUT

TO GET BIGGER

AND BETTER

We are a British manufacturer,

supplying roofing and

construction products to the

industry. This is done through

the merchant network. We

offer a wide range of products

to support our customers, and

their customers, including:

Dry fix systems for ridges, hips and verges

Eaves ventilation products

Flat roofing materials - bituminous felts and repairing liquids

A brick ventilation and cavity insulation range

Plumbing accessories

Lead alternatives

Loft hatches and access panels

We always aim to deliver products & services that meet our customers' expectations

...and we're about to exceed their evolving needs

Unit 12B, Metcalf Drive,

Altham Industrial Estate,

Altham, Lancashire,

England, BB5 5TU

Tel 01282 930680

sales@easy-trim.co.uk

www.easy-trim.co.uk
---
Ear Protection

Continued from page 60

risk based on available noise hazard indicators

and then source a suitable product solution. For

example, and as an indication of a noise level in

relation to dB measurements, a fairly quiet

conversation in an office may reach 60 dB, a

vacuum cleaner up to 70 dB.

On the upward scale of noise, a food blender

can reach 80 dB and a chainsaw 120 dB. To

give an idea of the latter two's risk to hearing,

extended exposure to the noise of a food blender

requires hearing protection, while exposure to

the noise of even the most basic chainsaw can

be potentially painful to your hearing without

proper protection. Anything above that offers

considerable potential for serious and

permanent damage to hearing.

Choosing the right hearing protectors

Never assume that a basic pair of ear

defenders will protect against high-risk noise.

Always use hearing protection when exposed to

harmful noise and if necessary, choose a

protector adapted to your work environment,

i.e. a product with 'level dependent hearing

protection'.

To identify an appropriate hearing protection

product, check out the noise sources in the

graduated chart within this article (see previous

page). Within that chart, identify the hazard level

of the noise source – green is low-risk, yellow is

medium-risk, red is high-risk. Then select the

appropriate type of ear defenders – look for the

colour coded ear-piece bands which define the

different protection levels.

Protection Level 1 – green – is designed for

general industrial environments and an

appropriate choice for low to medium dB noise

levels and medium to high frequency noise (Hz).

Protection Level 2 – yellow – provides the best

protection for high frequency noise (Hz) and are

appropriate for medium to high dB noise levels.

For extremely high noise levels, Protection Level

3 products with the red band are the only suitable

choice.

It's also important to consider the type of

protection required – Passive or Electronic.

Passive hearing protectors are self-contained ear

defenders which block harmful sounds. They

have no built-in electronics but provide excellent

protection against loud and dangerous noise.

Electronic Hearing Protectors have added

technical functionality which facilitates wireless

or Bluetooth communications and emergency

signalling between workers.

So choose hearing protection products that are

appropriate for specific risk environments. Make

sure products fit correctly and are comfortable

during the entire hazard exposure time at work.

You should even consider using them if you're

mowing the lawn or strimming at home – the

noise hazard and its potential effect on your

hearing is the same.

Make sure you ensure 100% wear time in noisy

environments and remember, the use of eyewear

can reduce the hearing protector's attenuation of

between 3-8 decibels – if possible, select thin

eyewear frames.

Finally, your health and wellbeing on site is of

paramount importance, so choose your PPE

products carefully; understand how they're

protecting your health and wellbeing and ensure

they are used properly for maximum beneficial

effect.

With that in mind, check out the Hellberg Safety

website www.hellbergsafety.com where you'll

find all the information you need on choosing

precisely the right kind of passive or active

hearing protection for whatever you're doing, or

wherever you're working on site.

Contact Hellberg Safety

www.hellbergsafety.com

62 TC SEPTEMBER 2022
---
Updates

For further info on all these updates and more, visit www.total-contractor.co.uk

SUIT UP FOR CHANGEABLE WEATHER

Snickers Workwear's bodymapping

Jackets, Tops, Trousers

and Accessories combine for

sustainable comfort and protection

when working, wherever and

whenever it's needed.

Designed for professional craftsmen

and women who want maximum

functionality and mobility on site,

they incorporate the very latest in

high-tech fabric technology for topclass

performance.

The new clothing in the Autumn

Workwear System includes

windproof, waterproof and Hi-Vis

garments for both men and women

to keep them warm, dry and visible

all day, every day.

So, when the weather takes a turn

for the worse, make Snickers

Workwear your first choice for

tackling the toughest jobs and the

worst of weather.

www.snickersworkwear.co.uk

WERNERCO DONATES RIVER CRUISE TO BARNARDO'S

As part of a partnership with Barnardo's

charity, WernerCo, the leading

manufacturer of ladders and access

equipment, provided children and families

from across London with a day out on a

Thames riverboat cruise.

As part of their pledge to invest in young

people, WernerCo hosted a charity event

whereby 125 children and adults who use

Barnardo's services across London, were able

to enjoy a day out seeing the capital city's

sights on a Thames riverboat cruise.

The event, which took place on August 9th,

brought together children from across

Barnardo's London Regions which includes

those with caring responsibilities, young people

in the process of leaving social care, young

people with disabilities and those who are

supported by Barnardo's mental health

services.

As well as seeing London's famous sights such

as the Houses of Parliament, Tower Bridge and

the London Eye from on board The River Room

boat, operated by Bateaux London, the children

and families were able to enjoy a variety of

onboard activities throughout the day and

receive some Werner branded gifts to take away.

Bushra Imtiaz, UK Marketing Manager at

WernerCo, said: "2022 marks the 100-year

milestone of the Werner brand, and as we look

towards the future, we are continually looking

for ways in which we can strive towards

investing in young people as part of our key

initiatives, from our charity work to our

graduate and apprentice schemes.

"Barnardo's vision as a charity aligns greatly

with our own company values – to support and

give back to the community. We love what they

do to support young people and families and

we were delighted to celebrate with the

amazing children, carers and Barnardo's

volunteers."

Rajinder Nagra, Assistant Director of Children

Services for Barnardo's London, said: "We are

so grateful to WernerCo for providing the most

incredible summer experience to Barnardo's

London.

"The summer holidays can be a really difficult

time for the children and families we support

which is why a magical event such as this can

make for the happiest of memories.

"Our children and families had a wonderful

time, and we are very grateful to all of the staff

and volunteers who helped to ensure a

successful and safe event."

Marisa Olusemo, one of Barnardo's young

people who attended the cruise, said: "I'm very

grateful and happy that WernerCo gifted

Barnardo's the river cruise. My favourite part

has been the activities and getting to enjoy the

views. It's been a while since I've been able to

go to central London, and it's been nice to have

everyone here together."

www.wernerco.co.uk

64 TC SEPTEMBER 2022
---
HOW DO |

FINd NEW

CUStOMERs

FASt?

Insight Data helps you pinpoint

your ideal trade and commercial

customers using our database of

60,000 prospects – with detailed

business and financial data not

available anywhere else.

• Local builders

• Construction companies

• Housebuilders

• Builders merchants

• Architects & specifiers

For more information

or your free demo, call

01934 808 293

Visit: www.insightdata.co.uk
---
Updates

For further info on all these updates and more, visit www.total-contractor.co.uk

FUEL CONDITIONER TRIALS!

A leading scaffolding solutions company has

begun trials of a ground-breaking fuel

conditioner as it seeks to reduce its impact

on the environment.

Allsafe Scaffolding Ltd, based in Banbury,

Oxfordshire, has partnered with fuel technology

expert SulNOx Group Plc to run and evaluate its

innovative fuel additive with a view to reducing

harmful emissions and improving fuel efficiency

in its current fleet.

As part of a five-year 'green mission', Allsafe is

taking steps to imbed sustainability in its

business to decrease its social and

environmental impact. The company believes

working with SulNOx Group will have an

immediate impact.

Andrew Simmonds, Managing Director at Allsafe,

said: "As a large scaffold contractor, we run a

sizable fleet comprising 44 vans and Heavy

Goods Vehicles (HGVs), so we are always looking

for new ways to minimise our environmental

impact. Reducing carbon emissions is one of the

ways we can achieve this.

"With so much scrutiny on the

construction industry and so

many of our esteemed

customers working towards a

greener way to build, we are

actively trying to play our part

and ultimately have a positive

impact locally.

"On top of that, with fuel prices

remaining high, we are actively

looking at improving the

efficiency of our ever-growing fleet. The

SulNOxEco Fuel Conditioner ticks both boxes for

us and we are excited to see the results of the

evaluation and explore how it could benefit us in

the long-term."

SulNOxEco is a unique, advanced fuel additive

made from natural, biodegradable ingredients

that has been shown to improve fuel efficiency

and reduce the production of harmful emissions

including CO ²

and fine particulate matter.

Over an evaluation period of up to three months,

Allsafe will use SulNOxEco Fuel Conditioner in

three vehicles, looking to mirror

significant fuel and maintenance

savings seen elsewhere.

Ben Richardson, Chief Executive

of SulNOx Group, said: "We are

delighted to be partnering with

Allsafe as they look to reduce

their environmental impact and

improve the efficiency of their

vehicles.

"Our technology is verified with real world data

from numerous tests and trials, so we know the

impact we can have across many industries.

Particularly in construction and commercial

transportation, moving to a wholly electric fleet

or using alternatives from traditional fuels is

currently not a viable option. We offer a credible

and scalable solution for the here and now, vital

for climate goals, that can make a significant

difference to air quality and emissions, and

potentially give commercial users a green edge

over competitors."

www.sulnoxgroup.com

SUPPORT FOR VICTIMS OF TOOL THEFT

As part of its Secure Communities Scheme, security specialist Burg-Wächter UK has pledged to support the

Rainy Day Trust – the only charity specifically supporting the home improvement industry – to supply security

equipment to independent tradespeople who fall victim to tool theft in its joint campaign with Toolstation.

Bryan Clover, Chief Executive of the Rainy Day Trust, said: "Tool theft is becoming more prevalent and that is a factor

of the way the economy is going. In fact, in 2020 alone, almost 11,300 tool thefts from vehicles were reported. If your power tools are gone and you're a

roofer for example, you can't go to work the next day – it's as simple as that."

Bryan continued: "However, if the worst does happen, the Rainy Day Trust is here to help. Once verified as a genuine claim, replacement tools are

organised as quickly as possible to help minimise the disruption a theft can cause. Our partnership with Toolstation was offered additional support by

Burg-Wächter UK, who were happy to help by providing a package of security products ideal for protecting van doors as well as bolts and chains to secure

both vehicles and tools. Although good insurance will help mitigate the loss in the first instance, fitting good strong high-quality security devices will help

to protect against and deter future attacks."

Andrew Field, Managing Director at Burg-Wächter UK said: "We are very proud to be able to support the Rainy Day Trust and Toolstation's tool theft

awareness campaign by providing practical help – in the form of high-quality security products – to tradespeople who are victims of burglary, as swiftly

as possible to help protect not only their essential tools but also their livelihoods." www.rainydaytrust.org.uk / www.burg.biz/uk

66 TC SEPTEMBER 2022
---
PURPLEXED

ABOUT YOUR

MARKETING?

In a world where marketing and customer behaviour is constantly

changing, you could be forgiven for being in a state of confusion

when it comes to your own marketing.

As a fully integrated marketing agency, Purplex is powered to

alleviate this stress and help ambitious companies like yours build

their reputation, business, and future.

With more than 35 years industry experience our specialist teams

build campaigns that cut-through the noise and create integrated,

consistent, and clear messages across all platforms to build brand

awareness and drive your business to greater heights.

SPEAK TO THE EXPERTS IN:

MARKETING

CONSULTANCY

PR & MEDIA

RELATIONS

VIDEO PRODUCTION

& EDITING

BRANDING &

CREATIVE

WEB & E-COMMERCE

DESIGN

SOCIAL MEDIA

MARKETING

SEARCH ENGINE

OPTIMISATION

PAY-PER

CLICK

IF YOU'RE PURPLEXED ABOUT YOUR MARKETING, SPEAK TO THE EXPERTS

T: 020 3137 9319

E: grow@purplexmarketing.com | W: www.purplexmarketing.com

HQ: 200 Worle Park Way, Weston-super-Mare, BS22 6WA
---
SPEED AND

SIMPLICITY,

BY DESIGN.

Introducing the new Siderise CT

Cavity Tray.

A unique trilateral design that's flush-fitting, fully aluminium

wrapped and pre-filled with non-combustible stonewool, making

it incredibly quick and easy to install as well as A2-s1,d0 rated.

Its exclusive design* is engineered for use with Steel Framing

Systems and blockwork inner leaves without hot works, screwing

or chamfering, whilst corners are easily cut on-site. Backed by

forty-five years of cavity barrier innovation, full site support

services and our market leading inspection app, Siderise CT

Cavity Tray is another innovation to help make projects easier.

Your Workmanship. Our Ingenuity. Swift Installation.

Discover more at Siderise.com

CERTIFICATE 21/5978

*Patent pending