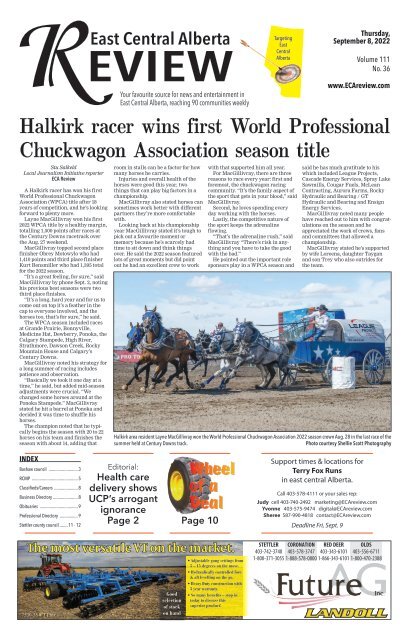 ECA Review - 2022-09-08
ECA Review - 2022-09-08
ECA Review - 2022-09-08
SHOW MORE
SHOW LESS
You also want an ePaper? Increase the reach of your titles
YUMPU automatically turns print PDFs into web optimized ePapers that Google loves.
R

R

72 pt

East Central R Alberta

EVIEW

60 pt

R

48 pt

R

36 pt

Your favourite source for news and entertainment in

East R

30 pt

Central Alberta, reaching 90 communities weekly

Targeting

East

Central

Alberta

Thursday,

September 8, 2022

Volume 111

No. 36

www.ECAreview.com

R

Halkirk racer wins

24 pt

first World Professional

R

18 pt

Chuckwagon Association season title

Stu Salkeld

Local Journalism Initiative reporter

ECA Review

A Halkirk racer has won his first

World Professional Chuckwagon

Association (WPCA) title after 18

years of competition, and he's looking

forward to plenty more.

Layne MacGillivray won his first

2022 WPCA title by a healthy margin,

totalling 1,500 points after races at

the Century Downs racetrack over

the Aug. 27 weekend.

MacGillivray topped second place

finisher Obrey Motowylo who had

1,410 points and third place finisher

Kurt Bensmiller who had 1,395 total

for the 2022 season.

"It's a great feeling, for sure," said

MacGillivray by phone Sept. 2, noting

his previous best seasons were two

third place finishes.

"It's a long, hard year and for us to

come out on top it's a feather in the

cap to everyone involved, and the

horses too, that's for sure," he said.

The WPCA season included races

at Grande Prairie, Bonnyville,

Medicine Hat, Dewberry, Ponoka, the

Calgary Stampede, High River,

Strathmore, Dawson Creek, Rocky

Mountain House and Calgary's

Century Downs.

MacGillivray noted his strategy for

a long summer of racing includes

patience and observation.

"Basically we took it one day at a

time," he said, but added mid-season

adjustments were crucial. "We

changed some horses around at the

Ponoka Stampede." MacGillivray

stated he hit a barrel at Ponoka and

decided it was time to shuffle his

horses.

The champion noted that he typically

begins the season with 20 to 22

horses on his team and finishes the

season with about 14, adding that

room in stalls can be a factor for how

many horses he carries.

Injuries and overall health of the

horses were good this year, two

things that can play big factors in a

championship.

MacGillivray also stated horses can

sometimes work better with different

partners they're more comfortable

with.

Looking back at his championship

year MacGillivray stated it's tough to

pick out a favourite moment or

memory because he's scarcely had

time to sit down and think things

over. He said the 2022 season featured

lots of great moments but did point

out he had an excellent crew to work

with that supported him all year.

For MacGillivray, there are three

reasons to race every year: first and

foremost, the chuckwagon racing

community. "It's the family aspect of

the sport that gets in your blood," said

MacGillivray.

Second, he loves spending every

day working with the horses.

Lastly, the competitive nature of

the sport keeps the adrenaline

flowing.

"That's the adrenaline rush," said

MacGillivray "There's risk in anything

and you have to take the good

with the bad."

He pointed out the important role

sponsors play in a WPCA season and

said he has much gratitude to his

which included League Projects,

Cascade Energy Services, Spray Lake

Sawmills, Cougar Fuels, McLean

Contracting, Aurora Farms, Rocky

Hydraulic and Bearing / GT

Hydraulic and Bearing and Ensign

Energy Services.

MacGillivray noted many people

have reached out to him with congratulations

on the season and he

appreciated the work of crews, fans

and committees that allowed a

championship.

MacGillivray stated he's supported

by wife Loreena, daughter Taygan

and son Trey who also outrides for

the team.

Halkirk area resident Layne MacGillivray won the World Professional Chuckwagon Association 2022 season crown Aug. 28 in the last race of the

summer held at Century Downs track.

Photo courtesy Shellie Scott Photography

INDEX

Bashaw council .......................... 3

RCMP ......................................... 5

Classifieds/Careers ..................... 8

Business Directory ...................... 8

Obituaries .................................. 9

Professional Directory ................ 9

Stettler county council ....... 11 - 12

Wheel

Editorial:

Health care

delivery shows

of a

UCP's arrogant

ignorance

Page 2 Page 10

Deal

Support times & locations for

Terry Fox Runs

in east central Alberta.

Call 403-578-4111 or your sales rep:

Judy cell 403-740-2492 marketing@ECAreview.com

Yvonne 403-575-9474 digital@ECAreview.com

Sheree 587-990-4818 contact@ECAreview.com

Deadline Fri, Sept. 9

The most versatile VT on the market.

7530-35 VT Plus

Good

selection

of stock

on hand

• Adjustable gang settings from

5 – 15 degrees on the move.

• Hydraulically controlled fore

& aft levelling on the go.

• Heavy Duty construction with

3 year warranty.

• So many benefits – stop in

today to discuss this

superior product!

STETTLER

403-742-3740

1-800-371-3055

CORONATION

403-578-3747

1-888-578-0800

RED DEER

403-343-6101

1-866-343-6101

OLDS

403-556-6711

1-800-470-2388
---
2 September 8'22 HANNA/CORONATION/STETTLER, AB. ECA REVIEW

OPINION

The opinions expressed are not necessarily

the opinions of this newspaper.

EDITORIAL

Health care delivery shows

UCP's arrogant ignorance

Brenda Schimke

ECA Review

Twenty-two years of Alberta Health

Services (AHS) and the promise of efficiency,

effectiveness and financial

stability has led to nothing. The richest

province in Canada has delivered

patient outcomes and an all-but-collapsed

health care system equivalent

to the poorest provinces in the

country. Successive federal cuts to

health care transfers under both

Liberal and Conservative governments,

had an undeniable impact on

the public health care systems of

poorer provinces. It should never have

had an effect on the natural-resourcerich

provinces of B.C., Saskatchewan

and Alberta. It's just that these provinces

'chose' to underfund and

desecrate their systems.

Even today, the UCP government

and most UCP leadership contenders

are bent on more privatization. Here's

the roadmap. Housekeeping, food services,

laundry, MRIs and labs are

already privatized or well on their way.

Next will be surgeries, contract

nursing, privatization of ambulance

services and eventually private hospitals

with lucrative government

contracts.

The introduction of 'peak efficiency'—the

holy grail of

business—into health care delivery

shows the UCP's arrogant ignorance.

Maximizing staff and equipment usage

in health care has given us today's

crisis. It has been the ruination of our

ambulance services.

All communities fought hard to keep

local dispatch for their ambulance services—but

even the largest, Calgary,

couldn't stop the UCP. And here's the

reason, centralized call centers are

integral to 'peak efficiency' ratios and

future privatization.

Let me tell you a story that a

working EMT shared with me. His

team works 100 km north of Calgary.

Yet they are often dispatched to emergency

calls in Calgary because they

are the closest 'idle' ambulance. They

immediately hit the road, always

hoping for the patient's sake, that a

closer ambulance will free up before

they reach their destination. Most

often it does and they return to their

station.

With senior management's focus on

peak performance, this makes sense—

worthless work can bolster efficiency

ratios.

Statistics will show that their ambulance

was dispatched within the

targeted time (even though 100 km

away) and productivity stats will show

that the asset (ambulance) and the personnel

(EMTs) weren't idle, but

working. Everyone, but the patient,

and the road-weary, overworked

EMTs, are happy—the stats look great!

Before AHS and the full-throttled

move to privatize health care, the

Alberta government allowed ambulance

services to be run in conjunction

with municipal fire departments.

The contrast is absolutely striking

today. Urban areas with full-time fire

departments still

run their operations

as an

"

emergency service.

As emergencies

cannot be planned,

but only anticipated,

municipal

fire departments

are staffed for

'potential peak

demand', not 'peak

performance'.

They're not

chasing their fire

trucks around to

record busyness.

Idle time is considered

a fixed cost

and is budgeted

accordingly. Fire

departments are

staffed and

equipped to perform

at a moment's

notice, responding

to small and catastrophic

situations. And, most

importantly, saving lives starts with

local dispatchers, not someone sitting

in downtown Calgary or India

responding to an Oyen call.

Quantitative measures like peak

efficiency can give contradictory

results in operations where profits

aren't the end goal. The ambulance

example highlights this fact. Putting

goals in place to reduce 'idle' time is

self-defeating when unplanned emergencies

are a core service.

A performance measurement can

improve efficiency in one area, but it

could lead to higher costs and unacceptable

outcomes elsewhere. And that

is where we are today. Emergency

medical providers, with some of the

highest stress jobs in the world, are

short-staffed and treated like factory

workers making widgets. Of course,

care suffers.

They need mental recovery time.

They don't need to be running around

in an ambulance to a call they are

most likely never to reach. They need

their scheduled time off and their vacations.

Pushing paper around on a

Premier's desk, debating, talking and

drinking whiskey at the Oilman's Club

is child's play compared to those

working in 'life and death' careers.

Applying measures to increase the

number of widgets produced per hour

In our advanced

technological world, our

health care system has no

surge capacity, no ability

to take shocks—no excess

beds, no idle ambulances,

no excess equipment, no

extra doctors or EMTs or

nurses—nothing but hot

air from politicians!

is effective in industry, but demanding

the same from health care workers

(hours of care allowed per patient)

doesn't work.

Earning profits is easy when compared

to running a health care system

where inputs (patients) are all

uniquely different, production (assessment

and execution of care plans) are

never standardized

and the

finished

product (discharged

or

dead patients)

aren't predictable—nor

can

patients be 'sold

off' if they are

too expensive

to treat.

COVID

proved this

point. Longterm

care

facilities across

the country

run by forprofit

corporations

served up much

higher death

rates per resident

than did

not-for-profit

and government

run facilities. Their cleaning

standards and staffing levels had no

surge capacity. The moral of the

story—profits put patient care in

second place.

The Town of Castor's council are

now sounding the alarm about ambulance

services in their area. Seems the

Castor ambulance is often pulled out of

service to cover communities like

Hanna and Stettler. Often, it's not

because Hanna's ambulances are busy,

but their ambulances are short of staff.

"

Most Albertans have worshiped at

the altar of 'public service' efficiency

for so long that the importance of extra

capacity to deal with unexpected

events was never appreciated.

Even the Egyptian pharaohs,

recorded in the first book of the Bible,

understood the importance of surge

capacity. They devised seven-year

plans to withstand famine, drought

and plague. Yet today, in our advanced

technological world, our health care

system has no surge capacity, no

ability to take shocks—no excess beds,

no idle ambulances, no excess equipment,

no extra doctors or EMTs or

nurses—nothing but hot air from

politicians!

We're experiencing first hand the

folly of putting our lives in the hands of

free market ideologues and business

executives who themselves are seldom

prepared to handle a financial bust, let

alone a health crisis. The oil industry,

after successive busts, is still unprepared

when oil prices drop. They

simply fall back on an easy and simplistic

solution—lay off thousands of

workers and/or declare bankruptcy.

The AHS board and successive conservative

government's decades-long

decisions to lay-off thousands of health

care staff to balance the budget is now

our Achilles heel. Unlike oil workers,

health care can't ramp up staffing

overnight.

The solution isn't more privatization.

Andrew Nikiforuk in his prophetic

book, 'Pandemonium', authored 12

years before COVID, wrote, "Maybe

it's time to abandon what Wendell

Berry calls our 'arrogant ignorance'

about everything. Maybe it's time to

return to local virtues that question

bigness and power. Maybe it's time to

learn a new canticle for creation that

encourages, as Saint Francis did,

humility."

R

R

R

R

R

Published by

Coronation

Review

Limited

Subscriptions:

$52.50 in Canada; $98.70 in US;

$183.75 Overseas.

72 pt

East Central Alberta

EVIEW

60 pt

48 pt

36 pt

Website ECAreview.com

Office Hours Mon. - Fri. 9 am - 5 pm

R

30 pt

4921 - Victoria Avenue

Tel. (403) 578-4111

R

24 pt

Mail: Box 70, Coronation, AB Canada, T0C 1C0

LETTERS POLICY • Letters to the Editor are welcomed •

Must be signed and a phone number included so the writer's

identity can be verified. • ECA Review reserves the right to edit

letters for legal considerations, taste and brevity. Letters and

columns submitted are not necessarily the opinion of this

newspaper.

MEMBER OF:

Local Journalism Initiative is funded

by the Government of Canada.

JOYCE WEBSTER

Publisher/Editor

publisher@ECAreview.com

YVONNE THULIEN

Marketing/Digital 403-575-9474

digital@ECAreview.com

JUDY WALGENBACH

Marketing 403-740-2492

marketing@ECAreview.com

BRENDA SCHIMKE

Editorial Writer

SHEREE BAILLIE

Marketing 587-990-4818

contact@ECAreview.com

STU SALKELD

LJI Reporter 403-741-2615

reporter@ECAreview.com

LISA MYERS-SORTLAND

Graphic Artist

R

18 pt
---
ECA REVIEW HANNA/CORONATION/STETTLER, AB September 8'22 3

BASHAW COUNCIL

Council unanimously defeats

First Nations proposal

Stu Salkeld

Local Journalism Initiative reporter

ECA Review

Bashaw town council unanimously

defeated an application from a private

facility wishing to host a family wellness

program for First Nations

families after months of back and

forth with the applicants.

The decision was made at a special

council meeting Aug. 30.

James Carpenter, Tony Mucciarone

and Audrey Ward applied to the Town

of Bashaw to change uses at a facility

at 5340 51A Street sometimes called

the Bashaw Retreat Centre to a "wellness

centre," and referred to the

proposed facility on official documents

as the Bear Hills Wellness Centre, a

reference to the district surrounding

Maskwacis, a First Nations community

60 kms. northwest of Bashaw.

Documents provided to the town

suggest Carpenter and Mucciarone

own the facility while Ward is an

employee at Maskwacis.

Town Chief Administrative Officer

(CAO) Theresa Fuller presented the

only agenda item for the meeting to

council, the application for a development

permit for the building in

question. As the land use was different

the town's development authority had

to approve it, and as the facility is

zoned "direct control" (DC) the development

authority is town council.

Fuller noted this development

permit application was filed in

January 2022.

Fuller's report stated that on May 20

council sent a letter to the applicants

requesting more information about

the proposal and also extended the

decision period of 40 days by an additional

90 days. She also noted Wayne

Moonias of the Louis Bull tribal

council spoke directly to Bashaw

council June 14.

Councillors then heard a presentation

by professional planner Liz

Armitage of Vicinia Planning who was

contracted by the town to help review

the Bear Hills Wellness Centre

application.

Armitage stated she looked at the

application with the help of town staff

through the lens of municipal and provincial

requirements, saying the

application had a "vague description"

of the centre's proposed use.

Armitage stated the town sent seven

letters to the

applicants asking

for more information,

dated Jan. 11

and 19, Feb. 10

and 24, March 3

and 15 and April

19.

Armitage noted

she and town

staff struggled to

understand

exactly what the

centre's use was,

according to

responses.

"We're still

unsure of what it

said," said

Armitage, who

was present at the

meeting, adding

that ambiguity

made it difficult

to understand the

proposal.

She stated that,

according to language

used by the

municipality, the proposed uses at the

Bear Hills Wellness Centre were not

clear.

Fuller noted many agencies were

asked to comment on the proposal and

their comments were included in the

package.

Alberta Health Services (AHS)

Public Health Inspector/Executive

Officer Dermian Ayalefac stated AHS

had no problems with the proposal as

presented.

"The aforementioned application

has been received by our office and we

have no objections to the proposed

development/business operation,"

stated Ayalefac's May 13 letter.

Battle River School Division

appeared to agree. "We do not have

any comments to provide," stated

Imogene Walsh, secretary-treasurer,

BRSD in a May 5 email. The applicant's

site is located near Bashaw

School.

The Bethany Group and Camrose

County likewise had either no objection

or no comment and the RCMP did

not provide written comments.

However, former Bashaw RCMP commander

S/Sgt. Bruce Holliday did

make a verbal presentation to council.

Ward is executive director of the

Maskwacis Young Spirit Winds

Society, which, according to the Youth

Solvent Addiction Committee website,

is a day program which offers holistic

treatment to youth ages 12 to 17 on

topics such as addictions and assessments,

cultural identity, anger

management and cycle of violence and

family and community among others.

Armitage stated that development

permits approved by the Town of

Bashaw must comply with the

Municipal Development Plan (MDP)

and the Land Use Bylaw (LUB) and

there were no land uses in the LUB

that Bear Hills fully matched although

her report stated it seemed some of the

following uses partially applied:

family care facility, group home, medical

clinic, residential care facility and

child care facility.

When the applicants were asked to

provide a description of the Bear Hills

Wellness centre in language that

matched the Municipal Government

Act (MGA) no response was received.

Armitage stated that a development

permit shouldn't be issued without a

clear understanding of how the development

will affect neighbours and she

OPEN HOUSE

YOU are INVITED

Wed. | Sept. 21 | 2022

Pop by The Stettler Learning Centre

4911-51 Street, Stettler between 3 pm-6pm

TO MEET, GREET & EAT

Hot Dogs, Refreshments, Door Prizes, Tours and

Learn about our Program!

noted the proximity of residential

areas and the school.

"It is the opinion of Vicinia Planning

& Engagement Inc. that the application

does not meet professional planning

standards and has significant deficiencies

which do not enable the

development authority to make an

informed decision," she stated,

including the fact the applicant didn't

provide a clear description of the facilities'

proposed uses, didn't include on

or off site safety plans, didn't provide

an environmental public health

review, didn't address proximity of

residential areas and a school to the

site, didn't address the size and scope

concerns of the proposal and didn't

address how the proposal could affect

nearby parcels of land.

Mayor Rob McDonald stated he'd

vote against the proposal.

"I would be in favour of refusal...as it

just doesn't fit in that area," said

McDonald.

Coun. Kyle McIntosh noted a motion

he made at a previous meeting

requesting more information about

the wellness centre which he felt he

never received, and added he felt the

town was clear on what was missing.

Councillors unanimously denied the

development permit request.

Hanna Hospital Auxiliary

Rummage

SALE

Sat., October 1 10am-3pm

Hanna Arena & Curling Rink

Drop off Thurs. Sept. 29 9am-8pm; Fri. Sept. 30 9am-3pm

ONLINE

AUCTION

Closes September 18 th

COMPLETE DISPERSAL AUCTION

For Acreage, Machine Shop &

Guest Consignors With Over 900 Lots.

LOCATED In the Forestburg & Daysland Area

Auctioneers License

#194638

SOLD

Dolores Clow 403-854-0546

Maureen Tyers 403-854-1001

LL-RITE

UCTIONS

Ltd.

www.all-riteauctions.com

For Complete Listing. 780-747-2923

Registration

10-10:30

Ride Start

11:00

Steak supper

5:00 at

Metiskow Hall

Metiskow

Agriculture Society

TRAIL RIDE

Sat., Sept. 17

$30/rider

(horse or wagon)

includes supper

Supper tickets:

11-Adult $20/plate,

Kids Ages 5-10 $10;

4 & under free.

Bring your own lunch for the trail.

Water is supplied.

Please pre-register

by Fri., Sept. 12/22

For questions or registration contact:

Wilma Halvorson 780-753-0785

wilma_halvorson@hotmail.com

OR check out our Facebook page

Wagons welcome.

Closing Out Sale

15 % Storewide

off *Consort location & in stock merchandise only

off

With Deepest regrets the

Heartland Auto & Industrial Supply store will be

closing the location in Consort on Sept 16th

due to lack of staffing and lodging availability

Automotive * Industrial * Heavy Duty * Agriculture * Hydraulics

Stettler, AB 403-742-8889 Consort AB 403-577-3900

www.heartlandauto.ca

VIEWING: 10AM – 5 PM

DAYSLAND AT OUR YARD

SEPTEMBER 14 & 15

FORESTBURG

SEPTEMBER 16 & 17.

FROM THE CORNER OF

HIGHWAY 53 AND 855 FOLLOW

SIGNS TO SALE SITE
---
REAL ESTATE/HOMES

4 S eptember 8'22 HANNA/CORONATION/STETTLER, AB. ECA REVIEW

(Below) Harvest

season well underway

with the hot weather

of the past two weeks.

Ian Campbell operates

a combine for Green

/ Hallett Farms

harvesting wheat near

Endiang, Alta.

ECA Review/

Les Stulberg

Serving

the east

central

Alberta

region

Jeff & Alison Southworth,

bringing 20 years of experience

• Water well drilling & servicing

• Well pump installation and servicing

• Pressure systems

• Backhoe services for water lines

• Water well Chlorination

• Ritchie waters • Pasture Wells

Call Dallas Ellerby

Your Farm & Ranch Specialist

403.578.8105

Emergency services • 24 hr on call

Legacy

Drilling Ltd

403-854-0172 • Hanna, AB

legacydrillingltd@outlook.com

403-396-2254 • Delburne, AB

LAND FOR SALE

CROP LAND

4500 acres - Chinook area

6000 acres - Cereal area

2400 acres - south of Hanna

GRASS LAND

16 quarters - south of Veteran

90 quarters - Youngstown area

117 quarters - south of

Youngstown

www.greaterpropertygroup.com

GREATER PROPERTY GROUP

1/4 section north of

Veteran - 90 acres

broke, home site,

16' x 76' mobile

home, 40' x 60'

shop & working

corrals. Owner

willing to subdivide

acreage out.

cancow@

xplornet.com

Linden Tree Farm

Hardy Locally Grown Trees and Shrubs

Feature Trees Size Price

Colorado Spruce 5'-6' $140

The hardiest evergreen for our area.

A well-branched 10 year old tree. Green or blue.

Manitoba Maple 7 gal. 6'-7' $60

10 gal. 7'-8' $75

A great alternative to poplar as they have a much longer

lifespan. Well branched and very hardy. Propagated on our

farm.

Paskapoo Poplar 7 gal. 5' $40

A native dwarf poplar with a long lifespan. Round shape.

Feature Shrubs

Cotoneaster, Lilacs, Ninebark, Potentilla, Spirea & more

Many other trees and shrubs available

Complete price list at: www.lindentreefarm.ca

email: info@lindentreefarm.ca or text 403-888-9178

(Above) Green / Hallett Farms combines unloading wheat on the Stulberg Farm near Endiang, Alta. in August 2022.

ECA Review/Les Stulberg

Public Sale of Land

(Municipal Government Act)

Town of Coronation

Notice is hereby given that, under the provisions of the Municipal Government Act, the Town

of Coronation will offer for sale, by public auction, in the Town Office, 5015 Victoria Avenue,

Coronation, Alberta on Tuesday, September 27, 2022, at 2:00 p.m., the following parcels:

Land Parcels

Roll No Lot Block Plan C of T Reserve Bid

100000244 23,24 20 8149AH 062 525 758 $22,180.00

100000405 17,18 41 8149AH 182 101 015 $55,440.00

200000092 29-31 8 8149AH 182 101 026 $12,110.00

130000168 3,4 14 8149AH 102 328 137 $24,120.00

130000219 34-36 18 8149AH 032 176 882 $24,120.00

130285023 24 25 8149AH 072 626 411 $3,760.00

170000600 7 1 8021520 982 251 588 $21,930.00

170000616 23 1 8021520 082 350 967 $24,920.00

170000620 27 1 8021520 102 288 874 $44,150.00

170000621 28 1 8021520 172 325 423 $4,880.00

170000648 26 2 8021520 182 102 584 +1 $6,810.00

170000656 34 2 8021520 182 102 584 $5,690.00

170000651 29 2 8021520 082 288 914 $105,340.00

170000663 41A 2 8220608 982 074 243 $25,460.00

200000082 4 8 8149AH 122 287 829 $51,470.00

200000104 8-10 9 8149AH

942 067 397

942 067 398

$110,110.00

300000669 OT 6046AJ 182 053 610 +4 $1,590.00

300582010 10 43 7520301 892 172 001 $3,020.00

300582011 11 43 7520301 892 172 001 +1 $3,050.00

1. Any parcel of land offered for sale may be redeemed by payment of all arrears, penalties, and costs

by guaranteed funds at any time until the property is declared sold.

2. Each parcel of land offered for sale will be subject to a reserve bid and title will be subject to the

reservations and conditions contained in the existing certificate of title.

3. The lands are being offered for sale on an "as is, where is" basis, and the municipality makes no

representation and gives no warranty whatsoever as to the state of the parcel nor its suitability for

any intended use by the successful bidder.

4. The auctioneer, councillors, the chief administrative officer and the designated officers and

employees of the municipality must not bid or buy any parcel of land offered for sale, unless

directed by the municipality to do so on behalf of the municipality.

5. The purchaser of the property will be responsible for property taxes and utilities for the current year.

There will be no adjustment to the date of sale.

6. The purchaser will be required to execute a sale agreement in form and substance provided by the

municipality.

7. The successful purchaser must, at the time of sale, make payment in cash, certified cheque, or bank

draft payable to the municipality as follows:

a. The full purchase price if it is $10,000 or less, OR

b. If the purchase price is greater than $10,000, the purchaser must provide a

non-refundable deposit in the amount of $10,000 and the balance of the

purchase price must be paid within 20 days of the sale.

(if the certified cheque or bank draft exceeds the final purchase price, the excess

will be refunded within a reasonable time)

8. GST will be collected on all properties subject to GST.

9. The risk of the property lies with the purchaser immediately following the auction.

10. The purchaser is responsible for obtaining vacant possession.

11. The purchaser will be responsible for registration of the transfer including registration fees.

12. If no offer is received on a property or if the reserve bid is not met, the property cannot be sold at

the public auction.

13. The municipality may, after the public auction, become the owner of any parcel of land that is not

sold at the public auction.

14. Once the property is declared sold at public auction, the previous owner has no further right to pay

the tax arrears.

Dated at Coronation, Alberta, July 11, 2022.

Managed by: TAXervice

Quinton Flint, Chief Administrative Officer

Town of Coronation
---
New

Patients

ECA REVIEW HANNA/CORONATION/STETTLER, AB September 8'22 5

RCMP

STARTS NOW!

ELECTRONICS

PAINT

USED OIL

MATERIALS

HOUSEHOLD

HAZARDOUS

WASTE

albertarecycling.ca

Considerable damage to the Alberta Treasury bank in Daysland when heavy equipment was

used to break in and steal the ATM on Aug. 31, 2022.

ECA Review/Submitted

Arrests after break and

enter to Daysland bank

Submitted

Killam-Forestburg RCMP received a

report of a break and enter to the

Daysland, Alberta Treasury Branch

Bank on Aug. 31, at 4:13 a.m. Upon

police arrival, the suspects had

already departed. The investigation

revealed that the suspects had utilized

a recently stolen Zoom Boom piece of

machinery to access the bank, stealing

an ATM, and causing a great deal of

damage.

Early in the investigation, the

Central Alberta District Crime

Reduction Unit identified individuals

who they believed were involved in

this crime.

As a result of the investigation, and

with the help of the RCMP helicopter,

two individuals have been arrested.

Parts of the ATM, significant amounts

of currency, vehicles and other stolen

items have been recovered.

RCMP have charged Nicholas Avin

Klink (29), a resident of Lacombe

County with break and enter to

commit, mischief over $5000( X4); possession

of property obtained by crime

over $5000 (x4); possession of property

obtained by crime under $5000; fraudulent

concealment; possession of break

and enter tools; failing to comply with

release conditions (x3); obstruction;

careless use of ammunition; possession

of a controlled substance; and

dangerous driving.

Klink has been remanded in custody

bail not spoken to with his next court

appearance set for September 2, 2022 at

Red Deer Provincial Court.

RCMP have charged Tyler Jackson

Patten (32), a resident of Lacombe

County with break and enter to

commit; mischief over $5000 X2 ; possession

of property obtained by crime

over $5000 (x5); possession of property

obtained by crime under $5000; fraudulent

concealment; and possession of

break and enter tools.

Patten has been remanded in custody

bail not spoken to with his next

court appearance set for Sept. 6, 2022 at

Killam Provincial Court.

"RCMP Crime Reduction Units

across Alberta work to monitor repeat

offenders who are most active in committing

crime in our neighbourhoods,"

says Sgt. Kelly Kraal of the Central

Albert Crime Reduction Unit," Our

knowledge about these active offenders

allow us to quickly respond and interdict

crime as it happens."

Fatal house fire

Three Hills RCMP received a 911 call

of a home on fire with people trapped

inside on Sept. 4 shortly after 4 a.m.

Three Hills RCMP and Trochu Fire

responded to the residence on School

Road, in the town of Trochu. Active

rescue efforts were made, however two

people were located deceased.

The deceased are a 68 year-old male

and 64 year-old female, believed to be

the only occupants of the home.

Three Hills RCMP and Trochu Fire

Department continue to investigate.

The cause of the fire is not known at

this time.

Vi lage Office

4849 - 50th Street,

Alix, AB

403-747-2495

12 N ovember 18'21 HANNA/CoroNATIo N/STe TTLer, Ab . e CA revI e W

Boys Financial Services

Peter Boys, A sociate Advisor

peter@boysfinacial.com www.boysfinancial.com

T: 403.742.6450 • 866.219.7366 • C: 403.740.4835

Dallas Ellerby

Your Farm & Ranch Specialist

403.578.8105

Shelterbelts and Eco-Buffers:

Agroforestry Systems for Profitability

and Resilience

Monday July 15, 2019

5:00pm - 9:00pm

Battle River Innovation Center

5302-50th Avenue

Castor, AB

Free to Attend * But you must Register*

Light Supper & Refreshments Included

Be sure to dress for the weather!

cancow@xplornet.com

www.greaterpropertygroup.com

Greater Property Group

Cou ts Home Hardware - Forestburg

Ca l to l free 1-866-582-3556

Toll Free

1-800-542-7028

www.netago.ca

Do you know someone who

struggles reading, writing or

working with numbers?

The first step is always the biggest.

REFER

A FRIEND

Providing learning opportunities in Paintearth County

Lamontagne & Son Holdings Ltd.

M•A•C•H•I•N•E I•N•C

• Lathework • Dri ling • Mi ling • Grinding • Welding

(403) 742-8822

Ste tler, AB • 403 742 2212

403-578-3817

www.paintearthlearning.ca

Gravel hauling & Super B Grain Hauling

403-575-5468 • dlamontagne@telus.net

4109 Victoria Ave, Box 372, Coronation AB T0C 1C0

Castor, AB (403) 882-3740

Ste tler, AB (403) 742-5520

www.thorogoodpinches.ca

Jim Renschler

Construction Ltd.

For All Your Building Needs!

403-742-5034

Central

Independently Owned

& Operated Broker

4701-50 th Street,

Ste tler, AB

www.roya lepage.ca/ste tler

to l free: 1.888.772.8955

Three Hills IDA Pharmacy

424 Main St., Three Hi ls 402.443.5551

Agenda

Presentation on designing and establishing shelterbelts

and Eco-Buffers

Field visit of nearby riparian site to learn how to conduct

a tree planting site assessment

Presentation on customizing your design to provide

pollinator habitat, fruit production, water quality enhancement,

and more!

Throughout the evening we'll be helping you develop

your own tree planting design using worksheets and other

resources provided

OK Tire - Castor

Please Register by: Friday July 12

To Register:

www.battleriverresearch.com/coming-events

or

780-582-7308

www.ba tlerive research.com

780.582.7308

5501 - 50 Ave.,

Castor, AB

403-882-4040

MUHLBACH

Electric Ltd.

Les Muhlbach (403)740-2891

Office (403)876-2587

24 Hr Emergency Service

Oilfield Construction & Maintenance • New Home & Renovations

Materials & Cable • Farm Ranch & Trenching

Coronation Seed

Cleaning Plant

Coronation

403-578-3810

Automotive * Industrial * Heavy Duty * Agriculture * Hydraulics

Stettler, AB 403-742-8889 • Consort AB 403-577-3900

www.heartlandauto.ca

McKenzie Motors

Coronation Ltd.

Automotive Sales & Service Since 1936

Sponsor these IMPORTANT MESSAGES this Fall

Terry Fox Run • Fire Prevention

Bullying Awareness & Prevention Week

Act Now

and $ave

Deadline Sept. 12

Judy cell 403-740-2492

marketing@ECAreview.com

Yvonne 403-575-9474

digital@ECAreview.com

403-742-2266 • 3814-47th Ave., Ste tler AB

www.scoreprojects.com

403-578-3866 5001 Victoria Ave.

mckenziemotors@telus.net Coronation, AB

Schwartz Home Building Centre

5002 - 51st Ave, Stettler, Ab T 403-742-3385

C 403-740-6096 To l Free 1-800-613-7044

403-578-3299

4913 - 50 th St.

Stettler, AB

403-742-8166

M-F 9am-3pm;

Sat & Sun Closed

Your Fu l-Service Family Dentistry Team

Be a buddy!

Family Owned and Operated

4606-40 St, Stettler, AB 403.742.2869

www.jtautobody.ca Serving Ste tler and Area since 1974

Winning Smiles START HERE

| Preventative Care & Cleanings | Digital X-Rays

| Fi lings & Crowns | Gum Disease Treatment

| Child Friendly | Wh elchair A ce s Available

| Direct Bi l to Insurance | Financing O fered

Mon- Fri 8 am - 4 pm

A cepting

Dr. Viral Patel,

General Dentist

4906-51 Street Ste tler, Ab

t:403 742 6741 • f:403-742-2391

e: ste tlerfamilydental@gmail.com

w: drpatelfamilydental.com

Basil Nichols

403-323-0365

MLS Realtor

Landmark Realty AN INDEPENDENT MEMBER BROKER

Four facts you might not

know about bullying

2022 Terry Fox

Run

ONE DAY.

Sheree 587-990-4818

YOUR contact@ECAreview.com WAY.

Sun. Sept. 18

Every year, National Bullying

Prevention Month is observed in

schools and communities across the

country. The purpose of this

awareness month, which takes

place in October, is to eradicate

bullying by educating

people of all ages about its

prevalence and impact. Here

are some realities about this

harmful behavior that need to

be acknowledged.

1. Kids don't grow out of

bullying

Unless children face meaningful

consequences and learn that bullying

is unacceptable, this behavior

is likely to persist through adolescence

and into adulthood.

It can also evolve into

dating violence, workplace

harassment and

domestic abuse.

2. Bullying can cause

serious harm

Bullied children are

more likely to

experience headaches, stomach

aches, anxiety and depression.

They're also at greater risk of longterm

mental health problems and

suicide. Additionally, children who

bully are more likely to use drugs

and engage in criminal activity.

3. Fighting back

makes bullying worse

While children should be encouraged

to stand up to bullies,

retaliating with violence, insults or

other aggressive behaviors can lead

to more persistent and severe bullying.

Responding assertively and

reporting bullying to an adult are

more effective strategies.

4. Peers can stop bullying

in seconds

Most bullying incidents happen

when peers are watching, and their

reaction plays a major role in reinforcing

or stopping the behavior. In

fact, research shows that when

peers intervene, more than half of

the time the bullying stops within

10 seconds.

It's only by dispelling myths

about bullying and teaching children

to develop healthy

relation ships that the issue can be

properly addressed and bullying

can be eradicated for good.

PLEASE BRING YOUR RECYCLABLE ITEMS TO:

CONSORT OYEN HANNA

Friday Sept. 23, 2022 Sat. Sept. 24, 2022 Sat. Sept. 24, 2022

4 PM to 7 PM 9 AM to 12 PM 2 PM to 6 PM

Public Works Yard Recycle Area Transfer Station

4640 - 49A Avenue Behind UFA 4 St. East NW-16-31-14-W4

Max. size of paint and HHW accepted is 19L (5 gallon paint).

BCWMC SERVICING SPECIAL AREAS 2, 3, 4 (PH: 403-779-3890)
---
6 S eptember 8'22 HANNA/CORONATION/STETTLER, AB. ECA REVIEW

• 150+ POINT INSPECTION

Come and explore our ever changing selection

which includes the following and much more:

• Clothing

• Jewelry & Accessories

• Toys, Games & Puzzles • Books, Movies & Music

• Houseware

• Linens & Home Décor

• Crafts & Fabric

• Seasonal Items

• Shoes & Purses

• Repurpose, Recycle

• Small Appliances

and Reuse

• 24 HR ROADSIDE ASSISTANCE

• MANUFACTURER'S WARRANTY

• EXCHANGE PRIVILEGE

Canada Grey

Motor Inn Hanna

616 – 2nd Ave. West - Hanna, AB

616 Ph. 403-854-4471 – 2nd Ave. West info@canadagrey.com

- Hanna, AB

Ph. 403-854-4471 info@canadagrey.com

HANNA INDOOR PRO RODEO

VIEWPOINT

Future tied to achieving net zero

by Kendall Dilling, President, per year by 2030 and ultimately

Pathways Alliance

achieve our goal of

The world needs secure and affordable

net zero emissions from pro-

supplies of energy from peaceful, duction by 2050.

stable and responsible countries, such That includes a carbon

as Canada – as the Russian invasion of capture and storage (CCS)

Ukraine has emphasized.

network that could capture

This recognition of the strategic significance

a stream of CO2 from as

of Alberta's responsibly many as 20 oil sands facili-

produced oil and gas for North

ties, gather it and deposit it

American energy security and the permanently and safely deep

longer-term goal of meeting increased underground in geological

overseas demand is welcome news for formations. It's an ambitious

Albertans.

vision developed by our

We have benefitted from the jobs team of experts, including

and revenues created by the energy industry's best engineers

sector that pay for our roads, schools, and scientists, who have

hospitals and community

looked at every opportunity

improvements.

to reduce oil sands emissions

With oil and gas remaining a major

as fast as possible.

part of the energy mix for decades to However, in a recently

come there is an opportunity for released discussion paper,

Alberta—with the world's thirdlargest

Environment and Climate

oil reserves—to play a greater Change Canada

role providing energy to people around (ECCC) is proposing

the globe.

an

What is also true is the growing emissions-reduction

expectation of current and future customers

timeline

that Alberta's oil and gas is (42% reduction

produced as cleanly as possible. Our from 2019 levels

ability to extend these benefits from by 2030) that is

our energy sector for many years to unrealistic.

come can only be assured if we continue

Make no mis-

to raise the bar on our

take, we can

environmental performance.

reduce our emissions

Alberta's oil sands producers have

by that

already invested billions of dollars in amount – we

technologies that have substantially have, after all, set

reduced our environmental

footprint. Today

our goal is to take

• Like our

this further and

Facebook Page

produce the

CERTIFIED PRE-OWNED

• Clothes for the

world's preferred

entire family

barrel of oil by

BENEFITS:

• Come check out

sharply reducing

our weekly

greenhouse gas

in store specials

emissions from 808 Center Street, Hanna • Method of payment :

our facilities and

(South of Hospital, in basement of United Church) Cash, cheque, debit

OPEN: 11:00-4:00, Tues., Wed., Fri. & Sat. & credit card

helping Canada

in its efforts to

address climate

change.

That's why, in

2021, Canada's six

largest oil sands

producers took a

major step,

coming together

to form the

Pathways

Alliance.

The goal of the

Alliance is to

work collaboratively

among the

member companies

and with the

federal and provincial

governments to

reduce our emissions

by 22

million tonnes

Good Luck & Success

To This Year's Contestants

Hanna Motor Products

www.hannagm.com 600 West Industrial Road, Hanna, AB

Toll Free: 1-888-426-6246 • Ph: (403) 854-4427

Warwick's Home Hardware

would like to Welcome

Contestants and Fans to the

Hanna

Pro Rodeo

"Stop in and Check us out"

403-854-3266

CERTIFIED PRE-OWNED

BENEFITS:

• 150+ POINT INSPECTION

• 24 HR ROADSIDE ASSISTANCE

• MANUFACTURER'S WARRANTY

• EXCHANGE PRIVILEGE

Warwick's

a goal of net zero by 2050 –

but 42% as early as 2030 is

simply unworkable given

current technology, construction

and regulatory

requirements.

In reality, impractical

timeframes for emissions

reduction targets could

drive investment away from

our industry and our

country, reducing production

in Canada and

increasing production and

emissions in other

countries.

We share Canada's goal of

tackling the challenge of climate

change. It just needs to

be based on what's achievable

when we work together.

Turn to Critical, Pg 7

Owner:

Lisa

Brown

R ox

i

e

a

our

HERE'S TO

THOSE WHO

COUNT IN

SECONDS.

to the

volunteers

who continue

to successfully

host Pro Rodeo

in Hanna.

A proud supporter of the Hanna Indoor Pro Rodeo

Welcome

contestants

and fans!

1A 610 2nd Avenue W,

Hanna, AB T0J 1P0

1-403-854-2655

LIVE

LOVE

LAUGH

SHOES

104 2nd Ave E

Hanna, AB

403-854-7001

Tip of

Hat

Welcome to

Hanna Rodeo!

Sept 16 & 17

Live the Lifestyle

Welcome Everybody to

this year's Rodeo and

Good Luck!

Hon. Nate Horner

MLA Drumheller-Stettler

587-774-0306

Drumheller.Stettler@assembly.ab.ca

SEKURA & WEBB

Chartered Professional Accountants

Box 2188 Hanna, AB T0J 1P0

Ph (403) 854-4045

Fax (403) 854-4660

SERVICE BEYOND NUMBERS

Good Luck

& WeLcome

Rodeo

contestants

and Fans!

SC
---
HANNA INDOOR PRO RODEO

ECA REVIEW HANNA/CORONATION/STETTLER, AB September 8'22 7

Critical to long term viability

Cont'd from Pg 6

That is why we will continue

to work with the

federal government to find a

policy framework that that

enables meaningful reductions

while still ensuring

we continue to produce the

energy the world needs.

The Pathways Alliance

plan – and the billions of

dollars it intends to invest

in it – is critical to the longterm

viability of Alberta's

oil and gas sector and is fundamental

to Canada's

emissions reduction commitments.

Given the

substantial investments

required over many years,

and the cyclical nature of oil

and gas prices, the

Pathways plan cannot be

achieved without significant

collaboration and

investment from governments

as well.

Although we might disagree

on the pace, the

federal government has recognized

it can't ask the

private sector to reduce

carbon emissions rapidly on

its own if that will put us at

a disadvantage compared to

competitors in other countries

whose governments

are supporting the efforts of

their industry. In the last

federal budget, Canada provided

support via a CCS

investment tax credit (ITC)

which will go a long way to

making these reductions

possible.

Industry also needs continued

support from the

Alberta Government to

achieve net zero emissions.

The long-term return on

investment for Albertans

will be substantial – tens of

thousands of good paying

jobs, billions in royalties

and other revenues, and the continued

success of our most important

industry.

With industry and government

working together to reduce emissions,

we can make Canada the preferred

global supplier of responsibly produced

oil far into the future – and

ensure Albertans continue to share in

the substantial benefits a healthy

energy sector provides.

Welcome

Rodeo Contestants &

Good Luck!

Box 1856

Hanna, AB

T0J 1P0

403-854-8608

403-664-0629

Big Country Construction

and Building Supplies 2018 Ltd.

Lane Rees

Owner/Manager

We don't build houses. We build homes.

Phone: 403-854-3585

Fax: 403-854-4980

Cell: 403-854-1257

Email: bcconst@telus.net

Welcome to

Hanna Rodeo!

Ryan Antosh, Owner

109 1st Ave W. Hanna, AB hanna@carstar.ca

P: 403-854-2287 | C: 403-857-9835

where accidents unhappen.

See you at the Rodeo!

Barry Lowe

It's

Rodeo

Time!

#2-218 McCrea Dr,

Hanna, Ab.

403-854-4456

Hanna

Hypnosis

403-857-9657

www.hannahypnosis.ca

Saddle Up,

It's Rodeo Time

Lorri McLeod

Financial Advisor

4-218 Centre St., Hanna, AB

403-854-4109

101, 2nd Ave East, Oyen AB

403-664-3554

lorri_mcleod@cooperators.ca

Home | Auto | Life | Investments | Group | Business | Farm | Travel
---
8 S eptember 8'22 HANNA/CORONATION/STETTLER, AB. ECA REVIEW

Ph. 403-578-4111CLASSIFIEDS/CAREERSEmail: office@ECAreview.com

Classified Ad Rates

$13.85 + tax for 25

words or less + 20¢ a word

after 25 each week or 3

weeks for $38.55 + tax

(based on 25 words or less).

Reach 75,000 readers with

your classified. This

includes For Sale, For Rent,

Card of Thanks, Coming

Events, etc.

Payment Necessary

All Classified Ads are on a

Cash Only basis and must

be prepaid before running.

There will be a $5.00

service charge on every

classified not paid for prior

to publication.

We accept cash, cheque,

e-transfer, VISA or MC.

It is the responsibility of

the advertiser to check ad

the 1st week and call us if in

error. The Review is

responsible for their

mistakes the 1st week only.

Deadline For Ads

All classified ads must be

received by 5 pm on

Mondays preceding

publication. For Too Late To

Classifieds ad must be

received by 10 am Tuesday.

Ph. 578-4111. Mail to Box

70, Coronation, AB T0C

1C0.

REAL ESTATE

MISC.

BARBER: The

Stettler/Bashaw barber

Corey will be

working in Bashaw

until further notice

on Fridays. The

Bashaw Barber

Shop hours are

Tuesday to Saturday

9 - 5. Walk-ins welcome,

no appointment

required. 780-

372-4043.

MASTER

MECHANIC heavy

duty tool set;

$12,500. Call Gary

587-435-4279.

INTEGRITY POST

Frame Buildings

since 2008 Built

With Concrete

Posts. Barns, Shops,

Riding Arenas,

Machine Sheds and

more, sales@integritybuilt.com

1-866-

974-7678 www.

integritybuilt.com.

HIP/KNEE

Replacement. Other

medical conditions

causing Trouble

Walking or

Dressing? The

Disability Tax Credit

allows for $3,000

yearly tax credit and

$30,000 lump sum

refund. Take advantage

of this offer.

Apply NOW; quickest

refund

Nationwide: Expert

help. 1-844-453-

5372.

L. Strom

Custom Corral Cleaning

and Manure Spreading

• available for stock piling

• equipped for big/small jobs: low sheds, confined areas

General Contracting

• Track skid steer with high flow; available for all types

of services including mulching, landscaping etc.

403 574 2222 / 741 9974

Bill's Waterwell

Services Ltd.

Well Drilling

Pumps & Repairs

403-747-2120

drillerbill@xplornet.com

Big Country Construction

& Building Supplies

2018 Ltd.

• Custom New Homes • All Farm Buildings

• Renovations • Windows and Doors

• Overhead Doors & Service • Retail Sales

Quality Customer Care

403-854-3585

WE BUY DAMAGED

Grain - Heated, Mixed,

Tough, Light, Bugs,

Spring Thrashed....

Barley, Wheat, Oats,

Peas, Flax, Canola.

"On Farm Pickup".

Westcan Feed &

Grain 1-877-250-5252.

CARS & TRUCKS

1981 CORVETTE, 4

spd., brand new black

paint. Almost totally

redone. $12,500. Call

Gary 587-435-4279.

WANTED

GOLD, SILVER &

Platinum Buyers purchasing

all gold & silver

bullion, jewelry,

coins, nuggets, dust,

scrap, pre-1968 coins,

bulk silver, sterling

+++ Numismatist purchasing

entire coin

collections & accumulations,

Royal

Canadian Mint coins,

world collections, old

$$$. +++ 250-864-

3521.

AUCTIONS

ONLINE AUCTION

closes September

18, 2022. Complete

dispersal auction for

acreage, machine

shop and guest consignors

with over

900 lots. Located in

the Forestburg and

Daysland area.

Viewing 10 am - 5

pm in Daysland at

our yard on Wed.

Sept 14 and Thurs.

Sept. 15.

Forestburg Fri. Sept

16 and Sat. Sept 17.

From the corner of

Highway 53 and

855, follow signs to

sale site. www.allriteauctions.com

for

complete listing.

780-747-2923.

2022 Provost Medical Centre

SNOW CLEARING

The M.D. of Provost No. 52 is currently accepting

proposals for the provision of snow and ice

removal services at the Provost Medical Centre

during the Winter 2022 season.

The Affordable

Business Partner:

Affordable & confidential

rural Alberta

family business selling

coaching, marketing

and business selling

solutions. How

can we help you? FEED AND SEED

P:403.708.0903.

ALBERTA FEED

www.theaffordablebusinesspartner.com

Grain: Buying Oats,

Barley, Wheat,

FARMLAND AND Canola, Peas,

Pasture Land by Screenings, Mixed

Saskatchewan River. Grains. Dry, Wet,

160 acres. Best hunting

in Saskatchewan. Thresh. Prompt

Heated, or Spring

Excellent fishing. Payment. In House Hard copy proposals will

Thick pine & poplar Trucks, In House

be accepted at the

bluffs, by water coulee.

Old yard site with Vac Rental. 1-888- MD Administration

Excreta Cleaning.

power and water. 483-8789.

Revenue Potential.

Office until 12:00 p.m. on

East of Prince Albert, Classifieds work! September 20, 2022.

SK. $248,000. Call

Doug 306-716-2671. Call 403-578-4111

Business Directory

Full copies of the RFP may be obtained at

the MD Administration Office at 4504 – 53rd

Avenue, Provost, Alberta or on the M.D's website

at www.mdprovost.ca. Additional detail may

be obtained by contacting Tyler Lawrason,

Administrator at 753-2434 or by e-mail at

tlawrason@mdprovost.ca.

UNLIMITED

HIGH‐SPEED INTERNET

Now Serving:

Coronation, Veteran, Talbot, Brownfield,

Alliance, Fleet, Castor, Halkirk, Botha, &

Stettler areas. More to come!

Plans starting at $50/mo.

Packages from 7 to 50Mbps

403-578-4214

Toll Free 866.57.VITAL

53' Ground Load Services

Benson Van Hienen

403-741-5735

bvhtrucking@gmail.com

NEW BOX Inventory

Liquidation - 144,000

Cardboard Boxes -

Online Timed

Auction for Food

Production Facility,

Sale Site: 261155

Wagon Wheel Way,

Balzac, AB, Starts:

Sept 12 @ 9am,

Closes: Sept 15,

2022 @ 9am.

FIREARMS

WANTED For

October 2022 Live &

Online Auctions:

Rifles, Shotguns,

Handguns, Militaria.

Auction or Purchase:

Collections, Estates,

Individual items.

Contact Paul,

Switzer's Auction:

Toll-Free 1-800-694-

2609, sales@switzersauction.com

or

www.switzersauction.com.

Ask us about available

discounts.

Scott Lourance

403-916-4600 Cell

403-742-2551 Home

COMING EVENTS

BINGO! Thurs. Sept.

8 at the Halkirk Hall,

Halkirk, Alta. Play

starts at 7:30 p.m.

SERVICES

I WOULD like a lady

for companionship to

live with me and also

help me with odds

and ends. Call Vern

Dodd 1-403-565-

3863.

CRIMINAL

RECORD? Why suffer

employment/

licensing loss?

Travel/business

opportunities? Be

embarrassed? Think:

Criminal Pardon. US

entry waiver. Record

purge. File destruction.

Free consultation.

1-800-347-

2540. www.accesslegalmjf.com.

check us out online

www.ECAreview.com

WANTED

DEAD OR ALIVE

Canadian Prairie Pickers

are once again touring the area!

Paying Cash For Coin Collections,

Silver & Gold Coins,

Royal Can. Mint Sets.

Also Buying Gold Jewelry

$$ $

We purchase rolls, bags

or boxes of silver coins

PAYING HIGHEST PRICES

To arrange a free, discreet in-home visit

call Kellie at 1-778-257-9019

Bonded since 1967

Seeking a

FACILITY TECHNICIAN

$$ $

ASHCOR Technologies Ltd. is a subsidiary of

ATCO and the largest independent marketed of

fly ash in Western Canada. ASHCOR is building a

dynamic team to operate its newly constructed

reclaimed ash management facility at Battle

River, Alberta and is seeking a Facility Technician

responsible for assisting with facility operations

and maintenance.

They will ensure both short and long term safe,

reliable and cost-effective operation of all

equipment in the plant. They will be required

to work rotating 12 hour shifts in a four-crew

rotation.

To learn more about this opportunity, please visit:

www.atco.com/careers

53' Cattle Liner

53' Ground Load

Hay Trailer

CAN'T SEE OUT?

Option #1

Replace

the Foggy

Unit

Option #2

Replace

the

window

Financing Available

Anchor Glass

403-854-4414 • 1-800-463-3148

www.anchorglass.ab.ca

tim@anchorglass.ab.ca

GET BACK ON

TRACK! Bad credit?

Bills? Unemployed?

Need Money? We

Lend! If you own

your own home - you

qualify. Pioneer

Acceptance Corp.

Member BBB. 1-877-

987-1420. www.pioneerwest.com.

space available

for under $30

McSteel

SALVAGE &

CLEAN-UP

LTD.

Wainwright, AB

We Buy

Scrap Metal

Call

780-842-8622

www.mcsteel.ca

• Specializing in Repairs to

ALL Makes & Models of RVs & Trailers

• Full selection of RV Parts & Accessories

• RV Storage

PRIVATE

MORTGAGE Lender.

All real estate types

considered. No credit

checks done. Deal

direct with lender

and get quick

approval. Toll free

1-866-405-1228

www.firstandsecondmortgages.ca.

403 742 5667 generationsrv@gmail.com
---
ECA REVIEW HANNA/CORONATION/STETTLER, AB September 8'22 9

SLAP

Shots

• Dwight Perry of

the Seattle Times:

"Hockey hair stylists

ought to love the

name of the Arizona

Coyotes' new puck

palace — Mullett

Arena."

• Mike Bianchi of

the Orlando Sentinel:

"I'm not saying

the University of

Florida's brand

new $85-million,

140,000-square foot

standalone football

facility is plush and

palatial, but LIV golf

just offered the Gators

$200 million to

buy it!"

FROM THE BLEACHERS

New star in Tennis? Carlos Alcaraz

by Bruce Penton

The old guard of tennis

appears to be slowly fading away,

so it's time to make room for the

brightest young star on the world

tennis scene, Spain's Carlos

Alcaraz.

While Roger Federer, Rafael

Nadal and Novak Djokovic are

the game's biggest names, they

may no longer have the biggest

game. Alcaraz is being promoted

by the world's tennis media as

being destined for No. 1 in the

world. And he's only 19 years old.

Already ranked No. 4 in the

enter the United States because

he has not been vaccinated

against Covid-19.

That leaves Nadal standing as

the only one of the Big Three to

compete at Arthur

Ashe Stadium in New

York. Already a twotime

Grand Slam

event winner this year

(he won the

Australian and

French Opens), he is

seeded No. 2. But even

he has his eye on countryman

Alcaraz, as

In 2019, Alcaraz was ranked

No. 141 in the world. He moved up

to 32 in 2020 and today is No. 4.

Can No. 1 be far away?

Meanwhile, Canadians Felix

Auger-Aliassime and

Denis Shapovalov are

our country's best hopes

on the men's side for U.S.

Open glory while Leylah

Annie Fernandez carries

Canada's hopes on the

women's side. Fernandez

was the surprise star of

last year's U.S. Open,

advancing all the way to

Despite the presence of Nadal,

Alvarez and other big names in

the world of tennis, the most

attention will be paid to Serena

Williams, one of the best ever in

women's tennis, who has

announced that this year's U.S.

Open will be her final hurrah

before retirement. Williams has

23 Grand Slam titles, second only

to Margaret Court of Australia,

who won 24. The U.S. media

hasn't been shy in declaring

Williams the greatest of all time,

but the Australian media might

have a different view.

world, Alcaraz will be one of the

favourites in New York this week

as the U.S. Open continues.

comparisons between

the two are continually

made. "If he is able

Penton

the final before losing to

England's Emma

Raducanu, but is currently

If we can't have an Auger-

Aliassime vs. Shapovalov final

on the men's side, most fans

Neither Federer nor Djokovic are

entered, with the 41-year-old

Federer basically dropping off

the tennis radar — although

retirement has not been mentioned

— and Djokovic unable to

to win 25 Grand Slams, it's going

to be amazing for our country

and I will be happy for him," the

36-year-old Nadal told

TennisWorld,com "but let's let

him enjoy his personal career."

ranked No. 14 in the world.

Bianca Andreescu, winner of the

U.S. Open in 2019 and currently

No. 50 in the world, has overcome

recent health and injury problems

and hopes to contend.

would settle for an all-Spanish

Nadal vs. Alcaraz showdown.

And a Serena-Fernandez women's

final wouldn't be bad, either.

OBITUARIES

Laid to rest in the Woodland Cemetery

Jean Elizabeth Hankins

1930 – 2022

Jean passed away peacefully on

Mon. Aug. 29, 2022 while in the Ponoka

General Hospital at the age of 92 years.

Besides her loving husband of 48

years, Clarence Hankins, who passed

away May 18, 1997 Jean was predeceased

by her parents George and

Meta Brack; granddaughter Nadine

Skow; grandson Stewart Skow;

brothers; Robert Brack, Alvin Brack,

Lloyd (Donna) Brack; sisters Margaret

(Gerald) Rowe, Frances (Ted) Wright,

Dorothy (Bill) Seitz, Hazel (Allan)

Kunsman; brothers-in-law Kenneth

Sports a big part of his life

Michael, Andrew Kortgaard passed

away on July 25, 2022 at the age of 62 in

Calgary, Alta.

Mike was born on Aug. 22, 1958 in

Coronation. Alta. to parents Andy and

Lillian (Kuczma)

Kortgaard. He grew up the

youngest of four children.

Sports were a big part of

his life and if he was not

playing them he was

watching them. Mike got a

hole-in-one at the

Coronation Golf Course on

hole number 4 during a

round of golf with his

daughter Christie.

Mike was a dedicated fan,

and as much as they disappointed

him year after year, he

Short swift battle with cancer

Ronald Gale Wiggill was born on

June 4, 1949 at Cardston, Alta. and

passed away on Aug. 13, 2022 at Castor,

Alta. after a short and swift battle with

cancer.

Predeceased by his father

Willard; son Richard Gale

Wiggill; sisters Carol Coolidge

and Julie Leavitt and a

brother-in-law Randy Schimpf,

Ronald is survived by his

common law partner of 13

years Betty Laczkowski;

mother Retta Wiggill; sons

Micheal, Jeff and Mark

Wiggill and daughter Kira

Jensen; sister Peggy Schimpf;

Betty's family Josh Muise and Tammy

Street and family; Bryce and Suzanne

Jaffary and Victor Kaupp.

Also predeceased by Clarence's

family; Oscar (Louise) Hankins, Iona

(Paul) Berg, Robert (Betty) Hankins

and Doug and Verna Hankins.

Jean is survived by her children:

Debbie Hankins (John Davis) of

Ponoka, Dale (Irene) Hankins of Olds,

Helen (Harvey) Skow of Bowser, BC,

Patsy (Rene) Denis of Hinton, Barb

(Ken) Morton of Widewater, Alta.

Barry Hankins of Edgerton and John

(Lorraine) Hankins of Botha.

Also grandchildren and great grandchildren

Justin Hankins, Elden

Hankins, Anthony Hankins, Robert

continued to cheer for the Toronto

Maple Leafs.

Mike loved playing crib and he

rather enjoyed beating everyone who

played him including his granddaughters.

His sense of humour and

wittiness will be greatly

missed.

Mike is survived by his

daughter Christie and Kevin

Hewitt; granddaughters, Kylie,

Kenzie and Codi Hewitt; sister

Linda and Ken Merchant;

brother Grant and Dixie

Spooner, along with numerous

nieces and nephews.

Kortgaard

He was predeceased by his

parents Lil and Andy

Kortgaard and brother Brent

Spooner.

Jensen and family, Jennifer Rath as

well as numerous grandchildren and

great-grandchildren.

Respecting Ronald's wishes no

funeral services will be

held.

Those wishing to pay

their respects to Ronald's

family may do so by visiting

www.parkviewfuneralchapels.com.

Parkview Funeral

Chapels of Castor and

Coronation, Alta. were

entrusted with the care and

Wiggill

funeral arrangements. For

further information please

call 403-882-3141 or 403-578-3777.

Hankins, Kurtis Morton, Spencer

Skow, Shawn Anuszewski, Jason

Anuszewski, Leanne Anuszewski,

Lisa-Dawn Tubrett,

Wesley Hankins,

Lesley Arsenault,

Kathy Turner,

Jamie Sprovieri,

Sheliela Hankins,

Roxanne Hankins,

Kimberly Massie,

Mackenzie

Hankins, Amanda

Hankins, Jessica

Hankins

All three parties concur, a recess will allow the time required to properly and appropriately

review current plans while looking towards the future. A consultant for the County of Stettler

will complete an Area Structure Plan, which will be made available to all members of the

BLSSIDP in January.

Notice of Nomination Day

For Summer Villages

Local Authorities Election Act

(Sections 12, 26)

sisters LaVerne Kaupp of Lethbridge

and Alice Jaffary of Salmon Arm, BC; LOCAL JURISDICTION:

niece Paulette (Percy) Heer of Gadsby; Summer Village of White Sands, Province of Alberta

numerous nieces, nephews, other

Notice is hereby given that Nomination Day is September

family and a host of dear friends.

24, 2022 and that nominations for the election of

Funeral For Immediate services Release were held on Tues.

candidates for the following office will be received

September 28, 2020

between the hours of 10:00 a.m. and 12:00 noon at the

Sept. 6, 2022 at 11 a.m. in the Stettler

White Sands Community Hall, 8 Front Street, Summer

Funeral Home, Stettler, Alta. with

Buffalo Lake South Shore Intermunicipal

Village of White Sands.

Verna Rock as Celebrant.

Office

Number of Vacancies

Jean was Development then laid to rest Plan in the Mediation Process

Councillor

One Position

Woodland Cemetery, Botha, Alta.

Dated at the Summer Village of White Sands in the

along side her loving husband Recessed

Province of Alberta this 8th day of September 2022.

Clarence.

County of Stettler and Summer Villages of Rochon Sands and White Judy Peelar, Returning Officer

Family and friends gathered

together for a Sands time recess of fellowship ongoing mediation, back until January For anyone 14, 2021. interested in running for Council of Whites

at the Stettler Funeral Home.

Sands, Nominations Packages are available at the

Memorial

Village Office – 1 Hall Street, Rochon Sands or

On Friday,

contributions

September 25, 2020, the

in

County

memory

of Stettler, the Summer Village of Rochon Sands

of Jean

on the Website: www.whitesandsab.ca

and are the gratefully Summer Village of White accepted Sands mutually and agreed to recess mediation until

January 14, 2021.

Professional Directory

The County of Stettler pursued dispute resolution with the members of the Buffalo Lake

Intermunicipal Development Plan (BLSSIDP) on March 9, 2020, following a denied request amend the Lawyer

allowable density of the Buffalo Lake RV Resort (formerly Paradise Shores)

Optometrist

from 168

dwelling units, to 325 dwelling units. This is Stage 4 of the Dispute Resolution process, as

outlined in the BLSSIDP.

E. Roger Spady

CORONATION VISION CLINIC

Mediation Protocols are available for viewing at:

Dr. Ward ZoBell

www.StettlerCounty.ca Professional and www.rochonsands.net. Corporation

Tues & Thurs 10 - 4

Barrister & Solicitor

403-578-3221

HANNA VISION CENTRE

Eye Health, Glasses, Contacts

Dr. Dennis A. Heimdahl Dr. Ward ZoBell

Tues, Wed 9-4:30; Thurs, Fri 9-4

403-854-3003

Coronation Mall Coronation, AB

403-578-3131

Office Hours: Tuesday to Friday 9 a.m. to 5 p.m.

Dentist

Hansen and one

great-great granddaughter

Sage;

Dr.McIver

In Coronation (Located in Coronation Mall)

MONDAYS 9 a.m. - 5 p.m.

Call Anytime for Appointments

403-578-3811

may be directly sent to The Rimoka

Housing Foundation 5608 57 Avenue,

Ponoka, Alta. T4J 1V7.

Those wishing to pay their respects

to the Hankins family may do so by

leaving a condolence on the funeral

home website at www.stettlerfuneralhome.com.

The Stettler Funeral Home was

entrusted with the care and funeral

arrangements. For more information

please call 403-742-3422.

Dentist

Our families serving yours!

Phone: 825-300-0049

Email: drballdental@gmail.com

Location: 4913 50 St, Killam AB, T0B 2L0

Mail: Box 389, Killam AB, T0B 2L0
---
10 S eptember 8'22 HANNA/CORONATION/STETTLER, AB. ECA REVIEW

10 S eptember 8'22 HANNA/CORONATION/STETTLER, AB. WHEEL OF A DEAL ECA REVIEW

Canada must begin to

export green energy

natural gas to Europe

by Olivier Rancourt

Troy Media

German Chancellor Olaf Scholz

recently completed a trip to Canada to

discuss, among other things, Europe

importing Canadian natural gas. With

the invasion of Ukraine, and the sanctions

that followed, Germany, which

imported 55 per cent of its natural gas

from Russia in 2021, has had to reopen

some coal plants and has started

looking for other sources to meet its

natural gas needs.

As difficult as this situation is for

the German population, this transfer

of consumption toward natural gas

from other countries is part and parcel

of the Western response to the first

conventional conflict Europe has seen

in decades.

Despite everything, this is an exceptional

opportunity for Canada to help

both its own economy and that of its

allies. Quebec alone has estimated natural

gas reserves of between 2.8

trillion m3 and 8.5 trillion m3.

According to the Canadian Energy

Research Institute, the development of

these reserves could bring in close to

$15 billion in tax revenues and royalties

for the province over a period of 25

years.

Despite these substantial economic

benefits, the governments of Quebec

and Canada refuse to green-light the

development of natural gas or the construction

of the energy infrastructure

needed to export the gas already

produced.

Citing a lack of usable infrastructure

in the short term and using the

pretext that the consumption of natural

gas emits GHGs, the Canadian

and Quebec governments block every

measure that could facilitate export.

The absence of pre-existing infrastructure

is not a valid reason to

justify these governmental refusals.

Indeed, considering how quickly

Germany expects to complete the construction

of its LNG terminal and have

it up and running in just a little over a

year, it's clear that Canada could act

within a similar timeframe. There's no

reason Canada could not build a terminal

just as quickly – and the longer

we wait, the worse things will be for

our European allies.

The environmental

argument

doesn't hold

water either.

Natural gas is a

transition energy.

Since it is less polluting

than coal,

the transformation

of coal power

plants into natural

gas plants

led to the reduction

of 500 million

tonnes of CO2 in

the world

between 2010 and

2018, the equivalent

of replacing

200 million gaspowered

vehicles

with electric vehicles

powered by

electricity generating

no GHGs.

Moreover, the

European Union

recently classified

natural gas

VIEWPOINT

as a green energy source. As for

Énergie Saguenay's natural gas liquefaction

plant project, it was expected to

reduce global emissions by 28 million

tonnes a year, with lower GHG emissions

during liquefaction than

comparable plants in the United States

and Qatar. In addition to the project's

environmental benefits, the plant is

expected to generate over $800 million

a year in economic benefits and $110

million in tax revenues for the federal

and provincial governments.

Despite the substantial economic

and environmental benefits of projects

to develop and liquefy Canadian natural

gas, governments continue to

refuse to let these projects go forward.

Canada is not only shooting itself in

the foot; it is also hurting its European

allies which are attempting to present

a united front against Russia. And on

top of that, Canada is refusing to

reduce global GHGs by further developing

an energy source the European

Union considers to be green. Clearly,

Canada can and must do better.

Olivier Rancourt is an Economist at

the Montreal Economic Institute.

Duane's Trucking Ltd.

USED HEAVY

TRUCK & TRAILER

PARTS

We have what you need,

even those hard to find items!

• all makes and models

• transmissions, motors, wheels,

tires and much more

• acres of inventory, 500 plus units to be

dismantled

• check our

used trucks,

gravel and

winch

equipment

for sale.

Call us now

Mon. - Fri., 8:30 am - 5:00 p.m.

(403) 784-2501

www.duanestrucking.ca

• Agriculture

• Automotive

• Industrial

• Safety

4706 Victoria Avenue, Coronation AB

403-578-4567

FASTFIT BLACK GLOVES

Small to XX-large

MWR MFF-05-008/09/11/12

RATCHETING

STRAPS

12' x 1", working

load capacity

of 400 lbs,

pack of 4

UTT CRT12-4

-25%

18 49

24 69

/pair

-25%

23 99

32 19

-30%

56 99

81 99

TRAILER HITCH

BALL MOUNT

619 99

GEN II

HTIW

1/2" RING KIT

MIL 2767-22

-10%

35 39

39 39

CONVENTIONAL

Various grades, 5 L

NAPA Auto Parts Stettler

4902 - 43rd Avenue

Stettler, AB

403-742-NAPA (6272)

Three Hills Auto Sport Ltd.

510 Main St.

Three Hills, AB

403-443-2400

-15%

14 69

17 39

FUEL & OIL

ADDITIVE

MARINE

ENGINES

-10%

233 99

ELECTRIC

PRESSURE

WASHER

1,800 PSI,

1.3 gal/min, 1.5 hp,

120 V, 20 ft hose

ECF EV1815EN

ELECTRIC PRESSURE

99 -20%

99

289 99

1/2" DRIVE

RATCHET/

SOCKET SET

- SAE/MET

MIL 48-22-9010

-10%

99 -10%

33

61 99

4PC PRY BAR SET

MIL 48-22-9214

-10%

52 99

58 99

-30%

3 59

SHOP TOWELS

NAPA Auto Parts Oyen

102 Main Street

Oyen, AB

403-664-3515

Acme Napa Auto Parts

128 Main St.

Acme, AB

403-546-2425
---
ECA REVIEW HANNA/CORONATION/STETTLER, AB September 8'22 11

Gravel pit

reclamation

plan near

Big Valley

approved

AGRICULTURE

STETTLER COUNTY COUNCIL

Photo 5: View of Felesky gravel pit looking northeast, standing along southern fence line.

Large aggregate stockpiles are part of the adjacent gravel pit to the east of the reclamation

area proposed by North Star Trucking Ltd.

Stu Salkeld

Local Journalism Initiative reporter

ECA Review

The Stettler County Municipal

Planning Commission (MPC) has

approved a gravel pit reclamation plan,

noting the pit is to be returned to agricultural

production. The decision was

made at the Aug. 24 regular MPC

meeting.

The MPC is comprised of members

of county council and chaired by Coun.

James Nibourg.

Planner Craig Teal of Parkland

Community Planning Services presented

an application from North Star

Trucking to reclaim a gravel pit over

five years near the Village of Big

Valley that's no longer producing

aggregate.

"The subject property is located

approximately 10 kilometres northwest

of the Village of Big Valley," stated

Teal in his report to council.

"The quarter section abuts Range

Road 20-4 along its western boundary,

but is accessed through access routes

of adjacent properties to the east and

northeast.

"The proposed development area to

be reclaimed is specifically described

as LSD 14-18-36-20-W4M within the

application, which is the northeast portion

of the quarter section.

The reclamation area is calculated

at three hectares (7.41 acres) in size.

The reclamation area includes all

lands that are subject of this

application.

"The subject property was formerly

used for gravel extraction and is

known as the 'Felesky Pit.'

The gravel pit was operated by

North Star Trucking Ltd. who is also

proposing to undertake the reclamation

of the site. Land reclamation

ensures final closure of the site's environmental

liabilities."

Teal said during his presentation,

"Not a very large pit. It's been

exhausted."

Teal added that the reclamation area

is to be returned to agricultural use

but that the reclamation process can

take several years to complete, especially

the provincial government

approvals.

This point was mentioned several

times during the meeting, including

the statement that Stettler County feels

provincial government approvals for

reclamation projects take too long to

complete.

Teal noted he had no concerns about

North Star Trucking's application.

He went on to state that their plan is

to use on-site materials to complete the

reclamation, including both clay and

top soil. He stated that, since it seems

no more material is needed, there

would be no large groups of trucks

coming to the site to unload.

However, noted Teal, there will still

be heavy equipment working on the

site that will cause dust to be kicked

up. For that reason a limited work day

is required and it seems North Star

Trucking will only work 10 hour days.

Coun. Dave Grover was happy to see

the application.

"It's nice to see somebody actually

220926G0

starting to reclaim their pits," said

Grover. "Good luck with getting (provincial)

approval."

Chair Nibourg finished that sentence

by saying, "...after (reclamation's)

done."

Nibourg went on to state that he felt

a few more conditions were needed,

including one that no aggregate materials

were to be moved off the site. "If

the pit's done, there's no hauling out,"

said Nibourg.

Coun. Justin

Stevens

responded he

didn't think

aggravate

removal was

allowed

anyway.

Stevens noted

he would also

like to see conditions

added to

control weeds

and erosion

Call Mike

780-385-4664

Bin Anchors

Don't Let The Winds Bother You!

UPCOMING 2022 FALL SALES

Fall Run ls Here!

Regular sales every Friday at 9:00 AM,

followed by Feeder sales at 11:00 AM all through September

PRE-BOOK CALF SALES

PRE-BOOK CALF SALES

Every Monday & Wednesday at

10:00 AM Starting

October 12 th to November 9 th

LAST CHANCE

PRE BOOK CALF SALE

December 12 th at 10:00 AM

while the reclamation is ongoing.

Teal stated the erosion factor was

already included but weed control

could easily be added.

Commission members eventually

passed a motion that North Star

Trucking's reclamation plan be

approved with the additions stating no

aggregate was to be removed from the

site and that weed control on the site

be conducted throughout the process.

BRED SALES

BRED COW & HEIFER SALES

Every Saturday at 12:00 PM

Starting

November 12 th to December 17 th

BSSA SPECIAL

BRED COW & HEIFER SALE

December 12 th at 12:00 PM

HARDGRASS

Black & Red Angus

Bull & Female Sale

November 28 th

1:00 PM

BULL SALES

GEMSTONE CATTLE

Hereford& Angus

Bull & Female Sale

December 7 th

1:00 PM

66 RANCH

9 th Annual

Bull & Bred Female Sale

December 14 th

1:00 PM

403-362-5521

Lachie McKinnon- Manager 403-362-1825

Erik Christensen- Asst. Manager 403-363-9942

Sam Mckinnon- Field Rep 403-793-1731

bowslope.com
---
12 S eptember 8'22 HANNA/CORONATION/STETTLER, AB. ECA REVIEW

AGRICULTURE

STETTLER COUNTY COUNCIL

Expert states 2021 drought was legendary

Stu Salkeld

Local Journalism initiative reporter

ECA Review

A precipitation expert with the

Alberta provincial government told

Stettler County's Agriculture Service

Board (ASB) 2021 may have been one

of the worst drought years since the

19th Century. The report was made at

the ASB's Aug. 24 regular meeting.

The ASB is comprised of members

of county council and is chaired by

Coun. Les Stulberg.

Ralph Wright, manager of agrometeorological

applications and

modelling section for Alberta

Agriculture & Forestry, presented

dozens of maps to board members

illustrating precipitation levels for the

past 120 years and said that precipitation,

or lack thereof, tells a story.

At one point in his presentation

Wright looked back at 2021 and compared

it to precipitation for the

previous 120 years in Alberta and said

last year, "...stuck out like a sore

thumb."

Wright continued, "...(2021) is probably

the worst year in living memory

that we have for widespread drought

across the province."

He began his presentation by

showing board members February is

typically the dryest month of the year

in Stettler County and pointed out

that winter in general isn't the best

time to start thinking about drought

because of the lack of precipitation.

Wright stated between October and

March Stettler County gets about 20 to

25 per cent of its annual precipitation

while in June and July it gets about 50

per cent.

He pointed out it was interesting to

note that Lethbridge, usually considered

a dry area of Alberta, through

January to June of this year could

beat out most parts of the province for

highest precipitation.

He went on to state 2022 started out

pretty dry and there was a lot of

worry that 2022 would be a back to

back drought year.

"But then the taps just turned right

on," said Wright, who added that precipitation

levels in this area were

above normal by the end of June.

In a 30 day period between June and

July Stettler County received between

50 mm and 200 mm of precipitation

depending on location and while

Wright noted there was some localized

flooding in central Alberta that

rain really helped some people out.

Comparing to regions east, the

Special Areas received 50 to 75 mm,

with Wright commenting that this

shows Alberta can't be called a wet or

dry province, there is just too much

variation within short times or

distances.

Got Bales

to Haul.....

Give Ty

a Call

403-741-2840

Wright also showed a map that bad as 2021 for drought, with 1917 to 18

showed a corner of Paintearth County included as well.

with rather high levels of

For the period 1926 to 1937 it was

precipitation.

quite dry in 1929 which was followed

He explained the data suggests

a dry spell began in

ness. Wright pointed out

by four more years of dry-

southern Alberta in 2017 and

that "living memory"

culminated in 2021, but ended

begins in this time period,

this year.

as there are residents alive

"The land was primed for

who remember these years.

serious, severe drought this

By 1938 to 1949 he stated

year," he added.

wet weather started to creep

Referring to provincial historical

data Wright noted 1902

1961 enjoyed much more

in and the period 1950 to

to 1913 were quite dry but also Wright

moisture. The period 1962

stated Alberta didn't have a lot

to 1973 was quite wet followed

by the period 1974 to

of weather stations at that

time, about 30, compared to the 1985 which didn't suffer a lot of

roughly 500 Alberta enjoys now. drought.

Data suggests 1905 and 1910 were as As Wright pointed out cycles, he

DWAIN

BENNEFELD

of Hardisty, AB.

Gate Sign: 425042 – Rg. Rd. # 92

SE-34-42-9-W4

Location: From Hardisty go 9 km east on Highway #13 to Range Road # 92 & then go 3 km north.

PREVIEWING & BIDDING STARTS ON SEPT. 14 AT 10 AM &

BIDS START CLOSING ON WEDNESDAY, SEPT. 21 AT 10 AM

TRACTORS

●2004 CASE IH MX210 tractor, 200 hp., only

4,218 hours, 18F/4R full powershift, 1000 pto.,

520/85R42 duals, front weights, 3 hyd.'s, 2WD.

●2009 KUBOTA M8540 MFWD tractor, 75 hp.,

only 1,132 hours, 3 pt. hitch, 2 hyd's., 16.9 – 30

rear tires w/ calcium, 540 pto., 1 owner.

●1981 Deutz DX 160 MFWD tractor w/ Ezee-On

FEL & grapple & 8 ft. bucket, 6,260 hours

showing, 150 hp., 24F/8R, 20.8 – 38 rears,

540/1000 pto., 3 hyd's., needs front window.

●1980 Case 2290 tractor, 8,270 hours showing,

129 hp., powershift, 540/1000 pto., 4 hyd's.

●Landini Blizzard 95 MFWD parts tractor w/

Ezee-On FEL & grapple, 3 pt. hitch, not running.

TILLAGE & SEEDING

●Alteen 16 ft. tandem disc w/ drag harrows,

smooth blades, 9" spacing.

●Case 32' cultivator, 9" spacing, w/ 3 bar harrows.

●Flexi-coil 1110 air cart, 16.5L – 16.1 tires.

●Bourgault 4000 harrow bar, 40 ft., 4 bar harrows.

●(2) - Co-op Implements cultivators, 26 ft. & 28 ft.

w /3 bar harrows, 12" spacing.

●IH 17 ft. & 19 ft. cultivators, 12" spacing.

●IH 18 ft. cultivator, 6" spacing, w/ 3 bar harrows.

●IH 6200 d.d. press drill, 36 ft. (3 X 12 ft.)

●Rock King bat reel rock picker. ●Drill mover.

●Russell Hi-Way Patrol #2 steel wheeled grader.

SKID STEER

●2005 VOLVO MC70 skid steer & 5' bucket,

wheeled w/ tracks, only 1,237 hours, 60 hp.,

1,500 lb. lift capacity, 4 cyl. turbocharged

diesel engine, pallet forks sell separate.

RECREATION

●2003 & 2008 KAWASAKI KVF 360

quads, limited use, see website for details.

●2007 Yamaha PZ50GTW snowmobile.

●1998 Ski-Doo Touring SLE snowmobile,

3,468 km showing, 1 owner.

●1975 Glasstrong 14 ft. fiberglass boat w/

E-Z Loader trailer & Chrysler 45 hp. motor.

●Naden aluminum boat & s/a boat trailer.

●1999 Yamaha golf cart. ●±4000 Golf balls.

VEHICLES & TRAILERS

●1995 FORD CL9000 cabover highway

tractor, 585,244 km showing, 10 speed

manual transmission, Cummins engine,

11R24.5 tires, new batteries.

●1970 International 1600 Loadstar grain

truck w/ 15 ft. steel box & hoist, roll tarp.

●1992 DODGE Power Ram 250 reg. cab

truck, 162,164 km, Cummins Turbo diesel,

A/C, cruise, see website for details.

●2004 Ford F-150 XLT ext. cab short box

truck, 255,331 km, 5.4 L, 4X4, automatic.

●1998 Dodge 1500 ext. cab parts truck.

●1989 & 1993 Cadillac Deville parts cars.

●1979 Ford 150 Ranger XLT parts truck.

●2002 Bluesky 22 ft. (17' + 5') gooseneck t/a

flatdeck trailer, 8 bolt rims, fold up ramps.

●2009 Lamar 16 ft. t/a flatdeck trailer, slide

in ramps, ST205/75/D15 tires w/ 5 bolt rims.

●1980 Homemade 32 ft. gooseneck tri-axle

flatdeck trailer, 8 bolt rims.

LAWN & GARDEN

●2003 McCormick G30R compact tractor,

21.5 hp., only 371 hours, MFWD, 3 pt. hitch,

hydro, 540/1000 pto, diesel.

●Troy Bilt lawn tractor, 113 hours, 46" cut.

●Case 446 ride-on lawn tractor, 41" tiller.

●Land Pride 3 pt. hitch 6 ft. rear blade.

HAYING & LIVESTOCK RELATED

●2001 JOHN DEERE 567 round baler w/ mega

wide pickup, 6,776 total bales, monitor, 540 pto.

●1989 New Idea 486 soft core round baler.

●1993 CASE IH 8370 haybine, 14 ft., 1000 pto.

●1994 Case IH 8370 PARTS haybine, 14 ft.

●4 Wheel side delivery hay rake.

●REM Delta 3200 bale max bale processor.

●Linden postpounder w/ pto. pump & 4 way hyd's.

●(3) - Metal framed 31 ft. feed bunks.

●(60) – NEW HD 24 ft. freestanding panels.

●(10) - NEW HD 24 ft. + 10 ft. gate panels.

●Cattle handling system.●Calf shelters & feeders.

●(9) – Hi- Qual 10 ft. metal livestock panels.

●Stampede Steel cattle squeeze.●Palpation cage.

●(4) – Bundles of 3" X 6 ft. fence posts.

BINS, AUGERS, & TANKS

●Behlen ±4000 bushel hopper bottom grain bin.

●Chief Westland ±1650 bushel grain bin.

●(4) – Westeel Rosco ±1650 bushel grain bins.

●(2) – W/R ±1850 bushel hopper bottom bins.

●Westeel Rosco ±1500 bu. hopper bottom bin.

●±1200 Bushel hopper bottom grain bin.

●Westeel 14 ft. hopper bottom bin cone.

●Brandt 852 pto. driven grain auger, 8", 52 ft.

●Brandt 10", 60 ft. mechanical swing grain auger.

●Sakundiak 7", 33' grain auger w/ Honda motor.

●Westfield 7", 41' grain auger w/ Kohler motor.

●11 Ft., 4" Utility auger w/ electric motor.

●Renn grain roller. ●300 Gallon poly tank.

●500 Gallon fuel tank w/ stand, hose, & nozzle.

●(2) ±120 Gallon slip tanks w/ 12 Volt pumps.

MISCELLANEOUS

●1987 Case IH 1660 s/p combine, 4,249 hours.

●Case IH 1010 20' parts header. ●HD bench vice.

●IH 5000 s/p swather, 20 ft. bat reel, diesel.

●Parkland 28 ft. long X 12 ft. stackmover.

●T/A implement trailer w/ 1000 gallon poly tank.

●Vintage grain scale cart. ●Carolina 55 ton press.

●IH 1660 combine transmission & final drive.

●Quantity of assorted lumber, tires, & steel, etc.

●Quantity of antique & vintage items.

●±(70) Pallets farm items & more - SEE WEBSITE!

PREVIEWING STARTS – Sept. 14 – 9AM – 6PM

NO BUYER'S PREMIUM – REGISTER TO BID @ TIMED.DUNKLEAUCTIONS.COM

Follow us

on Facebook

TIMED ONLINE

Call Owner - Dwain: (780) 888-2565

Dunkle Auctions: 1-877-UP4BIDS (874-2437)

mused aloud which was actually

anomalous, the wet weather or the dry

weather?

Near the end of his presentation he

discussed how data can help prepare

for flood planning. For example

Wright stated based on data Stettler

County could, over a 90 day period,

experience up to 500 mm of

precipitation.

Wright closed by pointing out the

hundreds of maps show that recent

weather isn't a reliable predictor of

future weather, adding that the best

way to plan is to realize you can't

hedge.

"What's going to happen in the

future?" he asked. "Pretty much anything

can happen."

NO BUYER'S

PREMIUM

AB License #209769