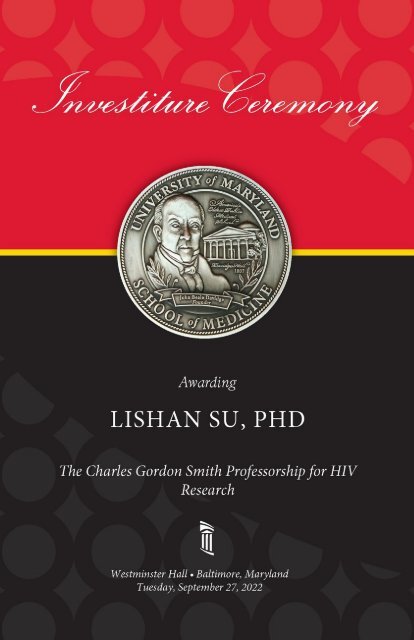 Lishan Su, PhD Investiture Program
You also want an ePaper? Increase the reach of your titles
YUMPU automatically turns print PDFs into web optimized ePapers that Google loves.
LISHAN SU, PHD

of North Carolina-Chapel Hill.

Lishan Su, PhD grew up in Qingdao,

China, and received his BS in Microbiology

from Shandong University, PhD in Virology

from Harvard University, and did postdoctoral

training in Immunology at Stanford

University. Dr. Su then worked as a

research scientist in a biotech company,

focusing on HIV pathogenesis and testing

blood stem cell-based HIV-1 gene therapy

in HIV-infected patients. From 1996 to

2021, he was a faculty member in the

Lineberger Comprehensive Cancer Center

and Professor in the Department of

Microbiology & Immunology at University

For over two decades, Dr. Su has focused on studying several critical areas

of immuno-pathology of human chronic virus infections, particularly on

elucidating how HIV causes AIDS-related diseases. The Su laboratory

studies how HIV-1 and HBV interact with human immune cells to cause

diseases. His research team has focused on the plasmacytoid dendritic cell

(pDC)-interferon axis in the pathogenesis and therapy of chronic HIV

infection and Disease-Associated Macrophages (DAM)-hepatic stellate cells

in HBV-induced liver diseases in humanized mice and in patients. The team

has also started investigation of the pathways in tumor microenvironments

(TME) and in cancer immune therapy. After joining The Institute of Human

Virology at UMSOM, Dr. Su continued his research program to use HIV and

HBV viruses as probes to dissect human immunity and inflammatory

diseases, and to develop antibody and cell-based drugs targeting novel

immune cells and signaling pathways to treat human inflammatory diseases

including virus infection and cancer. He has also trained over 40 postdoc/

visiting scholars and 20 graduate students from 8 different countries.

Dr. Su has served on grant review committees for US/European and Chinese

funding agencies for over 20 years, and as associate editor or on editorial

boards of several journals. For the past 20 years, Dr. Su has also interacted

with US and international institutions, including providing advice and to

evaluate progress to biomedical research institutes and centers. He has also

received several awards over the years, including election as a Fellow of the

American Association for the Advancement of Science in 2012, and the

Charles Gordon Smith Endowed Professorship for HIV Research in 2021.
---
WELCOME

Mary Pooton

Associate Dean for Development

University of Maryland School of Medicine

Margaret M. McCarthy, PhD

The James and Carolyn Frenkil Dean's Professor and Chair,

Department of Pharmacology

Director, Program in Neuroscience

University of Maryland School of Medicine

REMARKS

Mark T. Gladwin, MD

Vice President for Medical Affairs, UM Baltimore

John Z. and Akiko K. Bowers Distinguished Professor and

Dean, University of Maryland School of Medicine

DONOR RECOGNITION

Mark T. Gladwin, MD

SPEAKERS

Robert C. Gallo, MD

The Homer and Martha Gudelsky Distinguished Professor of Medicine

Co-Founder & Director, Institute of Human Virology (IHV)

University of Maryland School of Medicine

Mike McCune, MD, PhD

Head, HIV Frontiers Initiatives

Bill & Melinda Gates Foundation

Yang Liu, PhD

Chief Executive Officer & Chief Scientific Officer

OncoC4 Inc.

Mark Bonyhadi, PhD

Senior Advisor

Qiming Venture Partners USA

MEDAL PRESENTATION

Mark T. Gladwin, MD

REMARKS

Lishan Su, PhD

The Charles Gordon Smith Professor for HIV Research

CLOSING REMARKS

Margaret M. McCarthy, PhD
---
T

he first endowed professorships were established more than

500 years ago with the creation of the Lady Margaret chairs

in divinity at Oxford and Cambridge Universities. The

original endowed chairs were sponsored by Lady Margaret,

countess of Richmond, and grandmother of Henry VIII in 1502.

Subsequently, private individuals began making financial contributions

to establish other endowed professorships and chairs such as the

Lucasian Chair of Mathematics, which Sir Isaac Newton held beginning

in 1669. Professor Stephen Hawking, the internationally renowned

physicist and recipient of the 2010 US Medal of Freedom, was another

prominent holder of this endowed chair.

The honor associated with appointment to an endowed position has

remained unchanged for the last 500 years and is recognized as one of

the highest tributes that an academic institution can bestow upon its

most distinguished faculty. These endowed professorships and chairs

continue to reward exceptional scholars uninterrupted to the present

time.

The Office of Development is charged with securing private gifts to

ensure the School's tradition of excellence is sustained through robust

research, clinical, and educational programs and initiatives. The

University of Maryland School of Medicine is fortunate to have nearly

85 endowed chairs & professorships in various stages of completion

and held by esteemed faculty members.
---
CHARLES GORDON SMITH

Charles Gordon Smith of Fort Lauderdale, FL, cemented his own legacy

in the advancement of virological research for years to come, with an

endowed professorship at the University of Maryland School of Medicine's

(UMSOM) Institute of Human Virology (IHV) that now bears his name.

His bequest, partially matched by Maryland E-Nnovation Initiative Fund

(MEIF), created the Charles Gordon Smith Endowed Professorship for HIV

Research.

Smith's posthumous gift was inspired by a June 2001 appearance on CNN

by IHV director and co-founder Robert C. Gallo, MD, the Homer and

Martha Gudelsky Distinguished Professor in Medicine and co-founder and

director of IHV, which highlighted Gallo's work to detect and treat HIV,

the virus that causes AIDS. The interview sparked Mr. Smith's growing

interest in Dr. Gallo's work and eventually, his desire to fund HIV research

through his bequest.

Mr. Smith was a staff accountant at Price Waterhouse and was described by

friends as very scholarly with multiple degrees, an avid reader, and book

collector with multiple interests who researched everything.

"Charlie was a philanthropist and wanted to help so many," noted a close

friend of Mr. Smith, who requested anonymity. "Dr. Gallo had made an

impact for Charlie, as much as Charlie is now making an impact for Dr.

Gallo."

The E-Nnovation program was created as an economic stimulus in 2014, as

a special non-lapsing fund designed to help the state's research universities

recruit and retain top scientists and investigators. Administered by the

Maryland Department of Commerce, MEIF funds combined with private

philanthropy from Mr. Smith's estate, has allowed the creation of this new

endowed professorship.

UMSOM is very thankful for this bequest from Mr. Smith that has allowed

us to appoint the inaugural Charles Gordon Smith Endowed Professor of

HIV Research.