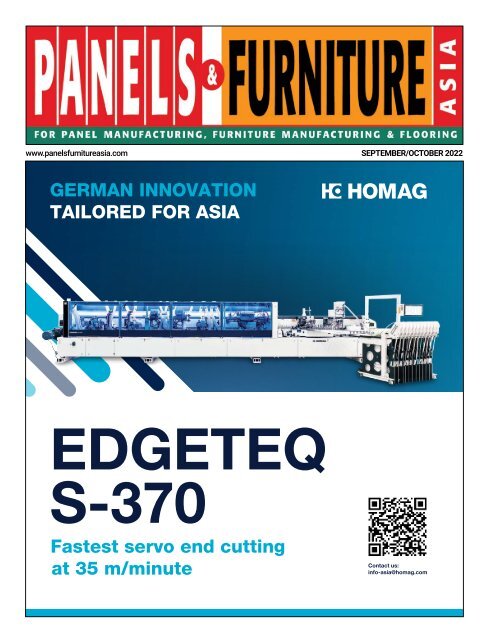 Panels & Furniture Asia September/October 2022
Panels & Furniture Asia (PFA) is a leading regional trade magazine dedicated to the woodbased panel, furniture and flooring processing industry. Published bi-monthly since 2000, PFA delivers authentic journalism to cover the latest news, technology, machinery, projects, products and trade events throughout the sector. With a hardcopy and digital readership comprising manufacturers, designers and specifiers, among others, PFA is the platform of choice for connecting brands across the global woodworking landscape.
Panels & Furniture Asia (PFA) is a leading regional trade magazine dedicated to the woodbased panel, furniture and flooring processing industry. Published bi-monthly since 2000, PFA delivers authentic journalism to cover the latest news, technology, machinery, projects, products and trade events throughout the sector. With a hardcopy and digital readership comprising manufacturers, designers and specifiers, among others, PFA is the platform of choice for connecting brands across the global woodworking landscape.
SHOW MORE
SHOW LESS
You also want an ePaper? Increase the reach of your titles
YUMPU automatically turns print PDFs into web optimized ePapers that Google loves.
www.panelsfurnitureasia.com

SEPTEMBER/OCTOBER 2022

GERMAN INNOVATION

TAILORED FOR ASIA

EDGETEQ

S-370

Fastest servo end cutting

at 35 m/minute

Contact us:

info-asia@homag.com
---
Simple – we handle all the complexities that go into hardwoods to make

life easier for you. Natural – we manufacture and supply only sustainable, high-quality

products that breathe life into your work. Hardwoods – from harvest to delivery,

we set the standard for what the hardwoods experience should be.

nwh.com
---
CONTENTS

CONTENTS

PANELS & FURNITURE ASIA (ISSUE 5)

September / October 2022

06

Editor's Note

08

News

Market Report

18

US hardwood markets: Challenges abound

but success influences success

20

Back in South East Asia: Schuler Consulting

resumes business in Malaysia

Environmental Report

22

A case study in managing for

multiple values in forestry

In Person

24

To be "one step ahead of the market"

with Berndorf Band Group

Product Highlight

26

Sharp and neat: t3 system cutters by Leuco

28

Precision and quality with

Coohom's 3D Modeling Service

Panel Manufacturing

30

Shot peening for steel belt restoration

32

The new EDGETEQ S-370 edgebanding machine

Furniture Manufacturing

34

Dust-free workpieces before lacquering

36

Data technology for workstation and Industry 4.0

40

Simplifying furniture manufacturing

with a multicoat system

Materials

44

Bonding goes green

46

Hardwood from Quebec, Canada:

Where sustainability and quality meet

Flooring

48

Embracing the sustainability trend

Recycling

52

Extending the lifecycle of wood

from forest to products

34

18

Structural Elements

55

m.o.r.e. Cabin

Columnists

58

Fast furniture

Show Review

62

BIFA Wood Vietnam 2022

66

Calendar of Events

67

List of Advertisers

4 Panels & Furniture Asia | September / October 2022
---
FROM THE EDITOR

The road is long,

but do not falter

It seems like challenges in the industry

are never-ending. Right after the Russia-

Ukraine conflict, we are hit by additional

obstacles like inflation, labour shortage, and

disruptions in the supply chain, even though

we have been hungry for recovery after the

COVID-19 crisis.

It can seem very bleak — and it indeed is —

but the only thing we can do here is brave

through and not falter. These challenges

will abate, and although we do not know

when, we can only trust that they will in

time. Challenges and difficulties are always

present, and of course we can wait for some

sort of support from trade associates or the

government. Ultimately, though, we can only

rely on ourselves.

Within times of adversities lie opportunities.

Woodworking machinery manufacturer

HOMAG has recently launched its new

edgebanding machine EDGETEQ S-370,

designed to maximise productivity and

increase operational speed, while promising

cost efficiency (p.34). Leuco, a manufacturer

and supplier of carbide- and diamond-tipped

tools for wood processing, has also released

its new t3 system cutters that can reportedly

create chip-free surfaces (p.26). Press belt

manufacturer IPCO has also developed a

new portable shot peening tool that restores

deformed steel belts without interrupting

production (p.30).

Beyond machineries and tools, there are also

new innovations for coatings and finishes.

Just recently, researchers from Nanyang

Technological University of Singapore (NTU)

have developed a coating that prevents

wood surfaces from catching fire. Teknos has

also launched a new pigmented waterborne

spray for solid wood and engineered wood

panels, to support a multicoat pigmented

coating system (p.40).

Strive for success. As Judd Johnson, editor of

Hardwood Market Report Publications argued,

history has shown that "success influences

success" (p.18). For instance, the wood and

woodworking trade exhibition held in Binh

Duong, Vietnam, reported success amid

challenging times, with US$5.6 million worth

of machinery alone transacted (p.62). If

you need inspiration to succeed, why not

read through this issue? You might just find

something stimulating, providing you the

fuel to power through such long, long road.

YAP SHI QUAN | EDITOR

PANELS &

FURNITURE ASIA

PABLO SINGAPORE

Publisher

William Pang • williampang@pabloasia.com

Editor

Yap Shi Quan • shiquan@pabloasia.com

Business Development Manager

Pang YanJun • yanjun@pabloasia.com

Graphic Designer

Goh Meng Yong • mengyong@pabloasia.com

Circulation Manager

Shu Ai Ling • circulation@pabloasia.com

PABLO BEIJING

General Manager

Ellen Gao • pablobeijing@163.com

PABLO SHANGHAI

Editor

Kresly Shen • pabloshanghai@163.net

HEAD OFFICE

PABLO PUBLISHING &

EXHIBITION PTE LTD

3 Ang Mo Kio Street 62, #01-23, Link@AMK,

Singapore 569139

Tel : +65 6266 5512

Email: info@pabloasia.com

www.panelsfurnitureasia.com

Company Registration No: 200001473N

Singapore MICA (P) No: 105/12/2021

REGIONAL OFFICES (CHINA)

PABLO BEIJING

Tel : +86 10 6509 7728

Email : pablobeijing@163.com

PABLO SHANGHAI

Tel : +86 21 5238 9737 / 36

Email : pabloshanghai@163.net

let's connect!

@panelsfurnitureasia

All rights reserved. Views of writers do not necessarily reflect the views of the

Publisher. No part of this publication may be reproduced in any form or by any

means, without prior permission in writing from the Publisher and copyright

owner. Whilst every care is taken to ensure accuracy of the information in

this publication, the Publisher accepts no liability for damages caused by

misinterpretation of information, expressed or implied, within the pages of

the magazine. All advertisements are accepted on the understanding that the

Advertiser is authorised to publish the contents of the advertisements, and in

this respect, the Advertiser shall indemnify the Publisher against all claims

or suits for libel, violation of right of privacy and copyright infringements.

Panels & Furniture Asia is a controlled-circulation magazine with two issues

a year. It is mailed free-of-charge to readers who meet a set of criteria. Paid

subscription is available to those who do not fit our terms of control. Please

refer to subscription form provided in the publication for more details.

Printed by Times Printers Pte Ltd

Scan to subscribe

to PFA's enewsletter

6 Panels & Furniture Asia | September / October 2022
---
Y O U R S M A R T P L A N T

PRODUCE SMARTER

Using a holistic approach, CEBRO combines digitalization and advanced

plant engineering with operational excellence and sustainability solutions.

That makes your plant smart.

Watch the video at cebro.dieffenbacher.com to discover

what CEBRO can do for you.
---
NEWS

KASTAMONU ENTEGRE

AND SIEMPELKAMP

COLLABORATE ON NEW

PARTICLEBOARD PLANT

Kastamonu Entegre has placed an

order with Siempelkamp for a new

particleboard plant in its location in the

city of Kastamonu, Turkey.

According to Siempelkamp, this is the

third joint project between both parties

within the last two and a half years. The

new plant corresponds to the design of

the particleboard plant that Kastamonu

Entegre has been operating at the

Samsun, Turkey site since February

2021.

The Samsun plant, as well as the one

currently on order, contains a sevenfeet-by-37.1m

ContiRoll, and is designed

for a daily output of 2,000m³.

At the plant in Kastamonu City the

Turkish wood-based panel producer has

already been operating a Siempelkamp

plant for the production of mediumdensity

fibreboard (MDF) and highdensity

fibreboard (HDF) since 2007.

With the new particleboard plant at

this location, Kastamonu Entegre is

expanding its range of boards for the

domestic furniture industry.

As recently as November 2021,

Kastamonu Entegre ordered a woodbased

panel plant for MDF production at

the city Balıkesir site. With an eight-feetby-63.7m

ContiRoll, it includes what

is reportedly the "longest continuous

press in the Turkish market".

"The plant in Samsun keeps what the

initial phase promised," explained

Ulrich Kaiser, head of sales at

Siempelkamp. "It produces at top

level and stands for everything that

is important to us when we realise

projects for our customers: reliability,

high performance, teamwork."

The project is realised together with

GIM Export Group, Siempelkamp's link

to the Turkish market. P

From left: Hasan

Akpinar, global

investment and

projects director,

Kastamonu Entegre;

Ulrich Kaiser, head of

sales, Siempelkamp;

and Ralf Spindler

from GIM Export

ANDRITZ SUPPLIES "LARGEST" HIGH-CAPACITY

PRESSURISED REFINING SYSTEM

The new system features a design capacity

of 80 bone dry metric tonne per hour, and is

reportedly "the largest of its kind in the world"

now to form part of "the largest mediumdensity

fibreboard (MDF) line".

According to a press release by Andritz, Guangxi

Chongzuo Lelin Forestry Development has

successfully produced the first fibres with its

high-capacity pressurised refining system

delivered by Andritz.

Wei Rengang, general

manager of Guangxi

Chongzuo Lelin Forestry

Development (left),

and Huang Yongli,

technology manager

of Andritz Panelboard

(Image: Andritz)

Guangxi Chongzuo Lelin Forestry Development

is part of the Lelin Group, headquartered in

Nanning, Guangxi, China, which has been

focusing on wood-based panel production for

nearly 20 years.

Andritz installed the complete system, from

chip washing to refining. It comprises a 74-inch

single-disc refiner with a large flat refining

surface and a high axial load capacity. With a

height of nearly 2.4m and a total weight of 21.7

tonnes, the high-capacity refiner type S2074M is

built for optimal production rates.

Wei Rengang, general manager of Guangxi

Chongzuo Lelin Forestry Development, said:

"The entire line, and especially our new

high-capacity refiner is really impressive not

only because of its dimensions. It has already

shown very promising performance. Our

thanks go to Andritz for their hard work and the

exceptionally good collaboration." P

8 Panels & Furniture Asia | September / October 2022
---
NEWS

HENKEL TO BEGIN

LOCTITE PUR ADHESIVES

PRODUCTION IN

AUSTRALIA

Henkel is slated to produce Loctite

polyurethane (PUR) adhesives in Australia

from H1 2023. The adhesives will be

manufactured in Kilsyth, Victoria, Australia,

to serve the engineered wood industry across

Australia and New Zealand.

With a growing environmental awareness

surrounding construction and material use,

engineered wood has become an increasingly

popular design choice for load-bearing mass

timber and high-tech structural engineering

applications.

A wooden office

building in King Street,

Brisbane, Australia uses

Loctite PUR adhesives

to create load-bearing

elements that combine

with walls and ceilings

of CLT elements

Approved for use in engineered wood

construction markets, Loctite Purbond

adhesives can reportedly help to manufacture

glued wood components that are free from

harmful industrial solvents and formaldehyde,

according to Henkel. In addition, they can be

engineered and controlled to enable the use

of engineered wood in new ways.

"Purbond adhesives are used globally

and have long been the benchmark for

innovation and reliability in the engineered

wood industry. Producing Purbond locally

is an exciting endeavour that opens many

opportunities for us to help our customers in

Australia and New Zealand to grow," said Brad

Simpson, sales manager and business unit

manager, adhesives technologies, engineered

wood, furniture and building components

from Henkel.

Henkel's adhesive specialists at its Innovation

and Application Labs in Sydney and Auckland

help customers explore ways to expedite

the time to market and optimise their own

production processes for the development of

engineered wood solutions.

With the production of Purbond in Australia,

adhesives production can be customised

for specific performance requirements such

as fire resistance and for use with modified

timbers. P

Panels & Furniture Asia | September / October 2022 9
---
NEWS

SINGAPORE UNIVERSITY RESEARCHERS DEVELOP

TRANSPARENT FIRE-RESISTANT WOOD COATING

removing the layer, the wood panel remains

unscathed by the extreme heat of about 800°C.

When heated to 300°C, the resin coating expands

by up to 100 times in thickness, and it is this

expansion that insulates and protects the wood

from heat, according to Aravind Dasari, associate

professor at NTU School of Materials Science and

Engineering.

Researchers from Singapore's Nanyang

Technological University (NTU) have developed

a coating that prevents wood surfaces from

catching fire.

According to The Straits Times, the coating

begins to foam up once it comes into

The burnt panel on the

left is coated with the

resin, while the one on

the right is coat-less

(Image: Wallace Woon/

ST Photo)

contact with the fire, expanding to form a

layer of insulation and protecting the wood

underneath.

About only 75 microns of the coating is required

to protect the wood surface from fire, but

the wood has to be cured overnight. Upon

"Most timber or wooden panels only have

a transparent coat that protects them from

moisture, weather corrosion, termites or pests,

and are not designed to withstand high heat.

Thus, timber can still burn very quickly, especially

if it is unprotected," Dasari told The Straits Times.

The professor added that current methods of

making wood fire-resistant would also obscure

the natural appearance of the wood, and these

methods might also be toxic and costly. P

Source: The Straits Times

SCM LAUNCHES AUTOMATIC

WAREHOUSE AUTOSTORE

SCM has launched Autostore, a new automatic

warehouse for spare parts operational since

January 2022, established in the province

Fonderia, Italy, as part of renovation and

upgrading work at the industrial plant in Rimini,

Italy.

According to SCM, the warehouse can handle

30,000 items in a structure covering 900m 2 for a

height of 5.5m, over 13 storage levels and with

24,000 modular boxes capable of holding up to

30kg of pieces each.

The new system allows gains to be made in terms

of space occupied especially when compared to a

traditional warehouse for larger sized spare parts,

containing 4,000 in an area that is more or less

the same size.

With Autostore, SCM can provide a more efficient,

better quality service by speeding up the pick-up

operations by 75% and reducing dispatch times

by 30%. Every day, around 300 shipments are

handled containing thousands of components

with a maximum lead time of 48 hours from the

time the order is placed.

This is possible with 19 robots powered by two

12V rechargeable batteries capable of picking

up one piece every 45 seconds, 24/7. The

Autostore is also energy-efficient, with an energy

consumption lower than 0.1kW/h per robot,

enabling long duration.

Even with Autostore using 19 robots for operations,

the number of resources employed in the service

and parts team has remained unaltered.

THE PROCESS

Suppliers deliver to the reception area where

each piece is scanned, recorded, weighed and

measured, so that the operator can choose the

most suitable box in which to place it.

At that point, the Autostore will indicate in which

box the piece needs to be placed using a ray of

Autostore by SCM

light. After additional checks, the box is loaded

into the warehouse.

The robots only deal with loading and

returning the boxes to the operator, but work

continuously to optimise the organisation of

spaces, arranging the various boxes in the best

positions according to the frequency of use of

the parts contained, determined by algorithms.

The Autostore can also reportedly store up

to 200 orders in a continually updated and

stocked database. This makes it simpler to

handle all the data surrounding the activity,

track each individual element delivered, and

perform advanced analysis that can be useful

for the future, even in terms of prognostic

maintenance. P

10 Panels & Furniture Asia | September / October 2022
---
Steel Belts for the Wood and Laminate industry

Our endless Steel Belts offer highest quality, optimum strength

and a long lifetime. Additionally, our worldwide service

network supports you 24/7 - especially when it is urgent.

Exceptional operating

characteristics

Global technical

support and service

Berndorf Band GmbH

T: +43 2672 800 0

E: band@berndorf.co.at

www.berndorfband-group.com

Ultimate strength

and durability

Steel Belts | Belt Systems | Worldwide Service
---
NEWS

PARTICLEBOARD

MANUFACTURER TAFISA

OPTIMISES PRODUCTION

WITH ARGOS SOLUTIONS'

GRADING SYSTEMS

Tafisa, a particleboard manufacturer based in

North America, has purchased a grading system

from Argos Solutions for their production

facility in Lac-Megantic, Quebec, Canada.

This is reportedly Tafisa's third digital surface

inspection system purchased from Argos, and

the system will be used in the production of

decorative panels.

Tafisa needed a grading system that was able to

inspect every panel in the production process.

In addition, the complexity of the panels and

their decors required well-functioning

technology.

"Our experience with Argos, their systems, the

technology, and the support we received has

been excellent," said Remy Gosselin, production

technician at Tafisa. "It is essential for us to

ensure an efficient production process and

Argos Solutions'

technology can

grade EIR surfaces

most importantly, to deliver the best possible

quality to our customers."

"Today, producers must be able to guarantee the

visual quality required by the market. Relying

on the human eye alone is no longer possible

for a modern, high-speed production facility,"

said Richard Lepine, general manager for Argos

Solutions in North America.

"Over time, [Argos Solutions] has built up

experience and expertise in grading a wide array

of panels and materials, from raw boards to

decorative and flooring. Our aim is to combine this

knowledge with the best possible support to our

customers to enable them to reach their goals."

Gosselin further elaborated that they chose

Argos technology for their record in grading

embossed in register (EIR) surfaces. EIR is a

technique used by manufacturers to enhance

the appearance of real wood.

This product is both challenging and

time-consuming to control for the human

eye. According to Argos, their technology

controls every panel produced, allowing

the manufacturer to adjust the press and

downgrade panels based on EIR deviations.

"For us, Tafisa is a highly valued customer

and partner. We appreciate the opportunity

to continue to deliver solutions that will

contribute to quality products and an even

more smooth-running operation. These

systems will provide added value both for

Tafisa and their customers," concluded

Lepine. P

NEW LIGNIN-BASED ADHESIVE

TO REPLACE FORMALDEHYDE ADHESIVES

According to Science X, researchers at Aalto

University have developed a bio-based

adhesive that can replace formaldehydecontaining

adhesives in wood construction.

The main raw material in the new adhesive

is lignin, a structural component of wood

and a by-product of the pulp industry that is

usually burned after wood is processed. As an

alternative to formaldehyde, lignin offers a

healthier and more carbon-friendly way to use

wood in construction.

Although timber construction has been touted

as an environmentally friendlier method of

construction as compared to using concrete

or steel, the adhesives used to bond wood

panels still contain formaldehyde, which can be

harmful.

Instead, lignin, which comes from wood itself,

binds cellulose and hemicellulose together and

gives wood its tough, strong structure.

Previously, chemical-intensive pre-treatments

have been necessary to use lignin in adhesives.

The adhesive developed by Aalto University

researchers can use purified kraft lignin and the

chemical reaction to make the adhesive takes a

few minutes instead of up to 10 hours.

Science X reports that no additional heating

of the raw material is needed, which reduces

energy consumption. The only by-products of

the process are salt and sodium hydroxide,

or lye.

"Using lignin as a material can reduce carbon

dioxide emissions and increase the processing

value of forests. This is why research on

lignin is an important priority for us at Aalto

University," said Monika Österberg, professor

at the Aalto University School of Chemical

Engineering.

The lignin content of previous adhesives has

been relatively low, around 20-50%, while the

new Aalto University innovation has a lignin

content of over 90%.

The adhesive is strong and non-toxic, and

protects surfaces from fire, so it can even be

used as a flame retardant.

According to the researchers, lignin can also

be used as a raw material for applications such

as coatings and composites. Research work

will continue in the laboratory, and various

commercialisation opportunities are likely to

be explored in collaboration with LignoSphere,

a spin-off from Aalto University. P

Source: Science X

12 Panels & Furniture Asia | September / October 2022
---
NEWS

JOWAT LAUNCHES NEW UNFILLED

PO HOTMELT ADHESIVE

Jowat has announced a new

expansion to its Jowat-Toptherm

product line with a new optimised

polyolefin (PO) hotmelt adhesive, the

Jowat-Toptherm 237.50.

The new PO hotmelt

adhesive, Jowat-

Toptherm 237.50

(Image: Jowat)

High heat resistance, high bond

strength coupled with optimised

application amounts, reduced

stringing and a range of adhesion make

the Jowat-Toptherm 237.50 a possible

alternative to polyurethane reactive

(PUR) hotmelt systems.

According to Jowat, the new PO

hotmelt has a filler-free formulation.

This increases yield and facilitates

colourless adhesive bond lines

that are barely visible, especially in

applications with dark decor materials

and high-gloss surfaces.

As part of the Jowat Green Adhesives,

this product is also REACH-compliant

and therefore supports protection of

employees and the environment. At the

same time, it can prevent high costs

for the training which is mandatory

for employees who are processing

adhesives containing isocyanate.

The unfilled PO hotmelt adhesive can be

processed with automatic edgebanding

machines and can bond different

edgebanding materials such as acrylonitrile

butadiene styrene (ABS), polypropyleme

(PP), polyethylene terephthalate (PET),

polyvinyl chloride (PVC), melamine or real

wood veneer. P

Panels & Furniture Asia | September / October 2022 13
---
NEWS

ALTENDORF GROUP PRESENTS

NEW GENERATION OF EDGEBANDERS

The Altendorf Group has upgraded Hebrock's

new F- and K-Series edgebanders, which are

said to be faster, more productive and more

efficient than before.

According to Altendorf Group, the K-Series,

inclusive of the K36 and K37 edgebanders,

have undergone upgrades. The former 10-inch

display has been replaced by a 15-inch touch

display with high-resolution 3D graphics.

The upgraded F5

In addition to the glue pot, the machine's other

units can be viewed in compressed form on one

page, and various settings can be made, such as

regulating the temperature of the glue pot.

Energy consumption is reportedly close to zero

in standby mode. In addition, the feed rate

has improved from 10m/min to 15m/min, thus

increasing production efficiency.

Furthermore, by realigning the cross-cut knife,

or the guillotine, to the first pressure roller,

workpieces with a minimum length of 140mm

can be approached and machined. The milling

stations have also been updated with a new

space-saving design that simplifies adjustment

work on the unit.

To meet the various needs of edgebander

users, Hebrock has also launched the K34. This

machine is just under half a metre shorter than

the K36. In the interests of compression, the

focus on this model has been placed on the

four most important processing units.

For the F-Series edgebander, inclusive of F2, F4

or F5, the upgraded F-Series also features a 15-

The new K34,

shorter than the K36

inch touch display, an automatic standby mode,

and increased feed rate. The LED workpiece

tracking lamp at the machine infeed provides

visual assistance during workpiece loading.

On the F-Series next, the hood has been raised

by 100mm. This allows the machine operator

simpler and therefore more ergonomic handling

when changing the glue pot system. P

FSC LAUNCHES INVESTIGATION

INTO PAULOWNIA WOOD SUPPLY CHAIN

The Forest Stewardship Council (FSC) has

launched a transaction verification loop (TV

loop) on FSC-certified paulownia, a type of

hardwood species native across Asian countries,

such as China, Japan, Korean, Laos and Vietnam.

According to FSC, a TV loop is "is the verification

process required by the FSC chain-of-custody

standard to ensure that FSC output claims

made by certificate holders are accurate and

match the FSC input claims of their trading

partners". It is established by FSC and its

assurance partner, the Assurance Services

International (ASI).

The scope of the TV loop covers 67 certificate

holders who trade in all types of products made

of paulownia. Geographically, it will cover 21

countries, with a focus on China as it has the

maximum number of companies involved in the

FSC-certified paulownia supply chains.

Beginning with the first phase of the TV loop

— data collection and analysis — FSC and ASI

are revisiting FSC-certified paulownia supply

chains to ensure that the integrity risks identified

through continued monitoring are recognised

and addressed. Preliminary results of the first

phase will be available in Q1 2023.

As paulownia is a high-risk supply chain for FSC,

the TV loop will provide insights into the effect

of FSC's advice note — the FSC Advice Note

40-004-20 — on the FSC-certified paulownia

supply chains.

The advice note declared: "Organisations shall

not include paulownia or products containing

paulownia in their product group list, nor sell

or label products containing paulownia. The

only exception is if the organisation can trace

the paulownia carrying an FSC claim to its

FSC-certified forest management unit of origin

through documentary evidence."

In 2019, FSC and ASI launched a TV loop on

FSC-certified paulownia which revealed

that between 2018-2020 none of the forest

management certificate holders trading in

FSC-certified paulownia had reported any

sales.

FSC and ASI reportedly uncovered systematic

violations of FSC certification requirements by

companies that were trading non-certified

paulownia products as certified. As a

result, these companies were subject to

the termination or suspension of their FSC

certificates and trademark licenses, or further

investigations. P

14 Panels & Furniture Asia | September / October 2022
---
NEWS

Panels & Furniture Asia | September / October 2022 15
---
NEWS

INDONESIA LAUNCHES NEW

FOREST FIRE DETECTION APP

WITH ITTO SUPPORT

A new app developed with the International

Tropical Timber Organisation (ITTO) assistance

has been launched in Indonesia to assist fire

brigades in preventing and suppressing wildfires.

Forest wildfire is a major threat to human

safety, infrastructure and ecosystems in many

parts of Indonesia, and the app will assist in its

control by increasing the availability of real-time

information for firefighters.

The Indonesian Endowment Fund for Education,

in collaboration with IPB University and the

Indonesian Ministry of Environment and

Forestry, launched the System Monitoring

and Reporting Technology for Fire Prevention

(SMART) Patrol Information as part of an ITTO

initiative on fire management financed by the

Government of Japan through its emergency

funds.

The SMART Patrol Information System records

and reports the real-time action of fire

prevention patrols based on 79 parameters to

better enable wildfire prevention, detection and

early suppression.

It has three main components: a website, a

database and a mobile app. The website and

databases will assist policy development and

decision-making on fire management, and

the mobile app, which initially will only be

Early fire suppression by

a brigade in Banyuasin

district, South Sumatera,

Indonesia. (Photo:

Zuhardi/ITTO)

available to fire management officials, enables

fire brigades to report on wildfires. The data

collected will be analysed and communicated

to all stakeholders, including communities.

At the launch, Laksmi Dhewanthi, Director

General of Climate Change from Indonesia's

Ministry of Environment and Forestry,

welcomed the collaborative effort that

enabled development of the system: "Fire

prevention is a manifestation of stakeholders'

synergy involving the community as well as

government to deliver quick responses in

forest and land fire control."

Hwan-ok Ma, projects manager of ITTO,

also commented: "The ITTO–Ministry of

Environment and Forestry project is playing

an important role in building local capacity for

the systematic application of integrated fire

management in South and Central Kalimantan

and South Sumatera. The development and

launch of this app is another step towards

increasing knowledge and capacity in

integrated fire management in Indonesia."

The launch of the SMART Patrol Information

System was followed by a national seminar

on forest and land fire prevention, attended

by about 150 participants. The seminar

shared experiences and approaches on fire

prevention and reflected on its social aspects,

with many wildfires in Indonesia caused by

anthropogenic activities.

Lailan Syaufina, a fire specialist at IPB

University and a speaker at the seminar, said

that future fire management should consider

social dimensions, landscape management,

and multi-stakeholder partnerships.

Other topics reviewed at the seminar

included remote sensing technology on fire

prevention, fire management policies and

phases, and participatory approaches to fire

management. P

PEFC SUSPENDS PEFC RUSSIA

The Programme for the Endorsement of Forest

Certification (PEFC) has suspended the Russian

National Voluntary Forest Certification System

(FCR).

The suspension is intended to preserve the

conditions for a successful long-term cooperation

with PEFC Russia, to support sustainable forest

management in the Russian Federation in light of

the current political situation.

It was initiated by PEFC International Board, in

mutual agreement with PEFC Russia, and will

take effect from 11 Aug - 31 Dec 2022.

This means that certificates issued against

the FCR are no longer PEFC-recognised as of

11 Aug, applying to both forest management

and chain-of-custody certificates. Certified

organisations are therefore prohibited from

using PEFC claims and label, and cannot sell

material as PEFC-certified.

Earlier in April, PEFC has also suspended

PEFC Belarus in light of the Russian-Ukraine

conflict. Timber sourced from Russia

and Belarus are also considered "conflict

timber", because the conflict has immediate

aggression not only on the environment and

Image: Hugo Delauney/Unsplash

forests, but also the lives living in and around

them.

PEFC is not the only organisation that took

actions against the conflict. FSC has also

suspended FSC-certified material from Russia

and Belarus until the invasion ends. P

16 Panels & Furniture Asia | September / October 2022
---
MARKET REPORT

US hardwood markets:

Challenges abound but

success influences success

By Judd Johnson, editor, Hardwood Market Report Publications

This is my sixth year writing articles

for Panels and Furniture Asia. From

the beginning, my perceived role is to

provide readers with information I have

about the North American hardwood

industry that might be useful or at least

interesting for business considerations.

That is my goal for this article, too.

I reject the title "expert", but my job

and previous career background in the

hardwood industry qualify me to discuss

US hardwoods and the North American

hardwood marketplace at a high level.

Furthermore, my company, Hardwood

Market Report (HMR), my colleagues,

and I share the single purpose of helping

hardwood companies improve their

business performance. That is what we

do, and it is the reason for writing these

articles.

That is enough about me. Here is

what I know about my readers. They

are involved with the production,

distribution, and consumption of

wood products which likely include

US hardwood lumber. Therefore,

understanding conditions that are

affecting or have the potential to affect

supply is important.

Ultimately, US hardwood supplies

depend on business health for US

hardwood sawmills. History has shown

that success influences success, which

for our purposes means that the better

business is, the more volume sawmills

will produce. Notably, the opposite is

equally true. Therefore, a holistic view of

demand will provide insight on supply

trends.

Although supply responds to demand,

there are inherent delays in the response.

Furthermore, there are always

unexpected challenges that confront

businesses. Two recent examples since

the COVID-19 outbreak in the US are

hardwood sawmills that transitioned

production to pine, and supplemental

government stipends for the unemployed

that incentivised workers to stay

off the job longer than they would

18 Panels & Furniture Asia | September / October 2022
---
MARKET REPORT

have otherwise. Neither of these

developments was foreseen, but each

one held back the recovery in eastern US

hardwood sawmill production.

But life and the world around us do

not remain still. Here is where business

conditions now stand:

25000000

23000000

21000000

19000000

Eastern US Hardwood Sawmill Production

(Annual Rate in Cubic Meters)

2018: 19,311,863 M3 2019: 17,922,972 M3

2020: 13,332,351 M3 2021: 15,930,181 M3

Annual rate of produciton for Jan.

thru June 2022 was 17,033,249 M3

Efforts to increase US hardwood sawmill

production have been successful, even

though the recovery is not complete.

Also, rapid and substantial increases in

raw material prices and transportation

costs have slowed or altered business in

downstream markets.

Supplies of other forest products

materials have also improved. The

effect is greater competition in the

marketplace for US hardwoods, as

well as competition for inventory

investments. Inventory investments

are higher and so are costs for carrying

inventory. Furthermore, at this time of

the year, business is traditionally slower

in summer than during the fall and

spring.

China's economy and its ability to

produce are important. Also critical to

China's level of activity is its ability to

ship and receive goods fluidly through

its transportation networks. Although

China's rank as a foreign market

destination for US hardwoods has

retreated from a 54% share in 2017 to

34% year-to-date in 2022, it is still the

largest export market for US hardwood

lumber. Furthermore, China accounts for

56% of all US exports of red oak lumber

and 90% of cherry.

Cubic Meters

17000000

15000000

13000000

11000000

9000000

30000000

28000000

26000000

24000000

22000000

20000000

18000000

16000000

14000000

12000000

Jan-18

Feb-18

Mar-18

Apr-18

May-18

Jun-18

Jul-18

Aug-18

Sep-18

Oct-18

Nov-18

Dec-18

Jan-19

Feb-19

Mar-19

Apr-19

May-19

Jun-19

Jul-19

Aug-19

Sep-19

Oct-19

Nov-19

Dec-19

Jan-20

Feb-20

Mar-20

Apr-20

May-20

Jun-20

Jul-20

Aug-20

Sep-20

Oct-20

Nov-20

Dec-20

Jan-21

Feb-21

Mar-21

Apr-21

May-21

Jun-21

Jul-21

Aug-21

Sep-21

Oct-21

Nov-21

Dec-21

Jan-22

Feb-22

Mar-22

Apr-22

May-22

Jun-22

Broadly, there has been a slowdown in

market activity for US grade hardwood

lumber. And inventories are backing

up inside the supply stream. Prices

that reached record highs not so many

months ago are lowering.

©2022 HMR

May 2020: Historically low annual

rate of production of 10,189,690 M3

Consumption of Hardwood Lumber by Major US Major Market

and Total Supply of Hardwood Lumber

Consumption

©2022 HMR

2006

2007

2008

2009

2010

2011

2012

2013

2014

Total Supply

* Annualized thru June

2015

2016

2017

2018

2019

2020

2021

*2022

is ample for today's needs — may need

to increase to meet future demand. The

good news is US hardwood sawmill

manufacturing capacity is in place to do

so. The only thing missing is a push from

the marketplace. P

Eastern US hardwood

sawmill production

historically accounts

for about 95% of all

hardwood lumber

supply available to US

hardwood markets

Major US markets

for hardwood lumber

include all domestic

and export markets

for grade lumber,

industrial lumber,

and industrial heart

dimension products.

Total supply includes

eastern US hardwood

sawmill production,

western US

hardwood sawmill

production, and

imports of hardwood

lumber

Additionally, inflation is at a 40-year

high for the US economy, along with

higher costs for borrowed money. Both

are curbing business activity. On the

positive side, US consumers are still

spending, and the outlook on residential

construction remains upbeat. Even so,

competition from non-wood products

has been detrimental to hardwoods.

This is not just a US hardwood lumber

issue, but a reality facing wood products

manufacturers worldwide.

Things are transitioning. This is

another reason why businesses have

taken a step back with purchasing raw

materials. However, there is strong

belief that fundamental demand for

consumer wood products is sound

and that inflation will cool as the

global distribution of goods levels out.

Consumer activity should then increase.

With that belief, the current rate of US

hardwood sawmill production — which

Hardwood Market Report (HMR)

is the leading source of pricing

and market information for North

American hardwoods. It has

provided reliable, expert analysis

of pricing and market trends to

hardwood companies throughout

the world since 1922. Sample copies

and subscription services for HMR

and all other HMR publications are

available online at www.hmr.com.

Panels & Furniture Asia | September / October 2022 19
---
MARKET REPORT

Back in South East Asia:

Schuler Consulting resumes

business in Malaysia

freedom, it is ready to immerse itself in

the project business at the client's site.

The consultancy's headquarters is based

in the Black Forest in Germany. To be

able to operate globally, the company

runs locations in the US, Spain, India,

China and now also in Malaysia. From

kitchen and furniture manufacturers

to interior fitters, suppliers and the

timber construction segment, Schuler

Consulting works with every company

size across the woodworking industry.

In recent years, the timber construction

sector in particular has become a

growing target group.

Founded in 1956 by Gerhard Schuler

as an office for business organisation

and planning, Schuler Consulting is

today rooted within the woodworking

and furniture industry. The daughter

company of HOMAG is now looking to

reactivate its business activities in the

South East Asian market after the COVID

crisis. Therefore, engineer of wood

technology and area-responsible Peter

Hartmann relocated to Malaysia.

NEW ACTIVITIES AND FOCUSES FOR

SEA MARKET

The South East Asian market for furniture

producers is mainly characterised

by exports. This applies particularly

to solid wood furniture, but also to

panel furniture. In both areas, Schuler

Consulting has been able to bring the

know-how to customers for many years

Image: Scott Graham/Unsplash

and has brought small as well as large

projects to success in almost all Asian

countries.

Schuler specialises in its consulting

approach in the fields of digitisation or

Industry 4.0, strategic production development,

lean production, controlling,

technical production standardisation

and software evaluation. The over-30

heads consulting team strives to obtain

a realistic picture of the consulting

company's potential and, on this basis,

to develop individual solutions that

are aligned with the company's overall

strategy, products, capacities, and other

parameters.

In the past COVID era, Schuler faced

hurdles due to contact and travel

restrictions. With the return of travel

Peter Hartmann, who recently moved to

Malaysia, works for Schuler Consulting

in Europe and South East Asia. His focus

is on strategic production development

for solid wood products and their

lacquering. He supports companies

and investors in strategic production

developments, and in the field of timber

construction since a few years ago. In

these areas, he supports clients in their

visions of cost-effective and sustainable

construction through the know-how for

standardised and smart construction

principles, as well as in the development

of efficient and automated production

concepts.

FROM ONE CRISIS TO ANOTHER:

WHERE IS THE SILVER LINING?

The list of current crises affecting many

companies is long: declining orders,

delivery bottlenecks, rising material

and logistics costs, shortage of skilled

workers, among others. Currently, the

industry is moving more in the direction

of optimisation, consolidation, cost

savings and creating flexibility, instead

of expansion as before. It is precisely

20 Panels & Furniture Asia | September / October 2022
---
MARKET REPORT

in these areas that Schuler now wants to set

accents and focus on supporting companies in

the crisis.

To master these challenges, transparency

in the value chain is essential, as it is also

necessary for digitalisation, among other

things. Why is transparency important? To

achieve targeted optimisations and savings, it

must be known exactly where the shoe pinches.

Day-to-day business usually takes place in a

way that production is controlled by grown

processes, but it is often not transparent how

the information flows, and how the routings

and material flows behave. At the end of the

day, everyone involved is just happy that

the completion date and thus the shipment

of the container is guaranteed. However, in

many cases it is no longer known how costs,

throughput times and quality behave along

the value chain. But this is exactly where the

potential for optimising productivity, lead

times, costs and quality lies.

REACHING PRODUCTION TRANSPARENCY

AND COST EFFICIENCY

During COVID-19, Schuler used the time to

develop a new product for digitalising the

value stream. Now the company is taking off

with the "Digital Value Stream Optimisation"

in markets worldwide. The digital value stream

makes it possible to capture and visualise the

value stream in an automated and secure way

with a plug-and-play solution. For this, Schuler

uses smartphones and Bluetooth transmitters,

or beacons, which act as external sensors and

can be used in every work area and on every

machine.

processes and initiate targeted optimisation

measures for the value stream. Here Schuler

supports with the know-how and experience

in the field of lean management to achieve

sustainable optimisation.

For the use of "Digital Value Stream Optimisation",

no IT project is necessary, according to

Schuler. The hardware and software are based

on a plug-and-play solution that can be leased

as needed. All data and dashboards run in the

cloud, meaning there is no need for a large IT

infrastructure.

In the end, the collected data can not only

be used for optimisations, but the findings

can be applied directly for payment models,

cost calculation, capacity planning, delivery

date commitments, and more, which

transfers into the topic of costing. Schuler

follows the design-to-cost approach to

help manufacturers determine the actual

production costs of their own. If production

costs deviate from the prices called up

on the market, material efficiency can be

increased through targeted technical product

standardisation. This optimisation measure

makes it simpler to manufacture the products,

thus reducing the throughput time and

ultimately the manufacturing costs.

CHARACTERISTICS OF SEA MARKET

AND FURTHER DEVELOPMENTS

South East Asia is a cluster of small, medium

and large furniture producers. As a result of

global developments, including in China,

the importance of South East Asia as a

production location continues to increase.

For this reason, Schuler sees potential for

development in the future, not only on the

qualitative level, but also on the quantitative.

Many companies are currently making the

leap from artisanal to industrial production.

Therefore, output as well as quality targets

have to be met. In this development, Schuler

wants to support these companies and take

them forward. Furthermore, South East Asian

companies are open to changes and further

developments, and are quick to adapt and

implement new technologies and working

methods. In other parts of the world, changes

and developments are not met with such a

positive attitude but are approached more

hesitantly.

As the market development is volatile, it

is getting more and more difficult to make

forecasts for the future. No one can foresee

which virus or conflict will cause plans to go

off the rails again. What is clear is that the

furniture market in South East Asia will

continue to have potential, and Schuler

wants to support customers in making

the best possible use of this potential.

Therefore, Schuler plans to build up further

consulting capacities in the South East Asian

region in 2023. Fortunately, after COVID-19,

H2 2022 will again see many trade shows. The

pandemic has shown that many things can be

clarified and developed online, but nothing

replaces personal contact. P

The smartphone sensors measure machine

motion data, such as acceleration and vibration,

and provide information about processing time

and part performance. By locating the beacons

on the material stacks, dwell and transport

times are continuously recorded. Production

areas that were not previously digitised can

also be connected to the sensor system. The

production data is augmented with data

from existing systems such as machine data

acquisition (MDA), process data acquisition

(PDA), enterprise resource planning (ERP) or

manufacturing execution system (MES) data

and flows together from all sources in a value

stream dashboard. This database can be

used to identify redundant and cost-intensive

Peter Hartmann, who moved to Malaysia to spearhead Schuler's activities in South East Asia

Panels & Furniture Asia | September / October 2022 21
---
ENVIRONMENTAL REPORT

A case study in

managing for multiple

values in forestry

By Matthew Provencher, secretary

and forester, Cranberry Lake

Foundation, Washington

The forests growing within the

foundation vary in age from one to

over 100-year-olds. From roughly the

1970s-1990s, several dozen acres were

devoted to growing tightly spaced

Christmas trees. Remnant old trees

from the 1700s dot certain portions of

the property — likely left as seed trees

during the Christmas tree days.

The foundation has moved to a

variable density thinning (VDT) model.

Any large clearcuts in excess of more

than a few acres are typically to treat

some underlying forest health issue,

such as conversion of Christmas tree

species to species more appropriate

to the location. Generating income

is a secondary goal to increasing

structural and species diversity in

areas of monoculture or single ages or

canopies.

Students walking

across the CLF

wetland boardwalk

The Cranberry Lake Forest Education

and Research Centre, managed by

the Cranberry Lake Foundation

(CLF), occupies 720 acres of forests,

streams, wetlands, and lakes located

a few miles northeast of Shelton in

Mason County, Washington, US. The

mission of the foundation is to provide

community education focused on

school-aged children, but also includes

adult learning. This is a location for

research projects, to showcase sound

stewardship practices, and provide

income for these activities and the

maintenance of the property through

active forest management. The

foundation's bylaws stipulate that the

property must remain a working tree

farm while providing for these other

values.

The foundation was formed by tree

farmer Kenny Frank in 1993. Frank's

early purchases were cut over land

that he replanted and tended. In

the early 1950s, he and his wife Kitty

turned their attention to ensuring

the Cranberry Lake property they

loved would never be developed. The

result is the foundation, set up as a

non-profit managed by a local, Mason

County board of directors.

The foundation's focus on structure

and habitat as opposed to revenue

means they have explored other

sources of revenue that align with

their goals. A cell phone vendor has

approached them about placing a

communications tower in one of their

final larger clear-cuts. It is located quite

a distance from the namesake lake and

its associated critical wetlands. The

monthly income will augment their

timber harvest revenue and reduce the

pressure for more intensive harvests,

while taking up less than one-quarter

acre.

The foundation is also moving forward

with an easement with Forest Carbon

Works (FCW), a US-based company

that monetises the carbon stored by

22 Panels & Furniture Asia | September / October 2022
---
ENVIRONMENTAL REPORT

Before and after: Initial stand density is 400 trees per acre (tpa), and post treatment is 190 tpa, with small prescribed gaps and a few no-harvest areas

landowners' forests. FCW allows small forest

landowners access to the carbon market

and can provide non-timber revenue for

landowners. For landowners who primarily

manage with non-timber objectives in mind,

the reduction in timber harvest that results

from the easement has minor impact. And

importantly, the foundation is still able to

ai161597024816_EN_PFA_IMEAS_202105.pdf 1 17/03/21 09:37

stay in compliance with their bylaws and any

applicable tax laws that may require timber

harvest.

These may seem like atypical partnerships to

highlight. However, the revenue FCW provides

will allow the foundation to continue with

a VDT model. They can focus on creating a

diversity of tree species and forest structure,

while producing a forest that is well suited to

be resistant to future threats, and continue to

meet their educational goals. P

This article was first published by Forest Stewards

Guild, and is reproduced here with permission.

Images: Cranberry Lake Foundation

The new EvoL sanding machines from Imeas are the result of more than 50

years of know-how and evolution and offer State-of-the-Art technologies

for sanding of wood-based panels such as MDF and ParticleBoard. EvoL

sanders feature Minimal Costs, Excellent Calibration, High Speed,

Flexibility, Superior Quality, and Full Automation.

C

M

Y

CM

MY

CY

CMY

K

IMEAS S.p.A. via Pacinotti, 36 - 20020 VILLA CORTESE (MI) ITALY | Tel. +39.0331.463011 | Fax +39.0331.432311 | imeas@imeas.it | www.imeas.it

Panels & Furniture Asia | September / October 2022 23
---
IN PERSON

To be "one step

ahead of the

market"

with Berndorf

Band Group

Gernot Binder

By Yap Shi Quan

Alexander Leutner

With the new dual leadership and two new

departments to strengthen their service offerings,

Berndorf Band Group aims to become a global

full-service provider of their steel belts and belt

systems. Alexander Leutner and Gernot Binder, the

new CEOs of the Berndorf Band Group, tell us how the

group focuses on satisfying its customers.

What do the both of you hope to bring

to Berndorf Band Group as the new

CEOs?

Gernot Binder and Alexander Leutner:

As we have both worked in Berndorf

Band Group before, we know the

company very well. This helps when it

comes to making strategic decisions

for the future. In our previous roles,

each of us focused on one of the two

main business areas — steel belts and

belt systems — so we complement

each other perfectly in our roles of

CEOs. Both product areas have the

same importance in the company and

are optimally complemented by our

worldwide service.

What are the group's current strength,

and what areas can it improve on?

Binder and Leutner: The Berndorf

Band Group operates worldwide. With

our global team of sales and service

specialists, we are always ready

to serve our customers, no matter

the time or place. We cover various

areas of activities and industries with

our product portfolio, but we are

particularly proud of our unique service.

Even so, over the years new business

areas have been added to our portfolio,

which we now need to expand to act as

a global full-service provider.

Can you describe the group's current

role within the woodworking

industry? How do you plan on

expanding its influence across the

industry?

Binder and Leutner: With our steel

belts, we are a market specialist in the

woodworking sector. Of course, we

would like to maintain this position

in the future. Close contact with our

customers and our worldwide service

team with equipment specially

developed for this industry are two

advantages of working together with

Berndorf Band Group.

What trends do you see developing

for steel belts in the woodworking

industry, and what innovations does

the group have in store to boost its

steel belts' capabilities for wood

processing?

Binder and Leutner: We invest in R&D,

service and product management

to improve our steel belts for the

woodworking industry. An important

point for a long belt lifetime is preventive

maintenance. We train our customers

on-site to build awareness of this issue.

24 Panels & Furniture Asia | September / October 2022
---
IN PERSON

1

Another development is the mobile belt

grinder, a tool that can repair scratches

and burrs on steel belts on-site to reduce

unplanned downtimes. We are proud

that we are the only steel belt supplier

that can offer such a capability. As you

can see, we are constantly evolving and

developing new solutions to further

improve our customers' processes.

2

Can you elaborate on how the both

of you agree on, I quote, making

"innovation scalable and [applying]

agile business practices to ensure [the]

company remains ahead of the game"?

Binder and Leutner: We are in constant

contact with our customers. We therefore

know what our customers need and

can also react to new trends. With the

introduction of Product Management

and Business Development departments

in the Berndorf Band Group, these

processes will be accelerated even

further. Time is an important factor in

the industry, and we want to be able

to react even faster in the future and

always be one step ahead of the market.

This is the only way we can satisfy our

customers. P

Legend

1 Berndorf Band

Group's official

headquarters in

Austria

2 The group supplies

steel belts for

the woodworking

industry

Panels & Furniture Asia | September / October 2022 25
---
PRODUCT HIGHLIGHT

The arrangement of

cutting edges and

the rounded edges

of the triangular

turnover knives make

the t3 ideal for the

chip-free milling of

free forms in hard

and softwoods

Sharp

and neat:

t3 system

cutters by

Leuco

With its newly devised t3 system cutter,

Leuco enables jointing, rebating, hemming

and sizing of solid wood and wood-based

materials even in confined spaces. The

triangular turnover knives on these cutters

reportedly create chip-free surfaces, and their

compact construction equips them ideally for

the milling of free forms, such as chair legs

and staircase construction.

The task of reworking irregular

surfaces and edges after the

milling process is not one of the

most popular wood processing

tasks. The t3 system cutter from

Leuco's range of milling heads

addresses that, doing more than

providing a range of potential uses.

Its arrangement of cutting edges,

in contrast to conventional spiral

cutterheads, can create chip-free

jointing and hemming surfaces.

This new system finds its field of

use on computerised numerical

control (CNC) machines for solid

wood processing and on joinery

machinery in applications ranging

from demanding craftsmanship to

industrial applications with high

output requirements.

26 Panels & Furniture Asia | September / October 2022
---
PRODUCT HIGHLIGHT

THE T3 IN DETAIL

The end-milling cutter with Leuco's

triangular tungsten carbide (HW) turnover

knives is suitable for offset- and chip-free

jointing, hemming and sizing of solid

wood on CNC and joinery machinery. The

rounded edges on the triangular turnover

knives mill from bottom to top and vice

versa, leaving reportedly no blemishes on

the machined workpiece.

According to Leuco, the same is true

of the t3's spiral plunge cutting when

milling free forms for pockets with

a diameter of more than 60mm. The

triangular carbide turnover knives

achieve three service lives. On all

four models with clockwise cutting

action, the cutting circle diameter

of the inserted blade milling cutter

measures 54mm, the shank length

is 52mm, and the number of teeth

is two plus two. Depending on the

version, the total length ranges

from 120-162.5mm and the cutting

width measures 63-106.5mm.

With a shank diameter of 20mm or

25mm and 12-18 segments, the t3

system achieves maximum speeds

of 12,000-22,000 rotations per

minute. P

With an Allen key,

all 18 knives can be

removed, cleaned

and replaced in

about 15-20 minutes

BLOW-SCAN

Blow Detection System

High system availability

(robust + low-maintenance system design)

GERMAN TECHNOLOGY

Permanent + automatic

"Inline-Calibration"

High detection accuracy thanks:

a. Compensation of sensor pollution

b. "AirKnife" Technology

WIDE RANGE OF MEASURING SYSTEMS

FOR ENGINEERED WOOD PRODUCTION

www.electronic-wood-systems.com

Panels & Furniture Asia | September / October 2022 27
---
PRODUCT HIGHLIGHT

Precision and

quality with

Coohom's 3D

Modeling

Service

3D modelling is arguably a must to

dominate the digital-savvy global market

right now. To offer its customers that

service, Coohom aims to provide highquality

and precision 3D models with

minimal compromises in any factors

with their 3D Modeling Service. From

the raw product information to the final

presentation in online shops, Coohom

aims to take care of all that for its clients.

Hang Chen, CEO of Coohom, commented:

"3D modelling is getting more crucial

than ever since picture presentation

has its limits, and to be frank, picture

presentation is not too appealing

compared to 3D visualisation. So we

strive to provide the 3D Modeling Service

to all business owners."

According to Coohom, to visualise

products with full customisation as 3D

models, only essential information is

needed or just computer-aided design

(CAD) files. Furthermore, the 3D Modeling

28 Panels & Furniture Asia | September / October 2022
---
PRODUCT HIGHLIGHT

Clients can see the 3D

product model in any

style, material, angle

Service is available 24/7 internationally, where

users can contact the modelling specialists

anytime and anywhere if they want to make

some alterations to the 3D models.

The 3D Modeling Service is equipped with

3ds Max, which renders 3D models as precise

and ideal as possible. The service also offers

live 3D production presentation with 16k

resolution rendering. All items besides furniture

are available to be 3D modelled. The service

offers full customisation during the modelling

process, including texture, style, material and

more. It can also be integrated with other

Coohom's software systems, such as 3D Viewer

and Augmented Reality (3D Viewer & AR), and

Virtual Showroom.

Hang added: "The 3D Modeling Service is the

basic of everything: it is how you communicate

with the clients at the very first step, how they

will be able to see your 3D product model in

any style, material, angle, and more. The 3D

model precision and quality will exceed your

expectations. Then, with the 3D Viewer & AR

to provide the immersive experiences, before

you know it, your product would have sold and

caused a sensation in the market."

Businesses using the service can grow sales

conversions and product engagements, and

gain brand exposures. Coohom reported that

after using its 3D Modeling Service, its clients'

sales growth increased by tenfold, product

engagements grew by 120%, and the practical

costs had decreased. P

@panelsfurnitureasia

PFA-HPHorizontal-Socialmedia-2021.indd 1

29/7/21 9:18 AM

Panels & Furniture Asia | September / October 2022 29
---
PANEL MANUFACTURING

Shot peening for

steel belt restoration

Steel balls are

blasted at high

pressure across the

width of a belt as

it turns around the

terminal drum

IPCO's new

shot peening

technology

delivers up to 30%

greater flattening

capacity with its

increased blasting

effect.

Press belt manufacturer IPCO has

announced the development of its new

Shotpeener Pro, a portable tool that can

be used to restore deformed steel belt

to a flat condition without interrupting

production.

The manufacturer's shot peening

technology has been used to flatten

deformed steel press belts for years.

Steel balls are blasted at high pressure

across the width of a belt as it turns

around the terminal drum. This equalises

stresses on both sides of the belt to

remove deformations and eliminate

issues such as tracking problems, high

stresses and risk of accidental damage,

among others.

The next generation, Shotpeener Pro,

incorporates a number of technical

advances, resulting in increased blasting

effect for faster results. According to

IPCO, flattening capacity is increased by

30%, enabling the restoration of belts

that might previously have been beyond

repair. Furthermore, the entire process

is reconfigured to reduce cleaning

requirements and enable safer, easier

operation.

Enhancements include increased fluid

velocity and vacuum effect, and a

redesigned internal manifold allowing

the use of larger shot while reducing

sensitivity to dirt. Internal welds in the

head have reportedly been eliminated to

30 Panels & Furniture Asia | September / October 2022
---
PANEL MANUFACTURING

improve reliability, and other innovations

have made replacement of consumables

easier.

The use of the unit is improved too

with simplified electronic controls

and easier adjustment. Structural

improvements have also improved

stability and allowed the base and rail

on which the unit sits to be locked,

minimising risks of movement caused

by vibration. This offers advantages

over the traditional repair technique of

belt turning, which requires the belt to

be cut, removed, turned, remounted

and rejoined, a process that could take

days. Once mounted in place, the tool

can repair a deformed belt in between

three to 18 hours, depending on the

belt dimension, thickness and degree of

deformation.

The Shotpeener Pro is the latest

addition to IPCO's QuickTool family,

a range of installation, maintenance

and repair tools available to IPCO's

South East Asia belt service team

in Singapore. Others include the

QuickDisc family of repairs tools, used

to replace damaged sections of belt; the

QuickBench, for training manufacturers'

in-house teams; and the QuickAnnealer

and Peak Leveller. P

The Shotpeener Pro

is portable, and can

restore steel belts

without interrupting

production

Panels & Furniture Asia | September / October 2022 31
---
FURNITURE MANUFACTURING

The new EDGETEQ S-370

edgebanding machine

HOMAG has announced the launch

of its new EDGETEQ S-370, the next

generation edgebanding machine

designed for optimal woodworking

performance.

"The launch of our new EDGETEQ S-370

series raises the bar for edgebanding

machines, allowing users to maximise

productivity and achieve state-of-theart

woodworking output — all with

the promise of cost-efficiency and fast

operational speed," said Wolfgang

Neeser, managing director of HOMAG

Asia. "There has never been a more

opportune time for HOMAG to introduce

a world-class edgebanding technology

that's precisely tailored for customers in

the Asian furniture market."

The EDGETEQ S-370 series is designed

with German innovation and made

for Asian customers to meet their

faster speed-to-market requirements.

The technology is characterised by

its equipment standard: a machine

with an industrial chain for high

processing quality and top pressure in

steel for precise workpiece guidance,

complemented by trimming tools with

an I-system for optimum chip disposal

and processing standards.

GERMAN QUALITY, DESIGNED

FOR ASIA

Leveraging on HOMAG's 20-year

specialty in producing edgebanding

machines in Asia, the EDGETEQ

S-370 cuts at 35m/min for small

batch production runs. The machine

is designed with top pressure in

steel and a driven compound V-belt,

ensuring that the workpieces are aptly

clamped for processing; an adjustable

infeed fence for a more seamless

workplace placement and alignment,

even with heavy workpieces; and

automatic height adjustment for a

more precise workpiece thickness

adjustment.

PRE-GLUING PROCESSING

The EDGETEQ S-370 has a separating

agent spraying unit and a jointing

trimming unit, which prepares

workpieces for gluing. The separating

agent spraying unit simplifies the

process of removing glue residues,

preventing the adhesion of hotmelt

glue at the top and bottom of the

workpieces.

OPTIMISED GLUING TECHNIQUE

The EDGETEQ S-370 has heated

glue rollers that ensure optimal

gluing temperature. This technology

maintains an accurate gradual

increase in temperature and prevents

the glue from blackening for a clean,

smooth finish. Furthermore, according

to HOMAG, the glue roller shoe does

not touch the workpiece, avoiding

glue from spilling over the edges and

maintaining its durability for longer

use — all while achieving better gluing

quality. Likewise, the S-370 prevents

workpiece damages with pneumatic

glue roller clamping, and maintains

the right glue application temperature

for optimal results.

"HOMAG equips its edgebanding

machines with gluing units that

are ideal for a fast, positive-locking

polyurethane reactive (PUR) glue

bond," said Lorenzo Marcaccioli,

sales director for HOMAG Asia. "Our

edge feed has a precision of roughly

2-3mm at the leading and trailing

edge, therefore reducing wastes from

edging materials."

HIGH-SPEED SERVO CUTTING

The EDGETEQ S-370 also allows for

fast servo end-cutting at a maximum

speed of 35m/min, preparing the

workpieces for a smooth trimming

operation. It is power-saving, assures

output stability and quality even at

high speed, and is not dependent on

air supply. The servo end-cutting unit

is safe for sensitive materials too.

Additionally, the machine achieves

high-speed chamfering and roundingoff

edges on the workpiece front

and rear edges. This technology

32 Panels & Furniture Asia | September / October 2022
---
FURNITURE MANUFACTURING

divides the cut over four motors, each

processed in synchronous rotation,

leaving an optimal trimmed finish

even at high speeds.

HOMAG aims to offer the right

trimming solutions to smoothen

even the roughest edges. The S-370's

two-point adjustment trimming

unit is designed for rapid shifts

between thin and thick edges, and

its rough trimming unit is ideal for

processing the upper and lower edge

overhang. For a more optimised

trimming quality, it is also built

with a hollow shaft taper (HSK) tool

1

interface, ensuring better locking

connection between the tool and

motor shaft through vibration-free tool

concentricity.

More importantly, the S-370 has

a controlled chip disposal feature

using the I-system, which extracts

chips in the interior and selectively

directs them into the dust hood.

This contributes to greater economy,

longer service life, lower energy

consumption, and overall cost

savings.

1

TANDEM LINE SOLUTION

One application of the S-370 is the

tandem line, which consists of two

machines connected to an automatic

line, one on the left and the other on

the right. The tandem line solution

allows for high volume productivity

and flexibility when working on a small

batch of workpieces.

THE WOODLINE SOFTARE PACKAGE

HOMAG leverages software technology,

creating smarter solutions that allow

for remote control over the EDGETEQ

S-370 machine. With the modular

woodLine software, users are able

to control two processing machines

of the S-370 series, on top of feeding

and transferring from one machine to

another. With woodLine, users may use

various functionalities such as sectionwise

reset, barcode reading, flexible

edge sequence control, or resetting in

the gaps. P

2

3

Legend

1 High-speed servo

end-cutting at

35m/min

2 The option of

a tandem line

consisting of

two machines

connected to an

automatic line

offers high volume

productivity and

flexibility with

low batch of

workpieces

3 Edge feed with

a precision of

around 2–3mm

at the leading

and trailing edge

to reduce edging

material waste

Panels & Furniture Asia | September / October 2022 33
---
PANEL MANUFACTURING

Dust-free workpieces

before lacquering

By Ralf Sundmaeker,

sales director machinery, Steinert

Sanding the first coat after applying the

base coat onto the surface is a basic

requirement for an optimally painted

surface. However, the sanding process

with a wide belt sander creates a high

quantity of fine dust which sticks to the

surface. Those dust particles have an

almost identical size as the sanding lines,

and thus have the tendency to cling and

stick in those lines. Removal of these

dust particles is thus a difficult task and

cannot be achieved with the sanding

machine itself.

INTERMEDIATE LACQUER SANDING

AND FINE DUST

In general, a sanding machine is

equipped with cleaning devices on the

outfeed side, varying from simple round

brushes to air nozzles and slot-shaped

extraction channels. But even with those

devices installed, most of the sanding

dust remains on the surface. The dust

becomes visible by wiping the surface

with a micro-fibre cloth.

While wiping the surface is in general the

best solution, it is however still far from

an ideally clean surface. Brushes will

be chocked from the dust and once the

brush filaments are covered with dust.

The cleaning effect will be gone and the

brush just slides over the surface without

any cleaning.

PRE-CLEANING BY AIR

For optimised cleaning after the sanding

process, Steinert and Wandres offer the

micro cleaning Tornada-Channel

TKR 200. At the core of this airbased

cleaning device are mounted

pressure nozzles which rotate

at a high speed. These Tornado

Nozzles are driven synchronously

by timing belts. The turning circles

of the nozzles overlap to ensure no

workpiece area is left out from the

cleaning process.

The Tornada-Nozzles are installed

close to the workpiece surface, all

at the same height. The air contact

speeds of this system are in the

range of 700m/s. This air cleaning

technology achieves an average of

90% to remove the fine dust over the

entire width of the Tornada-Channel.

34 Panels & Furniture Asia | September / October 2022
---
PANEL MANUFACTURING

CLEANING BY WIPING TECHNOLOGY

For sanded surfaces, the Wandres air

cleaning with the Tornado-Channel

would be sufficient. However, highgloss

effects are easier to achieve

with thinner and repetitive lacquer

coats compared to less and thicker

coats.

1

The thin lacquer coats are made of

less solid paint particles and thus

are not able to compensate and

absorb any sanding dust. For these

sensitive applications, Steinert

recommends the combination of

the Wandres pre-cleaning by air and

the wiping technology. The newly

developed Wandres Sword brush

with two parallel linear brushes can

remove fine dust particles from the

surface with the Ingromat-Process.

Micro filaments covered with

micro Ingromat droplets wipe over

the surface in an offset direction.

Small particles will cling onto the

filaments by adhesion caused by the

wet surface of the brush filaments.

A flipping device integrated into

the brush secures a constant and

effective self-cleaning of the brush.

The Ingromat liquid is applied by

micro nozzles integrated into the

system.

EVERYDAY USABILITY

The combined air and wiping

technology to clean workpieces

addresses challenges in 24/7

industrial productions such as

the cleaning of medium-density

fibreboard (MDF), furniture

parts, parquet and others. With

the integration of the combined

Wandres Tornado-Channel and the

Sword Brush, defects of workpieces

based on dust particles embedded

in the painted surface are reduced,

the thickness of the paint coat

reduced, which has a positive cost

and quality effect, and interruptions

of the production reduced.

Simultaneously, the working

conditions are improved with

less dust in the surrounding

air. P

3

2

Legend

1 The Tornada-

Channel TKR 200:

Pre-cleaning with

rotating Tornado

nozzles and final

dust removal with

the Sword brush

2 The Ingromat-

System

3 Dust-free surface

Panels & Furniture Asia | September / October 2022 35
---
FURNITURE MANUFACTURING

Data technology for

workstation and

Industry 4.0

The CNC nesting line

with twin gantries

With the rise of labour cost, frequent

changes in market demand, fierce

competition and the rapid development

of new technologies such as digitalisation,

Internet of Things (IoT), sensors

and machine intelligence, the furniture

manufacturing industry is moving

towards an intelligent manufacturing

model — from stand-alone production to

automated line, intelligent workstations,

and Industry 4.0 production — to adapt

to market trends and gain competitive

advantage.

Intelligent production requires not

only the automation of production

equipment, but also an automated

data flow. The automation of

production equipment is not hard

to understand. Aided by automated

computer numerical control (CNC)

processing equipment, robots and

all kinds of automated hardware

equipment can achieve automated

production. However, furniture

production enterprises are subject to

complex multi-order production and

difficult full-cycle management. Most

enterprises choose to classify and group

a variety of products and components

according to certain features, and

organise each stage to achieve the

production of kneading orders.

However, this approach is hard to

manage. When a bulk of orders comes

in, it can be difficult to merge similar

items in a quick, accurate manner, thus

leading to a high error rate and a greater

stress on labour.

To tackle this problem in

intelligent production, sensors and

communication devices are attached

in each equipment and line. Data

flows are integrated, coordinated with

software, and production equipment

is controlled under pre-set algorithms.

The interconnection of people,

machines and materials will connect

information silos, achieving automated

data flow with software technology

for Industry 4.0. Such efforts are also

the core of intelligent workstation and

Industry 4.0.

36 Panels & Furniture Asia | September / October 2022
---
FURNITURE MANUFACTURING

In this regard, Nanxing Machinery and

FinChinaSoft have been cooperating for years

to provide furniture manufacturing enterprises

intelligent production hardware and software.

Hardware includes PC-based intelligent

CNC equipment, automatic production lines

and intelligent workstations, while software

includes enterprise management system

such as order management system (OMS),

advanced planning and scheduling system

(APS), manufacturing execution system (MES),

and warehouse management system (WMS),

helping enterprises to manage information

from customer orders, raw material management,

material planning, production

scheduling, order progress follow-up, product

1

delivery and installation, among others.

These integrate and coordinate data flow,

improve production management efficiency,

reduce error rate, and achieve the goal of cost

reduction and efficiency.

Take the intelligent equipment comprising

sets of CNC nesting lines with twin gantries

and robots as an example. The solution

includes two sets of NCG3021L-PLUS CNC

nesting line with twin gantries, an unloading

robot with external axis and a connecting

conveyor through the FinChinaSoft automation

control system, Supervisor, for

automatic labelling, loading, drilling,

cutting, discharging, sorting and unloading

processes. Each gantry of the machine has

one Hiteco 12kW tool-changing spindle and

one enlarged drilling block with 21 drill

heads. Optimised algorithm enables the two

gantries work together, and the supervisor

and MES system will receive the processing

data. By receiving real-time scheduling data

flow from APS system for real-time algorithm,

capacity can be adjusted, leading to a flexible

production system. According to Nanxing,

the whole cutting workstation can handle

120 large boards in a single shift. In addition,

from a processing point of view, it is not

necessary to square boards in the following

process after sizing with the milling cutter,

contributing to a high processing quality

and a stable and low error rate. With the

optimised software, the utilisation rate of

the plate is also improved to save costs. By

doing so, an intelligent production solution

where software drives machinery, where the

human works in harmony with the machine

is achieved.

Panels & Furniture Asia | September / October 2022 37
---
FURNITURE MANUFACTURING

Control

Cabinet

Trash Bin

Legend

1 The layout of the

double gantry

woodworking

production line

2 The layout of the

workstation with

four sets of sixsided

drilling and

sorting robot

Control

Cabinet

Trash Bin

Supervisor

1

2

An intelligent workstation with four sets of

six-sided drilling and sorting robot can also

demonstrate the role of data flow in the

intelligent workstation. The supervisor of this

workstation is integrated with four sets of the

six-sided drilling machine, double-layer rollers,

and a loading and unloading robot. Processing

data from MES is transmitted to each machine

and robot, automatically reading and recalling

the plate processing information through

the scanning device in front. The robot in the

middle processing area assigns the plate to

the six-sided drilling machine according to

the processing status of each machine. After

the processing is finished, the plates roll out

through the lower roller to the unloading

sorting area, where the scanning device reads

the plate order information, after which the

sorting robot sorts the plates by order. Different

drilling and sorting requirements for different

plates can be met without manual intervention

or additional kneading orders, and labour and

error rates will be reduced. The robot can work

continuously to serve uninterrupted three-shift

24-hour production to realise the automatic

intelligent production of drilling and sorting of

custom furniture production, contributing to

cost-efficiency and easier implementation. In

addition, there is a manual scanning loading

table in the middle of the drilling and sorting

section, so that even boards not processed

on the six-sided drilling machine can also be

read by the scanning code and supplied to the

sorting robot for automatic sorting.

From the two cases, flexible, rational production

management is crucial for enterprises to

improve production efficiency. Alongside

automated hardware CNC equipment, OMS, APS

and MES software systems play an important

role in the data flow of intelligent workstations

and even Industry 4.0, while OMS allows users

to control the entire order process and real-time

data decision analysis. Then the order will be

submitted to production.

FinChinaSoft APS includes two functions:

advanced scheduling and advanced production.

In the production process with intelligent

algorithms, multi-tasks and many constraints,

combined with the enterprise's own resources,

a relatively optimal scheduling scheme and

production batch programme are automatically

generated, and data flow is sent to the MES.

The MES provides various functions such

as workshop task allocation, production

optimisation, scheduling, monitoring, order

picking and packing. All production links

are connected, ensuring the accuracy of

information transmission, realising efficient

real-time control of workshop production,

and meeting the key needs of in-process

management, quality control, equipment

integration and management, problem tracing

and analysis, and real-time data collection on

the production floor. Managers are allowed to

distribute the integrated management concept

to each process and employee in the workshop,

and manage the workshop production more

efficiently in real time.

People, machines and materials are the three

elements of enterprise production. Aided by an

intelligent manufacturing mode of combining

hardware and software, manufacturers can

realise interconnection and deep integration of

hardware equipment and digital information

technology. Consequently, this can reduce the

overall management cost and optimise the

production structure to improve productivity

and competitive advantages. P

38 Panels & Furniture Asia | September / October 2022
---
Canadian Wood.

Natural Beauty.

Gỗ Canada.

Vẻ đẹp tự nhiên.

WESTERN HEMLOCK GỖ ĐỘC CẦN BỜ TÂY

TRY CANADIAN WOOD

HÃY DÙNG THỬ GỖ CANADA

canadianwood.com.vn

+84 (0)274 380 3609

A range of high-quality certified lumber from sustainably

managed forests of British Columbia, Canada.

Các loại gỗ xẻ chất lượng cao được chứng nhận từ nguồn rừng trồng

được quản lý bền vững của tỉnh bang British Columbia, Canada.
---
FURNITURE MANUFACTURING

Simplifying furniture

manufacturing with

a multicoat system

40 Panels & Furniture Asia | September / October 2022
---
FURNITURE MANUFACTURING

Adding wooden furniture in the

bathroom is an environmentally friendly

option, along with an earthy feel that

brings people closer to nature. Whether

it is a bench, a stool, a vanity shelf above

the countertop sink, or a toiletry cabinet

at the bottom, wooden furniture with

warm texture can create a centrepiece

to any bathroom, providing functional

space in any style, from minimalist to

traditional.

Wooden bathroom furniture is primarily

made from solid wood, plywood,

medium-density fibreboard (MDF) or

melamine panels. However, untreated

1

wood substrates are susceptible to

damage caused by water splashes, warm

bath vapour and moisture absorption

from high humidity. Therefore, a safely

treated, waterproofed wood substrate

and finished surface by the furniture

manufacturer helps to ensure a long

lasting performance of the wooden

bathroom furniture. Additionally, a wellventilated

bathroom keeps the humidity

levels under control, while routine

housekeeping, for instance removing

soapy residue, will make the wooden

furniture last longer.

COMMON PROBLEMS OF WOODEN

BATHROOM FURNITURE

Water and moisture affect all wood

properties. The penetration of water or

moisture over time can cause the wood

substrate to swell, weaken, rot, fall apart

and allow mould to grow. Thus, apart

from using moisture-resistant wood

substrates, manufacturers must ensure

the coated finishes create a barrier to

prevent moisture or water from seeping

into the wooden furniture and causing

irreversible damage. The right coating

materials and finishes not only make

wooden furniture easier to maintain

but provide additional protection, such

as against stains, discolouration or

scratches.

wood, MDF, high moisture resistant

(HMR) board or particleboards. This

product has a triple function of being

a primer, basecoat and topcoat that

provides adhesion-, sealing- and

moisture-resistance properties.

According to Teknos, this new WB Spray

Basecoat can be tinted to match any

colour with a master colour sample

or international colour chart like RAL,

NCS or Pantone colour spectrum. This

allows flexibility in creating effects

for achieving the ideal shade to

complement the interior.

This product is developed to support the

multicoat pigmented coating system for

bathroom furniture and can be applied

on doors too or any type of interior

furniture that are often exposed to water.

Before

It provides optimal sealing with moisture

barrier protection, which prevents water

from seeping into the wood substrate and

retains the natural feel or authenticity of

wood materials. Thus, it is a better choice

as an environmentally friendly product

as compared to traditional solvent-based

coating.

PROCESS OPTIMISATION

Using the multicoat pigmented coating

system can simplify the process

by reducing the build-up from the

conventional five-layer coating which

generally uses three products, to

three layers with one single product of

Teknos's WB Spray Basecoat 234. This

can optimise the coating consumption

that is required in the whole process to

achieve the desired quality. The process

After

Delamination from substrate

Surface swelling

SOLUTIONS

Teknos has recently launched the new

pigmented Waterborne (WB) Spray

Basecoat 234 that can be applied by

spray in the coating process of solid

The effects of

prolonged water

and moisture

absorption or

exposure on the

wood substrate

Panels & Furniture Asia | September / October 2022 41
---
FURNITURE MANUFACTURING

improvement helps manufacturers to

operate efficiently and maximise their

productivity with cost efficiency, so

they can deliver more value and realise

greater returns.

HIGHER PRODUCTIVITY, EFFICIENCY,

AND INCREASE IN OUTPUT

With the optimised processes using

the new WB Spray Basecoat 234, the

comparison results showed time savings

in application time per panel, full drying

time, and sanding frequency when total

layers are reduced from five to three.

This hence helps furniture makers to

achieve higher productivity, production

cost efficiency, and increase in quality

and quantity by reducing non-essential

steps and downtimes. The entire process

has become faster, simpler and more

economical.

BETTER INVENTORY CONTROL

By reducing the number of products

used to complete the finishing build-up,

furniture manufacturers do not need

to buy and stock up for three different

products. This thus minimises the need

to maintain and fill more spray guns with

different paints, helping to reduce the

inventory, cost, workload in handling

large inventory assortments. Storage

space is freed up too. P

** Disclaimer: The exact application weights

vary depending on the mechanical conditions.

Performance results may also vary depending

on exact build-up system, application process,

environmental circumstances and quality of

substrate, or the surface properties.

Comparisons between conventional

system with Teknos's single product

multicoat pigmented system**

42 Panels & Furniture Asia | September / October 2022
---
COME AND MEET US

Global Timber can deliver a wide range of boules, selected

boards, and many other types of wood from both tropical and

tempered climates. Come and meet us at one of the following

exhibitions to talk about what we can deliver to you.

IFMAC & WoodMAC

Sep. 21 st - 24 th , Jakarta

VIETNAM

Vietnam Wood

Oct. 18 th - 20 th , Ho Chi Minh City

INDONESIA

Per Friis Knudsen

pfk@globaltimber.dk +60 111 429 7073

www.asia.globaltimber.net
---
MATERIALS

Bonding

goes green

For Jowat, sustainability

is more than just a trend.

While companies are

just starting out on their

journey towards becoming

environmentally friendly,

the adhesive specialist

company has been treading

the green path for

many years.

Jowat is fulfilling the sustainability

requirements for a range of industries

with its Jowat Green Adhesives range,

a portfolio of adhesives compiled

according to defined sustainability

criteria, focusing on adhesives themselves

as well as on the bonding

process.

How can people make the future of

bonding more responsible? This is a

question Jowat began to tackle some

time ago, before sustainability targets

became a hot topic. The adhesive

manufacturer has been paying attention

to quality standards and environmental

and user friendliness in its products for

years, so it can handle the increasing

demand for sustainable applications.

"More and more of our customers are

now asking about sustainable adhesive

solutions," reported Andreas Weymann,

team leader in product management

at Jowat. "And with that in mind, we

already have a proven and diverse range

of 'green' adhesives to offer them."

GREEN SOLUTIONS FOR A RANGE OF

INDUSTRIES

The sustainable formulations of Jowat's

adhesives are being used in a range of

applications. Weymann elaborated:

"We have now reached a point where

we can provide a green alternative

to conventional adhesives for every

industry we cater to."

In the automotive industry, for

example, the enterprise's low volatile

organic compounds (VOC) adhesives

and formulations with a low content

of VOC ensure healthy air quality and

a comfortable driving experience

for those inside the vehicle, all

while maintaining high standards

of process safety in production. And

when it comes to food packaging,

Jowat supplies mineral oil saturated

hydrocarbons (MOSH) / mineral oil

aromatic hydrocarbons (MOAH)-free

bonding solutions that comply with the

standards required under food safety

laws.

In the construction and furniture

production industries, Jowat reserves

attention for its woodworking

adhesives. Compared to concrete,

wood is a renewable material that

has minimal negative impact on the

environment — providing for forests

that require protection as specialised

ecosystems to be left unharmed — and

helps to create a healthy atmosphere

in closed spaces. With this in mind,

44 Panels & Furniture Asia | September / October 2022
---
MATERIALS

the adhesives specialist has come

up with a range of product solutions

for load-bearing timber components

that are compatible with the natural

characteristics of wood.

WHAT CAN GREEN ADHESIVES DO?

Green adhesives promise a lot, but

do they deliver on that promise? With

the positive market feedback, the

answer is clear: yes, they do.

"Our customers have been especially

impressed by the fact that there is no

dip in our established high standards

of quality. We are providing

them with access to sustainable

applications that don't put them at a

disadvantage elsewhere," Weymann

stressed.

Sustainability is diverse — and so

is Jowat's Green Adhesives range,

helping as it does to improve

sustainability in different ways.

For instance, the use of bio-based

raw materials in Jowatherm GROW

products saves resources and

thereby provides a future-oriented

alternative to substances such as

petroleum. Sustainable adhesive

solutions can also help to improve

the safety of processors and

customers by either cutting back on

emissions and plasticisers or using

adhesives that are not subject to

hazard-labelling.

1

Legend

1 Renewable

raw materials

are not the

only important

consideration

when it comes to

sustainability —

consumer safety

is also a top

priority

2 One of the

key elements

in Jowat's

sustainable

adhesives

portfolio is the

company's use

of renewable raw

materials.

At the same time, low temperature

hotmelt adhesives can be used

at lower temperatures than their

conventional counterparts, which

reduces energy consumption. All

in all, Jowat's green adhesives

represent an investment in environmental

and climate conservation,

which will continue to increase in

importance in the future.

2

PROGRESS AND SOLIDARITY

Jowat's focus is on a sustainability

strategy for the long term — not just

with regards to the composition and

use of its products, but also in terms

of establishing lasting working

relationships with its customers

in order to develop new solutions.

The company's portfolio of green

adhesives is diverse, and it plans to

keep expanding it so that, together

with its partners, they can help to

make both the present and the future

more sustainable. P

This article was first published by Jowat

and is reproduced here with permission.

Panels & Furniture Asia | September / October 2022 45
---
MATERIALS

Hardwood from

Quebec, Canada:

Where sustainability

and quality meet

Inside 160 and more million hectares

of certified forest in Canada, the

province Quebec has an allotment

of quality, durable and aesthetically

pleasing hardwoods. The most popular

and predominant hardwood species

are maple, birch, oak, ash, cherry,

beech, and walnut. Most of the time,

they are used for making high-end

furniture and value-added products.

These species are also popular for

making hardwood flooring.

Wood from Canada and Quebec

is unique not only because of its

available species for export, the wood

and products that come from it are

also certified by organisations whose

practices are validated by a third-party

auditor. Its quality are thus delivered

around the world on a constant and

ensured basis.

The quality is the fruition of

sustainable and responsible use

of resources from the forest to the

final product, promoting minimal

environmental impact and forest

regrowth. Over the years, Canadians

have developed a know-how in forest

management. This way of managing

the forest must be followed to be

eligible in getting certifications.

In fact, more than 90% of the forest

area in Quebec is certified by forest

certification organisations. That makes

Canada's certification percentage one

of the highest in the world.

Three forest certification organisations

are used in Canada: the Sustainable

Forestry Initiative (SFI), the Forest

Stewardship Council (FSC), and the

Canadian Standards Association (CSA).

These organisations ensure forestry

companies in Canada follow the

following elements to get certified.

The organisations set high thresholds

that forest companies must clear,

in addition to Canada's regulatory

requirements. They provide a stamp

of approval showing customers

46 Panels & Furniture Asia | September / October 2022
---
MATERIALS

the products they are buying

originated from forests that meet

environmental, social, and economic

standards. They issue certificates

only after a thorough review and

determination of conformity

with standards by third-party

auditors. Lastly, they are tailored

to consider global forestry issues

and circumstances specific to the

Canadian landscape, such as the

livelihood of local communities and

the interests of indigenous peoples,

as well as the natural habitat of

animals.

standards are developed to reflect

changing market needs around the

world.

For Frédéric Jacques, hardwood and

flooring group manager at the Québec

Wood Export Bureau (QWEB), it is a

pride to deliver wood products of this

quality: "On the international stage,

we are proud to show our hardwood

and wood products quality because

we know they have been made with

the utmost respect to our forest and

environment. Also, the products that

come from these practices are of

constant quality." P

The standards on which forest

certification is based are not static.

Expectations of what certification

should demonstrate are always

changing. Certification standards

are regularly revised to keep pace

with new knowledge and emerging

concerns about sustainable forest

management. Additionally, new

Timber certified by FSC

Panels & Furniture Asia | September / October 2022 47
---
FLOORING

Embracing the

sustainability trend

With a history of caring for the environment, Danish solid wood

flooring manufacturer Junckers aims to be a driving force in the

campaign to use more sustainable flooring.

Every material needs to meet

crucial criteria: Is it sustainable? Is it

reusable? Is it recyclable? How long

will it last? How is it produced? How

can it care better for the environment?

What may seem overwhelming at

first can more easily be tackled when

broken down into smaller parts, and

one such component is flooring.

Specifying a solid wood floor for a

project can mean that one small part

of the puzzle is taken care of.

Junckers's solid

wood floors are

tailored for sports

floors

With a focus on working towards a netzero

carbon future in the construction

industry and beyond, it has never been

more important to choose wisely and

carefully. The United Nations (UN)

Intergovernmental Panel on Climate

Change and the Paris Agreement aim

to cut greenhouse gas (GHG) emissions

by 45% by 2030. The construction

industry is responding by tightening

specifications in their quest towards

more environmentally friendly ways of

building, and architects and designers

around the world have pledged to

design more sustainably.

After making the pledge, the challenge

starts in earnest. Achieving net-zero

carbon may mean new ways of working,

finding alternatives to previously trusted

options, or justifying the specification

process for every part of a project.

Known for its environmental

credentials, wood is a material

that scores in all criteria. Wood is

often touted as "the world's most

environmentally friendly material",

a renewable resource that does not

produce waste or pollution. This

is because wood acts as a carbon

sink, removing harmful GHG from

the atmosphere. What is more,

wood continues to store the CO2 it

absorbed during its growing period

when it is felled and turned into

a product such as flooring, which

means its environmental benefits

last for a long time. In short, growing

more trees will reduce the amount of

carbon in our atmosphere, reducing

GHG, helping to slow global warming

while at the same time providing

oxygen. Wood is the only building

material that has the natural ability

to remove CO2 from the atmosphere

and store it.

A floor made from solid hardwood

is strong and durable. There are

minimal layers of inferior quality

48 Panels & Furniture Asia | September / October 2022
---
FLOORING

and no harmful chemical substances which

can adversely affect the air quality in a room.

With a lifespan of 60-plus years, the longevity

and lifecycle costs of a good quality solid wood

floor are second to none. This means less waste

management and ultimately, lower demands

on natural resources.

The hard-wearing properties of a solid wood

floor were of primary importance to Suhwon

Architects of South Korea when it came to

selecting flooring for the Kunpo Culture and Art

Centre in Gyungee province 1 . The choice fell on

Junckers's solid Beech Sylvaket, a floor with

a warm appearance and acoustic properties

inherent in the wood. The new performance

stage and seating area now have a durable,

natural floor.

Increasingly, there are ways for architects

and designers to ensure they select

responsibly sourced wood and products

with minimal impact on the environment.

A manufacturer who can offer responsibly

sourced wood with Forest Stewardship

Council (FSC) and the Programme for the

Endorsement of Forest Certification (PEFC)

accreditation along with an environmental

product declaration (EPD) will aid architects

and developers in achieving net-zero

carbon buildings. An EPD assesses the

manufacturing and material sourcing

activities of a company and presents

data in relation to the company's

environmental impact, resource use, waste

categories, output flow, and recycling

capabilities. The EPD, which represents

a measure of the product's embodied

carbon, contributes towards BREEAM,

LEED and DGNB assessments by providing

the specifier with data pertinent to

achieving sustainability accreditation for

a building.

Hardwood is a natural, biodegradable, and

recyclable material and it is non-hazardous

when disposed. Most other flooring types will

not last as long, which puts greater pressure

on landfill. For example, a solid wood floor

has a lifespan four times that of a synthetic

or engineered floor, meaning the total

amount of energy used for solid wood floors

is further reduced as one solid wood floor is

manufactured for every four engineered or

synthetic floors. Many floor finishes will have

to be stripped out and disposed after 10 years

or less. At roughly the same interval, a solid

hardwood floor can be sanded and sealed for a

new lease of life. A structural floor, usually with

a thickness of 20mm or more, can be sanded

between eight and 10 times, which means a

lifespan of 60 years can be exceeded.

• 2~3 moveable saw blades

(will be launched in August 2022!)

• Laser scan feeding system equipped,

cutting 5~6 boards per minute

More and more buildings are certified according

to schemes such as BREEAM, Leadership in

Energy and Environmental Design (LEED) and

German Sustainable Building Council (DNGB),

where each product specified for a project

is measured in terms of its sustainability

credentials. The Lotte Academy in Osan, South

Korea 2 designed by A+U Architects was built

adhering to environmental criteria, including

specifying products with environmental

credentials. Junckers's solid Black Oak, a floor

in a rich, dark colour which can be sanded

and re-finished without loss of colour and

performance, takes centre stage in the new

building's presentation space. The building has

recently achieved an LEED certification level of

Gold.

Panels & Furniture Asia | September / October 2022 49
---
FLOORING

The more we commit to making crucial

changes, the sooner we will be able to

achieve our goal of halting the climate

emergency.

Legend

1 Junckers used its

Black Oak for the

Lotte Academy

2 unckers used its

Beech Sylvaket

for the Kunpo

Culture and Art

Centre

Another way to compare different

flooring products is to use assessment

tools developed by manufacturers.

To help customers feel confident in

their choice of flooring, Junckers has

developed the Carbon Calculator 3 to

compare the global warming potential

(GWP) and embodied carbon levels of

several commonly specified floor types.

According to Junckers, it is easy to use

and requires no previous knowledge

of GWP and CO2e (carbon dioxide

equivalent). Start by adding the required

floor area, click calculate to compare

1

Indoor surfaces

can be subject to

a whole host of

contaminants from

foot traffic, pets, food

residues or cleaning

lapses, and thus

need antimicrobial

finishing

several flooring options, and the results

will show how some flooring products

increase the amount of CO2 in the

atmosphere, whereas others reduce it.

Products that reduce CO2 are referred to

as carbon negative, such as wood.

There is no question that we need to

take drastic actions to achieve the

targets set by the UN and the Paris

Agreement. Reducing the annual level

of CO2 emissions is a matter of urgency

which will require changes to collective

as well as individual consumption habits.

TIMBER SPORTS FLOOR

Choosing a solid hardwood Junckers

sports or dance floor will give an optimal

performance. Shock-absorbing qualities,

ball bounce, resilience and friction are key

factors which determine the performance.

The key factors are measured by the

European standard EN 14904, which sets

the rules of sports floor performance. The

standard relates to both safety and sports

technical properties, and sets demands

in two classes: the standard performance

class A3 and the higher performance

class A4. Junckers's sports floor solutions

are tested according to the specified

requirements and achieve performances

for both A3 and A4 classes. The choice

of the sports floor system depends on

the desired performance. Other factors

that affect the choice of floor system are

the required construction heights and

solutions for both even and uneven subfloors.

Junckers sports floor comprises solid

hardwood boards manufactured from

two rows of staves with a thickness of

22mm. The beech staves then undergo

a press drying process which increases

the strength and stability of the wood.

The tongue and groove on all sides of the

board for optimum strength thus ensure

quick and easy installation. Junckers

sports timber are also pre-finished:

Boards are surface treated with several

coats of hard-wearing polyurethane

lacquer under optimum conditions at

the factory, which means the only thing

needed after installation is the line

marking paint. Once dry, the floor is ready

for use.

References:

1. Junckers. Kunpo Cultural Center.

2. Junckers. Lotte Osan Academy.

3. Junckers. The Junckers Carbon Calculator.

Images: Junckers

50 Panels & Furniture Asia | September / October 2022
---
RECYCLING

Extending the

lifecycle of wood

from forest to products

With over 15 years of experience

in wood-based solutions and

production, Jose Matas joined

Tomra Recycling as segment

manager in 2021 to advance

the material recycling and

circularity of waste wood for

the panelboard industry. His

international experience with some

of the world's largest wood-based

producers offers insights into

the challenges and future of the

industry.

Millions of tonnes of off-cuts and

wood-based products that could

be recycled end up in incineration

or landfills every day around the

world. By collecting and sorting

wood-based materials for recycling,

we can repurpose more wood

and turn them into new products

like furniture, building materials,

packaging and more. But where

does recycled wood content come

from, and how is it used? In the

fourth of our five-column series, we

unpack some details of waste wood

recycling.

Mixed waste wood

52 Panels & Furniture Asia | September / October 2022
---
RECYCLING

Generally, waste wood is a term to

describe all post-industrial and postconsumer

solid woods and woodbased

products, including:

Post-industrial waste wood:

Industrial residues and off-cuts from

timber and manufacturing sectors

are high in demand for a variety of

applications. This includes clean,

untreated wood scrap and untreated

board products such as chipboard,

medium-density fibreboard (MDF) and

plywood.

Commercial waste wood: Untreated

wood-based packaging such as

pallets, crates, and transport bases,

and cable drums are ideal for material

recycling. Recycling treated, nonhazardous

wood materials from

joinery activity and manufacturing

processes with more extensive

processing is also possible.

Construction and demolition waste

wood: Treated, non-hazardous

wood like softwood fence panels

or posts and timber components

from renovation and demolition

activities can be considered for

material recycling. Materials must

be sorted from wooden objects that

can be potentially hazardous, such

as decking, external doors, joinery,

cladding, and fascia.

Household or municipal waste

wood: Untreated softwood or

hardwood beams and natural wood

furniture, such as kitchens, tables,

shelves, and wardrobes, that have

not been coated or veneered can be

recycled into new products. Treated,

non-hazardous wood items like

doors, plywood frames, and staircases

that have not been exposed to rain

or excessive moisture can also be

considered for material recycling.

The waste streams described require

various processing steps, but the

removal of contaminants like metals,

plastics, stones, ceramics and glass

is necessary for the cascading use

of wood. Untreated, natural wood,

also known as Wood A, is the

easiest type of wood chip to be

recycled into new products today,

but developments in recycling

processed wood, also known

as Wood B, open up even more

opportunities in material recycling.

A vital step in improving the

recyclability of engineered wood:

waste wood needs to be sorted

by type — such as MDF, plywood,

oriented strand board (OSB),

among others — to create clean

mono-material fractions.

WASTE WOOD TYPES AND

MATERIAL PROCESSING

There are various types of wood

that are suitable for recycling or

the incorporation of recycled wood

content. They include softwood,

hardwood, particleboard, OBS,

plywood and MDF. Until recently,

only clean or untreated wood

will be recovered from waste

and recycled, but processes are

continually being developed to

recycle non-hazardous processed

wood as well.

Here, we offer an overview of waste

wood fractions commonly found in

waste collections:

Non-processed wood: Natural

softwood and hardwood materials

that have not been treated

meet the highest-grade waste

wood classification. Removing

contaminants like nails, plastic,

other organic materials is

required to ensure a high-quality

feedstock. Commonly used for

surface coverings, animal bedding,

landscape surfaces and compost in

past years, this recycled content is

in high demand by panelboard and

furniture manufacturers worldwide

today.

It is important to note that from

a circular economy perspective,

clean, untreated wood chips are

still being used as fuel in biomass

1

2

or in the manufacturing of pellets

and briquettes. In our view, material

recycling should be prioritised over

energy recovery. Burning these wood

chips as fuel is a missed opportunity

to maximise resource utilisation and

should only be a last resort scenario.

Particleboard: Also known as

chipboard, this engineered wood

product is made of compressed

wood particles and a synthetic resin

or binder. Once it reaches its end of

life as a product, it can be recycled to

make new particleboards when metal

and other contaminants are sorted

out. This product is also known for its

capability of incorporating recycled

content from unprocessed wood

waste. The industry has invested in

increasing the efficiency and scale of

advanced sorting systems to increase

the use of recycled wood, which in

turn control costs and improve

sustainability.

Legend

1 Non-processed

wood

2 Particleboard

Panels & Furniture Asia | September / October 2022 53
---
RECYCLING

OSB: Like particleboard, OSB is

an engineered wood made of

compressed rectangularly shaped

wood strands arranged in a specific

pattern and cured with waterproof

resin. OSB that is sorted from waste

wood can be shredded and used

again to produce particleboard. To

incorporate recycled content in OSB

panel production, non-processed

wood with specific grain sizes and

characteristics is required.

Plywood: Plywood is an engineered

wood product manufactured by

gluing thin layers of wood veneer.

Once the plywood reaches its

end of life as a product, it can be

sorted from waste wood, shredded

and purified from contaminants.

Recycled plywood is an ideal source

of feedstock for the production of

particleboard.

MDF: This engineered wood product

made from lignocellulosic fibres has

an extensive worldwide production

volume. But currently, MDF is one

of the few materials that cannot be

recycled to produce new boards,

resulting in most post-consumer MDF

products being incinerated after a

relatively short lifespan.

The fibreboard industry is aiming to

develop processes that enable the

use of recycled MDF to produce new

MDF boards. Developing strategies

to collect, sort and recycle postconsumer

MDF is necessary to tap

into the potential for one of the

world's most widely used woodbased

products. Breakthroughs in

recovering high-quality fibre from

waste wood and recycling processes

will one day soon create feedstock

for new MDF production.

WASTE WOOD RECYCLING: AN

UNTAPPED OPPORTUNITY

The market potential for recycled

wood content can be attributed to

two primary factors: high-priced

limited supplies of fresh wood and

upward trends in sustainability. The

Legend

3 We can repurpose

waste wood into

more products like

furniture, building

materials, and

more

4 OSB

5 Plywood

6 MDF

demand is strong for recycled wood

content and will only continue to grow

once expansive systems for waste wood

collection provide a stable supply of

secondary raw materials.

Today, most waste wood is used

to produce energy. But why burn

resources that can be used again to

develop new products? End markets

like small- and large-scale biomass,

pellet producers, wood bedding

suppliers and panel manufacturers all

demand more clean recycled wood

content, resulting in market rivalry

and material supply chain issues. The

availability of fresh wood is insufficient

to meet demand, especially in Europe,

where more and more forest fires erupt

due to extreme weather patterns.

There is an urgent need for legislation

to define waste wood categories and

application usage based on quality, to

use resources in a smarter way. Wood A

and B are prime examples of materials

suitable for material recycling, while

lower-grade wood categories could

be used for energy. Once policies set

these standards, the infrastructure can

collect, sort and recycle waste wood

more effectively.

Creating feedstock from waste wood

not only demands high purity levels

and high throughput, it also requires

more advanced sorting of processed

wood, or Wood B products. Artificial

intelligence and deep learning

technology advancements have

opened a new pathway to advance

wood recycling and preserve resources.

Product-to-product recycling of

engineered woods like MDF extends the

lifespan of the materials, minimising

the environmental impacts from forest

to final products. P

3

4

5

6

54 Panels & Furniture Asia | September / October 2022
---
STRUCTURAL ELEMENTS

m.o.r.e.

Cabin

Architecture firm:

Kariouk Architects

Location:

Quebec, Canada

Completion year:

2021

Gross built area:

1,000sqft

General contractor:

GPL Construction

Structural engineer:

Daniel Bonardi Consulting Engineers

Heavy timber consultant:

StyxWorks

Heavy timber assembly:

Laverty Log Homes

CLT, glulam, and specialty steel:

Zublin Timber

Photographer:

Scott Norsworthy

Panels & Furniture Asia | September / October 2022 55
---
STRUCTURAL ELEMENTS

1

The paradigmatic North American

cottage is romanticised as a wilderness

log cabin. Nonetheless, typical cottages

are "woodsy" versions of suburban

homes with modern convenience.

These buildings sustain the myth that

appearing to be one with the land

equates to a reduced impact on the

environment.

The m.o.r.e. Cabin, designed by Kariouk

Architects, inverts this idea through a

separation from the landscape that is

more sustainably constructed than

other cottages. This unravelling of ecofictions

is not cynical, but optimistic:

while organic environments are being

degraded, what remains can be engaged

more responsibly.

To this end, m.o.r.e. Cabin touches the

land lightly through interpreting the

law creatively to uphold its principles;

reducing foundation size through a steel

mast; using a low waste cross-laminated

timber (CLT) structure; achieving greater

tensile strength through a "folded"

structure; using off-grid power and highefficiency

heating; and creating a home

for endangered bats.

The name of the cabin, m.o.r.e., is an

acronym of the names of the clients'

grandmothers.

INTERPRETING THE LAW

Zoning rules required a 30m setback

2

from the lake. A cliff face at that 30m

mark was incorporated into the design,

whereas conventional construction

approaches would entail blasting. To

minimise harm to the hillside and forest,

a zoning variance was obtained to allow

the front of the cabin to hover above,

rather than sit on, the 30m mark.

THE MAST

The technical solution to the

environmental issue involved a single

concrete footing and a steel mast placed

within the required setback. Avoiding

a conventional large foundation

preserved the watershed and

prevented erosion, as did elevating

the construction zone. Use of concrete

was also reduced for a lower carbon

footprint.

M.O.R.E. THAN ONE WAY TO SKIN

A HOME

m.o.r.e. Cabin is built with suitablysourced

CLT panels and glulam

beams. The CLT was milled off-site

then hoisted into place, avoiding

damage to the landscape by the

manoeuvring of construction

machinery.

56 Panels & Furniture Asia | September / October 2022
---
STRUCTURAL ELEMENTS

The cabin's environmental considerations

yielded structural innovation. Kariouk

Architects' challenge became to develop

a structural strategy using cantilevered

CLT panels as a response to the zoning

variance that they obtained. CLT is

fundamentally deployed in vertical or

compressive sections, not horizontally in

tension.

3

4

Conventional five-ply CLT is too heavy

to support itself over longer spans. The

solution used thinner three-ply CLT, with

structural capacity ensured through

"folding", just like how paper gains

strength when folded.

OFF-GRID

The cabin is solar-powered. The elevated

cottage catches more breeze and has

optimal cross-ventilation. Heat is

provided by a "green carbon" wood

stove. Good R-value and thermal comfort

are provided by CLT's mass, and precise

joinery provides air-tightness.

INVITING OVER THE NEIGHBOURS

One goal of the home was to create

extensive lodging for endangered brown

bats. Bat pods were integrated into the

mast to provide safety from climbing

predators and a clear flight path to the

lake. P

Legend

1 The cabin hovers

above the 30m

zoning mark

2 A corridor of the

cabin

3 The dining area

4 Good insulation

and thermal

comfort are

provided by CLT's

mass

5 The cabin predominantly

uses

CLT and glulam,

while reducing

the reliance on

concrete

6 Three-ply CLT

panels are used

and folded to gain

structural integrity

7 Three-ply CLT

panels are

preferred over

five-ply for their

thinness and

lightness

5 6 7

Panels & Furniture Asia | September / October 2022 57
---
SUSTAINABILITY

Fast furniture

People have probably heard of fast

fashion, and should be familiar

with fast food. But what about fast

furniture? The impact fast furniture

has on our environment is a problem

worth discussing.

Like fast fashion, fast furniture is a term

which covers everything from cheap,

stylish sofas to on-trend homewares

and decor items. Unlike fast fashion,

however, we have not really reckoned

with it yet. There are more homeware

brands than ever before. Everyone,

from top-end designers to high street

names and budget stores, has a stake

in the interiors game.

It was not so long ago, certainly

within my lifetime, that we bought

furniture to last. Dining tables and

sofas would have a place in our homes

for decades, many handed down

through generations. They were a

part of our lives and embedded in

our fondest memories. It was a time

when we used to place value on our

furniture, because it had value. And

the reason it had value was because

the people who made it placed value

on the materials and workmanship.

And because we valued it, we looked

after it. And if our furniture broke, we

fixed it, whether it was a new coat

of varnish or new upholstery. And

we did this again and again until we

could not squeeze any more life out

of it. But things were much slower

then, and people cared more.

Some big players are already

trying to green up their act. IKEA,

the Swedish furniture giant, has

announced schemes like buybacks

of unwanted items, more spare

parts, and furniture renting in a bid

to make its model more sustainable.

But it also makes 15 Billy Bookcases

a minute out of particleboard and

veneer, which is not very durable and

fixable. To date, it has made about 60

million of them.

Inspiring the next "material

revolution" by creating sustainable

and high-performance materials

from oil palm waste, Peter Fitch,

together with IOI, have set up IOI

Palm Wood to commercialise this

untapped potential.

58 Panels & Furniture Asia | September / October 2022
---
SUSTAINABILITY

1 2

We can make ourselves feel better

by reselling or donating instead of

dumping. But many second-hand

stores and salesrooms will not

touch furniture that was made

within the last five years.

There is also the issue of toxicity

in the manufacturing process

and in the items themselves,

which are often made from lowquality

materials, that may leach

or disintegrate in potentially

dangerous ways. Many fast

furniture is made from cheap

high-emission particleboard or

medium-density fibreboard (MDF),

which not only does not last but

contains toxic chemicals like

formaldehyde.

us do not even remember a time

when this was not how the world

worked.

But by far the biggest driver is

social media. Thanks to the

constant stream of fresh content,

trends turn over faster than ever.

What can we do about it? Paying

more is a big ask — there is a

price constraint for many of us,

now more than ever. Having

more conscious furniture does

not mandate that we never buy

another IKEA item, it just requires

that we are a little more mindful

if we do. Here are some tips for

buying longer-lasting, healthier

and more eco-friendly furniture:

Legend

1 A consequence of fast furniture — furniture

easily discarded after a few years of use

2 Opt for better quality furniture that are longlasting

One of the most difficult things

about 'fast everything' is that it has

crept up on us slowly. We crave

new things, and we have become

used to having easy access to

them. We are a little more likely

to treat ourselves than hold

back. That has been a growing

measure as a characteristic of our

unsustainable culture.

It is not just about our tastes; it is

also the ways our economy and

our culture are set up. Most of

Buy fewer items of better quality:

As we have come to realise that

a home cluttered with stuff does

not really bring us the fulfilment

we once thought, there has

been a widespread shift towards

simplifying our lives. A home with

less furniture is more spacious and

easier to clean. And if consumers

buy less furniture then they can

afford to spend a bit more on the

stuff they do buy, and know that it

will go the distance — and probably

save them money in the long run.

Panels & Furniture Asia | September / October 2022 59
---
SUSTAINABILITY

Buy for life: Consumers should invest

in a quality piece of solid furniture that

they love, that sees their children from

their first words to their first date and

beyond.

Buy timeless and stylish: Choose

classic and timeless styles that will not

ever go out of fashion. Explore secondhand

and vintage shops with beautiful

and quality furniture, and pick up some

great bargains.

Know exactly what you are after and

do not compromise: Before buying new

furniture, consumers should first ask

themselves if they really need it. And

if they do, do not rush in. They should

allow time to firstly be clear on exactly

what they are after, and then to find the

perfect item, one that meets all their

criteria like size, style, materials, quality

and budget. And if they cannot find it,

get it custom-made.

3

Seek out furniture companies that use

toxic-free and sustainable materials:

Some furniture manufacturers such as

IKEA have been proactive in phasing out

toxic chemicals and moving towards

sustainably-sourced materials.

HOW SUSTAINABLE IS THE USAGE OF

PALM WOOD?

Using palm wood for furniture and

building materials can be sustainable

with its carbon capture during the

products' lives. Palm wood, when used

indoors, is durable and free from harmful

chemicals such as formaldehydes. For

example, high-density palm wood boards

can last for decades, provided they are

dried and manufactured properly.

4

When wood is decayed, either naturally

in the forest or because of the damage

caused by usage at home, the carbon

stored in the wood is released back

to the atmosphere. Therefore, longlasting

furniture can be considered a

good way of keeping carbon out of the

atmosphere. If the wood is reclaimed

for making another piece of furniture, its

positive carbon storage environmental

impact is even higher. P

Legend

3 Buy furniture that

is stylish and

timeless

4 Do not settle — get

furniture that is

custom-made to

meet strict criteria

5 Try to use palm

wood furniture,

which is durable

and free from

harmful chemicals

5

60 Panels & Furniture Asia | September / October 2022
---
SHOW REVIEW

A successful comeback

amid challenging times

Two years of hiatus did not

dampen the response BIFA

Wood Vietnam 2022 received:

The second edition of the

wood and woodworking

exhibition attracted almost

5,000 visitors over four

days, an achievement in

light of current challenges

of persisting quarantine

measures, manpower

shortage, and rising costs of

raw materials.

Peter Liu, international sales director of Nanxing Machinery, signing an order contract

With approximately US$5.6 million

worth of woodworking machinery

transacted from 8-11 Aug 2022, the

international wood and woodworking

trade exhibition held at Binh Duong,

Vietnam was a successful show that

featured innovations and solutions

that manufacturers and factory owners

sought to boost their production

quality and productivity. This included

automated machines, labour-saving

solutions, digital offerings such as

computer numerical control (CNC) and

computer-aided manufacturing (CAD)

software systems, and more.

BIFA Wood Vietnam 2022 welcomed

a diverse exhibitor base. Machinery

and furniture manufacturers and

digital solutions providers hailed from

Germany, China, Taiwan, Malaysia and

Vietnam, and timber suppliers from

the US, France, Sweden, Thailand,

Australia and New Zealand.

This is a feat when taking into account

the newly reopened borders, with

hesitation to travel abroad still fresh

in everybody's minds. But Binh Duong

province remains a prime location

to conduct wood and woodworking

business and discussions. Timber

suppliers such as J. Lalanne and Penn-

Sylvan Hardwoods, who are returning

exhibitors from the previous edition,

are pleased by the number of visitors

interested in timber sourced from

France or the US.

The Forest Region Småland of

Sweden, a representative body of

Swedish timber suppliers from the

region of Småland, has also reportedly

received about 20 professional contacts

per day. The exhibiting booth consists

of four timber suppliers from Sweden,

including Södra, an international forest

owner association.

Their representative voice, Wang Zhi,

expressed the booth's delight about the

exhibition: "For us it has been fantastic…

The only important thing for me [as a

representative for these four companies]

is that our participating companies are

satisfied with the trip, that they get their

contacts, they increase their knowledge.

And that has been shown as a fact."

THE CENTRE OF VIETNAM'S

INDUSTRIAL HUB

As one of the countries whose wood and

wood product exports performed in the

62 Panels & Furniture Asia | September / October 2022
---
SHOW REVIEW

1

2

global top five recently, Vietnam's

timber industry is a powerhouse that

furniture and panel manufacturers

can no longer look away from.

In particular, Binh Duong province is

one of the fastest growing economies

in the country. Nguyen Van Danh,

Vice-Chairman of the Provincial

People's Committee of Binh Duong,

elaborated: "In recent years, Binh

Duong is considered one of the

leading provinces of economic

development, construction planning,

and urban areas development,

concentrating on industrial areas and

clusters in terms of FDI attraction.

3

Legend

1 Forest Region

Småland of

Sweden receiving

a hearty crowd

2 Eddie Liu,

vice-president

of Technik

Associates,

demonstrating

the machinery's

capabilities

3 Joe Chang, CEO

of Kuang Yung

and chairman

of Taiwan

Woodworking

Machinery

Associate,

"Within the first six months of

2022, the southern province of

Binh Duong attracted domestic

investment capital of 33.8 billion

Vietnamese dong, and lured US$2.52

billion worth of FDI. With a new

development strategy of Binh Duong

Innovation Zone, Binh Duong not

only promotes attracting FDI, but

also develops balanced economic

growth and prioritises infrastructure

investment."

The trade exhibition, held at WTC

Binh Duong New City Expo, is also

close to various woodworking

factories in Binh Duong, making this

easier for manufacturers to visit and

test out the machineries themselves

with wood panel samples they

brought along. As William Pang,

publisher of Panels & Furniture

Group of Wood Magazines and

co-organiser of the exhibition, said:

"The interesting thing about this

show is that it's held at the heart of

the furniture cluster, where furniture

factory bosses and managers can

visit the show within a few minutes."

TIMELY SOLUTIONS IN DIFFICULT

TIMES

Against the backdrop of challenges

such as supply chain disruptions,

increasing costs of shipment and

containers, labour shortage and

COVID-19, the trade exhibition

offers solutions that aim to mitigate

these circumstances and optimise

Panels & Furniture Asia | September / October 2022 63
---
SHOW REVIEW

manufacturing processes.

Manufacturers are seeking ways to reduce

manpower labour while also improving yield

for their production. Automation and smart

technology are ideal solutions, aiming to cut

manpower down to two or even one operator

on the machine, thus saving operational costs.

Companies such as Nanxing Machinery and

Truong Hung offered exactly that, with Truong

Hung demonstrating how their automated

machines produce cabinet doors, and Nanxing

showcasing their CNC machining centres.

Digital solutions for furniture manufacturing

and design are also in demand now to

streamline and simplify production, especially

for high-capacity machines that need smart

technology. Cabinet Vision South East Asia

demonstrated how their digital solutions,

CABINET VISION and ALPHACAM, can help

manufacturers particularly in Vietnam

digitise panel and solid timber furniture

manufacturing and handle complex

designs.

Although the number of exhibitors fell —

hampered by strict quarantine measures

in some countries — as compared to the

previous edition of the exhibition, the

number of visitors increased to almost

5,000. It is a clear sign that in spite of

challenging times, woodworking manufacturers

and factories are still seeking

ways to boost their production, and BIFA

Wood Vietnam 2022 has provided what they

needed.

"Many of our exhibitors said they received

the right customers for their machineries,

and which is why they have very good sales

in these difficult times," concluded Pang. P

FROM THE GROUND

"This exhibition is the first professional

exhibition after the epidemic, but the overall

feeling is good, and the results are getting

more and more positive [each day]. At present,

2-3 customers are interested in buying our

machines, for about 6-7 equipment pieces."

Peter Liu, International Sales Director, Nanxing

Machinery

4

Legend

4 Hall B of WTC Binh

Duong New City

Expo

5 Around 5,000

visitors patronised

the exhibition

"I think the organisers have done a very good

job of featuring the machines and and have

built a strong foundation. So, I believe the

future exhibitions will be just as smooth,

including a strong exhibitor and visitor base…

Many of our orders are under negotiation."

Joe Chang, CEO, Kuang Yung

5

64 Panels & Furniture Asia | September / October 2022
---
SHOW REVIEW

"The exhibition experience has been very

positive. The exhibition space is new and has

a really good feel to it. We found the responses

to our booth been really good, with good

attendance… We have quite big enquiries to

follow up."

Graham Matthews, International Business

Development, Cabinet Vision South East Asia

"The exhibition has been better than expected,

a little bit better than you would expect for this

market. Very diverse crowd."

Jay Reese, Sales Manager, Penn-Sylvan

Hardwoods

"The exhibition is very good. Although the

overall market environment is not ideal,

everyone is very interested in the equipment

we have brought this time because they are

the latest. Therefore, there is a large number of

visitors to our booth, and we transacted about

US$400,000-500,000 [worth of machinery for

the first 2-3 days]."

Xie Zhong Quan, Truong Hung

"The exhibition is good and met our

expectations. The visitor crowd is also good. For

the industry, a lot of choices for machinery and

other wood-based related products but I think

we need more wood-based suppliers especially

sawntimber from Vietnam and Malaysia as well

for the next edition."

Malaysian Timber Council

"For us it has been fantastic… The only

important thing for me [as a representative for

these four companies] is that our participating

companies are satisfied with the trip, that

they get their contacts, they increase their

knowledge."

Wang Zhi, Business Coordinator and Project

Manager, Region Kalmar län

"We received a lot of curious and interested

visitors, and we also sold several sets of

equipment [that altogether are worth] about

US$100,000."

Janny Duong, Thuong Nguyen

Panels & Furniture Asia | September / October 2022 65
---
EVENTS CALENDAR

Events Calendar 2022–2024

2022

SEPTEMBER, 05 – 08

50th CIFF Shanghai 2022

Shanghai, China

SEPTEMBER, 05 – 08

Photo: The Starters Guide / Unsplash

Shanghai International Furniture Machinery

& Woodworking Machinery Fair

Shanghai, China

Cairo WoodShow 2022

Cairo, Egypt

DOMOTEX 2023

Hannover, Germany

DECEMBER, 15 – 18

2023

JANUARY, 12 – 15

MARCH, 28 – 31

Interzum Guangzhou

Guangzhou, China

Salone del Mobile

Milan, Italy

Wood Taiwan

Taiwan

APRIL, 18 – 23

APRIL, 20 – 23

FMC China 2022

Shanghai, China

125th NHLA Annual

Convention & Exhibit Showcase

Ohio, United States

IFMAC & WOODMAC 2022

Jakarta, Indonesia

Xylexpo

Milan, Italy

VietnamWood 2022

Ho Chi Minh, Vietnam

SEPTEMBER, 13 – 17

SEPTEMBER, 21 – 23

SEPTEMBER, 21 – 24

OCTOBER, 12 – 15

OCTOBER, 18 – 21

Photo: Robert Conlkin / Unsplash

Photo: NgKhanhVuKhoa / istockphot

Hanoi Wood Vietnam

Hanoi, Vietnam

Malaysia International Furniture Fair 2023

Kuala Lumpur, Malaysia

DelhiWood

New Delhi, India

FEBRUARY, 09 – 11

MARCH, 01 – 04

MARCH, 02 – 05

MARCH, 07 – 09

Dubai WoodShow

Dubai, United Arab Emirates

MARCH, 09 – 12

Export Furniture Exhibition

Kuala Lumpur, Malaysia

Photo: Jonathan Bernard / Unsplash

Photo: Jonathan Bernard / Unsplash

interzum Cologne

Cologne, Germany

LIGNA

Hannover, Germany

imm Cologne 2023

Cologne, Germany

SYLVA WOOD 2023

Shanghai, China

Holz-Handwerk 2024

Nuremberg, Germany

MAY, 09 – 12

MAY, 15 – 19

JUNE, 04 – 07

JUNE, 26 – 28

2024

MARCH, 19 – 22

Photo: Thomas Tucker / Unsplash

66 Panels & Furniture Asia | September / October 2022
---
INDEX OF

ADVERTISERS

PANELS & FURNITURE ASIA • September / October 2022

COMPANY

PAGE

American Hardwood Export Council

OBC

Andritz AG 5

Anthon GmbH 37

Baillie Lumber 9

Berndorf Band GmbH 11

Cabinet Vision South East Asia 47

CMC - Carpenterie Metalliche Colzate Srl 13

DIEFFENBACHER Industriemarketing GmbH 7

Electronic Wood Systems GmbH 27

Forestry Innovation Investment Ltd. 39

SHARPENING

SERVICE

FOR DP TIPPED TOOLS

ON SITE IN VIETNAM!

| Save time and increase

your tool availability

| Perfect for furniture, flooring,

kitchen & non-wood industries tool

LEUCO SERVICE CENTER'S

PROMISE FOR YOU

| Latest state-of-the art technology

| Well-trained staff with more

than 2,5 years of know-how

Global Timber Asia Sdn Bhd 43

Homag Asia Pte Ltd

FC

IMAL SRL 1

IMEAS spa 23

Kuang Yung Machinery Co.,Ltd 49

Lensaya Industriya Journal 61

LEUCO Ledermann GmbH & Co KG 67

Nanxing Machinery Co.,Ltd 2, 3

Northwest Hardwoods

Panels & Furniture Asia's House Ad 29

IFC

LEUCO | Hall A1/A2, booth no. A541

18 - 21 OCT. 2022

PEFC International 59

Plytec Oy 31

Softwood Export Council 68

Technik Associates, Inc

IBC

Teknos (M) Sdn Bhd 15

Vietnam Wood 51

Yalian Machinery Co.,Ltd 17

TAKE YOUR BENEFIT FROM:

| Resharpening in

manufacturer quality

| Short and fast processes

| Excellent prices

CONTACT US NOW FOR YOUR OFFER!

LEUCO Vietnam Co., Ltd

Long An Province:

T +84 272 3715838

leucovn@leuco.com

Scan to download eBook

PFA September/October 2022

www.leuco.com

Panels 2022-08_LEUCO-ServiceCenter-VN-EN.indd & Furniture Asia | September 1 / October 15.08.2022 11:18:48 67
---
Build

Sustainably

Build

with Wood

Every two minutes

U.S. forests grow

700 cubic meters

enough to build a

12-story building