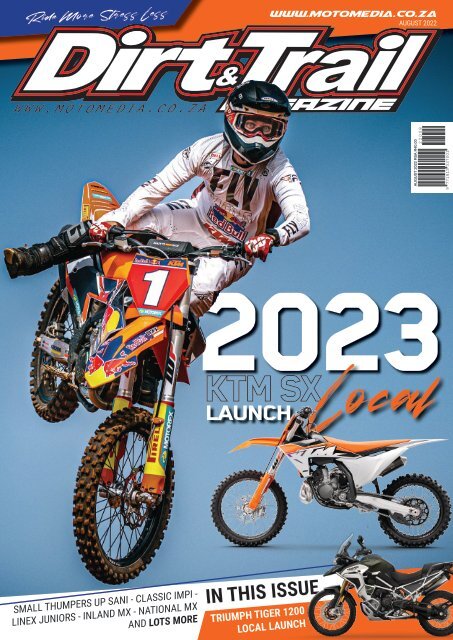 Dirt and Trail August 2022
You also want an ePaper? Increase the reach of your titles
YUMPU automatically turns print PDFs into web optimized ePapers that Google loves.
Ride More Stress Less

www.motomedia.co.za

AUGUST 2022

22008

AUGUST 2022 RSA R40.00

9 771815 337001

2023

launch

Local

SMALL THUMPERS UP SANI - CLASSIC IMPI -

LINEX JUNIORS - INLAND MX - NATIONAL MX

AND LOTS MORE

IN THIS ISSUE

TRIUMPH TIGER 1200

LOCAL LAUNCH
---
2022 KNEE BRACE COLLECTION

ULTIMATE KNEE

PROTECTION

2022 KNEE BRACE COLLECTION

Leatt is thrilled to announce our 2022 knee brace collection, and trust us we have everything you need. This knee

brace range comprises of the c frame, x frame, x frame hybrid and z frame, which are all medically certified to the

highest standard. All our knee braces can be adjusted for ultimate comfort and can fit any rider. Our knee braces are

CE certified and impact tested to ensure top notch quality. So get protected, gear up and go get dirty. Visit your local

dealer or check out Leatt.com to find out more.

THE SCIENCE OF THRILL

LEATT.COM
---
MAINTENANCE

MADE EASY

AVAILABLE FROM YOUR NEAREST PBA DEALER

GAUTENG

ALBERTON YAMAHA

BIKERS WAREHOUSE

BIKING ACCESSORIES

FAST KTM

FIRE IT UP

GAME SERVICES

LEKKA RACING

MOTO MATE EDENVALE

MOTO MATE RIVONIA

MOTO MATE BOKSBURG

PRIMROSE MOTORCYCLES

SILVERTON MIDAS

ZEEMANS MOTORCYCLES

011 869 2022

011 795 4122

012 342 7474

011 867 0092

011 467 0737

011 425 1081

084 080 8237

011 027 0545

011 234 5275

011 025 8272

011 828 9091

012 804 8888

011 435 7177

KZN

PERRY MOTORCYCLES CC

RBS YAMAHA

RIDE HIGH WITH YAMAHA

ROCKET RACING PMB

ROCKET RACING PINETOWN

UMPLEBY SUZUKI

TWISTED TRAILS

LIMPOPO

KR MOTORCYCLES

NORTHWEST

BIKERS PARADISE

WATERITE MOTORCYCLES

031 566 7411

031 701 1311

035 789 1581

033 264 3240

031 702 2606

031 303 8323

031 572 2737

015 297 3291

018 297 4700

018 771 5050

CAPE PROVINCE

CRAIGS MOTORCYCLE

NEVES MOTORCYCLE WORLD

TRAC MAC BELLVILLE

TRAC MAC PAARDEN EILAND

TRAC MAC WYNBURG

FREE STATE

SALLEYS YAMAHA

021 939 8916

021 930 5917

021 945 3725

021 510 2258

021 761 4220

051 430 3326
---
Intro. Keeping the wheels turning...

AUGUST Issue 2022

We wanna hear from you info@motomedia.co.za

Read our back issues at www.motomedia.co.za

Heading into August already.

Guys - we have had to carry over so

much content - only so many pages

and lots going on in the world of

motorcycles...

So, the next installment of Gatskuur

carries over to September, its a great

trip, we will get that dusted soon.

Also... We have a cool feature on the

new IXE championship, You'll see all of

that in next months issue.

Hopefully, we'll have more Roof news

for you - A new look with, they say

some big international news - but as

we finish up, there is nothing concrete

just yet.

This month we showcase the new

KTM SX lineup. Next month it's the

Husqvarna MX models and then

Sherco's 2023 bikes are on the way...

Romaniacs, BMW's GS Trophy... Lots to

look forward to.

So you get the gist? Not enough hours

in a day to do it all.

On shelves nationally and always

lekker lekker!

Oh yes! If you or your mates cannot

find the magazine on the shelves,

please get in touch so that we can get

on to our distributors.

info@motomedia.co.za

"I've really had it with my dog," says

a guy to his neighbor. "He'll chase

anyone on a bike."

"Hmmm, that is a problem," said the

neighbor. "What are you thinking of

doing about it?"

"Guess the only answer is to

confiscate his bike!"

PUBLISHER:

Glenn Foley

foleyg@mweb.co.za

ADVERTISING AND

EDITORIAL:

Sean Hendley

sean@motomedia.

co.za

071 684 4546

OFFICE &

SUBSCRIPTIONS:

Anette

anette.acc@ mweb.

co.za

ONLINE &

DESIGN LAYOUT:

Kyle Lawrenson

kyle@motomedia.

co.za

Cape Town Sales and

News:

Lorna Darrol

lornad@motomeda.

co.za

074 122 4874

PHOTOGRAPHY

Stefan van der Riet

CONTRIBUTORS

Shado Alston

Donovan Fourie

Tristan Foley

Kurt Beine

Mike Wessels

Morag Campbell

Kyle Foley

The Garth Taylor

WWW.MOTOMEDIA.CO.ZA

IN THIS ISSUE

Copyright © Dirt And Trail Magazine: All rights reserved. No part of this publication may be reproduced,

distributed, or transmitted in any form or by any means, including photocopying, articles, or other methods,

without asking nicely...

Cert

Mod
---
GET AN INSTANT QUOTE!

IN 30 SECONDS!

011 284 2000

MAIL@SMITHPOWER.CO.ZA

WWW.LINHAI.CO.ZA

PROUDLY DISTRIBUTED BY

Certain models may be shown with optional equipment. Prices are subject to change without notice. For your safety, always wear a helmet, eye protection and protective clothing.

Models are for riders aged 16 and older. E&OE
---
R

GP to The Bay: Quads 4 Quads is happening…

In October. After a 2-year absence thanks to the COVID

pandemic and lockdown laws. This 18 year old event is

an amazing four day adventure across South Africa that

is suitable for dirtbikes, Quads and side by sides. And

the idea is to raise some much needed cash for the Quad

Para Association of South Africa.

"Long weekend 6th October - and we are changing the

routes up a bit.

Watch this space - You will need a GPS, call us for

details. And we'll have a big trailie route included so

everyone is welcome! Raising funds for the QuadPara

Association of South Africa!

We are looking at a Barnyard Fundraiser at Emperors

palace - so even if you cannot join the ride, you can still

make a difference."

Anette.acc@mweb.co.za for more details.

Cheers to Nicks Cycles:

After 25 years in the trade Nick Benn has decided to call

it quits and is off to loaf on the beach.

Nah that's not entirely true, he's going to carry on with

parts and all sorts until everything is wrapped up.

His busy plot shop in great North road Benoni has serviced

the East Rand and surrounds with big smiles.

We've known him since he was an appy at Deals on

wheels near Eastgate.

He is something of an institution out here…

We wish him, the family, his dogs and his team well.
---
KTM 300 EXC

KTM 300 EXC

KTM 300 EXC

KTM 300 EXC

Please make no attempt to imitate the illustrated riding scenes, always wear protective clothing and observe the applicable provisions of the road traffic regulations!

The illustrated vehicles may vary in selected details from the production models and some illustrations feature optional equipment available at additional cost.

RISE ABOVE

CHALLENGE ANY OBSTACLE

With decades of race-winning credentials under its belt,

the KTM 300 EXC fears nothing. Thanks to adjustable

WP suspension, top-shelf components and unmatched

2-stroke performance, it represents the ultimate

hard enduro package for all riders, on any terrain.

Photos: F. Montero
---
Join Triumph for the ride

The guys and girls from Triumph are on the ball and

always have something interesting on, so if you are ever

looking for a great time out on your bike check Triumphs

events for August 2022. Also remember, anybody and

everybody on any and all bike makes and models are

welcome… they are not into the whole segregation thing,

they just want to meet and ride with you.

On the 20th of August they are hosting their second

Technical Workshop. This event is already fully booked,

but from time to time spots do open up. So if you are a

Michelin Starcross 6.

Unless you live under a rock, you'll

know that by purchasing any Michelin

product (Other than a tube)

you stand a chance of winning

1 of three bikes in January. True

story! Chat to your dealer and – if

you don't enter you can't win. More

details at www.michelin.co.za

petrol head and interested in the inner workings of your

machine then chat to them.

On the 29th of August it is "Back to School" with a

Braking & Cornering Course under the instruction of

Andy Biram and his team. Our Séan went along to one of

these on an Africa Twin a little while ago and came back

beaming from ear to ear.

Keep an eye on their website, they are planning a another

Triumph demo day at the Sandton branch somewhere

towards the end of August. www.triump-motorcycles.

co.za and look up their events portal

One of those products could just

be the new Michelin Star Cross 6

MX Tyre:

The Michelin Starcross 6 is the

1st Michelin motocross tyre with

Silica technology that maintains

the tread block shape over time.

The Starcross 6 Medium Hard was

developed alongside pro riders

and is ridden in World and National

championships.

Improved Traction.

Long lasting grip.

Distributed by Autocycle Center

and available at dealers…
---
Photo: R. Schedl, KISKA GmbH husqvarna-motorcycles.com

Engineered

to outperform.

There's no such thing as "good enough"

in motocross. Constant progression

is essential. The all-new 2023 FC 250 is

engineered to outperform the competition

and the level you were at yesterday.

Please make no attempt to imitate the illustrated riding scenes, always wear protective clothing and observe the applicable provisions of the road traffic regulations!

The illustrated vehicles may vary in selected details from the production models and some illustrations feature optional equipment available at additional cost.

FC 250

Quickshift sensor, traction & launch

control switch

250cc DOHC engine

Adjustable WP XACT suspension
---
Regina Chain Kits:

Complete sprocket and chain kits for your motorcycle:

The kits come with precut chain and front and

rear sprockets

The Chain is Reginas high-performance 520

Z-ring series with gold outer plates and Z sealing

rings, and includes clip-type masterlink

The Sprockets are made of high-quality steel and

have OEM gearing.

Chat to your dealer. Imported by Autocycle

Centre.

Elf 2-Stroke Oil.

High detergency engine protection: ELF MOTO2

RACEs detergency additives use their hot

properties to work on deposits and ensure that

the distribution system is kept clean.

Clean combustion: metal particles, produced by

the deterioration of the additives and fuel are

the cause of deposits. It burns without deposits

being formed.

Controlled wear: Clogging of the piston top

grooves limits piston ring flexibility (sticking)

and results in insufficient oil supply.

Chat to your dealer. Imported by Autocycle

Centre.

ARIETE DIRT ZONE GRIP 02647-N

With the Ariete Dirt Zone Grip 02647-N, Ariete has launched

a new grip dedicated to Rally, Adventure and Desert Riders

without foregoing the fundamentals of reliability and safety.

Cleverly designed to give exceptional grip and absorb

vibration with laser engineered moulds, they have 4 built-in

wire-on grooves to tighten the wire, anatomically-profiled

channel at the inner end for thumb and forefinger with open

ends to fit lever guards.

The hypo-allergenic material used in the production of these

grips is exclusive to ARIETE and has been developed to get

exceptional grip characteristics. The surface is non porous

and the molecular structure is dense so it absorbs and

neutralizes vibration. It is durable and not subject to cracking.

Ariete products are imported by Trickbitz: 011 672 6599,

www.trickbitz.co.za
---
Ariete presents 8K, the new

generation Goggle from Trickbitz

"The new Off-Road Ariete Goggle… the view

is wide open! Ariete presents 8K, the new

generation Goggle that takes the genetic

make-up of the Mudmax to the next level

with an enhanced field of view" they say.

Famous for introducing high performance,

solid goggles around the world, Ariete's 8K

follows on from the success of the Off-Road

Goggles 007, RC, Adrenaline and Mudmax.

With CarbonX foam, which debuted on the

Mudmax line and a range of interchangeable

lenses to cover all light conditions and riding

needs, they tell us that the 8K is equipped

for every track. "Whether you're riding in

the desert, hitting the slopes or ready to

rally, our technology offers the comfort and

safety you need."

Using a maxi-lens and the A.V.S Ventilation

System, the 8K is hailed by some as the

best anti-fog system available on the market

today.

Spanjaard's range of good motorcycle stuff:

Did you know that Spanjaard makes quite a

comprehensive range of products for your motorcycle?

From foam filter oil, battery terminal protector in

blue and red, brake, clutch and chain cleaner, chain

lube, chain wax, fork oil from 2.5 weight all the way

through to 15 weight, synthetic fork oil, injector cleaner

specifically formulated for motorcycles, mousse

lube to tyre fix,. We will be bringing you a little bit of

information on each of these products over the next

few months and some product reviews, (they have

given us a few bits and bobs to try out. Like their…

Spark Pro

Spark Pro multi-purpose lubricant is an all-in-one

solution with hundreds of uses in industry, workshops

and at home. It's a super lubricant with white graphite

technology that displaces moisture from engines,

electric and outboard motors and ignition systems.

It also gives corrosion protection for all metals and

has superior penetration and release properties to free

tight and rusted bolts, nuts, locks and linkages.

It also cleans and protects most metal surfaces. For

your nearest stockist or for more information go to

www.poweredbyautocycles.co.za or call 011 776 4444

Dealer enquiries welcomed.
---
Tork Crafts Dimpler tool for all

woodworkers:

It converts your drill into a professional screw gun and

counter sinks automatically, all in one process.

A powerful magnet also holds the screws secure.

It screws fast and accurately, into all types of wood

materials, it is designed for drywall/sheetrock, particle

board, plywood sheeting, decks and framing when work

horizontally or vertically freeing your hands. It's great

for dry walling work as it prevents the screw head from

penetrating too far into the wall, tearing through the

paper layer, and weakening its core.

It also prevents over-driving the screw. A pre-set clutch

releases as soon as the screw reaches its precise

countersink depth even if the drill is still turning the

bit stops totally. This prevents stripping of the bit and

the screw head, which can damage the screw head

coating, and possible cracking of the wood. It also

helps to protect your drills motor since over-torquing is

eliminated.

The Dimpler also has a reversing feature. The driving

bit will now be exposed to engage countersunk screws.

To reset the Dimpler to drive mode, push and rotate

counter-clockwise until the head pops back out.

Use your pliers to remove and change the bits. The

Tork Craft Dimpler is available at all leading outlets

countrywide. Vermont Sales on 011 314 7711 or their

web site www.vermontsales.co.za

Multiple SA Motocross champion

Ryan Hunt to ride the annual VMXDN

Veteran International Motocross in the UK

for the 5th time.

Hunt will be riding the same model Honda

that he rode 35 years ago back in 1988 in

his first British National Championship at

the age of 17.

Ironically, it's also at the very same track

where his successful international career

all started. Ryan has entered the 125 Evo

international class in Tork Craft livery, he is

currently the sole South African rider that

has entered, however there is a chance that

other South Africans in the UK and Europe

will be joining the SA team. This will be the

5th time Hunt will compete in this Veteran

International Motocross event based at

Foxhill Moto Park UK for 2022.

"It would be great to have a top

performance in honour of our ex-partner,

team boss and sponsor the late great Gavin

Williams", said Hunt. "I will be going all out

in the 125 EVO class," he went on to say.

"We have come close over the years; the

best team finish was fourth overall. The

previous SA teams owe him a big thanks

for his tremendous backing over the years.

We are still looking for top veteran riders

and are offering sponsors great UK & SA

exposure to make the team happen." said

Hunt.

Interested sponsors and team riders can

contact Ryan Hunt on, mobile 083 252 9805

or e-mail ryanhunt@vermontsales.co.za or

Digby Wesson on 011 478 7953 mobile 083

449 5589 or

e-mail digby@diggermarketing.co.za
---
RIDE THE WORLD

2022 AFRICA TWIN

2021

NC750X/DC

2021

NC750X/DCT

Apple CarPlay AND ANDROID AUTO

Apple CarPlay* seamlessly integrates your compatible iPhone®* into your new Africa

Twin, and Android Auto does the same for your Android phone. That means you can

use your devices to access maps, music, and other services easily. You'll have access to

weather, playlists and telephone numbers while aboard. Available Bluetooth®**-enabled

wireless headsets let you communicate more easily than ever. And best of all, with more

apps available every day, your bike's technology and convenience remain on the cutting

edge.

THE NEW NC750X: DO IT ALL, AND

BETTER THAN EVER.

TALL HANDLEBAR

Fitting a tall handlebar helps open up

the cockpit, and works in concert with

Specialization may be fine for something like golf clubs, but we think great motorcycles should

the seat and windscreen to give you a

be able to do it all. Case in point: The 2021 Honda NC750X. This is a bike is for motorcyclists who

more comfortable rider's triangle for

appreciate both versatility and virtuosity in their adventure machines. This year, we've given this

those long days in the saddle.

model some big improvements. More power. A larger integrated storage area. Lighter weight,

and a lower seat height. Plus some huge technologic upgrades like throttle by wire, selectable

riding modes, new instruments, a new frame, upgraded bodywork, and standard ABS. At its

heart, the twin-cylinder engine produces a broad torque curve as well, making it a joy to ride.

And you can choose from two transmissions: a conventional manual-clutch six-speed, or

Honda's revolutionary automatic DCT. Either way, this latest NC750X is going to be the perfect

one-bike choice for the rider who wants to do it all.

THE NEW NC750X: D

BETTER THAN EVER.

Specialization may be fine for something like

be able to to do do it all. it all. Case Case in point: point: The 2021 The Honda 2021 NC Ho

appreciate both both versatility and virtuosity and virtuosity in their adve in th

model some big big improvements. More More power. power. A larger

and a lower seat seat height. height. Plus some Plus some huge technologic huge riding modes, new new instruments, a new a frame, new upgrade frame

heart, the the twin-cylinder engine engine produces produces a broad a torq br

And you can choose from from two transmissions: two transmissions a conven

Honda's revolutionary automatic automatic DCT. Either DCT. way, Either this

one-bike choice for for the rider the rider who wants who to wants do it all. to d

Randburg: 011 795-4122
---
Givi's CARGO WATER RESISTANT BAG, 40 LTR.

This Cargo bag is water resistant bag with a 40 litre

capacity and a roller closure and hooking system through

adjustable straps equipped with clamp closure.

Designed by GIVI for off-road Enduro motorcycles, it is

modular and can be mounted in combination with other

bags. It has an adjustable padded shoulder strap, an

ergonomic carrying handle. It is equipped with eyelets for

M.O.L.L.E. system on the front and rear, for quick fastening

of various accessories, (modular load extension system),

and an inside pocket. Fastening to different models of

motorcycles is quick and easy by means of adjustable belts

equipped with clamp closure to ensure that the tension is

maintained and has reflective prints for greater visibility.

The bag is made from TPU 840D high tenacity, double

coated - tear resistant material with TPU inserts. The

exterior materials are highly UV resistance with seamless

high-frequency welded, (IPX5 waterproof grade that

withstands heavy rain and extreme conditions).

As standard the bag features an Air release valve, a Roll

Top waterproof closure system, perfect for wet weather

or falling over in a river crossing keeping your undies and

firelighters dry. For more in or to find your closest stockist

go to www.dmd.co.za

Kids Riding Gear:

Yes… we know, kids outgrow stuff quickly, but

do them and yourself a favour and kit them out

properly for the ride…

TCX COMP KIDS Boots:

Certified children's motocross boots. Designed to offer

protection and sensitivity for riding.

TCX's Comp Kid children's motocross boots are specifically

designed for young MX riders. The equipment and

structure replicate the adult models, with microfiber upper,

breathable ait techlining and adjustable fastening with

polyurethane levers.

TCX Comp Kid are CE certified motocross boots, designed

to offer protection but at the same time sensitivity and the

right bending when riding, for excellent comfort at all times.

The reinforcements for shin, ankle and toe in polyurethane

ensure great foot and leg protection.

The anatomical insole can be removed for the greatest

comfort and the tread is made of wear-resistant rubber for

optimal grip on foot pegs and on the ground.

Sizing from a 2.5(US 3). At your dealer.

O

EVS BANTAM ROOST DEFLECTOR

Designed to fit juniors, the Bantam Roost Deflector offers all

the protection of an adult piece sized for the little guy or gal.

•Bio-foam Construction –An impact absorption material

designed for comfort and breathability

•TPR Shield –A durable, pliable material designed to protect

the chest and back from debris and impacts.

•Fit –Form fitting material and adjustable elastic strap allows

for maximum comfort and fit.

•Size –Mini S/M (ages 3-5) | Youth L/XL (ages 6-9)omfort

at all times. The reinforcements for shin, ankle and toe in

polyurethane ensure great foot and leg protection.

The anatomical insole can be removed for the greatest comfort

and the tread is made of wear-resistant rubber for optimal grip

on foot pegs and on the ground.

Sizing from a 2.5(US 3). At your dealer.

Half
---
OXIMISER 3X

ADVANCED BATTERY

MANAGEMENT SYSTEM

Key Features

• Completely redesigned and tested in the UK

using top quality long-life components

• A soft-start charging mode to improve

recovery of deeply discharged batteries as

low as 8 volts

• Intelligent charging will cycle-charge in an

attempt to recover sulphated batteries

• Suitable for all 12V automotive batteries including

LITHIUM LiFePO4 motorcycle batteries

• New voltage sensors quickly detect high

current drain and will automatically revert to

the most appropriate charge rate

• Fast and efficient charging in all modes

keeps charge times short and reduces main

power consumption

• Soft touch rubberised case for improved

grip and ruggedness

• Up to 3.6Amps charging power for batteries

up to 125Ah capacity

• Induction cooling

• Three charging mode power options

Three Charging mode power options:

• Motorbike - 14.4V / 0.8A , For batteries under

36Ah including LiFePO4

• Car - 14.4V / 3.6A , A common charge rate for

lead Acid, MF, GEL and LiFePO4 batteries

• Winter- 14.7V / 3.6A , Suitable for AGM

batteries including stop/start technology.

Especially useful for charging batteries in

freezing weather

OXFORD OXIMISER 900

(ANNIVERSARY 888 EDITION)

Key Features

• Easy to read LCD display

• Quick check battery level indicator

• Shows charging activity

• Provides up to 900mA charging power

• Battery voltage meter

• Checks for correct polarity

• Ideal for batteries up to 30Ah capacity

including AGM, MF and all lead acid types

Multi-Stage battery management system:

Polarity check

• Checks the battery leads have been connected

correctly

Battery Analysis

• Assesses battery & determines best

charging method

Bulk Fast Charge

• Charges at a fast rate to bring the battery

to approximately 85% capacity

Absorption Charge

• Lowers the charge rate & gives a topping

charge to ensure the battery is charged

to 100%

Maintain Mode

• Automatically applies an appropriate

charge if voltage drops outside acceptable

limits to ensure the battery voltage and

condition remains perfect

FREE CROCODILE CLIPS INCLUDED!

GET AN OXFORD CHARGER

FROM AS LITTLE AS

R695

RECOMMENDED RETAIL

INCLUDING VAT

CONTACT DMD ON 011 792 7691 OR VISIT

WWW.DMD.CO.ZA FOR A DEALER NEAR YOU

Half_Page_DT.indd 1

7/21/2022 8:59:21 PM
---
EVS R2 Race Collar

EVS R2 Race Collar helps prevent spinal injury in the neck area.

Placed between the helmet and shoulder, the R2 Race Collar

is designed to minimize the possibility of the cervical spine

overstretching in a fall.

Features:

• PU core and ballistic nylon outer shell

• Low profile design

• Easy front entry system

• Removable / washable liner

• Sizes: Youth and Adult

EVS TP 199 YOUTH KNEE PAD

Designed specifically for Travis Pastrana, the TP199 Knee Pad

offers everything for the rider looking for complete support

without the bulk of a traditional knee brace. They are perfect

for both the motocross track and off-road riders.

G

EVS Option Knee Pads

Features:

The most cost conscientious knee pad.

• Hard molded polypropylene shell

• Perforated bio-foam liner for increased breathability

• Full knee to shin coverage

• Reinforced TPR hinge system

• Asymmetric design provides anatomical fit for left

and right leg

• Sold in pairs

• Sizes: Mini, Youth, and Adult

EVS OPTION ELBOW PAD

Features:

Elbow protection at a great price point.

• Hard moulded polypropylene shell

• Perforated bio-foam liner for increased

breathability

• Tri-Y forearm strapping system provides

greater support and reduces migration

• Extended forearm protection pad

• Asymmetric design provides anatomical

fit for left & right arms

• Sold in pairs

• Sizes: Mini, Youth, and Adult

O

EVS TUG FUSION SOCK

A favorite amongst riders of all disciplines and skill

levels, the Fusion Socks have become a mainstay

in nearly everyone's gear bag and once you try

them, you won't like riding without them.

Trac Grip

Sticky silicone grippers are strategically placed

in key positions to help hold a Knee Brace or

Knee Pad in place, limiting uncomfortable brace

migration.

• Reinforced heel & toe for durability

• Extends to lower thigh for added comfort

under knee protection

• Vented Lycra construction keeps you

cool

• Sold in pairs

• Sizes: Youth, S/M, and L/XL
---
www.gasgas.com

GET

Photos: Sebas Romeo, Mitterbauer H.

ON THE

CHECK IT OUT!

G A S !

Spice things up and take shredding around your local MX track to a whole new level on bikes

that deliver proven technology and vibrant styling. Choose one of our screaming 2-strokes

or a powerful 250cc or 450cc 4-stroke and enjoy our no-nonsense approach to performance,

all ride, every ride. Get dirty, refuel, then do it all over again!

#GetOnTheGas

@gasgas.official

Please make no attempt to imitate the illustrated riding scenes, always wear protective clothing and observe the applicable provisions of the road traffic regulations!

The illustrated vehicles may vary in selected details from the production models and some illustrations feature optional equipment available at additional cost.
---
EKS BRANDS XGROM CLEAR YOUTH GOGGLE

The XGROM goggle has nearly all of the benefits of its

big bro, the GOX. With integrated tearoff posts on thew

anti-fog coated Lexan lens, along with two layer, 15mm

thick sweat absorbing face foam, your little dudes will be

seeing their way clear in comfort and style!

FRAME

The "XGROM" was designed to give kids and smaller

face shapes a quality goggle with all the comforts, looks

and protection of a full-size goggle.

"Poly-Flex", urethane frame contours to the face for

comfort and protection. Wind channels are molded into

the frame to direct air into the "reticulated" vent foam for

added airflow and less condensation build up.

Leatt 5.5 Enduro Jackets…

Our lot have just bought a couple and we'll be trying them out

over the next few rides with a full test feature to follow…

The 5.5 Enduro Jacket with its new lightweight construction

is a great choice for off-road

performance riding.

Construction is designed for tough conditions and further

improved by abrasion and cut

resistant Brush Guard protective films to reinforce the

elbows.

Not only water-resistant, but dirt-repellent and has the option

of ventilation with removable arms,

that will keep you cool in hot conditions.

An internal hydration pocket with suspension system that

prevents the bladder sitting too low, this

jacket is ideal for both short and long days riding.

The tailored 3/4 length fit is designed to work with or without

body armor, and the collar can accommodate a Leatt neck

brace if worn.

AND – it has big pockets with a separate cell phone puch.

Cool huh!

• New lightweight, durable and water-resistant shell

with Spandura stretch panels for great comfort Pre-curved,

zip-off arms and large zip-adjustable ventilation

• Rear Internal hydration pocket suspension system

to hold bladder for up to 3 liters

• Neck collar that works with or without a neck brace

• Neck brace uncovered sitting outside the collar

• Neck brace covered using the weather collar

• Tailored cut for Moto riding with or without body

armor

• Top Quality YKK Japan Zippers

• Multi-row reinforced stitching for durability

• Brush Guard fabric for material protection over

elbows

• Total of nine pockets, including five water-resistant

pockets and one touch screen pocket

• Rear reflective safety print

More on these soon. At your dealer.

LENS

The "XGROM" is equipped with a mirror or clear, anti-fog

coated, scratch resistant,

.030 Polycarbonate lens that has 100% UVA protection.

Tear off posts are integrated into the lens for ease of

use and function.

FOAM

Hydrophilic EO15 two-layer face foam contours to

the face with an amazing seal and moisture-wicking

comfort.

FEATURES

The "X-GROM" comes standard with a woven goggle

strap that is silicone backed for the ultimate in

placement and hold.

"Antistatic" smudge resistant goggle bag comes

standard in every box. At your dealers…

Ts
---
Feeling lucky?

Stand a chance to

win 1 of 3

motorcycles

plus other amazing prizes!

Buy any MICHELIN motorcycle tyre or

a Bib-Mousse and use the QR code to

enter.

Or visit www.myoffers.michelin.co.za & choose "Win a Bike Competition".

Ts&Cs apply.
---
2023

launch Local

Legends MX Track 29th June

There was a roar as a bevy of new orange beauties hit the Legends MX track out near Rayton.

Dirt And Trail Magazine roped in the talents of two seasoned MX riders Mike Wessels and

Ryan Frerichs to put the bike through their paces.

Present for two stroke duty were the screaming SX 125 and the new 300SX.

In the four-stroke department, the 250, 350 and 450 were all ready to race.

Whilst you may have read it all about it all in this here quality publication, we need to

reiterate that these are all – new motorcycles from top to bottom.

You can check the spec at www.motomedia.co.za in our June issue.

The key feature on the two strokes is the EFI (not to be mistaken with TPI), a new system

whereby premixed fuel is injected directly into the throttle body. Two jets supply fuel, one

on idle – and one at revs. No jetting required, the bike does it all for you.

Also new for KTM are the new electronic powervalves on all two-stroke SX models

On the four strokes – there's new quickshifter tech. The first time for MX.

Road tech trickles down into the dirt. Too cool!

For KTM it's all about getting the holeshot. We think it's pretty cool.

The KTM team spent some time chatting about the bikes, with all sorts of cool vids and

tech information. This is one company that's on the gas when it comes to developing

motorcycles.

Each rider was allocated time slots – around ten minutes per bike – which translates to

a 50 minute moto.
---
M

The new 125 SX:

Mike says:

Tiring. Hard work, you have to be on the gas non-stop, especially on

the corners. Tap off and the nose tucks in and can wash out. From

down low she's pretty tame until you hit half throttle and then, it's like

Braaaaap! all over the show.

So wind her ear, ride her hard in that powerband and she'll get you to

the podium. It's very competitive in this class and the handling feels

pretty amazing. A lot of fun.

Maybe I'm a bit old for it, but for a smaller, younger rider, it's a mighty

quick, great choice.

SX 125

Ryan says:

So much fun, from the nostalgic sound, to the smallness and lightness.

It's been a long time since I've ridden a 125, and I am so impressed

with all the technology. From mid to top there is plenty of power to get

you through anything as long as you are carrying enough momentum,

unless you fit the teenage build these bikes are aimed at.

This fuel system really translates to great performance

In terms of suspension and handling, it feels great, it slows and

changes lines and direction really quickly. It will make you feel like a

hero, I'm very impressed.

The New 300 SX:

Mike says:

Man this is one bike I have really been looking forward to riding, but it

was bagged by other riders for almost the whole day…

Eventually I got a spin. I was a bit nervous and intimidated at first,

but when I got going, it actually feels really smooth at the bottom. I

expected a big hit from the powerband, but that's not the case. It's a

smooth powerband all the way from the bottom.

Exciting but not aggressive – almost like the enduro bike. Just quicker.

On the older two strokes, you need to use the clutch a lot to get through

the corners, but this one delivers great torque that makes you smoother

and drives you through the corners. You ride it more like a four-stroke

and she does not stall.

It's a completely different riding style. Take the inside line and it's got

enough torque and power to get over jumps. Half throttle in third and it

pulls you up the Legends Tabletop no problem.

This one's going to make waves… I hope that there's lots of stock.

Ryan Says:

Highly anticipated because of all the innovations – there's nothing like

it out there. And it is SO RAD! There's no other word for it.

The power is really good and linear. You don't have to override it to get

it to go fast, rather run higher gears which makes it very easy to get

around. It feels safe despite all the power on tap and the expectation of

riding a big bore 2 stroke . An easy to ride bike that you can ride really

fast.

It feels lighter just because of the way the engine spins. It goes in and

out of the turns really easily – and the power is right on tap at the crack

of the throttle, I think it's a winner! What an awesome bike.

Tristan Purdon on the SX 300

2
---
Multiple champion Kerrim Fitzgerald &

Tristan Purdon discussing the changes

on the 2023 bikes

2023 MODELS IN STOCK

MOTORCROSS CROSS COUNTRY ENDURO

AUTHORIZED KTM, HUSQVARNA AND GASGAS DEALER

Willow Rock Shopping Centre

Solomon Mahlangu Drive, Willow Acres,

Pretoria East

Tel: 012 111 0190

www.traxmoto.co.za

Spoiled

for Choice

Scan to Find us
---
The new 250 SXF Four stroke:

Mike Says:

The first thing that I noticed is the height difference. The

new bikes are taller than the previous models, so it's a

bit weird for a shorty like me. As soon as I hit the track, I

could feel the stiffness in the suspension coming through,

especially in the corners. When you are on the gas, the

back doen't sag a lot and when you brake, it doesn't dip too

much, so it keeps a way more planted ride.

I'm really amazed by the handling updates on all these

bikes.

Down the straights, I tried the shifters – flat taps and kick

through, no hesitation or lag, the bike drives through the

box.

Another thing I noticed – when you hit the rev limiter in the

air and you hit the landing, there's no bogging or lag, the

bike hooks up and takes off.

The biggest thing for me is the power delivery over the

previous model. That model was great, but this just feels

better. I used both maps. Map 1 is smooth and manageable,

perfect for a warmup. Map 2 – mindblowing. The standard

bike performs like the old bike with a pipe and a head job.

To me – the handling and power is a lot better than the

previous model. I'm really surprised at what they've done.

250 SXF

Alfie Cox on the 250 SXF

Ryan says:

It's taken a lap or two to get used to the chassis and layout

of the new bikes. It handles really well, especially in turning.

It sticks with lots of front wheel traction. The motor was

such a surprise for me, it just keeps on pulling from the

word go.

That engine is really, really good.

A bit of a surprise really, coming off my 350. I thought the

new 250 would feel slow in comparison, but it's great. I love

it, it could persuade me to ride a 250F again.

The 350SXF:

Mike says:

I expected the bike to feel like the old 350's, a little down on

power and not much lighter than a 450. Then I rode it.

Map 1 is extremely smooth, easy on the corners and light

on the throttle, not explosive, very controllable and easy to

ride.

Map 2 is a whole new beasty. On the previous models there

was not a huge difference, but on the new model it's day

and night. Map 2 is so quick, it pulls like crazy and I reckon

it will give some 450's a hard time.

My opinion – a perfect Vets bike fast and smooth.

It's going to make waves for sure. If a 450 is too much for

you, you really should be looking at this one.

350 SXF

Ryan 350 SXF:

This is the bike I was looking forward to the most because

I ride a 350 Husqvarna. Straight away, the riders triangle is

comfortable on the four strokes and everything just fits. The

new seats and shrouds let you move around and grip nicely.

You feel right at home.

Plenty of power, I think more than the previous model,

especially at the bottom end which was lacking previously.

It feels closer to a 450, where the previous model feels

closer to a beefed up 250.

So when you are dicing the 450's and you need that extra

power, this one delivers.

Suspension is really good, does what it should. We were all

on standard air pressure and clickers throughout the range

the whole day and I heard no complaints. Again the front

wheel traction is spot on. The new frames feel a bit longer

but in turn the bikes are a bit more stable at higher speed.

It feels great! I've said it before and I'll say it again, more

people should ride 350s.
---
450 SXF:

Mike says:

Wow! This thing is strong. To me it feels a lot stronger than

the previous model. And where everyone said that the previous

bike was very plush and a bit too smooth at the bottom with not

quite enough power… well KTM listened. This thing pulls like a

train.

It handles amazing – a bit stiff so it took a bit of time to get

used to it, again – its tall, but it just works. When you are on the

throttle, the back doesn't dip in. When you are on the brakes, the

front forks don't dive. The suspension does not bottom out at

all.

In map 2 the power is insane! To be honest, I could only handle

about half a lap, it's just too much – so map 2 for the holeshot –

and map 1 for the rest of the race because it's easier to ride.

Plenty, plenty of power. More than enough!

450 SXF

Ryan Says:

Such a fast bike.

It is a 450 after all and that doesn't change, but it shouldn't

scare you away if you're looking for one as it feels so much

easier to ride than some of the previous models. It doesn't scare

me, I was able to get from corner to corner and I really enjoyed

it, to me it feels easy to ride.

But man it's fast.

With the chassis changes they've made, it keeps it all really

stable, the bike is faster, no headshakes, it tracks well over the

acceleration bumps.

It's the Goldilocks combination of stability and cornering, really

- really cool.

I enjoyed the bike a lot.

The bikes are on floors at KTM dealerships nationally – and

we are pretty sure that if you ask nicely, they might just have a

demo or two for you to try out.

These are new bikes from the ground up. It's quite amazing how

this brand operates.

A comment passed by one of the riders on the day:

"Never expect the same-same from the KTM group."

That's what sells bikes.

www.ktm.com for your closest dealer.
---
Pics by Bonafied Moto Company and Foley pics

TRIUMPH

Tiger 1200 launch

Normality.

That's a cool word to use these days. After so many

virtual motorcycle presentations, it was the first

time in a while that a "Real" new motorcycle launch

was hosted by the Triumph importers. Look, touch

feel, ride. And a visit to all of our favorite places in

Mpumalanga to sample the new Tiger 1200's.

1200's? Plural.

Well yes. There are two renditions of the bike – and then variations of each

of those. But for the sake of simplicity – one model has a smaller 19" mag

front wheel, while the other hosts a 21" spoked front. We'll call them big

wheel and small wheel.

This feature is more about the more offroad biased 21 inch Rally Pro and Rally

Explorer

The base for this launch event was the very impressive Casterbridge Hollow

hotel and shopping centre on the outskirts of White River. If you have never

paid them a visit, you need to go and kuier – just – hide that credit card away.

The hotel is really impressive – and that is surrounded by a collection of quaint

shops, complete with a motor museum, art galleries and a movie house. Two

great restaurants – one aimed at tourists and the other for "local is lekker" are

within walking distance. It's a great place to stay or to just to kill a couple of hours

on your next visit to Mpumalanga.

We were greeted by a bevy of gleaming British ladies and very cloudy, overcast

skies that had our hosts a bit on edge about the weather. Those forest roads literally

turn to slime in the wet… Not much fun.

That afternoon was spent chatting about the bikes with an in depth presentation by

the technical guys.

It's very clear that Triumph has aimed these bikes squarely at the big shaft

driven adventure market – and on paper anyway, they really have dotted

the I's and crossed the T's. In addition to a complete chassis and engine

redesign over the Tigers predecessor, the bikes literally drip with

electronic magic. Looking at our buyers guide, in the big ADV

segment currently these bikes are also some of the best bang

for your buck on the SA market.
---
Hang on. It's not a redesign of the old Explorer.

These are 1200 Tigers, brand new models in

Triumphs lineup. We've touched on it all in

previous issues and we'll give you more info on

all of that at the end of this feature.

On the day of the ride, we awoke to skies that

seemed to be clearing a bit. Good news. Our

rotation drew straws for the mornings tar ride,

from the hotel, out onto the Kaapse Hoop road

for lunch at Hippo Hollow where we'd trade

saddles for the afternoons adventure ride.

My morning was spent on the more road

biased GT Pro.

You can read that feature in this months issue

of RideFast magazine.

In the afternoon it was time for the 21 inched

dirt oriented Rally - and we know that that's the

one you guys want to know about…

You can never describe a 1200cc adventure

tourer as small, but, the bike is not overly

large or tall. It's exactly as it should be – big

and comfortable for those long hours on the

road and dirt while you explore. With the 30

litre tank Explorer models, Triumph has been

clever by increasing the tank's volume along

its centre and the point it meets the seat it

doesn't splay your legs and feel wide when you

sit or stand on the bike.

Naturally, the Rallys are slightly taller than the

GT's, but by adjusting the seat height, we heard

no complaints about tallness throughout the

afternoons adventure.

As you do, we fiddled with the electronics,

setting up the engine for road ride, adjusting

the electronic suspension to a firmer sports

setting. And even for guys like me who are

technically challenged – it's all pretty simple.

We roared out of Hippo Hollow. Shifting gears

through the shift assist is faultless – and

here's something cool: At the presentation,

the tech guys told us that the quickshifter

actually learns as you ride, so it picks up on

your individual habits and over time will adjust

accordingly.

Cool huh!

The route that Triumph chose for the afternoon

ride was excellent. A blend of great tar twisties

and a brilliant section of gravel through the

forests.

There was a lot of pothole dodging as we left

Hippo Hollow and headed up through Sabie

and onwards towards long Toms Pass. Luckily

the mornings rain and mist had buggered

off – so it became a perfect day to ride a

motorcycle.

Stopping at Long Toms, the smiles said it all.

Triumph made the small wheel for the road

brigade, but the bevy of adventure riders who

were along were all grinning at just how well

the Rally hustles through the turns. And that

new engine…

It's a brand new 1160 cc triple with T-Plane

crank replaces the old, even-firing threecylinder

motor. The T-Plane firing order is 1-3-2,

skipping over the middle cylinder every cycle.

Consequently, the crankshaft rotation is 180

degrees, followed by two 270-degree rotations

between firing strokes. The new T-plane

motor's vibey characteristics may not quite be

to the taste of Triumphs traditional fans of the

older generation's silky smooth triple – but we

love it.

If you are not technical, it's quite involved but

suffice it to say – it's a very successful design

that has breathed new life into Triumphs tried

and tested Triple cylinder design. The engine

produces an impressive 148 horsepower from

its over-square 90 mm x 60.7 mm bore and

stroke and three 13.2:1 compression ratio

pistons at a screaming 9,000 rpm. There is

very little in the way of engine vibration –

actually, nothing really to talk about there.

Guys. If you read all the features that we have

done on the 900 Tiger, you'll know that we

really, really like what Triumph has done with

the engine. In a nutshell, they changed the

firing order and that has really given the triple

cylinder mills some great personality.

So guess what? It's fast. And the way it gets to

the upper levels of the speed range is impressive

and smooth and everything you expect. Triumph

has made a bike with a low center of gravity that

weighs in very well for a big 1200.

C

M

Y

CM

MY

CY

CMY

K
---
CHOOSE

EVERY

C

M

Y

M

Y

Y

Y

K
---
The result is a quick handling machine that does not have that

top-heavy feeling.

Now if you read RideFast Magazine, you'll see we said exactly

the same thing about the GT (Small wheels). Well – many of us

reckoned that the Rally's felt better on the road. True story. Riding

through Sabie, there was no uncomfortable heat from the engine.

The upright seating position is natural with a clear view of your

surrounds and you can lean them over and open wide through the

sweeping Mpumalanga corners.

After our Long Tom break up in the mountains, we continued our

journey.

Our guide Pete knows of a little spot where you can follow rumble

strips right up to the very top of the mountains where the views

are spectacular – so up we went and muscled the bikes over

rocks and other stuff for that perfect pic. Then – it was back

along the pass and down to Lydenburg. Awesome company, great

bikes, awesome roads – what more do you need?

From Lydenburg it was time to take that famous gravel pass down

to Sudwala. We stopped on the big gravel and started fiddling with

the electronics. Offroad Pro – because – well we are Pro after

all. This switches off traction control and ABS – and we set the

Showa suspension on Comfort mode.

And then we stood up and took off.

That didn't go well coz pretty soon we were enveloped in a cloud

of dust, so a couple of us decided to hang back a bit until we

could actually see what we were doing. Over the railway line we

went before pulling over again. The road is a blend of hard pack

and sand with some neat little speed jumps built in.

The suspension needed stiffening. Push the button, you feel the

bike lift a bit and set off again. The Showa semi-active suspension

features many of the tricks we've come to expect from electronic

suspension, including optimum damping settings for each ride

mode; these are constantly adjusting at a rate of 50 milliseconds

during the ride. There's also the ability to adjust damping

characteristics manually over nine levels, and automatic preload

setting based on how the bike is loaded. The suspension is also

able to detect jumps and increase damping for landings. Showa

also uses what it calls a "virtual spring rate" which, in theory,

controls the spring rate by adjusting damping forces when the

suspension is at higher stroke positions. This gives a progressive

feel to the shock that is typically achieved through a linkage

system. Flippen clever stuff this!

Flip it was fun. No lies the big tank rally Explorer especially is a

big girl, but we were riding these things like dirtbikes. And the

bikes just ate it up.

A short "sneaky Pete" down into the forest – through some

deepish mudpuddles. All grins. Back up the side of the mountain

and on to the district road it was game on! I was trundling along

when sudden the radar light on my rearview mirror started

flashing… Some fool – Ok it was Photog man Joe Fleming on his

Scrambler who was trying to overtake. Great feature this blind

spot Radar, works on the road when someone gets too close and

lets you know when another rider wants to overtake. The, Brembo

Stylema calipers clamp two 320mm discs at the front, with a

single-piston Brembo unit clenching a 282mm disc out back. They

worked just fine thankfully.

Too soon, the gravel ended and we reached the tar as the

shadows were growing longer. Obligatory fiddle-fiddle with

electronics. Back into road mode – suspension into comfort and

we hit the road back to Casterbridge. The Rallys headlight cut a

swathe through the darkness – and the corner lights work a real

treat when you lean over a bit.
---
So – we'll say it again. On paper they looked to have nailed it. In the skin

they proved it. The new Tiger Rally is a great bike, fast, comfortable and

equally good on the road or in the dirt. It's a great addition to the ADV

market – and you really should go and ride one.

The small wheel version of the 1200 is also a great bike. You'll need to

read about that in RideFast Magazine.

Sidenote: Rear radar. Or Blind Spot Detection.

The Explorer has a blind spot radar out back – so if a vehicle

approaches from behind a small unobstrusive light lights up on the

mirror to warn the rider.

Yup – aint technology grand!

At a glance:

The Tiger 1200 Rally Pro comes in at R305000.00

The big tank Rally Explorer is currently at R335000.00

What's The Difference Between the Rally Pro and Rally Explorer?

Both bikes come standard with semi-active suspension, cornering

ABS and TC, Brembo Stylema brakes and a TFT dash with connectivity.

Cruise control is standard as is an up/down shifter, hill hold, auxiliary

lights, cornering lights, heated grips and a centre stand.

The biggest difference between the Rally Pro and Rally Explorer is fuel

tank size. The Rally Pro wears a 20L tank, while the Rally Explorer gets

30 litres capacity.

The Explorer also gets radar for blind spot detection, beefier crash bars

(especially around the bigger fuel tank), heated seats and slightly taller

bars.

www.triumph-motorcycles.co.za
---
Cycle Technology ccT/A

Accessorising of all

makes of Adventure

Motorcycles

EST. 1978

Adventure, Classic and

Custom Motorcycle and

Accessory Specialists

Battling to find BMW

Motorcycle Parts?

Exclusive stockists of a

comprehensive range

of New, Aftermarket,

Reconditioned and

Used Parts from 1950

to current Models.

Professional Restoration, Custom

Building, Servicing and Repairs

of all BMW Motorcycles

Stockists & Fitment of

proven Adventure

Motorcycle Equipment

& Accessories

Prepare & Equip all types of Adventure

Motorcycles

Service & Maintaining of BMW Classic,

Touring and Adventure Motorcycles

Tyre Stockists, Recommendation,

Fitment & Electronic Wheel Balancing

Manufacture & Design Parts to Specific

Requirements

Customisation Consultancy

Repairs, Trueing and Lacing of Wheels

Tubeless Conversion

Puncture Repair Kits

Officially Appointed

Distributors for

Motorcycle Equipment,

Accessories and more

PUNCTURE REPAIR KITS

(011) 433 8850 info@cytechmotorcycles.co.za

61 Port Road, Robertsham, Johannesburg

www.cytechmotorcycles.co.za
---
IVÁN CERVANTES

WINNER TRAIL CATEGORY ON THE

TIGER 900 RALLY PRO
---
Little

upSani

Thumpers
---
Chat to any adventurer about Sani pass and we'll guarantee

that he, or she will regale you with tales of an epic adventure.

It's just one of those rides that you need to undertake

some time. We took four unassuming little thumper up – and

down again. Here's the story…

It all started – as things do, in our offices. Two days before

the ride, around a cup of morning coffee. Kyle announced

that he'd booked his family a nice peaceful weekend stay at

Hawley House in Underberg – and the gears started clicking.

Underberg? Close to Himeville? Just down from Sani Pass –

Adventure biking? Peaceful weekend?

Not so much! We volunteered to disrupt that plan quite

quickly.

But. We've done the pass on all sorts of bikes – why not try

something a bit different?

Big advs. Nah! Been there, done that. Midsize? Also done

that. Scooters? Scooters are cool, but given that we are

charged for every nick and scratch, let's rather keep those

for tar. OK - How about some of the little guys? Not enduro

bikes, but commercial and farm bikes, that don't cost much in

todays currency. That's it!

One of the greatest adventures we had a few years ago was

when we took similar bikes into Lesotho intending to ride all

the way across from Clocolan. We hit Katze and because it is

so beautiful, we just rode around there instead.
---
We looked up our buyers guide and a short list was made of six bikes.

A Hero 200, A Yamaha YBR, a Honda 125, a Sym 200, something from

the Big Boy importers and Suzuki's little DR 200.

Phones were hit – in the old days bikes would really have been easy to

procure, but this time neither Hero nor Yamaha had anything available

for us at such short notice. But we did get four little thumpers lined up

for the journey.

SYM offered us their Trail Blaze 200. Suzuki loaned us the requested DR

200. Honda did not have a bike, but they arranged us a little XR125 from

the folks at Honda Wing Centurion and it was a perfect opportunity for

the Big Boy importers to lend us a bike that they are testing with an eye

to importing, a little 250cc Loncin dirtbike branded Factory. Our Aunty

Maddy heard where we were going and dragged her Yamaha TTR230

along to join the fun.

The shortfall of bikes was no issue, Kyle took along his KTM 690 and

Byron came along on his KTM 1190-S. More on their ride and routes

ridden down soon.

Because some of the small bikes were unregistered, we opted to load

and tow through. The freeways from JHB to Howick are in great nick.

There are a few small-ish potholes between Howick and Underberg. Give

it six hours with a lunch stop to get there.

Underberg is a lekker farming town. There are lots of BnB's and farmstays

– and if you like – Himeville is only a couple of clicks down the

road, so you will find a spot to suit your budget.

There are garages and shops and all of the amenities – we even managed

to find wheel bearings for our trailer. If you need bike bits, Paul

May has his Peak Yamaha shop right in town, so he'll get you sorted.

We arrived on Thursday and all agreed to a clutch out at 9 the following

morning.

Well that didn't work.

One of the bikes did not want to start, so that was towed up and down

the road until someone decided to check the sparkplug. Dead. Soos n

mossie (where the heck did they come up with that?)

Braap! – Off we go… the next bike stops. Not a drop of fuel in the tank.

By now Kyle is doing his Zulu dance – patience was a virtue that he was

not granted. Fuel was administered, bike starts –third time lucky. By

now its 10. Off to the garage and top everything up.

Now things start to make sense. R700.00 to fill five motorcycles!

Bargain!

Point the bikes in the direction of Himeville and we were officially off!.

So…

We were not so legal – The Dirt and Trail Junior member is only 13 and

the road runs straight past the traffic department. The TTR, DR and Factory

were not actually road legal or registered, so we kinda snuck past

trying to look as innocent as we could.

The few traffic officers we saw all just smiled and waved. Cool huh!

The road from Himeville past Sani Pass hotel to the SA border is 34 KMs

of tar. As you go past the Hotel, you start climbing and it gets properly

spectacular with endless curves and views in all directions. Stop off at

the Old Trading Post, it's interesting.

Don't rush. Take time to stop off at the viewpoints – so worth a photo

or 10.

The corners all have names – Suicide corner, Hemorrhoid bend,

yellowwood turn – even the little rivulet on the side has been named

the Fountain Of Youth. And – although lots of adventure riders bemoan

the fact that this section has been tarred – we'll tell you that it's great!

Spotless (well done parks board!), fun to ride and whoever built the road

really did a great job.

The SA border is a breeze. The team is accustomed to tourists of all

shapes and sizes, passports are stamped and off you go.

B
---
R R18, 1250 First RT 2020

Edition 2020

14 4,000km 500km

E X Demo

R249 R280 000

000

S1000 R1250 RR, RT 2021

2010

45,000km 27 R119 R289 000

R1250 RS, 2022

2021

10 2 300km 000km

Top Box

R199 000

R 1250 RS, 2019

R1250 100km

GS 2022

4 R215

300km 000

Lots of Extras

R300 000

R1250RT, 2019

S1000 18 000km

XR 2020

7805km

R230 000

R259 000

C400 X 2020

R 1,300km

1250 GS 2019

17 R109

000km

000

R259 000

Vespa 300 GTS, 2018

R1250 13,500km GS 2021

2 R99 300km

000

R279 000

Vespa 250 GTS, 2011

C600 13, 000km Sport 2012

25 R89 000km

R85 R105 000

BMW Motorrad Fourways

R1250 GS Adventure 2013

R 1250 GS HP 2020

34,000km

14 000km

R245 000

R290 000

Cnr Witkoppen and Cedar Road.

Fourways, Gauteng.

Tel: (011) 367-1600

Email: rodney.serfontein@cedarisle.co.za

Have some fun

Challenge yourself

What? A lekker, challenging day in the saddle!

Not hard enduro. All rideable and not a bike breaker.

Loop? Roughly a 30 kilometer Enduro loop that

incorporates elements of Enduro & off-road

Classes: Ysterman & team entries & more

Note: Young riders are welcome

All Brands Welcome

Booking queries:

foleyg@mweb.co.za (072) 177-0621

anette.acc@mweb.co.za (083) 314-2203

Trax:

admin2@traxktm.co.za (012) 111-0190

POWERED BY
---
Even the Baboons are chilled, there was a big

guy picking his way through the grass verges

who did not pay the bikes one iota of attention.

SA Border to Lesotho border 9kms of twisty

ADV heaven. No. Wait. Maybe small ADV

heaven.

The road is currently in a pretty bad state.

Lots of small exposed rocks – and big ones,

loose marbles and all sorts. Just the kind of

stuff we love.

It twists and turns as it climbs its way steeply

up the mountain pass. The route up Sani Pass

starts at 1,544 metres and climbs 1,332 m to

an altitude of 2,876 m.

And it's awesome. But stay awake, take it easy

and it's all doable. On the little bikes – well it

was literally a great big walk in the park and

we laughed and laughed when we overtook

Byron sukkeling along on his big 1190-S. He

earned much respect getting that big girl up to

the top.

It was great to see so many peeps enjoying the

pass, lots of 4x4's with camper vans. Lots of

tour groups, taxi's coming up and down – and

without exception, they were all courteous to

our merry band of motorcyclists.

Guys, it might only be 9 odd KM's, but it is SO

spectacular. If you are on a big bike, and not

accustomed to harder ADV riding, you will

sukkel for sure. The views are simply endless .

The winter thaw was not quite over, so the

waterfalls were still frozen. We stopped for

pics and you can hear the water running

underneath the ice. Amazing. The look on the

uninitiated faces when we all got to the top

was priceless. A Mega achievemet for sure.

At the top of the pass, you get to the Lesotho

Border post. Just inside Lesotho is the highest

Pub in Africa – but you have to pass through

the border. 75 bucks a bike – and you either

have to present a COVID Vax cert or you'll have

to have an on-site COVID test.

The guys are friendly and helpful and it was all

hassle free. There are a few small curio shops

at the top, go and grab a little memento just to

remind yourself that you did it!

We went through to take some pics with the

snow frosted mountains in the background.

Lesotho is absolutely one of the most beautiful

countries. Just ask any dirtbike or adventure

rider.

Because the restaurant was packed and the

clouds were starting to look a bit ominous, we

opted to grab some chocolate, peanuts and a

coke for lunch, wolfed that down, took even

more photos and started back down the pass.

Here we discovered something:

You can freewheel a bike all the way from

the Lesotho border post, down to the South

African Post. True story!

How do we know?

Well we tried it. We had to push the bike for

about 20 metres the whole way just to get over

the very short, slight inclines. And on some

sections it's faster to freewheel than actually

ride.

The down run is very steep and in some ways

even more challenging than going up the hill –

and you need to take it easy on the brakes and

use your gears to slow your descent. A bigger

bike will push and slide around the corners –

there is almost no traction and to make things

fun, Byron even discovered a patch of black ice

that saw him end up on his bum. There are lots

of stories about vehicles going over the side –

and it's easy to understand how it happens.

Treat the pass with respect and it's really fun.

The whole 86 KM round trip from Underberg

back to Underberg took just on six hours. You

can do it a lot quicker than that – but what's

the point?

Sitting around the fire that evening, the war

stories were huge and the bench racing got

faster and faster.

You need a motorcycle in your life – and you

don't always need the biggest, fanciest one on

the market to have a great adventure.

Speaking of which, we'd best tell you about all

the bikes we rode:
---
The Factory 250: powered by Loncin.

Arriving in SA soon. www.samotorcycles.co.za

Jade Kriel is a lady who last rode a bike 20 years ago. The guys from

South African motorcycles are looking at this model to attract entry

level riders to the sport. What better way to put the bike to the test?

She says:

Electric start – faultless, thankfully. Sidestand, easy to use and reach.

Brakes- excellent. Suspension – nice and comfortable. The only dirtbike

of this lot.

A relaxing trip to the Berg with mates turned out to be an unexpected

soul-rekindling adventure. What started as a joke about me being carefree

because I didn't have my daughters for the weekend changed into

an unplanned trip up Sani pass on this prototype dirtbike.

My last recollection of riding a motorbike was from when I was a teenager

on the farm, a good 20 years ago and all I remember about the bike

is that it was red, fast and heavy. Since then, I've ridden a few quads

on the occasional family holiday. So it's safe to say I'm no pro. After a

quick test ride up the dirt road to see if I could remember how to ride,

we kitted up and left for the hills. I was told in no uncertain terms; we

leave no man or woman behind.

First impression of the bike, I was thrilled I could touch the floor with

both feet at the same time and this was the confidence boost I needed.

However, this feeling quickly dissipated when I flooded the engine

before leaving the yard- most certainly not a design flaw on the bike but

rather another reminder to myself that I had a lot of catching up to do

that day. After a quick pep talk and some pro intervention the first hurdle

was overcome, and we set off. I soon convinced myself this would

all be fine because the bike was easy to ride, it's absolutely forgiving

for the novice. It handled the tar sections so comfortably and had just

the right amount of speed for what I needed to find my nerve again. The

time on the road gave me an opportunity to learn how to control the

throttle and use the brakes smoothly. As the mountains grew In front of

me I figured I was going to need to know how the brakes worked- there

was no turning back now.

Once we were through the SA border we hit the first bit of dirt. Climbing

up Sani pass was so much easier than I anticipated. The bike made

what I first thought were huge boulders feel like pebbles. I was able

control the bike far better than I remembered from when I was a teen so

I could navigate the tricky sections, which kept the hugest smile on my

face.

Our cameramen forgot that being a novice meant that I couldn't just

stop for a photoshoot anywhere… and that was when I dropped the

bike at a standstill. At first, I couldn't pick it up myself because I was

laughing uncontrollably- I'm guessing that was the adrenaline pumping

through my veins. With help from a friend, I had her back upright and

she started immediately- I felt very relieved I hadn't broken the bike - she

was tougher than that.

Climbing the summit was breathtaking and I couldn't believe I had I

made the climb. Looking back down the gorge I was blown away at how

beautiful and unspoilt that part of the world is. How did I get so lucky to

be afforded this opportunity to see that view, and to get back some part

of myself I had forgotten about? I won't forget that feeling for a long

time.

The lump in my throat soon turned into a cold sweat when it dawned on

me that I had to ride back down that mountain, and I felt my nerve fade

away. Nothing a pep-talk and a quick reminder that home wasn't under

the beautiful snow-capped mountains in Lesotho got me back on the

road again.

At first I was overly cautious but that was short lived, it turned out there

was no reason to be worried. I let the bike do all the work and I enjoyed

the ride down way more than the climb up. The view and the ride was

spectacular.

I learnt a few important things that day.

You don't need an expensive bike to have a great day, but you need

good gear to make sure you are safe. Accepting help from friends you

can trust gets you up the hill. And being a mom doesn't mean I'm incapable

of great adventures, just say yes.

I'm grateful I had this bike to ride because it was the perfect fit for the

novice.

I do have one problem now; I need a dirt bike in my life…
---
N

TY

The Honda XR125:

www.hondawingcenturion.co.za

From R36 600.00

A great little commuter, the 125 lacks power

up top but there's more than enough for town

riding off-road fun. The long travel suspension

works well, the brakes are ample and it'll

cruise at 70KPH comfortably. Kyle Junior saw

a top speed of 90KPH.

The Honda XR125L's tall-ish seat gives a commanding

riding position (great for city riding)

but isn't out of reach for the average rider. The

bike is narrow and very light, making handling

easy and fun. The seat's actually quite comfy.

There's a small screen, spoked wheels and a

steel rear carrier for tying bits and pieces to.

And it's a pretty bike too.

We all rode the smallest bike of this batch –

and everyone who rode her was blown away by

the bikes sheer grit and heart.

The XR125 is a stalwart in Honda's fleet and

has remained virtually unchanged almost

forever.

With its 19 front / 17 rear configuration it is a

little trail bike in the real sense of the word.

At its heart is a tried and tested single cylinder

four-stroke carburetted mill. It seems strange

that Honda has not upgraded the rear brakes

from drums to discs – but for a 125, they work

fine.

Physically it is also the smallest of the batch

that we had – so some of the larger riders

were initially skeptical about whether the bike

would do this job.

13 year old Kyle was popped into the saddle

for the route out of town – and we did not

have to wait for him at all – and when he got

to the Old Trading post he was very impressed.

"Dad my 250 (Dirtbike) is much stronger and

faster, but this bike is fun and so easy to ride."

And he's correct. Dad got back from checking

out the ruins to discover that the boys had

hijacked his 250 and left the 125 for him…

Ah well. Head on up the tar. Brilliant! It's so

much fun with smooth gears and clutch – and

the heart of a lion. The Honda also has a real

quality feel to it, typical of Japanese bikes.

We whizzed along through the border and on

up the gravel into the mountains. It's a proper

little scrambler with good ground clearance

and handling. Even with the least aggressive

tyres of the lot, traction was no issue. A brief

stop for pics – the bikes were swapped out

and Aunty Maddy hopped on to the Honda

after much protesting about it not being able

to carry her weight… like she weighs more than

Glenn.

Off we went again and the little bike just

climbed. "I love the fact that this bike is small

– it's really confidence inspiring that I could

easily get my feet on the ground. Ride her

through the gearbox and it really makes life so

easy. And it's fun!"

As we started hitting altitude, the bike started

to Ping. Its common amongst small capacity

carbureted four strokes that are not tuned for

altitude. Remember these bikes are as you

buy them off the showroom floor. The bikes

basically gasp for air. We could have removed

the air box cover or whatever – but we didn't

need to. We did pop the smallest rider into the

saddle and the little lion made it up without

any fuss. We certainly did not have to wait

because the other bikes were also huffing and

puffing a bit.

Down the hill again everyone wanted the Honda

because – well its just so easy to ride – and

to get your feet down.

Typical Honda, an unassuming, quality ride.

A perfect entry level machine for running to

school and back, delivering that load or having

fun on the weekend.

Proper, legendary XR genes for sure!
---
THE DUAL-SPORT

WITH THREE APPLICATIONS

Apart from being super-affordable, Big Boy's TSRs are

extremely versatile, perfect for daily commuting, weekend

trail rides as well as being a great delivery model just by

adding a rear bracket and top box.

Visit one of Big Boy's 85+ authorised dealers nationwide

and swing a leg over SA's most affordable trail bike today.

TSR250 R28,999 00

TSR125 R24,999 00

INCLUDING VAT AND 3 YEAR FACTORY WARRANTY

HIGHLIGHTS

• Super-low fuel consumption, up to 400km/tank

• Counter-balanced 4-Stroke motor

• Front and rear hydraulic disc brakes

• 5-speed manual gearbox

• Electric start and kick-start

• Bar-mounted USB charger

For the full scooter, motorcycle, ATV and commercial range visit: www.samotorcycles.co.za

IMPORTED AND DISTRIBUTED BY

Join Big Boy on

* Best-selling claim made on total yearly unit sales, based on new registrations. All advertised prices include VAT, excludes On-The-Road costs & Govt. Levy.

GraphicWerx Advertising & Design cc

NEW

HEIDENAU

& MOTOZ

TYRE SHIPMENT

ARRIVED

Please give us a call for pricing on the MotoZ and Heidenau tyres - info@offroadcycles.co.za

Metalize Brown Explore Tech Boots in stock, long and short received
---
The SYM Trailblaze 200

R23995.00

www.Sym.co.za

This little bike blew us all away. It really is impressive and

in terms of spec it's top of the pile. It comes with a carrier,

a fuel guage and gear indicator. Cool huh? It also has one

of those ridiculous self-retracting sidestands… more on that

later.

This one could have been considered a social misfit in

between this lot. Why? Well it's the only bike with small mag

wheels. 18 rear, 18 front. They are, however shod in fairly

aggressive Kingstone tyres, which helped with the climbing

duties a lot.

So it's really the least dirtbikey of the lot – but quite possibly

the most fun to ride.

It did not take the kids long to figure out that it is the fastest

of this batch, so on the tar, they were soon racing off and

trying to get knees down in the corners much to moms dismay

as she followed along in the car towards the SA border.

It's a road bike for sure – even your sitting position is more

aggressive than on any of the other bikes. We were getting a

bit worried about whether it would cope going up and down

the mountain in one piece. We should have known better.

We have a Sym scooter in the garage and that has been as

reliable as an anvil. When we hit the nasty gravel, she kind of

gave a little bellow and carried on absolutely unfazed with

life. We fully expected to hit rocks and things as we went

along, but ground clearance was never an issue and the

grippy tyres did exactly what was needed.

And there's another thing that we need to mention about

riding small capacity bikes like these. The power is pretty

mild – so where you'll spin a lot trying to climb hills on a

big capacity bike, these don't spin. She did suffer from the

dreaded ping as we climbed but it was not as noticeable as

on the smaller capacity XR125.

And yes, we did fall over. Only once – and that was when

that retractable sidestand retracted while the freewheeler

was trying to climb aboard after the short push… it's a really

doff design and we have the Italians to blame for that.

This was a good brake test too – the disc up front and drum

out back did a great job making sure that the rider did not go

whizzing over the side of the kloof.

What a cool bike this is, fun, nippy comfortable – just ask

the kids… and the grown ups. And the price seems pretty

amazing.

And this brand is backed by one of the giants in the industry

so parts and all that are all available.
---
The Suzuki DR 200 R65950.00

www.suzuki-motorcycle.co.za

21 inch front wheel. Carrier out back. Carrier up front. Crash bars up front

to protect the engine and oil cooler. Disc brake front, drum brake out back,

mechanical speedo and odometer. It even has a little tool holder tucked

away behind the left hand sidecover. A proper little farm bike.

In fact this is only a farm bike – it's sold as an off-road bike into the SA

market. And it's so much fun to ride.

This was the bike that gave us plug problems at the start – for some reason,

the plug just chose to give up the ghost. Fortunately, we had a spare,

replaced the plug and she ran like a song for the rest of the journey.

It's quite easy to understand why this bike comes at a higher price point

than the other bikes here – and we are also not surprised that it has

remained unchanged for so many years. Why try to fix something that is

perfect for the task?

Plush suspension, a comfortable seat and predictable power delivery

makes it one of those bikes that you know will get you there and back

without breaking a sweat. The bike is easy to get going on the button

(there's no kickstarter) and the 199cc, SOHC engine is smooth off the

mark.

It's a tractor. She handled the steep climbs like a pro, was fun to ride on

the road with a maximum speed at the 90 KPH mark – and the brakes and

soft suspension makes mincemeat of the wide-eye terrain.

Tristan and Kyle took turn motocrossing the poor thing on some of the

speed bumps – "Dad, this is the coolest slow bike we've ridden"

It's also made for riders of all shapes and sizes, physically the largest

of the bunch. It has a wide, comfortable seat and its easy reach to the

ground.

Electric start for the farmer who needs to hop on and off to open gates or,

in our case, hop on and off to swap riders.

Up at the Lesotho border post, it attracted a lot of attention with officials

all asking what it costs and what licence you need to ride it.

It's a simple, unassuming bike, with a proper quality feel and fun ride.

Built Africa tough.

So that's it. What was this story actually all about? That's easy. You don't

need the biggest baddest bike on the planet to have a good time. You also

don't have to spend lots of money to get out there and enjoy the great

network of roads and trails that SA has on offer.

Also – Sani is a fantastic mountain pass – and despite the fact that half

of it is now tar, it's still amazing. Will they tar the rest of it? After chatting

to some of the locals, we can only speculate that that answer is yes. But

hopefully it won't be soon.

Get on your bike, book a spot in Underberg or Himeville and go and ride it

yourself.

Sani is amazing.
---
2022 IMPI Hard Enduro

Vintage Challenge.

Pics Kerry Hughes.

The Impi Hard enduro has become

one of SA's favourite Hard Enduro

events. When we heard that some

of the guys were going to attempt

it on classic dirtbikes, we hit the

blower and asked for a story.

Over the last 40 years or so, the technology

development on enduro bikes has largely

determined the type of riding terrain and

level of difficulty that has been put in front

of the riders. Advances in suspension,

brakes, tyres and engines have enabled

riders to complete courses that would

never have been considered in the old days.

So what if you took a couple of 40 ish year

old pedigree enduro bikes from the 80s

piloted by a couple of seasoned bullets

and put them up against modern day hard

enduro riders and bikes?

Would the machines and riders hold up to the

abuse?

Well three such riders (all vintage in their own

respect) put that challenge to the Impi Hard

Enduro organizer, Craig van Heerden earlier

this year. Rather than going to the trouble

of setting up a separate vintage enduro

course, we decided that we would implement

a handicap system based on the age and

characteristics of the bike.

A bike dated 1985 or earlier with the following

characteristics:

Air-cooled, drum brake and twin shocks

would need to complete an Impi Bronze route

to obtain a IMPI Gold medal, an Iron route to

obtain an IMPI Silver medal or at least one day

of the Iron Class route to get an Impi Bronze

medal.

If the rider was on a bike dated before 2000

with similar characteristics as a modern bike:

Mono-shock, water-cooled, disc brakes,

they would need to complete an Impi Silver

route to get Gold medal, Impi Bronze route to

get Impi Silver medal or Impi Iron route (both

days) to achieve an Impi Bronze medal.

You got that?

The three "must-have-beers" taking on the Impi

Hard Enduro Vintage Challenge were Gordon

"Gordie" Johnstone age 49 on a 1984 KTM

250 GS, Mark Thompson age 52 on a 1986

Kawasaki KDX 200 and Gareth Ireland age 46

on a 1980 KTM 390.

These guys all took part in the 2019 Retro Roof

on vintage bikes and faired pretty well against

their modern counterparts but the technicality

of a hard enduro would be a different kettle of

rocks.

The real race started long before they pitched up

in the Northern Berg. They tried to prepare these

old bikes to take on the terrain of a hard enduro.
---
Besides making sure that the bikes were mechanically sound, they

also needed to add some modern-day comforts to help the cause, so

the bikes were fitted with handguards, bash plates and some modern

enduro tyres and mouses.

Gareth says:

Rocking up at the time-trial with the 700 other competitors was an

amazing experience. When you go to an enduro these days, there's not

a wide range of bikes there and they all pretty much look the same. So

to pitch up with 3 bikes that not many had ever seen before created an

awesome buzz and we were very well received.

Kitted up, in retro gear "nog al", all three of us headed down to the start of

the time trial together. With a lot of hype and attention on us we took off

like scalded cats but about 50 metres in and as we hit the first off camber

downhill, we were all in for a massive wake up call. It soon occurred to

us that riding an old-school bike with a modern-day bike mentality was

a recipe for disaster. With their weight, skinny open cartridge forks,

twin shocks or early mono-shocks, drum brakes or rudimentary front

disk brakes, and in my case heavy broad frame, no reed valve and left

hand start, riding these bikes is a world away from riding a modern bike

and involves a lot of planning and thinking ahead before you tackle an

obstacle.

Whilst not too technical, the bronze time trial was a voyage of discovery

for all three of us. Gordie and Mark had a solid TT coming inside the top

60 (out of 300 odd). Ironically the most modern piece of technology on

my bike, the GPS, let me down and I had some navigational issues which

meant that I finished 20 minutes behind the other boys. Riding blind wasn't

fun on the old KTM because I would choose a path and then end up in

some heavy tech riding and was forced to turn back to find the path.

Be that as it may we all finished the time trial which was mission #1

with Gordie qualifying in 58th, Mark 74th and after my mishaps 256th,

so I had some work to do, and we all knew the actual race would

be a lot tougher than the time trial. What follows are our individual

experiences.

CLOSING DOWN

1993 - 2022

WISHING A BIG THANK YOU FOR ALL SUPPORT &

FRIENDSHIPS MADE AN RECEIVED

OVER THE LAST 25 YEARS

NICK WILL BE WRAPPING UP BUSINESS AND TAKING

CALLS TILL THE END OF THE YEAR AT LEAST

Email; info@nickscycles.co.za

Phone 011 395 2553 - 082 756 1008
---
Gareth's experience on the 1980 KTM 390 GS (#575B)

After swinging some spanners on the Thursday night

and a serious mind set adjustment I set off at the back

end of the bronze field. Instead of going flat out from the

start my approach was to try ride as steady and clean

as possible and the places would come. It seemed to

be working, because in the first couple of kilometres

I must have passed about 20 riders. Then we got to

the first rocky downhill with a long bottleneck. Rather

than just b-lining down the hill like I would on my 2020

Husky I killed the bike and waited my turn. What I hadn't

anticipated was that with no reed block on the piston

port motor and sitting at a 45 degree angle fuel was still

pouring into the crank case so when I got to the bottom

of the climb the bike had flooded and I needed to change

the spark plug.

Not long after this section there was a wet, steep, rocky

drop off. Having just figured out how useless the front

drum brakes were, I decided to just take a run down. What

I didn't count on was the 38mm forks diving and with little

to no travel on the rear twin shocks I went over the front

and had to contend with a 120kg dirt bike cartwheeling

down on top of me. Luckily there was a rider behind me

that saw all of this and helped get the bike off and I was

back on my mission.

With that, can I say that the riders at the later end of the

bronze class are an amazing bunch.

Just a group of enduro nuts out having a jol with their

mates. Really lekker people!!

With the involuntary gymnastics behind me, I managed

to settle into a good pace and was rapidly gaining places

again. Once I came to terms with the 390 beast, I really

started to enjoy the bike and it's explosive low down

power. The next 20 odd kilometres were huge fun but in

the back of my mind I was still nervous about the terrain

to come and whether the 390 was up to it. The ground

clearance on the old KTM as well as the width of the

frame (footpeg to footpeg) is very broad and once the

bike got beached or stuck between rocks it was quite a

mission to move. Anyway, we missioned on.

We got to the bronze "signature" climb. It was a tight,

twisty climb over the crest of the mountain with a couple

of mild ledges inside a forest. Once I arrived, it was a long

bottleneck and if there's one thing a big bore, air-cooled

two stroke doesn't like is sitting in a bottleneck queue.

Rather than edging I got in line and waited for the climb to

clear in front of me so that I could hit it in one shot. This

must have taken 45 minutes, but the guys behind me were

really cool about it. My turn came and I manged the climb

in one go without too much trouble and a front wheel roll

from a kind rider. After helping a few riders behind me I

was on my way and up the remaining 2 sections of the

climb.

Once I was on the plateau of the mountain, and not far

from the DSP, I started to push but soon, I felt the bike

spluttering in the bottom end and when I managed to

clear the bike there was a huge cloud of white smoke

behind me that would have made Cheech and Chong

proud.

My heart sank. I knew that that could only be one thing,

it could only be the crank seal on the clutch side that had

blown and was letting gearbox oil into the crankcase,

and I knew there was nothing I could do in the mountains

to fix it. I pressed on for a few more kms but it became

difficult to ride in the technical sections as the bottom end
---
was running way too rich. That the seal was now sucking in air and beginning to run lean.

Ultimately, I had to call it and withdraw and head back to the start before I damaged the

motor and luckily, I did because when I got home, I only had 100ml (from 1,5L) left in the

motor.

I was massively disappointed but thoroughly enjoyed the experience and people's re-actions

to the Vintage enduro cause. Now I have unfinished business with IMPI Hard Enduro and I

will be back.

Gordie's experience on his 1984 KTM 250 (#573B)

Several things were worrying me going into IMPI this year. With a bit of encouragement from

Gareth I had committed to riding a 1984 KTM 250 GS. Was I an idiot? How would the old

bike be received? Would I even finish? As it turns out I needn't have worried! The reception

received from everyone was nothing short of amazing with pretty much everyone showing

interest and offering encouragement.

Several guys asked me 'what's it like riding an old bike?' The short answer is if you are used

to a modern bike it's a bit of an assault on the senses. The riding position is completely

different', the suspension is very plush, the brakes are pretty much non-existent, but the up

side is that the motors actually aren't bad.

We entered bronze thinking that would be around right even though the distances seemed a

little short, I did harbour secret thoughts about trying to complete Silver but those thoughts

disappeared 2 minutes into the time trial!

Considering the bike is almost 40 years old it was incredible, it behaved, managed all the

technical bits, never boiled and started first time every time. The brakes, however on some of

the downhills were downright scary.

I had the mindset of riding slower to go faster and that seemed to pay off, few mistakes and

a solid ride put me near the sharper end of the race with an ongoing dice with the few guys

around me.

The experience as a whole was beyond rewarding but more than anything it reminded me

why I started riding all those years ago and that was to have fun. I have seldom enjoyed a

ride as much as this one. Perhaps it was the bike or having no pressure or perhaps it was the

thrill of just being out there.

One thing I can say is if you want to put the fun back into your riding you can do a lot worse

than finding an old bike fixing it up and doing an event, I guarantee you will come back with

a smile on your face!

Authorised

Dealer

Man's New

Best Friend

The Linhai Rustler 300 2x4 is a workhorse

that drives well at every turn. Step into the

drivers seat this August for only R69,995

and get a FREE Oneal Spyde helmet.

While stocks last, T's & C's apply.

1 Sneezewood Lane, Glen Anil KZN | 084 353 2713 | @perry_bikes
---
Mark Thompson – #1986 Kawasaki KDX 200 (#574B) Draggle KZN

I must admit, I was a bit nervous going into this event with this old girl.

The bike has always been reliable (it's a KDX) so I wasn't worried about

breaking down. My main worries were the archaic suspension and

the lack of horsepower for the big challenges, especially at altitude.

Kawasaki invented the first ever linkage rear suspension, my bike has

the second generation of their Uni-Trak system.

Darryn Coleman from DCS (now emigrated) did some work on the front

and back suspension which helped a bit, due to the slow speed and was

better than I thought. I geared the bike down quite a bit for a bit more

low-end which helped a lot on the rock steps. I also put in a new forged

piston and gutted the expansion chamber for more snap. This was the

loudest bike in the event for sure. Wider foot pegs for comfort also

helped a lot and of course a gummy tyre because I could.

The Bronze time trial was good to ease into things and made me realise

that I needed to lean the jetting out more which, I luckily had time for

afterwards. I Managed to get a 4th row bronze start which I was happy

with.

On Friday, I took it easy in the beginning and had to be patient, like

everyone at the bottlenecks and got into a nice flow around the top

third of the Bronze pack. I hooked up with a few decent riders that I

could hang with without any major incidents except locking back drum

brakes (vintage traction control) which I think was caused by mud in the

drums. A few very scary loose downhills- at least I had front brakes. I

think a few guys on new bikes felt a bit intimidated by the noisy green

machine chasing them up the passes, the same bikes seemed to pass

me multiple times on the faster sections. I Finished the day in 112th

place in bronze.

After an early night and only one beer it was time to finish this thing.

Bike and body ok.

Saturday Bronze was a lot easier and shorter than the Friday. Navigation

was easier with the track already being run in by the previous group the

day before. There was one very sketchy section with step down ledges,

just when we could see the pits and thought we were home. That was

not to be, another interesting loop awaited us. It was then time to put

the hammer down as I was aiming for a top 100 bronze finish.

I Kept it rolling and ended up 90th which was later corrected to 100th –

happy with that. Total event time 7H40 .

All in all, the old green bike showed it's enduro roots and did better than

I expected. Our vintage trio attracted a number of interested older riders

who had these bikes back in the day (and wish they had hung onto

them…).

So, to answer the age-old question of "is it the rider or the bike?", we

believe as long as the motor is turning, an experienced rider will find a

way to ride whatever is underneath them. And yes, Age is just a number!

Although I unfortunately DNF'd I managed to humble a few modern

machines along the way and both Gordie and Mark faired admirably on

their old scoots with Gordon finishing an amazing 23rd in Bronze and

Mark a top 100 in 10th position.

A massive thanks to Craig and team of IMPIs for a great event, to all

the service providers in the industry that support us and our bikes and

to all the fellow competitors and spectators that showed interest and

encouragement.

Riding these old bikes is an experience second to none and we are so

privileged to still be able to do so and appreciate the roots of the sport

we all love.

We hope more will take up the Vintage Challenge with us next year!

Until then keep it old and dirty.
---
JOIN US ON OUR

COME TEST RIDE YOUR

FAVOuRITE SUZUKI

KZN 10-11 September Verulam Area

East London 17 September Suzuki East London

Port Elizabeth 18 September Auto Motorcycles

George/ Moselbay 24-25 September Groot Brak Rivier Area

Cape Town 1-2 october Paarl Area

BOOKINGS - Chrisk@suzukiauto.co.za to book your slot
---
The 2022

Linex Yamaha Junior Development Series –

Round 7 Terra Topia - 10th July

Words: Uncle X

Pics: Cloud 9

Riders briefing got underway at 8h30 AM,

with Clark of the course Chad Arnold Giving

a full rundown of the flags and what they

mean.

This is just as important as parents

understanding the rules from level 1.

Lots of new riders joined the day and

despite some spills, there were no major

injuries.

These youngsters are getting better at

every event - and as they do, the parents are

getting more grey hair...

The racing is always exciting with riders

split into groups according to their skills.

the next event is scheduled for the 21st of

August at ERORA on the East Rand...
---
Inland MX

Championship

Round 7

Mayfair Gearbox Inland Motocross

Championship

Round 7 – Smoking Pistons

Words: Uncle X

Pics: Sean Versfeld - Cloud 9

Round 7 Mayfair Gearbox Inland MX Championship.

Round 4 Dragon Energy NIMXC

Smoking Pistons

9th July:

Another great day of racing for Gauteng!

A chilly winters morning in the south of JHB saw around

150 MX enthusiasts lining up to race the challenging

Smoking Pistons circuit.

Senior riders opened the track for practice and cut the

lines for everyone to follow for the rest of the day.

Heat 1 started at 10 with 26 50cc riders hitting the track

with coaches and parents cheering the littlest riders

along.

Mienka Cawood edged out 9 other eager lady riders

to take the top step for the day. Some fantastic racing

from the girls.

The next rounds for both championships are scheduled

for the 17th of September at ERORA.

See you there!
---
National MX hits Rover...

By Tiegen Reed

The fourth round of the SA Motocross

National Championship took racers to

Rover Motocross Track, in the windy city of

Gqeberha.

Rover is famous for separating the pack and

shamelessly claiming a few riders to its thick

sand, deep rollers, and rutted-out take-offs.

Being in the middle of the season, many of

the riders head into Rover with only the expectation

of finishing and the hope of doing

so uninjured.

Rover was the last track to host a National

Motocross Event before the nationwide

lockdown in 2020 and is now the first track to

host a National Motocross Event since all the

restrictions have fallen away, the crowds and

riders were eager to get the racing underway

again!

The day kicked off with the 50cc class on

the junior track where we saw the return of

Rayden Woolls. He fractured his elbow in

Bloemfontein. Rayden put up a good fight to

end the day in 3rd with Eastern Cape Local

Seth van der Walt just ahead in 2nd. Ross

Mackenzie had a bit of bad luck and found

himself one position shy of the podium, this

made way for Lou Rademeyer to grab the top

step of the podium as well as declare him the

new championship points leader.

The smallest bikes to take on the main

motocross track at Rover were the 65s. It

was a back and forth battle for KZN boys,

Evan Frost and Trenton Kretzmann, but Frost

grabbed the second heat win, holding onto

his points lead with Kretzmann following

in second for the day. Kabelo Ledwaba

impressed the crowds with a solid ride and

made up the third step of the podium.

Nail biting racing took place in the 85cc class

with the boys going back and forth between

the first and second heat races. Consistency

from Red Bull KTM's Trey Cox had him take

the overall win for the day and extending his

lead in the championship. The number 747 of

Ridgeway Racings Jordan van Wyk turned his

day around as he grabbed the second step

of the podium. The top 3 was rounded out by

Husqvarna's Neil van der Vyver.

In the 125 High school Class, we sadly saw

top contender Blake Young crash out of the

first race, making way for Luke Grundy. Blake

made his comeback for the second race to

secure some points but the track conditions

proved to be tricky and set him further back

than he would have liked. The field was

excited to see how the return of Emmanuel

Bako, the 2021 Pro Mini Champion, would

make waves in the class and he did just that.

After his long break from the racing scene,

Bako came out swinging with a really strong

second-place finish in the first race. Though

it was another EC local who claimed the second-place

spot on the overall podium, Breece

Romans had the crowd on their toes all day

with his solid performance. A consistent ride

from Bryce Petersen earned him the third

step on the overall podium for the day.

The premier classes were dominated by

the usual front runners from Red Bull KTM,

Tristan Purdon and Cameron Durow, who

were both fresh from racing in Europe, giving

them the extra edge on their fellow competitors.

Purdon secured wins in both the

MX1 & MX2 classes and extended his points

lead for the 450s, inching even closer to the

250 lead. It was an extremely impressive

ride from Cameron Durow, who took on the

toughest track of the year, with a very recent

collar bone injury. Durow even managed to

secure a heat win in the MX1 class, but as

the track deteriorated, Durow chose to play

it safe and finish comfortably in second for

both classes. The rookie Jonathan Mlimi, had

a stellar ride in the first heat race of MX2, but

with less than two laps to go of the second

heat race, he was closing in on his teammate,

Durow, when a big crash resulted in a broken

collar bone...
---
He was unable to finish the race. This left room for big brother Joshua

Mlimi, one of Husqvarna Racing Team's latest recruits to capitalise and

grab himself the third-place spot in MX2. Husqvarna's other recent addition,

Michael Docherty too took a step in the right direction, also finishing

in third in his MX1.

The Ladies class was led out by none other than the #1 Kawasaki of Kayla

Raaff. She extended her points lead on Leah Heygate as well as Jadene

De Lima.

Tintswalo Yamaha's Anthony Raynard snagged a double win yet again in

the MX3 Senior Class, followed by Dean Wheeler and another EC local,

Dillon Simpson in 2nd and 3rd.

Another season break in the National allows the riders to prepare for the

penultimate round, hosted at the Phakisa track in Welkom, Free State on

September 3rd. Don't forget that spectators are now welcome again, so

bring your friends and family out for a day of supporting your favourite

motocross racers!

Top 3 in each class:

50cc 1st Lou Rademeyer 2nd Seth van der Walt 3rd Rayden Woolls

65cc 1st Evan Frost 2nd Trenton Kretzmann 3rd Kabelo Ledwaba

85cc 1st Trey Cox 2nd Jordan van Wyk 3rd Neil van der Vyver

125 High School 1st Luke Grundy 2nd Breece Romans 3rd Bryce Peterson

MX2 1st Tristan Purdon 2nd Cameron Durow 3rd Joshua Mlimi

MX1 1st Tristan Purdon 2nd Cameron Durow 3rd Michael Docherty

Ladies 1st Kayla Raaff 2nd Leah Heygate 3rd Jadene de Lima

MX3 1st Anthony Raynard 2nd Dean Wheeler 3rd Dillon Simpson
---
National Offroad:

Docherty turns SA Cross Country on its head.

Pics by Action In Motion and ZCMC

What: Trademore Feeds SA Cross Country

Round 4 Report

Where: Zorgfliet, Bronkhorstspruit

When: Saturday 9 July 2022

Not many local dirt bike racing fans will relate

Michael Docherty with the Trademore South

African Cross Country Motorcycle championship,

but this exciting round with the odd

splash puddle at Zorgfliet in Bronkhorstspruit,

will change that.

Dubai-based Docherty more recently set the

rally raid world alight, before being drafted into

the Husqvarna factory cross country team and

now, he's turning the local scene on its head

with an emphatic victory on his second outing.

Docherty and his OR1 machine held fastcharging

Factory Husqvarna teammate Brett

Swanepoel's OR2 winning machine off for overall

honours in the race, with the ever-improving

Kerim Fitz-Gerald's OR2 Red Bull KTM third.

Kenny Gilbert took Seniors and Warrick van

Schalkwyk Masters, while Cobus Bester won

High School on his Husqvarna, Bruno Niebuhr

85cc on a KTM and Werner Kleinhans' IPC

Husqvarna 65cc.

Docherty laid down his marker from the get-go

over OR2 leader Fitz-Gerald, Swanepoel, Gareth

Cole's Honda, Heygate and other top OR3

machines.

The top three remained unchanged at mid-distance.

As he often does, Swanepoel was on fire as

the race wound down to the finish. He tore

past Fitz-Gerald and chased after Docherty,

taking almost two minutes out of his teammate

in the process.

But it was too little, too late as Docherty hung

on to win by just ten seconds. Fitz-Gerald rode

home in third ahead of Heygate.

Swanepoel took OR2 from Fitz-Gerald and

Scott Heygate.

A delighted Taki Bogiages took Kawasaki's

first Trademore SA Cross Country Motorcycle

OR3 win,
---
Making it three different winners in the last three races.

Kenny Gilbert remains undefeated in national Seniors in

2022 aboard his Pepson Plastics Scottish Cables Motul

Kawasaki. He beat Marco Cocci and Jannie Potgieter

Tork Craft CIT man Warrick van Schalkwyk made it

Kawasaki madalas double with Masters victory over

Mielies Le Roux and Kobus Jonck.

In junior action, Cobus Bester made it a Husqvarna

Highschool 125cc 1-2 over Wian Wentzel from KTM duo

Ross Ramseyer and Nathan Westerdale.

Bruno Niebuhr took the 85cc win.

Werner Kleinhans took 65cc IPC.

Three wins, podiums galore for Kawasaki. Yup! You

read that correctly.

Taki Bogiages scored an emotional first ever OR3 win

for Kawasaki aboard his Pepson Plastics Scottish

Cables Motul KX 250 X. Team mate Kenny Gilbert took

Seniors and Warrick van Schalkwyk's took Masters

honours.

Backing that up, Michael Pentecost's Franchise Co.

Tork Craft Kawasaki KX 450 X came home sixth overall

and second in the open class to extend his national

OR1 championship lead, while Jaycee Nienaber ended

fifth in the open capacity OR1 class on a Pepson Plastics

Scottish Cables Motul Kawasaki from teammates

Tyron Beverley and Brendan Kotze.

John Botha's Franchise Co. Tork Craft Kawasaki KX 250

X made it a double Team Green podium with third in the

250 cc OR3 class behind Bogiages. And in junior action,

Pepson Plastics Scottish Cables Motul Kawasaki lad

Jake Pretorius was second in Interprovincial 65cc, and

Jaden Els' Franchise Co. Tork Craft Kawasaki fifth and

Johandre Vermaak's similar machine seventh in the

85cc class.

Amazing Taki B:

"Yesterday was more than sweet redemption," a

delighted Taki Bogiages admitted on taking Kawasaki's

first-ever Trademore SA Cross Country Motorcycle OR3

win " I cannot explain the feeling of winning OR3 after

breaking my back at the same venue in 2018. "The

track was super demanding and really tough from lap 2

onwards, but everything clicked, I felt great, my bike felt

great and my team just made racing so easy!

"Iain Pepper and the Pepson Plastics Scottish Cables

Motul Kawasaki team have done countless hours

of work and I can't thank everyone enough. "It's an

incredible feeling to add Kawasaki as a winner in the

OR3 class for the first time. "That's also four nationals

done in 2022, and a new class winner at each round.

"Its been crazy racing this year and the competition is

insane!"

Pentecost and Gilbert now hold strong respective

Trademore South African Cross Country Motorcycle

OR1 and Seniors championship leads. Bogiages and

van Schalkwyk both sit in stronger and very close

third places in both the OR3 and Masters title chases,

heading to the penultimate round at Porterville in the

Western Cape on 27 August 2022.

The Trademore South African Cross Country Motorcycle

championship now moves to Porterville in the Western

Cape for round five of six on 27 August 2022.

For further information please contact

info@motorsportmedia.co.za
---
B

2023 Husqvarna

R

MA

MX range arrives

This is one company that waits for no man…

Pics by Sage from ZCMC.

The friendly crowd from Husqvarna SA unveiled

the new models at a very cool function at the

Sir James van der Merwe venue in Eastgate

Extention. A very cool spot – look it up and go

and kuier some time.

Guys – you'll have read up all of the innovations that Husqvarna

brings to the party in our June issue. Quick shifters on the four

strokes – and then direct Injection on the two's – but that's only a

small part of what they have done.

It was a great evening of bench racing and lots of chats. Just

for comparative purposes, Gareth Ireland had one of his classic

Husqvarna Motocrossers on display.

And the who's who of SA Husqvarna Royalty were in the house.

Brett Swanepoel. Mike Docherty, Jono Mlimi – who also features

in the American marketing video for the lineup and Zimbo Davin

Cocker were all there to chat to the gathered guests…

It was such a cool evening – and we've been offered the bikes for

next months edition where – we'll get a full writeup from our lot.

Watch this space. In the meantime, get down to your Husqvarna

dealer and have a look for yourself…

And we'll also tell you – the bikes are flippen pretty too!

www.husqvarna-motorcycles.co.za
---
RACE THE EXTREME

MAKE YOUR MOVE

K1600 R18, First BAGGER Edition 2018

2020

33 4,000km E X Demo

R259 R280 000

000

BRAND new 2023

ENDURO MODELS ARRIVED

finance available

S1000 K1600 RR, GTL 2010 719 Option 2019

45,000km 5 R119 R260 000

2023 XCW

2023 XCW-F

R1250 RT RS, 2021

1 2 400km

300km Top Box

R275 R199 000

300 XCW

R 1250 RS, 2019

S1000 100km

RR 2020

3 R215

400km

000

R320 000

R1250RT, 2019

R9T 18 000km

2018

13 R230

000km 000

- To many extras to mention

R169 000

C400 X 2020

S1000 1,300km

XR 2020

6 R109

000km 000

FULL AKRAPOVIC PIPE

R285 000

350 XCW-F

150 XCW

SX85

SX65

Vespa 300 GTS, 2018

KTM 13,500km 1290 SUPER DUKE 2015

R99 000

8000km

JHB:

8 500km

R89 000

Corner Rivonia and Witkoppen Road, R220 R105 Sandton 000

R160 000

Phone: 011 234 5007 Email: info@radmoto.co.za

Paarl: 28 Old Paarl Rd, Zandwyk Park,

Phone: 021 879 4630 Email: info@ktmpaarl.co.za

Vespa 250 GTS, 2011

Triumph 13, 000kmSpeed Triple RS 2021

BMW Motorrad Fourways

R1250 GS Adventure 2013

R1250 GS-A 2021

34,000km

12 200km

R245 000

R299 000

Cnr Witkoppen and Cedar Road.

Fourways, Gauteng.

Tel: (011) 367-1600

Email: rodney.serfontein@cedarisle.co.za
---
E DO MATH THE M

GPR-300

310

FORMANCE

MORE

SPORTMAX

PERFOR

SPORTMAX

Great Handling at an

affordable price.

SPORTMAX

TIRE

6

+20%

2°

=

L E A N AE N.S LIFE

GT LR E

MORE

E T L..

E G A

TIRE = GRIP

Offers a balance of

GRIP

FIT S

chieves lean angles up to 62 degrees*.

in the wet

d for street-legal use.

and dry

uire tire warmers, and runs at street

or chassis or electronic

ANGLE

adjustments.

on black like Dunlop's racing slicks for

conditions with

LONGER

DURABILITY THAT MATCHES PERFORMANCE

320

330

340

ses a continuously wound strip compound

LIFE

es carbon fiber reinforcement in the

g performance, braking stability and Sfeel.

P O R T M A X Q 4

T R A C K D A Y

a.

across the rear tread profile.

WEAR LEGAL

T R A C K D A Y

350

62°

62 LEAN

STREET

0

10

20

30

40

50

More than 80% of the Q3+

has been redesigned

compared to the Q3

60

120

MORE

PERFORMANCE

20% MORE

70

80

110

90

100

Performance touring tyre

that not only lasts longer,

but performs at higher

levels

LESS

WEAR

MORE

maximum grip.

F E A TUR EBENEFIT S & S

GPR-300

Great Handling at an

affordable price.

Offers a balance of

• This purpose-built track-day tire achieves lean angles up to 62 degrees*.

in the wet

• The Sportmax Q4 is DOT-approved for street-legal use.

and dry

• The user-friendly Q4 does not require tire warmers, and runs at street

pressures, eliminating the need for chassis or electronic adjustments.

• Rear tire compound contains carbon black like Dunlop's racing slicks for

conditions with

LONGER

• Jointless Tread (JLT) technology uses a continuously wound strip compound

to optimize stability, flex, and grip across the rear tread profile.

WHERE WEAR

• Carbon Fiber Technology (CFT) uses carbon fiber reinforcement in the

sidewalls for exceptional cornering performance, braking stability and feel.

• Dunlop branding on the tread area.

• Made in the U.S.A.

Trystan

HART

AMA HARD ENDURO SERIES

THE WINNER OF THE LOCKED AND

LOADED SHOTGUN ENDURO

nlop retailers, as well as race distributors.

• The Q4 is available through all Dunlop retailers, as well as race distributors.

Load/Speed Part Number

ZR17 (58W) 45233176

ZR17 (73W) 45233177

ZR17 (75W) 45233131

ZR17 (73W) 45233060

ZR17 (75W) 45233074

ZR17 (78W) 45233092

S594/A

MOST WINNING TYRE

RADIAL SPORT TIRES RACE TRACK STREET SPORT

Size Load/Speed Part Number

Sportmax Q4 Front 120/70ZR17 (58W) 45233176

Sportmax Q4 Rear 180/55ZR17 (73W) 45233177

180/60ZR17 (75W) 45233131

190/50ZR17 (73W) 45233060

190/55ZR17 (75W) 45233074

200/55ZR17 (78W) 45233092

PERFORMANCE

PERFORMANCE

TOURING

TOURING

DUNLOP

Sportmax Q4

DOMINATION

Sportmax Q3+

Sportmax GPR-300

Sportmax Roadsmart III

S594/A

S594/A

DunlopMotorcycleTires.com

©2018 *As tested Dunlop by Motorcycle Dunlop on a Tires. 2017 Suzuki GSX-R 1000 RR on a closed track at Barber Motorsports Park.

@RideDunlop DUNLOPTYRESSA

DunlopMotorcycleTires.com. ©2017 DUNLOPTYRESSA

Dunlop Motorcycle Tires.

©2018 Dunlop Motorcycle Tires.

DUNLOPTYRESSA