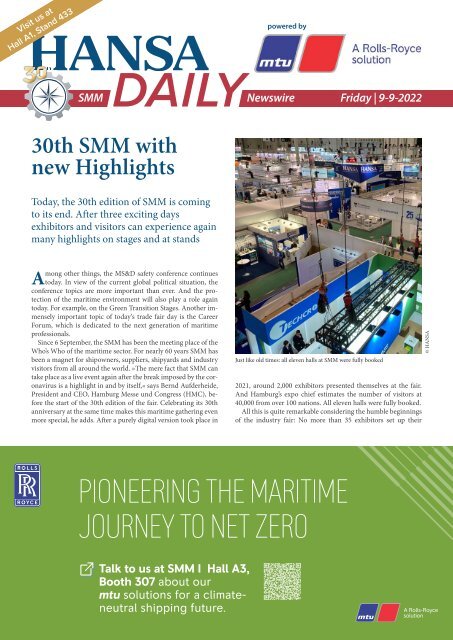 HANSA SMM DAILY Newswire - Day 4
HANSA's daily trade show news paper - SMM 2022
HANSA's daily trade show news paper - SMM 2022
SHOW MORE
SHOW LESS
Create successful ePaper yourself
Turn your PDF publications into a flip-book with our unique Google optimized e-Paper software.
Visit us at

Hall A1, Stand 433

powered by

SMM Newswire Friday | 9-9-2022

30th SMM with

new Highlights

Today, the 30th edition of SMM is coming

to its end. After three exciting days

exhibitors and visitors can experience again

many highlights on stages and at stands

Among other things, the MS&D safety conference continues

today. In view of the current global political situation, the

conference topics are more important than ever. And the protection

of the maritime environment will also play a role again

today. For example, on the Green Transition Stages. Another immensely

important topic of today's trade fair day is the Career

Forum, which is dedicated to the next generation of maritime

professionals.

Since 6 September, the SMM has been the meeting place of the

Who's Who of the maritime sector. For nearly 60 years SMM has

been a magnet for shipowners, suppliers, shipyards and industry

visitors from all around the world. »The mere fact that SMM can

take place as a live event again after the break imposed by the coronavirus

is a highlight in and by itself,« says Bernd Aufderheide,

President and CEO, Hamburg Messe und Congress (HMC), before

the start of the 30th edition of the fair. Celebrating its 30th

anniversary at the same time makes this maritime gathering even

more special, he adds. After a purely digital version took place in

Just like old times: all eleven halls at SMM were fully booked

2021, around 2,000 exhibitors presented themselves at the fair.

And Hamburg's expo chief estimates the number of visitors at

40,000 from over 100 nations. All eleven halls were fully booked.

All this is quite remarkable considering the humble beginnings

of the industry fair: No more than 35 exhibitors set up their

© HANSA

Friday | 09-09-2022

1
---
HANSA DAILY SMM NEWSWIRE

stands for the original »Schiff und Maschine«

(Ship and Machinery) expo in

Hamburg's exhibition halls in 1963. By

1968 that number had risen to 212. As

more and more exhibitors joined, the title

of the event grew longer, as well: »Ship

and machinery« was augmented by

»Meerestechnik«, or maritime technology.

Until this day the Shipbuilding,

Machinery and Maritime Technology

trade fair has enjoyed sustained international

success under its acronym,

SMM. »I am sure the members of the

Hamburg Association of Ship Engineers

(Vereinigung der Schiffs-Ingenieure zu

Hamburg) who founded the precursor to

SMM would be proud of us. What was

once a predominantly German event

with some 200 exhibitors in 1968 is today

a leading flagship fair with an international

reach,« says Aufderheide.

© HANSA

Focus today

This year SMM more than ever focuses on

the maritime energy transition, the digital

transformation and climate change. »We

have consciously reduced some of the exhibition

areas in favour of the Transition

Stages to give participants more room to

present their ideas and product novelties

in an open forum,« explains Claus-Ulrich

Selbach, Business Unit Director at HMC.

There were three stages in total, each

dedicated to a particular theme, like

»Green«, »Digital« and »Cruise & Ferry«.

Following each day's programme of

lectures and presentations, the new networking

format »Wine o' clock« provided

additional opportunities to get answers

and establish new business contacts.

THE 4-DIMENSION SPECIALISTS

Piping · Steelwork · HVACR · Fire Protection

WE DELIVER!

Call us at:

+49 40 781 29 30

kj-marinesystems.com

Join us here:

Hall B5

Stand 524

2 Friday | 09-09-2022
---
HANSA DAILY SMM NEWSWIRE

Meet with

your trusted

adviser at

SMM Hamburg

© VDR

Gaby Bornheim

President

German Shipowners' Association VDR

Everyone must

work together

Germany is still one of the largest

shipowning nations in the world

and a competitive shipping location from

which, among other things, the second

largest container ship fleet in the world is

managed. The German merchant fleet

comprises almost 1,900 ships and is the

carrier of world trade and an essential

medium for the strong German export of

goods. More than ten years of the crisis

lie behind shipping, especially in Germany.

It is, therefore, more than gratifying

that stability has finally returned to

the shipping markets in the past two

years. However, one or two good years

will not be enough to handle the challenges

ahead of us. Long-term stability is

essential because the challenges and the

resulting need for investment in shipping

remain diverse in every respect.

First and foremost, the war in Ukraine,

which the VDR condemns in the strongest

possible terms, should be mentioned

here. Whenever the war ends, the shipping

markets will have changed for a long

time. Today about 40 % of the world's

merchant fleet transports energy. It is certain

that because of the war, trade routes

will shift in the long term, especially

when it comes to transporting energy by

sea. A lot of the global energy policy and

energy markets are being reorganised,

and the VDR assumes that shipping will

play an even more critical role in energy

transport in the future.

But also, the COVID-pandemic continues

to challenge maritime shipping –

the pandemic situation still has a significant

disruptive influence on logistical

processes in important shipping

centres around the world. The spring

lockdown in the world's largest port of

Shanghai, where almost 200 ships were

waiting in the queue for a berth for up

to a week at peak times, showed the

world how vulnerable the maritime

supply chains are. There is still a lot of

work ahead of us in the shipping community

to handle such lockdown situations.

And finally, climate protection: Converting

the entire world merchant fleet to

climate-neutral propulsion technology is

an enormous feat and probably the greatest

challenge for shipping at the moment.

In the fall of 2021, world shipping sent a

clear signal that it wants to operate climate-neutral

globally in 2050 – the »how«

must now be clarified in a joint effort with

politics, the mineral oil industry, engine

manufacturers and research. Everyone

must work together because neither

emissions nor climate protection stops at

borders. To achieve our self-imposed goal,

we need a fuel revolution. Can we manage

this joint effort? Yes, of course, if we only

want to. With this in mind, we look forward

to discussing how we can master all

these challenges together and wish everyone

an interesting SMM 2022!

Friday | 09-09-2022

3
---
HANSA DAILY SMM NEWSWIRE

»Ship of the year« named at SMM

Ship of the Year 2022 goes to a vessel that not only offers many technical innovations

»but also has great transfer value to other vessels in this group, as well as in the maritime

sector in general«, the jury explained the decision to give the award to e-ferry »Medstraum«

Ship of the Year 2022 is the Norwegian

electric passenger ferry »Medstraum«.

It is the world's first zero-emission, electrically

powered high-speed ferry in regular

service. For four years, a European consortium

in the TrAM research project worked

on revolutionary methods to develop electric

passenger ferries faster and more costeffectively

in the future – and to make our

mobility more sustainable. The approaches,

which involved the Fraunhofer

Institutes for Mechatronics Design Technology

IEM and the Fraunhofer Institute

for Industrial Engineering IAO, are expected

to save 70 % development time and

25 % manufacturing costs for future ferry

projects.

Corvus Energy recommended the Corvus

Dolphin Power ESS from its portfolio

of ESSs for this fast ferry application—a

147-passenger catamaran operating

around the clock with crossings lasting

between 35 and 40 min. The Corvus Dolphin

ESS on board MS Medstraum has

battery capacity of 1524 kWh and shore

charging power of 2.3 MW. The lightweight

Corvus Dolphin Power ESS, combined

with the ferry's other innovative

lightweight and streamlined design features,

enable the fast ferry to travel at

high speeds energy-efficiently. »Fast ferries

require a lot of energy, so we needed

to make ›Medstraum‹ lighter and a lot

23 knots and a total of 150 passengers: The »Medstraum« goes into regular service

more efficient than traditional fast ferries.

It is revolutionary that a vessel of this

size can operate at 23 knots for an entire

hour by electricity alone,« says Edmund

Tolo, Head of R&D at Fjellstrand, the

shipyard that built the vessel.

»Medstraum« is the first vessel resulting

from the TrAM (Transport: Advanced

and Modular) project, funded by

the European Union's EU Horizon 2020

program and the Rogaland County

Council, and facilitated by the Norwegian

cluster Maritime CleanTech.

»Medstraum« recently went in operation

on the commuter route between

Stavanger and Hommersåk on the west

coast of Norway. »Even though operating

on our least energy-demanding route,

›Medstraum‹ will cut our emissions by

1,500 t a year,« said Mikal Dahle, Project

Manager at Kolumbus, which operates

ten conventional fast ferries.

It is estimated that if the technology

from this year's winner is transferred to

all similar vessels in Norway, emissions

will be reduced by 500,000 t/year.

© Marius Knutsen / TrAM Consortium

4 Friday | 09-09-2022
---
HANSA DAILY SMM NEWSWIRE

NORTHERN XPLORER

LOI signed for world's first zero emission cruise vessel

The ships are to be equipped with environmentally friendly technologies, including hydrogen fuel cells and renewable auxiliary power

© Northern Xplorer

Rolf Sandvik, CEO of Northern Xplorer – well known as the

dynamo behind The Fjords' award-winning battery-powered

sightseeing vessels »Vision of The Fjord« and »Future of The

Fjord« signed an LOI (Letter of Intent) with Portugal's West

Sea Shipyard during SMM for the projecting and construction

of the world's first zero-emission cruise ship. The

signing took place on Thursday 8th September at the ABB

stand. ABB Marine & Ports is Northern Xplorer's technology

partner for this groundbreaking project, which will involve

fully electric propulsion using batteries and hydrogen fuel

cells and represents a »new paradigm for sustainable operations

in the cruise industry«.

Norwegian company Northern Xplorer is planning a series of

hydrogen- and battery-powered cruise ships that will enter service

in 2024 and allow visitors to experience nature reserves. In

Norway, a government regulation that will take effect in 2026

will make zero-emission ship operations mandatory in the

Geirangerfjord and Nærøyfjord World Heritage sites. »This will

mean the end of polluting cruise ships sailing in the world's first

emission-free marine areas. The Northern Xplorer offers the

perfect zero-emission solution with a strong focus on local

value creation and empowerment,« says company founder and

CEO Sandvik.

A series of 14 vessels is currently planned, each accommodating

up to 300 passengers in 150 cabins and served by approximately

100 crew members.

The ships are to be equipped with environmentally friendly

technologies, including all-electric propulsion, battery storage,

hydrogen fuel cells and renewable auxiliary power (wind and

solar). Sophisticated HVAC systems are expected to protect

against the spread of pathogens, while extensive use of recyclable

materials is expected to address circularity. In addition, the ships

will be equipped with advanced LADAR technology to detect

plastic waste in the sea and raise awareness of marine pollution,

according to plans. Multi Maritime designed the eye-catching

cruise vessel, with expected delivery at the start of the 2025/2026

cruise season.

Hall B6 | booth 329

From green ports to cutting-edge

ship designs, by your side toward

a net-zero future.

Visit us at SMM - Hall: B4 Booth: EG 310

Make it sure, make it simple.

rina.org

Friday | 09-09-2022

5
---
HANSA DAILY SMM NEWSWIRE

Ankeri wins »Maritime Start-Up Award«

The Maritime Start-Up Night 2022 has a winner! Ankeri with its cloud-based data

management solution for the maritime industry won the Maritime Start-Up Award

at the finals on the second day of SMM in Hamburg

16 start-up companies pitched their ideas to the audience during the day. Ankeri made it into the finals and won the prestigious award in the evening

© Selzer

The Maritime Start-Up Night 2022, which took place for the first time

this year as part of the SMM ship technology trade fair in Hamburg,

has a winner: Ankeri from Iceland.

At the »Start-Up Day« on the second day of the trade fair, the start-up

Ankeri first managed to qualify for the final in the evening in the first

round of »pitches«, in which a total of 16 start-ups took part. In the

evening, the five finalists had the opportunity to present their ideas and

solutions once again in front of an audience.

In the final vote, Ankeri finally prevailed after a neck-and-neck race

with Insurwave. Ankeri offers a cloud-based solution for shipping companies,

ship managers, charterers and other stakeholders to manage

data, collaborate and increase the efficiency of their fleets. With this, the

Icelanders were able to convince the audience at the Green Transition

Stage of SMM.

In addition to the prestigious award, the company also received a

media package worth 10,000 € from HANSA, which will enable Ankeri

to raise its profile in the industry. In addition, »Mr. SMM« Ulrich Selbach

announced that the start-up will be given a free stand in the exhibition

halls at the next edition of the trade fair in 2024.

Party after the show with drinks and music

© Wroblewski

6 Friday | 09-09-2022
---
HANSA DAILY NEWSWIRE

Honestly,

technology

is not the issue.
---
HANSA DAILY SMM NEWSWIRE

A&R's trainees against plastic waste

Oceans and rivers worldwide are contaminated with plastic waste. The shipyard Abeking &

Rasmussen is taking action against this with the HiveX platform. A prototype is already in

operation in Italy, another is being designed. Trainees play a major role in the project

Trainees building the waste collection platform

In the course of its 115-year history, the

traditional shipyard Abeking & Rasmussen

has always been willing to explore

new avenues and to get involved

outside its traditional fields of activity. So

no one was surprised when the trainees

got involved with a forward-looking project.

Through a TV appearance in 2019,

Toralf Zimmermann, Head of Research,

Development and Innovation at A&R,

became aware of the association Pacific

Garbage Screening. At that time, no one

© A&R

could have imagined that this would develop

into a long-term and trusting collaboration.

The association, now renamed

EverWave Community, and its

associated social startup, Everwave

GmbH, have declared war on plastic

waste in rivers and oceans. »Every year,

over 12 mill. t of plastic waste ends up in

our oceans. We, the people, are responsible

for this. Through our behaviors and

consumption, we ingest tens of thousands

of plastic particles per year, including

through our food, clothing and

hygiene products. This, in turn, can have

an impact on our health. Our oceans are

extremely polluted by almost invisible

mountains of garbage. This plastic waste

threatens biodiversity and the lives of all

marine life. Animal food chains and habitats

are being massively disrupted,«

says Tilman Flöhr, CTO at Everwave.

In order to protect the oceans from the

masses of waste, Everwave is already

starting with the rivers, the main pathways

for the plastic into the oceans. For

this purpose, a stationary platform system

was developed that continuously collects

the plastic waste in an environment-

8 Friday | 09-09-2022
---
HANSA DAILY SMM NEWSWIRE

The first platform built by A&R's trainees is already in use near Padua

ally friendly way in order to recycle it

afterwards. This is where Abeking & Rasmussen

came in. Toralf Zimmermann remembers:

»The commitment and enthusiasm

for their cause made a lasting

impression on me. However, there were

some challenges to be mastered in terms

of shipbuilding that did not necessarily

correspond to the classic tasks of our design

engineers.« Solutions were quickly

found. In cooperation with the Institute

of Hydraulic Engineering and Water

Management at RWTH Aachen University,

two »primotype« test series were

checked for functionality in the laboratory.

These findings formed the basis for

the realization of the first prototype.

This prototype was built by the apprentices

of Abeking & Rasmussen. The

Welding work

training department of A&R, which has

just been awarded Top trainer by the

Chamber of Industry and Commerce for

the umpteenth time – approximate 10 %

of the workforce are trainees and have

been for many years – became the construction

site. Here, the buoyancy bodies

were welded and the entire platform was

assembled. For Helge Ziems-Gillerke,

head of the A&R training department,

this project was an exceptional opportunity

to make a contribution to the environment

with the ship-yard's junior

staff. »Seeing the finished platform in the

Weser and experiencing that the concept

works was the absolute highlight for the

trainees.«

The platform »HiveX«

HiveX is everwave's stationary system

and can collect plastic waste continuously,

in an energy-efficient and environmentally

friendly way. The platform

is capable of collecting up to 5 t of plastic

per day and is designed to allow fish to

swim through it unimpeded. Its modular

system allows it to be adapted to local

conditions and it can also be designed in

combination with other modules.

The prototype is already in use under

real conditions. In Italy, near Padua, the

platform is helping to reduce plastic

waste discharge into the Gulf of Venice.

This is far from the end of the collaboration

between Abeking & Rasmussen and

Everwave. A catamaran for actively collecting

plastic waste is in the design

phase. This, too, is to be built by the trainees.

»We are very proud that we can

contribute to ridding our rivers and

oceans of plastic waste,« says Toralf Zimmermann.

A perfect

match

Only when each part fits perfectly

like a puzzle you can achieve

the maximum efficiency.

With the unique 5D Propulsion

Technologies, MMG goes beyond

ISO-standards to provide highest

accuracy in design and manufacturing.

The MMG ESPRO works in

precise co-action with the engine

and saves up to 15 % of fuel. Within

our re-design programme MMG

propellers saved abt. 12 million

tons of CO 2 so far.

The new benchmark

for Propulsion

Learn more about our efficiency

products and innovative

5D-Propulsion by visiting us

at the SMM in Germany:

Date 6th-9th of Sept. 2022

Hall A3 Booth 308

www.mmg-propeller.de

Friday | 09-09-2022

9
---
HANSA DAILY SMM NEWSWIRE

Spinnaker tunnel at FH kiel

© FH Kiel

FH Kiel exhibits at SMM for the first time

For the first time, the University of Applied

Sciences (UAS) will present its maritime

study and research programs at the

SMM. Among the courses offered by Kiel

UAS are shipbuilding and maritime engineering

as well as renewable offshore

energies. These and other maritime research

projects will be presented by the

Department of Mechanical Engineering

at the trade fair.

Kiel UAS will be a co-exhibitor at the

stand of Wirtschaftsförderung und Technologietransfer

Schleswig-Holstein

GmbH (WTSH) in Hall B7, Stand 128.

»Supported by the university's technology

transfer department, the UAS Research

and Development Center and university-affiliated

start-ups, we will provide

exciting insights into current research

projects,« reports Dr.-Ing. Hendrik

Dankowski, professor at the Institute

of Shipbuilding and Maritime Technology.

One of the projects is the research

carrier »MS Wavelab«, which the UAS is

helping to develop as part of the CAPTN

Förde Areal project. The model used for

experiments on propulsion and flow behavior

will be on display as an exhibit.

The CAPTN initiative (Clean Autonomous

Public Transport Network) is currently

working, among other things, to

create an autonomous, sustainable ferry

for the Kiel Fjord.

In addition to the autonomous shipping

research project, fair visitors will

also find extensive information on other

research areas and the maritime study

and research opportunities at Kiel UAS.

»We are the largest university of applied

sciences in Schleswig-Holstein,« Dankowski

emphasizes. »We are an important

player in the field of innovation and

technology transfer in the northernmost

German state and are well networked far

beyond the region. This makes us a reliable

partner for industry, associations

and government institutions.«

The study of shipbuilding and maritime

technology can look back on a tradition of

almost 120 years, dating back to the »Königlich

Höhere Schiffs- und Maschinenbauschule

Kiel«, founded in 1903.

In the meantime, three modern maritime

degree programs are offered at the Department

of Mechanical Engineering:

Shipbuilding and Maritime Engineering

as Bachelor's and Master's degree programs,

as well as the Bachelor's degree

program Renewable Offshore Energies

(EOE). A total of six professors at the institute

cover the entire field of shipbuilding

and maritime engineering education

in the best possible way with their expertise

gained through many years of practice.

With its laboratories including a circulating

tank, wind tunnel, strength and

bolting laboratory for offshore plants,

Kiel UAS offers modern possibilities for

applied research and practice-oriented

teaching. In particular, the close linkage

of sustainable energy generation on and

from the sea and the use in a future climate-neutral

shipping make Kiel UAS an

innovative university. In the winter semester

2021/22, 177 Bachelor's and 44

Master's students are enrolled in the

Shipbuilding and Maritime Engineering

program; 63 young people are studying

EOE.

Interested parties will find Kiel UAS at

the WTSH's North German joint stand in

Hall B7, Stand 128. Hendrik Dankowski

and his team are looking forward to discussions

on the future of the maritime industry

and requirements for practical

university education.

Hall B7 | booth 128

10 Friday | 09-09-2022
---
HANSA DAILY SMM NEWSWIRE

BACHMANN ELECTRONIC

Staudacker leaves, Knollmann succeeds

For more than 16 years Burkhard

Staudacker was the maritime face of the

Austrian company Bachmann Electronic

for the DACH region. Now it is time for

Burkhard to go into well-deserved retirement.

The colleagues of the Key Account

Manager took the SMM as an opportunity

to bid him a fitting farewell at the

trade fair stand.

His successor is Dirk Knollmann. Dirk

worked from 1996–2013 at ifm electronic

gmbh in sales for the areas of position

sensors and object detection, fluid sensors

and diagnostic systems as well as

identification and control systems.

After that he worked for Wieland Electric.

His main responsibilities were

specialised sales in mechanical engineering

and sales management for southern

Germany. Dirk Knollmann now represents

Key Account Management Maritime

in the DACH region for Bachmann.

Burkhard Staudacker (left) with his successor Dirk Knollmann

© Wroblewski

Meet the new Wärtsilä 25 engine –

maximised flexibility, minimised emissions

Join the LAUNCH EVENT

on 7 September @ 3pm CET

Meet us at SMM 2022

6-9 September | Hamburg Messe

Hall B6, Stand 309

Read more at go.wartsila.com/W25-launch

Friday | 09-09-2022

11
---
HANSA DAILY SMM NEWSWIRE

DESMI

BWMS specialist widens efficient solutions portfolio for ships

»SMM is one of the most important marine events within the

shipping market, and we have high expectations for this years'

event,« ballast water treatment specialist Desmi states. After

sales and service has during the past year been high on the company's

agenda »and with the establishment of our affiliated

Desmi DeServe company we now have service stations strategically

organized around the world, ready to support our customers,

especially but not limited to our Ballast Water Treatment

Systems and a growing interest of our energy efficient automation

system called OptiSave, to support the demand for immediate

and local services«.

DESMI has a long tradition for participating in various groups

and organizations for supporting the shipping industry with a

greener profile and reducing the carbon footprint. Among others

we have been a member of Green Ship of the Future with a

number of case studies for reducing the total power consumption

as much as possible though innovative technologies and great

utility of the energy demand for operating the fleet without any

compromises on safety and reliability of the crew, owners and environments.

Currently, the company is performing several feasibility

studies and installations of our fully automated OptiSave system

for optimized performances of main sea and freshwater cooling

Ballast water specialist Desmi has high expectationis for this year's SMM

system and Engine room ventilation fan system. The savings

have proven to be significant in regards to saved fuels. »However,

indeed more important, the reduced emissions as a result

of a more efficient operation is of a great value for the specific

vessel, and the EEXI index recently being mandatory introduced

for the operating fleet. A white paper of the OptiSave system

is uploaded on our homepage for free downloading,«

Desmi informs.

Another and equally important area where Desmi are contributing,

is to improve the new building designs. Currently,

Desmi is part of an international working group headed by Danish

Standard and the aim is to create a new ISO standard

covering a greater holistic view of the equipment and system

installation in the engine room for superior integration and reducing

of the total carbon footprint. »As a leading manufacturer

and with an extensive experience we consider these projects

as our commitment to the maritime market and a sustainable

shipping industry,« the company says, adding: »Being the

leading company supplying pumps and associated systems to

most of the scrubber manufacturers we are very dedicated to

the development of pumps and pumping systems for achieving

marine decarbonisation with carbon capture technologies.

New material combinations will be tested during the coming

period to ensure the right products and a safe and reliable operation

of the technologies for capturing the carbon onboard

the operating fleet. «

Entering the Cargo market with Cargo Pumps for LPG carriers

are being introduced with a pump model with an innovative design.

The models are developed in close cooperation with owners

and highly acknowledged service providers for creating the best

of the best design for superior and safe operation for the crew. It is

our intention to develop the system further for covering the market

for LNG and fuel systems.

Hall B1.EG | booth 310

© Desmi

12 Friday | 09-09-2022
---
HANSA DAILY SMM NEWSWIRE

MAN ENGINES

Sustainable propulsion solutions for workboats

MAN Engines is focusing on sustainable propulsion solutions at

SMM 2022 and is presenting two ways of reducing CO2

emissions for workboats. The MAN Smart Hybrid Experience

enables sailing and anchoring without any emissions, and with

the dual fuel engine, exhaust emissions can be noticeably reduced

when operating on hydrogen. »Our goal is to support our customers

with environmentally friendly drives. MAN Engines

offers a wide range of solutions for this,« states Mikael Lindner,

Head of MAN Engines. The MAN Smart HYBRID Experience is

based on a conventional marine engine, which is connected to the

permanent-magnet synchronous motor/alternator by an electromagnetic

clutch. The marine gearbox is in turn flanged to this

via another clutch. The electric motor generator unit from the

MAN Smart HYBRID Experience can produce a rated power of

184 kW or 368 kW, at an extremely high efficiency rating of up to

96 %. The permanent-magnet synchronous motor/alternator is

160 mm long at 184 kW, or 320 mm at 368 kW. Its diameter is

560 mm. The electromagnetic clutch means that the engines do

not have to be stopped to change the operating mode. This

changeover can be made during operation – including as an

emergency function – without interrupting the power, making

operation much more convenient.

Hall A3 | booth 211

Dual fuel hydrogen engine: Retrofit of V12

marine diesel engine with output of 749 kW

© MAN Engines

Friday | 09-09-2022

13
---
HANSA DAILY SMM NEWSWIRE

14 Friday | 09-09-2022
---
TYPE APPROVED PRODUCT

HANSA DAILY SMM NEWSWIRE

Hall B6 | Booth 305

www.bachmann.info

For the 2022 SMM the organisers are setting the stage to reflect

the chosen theme, »Driving the maritime transition«. Some of

the exhibition areas haven been consciously reduced in favour of

the »Transition Stages« to give participants more room to present

their ideas and product novelties in an open forum. There will be

three stages.

• Green Transition Stage | Hall A4: Alternative propulsion

systems, environmental technologies and sustainability

• Digital Transition Stage | Hall B6: Automation, digitalisation

and data management

• Cruise & Ferry Stage | Hall B5: Interior design, outfitting and

technologies for cruise ships.

Die Zukunft sicher gestalten,

mit dem Blick nach vorne!

Unsere Kompetenz. Unsere Verantwortung.

•

• Smart Maintenance Anwendungen

• OpenBridge, MTP

• Energiemanagement

Friday | 09-09-2022

DNV.COM/AF

www.bachmann.info

Wir freuen uns auf Ihren Besuch

auf unserem Stand B6.305. 15
---
HANSA DAILY SMM NEWSWIRE

»A start of a new era«

Rolf Stiefel, Regional Marine Chief Executive for Central Europe at Bureau Veritas talks

about the French classification society's motto for this SMM, new technologies and his

views on chances and challenges in the maritime industry

»It's what unites us« is Bureau Veritas

motto for this SMM. What does it stand

for? And what is the idea behind it?

Rolf Stiefel: The shipping industry is at

the start of a new era, with new stakeholders,

new challenges and new priorities.

There is also a significant change

in mindsets from a broad range of shipping

stakeholders, with a greater awareness

of issues connected to decarbonisation

and more broadly to sustainability.

It is also linked to new society-wide

attitudes, calling for climate action, environmental

protection, and social justice.

At Bureau Veritas Marine & Offshore,

we share a drive to leave the maritime

world in a better place than we

found it. It's what unites us, our passion

for the oceans and our desire to not just

protect our seas, but to shape a better

maritime world for future generations.

How can the maritime industry do

more to protect the oceans?

Stiefel: The ocean has become stakeholder

in its own right. It is our role not

just to protect life at sea, ships and assets,

or help prevent pollution, but to

also more actively preserve and protect

our blue planet for future generations

and to deliver 'a better maritime world'.

The shipping´s decarbonization transition

will require the development and

introduction of a multitude of new

technologies to increase efficiency,

eliminate GHG emissions and reduce

further impacts on the blue planet.

What do you think is the biggest challenge

for maritime companies right

now?

Stiefel: It is hard to overstate the scale of

the transformation that the shipping industry

faces right now – with major

shake-ups due to greater digitalisation,

tighter regulation, increased scrutiny by

downstream economic actors, and

growing ambitions to reduce GHG

emissions towards a zero-carbon industry.

Any introduction of new technologies

and potential alternative carbon

neutral fuels needs to be safe and

sound to ensure shipping can continue

to play its vital role in the supply chain

of the global economy.

Beside the challenges around the propulsion

systems for the ships of the future

the digitalisation is the biggest

challenge and opportunity at the same

time. Data from onboard systems can

be combined with data from class societies

to optimise operational performance,

ensure regulatory compliance,

and minimise the impact on the environment

to support shipping's sustainability

transition.

Industry wide collaboration to ensure

fast, safe and economic development

and introduction of these new technologies

will also be critical for us all in

shipping. The related cost of a zerocarbon

shipping will need to be redistributed

to greater society the industry

is serving. Shipping will continue to

have tremendous value as it is the cheapest

and most efficient form of commercial

transport and will be essential

for connecting future low-carbon

centres of production with markets for

food, goods and energy. At BV, we recognise

that we are all going to be starting

the decarbonisation journey from

different places and move at different

speeds, and we are there to support our

clients wherever they are on their sustainability

journey.

How can you, as a classification society,

support your customers and

partners in overcoming these challenges?

Stiefel: With our technical expertise, capabilities,

and vision for 'a better maritime

world', we are in a unique position

to support the shipping industry in its

transition towards sustainability. The

ultimate role of a class society is to provide

trust between marine stakeholders.

Class has always evolved, using its ex-

Hall B6

Stand 212

New products at SMM

Visit us and get to know our new highlights! The new LED multi-purpose

luminaire 4010 offers luminous flux options from 1,200 to 7,200 lm. Our

new LED searchlight as well as our new CCTV camera station tion come in a

completely new design and can be rotated 360° endlessly thanks to a newly

developed pan-tilt unit. With the COMBI MAR 304 series, as junction box

and rotary switch, we offer alternatives to HNA brass products. Save the

Date on Wednesday 7 September from 5.00 p. m. and join nour traditional

stand party!

16 Your expert for good times and quality manufacturing.

Friday | 09-09-2022

All about our products at www.wiska.com
---
HANSA DAILY SMM NEWSWIRE

including wind propulsion. With customer's

demands for sustainability, there

is also an opportunity to broaden the

scope of classification to add a muchneeded

social dimension (most notably

around crew safety and welfare standards),

as class societies are in a unique

position to help their clients deliver on

their ESG commitments.

Rolf Stiefel

Regional Marine Chief Executive for Central Europe

Bureau Veritas

pertise and independent validation to

support safe innovation – this was true

for the invention of the container in the

1950s, and continues to be true for this

new wave of rapidly-emerging innovations

that will be necessary to decarbonise

shipping. Through our Rules,

AiPs and risk assessment processes, BV

helps de-risk ambitious new projects on

alternative fuels and new technologies,

© Bureau Veritas

If you dare to look into the future and

look ten, twenty years ahead – what do

you think will be the biggest issues that

will keep Bureau Veritas busy?

Stiefel: In the foreseeable future the

decarbonization and the introduction

of new safe technologies to achieve

these targets will keep us busy, there is

no question about that. Another challenge

for the industry will be talent.

Talent will be at the heart of shipping's

transition. Experienced and welltrained

crews will be essential to operate

the ships of the future, which are increasingly

complex technologically

and will be powered by different, alternative

fuels that each present their own

challenges (density, toxicity). Class

plays a vital role to protect the safety of

seafarers and ensure they have the

right training.

One of the key challenges for class, as

well as for shipping in general, will be

to find and nurture the right people to

drive this tremendous period of

change. The growing focus on digitalisation

will broaden the professional

purview of the marine industry to include

specialists on cybersecurity, AI

and robotics, which will bring more diversity

in the marine industry.

Interview: Anna Wroblewski

THRILLED TO BE

PART OF IT AGAIN!

HALL A1

BOOTH 516

Friday | 09-09-2022

17

DichtungsHaus

www.gromex.de
---
GREEN SHIP

POWERED BY

Green shipping running in line

with cost savings

Patrol ship »Bamberg« with Piennig propellers

© Piemimg

Coming from the maintenance & service

works on propeller hubs, Piening

Propeller has developed a way of cost

savings, combined with Green shipping.

The use of biodegradable oil in Controllable

Pitch Propellers can have the effect

of attacking metals and resulting in a

more rapid wear in between the components,

which often ends in extensive

welding and machining works on hub

and blade carriers, as Piening has carried

out for different customers on different

brands of CPPs.

The solution in the design of the Piening

Conrollable Propeller (PCP) comes

with the use of Composite components in

all highly stressed bearings. Therewith

the reconditioning of hubs and blade carriers

is not required, you only have to replace

components. You no longer need to

remove the hub completely to undertake

service works. And after all that is what is

most important in the shipping industry:

The costs for reconditioning will be decreased,

which in turn lowers dock times,

dock costs, downtime.

Furthermore it is possible to use just

water as hydraulic medium instead of

oil, avoiding the risk of environmental

pollution. This makes an amazing benefit

for customers and the highlight is – to

do something for the environment on

the one hand and save money on the

other.

The Piening Controllable Propeller

As for operational efficiency and minimal

maintenance, the PCP's blades are

designed for simplified assembly and disassembly,

and can be mounted from the

inside or outside of the hub. Made of

identical components for left- and rightturning

propellers, thus reducing the

number of different parts that the user

has to work with and remember.

PCP diameters will therefore vary in

size – anywhere between 1. m and 5.4 m

– and power – spanning a band of

300–10.000 kW, depending on application

and customer requirements.

However, the »PCP – Piening Controllable

Propeller« complies with stringent,

global green shipping regulations.

DNV approval

Precisely the composite materials were

tested in complex test procedures at Piening

facilities on a 650 mm large PCP hub

supervised by the classification society

DNV. The applied loads correspond to an

output of 3.300 kW by 440 revolutions

per minute.

After more than two million executed

pitch setting cycles, which were carried

out under permanent full load, DNV has

confirmed an outstanding result in

terms of wear resistance. Based on this

18

Friday | 09-09-2022
---
GREEN SHIP

POWERED BY

DNV approved the use of these components

for controllable pitch propeller

designs in July 2016.

References (partial):

• two five-bladed PCPs of type PCP

5–705 with a diameter of 2.5m were

retrofitted to the hopper dredger Thor

R, owned by Danish operator Rohde-

Nielsen.

• a two-bladed PCP 2– with a diameter

of 1.7m for the 50m-long Polish navy

ship Iskra.

• several PCP 5 made of stainless steel,

operating ice-brakers in Poland

• 4 x 2 five-bladed PCPs of type PCP

5–700 with a diameter of 2.750mm for

a power of 4.600 kW each,

• Installed on 4 OPVs (86m) for the German

Federal Police and being built at

Fassmer Shipyard.

Further advantages for the operator by

using the hydraulic medium water are:

• Cost-efficient (tap water)

• Worldwide availability

• Not flammable

• Simple stocking

• Functional availability of the ship even

in case of a slight leakage

About: Piening Propeller

• Water outlet does not cause trouble

with port authorities

• Sea water inlet is not critical for the

system (simply flush the system)

• No operational area restrictions.

Hall A3 | booth 226

The company Otto Piening GmbH located in Glückstadt/Germany was founded in

1929. Over the recent decades it was recognized for the construction and manufacturing

of complete drive lines with fixed pitch propellers as well as for the customer service,

maintenance and repair. Now the company has launched its own concept and design for

controllable pitch propellers.

The main focus aimed to integrate into the new design all the experiences, which were

made in the recent decades with products of »Piening Marine Technic SL«, of the ZF

Marine Group, as well as with service & overhauls of other original equipment manufacturers.

www.piening-propeller.de

With its partners and in combination with their own FPP and

CPP systems, Piening Propeller can realize Hybrid solutions

for any kind of demand, with:

• Multi Mode, Electric Drive Mode, Boost Mode, Generator

Mode or Recuperation Mode.

• Hydraulic pitch control of the CPP,

using ordinary water

• High efficiency with low noise and vibration

• Very low operational costs

Visit us

at SMM:

Hall A3

booth 226

Design and Manufacturing of complete Propulsion Systems

with Fixed-Pitch Propeller or PCP > 800 mm Ø

info@piening-propeller.de

Friday | 09-09-2022

19
---
HANSA DAILY SMM NEWSWIRE

How will the ship of the future run?

Sustainable fuels and innovative technologies enable CO 2 -neutral or CO 2 -free propulsion

concepts for ships. By: Lucie Maluck

Tug propulsion solution with fuel cells and batteries

© Rolls-Royce

The tugboat of the future will run on

batteries... or on fuel cells... or both?

And the ferry with combustion engines

using sustainable fuels... in combination

with batteries and electric motors... or

also with fuel cells? »The question of the

propulsion system of the future is complex,«

says Tobias Kohl, Director Application

Engineering Marine at Rolls-

Royce. That's because the possibilities are

many. While until a few years ago a diesel-mechanical

propulsion system was

the norm and a diesel-electric propulsion

system was modern, today many new

combinations of different energy sources,

converters and storage systems are already

available or under development.

The only thing that is clear is that in

order to meet the International Maritime

Organization's (IMO) target of reducing

CO 2

emissions from shipping by 50 percent

by 2050 compared with 2018, new

fuels will be needed, and with them new

propulsion concepts. And these will vary

depending on the application.

When energy density is in

demand: methanol as a fuel

Internal combustion engines will continue

to play an important role. In the future,

however, these will often no longer

be powered by fossil diesel, but increasingly

by sustainable fuels such as HVO,

which is already available at present, or

e-methanol in the future. »We are clearly

focusing on methanol as a marine fuel for

the future and want to be a pioneer here,«

confirms Denise Kurtulus, Vice President

Global Marine at Rolls-Royce. The energy

density of this fuel is high compared to

other sustainable fuels, and its liquid state

makes it easy to store and refuel at ambient

temperatures. Even existing infrastructure

can continue to be used in

many cases. The methanol tanks can be

flexibly arranged in the ship. In addition

to reduced complexity, the more attractive

investment costs are another advantage

of the methanol tank system.

Rolls-Royce Power Systems is initially developing

methanol engines on the basis

of the mtu series 4000 and will launch

them on the market from 2026.

CO 2 -free and extremely

flexible: fuel cell systems

But internal combustion engines will not

be the only energy converters on large

ships, as they have been in the past. Fuel

cells will also be used. This is because hydrogen-powered

fuel cells produce no

harmful emissions whatsoever, neither

CO 2

nor nitrogen oxides or particulates.

Fuel cells powered by green methanol

emit only small amounts of CO 2

due to

the methanol reformer required, but no

more than was previously bound in the

20

Friday | 09-09-2022
---
HANSA DAILY SMM NEWSWIRE

e-methanol and are thus operated in a

CO 2

-neutral manner. Introducing hydrogen

as a fuel for ships poses a number

of challenges due to the physical properties

of hydrogen, for example with regard

to infrastructure, refueling and on-board

bunkering.

Further advantages of fuel cells are

their low noise emissions and vibrations

and their very high efficiency (approx. 50

– 60 %). Fuel cell systems offer new, very

flexible possibilities in the design of the

propulsion or energy system through the

introduction of an electrical energy

transmission and an electrical drive of

the propellers: A variable number of batteries

and fuel cells is possible, flexibly

expandable with combustion engine

driven units. All-electric drives are also

conceivable, in which the energy is

stored exclusively in batteries.

Rolls-Royce Power Systems is already

working on the development of fuel cell

systems for marine applications and will

launch its own mtu fuel cell systems for

main propulsion and on-board power

generation from 2028.

The future: hybrid systems with

different components

»All these individual components for

propulsion, energy supply and storage –

be they fuel cells, batteries or internal

combustion engines powered by sustainable

fuels – will enable us to develop entirely

new propulsion concepts,« says Tobias

Kohl. For example, combustion engines

are increasingly being integrated

into a hybrid system in which batteries

feed electric motors and combustion engines

or fuel cells supply drive energy and

charge the batteries.

Another trend: combining different

energy systems on board a ship. Until

now, the standard has been for the propulsion

system to be separate from the

on-board power system. But with the increasing

use of electrical components on

board, the two systems are merging.

This means that the electricity generated

by fuel cells can be used both for the

hotel load on board and for the electric

motors of main and auxiliary propulsion

systems.

Application decides

on ship architecture

But how will the tugboat or ferry of the future

operate? Purely electric with batteries...or

with fuel cells, or with combustion

engines...or with a combination of

everything? »It depends on the application

of the vessel and the infrastructure

provided,« explains Tobias Kohl.

Certainly, tugs that only operate in port

and thus do not have large range requirements

are more likely to be able to be operated

electrically than fast ferries that are

underway all day on longer routes.

»And it's also certain that they won't

make it across the ocean with purely battery-electric

drives,« Kohl said. For that,

the energy storage systems would have to

be huge, and there isn't that much space

on board. Ferries in coastal areas will rely

on internal combustion engines with sustainable

fuels such as methanol, integrated

into an electric, mechanical or even hybrid

propulsion system, and later on fuel

cell systems. Rolls-Royce is currently developing

a complete solution architecture

that can be adapted according to customer

needs. The basis is mtu hybrid solutions in

a modular system that can be varied according

to customer requirements in

terms of performance and range, for

example with additional batteries. This

modular system is designed in such a way

that future technologies such as methanol

combustion engines or fuel cells can be

subsequently integrated as soon as they

become available.

Automation system mtu NautIQ

brings together technologies

All forms of propulsion have one thing in

common: they are becoming much more

complex than before. This also increases

the importance of automation systems

that can monitor both the propulsion system

and the entire ship as a kind of neural

system. »With mtu NautIQ, we are well

positioned here and can offer our customers

reliable, economical and futureproof

monitoring and control solutions

from the bridge to the propeller,« Tobias

Kohl summarizes.

He is confident that the shipping industry

will be able to meet its major goal

of reducing CO 2

emissions by 50 percent

by 2050 compared to 2018. Denise Kurtulus

also confirms this: »I have received

more inquiries about climate-friendly

solutions in the past 12 months than in all

my previous professional years combined.

Manufacturers and customers are

now looking specifically at ways to reduce

CO 2

emissions. The urgency to act

is recognized. That's a good, hope-giving

sign,« she says.

Friday | 09-09-2022

21
---
HANSA DAILY SMM NEWSWIRE

Shipping heads for innovative technology

Innovation is nothing new to the shipping sector. But the scope of the transformation

process that has been initiated to decarbonise nearly all shipping traffic opens up entirely

new dimensions

Green hydrogen, its derivatives converted

to e-fuels and PtX fuels, and

the fuel cell systems operating on these

fuels on board ships are in focus at the international

trade fair for the shipping industry,

SMM, where the maritime industrial

and innovation cluster »e4ships«

highlights application concepts, scientific

findings and practical experiences.

Facing the escalating climate and energy

crisis, the global shipping industry

must meet the massive challenge of positioning

itself for the evolving technology

transformation process. The focus

is on developing green technologies

and application concepts for various

energy sources to achieve market maturity

while creating safety regulations for

approval and and operation of ships

using innovative energy conversion systems

and alternative fuels. International

technical standards allowing fast, consistent

certification without requiring individual

prototype approvals are a prerequisite

for broad, industry-wide implementation.

Through its multifaceted project

»e4ships – Fuel cells in maritime applications«,

Germany has made substantial

progress in its efforts to make shipping

sustainable. Leading shipyards and ship -

In the SchIBZ2 project, a fuel cell system is being tested on the vessel »Forester«

owners began cooperating with fuel cell

manufacturers at an early time, developing

fuel cell systems for the specific

needs of ocean-going and inland ships in

the demonstration projects Pa-X-ell2,

ELEKTRA, MultiSchIBZ and RiverCell2.

The resulting technical findings were incorporated

into the safety regulations for

the approval of ships with on-board fuel

cell systems developed recently by the international

shipping organisations IMO

and CESNI.

In april 2022 the IMO Maritime Safety

Committee approved the Interim guidelines

for the safety of ships using fuel cell

power installations, defining requirements

for installation of these systems in

commercial vessels. These guidelines

establish a regulatory framework for

emission-free operation of ships using efficient

energy conversion systems and

carbon-neutral fuels while paving the

way for a successful market ramp-up of

fuel cell systems.

© e4ships

mtu engines released

for sustainable fuels

Rolls-Royce is setting another milestone on

the road to climate-neutral shipping. Following

successful bench and field tests, the

Rolls-Royce business unit Power Systems

will gradually be approving its Series 2000

and Series 4000 mtu marine engines for

EN15940 synthetic diesel fuels from the beginning

of 2023. These fuels include the sustainable

fuels BtL (Biomass to Liquid), HVO

(Hydrotreated Vegetable Oil/renewable diesel)

and PtL (Power to Liquid) such as e-diesel.

They can all replace conventional diesel

fuel without any adjustments in these engines,

says Denise Kurtulus, Vice President

Global Marine.

TYPE APPROVAL BY RINA

Methanol-powered fuel cell achieves milestone

Freudenberg has achieved a significant

milestone by receiving »Type Approval«

by the classification society RINA for its

methanol-powered fuel cell system. Route

flexibility and ranges of more than

5,000 nm are basic requirements of the

world's maritime fleet. Purely batteryelectric

solutions are often out of the question

for these deep-sea applications due to

their high weight and space requirements.

Freudenberg e-Power Systems has developed

an innovative approach to using

methanol for marine applications. This

combines highly efficient fuel reforming

technology with a long-life PEM fuel cell

in a modular, scalable system unit. It generates

hydrogen via steam reforming,

which then reacts with oxygen from the

air in the fuel cell to produce the electrical

energy needed for both propulsion

and the ship's electrical system.

The safety concept of this innovative

system architecture has now received Type

Approval from the classification society

RINA. »This lays the foundations for

fuel cell systems to be used on a megawatt

scale on cruise ships and the international

ocean fleet«, says Manfred Stefener,

Managing Director of Freudenberg

Fuel Cell e-Power Systems.

22 Friday | 09-09-2022
---
HANSA DAILY SMM NEWSWIRE

CARL BAGUHN

Motor service experts launch Service Company Network

Carl Baguhn Hamburg (CBH), Carl Baguhn Barranquilla (CBB),

and Twinco, global experts in OEM parts sales, marine engine

maintenance, and repair services, have launched the Service

Company Network (SCN). Specializing in comprehensive maritime

and energy engine solutions, SCN is composed of Members

and Alliance Partners who work together to form a global network

that extends coverage beyond participants' existing locations.

»Capitalizing on a high degree of technical expertise and

industry experience, SCN provides vessel owners and operators

with access to trusted global partners experienced in keeping the

world's engines running,« SCN states.

SCN Members and Alliance Partners operate as separate entities

and brands but maintain a collaborative connection to ensure

their customers benefit from regional field service, spare

part inventory, and engineering capabilities available globally.

SCN is comprised of Members, CBH, CBB, and Twinco, the core

network participants, who set the standards used to engage Alliance

Partners. The Alliance Partners are business entities

chosen for their high service standards who enter into cooperation

agreements designed to enhance the customer experience

with broader access to reliable solutions from highly trained engineers.

»We are excited to present SCN at the SMM 2022. Global customers

require competent global partners working in agile networks«,

said Thomas F.H. Becker, CEO of SCN Group of Companies,

»this is what we do, and we are happy to announce that we

have signed an Alliance Partner Cooperation Agreement with

MSHS.«

Alliance Partners benefit from SCN's members who are trusted

leaders in their respective markets and recognized for their customer

service and technical expertise. Motor-Services Hugo

Stamp (MSHS) is the latest Alliance Partner, whose United States

footprint expands SCN coverage over four continents. MSHS, a

leading provider of engine maintenance, overhaul, and repair services

with the largest spare parts inventory in the Americas,

maintains the same customer focus and commitment to making

it easier for their clients to do business as SCN members.

»Like many other services and solution partners, MSHS' clients

are not restricted to US waters but travel globally on a regular

David A. Santamaria, CEO of MSH and Thomas F.H. Becker, CEO of SCN

basis« said David A. Santamaria, CEO of MSHS, »Our client's

vessels operate around the world, and they require a trusted

partner to keep their businesses moving forward. As an SCN Alliance

Partner, MSHS can reliably protect our client's businesses

confident they will get the same service and support in Singapore

as they would get at MSHS' Fort Lauderdale facility.«

Hall A4 | booth 334

© Carl Baguhn

Friday | 09-09-2022

Visit www.zfmarinemobility.com

23
---
HANSA DAILY SMM NEWSWIRE

Boris Herrmann

Full-time yachtsman,

Vendée Globe participant,

climate ambassador at sea

© Team Malizia

»The shipping industry could be more

dynamic in its climate protection activities«

Welcome to the HANSA SMM Podcast – our special podcast edition

on the occasion of the world's leading shipbuilding trade fair.

Listen here for free (in German): www.hansa-online.de/smm/ or scan the QR code

Boris Herrmann sees the shipping industry

in a »fascinating situation«. There is

»crazy amounts of potential« for climate

protection and important decisions have

to be made regarding new ships and propulsion

systems. Herrmann shows understanding

for the economic constraints

with which shipowners are confronted. At

the same time, the momentum for climate

protection in the industry could be even

stronger, he thinks. »That curious engineer's

eye and entrepreneurial spirit that we

have in the yacht racing industry, where

we are constantly trying to achieve the

impossible, that's what I miss a little bit in

some places,« he says. Herrmann also

talks about his connections in the shipping

industry – for example to

Kühne+Nagel and the Scheder-Bieschin

family – his motivation and how he came

to sailing and his commitment as a climate

ambassador. He explains what merchant

shipping could possibly learn from

his industry and why his new racing boat

»Malizia Seaexplorer« was not built in

Germany but in France.

BREMEN: ONE-STOP-SHOP

OF MARITIME EXCELLENCE

by

WIR SEHEN UNS

auf der internationalen Fachmesse der

maritimen Wirtschaft in den Messehallen Hamburg.

HALLE B7 | STAND 130

24 Friday | 09-09-2022
---
MEET THE CITY

WHERE TO GO AFTER THE TRADE SHOW

Cosy pub in Hamburg-Winterhude

© Meyer

Alte Runde Ecke – a place where you can enjoy nice company with music from the jukebox

Hamburg is big, and so is the city`s gastro

scene. Anyway, since we could all certainly

need a little relaxation after long

trade fair days, but also don't want to

hide from the public entirely, my tip is

the »Alte Runde Ecke« (Old Round

Corner) pub in the district of Winterhude.

Well, how to get to it? The Alte Runde

Ecke is definitely what you could call a

real institution in the area close to the

popular Stadtpark and the lake Alster, a

pub the likes of which you rarely see anymore.

It is bursting with charm and cosiness,

with a lot of maritime atmosphere and

even maritime »history« – the sympathetic

Reiner, who runs the pub with his

wonderful wife Ingrid, went to the seven

seas for many years. However, an Austrian

by birth, he has long since made

Hamburg his home.

The two of them run the Alte Runde

Ecke in northern German fashion, are always

friendly and have a smile on their

lips – but can also make their displeasure

clear in case someone doesn't know how

to behave appropriately.

During the day, it is a cosy meeting

place for the people in the neighbourhood.

Later on, however, it can get

quite cheerful, with guests from the most

diverse age groups between 18 and 80 –

not seldom until the early morning

hours.

The original jukebox is also very popular

with its traditional music selection. It

has been in service for many years and is

an essential part of the special ambience

of the Alte Runde Ecke.

Michael Meyer

Deputy Editor-in-Chief HANSA

Address:

Alte Runde Ecke

Grasweg 1

22299 Hamburg-Winterhude

© HANSA

Wherever you

navigate.

We are with you.

We are The Navigation Company, located in Kiel,

Germany. We are looking for talents and professionals

who want to shape the future of navigation with us and

for our customers. Talk to us here and come on board!

VISIT US AT SMM

BOOTH B6.304

Friday | 09-09-2022

Read

more

25
---
MEET THE CITY

WHERE TO GO AFTER THE RADE SHOW?

Authentic Hamburg nightlife

The »Katze« is famous especially for its caipirinha

Want to relax after a busy trade

show day and take in some authentic

Hamburg nightlife atmosphere?

Try out the bar »Katze« in

the Schanzenviertel, close to the

fairground. The Katze (Cat) is famous

especially for its caipirinha

long drinks that are mixed and served

at an impressive speed – once you have

managed to make your way to the bar.

The place is always crowded. There also

is a football table in the back, and opponents

for a match aren't hard to find. If

you can't find a free seat inside. Don't

worry, you won't be the only one – and

it is way cooler to enjoy your drinks

outside on the street in front of the bar,

like most people like to do on mild

summer nights. The whole Schanze

area is packed with bars and restaurants,

so you can spend an entire evening

there enjoying different foods and

drinks.

Felix Selzer,

Editor HANSA and Binnenschifffahrt

Address:

Schulterblatt 88

20357 Hamburg-Sternschanze

No Website

Opening hours: 1:00 pm – 3:00 am

© HANSA

KÖHLERS

FLOTTEN

KALENDER

20

23

€ 22,95

Broschur | ISBN 978-3-7822-1506-0

Bestellen Sie jetzt online unter

koehler-mittler-shop.de oder

telefonisch unter 040 70 70 80 321

Maximilian Verlag GmbH & Co. KG | Stadthausbrücke 4 | 20355 Hamburg

26 Friday | 09-09-2022
---
IMPRINT

MARITIME BOOKS

Columbia Shipmanagement – Proud to Manage

The Republic of Cyprus is one of the leading locations of the dynamic

global shipping industry. Heinrich Schoeller founded "Columbia

Shipmanagement" in 1978 and led it to become one of the

world's largest shipping companies. Ship management is offered

for almost all types of ships. The owners of the ships come from all

parts of the world. The book "Columbia Shipmanagement" not

only presents all of the nearly 1000 ships in the shipping company's

history, but also all of the subsidiaries and other interesting

details. More than 400 page outlines drawn by Karsten Kunibert

Krüger-Kopiske and over 120 photos make the book a highlight of

maritime literature.

Columbia Shipmanagement – Proud to Manage

Authors: Karl-Heinz Hilbig,

Karsten Kunibert Krüger-Kopiske, Dirk Fry

Hardcover, 29,5 x 48 cm, 424 pages

Price € (D) 49,95

ISBN 978–3–7822–1516–9

Bilingual – German/English

Publisher

Prof. Peter Tamm †

Management

Peter Tamm

Editorial Department

Editor-in-Chief: Krischan Förster (KF)

Tel. +49 (0)40-70 70 80-206 | k.foerster@hansa-online.de

Deputy Editor-in-Chief: Michael Meyer (MM)

Tel. +49 (0)40-70 70 80-212 | m.meyer@hansa-online.de

Editor: Felix Selzer (fs)

Tel. +49 (0)40-70 70 80-210 | f.selzer@hansa-online.de

Editor: Anna Wroblewski (AW)

Tel. +49 (0)40-70 70 80-209 | a.wroblewski@hansa-online.de

Publishing house und editorial department

Schiffahrts-Verlag »Hansa« GmbH & Co. KG

Ein Unternehmen der TAMM MEDIA

Stadthausbrücke 4 | 20355 Hamburg

Postfach 10 57 23 | 20039 Hamburg

Tel. +49 0)40 70 70 80-02, Fax -214

www.hansa-online.de

Commercial Publishing Director

Florian Visser, Tel. +49 (0)40 70 70 80-312 | f.visser@hansa-online.de

Media consulting

Susanne Sinß, Tel. +49 (0)40 70 70 80-310 | s.sinss@hansa-online.de

Advert management

Sandra Winter, Tel. +49 (0)40 70 70 80-225 | s.winter@hansa-online.de

Layout

Sylke Hasse, Tel. +49 (0)40 70 70 80-207 | s.hasse@hansa-online.de

Subscriber support | Sales

Schiffahrts-Verlag »Hansa« GmbH & Co. KG

Stadthausbrücke 4 | 20355 Hamburg

Tel. +49 (0)40 70 70 80-111 | abo@hansa-online.de

Sales und Marketing

Alexandra Giercke, Tel. +49 (0)40 70 70 80-227

a.giercke@hansa-online.de

Printed by: Lehmann Offsetdruck und Verlag GmbH, Norderstedt

The client of advertisements bears full responsibility for the content

of the advertisements.

The publisher declines all liability. It is prohibited to use extracts

or parts of the content of advertisements for advertising purposes.

SEA CLOUD SPIRIT

Eine Legende unserer Zeit

39,90 €

ISBN 978-3-7822-1510-7

Direkt bei uns bestellen auf

koehler-mittler-shop.de

oder telefonisch unter

040/70 70 80 322

Maximilian Verlag GmbH & Co. KG | Stadthausbrücke 4 | 20355 Hamburg

Friday | 09-09-2022

27