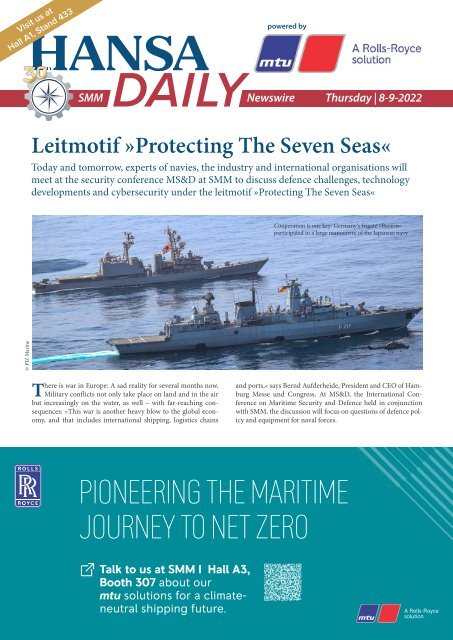 HANSA SMM DAILY Newswire - Day 3
HANSA's daily SMM 2022 trade show newspaper
HANSA's daily SMM 2022 trade show newspaper
SHOW MORE
SHOW LESS
Create successful ePaper yourself
Turn your PDF publications into a flip-book with our unique Google optimized e-Paper software.
Visit us at

Hall A1, Stand 433

powered by

SMM Newswire Thursday | 8-9-2022

Leitmotif »Protecting The Seven Seas«

Today and tomorrow, experts of navies, the industry and international organisations will

meet at the security conference MS&D at SMM to discuss defence challenges, technology

developments and cybersecurity under the leitmotif »Protecting The Seven Seas«

Cooperation is one key: Germany's frigate »Bayern«

participated in a large manoeuvre of the Japanese navy

© PIZ Marine

There is war in Europe: A sad reality for several months now.

Military conflicts not only take place on land and in the air

but increasingly on the water, as well – with far-reaching consequences:

»This war is another heavy blow to the global economy,

and that includes international shipping, logistics chains

and ports,« says Bernd Aufderheide, President and CEO of Hamburg

Messe und Congress. At MS&D, the International Conference

on Maritime Security and Defence held in conjunction

with SMM, the discussion will focus on questions of defence policy

and equipment for naval forces.

Thursday | 08-09-2022

1
---
HANSA DAILY SMM NEWSWIRE

As the current international situation shows,

global free trade is increasingly exposed to

risks. The protection of sea routes for international

commercial shipping is the subject

of the keynote presented by Martin

Kröger, Managing Director of the German

Shipowners Association (VDR).

General (retd.) Egon Ramms, former

Commander of the Allied Joint Force

Command and one of the highest-ranking

German officers in NATO, will outline

the lessons to be learned from the Ukraine

war. Around the world many nations are responding

to new security situations by increasing

their defence expenditures.

Arms buildup in the Far East

One of the panels will address maritime security in the Indo

Pacific region where maintaining low-friction relations between

nations is considered as a major challenge. The Chinese government

is continuously increasing its military spending at rates exceeding

the country's economic growth.

On the water, the People's Republic is already in the lead: »Between

2014 and 2018, China added naval ships equivalent to the

total tonnage of the UK's Royal Navy or the entire Japanese naval

Sarah Kirchberger

Kiel University

© IEA de Paris

fleet to its already considerable navy,« says

Sarah Kirchberger, Head of the Department

for Strategic Development in Asia-Pacific at

the Institute for Security Policy at Kiel

University. »This naval armament policy

is practically unequalled in history.« In

her speech, Kirchberger will explore the

objectives and potential of the Chinese

navy. China's massive military investments

are giving rise to worries among

neighbouring countries, prompting them

to strengthen their ties among each other.

For example, Australia and Japan agreed a security

cooperation as early as 2007. The German

navy's ability to cooperate with East Asian

navies on securing key shipping routes was

demonstrated recently when the frigate

»Bayern« participated in a large manoeuvre of

the Japanese navy. Deep Sea Captain Rtd. Joachim Gutow will explain

how the German navy is re-establishing itself as a partner in

the Far East. Apart from scientists and industry experts, a

number of high-ranking naval officers will provide insights during

the conference – about the security situation in the eastern

Mediterranean or in the Baltic Sea.

Advanced technologies

As adviser to the Institute for Security Policy at Kiel University,

Patrick O'Keeffe is well familiar with security situations around

the world. A trained aerospace engineer, he will focus his presentation

on cyber security during naval operations. High-tech applications

are in the spotlight at thyssenkrupp Marine Systems

(tkMS), as well. Specialised on naval shipbuilding, the company is

currently dealing with an »explosive inheritance« from World

War II. In German territorial waters alone, there are approximately

1.6 mill. t left. tkms' General Manager Knut Baumann

will present a partially autonomous recovery system used to

defuse these ticking timebombs.

Green fuels which may be suitable for naval vessels are the

topic of the presentation by Andreas Junginger from MAN Energy

Solutions, connecting the military with the civilian maritime

world and the key topic of SMM: The Maritime Transition to

emission-free shipping.

Thursday, September 8

09:00 - 11:10

• Opening & Keynotes

11:10 - 12:25

• Panel I: Maritime Security

13:25 - 17:00

• Panel II: Regional Maritime Security

18:30 - 21:00

• Reception (not open to public)

Friday, September 9

09:00 - 11:15

• Panel III: Littoral Operations and Harbour Security

11:15 - 16:15

• Panel IV: Maritime Technology

2 HANSA – International Maritime Journal 10 | 2022

Thursday | 08-09-2022
---
SMM HAMBURG

HALLE B4 | STAND 212

VORAUSSCHAUEND

Gemeinsam mit unseren Kunden und Partnern entwickeln,

konstruieren und bauen wir die ersten mit LNG angetriebenen

Schiffe für den Einsatz in gefährlicher Atmosphäre.

Für mehr Sicherheit · Für die Zukunft · Für alle

Thursday | 08-09-2022

www.abeking.com

3
---
HANSA DAILY SMM NEWSWIRE

Peter Müller-Baum

Secretary General,

International Council on Combustion Engines

(CIMAC)

© CIMAC

»There has to be a market for

synthetic fuels to get ahead«

Welcome to the HANSA SMM Podcast, our special podcast edition

on the occasion of the world's leading shipbuilding trade fair.

Listen here for free: https://hansa-online.de/smm/ or scan the QR code

This time the maritime energy transition is one of the most important topics of the SMM maritime

trade show taking place in Hamburg from 6 to 9 September. »In 2018 it was more of a

niche topic, but today it is THE topic. I guess we will see some innovations regarding the engine

itself. Whether it is about new fuels like methanol or ammonia as well as other innovation which

allow the maritime business to decarbonize in the future,« Peter Müller-Baum, Secretary General

of the International Council on Combustion Engines (CIMAC), says on the HANSA SMM Podcast.

It is CIMAC's position that the internal combustion engine will play the most important role

for deep sea shipping in the future. »However, you can combine it with electrification, fuel cells or

other means to improve the complete system, but actually the kind of fuels, how they will be produced

in the future and how the shipping industry may benefit from that, are the most important

questions for CIMAC,« Müller-Baum says. »To get that market ramp up started, we need the regulator.

We need actions from the IMO or other actors like the EU.«

Hall B6

Stand 212

New products at SMM

Visit us and get to know our new highlights! The new LED multi-purpose

luminaire 4010 offers luminous flux options from 1,200 to 7,200 lm. Our

new LED searchlight as well as our new CCTV camera station tion come in a

completely new design and can be rotated 360° endlessly thanks to a newly

developed pan-tilt unit. With the COMBI MAR 304 series, as junction box

and rotary switch, we offer alternatives to HNA brass products. Save the

Date on Wednesday 7 September from 5.00 p. m. and join nour traditional

stand party!

4 Your expert for good times and quality manufacturing.

Thursday | 08-09-2022

All about our products at www.wiska.com
---
HANSA DAILY SMM NEWSWIRE

© VDMA Marine Equipment and Systems

Jörg Mutschler

Managing Director

VDMA Marine Equipment and Systems

A particularly

great responsibility

We are pleased and proud to be

present again as VDMA at SMM

2022. We are very excited about the discussions

and exchanges with you, the

visitors and exhibitors at the world's

leading maritime trade fair. We are

convinced that the planned and especially

the unplanned trade fair contacts

will increase the speed of innovation

worldwide.

Despite or precisely because of the

many crises and imponderables, it is

necessary to advance the maritime

economy and its logistics, because it is

a prerequisite for increasing prosperity

worldwide. The global economy will

falter without the smooth exchange of

capital goods and commodities.

The shipbuilding and offshore supply

industries have a particularly great responsibility

in this regard. Through the

maritime energy transition (electric,

hybrid, PowerToX), new digital standards

(MTP, UMATI) and intelligent

route planning, we are on the way to a

climate-neutral and fast transport

chain at sea. The shipbuilding and offshore

supply industry companies ensure

the unrestricted technical availability

of the transport units. Their

know-how in construction, lifetime

service and digital data acquisition,

evaluation and implementation are the

guarantors of this.

The necessary interfaces to energy

generation are also provided by maritime

mechanical engineering. The construction

and operation of increasingly

powerful offshore wind turbines and

energy conversion into PowerToX are

welcome challenges for the industry. It

is not without reason that the leading

international trade fairs SMM 2022 and

WindEnergy 2022 are close together.

With more than 63,000 employees and

over €10 billion in turnover, the German

maritime supply industry continues to

lead the world. Its success factors are

customer proximity, permanent innovations,

speed, reliability and quality.

At SMM 2022, the VDMA will also

promote the industry's most important

technology topics. Digital solutions

will be presented and discussed at the

Maritime Future Summit, the Green

Transition Stage and the Digital Transition

Stage.

The same applies to the VDMA

stands in Hall A1 Stand 520 and Hall

A3 Stand 314, where we want to talk to

you in person about the challenges and

solutions facing the shipbuilding and

offshore supply industry.

We look forward to your visit!

Precision

made in Germany

MMG offers highest precision

throughout the entire design and

manufacturing process, starting

with the hydrodynamic optimisation

process up to the after sales service.

Highly qualified employees, best

design, longstanding experience

with a wide range of production

technologies provide highest

expertise to fulfill all customer

requirements.

Customer excellence is our primary

goal. MMG offers competent

support 24/7.

Learn more about the new definition

of precision by visiting us at:

Date 6th-9th of Sept. 2022

Hall A3 Booth 308

efficiency-by-mmg.de

Thursday | 08-09-2022

5
---
HANSA DAILY SMM NEWSWIRE

HS Empfang S.

Full house at the HANSA reception

© Stelling

supporting customers with unsurpassed user-friendliness

and easy handling at a competitive price. Find out more

about our Radar and ECDIS solutions at SMM.

6 Thursday | 08-09-2022
---
HANSA DAILY SMM NEWSWIRE

Yesterday evening the International

Maritime Museum in Hamburg became

THE industry meeting place. After a

successful first day at the fair, representatives

from various maritime sectors –

from shipping companies and suppliers to

shipyards and the navy – met at the museum

in the historic Speicherstadt district.

They ended the evening together over a

drink in a cosy atmosphere between ship

models and historic exhibits. The numerous

guests were welcomed by Peter Tamm,

Managing Director of Tamm Media, the

publishing house that publishes HANSA,

and Florian Visser, HANSA's Commercial

Publishing Director. »It is a great honour to

welcome so many friends, partners, clients,

readers, subscribers and advertisers here

this evening,« Peter Tamm said. »It is more

important than ever to have solid and reliable

trade information,« he said, stressing

the need for good co-operation even in difficult

times as during the pandemic. The

HANSA reception was the chance for

everybody to celebrate the back-to-normal

situation for the maritime industry meeting

again at SMM.

Thursday | 08-09-2022

7
---
HANSA DAILY SMM NEWSWIRE

More watts with fewer emissions

At the Offshore Dialogue, which takes place today during SMM, experts will explore

options for sustainable use of the oceans. In two panels they discuss about »Mitigation and

Adaption to Climate Change« as well as »Offshore Energy Technologies for Today«

© Hero Lang

Ambitious expansion of wind power on land and at sea is said to be a »prerequisite for the production of alternative ship fuels«

Rising sea levels, shrinking biodiversity,

higher water temperatures: The

oceans are suffering from climate change.

Humanity must change its course rapidly.

Many hopes are pinned on electricity generation

on the water, which could propel

the maritime energy transition, as well.

Renewable energy sources are at the top

of the agenda: By 2045 the Federal Government

wants to increase the German

offshore wind capacity nearly tenfold.

The country's wind farms are expected to

have a combined capacity of 70 gigawatts

(GW) by that time. The European Commission

is planning to increase the EUwide

capacity to as much as 340 GW by

2050. Building all these wind turbines is a

technical, logistical and financial challenge

of huge proportions – and it is a

very urgent project, not only to achieve

independence from Russian natural gas

but also to cut emissions radically.

The shipping industry will likewise be

highly dependent on powerful wind turbines

as it strives to become carbon-neutral:

»Ambitious expansion of wind

power on land and at sea is a prerequisite

for the production of alternative ship

fuels,« says Claus Ulrich Selbach, Business

Unit Director – Maritime and Technology

Fairs & Exhibitions at Hamburg

Messe und Congress. »Whether methanol

or ammonia, synthetic fuels won't be

truly sustainable unless they are based on

green hydrogen produced with renewable

energy.«

All this entails an enormous challenge:

Offshore wind farms are to be built at distances

of 30 to 40 km from the shore, an-

THE 4-DIMENSION SPECIALISTS

Piping · Steelwork · HVACR · Fire Protection

WE DELIVER!

Call us at:

+49 40 781 29 30

kj-marinesystems.com

Join us here:

Hall B5

Stand 524

8 Thursday | 08-09-2022
---
HANSA DAILY SMM NEWSWIRE

chored in the seafloor at depths of up to

40 m. Can this be realised without damaging

vulnerable marine ecosystems?

This is one of the questions to be discussed

by a top-flight expert panel at the

Offshore Dialogue (OD).

The power of data

The oceans are a threatened biosphere.

The »Ocean Decade« initiative is the

United Nations' response aiming to implement

international solutions for the

protection and sustainable use of oceans

by the year 2030. »Oceans are of enormous

importance for us here on earth because

they regulate the climate and limit

global heating caused by human greenhouse

gas emissions. The effects of climate

change on oceans and coastal regions

are massive, and we must take action

urgently to improve the situation in

the oceans,« says Steffen Knodt, Member

of the Board of the German Ocean Decade

Committee (ODK). At the Offshore

Dialogue, Knodt will provide an overview

of the committee's national and international

activities.

Safe and fast

Findings from regions which have been

hit by climate change especially hard are

of particular importance to climate research.

For example, the Arctic is heating

three times faster than the world average.

To obtain concrete data on this, scientists

must use specialised ships which have to

fight their way through thick sea ice.

Lasse Rabenstein and his start-up Drift +

Noise help expedition teams do so successfully.

At the OD, the company's cofounder

will present the ice information

app »IcySea«. »We provide high-resolution

satellite images of the polar regions

to our customers around the clock. They

can be received with minimum bandwidth.

In addition, our range of services

includes a forecasting system for the optimum

route through the ice,« says Rabenstein

who has a PhD in geophysics and

more than 15 years of experience operating

in polar regions. For example, his

app has supported the crew of the AWI

research vessel Polarstern. »Thanks to the

satellite images we were able to identify

open water channels in the ice cover and

shorten a trip that normally takes four

days to only two.« This translated to substantial

financial savings, considering the

vessel's daily operating costs of 70,000

euros – a result that should be of interest

to commercial shipping companies, as

well. At the Offshore Dialogue, Rabenstein

will speak about the increasing

number of ice-free days in Arctic waters

which will allow more ships to sail

through the Northwest passage in future.

Energy from the sea

From fishing vessels to scientific research,

merchant and cruise ships, there

is plenty of traffic in coastal waters. Offshore

wind farms increasingly crowd

these areas. One of the world's biggest operators

with offshore wind farms totalling

2.4 GW in installed power is the German

energy company RWE. »We would like to

invest much more rapidly,« notes RWE

CEO Markus Krebber. But, he adds, requests

for government support are taking

too much time to process. Contrary to

the Netherlands, Germany has no clear

goal for its hydrogen industry, he says. Dr

Bernadette Zipfel, Team Lead Engineering

Management Future Technologies,

will explain how the company envisions

the future of energy generation.

Having done extensive research on the

subject, Martin Kaltschmitt from Technical

University Hamburg (TUHH) gives

his assessment: »Offshore wind power is

steadily gaining in importance. The same

will apply to offshore hydrogen production

in the medium term, which will help transport

the electrical energy generated far offshore

as efficiently as possible so it can be

made available on land.« At the Offshore

Dialogue, he will discuss what he believes

to be the most promising approaches.

One major topic is how all this energy

could be stored. In his presentation

Walter Kuehnlein, Consultant and

Founder of the start-up terra.blue, will

highlight several options. Together with

the Chairman of the Board of the Society

for Maritime Technology (Gesellschaft

für Maritime Technik, GMT), Sören

Ehlers,Kuehnlein will be moderating this

year's Offshore Dialogue.

»I am looking forward to welcoming so

many smart thinkers to the conference.

For the first time, we will put a strong

focus on hydrogen at this SMM. Through

this event, the subsequent WindEnergy

Hamburg and the H2 EXPO & CONFER-

ENCE, we want to establish Hamburg as

the capital of the international hydrogen

economy,« says Claus Ulrich Selbach.

The two events will take place from 27 to

30 September 2022.

Meet with

your trusted

adviser at

SMM Hamburg

Thursday | 08-09-2022

9
---
HANSA DAILY SMM NEWSWIRE

SMM

WISTA Germany selects Personality of the Year 2022

© Wroblewski

Award winner Phanthian Zuesongdham (centre) with Anke Wibel

(left) and Nicole Langosch (right), who were both also nominated

On the panel (from right): Annette Suhrbier, Claudia Müller, Stefanie Engelhard and

Denise Hank, who were discussing the experiences and successes of women innovators

Within the framework of the SMM,

WISTA Germany has chosen the »Personality

of the Year« (PotY). The prize is

awarded to women who have distinguished

themselves through special

achievements in the maritime industry.

This year's winner is Dr Phanthian Zuesongdham,

Head of Division Port Process

Solution at the Hamburg Port Authority.

»With PotY, I feel very honoured but also

validated that my intention and actions to

change things or create impact have been

visible and noticed. The award gives me

further motivation to continue on my

path. I would like to invite many people, as

best I can, on this great transformational

journey of our time as creators. I want

them to inspire themselves and others. I

want to create snowball effects of innovative

spirit and openness,« said Phanthian

Zuesongdham.

Before the award ceremony there was a

panel discussion. The panellists discussed

the experiences and successes of

female innovators, their personal motivations

for innovation and the support

they want. The moderator was Annette

Suhrbier, Managing Director of Peter

Döhle Schiffahrts-KG. She was joined in

the discussion by Claudia Müller, Federal

Government Coordinator for the Maritime

Industry; Stefanie Engelhard, cofounder,

engineer and inventor at Unleash

Future Boat; and Denise Hank, cofounder

and Managing Director of Con

Cubo.

10 Thursday | 08-09-2022
---
HANSA DAILY SMM NEWSWIRE

NAVIS & DNV

Cooperation to minimize the risk of container incidents

Navis, the provider of maritime software

solutions for efficient and compliant

cargo loading, and the Norwegian-

German classification society DNV announced

today that they are going to cooperate

on combining their respective

solutions for minimizing the risk of container

incidents at sea.

»Container losses are rare, but the impact

of those losses can be very significant

– both in financial and reputational

terms,« said Arne Schulz-Heimbeck,

Senior Principal Engineer and Programme

Development Manager for Containerships

at DNV Maritime. »Synchronous

and parametric rolling can increase

the risk of container loss, and the

combination of factors that lead to this

type of rolling can be very hard to predict.

The combination of the DNV Anti-

Roll Assist and the Navis Lashing Monitor

gives captains and crews a clear and

simple picture of the risk and supports

them in assessing if a navigational adjustment

is needed.«

»Navis is very pleased to be able to provide

additional layers of information into

operational guidance,« said Carlos Barbera,

VP Product at Navis. »Crews are

balancing maximum loading capacity,

time pressure, and profitability, while

having to deliver optimum vessel safe

seakeeping behavior in changing weather

Container losses are rare, but the impact of those losses can be very significant

situations. By integrating the Anti-Roll

Assist calculations into the Navis Lashing

Monitor tool we are enabling our customers

to take the design values and at

the same time actual cargo and cargo securing

data of their vessels into account.«

DNV's anti-roll software and services

are supported by a new DNV class notation

called ARCS (Anti-Roll for Containerships)

which enables shipowners to

demonstrate to their customers that a

strategy to minimize the risk of container

loss is in place. The Navis' Lashing Monitor,

monitors real-time vessel motion

data and lashing forces. The system interfaces

with the Navis loading computer.

Hall B6 | booth 434

© Navis

Digitalisierte Prozesse –

vom Engineering zur Fertigung

bis zum Betrieb

EPLAN bietet Ihnen die Möglichkeit zur Konstruktion und Darstellung der

Kompletten Schiffsbetriebstechnik

P&ID

HVAC

Elektrotechnik

innerhalb einer datenbasierten Systemlandschaft.

Mehr erfahren:

www.eplan.de/maritim

Thursday | 08-09-2022

11
---
HANSA DAILY SMM NEWSWIRE

ACCELLERON

New data-enabled service agreement for medium-speed engine turbochargers

Accelleron, the new face of ABB Turbocharging, have launched a

new data-enabled service agreement with an accompanying customer

portal that uses the power of analytics to optimize turbocharger

maintenance, advise on turbocharger health and enhance

OPEX. Turbo SmartCare provides more flexible maintenance by

putting intelligent, remote insights provided by Accelleron's expert

engineers into the hands of the ship operator.

By introducing Turbo SmartCare to the medium-speed fourstroke

engine market, Accelleron aims to transform turbocharger

maintenance at a time when fuel consumption and emissions

generated by the global shipping fleet is under increasing scrutiny.

Turbochargers are described as playing a key role in the decarbonization

of shipping operations not only by helping to decrease

fuel consumption but also through their health being critical

to optimal engine performance.

Turbo SmartCare moves away from standard time-led service

agreements which are defined by fixed inspection milestones, irrespective

of the actual condition or health of the turbocharger,

towards a data-driven analysis that will have a positive impact on

excess emissions and reduce unnecessary expenditure on turbocharger

maintenance.

Via the intuitive customer portal Loreka, users have 24/7 access

to easy-to-interpret fleet-wide turbocharger health indicators

using a traffic light status and accompanying advisories provided

by Accelleron experts. As part of the new offering, Accelleron

provides guaranteed coverage for the entire duration of the service

agreement, which is based on a fixed price per running hour

and covers scheduled and unscheduled maintenance with protection

against unexpected events and wear on the turbochargers.

This gives Turbo SmartCare customers full financial predictability

enabling them to accurately plan ahead with no unexpected

costs.

Thorsten Bosse, Head of Global Service Product Management

at Accelleron, said, »Turbocharger data is carefully analyzed by

our experts, who provide deeper insights and advisories by combining

analytics with our long history of engineering design experience.

As experts in the field of turbocharging, we provide

Turbo SmartCare customers with insightful advice, for example

on how to fine-tune Time Between Overhauls (TBO) to allow

alignment of the engine overhaul with that of the turbocharger.

This type of agreement represents a fundamental change in how

we do turbocharger servicing in our industry.«

© Accelleron

MAN ENERGY SOLUTIONS

New Dual-Fuel Engine

MAN Energy Solutions has announced the launch of its 49/60DF

engine type at the SMM trade fair in Hamburg. The latest addition

to its four-stroke engine portfolio, the dual-fuel engine is

capable of running on LNG, diesel and HFO as well as a number

of more sustainable fuels including biofuel blends and synthetic

natural gas. MAN Energy Solutions states that it »sets a benchmark

in terms of fuel efficiency within four-stroke engines – both

in gas and diesel modes – and therefore minimises fuel costs«.

Wayne Jones OBE, Member of the Executive Board – Global

Sales & After Sales – said: »Dual-fuel engines are the ticket to the

maritime energy transition. As we enter a new era of decarbonisation,

the 49/60DF is a great, new choice for vessel owners that

have ambitious, emission-reduction targets on their agenda.«

The 49/60DF is available for order and is based on the new

49/60 engine platform that features MAN's latest technologies,

including two-stage turbocharging, second-generation commonrail

fuel injection, SaCoS5000 automation system and MAN's

next generation Adaptive Combustion Control ACC 2.0.

MAN Energy Solutions plans to introduce a pure diesel engine

based on the 49/60 platform in 2023 »that will inherently be

retrofit-ready for running on methanol and LNG should the demand

arise at a later stage.«

WÄRTSILÄ

New medium-speed 4-stroke engine

The technology group Wärtsilä has launched its new Wärtsilä 25

medium-speed 4-stroke engine. The engine is already capable of

operating on diesel, LNG, or on either gas or liquid carbon-neutral

biofuels, »and can easily be upgraded to operate with future

carbon-free fuels as they become available«, the Finnish company

said. The Wärtsilä 25 is intended to be the first Wärtsilä engine to

run on Ammonia as a fuel – technology development is »currently

underway with a technology concept readiness slated for

2023, followed by planned product release soon thereafter.«

When operating with natural gas the engine is IMO Tier III

compliant, as it also is with diesel when integrated with a Wärtsilä

NOx Reducer (NOR) emissions abatement system. Furthermore,

it enables economically viable compliance with regulations such

as the IMO's CII and EEXI protocols that enter into force in 2023.

The new product features a turbocharging system with a high

pressure ratio. It is now available in 6L, 7L, 8L and 9L cylinder

configurations, while the dual-fuel (DF) version has a power

output ranging from 1.9 to 3.1 MW, and the diesel version from

2.0 to 3.4 MW. »The common-rail high pressure fuel injection

technology optimises combustion and the fuel-injection settings

at all loads. This in turn promotes smoke-free operation«,

Wärtsilä added.

12 Thursday | 08-09-2022
---
HANSA DAILY NEWSWIRE

Honestly,

technology

is not the issue.
---
HANSA DAILY SMM NEWSWIRE

DNV

DNV launches NAUTConnect

At the SMM trade fair in Hamburg, classification society announced

the launch of its new NAUTConnect service. Offered as

an additional voluntary class notation and developed in collaboration

with the industry, NAUTConnect is hosted on DNV's Veracity

platform and is designed to enable the optimal performance

and safety of navigational systems.

NAUTConnect is a continuous remote compliance verification

system for electronic navigational systems and integrated network

equipment. It covers onboard systems and data collection

infrastructure, onshore systems and data standards, as well as

procedures for system health monitoring and compliance verification.

The voluntary class notation includes MO and class

requirements, as well as requirements for service providers, for

example OEMs involved in monitoring and maintaining given

systems and equipment. It also enables vessel owners and managers

to keep better track of hardware and software updates and

replacements

»As the era of ship connectivity progresses and systems become

more deeply integrated, we need to focus on increasing harmonization

and creating processes and services that will help to reap

the safety and efficiency benefits of e-navigation,« said Geir Dugstad,

Technical Director, DNV Maritime. Key industry contributors

included, navigation systems manufacturer Kongsberg

The Hurtigruten Coastal Express ship »Polarlys« piloted the service

Maritime (KM) and its digital arm, Kongsberg Digital (KDI),

while Norway's Hurtigruten Coastal is one of several shipowners

that piloted the service.

Hall B4.EG | booth 221

© Hurtigruten

Meet us at SMM 2022

6-9 September | Hamburg Messe

Hall B6, Stand 309

Read more at go.wartsila.com/smm

14 Thursday | 08-09-2022
---
HANSA DAILY SMM NEWSWIRE

BOLL & KIRCH

World premiere of new FineFilterUnit FFU

At SMM, Boll & Kirch has launched its brand-new FFU design

for the treatment of bleed-off water from hybrid or closed loop

Exhaust Gas Cleaning Systems (EGCS), and Exhaust Gas Recirculation

(EGR) / Exhaust Gas Cooling (EGC) Systems.

»The new design is based on Bollfilter's application expertise

and underlines their market leadership with the most systems

supplied to EGCS- and Engine-manufacturers since 2018. Several

improvements have been realized to optimize the benefits for the

customer and operator,« the company states.

Among those benefits, Boll & Kirch names process improvement

as modified components for improved process control

and more efficient process operation result in lower operational

costs. The systems' modularity offers a new and flexible

design for different flow rates. Another benefit is compactness:

The Boll & Kirch solutions have minimum space requirements

and optimized arrangement, including highly improved maintainability.

The company also put a focus on user friendliness

through simplification of interaction and operation by smart

control features. For compliance with environmental regulations,

the treatment of bleed-off water with ceramic membranes delivers

still safe and continuous compliance with the discharge

requirements of MARPOL Annex VI, resolutions MEPC.340(77)

resp. MEPC.307(73) and enhances marine environmental protection.

As Bollfilter is developing, producing, and utilizing its own

ceramic membranes (BOLLbrane) in addition to its own R&D-,

engineering-, testing- and production capabilities, they have the

know how about the core component of the system and can offer

the best process solution, also for other demanding applications

i.e., CCUS (Carbon Capture Utilization and Storage).

Hall A1 | booth 426

© Boll ] Kirch

Thursday | 08-09-2022

15
---
HANSA DAILY SMM NEWSWIRE

16 Thursday | 08-09-2022
---
HANSA DAILY SMM NEWSWIRE

Hall A1 | Booth 516

www.gromex.de

For the 2022 SMM the organisers are setting the stage to reflect

the chosen theme, »Driving the maritime transition«. Some of

the exhibition areas haven been consciously reduced in favour of

the »Transition Stages« to give participants more room to present

their ideas and product novelties in an open forum. There will be

three stages.

• Green Transition Stage | Hall A4: Alternative propulsion

systems, environmental technologies and sustainability

• Digital Transition Stage | Hall B6: Automation,

digitalisation and data management

• Cruise & Ferry Stage | Hall B5: Interior design, outfitting and

technologies for cruise ships.

THRILLED TO BE

PART OF IT AGAIN!

HALL A1

BOOTH 516

Thursday | 08-09-2022

DichtungsHaus 17

www.gromex.de
---
HANSA DAILY SMM NEWSWIRE

Backbone for autonomous ship operation

With EcoMAIN, customers use data from any number of systems on board in a uniform

platform to make better decisions and save costs. Patrick Müller explained this software

solutions to HANSA

Patrick Müller, Business Owner,

Siemens Energy

© Siemens Energy

What is Siemens Energy doing to support

shipping companies in digitization?

Patrick Müller: Siemens Energy's

Marine Solutions business developed a

digital ecosystem called SISHIP Eco-

MAIN suite. This ecosystem facilitates

combining different solutions within

Siemens Energy's business units and

external parties. All components are

synchronized to help deliver the best

results for maximizing the efficiency of

all the assets. Digitalization is the

backbone of the ecosystem, preparing

us for a future of autonomous ship operation.

It is important to know the

technical status of all onboard assets to

operate a vessel autonomously. The SI-

SHIP EcoMAIN suite's condition

monitoring features help enable this

visibility.

Concerning the SISHIP EcoMAIN suite,

which processes within a company can be

digitalized, and what benefits does it bring

users?

Müller: Because we offer an open,

scalable digital ecosystem with the SI-

SHIP EcoMAIN suite, we can collaborate

closely with our customers

and partners to meet the specific needs

of their digitalization journeys.

Beyond integrating platforms into customers'

IT landscapes, Siemens Energy's

expertise is our deep knowledge

about the complete drive train – from

energy production to the ship's propeller.

What does a shipowner need to do to

implement Siship Ecomain?

Müller: The SISHIP EcoMAIN suite

uses a vessel's existing sensors. Data

from existing systems (e.g., machine

room automation, navigation systems,

loading computer, power management

systems, propulsion systems, etc.) is

integrated into the SISHIP EcoMAIN

suite. Depending on the customer's

needs, we scale the system to the correct

size and incorporate the onboard

system into the given landscape. The

EcoMAIN suite shore, or, if you like to

call it, the central fleet management

system, is a cloud-based solution. The

interface to the EcoMAIN suite vessel

is done via the Internet; therefore, we

need Internet connectivity onboard

the vessels.

As we see ourselves as a partner for

digitalization, which is, for me, a long

journey together, we also address all

Headway 1/4 quer

18 Thursday | 08-09-2022
---
HANSA DAILY SMM NEWSWIRE

© Siemens Energy

View of the SISHIP EcoMain Software

phases of a digitalization project – starting

from integrating and installing different

services throughout the vessel's lifetime

(like security services, for example).

For which types of vessels is this solution

suitable?

Müller: The SISHIP EcoMAIN suite is

scalable for any vessel – from small fish

farm vessels with at least 100 measurement

points to large cruise liners where

we have more than 40,000 measurement

points.

What are your plans for the SISHIP

EcoMAIN suite? How will it be further

developed in the future, and which

functions should or can still be integrated

into it?

Müller: For me, the next level of digitalization

is to break down the individual

silos and bring them all into one

ecosystem. Combining the different

solutions into a synchronized ecosystem

can generate additional benefits

for our customers. This is what we continue

to work on today.

Please visit us at SMM 2022 to see an

example of our current SISHIP Eco-

MAIN solution.

Interview: Anna Wroblewski

ZF 1/4 quer

Thursday | 08-09-2022

Visit www.zfmarinemobility.com

19
---
SMART SHIP

POWERED BY

MTP and Openbridge:

Ready for the Future of Shipbuilding

© Bachmann Electronic

Simple and safe retrofitting: Standardized, exportable automation and visualization data

enable the rapid import of new third-party systems into existing visualization applications

Maritime vessels comprise numerous

systems from a wide variety of

manufacturers. The result: thousands of

discrete communication signals, a

multitude of different interfaces, and

significant programming work during

commissioning. This increases susceptibility

to errors and the risk of information

loss during documentation.

In addition, inconsistent visualization

solution structures make it difficult for

the bridge to maintain a complete overview.

Bachmann has eliminated these problems

by co-developing and supporting

the Module Type Package (MTP) and

OpenBridge software standards.

Simplification at Every Stage

of the Value Chain

The MTP description format standardizes

communication between systems

and management on ships. »With MTP

we are pursuing higher speeds of engineering,

commissioning and integration.

This will ultimately lead to

more accurate project schedules and

will significantly reduce the Total Cost

of Ownership,« says Burkhard Staudacker,

describing Bachmann's goals.

The Key Account Manager believes

that the standard is a major step forward

for the maritime industry towards

Industry 4.0.

Through a VDMA working group,

leading manufacturers are jointly developing

the maritime standardization project

based on the MTP process technology

standard. The group includes experts

in ship automation technology,

mechanical engineers, system integrators,

shipyards, owners, universities and institutes.

Developing an acceptable standard

for the entire shipbuilding industry

is a challenge, says Staudacker: »With this

approach, we are aiming for maximum

acceptance; concrete benefit at every

stage of the value chain has been part of

the project from the very beginning.«

Thanks to MTP, manufacturers of

subsystems such as thrusters, gear -

20

Thursday | 08-09-2022
---
SMART SHIP

POWERED BY

boxes, or separators can easily provide

their SCADA systems with application

visualizations and interfaces. The

know-how always remains with the

manufacturer: »Import into the control

system only involves the interface, and

not the entire program,« reassures the

Key Account Manager. In addition, it is

now possible to achieve complete system

approval during the Factory Acceptance

Test (FAT), including electrical

interfaces – eliminating the need

for a second commissioning onboard

the ship.

System integration reduces the cost

of automation system engineering and

visualization, as well as commissioning.

It also saves time at the shipyard:

»Module testing by manufacturers

means that the majority of signal

tests are no longer required during

cruiser commissioning – a labor intensive

process that typically takes around

four months,« explains Burkhard

Staudacker. Owners can expect a significant

increase in investment security.

Unified communication with MTP

simplifies the retrofitting and implementation

of new systems from

other suppliers: »It's as easy as installing

a printer in the office – the machine

can be operated immediately,«

says Staudacker. Lower susceptibility to

errors during engineering and commissioning

also significantly reduces

service costs.

Next Generation

Maritime Workstations

To relieve the bridge crew during daily

operations, atvise® scada supports visualizations

based on the OpenBridge

framework. This delivers a simple, clear

and consistent design, intuitive interactions

and reusable components. The

free, open-source design guide pursues

the development of safe and efficient

maritime workplaces and accounts for

international shipbuilding regulations.

The numerous OpenBridge elements

in atvise® scada enable screen interfaces

to be easily adapted with widgets during

system operation. Building blocks such

as main engine data, rudder position,

azimuth, thruster, and various other display

and control elements facilitate completely

customizable interfaces with

About Bachmann electronic

easy-to-place elements. Safety is also at

the forefront: clearly assignable alarms

allow the initiation of targeted measures.

For crew, the uniform interface reduces

familiarization time when changing

ships, as the look and feel is very similar.

Stronger Together

The combination of the MTP and Open-

Bridge standards ensures flexible, fast

and safe engineering in the maritime industry

and provides highly reliable systems.

Burkhard Staudacker is certain:

»These open standards enable us and our

partners to combine our strengths and

work together on better solutions for the

future. In turn, this will maximize results

for the entire industry.«

Hall B 6 | booth 305

We deliver complete, certified automation solutions, helping customers in the maritime

and offshore sectors worldwide to integrate their systems into one powerful platform.

Our intelligent, scalable techno-logy is based on over 50 years of integrated engineering

experience. By implementing state-of-the-art solutions, we optimize the operational

capability of individual units, turbines and vessels, or the entire fleet. Our holistic,

certified system both increases revenues and maximizes performance and safety.

www.bachmann.info

Die Zukunft sicher gestalten,

mit dem Blick nach vorne!

Unsere Kompetenz. Unsere Verantwortung.

•

• Smart Maintenance Anwendungen

• OpenBridge, MTP

• Energiemanagement

Thursday | 08-09-2022

TY

T

O

PE APPROV

ED PRODUCT

DNV.COM/AF

www.bachmann.info

Wir freuen uns auf Ihren Besuch

auf unserem Stand B6.305. 21
---
GREEN SHIP

POWERED BY

Leading Decarbonisation in Maritime

The journey towards decarbonisation

is not a passive one; it requires

proactive research, development and investment

and it requires steps to be taken

today. Achieving the necessary environmental

targets laid out by the International

Maritime Organization (IMO)

and others will need collaboration and

commitment from all who operate within

the maritime industry. Wärtsilä is helping

to chart the course to decarbonisation,

taking single yet meaningful steps to

progress towards a cleaner, greener future

for shipping.

It's important that, as the industry

progresses on this journey, we don't forget

about the customer's core requirements.

Operational efficiency is a natural

concern that ship owners and operators

encounter every day and that's why it's

crucial that as innovation and development

continues, that conversations

between OEMs and their customers also

continue and that industry-wide

collaborative efforts take all factors into

consideration. That's why Wärtsilä is part

of several projects such as the Getting to

Zero Coalition, Ammonia 2–4, SeaTech

Consortium to name a few, where they

work alongside different stakeholders

and real progress is made towards

making zero-emission shipping a reality.

One of the key components of the sustainability

drive is alternative fuels. Work

at Wärtsilä, and across the industry, has

been ongoing for a number of years on

the development of not only these fuels,

but also the development of a viable infrastructure

is paramount to decarbonisation

efforts. As new fuels become

available, additional complexities and opportunities

will be presented to owners

and operators and that's why Wärtsilä

continually views the decarbonisation of

the industry, as a journey, with multiple

single steps.

Helping to lead that journey and approaching

it step-by-step, means that one

core area of work at Wärtsilä revolves

around future-proofing the decisions and

investments that ship owners and operators

are making. Many of the key environmental

targets and objectives that the

industry is facing will come into effect

within a single vessel's lifetime, so it's

crucial that the decisions made today

consider those objectives and protect the

ship owner's primary asset. The future of

fuels is not a concrete certainty, the variety

available and the choices that are

being made are being driven by many

factors, from operational profile through

to availability and infrastructure.

Wärtsilä has years of experience within

the field of future fuels, and that work

and investment is reflected in the everincreasing

engine portfolio. The broad

range of developing alternative fuels

means that flexibility is the answer. Dualfuel

engines, such as the recently

launched Wärtsilä 46TS-DF or the upcoming

Wärtsilä 25 announcement at

SMM 2022, provide a future-proofed solution

for owners. As the decarbonisation

journey continues, fuel flexibility is paramount.

For example, a vessel with a dualfuel

engine operating on HFSO and LNG

may look to add in an alternative moving

forward, whether that's using LNG alongside

drop-in hydrogen or ammonia.

That is why engine flexibility and

understanding operational and vesseltype

requirements are at the heart of for

all developments and new technologies.

© Wärtsilä

Wärtsilä 25 can power a broad range of vessels

The Wärtsilä 25, announced and unveiled

at SMM 2022, is a prime example

of a future proof and innovative engine

developed with the considerations of

customers in mind. A next-generation,

medium speed engine, the Wärtsilä 25

can power a broad range of vessels, helping

to deliver minimal emissions and giving

owners and operators the ability to

take strides on their journey towards net

zero. The engine's modular design provides

maximum flexibility, efficiency, and

fuel economy today, while also making it

easier to upgrade and integrate greener

fuels in the future.

As the maritime industry continues its

energy transition, engine updates and developments

such as the Wärtsilä 25 are

just one example of the global technology

group's ongoing commitment to supporting

owners and operators – offering solutions

that offer immediate operational

flexibility and emissions benefits while

continuing to prepare for tomorrow.

The availability and development of

cleaner fuels should not be viewed as a

barrier for those seeking to take strides

and make immediate emissions gains

today. There are significant first steps on

22 Thursday | 08-09-2022
---
GREEN SHIP

POWERED BY

that journey that can be made today from

optimised routing and voyage planning

through to existing energy saving technologies

and hydrodynamic improvements.

For those wanting to reduce

emissions now there are options available,

from installing efficiency-boosting

technology, such as wind-assist, propulsion

systems improvements or air lubrication.

Future fuels are certainly a

major part in the industry's decarbonisation

movement, but there are also alternative

avenues that warrant exploration.

Roger Holm, President Wärtsilä Marine

Power, said: »Our industry is on a

journey. The environmental targets laid

out by the IMO bring with them opportunities

for wide-scale change. It is so important

that while we continue to collaborate

and work together to reach our

goals, we take each moment as it comes,

one step at a time. Reaching the greener,

cleaner future that we all want to achieve

is a long and winding road but the deadline

to reach our objectives is only getting

closer so it's critical that when considered,

future proofed developments,

technologies and decisions are available

to us, we seize the initiative. Our constantly

developing engine portfolio is just

one example of our work to provide the

industry with viable solutions. Through

tireless work and constant dialogue with

stakeholders across the maritime landscape,

we're proud to be playing a key role

in shipping's ecosystem where combining

the financial viability with the decarbonisation

development will be the key item

during the next decade.«

Commenting on the development on

new engine designs, Stefan Nysjö, Vice

President, Power Supply, Wärtsilä Marine

Power, added: »Our engine portfolio

plays such an important role in the industry's

broader environmental goals. Improved

operational efficiency and immediate

emissions reductions are very

welcome benefits but perhaps the most

critical element within the context of

where maritime is heading, is their flexibility.

The modular designs and the dualfuel

technology allow owners and operators

to keep taking those steps forward.

When considering the varied alternative

fuels landscape, we don't yet have all the

answers, but with flexibility and an

understanding of our customer's assets

and requirements at the core of all of our

work, engines such as the Wärtsilä 25

allow us to encourage and facilitate sustainable

progress today knowing that we

are prepared for when the future fuels era

About: Wärtsilä

does become clearer As the deadlines

draw nearer and the shipping world continues

to progress towards our goals,

Wärtsilä's commitment to researching,

developing, and creating new technologies

will play a major part in driving

the industry forward.«

The time for action is now. The IMO's

targets give the industry scope to develop

solutions, but it is still a relatively tight

timeline. Where the infrastructure for

particular alternative fuels perhaps isn't

currently feasible or commercially viable,

there are still decisions that can be made

today, with the understanding that they

allow you to be prepared for the developments

of tomorrow. It's critically important

that the entire industry engages with

this narrative and continues to proactively

drive forward as an interconnected

ecosystem, operating as a collective of

stakeholders to enact change, promote

development, innovate, research and ultimately

deliver necessary change to the

entire maritime landscape.

Wärtsilä is a global leader in innovative technologies and lifecycle solutions for the marine

and energy markets. We emphasise innovation in sustainable technology and services

to help our customers continuously improve their environmental and economic

performance. Our dedicated and passionate team of 17,000 professionals in more than

200 locations in 68 countries shape the decarbonisation transformation of our industries

across the globe.

www.wartsila.com

Meet the new Wärtsilä 25 engine – maximised

flexibility, minimised emissions

Join the LAUNCH EVENT on 7 September @ 3pm CET

Meet us at SMM 2022

6-9 September | Hamburg Messe | Hall B6, Stand 309 Read more at go.wartsila.com/W25-launch

Thursday | 08-09-2022

23
---
HANSA DAILY SMM NEWSWIRE

EEXI performance control for Uni-Tankers

Berg Propulsion delivers EEXI performance control for Danish shipping company

Uni-Tankers. Efficiency enhancements to engine control are said to bring 15 – 17 %

in energy savings for two of the leading tanker company's existing ships

Uni-Tankers has confirmed that installing

a new control system from

Berg Propulsion has been pivotal in

achieving a remarkable 15–17 % efficiency

gain on board two existing ships, in a

retrofit project that has significantly reduced

fuel consumption and emissions.

The efficiency gains reflect the installation

of Berg's MPC800 control systems

and an upgrade of main engines on board

the chemical tankers Anhout Swan and

Lessow Swan to run in variable rpm

mode.

International Maritime Organization

targets envisage a 40 % reduction in

greenhouse gasses from ships by 2030.

Next year, owners face a new IMO regime

on ship efficiency, demanding they adhere

to an Energy Efficiency for Existing

ships Index (EEXI) and provide their

Carbon Intensity Indicator (CII). Each

ship's EEXI rating is generated with reference

to an Energy Efficiency Design

Index (EEDI) baseline.

While ships built today may be designed

for optimal fuel efficiency at lower

speeds, those delivered 7–15 years ago

were optimized for higher engine loads.

With fuel prices at unprecedented levels,

suboptimal performance by propulsion

systems running at »part load« is a cost

inefficiency that can eat into competitiveness.

The ability to control power more

effectively using variable speeds cuts

energy use overall, reducing both fuel

consumption and emissions.

Danish shipping company Uni-

Tankers consulted Berg Propulsion and

Zeppelin on its options to enhance the efficiency

of the 2008-built tankers »Anhout

Swan« and »Lessow Swan« operating

at 14 kn. Berg simulations demonstrated

that, in combination, the precise

control available to the MPC800 system

and a modification of the ships' fourstroke

MaK 8M32C main engines would

deliver significant efficiency gains for

controllable pitch (CP) propellers and

thrusters.

»This is an excellent example of the

way vessels already in operation can be

optimized to anticipate the transition to

Uni-Tankers, owner of »Anhout Swan«, cooperated with Berg Propulsion

the EEXI and CII regimes,« says Jonas

Nyberg, Managing Director West for

Berg Propulsion. »The aim is to stay

ahead of the curve and help our customers

move towards greener operations

with lower CO 2

emissions by offering solutions

which also enhance competitiveness.«

Installing the MPC800 control system

upgrade is one of several class-approved

options devised by Berg Propulsion to

help ships rise to efficiency challenges. In

close cooperation with owners and operators,

Berg analyzes a ship's current and

future operational needs, evaluates its

EEXI rating, and uses 3D scanning and

modelling tools to develop retrofit options

that offer cost-based efficiency

gains, also factoring in any necessary

drydocking work.

»The objective is to deliver efficiency

gains where they are needed most,« says

Magnus Thorén, Energy & Efficiency

team leader, Berg Propulsion. »Variable

speed control allows the owner to achieve

significant efficiency improvements by

© Uni-Tankers

delivering greater engine responsiveness

to changing loads.«

»Our way to measure the success of a

project is how much benefit our total integrated

main propulsion solutions will

bring for our customers operation« says

Mattias Hansson, Global Account Manager,

Berg Propulsion. »We are pleased

for the very good and open cooperation

with Uni-Tankers and with our dealer

Erik Hass at Zeppelin in Denmark to enable

these efficiency upgrades in order to

maximize the gains in ship performance

and lowering the total cost of ownership.«

Other Berg retrofit options include

propeller blade optimization (including

replacement), the installation of a Net

Frequency Stabilizer so that the shaft

generator can operate in variable speed

and upgrading the control system software

to enable »Dynamic Drive« cruise

control, says Thorén. The Dynamic Drive

is software package that is installed in the

Berg control system to optimize the propeller

pitch and propeller rpm for any

given condition.

24 Thursday | 08-09-2022
---
HANSA DAILY SMM NEWSWIRE

Enabling marine electric propulsion

A new range of variable speed marine generator sets demonstrates the Volvo's commitment

to leading the marine industry in its transformation towards sustainable marine propulsion.

More vessels will be able to install modular hybrid systems delivering fuel efficiency gains

Volvo Penta has launched a new range

of variable speed marine generator

sets – a key enabler for electric propulsion

for marine vessels – demonstrating

the company's commitment to leading

the marine industry in its transformation

towards sustainable marine

propulsion.

Now a standard part of the Volvo

Penta marine offer, the range of variable

speed marine generator sets allows shipyards

to install hybrid-electric modular

propulsion systems today. This important

move towards modular propulsion

enables operators to invest in new

vessels with the peace of mind that they

are built ready and adaptable for emerging

alternative energy sources.

This range of variable speed marine

generator sets are a core part of Volvo

Penta solutions designed for hybrid and

electric applications. It allows to build

vessels with smaller battery banks and

charge them while on the move, which

makes the switch to hybrid-electric marine

propulsion more cost-efficient and

accessible today. This technology is already

being used by Volvo Penta customers,

such as Swedish Transport Administration

and MHO-Co.

With the technology now working efficiently

in proven, real-world applications,

Volvo Penta is offering the

range with models starting from D 8,

190 kWe and running up to 545 KWe for

the D 16. Adding to the range's ability to

improve an operation's sustainability credentials,

all diesel engines can run on

HVO 100

fuel,

in -

stead of

standard diesel, to

reduce fossil CO2 emissions by up

to 90 % – providing a robust and sustainable

solution for today.

»By making our Volvo Penta variable

speed marine generator sets more widely

available, it takes us further forward in

our journey towards more electric- and

fuel-cell propulsion for the marine industry,«

said Johan Inden, head of the Volvo

Penta marine business. »Now, more

vessels will be able to install modular hybrid

propulsion systems ready to be

adapted to future energy choices, meanwhile

delivering important sustainability

and fuel efficiency gains from day one.«

A typical installation sees a modular

series of variable speed marine generator

sets installed to power electric drives

with or without battery packs. This direct

current (DC) grid system is easy

to upgrade with alternative power

sources and has fewer components,

weighing less – especially

when compared to batteries

as the sole energy carrier –

making the vessel more efficient.

The modular installation also

© Volvo Penta

creates the option of using the

minimum number of engines to

deliver the power needed so that

the marine generator sets are able

to run in the efficiency sweet spot.

The flexibility of a modular installation

is further amplified by the fact that

the new Volvo Penta variable speed marine

generator sets, in each of the respective

power ranges, are the most compact

solutions that meet the latest IMO Tier

III regulations. They're also watercooled,

which means less noise and more

efficiency for owners.

From green ports to cutting-edge

ship designs, by your side toward

a net-zero future.

Visit us at SMM - Hall: B4 Booth: EG 310

Make it sure, make it simple.

rina.org

Thursday | 08-09-2022

25
---
HANSA DAILY SMM NEWSWIRE

WE TECH

Comprehensive solutions to ensure vessels' efficiency and reliability

Finnish company WE Tech Solutions is an energy efficiency solution

provider with a global presence in the shipping industry.

The company specialises in supplying solutions based on DClink

power distribution, variable speed power generation, energy

storage and energy management systems. »The solutions improve

energy efficiency and decrease emissions, hence making us a cornerstone

in the sustainable future of shipping«, WE Tech states.

The company offers a wide range of solutions covering several

types of vessels, such as LNG Carriers, LPG Carriers, PCTC,

RoRo vessels, Ro-Pax ships, Product Tankers, Multipurpose Corvettes,

Bulk Carriers and others. To date, more than 100 vessels

have chosen WE Tech's energy efficient hybrid solutions for

higher efficiency and lower emissions.

With environmetal compliance regulations tightening, better

efficiency is becoming increasingly important to stay in business.

WE Tech offers comprehensive solutions to ensure vessels' suefficiency

and reliability, as well as securing customers' compliance

with the IMO's ship efficiency standards and benchmarking systems

EEDI, EEXI and CII.

At SMM the company showcases its WE Drive, a variable frequency

drive; the Variable Speed Generator offers soltuions for

for PTO/PTI/PTH. Also on display are the DC-link Power Distribution,

an Energy Storage System based on battery packs, a

Shore Connection System and an Energy Management System.

Hall B1 OG | booth 102

© WE Tech

KRAFTPOWERCON

DC power supply for »life at sea«

KraftPowercon offers solutions, products, services to drive innovation within industrial

power conversion. At SMM the company showcases the FlexKraft Marine

and ECKraft rectifiers. These units are designed to generate the power

needed to produce the active ingredient in an Electro chlorination ballast water

management system (BWMS). The active ingredients in theses sysetms is Sodium

hypochlorite, NaClO, that is used to disinfect the ballast water to remove

the risk of introducing invasive species in new waters. »With a rectifier from

KraftPowercon integrated into your ballast water management system – you are

always in safe hands,« the company promises.

Hall A1 | booth 417

At SMM the company showcases

the FlexKraft Marine and ECKraft

rectifiers

© KraftPowercon

BREMEN: ONE-STOP-SHOP

OF MARITIME EXCELLENCE

by

WIR SEHEN UNS

auf der internationalen Fachmesse der

maritimen Wirtschaft in den Messehallen Hamburg.

HALLE B7 | STAND 130

26 Thursday | 08-09-2022
---
EXCELLENCE

IN MARITIME

TECHNOLOGY

ITALIAN NATIONAL PAVILION

AT SMM 2022

06. – 09. SEPTEMBER 2022

HAMBURG GERMANY

HALL B3. OG.

Ministry of Foreign Affairs

and International Cooperation
---
HANSA DAILY SMM NEWSWIRE

»LUDWIG PRANDTL II«

Construction contract to be awarded soon

This was announced by the customer, the

Helmholz Centre Hereon. The intention

to award the contract has already been

sent to the shipyards involved, but certain

deadlines still have to be met before the official

award can be made. However, a model

of the »Ludwig Prandtl II« is already

being presented at the SMM at the stand

of Technolog Services. The company was

initially entrusted by Hereon with a feasibility

study and subsequently also with

the final design for the research vessel.

»This vessel is optimised for research

in coastal and inland waters,« emphasises

Technolog's project manager Fridtjof

Rohde. This means that the ship will have

a minimal draught to sail in shallow water.

The length is limited by the locks it

will have to pass through in the future.

The ship will accomodate several technologies

for different needs, emphasises

Volker Dzaak, representative of Hereon.

Representatives of Hereon and Technolog in front of the model of the new »Ludwig Prandtl II«

There will be a wet and an electronics laboratory.

In addition, there will be various

deck equipment, such as an A-frame at

the stern or a large crane in the front part

of the ship. It will also be possible to carry

additional containers on the afterdeck.

A fuel cell will be added to the dieselelectric

propulsion system and will be

used to charge the batteries installed, so

that the vessel can sail for a certain time

with significantly lower noise emissions.

»The SMM is a great forum for us, because

now we want to tender the components

in order to install them in a timely manner,«

says Dzaak. The »Ludwig Prandtl II«

will be delivered in spring 2024.

© HANSA / Henckel

28 Thursday | 08-09-2022
---
MEET THE CITY

WHERE TO GO AFTER THE TRADE SHOW

Down by the harbour

»Bei Rosie«, in the oldest harbour bar in

the south of Hamburg (not retro but original),

sweet Rosi and her team serve the

very best »Currywurst with fries« to go

with a Hamburg »Astra« beer! Inexpensive

and delicious, in the beer garden or

cosy and romantic at the wooden tables,

under a net with fairy lights and starfish,

between lifebuoys and ship models and to

a colourful mix of jukebox sounds. A

special place that you shouldn't miss for a

Currywurst, a beer and a dance afterwards

if you are based in the south of Hamburg

during SMM.

© HANSA

Sandra Winter,

Ad management, HANSA and Binnenschifffahrt

© Wintern

Currywurst and an original ambience at Rosi's

Address:

Dampfschiffweg 21,

21079 Hamburg,

phone +49 40 770294

no website

With its partners and in combination with their own FPP and

CPP systems, Piening Propeller can realize Hybrid solutions

for any kind of demand, with:

• Multi Mode, Electric Drive Mode, Boost Mode, Generator

Mode or Recuperation Mode.

• Hydraulic pitch control of the CPP,

using ordinary water

• High efficiency with low noise and vibration

• Very low operational costs

Visit us

at SMM:

Hall A3

booth 226

Design and Manufacturing of complete Propulsion Systems

with Fixed-Pitch Propeller or PCP > 800 mm Ø

info@piening-propeller.de

Thursday | 08-09-2022

29
---
MEET THE CITY

WHERE TO GO AFTER THE TRADE SHOW

Campus am Isemarkt – a guest of good friends in chic Harvestehude

Florian Visser

Commercial Publishing Director HANSA

Ervin's Campus makes you feel at home

The »Campus« is located in the middle of

Harvestehude, one of Hamburg's finest

and probably most expensive districts.

This is where the neighbourhood meets

for a cosy dinner. No Harvestehude high

society – but rather down-to-earth and

yet chic.

The Campus is in an idyllic location

and has a vast, roofed outdoor terrace

where you can enjoy the fresh air of the

quiet area in almost any weather. If there

is no seat available on the terrace, you can

be placed inside the restaurant, where you

will sit at dark, wooden Hanseatic tables.

You will feel as if friends have invited

you to their home dining room. The

Campus is mainly frequented by regulars

who come for the amiable staff. The

owner Ervin is a gastronome with a

passion, and every guest notices that immediately.

During the evening, he strolls

up to each table and ensures that each of

his guests is happy.

The menu is small but fine and offers

the best home cooking at a very fair price.

Everyone will find something delicious,

from pasta with gambas to roast beef and

vegetarian goat cheese. My tip for a visit:

At Ervin's, it's best to order a »Schnitzel«

with fried potatoes – accompanied by a

freshly tapped beer and, for dessert, definitely

an apple pancake with vanilla ice

cream. Reservations are not possible and,

therefore, not necessary.

Opening hours:

Monday to Friday: 11:00 – 15:00 and

17:00 – 23:00

Saturday and Sunday: Closed

Address:

Campus am Isemarkt

Klosterallee 80

20144 Hamburg-Harvestehude

https://campus-am-isemarkt.eatbu.com

© Campus

AB JETZT FÜR

49,95 €

ERHÄLTLICH!

ISBN 978-3-7822-1516-9 |

380 Seiten | Hardcover |

Deutsch/Englisch

30 Maximilian Verlag GmbH & Co. KG | Stadthausbrücke 4 | 20355 Hamburg Thursday | 08-09-2022
---
IMPRINT

MARITIME BOOKS

150 Jahre Schiffe für die Meere der Welt

On 3 July 1872, a group of Flensburg businessmen met to launch a

company that was completely new for the time. They founded the

Flensburger Schiffbau-Gesellschaft, or FSG for short, with the aim

of building »iron sailing and steam ships«. Right from the start,

FSG produced the most modern and reliable ships of their time.

Innovative solutions and high quality standards are the constants in

the 150-year history in which the traditional shipyard has been able

to hold its own despite two world wars and numerous adversities

and crises to this day. Just in time for the anniversary, Hamburg

journalist and author Matthias Gretzschel vividly traces the

development of FSG and links it to the respective economic, urban

and contemporary history. He lets employees and companions

have their say, telling of the special spirit of this traditional shipyard.

But the focus is not only on history, but also on the challenges

of the future. For example, CEO Philipp Maracke and his colleague

Rolf Nagel provide information on the strategies with which the

Flensburger Schiffbau-Gesellschaft will use the most modern and

innovative technologists to build ships that will contribute to

achieving the reduction targets of the Paris Climate Agreement.

150 Jahre Schiffe für die Meere der Welt

Author: Matthias Gretzschel

Hardcover, 24 x 28 cm, 256 pages

Price € (D) 39,95

ISBN 978–3–7822–1517–6

Bilingual – German/English

Publisher

Prof. Peter Tamm †

Management

Peter Tamm

Editorial Department

Editor-in-Chief: Krischan Förster (KF)

Tel. +49 (0)40-70 70 80-206 | k.foerster@hansa-online.de

Deputy Editor-in-Chief: Michael Meyer (MM)

Tel. +49 (0)40-70 70 80-212 | m.meyer@hansa-online.de

Editor: Felix Selzer (fs)

Tel. +49 (0)40-70 70 80-210 | f.selzer@hansa-online.de

Editor: Anna Wroblewski (AW)

Tel. +49 (0)40-70 70 80-209 | a.wroblewski@hansa-online.de

Publishing house und editorial department

Schiffahrts-Verlag »Hansa« GmbH & Co. KG

Ein Unternehmen der TAMM MEDIA

Stadthausbrücke 4 | 20355 Hamburg

Postfach 10 57 23 | 20039 Hamburg

Tel. +49 0)40 70 70 80-02, Fax -214

www.hansa-online.de

Commercial Publishing Director

Florian Visser, Tel. +49 (0)40 70 70 80-312 | f.visser@hansa-online.de

Media consulting

Susanne Sinß, Tel. +49 (0)40 70 70 80-310 | s.sinss@hansa-online.de

Advert management

Sandra Winter, Tel. +49 (0)40 70 70 80-225 | s.winter@hansa-online.de

Layout

Sylke Hasse, Tel. +49 (0)40 70 70 80-207 | s.hasse@hansa-online.de

Subscriber support | Sales

Schiffahrts-Verlag »Hansa« GmbH & Co. KG

Stadthausbrücke 4 | 20355 Hamburg

Tel. +49 (0)40 70 70 80-111 | abo@hansa-online.de

Sales und Marketing

Alexandra Giercke, Tel. +49 (0)40 70 70 80-227

a.giercke@hansa-online.de

Printed by: Lehmann Offsetdruck und Verlag GmbH, Norderstedt

The client of advertisements bears full responsibility for the content

of the advertisements.

The publisher declines all liability. It is prohibited to use extracts

or parts of the content of advertisements for advertising purposes.

175 JAHRE

HAPAG-LLOYD

1847-2022

€ 49,95

Hardcover | ISBN 978-3-7822-1506-0

Bestellen Sie jetzt online unter

koehler-mittler-shop.de oder

telefonisch unter 040 70 70 80 322

Thursday | 08-09-2022

Maximilian Verlag GmbH & Co. KG | Stadthausbrücke 4 | 20355 Hamburg

31