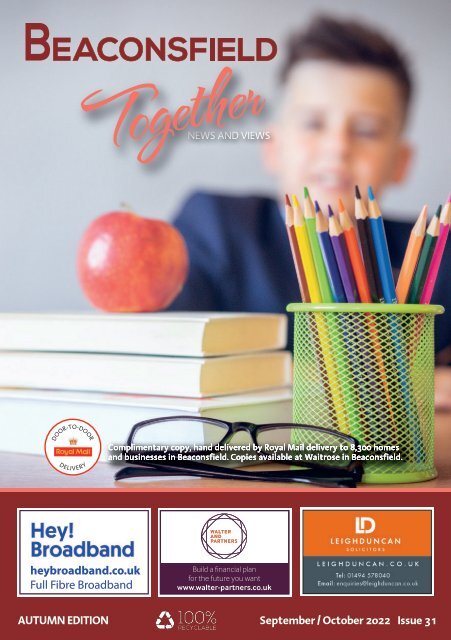 Beaconsfield Together September October 2022
A local #community magazine containing community, business and charitable editorial in the Beaconsfield, Knotty Green, Seer Green and Forty Green area. 8,300 copies printed and hand delivered by Royal Mail to residences and businesses in the HP9 -1 and HP9 -2 businesses in these areas. Copies available at Waitrose Supermarket in Beaconsfield
A local #community magazine containing community, business and charitable editorial in the Beaconsfield, Knotty Green, Seer Green and Forty Green area. 8,300 copies printed and hand delivered by Royal Mail to residences and businesses in the HP9 -1 and HP9 -2 businesses in these areas. Copies available at Waitrose Supermarket in Beaconsfield
SHOW MORE
SHOW LESS
You also want an ePaper? Increase the reach of your titles
YUMPU automatically turns print PDFs into web optimized ePapers that Google loves.
Together

NEWS AND VIEWS

DOOR-TO-DOOR

DELIVERY

Complimentary copy, hand delivered by Royal Mail delivery to 8,300 homes

and businesses in Beaconsfield. Copies available at Waitrose in Beaconsfield.

heybroadband.co.uk

Full Fibre Broadband

www.walter-partners.co.uk

AUTUMN EDITION September / October 2022 Issue 31
---
· Up to 20x faster than traditional broadband*

· Unlimited devices

· Free installation & router

*Average UK broadband download speed is 50Mbps - Ofcom, 2021.
---
*Average speed connected via cable not via WiFi

"I can gladly recommend Hey!Broadband to anyone

interested in a great service at a great price!"

Sign up

heybroadband.co.uk

Call free

0808 168 1616
---
Useful Numbers

Age UK's Befriending Service

Matches older people with volunteers who

have similar interests. t: 01296 431911

e: age@ageukbucks.org.uk

Alcoholics Anonymous

Call confidentially on: 0800 917 7650

Better Connected Beaconsfield

hello@betterconnectedbeaconsfield.org.uk

01494 919 232

The Beaconsfield Advisory Centre

t: 01494 672987

e: contact@beaconsfieldadvisorycentre.org.uk

The Christian Eye Foundation

support@thechristianeye.co.uk

07568 135 308

Victim support line - help after a crime

t: 08 08 16 89 11

www.victimsupport.org.uk

Hello & welcome!

Beaconsfield School celebrates

its 90th Anniversary see p37

I can't believe it's September already where has the

summer gone? I was delighted to hear from my

Young Journalists; Josh, Maddie and Loren and news

of their success in their A levels. I wish them all the

best in their future endeavours, I see shining lights in

these young ones!

At the time of writing this the Country Fayre hadn't

yet taken place, but a special mention must go to

Sylvia Jones who single-handedly drove forward the

organisation of this charity event and she must be

commended!

Please support the Rotary charity event (p17) and

if you want to volunteer at one of the organisations

opposite they'd love to hear from you. News from

the Town Council, (p20,21) and the Neighbourhood

plan update can be found on p22.

I wish all the children a happy 'back to school'

and for forthcoming open day see p8 for listing.

Congratulations to Beaconsfield School on their

successful 90th Anniversary event. (p37) If you have

any positive community news please get in contact.

Be Amazing & Volunteer

Right at Home

Be a paid volunteer to support the elderly

t: 01494 573 500

With love,

Therese

Next Copy Deadlines -

November / December 2022

Editorials: 5th Oct

Advertisers: 6th Oct

Connection Support

Require: Volunteer Befrienders or Family

Mentors. t: 01296 484 322

Meet the Team

Publisher, Editor & Sales

Therese Cooklin - 07786 735711

Magazine Designer

Mathew Peet, Digital Bear Design - 01949 839206

Content is accurate to the best of our knowledge, however Beaconsfield

Together part of Abstract Niche Ltd cannot be held liable for loss or

damage, caused by errors or omissions. Inclusion of advertisers does

not indicate our endorsement of their products or services.

t: 07786 735 711

e: therese@beaconsfieldtogether.co.uk

w: www.beaconsfieldtogether.co.uk

Get your business noticed

for as little as £36

Royal Mail door-to-door delivery to

over 23,000 homes in Beaconsfield,

Amersham & the Chalfonts.

e: sales@communitytogether.co.uk
---
Shaun Guard

TV & WIFI SERVICES

■ Aerials - supplied & repaired also poor reception solved

■ Satellite - Sky Q dish upgrades, discreet dish installs

■ Internet / WiFi - blackspots cured, internal & external data cabling

■ TVs - wall mounted or set up & tuned

www.oxfordaerials.co.uk

shaun@oxfordaerials.co.uk

Call Beaconsfield 01628 439115

Deeply relaxing therapies

for the body and mind

clare reflexology

• Reflexology • Facial Reflexology

• Indian Head Massage • Zone Face Lift

07751 013698 clare@clarerefl exology.co.uk

www.clarereflexology.co.uk

at Emile De-Londres, 35 Station Road, Beaconsfield, HP9 1QG

Mobile appointments are also available.

Grants Available

Beaconsfield Old Church School Charity

invites applications from local

community groups and charitable

organisations 'to advance education

and provide facilities for social welfare

for the people of Beaconsfield.'

Application forms and notes for

guidance from The Hon. Secretary,

Beaconsfield Old Church School Charity,

The Estate Office, Home Farm,

Hall Barn, Beaconsfield,

HP9 2SG

Tel: 01494 673020

hbe@hallbarnestate.co.uk

Submissions must be received no

later than Monday 31st October 2022

Aerial Photography

Custom Floorplans

Brochures

Exclusive Appointments

Professional Photography

360-degree virtual viewings
---
Counties Loft Ladders tradesmen, so our customers lead to more happy to pop round and

come in.

customers are assured happy customers is true give you a no obligation

of the best job.

and we work hard to quote BUSINESS so you NEWS too can

The company,

make that happen for make use of your loft!

based Home locally, offers Counties Integrity in that we Loft Ladders,

homeowners the will turn up at the time

Home Counties Loft

opportunity to maximise we say and make sure

their storage space Quality the house is spotless You Can Trust!

with

Ladders,

a loft ladder,

Quality when we leave, You and

These days most

watchwords are Quality, - that simply wouldn't every installation we

50sqft

homeowners

of boarding

suffer

and value in that we offer

from Integrity and Value. happen if we didn't carry out!'

a light Can

a lack - of all storage fully Trust! fitted space.

our

Quality

services

in the

at

materials

a price

adhere to our overriding

in So many precious items that we use for all our principles.

So, if you want to make

These

less than

days

a day

most

from people can afford.

homeowners suffer

just that £355! need But to be it's kept not installations and the fact

use of your loft space,

from a lack of storage space. So many

just – but the where affordability

Our business relies on

to store it that all our loft packages At the end of the day the call Jamie free on 0808

of all?

precious the That's package where

items that Home

that need referrals to be and kept we get a old adage that happy 301 9558 and he'll be

makes Counties – but Home where Loft Counties Ladders to store it huge

tradesmen, all? amount That's so where of our calls

our customers lead to more happy to pop round and

Loft come Home Ladders in. Counties stand

from

Loft Ladders customers

people

come are

who

assured

have

in.

happy customers is true give you a no obligation

out, as manager Jamie

been of the referred best job. to us by and leave, we and work value hard in to that we quote offer so our you services too can at a

The company, based locally, our offers existing homeowners customers

Oakley explains: 'Our

make price that people happen can afford. for Our make business use of your relies loft! on

based the opportunity locally, offers to maximise Integrity their storage in that space we referrals and we get a huge amount of our calls

homeowners with a loft ladder, the 50sqft of will boarding turn up and at the a light time - from people who have been referred to us by our

opportunity all fully fitted to in maximise less than a we day say from and just make £444! sure But existing customers - that simply wouldn't happen

their it's not storage just the space affordability the of the house package is spotless

Need more that if we didn't adhere to our overriding principles.

with makes a loft Home ladder, Counties Loft when Ladders we leave, stand and out, as

50sqft manager of boarding Jamie Oakley and explains: value in 'Our that watchwords

we offer At the end of the day the old adage that happy

are Quality, Integrity and Value. our services Quality at in a the price

storage in materials less than that a day we from use for all

people space?

customers lead to more happy customers is true

our installations

can afford.

and and we work hard to make that happen for every

just the fact £355! that But all it's our not loft packages

just the affordability

Our business are fitted relies by on time installation we carry out!'

served tradesmen, so our customers package that

referrals and are we assured get a

of INSTALL the best job. A LOFT LADDER

makes Home Counties

huge amount of our calls So, if you want to make use of your loft space,

Loft Ladders stand

from people who have call Jamie free on 0808 301 9558 and he'll be

Integrity in that we will turn

out, as manager Jamie

been up at referred the time to we us say by happy to pop round and give you a no obligation

and

AND

make sure

USE

the house is

YOUR

our spotless existing when customers we

LOFT!

quote so you too can make use of your loft!

Oakley explains: 'Our

STARTER PACKAGE: Aluminium loft

ladder, light plus 50 sqft boarding, fully

fitted in less than a day from £355

storage space?

• Loft Ladders • Hatches

• Boarding • Insulation

• Lights • Fully Guaranteed

CALL FREE: 0808 301 9558

: Aluminium loft

ladder, light plus 50 sqft boarding, fully

from £444

Loft Ladders Hatches

Boarding Insulation

Lights

CALL FREE: 0808 301 9558

To advertise please call 07786 735 711 or email marketing@beaconsfieldtogether.co.uk

7
---
EDUCATION NEWS

Beaconsfield Together

School Open Days 2022

Please contact the school direct before making plans to visit.

In most cases registration is essential.

Beaconsfield High School

Thursday 22nd September 4pm - 8pm

Wednesday 19th October 9am - 11.30am

Year 7 - 10

Online registration required.

t: 01494 673 043

e: enquiries@beaconsfieldhigh.bucks.sch.uk

w: www.beaconsfieldhigh.bucks.sch.uk/

Open-Events/

Berkhamsted Schools

Berkhamsted Sixth Form

Friday 16th Sept 4pm - 8pm

Boys (Year 7 -11)

Wednesday 21st Sept 2pm - 6pm

Girls (Year 7 -11)

Friday 23rd Sept 2pm - 6pm

w: www.berkhamsted.com/admissions

Davenies School

Monday 3rd October 9am

Years 7

Saturday 15 October 9am

Reception to Year 8

Registration required.

t: 01494 685 400

e: registrar@davenies.co.uk

w: www.davenies.co.uk

Gayhurst School, Gerrards Cross

Friday 30th September - 9.30am

Nursery to Year 6

Registration required.

t: 01753 882 690

e: enquiries@gayhurstschool.co.uk

w: www.gayhurstschool.co.uk/open_morning_

booking_2022

Maltmans Green School, Gerrards Cross

Friday 14 October - 9.20am

Age 2 to Year 6

Registration required.

t: 01753 883 022

e: registrar@maltmansgreen.com

w: www.maltmansgreen.com

St Mary's School, Gerrards Cross.

Saturday 8th October - morning

Nursery to Year 11

Registration required.

t: 01753 883 370

e: registrar@st-marys.bucks.sch.uk

w: www.stmarysschool.co.uk/open-days

The Beaconsfield School

Thursday 13th October 5.30pm - 8pm

Whole school

Visit website for information.

t: 01494 673 450

w: www.beaconsfield.school

Thorpe House School, Gerrards Cross.

Saturday 8th October 10am - 1pm

Tuesday 11th October 9am - 11am

Whole school

Registration required book online

www.thorpehouse.co.uk/open-mornings-registration

t: 01753 882 474

e: office@thorpehouse.co.uk

w: www.thorpehouse.co.uk

Please contact the school directly before

making plans to visit. In most cases

registration is essential. Beaconsfield

Together does not accept responsibility for

the accuracy of this listing which must be

confirmed directly with the school.

8 Beaconsfield Together is part of Community Together
---
To advertise please call 07786 735 711 or email marketing@beaconsfieldtogether.co.uk

9
---
COMMUNITY NEWS

The Beaconsfield School

Open Evening

Thursday 13th October 2022

5.30pm - 8pm

Meet the staff and find out about our

wonderful school

www.beaconsfield.school

10 Beaconsfield Together is part of Community Together
---
Beaconsfield

Chimney Sweep

Manual and Power Chimney Sweeping

Open Fires, Stoves and Gas Fires

Certificates Issued

Professional and Reliable

Pay by Card

Chimney Caps and Cowls

Call JOSH: 07549 422 465

Or Book Online Today:

www.TheLocalChimneySweep.co.uk

DESIGN AND MARKETING FOR

MAXIMUM IMPACT

LOGOS, ILLUSTRATIONS, ADVERTISEMENT,

BUSINESS STATIONERY, SOCIAL MEDIA

ADVERTS, WEBSITES, LEAFLETS, car livery,

clothing designs

To advertise please call 07786 735 711 or email marketing@beaconsfieldtogether.co.uk

11
---
LOCAL BUSINESS

Making oral hygiene

more sustainable

"Oral hygiene: the practice of keeping the

mouth clean and healthy by brushing and

flossing to prevent tooth decay and gum

disease." (healthofchildren.com)

This isn't only essential for our own personal health

but also for our wellbeing as who doesn't love that

minty fresh feeling. However, for so long now the

only solution for this basic need has been single use

plastic toothbrushes, toothbrush heads, toothpaste

and floss.

Plastic is indeed a practical solution for oral

hygiene. It's robust, waterproof, safe to humans

(in part) and cheaply available. What has however

been overlooked for too long is its impact on the

planet – its reliance on fossil fuels to manufacture

and the fact it is simply not designed to be disposed

of sustainably. It cannot biodegrade and ultimately

leaches chemicals into our soils and waters, and

worse into the atmosphere if incinerated.

The good news

is that raised

awareness of our

climate crisis and

ingenious human

endeavour, has

resulted in many

more sustainable

solutions for

maintaining

excellent oral

hygiene.

One of the smartest solutions has been to replace

plastic with another super strong and robust material,

that not only grows sustainably but is biodegradable

- the super plant, bamboo. The majority of high

street shops now sell bamboo toothbrushes and

bamboo interdental brushes. And for electric

toothbrush users, recyclable toothbrush heads and

bamboo alternatives are now available.

Another seismic change has been the introduction

of toothpaste tablets to replace toothpaste in tubes

as we know it. These little tablets do everything that

toothpaste does but use cleaner ingredients, pack

a more minty punch and are zero waste coming in

refillable glass jars. All you do is chew for 3-5 seconds

and brush as normal.

Where can you find your eco-friendly oral hygiene

essentials in one place?

Eco-Homemaker, an online shopping platform, is

on a mission to make your life easier when it comes

to eco-friendly shopping for your family. All of the

above solutions are available on their website and

are tried and tested by the local owners and their

young family.

12 Beaconsfield Together is part of Community Together
---
Kings Head House, 15 London End, Beaconsfield, HP9 2HN

www.conciergegroup.uk

To advertise please call 07786 735 711 or email marketing@beaconsfieldtogether.co.uk

13
---
EYE NEWS

Time to try

contact lenses?

Have you ever wondered about contact

lenses? During your Eye Test the Optician will

ask about your sports, hobbies and if anything

about your vision or eyes is bothering you.

This is the time to ask about contact lenses.

You do not need to commit to wearing them every

day; there is no big financial outlay - you can order as

few as 30 pairs of daily disposable lenses - ideal if you

only wear them for a weekly sporting hobby, or social

gathering.

Modern contact lenses are much more comfortable, so

any earlier experiences with them can be discounted.

There are coloured lenses to change eye colour,

photochromic lenses for light sensitivity, UV absorbing

lenses for outdoor sports, lenses to correct astigmatism.

New multifocal contact lenses mean you can see at all

distances, (especially good when you need to read

a menu in a restaurant!) Contact lenses can be very

convenient, you get all round vision for playing sports

with no risk of glasses being knocked off. Unlike

spectacles which need wiping in the rain, they don't

steam up by changes in temperature, This makes them

perfect for walking and gardening.

There is little or no maintenance. Daily disposable lenses

are worn once and thrown away. Weekly or monthly

disposable lenses have just one daily cleaning solution

and gas-permeable lenses a separate cleaner and

solution overnight. If you find glasses an inconvenience

(or are self-conscious wearing them) contact lenses can

give you the freedom you want.

Many opticians offer a free trial of contact lenses. Try

them without financial commitment to see how they feel

and work for you. If you wish to go ahead there is usually

an assessment fee and you will require ongoing aftercare

in the early stages of contact lens wearing. It is advisable

to have spectacles as well, in case you become tired or

unwell when contact lenses may not be as convenient.

Why not ask your optician about contact lenses today?

You could be up and running (in contact lenses!) in as

little as 45 minutes.

Helen Gilbert FBDO

Dispensing Optician

HARROLDS

opticians & audiologists

2 for 1

Kids & Teens

glasses

There is a contact lens for you...

From daily disposables to multifocals, full time or occasional wear.

Tried lenses before ? With new materials and advanced designs

there's now even more choice.

Ask for a FREE trial *

* A fitting fee applies with the first lens supply. Ask for details.

Make your digital world easier

... Ask about office lenses

The health of your eyes is as important as HARROLD your vision. OPTICIANS With renal photography as standard

Your vision...Our care

Eye tests are free for kids

* When you buy a frame for £18 or more. Excludes other offers. Assumes Free NHS eye test and NHS voucher subject to NHS guidelines. Ask for details.

and the opon of OCT , you can be assured you're doing the very best for your eyes. We have

office lenses to help with screens and tablets, lenses to protect from UV and lenses that

darken when you drive. Nicole and her team are ready to help and advise.

To book an appointment call 01494 672193

www.harroldopticians.co.uk 26 Gregories Rd Beaconsfield HP9 1HQ

14 Beaconsfield Together is part of Community Together
---
Find us at Beaconsfield Market

every Tuesday 8am until 2pm

We stock shrubs, perennials, spring bulbs,

seasonal baskets and bedding plants

Follow us on Facebook and Instagram

finest_plants

To advertise please call 07786 735 711 or email marketing@beaconsfieldtogether.co.uk

15
---
FINANCIAL NEWS

Revisiting your

Inheritance Tax

strategy

The latest data from HMRC revealed IHT

receipts for April 2021 to March 2022 were

£6.1bn, 14% (0.7bn) higher than in the same

period 12 months earlier.

Receipts have increased partly due to higher death

rates during the pandemic, as well as due to the rise in

property prices which has seen more families coming

into scope for IHT. With thresholds frozen at current

levels, the nil-rate band of up to £500,000 – IHT is

effectively a stealth tax.

Below are a few IHT top tips:

• Gifts – use your £3,000 annual allowance before the

end of each tax year, or you can make gifts of up to

£250 per person per tax year.

• Make a Will – and keep it up to date

• Leave money to charity – if you leave at least 10%

of your net estate to charity, the IHT rate reduces from

40% to 36%

• Take out life assurance – this won't reduce your

estate but instead provides a lump sum to your

beneficiaries to help pay the IHT bill. The policy

should be written in trust.

• Trusts – for example, putting money into a trust to

pay for a grandchild's education or to support a range

of potential beneficiaries.

• Pension nomination – minor tweaks to where to

direct the potential death benefits can prevent large

IHT issues on the estate of the second spouse on

death.

• Take advice – sensible IHT planning can help to

reduce the amount of you IHT your beneficiaries will

have to pay and safeguard your wealth.

Philip Harper, Financial Planner

phil@fmifa.com | 01494 817151

www.fmifa.com

fm

30

YEARS

Inheritance Tax

Planning

Protecting your

assets for the next

generation

Financial Management

Independent Financial Advice

Contact us: 01494 817151

advice@fmifa.com | www.fmifa.co.uk

Financial Management is a trading style of Philip Harper LLP which

is authorised and regulated by the Financial Conduct Authority

16 Beaconsfield Together is part of Community Together
---
To advertise please call 07786 735 711 or email marketing@beaconsfieldtogether.co.uk

17
---
COMMUNITY NEWS

Tech Buddies &

Tablets for those

in need

Who can benefit

This service is for people in need to

connect electronically and are at risk

of social isolation and loneliness in

Beaconsfield, due to their personal

circumstances. This service can be accessed

via referral only such as your GP or faith

group leader or via our buddy network

volunteers.

What We Do

We loan FOC computer tablets preloaded with

email, web access etc to help those who would

benefit by being 'better connected' to family

and friends, join online classes, & access support

services via email, web, video calls and more.

How we do it

Once referred, we contact the person by telephone

and then two of our Tech Buddies visit, install the

equipment (computer tablet, docking station/

battery charger), and briefly teach them how to use

it, providing guidance and a daily training plan to

suit their needs. After this, we provide remote

support and help as needed. We run drop-in

sessions at Beaconsfield library for them every 1st

Wednesday of the month for 1hr too.

From 11-12noon, we will give some guidance on

IT issues for other people to have a chat in a group

session.

We don't

Teach people how to use or fix their computer.

To find out more call 01494 919232 or visit

www.betterconnectedbeaconsfield.org.uk

Talking Cafe

Every Friday 9 -11am

At The Dove Cafe, Mayflower Way, Beaconsfield

A friendly chat and a

complimentary cuppa awaits all

those on their own who would

welcome some company

IN PARTNERSHIP WITH THE DOVE CAFE

18 Beaconsfield Together is part of Community Together
---
Experienced, Friendly

& Professional Internal

& External Decorators.

We have been

working in & around

Beaconsfield,

Gerrards Cross,

Amersham &

surrounding areas

since 1993.

Please call to discuss

your requirements.

Call Nigel:

01494 681 794 or 07771 521 263

www.ngilliedecoratingservices.co.uk

February 2020 Screenings

Saturdays, September & October

SEPTEMBER 10th

The Outfit (15)

UK 2022

SEPTEMBER 24th

Graduate Film

Festival

OCTOBER 8th

The Intouchables

(15) France 2011

French with subtitles

OCTOBER 22ND

The Rescue

(12A) UK/USA 2021

Doors open 7:15pm • Film starts 8pm

Go online to view the full programme and details onhow to become

a member. Guests are welcome.

beaconsfieldfilmsociety.com

To advertise please call 07786 735 711 or email marketing@beaconsfieldtogether.co.uk

19
---
What's been happening

at Beaconsfield Town

Council?

Typically August is a quiet

time in local councils, which

gives us a chance to catch

up on a few things in the

office. We have two new

members of staff, Tabish

Wazir and Helen Walters

whom we are pleased to

welcome to the team.

Even if there are not many

meetings taking place, we

are still busy and the Mayor

has attended many events

and recently had a very

interesting meeting with

Swish Fibre who are keen

to get involved in some

community projects in the

area... something to be

followed up with our new

Events Committee!

The council put forward

a strong objection to

the appealed Planning

Application to build

hundreds of new homes

in the green belt adjacent

to the town and are

working closely with the

Beaconsfield Society on

this.

Helen Walters

Tabish Wazir

The Town Council has

agreed to contribute

funding to sort out the

yellow lines and traffic

issues in Wattleton Road,

but it may still take some

while until this project

reaches completion.

Local residents will

be consulted by

Buckinghamshire Council.

On page 22 we have the

Neighbourhood Plan updates

and exhibition dates thank

you for all your help.

Community Bus

We would like to re-instate

the Beaconsfield Community

Bus and are looking for

volunteer minibus drivers

to support this service. This

is an important service to

help the elderly and those

isolated so they can get out

and mix in the community.

However, this service is run

by volunteer drivers, hence

we are co-ordinating the

pool of drivers to get this up

and running again.

Please see opposite advert

for all the criteria. Get in

touch if you are interested.

And finally, we have moved

the goalposts!

But in a good way... new

goalposts have been

installed at Wooburn Green

Lane Sports Field, where we

continue to work on pitch

improvement. We have also

installed new five-a-side

goalposts at Holtspur Park.

For more information: www.beaconsfieldtowncouncil.gov.uk

20 Beaconsfield Together is part of Community Together
---
To advertise please call 07786 735 711 or email marketing@beaconsfieldtogether.co.uk

21
---
Beaconsfield Town Council continued...

Neighbourhood plan update

We have had a huge response to our Questionnaire survey in late 2021 and public

exhibitions held in March in the 3 hearts of the town. Since then, we have analysed all the

feedback and suggestions and have prepared our Pre Submission Neighbourhood Plan.

This September - October we are now consulting on this draft plan and going back to the

public to seek your views and comments.

You can view the Pre Submission Neighbourhood Plan document and supporting

reports on our website or ask to view a printed copy at the Town Council Offices and at

Beaconsfield Library. We will also be holding public exhibitions again where you are all

invited to come along and chat to those involved and find out more.

Public Exhibition dates:

Thursday 22 September 4-7pm

Fitzwilliams Centre, Windsor End, Old Town

Friday 23 September 4-7pm

St Thomas' Hall, Mayflower Way, Holtspur

Saturday 24 September 11-3pm

Town Hall Chamber, Town Hall, Penn Road, New Town

For more information or to view the draft plans: www.beaconsfieldtowncouncil.gov.uk/

community/neighbourhood-plan/ or email np@beaconsfieldtowncouncil.gov.uk

Beaconsfield Town Council, Town Hall, Penn Road, Beaconsfield, HP9 2PP.

What is a Neighbourhood Plan?

A Neighbourhood Plan (NP) puts in place a planning policy for an area.

It is about the use and development of land and often contains a vision, aims and

planning policy. It will relate to the settlement area of the community (in our case

the Parish boundary) and as the Town's setting is flanked with green belt, green belt will

be outside the scope of our NP. If successfully adopted, the NP becomes part of the

statutory development framework for the area.

The NP should not be confused with a Local Plan, which will be produced at a higher

level and relates to a larger area.

22 Beaconsfield Together is part of Community Together
---
Looking for a light,

modern meeting space in

the heart of Beaconsfield?

ü

ü

ü

ü

St Michael's Meeting Rooms are the perfect location for workshops,

away days, training and interviews in Beaconsfield new town

A flexible, self contained workspace for up to 24 people

WIFI, projector, screen, kitchen, WCs and car park

Contact the Hall Manager by email for more information:

hall@stmichaelsbeaconsfield.org.uk

Introductory Offer! Only £75 per day

Or £45 for a half day

St Michael's Meeting Rooms, Grenfell Road,

Beaconsfield, HP9 2BP (01494) 676 931

To advertise please call 07786 735 711 or email marketing@beaconsfieldtogether.co.uk

23
---
COMMUNITY NEWS

Fly-tipping us

over the edge

We're not talking about knocking

winged insects off their axis… Flytipping

is illegal dumping of liquid or

solid waste. It's an expensive issue

that can cause serious pollution of

the environment, a risk to human

health and harms wildlife.

So why do people fly tip? Predominantly,

to avoid disposal costs. Non household

waste disposal is currently charged in

Buckinghamshire per 25 litre bag. The

charges are fairly small however some

people are going to great lengths to avoid

them. According to Defra (Department for

Environment, Food & Rural Affairs) during

the height of lockdown (2020/21), incidents

of fly-tipping on public land across England

'flew' to an all-time high with an increase

of 16%. At this time, around a third of

workers saw their household income fall. This

reduction in disposable income combined

with families stuck at home, saw a spike

in DIY renovation projects. However not

everyone decluttered their living spaces

using the appropriate methods, it seemed

although people were staying in, bulky

waste was finding its way out, often left at

roadsides around our beautiful countryside.

The cost of clearance to local authorities

in England in 2020/21 was £11.6 million.

Money which could have been spent on

recreational areas for the community. It is

time to tackle the abandoned trash head on.

cameras and automatic number-plate

recognition) to link vehicles to tipping in

real time.

However, fly-tipping is not only reserved

for mattresses, in fact just under (65%) of

dumping involves small everyday items.

So what can we do to help? 'One man's

rubbish may be another's treasure'. Offering

unwanted items on sites like Facebook's

marketplace is a great way to move on

unwanted goods. With disposable cups

and cigarette butts being two of the worst

culprits, the use of reusable bottles and

sensibly placed ash trays can go a long

way. Last but not least, education! Educating

people close about the importance of

recycling and using bins appropriately

can have a massive lasting impact on the

community.

CPRE are a national charity with a network

of local groups in every county. We have

almost a century of experience in

campaigning for the countryside.

To find out more about the work we are

doing, please visit www.cprebucks.org.uk

and for more tips on waste please visit:

https://www.recycleforbuckinghamshire.

co.uk/

Buckinghamshire council plans to remove

fees at recycling centres along with the use

of artificial intelligence (rapid deployment

24 Beaconsfield Together is part of Community Together
---
Forget fence worries for good.

Choose 25 years maintenance free metal fencing*. Choose ColourFence.

Unique ColourFence GUARANTEE

◆ Virtually, maintenance FREE for 25 years*

◆ Won't warp, crack, shrink, rot or peel

◆ Withstands gusts up to 130mph

25 YEAR guarantee

Why choose anything else?

◆ Metal fencing available in four colours

◆ Established in the UK for over 15 years

◆ Professional installation

Brown Cream Blue Green

"We chose ColourFence 15 years

ago and it looks as good as new. "

Mr & Mrs P. Stringer

For a free, no-obligation quote, find out more via:

01494 711 400

colourfencebucks.co.uk

*T&C's apply – see website for details

To advertise please call 07786 735 711 or email marketing@beaconsfieldtogether.co.uk

25
---
BUSINESS NEWS

A J Dunlop Car

Servicing Open Day

On July 9th 2022 A J Dunlop Car

Servicing Ltd held their 11th Charity

Open Day after two years of being unable

to run the event. The event was opened

by The Mayor of Beaconsfield, Councillor

Alastair Pike and it raised a magnificent

£1500 for Wycombe Mind.

As always there were some great cars on

display including; Jaguar E types, the Bright

Red Ronalt (based on a Jaguar), a couple of

Ferraris amongst others, and a collection

of Motor Bikes.

Alex Dunlop would like to thank his staff who

worked with such enthusiasm throughout the

day. The weather was glorious and the Pimms

flowed. Alex commented, "We all had a

great day, and we hope that those who came

enjoyed it too". He added, "A big thank

you to the local companies that generously

supported the event including; SMB Builders,

the main sponsor, CST Ltd , Nunn Hayward,

Red Kite Kitchens, TCS autos , Mark One

Motors, Tyzers Insurance and to all those

lovely people who gave generously to

help raise money for an essential charity.

Thank you again for all your support"

Alex Dunlop

WE WILL ALWAYS PUT YOU FIRST

LEIGHDUNCAN.CO.UK

Tel: 01494 578040

Email: enquiries@leighduncan.co.uk

26 Beaconsfield Together is part of Community Together
---
FINANCIAL NEWS

FINANCIAL NEWS

When can I

afford to retire?

You may have an idea about the type

of lifestyle you want, but knowing if

your expenditure will be sustainable is

not straightforward.

In terms of budgeting, inflation is a big factor

over 20 to 30 years, and it's easy to overlook

capital expenses like replacing cars or home

refurbishments.

The investment strategies in our pensions are

vital in determining the potential sustainability

of our income. Yet, these are often ignored by

many savers.

The order in which we draw from our assets

in retirement, and the use of available tax

allowances, can also play a significant factor

in our money's longevity, but these are not

simple matters.

Ben Walter, CEO at Walter & Partners,

comments, "Planning for retirement has never

been so important, with people living longer

and more active lives. We help our clients map

out their retirement budgets, recommend

appropriate investment strategies, and advise

on drawing from their assets in a tax-efficient

way. This ongoing process provides clarity,

direction, and peace of mind when planning

for, and living in retirement".

You can find out more about Walter & Partners

and get in touch at www.walter-partners.co.uk

22To advertise please call 07786 735 711 or email marketing@beaconsfieldtogether.co.uk

Amersham & Chalfonts Together is part of Community Together27
---
LEGAL ADVICE

Parental Alienation

As family lawyers we hear this term used increasingly

between parents but there is still no one agreed

'definition' of parental alienation, potentially resulting

in confusion and misuse of the term. CAFCASS, the

Children & Family Court Advisory & Support Service,

define it as the unjustified resistance or hostility from

a child towards one parent as a result of psychological

manipulation by the other parent.

This can be a worrying time for the non-resident parent as it

can often be gradual so as not to raise alarm bells. Specialist

legal advice should be sought at the earliest opportunity if you

believe your child is at risk of parental alienation. It is helpful to

keep a record of occasions where you think examples of this

behaviour have occurred, and to reflect on those occasions to

see if there is a pattern – is it becoming more frequent or more

severe? Information can then be used in any court application

which becomes necessary.

Parental alienation covers a spectrum of behaviours. These

may include badmouthing the other parent, limiting contact,

forbidding the child from speaking about the other parent, or

trying to manipulate the child into believing negative things

about the other parent, often causing untold damage to the

relationship with that parent and long-lasting emotional and

psychological impact on the child.

Parental alienation is best understood as a 'campaign' of

behaviour leading a child to become resistant to, or entirely

refuse, contact with the other parent. Initially there may be low

level barriers for the non-resident parent, e.g. not being kept

up to date regarding progress at school, not being involved

in medical appointments, or the child not making a contact

session because of a friend's party, and then progression into a

concerted campaign of denigration. The child is encouraged to

disparage the other parent, or agree with the resident

parent's negative statements about the non-resident parent, and

is often rewarded under the guise of 'sharing their feelings'.

RS_BEACS_AM_CHAL_CMYK_130X90_OUT_1.pdf 1 04/10/2021 11:44

If Court proceedings are necessary, your solicitor can make

an application on your behalf to obtain a Child Arrangements

Order, detailing the time the child is to spend with each

parent. An order will only be made if the Court considers it

is in the best interest of the child.

Given that the ultimate outcome can result in children not

seeing a parent, it is essential that everyone involved fully

understands the implications of making such an allegation and

how to respond as this can be instrumental in dealing with this

issue and restoring a more functional co-parenting relationship

between parties.

If you are affected by any of the issues raised in this article,

our team of solicitors at our Beaconsfield office are very

experienced in dealing with children matters and parental

alienation, and can provide you with support and expert

legal advice.

C

M

Y

CM

MY

CY

CMY

K

28 Beaconsfield Together is part of Community Together
---
HEALTH NEWS

Ark Mediation

Resolve your issues through Ark

Mediation.

Ark Mediation can resolve your financial, property

and/or parenting disputes in a cost-effective way.

We are fully accredited mediators working with

clients both face to face and online. At Ark

Mediation, we care about our clients and

genuinely want to help during difficult times.

In many cases, when applying to court for an

order regarding arrangements for children

or to reach a financial settlement, you are

required to show that you have attended a

MIAM (Mediation,Information and Assessment

Meeting) and therefore attempted mediation

as a process.

The current government voucher scheme offers

£500 worth of mediation time towards joint

mediation sessions for those who wish to resolve

parental arrangements outside of court. Pursuing

mediation is not only more cost effective for you

but it is looked upon more favourably by the

British court system. Most importantly it is the

preferred approach for a more balanced and

pragmatic outcome especially where children are

concerned.

At Ark Mediation, we are trained by NFM

(National Family Mediation) and affiliated to

the Family Mediation Council, the organisation

responsible for setting and maintaining standards

in the profession. We are recognised by the

FMC (Family Mediation Council) and meet the

ongoing continued professional development

requirements of that body.

Our methods place a strong emphasis on

outcomes that can be sustainable in the long

term for all parties concerned.

Romina Kamran | 0739 753 9055

Ark.Mediation

We specialise in mediation for individuals and

families going through difficult times

At Ark mediation we support you in reaching a fair and balanced

outcome with your dispute. We offer a safe space for all participants

to communicate in a healthy and effective way so a successful

agreement is sustainable for the future, not simply for a short

period following mediation.

• Mediation, Information & Assessment Meeting

• Certified C100 FORM/ FORM A for court

• Written parental agreement

• Memorandum of understanding agreement

• DBS certified

Contact: Romina Kamran

e: contact@arkmediation.co.uk

t: 07397 539 055

w: arkmediation.co.uk

Ask about

£500

Government

voucher scheme

towards

mediation

To advertise please call 07786 735 711 or email marketing@beaconsfieldtogether.co.uk

29
---
WHY THERMOGRAPHY IS THE 'W

FOR REDUCING HE

and improving the quality and efficiency of insulation methods as

part of the conservation of traditional, older and ancient buildings

by Robert Tiffin, Eco Tiffin Ltd

It might not seem entirely intuitive to consider the

use of modern technology when working with

traditional and ancient buildings. However, building

conservation should make use of all the knowledge,

skills and disciplines at its disposal and it would be

a big mistake to dismiss thermography, especially

now, with energy costs predicted to be capped at

£2,800 a year for the average home by October

2022.

Thermography is the use of thermal infrared

imaging to identify heat loss contributing building

defects such as dampness and its sources. It is

a non-destructive technique that is ideal when

working with older, complex buildings that have so

many elements to them. Indeed, it is impossible to

make a full and accurate assessment of their state

of repair without recourse thermography in the

hands of a seasoned building professional.

A condition survey incorporating an analysis of

all heat loss areas, building defects and drafts in

relation to the current or proposed use of any building

is a prerequisite for the correct identification and

specification of any insulation (retrofit) works needed,

well before their approval and commencement.

Identifying the exact type of structure and its fabric

enables us to determine its thermal envelope, how

good or bad it is at retaining the warm air that is so

expensive to heat, and therefore form a strategy on

how best to reduce it.

More than any other technology, the thermal

images shown here shows the interplay of moisture,

heat and ventilation continuously unfolding in any

building. It allows us to better understand/see what

is going on, explain it and make better informed

decisions when prioritising the allocation of everlimited

resources. Which means we should be

thinking of thermography as a sixth sense that we

are very lucky to have.

Because of the highly visual, immediate

nature of the thermal survey, it offers a relatively

inexpensive and non-invasive way of helping

clients and other stakeholders understand the

significance of heat loss and potential problems

Uninsulated light tube

Poorly installed cavity wall

insulation

Poorly fitted horizontal loft

insulation

Get in touch today to

book a consultation

and find out more

30 Beaconsfield Together is part of Community Together
---
EAPON OF CHOICE'

AT LOSS

that might otherwise be difficult to conceptualise.

Among many others, these can include:

Continuity and condition of insulation

Cold bridging

Structural defects

Hidden structures, services and past alterations

Air leakage/infiltration

Electrical, plumbing, heating, cooling and

ventilation systems

Damp and decay

Moisture and air circulation

Cleaning interventions

Plaster and finishes delamination

Blockages in flues and rainwater goods

Quality of workmanship and material

Having identified heat loss, bypass, drafts

and defects, thermography can then be used to

suggest solutions and highlight the advantages of

taking action, among them:

Demonstrating the improvements of a retrofit

programme

Substantiating insurance claims

Communicating objectives to the workforce on

the ground where language barriers might exist

and/or competence or understanding levels need

improving

Poorly fitted or missing insulation to

sloping soffits of bedroom ceiling

Taking into account the full range of factors and

parameters while recording thermal images and

using other auxiliary data is obviously crucial for

correct interpretation. This is why we at Eco Tiffin

have been investing in thermal imaging equipment

and infrared training for all our staff. This enhances

our extensive CPD training in retrofitting older

buildings and qualifying as retrofit coordinators

for more than two decades now. We are firm

believers in the 'fabric first' approach to building

conservation and have found thermal imaging to be

07768 005885 | 01442 819332

enquiries@ecotiffin.co.uk

www.ecotiffin.co.uk

How an invaluable tool to for corroborating reduce and sharing heat

our

understanding of buildings to determine the best

home How - 'the to fabric reduce fi

solution to reduce heat loss.

Indeed, for more than 320 years now we have

been working with buildings to understand how

We they all function, know evolve that we and are eventually being fail. asked While to the (the

do environment 'our bit' home changes in being and more specific - eco-friendly.

problems 'the arise, fab

new

we continue to take a holistic approach and can to id

How provide can a we 'one achieve We stop all shop' this know in for our the that homes? most we economically are A family hom

being aske

asked viable EcoTiffin solutions to in do any just building's that and after heat enlisting retention,

bui

their do 'our bit' in being more eco-frien

improvement help, they and commented, maintenance. "EcoTiffin saved us goo

37%

We

in

love

energy

to How share

bills whilst

can our we knowledge

increasing

achieve this and

our are

square

our always

footage by 35%, giving us a warm and welcoming homes? A fam

happy to answer asked any EcoTiffin technical to do questions just that and and how

Rob

home."

after enlis and

we can reduce their your help, heat they loss, commented, so please "EcoTiffin get in saved

Sur

Moisture touch if we in brickwork can 37% be in of energy any is the assistance. bills worst whilst possible increasing our squ

fam

ingredient to footage have in your by 35%, property giving and us a every warm and welco

home."

effic

effort should be made to prevent the ingress of

the

moisture. Moisture in the brickwork reduces the

Moisture in brickwork is the worst possible to s

bricks thermal capacity to retain heat and it has

a chilling effect ingredient like a fridge to have on your in your home. property Solid and ever pro

brick walls are effort by far should the worst. be made Remember; to prevent wet the ingres eye

walls are cold moisture. walls! Moisture in the brickwork reduces ena

bricks thermal capacity to retain heat and forw it

'The fabric first a chilling approach' effect is essential like a fridge when on your home. cos So

improving insulation brick walls to roofs, are by walls, far the floors worst. and Remember; heaw

windows which walls are are just cold some walls! of the ways of for

reducing heat-loss. The Cold use bridging of thermography

to opening reveals the

'The fabric creating first approach' excessive heat is essential loss when

improving insulation to roofs, walls, floors an

windows which are just some of the ways of

reducing heat-loss. The use of thermograph

Excessive heat loss to ground floor

and eaves details

Are you protecting your home?

To advertise please call 07786 735 711 or email marketing@beaconsfieldtogether.co.uk

• Climate change - how is my home coping?

31
---
Beaconsfield Library

September and October

Library Events

Weekly schedule

Storytime

Tuesday 10.30 – 11.00am

Talking Café

Tuesday 11.00 – 2.30pm

Knit and Natter

Wednesday 10.30 – 12.30pm

Scrabble - Adults

Wednesday 10.30 – 12.30pm

Scrabble - Adults

Wednesday 2.00pm – 4.00pm

LEGO for pre-school

Thursday 10.00 - 11.00am

IT Help – Bookable sessions

Thursday 2.30 - 4.00pm

Bounce and Rhyme

Friday 10.00 - 10.30am

Chess

Saturday 2.00 - 3.30pm

Monthly Activities

Beaconsfield Conservative Councillors surgery

10.30 – 12.30pm | 1st Saturday of the month

LEGO

2.00 – 3.00pm | 2nd Saturday of the month

Reading group for adults

10.30 -11.30am | 3rd Saturday of the month

Adult craft

10.00 – 12.00 Thursday 15th September

Special Events for September

Junior Craft – Boat cards

1.30 - 3.00pm Saturday 3rd September

Spanish for Babies & Toddlers under 2yrs

10.00 - 10.30am Wednesday 14th September

(For 3 weeks)

Spanish for Toddlers over 2 years

10.30 - 11.00am Wednesday 14th September

(For 3 weeks)

Please look out for more details on our

website, Facebook Page and in the library.

Lib-bea@buckinghamshire.gov.uk

www.buckinghamshire.gov.uk/libraries

@BucksLibraries

32 Beaconsfield Together is part of Community Together
---
EDUCATION NEWS

It's never too late

to learn

We've been out in the community

recently, meeting the lovely residents

of Buckinghamshire and we often hear

the phrase 'I'm too old to learn anything

now'.

Did you hear about 92-year-old Derek Skipper

who was the oldest person to sit his GCSE maths

exam this year? If he can do it, so can you!

There are so many benefits to lifelong learning

including; mental and physical wellbeing,

improved confidence and self-esteem, avoiding

isolation, gaining employment or better career

opportunities.

We're here to let you know that it's never too late

to learn. Our courses are available to anyone over

the age of 19 up to 100+. We offer something to

suit everyone including English and maths, digital

skills, distance learning, creative arts, languages,

home improvements and gardening and health

and fitness.

Our centres in Amersham, Chesham and

Beaconsfield are home to our part-time courses

in Chinese, French, German, Italian, Spanish,

Swedish, Lip-reading, Tai Chi, Pilates, Flamenco

Dancing, Drawing and Painting, Digital

Photography, Crochet, Jewellery Making,

Practical Gardening, Bridge, Sewing, Indian

Cooking, Upcycling and Upholstery.

Search for the full list of our courses and enrol at

www.adultlearningbc.ac.uk

New

Adult Learning

brochure out now

• Languages

• Creative Arts

• Health and Fitness

• Home Improvements and Gardening

• English, maths and digital skills

• Community Engagement

• Distance Learning

• Family Learning

• Apprenticeships

Enrol today for 22/23 courses.

01296 382403

www.adultlearningbc.ac.uk

To advertise CommunityTogether22 please call - 130mm 07786 x 90mm.indd 735 711 or 1 email marketing@beaconsfieldtogether.co.uk

15/08/2022 11:32:56

33
---
Beaconsfield Together

Brain Matter

MISSING LINKS

Each clue has a missing

word, making a phrase,

term, place or name

1 2 3 4 5 6

7 8

Across

7 ___ pitch

8 Heart ___ (4)

9 ___ powder (6)

10 ___ Spielberg (6)

11 ___ Johnson (5)

12 ___ Palin (7)

15 ___ Falls (7)

17 Silver ___ (5)

20 Victoria and ___ (6)

22 ___ coaster (6)

23 ___ Boleyn (4)

24 ___ growth (8)

KEY WORD

Keyword

Down

1 Jacket ___ (6)

2 ___ plaster (8)

3 ___ Campbell (5)

4 ___ band (7)

5 Relay ___ (4)

6 Cheddar ___ (6)

13 Family ___

14 ___-in-law

16 Rhode ___

18 ___ crunch

19 ___stick

21 ___-handed

9 10

11 12 13

14

15 16 17 18

19

20 21 22

23 24

On the face of it, this puzzle is perfectly straightforward. Simply fill in the letters missing

words 1-10 and enter them into the numbered boxes, to reveal a hidden keyword.

On the face of it, this

puzzle is perfectly

straightforward. Simply

fill in the letters missing

from words 1-10 and

enter them into the

numbered boxes, to

reveal a hidden keyword.

IN REFLECTION

Can you spot the

eight differences

between this

control panel

and its reflection

opposite?

1 2 3 4 5 6 7 8 9 10

1 C R __ S T

2 S T I __ K

3 S __ O R T

4 G __ A S S

5 S W E __ T

1 C R __ S T

2 S T I __ K

3 S __ O R T

4 G __ A S S

5 S W E __ T

6 C R __ N E

7 __ H O R N

8 G R E __ T

9 __ I G H T6 C R __ N E

10 G R A N __

7 __ H O R N

8 G R E __ T

9 __ I G H T

10 G R A N __

(answers on p36)

34 Beaconsfield Together is part of Community Together
---
Safe & gentle ear wax

removal at a clinic

near you

What is ear wax?

What is it, why do we have it in our ears and why does it sometimes cause hearing loss. Earwax, also known

as cerumen, is produced inside your ears to keep them clean and free of germs. It usually passes out of the

ears harmlessly, but sometimes too much can build up and block the ears.

It protects the skin of the human ear canal, assists in cleaning and lubrication, and also provides some

protection from bacteria, fungi, insects and water. In other words, ear wax is a good thing!

The amount of ear wax that the body produces differs from person to person, the amount that is retained

within the ear also differs for each of us - these differences are for a number of reasons; Age; Diet; Lifestyle;

Personal anatomy; Genetics; Ethnicity.

Many people will produce a small amount of wax their whole lives, which leaves the ear canal naturally, and

never have any problem with it. For others, their ear will produce a larger amount of wax, which will not

fully leave the ear canal and will become blocked, which leads to them having reduced hearing ability and also

a blocked feeling in the ear.

Are you experiencing any of the following?

• Pressure in the ears

• Blocked feeling in the ears

• Need to pop your ears but can't

• Sudden loss of hearing or muffles sound

• Hearing aids whistling

• Underperforming hearing aids

Call for more information on

Call: 07903 013 123 or 07535 603 744

Email: hearwego.beaconsfield@gmail.com

Web: www.hearwegohearingsolutions.co.uk

Consulting Suite, 19 London End Road, Beaconsfield, Buckinghamshire, HP9 2HN

Consulting Suite, The Studio, 37, Station Road, Beaconsfield, HP9 1QG

To advertise please call 07786 735 711 or email marketing@beaconsfieldtogether.co.uk

35
---
DAYS OUT

eyword

the face of it, this puzzle is perfectly straightforward. Simply fill in the letters missing from

rds 1-10 and enter them into the numbered boxes, to reveal a hidden keyword.

In Reflection

Autumn at Bekonscot

1 2 3 4 5 6 7 8 9 10

Model 1 2 Village 3 4 and

5 6

Railway

Can you spot the eight differences between this control panel and its reflection below?

a phrase, term, place or name

__ (6)

ster (8)

mpbell

7 8

9 10

Bekonscot Model 1 Village C R __ S and T Railway 6 will C R __ N E

d (7) remain open 7 days a week until Sunday 30th

__ (4)

2 S T I __ K 7 __ H O R N

11 12 13

October: then at weekends only until 10th /

r ___ (6)

3 14 S __ O R T 8 G R E __ T

11th December. Bekonscot will close for the

__

15 16 4 G __ A S S17 9 18 __ I G H T

law winter on 12th December, re-opening for the

19

__ 2023 season on 5 Saturday S W E __ 11th T February. 10 G R A N __

nch

20 21 22

k

ded

Bekonscot Illuminated – Every weekend

between

23

5th / 6th

24November and 10th /

11th December.

See the magic of Bekonscot lit up at dusk

Tickets must be purchased via the Chiltern

Society website www.chilternsociety.org.uk/

heritage-festival

Santa weekend - 10th and 11th December

Book your children to visit Santa's Grotto

at Bekonscot

Thursday 22nd

September -

Chiltern Heritage

Festival 6pm - 8pm

Exclusive after-hours

event to see the

village lit up. Includes

buffet and talks about

the history of the village and how our models

are made.

See Santa in his grotto

at Bekonscot and

receive a fabulous gift.

Tickets go on sale on

1st October via our

website.

For more details or to book tickets go to:

www.bekonscot.co.uk

PUZZLE

SOLUTIONS

MISSING Answer: LINKS

P S N E R C

F O O T B A L L A C H E

T I O A C E

T A L C U M S T E V E N

T K I T S

B O R I S M I C H A E L

N B C E

N I A G A R A B I R C H

S O B R R

A L B E R T R O L L E R

A V H O O D

A N N E E C O N O M I C

KEY WORD

Answer: Answer:

UNPLEASANT

IN REFLECTION

36

D N R M M T

Beaconsfield Together is part of Community Together

indd 2 07/08/2022 2:39:41
---
Beaconsfield School

celebrate 90 years!

The Beaconsfield School celebrated 90

years at the current Wattleton Road site

on 9th July 2022 with an event at the

school to celebrate our heritage and

display the achievements of the current

students with alumni, parents and

sponsors.

250 alumni and other members of the

community came to watch a performance

from our students and other local schools.

Suzanne Shaw (of Hearsay) hosted the event

to support her son who attends the school

and performed some of her songs for us.

Cordelia Wright in 1913

We also

had a huge

exhibition of

photographs

and

documents

from as

far back as

1854 as well as a 'History of the Beaconsfield

School' book which has been written by an

ex-teacher of the school. It was a great

opportunity for ex-students and teachers

to meet up with old friends and colleagues

and there were a few tears as people came

together for the first time in years.

We would like to profoundly thank our

sponsors Shanly Homes, Roland Callingham

Foundation, BOSCS and especially The

National Lottery for helping us to fund this

wonderful event.

To advertise please call 07786 735 711 or email marketing@beaconsfieldtogether.co.uk

37
---
Meditation on Twin Hearts

with

Healing Clinic

FOR BETTER PHYSICAL AND EMOTIONAL WELLBEING

Relax, Sit Comfortably and enjoy the this meditation to reduce stress,

increase happiness and leave you with a sense of inner calm.

Experience a Taster Pranic Therapy Treatment, one of the fastest growing

complementary therapies worldwide, effective for the treatment of any

physical or psychological conditions.

Wednesday

7:30 - 9pm

September 21 & 28, October 5, 19 & 26, November 2

The Curzon Centre

Maxwell Road, Beaconsfield

HP9 1 RG

£5 donation to

Reg: 1188773

Contact: Anita Baxter 07854 815525 anita@ukpranichealing.co.uk

www.ukpranichealing.co.uk

Institute of Pranic Healing

UK & Ireland
---
Local Specialists since 1984

Let us help you find your perfect kitchen, bedroom or home office.

www.ashfordkitchensandinteriors.co.uk

Farnham Common Showroom 1-2 The Parade, Farnham Common, Bucks SL2 3QJ 01753 642362

Ashford Showroom 85 Church Road, Ashford, Middlesex TW15 2PE 01784 245964

To advertise please call 07786 735 711 or email marketing@beaconsfieldtogether.co.uk

39