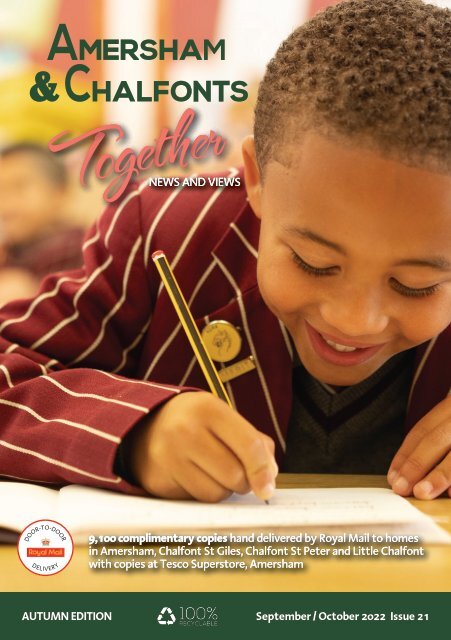 Amersham and Chalfont's Together September October 2022
#Community publication hand delivered to 9,000 homes and businesses via Royal Mail distribution in Amersham, Chalfont St Giles, Chalfont St Peter and Little Chalfont. News and views from non profit organisations, communities, charities, schools, with features on health, food, lifestyle, financial and much more. Please email us with latest news to: marketing@communitytogether.co.uk
#Community publication hand delivered to 9,000 homes and businesses via Royal Mail distribution in Amersham, Chalfont St Giles, Chalfont St Peter and Little Chalfont. News and views from non profit organisations, communities, charities, schools, with features on health, food, lifestyle, financial and much more. Please email us with latest news to: marketing@communitytogether.co.uk
SHOW MORE
SHOW LESS
You also want an ePaper? Increase the reach of your titles
YUMPU automatically turns print PDFs into web optimized ePapers that Google loves.
NEWS AND VIEWS

DOOR-TO-DOOR

DELIVERY

9,100 complimentary copies hand delivered by Royal Mail to homes

in Amersham, Chalfont St Giles, Chalfont St Peter and Little Chalfont

with copies at Tesco Superstore, Amersham

AUTUMN EDITION September / October 2022 Issue 21
---
· Up to 20x faster than traditional broadband*

· Unlimited devices

· Free installation & router

*Average UK broadband download speed is 50Mbps - Ofcom, 2021.
---
Only connectable homes apply.

*Average speed connected via cable not via WiFi

"I can gladly recommend Hey!Broadband to anyone

interested in a great service at a great price!"

Sign up

heybroadband.co.uk

Call free

0808 168 1616
---
Useful Numbers

Mental Help Helpline 24/7

t: 0800 783 0119 / 01865 904 997

National Domestic Abuse Helpline 24/7

t: 0808 2000 247

Chilterns Dial-a-ride for those with

mobility problems t: 01494 766 123

Alcoholics Anonymous

Call confidentially on: t: 0800 917 7650

Age UK's Befriending service matches older

people with volunteers who have similar interests.

t: 01296 431911 e: age@ageukbucks.org.uk

Be Amazing & Volunteer

Right at Home

Paid volunteer to support the elderly.

t: 01494 573 500

Connection Support

Require: Volunteer Befrienders or Family

Mentors. t: 01296 484 322

Meet the Team

Publisher, Editor & Sales

Therese Cooklin - 07786 735 711

Magazine Designer

Mathew Peet, Digital Bear Design - 01949 839 206

Content is accurate to the best of our knowledge, however Amersham &

Chalfonts Together part of Abstract Niche Ltd cannot be held liable for

loss or damage, caused by errors or omissions. Inclusion of advertisers

does not indicate our endorsement of their products or services.

The opinions and findings expressed in articles submitted to this

publication are solely those of the authors and should not be assumed

to be those of Amersham Together or its affiliates.

Thorpe House School. Join them for their open day on

Saturday 8th October. www.thorpehouse.co.uk

Hello & welcome!

I can't believe it's September already. Have you

had a good summer?The summer has whizzed

by and I've had to think long and hard about

the 'true purpose' of my life. I was asked to think

what skills I've learnt during my life. What am I

doing with those skills and what more I can do

to contribute helping people in need? It was

indeed food for thought and I am formalising

a plan to actually do more to help people in

need.

A lot of the time we think about what we can

do to make ourselves happy but true happiness

comes by finding peace within and to help

others. This can be a difficult journey for many,

but with the right help it can be done.

If you have time to volunteer, then help a

charity, or if you meet a stranger in the street

give them a smile or a kind word, help an elderly

neighbour. By giving, you are helping yourself

in more ways than you can imagine.

Therese

Next Copy Deadlines -

Nov / Dec 2022

Editorials: 5th Oct

Advertisers: 6th Oct

t: 07786 735 711

e: therese@amershamtogether.co.uk

w: www.amershamtogether.co.uk

Get your business noticed

for as little as £36

Royal Mail door-to-door delivery and

drop-off sites to over 17,000 homes in

Beaconsfield, Amersham & Chalfonts

e: sales@communitytogether.co.uk
---
To advertise please call 07786 735 711 or email marketing@amershamtogether.co.uk 5
---
Experienced, Friendly

& Professional Internal

& External Decorators.

We have been

working in & around

Beaconsfield,

Gerrards Cross,

Amersham &

surrounding areas

since 1993.

Please call to discuss

your requirements.

Call Nigel:

01494 681 794 or 07771 521 263

www.ngilliedecoratingservices.co.uk

RED KITE CRAFT MARKET

Saturday 10th September | 9am - 1pm

Saturday 8th October | 9am - 1pm

FREE ENTRY

www.facebook.com/redkitecraft

email : redkitemarket@gmail.com

Little Chalfont Village Hall, Little Chalfont,

HP8 4UD

Amersham & Chalfonts

Chimney Sweep

Manual and Power Chimney Sweeping

Open Fires, Stoves and Gas Fires

Certificates Issued

Professional and Reliable

Pay by Card

Chimney Caps and Cowls

Call JOSH: 07549 422 465

Or Book Online Today:

www.TheLocalChimneySweep.co.uk

Group Singing for Wellbeing, Health and Fun!

Come and join our fun choir

No singing experience needed

Chesham United Football Club, 3pm, Wednesdays

Email jane@singyourpainaway.co.uk or call 07788 227654

6 Amersham & Chalfonts Together is part of Community Together
---
Counties Loft Ladders tradesmen, so our customers lead to more happy to pop round and

come in.

customers are assured happy customers is true give you a no obligation

of the best job.

and we work hard to quote BUSINESS so you NEWS too can

The company,

make that happen for make use of your loft!

based Home locally, offers Counties Integrity in that we Loft Ladders,

homeowners the will turn up at the time

Home Counties Loft

opportunity to maximise we say and make sure

their storage space Quality the house is spotless You Can Trust!

with

Ladders,

a loft ladder,

Quality when we leave, You and

These days most

watchwords are Quality, - that simply wouldn't every installation we

50sqft

homeowners

of boarding

suffer

and value in that we offer

from Integrity and Value. happen if we didn't carry out!'

a light Can

a lack - of all storage fully Trust! fitted space.

our

Quality

services

in the

at

materials

a price

adhere to our overriding

in So many precious items that we use for all our principles.

So, if you want to make

These

less than

days

a day

most

from people can afford.

homeowners suffer

just that £355! need But to be it's kept not installations and the fact

use of your loft space,

from a lack of storage space. So many

just – but the where affordability

Our business relies on

to store it that all our loft packages At the end of the day the call Jamie free on 0808

of all?

precious the That's package where

items that Home

that need referrals to be and kept we get a old adage that happy 301 9558 and he'll be

makes Counties – but Home where Loft Counties Ladders to store it huge

tradesmen, all? amount That's so where of our calls

our customers lead to more happy to pop round and

Loft come Home Ladders in. Counties stand

from

Loft Ladders customers

people

come are

who

assured

have

in.

happy customers is true give you a no obligation

out, as manager Jamie

been of the referred best job. to us by and leave, we and work value hard in to that we quote offer so our you services too can at a

The company, based locally, our offers existing homeowners customers

Oakley explains: 'Our

make price that people happen can afford. for Our make business use of your relies loft! on

based the opportunity locally, offers to maximise Integrity their storage in that space we referrals and we get a huge amount of our calls

homeowners with a loft ladder, the 50sqft of will boarding turn up and at the a light time - from people who have been referred to us by our

opportunity all fully fitted to in maximise less than a we day say from and just make £444! sure But existing customers - that simply wouldn't happen

their it's not storage just the space affordability the of the house package is spotless

Need more that if we didn't adhere to our overriding principles.

with makes a loft Home ladder, Counties Loft when Ladders we leave, stand and out, as

50sqft manager of boarding Jamie Oakley and explains: value in 'Our that watchwords

we offer At the end of the day the old adage that happy

are Quality, Integrity and Value. our services Quality at in a the price

storage in materials less than that a day we from use for all

people space?

customers lead to more happy customers is true

our installations

can afford.

and and we work hard to make that happen for every

just the fact £355! that But all it's our not loft packages

just the affordability

Our business are fitted relies by on time installation we carry out!'

served tradesmen, so our customers package that

referrals and are we assured get a

of INSTALL the best job. A LOFT LADDER

makes Home Counties

huge amount of our calls So, if you want to make use of your loft space,

Loft Ladders stand

from people who have call Jamie free on 0808 301 9558 and he'll be

Integrity in that we will turn

out, as manager Jamie

been up at referred the time to we us say by happy to pop round and give you a no obligation

and

AND

make sure

USE

the house is

YOUR

our spotless existing when customers we

LOFT!

quote so you too can make use of your loft!

Oakley explains: 'Our

STARTER PACKAGE: Aluminium loft

ladder, light plus 50 sqft boarding, fully

fitted in less than a day from £355

storage space?

• Loft Ladders • Hatches

• Boarding • Insulation

• Lights • Fully Guaranteed

CALL FREE: 0808 301 9558

: Aluminium loft

ladder, light plus 50 sqft boarding, fully

from £444

Loft Ladders Hatches

Boarding Insulation

Lights

CALL FREE: 0808 301 9558

To advertise please call 07786 735 711 or email marketing@amershamtogether.co.uk 7
---
EDUCATION NEWS

Amersham & Chalfonts Together

School Open Days 2022

Please contact the school direct before making plans to visit.

In most cases registration is essential.

Amersham School

Thursday 6th October 5.30pm - 8pm

Years 7 - 11

Address by Headteacher 6.15pm - 7.30pm

Booking online essential

w: www.amershamschool.org.uk

Berkhamsted Schools

Berkhamsted Sixth Form

Friday 16th Sept 4pm - 8pm

Boys (Year 7 -11)

Wednesday 21st Sept 2pm - 6pm

Girls (Year 7 -11)

Friday 23rd Sept 2pm - 6pm

w: www.berkhamsted.com/admissions

Dr Challoners' Grammar School, Amersham

Thursday 22nd September 5pm - 8pm

Years 5 and 6

Registration not required

w: www.challoners.com

Chesham Grammar School

Tuesday 20th and Wednesday

21st September 6pm - 8pm

Year 7

Registration required.

t: 01494 782 854

e: office@cheshamgrammar.org

w: www.cheshamgrammar.org

Gayhurst School, Gerrards Cross

Friday 30th September - 9.30am

Nursery to Year 6

Registration required.

t: 01753 882 690

e: enquiries@gayhurstschool.co.uk

w: www.gayhurstschool.co.uk/open_

morning_booking_2022

Maltmans Green School, Gerrards Cross

Friday 14 October starts 9.20am

Age 2 to Year 6

Registration required.

t: 01753 883 022

e: registrar@maltmansgreen.com

w: www.maltmansgreen.com

St Mary's School, Gerrards Cross.

Saturday 8th October - morning

Nursery to Year 11

Registration required.

t: 01753 883 370

e: registrar@st-marys.bucks.sch.uk

w: www.stmarysschool.co.uk/open-days

The Beacon School

Saturday 1st October 9am and 10am

Whole school

Online registration required.

t: 01494 432 764

e: admissions@beaconschool.co.uk

w: www.beaconschool.co.uk/admissions/

open-mornings

Thorpe House School, Gerrards Cross.

Saturday 8th October 10am - 1pm

Tuesday 11th October 9am - 11am

Whole school

Registration required book online

www.thorpehouse.co.uk/

open-mornings-registration

t: 01753 882 474

e: office@thorpehouse.co.uk

w: www.thorpehouse.co.uk

Please contact the school directly before making

plans to visit. In most cases registration is essential.

Amersham & Chalfonts Together does not accept

responsibility for the accuracy of this listing which

must be confirmed directly with the school.

8 Amersham & Chalfonts Together is part of Community Together
---
To advertise please call 07786 735 711 or email marketing@amershamtogether.co.uk 9
---
Amersham School

Open Evening

Thursday 6 October 5.30pm - 8pm

Address by Headteacher 6.15pm & 7.30pm

By appointment only. Please book on the website

www.amershamschool.org.uk

Furniture going

for a song to help

charities

For the last 50 years volunteers have

been running a market every Saturday

morning behind St Joseph's Church

in Chalfont St Peter, selling donated

furniture: raising so far about a million

pounds giving money to the parish and

local charities, including recently £3000

to the Ukraine Disasters Emergency

Committee, Chalfont and Chalfont St

Giles Youth Centres, Bucks Vision, and

Slough Refugee Support.

Volunteer Peter Brown said, 'Our Facebook Page

goes from strength to strength and we now have

almost 2000 followers. It gives weekly updates of

what has been sold, to whom money has

been given and shows some highlights of the

forthcoming sale. Because of our good reputation,

our market is nearly always choc-a-bloc, and we

can only accept donated items if they are good

quality and we believe that somebody would pay

good money for it,'

The volunteers can deliver locally for a small

charge, and they collect free. Please arrive

before 12 noon on a Saturday if you wish to take

a look around, or to discuss possible donations of

furniture you may need to move on. All parking is

free in the St Joseph's Church car park.

10 Amersham & Chalfonts Together is part of Community Together
---
DOMESTIC & COMMERCIAL ELECTRICIANS

Family run business

Full and partial rewires

Safety electrical testing

Landlords reports (PRS)

Fuse board upgrades

Garden lighting

All electrical work undertaken

Adam: 077251 72878 Craig: 077305 75633

w: www.alconelectrical.co.uk

e: info@alconelectrical.co.uk

Find us on instagram: @alcon_electrical

Aerial Photography

Custom Floorplans

Brochures

Exclusive Appointments

Professional Photography

360-degree virtual viewings

To advertise please call 07786 735 711 or email marketing@amershamtogether.co.uk 11
---
LOCAL BUSINESS

Making oral hygiene

more sustainable

"Oral hygiene: the practice of keeping the

mouth clean and healthy by brushing and

flossing to prevent tooth decay and gum

disease." (healthofchildren.com)

This isn't only essential for our own personal health

but also for our wellbeing as who doesn't love that

minty fresh feeling. However, for so long now the

only solution for this basic need has been single use

plastic toothbrushes, toothbrush heads, toothpaste

and floss.

Plastic is indeed a practical solution for oral

hygiene. It's robust, waterproof, safe to humans

(in part) and cheaply available. What has however

been overlooked for too long is its impact on the

planet – its reliance on fossil fuels to manufacture

and the fact it is simply not designed to be disposed

of sustainably. It cannot biodegrade and ultimately

leaches chemicals into our soils and waters, and

worse into the atmosphere if incinerated.

The good news

is that raised

awareness of our

climate crisis and

ingenious human

endeavour, has

resulted in many

more sustainable

solutions for

maintaining

excellent oral

hygiene.

One of the smartest solutions has been to replace

plastic with another super strong and robust material,

that not only grows sustainably but is biodegradable

- the super plant, bamboo. The majority of high

street shops now sell bamboo toothbrushes and

bamboo interdental brushes. And for electric

toothbrush users, recyclable toothbrush heads and

bamboo alternatives are now available.

Another seismic change has been the introduction

of toothpaste tablets to replace toothpaste in tubes

as we know it. These little tablets do everything that

toothpaste does but use cleaner ingredients, pack

a more minty punch and are zero waste coming in

refillable glass jars. All you do is chew for 3-5 seconds

and brush as normal.

Where can you find your eco-friendly oral hygiene

essentials in one place?

Eco-Homemaker, an online shopping platform, is

on a mission to make your life easier when it comes

to eco-friendly shopping for your family. All of the

above solutions are available on their website and

are tried and tested by the local owners and their

young family.

12 Amersham & Chalfonts Together is part of Community Together
---
DESIGN AND MARKETING FOR

MAXIMUM IMPACT

LOGOS, ILLUSTRATIONS, ADVERTISEMENT,

BUSINESS STATIONERY, SOCIAL MEDIA

ADVERTS, WEBSITES, LEAFLETS, car livery,

clothing designs

Made to conquer

From £23,610 ex VAT

ssangyonggb.co.uk/musso

With Low Rate Finance 6.5% APR Representative*

CSG MOTOR COMPANY CHALFONT ST GILES 01494 873045

www.csgmotorcompany.com

7 year warranty with all new SSANGYOUNG models

Fuel consumption figures in mpg: Combined 36.7 - 40.4; CO2 emissions in g/km 158-175. 6.5% APR representative HP & PCP finance available for all Musso models, at participating dealers until

*

30th September 2022. Finance by SsangYong Financial Services a trading name of Northridge Finance, BT1 5LR. Finance subject to status, availability and terms and conditions. Applicants must be 18 or over. Offer only

applies in the UK (excludes Channel Islands & I.O.M). Offer may be amended or withdrawn at any time. SsangYong Motors UK Ltd is a credit broker not lender. Commission may be received. Model features is a Musso Saracen

at £31,585 ex VAT including optional metallic paint priced at £575 ex. VAT. Musso is registered as an LCV and VAT may be recoverable depending upon the circumstances of the business concerned. Prices are correct at the

time of going to print, but may be modified or changed at any time. Warranty covers 7 years or 150,000 miles.

16825 SsangYong Advert Half Page Finance Musso_AW.indd 1 10/06/2022 10:22

To advertise please call 07786 735 711 or email marketing@amershamtogether.co.uk 13
---
COMMUNITY NEWS

It's never too late

to learn

We've been out in the community

recently, meeting the lovely residents

of Buckinghamshire and we often hear

the phrase 'I'm too old to learn anything

now'.

Did you hear about 92-year-old Derek Skipper

who was the oldest person to sit his GCSE maths

exam this year? If he can do it, so can you!

There are so many benefits to lifelong learning

including; mental and physical wellbeing,

improved confidence and self-esteem, avoiding

isolation, gaining employment or better career

opportunities.

We're here to let you know that it's never too late

to learn. Our courses are available to anyone over

the age of 19 up to 100+. We offer something to

suit everyone including English and maths, digital

skills, distance learning, creative arts, languages,

home improvements and gardening and health

and fitness.

Our centres in Amersham, Chesham and

Beaconsfield are home to our part-time courses

in Chinese, French, German, Italian, Spanish,

Swedish, Lip-reading, Tai Chi, Pilates, Flamenco

Dancing, Drawing and Painting, Digital

Photography, Crochet, Jewellery Making,

Practical Gardening, Bridge, Sewing, Indian

Cooking, Upcycling and Upholstery.

Search for the full list of our courses and enrol at

www.adultlearningbc.ac.uk

New

Adult Learning

brochure out now

• Languages

• Creative Arts

• Health and Fitness

• Home Improvements and Gardening

• English, maths and digital skills

• Community Engagement

• Distance Learning

• Family Learning

• Apprenticeships

Enrol today for 22/23 courses.

01296 382403

www.adultlearningbc.ac.uk

14 CommunityTogether22 - 130mm x 90mm.indd 1 Amersham & Chalfonts Together is part of Community 15/08/2022 11:32:56 Together
---
Russell James

Our salon sits within the gorgeous village

of Chalfont St Giles.

Combined, the team has over 50 years

experience in the hair industry.

We strive to ensure your time with us is faultless,

and our passion for creating colour and style is

further enhanced by our number one value;

creating healthy hair.

Take home

Olaplex

product

£25.99

Wash

Cut

from

Derry

Salon Director

&

Finish

£38

£1 will be included to support

fund the recycling

of waste from your service.

Discover more >

www.RussellJamesSalon.com

01494 870445 Chalfont St Giles

To advertise please call 07786 735 711 or email marketing@amershamtogether.co.uk 15
---
ISSUE 10

THE YOUNG

Generation X meets

Generation Z

A conversation with Mai Sim and Justin Merry

by Justina Merry

The UK lockdowns and restrictions during March

2020 cannot deny the affects of COVID-19 on

the world. This article compares the drastic

differences or similarities of those born in the

1950s-60s compared to people born in the late

90s/ early 2000s to 2010s. Both generations

watched the world evolve with new changes

(beneficial and detrimental): How was your

personal employment experience growing up?

Gen X Mai Sim recalls…

"I came to the UK from Hong Kong back in 1976

just before my 11th birthday, as a babysitter. I

was always hungry so money was less important

than food! At 12 years old I was the only

'employee' at my dad's restaurant who spoke

both Chinese and English I helped the business,

and my dad paid me! I was able to save money

and pay for driving lessons (gaining my license

at 17) and not going to social events. My shifts

were usually 5.30pm (after school) and finishing

around 11 or 12pm after cleaning (with free

meals on my break): I had to wait for staff to

finish to drive me home before I could

drive. Compared to now, youngsters starting

off with work were paid poorly. If your parents

couldn't afford your schooling, you could leave

school at 12 and begin work. Working was

normal, and I preferred work as staying at home

was boring - and I got food (my favourite bit!)."

Acknowledging the influence of the Black

Lives Matter protests that took place in June

2020, what were the attitudes to race when

you were growing up?

Mai Sim says…

"When I first came to the UK, there was no

racism in Amersham that I recall. The teachers at

Woodside School, provided support and found

another Chinese girl to converse with. I spent

a lot of time doing maths and improved my

English by reading classic books in the school

library. I strove to improve my English as I was

the family interpreter. Strangely, racism was more

noticeable as I got older. The customers would

react to my appearance and by then I had a

degree! There are still moments where there is

subtle racism, but the majority of people are fair."

Many students within the past few years

missed out on a large chunk of their school/

university life. How was your school life

different and what jobs were the most popular

for young people to aspire to in your time?

Justin responds…

"I was lucky to attend a 'posh' private school,

and all of the lessons were 'physical' - you had

to write information off of the board. The only

'technology' we had were overhead projectors

where diagrams or graphs were reflected in light

that shone diagrams on a piece of plastic on the

board. Corporal punishment was still a big part

of school, and you would get detentions when

work wasn't completed correctly. Jobs were

more gender-based - more practical work like

engineering for boys, and office-based secretary

jobs for girls. We had much narrower bands of

ideas for possible careers. You could not stay at

home, or be a graphic designer. Many people

with dyscalculia, dyslexia, autism or any mental

health issues weren't recognised and those who

couldn't achieve the grades needed were just

abandoned."

For the full editorial please go to:

www.amershamtogether.co.uk/justinamerry

16 Amersham & Chalfonts Giving Together our is future part of the Community freedom of Together speech
---
JOURNALIST

Back to Earth School

We are constantly learning about the

world and its complexities. The younger

generation at school have the opportunity

to expand their knowledge. This year I

shall educate myself on what matters most:

our planet. The climate crisis is increasingly

self-evident from the extreme weather, to

loss of biodiversity. We are all taking small

steps towards a healthier planet, the most

important thing is to learn about Earth's

emergency.

Climate misinformation spreads like wildfire.

99.9% of scientists (says the Guardian)

agree that humans have caused the climate

emergency, Sceptics still circulate excuses

such as 'A changing climate is normal -

it's happened before in history'. Even

the historic changes in climate led to

environmental distress and mass extinctions.

Alarmism is caused by the exaggeration of

climate facts, presenting the situation as

'apocalyptic' hinders progress in finding

solutions and creates mental health issues.

Climate anxiety can be caused by feeling

helpless in the face of immense issues. Being

able to recognise climate fact from fiction and

being better informed, can result in feeling

hopeful again.

Learning about the planet's changing

systems from the IPCC website or any other

reliable scientific source can reduce the stress

associated with reading climate news. I receive

an online newsletter from The Guardian called

'Down to Earth' to which you can subscribe

for insightful research on climate issues and

strategies.

Researching anything to do with the planet

is a good place to start. Are you interested

in volcanic eruptions, weather cycles or

the animal kingdom? I read recently an

hilarious book called 'The Unexpected Truth

About Animals' by Lucy Cooke. This opened

my eyes to the plethora of adaptations that

different forms of life have gained through

evolution. By appreciating the wonders of

nature, climate consciousness in our lifestyles

can be increased. Another book I recommend

is 'Save Pounds and the Planet' by Jeannette

Buckle - a practical and well-organised guide

to environmentally friendly living.

The BBC series called Earthshot is where

the most innovative climate solutions are

supported. Whether you choose to learn

about the latest climate technology or the

importance of rainforests, all knowledge

gained is valuable as we improve our

climate together.

Taking action is the next step. Whatsapp and

the UN provide a chat service that informs you

on the small everyday changes that everyone

can make to preserve the planet. Click on this

link: https://www.un.org/en/climatechange/

messaging-service-whatsapp to learn more.

1 https://www.theguardian.com/environment/2021/oct/19/caseclosed-999-of-scientists-agree-climate-emergency-caused-by-humans

Sanchi is a student in Little Chalfont.

The three things she loves most are

nature, people and writing. Uniting

these, she aims to create a brighter,

greener world!

Sanchi

To advertise please call 07786 735 711 or email marketing@amershamtogether.co.uk 17
---
COMMUNITY NEWS

Scottish Country

Dancing begins!

Scottish Country Dancing is a pastime

widely enjoyed outside Scotland. The local

Gerrards Cross and Chalfonts Club offers

an opportunity to learn the necessary

skills on Tuesday evenings and Thursday

afternoons with the next term beginning

on 6th September.

It is an enjoyable way to keep fit without really

trying and provides excellent aerobic exercise,

promoting suppleness, core balance and weight

control.

It also supports mental health by stimulating

endorphins and the cheerful music is bound to

put a smile on your face.

Dancers help each other in classes and there is no

awkwardness in attending by yourself. Everyone is

equally welcome and no special kit is needed, not

even a kilt!

Just turn up with soft, flat, non-slip shoes. The

first session is free and instruction is provided for

beginners. The same rules apply globally so you

will be very welcome as a visitor at other clubs

when travelling.

What Scottish Country Dancing means to our

members

• The treat of the week

• Get fit and have fun

• Uplifting music

• A real moral booster

• Puts a smile on your face

Dancing takes place at:

Gerrards Cross on: Tuesday evenings 7:30pm - 10pm

Colston Hall, Memorial Centre, Gerrards Cross, SL9 7AD.

Little Chalfont on: Thursday afternoons 2:15pm - 4:15pm

Methodist Church Hall, Chalfont Avenue, Little Chalfont HP6 6RD.

Car parking is available at both locations and further details

are available on the About page on website

18 Amersham & Chalfonts Together is part of Community Together
---
Forget fence worries for good.

Choose 25 years maintenance free metal fencing*. Choose ColourFence.

Unique ColourFence GUARANTEE

◆ Virtually, maintenance FREE for 25 years*

◆ Won't warp, crack, shrink, rot or peel

◆ Withstands gusts up to 130mph

Why choose anything else?

◆ Metal fencing available in four colours

◆ Established in the UK for over 15 years

◆ Professional installation

25 YEAR guarantee

Brown Cream Blue Green

"We chose ColourFence 15 years

ago and it looks as good as new. "

Mr & Mrs P. Stringer

For a free, no-obligation quote, find out more via:

01494 711 400

colourfencebucks.co.uk

*T&C's apply – see website for details

To advertise please call 07786 735 711 or email marketing@amershamtogether.co.uk 19
---
COMMUNITY NEWS

Scouts support

Beaver Scouts and Cub Scouts across

Bucks have been raising money for

the Thames Valley Air Ambulance.

The children earned a challenge badge

for participating in four activities:

flight, fundraising, medical and accidentprevention.

Children learnt how to prevent accidents, what

to do in an emergency, about the Air Ambulance

Service and how to raise money! They came up

with intuitive ideas - making paper aeroplanes,

learning the phonetic alphabet, and designing

posters. Fundraising has included a sponsored

walk finishing at a chip shop(!), a jam jar challenge,

a sponsored obstacle course, Christmas post

(sic) - and doing odd jobs in the community.

Lead volunteer for Beaver Scouts in

Buckinghamshire Tessa Ingram, said, "The

challenge badge has been beneficial for both

Scouts and the Air Ambulance.

The children have loved finding out about the air

ambulance and have learnt new skills. They've

also done lots of fund-raising". It's been a win-win

for all of us." Cub and Beaver Scouts Sophia and

Charlotte were asked what they liked about the

scouts. They listed badges, being outside, games,

learning new skills, orienteering, teamwork and

walks as their favourite activities.

Adult volunteer, Sue Sell said, "You get incredible

enjoyment as a volunteer. Seeing children

achieving goals, trying something for the first

time and trying again if they don't get it at once.

I often come across former scouts who are now

doing well at school, at university or in work and I

often reflect how I helped them when they were in

Beavers - and how they have developed!".

For more information about: Scouts visit

www.scouts.org.uk/join and the

Thames Valley Air Ambulance visit:

www.tvairambulance.org.uk

Lionesses on the Lionesses

As the sound of "Footballs Coming

Home" rings around every part of the

country and women's football is taken

to new heights some of the Amersham

Kings Church Lionesses give their

thoughts on the History making

England Lionesses.

Talitha Letton said, "Watching the Lionesses in this

tournament has been so exciting! They played

with pride in their country, it was fun to watch and

inspired me to keep playing football, and tell all

my friends to play with me - because girls can do

anything!"

Amelia Graham noted, "They worked so well

together as a team, a real inspiration, I want to be

like them"

Quinn Freegard

commented, "I

loved watching the

Lionesses play during

the tournament and

thought they were

really brave."

In conversation with the founder of the Bucks Girls

league, Lisa Welling enthused: "After Sunday's

incredible Euro win, we are keen to encourage

more mixed Clubs to create girl's teams who can

take part in our monthly festivals or join the Bucks

girls league which strives to provide enjoyable

safe competition for girls across Bucks".

Interested in joining a girls'; team in

Amersham? Contact Kings Church

Amersham https://www.kcafc.co.uk/ or

for any teams looking for more information

email p.thorne84@gmail.com

20 Amersham & Chalfonts Together is part of Community Together
---
Standing strong:

Chalfont St Peter Tennis Club

members come together to support

local Ukrainian refugees.

On Thursday 28th July, CSPTC hosted a

charity event and raised just under £1600 which

is being donated to the local Ukrainian hub to

help those now living in the area. CSPTC would

like to thank those that made the evening such

a success.

Firstly, the 70+ members who attended

and gave generously through the raffle, a

competitive auction, the buying of food & drink

and contributing additional donations whilst

also squeezing in a bit of social tennis.

Secondly, CSPTC would like to express

gratitude to the long list of businesses who

donated warmheartedly towards the raffle and

the auction. These include Richard Robert's

hairdressers, Vila Nails, Jolly Farmer, Stuart &

Glen, The Fit House, FancyFit, Dr Grace Kelly

Skin Clinic, House of Cards, The Barber Shop,

Ruiz Barbers, Crumbs, Master Grooming Room,

Vinny & Ted, Party Shop, Trunk, B2 Chalfont

Clinic, Oakland Park Golf Club, Fruits & Roots,

Crown Coffee, Everyman, Luna Rosa and At

Home Pizza.

Finally, the club want to applaud all the

volunteers who benevolently either baked,

cooked, served the bar or cleared up after the

evening had finished. A special mention has

to be made to Annie Viljoen, CSPTC's social

secretary, who coordinated the entire event

impeccably.

For more details on the club visit:

www.chalfontstpetertennisclub.co.uk

To advertise please call 07786 735 711 or email marketing@amershamtogether.co.uk 21
---
COMMUNITY NEWS

Befriend

Buckinghamshire's

Bees

One of the many reasons we love the

countryside at CPRE is the wonderful

reappearance of bees and butterflies in

spring, alongside the early flowers.

The overhead buzz of early-rising

bumblebees and sun-loving honey bees in

the blossom of a tree is something magical.

Six years ago I

decided to do

something to

support this

and acquired

my first colony

of honey bees.

Though small

in scale – I have

never had more

than three hives

in my garden -

it is a source of

pleasure to see

the bees out on

a warm day,

returning over the hedgerow from nearby

fields and gardens. I know they will have

helped pollinate many plants on their trips

to collect nectar (their carbohydrates) and

pollen (their protein).

Beekeeping can be a small or large hobby

as you choose to make it, and if you don't

like honey it can be given away to friends

or simply left for the bees – they will all be

grateful! The costs are very manageable,

especially if you are handy with a saw to

build or repair parts for the hive. The

British Beekeepers Association (BBKA) has a

network of hugely supportive local branches

across Buckinghamshire – do contact them

if you would like either to manage bees

yourself or help them in their branch apiaries.

If beekeeping is not for you, bumblebee

spotting is a great "I-Spy" hobby! There are

over twenty different species of them in the

UK, though only seven are widespread. The

BBOWT have a helpful spotter's guide to

help identify the likely bumblebees visiting

your garden: https://www.bbowt.org.uk/sites/

default/files/2018-09/Bumblebee%20spotting%20sheet.pdf.

But identifying a moving

bee as it rambles around your flower-bed

is not always easy! Bumblebee queens

hibernate over the winter and many are

solitary, though even the nests they develop

are rarely more than a few hundred in

number. If you have bumblebees nesting in

your garden, do leave them there if you can –

they are not territorial or aggressive. They

generally leave at the end of the summer

once they have "done their bit" and set the

next generation on their way.

Bumblebees and honey bees already benefit

from the help that CPRE members provide

by supporting our wildflower and hedgerow

campaigns, and from our ongoing

commitment to ensure Bucks Council's

planning priorities are for brownfield and not

Greenfield sites. Visit our website at https://

www.cprebucks.org.uk/ for more details!

22 Amersham & Chalfonts Together is part of Community Together
---
j M garden retreats ltd

~ Bespoke Garden Rooms ~

A Space to Work,

or a Place to Unwind...

Home Office, Summer House, Art Studio,

Gymnasium, Music Room, Gaming Den...

The Choice is Yours!

Whatever you require extra space for, we can

help design and build a garden room tailored

to your needs. Functional as well as beautiful,

your new retreat will be fully insulated,

double glazed and fitted with energy efficient

heating and lighting to ensure its suitability

for use all year round.

www.jmgardenretreats.co.uk

Email: enquiries@jmgardenretreats.co.uk

To advertise please call 07786 735 711 or email marketing@amershamtogether.co.uk 23
---
HEALTH NEWS

Ark Mediation

Resolve your issues through Ark

Mediation.

Ark Mediation can resolve your financial, property

and/or parenting disputes in a cost-effective way.

We are fully accredited mediators working with

clients both face to face and online. At Ark

Mediation, we care about our clients and

genuinely want to help during difficult times.

In many cases, when applying to court for an

order regarding arrangements for children

or to reach a financial settlement, you are

required to show that you have attended a

MIAM (Mediation,Information and Assessment

Meeting) and therefore attempted mediation

as a process.

The current government voucher scheme offers

£500 worth of mediation time towards joint

mediation sessions for those who wish to resolve

parental arrangements outside of court. Pursuing

mediation is not only more cost effective for you

but it is looked upon more favourably by the

British court system. Most importantly it is the

preferred approach for a more balanced and

pragmatic outcome especially where children are

concerned.

At Ark Mediation, we are trained by NFM

(National Family Mediation) and affiliated to

the Family Mediation Council, the organisation

responsible for setting and maintaining standards

in the profession. We are recognised by the

FMC (Family Mediation Council) and meet the

ongoing continued professional development

requirements of that body.

Our methods place a strong emphasis on

outcomes that can be sustainable in the long

term for all parties concerned.

Romina Kamran | 0739 753 9055

Ark.Mediation

We specialise in mediation for individuals and

families going through difficult times

At Ark mediation we support you in reaching a fair and balanced

outcome with your dispute. We offer a safe space for all participants

to communicate in a healthy and effective way so a successful

agreement is sustainable for the future, not simply for a short

period following mediation.

• Mediation, Information & Assessment Meeting

• Certified C100 FORM/ FORM A for court

• Written parental agreement

• Memorandum of understanding agreement

• DBS certified

Contact: Romina Kamran

e: contact@arkmediation.co.uk

t: 07397 539 055

w: arkmediation.co.uk

Ask about

£500

Government

voucher scheme

towards

mediation

24 Amersham & Chalfonts Together is part of Community Together
---
LEGAL ADVICE

Parental Alienation

As family lawyers we hear this term used increasingly

between parents but there is still no one agreed

'definition' of parental alienation, potentially resulting

in confusion and misuse of the term. CAFCASS, the

Children & Family Court Advisory & Support Service,

define it as the unjustified resistance or hostility from

a child towards one parent as a result of psychological

manipulation by the other parent.

This can be a worrying time for the non-resident parent as it

can often be gradual so as not to raise alarm bells. Specialist

legal advice should be sought at the earliest opportunity if you

believe your child is at risk of parental alienation. It is helpful to

keep a record of occasions where you think examples of this

behaviour have occurred, and to reflect on those occasions to

see if there is a pattern – is it becoming more frequent or more

severe? Information can then be used in any court application

which becomes necessary.

Parental alienation covers a spectrum of behaviours. These

may include badmouthing the other parent, limiting contact,

forbidding the child from speaking about the other parent, or

trying to manipulate the child into believing negative things

about the other parent, often causing untold damage to the

relationship with that parent and long-lasting emotional and

psychological impact on the child.

Parental alienation is best understood as a 'campaign' of

behaviour leading a child to become resistant to, or entirely

refuse, contact with the other parent. Initially there may be low

level barriers for the non-resident parent, e.g. not being kept

up to date regarding progress at school, not being involved

in medical appointments, or the child not making a contact

session because of a friend's party, and then progression into a

concerted campaign of denigration. The child is encouraged to

disparage the other parent, or agree with the resident

parent's negative statements about the non-resident parent, and

RS_BEACS_AM_CHAL_CMYK_130X90_OUT_1.pdf

is often rewarded under the guise of 'sharing their feelings'.

1 legal 04/10/2021 advice. 11:44

If Court proceedings are necessary, your solicitor can make

an application on your behalf to obtain a Child Arrangements

Order, detailing the time the child is to spend with each

parent. An order will only be made if the Court considers it

is in the best interest of the child.

Given that the ultimate outcome can result in children not

seeing a parent, it is essential that everyone involved fully

understands the implications of making such an allegation and

how to respond as this can be instrumental in dealing with this

issue and restoring a more functional co-parenting relationship

between parties.

If you are affected by any of the issues raised in this article,

our team of solicitors at our Beaconsfield office are very

experienced in dealing with children matters and parental

alienation, and can provide you with support and expert

C

M

Y

CM

MY

CY

CMY

K

To advertise please call 07786 735 711 or email marketing@amershamtogether.co.uk 25
---
WHY THERMOGRAPHY IS THE 'W

FOR REDUCING HE

and improving the quality and efficiency of insulation methods as

part of the conservation of traditional, older and ancient buildings

by Robert Tiffin, Eco Tiffin Ltd

It might not seem entirely intuitive to consider the

use of modern technology when working with

traditional and ancient buildings. However, building

conservation should make use of all the knowledge,

skills and disciplines at its disposal and it would be

a big mistake to dismiss thermography, especially

now, with energy costs predicted to be capped at

£2,800 a year for the average home by October

2022.

Thermography is the use of thermal infrared

imaging to identify heat loss contributing building

defects such as dampness and its sources. It is

a non-destructive technique that is ideal when

working with older, complex buildings that have so

many elements to them. Indeed, it is impossible to

make a full and accurate assessment of their state

of repair without recourse thermography in the

hands of a seasoned building professional.

A condition survey incorporating an analysis of

all heat loss areas, building defects and drafts in

relation to the current or proposed use of any building

is a prerequisite for the correct identification and

specification of any insulation (retrofit) works needed,

well before their approval and commencement.

Identifying the exact type of structure and its fabric

enables us to determine its thermal envelope, how

good or bad it is at retaining the warm air that is so

expensive to heat, and therefore form a strategy on

how best to reduce it.

More than any other technology, the thermal

images shown here shows the interplay of moisture,

heat and ventilation continuously unfolding in any

building. It allows us to better understand/see what

is going on, explain it and make better informed

decisions when prioritising the allocation of everlimited

resources. Which means we should be

thinking of thermography as a sixth sense that we

are very lucky to have.

Because of the highly visual, immediate

nature of the thermal survey, it offers a relatively

inexpensive and non-invasive way of helping

clients and other stakeholders understand the

significance of heat loss and potential problems

Uninsulated light tube

Poorly installed cavity wall

insulation

Poorly fitted horizontal loft

insulation

Get in touch today to

book a consultation

and find out more

26 Amersham & Chalfonts Together is part of Community Together
---
EAPON OF CHOICE'

AT LOSS

that might otherwise be difficult to conceptualise.

Among many others, these can include:

Continuity and condition of insulation

Cold bridging

Structural defects

Hidden structures, services and past alterations

Air leakage/infiltration

Electrical, plumbing, heating, cooling and

ventilation systems

Damp and decay

Moisture and air circulation

Cleaning interventions

Plaster and finishes delamination

Blockages in flues and rainwater goods

Quality of workmanship and material

Having identified heat loss, bypass, drafts

and defects, thermography can then be used to

suggest solutions and highlight the advantages of

taking action, among them:

Demonstrating the improvements of a retrofit

programme

Substantiating insurance claims

Communicating objectives to the workforce on

the ground where language barriers might exist

and/or competence or understanding levels need

improving

Poorly fitted or missing insulation to

sloping soffits of bedroom ceiling

Taking into account the full range of factors and

parameters while recording thermal images and

using other auxiliary data is obviously crucial for

correct interpretation. This is why we at Eco Tiffin

have been investing in thermal imaging equipment

and infrared training for all our staff. This enhances

our extensive CPD training in retrofitting older

buildings and qualifying as retrofit coordinators

for more than two decades now. We are firm

believers in the 'fabric first' approach to building

conservation and have found thermal imaging to be

07768 005885 | 01442 819332

enquiries@ecotiffin.co.uk

www.ecotiffin.co.uk

How an invaluable tool to for corroborating reduce and sharing heat

our

understanding of buildings to determine the best

home How - 'the to fabric reduce fi

solution to reduce heat loss.

Indeed, for more than 320 years now we have

been working with buildings to understand how

We they all function, know evolve that we and are eventually being fail. asked While to the (the

do environment 'our bit' home changes in being and more specific - eco-friendly.

problems 'the arise, fab

new

we continue to take a holistic approach and can to id

How provide can a we 'one achieve We stop all shop' this know in for our the that homes? most we economically are A family hom

being aske

asked viable EcoTiffin solutions to in do any just building's that and after heat enlisting retention,

bui

their do 'our bit' in being more eco-frien

improvement help, they and commented, maintenance. "EcoTiffin saved us goo

37%

We

in

love

energy

to How share

bills whilst

can our we knowledge

increasing

achieve this and

our are

square

our always

footage by 35%, giving us a warm and welcoming homes? A fam

happy to answer asked any EcoTiffin technical to do questions just that and and how

Rob

home."

after enlis and

we can reduce their your help, heat they loss, commented, so please "EcoTiffin get in saved

Sur

Moisture touch if we in brickwork can 37% be in of energy any is the assistance. bills worst whilst possible increasing our squ

fam

ingredient to footage have in your by 35%, property giving and us a every warm and welco

home."

effic

effort should be made to prevent the ingress of

the

moisture. Moisture in the brickwork reduces the

Moisture in brickwork is the worst possible to s

bricks thermal capacity to retain heat and it has

a chilling effect ingredient like a fridge to have on your in your home. property Solid and ever pro

brick walls are effort by far should the worst. be made Remember; to prevent wet the ingres eye

walls are cold moisture. walls! Moisture in the brickwork reduces ena

bricks thermal capacity to retain heat and forw it

'The fabric first a chilling approach' effect is essential like a fridge when on your home. cos So

improving insulation brick walls to roofs, are by walls, far the floors worst. and Remember; heaw

windows which walls are are just cold some walls! of the ways of for

reducing heat-loss. The Cold use bridging of thermography

to opening reveals the

'The fabric creating first approach' excessive heat is essential loss when

improving insulation to roofs, walls, floors an

windows which are just some of the ways of

reducing heat-loss. The use of thermograph

Excessive heat loss to ground floor

and eaves details

Are you protecting your home?

To advertise please call 07786 735 711 or email marketing@amershamtogether.co.uk 27

• Climate change - how is my home coping?
---
Amersham Together

Brain Matter

MISSING LINKS

Each clue has a missing

word, making a phrase,

term, place or name

1 2 3 4 5 6

7 8

Across

7 ___ pitch

8 Heart ___ (4)

9 ___ powder (6)

10 ___ Spielberg (6)

11 ___ Johnson (5)

12 ___ Palin (7)

15 ___ Falls (7)

17 Silver ___ (5)

20 Victoria and ___ (6)

22 ___ coaster (6)

23 ___ Boleyn (4)

24 ___ growth (8)

KEY WORD

Keyword

Down

1 Jacket ___ (6)

2 ___ plaster (8)

3 ___ Campbell (5)

4 ___ band (7)

5 Relay ___ (4)

6 Cheddar ___ (6)

13 Family ___

14 ___-in-law

16 Rhode ___

18 ___ crunch

19 ___stick

21 ___-handed

9 10

11 12 13

14

15 16 17 18

19

20 21 22

23 24

On the face of it, this puzzle is perfectly straightforward. Simply fill in the letters missing

words 1-10 and enter them into the numbered boxes, to reveal a hidden keyword.

On the face of it, this

puzzle is perfectly

straightforward. Simply

fill in the letters missing

from words 1-10 and

enter them into the

numbered boxes, to

reveal a hidden keyword.

IN REFLECTION

Can you spot the

eight differences

between this

control panel

and its reflection

opposite?

1 2 3 4 5 6 7 8 9 10

1 C R __ S T

2 S T I __ K

3 S __ O R T

4 G __ A S S

5 S W E __ T

1 C R __ S T

2 S T I __ K

3 S __ O R T

4 G __ A S S

5 S W E __ T

6 C R __ N E

7 __ H O R N

8 G R E __ T

9 __ I G H T6 C R __ N E

10 G R A N __

7 __ H O R N

8 G R E __ T

9 __ I G H T

10 G R A N __

(answers on p30)

28 Amersham & Chalfonts Together is part of Community Together
---
Safe & gentle ear wax

removal at a clinic

near you

What is ear wax?

What is it, why do we have it in our ears and why does it sometimes cause hearing loss. Earwax, also known

as cerumen, is produced inside your ears to keep them clean and free of germs. It usually passes out of the

ears harmlessly, but sometimes too much can build up and block the ears.

It protects the skin of the human ear canal, assists in cleaning and lubrication, and also provides some

protection from bacteria, fungi, insects and water. In other words, ear wax is a good thing!

The amount of ear wax that the body produces differs from person to person, the amount that is retained

within the ear also differs for each of us - these differences are for a number of reasons; Age; Diet; Lifestyle;

Personal anatomy; Genetics; Ethnicity.

Many people will produce a small amount of wax their whole lives, which leaves the ear canal naturally, and

never have any problem with it. For others, their ear will produce a larger amount of wax, which will not

fully leave the ear canal and will become blocked, which leads to them having reduced hearing ability and also

a blocked feeling in the ear.

Are you experiencing any of the following?

• Pressure in the ears

• Blocked feeling in the ears

• Need to pop your ears but can't

• Sudden loss of hearing or muffles sound

• Hearing aids whistling

• Underperforming hearing aids

Call for more information on

Call: 07903 013 123 or 07535 603 744

Email: hearwego.beaconsfield@gmail.com

Web: www.hearwegohearingsolutions.co.uk

Consulting Suite, 19 London End Road, Beaconsfield, Buckinghamshire, HP9 2HN

Consulting Suite, The Studio, 37, Station Road, Beaconsfield, HP9 1QG

To advertise please call 07786 735 711 or email marketing@amershamtogether.co.uk 29
---
COMMUNITY NEWS

Little Chalfont has a small pond at

the top end of Finch Lane, which

eyword we believe is now 'vernal', ie

relating to spring. Typically, such

ponds have In three Reflection phases each year:

usually filled with water during the

the face of it, this puzzle is perfectly straightforward. Simply fill in the letters missing from

rds 1-10 and enter them into the numbered boxes, to reveal a hidden keyword.

Can you spot the eight differences between this control panel and its reflection below?

a phrase, winter term, place (wet, or name phase); dries slowly

__ (6)

ster (8)

mpbell

d (7)

__ (4)

r ___ (6)

__

law

__

nch

k

ded

Finch Lane pond

during 1 the 2 spring 3 4 5(flowering 6 7 8 phase);

9 10

1 2 3 4 5 6

dries

7

completely in summer

8

(dry phase).

9 10

11 12 13

3 14 S __ O R T

15 16 17 18

19

5 S W E __ T

20 21 22

23 24

1 C R __ S T

2 S T I __ K

4 G __ A S S

6 C R __ N E

7 __ H O R N

8 G R E __ T

9 __ I G H T

10 G R A N __

The latest picture may look like the pond

is dead, but it's not! Its eco system appears

reasonably healthy, with lots of signs of

plant life and invertebrates. We believe

that that the pond's natural ecosystem

relies on being partially dry at some

periods. This allows for invertebrates to

thrive and for some amphibians to hunt

more easily.

The pond in Finch Lane is now typical of

this cycle. Our first picture shows how the

pond looked in late 2021, during the wet

season, and our second picture shows

what it looked like in July 2022, now in its

dry phase. What a difference!

Some people may feel that pond looks

better when filled with water, but we

fear that anything we did to clear the

pond of its current vegetation would

have unfavourable consequences on the

existing natural ecosystem. The parish

council has therefore decided to manage

the pond as a wild habitat and allow it to

dry out, naturally, in the dry period.

PUZZLE

SOLUTIONS

MISSING Answer: LINKS

P S N E R C

F O O T B A L L A C H E

T I O A C E

T A L C U M S T E V E N

T K I T S

B O R I S M I C H A E L

N B C E

N I A G A R A B I R C H

S O B R R

A L B E R T R O L L E R

A V H O O D

A N N E E C O N O M I C

KEY WORD

Answer: Answer:

UNPLEASANT

IN REFLECTION

30

D N R M M T Amersham & Chalfonts Together is part of Community Together

indd 2 07/08/2022 2:39:41
---
2nd & 4th Tuesday of the month at 7.30pm

13th,27th September and 11th, 25th October

Community Centre, Gravel Hill,

Chalfont St Peter, SL9 9QX

For more information: pranichealingthechalfonts@gmail.com

To advertise please call 07786 735 711 or email marketing@amershamtogether.co.uk 31