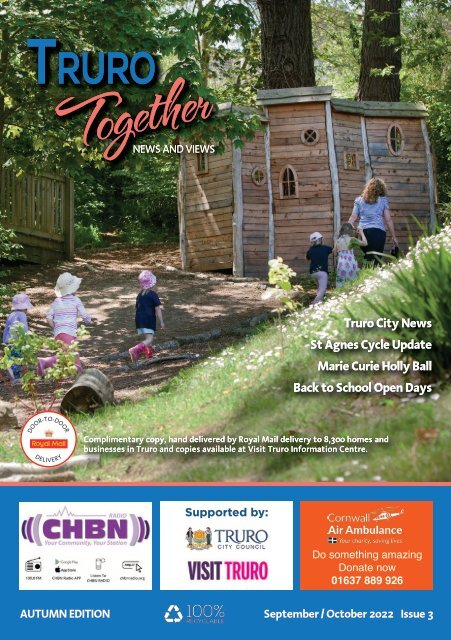 Truro Together Sept Oct 2022
A local #community magazine containing community, business and charitable editorial in the the Truro, Cornwall area. 8,300 copies printed and hand delivered by Royal Mail to residences and businesses in TR1 1 and TR1 2 postal code areas. Copies available at Visit Truro Information Centre and Tescos in Truro.
A local #community magazine containing community, business and charitable editorial in the the Truro, Cornwall area. 8,300 copies printed and hand delivered by Royal Mail to residences and businesses in TR1 1 and TR1 2 postal code areas. Copies available at Visit Truro Information Centre and Tescos in Truro.
SHOW MORE
SHOW LESS
You also want an ePaper? Increase the reach of your titles
YUMPU automatically turns print PDFs into web optimized ePapers that Google loves.
TRURO

Together

NEWS AND VIEWS

Truro City News

St Agnes Cycle Update

Marie Curie Holly Ball

Back to School Open Days

Complimentary copy, hand delivered by Royal Mail delivery to 8,300 homes and

businesses in Truro and copies available at Visit Truro Information Centre.

Supported by:

Do something amazing

Donate now

01637 889 926

AUTUMN EDITION September / October 2022 Issue 3
---
2 Truro Together is part of Community Together
---
TRURO

Together

Exploring

together at Truro

Nursery School

Useful Numbers

Age UK helpline (Cornwall):

01872 266 383

Services include iTea & biscuits, exercise

classes & social clubs.

Alcoholics Anonymous: 0800 9177 650

Citizens Advice Cornwall: 0800 144 8848

For a call back (exc weekends)

Text: ADVICE to 78866 or DEBT to 78866

Samaritans - if you need someone to talk to,

they listen. They won't judge or tell you what to

do. Call 116 123 or email jo@samaritans.org

(24 hr response)

Hello & welcome!

I can't believe it's September already. Have you

had a good summer?

The summer has whizzed by and I've had to think

long and hard about the 'true purpose' of my life.

I was asked to think what skills I've learnt during

my life. What am I doing with those skills and

what more I can do to contribute helping people

in need? It was indeed food for thought and I am

formalising a plan to actually do more to help

people in need.

A lot of the time we think about what we can

do to make ourselves happy but true happiness

comes from finding peace within and helping

others. This can be a difficult journey for many, but

with the right help it can be done.

If you have time to volunteer, then help a charity,

or if you meet a stranger in the street give them a

smile or a kind word or help an elderly neighbour.

By giving, you are helping yourself in more ways

than you can imagine. Take good care of yourself.

With love,

Therese

Next Copy Deadlines -

November / December 2022

Editorials: 5th Oct

Advertisers: 6th Oct

Meet the Team

Publisher, Editor & Sales

Therese Cooklin - 07786 735711

Magazine Designer

Mathew Peet, Digital Bear Design - 01949 839206

Content is accurate to the best of our knowledge, however Truro

Together part of Abstract Niche Ltd cannot be held liable for loss or

damage, caused by errors or omissions. Inclusion of advertisers does

not indicate our endorsement of their products or services.

t: 07786 735 711

e: therese@trurotogether.co.uk

w: www.trurotogether.co.uk

Get your business noticed

for as little as £36

Royal Mail door-to-door delivery and

drop-off sites to 8,300 homes in Truro,

Cornwall area.

e: sales@trurotogether.co.uk
---
COMMUNITY NEWS

Holly Ball at

The Alverton

Manor

The Holly Ball is raising funds for Marie

Curie in Cornwall, the UK's leading end

of life charity.

Marie Curie is here to support everyone in

the UK through all aspects of dying, death

and bereavement – and to fight for a society

where everyone gets to have the best

experience possible at the end of their lives.

Marie Curie supports the NHS by providing

frontline care.

In Cornwall we have a team of 37 Marie

Curie nurses who care for people in their

homes, giving much-needed respite to

overstretched carers. Marie Curie provides

a lifeline at one of the most frightening and

upsetting times any family will face. Last year

our nurses in Cornwall cared for 401 patients

providing over 21,000 hours of direct care

and support.

Marie Curie is here to help answer questions

on terminal illness. To speak to a trained

member of staff or a nurse call 0800 090

2309 or at www.mariecurie.org.uk/support

For information about fundraising in

Cornwall please call 01872 260500 or to book

a Holly Ball Ticket see page 11 for details.

Truro Homeless Action Group

Providing free hot cooked breakfasts to local homeless and

vulnerable people every day of the year – except Christmas

Day and Boxing Day when we cook a Christmas meal instead.

If you would like to make a donation, please contact

lovelockda@gmail.com for the THAG bank details.

4 Truro Together is part of Community Together
---
From

£895

*

for a fully

fitted electric

garage door.

Garolla garage doors are expertly

made to measure in our own UK

factories, they're strong and solidly

built. The electric Garolla door rolls

up vertically, taking up only 8 inches

inside your garage, maximising

valuable space. Our expert local

installers will fit your new door and

they'll take away the old one too,

so there's no mess.

Give us a call today and we'll come

and measure up FREE of charge.

CALL US TODAY ON:

01726 940 163

MOBILE:

07537 149 128

*Off er valid for openings up to 2.4m wide & including 2 remote controls, 55mm white slats, internal manual override.

To advertise please call 07786 735 711 or email marketing@trurotogether.co.uk

5
---
COMMUNITY NEWS

CHBN Hospital Radio

Although Truro's Hospital Radio had its

genesis in the old Royal Infirmary in

town, it became a Registered Charity in

1980, making it the first local radio

station in Cornwall.

From the start, the volunteers' aim was to

ease the boredom and stress which a stay in

hospital can mean. The output was a variety of

music and conversation, emphasising matters

of health and wellbeing. Ward visiting became

important, to collect requests from patients and

chat to those who had no visitors.

In 2014, the Station became Truro's

Community and Hospital Broadcasting

Network, with an Ofcom licence on 100.8 FM

and an online presence. New programmes,

new presenters and new technology extended

Some of the CHBN team

CHBN's range and reach. The technology

proved vital when the world closed in 2020.

"Working remotely" became the norm. CHBN's

sound engineers – the only volunteers allowed

access to the studios in the RCH – were able

to link the central studio equipment to the

presenters who had or would obtain their own

mini home studios.

By linking patients (denied visitors) to their

loved ones, and closing the gaps in a fractured

community with broadcast information about

the help available for people self-isolating,

CHBN was able to provide a friendly and

useful voice during difficult times. Life is slowly

returning to normal, and Truro's Hospital

and Community Radio is ready for the next

challenge. Tune in on 100.8 FM.

HANDEL

TAMERLANO

HANDEL'S MASTERPIECE LIVE IN CONCERT

ST JOHN THE EVANGELIST'S CHURCH, TRURO

10 NOVEMBER 2022

englishtouringopera.org.uk/tamerlano

6 Truro Together is part of Community Together
---
FREE FREE*

* FREE *

Georgia Georgia toilet

COVID-19 - SAFEGUARDING CUSTOMERS & COLLEAGUES

Mirrored toilet cabinet

COVID-19 - SAFEGUARDING CUSTOMERS & COLLEAGUES

& basin with or high raised & basin with

very bathroom every bathroom

toilet with any

order

order

full bathroom

installation

Bathing a problem? We can help

Bathing a Bathing problem? a problem? – we can – help we can help

• Wet rooms, Walk in showers and baths

• Disabled Facilities Grants

• Waterproof wall panelling

• Discounts for over 60s, and

• Wet rooms • Wet rooms

• Disabled Facilities Grants

• Slip resistant safety flooring • Disabled Facilities EX Service Grants personnel

• Walk in • Walk in showers and baths

• Discounts for over 60s and

•

showers

Grab • Waterproof rails,

and

shower

baths

seats wall & panelling raised toilets

• Discounts for • over Charity 60s work and and grants

• Waterproof wall panelling

EX Service personnel EX Service personnel

• Slip resistant • safety Slip resistant flooring safety flooring • Charity work • and Charity grants work and grants

• Grab rails, Call for shower our • Grab friendly seats rails, advice, & shower raised toilets seats & raised toilets

free survey and quote 01872 301703

Call for friendly advice Call for and friendly advice and

info@ahminstallations.co.uk free survey and quote www.ahminstallations.co.uk

free survey and quote

02382 543308

*

02382 543308

Terms and info@ahminstallations.co.uk conditions apply, visit our website for more www.ahminstallations.co.uk

details.

info@ahminstallations.co.uk www.ahminstallations.co.uk

*

*

Terms and conditions

Terms

apply,

and

visit

conditions

our website

apply,

for

visit

more

our

details.

website for more details.

Discover 134 x94.indd 4 03/11/2020 08

Congratulations

iscover 134 x94.indd 4 03/11/2020 08:04

to Tasmin Joslin who won our summer competition

for a Colour's Cafe & Wellbeing experience

To advertise please call 07786 735 711 or email marketing@trurotogether.co.uk

7
---
EDUCATION NEWS

Truro Together

Secondary School Open Days 2022

Please check details with individual schools first.

We can not be responsible for any details printed.

Penair School St Clement, Truro, TR1 1TN

Whole School

Thursday 29th September 5pm - 8pm

Contact: Rob Sharpe

t: 01872 274 737

e: rsharpe@penair.cornwall.sch.uk

w: www.penair.cornwall.sch.uk

Richard Lander School, Higher Besore Truro

TR3 6LT

Thursday 22nd September 5pm - 8pm

Contact school for more details

t: 01872 273 750

e: enquiries@richardlander.cornwall.sch.uk

w: www.richardlander.co.uk

Truro High School for Girls

Falmouth Road, Truro, TR1 2HU

Whole School

Saturday 8th October 9.30am - 12.30pm

Contact: Jo Norris

t: 01872 242 902

e: headspa@trurohigh.co.uk

w: www.trurohigh.co.uk

Truro School - Co-educational

Senior School

Saturday 1st October 9.30am - 12.30pm

6th Form

Tuesday 20th September 5pm - 8pm

Contact: Emma Williams

t: 01872 246 062

e: admissions@truroschool.com

w: www.truroschool.com/admissions/tours-andopen-events/senior-school-open-morning/

Penair School

Penair School will be opening its doors to prospective parents

and children for September 2023 entry from 5pm – 8pm on

Thursday 29 September 2022.

The aim of this evening is to reassure both you and your child about

the process. In addition we would like to demonstrate the outstanding

learning opportunities which are afforded to our students across all

curriculum areas. The evening also gives parents and prospective students the opportunity to meet the

staff members, have a guided tour of the school and an opportunity to ask any questions about the

transition to secondary school. There are faculty displays, competitions and activities in many subjects

for students. On your visit to our school we invite you to talk to staff and students who will give you their

honest opinion of the school. If you would like to talk to our Headteacher Mr Davidson or any members

of the Leadership Team we will be available all evening in the hall and around the school building.

In the meantime for more information please do explore all of our website, which acts as our

prospectus and aims to provide lots of detail about our school. www.penair.cornwall.sch.uk

8 Truro Together is part of Community Together
---
Penair School Open Evening

We welcome all prospective students

and parents for September 2023 entry

Date: Thursday 29 September

Time: 5pm – 8pm

No registration necessary

Demonstration of learning opportunites

*Meet staff members

*Guided tour of the school

*Q & A session

*Student activities & competitions

Contact: Rob Sharpe

Deputy Headteacher

Penair School, St Clement, Truro, TR1 1TN

t: 01872 274737

e: enquiries@penair.cornwall.sch.uk

w: www.penair.cornwall.sch.uk

Truro Nursery

School

Truro Nursery School is a local authority

school specialising in early years learning;

led by qualified teachers who know

how to support each child to help them

develop.

Children leave Truro Nursery School as

confident, independent, capable and happy

individuals who are ready for the next steps

in their lives. Children at the Nursery School

benefit from their own large, on site woodland

area and forest school as well as outstanding

resources and exceptional teaching.

Outdoor learning; creating wonderful,

authentic and memorable experiences;

nurturing each child's potential and working

with families is central to the school's ethos.

Families value the wealth of experience of the

staff and the way they support each individual

on their journey to success. See for yourself

by paying a visit; you will receive a warm

welcome!

For more information visit:

www.truronurseryschool.org.uk

To advertise please call 07786 735 711 or email marketing@trurotogether.co.uk

9
---
COMMUNITY NEWS

Safe cycling Truro

to St Agnes

Cornwall Council

agrees to go

ahead with

multi user

bridge at

Chiverton

In the first edition of Truro Together Truro

Cycling Campaign asked people to sign

its ongoing petition for the delivery of

the St Agnes to Truro Saints Trail. The

overwhelming response to the petition -

over 2,100 signatures - was instrumental in

securing the Council's decision, in mid-June,

to go ahead with the bridge at Chiverton

rather than expecting people to use the

long, isolated and intimidating tunnel-like

underpass currently being built as part

of the A30 improvement scheme. By

delivering a crossing that the largest

number of people will feel safe to use on

their own, the Council will be helping bring

about a big increase in commuter, utility

and leisure cycling on this key route between

St Agnes and Truro.

Newly constructed surface between St Agnes and

Sevenmilestone

Construction of the bridge is due to start in

July 2023. The A390 paths are currently in

design with construction due to start in the

Spring. The path between St Agnes and

Sevenmilestone is due to be complete this

winter and could be opened for use by the

local community before the rest of the

trail is complete. The segregated section

along Teagle Straight was dropped due to

funding deadline issues. Instead road safety

measures are being introduced on the back

lanes between Sevenmilestone and Chiverton.

However, Truro Cycling Campaign is hopeful

that the Teagle Straight section will still be

delivered.

www.trurocyclingcampaign.com

info@trurocyclingcampaign.com

Planning application design option for Chiverton bridge

10 Truro Together is part of Community Together
---
• Electric Bike Specialists Cornwall

• Bicycle Servicing

• Retül Bike Fit • Cycle Scheme

• Finance • Polaris Bike Pod Hire

9am-5.30pm Monday to Saturday

Closed Sundays

Summercourt, Newquay, TR8 5AH

Tel: 01872 487199

6 Calenick Street, Truro, TR1 2SF

Tel: 01872 276930

www.clivemitchellcycles.co.uk

£

To advertise please call 07786 735 711 or email marketing@trurotogether.co.uk

11
---
COMMUNITY NEWS

Sustainable

kitchens

When choosing a new kitchen there

are many factors that come into

consideration; style, colours, materials,

cost to name a few but there are also

the pressing factors of sustainability.

Here at Dream Doors this important

environmental issue is tackled head on,

by simply retaining your existing carcases

which can easily last twenty years plus you

dramatically reduce the waste produced when

changing your kitchen. Any wooden waste that

is produced on one of our installations is sent

to be recycled and eventually is produced into

manmade timber. All our doors are furniture

grade MDF which again is a by-product of

the timber industry thus reducing the growing

demand on our natural resources.

So if you are looking for a new, sustainable

kitchen that is kinder on your pocket as well as

the environment why not give Dream Doors a

call and get Matt to come out and give you a

free quote.

t: 01872 240 650 | tr@dreamdoors.co.uk

Address: 12 Frances Street, Truro, Cornwall,

TR1 3DN

The Refill Store

The Refill Store was opened in 2018

with the aim of reducing the amount of

packaging and plastic waste which ends

up in landfill.

It is located in Lemon Street Market,

Truro and Mr Fruity (Goonhavern Garden

Centre) where customers can bring their own

containers to refill, and avoid the need to

purchase plastic bags! They aimed to be

affordable and competitive with the

supermarkets. Everything in-store can be

purchased using your own clean containers -

or their paper bags! They stock cereals, grains,

pasta, rice, pulses, beans, nuts, seeds, dried

fruit, baking produce, sweet treats, body care

products and a full household cleaning range

and can buy in whatever is in demand, no

matter how little or large.

The shop purchases food in the largest

quantities possible and most items come in

25kg sacks or 12.5kg boxes. Coffee is locally

roasted and comes to them in buckets which

we clean and refill (zero waste)! The household

cleaning range is eco-friendly and comes in

20L containers which are then sent back for

cleaning and refilling.

It's a balance to keep prices matched to

supermarket prices so that refilling and

reducing plastic waste can be accessible to

as many people as possible, and therefore

cannot be wholly organic stockists.

If you would like to start refilling the Refill Store

would love to see you. It can seem a little

daunting at first but the team are on hand to

help you through your refilling journey and

once you have started you will wonder why you

had not done it before! #refillrevolution

w:therefillstore.co.uk e:refillstore@hotmail.com

12 Truro Together is part of Community Together
---
LOCAL BUSINESS

Becoming an

Eco-Homemaker:

Making your home eco-friendlier has never

been easier.

We have all become increasingly aware of how the

products that we buy daily are having an impact far

beyond our own four walls. Plastic bottles washing up

on beaches, chemicals leaching into our ecosystems,

you may have seen some of these things in the

media but often feel overwhelmed and not quite sure

how to help.

One of the ways to create

simple positive change is right

here in our own homes.

Think about all the products

you and your family use in your

homes (e.g. nappies, wipes,

cloths, toothbrushes) and then think about all the

single use plastic and toxins that you are consuming.

Some of the reasons that may have held you back:

1. Effectiveness: have you tried some of the

eco-friendly products from your supermarket and

been left unimpressed with the results and since

been put off?

2. Price: are you finding more eco-friendly

alternatives to be more expensive? This is thankfully

less and less the case and remember if you do end

up spending more, you will likely save through reuse

or more cost-effective refills.

A few quick wins:

• Swap out single use plastic for plastic free -

biodegradable baby wipes instead of plastic

containing wipes, compostable nappy bags instead

of plastic ones, soap bars instead of shower gels,

toothpaste tablets instead of toothpaste tubes

• Find products that can be reused over and over

again

• Go for naturally derived products to minimise

toxins in your home.

Eco-Homemaker is an online platform to help you

and your family find those eco-friendly solutions and

a kinder way of living.

Whether you are starting your pregnancy journey,

in the thick of family life or just wanting to be a

more eco-friendly homemaker, we offer a solution -

a tried and tested selection of the most eco-friendly

products brought together in an easy to use

shopping platform.

To advertise please call 07786 735 711 or email marketing@trurotogether.co.uk

13
---
The Mayor of

Truro summer

diary

words by Stephen Webb

Sometimes I feel like pinching myself.

After becoming Mayor of Truro I quickly

realised what a privilege the role is; there are

times when I struggle to believe it's true! City

Council meetings are very important. There

is the civic side: such as Remembrance Day,

Mayor Making et cetera. Then there are the

premiers such as when Hall for Cornwall

opened with Fisherman's Friends, the

Musical. I met some of the cast - and Tim

Rice. Invitations like that don't come along

very often!

In August, with Lionel the Town Crier (and his

wife Carol) we opened the new Lidl, and just

down the road, The Food Warehouse. I tasted

my first Gregg's sausage roll which were being

handed out to the patiently waiting queue.

Tasty! One afternoon I opened the Truro

Refugee Support Group in Victoria Gardens,

to be joined by the local fire station, other

city councillors and bands during the day. To

be able to support local initiatives like this

has quite an impact. There are so many great

Truro Refugee Support Group afternoon in Victoria Gardens.

things happening, and to play even the

smallest part is a joy. On BBC Radio

Cornwall I spoke to James Dundon

and shared my story and talked about

building a vision for Truro, so those living,

working and visiting can learn where Truro

is going.

On a particularly scorching day, I discussed

with (Devon and Cornwall Police Crime

Commissioner) Alison Hernandez how we

can tackle Anti-Social Behaviour (ASB)

and all the graffiti plaguing Truro at the

moment. Safer Streets has just been

awarded over £650,000 to continue their

hard work in supporting the youth and

dealing with ASB and graffiti.

14

Left to right: Helen Toms ( Cornwall Council ), Stephen Lennon ASB officer,

Truro

Mayor

Together

of Truro and

is part

Alison

of Community

Hernandez.

Together
---
Truro's Half

Marathon

Sunday 18

September at

9.30am

Left to right: Mayor of Truro, Head Girl, Evie Groves,

Head Boy, Daniel Bruton of Penair School and

Mayoress, Kember Webb.

One of the highlights of the last couple of

months was revisiting Penair School. I sat

on the stage with the Mayoress, who is

also my daughter ( and a former pupil.)

It felt unreal. I was asked to give some

advice to the students as they embarked

on their adventures. In short, my advice

was: nothing is permanent, everyone's

'winging it', and you're already doing

awesome things, better than we did.

So yes, sometimes I feel like pinching

myself.

Enter on: Truro Running Club's website

www.trurorunningclub.org.uk

(trc-events/truro-half-marathon)

Every runner receives a goody bag, medal

and T shirt.

Want to VOLUNTEER?

Want to be a marshal?

Help set up on Lemon Quay.

For more details:

Get in touch:

thm@trurorunningclub.org.uk.
---
News from

Truro City Council

Over the summer, the

council has been working

on a number of projects,

including the delivery

of the Community

Emergency Plan and

the ongoing work to

the Tennis Pavilion at

Boscawen Park.

See below to find out more

about these projects.

Community

Emergency Plan

Truro City Council's City

Emergency Committee

has put together a

Community Emergency

Plan (CEP), which has

been designed to

prepare communities for

unexpected incidents that

are non life-threatening,

but may affect property

and human well-being.

Truro is covered by

Cornwall Council's

emergency procedures,

and although it is not a

statutory requirement for

local councils to produce

a plan, it is good practice

for there to be a scheme

to cover incidents such as

flooding, heatwaves, power

outages, etc. However, a

CEP is not a major incident

plan, where the statutory

services take control.

A CEP needs the support

of members of the

community in a variety

of roles, as well as some

potential safe spaces for

temporary evacuation of

people whose homes

are affected. However,

volunteers should not put

themselves in danger or

impede the emergency

services in their activities.

See below for roles for

volunteers:

• Co-ordinator - likely an

officer of the city council,

who will alert flood

wardens, etc, and liaise

with Environment Agency

and statutory services;

• Flood wardens - to

monitor river levels, alert

residents who are at risk

of flooding (or from other

hazards), and identify

vulnerable people;

• Key holders of community

spaces and other sanctuary

sites, and people to help at

these sites;

• An IT person to set

up network groups, eg.

Whatsapp, and organise

charging points for people's

devices and help them

contact family;

• Other roles may be

required 'on the day',

eg. businesses to supply

food, blankets etc, and

translators;

• People with 4 x 4

vehicles and other

transport providers;

• Skilled trades people,

eg. electricians, plumbers,

builders, for the post

event clean up, as well

as hirers of equipment,

like driers. These people

are not expected to be

16 Truro Together is part of Community Together
---
volunteers but the sharing

of their details with plan

administrators will be very

useful.

The committee has held

community engagement

events at Truro Farmers

Market, where they have

introduced the plan and

spoke to members of the

public about personal plans

and volunteering.

There will be another

session at the Moresk

Centre on Wednesday 21st

September between 19.00

and 21.00. Pop along to

find out more about the

community plan, what

you can do to prepare for

emergencies, and details

on volunteer roles.

You can also find more

information in our free

Truro Community

Emergency Plan leaflets.

They are available to

collect from Truro

Community Library or the

Truro Visitor Information

Centre.

Alternatively, you can

contact Cllr Lindsay

Southcombe, who will be

able to provide further

details: lindsay@transition

truro.org.uk.

Tennis Pavilion

Work on the new tennis

pavilion at Boscawen Park

is progressing well. The

windows and doors were

recently fitted, and work

has begun to prepare for

the installation of cladding

on the exterior of the

building.

The cladding was produced

from wood from a tree that

had to be removed from

Boscawen Park due to

safety reasons.

The pavilion is due to open

in October - please see our

Facebook page for updates

@trurocitycouncil.

Contact us

For enquiries or more

information on any of the

above, please contact us

on 01872 274766, or email

info@truro.gov.uk.

Please also follow

us on Facebook

@trurocitycouncil, where

you can check for updates

and message us directly,

and see our website

for further details:

www.truro.gov.uk

To advertise please call 07786 735 711 or email marketing@trurotogether.co.uk

17
---
COMMUNITY NEWS

Winners

announced!

Truro City Council's, 'Annual Gardens

and Allotments Competition'

took place on Friday 1st July and

were delighted to announce the

competition winners.

All allotment sites in the city were entered,

including Barrack Lane, Nancemere,

Redannick, and Treverbyn. This year,

the garden competition consisted of 15

categories.

Richard Budge, Parks, Amenities and

Facilities Officer, judged the competition

and was impressed by the standard and

quality of the gardens and allotments. He

commented: "I was very impressed with

the entries to this year's competition and

would like to thank all those who took

part. Congratulations to all winners and

I look forward to seeing you again next

summer."

Overall winner of the competition was

Peggy and Godfrey Mortimore who took

first prize for Best Kept Small Garden,

Best Kept Patio Garden, Best Wildlife

Friendly Garden and Best Green

Initiative. MIchael Sanders at Tregolls

Manor scooped 'Outstanding

achievement' with three first prize wins

for Best Business Frontage, Best Kept

Communal Garden and Best Hanging

Basket/Window Box Display. St Mary's

CofE Primary School won Best Kept

School Garden. There were no entries

for Best Kept Garden attended by the

Disabled. For further information or you

would like to enter next year, contact

parks@truro.gov.uk

AKOOSTICA - Live open mic session

- Bert Biscoe runs with his daughter, Molly

Where: Ale House, Quay Street, Truro from 8pm

Thursday September 1st, 15th, 29th

Thursday October 13th, 27th

Performers welcome - spoken word, singers,

songwriters, musicians

18 Truro Together is part of Community Together
---
COMMUNITY NEWS

Ranger Reports

As we move out of Summer and

into Autumn, our green spaces and

the wildlife within them, go through

some incredible changes.

Many of our trees slowly begin the process

of losing their leaves in preparation for

winter. Leaves that were once green, due

to the presence of chlorophyll needed to

photosynthesise, start to turn beautiful shades

of red, orange and purple. Chlorophyll which

has been used throughout summer, breaks

down completely, leaving other chemicals

in the leaves, which expose these beautiful

colours.

Ivy, a hugely important plant which uses

trees as its host, starts to come in to flower in

September. It provides an important nectar

source for our pollinators such as many species

of bee and butterflies. Holly blue butterflies

lay eggs of their second generation on ivy,

allowing their caterpillars to feed on the buds,

flowers and stem. Other caterpillars of different

moths also feed on ivy. After it flowers, it then

develops to a berry later in the year, providing

an essential food source to wildlife including

birds.

Many trees and

wild plants

develop seeds

to ensure

regrowth. These

seeds also

provide food for

birds. A fantastic

site can be seen

on Coosebean

northern

meadows with huge numbers of goldfinches

feeding on knapweed and Thistle seeds.

These abundant food sources are enjoyed

not only by resident birds, but also birds that

migrate to the UK for winter. Redwings and

Fieldfares being a fantastic example. They start

to flock to our natural spaces from October

onwards. These stunning birds, which are

part of the Thrush family, arrive from colder

European areas such as Scandanavia, Alder

trees being one of the food sources they can

be seen on.

The woodland ground floor also shows an

amazing transformation. Due to the moist

weather and mild temperatures October

brings, fungi start to show their magnificent

fruiting bodies and send out spores from

which new fungi grow.

Mycelium is the underground complex

network of fungi. It's an essential part of

fungus that stays unknown underground,

forming huge connective pathways throughout

the woodland. It plays an incredibly important

part in our woodland's ecosystem. It's our

natural decomposer of rotting material, it

helps to store carbon in soil, and even helps

trees communicate with each other through

its incredibly complex network. These

connections between tree roots and mycelium

are known as mycorrhizal networks. This

symbiotic relationship works as the mycelium

takes sugars from the tree, and in return,

provides vital minerals back to the tree such

as nitrogen and phosphorus.

Our Ranger

team welcomed

two new

members at the

beginning of

the year. Anna

and Toby, both

graduates from

the University

of Exeter have

joined existing

Ranger Chris to help manage the sites and

work with our broad range of volunteers.

Words & images by Chris Waddle

To advertise please call 07786 735 711 or email marketing@trurotogether.co.uk

19
---
KIDS NEWS

Fun at Children's

Day in June

Families had lots of fun at the

fifth Children's Day in Truro City

Centre on Saturday 25 June!

Organised by Truro BID, Children's Day

involved nearly 50 City Centre

businesses and organisations

coming together to arrange

special family activities for the day.

PR4 Photos

On Lemon Quay, there were

shows featuring mountain bike

trials athlete Andrei Burton

performing spectacular mountain

bike stunts alongside an amazing

free runner.

PR4 Photos

Stalls had fun activities including

Truro City Council's Countryside

Rangers offering wood carving,

Anytime Fitness providing exercise

challenges and Sustrans running exciting cycle

activities.

Families enjoyed free have-a-go sessions in

circus skills with Swamp Circus, dance sessions

with Cornwall Dance School and InspirAsian

Dance, and yoga with Kids Yoga Cornwall.

Across Truro many shops and eateries offered

family friendly in-store activities and offers,

competitions and meal deals. Circus

performers and live music also popped up

around Our Great Little City.

PR4 Photos

PR4 Photos

PR4 Photos

PR4 Photos

20 Truro Together is part of Community Together
---
SEPTEMBER EVENTS

Truro Farmers Market

Every Wednesday and Saturday,

09.00 - 16.00

Lemon Quay

Find the very best of local produce and craft

on Lemon Quay with Truro Farmers Market.

w: trurofarmers.co.uk

Duchy Fairs Cornwall Shop Small Market

Saturday 17th September & Saturday

15th October, 09.00 - 16.00

Lemon Quay

Over 60 traders of contemporary craft and

design, home & lifestyle wares, and vintage

and salvage finds.

w: duchyfairs.co.uk

ROC5K

Tuesday 20th September, 17.00

Lemon Quay

Take part in the annual ROC5K charity fun

run, starting on Truro's Lemon Quay.

w: roc5k.co.uk

Lions Book Stall

Saturday 1st October, 09.00 - 16.00

Lemon Quay

Find the Lions Club's Book Stall alongside

Truro Farmers Market on the first Saturday of

the month up until Saturday 1st October.

Outdoor Antiques & Collectables Market

Wednesday 7th, and Wednesday 21st

September.

09.00 - 16.00.

Lemon Quay

Come and discover some interesting and

unusual items for sale in Our Great Little City.

w: www.visittruro.org.uk

The BIG Autumn Market

Friday 28th & Saturday 29th October

09.00 - 16.00

Lemon Quay

Join both Truro Farmers Market and Duchy

Fairs Cornwall Shop Small Market for their

seasonal autumn market.

w: trurofarmers.co.uk / duchyfairs.co.uk

Visit Truro Visitor Information,

30 Boscawen Street, Truro TR1 2QQ

t: 01872 274 555 w: www.visittruro.org.uk

Open: Monday - Saturday 9.30am – 4.30pm

Like & Follow us on

@visittruro

Bandstand Concerts

Sunday 11th September

14.30 - 16.00

Victoria Gardens

Join us for the last remaining band concerts

of the 2022 series. Organised by Truro City

Council. Booking not required.

w: www.visittruro.org.uk

The Alverton's Summer Sessions: Finale

Thursday 8th September, 17.30

Alverton Hotel

Enjoy the finale of The Alverton's Summer

Sessions with a special performance from

Josh Curnow in the Great Hall.

w: thealverton.co.uk

To advertise please call 07786 735 711 or email marketing@trurotogether.co.uk

A service provided by Truro City Council

Every

Wednesday &

Saturday

09.00 -16.00

on Lemon

Quay

21
---
COMMUNITY NEWS

Knight in shining

armour!

Meet Truro's Town Crier, Lionel

Knight, a Truronian through and

through, there being no maternity

hospital in Truro in 1947, Lionel was

born in Redruth hospital.

As an only child, Lionel's parents brought

him up in a house close to Marks and

Spencer. Lionel's mum, also a Truronian was

born in Walsingham Place, she lived until 103!

His father, born and bred in Hampshire, was

employed at the Gas Works and during the

second world war he was sent off to Truro to

protect the Gas Works. That's how his father

met his mother!

Lionel has been Truro's Town Crier for eight

years now. He was a temporary mace-bearer

and before that a porter at Cornwall Hospital.

When the council found they needed a new

town crier, Lionel found himself taking a

practical interview! He had to ring the bell

and shout out a message to the then Mayor

standing at one end of the street, and the Town

Clerk standing at the other! To his astonishment

he got the job!

Lionel is clearly

a passionate

community man

who cares about

the city of Truro.

His role as town

crier is varied. He

gets asked to

attend all Civic

events, and the

Farmers' markets

to welcome

visitors into Truro.

Lionel and Carol on their wedding

day in 2019

Lionel Knight, Truro Town Crier and his consort.

He will help businesses with charity events they

want promoting, or a new shop that is opening.

He works with The Mayor, and his lovely wife,

Carol - named the consort - who you will often

see wandering about together in their formal

attire.

Lionel and Carol

are generous

people and have

donated towards

the angel

Christmas lights,

the Clock Tower,

Cornwall Air

Ambulance and

more. In 2019 he

and Carol were

invited to the

Queen's Tea

party at Buckingham Palace, a real honour!

Lionel and Carol at Buckingham Palace

They were also invited to the House of

Commons and enjoyed a cream tea in the

Lord's tea room by Sarah Newton, the then MP

of Truro and Falmouth. Combining his public

duties, Lionel enjoys his three children and

five grandchildren. Now married to Carol, who

he has known for forty years (they married in

2019 just after coming back from the Royal Tea

Party). Why not pop over to speak to Lionel and

Carol next time you see them!

22 Truro Together is part of Community Together
---
To advertise please call 07786 735 711 or email marketing@trurotogether.co.uk

23
---
COMMUNITY NEWS

Businesses

vote yes for

Truro BID

City Centre businesses have voted

to renew their Truro Business

Improvement District (BID) for a

fourth term.

Of those businesses who voted in the postal

ballot, 85% voted yes to renewing Truro

BID. As well as the 'yes' vote, Truro BID met

the second test achieving 87% of the total

rateable value of all the votes cast.

The yes vote means that over the five-year

term Truro BID will invest more than £1.6

million into the city to deliver projects,

events and services to benefit Truro and

Truro's businesses.

Truro BID installs and funds the annual City

Centre Christmas Lights and delivers many

of Truro's Christmas events and activities.

The not-for-profit organisation also helps

to enhance the shopping environment by

funding and installing the colourful summer

Left to right: Truro Bid team, Sian, Alun and Lindsey

bunting and co-funding the city's lovely floral

hanging baskets which are delivered by Truro

City Council.

Other Truro BID services include supporting

businesses who experience anti-social

behaviour and shoplifting via a Shopwatch

scheme, the DISC online crime reporting

system, and funding selected extra security

and police hours at peak times.

The Truro BID team are currently planning

exciting festive events for 2022. This includes

launching the city's Christmas celebrations

with Festive Friday on 18th November

where the main event is Truro's Christmas

Light Switch-on featuring Pirate FM's

Johnny Cowling and Town Crier Lionel

Knight. For information on Truro BID see:

www.trurobid.co.uk

Bert Biscoe's Guided Walks around Truro

Monday and Friday at 10am.

£7.50 per person

Book via Visit Truro Information Centre,

30 Boscawen Street, Truro TR1 2QQ.

t: 01872 274555

e: tic@truro.gov.uk

24 Truro Together is part of Community Together
---
COMMUNITY NEWS

Caring for the

Carers

Those looking after others need to

be looked after too.

That's why Cornwall Care recruited Emma

Bowden as its wellbeing coach and

counsellor and Helen Dunstan as its

wellbeing and engagement advisor.

Both women joined the charity last year and

both love helping to care for colleagues.

"It's so important to look after staff properly,"

said Emma, who lives in Nanpean and

previously worked for a drugs and alcohol

charity. "They have a vital, skilled job to do in

circumstances that, over the last two years,

have been particularly demanding.

"My role is to give them the tools, support and

listening ear they need to continue providing

Emma Bowden

Helen Dunstan

elderly and vulnerable individuals with excellence

in care. That is the heart of Cornwall Care's values

and it's a real privilege to work with them."

Helen Dunstan describes herself as a 'Cornish

maid' who started her human resources career

at Cornwall Council.

"Our fantastic employees care for the most

vulnerable people in our community and

anything I can do to make their working days a

little bit easier with help, support and guidance

gives me absolute joy," she said.

Cornwall Care has a number of job

opportunities available. For more information,

visit www.cornwallcarecareers.com or email

recruitment@cornwallcare.org

Cornwall Care is an independent Cornish

charity and the largest provider of care in

Cornwall, providing support to over 1,000

people in residential, nursing, supported living

and community settings.

We offer competitive pay scales, provide uniforms if you need them and deliver

the most up-to-date training in current practices, giving you help and support to

achieve the highest standards of work and a fantastic career.

Whether you're office based, work in the community or within our homes, we

believe that if people feel cared for, they will care for others. This is what drives

the award winning recruitment and training for our teams.

We provide a range of part-time and full time jobs, in our care homes, out in the

community and with Business Support Services.

How do I Find Out More or

Apply?

01872 597720

recruitment@cornwallcare.org

www.cornwallcarecareers.com

To advertise please call 07786 735 711 or email marketing@trurotogether.co.uk

25
---
LOCAL BUSINESS

Free training for

Cornwall residents

and businesses

Free government funded training is

now available across Cornwall.

The Train4Tomorrow programme is being

delivered by Devon County Council and

Cornwall Council, in partnership with a number

of leading regional organisations.

Train4Tomorrow is open to adults aged 19+

and offers digital and technical skills training,

enabling you to retrain for a new career or

learn new skills. Best of all, you are connected

with hundreds of employers and given a job

interview, in your chosen field, at the end of

the Skills Bootcamp. The programme aims to

help adults develop in-demand skills, leading

to well-paid roles within growing sectors, from

tech to construction.

The Skills Bootcamps are recruiting now,

with local providers Truro & Penwith College,

Cornwall College, and Bluescreen IT offering

courses including:

• Bricklaying

• Electric vehicle maintenance

• Hospitality

• Electrical testing

• Sustainable development

• IT

• Cyber security

• Data analytics

The Skills Bootcamps encourage people to

empower themselves with digital and technical

skills needed to advance in (or switch to) the

jobs of tomorrow, leading to higher-paid roles

within in-demand sectors. Find out more at

Train4Tomorrow.org.uk

I want to save money

on my energy bills.

Where can I get

some help?

At the Citizens Advice Powerhouse

Project, we can give you the skills to

budget for your energy bills, improve your

home efficiency, reduce your carbon footprint

and help keep you warm - and it's all free of charge.

To take part in this scheme you must live in Cornwall,

be aged 16-25 and not in education,employment or training.

It's also open to people on zero hours contracts, those at risk of homelessness and people

with an Education and Healthcare Plan. We're also open to people leaving care.

Contact Powerhouse for more info:

kremena.whiting@citizensadvicecornwall.org.uk.

Or call: 07762-824211

26 Truro Together is part of Community Together
---
To advertise please call 07786 735 711 or email marketing@trurotogether.co.uk

27
---
Truro Together

Brain Matter

MISSING LINKS

Each clue has a missing

word, making a phrase,

term, place or name

1 2 3 4 5 6

7 8

Across

7 ___ pitch

8 Heart ___ (4)

9 ___ powder (6)

10 ___ Spielberg (6)

11 ___ Johnson (5)

12 ___ Palin (7)

15 ___ Falls (7)

17 Silver ___ (5)

20 Victoria and ___ (6)

22 ___ coaster (6)

23 ___ Boleyn (4)

24 ___ growth (8)

KEY WORD

Keyword

Down

1 Jacket ___ (6)

2 ___ plaster (8)

3 ___ Campbell (5)

4 ___ band (7)

5 Relay ___ (4)

6 Cheddar ___ (6)

13 Family ___

14 ___-in-law

16 Rhode ___

18 ___ crunch

19 ___stick

21 ___-handed

9 10

11 12 13

14

15 16 17 18

19

20 21 22

23 24

On the face of it, this puzzle is perfectly straightforward. Simply fill in the letters missing

words 1-10 and enter them into the numbered boxes, to reveal a hidden keyword.

On the face of it, this

puzzle is perfectly

straightforward. Simply

fill in the letters missing

from words 1-10 and

enter them into the

numbered boxes, to

reveal a hidden keyword.

IN REFLECTION

Can you spot the

eight differences

between this

control panel

and its reflection

opposite?

1 2 3 4 5 6 7 8 9 10

1 C R __ S T

2 S T I __ K

3 S __ O R T

4 G __ A S S

5 S W E __ T

1 C R __ S T

2 S T I __ K

3 S __ O R T

4 G __ A S S

5 S W E __ T

6 C R __ N E

7 __ H O R N

8 G R E __ T

9 __ I G H T6 C R __ N E

10 G R A N __

7 __ H O R N

8 G R E __ T

9 __ I G H T

10 G R A N __

(answers on p30)

28 Truro Together is part of Community Together
---
What's going

on at Truro

Community Library?

Storytime

Mondays at 14.00 and Wednesdays at

10.00 - join for stories, music and craft

activities for babies and pre-schoolers.

Address: Truro Community Library,

Union Place, Truro, TR1 1EP

Tel: 0300 1234 111

Email: truro.library@liscornwall.org.uk

Reading Group

1st Thursday of every month at 14.00 -

join the group to discuss books you're

reading or have read. There's no set book,

just come along and share a love of

reading. See below for more information.

Poetry Group

2nd Thursday of every month at 14.00 -

enjoy reading or writing poetry? Come and

join this friendly and supportive group to

share a love of poetry and the written word.

Material Girls

Every Wednesday 10.00 - 12.00 - join a

fun, informal social group of like-minded

crafters using a variety of skills and

materials. Chat, exchange ideas and

skills and drink tea!

Do you love reading or would you like

to start your reading adventure?

If the answer is yes then why not join us

at Truro Library and enjoy an afternoon of

books, lively conversation and feedback.

Just bring along your latest reading and

it can be fiction or non- fiction and share.

Our group does not have a set book so it

is good for those who prefer not to read

something they may not enjoy or stick to

deadlines. We are a friendly group and

make everyone welcome. If you are new to

the idea of exploring the written word or

maybe shy there will be no pressure.

We have access to the Loop if you have

hearing problems so do not let being hard

of hearing put you off!

When: 1st Thursday every month

Time: 2pm - 4pm

Contact: Angela Bell

e: aangela@btinternet.com

t: 01872 276 707 or ask at Truro Library

Repair cafes are places where people can bring everyday items for repair e.g. a torn shirt, a broken

chair. They can then observe and help with the repair. They are also places where people can drop in

for a chat and a cuppa. They, therefore, reduce waste, save money and provide a safe meeting place.

We welcome anyone who can help with repairs or who would like to help generally with this project.

Date: 1st Saturday every month 10am - midday

Where: Truro Community Library in the large meeting room on the top floor (accessible by lift

or stairs). There is no charge for repairs or a cuppa but donations are welcome.

Further To advertise details: please lindsay@transitiontruro.org.uk call 07786 735 711 or email marketing@trurotogether.co.uk

or t: 07880 745 961

29
---
eyword

COMMUNITY NEWS

the face of it, this puzzle is perfectly straightforward. Simply fill in the letters missing from

rds 1-10 and enter them into the numbered boxes, to reveal a hidden keyword.

Can you spot the eight differences between this control panel and its reflection below?

a phrase,

community

term, place or name

clean. It started with her Louise with boys Charlie (left) and Harry (right)

__ (6)

ster (8)

mpbell

An example to

us all!

Meet mum of three - Louise, a lovely

lady who has In three Reflection very special boys

who share a passion for keeping their

1 2 3 4 5 6 7 8 9 10

eldest,

1

Cameron

2 3

who

4

at 85 years

6

old

7 8

began picking-up litter. Charlie and

Harry both began when they were

9 10

only 4 years old! I guess their elder

1 C R __ S T 6 C R __ N E

d (7)

brother was

__ (4)

2 their S T inspiration…

I __ K 7 __ H O R N

11 12 13

r ___ (6)

3 14 S __ O R T 8 G R E __ T

__ They did not like seeing litter in the parks and

15 16 4 G __ A S S17 9 18 __ I G H T

law wanted to make it safe for other children to

19

__ play in. They would 5 S come W E __ home T 10 from G school, R A N __

20 21 22

nch collect a bin bag and their litter pickers and

k patrol the parks and collect the rubbish up.

ded

23 24

Harry who is now 16 years old is still fervently

collects rubbish to this day. He recently was

awarded an engraved litter picker from The

Mayor of Truro and his brother Charlie and

Harry both received a Gonk from Councillor

Pauline Giles for all their hard efforts in the

community.

His mum, often says to Harry, 'why don't you

go out and enjoy yourself with your mates'

and he replies, 'I want to make sure it's clean

first Mum, then I will see my mates'.

Harry has cerebral palsy and there is

nothing that will stop him from keeping the

place clean and safe for other children. A few

months ago he and Charlie came across a

dirty needle and rang the council for them to

collect it as they knew how dangerous it was.

Left to right, Harry, Cameron and Charlie.

Louise is so proud of her boys, she raised

them up for 8 years on her own before

meeting her husband. The guidelines she

maintained for bringing up her boys' were,

having polite manners, respect for her and

everyone else, how to keep the place clean

and never to be late.

PUZZLE

SOLUTIONS

MISSING Answer: LINKS

P S N E R C

F O O T B A L L A C H E

T I O A C E

T A L C U M S T E V E N

T K I T S

B O R I S M I C H A E L

N B C E

N I A G A R A B I R C H

S O B R R

A L B E R T R O L L E R

A V H O O D

A N N E E C O N O M I C

KEY WORD

Answer: Answer:

UNPLEASANT

IN REFLECTION

30

D N R M M T

Truro Together is part of Community Together

indd 2 07/08/2022 2:39:41
---
1st Wednesday of the month at 6.45pm

7th September, 5th October, 2nd November

Shortlanesend Village Hall, School Hill,

Shortlanesend, Truro, TR4 9DU

t: 07786 735711 | healing@pranichealingcornwall.co.uk

To advertise please call 07786 735 711 or email marketing@trurotogether.co.uk

31
---
FREE

ENTRY

for under 11's