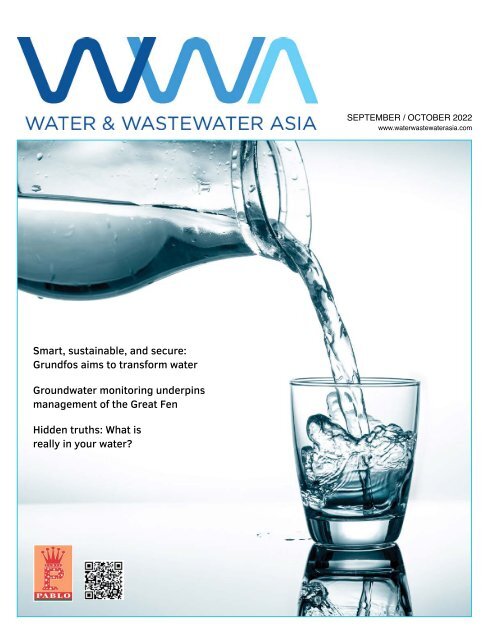 Water & Wastewater Asia September/October 2022
Water & Wastewater Asia is an expert source of industry information, cementing its position as an indispensable tool for trade professionals in the water and wastewater industry. As the most reliable publication in the region, industry experts turn this premium journal for credible journalism and exclusive insight provided by fellow industry professionals. Water & Wastewater Asia incorporates the official newsletter of the Singapore Water Association (SWA).
Water & Wastewater Asia is an expert source of industry information, cementing its position as an indispensable tool for trade professionals in the water and wastewater industry. As the most reliable publication in the region, industry experts turn this premium journal for credible journalism and exclusive insight provided by fellow industry professionals. Water & Wastewater Asia incorporates the official newsletter of the Singapore Water Association (SWA).
SHOW MORE
SHOW LESS
You also want an ePaper? Increase the reach of your titles
YUMPU automatically turns print PDFs into web optimized ePapers that Google loves.
SEPTEMBER / OCTOBER 2022

www.waterwastewaterasia.com

Smart, sustainable, and secure:

Grundfos aims to transform water

Groundwater monitoring underpins

management of the Great Fen

Hidden truths: What is

really in your water?
---
THE 6X ®

THE NEW RADAR

LEVEL SENSOR

IT security

In view of the increasing digitalisation in

industry, an extremely important point is

effective protection against cyber attacks.

That's why we've designed-in the latest IT

security standard IEC 62443-4-2 into

VEGAPULS 6X. It means that this sensor

also meets the highest cyber- security

standards currently established in the

process industry.

VEGA Instruments (SEA) Pte Ltd

25 International Business Park,

#04-52 German Centre, 609916 Singapore

Phone +65 65640531

Fax +65 65675213

E-mail info.sg@vega.com

www.vega.com
---
CONTENTS

12

16

CONTENTS

04 Editor's Note

50 SWA Newsletter

62 What's Next?

64 Advertisers' Index

SINGAPORE FOCUS

12 3E-NF hollow fibre nanofiltration

membrane delivers heightened and

efficient performance

IN CONVERSATION WITH

14 Smart, sustainable, and secure: Grundfos

aims to transform water

16 SUEZ empowers local and global needs

18 Eau de Paris gets a jumpstart on water

sanitation

IN THE FIELD

20 Groundwater monitoring underpins

management of the Great Fen

24 WBL: A data-driven water authority

26 Lighter to handle and lighter on energy

costs: Landia delivers mixer to Fairfield

28 BIM technology overcomes traditional

design limitations

30 Endress+Hauser flowmeters monitor

springs in the southern Black Forest

region

2 WATER & WASTEWATER ASIA | SEPTEMBER/OCTOBER 2022
---
CONTENTS

54

30

39

FOCUS

32 Water down with smart water

technology

36 Design with Water 2.0: Collaborative

tools for place-based outcomes

39 Ammonium-based aeration control in

wastewater

42 Hidden truths: What is really in your

water?

44 Capturing water data for a true smart

network

HOTSEAT

46 Liquinex's solutions pack a punch

48 Bio-inspired and selected by experts:

The new "Ridge-M" membrane

technology from Berghof

49 Aqueous Vets announces senior

leadership team

ON OUR RADAR

54 Real-time chlorine measurements in

drinking water

55 Sensorex offers chemical resistant

toroidal conductivity sensor

56 AVEVA launches 2023 operations

control software

57 VpCI-641 hydrotest corrosion

inhibitor earns USDA-certified

biobased product label

58 Danfoss launches world's first active

ERD for medium and large SWRO

plants

SNEAK PEEK & SHOW REVIEW

60 ASIAWATER makes sustainable

return

61 Indo Water 2022 sets the stage

WATER & WASTEWATER ASIA | SEPTEMBER/OCTOBER 2022 3
---
FROM THE EDITOR

THE WATER UNDER

THE BRIDGE

Time and time again, the global water system

undergoes serious tests and strain — from the

effects of climate change, to water scarcity,

and issues with sanitation. These challenges

have shifted the how we come to understand

and interact with water as a natural resource

and necessity in our daily lives.

However, the water industry has persisted

even in light of these obstacles, pushing

forth and deriving novel ways that adapt and

overcome these issues. From nanofiltration

membranes to digital monitoring systems,

these innovations have allowed water utilities

to continue in their pledge to deliver safe

and sanitised water to the public, as well as

the close study of water bodies to safeguard

future use.

In the city of Paris, the upcoming 2024

Summer Olympics have mandated the need

for sanitised water supporting its people and

participating athletes. With the ColiMinder

from VWMS, Eau de Paris — the city's water

authority — is able to track sanitation levels in

the waters of the Seine, as well as detecting

contamination in a timely manner (p. 18).

loggers monitoring water levels, utilities can

act efficiently in their understanding of the

Great Fen (p. 20).

As water management rises to a greater

undertaking, the need for tighter

collaboration has become more important

than ever, requiring a comprehensive

hand that tackles as aspects of a system.

Arup's Design With Water 2.0 promotes

an outcomes-led approach, focusing on

shared values, rethinking assets, and new

stewardship models (p. 36).

With the 2030 deadline of the UN Agenda

for Sustainable Development looming

ahead, there is certain confidence that all

parties, from private to public, are wellequipped

to face future challenges ahead.

At Water & Wastewater Asia, we continue to

deliver the best and sharpest responses to

the great water challenge, highlighting the

best that the industry has to offer.

PABLO SINGAPORE

William Pang • Publisher

williampang@pabloasia.com

Agatha Wong • Assistant Editor

agatha@pabloasia.com

Pang YanJun • Business Development Manager

yanjun@pabloasia.com

let's connect!

Goh Meng Yong • Graphic Designer

mengyong@pabloasia.com

Shu Ai Ling • Circulation Manager

circulation@pabloasia.com

PABLO BEIJING

Ellen Gao • General Manager

pablobeijing@163.com

PABLO SHANGHAI

Daisy Wang • Editor

pabloshanghai@163.net

Published by

PABLO PUBLISHING & EXHIBITION PTE LTD

3 Ang Mo Kio Street 62,

#01-23 Link@AMK Singapore 569139

Tel: (65) 6266 5512

E-mail: info@pabloasia.com

Company Registration No: 200001473N

Singapore MICA (P) No: 102/12/2021

REGIONAL OFFICES (CHINA)

PABLO BEIJING

Tel: +86 10 6509 7728

Email: pablobeijing@163.com

PABLO SHANGHAI

Tel: +86 21 5238 9737

Email: pabloshanghai@163.net

@waterwastewaterasia

The Great Fen, situated between

Peterborough and Huntingdon, is an

expansive fenland of great historical position.

With water projects dating back to the

1600s to manage flooding and drainage, the

current water authority plays a delicate role

in maintaining peat loss. With smart data

Agatha Wong

Assistant Editor

All rights reserved. Views of writers do not necessarily reflect the views

of the Publisher and the Singapore Water Association. No part of this

publication may be reproduced in any form or by any means, without prior

permission in writing from the Publisher and copyright owner. Whilst every

care is taken to ensure accuracy of the information in this publication, the

Publisher accepts no liability for damages caused by misinterpretation

of information, expressed or implied, within the pages of the magazine.

All advertisements are accepted on the understanding that the Advertiser

is authorised to publish the contents of the advertisements, and in this

respect, the Advertiser shall indemnify the Publisher against all claims or

suits for libel, violation of right of privacy and copyright infringements.

Water & Wastewater Asia is a controlled-circulation bi-monthly magazine.

It is mailed free-of-charge to readers who meet a set of criteria. Paid

subscription is available to those who do not fit our terms of control. Please

refer to subscription form provided in the publication for more details.

Printed by Times Printers Pte Ltd

Water & Wastewater Asia

incorporates the official newsletter

of Singapore Water Association

4 WATER & WASTEWATER ASIA | SEPTEMBER/OCTOBER 2022
---
NEWS

AQUAPORIN ANNOUNCES COLLABORATION

ON NOVEL DESALINATION AND

WASTEWATER PILOT PROJECT

A collaboration between Aquaporin,

University of Las Palmas de Gran Canaria,

and Canary Islands Institute of Technology

will develop a forward osmosis pilot plant

based in Mancomunidad del Sureste de Gran

Canaria.

The pilot project aims to combine

desalination and wastewater treatment

to ensure sufficient clean water supplies

in areas lacking naturally sourced water.

Aquaporin will provide its membranes and

knowledge of its forward osmosis technology

and processes. The collaborators will guide,

train, and educate each other with the goal

of combining desalination and wastewater

treatment processes.

The collaboration with provide access

to knowledge that will advance the

technological development of the proposed

solution. The knowledge gained from testing

will be used to facilitate a more sustainable

water management in the Canary Islands,

which will also be a good example for other

island communities with similar water scarcity

issues.

The Aquaporin Inside membranes will ensure

minimal cross-contamination and high

efficiency on an island where circularity and

reuse are of utmost importance to address

water scarcity issues.

Desalination facilities are common around

the world where access to naturally sourced

drinking water is scarce. This means the pilot

project has the potential to be a global solution

for areas where seawater is the primary or only

source of water.

Aquaporin's vice-president of open innovation,

Jörg Vogel, said: "The collaboration with

University of Las Palmas de Gran Canaria and

Canary Islands Institute of Technology is a

great example of where combining different

technologies with forward osmosis has the

potential to make a significant difference,

and it is our belief it will further strengthen

Aquaporin's position in the market."

(Image: Aquaporin)

The concept of open innovation is a

cornerstone in Aquaporin. This is best shown

through the circular thinking of their initiatives

Aquaporin Academy, Aquaporin Garage,

and Primer, where Aquaporin is welcoming

students, supporting startups, and creating a

bridge between art and science.

A collaboration with University of Las

Palmas de Gran Canaria and Canary

Islands Institute of Technology supports

Aquaporin's commitment to open innovation.

The research, development, and innovation

project allows Aquaporin to exchange

and train key resources and enables the

development of a final solution to combine

desalination and wastewater treatment which

can be commercialsed.

The collaboration is set to last for two

years from July 2022 with the possibility of

extension.

WILO EXPANDS ITS SOLUTION EXPERTISE IN WASTEWATER TREATMENT

The Wilo Group (shown here the headquarters in

Dortmund) is acquiring two specialists in wastewater

treatment in Germany (Image: Wilo)

Wilo has taken over FSM Frankenberger

in Pohlheim and WSM Walower Stahl- und

Maschinenbau in Walow. Both companies

specialise in technologies for mechanical

cleaning and treatment of wastewater.

With these strategic acquisitions, the

technology company is specifically expanding

its water management portfolio.

"Thanks to the acquisitions, we can offer our

customers an even wider range of solutions,"

explained Oliver Hermes, president and

CEO of the Wilo Group. "We are consistently

following our strategic development from an

expert for heating applications to a holistic

solutions provider for all applications in the

transport, use and treatment of water and

wastewater."

The two companies are being integrated

into the strategic business unit (SBU)

water treatment, which combines all

Wilo Group activities in the field of water

and sewage treatment. However, the

companies remain independent and will

continue to be run by local managers.

"Wilo's market and application expertise

and the two companies' special solutions

are the ideal combination to exploit

new opportunities in existing business

segments and collectively develop new

markets," said Dr Patrick Niehr, member

of the executive board and CCO of the

Wilo Group.

6 WATER & WASTEWATER ASIA | SEPTEMBER/OCTOBER 2022
---
NEWS

SEVERN TRENT WATER BEGINS $2M CONNECTED

SAFETY PROGRAMME WITH BLACKLINE SAFETY

Blackline Safety Corp has provided further

details on its previously announced $2

million deal with Severn Trent Water for

connected personal gas detection devices to

protect its employees and support its digital

transformation.

are supported by Blackline's professional

24/7 live monitoring service, which ensures

maximum worker protection with automated

safety incident and health event monitoring,

(Image: Blackline Safety)

including features such as no-motion and fall

detection, and missed check-ins.

The deal has entered the deployment stage

with implementation underway. Upon

completion Blackline Safety will protect over

10,000 workers across six of the 12 UK water

and wastewater authorities that now use

Blackline's industry-leading technology.

Earlier this month, Severn Trent began the

deployment of the first 1,650 G7c wearable

devices. Over the coming months, the water

authority will replace their existing gas

detection units with over 2,600 Blackline

Safety G7c wearable devices and associated

services. The three-year investment secured

via Blackline distribution partner Breathe

Safety, includes an option to extend for an

additional five years of service, which would

bring the total value to over $4.2 million

(£2.7 million). Breathe Safety is leading the

implementation and device rollout with

Severn Trent.

"The value of real-time cloud-connected

data, paired with scalable technology that

adapts to changing work environments,

allows Blackline to continue to see strong

adoption of our connected safety solutions

across the water and wastewater industry

providing water and wastewater services to

over 26.6 million customers — almost 40% of

the population of the UK," said Julian Jarvis,

UK zone manager at Blackline Safety.

Blackline's G7 lone worker and personal gas

detection devices are robust and intelligent

connected wearables that accurately detect

gas hazards, instantly notify both workers

and managers in real time, enable contact

tracing as well as corrective action to be

taken to mitigate future incidents. The devices

WATER & WASTEWATER ASIA | SEPTEMBER/OCTOBER 2022 7
---
NEWS

PEPSICO AND ARIZONA STATE UNIVERSITY

LAUNCH GLOBAL WATER ACADEMY

(Image: PepsiCo)

PepsiCo has announced, in partnership with

Arizona State University (ASU), the open

sourcing of the PepsiCo Water Academy. The

course, jointly developed by the partners,

will be open to individuals outside of the

company for the first time. The programme

will initially be available to a limited number

of participants outside of PepsiCo this year,

with a goal of expanding this in 2023 based

on demand. The academy is designed to help

professionals gain a basic understanding of

water resources and how water stewardship

practices can be implemented.

"PepsiCo has learned a great deal about

water stewardship along our journey and

we carefully curated the most impactful

lessons here, in partnership with many of the

world's leading water experts," said David

Grant, global director of water stewardship

at PepsiCo's. "Responsibly managed water

resources depend on collaboration among

multiple actors across the watershed. We

hope this course can help stakeholders

build the foundational knowledge required

to support them on their water stewardship

journey."

The course was initially developed for PepsiCo

associates responsible for managing water

resources to help build their knowledge base

and guide their annual objectives. After seeing

the value that the course provided internally,

PepsiCo and ASU decided it was important to

share those learnings and insights with others

outside the company.

Participants will gain actionable insight around

where water comes from, how businesses can

better manage it, how water is governed, and

how to effectively plan for the future. At the end

of the course, participants will receive a digital

badge with a certificate of completion from

ASU and PepsiCo.

BRUCE A. HAUK JOINS SJW GROUP AS CHIEF CORPORATE

DEVELOPMENT AND STRATEGY OFFICER

(Image: SJW Group, via Business Wire)

SJW Group has announced that its board of

directors has appointed Bruce A. Hauk as

chief corporate development and strategy

officer, effective 22 Aug 2022. Hauk will be

responsible for business development and

strategic planning. In this role, he will lead

the company's acquisition and growth

initiatives.

Eric W. Thornburg, chair, president and

CEO of SJW Group, stated: "Bruce is

a seasoned executive with substantial

experience in the water and wastewater

industry, most recently serving as President

of NextEra Water. He has led teams and

driven results in all areas of water utilities

— from strategy planning and execution,

administration, budget and forecasting,

project management, regulatory, customer

service and operations. His leadership style

aligns with our company's values and he

will be a welcome addition to our executive

leadership team."

Hauk has built strong working relationships

with regulators and local officials in his

tenure and the utilities in which he served

were recognised repeatedly by JD Powers

for residential customer satisfaction.

Prior to joining NextEra, Hauk served in

several roles of increasing responsibility at

American Water for more than 16 years, lastly

serving as president of regulated operations

and military services group and then as

deputy chief operating officer. Additionally,

Hauk has experience in municipal

government, having served as deputy mayor/

chief administrative officer for the city of

Westfield, and as town manager/director

of public works for the town of Westfield,

Indiana.

Hauk will build on SJW Group's growth

strategy into a multi-state water and

wastewater company, with operations in

California, Connecticut, Maine and Texas.

Hauk was the recipient of the 2019 inclusion

and diversity award presented by the

National Black Chamber of Commerce. Also,

while president of Illinois American Water,

his company won the 2018 Outstanding

Corporate Leadership Award from the Illinois

Black Chamber of Commerce.

8 WATER & WASTEWATER ASIA | SEPTEMBER/OCTOBER 2022
---
NEWS

CARESOURCE AND

ELEVATE VENTURES

INVESTS IN 120WATER

CareSource, a national managed care

organisation, has announced a $1 million

investment in 120Water, a digital water

solution that helps utilities and state and

local agencies to manage critical water

programmes that protect public health.

CareSource's investment, which is part of a

$3 million round that included participation

from Elevate Ventures, Allos Ventures and

other existing investors, was made through

the CareSource Diversity & Social Impact

Fund.

"CareSource recognises the significant

health consequences of lead contamination

in the communities we serve," said Steve

Smitherman, CareSource Indiana market

president. "We applaud 120Water's

innovative solutions for reducing these

risks and are proud to support their work."

A 2021 survey by the National Resources

Defense Council (NRDC) found Indiana,

along with Illinois and Ohio, to have

some of the most lead service lines in

the nation. The Environmental Protection

Agency (EPA) said there are between six

and 10 million lead services lines in the

country.

"Since January, the number of water

systems we're partnering with to inventory

lead pipes has grown by more than 70%,"

said Megan Glover, co-founder and CEO of

120Water. "This investment will be used to

continue to hire water quality professionals

to meet the needs of our customers. It will

also be used to invest in R&D and expand

the functionality of our software platform,

further supporting the water quality needs

of utilities we serve."

"The collaboration between CareSource

and 120Water is a perfect pairing to

deliver public health benefits to those

communities most in need of modern

water quality solutions, including

communities in and around Indiana,"

said Phil Lodato, general counsel and

CCO at Elevate Ventures. "Elevate is

pleased to have helped make this highimpact

connection, as well as to make

a promising capital investment into an

exciting, fast-growing Indiana technology

company."

Fresh water produced at

highest efficiency

Water creates life. Water is vital for human beings, wildlife

and nature. But access to fresh, clean water is often not an

option. Seawater reverse osmosis is a sustainable and

efficient way of producing fresh water.

With the Danfoss SWRO range of APP pumps and iSave

energy recovery devices you get the market's most energy

efficient, and sustainable solution.

See how tomorrow's solutions are ready today.

Visit desalination.danfoss.com

Sign up for our Newsletter

Ad 123x185_1.indd 1 18-02-2022 11:39:43

WATER & WASTEWATER ASIA | SEPTEMBER/OCTOBER 2022 9
---
NEWS

US BUREAU OF RECLAMATION DELIVERS $1.2 MILLION IN GRANTS

Coachella Valley Salt and Nutrient

Management Plan. In addition, they will

develop water management tools to model

and forecast nitrate and total dissolved

solids to sustainably manage salt and

nutrient loading in the basin to protect its

beneficial uses.

The Rancho California Water District in

Temecula, California, will receive $200,000

to create better hydrologic data for the

Murrieta-Temecula Groundwater Basin by

developing a new water management tool

for improving basin management efficiency.

In addition, they will add new remote

sensing equipment to their 26 wells within

the Pauba Valley.

The United States Bureau of Reclamation is

investing $1.2 million in eight external applied

science projects that will develop tools and

information to support water management.

The projects selected include the development

of modelling and forecasting tools,

hydrologic data platforms and new data sets

to inform decision-making.

"Having the accurate data and quality

information is essential for water managers

to make critical and timely decisions. We

must ensure that we are supply smart,"

said David Palumbo, deputy commissioner.

"Applied science grants support improving

water management tools so water managers

can make informed decisions and improve

their management of water, especially in

times of prolonged drought and climate

change."

In Arizona, the Nature Conservancy with the

Yavapai-Apache Nation will receive $64,273

to collaborate with watershed stakeholders

in the Verde River Basin Integrated

Hydrologic Modeling Project. They will seek

to refine and improve an existing hydrologic

modeling tool for the Upper and Middle

Verde River Basins in Yavapai County,

Arizona.

The Agua Caliente Band of Cahuilla Indians

in Riverside County, California, will receive

$55,000 in conjunction with the Agua

Caliente Water Authority to develop an

online Geospatial Data Platform.

The city of Long Beach will receive $200,000

to develop and utilise tools and technology

to maximise groundwater withdrawal

sustainably and reliably.

The Coachella Valley Water District in Palm

Desert, California, will partner with seven

other agencies in Southern California's

Mission Creek Subbasin to update the

The Santa Ana Watershed Project Authority

in Riverside, California and in collaboration

with the Desert Research Institute, will

receive $100,000 to develop a standard

protocol for evaluating cloud seeding

benefits to complement a planned pilotscale

programme for weather modification.

In addition, the project will provide standard

guidelines and procedures to effectively

quantify the benefits of increased

precipitation from weather modification

programmes.

The Southern Nevada Water Authority in

Las Vegas, Nevada, will receive $193,085

to expand forecasting functionality in an

existing water quality model for Lakes

Mead and Mohave.

The Post Oak Savannah Groundwater

Conservation District in Central Texas,

and in collaboration with the Meadows

Centre for Water and Environment at Texas

State University, will receive $200,000 to

develop an operations and management

model to be used by the district to help

establish a comprehensive set of rules,

policies and strategies to address water

resource management challenges in

Central Texas.

10 WATER & WASTEWATER ASIA | SEPTEMBER/OCTOBER 2022
---
NEWS

NORTHUMBRIAN WATER LIMITED SELECTS

ASYSTOM FOR PREDICTIVE MAINTENANCE PROJECT

Northumbrian Water Limited (NWL) has

chosen Asystom for its predictive maintenance

project after its selection as part of a pilot to

prevent failures and monitor the health of their

equipment.

During the trial in June 2021, AsystomPredict

detected a leak within days of installation due

to a spike in ultrasound levels and an alert was

generated. The team was able to make the

repair without any damage to the equipment

or a shutdown. Since then, NWL has deployed

AsystomPredict on eight sites, with more to

follow.

Besides combining sensors and carrying

out advanced diagnostics of machine

health assisted by artificial intelligence,

AsystomAdvisor also allows its users to be

alerted well in advance of a possible machine

failure and instantly visualise, regardless

of their skill level, its probable root causes.

AsystomSentinel beacons monitor not only

temperature and triaxial vibration, but also

ultrasound (precursor of vibrations that cause

damage to a machine).

Dave Watson, reliability engineering manager

at NWL, commented: "We have developed

a great working relationship with Asystom

over the last 12 months and found them to

be responsive and knowledgeable, helping

us gain early detection of potential asset

failure and allowing us to make proactive

(Image: Asystom)

interventions. The multi-sensor beacons have

proved accurate and quick to deploy and the

incident advisor has given us useful insight

into the causes of failure at an affordable

cost. The LoRa connectivity between the

sensor and gateway has performed well and

Asystom have been proactive in developing

their platform and the use of AI to enhance its

diagnostic capability."

SMART WATER NETWORK MANAGEMENT

Optimize resOurces - ensure water quality - reduce cOsts

SOFREL DL4W

4G LTE-M/NB-IoT

Data logger

Flow and pressure monitoring

Night flow analysis

Flow rate alerts

Leak detection

CSO monitoring & detection

learn mOre:

SOFREL ChlorIN

Autonomous chlorine

level measurements

Real-time monitoring

Easy to install

Immediate notification in

case of threshhold breach

learn mOre:

www.lacroix-environment.com

WATER & WASTEWATER ASIA | SEPTEMBER/OCTOBER 2022 11
---
SINGAPORE FOCUS

3E-NF HOLLOW FIBRE

NANOFILTRATION MEMBRANE

delivers heightened and

efficient performance

Suited for use across the water and wastewater

treatment industry, the 3E hollow fibre

nanofiltration membranes offer significant

benefits to operating systems.

With that, Fu set out to tackle these issues

through hollow-fibre (HF) nanofiltration

membranes (NF). 3E's HF NF membranes

products, launched in 2019, are the world's first

HF NF membranes that have achieved largescale

production with low energy consumption,

customised salt rejection rate, elevated

operation temperatures, and significant

oxidation and fouling resistance. Applications

for the membrane include municipal and

industrial wastewater recycling, cooling tower

water treatment, direct drinking water, seawater

reverse osmosis pre-treatment and zero liquid

discharge.

3E-NF membranes differ from the traditional

spiral NF membranes and some developing

HF-NF membranes. This is due to the rejection

of MgSO 4

found in these two membranes,

which are between 80-96%, making them

suited for only drinking water and the

production of NEWater. However, the 3E-NF

offers a wider rejection rate of 5-95%, allowing

it to be used across different applications,

ranging from seawater desalination pretreatment,

material separation to NEWater, as

well as the production of drinking water.

The membranes support wastewater recycling for cooling towers

Having served more than 20 years in the due to the dead-end corners in the feed

industry for embarking on a research

and permeate spacers of the spiral-wound

career, Fu Fengjiang noticed the existing configuration. Furthermore, these membranes

problems with spiral-wound reverse

demanded high operation pressure with high

osmosis (RO) and nanofiltration (NF)

energy consumption, and necessitated the

membranes: they were not only overtreating

the water, and thus making it

went into the RO/NF system; there was

addition of reductants before the feedwater

undrinkable by removing all minerals,

also a restricted product range for other

but they also had poor fouling resistance applications.

The 3E NF membrane offers the following

advantages compared to other types and

brands of NF membranes.

1. Unlike other HF NF coatings which can

be peeled off easily as glue to the skin,

the one-step 3E NF coating adheres to

the surface like a second skin;

2. Strong anti-fouling property with super

hydrophilic and smooth selective layer

surface;

3. High resistance to antioxidant

substances, this means chemical cleaning

can be used for avoiding biofouling;

4. Lower operation pressure and less

footprint

12 WATER & WASTEWATER ASIA | SEPTEMBER/OCTOBER 2022
---
SINGAPORE FOCUS

MARICULTURE WATER RECYCLING

3E-NF membrane has been used for

seawater fish farm wastewater recycling,

laundry wastewater recycling, municipal

wastewater recycling for cooling tower

feed water, and more. In particular, the

membrane is suited for desalination pretreatment.

The 3E NF membrane module

Desalination plants generally use two types

of membranes: UF as a pre-treatment

to remove suspended particles, and RO

to remove the dissolved solids. The UF

membrane pre-treatment for the seawater

desalination is unable to remove hardness

and the majority of organic pollution, and

consequently the RO system is prone to

fouling and scaling. This leads to more

production downtime for the RO system

cleaning and maintenance as well. While

the water industry has been assessing

the removal of hardness through NF

membranes for a long time, no spiral-wound

NF membrane can replace the existing

UF membranes due to the space and flux

constraints.

On the other hand, HF NF membranes

improve desalination pre-treatment.

As they have the same configuration

as UF membranes and are capable of

removing hardness, they are a one-toone

replacement that will reduce the

overall capital and operating expense

of the desalination plants. With a wide

range of salt rejections to better suit

difficult feedwater qualities and permeate

standards, 3E NF membranes, can deliver

clean water with valuable ions preserved.

One of the company's products was used in

a seawater fish farm to achieve low energy

water recycling in Singapore. Led by the

Singapore government and Singapore

Fish Culture Association, along with Ngee

Ann Polytechnic's Environmental & Water

Technology Centre of Innovation, Aquarium

Iwarna, a marine ornamental fish import

and export company, cooperated with 3E

for the commissioning and installation of a

nanofiltration membrane wastewater reuse

system offering a 0.5m 3 /h capacity.

The system delivered the following

specifications:

• Feed: 38,000.0ppm

• Flux: 0.4±0.5 litres per hour

• Salt rejection: 20±0.3% (2000ppm

MgSO 2

)

• Operational pressure: 2.0 bar

With the 3E nanofiltration membrane, water

can be taken directly from the fish pond,

reducing equipment and overall operation

costs. More than that, the 3E-NF can

remove green algae via a variety of methods,

including backwashing, resulting in a more

stable system operation, in contrast to

conventional nanofiltration and reverse

osmosis membranes which are sensitive and

prone to the blooming of green algae in sea

water.

SUPPORTING WATER RECLAMATION

With up to 40LMH/bar flux, 3E-NF05

can also be used to achieve one-to-one

replacement of the traditional UF membrane

for the seawater desalination to reduce the

RO membrane fouling and scaling issue

without any footprint enlarge.

In another project, a 3E-NF05 HF

membrane system, with a 2,000m 3 per

day capacity NF-RO membrane system

design for cooling tower feed water, was

supplied, commissioned, and installed for

the Shangdong Kytoland Watertech. The

organisation had decided to use this system

in order to reduce demand of the Anqiu

thermal power plant for tap water, and to

preserve current drinking water resources.

After careful investigation, the 3E NF-RO

membrane was utilised in 2020 to treat

the reclaimed water, meeting discharge

standards; it was used for the cooling

tower's water at the thermal power plant

after reaching the same standards as well.

With the NF-RO reclaimed water treatment

equipment, 3E thus attained its first

reclaimed water reuse project.

The system thus presented the following

parameters:

• Effective membrane area: 61.0m 2

• Water flow rate: 128±0.5 ton/day per bar

• Operation pressure: Maximum 3.0 bar

• Salt rejection: 2000ppm; MgSO 4

: 10±1%

• Maximum free-chloride resistance:

1000ppm

With the 3E-NF membranes, the overall

system will be able to run in a more stable

manner with a low maintenance cost. This

is due to the compact surface which is

not easily polluted, while also offering a

membrane flux that is close to ultrafiltration

membranes. In comparison, ultrafiltration

membranes offer a molecular weight

rejection rate of more than 5000da, which

cannot intercept the hardness of and organic

matter in water, resulting in the scaling and

pollution of the back RO membrane.

In addition, the 3E-NF membrane can

be used in a variety of ways, including

backwash to remove biological pollutants,

among others; its operating conditions

are also similar to those of ordinary

ultrafiltration membranes. Altogether, the

use of 3E-NF has supported a more reliable,

stable and feasible reuse of municipal

wastewater.

WATER & WASTEWATER ASIA | SEPTEMBER/OCTOBER 2022 13
---
IN CONVERSATION WITH

SMART, SUSTAINABLE,

AND SECURE:

Grundfos aims

to transform water

In times of water scarcity, smart solutions hold the key

to opening doors for sustainable futures.

By Agatha Wong

spontaneous challenges that can arise

along the way. Grundfos, according to

Nanda, recognises its role to drive products

and services that are sustainable and

resource-efficient. The company aims to

create cleaner technologies and solutions

which limit water consumption, improve

efficiency, enable consumers to reduce their

water and energy consumption and increase

the reuse of resources.

Grundfos inspects the Demand Drive Distribution system in a Cambodian water network

According to the Global Water Institute, and economic development, while challenges

700 million individuals worldwide could such as increasing droughts experienced

be displaced by intense water scarcity by in Asia, and ageing water infrastructure that

2030. In Asia, the issue of water scarcity is subsequently leads to water loss within the

particularly acute: though the region is home system (non-revenue water, or NRW), means

to 65% of the world's population, it contains we are losing more of the precious resource.

only 47% of the global average of fresh water Conservation and water reuse is therefore

per person. Moreover, it is projected that critical," highlighted HP Nanda, CEO Water

water demand will rise by 55% in the coming Utility, Grundfos.

years as urban areas in Asia continue to grow

and develop.

Indeed, as Asia-Pacific is expected to bear

the brunt of climate change in years to come,

"There are two sides to water utilities — not there is a strong urgency for water companies

enough water, and too much of it. Demand for and utilities to meet not only the changing

water is soaring alongside population growth demands of the region, but also navigate the

SUPPORTING SUSTAINABILITY

Sustainability has been a hot topic across

the water industry, and with the deadline

for the 2030 UN Agenda for Sustainable

Development fast approaching, the call for

both the private and public sector to work

together is strong. On that front, Nanda

believes that the issue of NRW remains

pertinent to address unnecessary water

loss, which might exacerbate global water

scarcity. There is thus a need for water

utilities to upgrade their current pipelines

and infrastructure in terms of capacity

and distribution. This can be done through

the latest solutions offered by the water

industry.

Nanda added: "With digitalisation, water

utilities can use technologies such as

Grundfos' Demand Driven Distribution that

intelligently adjusts water flow according to

demand through the use of remote sensors.

14 WATER & WASTEWATER ASIA | SEPTEMBER/OCTOBER 2022
---
IN CONVERSATION WITH

This reduces any excess water pressure,

which in turn limits water leakages and

losses."

In Vietnam, solar arrays

provided a much-needed

update to the local water

infrastructure

In addition, it is also imperative for utilities

to diverse their water supplies. A circular

approach is one such way — by designing

waste out of the resource ecosystem and

maximising the value of resources, they

can be used for a longer time. Of this, water

reuse plays a large role. The treatment of

wastewater such that it can be fed to our

water cycles can be vital in times of scarcity.

Nanda noted that water treatment solutions

now are capable of empowering companies to

reuse their wastewater, reduce costs, and do

their part to ensure that natural water sources

are not unnecessarily exploited.

"However, innovation can come with a high

barrier to entry, especially for developing

countries. Most are unable to afford the

burden of these huge infrastructure costs,

while some see new innovations as an

expense rather than an investment," said

Nanda.

With that, Grundfos Energy Earnings serves

as a payment service business model that

saves energy without requiring an initial

investment, allowing customers to finance

new pump solutions with a share of their

energy earnings. Nanda further shared that

with this, Cambodia's Takéo Safe Water

Supply paid for themselves with about 15% in

energy savings.

"In a similar vein, availability of labour among

utilities is becoming a new challenge, more so

after the COVID-19 pandemic. Thus, we see

remote condition monitoring and predictive

maintenance will be levers utilities can use. In

response, we introduced Utility Connect few

months ago and are expanding this globally.

We see the strong relevance of this solution

for Asia Pacific region."

WORKING SMART

At Grundfos, the company is committed to

developing and installing water efficient and

water reuse solutions. In Nanda's words, the

company strives to optimise water solutions

at every stage of the operational water

cycle: water intake, water consumption,

water treatment, water reuse and water

replenishment.

He further shared that digital technology and

artificial intelligence have played a significant

role in helping the company with their

sustainability goals, through remote sensing,

asset management, predictive analytics, and

more. Digital innovations can play a vital role

in reshaping the relationship between humans

and water from a one-way direction into a

dialogue, said Nanda. With real-time sensors

and data analytics used for pre-emptive

checks and predictive maintenance, water

use can be approached with a more strategic

hand.

"One of our learnings was the need to

prioritise reducing our overall footprint,

including our end-users' emissions while

using our own products and solutions. We

have also worked with internal and external

stakeholders to further our ambition of

contributing to safely managed drinking water.

We have become wiser in how we can define

contribution in a meaningful way and what our

main contributions are," he added.

Notably, the company has also been diving

into renewable energy. These technologies

can help areas in Asia-Pacific where water

infrastructure is underdeveloped or outdated;

Can Duoc, in the Mekong River Delta region of

Vietnam, was one of such locations to benefit

from solar energy.

"With donations from the private sector, a

new water treatment plant, partially powered

by solar arrays and a solar control panel,

was built in the district," said Nanda. "This

innovative solar-powered water treatment

solution now serves 3,000 households

in Can Duoc, delivering safe water to the

communities. The solar technology has also

been instrumental in saving energy for the

pumping station while lowering operating

costs — up to one-third of the electricity bill

— for the investors."

THE LOCAL TOUCH

When it comes to Asia-Pacific, Nanda

acknowledged that the region has made

significant progress in sustainable

infrastructure over the years. However, the

Asian Development Bank has noted, in its

water development report, that national water

security in the region still faces challenges

due to uncontrolled urbanisation and lagging

rural development, vulnerability to weather

and climate events, and environmental

pressures.

"For Grundfos, our focus remains on bringing

innovative and sustainable water solutions to

the region. To achieve that, we will work more

closely with our end-users to understand

their needs better and develop more locally

appropriate and tailored solutions to their

unique water challenges," explained Nanda.

One such way would be though digitalisation,

as the company works toward being a digital

solution and service provider and serving

end-users with system-focus and digital

offerings. On that front, the company is keen

on collaboration with partners and customers

to build a holistic water system while

balancing data security and connectivity.

Nanda concluded: "Utilities need partners

who can understand their problems, solve

them efficiently and create value for all

stakeholders. We need ecosystem-level

partnerships to solve these challenges, and

that is the approach we have adopted within

Grundfos that is aligned to our Water Utilities

theme — transforming water together.

WATER & WASTEWATER ASIA | SEPTEMBER/OCTOBER 2022 15
---
IN CONVERSATION WITH

SUEZ EMPOWERS

local and global needs

Pressing concerns surrounding the future of water has pushed many

water companies into playing their part for the sustainability agenda,

both regionally and across the world.

By Agatha Wong

Raising SUEZ as an example, Kaviani

explained that the company considers

climate change mitigation as one of their

core strategies for sustainable development

and business growth. With the aim to reduce

the impacts of climate change on water

treatment, promote recycling, recovery

and reuse, as well as developing climateresponsible

models, he noted that SUEZ

is equipped with the know-how on building

and operating self-sufficient wastewater

treatment plants. The company is also

capable of recovering carbon molecules from

wastewater for reuse, reducing consumption

of fossil fuels.

Today, SUEZ has a strong platform of 100 engineers and professionals in the Philippines, allowing the

group to respond quickly to the needs of clients in Southeast Asia.

The Asia-Pacific region has delivered

promising growth in the past few years, and as

the world enters the third decade in the new

century, it appears that the region will continue

to prosper. Rapid urbanisation and population

growth are some of the factors that have

propelled the water industry in Asia-Pacific to

greater heights.

On the other hand, the shadow of climate

change casts a dark pallor over the landscape

in this part of the world. With volatile weather

patterns ranging from prolonged dry spells to

persistent rainfall, a robust water infrastructure

is needed to fortifying the water needs of the

Asia-Pacific. On that vein, water companies

are thus strengthening their capabilities and

solutions to meet the needs of this everevolving

zone.

"Across the region, the water industry has

started to adapt with innovative solutions

to limit emissions, but we must still rise to

the challenge," explained Farchad Kaviani,

managing director SEA at SUEZ. "There is

still a long way to go for the water industry to

reach the net zero objective. Technical and

digital progress in the industry has made

it possible to preserve resource thanks

to predictive tools which integrate climate

change issue, to implement wastewater

treatment solutions and to recycle water

resources, notably for industrial and

agricultural consumption."

"While competition continues to increase,

there is a shift to operate and manage water

resources and facilities more wisely than

ever. The current demand is no longer in

building more new infrastructure but also

through developing new growth models

and technologies that are circular and

sustainable," he offered.

WORKING HAND-IN-HAND

Indeed, with the blueprint for sustainable

and actionable change up ahead, there is

still much that water companies can do to

safeguard the future of the industry. Kaviani

suggested that organisations should "think

globally and act locally" in order to meet

decarbonisation goals. This could be done so

through making use of green energy in dayto-day

operations, as well as the integration

of water and energy in a global approach to

procurement.

16 WATER & WASTEWATER ASIA | SEPTEMBER/OCTOBER 2022
---
IN CONVERSATION WITH

In order to excel at the game of water

resilience, it is also essential that all parties

involved play their part. Kaviani maintained

that it is only through collaboration between

stakeholders that guaranteed success to

water and sanitation can be delivered. This

is in light of increasing water stresses and

the emergence of new technologies that

necessitates greater collaboration beyond the

public and the private sector.

Furthermore, as Kaviani added, private

companies such as SUEZ can support

these initiatives through their innovations,

technical expertise and digitalisation. In their

growing portfolio of projects that has seen the

company support the digital transformation

of the stormwater network in Singapore, to

operating China's first water PPP in Macau,

and the monitoring of water leaks through

smart solutions in Brazil, SUEZ has played

a part in shaping the water infrastructure of

these countries.

However, technology is not everything, as

Kaviani reiterated: "We must rethink water

management models and adopt a long-term

approach on water projects management.

It implies a few fundamentals, namely

clear governance and stable legislation;

constructive dialogue with all stakeholders

with a local and long-term anchoring; and the

transfer of know-how and competencies."

ATTUNED TO LOCAL NEEDS

As an example of how the future of a

sustainable water framework might appear,

SUEZ has supported a project with Manila

Water to promote wastewater development

in Metro Manila in the Philippines. The

company currently has an engineering

platform of over 100 engineers and

professionals locally to serve the country

and the region, tapping on SUEZ's solutions

to provide drinking water and navigate

sanitation challenges effectively.

"Although the Philippines has sufficient

water resources, it was found that water

availability is still threatened by some major

water resources problems: increasing water

demand due to rapid growth in population,

water resources pollution, droughts, and

flooding (due to El Niño and La Niña) and

the need to strengthen its institutional

framework," said Kaviani. "There is a

need to develop infrastructure that is more

cost-effective and technically feasible.

Infrastructure that can adapt to changing

water quality brought by climate change

(increasing turbidity and algae), compact in

view of the high cost of real estate in Metro

Manila."

For the project, wastewater infrastructure

expansion was focused in Metro Manila,

where its concessionaires are planning new

municipal wastewater treatment facilities in

line with a wider government programme to

reduce pollution in the contaminated Manila

Bay, Pasig River, and Laguna Lake among

others. This, according to Kaviani, is aligned

with the national government's objectives

to achieve 100% access to sanitation by

2028 (which will require an investment

of approximately $619 million per year

according to GWI).

"The overall objective for SUEZ and its

partners is to create cities and towns that

are resilient, liveable, productive, and

sustainable. We are exploring partnerships

with local stakeholders to support the

development of water infrastructure in many

provinces facing pressing water challenges,"

said Kaviani.

SUEZ is operating in

16 industrial parks in

Asia, one of which is

the Shanghai Industrial

Chemical Park zone in

China, where the company

celebrated its 20th

anniversary this year.

FOR THE REGION, FOR THE WORLD

Altogether, the Asia-Pacific region presents

unique combination of challenges for the water

industry to tackle. As it continues on its upward

climb towards greater economic success,

water companies can contribute to its growth

by ensuring a robust water infrastructure. At

SUEZ, the company remains adherent to its

environmental and sustainable while serving

municipals and industries in Asia.

"In the water and wastewater sector, we

identify four main areas to better support

the region – reducing pollution emissions for

industrial wastewater treatment; restoring

water ecology with projects such as river

remediation; treatment and reuse of sewage

or sludge and finally smart water, and other

concepts to improve the performance of water

and wastewater management.

"Amid widening recognition of how

environmental issues create business

opportunities and risks, SUEZ in Asia

continues to place preserving the environment

at the top of its mission priorities. We are

determined to protect the planet's resources

from degradation, through concrete actions

that deliver excellent and continuous

environmental value. This remains the core of

our daily business, it is how we believe we can

have the greatest impact for the planet and its

people," concluded Kaviani.

Farchad Kaviani is the managing director at SUEZ for SEA

WATER & WASTEWATER ASIA | SEPTEMBER/OCTOBER 2022 17
---
IN CONVERSATION WITH

EAU DE PARIS GETS

A JUMPSTART

on water sanitation

The city of Paris faces a series of challenges in the years ahead: besides

meeting the needs of an urban population, they must prepare to meet

high water standards ahead of the 2024 Summer Olympics.

By Agatha Wong

With these monumental tasks, Eau de

Paris faced two distinct challenges: the first

challenge laid in the detection of faecal

contamination for the Seine or Marne River,

which supplies the water treatment plants. The

second challenge focused on the monitoring

of the quality of produced water in almost

real-time.

Furthermore, in lieu of the upcoming 2024

Summer Olympics, monitoring of the Seine for

triathlons and other swimming competitions

became necessary. The need for sanitary

water became prevalent as past Olympic

games saw significant E. coli contamination in

their natural waters.

First provisional installation of a ColiMinder, named "Arthur", at the intake of the drinking water plant in Joinville

In charge of more than 2,000km of water has commissioned Eau de Paris to monitor

networks, Eau de Paris is responsible for tap bathing water quality as part of the city

water production through the eponymous government's targets to construct more

city. With drinking water produced partly from urban bathing sites, such as the Bassin

river water and spring water, the two different de la Villette, which has been opened for

water networks produce different qualities swimmers in the past few years, along

of water: tap and non-drinkable; the latter with six more in the works. These efforts

being used for street washing and irrigation. are channelled towards the 2024 Summer

In addition to these responsibilities, the city Olympics.

With these concerns, Eau de Paris needed

a solution that will enable them to meet the

sanitation needs of an urban population, as

well as anticipating any possible challenges

that might arise in the city's water facilities

during the 2024 Summer Olympics. The

water authority thus turned to VWMS, who

offered the ColiMinder as a candidate for their

demands.

THE RACE AGAINST CONTAMINATION

Fully automatic with a fast sample-to-result

rate of 15 minutes, the ColiMinder offers

specific measurement results for determined

indicator organisms such as E. coli and

enterococci. It is widely applicable across

different aspects of water and wastewater

18 WATER & WASTEWATER ASIA | SEPTEMBER/OCTOBER 2022
---
IN CONVERSATION WITH

Left: The ColiMinder "Arthur" monitors the Seine's water to detect probable CSOs

from wastewater treatment plants upstream

The first ColiMinder installation in Paris monitors E. coli and Enterococci levels in

bathing water at Bassin de la Villette

treatment, ranging from drinking water, bottled

water, wastewater, process water, membrane

integrity, to surface and bathing water. For each

measurement, the ColiMinder provides three

results: The microbiological activity, which

reflects the degreee of contamination, the

transmission of the sample as a measure of the

transparency or turbidity of the sample, and the

intrinsic flourescence of the sample.

Depending on the reagent used, the

ColiMinder can measure the degree of faecal

contamination or total microbiological activity;

this parameter is used to monitor the quality

of drinking water, but also in mineral water

production. In addition, according to VWMS,

the system is very robust and low-maintenance:

consumables only have to be refilled every

1,000 measurements.

"We were very impressed by the reliability and

by the rapidity of the measurements," shared

Dr Sophie Haenn, microbiology engineer —

R&D at Eau de Paris. "Its reliability was proven

through our own evaluation and validation of

the ColiMinder measurements, which were

conducted by parallel testing with traditional

culture-based lab method. The ColiMinder

results showed a significant correlation with lab

results."

Dr Haenn further added that the flexibility of the

ColiMinder was a key factor in the authority's

decision in choosing the system, as it can be

used in any water type: from drinking water

through surface/bathing water. The ColiMinder

has been shown to detect CSO (combined

sewer overflow) from a wastewater treatment

plant upstream the Seine River. For drinking

water, Eau de Paris is using the system not

only for raw water intake before chlorination,

but also for monitoring produced drinking

water after chlorination.

HEADED FOR THE FINISH LINE

The multiple benefits offered by the

Coliminder thus enabled Eau de Paris to

meet the needs of an urban population.

Where sanitation is concerned, the water

authority was particularly impressed that

the ColiMinder could produce results in 15

minutes, as contamination can occur very

quickly, posing a danger to the public's health.

With the system installed, Eau De Paris

can now react swiftly in the event of faecal

contamination, allowing them to close the

water treatment plant until the contamination

has flowed through.

"For the moment, the Coliminder is mostly

used in research and in test installations at

different locations: at the entrance of our

water treatment plants to monitor the quality

of the water used to produce tap water, at

the exit of the water treatment plant before

chlorination. Our drinking water operators are

starting to understand that the ColiMinder

can be very important by providing the so

important information on microbiological

water quality in almost real-time, helping them

to improve their processes and make them

safer and more sustainable," said Dr Haenn.

The installation of the ColiMinder has thus

enabled Eau de Paris to respond rapidly to

any possible contamination in their waters.

More crucially, the installation of this system

will assist the water authority to deliver

proper, sanitised water for the athletes and

participants of the 2024 Summer Olympics.

The quality of drinking water, but also the

one of water in urban recreation areas is of

high importance for the urban population. For

safeguarding this, the ColiMinder is a choice

solution.

"In times of scarcity, water has to be used

in a way that makes sense according to

its given quality," said Dr Haenn. This was

proven through the second use of the water

networks in Paris — non-drinkable water

for street washing and irrigation. Though

the system had been out of use for almost

20 years, Eau de Paris was able to revive it

recently.

"Among other online instrumentation, the

ColiMinder has also helped us to understand

this network better. Thus, it has been revived

and we can now re-use water in respective

quality for street washing and irrigating

public gardens in Paris instead of using water

in drinking water quality for these tasks,"

revealed Dr Haenn. "Our team responsible for

drinking water also increasingly understands

how the ColiMinder can help to make

processes in drinking water production and

distribution more efficient, safer and thus

more sustainable."

WATER & WASTEWATER ASIA | SEPTEMBER/OCTOBER 2022 19
---
IN THE FIELD

GROUNDWATER

MONITORING UNDERPINS

management of the Great Fen

Wendy Strain from OTT HydroMet explains how a monitoring programme is

achieving the ambitious sustainability goals that have been set for the Great Fen.

Walking through the Great Fen,

watching Chinese water deer grazing in

the distance, whilst a raven calls nearby

and a pair of buzzards hover in the

rising heat, visitors could be forgiven

for thinking that they were surrounded

by a natural environment untouched by

human hands.

However, as Henry Stanier, monitoring

and research officer at Wildlife Trust,

explained: "Nothing could be further

from the truth; human activity, mostly

driven by agriculture, has focused

primarily on water levels, and this has

had a profound effect on the local

ecology."

In 2001, five organisations came

together to set out a vision for the

Great Fen, with the aim of providing a

more sustainable future for the area. In

many respects, this work focuses on

restoration by managing water levels,

thus a network of monitoring wells has

been established.

BACKGROUND

The Great Fen is an expanse of

nationally significant fen landscape

between Peterborough and Huntingdon.

The area contains many farms and

villages, as well as two National

Nature Reserves: Woodwalton Fen

and Holme Fen.

20 WATER & WASTEWATER ASIA | SEPTEMBER/OCTOBER 2022
---
IN THE FIELD

Holme Fen and Woodwalton Fen are

Several issues have arisen as a result

both part of the Great Fen, a habitat

of the drainage. Firstly, there has

restoration project, involving the local

been a huge impact in local ecology

Wildlife Trust, Natural England, the

and biodiversity with the loss of a

Environment Agency, Huntingdonshire

large area of wetland. Also, as the

District Council and the Middle Level

ground level subsided, it became less

Commissioners.

sustainable to pump water up into

the main drain. The loss of peat has

The Great Fen covers 14 square

become a major concern because, as

miles of land that is being restored

a carbon sink, peat is hugely important

to wild fen over a 50- to 100-year

in the fight against global warming.

timescale, creating a huge nature

recovery network, and landscape

Peat forms in waterlogged, acidic

for threatened fenland species such

conditions when layers of partially

as bitterns and otters. A mosaic of

decomposed mosses and other bog

different wetland habitats has been

plants accumulate. The process is

established to support a wide variety of

very slow; it can take up to 1,000 years

wildlife, such as dragonflies, butterflies

to form just 1m of peat. Nevertheless,

and amphibians. This habitat is also

around 60% of the world's wetlands

suitable for flowers and other plants,

are made of peat. The plants which

some of which are found almost

form peat capture carbon dioxide from

nowhere else in the UK, such as the

the atmosphere and as a result, large

Fen violet and the Fen woodrush.

quantities of carbon are trapped in the

peat. However, if the peat is drained,

In 1630, a group of wealthy

it decomposes much faster; releasing

landowners, headed by the Earl of

the stored carbon. Peat burning has

Bedford, set out to drain the fens for

the same effect, but at a much faster

agriculture and to minimise winter

rate.

flooding. While many of the locals were

opposed to the project, by the end of

It has been estimated that the

the 17th century the drainage project

reduction of peat loss in the Great

was complete.

Fen, coupled with the capturing

of carbon by vegetation, is saving

This drainage caused more problems,

such as peat shrinkage, and more

drainage projects followed. In the

1800s, conscious of the likely

325,000 tonnes of CO2 from being

released each year.

The project is also a good example

Henry Stanier explained: "There are

a number of factors that impact the

restoration process. Firstly, the geology

Henry Stanier

demonstrates peat

shrinkage at the

Holme Fen post

shrinking effect of draining the peaty

of natural flood management (NFM)

of the area is like a layer cake, and

soil around Whittlesea Mere, William

because it provides extra water storage

each layer has different hydrological

Wells, another wealthy landowner,

after heavy rainfall, which slows water

properties. Secondly, the Great Fen

instigated the burial of a measurement

flow and helps to protect surrounding

includes a number of commercial

post at Holme Fen, which was

towns, villages and farmland from the

farms, so it is important to understand

anchored in the bedrock and cut off

risk of flooding.

and manage their groundwater status.

at the soil surface. Today, around 4m

of the post is showing above ground,

WATER LEVEL MANAGEMENT

Thirdly, the surface water requirement

varies according to the time of year,

recording the ground subsidence

The drainage of the fens has incurred

due to the needs of a wide variety of

since 1852. The ground level at Holme

widespread ecological harm, but

flora and fauna, including breeding

Post is now 2.75m below sea level —

the solution is significantly more

birds. Fourthly, along with various

one of the lowest land points in Great

complicated than simply raising water

partners, we are conducting numerous

Britain.

levels to create wetlands.

research programmes, most of which

WATER & WASTEWATER ASIA | SEPTEMBER/OCTOBER 2022 21
---
IN THE FIELD

are affected by water level. For

how the vegetation is changing. His

example, we have trial plots with

team also correlates groundwater levels

raised water levels, in which we are

with vegetation growth, in order to better

investigating the performance of

understand optimal growing conditions.

different plant species. These include

Sphagnum or 'bog moss' which stores

The Great Fen area includes a number

water, prevents the decay of dead

of commercial farms, which operate

plant material and eventually forms

both drainage and irrigation processes,

peat, and we are also trialling the

so the groundwater monitoring

wetland cropping potential of Glyceria

programme also helps to understand

fluitans, a robust perennial aquatic

the effects of these activities. In

sweet grass."

addition, new farms are regularly

acquired and incorporated into the

WATER LEVEL MONITORING

Great Fen, so the monitoring work

Working with a team of over 60

helps to manage the restoration of this

volunteers, Stanier delivered a

land from agriculture to fenland.

monitoring programme for the project

area, which is currently around 3,700

SUMMARY

hectares. Forty wells have been

Stanier said: "Fenland restoration

installed in strategic locations, each

depends heavily on a deep understanding

to a depth of around 5m. Thirty-seven

of the geology and the water table, and

of these have OTT Orpheus Mini

the effects of water status on the local

water level loggers, which record

ecology. The water level monitoring

groundwater level every hour, every

that we undertake provides the

day of the year. Stanier collects the

data that underpins the science that

data from these loggers once or twice

informs the important management

per year, or more frequently where the

decisions that are made. The quality

data is of greater significance.

and reliability of the OTT water level

loggers is therefore vital, and we look

Three of the wells have been

fitted with OTT ecoLog water level

forward to expanding our network of

monitors as the project continues to

1

loggers. These devices have the

ability to transmit both stored and

live data to a secure website which

Henry can access with any internetenabled

device at any time, and from

anywhere.

"This is a tremendous advantage,"

Stanier explained. "With such a large

area to cover, field visits can be timeconsuming

and therefore costly, so

we install the OTT ecoLogs in the

grow."

2

1 The OTT

Orpheus Mini

water level

loggers record

groundwater

level for every

hour, every day

of the year

2 The Great Fen

spans between

Peterborough

and Huntingdon

(Image: Henry

Stanier, Wildlife

Trust BCN)

wells of greatest interest, so that we

can, for example, view the effects on

groundwater levels when we transfer

surface water into an area."

Stanier's team operates a number of

trial plots by the dipwells; investigating

22 WATER & WASTEWATER ASIA | SEPTEMBER/OCTOBER 2022
---
IN THE FIELD

WBL: A DATA-DRIVEN

water authority

Data-driven operations can allow

water utilities to gain a deeper

understanding on their assets

and strengthen their abilities

to analyse past events and

anticipate future outcomes.

every day to show that things can be

done even better, and more sustainably

and efficiently.

However, turning their vision into a

reality was a significant challenge. WBL

knew that to achieve its goal it would

need to experiment with the latest

technological advancements, including

big data, digital twins and AI.

RWZI Weert - WBL (Image: Maartje van Berkel)

Like all water authorities,

Waterschapsbedrijf Limburg (WBL)

currently faces a wealth of challenges.

A growing population, strict EU

legislation, climate change and the

imminent retirement of an experienced

workforce are making it increasingly

difficult to meet the needs of its public.

As a result, the water authority

sought to implement data-driven

operations. Its goal was to gain a

greater understanding of how each

of its assets functions, and improve

its ability to analyse past events

and anticipate future failures and

emergencies. Working with Royal

HaskoningDHV Digital, WBL was able

to take a first step in realising this

ambition.

The project took place in the

Netherlands from 2021-2022, with

the challenge of setting up datadriven

operations with digital twins.

The solution was the creation of

a digital twin of their wastewater

transport system, consisting of

a big data platform and machine

learning models for early warning and

predictive maintenance.

EMBRACING DATA-DRIVEN

WORK

Waterschapsbedrijf Limburg (WBL)

is responsible for providing essential

clean water for 500,000 households

and 30,000 companies in the

province of Limburg, the Netherlands.

As this is a serious undertaking, the

water authority is driven to innovate

"The future vision of our company

is that we will become a data-driven

organisation," said Léon Verhaegen,

senior project leader of ICT and

innovation at WBL. "That data-driven

organisation wants to know how all

assets function, as well as analysing all

past events to help understand them

and anticipate the future. The ultimate

goal, of course, is to anticipate the

future, and understand how our assets

will function in the future."

EMBARKING ON THE FUTURE

TOGETHER

WBL chose Royal HaskoningDHV

Digital to implement these

technologies. With 140 years of

experience, in-depth domain

knowledge, and a team of ICT

infrastructure experts, the company

had everything needed to bring the

water authority's ideas into the real

world.

24 WATER & WASTEWATER ASIA | SEPTEBMER/OCTOBER 2022
---
IN THE FIELD

The project began with Royal

HaskoningDHV implementing a

digital twin for all the water authority's

sewage pumping stations. This digital

twin consists of a big data platform

that centrally stores data from various

sources, and machine learning models

that provide vital, real-time and

predictive information.

The insights from this digital twin are

managed in a central control room that

currently oversees 17 STPs, five sludge

dewatering plants, 149 WBL sewage

pumping stations and 800 municipal

pumping stations.

SMARTER, MORE EFFICIENT AND

FUTURE-PROOF

Armed with the insights from the digital

twin, the WBL water authority can

now detect problems in its pumping

stations early enough to take proactive

action and see if they are meeting

the purchase obligations of various

municipalities.

Melchior Schenk, business

development director of Royal

HaskoningDHV, said: "The digital twin

that we delivered to WBL consists

of a big data platform in which

data from various sources is stored

centrally and made available in a

standardised way for the machine

learning models in the wastewater

transport system."

The digital twin uses machine learning

to detect at a very early stage that the

functioning of pumps is beginning to

deteriorate (eg due to wear and tear)

or that pressure pipes are in danger

of becoming blocked. The digital

twin relays these warnings to the

central control room, whereupon the

operators take action to prevent the

impending failures.

Jos Voermans, system engineer

PPA of WBL, commented: "We

now have up-to-date insight into

whether our pumping stations are

meeting the purchase obligations

towards municipalities. But it's also

a learning process for us; we have to

manage the systems and set them up

properly. Moving forward, that means

the central control room will have to

deal with alerts differently."

The preventative approach to

pumping station management makes

operations and maintenance smarter,

more efficient and more future-proof.

However the scope of this project

does not end there — if ambitions

are realised, this work could mean

not just big changes for WBL, but

the beginning of an industry-wide

transformation.

"In the future, we want to extend this

solution to 3,000 municipal water

stations," said Verhaegen. "That way

we can gain real insight into how the

water chain works as a whole."

"The most important thing we

achieved in this project is giving our

operators the tools and resources they

need to improve performance. That

hugely improves our efficiency and

emergency response." emphasised

Verhaegen. "And the ultimate goal, of

course, is integrating all the data we

have so we can predict a pipe burst

of this nature and respond to it before

it happens. This will make operations

and maintenance smarter, and more

futureproof and efficient."

WATER & WASTEWATER ASIA | SEPTEMBER/OCTOBER 2022 25
---
IN THE FIELD

LIGHTER TO HANDLE

AND LIGHTER ON

ENERGY COSTS:

Landia delivers

mixer to Fairfield

Smarter and greener solutions have enabled

the town of Fairfield, Connecticut to manage

their wastewater treatment facilities with greater

efficiency and energy savings.

Replacing anoxic zone mixers

with units that are far more energy

efficient is providing a water

pollution control facility (WPCF) in

Connecticut with annual savings

of US$22,433.

As it strides towards its goal of

achieving net zero carbon, the

town of Fairfield (population

60,000), wanted to reduce the

operating costs of its mixers that

run 24/7, as part of a major capital

improvement plan (CIP) to replace

ageing assets with more modern

and energy-efficient equipment.

"Like all treatment plants," said

John Bodie, superintendent at

Fairfield WPCF, "we have been

a very big electricity user, but

when we reviewed our energy

usage and developed a full plan,

it presented us with an excellent

opportunity to adopt green design

standards."

Similar to most treatment plants,

there is often unavailable budget

to comprehensively upgrade

equipment at the rate that would suit

best practice. However, as numerous

wastewater treatment facilities are

discovering to their benefit, grants

and incentives are available from

energy providers; in this case at

Fairfield with United Illuminating

(UI), a subsidiary of Avangrid, who

owns and operates a portfolio

of renewable energy generation

facilities.

ENERGY IMPROVEMENTS

AT LOW COST

Bodie, who has worked at Fairfield

WPCF for 30 years, added: "When

we plugged in the numbers, it all

added up; smart energy improvements

that would give us the greatest return

at the lowest cost, as well as big

savings for many years to come. The

help we had towards capital costs

from United Illuminating gave us every

incentive to go ahead. The 12 existing

mixers we had were never the most

efficient, and we also found them very

difficult to work on; mainly because of

how heavy they were."

At the 8.5-million-gallons-per-day

facility, the mixers continuously

suspend solids and mix the return

sludge into the influent stream. The

existing mixing energy input met

industry-standard recommendations,

but the single-point submersible

propeller mixers left some dead

zones in the denitrification process,

as well as scum and foam formation.

It also required high levels of

maintenance and frequent rebuilds.

26 WATER & WASTEWATER ASIA | SEPTEBMER/OCTOBER 2022
---
IN THE FIELD

A USER-FRIENDLY OPTION

Bodie continued: "After looking at

several options, we initially invested

in six mixers made by Landia,

which came highly recommended

as the best solution. At 2.4HP each,

compared to the previous 6.5HP

units, we of course expected to see

a reduction in energy usage, but

the added bonus is that despite

being smaller, they do a better

job than the old mixers (from a

different manufacturer). The first six

mixers from Landia have now been

installed for just over three years,

with no issues at all. Previously,

when servicing a mixer weighing

considerably more than one from

Landia, we had to have three or

sometimes four men to manhandle

it to lift it out, and even then, it was

very easy for someone to suffer

a back strain. Now, with a Landia

mixer, it's so much more userfriendly;

easy for just one person,

so that's also made a big saving on

maintenance."

with the Landia mixers, which provide

many cost and operational benefits to

Fairfield WPCF."

In addition to the 12 new mixers,

the long-term energy efficiency

improvements also included a 2MW

solar system at the nearby former

refuse dump, and a 400kW fuel cell.

A new 1.3MW natural gas generator

was also installed, along with an

interconnecting switchgear, which

allows the WPCF and surrounding

town facilities to operate independently

in the event of power outages.

For Landia (established 1933),

this installation at Fairfield WPCF

follows a large number of projects,

where its submersible mixers have

replaced other manufacturer's

inefficient or failing mixers. In some

cases, Landia mixers have been

installed in aeration tanks, to provide

mechanical mixing of sludge, while

reducing the aeration to just the

amount needed for the biological

process. In Chinook, Montana, two

5HP Landia mixers were purchased

so that a 50HP surface rotor aerator

could be switched off during night

hours of low BOD loading. As a

result, the submersible mixers are

now saving the wastewater treatment

plant $18,000 per year on electricity,

achieving payback on the entire

installation in just over four years.

A switch to Landia mixers has also paid

dividends at the wastewater treatment

centre in American Falls, Idaho. Here,

the original mixers failed to move

solids from the plant's MBR — and

there were constant seal failures. Now,

despite only pulling half of the amps

than the previous units, the Landia

mixers, truly designed for mixing

wastewater sludge, have immediately

addressed the application – reducing

energy usage and are also proving

easier and more cost-effective to

maintain.

Following the success of the first

half-dozen mixers from Landia, a

further six were installed 15 months

ago at Fairfield, replacing units

from a separate manufacturer that

were also using too much energy

and proving time-consuming to

maintain.

SAVINGS IN ENERGY

"The mixers' annual electricity

savings of over $22,000 equate

to a reduction in energy usage of

182,383kWh," said Bodie. "The

WPCF was constructed here in

1950, with upgrades made in 1968,

1972 and 2001. It's always been

a very well-run plant, but now the

CIP of four years ago can show

other treatment facilities what very

substantial savings can be made

in energy. We are very pleased

WATER & WASTEWATER ASIA | SEPTEMBER/OCTOBER 2022 27
---
IN THE FIELD

BIM TECHNOLOGY

OVERCOMES

traditional design

limitations

The use of accurate 3D design and digital twins is critical

to constructing safe and fortified water infrastructures.

The Dongtaizi Reservoir project is a

CNY2.148 billion, large-scale water

conservancy initiative scheduled as

part of China's 13th five-year plan

period. It is located in the middle and

upper regions of the Xar Moron River

in the city of Chifeng.

Liaoning Water Conservancy and

Hydropower Survey and Design

Research Institute was responsible

for delivering the engineering design

of the Dongtaizi Reservoir. This

project is one of 172 major water

conservancy endeavors meant to

tackle China's water scarcity and flood

risk issues sponsored by the Chinese

government. Furthermore, it is one

of 12 key livelihood projects in Inner

Mongolia meant to mitigate severe

flood risk and combat water scarcity.

The proposed infrastructure was a

rockfill dam with an asphalt core wall

and a concrete gravity dam with a

total storage capacity of 321 million

cubic meters and a height of 43.5m.

At completion, the reservoir will

mitigate severe flood risk in the lower

reaches of the river and supply water

and agricultural irrigation to the areas

adjacent to bottom of the river basin.

CHALLENGING BOUNDARY AND

STRUCTURAL CONDITIONS

The surveying tasks and engineering

specifications on the Dongtaizi

Reservoir Project were immense.

The site's complex terrain required

an accurate geological survey of

the rock mass foundation types and

structural plane upon which the dam

design would be based. A curved

ecological fishway that enables

migrating fish to pass through the dam

demanded significant excavation that

necessitated more than traditional 2D

processes.

Designing the rockfill dam section

involved many control conditions

and complicated interactions

with the landscape, which cannot

be solved with conventional 3D

modeling. Additionally, multidiscipline

engineering and visualisation

capabilities were essential to design

the metal structure, hydraulic

machinery and engineering, and an

electromechanical system. Therefore,

Liaoning Water realised that they had

to adopt building information modeling

(BIM) solutions to overcome traditional

design limitations on this large-scale

water conservancy project.

Using this project as the foundation

for BIM usage on future water

conservancy projects, Liaoning

Water has implemented corporate

3D collaborative design standards

and trained personnel to become a

regional leader in BIM application.

BIM APPLICATIONS OVERCOME

TRADITIONAL DESIGN

RESTRICTIONS

After considering their options, the

team employed Bentley's BIM software

for accurate 3D design. Liaoning

Water integrated OpenBuildings

and OpenRoads Designer to

streamline collaboration among

multiple engineering disciplines and

to manage data. They surveyed the

landscape and created a detailed

3D geological model to precisely

calculate excavation volumes and

plan excavation processes. This

visualisation in OpenRoads also

allowed the project team to accurately

position the ecological fishway and

connect the structure's complicated

spatial curve to the landscape.

The rockfill dam section was designed

using OpenRoads' linear engineering

capabilities to generate a truthful

3D model incorporating all control

and boundary conditions. Several

engineering disciplines collaborated

on the design of the concrete dam in

OpenBuildings, allowing the hydraulic

machinery, metal structure, and

electromechanical equipment to be

designed to avoid collisions.

28 WATER & WASTEWATER ASIA | SEPTEBMER/OCTOBER 2022
---
IN THE FIELD

LEVERAGING BIM

TECHNOLOGY TO DELIVER A

DIGITAL TWIN

By using Bentley applications,

Liaoning Water reduced design error

by 90%. Delivering a technologically

advanced model minimised

changes to the overall design

during construction. Accurately

calculating project cost in the design

stage of the project decreased the

government's overall investment.

With the support of open modeling

technology, the project team

improved design efficiency by 40%

to deliver the plans two weeks

ahead of schedule.

They leveraged BIM software

to produce a digital twin that

provided full lifecycle support of

the dam, including management

during construction, operations,

and maintenance. Bentley's iTwin

contains everything needed for

implementers of building information

modelling (BIM) at construction

sites, collaborating with engineers

and others in the process.

Multidiscipline BIM teams can

review and update their work from

disparate models through the digital

twin.

Rather than a singular, centralised

model, having many individual

copies of models is optimal for

scalability and portability, given

that there is a way to keep them

all synchronised. The transactions

and the timeline of changes are

maintained in the cloud. This

timeline of change represents the

master digital record.

With the use of a digital twin, users

can benefit from:

• A visual, geo-referenced, and

federated information index that

supports easy accessibility and

maintenance for all relevant

engineering, asset operation,

and maintenance information,

supporting better decisions and

clearer communication.

• A review of the design bases

for engineering and operations,

with a view of the hydraulic

models, plant asset 3D models,

and associated engineering

information, defining "what

should be there" and eliminating

paper deliverables while

boosting performance on

commissioned systems.

• Easy updates and a timeline

of alterations to the asset,

capturing how and when the

engineering data changed,

as well as who made the

modification, so one could see

the impact of any alteration on

ongoing operations.

• A federated source of data for

all related systems. Visibility of

real-time equipment health and

condition degradation trends

is important for understanding

current performance and taking

the right actions at the right time.

• A unified view of asset health,

ensuring accurate information for

audits and course corrections,

as well as a complete and

consistent view of the system.

THE FUTURE OF BIM FOR

GREATER EFFICIENCIES

"The use of Bentley software has

solved the important and difficult

problems in the engineering design

of Dongtaizi Reservoir, provided

strong endorsement for designers,

improved the design efficiency of

our institute, reduced design errors,

and made the digital transfer of

design results possible," shared

Wang Yixin, director of the digital

and smart engineering R&D centre

at Liaoning Water Conservancy

and Hydropower Survey and Design

Research Institute.

"A digital twin environment for water

infrastructure in construction is key

to enabling a fully integrated delivery

platform that is open and scalable.

Engineering and construction

industry professionals will never be

able to meet demand with legacy

tools and processes, and definitely

not with analogue tools. During

construction projects, engineers

spend about half a day each week

just looking for data. A digital twin

provides a single source of data

where stakeholders can collaborate

and manage field work, especially

changes, project control, 4D, and

work breakdown," shared Amy

Heffner, director of product marketing

at Bentley Systems

For their efforts, the project was

awarded the 2021 Going Digital

Awards Winner; Land and Site

Development.

Amy Heffner serves as director of product

marketing at Bentley Systems.

Images: Liaoning Water Conservancy and

Hydropower Survey and Design Research

Institute

WATER & WASTEWATER ASIA | SEPTEMBER/OCTOBER 2022 29
---
IN THE FIELD

ENDRESS+HAUSER

FLOWMETERS MONITOR

springs in the southern

Black Forest region

Persistent droughts and heat waves in

many regions of the world are forcing

cities and municipalities to place a

stronger focus on the reliability of the

water supply, not only by optimising

their networks, but also by searching

for additional sources that could

2

1

1 Axel Grether,

water specialist

in Steinen,

monitors the

current spring

discharges in

Hägelberg from

the office

2 As well as being

displayed on the

instrument, the

measurement

values can be

retrieved with a

tablet

contribute to long-term reliability.

Two examples in the German county

of Lörrach show how measurement

and automation technology provider

Endress+Hauser supports numerous

communities with innovative flow

instruments.

The municipality of Steinen in the

southern part of the Black Forest uses

on average 1,800m 3 of drinking water

per day — half from deep wells and

half from around 30 springs. Persistent

droughts in recent weeks have led to a

significant shift in this distribution.

"At the moment we get around onefourth

of the drinking water from the

springs — the remainder we can cover

with the deep wells," said Axel Grether,

water specialist at Endress+Hauser.

While water levels in the springs are

fluctuating heavily, to date the deep

wells have remained quite stable

despite the ongoing drought. The level

dropped only 50cm between January

and the end of July.

"This gives us an edge over other

communities whose only source of

water is springs," said Dietmar Thurn,

head of the building authority. The

municipality with a population of

10,000 also modernised the water

network and installed pump lines and

numerous measurement instruments

from Endress+Hauser in recent years

to monitor the flow and quality of the

water. The measurement values are

available in real time, providing a better

and much faster way to identify and

contain leaks in the network.

Districts such as Endenburg, part of

which sits more than 900m above sea

level, can be serviced from the deep

wells in case the supply from the local

springs is temporarily insufficient.

With the measurement instruments,

municipal employees can view a display

screen in the central water treatment

plant in Steinen to determine how much

volume is being discharged from the

springs.

NEW SPRINGS UNDER CONSTANT

MONITORING

While Steinen believes the municipality

30 WATER & WASTEWATER ASIA | SEPTEBMER/OCTOBER 2022
---
IN THE FIELD

3

4

is in a good position, climate change

is nevertheless forcing them to think

about the future.

To prepare for possible shortages,

Steinen is currently employing

prototype flowmeters in cooperation

with Endress+Hauser for longterm

monitoring of two springs

in the districts of Weitenau and

Schlächtenhaus. Although once part of

the regular water supply, these springs

are now only being used as a reserve

for firefighting because the quality

does not adhere to the latest drinking

water regulations.

"It used to be that one out of every

ten summers brought extreme heat.

Now we're experiencing droughts

every two to three years. We can

barely cover these peak periods up

here with the existing spring water,"

explained Ralf Maier, technical

operations manager of the Zeller

water utility since 1999. "We're

monitoring the spring to see how it

flows over a long period of time and

to determine how it reacts to climate

change."

DIGITAL MEASUREMENT

TECHNOLOGY INSTEAD OF A

BUCKET AND STOPWATCH

The city of Zell focuses on its mountain

sources. More than 70 individual

springs, in addition to two deep wells in

the valley, are used to provide water to

around 6,300 residents spread out over

a 36m 2 -area that includes numerous

districts. Most of the spring discharges

are abating more and more during the

summer, however.

"We always had dry periods, but not

with the frequency we have recently

experienced. Additional pumped

supplies will certainly be needed

during extreme periods in the future,"

emphasised Ralf Maier. With this in

mind, the city plans to commission

3 The pH value is

also measured

as part of the

quality analysis

during treatment

of the raw water

for the potable

supply network

4 The spring on

Zeller Blauen

is in the middle

of the woods,

meaning that

the discharge

can only be

monitored with a

battery-operated

flowmeter.

"Permanent use of these springs

The discharge from the spring has

a structural assessment of the water

requires costly water treatment,"

been monitored for four years,

supply at the end of September. The

added Grether. The water specialist

most recently with a flowmeter from

report will analyse the current state

is interested in how the persistent

Endress+Hauser.

of the infrastructure and determine

drought period is impacting the

where improvements are required in

springs. With the integrated mobile

"With a battery life of up to 15 years

the coming years so that residents will

connection, he can access the

and special corrosion protection, the

continue to enjoy a reliable supply of

collected data via a smartphone.

instrument is designed for reliable

drinking water in the future.

long-term operation," explained Ralf

Ralf Maier, Grether's coworker who is

Schweigler, application engineer. The

Among other things under discussion

located several kilometers upstream

instrument not only saves the water

is the construction of a pump line in

in the city of Zell im Wiesental, is also

specialist from manually measuring

the district of Gresgen. However, as

using this function in the same model

the discharge with a bucket and

Maier pointed out, the city council only

of flowmeter to monitor a previously

stopwatch, but also cuts out most of

subsidises water projects that ensure

untapped spring in the middle of the

the weekly drives up the mountain.

long-term reliability. The water specialist

woods on Zeller Blauen, a mountain

Considering the 70km-long pipeline

said will be some time yet before

that is roughly 1,000m tall. Since

network and limited personnel

enough information is available for

the spring is still reliable despite

resources, these tasks were nearly

the assessment, but added that "[i]t's

the ongoing drought, it could be an

impossible to manage. Instead, the

important to already be thinking about

interesting source for the mountain

data is encrypted and transmitted

the water supply over the mid and long

village of Blauen if the town's existing

directly to a smartphone, and can

term. Our colleagues in Steinen have

spring discharges continue to recede

also be retrieved via a PC in the

already accomplished this task, but

in the long term.

office.

we're still in the initial phases."

WATER & WASTEWATER ASIA | SEPTEMBER/OCTOBER 2022 31
---
FOCUS

WATER DOWN WITH

smart water technology

With growing concern surrounding our climate and

water resources, smart technologies can prove to be

an efficient solution for water conservation.

By Mei Ling Quek, vice-president of Renew Group

HANS Premium

Water RO System

As we look into our future, it is hard to forget

that the climate crisis is a harsh reality that

we will have to face. With the burning of fossil

fuels causing rising temperatures, we also see

its reeling impacts, like the recent floodings

in Bangladesh, severe droughts in Italy, and

the high temperatures of 36.7°C in Singapore.

Suffice to say, a direct consequence of global

warming is the increase in longer periods of

extreme rain and droughts, affecting a basic

necessity for living: water.

In 2018, the Intergovernmental Panel on

Climate Change (IPCC) report highlighted a

pressing need to limit warming to 1.5°C above

pre-industrial levels, which in turn lowers the

barriers to freshwater access. To achieve this,

it is crucial to halve carbon emissions by 2030

and hit net-zero carbon emissions by 2050.

It might seem like a tall order, but a growing

number of governmental, non-governmental

bodies and countries have already started

banding together to establish sustainable

trade policies in light of pivoting to a green

economy, with international treaties such as

the Paris Agreement, which has been ratified

by 193 countries. Recently, The World Trade

Organisation (WTO) has also called for an

urgent greening of trade in light of the dire

situation.

WATER, ENERGY,

AND DECARBONISATION

As global policies are rolled out in favour of

mitigating climate change, businesses need

to take immediate actions to eliminate the

pressing impacts of the water shortages

across industrial sectors. While carbon

emissions are caused by burning fossil fuels,

water conservation also plays a huge role in

fighting climate change and maintaining water

security for industries worldwide.

One might ask: "How so?"; water and energy

are linked in a cycle where energy production

is needed for water and vice versa. Although

energy is a resource that powers our world, it

also necessitates the burning of fossil fuels for

energy. In both industrial and domestic water

management, energy is needed to filter, heat

and pump water into buildings and homes.

Thus, some of the largest consumption of

energy come from homes and buildings,

which account for over 38% of global carbon

emissions, making water conservation in

buildings more critical than ever. Lighting,

heating, and cooling are building operations

that require energy and water. Water

wastage is also of growing concern, as

wastewater tends to be disposed instead

of being reused or recycled. Furthermore,

there is a lack of accountability for industrial

wastewater discharge due to poor monitoring

in the industry. When water is seemingly an

abundant resource covering 71% of the Earth,

it can be hard to realise that water shortage is

a threat.

WATER AS A SCARCE RESOURCE

Today, only around 1% of the world's water

supply is available for drinking, and almost

32 WATER & WASTEWATER ASIA | SEPTEMBER/OCTOBER 2022
---
FOCUS

two-thirds of the world's population

experience severe water scarcity for at

least one month each year; while a third

live in water-stressed countries. With

water scarcity becoming an issue as

our drinking water supply diminishes,

the United Nations has pledged

Sustainable Development Goals (SDG)

to mitigate the crisis. SDG Goal 6 aims

to ensure availability and sustainable

water management and sanitation for

all, with businesses encouraged to

improve their water efficiency to target

the water crisis.

Furthermore, the world relies on water

for energy and food production. It

is forecasted that the global water

demand may rise by 30% within the

next 30 years. With an expected

population of 9.8 billion inhabitants

on Earth by 2050, this comes as no

surprise. Both domestic and industrial

sectors will have to increase their

water use to accomodate the growing

population. With global economic

growth, development and GDP

swelling, industries that rely on water

will have to increase their water use to

keep up with demands.

Even in countries like Singapore where

drinking water is easily available, the

increasing water demand is still a

growing concern. Singapore relies on

external sources of water supply due

to its lack of natural resources and

small size. This poses a constraint,

especially with local water demand

expected to double by 2060. As water

conservation becomes a top priority in

industries worldwide, local businesses

should look towards achieving water

sustainability through the advanced

technologies of today.

ACHIEVING SUSTAINABILITY

WITH SMART TECHNOLOGY

As the world develops, organisations

are moving towards embracing smart

From left to right: HANS 720 GPM

1000000GPD, and HANS Redundancy Pump

Stack, both part of the Industrial HANS

premium water solution

technology, digitising buildings and

using data analysis to mitigate high

carbon emissions. For instance,

governments worldwide have started

greening their buildings. Singapore

alone aims to green 80% of buildings

by 2030, and is more than halfway on

track with 49% of buildings already

greened.

Greening buildings for water

sustainability can be done by retrofitting

buildings with IoT and AI technologies.

These smart technologies can help

regulate energy and water efficiency

and reduce usage without affecting

user experience. For example, an

integrated smart shower system

that adjusts the water flow based on

needs, tracks water consumption, and

analyses usage patterns via digital

platforms, can be installed in buildings.

This smart technology solution can

reduce up to 25% of water usage while

also saving money.

Another example of a smart solution

that treats water to reduce wastewater

discharge is the HANS Premium

Water RO System. The system uses a

smart reverse osmosis (RO) process

and smart-technology IoT systems to

provide clean water for consumption,

and also treat wastewater, maximising

water savings by up to 95% in recovery

rate.

• RO with a recovery rate of

up to 95%: The HANS system

automates and monitors levels of

internal recirculation of concentrate

and permeates injection where

needed, achieving up to 95% water

recovery and 85% reduction in

wastewater stream.

• Smart-technology IoT system:

The system is synced with the

HANS Mobile and Enterprise App

to track and analyse data such

as water usage, quality, pressure,

filter life, and total dissolved solids

(TDS) levels in real-time. This helps

businesses streamline system

management and gather essential

data for analysis for future call-toactions.

• Modular and scalable: The system

is a small, self-contained point of

entry (POE) unit that can be used

in a single household or sized up to

WATER & WASTEWATER ASIA | SEPTEMBER/OCTOBER 2022 33
---
FOCUS

• Calcite filter to maintain balanced

pH levels: The system cuts and adds

minerals to improve pH for great-tasting

water.

• Upholds EPA standards of water

contamination removal: The system

maintains certification for contaminant

reduction in POE systems that are used

to treat drinking water. It has NSF/

ANSI/CAN 61 and ASSE R0005 Halal

certifications.

management of clean water. These countries

are trapped in the cycle of water and energy

wastage due to their lack of knowledge

on these issues. The incentive scheme

and the new technologies like IoT-enabled

systems, where data is collected for analysis,

can deliver insights for both their internal

teams and customers. Businesses can thus

create a herd mentality and encourage their

employees and consumers to be part of the

sustainable movement.

provide for an entire village. Its plug-andplay

function allows easy maintenance

of each unit without shutting down the

entire system.

• Low energy consumption: Carbon

emissions are minimised through

energy-saving technology by using motor

sensors that detect water conditions and

run only when needed.

Such technologies have seen success

in the hospitality and tourism industry

as well, which relies on water to manage

building operations and other processes.

Many five-star hotels have also eliminated

the use of plastic bottles by adopting the

HANS Premium Water RO System. The

system provides a supply of clean drinking

water that can be contained in reusable

glass bottles instead of disposable plastic

bottles, eliminating one major aspect of

plastic waste while also reducing the carbon

footprint of producing and transporting

bottled water.

BUSINESSES LEADING WATER

CONSERVATION

While governments hold sway in a city's

structure and policies, environmental

sustainability and water conservation

should be a collaborative effort between

government bodies, businesses and

individuals. Businesses have more power

than they think — mobilising their resources

and working together with governments

can reduce the impact on the environment.

In fact, around half of carbon emissions

are contributed by conglomerates carrying

out activities in agriculture, forestry, and

transport in urban cities.

This extends to the public — businesses

can affect public consciousness and

opinion on particular topics. By promoting

sustainable lifestyles, businesses change

social norms and behaviours in the long run.

For example, they can increase awareness

in developing countries on the sustainable

NEXT IN THE PIPELINE

Water is an indispensable resource. However,

while oil and gas have sustainable alternatives

such as solar or wind, water has none.

Education on water conservation is important

for us to understand the extent of water used

in industries. For example, when a consumer

buys a one-litre bottle of water, they may not

realise that it takes more than five litres of

water to produce that one bottle. As we use

more water, the cost to develop and clean

water also goes up. While water becomes

a difficult resource to obtain, surging prices

are transferred to developing countries that

may not be able to afford the luxuries of

water or even countries that rely on others for

water. They have to think forward about the

future of water access as demand escalates.

Alternative ways through new technologies

like the HANS Premium Water RO System can

future-proof water access for consumers and

industries.

With the initial goal to create smart water

treatment solutions for philanthropic causes

in water-stressed countries like India, Renew

Group has expanded to promote water

sustainability throughout the region. Working

towards our mission to provide sustainable

clean water supply to domestic, commercial

and industrial sectors, Renew Group

continues to invent solutions like our HANS

Premium Water RO System. As the world

adopts more sustainable practices, Renew

Group is committed to making a difference

through innovative products that support

water challenges worldwide.

34 WATER & WASTEWATER ASIA | SEPTEMBER/OCTOBER 2022
---
FOCUS

DESIGN WITH WATER 2.0:

Collaborative tools for

place-based outcomes

As the water industry faces a series of new challenges in this decade,

Arup has revealed its refreshed Design With Water framework,

supporting more resilient and holistic outcomes for communities.

By Paul Simkins, associate, Arup

It has been almost a decade since Arup

developed its original Design With Water

approach: a vision for outcomes-led design that

has shaped the company's work,

strategy, and projects around the world.

Arup was founded on the principles of

integrated design: crossing silos, and balancing

science, engineering and creativity with social

and environmental value to create better

outcomes. Current global challenges continue

to highlight the need for holistic, regenerative

approaches to design. Of these challenges,

water is more critical than ever. However,

no system can be considered in isolation.

Addressing water requires a whole-systems

approach, rethinking the way it is designed and

how it works together.

Arup's Design With Water model is based on

the principle that restoring, protecting and

enhancing the integrated water cycle can

become a catalyst and enabler for increasing

the resilience, health and wellbeing of our

human and natural systems.

Recently, Arup has been updating the model

to reflect changes in design practice, delivery

context and new ways of working. Based on

ongoing learning and feedback, the wholesystems

framework has been refreshed and

extended, and a new toolkit will be added for

creative and collaborative design.

RETHINKING DESIGN

Design With Water (DWW) 2.0 continues

to support an outcomes-led approach. It

emphasises the consideration of place-based

needs and priorities, partnership working and

shared value, provoking designers to think

differently and explore the opportunities that

can be unlocked by understanding the role of

water in developing infrastructure solutions.

The framework includes four cross-cutting

principles that underpin Arup's approach to

design:

"Integrated" emphasises a whole-systems

approach, working across multiple sectors,

perspectives and scales, bridging technical

and non-technical disciplines. It goes beyond

combining multi-disciplinary inputs towards

collaborative design.

"Smart" draws on technological, social and

cultural innovation, from the latest in digital and

data-driven design, to ecological knowledge

and nature-based design, user experience,

historical and cultural perspectives, scenario

planning and foresight.

36 WATER & WASTEWATER ASIA | SEPTEMBER/OCTOBER 2022
---
FOCUS

"Resilient" focuses on designing for people,

places, institutions and systems to survive,

adapt and thrive in response to shocks and

stresses. Over the past ten years, Arup has

developed global tools to support resilient

design and adaptive planning.

"Regenerative" centres on design that rethinks,

restores and enhances existing natural and

human systems from community to catchment

scale. For DWW, this means water cycle

interventions that go beyond sustaining

other systems to creating net gain across all

outcome areas.

SHARED OUTCOMES, SHARED VALUE

Delivering shared outcomes depends on

establishing shared values. This can be

challenging, as systems are interdependent

but often disconnected. There will be different

perspectives, interpretations, capacities and

priorities. There will be different definitions of

value and different ways of valuing outcomes.

Building shared understanding around vision

and outcomes takes time, but the process is

often valuable, enhancing capacity amongst

design teams, partners and communities.

Water can be a catalyst and enabler,

supporting other sectors who are grappling

with their own specific challenges.

evaluating enables teams to engage with

complexity in a way that is accessible,

interactive and fun. It creates a space to

explore different perspectives, establish

shared values and priorities for planning,

design, investment and evaluation.

RETHINKING ASSETS

How assets are defined impacts what one

values, how one collectively invests, what

one owns, manages and maintains, and the

returns one expects. Yet the term "asset"

means different things to different people,

and varies across sectors and cultures.

Rethinking assets is key to unlocking new

ways of designing and delivering multi-sector

outcomes.

To address this challenge, DWW considers

water-cycle assets as a series of linked placebased

systems that can be applied at a range

of scales, from households and communities

to cities and catchments. Traditionally, these

layers have been designed and managed by

separate sectors, agencies and disciplines,

but to deliver the best outcomes, they need to

be considered as an integrated system.

The model builds from fundamental

catchment characteristics such as water

resources, land use and topography, through

strategic water and sanitation networks,

to nature-based interventions and water

sensitive urban design. Finally, investment

in non-physical assets such as community

organisations, jobs, culture and user

experience are emphasised as fundamental

to effective system design and operation.

The simple framework can help water

professionals to think beyond conventional

water infrastructure towards wider urban,

natural and social systems. It can help other

stakeholders and communities to explore

their interactions with water. For example, one

might emphasise the value of nature-based

solutions or highlighting critical infrastructure

such as water supply networks that in certain

contexts may be considered out-of-sight,

out-of-mind.

This framework can be applied conceptually

or by using place-specific data and insight

to inform design. Using a range of prompts

and supporting materials, integrated concept

ideas and options can be co-designed and

directly linked to outcomes.

NEW STEWARDSHIP MODELS

Whilst these different layers are interdependent,

they have historically been

considered by separate agencies with ring-

It can be tempting to reduce complexity

by retreating into silos or creating isolated

policies and projects, but promoting an

outcomes-led design depends on integration

across boundaries, understanding the whole

water cycle and seeing it from different points

of view.

To facilitate this process, DWW 2.0 develops

the outcomes framework expanding each

dimension with further detail and supporting

materials. This is intended as a flexible

starting point and way in, accommodating

different user needs, project context and

resources.

Supporting a framework with methods for

customising, discussing, prioritising and

WATER & WASTEWATER ASIA | SEPTEMBER/OCTOBER 2022 37
---
FOCUS

fenced roles and budgets, often with different

objectives and timescales.

This is changing, but a few typical examples

demonstrate the legacy of a fragmented

approach to valuation, ownership and

maintenance of assets that is still slowing the

implementation of resilient and regenerative

solutions.

Green infrastructure delivers value across

multiple sectors, but it can be difficult to align

beneficiaries and investors to ensure longterm

stewardship, often stalling design and

delivery.

Persuading private developers without a

long-term interest to invest in water innovation,

especially where assets cannot be adopted by

water companies or local authorities, can be a

challenge.

A third-sector organisation might be critical

to community flood resilience, yet it can be

hard for them to secure long-term funding;

however, Arup plans to invest in maintenance

of traditional assets like buildings, pumps or

flood defences.

There is a need to rethink the roles of different

stakeholders and the wider delivery context

to unlock new whole-life stewardship models.

This includes exploring the role of the water

sector as an anchor institution alongside

the public, private and civil society

organisations.

These challenges are not so much technical

as strategic — requiring engagement with

wider system enablers such as governance,

regulation, policy, funding and finance.

The role of designers is becoming more

complex.

COLLABORATIVE TOOLS

Designing in new ways requires new

processes and tools, particularly around

engagement and collaboration. Arup has

been developing a toolkit to help teams

navigate complex delivery environments to

reach creative, deliverable solutions.

Eight complementary components have

emerged through research and prototyping

in response to project needs. They form

the building blocks of outcomes-led

design. Arup has drawn upon learning from

multi-sector work across city resilience,

regenerative design, partnership funding,

health and wellbeing, engagement and

user-experience design.

The DWW 2.0 toolkit can be used to support

all stages of a project, from visioning and

project inception to the implementation and

evaluation stages. Outcomes-led design is

not a strictly linear process. It requires

iteration and feedback between different

activities and there can be different entry

points. Tools can be selected individually or

joined in different combinations. Each can be

adapted and will continue to evolve through

use. This flexibility allows designers and

facilitators to tailor activities and outputs to

specific user needs, project objectives and

resources.

DESIGN WITH…

It has been almost 10 years since the first

edition of Design with Water; and 50 years

since Ian McHarg's Design with Nature was

published alongside a range of influential

texts that has shaped ecological design and

are still relevant today.

As Arup reconsiders the role of design in light

of new challenges, the word "with" seems

more important than ever.

Designing with water, nature, people,

place, uncertainty, time requires embracing

complexity, pushing boundaries and

absorbing more into current practices with

a focus on shared outcomes; it means

extending one's skills and broadening

collaboration with others.

38 WATER & WASTEWATER ASIA | SEPTEMBER/OCTOBER 2022
---
FOCUS

AMMONIUM-

BASED AERATION

control in wastewater

control has greater complexity but offers the

potential to achieve the best effluent quality

at the lowest energy cost. Additional detail

on feedback and feed forward control can be

found elsewhere*.

DIRECT FEEDBACK CONTROL

The simplest method is direct control

of aeration based on feedback from the

ammonium measurement. In this approach,

aeration rate is controlled directly based on

the online ammonium measurement. The

Wyoming Valley Sanitary Authority (WVSA)

in Pennsylvania uses online ammonium

ISE measurement to ensure nitrification is

complete and to maximise nitrogen removal.

Blowers cycle on and off to maintain the

ammonium-nitrogen concentration between

set points of 0.7 and 1mg/L in each of four

treatment trains. Blowers are "off" 25% of

the time with this strategy, creating anoxic

conditions for denitrification and saving

about $20,000 per month in energy costs*.

The substantial additional removal of

nitrogen achieved is below the permitted

effluent load and generates nutrient credits

that WVSA sells to other sources in the

Chesapeake Bay watershed.

The introduction of simple, reliable, and

affordable in situ sensors based on ion

selective electrode (ISE) technology provides

the opportunity for more advanced activated

sludge control strategies, such as aeration

control using ammonium as a response

variable in addition to, or in place of dissolved

oxygen (DO). Ammonium-based aeration

control has been implemented at many water

resource recovery facilities (WRRF).

While the automation of aeration based

on ammonium measurement would be

beneficial for many facilities, the applicable

control strategy for a particular facility

depends on specific factors, including system

configuration, performance requirements

(discharge limitations), and wastewater

characteristics. The following article identifies

several control strategies. The approaches

described offer the potential to enhance

treatment performance, reduce operating

costs and, in some cases, even generate

revenue from nutrient credits.

Utilities have implemented ammonium-based

aeration control based on feedback and feed

forward strategies. Feedback control is based

on measurement of the response whereas

feed forward control is based on measurement

of the disturbance. Feedback control is much

more common in the water industry but can

have limitations in a highly dynamic system

like wastewater treatment. Feed forward

The success of the WVSA application

using direct control can be attributed to

the completely-mixed (CM) configuration

of the treatment system, the built-in mixing

capability of the Schreiber counter-current

system, and the simple control law (onoff).

This strategy may not be optimal for

many applications, however. The drawback

to direct control using ammonium is that

the DO concentration is not controlled.

Failing to also optimise DO causes

inefficiency because DO varies more

rapidly than ammonia and, therefore, can

rise or fall to undesirable levels. The rate

of nitrification increases proportionally with

DO concentration up to about 1.5-2mg

DO/L. However, above a DO of 2mg/L only

a marginal increase in the nitrification rate is

achieved (Fig 1). Furthermore, a higher than

needed DO is detrimental to denitrification.

WATER & WASTEWATER ASIA | SEPTEMBER/OCTOBER 2022 39
---
FOCUS

Therefore, if DO is not optimised, nitrification

capacity is limited or denitrification capacity

is limited and energy is wasted.

CASCADE FEEDBACK CONTROL

Nitrification and DO concentration are

both optimised in a cascade control

arrangement. The ammonium controller

shown in Fig 2 compares the measured

ammonium with the ammonium set point

and calculates the DO set point which is

forwarded to the DO controller. The DO

controller compares the measured DO

concentration with the calculated set point

and calculates the required air flow which

is forwarded to the air flow controller. This

requires tuning four control loops (pressure

loop not shown) increasing the complexity

of the control system. Alternatively, the

DO controller may be set on top of the

ammonium controller to limit the DO

concentration to a maximum value.

One potential problem with this

configuration is that the two controllers

fight over authority because the DO

concentration changes faster than the

ammonium concentration.

Proper location of the ammonium

sensor(s) presents an additional level of

complexity for plug flow (PF) reactors.

In a CM configuration, sensor location is

somewhat irrelevant because concentration

is the same throughout the reactor. In a

PF configuration, concentration varies

along the length of the reactor with

higher concentrations upstream and

lower concentrations downstream. One

philosophy is feedback control based on

measurement of effluent ammonium. This

provides a direct indication of performance

but a delayed control signal.

By the time an effluent ammonium sensor

detects a peak loading, it may be too late for

a correction, especially for highly dynamic

influent loadings and reactors with long

retention times such as in single-stage

nitrification. The control system depicted in

Fig 3 is based on a control signal from a DO

Fig 1: Nitrification and

dentrification rate as a

function of dissolved

oxygen concentration*

Fig 2: Cascade control of

aeration with ammonium

measurement*

sensor located at the effluent end of the

aeration tank. Upstream ammonium (red

line) spikes several hours before air flow

(blue line) responds allowing DO to fall to

undesirably low concentrations (green line).

As a result, ammonium breaks through the

effluent (purple line).

Locating the ammonium sensor upstream

from the effluent offers a few advantages.

First, the lag time for the control signal is

reduced. Second, locating the ammonium

sensor closer to the effluent increases the

reliability of meeting performance goals.

Third, maintenance of an ammonium

ISE is easier at concentrations between

1-10mg/L. As concentration decreases,

"noise" becomes a higher proportion of the

signal, creating a challenging environment

for performing accurate calibrations (matrix

adjustment), increasing operator frustration

and reducing measurement reliability.

The chart in Fig 4 is the result of a strategy

to control the DO concentration in the

main oxic zone based on feedback from

ammonium sensors at the midpoint and end

of the zone. The drivers for control were

effluent quality and energy conservation.

The goal was to conserve alkalinity, and

more reliably meet effluent pH limits,

by limiting nitrification only to the extent

required to meet the ammonium limit which

varied monthly.

Energy conservation would be achieved by

limiting the DO set point based, in part, on

the ammonium measurement as follows:

40 WATER & WASTEWATER ASIA | SEPTEMBER/OCTOBER 2022
---
FOCUS

achieved the lowest unit airflow demand,

11% lower than with DO feedback control,

achieving the main objective which was to

reduce energy usage*.

Fig 3: Feedback control

of aeration based on

effluent measurement*

The stated advantage of feed forward

control is that the system reacts faster to a

disturbance, eliminating short term effluent

peaks and allowing a smoother control. The

reality is that predictions are only as good

as the model on which they are based and

models are not perfect. Therefore, feedback

from an effluent ammonium sensor is also

recommended to correct for errors in the

model. Some have stated that the benefit of

feed forward aeration control does not, in

most cases, provide substantial benefit over

feedback control and thus the additional cost

and complexity is not justified*. However, in

cases where peak loadings are large and/

or rapid and where effluent limits are very

stringent, feed forward control may offer a

practical solution.

Fig 4: Feedback

control with upstream

ammonium sensors*

Regardless, monitoring wastewater

ammonium, and COD for that matter, online

will provide very useful in- formation on

wastewater dynamics which can improve

treatment whether or not the information is

directly input to a control loop.

If NH4-N > 1.5, then DO set point = 2mg/L;

If NH4-N
---
FOCUS

HIDDEN TRUTHS:

What is really in your water?

Recent advancements in technology can manage wastewater and

contaminants more effectively, guaranteeing the safety of public health.

By Dr Vimala Sreenivasan, regional associate vice-president of sales,

South Asia-Pacific, Japan and Korea, Agilent

and nanoplastics, measuring between

1-5mm, organisations like Agilent are

collaborating with global researchers

to understand their ubiquity within

our ecosystems and investigate what

potential health concerns they may pose

to populations.

Water is crucial for life. Yet, around

80% of the world's untreated

wastewater is discarded into the

oceans and rivers, generating drinking

water pollution that could potentially

be harmful to public health 1 . In the

past decade, researchers could

not imagine the new contaminants

found increasingly in water that

were previously unidentified, from

microplastics and nanoplastics to

pharmaceuticals in wastewater, as well

as the recent SARS-CoV-2 virus.

A Singapore study run by the World

Wildlife Fund for Nature (WWF) stated

that people could be consuming, on

average, over 100,000 microplastics

every year 2 . Microbiologically

contaminated drinking water can

transmit diseases such as diarrhea,

cholera, dysentery, typhoid and polio,

and is estimated to cause 485,000

diarrheal deaths each year 3 .

Governments are now shifting

their focus towards safe water and

wastewater planning, sustainability,

and management. The priority is to

improve the water ecosystems by

institutionalising policies that culminate

with water research funding.

TYPES OF EMERGING WATER

POLLUTIONS

In an urgent global call by the World

Health Organisation (WHO) for more

scientific research into microplastics

Other growing toxic chemicals found

entering the water environment include

pharmaceuticals, personal care

products, pesticides, and per-and polyfluoroalkyl

substances (PFASs). The

nature and size of these particles mean

that water-processing facilities are not

always able to detect these particles

in water treatment systems, making

their way to home water supplies 4 and

jeopardising public health.

Currently, only a few of these compounds

are toxicologically detected and

evaluated due to their vast numbers. The

new generation of scientific instrument

technologies and their increased sense

of selectivity and sensitivity are currently

influencing public policy in prioritising

which contaminants scientists should

focus on.

NEW TECHNOLOGY FOR

WATER ANALYSIS

The recent years have seen rapid

and innovative developments in

technological applications such as

artificial intelligence (AI), machine

learning (ML) and advanced sensory

networks that have been utilised to

42 WATER & WASTEWATER ASIA | SEPTEMBER/OCTOBER 2022
---
FOCUS

improve the efficiency and efficacy of

water treatment.

In its long-term collaboration with

Nanyang Environment and Water

Research Institute (NEWRI), part of an

institute at the Nanyang Technological

University (NTU) in Singapore, Agilent

has supported NEWRI with new

technologies such as an ion-mobility

quadrupole time-of-flight instrument,

amongst others, to meet the national

water safety interest of Singapore.

Through its partnership with Agilent,

NEWRI can utilise high-resolution

mass spectrometry instrumentation to

examine more complex mixtures with

higher selectivity while carrying out

cell analysis. The inductively coupled

plasma instrument, which NEWRI has

coupled with gas chromatography and

liquid chromatography technology,

has helped the institute make new

discoveries around disinfection

by-products and other halogenated

species that would not have been

possible previously.

LONG-STANDING PUBLIC HEALTH

SURVEILLANCE TOOL

Wastewater-based epidemiology

(WBE) has long been used to

analyse wastewater to determine the

exposure of chemicals or pathogens

in a population. It has also been

used to evaluate unlawful drug use in

communities, as well as to indirectly

measure the consumption of alcohol,

caffeine, various pharmaceuticals, and

other compounds.

The COVID-19 pandemic has

compromised the world's commitment

to the 2030 Agenda of the United

Nations' sustainable development

goals adopted in 2015, amidst public

concern over the importance of

sanitation, wastewater and sewage

monitoring.

In Singapore, NEWRI has harnessed

its existing wastewater management

and knowledge of Singapore's

complex sewage collection system

to monitor the prevalence of SARS-

CoV-2 viral strains in the population,

as they could persist in water bodies

or sewage and either remain infectious

or lie dormant with the potential to

regain infectivity later. By doing so,

an early warning system can be sent

out to prompt local lockdowns and

emergency preparedness in local

healthcare facilities.

UNIVERSAL ACCESS TO SAFE

DRINKING WATER

In some of the developing communities

in South East Asia, poor water

quality presents an unknown longterm

impact, translating directly into

environmental, social, health and

economic problems. To empower

these communities to conduct their

own water quality monitoring for safe

and reliable water systems, further

development is needed in online

sensing and effective field-deployable

water quality for quick particle

counting.

This global issue has thrown some

governments under the spotlight,

urging them to take action by

implementing policies to improve poor

wastewater management systems

in the region. Though there has

been headway made for industrial

wastewater standards in countries like

Singapore 5 and Vietnam 6 , where the

drafting of new industrial wastewater

standards is taking place, more needs

to be done to address this pressing

issue.

ACCOUNTABILITY FOR

ALL COMMUNITIES

Everybody has the right to safe drinking

water. Closing the research gap in

the quality of water and sanitation

should be at the heart of government

funding and planning strategies.

While international organisations

have released suggested guidance

on wastewater discharge and certain

countries have taken steps of their

own on a regional basis, there is no

uniform global requirement to protect a

country's water and its population from

water contamination. A more unified

global response is needed, given the

urgency of the issue.

REFERENCES

1

UNESCO: Water pollution stats

2

World Wildlife Fund for Nature: Plastic Ingestion

3

World Health Organization: Drinking water

4

National Geographic: You eat thousands of bits of plastic

every year

5

National Environment Agency: Water Quality

6

Enviliance: Vietnam drafting new industrial wastewater

standard

WATER & WASTEWATER ASIA | SEPTEMBER/OCTOBER 2022 43
---
FOCUS

CAPTURING WATER DATA

for a true smart network

Drinking water systems in the United States currently lose at least six

billion gallons of water every day, according to the American Society of

Civil Engineers' 2021 Drinking Water infrastructure report. Ovarro's associate

product line manager for leakage, Chris Moore, shares insights into

how to become smarter in leakage detection.

Smart leak detection

solutions can help

utilities with cost

effectiveness and

sustainability

There is a water main break in the

US every two minutes, according to

the 2021 figures from the American

Society of Civil Engineers. Meanwhile,

the 2.2 million miles of water mains

across the USA are ageing and

underfunded. Treating water to

drinking water quality is expensive —

utilities do not want to lose 25-30% of

drinking water through leaking pipes.

Besides huge environmental impacts

on stretched water resources, losing

30% of treated water is bad news

from a financial and reputational

standpoint.

At the same time, the urgent

need for utilities to tackle the

effects of climate change, growing

water stress and increasing

populations, is not going away.

The good news is, investment

programmes in the US are

expanding and water utilities are

building their resilience, while also

deploying more innovative water

technologies for smarter networks.

It is a viable time to ramp up leak

detection in a cost effective and

sustainable way and accelerate

the adoption of new technology.

LEAK DETECTION IS A SKILL

The expertise to find leaks on

huge water distribution networks

is accrued over many years.

44 WATER & WASTEWATER ASIA | SEPTEMBER/OCTOBER 2022
---
FOCUS

There are huge gains to be made

by embracing joint-working. In

leakage, the vast local network

knowledge embedded within

utilities and municipalities,

combined with the research and

development capabilities of the

supply chain, can lead to significant

technological advancements.

Historically, leak detection efforts

would focus on a specific area.

The common approach would be

to let leakage creep up over time in

that area and then send teams to

reduce the overall leakage.

Now, the Internet of Things (IoT)

is reshaping network monitoring

allowing utilities to move to fixed

water networks of permanent

monitoring devices and loggers,

capturing data which is fed

back to a central system via

communications technology.

This is increasing real-time and

predictive capabilities — leak

detection systems can be set up to

permanently monitor the network in

real-time. What we effectively have

is a permanent network alarming

device, capable of detecting leaks

early.

DATA LOGGERS ARE

THE FIRST STEP IN LEAK

DETECTION

Having data loggers on the

network provides a top-level

overview; it allows companies

to accurately and reliably record

parameters for pressure, flow and

level across the water network.

Establishing a baseline helps to

plan an effective leak detection

campaign.

The data can provide insight

into areas that you might want

to focus more on and highlights

trends occurring on your network,

that you may not have known were

happening. This extra set of eyes

allows you to be more targeted in

your strategies.

If a standard leak detection

system making one recording per

night flagged up a new location

of continuous sound, a network

manager would have to know that

the noise was not just activity from

a consumer. Thus, if someone were

to draw from the network for their

heating system or their washing

machine, a leak detection system

would say there is noise at this

position.

The water utility may then wait, then

listen again for the next few nights to

verify the position of the sound. The

chances of that being consumption

in the same location is minimal. It is

now worth sending out a team, but

that leak has been running for three

days before someone has gone to

investigate.

By tying the data logger and the

leak detection equipment together,

we can then run a much smarter

system. The logger looks at what

known as the nightline — the

minimum night flow.

If that increases and is consistent,

it is very likely to be a leak. When

that happens, that logger can send a

message to cloud network software,

which will then verify that there is

certainly flow increase in the area.

Therefore, rather than the leak

detection equipment waking up

once at maybe 2am and making a

10-second recording, we can tell

it there is something to find. The

equipment then knows to record

three times, say at 2am, 3am and

4am. By the time someone from

the utility arrives at their office,

switches on their computer and

sees the data, the system has

automatically reduced those three

days of monitoring down to the

next morning.

From detection to location,

connecting data loggers to your

leak detection system can selfdiagnose

problems on the network

for you, making it a truly smart

network.

REDUCING LEAKS CUTS

CARBON EMISSIONS

Water and wastewater operations

typically contribute 30-40% to

a municipality's total energy use

and the global sector is currently

estimated to contribute up to 5%

of greenhouse gas emissions. The

link between leakage and carbon

should not be underestimated.

The more water we save through

leakage reduction, the more

energy we stop wasting, through

the pumping of treated water that

ends up being lost through leaky

pipes. If a utility can reduce the

amount of water being treated

and put into supply, it will reduce

the amount of energy being

consumed, leading to a drop in

operational carbon emissions — a

win-win situation.

Preventing leaks is a

big step forward for

energy conservation

WATER & WASTEWATER ASIA | SEPTEMBER/OCTOBER 2022 45
---
HOTSEAT

LIQUINEX'S

SOLUTIONS

pack a punch

"Clean water is the world's first and

foremost medicine." - Slovakian proverb

By Agatha Wong

an integrated turn-key EPC and O&M

technology solutions provider. Its core

services include a Compact Water

Purification System (CWPS) — a

suitcase-sized portable water treatment

unit which can be deployed for

emergency response and use in remote

locations. Another compact solution

is the forward osmosis suitcase,

which Liquinex developed alongside

Aquaporin, making use of the latter's

biomimetic membrane that draws pure

water out of wastewater. Besides that,

the company also offers industrial

water treatment, where its system is

designed to be semi or fully automatic,

minimising human intervention during

operation, alongside additional options

such as remote monitoring and control

systems.

OFF THE BEATEN TRACK

Liquinex's product portfolio evolved

out of a response towards regional

and global water needs. With water

infrastructure in Asia-Pacific, for

example, still requiring further support

and improvement, water companies

must tailor their solutions to not only

meet urban demand but also rural and

community needs.

Bashir Ahmad, who

worked previously for

Singapore's Public

Utilities Board, is

co-founder and CEO

of Liquinex

The water challenges facing Singapore

are unique and require an innovative

lens. From NEWater to rainwater

harvesting, the island nation is home

to some of the most advanced water

technologies and solutions.

For Bashir Ahmad, who worked

previously as an engineer overseeing

the construction work for a sewage

treatment plant under the thensewerage

department at the

Ministry for the Environment, and a

mechanical engineer for the Public

Utilities Board (PUB), both located in

Singapore, the local perspective has

provided much insight to business

operations at Liquinex, where he

serves as co-founder and CEO.

"Singapore's challenging water

landscape and its innovative approach

towards solving water scarcity inspired

my desire to help solve water scarcity

problems in the region. Liquinex's

award-winning compact water

purification system was developed out

of the need to provide clean water in

times of disaster as well as for remote

rural communities," shared Bashir.

The company was founded in 2015 as

a specialist in water and wastewater

treatment technologies, and is today

This was a sentiment echoed by Bashir,

who said: "Water companies should

be mindful that their water treatment

system should fit the purpose and

needs of the communities that they

are serving, be it aid agencies, rural

communities or local water authorities.

Since 2015, Liquinex has spearheaded

humanitarian water projects to rural

communities, municipalities and

industrial companies, supporting their

hydration, hygiene and sanitation

needs, as well as regulatory

compliance during the COVID-19

pandemic. In these projects, the

aforementioned Compact Water

Purification System was an easy-

46 WATER & WASTEWATER ASIA | SEPTEMBER/OCTOBER 2022
---
ON OUR RADAR

to-transport system that delivered potable

water to these remote locations. Powered

by 12V car batteries or solar panels, it can

provide 3,000 litres of bottled-water quality

drinking water per day to over 600 people (as

calculated on a fully-charged car battery on a

six-hour power supply).

These projects have proved invaluable to

the company as they understood the varying

needs of different communities: "A key lesson

that we have learnt is that no one solution

fits all. Each community has its own unique

circumstances and some customisation

is always needed. In order to deliver clean

water efficiently, we have taken the approach

to minimise the size of our system without

compromising on throughput and efficacy."

Moving beyond rural areas, the company

is also conscious of the evolving needs

of an urban population. As Asia-Pacific

becomes one of the fastest growing regions

in the world, steps to counter pollution and

deliver clean water to homes become more

important.

"Looking ahead, water companies should

address emerging threats from micropollutants

such as those originating from

pharmaceuticals, personal care

products including micro-plastics

that is becoming more prevalent

due to rapid urbanisation and climate

change. To this end, we are working

with strategic technology partners

to develop novel systems using new

technologies such as carbon nanotubes

and deep UV disinfection," said Bashir.

ON THE WORLD STAGE

For their work, Liquinex has been

recognised on the international stage. The

company received the Mohammed bin Rashid

Al Maktoum global water award in Dubai in

2020, as recognition for their solutions to

secure clean water for poor communities. In

April of the same year, the company was also

awarded a gold medal in the international

invent show AsianInvent Singapore 2020 in

Singapore.

Most recently, the company has also signed a

deal with LightLab. This collaboration will see

the integration of LightLab's broadband Deep

UV disinfection technology known as PuriFize,

with Liquinex's WaterWall, for residential use.

Through this, contaminated water can be

turned into safe tap water. The first to receive

this technology will be Jakarta, Indonesia.

Bashir said: "We are humbled by the awards

and accolades and are grateful to UAE Water

Aid, AsianInvent Singapore, Imagine H2O-

Asia, Intellectual Property Intermediary and

the entire Liquinex team including co-founder

Mr Riaz Deen, for their recognition and

support. We are very excited to work with

strategic partners in solving industrial and

municipal water challenges and also on our

next generation suitcase-sized Compact

Water Purification System and Liquinex's

WaterWall."

Liquinex's Compact

Water Purification

System is a vital

solution for rural

communities

The Ultimate in

Control Valves

Cla-Val - control innovations

www.cla-valpacific.com

WATER & WASTEWATER ASIA | SEPTEMBER/OCTOBER 2022 47
---
HOTSEAT

BIO-INSPIRED

AND SELECTED

BY EXPERTS:

The new "Ridge-M"

membrane technology

from Berghof

Berghof Membranes' Ridge-M technology gains

recognition at the German Innovation Award 2022.

The German Innovation Awards honours

innovative achievements that break new

ground through their added value; projects

that improve lives and contribute to a better

future.

Berghof Membranes aims to enable a

more sustainable industry with innovative

solutions, and in doing so conserve the

world's precious resources. With the new

Ridge-M technology, Berghof Membranes

can better help their customers to achieve

their goals.

This is because the company's developers

have been bio-inspired by a natural principle:

With everything in nature constantly evolving,

the company aims to use its available energy

as efficiently as possible.

This principle from nature is the foundation

of all developments at Berghof Membranes.

The latest idea serves as an example of a

new approach to the design of membranes

for industrial water treatment that benefits

customers in several ways.

The inspiration for this technology came

from shark's skin. After months of testing

in the laboratory and in practice, Berghof

Membranes presents its membrane

technology that harnesses this principle from

nature: Ridge-M.

Multiple sharkskin-inspired ridges in the

length of the inside of the membrane increase

the surface turbulence due to uneven shear

stress distribution. The technology creates

a continuous mixing of solids in the feed

water, delaying the forming of a cake layer

on the membrane surface. Possible fouling

between the ridges is removed easily due to

the combination of turbulence and uneven

shear stress.

The new Ridge-M technology, according

to the first field tests, can boost average

performance up to 50%, depending on the

application and the operating conditions.

It also lowers the average consumption of

energy up to 33% compared to the standard

membranes from Berghof. Chemical

consumption is also reduced.

BERGHOF CONVINCES EXPERTS ONCE

AGAIN

The initiator of the German Innovation Award

is the German Design Council (Rat für

Formgebung), founded by the German

Parliament in 1953. It is considered by experts

as one of the world's leading centres of

expertise in communication and knowledge

transfer within design, branding and innovation.

It has also been the sponsor of one of the most

recognised design competitions in the world,

the German Design Award, for many years.

The German Design Council has also honoured

the Berghof Group for the fourth time in 2017

and 2019, with the awarding of the German

Brand Award. With it, the German Design

Council aims to position the brand as a

deciding factor for companies in the national

and international competitive environment.

In 2021, the testing technology division of the

subsidiary Berghof Automation was among

the winners of the German Innovation Award

in the machines and engineering category

with its Smart Component Tester (SCoT), also

in the excellence in business-to-business

competition class.

This year, a total of almost 650 innovations

were submitted to the critical judgment of the

German Innovation Award jury, which is made

up of independent, interdisciplinary experts

from industry, science, institutions and

finance. The entries are evaluated based on

the criteria: level of innovation, user benefits

and efficiency.

48 WATER & WASTEWATER ASIA | SEPTEMBER/OCTOBER 2022
---
HOTSEAT

AQUEOUS VETS

ANNOUNCES

senior leadership team

Water treatment solutions provider responds

to call for PFAS remediation.

Aqueous Vets (AV), a manufacturer of water

treatment systems, has announced that

it is expanding its leadership team with a

series of hires and promotions at a critical

moment in water treatment history. As the

US Environmental Protection Agency (EPA)

begins solidifying its advisories on per- and

polyfluoroalkyl substances (PFAS), the

management team will ensure AV is equipped

to provide support to utilities around the

nation working to protect their community

from toxic "forever chemicals."

This leadership expansion comes on the heels

of its recently secured growth investment

from Bain Capital Double Impact, the impact

investment strategy of Bain Capital. The

partnership will enable AV to expand its

footprint nationally, diversify its offerings, and

achieve its mission of reducing contaminants

in the US water system.

"Recently, the EPA shed light on the true

dangers of PFAS exposure, even at levels

near zero, and the good news is that

municipalities are responding," said Rob

Craw, AV president and CEO. "The addition

of experienced and capable leaders to our

team coupled with AV's partnership with Bain

Capital Double Impact is paramount and

timely in support of our mission to improve our

country's water infrastructure. I'm incredibly

proud of what we've been able to accomplish

since our inception seven years ago, and I look

forward to our continued success."

AV welcomes the following team members into

executive leadership positions:

• Matt Boeh, chief operating officer (COO):

Boeh brings 20 years of results-driven

leadership experience that spans across

operational, business development and

sales positions in the water industry. He

most recently served as vice-president

and general manager at UGSI Chemical

Feed, where he led the company to record

profitability, motivated teams to peak levels

of performance, and spearheaded the

development of a robust suite of business

systems.

• Renee Teel, chief financial officer (CFO):

A nimble, strategic leader, Renee drives

organisational success through the

identification of metrics, establishment

of KPIs and action plans, and reviews to

achieve goals. Renee has a demonstrated

history of creating high-performing

teams, leveraging technology to improve

processes, and adapting and evolving with

the changing needs of business.

• Sarah Johnson, vice-president of

engineering: Johnson has 17 years of

experience in the water treatment and

infrastructure industry and has been

with AV since 2018 as general manager.

Johnson's implementation of the

company's vision has been key to the

growth of the business, with experience in

group management, engineering, technical

support and

project management.

• Andy Sterling, vice-president of sales:

Sterling brings over 16 years of business

development experience to the team,

joining AV in March after nearly 11 years in

the mobile pipe lining and coatings market.

As a relationship builder with top-down

selling experience, he has a track record

of driving short- and long-term growth to

increase profitability and revenue.

• Stephanie Schanher, vice-president

of human resources: Schanher has a

wealth of experience in management

and organisational leadership. From

developing and communicating internal

processes and programs to spearheading

acquisition integration, Schanher brings a

strategic approach that aligns closely with

the values upheld by AV.

Navigating the water treatment industry in

addressing the spectrum of contaminants

of emerging concern (CECs), AV couples

its technology with its solution for custom

site design, manufacturing, delivery and

assembly. This comprehensive, concept-tocommission

approach is helping a growing

number of municipalities navigate supplychain

and labour challenges to deliver safe

drinking water more efficiently.

WATER & WASTEWATER ASIA | SEPTEMBER/OCTOBER 2022 49
---
EXCLUSIVE TO SWA MEMBERS !

(Limited seats)

NEWSLETTER

OF THE

SINGAPORE

WATER

ASSOCIATION

BRINGING

A NEW VIBRANCY

TO SINGAPORE'S

GROWING

WATER INDUSTRY

[Physical event]: Visit by Monterrey

Government (Mexico) to SgWX.

Jointly co-organised with Singapore

Cooperation Enterprise (SCE) and PUB.

VISIT OF

SHARING

5 Aug 2022, Singapore Water Exchange MONTERREY

GOVERNMENT & b2b

REGISTRATION

5TH AUGUST 2O22

11AM - 12.30PM

PUB WATER HUB

Singapore Water Exchange

84 Toh Guan Rd East, LEVEL 1 SEMINAR ROOM

SWA, PUB and Singapore Cooperation Enterprise (SCE) co-hosted the

sharing session with the delegates of Monterrey Government who

shared their problem statements on water issues. B2B meetings between

SWA member companies and the delegates of Monterrey Government

followed after a specially arranged buffet lunch.
---
44th Singapore Water Industry Nite

(SWIN)

Sponsored by Borouge Pte Ltd

18 Aug 2022, SWA Members and invited guests only

Venue: e2i, Devan Nair Institute, Level 1 Hall 1, Singapore

Webinar: Dual Parallel Lateral

Underdrain vs. Traditional Nozzles:

Learn how the right selection can help

your water filtration.

Co-organised with De Nora Water Technologies

25 Aug 2022

Webinar: SWA-Platinum Circle: State of

Sustainable Development Goals

Co-organised with Platinum Circle, partnered with United

Nations Global Compact (UNGC) and United Nations

Development Programme (UNDC)

30 Aug 2022

Webinar: Singapore-UK Connects:

Water Technologies for Sustainability

and Resilience

Co-organised with Enterprise Singapore, PUB, SWA and

British Water

1 Sep 2022

The Singapore-UK Connects: Water Technologies for Sustainability

and Resilience event brought innovative water technologies from

Singapore to UK. This event was targeted towards UK water

utilities, consulting firms, and SMEs, with the goal of connecting

innovative Singapore water tech start-ups to British partners for

tech collaboration and adoption. Start-ups pitched their water

solutions, and shared their innovative solutions for smart water

monitoring, advanced membranes, wastewater treatment

systems, and technologies for improved water sustainability and

resilience.
---
UPCOMING SWA ACTIVITIES

SWA Technology Mission to Jakarta in

conjunction with Indowater 2022

3-5 Oct 2022

Venue: Jakarta, Indonesia

As part of its continuous effort to enhance their members'

competitiveness through exploring new markets and business

opportunities in SEA, SWA, in conjunction with INDOWATER

2022 Expo, will be organising a business mission to Jakarta from

3-5 Oct 2022. This mission will focus on a better understanding

of post-COVID business opportunities and challenges, explore

and to develop cross border business collaborations with key

Government authorities and Industry groups in Indonesia.

INDO WATER EXPO 2022

5-7 Oct 2022

Venue: Jakarta, Indonesia

INDO WATER 2022 Expo & Forum has

returned after three years. In 2019, the

show brought together over 10,000

industry professionals and experts also

over 600 exhibitors from 30 countries.

The show will update industry professionals

on the latest trends, developments,

building valuable partnerships in Indonesia.

Water supply and sewerage companies,

consultants, contractors, wastewater

treatment professionals and decision

makers can also look for cost-effective

solutions for the growing Indonesia's water

sector.

SWA Technology Mission to New Orleans in

conjunction with WEFTEC 2022

10-14 Oct 2022

Venue: New Orleans

In conjunction with Water Environment Federation's Technical

Exhibition and Conference (WEFTEC) 2022, SWA is organising

a five-day mission to New Orleans as part of continuous efforts

to enhance our members' competitiveness through exploring

new markets and technology adoption. WEFTEC brings together

water professionals from around the world delivers water quality

education, specialists, the latest technology and trends, and

proven solutions.
---
VIETWATER EXPO 2022

9-11 Nov 2022

Venue: Ho Chi Minh, Vietnam

SWA has announced its participation in the 12th edition of

VIETWATER EXPO, in Ho Chi Minh City. This event offers business

opportunities for companies in the water, wastewater treatment

industry in Vietnam and across Indo-China.

Overall, the water infrastructure industry is expected to grow 7%

annually between 2017-2026. In addition to large-scale wastewater

treatment plant projects, there is also a substantial market for

small and custom wastewater treatment and reuse solutions,

septage management, and space-saving techniques such as

advanced trenchless technologies. Vietnam's economy is expected

to have the highest growth rate in South East Asia in 2022 at 6.5%,

as seen in the latest data from the Asian Development Bank.

SWA WELCOMES NEW

MEMBERS

(joined from June to July 2022)

ORDINARY

1. Bentley Systems (Singapore) Pte Ltd

2. Envision Digital International Pte Ltd

3. Itron Metering Systems Singapore Pte Ltd

4. Proserv Aquatics Pte Ltd

ASSOCIATE

1. Electrolytic Technologies Singapore Pte Ltd

2. Tat Lee Engineering Pte Ltd

3. Teamsolve Pte Ltd

2022 EVENTS CALENDAR

2022 will be bustlingly filled with water shows, Technology & Business

Missions, networking events and webinars.

We have an exciting and interesting lined up of water series with PUB,

Singapore's National Water Agency. Download from https://www.swa.org.

sg/wp-content/uploads/2021/10/Events-Calendar-2022.V9-2.pdf

Looking forward to meeting you. Join us in the upcoming events!

To stay connected on the latest updates on SWA, visit https://www.swa.org.

sg, follow us on LinkedIn or Telegram.

INTERESTED TO JOIN SWA?

We welcome all organisations who are actively involved and interested in

the water and wastewater industry to join Singapore Water Association as

either Ordinary, Associate or Institutional member.

Sign up at https://www.swa.org.sg/membership/sign-up-online
---
ON OUR RADAR

REAL-TIME CHLORINE

MEASUREMENTS

in drinking water

LACROIX's latest sensors can facilitate strict monitoring

of chlorine levels in drinking water, putting utilities at a

peace of mind.

Controlling the level of chlorine in water

networks is crucial to guaranteeing the quality

of drinking water. Monitoring active chlorine

levels in drinking water distribution networks

is becoming more important across the world,

while regulations in some countries have

made it imperative that water suppliers can

constantly monitor these levels.

To solve the challenge of active chlorine

level monitoring, LACROIX has developed

the ChlorIN sensor. When connected to a

SOFREL data logger, it collects chlorine

levels at regular intervals. This continuous

monitoring means that an alert can be sent to

the operators and the centralisation software

should the chlorine level exceed or fall below

thresholds set in the software.

This brings numerous savings to the operator,

from less travel time and working on-site, to

supplying more extensive data. The sensor

can be installed anywhere on the water

network, and it can be used to monitor critical,

strategic, or interconnection points, as well

as at the end of the network. The internal

battery has a service life of up to 10 years.

A version with an external power supply is

also available, allowing the data logger to

be powered for even longer via an external

source, be it a battery, mains power or a solar

panel.

The sensor can be installed to existing

water pipes, without interrupting the flow of

water. The attached sampling valve allows

for immediate sensor calibration. Data is

transmitted via 2G/4G networks, via an

integrated high-capacity antenna. The

ChlorIN sensor is also available with an

additional CPR pressure sensor for service

quality measurements.

SOFREL DL4W OPENSENSOR DATA

LOGGERS FOR MORE SENSOR

OPTIONS

The new range of SOFREL DL4W data

loggers allows the connection of up to

eight sensors, thanks to an open Modbus

connection.

The open Modbus model allows the data

loggers to meet the monitoring needs

of both drinking water and wastewater

networks. The high power model is preequipped

with a connector allowing the

connection of an ultrasonic level probe

and is usually used for self-monitoring

and permanent diagnostic needs. The

RS-485 serial input is compatible with all

Modbus RTU equipment.

Two additional DIs make it possible to

also measure pulses, for example, to

signal the opening of the manhole cover,

or to monitor an overflow sensor or rain

gauge.

The ChlorIN sensor from LACROIX installed

retroactively on a water pipe

The ChlorIN sensor is equipped with a sampling valve

for sensor calibration

Like all of the SOFREL data loggers, the

DL4W also comes with an enhanced

IP68 waterproof rating, an integrated

2G/4G M2M antenna, and a three-year

manufacturer's guarantee.

54 WATER & WASTEWATER ASIA | SEPTEBMER/OCTOBER 2022
---
ON OUR RADAR

SENSOREX

OFFERS

chemical

resistant toroidal

conductivity

sensor

Inductive sensors using polyether

ethyl ketone delivers reliable

conductivity and concentration in

extreme conditions.

Headquartered in California,

Sensorex specialises in the design

and manufacture of quality sensors

for critical measurement of water

quality. The company offers more

than 2,000 sensors for pH, ORP,

dissolved oxygen, free chlorine,

chlorine dioxide and other specialty

parameters, as well as a line of

sensor accessories.

Sensorex's new TCSP series

toroidal conductivity sensors have

been designed for use with harsh

chemicals or corrosive elements.

With a measurement range up to

2,000mS, it is a versatile sensor

with applications across a broad

range of applications that would

damage typical contacting

conductivity sensors. Resistant

to corrosion, coatings and fouling

common to contacting conductivity

sensors, the TCSP3020 is designed

for minimal trouble and long service

life.

The body is made of chemicallyresistant

PEEK (polyether ethyl

ketone) for use in aggressive

chemical solutions and temperatures

up to 266°F (130°C) and pressure

up to 295 psig (nine bar). A

built-in 1000Ω Pt RTD provides

output for automatic temperature

compensation ensuring accuracy

even when sample condition varies.

All Sensorex TCSP probes are

supplied with a 9-conductor cable

with tinned ends for easy connection

to controller, transmitters and other

devices. The probes are available

as standard with 10ft (3m) or 20ft

(6m) cables, and custom lengths

available on request.

WATER & WASTEWATER ASIA | SEPTEMBER/OCTOBER 2022 55
---
ON OUR RADAR

AVEVA LAUNCHES 2023

operations control software

With a new and holistic suite of capabilities, AVEVA

enables workers of any experience level to work

smarter in the 2023 release of its silo-breaking

operations control software.

"Value is often greater than the sum of its

parts. The flexible collection of capabilities

within the 2023 release function can be

combined and linked for even greater effect.

Instead of releasing a single HMI or SCADA

product, we can enhance our customers'

ability to eliminate silos and build more

intelligent systems that make their people

smarter, thus maximising the value obtained

from their industrial data," said Rashesh

Mody, executive vice-president of operations

business at AVEVA.

AVEVA's operation control software promotes greater collaboration and efficiency between workers

AVEVA has launched the 2023 release of its operator insight and reactions to process

operations control software, the first major deviations. Not only can critical information

coordinated release of its HMI/SCADA be retrieved faster, but inbuilt flexibility

software portfolio, available in both perpetual provides greater scaling of data, users, or

and subscription purchases. The new release routes to revealing the correct decision.

further supports the delivery of AVEVA

Operations Control, a subscription-based AVEVA's extensive portfolio is a core

solution of integrated capabilities.

strength that supports customers in

achieving the outcomes they seek. The 2023

AVEVA Operations Control simplifies

operations control release focuses on worker

day-to-day routines of teams by aligning empowerment with UI/UX enhancements,

workers around common digital threads increased flexibility for web and mobile

of information, delivering the data and

users, and greater connectivity. This

insights they need to drive growth at

release consists of updates in the following

every level through increased efficiency, offerings: AVEVA System Platform 2023,

agility and reliability. With visualisation AVEVA InTouch HMI 2023, AVEVA Edge

technologies, analytics and development 2023, AVEVA Plant SCADA 2023, AVEVA

tools deployed within a hybrid cloud and Historian 2023, AVEVA Communication

on-premises environment, customers can Drivers 2023, AVEVA Reports for Operations

ensure performance consistency, remove 2023, AVEVA Development Studio, and

opportunity for human error, and improve AVEVA Teamwork.

The 2023 operations control software

release is available through several

procurement methods, including AVEVA

Flex, the advanced industrial software

subscription programme. Customers can

choose individual software offers within

the operations control portfolio or realise

new transformational value with end-to-end

visibility across operations by subscribing

to AVEVA's broad portfolio through AVEVA

Operations Control. AVEVA Operations

Control removes traditional limitations

on implementation by including unlimited

software usage (measured by the number

of users) and offering maximum commercial

flexibility.

AVEVA Operations Control helps workers

to do their jobs in a more sustainable

way. Its comprehensive digital framework

supports quicker, data-backed responses

to events that require resolution, providing

reliable process management systems, and

reducing the effort required to train new staff.

Customers across industries can further

enrich their approach to environmental,

social and governance (ESG) initiatives by

leveraging the solution to tap data-driven

insights for more efficient and environmentally

sustainable operations.

56 WATER & WASTEWATER ASIA | SEPTEMBER/OCTOBER 2022
---
ON OUR RADAR

VPCI-641 HYDROTEST

CORROSION INHIBITOR

earns USDA-certified

biobased product label

The new releases from Cortec enables

companies to target corrosion while remaining

environmentally responsible.

content displayed on the labels. This

verification process is administered through

the USDA BioPreferred programme,

where one of its goals is to increase

the development, purchase, and use of

biobased products.

"We applaud Cortec Corporation for

earning the USDA-certified biobased

product label," said Vernell Thompson, a

representative from the USDA BioPreferred

programme. "Products from Cortec

Corporation are contributing to an everexpanding

marketplace that adds value to

renewable agriculture commodities, creates

jobs in rural communities, and decreases

our reliance on petroleum."

Cortec Corporation's VpCI-641 and VpCI-641

PTSA corrosion inhibitors for hydrotesting

and freshwater cooling systems have earned

the USDA-certified biobased product label.

The VpCI-641 offers an economical and

greener alternative to other hydrotesting

products on the market that are not biobased

and must be used at a higher dosage.

VpCI-641 is a water-based blend of contact

and vapour phase corrosion inhibitors for the

protection of ferrous and non-ferrous metals

(including copper, aluminum, and brass) in

industrial waters. VpCI-641 contains 69%

USDA certified biobased content and can be

used at low concentration levels for greater

economy and lower conductivity. VpCI-

641 provides corrosion protection during

hydrostatic testing, and in some cases can

be used in closed loop cooling systems

filled with fresh water. VpCI-641 PTSA

includes a PTSA tracer option that makes it

easier to monitor proper concentration for

ongoing effectiveness in closed loops and

reused hydrotest water. When it comes to

wastewater disposal, VpCI-641 makes the

process easier as a biodegradable water

treatment product that does not contain nitrite

or phosphate inhibitors.

The VpCI-641 and

VpCI-641 PTSA

corrosion inhibitors are

USDA-certified under the

BioPreferred programme

VPCI-641 AND THE BIOPREFERRED

PROGRAMME

As part of the process to earn USDAcertified

biobased product labels, VpCI-641

and VpCI-641 PTSA underwent third-party

testing to confirm the amount of biobased

In addition to creating an opportunity for

industries to demonstrate their commitment

to sustainability by the voluntary use of

biobased products, the USDA BioPreferred

programme also includes a mandatory

federal purchasing initiative for federal

agencies and their contractors, with special

biobased purchasing requirements for

products in 139 identified categories. VpCI-

641 and VpCI-641 PTSA surpass minimum

biobased content requirements under the

corrosion preventatives category (53%

minimum biobased content). With these

products, federal agencies and contractors

can comply with federal purchasing

preferences in their everyday product

acquisition.

Be it considering cost, sustainability, or

both in their hydrotesting and cooling

water applications, users can choose

VpCI-641 and VpCI-641 PTSA as workable

alternatives to similar corrosion inhibiting

water treatments that are not biobased and

have higher dosage rates.

WATER & WASTEWATER ASIA | SEPTEMBER/OCTOBER 2022 57
---
ON OUR RADAR

they can now confidently increase the

flow in other trains without worrying about

overspin."

READY FOR AUTOMATION AND

PREDICTIVE MAINTENANCE

An additional benefit of Danfoss's new active

ERD is its readiness for automation and

predictive maintenance.

DANFOSS LAUNCHES

WORLD'S FIRST

ACTIVE ERD

for medium and large

SWRO plants

Danfoss has announced the launch of the

world's first active energy recovery device

(ERD) designed for medium and large

seawater reverse osmosis (SWRO) plants

with the new MPE 70.

ELIMINATING PROBLEMS

Danfoss's new, active isobaric ERD was

developed in close collaboration with the

SWRO industry to solve the problems

caused by passive ERDs.

Jesper Bentzen, sales director of Danfoss,

shared: "Owners and operators of large

SWRO plants are increasingly turning to

these smart solutions to improve reliability

and reduce operating expenses. Because

active ERDs use motors controlled by

variable frequency drives, each ERD can

now be integrated in automation systems to

further optimise energy savings both onsite

and remotely. Additionally, electrical data

from the ERD motors can now be monitored

and analysed to detect minor anomalies

before they turn into major problems. This

enables better planned stops, more efficient

maintenance, and better OPEX overall."

To accommodate large flow rates and

facilitate easy installation and optimal

manifold structure, several MPE 70 ERDs can

be mounted in parallel on a rail with a unique

adjustable bracket.

Until now, isobaric ERDs for large and

medium SWRO plants have been passive:

their rotating pressure exchangers have

been driven only by pressurised water flow.

While passive ERDs exchange pressure

efficiently, rotor spin controlled only by

water flow presents operators with several

problems. One is overspin, which occurs

when passive ERDs operate above their

maximum flow rates and can cause rotors

to break apart. Another is salinity increases

due to mixing: to prevent overspin,

operators of passive ERDs must avoid

overflushing, which would otherwise reduce

the salinity increase due to mixing. The

resultant higher feed flow salinity lifts the

plant's energy consumption and reduces

membrane life.

"The MPE 70's motor controls rotor rotation

to eliminate any risk of overspin," explained

Michael Bjorn, head of Danfoss's high

pressure pumps division. "For the first

time, ERDs in medium and large plants

can now operate at their maximum flow

rates with complete safety and reduce

salinity increases due to mixing even when

overflushing. Motorisation not only reduces

the need for ERD redundancy, which in

large plants can add up, but also improves

larger SWRO plants' energy efficiency.

Furthermore, it has significant benefits

for plant reliability and maintenance. The

low-voltage motor can always initiate rotor

spin, so the days of biofouling stopping rotor

rotation are over. And if operators temporarily

need to shut down one train for maintenance,

BUILDING ON A TRACK RECORD

Danfoss has served the desalination industry

with high-pressure pump and ERD solutions

for decades. The MPE 70 now puts an

energy recovery solution proven in small

and medium-sized plants at the service of

owners and operators of the world's biggest

desalination plants.

"As a thirsty world deals with climate

change and CO2 emissions, the focus

on reliable energy efficiency for SWRO

has never been greater," said Bjorn. "We

believe the advantages of active ERDs are

a gamechanger for the large-scale plants

that already now provide many communities

worldwide with their drinking water, and will

be even more important in the future."

58 WATER & WASTEWATER ASIA | SEPTEMBER/OCTOBER 2022
---
Energy

Recovery Solutions

for a Sustainable Future

Q300

Around the world, regulations around industrial wastewater treatment

have grown stricter in an effort to reduce pollution and preserve water.

As a leader in the desalination industry for 30 years, we offer reliable

energy recovery devices that can make industrial wastewater treatment

more energy and cost efficient, significantly lowering your operating costs

with no scheduled maintenance.

From the industry-leading PX Q300, to the Ultra PX that can withstand

pressures up to 120 bar, to our line of pumps and Turbochargers, we have

a device that can deliver operational efficiency and reliability within a wide

range of operating conditions.

Visit us at these upcoming shows to learn more and get a closer look

at how we make industrial processes more efficient and sustainable.

IFAT India | ifat-india.com

Mumbai, India

September 28-30, 2022

Booth Number: J66

Presentation: How pressure

exchanger technology transforms

industrial wastewater applications

Ultra PX

IE Expo China | ie-expo.com

Shanghai, China

October 19-21, 2022

Booth Number: Hall E3, Booth F28

Currently seeking manufacturer representatives and distributors in Asia. For more information, email IWW@energyrecovery.com.
---
SNEAK PEEK

ASIAWATER 2022 will bring together over 17,000

trade attendees and visiting industry professionals

from 65 countries, with over 1000 exhibiting

companies and brands

ASIAWATER 2022 will be accompanied by

free-to-attend conferences and seminars

featuring leading industry experts addressing

current issues and opportunities, latest

technologies and challenges within the water

and wastewater industry.

ASIAWATER MAKES

sustainable return

Digital features and insightful forums set the

tone of this year's event

The 12th edition of ASIAWATER Expo &

Forum will return on 7–9 Dec 2022 at Kuala

Lumpur Convention Centre, Malaysia. The

event will be an international water and

wastewater event for Asia, showcasing the

latest in high-tech, low-cost products and

solutions from around the globe in the fields

of water resources management, sewerage,

industrial wastewater, purification, irrigation,

and many more.

ASIAWATER will provide a sea of trade

opportunities for players from every sector

in the water industry, connecting over

17,000 trade attendees and visiting industry

professionals from 65 countries, with over

1000 exhibiting companies and brands, from

all segments of the water and wastewater

industry.

The central theme for ASIAWATER 2022

will be "Embracing ESG Towards Water

Sustainability", and the show will be touching

on the importance of implementing ESG by

the region's water and wastewater services

industry in working towards providing us a

more sustainable, reliable and affordable

water services. Specifically, ASIAWATER

2022 shall look at the water industry not only

in South East Asia as a primary audience,

but also regionally in Asia-Pacific.

Digital features have also been added to

meet these sustainable goals. One such

feature is the reducing of the event's carbon

footprint by reducing or eliminating the

printing of our event directory and replacing

them with a digital interactive version.

With this digital directory, WATERFEEDS,

trade visitors can easily access the event's

agenda, exhibitors' booth and their location,

as well as have the ability to connect with

exhibitors online. Moreover, trade visitors

can also download the digital version of the

event floor map as well as the show directory

booklet in digital format, providing all they

need at their fingertips.

Another new concept that will be

implemented for the first time at ASIAWATER

would be hybrid booths for exhibitors who

cannot participate in-person at the event.

Trade visitors will be able to furnish themselves

with topics focusing around the central theme

of "Embracing ESG Towards a Sustainable

Water Future", where they learn first-hand

from leading industry experts on the subject of

transformation and advancement of the water

and wastewater service industry towards a

more sustainable water future through ESG.

This year, ASIAWATER will also be featuring

their 3rd instalment of Regional Water Talks.

The content of the conference and seminars

programme consists of three major topics:

water resource management, policy and

governance, and financial and technical

sustainability.

MWA will be conducting a one-day water

utilities leadership forum, which will feature

insights from water sector leaders, utilities

CEOs and topical experts from countries in the

region who will participate in ASIAWATER2022.

The forum will be a rich dialogue on what

utilities are doing today to remain resilient, as

well as what a resilient future looks like.

Aside from that, the show will feature the first

ever International Symposium on Capacity

Development for The Water Industry by

AguaJaring and supported by Cap-Net and

UNDP.

With this year's show, ASIAWATER 2022 seeks

to be more than a trade event; the show aspires

to serves as a platform where exhibitors and

attendees not only seek business opportunities

but to also come together to discuss on

pressing matters and issues surrounding the

water industry within the region and finding

effective solutions.

60 WATER & WASTEWATER ASIA | SEPTEMBER/OCTOBER 2022
---
SNEAK PEEK

INDO WATER 2022

sets the stage

Bringing together key players in the

water industry, this year's show highlights

opportunities in Indonesia and beyond.

Together with Indo Waste, Indo Renergy,

and Indonesia International Smart City 2022

Expo & Forum, this annual show will be

gathered as Integrated Technology Event

(ITE) 2022.

Together with Indonesia International Smart

City 2022 Expo & Forum (IISMEX), the

exhibition also presents technology, ICT

and IOT exhibitions and forums to meet

information and business needs related

to smart city solutions and providers.

IISMEX, in its 5th edition, is supported by

the Republic of Indonesia's Ministry of Home

Affairs, through the Directorate General

of Regional Administration as the ASEAN

Smart City Network representative for the

country.

The expo connects attendees with high-level

governments such as the Ministry of Home

Affairs, Governors, Majors, Regents, and all

the other related ministries. The participation

of smart city solution provider companies,

associations and partners can also elevate

business opportunities in not only in

Indonesia, but also regionally in South East

Asia and even globally. With the one-stop

solution framework, the expo offers visitors

and exhibitors a comprehensive exhibition

platform along with international forums.

Attendees from all walks of the industry can connect at Indo Water 2022

Indo Water 2022 Expo & Forum provides the Be it conducting market feasibility studies,

stage for the gathering of professionals in water seeking local partners and distributors,

and wastewater industry. Government officials, increasing existing market share in Indonesia,

regulators, water and sewerage companies, or simply maintaining relationships with key

manufacturers, industrial users, consultants clients while looking for new opportunities

and industry experts can coordinate their with foreign partners, visitors can meet their

business plans by attending this event.

objectives at Indo Water 2022 Expo & Forum.

Organised by PT Napindo Media Ashatama,

ITE 2022 will be held from 5–7 Oct 2022

at Jakarta Convention Center, in Jakarta,

Indonesia. The exhibition will be attended

by 150 participants from 12 countries

including several pavilions of countries

including China, Germany, the Netherlands,

Singapore, South Korea, and Taiwan.

Interested parties can plan the participation

and visit Indo Water, Indo Waste, Indo

Renergy and IISMEX's website for more

information.

WATER & WASTEWATER ASIA | SEPTEMBER/OCTOBER 2022 61
---
WHAT'S NEXT

EVENTS CALENDAR

2022

AUGUST

4 – 6 Aug

LankaWater

Colombo, Sri Lanka

31 Aug – 2 Sep

Water Korea

Korea

SEPTEMBER

8 – 10 Sep

DanangWater

Da Nang, Vietnam

11 – 15 Sep

IWA World Water

Congress & Exhibition

Copenhagen, Denmark

14 – 16 Sep

ThaiWater

Bangkok, Thailand

14 – 16 Sep

Pumps & Valves Asia

Bangkok, Thailand

20 – 22 Sep

Enlit Asia

Bangkok, Thailand

OCTOBER

5 – 7 Oct

IndoWater

Jakarta, Indonesia

20 – 22 Oct

LaoWater

Vientiane, Laos

NOVEMBER

3 – 5 Nov

MyanWater 2022

Yangon, Myanmar

3 – 5 Nov

Pump+Valve Myanmar

Yangon, Myanmar

8 – 10 Nov

WaterLoss Asia

Virtual

9 – 11 Nov

VietWater

Ho Chi Minh, Vietnam

16 – 18 Nov

CamWater 2022

Phnom Penh, Cambodia

29 Nov – 2 Dec

Digital Water Summit

Bilbao, Spain

DECEMBER

7 – 9 Dec

Asia Water 2022

Kuala Lumpur, Malaysia

2023

JANUARY

15 – 19 Jan

13th IWA International

Conference On Water

Reclamation and Reuse

Chennai, India

16 – 18 Jan

World Future

Energy Summit

Abu Dhabi,

United Arab Emirates

FEBRUARY

1 – 3 Feb

Interaqua 2023

Tokyo, Japan

21 – 22 Feb

World Water-Tech

Innovation Summit

London, United Kingdom

MARCH

22 – 24 March

Water Philippines

Philippines

*Due to the COVID-19 pandemic which has resulted in

closed borders and travel restrictions, please check the

events' websites for the latest updates and changes.

62 WATER & WASTEWATER ASIA | SEPTEMBER/OCTOBER 2022
---
LET US DEVELOP,

MARKET AND

MANAGE YOUR

NEXT WEBINAR

Webinar Series Development

• Content development

• Pre and post webinar email marketing

• Be supported by WWA print and digital

advertising

• Graphics and video support

• Hosting

• Hardware & software provision

• Professional moderation

• Turnkey management

• Speaker support

• Documentation support

• Audience interaction

• Feedback gathering & analysis

• Monitoring and reportage

Additional Support

Video content development

• Concept

• Scripting

• Story boarding

• Motion graphics

• Voice overs

• Editing and export into relevant formats

• News and Product video bites

• Product & service videos

• Video ads

• "Live" reportage

• Monitoring and reportage

For more informaon, contact us at

sales@pabloasia.com

Pablo Publishing & Exhibition Pte Ltd | www.waterwastewaterasia.com
---
ADVERTISERS' INDEX

INDEX OF ADVERTISERS

ADVERTISER

PAGE

ADVERTISER

PAGE

ASIAWATER 2023 35

CLA-VAL 47

DANFOSS MALAYSIA SDN. BHD. 1

DANFOSS SINGAPORE PTE LTD 9

HARBIN FIRSTLINE ENVIRONMENT TECHNOLOGY CO.,LTD 25

INDOWATER 2023 5

LACROIX SOFREL 11

PUMP & VALVE 2023 23

DUPONT

OBC

VEGA INSTRUMENTS (SEA) PTE LTD

IFC

ENERGY RECOVERY 59

WATER & WASTEWATER ASIA'S HOUSE AD 63, 64

GUANGDONG LIANSU TECHNOLOGY INDUSTRIAL CO., LTD

IBC

XYLEM JAPAN 7

FOLLOW US

@waterwastewaterasia

64 WATER & WASTEWATER ASIA | SEPTEMBER/OCTOBER 2022
---
Water Solutions

New FilmTec Prime RO

Brackish Water Portfolio is Here

You don't have to choose between high performance and

sustainable water solutions.

Introducing the new FilmTec Prime RO portfolio for industrial applications enabling customers

to benefit from up to 20% in energy saving consumption savings while improving permeate

quality by up to 60%.

• PROven

Based on the historical FilmTec Prime RO

BW30, with more than 40 years of

manufac turing experience

• PROgressive

Continuous innovation to reach an

unparal leled combination of product

specifica tions, durability and cleanability

• PROductive

Enables customers to benefit from up to

20 % in energy consumption savings while

improving permeate quality by up to 60 %

• PROficient

Outstanding performance and durability

compared to other available alternatives

• PROminent

Global sustainability impact:

~ 85,000 metric tons of CO 2

emissions

reduced per year

Global sustainability impact:

~ 85,000 metric tons of CO 2

emissions reduced per year

~340 Million

Kilometers driven by

an average car

~10 Billion

Smart phones

charged

~42,000

Metric tons of

coal burned

~1.4 Million

Trees grown

for 10 years

The sustainability impact was calculated using EPA tools, accounting for the global footprint and assuming total adoption of the new FilmTec Prime RO portfolio.

Copyright © 2021 DuPont. All rights reserved. The DuPont Oval Logo and DuPont are trademarks of E. I. du Pont de Nemours and Company or its affiliates.+