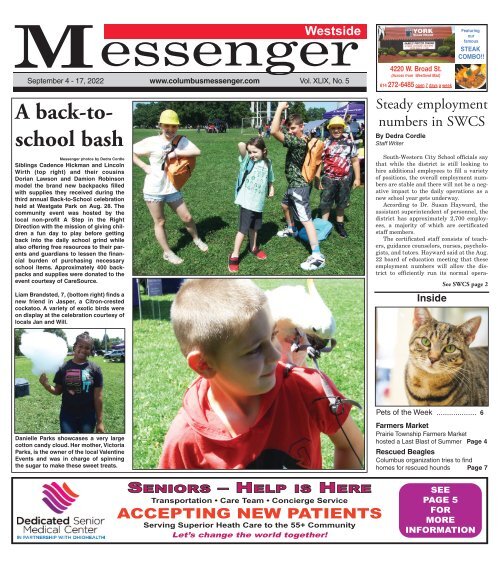 Westside Messenger - September 4th, 2022
You also want an ePaper? Increase the reach of your titles
YUMPU automatically turns print PDFs into web optimized ePapers that Google loves.
Messenger

Westside

September 4 - 17, 2022 www.columbusmessenger.com Vol. XLIX, No. 5

4220 W. Broad St.

(Across from Westland Mall)

614 272-6485 open 7 days a week

Featuring

our

famous

STEAK

COMBO!!

A back-toschool

bash

Messenger photos by Dedra Cordle

Siblings Cadence Hickman and Lincoln

Wirth (top right) and their cousins

Dorian Lawson and Damion Robinson

model the brand new backpacks filled

with supplies they received during the

third annual Back-to-School celebration

held at Westgate Park on Aug. 28. The

community event was hosted by the

local non-profit A Step in the Right

Direction with the mission of giving children

a fun day to play before getting

back into the daily school grind while

also offering free resources to their parents

and guardians to lessen the financial

burden of purchasing necessary

school items. Approximately 400 backpacks

and supplies were donated to the

event courtesy of CareSource.

Liam Brandsted, 7, (bottom right) finds a

new friend in Jasper, a Citron-crested

cockatoo. A variety of exotic birds were

on display at the celebration courtesy of

locals Jan and Will.

Steady employment

numbers in SWCS

By Dedra Cordle

Staff Writer

South-Western City School officials say

that while the district is still looking to

hire additional employees to fill a variety

of positions, the overall employment numbers

are stable and there will not be a negative

impact to the daily operations as a

new school year gets underway.

According to Dr. Susan Hayward, the

assistant superintendent of personnel, the

district has approximately 2,700 employees,

a majority of which are certificated

staff members.

The certificated staff consists of teachers,

guidance counselors, nurses, psychologists,

and tutors. Hayward said at the Aug.

22 board of education meeting that these

employment numbers will allow the district

to efficiently run its normal opera-

Inside

See SWCS page 2

Pets of the Week ................... 6

Danielle Parks showcases a very large

cotton candy cloud. Her mother, Victoria

Parks, is the owner of the local Valentine

Events and was in charge of spinning

the sugar to make these sweet treats.

Farmers Market

Prairie Township Farmers Market

hosted a Last Blast of Summer Page 4

Rescued Beagles

Columbus organization tries to find

homes for rescued hounds Page 7

SENIORS – HELP IS HERE

Transportation • Care Team • Concierge Service

ACCEPTING NEW PATIENTS

Serving Superior Heath Care to the 55+ Community

Let's change the world together!

SEE

PAGE 5

FOR

MORE

INFORMATION
---
PAGE 2 - WESTSIDE MESSENGER - September 4, 2022

Call today and receive a

FREE SHOWER PACKAGE

PLUS $1600 OFF

1-855-517-1892

With purchase of a new Safe Step Walk-In Tub. Not applicable with any previous

walk-in tub purchase. Offer available while supplies last. No cash value. Must present

offer at time of purchase. CSLB 1082165 NSCB 0082999 0083445

SPECIAL OFFER

www.columbusmessenger.com

WNA helps the Hilltop RISE

At the Westgate community meeting on

Aug. 30, the Westgate Neighbors

Association (WNA) presented a check for

$1,000 to Hilltop RISE.

"One of the WNA's missions has been to

encourage the development and retention

of businesses that benefit the community,"

said Michael Blake, president of the

Westgate Neighbors Association. "As such,

a few years ago, we created a microgrant

program for area small businesses.

However, as a civic association, we have

been unable to fully leverage its potential.

When we learned about Hilltop RISE, with

their goal to drive economic development

along our neighborhood's commercial corridors,

our board voted unanimously to

donate the microgrant funds to them."

During the meeting, Hilltop RISE chairwoman

Betty Jaynes presented an

overview of the community development

corporation's goals and strategies. She also

provided an update about several projects

along West Broad Street.

"We are committed to engaging the community."

said Jaynes.

The West Broad Street and Sullivant

Avenue corridors offer more than 200 acres

of space ready to be developed, including

mixed-use buildings ready for revitalization.

The community development corporation's first

task is to recruit a full-time executive director who will

work with the city of Columbus, Franklin County,

COTA, as well as stakeholders on The Hilltop, to promote

economic development along those commercial

corridors.

"This check represents community helping community.

Together we are stronger and we look forward to

working with the WNA and other community groups to

Westland's 50th Anniversary

The community is invited to celebrate Westland's

50th Anniversary on Sept. 10 at the Westland Library

SWCS

Continued from page 1

tions.

"We will be fully staffed with our certificated staff,"

she said, noting that there are roughly 1,600 certificated

employees in the district.

Where the district is running into some trouble is

with the classified employees, which consists of aides,

bus drivers, cooks, interpreters, mechanics and school

office workers, to name a few.

Hayward said the district is still "working toward

being fully staffed" with its classified positions, but

added their overall numbers are nearly 1,000 strong.

Of particular concern to her regarding employment

is the number of substitute teachers the district has on

hand. Although she says the district is in better shape

at the start of this year in comparison to last year, they

are still having difficulties getting commitments for

long-term substitute teaching positions.

"Long-term substitute teachers have additional

responsibilities such as making lesson plans, grading

and overseeing Parent Teacher Conferences," she said.

In order to attract and retain long-term substitute

teachers, Hayward requested their pay be increased

Westgate Neighbors Association President Michael Blake presents

a check for $1,000 to Hilltop RISE board chair, Betty

Jaynes.

around the westside

foster a vibrant, prosperous, and growing Hilltop.

Organizations, groups and businesses wanting to learn

more about Hilltop RISE can reach us through our

website," said Jaynes.

Westgate Neighbors is a non-profit civic association

with a mission to improve the viability, livability, and

overall quality of life for the residents of Westgate.

Learn more at WestgateNeighors.org.

Learn more about Hilltop RISE at HilltopRise.org.

from 2 to 4 p.m. Activities include live music, treats,

games, tie dye, macramé, prizes, and more. Learn

more at swpl.org.

from $145 per day to $155 per day. She also requested

that the district's retirees who come back to sub longterm

be paid $165 per day, an increase of $10 from the

current standard.

Board member Lee Schreiner said he was in favor of

those requests, adding that their work is necessary.

The board did not have to move on that item at the

meeting; instead, Superintendent Dr. Bill Wise said it

can be grandfathered into the pay increase that was

approved last year.

He said he hopes this action can help the district

recruit for this important role, especially since many of

the substitutes in their substitute teaching pool turned

down requests to move into the long-term position last

year.

"Substitutes are a vital part of our ability to run a

district so we want to value that and also recognize the

job market that folks are in as well as the extra work

these long-term subs take on."

To apply for open positions, visit the district's webpage

at www.swcsd.us and click on the 'Careers' tab for

more information.
---
www.columbusmessenger.com

Township Focus

Safety issues addressed in Prairie

By Amanda Ensinger

Staff Writer

The Franklin County Sheriff's Office

executed Operation Unity in Prairie

Township.

"They were able to execute over 20

arrests; six being for felony offenses," said

Deputy Burton Haren at a recent Prairie

Township board meeting. "About 40 grams

of illegal drugs were seized, as well as one

illegal firearm."

The deputy also reminded residents

that the new fireworks law is going into

effect.

"Fireworks are still a violation of the

township noise resolution and can be ticketed

for violating," Haren said.

Haren said a noise ordinance violation

occurs when an individual can hear the

noise 100 feet from where the noise is coming

from.

"If fireworks can be heard from 100 feet

away, they (the individual) can be cited for

noise," he said. "The ORC (Ohio Revised

Code) does not supersede the township

ordinance."

In other news, Prairie Township Fire

Chief Allen Scott asked the board to

approve spending $42,774 to purchase a

new power cot and related accessories for a

new medic.

"By approving this purchase, we will

By Amanda Ensinger

Staff Writer

lock in the current price and not be

required to pay for the items until the new

vehicle is ready for delivery," Scott said.

Scott also asked the board to approve

hiring Ohio First Responder Grants to

write a FEMA AFG grant for diesel

exhaust removal systems for each fire station.

"This system would collect and safely

remove diesel exhaust from the station,"

Scott said. "Diesel exhaust has been found

to be a major cause of firefighter related

cancer. Diesel exhaust can also be destructive

to equipment and other items due to

extended exposure."

The total cost of the project should be no

more than $200,000, with the fire department

being responsible for 5 percent of the

total project cost.

The cost of writing the grant is $2,500.

Scott also asked the board to approve

hiring Ohio First Responder Grants to

write a FEMA AFG grant for a new tanker.

"The current tanker is permanently out

of service due to unrepairable pump

issues," he said. "The cost of the new vehicle

could be as much as $600,000."

The fire department would be responsible

for 5 percent of the awarded amount. In

this case, the award will be capped at

$475,000. The fire department's portion of

the total cost could be $125,000.

The board approved both requests.

around the westside

Wellness and foot care

for senior citizens

LifeCare Alliance provides a nurse at

the Prairie Township Community Center

A local police department is looking for

ways to resolve conflict without lethal

force.

At a recent Franklin Township meeting,

Police Chief Byron Smith discussed getting

a quote for four 12-gauge shotguns that

shoot bean bags instead of bullets.

"If we can use non-lethal force, it would

be a positive move in today's climate,"

Smith said. "The quote for four of these is

$2,150. The cost of training has not yet

been determined."

The board approved a resolution authorizing

the police department to spend up to

$3,000 on the shotguns.

Smith also asked the board to approve

new radar speed signs.

weekly to provide free foot care and other

wellness services. To schedule an appointment

or for more information, contact the

wellness office at 614-437-2878.

Police to purchase bean

bags instead of bullets

"These are able to display current

speeds and dictate if there are problems,"

he said. "The price for two of them would be

$7,550."

The board approved spending up to

8,000 on the new signs.

Smith also reported that the department

recently took 1,062 runs on first and

second shift and were not able to respond

to 110 calls.

In other township news, the trustees

approved replacing the roof on the

Township Hall for the cost of $41,650.

Franklin Township Road

Superintendent Jim Stevens reported that

the cost of road salt has increased.

"I received an email about the ODOT

salt contract and the price went up over $7

a ton," said Stevens.

September 4, 2022 - WESTSIDE MESSENGER - PAGE 3

SEARCHING

for More Qualified Employees?

October 16 th , 2022

Deadline: October 7 th , 2022 At Noon

Special employment Section Featuring:

Job Openings

Job Fairs

Full and Part Time Employment

Seasonal Job Opportunities and more

ALL ADS ARE IN FULL COLOR. Contact us by phone or online to discuss special

advertising rates that are available for this section as well as combination rate

discounts for advertising in multiple coverage areas.

Canal Winchester • Grove City • Groveport • Madison • South • Westside

614-272-5422

Kathy@columbusmessenger.com

Doughenry@columbusmessenger.com
---
PAGE 4 - WESTSIDE MESSENGER - September 4, 2022

Community Focus

www.columbusmessenger.com

Last blast of summer

Since the event was focused on children, deputies from the Franklin County Sheriff's

Office attended to give away backpacks just in time for the start of school. Here,

Nadina Kinnett and her daughters, Vada, 11, and Violet, 4, stop by to check out the

goods with Deputy Lowell Wood.

Messenger photos by Pat Donahue

The Prairie Township Farmers Market hosted a kid-friendly Last Blast of Summer event

on Aug. 22 at the township's community center. In addition to the regular vendors at

the farmers market, Bring the Farm to You was on hand to teach children about farm

animals. The farm, located in central Ohio, brings animals to schools, or special events

to give kids an up-close look at the animals. Here, 4-year-old Tate Jester gets a look at

a chick from the farm. The Farmer's Market is held on Mondays from 4 to 7 p.m. through

Sept. 19.

Royal didn't mind a little attention while eating. The royal palm turkey was one of the

animals featured from Bring the Farm to You.

Lily and Hunter Robinson of Galloway took advantage of a photo op while waiting in

line at the Swensons Drive-In Food Truck.
---
www.columbusmessenger.com September 4, 2022 - WESTSIDE MESSENGER - PAGE 5

New commissioners introduced

By Hannah Poling

Staff Writer

There are three new commissioners who

will be taking office at the Westland Area

Commission. As there were only four candidates,

one being current commissioner

and zoning chair Mike McKay, the commission

did not hold its annual election.

Two of the three individuals joining the

commission attended the meeting on Aug.

17.

Karen Lewis has lived in Galloway since

1998. She attended a recreation and parks

meeting and heard that there were openings

on the commission for the upcoming

year.

"I thought it would be a good opportunity

to be in the know," said Lewis.

David Henderson is currently retired

but a volunteer naturalist at Battelle

Darby Metro Park.

"I have lived on the westside since 1973

and I was born and raised in Columbus,"

Henderson said.

John Daley was unable to attend the

meeting.

After school snacks

Columbus Metropolitan Library (CML)

has once again partnered with Children's

Hunger Alliance (CHA) to provide afterschool

snacks for children ages 1-18 at several

of its locations including:

• Franklinton Branch: Monday -

Saturday: 3:30 to 4:30 p.m.

• Hilltop Branch: Monday - Friday:

3:15-3:45 p.m. and Saturday: 2:15 - 2:45

p.m.

These locations were selected for the

meal program based on student need. A

typical super-snack provided by Children's

Hunger Alliance consists of a fruit, vegetable,

protein, grain and milk.

"Food insecurity was a pervasive issue

facing our community well before the pandemic,"

said CML CEO Patrick Losinski.

"Now, with central Ohio reeling from

simultaneous health and economic crises,

our families need our support more than

ever before. We're grateful for the tremendous

resources and partnership provided

by Children's Hunger Alliance."

Judy Mobley, president and CEO of

CHA, said, "We value the continued partnership

with Columbus Metropolitan

Library working with us to provide meals

to children in our community who experience

food insecurity. Together we are making

a difference in the lives of many central

Ohio children each day."

Founded in 1970, Children's Hunger

Alliance is a statewide nonprofit organization

dedicated to ending childhood hunger

in Ohio. Through their work, Children's

Hunger Alliance provides healthy meals to

hungry children, advocates for the welfare

of Ohio's youngest citizens and teaches

nutrition and physical education to those

they serve.

news and notes

All three new commissioners will take

office on Jan. 1, 2023.

In other news, John Ortli, a consultant

for AECOM, attended the commission

meeting to present a variance request.

AEP is requesting two variances for its

Columbus Southwest Service Center on the

corner of Norton and Alkire roads.

This center will be about 55,000 square

feet. The front of the center will be offices

and the back half will be a warehouse,

loading docks, a maintenance facility, fuel

island and a small storage area. There is

currently a building on the property, built

in the 1960s, which will be demolished.

This building is currently located on

Georgesville Road.

Both variances are regarding the setback

from the road. One variance states

that the back flow cannot be placed in the

200-foot set back from the road. Currently,

the back flow meter enclosure is planned at

133 feet. Also, the requirement for the

parking setback is 25 feet and AEP wants

to reduce that to an eight-foot setback.

The requests were approved 6-0.

For more information, visit childrenshungeralliance.org.

City awarded $2 million for

Healthy Homes Program

Mayor Andrew Ginther announced a $2

million federal grant supporting the

Healthy Homes Program, which protects

vulnerable residents from housing-related

hazards while preserving housing affordability

in Columbus. The federal grant was

distributed by the U.S. Department of

Housing and Urban Development, and provides

funding to the city through 2025.

"The Healthy Homes Program connects

our most vulnerable neighbors with the

financial resources they need to keep their

families stably housed," said Ginther. "By

lowering the cost of essential home repairs

for those who need the most help, we are

empowering our residents to stay safe and

secure in their homes while continuing to

make the Columbus Housing Strategy a

reality for all."

The Healthy Homes Program supports

Columbus households with incomes at or

below 80 percent of the area median

income (AMI) while giving priority to

homes inhabited by children under the age

of 6, seniors and those with disabilities.

Eligible families can receive on average up

to $7,500 to fix qualifying health and safety

concerns such as mold and moisture, pests,

injury and safety hazards, poor indoor air

quality, carbon monoxide and lead-based

paint.

Funding from the federal grant is

expected to serve more than 150 properties

and educate 8,000 residents on how to keep

their homes safe.

For more information, visit hud.gov/program_offices/healthy_homes/hhi.

SENIORS — HELP IS HERE!

Your Doorstep to Your Doctor!

We provide:

• Transportation • Personal Coordinated Team Care

• Concierge Service • Convenience of all services under one roof

• Superior Healthcare • We serve to 55+ Medicare-eligible Community

Call for more information:

Trae White, COS - Community Outreach Specialist

614-551-5367

trae.white@dedicated.care

Let's change the world together!

NORTH

2260 Morse Rd

Partnership with

3 LOCATIONS:

WESTSIDE

50 N. Wilson Rd.

SATURDAY, SEPTEMBER 17, 2022

4:30 PM – 6:30 PM

PSALMS 100:2 "Serve the LORD with gladness

Come before his presence with singing"

WHITEHALL

5156 E. Main St.
---
PAGE 6 - WESTSIDE MESSENGER - September 4, 2022

RDC Dance Center

3048 Southwest Blvd., Grove City | (614) 875-1044

We would like to meet

and dance

with you this season!

Let's Dance!

Boys and Girls AGES 3 and up

TAP * JAZZ * BALLET

LYRICAL * TUMBLING

(For all ages)

COMBO CLASS (for ages 3-4)

(614) 875-1044

email > wendi@rdcdance.com website > www.rdcdance.com

(registration forms are on the site)

www.columbusmessenger.com

Messenger photo by Dedra Cordle

Providing entertainment

Dozens of people throughout Franklin and Madison Counties came out to Lilly

Chapel to enjoy its 38th annual Homecoming on Aug. 20. Presented by Trinity United

Methodist Church, the event included a parade, live music, food, auctions, and children's

activities such as the kiddie pedal pull and the face painting station. Pictured

here helping transform Nickita Gallagher, 5, into Wonder Woman is westside entertainer

RowdyRod.

Pets of the week

These furry friends are available

for adoption at local

rescues and shelters

Faith and Hope,

both 4-months-old,

came from a feral cat

colony. Both girls are

quite shy but should

warm up once they

get settled into a new

home. Faith would

like to be adopted with her sister, Hope, or

with existing pets for her to bond with. Hope

would be a great companion for someone

who likes to enjoy life's quiet moments. These

kittens are available for adoption through

Friends for Life Animal Haven.

FYI: fflah.org

Clara is a sweet girl

who is looking for

someone to love. Her

owner died and left

her heartbroken, but

this 3-year-old is

learning to love

again. She is a little

shy but warms up

quickly. She enjoys

pets, treats, and a

warm area to rest.

Meet Clara at the Colony Cats cage-free

adoption center.

FYI: colonycats.org

Ginger Mae is an

independent cat who

likes her alone time,

but will let you know

when she would like

you to pet her. She is

docile and gentle,

and since being

moved to the busy

adoption center, is

usually hiding, often

in a litter box. She's a

beautiful Maine Coone mix. Adopt her

through Colony Cats.

FYI: colonycats.org

Sweet Pea is a very

sweet girl who is

quiet, likes car rides,

and would love a

home as your one

and only so she

doesn't have to share

her people's attention.

She does have

allergies but her skin

has improved since

starting her allergy

medication. She is available for adoption or

foster through the Franklin County Dog

Shelter.

FYI: franklincountydogs.com
---
www.columbusmessenger.com

Finding homes for rescued hounds

CHA Animal Shelter has received 10 beagles at its

shelter in Columbus as part of the group of beagles to

be removed from a mass-breeding facility. The

Humane Society of the United States is coordinating

the removal of approximately 4,000 beagles housed at

a facility in Virginia, which bred dogs to be sold to laboratories

for animal experimentation.

The transfer plan was submitted by the

Department of Justice, with the agreement of the

Humane Society of the United States to assume the

responsibility of coordinating placement. The transfer

will take place in stages over several months, and the

dogs will be up for adoption via CHA and other shelters

and rescues.

The beagles have received initial veterinary care

and are scheduled to be spayed at CHA in the coming

days. Once spayed, many will be placed up for adoption

immediately so that they can start the journey of finding

families. While many of the beagles are showing

resilient personalities and are actively seeking out

attention from staff and volunteers, a few are very shy

and will likely spend some time further decompressing

before they are ready for adoption.

"CHA Animal Shelter is grateful to have the opportunity

to partner with the Humane Society of the

United States to help beagles from the breeding facility,"

said CHA Executive Director, Kelsey Smucker.

"Looking into their soulful eyes, it is wonderful to

know that they are no longer destined to be used as

laboratory animals and that they will instead live comfortable

and safe lives with adoptive families."

The transfer plan comes as a result of a lawsuit filed

against the breeding facility by the Department of

Justice in May, alleging animal welfare act violations.

"It takes a massive network of compassionate,

expert shelters and rescues to make an operation of

this scale possible," said Lindsay Hamrick, shelter outreach

and engagement director for the Humane

Society of the United States. "We are deeply grateful to

each organization that is stepping up to find these dogs

the loving homes they so deserve."

For more information about the beagles CHA

Animal Shelter is finding homes for, visit www.chaanimalshelter.org

or email adopt@chaanimalshelter.org.

September 4, 2022 - WESTSIDE MESSENGER - PAGE 7

around the westside

Holy Family School Homecoming

The Holy Family School Homecoming will be held at 4 p.m.

Sept. 10. There will be a gathering in the undercroft of the church

immediately following mass. The church is located at 584 W.

Broad St. in Columbus.

Job and Resource Fair

Columbus Metropolitan Library is hosting a Job and Resource

Fair, connecting job-seekers with more than 40 employers and

community organizations. The event is free and open to the public.

It will take place from 11 a.m. to 3 p.m. Sept. 15 at the Main

Library, 96 S. Grant Ave. in Columbus.

Free lunch at UHMC

The United Hilltop Methodist Church will host a free community

lunch every Friday from 11 a.m. to 1 p.m. The church is located

at 99 S. Highland Ave.

Food Drive

The Parkview Food Pantry is holding a food drive.

The food pantry is having a difficult time keeping the shelves

stocked due to shortages at the Food Bank and the increased cost

of items purchased from there. The pantry had to close one week

in July due to lack of food. Items needed include canned fruits and

vegetables, canned tuna and chicken, pancake mix, syrup, jelly,

hot dogs, lunch meat, hamburger, and chicken. Kroger gift cards

are also welcomed.

The Parkview Food Pantry is located at 344 S. Algonquin Ave.

in Columbus. For more information, visit parkviewumccolumbus.org

or email Pastor Nancy Day-Achauer to arrange dropping

off a donation at hilltoppastorumc@gmail.com.

MEDICARE QUESTIONS?

Learn more about your

medicare options that you

may qualify for.

Too busy enjoying summer to think about Medicare?

As a local neighborhood agent, help finding the right plan is

closer than you THINK! Call or Text today 614-460-0601

Call me Today $0 Consultation $0 Fee

Terri Curcio 614-460-0601

"Who do you call about Medicare when all the commercials are gone?

A Local Licensed Agent!"

I'm here all year long providing Medicare members with the plan options that fit their needs. Also, we could review if

you qualify for extra help on your prescription copays, along with insulin coverage. Reviewing the plan information over

the phone or in person, you need to be confident in your decision. Guiding you on the right path to Medicare.
---
PAGE 8 - WESTSIDE MESSENGER - September 4, 2022

Messenger

Westside

We are the

BEST COMMUNITY NEWSPAPER

on the Westside

Pick-Up

At These

Locations:

Hilltop Library - 511 S. Hague Ave.

United Dairy Farmers - Hague & Sullivant Ave.

Alex Carry-Out - Binns & Sullivant Ave.

Dollar General - Kingsford & Sullivant

Dollar General - Georgesville & Atlanta

M & S Carry-Out - Georgesville & Atlanta

United Dairy Farmers - Georgesville & Parwick by Freeway

Thorton's Gas Station - Georgesville & Norton Rd.

Shell Gas Station - Georgesville & Norton Rd.

Kroger - Georgesville Square

Turkey Hill - Georgesville & Clime Rd.

United Dairy Farmers - Clime & Demorest Rd.

Walgreens - Clime & Demorest Rd.

Certified Gas Station - Briggs & Demorest Rd.

Kroger - Eakin Rd. & Harrisburg Pike

Speedway Gas Station - Eakin Rd. & Harrisburg Pike

Heartland Bank - Great Western Shopping Center

Walgreens - Harrusburg & Hopkins

Certified Gas Station - Broad St. & Orel

Walgreens - Hague Ave. & Broad St.

Marathon Gas Station - Georgesville & Industrial Rd.

La Plaza Tapatta - Georgesville & Hollywood Rd.

BP Gas Station - Georgesville Rd. & Broad St.

Westland Library - Lincoln Village Plaza

Giant Eagle - Lincoln Village Plaza

Thorton's Gas Station - 4990 W. Broad St.

Walgreens - Broad St. & Galloway Rd.

Kroger - Broad St. & Galloway Rd.

CVS Pharmacy - Norton & Hall Rd.

United Dairy Farmers - Norton & Hall Rd.

Circle K Gas Station - Norton & Hall Rd.

Dollar General - Norton & Hall Rd.

Marathon Gas Station - Broad St. & Murray Hill Rd.

Speedway Gas Station - Broad St. & Murray Hill Rd.

Dollar Tree - Broad St. & Murray Hill Rd.

Speedway Gas Station - Broad St. 7 Freeway

Sheetz Gas Station - Westland Mall

Speedway Gas Station - Broad St. & Wilson Rd.

Kroger - Consumer Square Shopping Center

Franklin Township Business Office - 2193 Frank Rd.

READ US ONLINE: www.columbusmessenger.com

www.columbusmessenger.com

www.columbusmessenger.com

CLASSIFIED ADS

Deadlines: Grove City, Groveport & All editions - Mondays at Noon.

West, Canal Winchester, South & Madison editions -Tuesdays at 5 p.m.

xEmployment

REPORTER

WANTED

Part-time Reporter wanted to cover

community meetings in the evenings and

write various feature and news stories.

Photography experience helpful.

Please send a resume and

three writing samples to:

Rick Palsgrove, Managing Editor,

Columbus Messenger Newspapers,

3500 Sullivant Ave.,

Columbus OH 43204 or email

southeast@columbusmessenger.com

No Phone Calls!

CEMETERY LOTS

2 Lots-Sunset Cemetery,

1 has opening/closing

$5000-both. text 614-271-9848

ASSOCIATION ADS

INFORMATION

Aloe Care Health medical

alert system. Most

advanced medical alert

ASSOCIATION ADS product on the market.

Voice-activated! No wi-fi

Don't let the stairs limit needed! Special offer

GO BACK TO SHOOL your mobility! Discover w/code CARE20 for $20

WITH A

the ideal solution for off Mobile Companion. 1-

NEW HAIRSTYLE! anyone who struggles on 855-341-5862

Come See Me At the stairs, is concerned

about a fall or wants to Put on your TVEars &

My New Location!

regain access to their hear TV w/unmatched

Call Marilyn Weaver

entire home. Call clarity. TVEars Originaloriginally

$129.95 - now

For An Appt.

AmeriGlide today! 1-844-

For a New Haircut/Color

317-5246

w/this special offer only

614-348-6670

$59.95 w/code MCB59! 1-

Relax Wellness Looking for assisted living,

888-805-0840

3663 Broadway, memory care, or

Grove City

independent living? A Protect your home from

Place for Mom simplifies pests safely and

ASSOCIATION ADS the process of finding affordablly. Pest, rodent,

senior living at no cost to termite and mosquito

Replace your roof with the

your family. Call 1-833- control. Call for a quote or

best lookng and longest

910-1576 today!

inspection today 844-394-

lasting material -- Steel

9278

from Erie Metal Roofs! Looking for assisted living,

memory care, or TRICKED BY YOUR CAR

Three styles and multiple

independent living? A BEING REPOSSESSED? You

colors available.

Place for Mom simplifies may be entitled to substantial

Guaranteed to last a

lifetime! Limited Time the process of finding money and improved credit if

Offer - $500 Discount + senior living at no cost to your vehicle was

Additional 10% off install your family. Call 1-844- repossessed between after

(for military, health 428-0445 today!

2015. REPO ALERT! FOR

FREE LEGAL ADVICE CALL

workers & 1st responders) REPOSSESSED VEHICLE? 1-800-411-1770

Call Erie Metal Roofs: 1- Missed payments after

855-338-4807 2015? You may be entitled Stroke & Cardiovascular

Update your home with to substantial money and disease are leading

beautiful new blinds & improved credit REPO causes of death according

shades. Free in-home ALERT! FREE LEGAL the American Heart

estimates make it ADVICE 1-800-601-0808 Association. Screenings

convenient to shop from

can provide peace of mind

home. Professional

Donate Your Car To or early detection! Call

installation. Top quality -

Veterans Today! Help and Life Line Screening to

Made in the USA. Free Support our Veterans. schedule your screening.

consultation: 877-212- Fast - FREE pick up. Special offer - 5

7578. Ask about our 100% tax deductible. Call screenings for $149. 1-

specials!

1-800-245-0398

866-518-8391

Employment

DO YOU NEED

SEASONAL EMPLOYEES?

Call KATHY to ADVERTISE!

and reach over 40,000 homes in the

West & Grove City Messengers

614-272-5422

kathy@columbusmessenger.com

ASSOCIATION ADS

DENTAL INSURANCE

from Physicians Mutual

Insurance Company.

Coverage for 350 plus

procedures. Real dental

insurance - NOT just a

discount plan. Do not wait!

Call now! Get your FREE

Dental Information Kit with

all the details! 1-877-553-

1891

www.dental50plus.com/

macnet#6258

Become a Published

Author. We want to Read

Your Book! Dorrance

Publishing - Trusted by

Authors Since 1920

Book manuscript submissions

currently being reviewed.

Comprehensive Services:

Consultation, Production,

Promotion and Distribution. Call

for Your Free Author's Guide 1-

866-482-1576 or visit

http://dorranceinfo.com/macnet

ASSOCIATION ADS

Wesley Financial Group,

LLC Timeshare Cancellation

Experts Over

$50,000,000 in timeshare

debt & fees cancelled in

2019. Get fre

informational package &

learn how to get rid of

your timeshare! Free

consultations. Over 450

positive reviews. 888-965-

0363

The bathroom of your

dreams for as little as

$149/month! BCI Bath &

Shower. Many options

available. Quali

materials & professional

installation. Senior &

Military Discoun

Available. Limited Time

Offer - FREE virtual inhome

consultation now

and SAVE 15%! Call

Today! 1-877-540-2780
---
www.columbusmessenger.com

September 4, 2022 - WESTSIDE MESSENGER - PAGE 9

CLASSIFIED ADS

Deadlines: Grove City, Groveport & All editions - Mondays at Noon.

West, Canal Winchester, South & Madison editions -Tuesdays at 5 p.m.

xEmployment

WANTED

Host/Hostess • Back-Up Cooks

Grill • Servers • Dishwashers

You Can Work 29+ Hrs. Based on

Your Availability & Performance

Immediate Full/Part-time Openings

We Offer:

• Weekly Pay

• Paid Training

• No Tip Sharing

• Paid Vacation

• Employee Meal Discount

• Position/Salary Advancement Plan

• Discount Purchase Plan

Apply online at crackerbarrel.com/careers for

Hilliard Location 614-878-2027

SEARCHING

for More Qualified Employees?

October 16 th , 2022

Deadline: October 7 th , 2022 At Noon

Special employment Section Featuring:

Job Openings

Job Fairs

Full and Part Time Employment

Seasonal Job Opportunities and more

ALL ADS ARE IN FULL COLOR. Contact us by phone or online to discuss special

advertising rates that are available for this section as well as combination rate

discounts for advertising in multiple coverage areas.

Canal Winchester • Grove City • Groveport • Madison • South • Westside

614-272-5422

Kathy@columbusmessenger.com

Doughenry@columbusmessenger.com

ASSOCIATION ADS

READER

ADVISORY

The National Trade Association

we belong to has

purchased the following

classifieds. Determining

the value of their service

or product is advised by

this publication. In order

to avoid misunderstandings,

some advertisers do

not offer "employment"

but rather supply the

readers with manuals, directories

and other materials

designed to help

their clients establish mail

order selling and other

businesses at home. Under

NO circumstance

should you send any

money in advance or give

the client your checking,

license ID or credit card

numbers. Also beware of

ads that claim to guarantee

loans regardless of

credit and note that if a

credit repair company

does business only over

the phone it's illegal to request

any money before

delivering its service. All

funds are based in US

dollars. Toll Free numbers

may or may not

reach Canada. Please

check with the Better

Business Bureau 614-

486-6336 or the Ohio Attorney

General's Consumer

Protection Section

614-466-4986 for more

information on the company

you are seeking to

do business with.

ASSOCIATION ADS

Vivint Smart Security.

Professionally installed.

One connected system for

total peace of mind. FREE

professional installation!

Four FREE months of

monitoring! Call to

customize your system. 1-

855-870-2073

Become a Published

Author. We want to Read

Your Book! Dorrance

Publishing Trusted Since

1920 Consultation,

Production, Promotion &

Distribution. Call for Free

Author's Guide 1-877-729-

4998 or visit

dorranceinfo.com/ads

SELL YOUR ANTIQUE

OR CLASSIC CAR.

Advertise with us. You

choose where you want

to advertise. 800-450-

6631 visit macnetonline.

com for details.

Paying top cash for men's

sportwatches! Rolex,

Breitling, Omega, Patek

Pillippe, Heuer, Daytona,

GMT, Submariner and

Speedmaster. Call 833-

603-3236

Vivint Smart Security.

Professionally installed.

One connected system for

total peace of mind. Free

professional installation!

Four free months of

monitoring! Call to

customize your system. 1-

833-841-0737

ASSOCIATION ADS

Aloe Care Health, medical

alert system. The most

advanced medical alert

product on the market.

Voice-activated! No wi-fi

needed! Special offer-call

and mention offer code

CARE20 to get $20 off

Mobile Companion. Call

today-1-877-728-4065

WANTED!

MOTORCYCLES!

ANTIQUE AND CLASSIC.

Honda, Kawasaki, Suzuki,

Yamaha, Triumph, BSA

and other foreign models.

$$PAYING CA$H$$

717-577-8206

KRMiller1965@yahoo.com

DISH TV $64.99 for 190

Channels + $14.95 high

speed internet. FREE installation,

Smart HD DVR

included. Free Voice Remote.

Some Restrictions

apply. Promo Expires

1/21/23. 1-866-590-5561

Eliminate gutter cleaning

forever! LeafFilter, the

most advanced debrisblocking

gutter protection.

Schedule a FREE LeafFilter

estimate today. 15% off

Entire Purchase. 10% Senior

& Military Discounts.

Call 1-855-791-1626

Prepare for power outages

today with a GENERAC

home standby generator.

$0 Money Down + Low

Monthly Payment Options.

Request a FREEQuote--

Call now before the next

power outage. 1-855-465-

7624

Employment

HIRING WAREHOUSE

UP TO

$19/HR +

UP TO

$3K SIGN-ON

NO WEEKENDS • NO MANDATORY OT

OPEN INTERVIEWS

WEDNESDAY 10AM-1PM

1568 Georgesville Rd. Columbus, OH 43228

JOBS.MSCDIRECT.COM

Applicants must sucessfully pass a background check and drug screen.

Equal Opportunity Employer: Minority, female, veteran, individuals with disabilities, sexual orientation/gender identity.
---
PAGE 10 - WESTSIDE MESSENGER - September 4, 2022

xFocus on Rentals

INFORMATION

www.columbusmessenger.com

xCome & Get It!

HILLTOP SENIOR VILLAGE

APARTMENTS

ONE & TWO BEDROOM APT. HOMES

Call or Visit Us Today! 1.614.276-3017

www.nationalchurchresidences.org

email: 0805@nationalchurchresidences.org

Affordable living for seniors ages 55+ & up

Mon. thru Fri. 9 am - 5 pm

Independent Senior Living

Spacious floor plans • Controlled access

24 Hr. Emergency Maintenance • Dishwasher

Emergency call system • Picnic area

Community/game room • Library

Meal program affiliate

Private party room • Elevator

Beauty Salon • On-Site Laundry

Air Conditioning • Cottage-Style Apartments

SETON WEST APARTMENTS

3999 CLIME ROAD, COLUMBUS, OH 43228

We are a Senior Housing Community...you must be 62 or better.

Rent is based on your income. We offer spacious 1 bedroom apartments

which include: utilities, refrigerator, range, central air, carpet, EMS monitor

pull cords & a limited access building entry system. Seton West is professionally

managed and has 24 hour emergency maintenance services.

Our residents enjoy: a community room for playing cards, potlucks, bingo

or visiting with neighbors. We have two laundry rooms & game room,

library, outdoor patios and an elevator for your convenience.

APPLICATIONS AVAILABLE IN OUR FRONT LOBBY OR CALL

614-274-8550 OR TTY-800-750-0750 FOR AN APPOINTMENT.

xPublic Notice

PRAIRIE TOWNSHIP

BOARD OF ZONING APPEALS

PUBLIC HEARING NOTIFICATION

September 13, 2022 at 7:00 P.M., at the

Prairie Township Hall, 23 Maple Dr.

Appeal Application No. 134-AP-22 – Parcel No.

241-001110, 794 Battalion Place, Galloway, Ohio

43119. Requests a review of a decision made by

the Prairie Township Field Inspector in a violation

letter dated 7/14/22 which states the property is in

violation of Section 961 (Agriculture) of the Prairie

Township Zoning Resolution; disputing that rabbits

are considered livestock.

Variance Application No. 677-VA-22 – Parcel No.

241-000715, 690 Prairie Road, Galloway, Ohio

43119. To grant a Variance from the provisions of

Section 1014 (Fences and Walls); to permit the

owner to maintain a fence with less setbacks and

with greater height than permitted by the Resolution

in the R-6 (medium density residential) District.

Public Notice

Rentals

WEDGEWOOD

VILLAGE

1, 2 and 3 BR Apts.

Rent Based on Income.

Call 614-272-2800 or visit us

at 777 Wedgewood Dr.

TTY/TDD 711

EQUAL HOUSING OPPORTUNITIES

ASSOCIATION ADS

HughesNet - Finally, superfast

internet no matter

where you live. 25 Mbps

just $59.99/mo! Unlimited

Data is Here. Stream

Video. Bundle TV &

Internet. Free Installation.

Call 866-499-0141

Internet &WIFI Starts at

$49 Call us Today to Get

Started. Find High-Speed

Internet with Fiber Optic

Technology No Credit

Check, No SSN Required.

Call us Today 866-396-

0515

Safe Step. North

America's #1 Walk-in Tub.

Compreshensive lifetime

warranty. Top-of-the-line

installation and service.

Now featuring our free

shower package & $1600

off - limited time!

Financing available. 1-

855-417-1306

Directv Stream - Carries

the Most Local MLB

Games! CHOICE

Package, $89.99/mo for

12 months. Stream on 20

devices in your home at

once. HBOMax included

for 3 mos (w/CHOICE

Package or higher.) No

annual contract, no hidden

fees! Some restrictions

apply. Call IVS 1-866-629-

6086

DO YOU NEED

TO RENT THAT

APAR

ARTMENT?

Call Kathy

At The

Messenger

To Advertise

Your

Apartment

Community

272-5422

ASSOCIATION ADS

DIAGNOSED WITH

LUNG CANCER? You

may quliafy for a

substantial cash award -

even with smoking history.

NO obligation! We've

recovered millions. Let us

help!! Call 24/7, 1-888-

650-9135

!!OLD GUITARS WANT-

ED!! GIBSON, FENDER,

MARTIN, Etc. 1930's to

1980's. TOP DOLLAR

PAID. CALL TOLL FREE

1-866-433-8277

Safe Step. North

America's #1 Walk-in Tub.

Compreshensive lifetime

warranty. Top-of-the-line

installation and service.

Now featuring our FREE

shower package & $1600

off for a limited time!

Financing available. Call

Safe Step 1-833-356-1954

REPOSSESSED VEHICLE?

Missed payments after

2015? You may be entitled

to substantial money and

improved credit REPO

ALERT! FREE LEGAL

ADVICE 1-800-601-0808

See...

You Looked!

Newspaper

Ads Catch

The Eye!

Call

272-5422

For Info. &

Pricing

ASSOCIATION ADS

The Generac PWRcell, a

solar plus battery storage

system. SAVE money,

reduce your reliance on

the grid, prepare for power

outages and power

your home. Full installation

services available. $0

Down Financing Option.

Request a FREE, no obligation,

quote today. Call

1-866-783-0292

BUYING CLASSIC CARS,

TRUCKS, SUVs

**American and Foreign**

Any Condition. Buying

entire car collections.

$$PAYING CA$H$$

Please call 717-577-8206

KRMiller1965@yahoo.com

Discount air travel! Call

Flight Services for best

pricing on domestic &

international flights inside

& from the US. Serving

United, Delta, American &

Southwest &many more.

Free quote! Have travel

dates ready! 844-951-

2014

Want Faster & Affordable

Internet? Get internet

service today with

Earthlink. Best internet &

WiFi Plans. Call us Today

to Get Started. Ask

about our specials! 866-

396-0515

The Generac PWRcell

solar plus battery storage

system. Save money,

reduce reliance on

grid, prepare for outages

& power your home. Full

installation services. $0

down financing option.

Request free no obligation

quote. Call 1-877-

539-0299

DISH TV $64.99 FOR 190

Channels + $14.95 High

Speed Internet. Free Installation,

Smart HD DVR

Included, Free Voice Remote.

Some restrictions

apply. Promo expires

1/21/23. 1-866-479-1516

NEED IRS RELIEF

$10K-$125K+ Get Fresh

Start or Forgiveness.

Call 1-844-431-4716

Monday through Friday

7am-5pm PST

COME AND GET IT!

Need to Get Rid of Something Fast - Advertise It Here For FREE!

Deadlines are Mondays by Noon

Call For Publication Schedule 614-272-5422

FREE Garden Straw for gardens or bedding. Call for appointment for pickup.

Circle S Farms, 9015 London-Groveport Road, Grove City, 43123

Grove City - 614-878-7980

FREE - Metal from old camper frame, Need a truck to pickup..

CC - Obetz - 614-632-1013

Baby Grand Piano, Mahogany wood w/bench;

Futon Frame & Mattress w/suede-like cover, full size, gently used.

N/B - Grove City - 614-875-8860

FREE - Children's Wooden Play Set - Good Condition w/Sand Box under it, Step Ladder up

Slide to go down & a rope swing. Also separate Swing Set w/4 swings.

190 Inah Ave., Cols, 43228 near the Fire Dept.

West Columbus - 614-878-1930, ask for Linda

. Come and Get It! is a bi-weekly column that offers readers an opportunity to pass along

surplus building materials, furniture, electronic equipment, crafts, supplies, appliances,

plants or household goods to anybody who will come and get them - as long as they're

FREE. NO PETS! Just send us a brief note describing what you want to get rid of, along

with your name, address and phone number. Nonprofit organizations are welcome to

submit requests for donations of items.

Send information to The Columbus Messenger, Attention: Come and Get It, 3500

Sullivant Ave., Columbus, OH43204. Deadline is Mondays at NOON for following

Sunday's publication. Messenger Newspapers is not responsible for any complications

that may occur. Please contact us when items are gone. 272-5422

ASSOCIATION ADS

BATH & SHOWER UP-

DATES in as little as

ONE DAY! Affordable

prices - No payments for

18 months! Lifetime warranty

& professional installs.

Senior & Military

Discounts available. Call

855-761-1725

Prepare for power

outages today with a

GENERAC home standby

generator. $0 Down + Low

Monthly Pmt. Request a

free Quote. Call before the

next power outage: 1-855-

948-6176

Elminate gutter cleaning

forever! LeafFilter, the most

advanced debris-blocking

gutter protection. Schedule

Free LeafFilter Estimate

today. 15% off Entire

Purchase. 10% Senior &

Military Discounts. Call 1-

833-610-1936

Dental Insurance -

Physicians Mutual Insurance

Comopany. Covers 350

procedures/ Real insurance -

not a discount plan. Get your

free dental info kit! 1-855-

.526-1060 www/dental50

plus.com/ads #6258

Attention oxygen therapy

users! Inogen One G4 is

capable of full 24/7 oxygen

delivery. Only 2.8

pounds. Free info kit.

Call 877-929-9587

Protect your home w/home

security monitored by

ADT. Starting at $27.99/

mo. Get free equipment

bundle including keypad,

motion sensor, wireless

door & windows sensors.

833-719-1073

Attention Viagra users:

Generic 100 mg blue pills

or generic 20 mg yellow

pills. Get 45 plus 5 free

$99 + S/H. Call Today 1-

877-707-5518

Come & Get It!

xCraft Shows

ADVER

VERTISE

Your Fall F

Craft Show

Bazaar or

Bake Sale!

In The Columbus Messenger!!

and reach over 20,000 homes

in the West & Southwest areas

Call Kathy

614-272-5422

Craft Shows

ASSOCIATION ADS

AT&T Internet. Starting at

$40/month w/12-mo agmt.

1 TB of data/mo. Ask how

to bundle & SAVE! Geo &

svc restrictions apply. 1-

855-364-3948

Thinking about installing

a new shower? American

Standard makes it

easy. FREE design consulation.

Enjoy your

shower again! Call 1-

833-769-0995 today to

see how you can save

$1,000 on installation, or

visit www.newshowerdeal.com/mac

ASSOCIATION ADS

READY TO BUY, SELL

OR RENT YOUR

VACATION HOME OR

HUNTING CAMP?

Advertise it here and in

neighboring publications.

We can help you. Contact

MACnet MEDIA @

800-450-6631 or visit our

site at MACnetOnline.

com

VIAGRA and CIALIS

USERS! 50 Generic pills

SPECIAL $99.00. 100%

guaranteed. 24/7 CALL

NOW! 888-445-5928

Hablamos Espanol
---
www.colulmbusmessenger.com

xPreschool/Daycare

September 4, 2022 - WESTSIDE MESSENGER - PAGE 11

xClassified Services

advertise

YOUR DAY CARE

OR PRESCHOOL

Call Kathy

at The Messenger

For More Info

272-5422

Preschool/Daycare

ASSOCIATION ADS

Looking for auto insurance?

Find great deals

on the right auto insurance

to suit your needs.

Call today for a free

quote! 866-924-2397

IMPORTANT

NOTICE

The following states: CA,

CT, FL, IA, IL, IN, KY,

LA, MD, ME, MI, MN,

NE, NC, NH, OH, OK,

SC, SD, TX, VT and WA

requires seller of certain

business opportunities to

register with each state

before selling. Call to

verify lawful registration

before you buy.

CHILD CARE

OFFERED

Depend. Quality Child care

in loving hm. Exp. Mom, n-

smkr, hot meals, sncks,

playroom, fncd yd. Reas.

rates. Laurie at 853-2472

HELP WANTED

NEED American Sign

Language Tutor in home.

5 days/week-$20/hr.

614-465-7763

Kings Kids Daycare

in Grove City is hiring Fun,

Loving Teachers for PT &

FT shifts. Please email

sarragc@outlook.com or

call 614-539-0349

We are now hiring for

Medical Transportation

Drivers. Candidate must

be at least 23 y o with 4 or

less points on license and

able to pass criminal

background check.

Interested parties please

conact Dale Kuhn at 740-

972-0895 for more info.

OFFICE CLEANING

Parttime Office Cleaning

Position - Mon., Wed., Fri.

or Sat. Prior Exp required;

varies 6-10 hrs each

week. Send resume:

Attn: Cleaning

Columbus Messenger

3500 Sullivant Ave.,

Columbus, OH 43204

INSURANCE

Medicare New Benefit

Medicare-Zero Premium

Free Doctor visit, free ride,

free food card, free

prescrptions.614-805-1084

CRAFT SHOWS

Glenwood UM Church

Fall Festival

2833 Valleyview Dr.

Sat., October 8th, 9a-3p

Looking for Vendors or

Crafters to rent space

inside. Outside spaces are

for Yard Sale items. If

interested, call Pat at

614-465-2928

PETS

HOMING PIGEONS

614-662-8655

WANT TO BUY

WE BUY JUNK CARS

Call anytime 614-774-6797

ANTIQUES

WANTED

Victrolas, Watches,

Clocks, Bookcases

Antiques, Furn.

Jeff 614-262-0676

or 614-783-2629

We Buy Junk Cars &

Trucks. Highest Prices

Paid. 614-395-8775

We Buy Cars & Trucks

$300-$3000.614-308-2626

MISCELLANEOUS

FOR SALE

Washer, Dryer & electric

stove (1yr old). $700 obo

for all 3. 614-377-1652

Spring Free R79 Medium

Round Trampoline, 2 yrs

old, like new. $500 OBO -

Cash Only. 614-619-4038

RENTALS

2 BR HOMES

Bsmt. $1000/mo

614-530-8097

Eakin-1 Br Apt, crpt, appls.

No Pets 614-560-3050

USED VEHICLES

2004 Chevy - $2500 firm

740-973-2482

AIR CONDITIONING

AIR CONDITIONING

Complete System

Clean & Check

$49.95

Free Electronic Leak Testing

All Makes • All Models

46 Yrs. Exp. • Senior Discount

614-351-9025

BLACKTOP

AGM OHIO

ROOFING &

SEALCOATING

Free Estimates

Cell 614-599-0262

CITY WIDE

ASPHALT &

CONCRETE

Blacktop & Concrete

Licensed/Bonded

Quality Work

Competitive Prices

9/11

W/gc

Since 1981

Call Craig Lantz

Local Resident

614-374-6217

citywideasphaltand

construction@gmail.com

BBB A+ Accredited Contractor

SANTIAGO'S

Sealcoating & Services LLC

Quality Materials Used

FALL IS COMING!

Driveway Seal & Repair!

Top Seal Cracks!

Residential & Commercial

Mulching, Edging & Clean-ups

"Ask for whatever you need."

BBB Accredited-Fully Insured

Call or text for Free Est.

614-649-1200

IINFORMATION

9/25 A

BLACKTOP SEALING

Driveways & Parking Lots

614-875-7588

9/11

A/M

CARPET CLEANING

CARPET CLEANING

Any 5 areas ONLY $75

Home Powerwash $99-$300

614-805-1084

Specializing in Pet Odors

CLEANING

20 y rs Exp. Commerical

& Residential Cleaning.

Call Judy 614-746-0273

CONCRETE

CITY WIDE

CONCRETE &

ASPHALT

Blacktop & Concrete

Licensed/Bonded

Quality Work

Competitive Prices

9/11

W/gc

Since 1981

Call Craig Lantz

Local Resident

614-374-6217

citywideasphaltand

construction@gmail.com

BBB A+ Accredited Contractor

EDDIE MOORE

CONSTRUCTION

Quality Concrete Work

Lt. Hauling & Room Add.,

Block Work & Excavation

Stamp Patios,

Bsmt. Wall Restoration

35 Yrs Exp - Lic & Ins.

Free Ests. 614-871-3834

GALLION

CUSTOM CONCRETE LLC

Specializing in Custom Colors &

Custom Designs of Concrete.

Including Remove & Replace

44 yrs exp & Free Est.

Licensed & Insured

Reputation Built

On Quality

Ronnie

614-875-8364

See Us On Facebook

www.gallioncustom

concrete.com

www.hastingsnsons.com

Driveways & Extensions

Patio & Walkways,

Porches & Steps,

Garage/Basement Floors

Hot Tub/Shed Pads,

Stamped/colored concrete

Sealing of new &

existing concrete.

FREE ESTIMATES

Contact Adam

614-756-1754

hastingsandsons.

columbus@gmail.com

R&L

CONCRETE

&MASONRY

* Stone * Brick * Block

Masonry Repairs

614-917-8227

IINFORMATION

LOOK TO

THE PROFESSIONALS

IN OUR

SERVICE DIRECTORY

For Service

"That Is Out Of This World"

9/25 W/SW

9/11 A

CONCRETE

ALL-CITY CUSTOM

CONCRETE

All Types Concrete Work

New or Tear Out-Replace

40 Yrs. Exp.

(614) 207-5430

Owner is On The Job!

AJ's Concrete,

Masonry

Good Work - Fair Prices

Block Foundations

Driveways • Sidewalks

Epoxy/Overlay Floors

Bonded-Ins. • Free Ests.

614-419-9932

FENCING

EAZY FENCE

Chain Link - Wood

No Job Too Big or Small

All Repairs ~ Free Est.

Insured. 614-670-2292

IINFORMATION

ONLY

$50.00

For This Ad In Our

West & Grove City

For Info Call

272-5422

GUTTERS

Bates & Sons

GUTTER CLEANING

5 ★ Google Reviews

614-586-3417

GUTTER CLEANING

614-323-0128

HAULING

DEAN'S HAULING

614-276-1958

DUMPSTER RENTAL

4 Days - $275 & Up

No Hazardous Materials

Tires - $10.00 each

Call 614-254-1131

HOME

IMPROVEMENTS

SLAGLE

HOME REMODELING

Baths, Kitchen,

Plumbing and Electrical.

All your Handyman needs

No Job too Big or Small

Over 30 Yrs. Exp. Lic.-Bond-Ins.

Jerry

9/25

SW/W

614-332-3320

C&JHandyman

Services LLC

Minor Plumbing & Electric

Install Hot Water Tanks,

Dishwashers & Disposals

All Interior Remodels

Also Fencing &

Interior/Exterior Painting

Free Est. ~ 18 Yrs. Exp.

CDC/EPA Approved Guidelines

614-284-2100

9/25 A

7/17 A

HOME

IMPROVEMENTS

KLAUSMAN HOME

IMPROVEMENT

Siding-Windows-

Doors-Roofing-Soffit-

Fascia-Gutters-Trim

Earn FREE Seamless

Gutters with Siding Over

1000 Sq. Ft.

FREE Shutters with

Soffit & Trim

EPA Certified

Member of BBB

Financing Available

Over 20 yrs exp. • Free Est.

Licensed-Bonded-Insured

Owner & Operator

James 614-419-7500

SINCE 1973

Phil Bolon Contr.

Windows & Siding

Decks, Kitchens, Baths

Room Additions,

Flooring, Roofing

Bsmt Waterproofing

Deal With Small Non-Pressure Co.

47 Yrs. Exp. - Refs. Avail.

Lic.-Bond-Ins.

Free Est. - Financing Avail.

Member BBB Of Cent. OH

O.C.I.E.B. ID #24273

614-419-3977

or 614-863-9912

HOME

REMODELING

Handyman Remodeling

Over 35 yrs exp.

Larry 614-376-7006

MultiCraft Const.

& Handyman Services

All Types Handyman Services:

Decks, Fences

Kitchen/Baths

Window/doors installed

Interior Painting

Drywall Repairs

All Types of Flooring

Call/Text 614-774-2923

multicraftconstruction@gmail.com

LANDSCAPING

Classified Services

9/25

A/M

Charlies Handyman

Service

Over 40 yrs. exp.

Hot Water Tanks

Door Locks

Appliances

Rpfomg * Siding

Bathrooms and more!

614-319-6010

blantoncharles894@gmail.com

ONYX

LANDSCAPING

614-407-5214

www.OnyxLandscapingllc.com

Full Service

Lawn Care

Start with Trust!!

9/11 A

9/25 A

9/11 W/GC/M

LAWN CARE

Lawn Mowing-36 yrs exp.

Weekly cuts $25-up

Good ref. Free est. 10%

Sr. Disc. 614-738-9623

Christian's

Landscaping

Full Service Lawn Care

•Tree/Shrub Trimming

•Mulching •Tree Removal

9/25

•Powerwashing

w/gc

614-282-4443

The Lawn Barber

Cut, Trim, Blow away

Hedge Trimming, Edging

614-935-1466

LET US MAINTAIN

YOUR LAWN & GARDEN

FOR YOU

Summer, Spring,

Winter or Fall

WE DO IT ALL!!!!

Lawn Cuts, Edging,

Trees & Shrubs, Garden,

Mulching, Hauling,

Garden Pond &

Home Maint.

Free Ests. Low Rates

$20 & Up

Kevin - 614-905-3117

MASONRY

R&L

MASONRY

&CONCRETE

* Stone * Brick * Block

Masonry Repairs

614-917-8227

PAINTING

Painter Over 30 Yrs. Exp.

Free Est. Reas. Rates

Daniel - 614-226-4221

A Job Well Done Again

A lic. General Contractor

Some Skilled Services

Incl: Painting • Stucco,

Repair•Carpentry•Exterior

Drainage & Home Maint.

Call Today! 614-235-1819

PLASTERING

Plaster & Stucco

NEW AND

REPAIR

Established 1917

Geo. F. Neff & Co.

614-274-5629

DRYW

YWALL &

PLASTER

9/25

A&M

REPAIR

Textured Ceilings

614-551-6963

Residential/Commercial

BIA

PLUMBING

CHRIS'

PLUMBING

"Plumbing & Drain Professional

That You Can Count On"

24 Hrs., 7 Days/Week

No Overtime Charges

24 Yrs. Exp. in Plumbing &

Drain Cleaning Field

Call For A Free Phone Estimate

$100.00 For Any Small Drain

614-622-4482

30% OFF with AD

9/11 A

9/11 A

PLUMBING

All About Drains & Plumb.

Will snake any small drain

$145. 614-778-2584

MYERS

PLUMBING

Exp. Expert Plumbing

New Const. & Fast Repairs

Lic. - Permit Available

Water • Sewer • Gas

614-633-9694

POOL/SPA

MAINTENANCE

K&L Spa Cleaning

Hot Tub Cleaning and

Weekly Maintenance

Keith 614-316-9809

POWER WASHING

Bates & Sons

Soft Wash & Powerwash

5 ★ Google Reviews

614-586-3417

MRS. POWERWASH

Any house wash $149+tax

Single deck $69+tax

2 Tier deck $99+tax

Best Wash in Town

Over 45,000 washes

Ashley 614-771-3892

ROOFING

RETIRED

ROOFER

BBB "A+" Rating

All Types of Roof Repairs

• New Roof Installation

• Flashing

• Chimneys Rebuilt

• Flat Roof Specialist

• Roof Replacement

avail. upon request

All Work Guaranteed

614-352-7057

Free Estimates

SEWING MACHINE

REPAIR

REPAIR all makes 24 hr.

service. Clean, oil, adjust

in your home. $49.95 all

work gtd. 614-890-5296

TREE SERVICES

BURNS TREE SERVICE

Trimming, Removal &

Stump Grinding.

614-584-2164

Warren Brewer Tree Service

• Tree Removal

• Tree Trimming 9/11

A&M

• Stump Grinding

• Bucket Truck Services

Best Prices • Same Day Service

614-878-2568

A-1 QUALITY

TREE & LANDSCAPE

Family Owned

Serving Central Ohio

Since 2004

614-596-9504

Insured - Free Est.

9/25 A&M

9/25 A&M

9/11 W/SW
---
PAGE 12 - WESTSIDE MESSENGER - September 4, 2022

www.columbusmessenger.com

In Entertainment

e plot will leave the audience 'spinning'

WESTGATE UNITED

METHODIST CHURCH

61 S. Powell Ave., Columbus,OH 43204

Come - Let's Worship Together

and Meet our New Pastor

Nancy Day-Achauer!

Worship Service 9:00 a.m.

Sunday School 10:00 a.m.

westgateumc@sbcglobal.net

614-274-4271

GLENWOOD UM CHURCH

2833 Valleyview Dr.

(Corner of Valleyview & Hague Ave.)

(614) 274-8469

Pastor Leo A. Cunningham

Join us for In-Person

Sunday Worship at 10:45 a.m. or

Join us for Online Worship at

Glenwood UMC YouTube

http://tinyurl.com/GlenwoodUMC

Although Jeff Baena is not a prolific

director or a well-known screenwriter, his

work thus far in the industry has garnered

him a reputation as someone who is capable

of piercing the hearts of an audience

with eccentric comedies that examine the

meaning of life (2004's "I Heart

Huckabees") and also causing the minds of

an audience to go into a state of bewilderment

with eccentric comedies that examine

the meaning of life (2014's "Life After

Beth"; 2017's "The Little Hours"; and

2020's "Horse Girl").

With a majority of his credits listed

above, one might argue that his earliest

foray was only as successful or as memorable

because it was co-written and directed

by the prolific and well-known David O.

Russell but that is something one has to

push back on, just a little bit. While the end

result of his work can be hit or miss, there

is something about it that just makes you

want to give it a try, especially if you have

built up a tolerance to strange and unusual

movies.

That inquisitiveness about his work is

what brought me to "Spin Me Round,"

another eccentric comedy that examines

the meaning of life. Released on demand

this weekend, the film doesn't delve as

deeply or spend a lot of time pondering the

question in relation to his prior films, but it

HOGE MEMORIAL

PRESBYTERIAN CHURCH

2930 W. Broad St., Columbus, Ohio 43204

Sundays at 10:30 a.m.

In Person Worship

Live Streaming Sunday Worship Service

at 10:30 a.m. on Hoge Facebook Page

Worship & Free Meal

Saturdays at 5:00 p.m.

www.hogemempresby.org

Be a Part of Our Local Worship Guide

Our upcoming Worship Guide is geared toward celebrating faith and helping readers connect with

religious resources in our community. Make sure these readers know how you can help with a presence in

this very special section distributed to more than 25,000 households in the Westside area.

Contact us today to secure your spot in our Worship Guide.

614.272.5422 • kathy@columbusmessenger.com

Messenger

Westside

Please visit the

Westside Church

of your choice.

List your Worship

Services here.

For info. call 614-272-5422

does hit on those existential themes of

"What are we doing here?" and "Why am I

doing what I'm doing?"

Asking herself that question on a near

daily basis is Amber, the central character

played by Alison Brie. Amber is a very

guarded person, one not quite willing to

take a leap of faith, but years before the

story in the movie begins, she did just that

by leaving her financially secure job as a

manager of a popular Italian eatery to open

her own restaurant with her flaky

boyfriend. When the film opens, she is back

at her old position at Tuscan Grove, working

tirelessly to build back her savings

after her restaurant and her relationship

went up into flames (figuratively for the

former, probably literally with the latter).

To acknowledge the "dedication of his

workers," Tuscan Grove's CEO Nick

Martucci (a delightfully wacky Alessandro

Nivola) invites Amber and a number of

other managers across the region to attend

an all-expense paid trip to the Tuscan

Grove Institute in Italy where they will be

immersed in "cuisine and culture" while

staying in a lush villa. At first, Amber is

hesitant to attend this lavish affair, but she

is lured by the promise of trying something

new, something different, and possibly

finding love again — romantic love and the

love for her job and life.

Immediately, she gets an inkling that

things are not as they were promised —

their guide Craig (Ben Sinclair) wants

their passports for safe-keeping and their

"lush villa" is in the back of a lush villa,

overlooking the dumpsters — but she tries

to make the best of her situation by striking

up awkward work-like friendships with

fellow Tuscan Grove branch managers Deb

(Molly Shannon), Susie (Debby Ryan), Jen

(Ayden Mayeri), Dana (Zach Woods) and

Fran (Tim Heidecker).

The part of this movie that works the

best is within this ensemble as they all

work well off of each other; but they are

soon split apart as Nick (the Tuscan Grove

CEO) casts his eye on Amber, dreamily

wooing her as he likens her to his deceased

Car Show

The Heart of Grove City Car Show will

be held from 11 a.m. to 4 p.m. Sept. 10 in

the Town Center Park, 3359 Park St. Visit

the Heart of Grove City Facebook page for

additional information.

5K Rescue Dog Walk

The sixth annual 5K Rescue Dog

Walk/Run will be held from 9:30 a.m. to 2

p.m., Sunday, Oct. 2 at Breck Community

Park, 3005 Demorest Road. Walkers sign

up for a specific starting time slot during

online registration. Shirt and map pick up

is three days before the event.

The Reel Deal

Dedra Cordle

sister.

As their ethically

questionable relationship

begins to

deepen, and as Nick

begins to introduce

Amber to a new

world of intrigue,

the film kinda loses the plot and begins to

unravel as a whole. There is a whole subplot

involving Nick's assistant Kat (Audrey

Plaza), the disappearance of the lovelorn

chef that gave them culinary tips (a hysterical

Lauren Weedman) the "poisoning" of

her fellow managers, and the strange

behavior of the elite company Nick keeps,

to name a few.

Although each of these subplots are very

entertaining (it takes a while for all of

them to make sense) it gives "Spin Me

Round" a sense of unbalance and it makes

the audience feel as if it isn't quite sure

what it wants to be. Is it a romance? A

satirical romance? Is it a murder-mystery?

Is it an abduction story? Is it pointed commentary

about relationships as a whole?

Or perhaps pointed commentary about

work and wealth? At times, it tries to be all

those things, but as stated before its zaniness

and its messaging work within the

ensemble, not quite as much without it.

With plenty of laughs and absurdity to

go around, there is a lot to enjoy with "Spin

Me Round" but try as hard as the cast and

their impeccable comedic timing might,

they cannot entirely save the struggling

narrative that runs throughout the movie

or the plot that feels like it is just throwing

things at the wall to see what sticks.

Grade: C

community events

Dedra Cordle is a Messenger staff writer

and columnist.

Dogs are encouraged to participate.

Proceeds raised will benefit the rescue

group Speak for the Unspoken.

Visit tedberryevents.com to register.

Century Village open house

The Southwest Franklin County

Historical Society welcomes groups and

individuals to Century Village, 4185

Orders Road. Tour the historic log house

and school from 2 to 4 p.m. the fourth

Saturday of each month, May through

September. For more information or to

schedule a visit to Century Village, contact

Steve Jackson at 614-871-0081.