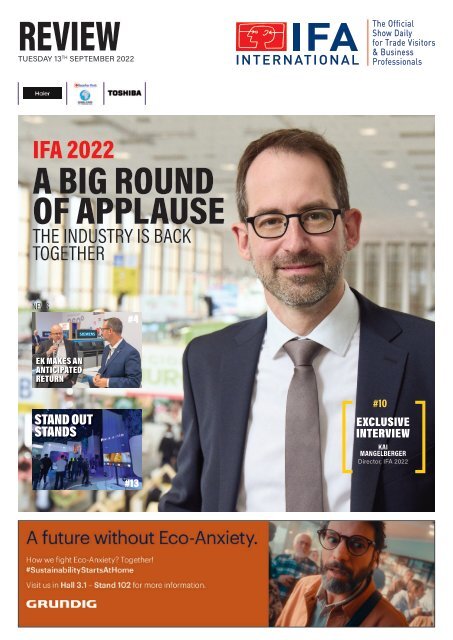 Create successful ePaper yourself
Turn your PDF publications into a flip-book with our unique Google optimized e-Paper software.
REVIEW

TUESDAY 13 TH SEPTEMBER 2022

IFA 2022

A BIG ROUND

OF APPLAUSE

THE INDUSTRY IS BACK

TOGETHER

NEWS

#4

EK MAKES AN

ANTICIPATED

RETURN

STAND OUT

STANDS

#10

EXCLUSIVE

INTERVIEW

KAI

MANGELBERGER

Director, IFA 2022

#13
---
Leon Speaker

Connected Design Vol 6

Fall 2022
---
I NEWS I

"IFA again at last!"

EK makes an

anticipated return

EK comes back to IFA with

premium updates in shopfitting

and marketing

Jochen Pohle (Left) and Martin Wolf (Right)

Wireless power

expands its horizons

Dinesh Kithany, Chief Analyst, Wired

and Wireless Technologies (WAWT),

discusses the future of wireless power

During EK's IFA press briefing on September 2, chief retail

officer Jochen Pohle celebrated his company's return to IFA

under the new umbrella brand with an updated logo too: 'EK:

retail in motion'.

"We have been waiting three years for

the return of this inspiring fair, and are

delighted to be able to meet again in

an international context with trade

and industry partners from the home

appliance and kitchen sector", he added.

In the following days of IFA, Mr Pohle

asked for a call to action to discuss

topics such as procurement and

marketing, especially in the wake of

crises around the world.

The CRO also explained the objectives

for EK at IFA, to be a "home port" for

affiliated retailers and for its stand to be

an attraction for potential retail partners.

"We want to cultivate existing contacts,

establish new trade and industry and,

of course, to demonstrate our own

performance strengths".

In terms of company operations, updates

to the Electroplus shopfitting service

was a standout from the presentation.

"The Electroplus brand store has been

opened 65 times nationwide so far,

and the list of planned new openings

is far from finished", explained Martin

Wolf, marketing manager for electrical

appliances, kitchens and lighting.

There are also ambitions to expand the

Kuchen Plus store which has seen 35

openings. The other "heavyweight" in

EK's portfolio is the updated 360-degree

marketing concept, previewed at IFA

2022.

EK's IFA stand also features online

marketing agency oncliQ GmbH, as well

as the Graf company

What is the state of the current

wireless power market?

The market grew last year by 15% -

around 700 million units shipped -

and is expected to cross the 1 billion

mark by early next year.

Out of these, smartphones, electric

toothbrushes and smart watches

continue to be the top three

applications. With these applications

picking up, 7.5 billion units are

expected to be shipped in the next

five years and 30 billion in the next

ten.

Where is the growth coming from?

We are seeing an increase in

awareness, interest and adoption

across a wider range of applications

across consumer wearables, medical,

defence, industrial, retail, automotive

and the infrastructure market. In

particular, applications like wireless

earphones, automated guided

vehicles (AGVs), autonomous mobile

robots (AMRs) electric vehicles (EVs),

electric shelf labels, cordless kitchen

appliances, industrial IoT sensors, to

name just a few.

What are the benefits of wireless

power?

Wireless power is not only more

convenient but also provides

greater user experience, facilitates

enclosed designs (sealing the

device), making it water- greaseand

dust-proof for example. It also

eliminates contact with wired cables

and more importantly it offers green,

environmentally friendly benefits, by

requiring less or even no batteries.

When we speak about wireless

power, what is the current

technology landscape?

Currently WPC (Wireless Power

Consortium) low frequency induction

technology has more than 95%

share of the market. But to cater

to other types of applications, the

market is expected to see a growth

in low frequency resonance - for EVs,

AGVs and AMRs - high frequency

resonance, NFC Forum's charging

technology and ultra-high frequency

solutions like RF or infrared which

can charge devices from a greater

distance

4 IFA INTERNATIONAL • TUESDAY 13 TH SEPTEMBER 2022

news.ifa-berlin.com
---
I NEWS I

WaterKorea looks to clean Europe's rivers

and seas with its latest technology

WaterKorea, supported by ETRI (Electronics and

Telecommunications Research Institute), has

presented two products at IFA 2022 which work

together to collect data and clean waterways.

In an interview with IFA

International, CEO Edwin Seol

discussed the company's latest

technology and why now more

than ever, finding alternative

clean water solutions, is so

important.

Mr Seol explains: "So we have

been operating in Asia - China

and Korea, and we wanted

to reach out to Europe and

especially Germany which is one

of the leading countries that is

focusing on sustainability.

"We are delighted to be at IFA

2022 presenting our two devices

- one of them focuses on air

quality while the other is a water

cleaning system which also

gathers data.

"Information like for example

the number of bacteria is

automatically collected by the

device and can then be analysed

via our SWIQ Platform (Smart

Water Improvement Quality).

This way, we can customise our

devices depending on what kind

of bacteria we find in the water.

The device, which floats on the

surface of the water, then creates

ozone micro-bubbles which

pushes pollution to the surface

and uses Ultra Violet (UV) light to

break down the bacteria. One of

these devices is suitable for two

tonnes of water."

The innovative water cleaning

system is being presented

alongside the Air Quality Analysis

and Sending Information to

Control Devices, which provide

fine particle/dust predictions

through data analysis.

Combining these two devices

can therefore help predict levels

of pollution in both the air and

water ahead of time.

Mr Seol concludes: "Water is

life and there is a lack of water

in many parts of the world like

Europe. Recycling water using

these devices could therefore

help solve this problem"

Edwin Seol

CEO, WaterKorea

IFA INTERNATIONAL • TUESDAY 13 TH SEPTEMBER 2022 5
---
I NEWS I

Mic check:

IFA 2022 press conference

summary

Throughout the five days of IFA 2022, attendees experienced a variety of informative and

future-looking press conferences. From TVs with quantum dot technology to dynamic smart

home appliances and air purifying necklaces, there were ample unique and innovative

new products on show as well as key statements on company strategy and sustainability

commitments. Here is a summary of some of the standout press conferences from IFA 2022.

SIEMENS WOWED

WITH "NEW WAY OF

LIVING"

Michael Mehnert, the new MD of Siemens

Home Appliances, presented exciting product

innovations to a packed audience at the

company's IFA press conference on this year's

first IFA press day.

Mr Mehnert revealed the brand's new EQ900

fully-automatic espresso machine, with its

selection of customisable features. He also

introduced the iQ700 Duo washing machine

as "our highlight this year", with Mini Load

and smartFinish features. Further mentions

included the iQ700 oven which uses AI to

achieve results according to individual tastes.

MIELE SHOWCASED

ITS GREEN

CREDENTIALS

Miele outlined its sustainability pledges

and introduced a range of new and exciting

products at this year's IFA press conference.

A busy theatre audience at the Miele stand

heard from EDs and co-owners Dr Markus

Miele and Dr Reinhard Zinkann, as well as Dr

Axel Kniehl, ED of sales and marketing.

Presenting appliances that use 55% less

energy than they did 20 years ago, and

washing machines that use 72% less, IFA was

a key opportunity for Miele to demonstrate its

green credentials.

BOSCH UNLEASHED

FULL PRODUCT RANGE

Bosch used its bustling IFA press conference

to introduce the latest technologies from its

wide portfolio of product categories, which will

be promoted in the framework of its dynamic

new #LikeABosch campaign in the coming

months. Harald Friedrich, MD of Robert Bosch

Hausgeräte GmbH, introduced the Door/

Window Contact II and II Plus, as well as the

Unlimited 7 ProHygienic Aqua, Bosch Cookit

and integrated Series 6 dishwasher. The new

Series 8 washing machines and Series 8 heat

pump dryer were also unveiled.

Miele Press Conference: Dr. Markus Miele, Managing Partner,

Dr. Axel Kniehl, Executive Director Marketing & Sales, Dr

Reinhard Zinkann, Executive director and co-proprietor, Miele

Group (l.t.r.)

Bosch Press Conference: Harald Friedrich, Chief Executive

Officer, Robert Bosch Hausgeräte

Innovations Press Conference Siemens Home Appliances

Michael Mehnert, Managing Director Siemens Home

Appliances (r.), Katja Wendel, Marketing Manager Siemens

Home Appliances (l.)

6 IFA INTERNATIONAL • TUESDAY 13 TH SEPTEMBER 2022

news.ifa-berlin.com
---
I NEWS I

HAIER REVEALED

PRODUCTS ACROSS

ALL PRICE POINTS

With impressive industry accolades proudly on

display, Haier's press conference on Thursday

showcased its ambition for more growth as

well as a range of brand new products at

every price point across the company's three

brands: Haier, Candy and Hoover.

"…While respecting data privacy, we study

[consumer] behaviours, and this influences the

designs of new products as well as constantly

updating the software in existing appliances,"

said Yannick Fierling, CEO, Haier Europe. This

'zero distance' feedback loop enables Haier

to create "premium products with a tailormade

experience" with plans to launch "more

appliances in 2023 than ever."

TOSHIBA UNVEILED

GLOWING TV SETS

WITH QUANTUM DOT

TECHNOLOGY

At its IFA press conference, Toshiba TV

exclusively revealed the QL5D Series and

QA5D Series TV sets. Director of UK sales and

marketing David Flintoft led the presentation,

explaining how the pandemic led the company

to reimagine what TV sets could be. "TV once

again became the focus and took a new

meaning for the household," he said.

The QL5D Series and QA5D Series TV sets

use quantum dot technology, which sees tiny

nanocrystals glow when exposed to UV light.

TCL ANNOUNCES

NEW FOOTBALL

PARTNERSHIPS AND

PRODUCTS

TCL's press conference on Friday saw Marek

Maciejewski, product development director

Europe, release anticipated info about the

company's new Mini LED and QLED 4K TVs,

featuring reflection-free screen and dynamic

colours. Upgraded TCL NXTWEAR S wearable

display glasses were also on show.

Before that, Frederic Langin, VP of sales

and marketing for TCL Europe, welcomed

football stars like Barcelona's Pedri to its brand

ambassador team. Mr Langin also detailed the

company's sustainability initiatives, including

the release of more energy A-class products

this year.

Toshiba TV Director of UK sales and marketing

David Flintoft

Haier Europe Press Conference Yannick Fierling, Chief

Executive Officer

EK MADE AN

ANTICIPATED RETURN

CRO Jochen Pohle celebrated his company's

return to IFA under the new umbrella brand:

"EK: retail in motion". During an IFA press

briefing on Friday, Mr Pohle made a call to

action to discuss topics such as procurement

and marketing, especially in the wake of crises

around the world.

Mr Pohle also explained EK's objectives at IFA:

to be a "home port" for affiliated retailers and

for its stand to be an attraction for potential

retail partners.

TAIWAN EXCELLENCE

PRESENTED HEAD-

TURNING INVENTIONS

Taiwan Excellence was generous enough to

serve up bubble tea to attendees at its press

conference with an opening speech from Prof

Jhy-Wey Shieh, Taiwan's representative in

Germany, on Friday. An impressive selection of

the country's leading innovators then took to

the stage to present their products.

IPEVO introduced the TOTEM NX-120A

camera system for online teaching, with

two built-in lenses. AcerPure put forward its

Pro P2 air purifier, containing a 4-in-1 HEPA

filter. Additionally, Ible showcased the Arivida

E1, a necklace-like air purifier. While Paper

Shoot disclosed information about its Jadeite

Cabbage digital camera.

Frederic Langin, vice president of sales and

marketing for TCL Europe

chief retail officer Jochen Pohle (left) and Martin Wolf, Head of

Sales and Marketing Electronics / Kitchen / Light

IFA International is a CLEVERDIS Publication

439 Route de la Seds, 13127 Vitrolles, France

• Tel: + 33 442 77 46 00 • SAS capitalised at €155,750 • VAT FR 95413604471

• RCS Salon de Provence 413 604 471 • info@cleverdis.com • www.cleverdis.com

During IFA: Hall 6.3/201 - news.ifa-berlin.com

President & Publisher: Jean-François Pieri • Senior Project Managers: Bettina Badon •

Account Managers: Benjamin Klene, Philipp Schiberna, Veronika Verzhak • Event

Manager: Zineb Elhabiri • Head of Editorial Team: Emiliana Van Der Eng • Senior Editor:

Thomas Campbell • Editors: Luc Citrinot, Neil Cole, Francesca Seden, Laura Sharman,

Reuben Tasker • Art Director: Hélène Beunat • Design & Page Setting, Webmaster:

Guillaume Vinrich • Photographer: Stéphane Lelarge. With the participation of: Sara

Hirache

>>> To contact them: first name.last name@cleverdis.com • Cover: © Messe Berlin GmbH

© CLEVERDIS 2022 - Registration of Copyright August 2022. Information presented in this publication is purely

indicative in order to illustrate subjects contained therein. No guarantee can be given as to the accuracy of data

or content at time of printing and thus the latter should not be used for professional or commercial ends. While

all efforts have been made as to accuracy and pertinence of content and data contained in this publication,

CLEVERDIS may in no case be held responsible for the consequences, whatever their nature may be, that

may result from the interpretation of this data or content, or any eventual errors therein. Any reproduction of

the content of this publication, even partial, by any means whatsoever, is strictly prohibited without the prior

autorisation of the publisher. Any copy, whether by photography, photography film, magnetic tape, disc or other

means constitutes a forgery, liable to punishment under French law according to the legislation of 11 th March 1957

covering copyright. All brands cited in this publication are registered trade marks and/or belong to companies

which are their respective proprietors. The publishers and editorial staff decline all responsibility as to opinions

formulated in this publication by those interviewed or cited therein. Their opinions are entirely their own, and

are included with the understanding that they contain, to our knowledge, no malicious intent. The inclusion of

all texts, photographs and other documents supplied by those included in this publication imply the acceptance

by their authors of their free publication therein. Documents and photographs will not be returned. It should

be understood that this publication contains forward-looking statements that involve risks, uncertainties and

assumptions. All statements other than statements of historical fact are statements that could be deemed

forward-looking statements. Risks, uncertainties and assumptions include assumptions relating to the timing of

the recorded date. If any of these risks or uncertainties materialises or any of these assumptions proves incorrect,

actual results could differ materially from the expectations outlined in these statements. Cleverdis assumes no

obligation and does not intend to update these forward-looking statements during the period of publication. Photo

Credits and Copyright: All Rights Reserved.

IFA INTERNATIONAL • TUESDAY 13 TH SEPTEMBER 2022 7
---
IFA+ Summit 2022

IN THE FACE OF DISRUPTION

De/Globalization

The Universal Remedy?

Peter Sloterdijk, Philosopher

IFA+ Summit thought leaders

discuss risks and rewards of

deglobalisation

Deglobalisation, digitisation and sustainability were the

main themes of the IFA+ Summit 2022, IFA's dedicated

digital future think-tank.

Opening the event, representatives

described IFA as a place not only

to do business and showcase

the latest innovations, but also to

discuss the latest developments

in our economy, ecology and

societies. Summarising the most

recent challenges - climate

change, coronavirus, the invasion

of Ukraine and rising energy costs -

the audience took a deep dive into

Monday's motto: deglobalisation,

the universal remedy?

Distinguished speakers took to the

stage on Monday, including the

world renowned philosopher Prof

Peter Sloterdijk, who delivered a

sobering speech on the "historical

restlessness of the contemporary

world" and "witnessing through

disruption."

Recalling how German Chancellor

Olaf Scholz announced a 'turn

of the tide' following the Russian

invasion of Ukraine, he said: "A

new vector in the course of world

events had broken." A similar

tendency, he proclaimed, could

be observed through French

President Emmanuel Macron's

speech at the Élysée last month

and his call to be prepared for

three calamitous changes: the

end of abundance, the end of

the self evident, and the end of

indifference. The philosopher

later pondered the pandemic

border closures as a "premonition

of the potential destination of

deglobalisation" and said he

is "convinced" that technology

advances hold solutions to the

environmental crisis.

Additional morning events

included comments from

Professor Ronny Fürst, of AKAD

University, on the possibility of

deglobalisation and its risks.

Research on consumer sentiment

towards globalisation was

presented by Dr Sara Warneke,

MD at gfu Consumer & Home

Electronics. A panel discussion on

globalisation vs deglobalisation

was then held between delegates

from Greenpeace, diffferent

strategy consultancy, DIHK, and

DIW Berlin.

Also on the IFA+ Summit stage

was Prof Lisandra Flach, of the ifo

Institute, who took the audience on

a deep dive of supply chains and

the importance of nearshoring.

Innovation expert Jule Bosch

spoke on issues of sustainability

and whether deglobalisation has

the power to save the environment

followed by a talk with Germany's

minister for the environment

Jurgen Trittin. Joyce Gesing, CCO

of Severin, later presented a

thought provoking case study on

resiliency and transformation in

the face of deglobalisation

Deglobalisation

and the reshoring

approach

Professor Ronny Alexander Fürst,

AKAD University in Germany,

explored tensions between the

economy, sustainability and

political interests at the IFA+

Summit.

"Globalisation will continue... will increase

and continue to add value to all of us," Prof

Fürst stated first and foremost. He highlighted

how the highly talked about phenomenon

has contributed towards the decentralisation

of economic power and crisis impact, with

no single territory having more than 20%

of the world's GDP. Reshoring is a common

approach, Prof Fürst said, referencing the

trend of regionalisation to develop global

crisis resilience. He also spoke about a

new world with new challenges along with

his thesis on how digital leadership and a

readiness to develop can create an ability to

overcome global crisis

8 IFA INTERNATIONAL • TUESDAY 13 TH SEPTEMBER 2022

news.ifa-berlin.com
---
Key research:

Consumer sentiment

towards globalisation

IFA+ Summit 2022 THE WAY BACK

HOME? International Consumer Study

on Globalization in Consumer & Home

Electronics Dr. Sara Warneke, gfu

Consumer & Home Electronic

Top level speakers

including Miele chief

and former Greek finance

minister headline at IFA+

Summit

Dr Reinhard Zinkann, executive director and co-proprietor

of Miele Group, and former Greek finance minister Professor

Dr Yanis Varoufakis spoke at the highly anticipated event.

On Monday afternoon, Dr Zinkann

shared his views on deglobalisation

under the motto the 'next level

of thinking.' The Miele co-owner

reflected on how the global industry

has long benefited from globalised

production, supply and sales

structures which he believes, on

balance, will continue. However,

the strong focus on costs that has

underpinned it to date will tend to

diminish in the future, he added.

Commenting on one of the key topics

of the summit - friend-shoring - Dr

Zinkann speculated that protection

against geopolitical risks is likely to

become more important. The risks

of deglobalisation, he believes, could

come with the "unbundling of global

supply chains" - a lengthy, laborious

and costly process by nature, he said.

The availability of raw materials is

another factor but a process which

Miele handles "with great care," he

added.

Despite the challenges, the Dr

Zinkann said deglobalisation could

also present opportunities, "especially

if shorter distances can reduce

complexity, logistics costs and

CO2." It would also offer production

opportunities for high-wage countries

such as Germany, he added.

Prof Varoufakis said globalisation

is facing "a major challenge" and

addressed the question of what

needs to be done. "We are missing

the point," the former finance minister

urged. Identifying globalisation

together with trade is "a huge error,"

he said, a point he stressed more

than once during his speech. Prof

Varoufakis also outlined the reasons

why he believes reshoring is not in

the interest of either nation states or

developing countries, and instead

advocated for the intensifying of trade

and supply chains

Dr Sara Warneke, MD, gfu Consumer & Home Electronics,

discussed the 'The Way Back Home' at the IFA+ Summit.

The representative study, conducted in August, compares

consumer sentiment towards globalisation in China,

France, Germany, India and the US resulting from the global

political situation.

The study revealed scepticism

towards globalisation as a worldwide

phenomenon, which was more

significant among respondents

in India and France. Nine times

more respondents were critical

of globalisation than not in India,

compared to more than half in

Germany, and less than half in the US

and China.

Regarding demographics, the study

found that male consumers, and

consumers who are younger and

more educated, tend to be more

sceptical of globalisation, while

differences in income for resondents

do not seem to influence attitudes.

Consumer concerns include

interrelationships and dependencies

between countries. This stems largely

from the restricted supply of goods

manufactured overseas during

Covid, and the global implications

of the Russia-Ukraine conflict. A

second concern is sustainability,

with France among the countries

that find globalisation to be bad

for sustainability, especially when

considering the shipping of goods

and global energy consumption.

Overall, 75% of study participants

said buying locally-made products

had become more important.

Almost two thirds of respondents

now prefer local brands, and two

thirds are increasingly interested in

where materials, components and

parts of products come from. While

consumers in China and India have

75% OF

STUDY

PARTICIPANTS

SAID BUYING

LOCALLY-

MADE

PRODUCTS

HAD BECOME

MORE

IMPORTANT

always had a high awareness of the

origin of a brand, the study noted a

very strong shift towards a higher

awareness in Germany, France and

the US. Dr Warneke commented:

"There is a clear trend among

consumers to shift their purchasing

decisions more in the direction of

domestic brands"

IFA INTERNATIONAL • TUESDAY 13 TH SEPTEMBER 2022 9
---
I EXCLUSIVE INTERVIEW I

BEFORE, COMPANIES

TOOK IT FOR GRANTED

THAT THEY WOULD GO

TO IFA EVERY YEAR,

BUT THIS YEAR THERE

WAS SOMETHING MORE,

SOMETHING SPECIAL.

Kai

Mangelberger

Director, IFA 2022

10 IFA INTERNATIONAL • TUESDAY 13 TH SEPTEMBER 2022

news.ifa-berlin.com
---
I EXCLUSIVE INTERVIEW I

IFA 2022 was a resounding

success with an emotional

touch

The world's most important trade show in consumer and

home electronics sent a strong signal: IFA is back!

IFA 2022 Director Kai Mangelberger shared his views on the success

of this year's show and the importance of live events for the consumer

and home electronics sectors.

What is your personal impression of this

year's IFA?

First of all it was a great experience - IFA is

really back. This was the message from all

of our exhibitors. The feedback was really

positive, and I think it was quite emotional.

Before, companies took it for granted that

they would go to IFA every year, but this

year there was something more, something

special.

There were some important speakers at the

IFA+Summit this year. How important were

their presentations for the industry?

I think the IFA+Summit topic this year - De/

Globalization - The Universal Remedy? - was

a really important one, and at the same time a

topic which you might say is not that easy for

us as an industry to address. We wanted to

have an element of controversy. In this regard,

I think the IFA+Summit was definitely a part

of the show which we did not want to miss.

The press days were very busy this year.

Are you happy with the coverage?

Yes we are very happy with this. We had

about 2,500 journalists which were reporting

in over 100 countries and I think the numbers

will be even higher for the coming editions.

improve peoples quality of life but is also vital

in terms of sustainability.

Do you have a personal message for the

industry?

I'm really thankful that we all came together

to send a strong signal - 'ready, steady, show'!

Also I'm very thankful for the extremely

positive feedback we have received and the

strong support for IFA. This signal was very

important for me and my team.

How important are events like IFA 2022 for

the industry going forward?

Well you know we had football players from

the German football league - the Bundesliga,

here and we were talking about this. Watching

football on TV is great because you get

replays and all the information and analysis.

From this perspective its better to watch

football on TV, but if I offer you a free ticket

to the stadium, of course you will go, because

of the atmosphere. Here it's the same, you

can always watch an unboxing video, but it's

better to experience for yourself. There were

so many new products unveiled at the show,

and it was great to be able to experience

them first-hand

STRONG ATTENDANCE

AT IFA 2022 WITH HIGH

NUMBERS OF BUSINESS

MEETINGS

Overall attendance at IFA 2022 was strong, especially

considering the ongoing travel restrictions in Asia. Just

over 161,000 visitors came to IFA Berlin during the five

days of the show; compared to pre-pandemic years,

industry professionals and trade visitors made up a higher

proportion of all attendees. Many exhibitors reported an

unusually high number of business meetings taking place

during the show.

Despite the lockdowns and other restrictions that

continue to affect parts of Asia, exhibitors took up more

than 80% of floor space at the Messe Berlin fairgrounds.

IFA's Digital channels like IFA Virtual, the new IFA App

and social media platforms were also in strong demand,

garnering more than 1.6 million impressions on all social

media channels alone. Videos streamed across IFA's own

channels and that of exhibitors and keynote partners

reached more than 11.8 million views.

Once again, IFA attracted a strong media presence; more

than 2,500 journalists came to Berlin and around half of

them were representing international media organizations.

So far, media monitoring has identified coverage of

IFA 2022 by publications and broadcasters in over 100

countries around the world

What did you think of the quality of

exhibitors this year and were there any

particular highlights?

It was really interesting to see how everything

nowadays is connected. From household

appliances, such as fridges or ovens, to TVs

and IoT products, it makes sense to have

all these products here, because they are

connected. Each device can now be handled

with a mobile phone, and I think that is

fantastic. Not only does connectivity help

IFA INTERNATIONAL • TUESDAY 13 TH SEPTEMBER 2022 11
---
SEEN @ IFA I SPECIAL FEATURE I

STAND OUT STANDS

New products, new home

for Panasonic at IFA 2022

Panasonic has moved into IFA's spacious

hub27 to reduce CO2 emissions and

showcase innovations

The space occupied by Panasonic at

IFA Berlin - the 5,000 sq m hall in hub27

- was divided into sections by hanging

gossamer white drapes, punctuated

by cascading plants. The effect of this

is to soften the ambience, as well as

cleverly partitioning the three key areas

Panasonic are promoting here: "Spatial

Wellbeing" (TV, home entertainment

and indoor climate), "Outer Wellbeing"

(personal care) and "Inner Wellbeing"

(small kitchen appliances). Under the

umbrella of a new brand action tagline

premiering at IFA 2022 'Create Today.

Enrich Tomorrow' there is also a fourth

pillar: "Social Wellbeing."

Aligned with this, the philosophy

behind the new stand design was not

just aesthetic. The exhibit has saved

a total of 140 tons of CO2 emissions

compared to the Panasonic IFA stand

in 2019, as shown by calculations

based on the Green House Gas

(GHG) Protocol. This corresponds to a

reduction of 71%. These savings were

primarily achieved through logistics

(transport of materials and products),

careful choice of materials, the way

the products are presented and the

decoration of the walls. The amount

of CO2 saved corresponds to the

emissions of a mid-range combustion

engine car travelling one million

kilometres.

As well as branded areas for the latest

LUMIX and Technics products to be

presented, stand-out products here

included items from the Panasonic

premium TV range including advanced

OLED and Core LED series with

screen sizes from 77 to 42 inches, the

highlight being the LZW2004 flagship

series, whose master OLED Pro panel

sets standards in the market in terms

of brightness and colour fidelity.

Serving the need for sustainable

and affordable heating and cooling

solutions for homes, offices and

other commercial spaces is clearly

an important factor here. The new

Aquarea EcoFleX system - one of

the highlights of Panasonic's energy

solutions - combines a ventilation

unit with its patented nanoe X

technology and an air-to-water heat

pump, combining air conditioning with

air purification in one. The innovative

hybrid system offers energy-efficient

space heating, space cooling, clean

air and hot water heat recovery. It

also inhibits five types of pollutants,

including certain bacteria and viruses

as well as odours, ensuring a perfectly

conditioned ambience and clean air,

contributing to improved indoor wellbeing.

The Aquarea EcoFleX control

is equipped with Wi-Fi as standard.

This enables intelligent control and

continuous monitoring of energy

consumption, via the Panasonic

Comfort Cloud App. The EcoFleX

systems can also be connected to

the Aquarea Service Cloud. In this

way, installers or service partners are

able to take care of their customers'

EcoFleX systems remotely and even

identify and fix errors in good time.

When operated with green electricity,

Aquarea air/water heat pumps

cause practically no CO2 emissions,

since up to 80% of the heat energy

required is taken from the ambient air.

The Aquarea EcoFleX system is thus

one of the highlights of Pan's energy

solutions

SUSTAINABLE FUTURE

TECH: CENTRAL TO

PANASONIC'S SPACE

In addition to the modular stands

around the hall, there was also

a central area where Panasonic

showcased future products

and technologies in the field of

well-being, demonstrating its

sustainability activities in relation

to carbon neutrality and the

circular economy. Information was

available showing sustainability

pilot projects and energy

technologies that support the

decarbonisation of society and

help solve other environmental

problems of our planet. Panasonic

is aiming for carbon neutrality by

2030

IFA INTERNATIONAL • TUESDAY 13 TH SEPTEMBER 2022 13
---
I SPECIAL FEATURE I

Ordo meets partners

for the first time at

IFA 2022

Since its launch four years ago, Ordo has become the third

biggest electric toothbrush brand in the UK, with plans to

expand globally. The company was able to make plenty of

partnerships during the global pandemic, and at IFA 2022,

it can meet many of its business associates for the first time.

Ordo's stylish Sonic range has gained

a spot on the shelves with some 60 UK

retailers, including Boots, Sainsbury's,

Argos and Ocado. The company

offers a three-step customer journey:

select your toothbrush, organise your

refills, and wait for it to be delivered.

Its affordable toothbrushes are 100%

transportable with no messy cables,

and promise quality, affordability and

style.

Exclusive colours are set to launch at

selected stores this autumn, putting fun

and individuality into oral hygiene.

"It is offering customers something

new," co-founder Barty Walsh

commented from his stand at IFA 2022.

"We have a big focus on sustainability

and simplicity rather than complexity in

our products."

Ordo's impressive growth largely took

place during the pandemic, when the

company forged strong relationships

with distributors and retailers, despite

being unable to meet in person. For

the first time last week, Mr Walsh

shook hands with dozens of partners,

both old and new, at IFA 2022, and

set the foundations for further product

launches in Portugal, Iceland, Turkey,

Australia and more.

"Everybody has been really impressed,"

Mr Walsh said. "The biggest thing for

us here was to meet new distributors

and retailers for international growth.

Secondly, it is really good to come here

and find inspiration as a brand creator.

You can take inspiration from anything,

see what innovation could apply to oral

care and get excited about it."

Ordo has pioneered sustainable

products within the oral care industry,

including mouthwash concentrate and

a reusable bottle. It is now working

on exciting new ventures, including a

water flosser, a charger travel case and

a new children's range.

"We are working with schools and

nurseries to find out what is going

to make children want to brush their

teeth," Mr Walsh said. The brand is

already gearing up to take its presence

at IFA to the next level.

"Next year we are thinking of having a

booth after the success we have seen

this year. It has given me a positive

outlook, and the confidence to invest in

IFA in the future."

Following a successful IFA debut, the

brand is focusing on its international

expansion and finalising the

partnerships it forged in Berlin.

"It's exciting. We will definitely be back,

bigger and better," he added

Co-founder of Ordo, Barty Walsh

Stay tuned

with the Official

IFA Podcast

LISTEN HERE

Subscribe at

14 IFA INTERNATIONAL • TUESDAY 13 TH SEPTEMBER 2022

news.ifa-berlin.com
---
SEEN @ IFA I SPECIAL FEATURE I

Virtual reality, Climate action and a connected

future: a roundup of IFA 2022 keynotes

The return of an in-person IFA was a relief for everyone. The virtual platform is certainly

interesting, but nothing beats meeting face-to-face and making an in-person impression. The

2022 event had one of the most diverse and dynamic programmes yet, with a range of keynote

presentations by major figures from industry giants and forward-thinking companies. Here is

a summary of the keynotes from this year's IFA Berlin.

MARK ZUCKERBERG JOINED

QUALCOMM CEO FOR A

SURPRISE PRESENTATION

Cristiano Amon, president and CEO of

Qualcomm Incorporated, used the opening

keynote on Friday to announce a new

partnership with Meta.

One thing was clear from Cristiano Amon's

speech: in the same way that connectivity

between devices is essential, partnerships

are fundamental to Qualcomm and their

engineering of the future.

Sharing stage time with Dr Won-Joon Choi,

executive vice president of Samsung and Lila

Snyder, CEO of Bose Corporation, Mr. Amon

established the importance of collaboration

to Qualcomm and the Snapdragon platforms.

Mr. Amon gave the stage to a virtual

appearance from Mark Zuckerberg, founder

and CEO of Meta. Speaking via video of the

"deeper engineering collaboration that's a first

for both of us," Zuckerberg expanded on the

need for Qualcomm's expertise in building

devices and chipset optimisation to help Meta

develop the foundations of the metaverse.

"We don't do this alone," said Mr. Amon. "We

always believe in partnerships and one of the

marquee qualities of Qualcomm is the ability

to partner for the long term and build a broad

ecosystem"

ARÇELIK CEO MADE

AN URGENT CALL TO ACTION

"You won't like what you're going to hear," were

the opening words of Arçelik CEO, Hakan

Bulgurlu, during his keynote address at IFA Berlin

on Friday.

As well as being the head of Arçelik, Mr. Bulgurlu

is president of the APPLiA – Home Appliance

Europe, a trade association that provides a voice

for the home appliance industry.

Mr. Bulgurlu used his keynote presentation to call

for immediate action to combat climate change,

saying "I don't believe in a world where people

can get richer and the planet poorer."

"We have to get to a net zero future, we have to

limit global warming to 1.5 celsius by the end of

the century […] nothing else matters," he said.

Energy efficiency was also mentioned as a key

method to help combat climate change. "The

cleanest fuel in the world is the energy we don't

use," was Mr. Bulgurlu's simple statement.

He also pointed to wider solutions through

policy-making, and outlined his company's role

in innovating sustainable solutions. Arçelik is

carbon neutral in Scope 1 and Scope 2 emissions,

and over the past 10 years, the company has

reduced washing machines' consumption of

energy [threefold], of water by 20%, along with

sustainable updates to dishwashers too

HONOR EMBRACED

THE CONNECTED FUTURE

Good things come in threes, and Honor impressed with

a keynote presentation on Friday with three main talking

points.

Firstly, CEO George Zhao appeared virtually to share

a preview of Honor's upcoming smart collaboration

operating system, MagicOS 7.0. The OS embraces open

standards, allowing users to enjoy cross-platform and

cross-device experiences.

"MagicOS 7.0 is the perfect showcase of our commitment

to openness and collaboration," explained the CEO.

Secondly, Tony Ran, president of Honor Europe,

appeared in-person to give an exciting unveiling of three

new devices.

The Honor 70, the latest addition to the company's

high-end N Series smartphone line-up, was the first

on display, featuring two circular camera modules that

host a triple camera system. The next device that was

unveiled was the Magicbook 14, dubbed by Honor

as a "mobile productivity powerhouse." Lastly in the

new Honor lineup was the Honor Pad 8, featuring an

immersive 12-inch 2K FullView display with a screen-tobody

ratio of 87%

For the third act of the keynote, Mr. Ran presented

Honor's investment in virtual and augmented reality. The

company partnered with game development company

Arloopa to create an interactive virtual experience at the

iconic Wasserschloss building located in Speicherstadt,

Munich

HUAWEI COMMITTED TO

EUROPE WITH FOCUS ON

HEALTH AND FITNESS

Huawei's commitment to innovation

and technology leadership was said

to be "burning as bright as ever" as

its president for Western Europe,

William Tian, took to the IFA Berlin

stage for Saturday's keynote speech.

"Fitness and health is one of Huawei's

most focused categories right now,"

Mr Tian said. "We have been putting

a lot of resources into this area. This

has led us to global number two sales

of the world which means more than

100 million units of shipment last year

and we have more than 350 million

active users of Huawei Health."

Other areas of innovation fall into the

smartphone category, with Mr. Tian

introducing the Nova 10 series with

"the world's best front camera phone"

boasting 60 megapixels.

The company's new partnership

with Strava was also announced at

IFA 2022, meaning the GPS cycling

and running app will be integrated

with Huawei's wearable devices.

Furthermore, the MateBook X Pro

was unveiled with its interesting

"knuckle knock" touchpad, which

enables users to take screenshots by

knocking twice on its surface.

Mr. Tian concluded by underlining

Huawei's continued commitment

and investments in Europe. "We are

still innovating, we are still bringing

many new technologies and products

to millions of loyal customers," he

added

SCHNEIDER ELECTRIC

SHOWCASED PROGRESS

AND SUSTAINABILITY

FOR ALL

In the fifth and final keynote of IFA

2022, Schneider Electric offered an

insightful hybrid presentation, with

Gwenaelle Avice-Huet, chief strategy

and sustainability officer and Bidisha

Nagaraj, VP of global marketing,

appearing digitally and in-person

respectively.

Bidisha Nagaraj asked Gwenaelle Avice-

Huet three questions.

The first centred on Schneider Electric's

sustainable practices, with Ms. Avice-

Huet pointing to integrated software,

hardware solutions and services

embedded all together as a key strategy.

"When do you believe we are on the right

track towards net zero?" was the second

question put to Ms. Avice-Huet. "For me

net zero is not a matter of destination,

it's a journey to combat global warming."

The smart home in particular was

identified as a key solution for

combatting the CO2 emissions emitted

by the residential sector.

"It's the home of the future we're

innovating for, with smart home energy

management at its heart. We want to

give everyone access to a sustainable

future and continue to decarbonize our

planet," said Ms. Avice-Huet.

Finally, Ms. Avice-Huet was asked about

what home means to her. "Home for me

is where my family lives, where your

family lives," she said.

"It should be a place where you can

feel safe and comfortable in, and that

includes energy too"

IFA INTERNATIONAL • TUESDAY 13 TH SEPTEMBER 2022 15
---
Hosting the world

for 200 years

InnoTrans

20.09. – 23.09.2022

smart country convention

08.10. – 20.10.2022

Bazaar Berlin

02.11. – 06.11.2022

belektro

08.11. – 10.11.2022

BOOT & FUN BERLIN

24.11. – 27.11.2022

Internationale Grüne Woche Berlin

20.01. – 29.01.2023

FRUIT LOGISTICA

08.02. – 10.02.2023

WEINmesse berlin

17.02. – 19.02.2023

Infos at: messe-berlin.com
---
MAKE IT YOUR

PLAYGROUND

190,000 sqm of

special locations & halls

for your events

GET IN CONTACT

WWW.MESSE-BERLIN.DE/GUESTEVENTS
---
SEE YOU AGAIN

AT IFA

1–5 SEPTEMBER 2023

LIVE IN BERLIN

EARLY BIRD OFFER

UNTIL

NOVEMBER 15, 2022

IFA-BERLIN.COM