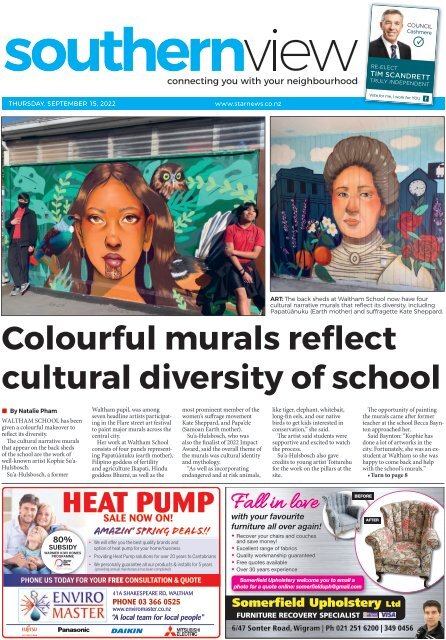 Southern View: September 15, 2022
You also want an ePaper? Increase the reach of your titles
YUMPU automatically turns print PDFs into web optimized ePapers that Google loves.
COUNCIL

Cashmere

connecting you with your neighbourhood

RE-ELECT

TIM SCANDRETT

TRULY INDEPENDENT

THURSDAY, SEPTEMBER 15, 2022

www.starnews.co.nz

Vote for me, I work for YOU

ART: The back sheds at Waltham School now have four

cultural narrative murals that reflect its diversity, including

Papatūānuku (Earth mother) and suffragette Kate Sheppard.

Colourful murals reflect

cultural diversity of school

• By Natalie Pham

WALTHAM SCHOOL has been

given a colourful makeover to

reflect its diversity.

The cultural narrative murals

that appear on the back sheds

of the school are the work of

well-known artist Kophie Su'a-

Hulsbosch.

Su'a-Hulsbosch, a former

Waltham pupil, was among

seven headline artists participating

in the Flare street art festival

to paint major murals across the

central city.

Her work at Waltham School

consists of four panels representing

Papatūānuku (earth mother),

Filipino goddess of fertility

and agriculture Ikapati, Hindu

goddess Bhumi, as well as the

most prominent member of the

women's suffrage movement

Kate Sheppard, and Papa'ele

(Samoan Earth mother).

Su'a-Hulsbosch, who was

also the finalist of 2022 Impact

Award, said the overall theme of

the murals was cultural identity

and mythology.

"As well as incorporating

endangered and at risk animals,

like tiger, elephant, whitebait,

long-fin eels, and our native

birds to get kids interested in

conservation," she said.

The artist said students were

supportive and excited to watch

the process.

Su'a-Hulsbosch also gave

credits to young artist Toiturehu

for the work on the pillars at the

site.

The opportunity of painting

the murals came after former

teacher at the school Becca Baynton

approached her.

Said Baynton: "Kophie has

done a lot of artworks in the

city. Fortunately, she was an exstudent

at Waltham so she was

happy to come back and help

with the school's murals."

• Turn to page 8

HEAT PUMP

SALE NOW ON!

Amazin' Spring Deals!!

80%

SubSidy

Warmer KiWi HomeS

Programme

*Eligibility criteria apply

• We will offer you the best quality brands and

option of heat pump for your home/business

• Providing Heat Pump solutions for over 20 years to Cantabrians

• We personally guarantee all our products & installs for 5 years

(providing annual maintenance has been completed)

Phone us today for your free consultation & quote

41A SHAKESPEARE RD, WALTHAM

PHONE 03 366 0525

www.enviromaster.co.nz

"A local team for local people"

Fall in love

with your favourite

furniture all over again!

• Recover your chairs and couches

and save money!

• Excellent range of fabrics

• Quality workmanship guaranteed

• Free quotes available

• Over 30 years experience

Somerfield Upholstery welcome you to email a

photo for a quote online: somerfielduph@gmail.com

before

after

Somerfield Upholstery Ltd

FURNITURE RECOVERY SPECIALIST

6/47 Sonter Road, Wigram | Ph 021 251 6200 | 349 0456
---
2

DELIVERERS WANTED!

Are you honest, reliable and over

the age of 11? Why not earn money

and get fit doing it. Get in touch

with your interest today:

deliveries@alliedpress.co.nz

029 983 2293

Your local community newspaper connects

neighbours in the following suburbs

Spreydon • Hoon Hay • Hillmorton • Cracroft

Cashmere • St Martins • Somerfield

Sydenham • Addington • Waltham • Opawa

Beckenham • Huntsbury • Woolston

22,300 readers every week

ADVERTISING

Mark Sinclair

Ph: 364 7461

mark.sinclair@starmedia.kiwi

NEWS

Nielsen Media NRS

Natalie Pham

Ph: 022 013 6028

natalie.pham@starmedia.kiwi

GENERAL INQUIRIES Ph 379 7100

CLASSIFIED ADVERTISING Ph 379 1100

www.starmedia.kiwi

what's on

this week

Better Digital Futures:

Introductory

Monday, 10am-noon

Spreydon Library

A programme that Christchurch

City Libraries runs in collaboration

with Stepping Up NZ, supporting

over 65s to learn new skills and build

confidence in using computers,

smartphones, tablets, and the internet.

Run as four separate pathways, each

programme runs for two hours over

four weekly sessions. Registration

required.

JP Clinic

Every Tuesday, 10am-1pm

South Library

A justice of the peace will be

available to members of the

community, to witness signatures

and documents, certify document

copies, hear oaths, declarations,

affidavits or affirmations as well as

sign citizenship, sponsorship or rates

rebates applications. There is no

charge for this service.

Knit 'n' Yarn

Thursday, 1.30-3.30pm

South Library

Go along with your knitting,

crochet, or anything you like that's

portable and crafty, and enjoy time

with other crafters. Share skills and

be inspired in our friendly, relaxing

Heart Foundation Health Check, Friday, 10am-1pm, South

Library. Join Heart Foundation at South Library for a free blood pressure

and heart health check provided by the Heart Foundation. Free, no

bookings required.

environment. Have a look at the

fabulous range of craft books.

Technology Help Drop-In

Session

Tuesday, 10.30-11.30am

Spreydon Library

Do you need help using your

smartphone, iPad, or tablet? Go

along to Spreydon Library for help

with email, searching the internet,

using the library catalogue, eBooks,

and general computer queries. Take

your laptop, tablet, or smartphone for

help with anything digital. Free, no

bookings required.

Afterschool Activity Zone

Every Tuesday, 3.30-4.30pm

South Library

Go along to South Library for

a variety of activities including

technology, crafts and games in

a fun learning environment. All

whānau welcome. Free, no bookings

required. Under 12-year-olds must be

accompanied by an adult. Guardians

Thursday September 15 2022

and children over 12 will need to wear

a face mask.

Wā Pēpi-Babytimes

Wednesday, 10.30-11am

Spreydon Library

Encourage learning through

language. Wā Pēpi-Babytimes is an

interactive programme including

music, movement, rhymes and a

story. Recommended for under

2-year-olds. Free, no bookings

required. Guardians and children

aged 12 and over will need to wear a

face mask.

Social Games Club

Monday, 2-4pm

South Library

Join the group to play Scrabble,

Upwords, Chess and Cards on

Monday. Free, no bookings required.

Not-for-profit organisations

can send their What's On

listings to southern@starmedia.

kiwi

Planted in

A network of ny forests

on riverbanks and in parks

Resulting in

More local birdlife, higher tree

cover, and protecon from floods

Giving us

Liveable neighourhoods

100,000 trees

Planted by Council, community groups, non-profits,

businesses & individuals

Planted in

Roadside berms and

reclaimed street space

Resulting in

Aracve, leafy streets, shade in

summer, protecon from heatwaves

Giving us

People-friendly streets

facebook.com/VoteFinnJackson

Planted in

Hillside stream catchments,

green firebreaks across the Port Hills

Resulting in

A cleaner Ōpāwaho / Heathcote

River, regenerated nave bush,

and protecon from fires

Giving us

A healthy natural environment

Finn Jackson, Independent for Cashmere Community Board

Authoriised by Finn Jackson, finnforcashmere@gmail.com

Megan

Woods

MP for Wigram

Please get in touch with my office if you

need any assistance on 03 338 6347 or

megan.woodsmp@parliament.govt.nz

My office is open to the public

10 am - 3 pm on Monday,

Tuesday, Thursday and Friday.

Appointment only outside of those hours.

/MeganWoodsWigram

@megan_woods

/megancwoods

Authorised by Hon Megan Woods MP,

Parliament Buildings, Wellington

PARKER

AUTOMOTIVE

All Automotive Repairs and

Servicing including 4WD

Suspension Brakes & Cambelts

WOF, Tyres, Batteries

23B Birmingham Drive,

Middleton

Ph 03 982 4268

Mobile: 027 331 0382

Email: parkerauto89@outlook.com

This Blue September do something

blue to help a mate through.

Every year 4,000 kiwi men are diagnosed with prostate cancer.

The funds raised by every Blue Do help us make a real difference

to the lives of blokes living with prostate cancer.

Organise your Blue Do or

blueseptember.org.nz

DONATE NOW

Prostate Cancer

Foundation NZ

Te Kahui Māte Pukupuku Repe Tātea o Aotearoa
---
Thursday September 15 2022 3

CONCEPT DESIGN: The complex will include an 18-hole

indoor mini golf course, 40-bay golf driving range, pro shop,

function rooms and cafe, and batting cages for softball,

cricket and baseball. ​Above – nearby Taiora: QEII Recreation

and Sports Centre.

QEII sports complex gets green light

• By Natalie Pham

A $12 MILLION multi-sport

training and entertainment

complex planned for QEII Park

has received the go-ahead.

The company Five Under Par

Ltd will now have nine months

to secure funding and provide

sufficient financial information, a

business plan and a final design.

If satisfied with the provided

information, the city council

will enter into a lease with the

company.

The decision to grant an

agreement was made by the

Waitai Coastal-

Burwood Community

Board on Monday.

The complex will

include a mini golf

course, a 40-bay golf

driving range, batting

cages for softball,

cricket and baseball,

function rooms and a

cafe, and a pro shop.

Alternate plans would be made

Chris Bond

for an eight-lane sack slide as the

proposed area was not included

in the available areas for

lease.

Said board chair Kelly

Barber: "It's very nice to

see people prepare to take

that risk to do something

for the community."

Board member Linda

Stewart said she was

happy to see the plan go

through.

"It's an element that we've been

waiting for as QEII Park is in

the middle of both wards and

it's a perfect location with the

expressway."

City council head of city

growth and property Bruce

Rendall said the lease will be 20

years, plus one right of renewal

for a further term of 15 years less

one day.

"This makes a total lease term

of 35 years less one day," he said.

The idea of bringing golf back

to QEII first occurred to sole

director of the company Chris

Bond about five years ago.

He was a former staff member

at the Ascot driving range –

the golf course that previously

occupied the site.

Said Bond: "[I] had so much

fun working in the shop helping

run the complex."

He said the complex will

benefit all of Canterbury.

About 25 retail and hospitality

staff will be employed at the

facility.

Craze for

Community

Vote Terry Craze

for Spreydon Community Board

and Council

• Cycleway

accountability

• Clean water

• Commonsense

Call me on

021 0500 454

Terry Craze

for Spreydon

Authorised by Terry Craze

GREAT READS INSTORE AT TAKENOTE FERRYMEAD

Ross Taylor – Black & White

by Paul Thomas

Ross Taylor has scored the most runs, made the most

centuries and taken the most catches by a New Zealander

in international cricket. The numbers are extraordinary but

they don't tell the whole story. Here is the whole story - in

black and white.

Buy Direct

From the Factory

Four minutes to install

Paint lasts 10 years longer

Clear steam free mirrors

Less hot water usage

DIY Kits $289

Supply & Install $289

inc GST

inc GST

For

Made here in

christchurch

more infomation

Web: www.swiper.co.nz

Email: info@swiper.co.nz

Ph: 03 421 0882

Cell or TXT 027 566 8444

A Load of Bull by Amanda King

Amanda King on her OE trvaels met a Kiwi farmer, and

ended up living on a farm in Canterbury, New Zealand,

and falling head-over-heels in love with country life

as well as the farmer! Photography started off as a

favourite hobby -and then an opportunity arose to

photograph a stunning highland cow. Amanda also

tells brief stories of some of these animals, their

personalities, and how the shoot day went. As you

may imagine, it's not always entirely straightforward!

1005 Ferry rd Ph 384 2063

CLOSED SUNDAY

While stocks last

(see instore

for terms and

conditions)

PleAse

sTAy sAFe

everyone!

Barry & kerry
---
4

Thursday September 15 2022

Young chef wins prestigious golden

BACKING HERSELF and

reaching for any opportunities

that come her way has landed

Gabby Sanders a glittering

Australasian award for young

chefs.

The St Albans resident and

Ara Institute of Canterbury – Te

Pūkenga second year cookery

student was crowned with the

prestigious Nestle Golden Chef's

Hat in Melbourne – scooping

up a $10,000 prize and earning

her the description of "hottest

rising star of the Trans-Tasman

culinary scene".

Said Sanders: "The whole

experience has been amazing.

The people I've met have been

incredible. It's made me realise

the biggest step is pushing

yourself and putting yourself out

there to have a go."

Now in it's 57th year, the award

seeks to develop young chefs and

kick-start their careers by taking

part in live cook-offs to globally

recognised standards.

Sanders, 23, was one of 12

finalists chosen from New

Zealand and Australia for 2022

after regional finals in both

countries. She took part in the

final battle on the big stage at

Fine Food Australia last week –

her first trip out of the country.

The final round of the

competition, to create three

complex courses in threeand-half

hours were a were "a

pressure-fuelled blur," she said.

OUTSTANDING: Ara second-year cookery student Gabby Sanders was crowned with the

prestigious Nestle Golden Chef's Hat in Melbourne for her medley of dishes.

"It all feels kind of surreal.

I didn't look up once. I was

absolutely sprinting. Everyone was

just running. It was so

much fun – the pressure of it is

why we do what we do."

Sanders executed a triplegold

winning medley of dishes

comprising an entrée of leek,

potato and smoked beurre blanc,

nori and hazelnuts and a main

of glazed pork, caramelised soy

dumpling and Asian pork jus.

Dessert was a chai spice cake,

with caramel, coffee, walnut,

pear and white chocolate.

Ara manager culinary

programmes Ryan Marshall said

the Department of Hospitality

and Service Industries was "over

the moon".

"It's very rare for someone to

win a gold medal for every course

for entrée, main and dessert

NUMBER ONE SUPPLIER

TO THE NZ JET BOATING

COMMUNITY FOR OVER

50 YEARS

under such massive pressure," he

said.

Marshall said Sanders'

achievement was a boost for Ara.

"Our reputation for training

chefs is known throughout New

Zealand; now it is becoming

known at an international level

too."

Sanders was working in a

supermarket deli when she was

encouraged by her boss to try the

Ara cookery course.

"The chef I was working with

said he'd really enjoyed it and I

should give it a go," she said.

Sanders said the level 4 cookery

course was new territory for

her.

"It was the first time I'd done

anything like this other than

always being keen on food and

helping mum at home. I was

probably a bit of a pain to be

honest," she laughed.

"My family has always believed

food is for sharing and for

bringing people together, but I'd

never really considered being a

chef as a career for me.

"I guess I never thought of

myself as a 'career person' before

because I'd never really had an

idea in my head on what a career

might look like for me.

"I was just open to trying

new things and having new

experiences under my belt,"

Sanders said.

Her inspiration to try the

golden hat came from Ara.

European

Car Owners

NEW DIAGNOSTIC EQUIPMENT!

FOR YOUR FUTURE

Vote 16 September to noon, 8 October

ccc.govt.nz/elections

• Part Boats & Hulls

• Turn Key Packages

• New Jet Units

• Custom Fabrication

• Expert Advice

SERVICING

03 962 0505

Lunns Road, Middleton

• Spare Parts Retailer

• Jet Unit Refurbishment

• Engine Tune-Ups

• Insurance Repairs

• Impellor Reconditioning

CYCLISTS

We can identify ANY electrical

fault & reduce repair work

with our NEW European Car

Specific Diagnostic Equipment

ROSES

AUTO ELECTRICAL

Enquiries welcome

CH 352 5090

Save the date

8th October

Be entertained:

Guest Speaker Michael Vink,

appearances from Stu Lowe ,

Hayden Roulston, Brad Evans tour

winners and other tour winners..

• A dutch Auction for a Custom made Rocker Plate

• Lighthouse Brewery on Bath St.

• Tickets $15, includes your first drink.

• Zwift Racing Competition "Bet on the Boys"

• Our MC, Gus Petrie from the Cycling Colab

• 4pm until 7ish

80% of the money raised goes to NZ Spinal Trust

Order tickets at leestonlighthouse.co.nz
---
Thursday September 15 2022 5

hat award in Trans-Tasman challenge

"I first saw the golden hat

competition posters around

campus and Ryan mentioned it.

I tried out for the regionals last

year and did okay winning a

silver medal. This year I wanted

to do better. The competition

was really stiff, so I was kind of

shocked when I won the South

Islands."

Sanders also works two shifts

a week at the Monday Room

restaurant – an opportunity that

also came about through her

study.

"I wasn't sure if I was ready but

towards the end of my first year,

we were encouraged to apply to

places for a work placement. I

remember being very nervous,

but it was only for two weeks,

and I thought 'what have I got to

lose? I'll give it a go'."

Sander's flair, maturity and

willingness to learn were soon

noticed by her tutors at Ara. One

in particular, Mark Sycamore,

who himself has competed

in international culinary

competitions, stepped in to offer

extra support and mentoring in

his own time.

"But it wasn't without its

challenges," Sycamore said.

"With Gabby being so busy

with school and her paid

work, it was really full on

helping her practise for this

competition. These last few weeks

have been busy. But one of the

things that sets Ara apart is our

staff's wealth of knowledge and

their desire to go further. The

team love to see students excel

and will do so much to support

them in their careers."

Sanders is grateful for the

guidance.

"Everyone at Ara has been so

supportive. Mark has especially

helped me realise that if you are

putting yourself out there and

trying hard people will make

time for you and support you. It's

made me realise things can be

achievable."

Head judge and Nestlé

professional commercial

development chef Elke Travers

said Sanders showed absolute

attention to detail.

"Gabby rose to the challenge

and created a flawlessly executed

and perfectly balanced menu

that showcased her technical

skills to a high level," Travers

said.

Sanders is now focusing

on enjoying the moment and

completing her studies.

"I've met such an amazing

group of people. We kind of

forgot that we were competing

against each other it feels like we

meshed as a group.

"But now I'm looking forward

to finishing this year. I feel

like my study has been on the

backburner a bit while I've been

distracted on this event."

TRIPLE GOLD: Gabby Sanders' winning main of glazed pork,

caramelised soy dumpling and Asian pork jus and (middle)

her entrée of leek, potato and smoked beurre blanc, nori

and hazelnuts. Right – Dessert was a chai spice cake, with

caramel, coffee, walnut, pear and white chocolate.

AN AFTERNOON OF MUSIC WITH

FIONA PEARS

Thursday 22 September, 3pm

Come along to a captivating one off performance by

New Zealand violinist Fiona Pears and her band.

Fusing Celtic, Classical, Tango, Jazz and Gypsy, Pears' style is as

wonderful as it is unique and will be an experience not to miss.

Pears' international career started with her first solo

performance with an orchestra at age 12. She has been

composing, arranging and performing for many artists and

orchestras around the world ever since.

This will be a covid-safe event and RSVP is essential.

Call Lynne to secure your place 337 6500

ESSIE SUMMERS VILLAGE

222 Colombo Street, Beckenham

rymanhealthcare.co.nz

4161
---
6

Thursday September 15 2022

SSHOP LOCAL

WIN YOUR

SHARE OF

$2,000

A $100 GIFT

CARD/PRIZE UP

FOR GRABS FROM

EACH OF OUR

PARTICIPATING

STORES

HOP LOCAL

win

16 - 30 SEPTEMBER
---
Thursday September 15 2022 7

ENTREPRENEURS: Trinity Hill, Jorja Loose and Georgia English launched

Move It! to encourage children to move in a stress-free environment.

Fun way to ease pressure

of competition in sport

• By Natalie Pham

THREE CASHMERE

High School students

launched their version of

charades to raise awareness

of sports competition

pressure.

As a competitive

volleyball player Trinity

Hall, 17, has seen many

of her teammates drop

out of sport due to the

high levels of stress and

competition.

"I've always felt pressure

while doing sports. But I

found that having a close

bond with my team really

help me got through it,"

she said.

Trinity, along with

Georgia English and Jorja

Loose, both 17, came up

with the Move It! game

to encourage children to

move in a stress-free environment.

"We also hope that people

who play our cards game

can learn about new sports

that they have never heard

of before," Trinity said.

The cards have three

difficulty levels, with each

representing a sport or an

action. This feature was

added on the final product

after receiving feedback

GAME: The cards have three difficulty levels, with

each representing a sport or an action. ​

from Hoon Hay School

pupils.

The team also has characters

in different body

shapes and ethnicity to deliver

a message that anyone

can do sports.

Said Georgia: "One of

the reasons why young

girls drop out of sports

is because of body image

issues."

A 2020 qualitative

research on young women

and physical activity

found that 68 per cent of

the participants will avoid

activities when they do not

Save Time - Don't let "lack of time"

slow you down.

Lose Weight - Burns Up To 2.5x More

Calories.

Get Motivated - Fun, low impact

workouts combined with a personalised

fitness program.

Get Healthy with the HIIT technology

feel confident about their

bodies.

The trio is in stage 5

of the Young Enterprise

Scheme, where a panel of

judges select the regional

champion. The winning

teams will compete at the

national final for a share of

more than $20,000 in prize

money.

Both Trinty and Georgia

are hoping to keep their

entrepreneurial spirit alive

with a commerce degree

at Canterbury University,

while Jorja will major in

law and criminal justice.

Want To Burn Fat Fast?

Burn Up To 2.5 x More Calories In Just 14 Minutes a Day!

Bobbi | Bowflex Max Trainer User

I lost 15kg in 10 weeks. That is ridiculous. The fat just

melts right off. I mean, it absolutely changed my life!

Why Bowflex Works For You

Plus

Free

$950.00 Gift *

*Call for Terms

& Conditions CALL NOW! 0800 665 665

OTHER SERVICES ON OFFER

AT MCMASTER & HEAP VETS

We are a large Practice with 11 vets and over 20 nurses and offer many services

to your amazing animal family. Id thought I'd just talk about a few things that

you may not be aware that we do....

CAT GROOMING

Many long haired

cats are booked in for

sedation to have there

knots groomed out

or a Lion clip, to keep

them cool for summer.

These grooms can

take 40 minutes and

we can clip nails and

clean ears too. Sedation is necessary as grooms

take a while and can be painful especially if

there are dense matts all through the coat. Most

long haired cats won't tolerate their owners

grooming them. Skaapie has just had a Lion Clip

with Letitia.

NAIL TRIMS UNDER SEDATION

Most dogs loathe their nails being clipped.

Nails continue to grow and if not kept short

can result in pain, lameness, fractured nails and

infections due to excess licking. I book clients in

for a 30 minute appointment at the end of my

consulting schedule, as these patients require

sedation to effectively clip the nails to the length

they should be. I can reverse the sedation and

then the dog goes home with pain relief on

board.

BREED ETE TESTING WITH Dr Steve Heap

Steve eye tests dogs

of all ages to rule in

or out specific breed

ocular abnormalities

( Cataracts and

Progressive Retinol

atrophy and others)

to see whether they

are a candidate for

Breeding purposes.

NEW MRI on Site

We are so pleased to be able to offer MRI for

all pets in partnership with Pacific Radiology

Services. Steve and I have always believed that

our special furries deserve the same deal as

us humans. Patients are referred to us for MRI,

we sedate or anaesthetize the pet and closely

monitor while the MRI is in progress. Once the

images are complete we send off to a radiologist

for their interpretation and then formulate

the appropriate treatment plan whether it be

surgery or conservative treatment. We are the

very first Veterinary Clinic in NZL to have MRI

on site.

RADIOACTIVE IODINE TREATMENT FOR

CATS

We are one of a select group of Veterinary

practices able to offer Radioactive Iodine

treatment for HYPERTHYROID cats. This

treatment is a cure and means these cats don't

require lifelong daily medication and expensive

ongoing blood testing and monitoring. There

are a few criteria that must be met as not all

cats are candidates for this treatment. These

cats can't be in kidney or heart failure. It is a

painless injection of Radioactive Iodine that

must be administered safely by a Veterinarian

and then the cats board at our Practice for 7

days to ensure we dispose of their waste safely.

We usually do these treatments in batches of

3-4 cats so they have company while they are

boarding for the week.

CHILL PROTCOAL FOR ANXIOUS/FEARFUL

DOGS or CATS

Many patients these days don't enjoy a trip to

the Vet clinic. We seem to be seeing more and

more dogs that suffer general anxiety, OCD

disorders, fear aggression and nervousness

around other dogs. We have a concoction of

three medications that are staggered and given

at different times before the vet visit to hopefully

somewhat decrease the anxiety and stress your

pet feels on entering McMaster & Heap. This

will often allow a vet to perform a limited exam,

vaccinate the pet safely and possibly go onto

sedate so more testing or a closer examination (

like a nail trim, examine teeth, clean ears) can be

performed.

BLOOD

TRANSFUSIONS

Our Skilled team of

vets and nurses are

able to blood transfuse

patients urgently if

required. We have

donor patients we use (

plus stored refrigerated

whole blood) but first

we need to find out

their blood type so we know if they are a match

or not. The first transfusion for a dog can be any

blood type though, but cats must always be

transfused with their own blood type.

CHEMOTHERPAY

Dr Kirsty Thompson

sees Chemotherapy

referrals from all over

the South Island. She

has become very

skilled, knowledgeable

and passionate in the

field of cancer and is

able to make a real

difference in terms of

quality and extension

of life in these patients. In the photo, a slow

2-3 hour infusion of chemotherapy is delivered

to Buffy, who was sedated, to treat Pancreatic

Cancer.

PLUS WE

WILL EVEN

CASTRATE

"PIGS" IF WE

ARE ASKED…..

Dr Michele

McMaster

Open 7 days Cnr Hoon Hay & Coppell place ph: 338 2534

e. mcmasterandheap@yahoo.co.nz www.mcmasterheap.co.nz
---
8

Thursday September 15 2022

CULTURAL

NARRATIVES:

Filipino goddess

of fertility and

agriculture

Ikapati and

Hindu goddess

Bhumi.

Inset – Papa'ele

(Samoan Earth

mother).

Street artist a former pupil

03 322 4548 | Easy Parking

17 Lillian Street, Halswell

www.maxwellfashion.co.nz

Winter Hours

Open Mon-Fri 9.30am - 4.30pm

Saturday 10.00am - 1.00pm

Check out our facebook page

LAYBY WELCOME

• From page 1

The unveiling event was

attended by a large group of

parents and school leaders,

who were amazed with the

details and messages of each

mural.

Principal Gordon Caddie

said: "As the covers were

pulled back, audible gasps and

spontaneous applause rang out

around the venue."

The idea of having murals

was prompted after students

and staff agreed that the initial

outdoor areas and walls did

not reflect the diversity of the

school.

The school has raised $7000

through many events and

activities including Walkathons,

bake sales, and

mufti days to pay for the artwork.

To complete the upper half

of the artwork, which features

Ranginui (sky father), an extra

of $7000 will be required.

The school has sought funds

from a number of grants for

the murals.

Caddie said he was thrilled

with the results. He hoped

these artworks are the first of

many that will grace the walls

of the schol in the future.

Lincoln Road one-way

city bound

Sorry we're in your way

We're resurfacing Lincoln Road between Whiteleigh Avenue and Moorhouse Avenue at night

from 6pm on Sunday 18 September until 6am on Friday 23 September.

Lincoln Road will be one-way city bound overnight and will re-open to two-way traffic during the day.

There will be no entry to Lincoln Road from Moorhouse Avenue between 7pm and 6am.

Please follow detour signage.

Addington is still open for business.

For details including detours visit

ccc.govt.nz/lincolnroad
---
Thursday September 15 2022 9

Summerset Prebbleton

selling now! *

Artist Impression

Brand new homes available now!

Be one of the first to view Summerset Prebbleton's range

of stunning two and three bedroom villas selling now, ready

to move in and make your own in time for Christmas.

Our single-storey villas are warm, modern and designed

with everything you could need for the perfect retirement

lifestyle. Featuring bright and spacious open plan living with

a contemporary kitchen, ideal for entertaining friends and

family.

Summerset Prebbleton is located close to main transport

links to the city and Christchurch surrounds, and for those

not wanting to drive, there is a bus stop right outside. The

village is also conveniently located only 450m from the local

shopping area and recently opened Prebbleton Village.

Once complete, the village will offer resort-style facilities and

help on hand via our care centre if you need it.

Call Grace on 03 353 6312 to book your private tour of our

brand-new villa show homes today.

Secure your brand-new home today!

Open 7 Days

Call Grace on 03 353 6312

to book an appointment

Summerset Prebbleton

578 Springs Road, Prebbleton

*Licence to occupy.

By following our Covid guidelines it's safe to visit our villages.

For the latest information visit summerset.co.nz/covid-19

SUM4203_FP
---
10

Thursday September 15 2022

Duchess

with

Mirror

RIcHMOND

DIScOuNT FURNITuRE

5 Dr Chest

THE BeST LItTle FuRNITURE SHOP IN TOwN

Queen

Headboard

ONLY $999

ONLY $799 ONLY $349

Foundry

Entertainment

Unit

(1900 x 450 x 600H)

ONLY $799

2 Dr

Bedside

Cabinets

ONLY $299

5 Dr

Tallboy

ONLY

$599

Foundry Coffee

Table

(1200 x 600 x 400H)

ONLY $499

Lowboy 6 Drawer

1130 x 410 x 820.

Tallboy 4 Drawer

600 x 400 x 900.

7 Drawer

TV/DVD

Chest

760 x 1140 x 410.

(Gap 150)

Towerboy

6 Drawer

1260 x 460 x 410.

With metal

runners.

Also available

in Black.

Duchess

with

Mirror

1090 x 410 x 820

NZ made.

Bedside Cabinet

With metal runners.

ONLY $539 each

Midi 7 Drawer Scotch Chest

975 x 760 x 410. With metal runners.

ONLY

$259

ONLY

$359

Jumbo 4 Drawer Chest

1140 x 800 x 400. NZ made. Metal runners.

ONLY

$275

7 Drawer Scotch Chest

1140 x 800 x 410.

Also available in black.

Single

Foam

Mattress

100mm,

1900x900

ONLY

$59

ONLY

$699

Padded

Headboards

1500H - Zinc, Lead,

Pearl & Black colours

avail, while stocks last

Small

510H x 460W x 410 D

$150each

Large

690H x 460W x 410 D

$199each

ONLY

$329

each

ONLY

$329

each

ONLY

$359

King/Super King only

$499

Pine

Display

Cabinet

with 4

Glass

Shelves

(1800 x 400 x 900)

ONLY

$899

Ther-a-pedic Mattress & Base

Reversible pillowtop innersprung.

Single

$599

King Single/

Double/3/4

$699

Queen

$799

Gladstone Bedroom

Furniture Range

Colours available Oiled Oak (light)

& Smokey Oak (dark)

Bedside

530Hx400x480

$249

Towerboy

1170Hx400x480

$399

5 Drawer Chest

1170Hx400x760

$499

Foundry Hall

Table

1500 x 420 x 810

ONLY $599

Premium

Canvas

Beanbag

200L

Includes beans

ONLY

$99

Coffee

Table

1060w x 550x 420

ONLY

$149

Coffee

Table

1200 x 550 x 430H

ONLY

$149

Pine Coffee Table

with drawers

(1200 x 650 x 480)

ONLY

$459

Tri-Pillow special

ONLY $10 EAcH

White

Shelving

Unit

1980H x 800w

x 300

Student Desk

Available in black or white.

1000w x 690h x 500d

Entertainment Unit

1100 x 400 x 480.

White 2 Drawer

Entertainment Unit

1115 x 480H x 400D

ONLY

$249

ONLY

$349

Glass Ent/Unit

1000w x 410 x 510H

ONLY

$249

3 Dr Ent Unit

Available in

Black or White

ONLY

$449

ONLY

$349

ONLY

$349

233 STANMORE ROAD • PHONE 03 389 0536 • OPEN MON-FRI 10AM–4.30PM SAT 10–1PM

WE ACCEPT EFTPOS, VISA AND MASTERCARD... PARKING AT REAR
---
Thursday September 15 2022 11

A winning combination for early spring

This slow-cooked, silky

aubergine-chorizo

casserole and a bright,

zesty blood orange

dessert are both

made for double

helpings, writes Nigel

Slater

Slow-cooked aubergine

and chorizo

This is a good-natured dish

that will keep for a day or two.

You could also use it as the filling

for a savoury crumble, with a

crust of breadcrumbs or flour,

butter and crumbled feta. It is

a dish to take your time over,

letting the aubergine soften to

the point where you could cut it

with a spoon.

Serves 4

Ingredients

2 Tbsp olive oil

250g cooking chorizo

1 red onion

150g soft, dried prunes

500g aubergine

1 tsp ground cumin

1 tsp ground coriander

500ml chicken stock

Directions

Warm the olive oil in a deep

saucepan, break the chorizo into

short pieces and add them to the

oil. Let the chorizo cook for 3

or 4 minutes until its torn edges

start to turn golden. Peel and

roughly chop the onion, add to

the pan and continue cooking

until the onion is soft and translucent.

Stir in the prunes.

Set the oven at 180degC. Halve

the aubergine lengthways, cut

into thick slices and then into

small cubes. Add to the pan and

continue cooking until soft and

tender. Stir in the cumin and

coriander and let it cook for a

minute or so, then pour in the

chicken stock, add salt and black

a lid. Bake in the preheated oven

for 45minutes until all is meltingly

soft.

Finely grate the orange zest,

chop the herbs, then mix them

together. Scatter over the stew as

you ladle it into bowls.

Blood orange and lemon

cake

I often cook this cake in early

spring, usually in a traditional

loaf tin, a cut-and-come-again to

take us through the week. This

time I made a shallow version

to offer as dessert. The cake will

cook quite quickly in a shallow,

square tin. Keep an eye on its

progress, testing it after 20 minutes.

It will keep well, too, in a

To

263

finish:

x 180

grated zest of 1 orange

10 mint leaves

a handful of coriander leaves pepper and cover the dish with cake tin or lidded plastic box.

Serves 12

Ingredients

225g soft butter

225g golden caster sugar

grated zest of 1 orange

grated zest of 1 lemon

110g plain flour

1 tsp baking powder

115g ground almonds

3 large eggs

For the syrup:

100g granulated or caster sugar

1 lemon

1 blood orange

To serve:

200ml cream

IN BETWEEN:

For those

who like to

cook with the

seasons, 'late

winter, early

spring' seems

to last forever,

says Nigel

Slater. This

combination

allows for both.

PHOTO: GETTY

You will need a square cake tin

20-22cm in diameter, lined with

baking parchment.

Directions

Set the oven at 180degC. Put

the butter and sugar into the

bowl of a food mixer and beat

until soft. Finely grate the orange

and lemon zest. Sift the flour and

baking powder, then stir in the

ground almonds.

Break the eggs into a bowl

and beat with a fork. Add to the

butter and sugar a little at time

with the beater at moderate

speed. Should the mixture

curdle, add a little flour. Add

the remaining flour, almonds

and baking powder. Transfer

the mixture to the lined tin,

smoothing the surface as you go.

Bake in the preheated oven for

20-25 minutes.

To make the syrup: Squeeze

the lemon and the orange into a

small saucepan, add the sugar,

then bring to the boil. Let it cook

for a couple of minutes until

lightly syrupy, then remove from

the heat. Using a metal skewer,

pierce about 20 holes in the

surface of the cake, then spoon

the citrus syrup over. Leave the

cake to cool then cut into 12

pieces.

In a cold bowl, whip the

cream until it sits in soft folds,

then place a spoonful on each

cake. Remove the peel from the

blood orange and separate the

segments. Place one on each slice.

– ODT

Need A Massage?

Stop suffering from stress, tension, headaches, anxiety, stiff muscles and fatigue.

The State-of-the-art Robotic Massage Chair.

· Enjoy a luxurious, professional full body massage in the comfort of your

own home

· Advanced optical sensors combined with intelligent bio-mapping for a

customised massage

· Hi-tech intelligent robotic hands deliver a 3D massage to melt away stress

& tension

· Multiple massage types including Shiatsu, Swedish & Thai Foot Massage

Free

TEBO Neck

Massager *

Worth $249.00

*Call for Terms & Conditions

Call Now! 0800 665 665
---
12

Thursday September 15 2022

X-TRAIL

RUNOUT

Nissan X-Trail ST 2WD 7 Seater

+CCF

$39,990+ORC

3 YEARS

FREE SERVICE

Complimentary 3 years/45,000km (whichever occurs first) no cost service applies to X-TRAIL T32 models first registered from September 1st 2022. The complimentary service offer to be carried

out by Christchurch Nissan includes all items listed in the service schedule including parts, lubricants and labour. Excludes all lease and some fleet purchasers. Offer available while stocks last.

CHRISTCHURCH NISSAN, 380 Moorhouse Avenue, Christchurch

Ph: 03 595 6820

www.christchurchnissan.co.nz

christchurchnissan.co.nz

$

48,990

+CCF

+ORC

STOCK AVAILABLE FOR

IMMEDIATE DELIVERY

The King of Beasts is here, with a meaner jet black, factory-fitted body kit, including front grille and 18 inch alloys.

It's also packed with super select 4WD, 2.4L turbo diesel engine, plus more mean features like smartphone connectivity,

multi around view monitor, advanced safety. Then there's our beast of a 10 Year Powertrain Warranty.

CHRISTCHURCH MITSUBISHI

386 Moorhouse Avenue, Christchurch | Ph: 03 379 0588 | christchurchmitsubishi.co.nz

*Price listed is for Triton 4WD GLS Black Edition automatic and excludes CCF [Clean Car Fee] and on road costs which includes WoF, registration, 1,000km road user charges

and a full tank of fuel. Available while stocks last. Visit www.mmnz.co.nz for full Diamond Advantage conditions.
---
Thursday September 15 2022 13

2022 LocaL ELEctions - meet your candidates

Carl Bromley Standing for Mayor and Councillor for Innes Ward

Paid Advertising Feature

Hello, Kia Ora! I'm Carl Bromley. I am honoured

to stand for Christchurch Mayor for Innes Ward

as Councilor.

I'm 52yrs of age, been married for 27yrs to an

amazing woman. I have three adult children and

three grandchildren. I am a Registered Nurse

(non-practicing), and an ordained Pastor. I

have 30yrs professionally specialising in Mental

Health working with Adults, and young people,

while concurrently serving the community as

a Pastor, supporting families through their life

journeys of ups and downs. I had a private

practice as a Therapist, hence business

experience. I have committed many hours to

the community pro bono as a Therapist and

minister.

My vision is for Christchurch is to become the

envy of all New Zealand through my five-point

policy which I call 'Giving Christchurch a High

Five':

1. Empowering Christchurch To Thrive

2. Freeing Christchurch To Choose

3. Supporting Christchurch To Heal

4. Leading Christchurch To Live

5. Urging Christchurch To Unite

I oppose any policy, or legislation, that

prejudices people based upon Race, Religion,

Gender, Political Viewpoint, or Medical Status.

I am a strong advocate of the New Zealand Bill

of Rights, justice, safety, freedom, and health.

I bring conviction, courage, commitment, and

compassion. Support me to support you to

secure a 'Happy, Healthy, Thriving and Free

Christchurch' for all.

Let Common sense, and the voice of the people

prevail! You can find me on Facebook:

www.facebook.com/CarlBromleyForMayor

Authorised by Carl Bromley, carlbromley@gmail.com

Phil Mauger Standing for Christchurch Mayor

I am running for Mayor because I want to regain

people's trust in Council and get stuff done.

With only 42% of residents having faith in what

we do, this has got to be turned around.

I have lived in Christchurch all my life working in

our contracting business, building subdivisions

and infrastructure all over the city. I have

resigned from the business to focus on running

for Mayor.

My wife Chrissy and I have five children and

nine grandchildren between us. I am the current

Councillor for Burwood. I enjoy this role, but I

can see how we can make things better and

take Christchurch forward and make it a city

that our kids and grandkids want to live in and

return to.

I have six policy platforms that if elected Mayor

I will be promoting and actively supporting:

• Keep rates affordable and reduce debt

• Regain ratepayers' confidence in the Council

• Finish our roads and footpaths

• Deliver core services better

• Make Christchurch an even better place to live

• Look after our Environment

Council needs to regain your trust and listen to

the community. I will work hard to do that.

We need to listen to your concerns and together

we need to make Christchurch the best city to

work, live, play and invest in.

Authorised by Phil Mauger, phil4mayor.co.nz

David Meates Standing for Christchurch Mayor

I'm standing for Mayor because I truly believe

in the potential of Christchurch - but we need

experienced, transparent and collaborative

leadership to make it a reality. We need to

move beyond petty, partisan, politics, for the

good of our city.

The top issue that I'm hearing and seeing is

a lack of trust and confidence in the Council

itself. In a recent poll, only 42% of 7,038

residents were satisfied with the Council's

performance; the lowest satisfaction level in 15

years. This needs to be addressed, as a matter

of urgency - and it requires open, transparent

and experienced leadership to do so.

I was the CEO of the Canterbury District

Health Board (CDHB) from 2009 to 2020,

directly responsible for 12,000 direct

employees and working in partnership

with a further 9,000 health professionals in

the community. Now is the time to use my

experience, and collaborative approach to

working with residents, to make our place

New Zealand's most attractive and vibrant city.

Collaboration is key for me – not just listening

to and engaging with our people, but also

ensuring Council works actively with the

arts community, with business, with tangata

whenua, with our rangatahi (young people),

with universities and social enterprises.

We have a range of 'big picture' issues that

we need to grapple with as a city - climate

change, housing challenges, transport and

connectedness, to name a few – together we

can do so much more.

I look forward to working with you as Mayor

to become a truly 21st Century city where

innovation and connectedness thrives.

I promise that I will listen, lead and get results.

For more information about why I am standing,

visit www.davidmeates.nz

Authorised by Stella Ward, wardstella007@gmail.com

The Wizard of NZ Standing for Christchurch Mayor

A mayor is the democratically elected icon

or face of the city, both to its citizens and to

the world. Only resourceful and well-known

individuals with a lengthy record of public

service, influence on public affairs and

independence from personal pressure, can

in good faith stand for the office of Mayor of

Christchurch.

My position on social and cultural matters

has been clearly expressed in my public

actions and publications over the past fifty

years. I make no secret of the fact that I share

the good taste, aspirations and remarkable

achievements of the Romantic Neo-Gothic

founders of this special city.

I am respected by those who love Christchurch

and have for years stood beside those

protesters who have tried to stop that dream

being destroyed for money or power.

As part of my heritage as a proud British

subject and New Zealand citizen I despise

racism especially when it is disguised as antiracism

that is increasingly used as a tool to

help ambitious politicians and businessmen to

gain their objectives.

Ask yourselves this question. What other

mayoral candidate will make any substantial

impact on the dysfunctional and costly

complacency of the self-enriching City Council

bureaucracy which behaves as if we are the

public servants and they are our masters? I

have demonstrated the determination and skill

needed to outmanoeuvre bullies that I first

demonstrated since the City Council daily tried

unsuccessfully to have me arrested almost fifty

years ago for "speaking out loud in Cathedral

Square".

Authorised by The Wizard of NZ: jack@wizard.gen.nz

Tim Scandrett INDEPENDENT Standing for re-election

Thank you for supporting me as your truly

independent City Councillor. I work for the

people of the Cashmere Ward, not a political

party. The next three years are vital as we

work hard to ensure Christchurch is vibrant,

inclusive, sustainable and affordable.

Vote for me and I will remain your independent

advocate, working with you to keep our

community voice at the core of Council

decision making. I will continue to meet you

at my monthly clinics to understand your

important issues and represent our community

having heard your concerns first hand.

Vote for me and I will continue to work

hard towards better delivery of core council

services, keeping rates affordable, mitigating

effects of climate change. I will advocate

strongly for improved traffic planning, road

maintenance and improved community

facilities (including the South Library).

I will utilise my council organisational

knowledge to ensure sensible spending and

the continued implementation of slow speed

neighbourhoods, especially around our

schools.

While we must face serious environmental

issues, I do not support the government's

3 Waters legislation in its current format. I

support sensible housing Intensification, not

the current intensification proposals being

forced on Christchurch communities.

I am your current Councillor with the best

local and institutional knowledge to optimise

our community's future. We need to protect

neighbourhoods so future generations can

enjoy Christchurch too.

Your support will ensure I remain your

Councillor.

VOTE FOR ME, I WORK FOR YOU

Please re- elect Tim Scandrett 027 6935155

timscandrett@xtra.co.nz Paid Advertising Feature

2022 LocaL ELEctions - meet your candidates

Authorised by Tim Scandrett 117 Dyers Pass Road Christchurch 8022
---
14

Thursday September 15 2022

2022 LocaL ELEctions - meet your candidates

Alexandra Davids Standing for Councillor, Chch Central Ward

Paid Advertising Feature

As the current Chair of the Waikura Linwood-

Central-Heathcote Community Board

for the last two years, and a community

board member for another seven years, I

have acquired an in-depth understanding

of how Council works and a strong base

of governance and relationship-building

experience. I have proven my ability to support

residents and community groups across the

ward.

The Council needs a bold and exciting vision

for the City, but also needs to be commercially

responsible and ensure ratepayers money is

spent prudently.

We need to make sure we get our basics right,

including footpaths, roads, green spaces and

increasing the tree canopy in the central city

but we also must be better than basic.

I am independent and not politically aligned. I

will listen to the Central Ward community, and

will make decisions and advocate for them

based on merit and common sense, rather

than on a political agenda set by others.

Our community needs to be at the centre of

all we do. As the city intensifies, we need to

be providing well maintained green spaces for

people to connect, relax, and play. It would be

wonderful to have a dedicated central city dog

park for all those fur babies in the Ward!

We need a city that is safe and affordable for

our rangatahi (youth) and our elderly.

Brave climate action is essential, and its

implementation should be intertwined with all

other city decision making. Ultimately, climate

action is about protecting and future-proofing

our city – for future generations.

Authorised by Alexandra Davids davids.alexandra@gmail.com

Jake McLellan The Labour candidate for Councillor - Central

Three years ago I asked for your support and

was humbled to become your Councillor. I'm

proud of what we've achieved together and

I'm asking for your continued support to keep

delivering for our community.

I've secured a much-needed refresh of the

area around the Stanmore Road shops, and

a well-deserved Living Wage for city workers.

I'm working on free pool access for children,

because water safety is important and we need

to reduce tragedies, and I've championed the

crack down on land banking in our central city.

But I know there's still more to do and I've got

a long list of things to crack on with including

getting our shuttle bus back and investing in

light-rail.

I'm more committed than ever to working hard

with our community to ensure the Central Ward

continues to have a strong voice. facebook.

com/jakemclellanchch

Authorised by Reuben Davidson, Reuben@lyttelton.online

Stephen McPaike Central Ward Candidate

Being on council is about representing your

concerns at the city's top table. As your

Elected Member it's my job to represent

our view, not impose my political beliefs or

ideology on you.

It will be my job to bring us together to get

things done. I have been doing this as a

community advocate for the past few years

and discovered that I have a passion for it and

can get results. I advocated for the installation

of over 2300 heat pumps in our council social

housing. We got $16m and put a massive

amount of pressure on the rental market to

also lift its game.

This has benefits for everyone in our

community. Warmer homes cause less winter

illnesses, reducing our health costs and

keeping more doctors free to help people

with other health issues. You can often find

me behind the scenes. I helped build the

sewercrisis.nz social media platform to put real

pressure on the council to allocate $1m to help

the Bromley and surrounding communities.

I am that guy behind the camera in the

live streaming we did to connect over 450

residents to public meetings that they couldn't

get to. You may have seen me on TV or heard

me on the radio. Making good use of the media

to raise community concerns is important and

not just the role of the mayor. Making sure we

have a strong voice that is heard is important

Authorised by Stephen McPaike, stephen4chch@gmail.com

Yani Johanson The People's Choice - Labour candidate for Councillor – Linwood Ward

I am an experienced Councillor from Woolston

with a strong record of getting positive things

done to improve the East.

Achievements this term include getting the

Linwood Pool built, a lower Heathcote River

guidance plan adopted, restoring Lancaster

Park for recreation, and fighting hard to get

rid of the offensive and objectionable odours

from the Organics Processing Plant and the

Wastewater Treatment Plant.

I'm supportive of: reducing flooding risk,

keeping strategic assets in public ownership,

improving maintenance of parks, footpaths,

roads, cemeteries, and rivers. I firmly

believe the priority should be fixing broken

infrastructure in the suburbs ahead of goldplating

central city streets. I'm opposed to:

the permanent chlorination/privatisation of

water, excessive CEO salaries, and ugly

urban development that ruins amenity and

neighbourhoods.

I'm proud to stand up for social justice,

environmental equity, and transparent

decision-making that puts local people and

communities at the heart of what gets done.

Authorised by Reuben Davidson, Reuben@lyttelton.online

Dr Melanie Coker The People's Choice - Labour candidate for Councillor - Spreydon Ward

I am the current Councillor for Spreydon,

have a PhD in biochemistry and was a

Research Scientist for 10 years. I also have

business experience as the Director of my own

education company, AHeadStart Ltd.

While elected, I have assisted residents

to establish local community groups, and

retain local facilities such as the Hoon Hay

Community Centre. I have also encouraged

diversity and participation in local democracy,

Your vote will enable to continue to support

2022 LocaL especially ELEctions with a focus our young people. - meet your candidates

and advocate for our community.

Council needs to get the basics right, including

fixing footpaths and repairing roads. Financial

prudence in decision-making is essential.

My top priorities for Council include access to

pure drinking water with reliable infrastructure;

accessible parks and recreational facilities;

clean, healthy waterways and ecosystems;

planning for climate change; and safe and

reliable travel for everyone.

Paid Advertising Feature

Authorised by Reuben Davidson, Reuben@lyttelton.online
---
Thursday September 15 2022 15

2022 LocaL ELEctions - meet your candidates

Terry Craze Spreydon Proud! - standing for Community Board and Council

Paid Advertising Feature

My name is Terry Craze, I Live in Addington

and have a five year old son who goes to

Addington School. I manage after school

and Holiday Programs at Pioneer and before

school at a local primary school.

I'm 34 and was born to a single mother in

Greymouth. After leaving home at 16 my

minister in Greymouth suggested I move

to Christchurch when I was 18 to get an

education from Hagley Community College.

After two years in Spreydon area I lived in

a Housing NZ house in Bryndwr for 9 years.

I then moved back to Spreydon area after

completing qualifications.

I have worked as an Operations Manager,

preschool teacher, special needs teacher

aid, dance teacher and security guard. I

have sat on various boards and committees

and am currently studying applied business

management with a double major in project

management and operations management.

Originally from Greymouth I want to bring the

Coast's honesty, transparency, approachability

and visibility to the role.

I am also a proud member of the local Rotary

Club.

I'm interested in the governance of our

amazing area with a common-sense approach

and will devote my life to it. Spreydon proud!

Authorised by Terry Craze

Sam Lu The Council Candidate candidate for Spreydon

Your hard-earned rates dollars must be spent

smarter - the basics done well, such as roads,

footpaths, and not over engineered cycleways.

You want the stadium built for current and

future generations to enjoy, a fixed price

honoured, and for it to not be a long-term

burden. You are concerned about the loss of

our Three Waters assets, and the erosion of

local democracy. These matters may not be a

priority for your current council representatives,

but they are for me. I will ensure your voice is

heard and listened to.

Our Garden City is home, and has been since

1994. I am a husband, and father of two.

We're strongly connected to the Spreydon

community, and I have built up two successful

businesses over the past 15 years.

I bring a local connection, an entrepreneurial

and business skill set, diversity of thought and

experience. Putting my skills to work for you, to

help make our community and city truly worldclass,

would be a privilege.

Two things I firmly believe in; that a leader

should lead by serving and action speaks

louder than words.

Thank you for your time and please remember

to vote!

Authorised by Sam4Spreydon@gmail.com

Finn Jackson Independent standing for Community Board – Cashmere Ward

I'm standing for Community Board because

we need to take action now to build the city we

want to live in.

I've lived in Christchurch my whole life,

including in the Cashmere Ward on and off for

about 12 years.

I have deep connections here – Gilpins

Track and Kennedys Bush on the Port Hills

are named for my relatives. I've lived in

Saint Martins and Huntsbury and I've spent

a significant amount of time in Cashmere,

Westmorland, and Somerfield.

We're facing big challenges but we also have

the chance to make our community a better

place to live.

With climate change, housing intensification,

increasing traffic and tree loss on the way,

we need to act now. We can tackle these

challenges – let's get started by planting

100,000 trees in our neighbourhoods, our

streets, and on the Port Hills.

We need to build liveable neighbourhoods

with pocket parks and tiny forests so that as

neighbourhoods become denser, everyone has

access to sunlight, nature and the outdoors.

We need to make sure our streets are safe

and pleasant for everyone however they travel,

with street trees, safe speed limits and fit-forpurpose

cycling infrastructure. Finally, we need

to protect and restore our natural environment,

reforesting the Port Hills with green firebreaks

and reducing sediment pollution in the

Ōpāwaho/Heathcote River.

We need to protect the best of what we have

while preparing for the future. Let's build a

Garden City we can all be proud of.

Contact me at

Facebook.com/VoteFinnJackson.

Authorised by Finn Jackson, finnforcashmere@gmail.com

Keir Leslie The People's Choice - Labour candidate for Councillor - Cashmere Ward

I'm a Beckenham resident who has had the

privilege of serving you on the Community

Board for the past three years.

I've worked with the community to implement

a 40kph zone in Beckenham with transitional

improvements to intersections and school

crossings. We've worked with Central

Government and Council to secure $10 million

for traffic works in South Christchurch focused

on safety improvements, and we've fought

for safety improvements to intersections

like Cashmere/Dyers and Cashmere/

BarringtonWe've also secured a permanent

site for the South Christchurch farmers market.

I will keep working with the community to

restore the Ōpāwaho-Heathcote River and

push for strong regulations to reduce harmful

run-off. And let's get more trees planted in our

streets and on the Port Hills!

In a climate emergency, transforming transport

to low-emission modes is vital: more buses,

delivering light rail, every child having a safe

walking and cycling route to their local school,

and accelerating local cycleways.

Authorised by Reuben Davidson, Reuben@lyttelton.online

Lee Sampson The People's Choice - Labour candidate for Community Board - Cashmere Ward

I want to see Christchurch realise its potential

to be one of the most liveable, sustainable and

vibrant cities in the world. Christchurch has so

much inherent promise and that's the reason

we've decided to raise our family here – but

we're clearly facing a series of challenges

and transitions ahead of us. This will require

progressive thinking and community leaders

with the right aptitude to assist us through.

As a degree qualified project manager, I have

a range of technical and practical skills that

My priorities:

• Improve basic services & responsiveness.

• Make roads safer for all users (incl.

pedestrians);

• Keep our assets and maintain the

affordability of rates;

• Deliver our 'city in a park vision' creating

greener urban environs and planting out our

Port Hills;

• Reduce public transport gaps;

In 2018 I founded Christchurch based Habitus

Group, where we deliver compact high

performance homes – influencing positive

change in the market and often helping firsttime

buyers into ownership. I'm a networker

and connector with broad volunteer experience

as a Rotarian, youth mentor and through my

conservation efforts.

I'm motivated, approachable and always have

open door.

• Secure regional investment, to plan for 2022 LocaL

enable

ELEctions

me to advocate strongly for our local

-

future

meet

and tackle climate change

your Contact

with items

candidates

me 021772929 or

lee.sampson@habitusgroup.co.nz

communities. This also allows me to ask the like rapid mass transit, a complete game fb.com/LeeSampsonCHCH/

tough questions of the council (when required) changer for how we could live, work and play.

Paid Advertising Feature

and often achieve better outcomes.

Authorised by Lee Sampson, lee.sampson@habitusgroup.co.nz
---
16

Thursday September 15 2022

2022 LocaL ELEctions - meet your candidates

Dr Sunita Gautam Labour candidate for Community Board - Central Ward

Paid Advertising Feature

My day-to-day life is grounded in the Central

ward and Christchurch has been my home

for 19 years. I'm passionate about building

people, business and the environment. As your

Community Board member, I have engaged

with the local community via community

meetings at Linwood Village, resident group

meetings and supporting community events.

I have been a strong voice on the Board

and championed several wins such as

the Greening The East project, uplifting

Linwood Village, working with residents on

Armagh Street traffic safety, and improving

the Welcome Rest Park. I also serve our

community as a JP, marriage/civil union

celebrant, business mentor, career mentor,

leadership and life coach and work at ARA as

a Business lecturer.

I am committed to working hard for the Central

Ward. Let's work together to make it a place

where all the people feel safe, valued, and

have a sense of belonging.

https://www.facebook.com/

SunitaGautamCHCHCentral

sunitagautam3010@gmail.com

Authorised by Reuben Davidson, Reuben@lyttelton.online

Kevin McDonald Standing for Community Board, Christchurch Central Ward

Kia ora my name is Kevin. I'm a retired

business person/social worker. I have 4

adult children and 1 rascally grandson. I live

in Linwood and I love it. I'm standing as an

independent for Ch-ch Central Community

Board.

I believe that politics, especially at this level,

can be a noble occupation. I want to connect

my community to the decision making process

and restore trust in local democracy. To this

end, if elected, I will set up a regular weekly

open information exchange meeting, in

Linwood Village. Residents will be welcome to

chat about local issues, which I will feed back

to the board and where they can find out about

Council plans for our ward.

Christchurch central ward is undergoing the

greatest housing intensification in recent

history. With many new dwellings having little

outdoor space, with no garage or even off

street parking. When these new residents and

vehicles arrive they will have a huge impact on

our streets and infrastructure.

Although the 'big' decisions are made by the

Government, through the RMA, Local Govt.NZ

and City Council the Community Board have

an important lobbying role and ability to input

into Council decisions.

Historically voter turnout for local elections is

low. I'm hoping that a chance to be involved in

decision making will excite you enough to vote.

I respect individual freedom of choice and the

truth.

Thank you. Aroha. Kevin.

Authorised by Kevin McDonald, kevy52@gmail.com

John Miller Labour candidate for Community Board - Central Ward

I want to improve the interface between

citizens and the Council. As a community

advocate and helper, I've learned how to

navigate the many parts that make up the

Council organisation.

My name's John Miller, and I've lived and

worked in the Central Ward for 20 years. My

experiences include managing communityowned

properties, marketing communications,

community development and advocacy. In

recent years I was one of several volunteers

who developed a Revitalisation Plan for the

Inner City East. Successes from our work

include a substantial reduction in kerbside

dumping, and an interagency group that

addressed crime and safety concerns around

Linwood Village. Many lessons from these

projects can be applied across other parts of

Central. I'd like to expand these projects to

continue improving public safety. I also believe

that a service similar to the pre-2011 yellow

City Shuttle buses is key to revitalising the

inner city.

We need a Community Board that empowers

community and makes it easy to get good stuff

done.

john@johnmiller.co.nz

027 422 0893

facebook/JohnMillerForCentral

Authorised by Reuben Davidson, Reuben@lyttelton.online

Paul McMahon The People's Choice - Labour candidate for Community Board - Linwood Ward

I am passionate about the East, it's my home

and community, but the Council has given us a

stink deal - we deserve better!

I am lucky to live in Woolston with my wife and

sons (10 & 13), and we love the Linwood Pool,

libraries, the tracks along the river, and being

close to the hills and to the beach. There's so

much going for our side of the city, but so often

we seem to come off second-best.

I work for a community organisation in Wainoni

combatting harm to young people from drugs

and helping communities resist the spread of

bottle shops. I've also sat on a local school

Board of Trustees and a charitable trust, been

a local community board chairperson, and

worked in youth mental health. I chose to do

this work because I want our communities to

be places where we look out for one another

and treat each other with respect.

My focus on the Board will be working

collaboratively to stop the stink, investing in

green space, repairing damaged roads and

footpaths, reducing heavy traffic on residential

streets, getting a fair deal for the East, and

speaking up for those who need a strong

advocate.

A vote for me is for someone who listens and

has the experience and ability to get things

done.

Authorised by Reuben Davidson, Reuben@lyttelton.online

Jackie Simons The People's Choice - Labour candidate for Community Board – Linwood Ward

I have lived in Woolston for over thirty years

and I'm proud to call it home. Recently, we

have had some good wins for our community,

including: a new swimming pool, the Woolston

Village makeover, and lots of smaller projects

that have been completed.

Council sometimes takes an extraordinary

length of time to get even the smallest of

things done. There is no excuse for the lack of

resolution to the odour issues, nor the lack of

2022 LocaL progress ELEctions in fixing our roads and footpaths over - meet your candidates

a decade on from the 2010/11 earthquakes - it

is not good enough, and I will keep fighting for

a fair deal for the East.

As a healthcare worker, I'm concerned about

rising poverty and inequality. We need to do

more to support those most in need in our

community. I'm prepared to work hard for you

to secure a better future for us all.

Paid Advertising Feature

Authorised by Reuben Davidson, Reuben@lyttelton.online
---
Thursday September 15 2022 17

2022 LocaL ELEctions - meet your candidates

Paid Advertising Feature

Roy Kenneally The People's Choice - Labour candidate for Community Board – Spreydon Ward

I am passionate about seeing communities

thrive and be places where all generations can

connect. Born in Christchurch of Cook Island

Māori and Irish descent, I have grown up in

Spreydon and now live in Rowley with my wife

Fiona and our two children - Kahu and Māia.

You will see me around - I am actively involved

in the community - rugby, youth leadership,

surfing, and volunteering in local schools and

community organisations. As Manager of

'Cross Over Trust' I help connect communities

and local primary schools.

I want to highlight the key challenges in

our ward and help solve these with positive

solutions that will last. In addition, I will help

generate forward-thinking solutions for a better

environment and promote equity for the next

generation.

My strong connections within the community

will be invaluable in representing the people's

voice on the Community Board. Vote for our

community. Vote for Roy

Authorised by Reuben Davidson, Reuben@lyttelton.online

Callum Stewart-Ward The People's Choice - Labour candidate for Community Board - Spreydon Ward

It's been a privilege to serve on the Spreydon-

Cashmere Community Board for the last three

years. I've advocated strongly for safer streets,

better public services, for parks, libraries, pools

and our environment.

Alongside my People's Choice and Labour

colleagues, we want Spreydon to be a place

where every child can bike safely to school,

where rates are fair and where public money

is invested in getting the basics right. We

love our neck of the woods and believe that

everyone should have access to community

facilities at low or no cost.

About me:

I'm 27 years old, and I grew up in Hoon Hay

and Spreydon. I've worked in schools and

volunteered extensively in Spreydon. In 2016

completed my engineering degree and now

work in tech for a large NZ construction firm. I

want my family to live in a city where everyone

gets a decent crack at life.

Authorised by Reuben Davidson, Reuben@lyttelton.online

Andrea Davis Standing for ECan Christchurch West/Opuna

I am very excited about the chance to work

for Environment Canterbury and the families

in the region. I believe that Canterbury is the

best place in the world, however, we need to

seriously prepare for the adverse effects of

climate change. ECAN has a large role to play,

and I am looking forward to the new resource

management act, currently in draft and due for

roll out this year.

My main concern for the Christchurch West

Ōpuna ward is the rate of arable land loss to

housing. We see more pressure from housing

developments on the boundary of rural land

and facilities like quarries and the airport. It is

important we balance growth with liveability.

After clean air and water, another part of our

quality-of-life equation is the way we travel to

work and how we access our natural spaces.

ECAN and CCC are working together to solve

our transportation options and enhance our

natural environments in Christchurch.

My day job is as a Landscape Architect,

specialising in Green Infrastructure. My

Master of Landscape Architecture looked at

a commemorative landscape in the Avonside

Residential Red Zone honouring the displaced

families of the redzone. I feel very strongly

about people and their well being. Currently I

am part time studying a Masters of Planning at

Lincoln University, which I find fascinating.

I hope to be a person who brings people

together with the common goal of preserving

and enhancing the Canterbury natural

environment.

Authorised by Andrea Davis, andreadavisforecan@gmail.com

Dr Chrys Horn The People's Choice candidate for Environment Canterbury - Christchurch South / Owhanga

I'm running because of concerns about our

deteriorating environment. I want to see a

council that will work hard to address this.

We are seeing more large floods and droughts

as climate change continues, and we must

deal with these and also cutting our carbon

emissions. Our water quality is dropping, our

productive soils are disappearing, as is much

of our biodiversity, and research indicates that

many Christchurch residents die prematurely

because of air pollution. We need to set a

clear path to turn this around.

Our public transport system is an important

part of cutting our carbon emissions and

needs collaboration between a number of

organisations to get more people using it on a

daily basis. Our regional policies need to have

measures that will protect our climate and

soils, and lower the nitrates and sediment in

our water.

My background: I've worked in conservation

and on farms in very practical, on-the-ground

jobs. I completed a PhD at Lincoln University

and have worked as a research scientist. I

run a small research business and also work

in community development in Addington. I

led the setup of the Halswell Community

Project and now chair their committee. I've

helped campaign for active transport in our

city, volunteered in a range of environmental

groups and learned the benefits of teamwork

for achieving outcomes.

I have the skills and experience to work

constructively with others at the council table

for the benefit of our Canterbury environment

and communities

Authorised by Reuben Davidson, Reuben@lyttelton.online

Craig Pauling The People's Choice candidate for Environment Canterbury - Christchurch West/Opuna

I care deeply about Canterbury and its future.

I am Christchurch born and raised and have

been involved in environmental action within

our community for over 20 years.

I am a current ECan Councillor, a qualified

RMA Commissioner and have led restoration

efforts across our region, including with Te Ara

Kākāriki and Te Kākahu Kahukura - both of

which I Co-chair.

2022 LocaL

I'm

ELEctions

a father and am compelled to help protect www.craigpauling.com

- meet your candidates

our unique natural and cultural heritage to

provide a secure future for our children.

This requires us to continue to address the

state of our waterways and biodiversity, and

face up to the challenges of a changing climate

– through mitigation and adaptation.

I am determined to continue on Council to see

through the review and strengthening of our

regional plans, which is key to protecting and

enhancing our environment, ki uta, ki tai - from

the mountains to the sea.

www.facebook.com/CraigPaulingECan

Paid Advertising Feature

Authorised by Reuben Davidson, Reuben@lyttelton.online
---
18

Thursday September 15 2022

CHRISTCHURCH

CREMATORIUM

FUNERALS

CROSSWORD

1 2 3 4 5 6 7

8 9

10 11

261

SUDOKU

Every row, column and box should

contain the digits 1 to 9.

WordBuilder

WORDBUILDER

161

6

R U B

L T E

12 13 14 15

16

17 18

19

20 21 22 23 24

How many words of three or more letters,

How including many plurals, words can you of make three from or the more six

letters, using each letter only once? No foreign

words or words beginning with a capital are

from allowed. the There's six letters, at least one using six-letter each word. only

once?

TODAY

Good 18 Very Good 22 Excellent 27

Solution 160: den, due, dun, dune, end, fed, fen,

fend, fern, feud, fun, fund, FUNDER, fur, nerd, nude,

word.

red, ref, REFUND, rend, rude, rue, rued, run, rune,

under, unfed, urn.

letters, including plurals, can you make

No words beginning with a capital are

allowed. There's at least one six-letter

Good 18 Very Good 22 Excellent 27

25 26

27 28

29 30

31 32

33 34

Across

1. Mourn (6)

5. Stomach (6)

10. Silhouette (7)

11. Military storehouse (7)

12. Arouse, awaken (6)

15. Ship's flag (6)

16. Rotate (7)

17. Diminutive (4)

18. Dried-up (4)

19. Overture (7)

20. Deceive, trick (4)

22. Badly behaved child (4)

25. Dusk (7)

27. Sumptuous, expensive (2,4)

28. 50/50 decision (4-2)

31. State of bliss and delight (7)

32. Financially comfortable (4-3)

33. Grab (6)

34. Bet on four horses in four races (6)

Decoder

Down

2. Skilled tradesman (7)

3. Magic potion (6)

4. Layer (4)

5. Address a deity (4)

6. Bear-like (6)

7. Scheme, collude (7)

8. Powerful Australian native (6)

9. Dive (6)

13. Rebuke (7)

14. Car bonnet (7)

15. Obvious (7)

20. Concealing (6)

21. Wing flap (7)

23. Return to original condition (7)

24. Exemplify (6)

25. Surviving (6)

26. Ugly mythical creature (6)

29. Every one (4)

30. Amiss (4)

N A I P C Z F E T L H G Q

14 15 16 17 18 19 20 21 22 23 24 25 26

K S W J R M U Y B D V X O

1 2 3 4 5 6 7 8 9 10 11 12 13

A B C D E F G H I J K L M N O P Q R S T U V W X Y Z

1 2 3 4 5 6 7 8 9 10 11 12 13

I T

14 15 16 17 18 19 20 21 22 23 24 25 26

H

All puzzles copyright

T H E P U Z Z L E C O M P A N Y

www.thepuzzlecompany.co.nz

SOLUTION

No.161

9 9 2 18 4 1

Crossword

Across: 1. Lament, 5. Paunch,

10. Outline, 11. Arsenal, 12.

Bestir, 15. Ensign, 16. Revolve,

17. Tiny, 18. Sere, 19. Prelude,

20. Hoax, 22. Brat, 25. Evening,

27. De luxe, 28. Toss-up,

31. Nirvana, 32. Well-off, 33.

Snatch, 34. Yankee.

Down: 2. Artisan, 3. Elixir,

4. Tier, 5. Pray, 6. Ursine, 7.

Connive, 8. Wombat, 9. Plunge,

13. Reprove, 14. Cowling, 15.

Evident, 20. Hiding, 21. Aileron,

23. Restore, 24. Typify, 25.

Extant, 26. Goblin, 29. Each,

30. Awry.

WordBuilder

bel, belt, bet, blue, bluer,

blur, blurt, brut, brute, bur,

burl, but, BUTLER, let, leu,

lube, lure, lute, rebut, ret,

rub, rube, ruble, rue, rule,

rut, true, tub, tube, tuber.

Sudoku

Each number in our DECODER grid represents a different

letter - there is a number for all 26 letters of the alphabet.

DECODER

Enter the given letters into all squares with matching numbers.

The challenge now is to work out which letters are represented

Each by the number other represents numbers. a As different you get letter the of letters, the alphabet. enter them Write into the

given the main letters grid, into all and squares the reference with matching grid. numbers. To keep Now track work of out the

which letters letters you are have represented found, cross by them other off numbers. the alphabet provided.

2 7 9 23 16 6 21 20 13 3 23 2

26 7 12 5 15 21

7 17 13 14 2 24 13 7 23 10 21 5

15 8 2 7 2 21 11

9 23 15 18 1 2 6 16 22 24 16

L

E

G

14 8 21 5 4 18

16 14 18 16 2 21 6 15 14 7 5 21

23 8 18 2 22 9

23 17 5 13 18 21 21 10 16 14 25

21 20 15 5 10 23 7

25 5 15 17 17 23 21 10 19 15 17 2

15 14 21 15 14 22

23 15 25 21 5 6 15 21 2 22 5 13

A B C D E F G H I J K L M N O P Q R S T U V W X Y Z

1 2 3 4 5 6 7 8 9 10 11 12 13

SOLUTION

No.160

161

14 15 16 17 18 19 20 21 22 23 24 25 26

E L G

1 2 3 4 5 6 7 8 9 10 11 12 13

G F L D U W X M K I Q P C

R Z O H N B Y A T S J V E

14 15 16 17 18 19 20 21 22 23 24 25 26

5 17 1 4 16 10 8 1 9

16 13 23 22 13 25 15

14 3 11 11 15 10 13 1 10

26 10 9 10 7 1 13

18 3 8 26 18 9 8 5 13 16 1 12

H I T

10 2 11 8 20 2 10

5 6 10 24 20 1 10 26 18 3 4 25

12 8 8 1 8 12 18

CHRISTCHURCH

25 2 10 21 3 1 13 9 6 1 2 8

CREMATORIUM

FUNERALS

4 1 19 19 2 8 4

3 4 23 10 13 12 26 5 13 6 9 1
---
Thursday September 15 2022 19

Classifieds Contact us today Phone our local team 03 379 1100

ELECTRICIAN

Contact for a free quote

phone 027 331 0400

dave@davesimpsonelectrical.co.nz

davesimpsonelectrical.co.nz

Experienced Domestic Electrician

Quality Workmanship

• New Build

• Renovations

• Fault finding

Trades & Services

• Power

• Lighting

• Switchboards

WINDOW TINTING

tintawindow

advanced film solutions

99% uv block

fade protection

heat control

reduce glare

25 Years Experience

privacy films

frosting designs

non-darkening films

Workmanship Guaranteed

Lifetime Warranties on Most Films

UV

block

Free Quotes Canterbury and Districts

03 365 3653 0800 368 468

Our readership

is skyrocketing

AGAIN!

Trades & Services

FOR ALL YOUR

★Garden Clean-ups

★Pruning

★Lawn Mowing

★Garden Maintenance

Call us today for a FREE quote

PH 0800 4 546 546

(0800 4 JIMJIM)

Trades & Services

ROOF

PAINTING 24/7

Rope & harness

a speciality,

no scaffolding

required,

30 years of

breathtaking

experience.

FREE QUOTES

20% OFF other

roof quotes

Exterior staining,

exterior painting,

water blasting.

Moss and mould

treatment $300.

Phone Kevin

027 561 4629

Trades & Services

BRICKLAYER.

George Lockyer. Over

40 years bricklaying

experience. UK trained.

Insurance work, EQC

repairs. Heritage

brickwork & stonework

a speciality. No job too

small. Governers Bay.

Home 329 9344. Cell

027 684 4046. E mail

georgelockyer@xtra.co.nz

CARPET LAYING

Exp. Repairs, uplifting,

relaying, restretching.

Phone John on 0800

003181, 027 240 7416

jflattery@xtra.co.nz

ELECTRICIAN (CERT)

Prompt, quality. Call Jack

027 206 0080

ELECTRICIAN

A Prompt & reliable

registered electrician

with 24 years experience

for all residential and

commercial work, new

housing and switch board

replacements. Phone Chris

027 516 0669

LBP BUILDER

One stop shop. All

building work, plastering

& painting. On time, every

time. Mark 021 171 1586.

Tim 027 214 0841

PAINTING

Indoor / Outdoor, over 30

yrs exp, same day quotes,

ph Steve 021 255 7968

PLUMBER

Do you need a reliable

plumber? Quality and

timely services. No job

too big or small. Phone

V Plumbing Ltd. 022 351

4125

Trades & Services

SPLASHBACK

Tiling, Kitchens, Vanities,

Laundries. Professional

prompt service, Ph 022

380 8112

STUMP GRINDING

Best price guarantee Tony

0275 588 895

VHS VIDEO TAPES

& all camera tapes

converted to DVD or

USB. Video taping

special occasions, www.

grahamsvideo.co.nz ph 03

338-1655

Wanted To Buy

AAA Buying goods

quality furniture, beds,

stoves, washing machines,

fridge freezers. Same day

service. Selwyn Dealers.

Phone 980 5812 or 027

313 8156

TOOLS, Garden garage,

saw benches, Lathes. Cash

buyer Phone 355-2045

TOOLS, Garden garage,

saw benches, Lathes. Cash

buyer Phone 355-2045

Public Notices

Situations Vacant

Need A

Ladder?

The Amazing, Portable, Easy to Use Ladder System

Read

210,000

times every week!

That's a

6% increase!

*Source: CMI Q3 2021 – Q2 2022.

*Star Max — The Star, Bay Harbour News, Selwyn Times, North Canterbury News.

Reach more customers and grow your profits with our free professional

advertising consultancy for your business.

Contact Shane on 021 381 765 / shane@starmedia.kiwi

Margann. | "Best Ladder on the market"

Simply the best ladder I've ever used, it's everything it's cracked

up to be and the little extras such as the work platforms, leg

adjusters and wall standoff make it incredible value.

• Certified Safety Rating up to 180kg

• Use it on Stairs Safely

• Create your own Scaffolding System

• Versatile, Compact and Telescopic

Free

Free

Free

Free

Gifts *

Worth

$660.00

*Ts & Cs Apply

*1 x Wall Standoff + 2 x Work Platforms + 2 x Leg Levellers

Call Now! 0800 665 665
---
20

Thursday September 15 2022

NZ's BIGGEST Bathrooms, Kitchens and Appliances Super Store.

Christchurch

16 Watts Rd, Sockburn.

Shop 4,500 products online:

tradedepot.co.nz

Delivery anywhere in New Zealand.

FREE DELIVERY with minimum spends.

SAVE THOUSANDS on your renovations and home improvements.

Cooking Appliance

Package

Wall Oven

9 Functions

Induction Cooktop

70 l

60cm

W I D E

Essential Appliance

Package

Canopy Rangehood

430m³/h

5 Function Wall Oven

Ceramic Cooktop

80 l

60cm

W I D E

Side by Side

Fridge Freezer

Inverter

TOTAL FROST FREE

Stainless Steel

584 l

890mm

W I D E

French Door

Fridge Freezer

TOTAL FROST FREE

Stainless Steel

404 l

790mm

W I D E

$

849

LOW PRICE

908141

24 Month Warranty

60cm

W I D E

$

1199

LOW PRICE

908161

24 Month Warranty

60cm

W I D E

$

1185

LOW PRICE

353584

24 Month Warranty

$

1099

LOW PRICE

353404

24 Month Warranty

Locke Black

Square Shower

Flat Liner

40mm Profile

Corner Waste Tray

900mm

4 Piece Bathroom

Accessory Pack

Zara Floor Vanity &

Vita Toilet Suite

2 Drawers

Soft Close

P Pan Toilet

Rimless

750mm

W I D E

Cleo Freestanding

Bath Combo

Linear Shower Mixer

Cora Bath Spout

1700mm Bathtub

$

649

LOW PRICE

902238

10 Year Warranty

$ 149

LOW PRICE

250506

5 Year Warranty

$

999

LOW PRICE

908169

5 Year Warranty

$

949

LOW PRICE

902856

5 Year Warranty

Mains Pressure

Hot Water Cylinder

Gas Water Heater

with WiFi

Quartz Sink Insert

Active Washing

Machine

Washing Machine

River Laundry Tub

Top Load Washing

Machine & Laundry Tub

45 l

170 l

20 l

5.5 kg

5 kg

600mm

W I D E

$

999

LOW PRICE

786170

5 Year Warranty

$

949

LOW PRICE

786202

3 Year Warranty

$

329

LOW PRICE

565781

5 Year Warranty

$

399

LOW PRICE

360156

24 Month Warranty

$

389

LOW PRICE

360451

24 Month Warranty

$

399

LOW PRICE

575659

5 Year Warranty

$

599

LOW PRICE

908187

24 Month Warranty

6 kg

Watering Wand

Hose Timer

P10+ Pro Cordless

Vacuum Cleaner

Dehumidifier

with WiFi

Robot Vacuum Cleaner

WiFi

Retro Bar Fridge

Bar Freezer

350W

3 l

180Min

Runtime

93 l

92 l

$

11.99

LOW PRICE

731872

$

25

LOW PRICE

731868

$

195

LOW PRICE

385614

24 Month Warranty

$

279

LOW PRICE

373055

24 Month Warranty

30L

per day

$

599

LOW PRICE

386601

24 Month Warranty

$

349

LOW PRICE

354080

24 Month Warranty

$

379

LOW PRICE

354093

24 Month Warranty

Prices Guaranteed as of 17/9/22. Subject to change.

CAN-C 26

KITCHENS | BATHROOMS | APPLIANCES
---
Thursday September 15 2022 21
---
22

Thursday September 15 2022
---
Thursday September 15 2022 23
---
24

Thursday September 15 2022